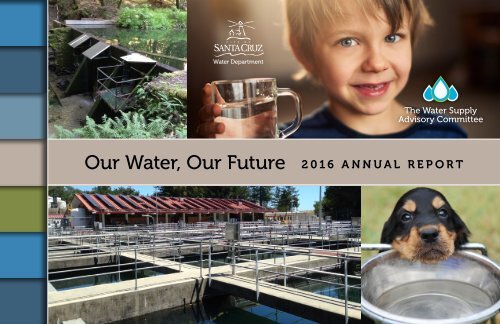 Do you know the secret to free website traffic?
Use this trick to increase the number of new potential customers.
Our Water, Our Future

2016 ANNUAL REPORT
---
Dear Resident,

Just over a year ago, the Santa Cruz City Council approved

recommendations to secure the future of our community's water

supply. Created by residents who served on the Water Supply

Advisory Committee (WSAC), the recommendations include

increased conservation, consideration of water transfers and

additional water storage, purified recycled water and desalination.

The WSAC also encouraged regional collaboration.

What has happened in the year since the Council approved the

recommendations? The short answer is that a lot of progress has

been made. This report provides an update of where we are with

each recommendation to better secure your water future.

Sincerely,

Rosemary Menard, Water Director

Santa Cruz Water Department

2
---
Increased

Conservation

Did You Know?

0%

Even with projected growth,

water use is expected to

remain flat due to new

plumbing and building codes.

Though Santa Cruz is already one of the top water-saving cities in the state,

the WSAC recommendations increase the levels of conservation even further.

Recommendations include adding new programs, increasing rebates and

managing summertime use more efficiently. In the past 12 months, we:

• Completed an exhaustive Water

Loss Control Study to see where we

might be losing water through leaks

in our distribution system.

• Doubled our turf-removal rebate.

• Doubled our high-efficiency

clothes washer rebate for machines

that are certified as Energy Star,

Most Efficient.

• Expanded our large-landscape

water budget program and

updated the City's water-efficient

landscape ordinance.

• Implemented budget-based water

rates for our irrigation accounts.

• Completed the 2015 Urban Water

Management Plan, which was

adopted by City Council in August.

3
---
Water

Exchanges

and Aquifer

Storage &

Recovery

The WSAC recognized that conservation alone will not solve our water supply

problem. WSAC members also learned that in normal rain years, a lot of river water

flows into Monterey Bay simply because we have nowhere to store it. Building

another reservoir is not feasible at this time. So the Committee zeroed in on

storing water in local, depleted aquifers through water exchanges and/or aquifer

storage and recovery.

Water exchanges allow groundwater-dependent water districts, like Soquel Creek

Water District, to rest and recharge their aquifers, using excess winter surface water

from Santa Cruz. Soquel Creek Water District agreed to pilot a water exchange

project after careful water-mixing studies are complete (groundwater and surface

waters have different characteristics). Water exchanges between Santa Cruz and

Soquel Creek Water District will likely be tested in the winter of 2017-2018.

Did You Know?

In-Lieu

Recharge

of aquifers provides water from

another source in lieu of drawing

water from an aquifer, so the

aquifer can rest and recharge.

4
---
Did You Know?

Active

Recharge

of aquifers utilizes wells with

screens at precise depths to inject

water directly into the aquifer.

The concept for aquifer storage and recovery, or ASR, is simple. Much like

depositing money in a savings account, excess water is injected directly into

a targeted aquifer where it can be withdrawn later – during a shortage of

surface water.

ASR has been used successfully in some places. However it has also failed in other

places, and will take much local study before we will fully understand its potential.

Storing and recovering water in an aquifer is a complex process that requires

modeling and pilot testing to identify the ideal location for an ASR project.

5
---
Recycled

Water

and Desal

Did You Know?

2:1

Desalination uses approximately

two gallons of seawater to produce

one gallon of drinking water.

Purified recycled water has been used in California for decades. It is currently

used indirectly for things like landscape irrigation, crop irrigation, dust control,

industrial cooling and aquifer recharge. The State is examining the feasibility of

adopting regulations to use it directly for drinking water.

What is the best use for purified recycled water in Santa Cruz? Will using purified

recycled water help provide a secure water supply for the community? Will

purified recycled water or desalination be needed in addition to water transfers

and ASR to fully close the supply gap identified by the WSAC? These are a few of

the questions that the Water Department began to study and analyze in 2016 in

accordance with the WSAC recommendations. Desal remains a back-up plan if ASR

and/or recycled water cannot meet our community's needs.

6
---
Next Steps

Did You Know?

64%

Residents use 64% of the

Santa Cruz Water Department

water supply, businesses use

19%, agriculture uses 8% and

UCSC uses 7%.

At its November 24, 2016, meeting, the Santa Cruz City Council directed the

City's Water Commission to assume oversight of the implementation of the WSAC

recommendations and agreements. The Commission receives regular reports

and presentations from Water Department staff on studies underway; they

hear from leading experts on topics like water conservation, ASR and recycled

water; and they receive quarterly progress reports on the status of each of the

WSAC recommendations. When feasibility, cost and energy studies for each

recommendation are completed, it will ultimately be the Water Commission that

will make a recommendation to the City Council on the suite of water supply

projects that will meet the City's goal to improve the reliability of its water supply.

Each month a summary of the Water Commission meetings and progress made on

WSAC recommendations is sent out via an email newsletter. If you would like to

receive the monthly email updates, please sign up at santacruzwatersupply.com.

7
---
Upcoming Meetings

The Water Commission meets on the first Monday

of every month and the public is encouraged to

attend. Meetings are at 7 pm and typically held in

City Council Chambers at 809 Center Street. Visit

cityofsantacruz.com/departments/water/city-watercommission

to confirm the location and preview

the agenda.

A joint meeting of the Water Commission and the

City Council will be held on March 14 to update

the Council on progress made on the WSAC

recommendations. The meeting will be at 7 pm

in City Council Chambers – 809 Center Street.

212 Locust Street

Santa Cruz, CA 95060

PRSRT STD

US POSTAGE

PAID

SANTA CRUZ, CA

PERMIT NO. 11