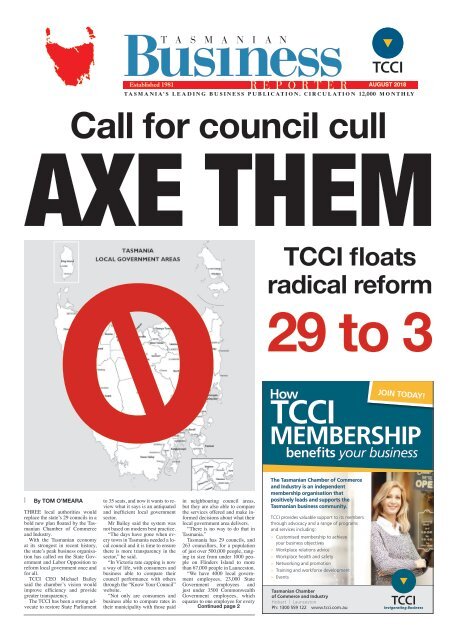 Tasmanian Business Reporter August 2018
Welcome to the August edition of the Tasmanian Business Reporter. In a stunning exclusive, this month's TBR reveals the TCCI's call to parliament to cut Tasmania's 29 councils to three consolidated local authorities. You'll also find an insightful column from St.LukesHealth CEO Paul Lupo about the implementation of e-heath and the much talked about My Health Record and some advice on how to navigate the tricky issue of staff being unfit for work in the winter months from TCCI Workplace Relations Consultant Abbey George.
Welcome to the August edition of the Tasmanian Business Reporter.

In a stunning exclusive, this month's TBR reveals the TCCI's call to parliament to cut Tasmania's 29 councils to three consolidated local authorities.

You'll also find an insightful column from St.LukesHealth CEO Paul Lupo about the implementation of e-heath and the much talked about My Health Record and some advice on how to navigate the tricky issue of staff being unfit for work in the winter months from TCCI Workplace Relations Consultant Abbey George.
SHOW MORE
SHOW LESS
Create successful ePaper yourself
Turn your PDF publications into a flip-book with our unique Google optimized e-Paper software.
AUGUST 2018

T A S M A N I A' S L E A D I N G B U S I N E S S P U B L I C A T I O N . C I R C U L A T I O N 12,000 M O N T H LY

Call for council cull

AXE THEM

O\

TCCI floats

radical reform

29 to 3

How

TCCI

JOIN TODAY!

MEMBERSHIP

benefits your business

By TOM O'MEARA

THREE local authorities would

replace the state's 29 councils in a

bold new plan floated by the Tasmanian

Chamber of Commerce

and Industry.

With the Tasmanian economy

at its strongest in recent history,

the state's peak business organisation

has called on the State Government

and Labor Opposition to

reform local government once and

for all.

TCCI CEO Michael Bailey

said the chamber's vision would

improve efficiency and provide

greater transparency.

The TCCI has been a strong advocate

to restore State Parliament

to 35 seats, and now it wants to review

what it says is an antiquated

and inefficient local government

sector.

Mr Bailey said the system was

not based on modern best practice.

"The days have gone when every

town in Tasmania needed a local

council and it is time to ensure

there is more transparency in the

sector," he said.

"In Victoria rate capping is now

a way of life, with consumers and

business able to compare their

council performance with others

through the "Know Your Council"

website.

"Not only are consumers and

business able to compare rates in

their municipality with those paid

in neighbouring council areas,

but they are also able to compare

the services offered and make informed

decisions about what their

local government area delivers.

"There is no way to do that in

Tasmania."

Tasmania has 29 councils, and

263 councillors, for a population

of just over 500,000 people, ranging

in size from under 1000 people

on Flinders Island to more

than 67,000 people in Launceston.

"We have 4000 local government

employees, 23,000 State

Government employees and

just under 3500 Commonwealth

Government employees, which

equates to one employee for every

Continued page 2

The Tasmanian Chamber of Commerce

and Industry is an independent

membership organisation that

positively leads and supports the

Tasmanian business community.

TCCI provides valuable support to its members

through advocacy and a range of programs

and services including:

> Customised membership to achieve

your business objectives

> Workplace relations advice

> Workplace health and safety

> Networking and promotion

> Training and workforce development

> Events

Tasmanian Chamber

of Commerce and Industry

Hobart | Launceston

Ph: 1300 559 122 www.tcci.com.au
---
2 Tasmanian Business Reporter - AUGUST 2018

NEWS

Solar project shows the way

ONE of the largest

commercial solar PV

installations in Tasmania

has been launched.

SRT Logistics, a Tasmanian-owned

transport

company, partnered

with Aurora Energy and

Beon Energy Solutions

to deliver the system

across its two distribution

centres in Launceston

and Devonport.

The state-of-the-art

2,546 panel, 831kW

solar system, will generate

over 1 million

kWhs per year, or the

equivalent of powering

143 homes.

The solution was custom-designed

to meet

the specific electricity

requirements of SRT

Logistics, and will reduce

their energy costs

by up to 50 per cent.

SRT Logistics CEO

Robert Miller said

the two-month long

installation was a great

example of a project

delivering both strong

commercial outcomes

and broader benefits to

the local economy.

"For SRT Logistics it

was sound business decision

to install a solar

PV system and to do so

we needed experts in

the field that we could

rely on and trust," Mr

Miller said.

"That's why we

teamed up with Aurora

Energy, Beon Energy

Solutions, and local

electrical contractors to

achieve this."

Aurora Energy CEO

Rebecca Kardos said

the business would

SRT Logistics' solar PV installation.

continue to explore the

role it could play in the

delivery of renewable

energy solutions for its

commercial customers.

"We know our customers

are looking to

technology to help reduce

and manage their

energy costs. Rather

than sit back and watch,

we want to harness our

specialist knowledge

and expertise to become

e dition

T A S M A N I A' S L E A D I N G B U S I N E S S P U B L I C A T I O N . C I R C U L A T I O N 1 2 , 0 0 0 M O N T H LY

Tasmanian Business Reporter can now be delivered directly to your inbox. With our 30,000-strong monthly print

readership, our new up-to-date digital distribution will keep Tasmanians abreast of the all latest in local business

news. From this month we will distribute electronic editions of the Tasmanian Business Reporter as we go to print.

To confirm your copy sign up to our mailing list via

tbreditorial@fontpr.com.au

Tasmania's business newspaper is published monthly by the

Tasmanian Chamber of Commerce and Industry. It is distributed

to businesses in Tasmania as well as key decision-makers.

Circulation: 12,000

Managing Editor: Tom O'Meara

0418 135 822

Editor: Becher Townshend

0418 370 661

Advertising and Special Projects

Gil Sellars 0448 901 361

gil@thetrustedmediaco.com

Editorial & Advertising

TBReditorial@fontpr.com.au

www.tasmanianbusinessreporter.com.au

Publisher:

Tasmanian Chamber of Commerce and Industry

309 Liverpool St, Hobart, TAS 7000

Ph: 6236 3600 Fax: 6231 1278 admin@tcci.com.au

TFGA House, 194-196 Cimitiere St, Launceston TAS 7250

Ph: 6331 1144 laun@tcci.com.au

Production:

aldridge.media

Ph: 0431 241 775

aldridge.media@iinet.net.au

Printer: Mercury

Level 1, 2 Salamanca Square, Hobart, 7000

a part of the solution

for these customers,"

Mrs Kardos said.

"For Aurora Energy,

solar projects like this

are about working with

the very best in the

field to develop fully

customised, state-ofthe-art

solutions which

give our customers the

choice, control and

convenience they are

looking for."

Poll rout casts

cloud over

tax cut plans

THE Federal Coalition's

company tax cut policy

is in the spotlight after

the July 28 Super Saturday

by-elections.

While by-elections are

notoriously challenging

for sitting government's

to win, Liberal and LNP

candidates lost in all

three seats they contested

and Prime Minister

Malcolm Turnbull has

promised a comprehensive

review.

Braddon was won by

Labor's Justine Keay,

who returns to Parliament

after causing the

by-election in the marginal

seat after being

caught up in the dual citizenship

debacle.

On a two-party preferred

basis she claimed

victory with 52.5 per

cent of the vote over

Liberal candidate Brett

Justine Keay

Whiteley with 47.5. Mr

Whiteley recorded 39 per

cent of first preferences,

a swing of nearly 2.5 per

cent against, while Ms

Keay polled 37 per cent,

a swing of nearly 3 per

cent against.

However, Ms Keay

benefited from preferences

from popular

fisherman, independent

Craig Garland, who

polled more than 10 per

cent of the primary vote

and has suggested he will

stand again at the next

Federal Election, due in

early 2019.

Mr Whiteley has not

confirmed if he will

stand again.

Ms Keay has credited

Labor's policy of health

and education spending

over tax cuts for big

business as a catalyst for

victory.

The Coalition has already

legislated a tax rate

cut for businesses with a

turnover of less than $50

million and wants to extend

that to all businesses

- a move Labor and the

Greens oppose, arguing

it is a hand out to the big

banks.

There are internal rumblings

from within the

Coalition about the need

to scrap the plan or risk

losing power next year.

Call to axe 26 local councils

From page 1

16 people or one employee

for every small business

in the entire state."

Mr Bailey said it was

a ridiculous system of

over government - with

duplication of services

costing the community

and business tens, if not

hundreds, of millions of

dollars each year.

"We regularly see rate

increases frequently well

in excess of the consumer

price index, compared

with no increases in tax

and charges at the State

and Commonwealth

level of government,"

Mr Bailey said. "Earlier

this year residents of

Glenorchy were stunned

that rates could increase

by nearly 20 per cent in

one year, only to be told

the final rate of a 12.5 per

cent increase was a win

– this is more than five

times the consumer price

index for Tasmania.

"Consumers and business

are being gouged

and it is time to hold

local government to account,"

Mr Bailey said.

"We are concerned

that the clumsy micro

management of our state

is preventing strategic,

whole of region/state

planning for infrastructure

and service provision.

"This has been exemplified

by the TasWater

imbroglio, which highlighted

the constructed

conflict of interest, where

a statewide service provider

is governed by 29

separate local government

authorities."

Mr Bailey said despite

the State Government

giving local government

the opportunity to reform

in 2015, little, if anything,

has happened.

"Three years on, local

government has blown its

chances and despite being

given the opportunity

to do it for themselves,

has demonstrated it is

too self-interested to act

on behalf of the people it

represents.

"Tasmania is being

done a great disservice by

its local government sector,

instead of ensuring

we make the best of the

economic conditions we

have, it is mired in self

interest and unwilling to

step up and put its shoulder

to the wheel to ensure

meaningful economic reform,"

Mr Bailey said.
---
T A S M A N I A' S L E A D I N G B U S I N E S S P U B L I C A T I O N . C I R C U L A T I O N 12,000 M O N T H LY

Tasmanian Business Reporter - AUGUST 2018 3

NEWS

Infrastructure pipeline filling

A 10-YEAR Infrastructure

Pipeline worth nearly

$14 billion has been

outlined as the state prepares

for growing population

and visitor numbers.

The Tasmanian Infrastructure

Pipeline includes

247 projects, each

valued at $5 million or

more and totalling $13.9

billion over the decade.

In addition, $4.1 billion

in private construction

projects and $8.1

billion in horizon projects

have been identified.

Infrastructure Minister

Jeremy Rockliff said infrastructure

expenditure

in Tasmania was expected

to top $1.5 billion this

financial year alone and

it was important to take

a long-term co-ordinated

approach.

"The pipeline recognises

that the State

Government can only

achieve its infrastructure

goals by working hand

in hand with the private

sector," Mr Rockliff

said.

"It provides developers,

investors, contractors

and consultants with

access to the flow of key

infrastructure projects

The $100 million Chambroad Kangaroo Bay

Hotel and Hospitality Training Centre is at

design stage.

coming online in the

coming years which will

allow them to make decisions

on growing and

investing in their own

people and businesses."

Between TasNetworks

and Hydro Tasmania, the

pipeline includes around

$2 billion in project level

spending in the sector

over the next 10 years

- excluding a potential

second Basslink or any

Battery of the Nation initiatives.

The $576 million Bridgewater

Bridge is scheduled

to start design and approvals

in the next financial

year, with completion expected

in 2024.

More than $200 million

will be spent in the Midland

Highway over four years

from 2019 and $400 million

is scheduled for roads

of strategic importance,

with prioritisation being

given to the Bass Highway.

Private projects that

are in different stages

from business case to

construction have been

outlined.

For example, the $120

million Calvary private

hospital in Launceston is

at business case stage.

Bellerive's $100 million

Chambroad Kangaroo

Bay Hotel and Hospitality

Training Centre

is at design stage, as is a

$40 million Fairbrother

Devonport Hotel.

Argyle Central Hotel

and Suites in Hobart,

costing $46 million, is

under construction.

A full list of projects

on the Infrastructure

Pipeline is available via

Infrastructure Tasmania's

website.

It will be updated annually.

"By the end of the

year Infrastructure Tasmania

will also release

a 30-year Tasmanian

Infrastructure Strategy

based on emerging demographic,

social and

technological trends, to

help deliver infrastructure

at the right time,

in the right place and

on the right scale," Mr

Rockliff said.

New essence of the North

LAUNCESTON Distillery has

taken flight with the official

launch of the first traditional

whisky produced in the North

since distillation was outlawed

more than 170 years ago.

The distillery, based at Hangar

17 at Launceston Airport, was

formed in 2011 by head distiller

Chris Condon.

Mr Condon, a former pharmaceutical

industry quality analyst

and brewing team leader at Boags

Brewery, was also the first distiller

at Nant Distillery - laying the

foundations for that company's

early success between 2008 and

2011.

He joined forces with Rob

Carroll, Chris Byrne, Ilya

Brucksch-Domanski, and Peta

Dolan in 2011 to establish

Launceston Distillery - the first

distillery in Northern Tasmania to

be granted a production licence

since the Distillation Prohibition

Act of 1839.

"The official launch is a proud

moment for the directors who

have shown a lot of faith in me to

design a distillery that will create

consistent batches of whisky that

epitomise quality," he said.

"We have been passionate

about creating a whisky that pays

homage to the best traditional

whisky from Scotland but also

captures the essence of Tasmania."

Mr Condon said Launceston

Distillery was proud to have laid

the foundation for returning whisky

making to the north.

"I could see there was a gap in

the Tasmanian Whisky Trail with

really exciting things happening

in Hobart and on the North

West so it made sense to create a

distillery in the heart of Tasmania

to build the state's reputation as a

respected producer," he said.

Launceston Distillery produces

a number of varieties matured in

bourbon, port and apera (sherry)

casks and will soon be launching

a number of releases that will

raise money for local charities

and organisations.

In the process of creating the

distillery they have given new life

to the disused Hangar 17

Mr Condon is accompanied on

his whisky-making journey by

the distillery's mascot, Angus the

Westie Wonder Dog, who ensures

the final product is perfect.

Distiller Chris Condon and quality

controller Angus the Westie wonder

Dog.

Picture: Hilary Burden,

Tasmanian Country Hour

WANTED

Business

movers and

shakers

• Promotions

• Appointments

• Awards

• Celebrating

success

Share the news

with the

Tasmanian

business

community

Send your news

snippets, with a

high quality photo,

to TBReditorial@

fontpr.com.au
---
4 Tasmanian Business Reporter - AUGUST 2018

THOUGHT LEADERSHIP

www.tcci.com.au

State in a positive state

Michael

Bailey

TCCI Chief Executive

THE results of the TC-

CI's Survey of Business

Expectations for Q2 of

2018 are extremely positive

for Tasmania.

Overall, our members

reported 59 per cent

positive expectation for

the Tasmanian economy

over the next 12 months

… with only 14 per cent

negative (the other 27 per

cent being neutral).

But in North Tasmania,

there is 72 per cent confidence,

59 per cent in the

North West and 69 per

cent in the South.

We are less positive

about the national economy

– 35 per cent positive

versus 11 per cent negative

– but that it still very

much in the "up" column.

What has been extremely

positive was the

response from chamber

members in the North

and North West about

their own regions.

In my six years as

TCCI CEO, I have never

seen the results we

are now posting for the

northern half of the state.

And the reasons why

are multifarious … and

positive.

As many of you know,

I grew up on the North

West Coast and now live

in Launceston with a

base in Hobart, so I am

reasonably well placed

to review the Tasmanian

economic landscape over

the past 40 years.

I still see the North

West Coast as an enormously

resilient place,

which is caused by both

the employers and employees

in the region.

Yes, the coast suffered

through the downturn

and some disappointing

decisions in the dairy industry

and the move of

significant industry leaders

like Caterpillar offshore.

But the North West

remains strongly positive

about the Tasmanian

economy moving forward.

I heard Latrobe Mayor

Peter Freshney talking

Launceston's Brisbane St Mall upgrade is nearing completion as business

confidence is booming in the North and North West.

about the 120 new buildings

in that community

… in Latrobe.

That is definitely a

sign of confidence and

growth.

Importantly, what we

are seeing is the economy

growing in the North

and North West.

We are seeing – and

the TCCI is talking to

members every day who

give us honest feedback

– businesses doing better

than ever before.

Construction is growing,

tourism is growing

and jobs are growing.

Importantly, for both

the North and especially

the North East, we are

seeing the return of forestry,

which is such an

important industry to the

regional towns of Tasmania.

Agricultural exports

remain strong as we

look long-term to both

Construction

is growing,

tourism is

growing and

jobs are

growing

Melbourne and Sydney

growing their population

bases by two million

each in coming years, we

need to ensure that our

export pathways remain

free.

We know what we

need to guard against,

which is our increasing

ageing population.

But in coming years,

the overall infrastructure

spend of both State and

Federal Governments

will be key, continuing to

drive jobs and positivity

about the Tasmanian and

Australian economies.

Supporting

those making

a better

community.

Just one reason why our

members voted us number one

for customer satisfaction

in Australia, two years in a row! *

Mitch McPherson

Founder, SPEAK UP! Stay ChatTY

We're your number one health insurer. Talk to us today!

1300 651 988 stlukes.com.au

for Customer Satisfaction*

two years in a row!

* #1 Roy Morgan Customer Satisfaction Awards: Private Health Insurer of the Year – 2016 & 2017. St.LukesHealth ABN 81 009 479 618 180376
---
T A S M A N I A' S L E A D I N G B U S I N E S S P U B L I C A T I O N . C I R C U L A T I O N 12,000 M O N T H LY

Tasmanian Business Reporter - AUGUST 2018 5

THOUGHT LEADERSHIP

www.tcci.com.au

Whatever the weather

E-health is revolutionising

the way the medical

sector is doing business.

Elise

Archer

Environment Minister

THE Hodgman Liberal

Government is committed

to working with businesses,

the community

and all levels of government

to create a resilient

community that is prepared

for extreme weather

events.

On May 10 and 11

this year Tasmania experienced

a significant

weather event, which

caused considerable

damage across Southern

Tasmania.

A number of households

and businesses in

Hobart, Kingston, Huonville

and the Derwent

Valley reported extensive

damage.

We know that extreme

weather events will become

more frequent and

intense under a changing

climate, and this will

have the potential to significantly

disrupt business

activities.

That is why the Tasmanian

Government

has developed a suite of

free resources to help

businesses prepare for,

respond to, and recover

from extreme events.

Developing a plan in

advance can help businesses

to reduce risks,

minimise losses and get

back on their feet more

easily following a disaster.

The content was informed

by consultation

with the business community

and emergency

management experts,

and comes under Climate

Action 21: Tasmania's

Climate Change

Action Plan 2017-2021.

The online and printable

resources are avail-

Paul

Lupo

able at the Business

Tasmania website and

include a Business Continuity

Plan template,

fact sheets on insurance

and assessing risk, and

preparation checklists

for specific types of disasters.

For information and

to access online

resources, visit

Business Tasmania

at www.business.tas.

gov.au

Traditionally, healthcare

providers have

worked in clinical silos

meaning that when a patient

CEO, StLukesHealth

visits their GP, med-

ical specialist or other

providers, their treatment convenient for you. consider your approach

notes are only shared Today, we see our children

and examine the benefits

within the place they've

move away for uni-

of this initiative and how

received treatment and versity study and families

it could assist you and

are often documented on

divided as family your loved ones before

paper.

members travel interstate simply declaring "I'm

These documents are for work. And despite the opting out".

often faxed or mailed between

advancement in our tech-

The My Health Re-

clinics taking time nology, your healthcare cord has been operating

and leaving the health and associated records for the past six years and

system

BUSINESS

2

has about

fragmented,

even

lion Aus-

6 mil-

unsecured.

already

tralians

Imagine

signed up

if the data YOUR QUICK GUIDE TO SERVICES AND PRODUCTS to FOR the system.

YOUR BUSINESS

was available

at

It has

the HOBART'S click BEST RANGE OF received

of a QUALITY button

and

from all

ERGONOMIC FURNITURE support

when FOR you THE HOME AND OFFICE state and

or a health

territory

professional

We specialise in high quality ergonomic chairs,

govern-

alternative seating and electronic sit/stand desks. ments as

needed Flair it. Office Furniture has remain been providing disjointed. quality, affordable well office as being endorsed

With furniture digital to homes revolution,

for our nearly society 15 years. and We're months a locally-based, until October family-run 15, business lian College of General

and offices For throughout the next the three Hobart region by the Royal Austra-

healthcare specialising models in all types are of Australians products, so will why be not given visit us Practitioners today to as a "game

changing. see our For fantastic some people,

it was once not un-

in the Australian Gov-

lives".

range? the choice to participate changer" that will "save

usual to go a whole lifetime

seeing the same GP cord.

of Australia, Pharmaceuernment's

My Health Phone Re-

6234 The 1127 Pharmacy Guild

you saw as a child. While we know 260 that Argyle tical Street, Society of Australia

Now, we have GP super

some aspects of North My Hobart and the Australian Medi-

clinics where you Health Record have recal

Association have also

book

www.flairofficefurniture.com.au

into the next available

doctor, when it's press, it is important to what it can do for

ceived some negative supported the merits of

health-

BUSINESS

WANTED

Business

movers and

shakers

• Promotions

• Appointments

• Awards

• Celebrating

success

Share the news

with the

Tasmanian

business

community

Send your news

snippets, with a

high quality photo,

to TBReditorial@

fontpr.com.au

To see your business here, call Kerri on 0419 750 267 or email kerri@thetrustedmediaco.com

The Hobart Rivulet in full flood in May, above,

and, inset, flood damage near the Royal Hobart

Hospital.

Pictures: Louise Hedger

E-health puts records in your hands

care in Australia.

Your circle of care,

including medical specialist

and allied health

providers, will be able

to tailor better treatment

options for you as they

know the overall picture

of your health.

They will know what

medication you are taking

and it will assist clinicians

from doubling up

on costly or duplicated

pathology tests.

We know that people

are worried about keeping

their personal data

private, noting there is

already risk in current

paper-based systems.

To have a My Health

Record, users must be

registered with My Gov,

which is already extensively

used by individuals

to do their annual tax

returns.

The Australian Government

has ensured

there are sufficient safeguards

in place so that all

the information stored is

safe, including amendments

to legislation, firewalls

and monitoring by

the Cyber Security Centre.

Your Partner

in Print.

www.footandplaysted.com.au

Now incorporating

THE CRAFT LIVES ON.

Leave a part

of regular

winter woes

Abbey

George

Workplace Relations

WINTER is here and no doubt employers will

see an increase in staff being unfit for work.

It's always a tricky area for employers to balance

up the need for privacy on the part of the

employee and the business' needs.

The Fair Work Act at section 107 specified

what evidence is required when employees are

taking paid personal leave – that is, evidence

that would satisfy a reasonable person. Employers

may already have a policy on what evidence

is required (and if not we strongly recommend

that you get one).

A common form of evidence is a medical certificate

from a registered medical practitioner

and states the employee will be/was unfit for

work. Medical certificates may also be from a

registered health practitioner (chiropractor, dentist,

osteopath, pharmacist, physiotherapist, or

psychologist) but the certificate should relate to

their area of expertise.

Employers have also seen an increase in the

production of pharmacist certificates. The Pharmacy

Guild of Australia states that a pharmacist

can provide a certificate as evidence that would

satisfy a reasonable person of an employee's

illness or injury. However, the guild strongly

recommends that pharmacists limit the provision

of certificates for absence from work to

their area of practice and expertise.

So, while medical certificates are generally

regarded as irrefutable proof that the employee

was legitimately absent from work there are

some instances where they can be challenged

by an employer. Such examples include where

the employer has:

• a second medical opinion contradicting the

original medical opinion; or

• Objective evidence that contradicts the

medical certificate – i.e. photos from social media

that show the employee is not incapacitated

or where medical certificates have been created

or altered by the employee to name a few.

In a nutshell if you are unsure about whether

you can ask for evidence of illness or injury, or

if you are unsure about the evidence you have

been provided with, ask.

You can contact TCCI on the Helpline on

1300 765 123 or the TCCI on 1300 59 122

or workplacerelations@tcci.com.au
---
6 Tasmanian Business Reporter - AUGUST 2018

THOUGHT LEADERSHIP

www.tcci.com.au

Refunds for

export costs

Sally

Chandler

Tradestart Adviser

APPLICATIONS are open to claim under the

2017-2018 Export Market Development Grant

scheme.

The scheme for exporters has been around

in various formats for more than 40 years.

To be eligible businesses must have received

less than $50 million income in the

grant year and have spent more than $15,000

on eligible export expenses in the grant year.

First time applicants can combine two

consecutive years expenditure to reach the

minimum expenditure threshold.

For the 2017-2018 grant year, which mirrors

a financial year, the following export

promotion expenses can be claimed:

• an overseas representative acting on your

behalf on a long-term basis to market your

product or service but it does not include the

cost of commission and non-promotional

activities;

• the cost of engaging an arms-length marketing

consultant for export market research

or marketing activities;

• the cost of air travel during a marketing

visit and an allowance of $350 per day;

• the cost of providing free samples;

• IP registration and related insurance;

• costs directly related to participating in

trade fairs, seminars and in-store promotions;

• promotional literature and advertising; and

• the cost of bringing potential buyers who

are non-residents to Australia for an eligible

export promotion purpose.

Some categories have maximum expenditure

limits. The maximum grant is $150,000

and is subject to available funds because the

grant scheme is capped.

Up to 50 per cent of eligible export promotion

expenses are reimbursed above $5,000

provided the $15,000 minimum expenditure

threshold is reached.

Each eligible applicant is able to receive

eight grants and they do not have to be in consecutive

years.

The 2017-2018 grant year application is online

through the Austrade website and grants

must be received by Austrade on or before

November 30, 2018. If an EMDG consultant

lodges the claim on the applicant's behalf, the

deadline is extended to the February 28, 2019.

Austrade is conducting free webinars

throughout August, September and October.

Registration is on the Austrade website at

www.austrade.gov.au/Australian/Export/Export-Grants/Assistance/information-sessions.

Coaching videos are also on the website.

For international trade and investment assistance

contact the TCCI's TradeStart Adviser, Sally Chandler,

at sally.chandler@tcci.com.au or 1300 559 122.

www.flairofficefurniture.com.au

WITH encouragement

from industry, Labor will

forge ahead with its popular

election commitment

to set up industry advisory

councils (IACs) across

key economic sectors of

the Tasmanian community

and work with industry

and unions to develop the

policies it would implement

in government.

The most common

complaint my colleagues

and I hear from business-

HOBART'S BEST RANGE OF

QUALITY ERGONOMIC FURNITURE

FOR THE HOME AND OFFICE

We specialise in high quality ergonomic chairs,

alternative seating and electronic sit/stand desks.

Flair Office Furniture has been providing quality, affordable office

furniture to homes and offices throughout the Hobart region

for nearly 15 years. We're a locally-based, family-run business

specialising in all types of products, so why not visit us today to

see our fantastic range?

Shippers warned our

service level unviable

THE Tasmanian Freight

& Logistics Forum,

co-hosted by The Tasmanian

Logistics Committee,

The Freight and

Trade Alliance and the

Australian Peak Shippers

Association was

held at UTAS/Australian

Maritime College at the

beginning of July.

Last year there was a

take away quote from

industry stalwart Tom

Holyman (ANL) that

read something like

"Tasmania has the perfect

environment for

shipping with three expanding

coastal carriers,

three international

carriers calling direct,

most other shipping lines

serviced via the coastal

carriers and the freight

equalization scheme extended

to cover export

cargoes – enjoy it now,

as it won't last – Tasmania

cannot sustain so

many services".

The prophecy was fulfilled

with Maersk announcing

just before the

forum that they were

withdrawing their direct

calling vessels from Bell

Bay.

Keeping with the

prophecy theme - the

next 12 months should

be viewed with some

caution.

Forum attendees were

advised to watch for fur-

Labor to work with industry on policy

Phone 6234 1127

260 Argyle Street,

North Hobart

Brett

Charlton

Agility Logistics

Anita

Dow

Shadow Minister for Economic

and Regional Development

es is that our education

and training system is

not linked to the skills

needs of industry.

Major employers on

the North West Coast

and around Tasmania are

telling us they would put

on highly skilled workers

immediately if they

could find the right people

with the skills they

require in their business.

At the same time youth

and regional unemployment

in Tasmania remain

unacceptably high with

many people keen to find

work but unclear about

their pathway to meaningful

employment.

Clearly there is a disconnect.

During the election

Labor proposed the establishment

of eight industry

advisory councils

across key sectors of the

economy:

• Minerals, Energy and

Advanced Manufacturing;

• Innovation and Information

and Communication

Technologies;

• Primary Industries

and Forestry;

ther consolidation in the

shipping world, larger

ships being the trend

(with infrastructure challenges

to accommodate

them in Australia), low

sulphur fuel implementation

at a cost, slow

steaming to reduce costs,

attempts to increase

freight costs – the international

shipping lines

are maintaining a ship

building (and large ones)

regime, but the freight

volumes are not equaling

the capacity.

The forum received

briefings on the coastal

services from Toll and

Searoad as well as Tas

Ports. Interesting discussion

and information was

received on trade trends

and security (particularly

air security – if you

are an airfreight exporter,

you would be wise to be

investigating the "known

consignor scheme right

now as there are significant

changes to handling

of export freight from

Australian airports from

the end of the first quarter

2019).

We were extremely

lucky to be advised that

Tasrail received the National

Freight Excellence

award during the day.

Discussion on safety for

truck drivers as well as

• Education, Science,

Research and the Antarctic;

• Tourism, Hospitality,

Festivals, Heritage (built

and natural environment)

and the Arts;

• Building, Construction

and Infrastructure;

• Wellbeing, Care and

Community Development;

• Employment, Regional

Development and

Trade.

Because of the overwhelmingly

positive

feedback from business

leaders, the workforce

and industry, Labor will

work constructively from

opposition, charging

each IAC with providing

direct input into the development

of policy and

funding decisions, particularly

when it comes

to skills and training.

Labor will not wait until

we are in government

Attendees at

the recent

Tasmanian

Freight and

Logistics

Forum who

were advised

to watch for

further

consolidation

in the shipping

world.

the technology. Automated

vehicles are not here

yet, but when they do

come, you want an experienced

driver watching

the robots closely.

Minister Jeremy Rockcliff

provided an excellent

overview of the state's

perspective on the freight

task and Senator Zed Seselja

opened the forum

with a federal overview.

The day ended with

a showcase of Tasmanian

produce as a way of

providing our interstate

guests with an overview

of what is amazing in our

State and what we ship

north.

Labor will not wait until

we are in government to

set up this invaluable

consultative mechanism

to set up this invaluable

consultative mechanism.

Labor is committed

to building trust, respect

and engagement with industry,

particularly in the

North and North West of

Tasmania. The IACs will

be a key part of that strategy.

The IACs will be

tasked to help further

develop Labor policy,

as well as provide an

avenue for industries

to share their ideas and

feedback.

The IACs will provide

proactive engagement

between industry sectors,

unions and the Labor

Party.

What will emerge from

this collaborative process

are an industry and education

aligned set of policies

and objectives that

Labor will articulate in

its regional and economic

development policy.
---
Tasmanian Business Reporter - AUGUST 2018 7

THOUGHT LEADERSHIP

www.tcci.com.au

Lock up your data

By ELIZABETH

JAMESON FAICD

DURING the 2016–17

financial year, 114 data

breaches were voluntarily

reported to the Office

of the Australian Information

Commissioner.

After mandatory notification

came into force

in February 2018, 63 incidents

were flagged in

just six weeks.

Digitally dependent

large enterprises claim

to understand the magnitude

of the cybersecurity

challenge.

The ASX's voluntary

cyber health check offered

to the top 100 listed

companies last year

revealed 92 per cent of

respondents had a degree

of confidence about

their cybersecurity, but

only 29 per cent believed

management could detect,

respond to and

manage an incident with

minimal impact on the

business.

Among SMEs, the

situation is worse, says

Terry Roberts, a former

deputy head of US Naval

Intelligence and now

Chair/CEO of ASX-listed

WhiteHawk, the security

marketplace she

established to help businesses

find affordable

and effective cybersecurity

solutions.

"SMEs do not think

they are a target and

don't invest in cybersecurity,

even the basics.

They don't believe there

is an affordable approach

and won't make that leap

unless they have a contract

at stake or have had

[a breach]," says Roberts,

speaking at an Australian

Institute of Company

Directors event in

Australia recently.

Many local companies

selling online to EU citizens

or holding their personal

data are now also

subject to the General

Data Protection Regulation.

Organisations suffering

a serious breach

have 72 hours to notify

authorities. Non-compliance

can incur fines of up

to four per cent of global

revenues.

"It's only been in the

past five years that cybercrime

and fraud has

moved against all business

sectors.

"Directors don't have

the tech experience, they

don't think of it as a business

risk and they tend

to turn to their technical

people to solve it. It's not

a technical issue, it's a

business issue analogous

to physical security."

Roberts says companies

must take a fresh

look at their data and

digital assets to identify

what needs most protection.

"Lock your windows

and doors. Let's put your

jewels in a safe so at least

if you have an event it

won't bring you to your

knees and ... you will be

able to operate through

it.Regular backup is critical,

particularly to withstand

a ransomware attack."

However, truly sensitive

data needs additional

protection, using encryption

to ensure data

cannot be read or used.

Roberts also recommends

companies seek

a risk rating from an independent

cybersecurity

agency.

"If you deal with

your customers via your

website, you need to

protect your website; if

you communicate via

email, it's email security;

if you have proprietary

data like manufacturing

data, there are

simple data lockers that

cost $5000 to encrypt

that data.

"With midsize and

small companies, it's

never about doing everything

— that's not affordable

or practical.

"It's about figuring

out those dependencies

you have on the internet

that have a huge impact

on your revenue."

Off-shelf systems not ideal

THE WHS Legislation

indicates that there needs

to be in place a system to

manage workplace health

and safety. Commonly

these are call workplace

health and management

systems.

The purpose of a

WHSMS is to ensure

that there is a consistent

methodology of how

workplace safety is implemented

in the business.

In many workplaces

the solution to this issue

is to buy an "off the

shelf" system to address

this issue.

While it may bring

businesses some comfort,

the thinking is flawed because

off the shelf systems

are broad in nature

and not specific to the

business' needs.

Some of the problems

with these systems are:

• it can act as a smokescreen

for doing nothing;

• the system can also

Craig

Hortle

Workplace Health & Safety

AICD is holding a number of Cyber for Directors short courses that

enable participants to effectively engage in the process of identifying

the evolving threats and risks to their organisation as well as maximising

innovation opportunities using the lifeblood of the organisation: information.

Courses are being held in Hobart and Launceston. To find our

more contact AICD (03) 6242 2200, tas@aicd.com.au or visit the website

http://aicd.companydirectors.com.au

A system does not need

to be complicated or

overly technical

then be a mechanism for

undermining more traditional

employee involvement

in WHS decisions;

• when the reason for

introducing a WHSMS

is primarily commercial

(such as winning a contract

or tender) and WHS

outcomes themselves are

unimportant, the question

is raised as to whether

or not the safety of

employees is the prime

objective; and

• it does not fit the specific

activities that are

carried out by the business.

The fundamental idea

of WHSMS is to provide

a framework to handle

safety issues through the

policies and procedures

that it contains.

If you have a system

that is not implemented

you are leaving the business,

business owner and

the employees open for

prosecution under WHS

legislation.

Even if your business

is part of a national franchise

with nationally

available WHS information

– it still needs to be

applicable to your business,

implemented and

understood by all in the

business.

If you have a system

that is off the shelf it

would be a good decision

to take advantage

of the free WHS advisory

service provide by the

TCCI that will be able to

explain:

• hazards and risks in

your workplace;

• applying controls for

those hazards and risks;

• reviewing policy and

procedure;

• requirements for consultation;

and

• duties of the business,

the officers, and

workers.

A system does not

need to be complicated

or overly technical. With

some assistance from the

For information on how to achieve this please contact Craig Hortle or Janelle Whitehouse at the

TCCI on 1300 559 122 or safety@TCCI.com.au

free WHS specialist advisory

service at the TCCI

this can be achieved easily

and reflect the needs of

your business or organisation.

Franchise

guide to

success

Dean

Demeyer

Business Broker

INDUSTRY research organisation IBISWorld

has recently examined the franchising industry

and found there are some franchises set to fly

as growth in household disposable incomes

fuels consumer demand for some franchised

goods and services.

Service-based franchises offering time

saving for wealthier consumers are in high

demand.

These time-poor consumers will pay for

domestic services like house cleaning, gardening,

nutrition and various well-being services.

IBISWorld also identifies the key success

factors for the franchise industry:

• the ability to build repeat buyers from a

loyal customer base;

• use the franchisor's clear market position

and build consistency of operations;

• access to franchisor mentoring and guidance

to grow the business;

• manage stock on hand to only meet customer

demand and therefore reduce inventory

costs;

• exploit the brand name from the national

marketing exposure; and

• train your workforce to provide sound advice

and exceptional customer service.

Interestingly, independent business owners

should also adopt these business traits to be

successful.

One of my university lecturers once told me

"if a business owner isn't able to be innovative,

then they should copy someone who is

innovative in the same industry".

Many Asian businesses through the 1970s,

1980s and into the 90s were exceptional at this

principle.

Franchises are an attractive proposition for

people new to business. In essence, franchises

come with an operations manual which, if followed,

increase the likelihood of success.

I'm aware of a sandwich shop franchisee

that operated in six locations who was asked

to give a speech at his annual awards presentation

on how he was so successful? His speech

lasted for five seconds as he promptly pointed

to the operations manual in his hand and declared

"follow this to the best of your ability"

and promptly sat down.

ADVERTISEMENT

Elise

Archer

Your local Liberal

Member for Denison

62 Main Rd, Moonah

Please contact me:

p: 6212 2210

e: elise@elisearcher.com

m: PO Box 426, Moonah, 7009

www.elisearcher.com

Authorised by Elise Archer, 62 Main Rd, Moonah, 7009
---
8 Tasmanian Business Reporter - AUGUST 2018

NEWS

AMC in sonar trials

THE Australian Maritime

College has partnered

with international

defence giant Thales

to investigate establishing

a trials and test

facility for naval sonar

systems in Tasmania.

Thales Australia,

AMC and AMOG Consulting

has signed an

agreement to co-develop

a facility which can

utilise northern Tasmania's

deepwater lakes

to test the next generation

of Australian submarine

and surface ship

sonar systems.

Thales Australia

CEO Chris Jenkins

said the initiative was

part of the organisation's

commitment to

work collaboratively

with leading Australian

SMEs and universities

to deliver high technology,

leading-edge solutions

for Defence.

"Historically, Thales

has worked with AMC

and AMOG Consulting

on a number of sonar

trials activities, and with the

Australian Government's historic

recapitalisation of the

Royal Australian Navy, now

is the time to investigate establishing

a permanent facility,"

he said.

"From 1990 to 2000 Thales

and AMC tested and calibrated

the in-service array for

Australia's Collins Class submarines

in Tasmania's deep

mountain lakes as they provide

an ideal environment for

sonar systems."

ARC Research Training

Ben Clark from AMOG Consulting, left, Gary Dawson of Thales Australia, Liberal Senator

Richard Colbeck, Federal MP Christopher Pyne, Brett Whiteley, Liberal candidate for Braddon,

University of Tasmania Deputy Vice-Chancellor (Research) Prof Brigid Heywood.

Centre for Naval Design and

Manufacturing Director Jonathan

Binns welcomed the opportunity

to further AMC and

the University of Tasmania's

strategic alliance with Thales

Australia.

"Thales is a founding

member of the research

training centre and this new

agreement will build upon

our work in understanding

the hydroacoustics and hydrodynamics

of sonar systems

– how noise travels

through water and how water

moves around an object

such as a submarine hull or

ship's propeller," Associate

Professor Binns said.

"This collaboration with

Thales will allow us to undertake

cutting-edge research

that will ultimately

feed into the design, manufacturing

and sustainment

of Australia's next generation

of naval vessels. Co-investment

in infrastructure

such as this project connects

to University plans

to grow its contribution to

defence through focused

investment in capabilities

and scale across its network

with a Defence Innovation

and Design Precinct as its

cornerstone."

"Bringing both of these

together presents a unique

opportunity to develop a

new and novel experimental

testing capability, with the

potential to attract further

investment and industry

collaborations to build Australia's

naval research and

development capabilities."

Uni internship

program set

for launch

THE I-PREP program

will soon be formally

launched in a bid to

improve the relationship

between business and

learning institutions in the

state.

As part of the program,

the University of Tasmania

is calling for businesses

to open their doors to

talented and enthusiastic

international students.

The initiative, to be

launched by Minister

for State Growth, Peter

Gutwein, on August 14,

aims to give international

students, at both the University

and TasTAFE, an

opportunity to engage in

and make a valuable contribution

to a Tasmanian

workplace.

The program educates

international students in

Australian workplace culture,

communication skills

and how to apply for a job.

Students are then eligible

to apply for an internship

in a Tasmanian organisation

to put their skills into

practice.

UTas Industry Engagement

Coordinator Penny

Stringer is excited about

the potential.

"There are many benefits

to hosting an intern

including enriching and

diversifying your organisational

culture with someone

who has a youthful

perspective, energy and

global knowledge," Mrs

Stringer said.

"For the student they

get hands-on work experience

in a real workplace,

as well as developing

transferable skills and

experience for their resume.

For employers, it's

an opportunity to develop

and mentor the future

employees and leaders of

Tasmania."

The I-PREP program is a

key element of the University's

new Career Connect

initiative, which aims to

build closer ties and networks

between the University

and local employers.

Career Connect will give

employers the opportunity

to source talent and

engage with students in

a range of creative ways

from offering mentoring,

advertising jobs, hosting

interns and work experiences

and holding

on-campus expos.

"We want to start a

conversation between the

business community and

the University of Tasmania

about how we can work

together to develop a productive

workforce," Mrs

Stringer said.

Employers interested in

hosting an I-PREP intern

or learning more about

Career Connect should

contact Leap.Connect@

utas.edu.au.

Tax hikes lower spirits

Your success is our success.

You are just the person we are looking for. We are the global leaders

in the booming laser, skin and cosmetic injectables industry, since

2008. And we want people like you. Spirited. Driven. Unstoppable.

With our unique 50/50 franchise partnership, we're with you, working

together and supporting each other on the pathway to success. So

if you want to run your own successful franchise, be your own boss

and take control of your future then let us help you turn your dream

into a plan.

Why partner with us.

• Guaranteed $100k Salary per annum

• Award-winning Growth

• Turn-Key set up with state of the art equipment and design

• Booming Aesthetics Industry

• Market Leading Brand

• On-going training on all products and services

• Marketing initiatives at the national and local clinic level

• Human Resource support

• Recruitment and training of cosmetic injectors

• Ongoing IT support and a full suite of cloud-based business tools

Let's do this in Hobart

Visit laserclinics.com.au/franchise-opportunities for more information.

Call Liz Seeto +61 402 171 399 or Fiona Harcourt +61 400 303 272.

We're with you.

SPIRITS and Cocktails

Australia put a call out to

candidates in the recent

Braddon by-election to

support a freeze on Australia's

six-monthly tax

increase on spirits, calling

it discriminatory.

CEO Alec Wagstaff

said the continual tax increase

was unfair to both

spirit drinkers and the

burgeoning distilling industry

in Tasmania.

"The issue is particularly

severe in Braddon,

where residents tend to

choose pre-mixed drinks

over beer at a higher rate

than those in other parts

of Australia," Mr Wagstaff

said.

"The current system is

complex and unfair and

there is no clear reason

why those who choose a

rum and coke over a can

of beer should be hit with

double the tax.

"The ever increasing

spirits tax also runs the

risk of hampering the development

of a growing,

world class industry in

Tasmania.

"Businesses like

Hellyer's Road Distillery

and Southern Wild

Distillery are leading

the way for industry

growth in the region,

but with distillers paying

almost twice as

Spirits and Cocktails Australia CEO Alec Wagstaff.

much tax as beer brewers

it puts our market

leaders on the back

foot."

A person drinking a

standard can of beer

will pay $0.67 in excise,

while those who choose

a pre-mixed can of rum

and cola will have to

fork out $1.48 in tax.

The second excise increase

for the year came

into effect on August 1.
---
Tasmanian Business Reporter - AUGUST 2018 9

NEWS

Deal builds

shipbuilding

capabilities

TAFE SA Executive Director, Education, Brian Rungie, left, and

University of Tasmania Vice-Chancellor Professor Rufus Black.

THE Australian Maritime

College and TAFE

SA have strengthened

their joint capability to

supply skilled workers

for Australian continuous

naval shipbuilding program

after an agreement

to collaborate on education

and skills development.

AMC and TAFE SA

have signed a memorandum

of understanding to

work together long term

to build a pipeline of

skilled workers for the

major naval shipbuilding

projects in Australia,

particularly in the areas

of maritime engineering,

design, project management,

logistics and supply

chain management.

The benefits from the

partnership are set to include

direct pathways

from TAFE SA Diploma

WP - Advert Feb17 - Proof 4.pdf 1 24/02/2017 9:08:21 AM

and Associate Degree

programs into AMC's

Bachelor of Engineering,

Bachelor of Global

Logistics and Maritime

Management, and Bachelor

of Applied Science

(Marine Engineering).

Other benefits will include

the enrichment of

existing programs and

new joint programs in

response to industry requirements.

The partnership will

also strengthen both institutions'

existing collaboration

with the Naval

Shipbuilding College

and participation on the

NSC's Delivery Advisory

Council.

University of Tasmania

Vice-Chancellor Professor

Rufus Black said the

agreement was a prime

example of educational

institutions working together

to meet the evolving

needs of industry.

"As a national institute,

AMC is very much

looking forward to collaborating

with TAFE SA

to bring nation-leading

maritime education to

help create more opportunities

for more South

Australians to participate

in the growth of the shipbuilding

industry," he

said.

"By working collaboratively

with TAFE SA,

we will be able to create

the integrated educational

offering to enable

people to advance their

careers as the industry

grows."

The Department of Defence

has outlined a national

program to build

around $90 billion in new

naval ships and submarines

for the country.

Science puts bugs in the system

Moreton Bay bugs have huge commercial

potential.

REASEARCHERS who

developed a worldfirst

method to breed

rock lobsters commercially

have now paved

the way for a Moreton

Bay bug aquaculture

industry in Tasmania.

A commercial operation

is now possible

and breeding of other

high-value species is

likely thanks to efforts

at the Institute for

Marine and Antarctic

Studies.

Research began into

hatchery techniques

for the bay lobster,

Thenus oriental, better

known as the Moreton

Bay bug, in September

2017.

The Research Hub's

Director, Associate

Professor Greg Smith,

said thousands of

juvenile bay lobsters

had been reared using

the same technique as

IMAS developed for

tropical rock lobsters.

Tank design, water

quality and appropriate

feed were vital for

lobster survival and

growth.

"Some of these

animals have been

Navigate your maritime

career in Sydney with AMC

selected as breeding

stock, and their offspring

will be grown in

the hatchery later this

year," Associate Professor

Smith said.

"Bay lobsters have

shown strong potential

for development as

a commercial aquaculture

species, and

some species-specific

modifications to our

approach are expected

to improve commercial

viability."

Dr Smith said the

Research Hub's industry

partner, PFG

Group, was enthusiastic

about growing

both species in their

commercial scale

hatchery, which is

currently in the early

stages of planning.

"The success we

have had in culturing

rock lobsters, and

now Bay lobsters is

the result of 17 years

of intensive research.

"We are now keen to

test the technology's

potential on other

high-value crustacean

species," Associate

Professor Smith

said.

SOLUTIONS

IN PRINT

your print specialist for over 90 years

Full Off-Set,

Digital and

Wide Format

Capabilities

Binding and

Finishing

Variable Data

and Mailing

Warehousing

and Distribution

Online Ordering

and Inventory

Management

The Australian Maritime College (AMC) is expanding into Sydney

in 2018, delivering postgraduate programs and professional short

courses from the Australian National Maritime Museum, in the

heart of Darling Harbour.

Our team of leading maritime engineering, and maritime business and international

logistics academics will be delivering the following postgraduate courses in 2018:

• Master of Engineering (Maritime Design)

• Master of Business Administration (Advanced)

(Maritime & Logistics Management)

AMC Search will also offer a selection of short courses throughout the year.

6391 8481

www.woolstonprinting.com.au

sales@paperstat.com.au

Enquire to study in Sydney in 2018.

amc.edu.au/sydney

Cricos Provider Code 00586B
---
T A S M A N I A' S L E A D I N G B U S I N E S S P U B L I C A T I O N . C I R C U L A T I O N 12,000 M O N T H LY

10 Tasmanian Business Reporter - AUGUST 2018

NEWS APPOINTMENTS and ANNOUNCEMENTS

High-value volunteers

VOLUNTEERS are

worth almost $5 billion

to Tasmania and one corporation,

Hydro Tasmania,

has been highlighted

for its employee program

encouraging staff to give

back to the community.

The 2018 Southern

Cross Television Tasmanian

Volunteering

Awards involved 27 finalists

across a range of

categories with winners

announced at a ceremony

at Government House,

hosted by Patron of Volunteering

Tasmania,

Govenor Professor Kate

Warner.

Volunteering Tasmania

CEO Alison Lai

thanked those who gave

their time and energy,

saying that from a financial

perspective, the contribution

from volunteers

was conservatively estimated

to be worth at least

$4.9 billion each year to

the island.

"Every single volunteer

is contributing to

this extraordinary figure,

including those who are

able to help every day,

once a week, every few

months or once a year,

Business puts right hoof forward

Kate Hickey from Hydro Tasmania, left, and Governor Kate Warner.

this figure also includes

the contribution of corporate

volunteers who

are supported by their

companies to make a difference."

Corporate Award finalists

included MyState

Bank, Tenants' Union of

Tasmania.

Hydro Tasmania Community

Coordinator Kate

Hickey said almost half

INNOVATIVE hoof boot

maker, Scoot Boots, is the

2018 Telstra Tasmanian Business

of the Year.

Creator and co-founder,

Dave MacDonald, had been

working with horses as a

trainer and farrier for 30 years

when he designed and created

the Scoot Boot, a unique onepiece

hoof boot that is simple,

lightweight and easy to fit.

"We want to inspire, educate

and advocate for a

barefoot natural approach

for horses around the globe,

changing 1,500 years of tradition.

Our Scoot Boots allow

horses to virtually go barefoot,

an option that is much

suitable to their overall

health," he said.

Scoot Boots also took

home the 2018 Telstra Tasmanian

Emerging & Energised

Award.

Acting Group Executive,

Head of Telstra Wholesale,

Jules Scarlett, said the winners

of the 2018 Telstra Tasmanian

Business Awards

were shining examples of

businesses doing great things

in new and effective ways for

their customers.

The other category winners

were:

• Find Your Feet Australia:

2018 Telstra Tasmanian

of Hydro's employees

took part in the organisation's

volunteer program,

which recognises

the value of volunteering

for professional and personal

growth.

Employees at Hydro

can work with any community

organisation of

their choice.

"Our people are encouraged

to do all forms

Small & Succeeding Award

winner.

Founded by former elite

athlete, Hanny Allston, the

brand combines a multi-channel

approach with a four- level

store in Hobart

• Cancer Council Tasmania:

2018 Telstra Tasmanian

Social Change Maker Award

winner

Each year CCT provides

5,000 occasions of support

and transports more than 250

individuals to about 3,600

treatment appointments.

The Telstra Australian

Business Awards will be held

in Melbourne on Thursday,

20 September.

of volunteering – oneoff

or ongoing, projects,

or skilled volunteering,"

Ms Hickey said.

"The Hydro is made

up of people whose

families live and work

around Tasmania in big

and small communities.

By offering a corporate

volunteering program

our people have the flexibility

and encouragement

to get involved and

volunteer for activities

of their choice.

"Research shows that

people who volunteer

are healthier and happier

but volunteering

can also improve professional

skills, such as,

teamwork, leadership,

problem-solving and

creative thinking.

"We also know that

diversity is good for

business.

"Through volunteering

our people get to

work in a completely

different environment.

"They can then apply

these new ideas and

different ways of approaching

issues to their

work.

"Over 40 per cent of

our people volunteer.

It is amazing to think

that these small acts can

change someone's life.

"Our corporate volunteering

program is a way

for our people to share

their expertise and be

part of their community,

improve their health,

boost their skills and

bring new ideas to their

work."

Award winner Dave MacDonald

from Scoot Boots.

IN BRIEF

Website refresh

THE Government's Digital Ready for Business website

has been updated to provide businesses with a

comprehensive toolkit of fact sheets, video content

and other useful information.

The free program provides small businesses with

access to targeted knowledge, advice and assistance

to improve their online presence and skills so they can

seize the opportunities presented by the changing digital

technology.

University design

JOHN Wardle Architects has been appointed as the

principal consultant and will partner with three Tasmanian

practices to design the $300 million UTAS

Northern Transformation project.

Room11, 1+2 Architecture and Philp Lighton Architects

were the successful Tasmanian partners.

A development application is expected to be submitted

in the fourth quarter of 2018.

Irrigation appointment

CHRIS Thompson has been appointed as a new Tasmanian

Irrigation Director.

Mr Thompson was formerly managing director and

director of firms Macquarie Franklin and Agricultural

Resources Management and has extensive consulting

experience in agribusiness developments, rural water

resources management, irrigation systems and dam

construction and operations.

Welding skills centre

A NEW $750,000 advanced welding training centre

has been announced by the Federal Government

for Burnie. The funding will allow for purchase of

five state-of-the-art welding simulators and advanced

technical training to help upskill TasTAFE trainers

and will train and skill local welding apprentices and

workers from Tasmanian businesses.

Mining Technology

LAUNCESTON based ICT Company Definium

Technologies has landed a major new $1.5 million

contract to supply hi-tech electronic components to a

large-scale mining project.

Definium will locally develop and manufacture 31

cutting-edge multi-channel LoRa gateways and about

6500 sensors for the Australian mining sector.

Up to six jobs will flow as a result of the contract.

Turnkey contract

TAYLOR Bros has signed a new deal to supply a total

turnkey contract for accommodation outfitting of the

Royal Australia Navy's new offshore patrol vessel.

Part of the Navy's $3.6 billion SEA 1180 Offshore

Patrol Vessels program, Taylor Bros will supply internal

fitouts to 12 new offshore vessels being delivered

through to 2030.

Looking

for new

talent?

For more information email:

Leap.Connect@utas.edu.au

Register at:

utas.edu.au/careerconnect/employer

You can find and directly

connect with students

through the University of

Tasmania's new employment

portal, Career Connect.

If you are looking to:

> advertise a job

> run a recruitment and

selection process

> mentor students

> offer work experiences

and I-PREP internships

> interact with students

virtually and on campus

Career Connect can help you

do all this and more.

CRICOS Provider Code 00586B

UTAD21356

WANTED

Business

movers and

shakers

• Promotions

• Appointments

• Awards

• Celebrating

success

Share the news

with the

Tasmanian

business

community

Send your news

snippets, with a

high quality photo,

to TBReditorial@

fontpr.com.au

Tender

test

THE Government has

expanded its Local Benefits

Test, designed to

grow jobs by making

sure Tasmanian businesses

have every chance

of winning Government

tenders - while still ensuring

value-for-money

for taxpayers.

It will it double the

test, to a minimum of 20

per cent of the evaluation

criteria, for Government

agency procurements.

Figures for 2017-18

show 244 government

contracts were awarded

to Tasmanian businesses

with total value of

government contracts of

$409.5 million.
---
Tasmanian Business Reporter - AUGUST 2018 11

EVENTS NEWS

Rob Atkinson, University of Tasmania, left, and

Ollie Shugg of AusTrade.

Wayne Davy, Tasplan Super, left, Prof Rufus

Black, University of Tasmania Vice-Chancellor

and Tommy Wong, TCCI Board Director.

Lee Whitely, University College Chief Executive,

left, Susan Parr, TCCI Board Chair and Mercury

GM Damon Wise.

What: Tasmanian Chamber of

Commerce and Industry University

College Luncheon

Where: Royal Yacht Club of

Tasmania, Sandy Bay

When: Wednesday, July 4, 2018

Scott Adams, TasTafe, left, Tim Johns, Aon Risk

Solutions and Rick Sassin, Housing

Industry Association.

Kellie Watson, ECA Tas, left,and Annette Barwick

and Trevor Brown, Lady Gowrie Tasmania.

Bruce

Williams

City of

Launceston,

left, Donna

Bain, Self-

Help Workplace

and

Lyndal

Kimpton of

Ruddicks.

LEFT: Susie Bower, University College/RDA,

left, Tom Black, RDA and Moya Fyfe from the

University of Tasmania.

ABOVE: Joel Brewer, left, and Teresa Darcie

of Scotch Oakburn College.

What: Launceston Chamber of

Commerce University College

Breakfast

Where: Tramsheds, Inveresk

When: Tuesday July 3, 2018

• Master Keying

• Electronic Security

• Lock Hardware

• Alarm Monitoring

www.jacksonssecurity.com.au

ph: 1800 555 700
---
PROPERTY MATTERS

Tasmanian Business Reporter - AUGUST 2018 12

Hobart: Where to from here?

Scott Newton

Property Matters with

Knight Frank

This month's article is a valuer's

perspective of the Tasmanian

property market, from Matthew Page,

Knight Frank Tasmania's Director –

Valuations.

IN the article I contributed 12

months ago there was mention

the US Federal Reserve

may start increasing rates

over the next 12 months and

that further interest rate rises

could not be discounted.

The US Federal Reserve

did increase rates but Australian

monetary policy settings

remain much the same. Interest

rates are static.

Access to debt funding is

a primary contributor to ongoing

investment in property

markets.

It is becoming apparent the

bank approved loan to value

ratio is a key issue in addition

to the cost of funds.

The level of funds available

to buyers influences

asset prices. This in turn influences

property values by

the extent of funds available.

The outcomes of the Royal

Commission into Banking,

Superannuation and Financial

Services Industry will be

particularly relevant to the

property sector as measures

to restrain lending practices

are likely to be implemented.

The property sector in Tasmania

has attracted investors

that have a lower requirement

for bank funding.

So, despite the potential

for changes to lending, the

market will continue to move

along by the contribution of

market participants with lower

borrowing requirements.

Property with the appropriate

investment fundamentals

should remain suitable in

The new Icon Centre has helped Hobart CBD consolidate as a retail hub.

the market place.The Hobart

retail sector has consolidated

its position with the opening

of Icon Centre Shopping Arcade

and completion of Myer

in May. The opening of H&M

in the Cat and Fiddle Arcade

complex has assisted the ongoing

position of the CBD as

the primary retail precinct in

greater Hobart.

These developments have

firmed up the position of other

retailers as more customers

shop in Hobart with the greater

offering available. From a

property valuation perspective,

this helps to underpin

value.

The strength of the residential

and visitor accommodation

real estate sectors

have positively influenced

the state of the commercial

property sector with a number

of disused commercial

sites, for instance, all of a

sudden finding opportunities

for alternative development

to either hotel or residential.

The strength of the residential

development sector in

the inner areas of Hobart has

fairly quickly created value

for sites that were previously

languishing without a use.

Developers have become

more interested in realising

development opportunities

on such sites in the light of

housing supply shortages.

The Greater Hobart residential

market has not been

able to keep pace with demand.

In a short time, land

values have increased rapidly

as a consequence of limited

new or potential land supply.

There are challenges for

developers and home builders

as they await delays in the

provision of infrastructure

and service provider ability

to resource the burgeoning

circumstances.

Without additions to land

supply, values are likely to

keep increasing as buyers

pay a premium to build a

home.

PROPERTY VIEW

AUGUST 2018

Outline indicative only

Outline indicative only

For sale by expressions of interest

PREMIER CBD DEVELOPMENT SITE

179 Macquarie Street, Hobart

Knight Frank has the privilege of presenting this

significant Development Approved site to the

market. Take advantage of the existing DA while

Hobart's tourism sector is the envy of the country.

• Iconic site, rare opportunity

• DA for 30m, 202 room hotel

• Macquarie Street frontage of over 41m, land

area 2,162 sqm (approx.)

• Surrounded by significant hotel and commercial assets

• Zoned: 'Central Business', CBD gateway location

• Potential for residential/serviced apartment

conversion (STCA)

Scott Newton 0409 186 261

Hayden Peck 0412 766 395

View at KnightFrank.com.au/4342530

For sale

TROPHY CBD OPPORTUNITY

53-57 Collins Street, Hobart

• Landmark CBD building on a significant corner site

• Site area of 943 sqm (approx.) with three

extensive street frontages

• Gross building area of 2,275 sqm (approx.) plus

seven car parks (approx.)

• Zoning of 'Central Business' provides

significant flexibility of uses

• Being sold with the whole of 53 Collins Street

vacant and part of 57 Collins Street vacant with

a good holding income

• Exceptionally appealing property with a diverse

range of developent options (STCA)

Richard Steedman 0408 559 046

Scott Newton 0409 186 261

View at KnightFrank.com.au/4300612

Outline indicative only

2018

EMPLOYER OF

CHOICE AWARDS.

For sale by expressions of interest

OWNER-OCCUPY OR DEVELOP

263 Elizabeth Street, Hobart

• Land area of 1,213 sqm*; 'Urban Mixed Use' zoning

• Gross building area of 460 sqm* comprising

showroom, storerooms, workshop, offices

and amenities, and first floor rooms

• Plenty of off street parking

• High profile site to Elizabeth Street, the main

arterial road linking Hobart CBD to North Hobart

• The property presents in excellent condition

and is offered with vacant possession for owner

occupancy or as a development site (STCA)

• Rare to market opportunity

(*approx)

Hayden Peck 0412 766 395

Ian Reed 0419 670 501

View at KnightFrank.com.au/4344318

Knight Frank Tasmania has officially been

recognised as an Employer of Choice at the

Employer of Choice Award ceremony held recently.

An Employer of Choice is a workplace with a

reputation as a great place to work and recognises

that we successfully attract and retain the best

property professionals in the industry.

5 Victoria Street, Hobart 41 York Street, Launceston Shop 8, 48-54 Oldaker Street, Devonport

P: 03 6220 6999 P: 03 6333 7888 P: 03 6424 3568