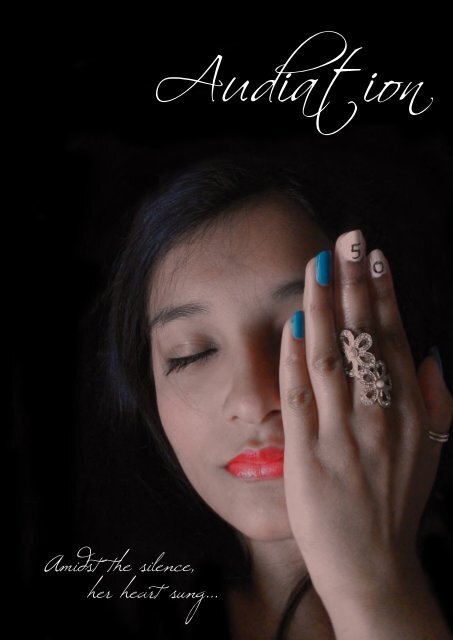 AM050
August 2018 Issue 50 features an interview with Sharm Pillay, the Chicago LakeShake festival review, 5 Tracks For The Summer & Rdub'z 'Music Helps Me' account.
August 2018 Issue 50 features an interview with Sharm Pillay, the Chicago LakeShake festival review, 5 Tracks For The Summer & Rdub'z 'Music Helps Me' account.
SHOW MORE
SHOW LESS
Create successful ePaper yourself
Turn your PDF publications into a flip-book with our unique Google optimized e-Paper software.
Amidst the silence,

her heart sung...

Audiation
---
Audiation Magazine is a global monthly music publication

which is free to read online and available for on demand

print purchases. We feature all styles of music and various

languages in the magazine, each piece is an expression of

what our writers and featured artists wish to show. We do

not have set rules and allow the words to come naturally

with few edits. Articles are not constrained to simply music

- we like to be broad in the way we express our passion and

include a variety of topics including poetry, fashion and

lifestyle. Each chosen topic will reflect the thoughts of the

writer and revolve around music in some way. The

magazine is free to read as we understand the difficulty in

which creative individuals face when trying to go far, thus

we want to help their talents reach as much of the world as

possible. We have wonderful partners, Vinyl For A Cause

bring together their favourite musicians with a percentage

of proceeds going to charity, and, Right Chord Music who

help to promote and develop interesting independent

musicians.

We wish to inspire minds, express creativity and radiate

optimism to the world through music.

www.AudiationMagazine.com
---
"Music is much more than

sound. Music can be a

comforter, party maker,

career path or a way of

life."

Ruby, Editor & Owner

"Music is much more than

sound. Music can be a

comforter, party maker,

career path or a way of

life."

Rokuro, Associate Editor

"The birth of one's child is

the only feeling that

comes close to getting

lost in music."

Cessle, Associate Editor

"Music is a form of art

that reveals a truth in a

world full of mystery."

Sarah, Staff Writer

"No matter what's

happening in life, it's

usually great music will

keep you going."

Malachi, Staff Writer

"Music is life. It's a

universal language that

has no barriers. It unifies

people around the world.

It brings people joy."

Andy, Staff Writer

"The moment you feel

happy about music, that is

the very essence of it.

Being in the vibes and

understanding what music

has for your soul."

Steve, Staff Writer

"Music is the way I see the

world."

Mary, Brand Ambassador

"It's an escape, a relaase, a

chance to write how I feel

and allow other readers to

relate. Music has saved

me many times."

Jessie, Staff Writer

"Music is love, you can

feel it. Music binds people

together, ending war and

bringing peace to the

soul."

Ashna, Creative Assistant

"Music is a material

artwork of my dreams that

inspires me to overcome

difficulties of everyday

life. I admire people who

can make it!"

Tamara, Brand Ambassador

"Music & love are the

same things really. If kids

grew up with music in

their lives, then their lives

would always be filled

with love."

David, Associate Editor
---
Thanks to:

Alchemia

Backdrop Promotions

Daniel Wanrooy

DJ Pyro

DJ S.K.T

DJ Wad

Downplay

El Futuro Recordings

In Control Recordings

In Sessions

Infrasonic Pure

Karina Nistal

Kinesen Records

Leanne Louise

Mon Frère

Neighbourhood PR

OHM Music

Perfecto

RCM Music

Rdubz

Right Chord Music

Sharm Pillay

Space Promotions

Target Live

Ten Letter PR

Vinyl For A Cause

Vision Music Promotion

Stock photography by

stocksnap.io

Icons & graphics by

Kues1

Onlyyouqj

Kjpargeter

Alekksall

Vecteezy

starline

freepik.com

CONTENTS

8 Shows Guide

12 Music Is Life

15 SMILE: Sharm Pillay

16 Music helps me…

17 Delights

18 LakeShake

22 Bright Lights, Big City

24 The Festival

26 Three Lions

28 At Last - The Etta James Story

32 Sharm Pillay

38 Inner translation…

39 Celebration

40 New Music

63 Events Guide

4 www.AudationMagazine.com
---
5
---
Hi Guys & Dolls...

The cover reflects our understated character this month with a delicately whispered

sentiment of music from the heart. It is our 50 issue - a great achievement. But also, it

is just a number. What really makes 50 so special, more so than 49 or 51 etc? Each of

those 1's that make up the 50 is special. Every release, I think: "Wow. I can't believe we

made something so wonderful. I'm so happy that people are enjoying it, we're making

people smile and inspiring others too." I dedicate this issue to our co-founder

Christina. She helped turn a simple dream into reality.

In this issue: Cessle re-ignites his love for music after taking a break from the buzz of

the industry and shares 5 tracks for the summer which include tracks from Daniel

Orpl, Rich Not and D-Tour. Country music is back in style as Sarah's Thoughts take us

through this year's Windy City LakeShake festival in Chicago. Some of the highlights

of the event include Lanco's HOT guitarist, a sweat Billy Currington and Russell

Dickerson's pop surprise. Music helps me. Rdubz shares his fascination with the art

form which has acted as a therapeutic tool through life's challenges and has also

played a vital part of memorable moments. David shares a beautiful silhouette photo

taken in the big city of Singapore, which is inspired by 'Bright Lights' by Thirty

Seconds To Mars. We check out forthcoming movie 'The Festival' which is the ultimate

pairing for any festival of awkward British youth going mad in a field. England united

by one song, I share the musical moments of this year's FIFA World Cup as we

imparted football fever so greatly that even George Ezra told fans to knock his single

off the #1 spot. I found a dream that I could speak to. 'At Last - The Etta James Story'

show tour comes to the UK with Vika Bull playing the role of the incredible woman

who "sang with power and honesty". I intuitively followed the stirring of my heart. DJ

Sharm Pillay talks of her connection with the frequencies of Techno and her ambition

of awakening hearts through music. Elevate my soul. Steve's poetic song describes the

journey of his body and soul through new journeys in life. For our 50th special, Ashna

illustrates a celebration with sparks flying and an expression of joy whilst Tamara

brings the sweet heart treat topped by the number of the moment. We are also thrilled

to have our friends sharing love with us for this occasion, thank you Karina Nistal,

Alchemia, Leanne Louise, Mon Frere and Right Chord Music. We've got your events

guide, show listings and music from BAAST, Kevin Coval, Tough Love, Fliptrix, David

Carbone, MYKROBOY and Parsifal.

Ruby x

Connect with us:

Facebook /AudiationMagazine

Twitter @AudiationMag

6 www.AudationMagazine.com
---
For Christina.

7
---
SHOWS

London timezone

TV | Radio | Podcast

Spotlight: Listen to our special 50th edition mixes on

mixcloud.com/AudiationMagazine. DJ Pyro presents a playful

blend of house, ukg and bass. DJ Wad presents a sunset mix

of electro house.

Monday

10am Clara Amfo | Variety - BBC Radio 1

2pm Danny Blaze | House, UK Garage & Club Classics - Flex FM

4pm Trending Live | Variety - 4Music

Tuesday

1am What's Up? | Variety - Radio Plus

10am Clara Amfo | Variety - BBC Radio 1

4pm Trending Live | Variety - 4Music

Sister Bliss In Session | House & Dance

A State Of Trance | Trance

Wednesday

1am What's Up? | Variety - Radio Plus

10am Clara Amfo | Variety - BBC Radio 1

4pm Trending Live | Variety - 4Music

8pm D3ep In The Underground | House, Garage & Bass - D3EP

Thursday

1am What's Up? | Variety - Radio Plus

10am Clara Amfo | Variety - BBC Radio 1

4pm Trending Live | Variety - 4Music

6pm Jeremy Sylvester | House & UK Garage - Urban Dubz Facebook

Toolroom Radio | House & Dance

Global Warm Up | House & Dance

8 www.AudationMagazine.com
---
Friday

1am What's Up? | Variety - Radio Plus

10am Clara Amfo | Variety - BBC Radio 1

12pm Lizzie Curious | Dance - Trickstar Radio

2pm Sam Supplier | House, UK Garage & Bass - Rinse FM

5pm The Dirty Outlaws | Variety - Touch FM Live

7pm Annie Mac | Dance - BBC Radio 1

7pm Friday Night Kiss with Steve Smart | Club - KISS FM UK

7pm Vibe And Drive | Variety - Radio Plus

8pm The Queen E Show | Grime, Hip Hop & RnB - DJQueen-E.com

9pm Pete Tong | Dance - BBC Radio 1

9pm Wideboys | House & UK Garage - KISSTORY

10pm Mike Delinquent | House & UK Garage - KISSTORY

Trustnobody | House & Techno

Hospital Records | Drum & Bass

Above & Beyond Group Therapy | Trance

Clublife | Club

Saturday

1am What's Up? | Variety - Radio Plus

3pm Kiss Fresh with Swarzy | Hip Hop & RnB - KISS FRESH

4pm Mark Radford | Tech House - Rinse FM

6pm The Music Box | House - D3EP

8pm Saturday Night Kiss with Steve Smart | Club - KISS FM UK

9pm Saturday Night Kiss Fresh with Charlie Hedges | Dance - KISS

FRESH

11pm Saturday Night Kiss Fresh with DJ S.K.T | House, Techno &

Bass - KISS FRESH

Sunday

10am Neev | Variety - KISS FM UK

The Beauty Of Sound | Trance

UKF Podcast | Bass

The Chillout Lounge Mix | Chillout

HeavyBeatsRadio | Club

Clubbing Culture | Club

9
---
"Thank you Audiation Magazine for

believing in our music and for allowing

us to touch the souls of so many people

across the globe! Your work allows

emerging artists to share their talent to

the world and words are not enough to

express how grateful we are"

Summer, Alchemia

10 www.AudationMagazine.com
---
Audiation Magazine

50th edition mixes

by DJ Pyro & DJ Wad

www.mixcloud.com/

AudiationMagazine

11
---
Music Is Life

It's been almost, if not just over, 2 years since the last time I scribed any

words to feature in an edition of Audiation magazine. I may not have put pen

to paper but I've constantly had my ears to a set of cans with tunes beating

as the soundtrack to my day. As I begin to write this article, my mind is

subconsciously swimming with the grooves & basslines as I listen back to

the last 30 minutes of a 3hr recording that I myself put together this

morning, just for my own enjoyment. Sometimes taking a break and stepping

back for a while can do a great deal of good. It can give you a chance to

either hit the reset button and start again, give you a new fresh perspective

or even a chance to see things different and have a look at things from an

outside view. No man was able to appreciate the look of his front door

without stepping outside. For me these last 2 years gave me a chance to

view things differently, hear music differently and it gave me a chance to

appreciate the music scene that I love so much. Never before did I really

understand the true power of music. Don't get me wrong I always knew that

music was a powerful unrivalled source, for I have written articles describing

how music has captivated ravers sending them on journeys across

dancefloors. I've always been an avid listener of music. I've a selection of

different genre playlists on Spotify and I tend to start my Sundays (if I'm

home) as they would when I was growing up. Starting with the old reggae

moving through the genres and years before ending up with what is my

music of choice, House & Techno. During my self-afflicted absence, for a

while I tried flirting with other sounds whilst purposely avoiding electronic

music but it felt like something was missing. In all honesty without

exaggerating, something wasn't right. My point is this, MUSIC IS LIFE. Never

before did I truly understand how powerful music was until I neglected

myself of it. It gives myself and undoubtedly countless others a real zest for

life and this is one of the reasons that so many people wish to be a part of

the industry and put their all in to achieving their dreams. Personally, I've

fallen in love all over again with my ears & eyes wide open.

At the time of my last written piece for Audiation Magazine, the

Underground scene there was so much talk about the popularity in Tech

House. Admittingly I was one of a number of individuals to feed fuel to the

fire, saying in some breaths that Tech House was garbage. The rise in Tech

House or more so the way in which Tech House had taken a hold over the UK

scene had begun to bug me. It wasn't the fact that it had become

increasingly popular to the point that even my 10yr old daughter had

discovered shuffling. Nor was it because I am nothing but an Underground

12 www.AudationMagazine.com
---
5 Tracks For

The Summer

Daniel Orpi – Sexual Seduction

The 2nd release on my

TrustNobody imprint from a

good friend of mine by the

name of Dainel Orpi.

RYBO & Lubelsk - Favela Funk

Released on Desert Hearts this

year. I am in love with the

vocals and is wicked for the

dancefloor

Rich Nxt – 1=0

Released in 2017 on NXT

Records, Rich Nxt's own imprint

and the switch is grooves on the

track is just awesome

Blaze – Lovelee Dae (Doc

Martin remix)

A remix of a complete utter

classic by one of my favourite

producers

D-Tour – Klasse Kerosin

This track comes as part of a 2

track EP on Griffintown Records.

The original by D-Tour is an

absolute groover and the

package contains an absolute

masterclass of a remix from

Darrius Syrossian.

13
---
Music purist, which in some respects I will proudly hold my hands up to

being. It was down to the quality of music that some labels were/are willing

to put out and down to the quality of music being played at many parties.

Yes London is a cesspit of multiple sounds and everybody is entitled to

freedom of choice but at some point common sense & quality control has to

rule and take precedence of cash in ones pocket. This was one of a few

reasons that led to me in a sense fall out of love with the scene, but as

always with life, change comes upon us. Change to the scene and a change in

how you can view things. The musical sabbatical (so we shall call it) that I

took reaffirmed my love for quality underground music leading me to

launching the TrustNobody label with my partner PIEM and within this time

certain trends/notions that I had foreseen seem to be coming to life and

starting their journeys.

Things in life always seem to turn full circle and I sensed that it wouldn't be

before long that the Underground would ask for its anonymity back. At some

point the music would gravitate towards more true Housey sounds and we

would see a rise in techno again. My reasons for thinking this? It's no

different from any activity plus it's something I've seen time and time again.

You are introduced to something, you begin to enjoy it so you choose to

delve into it some more increasing your knowledge and opening yourself up

to the more grown stuff and before you know it you are hooked. You can

apply the debatable theory they lay with drugs to my theory 'The softer stuff

leads to the harder stuff'. In this case Tech House leads to Real House &

Techno music. In 2017 Cassy, a DJ that I have admired for some time now, in

2017 launched her new label 'Kwench Records' with the focus being on

capturing the many faces of House Music. Parties on the white isles such as

Woo Moon are becoming increasingly more popular amongst party goers.

Drumcode is bigger than ever with their own festival in Amsterdam and the

dubby sound of rolling Techno pushed by the likes of Fuse & A:rpia:r

continue to grow, having a heavy influence on the UK scene. I for one am a

boundary rider. I refuse to pick between House & Techno. I don't hate Tech

House, I just detest the boring monotone tracks that have no feeling. Tech

House is essential to House & Techno as it acts like glue joining tracks of

different styles together.

Top quality music is timeless and can live forever which is the reason for

many music is life.

14

Cessle
---
"My kitty Sebastian. Techno. Playing a

live gig. Beautiful surprises and divinely

guided synchronistic messages from my

intuition and the Universe." Sharm Pillay

THINGS THAT MAKE ME

SMILE.
---
Music helps me...

I have been fascinated with Music for as long as I can

remember, my mother told me stories of how she used to unplug the stereo

to stop me from playing records in the middle of the night when I was 2

years old, only for me to plug it back in and carry on, waking up neighbours

and leaving her to explain to them that the toddler was the one to blame, I

was clearly hooked.

Music for me is so many things, as a whole it's unlike anything else I know, it

sets moods, explains and portrays emotions, helps expression, unites

people.

Sometimes I use music as a form of therapy to reflect on and deal with

emotions, find a sequence of chords that fits my mood and play for as long

as I need to feel resolve, I suppose something about the notes singing my

own feelings back to me creates a feeling of understanding.

Music helps me focus on work, I find that listening to instrumental music,

especially from something with warm memories, like an old computer game

that I played as a kid, is not only relaxing, but also somewhat engaging and

motivating.

Music helps me out of bad spells of anxiety, since late 2016 I have suffered

with both anxiety and panic attacks, which can descend my normally clear

thinking mind into a struggle for control and worst case leave me wondering

if I will see another day, there have been many times where listening to

music has diverted my attention and brought me back to normality.

Just last night my wife and I were at Bluedot festival in Manchester to see

The Chemical Brothers headline, of course they were absolutely amazing as

always, after a fair amount of beer and cider (which surely played a role in

this) we were jumping up and down in arms with total strangers, everyone

smiling, letting the euphoria take over and screaming our enjoyment at each

other as if we were all best mates, I don't even know their names, how many

times have I been in the same situation with Music? How many times have I

been in the same situation with anything else?

Is there any art form more exciting? More able to elicit emotion? More

helpful? More universal? Not for me there isnt, what a gift it is.

- Rdubz

16 www.AudationMagazine.com

23
---
Tamara

17
---
LAKESHAKE

It's that time of the year again! The weather is warm, the sun is out, and

country music is back in style again. I'm one of those people who only

listens to country in the summertime because it is all about sunshine,

beer and backyard parties, so why listen to that any other season?

Irrelevant.

I was lucky enough to attend Chicago's Windy City Lake Shake at the

Huntington Bank Pavilion at Northerly Island (right next to Adler

Planetarium and Shedd Aquarium), so here are my takeaways from the

festival!

The festival started on Friday, but it was raining so I skipped that day.

Sorry Blake Shelton.

18 www.AudationMagazine.com
---
SATURDAY'S HIGHLIGHTS

Jackie Lee covers

First artist we saw was Jackie Lee, who I totally thought was a girl going

into the festival. The lineup was mostly male, so I was excited to see a girl

on stage. However, I was pleasantly surprised because he is the definition

of an up and coming artist. He captured the entire audience who were

just arriving, and his voice was like butter. Great start to the show. He

also had great covers that got the crowd going, but I can't remember

what they were! So, Jackie Lee, if you're reading this, you have great

songs and covers!

Fun fact: He has beaten cancer twice!

Lanco's guitarist

Lanco is a band that seems like a household name now. If you don't know

them, you have heard "Greatest Love Story." The funny thing about this

band is all the band members looked like they were all friends on a

baseball team growing up, but their guitarist (Eric Steedly) just stood out.

How do I explain this… well he was HOT. Long hair, tank top with muscles,

so many guitar solos. Everyone around me kept talking about him,

probably because he didn't fit in with the band members at all based on

looks, but he was entertaining to watch!

Billy: sweaty

I don't remember how sweaty Billy Currington was, but he must've been

drenched if I made a note about it. He was fun!

Dierks: homeless

No shade to him at all, but

he looked homeless! My

cousin and I were talking

about him, if we saw him

outside of the concert, we

would have no idea he is a

country superstar. He had a

long raggedy beard, but

somehow it worked for him.

As we were leaving his set,

Navy Pier had a firework

show, so it was perfect.

19
---
20 www.AudationMagazine.com
---
SUNDAY'S HIGHLIGHTS

Girls night out / Russell Dickerson - Pop

He was pouring beer down his band's throats, most likely getting

drunk on stage. You can just tell by his stage presence that he loves

his life right now. The one thing that surprised me is he had a pop

song called MGNO (My Girl's Night Out). Everyone in the audience

was jumping and dancing to it, but it really was unexpected, since

this is his debut album and touring, so it seems surprising to release

a pop song as well.

We did more walking around the festival today so stopped by a

Barefoot tent to sample the new wine in cans, which were good! I

was drinking the Red Sangria one the whole time. My friends and I

did the photo booth with real guitars and costumes. Fun time! Lots

of the booths were barbeque food, clothes, games, and a swing ride.

Chris Lane has a song on the radio called "Take Back Home Girl," but

I didn't know much about him going into the festival. What a

performer, captured the hearts of every girl in there! He's about

5'6", but he was cute and sweet to the girls around the stage,

bringing one girl up to sing "All About You." I can't wait for him to

come back to Chicago because I am going!

Cole Swindell has a lot of country hits too, so it was cool seeing him.

I was with my co-workers at this point as well, so it was fun dancing

with them. Not much stood out, but he was a good performer.

The one act everyone was looking forward to was Florida Georgia

Line. Lots of fire, lots of energy, two friends that really made it in

country music. People around me kept yelling for their song "Dirt,"

so when they played it people went crazy.

I think that's enough country for all of you readers. Hope I filled you

in on the best songs for the summer of country music.

Thanks for another great year LakeShake!!!

Sarah's Thoughts

21
---
22 www.AudationMagazine.com
---
Photo by: David Roy Quake

Titled: Bright Lights, Big City

Inspired by: Bright Lights - Thirty Seconds to Mars

23
---
The Festival

Awkward youth, booze, muddy fields, music that'll make you deaf and a whole

lot of memories you really want to forget. The Festival showcases the best of

the fun and blunders which many will experience at their first fest in the UK.

Starring Joe Thomas as a lead character 'Nick', aka 'Simon' from THE

INBETWEENERS, the film maintains his previous personality of the sap who

falls in love far too easily and is up for trying new adventures even if it does

result in stealing someones leg!

This summer, pack your bags, grab your wellies and don't forget your tent,

because the BAFTA Award winning creators of THE INBETWEENERS invite you

to the mother of all music festivals…

THE FESTIVAL is the first comedy feature film release from production

company Fudge Park, formed by THE INBETWEENERS writers and executive

producers Iain Morris and Damon Beesley and will be released in cinemas on

17th August across the UK and Ireland. THE FESTIVAL is directed by Iain Morris

and written by Keith Akushie and Joe Parham (BBC Three's SIBLINGS).

This year marks the tenth anniversary of the beloved British coming of age

sitcom THE INBETWEENERS, which co-creators Morris and Beesley followed up

with two hugely successful big-screen outings. THE INBETWEENERS MOVIE

released in 2011 took £45 million at the box office to become the most

successful British comedy of all time and sequel THE INBETWEENERS 2, set the

record for the biggest opening weekend of 2014 and was the highest grossing

British film that year.

When Nick's (Joe Thomas) girlfriend dumps him at graduation, he has a

colossal meltdown in front of the entire university. He's convinced his life is

over, but his best mate Shane (Hammed Animashaun) has the perfect solution:

three days at an epic music festival. With the help of "festival aficionado" and

certified oddball Amy (Emmy AwardÒ nominee Claudia O'Doherty), Shane tries

to get Nick to embrace the music, the mayhem and the mud. From the creators

of THE INBETWEENERS comes THE FESTIVAL, a comedy about friendship,

growing up, and going mad in a field.

THE FESTIVAL is produced by Claire Jones (SIGHTSEERS, GHOST STORIES) for

Fudge Park, developed and backed by Film4 and Entertainment Film

Distributors.

THE FESTIVAL is released in cinemas nationwide by Entertainment

Film Distributors on 17th August 2018

24 www.AudationMagazine.com
---
"My first introduction to Audiation

Magazine was 4 years ago. It's been

an honor to watch them grow and

to be featured also. I LOVE the

stylish pocket design and was

immediately drawn to their

appealing, well-written articles.

I've made so many artist

discoveries here! Each issue is an

inspiring piece of art!

Congratulations on your 50th issue

and I'm excited for the next

milestone!" Karina Nistal

25
---
Three Lions

10 July 2018

What if I told you "it's coming home"? You're likely to either

roll your eyes or sing along with me. This one song is both

uniting the English nation and annoying the rest of the world or

anyone who isn't interested in football. After 28 years, England

have made it through to the semi-finals of the FIFA World Cup

and we are just insanely proud and hopeful about our chances

of winning the tournament.

With our rising excitement and enthusiasm for the team, the

legendary 'Three Lions' anthem by Baddiel, Skinner & Lightning

Seeds is being sung loud and proud. We still believe. The lyrics

speak of the unwavering confidence for England to once again

bring football home, as they did in 1966, despite their many

failures over the years.

The song was originally released in 1996 as England hosted the

European Championships and then again an updated version

was released in 1998 to support England during the World Cup

in which they reached the round of 16. The Squad also released

a 2010 version for the FIFA World Cup where England again only

reached the round of 16. There have been many more rereleases

and versions of the song, however the original still

remains the most notorious.

'Three Lions' is currently at #24 in the official UK singles chart

and is still climbing. The trend is not just being confined to

football viewers, but is sweeping across many other interests

and situations. Justin Timberlake chanted "it's coming home" to

his audience at the O2 Arena, he also shared a surprising

announcement that being an "honorary Brit" he will air the

England's semi-final match at his concert on July 12th. George

Ezra has also caught football fever as he tells fans to buy the

'Three Lions' song and knock his own 'Shotgun" single off the

#1 spot! Fans have also been having fun adapting old songs into

England chants, this includes a rework of "Whole Again" by

Atomic Kitten which band member Natasha Hamilton also

recorded and shared through social media.

26 www.AudationMagazine.com
---
12 July 2018

We are out. And yes we are sad, but not ashamed because

England made us proud. We actually had faith that we could

win, that in itself is an achievement. We allowed ourselves to

be swept up in the moment and dared to dream. Regardless of

the ending, we had great journey and saw the glass half full.

16 July 2018

'Three Lions' simultaneously tops the UK singles chart and

breaks a record for having the same artists at #1 on four

separate occasions.

Prior to the final match, we are entertained by the closing

ceremony featuring well-choreographed dancers and brilliant

use of technology to produce a very cool showpiece. Live it up.

This motto, the official song for the tournament, was the

crowning glory by Nicky Jam ft Will Smith & Era Istrefi. high

infectious energy, a fresh style and motivational attitude make

up this signature song.

And, the FIFA World Cup 2018 winner is France. Félicitations!

27
---
At Last - The Etta James Story

I found a dream that I could speak to. The fantastic soul singer is well known

for songs including 'Something's Got A Hold On Me', 'Stormy Weather' and the

timeless number 'At Last'. Etta James' rich and elegant voice took her to

stardom, though her journey in life was not the smoothest. The passion-filled

performance is set to tour across the UK throughout September and October.

Vika Bull plays the lead role and she is accompanied by The Essential R&B

Band. Described as a narrative concert, it comprises of 23 songs and the

account of her life.

Following its world premiere in Melbourne in 2013, the show has since

repeatedly packed theatres throughout Australia and New Zealand. In 2016

the show returned to Melbourne for a sell-out season at The Arts Centre and

July saw the show triumph for a third season at The Sydney Opera House.

Telling the story of soul legend Etta James' turbulent life and features some of

her most beloved songs including Tell Mama, Something's Got A Hold On Me,

Sugar On The Floor, the heart rending I'd Rather Go Blind, her iconic signature

song At Last and more.

"When I started in this business at 17 she was the one I listened to everyday. I

liked the way she sang with power and honesty … Etta doesn't really sing sh*t

songs and is a very funny woman. A devil!" Vika Bull puts her heart and soul

into this unforgettable show and is joined on stage by some of Australia's

finest and funkiest musicians.

During a long and tumultuous career that saw her win six Grammy Awards and

a star on The Hollywood Walk Of Fame, Etta James has influenced a vast array

of artists from Diana Ross, Janis Joplin, Stevie Wonder, The Rolling Stones and

Rod Stewart and is acknowledged as inspiring the careers of a new generation

of singers from Christina Aguilera, Joss Stone, Adele and the late Amy

Winehouse.

Sadly, Etta's frantic recording and touring schedule coincided with her evergrowing

addiction problems and over time she not only sang the blues…she

lived the blues. Mercifully, her passion for life and strength of character saw

her conquer her demons and she continued to record and perform into her

seventies.

With respect, this is her story.

www.AtLastEttaJames.com

28 www.AudationMagazine.com
---
29
---
Our secret recipe:

5 tablespoons of optimism, a handful of

creativity, and a bucket of love.

30 www.AudationMagazine.com
---
"It's only scary until you do it."

Leanne Louise

31
---
Awakening hearts along her journey, Sharm Pillay imparts good energy

through the 5 dimensions of Techno. Originally from South Africa, she now

resides in Australia and spends her time uniting people through the power of

music as well as expressing her soul through this medium.

Transcend into another realm with the dark grounding bass, a firm beguiling

rhythm and enticing waves of energy which seep into your senses. "Two

Angels" is Sharm Pillays debut single which is set to be released on El Futuro

Recordings.

Ahead of this release, Sharm Pillay kindly shares her thoughts with us…

The Awakening

Raised in a musically motivated family, music has been a constant throughout

my life. Both my parents and fraternal grandfather were actively engaged in

the music world. My grandad was South Africa's first Hindu Drum (Thabala)

Gold Medalist (1927). Filthy, sexy basslines run deep in my blood.

It was April 2014 when I unwittingly activated my DJ journey. The short story

is that a random thought led to an idea which led to exciting actions, and here I

am four years later. It's been a journey of note. I intuitively followed the

stirrings of my heart, taking heed to that persistent, enthusiastic feeling when I

tuned into music. Prior to this I'd experienced nothing like it. When I doubted

myself, the confirmation that I was on the right path came from friends,

followers and strangers who supported my journey.

I've has held long term online radio residencies with More Bass and Chill Lover

Radio in New York, Radio Futuro in Italy, two years with Vendjs in Venezuela,

Beats2Dance in the Netherlands and I currently have a monthly

SEKSiCuLLTURE show on DI.FM, UK/Sweden. I've dropped guest sets for IBIZA

32 www.AudationMagazine.com
---
33
---
White FM Radio of Tantra Nightclub in Ibiza, The Movement in India and Uncut

Media in South Africa, and KISS FM Radio in Melbourne, Australia.

I've played in various South African nightclubs, lounges, bars, corporate events

and private functions. In 2017, during my travels to Australia, I was invited to

play at ESCAPE nightclub, Gold Coast, Bondi Radio, Bondi Beach, various

private functions, Madison and Cod's Gift in Dural, Sydney.

Passionate about music, I've experienced many genres during the course of my

life that set the tone for a keen musical ear: House, RnB, Rock, Soul, Jazz, Hip-

Hop, Reggae, Blues leading to Techno. My enthusiasm for DJ'ing has

everything to do with "Music that gets me soul dancing". Though, Techno is my

first true love….. but ssssshhhhh don't tell anybody!

Favourite motto is "To thine own self be true".

My DJ journey in essence? It's been a Spiritual Awakening kinda experience.

The Frequencies Of Techno

Wow I could literally write a book on this topic! This has been my experience.

If you listen to Techno with your heart you will hear whispers of the Universe

vibrating within your being. Deep I know.

It's no secret that music is an ageless and timeless vibration. These are my

views. Use it or lose it. Music is the melody, the timing, the pulse of my soul.

Music is a Universal Language, Love the Universal Healer and Light the

Universe itself in action. Drop Techno in the mix and you've a magical formula

that would have Nikola Tesla wishing he's attending a Techno throw down.

Techno?

Techno is a whole different animal. Techno is a game changer.

Its vibration, frequency, energy (Spirit) seeps through the cracks of our DNA. It

touches us in places we never knew existed or may have forgotten. It breaks

open hearts, stretches minds and exposes us to our soul. Techno is a healing

frequency channeled straight from Spirit. It's a Spiritual thing, the 5D kind. You

can't touch it.

First you sense it. Then you feel it. It's an intUItion thing… it exists within U & I.

34 www.AudationMagazine.com
---
Two Angels

I was inspired by Love in all its glorious forms, specifically a painful soul

lesson during my personal awakening. I was lucky to have three very special

souls, two being my best girlfriends who passed away tragically within the last

two years and the third a Netherlands based DJ who unwittingly yet

profoundly activated my awakening. "Two Angels" is dedicated to the lives

and memories of my beautiful friends Susanne Keil and Ilana Lipman Dembo.

Gone too soon.

"Two Angels" is a stirring Techno track with tech house elements. This banger

floats with an emotional bassline, colourful arpeggio keys and resonant high

frequency elements reaching an exciting crescendo evolving into a beautiful

big room, festival track." is how Label Manager, Josh Lasden describes it.

Connecting with Josh was a synchronistic unfolding. I'm super excited to be a

part of the El Futuro Recordings family. Josh has been very supportive and

patient. I had a million questions as I'm a newbie to the production world.

We're forging a long journey of many more releases to come.

I've been invited to celebrate the release of "Two Angels" by Sydney based

female DJ, Ayebatonye Abrakasa at their DJ Showcase event organized in

association with Music NSW.

Date: Saturday, 25th August 2018 Venue: Tokyo Sing Song, Newtown, Sydney,

NSW, Australia Time: 22:00 – 4:00am

You're invited ;-)

35
---
SEKSiCuLLTURE

Love this question. Every SEKSiCuLLTURE set I've created up to this point has a

story. If you listen intently you may decipher its meaning. It's the story of my

awakening.

Each set is intentionally designed to raise our personal vibration and that of

the planet as we journey together with TECHNO. It's where the frequency of

Love & Light emanates, infused with positive vibes you may probably only feel

with your heart. Listen intently and by all means keep your ego engaged, it's a

healthy debate.

Life

It's been said that nothing is as powerful as an idea whose time has come. It's

my experience and understanding that nothing is more powerful than when a

soul has awakened to their authentic self. Their Truth. Their Passion. Its

success of a different kind, that first demands shedding (sometimes lifetimes)

of our old selves. For me personally it began with an intense desire to change

my reality. A non-negotiable pre-requisite to awakening is doing the inner

work. Transformation is not for the feint hearted though thoroughly

rewarding. Prepare to be uncomfortable or the Universe will make the

decision for you and you don't want that. It's a messy, chaotic, beautiful

journey at the best of times. It's where I found my soul's frequency and light,

deeply entrenched in Techno sounds.

The Future

More Techno Music! There are exciting projects in the works for

SEKSiCuLLTURE.

To shine my light, inspire and entertain walking my talk with Purpose: "Raising

the planet's vibration, anchoring Spirit into matter, awakening intuitive hearts

(if so desired), channeling music through my DJ platform and brand,

SEKSiCuLLTURE, to my soul tribe." is the main trajectory.

I would like to take this opportunity to mention that Human trafficking, child

sexual and animal abuse are causes extremely close to my heart. Every 30

36 www.AudationMagazine.com
---
seconds a child is sold. The child sex trade is a sick, evil and growing 32 Billion

Dollar a year industry (Statistics courtesy of Russell Brunson's Operation

Toussaint initiative). There are of children and babies voiceless and

defenceless against the atrocities they're experiencing. I'm making it my

personal mission to lend my voice, raise awareness and funds to end their

pain.

Destiny Rescue has helped to rescue 3000 children to date, working across

countries including Thailand. Cambodia. India. Philippines. Dominican

Republic and Australia.

To aspiring artists: never give up on your dream! Never. Tend to your soul's

voice and awaken to your heart's passion.

The planet is undergoing a huge shift and it's a beautiful time to balance our

masculine and feminine divine energies within.

This is my truth... I own it.

This is my journey... I'm so walking it.

______________________________________________________________________

Listen to SEKSiCuLLTURE, every fourth Wednesday of the month 7pm on DI.FM.

www.di.fm/shows/seksicullture

www.sharmpillay.com

37
---
Inner translation

Body and soul want to connect

Deeper vibration

I don't want to neglect

My own self I might forget

The best version of me ahead

Looming temptation

Easy routes and white lies

No deviation

The old belief dies

Elevate my soul

Let go and no control

Lead me to salvation

Being aligned to my soul path

Resilient; I am holding on

Not looking at the aftermath

My heart taking a new step

My soul taking a further step

38

Stv
---
Ashna

39
---
NEW

MUSIC
---
'Come Alive' by Bisola is a bright and motivational song. Lost the fire in my eyes.

The vocals have a gorgeous range between smooth and silky to strong and

powerful. Your love broke through. The uplifting spirit shines through with the

bold and passionate main section.

Come Alive is the new dancefloor filling, soul inspiring banger from the beautiful

British Bisola, the chart-topping singer/songwriter. With early support from

Earmilk and Music Musings and Such, as well as BBC Introducing South making it

their Track of the Day, Come Alive promises to be your song of the summer.

"I'm really excited about releasing 'Come Alive'. The track is based on my

personal experience of battling through a challenging time in my life and

eventually finding hope or, in fact,, hope finding me...and giving me a new lease

of life. The fact that the song also has such an upbeat, energetic pop arrangement

that makes you want to dance is absolutely the icing on the cake. I hope everyone

loves it and truly connects with it in some way" Bisola

Bisola is a true musical allrounder. Her prowess as performer has secured her

bookings at world famous venues such as the Notting Hill Arts Club, I Luv Live (at

Zigfrid Von Underbelly) and Proud Camden. Her skill as a songwriter led her to

the final in of the Thame Town Music Festival Songwriting Competition and the

semi-finals of the UK Songwriting Competition. Bisola acted as Musical Director

and songwriter for the West End stage musical 'Hannah – The Iyawo' and The

Voice newspaper ran a special feature of her in 2017. Her single The Impossible

peaked at no. 5 on the Indie Charts, and Million Miles achieved the number 1 spot

on the US radio music chart. Her songs have featured on Best of British Unsigned

and on countless online radio shows and blogs. Though Bisola has achieved so

much in her career already, the best is still to come! Keep checking her social

media platforms for details of her latest live dates.

www.bisolamusic.com

41
---
Flavourful,

carnival beats.

Lose yourself in

the moment.

42 www.AudationMagazine.com

37
---
'Red Lion' by BAAST has a uniquely beautiful charm. Will you ride this wave

with me? The dark twist of the bass against the gorgeous feminine voice. We

got nothing to fear, but fear itself. Her strength and determination is revealed

together with a burst of a tough though emotive atmosphere. The middle

sections has an extraordinary depth and eeriness contrasted with divine

sweetness of the voice.

Fresh out of the South-West duo BAAST bring dark alternative pop, mesmeric

synthesis and sound design intertwined with spoken word and soulful vocals.

Unafraid to tackle politicised themes of identity, their performance will

captivate and challenge the way you're told to think. After a year of producing

and writing together, they aim to bring a refreshing, brooding sound to the

ears of listeners. Formed by Beth Griffin (Grove) and Josh Petkovic'-Short

(Diessa), the pair met in Cheltenham before developing their cohesive sound

through Studio 340, a creative community arts venue. Here, they began their

out-of-the-ordinary journey.

Growing up in a limiting, restricted and conforming community, Beth was left

feeling disconnected from her surroundings, while Josh fell disillusioned with

society. The years of inability to explore personal identity now fuels their

ambition to craft songs that speak a visceral truth about what it's like to grow

up with that disconnect. The importance of individuality is prominent

throughout BAAST's performance, and their powerful tales charge through

every second of each song.

www.facebook.com/BAASTUK

43
---
44 www.AudationMagazine.com
---
'New Breath' by Fliptrix is invigorating. The snappy flow and catchy

rhythm of the chorus get you hooked. The full texture of the

production add the the energy to create a big impact. Dawn of a new

day. Lose your mind. Take leaps of faith. Raise up the good vibes.

The lyrics are thought-provoking, describing the truths of life and

motivating us to live it well.

As one of the leading lights in the thriving UK Hip Hop scene, last

months announcement of Fliptrix's album release for 'INEXHALE'

caused a riot of excitement. Already teasing us with the video

releases for album tracks 'It's Like That' and 'Bagging Up Music',

Fliptrix now launches in to full album mode as he drops the single

'New Breath', as premiered by DJ Target on BBC Radio 1Xtra.

With his trademark mellow tone Fliptrix takes us on a luscious

melodic journey, delving in to a variety of flows as his lyricism

explores purpose in life and the social constraints around us on a

daily basis. With eloquence and hypnotic undertones, Fliptrix pieces

together an introspective masterpiece over the production from

Chemo, exploring an array of difference from his well known boombap

style of delivery. Bringing the record to life and adding further

emphasis to the tracks themes via the Complex premiered visual,

Fliptrix's words translate into images as we follow in the footsteps

of the protagonist as he delves into a contemplative state of mind,

surrounded by the serenity and simplicity of nature at its finest. In

complete juxtaposition to its surroundings, Fliptrix finds himself

searching for a series of lyrical clues amongst a cold, concrete,

derelict building, leading him to a box of memories, all coming

together to clearly reflect the inner turmoil of us fighting between a

world of simplicity and freedom and that of monotony and

constraints.

After revealing the full tracklist for the album this week, which is

produced by Chemo, Molotov & Joe Corfield, fans and music critics

are itching to hear as much as they can before the album is officially

released on 24th August. With UK Hip Hop royalty Skinnyman, Ocean

Wisdom, Capo Lee, Coops, Carmody and more all featuring across

the 16 tracks, the album provides new talent, varying genre flavours

and highly respected pioneers of the UK sound.

www.soundcloud.com/mrfliptrix

47 45
---
"Chasing" by Tomhio is an instant hit! A bright and lively

production together with appealing vocals. It has a fun, modern

style to give energy and excitement to the party.

Tomhio is a 19 years old musical prodigy from Rotterdam, The

Netherlands. At a young age, he started playing the piano and then

developed his skills as a talented drummer. After being asked to

play drums in a band with friends, he became interested in

recording their material. He explored working with recording

software and in no time he was recording and producing music for

the band. He also started to make his own music and experimented

with sequencing. As a huge fan of dance music, it was only a matter

of time before he would produce his first dance track, and that

moment has arrived with the banging debut of Chasing! Proving to

be a new Dutch talent to be reckoned with, Tomhio's debut stands

out with a massive drop, awesome vocals and a slightly different

sound. Unique and catchy,

www.tomhio.com

46 www.AudationMagazine.com
---
'Caught Up Caught Out' by Mon Frère ft Kate Wild tells a treacherous love

story. The beautifully striking strings lead us in to the track. I fear we're

running out of time, my love. The bold voice reflects a distressed heart and

dwindling faith. I'm tired of hiding. The steady pace moves our emotions

together with the dynamic highs and lows.

The new single highlights the complexities of an intimate romance which

should never have begun. The initial liaison is turning into a relationship

which can only hurt the unknowing partners. Betrayal will only serve to ruin

lives. Feelings of guilt are over-whelming.

www.monfrere.co.uk

47
---
'Abruzzo' by Davide Carbone holds a fantastic blend of the light and dark

side. The title track is a beautiful piece with a light-hearted feeling,

subtle flourishes and a hazy air to sink into. Second track 'The Upside

Down' has the darker edge with the moody bass and wobbles, yet the

beat is not too heavy and intrigues with it's fragmented structure. Both

tracks are well-produced in an understated way.

After a seven year hiatus Davide Carbone's BS1 Records returns for 2018

with a fresh array of releases and remixes from an all-star cast including

Carbone, Royalston and the legendary Carl Cox to introduce the BS1

brand to the next generation.

Already featured during Beats 1's D&B month, 'Abruzzo' and 'The Upside

Down' see Davide taking a break from his film, tv and gaming music work

to deliver two proper pieces of drum & bass that continue the BS1

journey in fine fashion.

Established in 1999, BS1 nurtured the early careers of many a D&B

lynchpin including TC, Blame, Heist, Lomax (one half of Loadstar),

Decoder (Kosheen) and Distorted Minds. Their studio page was the

original and most popular source of high quality samples created by its

own artists and made available to the general D&B production

community. Such was the notoriety that many labels did and still do

request demo submissions that don't feature 'samples from the BS1

Records website'.

www.soundcloud.com/davidecarbone

48 www.AudationMagazine.com
---
Exhilarating!

Hot!

49
---
'Depend On Me' by Cores ft Maz shares the to's and fro's of a relationship. His

deep, raspy flow. His downhearted feelings. Her soft and soothing tones. Her

reassuring love. The light and soulful beats are a lovely accompaniment,

allowing the vocals to remain the main focus.

Produced by Cores, 'Depend On Me' puts a 2018 spin on the Teedra Moses'

2009 hit single 'Be Your Girl'. Combining vibrant drum patterns with the

mellow tones of Cores and Maz' silky vocals on the hook, the lyrics detail the

peaks and troughs of a relationship and wanting to 'have your cake and eat it

too'. This tongue-in-cheek track does have a deeper layer to it though,

exploring the idea of fear in love and relationships.

Having spent the early 2000's in the influential pirate radio crew 'Haunted

House Production's' the producer and emcee is verified in his authenticity.

Flash back to Professor Green's 2006 standout record 'Upper Clapton Dance',

which featured the man himself, not only on production but laying down the

final verse too. Although Cores honed in on his production craft, which

awarded him with a string of ground-breaking records including Adamhood

from the film Adulthood, Keep Moving by Paloma Faith, Bashy and Adam

Deacon (from the 4, 3, 2, 1 movie soundtrack), and most notably as Executive

Producer across all of Professor Green's albums to date, his love and talent for

emceeing has always remained burning bright.

After returning to the mic last year with two new tracks as an artist and

showcasing his abilities across the board as rapper, producer and mixer,

'Depend On Me' showcases his maturity and talent alongside intricately woven

beats, high-end sonics and sharp-tongued bars.

www.coresmusic.com

50 www.AudationMagazine.com
---
'CHANGE' by Parsifal is a moving journey. The mellow waves seep into you.

There is a great sense of anticipation and high intensity in the build up. The

minimal drop gives a feelgood vibe and your body starts moving with the

beats. There is simplicity in the general structure, yet a wonderfully complex

texture of sounds. The remix by Tommy J Gren is deep and dark with a strong,

progressive middle section.

With his unmistakable touch, Parsifal, returns alone under the spotlights with a

single on Kinesen. The song highlights the artistic evolution of the Parisian

producer who is finally able to outburst and let free all his creativity. 'Change'

unites his emblematic energy, to more quiet and intimate moments, with deep

sounds and hypnotic environments.

The original one is shadowed by Tommy J Gren remix, who gives 'Change' his

personal and unique touch with a Melodic Techno characteristics song. TJG

brings us on a trip with melancholy notes which usually represent a change,

and once accepted, it slowly explodes in a mixture of pure energy!

www.soundcloud.com/parsifalmusic

51
---
'Coconuts' by Frankie Stew and

Harvey Gunn has a relaxed mood

along with easy-going vocals. The

soft, chilled track has nice

rhythmic beats and a deep little

interlude section. The vocals are

somewhat monotonous, yet at the

same time, the simple raspy flow

is addictive.

Opening with the sweet sounds of

the sea and birdcall, the simple

percussive beat then kicks in to

lay the foundations of the record.

As the track progresses, Harvey

Gunn's technical prowess and

boundary breaking innovation as

a producer comes to the

forefront. The intricate layers of

instrumentation, samples,

melodies and vocals build, and

the quirky dynamics of this

standout record are shaped,

creating the canvas for Frankie

Stew and his lyrical mastery.

www.soundcloud.com/fsandhg

'Holiday' by Streetbeatz ft Dun D

& Timbo is a super chill track.

There is a lovely blend of the

mellow vibe, the light and playful

instrumentation, the raspy vocals

and generally a good feeling

throughout. You'll be singing "na

na na-na-na".

52 www.AudationMagazine.com

Encompassing a mixture of afrowave

and afro-bashment,

'Holiday' evokes an abundance of

feel-good vibes. Although each

artist individually creates a

different variation of the afrofusion

genres, the song is the

playground where all these

influences meet and the uplifting

nature of the track is perfectly

paired with the visuals, set on a

beautiful beach backdrop in a

tropical location.

www.facebook.com/

StreetBeatzWW
---
'2B' by AirLab7 is simply a fantastic trance track. The intense, driving force.

The subtle, warm and hazy vocal. The deep atmosphere. Pretty little melodies

in a light interlude. And finally, a strong and energising main section.

Timeless, majestic and emotional. Just some of the words to describe the next

release on Infrasonic Pure from AirLab7. Hailing from Honduras, this fresh

newcomer drops the mighty sounds of '2B' and as you'd expect from any

Infrasonic Pure record, the track ticks all the right boxes. From the rolling,

slamming groove to the lush spine tingling breakdown, '2B' delivers in all the

right areas and thanks to the epic drop, hits the spot every single time.

www.soundcloud.com/airlab7

53
---
VFAC 004 is the latest addition to the Vinyl For A Cause

catalogue in partnership with Reverb LP. Side A

features 'Muddy' by Jamila Woods which consists of a

fearless attitude against a grunge-style tone, though

with surprisingly beautiful accents. Side B features

'Snow Day' by Kevin Coval & Tasha which has a

pleasant mellow groove together with warm, soulful

vocals to create an interesting dream state of the mind.

The proceeds of this record go to the Young Chicago

Authors organisation which helps to develop creative

expression for the Chicago youth through school

partnerships, free writing workshops, open mic nights

and poetry slams.

54 www.AudationMagazine.com
---
"All that money goes to support a new generation of

lyricists, beat makers, singers, poets and creatives in

this city." Kevin Coval

This release is for all the Spoken Word/R&B/Soul fans

out there! It's with great admiration, respect, and

privilege that we announce our newest release, VFAC

004, featuring Jamila Woods on Side A and Kevin Coval

and Tasha on Side B. These artists absolutely bleed

Chicago red and blue and we couldn't have asked for a

better group to work with. VFAC 004 will be benefiting

a charity very close to their hearts, Young Chicago

Authors. YCA is an incredible organization that has

done, and continues to do incredible work with youth in

this city. Please see below to learn more about Kevin,

Tasha, Jamila, and the YCA. Also make sure you follow

Paul Branton and his fantastic artwork. We were lucky

to have him donate the artwork for this release!

https://lp.reverb.com/articles/vinyl-for-a-cause

55
---
'Open Arms' by MYKROBOY is sublime. The title track offers a cool tone

together with flavourful beats and warm vocals. The piano elements and

sweeping atmosphere draw you in. Second track 'Horizon' has a pretty

entrance with the sweet bird songs and oriental strings. There is

dramatic surge of power and the feeling is just indescribable, taking

over your senses entirely. The trio is completed with 'Deja Vu' which uses

a light piano melody to entice us, then we are further gripped by the

sensational passion. The clash of cymbals, the rush of excitement and

brilliantly, gleaming joy washing over your soul.

Downplay is proud to present the debut EP from new Manchester

producer MYKROBOY. 'Open Arms' is a magical track - equal parts

soothing synths and languorous vocals sprinkled over a robust 2-step

groove, that slowly unfolds into a 4x4 piano roller. It's the kind of track

that is easy to get lost in - every component compliments the others with

beguiling results.

'Horizon' takes you even deeper, rolling beats underpinning a truly

spellbinding journey that is equal parts cinematic and emotive. Garage

tracks like this are rare to come by these days - something that takes the

template and twists it into new shapes.

'Deja Vu' rolls out on lush piano keys and sugar sweet vocals with a firing

breakbeat foundation for something totally refreshing, before unfurling

with an orchestral grandiosity that showcases just how versatile this new

artist really is.

56 www.AudationMagazine.com
---
Naughty but nice!

Killer energy!

57
---
58 www.AudationMagazine.com
---
'The Story of Planaxis' Tomorrowland 2018 compilation by Armin Van Buuren,

Axwell, Dimitri Vegas & Like Mike and Lost Frequencies is epic! One of the

hottest dance music festival's on the planet has just ended, each year growing

bigger and each year presenting the best modern-day EDM artists. The theme

this year surrounds mystery and magic, stories waiting to be discovered. A few

favourites on the compilation which is release on Cr2 Records include high

octane 'Blah Blah Blah' by Armin van Buuren, chilled out 'Reality' by Lost

Frequencies ft Janieck Devy and mesmerising 'Glow' by D.O.D.

Hands up anyone that has been to Tomorrowland? Those lucky enough to have

visited arguably the largest festival in the world will tell you that it is an

extraordinary experience. Located in the aptly named town of 'Boom' in

Belgium, now in its 14th year, the sheer scale of the festival will overwhelm you.

Think 16 stages, 400,000 people from over 75 countries split over two glorious

weekends all with a will to dance.

Tomorrowland is a step beyond the conventional big festival, going all out on

design, creating another world for the time that you are with them. The main

stage itself is extraordinary, gigantic in size and scale with pyrotechnics, state of

the art lighting and sound and packing a wow factor that would be hard to

experience on this scale anywhere else.

The festival has steadily grown, due in large part to mainstream pop culture's

continued embrace of this decade's Electronic Dance Music explosion. It

eclipses some of the biggest events in the world when compared to internet

social media chitter chatter. Tomorowland amasses more tweets, insta and FB

posts than Glastonbury, Burningman, Cochella, and Ultra music festivals

combined. Even more than the F1, Wimbeldon, The Oscars and Tour De France

put together.

This year the theme is 'The Story of Planaxis' – a kind of lost city of Atlantis idea,

think magical submerged cities, extraordinary sea creatures and underwater

mystery and the namesake of this year's compilation.

Now some of the festivals biggest names bring you their take on the

Tomorowland sound. While Armin van Buuren, Axwell, Dimitri Vegas & Like Mike

and Lost Frequencies conquer the Mainstage during the first weekend, you can

also enjoy the legendary mash-ups of their best tracks at home. The four DJs all

made special 30-minute sets, exclusive to the first 2 volumes of 'The Story of

Planaxis'. The third volume offers a unique Tomorrowland Mix 2018.

Either as a memento of your experience or those that just want to sample the

flavour of this incredible festival, this compilation will bring you a snapshot of

the biggest tracks and high-octane moments of the event.

59
---
'Valley of Time' by MBX holds a huge energy. The progressive lead up teases us

with a full texture of many little melodies and a vocal elements building

anticipation. The main section is bursting with power and jump-up energy.

The indefinite continued progress of existence and events that occur in

apparently irreversible succession from the past through the present to the

future. This is the time concept defined. Translate this to sound and we find

MBX running wild with this fundamental puzzle piece of our known universe,

developing a powerful auditory picture.

www.facebook.com/mbxofficial

60 www.AudationMagazine.com
---
'Rain Dance' by Tough Love has a fun and flavourful vibe. The lively track get

you moving together with the fresh, vibrant tones. The vocals are equally fresh

and appealing to make this a great summer hit.

London-based house duo Tough Love have been at the forefront of house

music for the past five years. Now established as accomplished songwriters

and producers, they have also built up a strong reputation for their remix

abilities including re-rubs for Clean Bandit, Sigma, Jamiroquai and Craig David.

With recent releases gaining recognition from well-known tastemakers such as

BBC Radio 1's Annie Mac, Pete Tong, Mistajam and Danny Howard to

underground figureheads Camelphat, Todd Terry and Roger Sanchez, in

addition to being consistently in the Beatport and Traxsource top 20.

Having previously been signed to the most influential major and independent

record labels around including Nervous, Toolroom, Nothing Else Matters, Sony

Columbia and Kenny Dope's Dope Wax, they also have their own successful

imprint, Get Twisted. Tough Love strike the ultimate balance of releasing big

records whilst still being part of the respected underground scene.

They now present their newest single 'Rain Dance'. Continuing to keep their

bar firmly raised, the new single is laced with the classic dub elements,

synonymous with the Tough Love sound. Signature dubby basslines and strong

piano stabs with a Balearic feel, incorporating steel pans and an uplifting feel

good vocal. All comes together to make a highly danceable track, primed for

international dancefloors this summer.

www.facebook.com/toughlovemusic

61
---
'Chasing Shadows' by Jess Folley is a gentle pop song depicting the fight for

one's love. Her versatile voice is the main focus with bright tones at the chorus

contrasted with deep, soulful depth in the verses. The track is simple and soft

with pace to sway with.

At only 15 years old, Jess Folley has already won a national TV competition

and made headlines in The Sun, Daily Mail, OK Magazine and Billboard! The

young starlet wowed coaches and fans on the 'The Voice Kids', winning the

show with a final performance that Will.i.am said, 'Scorched the stage!' Jess is

now releasing her debut solo single 'Chasing Shadows'. co-written with award

winning producer and director of DM Unsigned, Darren Martyn. Jess says,

"since winning the Voice Kids, I've taken time out to focus on my sound and

develop as an artist. I love writing songs almost as much as I love singing them

and want to be fully involved in all the music I make. Working with DM

Unsigned has helped me do that. I'm excited for everyone to hear 'Chasing

Shadows' and everything that is going to follow!"

At the tender age of four, Jess joined a local dance school and was quickly

spotted as a young talent. Regular shows, festivals and talent competitions

helped her gain confidence and it wasn't long before local media started to

take notice and she began to grow a following. She was an instant hit on 'The

Voice Kids' and, since winning, her social media fanbase has rocketed. Jess

was so popular with the producers of the show that they asked her to return

for an interview at this year's live final. You can catch Jess speaking with

Emma Willis, along with a clip of her video for 'Chasing Shadows' on ITV on

21st July. You can also see her perform live this month on 22nd July at the

Wings and Wheels Festival in Havering, and on 28th July at the Southend

Relay Summer Festival.

www.jessfolley.com

62 www.AudationMagazine.com
---
EVENTS

Kiesgrube Open Air

22 April - 2 September

Neuss, Germany

Obanjon

24 June - 2 September

Obanjon Island, Croatia

Stoke Afloat Croatia

Cruise

28 July - 11 August

Split, Croatia

Black Sheep Festival

30 July - 2 August

Novalja, Croatia

Kovert

1 August

Dubai, United Arab

Emirates

A Summer's Tale

1 - 4 August

Luhmuhlen, Germany

Wakcen Open Air

1 - 4 August

Wacken, Germany

Dekmantel Festival

1 - 5 August

Amsterdam, Netherlands

Let It Roll

2 - 4 August

Milovice, Czech Republic

Tradidancas

2 - 5 August

Carvalhais, Portugal

Bestival

2 - 5 August

East Lulworth, United

Kingdom

Lollapalooza

2 - 5 August

Chicago, United States

Lovefest

2 - 5 August

Vrnjacka Banja, Serbia

Neverworld

2 - 5 August

Edenbridge, United

Kingdom

Solar Weekend

2 - 5 August

Roermond, Netherlands

Untold Festival

2 - 5 August

Ciuj-Napoca, Romania

Wilderness Festival

2 - 5 August

Charlbury, United

Kingdom

Nomade Reggae Festival

3 - 5 August

Frangy, France

Cargese Sound Festival

3 - 5 August

Corsica, France

Cirque Magique

3 - 5 August

Ledegem, Belgium

Moonland Festival

3 - 5 August

Rummu, Estonia

Nature One

3 - 5 August

Kastellaun, Germany

OFF Festival

3 - 5 August

Katowice, Poland

Rewind Festival: North

3 - 5 August

Macclesfield, United

Kingdom

Crazy Sexy Cool 'World

Of Pleasure' Festival

4 August

Rotterdam, Netherlands

Eastern Electrics

4 August

London, United Kingdom

PollerWiesen 25 Years

4 August

Cologne, Germany

63
---
Spektrum

4 August

Hamburg, Germany

Visions Festival

4 August

London, United Kingdom

The Løst Oracle - NØLAH

(Live) & Livia Andrei

4 August

Roches Noires, Mauritius

We Still Believe

Shoreditch Street

Party

4 August

London, United Kingdom

Ronquieres Festival

4 - 5 August

Ronquieres, Belgium

Ronquieres Festival

4 - 5 August

Ronquieres, Belgium

Bavaria Goes ZRCE

4 - 11 August

Novalja, Croatia

Summer Sessions

Edinburgh

6 - 19 August

Edinburgh, United

Kingdom

Oyafestivalen

7 - 11 August

Oslo, Norway

Open Flair Festival

8 - 12 August

Eschewge, Germany

Sziget Festival

8 - 15 August

Budapest, Hungary

Moondance Festival

9 - 11 August

Trogir, Croatia

Way Out West

9 - 11 August

Gothenburg, Sweden

Bloodstock Open Air

9 - 12 August

Walton Upon Trent,

United Kingdom

Boomtown

9 - 12 August

Winchester, United

Kingdom

GEM Fest

9 - 12 August

Anaklia, Georgia

Houghton Festival

9 - 12 August

Norfolk, United Kingdom

Defected Croatia

9 - 14 August

Tisno, Croatia

Electrisize Festival

10 - 11 August

Erkelenz, Germany

FRAC Festival

10 - 11 August

Rocelletta, Italy

Paradigm Festival

10 - 12 August

Groningen, Netherlands

Taubertal Festival

10 - 12 August

Rothenburg Ob Der

Tauber, Germany

Machja Festival

10 - 12 August

Corsica, France

No Logo BZH

10 - 12 August

Saint-Malo, France

Artwork Presents Art's

House: A Lovely London

Festival

11 August

London, United Kingdom

Appelsap Fresh Music

11 August

Amsterdam, Netherlands

Blijdorp Festival

11 August

Rotterdam, Netherlands

Loveland Festival

11 - 12 August

Amsterdam, Netherlands

M'era Luna Festival

11 - 12 August

Hildesheim, Germany

Summer Well Festival

11 - 12 August

Buftea, Romania

64 www.AudationMagazine.com
---
Saturdance X Mau5trap

Presents: Deadmau5

11 - 12 August

Istanbul, Turkey

MTV Presents Varna

Beach

12 August

Varna, Bulgaria

Bay Fest

12 - 14 August

Igea Marina, Italy

Barrakud Croatia

12 - 16 August

Novalja, Croatia

Glitch Festival

14 - 16 August

Rabat, Malta

Czad Festival

15 - 18 August

Straszecin, Poland

Summer Breeze Open

Air

15 - 18 August

Dinkelsbuni, Germany

Sunwaves Festival:

SW24

15 - 20 August

Mamaia, Romania

Weekend Festival Baltic

16 - 18 August

Parnu, Estonia

Green Man Festival

16 - 19 August

Brecon, United Kingdom

RiZE Festival

17 - 18 August

Chelmsford, United

Kingdom

Weekend Festival

Finland

17 - 18 August

Helsinki, Finland

Blockfest

17 - 18 August

Tampere, Finland

Rewind Festival: South

17 - 18 August

Henley-On-Thames,

United Kingom

Sommeroya

17 - 18 August

Oslo, Norway

Revinidas

17 - 19 August

Vilagarcia De Arousa,

Spain

Velorama Festival

17 - 19 August

Denver, United States

18/7001:Festival

17 - 19 August

Beiersdof-Freudenberg,

Germany

Highfield

17 - 19 August

Leipzig, Germany

MS Dockville

17 - 19 August

Hamburg, Germany

Motocultor Festival

17 - 19 August

Saint-Noiff, France

Ecelon Open Air &

Indoor Festival

18 August

Bad Aibling, Germany

Groove Loch Ness

18 August

Inverness, United

Kingdom

Rotterdam Rave

Festival

18 August

Rotterdam, Netherlands

STRAF_WERK Festival

18 August

Amsterdam, Netherlands

Elrow Town London

18 - 19 August

London, United Kingdom

Gloworm Festival

18 - 19 August

Nottingshamshire, United

Kingdom

Hold Festival Of

Colours

18 August - 8 September

Germany

Sonus Festival

19 - 23 August

Novalja, Croatia

65
---
B.my.lake

22 - 25 August

Keszthely, Hungary

Zurich Openair

22 - 25 August

Zurich, Switzerland

Summer Sessions -

Glasgow

22 - 29 August

Glasgow, United

Kingdom

Hip Hop Kemp

23 - 25 August

Hradec Kralove, Czech

Republic

Creamfields

23 - 26 August

Dares bury, United

Kingdom

Endeavour Festival

24 August

Middlesborough, United

Kingdom

Little Festival On The

Terrace

24 August

London, United Kingdom

Uprising Festival

24 - 25 August

Bratislava, Slovakia

New Horizons

24 - 25 August

Nurburg, Germany

Uprising Festival

24 - 25 August

Bratislava, Slovakia

Utopia

24 - 25 August

Stavanger, Norway

Leeds Festival

24 - 26 August

Leeds, United Kingdom

Mysteryland

24 - 26 August

Amsterdam, Netherlands

Reading Festival

24 - 26 August

Reading, United

Kingdom

The Big Feastival

24 - 26 August

Kingham, United

Kingdom

Dancity Festival

24 - 26 August

Foligno, Italy

Goatfest Live Music

Festival

24 - 26 August

Codicote, United

Kingdom

Secret Camping

Weekend

24 - 27 August

Swanage, United

Kingdom

Byday Bynight: Bank

Holiday Rooftop Party

25 August

Brixton, United Kingdom

Grenzenlos Open Air

Festival

25 August

Well Am Rhein, Germany

Fun Moon Med Fest

25 August

Gianpula Complex, Malta

Hold Festival Of

Colours

25 August

Germany

Queremos! Festival

25 August

Rio De Janeiro, Brazil

Jika Jika! Festival

25 - 26 August

Derry, United Kingdom

SW$: South West Four

25 - 26 August

London, United Kingdom

OSA : 12 Hour Launch

Rave Bank Holiday

Sunday

26 August

Birmingham, United

Kingdom

Red Sea Jazz Festival

26 - 28 August

Eilat, Israel

Summer Peak Festival

26 - 30 August

Novalja, Croatia

La Tomatina Festival

27 - 31 August

66 www.AudationMagazine.com
---
Dimensions Festival

29 August - 2 September

Pula, Croatia

C/O Pop Festival

29 August - 2 September

Cologne, Germany

Electric Fields Festival

30 August - 1 September

Thornhill, United

Kingdom

Sea Dance

30 August - 1 September

Budva, Montenegro

End Of The Road

Festival

30 August - 2 September

Salisbury, United

Kingdom

Festival Forte

30 August - 2 September

Montemor-O-Velho,

Portugal

Audio Farm Festival

30 August - 3 September

Kidderminster, United

Kingdom

Moseley Fold Festival

31 August - 2 September

Birmingham, United

Kingdom

Sundown Festival

31 August - 2 September

Norwich, United Kingdom

Popoganda

31 August - 1 September

Stockholm, Sweden

Wilkestock Charity

Music Festival

31 August - 2 September

Hertford, United

Kingdom

The City Trucks

Festival

31 August - 2 September

Maine-Et-Loire, France

Laundry Day

1 September

Antwerp, Belgium

Lief Festival

1 September

Utrecht, Netherlands

Müssen Alle Mit

1 September

Stade, Germany

Rave Nation IV

1 September

Oberhausen, Germany

Fusion

1 - 2 September

Liverpool, United

Kingdom

Milano Rocks

6 - 8 September

Milan, Italy

Shine On Festival

8 September

Birmingham, United

Kingdom

Coconut Music Festival

6 - 9 September

Saintes, France

Festival No.6

6 - 9 September

Portmelrion, United

Kingdom

Deep In The Woods

7 - 9 September

Heer, Belgium

The Long Road Festival

7 - 9 September

Leicestershire, United

Kingdom

Diynamic Festival

London

8 September

London, United Kingdom

OnBlackheath

8 - 9 September

London, United Kingdom

Rock The Belles X

Hiphop Hype Ibiza

9 - 13 September

Ibiza, Spain

Into The Woods Festival

14 - 15 September

Amersfoort, Netherlands

Chronicle Open Air

15 September

Beziers, France

Magna Carta Series

Launch At E1

15 September

London, United Kingdom

67
---
The Social Festival

Colombia

15 September

Bogota, Colombia

The Bubble - A Festival

Of Live

17 - 24 September

Ghajn Tuffeha, Malta

Scopitone

19 - 23 September

Nantes, France

Cyprus Break

19 - 23 September

Ayia Napa, Cyprus

Ouest Park Festival

19 - 23 September

Le Havre, France

Reworks

20 - 23 September

Thessaloniki, Greece

LWE & Innervisons

Presents Innervisions

London

21 September

London, United Kingdom

Soultown Festival

22 September

London, United Kingdom

Hospitality In The Park

22 September

London, United Kingdom

MiNT Festival

22 September

Leeds, United Kingdom

The British Sound

Project

22 September

Manchester, United

Kingdom

Tokyo World Festival

22 - 23 September

Bristol, United Kingdom

Oktoberfest

22 September - 7

October

Munich, Germany

ABODE In The Park

23 September

London, United Kingdom

Tamar Festival

24 - 28 September

Ein Gedi, Israel

Waves Vienna

27 - 29 September

Vienna, Austria

Into The Valley

28 - 30 September

Fuengirola, Spain

Boundary Brighton

29 September

Brighton, United

Kingdom

DGTL Tel Aviv

29 September

Tel Aviv-Yafo, Israel

BassRepublic

29 September

Mannheim, Germany

Boxed Off Festival

29 September

Meath, Ireland

Spring Attitude Festival

4 - 6 October

Rome, Italy

Fort Festival

5 - 7 October

Tossa De Mar, Spain

Neighbourhood Festival

6 October

Manchester, United

Kingdom

Syndicate Festival

6 October

Dortmund, Germany

The DarkWoods Festival

- VINI VICI

6 - 7 October

Mauritius

DLDK: Don't Let Daddy

Know UK

8 October

Manchester, United

Kingdom

Autumn Moon Festival

12 - 14 October

Hameln, Germany

Akubierto

13 October

Madrid, Spain

Awakenings & Time

Warp Present Connect

13 October

Dusseldorf, Germany

68 www.AudationMagazine.com
---
Liverpool Disco Festival

13 October

Liverpool, United

Kingdom

Nurnberg Pop Festival

13 October

Nürnberg, Germany

Full Metal Holiday

14 - 21 October

Mallorca, Spain

ADE: Amsterdam Dance

Event

17 - 21 October

Amsterdam, Netherlands

AMF

20 October

Amsterdam, Netherlands

Revive Festival Autumn

27 October

Warsaw, Poland

Westfest

27 October

Shepton Mallet, United

Kingdom

Bloody Sexy Halloowen

- Brno

31 October

Brno, Czech Republic

Pumpkin Germany

31 October

Oberhausen, Germany

World Trance Festival

31 October

Avignon, France

Simple Things Festival

20 - 21 October

Bristol, United Kingdom

Rockomotives Festival

20 - 27 October

Vendome, France

Adam Beyer Presents

Drumcode Halloween

27 October

London, United kingdom

Bloody Sexy Halloween

27 October

Bratislava, Slovakia

Inurfase: Federate The

Harder Styles

27 October

Mainz, Germany

Stand out from the crowd with Fieldcandy

69
---
REFERENCES

Daniel Orpi – Sexual Seduction

www.beatport.com/track/sexualseduction-original-mix/10732021

---

RYBO & Lubelsk - Favela Funk

https://fanlink.to/DH043

---

Rich Nxt – 1=0

www.discogs.com/Rich-NxT-

NXT003/release/10015785

---

Blaze – Lovelee Dae (Doc Martin

remix)

www.beatport.com/track/loveleedae-doc-martin-remix/10801330

---

D-Tour – Klasse Kerosin

www.upfrontbeats.com/track/dtour-klasse-kerosin-ep

Jackie Lee - She Does

www.youtube.com/watch?v=

IfgHLbsbEu8

---

Lanco - Greatest Love Story

www.youtube.com/watch?v=

aHl0tlUYDBI

www.instagram.com/ericstudly

---

Billy Currington - Do I Make You

Wanna

www.youtube.com/watch?v=

RqogSep6lwA

---

Dierks - Woman, Amen

www.youtube.com/watch?v=

mXOTJ-tluUU

---

Russell Dickerson - MGNO

www.youtube.com/watch?v=

azLLN3083TY

---

Chris Lane - All About You

www.youtube.com/watch?

v=5OAU9k5bDg0

---

Cole Swindell - Middle of a Memory

www.youtube.com/watch?v=

PS9Wo0iQUsg

---

Florida Georgia Line - Dirt

www.youtube.com/watch?

v=42uphHWxmFU

Thirty Seconds To Mars - Bright

Lights

www.youtube.com/watch?

v=4S0lCMB7iqg

The Festival

www.youtube.com/watch?v=

uKrZHkRTN4k

www.channel4.com/info/press/

news/film4-backs-the-festival

Baddiel, Skinner & Lightning Seeds

- Three Lions

www.youtube.com/watch?v=

RJqimlFcJsM

http://smarturl.it/TLFS_Spot

Nicky Jam ft Will Smith & Era Istrefi

- Live It Up

www.youtube.com/watch?v=

V15BYnSr0P8

https://sml.lnk.to/LiveItUp

70 www.AudationMagazine.com
---
At Last - The Etta James Story

www.youtube.com/watch?v=

hjEdcCVwzUg

www.AtLastEttaJames.com

Sharm Pillay

www.sharmpillay.com

---

www.junodownload.com/products/

sharm-pillay-twoangels/3827810-02

www.di.fm/shows/seksicullture

www.destinyrescue.org

Bisola - Come Alive

www.youtube.com/watch?v=

nzyYRqHDPko

http://smarturl.it/o4jf3u

---

www.bisolamusic.com

DJ S.K.T - La Luna (Indian Flute)

www.soundcloud.com/djskt/dj-sktla-luna-indian-flute

---

www.facebook.com/djskt

Vince Blakk pres. Angel II Demon -

The Great Divide

www.youtube.com/watch?v=

sUBF-3VDSRg

www.beatport.com/release/thegreat-divide/2327904

---

www.vinceblakk.net

BAAST - Red Lion

www.youtube.com/watch?

v=7R3_Qt8ikPY

---

www.facebook.com/BAASTUK

Fliptrix - New Breath

www.youtube.com/watch?v=

CpX0fcyKG-s

https://highfocus.lnk.to/INEXHALE

---

www.soundcloud.com/mrfliptrix

Tomhio - Chasing

www.youtube.com/watch?v=

f5usBiyOnfo

www.beatport.com/release/

chasing/2310660

---

www.tomhio.com

Mon Frère ft Kate Wild - Caught Up

Caught Out

www.soundcloud.com/

monfrereband/caught-up-caughtout

https://itunes.apple.com/gb/

album/caught-up-caught-out-featkate-wild-single/1413294569

---

www.monfrere.co.uk

www.katewildmusic.com

Davide Carbone - Abruzzo

www.soundcloud.com/bs1records/

abruzzo

www.bs1records.com/playlist/

bs1019-davide-carbone-abruzzothe-upside-down/

---

www.soundcloud.com/

davidecarbone

71
---
Milad E - Stole EP

www.soundcloud.com/

infrasonicrec/milad-e-stoleinfraprogressive

---

www.soundcloud.com/milad-me

Hoxton WHores & James Hurr - Let

The Music Play

www.soundcloud.com/

hoxtonwhores/hoxton-whoresjames-hurr-let-the-music-playoriginal-mix-whore-housereleased-130718

www.beatport.com/release/let-themusic-play/2332405

---

www.hoxtonwhores.com

www.jameshurr.com

Cores ft Maz - Depend On Me

https://open.spotify.com/

track/3YOhnKfDIgzcDYkmVI01Jg

---

www.coresmusic.com

Parsifal - CHANGE

www.soundcloud.com/

parsifalmusic

Frankie Stew and Harvey Gunn -

Coconuts

www.youtube.com/watch?v=

zjfgAKqqzwQ

https://lnk.to/FSHG-Coconuts

---

www.soundcloud.com/fsandhg

Streetbeatz ft Dun D & Timbo -

Holiday

www.youtube.com/watch?

v=0SKLGCjn1f8

http://smarturl.it/street001

---

www.facebook.com/

StreetBeatzWW

www.twitter.com/OfficialDunD

www.twitter.com/TimboSTP

AirLab7 - 2B

www.youtube.com/watch?v=

cMaGhNmg-C4

http://infrasonic.choons.at/2b

---

www.soundcloud.com/airlab7

VFAC 004

www.youtube.com/watch?v=

JWPPHt4_3pI

https://lp.reverb.com/articles/

vinyl-for-a-cause

---

www.kevincoval.com

www.jamila-woods.com

www.youngchicagoauthors.org

MYKROBOY - Open Arms

www.amazon.com/gp/product/

B07FQ7J9MC/ref=dm_ws_sp_ps_dp

Lucky Charmes & Essentials - Jack

My Style EP

www.soundcloud.com/

luckycharmes/lucky-charmesessentials-elevators-free-download

www.beatport.com/release/jackmy-style-ep/2335413

---

www.lucky-charmes.com

www.soundcloud.com/EssentialsNL

72 www.AudationMagazine.com
---
Paul Oakenfold & Jam El Mar - Lost

In The Moment

www.youtube.com/watch?

v=70DjX1miv24

---

www.pauloakenfold.com

www.jam-el-mar.com

The Story of Planaxis

https://tomorrowland.tmstor.es

MBX - Valley of Time

www.soundcloud.com/

thisisohmmusic/valley-of-timeteaser

---

www.facebook.com/mbxofficial

Tough Love - Rain Dance

www.youtube.com/watch?

v=0YeDG4-2ySs

https://lnk.to/tl_raindance

---

www.facebook.com/

toughlovemusic

Jess Folley - Chasing Shadows

www.youtube.com/watch?v=

bcy7bNQ0It4

http://hyperurl.co/hvbho6

---

www.jessfolley.com

73
---
Audiation Magazine, Issue AM050

Cover Photo Editor:

Daniel Wanrooy

Order Print Copy:

www.peecho.com/print/en/432321
---
@AudiationMag

AudiationMagazine

info@AudiationMagazine.com

www.AudiationMagazine.com

With love

Ruby, Rokuro, Cessle, Sarah, Malachi,

Andy, David, Steve, Jessie, Mary, Ashna & Tamara
---
Audiation

Issue AM050, 1st August 2018

Copyright 2018 © Audiation Magazine Ltd