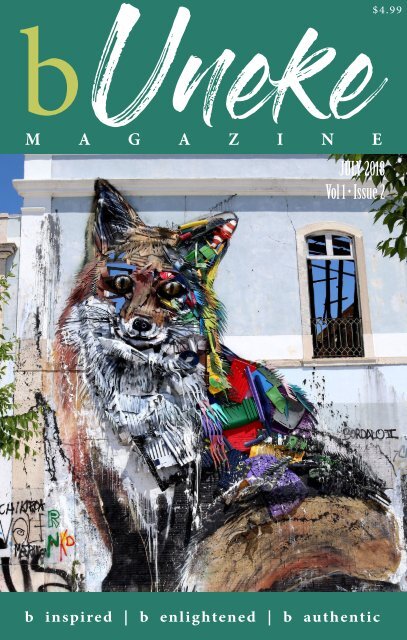 bUneke Magazine Issue 2
Issue 3 Highlights: Self-Victimization • August Awareness • Angel City Chorale on AGT • Rikki Has a Beautiful Soul • Valueless Waste Materials Transformed • Davide Di Giorgio Is Unapologetic • Understand Your Dream • Wear Gloves • Inspired To Do More • Celebrate Your Imperfection • The Hiding Place: The Story Of Corrie Ten Boom • Zodiac Predictions By Manish Cover Image by Matthew Raney Photography Always a FREE DIGITAL copy on website: bUneke.org
Issue 3 Highlights: Self-Victimization • August Awareness • Angel City Chorale on AGT • Rikki Has a Beautiful Soul • Valueless Waste Materials Transformed • Davide Di Giorgio Is Unapologetic • Understand Your Dream • Wear Gloves • Inspired To Do More • Celebrate Your Imperfection • The Hiding Place: The Story Of Corrie Ten Boom • Zodiac Predictions By Manish Cover Image by Matthew Raney Photography Always a FREE DIGITAL copy on website: bUneke.org
SHOW MORE
SHOW LESS
Create successful ePaper yourself
Turn your PDF publications into a flip-book with our unique Google optimized e-Paper software.
$4.99

bUneke

M A G A Z I N E

JULY 2018

Vol 1 • Issue 2

b inspired | b enlightened | b authentic
---
F.E.A.R.

By Yvonne Mason Sewell

Sponsored by Off The Chain Radio Show, www.blogtalkradio.com/yvonnemason.

The word FEAR or the feeling of FEAR strikes people every day of their lives. It

is the most crippling word in the English Language. It is a physical word which

causes heart palpitations, racing pulse, sweaty palms, headaches and sometimes

even death. FEAR makes the mind do insane things to the psyche. It creates a

reality that is not always true. Finally, it cripples the mind and body to the point

that a rational solution cannot be found.

To understand the word, we must first define it. Webster defines the word as

an adjective: an often unpleasant, strong emotion caused by anticipation or

awareness of danger. Anxious concern, reason for alarm.

2

Now that we have defined the word, let's look at the word as an acronym.

F - False

E - Evidence that

A -Appears

R - Real
---
For every problem, there is a solution.

Often, in our daily lives, we see evidence of things that appear real. For

example, a child falls down and cuts the forehead, it bleeds like an artery

has been opened and the child is crying like he or she is dying. The false

evidence is that the cut is worse than it really is. Our heart pounds, our

pulse races and our minds believe what our lying eyes are telling us. At first,

we are paralyzed. We cannot move, then we may yell at the child because

we really believe the child is dying. Then we yell at anyone close by like it is

their fault.

Once we calm down, wipe away the blood and understand that the cut

is minor, we put a bandaid on it, kiss the child and apologize for being

so foolish. In the meantime, we have shortened our lifespan because

we created the rush of unnecessary adrenaline through our body like a

tsunami. Once we have calmed down, we wonder why we are so tired. The

answer is easy, the FEAR we perpetrated puts stress on our hearts, minds

and other organs causing them to move into flight-or-fight mode. Once

the perceived danger has dissipated, the extra neurons return to the brain,

creating a void in our system, which in turn slows down the heart, pulse

and mind. We become exhausted and have a need to rest.

Due to this false evidence that appeared real, we have put undue stress

on our bodies, whereas if we had slowed down, assessed the situation and

understood there was a solution, there would have been no need for the

fear.

For every problem, there is a solution. We must train our minds and bodies

to act, instead of reacting to False Evidence that Appears Real. This requires

discipline, and it takes time and the ability to understand that we should

stop to think before we believe what we think we see or hear.

You can train yourself to stop, think, assess, then act, not the other way

around. You will be healthier and happier for it.

,

About the Author:

Yvonne has appeared on numerous radio shows and now she has her own

show on Blog Talk Radio called "Off the Chain" and airs several times per

week on the Blog Talk Radio Website. Shows begin at 8:00pm EST. If you

visit the website and follow the show you will receive updates on guests and

dates. She is also an author of seventeen books including three true crimes.

She can be found at http://authoryvonnemason.com/ and

https://www.facebook.com/yvonne.mason1.

3
---
Uneke

M A G A Z I N E

Editor in Chief

Mary Brotherton

mary@buneke.org

Creative Director

Jennifer East

jennifer@buneke.org

Marketing Director

Lynn Kinnison

lynn@buneke.org

Social Media Director

Anna East

Writers

Jacob Bastian

Trinity James-Mathison

Joanne Rahn

Wanda Luthman

Victoria Chetta

Kathryn Kenwood

Yvonne Mason Sewell

Mary Brotherton

Anna East

Lynn Kinnison

David Alton

Contact us

bUneke.org

Hello Awesome Humans!

,

To say I'm overwhelmed at the response we've received upon

launching the inaugural issue of bUneke Magazine (sounds like

be unique), last month, is a dramatic understatement. Thanks

to one and all for taking the time to download the free digital

issue and especially for your invaluable feedback. We want to

know what works and what doesn't work for all our readers.

If you haven't already, be sure to follow us on Instagram,

Twitter, LinkedIn, Pinterest and Facebook. We love your

comments and suggestions. This is how we learn.

One thing we've learned in the short month since we released

our first issue is how amazing our sponsors and donors are.

No amount is too small and I'll personally acknowledge every

donation we receive.

We've also learned there are many more people who, like us,

want to read stories about amazing people doing simple things

to make our world a better place. You've all told us that we're

doing something that's long overdue and we appreciate hearing

that.

I'm rather proud of our second issue and it gives me great

hope for future issues. We've already attracted the attention

of new (to us) authors that we're eager to introduce to you and

are working with more passionate writers who want to work

with us. Our story scouts are doing a phenomenal job finding

excellent subjects for our writers.

Be sure to scan the QR code with every story for more

information!

Mary Brotherton

Editor-in-Chief

If you enjoy this issue, and want us to continue, please share

with your community. Follow us, like us, and rate us on social

media! We want to continue offering complimentary issues

but we need your assistance! Facebook, Instagram, Twitter,

Pinterest, LinkedIn @bUnekemagazine.

4info@peacecoreinc.org
---
Uneke

M A G A Z I N E

2

F.E.A.R.

7

Plastic-Free July

8

Kneeling on the Front Lines

10

How Pongo Saved Sue

12

The Story of Stuff

14

Kindness is what Matters

16

Reminders from Mitzi

18

Leftovers Can Be Lifesaving

20

Blankets for the Homeless

22

Sisterhood

,

Series

24

LGBT Congregation Cares for the Greater

Dallas-Fort Worth Homeless

26

Grandmother Turned Tragedy into a

Helpful Organization

28

Zodiac Predictions By Manish

5
---
Uneke

M A G A Z I N E

WE NEED YOUR SUPPORT TO CONTINUE.

Please help us build our social media!

Click & follow us today!

PEACECORE, Inc. is the 501(c)(3) organization that provides a free media outlet for other non-profit

groups and charitable organizations that might not otherwise receive the recognition they deserve

for doing good in this world. To do this, PEACECORE, Inc. uses a tool called bUneke Magazine, a

free, digital and print publication. We tell stories about amazing people doing extraordinary things

every day and we need your help to spread their messages.

We find these people and organizations with dedicated research, through word-of-mouth and

when we attend meaningful events such as conferences, conventions, tournaments, festivals and

other celebrations. These gatherings give us the opportunities to not only showcase our work, but

it gives us the chance to meet the people and businesses or organizations that are important to U.

If U have an upcoming event and would like bUneke Magazine to attend, contact

lynn@buneke.org to discuss the best way to give your event optimal coverage and exposure.

Our world is filled with amazing people, fascinating places and wonderful organizations that work

toward building a peaceful and beautiful place to live. We all play a role that may seem small but can

make an enormous impact. If U want to learn more about those who are making this world an even

better place, download your copy (or request print). Your downloaded copy is always free! We are

ready to show U how U can become a change-maker too! We can't wait to meet U!

Looking beyond today's agenda to inspire, enlighten and encourage authenticity through Philanthropy,

Education, Action, Compassion, Evolution, Charity, Optimism, Responsibility and Enthusiasm

(P.E.A.C.E.C.O.R.E. Inc.). bUneke Magazine shares information with everyone.

Founded by industry professionals, this 501c3 tax-exempt organization features charitable

organizations and individuals who make our shared planet a better place to live. We bring U news

about unique humans and corporations with a philanthropic outlook to their business plans and

align our brand with other parties that advocate for children, animals, veterans, the homeless, our

environment and living authentic lives, among a multitude of other fantastic stories!

Do U have good suggestions or tips U would like to share with others? Please visit our website today

and submit your ideas. Visit our web page for more information.

Download (always free of charge) your copy TODAY and start making a difference! www.bUneke.org.

bUneke Magazine is a monthly publication. We are not responsible for the return or loss of or

for damage or any other injury to unsolicited manuscripts, unsolicited artwork (including, but not

limited to) drawings, photographs or any other unsolicited material. Those submitting manuscripts,

photographs, artwork or other materials for consideration should not send originals, unless specifically

requested, in writing, to do so by bUneke Magazine. If you want your submitted materials returned,

they must be accompanied by a self-addressed, stamped envelope.

bUneke Magazine is an educational resource based on the personal experiences and opinions of

contributing writers and special guest features, and is in no way offered as legal advice. It is up to

the reader to thoroughly research all suggestions, opinions and offerings presented in

the articles.

Address all editorial, business and production correspondence to:

P.E.A.C.E.C.O.R.E. INC, 4520 Deanna Ct., Merritt Island, FL 32953.

For permissions and reprint requests, please email: info@peacecoreinc.org.

Copyright 2018. All rights reserved. Printed in the USA. Vol. 1 • No. 2
---
Plastic-Free July

Did you know it takes 30 days to create a habit?

In 90 days, you can change your lifestyle.

That's the idea behind Plastic Free July

http://www.plasticfreejuly.org/.

Visit the website to sign up for the challenge to go a month

without using single-use plastics and become a part of

the world-changing movement to save our planet!

Plastic-Free July started in Western Australia in 2011 and now,

millions of people across the globe are participating.

The vision of Plastic-Free July is a world without plastic waste.

One person can make a difference! U can make a difference!

U can B the difference in a world filled with garbage

and a clean, healthy, productive planet! What will U choose?

If U need some ideas, visit My Plastic-Free Life

https://myplasticfreelife.com/plasticfreeguide/ for a free guide to get U

started. Another great site is Plastic Pollution Coalition

http://www.plasticpollutioncoalition.org/get-started-living-plastic-free/.

Be sure to tell us how U are going plastic-free in July! Use

#bUnekePlasticFreeJuly in all your social media.

,

7
---
70% of the 3,000 plants identified as active

against cancer cells

are found in the Amazon.

The Amazon Forest spans across:

Peru • Brazil • Bolivia • Guyana • Ecuador • Suriname • Colombia

• Venezuela • French Guiana

The Amazon Forest contains:

4,100 miles of rivers • About 40% of South America • 1.4 billion acres of

dense forests • One in 10 known species on Earth • 2.6 million square miles in

the Amazon basin • Half of the planet's remaining tropical forests

The Amazon Forest is home to:

3,000 fish species • 1,300 bird species • 378 reptile species • 40,000 plant

species • 437 mammal species • 400 amphibian species

About the author:

8Mary Brotherton, the editor in chief of bUneke Magazine spends her time scouting

for phenomenal stories, interviewing amazing humans, taking photographs and

mentoring other writers when she's not working on her own novels, short stories

and scripts or simply making the best of life.
---
Kneeling on the FRONT LINES

By Mary Brotherton • Sponsored by Erf Warriors • Photo Credit AMAZON WATCH

Amazon Watch isn't a fancy timepiece

you can buy at the mega-online

retailer. Instead, Amazon Watch is an

organization that has, for the past

two decades, supported more than

400 indigenous tribes of the Amazon

Rainforest and stood with them on the

front lines to stop the destructive overdevelopment

of the biological treasure

that produces more than 20% of the

entire planet's oxygen.

Science has proven a link exists between

the health of the Amazon and the health

of the planet. The rainforest contains

90-140 billion metric tons of carbon,

helping stabilize local and global

climate. Deforestation will release

substantial amounts of this carbon,

creating significant consequences to our

global climate.

Despite this, acres and acres of our

precious rainforest are being destroyed

every minute, as timber is harvested

and land is cleared for cattle farms or

oil wells. As this happens, indigenous

peoples lose their ancestral territory and

the rest of the world loses this important

carbon sink, the benefit of indigenous

traditional knowledge, and untold plant

and animal species that could provide

cures for illnesses. Currently more than

100 prescription drugs come from plant

foundations, with many derived from

rainforest sources, yet there are still

many tropical trees and plants that

have been unexplored by science. A

full 70% of the 3,000 plants identified

as active against cancer cells are found

in the Amazon.

The Amazon Forest has more economic

value left intact than if it is cleared

for cattle, oil drilling or to harvest

its prized, oxygen-creating timber.

Amazon Watch resists this kind of

senseless destruction of the forest by

supporting the rights of indigenous

peoples and challenging developers

and the extraction of natural resources.

These peoples have lived as stewards

of the forest for millennia, yet fossil

fuel extraction, mining, enormous

hydroelectric dams and an everexpanding

highway system is taking

place all over their territories without

any concern for their aboriginal rights.

If you would like more information or

to donate to help Amazon Watch assist

the forest's indigenous peoples as they

protect us all, visit

9

https://amazonwatch.org/

,
---
How Pongo

Saved Sue

By Joanne Rahn

,

0

Sponsored by peacecoreinc.org

Photos Courtesy of Hello Pongo
---
A former Gold Coast Australia gym owner

and aerobics instructor who endured a

debilitating back injury, says orangutans

saved her life.

Sue Feenstra had dedicated her life to

attaining and promoting health and

fitness until she sustained a back injury

so serious doctors told her she may

remain bedridden indefinitely.

With the only hope of recovery a

complicated back surgery, Sue faced a

difficult path. Instead of giving up, Sue's

mind wandered the forests of Borneo

and she wrote the novel Pongo - Hands

Through The Forest, entirely on her

iPhone.

Born in the Year of the Monkey Sue

always felt an affinity for our primate

cousins and has had the plight of the

orangutans in the back of her mind for

many years. She was perplexed as to why

nobody has really delved into their world

via a literary platform before now.

"They are such a gentle species," Sue

said. "People have written stories

featuring all kinds of animals, and I was

waiting for someone to write one about

orangutans, but it just never happened.

This is a story that was waiting to be

told."

Aimed at readers of all ages and released

in June 2018, Pongo is a fictional tale

about a young orangutan named Pongo

who enlightens the reader of the plight

of deforestation threatening his species.

A story set to educate and inspire those

setting off on their own journeys, Pongo

encourages conservation and protection

of our precious planet.

Teaming with the Orangutan Foundation

International Australia and its founder

Kobe Steele, , Sue has pledged 15% of all

book sales to go directly toward bringing

the orangutan back from the brink of

extinction, before it's too late. With

the recent loss of Sudan, the last male

white rhino in existence, this message

of conservation could not come soon

enough.

Sue does not see herself as an activist or

a conservationist, but an advocate. She

genuinely wants to start a movement.

She used what could have been the

end of everything to kickstart a new

beginning.

Living proof that any situation can be

turned into a positive with the right

attitude, Sue believes that as the

caretakers of the world, we must come

together to protect those who cannot

protect themselves.

This is a sentiment shared by many. In

her recent ITV documentary with David

Attenborough, entitled The Queen's

Green Planet, Queen Elizabeth II

expresses her love of the environment,

and how she hopes that many

generations to come will still be able to

enjoy the flora and fauna of today.

Sue encourages other advocates to give

the next generation the knowledge to

protect the environment by donating

PONGO to schools. For $100, Sue will

donate five books in your name to your

choice of schools.

For more information about donating

Pongo - Hands Through The Forest, or to

purchase a copy, please visit:

https://www.hellopongo.com.

About the Author

,

Joanne Rahn is the PR dynamo

at zanthii communications.

Experienced in all aspects

of sales, public relations

and publicity creation,

copywriting, proofreading, event and

social media management, and email

marketing, the founder and director of zanthii

communications works to raise her clients'

profiles by harnessing the power of both

traditional and social media. Her passion for

helping others reach both their personal and

professional goals is brought to life as she

liaises with media outlets to showcase clients'

best work across multiple media platforms.

Get in touch with her at joanne@zanthii.com.

To see examples of Joanne's work, please visit

http://www.facebook.com/zanthiiau.11
---
,

The Story of

STUFF

By Katherine Kenwood

Sponsored by bUneke Ambassadors

All photos courtesy of The Story of Stuff

12
---
TThe Environmental Paper Network has calculated that

Catalog Choice has saved: 526,297 mature trees

1,097,104,860 pounds of greenhouse gas

418,936,863 pounds of solid waste

3,661,289,382 gallons of water

The Story of Stuff Project started as an opportunities for community members

animated online documentary, in 2007, to get involved, from the global level to

and has grown into a movement to shift where they live and work.

the way we make, use and discard things.

The small group of passionate people at

One of the Story of Stuff campaigns

The Story of Stuff say they know about

brought volunteers together to oppose

the problems that concern us all. One

Nestlé's water extraction in the San

look at their impressive video list is proof

of that.

Bernardino National Forest and another is

called Catalog Choice, which was founded

Founder Annie Leonard's first short

movie created an online sensation that

unleashed a flood of pent-up demand

for honest conversations about our

consumption-crazed culture. Since then,

The Story of Stuff's award-winning

animated movies have received more

than 50 million online views worldwide

and have encouraged viewers to support

hundreds of environmental projects and

campaigns with their time, energy and

money.

Today, the team in the San Francisco

Bay Area inspires and encourages civic

engagement of more than one million

members of its global community. These

community change-makers include

parents, community and faith leaders,

teachers, students, entrepreneurs,

scientists and others interested in

creating a more healthy and just world.

Story of Stuff movies and other media

focus on the big, exciting innovations

driving environmental and social changes,

as well as the little things individuals and

communities can do to make a difference.

The campaigns provide diverse, engaging

by the late Chuck Teller with support from

the Overbrook Foundation, then passed

on to be managed by The Story of Stuff

in 2015.

The free, online service has helped

more than two million people reduce

paper waste by stopping junk mail. With

almost 10,000 titles in its database,

Catalog Choice helps consumers protect

natural resources and simplify their

lives by cancelling specific catalogs and

other types of unwanted paper mail.

At consumers' requests, Catalog Choice

sends merchants opt-out appeals, but has

no control over how and when merchants

will process the requests and cannot stop

mail from local USPS or from prospecting

lists.

To learn more, visit https://storyofstuff.

org or https://www.catalogchoice.org.

,

13

Contact us today to learn how you can sponsor

a story that inspires, enlightens and encourages

authenticity! Call 321-417-4309 or email

info@peacecoreinc.org.
---
,

Kindness

is what Matters

By Trinity James-Mathison

Sponsored by A.D.D. in Poetry • Photos courtesy of Kindness Matters Boise

We couldn't have done it without our core group of amazing ladies.

In our ever-changing world, a little bit of kindness goes a long way. Changing lives, changing the

world, is what the people at Kindness Matters Boise are doing to make a difference in our world,

starting with their local communities.

Founder Christie Raymond said, "We couldn't have done it without our core group of amazing ladies:

Heather Reddy, Valerie Parker, Helen Thompson, Brittany Holloway and Kathy Abbeglan! Each one of

these individuals contributes and adds a different piece to Kindness Matters Boise and together we

are able to spread kindness and provide hope to individuals within our community."

Kindness is comfort food to the soul. It gives comfort to the one giving, and to the one receiving.

4

Having a heart that cares is a blessing in itself.

Christie said, "We wanted to do more, show kindness locally and thought how neat it would be if

other communities started doing the same thing."
---
We give them to our neighbors without addresses

Some individuals have seen social media

posts from Kindness Matters Boise and

decided to do similar acts of kindness in other

neighborhoods.

"We hope more and more people will spread

the message that kindness really does matter,"

Christie said.

One of the ways Kindness Matters Boise

makes a difference in their local community

is through the distribution of Blessing Bags.

These bags are filled with toiletries, and items

suitable for each season.

"We give them to our neighbors without

addresses," Christie said.

"It doesn't take much to be kind," Blair

Raymond said. "It's gratifying to help people.

I came from a nice and loving family, but

at one point in my life, I had turned into a

troubled young man. It's gratifying to be able

to help without being judged. I don't need to

understand them to help them. Since October,

this has changed my life. I make sure I do kind

things. I am more patient and more thoughtful,

more aware of my surroundings."

Christie said, "Most of us are so fast-paced and

in a hurry. I am more conscious of that myself.

How I drive, how I walk. I smile with everyone

I see."

The organization was recently approached to

coordinate a fundraiser for St. Jude's Children's

Hospital and is thinking about "Blessing Bags

for the Chemo Kids." These bags will include

books, movies, crafts and candies to help with

nausea.

Christie said, "We are taking it one month at

a time because we are new at this. We would

like to do some fundraising and volunteer work

to help our disabled veterans, our wounded

warriors."

They rely on the community to help. Some

of the local schools donate items from their

lost and found but most donations come from

within the core group.

As Kindness Matters Boise continues to make

a difference locally, the 501(c)(3) organization

needs help in addition to donors. Volunteers

are always appreciated who can help with web

design and social media.

To learn more, visit www.kindnessmattersboise.

com or @kindnessmattersboise on Facebook.

About the Author

,

A native of Trinidad & Tobago,

Trinity James-Mathison

proclaimed naturalization in the United States

in 2001. She studied tourism and hospitality

as well as theology at Eastern Florida State

College. She began writing as a child but

published her first book in 2017 and is

working on her second. She says she thanks

the Lord for her gift of life and good health

and would not be here otherwise. Contact

Trinity: info@peacecoreinc.org.

15

Contact us today to learn how you can sponsor

a story that inspires, enlightens and encourages

authenticity! Call 321-417-4309 or email

info@peacecoreinc.org.
---
Reminders

from

Mitzi

Story & photos

by Victoria Chetta

Sponsored by routetohealing.com

There isn't much time here. We are reminded of this when the ones we

love pass away on a timeline that we judge to be too early. Our minds

are creators of expectation and structure, weaving webs of what seems

appropriate or just. The sudden passing of my little dog Mitzie is a lesson

for all souls. There is no early or late, there just is.

It is possible animals understand the magic and flow of

existence better than humans do.

I am reminded that an animal does not think, "I will give you a better goodbye

next time, when I'm not in a rush." They don't calculate, "Oh, you've got about

10 years left here with me." They live life in total immersion of the experience,

moment to moment, without taglines or ongoing assessment.

Love is everywhere.

Live like a pup.

Do as Mitzie did: explore the brightness and buzz of your surroundings. Close

16

your eyes and breathe deeply as you lift your head to the sun. Walk your bare

feet on Mother Earth and greet each day like an artist eager to meet the canvas.

Perk your ears up and listen intently, breathe in the comforting scents of home

and be fully present with the food in front of you.
---
Be OK with not having all

of the answers.

There is no rush to get anywhere, unless it

is running into the arms of the one you love.

Take time to play, to dance in circles and allow yourself to

be enchanted like a child. Be true to your nature. Rest your mind and dream

deeply. Lay in the laps of those you love most, for there is no concept of

time in this beautiful place of presence.

This sweet, little dog was healthy, vibrant and deeply loved by many. She

was also here one minute and gone the next. She was synchronized and

attuned to the ticking of her heart, not of the clock. Maybe she knew better

than us that she had fulfilled her duties in the third dimension.

Greater lessons came with Mitzi's passing:

~ Be OK with not having all of the answers. More importantly, just be.

~ Know who you are with the people and animals you love in your life.

~ Know who you are without them.

~ When you wake in the morning and you realize you only have yourself to

take care of, embrace this new chapter.

~ Create a new relationship with yourself. Feed and water your soul and

walk yourself down a path with sunlight.

~ With the physical absence of the ones we love, we are forced to create.

Who am I, now?

Love is everywhere. Mitzie is a reflection of the best parts of me and the

best parts of you. I can no longer see my best friend with my two eyes,

but I can feel her energy and her presence in everything joyful that I do, in

everything loving that I create and in everything beautiful that I am.

About the Author:

,

Victoria Chetta is the founder of Route to Healing, an Orlando,

Florida-based organization focused on mind-body-soul wellness.

Victoria is an intuitive reiki master, hypnotherapist, wellness consultant

and meditation practitioner. Wellness consulting, combined with

reiki, addresses the mental, emotional, physical and spiritual bodies.

This powerful duo allows for full-spectrum healing. Hypnotherapy

strengthens your transformation process by empowering you to rewire

17

your brain, providing healthy behavioral changes. Guided meditation

supports you in your new lifestyle of awareness and peace. Empowering

others to welcome harmony in their lives is a rewarding joy for Victoria.

www.routetohealing.com victoria@routetohealing.com
---
,

LEFTOVERS

Can be Lifesaving

By David Alton

Photos Courtesy of Rescuing Leftover Cuisine

One of the hardest things for Robert Lee has

been to see good food go to waste, knowing

that millions are starving, so he created the

non-profit food rescue organization called

Rescuing Leftover Cuisine, also known as RLC.

The organization is headquartered in New York

City and operates in 16 cities in the United

States.

When RLC was first formed, Robert picked

up all the leftover food himself. After a few

months, the organization had grown so much

they needed to change processes. Now,

volunteers go through a short training period

18

and some lead others in doing rescues. Core

rescuers lead five rescues a week, and rescuer

associates lead 10 events per week, getting

paid $8 per route.

The organization has provided approximately

1.8 million pounds of food to human service

agencies, and in New York City alone, RLC

has worked with 64 human service agencies

rescuing leftover cuisine from 103 partner

restaurants.

Robert said, "We aim to become the world's

most widely-used solution for companies and

individuals, to eliminate food waste in their

communities, making food rescue sustainable

and universal, and food hunger a thing of the

past."

After identifying the homeless shelters of

a needy community, RLC finds restaurants,

hotels and catering companies with excess

food nearby that can help support these

disadvantaged communities. Leveraging
---
technology, RLC facilitates the

identification and handling with

partner food providers who report

when excess food is available. Then,

RLC engages community members who

may need only to take a brisk walk to

complete the transaction. The extra

food is taken to where it is needed

most.

Because of the Bill Emerson Good

Samaritan Food Donation Act, passed

in 1996, Federal Law protects all

food donors from civil and criminal

liability when they donate apparently

wholesome food to non-profit

organizations in good faith. This law

also protects the non-profits that

distribute the food in good faith to

those in need. All 50 states have

similar laws that build on the federal

law, providing more protection to the

donors and allowing more food to be

consumed, rather than wasted.

Restaurants that partner with RLC

receive benefits that are outlined on

RescuingLeftoverCuisine.org.

You can follow

RescuingLeftoverCuisine on Facebook

and Instagram, on Twitter

@RescuingCuisine and learn how to

donate or volunteer in a city near you.

,

We aim to become the world's most widely-used

solution to eliminate food waste

and end food hunger.

An estimated 805 million people suffered from chronic

hunger between 2012 and 2014,

according to the United Nations.

That's 1 out of every 9 people in the world!

In the United States, an estimated 49.1 million people

were food insecure during 2014, according to the

United States Department of Agriculture.

That's 1 out of 7!

The food that ends up in the U.S. landfills could serve

58,064,516, 129 meals.

That's almost 60 billion meals!

40% of food in the United States is discarded yearly.

That's $162 billion wasted, according to the

Natural Resources Defense Council.

On average, a U.S. family of four toss out

1,160 pounds of food each year.

About the Author:

David Alton was born in Wisconsin,

where he lived until he was assigned

to a military post in the South. When he's not

writing, he finds creative ways to inspire

19

and

entertain his large family or he's doing some kind

of household chore. He's a jack-of-all-trades and

a master of one, but he's not telling which one.

Contact David: info@peacecoreing.org
---
Blankets for the

Homeless

,

By Jacob Bastian

Sponsored by Mary Brotherton Editing Services

MaryBrotherton.com

Photos Courtesy of Blankets for the Homeless

When Mariah Smith was 17, she saw a homeless

man shivering in the cold Virginia winter and was

moved to help. Since that night in 2011, Mariah

and Blankets for the Homeless volunteers have

distributed more than 200,000 blankets in Virginia

Beach, Norfolk, Chesapeake, Hampton, Portsmouth,

Suffolk, Williamsburg and even overseas.

She said, "I've been contacted by people from

Pakistan, Ghana and Australia who want to learn

from me. We sent three containers to Ghana."

The Blanket

Angel gives to

50+ people

every night.

Mariah works with more than men and women

living on the streets. She is drawn to help displaced

families with children living in hotels. There many

different reasons families become homeless

such as job loss, foreclosures, illness and other

catastrophic situations.

"Many of these families are working, but because

they've lost their stability, they can't afford

security deposits on a new home, let alone their

first and last month's rent. Many of them can't stay

in shelters, so they are living in motels, if they're

lucky."

Mariah speaks at schools, businesses,

organizations, and on Sundays at different churches

where they then do donation drives for the items

they distribute. Blankets for the Homeless is a

501(c)(3) organization and has also received some

financial support, but it is not enough.

"We distribute five nights a week," Mariah said.

"Tents are such a great need for them. We have

20

purchased tents out of our pocket, purchased hotel

rooms so they can afford food for their children.

Knowing the reality of what people are going

through motivates me."
---
The recent Regent University graduate majored

in psychology, and intends to pursue her master's

degree, while continuing her mission to help

homeless and displaced families.

"I hope Blankets for the Homeless will become

fully funded so we can help those families out of

their circumstances into a stable home."

Don't let the organization's name deceive you.

Blankets for the Homeless gives much more than

simple covers. Nicknamed the "Blanket Angel" by

those she has helped, Mariah has given to 50 or

more people almost every night.

She listens to their needs.

Mariah's organization also distributes hats, gloves,

coats, walking shoes, tarps, toiletries, back packs,

among other necessities.

She said, "Basically, anything they need, we try to

find a way to get it for them. The need is always

there, the need is always great, it just changes as

the weather does."

Backpacks are a big deal for people who can't stay

long in one place. They need to be able to take

everything they own, quickly.

Mariah, who was born and abandoned on

Christmas Eve, feels a certain kinship with her

homeless neighbors.

"My future was uncertain until my family adopted

me."

Mariah has a different approach to her

distribution.

"We leave everything separate in the van and

allow them to choose what they need. They

honestly take only what they need and even refer

us to other people. The most important thing is

their dignity."

About the Author:

If you'd like to join Mariah's social network, follow

her on Instagram @BlanketAngelForTheHomeless

or on Facebook @Blankets for the Homeless

Hampton Roads. If you want to donate

to help Mariah's mission, contact her at

BlanketsForTheHomeless.org, 757-434-4543 or

Jacob Bastian is a freelance

writer who is passionate about using his

time and talent to help make the world

a better place for everyone. He works in

the service industry to support himself

as he travels extensively, enjoying many

unique places throughout our amazing

universe. Contact Jacob:

info@peacecoreing.org

blanketsforthehomeless@hotmail.com. ,

21
---
PAR T ONE

Do you have a tribe? How many of them are women?

Do you feel whole and empowered when you say goodbye to them?

If you don't—let's change that.

Times are changing toward awareness of the female experience. It's been realigning for

awhile, but we can now see the change in mainstream media, which means it is reaching

the masses. (Hurray!) Women are not only asked about their clothing and relationship

status, but are now being asked about their opinions, their multifaceted emotions and

their ideas.

With the change in perspective on how women experience the world, we are also changing

the conversation on how we interact with one another. The common language that has

been used to describe and belittle grown women (i.e. girl, chick and witch) is now being

replaced with things like goddess, woman (what a concept!) and boss. This directly reflects

how we treat each other, and that is changing, too. Many women have been conditioned

to see other women as threats. We've viewed emotion as a weakness. Any action or word

that is not following the traditional masculine behavior is seen as secondary, less than,

or negative. This perspective has been slowly dissolving, due to so many more women

having a voice on social media. Through these articles, I hope to spread awareness about

how beautiful the female experience is, and how we can use our creative, supportive and

powerful feminine energy to empower one another.

Through my own experience, I have had a wide range of female relationships. At times

they were very unhealthy friendships, oddly competitive acquaintanceships, or thankfully,

supportive, uplifting and comforting friendships. When I was heartbroken, low in self

confidence and yearning for non-romantic companionship, I learned how incredibly

22

important it is to have a sisterhood. A strong female bond can take your world view to new

heights. Knowing, interacting with and trusting other females can empower women to

follow their instincts, go after their dreams, and make life so much more fulfilling. I used to
---
www.seedandspark

.com/fund/

lucyskingdom

Social Media: @lucyskingdomfilm

Contact: erfwarriors@gmail.com

A film about

Young Female

Empowerment,

Land

Conservation,

and Environmental

Awareness.

Providing historic

footage for

Lori Wilson Park,

Cocoa Beach, FL.

Written and

Directed by

Anna East

ERF warriors

Productions

LLC

be a girl that only hung with the guys. Now, I cherish my sisterhood bonds and happily put

energy towards keeping them up, because they have been there for me when no one else

was. It was because they understand me. We have a way of listening and guiding each other

down our best paths possible. Our only intention is to enrich each other's life. No drama.

Pretty cool, isn't it?

It just takes a bit of self reflection and some genuine personal work.

Throughout this series of articles, I'm going to take you through the best and the worst

friendships of my own life, women around the world's lives, and hopefully some of your

lives, too. We are going to look at the scientific, the spiritual, the cultural, the historical and

the personal reasons of why we women act the way we do towards one another. I have

personally been experiencing a huge shift in my female relationships over the past year, and

I think it stems from these changes I have been making within myself and towards other

women. I have been kinder, I ask about ideas, and I listen. I have been honest, I have put

assumptions aside and I listen more. These changes have led me to find my best friend,

encounter incredible women I look up to, and make lasting connections with women of all

ages and experiences.

I think women are becoming more empowered as a whole, and as we continue to elevate

each other's lives, we will enrich and love our own lives every single day.

So to all the women that I adore, and for those I have not met yet, thank you for existing.

You are powerful, you are so worth loving, and you will be heard.

Now grab ya best gal and tell her to read the next few issues with you. There, I'll share how

we can grow and become the best medicine for one another. To heal each other like only

women can.

,

Check out author Anna East's newest film project:

Lucy's Kingdom. The film highlights female

empowerment and caring for our environment,

with stunning visuals. See how you too can be a

part of this exciting project!

Social Media: @lucyskingdomfilm

D e f e n d i n g a k i n g d o m i s n o c h i l d ' s p l a y .

Lucy's Kingdom

Choose

to be a

Warrior.

Make

Lucy's

Kingdom

a reality!

In a quest to protect her beloved Florida coastline, a determined nine year old girl

finds her voice, despite life's adversity and conflicting corporate interest.

About the Author:

Anna East is an actress, dancer, singer and environmentalist. She has

passionately lived and worked on stage, in TV, film & national commercials for

8 years in Los Angeles, Orlando, and Atlanta. She has performed

23

in both Tokyo

and Shanghai. Anna is currently studying for a bachelor's in business and

plans to produce and direct her own content someday. Instagram: @anna_eatz_

bananas and https://www.anna-east.com.
---
,

LGB T Congregation

Cares for the Greater

Dallas-Fort Worth Homeless

24

By Kathryn Kenwood

Sponsored by Dickens Wealth Management

Photos by Dallas Hope Charities

Jason Vallejo is the executive director at

Dallas Hope Charities, the outreach arm of

Cathedral of Hope United Church of Christ,

a predominantly LGBT congregation located

in the Oak Lawn area of Dallas, Texas.

When bUneke contacted Jason to learn

more about Dallas Hope Charities' blessing

bags, we discovered this project is a small

part of a much larger outreach mission.

"We have at least 20 different outreach arms. The blessing bags program has

been around more than two years. I've been involved with it for a little over

a year," Jason said. "Last year we gave out 421 Thanksgiving baskets and

we work closely with the AIDS/HIV families. In addition, we collect school

supplies for children whose parents are affected and we offer tutoring,

among so many other things."

Every organization involved in blessing bags has a unique twist that works

for its community. For Dallas Hope Charities, volunteers gather on the

second Wednesday of each month to assemble and fill gallon-sized bags with

snacks, toiletries, water, pull-top cans of meats, small protein drinks, Ensure,

breakfast bars, pop-tarts, instant coffee, dried fruit, cheese and peanut

butter crackers, lotions, soaps, shampoo, toothpaste and other items.

Jason said, "We put the shopping list in our church bulletin and remind

the congregation to bring home their travel-sized toiletries as they travel,

especially now that it's summertime."

The same core of 15 to 20 volunteers who assemble the bags are typically

the ones who distribute them.

"It's a mobile ministry," Jason said. "We keep the bags in our cars so when

we see someone in need, the bags are there, ready to hand out."

He said they give out 200 bags each month. In each bag is a flyer inviting

those who receive the bags to come to the church for a free breakfast every

Saturday. Most weeks, about 400 people show up. The Cathedral of Hope

and Dallas Hope Charities also offers a lunch program every Monday and

introduces the individuals to other resources they can use.

"Because we take the bags wherever we go, our outreach is amplified,"

Jason said. "We don't stay local. We have taken this ministry way beyond our
---
25

neighborhood area."

He said the recipients are always

grateful and some are surprised

to find their favorite snacks in

the bags. One of his goals for the

Blessing Bag ministry is to find

more partners to help put the bags

together.

Another big goal is to open a youth

center for LGBT in the Dallas-Fort

Worth area.

"Last year was the first year anyone

did a specific youth count in the

area. We found that 40% of youth

are LGBTQ. There are at least 4,100

people who are homeless in the

Dallas area," Jason said.

In the Dallas area, donations for the

blessing bags can be dropped off or

mailed to Dallas Hope Charities at

5910 Cedar Springs Road, Dallas, TX

75235. For more information or to

volunteer, call 214-351-1901.

Follow @CharitiesDallas on Twitter,

@DallasHopeCharities on Facebook

& Instagram. ,

"It's a mobile ministry.

We keep the bags in our cars so when we

see someone in need,

the bags are there, ready to hand out."
---
Grandmother

Turned Tragedy

into a Helpful Organization

Y

26

,

By Wanda Luthman

Sponsored by Jane's Alterations - jjlyons@lowcountry.com

Photos courtesy of Grandparents Raising Grandchildren

When people become grandparents, some say, "

If only I could have done this first, because it's more fun."

You get to give the child back when it's time for a diaper change. Or you

get to babysit for Friday night date night, which is your time to spoil your

grandchild. You are the fun grandparent that makes forts in the living room by

draping blankets over the sofas and telling stories snuggled underneath with a

flashlight. You have your freedom to travel and also enjoy a young child from

time to time. It's the best of both worlds.

But, sometimes being a grandparent doesn't work out exactly like that, such

as in Mary Ann Sterling's situation. The tragic end of her daughter's life left

Sterling to raise her 6-year-old grandson, Matt. Or in Lil Hobson's case, she

took on the role of raising her 2 ½-year-old grandson, Vincent "Vinny" because

he had been living in a home with drug abuse and domestic violence.

An organization known simply as Grandparents Raising Grandchildren (GRG)

helped Lil when Vinny developed aggressive behaviors and had some speech

issues. Also, GRG assisted Lil through the daunting task of paperwork and legal

advice as she sought legal custody of Vinny. Through the help of GRG-referred

lawyers, she was able to adopt Vinny two years after he came to live with her.

Lil said, "The legal expenses are the largest piece of what GRG provides and is

the critical first step to caring for the grandchild."
---
Mary Ann Sterling (Exe. Dir.), Sheriff Wayne Ivey

Vinny and Lil

Seeing how much money is needed to assist families, not only in adopting

the children, but also to provide toys, gifts, parties, food, and more, Lil

jumped at the opportunity to give back and became the chairman of the

organization's fundraising golf tournament.

This year is the group's third annual tournament. It will be held on

September 8 at the Turtle Creek Golf Club in Rockledge, Florida, USA. Sheriff

Wayne Ivey, a supporter of GRG, will speak to the golfers at the golf outing

luncheon.

All children deserve a safe place to call home.

If you find yourself in this situation, know you are not alone.

Lil said, "These children are thriving, thanks to the selflessness of their brave

grandparents."

All children deserve a safe place to call home. If not for the grandparents

stepping up, putting the child first, many might be placed in foster homes

with strangers.

For more information, call the office at 321-631-7776, visit GRG-Brevard.

org, follow on Facebook @grg.brevard or Twitter @ GRGofBrevard. Mail

donations to 123 Barton Blvd., Ste. 102, Rockledge, FL 32955 USA.

About the Author

,

Award-winning children's author, Wanda Luthman, has her M.A. in

mental health and guidance counseling. She has been a professional counselor,

adjunct professor, and hospice counselor. She's currently a high school guidance

counselor. Her five books, The Lilac Princess, A Turtle's Magical Adventure, Gloria

and the Unicorn, Little Birdie Grows Up and Franky the Finicky Flamingo,

27

tell

fantasy adventure stories of lives being changed by the magic of love. She is a

former National Pen Woman and belongs to several writing organizations. She

resides in Florida with her husband and two dogs. To receive an exclusive ebook,

visit https://wandaluthman.wordpress.com/.
---
zodiac

PREDICTIONS

by

Manish

July 2018

ARIES (21 March – 19 April)

This will be an especially creative time and

you would be able to offer a surprisingly

elegant solution to emerging issues, thereby

pushing aside potential competitors. At

work, you will be consistent in your actions

and will confidently finish anything started.

Financial decisions made will satisfy your

head, as well as your heart. Other people's

stake in your money, assets and possessions

will be in the spotlight. Perseverance and

consistency at work will pay off if supported

by like-minded people and if you do not

hesitate to ask for help when the need

arises.

Favorable Dates: July 2, 4, 11, 13, 20, 22

Favorable Colors: Purple & Yellow

TAURUS (20 April – 20 May)

You will achieve unimaginable success in

various spheres of your lives, if you channel

your energies wisely. Your vital strength will

only increase, which would undoubtedly

stabilize your emotions and psyche, selfesteem

and inspire confidence. You may

join forces with someone who shares your

financial, property and business goals,

and then pursue the outcome when the

facts and figures will be extremely clear. If

you're in a committed relationship, you'll

28

see it reinvigorated this month. You will find

yourself getting comfortable and settled with

your partner.

Favorable Dates: July 8, 9, 17, 18, 26, 27

Favorable Colors: Blue & Green

GEMINI (21 May – 20 June)

Coolness will be an unmistakable sign of

success. Those who worked hard in previous

months will be particularly lucky. All prepared

projects will suddenly start to develop as if

by themselves, without encountering any

obstacles. If the world seems like a bigger

and more interesting place, it will be largely

thanks to an intriguing team effort. This is

your best chance for you to get educated

and establish links with the outside world.

Romantic events will be activated. This will

be an enjoyable time, stormy, and full of

passionate declaration of love.

Favorable Dates: July 4, 7, 13, 16, 22, 25

Favorable Colors: Red & White

Cancer (21 June – 22 July)

This is the best phase to fix problems, make

plans and deepen your commitment. You

will re-launch yourself, with a wonderful new

look, or dramatically different role. The world

will no longer see you in the same old way,

but your partner will need to be extremely

secure, tolerant and flexible to cope. If

committed, you will have the courage for a
---
Manish Kumar Arora is a renowned KP Astrologer, Numerologist,

Tarot Reader & Vastu Consultant. He has been rendering

professional advice to clients with a reasonable degree of success.

He has been conferred with the title of 'Jyotish Varahamihir' and

'Jyotish Aryabhatt.' He has been writing monthly astrological

columns for 40 international magazines. For personalised

predictions, he can be contacted at manish@manishastrologer.com

decisive conversation with partners. If single,

you will have many people willing to win

your heart, but choosing among them will be

difficult. A sense of humor will help.

Favorable Dates: July 3, 4, 12, 13, 21, 22

Favorable Colors: Red & Yellow

Leo (23 July – 22 August)

This is a time to observe, feel and process.

You may pay special attention to your dreams

and the subtle areas of your lives. Focusing

on creativity and artistry can be beneficial.

You are looking for more meaning to your life

and especially to your relationships. You seek

to make others happy and tend to give others

the benefit of the doubt. Your feelings and

tastes are grand, and you may be especially

extravagant or indulgent. Take time for a

healthy retreat in a scenic place with your

loved ones for a week or so.

Favorable Dates: July 8, 9, 17, 18, 26, 27

Favorable Colors: Blue & Yellow

Virgo (23 August – 22 September)

You could be feeling inspired, and your

thinking is inventive. Varying your usual

routine may be rewarding. You take

more pride in your tastes, relationships

and personal possessions. You are more

affectionate, expressive and generous, and

tend to crave admiration and appreciation. If

single, destiny allows you to choose whether

to spend the month on sexual adventure, or

build a foundation for a lasting union. This is

a time of great love and passionate hatred.

The married ones may show more tolerance

to partners.

Favorable Dates: July 1, 4, 10, 13, 19, 22

Favorable Colors: Red & Green

Libra (23 September – 22 October)

There is a need to keep balanced this month.

You may be attempting to please others and

ignoring your own needs, or tending to your

own needs and alienating others. You can be

feeling needy and looking for love. You are

thinking about the long view, seeking out

security and stability. You may be committed,

focused, resistant to making changes and

stubborn. If you are still single, expect the

spotlight to swing on your former partner or

a potential new date. Reduce the emotional

temperature when making professional

decisions.

Favorable Dates: July 3, 7, 12, 16, 21, 25

Favorable Colors: White & Gray

Scorpio (23 October – 21 November)

Alternative ideas, innovative approaches and

revolutionary U-turns will be on your agenda.

Personal professional skills will help perfectly

29

actualize all plans. New projects, people,

continued...
---
from previous page...

hours, equipment or methods will point you

in a different professional direction, and in

some cases, a total change of lifestyle will be

in the offing. Self-improvement endeavors

can be in focus and successful as you go

forward. Ultimately, you'll be in a stronger

position. Watch for over-spending and

overindulgence in general, as there is some

tendency to latch onto impractical ideas or

ventures.

Favorable Dates: July 3, 4, 12, 13, 21, 22

Favorable Colors: White & Green

Sagittarius (22 November – 21 December)

While there can be a strong and even

consuming desire to throw yourself into

work or projects you may not be able to find

enough energy to back it up. Your patience

may be wearing thin, due to the demands of

travel, study, teaching, publishing or people

from interstate and overseas. You are faced

with the need to temper your enthusiasm

or to slow down to avoid overextending

yourself. This is a time for clarifying and

editing projects and goals. You may need to

cut back on something in order to grow in

another.

Favorable Dates: July 1, 2, 10, 11, 19, 20

Favorable Colors: White & Yellow

Capricorn (22 December – 19 January)

It is time to build networks and co-operate.

There is a stronger desire to nourish, care

for or tend to favorite people, things and

projects. This is generally a good time for

social pursuits, trying something new, joining

a group and networking. You can learn

something completely new, and while it may

be slightly uncomfortable at first, you can be

thrilled that you're reaching out beyond your

usual bounds. You need to make watertight

plans for your mind, body and spirit in a way

30

which serves all of them at the same time.

Favorable Dates: July 3, 4, 12, 13, 21, 22

Favorable Colors: Red & Yellow

Aquarius (20 January – 18 February)

This is a time when it may become obvious

where you've been pushing too hard,

particularly related to a relationship, but for

some, this can also be about a project. You

need to observe things a little longer before

committing, and other times, you may have

to learn from your mistakes. There can be a

feeling that whatever alternative you pick,

you won't win. There could be a minor

dilemma between family and friends, or the

need for time to recoup and the need to

make connections with others.

Favorable Dates: July 2, 3, 11, 12, 20, 21

Favorable Colors: Blue & Purple

Pisces (19 February – 20 March)

This is a time for lingering on your feelings

instead of dismissing them or tucking them

away. This is also a time for a wait-and-see

approach to your world, as it's not a good

period for pushing quickly ahead. Social

interactions or issues can get in the way of

your work and vice versa. Distractions are

plenty, or you are more sensitive to them.

This month will see sparks in love burning

brighter than ever as you celebrate your love.

If you're single, someone in your life could

become more than just a friend.

Favorable Dates: July 1, 4, 10, 13, 19, 22

Favorable Colors: White & Red

,

Contact us today to learn how you can

sponsor a story that inspires, enlightens and

encourages authenticity!

Call 321-417-4309 or email

info@peacecoreinc.org.
---
MANY THANKS to our Sponsors:

ERF Warriors Productions

(Lucy's Kingdom Film)

The Brawner House/Everygreen Cemetery

Balancing Point Wellness

Blue Planet

Peacecore, Inc

Off The Chain Radio Show

Route To Healing

Manish Kumar Arora

A.D.D. in Poetry

Jane's Alterations

bUneke Ambassadors

Matthew Kinnison

Marcy Family

Toni Lexiton

Keri Lewis

Amanda Borrd

Sacha B. Sims

George Luna

Mellody Spent

Jessica Ownes

Cash Warrens

John Grylls

Casey Aweser

Timothy Holloway

Jenna Johns

Tito Winds

Sonuya Zolciak

Kroy Family

T HANK YOU!

Thank you

bUneke Readers

for entrusting me

with your stories.

Mary Brotherton

Storyteller | Writer | Editor

MaryBrotherton.com

mary@marybrotherton.com

321-549-8156

Reviews:

"Finally a book that sounds like me. I LOVE this book! I know

that I am okay just the way I am. Thank You!" -- Linsay, age 9

"Thank you for helping me to understand what my child is going

through, in such a meaningful way." -- Michelle S.

A.D.D. IN POETRY:

One Family's Journey with Attention Deficit Disorder

by: Jennifer East

About the Book

A.D.D. in Poetry, One Family's Journey with Attention Deficit Disorder, is a collection of

uplifting and meaningful poetry paired with delightful color illustrations, that will warm

the hearts of its readers and will remind them that there is life after the ADD/ADHD

diagnosis.

Review

"If you feel uncomfortable, frustrated,

confused about ADD in yourself or a family

member, this book offers a healing perspective."

-- Florida Today News

This book is written in a simple, down-to-earth language and offers insight to an ADD/

ADHD child's mind. Each poem expresses thoughts and feelings on how one can live and

enjoy today and will inspire one to never give up hope for a better tomorrow. This book

can be a wonderful gift to a loved one and/or caregiver experiencing ADD/ADHD first

hand.

I am not a doctor, but having to care for four ADD children and share a relationship with

an ADD husband, I feel I may have practical experiences to share with others. My children

have shared their experiences and have given their stamps of approval on each poem. It is

a reflection of how they feel about themselves. I also hope to leave the reader a sense that

they are not alone in their daily journey with Attention Deficit Disorder.

Product Details: Paperback: 20 pages • Language: English

ISBN-10: 1412037697 • ISBN-13: 978-1412037693 • Product Dimensions: 8.9 x 8.2 x 0.2 inches • Average Customer Review: 5.0 out of 5 stars
---
Photographer: Birgit Frohna

Artist: Bordalo I I

This month's featured photographer is Germany-born Birgit

Frohna, who captured the astounding 3D artwork of Portugal's

Bordalo II for our July cover. Bordalo creates, recreates,

assembles and develops ideas with end-of-life material

and trys to relate it to sustainability, ecological and social

awareness. Birgit says that photography gives him the chance

to relax and escape his daily routine. He especially loves the

story in the details. He is fascinated by street art, nature,

architecture and art by Gaudi and Hundertwasser.

To submit your work for consideration, please visit www.buneke.org.