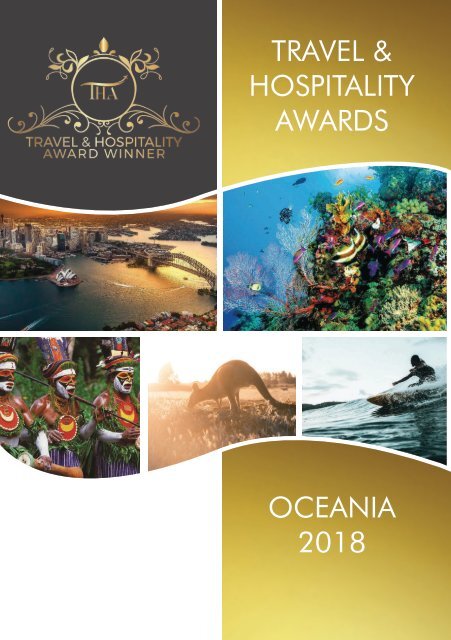 Travel & Hospitality Awards | Oceania 2018 | www.thawards.com
www.thawards.com
www.thawards.com
SHOW MORE
SHOW LESS
Do you know the secret to free website traffic?
Use this trick to increase the number of new potential customers.
TRAVEL &

HOSPITALITY

AWARDS

OCEANIA

2018
---
TEAM

CEO

Dennis Mayhew

EDITOR-IN-CHIEF

Katherine Lozell

ART DIRECTOR

Marcs Bacera

DIRECTOR OF SALES

Stanley Lucas

AWARDS DIRECTOR

Brian Anson

DIRECTOR OF MARKETING

Zoe Watkins

SENIOR WRITERS

Tasmai Dave

Jacqui Irvine

Joseph Wilton

SENIOR DESIGNERS

Antoine Jackson

Dave Chen

AWARDS MANAGERS

Adam Cole

Joseph Malabanan

Zach Ford

Peter Clement

RESEARCH MANAGERS

Costin Marcel

Sarah Patel

CONTIBUTING WRITERS

Tracy Morgan

Kim Feldmann de Britto

Joseph Malabanan

Aisha Ahmed

Contents

Criteria 6

The Continent of Adventure10

Adventure of a lifetime | Oceania 12

Ultimate Watersports 20

Oceania 22

Australia24

Australia | It's so much more 26

Clouds of Montville Eco Resort & Spa 30

Queensland Top 5 32

Arabella Guest House 36

Indigo Port Douglas37

Aussie on The Road 38

New Zealand 40

Introducting New Zealand 42

Lake Wakatipu 44

Central Ridge Boutique Hotel 48

Mantra Marina 49

The Style Jungle 50

Visit Marlborough 54

Papua New Guinea 56

Rabaul Scenic Tours 66

3 4
---
CRITERIA

Excellence in Service is an important category, as customer

service can often be responsible for having guests return

year after year. We look for the hotels and tour operators

that go out of their way to please their guests, those that

provide a personal level of service and take the time to

get to know each visitor so that they might anticipate their

every need. This can be something as simple as a 24-hour

concierge desk, a hotel manager who offers a personal

greeting or a tour guide who is happy to create bespoke

private tours – but whatever it is, we are always pleased

when we encounter staff that have been trained in the art

of customer satisfaction.

SERVICES

It is no question that style and design plays a big part in

selecting our awards shortlist. A guest will form an opinion

about a hotel as soon as they arrive so it is important

to us that all our winners make those first impressions

count. We're certainly not partial to a particular period of

architecture – but whether we're judging a gothic castle or

an environmentally friendly lodge, the criteria remains the

same. We consider factors such as architectural features,

use of materials, creation of spaces, décor and the overall

feel. We love it when we find a hotel that tells a story

though its design and construction, or offers a design that

is sympathetic to the natural surroundings of its location.

STYLE & DESIGN

Knowledge of the local area is essential for any

organization, be it a hotel or a tour operator. The quality

of services takes a great hit when the quality of this

element is not up to the mark. Quite a few of our winners

in this category are because they have displayed excellent

knowledge about the surrounding areas. The criteria for a

hotel is slightly lenient compared to a tour operator, as the

latter is expected to have thorough knowledge of the area

in order to provide good services.

Image by: Hamish Clark

LOCAL KNOWLEGE

5 6
---
FACILITIES

Award-winning guest rooms come in all shapes and sizes,

but they all have one thing in common – a home-awayfrom-home

feel. The comfort of the facilities on offer are

of vital importance; we look for luxurious linens, stylish

bathrooms and a coordinated colour scheme that work

together to create a cohesive sense of relaxation. Additional

touches, such as complimentary toiletries, free wi-fi or tea

and coffee making facilities are always a bonus in making

us feel welcome. We're always impressed to find hotel

rooms that embrace technology and offer amenities like

tablets or smart thermostat systems, but this does not

always necessarily trump the traditional – four poster beds,

ornate fireplaces or antique furniture can add a touch of

decadence to a hotel stay.

LOCATION

Location is one of the most important factors, but also one of

the most subjective, as the 'ideal' is very much determined

by the type of visitor and the type of hotel itself. However,

there a few factors we take into consideration when

determining the winners of location-based awards. The

first is convenience; that is, hotels that are easy to travel

to. Many of our winners in this category are in convenient

locations, such as adjacent to airports, close to beaches or

found in the heart of easy-to-navigate cities. We are always

impressed when hotels go the extra mile to take the hassle

out of traveling and offer such additional services as airport

shuttles or car hire services. However, we're always excited

to come across a hotel that is, to use a familiar phrase, offthe-beaten-track.

A hotel that can offer something a little

different, in terms of natural surroundings, can make the

difference between a good holiday and an incredible one.

In today's modern age, a hotel or tour operator cannot rely

on word of mouth to get their message out into the world.

As social media has become a vital part of everyday life,

we like to see companies that go the extra mile to engage

with their guests, both past and future. Attractive and

informative websites and engaging and honest content

and what we look for when judging a company's use of

marketing; how well they display their services, how upto-date

their content is, how well they get their brand

message across, and, most importantly, how well their

marketing can tempt us to go and see what they have to

offer for ourselves.

What better way is there to know about an organization

than by getting first hand reviews? Customers are the best

judges of any service out there as they are the ones who

experience them and can assess whether they were up to

the mark or not. Considering reviews from hundreds of

customers gives us a fair idea about the general pros and

cons of any organization and also gives us valuable inputs

for the other criteria as well.

MARKETING

CUSTOMER REVIEWS

Diversity is one important aspect that needs to be taken

into consideration when in the travel and hospitality

industry. It is essential to have staff that has varying diversity

to ensure that the organization can properly connect with

their guests. Diversity is taken into account in terms of

gender, nationality as well as languages spoken among

other factors. Not only do we take the diversity of the staff

into account but even that of the facilities and services

offered; a hotel or tour operator providing a better range

of services is preferred over those that do not.

It is of prime importance that an organization has thorough

industry knowledge. Without knowing the nit-bits of the

in , it is difficult to flourish and provide services which are

a class apart. Before any organization ventures into the

industry, it is essential that they know how the industry

is moving and how they should make changes to their

methodologies in order to remain relevant and also be a

top-performing organization.

DIVERSITY

INDUSTRY

KNOWLEDGE

7 8
---
THE CONTINENT

OF ADVENTURE

Image by: ana Sawalha

9 10
---
ADVENTURE OF A LIFETIME | OCEANIA

Formed by an extensive continental mass (Australia) and by thousands of islands with

contrasting landscapes and cultures, Oceania offers an array of attractions for the

adventurous souls.

Around the 16th century, during the period of the Great Navigations, Oceania was

known as the New World. Nowadays, the continent is subdivided among Polynesia,

Melanesia, Micronesia, and Australasia (a region that includes Australia and New

Zealand) and is increasingly explored as a tourist destination. Although Australia

occupies almost 90% of the territory of Oceania, the continent is made up of 16

independent countries and several dependencies.

Not only is Oceania seen as an exotic destination in the eyes of many travelers, but it

also provides a wide range of adventures – both on land and at sea – to make every

thrill-seeker's heart beat faster.

WATER SPORTS IN

AUSTRALIA

Among the many things Australia

is famous for, water sports are

definitely on the top of the list.

Aside from diving and snorkeling

at the Great Barrier Reef, sea

kayaking in Tasmania, crocodile

cage diving in Darwin, or jet-skiing

in the Sunshine Coast, surfing is

probably the one to be embedded

the deepest in the culture.

Anyone who has visited the country

noticed the close relationship

most people have with the sea –

possibly due to the fact that the

majority of the population lives

along the coast. When it comes

to surfing, the worship for the

sport is so great that one has the

impression that everyone surfs.

If the waves are good, it is very

common to find spots (and beach

parking lots) full from sunrise to

sunset.

11 12
---
Surfing is practiced all year round

in Australia, especially on the part

of the Eastern Coast stretching

from Sydney all the way to the

Gold Coast, Queensland, where

the first leg of Quiksilver Pro (one

of the contests of the world tour

of surfing) takes place at Snapper

Rocks. The states of South

Australia and Western Australia

also offer great options for surfing,

albeit being known as "sharky"

regions. Among the most famous

surf spots in Australia are Kirra,

Snapper Rocks, Burleigh Heads,

Duranbah (on the Gold Coast),

Margaret River (WA), and Bells

Beach in Victoria.

LAND ADVENTURES IN NEW ZEALAND

Despite being far from it all, New Zealand is worth every second of the long plane

journey. The country is divided into two major major islands and gathers a host of

impressive sights and attractions for its compact size. On the North Island, where threequarters

of the population live, summers are relatively warm and there are beautiful

beaches (such as those on the Coromandel Peninsula) for surfers as well as for those

who simply want to sunbathe. But the North Island's main assets hides in the interior:

active volcanoes, geysers, multicolored lakes, and other unusual geological formations

form unreal scenarios such as the Tongariro National Park, featured on The Lord of the

Rings trilogy.

Overall, the best season for surfing in Australia is between December and April due to

the summer cyclones in the Pacific Ocean. However, there waves all year round, even if

in smaller size or consistency. In the summertime, water temperature is usually around

26º C, while in winter it can get as cold as 18º C (or less in places along the south coast),

making it is necessary to wear a wetsuit.

All that being said, if surfing is your thing you are bound to find a lot more of it across

Oceania, with places of Fiji, French Polynesia and the mighty Teahupoo, and even

New Zealand (although it is a bit colder) featuring great surf spots that range from

tropical, palm tree-laden islands to rugged coastlines with snow-capped mountains as

a backdrop.

13 14
---
As another highlight of the North Island, is Rotorua, the city of volcanoes. Among other

reasons, a visit to the area is worth just in order to see the Waiotapu geothermal area.

The entire place seems to have originated from a fictional film, with gases coming out of

the ground, colorful lakes, geysers, and pools of bubbling mud with suggestive names

of "Hell's Gate" and "Devil's Pool" – the impression is that everything will explode in a

matter of seconds.

Meanwhile, in the sparsely populated South Island, a land of icy winters and mild

summers, the adventure attractions are the snowy peaks, gigantic glaciers, a coastline

populated by seals and whales, and some of the most beautiful fjords on the planet –

Milford Sound, Doubtful Sound, among others. Another highlight of the South Island

for adventure seekers is the city of Queenstown, where the bungee jump was created.

Here, you can choose to jump off a 43-meter platform, ski in one of the region's

renowned resorts, hike up and around ridges like the one leading to Aoraki/Mt. Cook,

try skydiving, or explore a series of 4WD, cycling, or quad biking trails around the city.

It is no wonder that the city is known as the "World Capital of Adventure Tourism".

Add to these natural resources splendid wines, vibrant cities like Auckland and

Christchurch, friendly people and an exemplary infrastructure of sustainable tourism,

and this is one of the most complete and seductive destinations on earth. Still, despite

being hard to beat, some of New Zealand's neighbors (particularly Australia, for its size

and infrastructure) also feature great options of land adventures, even if in a smaller

scale.

15 16
---
WILDLIFE ADVENTURE IN NEW CALEDONIA

Being an island, it is only natural that New Caledonia boasts a variety of water

adventures, like surfing, snorkeling, and sailing. And yet, what truly makes this country

unique within Oceania is the incredibly rich, exotic, and, to a certain extent, bizarre

wildlife.

Similarly, the coral reefs that surround the main island (Grand Terre) create one of the

largest marine reserves in the world, registered as a UNESCO World Heritage site, and

home to various species of turtles, exotic crabs, and many tropical seabirds that call this

unique environment home. In the month of July, it is also possible to spot humpback

whales within the lagoon, as they return from Antartica to give birth.

There is a plethora of diverse landscapes to

explore in New Caledonia – from woodlands

to underwater worlds and swamps – in which

more than three-quarters of the species are

endemic to the territory. Creatures like the

dugong and giant clams inhabit the islands'

shores, while endangered species like the

kagu – which is not only one the country's most

sought-after species for birdwatching but also

the official emblem of New Caledonia – can

be spotted along the dense mountain forests

of the Riviere Bleue Territorial Park. Overall,

birdwatching is a very common activity in

the islands, especially in the capital Noumea,

where most excursions are organized.

New Caledonia is also known for its various plant species (more than 160), of which

many are endemic to the island. A good place to get close to the country's rich

vegetation is at the Maquis shrubland in the south – which hosts some of the world's

oldest conifers –, around the La Madeleine waterfalls, as well as the mangrove regions

of Voh, in the north of the country.

If you are into exploring and getting to know a place's wildlife, New Caledonia – and

the whole of Oceania for that matter – is bound to take your breath away.

17 18
---
Australia

ULTIMATE

WATERSPORTS

The Award for Excellence

in Service

21 Flavio Crescent, Wandina WA 6530 ♦ Tel +0427 645 362 ♦ ultimatewatersports.com.au

Are you a watersports

enthusiast who

is headed to Western

Australia? Get in touch with

Ultimate Watersports to

get the best watersports

experience in the region.

They ensure that you get to

try out any and every water

sports activity possible in

the area. Whether you are

looking to go on your very

own jet ski, flyboard or want

to even rise high up in the

air by donning a jetpack,

you can do it all with them.

You need not be an expert

in any of these sports

when coming to them,

they offer lessons in a safe

environment to ensure that

you can get your desired

thrills but at the same time

remain safe too.

They use state-of-the-art equipment and only have

professional instructors to teach you to give you the

ultimate experience. Whether you're looking to hire

their equipment or want to go on their tours, they do it

both the ways. They go beyond their way to make sure

that you have a great experience when joining their

tours or hiring their equipment. From kayaks to jet skis,

you can hire it all and have a gala time in the ocean.

Unlike many other places, you could also bring your

own board to their tours!

If you're planning to be a regular visitor, you

are in for a treat because they have opened

up memberships for jet skis and flyboards.

These enable you to have unlimited hires

of the equipment along with many other

advantages! They also have a family

membership that is perfect for families with

2 adults and 2 kids to have a fun time in

the water!

19 20
---
Country

NAME OF

HOTEL/TOUR

Award

Samoa

OCEANIA

Award

Marina 19-21, Apia, Barcelona, Samoa 08005 ♦ Tel Spain +685 ♦ 24443 Tel +34932211000 ♦ oceaniatravel.ws ♦ ritzcarlton.com

Rising above the rest of Barcelona, Hotel Arts located on the waterfront, provides

a luxurious stay with spellbinding views of the sea and city. With some amazing

facilities like terrace gardens, outdoor swimming pool and spa, they ensure that the

guests here get a unique experience. If that was not enough, you can keep up with your

gym schedule at the fitness center or get pampered in the hairdressing salon and luxury

fashion boutiques. The sophisticated rooms and suites have elegantly done décor and

plush furnishings.To top it all off, the hotel boasts of some amazing duplex penthouses

that offer the pinnacle of luxury travel experiences. The penthouses come with a butler

and shopping concierge to provide assistance along with luxury private transfer to

shopping places.

If you want the authentic Samoan experience, there is no better tour operator to

contact than Oceania Travel. Based in the village of Afega, they give you day-to-day

insight into the traditional way of life of Samoans. If you wish to explore all the islands

of the country instead, they offer a tour program that has guided group and individual

tours to every island in the nation. Moreover, if you're planning to visit the neighboring

American Samoa, they provide guided tours to those islands as well. Apart from creating

experiences for you in the form of tours, they also provide services like ticketing, car

rentals, airport transfers, hotel and homestay reservations as well as cruise ship handling

to make your visit absolutely blissful. If you wish to have your dream wedding in Samoa,

they will be glad to arrange that too!

Image by: Alex Perez

21

22
---
AUSTRALIA

Image by: Josh Withers

23 24
---
AUSTRALIA | IT'S SO MUCH MORE

Cultural immersion, cosmopolitan adventures, and luxury havens – Australia's diversity

deliver captivating experiences of all kinds. Remote beaches border prehistoric forests,

deserts are swept by the wind that blows in rustic towns, where locals talk about art and

politics in pubs. Coastal cities come alive with the sights and sounds of local culture and

cuisine and fall asleep to the sound of wonderful, intriguing wildlife. Divided into six

states and two territories, Australia has many exciting experiences to offer.

SYDNEY

As one of Australia's "must-do", Sydney boasts some of the most hospitable and

picturesque beaches in the country. Whether you're looking to surf, relax with the

family, or get outdoors with friends, miles of sand and a variety of restaurants on the

beachfront make Sydney a city that can be explored at any time of the year.

GOLD COAST

Known for being a surfer's paradise,

with beautiful beaches and an exciting

atmosphere, the metropolitan region

of Gold Coast is one of Australia's most

coveted destinations. But it is not only

the beaches that Gold Coast has become

such a popular spot the: an array of

activities ranging from theme parks to

unparalleled natural beauty parks are also

on the list.

MELBOURNE

A cosmopolitan city that does not lose its

charm and elegance: this is Melbourne.

As Australia's second largest city and

one of the country's business centers,

Melbourne lavishes culture, organization,

and has a rather plural atmosphere. Here,

you find cafes and restaurants to suit all

tastes, people from all over the world,

and a mix of modern and classic, which

make Melbourne one of the best cities in

the world to live.

25 26
---
THE OUTBACK

This large arid plateau with reddish lands,

low mountains, dry vegetation, and with

venomous animals is one of the main

destinations in Australia for those who

decide to leave the beaches behind.

The Australian outback is home to the

Kata Tjuta (which rises from a plain in the

middle of the desert), and Ayers Rock –

the largest monolith in the world, known

as Uluru by the Aborigines.

KANGAROO ISLAND

Kangaroo Island is the third largest island

in Australia and one of the country's top

ecotourism destinations. Accessible

from Adelaide, the region is known for

displaying fantastic coastal landscapes,

as well as housing impressive wildlife such

as sea lions, kangaroos, koalas, penguins

and the beautiful marsupials known as

wallabies. It is also possible to admire

rock escarpments and caves, swim and

fishing along the many beaches and bays.

KAKADU NATIONAL PARK & ARNHEM LANDS

Kakadu National Park and the Arnhem Lands occupy more than 110,000 square

kilometers in the northeast of the Northern Territory, with diverse landscapes that

make up the famous adventure scenery, aboriginal culture, and ecological activities.

Kakadu National Park is Australia's largest park, and it is home to one of the largest

concentrations of Aboriginal rock art in the world. Also known for its strong aboriginal

culture, Arnhem Lands is dotted with wild coastlines, savannas, lush marshes, and

prolific animal life.

THE WEST COAST WILDERNESS RAILWAY

If you are in Tasmania do not miss the trip from Strahan to Queenstown on the West

Coast Wilderness Railway. This 35km-journey runs through the King River Gorge,

into millenary forests and picturesque towns. On top of that, local guides bring the

experience to life by telling stories of the main historical spots in the region.

27 28
---
Australia

CLOUDS OF

MONTVILLE ECO

RESORT & SPA

Spa – Resort of the Year

The resort has a spa and a health retreat

where you can relax and rejuvenate with

treatments administered by experienced

masseuses. The infrared sauna is a great

place to relax post a dip in the floatation

pool. The Balinese Pavilion is set in

secluded sub-tropical gardens of the resort

and here you can go for massages or join

in for yoga classes! Moreover, you can chill

out in the midst of nature here.

166 Balmoral Road, Montville, Qld 4560 ♦ Tel +1800 367 262 ♦ cloudsofmontville.com.au

Set on five acres of

scenic parklands

overlooking the Sunshine

Coast of Queensland is

the Clouds of Montville

Eco Resort and Spa. This

eco resort gives you the

opportunity to unwind in

the midst of nature. You can

choose between cottages,

apartments and 2-bedroom

townhouses here. Located

just north of Brisbane, you

can be sure that you're

not too far away from the

city too. The cottages are

tucked away in a private

forest at the back of the

property and provide a

romantic escape to couples

with facilities like two

person spas and bio-fuel

fires! For those looking for

a smaller place to stay, the

well-furnished apartments

are a great option. If you're

coming as a family, the twobedroom

townhouse is the

perfect place to stay.

You can go and play in the disc golf course, eat in the Balinese style outdoor eating

pavilion, dine at the outdoor kitchen or take a dip in the outdoor mineral pool. The best

part though, is that this is an adults-only retreat so you can relax and enjoy views of the

hinterlands with utmost peace and privacy. The resort truly gives you a chance to enjoy

the very best of nature while on your vacation.

29 30
---
QUEENSLAND TOP 5

From forests and mountains to white sand beaches and coral reefs, Queensland boasts

a diverse range of attractions, making it a tourist mecca of Australia. You can relax with

a cocktail at a beach resort, stroll through lush tropical forests, enjoy the exotic flora

and fauna like you've never seen before, or enjoy the urban buzz of Brisbane's vibrant

metropolis.

DAINTREE RAINFOREST

The beautiful and breathtaking Daintree Rainforest boasts an exceptionally diverse

flora and fauna, including 90% of the species of bats and butterflies in Australia. Like

the Great Barrier Reef, most of the Daintree Forest is part of a UNESCO World Heritage

Site (Wet Tropics of Queensland) and for good reason. It is possible to go on tours that

give you insights into the scientific significance and history of the region; or can also

enjoy relaxing walks and soak in the stunning scenery: waterfalls, wild rivers, and forest

and coastal views.

THE GREAT BARRIER REEF

The Great Barrier Reef is the largest coral reef in the world and is the only living body

visible from space – even bigger than the Great Wall of China. The reef is a UNESCO

World Heritage Site, widely regarded as a jewel in the crown of Queensland, and the

idyllic spot to go scuba diving or snorkeling and enjoy its rich marine life. If you are

visiting Queensland – or Australia for that matter – this place should be on the top of

your list.

31 32
---
SURFERS PARADISE

As the name suggests, Surfers Paradise is a popular seaside town on the coast of

Queensland which attracts surfers and beach lovers alike. The Surfers Paradise Beach,

with its remarkable evening markets and cultural events, is one of Australia's postcard

and a particularly sought after spot on the Gold Coast. Aside from the beach, the city

itself has a bustling nightlife, delicious cuisine, and features many tourist attractions

such as the Futuristic Labyrinth, a Hard Rock Cafe and Dracula's Haunted House.

LAMINGTON NATIONAL PARK

Named in honor of Lord Lamington (one of Queensland's governors), this national

park was yet another region of Australia designated as UNESCO's World Heritage Site.

The park is filled with unique flora and fauna and is particularly known for its birds,

wildflowers, old trees and waterfalls.

A popular tourist attraction in the park is O'Reilly's Rainforest Retreat, home to 230

species of birds, and where the very tame rosella parrots will eat from your hand or

even climb on your head.

FRASER ISLAND

A few hours north of Brisbane is Fraser Island – the largest sand island in the world.

Listed as a UNESCO World Heritage Site, this is a great spot for whale watching,

fishing, a romantic getaway, or a soothing nature walk. As the island's main attractions

are the viewpoints of Indian Head, Lake McKenzie and Wabby, the Maheno Shipwreck,

and the colorful sand cliffs. The island is a refuge beloved by tourists and locals, and

worth adding to your itinerary of places to visit in Queensland.

33 34
---
Australia

ARABELLA

GUEST HOUSE

Bed & Breakfast

Australia

INDIGO PORT

DOUGLAS

Charter Company of the Year

297 Mooloolaba Road, Queensland Australia ♦ Tel +61 7 5478 1339 ♦

arabellaguesthouse.com.au

Wharf Street, The Reef Marina, Port Douglas, Queensland 4877, Australia ♦

Tel +0429 901 250 ♦ indigoportdouglas.com.au

If you're travelling to

Queensland and are looking

for a homely accommodation,

look no further than Arabella

Guest House. Neatly tucked away

in the midst of lush greenery, this

guesthouse has all the essential

facilities that you'd need for a

luxurious stay. With five fullyequipped

suites with plush

furnishings for your comfort, you

can count on them to make your

stay relaxing. The courteous staff

ensures that all your requests are

taken care of at the earliest and

cater to all your requirements.

Breakfast is served daily on

the ocean-facing deck which

overlooks Maroochydore so

that you can enjoy the delicious

preparations with the beautiful

view. If you wish to sit back and

read in silence, you can head to

the reading room on the top floor

and enjoy the company of your

book with the view of the ocean

and Buderim. The hotel also

provides airport transfers.

Australia has more than 7000 beaches on its vast coastline and with this comes the

great opportunity of chartering your very own boat and heading off into the deep

blue! With just 12 guests onboard a luxurious catamaran for a day trip or a sunset sail, you

can be assured of a VIP experience when travelling with Indigo Port Douglas. For a more

intimate experience, you can hire their catamaran, Indigo 2, for yourself and head out for

some day snorkeling or swimming with turtles! Whether you require the boat for a quick

getaway or a corporate event, they cater to all your needs and requirements. You also

have the option of going on an overnight trip with your close ones to wherever it is that

you wish to go, from reef and island hopping to whale watching! If you fancy a wedding

where you can arrive on a luxury catamaran, they will tailor your charter to your needs.

35

36
---
Australia

AUSSIE ON THE ROAD

CHRIS WALKER BUSH

Q&A

CWBush83@gmail.com ♦ aussieontheroad.com

Supporting small, boutique hotels, cafes,

and tour operators is also an awesome

trend.

Have you ever considered showing people

around yourself, maybe as a tour guide?

I'm halfway there! I currently design and sell

safari tours for Shadows of Africa in East

Africa, and my fiancée and I would love

to someday lead custom tours around our

adopted homeland, China.

What would you say is the best way to get

around?

I'm a big fan of my own two feet. I've come

to really love hiking – whether it's a day trip

out to the California desert, an epic hike on

the Great Wall, or a longer pilgrimage style

hike.

What do you prefer the Outback or the

Coast?

While I love the beach like every Aussie,

I reckon the Aussie Outback is a hidden

gem. I lived in Tibooburra and Menindee

as a kid, so I've got a lot of fondness for

the red centre.

What's next for Aussie on the Road?

I'm off to Hoi An in Vietnam for a few

months! I'm going to really bury myself in

updating the site, generating some new

bucket list content, and just doing the

housekeeping I've been neglecting of late.

Tell us a little about yourself

I'm a 30-something Aussie who grew up in

rural Australia and didn't hit the road until

my mid-twenties. Since then, I've spent six

years of my life living in Asia (South Korea

and China), taken up residence as a safari

expert in Tanzania, and had a whole lot of

fun along the way!

What made you decide to set up a travel

blog?

I actually started Aussie on the Road to

impress a girl! The girl and I never worked

out, but starting the blog led me to my

career in travel and also introduced me to

my lovely fiancée, Richelle!

You've travelled all over but like most people

we're interested in travel to Australia. Why is

Australia so appealing to so many travellers?

I think Australia's immense natural beauty

and the sheer diversity of environments

and experiences make it a justifiably

popular destination. There's something for

everyone.

What are some of the more popular lifestyle

& travel trends in the country?

Everyone seems to be talking about

sustainability, which is a good thing. A lot

more people are eating and traveling in a

way that preserves the beauty of the places

they're visiting.

Your favourite place & why?

That's a tough call! Namibia captured my

heart and Taiwan is amazing, but I think

Uganda is my favourite spot on earth. I

just love how wild and beautiful the whole

country is!

What is the top "off the beaten path"

attraction?

Hiking the Kumano Kodo Iseji route in

Japan. It's a 170km hike through some

of Japan's most rugged and beautiful

environments, sleeping in quaint ryokan,

and visiting quiet temples. Definitely one of

my all-time favourite experiences.

37 38
---
NEW ZEALAND

Image by: Jean Pierre Brungs

39 40
---
INTRODUCTING NEW ZEALAND |

THE HOME OF NATURAL BEAUTY

Aotearoa, home of unparallel natural beauty.

Straddled between two tectonic plates, New Zealand erupted from the South Pacific

Ocean to boast some of the richest and most contrasting landscapes in the world,

which complements the peaceful and invigorating air that flows from north to south.

This is the land of Fjordland and its magnificent crags and intrinsic inlets; cosmopolitan

Auckland, where you can dive into rich Indian dishes while tasting some of the South

Island's best Sauvignon Blancs; the wilderness of the Abel Tasman National Park; the

grandness of Lake Taupo and Rotorua; the beautiful beaches of Coromandel; the

mysticism of Cape Reinga; and the bustling mountain life of Queensland and Wanaka.

In the past, New Zealand's secludedness has been a burden; now it works as a trigger

for the local biodiversity to thrive and for people to understand and appreciate the

importance of this natural treasure. The country's developed infra-structure and touristfriendly

culture make it easy for foreigners to indulge in its captivating atmosphere, with

most popular destinations being accessible within a 2-3 hour drive from each other.

New Zealand's capital, Auckland, is often the gateway to the rest of the country, from

where most places can be reached by bus or car, with the option to fly to other major

cities as a means of speeding up long distance journeys.

There is little that New Zealand

lacks and whatever it is that you

may be looking for – natural

beauty, adventure, quietude,

gastronomy, culture, or simply

to get away from comfort – it has

the power to bring you closer to

your own essence. And it does

so with an utter welcome and a

big Kia Ora.

41 42
---
LAKE WAKATIPU | OTAGO

New Zealand is a place known

for its breathtaking scenery:

islands, mountains, lakes, and

glaciers impress and attract

visitors from all over the world.

As one of the postcards of

the South Island region of

Otago is Lake Wakatipu. What

makes the Wakatipu unique

is its shape – which resembles

that of a seated person –, the

translucence of the waters, and

the interesting tidal patterns

that make the lake look like it is

in constant movement.

There are various legends

about the lake, told by the local

Maori, which together with its

unique aura afford the place

a certain mysticism. In 2014,

Lake Wakatipu surprised the

residents and scientists when

its waters changed color. After

analysis, it was concluded that

the phenomenon occurred

possibly due to landslide into

the lake. The Wakatipu has

an area of about 291 km², an

average depth of 230 m, and

the waters are so clean that they

have afforded the lake place

among the most crystalline

lakes on the planet. As with

many places in New Zealand,

scenes of The Lord of the Rings

were also shot on the Wakatipu.

43 44
---
Around the lake, picturesque Queenstown stands as one of the most popular

destinations in New Zealand. This city is considered by many as the "capital of extreme

sports" and has, in addition to several tourist attractions, many natural beauties. There

is literally no shortage of things to do in the city: skydiving at 15,000 feet altitude; jet

boating through narrow canyons at speeds up to 120km/h; rafting; paragliding; 4x4

trail with Land Rover – the list goes on. If you really are an "adrenaline junkie", it is

possible to jump off a platform in the first commercial Bungee Jump in the world.

Queenstown is also surrounded by majestic mountains that are part of the Southern

Alps, which means that the city is close to various ski resorts. They are at least 5 in a

radius of 1 ½ hours by car, all of them offering perfect terrain, snow conditions, and

completely different points of view that make the joy not only of beginners but all levels

of skills to the experts. Although relatively small, Queenstown has a vibrant and quite

diverse gastronomic scene. Set in the prestigious Central Otago region – famous for

producing excellent Pinot Noir wines and having a variety of world-class wineries – the

city is also a hub for wine tours. Last but not least, Queenstown is also the gateway to

Aoraki/Mt. Cook – a national park full of hiking trails, home to New Zealand's highest

mountain: the Mt. Cook, at 3,754 meters.

45 46
---
New Zealand

CENTRAL RIDGE

BOUTIQUE

HOTEL

Hotel & Restaurant of the Year

New Zealand

MANTRA MARINA

Beachfront Apartments

of the Year

4 Sydney Street, Queenstown, New Zealand ♦ Tel +64 3 442 8832 ♦ centralridge.co.nz

875 Frankton Road, Queenstown 9300, New Zealand ♦ Tel +64 3 450 9096 ♦

queenstownmarinaapartments.co.nz

Located in the heart of Queenstown in New Zealand, Central Ridge Boutique

Hotel offers quality accommodation with ease-of-access to city's main attractions

and recreational centres. From standard rooms to the romantic moonlight room with its

hydrotherapy spa bath and views of Bob's Peak, you can choose rooms according to

your taste of luxury. With your room, you get a complimentary breakfast, sauna access,

evening drink and canapes in the lounge! Wish to unwind? You could go to Indulgence

Spa and get some relaxing treatments administered by experienced masseuses. The

hotel's lounge is a great place to get cozy in front of the fireplace and enjoy a glass of

Central Otago's finest beer. The tour desk in the hotel is always available to assist you with

everything you need for your travels around town too. They also have special rooms for

ski storage and luggage storage for your convenience.

Perched on Lake Wakatipu, surrounded by the spectacular Remarkables Mountains

range, this hotel occupies a beautiful and unique South Island location.

Only four minutes drive from the centre of Queenstown and not much further to ski

slopes, golfing, hiking trails, wineries and high adrenalin sports, all our self-contained

apartments and hotel rooms offer luxe touches such as plush king beds and underfloor

heating. Free WiFi and undercover parking plus a helpful tour desk will ensure you make

the most of your time in this adventure playground

47 48
---
New Zealan

THE STYLE JUNGLE

KSENIIA SPODYNEIKO

Marina 19-21, Barcelona, 08005 Spain ♦ Tel +34932211000 ♦ ritzcarlton.com

Q&A

Tell us a little about yourself

Probably, I was an explorer before even

realizing it – born in Tashkent (Uzbekistan),

I later lived in Belgium, Russia and United

States. I was always very curious, so before

all the travels we jumped into with my

super-supportive husband, I was simply

reading books all the time (seriously, even

the switched off light never was a problem.

And that's before the iPhone torch era!)

After completing my Degree in Journalism,

I was working as an editor at Cosmopolitan

and later – Marie Claire in Russia. There

are no words to describe how cool is the

atmosphere at the offices of women's

lifestyle magazines – no matter how long

you work there, no two days are the same!

They say 'do what you love and you won't

work a single day of your life' – well, that's

about me and journalism.

What made you decide to set up a travel

blog?

As a journalist, I was always travelling a lot.

But being tied up with editorial guidelines

and word limits, struggled to express all the

wonderful emotions each new destination

was offering. How can one describe a thrill

of catching the first lobster of the season

in Sweden, breathtaking views of the

brick-red Israel desert or the excitement of

spending the night outdoor in search for

Aurora Borealis above the Article Circle in

several paragraphs? I needed more words,

more photos and even videos. I decided to

play it my way and created a space where

I could share memorable moments I've

experienced, authentic food or activities I

have tried.

You've settled in New Zealand for now.

Why is that?

I love this country! It's endless exploring

opportunities – from world's most beautiful

beaches to snowy mountains with glaciers.

It's kindest people, who always find time

for a friendly chat with a cuppa. We came

here in search for a different lifestyle, willing

to 'live like locals' somewhere outside our

home country. But once we've arrived, we

never wanted to leave!

What are some of the more popular lifestyle

trends in the country?

That's a tricky one! When you live that lifestyle,

you stop noticing whether it's 'a trend' or

something really common to do.

I would say, Kiwis are really into outdoors.

No matter the season, they go hiking, biking,

exploring hidden gems of the region or would

simply grab fish'n'chips for a quick beach

picnic.

I'm very happy to see how quickly New

Zealand is turning into a sustainable, caring

country. Banning plastic and single-use waste,

turning vegetarian or vegan to save animals

and battle climate change. Definitely a trend

to watch!

49 50
---
When it comes to travelling have you

ever considered showing people around

yourself, maybe as a tour guide?

A couple of our relatives and friends have

already visited us in New Zealand and we

couldn't be happier to show them around

our favourite corners of this country. I tend to

memorize easily some random facts I read or

hear somewhere, like 'Mount Maunganui is

one of the 10 most photographed views' or

'Water of Abel Tasman is the cleanest in the

world', so sometimes I'm probably a bit too

pushy guide, though no one complainedJ

Your favourite place & why?

Hands down, Tauranga – the town we live

in. Surrounded by blue water and stunning

beaches, warm and blossoming, this little city

boasts with interesting activities, delicious

restaurants and talented people. I'm proud to

be a part of this supportive and always smiley

community! It is also the fastest growing city

in the country at the moment and we have

already witnessed a lot of changes in the past

two years. So curious to see what's next!

What is the best "off the beaten path"

attraction?

We always enjoy walking the trails of

Karangahake Gorge Historic Walkway.

People mostly pass the Gorge by cars on

their way to Auckland or Coromandel, so

the walking tracks are empty and quiet.

Besides extraordinary views, there is also a

lot to learn about the gold mining history

of this region there. You can even walk

through the long old tunnels with a torch –

like a real gold digger!

What would you say is the best way to get

around?

Definitely by car! New Zealand is not too

big, so you can get from point A to point

B by car easily. The flexibility of traveling

by car – when you can stop and soak in

the moment or a beautiful view you've

just bumped into – is really priceless here.

Many people rent (or own) campervan, that

is also a very interesting and authentically

'kiwi' option.

Have you done any adrenaline activities or

walked the lord of the rings trail? If so, how

was it?

Not yet! We have been to Tasman Glacier

and it was beyond any expectations.

Though a risk of falling into an ice-cold

water is certainly quite extreme, but to be

honest it wasn't scary at all! Only fascinating

and truly-truly unique. I mean, how many

places are there on Earth, where you can

taste a piece of a glacier that is several

hundreds years old?

What's next for theStyleJungle?

We're looking forward to explore Australia

and neighbourhood islands. New Zealand

might be tucked at the very edge of the

world, but what a beautiful edge it is! No

need to go anywhere else, there is so much

more to see and do here!

51 52
---
DESTINATION MARLBOROUGH

Marlborough is about world famous Sauvignon Blanc from New Zealand's largest

winegrowing region, it's about fresh seafood sought by the world's finest chefs. Join

a guided tour or hire a bike, choosing from more than 30 cellar doors, tasting award

winning wines along the way and indulge in a leisurely lunch along the way amongst

the vines. With Marlborough's diverse landscapes, from valleys of vines to sheltered

waterways of the Marlborough Sounds there is something for everyone. Here are

Marlborough's must do activities:

DINE LIKE A KING

Dine on fresh seafood straight from

the waters of the Marlborough

Sounds with a seafood cruise. You

will be taken out on the sounds to

enjoy seafood straight from the

source; including King Salmon,

mussels and clams matched with

a Marlborough Sauvignon Blanc –

creating the ultimate match made

in Marlborough.

HIDEAWAY ON THE WATER'S EDGE

With 1500kms of New Zealand's coastline in the Marlborough Sounds there is plenty of

opportunity to escape from the hustle and bustle. Discover the perfect place to relax

and recharge with uninterrupted views from your balcony to the beautiful bays and

native bush clad hills. There's no shortage of activities for your stay, walking, tramping,

kayaking, fishing, or just relaxing.

53 54
---
GO WILD IN

MARLBOROUGH

Marlborough is home to many rare

and unique birds, marine animals

and wild creatures. See nature up

close in its brilliant habitat and

choose from one of the island

sanctuaries - a natural paradise just

waiting to be explored. It is about

getting out of the urban jungles

and back to nature. Immerse

yourself in the wildlife by kayaking

out in the water or cruising

through the sheltered waters of

the Marlborough Sounds on a tour

spotting the wildlife such as seals,

seabirds or one of the five species

of dolphins we have.

SHOP LIKE A LOCAL

Explore the local markets and artisan producers to try locally-grown produce such as

saffron, pinenuts, hazelnuts, honey, olives, chocolates, garlic and sea salt or purchase

some handcrafted woodwork, pottery, soaps, or natural beauty products for unique

souvenirs to remind of your visit to this beautiful area.

CRUISE

MARLBOROUGH

SOUNDS

The most idyllic areas

of Marlborough Sounds

can only be accessed

by boat and are best

explored with a scenic

cruise. Whether it's off

on a mailboat, out to a

restaurant on the water's

edge or to explore the

tracks. There will be

ample opportunities to

meet the wildlife that

live in and around the

Sounds; fur seals, little

blue penguins, dolphins

the rare Rowi kiwi,

tuatara and weka.

JOURNEY BACK IN TIME

Discover the world-renowned WWI and newly opened WWII exhibit at Omaka Aviation

Heritage Centre where aircrafts are bought to life in a theatrical manner featuring Peter

Jackson's own rare collection of historical aircraft and memorabilia. The captivating

scenes educate and entertain visitors of all ages.

55 56
---
WALK OR CYCLE THE QUEEN CHARLOTTE TRACK

The Queen Charlotte track stretches 70km from Ship Cove to Anakiwa and is an

intermediate to advanced grade. The whole track can be completed in 5 days on foot,

or 3 days on a mountain bike with luggage transfers available by water-taxi. If you want

to try it all, there is the option of combining kayaking within your itinerary too. No

matter what you choose you will be rewarded with stunning views of Queen Charlotte

and Kenepuru Sounds and encounters with native birds such as the fantail and weka.

TASTE OF MARLBOROUGH

With more than 30 cellar doors, Marlborough offers every visitor the chance to find

the perfect drop. Explore the cellar doors at your own pace, self-drive, cycle or join a

guided wine tour. Or if you prefer a cold beer, then don't worry Marlborough has you

covered with the local Renaissance and Moa craft breweries producing quality brews.

SWIM WITH DOLPHINS

As far as unique New Zealand experiences go, swimming with dolphins in the

Marlborough Sounds is definitely one of them. Set amid the spectacular scenery guides

will take you on a search for the five different species of dolphins found in this area, and

it is up to you whether you enjoy dolphin spotting from the boat, or take a dip into the

water for a personal encounter.

Choose to stay for a weekend or a week, in a vineyard villa amongst the vines or a

hideaway on the water's edge. Whether it is during the perfect blue-sky days and calm

sparkling waters of winter, the carpet of red and gold vines through Autumn or the release

of new season produce and wines in Spring – Marlborough will be sure to impress.

57 58
---
PAPUA NEW

GUINEA

59 60
---
Papua New Guinea covers the eastern part of the island of New Guinea (as well as small

islands around), while the other section belongs to Indonesia. This strange, straightlined

division also marks the boundary between Asia and Oceania. The country has

been inhabited for more than 40 thousand years but the first records of Europeans

visiting these lands was made in 1526, by Portuguese navigator Jorge de Menezes.

Despite attempts, effective European colonization only occurred in the last decades of

the 19th century, with Germany and subsequently Australia ruling the land.

In 1988, inhabitants of Bougainville – the most easterly of the islands of the country –

initiated a separatist movement. In 2001, the conflict ended with a peace agreement in

which Bougainville and nearby small islands became an autonomous region. In 1975,

Papua New Guinea gained independence, but the head of state remains the British

monarch.

Papua New Guinea is considered as one of the most culturally diverse countries in

the world, with more than 800 different languages being spoken in the country. The

majority of the population live in various communities scattered across the wooded

landscape, with less than a quarter living in urban areas.

Traveling through the islands of this archipelago of the Pacific Ocean can be challenging

as tourist infrastructure is rather limited – but that is precisely what makes them more

attractive to many travelers. A trip through Papua New Guinea can have several high

points starting with trekking in dense jungles, crossing the mighty Sepik River, surfing

the waves of New Ireland, fishing around the Tufi fjords, bird-watching the famous birds

of paradise in the Highlands, or diving in exotic coral reefs.

61 62
---
To visit this archipelago – which already seems incredible due to its exuberant nature

and practically untouched – takes some courage and a lot of willpower. But perhaps it is

the excitement of running after the unknown what generates the adrenaline that many

travelers long to feel. Still, it is not like you will have to sleep in camps in the middle

of the jungle. The capital, Port Moresby, has great choices of hotels and restaurants,

being a reliable gateway to the rest of the islands. In addition, there are a few resorts

throughout the archipelago offering high-end accommodation in isolated areas.

Remember to enjoy a lot of walks and explore the ecotourism, since deciding to get

to know Papua New Guinea is to make a trip without frills, with much foot on the

ground and an open mind to understand new cultures. It is to get in touch with a world

opposed to that of most westerners and to draw from it life lessons that will inspire you

on the rest of your journey.

63 64
---
Papua New Guinea

RABAUL

SCENIC TOURS

Tour Company of the Year

With regards to the culture of Papua New

Guinea, you will get to see the Tubuan

Parade, Tolai Shell Money, and the

intriguing Whip Dance which is the first

thing you'll see during your welcome to the

island. On the tour, you'll get to travel in

a minibus across the changing landscape.

On your way, you'll get to see the famed

Dawapia and get to photograph the scary

and steaming hot springs of Rabaul. You will

also get to travel on the Tunnel Hill, which

is the road to Volcanological Observatory

of the area.

Papua New Guinea ♦ Tel +675 7106 3049 ♦ rabaulscenictours.com

With Rabaul Scenic Tours, you can

explore every single wonder

that this beautiful place has to offer along

with its rich culture and war relics. All their

tours are not only suited for independent

tourists but also for cruise ship passengers

who have short halts in Rabaul. The Rabaul

tours take you to discover the city through

its markets and other areas. You will also

get to see the Barge Tunnels, Hospital

Tunnels, and the natural beauty of Matupit

Island Recovery. If history intrigues you

further, you can make a visit to Admiral

Yamamoto's HQ Bunker which was of great

significance during the World War 2.

Their second tour takes you further away

from the Barge Tunnels to explore the life

of the island and its history at the museum.

You will also get to see the beauty of the

island from the Volcanological Observatory

which is on a hilltop. Moreover, the tour will

take you to the War Cemetery at Bitapaka

and also to the Kokopo Catholic Cathedral.

If none of their tours seem to fit your liking,

they can arrange special private tours for

you where you can tell them what you

exactly want to see with your group.

65 66
---
67