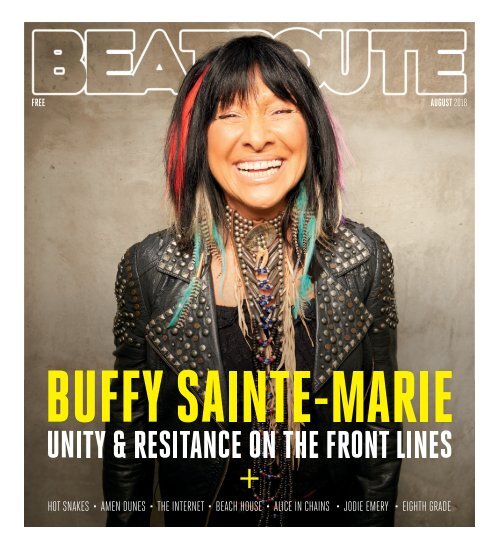 BeatRoute Magazine BC Edition August 2018
BeatRoute Magazine is a monthly arts and entertainment paper with a predominant focus on music – local, independent or otherwise. The paper started in June 2004 and continues to provide a healthy dose of perversity while exercising rock 'n' roll ethics. Currently BeatRoute's AB edition is distributed in Calgary, Edmonton (by S*A*R*G*E), Banff and Canmore. The BC edition is distributed in Vancouver, Victoria and Nanaimo. BeatRoute (AB) Mission PO 23045 Calgary, AB T2S 3A8 E. editor@beatroute.ca BeatRoute (BC) #202 – 2405 E Hastings Vancouver, BC V5K 1Y8 P. 778-888-1120
BeatRoute Magazine is a monthly arts and entertainment paper with a predominant focus on music – local, independent or otherwise. The paper started in June 2004 and continues to provide a healthy dose of perversity while exercising rock 'n' roll ethics.

Currently BeatRoute's AB edition is distributed in Calgary, Edmonton (by S*A*R*G*E), Banff and Canmore. The BC edition is distributed in Vancouver, Victoria and Nanaimo. BeatRoute (AB) Mission PO 23045 Calgary, AB T2S 3A8 E. editor@beatroute.ca BeatRoute (BC) #202 – 2405 E Hastings Vancouver, BC V5K 1Y8 P. 778-888-1120
SHOW MORE
SHOW LESS
Create successful ePaper yourself
Turn your PDF publications into a flip-book with our unique Google optimized e-Paper software.
August'18

PUBLISHER

BeatRoute Magazine

LAYOUT

& PRODUCTION MANAGER

Naomi Zhang

FRONT COVER PHOTO

Matt Barnes

FRONT COVER DESIGN

Randy Gibson

INTERN

Carlos Oen

CONTRIBUTING WRITERS

P. Cakes • Emilie Charette • Emily Corley •

Mike Dunn • Kyle Fillo • Mia Glanz • Alex

Harrison • Matty Hume • Daniel Jaramillo

• Jeevin Johal • Thomas Johnson • Brendan

Lee • Christine Leonard • William Leurer

• Joey Lopez • Trevor Morelli • Pat Mullen

• Carlos Oen • Scott Postulo • Dan Potter

• Paul Rodgers • Stepan Soroka • Brayden

Turenne

CONTRIBUTING

PHOTOGRAPHERS &

ILLUSTRATORS

Mandy-Lyn Antoniou • Andrew Bibby

• Shawn Brackbill • Baron S Cameron •

Emille Compion • Syd Danger • Maclay

Heriot • Bryce Hunnerson • Kent Kellberg

• Ariane Laezza • Aaron Leonen • Pamela

Littky • Matt Lucas • Ashok Mathur •

Carlos Oen • Tom Paille • Chris Thorn

ADVERTISING INQUIRIES

Glenn Alderson

glenn@beatroute.ca

778-888-1120

Editor-In-Chief

Glenn Alderson

glenn@beatroute.ca

City

Yasmine Shemesh

yasmine@beatroute.ca

Local Music

Maddy Cristall

maddy@beatroute.ca

The Skinny

Johnny Papan

johnny@beatroute.ca

Comedy

Graeme Wiggins

graeme@beatroute.ca

Managing Editor

Jordan Yeager

jordan@beatroute.ca

BPM

Alan Ranta

alan@beatroute.ca

GRASSIFIEDS

Jamila Pomeroy

jamila@beatroute.ca

Live Reviews

Darrole Palmer

darrole@beatroute.ca

Film

Hogan Short

hogan@beatroute.ca

04

05

06

10

11

15

HI, HOW ARE YOU?

- With Tim Bogdachev AKA

Russian Tim

PULSE - CITY BRIEFS!

CITY

- Vancouver Mural Fest

- Vines Art Festival

- International Guitar Fest

- Ayumi Goto & Peter Morin

- Body Language

OH LORD, WON'T

YOU BUY ME A

CUSTOM GUITAR?

COMEDY

- Neal Brennan

14 GRASSIFIEDS

- Jodie Emery Exclusive Interview

- Strain Of The Month

BPM

- Motion Notion

- Clubland

16

19

21

23

33

33

35

MUSIC

- Beach House

- Rolling Coastal

- Blackouts

- Amen Dunes

- Pierce Kingan

- Hotel Mira

- Hot Snakes

BUFFY SAINTE

MARIE

- Medicine for the soul

SKINNY

- Alice In Chains

- Elder

FILM

- Blindspotting

- Eighth Grade

REVIEWS

- The Internet

- Freddie Gibbs

LIVE

- Vancouver Folk Music

Festival

- Suicidal Tendencies

HOROSCOPES

DISTRIBUTION

Gold Distribution (Vancouver)

Mark Goodwin Farfields (Victoria)

Web

Jashua Grafstein

jash@beatroute.ca

Social Media

Mat Wilkins

mat@beatroute.ca

BEATROUTE MAGAZINE

202-2405 Hastings St. E

Vancouver BC Canada

V5K 1Y8

editor@beatroute.ca • beatroute.ca

©BEATROUTE Magazine 2018. All rights reserved.

Reproduction of the contents is strictly prohibited.

August 2018 3
---
WITH TIM BOGDACHEV

STEPAN SOROKA

If you are active within the Vancouver

punk rock scene, chances are you

know Tim Bogdachev, aka Russian

Tim, in one way or another. On top of

attending more shows than it seems

possible, Bogdachev hosts the radio

show Rocket from Russia on CiTR and

sings for Russian Tim and Pavel Bures.

He also organizes concerts, including

the upcoming Rocket From Russia

Fest, which features 18 of Vancouver's

finest punk bands. We caught up

with Bogdachev to find out more

about his passion for punk rock.

BeatRoute: Where are you from

originally and how long have you

been in Vancouver?

Tim Bogdachev: Thank you for the

interest and the questions. I was

born in Novosibirsk, Russia. It's the

biggest city in Siberia. And I moved to

Vancouver in 2006. So I've lived here

just a bit over 10 years.

BR: How would you describe the

punk scene in your hometown in

Russia?

TB: It always have been a very small

scene, especially if you compare it to

Vancouver punk rock scene. When

I discovered punk rock and started

listening to bands from Europe and

North America. From my natural

curiosity I started looking for local

punk rock bands, but there were

only a few and they weren't very

good. In 2004 I started my own band

and started bringing together bands

which played in the same genre and

we created a pretty cool little scene in

Novosibirsk. We started from shows

which were attended by 50 people

and my farewell immigration show

had 750 people. Unfortunately after I

moved to Canada our scene died and

punk rock in my hometown has been

dead for the past 10 years.

rock. I really like the melody, energy

and speed of that music. Nothing

changed since really. I still like melody,

energy and speed of punk rock 24

years later.

BR: What do you do with your time

when you are not occupied with

music?

TB: I work as a financial planner for

one of the major financial institutions

in Canada. It's not the most punk

rock job you can imagine, but I

like it that way because I like doing

everything against the grain. It's also

a job where I work with people and I

like people. I'm genuinely interested

in people and their lives and I'm glad

that with my expertise I improve lives.

Music takes a lot of my time, but it's

the way I always lived my life – doing

music stuff in my spare time. Some

people go hiking, some people play

video games, but I organize concerts,

host a radio show and play in a band.

To each their own.

BR: What is the best concert you

have ever been to?

TB: I've been to many shows. For me

going to a show its not an event, it's

a way to spend an evening. So I go to

shows every week, sometimes a few

shows per week. One of my favorite

bands to see live is Gogol Bordello.

I've seen them 10 times and it's

always a party. Exactly how I imagine

a fun show - dancing, singing, great

energy, great charisma, great songs.

And NOFX is my favourite band of all

time, so I love seeing them.

BR: Tell us about the radio show

you do for CiTR.

TB: It's great, especially if you like

punk rock. I play new, international

and local punk music. I also preview

shows of the upcoming weekend and

interview bands. I really play a lot of

local bands, so if you're curious to

discover some great bands in your

backyard – tune in. The radio show

is called Rocket From Russia and it's

on every Thursday from 10 a.m. to

11 a.m.

BR: Why should everyone come to

the Rocket From Russia Fest?

TB: Well because its gonna be great!

We live in a city with wonderful

music scene. We have truly some

amazing bands. I picked some of

the best ones to play the RFR Fest.

I honestly think that every band

out of those 18 is really, like REALLY

good. They are all different, different

charismas, different sub-genres of

punk rock, different message. And if

you come to the Fest this is what will

happen – next day you will be like

"wow, I saw these local bands on the

weekend and they were really good." I

know. Because it happens every time

when I invite somebody to my shows.

We're lucky to have such a good

scene in town, let's celebrate it.

Rocket From Russia Fest is happening

August 16 to 18 at the Astoria.

Photo by Jon Walters

BR: How were you introduced to

punk rock?

TB: My uncle went to States on

a school exchange program. He

brought back a boombox with some

CDs. He recorded me a tape: one side

was Green Day — Dookie, another

was The Offspring – Smash. As you

correctly guessed, he went to USA

in 1994. I really loved that tape. I

didn't know that it was called punk

Tim Bogdachev celebrates the great success of the local punk scene at Rocket From Russia Fest.

4

August 2018
---
CITY BRIEFS!

Honk! Vancouver Outsider Arts Festival Pepinos The Garden Torafuku

BEATROUTE X MRG

BeatRoute has teamed up with our

friends at MRG Concerts to bring

you an exciting new discovery series

of artists each month. These Golden

Ticket concerts will bring up and

coming artists to the city while

offering you a chance to get a piece of

the action through free tickets, swag

and bar tabs that would make Willy

Wonka jealous! This month we present

four shows — Lemuria, Hot Snakes AJJ

and Sales. Check out Page 17 for more!

THE GARDEN

868 East Hastings Street

Anticipated to open this month

in Strathcona, the cafe will feature

eats like homemade baked goods

and charcuterie. There will also be a

curated selection of retail offerings

that include housewares and ceramics.

MONSOON FESTIVAL OF

PERFORMING ARTS

August 9-19 at various locations

There is a large emphasis on South

Asian theatre at this third annual

Monsoon Festival. Toronto's Anita

Majumdar's critically acclaimed onewoman

show, the Fish Eyes Trilogy,

which explores the lives of Canadian

South Asian teens, is one not to miss.

TORAFUKU

958 Main Street

In celebration of the French-Italian-

Pan Asian fusion restaurant's third

birthday, the East Vancouver eatery

is launching a new family-style menu.

Look for charcoal adobo wagyu

beef with braised turnips alongside

fresh cocktails like O My Sake, which

combines Senkin Junmai Sake with

pear juice and green tea syrup.

EAST VAN CIDER FESTIVAL

August 22 at The Wise Hall &

Lounge

The second annual East Van Cider

Festival, presented by Liberty Wine

Merchants, will feature a variety of

British Columbia-made ciders, mead,

and spirits. All proceeds of the festival

will benefit the Great Vancouver Food

Bank Society.

HONK!

August 10-12 at Strange Fellows

Brewing

Vancouver's Carnival Band presents

the city's inaugural edition of HONK!,

a brass band and drum line festival

that celebrates music as much as it

advocates for social change. Seattle's

Filthy Femcorps and Rise Up! Action

Band will join local bands like Balkan

Shmalkan and Greenhorn.

UNIBROW ARTS FESTIVAL

August 24-27 at various locations

Presented by the Vancouver Art Book

Fair, Vancouver's first comedy and zine

festival is a celebration of local funny,

artistic, and written talent. There will

be a limited edition zine available as

well, featuring a special collection of

poetry, cartoons and more.

VANCOUVER OUTSIDER ARTS

FESTIVAL

August 10-12 at Roundhouse

Community and Arts Recreation

Centre

This three-day festival presents music,

artwork, spoken word performances

and more with a purpose to disrupt

exclusion and encourage connection.

In a co-presentation with the Vines

Art Festival, the VOAF will also put

on a special series and discussion to

follow about accessibility and ableism.

QUICKIE

August 11 at the James Black Gallery

A large roster of emerging artists

including Moody Rose Christopher

and Liz Saunders are featured in this

joint exhibition that explores the

concept of instant gratification, in a

range of disciplines from installation

to painting.

PEPINO'S SPAGHETTI HOUSE

631 Commercial Drive

This newly opened restaurant tips its

hat to its predecessor, the longtime

Commercial Drive staple Nick's

Spaghetti House, by maintaining the

old decor while serving up classic

Italian-American style dishes like

spaghetti and meatballs.

August 2018 5
---
CITY

VANCOUVER MURAL FEST

PAINTING THE CORNERS OF OUR COMMUNITY

JAMILA POMEROY

Andy Dixon's mural was one of many featured in 2017. This year will see 40 new murals.

Vancouver Mural Festival is Vancouver's

largest annual free public art celebration.

Through the creation of permanent public

murals, The Vancouver Mural Festival

hosts as a platform for Vancouver's diverse

art scene. The festival takes place in the

Mount Pleasant neighbourhood and the

festival works throughout the year with

neighbourhoods around the Lower Mainland

to highlight the local culture and vibrance of

their area; with aims to connect all avenues

of the community together through art. "It's

a celebration of creativity, so we really want

to be creative with how the festival takes

VANCOUVER INTERNATIONAL GUITAR FESTIVAL

BUILDING COMMUNITY AROUND CRAFTSMANSHIP

CARLOS OEN

6

place and not just be a bunch of vendors

and shops on the side of the road like a strip

mall outside. We want there to be a surprise,

something interesting around every corner.

So it's really fun to explore and roam around,"

says event coordinator David Vertesi.

With this year marking the third

Vancouver Mural Festival, organizers have

decided to take things in a slightly different

direction. "We have fewer murals (this year),

but we've given the artists a longer time to

do them. We still have close to 40 murals.

The mural fest is meant to be a celebration

of art and culture in Vancouver. So when you

Finally a festival where you can march to the beat of your own strum.

Whether you strum, fingerpick or slide

you'll be excited to know the Vancouver

International Guitar Festival is back. On

August 11 and 12, the best guitar builders will

come together at the Creekside Community

Centre for a weekend dedicated to Eric

Clapton´s true love.

The festival, created by local luthier

Meredith Coloma and producer Shaw

Saltzberg, is a unique opportunity for guitar

builders, players, collectors and aficionados to

mingle alongside some of the world´s finest

string instruments.

"We are the only festival in Canada of

this size presenting handmade work in

combination with, concerts, live music,

master classes for guitar building, master

classes for guitarists and a live music bar with

eight of the world´s great guitar players," says

Saltzberg.

According to Saltzberg there are close to

500 luthiers making wood string instruments

in B.C. The province also has two major

innovators of luthery in North America —

Jean Larrivée and Michael Dunn.

"One of (Coloma´s) ambitions was to

come to any of the events throughout the

week or the big street part on the Saturday,

which is expecting more than 125,000 people.

It's just an amazing cross-section of so many

amazing groups and organizations," says

Vertesi. Vancouver Mural Festival aims to be

an inclusive event intended for all classes,

cultures, genders, ages, abilities, and beyond;

strongly believing that it is crucial to the

art and general cultural health of the City

of Vancouver to create tangible, and lasting

visual evidence diversity. The even artist

roster speaks as an effort to reflect the varied

histories present in the city.

Outside of visual art, festivalgoers can

expect to see a wide variety of music

performances.

"Some big focuses we have are we have a

big finale concert in Jonathan Rogers park this

year, which is being put on by live nation. It's

called the park show, and it has Tribe Called

Red, with Charlotte Day Wilson and Teen

Daze. On our own stage we have Hannah

Georgas, The Belle Game and Schwey, which

is an up and coming Vancouver funk band.

We also have a stage that is co-created by

Westward Festival with more local bands."

Vancouver Mural Festival runs August 6 to 11.

more information visit www.vanmuralfest.ca.

expose the craft of luthery to a greater public

in British Columbia. That was something I

was able to do with my experience in creating

events," says Saltzberg, who has worked

with Michael Bublé, Bryan Adams, Sarah

McLachlan, Pink Martini and Elvis Costello.

Vancouverite Michael Dunn will be

recognized with the Luthier Industry Builder

Award, for his more than 50 years of guitar

building and unconventional artistic designs.

There will be three concerts at the Sarah

McLachlan School of Music, showcasing

the talented hands of top players from

Canada, the U.S.A., Europe and Australia.

Canadian blues player Harry Manx will also be

performing on August 11.

Within the festival, the very first Luthiers

Association in Canada will be launched. "We

recognize the need to bring the independent

makers together," says Saltzberg. "The

mandate is to provide some standardization

for the industry." Congratulations to the

luthiers! You build them, we play them.

The Vancouver International Guitar Festival

takes place August 11 and 12 at the Creekside

Community Centre.

VINES ART FESTIVAL

ROOTED IN ACTIVISM, ACCESSIBILITY AND CONNECTION

YASMINE SHEMESH

With a mandate dedicated to environmental justice by way of

a wide range of inspired art and performance, the Vines Art

Festival is at once a display of public art and a platform for

awareness.

"Vines has grown from a small afternoon of art sharing at

Trout Lake Park in August of 2015 into a 10 day festival at seven

parks throughout Vancouver," says artistic director Heather

Lamoureux.

The annual free all-ages festival, now in its fourth iteration,

brings together artists, environmentalists, and the general public

in an engaging way.

"The intention was and is to bring thought provoking art to

the people in public space for free, making public performance

more accessible in this city, and providing the opportunity for

audience to stumble upon creativity," Lamoureux says. "We

focus on celebrating the Earth, centering Indigenous voices,

uncovering truths, telling stories, and connecting artists to

support one another in their work."

Artivism — a term that refers to the union of art and activism

—is a central theme to Vines. "We support outspoken and

creative multidisciplinary artists with the ability to express

movements of social and environmental justice in their

performances and installations," Lamoureux adds. "We present

work on the land on 'earthstages' with minimal carbon footprint

to take care of the earth while hosting the festival. Much of the

work is site specific."

More than 70 performing and visual artists are featured

at the festival this year, presenting art installations, dance

performances, workshops, live music, and more. Artists of

note include Kimmortal, Missy D, Old Soul Rebel, Cease Wyss,

and Valeen Jules. One of the most anticipated events at the

festival this year, though, is Resilient Roots — a project that

pairs established and emerging Indigenous artists together in

a mentoring partnership to produce never-before-seen works

that will be performed at Trout Lake on August 17 and 18. One

of the participating pairs in this project include street musician

and slam poet Jaz Whitford and award-winning, multi-genre

composer, musician, and singer Sandy Scofield.

"Resilient Roots is the heart of Vines Art Festival," says

Lamoureux. "Bringing together emerging Indigenous artists

who are also bearing their souls on the frontline grassroots

movements, speaking out against the Pipelines and resource

extraction, and combining art with activism."

Vines Art Festival takes place at various parks throughout

Vancouver from August 8-19.

Vines artistic director Heather Lamoureux.

August 2018
---
Andrew Grassie Tempera Demonstration, (2008) tempera on paper and board | 10 5/8 x 13 5/8 in (27 x 35 cm)

Rennie Museum | 51 East Pender St | Vancouver
---
HOW DO YOU CARRY THE LAND?

EXPLORING IDENTITY AND PLACE THROUGH JOINT EXHIBITION

JAMILA POMEROY

Only a few steps through an archway

of found objects — spanning from

burlap to organic matter that looks

like seaweed — you are surrounded by

photo by Ashok Mathur

Ayumi Goto and Peter Morin explore identity and place in their exhibition.

rattles, drums beats, and the voices of

artists and ancestors alike.

"Don't worry about the ancestors,

they know what to do. And, remember,

you never know when a stranger will

change your life forever," says Peter

Morin while smiling at Ayumi Goto at

the opening of their shared exhibition,

how do you carry the land?. The two

multidisciplinary artists are long-time

collaborators and friends, creating

performance art informed by their

perspectives as a Japanese diasporic

woman and Tahltan First Nations

man. The collaborative exhibit merges

Japanese and Indigenous ancestry,

examining the experience of "place"

through innovative performance art.

Bridging the experiences of artists

with diverse ancestries in dialogue, the

exhibition creates space and invites

both the ancestors that previously

walked on the gallery grounds, as well

as the city's new inhabitants. This is an

exhibition celebrating the importance

of multi-facet cultural practices and

the process of understanding and

preserving culture and language.

"When we approached the

installation, we thought about how

to re-activate the documentation of

performances that had taken place in

the past, through new context," says

exhibition curator, Tarah Hogue.

Goto is a performance artist based in

Toronto who has explored her Japanese

heritage through the confrontation

and questioning of nation-building

notions, cultural belonging, and

structural racism. These expressions are

made in the exhibition, through her

visual art and cinematic displays of her

performance art. Goto takes inspiration

from the Japanese/Taoist notion of inyo

that conceptualizes the universe as a

circle, further transcending our western

beliefs of linear time.

Sobey Award-nominated Peter

Morin is a visual, conceptual, and

performance artist, in addition to being

a writer and curator. Morin brings forth

his Tahltan First Nations roots through

thematic channels that create dialogue

surrounding his ongoing process of

understanding his culture and language.

"Because Ayumi and Peter are best

friends and their collaborative work

is grounded in their best friendship,

which is really a long-term everyday

relationship, that spills into the space

of their performance," Hogue explains.

"They have developed a shared

consideration in how they approach

working with each other and I think

both of them are very driven to open

space for other voices."

Collectively, the two aim to merge

their personal historical stories, while

CITY

telling the joint story of Western

colonialism and the impact it has had

on culture — all facets created with the

intention of making inclusive spaces

welcoming of their mothers, ancestors,

and a multiplicity of voices, particularly

of the marginalized.

"The exhibition includes a collection

of [Goto and Morin's] significant

pieces together as well as some of

their individual projects, but the

exhibition as a whole is really dialogue

between their practices, their ways

of approaching cultural knowledge,

ancestral knowledge, and relationships

with land," adds Hogue. Gallery

attendees can expect to see cinematic

performance work and visual art from

the duo, as well as carvings, ceramics,

masks, and traditional regalia of a widerange

of other artists.

"A few of these pieces will be

activated with performances happening

throughout the duration of the

exhibition, and some will be responding

to the performances that will be

happening. It will be a very active space

full of life," says Hogue.

How do you carry the land? runs at the

Vancouver Art Gallery from July 14 to

October 28.

BODY LANGUAGE

SPEAKING OF CULTURAL REVIVAL, RESISTANCE, RESILIENCE

JAMILA POMEROY

When the practice of tattooing and

potlatches were banned in 1885,

many Indigenous people of the Pacific

Northwest turned to clothing and

jewelry to display their family crests

and, ultimately, their culture. These

forms of artful culture expression

remain on the forefront in display of

Indigenous culture today — Body

Language is the first art exhibition to

fully explore the rich artistry based

in tattooing, piercing, and personal

adornment on the Northwest Coast.

"Body Language, when I think

about it in the simplest terms, is

about Indigenous peoples resistance

and resilience," says Dion Kazsas

(Nlaka'pamux), curator of the new

exhibition to be featured at the Bill

Reid Gallery. The installment highlights

Indigenous cultural revival through

tattoos, piercing, and practice of

the craft. Artists featured include

Nakkita Trimble (Nisga'a), Nahaan

(Tlingit), Corey Bulpitt (Haida), and

Dean Hunt (Heiltsuk). Kazsas explains

there is a whole range of art from the

very traditional, to contemporary,

all echoing these themes of cultural

revival, resistance, and resilience.

"The reason it's called Body

Language is because we have all

of the forms of embodiment that

Northwest culture is embodied in. For

example, we have button blankets,

raven's tail weaving, pictograph,

photographs, masks and or carvings,

and then other paintings. So there is a

whole combination right from coiled

cedar root baskets coming from my

own culture, right to contemporary

paintings by Corey Bulpitt."

When exploring one's culture,

it's next to impossible to avoid

questions of identity. Kazsas explains

the questions and exploration of

Canadian Indigenous identity are

deeply seated in the governing and

political treatment of the culture. "The

issue of identity is always associated

with the political structures that have

tried to fracture Indigenous identity.

The reason I use the word resilience

and celebration is because we have

come through multiple generations

of Indigenous folks who have had to

fight against the legislation violence

of the Indian Act, the residential

school system, child welfare separating

Indigenous children from Indigenous

communities, smallpox and the

epidemics, and then, of course, the

land theft."

Despite the attempted erasure,

assimilation, and dismantlement of

Indigenous culture, the art featured

speaks with an embodiment of it all,

fighting back artistically to the bounds

of their oppressors. "We have tried

to weave all of this things into, how

is it part of the visual culture, here in

the Northwest. So it doesn't matter

whether it's a tattoo, a carving, or a

button blanket — they all speak to

who [Indigenous people] are."

Body Language runs until January 19,

2019 at the Bill Reid Gallery.

Body Language celebrates various forms of artful cultural expression.

August 2018 9
---
FOOD

Oh Lord,

won´t you buy me a

custom guitar?

This article is in standard tuning.

Early in life, I fell in love. Holding her between

arms with total inexperience. My leg near her

waist. Right hand close to the bridge, securing

our proximity. Instinctively the left hand went for

the neck pressing the strings down and sliding

the fingers fret by fret. What I heard left me

speechless. We fused.

It all starts with a simple guitar and as we

progress in both technique and personal finances,

we move into the world of high-end and custom

made acoustic guitars. According to Mike Colina-

Fanthrope, Guitar Department Manager at Long

& McQuade, these excellent winter companions

range from $2,500 all the way up to $12,000.

By Carlos Oen

Those at the top are "always behind glass." Just

like Excalibur, waiting to be freed from stone

by someone with a noble heart and a healthy

paycheck. StatsCanada reveals that there are close

to 130,000 potential Vancouverite knights living in

this comfortable realm.

A vibrant music scene with a productive

recording industry, as well as its proximity to

Asia makes Vancouver a competitive market for

high-end guitars. Just recently Chris Martin, CEO

of F. C. Martin & Co. was at Rufus Guitar Shop

showcasing his legendary products.

Three brands dominate high-end acoustics

global sales: Taylor, Martin and Gibson.

With more than 20 years of guitar expertise,

Colina-Fantrope is able to precisely narrow down

the big player´s tonal qualities. "Gibson would be

a nice full sound. Warm is another way to describe

it. Taylor is very clear. Martin is very dynamic. They

are all quite different in their approach," he says.

Diluted in a 35 to 55-year-old male-dominated

market there is an almost unattended segment. "A

lot of females don't like the big body instruments,"

says Colina-Fantrope. "They tend to stick with

something smaller that is more comfortable to

play. Taylor has smaller instruments but not in the

high-end. Companies need to respond to that.

Females are half of our population."

Guitars are increasingly finding in women

overwhelmingly talented ambassadors such as

Taylor Swift. Adrian O´Brien works as V.P. of

Marketing at Prestige Guitars, a clearly focused

local guitar company with global reach and

mindset.

"Most female players that are serious players

are going to want the same guitars that any other

player would," he says.

Have you listened to Kaki King? She is the Joan

of Arc among knights. Excalibur jumps into her

hands.

"Kaki King is a player that is on our

endorsement roster. She is a percussive fingerstyle

player — Ground breaking. She is referred to as

one of the best guitar players on the planet right

now," says O´Brien.

But there are also men who travel and prefer

smaller body instruments. Meredith Coloma,

local Luthier at Coloma Guitars with ten years

of guitar making and producer of the Vancouver

International Guitar Festival, knows that well.

"It is something that I built a lot of my career

on. I make smaller instruments with shorter scale

lengths for the comfort of smaller hands," says

Coloma.

Achieving gender equality is not the only

challenge high-end acoustic guitars face. Our

appetite for exotic woods has taken a toll. In

response to heavy deforestation at the beginning

of the year, the Convention on International Trade

in Endangered Species of Wild Fauna and Flora

(CITES) introduced restrictions on all rosewood,

used to some extent on most guitars.

"Of course, companies are looking for

alternatives and generally speaking they are

moving to other woods such as pau ferro and

granadillo, which are South American woods,"

says O´Brien, who knows the global guitar wood

situation.

Environmental friendly Vancouverites are

pointing to a solution. When questioned about

the rosewood shortage Coloma seems not

affected. For the construction of her guitars,

she has been using rocklite, a wood composite

produced in the U.K.

"I also use non-endangered wood species for

my builds. Maple form B.C. I like to use local

woods like cedar, sitka spruce, Engelmann spruce

and figured maple," says the luthier.

Endangered South American woods, such as

rosewood, may find time to recover thanks to

Canada´s national emblem.

"Maple is very bright. Has a very specific

characteristic that balances our mahogany bodies.

We use it in order to create a really beautiful

range of tone for the guitar," says Prestige´s chief

marketer, Adrian O´Brien. "Luckily it's not in short

supply or anything like that. And again, for us it's

huge because it's in our backyard."

10

August 2018
---
COMEDY

NEAL BRENNAN

UNBURDENED AND READY TO MESS UP THE UPHOLSTERY

GRAEME WIGGINS

Neal Brennan has always been on the cutting edge of comedy.

Fame and success in one arena can

sometimes hamper success in others. It

can be hard to move on and fight the

burden of the past. For comedian Neal

Brennan, co-creator of the legendary

sketch show, Chappelle's Show, finding

his place in stand up required a new

take to reintroduce himself and let

people know where he was coming

from. That was Brennan's 2017 Netflix

special, Neal Brennan: 3 Mics, a special

in which he had three microphones set

up and alternated between them. The

left mic was for one liners and short

Twitter-like observations. The right

mic was observational stand up. The

centre mic dealt with serious stuff like

his handling of depression and issues

with his father. It was an original take

that got pretty emotional at times but

also vented that through the other two

mics.

Even though he's embarked on this

new journey, people are inevitably still

inclined to bring up his past successes,

something he's fine with.

"Sometimes people will be like,

'Sorry to ask you about Chapelle Show,'"

he says. "But I guess there are reasons

why I could be tired of it. I understand

why it's interesting to people. That's a

level of entitlement I haven't reached. I

hope to get there someday though."

Upon returning to stand up in the

wake of Chappelle's Show, he also

had a fairly popular podcast with

fellow comedian Moshe Kasher called

the Champs in which he took his

immersion in African American comedy

and the music scene as a means to talk

to people of colour who he had on as

guests about issues in a frank way. In

his words, "I liked talking to people of

colour in a comfortable way. Racially,

I'm pretty open I guess. So it seemed

like I was being racist. No, we were just

talking to people of colour in a way that

wasn't stilted or tense. And some of it

was tense, talking about issues; I don't

know that we were ahead of our time.

It was things that were relevant to me

and relevant to the guest."

If the Champs provided an outlet

for pure comedy, he still didn't feel

like people really understood him. "I

think what it was, I hadn't been doing

stand up that long. And it takes awhile

for your body to get used to it. So I

presented on stage as sort of tense. And

3 Mics was a way of explaining that

tension and explaining my personality

and giving people a bit of a back-story.

So people could understand who I was."

With his new tour, Here We Go, he's

a little more open to focus on the stand

up side of things.

"It's just stand up. People say I'm

more animated than I've ever been,

more physical, more energetic. But

it's more the right hand mic, just me

talking for an hour, stating my opinions.

It's more propulsive." It allows Brennan

to do something better known in

classic bits of Def Jam comedy: fucking

the stool. "Guess what everybody,

guess who's fucking the stool in this

one. It's your friend Neal B. Fucking

the stool. It's a joke, kind of, about

fucking the stool. Nevertheless fucking

the stool is fucking the stool. So yeah

congratulations to me."

Catch Neal Brennan live August 16 at

the Rio Theatre.

August 2018 11
---
CITY

12

INTERNATIONAL

OVERDOSE

AWARENESS

DAY

By Jordan Yeager

Photo by Baron S. Cameron

RESOURCES

"VCH's overdose response is tackling the

issue from every vantage point we have,"

says Caitlin Etherington, Interim Director for

Regional Prevention. "We want make sure

that no one is using alone, we want to make

it easier for people who want treatment to

find it, and we want to increase treatment

options available for opioid use disorder. We

are working hard at preventing overdoses

and encouraging less harmful drug use. We

have work underway that addresses these,

as well as trying to name and resist stigma,

support the growing work force of peers,

and ensure that all our efforts have a lens of

Indigenous cultural safety."

BC Crisis Line

310-6789

BC Mental Health and Substance Use

Services

1-888-300-3088

604-875-2345

Detox Services

Creekside Detox: 604-587-3755

FSGV Youth Detox: 1-866-658-1221 or 1-877-872-

4349

Harbour Light Detox: 604-646-6844

Onsite: 604-687-7483

Vancouver Detox: 604-658-1259

Maybe you're an honour roll student

with dreams of writing a classic

novel. Maybe you're a professional

athlete. Maybe you're a parent. When it comes

to addiction, who you are doesn't matter –

addiction does not discriminate. Considering

the ongoing overdose crisis throughout

British Columbia, this is an inescapable reality.

Historically, substance use has been a normal

part of the human experience, and it will

continue to be; drug use itself is not necessarily

the problem. But when fentanyl was introduced

to the scene in late 2016, incidents of reported

overdoses amplified.

According to Vancouver Coastal Health

(VCH), fentanyl is a contaminant that can't be

seen, smelled, or tasted. It can be found in pills

marketed as oxy and other club drugs, in powder

as heroin, and mixed into cocaine and crystal

meth. People often don't think the substances

they are using contain fentanyl, but all it takes

is a piece the size of a grain of sand to cause an

overdose. Regardless of the dangers, people are

going to continue using elicit substances; instead

of ostracizing them, why not provide the means

to do so safely?

Enter Insite, North America's first supervised

injection facility. Located at 139 East Hastings

Street, Insite sees an average of 600 visits per day,

many of which are repeat clients. Its services are

anonymous, with visitors often opting to register

under nicknames or handles.

"Our average from when we opened in 2003

until late 2016 was two overdoses per day," says

Tim Gauthier, a long-time nurse at Insite. "We

hung around that for years. And then around

October 2016, with the introduction of fentanyl,

we jumped up to eight overdoses per day. At our

busiest, we had 27 events in a single operating

day. It really took us by storm. Everyone just kind

of hoped it would go away, but it didn't. It's 3:30,

we've been open since 9:00, and we've had four

events so far today."

Harm reduction programs like Insite's

supervised injection room are designed to

"reduce the harms associated with drug use

without requiring somebody to be absent from

drug use in order to access services." In other

words, harm reduction does not discourage

people from using – it simply provides them with

a safe space to do so, whether that's through

clean needles, alcohol swabs, water, or just a

warm, welcoming environment. By removing the

stigmatization from substance use, people with

HealthLink BC

Call 811 to speak with a nurse about symptoms,

health concerns, or to learn about other available

resources. They have translations available in over

130 languages.

Kelty Mental Health Resource Centre

Available across British Columbia, Kelty provides

children and youth with mental health and

substance use information.

1-800-665-1822

604-875-2084

MindCheck.ca

Mind Check is an online resource for people aged

12-24 to quickly access services for mental health

support.

substance abuse issues are more likely to seek

and access resources for treatment.

"People have this idea that it's an

endorsement, or it's a promotion of drug use,"

says Gauthier. "It's easy to think that the safest

thing for us to do is to not use drugs. But humans

have taken recreational substances throughout

history, and they will continue to do so. So while

that's happening, we need to have programs and

policies in place to mitigate harms."

"I've been going there for over 10 years," says

Randy, an Insite client who goes by the handle

Shovel. "They do a lot more behind the scenes

than you know; Insite is home base for a lot of

people. A lot of us get our mail there. Basically,

they keep track of everybody. If we haven't seen

somebody for a week, we get worried. Between

the lot of us, someone might know where that

person is. And if you find the streets get pretty

messy, we clean it, we sweep it all up every day.

It's like a big family."

Looking around Vancouver's downtown east

side, it becomes clear there is no average "day in

the life" for its residents. From young men in crisp

dress shirts to middle-aged women in flowing

skirts and sandals, the stereotypical image of

an addict that many adhere to is really nothing

more than a scapegoat used to dehumanize and

compartmentalize those reliant on substances.

Insite isn't just a place to use safely – they also

provide STI testing, drug testing, antibiotics to

treat infections, and a detox program.

"They've saved my life more than once. When

we get new stuff in, we don't know the stuff, we

go there, and if we OD, they save our lives," adds

Randy. "And a lot of infected people go there. All

the abscesses and stuff that lead to people losing

their limbs and stuff like that, they treat them."

"We can easily see past the needles or the

tracks or the things that satellite drug use – like

somebody who's sleep deprived and overamped,"

Gauthier says. "We see past those

things, and we see the person experiencing

them. They're the most impacted by all of this.

So no matter how much we want someone to

do something, like go to detox or – I'm doing air

quotes – 'get better,' the person wants that way

more for themselves. Maybe they want that in

different ways or expressions, but it really is their

experience."

International Overdose Awareness Day is August 31.

There is a vigil to remember those lost to overdose

outside the Vancouver Art Gallery at 7 p.m.

Naloxone Kit Availability

Crosstown Clinic: 84 West Hastings Street

Granville Health Centre: 1260 Granville Street

Insite: 139 East Hastings Street

London Drugs: most locations with pharmacies

Pender Community Health Centre: 59 West

Pender Street

Shoppers Drug Mart: most locations with

pharmacies

Vancouver Women's Health Collective: 29 West

Hastings Street

YouthCo: 205-568 Seymour Street

Find more at towardtheheart.com/site-finder.

Self-Help Resources

Alcoholics Anonymous: 604-434-3933

Narcotics Anonymous: 604-873-1018

Alateen and Al-Anon: 604-688-1716

August 2018
---
SKIN DEEP

CELEBRATING VANCOUVER'S TATTOO CULTURE

HOGAN SHORT

PONDEROSA ARTS & MUSIC FESTIVAL

JUST ANOTHER DAY IN PARADISE

MADDY CRISTALL

Ponderosa Arts & Music Festival was started

in 2013 by close friends Kia Zahrabi and Kris

Hargrave. Zahrabi, who resides in Vancouver,

was able to provide BeatRoute with insight on

the festival's origins and what makes Ponderosa

one of the most unique summer music

experiences in British Columbia.

The idea for Ponderosa was born out of a

series of successful and audacious parties that

Zahrabi threw on his father's orchard in the

Every month, we meet up with a local tattoo

artist to get to know the individual and

inspiration behind the ink.

JOEL RICH, BLACK MEDICINE TATTOO

How many years have you been tattooing?

Since 2014, though I'm not counting the

tattooing-myself-like-a-crazy-person years.

How would you descrive your style, and why

do you choose to tattoo that way?

Drawing has always been a form of selfreflection

for me. I think when I'm drawing in

my sketchbook, it's a way of processing the

world around me. Maybe the way I view things

is a bit skewed, but I hope that the result is

interesting. My goal is to delve fully into the

weirdness this year.

As an artist and shop owner, how do you

descrive your team at Black Medicine?

We were initially a group of illustrators and

comic artists who found their way into

tattooing. It seemed natural to work mostly

with black ink as that's how we were drawing

previously. All of the artists in the shop are super

talented people and they made the shop what

it is. Our goal was to have our favourite artists

working under one banner while providing the

best work environment we can.

Okanagan Valley. Hargrave lives in Kelowna,

close to the festival grounds which are in the

small and beautiful Rock Creek settlement. The

two fell in love with the Boundary Country

region, home to Rock Creek's annual fall fair, and

decided this is where they wanted to conduct a

full-fledged music festival. The area is engulfed

in mountains, a riverside open to tubing, and

generous fields suitable for two stages and daily

morning yoga.

What are some of the challenges you face?

I'm constantly humbled by the talent that

surrounds me. When I come into work I can't

help but be inspired, and I hope they feel the

same way about each other. The stress gets to

me as I worry about things a lot. If someone is

feeling frustrated I can end up taking that on.

Both tattooing and running a shop can be an

emotional labour. Some days I feel like I can't

take it and hide in my apartment, but they

lure me back into the shop with snacks and

friendship.

What makes your flash days at Black Medicine

so popular?

For some people, the spontaneous nature of

the event is a lot of fun. For others, it's a chance

to get something from an artist who is difficult

to an appointment with. What I love about

the idea is that these are each artist's newest,

sometimes experimental works. You know the

artist is excited to be tattooing the design you

picked out.

How do you view tattooing culture in

Vancouver?

It has a lot more young weirdoes these days,

which sounds good to me.

Follow Joel Rich on Instagram at @skeleton_jelly.

While starting a festival can be nothing more

than a pipedream between music loving friends,

Zahrabi and Hargrave executed the feat and

have pulled off an impressive annual festival

for five years and counting. An average of 1000

people make it out every year to the Ponderosa

Arts & Music Festival to experience three days of

music, art, and food in the impossibly beautiful

Rock Creek area. Zahrabi and Hargrave still

embody a sincere affinity for throwing a great

party; they both exhibit a chill demeanor which

is apparent amongst patrons to their festival.

Zahrabi describes the festival as inclusive, nonjudgmental,

and fun. You can sit in the river

between shows, kids are welcome, and people

feel safe. Previous attendees have described the

festival as the "best weekend of their lives."

The lineup this year is especially noteworthy

as some of the diverse local and national acts

include Toronto-based hip hop artist k-os,

Montreal art rock band Suuns, psych rock duo

Lightning Dust, and local heroes Yukon Blonde

and Little Destroyer. If you love great music, an

eclectic lineup, great company, and a gorgeous

backdrop in the dog days of summer, then the

Ponderosa Arts & Music Festival is for you.

BOTTOMS UP

DYLAN RICHES AT BRIX & MORTAR

CITY

HOW DID YOU START BARTENDING?

Just over five years ago I was working in retail and

struggling to make ends meet. A friend mentioned you

could make pretty decent money bartending and I had

nothing to lose so I made up a resume and faked some

experience. I sent it out to a bunch of places and took a

job bartending at the first place that would hire me.

HOW LONG HAVE YOU WORKED AT BRIX &

MORTAR?

Around eight months. One of my closest friends, Ryan

Sullivan, recommended me for the job. It's be a fantastic

experience so far. Everyone is really passionate about

what they do and it's a really creative environment that

pushes you to constantly learn and grow.

BEST THING ABOUT YOUR JOB?

Definitely the community. Vancouver has a really closeknit

community of bartenders that all really support each

other. You don't find a lot of animosity here. We celebrate

each other's victories, we all genuinely want each other

to succeed.

FAVOURITE DRINK TO MAKE WITH RED BULL

ORGANICS?

Probably "The Night Before" which has cold brew, black

walnuts bitters, Red Bull Cola, nutmeg and orange in it.

It's dark and has a Christmas feel to it but it's still really

refreshing and goes great with rum or sherry.

GO-TO ON A NIGHT OFF?

You might find me at Revel Room sipping on a cocktail

and enjoying their awesome live music throughout the

week, or down at The Shebeen working through their

wicked whisky list. There's so many great spots though

that I try to switch it up as much as I can.

TELL US ABOUT THE GREATEST NIGHT

YOU'VE EVER HAD AT WORK.

There was a night at another bar I was working at where

Steve Howey came in. It was pretty dead so we speant a

couple hours talking about gin, whisky and oysters. So

that was cool, he's a really nice guy.

THE WORST?

There was a night at a different restaurant where the

whole place filled in about 20 minutes. We were severely

understaffed and our manager had left early. I was trying

to serve, bartend, shuck oysters, and steam mussels at

the same time. It just felt like one step forward, ten steps

back. It was the only time I've ever felt like I wanted to cry

at work.

Brix & Mortar is located at 1138 Homer Street

Photo by Chris Thorn

Entering their sixth year as curators, Kia Zahrabi and Kris Hargrave put on one hell of a party

Ponderosa Arts & Music Festival runs from

August 17 to19 in Rock Creek, BC.

Dylan at Brix and Mortar

August 2018 13
---
GRASSIFIEDS

JODIE EMERY

A DISCUSSION ON HOW THE CURRENT CANNABIS CLIMATE AFFECTS WOMEN

JAMILA POMEROY

The Princess of Pot, Jodie Emery, has seen

it all in her 14 years of cannabis activism

in Vancouver. While a greener hue may be

on the horizon with legislation changes,

Emery cautions we have so much work to

do, especially for members of the industry

who have remained on the forefront during

prohibition. "In most recent years it has been

less dangerous for people to come out as

being a cannabis consumer or activist. More

women in professional senses are being

able to get into business," says Emery. The

industry and movement that began as a

boys club, geared towards male consumers

and featuring things such as "babes and

bongs" — as referred to by Emery — has

taken on new light. The cannabis industry is

slowly recognizing that, holistically, cannabis

has many benefits to women's health and

furthermore, holds a wider clientele than

their previous male-based target. "Cannabis is

a female flower and it has all of these healing

and nurturing properties. Humans have

evolved with cannabis for so long: we have

cannabinoid receptors in our bodies and our

brains. Women produce cannabinoids with

breast milk for their babies, so we are really

designed to interact (with these properties),"

says Emery.

While this shift is clear, Emery explains

that the women who appear to be of greater

influence, may in fact not be the women

who have previously held ground in the

movement. "A lot of the women being

represented on panels and events about

14

photo by Ariane Laezza

Jodie Emery has been a loud and prominent voice for cannabis activism in North America.

pot, many of them maybe aren't even pot

consumers, don't know how to grow it or

have no interest in growing it. So there is a

lot of women in business who are getting

into cannabis, not necessarily a lot of women

in cannabis getting into business. A lot of

(women in cannabis) have criminal records

from being involved, like myself, and a lot

of women just don't have the connections

and abilities that men have been able to

create over time." From a business industry

perspective, members beginning to invest in

the budding climate seem to stray far from

the grassroots, for the people perspective, in

Emery's eyes.

The political eye is often peering toward

the perspective of slogans such as "it's been

too easy for our kids to get marijuana,"

targeting the implications cannabis has on

Canadian youth and the recreational side of

legalization. While recreational legalization

will take place this fall, it is still unclear

if amnesty will be granted to previous

offenders, such as Emery. "In 2018 at the

Toronto airport [...] we didn't have any weed

or money on us, just doing our cannabis

activism thing as usual. And they wouldn't

let us call our lawyers because all the raids

and arrests were scheduled for the next

day. So they held us for like seven hours,

without letting us call our lawyer." Both

Jodie and husband Mark Emery later plead

guilty to various cannabis related charges.

After the crown deemed their business

a "sophisticated" dispensary operation,

the two were collectively ordered to pay

$195,000 and spend two years on probation.

Emery recounts the experience in maximum

security at the Vanier Women's Prison as

undeniably traumatic.

"They take you in this transport vehicle, it's

a tiny little box and it's either freezing cold or

burning hot. We were treated like cattle. It's

traumatic, really, for a lot of people. I heard

about what happened to dispensary people

who got arrested. You get your top taken off,

you take your bra off and then you give them

your bra because you can't keep it and then

you put your top back on, and you take off

your pants and take off your underwear," she

says. "I got through that and was just kind

of going through it all, not being afraid and

seeing how it was going to unfold." Emery

was then moved into a second room where

she was again asked to participate in an

additional strip search. "I said 'top and then

bottom?' and they said 'No, everything all at

once' and I was like well that's not necessary."

With the #metoo movement, and many

other sexual responsibility and consentbased

movements taking over social media,

Emery wishes to shed light on her experience

with the Canadian criminal justice system,

to perhaps prevent further possible #metoo

engagements. "I remember asking my

lawyer later, 'when they told me to take

off my clothes, what would happen if I say

no?'. He said, 'well you're in their custody,

you can't really say no'...and I'm thinking

man, you know, we talk about #metoo

and consent, and this and that, and you

basically get sexually assaulted by your own

government. They would hold you down

and tear off your clothes." Emery shares that

according to Canadian law, it's illegal to strip

search someone unless you have serious

legitimate reason to believe they may have

an incriminating object or substance. At that

time, Emery was not being investigated for

an incriminating object or substance on her

person, but for raids and arrests scheduled

for the following day. "None of these poor

people in the system, getting violated every

day, none of them can really fight that alone,"

says Emery.

Despite traumatizing experiences during

her incarceration, Emery stands strong

in representing women and the cannabis

industry, through activism. She recently

opened Jodies Joint, a coffee shop in

Toronto's Kensington Market. The shop

will be selling coffee, tea and hemp-based

goods. She hopes for the integration of

cannabis when cannabis legalization is in full

swing and her personal ties with Canadian

law return neutral. And ultimately, she will

continue to shed light on and spark change

surrounding the cannabis industry.

Follow Jodie Emery on social media: @

jodieemery @jodiesjoint

AN END TO REEFER

REEFER GLADNESS

JAMILA POMEROY

Prime Minister Justin Trudeau announced Canada's official

cannabis legalization date (October 17th, 2018), at the House of

Commons on Wednesday, June 20th, 2018. The passing of Bill C-45

takes global historical lead, making Canada the second country

in the world to legalize cannabis for recreational use. The end of

prohibition brings us to a pivotal point for so many industry facets;

our healthcare system, prospective scientific studies, and general

cultural and societal shifts towards what used to be known as the

devil's lettuce. With so much of our common knowledge based on

bias representational of the war on drugs, and under-funded and

outdated studies, canadians can expect a large influx of knowledge

and understanding in the coming years.

Justice Minister Jody Wilson-Raybould tweeted on June 19th

"#C-45 has passed the Senate - this is an historic milestone for

progressive policy in Canada as we shift our approach to cannabis.

This legislation will help protect our youth from the risks of

cannabis while keeping profits out of the hands of criminals and

organized crime." While the recently passed Bill C-45 and pending

companion Bill C-46 will mean fair users will avoid legal penalty

for recreational use, accessibility to the more medical and holistic

side of the plant remains hazey- as does the possible granting of

amnesty to previous cannabis criminal offenders.

After October 17th, 2018, all Canadians over the age of 19

with be eligible to purchase cannabis online recreationally, with

additional regulations surrounding consumption to be released

prior to legalization. Regulations regarding isolated CBD, the

non-psychoactive, pain-relieving, anti-anxiety cannabinoid are

still under consideration and development: following the recent

categorization of the isolated cannabinoid as a class three drug

(parallel to heroin, meth, and crack), it is clear there will be more

bounds put on accessibility to the more medicinal attributes of the

plant.

BUD-OF-THE-MONTH

JAMILA POMEROY

Green Goddess is an indica-dominant hybrid (meaning, less

energetic, relaxing, but not so relaxing you are stuck on your

couch), that is geared towards stress relief- bringing calmness and

focus. The strain is a descendant from parent plants Skunk #1

(hybrid) a genetic originating in the 1970's, and Sweat Leaf (indica).

Featuring aromatics based in earthy notes, pine, and citrus; the

strain is perfect for relaxing and de-stressing in the sunshine, with a

glass of iced tea.

Disclaimer: cannabis is not yet legal for recreational use.

Green Goddess

August 2018
---
MOTION NOTION

ELECTRONIC FESTIVAL RELOCATES IN SEARCH OF A NEW GROOVE

PAUL RODGERS

CLUBLAND

YOUR MONTH MEASURED IN BPMS

ALAN RANTA

BPM

Motion Notion relocates this year to Merritt, BC, a tried and tested location for enjoying quality electronic music.

Motion Notion has moved four times

in their 19 years as a festival and this

summer, due to circumstances beyond

their control, they been forced to

relocate for a fifth time. After finding no

suitable locations close to their current

site near Golden, or in Alberta, they

threw a "Hail Mary" to a festival site well

known to them, the site of the Merritt

Mountain Music Festival, likely better

known to readers of this article as the

current home of Bass Coast.

"We really embody the name Motion

Notion quite frequently," says Kevin

Harper, director at Motion Notion. He

says the first couple of times they moved

it was because they had outgrown their

usual digs. This year the reason is quite a

bit more unfortunate.

"We had been at Beaverfoot for about

six years and had an agreement to do

multi-years and build permanent stages

and kind of the dream scenario," Harper

explains. "And then all of a sudden the

owner basically fired all of the Canadian

management staff of his company and

put in charge a U.S.-based developer to

manage the property."

They and all other scheduled

programming, weddings and all, were

given the boot. To Harper and the rest

of his team, this obviously came as a

significant shock, especially coming just

a few months before the show was set

to go off.

"We had to basically make a decision

of cancelling the event, which would be

the first time ever to do so, or to work

our butts off to find a suitable new

location."

They spoke with everyone they could,

government officials, First Nations

groups, farmers, strangers on the road,

becoming the talk of the town in Golden

along the way, but nothing materialized.

So then they decided to reach out to

their friends at Bass Coast. "[We] said,

'this is the situation, we're really sorry

to put this on you — can we have your

blessing to be able to get us by?' And

they said absolutely."

News of Motion Notion's move to the

grounds that Bass Coast attendees have

a profound connection to seemed to

create two different schools of thought

on the matter. The first being that it

makes sense, the land is not owned

by Bass Coast, they are tenants there,

and the Motion Notion, like Fozzy Fest

last year because of the Wildfires, was

put in a situation where they needed a

proper venue fast. The land in Merritt is

designated for that exact purpose.

However, because festivals have such

an intrinsic impact on attendees, some

felt as though it would be weird having

another rave on Bass Coast's setting.

"That was our utmost number

one concern," Harper says. "From our

standpoint, because we our one festival

community, we do want to make sure

that we're not stepping on anyone's toes,

both on the event organizer side, but

even for the attendees so that it's not an

overlap in terms of expectations and all

of that stuff."

Harper says that 95 per cent of

feedback about this move has been

positive, though there has been some

negative comments, but in his 20-plus

years of running events — 11 just with

MoNo — he knows that problems can

always arise, and this one "takes the

cake."

In terms of creating a distinct vibe

from that which Bass Coast conjure up

every year in the Nicola Valley, Harper is

confident that the overall atmospheres

of the festivals are different enough that

it won't be an issue. Yes, they are both

electronic music festivals, but that term

is extremely broad.

Though it's hard to categorize a

festival's entire programming into a

word, whereas Bass Coast may be known

to be a little more heady, deeper, darker,

MoNo features more of the funky,

heavier sounds like breaks (Marten

Hørger, Freestylers), drum and bass

(Calyx and TeeBee, Original Sin) and

electro house (Slynk), but then of course

the sound that they are originally rooted

in, and that you are unlikely to find at

other West Coast festivals these days:

psytrance.

So worry not, there is plenty of

room in that valley to provide entirely

distinct playgrounds for many different

raving revellers to delight in, as well as a

logistical base of operations for festival

promoters caught between a rock and

a hard place — like Harper, who says he

is now going to be able to sleep a little

better at night.

Motion Notion takes place August 23 to

27 in Merritt, BC.

Things are rough out there, and getting rougher every day, but you've got

to take a little time for yourself every once in a while, just to maintain

sanity. It's only a selfish act if you don't tip your servers.

Shipped Waterfront Festival

August 11 @ The Shipyards

Many solid acts on this amazingly free bill, including Washington-based

downtempo electronica producer Manatee Commune, wh's like a less

serious version of Tycho, and Juno-nominated electro-pop duo HUMANS.

It's low commitment, high reward. Take a chance.

A Tribe Called Red

Aug 11 @ Jonathan Rogers Park

If you can't get down with this Polaris-nominated powwow-stepping Tribe

from the moment they hit the stage, I don't know what to tell you, other

than you're missing out on a very important part of the Canadian national

identity. Their catalogue should be taught in every school across the

country.

Insane Clown Posse

Aug 16 @ Venue

It'll cost you $45 to take in this spectacle, but even if you're not much of

a fan of their novel hip-hop stylings, it might be worth the price tag just

to see the kind of people who show up. Few acts have a more dedicated

fanbase than these long-running Detroit underground weirdos, and energy

is contagious.

ohGr

Aug 19 @ the Red Room

If you know Skinny Puppy, you have an idea of what to expect from ohGr,

the electro-pop, hip-hop, and metal-tinged industrial side project of Kevin

Ogilvie (a.k.a. Nivek Ogre) and Mark Walk. These guys just successfully

crowdfunded the creation and release of their fifth studio album, TrickS,

and the Red Room will be lucky to be left standing after they shake the

foundation with it.

JPEGMAFIA

Aug 29 @ Fortune $15.00

Baltimore's Barrington DeVaughn Hendricks dropped his second album

as JPEGMAFIA early on in 2018. It's called Veteran, and the title cannot be

inferred as your typical baseless thug chest-pounding. Hendricks served

his country in Iraq. He's the real deal, an actual veteran who has seen some

shit, which backs up his aggressive, experimental hip-hop style infinitely

more solidly than all the bulletproof vests 50 Cent can order online from

the safety of his mansion.

JPEGMAFIA

August 2018 15
---
MUSIC

BEACH HOUSE

FINDING SERENITY IN AN OVERSTIMULATED WORLD

JAMILA POMEROY

Beach House stay rooted in luck and simplicity with their release of 7.

Earlier this year, Beach House released

their newest album, 7, breaking into a

more expansive, heavy and immersive

soundscape. The dream-pop founders,

known for hauntingly beautiful vocals,

dreamy guitars and organs, paired up

with Panda Bear and MGMT producer

Peter Kember (aka Sonic Boom);

sweeping the band into a new realm of

daydreams.

"7, happened very swiftly, and I think

a lot of that has to do with the fact that

we are much more experienced than

when we first started. We have a lot of

tools, a lot of new ideas, and we worked

with new people- there was a lot of

newness," says front-woman Victoria

Legrand. James Barone, the bands new

live drummer, has added a new depth

of heaviness to the album with drums

that could be compared to post-punk

and shoegaze drummer, Colm Ó

Cíosóig (My Bloody Valentine). "I think

the most inspiring thing right off the

bat with this record is just how much

everything felt different," says Legrand.

And that difference was undoubtedly

translated to the ears of listeners. Beach

House has always had this capability of

breeding nostalgia through sound and

creating layers of longing. Creating a

sense of arrival through the new album;

that longingness appears to be melting

away, holding feelings of nostalgia

close like warm beachy memories,

sundrenched in sounds that breed the

ease and happiness of a warm summer

day spent relaxing in the sand. 7, is the

vacation beach house overlooking the

serene ocean we have been lusting over

since Teen Dream.

While 7 may be wildly expansive,

Legrand's outlook on life and creative

practice is based in whole-hearted

simplicity."I think when you look out

too much you get lost. There are a lot

of distractions with social media and

the Internet. It's a very overwhelming

century on many levels with overstimulation.

We put a lot of faith in

nature, work, friendships, and family,

and just basic kindness and stabilitythe

smaller things in life that I think

are going to be true. I think we have

always gone from the inside, out, in

terms of what we make. When it comes

to working on music, people ask us,

'what were you listening to when you

made this record?'- and honestly, we

are listening to music, but we aren't

approaching from the exterior to the

interior."

Legrand explains the bands creative

process is based their openness to

child-like discovery and imagination.

"Every record we make, there are new

sounds on; there are new keyboards,

new synths. We are not using the same,

exact keyboards. We are not vintage

gear heads, we're not collecting rare,

expensive things. We're just sort of

falling in love with instruments as we

find them. When a child plays with a

spinning top, they aren't asking the

question 'why am I playing with this

top?' they just do it because it brings

them joy [...] You discover by playing,

and not playing by music, but playing in

terms of curiosity."

This child-like openness to curiosity

and sincere untainted expression

translates deep into the band's creative

essence and way of life. "Everybody

has an imagination, every human

that is born. When you're a child you

don't think about it. You are inside

of it because you don't have many

experiences. You're just sort of this

bubble bumping around and there is

a natural sort of psychedelia that you

are sort of just in." This realization,

or understanding, could possibly

be related to the thicker and darker

soundscapes found in songs such as

"Dark Spring."

While 7 possess a new sense of

arrival, maturity, and sophistication,

reflective of the state of the modern

world; Legrand entertains the beauty

in the many layers of paradox between

a child-like innocence and inevitable

growth, and a critical understanding

of the modern world. "You are born

into blindness and your senses are

all skewed; you don't have anything

sharpened yet. Everybody has this sense

of imagination, we just have experiences

that dull that down, or they lose it, or

they don't have to tap into it because of

what their life requires of them. We are

lucky because we sort of live out of our

imagination."

Beach House performs at the Orpheum

Theatre on August 12.

ROLLING BLACKOUTS COASTAL FEVER

NAVIGATING THEIR WAY THROUGH A BIGGER WORLD

ALEX HARRISON

Rolling Blackouts Coastal Fever (Rolling Blackouts

C.F. for short) released their debut LP, Hope

Downs, last month and received a wave of critical

praise. Their sound has been likened many times

to fellow Australian band The Go Betweens, and

when asked about the comparison, guitarist and

songwriter Tom Russo is quick to acknowledge.

"We've been listening to The Go Betweens for

10 years or something," Russo says. "It's probably

part of the DNA, and even though we don't

consciously try to sound like that, some element of

that does creep in."

Rolling Coastal's brand of jangly guitar pop

(skillfully provided by Russo and fellow guitarists

Fran Keaney and Joe White) undercut with a tight,

driving rhythm section (composed of drummer

Marcel Tussie and bassist, and brother of Tom, Joe

Russo) make for music that's undeniably catchy

and likeable.

Though familiar, their songs are deceptively

salient. The band previous two EPs, Talk Tight

(2015, Ivy League) and The French Press (2017,

Sub Pop), although well received critically, are

described by Russo as "more collections of songs…

without much thought put behind it." For their

16

debut LP the band wanted to aim for something

more consistent and with more focus.

"We came at it knowing it was supposed to

be a consistent piece of work," Russo says. That

consistency is definitely there in the band's sound

but also in the themes and stories contained in

their lyrics, although it wasn't intentional at first.

The lyrics on Hope Downs can seem abstract,

cryptic and condensed, mostly telling stories of

different characters experiencing small, intimate

moments but with existence of a foreboding outer

world always on the horizon.

"The common thread is that these characters

are trying make their way through this world,

trying to negotiate all these changes that are

happening. They're little characters trying to make

their way through a bigger world."

The title of the LP, Russo explains, refers to a

mine in the outback of Western Australia owned

by mining tycoon Gina Rinehart.

"It's a good metaphor," he says. "We kind of

wanted to evoke this feeling of standing on the

edge of this void, staring into the unknown. It's

not really a good thing or a bad thing, but just

standing on the edge of something and leaping

Hope Downs is a rock solid debut full of many highs from Down Under.

into the unknown."

Rolling Blackouts C.F. might sound like

something you've heard before, but with their

latest release they've proven themselves to be a

band occupied by the present. Their relevant lyrics

and guitar pop sensibilities are sure to plant them

firmly in our speakers for years to come.

Rolling blackouts C.F. perform at the Fox Cabaret on

August 31.

August 2018
---
AMEN DUNES

THE TALE OF THE EVAPORATING EGO

MAT WILKINS

MRG CONCERTS &

THE GOLDEN TICKET

MUSIC

.........................................................

This Month's Showcase of Must-See Music! The Ticket to Your New Favourite Artist.

LEMURIA

with Katie Ellen

and DUSK

August 4

The Biltmore Cabaret

Damon McMahon has created one of the most intimate and celebrated albums of the year with Freedom.

Damon McMahon, the drug-pop-turned-regularpop

phenom has found freedom in many ways.

Freedom from the mainstream, freedom to create

and most importantly, freedom to write about

himself and the world around him without the

weight of ego on his back.

Performing as Amen Dunes, the young performer

has slowly evolved his career from writing a "gnarled

underground classic" while living abroad in Beijing

in 2010 — Murder Dull Mind — to crafting one of

the most commercially viable (and heavily praised)

albums of 2018 — Freedom.

This latest creation is allegedly one of Amen

Dune's most ambitious projects which — between

writing, recording, abandoning, and then recording

again — took three years to create. The new album

consist of old and new friends alike, including

longtime bandmates Jordi Wheeler (keyboard) and

Parker Kindred (drums), as well as famed producer

Chris Coady, Delicate Steve, and electronic musician

Panoram. The result was a full length that's sonically

astounding in more ways than one; Freedom is at

once a logical sequel to his previous LP, Love, a foray

into Tom Petty and Mick Jagger-inspired pop, and a

psychedelic departure from earlier releases.

Subdued electronic drums and synths seamlessly

coalesce with haunting and melodious surf-rock

instrumentation throughout, seeming to collectively

and invariably produce an idyllic soundtrack to the

dusky summer streets of his home in New York just

as it closes its eyes for the night.

Songs like "Blue Rose" or "Miki Dora" are carried

along by infectious basslines that chug beneath and

prop up the rest of the music. "Skipping School"

and "L.A." contain cavernous instrumentals that are

made all the more passionate by McMahon's ragged

and spirited vocals. It's often said that McMahon's

lyrics are about letting go of the idea of self, but

that's something the songwriter would rather you

decide on your own.

"Yeah I kind of grow tired of talking about it in a

way," he says without a hint of annoyance in his

voice. "Because if someone is inclined to kind of get

in touch with reality, they're going to find out what

that means for themselves, you know? This was my

process of moving away from self focus. That was

happening in my own life, and of course it came out

in the music."

Freedom covers subject matter ranging from

Jesus, Perseus, and 1960s surfers all the way to

McMahon's family, friends, and himself. Yet the

common thematic thread running through all the

lyricism seems to focus on what McMahon calls

an "evaporating ego." The album speaks of heroic

masculinity, pride, drug use, and dark pasts, with a

style of storytelling constantly oscillating between

the personal and the imaginary.

"If you love war, then you've got war with me,"

declares McMahon in an on-the-nose address to his

unsupportive father on "Blue Rose."

There's no denying Freedom is extremely intimate,

yet doesn't come across as an artist trying

desperately to understand and explain their place

in the world. Instead the album is exactly what the

name implies; it's an act of writing freely about

yourself and about the world without being, as

McMahon puts it: "hung up on all the different

things your ego uses to define you." There's no

pretense or pretending in Freedom's stream-ofconsciousness

writing, just a lyricist aiming to keep

their own self-centred ideas from encroaching on

any "intuitive inspiration."

"The other records were very self-focused… [the

early records] were super negative, you know? And

they were very aggressive… It reflected a darker

mental and emotional state. And [this last record]

reflects a kind of opening," McMahon explains.

The album begins with a quote from American

abstract painter Agnes Martin during an interview

in 1997: "I don't have any ideas myself. I am a vacant

mind." What follows is an album that reverently

pays homage to that idea. From its uplifting,

psychedelic instrumentals, to McMahon's disjointed

yet heartfelt lyricism, Freedom is like a prescription

for the neurotically self-aware. McMahon's music is

for those who need to be reminded that profound

moments, memorable experiences and good art

come along when you stop focusing on trying to

make them happen.

Amen Dunes performs August 14 at the Imperial

(Vancouver).

HOT SNAKES

with Pet Blessings

and NEEDS

August 10

The Biltmore Cabaret

SALES

with No Vacation

August 24

The Biltmore Cabaret

TICKETS AT MRGCONCERTS.COM AND RED CAT RECORDS

AJJ & KIMYA

DAWSON

with Shellshag

August 14

The Biltmore Cabaret

Follow @beatroutebc for a chance to win your way in!

August 2018 17
---
MUSIC

18

RIO

THEATRE

1660 EAST BROADWAY

AUGUST

3

AUGUST

4

AUGUST

5

AUGUST

6

AUGUST

7

AUGUST

8

AUGUST

10

AUGUST

11

AUGUST

12

AUGUST

13

AUGUST

14

AUGUST

15

AUGUST

17

AUGUST

24

AUGUST

29

AUGUST

Thank-you, Vancouver!

#LongLiveTheRio

#WeDidIt

Wim Wenders'

BUENA VISTA SOCIAL CLUB

HEREDITARY

*www.riotheatre.ca

for additional showtimes

THE GOONIES

Vancouver Blues Society Presents

WAILIN WALKER BAND

& DAVID "BOXCAR" GATES

Won't You Be My Neighbor?

*www.riotheatre.ca

for additional showtimes

COWBOY BEBOP: THE MOVIE

The Beatles'

YELLOW SUBMARINE

50th Anniversary Remaster!

Akira Kurosawa's

SEVEN SAMURAI

Stanley Kubrick's

DR. STRANGELOVE

Andrei Tarkovsky's

STALKER

AMELIE

CATWALK: TALES FROM

THE CAT SHOW CIRCUIT

#INTERNATIONALCATDAY

The Gentlemen Hecklers Present

JOHNNY MNEMONIC

RBG

Final Screening!

THE SOUND OF MUSIC

Sing-A-Long

Tod Browning's

FREAKS

SORRY TO BOTHER YOU

*www.riotheatre.ca

for additional showtimes

YELLOW SUBMARINE

THE WARRIORS

Can you dig it?

Wes Anderson's

ISLE OF DOGS

Andrei Tarkovsky's

THE SACRIFICE

Alfred Hitchcock's

REAR WINDOW

Wim Wenders

PARIS, TEXAS

FANTASTIC PLANET

Comedian

ANDREW SCHULZ

HALF-BAKED

The Geekenders Present

NICOLAS CAGE BURLESQUE

THE CRITICAL HIT SHOW

A #DNDLIVE

COMEDY ADVENTURE

COMPLETE LISTINGS AT WWW.RIOTHEATRE.CA

PIERCE KINGAN

GETTING YOUR FREAK ON

SCOTT POSTULO

Pierce Kingan explores bat shit insanity on his latest EP.

HOTEL MIRA

OPEN FOR BUSINESS

KYLE FILLO

With a new line-up, a new band name, and a new EP

on the horizon, Hotel Mira vocalist and songwriter

Charlie Kerr is entering a new phase in his musical

evolution. It has been two and a half years since the

final LP from the band formerly known as JPNSGRLS,

and since that time the band has reworked their

lineup with the addition of bassist Mike Noble

joining Kerr and lead guitarist Colton Lauro. As the

band's previous iteration had been together since

they were teenagers, this shift in course has set the

stage for what this writer proposed to Kerr as a step

towards "a more mature sound."

"Yeah, I'm not crazy about that word," Kerr says,

"because [the word mature] sometimes seems like

more adult contemporary, but I think that just by

the nature of getting more life experience, it's been

described that way."

While the reconstitution of any band raises

questions about the motivating factors for such

changes, Kerr was much more eager to dive deep

into the conception and development behind Hotel

Mira's self-titled debut EP.

"It's a lot more streamlined of how I see things,"

he says, when asked about how the creative

direction of this initial Hotel Mira release differs

from that of his work with JPNSGRLS. Behind this

streamlined process was pressure from producer

Dave Schiffman (Vampire Weekend, HAIM, Brandon

Flowers), who Kerr collaborated with on his

songwriting.

"He pushed me really hard to find better

Pierce Kingan is a strange man who makes

strange music. He is perhaps best known

as the bassist/singer/songwriter for The

Prettys, but he has also been known to

stand in with other local groups and

artists including James Green, Cousin

Arby, and The Orange Kyte. He has also

been making lo-fi home recordings

since his late teens, and his new EP, Give

Pierce a Chance, is the latest addition

to an increasingly bizarre and abrasive

catalogue.

Give Pierce a Chance is another

collection of lo-fi bedroom pop/noise

rock numbers, a sound that has become

Kingan's trademark. There is a lack of

an obvious centerpiece on the new

EP, making the final product feel more

cohesive overall. The closing song, "4

Minute Blackout," is a standout, though

Kingan claims that it is probably due to

the song having been recorded seven years

ago with Evan Matthiesen from his first

band The Valley Rats. The song is a catchy

noise/folk amalgamation and preaches a

positive message of self-acceptance.

Opening track "Leishmaniasis" is

melodies, and do things that were more melodic,

and find hooks in everything" explains Kerr. The

combination of this intense scrutiny and influx of

new influences has set the stage for Hotel Mira to

initiate their own legacy and to extend Kerr's vision

beyond his past with JPNSGRLS.

In a period of transition where it's common for

artists to get bogged down by bad blood, regrets, or

nostalgia, Kerr is as optimistic and satisfied as ever

with the band's direction. "[Writing and recording

another standout from the EP. "It's about

a flesh-eating bacterium that starts in

your nose and it travels through your

mucus and eats your face," Kingan shares.

The sardonic lyrics juxtapose gruesome

imagery with lamentations of heartbreak

over a slow crescendo of instrumentation.

Kingan has plans to release a music video

for this tripped-out folk number shortly,

which was shot by local effects wizard

Kevin Mnz. The video features Kingan

performing the song while a group of

friends do some carousing behind him. It's

put through a kaleidoscopic filter and is

unquestionably "far out."

Looking to future projects, Pierce has

already begun the process of recording

his next EP, tentatively titled A Real

Pierce of Work. "I'm always working on

[something]," Kingan says.

If you enjoy weirdo, noisy pop from a

true master of the craft, give Pierce Kingan

a chance.

Pierce Kingan plays his EP release show at

Stylus Records with The This and Guilt Trap

on August 17.

the EP] was a really good artistic process of learning

that you can always just improve and build." And

judging by his optimism about future projects, this

is only the beginning. "The truth is, what I'm writing

now completely kicks [this EP's] ass. This is a good

EP, but the full-length that's going to come after it is

going to be truly special."

Hotel Mira's new EP is available on August 17 on Light

Organ Records.

Hotel Mira closes the door on their past and moves forward with their next EP.

Photo by Mandy-Lyn Antoniou

August 2018
---
Artist, activist, mother

and role model, Buffy

Sainte-Marie has lived

many lives in her 77 years

on this planet. A trailblazing singersongwriter

whose distinctive voice

was first heard in beatnik cafes and

reservation dance halls, she has come

to represent the civil upheaval of the

sixties as much as the Cree Nation

she was born to in Qu'Appelle Valley,

Saskatchewan. From the early success

of her 1964 debut, It's My Way, and

its blacklist-making Vietnam protest

track "Universal Soldier," to winning

the Oscar for Best Song (for co-writing

"Up Where We Belong" from An

Officer and a Gentleman), to her recent

collaborations with modern musicians,

Sainte-Marie is much more than the

figurehead of a bygone era of social

revolution, she's a very real and relevant

force to be reckoned with.

"I work hard and I try hard too. I

think that a lot of us feel as though

we're not going to have to try hard

anymore after high school, or when I

get married, but to keep on growing

and learning and having fun and

producing and practicing – it is a lot

of work, but it's what I want to do. I

try real hard to stay healthy and I'm

77, but I would recommend to anyone

at any stage in their life that they get

into bodybuilding. It's so much fun and

there's so much you can do to keep

fitting in the clothes that you really

love. But you've gotta try and try hard."

A meaningful and inspiring followup

to 2015's Power in the Blood (True

North Records), which saw her take

home both a Juno Award and a Polaris

Music Prize that same year, Sainte-

Marie's latest triumph Medicine Songs

(True North Records) dropped in 2017.

Focusing on the healing properties of

song, her new album was introduced

to the world with a spirited single, "You

Got To Run," featuring Inuk vocalist

Tanya Tagaq.

"'You Got To Run' that song is

about three things. You've got to run

a marathon for breast cancer in your

community maybe, but also you've

got to run for election if you think you

can do better than the current crop

of bozos. That takes some courage;

that's being a champion too. And, how

about, you've got to run your own life

if you don't like the way it's going? So,

that song's a triple entendre I've got

three meanings going on. All equally

simulating, empowering, valuable and

whatever."

Quick to laugh at the suggestion

that she should consider going into

politics, Sainte-Marie is keenly aware

of balancing ambition with wisdom.

She's also very conscious of avoiding

Universal medicine woman

trying to appeal to the mainstream and

dismissive of the trendiness that drives

public attention towards certain issues

and interests over others. According

to Sainte-Marie her version of activism

hasn't changed much over the years,

even if it meant missing out on cashing

in.

"There are a lot of artists who never

rose to any kind of prominence 'cuz

they didn't connect with the payola

machine, or whatever was going on

at the time," she asserts. "It's very

seldom that Indigenous people are as

celebrated as we are right now, but

it's still not a lot. It's not something to

resent, it's something to understand.

And if you want to be heard as an

Indigenous artist then sometimes

you have to do things longer, better

and more often. If you're looking for

shortcuts you're not going to find them

in the white or black music industry. If

you're looking for audience, you find

audience anywhere. Just keep playing,

write more songs, play more gigs, reach

more people. If it's what you love to do

then you learn how to do it in a way

that fits you. Just don't try to fit into

anyone else's template."

A sage businesswoman when it

comes to managing her own personal

brand, Sainte-Marie has undeniably

paid her dues in the trenches. Still

marching to her own drum and

performing on a regular basis after 50

years, she hasn't lost her love of feeling

the music in front of a live audience, or

her sense of curiosity when it comes to

discovering and connecting with new

artists.

"People keep telling me how

wonderful I was a Woodstock, Joni

Mitchell gets the same thing. Neither

one of us was there. The people who

were at some of the biggest festivals in

show biz history were handled by three

managers and nobody else got in. I love

music festivals, it's an opportunity for

local musicians and new musicians,

and also for audiences to support

them and hear what they have to say.

Most people who are putting on these

festivals give genres and styles a lot of

latitude. When I look at the programs

I'm always glad to see lots of countries

and points of view represented. And,

I love workshops because I get the

chance to interact with artists who I

wouldn't otherwise get to meet."

Set to headline the inaugural

installment of the SKOOKUM Festival

in Vancouver, BC, as well as the

Canmore and Edmonton Folk Fests in

Alberta, Sainte-Marie has no illusions

about the number of Indigenous artists

who typically make the bill for such

events. Beyond the usual challenges

promoters face when staging a festival,

BUFFY SAINTE-MARIE

by Christine Leonard

Photo by D. Brian Campbell

as she explains, there are only so

many Indigenous artists and groups

to compete with the rest of the roster.

But that doesn't mean Sainte-Marie

isn't pushing for more inroads. By her

estimation it's high time for Indigenous

musicians to start claiming their fair

share of the pie.

"I don't object to people who do

play where there are seldom Indigenous

spaces. That's not the problem, the

problem is that there is so little entrée

for an Indigenous person into the music

business. We don't know where the

door is. We don't have the networking.

We don't have the address book that

the big white music industry or black

music industry would have, because

they have a background both in

music and business and they have the

numbers. I'm not blaming anyone for

keeping Indigenous artists out. It's that

Indigenous artists don't know how to

get in."

Truth be told, even once you're "in"

the struggle doesn't end. A fact that the

faithful advocate and living legend can

attest to. Thankfully, when Buffy speaks

– now more than ever – people listen.

"The realities and logistics of being

a musician like me and traveling from

town to town, it gets really expensive.

It's making it very difficult for musicians,

for bands, high school and college

bands and also for sports teams to

travel. We're having a hard time doing

the boonies now. We can afford only to

work in the cities, doing one-nighters,

because it's just so freaking expensive."

The only solution was to take

matters into her own hands and shine a

spotlight on an issue that Sainte-Marie

believes has long-term consequences

for artists of all stripes.

"I'm a visionary; I'm not an

administrator. It's quite, quite different,"

she explains. "But, I went to both

the Junos and to Parliament with my

suggestions. So, that's a concrete thing

that you can do as an activist, which is

not the same as carrying a sign to get

your picture in the paper."

Buffy Saint-Marie performs

September 9 at Skookum Festival.

August 2018 19
---
MUSIC

HOT SNAKES

THRASHING AGAINST THE INEVITABLE MARCH OF TIME

EMILY CORLEY

The sound of Jericho Sirens rings loud and clear as Hot Snakes continue stoking the fire with their signature sound.

Hot Snakes' first new studio album in 14 years was

always going to be a tumultuous piss-punk brawl,

but Jericho Sirens tempers the band's trademark

raging strut with a brooding awareness of the

fragility of human existence. Lyrics such as "It's all

been before // It's getting late" on spiky opener "I

Need A Doctor" point to Rick Froberg's sentiment

that the band's latest tour is all about "trying to

maximize the time we still get to do this kind of

thing in our lives." But there's no bitterness here.

For Froberg and the rest of the band, this album

BODEGA

INSPIRING THOUGHT AND MOVEMENT ROOTED IN THE PRESENT

MIA GLANZ

"I am not a cinephile!" shouts Bodega

on the short but sweaty punk track

off their debut LP, Endless Scroll. Its

love-hate since both Nikki Belfiglio

and Ben Hozie, the front liners and

vocalists of Bodega, are actually

filmmakers. This paradox is not the

only conceptual mind-bend on the

album. Take the riff of their pop-rock

single, "How Did This Happen!?," when

they proclaim "Everyone is equally a

master and a slave!"

It's this combination of musical

spunk and thoughtfulness that

drives the band's writing and sound.

There's Belfiglio and Hozie, along with

guitarist Madison Velding VanDam,

drummer Montana Simone and

bassist Heather Elle. "The rule of

Bodega is whoever wrote the lyrics

sings it," says Hozie. "A lot of our

songs are really short and that's on

purpose. We want things to be razor

sharp and straight to the point."

This process is important when

dealing with heavier questions. The

music of Bodega is wrapped up with

concerns about how to live ethically,

how to be sensitive and open-minded

in music and life. Ethics, for Hozie, in

encompasses something along the lines of an

acceptance of the inevitable march of time, coupled

with a refusal to let that get in the way: "We're older,

time's moved on, life is what it is."

In homage to the unyielding grit of a legendary punk

partnership, that has endured, in some form since

1986, each short, sharp track on this latest album

sounds like a final blind stab into the darkness of a

threatened existence.

Froberg is cheerfully nonchalant about Hot Snakes

touring new material together again: "Whatever

the sense of Aristotle, questioning

constantly how to best live one's life.

He likes to use "art rock" to

describe what Bodega is all about,

because the term allows for "rock and

roll music that has a conceptual side

to it, and a visual side to it and a more

thoughtful side to it." Vague enough

to encompass Bodega's energetic

punk tracks along with the sweeter,

slower songs that aren't really punk

at all. For Hozie, '70s Brit rock and

post-punk has been a huge influence

"because it was the moment when I

realized music could be as aggressive

and energetic as punk rock while

having an intellectual, conceptual side

to it." If you listen closely, on Belfiglio's

parts there's a love of Madonna era

dance music that also influences their

sound.

"Our music could not have existed

in the early '70s, 2000's; it just would

not feel the same," Hozie says.

Bodega is fully of now, there's no

nostalgia, but rather awareness of

what's come before. He explains, "We

try to write music that addresses

where bands exist in the world, on

social media and on the internet." This

means they relate to the "feminine

aspects of where rock music is going"

being a majority female band as part

of the increasingly female indie scene.

Social media? It's complicated. They

treat the phrases they type on Twitter

as if they were song lyrics, while

knowing how cheap those words then

become.

The band's not only thoughtful.

Bodega gets off on performing.

They're not one of those bands that

are going to sound the same every

time, or exactly like they do on the

album. Anything from a "mild,

meditative show" to "a train going off

the rails" can happen, depending on

the audience.

"Were kinda like a mirror. However

the audience is, we throw it back

at you," says Hozie. "The goal is to

get people in their bodies, moving

around losing themselves in the

hypnosis of the beat."

And that's what you can expect

from Bodega, they get you thinking,

and moving too.

Bodega perform at the Fox Cabaret

(Vancouver) on August 14.

happens will happen along the way. I guess we're

pretty used to it now. But we also don't go out for

six months at a time like a lot of bands do. We

won't do that. It's just a trip. It's not a vacation, but

it is fun. We don't beat ourselves to death with it."

After almost twenty years of touring together, and

incalculable combined experience of being on the

road with other bands, Hot Snakes have got this

lifestyle down to a fine art. "We never really stopped

touring together. We played sporadically – reunion

shows and this and that. So the whole thing is

really a lot like how it left off," Froberg says. "We still

genuinely have a lot of fun playing together. When

a band is not having fun anymore, that's when they

should stop. We all just like to hang out and we

party and have a good time."

Watching Hot Snakes perform, this genuine

enthusiasm for playing together is obvious. Their live

set is a frenzy of raucous intensity with an edge of

antagonistic rage. For this latest record, their sound

seems to be a natural evolution of what Froberg

describes as their original 'operating philosophy' of

Hot Snakes, as compared to the refined complexity

of Reis and Froberg's previous band, Drive Like Jehu:

"More simple. More concise. More direct."

"The things that were different this time around

are just about the passage of time. The way people

change and what other people bring to it. We were

all in different bands in the interim between Hot

Snakes records, and we've added some things to

our tool bags that way. I absolutely think the other

bands we've played in have had an influence on this

new record. It's just natural that they would."

Interestingly, both original Hot Snakes drummer

Jason Koukournis and his replacement Mario

Rubalcaba play on the band's latest release (and in

their live sets). Both are incredible drummers, each

bringing their own unique flavour to the songs they

play on. Froberg explains that the people in the

lineup are equally as important, if not more so, as

the music they play: "It's a pretty self-contained unit.

It always pretty much has been. Everyone in the

band has their own roles. We break up the labour

that way."

Jericho Sirens is Hot Snakes' first release on Sub Pop,

a label that Froberg describes warmly as "the best

I've ever been on." But Froberg confirms the band's

DIY ethic is as strong as ever: "we still take care of

stuff ourselves".

They may have years of punk success behind them,

but Hot Snakes are not a band who will ever court

mainstream validation.

Hot Snakes perform at the Biltmore Cabaret

(Vancouver) on August 10.

Bodega provide a modern day commentary with progressive views on their debut, Endless Scroll.

20

August 2018
---
ALICE IN CHAINS

GRUNGE ROCK ICONS COME FULL CIRCLE WITH RAINIER FOG

JOHNNY PAPAN

With Rainier Fog, Alice In Chains recorded in Seattle for the first time since cutting their final album with Layne Staley.

"It's about all of the beauty and all

of the ugliness, all of the strengths

and all of the weaknesses, all of the

achievements, all of the losses. The

music is very human. I guess that's all

I could say about it. That was kind of

the goal, to write material that hit on a

deeper level."

Alice in Chains are an alternativemetal

group that received mainstream

attention in the early 90s as part of

the hysteria-inducing counterculture

upheaval marketed as "grunge

rock." Leading this Seattle-sound

movement, alongside acts such as

Pearl Jam, Soundgarden, and Nirvana,

Alice in Chains had a heavy hand in

popularizing rawer, moodier musical

stylings that killed the leather-bound,

pop-infused, fluffy hair antics of hairmetal

from radio airwaves. To date,

Alice in Chains have sold millions of

records, toured the world, and are

considered one of the most influential

hard-rock acts in modern history.

The band is set to drop their newest

record, Rainier Fog, on August 24. Much

of the album was recorded at Studio X,

formerly known as Bad Animals Studios,

in the band's hometown of Seattle. The

last time Alice in Chains were here, they

recorded their 1995 self-titled album,

the third and final record to be done

with the band's original vocalist, Layne

Staley, who passed away from a drug

overdose in 2002. In a way, things come

full-circle, as Rainier Fog is the third

record to be made under the band's

second incarnation with guitaristvocalist

William DuVall.

DuVall joined the group in 2006.

It was his differences to Staley that

made him attractive to the remaining

members of the band. DuVall has a

different style, a different energy. He

was never to be a "replacement" for

Staley, and his addition to the band was

the beginning of a whole new story.

"What you wrote before or what you

did before doesn't mean shit because

that's done," explains songwriter and

founder, Jerry Cantrell. "You're not

gonna redo that and you don't wanna

borrow from any of that stuff because

it's already been done well. It's starting

at zero. If you had some success, which

this band has, and you've written

some songs that have had impact over

periods of time, that's a high bar to

get to. The positive side is you know

you have gotten there before. You

just go about the process of putting

songs together or collecting things you

remember or hear that make you feel

good. Or make you feel bad. Just make

you feel."

With the release of 2009's Black

Gives Way to Blue, 2013's The Devil Put

Dinosaurs Here, and now Rainier Fog, it

is clear that Alice in Chains are not the

same band they were in the 90s. Their

dream-like haziness is now submerged

in a groovy muck that deepens their

heaviness in tone. There's a different

energy, but not so-much so that the

band has lost itself. The Alice in Chains

of today and the Alice in Chains we

knew in the 90s are, in essence, two

different entities that share the same

identity.

"It's very fulfilling to go through it

and come on the other side with a body

of work you're really proud of," Cantrell

expresses. "To have millions of people

of this planet fuckin' dig your stuff, to

be affected by that. That's a whole other

level that touches you really deeply.

I think the older you get, the more

precious that is."

Overall, Rainier Fog is a cohesive

album that shows lots of diversity

within a band that wants to leave

the past where it belongs and move

forward. You aren't going to hear

anything from Facelift, or Dirt, and

shouldn't expect to. No band ever

wants to be a ghost of itself, and Alice

in Chains has found a way to evolve

while staying true to their own core

values. With droning songs like "The

One You Know" and "Red Giant" to the

angelic, acoustic song "Maybe" as well

as the face-smacking title track and

everything in-between, Rainier Fog has

something to offer for Alice in Chains

fans of all eras.

Cantrell concludes: "I mean it, man.

I'm completely proud of every fuckin

song on this record. They're all different

but they fit together as a cohesive piece

of work. It's a real album. We grew up in

the age where you actually still bought

records and you had all the real estate

of an album cover and sleeves to roll

joints on. We still go about making a

piece of work like that."

Alice in Chains perform at the Queen

Elizabeth Theatre (Vancouver) on August

22.

August 2018 21
---
ELDER

RIDING THE WINDS OF CHANGE TO STRANGER HORIZONS

BRAYDEN TURENNE

The progressive doomslayers' latest album is a riff-infused odyssey through alternate sonic dimensions.

"Writing music is a cathartic and gratifying

experience for me," says Nick DiSalvo, guitarist

and vocalist for Elder. "Being creative is the best

way we can express ourselves in the world, and

music is a beautiful tool that makes us feel alive.

We play the music we do because we like it, and

hopefully our listeners also feel moved."

It could be argued that Elder's latest fulllength

opus, Reflections of a Floating World – an

expansive, riff-infused odyssey through alternate

sonic dimensions, both heavy and stunningly

beautiful – was one of the high points of music in

2017. The band has come a long way from having

once reveled in the stylings of doom. They now

offer something more ethereal and progressive,

crafting epic length songs that are expansive and

ever-changing.

"We got bored of the doom/stoner shtick," says

DiSalvo. "It became uninteresting to play the old

songs, and we naturally started writing music that

is a bit more 'out there.' We've always had pretty

broad musical pallets and eventually more and

more of those influences from outside the world

of stoner rock started creeping in."

This gradual evolution of Elder's music has

resulted in a colourful discography that reflects

the natural course of time, but one thing that

seems to have remained constant is where that

22

inspiration comes from.

"I find it hard to separate any singular daily

experience from our songwriting," DiSalvo

explains. "As a result, most of the lyrics on

the past three albums have revolved around

existential questions." This gives further credence

to the music, in its contemplative unfolding of

undeniable grooves and riffs.

It seems like only recently that Elder visited to

hypnotize the masses – their last North American

tour was in October of last year, followed by a run

through Europe. Now, Vancouver is the first stop

on yet another North American tour.

"We absolutely love touring," says DiSalvo

plainly, despite the lifestyle not always being what

it's cracked up to be.

"Some people imagine touring is non-stop

action, but it couldn't be further from the truth,"

he continues. "Most of each day is spent sitting in

a van or backstage in a venue. But we also get a

serious itch if we're off the road for too long. You

can get very caught up in your head if you're only

writing music for yourself and forget about the

absolute joy of playing for a live audience. Not to

mention we're lucky to get to travel a lot, which is

in itself inspiring."

Elder play the Astoria (Vancouver) on August 10.

DEAFHEAVEN

ATMOSPHERIC PROGRESSIVE BLACK-METAL HYBRID FEELS ORDINARY CORRUPT HUMAN LOVE

JEEVIN JOHAL

Remember when the first Tony Hawk game came

out for PlayStation and you were all like, "How

can they possibly make this game any better?!"

Then they blew your mind by adding manuals

and reverts in "2" and "3," making your grinds

even more epic. By the time the fourth game

came out, the creators had more or less perfected

the platform, allowing them to focus on more

elaborate levels and tricks. It sounds a lot like the

trajectory of San Francisco band Deafheaven, who

keep one-upping themselves with every release,

and are receiving "sick scores" for their new album

Ordinary Corrupt Human Love, the fourth, and

arguably most experimental in their ever-evolving

discography.

Deafheaven is insanely tight. It isn't unordinary

for moments of chaotic personal turmoil to

suddenly transition to more melodic and subdued

moments of serenity, and although the darker

moments still exist on Ordinary Corrupt Human

Love, the band has taken to exploring more of the

latter.

"We had the concept that the world needed

something more positive at this time. Not so dark

anymore," explains guitarist Shiv Mehra. Given the

current political state of the world, specifically that

of the United States, it's no wonder the gloomy

quintet strove to create something less opaque.

Mehra, born in Kenya, emigrated to America

with his family when he was 12 years old, and it's

no question that the America he resides in today

doesn't make it any easier on immigrants.

"I grew up in Africa, and when I came to the

States, I guess I never really fit in, in any normal

situation," confesses Mehra. However, like many

of us, this difficulty to immediately reform to the

norm, would be the key ingredient in forging a

Their evolving sound is a trajectory.

lifelong passion for all things metal. "Somehow the

punk and metal kids were easier to hang out with,

so I just picked up a guitar."

Mehra's father would be the one to bestow his

first axe upon him, and now that he's got some

chops, he's joined forces with Dunable Guitars to

create a Jeff Lynne inspired beauty of a six-string

that will join him on Deafheaven's current tour.

"[Lynne] is one of my favourites, and he used

that guitar back in the '80s," Mehra nerds out.

Despite often being classified firstly as a black

metal band, the influences on Mehra and company

are vast, and this is a huge part of what makes their

albums so exciting to listen to. Follow the band's

other guitarist Kerry McCoy on Instagram, and

his t-shirt collection alone will paint a portrait of

where some of their wild ideas come from.

On Ordinary Corrupt Human Love, Deafheaven

continues to challenge themselves and their

listeners. One of the most notable expressions of

this is on the Chelsea Wolfe featured track "Night

People," where singer George Clark rests his iconic

screech, opting for a subtler singing style.

"I do think for George, it was stepping out of

his comfort zone," explains Mehra. What was

recorded is one of the band's most subdued and

unique tracks, and proof that their experiments are

working.

In conclusion, Deafheaven is excellent at

producing albums that, although experimental,

retain focus and allow them to create cohesive

and artistic packages of amazing tunes that flow

organically together.

Deafheaven plays the Imperial (Vancouver) on

August 10th.

August 2018
---
FILM

BLINDSPOTTING

SPEAKING LIKE A POET WITH DAVEED DIGGS

PAT MULLEN

Rafael Casal, Daveed Diggs and Jon Chaffin star in Blindspotting, a story about a man on probation re-evaluating his relationship with his volatile best friend.

"The great thing about shooting in the

city," says Daveed Diggs, "is that it gives

you everything that you do." Diggs and

lifelong friend Rafael Casal return to

their hometown of Oakland as stars and

writers of the new film Blindspotting.

It's an entertaining and streetwise film

told with the beat and energy of slam

poetry. Blindspotting is a love letter to

Oakland, but also a potent essay on

race and class in America.

Diggs, best known for his Tony- and

Grammy-winning work in Broadway's

Hamilton, plays Collin, an Oakland

native who emerges from prison to

find his city in a state of gentrification.

When Collin witnesses a police

shooting, the incident explodes the

racial divide between Collin and his

friend Miles (played by Casal), and

Oakland more broadly.

While bringing Oakland to the

screen, Diggs says the key element to

capture was the "casual virtuosity"

of everyday language and action.

"Everything's a little bit more flashy

and a little bit more fun and a little

bit more playful," he says. "And it's not

commented on every day."

Diggs and Casal discovered spoken

word poetry together in high school

and continued along different paths,

each finding success while honing

their voices. Scenes between Diggs and

Casal spark with creativity as Collin

and Miles make sense of their changing

community by dropping beats.

"There are stories to tell here that

have a different slant to them," says

Diggs. "They're slices of America that

we don't see represented so much in

popular culture."

Despite the air of improvisation,

Diggs says the only adlibbing arose

when Pitch Perfect's Utkarsh Ambudkar

delivered his own take on the story

that sent Collin to jail. "We gave him a

script and he ignored it, which was for

the best," laughs Diggs. "All the verse

sections were meticulously written."

The actor/writer dismisses romantic

ideas that screenwriting mirrored the

scenes where Collin and Miles riff words

and rhymes. "We only had one pirated

copy of Final Draft and we shared one

laptop back and forth in the early days,"

admits Diggs. However, he adds that

their friendship did fuel the story. Much

of Blindspotting came to fruition during

car rides and recording studio jams.

"So much of the process happens in

conversation and not on the page. It's

about living in this world and talking

about these characters for years."

Despite Blindspotting's powerful

beats, Diggs doesn't plan to bring it to

Broadway à la Hamilton. "Blindspotting

is nothing like a musical. The framing

is different and the music functions

differently," he says.

"I wouldn't even categorize them

in the same world," he adds. "Hip hop

is a vast genre. Saying anything that

represents hip hop is similar to each

other is like saying all jazz or classical

music is the same."

Diggs makes a good point about

nuance, which is Blindspotting's central

theme. The title references the optical

illusion Rubin's vase, which lets people

see either a white vase or two black

faces but not both simultaneously.

When the film reaches its climax, Collin

confronts the offending police officer in

a defiant poem that asks audiences to

open their eyes to their surroundings.

"As storytellers, we're required to dig

deeper," says Diggs, adding that he and

Casal revised characters constantly to

understand them from all angles. "To

have characters that are simple like that

ignores the complexity of the world

that we live in, which is a convenient

way to take the responsibility off of

yourself."

August 2018 23
---
FILM

EIGHTH GRADE

BO BURNHAM REVISITS THAT AWKWARD TIME WITH A FRESH PERSPECTIVE

HOGAN SHORT

Photo by Elevation Pictures

THIS MONTH IN FILM

BRENDAN LEE

BlackkKlansman – August 10

As the first African-American detective in the Colorado Springs

Police Department, Ron Stallworth leads an infiltration of the Ku

Klux Klan. Legendary filmmaker Spike Lee returns with his next

exploitative, thought-provoking message to the world. One way or

another, this film is bound to turn heads.

Searching – August 24

We live our lives on the internet, but how easy would it be for us to

simply disappear? 16-year-old Margot Kim vanishes, and her father,

David (played by John Cho), slips, cracks, and crumbles to pieces as

the only leads he can find are missing links in jumbled streams of

pictures, videos, and conversations pieced together online, causing

him to question whether he ever really knew her at all.

A Prayer Before Dawn – August 10

Prepare for a gut punch. A Prayer Before Dawn tells the unbelievable

true story of Billy Moore, a young English boxer incarcerated in two

of Thailand's most dangerous prisons who must fight his way out. It's

a genre film that packs all the more venom by drawing from real-life

events.

The Little Stranger – August 31

Lenny Abrahamson (Room, Frank) teams up with Domhnall Gleeson

once more, and this time tells the haunted story of Hundreds Hall, a

decrepit nursing home in Warwickshire, England. This period-piece

drama hints at unspeakable horrors, promising to unravel you the

deeper it gets.

Eighth Grade: a glimpse into the teenage mind from someone who's come out the other side alive, er, well-adjusted.

There may be no person on the planet that

knows the opportunities and dangers that

come with social media, especially when

trying to navigate the horrifying realities

of junior high school, than Bo Burnham.

Coming from the first generation of online

content creators, Burnham has a qualified

voice to tell this story. He posted his first

YouTube video in 2006, then on Vines

sharing hundreds of hours of videos and

is now part of the old guard at only 28.

Channeling his experiences from the first

days of YouTube and Vine, Burnham wrote

and directed Eighth Grade.

"I knew if anyone could make this movie,

I could," says Burnham. "I just feel like I

know what these kids are going through.

I wrote a story I knew I could direct and I

leaned into what my strengths were, like

working with actors and theme work."

The film follows eighth grader Kayla, a

girl who posts advice videos online. Kayla

doesn't have many friends and her videos

get little to no views. Despite nobody

seeing her posts, the advice is therapeutic

for Kayla whether it's showing her true self

or dealing with regret. Kayla is beautifully

played by Elsie Fisher and the entire film

is held up by her vulnerability. Finding the

right lead was first priority for the first time

24

director.

"It was apparent right from the start

that she was it, and we auditioned

hundreds of kids. Every kid was a confident

kid pretending to be shy, and she was a shy

kid pretending to be confident, and that

was exactly what Kayla is." When asked

why he, a 28-year-old man, decided to use

a female to tell his story of the teenage

experience in 2018, Burnham reveals how

he came to that decision while researching.

"I would watch hundreds of videos online

to see what kids were talking about. It

became pretty clear to me when all the

guys were just talking about Fortnite for

hours and the girls were talking about their

soul. It had to be a girl."

Social media is used as a diary for Kayla,

and Burnham uses this to tell a story of the

difficulties of junior high in present day.

The existence of social media has created

new challenges and Eighth Grade is the

first time this has successfully been put on

screen.

"I'm hoping to say honestly how it feels

to be online and what it feels like to them,

less than how it's changing them."

The entire movie feels like a wake-up

call to the attitude that kids now are

mindless drones who never stop looking

down at their screens. Burnham explores

deeper into what life can really be like as an

awkward 13 year-old.

"I'm happy and love for that

conversation to be inspired by the movie,

but I'm not trying to really say anything,"

he says. "We haven't even gathered the

tools yet to have that conversation, and

with this film I was just trying to take

emotional inventory. Like, there's more

to talk about than just cyberbullying and

Russia. I hope this movie is more of an

inscription rather than a prescription."

Eighth Grade is a story that feels exactly

like its titular time period. It can be

horrifyingly awkward, but also beautiful

– a period in your life that often moulds

who you are and will become. To develop

a story reminding us of those forgotten

feelings is rare. Burnham, on his first

attempt, has accomplished that for eighthgraders

and adults alike.

"We look back on that time and think

it was stress free. It wasn't. It was just as

stressful. We just had no freedom and

no money. Hopefully people see it the

way I intended, and hopefully people

can connect with it. It has already grown

past my expectation and this is just extra

credit."

Vancouver Queer Film Festival – August 9-August 19

Support ground-breaking, genre-defining filmmaking at this year's

jam-packed Vancouver Queer Film Festival. The line-up oozes talent

and celebrates diversity through all avenues, with the critically

acclaimed The Miseducation of Cameron Post rounding out the

closing night. Taking place at a few different venues across the city,

tickets are available online, on location at Little Sister's or Black Dog

Video, and at the door!

August 2018
---
MUSIC REVIEWS

The Internet

Hive Mind

Columbia Records

No one would catch flak for saying Gang Starr

remains, 15 years since their final album, one of rap

music's greatest duos. In 1994, Gang Starr's Guru

said, "If your voice ain't dope then you need to chill."

A quarter-decade down the slipstream, it's maybe

the most potent, reliable heads-up an artist can

abide by since the Wu-Tang reminded us to protect

our necks. It begins and ends with your pipes —

success is in your larynx.

In the case of The Internet, the repository of their

success is the viva voce of Syd Tha Kyd. Her voice is

breathy and nebulous, seeping between cracks and

osmoting to whatever spaces need its warmth. Her

voice is shapeless and consistent, one that emanates

from the centre of a fog without boundaries and

caries until its presence is no longer needed.

Since their 2011 debut, Purple Naked Ladies

(Odd Future Records) — which, in retrospect,

sounds an awful lot like the neo-soul revivalism that

manifested in a generational crop of R&B artists —

The Internet have been moseying at their own pace,

living and dying by Syd's voice. Early in their careers,

as they began emphasizing the operations of their

own autonomy and began to distance themselves

from Odd Future, there were times when their ideas

ran as long as her vocal chords and they found

themselves lost once they ran their course. Matt

Martian is a capable producer with a sharp ear and

compositional instincts, but as a young bandleader,

he lacked the tact and discipline to galvanize the

group. The other three positions — Steve Lacy

on guitar, Patrick Paige II on bass and Christopher

Smith on drums — have been roundly serviceable,

though none has truly shone bright. The band itself

hadn't verily capitalized on their wealth of talent

until 2015's Ego Death (Odd Future Records), which

saw a more unified aesthetic built around Syd and

Martian's diffident chops, rather than of it. And it

seems their evolution hasn't plateaued.

Hive Mind (Columbia Records), released on

the rump of July, is the fullest realization of The

Internet's potential. All the elements that for so

long felt like diffused textures floating aimlessly

now seem to bounce in the same direction. It's an

introverted funk, one that feels like each crack of

bass is lifted from the pavement and each guitar

riff is being sucked into the song's nucleus. The

general mood of the album remains relevant to

their brand — subdued, oriented toward the quiet

groove beneath the pomp, and deeply funky — but

it now feels effortless. Hive Mind feels like a 3 a.m.

daze, each song neon-lit floor of a multi-story club.

Each track stands out, though never so much so

that it hinders the greater flow of the album; these

tracks (stories, another metaphor, whatever), wind

down and transition into the next like wandering in

a fugue state. Martian's dreamlike keys allow each

song to float into a respective atmosphere that,

while still defined, is airy enough not to encroach

on the next. And Syd, who was originally seen

as the most melodically gifted member in Odd

Future's young camp, has made good on her early

promise. She sounds comfortable and sexy like the

neo-soul standard-bearer that's always been hinted

at; she sounds like a Solange or a Badu, Maxwell or

D'Angelo.

The aforementioned auxiliary members appear

roused by this newfound confidence. With Syd and

Matt finally living up to their all-star billing, the

remaining role-players have rounded themselves

into a worthy supporting cast. Smith, Paige II and

Lacy have been with the band since 2013 and 2015,

respectively, and their comfort level is a direct

byproduct of their continuity. They've reached a

point of synergy where one's actions is an extension

of the others, and it never feels forced. This is a

record of casual excellence. The flourishes — like

subtle vocal contributions by all members, or Lacy's

twangy guitar closing out "Stay The Night" and

how it acts as a perfect foil to the metallic stomp

of immediate follow-up "Bravo" — are natural

extensions of each members instincts. The Internet

has reached a nirvana where the sum will outshine

the individual parts, but the parts will still remain

stunning in isolation. In fact, that comparison to

D'Angelo can be extended to the entire band. Hive

Mind might be the most laissez-faire example of

virtuosity since Black Messiah (2014).

Hive Mind's outro, the album's longest track,

is the sublime six-minute quiet storm entitled

"Hold On." Mellow doesn't do it justice. It sounds

like a Sunday morning milk bath — in Tuscany.

Until nearly its halfway mark, the only hints of a

fully-formed song are disparate: a slinky baseline;

plinks of a shy keyboard; an intermittent synth that

sparkles like passing space-rock; and Syd's ethereal

lower range. Just shy of three minutes, though,

Smith's drums bond the elements, allowing each

to feed off the next. Syd croons, "Hold on / Can't

stop." For the song and the remainder of the album,

the band members churn their instruments into a

uniform melange of vibes. Five members, one voice.

A singular sound. A hive mind indeed.

• Thomas Johnson

• Illustration by Emille Compion

August 2018 25
---
03 Greedo - God Level Average Sex - Melodie Body/Head - The Switch

03 Greedo

God Level

Alamo Records

03 Greedo spent his time beyond iron bars recording music at a

rate that would dwarf the most prolific rappers of the Soundcloud

generation — a staggering 15 songs a day, reportedly. He claims

to have 30 albums worth of material, a number made even more

awe-inspiring when considering his most popular albums — not

mixtapes, albums — are each upwards of 30 songs themselves.

God Level, a 27-track album released the day he turned himself in

to serve a trumped-up sentence, is the most cohesive project of his

short-lived career. His impending incarceration casts a dark cloud

over Greedo's otherwise purple world, and in numbers like "Prayer

For My Lost," "In My Feelings" and "Bacc To Jail," every corner of his

anxiety is experienced.

Greedo infamously has the words 'Living Legend' tattooed across

his cheeks. He's got a bionic leg. Within two years, he became a

beloved folk-hero in L.A. and a radical evolutionary in rap. He's

currently serving a 20-year stint. With good behaviour that could

drop to five, though it's unlikely his popularity will extend to 2023.

But the sentence originally asked for 300 years in prison, so there's

hope. And if someone is still spinning God Level in 2318, it'll still

sound entirely new.

• Thomas Johnson

Average Sex

Melodie

OGenesis Recordings

UK power-pop group Average Sex is anything but average if their

latest EP, Melodie, is anything to go by.

A follow-up to their 2017 debut, Melodie consists of four speedy

tracks that grab listeners and drag 'em along for a wild, rollicking ride

through crazy nights out, falling in and out of love and dealing with

cheating P.O.S. boyfriends.

The first and title track is relentlessly catchy and upbeat-sounding

despite the chorus' proclamation, "We all die alone." Punk influence

is heard on each track through fuzzy guitar riffs, high-energy

drumbeats and snarky lyrics. Vocalist Laetitia Bocquet's French

accent lends delightful inflections to the lyrics, and "Ne M'oublie Pas"

features vocals in both English and French.

Listening to Melodie is akin to biting into a ripe peach — a burst of

summery brightness filled with both attitude and charm.

• Emilie Charette

Body/Head

The Switch

Matador Records

A relentless confusion, the sound of a catastrophic breakdown —

The Switch, Body/Head's second full-length, is fully abstract. The low

rumble of a busy city at night, its wheels are turning in the distance,

full of motion but rarely near.

The first collaboration between Kim Gordon (Sonic Youth) and

Bill Nace (Vampire Belt), 2013's Coming Apart, was more based in

song with Gordon's breathless vocals layered above a sparse mix of

guitar and bass. Those tones are still at work on The Switch, but with

a pronounced absence of structure. Opening with a wobbling vibrato

guitar on "Last Time," Body/Head are immediately challenging and

dark, and remain so throughout the album's five lengthy cuts. Closer

to the end, on "Change My Brain" and "Reverse Hard," Gordon's

vocals are further distant and disembodied, her timing of affected

phrasing is elemental, hardly vocabulary, and through the dissonance

has a chilling effect.

The Switch feels like a watery chasm, its atmosphere is an

entrancing darkness and it takes an ear eager for challenge to

really dig in. While its arrangements are sparse and its composition

seemingly loose, improvisational and fragmented, Body/Head have

ultimately created a singular piece of work that conjures a mood,

whether you're prepared for it or not.

• Mike Dunn

John Coltrane

Both Directions at Once: The Lost Album (Deluxe Version)

Verve Label Group

A totally unexpected but welcome surprise, Both Directions at

26

August 2018
---
Daron Malakian and Scars on Broadway Dictator Deafheaven - Ordinary Corrupt Human Love Joey Dosik - Inside Voice Into Eternity - The Sirens

Once: The Lost Album is a batch of new releases

from jazz icon John Coltrane. Featuring the Classic

Quartet in musical mastery, the album was the

result of a single day of recording on March 6,

1963.

The album as a whole is bound together by the

Quartet's sound, but transitions nicely from

subdued rhythm-focused pieces like "Nature Boy"

to up-tempo beats that demonstrate Coltrane's

technical skill, such as "Impressions (Take 3)." For

those curious, the Deluxe Version also allows you

to compare and contrast multiple takes of various

titles, not one of which is the same.

The album itself also does something new by

including the vocal read of the track title in some

of the pieces, giving the listener the sensation of

being with the Quartet as they record in '63. It's a

nice touch that delivers a deeper intimacy to the

music.

This is the album for any true lover of the

legendary saxophonist. Not because it's a

compilation of the definitive classics — it's not —

but because it provides a window into the soul of

Coltrane's creative method.

• William Leurer

Copperhead

Touch

Independent

Since their debut self-titled EP in 2015,

Copperhead's been on a roll in Alberta, playing

sold out shows and festivals, making well-received

videos and earning a showcase slot at SXSW in

Austin, Texas earlier this year. With their first fulllength,

Touch, the band builds on the potential of

their first effort, making strides in their signature

sound of atmospheric texture over catchy, sultry

torch songs. It's a mix of post-rock and soul

not dissimilar to Cat Power, or Brooklyn-based

shoegazers Cigarettes After Sex.

The album's "Intro" is a rising swell, invoking

a nocturnal energy as it drops into the album's

title cut. "Touch" is sweltering, like the dew of the

dusky humidity on a hot summer night shining on

your skin as it settles in. The rhythm groove from

Rob Smeltzer and Kane Bender is steady, feeling

like a dimly lit back alley with a cloud of padded

organ from vocalist Liz Stevens, while guitarist

Kirill Telichev makes use of the ample space with

single ringing notes. The pocket is so solid that

the addition of a doubled hi-hat is all it takes to

lift the chorus. A turn to the chaotic side arrives in

the bridge, where Jamey Lougheed adds baritone

sax lines that give the whole part a supernatural

Angelo Badalamenti feel. "Shadows Of Love"

follows, falling in on a piano waltz like a child's

ballerina music box. Bender's easy brush strokes

are a slight double time to the pace-setting piano.

Stevens is smoky and hushed, her vocal swaying

through the chords, while Telichev's guitar is mixed

back, chiming through the verses before filling the

choruses with harmony with subtle strings.

Those same strings make a bigger appearance

kicking off "More," driving the groove over a funky

pocket until a loose riff from Telichev picks it up

into the refrain. Stevens keeping things subtle

until she hits a mountain-high wail over a synthdrenched

chorus. "Mountain Song" comes off as

straightforward blue-eyed soul, though it takes

some lefts through its gradual climb. Lougheed's

sax is mixed low to fill up the chords, but there's

some room for him to go a little wilder in a tune

like this. Smeltzer locks the groove down hard

while Bender's calculated flailing adds controlled

anarchy, and the space would have been ample

and ideal for a free-jazz drum and sax freak-out.

The album closes out with the airy "If It Could

Be," led off with a woody acoustic guitar backed

by wavy volume swells. Stevens is plaintive and

longing, every word a memory and a wish —

"When the light of day pulls dark away, I say your

name, and I find home again."

Copperhead's taken their time building a

sound that takes every member's abilities and

melds them distinctively. That Touch is only six

cuts leaves the listener anxious to hear more. Its

sonic depth and atmosphere make for more than

a casual listen, and in a music business eager to

throw everything at the wall and see what sticks

populated by a constant string of content, holding

back is a rare and bold move.

• Mike Dunn

Deafheaven

Ordinary Corrupt Human Love

ANTI-

If you had to use a word to sum up the state of

today's world, everything within the title Ordinary

Corrupt Human Love is a good choice. San

Francisco's Deafheaven have once again crafted

an absolutely epic thesis with their fourth album,

clashing mellow reflections against aggressive

guitar struts.

Even Elton John should be proud of the piano

phrase that begins the album on "You Without

End," before the track's spoken lyrics expose a

doomsday declaration as the song descends into

beautiful chaos. "Honeycomb" is the album's pillar,

exploding like a bomb with thrashing riffs before

letting you down softly on a gentle ocean wave 11

minutes later.

Deafheaven keep the contrast between light

and dark — or love and hate — within reach

throughout the record, brilliantly playing-up quiet

serenity before crushing it with every annihilating

riff that ensues.

Double kick drums pulverize your ears on "Glint,"

while "Worthless Animal" builds tension with

clean shoegaze guitar lines, but finishes the record

with heavy head-banging distortion.

Metal fans are well aware that Deafheaven is

one of the best kept secrets around, but Ordinary

Corrupt Human Love raises their game to an

entirely new (and exciting) level.

• Trevor Morelli

Joey Dosik

Inside Voice

Secretly Canadian

When it comes to smooth jazz, it doesn't get

much smoother than Joey Dosik's debut album,

Inside Voice. Coming off the heels of his two EPs,

the album is a fresh and modern spin on timehonoured

musical traditions.

Throughout Inside Voice, respectful nods

to the Los Angeles-based singer-songwriter's

musical inspirations are heard, from the evident

Marvin Gaye influence on the first two tracks, to

the gospel elements on a kicked-up cover of Bill

Withers' "Stories."

Right off the bat, Dosik strikes the right balance

F

R

I

D

A

Y

S

277 PRINCE EDWARD ST

BILTMORECABARET.COM

August 2018 27
---
FEATURED CONCERTS

VICTORIA, BC

BROKEN SOCIAL SCENE

PLUS GUESTS BELLE GAME

CAPITAL BALLROOM // FRIDAY, AUGUST 31

MAGIC!

PLUS GUESTS

CAPITAL BALLROOM // SUNDAY, SEPTEMBER 2

GREAT LAKE SWIMMERS

PLUS GUESTS

CAPITAL BALLROOM // THUR, SEPTEMBER 20

BEDOUIN SOUNDCLASH

PLUS ASHLEIGH BALL

CAPITAL BALLROOM // THUR, SEPTEMBER 27

28

FOR FULL CONCERT LISTINGS & TO PURCHASE

TICKETS, PLEASE VISIT:

WWW.ATOMIQUEPRODUCTIONS.COM

FACEBOOK /ATOMIQUEPRODUCTIONS TWITTER @ATOMIQUEEVENTS

KEN mode - Loved Matt Muse - Nappy Talk Midori Takada & Lafawndah - Le Renard Bleu

between sensual and playful in the title track, a

song that doesn't take itself too seriously while

seriously charming listeners. His deep, sonorous

vocals stand out against a backdrop of soft piano,

snapping fingers and a syrupy guitar melody. Dosik,

a regular collaborator with funk band Vulfpeck, has

created an album that will resonate with genreveterans

and fledgling fans of jazz and soul alike.

• Emilie Charette

Into Eternity

The Sirens

Century Media

Ahoy! Here be the first release in a decade for

Regina's progressive death metallers Into Eternity,

which also acts as their debut with vocalist Amanda

Kiernan (Edmonton's Order of Chaos). The Sirens

rides the waves where heavy meets epic, in a

Symphony-X meets Arch Enemy kind of fashion.

While many albums go straight for the jugular, this

one whisks you away on a journey. It's perfect for

fans with a lust for the melodic, yet those looking

for some rough edges won't be left out. Blanketing

the more extreme bits are harmonies that have a

deep, moody feel, floating up and down in tempo

with a doom-ish undertone that remains constant.

You'll catch yourself singing along with the murky

intertwined dubs in standouts "Devoured by

Sarcopenia" and "Fringes of Psychosis," where

Kiernan's blend of screams and cleans are spot

on. Hell, there's even a song about Saskatchewan

winters! Talk about Hellish.

The Sirens is a solid summer release — it'll rock

your socks as you glide into the sunset.

• P. Cakes

KEN mode

Loved

New Damage

"Kill Everything Now mode" is how Henry Rollins

described Black Flag's mindset while performing

during the "My War" tour in 1984. Winnipeg's Juno

Award winning KEN mode proves the namesake

is theirs to claim with some of the most stressinducing

controlled chaos to explode from the

Western provinces. Loved, their seventh studio

album, is a meticulous mass of noise and violence

delivered with the subtlety of a freight train on the

CP Rail.

"We wanted tones that bash and cut, and for you

to feel that desperate part of yourself clawing for a

way out," says frontman Jesse Matthewson about

the record. "And then, just when things are at their

most bleak, you start to focus on what's actually

being said, and you'll see the humour in absolutely

everything that is transpiring before you. THAT is

Loved."

And holy fuck does that quote track. Eight-and-ahalf-minute

album standout "No Gentle Act" is KEN

mode's strongest self-distillation, embarking with

a very hushed yet dreadingly ominous beat and

palm-muted riff, joined by breathy, ritualistic vocals.

The instrumentation ploddingly scratches with

increasingly frantic intensity until it all dissolves into

screams of primal madness over shear noise and

saxophone pandamonium. It rips, folks.

• Matty Hume

Long Time No Time

First Time Full Time

Independent

First Time Full Time is the debut album from

Calgary-based five-piece horn band Long Time No

Time. As self-described music nerds exploring pop

music tropes using jazz instruments, it's no surprise

that each part of the album is totally unexpected.

First Time Full Time could best be described as

experimental jazz. With a foundation in sounds akin

to the traditional jazz combo, listeners also hear

lyrics that would sound at home in a Pirate Metal

band set against a polka beat like "Not Exactly an

Overture," and hip-hop pieces reminiscent of Key &

Peele goofs ( see "Trombone").

Given the eclectic nature of the album, spoken

word in the form of voicemails and band callouts

is peppered throughout in what seems like an

attempt to bind the compilation together within

a comedic theme. However, the predominance of

what seems to be inside jokes give the impression

of an album written exclusively for the band

themselves.

First Time Full Time sounds like a performance

art piece — an intellectual rather than an emotional

exercise. The risks take in this album do amount

to something new, but it's worth noting that the

experiences called out as repetitive by the band in

"Something New" are relatable for listeners.

• William Leurer

L'Orange & Solemn Brigman

Marlowe

Mello Music Group

"Are you Marlowe?" Asks the transatlantic voice of

a character from The Long Goodbye (1973), a film

that's sampled throughout Marlowe, where the duo

consisting of Seattle based producer L'Orange and

North Carolina rapper Solemn Brigman derive the

name of their self-titled debut. It boasts smooth

and stylish production reminiscent of '60s spy

thrillers, backing Brigman's breathless bars and

spit fire choruses that are often made colossal by

L'Orange's well-timed drops between verses.

Marlowe shines on the stand-out track, "Not So

Paranoid," opening with a rapid trumpet softened

by a light drum sample and humming female

vocals. Devoid of Brigman, L'Orange goes at it alone

at times and delivers on what he's been hinting at in

the tracks prior, bringing a sound that can only be

described as 'The Incredibles scored by Handsome

Boy Modeling School.' With its welcomed

familiarity, Marlowe's 17-track debut finds a way to

stand-out from the crowd by virtue of L'Orange and

Brigman's exciting new partnership that will quickly

have listeners asking for more.

• Joey Lopez

Daron Malakian and Scars on

Broadway

Dictator

Velvet Hammer

System of a Down fans who have been patiently

waiting for the band to release new music can

finally scratch the itch, thanks to the sophomore

Scars on Broadway album, Dictator. It took guitarist

and founder Daron Malakian a decade to release a

second S.O.B album, so it's fair to say whatever band

he's in, fans best be prepared to wait a long time

between releases. But the wait was worthwhile, as

Dictator has all the tantalizing ingredients that gave

Malakian's previous recordings such a creative edge.

The songs are hyper explosive rock tunes worthy

of dancing, moshing and singing along. The short

compositions are punctuated with bursts of

energy, for which Malakian deserves much credit

for, considering he produced and performed all

instrumentation himself.

Where he really delivers is in his wit-tinged

songwriting, with Zappa-like humour on "Angry

Guru," as well as exploring the music of his

Armenian heritage in "Talkin Shit." There's even

some Dead Kennedy-ish punk vibes in "We Won't

Obey." Unsurprisingly, it all makes for a fun as hell

listen!

• Daniel Jaramillo

Matt Muse

Nappy Talk

TeamNeverStop

Matt Muse is a name worth scribbling on the

nearest napkin. The 25-year-old is based in Chicago's

South Side, where he's also a teaching artist at

August 2018
---
THE KILLERS • FLORENCE + THE MACHINE

IN COLLABORATION WITH
---
DANIEL CAESAR • JESSIE REYEZ • ADVENTURE CLUB

CURRENT SWELL & FRIENDS • BISHOP BRIGGS • LIGHTS

CLOZEE • MIX MASTER MIKE • FUCKED UP

THE JB'S (THE ORIGINAL JAMES BROWN BAND)

THE ZOLAS • BÜLOW • BLITZEN TRAPPER

KIDS

12 & UNDER

FREE!

ANDY SHAUF • RAMRIDDLZ • MILK & BONE

CHAD VANGAALEN • ISKWÉ • METZ

THE HARPOONIST & THE AXE MURDERER

JOHNNY BALIK • HEY OCEAN! • NEON STEVE • SO LOKI

nêhiyawak • SODOWN • MEGAN HAMILTON

ALEXANDRIA MAILLOT • ART D'ECCO • CASE OF THE MONDAYS

THE CHOIR • THE CHORUS • CMDWN • COMMON DEER

A DAY AS WOLVES • DEF3 & BRYX • DIANA BOSS

FEVER FEEL • FNKSTLL • HIGH NOON TO MIDNIGHT • LYSSA

THE OUTLIER (NICK MIDDLETON MUSIC) • PAINT THE TOWN RED

THE PASSENGER • PSYCHIC POLLUTION (LIVE PA) • SODOWN

SUGARBEATS • & OVER 50 MORE TO BE ANNOUNCED!

TICKETS

RIFFLANDIA.COM

AND

AVAILABLE

LYLE'S

AT

PLACE

TWITTER.COM/RIFFLANDIA FACEBOOK.COM/RIFFLANDIA INSTAGRAM.COM/RIFFLANDIA
---
Mitski - Be The Cowboy Obscura Diluvium Petra Glynt My Flag Is A Burning Rag Of Love Tender Age Becoming Real Forever Tides of Man Every Nothing

Young Chicago Authors — where

Mick Jenkins, Noname and Chance the

Rapper got their start — a position

worth a few namedrops.

Nappy Talk is Muse's follow-up to

2017's The SiKK Tape, and it's the frontto-back

record your summer barbecues

have been starving for. The album is no

monolith, housing a plethora of mood

and method. What makes Nappy Talk

worth the download is Muse's ability to

recognize when to hang in the backseat

while his features take the wheel

and crank the stereo. "What You On

(feat. Mother Nature)" lackadaisically

bumps a horrorcore-esque beat under

an addictive two-vox hook. Mother

Nature, a female two-piece consisting of

Klevah and T.R.U.T.H., lay an undeniable

claim to the track through their

hypnotizing complementary skills.

"Shea Butter Baby (feat. Shawnee

Dez)" is another platinum-plated

showcase of a feature, with Dez's soul

chops over funky-as-hell midi bends

solidifying its spot with the most

versatile playlist staples. Nappy Talk is

reflective, impressive and diverse. Don't

nap on it.

• Matty Hume

Midori Takada & Lafawndah

Le Renard Bleu

!K7 Records

Le Renard Bleu (The Blue Fox) is Midori

Takada's first release in 20 years, and it's

an intriguingly innovative return to the

public eye.

The Japanese percussionist and

composer has joined forces with

Lafawndah to produce this unusual

piece: a single 20-minute-long track

that takes listeners on a musical journey

unlike anything before it.

Inspired by Japanese and Senegalese

folk tales about the fox — a trickster

archetype — and imbued with a feeling

of mysticism, the music beckons and

draws one in with chimes and the rising

tension produced by various percussion

instruments.

The purity of Lafawndah's lilting

vocals is breathtaking, ringing out

over the heartbeat-like drums and the

ethereal tones of a waterphone. The

composition changes from moment

to moment, taking turns between

haunting and playful.

Settle in, because the piece really

does deserve one's full attention to

tease out the intricacies of this musical

voyage.

Mitski

Be The Cowboy

Dead Oceans

• Emilie Charette

It was probably unfair, off the release

of the excellent Puberty 2, to hoist

the burden of 'saving indie-rock' on

Mitski's slim shoulders. Puberty 2

was a fantastic collection of songs

written from an interesting perspective

and Mitski cut the silhouette of an

endearing protagonist, but it didn't

reinvent the wheel — nor is indie-rock

in need of saving. Arguing for a single

individual as a genre savior is almost

always a reductive argument. If, by

chance, Mitski is to bring indie home,

it won't be with her fifth album, Be The

Cowboy.

Because the instrumentation picks

up where Puberty 2 left off (think

fuzzy guitars, faint piano and a veneer

of fuzz), the heft of the record lies in

Mitski's songwriting, which is far less

consistent than P2. There are no songs

on Cowboy that reach the euphoric

heights of "Your Best American Girl," or

the wrenching despondency of "Crack

Baby" and "Thursday Girl." The closest

are lead single "Geyser" and "Two

Slow Dancers," which bookend the

unremarkable bulk in between. Some

of that filler, like the painful "Washing

Machine Heart," seem to force indie's

traditional quirks to the point of

inadvertent satirization. Be The Cowboy

is a passable album that's best legacy

may be that it reset our expectations of

its creator.

• Thomas Johnson

August 2018 31
---
Free live music every night of the Fringe Festival!

LA VIDA LOCAL

HOMEGROWN VANCOUVER MUSIC RELEASES

September 6-16, 2018

Mon – Fri 6:00pm-late

Sat & Sun 1:00pm-late

FRANKIIE

Ocean Art Works

1531 Johnston Street,

Granville Island

Kitty and the Rooster

1000 Petal Lotus

Doubtless

New Motion

After a short string of spine-tingling singles, Zane

Coppard (a.k.a. 1000 Petal Lotus) has finally gifted

us with the eerie and imaginative Doubtless EP.

The record is rife with electronic experimentation

from the outset; an off-kilter drum beat on

"Everyone's a Victim" chugs along to crackling and

distorted samples. The rest of the release follows a

similar sonic theme, as unexpected noises, swells,

and effects ebb and flow around Coppard's voice

like a haunting, digital river.

• Mat Wilkins

Kubla Khan

One of These Days

Independent

Rhythm" features crisp hi-hats that are enveloped

by the melody, while "Water Sax" offers a gentle

come down to finish the record, a release which

sounds simultaneously vintage and timeless.

• Kyle Fillo

Rene Aussant

A Little Bit Better

Rene Aussant's voice is a beautiful thing that

trembles with emotion. Stripped-down and

tranquil, A Little Bit Better shines with Aussant's

voice accompanied only by his acoustic guitar.

Rarely has such a pairing been so perfect.

Whether he's singing about the girl who has stolen

his heart on "So Tonight" or about a hangover on

"Oh Lord," Aussant's voice is a wonder.

• Adesuwa Okoyomon

Kimmortal

Dawn Pemberton

Leisure Club

plus: Karaoke + Food Trucks + DJs

8

Parlour Panther

And many more! Visit

VancouverFringe.com/fringe-bar

for a full lineup and schedule.

One of These Days is an energetic musical journey

featuring elements of alternative rock, punk, folk,

and psychedelia. Catchy, nostalgic riffs and a

tight rhythm section frame the upbeat laments

of vocalist Thomas Messent, who exclaims

alternately, "I'm white trash," "There's blood in

the streets," and, of course, that it's just "One of

these days." The album gets heavier as it unfolds,

concluding with a sparse but deliberate guitar

freak out on "Phone Call."

• Kyle Fillo

Late Night Takeaway

Old Boy

Independent

Old Boy is a laid-back release that stuns with

striking trombone, lively percussion, impressive

guitar interplay, and airy vocals that are easily

danceable. On only their second EP, Late Night

Takeaway succeeds in transporting listeners to

a musical paradise thriving with head-bobbing,

finger-snapping, and shoulder-shimmying grooves.

• Adesuwa Okoyomon

PARC

Vector Flow

Independent

Vector Flow is PARC's sophomore record,

blending experimental electronic ambiance

with energetic rhythms. The ethereal, spacious

synths and driving beats place this album at the

intersection of a dance floor and a dream. "Bottle

Wallgrin

Bird/Alien

Heavy Lark

Bird/Alien is the delightful debut record from

Vancouver-based electronic musician Wallgrin.

With her folk-inspired voice and fiddle work,

Tegan Wahlgren takes listeners on an epic sonic

voyage through a record filled with booming bass,

ethereal echoes, and electronic experimentation.

The songs on this album weave together, creating

a musical atmosphere that sounds almost like a

dark, experimental, electronically-affected brand

of Celtic folk music. This is the work of a local

artist with humongous things ahead of them.

• Mat Wilkins

Yukon Blonde

Critical Hit

Dine Alone Records

Yukon Blonde is back, and they're trying some

synth on for size. Their latest LP, Critical Hit, is a

groovy crowd pleaser. More upbeat than previous

releases, this album's the "good-time girl" of the

band's discography. "Emotional Blackmail" is

hooky, "Cry" is reminiscent of Jungle's slick beats,

and "Hardly Even There" sounds like the Beatles

meets Bread. The whole record is a foot-tapping

good time, but not without a melancholic edge,

as the song writing pairs bright beats with lyrical

depth.

• Lauren Donnelly

32

August 2018
---
LIVE

Photo by Tom Paille

Vancouver Folk Music Festival 2018

Jericho Park

July 13 to 15, 2018

A three-colour wristband on the right hand

meant you could enjoy two-and-a-half days

of well curated live folk music at Jericho Park.

Slowly but steady, more than 40,000 folk

music enthusiasts descended to the park. By

10:15 a.m., all good spots facing the top stages

were claimed by empty tarps with empty

festival chairs — a microcosm of Vancouver´s

real-estate reality.

The 41-year experience in the organization

of this Vancouver classic was evident. An

army of volunteers ensured everyone could

enjoy music. Worthy of mention is the

organization´s support to welcome folk fans

with alternate needs. There were special

designated areas for wheelchairs and several

shows had simultaneous translation into ASL.

This was a diverse line-up with an

overwhelmingly white audience. When asked

about this, NYC blues virtuoso Guy Davis, who

next to his harmonica gave one of the best

performances of the weekend, smiled. "This

is a big improvement from twenty years ago. I

love it here," said a happy Davis.

Ukrainian punk-folk band DakhaBrakha

was one of the favorite shows. Their theatrical

background contributes to the creation of an

on-stage experience that the audience loved.

More than half of the band has been singing

together since childhood.

The Bostonian Darlingside where light and

clean in their sound. A certain familiarity with

Bon Iver. Their concert was all good vibes and

good music.

The Dead South appearance on the main

stage felt very alive. A dynamic cello refused to

acknowledge its true size, frequently acting as

a double bass. Vocals were flanked by a banjo,

drum and two guitars.

Iskwé, Quantum Tangle, and Leonard

Sumner represented Indigenous Canadian

folk music. Each in their stile communicated

a message that was truthful and to some

hard to digest. Sumner showed courage and

reminded the audience what rap is all about.

Locals Petunia and the Vipers where

mysterious and seductive. Alex Cuba took the

time form a fun concert to thank Canada for

being a good host to newcomers.

• Carlos Oen

Melvins

Venue

July 21, 2018

Deep in the center depths of the pit,

floats an icky, sticky, and overly humid

hue; perhaps the physical embodiment

of the bands Butthole Surfer cover, "Stop

Moving To Florida"- or maybe just a

display of the aftermath of a summer's

day. While fans performed some sort

of sweat-driven bayou charade, casting

crowd surfers into the air, Melvins played

an absolutely incredible set that rumbled

the soul of Venue Nightclub.

Frontman Buzz Osborne graced the

stage in a very typical wizard-esque space

dress, with a silver curly hair stretching

out as if her were struck by lightning;

very fitting as he is, really, the mad

scientist and forefather of sludge metal,

Photo by Bryce Hunnerson

experimental rock and grunge.

The band released their latest album,

Pinkus Abortion Technician, through

Ipecac Recordings earlier this spring.

The album features not one, but two

Butthole Surfer covers, as well as Beatles

cover "I Want To Hold Your Hand".

"Don't Forget To Breathe" appeared to be

a new fan favourite, possibly carrying the

anthem capacity of beloved songs like

"Goin' Blind" and "Honey Bucket."

There is just something about seeing

a Melvins show; an implanted feeling of

nostalgia that is hard to attach to any

other band, regardless of if you have been

a fan since the '80s, or you are in the

early stages of discovery. Whatever you

do, don't forget to breathe when you see

the gods of the bass driven, atmospheric

music underworld.

• Jamila Pomeroy

Suicidal Tendencies

Vogue Theatre

July 17, 2018

Existing in many previous incarnations the legendary punk

meets metal group arrived in Vancouver with yet another

version of itself. For more than 30 years founding member

and vocalist Mike Muir has been getting "Cyco" fronting

Suicidal Tendencies. The band's stellar catalogue of mosh

pit igniting punk anthems have featured some amazing

musicians over that time and this night was no exception as

former Slayer drummer Dave Lombardo as well as guitarist

Ben Weinman formerly of The Dillinger Escape Plan were on

stage to crank out the hits.

Starting off with a ten-minute version of "You Can't

Bring Me Down" turned the packed Vogue into a thronging

spectacle of mayhem. Muir stalked the stage like a king of

the cellblock armed with a menacingly precise message of

Photo by Andrew Bibby

a hardened criminal on the come back. Equal parts crazy

punk and expletive laden motivational speaker the energetic

lead singer spoke and sang of overcoming the odds in the

face of adversity all night long.

Shouting out the refrain "I Shot Reagan!" had Muir

grasping an imaginary machine gun as Weinman ejected

some signature noise from his Ax adding surprise to

a well-known classic. The madness of the dance floor

spilled onto the stage as Muir constantly invited "Suicidal

Mutherfuckers" up to mosh with the musicians. Weinman

returned the favor by throwing himself into the swirling pit

below and the audience held him standing upright for a

memorable solo.

After a thunderous chant of "ST" from the sweaty

crowd the fired up band raged through an encore with

the classic "Institutionalized" and ended one of their most

unforgettable performances in this city with a roar.

• Dan Potter

PURCHASE PRIDE SOCKS

AT THE FAIR GATE AT HASTINGS & RENFREW

STREETS, AND GET INTO THE FAIR

FOR FREE!

August 30, 11am–Late

All proceeds benefit the

Vancouver Pride Society

August 2018 33
---
NEW

LOCATION

FOR 2018!

NEW MOON RISING

YOUR MONTHLY HOROSCOPE

QUAN YIN DIVINATION

Month of the Metal Monkey

This month's moon brings back a sense

of urgency and a time where business

matters can be signed, sealed, or

delivered. The metal element represents

song and music, as well as the more

subtle energies of the moon and stars

in the sky, making this a perfect time

to get out and support your favourite

band.

Rabbit (Pisces): Although peace might

be hard to find this month, it's there

lurking in the in-between. Keep your

schedule free of extras and if anxiety

plagues you, know that it could be you

are looking too far off into your lofty

future.

Dragon (Aries): An optimistic attitude

and your winning personality will save

you from stumbling over the small stuff.

Keep your chin up and your grin wide,

so no-one will question that you're

going to see your project and plans

through to the very end. Be flexible!

Snake (Taurus): Emotion can swing

from highs to lows and back again. It's

all part of the experience and, gratefully,

you are not alone. Sharing time with

your loved ones now can help you focus

on forgiveness, kindness, and divine

love.

Horse (Gemini): Feeling indecisive?

It might be that the opportunities

presented are all good ones, but

delaying a choice can drag out the

inevitable. For better or for worse, go

forward.

Sheep (Cancer): Community surrounds

you now and you truly belong. Let

others participate in creating ways to

make life more enjoyable (and perhaps

more affordable) by working together

on projects or goals that show mutual

benefit.

Monkey (Leo): Health and home are

worthy of your attention now, and it

might be one of those times that your

own company is as nice (or better!)

than the company of others. It is human

nature to come across moments in life

that give us all reason to cry, so don't be

afraid to allow for a brief defeat.

Rooster (Virgo): Your quick

wit, decisive thinking, and sharp

observation skills are at work now and

the time is perfect for you to move

ahead with your goals. Act fast, and

new opportunities could land in your

lap that could change your game.

Dog (Libra): A holiday or time away

from your daily environment provides

a fresh perspective that can refresh

your enthusiasm and strength. Your

productivity is strengthened by taking

time to rest, renew, and relax – guilt

free.

Pig (Scorpio): This month brings the

gift of healing to your wounded heart

and soul. Reach out and receive any and

all forms of self care now.

Rat (Sagittarius): Traveling to a new

or favourite place ignites your natural

curiosity and zest for life. There are so

many places to see, mountains to climb,

rocks to overturn. What are you waiting

for? Get out there and explore.

Ox (Capricorn): Sometimes doing

the right thing is hard, but feelings of

shame and guilt will not go away until

you align your actions with your values.

Place your morals ahead of your ego

and set things straight now to avoid a

potentially embarrassing situation later

this year.

Tiger (Aquarius): An opportunity

for change comes to your home,

workplace, or health this month that

may improve your outlook or disrupt

your peace of mind. Look for the silver

lining and celebrate those around you

who may be ready to grow or go in

a new direction, or offer the kind of

friendship you desperately need.

Susan Horning is a Feng Shui Consultant

and Bazi Astrologist living and working

in East Vancouver. Find out more about

her at QuanYin.ca.

AUGUST 23-27, 2018

COLDWATER FIELDS

MERRITT, BC, CANADA

ABSTRAKT SONANCE | AU5 | AVERAGE GYPSY

CASE OF THE MONDAYS | CALYX & TEEBEE | CHESHIRE

CULTURE SHOCK | D-FUNK | DAVID STARFIRE | DEFUNK

DONALD GLAUDE | EMOK | FATHER FUNK | FLATLAND FUNK

FORT KNOX FIVE | FREESTYLERS | INF1N1TE | J.PHLIP | JPOD

K+LAB | LAZY SYRUP ORCHESTRA | LONGWALKSHORTDOCK

MARCUS VISIONARY | MARTEN HØRGER | MEGAN HAMILTON

MIND VORTEX | MOONTRICKS | MR. BILL | NEON STEVE

NOMINUS | ORIGINAL SIN | PEEP THIS | PERFECT STRANGER

PERKULAT0R | PSYMBIONIC | QDUP | REID SPEED

RINKADINK | RUMPUS | RYANOSAURUS | SANDRA COLLINS

SKIITOUR | SLYNK | STICKYBUDS | SUGARBEATS (LIVE BAND)

THE ARCTURIANS | WMNSTUDIES | WOOD N SOO | WOOFAX

ALEX MEI | AMAUROTIC | ATHOUSANDKINGS | AUDIOWRX | BASS WORKSHOP | BETTER LIVING DJS

BURCHILL | CAIN.1 |CHRIS BRENNAN | COOPER OVERSAUCING | CRYSTAL FRESH | DAITYA

DONALD BUMP | DUNMORE PARK | FREDDY J | GALACTIC HOBOS | GENESA PROJECT & KALI YUGA

GOA PETE | GOLD BULLETS | GROOVY CUVY | HEIDROGEN | JGIRL & MANOUSOS | JOSH COOPER

K3V | KOTEK | MARC THØMAS | MAXX AMMO | MITTONE | MONKEY TWERK | OLLIE PLÉ

PARADIGM THEOREM | PETE WILDE | PHONOTACTIC | RUSTY MEEKS VS KUANA | SCHWAG DANKUS

SIVZ | SKUZZ SOUND | STUND | THRILLHOUSE | MIHAJIC TOUCH & DJ THREESIXTY

TREVOR GALORE | TWOTIMER

TICKETS & MORE INFO @ WWW.MOTIONNOTION.COM

34

August 2018