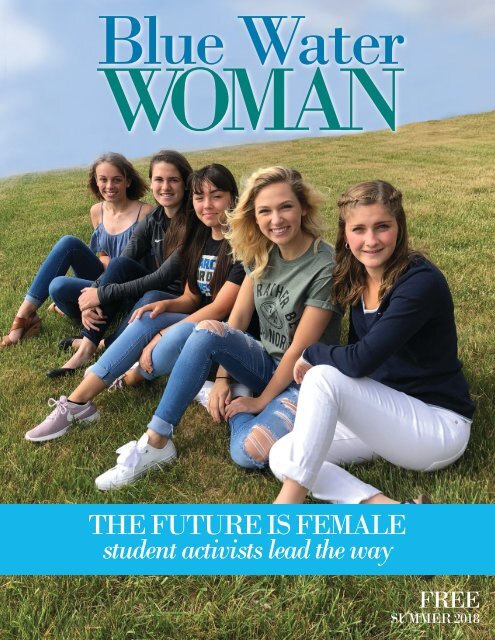 blue water woman--summer 2018--YUMPU
You also want an ePaper? Increase the reach of your titles
YUMPU automatically turns print PDFs into web optimized ePapers that Google loves.
the Future iS Female

student activists lead the way

Free

Summer 2018
---
43° North of the Equator.

Warmth is a state of mind.

Our hoodies & tee shirts help.

Find your True North.

Charter Member

Great Lakes

Mermaid Society

43° North

Port Huron, Michigan

Port Huron Places.

(Algonac, Fort Gratiot, Marine City

Marysville & St. Clair available online)

To Purchase Tees & Hoodies of the Designs Above, Please Visit:

The Papaya Branch

326 Superior Mall l Downtown Port Huron l Across from McMorran South Lot l North of Sperry's Entrance

For Other Local & Great Lakes Designs & Gift Products Visit:

43DegreesNorthGifts.com
---
Patti Samar

Chief Creative Officer/Writer/Designer @

43° North Gifts

Blue Water Woman

The Write Company

Ph.D. in Snarkology:

The Art of Being Snarky

Lake Lover. Sailor. Artsy-Fartsy Liberal.

Will March for Human Rights.

What's your True North?
---
From the eDitor

There's battle lines being drawn

Nobody's right if everybody's wrong

Young people speaking their minds

Getting so much resistance from behind

It's time we stop, hey, what's that sound

Everybody look what's going down

--Stephen Stills in his song

"There's Something Happening Here"

this winter, young people across the nation, including in the Blue Water area, began

speaking their minds following the mass shooting at a high school in Parkland, Florida.

The five young women on the cover of this issue – students from Port Huron High

School and Port huron northern high School -- were instrumental in organizing both a

student walk-out honoring the victims of Parkland and a community-wide march for gun

control. and they were not, by any means, the only local young people who were involved.

other high schools and school districts in the

Blue Water area also participated in those

events and i commend every single young

person in our community who stepped up,

got involved and helped create a number of

very successful and inspiring events.

When I sat down with the five young

women on the cover – a group of 16-, 17-

and 18-year-old political activists – my faith

in the future, in particular my faith in the

young women of the future – was not only

renewed, but it was rejuvenated.

i am in absolute awe of them.

this generation of young women is so alert,

so in-tune, so aware of everything going on

in the world – Lily Hurtubise cracked me

up when, in the middle of the interview, she

ranted about something she had read the day

before on twitter: "canada! We pissed off

CANADA! How do you do that?" – they put

my high school-self to shame.

crap, i got i excited when i planned a

fundraising dance for the drama club.

this group of students organized a

community march that drew between 500

and 1,000 people. that's one. thousand. People.

lucy WicKingS SPeaKS to the croWD

at the gun control march

in Port huron in march

not only did they organize it with their peers and elders in order to make sure all of the

many details were addressed, but they also gave rousing speeches. i know, because i was

at the gun control march and even though, at that point in time, i didn't know any of the

young people there, tears rolled down my face. i was so proud of them.

their parents, teachers and other adults who raised them should be so very proud of

them, too.

But my tears were also for them. Back in 1981, when i was planning that high school

dance, it never in a million years would have crossed my mind that i would need to worry

about getting shot at school.

Though the five of them were kind of thrown together by the circumstance of planning

these events, they were not previously close friends and four of them are headed off to

college in various states this fall. our community is richer for having had them here, but i

am sad to lose them.

"i want you guys to keep in touch," i told them at the end of our interview. "i mean,

you don't have to be BFFs or anything, but keep in touch. i want you all to get together

someday five or 10 years from now and look back at this and say, "We really, really did

something special. We were the sh--."

Because they really are.

Peace,

content

the Future iS Female 4

Jozlyn BoyD 6

Kathy hayman 8

aDVertiSe

in Blue Water Woman!

it WorKS!

JuSt aSK our aDVertiSerS!

the ad deadline for the next issue

of Blue Water Woman is august 15, 2018.

Prices start at just $125 for a business card sized ad!

our most popular ad size is a quarter page at just $250;

sign a one-year contract

and it becomes just $225 a quarter!

For more information, contact Patti Samar

at 810-300-2176 or email her at pjsamar@aol.com

Volume 7, numBer 2 Summer 2018

Blue Water Woman is published quarterly by the Write company,

511 la Salle Blvd., Port huron, mi 48060. circulation 5,000.

Editor & Publisher:

Patti Samar, owner, the Write company

Advertising inquiries, editorial questions, comments or story ideas?

Patti Samar at pjsamar@aol.com

Mission:

Blue Water Woman is the premiere publication

for women living, working and playing

in the Blue Water area of michigan.

its stories and features are written and designed

to be inspriational, motivational and encouraging.

www.BlueWaterWoman.com

© Blue Water Woman is the property

of Patti Samar of the Write company

the Write company is a writing, graphic design

and marketing consultation firm.

View our online portfolio at: www.theWritecompany.net

Patti Samar

Editor & Publisher

Blue Water Woman

2 Summer 2018 BlueWaterWoman.com
---
Protect your world

Auto • Home • Life • Retirement

Every day is the perfect day

to send flowers.

Full Service Florist:

Special Occasions • Funerals • Just Because • Holiday Décor

Wedding Floral Design • Bouquets • Boutonnieres • Corsages

NEW LOCATION! Corner of Hancock & 14th Avenue

1719 Hancock Street • Port Huron • (810) 989 - 7673

Insurance subject to terms, qualifications and availability. Allstate Property and Casualty Insurance Co., Allstate

Indemnity Co., Allstate Vehicle and Property Insurance Co., Allstate Fire and Casualty Insurance Co. Life insurance

offered through Allstate Life Ins. Co. & Allstate Assurance Co. Northbrook, IL; Lincoln Benefit Life Co., Lincoln, NE;

and American Heritage Life Insurance Co., Jacksonville, FL . Securities offered by Personal Financial Representatives

through Allstate Financial Services, LLC (LSA Securities in LA and PA). Registered Broker-Dealer. Member FINRA,

SIPC. Main Office: 2920 South 84th Street, Lincoln, NE 68506. (877) 525-5727. © 2010 Allstate Insurance Co.

173533

Summer 2018 BlueWaterWoman.com 3
---
T

hear them roar

They are women; hear them roar.

I recently asked five local high school students – four members of

the class of 2018 and one entering her junior year – to give me an

hour of their time on a Saturday morning, to chat about their recent

involvement in organizing a school walkout in early March in honor

of the victims of the Parkland, Florida, shooting, and then later in

March a community-wide gun control march that attracted between

500 and 1,000 people to downtown Port Huron.

Three hours after our conversation began, they were still hanging

out in my office. I don't think any of us really wanted to leave.

For them, I hope it was an opportunity to reflect, a few months

after the fact, on what they had achieved in terms of learning how to

organize a community event successfully and also the importance of

speaking out and making sure your voice is heard.

For me, it was an opportunity to sit,

in awe, of five amazing young women.

They couldn't be more different; they

come from all walks of life. Two of them

attended Port Huron High School and

three attended Port Huron Northern High

School.

When I asked them, at one point in the

conversation, what each of them hoped to

accomplish over the next five or 10 years

or even in their lifetime, Paige Cronce, at

16, the youngest member of the group,

answered very succinctly: "I think that

all of our careers are going to change lives,

somehow."

Paige, I've got news for you: You already

have…you already have.

Below is a condensed Q&A of our

discussion. It was, for me, enlightening

and encouraging. It helped me believe that

there is, indeed, hope for the future.

BWW: So, how did all of you end up

being involved in organizing these two

events following the tragedy in Parkland?

Lily Hurtubise, PHH: "I remember

hearing about the school in Parkland and

it occurred to me that if that happened

here, someone sitting next to me wouldn't

be able to graduate from high school. You

hear all the news about it, but I just felt

like, 'Let's do something about it. If the

Parkland kids can do it, we can do it.'"

Whitney Wilson, PHN: "Both my

parents and aunts are teachers in the district and just thinking I

could lose any of my family members at any time motivated me."

Lucy Wickings, PHH: "I'm super into mental health and people

were saying, 'It's not guns, it's mental health'…but it's both."

Katie Miller, PHN: "I helped organize the walk out, but the school

district was very clear it had to be about 'honoring the victims' and it

couldn't be political…but our principal was very supportive."

Paige Cronce, PHN: "I was angry that something like this was

becoming normal. It really motivated me to do something because no

one else was."

Though two of the young women from the different schools knew

4 Summer 2018 BlueWaterWoman.com

by Patti Samar

from left to right: Katie miller;

paige cronce; lily hurtubise;

lucy wickings; and whitney wilson

each other previously – they played soccer together as kids – once

they individually approached their principals about organizing

some kind of supportive event, their principals directed them to one

another within their own schools and then, through social media,

they reached out to one another.

BWW: So, what is your take on the politicians who are now in office

and are empowered to take a look at these issues and enact change?

Are they inspiring to you or disappointing or do you think more could

be done? Do you see yourself as continuing to be politically involved

or possibly running for office one day?

Miller: "Just because they are in office, doesn't mean they are

smarter than us. We are waiting to hear a voice and wanting someone

to tell us change is coming. We are obligated to go to school. To turn it

around on (politicians): You are just as obligated to make sure we are

safe in school. And the NRA (National

Rifle Association): You are the villain

because you won't make sure people are

safe around guns."

Wilson, who served as class president:

"I could see myself running for office

someday. But I have friends who literally

say they would not vote for a female

president."

Cronce: "I'm definitely going to be

going to rallies and doing what I can to

create change.

Hurtubise: "By getting involved now,

we're all putting ourselves in the perfect

position to be in leadership roles."

But what about their male

counterparts? Though a couple of

the young women were able to name

one or two male classmates or males

at other local high schools who got

involved in organizing the events in

March, Hurtubise summed it up: "The

guys didn't want to be in leadership

positions."

Each young woman has vastly

different plans for her future, with careers

ranging from law school and teaching

to the business world of corporate

America. As they look forward, do they

see themselves and their counterparts in

a position of power? Do they have the

ability to make change?

Wilson: "Our generation is definitely

more liberal."

Cronce: "Our generation is going to be the one with people in those

positions of power."

And what about all of them? Do they realize what a Really Big

Deal impact they've had on their community? And, though most of

them are all more friendly acquaintances who share a common belief

system than BFFs, will they remain in touch as they leave the Blue

Water Area to pursue school and career dreams?

Wickings: "I like that I can say, 'I knew her when…' We are going

to be the start of something."

I'd say they already are.
---
Summer 2018 BlueWaterWoman.com 5
---
keeping the faith

by PATTI SAMAR

Isaiah 41:10

"So do not fear, for I am with you; do not be dismayed, for I am your God.

I will strengthen you and help you; I will uphold you with my righteous right hand."

A woman of strong faith, Jozlyn Boyd of Port Huron is

counting on God to see her through the tough times ahead of

her.

She knows that He is there for her, because He has answered

her prayers in the past.

Life has not been easy by any stretch of the word for the single

mother who is a recent survivor of sexual assault following a life

filled with years of physical and emotional abuse at the hands of

almost every man she has ever loved, beginning with her father.

Recently diagnosed with uterine cancer, Boyd is praying and

mentally preparing herself for what will certainly be the one of

her most difficult challenges so far, and quite possibly the fight of

her life.

The 34-year-old single mother was pregnant with her third

child and living in Metro Detroit when she knew that her life and

the lives of her children depended on

leaving an abusive situation.

So, she packed up her children,

called an Uber and asked to be taken

to the Blue Water Safe Horizons

shelter in Port Huron. Why here?

"I came here to flee," she said

solemnly. Prior to ordering the Uber,

she had looked online and found a

shelter far enough away from an

abusive relationship that she couldn't

be found.

"I'm a woman of God and it was

meant to be," she said. "Coming here

was a real blessing for me to be able to

get away from the bad circumstances

and to also find peace within myself

and peace for my children."

Boyd took shelter at Carolyn's

Place, owned and operated by

BWSH, and they helped her enroll

in the STEPS Affordable Housing program coordinated by the

Michigan State Housing Authority. BWSH serves as landlord

for four MISHA homes in the Blue Water Area and recommends

tenants, such as Boyd.

After receiving help locating this safe and affordable housing,

Boyd got a job; she now works at a fast food restaurant.

"I'm an independent person and it was hard to reach out and

get help from Safe Horizons," she said. "It would be different if

it was just me, but having my children, I needed to get on my

knees and say, 'I need help…' And if there are resources to assist

you, it's okay to ask."

Settling into her Port Huron neighborhood has been a real

6 Summer 2018 BlueWaterWoman.com

jozlyn boyd

God-send to Boyd. "I have great neighbors who welcomed us,"

she said. "My neighbors are amazing."

Feeling safe and secure in her home is something new for Boyd,

who lost her mother when she was just 10 years old. She and

a sister were then raised by their father, but it was not an easy

childhood.

"My father was my caregiver, but he was my first abuser,"

she said. "He was very controlling and he was physically and

emotionally abusive.

"I think that is why I made excuses for other men as I got

older. I thought that was the way you showed someone love."

A mother of three, her two older children, ages 14 and 8, share

a father.

"I was with him since I was 17 years old," she said. "But he

was abusive and I moved to Texas to flee him years ago…but

he found me and he's in prison there

now. But he came from a long line of

abusers; his parents were murdered

when he was a child and he was in

the house when it happened."

Before the pair permanently parted

ways, Boyd received a serious eye

injury as a result of being hit by him.

"I have advanced keratoconus

due to an injury in my eye," she

said. "It's when the cornea is

disfigured." Though there are, in

fact, medical treatments that can fix

the keratoconus, Boyd does not have

insurance that will cover the medical

expenses that would be incurred and

she cannot afford to pay for it out-ofpocket.

When searching for a shelter where

she could go to escape from another

abuser, she selected Blue Water Safe

Horizons for a number of reasons, among them the thought that

she was interested in enrolling in culinary school and the fact

that there was such an opportunity in Port Huron caught her

attention.

"I did graduate from high school and I do have some culinary

arts schooling under my belt," said Boyd, who noted that she

cooks for her church and loves creating in the kitchen.

Now, with her recent cancer diagnosis, Boyd is putting the

thought of culinary school on hold in order to focus on getting

healthy first.

"You know, it's peaceful here," she said. "I was brought here

for a reason and for a purpose. I'm hoping that telling my story

might help somebody else. It's all in God's plan."
---
Summer 2018 BlueWaterWoman.com 7
---
year of the

woman

by dale hemmila

8 Summer 2018 BlueWaterWoman.com

Kathy hayman

While 2018 is being touted as "The Year of the Woman" in reference

to the vast number of women running for elected office, residents of the

Blue Water Area don't have to look very far to find women serving as

local elected officials.

And while she is not a part of this 2018 political trend, Marysville City

Councilwoman Kathy Hayman is an advocate.

"I absolutely believe women have a lot of good ideas and we think

differently than men," she said recently while reflecting on her three

years on the city council. "We deserve to be at the table and to help move

things forward."

Hayman, a Marysville native and resident of the city for 51 of her 58

years, was elected to the council in 2015 and this year was selected by

her fellow council members to serve as Mayor Pro Tem. Hayman's 2015

campaign was her first attempt to run for elected office, but it was not her

first bid to join the city council. She applied to fill a vacant seat in 2013

but wasn't selected. That loss motivated her to get on the ballot.

Her thought at the time: "I wasn't picked, so I'll run."

She ran and she won. That probably shouldn't be a surprise for those

in Marysville aware of her family history. Her father, Joseph Johns,

served on the city council almost continually from 1951 to 2013. In fact,

Marysville City Council Chambers are named after him.

"I've grown up with (that service)," she said. "I watched and always

admired my dad; he was a very good role model. I wanted to be a part of

it just to help move (the city) forward."

One of her hopes is to help transform Marysville, currently a city

spread out with strip malls, standalone businesses and residences.

"There are a lot of cool things going on in this city but I want to create

a downtown," she said. "We don't know where it will be, perhaps the

old DTE site depending on what happens there, but some place that's

walkable with shops and restaurants."

Whether that's a realistic goal only time will tell. Certainly there would

be costs involved, but Hayman, who has been the controller for 18 years

for Harrison Township-based Electrex Industrial Solutions, has a good

feel for how budgeting works. Calling herself middle of the road when it

comes to politics, she is not afraid to look ahead financially.

"There's only so much money to go around," she said. "But we have to

be progressive and move forward."

As in many small towns, that means a council that is working in sync

and Hayman believes Marysville leadership is in good hands.

"We try to work together and complement each other," she said,

referring to the council. "We try to be transparent and that's very

important to all of us."

That includes continuing to apply her controller skills to Marysville

budgeting while acknowledging, however, that the city budget "has a

couple of more zeros" to try to manage. She says managing the different

department budgets while protecting funding for legacy items such as

city pensions is an important goal.

Hayman encourages other women to run for elected office.

"Don't be afraid to go out on a limb," she said. "Take a deep breath

and do it. Don't be afraid of the guys; give back to the community when

it's your time. Don't be afraid to make a mistake; it's how we learn."

As for her own political future, she plans to stay active.

"If our current mayor doesn't run again, I will run for mayor," she said.

That would certainly be a nod to her family's history of service and

perhaps a look to the future with three-year-old granddaughter Zola

looking on.

"I hope I can be a role model for my granddaughter," Hayman said.

"We (women) need to be heard."
---
Agents protecting

all your life's moments

Providing complimentary lodging

for families of hospitalized patients

Two locations conveniently located within steps

of both McLaren Port Huron & Lake Huron Medical Center.

To make reservations, call:

810-824-3679

www.HunterHospitalityHouse.com

Kim Judge

kjudge@fbinsmi.com

(810) 385-8800 | 7147 Lakeshore Road, Lakeport

FarmBureauInsurance.com

Tammy Hutchinson

thutchi@fbinsmi.com

43° North of the Equator.

Find your True North.

For These Products & Other Local

& Great Lakes Designs & Gifts, Visit:

43DegreesNorthGifts.com

Summer 2018 BlueWaterWoman.com 9
---
ROBOTIC

SURGERY

REDUCES

RECOVERY

TIME.

At McLaren Port Huron, we know how important it is for

our patients to get back to their everyday lives. Which is

why we make it a priority to invest in the latest robotic

surgery technology, and why we are the only hospital in

the area that has two da Vinci ® Surgical Systems on site.

Our specially trained surgeons use state-of-the-art

da Vinci ® robotic technology to guide their movements

with an exceptional level of precision.

This level of precision allows us to perform a wide range

of minimally invasive procedures, including hernia repair,

gallbladder removal, prostatectomy, thoracic surgery,

endometriosis, hysterectomy and bariatric surgery, so that

patients experience less pain and faster recovery times.

Visit mclaren.org/porthuron or call 810-987-5000.

To learn more about robotic-assisted surgery,

visit mclaren.org/phdavinci.