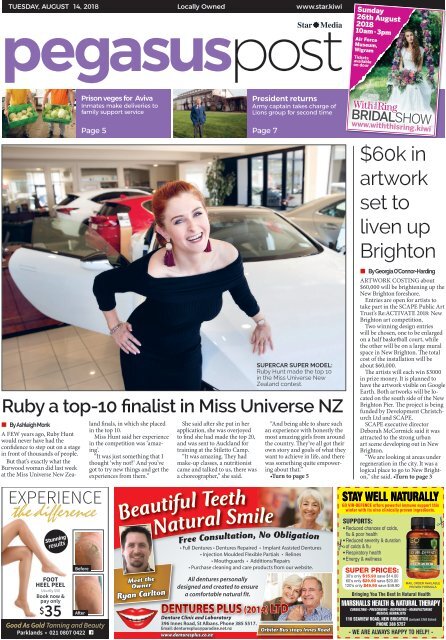 Pegasus Post: August 14, 2018
You also want an ePaper? Increase the reach of your titles
YUMPU automatically turns print PDFs into web optimized ePapers that Google loves.
TUESDAY, AUGUST 14, 2018

Locally Owned

www.star.kiwi

Sunday

26th August

2018

10am - 3pm

Air Force

Museum,

Wigram

Tickets

available

on door

Prison veges for Aviva

Inmates make deliveries to

family support service

Page 5 Page 7

• By Ashleigh Monk

A FEW years ago, Ruby Hunt

would never have had the

confidence to step out on a stage

in front of thousands of people.

But that's exactly what the

Burwood woman did last week

at the Miss Universe New Zealand

finals, in which she placed

in the top 10.

Miss Hunt said her experience

in the competition was 'amazing'.

"It was just something that I

thought 'why not?' And you've

got to try new things and get the

experiences from them."

She said after she put in her

application, she was overjoyed

to find she had made the top 20,

and was sent to Auckland for

training at the Stiletto Camp.

"It was amazing. They had

make-up classes, a nutritionist

came and talked to us, there was

a choreographer," she said.

President returns

Army captain takes charge of

Lions group for second time

SUPERCAR SUPER MODEL:

Ruby Hunt made the top 10

in the Miss Universe New

Zealand contest.

Ruby a top-10 finalist in Miss Universe NZ

EXPERIENCE

the difference

Stunning

results

FOOT

HEEL PEEL

Usually $50

Book now &

pay only

$ 35

Before

After

Good As Gold Tanning and Beauty

Parklands • 021 0807 0422

Beautiful Teeth

Meet the

Owner

Ryan Carlton

Natural Smile

"And being able to share such

an experience with honestly the

most amazing girls from around

the country. They've all got their

own story and goals of what they

want to achieve in life, and there

was something quite empowering

about that."

•Turn to page 5

Free Consultation, No Obligation

• Full Dentures • Dentures Repaired • Implant Assisted Dentures

• Injection Moulded Flexible Partials • Relines

• Mouthguards • Additions/Repairs

• Purchase cleaning and care products from our website.

All dentures personally

designed and created to ensure

a comfortable natural fit.

DENTURES PLUS (2014) LTD

Denture Clinic and Laboratory

396 Innes Road, St Albans. Phone 385 5517.

Email: denturesplus@paradise.net.nz

www.denturesplus.co.nz

Orbiter Bus stops Innes Road

Bridalshow

www.withthisring.kiwi

$60k in

artwork

set to

liven up

Brighton

• By Georgia O'Connor-Harding

ARTWORK COSTING about

$60,000 will be brightening up the

New Brighton foreshore.

Entries are open for artists to

take part in the SCAPE Public Art

Trust's Re:ACTIVATE 2018: New

Brighton art competition.

Two winning design entries

will be chosen, one to be enlarged

on a half basketball court, while

the other will be on a large mural

space in New Brighton. The total

cost of the installation will be

about $60,000.

The artists will each win $3000

in prize money. It is planned to

have the artwork visible on Google

Earth. Both artworks will be located

on the south side of the New

Brighton Pier. The project is being

funded by Development Christchurch

Ltd and SCAPE.

SCAPE executive director

Deborah McCormick said it was

attracted to the strong urban

art scene developing out in New

Brighton.

"We are looking at areas under

regeneration in the city. It was a

logical place to go to New Brighton,"

she said. •Turn to page 3

STAY WELL NATURALLY

GO VIR-DEFENCE offers powerful immune support this

winter with its nine clinically proven ingredients.

SuppORtS:

•Reduced•chances•of•colds,•

•

flu•&•poor•health

•Reduced•severity•&•duration•

•

of•colds•&•flu

•Respiratory•health

•

•Energy•&•wellness

•

SUPER PRICES:

30's only $15.90 save $14.00

60's only $29.90 save $20.00

120's only $49.90 save $49.90

MAIL ORDER AVAILABLE

PROVEN FORMULA

Bringing You The Best In Natural Health

MARSHALLS HEALTH & NATURAL THERAPY

CONSULTING - PRESCRIBING - DISPENSING - MANUFACTURING

MEDICAL HERBALISTS

110 seaVIeW roaD, NeW BrIGHToN (Just past C.N.B School)

pHoNe 388 5757

- We are alWaYs HappY To Help! -
---
2 Tuesday August 14 2018

Latest Christchurch news at www.star.kiwi

get in touch

from the editor's desk

I HOPE city council staff read the Pegasus

Post.

Again we have a swag of letters (see

page 4) from readers saying the Guy

Fawkes fireworks display must stay in New

Brighton. As we have said in the last few issues, it's a no-brainer

to keep it at the pier and any bid to shift it elsewhere will be met

with a potential powder keg of resistance.

Local city councillors David East and Glenn Livingstone have

pledged to fight the good fight if the council bureaucrats in

Hereford St have other ideas.

As one letter writer on page 4 says: I don't live in New

Brighton and I have only been once. I do think it is a great place

for it.

Too right.

– Barry Clarke

GENERAL ENQUIRIES Ph 379 7100

CLASSIFIED ADVERTISING Ph 379 1100

Star Media, a division of Allied Press Ltd

PO box 1467, Christchurch

starmedia.kiwi

your local views

Pier fireworks display sparks debate

Do you think the annual New Brighton Guy Fawkes event

should go ahead?

Page 4

bridal show

With this Ring

Get your tickets now to the With This Ring Bridal Show on

August 26. Don't miss this Star Media event which brings all

the experts under one roof at the Air Force Museum of NZ.

Page 14

community events

PEGASUS POST

After-school session

Take the children to the New Brighton Library for free activities

on Monday, 3.30-4.30pm.

NEWS

Georgia O'Connor-Harding

Ph: 364 7438

georgia.oconnor@starmedia.kiwi

ADVERTISING

Elaine Moon

Ph: 364 7436

elaine.moon@starmedia.kiwi

Page 15

The best-read local newspaper, delivered to

15,657 homes every Tuesday

Linwood, Avonside, Richmond, Shirley, Burwood, Dallington,

Wainoni, Bromley, Aranui, Avondale, Bexley, New Brighton,

Northshore, Queenspark, Parklands, South Brighton.

Archer

GROUP

Linrose Village

472 Linwood Ave, Linwood

Linrose is our independent-living lifestyle village

For inquiries phone Sue (Sales Manager) on 021 902 626

or 943 6006 or email sue@archer.org.nz

LOVELY 2 BEDROOM VILLAS

WITH INTERNAL ACCESS GARAGE

from $299,900

Archer is locally

owned and a

charitable trust

Archer Village | Linrose Village | Thorrington Village | Archer Homes | Archer Tours

www.archer.org.nz
---
PEGASUS POST Latest Christchurch news at www.star.kiwi

Tuesday August 14 2018 3

News

Artwork to brighten New Brighton

•From page 1

The designs will be selected

for application onto the ground

surface in December.

Park Life will implement the

winning design for the basketball

court. It is a company which

specialises in activating spaces

with clever designs. It offers

unique custom designs for parks,

sports areas, schools, tertiary institutions,

basketball

courts

and multi-use

games areas.

The organisation

has

designed basketball

courts

Deborah

McCormick

in Valonia

Park, Marlborough

Park and

Potters Park in Auckland.

Ms McCormick said the winning

artist will have the option

of painting the mural themselves

if they have experience in art

mural application.

But she said if not, a team

of expert mural applicators

will be put together to bring

the artwork to life. While the

competition has been running

since 2012, it is the first time the

winning artwork will be created

outside of the central city.

The winner of the first

BRIGHTENED UP: The winner of the first Re:ACTIVATE competition was Rachael Dewhirst's

mural Kaleidoscopic Nights. Her artwork was put on the Canterbury Development Corporation

Building. ​

Re:ACTIVATE competition,

Resene Art in The Streets, was

Rachael Dewhirst with her mural

Kaleidoscopic Nights, 2012.

The competition is inspired by

Project Backboard, a non-profit

organisation in the United States

that refurbishes neighbourhood

basketball courts by covering

them in art.

Anyone living in the city and

over the age of 18 can enter the

competition and all entrants

are encouraged to attend the

4th Re:ACTIVATE Public Art

Development Workshop first.

Entries close on August 30.

While the workshop, which

covers all elements of public art

delivery, is free, registration is

essential.

•To register for the

workshop and to download

the brief outline for the

basketball court and

mural go to https://www.

scapepublicart.org.nz/

emerging-artist

•The workshop will be held

at Grace Vineyard Church,

111-113 Seaview Rd, New

Brighton, today from 4pm to

8pm.

•Further inquiries can

be made to education@

scapepublicart.org.nz

Local

News

Now

In Brief

Fire rages, homes at risk

MEMORIAL TREES POLICY

Residents wanting to plant

memorial trees at QE II Park

will need to go to the Coastal-

Burwood Community Board to

have their request considered.

The board received a request to

plant a tree in memory of Ronald

Beardsley, who helped work on

the original QE II Park design

in the 1970s. In June, the board

asked the city council to find

out what the correct process for

planting memorial trees at QE II

Park was.

RAWHITI DOMAIN PLAN

A tree risk assessment and maintenance

programme at Rawhiti

Domain is expected to get under

way this month. The Guardians

of Rawhiti plan to transform the

woodland area, located off Keyes

Rd, into a "natural play space".

LONSDALE ST PARKING

City council staff have

investigated concerns over car

parking issues in Lonsdale St,

New Brighton. Concerns have

been raised that parents are

parking their vehicles on berms

and across driveways when

dropping off and picking up

children from New Brighton

Catholic School. There has been

one recent formal complaint

about the parking issue.

The Best

Souvenirs

• Green Stone Jewellery

• Woollen Garments

• Food Supplements

• Wooden Carvings

• Sheep Skin Rugs

• Souvenirs

• Skin Care

Community Liaison

Group Meeting

The quarterly Community Liaison Group meeting

regarding the Organics Processing Plant will be held on

Tuesday 21 August, 6.30pm - 7.30pm

Education Room, Organics Processing Plant,

Metro Place, Bromley.

105 Riccarton Road, Christchurch

Ph 03 348-6010 | Open 10am - 6pm

For more information, phone 03 941 8999

THIS WEEKS SPECIALS

MON - $20 Ribs, Chips & House drink

TUES - $20 Pizza & House drink

WED - $20 Burger, Chips & House drink

THURS - $20 Fish n Chips & House drink

FRI & SAT - Live Music

SUN - Free Pool

03 260 0325 - Cnr of Worcester St & Stanmore Road

Free off street parking
---
4 Tuesday August 14 2018

Latest Christchurch news at www.star.kiwi

PEGASUS POST

Your Local Views

winter clearance

SHIRTS

We have made huge reductions across all the remaining

brand long sleeve casual shirts, including those with the extra

length sleeve.

There are over 45 different patterns from business to subtle

checks and the 'in yer face' big madras checks (great with

denims). Because they are being cleared at super low prices,

they are oddment and broken size ranges. Cloths are all cotton in

qualities you can rely on, just ask the people who know. The sizes

available start at M right up the 4XL in the classic fit (they don't

impede your golf swing). RRP $ 89.90 to $ 109.90

SALE

$

18 $ 24 $

28 $ 33 $

38

PULLOVERS

We have a wide selection of . All Merino ¼ zip style

pullovers in three different knit styles. We have limited sizes in some

color/knit choices. Be in quick for your choice. Colours, Charcoal,

Eclipse blue, Fig, Grey tweed, Black. These are the comfortable

classic sizing from SM to 4XL which you know. RRP $ 159.90

SALE $ 80 Fig shade only, they sent the wrong shade.

$

SALE 118 $

124 $

128

MOLESKIN JEANS

Enjoy the comfort and proven fit of light weight STRETCH

moleskin jean. Colors of moss, olive, gunmetal. Sizes available

84 to 104cm. RRP up to $ 109.90

SALE $ 64 or 2 for $ 80

CASUAL PANTS

Summer weight cotton casual in shades of Putty or Khaki

available in sizes 84 to 107cm. RRP $ 109.90

SALE $ 30 or 2 for $ 60

JEANS

Navy STRETCH denim, summer weight, comfy with slim leg

84 to 96cm. RRP $ 99.90

SALE $ 38

CORDUROY PANTS - stretch cloth

We have various oddments in both sizes and colors left over

which 'must go'. These are the Savane brand which you are

familiar with. This has now become a dis-continued line for us.

SALE $ 64 each or 2 for $ 80

or 3 for $ 90 or 4 for $ 100

Yes, you can share them around family, friends & neighbors!

KNITWEAR

We have started the seasonal cull of our huge knitwear range,

pullovers, cardigans and slipons. We have separated out all the

'must go' items and marked them down drastically.

Slipons from $ 30 to $ 60

Cardigans under $ 80 to $ 125

Pullovers $ 60 to $ 90

the MENSWEAR

@ SYDENHAM

387 Colombo Street

Parking behind Butlers Auto Mart

In association with

2

in Bishopdale Village

Hours: Mon to Fri 10am to 4pm. Sat 10am to 3pm. Closed Sun.

Are the stores the same? NO, but they do share heritage.

They have similar and different merchandise.

Readers respond to

the Pegasus Post

article on keeping the

annual New Brighton

Fireworks event at the

pier

Gary Knight – Kids-

Fest since 1992 has been

encompassing events

in Christchurch, Banks

Peninsula, Waimakiriri

and Selwyn. Sparks In The

Park since 1983. Ongoing

New Year Eve celebrations

and fireworks on the pier

since 1997 bears testimony

to the longevity of

these iconic Christchurch

events. It is ludicrous

therefore that at this

stage internal city council

bureaucracy deems these

events to be reviewed

under the umbrella of the

community events' implementation

plan. There

exists also a lack of rationale

in the survey process

to bolster this review. A

random survey of 500

citywide residents on city

council run events since

2016 to determine any

traffic management issues

will cause many to query

council mandates. As an

iconic and revered event

it would be demeaning

and counter productive

for New Brighton to lose

the fireworks on the pier.

It is a spectacular event

enjoyed by many who will

continue to utilise entry

and exit points in spite

of the road works, thus

dispelling any parochial

views relating to traffic

and safety aspects of this

fireworks extravaganza.

Hamish Ballantyne

– I fully support the firework

display, especially

for the children. If properly

carried out, and controlling

fireworks to the

beach, fire hazard should

not be a problem. Animals

are a problem, and maybe

the noise situation could

be reduced with more emphasis

on the spectacular

effects. When the Anzac

parade is carried out, Marine

Pde from Longsdale

Rd to Hood St is closed

but senior citizens and

special needs people are

allowed access and have

therefore parking near the

show. Emergency lanes

for emergency services

could also be instigated, as

parking has always been a

problem.

Brian Smith – I

believe the fireworks

display should stay at New

Brighton. The travelling

public know what to

expect in terms of getting

too and from the venue.

If they are not happy

with it they won't go. Not

everyone needs instant

hassle free entertainment.

They don't pay anything

for it so half an hour or

an hour sitting in a car

getting in and out is not

a great hardship. Or take

a bus. I don't live in New

Brighton and I have only

been once. I do think it is

a great place for it.

Kenneth France –

Agree fireworks should

stay in New Brighton.

In regard to health and

crowd safety, now would

be a good time for the city

council to form a strategic

getaway plan, which could

then be put into use in

event of a tsunami, as during

the last siren warning

was almost impossible to

leave North Beach due

to the amount of traffic

attempting to exit Marine

Pde.

Aileen Trist – This

wonderful event should

stay on the pier as it is an

amazing spectacular spot.

People over the other side

of town can go up onto

the Port Hills if they don't

want to travel to the beach

and other community

members can enjoy the

display any place along

the beach front. It is also

a very safe spot keeping a

safe distance away from

the public and allows for

not only a high spot for

the display but the ability

to have displays coming

down off the pier.

Fila McCracken – If

the city council wants to

take public events away,

are they going to replace

them with anything or is

this a money saving tactic

so they can spend up large

elsewhere?

Karen Hibberd – Ban

all fireworks.

Taina Kahutia

Tawhitopou Connell

– Ban it.

A reader responds

to the Pegasus Post

article on ongoing

drainage issues in

Southshore

Aileen Trist – It is

time the city council fixed

this issue properly instead

of using a "Band-Aid" fix.

There has always been a

flooding problem down

there starting before the

earthquakes. Yet, when

the drains were fixed after

the earthquakes they

just replaced "like-forlike."

Residents have been

complaining for a long

time that the system was

not doing its intended job

yet it has always fallen on

"deaf ears."
---
PEGASUS POST Latest Christchurch news at www.star.kiwi

Tuesday August 14 2018 5

News

OUTLET

MASSIVE

TV & AUDIO

CLEARANCE

BELOW COST PRICING!

SUPERVISE: Corrections officer Gerard Grout in the vegetable garden at

Christchurch Men's Prison.

END OF LINE, SCRATCHED & DENTED & EX DISPLAY PRODUCTS

Prisoners grow

veges for Aviva

FOR MORE than six

years, inmates from a

Christchurch Men's Prison

unit have been providing

weekly deliveries of fresh

vegetables to Aviva, a local

family and sexual violence

support service.

The prison's vegetable

garden was started in 2012.

And since early 2013, 625

70-litre crates of produce

have been delivered to

Aviva – 63 of them since

January this year. Aviva is

based at Eastgate Shopping

Centre.

"Prison vegetable

gardens are an important

training and therapeutic

activity for prisoners and

the skills they learn are

beneficial for both the

individual gardener and

the community," says

corrections officer Gerard

Grout.

Aviva marketing and

communications manager

Julie McCloy said the

vegetables are a weekly

Ruby a top 10 finalist in

Miss Universe NZ contest

•From page 1

She said the most

difficult part was trying to

balance the competition

with her social life and

her job at Lexus of

Christchurch.

"It was balancing my

life, my full-time job,

dancing, still seeing family

and friends and then doing

the fundraising as well as

preparing for the competition."

"Everyone has 24-hours

highlight for many

families.

"We see a lot of people

who struggle to afford

fresh veges – and some

who struggle to afford food

in general. The vegetables

from the prison are an

absolutely vital component

in making many families'

nutrition and budget much

healthier."

"Even in winter, there

are usually enough

vegetables to make the

run worthwhile," said Mr

Grout. "This week the unit

dispatched four crates

of potatoes, silverbeet,

cabbage, cauliflower

etc. During the warmer

seasons, up to six or seven

crates can be delivered."

About 70 per cent

of the prisoners in the

20-bed unit have prison

jobs, including in the

distribution warehouse or

collecting rubbish across

the prison.

Mr Grout said these men

in the day and you just

have to find out what

works for you."

But the support from

her friends and family, and

the confidence she gained

from the experience made

it all worth it.

"The whole family was

so proud, she said.

"You know, four years

ago I would have never

put myself out there, so

for me to even step out

on that stage, my family

often spend their weekends

working in the gardens.

Vegetables grown at

the unit include beans,

beetroot, leek, cabbage,

onion, rhubarb, spring

onion, potato, sweetcorn,

radish, cauliflower, brussels

sprouts, tomatoes,

cucumber, pumpkin, broccoli,

carrot, celery, parsnip,

lettuce, garlic, turnip,

silverbeet, spinach, and

peas. Other seasonal products

include strawberries,

lemons and raspberries.

The produce is harvested,

cleaned and packed in the

70-litre plastic bins for

delivery.

The garden also propagates

and grows seedlings

for other vegetable gardens

at the prison and for the

prison grounds.

"Our garden workers are

very proud of their garden,

the produce they grow, and

that their labours make a

difference for families in

need through Aviva."

could see how far I've

come in terms of my own

confidence and my own

self."

Wellington's Estelle

Curd was named Miss

Universe New Zealand,

which was held at

Auckland's Sky City.

The competition saw 20

finalists whittled down

to 10, then five, and then

finally the winner was

presented with a brand

new car.

LIMITED STOCK

DON'T MISS OUT!

Barbadoes St

INTEREST

12MONTHS

FREE

ON ANY PURCHASE OVER $499 #

COME CHECK OUT OUR SHOWROOM

99 FERRY RD, CHRISTCHURCH

St Asaph St

Ferry Rd

OUTLET

FRIDGE FREEZERS • WASHING MACHINES • DRYERS • COOKING

SMALL APPLIANCES • AUDIO • MANCHESTER • LOUNGE SUITES

DINING SUITES • BEDROOM SUITES • BEDS & HEAPS MORE!

+ ALL AT CRAZY OUTLET PRICES!

OUTLET

STORE

HURRY, ONCE IT'S GONE, IT'S GONE!

Call us on 03 3798249 or email us chchoutlet@smithscity.co.nz

#

Credit criteria applies, ask in-store for details.

Outlet Store items are over stocked, end of line, scratch & dent, ex display, ex repair items and more.

STORE

Fitzgerald Ave
---
6 Tuesday August 14 2018

Latest Christchurch news at www.star.kiwi

PEGASUS POST

ADVERTORIAL

Earthquake claims

still not settled?

Our newspapers are full of stories

recounting the problems many home

owners are having in settling their

earthquake claims. EQC's repairs

failing, and insurance companies not

meeting their

obligations,

are common

problems being

experienced.

Aurum Building

Brokers manager,

Chris Seque,

advises that to

be in a position

to challenge EQC and/or your insurer,

you need "best" evidence.

Homeowners need to prove their loss:

1. The property has suffered

earthquake damage

2. The property is covered by

an insurance contract for the

damage.

3. The damage needs to be

appropriately assessed.

4. A reinstatement

solution needs to

be prepared that

describes the standard

of repair required in

terms of the insuarnce

policy and the EQC

act.

5. The cost of

reinstatement needs to be

quantified.

Chris advises that Aurum Building

Brokers has been helping Christchurch

home owners for the past six years

in preparing the evidence portfolios

needed for advocates and lawyers

to negotiate their claims with insurers.

Aurum's professional network can

introduce homeowners to the people

who can provide evidence written in

a format to challenge the assessments

provided by EQC's or the insurer's

appointed experts.

If you are uncertain about your claim

talk to Chris on 021 400177.

FREE

No obligation

inspection of

your home

Aurum Building Brokers have completed evidence

portfolios for over 500 clients.

Aurum Building Brokers can obtain the professional

evidence you require, in a format that you can give to

your advocate or lawyer, to negotiate your correct claim

settlement.

To book your free inspection contact Chris,

James or Sharon on 03 365 4460.

Earthquake claim still

not settled?

Repairs not completed

correctly?

Has your house been

scoped correctly?

Step 1: To challenge your insurer or EQC,

you need an evidence portfolio consisting of

appropriate construction reports.

Step 2: You then need to seek professional advice

Aurum can save you time, money and stress

03 365 4460| chris@aurumproperty.co.nz | www.aurumproperty.co.nz
---
PEGASUS POST Latest Christchurch news at www.star.kiwi

Tuesday August 14 2018 7

News

Local

News

Now

Captain takes charge at Brighton Lions

Fire rages, homes at risk

After more than 50 years

serving on and off in the

New Zealand Army,

Alastair Rankin has taken

charge at the Lions Club

of New Brighton. Georgia

O'Connor-Harding reports

NEW ROLE: Lions Club of

New Brighton president

Alastair Rankin outside an old

army base next to the former

Addington Jail where he was

stationed from 1973-1975 and

1985-1998. PHOTO: MARTIN

HUNTER

ALASTAIR RANKIN isn't

afraid of a lot. From deactivating

land mines in Cambodia to

helping monitor borders in the

Middle East, not much fazes the

semi-retired army captain and

Lions president.

Mr Rankin, 68, was elected

to the role last month. He was

a part of the 2/4 Battalion until

February.

So taking on a leadership role

is nothing new for Mr Rankin,

who has also been president of

other Lions clubs. It will be his

second time at the head of the

New Brighton Lions, of which

he was president in the late

1990s.

He has had a long association

with New Brighton, first joining

the Lions club in 1984 before

relocating to Wellington in 2000.

He rejoined the New Brighton

Lions about four years ago.

While living in Wellington, he

became Lions Club of Newlands

president, before he moved to the

Lions Club of Whitby in Porirua.

He said it was not long before

he was elected president in

Whitby.

He has also been zone

chairman for a range of Lions

clubs, including Christchurch

Seaview, Ferrymead, Lyttelton

and Pegasus.

His goal for the New Brighton

club is to raise membership.

"There is no criteria . . . all

you have got to do is want to

do something useful for your

community," he said.

During his time in the army,

Mr Rankin worked for a year

at the Cambodian Mine Action

Center in 2004, training and retraining

de-miners. He was also

heavily involved in operations in

the minefields.

Land mines are a big problem

in Cambodia and are a legacy

of three decades of warfare,

starting with the Cambodian

Civil War in the late 1960s.

The remaining land mines are

discovered using a metal detector

and burned. Mr Rankin said

while he trusted the de-miners

to have cleared the area, when he

first began working in the job,

there was "a bit of trepidation".

He said hundreds of land

mines were uncovered every day.

"I was standing a few feet away

from a guy who stood on one

and it blew his foot off," he said.

But he said driving in

Cambodia was more dangerous

than working on the minefields.

Many of the main roads had

only just been tarsealed when

he was in the county and there

wasn't a lot in the way of road

rules, he said.

"We never drove at night out

in the country side. It just wasn't

worth it, cows would just walk

out onto the road," he said.

Mr Rankin spent about five of

his military years overseas.

He was posted to Singapore

from 1976-1978, working in the

communications centre for New

Zealand Force South East Asia.

"I liked south Asia. The two

countries are very different.

Singapore was very quick to go

ahead and Cambodia was only

just going ahead and that was

because of the war," he said.

He worked with the New

Zealand training advisory team

for the Multinational Force

and Observers in the Middle

East, which was monitoring the

border between Israel and Egypt

in Sinai.

His job was to help train

the United States, Fijian and

Colombian troops on the border.

"The other nations have

SERVICE: Alastair Rankin

in the Sinai Desert, near the

Suez Canal, in March 1987.

different ways of thinking and

different ways of doing things.

Doesn't mean it is wrong. It is

just different and you can learn

from it," he said.

Mr Rankin said he learnt the

most from working with the

101st Air Assault Division, a

division of the US Army trained

for air assault operations.

"They were brilliant . . . they

were particularly good at aircraft

recognition. When you are on

the border and the jet flies over

you, it flies over very quickly

and you have only got a split

second to say what kind it is," he

said.

He comes from a military

family and joined the army when

he was 16- years- old, seeking

adventure, "excitement" and to

get away from Blenheim where

he grew up. Mr Rankin said

joining the army "wasn't a shock

to the system" as compulsory

military training was practised

for males up until 1972.

He retired three times – the

first was after 21 years of service

and he wanted to provide

"stability" for his children.

Now that he has semi-retired,

he is involved in part-time

project work writing reports on

issues in the army such as driver

fatigue.

Having spent time overseas,

Mr Rankin said he now has

a "fairly relaxed attitude" to

life.

"It is a lovely place in New

Zealand . . . it is lovely to be able

to go into the bush, sit down

and know there are no snakes or

scorpions," he said.

SURF'S UP SCOTTY RAZOR ROBERTSON PROFILE

APRIL 2018

Take back charge of your life at our

motivational conference

TED-like talks covering finance,

nutrition, parenting, spirituality

and mindfulness.

Special Guests Councillor Glenn Livingston

and MP Poto Williams

Sessions on

24th and 25th August

FREE

REGISTER NOW

acceleratenow.co.nz

TJ'S

CHASING

ONE

GREAT MORE

COVER

The power

LINE

of Perenara

SUPER

RUGBY'S

G.O.A.T

CORY JANE

6 issues (1 year) $44.50

12 issues (2 years) $79

18 issues (3 years) $115

Social Media Animal

PLUS...

+

RRP $9.95

KEEPING Chief

WHO

TABS ON Tabai's

MATSON Tron tribe

CALEB

CLARKE

Chip off the

old block

1ST XVs

PLAY LIKE PROS

A school boy rugby

investigation

SUBSCRIPTIONS FREEPHONE

0800 77 77 10

rugbynews.co.nz

WHO WILL

MAKE THE

AB CUT?
---
8 Tuesday August 14 2018

Latest Christchurch news at www.star.kiwi

PEGASUS POST

Durham St

Armagh St

Cambridge Tce

MARGARET

MAHY FAMILY

PLAYGROUND

Madras St

Gloucester St

Cathedral Square

Manchester St

Montreal St

Cambridge Tce

Hereford St

Cashel St

Colombo St

Lichfield St
---
PEGASUS POST Latest Christchurch news at www.star.kiwi

Tuesday August 14 2018 9
---
10 TUESDAY AUGUST 14 2018

Latest Christchurch news at www.star.kiwi

PEGASUS POST

SPECIALISTS IN

• Repairs

• Overhauls

• Rebuilds

• Radiators

• Oil Coolers

• Petrol Tanks

• Car Heaters

• Classics

• Vintage

• Racing Cars etc

WEEK ONE

WEEK TWO

2

DATE / GAME WHERE RESULTS

DATE / GAME

THURSDAY 16 AUGUST

North Harbour v Northland

North Harbour

THURSDAY 23 AUGUST

Counties Manukau v Bay of Plenty

64 Buchan St, Sydenham

Ph (03) 366 0181

Check out the

new Sportsman 470

Range TODAY

FRIDAY 17 AUGUST

Tasman v Canterbury

SATURDAY 18 AUGUST

Manawatu v Waikato

Auckland v Counties Manukau

Bay of Plenty v Taranaki

SUNDAY 19 AUGUST

Wellington v Otago

Southland v Hawke's Bay

Blenheim

Palmerston North

Auckland

Rotorua

Wellington

Invercargill

FRIDAY 24 AUGUST

Otago v Hawke's Bay

Taranaki v Manawatu

SATURDAY 25 AUGUST

Canterbury v Wellington

Waikato v North Harbour

SUNDAY 26 AUGUST

Tasman v Southland

Northland v Auckland

WEEK FOUR

WEEK FIVE

Proudly supporting JBnZ for over 50 years

20 Lunns Rd, PO Box 709, Christchurch 8024

Ph: 03 962 0505

Email: hamiltonjet.nz@hamjet.co.nz

www.hamiltonjet.com

Landscape Supplies

now at

• Bark

• Compost

• Garden Gro

• Soil

• Shingle

• Bulk & Bags

• Peastraw

• Float & Trailer Hire

• Horse & Feed Supplies

• Iams Dog Food

• Coprice Dog Food

• Rabbit & Guinea Pig Food

• Chook Food

• Bird Seed

• Treats/Toys/Cages/Hutches

• Straw/ Hay

BURWOOD PRODUCE

172 Mairehau Rd, Christchurch, Ph (03) 383 1115

Hours: 9-5pm Tues to Sat, Closed Sun & Mon

DATE / GAME WHERE RESULTS

WEDNESDAY 5 SEPTEMBER

Waikato v Wellington

THURSDAY 6 SEPTEMBER

Canterbury v Manawatu

FRIDAY 7 SEPTEMBER

Otago v Northland

Auckland v Tasman

SATURDAY 8 SEPTEMBER

Southland v Counties Manukau

Hawke's Bay v Bay of Plenty

SUNDAY 9 SEPTEMBER

Wellington v North Harbour

Taranaki v Waikato

WEEK SEVEN

Hamilton

Christchurch

Dunedin

Auckland

Invercargill

Napier

Wellington

Taranaki

DATE / GAME WHERE RESULTS

WEDNESDAY 26 SEPTEMBER

Hawke's Bay v Northland

THURSDAY 27 SEPTEMBER

Bay of Plenty v Manawatu

FRIDAY 28 SEPTEMBER

Auckland v Otago

SATURDAY 29 SEPTEMBER

Waikato v Southland

Taranaki v North Harbour

Wellington v Tasman

SUNDAY 30 SEPTEMBER

Canterbury v Hawke's Bay

Counties Manukau v Northland

Napier

Rotorua

Auckland

Hamilton

Taranaki

Wellington

Christchurch

Pukekohe

DATE / GAME

WEDNESDAY 12 SEPTEMBER

North Harbour v Canterbury

THURSDAY 13 SEPTEMBER

Waikato v Hawke's Bay

FRIDAY 14 SEPTEMBER

Northland v Manawatu

Tasman v Taranaki

SATURDAY 15 SEPTEMBER

Counties Manukau v Wellington

Southland v Otago

SUNDAY 16 SEPTEMBER

North Harbour v Bay of Plenty

Canterbury v Auckland

WEEK EIGHT

DATE / GAME

WEDNESDAY 3 OCTOBER

Otago v Bay of Plenty

THURSDAY 4 OCTOBER

Wellington v Auckland

FRIDAY 5 OCTOBER

Hawke's Bay v Manawatu

SATURDAY 6 OCTOBER

Northland v Waikato

North Harbour v Counties Manukau

Canterbury v Taranaki

SUNDAY 7 OCTOBER

Southland v Bay of Plenty

Otago v Tasman

For safe,

damage free car

transportation call

Ashley's Tow Taxi

Special care for special cars

NeW LoCATIoN 95 Gasson St

The Automotive

Lamp Specialists

THE BIG SHOW OF 2019'

Tickets on sale now at the Woodford Glen Shop,

129 North Avon Rd, Richmond,

Ph 385 1515. Or buy on line now at

www.woodfordglen.co.nz or

www.iticket.co.nz

ASHLEY'S TOW TAXI

Breakdown & Relocation

0800 TOW TAXI • 0800 869 8294

New and Used Lamps for Cars, Trucks,

Vans, 4WD and Motorhomes

95 Gasson Street, CHRISTCHURCH

PH 0800 225 483
---
PEGASUS POST

018

WHERE

Pukekohe

Dunedin

Taranaki

Christchurch

Hamilton

Blenhiem

Whangarei

WHERE

North Harbour

Hamilton

Whangarei

Nelson

Pukekohe

Invercargill

North Harbour

Christchurch

RESULTS

RESULTS

GAME

SCHEDULE

WEEK THREE

DATE / GAME WHERE RESULTS

WEDNESDAY 29 AUGUST

Counties Manukau v Taranaki

THURSDAY 30 AUGUST

Auckland v Waikato

FRIDAY 31 AUGUST

Wellington v Southland

SATURDAY 1 SEPTEMBER

Bay of Plenty v Canterbury

Manawatu v Otago

North Harbour v Tasman

SUNDAY 2 SEPTEMBER

Hawke's Bay v Counties Manukau

Northland v Taranaki

WEEK SIX

DATE / GAME WHERE RESULTS

WEDNESDAY 19 SEPTEMBER

Manawatu v Tasman

THURSDAY 20 SEPTEMBER

Northland v Southland

FRIDAY 21 SEPTEMBER

Bay of Plenty v Waikato

SATURDAY 22 SEPTEMBER

Hawke's Bay v North Harbour

Otago v Canterbury

Taranaki v Auckland

SUNDAY 23 SEPTEMBER

Tasman v Counties Manukau

Manawatu v Wellington

Latest Christchurch news at www.star.kiwi

Pukekohe

Auckland

Wellington

Tauranga

Palmerston North

North Harbour

Napier

Whangarei

Palmerston North

Whangarei

Rotorua

Napier

Dunedin

Taranaki

Nelson

Palmerston North

TUESDAY AUGUST 14 2018 11

SpecialiSt in

• Brakes, clutches

& cV's

• cambelts

• Servicing &

tuneups

• Batteries & tyres

• WOF's

• 4WD Vehicles

• power steering

repairs

• Wheel alignment

- new machine

• Shock absorbers

Qualified technicians "We service all cars"

SuBaRu SpecialiSt On Site

pH (03) 366 1305

cnR BaRBaDOeS

& licHFielD StReet

AUTO SPARES

• NEW & USED

CAR PARTS

• DAMAGED & SCRAP CARS

WANTED

• LOCALLY OWNED & OPERATED

FOR OVER 35 YEARS

PART FITTING

SERVICE AVAILABLE

OVER 10 ACRES OF CARS

2 MONTH WARRANTY ON ALL PARTS

70 RURU RD CHCH

PH (03) 384 2319

WEEK NINE

WHERE

Dunedin

Wellington

Napier

Whangarei

North Harbour

Christchurch

Invercargill

Dunedin

RESULTS

DATE / GAME WHERE RESULTS

WEDNESDAY 10 OCTOBER

Southland v Auckland

THURSDAY 11 OCTOBER

Tasman v Hawke's Bay

FRIDAY 12 OCTOBER

Taranaki v Wellington

SATURDAY 13 OCTOBER

Bay of Plenty v Northland

Waikato v Otago

Counties Manukau v Canterbury

SUNDAY 14 OCTOBER

Auckland v North Harbour

Manawatu v Southland

Invercargill

Nelson

Taranaki

Tauranga

Hamilton

Pukekohe

Auckland

Palmerston North

BATTERY

SERVICE

"We come to you"

ALL TYPES

• Cars

• Trucks

•Tractors

• Boats

New Batteries from $40 deposit & afterpay

BATTERY NOW

Ph. 022 421 0846

New Zealand's Best

Selling Heat Pump Ever

HEAT PUMPS • AIR CONDITIONING • ELECTRICAL

0800 324 678

www.dcis.co.nz

GE25 HIGH WALL HEAT PUMP

*Basic back to back installation

For all your

car audio &

security needs

72 Lismore St Waltham

PH 0800 2 INSTALL
---
12

ON

NOW!

Tuesday August 14 2018

Promotion closes 1st October 2018.

Conditions apply.

Shop

Win

& Relax

Latest Christchurch news at www.star.kiwi

SUPPORT YOUR LOCAL

BUSINESSES

TO WIN 1 OF 5

FAMILY GETAWAYS

TO HANMER

SPRINGS

Enter every time you shop at any

of these participating businesses

More chances to win!

Proudly supported by...

PEGASUS POST

Burwood

Spring into fitneSS

Home of the $40 service

LayBy FOR XMaS nOw

269 Burwood Rd, Burwood Ph: 383 2114

HOURS Mon-Fri 8:30am-5:30pm, Sat 9am-4pm

YOUR LOCAL GARAGE

• All vehicle repairs

• Oil changes and services

• Brakes • Loan car available

• Tyres, punctures & batteries

• W.O.F • Tune up

Your LocaL GaraGe

VERY FRIENDLY SERVICE AND ADVICE

Phone: 03 388 3630

40 Hawke St

(behind Z Petrol Station)

Brighton Salon 388 8277 Lyttelton salon 328 8827 soulstylehair.nz

Crispy Crunchy Batter

Serving the local area for

Over 22 years with a great product!

• Souvlaki • Great Burger Selection

• Garlic Butter Chips • Cheese on Chips

* Specialty fish cooked to order…

Blue Cod, Gurnard, Sole, Hoki, and more!

Try our souvlaki and also our

chocolate explosion / Mars Bar!

GOURMET SEAFOODS QEII

Ph: 388 2531, QEII Shopping Centre

251 Travis Road

Mon - Wed 11.30am - 8.30pm (Tues from 4.30pm) Thurs - Sat 11.30am -

9.00pm; Sun 12noon - 8.30pm. Daily break 3.15 - 4.30pm.

PRINTER

CARTRIDGES

New compatible toner cartridges

New compatible ink cartridges

Brand ink cartridges

HUGE SAVINGS ON VALUE PACKS

www.cartridgerefills.co.nz

35 Woodgrove Ave, North Beach, Chch

Ph. 03 382 5858 • info@cartridgerefills.co.nz

JuST

INCREDIBLE

IT's

• Barrington Mall

• The Hub, Hornby

• New Brighton Mall

• South City Centre

Instore Specials!

Make sure your vehicle is up to scratch

We're 100% locally owned and here to help you.

Stanmore Road Auto Spares

P. 03 389 4555 | 245 Stanmore Rd

Shop

Win

& Relax

The diesel

professionals

specialising in

4wd

repAirs &

servicing

Proudly supported by...

Diesel

www.dieseldoctor.co.nz

All work

guArAnteed

288 Lincoln Road

(opp ANZ)

Ph: 338 8884

Christchurch's largest

range of quality guaranteed

used bikes & parts

Come check out our 50% OFF

parts & accessories table

AROUND AGAIN CYCLES

OPEN 6 DAYS

BEST

VALUE

REPAIRS

620 Ferry Rd, Woolston. Ph 03 376-6377. Email: aroundagaincycles@gmail.com
---
PEGASUS POST Latest Christchurch news at www.star.kiwi

Tuesday August 14 2018 13

ON

NOW!

Promotion closes 1st October 2018.

Conditions apply.

Shop

Win

& Relax

SUPPORT YOUR LOCAL

BUSINESSES

TO WIN 1 OF 5

FAMILY GETAWAYS

TO HANMER

SPRINGS

Enter every time you shop at any

of these participating businesses

More chances to win!

Proudly supported by...

The only book and stationery store with

Fly Buys and Big Deal VIP Rewards

Daily

Specials

238 Port Hills Road,

Heathcote

Open

Mon to Sat

8am - 6pm

Sun 9am - 4pm

72 New Brighton Mall, New Brighton

Phone: 03 388 1809

Mon to Fri 8:30-5:30

Sat 9:00-5:30 Sun 10:00-4:00

www.paperplus.co.nz

For all your health &

wellbeing needs

Unichem Parklands Pharmacy

60 Queenspark Drive, Christchurch

Phone: (03) 383 1330

Store Hours

Monday – Friday 8.30am – 6pm

Saturday 9.30am – 2pm

• Joint Active Capsules 30s

•

•• Joint Support Active for joint Capsules comfort 30s

• and Support cartilage for regeneration joint comfort

and cartilage regeneration

www.unlimitedairsoftshop.co.nz

249a Annex Rd, Middleton

The Automotive Lamp Specialists

quality MARK meaT

whole

Porterhouse

$16.99 kg

whole Ribeye

(scotch fillet)

$19.99 kg

New and Used Lamps for Cars,

Trucks, Vans, 4WD and Motorhomes

95 Gasson St, Christchurch Ph. 0800 225 483

Porterhouse

Steak

$17.99 kg

Lamb

shoulder roast

$7.99 kg

Ribeye Steak

(scotch fillet)

$20.99 kg

BUTCHERY

101 Stanmore Rd, Linwood,

ChrisTchurch

Phone: 03 389 8065

Boost Brain Performance

ENZO:PROFESSIONAL (ENZOGENOL)

is a potent antioxidant extract of the N.Z. pine bark and has

SUPER PRicE!

been clinically shown to improve memory, concentration &

brain performance. 60's only $45.30, save $5.00

120's only $84.90, save $15.70

MARSHALLS HEALTH & NATURAL THERAPY

CONSULTING - PRESCRIBING - DISPENSING -

MANUFACTURING - MEDICAL HERBALISTS

110 SEAVIEW RD, NEW BRIGHTON • PH 03 388 5757

Email: enquiry@marshallshealthshop.co.nz

Detailed Information Available

Bringing You the Best in

Natural Health!

- WE ARE ALWAYS HAPPY

TO HELP! -

2018 SEASON

StArtiNg SOON!

SEASON pASSES

AvAilAblE

At thE

wOOdfOrd

glEN ShOp

129 North Avon Road, ChCh | Ph (03) 385 1515 | Check out www.woodfordglen.co.nz for meeting dates |
---
14 Tuesday August 14 2018

Latest Christchurch news at www.star.kiwi

PEGASUS POST

26th August 2018

10am – 3pm

Air Force Museum, Wigram

Tickets available on door

For exhibiting

enquiries contact

Mark Sinclair:

mark.sinclair@

starmedia.kiwi

BRIDALSHOW
---
PEGASUS POST Latest Christchurch news at www.star.kiwi

Tuesday August 14 2018 15

JP Clinic at Shirley Library

Tuesday, 10am-1pm

A justice of the peace will

be available to members of

the community to witness

signatures and documents,

certify document copies, hear

oaths, declarations, affidavits

or affirmations, as well as sign

citizenship, sponsorship or

rates rebates applications.

There is no charge for this

service.

Shirley Library, 36 Marshland

Rd

Storytimes/Wā Kōrerō

Tuesday, 10.30-11am

Encourage learning through a

love for stories. Storytimes is an

interactive programme including

stories, songs, rhymes and play.

This is a free session.

New Brighton Library, 213

Marine Pde, and Shirley Library,

36 Marshland Rd

Babytimes/Wā Pēpi

Tuesday, 11.15-11.45am

Encourage learning through

language. Babytimes is an

interactive programme including

rhymes, songs, stories and play.

This is a free session.

Aranui Library, 109 Aldershot

St

Email georgia.oconnor@starmedia.kiwi

by 5pm each Wednesday

Scrabble Club

Tuesday, 1.30-2.30pm

Enjoy Scrabble? Go along to the

library for a friendly game or two

with other like-minded folk.

Parklands Library, 46

Queenspark Drive

Rocket Club

Wednesday, 3.30-4.30pm

Rocket Club is a weekly

after-school programme which

runs during term time. Become

involved in different activities

based on local and current events

in a fun learning environment.

Homework help is available

during this time. Free to attend

and no bookings required.

Aranui Library, 109 Aldershot

St

CV drop-in

Thursday, 10-11.30am

A librarian will be on hand to

assist customers who need help

with their resume. You will be

offered guidance on creating,

updating, and editing your CV.

New Brighton Library, 213

Marine Pde

Cards Club

Friday, 1.30-3.30pm

The weekly card club is on

every Friday – go along and

join the fun. Free, no bookings

required.

Shirley Library, 36 Marshland

Rd

Barrier Free Computing

Saturday, 10am-noon

Barrier Free Computing is

provided by Computer for Special

Needs Trust, an organisation that

offers assistance using computers

for people experiencing a

disability in a friendly and

supportive setting. Tutors will

be on hand to help beginners as

well as provide assistance with

emailing, accessing the internet,

playing games, researching

a homework assignment,

and literacy or numeracy

development. There is also the

opportunity for socialising with

others with similar interests.

Standard library printing and

copying costs apply. Free event.

New Brighton Library, 213

Marine Pde

New Brighton Seaside Market

Saturday, 10am-2pm

Held in Brighton mall every

Saturday, there will be baking,

clothing, vegetables, crafts

of all kinds, food stalls, facepainting

and entertainment – all

just across the road from the

HAPPY MONDAY: Go along

to this after school making

session for children. There

will be a range of activities

varying in theme week by

week. The activities are free

of charge and no bookings

required. It will be held on

Monday at 3.30-4.30pm in

the New Brighton Library, 213

Marine Pde

beach and the new children's

playground. The event is free.

New Brighton Pedestrian

Mall, corner of Marine Pde and

Beresford St, New Brighton

Winter Art Exhibition – Cut

Above

Until Saturday, Monday to

Friday, 11am-4pm, and Saturday

and Sunday, noon-3pm

Go along to the Eastside

Gallery's winter art exhibition

Cut Above. It will feature work

from The Learning Connexion

diploma graduate Maree Cole,

self-taught multimedia artist

Gina Hubert and regular

exhibitor George Aranui.

Linwood Community Arts

Centre, 388 Worcester St,

Linwood

JOIN US NOW!

See website for details

RIP CURL

Further 20% Off the Marked Price

on Selected Mountainwear (ends 19 August).

SCRIBER & MARKS

Trousers were $179, Now $39.

Shirts were $99, Now $29.

SWANNDRI

Men's Twin Pack Polo's, were $89.95,

Now $30 (while stocks last).

STYLES MAY DIFFER TO IMAGE SHOWN

YD

Save $50 When You Spend $150,

Save $100 When You Spend $300.

LAZEEZA JEWELLERS

50% Off All Stainless Steel Bracelets,

Cufflinks & Selected Tungsten Rings.

TAROCASH

Nothing Over $60

(excludes suits, while stocks last).

Sign up to Smart Deals & be in the monthly draw for a $100 Dress-Smart gift card!

Be one of the first to hear about the latest deals, sent straight to your inbox each week!

CHRISTCHURCH 409 Main South Road, Hornby

Open 10am-5pm, 7 Days 03 349 5750

www.dress-smart.co.nz
---
16 Tuesday August 14 2018

Latest Christchurch news at www.star.kiwi

PEGASUS POST

AUTOMOTIVE PROFESSIONALS

Panel repairs in handy,

central city location

Whether it's a ding on your door from

the supermarket car park, or you have

been involved in a 'fender bender' and

need a panel or two repaired, in fact,

whatever panel and paint services you

need, the friendly team at Smart Repairs

(NZ) Limited can get the job done with

minimum fuss.

As specialists in small to medium repairs

(no job is too small!), they offer a full range

of services including panel beating, spray

painting, paintless dent removal and mag

wheel repairs and painting.

Their workshop team has over 40 years

of experience in the automotive repair

industry between them, so you can be

assured of top-quality workmanship. The

team stands behind all their repairs.

Accidents happen, but there's no need

to panic – Smart Repairs can help you get

back on the road. They offer free advice and

assessments and are happy to discuss the

options for your vehicle repair – they want

to make it easy for customers that may be

unsure of what to do if their vehicle has

been scratched or dented.

Smart Repairs can provide estimates for

all insurance companies, and will carry out

repairs in an efficient and timely manner.

Brian, Maxine and Dave are Christchurch

born and bred, and love being in the city

as it gets rebuilt. They are easily located

in central Christchurch – on the corner

of Lichfield Street and Fitzgerald Avenue

(Access is from Lichfield St.)

Customers can have the use of Smart

Repairs' courtesy car while their vehicle is

being repaired. A free pick-up and delivery

service within Christchurch is also available

on request.

"We take pride in our work, and want to

ensure that our customers are happy with

the results," Maxine says.

"Getting you back on the road is our

focus."

EftPos and credit cards accepted. A 10

per cent discount is offered if you mention

this advertising feature.

Smart Repairs (NZ) Limited

are located at 272 Lichfield St.

Christchurch. Opening hours are

Monday to Friday 8am-4.30pm.

To enquire about vehicle repairs,

please call in or phone 377-0409.

Receive a 10% discount when you

mention this advertising feature

A vonhead

utomotive

free

6 months roadside assist

with any vehicle servicing

• automatic transmission

flushing service

• Wof • tune-ups • suspension

• batteries • neW tyres • oil &

lube service • courtesy cars

• full mechanical repairs

oPen 6 days (sat until 1pm)

126 racecourse road

Ph 342 7123 or 027 495 6600

• new & quality

secondhand tyres

• alloy wheels

• replacement rims

• puncture repairs

WITH A MASSIVE RANGE OF TYRES IN STORE,

WHY NOT POP IN AND SEE US TODAY!

8c Birmingham Drive,

(Cnr Hands & Birmingham Drive)

Ph: 03 343 0099 Cell: 027 226 3805

Website: www.jcmdirect.co.nz

NeW LoCATIoN 95 Gasson St

The Automotive

Lamp Specialists

New and Used Lamps for Cars, Trucks,

Vans, 4WD and Motorhomes

95 Gasson Street, CHRISTCHURCH

PH 0800 225 483

s

m

a

r

t

mall

edium

• Panel beating

• Spray painting

Fast

turnaround

utomotive

epair

echniques

Smart repairS (NZ) Limited

automotive refinishers

272 Lichfield St (Fitzgerald Ave end)

Ph 377-0409

Free Check & Assessment

ROSES

AUTO ELECTRICAL

Electric and

Hybrid Vehicles

We have a great range

of Leaf's and Prius's

hand picked for the

best battery health.

Sensible prices, easy finance options.

Backed up by our expert technical team.

Still Pedalling!

Trevor Crowe's been

repairing and improving

vehicles for 70 years.

You can benefit from his

experience at...

Subaru Specialists

518 Moorhouse Ave (East end) | P: 379 7615

W: crowesport.co.nz | E: service@crowesport.co.nz

PARKER

AUTOMOTIVE

■ All Automotive Repairs and

Servicing including 4WD

■ Suspension Brakes & Cambelts

■ WOF, Tyres, Batteries

■ Courtesy Car

55 Lincoln Rd, behind Caltex

(Cnr Lincoln & Torrens Rd)

Ph 03 982 4268

Mob 027 331 0382

Email: parkerauto@clear.net.nz

YOUR CENTRAL

CITY WORKSHOP

®
---
PEGASUS POST Latest Christchurch news at www.star.kiwi

Tuesday August 14 2018 17

REAL ESTATE

Sweet harbour sunspot

7 Emerson Crescent

Price: $565,000

2 bedrooms | 1 bathroom | 1 living room | 1 kitchen-dining room | 1 car-garage | 2 off-street parks | Listing #7219

Relax while enjoying the superb harbour

view and bask in the sunshine. This inviting,

contemporary home offers a chance to relax

while enjoying the superb view and bask in

the sunshine either indoors in the spacious

living or outside on one of the many spots

on the wraparound terrace.

Totally weekend friendly it comprises 2

double bedrooms, bathroom with built in

bath, ideal kitchen for entertaining while

still being part of the fun plus spacious living

generously linked to the outside living areas

by 3 ranch-sliders. There is a single garage

with internal access.

For an easy care holiday home, weekender,

retirement home or home for a busy couple

this one would be hard to beat.

Only 30 minutes scenic drive from the

bottom of Colombo Street. Local amenities

are many and varied to indulge in and in

the pipeline is a cinema, supermarket and

additional shops, as well as the development

of Te Ana Marina at Lyttelton stage 1 now

complete. There is also plenty to become

involved in if you want a local interest, either

as a volunteer or for recreation, you have the

choice of golf, yachting, swimming beaches,

tennis courts, mountain bike tracks and

endless hiking and walking opportunities.

This is an area which offers a year round

holiday lifestyle in style and comfort.

For a private viewing, please contact Min

of Min Sarginson Real Estate (Licensed

Agent REAA 2008), phone 027 432 0327

or 329 4161

growing with you June 2018 | 100%

Plants For

winter wow

Cool Choices

For Colour

& Contrast

From swamp

to sea views

The journey

begins with sarah

the Gardener

$7.90 incl. GST

Snap it up

Enter our annual

Birdlife Photo

Competition to win

great prizes!

clear the air

Why groWing

indoor PLAnTs is

so good for you

give it a grow

from gArLic

To chinese

ArTichokes,

We hAve your

groWing TiPs

covered

the latest releases

into the rose world

+ rose care

through winter

The magazine for

gardeners who like to get

their hands dirty

SUBSCRIBE FROM

$43. 50*

*6 issues/6 months

SUBSCRIPTIONS FREEPHONE

0800 77 77 10

WWW.GARDENER.KIWI
---
18

Latest Christchurch news at www.star.kiwi

Tuesday August 14 2018

PEGASUS POST

Classifieds Contact us today Phone our local team 03 379 1100

Caravans, Motorhomes

& Traliers

CARAVAN Wanted to

buy. Up to $5000 cash

today 027 488-5284.

Community Events

ALCOHOLICS

ANONYMOUS, If you

want to have a drink that's

your business. If you want

to stop, we can help. Phone

0800 229-6757

Computers

ALL

YOUR

COMPUTER

WORRIES SOLVED!

*$30.00 off your first

service with this coupon!*

No problem too big or

small from home PC's to

business networks. PC

slow? An end to Viruses,

Spyware, and Clogged

Systems. Safe secure

hassle-free computing.

Lost files recovered.

Microsoft Certified,

MCSE, MCP+l. 30 years

experience. Call Andrew

Buxton this week on 326-

6740 or 027 435-7596

for $30.00 off* Custom

Computers Christchurch

Curtains

www.curtainfabric-outlet.com

Fashion Designs & Colours

Discontinued Designs

End of Lines Bargain Prices

Call at Our Shop

CURTAIN FABRIC OUTLET

71 Hawdon St Sydenham

Ph 366-5026

Holiday

Accommodation

Australia QLD

SUNSHINE

COAST

RESORT

ALEXANDRA HEADLAND

All Units Have Ocean Views.

Heated Pools, Spa & Sauna,

Free Wifi, Tennis

& Mini Golf.

CHECK OUR GREAT

WINTER SPECIALS

www.mandolin.com.au

0061 7 5443 5011

JUNE to AUG temps 20C

Holiday

Accommodation

WANAKA.

Stunning holiday

accommodation in

Wanaka at the Pines

Resort available, during

ski season.

From the 7th of September

till the 14th you can stay

at this fabulous resort.

Cardrona Ski Resort and

Treble Cone are not far

away. $1200 for the week,

only at $171.00 per night.

Would suit family sleeps

up to 5.

See http://www.

classicholidays.com.au/

resort/pines-resort/>for

full details. More details

and to book, call Jacqui on

027-201-3244

Missing from

Aranui for

approximately

8 months.

Microchipped

and wearing

blue collar and

pink tag when

she went

missing.

Has she been

living at your

house?

Any sightings

or further

information

please call

021 203 9685

To Let

HOMESITTERS reqd

ASAP. Short term.

Lovely homes / pets. Ph

Lisa 03 359 2323 www.

townandcountryhomesit.

co.nz

• General

gardening

• Ride on service

• Weeding and

clearing

• Hedge trimming

• Tree pruning

and removals

• Fully insured

Lost & Found Lost & FoundLost & Found

Missing cat - Rosie

Trades & Services

green acres

Lawn &

garden care

• Section

clearing/

maintenance

• Free quotes

• Security

checked

and

satisfaction

guaranteed

0800 803 200

www.greenacres.co.nz

To Let

HOMESITTERS reqd

ASAP. Short term.

Lovely homes / pets. Ph

Lisa 03 359 2323 www.

townandcountryhomesit.

co.nz

Wow, you've made it

look like new again!

a comment brett Muir hears frequently in his 'Groutpro' business, as he takes

care of grout related problems confronting many householders.

"After years of constant use, unsealed grout will become discoloured" Brett says.

That's because grout (even new grouts) are porous and absorb dirt, grime and spills.

The deep clean results that come with professional tile and grout cleaning, prepare for the

essential next step. "Application of a colourseal coating on the grout will make a transforming

difference in appearance" Brett says. With almost 100 colour options, coloured grout sealer is

non porous and waterproof making cleaning so much easier.

replacing cracked tiles, resiliconing shower edges, removing calcium buildup on

shower tiles, regrouting cracked grout and all tile related issues are part of the

Groutpro service.

before

for an uplift of your tiled area:

Shower, bathroom, kitchen, pool

surround, deck etc. Brett will give you a

quote and honest, professional advice on

your tiles and grout.

Trades & Services

FOR ALL YOUR

★Garden Clean-ups

★Pruning

★Lawn Mowing

★Garden Maintenance

Call us today for a FREE quote

PH 0800 4 546 546

(0800 4 JIMJIM)

ROOF REPAIRS

MOSS SPRAYING

366 4141 allroofs.co.nz

Trades & Services

pc & phone repairs

• iPhones • Smart Phones

• iPads • Tablets • Computers • Laptop

Repairs, Parts and Accessories

• Glass Screen Protectors

• Phone Cases • Cables etc

109 Matipo St | 0800 222 691

Trades & Services

HOUSE

CLEARING

Are you

moving house

or trying to

downsize?

Call All Clear

Canterbury. We work

with you to recycle,

sell and dispose of

unwanted items.

Ph: 03 260 0934

or 021 078 4553

raewynlcooke@gmail.com

www.allclearcanterbury.co.nz

AAA HANDYMAN

licensed carpenter

LBP, all property and

building maintenance,

repairs, bathroom/shower

installations, with free

quotes 03 383 1927 or 027

245 5226 ciey@xtra.co.nz

Trades & Services

BUILDER

For all building work

but specialist in bathroom

renovations, 30 yrs

experience, with service

and integrity. Free Quotes.

Ph Lachlan 383-1723 or

0274 367-067.

*****************

CARPET & VINYL

LAYINg

Exp Repairs, uplifting,

relaying, restretching.

Email jflattery@xtra.co.nz

ph John on 0800 003 181

or 027 2407416

ELECTRICIAN

For electrical work, no job

to small, affordable, tidy &

experienced, HEATPUMP

servicing, & perfomance

test $70 + gst, ph or txt 027

432 9755 or 03 326 4992

FENCINg

All styles and shapes,

gates, wooden, ph Mark

0273 313-223

AdverToriAl

after

Call brett at Groupro on 027 746 7632

Trades & Services

PAINTINg

DECoRATINg

Wingfields Contracting,

all interior & exterior

painting & all forms of

interior plastering & jib

fixing, ph Mark 021 171-

1586 or 355-5994

PAINTER AVAILABLE

All aspects in painting.

Very competitive in roofs

and fences. Please call 027

241-7471 or 335-0265

PLUMBER

ALF THORPE

PLUMBING Certifying

Plumber for all types of

plumbing, maintenance,

spouting, alterations etc.

Phone 352-7402 or 0274-

350-231

PLUMBER

A Top Plumbing job

completed at a fair price,

prompt service, all work

guaranteed, ph Brian 960-

7673 or 021 112-3492

RooFINg REPAIRS

Fully qualified, over 40

yrs experience. Ph John

027 432-3822 or 351-

9147 email johnchmill@

outlook.com

SPoUTINg CLEANINg

Spouting Unblocked,

Cleaned Out and Flushed

Out. Call Trevor 332 8949

or 021 043 2034

TILER/CARPENTER

35 years exp, no job

too small. Ph Ross 027

4311440.

T.V. SERVICE

CENTRE

Repairs, tvs, microwaves,

.Aerial & satellite

installations , kitsets, 480

Moorhouse Ave, ph 03 379

1400

VHS VIDEo TAPES

& all camera tapes

converted to DVD, video

taping special occasions,

www.grahamsvideo.co.nz

ph 03 338-1655

WINDoW CLEANINg

Average 3 bdrm house

inside or out $40. Both

$70. Phone Trevor 344-

2170

rooF

painting

Book now and

receive 20% discount

for summer.

Rope and harness a

speciality.

No scaffolding required.

30 years experience.

Free quotes, call

Craig 021 060 2392

Trades & Services

Wanted To Buy

fridge freezers. Same day

service. Selwyn Dealers.

Phone 980 5812 or 027

AAA Buying goods

quality furniture, beds,

stoves, washing machines,

313 8156

TOOLS Garden,

garage, woodworking,

mechanical, engineering,

sawbenches, lathes, cash

buyer, ph 355-2045

Public Notices

ROOF REPAIRS

Locally owned & operated with

over 30 years experience.

• Extensions & repair • Roof coating

• Concrete & clay tiles • Butynol

• Malthoid • Asbestos Certified

• Coloursteel • Old iron • Guttering

Phone Dave 981 0278

or 021 223 4200

E: dave@beaumontroofing.co.nz

BEAUMONT ROOFING LTD
---
PEGASUS POST Latest Christchurch news at www.star.kiwi

Tuesday August 14 2018 19

What's On

Entertainment

To advertise, contact

Jo Fuller 027 458 8590

jo.fuller@starmedia.kiwi

REMARKABLE CONCERT EXPERIENCE

THE NZSO AND THE PHOENIX FOUNDATION!

TO CELEBRATE their 20th year e

Phoenix Foundation have joined forces

with the NZSO for a remarkable concert

experience.

e Phoenix Foundation is one of the

most iconic New Zealand bands of the 21st

century. Formed in Wellington in the late-

90s, they have been lauded here and

overseas and feted by rock royalty, from

Neil Finn and Jarvis Cocker to Iggy Pop.

e band has also contributed to several

movie soundtracks, including film-maker

Taika Waititi's celebrated box office smash

Hunt for the Wilderpeople.

If you are not yet familiar with their

music, you are in for a treat; if you are, you

are likely to encounter their most

challenging and assured set of songs yet.

From the soaring soundscape of opener

"Mountain" and the frantic, joyful surge of

the David Fridmann (e Flaming Lips,

Tame Impala)-mixed "Bob Lennon, John

Dylan", through to the trippy, delicate

"Prawn" and "Myth", and the self-styled

manifesto of sorts that is the title track,

this is the sound of a band at the top of

their game, making music that is every bit

as enjoyable as it is detailed and wellcraed.

And with a substantial back catalogue of

much-loved songs from their five previous

albums – "Horsepower", "Pegasus", "Happy

Ending", "Buffalo" and "Fandango" – to

draw from, they are a band who have

earned their place in the hearts and minds

of their audience, and who are equal parts

charm, hard work and inspiration, and

who fully deserve your attention, just as

you fully deserve the wonderful music they

make.

Drawing from their much loved

catalogue, e Phoenix Foundation and

Orchestra will perform unique

arrangements of audience favourites and

deep album cuts.

It will also be a rare opportunity to hear

their soundtrack work performed live.

e NZSO and e Phoenix Foundation

perform in Christchurch at the Isaac

eatre Royal on ursday 30 August 2018.

7pm start. Tickets on sale now at Ticketek.

'Famous for their roasts!'

SENIORS SPECIAL

Two courses: $

22

Soup/Roast or Roast/Dessert

Special available lunch only

Monday - Saturday 12pm - 2.30pm

Conditions apply

FAMILY FRIENDLY

Kid's Special

Two courses

Great Kids menu plus

designated play area.

$

13

What's On

TUESDAYS & THURSDAYS

MEMBERS LUCKY CARD DRAW

CLUBBISTRO

DOWNSTAIRS

Open Tues to Sat 12pm - 2pm

& from 5pm.

GAMING ROOM

TAB POD

RESTAURANT & CAFÉ

Open daily from 6.30am - Breakfast, Lunch & Dinner

The

RACECOURSE HOTEL

& Motorlodge

118 Racecourse Rd, Sockburn,

Christchurch. Ph 03 342 7150

www.racecoursehotel.co.nz

Dine by the Beach

PIERVIEW

RESTAURANT

UPSTAIRS

Open from 5.30pm Fri, Sat,

Sun, and Sunday Brunch

from 10.30am to 2pm.

MONTH-END

SUNDAY NIGHT

BUFFET $25pp

Sunday 26th Aug

from 5.30pm

BOOK NOW!

FATHER'S DAY BUFFET

Sunday 2nd Sept. 11.30am - 2pm

BOOK NOW 388 9416

BOOKINGS ESSENTIAL

SORRY, CLOSED FOR BRUNCH ON SEPT 2

202 Marine Pde | Ph 388 9416 | www.newbrightonclub.co.nz | Members, guests & affiliates welcome

Lunch & Dinner

All you can eat

7 days

Bookings Essential

PH 386 0088

fb.com/GardenHotelRestaurant

www.gardenhotel.co.nz

FINISHES THIS SUNDAY

H ORNBY

WORKINGMEN'S

CLUB

THIS WEEKEND

SATURDAY 4.30PM:

IAN MAC

COMING UP

SATURDAY 1 SEPT

8PM. Tickets $20

SERVING

HAPPY HOUR

5PM - 7PM DAILY

OUR CABINET ITEMS

ARE HOMEMADE

CREATED FRESH ON SITE DAILY

$12

LUNCH

SPECIALS

Live Music:

6PM.SAT 18 AUG

COFFEE

HAPPY

H O U R

2PM-4PM

DAILY

$3.50

Offer available for a limited time

and includes tea, hot chocolate

MON: ROAST MEAL

TUE: FISH & CHIPS

WED: FISH BURGER

THU: ROAST MEAL

SAT: FISH & CHIPS

AVAILABLE

FROM

11.30AM-2PM

FOR A

LIMITED TIME

Vintage Blue

PHONE 385 8880 FIND US ON FACEBOOK fb.com/GBCCHCH

THE GARDEN HOTEL COMPLEX | 110 MARSHLAND RD

www.gardenhotel.co.nz | phone 385 3132

SATURDAY 8PM:

MEDIUM RARE

Club CAFÉ

OPEN

EVERY DAY

LUNCH & DINNER

FAMILY FRIENDLY DINING

Chalmers

Restaurant

OPEN

FRI, SAT, SUN

FROM 5.30PM

5-8PM SUNDAY NIGHTS

MEMBERS, GUEST & AFFILIATES ALL WELCOME

ADULTS $27, KIDS 12 & UNDER JUST $1 PER YEAR OF AGE

The Hornby Club | ph 03 349 9026 | 17 Carmen Rd | Hornby

www.hornbywmc.co.nz | Members, guests & affiliates welcome
---
20 Tuesday August 14 2018

Latest Christchurch news at www.star.kiwi

PEGASUS POST

Trade

and

SAVE

TRadE in youR old

loungE oR dining suiTE and

savE up To $1,000

On A nEW LOungE OR dining SuiTE *

All traded furniture is donated to Habitat for Humanity

*Terms and conditions apply. Promotion valid from 10th - 24th August, 2018.

CITY: 100 Moorhouse Avenue | HOMEBASE: 199 Marshlands Road

Open Monday-Friday 9am-5.30pm, Saturday-Sunday 10am-5pm

FREE in-home consultation

Struggling to find that special piece or don't know where to start?

Why not take advantage of our FREE in-home consultation in

which one of our experienced consultants will come to your home

to discuss form, function and flow, all at no cost and obligation free.

To book a consult, phone 0800 749 999 or

email consult@global-living.co.nz

0800 749 999 | global-living.co.nz | Locally owned and operated