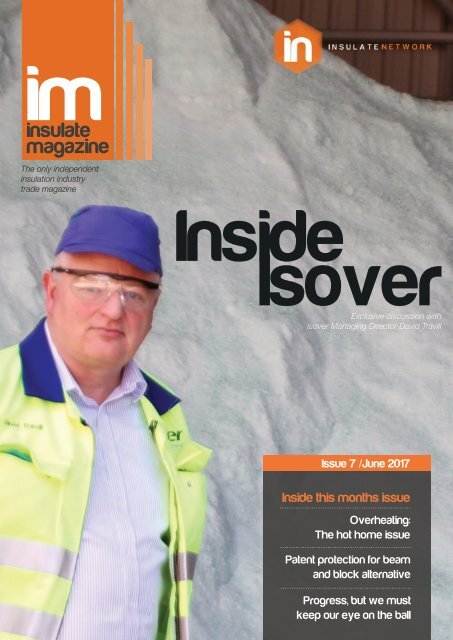 Insulate Magazine Issue 7
You also want an ePaper? Increase the reach of your titles
YUMPU automatically turns print PDFs into web optimized ePapers that Google loves.
The only independent

insulation industry

trade magazine

Exclusive discussion with

isover Managing Director David Travill

Issue 7 /June 2017

Inside this months issue

Overheating:

The hot home issue

Patent protection for beam

and block alternative

Progress, but we must

keep our eye on the ball
---
SIG360 work with us

on site, to ensure we

not only meet our

client's needs but

exceed them.

NEIL HARRISON

HARRISON PROJECTS

AN SIG CUSTOMER

BUILD YOUR NAME ON US

Providing impartial

product advice

The SIG360 Technical Centre is a service offering from SIG, that focuses on helping customers

deliver energy efficient buildings.

Through an intimate knowledge of building regulations and product performance, brought

about through more than 50 years specialising in the energy efficiency of the fabric of a

building, the SIG360 Technical Centre is able to make cost effective and impartial product

selection to ensure the best energy performance can be achieved.

The service provided includes energy statements, U value calculations , condensation risk

analysis, thermal modelling and SAP assessments leading to EPC certification.

If you are seeking impartial advice on the fabric energy efficiency of your building contact

SIG360 Technical Centre.

For guidance you can trust call 0844 443 0059

email 360enquiries@sigplc.com or visit www.sig360.co.uk

Talk to the SIG360 Technical

Centre at the start of your project

for a 360 o view of cost effective

and energy efficient home building
---
www.insulatemagazine.co.uk

Published on a monthly basis by M4 Publications & Events Ltd

Corser House, 17 Geen End, Whitchurch, Shropshire, SY13 1AD

Call 01948 759 351

Outside of the UK +44 1948 759351

Monday - Friday 9am - 5.30pm

Website: www.insulatemagazine.co.uk

Email: sales@insulatemagazine.co.uk

SUBSCRIPTION INFORMATION

Anyone can subscribe for free online at www.powerboatracingworld.com/subscribe

or by phone on 01948 759 351.

Subscriptions are available around the world free in digital format.

Print subscriptions are available around the world, please call us for

a quote or email us on sales@insulatemagazine.co.uk

Our subscriber list is occasionally made available to very carefully

selected companies whose products or services may be of interest

to you. Your privacy is of paramount importance to us and should

you prefer not to be part of these lists then please email your details

and a short message to sales@insulatemagazine.co.uk

CLASSIFIED ADVERTISING

Rate: No photo classified £25 for 20 words, each additional word

costs £1. All classified advertising must be paid in advance. We

must receive your classified advert at least two weeks prior to the

publication date.

WE DO NOT ACCEPT PHONE IN CLASSIFIED ADVERTISING

In the first instance, email your advert to sales@insulatemagazine.

co.uk and await your invoice, once payment is received our design

team will clarify the advert insertion with you directly. CLASSIFIED

ADVERTISING APPEARS IN PRINT AND ONLINE. WE ARE NOT

RESPONSIBLE FOR ERRORS AFTER PROOFING AND INSER-

TION.

DISPLAY ADVERTISING.

Contact one of our sales staff to discuss your requirements on

01948 759 351. Publisher reserves the right to reject any

advertising that in its opinion is misleading, unfair or incompatible

with the character of the magazine.

We adhere to the IPSO code of practice for editors. Further information

can be found at www.ipso.org.uk

BACK ISSUES OR REPRINTS

Digital back issues can be foud online at www.insulatemagazine.

com For printed editions please email contact@insulatemagazine.

co.uk , there will be a postage charge and handling fee of £5+VAT

for each copy requested.

CIRCULATION

The magazine is sent to 23,000 digitial subscribers per month

Inside Isover

Contents

Selecting the right workplace RPE 8-10

Speed, ease and thermal clout

6-7

12-13

Patent for All-in-One Flooring 14-15

Undergraduate Scheme Launched 16-17

Reducing costs with full-fill cavity 22-23

Overheating: The hot issue 20-22

Featured CPDs 24-25

Keep our eyes on the ball 29-31

New insulation body launched 32-33

Construction Week 2017 Preview 34-37

©M4 PUBLISHING & EVENTS LTD

No part can be reproduced without the express

permission of the publisher

www.facebook.com/insulatemag

www.twitter.com/insulatemag

www.youtube.com/channel/insulatemag

Construction industry post Brexit 38-39

The UK's only dedicated

trade journal for the insulation industry

3
---
The awful atrocity's in both Manchester and London have overshadowed

the month of May, these vile acts against innocent

people going about their daily lives must stop. I know I speak

for the entire team here at Insulate Magazine in that our thoughts

are with the victims, their friends, their families and with anyone

effected by these heinous acts.

The general election campaigns continue ahead of the 8th June and

the momemtum continues to grow, wheather your choice is "stong

& stable" or "for the many not the few" the manifestos of both major

parties hold energy efficiency as a key priority but what is promised

and what happens post election historically don't always materialise.

Colin Heath

Managing Editor

Insulate Magazine has partnered with BRUFMA for their conference

this month, the annual event has an overarching theme, Regulation

or Education? The role of design in future proofing the UK building

stock, and will provide invaluable insight and debate into the key

issues that affect the industry from some of the leading players in

sustainability, design and building standards. We will be attending

and featuring a full review in next months issue.

Enjoy

4

www.insulatemagazine.co.uk
---
Cover Story

The only independent insulation industry trade magazine

Inside

Isover

David Travill, Managing Director, Isover UK. Interviewed by Colin Heath

The insulation industry seems to be

being championed by government in

the sense that recently they stated that

the UK needs to insulate 25 million homes,

more than one home every minute by 2050.

How does the industry and in particular the

mineral fibre space, prepare and execute

that ideal?

commitments to carbon reduction that have

been agreed to or signed up for, not just by our

industry but also globally. I'm not sure how we

will meet these without first addressing energy

consumption.

As an industry, we are quite active through our

trade association MIMA who on our behalf, try to

influence government, with some success.

I have a belief that government commitment to

insulating homes only goes part of the way, current

legislation and regulation and governments

appetite for the best type of energy conservation,

which is not to use it in the first place!

R&D within the industry is contributing to meeting our

carbon targets, not only are consumers & end users

benefiting from lower bills, but the new build and retrofit

contributions are also creating real value for the planet

also?

The fabric first solution when insulating any

property, either residential or commercial has

to be the priority, I think that we have all struggled

to come to terms with that, there are many

You've been here for almost 4 years now, could you

tell us a bit of your history and how you got to this

point in your career?

Time flies doesn't it! Yes, since 2013 I have been

here, prior to that I was within Saint Gobain in the

role of sales and commercial director for British

Gypsum, so involved in construction and in many

ways involved in applications that insulation sells

into, so there are lots of parallels.

The opportunity to move over to Isover UK was

initially presented itself on a six-month interim

term due to the previous MD suffering ill health,

6 www.insulatemagazine.co.uk
---
www.insulatemagazine.co.uk

it became clear that unfortunately that my colleague

could not return and within the six month

period I came to the realisation that Isover UK

as a business had huge potential to become a

more assertive supplier to the space, so I was

very pleased to turn interim into permanent and

accept the challenge.

Where do you want Isover UK to sit within

the marketplace?

Saint Gobain as a business and our parent

company has a requirement to be either number

one or number two within each individual market

in which they compete, globally Saint Gobain is

the second biggest player in the insulation space

across its multi materials, in terms of revenues. At

present, Isover UK is not first or second, I would

estimate, given that all company's do not publish

their details, that we would be fifth or sixth

in insulation as a whole and probably the third

largest mineral fibre supplier if we were to narrow

that marketplace down again so the challenge

for me is clear, I would say that over the last few

years we have been the most progressive player

in the mineral fibre industry but we still cannot

claim the number one or number two spot so the

job is only partially done.

What challenges do you see the U.K. industry facing in

the coming years Brexit, Election etc.

Confidence! As a consequence of Brexit, for

those who import, whether its raw materials of

finished goods, we are paying around ten to

twelve percent more which is likely to remain, we

are seeing significant inflation which is creating

huge challenges for foams which mineral fibre

manufacturers should benefit from, hopefully in

the longer term we can displace other products

for insulation applications and replace them with

mineral fibre products because larger schemes

and developers need confidence in supply and

the ability to plan .

How are Isover positioned to overcome these

challenges?

All you can do is to focus on the opportunities

that do exist, the demand for new housing is real,

the demand for affordable housing is huge, so

regardless of who the government is, we need to

deliver significantly more volume into these areas

and remain focussed on the opportunities that

are available even if the decisions from the policy

makers are slower to arrive because of the current

uncertainty.

I also think we need to look at new segments,

going back to Brexit and its contribution to increasing

the skills shortage to manufacture and

install the insulation solutions that exist, it's very

difficult to develop and improve processes and

efficiency without the manpower to back it up.

As a business we are expecting a growth in

offsite manufacturing which is related to the skills

shortage, initially off site had a few false dawns

but with the investment the sector has now had

combined with the installed capacity, off site is

now an efficient solution which is a dynamic that

we will all have to follow and adjust to because

routes to market may be very different in two or

three years time.

The fabric first solution

when insulating any

property, either

residential or

commercial

has to be

the priority

insulatemag
---
The only independent insulation industry trade magazine

Health & Safety

Selecting the right

RPE for your workplace

Insulate Magazine columnist George Elliott, a technical specialist

at science-based technology 3M, provides a simple guide for RPE selection

Each year, around 12,000 people die from respiratory diseases caused by past working

conditions, according to the Health and Safety Executive (HSE)[1]. In addition, the HSE

estimates that annually there are 14,000 new cases of breathing or lung problems caused

or made worse by work 1 . Those working in the insulation industry, whether in the factory or

at the installation site, can face a range of respiratory hazards, from glass fibres and dust to

chemicals.

Next, employers should act to limit these hazards

by either eliminating them completely, or

substituting them for something less harmful, or

introducing engineering controls to reduce their

presence. Additionally, administration controls

should be considered.

However, sometimes a respiratory hazard will remain

even after taking these measures. In these

cases, provision of respiratory protective equipment

(RPE) may be necessary as part of an employer's

control regime.

When selecting RPE from the numerous options

available, purchasers should ensure the equipment

is both adequate and suitable.

Ensuring RPE is adequate

In this context, adequate equipment is that which

is right for the hazard and reduces exposure to the

level required to protect the wearer's health.

Employers' first step should be to pick RPE options

that can protect against the particular hazard,

or hazards, identified in their risk assessment.

These could be particulates, gases, vapours, or

some combination of these.

Next, employers should narrow down their selection

to only those RPE options that also provide

enough protection for the quantity of the hazard

present in their workplace.

The HSE gives each RPE type an 'assigned protection

factor' (APF), denoting the level of protection

it offers. This can be cross-referenced with

both the employer's risk assessment, if it includes

the concentration levels of contaminants found in

the workplace, and Workplace Exposure Limits

8

www.insulatemagazine.co.uk
---
published in the HSE's EH40 document, which can

be downloaded free from the organisation's website.

Minimum APFs required for certain tasks are often

found in HSE guidance sheets.

3M's free Select and Service Life Software –

available at www.3M.co.uk/selectrespirator – can

also help to simplify this process. By entering details of

contaminants and their concentrations, companies

can receive tailored product suggestions. The software

covers more than 700 chemicals, and also offers

a method for estimating the service life of certain

3M filters.

Ensuring RPE is suitable

To be suitable, RPE must be right for the wearer, task

and environment, such that the wearer can work

freely and without additional risks caused by the

equipment.

To find suitable RPE, employers should consider offering

workers a range of options and involving them

in the selection process. 3M is happy to provide free

samples for workplace trials.

To assess which options workers find suitable, health

and safety managers may use methods such as staff

surveys, focus groups and roundtable discussions.

3M can provide questionnaires to help health and

safety managers get the most valuable feedback.

Another point to note is that, under COSHH regulations,

to ensure RPE is suitable, employers are

required to face fit test wearers of tight-fitting RPE.

This is to ensure the respirator adequately seals to

their face, as the equipment's performance hinges

on this. Additionally, wearers of tight-fitting RPE must

be clean shaven under the area of the face seal.

Alternatively, those with facial hair may wear loose-fitting

powered and supplied air respirators. Employers

can also consider these options if they wish to avoid

face fit testing.

When RPE is suitable, this can help to improve

worker compliance, resulting in improved

protection.

To find suitable RPE, employers should

consider offering workers a range of

options and involving them in the selection

process. 3M is happy to provide free

samples for workplace trials.

9
---
The only independent insulation industry trade magazine

Training

Another important stage of the RPE selection process

is training. Without the correct knowledge,

workers may be at risk of unnecessary exposure

.

Training should begin with outlining the need for

protection in the first place. Workers must understand

why and when RPE is required.

Next, the respirator's limitations should be explained

so that users know what they can and

cannot rely on their RPE to protect them against.

Putting on and removing the equipment should

also be covered. This is important as it will affect

user acceptance of the RPE, as well as compliance

rates. 3M has produced instructional videos

demonstrating the fitting of their RPE, which can

be found on the 3M UK & Ireland YouTube channel.

Where required, maintenance is also a key topic.

Reusable respirators must be properly cleaned

and stored between shifts to prevent damage and

contamination.

More information about selecting RPE can

be found in the HSE guide 'Respiratory Protective

Equipment at Work (HSG53)', available

free at http://www.hse.gov.uk/pubns/

priced/hsg53.pdf

Alternatively, call the 3M helpline on 0870

60 800 60 to discuss specific requirements

with a technical expert. For more information

about 3M, visit www.3M.co.uk/safety

Putting on and

removing the

equipment should

also be covered. This

is important as it will

affect user acceptance

of the RPE, as

well as compliance

rates.

10

www.insulatemagazine.co.uk
---
Alfriston School/Duggan Morris Architects

© Jack Hobhouse

Design tm-studio.co.uk
---
The only independent insulation industry trade magazine

Case Study

New timber pod designer

chooses Actis Hybrid for its

speed, ease and thermal clout

A

specialist building component manufacturer

based in North Lincolnshire is

so impressed by the thermal efficiency,

speed and ease of installation of the Actis

Hybrid range it plans to use the full system on

its entire new range of modular timber pods.

Fair Share Group Ltd, trading as Highseal Manufacturing

Company, has been making PVC doors,

windows and conservatories since 2008. With

more than 30 years' experience in the industry

and a change in market trends towards modular

buildings, they have diversified and launched a

new brand, Cre8a, to fulfil the growing demand for

living, working and relaxation spaces in gardens.

Cre8a Pods can be used as independent living

zones for grown up children, home offices, B

and B chalets, yoga studios, spas, gyms, music

rooms, art and craft workshops or, of course,

meditative hideaways and luxury garden rooms.

It also plans to use the entire Actis Hybrid system

on the second phase of its designs – Cre8a house

extensions.

12 www.insulatemagazine.co.uk
---
www.insulatemagazine.co.uk

The modular design of the Cre8a range means

elements can be slotted together in a variety of

size and style combinations, all complying with

current building regulations and offered on a supply

only or supply and build basis.

The roof and walls of the pods will be insulated

with the entire Actis Hybrid system, ensuring

the pods stay cool in summer and warm during

winter. Using 125mm honeycomb insulation Hybris

and vapour control layer HControl Hybrid in

the roof and 50mm Hybris, breather membrane

BoostR Hybrid and HControl Hybrid in the walls,

the pods will enjoy an impressive U-value of 0.18

in the roof and 0.19 in the walls – higher than

the specification required under current building

regulations.

Electricity, infrared or under floor heating, plumbing

and shower rooms can be included.

Other users have been impressed that the speed

at which it can be installed has cut labour time by

between 25 and 50%.

Off-site manufacturers are increasingly drawn to

the Hybrid system as it can be easily installed in

the factory, with completed, ready insulated panels

brought to site for installation.

With Cre8a Pods the insulation, Hybris is installed

into the wall panels in the factory, while the insulating

vapour control layer, HControl Hybrid and

insulating breather membrane BoostR Hybrid

are installed on site once the panels have been

slotted together to ensure the building is water

and airtight.

Cre8a director Neil Donaldson explained: "When

researching the design for the new pods we

looked at a variety of insulation options before

settling on Actis Hybrid. It's CE marked, NHBC

approved and has LABC and LABSS registered

details. We chose it not only for its impressive

thermal efficiency, but also for the ease, cleanliness

and the speed with which it can be installed.

The fact that the products are flexible and

can be shaped firmly around corners and into

awkward spaces addresses thermal bridging issues

– thus increasing thermal efficiency. In addition,

they produce no dust or fibre which means

there is no need for masks or special clothing."

The use of a vapour control layer and a breather

membrane significantly reduces the risk of interstitial

condensation, guarantees air tightness and

can protect the building from precipitation and

wind driven rain.

Thermal modelling trials carried out by certification

body BM TRADA have shown that Actis

insulated membranes have a dramatic impact on

counteracting thermal bridging and act as excellent

thermal blankets.

As the products are so easy to install – indeed

can be taught via online videos - they can be

fitted effectively by less experienced team members,

thus freeing up more experienced staff to

work on other, more complex elements of the

construction process.

insulatemag

13
---
The only independent insulation industry trade magazine

Industry News

Jablite All-in-One

Achieves Patent Protection

Jablite recently announced that its unique All-In-One Thermal Floor System is now a fully

patent-protected Intellectual Property. The black and white insulated floor systems that

are starting to be seen on house building sites across the UK, are now registered Jablite

invention, only available from Jablite.

"The process of achieving Patent protection is a

notoriously lengthy and complicated process,"

explains Wayne Brown, Technical and New Product

Director, Jablite.

"Our patent was first lodged in May 2015. It has

been a challenging, ongoing an continuous job

to keep the process moving, whilst testing for

BBA accreditation and launching the new system

successfully into the marketplace."

Jablite launched the unique All-In-One Thermal

Floor System in November 16. It is the first insulation

manufacturer to invent a new system that

includes the pre-stressed concrete beams and

to supply it direct to house builders and ground

workers.

"We are now in the stage of continuously improving

the product with small tweaks based on feedback

from ground workers and our own team's

site observations," says Steve Broadhurst, Technical

and New Product Development Manager.

"Our production team are working on ways to

change our manufacturing process to develop

systems that bespoke-designed to fit individual

floor designs. We hope to have more announcements

on this in the next few months."

It has been a challenging, ongoing an

continuous job to keep the process

moving, whilst testing for BBA accreditation

and launching the new system

14 www.insulatemagazine.co.uk
---
www.insulatemagazine.co.uk

"Jablite is in the business of innovating," says Richard

Lee, Managing Director.

"This patented product is part of a new system that

we supply direct to the end user. This is a massive

change in direction for our business and I am incredibly

proud of the team here that has worked so

hard to develop this new system and to launch and

sell it into the market."

"Now, for the cherry on the cake we have a patent

to protect our intellectual property and all the years

of hard work and our £1 million investment"

I am incredibly proud of the team here

that has worked so hard to develop

this new system and to launch and sell

it into the market.

insulatemag

15
---
The only independent insulation industry trade magazine

Industry News

Recticel Insulation

Launch Undergraduate Scheme

As part of its investment in its future workforce, leading PIR manufacturer, Recticel Insulation,

has launched an undergraduate scheme at its state-of-the-art production plant in

Stoke-On-Trent. It follows the success of its graduate scheme, which has been running

since 2014, and this year saw its first graduate, Huw Davenport, rewarded with a full-time role

as Area Manager for its Central and South sales operation.

The undergraduate scheme comes at a time of

great focus on the future, as Recticel also announced

earlier this year it will be investing in a

new production plant. Plans for the new facility

were revealed in March. It will be based in the UK

and significantly increase the company's manufacturing

output as well as create a number of

new jobs.

With this significant future progress in mind, the

introduction of Recticel's undergraduate scheme

would appear to be a timely one. The programme

welcomes its first two students - Naomi Davies

and Charlotte Waite - in June.

The 12-month placement will help the pair gain

valuable experience in all areas of the company's

business, providing practical 'hands-on' knowledge

to enhance their ongoing university studies.

Kevin Bohea of Recticel, said the undergraduate

scheme benefited both the student and

employer:

"It's a great opportunity for potential future employees

to learn new skills. The students get

real-life work experience, industry knowledge and

grow a network with the right people. It adds a

practical side to their degree. For us as a company,

having more staff on board means we can

offer more services and maintain and improve

the level of customer support for which we're

renowned."

The idea for Recticel's undergraduate scheme

was suggested by its current team of graduates

as one of their development projects.

Following their year's paid placement,

the pair will return to their respective

universities to complete their third and

final year of study. As well as proper

work experience, the Recticel scheme

offers a financial incentive.

16

www.insulatemagazine.co.uk
---
www.insulatemagazine.co.uk

The plan was met with an emphatic 'yes' by the

company's Commercial Director, Kevin Bohea.

The recruitment process began once internal

vacancies were identified. Then, in conjunction

with Recticel's HR department and following

discussions with university careers personnel,

the positions were advertised at five campuses

across the Midlands.

The response, according to Kevin, was "really

positive", and led to the appointment of 20-yearold

Naomi, who is studying a BA Honours degree

in marketing at Nottingham Trent University, and

Charlotte, age 20, a Construction Management

student at University of Derby.

Following their year's paid placement, the pair will

return to their respective universities to complete

their third and final year of study. As well as proper

work experience, the Recticel scheme offers a

financial incentive.

Kevin Bohea said the company may look to expand

the scheme should it replicate the success

of its post-graduate programme.

Graduate initiatives such as Recticel's, which

invest time, money and faith in the UK's future

workforce, will not only help bridge the current

construction industry skills gap, it ensures that

students are equipped with the skills to enter the

industry in the future.

...will not only help bridge the current

construction industry skills gap, it

ensures that students are equipped

with the skills to enter the industry in

the future.

THE NEW HOME OF INSULATION | WWW.INSULATENETWORK.COM

insulatemag 17
---
Thursday 30 th November 2017

East Midlands Conference Centre & Orchard Hotel

Expert judge panel

22 awards categories

BREEAM Excellent rated venue

Unmissable night of celebration

5 course meal, wine and champagne

Evening hosted by TV personality Nick Knowles

Accepting FREE entries now

www.insulationawards.co.uk | info@insulationawards.co.uk | 01948 759 351
---
Will you be a winner?

Be a shining star

at the awards event the

insulation industry has been waiting for

Award sponsorship & VIP opportunities available

NiiAwards
---
The only independent insulation industry trade magazine

Case Study

Overheating:

The Hot Issue

In our quest to meet greater energy efficiency in homes through better insulation, thermal

glazing and efficient heating systems, properties might be able to prevent heat losses in the

winter, but remain at risk of overheating in the warmer months. As we rise to the challenge

of making our homes more resilient to the extremes of winter, Michael Brogden, Director at

Darren Evans Assessments looks into the issue of overheating, an issue that needs to be

tackled head-on.

The issue of overheating is a complex one and

not simply a case of airtightness or simple measures

adopted to increase the efficiency of the

building fabric. Overheating occurs when heat

builds up in a home due to external forces such

as the sun, or from internal sources such as

appliances and hot water pipes. Throw into the

mix the increases in the number of unusually hot

summers as our climate changes, more frequent

and intense heatwaves and urban high-density

construction, and you begin to have alarming

levels of overheating in homes and a potential

health issue.

In the past, heat has been lost from buildings

due to lower levels of insulation and gaps in the

building fabric. These previous leaks would have

dissipated the heat gain from south facing windows

for example, but now, our well-intentioned

improvements to a building's efficiency in winter

means that heat cannot not escape, causing

issues in the summer.

The bigger picture

The 2015 report by the Zero Carbon Hub, 'Overheating

in Homes – The Big Picture',

highlighted five key risk factors for overheating in

homes, only one of which directly concerns the

building fabric. This shows the need for a greater

focus on wider design issues beyond the building

itself particularly when planning new schemes.

These factors are:

• Site context (e.g. air quality issues may prevent occupants from opening windows)

• External temperature (warm external air may not provide enough of a cooling effect)

• Solar gain (unshaded double-glazed windows can lead to high heat gain)

• Internal gain (electrical appliances, building services and activities such as cooking all contribute to

heat gain)

• Building design (Building Regulations require increased levels of insulation and airtightness, meaning

built-up heat will have to be removed)

20

www.insulatemagazine.co.uk
---
ANNUAL

CONFERENCE 2017

28 june

2017

1.00pm - 5:15pm

REGISTER

TO

ATTEND

Regulation or Education? The role of design in future

proofing the UK building stock

Date: 28 June 2017

Location: Building Centre, 26 Store Street, London, WC1E 7BT

Time: 1.00pm – 5.15pm

BRUFMA will put future proofing our housing in the spotlight at its

second annual conference, taking place at the Building Centre in

London on Wednesday 28 June 2017.

The annual event has an overarching theme, Regulation or

Education? The role of design in future proofing the UK building

stock, and will provide invaluable insight and debate into the key

issues that affect the industry from some of the leading players in

sustainability, design and building standards.

This year's annual conference will provide a unique and exciting

opportunity for anyone engaged in future proofing new and existing

buildings, including architects, specifiers, building control and local

authorities.

In

partnership

with

Supported

by

OUR SPEAKERS INCLUDE:

Dr Stephen Garvin

Director BRE Centre for Resilience

Flood resilient buildings – what we need to know and do

Claire Curtis-Thomas

Chief Executive of the BBA

Glorious and persistent innovation - business as usual for the

construction products sector

Dr Howard Porter

Chair of Each Home Counts

Achieving the Each Home Counts objectives - and maximising

industry benefits

Lynne Sullivan , OBE

Co-founding partner of sustainableBYdesign

Design and the UK's existing stock - the architect's perspective

William Waller

Market Intelligence Lead at Arcadis

Lifting the lid on Pandora's box; an overview of UK construction

in 2017

BRUFMA Registered Office:

Units 10-12, County End Business Centre, Jackson Street, Springhead, Oldham, OL4 4TZ

Tel: +44 (0)161 672 7387
---
www.insulatemagazine.co.uk

It is easier with new build schemes to address

these design factors than with existing buildings

that may have constraints which are hard to alter.

For example, opening windows may be restricted

in apartment buildings such as where they open

over bins, or tenants may have south facing windows

or even windows which they cannot open.

The only approach which is likely to be practical

in addressing overheating is a combination of

sensible design interventions taking on board

what is practical for people to do.

There are further challenges in urban settings in

summer, for example, in high density housing in

cities like London opening windows may even

cause hotter air to enter due to waste heat from

cars, air conditioning and other sources. This

wide range of issues is proof the issue of overheating

is not as simple as people think.

Comfortably Cool

It can be used at the planning stage and later to

assess overheating risk and influence building

design for the better.

In reality, a well-insulated building can make it

easier for occupants to maintain a comfortable

temperature whatever the season, but only if that

shell is well designed in the context of its site,

and properly constructed to include an appropriate

ventilation strategy. Whether new build or

retrofit, it's important the construction industry

provides homes that are warm in winter and cool

in summer.

In reality, a well-insulated building

can make it easier for occupants

to maintain a comfortable

temperature whatever the

season, but only if that shell is well

designed in the context of its site

As a company that leads the way in technoBy

considering a range offactors, it's possible to

tackle the issue of overheating. Housing developments

should adopt a five-step 'cooling hierarchy'

as outlined in the London Plan to avoid

the risk of overheating. This should include the

minimisation of internal heat generation through

energy efficient design such as decreasing pipe

lengths and adopting pipe configurations that

minimise heat loss, and reducing the amount of

heat entering a building in summer by the use

of shading measures including louvers, blinds or

trees and vegetation. Increasing the amount of

exposed thermal mass can also help to absorb

excess heat with a building. In addition, both passive

ventilation (openable windows, dual aspect

units etc) and mechanical ventilation can be used

to make free use of free cooling.

CIBSE's introduction of TM59: Design methodology

for the assessment of overheating risk in

homes, is another step in the right direction for

the building services industry in terms of future

proofing buildings to rising global temperatures.

22

insulatemag
---
The only independent insulation industry trade magazine

Featured CPDs

Recticel CPD provides the ultimate guide to

insulation solution for cavity wall buildings

Leading PIR manufacturer, Recticel Insulation, has

created an informative CPD titled, Toolbox Talk,

which offers a fascinating overview of the insulation

solutions used with masonry cavity wall construction.

The seminar offers an in-depth understanding of a

range of topics. It includes a look at the evolution of

cavity wall construction and how improved thermal

performance requirements have fuelled the development

of insulation products such as low thermal

conductivity rigid pir insulation boards.

Recticel's presentation, which forms part of the

RIBA core curriculum, also features traditional insulation

solutions as well as analysis on the contrast

between rigid partial-fill and rigid full-fill solutions.

Issues to consider in design, specification and

construction to ensure optimum performance from

rigid full-fill solutions, is another of the seminar's

highlights.

Recticel is renowned throughout the industry as a

supplier of new-build and refurbishment solutions

through its innovative insulation products which excel

in terms of low thermal conductivity and handling

ability.

For more information on booking a Recticel CPD, visit: www.recticelinsulation.co.uk

THE NEW HOME OF INSULATION | WWW.INSULATENETWORK.COM

24 www.insulatemagazine.co.uk
---
www.insulatemagazine.co.uk

Rockwool launches CPD

on acoustic standards in schools

ROCKWOOL has developed a

new CPD for architects entitled

'Acoustic Standards in Schools'.

The CPD aims to explain the

science behind acoustics, the

latest building regulations, best

practice guidance on acoustics

and explore the most appropriate

sound insulation solutions for

education environments.

A noisier urban environment is

increasing the importance of

good acoustics in schools. In

addition, pressure on space in

our towns and cities is leading to

more buildings being developed

as multi-use, combining residential,

educational and commercial

environments in one unit.

"Excessive and unwanted noise

is known to have a detrimental

effect on academic performance

in the learning environment",

comments Paul Barrett, Product

Manager at ROCKWOOL

Ltd. "ROCKWOOL has created

this new CPD, focusing on the

increasing issues surrounding

acoustics in school buildings, to

help make sure architects are

aware of the issues and understand

how stone wool insulation

can provide a range of solutions

that will last the lifetime of the

building."

Over the last 40 years, research

has proved that poor acoustics

can lower pupils' academic performance,

compromise classroom

control, affect the health of

teachers and classroom assistants

and disadvantage children

with special needs, especially

those with hearing difficulties.

In 2003, the Department of

Education and Skills, introduced

acoustic performance standards

for new schools under the Building

Regulations, Building Bulletin

93 (BB93).

In meeting the acoustic requirements

of BB93, the choice of

insulation material has a major

impact. ROCKWOOL stone

wool insulation is renowned for

its excellent acoustic properties.

Fully tested to meet the rigorous

demands of today's legislation,

stone wool insulation solutions

are proven to reduce ambient,

impact and reverberation noise

in educational buildings.

ROCKWOOL can provide a

number of different bespoke

acoustic solutions, including

flat roof insulation with

HARDROCK® Multi-Fix, external

wall insulation, using the RE-

DArt® system, internal partitions

with ROCKWOOL FLEXI®,

and internal floor solutions

with ROCKWOOL FLEXI® and

ROCKFLOOR® to combat

impact noise. ROCKWOOL fire

protection products also reduce

flanking transmission, one of the

most prevalent noise concerns

in schools. Flanking transfer

comprises of sound that is

transmitted indirectly via paths

such as external wall cavities,

voids above partitions, ceilings

and internal corridors, or where

there are problems of excessive

reverberation within the rooms

themselves.

To book a place and participate

in ROCKWOOL's Acoustics

in Schools CPD, please

complete the online enquiry

form www.rockwool.co.uk/

technical-support/CPDS/

cpd-sign-up. For further information,

please visit www.

rockwool.co.uk.

Feature your CPD here:

sales@insulatemagazine.co.uk | 01948 759 351

insulatemag 25
---
SOUND REDUCTION

Superior sound insulation helps reduce unwanted

noise from both internal and external sources.

THERMAL PERFORMANCE

Stone wool insulation doesn't just keep buildings warm

today, it maintains its insulating properties for years to come.

© 2016 ROCKWOOL Ltd. All rights reserved.

DIMENSIONAL STABILITY

Density, volume and structural integrity provide

a perfect fit for maintaining performance.
---
This is ROCK, re-engineered

for a fast, easy and perfect fit.

From volcanic rock to high performance building insulation. See

ROCK re-engineered to provide high performance insulation solutions

for today's building projects. ROCKWOOL insulation is easy to use,

dense, durable and performs because of its origins in natural stone.

Discover how the transformation happens, and why ROCKWOOL

insulation performs consistently across so many applications.

SEARCH ROCKWOOL INSULATION ORIGINS
---
The UK's only

exhibition dedicated

to the insulation industry

Register your interest online today

www.insulationexpo.co.uk

In association with
---
The only independent insulation industry trade magazine

Interview

Progress is being made

but we must keep our

eyes on the ball

Sarah Konstense-Winterton Executive Director, MIMA

Excuse the use of sporting terms, the summer season is well underway and it appears

that the general election has been added as one of these annual sporting events alongside

Wimbledon and the Henley Regatta! The odds on the potential majority for the Tories

are changing daily and the pollsters' predictions are wildly varied and for those of you

who would like to put on a bet, you are braver than I! The long standing 'favourite' is losing

ground so it may be time to consider an each way bet. In reality it may be easier to secure a

winner at Royal Ascot!

MIMA has been remaining

focused and working hard

with the EEIG to hedge our

bets and ensure we can be

post-election ready, whatever

the outcome on 9 June.

The election is a time to build

our support but not let our

message get lost in the election

hiatus. Both MIMA and

the EEIG have launched their

own manifestos asking a new

government to keep

"energy costs in British homes

and businesses down, by delivering

a buildings energy infrastructure

programme which

brings 20 million homes up

to EPC Band C by 2035"

and we have encouraged

other EEIG members to follow

suit.

The last year of campaigning is

beginning to bear fruit and our

messages are clearly resonating

across the political divide

and the three main political

parties have been helpful with

their manifestos.

There is a clear consensus

appearing to support the need

for stronger action on energy

efficiency. The Lib Dem's

proposals, including a 'Green

Homes Act', go the furthest

and Labour have picked up

on our industry's call for energy

efficiency to be a "national

infrastructure priority".

Whilst the Conservative's 2015

pledge to insulate a million

new homes by 2020 has

disappeared, although official

statistics indicate this is on

target, they appear to have left

the door open to more efficient

new builds with a pledge to

"review requirements on new

homes".

This can be viewed as success

for us but manifestos are not

firm promises but more an

indicative policy wish list!

insulatemag 29
---
www.insulatemagazine.co.uk

Pre-election our political support was growing

and we continue to build on this by seeking

the support of candidates through a pledge

on the newly launch EEIG website, www.eeig.

co.uk - a pledge to support Energy Efficiency as

an Infrastructure Priority. This will give us a solid

support base and early (re)connection with new

and veteran MPs as the new parliament takes

shape over the summer and into the autumn. We

would encourage all those who read this article

to encourage their candidates to also pledge

their support when they come knocking on their

doors.

Our sights are also fixed firmly on the 6 months

post-election – crucial for making our case to

the new government as they look for quick wins

and popular policies whatever party we have

in power. We won't know the makeup of our

political backbenches or who we will have as

our Ministers – there are likely to be some new

faces but one thing is clear – we are ready and

have a whole armoury at the ready, with the

Frontier Economics report and engagement and

profile-raising events over the summer, into the

party conference season and up to Christmas.

There will not be one week when politicians will

be allowed to forget our overarching message

that we have the (cost-effective) answer, we have

the blue print for UK government policy making

on energy in buildings and we can help deliver a

committed, long-term, sustainable approach for

improving building energy performance.

We must also not forget that the EEIG continues

to grow! We welcomed in a few new EEIG members

including WWF and the Glass and Glazing

Federation and we hope more to come. We have

a great team at the EEIG and many members

remain very active - at our last meeting we were

oversubscribed! The EEIG is proving an effective

coalition and its success based upon working

with each other, supporting each other's campaigns

and where possible aligning our activities

and messaging to enhance the overall impact

of our campaign. Recent outputs include the

WWF letter in The Independent which many EEIG

members signed. It is refreshing to work alongside

many like-minded individuals who have an

experienced understanding of the political arena

and prove how a broad industry can work effectively

together towards an agreed objective.

Thank you to our funders without whom this progress

could not be made (in no particular order)

- Rockwool, Superglass, Knauf Insulation, Kingspan,

ECF, SIG, Isover Saint Gobain UK, Dow

and MIMA. I must also add that without a commitment

from MIMA's Board, I would not be able

to spend a substantial part of my working week

on this campaign alongside other colleagues

– MIMA consultant, Nicola, EEIG consultant,

Alasdair and of course, Ed & Pedro at E3G. We

commit a substantial amount of our time to the

EEIG on top of our day jobs!

However, there are also some minimal costs with

the EEIG campaign so we do need your on-going

support to keeping us powering forward

and maintaining that drive in the most important

phase - the next 6 months. We will be undertaking

a fundraising round over the coming weeks

and during the summer. We cannot risk losing

that momentum or grinding to a halt. We have

come so far, so please join us and support us!

We are all in this together to turn our vision into

reality and realise a stable, high quality programme

that will repair and restore business

confidence and investment in the industry for

the future. A vision that will draw on the highest

standards of workmanship and delivery supported

by best practice to inspire consumer confidence.

A vision that will ensure our new government

delivers on its targets such as reducing

carbon emissions to ensure it meets its Fourth

and Fifth carbon budgets, and bringing fuel poor

homes up to EPC Band C by 2030.

30 www.insulatemagazine.co.uk
---
www.insulatemagazine.co.uk

Whether we have Corbyn, Farron or May on 9 June which one is going to take a punt on the huge potential

for economic returns, increased productivity, lower energy bills and significant health benefits from

our delivery vision? So where are you placing your bets for what is proving the ultimate summer sporting

event?

Sarah Kostense-Winterton is Executive Director of MIMA, the Mineral

Wool Insulation Manufacturers Association and provides the secretariat to

the Energy Efficiency Infrastructure Group.

For the MIMA manifesto please visit: www. https://www.politicshome.

com/news/uk/energy/manifesto/mineral-wool-insulation-manufacturers-association/86273/mineral-wool

For the EEIG manifesto and for further details of the EEIG or would like

to join please visit our new website at www.theeeig.co.uk. Alternatively

please contact Sarah at sarah@mima.info

Get involved with

insulate magazine

sales@insulatemagazine.co.uk | 01948 759 351

insulatemag 31
---
The only independent insulation industry trade magazine

Industry News

Problems come in all shapes and sizes,

and issues associated with properties potentially

damaged as a result of failed insulations are no exception.

Damp, mould, cracked walls, bad insulation products, poor workmanship, abandoned

installation projects, failing housing stock. These issues are a nightmare for an ever-growing

number of people, from home dwellers to Local Authorities, Housing Associations

and everyone in-between. There has been a real and growing need for a coordinated

yet comprehensive range of services, tailored to meet the needs of professional people dealing

with the consequences of damaged properties. Consultation, Investigation and Training

(CIT) Ltd is a new service which has been set up to fulfill that need.

Part of the BBA, CIT was founded as a separate,

independent body that helps to tackle problems

associated with property insulation. Our independent

inspection experts have many years of

experience with all kinds of property defects and

their root causes, from instances of malpractice

and inferior product use to poor workmanship.

They also know what to look out for when assessing

how house dwellers' activities affect

ventilation and the thermal condition of homes.

In short, whatever the nature of the problem, we

can we can get to the bottom of it and provide

conclusive reports with reliable advice on the

best way forward in each individual case.

CIT services have been designed specifically to

address the growing number of inconsistences in

this area that in recent years has become unacceptable.

Our services give the user complete

peace of mind, either about the current condition

of buildings or when they are being recommended

for retrofit intervention works. Our aim is to

raise and maintain industry standards to the benefit

of home dwellers and those whose responsibility

it is to look after them.

32
---
www.insulatemagazine.co.uk

CIT can also advise and help on the content and

design of specification and tender documents,

guarantee requirements and maintenance plans for

housing stock. From tactical, short-term requirements

to long-term planning, CIT has the knowledge,

expertise and reputation to help reduce costs

and improve confidence in the health of the insulation

industry.

Our expert investigation services are available to

Local Authorities, Housing Associations, government

departments, legal practices, property marketers,

home dwellers and anyone dealing with the

consequences of inappropriate insulation retrofits or

improperly installed insulation products.

The awards event the

insulation indusrtry has been waiting for

So, whether you're responsible for an entire housing

stock, acting on behalf of a single client or

simply lending a helping hand to a family in need,

CIT is here to shed light on any areas where you

need reassurance and good advice as to how to

proceed.

insulatemag 33
---
The only independent insulation industry trade magazine

Industry Event

Official launch of

UK Construction Week 2017

A unique show designed to bring together the

leading voices in the construction industry

UK Construction Week, the largest gathering of the UK's built environment community

announces its return to Birmingham NEC from 10 – 12 October 2017, where it will host

the most popular event in the construction calendar. Set to be its biggest yet with nine

specialist shows under one roof, the show already has a stellar line up of speakers secured

from Urban Splash, NHS, Heathrow, Cast Consultancy, Kier and Network Rail.

In the face of change and political uncertainty, UK

Construction Week's main stage will host debates

on the industry's leading issues and trends,

including the housing shortage, diversity, how to

tackle the skills crisis, building in a pre and post

Brexit Britain, and adopting modern methods of

construction. Commanding audiences of more

than 300, the panel discussions will be anchored

by leading journalists and industry commentators

including architect and TV star George Clarke,

award winning broadcaster Steph McGovern and

renowned architecture critic Tom Dyckhoff, while

the individual shows will explore sector-specific

issues and solutions.

Offsite Construction

Offsite construction will be a major theme, with a

new dedicated offsite theatre and awards programme

supported by Modular and Portable

Building Association (MPBA) and Structural Timber

Association (STA). As the industry continues

to embrace the latest technologies that allow it to

build quicker, more efficiently and at a quality not

achievable before, the show will feature hundreds

of exhibitors specialising in offsite, including Portakabin,

Containex, and Wernick Group, making

it the perfect opportunity for visitors to find out

why offsite construction will become the way to

build in the future.

Nathan Garnett, Event Director at Media 10,

which runs the show, said:

"The UK's construction industry is more topical

than ever. Not only is it at the forefront of political

debate and public opinion, it's also clear that

we're moving towards a new age of innovation

and change with topics such as off- site construction,

modular and BIM driving so many conversations.

This will be our biggest event to date,

and we're looking forward to bringing the industry

together to debate, learn and do business, as

well as showcase a diverse range of products

and services."

Not only is it at the forefront of

political debate and public opinion, it's

also clear that we're moving towards a

new age of innovation and change

34

www.insulatemagazine.co.uk
---
www.insulatemagazine.co.uk

insulatemag 35
---
The only independent insulation industry trade magazine

One of UK Construction Week's main aims is to

act as a showcase for innovation in the industry,

whether it's new ways of working, sustainable

products or evolving technologies. The Innovation

Trail will bring visitors the latest products,

services and innovations that are changing the

way we build and

have never previously been showcased in the

UK. Companies can apply for their product to

feature on the Innovation Trail by visiting the website.

Specialist Awards

A number of new, specialist awards will also

feature at this year's event. These include: Low

Carbon Vehicles Awards, BIM Awards, Offsite

Awards and the WAN Transport, Concrete in

Architecture and Adaptive Reuse Awards. The

UK's best companies in the industry will also be

recognised at the Construction Enquirer Awards

on the opening night of the show.

Extensive Show

Consisting of Build Show, Timber Expo, Civils

Expo, Plant & Machinery Live, Energy 2017,

Smart Buildings 2017, Surface & Materials Show

(featuring Kitchens & Bathrooms Live), HVAC

2017 and Grand Designs Live, UK Construction

Week caters for the entire spectrum of the industry

from builders, architects, innovators and

consultants, each show provides exhibitors with

the opportunity to network alongside decision

makers and purchasers while showcasing their

services and products to thousands of visitors.

each show provides exhibitors with

the opportunity to network alongside

decision makers and purchasers while

showcasing their services and

products to thousands of visitors

36

www.insulatemagazine.co.uk
---
www.insulatemagazine.co.uk

Evening of Entertainment

Running into the evening, entertainment will

include a casino night at the Genting International

Casino with exclusive discounts for exhibitors

and visitors, a dodgeball tournament and the

return of the popular beer and ale festival.

For more information and free registration

visit UK Construction Week.

Comprehensive Show

As one of the leading voices of the construction

industry, UK Construction Week 2017 will deliver

its most comprehensive and diverse show

to date with support from leading associations

including The Chartered Institute of Building

(CIOB), Royal Institute of British Architects (RIBA),

Construction Products Association (CPA) and

Builders Merchants Federation (BMF).

UK Construction Week 2017 - 10-12 October Birmingham NEC - www.ukconstructionweek.com

insulatemag 37
---
The only independent insulation industry trade magazine

Election Opinion

Can the party Manifestos

live up to their promises?

Insulate Magazine columnist Simon Storer,

Chief Executive of the British Rigid Urethane Foam Manufacturers Association (BRUFMA)

In a critical assessment of the Conservative and Labour party manifestos, Simon Storer,

Chief Executive of The British Rigid Urethane Foam Manufacturer's Association (BRUFMA)

says both parties have shown a commitment to build more houses and address the housing

crisis but not at the expense of poorer performing buildings. The question is can they live up

to their promises?

Labour Party Manifesto

BRUFMA welcomes Labour's commitment to

build, not just the quantity of homes the country

needs but also their promise to ensure new houses

are built to an increasingly higher level of energy

efficiency. This is essential if the UK is to meet

its climate change targets and help reduce energy

consumption

It is also encouraging to see the reintroduction of a

zero carbon target and the commitment to ensure

homes are fully and properly insulated, new build

and existing. However, to achieve this there must

be a gradual increasing of the standards applied

by regulation, coupled to a credible assessment

and measuring regime that gives confidence that

all new and refurbished houses meet the current

and future standards and perform as the design

specification.

If this doesn't happen we will be retrofitting new

build houses at some point in the future and missing

the opportunity to improve the existing stock.

We all know how difficult it is to retrofit the

existing housing so if we fail to ensure new build

are sufficiently energy efficient we will be failing

generations to come. We must get this right first

time

The proof as always will be in the ability to deliver

and to find the necessary funding.

38

www.insulatemagazine.co.uk
---
www.insulatemagazine.co.uk

Conservative Manifesto

Responding to the launch of the Conservative

election manifesto, Simon Storer Chief Executive

of BRUFMA said "We are pleased that the Conservative

manifesto has heeded our concerns and

embraced BRUFMA's call to ensure the UK does

not reduce the quality of housing at the expense

of quantity. Promising to deliver one million homes

by 2020 and a further half a million by 2022 will

go some way toward addressing the housing crisis,

and the manifesto stresses a commitment to

build high quality sustainable homes for the future,

which we welcome.

There is also a recognition of the importance of

energy efficiency for existing homes, but it is disappointing

that the Conservatives are only considering

improving fuel poor homes when we know

that there must be proper incentives to bring all

the UK's housing stock up to a much higher level

of energy efficiency. This will be essential if the UK

is to stand any chance of meeting its 2050 climate

change targets and reducing energy

consumption.

This would not only provide a better living environment

for many families, it would also reduce

energy usage and thereby help with other manifesto

commitments regarding energy generation

and would indicate a much more joined up way

of thinking in addressing these varying challenges.

The recent past is littered with broken promises

about housing numbers and failed energy performance

policies. We know we have the products,

the expertise and the ability to build and refurbish

the UK's buildings to very high standards. But this

will only be done if there is real political commitment

and an insistence of meeting ever increasing

standards applied through regulation, credible

assessment and a valid measuring regime that

shows performance has been met.

Let's hope this manifesto doesn't go the same

way as so many others before it and end up as a

series of missed opportunities."

insulatemag 39
---
2017

10–12 NEC BIRMINGHAM

10-12 OCTOBER | NEC | BIRMINGHAM

THE UK'S LARGEST

CONSTRUCTION TRADE SHOW

9 SHOWS UNDER 1 ROOF

650+ EXHIBITING COMPANIES

10,000+ INNOVATIVE

PRODUCTS AND SERVICES

OVER 30,000 VISITORS

DEDICATED OFFSITE ZONE

100+ CPD SESSIONS

AND SEMINARS

FOR FREE REGISTRATION AND EXHIBITING ENQUIRIES PLEASE VISIT

Includes access to these events:

UKCONSTRUCTIONWEEK.COM

2017