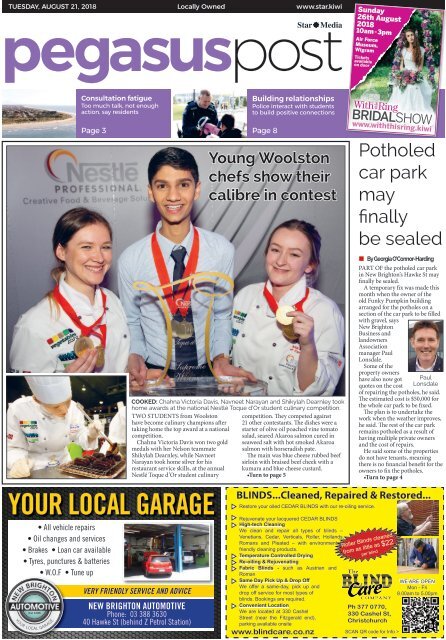 Pegasus Post: August 21, 2018
You also want an ePaper? Increase the reach of your titles
YUMPU automatically turns print PDFs into web optimized ePapers that Google loves.
TUESDAY, AUGUST 21, 2018

Locally Owned

www.star.kiwi

Sunday

26th August

2018

10am - 3pm

Air Force

Museum,

Wigram

Tickets

available

on door

Consultation fatigue

Too much talk, not enough

action, say residents

Page 3 Page 8

Building relationships

Police interact with students

to build positive connections

Young Woolston

chefs show their

calibre in contest

COOKED: Chahna Victoria Davis, Navneet Narayan and Shikylah Dearnley took

home awards at the national Nestlé Toque d'Or student culinary competition.

TWO STUDENTS from Woolston competition. They competed against

have become culinary champions after 21 other contestants. The dishes were a

taking home the top award at a national starter of olive oil poached vine tomato

competition.

salad, seared Akaroa salmon cured in

Chahna Victoria Davis won two gold seaweed salt with hot smoked Akaroa

medals with her Nelson teammate salmon with horseradish pate.

Shikylah Dearnley, while Navneet

The main was blue cheese rubbed beef

Narayan took home silver for his

sirloin with braised beef cheek with a

restaurant service skills, at the annual kumara and blue cheese custard.

Nestlé Toque d'Or student culinary

•Turn to page 5

Bridalshow

www.withthisring.kiwi

Potholed

car park

may

finally

be sealed

• By Georgia O'Connor-Harding

PART OF the potholed car park

in New Brighton's Hawke St may

finally be sealed.

A temporary fix was made this

month when the owner of the

old Funky Pumpkin building

arranged for the potholes on a

section of the car park to be filled

with gravel, says

New Brighton

Business and

landowners

Association

manager Paul

Lonsdale.

Some of the

property owners

have also now got

quotes on the cost

Paul

Lonsdale

of repairing the potholes, he said.

The estimated cost is $50,000 for

the whole car park to be fixed.

The plan is to undertake the

work when the weather improves,

he said. The rest of the car park

remains potholed as a result of

having multiple private owners

and the cost of repairs.

He said some of the properties

do not have tenants, meaning

there is no financial benefit for the

owners to fix the potholes.

•Turn to page 4

YOUR LOCAL GARAGE

• All vehicle repairs

• Oil changes and services

• Brakes • Loan car available

• Tyres, punctures & batteries

• W.O.F • Tune up

Your LocaL GaraGe

VERY FRIENDLY SERVICE AND ADVICE

NEW BRIGHTON AUTOMOTIVE

Phone: 03 388 3630

40 Hawke St (behind Z Petrol Station)

BLINDS...Cleaned, Repaired & Restored...

Restore your oiled CEDAR BLINDS with our re-oiling service.

Rejuvenate your lacquered CEDAR BLINDS

High-tech Cleaning

We clean and repair all types of blinds –

Venetians, Cedar, Verticals, Roller, Hollands,

Romans and Pleated – with environmentally

friendly cleaning products.

Temperature Controlled Drying

Re-oiling & Rejuvenating

Fabric Blinds - such as Austrian and

Roman

Same Day Pick Up & Drop Off

We offer a same-day, pick up and

drop off service for most types of

blinds. Bookings are required.

Convenient Location

We are located at 330 Cashel

Street (near the Fitzgerald end),

parking available onsite

Roller Blinds cleaned

from as little as $22

per blind

Ph 377 0770,

330 Cashel St,

Christchurch

www.blindcare.co.nz SCAN QR code for Info >

WE ARE OPEN

Mon - Fri

8.00am to 5.00pm
---
2 Tuesday August 21 2018

Latest Christchurch news at www.star.kiwi

get in touch

from the editor's desk

PROGRESS ON the Hawke St car park

potholes!

At last, I hear you say.

Yes, as we report on page 1 today some of

the potholes have been filled in readiness

for better weather when they will be tarsealed over.

This amazing piece of progress has been years, if not the odd

decade, in the making.

The problem, as we report, is the multitude of private owners

of the car park. Tracking them down has apparently been as big

a problem as the potholes themselves.

And then getting those landowners to actually spend

money to make the car park less of a hazard for motorists and

pedestrians alike has been another issue in itself.

But at last we have progress.

– Barry Clarke

GENERAL ENQUIRIES Ph 379 7100

CLASSIFIED ADVERTISING Ph 379 1100

Star Media, a division of Allied Press Ltd

PO box 1467, Christchurch

starmedia.kiwi

your local views

Bus route concerns

Mairehau residents are upset noisy buses will be travelling along

their 'peaceful' streets.

Page 7

community events

Flowing words

Visit the New Brighton Library to celebrate National Poetry

Day. Saturday, 2-3pm, 213 Marine Pde.

Page 13

bridal show

PEGASUS POST

With this Ring

Get your tickets for the With This Ring Bridal Show on August

26. Don't miss this Star Media event which brings all the experts

under one roof at the Air Force Museum of NZ.

NEWS

Georgia O'Connor-Harding

Ph: 364 7438

georgia.oconnor@starmedia.kiwi

ADVERTISING

Elaine Moon

Ph: 364 7436

elaine.moon@starmedia.kiwi

Page 16

The best-read local newspaper, delivered to

15,657 homes every Tuesday

Linwood, Avonside, Richmond, Shirley, Burwood, Dallington,

Wainoni, Bromley, Aranui, Avondale, Bexley, New Brighton,

Northshore, Queenspark, Parklands, South Brighton.

jo hayes

National list MP based in Christchurch East

Keep well and warm

this winter

Call to make an appointment:

Phone 384 9459

www.national.org.nz

Authorised by Jo Hayes

Unit 6/950 Ferry Road, ChCh

Discover Christchurch's

best priced pet

accommodation

• New cat & dog

groomer straight

from USA

• Daycare -

all breeds

• Long stay/

short stay

Call now to book

in your fur baby,

inspections

welcome

anytime!

ALAMEDA

KENNELS & CATTERY

271 Dyers Road | Ph 384 1297

www.alameda.nz

Check out the

new Sportsman 470

Range TODAY

Proudly supporting JBnZ for over 50 years

20 Lunns Rd, PO Box 709, Christchurch 8024

Ph: 03 962 0505

Email: hamiltonjet.nz@hamjet.co.nz

www.hamiltonjet.com

Best

Motorbuys

TM

ANYTHING WITH A MOTOR!

The South Island's leading motoring publication

FREE every Friday at hundreds of locations

around the South Island, and it's available online!

www.bestmotorbuys.co.nz

For advertising enquiries, ph Lea Godfrey 021 277 3086

Cnr Keyes & Bowhill Rd

North New Brighton

Ph: 382 0867

Email: info@framencopy.co.nz

www.framencopy.co.nz

Design & Print

Business Cards

Flyers

Photocopying

Typing

Binding

Scanning

Laminating

up to A0 Plan Printing

T-Shirt Printing

Signage

Picture Framing

and so much more…….

FOR ALL YOUR PRINTING REQUIREMENTS
---
PEGASUS POST Latest Christchurch news at www.star.kiwi

Tuesday August 21 2018 3

News

Residents tired of consultation

• By Georgia O'Connor-Harding

SOUTH NEW Brighton and

Southshore residents are tired of

endless consultation to resolve

ongoing problems since the

earthquakes.

A report has been presented to

the city council by the Coastal­

Burwood Community Board

expressing concern that the

communities may not engage

effectively in

consultation

over rising sea

level issues.

Regenerate

Christchurch

opened an engagement

hub

Tim Sintes

recently at 82

Estuary Rd.

It comes after

residents in Southbridge and

South New Brighton were told

they are living in a High Flood

Management Zone. As a result,

many residents are struggling

to get resource and building

consents to extend their homes

or build on empty sections.

The report also said board

members are witnessing the

social and psychological implications

of a lack of action over

earthquake-related repairs.

After receiving the report, city

UNCERTAINTY: A report presented to the city council has

raised concerns Southshore and South New Brighton residents

may not engage effectively in consultation over rising sea

levels.

councillor Glenn Livingstone

said: "To truly understand the

experience of those in Southshore

and South New Brighton

over the last seven years, council

has needed to walk in their

shoes. I think there is a gap."

He said the report was received

by the city council, but

the consultation work is being

done by Regenerate.

Board deputy chairman Tim

Sintes highlighted the psychological

issues residents are facing

to show the city council what

people are going through.

Mr Sintes said the engagement

hub is the "best hope" for Southshore

and South New Brighton

residents.

Regenerate chief executive

Ivan Iafeta acknowledged the

past seven years have been

a challenging time and it is

important residents contribute

during consultation.

Southshore Residents' Association

chairwoman Lynda

Burdekin said the community

has been under stress for eight

years since the quakes and now

they are facing climate change.

She said residents do not want

consultation to keep going for

another five years. "There are

some old people who are so

scared . . . people are thinking is

this all going to happen tomorrow?

Are we going to have a

massive flood? Will we lose our

properties? That is pretty sad,"

she said.

South New Brighton

Residents' Association secretary

Séamus O'Cromtha said what

is needed from authorities is

prompt decision-making and

serious investment.

He said the priorities need

to be protecting people and

property from tidal flooding and

erosion and the effects of climate

change and rising sea levels.

•HAVE YOUR SAY: Do you

think there has been too

much consultation and not

enough action in South New

Brighton and Southshore?

Email your views to georgia.

oconnor@starmedia.kiwi

Local

News

Now

In Brief

Fire rages, homes at risk

BURWOOD SCOUTS QUIZ

The Burwood Scouts will hold

a fundraising quiz on Friday

night. The money will go towards

helping the scouts get to the 22nd

New Zealand Scout Jamboree at

the Mystery Creek Events Centre

in Hamilton next year. The quiz

will include food, tea and coffee,

and auctions. It will be held at

the Burwood Scout Hall, 16

Travis Rd, at 7pm. Tickets cost

$20. For more information, email

bsgfundraisingevents@gmail.com

or text 021 116 3610

FREEDOM CAMPING GRANT

New Brighton will benefit

from a funding boost from the

Government's tourism facilities

development grants fund to help

with freedom camping-related

issues. The city council received

$415,000 to help manage freedom

camping and support responsible

camping. The funding will pay for

more toilets in New Brighton.

PUKEKO CENTRE MEETING

The community is invited to

discuss stage two of the multi­ use

sports and recreation facility,

Pukeko Centre, at a public

meeting on August 29 at 7pm. The

meeting will take place at the

centre on 30 Chadbury St,

Parklands. A draft concept plan

has been completed and feedback

is being sought.

HUNTER JUNIOR

(Leather)

Great new colours from size 7.

FROM $105 EACH

47c Garlands Road, Woolston

Phone 389 3431

www.thefootwearfactory.co.nz

Burwood

Bakery

• Gourmet filled rolls,

sandwiches,

cakes, sausage

rolls, savouries,

pies and more...

• Orders welcome

• Made fresh every day!

265 Burwood Road, Christchurch

Phone 03 383 0360 or 021 1441 059

Bringing

the heat

Wherever you are,

Mini-Tankers can help keep

you cosy with on-site refuelling

for your home heating

system. Simple and safe.

Mini-Tankers Canterbury

027 4333 801

Terms and conditions apply.

THIS WEEKS SPECIALS

MON - $20 Ribs, Chips & House drink

TUES - $20 Pizza & House drink

WED - $20 Burger, Chips & House drink

THURS - $20 Fish n Chips & House drink

FRI & SAT - Live Music

SUN - Free Pool

03 260 0325 - Cnr of Worcester St & Stanmore Road

Free off street parking
---
4 Tuesday August 21 2018

Latest Christchurch news at www.star.kiwi

News

PEGASUS POST

McMaster & Heap

Veterinary practice

Huntly'S exciting

day out…

Desexing is classified as a routine, fairly fast

procedure by most veterinarians but for the

owner and their pet it is a big deal. It is usually

the first time the client has had to leave their

little baby in our trusted hands for a whole

day bearing in mind its going to have an

anaesthetic which if not explained properly

can be very scary for the client. Many clients

are reluctant to part with their pet so its our

job to reassure clients, their special pet will be

ready and waiting for them at the end of the

day, job done.

At McMaster & Heap we

consider routine surgery

to be a big deal and

we are very careful to

explain the whole days

procedure and follow up

care very carefully to our

clients. We don't want

our patients scared off

by the days' events so

we are very gentle with

them. Lets face it, they

may be patients of ours

for the next 20 years so

we need to start off on

the right paw!!

Often the puppies have

visited the clinic before

for vaccinations and

puppy playschool so

have "good feelings"

about the practice.

Running around with

other puppies playing

chase, getting hugs from

us all and liver treats

helps portray our clinic

as a fun place. With the

kittens we place them

in a quiet space and

have feliway diffusers

running which naturally

calm them down. If they

are particularly stressed

out they are often given

their sedative early and

cuddled by our hospital

nurse.

Recently our nurse

Jaimee had her puppy

neutered.

Huntly has been here

before so bounded

through the doors.

We give our clients

the options of pre

anaesthetic blood testing

and intravenous fluids. The blood testing

can help us detect early subclinical disease

like diabetes, renal or liver disease. The fluids

help maintain a healthy blood pressure, help

remove the anaesthetic from the body, and

provide an intravenous route should we

require it.

On arrival they are thoroughly checked over

( temperature, heart rate, breathing rate) by

Michele anaesthetising Huntly.

Huntly waking up from his surgery.

Huntly enjoying some Sunday

fun at the park.

Open 7 days

Cnr Hoon Hay & Coppell place

phone 338 2534, Fax 339 8624

e. mcmasterandheap@yahoo.co.nz

www.mcmasterheap.co.nz

a theatre nurse, bloods taken if required and

a catheter placed for an IV line. 30 minutes

before their operation they are sedated. Once

anaesthetized they are connected to an

anaesthetic monitoring device so the nurse

can easily and accurately track how things

are going.

A castration procedure takes about 30

minutes from start to finish. Basically both

testicles are removed, the scrotal sac is left

and there will be a small line of stitches that

will require removal in 10-14

days.

We provide 2 free check ups

if required. WE often send

puppies home with a large

lampshade (Elizabethan

collar) to prevent them

ripping at their stitches. We

do recommend leash exercise

only until the sutures are

removed.

Needless to say Huntly was

the "star" patient, going to

sleep when told and waking

up quietly and quickly. Some

of our boisterous patients can

be quite vocal once coming

around from their anaesthetic.

Lola finds it quite amusing

and is often seen checking up

on them.

Nearly all of the puppies we

see through McMaster & Heap

will be desexed as young

dogs. We do recommend

this procedure unless the

client is keen on breeding/

showing. Many serious health

concerns are eliminated

by desexing early on, for

example mammary and

testicular cancers, pyometras

and prostate disease. Plus it

stops unwanted pregnancies,

roaming dogs and it can

lessen aggressive behavior

before bad habits have

formed.

Early aggression in puppies

though requires the help of a

trained animal behaviouralist

very early on and possibly

medications from your vet.

This sort of issue will not

simply just right itself. Your

puppies personality though is

not affected by the operation.

Definitely best to have the

discussion with your vet as we all have

varying opinions on "the best time". I give my

clients the option of waiting until their male

dog is cocking their leg before castration –

this usually occurs at 8-10 months of age.

For any more information and advice on why

or when to desex, please give anyone of us a

quick call at the clinic. We'd be happy to help.

Dr Michele McMaster

McMaster & Heap

START: Some of the potholes in the Hawke St car park have been filled with

gravel as a temporary measure.

Potholed car park finally

looks set to be sealed

•From page 1

Concerns have been raised about

the state of the car park on the Peoples

Independent Republic of New Brighton

Facebook page.

One commenter said she had driven

into a large pothole which "destroyed"

her tyre and damaged paint under the

bumper.

Paper Plus New Brighton owner Blair

Hughes said he would like Development

Bursting

The new and improved Smiths City

Outlet Store, located at 99 Ferry Road,

Christchurch Central, is brimming with

below cost bargains! Formerly the 'Smiths

City Clearance Centre' located at 367

Blenheim Road, Smiths City Outlet Store

is your home for end of line, exchanged,

ex display and 'dings and dents' products

– all priced to clear!

We no longer deal in the purchase

of second hand goods direct from

the public; this enables us to hold a

far greater range of quality product

across the furniture and appliance

categories. Whether you are looking for

lounge and dining furniture, kitchen

and laundry appliances, UHD TVs or

anything in between you are sure to find

something at our new Outlet Store. We

have products across all the big brands

Christchurch Ltd to help pay for pothole

repairs. A DCL spokeswoman said it has

no authority to take action or force landowners

to address the issues.

"There is also a question over whether

public money should be used to upgrade

private property," she said.

•HAVE YOUR SAY: What do you

think should be done about the

Hawke St potholes? Email your views

to georgia.oconnor@starmedia.kiwi

ADVERTORIAL

with bargains

you know and love. Within our 1400m 2

storeroom much of our product is near

new, all at highly competitive market

pricing and in many instances even below

cost!

If you're looking to get quality for less

head over to 99 Ferry Road where you

will find ample parking, friendly staff and

a showroom filled with products. Don't

forget your trailer – our deals are so good

we reckon you'll be leaving with too

much to fit in the car! Or if you prefer to

have products delivered straight to your

door why not take advantage of the same

great delivery service that Smiths City has

to offer.

We're happy to take queries over the

phone on 03 3798249 or email us at

chchoutlet@smithscity.co.nz
---
PEGASUS POST Latest Christchurch news at www.star.kiwi

Tuesday August 21 2018 5

Board opposes Donnell Park plan

• By Georgia O'Connor-Harding

DON'T CONVERT Burwood's

Donnell Park into wetlands.

That's the plea from the

Coastal-Burwood Community

Board, which has written to

Regenerate Christchurch about

the issue.

Regenerate has proposed the

red-zoned park could be turned

into wetlands.

The board also doesn't want a

gondola or motorsports complex

in the red zone.

Board

chairwoman

Kim Money said

the board did

not support the

proposal to turn

Donnell Park

Kim Money

into wetlands.

The feedback

is part of the Red Zone Futures

exhibition, which gives residents

an overview of what the Otakaro

Avon Corridor Regeneration

Area could look like in the

future.

Ms Money said Donnell Park

is a "real focal point" in the

community.

It would be "unacceptable"

for planned earthquake repairs

at the park to get under way,

and then for it to be turned into

wetlands, she said.

The city council has

secured $600,000 to repair

most of the Donnell Park's

facilities, including the tennis

court, basketball court, toilets,

pathways and playgrounds.

Ms Money said apart from

the Avon River, there appears

to be little to appreciate aerially

and the concept of motorised

sports was not in harmony with

the wildlife existence or the

community.

But the board was supportive

of the Green Spine, as members

saw the value in restoring the

native habitat in the existing

wetlands.

It supports the Tiny Houses

and 'Floating House' proposed,

and the concept of white -water

activities, subject to consultation

with residents.

CHANGE: The Coastal-

Burwood Community Board

does not support Donnell

Park being transformed

into wetlands as part of

the Otakaro Avon Corridor

Regeneration Area plan.

PHOTO: MARTIN HUNTER

Key points made by the board

are that the flood protection of

houses needs to be a priority,

and the placement and location

of effective stormwater drains

needs to be addressed.

Regenerate chief executive

Ivan Iafeta said there was a

positive response from people

who visited the exhibition.

He said the public will have an

opportunity to provide formal

written feedback on the draft red

zone plan before it's provided

to Greater Christchurch

Regeneration Minister Megan

Woods.

•HAVE YOUR SAY: What

do you think needs to be

done to ensure the future

of the red zone? Email your

views to georgia.oconnor@

starmedia.kiwi

Local

News

Now

Fire rages, homes at risk

Woolston

students

win medals

at national

contest

•From page 1

They also served a dessert

with glazed blond chocolate

mousse.

The pressure was on

throughout the three-hour

live kitchen cook off, as the

team fought against the clock

and scrutiny of a panel of top

industry judges, including

Anton Mosimann from the

United Kingdom.

Any errors made by

competitors during the event

resulted in lost points.

The group of judges was led

by high profile Christchurch

chef Darren Wright.

Competing teams were

marked against WorldChefs

international judging

standards which included food

preparation, presentation, taste

and service.

It is the 15th time in the

28-year history of the

competition that the award

has been won by a team from

Christchurch.

YOUR ONE STOP SHOP!

TYRES

NEW & USEd

WoF

FLAGS

TYRES

bOOk

IN NOW

FULL MECHANICAL

SERVICES

WHEEL

ALIGNMENTS

SPECIALISTS$49

Wigram - 341 1226 104 Hayton Rd

Woolston - 384 0000 49 Garlands Road

Public Meeting

with Poto Williams MP

Biodiversity in

Canterbury

with guest speaker, ECAN Councillor

Dr Cynthia Roberts

Monday 27 August

7:30pm

St Andrews Hall,

109 Marriotts Road,

North New Brighton

FREE PIZZA

FOR EVERY VISITOR!

IT'S

FREE

everyone

welcome

We're having a party and you're invited! Tennis clubs

from Oxford to Ashburton are opening their doors for

a fun, FREE event for all ages. Bring yourself or bring

your family to find out all there is to love about tennis!

Racquets supplied. BBQ. Prizes. Giveaways.

Come play

www.lovetennis.kiwi

#lovetenniscanterbury

*Times may vary by club. Please check website for details.

You could WIN A TRIP FOR TWO to the

ASB CLASSIC in Auckland this January.

Saturday

8 Sept

Sunday

9 Sept

1-4pm*
---
6 Tuesday August 21 2018

Latest Christchurch news at www.star.kiwi

PEGASUS POST

We have some great book and gift ideas for Your Dad this

FATHER'S DAY

SUNDAY 2 SEPTEMBER

FAThER'S DAY

CARDS

COLOURFUL

NOVELTY SOCKS

JIGSAW

PUZZLES

1005 Ferry rd

Ph 384 2063

while stocks last (see instore for terms and conditions)

Barry & kerry
---
PEGASUS POST Latest Christchurch news at www.star.kiwi

Tuesday August 21 2018 7

News

OUTLET

STORE

HEARD: Christchurch Central MP Duncan Webb meets with Mairehau

residents to hear their concerns about bus route changes in the area.

Mairehau residents

don't want 'noisy'

buses on their streets

• By Ashleigh Monk

MAIREHAU residents are upset about a

new bus route that they say will disrupt

their "peaceful" streets.

The proposed change would see the No

44 Shirley bus travel to and from Innes Rd

via Philpotts Rd, Glenfield Cres, Roslyn

Ave, Croziers Rd, Ranger St and Nancy

Ave.

The planned change is set to coincide

with the opening of the Northern

Corridor, which would no longer allow

right turns by the Orbiter bus in or out of

the QE II Drive end of Philpotts Rd.

Resch Fowler, who lives on Nancy Ave,

said the change would disrupt residents.

"It's very quiet, lots of small children

running around, there's after-school

traffic and kids that are walking home.

So we don't want the increased traffic,

we don't want noisy buses along here, we

don't want the pollution," she said.

"We are quite concerned because buses

don't stop in a hurry, so if a kid darts off

across the road, they're not used to having

a large vehicle around here."

The proposed re-route comes after a

group of 80 retirees presented a petition to

Environment Canterbury, pleading with it

to reconsider route changes to the

Orbiter which would see the nearest bus

stop be moved almost 1km away from the

village.

"We do understand that the retirement

home needs access to the service but we

feel like there's alternatives," Ms Fowler

said.

She and several other residents met with

Christchurch Central MP Duncan Webb

recently to voice their concerns.

She said they would put forward

proposals to ECan and the city council

to see if the Orbiter's current route could

be retained, or if a bus turn-around point

could be established on Philpotts Rd.

ECan senior manager public transport

Stewart Gibbon said ECan was gathering

public feedback.

"We have had a good level of

engagement and feedback from the

community on the 44 proposal. The

consultation period has been extended

until 24 August, and we will be holding

two drop in sessions before then so that

residents can come along to ask any

questions they may have before they

make their submission." ECan plans to

implement the changes later this year.

•Soapbox, page 8

Maria wins Samoan speech contest

Marian College

year 9 student

Maria Ilalio won

the National

FAGASA

Samoan speech

competition in

Wellington. The

14-year-old from

Woolston was

the first in the

competition to

take to the stage

and competed

against four others

in her category.

The topic of the

competition was

"kindness given,

kindness gained". ​

A MASSIVE RANGE OF PRODUCT AT

BARGAIN PRICES

YOU WON'T BELIEVE!

KARAH

$249

99 FERRY RD, CHRISTCHURCH

St Asaph St

Ferry Rd

OUTLET

STORE

Fitzgerald Ave

FRIDGE FREEZERS • WASHING MACHINES • DRYERS • COOKING

SMALL APPLIANCES • AUDIO • MANCHESTER • LOUNGE SUITES

DINING SUITES • BEDROOM SUITES • BEDS & HEAPS MORE!

12 ON

HUNDREDS OF PRODUCTS

BELOW COST

KENTUCKY

$299

CHECK

SOFA BEDS!

OUT OUR

MONTHS INTEREST FREE

ANY PURCHASE OVER $499 #

Images indicative only. # Credit criteria applies, ask in-store for details.

Outlet Store items are over stocked, end of line, scratch & dent, ex display, ex repair items and more.
---
8 Tuesday August 21 2018

Latest Christchurch news at www.star.kiwi

Your Local Views

Bromley

Community

Centre

programme

support

worker Emma

Shaw writes

about the busy facility's

role and campaign against

Environment Canterbury's

plan which will no longer

see the 145 bus go into the

suburb

NESTLED ON a spacious field

bordered by mature trees with

horses and chickens living

just down the road, Bromley

Community Centre takes on

a rural vibe in spite of being

located just 5km from the central

business district.

The centre was established in

1980 in a historic former school

hall and has been a strong hub

for the suburb ever since.

During the week, the centre

is home to regular groups and

classes, such as fitness, computer

tuition, kapa haka and an afterschool

programme.

In the weekends, the hall is

used for community events and

private functions.

My job is to work alongside

Hana Kakoi, our manager and

community development worker,

to help with the day-to-day running

of the centre, support the

regular programmes that run at

the centre, and organise a bunch

of great events.

We have a lot of fun

brainstorming fun ways of

getting our community together.

Seeing an idea for an event go

from a scribbled brainstorm on

a bit of paper to a spreadsheet

on a computer, and then come

to fruition as a successful event

with families laughing and playing

together is such a rewarding

feeling.

One of our projects at the moment

is campaigning against the

proposed bus changes that will

SUPPORT: The Bromley Community Centre hosts fitness,

computer tuition and kapa haka groups, as well as an afterschool

programme.

see the 145 bus no longer servicing

Bromley.

At the moment, the 145 comes

through Bromley and down to

Eastgate Shopping Centre. The

bus links our community to

shops, doctors, the library, social

opportunities, support services,

work and school.

We have put together a

petition and are trying to save

this vital service. The petition

can be signed at https://

our.actionstation.org.nz/p/

bromleybus

Among a myriad of other

events so far this year, we

recently hosted a big Matariki

celebration.

Our next event will be a Repair

Café on September 15, when

people can bring their bicycles,

Local

News

Now

PEGASUS POST

Bromley centre workers take on bus changes

Fire rages, homes at risk

clothes, tools and other broken

bits and pieces along to the

centre and our team of menders

and up-cyclers will help fix

them.

Before taking on this role, I

have held a wide range of jobs in

event co-ordination, theatre and

performing arts, human services,

administration, hospitality and

tourism sectors, most recently

working as an assistant stage

manager at The Court Theatre.

My role at Bromley Community

Centre manages to somehow

perfectly combine all my skill

sets, interests and passion into

one fun, versatile and rewarding

job.

EMPOWERING: Members of the Aranui Neighbourhood

Policing Team have been working with Haeata Community

Campus students to build positive connections between

police and students.

Police build on relationship

with Haeata students

ARANUI'S neighbourhood

policing team is always out and

about in the community, whether

on push bikes, by foot or in their

"ice cream truck".

But it has been a busy year

for the team as it works with

Haeata Community Campus to

help build positive connections

between police and students.

The team has been stationed in

Aranui for nearly two years with

the objective of reducing crime

and victimisation, while also

strengthening connections with

the community and supporting

existing initiatives, organisations

and educational providers.

The team's involvement at the

school takes on several roles

throughout the week.

Senior Constable Barry Campbell

said boxing is one of the

consistent ways of connecting

with younger students.

He said police support boxing

coach Jamie Roberts' weekly

programme, A Town Boxing.

"His programme is bringing

about positive change in our

young people," he said.

The team sees the value of

connecting with young people

through sport, such as early

morning basketball, waka ama,

and boxing. Sausage sizzles and

having fun are also key methods

of breaking down barriers and

building rapport.

Connections are also being

built through the police mentoring

programme, which has been

developed this year within the

Haeata Services Programme. It

allows students the opportunity

to meet, interact with and learn

from police officers from a variety

of roles and backgrounds.

"The students get to see that

it is possible for them to achieve

and to learn about the different

areas of policing that they might

be interested in," Senior Constable

Campbell said.

He has worked in Aranui for

the past eight years and describes

the community as being incredibly

tight-knit and resilient.

He credits the team for taking

every opportunity to be involved

in connecting with students at

Haeata and the wider community.

The Best

Indian

Restaurant

IN PARKLANDS

Phone orders welcome

60 Queenspark Drive, Parklands

Phone 383 6263 | Open 7 Days

608 Ferry Road, Woolston

Phone 943 2110

Lunch: Tues-Sun, 11.30am-2pm

Dinner: Mon-Sun, from 4.30pm till late

www.everestindian.co.nz

LUNCH SPECIAL

Takeaway $7.99 | Dine-in $9.99

10% DISCOUNT

with this advert.

Applies to dine in only.

Valid for lunch and dinner. Bookings essential.

• Dine-in or takeaway

• Bookings available for parties

and functions

• Fully licensed

• Discount available

Try our new

Nepalese

Food with the

best Mango

Lassi in town

Read us anywhere..

anytime!

Read your local

newspaper

online 24/7

www.star.kiwi/digital-editions
---
PEGASUS POST Latest Christchurch news at www.star.kiwi

Tuesday August 21 2018 9

free

11mm

high

dENSiTY

LuxuRY

freeuNdERLAY

on seLecTed prodUcTs

NYLON

Windsor Twist

• 36 oz solution dyed

nylon

• Extra heavy duty

• Cut pile

• 12 colours

with

FREE

UNDERLAY

NYLON

Bonita

• 50 oz solution dyed

nylon

• Extra heavy duty

• Cut pile

with

FREE

UNDERLAY

$129.90LM

$139.90LM

NYLON

Riviera

• 26 oz solution dyed

nylon

• Extra heavy duty

• Cut pile

• 2 colours -

700 and 5500

with

FREE

UNDERLAY

$85LM

NYLON

Trinity 18

• Solution dyed nylon

• Extra heavy duty

• Loop pile

• 1x colour

with

FREE

UNDERLAY

$79.90LM

Vinyl Planks

Expona

• 2 colours

LandLord

speciaL

Polyester Carpet

• 10 colours

• 36oz

• Extra heavy duty

• Cut pile

LandLord

speciaL

$25sqM

$69.90LM

2m wide vinyl

LandLord

speciaL

Carpet tiles

• 2 colours

froM

$35LM

Great for

• Commercial use

• Offices

• Schools

• Foyers

$28sqM

312 Wilsons Road North, Waltham Phone 366 0070

www.carpetkingdom.co.nz | Mon to Fri 8am-5pm and Sat 10am-1pm

FREE no obligation measure & quote (conditions apply)

Q Card Finance Now Available
---
10

Tuesday August 21 2018

Latest Christchurch news at www.star.kiwi

PEGASUS POST

ON

NOW!

Promotion

closes 1st

October

2018.

Conditions

apply.

Shop

Win

& Relax

SUPPORT YOUR LO

TO WIN 1 OF 5 FAM

TO HANMER

Enter every time you shop at any o

More chanc

Buy any

Good Health product

and get a

Turmeric 15800

complex 60s

for $10

New Zealand's NUMBER 1

TURMERIC SUPPLEMENT BRAND

For a limited time only, while stocks last.

Burwood

Spring into fitneSS

Home of the $40 service

LayBy FOR XMaS nOw

269 Burwood Rd, Burwood Ph: 383 2114

HOURS Mon-Fri 8:30am-5:30pm, Sat 9am-4pm

PRINTER

CARTRIDGES

New compatible toner cartridges

New compatible ink cartridges

Brand ink cartridges

HUGE SAVINGS ON VALUE PACKS

www.cartridgerefills.co.nz

Sho

Wi

& Re

Brighton Salon 388 8277 Lyttelton salon 328 8827 soulstylehair.nz

35 Woodgrove Ave, North Beach, Chch

Ph. 03 382 5858 • info@cartridgerefills.co.nz

The diesel

professionals

specialising in

4wd

repAirs &

servicing

Crispy Crunchy Batter

Serving the local area for

Over 22 years with a great product!

• Souvlaki • Great Burger Selection

• Garlic Butter Chips • Cheese on Chips

* Specialty fish cooked to order…

Blue Cod, Gurnard, Sole, Hoki, and more!

Try our souvlaki and also our

chocolate explosion / Mars Bar!

GOURMET SEAFOODS QEII

Ph: 388 2531, QEII Shopping Centre

251 Travis Road

Mon - Wed 11.30am - 8.30pm (Tues from 4.30pm) Thurs - Sat 11.30am -

9.00pm; Sun 12noon - 8.30pm. Daily break 3.15 - 4.30pm.

Proudly supported by...

Diesel

www.dieseldoctor.co.nz

All work

guArAnteed

288 Lincoln Road

(opp ANZ)

Ph: 338 8884

Christchurch's largest

range of quality guaranteed

used bikes & parts

Come check out our 50% OFF

parts & accessories table

AROUND AGAIN CYCLES

OPEN 6 DAYS

BEST

VALUE

REPAIRS

620 Ferry Rd, Woolston. Ph 03 376-6377. Email: aroundagaincycles@gmail.com
---
PEGASUS POST

CAL BUSINESSES

ILY GETAWAYS

SPRINGS

f these participating businesses

es to win!

Latest Christchurch news at www.star.kiwi

Proudly supported by...

Tuesday August 21 2018

11

Daily

Specials

238 Port Hills Road,

Heathcote

Open

Mon to Sat

8am - 6pm

Sun 9am - 4pm

The only book and stationery store with

Fly Buys and Big Deal VIP Rewards

72 New Brighton Mall, New Brighton

Phone: 03 388 1809

Mon to Fri 8:30-5:30

Sat 9:00-5:30 Sun 10:00-4:00

www.paperplus.co.nz

p

nlax

YOUR LOCAL GARAGE

• All vehicle repairs

• Oil changes and services

• Brakes • Loan car available

• Tyres, punctures & batteries

• W.O.F • Tune up

Your LocaL GaraGe

VERY FRIENDLY SERVICE AND ADVICE

Phone: 03 388 3630

40 Hawke St

(behind Z Petrol Station)

*Airsoft War

*Gel Ball Shooter

*Archery Range

*Family fun

*Birthday party

*Corporate

0800-247 7638

www.zone67.co.nz

67 Kennaway Rd, Woolston

Christchurch

Indoor Arena

JuST

INCREDIBLE

IT's

• Barrington Mall

• The Hub, Hornby

• New Brighton Mall

• South City Centre

this weeks specials

LAMB LEG

ROAST

$10.99 kg

LAMB SHOULDER

CHOPS

$9.99 kg

PORK LOIN

CHOPS

$8.99 kg

Now open 7 days a week!

Mon-Fri 7.30am-5.30pm, Sat 7.30am-4.30pm and Sunday 9.30am-4.30pm

BUTCHERY

101 Stanmore Rd, Linwood,

ChrisTchurch

Phone: 03 389 8065

Instore Specials!

Make sure your vehicle is up to scratch

We're 100% locally owned and here to help you.

Stanmore Road Auto Spares

P. 03 389 4555 | 245 Stanmore Rd

Boost Brain Performance

ENZO:PROFESSIONAL (ENZOGENOL)

is a potent antioxidant extract of the N.Z. pine bark and has

SUPER PRicE!

been clinically shown to improve memory, concentration &

brain performance. 60's only $45.30, save $5.00

120's only $84.90, save $15.70

MARSHALLS HEALTH & NATURAL THERAPY

CONSULTING - PRESCRIBING - DISPENSING -

MANUFACTURING - MEDICAL HERBALISTS

110 SEAVIEW RD, NEW BRIGHTON • PH 03 388 5757

Email: enquiry@marshallshealthshop.co.nz

Detailed Information Available

Bringing You the Best in

Natural Health!

- WE ARE ALWAYS HAPPY

TO HELP! -

The Automotive Lamp Specialists

New and Used Lamps for Cars,

Trucks, Vans, 4WD and Motorhomes

95 Gasson St, Christchurch Ph. 0800 225 483

2018 SEASON

StArtiNg SOON!

SEASON pASSES

AvAilAblE

At thE

wOOdfOrd

glEN ShOp

129 North Avon Road, ChCh | Ph (03) 385 1515 | Check out www.woodfordglen.co.nz for meeting dates |
---
12 Tuesday August 21 2018

Latest Christchurch news at www.star.kiwi

PEGASUS POST

RICHMOND DISCOUNT

Furniture and Bedding - The Best Little Furniture Shop in Town

BEDROOM FURNITURE

BEDS, TALLBOYS, MIRRORS, CABINETS, CHESTS & MORE!

Queen Frame

& Mattress

Ther-a-pedic Mattress & Base

Reversible pillowtop innersprung

Lowboy

6 Drawer

1130x410x820

Duchess with

Mirror

1090x410x820

NZ MADE

Solid Timber

Free

Standing

Mirror

ONLY

$599

SINGLE $499

KING SINGLE/DBLE/ 3/4 $599

QUEEN $699

ONLY

$449

ONLY

$549

WAS $169

ONLY

$129

Midi 7 Drawer

Scotch Chest

975x760x410

With metal runners.

Also available in Black.

Bedside Cabinet

540x460

With metal runners.

Also available

in Black.

7 Drawer

Scotch Chest

1140x800x410

Also available in black.

Jumbo 4

Drawer Chest

1140x800x400

NZ MADE. Metal runners.

Also available in black.

Tallboy 4 Drawer

600x400x900

Towerboy 6

Drawer

1260x460x410

With metal

runners.

Also

available

in Black.

Bombay

Chest

ONLY

$349

ONLY

$269

FROM

$130

ONLY

$299

ONLY

$269

ONLY

$199

ONLY

$220

Bombay

Bedside

ONLY

$129 EACH

FURNITURE

STORAGE SHELVES, BOOKCASES, BUFFET UNITS, DINING TABLES, HALL TABLES, SIDE CABINETS & MORE!

White Bookcase/

Storage Shelf

800x1600x300

Foundry Display

Cabinet

900x1800x420

Timber Bookcase

600x320x1200

Buffet Unit

1500x800x420

Buffet

Unit

1175x

430x840

Nest of Tables

Entertainment

Unit

1530x520x660

Solid Timber.

Buffet Unit

with Wine Rack

1300x840x430

ONLY

$199

ONLY

$599

ONLY

$199

ONLY

$549

ONLY

$399

EACH

ONLY

$149

ONLY

$499

Entertainment Unit

1900x600x450

2 Draw Entertainment Unit

1200x600x450

Entertainment Unit

1100x400x480

Entertainment Unit

980x600x460

Solid Timber.

Hall Tables

2 Drawers

ONLY

$279

ONLY

$499

ONLY

$399

ONLY

$299

ONLY

$299

3 Piece

Dining Suite

600x600

2 Draw Hall Table

1200x810x420

ONLY

$379

Side Cabinet

600x600x450

ONLY

$199

Hall Table

1500x800x420

ONLY

$449

Coffee Tables

Solid Timber.

ONLY

$169

1200x600

ONLY

$329

Coffee Table

1200x400x600

ONLY

$399

ONLY

$399

Hall Tables

3 Drawers

ONLY

$349

7 Drawer TV/DVD Chest

760x1140

x410

(Gap 150)

Corner TV Unit

1000x750x550

Entertainment Unit

Solid

Timber

Buffet

Units

Buffet

700x

320x

1070

ONLY

$299

ONLY

$299

ONLY

$649

ONLY

$299

ONLY

$299

233 STANMORE ROAD • PHONE 03 389 0536

WE ACCEPT EFTPOS, VISA AND MASTERCARD... PARKING AT REAR
---
PEGASUS POST Latest Christchurch news at www.star.kiwi

Tuesday August 21 2018 13

Email georgia.oconnor@starmedia.kiwi

by 5pm each Wednesday

JP Clinic at Shirley Library

Tuesday, 10am–1pm

A justice of the peace will

be available to members of

the community to witness

signatures and documents,

certify document copies, hear

oaths, declarations, affidavits

or affirmations as well as sign

citizenship, sponsorship or rates

rebates applications. There is no

charge for this service.

Shirley Library, 36 Marshland

Rd

Storytimes/Wā Kōrerō

Tuesday, 10.30-11am

Encourage learning through a

love for stories. Storytimes is an

interactive programme including

stories, songs, rhymes and play.

This is a free session.

New Brighton Library, 213

Marine Pde, and Shirley Library,

36 Marshland Rd

Babytimes/Wā Pēpi

Tuesday, 11.15-11.45am

Encourage learning through

language. Babytimes is an

interactive programme including

rhymes, songs, stories and play.

This is a free session.

Aranui Library, 109 Aldershot

St

Scrabble Club

Tuesday, 1.30-2.30pm

Do you enjoy scrabble? Go

along to the library for a friendly

game or two with other likeminded

folk.

Parklands Library, 46

Queenspark Drive

Rocket Club

Wednesday, 3.30-4.30pm

The Rocket Club is a weekly

after-school programme during

term time. All family are

welcome to join the club and

become involved in different

activities based on local and

current events in a fun learning

environment. Homework help is

available. Free to attend and no

bookings required.

Aranui Library, 109 Aldershot St

CV Drop-in

Thursday, 10-11.30am

A librarian will be on hand to

assist customers who need help

with their resume. You will be

offered guidance on creating,

updating, and editing your CV.

New Brighton Library, 213

Marine Pde

Cards Club

Friday, 1.30-3.30pm

The weekly club is on every

Friday, go along and join the fun.

Free, no bookings required.

Shirley Library, 36 Marshland

Rd

FLOWING WORDS: Visit the New Brighton Library to celebrate National Poetry Day. There will be

performances from writers Jeni Curtis, David Gregory, Jeffrey Paparoa Holman and The School

for Young Writers director Heather McQuillan. For more information, go to the National Poetry

Day Facebook page. Suitable for all ages. It will be held at the New Brighton Library, 213 Marine

Pde, on Saturday, 2-3pm. ​

Barrier Free Computing

Saturday, 10am-noon

The Computer for Special

Needs Trust is an organisation

that offers assistance with

using computers for people

experiencing a disability in

a friendly and supportive

setting. Tutors will be on hand

to help beginners and provide

assistance with emailing,

accessing the internet, playing

games, researching a homework

assignment, and literacy or

numeracy development. There

is also the opportunity for

socialising with others with

similar interests. Standard

library printing and copying

costs apply. Free.

New Brighton Library, 213

Marine Pde

New Brighton Seaside Market

Saturday, 10am-2pm

Held in the New Brighton

mall every Saturday, there will

be baking, clothing, vegetables,

crafts of all kinds and food stalls,

face-painting and entertainment

– all just across the road from

the beach and the new children's

playground. The event is free.

New Brighton Pedestrian Mall

Winter Art Exhibition – Cut

Above

Runs until Saturday –

Monday to Friday, 11am-4pm,

and Saturday and Sunday, noon-

3pm

Go along to the Eastside

Gallery's winter art exhibition

Cut Above. It will feature work

from The Learning Connexion

diploma graduate Maree Cole,

self-taught multimedia artist

Gina Hubert and regular

exhibitor George Aranui.

Linwood Community

Arts Centre, 388 Worcester

St
---
14 Tuesday August 21 2018

Latest Christchurch news at www.star.kiwi

FOCUS ON HEALTH

1 in 2 people

deficient in B12

Emerging research has shown as many as 50% of older adults and

as many as 25% of younger adults are deficient in vitamin B12.

Scientists at Rush University Medical Center found those most

deficient in vitamin B12 to have the smallest brain mass and the

lowest scores on tests measuring short-term memory, concentration

and brain performance. Another study showed that older people

with higher levels of B12 in their blood have bigger, healthier brains

and score higher on cognitive tests than those with lower levels. Yet

another recent landmark study showed that B12 supplementation

slows the accelerated rate of brain shrinkage and declining cognitive

function. B12 is essential for energy production, cell health,

regulation of mood and sleep cycles, nerve health and repair, and

prevention of homocysteine a serious cardiovascular risk factor that

is known to cause damage and plaque in the blood vessels. It can

also increase the chances of a stroke. Harvard researchers found a

34% decrease risk of vision loss in a study of participants aged 40+

who supplemented with B12. Another study linked a higher risk of

hearing loss in subjects in their 60's who were low in B12.

The reason so many people lack B12 appears to be our body's

ability to absorb it declining with age as the digestive system

becomes less efficient. Anti-reflux medication and other drugs

further reduce B12 absorption. The good news is B12 in the form of

Methylcobalamin sublingual tablets that are dissolved in the mouth

and thru bypassing the digestive tract have been shown to effectively

raise B12 levels in the body.

Further detailed information is available from the Natural

Health Advisers at Marshall's

Health & Natural Therapy, 110

Seaview Road,

New Brighton,

Phone: 388-

5757. We are

always happy to

help!

IS YOUR BRAIN SHRINKING?

BRAIN FOG, FORGETFUL, FEELING OLD, LOW ENERGY, MOOD SWINGS,

DIFFICULTY SLEEPING, PINS & NEEDLES, NUMBNESS IN LEGS

Up to 1 in 2 people may have a shrinking brain due to a lack of vitamin B12.

Supplementation of methylcobalamin B12 has been shown to reduce the rate of brain

shrinkage & support memory & brain function. B12 is also known to protect against

homocysteine a serious cardiovascular risk factor that can also damage the hearing,

eyesight & affect the mood. B12 is essential for energy, cell health & nerve function.

B12 SupportS:

• Memory & Brain Performance

• Helps protect brain from shrinking

• Energy & Recovery

• Nerve Function

• Helps protect blood vessels from damage

• Sleep

• Cellular Health & Repair

• Vegetarian's Diet

• Good Health

• Cardiovascular Health

SEE A DIFFERENCE

IN AS LITTLE AS 48

HOURS!

GRAPE SEED EXTRACT - SUPPORTS GOOD HEALTH

Research is showing that grape seeds may hold the potential to prevent & treat many devastating disorders. It is well known

pharmaceutical drugs have many side effects whereas natural compounds like Grape Seed Extract can supply the body with

vital nutrients that it requires to keep healthy.

GRAPE SEED EXTRACT SUPPORTS:

• Reduction in inflammation & pain

• Healthy joint function

• Healthy blood pressure & circulation

• Improved cardiovascular health

• Improved elasticity & strength of blood vessels

• Formation of collagen

• Smooth healthy skin – Excellent for varicose veins

& haemorrhoids

• Protecting the brain from neurodegenerative diseases

including Alzheimer's & Parkinson's

• Protects brain cells while supporting the formation

of new brain cells

• Cancer prevention & treatment

• Stabilised blood sugar

SUPER PRICE OFFER

Superior Methylcobalamin B12

(High Absorption Sublingual Lozenges)

100 Lozenges

Only $ 32 .90

Bringing You the Best in Natural Health

200 Lozenges

Only $ 59 .80

MAIL ORDER AVAILABLE

Bringing You the Best in Natural Health

MARSHALLS HEALTH & NATURAL THERAPY

CONSULTING - PRESCRIBING - DISPENSING - MANUFACTURING - MEDICAL HERBALISTS

110 SEAVIEW RD, NEW BRIGHTON • PH 03 388 5757 • Email: enquiry@marshallshealthshop.co.nz

- WE ARE ALWAYS HAPPY TO HELP! -

amazing prices:

SANDERSON

Practitioner Series

HIGH POTENCY

Grape Seed MAX,

60,000 EXTRACT

90 Capsules

ONLY $22.90 Save $18.80

180 Capsules

ONLY $29.90 Save $53.50

MAIL ORDER

AVAILABLE

MARSHALLS HEALTH & NATURAL THERAPY

CONSULTING - PRESCRIBING - DISPENSING - MANUFACTURING - MEDICAL HERBALISTS

110 SEAVIEW RD, NEW BRIGHTON • PH 03 388 5757 • Email: enquiry@marshallshealthshop.co.nz

- WE ARE ALWAYS HAPPY TO HELP! -

Grape seeds shown

to have remarkable

health benefits!

According to researchers grape seeds may

hold the potential to treat and prevent many

devastating disorders. The seeds have been

found to contain many powerful antioxidant

that have been shown to support the natural

healing process and even slow the aging process.

Grape Seed Extract (GSE) has been shown to

reduce inflammation, pain, increase cell energy,

protect protein structures and increase collagen

production. The powerful antioxidants can

tone and strengthen the blood vessels, improve

blood flow, making it valuable for circulatory

disorders of all kinds, including varicose veins,

haemorrhoids, hardening of the arteries and impaired blood flow

to the brain. It is excellent for most skin conditions with many

noticing the skin becomes smoother.

GSE offers a natural alternative for many people with

hypertension. (High Blood Pressure) Higher B/P puts more

stress on organs and can lead to atherosclerosis (hardening of the

arteries) and increased risk of heart disease and strokes.

Recent studies on people with elevated B/P found GSE to

significantly lower B/P but with no effect on people with normal

B/P. Animal studies have shown GSE to improve heart function,

reduce damage caused by heart attacks and prevent arterial plaque.

A growing number of studies show that GSE has powerful

anticancer properties, can help balance blood sugar, improve

arthritis and protect brain cells. It may prove vital in the treatment

of brain disorders like Alzheimer's and Parkinson's disease.

Numerous studies on GSE show it can help support

our good health and prevent many degenerative

diseases. Further detailed information is available

from Marshall's Health & Natural Therapy,

110 Seaview Road, New Brighton,

PH: 388-5757. We are Always Happy to Help!

IT'S LIKE HOLIDAYS

ALL YEAR ROUND

Lots of people spend their holidays

here in Geraldine. But why just have a

holiday when you can move here instead?

Make the move to Geraldine's McKenzie

Lifestyle Village. We take care of everyday

maintenance so you can enjoy

a holiday lifestyle all year round.

Talk to Hayley Grant today

on 03 693 8340.

M E M B E R O F R V A

PEGASUS POST

Ears,

ears,

ears

Ear Health Canterbury has been

providing a microscopic ear cleaning

service in Canterbury for 19 years

From small beginnings in 1999

where monthly clinics were held in the

Christchurch Hearing Association in

Beveridge Street the service expanded

rapidly as clients discovered and appreciated

the benefits of micro suction technology.

Twelve months later clinics had increased

to 5 days a week and with the help of more

trained Registered nurses and Reception

staff clinics opened in Rangiora, Ashburton

Timaru Temuka and Waimate.

In 2004 the clinic moved with the

Hearing Association to larger premises at

275 Riccarton Road. They remain there

today offering a Monday to Saturday service

and a popular and busy mobile service to

Retirement Villages, Rest Home residents

and to people with mobility difficulties in

their private homes.

While a weekly clinic is still held in

Ashburton, the South Canterbury clinics

are now under new Management.

Many conditions affecting the outer

ear canal can be treated and monitored at

Ear Health including infections, relieving

impacted wax and removal of foreign

bodies. Preventative education is also

offered and for those with hearing aids due

to sensorineural hearing loss Ear Health has

accredited ACC and War Pension funding

This safe, accessible, affordable ear care is

provided to all age groups in a client focused

environment with the nurses working

collaboratively with General Practitioners,

Audiologists, Hearing Therapists and

Secondary Care Consultants.

Maintaining good ear hygiene has

many benefits. It can improve hearing and

balance, reduce the symptoms of tinnitus,

improve the effectiveness of hearing

aids and reduce the incidence of aural

infections. Most importantly, this then

enhances quality of life.

To contact Ear Health phone Jillian or

Linda on 03 3488 716.

Professional Ear Care

ACC and WAR Pension Approved

275 Riccarton Road Between Clyde & Ilam Rds

Spacious parking • Orbiter & Metro bus stops outside

For all appointments

Phone 348-8716

Fax 341-5873

Rest home and private

home visits available

by arrangement
---
2

PEGASUS [Edition POST datE]

Latest Christchurch news at www.star.kiwi

Tuesday August 21 2018 15

HOME & HEATING

Get rid of

dampness

in your house

The

Now with the colder and wetter weather on

its way, home owners are focusing on ways

to make their homes comfortable, warm and

healthy for their families throughout winter.

Rising damp is an issue that affects many of

our older properties which suffer from poor, or

no, insulation. In Canterbury especially, postquake,

many people have relocated to homes

that suffer from rising damp which can be

associated with health problems. Independent

tests have shown that up to 40 litres of water can

rise from the ground and enter a house every

day, leading to mildew, mould, condensation

and musty smells. Moulds can produce

various allergic reactions and the

frail, elderly and very young are

especially vulnerable.

Canterbury Foam Concrete

Ltd is a locally owned and

operated firm. The team

understands the problems

caused by rising damp and are

there to help. They will come

to your damp home and pump

a lightweight, flowable foam

concrete under your timber

floored home. Specially adapted

for our New Zealand conditions and

applications it provides a layer of protection

against rising moisture. An unexpected

benefit that the team at Canterbury Foam

Concrete have noticed recently, is that many

owners of properties which had underfloor

foam concrete installed, reported that it also

provided protection against liquefaction after

the earthquakes.

Contact Canterbury Foam Concrete Ltd

now for your free, no obligation quote and

complimentary appraisal of your underfloor

ventilation needs. Phone 03 376 4608 or

0508 362626 for more information.

Bathroom

ventilation

extraction of air from the bathroom should By extracting air from the bathroom to outside,

be a priority for all houses and commercial warmer air from inside the house will move in

buildings.

to the bathroom. Whereas opening a window

Bathrooms can generate a large quantity can draw cold air into the bathroom and blow

of steam and odours. It is important this the smelly, moisture laden bathroom air into

compromised air does not circulate around the house.

the house.

Modern houses are built to be very airtight

Bathroom odours can be unpleasant, especially and require mechanical ventilation such as

when near living, sleeping or working areas. extraction fans or heat exchanger systems.

The moisture generated by showers and baths Although older houses can be draughty, the air

can be damaging to your home and furnishings often flows in the wrong direction. Therefore,

and be a major contribution to condensation. they also usually require mechanical ventilation

Damp houses are not a healthy environment to keep the air quality higher.

for anyone to live in, especially for children or The quality of the air we breathe affects our

other vulnerable people.

health and ability to perform. We breathe in

and out approximately 20,000 litres of air every

day. It is therefore very important to ensure

good air quality indoors through adequate

ventilation.

To ensure the quality of your air, contact the

experts. Smooth-Air Products can calculate

the required extraction for your bathrooms,

and look into air exchange for your whole

building. Smooth-Air offers a wide range

of ventilation equipment, from air vents to

ducting for fans, for both the commercial and

domestic markets. They have an extensive

range of fans and ventilation components

in-store but they can also provide innovative

solutions tailored to differing requirements.

You can contact Smooth-Air on 0800

SMOOTH (0800 766684).

Ventilation Equipment Suppliers

to

trade

&

retail

Smooth-Air has a wide range of

ventilation equipment to bring

fresh air into your home.

Domestic

Commercial

Industrial

Remote Extraction Fans

HEAT PUMP

SALE NOW ON!

Amazin' winter Specials!!

• We will offer you the best quality brands and

option of heat pump for your home/business

• Providing Heat Pump solutions for over 16 years to Cantabrians

• We personally guarantee all our products & installs for 5 years

(providing annual maintenance has been completed)

Ceiling Mounting

Wall Surface

Mounting

Phone us today for your free consultation & quote

41A SHAKESPEARE RD, WALTHAM

PHONE 03 366 0525

www.enviromaster.co.nz

"A local team for local people"

0800 SMOOTH

(0800 766 684)

sales@smooth-air.co.nz

351c Blenheim Rd

Riccarton

Christchurch

03 343 6184

Wall or Ceiling

Mounted Fans

Monday - Friday

7.30am - 5pm

www.smooth-air.co.nz
---
16 Tuesday August 21 2018

Latest Christchurch news at www.star.kiwi

PEGASUS POST

26th August 2018

10am – 3pm

Air Force Museum, Wigram

Tickets only $20

available on the door

BRIDALSHOW

Weddings at The George

goodcompany.nz

celebrate

The luxury boutique hotel on the park

P: 03 371 0255

E: weddings@thegeorge.com

W: https://www.thegeorge.com/weddings

" Your day,

your way."

"we will beat any competitors written quote"

651 Pound Road, Christchurch

Contact: Dee Taylor

Phone: 021 914 817

info@thevinesclub.co.nz

www.thevinesclub.co.nz

T R E N T S V I N E Y A R D

T R U S T C A N T E R B U R Y S P R E M I E R W E D D I N G V E N U E

W W W . T R E N T S V I N E Y A R D . C O . N Z

@ T R E N T S V I N E Y A R D
---
PEGASUS POST Latest Christchurch news at www.star.kiwi

Tuesday August 21 2018 17

REAL ESTATE

Take your pick: two brand-new executive homes

24C and D Mansfield Avenue, Merivale

These 2 brand-new builds has been beautifully designed by Cymon Allfrey Architects to

offer light-filled spaces that flow effortlessly to outdoor living. Blending sophisticated style

and clever functionality, along with the peace of mind that comes with new construction,

this home offers the ultimate in contemporary living. Located within walking distance

of Merivale Village and a three-minute drive to Victoria Street, it's zoned for Elmwood

School, St Albans School, Heaton, Boys' High and Girls' High.

24D Mansfield Avenue

4 bedrooms | 3 bathrooms | 4 toilets | 2 living rooms | 1 dining room |

1 office/study | 2 car-garage | 2 off-street parks | Listing # PI53666

Open-plan living is a key feature of the

ground floor, as a sophisticated and wellappointed

kitchen (with scullery) flows

effortlessly into spacious dining, casual

living and an additional lounge. All of the

spaces open to a wrap-around courtyard

garden for superb indoor-outdoor flow

that's perfect for private relaxation or

entertaining. The garden is fully fenced and

landscaped for easy care.

Chic open-plan living and dining

provides an elegant, sunny space for

entertaining, flowing seamlessly to a northfacing

courtyard garden for relaxed outdoor

living with the minimum of maintenance.

The sleek new kitchen is a well-thought-out

space boasting a scullery and smart builtin

joinery that flows through to the living

area. Built-in joinery also features in the

elegant separate lounge.

The palatial upstairs master suite includes

a gorgeous tiled bathroom and WIR, and a

Upstairs, the master bedroom features

a luxurious tiled en suite and WIR, while

a second bedroom with en suite and WIR

provides flexibility as a downstairs master

option. Two more bedrooms plus an office

share a family bathroom with bath and

shower, while a powder room, separate

laundry and double internal-access garage

complete the amenities.

24C Mansfield Avenue

4 bedrooms | 3 bathrooms | 4 toilets | 2 living rooms | 1 dining room |

1 office/study | 2 car-garage | 2 off-street parks | Listing #: PI53655

well-appointed guest bedroom with WIR

and en suite offers an alternative master

option downstairs. Two more double

bedrooms plus office share a beautiful (and

practical) family bathroom. A separate

laundry, guest powder room and double

internal-access garage complete this

exclusive package.

Perfected for contemporary lifestyles,

these brand-new homes present a superb

opportunity to secure an executive home in

a premier location.

See online for viewing details or

to find out more contact Cameron

Bailey on mobile 0275 557 079 or

352 6166 of Harcourts Gold Papanui

(Licensed Agent REAA 2008) today

and register your interest.

growing with you June 2018 | 100%

Plants For

winter wow

Cool Choices

For Colour

& Contrast

From swamp

to sea views

The journey

begins with sarah

the Gardener

$7.90 incl. GST

Snap it up

Enter our annual

Birdlife Photo

Competition to win

great prizes!

clear the air

Why groWing

indoor PLAnTs is

so good for you

give it a grow

from gArLic

To chinese

ArTichokes,

We hAve your

groWing TiPs

covered

the latest releases

into the rose world

+ rose care

through winter

The magazine for

gardeners who like to get

their hands dirty

SUBSCRIBE FROM

$43. 50*

*6 issues/6 months

SUBSCRIPTIONS FREEPHONE

0800 77 77 10

WWW.GARDENER.KIWI
---
18 Tuesday August 21 2018

Latest Christchurch news at www.star.kiwi

Caravans, Motorhomes

& Traliers

CARAVAN Wanted to

buy. Up to $5000 cash

today 027 488-5284.

Community Events

ALCOHOLICS

ANONYMOUS, If you

want to have a drink that's

your business. If you want

to stop, we can help. Phone

0800 229-6757

PEGASUS POST

Classifieds Contact us today Phone our local team 03 379 1100

Finance

Holiday

Accommodation

Australia QLD

SUNSHINE

COAST

RESORT

Computers

ALEXANDRA HEADLAND

ALL

YOUR All Units Have Ocean Views.

COMPUTER

WORRIES SOLVED!

Heated Pools, Spa & Sauna,

Free Wifi, Tennis

*$30.00 off your first

& Mini Golf.

service with this coupon!*

CHECK OUR GREAT

No problem too big or

small from home PC's to

WINTER SPECIALS

www.mandolin.com.au

business networks. PC

0061 7 5443 5011

slow? An end to Viruses,

JUNE to AUG temps 20C

Spyware, and Clogged

Systems. Safe secure

Holiday

hassle-free computing.

Accommodation

Lost files recovered.

Microsoft Certified, WANAKA.

MCSE, MCP+l. 30 years Stunning holiday

experience. Call Andrew accommodation in

Buxton this week on 326- Wanaka at the Pines

6740 or 027 435-7596 Resort available, during

for $30.00 off* Custom ski season.

Computers Christchurch From the 7th of September

till the 14th you can stay

Curtains at this fabulous resort.

Cardrona Ski Resort and

Treble Cone are not far

away. $1200 for the week,

only at $171.00 per night.

Would suit family sleeps

www.curtainfabric-outlet.com up to 5.

Fashion Designs & Colours See http://www.

Discontinued Designs

End of Lines Bargain Prices

Call at Our Shop

classicholidays.com.au/

resort/pines-resort/>for

full details. More details

CURTAIN FABRIC OUTLET and to book, call Jacqui on

71 Hawdon St Sydenham 027-201-3244

Ph 366-5026

NEED A

QUICK CASH

LOAN NOW?

We offer a range of personal Loans

and can provide cash quickly.

Loans from $500 to $20,000

Contact Karyn or Kris

0800 695 626

or 03 379 7798

www.alternatefinance.co.nz

Health Public & Beauty Notices

KATANG

Fitness

Held at St Faiths Church Hall,

46 Hawke Street, New Brighton

• General

gardening

• Ride on service

• Weeding and

clearing

• Hedge trimming

• Tree pruning

and removals

• Fully insured

Sit & Be Fit

Monday 1 – 2pm

$4 per class

Movement to Music

Thursday

9.30 – 10.30am

$5 per class

For more info contact Katrina 3811704 or 0274966845

Trades & Services

green acres

Lawn &

garden care

• Section

clearing/

maintenance

• Free quotes

• Security

checked

and

satisfaction

guaranteed

0800 803 200

www.greenacres.co.nz

ROOF REPAIRS

Locally owned & operated with

over 30 years experience.

• Extensions & repair • Roof coating

• Concrete & clay tiles • Butynol

• Malthoid • Asbestos Certified

• Coloursteel • Old iron • Guttering

Phone Dave 981 0278

or 021 223 4200

E: dave@beaumontroofing.co.nz

BEAUMONT ROOFING LTD

VIDEO PRODUCTION

business video

PRoduCTion

A video will bring your business alive & into your

customers mind.

Promote your services or business with a

professionally created video with us

• Corporate and Business

video a speciality

• Competitive rates

• 25 years experience

• Start to finished product

• Professional quality

guaranteed

PHone KeRRY 021 635 083

Trades & Services

FOR ALL YOUR

★Garden Clean-ups

★Pruning

★Lawn Mowing

★Garden Maintenance

Call us today for a FREE quote

PH 0800 4 546 546

(0800 4 JIMJIM)

Trades & Services

BLOCKED

DRAINS?

• VIDEO INSPECTION

• WATERBLASTING

• LIQUID WASTE

PH: 03 365 7960

24 hours // 7 days

info@h20jet.co.nz

www.h20jet.co.nz

rooF

painting

Book now and

receive 20% discount

for summer.

Rope and harness a

speciality.

No scaffolding required.

30 years experience.

Free quotes, call

Craig 021 060 2392

Trades & Services

WINDOW TINTING

tintawindow

advanced film solutions

99% uv block

fade protection

heat control

reduce glare

25 Years Experience

privacy films

frosting designs

non-darkening films

Workmanship Guaranteed

Lifetime Warranties on Most Films

UV

block

Free Quotes Canterbury and Districts

03 365 3653 0800 368 468

Trades & Services

HOUSE

CLEARING

Are you

moving house

or trying to

downsize?

Call All Clear

Canterbury. We work

with you to recycle,

sell and dispose of

unwanted items.

Ph: 03 260 0934

or 021 078 4553

raewynlcooke@gmail.com

www.allclearcanterbury.co.nz

AAA HANDYMAN

licensed carpenter

LBP, all property and

building maintenance,

repairs, bathroom/shower

installations, with free

quotes 03 383 1927 or 027

245 5226 ciey@xtra.co.nz

BUILDER

For all building work

but specialist in bathroom

renovations, 30 yrs

experience, with service

and integrity. Free Quotes.

Ph Lachlan 383-1723 or

0274 367-067.

*****************

CARPET & VINYL

LAYINg

Exp Repairs, uplifting,

relaying, restretching.

Email jflattery@xtra.co.nz

ph John on 0800 003 181

or 027 2407416

FENCINg

All styles and shapes,

gates, wooden, ph

Mark 0273 313-223

FENCINg

All styles and shapes,

gates, wooden, ph Mark

0273 313-223

PAINTINg

& Decorating Wingfields

Contracting, all interior

& exterior painting & all

forms of interior plastering

& jib fixing, ph Mark 021

171-1586 or 355-5994

PAINTER AVAILABLE

All aspects in painting.

Very competitive in roofs

and fences. Please call 027

241-7471 or 335-0265

PLUMBER

ALF THORPE

PLUMBING Certifying

Plumber for all types of

plumbing, maintenance,

spouting, alterations etc.

Phone 352-7402 or 0274-

350-231

PLUMBER

A Top Plumbing job

completed at a fair price,

prompt service, all work

guaranteed, ph Brian 960-

7673 or 021 112-3492

Trades & Services

ROOFINg REPAIRS

Fully qualified, over 40

yrs experience. Ph John

027 432-3822 or 351-

9147 email johnchmill@

outlook.com

SPOUTINg CLEANINg

Spouting Unblocked,

Cleaned Out and Flushed

Out. Call Trevor 332 8949

or 021 043 2034

TILER/CARPENTER

35 years exp, no job

too small. Ph Ross 027

4311440.

T.V. SERVICE

CENTRE

Repairs, tvs, microwaves,

.Aerial & satellite

installations , kitsets, 480

Moorhouse Ave, ph 03 379

1400

VHS VIDEO TAPES

& all camera tapes

converted to DVD, video

taping special occasions,

www.grahamsvideo.co.nz

ph 03 338-1655

WINDOW CLEANINg

Average 3 bdrm house

inside or out $40. Both

$70. Phone Trevor 344-

2170

PAINTER

Houses Interior/Exterior

27 years exp.

Tidy workmanship

On the spot written

quotes

Ph: 0274 360-298

Wanted To Buy

AAA Buying goods

quality furniture, beds,

stoves, washing machines,

fridge freezers. Same day

service. Selwyn Dealers.

Phone 980 5812 or 027

313 8156

TOOLS Garden,

garage, woodworking,

mechanical, engineering,

sawbenches, lathes, cash

buyer, ph 355-2045

DESIGN

We offer professional

design services.

PRINT

We print your gloss

mailers and letterbox

flyers.

Delivery

Canterbury wide

coverage or targeted

zone deliveries.

ADVERTISE YOUR BUSINESS HERE

Public Notices

Phone for further details

(03) 379 1100

Letterbox Advertising

Flyers and Newspaper Inserts

FREE QUOTES

Contact: Michaela Malloch

P: (03) 379 7100 or 021 932 177

E: michaela.malloch@starmedia.kiwi
---
PEGASUS POST Latest Christchurch news at www.star.kiwi

Tuesday August 21 2018 19

What's On

Entertainment

To advertise, contact

Jo Fuller 027 458 8590

jo.fuller@starmedia.kiwi

Delicious new specials

'Famous for their roasts!'

SENIORS SPECIAL

Two courses: $

22

Soup/Roast or Roast/Dessert

Special available lunch only

Monday - Saturday 12pm - 2.30pm

Conditions apply

FAMILY FRIENDLY

Kid's Special

Two courses

Great Kids menu plus

designated play area.

$

13

RESTAURANT & CAFÉ

Open daily from 6.30am - Breakfast, Lunch & Dinner

The

RACECOURSE HOTEL

& Motorlodge

118 Racecourse Rd, Sockburn,

Christchurch. Ph 03 342 7150

www.racecoursehotel.co.nz

THE Woolston Club has just released

some unbeatable dining deals across

Whitford's Restaurant and the Club

Cafe that will have you going back for

seconds!

Highlighting the best in fresh, new

season produce, the regular menu is

now boosted with delicious weekly

specials.

Tuesdays, take your taste buds to

India with the Curry Club. Curry of

the days is served with rice and

poppadoms from 5-7pm. Priced at

$16 the deal includes a 150ml house

wine or 12oz tap beer.

Wednesdays is Burgers. Your

choice of a beef, chicken or vege

burger served with fries includes a

150ml house wine or 12oz tap beer.

Only $16 and available 5-7pm.

Tradie's, here's one for you -

Thursday's Tradie's Tucker. Steak

cooked the way you like it with eggs

and chips, only $19 and includes a

12oz tap beer. Grab this deal from 5-

7pm.

Friday is 'Fish n Chip Fryday'. $14

gets you one piece of fish with chips

and salad washed down with a 150ml

house wine or 12oz tap beer.

Available from 5-7pm.

A family favourite... The Sunday

Roast is back. Served as a buffet, the

special includes main and dessert and

is available from 5-8pm. Adults $20,

Kids $12.50.

Whitford's Restaurant is open

Wednesday to Sunday from 7pm and

the Club Cafe is open Tuesday to

Sunday from 11am.

The Woolston Club, 54 Hargood

St, phone 389 7039. Members,

guests & affiliate members all

welcome.

What's On

TUESDAYS & THURSDAYS

MEMBERS LUCKY

CARD DRAW

LIVE MUSIC

Sunday 9th Sept, 2-6pm

UNFINISHED

BUSINESS

Shuttle operating 1.30-6.30pm

GAMING ROOM

TAB POD

Dine by the Beach

PIERVIEW

RESTAURANT

UPSTAIRS

Open from 5.30pm Fri, Sat,

Sun, and Sunday Brunch

from 10.30am to 2pm.

PIERVIEW'S

FATHER'S DAY

BUFFET LUNCH

Sunday 2nd Sept

11.30am-2pm

Booking Essential!

Sorry, we will not be open

for brunch on Sept 2.

PIERVIEW'S MONTH-END

SUNDAY NIGHT

BUFFET $25pp

Sunday 26th August

from 5.30pm

BOOK NOW!

CLUBBISTRO

DOWNSTAIRS

Open Tuesday to Saturday

12pm - 2pm & from 5pm

BISTRO ROAST SPECIAL

$12

Tuesday - Thursday

Dine in only

202 Marine Pde | Ph 388 9416 | www.newbrightonclub.co.nz | Members, guests & affiliates welcome

Lunch & Dinner

All you can eat

7 days

Bookings Essential

PH 386 0088

fb.com/GardenHotelRestaurant

www.gardenhotel.co.nz

SERVING

HAPPY HOUR

5PM - 7PM DAILY

OUR CABINET ITEMS

ARE HOMEMADE

CREATED FRESH ON SITE DAILY

$12

LUNCH

SPECIALS

Live Music:

6PM.SAT 25 AUG

COFFEE

HAPPY

H O U R

2PM-4PM

DAILY

$3.50

Offer available for a limited time

and includes tea, hot chocolate

MON: ROAST MEAL

TUE: FISH & CHIPS

WED: FISH BURGER

THU: ROAST MEAL

SAT: FISH & CHIPS

AVAILABLE

FROM

11.30AM-2PM

FOR A

LIMITED TIME

Sima & Jenny

(Vintage Blue)

PHONE 385 8880 FIND US ON FACEBOOK fb.com/GBCCHCH

THE GARDEN HOTEL COMPLEX | 110 MARSHLAND RD

www.gardenhotel.co.nz | phone 385 3132

H ORNBY

WORKINGMEN'S

CLUB

THIS WEEKEND

SATURDAY

4.30PM: PETER CAIRNS

8PM: JOHN McCABE

SUNDAY 1.30PM: $6 entry

HEART OF THE

COUNTRY SHOWCASE

Club CAFÉ

OPEN

EVERY DAY

LUNCH & DINNER

FAMILY FRIENDLY DINING

COMING UP

SATURDAY 1 SEPT

8PM. Tickets $20

Chalmers

Restaurant

OPEN

FRI, SAT, SUN

FROM 5.30PM

WIN YOUR

DAD A

V8

SUPERDRIVE

EXPERIENCE

Conditions apply

The Hornby Club | ph 03 349 9026 | 17 Carmen Rd | Hornby

www.hornbywmc.co.nz | Members, guests & affiliates welcome
---
20 Tuesday August 21 2018

Latest Christchurch news at www.star.kiwi

PEGASUS POST

ALL-NEW

ECLIPSE CROSS FROM $34,990 +ORC*

For the first time striking design,seamless connectivity, intuitive

driving and exceptional safety have come together perfectly in a

bold new SUV. To explore the many features and experience it for

yourself at Christchurch Mitsubishi on 03 379 0588 or visit us new

showroom at 386 Moorhouse Avenue, Christchurch.

*Price listed is for Eclipse Cross 2WD XLS. Eclipse Cross 2WD VRX pictured. Brilliant Red colour pictured available for an additional $500.

See www.mmnz.co.nz for Diamond Advantage terms and conditions.