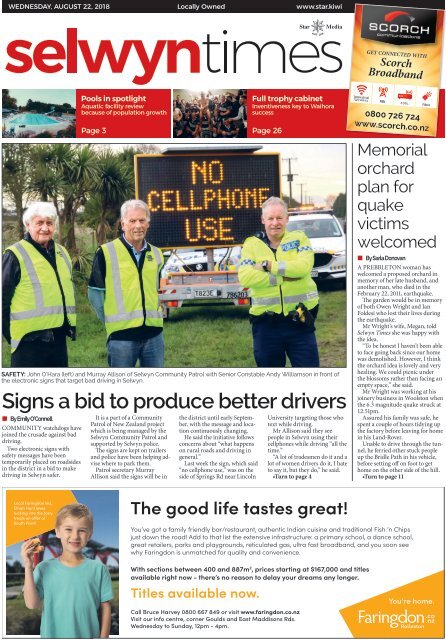 Selwyn Times: August 22, 2018
You also want an ePaper? Increase the reach of your titles
YUMPU automatically turns print PDFs into web optimized ePapers that Google loves.
WEDNESDAY, AUGUST 22, 2018

Locally Owned

www.star.kiwi

GET CONNECTED WITH

Scorch

Broadband

• By Emily O'Connell

COMMUNITY watchdogs have

joined the crusade against bad

driving.

Two electronic signs with

safety messages have been

temporarily placed on roadsides

in the district in a bid to make

driving in Selwyn safer.

Pools in spotlight

Aquatic facility review

because of population growth

Page 3 Page 26

It is a part of a Community

Patrol of New Zealand project

which is being managed by the

Selwyn Community Patrol and

supported by Selwyn police.

The signs are kept on trailers

and police have been helping advise

where to park them.

Patrol secretary Murray

Allison said the signs will be in

the district until early September,

with the message and location

continuously changing.

He said the initiative follows

concerns about "what happens

on rural roads and driving in

general."

Last week the sign, which said

"no cellphone use," was on the

side of Springs Rd near Lincoln

Full trophy cabinet

Inventiveness key to Waihora

success

SAFETY: John O'Hara (left) and Murray Allison of Selwyn Community Patrol with Senior Constable Andy Williamson in front of

the electronic signs that target bad driving in Selwyn. ​

Signs a bid to produce better drivers

University targeting those who

text while driving.

Mr Allison said they see

people in Selwyn using their

cellphones while driving "all the

time."

"A lot of tradesmen do it and a

lot of women drivers do it, I hate

to say it, but they do," he said.

•Turn to page 4

0800 726 724

www.scorch.co.nz

Memorial

orchard

plan for

quake

victims

welcomed

• By Sarla Donovan

A PREBBLETON woman has

welcomed a proposed orchard in

memory of her late husband, and

another man, who died in the

February 22, 2011, earthquake.

The garden would be in memory

of both Owen Wright and Ian

Foldesi who lost their lives during

the earthquake.

Mr Wright's wife, Megan, told

Selwyn Times​she was happy with

the idea.

"To be honest I haven't been able

to face going back since our home

was demolished. However, I think

the orchard idea is lovely and very

healing. We could picnic under

the blossoms rather than facing an

empty space," she said.

Mr Wright was working at his

joinery business in Woolston when

the 6.3 magnitude quake struck at

12.51pm.

Assured his family was safe, he

spent a couple of hours tidying up

the factory before leaving for home

in his Land-Rover.

Unable to drive through the tunnel,

he ferried other stuck people

up the Bridle Path in his vehicle,

before setting off on foot to get

home on the other side of the hill.

•Turn to page 11

Local Faringdon kid,

Ethan Hunt loves

tucking into the tasty

treats on offer at

South Point!

The good life tastes great!

You've got a family friendly bar/restaurant, authentic Indian cuisine and traditional Fish 'n Chips

just down the road! Add to that list the extensive infrastructure: a primary school, a dance school,

great retailers, parks and playgrounds, reticulated gas, ultra fast broadband, and you soon see

why Faringdon is unmatched for quality and convenience.

With sections between 400 and 887m 2 , prices starting at $167,000 and titles

available right now - there's no reason to delay your dreams any longer.

Titles available now.

Call Bruce Harvey 0800 667 849 or visit www.faringdon.co.nz

Visit our info centre, corner Goulds and East Maddisons Rds.

Wednesday to Sunday, 12pm - 4pm.

You're home.
---
2 Wednesday August 22 2018

Latest Christchurch news at www.star.kiwi

from the editor's desk

news

SELWYN TIMES

"A LOT of tradesmen do it and a lot of

women drivers do it, I hate to say it, but

they do."

What Selwyn Community Patrol

secretary Murray Allison is saying today is

drivers on cellphones (page 1).

I agree: Tradies and (mainly) young women are the worst

offenders.

Tradies are more open – they drive with their phones to their

ears. They're talking.

Young women are the texters when driving and they try to

be more discreet. But the giveaway is that they drive looking

down and with one hand on the wheel. The other is below the

dashboard texting away.

So don't step out on those pedestrian crossings thinking those

drivers will stop. They might be looking at something else.

– Barry Clarke

get in touch

GENERAL ENQUIRIES Ph 379 7100

CLASSIFIED ADVERTISING Ph 379 1100

Star Media, a division of Allied Press Ltd

PO box 1467, Christchurch

starmedia.kiwi

NEWS

Emily O'Connell

Ph: 364 7497

emily.oconnell@

starmedia.kiwi

Georgia

O'Connor-Harding

Ph: 364 7438

georgia.oconnor@

starmedia.kiwi

ADVERTISING

Lynette Evans

Ph: 364 7434

lynette.evans@starmedia.kiwi

Plans to protect district's largest lagoon

Check to see what is being done to prepare for the future of the

Tārerekautuku Yarrs Lagoon.

Page 5

news

Invictus team visits Rolleston College

New Zealand Defence Force athletes gets support before Sydney's

Games in October.

Pages 6 & 7

community events

Love board games?

Join the Board Games Club at Rolleston Library on

Saturday from 1.30pm to 3pm, 94 Rolleston Drive.

Page 35

The best-read local newspaper, delivered to

20,015 homes, RDs and farms every Wednesday

Ladbrooks, Tai Tapu, Leeston, Lincoln, Southbridge, Prebbleton,

Halswell, Rolleston, Templeton, Burnham, West Melton, Darfield,

Kirwee, Arthur's Pass.

New sections in Wilfield,

West Melton

A wide range of new sections are now available at Wilfield. Pop in to our sales and

information office, Kingsdowne Drive, this Wednesday or Sunday from 1pm to 3pm

to find out more. Contact us on 03 741 1340 or mail enquiries@yoursection.nz.

There's

much more

to come

Discover a true,

carefree lifestyle

at Lady Wigram

Retirement Village

Independent Living

at its best.

Lady Wigram Retirement Village facilities are second

to none. Whether you're looking for a serviced

apartment or a single story villa mixed with luxury

resort style facilities, you have an abundance of

choice at Lady Wigram Retirement Village.

Sarah Jacobson - Village Manager

210 Kittyhawk Ave, Wigram

Phone 03 341 0543

Mobile 027 3411 464

www.goldenhealthcare.co.nz
---
SELWYN TIMES Latest Christchurch news at www.star.kiwi

Wednesday August 22 2018 3

News

Pools reviewed as

the district's population grows

• By Georgia O'Connor-Harding

SELWYN'S AQUATIC facilities

will be reviewed to cater for the

district's booming population.

The district council operates

five pools including the aquatic

centre in Rolleston. The Darfield

and Southbridge pools will be

the focus of

the review. The

other pools are

the Leeston

Learners Pool

and Sheffield

Memorial Pool.

Darfield's

population is estimated

to grow Pat McEvedy

from 2957 to

3562 by 2025, while Southbridge

will grow from 959 to 1030.

The aim of the review is to

work out which aquatic facilities

need to be prioritised for

funding or redevelopment in the

future.

It comes after work to upgrade

the plant rooms and equipment

at the Darfield and Southbridge

pools was approved in the Long

Term Plan 2018-28.

Funding of $342,500 and

$90,000 was approved for

Darfield and Southbridge respectively.

The review will start next

month. Selwyn's population is

expected to increase significantly

over the next seven years, with

the district estimated to grow

from about 53,830 residents to

67,228 by 2025.

This has prompted a $14.8

million expansion of the Selwyn

Aquatic Centre, which is expected

to be completed by mid- 2020.

Darfield pool sub-committee

secretary Victor Dockerill said

while its swimming pool is

"fairly adequate", he would like a

year-round covered pool.

Currently Darfield's main 25m

x 9m pool is located outside and

only operates in the summer. It

also has two indoor pools and a

paddling pool.

Mr Dockerill said not only do

Darfield residents use the pool,

people drive from as far as Sheffield,

Springfield and Whitecliffs.

District councillor Pat

McEvedy said while pool

upgrades are always needed,

the Southbridge pool recently

received a new set of changing

2019

ON THE DOMAIN LINCOLN 2 MARCH 2019

FOCUS: The

Southbridge

pool will be

part of a

review into

the district's

aquatic

facilities.

rooms, a pool filtration update

and had been re-fenced.

Southbridge pool committee

member Brenda Hampton said

the pool already has long term

projects planned, including an

upgrade of the paddling pool

and heating.

Southbridge has two outdoor

pools – a 25m x 13m lane pool

and a 5m x 6.7m paddling pool –

which operate in the summer.

The district council said

neither pool is at risk of being

closed.

In Brief

TICKETS

ON SALE

NOW

www.selwynsounds.co.nz

TAI TAPU CENTRE OPENS

The $4.6 million Tai Tapu

Community Centre was

officially opened on Sunday. The

facility at Rhodes Park replaces

the original community hall

and sports pavilion at the site.

Both suffered damage in the

earthquakes. The new centre has

changing rooms, public toilets,

three community rooms and a

covered outdoor courtyard.

SWIM TO SUMMER

Registrations are now open for

the Selwyn Aquatic Centre's

annual swimathon, Swim

to Summer. The centre is

challenging residents to swim

or aqua-jog a combined total

of 10,000km in the lead-up

to summer. Aquatic facilities

manager James Richmond said

the free event aims to get more

people active, while fundraising

for the Mental Health

Foundation. Anyone who wants

to take part should sign up in

person at the centre and log their

laps for each swim at reception.

Prizes will go to the people who

swim the most laps. The event

runs until December 1. For more

information, visit the Selwyn

Aquatic Centre, phone 347 2734,

or email sac.enquiries@selwyn.

govt.nz.

WOF

$45 .00

• Courtesy cars • Oil changes

• Full mechanical repairs

• Brake & clutch repairs

• Transmission flush service

• Tyres & batteries

• Petrol & diesel servicing

Fitzgerald Motors

PHONE 03 349 7813

We've shifted now located at

Unit 8,193 Waterloo Road, Hornby

(6 doors down from our old site)

Brenna Sincock Hearing

in association with Starkey Hearing Foundation

is giving away a

Free

Set oF Premium

Hearing aidS

for one deserving Selwyn local

Our community is important to us, and

to show our appreciation to the Selwyn

community for its continued support over

the past two and a half years since Brenna

Sincock Hearing was established we have

decided to give back to the community.

So, who do you know that has hearing

loss and deserves hearing aids?

Is it someone that has done a lot within the community?

Maybe it's someone who has helped you personally?

Maybe it's someone who always puts others first or

someone who is just going through a tough time and

would benefit greatly from some Hearing Aids.

Send your nominations to: admin@sincockhearing.nz

Or drop it in to Brenna Sincock Hearing at:

36 Tennyson Street, Rolleston.

All nominations should include the full name

of the nominee, your name and contact details

and a description of why you feel your nominee

deserves this wonderful gift.

Finalists will receive a complimentary hearing test to

determine that their hearing loss is suitable for hearing

aids and the deserving winner will be determined by

the end of October 2018.

36 Tennyson St, Rolleston

Call 03 390 2332

www.sincockhearing.nz

Clinics in Lincoln, Leeston & Darfield

INTERNATIONAL

Comedy

Night

LINCOLN EVENT CENTRE

SATURDAY 6 OCTOBER

ON SALE

NOW

Nic Rado Wilson Dixon Ben Hurley Rhys Nicholson Melanie Bracewell

TICKETS AVAILABLE FROM: Crate & Barrel - www.selwynsounds.co.nz - Bridgestone Lincoln -
---
4 Wednesday August 22 2018

Latest Christchurch news at www.star.kiwi

SELWYN TIMES

News

Group formed

to keep watch

on Faringdon

• By Emily O'Connell

TWENTY-FIVE people

are patrolling the streets

of Rolleston's Faringdon to

ensure it stays safe.

Organiser Chris O'Brien

said since starting about two

months ago, the group has

more than 250 members and

25 patrollers.

"It was just basically a

casual conversation over a

beer about three months ago

and it's kind of grown into

quite a large initiative," Mr

O'Brien said.

He said the aim of the watch

is to make sure Faringdon is a

safe place to "work, play and

live."

"We want to deter criminal

activity . . . and we want

to make sure our children

are safe and protected," Mr

O'Brien said.

He hopes it encourages other

parts of Rolleston to start-up

community neighbourhood

watches also.

"Then eventually amalgamate

together to create a Rolleston

patrol group," Mr O'Brien

said.

The group has received support

from the district council,

police, developers and different

building companies.

Mr O'Brien said the financial

assistance it has received

has gone towards purchasing

magnetic signage for vehicles,

radios, high visibility vests

with labelling, identification

cards, safety beacons, vetting

processes and torches.

But in the long-term, he said

the group will require financial

support of residents.

•If you are interested in

creating a community

neighbourhood watch

in your area, or live in

Faringdon and wish to

become a patroller, phone

Chris on 0210 293 0190.

Rolleston library design revealed

PLAN: The design

concept for the

proposed $22.2

million Rolleston

Library and

Community Centre

has been revealed.

Construction of the

library and centre is

set to begin in April

and it is planned

to be completed in

2020. Key features

of the building will

include adaptable

and flexible

spaces that can be

reconfigured for

different uses, space

for the predicted

library collection,

meeting rooms, a

performance space

and a coffee station. ​

Bid to produce better drivers

•From page 1

Senior Constable Andy

Williamson said he "fully

supports" the project and thinks

it's a great idea.

"Anything we can do that's

going to get through to people

to make them think," he

said.

Senior Constable Williamson

said cellphones are "a major distraction"

and are a "large cause of

crashes."

Mr Allison said it's hard to say

whether the signs, which have

been provided by Fulton Hogan,

will make a difference but they do

make people think twice about

their actions.

"Certainly when we put the stop

one up we sat down the road for a

short time and saw what happened

and people we're certainly stopping,"

he said.

When the four-week trial finishes,

Mr Allison said there will be

a review and it will decide whether

to keep the signs in place.

"It might become a more permanent

fixture, it might stay there all

the time," he said.

The signs are also being trialled

in Ashburton.

Fall in love

with your

favourite furniture

all over again!

• Recover your chairs and couches

and save money!

• Excellent range of fabrics

• Quality workmanship guaranteed

• Free quotes available

• Over 30 years experience

Somerfield upholStery ltd

Furniture Recovery Specialist

before

after

10 Calgary Place, Hornby

03 349 0456 or 021 251 6200

www.somerfieldupholstery.co.nz

NURTURE

NEW

BEGINNINGS

Imagine having the knowledge

and skills to nurture and support

pregnant women through one of

life's most meaningful events.

With a degree in midwifery from

Ara, this can be your future.

Applications close 1 September.

Apply now, start January.

ara.ac.nz/midwifery
---
SELWYN TIMES Latest Christchurch news at www.star.kiwi

Wednesday August 22 2018 5

Plan to protect freshwater lagoon

PUBLIC FEEDBACK is being

sought on the management of

one of the largest freshwater

wetland habitats remaining in

the low plains of the district.

The Tārerekautuku Yarrs

Lagoon is located near Lincoln

in the Ararira/

LII River subcatchment

of Te

Waihora/Lake

Ellesmere.

District

council open

space and

property planner Derek Hayes

Derek Hayes said

the council and members of the

Tārerekautuku Yarrs Lagoon

Landcare Group are about to

prepare a reserve management

plan for the lagoon.

"The draft plan will become

the guiding document for the

future management of the

reserve, and will be informed

by the views of the community,

Te Taumutu Rūnanga and key

stakeholders," he said.

"Community input into the

process of preparing the draft

plan is important. We want to

hear views on how the reserve is

used, managed and developed."

The lagoon has important

hydrological and ecological

functions within the catchment.

Resene cardholder special!

"Although canopy vegetation

cover is dominated by exotic

willow trees, the reserve

supports a range of native

species, including populations

of locally rare mānuka and

baumea, and nationallythreatened

swamp nettle. The

Style is

Forever.

Reinvent yours today!

We can help.

reserve management plan

will help ensure that this

rare wetland is protected and

accessible," Mr Hayes said.

Public feedback closes on

September 9.

The district council will

review the feedback, identify any

FREE PIZZA

FOR EVERY VISITOR!

PLAN:

Feedback is

being sought

on the future

management

of the

Tārerekautuku

Yarrs Lagoon.

issues and undertake further

investigation if required.

The draft plan is expected to

be completed later this year.

The district council will

call for submissions on the

completed draft plan early next

year.

Local

News

Now

In Brief

Fire rages, homes at risk

WYNDON PILOT AWARDED

Wyndon Aviation director Mark

Watson received a flight instruction

award at the Director of Civil

Aviation Awards. The Weedonsbased

pilot has more than 20

years of experience as a flight

examiner for helicopter and fixed

wing aircraft pilot candidates. He

has logged about 24,000 hours

flight time in his career to date.

COMMUNITY FUND OPEN

Residents needing financial

assistance for an event,

community project or activity

are eligible to apply for a Selwyn

community fund grant. The

funding is allocated in two

rounds each year. The current

funding round closes on October

31, with the decisions announced

in November. For more

information, go to www.selwyn.

govt.nz

BUSINESSES FINALISTS

Several Selwyn businesses have

been selected as finalists in the

Westpac Champion Business

Awards. The finalists include

Busy Bumbles, Smart Membrane,

Mt Hutt Ski Area, SICON Ltd

and Lincoln Agritech. The

awards recognise the excellence,

innovation and success of the

businesses and will be announced

at a ceremony on September 19.

Come in and see us today at

your local Resene ColorShop!

Addington, Ferrymead,

Hornby, Lichfield St,

Northwood, Rangiora,

Shirley, Tower Junction

0800 737 363 www.resene.co.nz/colorshops

Discounts off the normal retail price from 21 August – 10 September

2018. Valid only with cash/credit card/EFTPOS purchases. Not available in

conjunction with account sales, promotional vouchers/coupons or other

offers. Excludes trade, ECS and Crown products and PaintWise levy. Offer

for Resene ColorShop/DIY cardholders only. Sign up for a free card at your

Resene ColorShop or participating reseller. Offer applies to 10 litre Resene

premium paints, primers, stains and 60-80ml testpots only.

Sizes 6-22. Made in NZ.

Exclusive label.

SMITH & BOSTON

Prebbleton Village | Christchurch

Ph: 03 349 5646

www.smithandboston.co.nz

IT'S

FREE

everyone

welcome

We're having a party and you're invited! Tennis clubs

from Oxford to Ashburton are opening their doors for

a fun, FREE event for all ages. Bring yourself or bring

your family to find out all there is to love about tennis!

Racquets supplied. BBQ. Prizes. Giveaways.

Come play

www.lovetennis.kiwi

#lovetenniscanterbury

*Times may vary by club. Please check website for details.

You could WIN A TRIP FOR TWO to the

ASB CLASSIC in Auckland this January.

Saturday

8 Sept

Sunday

9 Sept

1-4pm*
---
6 Wednesday August 22 2018

Latest Christchurch news at www.star.kiwi

SELWYN TIMES

News

Invictus team visits Rolleston College

The Invictus Games is

an international sporting

event for wounded, injured

and ill veteran and active

service personnel. The

New Zealand Defence

Force Invictus Games

team stopped by Rolleston

College on Friday

THE NEW Zealand Defence

Force Invictus Games team and

Rolleston College have joined

forces to spread the word on the

healing power of the games.

The games use the power

of sport to inspire recovery,

support rehabilitation and

generate understanding and

respect for wounded, injured

or ill current and former

servicemen and women. The

NZDF is sending 25 competitors

to this year's games, being held

in Sydney.

Students at Rolleston College

have been studying adaptive

sport, and Friday's visit gave

them a chance to hear the team's

stories and see them training.

Army Warrant Officer Class

2 Koro Hati, who won bronze

in team archery at a previous

Games, said team members had

SPIRIT: The New Zealand Defence Force Invictus Games team visited Rolleston College on Friday.

shared their experiences and

ongoing physical and mental

challenges with the students.

"They were really interested

in what we had to say. It shows

them that it's not just ablebodied

people that can enjoy

sport. Anybody can," Warrant

Officer Hati said.

"They also learned that the most

impaired person is the most able

person when you're in a chair."

Rolleston College physical

education head Andrew

Gebbie said a key part of the

module had been teaching the

students empathy.

"Our learners have taken on

board the presentations and the

values of the Invictus Games and

have started to make links to our

school values," Mr Gebbie said.

"It has been a big part of this

unit, having conversations about

empathy and understanding. It's

so empowering for our learners

to talk about the challenges that

the Invictus competitors have

overcome."

Mr Gebbie said hearing from

team members with mental

illness such as post traumatic

stress disorder had been hugely

important.

"It is very obvious that an

amputee or someone in a wheelchair

has a disability but to …

talk openly about mental illness,

and specifically PTSD, was a

great opportunity. This gives our

learners the tools to recognise

these feelings within themselves

and talk openly about what was

previously not spoken of.

"It has taught our learners

that the greatest challenges or

traumas can be overcome."

The team visited the school on

the Invictus Games' Fly the Flag

day – an event when all 18 allied

nations competing in the games

fly their Games' flag. The New

Zealand team left theirs with the

college for students to sign, and

will take it with them to fly at

their accommodation in Sydney.

Team manager Warrant Officer

Gareth Farmer said a number

of personnel at the Burnham

Military Camp had links to the

school and the visit marked the

start of an important relationship.

This year's event will be held

from October 20 to 27 and will

involve 500 competitors from 18

allied nations competing in 11

different adaptive sports.

The NZDF team is sponsored

by Auckland RSA, Christchurch

Memorial RSA, Fulton Hogan,

Jaguar/Land-Rover and Direct

Sport.

•Throughout the Games

the team's journey can

be followed on Facebook

- facebook.com/

NZInvictusTeam, Instagram -

@NZInvictusTeam or Twitter

- @nzdefenceforce.

Phil Murfitt

ORTHODONTIST

Weekly Orthodontic Clinic in Rolleston

Phil Murfitt Orthodontist will be holding WEEKLY Rolleston clinics from November

when Orthodontist Mark Kum joins the team.

Mark is also a specialist orthodontist with 14 years' experience in the Christchurch area.

To book an appointment with Phil or Mark, please call 03 3754418.

Clinics are held at Rolleston Dental Centre, Tennyson St. www.philmurfitt.co.nz

COME ON IN

AND ENJOY A

MEAL WITH US

At the heart of Lincoln

OPEN 7 DAYS • 03 325 2408

famousgrousehotel.co.nz
---
SELWYN TIMES Latest Christchurch news at www.star.kiwi

Wednesday August 22 2018 7

ROLLESTON woman Jules

Bramley will proudly represent

her country in this year's

Invictus Games Sydney – and

she's doing it for her children.

The games use the power of

sport to inspire recovery, support

rehabilitation and generate

understanding and respect for

wounded, injured or ill current

and former servicemen and

women.

Mrs Bramley is part of the

25-strong New Zealand Defence

team going to the Games. Husband

Brett and children Austin,

12, and Jorja, 7 – who are both at

Clearview Primary School – will

be there to cheer her on.

"That's the main reason I'm

doing it, for them. I just want to

show them that even though I

am injured and I do have restrictions,

there are things out there

that I can still do, and I can still

do well.

"I can really train for it just as

much as you can for any other

sport. It's really showing them

never to give up.

Mrs Bramley was an army

medic for 21 years, serving

in East Timor, Afghanistan

and Samoa after the tsunami

there. Over the years she badly

injured her hips carrying heavy

equipment on her back and now

essentially has no cartilage left

in her hips, leaving her with

severely restricted movement in

one leg.

She's still with the NZDF, as

a civilian, training medics that

go through the NZDF – a move

prompted by being unable to

achieve the required military

fitness due to her injuries.

"I haven't been able to play

sport, I can't run, so it's really restricted

my life, really," she said.

"The first time I got in the

chair and played a really hard

game of rugby, I walked off

feeling amazing – being able to

play a game again and being able

to play the full game and not

having to stop," Mrs Bramley

said.

"I've been really restricted for

quite a long time and just having

the ability to show my kids that

I can get out there and do stuff,

even though it's slightly adapted,

it's a great feeling."

Mrs Bramley, who grew up

in Rangiora and whose parents

still live there, competed in the

Invictus Games in Toronto last

year and she's hooked.

"It was amazing. Can't explain

it. Just eye-opening. It really

made me realise that everyone's

got their own story. No matter

what it is, everyone is there

to do the same thing, achieve

the same goals, whether it be

rehabilitation or just learning

to move on in their life and play

sports again."

She will this year compete in

wheelchair rugby, wheelchair

Local

News

Now

'I can get out there and do stuff, it's a great feeling'

COMPETITION:

Jules Bramley

in action in

wheelchair

tennis. (Right)

– Mrs Bramley

with her

husband Brett

and children

Austin, 12, and

Jorja, 7.

Fire rages, homes at risk

basketball and wheelchair tennis

doubles with fellow Rolleston

woman Vanessa Bawden-Pere.

"We've been training really

hard. We've got a great coach

in Christchurch who takes us a

couple of times a week. It's been

really good," she said.

And while it would be great

to bring home a medal, Mrs

Bramley says that's not what the

Games are about.

"Just being part of a team

again, and being part of the

NZDF again. It's just amazing."

SECURE YOUR DREAM NOW

OFFER ENDS 30 SEPTEMBER 2018

0800 LIVE IN LIVEWHERE.CO.NZ
---
8 Wednesday August 22 2018

Latest Christchurch news at www.star.kiwi

SELWYN TIMES

News

$230,000 boost

for tourism

infrastructure

• By Emily O'Connell

THE DISTRICT council has

received nearly a quarter of a

million dollars from the Ministry

of Business, Innovation and

Employment for new tourism

infrastructure.

The Government's Responsible

Camping Working Group has

awarded $230,000 from the Tourism

Infrastructure Fund

for projects in Selwyn including

new toilet facilities, signage,

asset renovation and data

collection.

District council chief executive

officer David Ward said with the

popularity of freedom camping

increasing, there's a need for more

facilities around the district to

cope with the growing demand.

"We want to build on visitors'

experiences of enjoying our wonderful

district, and this funding

will help us upgrade services in a

number of areas around Selwyn,"

Mr Ward said.

"We will be spending a substantial

amount on new toilet facilities

at Lake Selfe and Lake Georgina,

which will be welcomed by lake

users.''

Mr Ward said the projects will

be completed by December 1.

Support for safer school car park

• By Emily O'Connell

THE Sheffield-Waddington

Community Committee has

thrown its support behind

Sheffield Primary School's bid

for a new car park.

It sent a letter to the district

council

recently

highlighting

the ongoing

problems

with the

school's car

park not

fitting the

needs of its

Nick Pratt

104 pupils.

"The

committee hope that you are able

to assess and transform this area

into a workable and safe car park

for parents, staff, bus drivers,

visitors and the wider Sheffield

Community," it read.

School principal Nick Pratt

said its current car park can

fit 14 vehicles at a push and it's

not sufficient for its growing

population.

Mr Pratt said it has been

working with parents, police,

bus operators and truck firms

as well as training pupils and

issuing them with high visibility

vests for coming to and from

school.

"We have mitigated everything

to the best of our ability . . .

however, the fundamental issue

is there is not enough space for

our children's parents to pick up

and drop off their children in a

safe manner," he said.

Mr Pratt said its proposal

is for the district council to

scoop away the top soil which is

opposite the school on Tramway

Rd and shingle it so it can be a

car park.

He said it would then set up a

monitored crossing which is a

safe distance from the main car

park entrance.

District council asset

engineer transportation Mark

Chamberlain said it is working

to fix "a number of issues with

the existing car park within

the road reserve and it is

programmed for a reseal this

year."

However, he said there are no

plans for the district council to

do work on the grassed area on

SAFETY FIRST:

Sheffield

Primary

principal Nick

Pratt says the

school has

issued high

visibility vests

to its pupils,

but now it

needs the help

of the district

council to

create a safer

car parking

area.

Tramway Rd.

"If Sheffield Primary School

wishes to extend the car park,

then this will need to be funded

through the school or MoE, or

request the council fund this

work as part of the Annual

Plan process, as per policy," Mr

Chamberlain said.

Mr Pratt said it was not willing

to spend money directed for

learning on car parking but it

would go through every process

possible.

ROLLESTON LAW

Rolleston Office: 78A Rolleston Drive, Rolleston

Darfield Office: Darfield Business Hub, 68 South Terrace

Lifestyle fencing

now sold at canterbury timber

and Hardware

please call in for your free quote today!

new

product

W: www.meareswilliams.co.nz

T: (03) 374 2547 M: 021 148 6221

Richard Gray

E: rcg@meareswilliams.co.nz

Anita Molloy-Roberts

E: am@meareswilliams.co.nz

Kate Warren

E: kcw@meareswilliams.co.nz

Your Local Timber Merchant

NEW ENTRANCE: 167 Manion Road, Rolleston

Jason Pester P 03 347 7465 F 03 347 7032 E jason@cthl.co.nz

Mon-Fri: 7am-5pm Saturday: 8am-12pm

canterbury

c t H timber & Hardware

We are here

- A great place to retire

One-bedroomed apartment

now available to purchase

Secure your new home today!

• Bright, new and luxurious

• Designed with your comfort in mind

• Little balcony with a fantastic view

of the gardens

• Care packages available to

purchase

• Occupation right agreement

Our weekly fee is locked in for life

Call today for more information on our one-bedroomed apartment.

Donna Coxshall 03 307 6140 – FACILITY MANAGER

37 Carters Terrace, Tinwald, Ashburton 7700

www.terraceview.co.nz
---
SELWYN TIMES Latest Christchurch news at www.star.kiwi

Wednesday August 22 2018 9

Local

News

Now

Fire rages, homes at risk

FOUND: Police

recovered items,

including a bicycle

and shoes stolen in

door-stepping cases

in Christchurch.

Door-stepping cases

emerge in Rolleston

• By Matt Salmons

DOOR-stepping burglaries

are taking place in

Rolleston.

It comes on the

back of similar

incidents in

Broomfield, Hei

Hei, Hornby and

Wigram.

A pair of

Nike running

shoes had been

reported stolen

in Rolleston last

week, with items also

reported missing from a

neighbouring property,

Senior Constable Bruce

Ward said.

He said it was likely it

Bruce Ward

GOLD

CARD

LUNCHES

MON - FRI

wasn't the same offenders

as in Christchurch.

A 14-year-old had been

apprehended in relation

to the Christchurch

burglaries in the city

and would attend a

Youth Justice family

conference. Senior

Constable Ward said

police had spoken

to three of a further

eight suspects who

had all denied involvement.

"But [the suspects] know

that we're on to them, so

here's hoping that will slow

it down," he said.

Senior Constable Ward

said he believed doorstepping

was a "bit of a

faze", which could eventually

slow down in the same

manner as tagging.

He encouraged people to

report any items that went

missing outside

their homes instead of

blaming themselves or

ignoring it.

"Just be mindful, if

things are lying around

outside your door they're

liable to walk. But we want

to know."

•If valuables have

been stolen from

outside your property,

phone Senior Constable

Bruce Ward at the

Hornby Police Station

on 363 7435.

Fresh NZ

Quality Mark

Prime Beef Mince

Fresh NZ

Quality Mark

Lamb Leg Roast

$

10 99 kg

$

12 99 kg

Tip Top Bakery

Supersoft Bread

700g

Hellers Fresh NZ

Burgers 400g or

Pre-Cooked

Sausages 1kg Plain

(excludes flavoured variants)

Vitor Afourer

Mandarins Loose

Product of Australia

ANY 2 FOR

$

12 99

$

4 99 kg

Coca-Cola,

Sprite, Fanta, Lift

or L&P 1.5 Litre or

Keri Premium Fruit

Drink 1 Litre

ANY 2 FOR

$

4 99

Arnott's Farmbake

Cookies 350g

$

2 89 ea

$

3 49 ea

Woodfired Pizzas / Full Menu •

$20 Pizzas Mon / Tues •

$7 Beers 4-6pm Every day •

Gaming Room •

Tues Quiz Nights •

$15 Burgers Wed •

$15 Curry Thurs / Fri •

Roasts every lunch and Sunday nights $22 •

Function room - Fundraisers/private dining •

Takeaways Available •

Open 7 days Coffee/Lunch/Dinner

Open 11.30am Mon-Sat | Ph 03 421 6481

Sunday Breakfast from 9am

West Melton Village, Weedons Ross Road

www.twofatpossums.co.nz

Courtesy Van available

Wither Hills 750ml

(excludes Pinot Noir)

$

12 99 ea Tiger Crystal Beer

12 Pack 330ml Bottles$

21 99 pk

www.foursquare.co.nz

facebook.com/FourSquareNZ

Specials available South Island only from Monday 20th August until Sunday 26th

August 2018 or while stocks last. Wine and beer available at stores with an off

licence. Wine and beer purchases restricted to persons aged 18 years old and over.
---
10 Wednesday August 22 2018

Latest Christchurch news at www.star.kiwi

FREE

Sport and

Recreation

SELWYN TIMES

Over 20 activities for the whole family

Live music, give aways, food and more

WIN $750 IN PRIZES!

SUNDAY 26 AUGUST, 12–3PM

DARFIELD REC CENTRE AND DOMAIN

Sport and recreation Have A Go Day contacts

Cheapskates Skate Skool – Scotty Buckner

021 758 438, scotty@skateskool.co.nz

CrossFit Rolleston – Sam Hill

Pick up your passport on the

day, complete five challenges

to enter the draw.

Go to our Facebook event for

more information.

Have a Go Day

021 123 3629, crossfitrolleston@yahoo.co.nz

Dodgeball New Zealand – Brendon Beattie

027 751 8649, mail@dodgeballnz.com

Ellesmere Archery Club – Dale Griffiths

027 531 6398, ellesmerearcherysecretary@gmail.com

Flips & Tumbles – Jared Cooper

027 8288 760, jared_extreme@yahoo.com

Girl Guiding (Selwyn area) – Stacey Skill

027 462 8871, skill.s@vodafone.co.nz

Go-Jump Bouncy Castles – Kurt Tobin

021 188 4598, kurtistobin@gmail.com

Hororata Highland Games – Cindy Driscoll

(03) 318 2768, cindy@hororata.org.nz

LEC Spin & Pump Class – Linda Miratana

(03) 347 2741, linda.miratana@selwyn.govt.nz

LEC Yoga & Stretch and Release – Kate Williamson

020 4117 8986, kate.m.williamson@gmail.com

Lincoln Bowling Club – Nancy Moroney

(03) 325 2538, vamwam39@gmail.com

Lincoln Table Tennis – Phil McLean

(03) 325 7694, philjudym@gmail.com

Lincoln Indoor Bowls – Andrew Wallace

(03) 325 2451, wallaceak@actrix.co.nz

Lincoln Rugby Club – Natalie Townsend

021 408 028, secretary@lincolnrugby.org.nz

Lincoln Tennis – Sue Hadfield

027 674 0897, sue.kerry@xtra.co.nz

Pedalmania – Clive Murphy

027 450 4399, clive.m48@gmail.com

Phat Sk8 – Ingrid

027 387 0065, phatsk8@clear.net.nz

Rolleston Rugby League – Keenan

021 073 9031, keenan_allan@hotmail.com

Rolleston Softball Club – Wendi Parsons

rollestonsoftball@hotmail.co.nz

Scouts – Makareta

(03) 329 5131, groupleader@lincolnscouts.org.nz

Selwyn Athletic Club – Gail Krsinic

(03) 329 5649, selwyn.athletics@gmail.com

Selwyn Football Club & Futsal – Lee Padmore

027 524 5898, lee@sufc.co.nz

SDC Events Trailer

(03) 347 2791, events@selwyn.govt.nz

SDC Mini Gym – Tania Taylor

021 569 000, tania.taylor@selwyn.govt.nz

SNAG Golf – Rachel Thow

021 304 765, rachel@canterburygolf.co.nz

Sport Canterbury – Green Prescription – Anna Wilson

(03) 373 5045, anna.wilson@sportcanterbury.org.nz

The Bridge Club – Stuart Gowers

(03) 325 3222, slgowersnz@gmail.com

Waikirikiri Basketball and Hockey – Olivia Kennedy

021 088 00892, waikirikirisport@gmail.com

Full name:

Town:

School: (if applicable)

Contact Number:

Email:

HAVE A GO DAY

Age Group: 5–14 15–24 25–34

35–44 45–54 55–64 65+

Have you attended a Have A Go Day before? Yes No

Which activity do you most want at your school? (if applicable)

What have you enjoyed most today?

ENTRY FORM

Prize draw details and conditions: 1) First prize is a $250 Sports

Voucher; 2) Second prize is a $100 Sports Voucher; 3) Other prizes

may be sponsored or purchased to give away; 4) You must receive five

passport stamps to be eligible for a prize; 5) Prize winners will be drawn

randomly from the prize draw box; 6) Only persons over five years of

age are eligible to receive a prize; 7) Prize winners will be contacted by

phone and email; 8) Prize winners may have photos taken of them to be

used for promotional purposes; 9) by completing the 'Have a Go Day

entry form' you agree to the above prize draw details and conditions.

WIN!

Complete five challenges on the day,

stamp your passport and enter to

win a $250 Sports voucher!

Congratulations

You have completed

five challenges!

Please fi l in the entry form

over leaf to enter the draw

SelwynDistrictCouncil

(03) 347 2800

growing strong

communities

together

Darfield call free 318 8338

www.selwyn.govt.nz/events

selwyn.govt.nz
---
SELWYN TIMES Latest Christchurch news at www.star.kiwi

Wednesday August 22 2018 11

News

Celebrating new

arrivals to district

INTERNATIONAL

Comedy

Night

Lincoln Event Centre

SATURDAY

6 OCTOBER

ON SALE

NOW

www.selwynsounds.co.nz

Memorial plan for quake victims

A PLAN outlining how

the district council will

embrace its growing

population is being

launched on Friday.

The Welcoming Plan

describes how the district

council will celebrate the

increasing population

and diversity, and what

activities it will deliver

to ensure Selwyn is even

more welcoming for

newcomers and migrants.

The plan is part of the

two-year Welcoming

Communities pilot

programme which the

district council was

chosen to take part in

along with eight other

councils in five regions

across the country.

In 10 years the district's

population is expected to

grow to 79,000. This is a

significant increase from

the current population of

59,000.

Mayor Sam Broughton

will give a speech at Friday's

launch along with

other dignitaries. There

will also be a Kapa Haka

GROWTH: The district council will launch its

Welcoming Plan on Friday. ​

performance, a Kiwianathemed

lunch and a

presentation from the

newcomers and migrants

steering group.

The plan includes a the

Welcoming Communities

Standard, which provides

councils and communities

with a benchmark.

It has organised around

eight outcomes necessary

to building a welcoming

community.

These are inclusive

leadership, welcoming

communications, equitable

access, connected and

inclusive communities,

economic development

and business and employment,

civic engagement

and participation, welcoming

public spaces and

culture and identity.

In the past year, more

than 370 people from 40

different countries across

the world living in Selwyn

have become New Zealand

citizens.

Mayor Sam Broughton

says it's positive to see the

district become home to

a wide range of nationalities.

"As a growing district,

it's fantastic to see people

from all over the world

wanting to make Selwyn

a permanent home," said

Mr Broughton.

•From page 1

Mr Wright was on the

Major Hornbrook track,

10min from his Norton

Close home when boulders

loosened by an aftershock

struck him.

Father-of-three Mr

Foldesi was walking the

Stan Helms track when

the earthquake triggered a

rockslide that swept across

the track and carried him

25m down a cliff face.

He was found hours later

by his daughter, Sarah.

Now Mr Wright's former

neighbours Betty and

David Purdue want to use

red-zoned land at Norton

Close/Somes Rd which is

currently maintained by

Land Information New

Zealand for a memorial

orchard dedicated to the

two men.

The land was owned by

Mr and Mrs Wright, and

Kay and David Commons.

It has four existing apple

and pear trees.

Mrs Purdue said the trees

were Mr Wright's pride and

joy.

Ian Foldesi

"He was very proud

of them and when the

houses were demolished

we almost stood in front

of the digger; we chatted

up the driver and said:

'Please, please see if you can

contour the land around

Owen's trees without taking

them out'."

The land runs alongside

the Major Hornbrook

track and would be an

ideal resting point, Mrs

Purdue said, in a spot with

Owen Wright

plenty of sun.

"There isn't a memorial

in Lyttelton to the two

Lyttelton people who died.

I think it would make a

really nice pausing place."

Mr and Mrs Purdue

have written to the Banks

Peninsula Community

Board proposing the idea.

Board members "soundly

supported" the concept

in principle when it was

discussed at its meeting last

week.

Late night Lyttelton Tunnel closures

From Sunday 26 August, you'll

need to plan your travel around

late night tunnel closures.

These are essential to both install

and test a new fire protection system

inside the tunnel.

Work on this $28.7 million project

is expected to be completed early

next year.

Traffic lane closures are timed

for late night/early morning on

the lightest tunnel traffic days of

the week, ie Sunday, Monday and

Tuesday.

TUNNEL

CLOSED

11pm to 4am

Sunday 26 August

Monday 27 August

Tuesday 28 August

The tunnel will open to

traffic for 10 minutes on

the hour on these

nights.

WHAT YOU NEED TO KNOW

• Real-time traffic information for the Lyttelton Tunnel area is available

at www.tfc.govt.nz

• A three-month look ahead schedule of tunnel traffic lane closures

can be found at www.nzta.govt.nz/assets/projects/lytteltontunnel/lyttelton-tunnel-lane-closures.pdf

• Emergency access will be maintained through the tunnel at all times.

• For more information about the Lyttelton Tunnel fire protection

upgrade, go to www.nzta.govt.nz/projects/lyttelton-tunnel/

• Find up-to-date information on road conditions, delays and

closures at www.nzta.govt.nz/traffic

• Check the Transport Agency's official Twitter @nztacwc and

Facebook facebook.com/nztasouthisland pages.

• For traffic and travel information, call 0800 4 HIGHWAYS

(0800 44 44 49) to speak to one of our team.
---
12 Wednesday August 22 2018

Latest Christchurch news at www.star.kiwi

News

Local

News

Now

SELWYN TIMES

Fire rages, homes at risk

CELEBRATION: The Cancer Society's Selwyn Centre was

officially opened last Thursday. ​

Cancer support

centre opens

THE CANCER Society of New

Zealand Canterbury-West Coast

Division has opened a centre in

Rolleston.

The centre is located on 6B

Kidman St and offers support,

information and advice to those

affected by cancer.

Chief executive Elizabeth

Chesterman said its "volunteerled

cancer support groups are

well established throughout

Selwyn and the centre will be an

additional resource for them and,

most importantly, for many others

trying to cope with cancer."

Centre co-ordinator Jackie

Claridge has been heartened by

the response the new centre has

received. "People are thrilled that

Cancer Society now has a base in

Selwyn," she said.

"Schools have been really keen

to work with us and show their

support, as have other community

organisations."

Mrs Claridge said volunteers

are the life-force of the organisation

and one of the valuable ways

people can contribute is through

the volunteer driving service

which supports people accessing

treament in Christchurch.

With Daffodil Day on August

31, the Cancer Society is encouraging

people give generously.

Wheels roll at

new Lincoln

skate park

Layla, 7, and Indie Bowness, 4 (above),

try out the new Lincoln Domain Skate

Park. It was opened on Sunday following

a redesign. It features a small learners'

bowl which leads on to an intermediate

bowl. There is also a large and small

hubba, ledges and rails. ​

SHOW DAD HOW

YOU REALLY FEEL

12 months

interest free &

payment

holiday, conditons

apply, see in store.

STORE OPENING HOURS:

Fosters, Blenheim Road Store - Mon - Fri

8am til 5.30pm, Sat 9.30am til 3pm

Rangiora & Northwood Stores - 7 DAYS -

Mon - Fri 8am til 5.30pm, Sat 9.30am til 3pm,

Sun 10am til 3pm

5000AL Lawnmower

35 Ton Log Splitter

RE109 Waterblaster

FS85R Brushcutter

Engine: Briggs OHV Commercial

Series 850 IC Readystart, 190cc

Chassis: Alloy

Cut Width: 485mm (19")

Cut Height: 8mm - 73mm

Weight: 34kg

Save

$100

BUY NOW @

$899

Incl

GST

Engine: Kohler

Cycle time: 14 secs

Pump: 2 stage,

16 GPM

Log Capacity: 24.5"

(62.23cm)

BUY NOW @

$4095 Incl

GST

Save $504

Save

$100

230V

1.7kW

6.3lt/min

1595 working psi

Hose length: 8m

BUY NOW @

$395 Incl

GST

25.4cc 0.95kW 5kg

Commercial grade machine

Bull handle configeration

available

*Image pictured,

varies from

actual

+ get $100 to

spend instore!

Save $45

BUY NOW @

$750

Incl

GST

Gift Card

Not sure what to get as a gift?

A STIHL SHOP Gift Card might just be

the answer!

Available in any

denomination

(up to NZ$1,000)

BUY NOW @

$????

HS45 Hedgetrimmer

27.2cc 4.7kg 0.75kW

450mm blade (600mm blade model

is available at an extra cost)

+ recieve a 5L Stihl

Motomix worth $45 for

FREE!

BUY NOW @

$495

Incl

GST

Chain Loop

25% OFF all

STIHL Chain

Loops!!!

Save $250

E36H

12 months interest free & no

payments! See in-store for details

All pricing includes GST. Images may vary from in store product. Offers valid until 3rd September, 2018 or while stocks last. 12 months interest free and no payments avalable, see in store for details.

Ride on

Mower

Engine: Ariens single

cylinder 452cc

Transmission: Hydrostatic

Foot Control

Deck: 92cm (36")

Deck height: 12mm (1/2")

up to 101mm (4")

BUY NOW @

$6749 Incl

GST

STIHL SHOP Northwood - 554 Main North Road, Belfast, Christchurch - Ph: 03-974-2469

STIHL SHOP Rangiora - Corner Lineside and Station Road, Rangiora - Ph: 03-313-3398

STIHL SHOP Fosters - 559 Blenheim Road, Sockburn, Christchurch - Ph: 03-343-6339

www.stihlshopchristchurch.co.nz

LOVE YOUR LAND
---
SELWYN TIMES Latest Christchurch news at www.star.kiwi

Wednesday August 22 2018 13

Faringdon

Three bedroom homes from

$

475,000

Easy-care, modern homes – Ready now in Faringdon

Our homes at Faringdon are designed

to suit your needs, whether you're a

family, a professional couple, first home

buyer or looking for a low maintenance

investment home.

Designed with modern living in mind,

our homes feature fabulous kitchen and

bathroom spaces, stylish neutral decor

and open plan living areas which enjoy

excellent indoor/outdoor flow.

Call Trevor today or visit our website

for more information.

SHOWHOME

Open to view Sunday 12-4pm

3 Clanfield Way, Faringdon

PHONE

Trevor Rowe 027 459 6071

fletcherliving.co.nz
---
14 Wednesday August 22 2018

Latest Christchurch news at www.star.kiwi

SELWYN TIMES

Library week straight off the page

Rolleston College students Caleb Smith (left), Jorja

Wood and Shantay Bajamundi (below) and teacher

Maria Darroch (right) dressed up during the school's

recent library week. Library week activities included

having author and Lincoln High School teacher Tania

Roxborogh visit with her year 12 class and run a

creative writing workshop for a group of year 9 and

10 students. The school also had a 25 hour creative

writing competition, reading response competition,

magazine front cover competition, quiz and dress-up

day.

SCHOOLS

Best

Motorbuys

TM

ANYTHING WITH A MOTOR!

The South Island's leading motoring publication

FREE every Friday at hundreds of locations

around the South Island, and it's available online!

www.bestmotorbuys.co.nz

For advertising enquiries, ph Lea Godfrey 021 277 3086

LARGER & FASTER WASHING MACHINES

Upgraded at Hornby LIQUID LAUNDROMAT

47 Carmen road, hornby. gasoline alley site,

Cnr Carmen & waterloo roads | 7 days: 6am-7.30pm

wash & dry all yoUr laUndry

in aboUt 1 hoUr $4.00 wash $4.00 dry

wash 2 mink blankets, duvets

or woolrests for only $8

dry Up to 3 loads in only 25 minUtes!

$4 save time & electricity

Other Locations: 289 Colombo Street, Sydenham • 345 Stanmore Road, Richmond • 65 Percival St, Rangiora

17 Halswell Road, Hoon Hay • 713 Ferry Rd, Woolston • 261 Burwood Road, Burwood • 319 Pages Rd, Aranui

www.liquidlaundromats.co.nz

True Luxury SUV Combining advanced safety & comfort

$23,890 $21,980 $22,980 $20,890

$22,980

2009 VOlVO XC90 2010 VOlVO XC90 2008 VOlVO XC90 2009 VOlVO XC60 2010 VOlVO XC90

20 Waterloo Road, Sockburn, Christchurch

Phone: 0800 778 807. www.nzc.kiwi On road costs may apply
---
SELWYN TIMES Latest Christchurch news at www.star.kiwi

Wednesday August 22 2018 15

at Rolleston College

SUCCESS: Rolleston College year 9 students (above) Trisha

Tayong, Alex Blackie, Keegan Trentelman and Aria Hawes placed

first in their year level at the recent interschools Cantamath

competition between Lincoln High School. The team are set

to compete in the Cantamath competition at Horncastle Arena

this afternoon. Meanwhile, year 10 students (below) Charlotte

Connelly, Dexton Green, Cam Batchelor and Emily Taylor placed

first in their year level at the interschools competition. ​

CREATE

THE DREAM

ACHIEVE YOUR

POTENTIAL IN

HEALTH

Take control of the weather!

LET US CREATE YOUR PERFECT OUTDOOR SPACE

CALL US TODAY FOR A NO OBLIGATION QUOTE

CHRISTCHURCH

55 Hands Road

Ph: (03) 338 9063

www.stratco.co.nz

If you'd like a career

in health but you don't

currently meet the entry

criteria for a diploma or

degree programme at Ara,

our Certificate in Study and

Career Preparation can give

you the foundation you need.

Starting in September, this mostly

online programme will equip you to

confidently advance to a higher-level

qualification next year.

Apply now, start September.

ara.ac.nz
---
16 Wednesday August 22 2018

Latest Christchurch news at www.star.kiwi

SELWYN TIMES

NO DEPOSIT

VX8 Pro

Scooter

Usually $229.99

$

199 99 ea

RC Red Speeder

Usually $99.99

$

89 99 ea

RC Holden

HRT 22

Usually $229.99

WOW

67% off

$

99 99 ea

Disney Cars 3

Fast Not Last

Usually $219.99

$

189 99 ea

Giant Piano Mat

$

79 99 ea

Water Wing

Swim Vest

Sizes 1-5yr available

in Pink and Blue.

5 in 1 Easel

Black/whiteboard

Usually $99.99

$

79 99 ea

$

49 99 ea

Man Truck

with Excavator

Usually $109.99

$

99 99 ea

Master

Workbench

Usually $149.99

Usually $99.99

$

89 99 ea

Usually $89.99

$

79 99 ea

Usually

$39.99

$

34 99 ea

Usually

$69.99

$

59 99 ea

$

129 99 ea

Country

Critters

Play

Cube

Usually

$179.99

Rubix

Race

Usually

$39.99

$

159 99 ea

$

29 99 ea

Rubix Cube 3x3

Usually $24.99

New Zealand's BEST

TOY LAYBY!

$

19 99 ea

NZ Emergency

Set Series IV

Usually $29.99

• Layby held up to 17th December, 2018

• Payments instore, over the phone or by Internet Banking

• At least fortnightly payments required

$

24 99 ea

Audi TT RS Plus

6V Electronic

Ride On Car

Usually $499.99

NO DEPOSIT – NO INTEREST

$

399 99 ea

• Cancellation Fees apply

• 48 hour notice for pickup (as some laybys stored offsite)

• Photo ID required for creating Layby
---
SELWYN TIMES Latest Christchurch news at www.star.kiwi

Wednesday August 22 2018 17

17 WEEKS

UNTIL

CHRISTMAS!

CATALOGUE

OUT NOW!

Artic Mobile

Exploration Base

Usually $179.99

$

137 99 ea

City Hospital

Usually $179.99

$

137 99 ea

Pirate Roller

Coaster

Usually $149.99

$

114 99 ea

Heart Lake

City Resort

Usually $179.99

$

138 99 ea

Xwing Starfighter

Usually $169.99

$

157 99 ea

Mack Anthem

Usually $269.99

$

219 99 ea

Bugatti Chiron

Usually $649.99

$

599 99 ea

Hogwarts

Great Hall

Usually $199.99

$

179 99 ea

18 inch

Vet Doll

Paloma

or Hair

Grow

Doll

Kaely

Usually $99.99

$

79 99 ea

FREE

Z Mini

Plush Pup!*

when you

purchase a

deluxe doll

while stocks

last

Horse Trailer

Usually $219.99

Red Panda

25cm

$

29 99 ea

$

189 99 ea

Horses and dolls sold separately

Scooter with

Side Car

Usually $139.99

$

119 99 ea

Horses and dolls sold separately

35cm

$

39 99 ea

50cm

$

59 99 ea

70cm

$

149 99 ea

Grand Department Store

Usually $239.99

$

199 99 ea

KNEX 3 in 1

Amusement Park

Usually $179.99

Ballet Theatre

Usually $139.99

$

149 99 ea

Horse

Transporter

Usually $99.99

$

79 99 ea

$

99 99 ea

Accessories and figures sold separately

TOWER JUNCTION

NZ's Biggest TOYWORLD

Clarence St, Riccarton, Ph 03 343 0330

MARSHLAND

199 Marshland Rd,

Ph 03 982 8697

HORNBY

Chalmers St,

Ph 03 281 8127

Valid from Thursday 23rd August to Sunday 16th Sept.
---
18 Wednesday August 22 2018

Latest Christchurch news at www.star.kiwi

SELWYN TIMES

STOREWIDE

BED BLITZ

Christchurch

Moorhouse Ave

Store Only

SANCTUARY

CHIROPRACTIC HD

SWISSTEK

SAVE

NOW

GREAT DEALS

ON SLEEPYHEAD

ZONED POCKET

SPRING

BEDS

GREAT BED

DEALS NOW AT

MOORHOUSE AVE'S

REFURBISHED

STORE

SERENITY

RUN OUT

BEDS AND

SELECTED FLOOR

MODELS @ GREAT

PRICES

STOREWIDE

SALE PRICES

WITH UP TO 50%

OFF CLEARANCE

FLOOR MODELS

AND STOCK

BEDS R US MOORHOUSE

166 Moorhouse Ave, (Next To Noel Leeming)

Ph: 03 379 5110
---
SELWYN TIMES Latest Christchurch news at www.star.kiwi

Wednesday August 22 2018 19

Backyard Critters

Moths come to light at night

Mike Bowie is an ecologist

who specialises in

entomology (insects

and other

invertebrates).

Each week he

introduces a

new species

found in his

backyard at

Lincoln. His column aims

to raise public awareness

of biodiversity, the variety

of living things around

us. Check out the full list

of invertebrates found at

http://naturewatch.org.

nz/projects/backyardbiodiversity-bugs-in-lincoln

ONE OF the larger and more

common moths that come to

light at night is the New Zealand

cutworm Graphania mutans.

It is one of at least 38 species in

the endemic genus Graphania.

The moth is variable in length,

15-19mm, markings and colour,

with forewings ranging from

grey, to browns and green.

Female moths lay 0.6mm

diameter eggs in batches of

between six and 200, usually in a

single layer.

Eggs are laid on a range of

plants including ryegrass, tussock,

magnolia, ecalyptus and apple.

MOTH: Graphania mutans, commonly known as the New

Zealand cutworm, is variable in length, 15-19mm, markings and

colour, with forewings ranging from grey, to browns and green. ​

Larvae emerge from eggs after

six to 12 days and will eat their

empty shell and often drop on

threads of silk to the ground to

feed on a wide variety of low

growing species.

Larva are mainly pale green

but have flecks of yellow, brown,

pink and black as they grow

in size. Their dark-coloured

breathing holes, called spiracles,

appear in a row above a white

lateral line on both sides of the

body.

Feeding stops a few days before

pupation when they usually go to

ground and eventually turn dark

brown.

Local

News

Now

Fire rages, homes at risk

ACTIVITIES:

Future Leader

scholars (from

left to right),

Dan Ryan, Paige

Harris, Phoebe

Topp, Rachael

Phillipson and

George Letham

with children

from Hororata

Primary School.

Promoting rural well-being

RURAL well-being was the

focus of a recent event at

Hororata Primary School.

A group of Lincoln University

Future Leader scholars ran a

series of activities which aimed

to bring children and their

families together.

The school hosted several

learning sessions relating to topics

such as technology, healthy eating

and being sun smart, which took

place alongside the scholars' more

hands-on activities.

Future Leader scholar Paige

Harris said the pupils' families

were invited to attend the event.

"The idea was to begin creating

habits that would make each

family unit stronger and encourage

them to appreciate the

simple things in life," she said.

"We wanted to let rural

families know they shouldn't

feel guilty about taking time

off, in spite of the busy period

at the moment with calving and

lambing.

"In fact, it's important to

take time off in order to be

able to work to a high standard

throughout the whole season."

The scholars' message about

rural wellbeing also involved

ease of access to resources if

needed, with Farmstrong and

the Mental Health Foundation

providing supplies for some of

the activities.

Miss Harris said the event was

designed to align with five key

strategies for promoting physiological

well-being –'be active',

'take notice', 'keep learning',

'give', and 'connect'.

Pupils made cards to give to

people they loved (which corresponded

to the strategies of

'connect' and 'take notice'), participated

in a gumboot throw

('be active'), took a quiz ('keep

learning'), and painted a picture

representing their idea of what

'giving' looked like.

JOIN US NOW!

See website for details

YD

Save $50 when you spend $150,

Save $100 when you spend $300.

SCRIBER & MARKS

Trousers were $179, Now $39.

Shirts were $99, Now $29.

CUTLER & CO

Buy 1 Item, Get the 2nd Item Half Price

(2nd item of equal or lesser value, conditions apply).

STYLES MAY DIFFER TO IMAGE SHOWN

CANTERBURY OUTLET

50% Off Original Prices Storewide.

TAROCASH

Nothing Over $60

(excludes suits, while stocks last).

BONDS OUTLET

Jockey Men's Dressing Gowns,

RRP $99.99, Now $20

(while stocks last, sizes S-XL).

Sign up to Smart Deals & be in the monthly draw for a $100 Dress-Smart gift card!

Be one of the first to hear about the latest deals, sent straight to your inbox each week!

CHRISTCHURCH 409 Main South Road, Hornby

www.dress-smart.co.nz

Open 10am-5pm, 7 Days 03 349 5750
---
20

Wednesday August 22 2018

Latest Christchurch news at www.star.kiwi

Selwyn Times

Funding boost

for tourism assets

Council has received a significant financial injection from the Ministry of Business Innovation and

Employment for new tourism infrastructure.

Government's Responsible Camping Working Group has awarded $230,000 from the Tourism

Infrastructure Fund for projects in Selwyn including new toilet facilities, signage, asset renovation

and data collection.

Council Chief Executive Officer David Ward says with the popularity of freedom camping

increasing, there's a need for more facilities around the district to cope with the growing demand.

"We want to build on visitors' experiences of enjoying our wonderful district, and this funding will

help us upgrade services in a number of areas around Selwyn," Mr Ward says.

"We will be spending a substantial amount on new toilet facilities at Lake Selfe and Lake

Georgina, which will be welcomed by lake users.

"Some of the funding will also go towards signage, to help visitors understand what can and can't

be done in these areas."

Across Selwyn the Council directly manages four free camping sites. There's also one commercial

site and three operated by local committees.

The new projects will be in place in time for the 2018/19 peak camping season.

Selwyn was one of more than 30 councils from around New Zealand which applied for financial

assistance from the fund.

Young skaters and scooter riders try out new

Lincoln skate park

Photo: Jake Harris (5) was a standout

skater at the Lincoln skate park opening.

About 100 skaters and scooter riders attended the official opening of the Lincoln

Domain Skate Park which was held last Sunday. The event, hosted by skating retailer

Cheapskates, had music, food, spot prizes skateboarding demonstrations and lessons on

skate park etiquette.

Are we on the right track?

Shaping future Selwyn

District Plan

Selwyn District Council has just kicked off initial public consultation

on key draft changes to the current District Plan.

The District Plan is essentially the district's rule book on how land

can be used and developed. The Council is undertaking the review

to make sure the Plan is still fit for purpose and up to date. All

Councils are required to review their District Plan every 10 years.

Environmental Services Manager Tim Harris says it's important

that as many people as possible let the Council know whether the

review is on the right track.

The draft changes being considered in this consultation span across

22 different topics, which are grouped into four categories based on

where they occur and who they're most likely to affect: Business,

Rural, Residential and District-wide.

"The rules in District Plan potentially affect everyone in Selwyn,"

says Tim. "The Plan controls the things you can do on your property

or your neighbour on theirs. It also controls, for example, what

activities are allowed to take place in different parts of the district."

The Council wants to ensure that the new District Plan helps rural,

business and residential areas to thrive.

"At the same time we want to make sure our district remains

uniquely Selwyn – protecting the things that are important to the

character of the district, and managing our natural and physical

resources in a sustainable way."

More information on the District Plan Review can be found at

www.selwyn.govt.nz/districtplanreview along with information on

the topics we're currently consulting on, key draft changes and an

opportunity to fill in topic-specific surveys.

Anyone can give their feedback on the draft changes proposed.

Feedback can be provided online, at drop-in sessions during

August/September (see below), or by email or post. Feedback is

open until 5pm on Monday 8 October.

This consultation will help inform the new rules to be included in

the Proposed District Plan, which is expected to be notified for

formal public consultation in early 2020. The new District Plan

is anticipated to be in place, subject to any Environment Court

appeals, in early 2022. Until then any new resource applications will

be assessed against the current District Plan.

District Plan Review drop-in sessions

When and where

· Tuesday 21 August 2018, 3-6pm Rolleston Community Centre

(Lounge Room)

· Sunday 26 August 2018, 12-3pm Have a Go Day at Darfield

Recreation and Community Centre

· Thursday 30 August 2018, 3-6pm Leeston Library

· Monday 3 September 2018, 3-6pm Springfield School

(Multi-purpose Room)

· Thursday 13 September 2018, 3-6pm Prebbleton Rugby Club

· Monday 17 September 2018, 3-6pm Rolleston Community Centre

(Lounge Room)

· Sunday 30 September 2018, 11am-4pm CultureFest at Lincoln

Events Centre

'Swim to Summer' 10,000km

challenge is back on

Registrations are open now for Selwyn Aquatic Centre's annual

swimathon event, 'Swim to Summer'.

Following the success of last year's event which raised $1630 for

The Breast Cancer and Prostate Cancer Foundations, the Selwyn

Aquatic Centre is again challenging Selwyn residents to swim or

aqua jog a combined total of 10,000km in pool lengths in the

lead-up to summer.

James Richmond, Aquatic Facilities Manager, says the aim of this

free event is to get more people active in the pool, more often.

"It was great seeing so many people smash their goals last year and

make huge improvements to their fitness and overall health."

A number of prizes will be available for those who swim the most

laps, in categories for men, women and youth swimmers, as well as

most visits to the Centre during the swimathon.

The Swim to Summer swimathon will run until Saturday 1 December.

For more information or to sign up, ask at Selwyn Aquatic Centre

reception, or phone (03) 347 2734 or email sac.enquiries@selwyn.govt.nz

Council Call

Selwyn District Council

Norman Kirk Drive, Rolleston

Ph 347 2800 or 318 8338

Rolleston Library

Rolleston Drive, Rolleston

Ph 347 2880

Darfield Library & Service Centre

1 South Terrace, Darfield

Ph 318 8338 or 347 2780

CC210818
---
Selwyn Times

Latest Christchurch news at www.star.kiwi

Wednesday August 22 2018

21

Notices

BIRTHRIGHT CANTERBURY

A new single parent drop-in

service has been set-up in

Rolleston. The drop-in service

is held every second Thursday

from 10am–2pm at Rolleston

Community House, 95 Rolleston

Drive. Birthright Canterbury

Trust specialises in working

with single parent families. It

offers a safe and welcoming

place for single parents and

an opportunity to talk over any

issues with a social worker. For

more information, please phone

022 043 5006 or email office@

birthrightcanterbury.org.nz

ELLESMERE STOCK WATER

RACE TEMPORARY

SHUT DOWN

Water supply to the Upper

Ellesmere Stock Water Race

Scheme will be temporarily

shut down for scheduled intake

maintenance from 4 September

to 7 September 2018.

The outage will affect all races

downstream of Early's intake.

Visit the disruptions page of the

Selwyn District Council website

for a map showing affected area.

Meetings

Public Forums: Council,

Community Board and local

committee meetings are open

to the public. Time is available at

the start of meetings for people

to speak on matters of concern.

Please notify Bernadette Ryan

or your local committee at least

three days before the meeting.

Township, Hall and Reserve

Committees: To list or make

changes to meeting details, email

meeting.changes@selwyn.govt.

nz or phone 347 2800 or 318

8338 by 9am Wednesday the

week before publication.

COUNCIL & COMMUNITY

BOARD

Unless otherwise stated all of

these meetings will be held at the

Rolleston Council Building.

District Plan Review Committee

Wed 22 Aug 9am

Malvern Community Board

Mon 27 Aug 4.30pm Darfield

Library/Service Centre

Selwyn Waihora

Zone Committee

Tues 4 Sept 2pm LEC

ON THE

ROADS

On the roads

this week

Stabilisation work is being

undertaken on Rockwood

Road, between Ardlui

Road and Morgans Road,

it is expected to be completed by Wednesday.

Motorists may be asked to stop on request while

the work is taking place. Stabilisation work will

also be taking place on Te Pirita Road, between

Leaches Road and Rakaia Terrace, it is expected

to be completed by Thursday, motorists may be

asked to stop on request.

Sealing work will be taking place on Redwood

Road and Te Pirita Road over the course of the

week, drivers may be asked to stop on request.

Supply to Ellesmere stock water

race scheme will be affected for

this time. It may take some days

for supply to be fully restored

following this.

For more information you can

contact the Surface Water

Department (03) 347 2800 or

email waterraces@selwyn.govt.nz

CREATIVE COMMUNITIES

SELWYN CAN HELP

Funding is available to groups

or individuals with communitybased

creative projects that

promote arts or culture in

Selwyn. Applications for this

funding round close at 5pm,

Friday 24 August.

Visit www.selwyn.govt.nz/

artsfunding for more information

and to apply.

ALCOHOL NOTICES

An application for the renewal

of an on-licence has been

received from Evansbury

Holdings Limited. Objections

are open until 31 August. An

application for a renewal of a

club licence has been received

from Windwhistle Winter Sports

Club Incorporated. Objections

Property Committee

Wed 5 Sept 9am

LOCAL COMMITTEES &

ASSOCIATIONS

Coalgate Township Committee

Tue 28 Aug 7.30pm Coalgate

Fire Station

Coalgate/Glentunnel Reserve

Management Committee

Tue 4 Sept 7.30pm Coalgate

Fire Station

Darfield Recreation

and Community Centre

Management Committee

Mon 3 Sept 7.30pm Darfield

Rec Centre

Doyleston Community Committee

Wed 5 Sept 7.30pm Osborne

Park Hall

Glenroy Community

Hall Committee

Tue 21 Aug 7.30pm Glenroy Hall

Glentunnel Township Committee

Mon 27 Aug 7.30pm Glentunnel

Community Centre

Greendale Recreation

Reserve Committee

Tue 4 Sept 8pm Greendale

are open until 22 August. For

more information head to www.

selwyn.govt.nz/alcoholnotices

MOBILE LIBRARY

TIMETABLE:

Wednesday 22 August

Rakaia Huts 9.30–10am

Southbridge School

10.45am–12pm

Abbeyfield, Leeston 2.30–3pm

Thursday 23 August

Annabel's West Melton

1.00–1.30pm

Lincoln University Early

Childhood Centre 2–2.30pm

Prebbleton Township/Tavern

3.30–5.30pm

Monday 27 August

Tai Tapu Playcentre 9.30–10am

Ako Rolleston 10.30–11am

Rolleston Christian School

12.15–1.15pm

Selwyn Kids 1.30–2pm

Lollipops Rolleston 2–2.30pm

Tuesday 28 August

Windwhistle School 1–1.30pm

Glentunnel School 1.55–2.55pm

Glentunnel Hall 3–3.30 pm

Sports Pavilion

Kimberley Reserve and

Hall Committee

Thur 23 Aug 7.30pm

Kimberley Hall

Leeston Community Committee

Mon 3 Sept 7.30pm Leeston

Library Community Room

Leeston Park Committee

Mon 27 Aug 7.30pm Leeston

Park Pavilion

Rolleston Community Centre

Management Committee

Thur 30 Aug 7pm Rolleston

Community Centre

Rolleston Residents Assn AGM

Mon 27 Aug 7.30pm Rolleston

Community Centre

Springston Hall Committee

Thur 6 Sept 7.30pm Springston

Hall (additional meeting)

Tawera Memorial Hall

Committee

Wed 5 Sept 7pm Tawera

Memorial Hall

Waihora Park Reserve Committee

Tue 4 Sept 7pm Waihora

Bowling Club

The Selwyn District Council would like

to thank Pub Charity Ltd for its grant of

$5,000 towards the purchase of 70 new

chairs for Springston Community Centre.

Selwyn Events

SATURDAY

25

AUGUST

SUNDAY

26

AUGUST

WEDNESDAY

29

AUGUST

TUESDAY

11

SEPTEMBER

TUESDAY

11

SEPTEMBER

SATURDAY

1

SEPTEMBER

Heads Up

Rolleston Community

Centre Lounge, 3–4.30pm

Want a heads up on epilepsy?

Join Epilepsy New Zealand in an

informative, engaging presentation

about the impact of epilepsy.

Bookings essential, go to

www.selwynlibraries.co.nz

Have a Go Day

Darfield Recreation Centre

and Domain, 12–3pm

Have a Go Day is back and designed

to showcase the sport and recreation

activities Darfield and the wider

Selwyn district has to offer. For more

information head to

www.selwyn.govt.nz/events

Simple nutrition for

busy people

Darfield Library, 7–8pm

Presented by Pip Meads, Nutritionist,

from Pure and Simple Nutrition.

Maintaining a healthy lifestyle doesn't

have to be complicated or expensive.

Pip will provide evidence-based advice

that is simple, sustainable and tailored

to your nutrition and wellness goals,

lifestyle, and budget. Bookings essential,

go to www.selwynlibraries.co.nz

Food Lovers Masterclass

Lincoln Event Centre, 6.30–8.30pm

This session, hosted by 'waste-free

warrior' and motivational speaker Kate

Meads, focuses on education around

ways to reduce food waste when

cooking and preparing meals. This is

a Council sponsored event. Tickets

are $25 each or for a couple. Every

ticket comes with a $100 goodie bag.

Bookings are required – to book visit

www.wastefreeparenting.co.nz

Waste Free

Parenting Workshop

Lincoln Event Centre, 9.30am–12pm

Kate Meads, 'waste-free warrior'

and motivational speaker, will teach

you exciting and inspiring ways to

minimise waste, while introducing

you to modern sustainable products

for use in the home. This is a Council

sponsored event. Tickets are $25

each or for a couple. Every ticket

comes with a $100 goodie bag.

Bookings are required – to book visit

www.wastefreeparenting.co.nz.

Adult Fashion Illustration

Rolleston Community Centre,

10am–2pm

Learn the elements of a basic fashion

design sketch and start to develop

your own croquis. Two beginner

workshops are being held by our very

own fashion designer, Trudi Fraser.

Suitable for people aged 18 and over.

For more information head to

www.selwyn.govt.nz/events

For information on listing a community event visit

www.selwyn.govt.nz/councilcall

Leeston Library & Service Centre

19 Messines Street, Leeston

Ph 347 2871

Lincoln Library & Service Centre

Gerald Street, Lincoln

Ph 347 2876

(03) 347 2800

Darfield call free 318 8338

www.selwyn.govt.nz

SelwynDistrictCouncil
---
22 Wednesday August 22 2018

Latest Christchurch news at www.star.kiwi

Our People

SELWYN TIMES

Pam Higgins

Taking care of West Melton kids

Pam Higgins has retired

after working at the

West Melton Playcentre

for more than 25 years.

She spoke to Georgia

O'Connor-Harding about

what she loved about

working with children,

her background in

sewing and why she

chose to live in the West

Melton countryside

instead of suburban

Christchurch

How did you come to be

involved with the West Melton

Playcentre?

It was actually a friend

who lives in the area that

introduced me. I didn't really

know anything about it at that

time. We had actually had

babies practically a week or two

between us so she introduced me

to it.

Did all your children go to

the playcentre?

Yes, all three children. My

eldest Jason, we started at that

play-centre when he was about

two. At that time playcentres

were big. It was a big thing, all

these individual pre- schools,

these privately- owned pre -

-schools didn't exist back then.

About 1992- 1993 was when we

started, when private pre -schools

didn't really exist – there were

a few around but more in town.

So we joined the playcentre and

at that time it was completely

full. They had like 25 children

on every session. We actually

started as a little group of about

four or five of children just in

the afternoon. All my children

went to the playcentre right until

they were five. I suppose to start

with, I kind of got talked into

doing the playcentre education.

They have courses that you can

do, and back then you had to

complete four courses to get a

playcentre supervisor certificate.

I started doing that and I got

CHERISHED: Pam Higgins with her two-year-old bernese mountain dog Lacey and children at

the West Melton Playcentre.

hooked I suppose. I haven't

actually supervised for 25 years.

I started supervising in 1998.

Before my youngest one Kyla was

born, I was supervising one day

a week before I took over the rest.

What made you stay there so

long?

I don't know, I just enjoyed it. I

just enjoy spending time with the

younger children. I suppose that

is the reason why I am involved

in the West Melton Gymnastics

Club out here.

What was a normal day like

at the playcentre?

I have always been one to get

involved. If they are playing

pirates, they expect me to join

in. A lot of dramatic play goes

on. My passion is craft work. I

always like to see the craft side of

things – painting and gluing. I

support the kids and their master

pieces. I am always looking for

ideas of things they can do, but

also taking into account their age

and not expecting them to do

anything too intricate. It has got

to be based around their ability.

What would be your favourite

thing about working with

children?

I enjoy doing everything.

It is amazing. With some of

the children, if they have got a

particular interest, they get to

learn a lot about it. They will

get the dinosaurs out, they can

always tell me which dinosaur

is which, and what it likes to

eat. They teach me stuff. But it is

great when they have got a keen

interest in something because

then we can extend it more. The

thing that is really nice is when

you are out and about and the

kids recognise you. It is nice you

can stop and have a chat.

What was the send off for you

like?

It was really lovely. They put

on an afternoon at a community

hall and invited past playcentre

people to come along and they

put on an afternoon tea. They

had all the photo albums so

people could have a look and

find themselves. They made up

a lovely book for me. They went

back as far as they could to find

photos.

What will you be doing now

you have retired?

There is not going to be a lot

of spare time. I am going to be

looking after my grandson on

days I have free and am needed.

My son and daughter-in- law

are both working but they don't

want to put the wee fellow in

day care. My daughter- in- law's

parents look after them for a

couple of days.

Before you started working at

the playcentre, what were you

doing before that?

Back in the day, I had my own

sewing business and I used to

make leather and suede jackets

and tops and things like that. I

used to sell them to the tourist

market. I had a friend who was

helping me do sewing and things

like that as well. I probably

stopped doing that a couple of

years after I had my son Shaun

in 1994.

Have you always lived in

Selwyn?

No, my husband and I

moved out here when Jason

was 15-months-old. We lived

in Westhaven near Burwood in

Christchurch. I always wanted

to build in West Melton. I used

to work out in New Brighton

and used to travel that way to

go to work. I always said to my

husband I really wanted to have

a house in West Melton and he

would say we can't afford it. But

we ended up managing to buy

a section out there and waited

for a couple of years and built.

Right from the word go I didn't

like Burwood. I didn't like the

suburban feeling of the houses

all around you. You sort of felt

like you couldn't be anywhere

without neighbours being able

to see you. I think it was about

eight years before we moved out

to West Melton. I like having a

bit of space.
---
SELWYN TIMES Latest Christchurch news at www.star.kiwi

Wednesday August 22 2018 23

for 25 years

Your Local Views

We have got neighbours close

enough but you have got some

good people around you where

you don't feel crammed in. It is

a great place for kids to grow up

in and having the space and the

animals all around.

Do you like the West Melton

community?

It is a good little community. I

have met a lot of people through

the playcentre and the gym club,

so it is good.

What do you like doing when

you have spare time?

I like watching television. I

do a little bit of knitting here

and there. Not a lot, usually

just mucking around sort of

thing. I have a lot of wool left

over from my sewing days. I get

enthusiastic and think I must

knit something with that. I tend

to end up knitting peggy squares

and joining them together to

make old blankets. I spend a lot

of time on the computer, too. I

have got a bernese mountain dog

called Lacey who is two -yearsold.

I take her to dog shows. That

is another passion of mine , dog

training, when I can find the

time.

It is more the breed shows I

take Lacey to, although I have

been to a couple of classes on

dog obedience. I am looking at

perhaps pursuing that in the

future. I have only got one more

show to go to get a certificate.

LONG SERVICE: Pam Higgins pushing the swings at the West

Melton Playcentre about 18 years ago.

A reader responds to the

potholes on West Belt,

Lincoln, being fixed by

Christmas

Mike Green - Further

to your article regarding the

potholes in West Belt, Lincoln.

Unfortunately, Mr Young's

statement that "if the road

had been in

Rolleston it

would have

been fixed

by now" is

not correct. I

reported to the

district council

on June 14

some potholes

outside

our house

in Dunns

Crossing Rd,

Rolleston, and asked if they

could be filled. These same

holes had been filled before, but

due to poor practice, they have

reappeared. After four weeks,

July 17 I noticed that some

similar potholes three houses

away from ours had been filled,

but sadly ours were ignored for

whatever reason. I again phoned

the council asking why some

holes had been filled but others

just a few metres away were

ignored. My request was added

again to the list.

To date (August 18, nearly

nine weeks on), we are still

waiting for any action to be

taken. I expect the council will

still want our rates paid so it can

maintain the roads in a suitable

condition.

I realise that the council has

far more important things to

deal with, such as extending

swimming pools and revising

town centre plans yet again. If

it can't even complete the basic

repairs, what chance is there

of it getting the larger projects

carried out efficiently? Sadly,

I'm not holding my breath and

expect this

situation to

be an ongoing

annoyance for

the majority

of Selwyn and

Christchurch,

regardless of

how much our

rates increase.

Readers

react to an

article about

Rolleston cat Duncan's bad

habit of stealing soft toys

Caroline Stevenson – Ha

ha – Duncan is becoming quite

a celebrity. I love it.

Charlene McConchie –

Oh, I have one of these kitty's.

Mine steals toys, socks and toilet

paper out of people's houses. I'm

always worried someone will see

her running home with them.

Readers respond to an

article about how district

council staff could be

randomly drug tested in

the future

Heather Stricke – Yes,

everyone should.

FRUSTRATED:

West Belt resident

Junior Young has

been filling in

potholes on his

street as he waits

for the district

council to fix them.

Jamie Dermer – Fantastic.

David Simons – Happens to

tradies all the time, all employees

in all professions should be

tested . . . start with the judges,

solicitors, barristers lawyers,

police, doctors, teachers, cat

among the pigeons there.

Van Dane – Yes. Start in

the council chambers then

work downwards through

management. Do the ones who

are actually doing something

last.

Angela Toomey –

Absolutely, provided distinction

is clear between prescription

drugs required and recreational.

Pamela Kiernan – Sure,

starting with Parliament, the

police, judges etc, getting the

picture.

Richard Winstanley –

Totally agree. Drugs and work

do not mix.

Marc Anderson – We do so

– why not everyone?

Roan Honybadger – About

time.

Lee F Whitehead – No.

Suzanne Williams – Yes,

everyone should be, even those

getting benefits.

Lani Davidson – What's the

point of drug testing people who

do office work?

Specialists @ Individuality

• Focus on sustainability

• Award winning family owned business

• Proven reputation of quality

• Full architectural design package

NATIONAL "HOY" WINNER plus GOLD RESERVE 2016

View our display home

Phone Jesse 021 701 265

or visit www.jdhomes.co.nz

Canterbury
---
24 Wednesday August 22 2018

Latest Christchurch news at www.star.kiwi

SELWYN TIMES

386 Moorhouse Avenue, Christchurch.

Sales, Service, Parts & Finance: 03 379 0588

TRITON 2WD GLX-R DOUBLE CAB MANUAL

The Triton Runout is on. Drop everything, and if you're quick you can pick up

• 17" Alloys • 2.4L Turbo Diesel • 7.1L per 100km efficiency (manual) • Sports

Suspension • Cruise Control • Smartphone Connectivity • Reversing Camera

• Daytime Running Lights • 5-Star Safety and a 10 Year Powertrain Warranty † .

Call Christchurch Mitsubishi 03 379 0588 to book a test drive.

$29,990+ORC *

*Price listed is for Triton 2WD GLX-R manual and excludes on road costs, which includes registration, WoF, 1,000km road user charges and a full tank of fuel. Available while stocks last. Automatic model available for $31,990 plus on road costs.

†

Visit mmnz.co.nz for full Diamond Advantage warranty conditions.

PRE-OWNED SELECTION AVAILABLE FROM CHRISTCHURCH MITSUBISHI

2014 Mitsubishi ASX XLS, 2.0L

Petrol, Auto, NZ New, Reversing

Camera, 76,000km $19,990

2006 Mitsubishi Pajero

3.0L Petrol, 4x4, Auto, tow bar,

Bluetooth, 64,000km $19,990

2015 Mazda 2 GLX,

1.5L Petrol, 4WD, 6 spd Auto, NZ

New, 23,000km $17,490

2014 Mitsubishi Pajero

Exceed, 3.2L Diesel, NZ New, 4WD

Auto, 7 seats, 74,000km $41,990

2011 Ford Ranger Wildtrak, 3.0L

TD, 4x4, manual, deck liner, tow bar,

sliding lid, 157,000km $27,990

2006 Lexus IS 250 Limited

2.5L Petrol, 6 spd Auto, Leather, Tow

bar, 87,000km $15,990

2015 Nissan Qashqai ST-L,

2.0L Petrol, Auto, Reversing Camera,

Bluetooth, 49,400km $25,990

2017 Nissan Qashqai ST

2.0L Petrol, NZ New, Auto, Reversing

Camera, 13,900km $27,990

386 Moorhouse Avenue, Christchurch. Sales, Service, Parts & Finance: 03 379 0588
---
SELWYN TIMES Latest Christchurch news at www.star.kiwi

Wednesday August 22 2018 25

Lincoln out of plate finals

• By Jacob Page

LINCOLN Combined's UC

Championship campaign is over

after a 20-17 loss to Shirley Boys'

High School in their plate semifinal

on Saturday.

Lincoln had beaten Shirley in

their round-robin fixture but

were not able to get the

win thanks largely to a flat

15min period before and after

half-time where they conceded

three tries.

Christchurch Boys' High

School will play Christ's College

in the competition's final after

CBHS overcame Rangiora High

School 54-22 and Christ's hung

on to beat St Bede's College

24-23.

Coach Mike Wilson said

his team spent much of the

final 10min camped on the

Shirley Boys' try line but

weren't able to score a

match-winning try.

"We knew we needed a try

instead of a penalty goal because

in the event of a draw the

team with the most tries went

through," Wilson said.

"We tried, but the Shirley

defence was pretty good."

Wilson said he was pleased

with the effort of the team but

saddened they finished the

competition losing four games

in a row after being genuine

semi-final contenders.

"We played better because

we were up against a similar

school," he said.

SPEED: Lincoln Combined winger Callum Murdoch finds

some space during his team's 20-17 UC Championship plate

semi-final loss to Shirley Boys' High School, on Saturday.

PHOTO: FELICITY PLUCK ​

"The boys have certainly

exceeded my expectations from

the start of the season.

"To finish top half and be

the most successful Lincoln

school ever in terms of wins is

something that everyone in the

group is extremely happy with

and, hopefully, we can build on

it for next season."

SPORTS

Canty Country undone

by defensive issues

• By Jacob Page

DEFENSIVE frailties and

new combinations merged to

undo Canterbury Country in

a 38-36 loss to Marlborough in

Blenheim.

Coach Nigel Smith said with

12 new players in the squad for

the first game of the season, it

took time to adjust to both attacking

and defensive patterns,

but he was confident the team

will be better for game two of

their South Island campaign

against Southland Country, in

Darfield, this Saturday.

"There were a lot of new faces

and at times we missed a few

links in our defensive systems

and too many gaps appeared,"

Smith said.

Canterbury Country were

leading with 5min to go but

elected to kick the ball back to

Marlborough from a kick-off and

they scored a few phases later.

Canterbury Country's scrum

was initially so dominant, they

pushed Marlborough back 20m.

"After that, (Marlborough)

subbed their entire front row off

after 20min and while it helped

them, we still had dominance,"

he said.

Smith said the attack started

well in the first half but soon

cooled off and with defensive is-

BIG IMPRESSION: Waihora

lock Joe Robins was one

of the best in Canterbury

Country's 38-36 loss to

Marlborough, in Blenheim, on

Saturday.

PHOTO: KAREN CASEY

sues exposed, Marlborough took

a commanding 24-12 half-time

lead.

The second half proved to be

am entertaining one, with Canterbury

Country roaring back

into the game largely on the back

of a tremendous game from No

10, Brook Retallick, brother of

All Blacks lock, Brodie.

"Brook was great for us, his

general play, kicking and optiontaking

on attack kept us in with

a chance," Smith said.

He said Waihora lock Joe

Robins got through a power of

work all game.

•More sport, pages 26 & 27

Read us anywhere..

anytime!

Read your local

newspaper

online 24/7

www.star.kiwi/digital-editions
---
26

Latest Christchurch news at www.star.kiwi

Waihora's key

Wednesday August 22 2018

SELWYN TIMES

Proud supporters of

Rugby & Netball in Selwyn

to success – inventiveness

Waihora's senior rugby

team has enjoyed

unprecedented success

this season with a full

trophy cabinet that

includes the Combined

Country Trophy,

Ellesmere's Coleman

Shield and the Murray

Cooper Shield. Sports

reporter Jacob Page

finds out how they

achieved it

WAIHORA CAPTAIN Ryan

Koning believes the foundations

the team's all-conquering club

rugby run started with preseason

training on the polo

grounds near Tai Tapu and a few

beers afterwards in a shipping

container.

"We didn't have changing

sheds or clubrooms at the start of

the year and the grounds weren't

able to be trained on so we had

to get inventive," he said.

"We had a lot of really enthusiastic

guys that just ripped into

it despite those challenges and it

really worked."

Waihora won 18 of their 20

games this season on their

way to claiming the Combined

Country competition and Ellesmere's

senior rugby crown, the

Coleman Shield.

Waihora co-coach Joff Mooar

admitted like many champion

teams they learnt the most from

their losses – and they experienced

one in their first game of

the season against Saracens.

"The team was so eager to get

going that we played like a team

would if they'd had 10 games

already," he said.

"It just didn't work."

Koning described the loss as "a

good kick in the pants".

That would turn out to be the

only blemish on a dominant

Combined Country campaign.

They wouldn't taste defeat

again until late in the Coleman

Shield competition, thanks

to a lacklustre 21-19 defeat to

Prebbleton.

"I sat in the changing rooms

afterwards and a lot of heads

were down," Koning said. "But

mine wasn't. The way I looked

at it, that was the best thing that

could have happened to us after

we'd won for so long."

Mooar agreed: "We played terribly

but only lost by two points

so in a way it was a good thing."

Mooar was quick to heap

praise for the season on a man he

had seen more than his wife over

the past six months, fellow coach

Terry Dalton.

"Terry was someone who

brought a fresh perspective to

the team this year," Mooar said.

"We had a division two team

for the first time and that meant

there was a group of 30 to 35

CELEBRATION: Waihora celebrate their 20-10 Coleman Shield rugby triumph over Darfield.

guys all training together and

pushing each other for positions.

"Terry also introduced video

analysis, which helped a lot of

the guys work on things after the

fact. The running joke amongst

our wives has been that we have

been like each other's other wife

over the past six months."

"Terry and I have no problem

expressing what we are seeing

on the field. While he takes the

forwards and defence and I take

the backs and attack, if we see

TROPHY HAUL: Waihora captain Ryan Koning with the

Coleman Shield. (Right) – First-five Jonty Stuart's playmaking

was a big part of Waihora's dominant season

PHOTOS: KAREN CASEY

something that can help the

team, then we'll speak up," he

said.

"It works."

Mooar praised two key players

in his backline for their ability to

adapt and thrive throughout the

campaign. First-five Jonty Stuart

and mid-fielder Matt Saunders

both filled vital holes in the

championship team.

"Jonty was new to the club,

and I thought we may have to

mix-and-match him and Matt at

times throughout the year, but

he piloted us so well around the

park all year and allowed us to

have Matt at centre dealing with

all the traffic."

Koning said beating

Darfield on their home ground

to secure the Combined Country

and Coleman Shield double

was a great way to end the

season.

"The Darfield club are full of

great guys and their coaching

staff and overall hospitality is

superb and we knew that was

going to be a fitting final," he

said.

Mooar said his team were now

the measuring stick their rivals

tried to match up to and they

were happy with that.

"The boys know that and

embrace it, " he said. "They see it

as a challenge."

Mooar said he was eager

to come back next year and

replicate his brother, Brad, who

has just won two Super Rugby

titles as an assistant coach with

the Crusaders.

"You always want to go one

better," Mooar said.

"It'd be great to come back

next year and only lose one game

or none. That's what we'll be

aiming for."
---
SELWYN TIMES Latest Christchurch news at www.star.kiwi

Wednesday August 22 2018 27

• By Jacob Page

BROADFIELD A will have

the mental edge heading into

their Selwyn netball semi-final

against Lincoln A on Saturday.

In a prelude to the semi-final,

they beat Lincoln A 61-59 in

the final round-robin game on

Saturday at the Lincoln Event

Centre.

The win gave Broadfield A top

spot but also left Lincoln A, the

defending champions, in fourth

meaning the two teams will do it

all again this weekend,

Greenpark B and Greenpark A

will meet in the other semi-final

after Greenpark B beat Southbridge

A 50-46 and Greenpark A

humbled Rolleston A 80-32.

Broadfield A have beaten

Lincoln A two out of three times

this season, with two goals being

their biggest winning margin.

The other encounter ended in a

draw.

Broadfield A coach Yvonne

Crichton-Hill said while her

team lead for most of the game,

they did not make the most of

their turnovers.

"We would get a turnover and

then throw it straight back at

times," she said.

"I think we got a bit excited.

The margins are tight so we will

need to make sure we look after

the ball.

Crichton-Hill praised her

team's defensive rebounds.

Lincoln A coach Vanessa

Robinson described her side's

performance as patchy.

"We didn't put in the type of

performance we wanted over

four quarters," she said.

"While our attack-end played

well, we didn't grab enough

rebounds and that hurt us."

Both teams have fully fit

squads to choose from with

Broadfield A goal defence

Georgie Bolton returning after

VISION: Broadfield A's Laura Lowe (left)

looks to pass up-court. Lincoln A's Courtney

Haberfield grabs possession.

PHOTOS: KAREN CASEY

Broadfield A, Lincoln A to

meet again in semi-final

she missed the final round-robin

game.

Greenpark B snatched second

on the ladder to set-up the

all-Greenpark showdown.

Greenpark A took the third spot

over Lincoln A thanks to their

superior goal difference.

Results: Broadfield

A 61, Lincoln A 59;

Greenpark A 80, Rolleston

A 32; Greenpark B 50,

Southbridge A 46.

Points: Broadfield

A 17, Greenpark B 12,

Greenpark A 11, Lincoln A 11,

Southbridge A 9, Rolleston

A 5.

Sewlyn

United

striker nets

100 goals

for college

first XI

• By Jacob Page

SELWYN UNITED striker

Declan Hickford has become the

first person to score 100 goals for

the St Andrew's College first XI.

The 17-year-old scored nine

goals on Thursday against

Rangiora High School during

St Andrew's 12-1 victory in the

Canterbury schools premier

football competition.

The game lifted his goal total

to 102 for the school, which

included 43 goals this season.

"It feels amazing to have

achieved it. It's such an honour,"

Hickford said.

"I remember my first goal for

St Andrew's in my second game

so it's been an amazing four

years."

Hickford has also been a

regular in Canterbury agegroup

teams and is in his first

season with the Selwyn United

Mainland Premier League team.

"The physicality is clearly

something that takes time to

adjust to, but also matching that

with the speed of play," he said.

"Sometimes the secondary

school games can be played at

a friendly-type pace and that's

certainly not the case with the

MPL teams."

Hickford said playing in the

MPL means he has more time

on the ball at secondary school

level.

"I'm working on my finishing

skills mostly because I have

more time on the ball than what

I would have in the MPL," he

said.

Hickford (below) wants his

next individual goal to be trying

to earn a scholarship to a United

States college.

New gymnastics academy opening in Rolleston

• By Jacob Page

ROLLESTON WILL get a new

gymnastics facility in October.

The Affinity Gymnastics

Academy is set to open in the

Izone Business Hub on October

15.

The academy is being

LEAP: Eboni Hill (left) secures possession. Tyler Rollo

saves the ball from going out. Sarah Eaton (right) keeps the

attack going.

established as a community

project in the Selwyn district by

a group of individuals who share

a passion for the sport.

It will be open daily and offer

classes for pre-school-aged children;

boys and girls recreation

gymnastics; rugby, strength and

conditioning classes; pre-competition

gymnastics and competitive

gymnastics.

The academy is a not-for-profit

organisation affiliated to Gymnastics

New Zealand.

President Ryan Jones said the

academy has signed a two-year

lease and the premises at the

hub on Izone Dr is a temporary

home, with a custom-built

facility close to Foster Park the

desired long-term option.

"I want children and families

to be able to access the facility

easily," Mr Jones said.

"I want them to be able to walk

to it from home or come straight

from school, and a facility close

to Foster Park is the best way to

achieve that in the long-term.

We need to be realistic about

how long that might take so this

will give us time," he said.

Mr Jones said he wanted the

entire community to use the

facility, regardless of age or

ability.
---
2

28

[Edition Wednesday datE] August 22 2018

Latest Christchurch news at www.star.kiwi

HOME PROFESSIONALS

SELWYN TIMES

Renovation specialists offer

first-class

workmanship

Whether it's a small alteration or a

major renovation job that you need for

your home, there is one company you can

rely on to get the work done on time, and

professionally – Christchurch Building &

Decorating.

Owned and operated by West Melton's

David Clearwater, the firm has three

builders, four painters and labourers on

the team, with electricians and plumbers

available when required.

A qualified plumber, roofer, gasfitter

and drain layer, David has been in the

building industry all his life. He and the

experienced tradespeople he employs at

Christchurch Building & Decorating have

been providing first-class workmanship

across a broad spectrum of trades,

including painting, plastering, tiling,

decking, roofing, concrete pathways and

brickwork for residents of Christchurch

and Selwyn for over 15 years.

Keeping your home in good order will

maintain its value, and by having work

attended to quickly, it won't escalate into a

major and much more costly job. David and

his team have the skills to undertake any

repair and maintenance work around your

home and property. David project manages

every job, with he and his tradespeople

ensuring that every project they undertake

is completed quickly and with perfect

results.

Bathroom renovations and installations

are a particular specialty of Christchurch

Building & Decorating, and this is one

room that can really add value to your home

when it is updated with modern fittings

and finishes. David is happy to discuss your

ideas with you and offer advice.

Examples and photos of many diverse

projects that have been completed by

Christchurch Building & Decorating can

be seen on the company's Facebook page,

so check those out, and the comments from

satisfied clients.

So, whatever type of work you

require, large job or small, contact

David via Facebook, the website at

www.clearwaterpainting.co.nz, email

clearwater.painting@xtra.co.nz or phone

0800 766 378.

Building and Renovating

New Builds or

Solutions Alterations

• Kitchens & bathrooms

• Painting & decorating – interior & exterior

• Roof painting

• Plastering, tiling, wallpapering

• Plumbing & electrical

• Maintenance - complete roof repairs, leaky homes,

weather board replacement, brickwork

• Window repair & replacement

• Decking, pathways, driveways

Reliable service, excellent results

Christchurch Building

& Decorating Ltd

Contact David & the Team on 0800 766 378

Email: clearwater.painting@xtra.co.nz

Locally based

in West Melton

YOUR LOCAL FLOORING EXPERTS

AND WE COME TO YOU AT A TIME THAT SUITS

At Harrisons Carpet you'll always get the

best advice and best price from your

locally owned and operated Harrisons

expert. We'll come to you with our vans

full of over 500 carpet samples plus a

range of other flooring options.

Amanda Wilson - Owner

Harrisons Carpet,

Canterbury Country

FOR A FREE IN-HOME CONSULTATION

0800 103 004

OUR

PRICE

PROMISE

harrisonscarpet.co.nz

Why Harrisons?

• It's easy, we're mobile, so we come to you

• We provide free designer colour and style advice

• Huge range of the latest carpets and vinyls to

suit all decors and budgets

• Our price promise*

• Get Fly Buys with every purchase

• Finance options available (Q Card, GEM Visa)

*See website for details

See you at your place TM

We'll pay your rent while we build

your new home in Branthwaite*

www.generation.co.nz/christchurch

Find your new home at www.paymyrent.kiwi

*Terms and conditions apply.
---
SELWYN TIMES Latest Christchurch news at www.star.kiwi

Wednesday August [Edition 22 datE] 2018 293

HOME PROFESSIONALS

Creating your new home

When you are in the market for having

a new home built, but are not sure exactly

what you want, there's nothing like visiting

a show home to get some ideas and start

bringing your dreams into focus.

Selwyn-based Artisan Homes has a very

attractive, three-bedroom show home

located at 566 East Maddison Road in the

Faringdon show home village in Rolleston.

Open Wednesday to Sunday from 12pm-

4pm, this thoughtfully conceived home

is an example of the high-quality design

and workmanship clients can expect

from Artisan Homes, while on-site

representatives will answer any questions

you may have.

"We cater for all types of new housing,

and we can build anywhere in Canterbury,"

director Robin Jones says. "We have a wide

range of house plans and we are also very

flexible, so when clients make the decision

to have their home built by Artisan they

can bring in their ideas and we will go

through those and come up with a design

to suit their site and budget."

Trained by his carpenter father, Robin

has extensive experience in the building

industry – both domestic and commercial.

He established Artisan Homes in 2004,

and since then he and his team of builders

have delivered dozens of well-crafted

homes for satisfied clients throughout the

Selwyn District and further afield.

They offer a complete turn-key home

build if required, with all kitchen and

bathroom fittings, appliances, flooring,

and hard and soft landscaping provided.

"We design and build bespoke homes,

so while we often install Electrolux and

Bosch appliances, there is no restriction

on the brands clients can choose," Robin

says.

Cladding materials used include plaster

brick, cedar, linear weatherboard and

schist, creating home exteriors with

individual style and character.

As affiliated members of the Master

Builders Association, Artisan Builders

guarantee their workmanship and provide

fixed price contracts. Clients pay a five

per cent deposit up front, and then staged

payments throughout the building process.

"These payments are frequent, which

means clients can easily keep up to date,"

Robin says.

Visit their website www.artisanhomes.

co.nz to see the full range of plans, and

for more information, phone 374 9172,

Robin on 021 324 876, or email robin@

artisanhomes.co.nz.

HALF PRICE

DOUBLE GLAZING!

when you add

aluminium windows

& doors with Ultimate

Design & Renovation.

Before

After

Have your new

aluminium

windows & doors

installed now &

pay nothing until

August 2019

Conditions apply

CALL TODAY FOR YOUR FREE NO OBLIGATION APPOINTMENT

03 349 8951 • office@udr.co.nz

8 Moncur Place, Addington

www.ultimate-design.co.nz

Artisan Homes

Builders of superior homes. Built to last.

Winners in Registered Master Builders House of the Year Awards

Visit our new show home - Faringdon South Show Home Village

East Maddisons Road | Phone: 03 374 9172

Phone 03 374 9172 Rob 021 324 876

email robin@artisanhomes.co.nz

www.artisanhomes.co.nz
---
4

30 [Edition Wednesday datE] August 22 2018

Latest Christchurch news at www.star.kiwi

HOME PROFESSIONALS

SELWYN TIMES

Make more of your garden

with outdoor lighting

As the temperatures start to rise and the

evenings get longer, homeowners' thoughts

turn from wanting to stay warm and cosy

inside to venturing outside and making use

of their outdoor areas for family relaxation.

Greg Horton of Juice Electrical says

people have the opportunity to get greater

enjoyment from their outdoors – even

as night falls, with strategically placed

outdoor lighting. And for that he suggests

LED lighting, as it is a lot easier and less

expensive to install because there's no need

to dig trenches for wiring.

Greg also recommends having sensors

installed, so the lights come on as you move

around the area.

Juice Electrical has a range of LED

outdoor lighting, including up-lighting,

deck lighting and general purpose

floodlights, as well as security lighting, and

he and his team of qualified electricians

will advise on type and placement.

"We discuss the customers' ideas with

them, show them photos of gardens

looking attractive with outdoor lighting

and make suggestions on how they can

make the most of their outdoor areas with

well-placed LED lighting," Greg says.

In fact, LED lighting is fast becoming the

preferred option for indoor lighting as well,

Greg says.

"The technology has taken off and is

replacing halogen and incandescent bulbs

for the home. Low voltage LED (light

emitting diode) technology, has advanced

from being initially used in torches to being

suitable for lighting anywhere in the home,

and we highly recommend it."

LED lights have a 20-year lifespan when

used for an average of 10 hours per day, so

are very cost-effective, he says.

Based in Rolleston, Juice Electrical has

been servicing the Selwyn District for

12 years, with Greg and his team of four

qualified electricians dedicated to the local

community.

"We are strong on maintenance, and

we do more than some other electrical

companies in repair and renovation work –

we pride ourselves on going the extra mile,"

Greg says. "We also provide full installation

for new builds.

"We advise anyone needing electrical

work to always use a Master Electrician.

That provides continuity of service and if

any problems arise, they will sort them out."

So, next time you need any electrical

work done – repairs or installation – call

your local electricians at Juice Electrical,

phone 379 6644.

LED lights have a 20-

year lifespan when

used for an average of

10 hours per day, so are

very cost-effective

Our Services

• House Re-Wiring

• Garden Lighting

• New Builds

• Mitsubishi Heat Pumps

• Office Re-Fits

• Internet & Telephone

• TV Aerials

• Spa Pool Installation

• Industrial Installation

• Electrical Safety

Certificates

Mobile 021 22 77 275

Web juiceelectrical.co.nz

Email greg@aelectrical.co.nz

03 379 6644

PO Box 7778,

Sydenham,

Christchurch 8240

DO YOU NEED A

PAINTER?

Painting •

Wall Coverings •

Spray Painting •

Water Blasting •

Interior & Exterior •

FREE

QUOTES

CLEANING

SERVICES

• Roofs

Moss Killing

• Gutters Vacuum

• Silicone Roofs

and Walls

• Pest Control

• Soft Wash Exteriors

• Window Cleaning

Exterior Pure Water

gutter clean

Phillip J Fisher Painter & Decorator

P: 021 228 2889 or A/H: 03 342 9391

E: phillip.fisher@pjfisher.co.nz

www.phillipjfisher.co.nz

For a free Measure & Quote PH 0800 26 26 20

Bowranda

PATIO ROOF

⚫ Achieve your outdoor vision

⚫ A permanent, sheltered outdoor space

⚫ Eliminates 99% of harmful UV light – maintains

ambient light

⚫ Options to customise and enclose with outdoor

blinds

⚫ Immediately increase the value of your home

⚫ Frame constructed of powder-coated aluminium

& stainless steel

⚫ Square profile exhibits aesthetic conformity

with NZ residential architecture

⚫ Manufactured to clients custom specifications

& dimensions

www.bowranda.co.nz
---
SELWYN TIMES Latest Christchurch news at www.star.kiwi

Wednesday August [Edition 22 datE] 2018 31 5

HOME PROFESSIONALS

Get prepped for a stressfree

summer garden

Coming out of winter, a short burst of

effort makes a big difference before warmer

conditions boost garden growth. August is

the ideal month for setting up your garden to

minimise summer maintenance.

Restore balance with pruning and

removals

Pruning trees now, and removing dead,

damaged, or diseased plants, can help

rebalance your garden's aesthetics. When

left unattended during spring, differences in

growth rates will put things out of balance

and prevent the growth of underlying shrubs

or ornamentals. Do your best to be vigilant

with weeds, plucking them out at the base

and collecting the roots.

Unlock your garden's potential

A full garden tidy-up is a sure-fire way to

reveal your garden's true potential. Discover

new areas of shade or plan a new deck to

create outdoor living areas for relaxing with

family and friends.

Rescue a forgotten lawn

If your lawn is looking tired or weedridden,

now is the time to act. By spraying,

cultivating and reseeding your lawn now,

you will give the new lawn the best chance

to spring back into life. You could also add in

pavers for access over worn areas.

Conserve water by topping up

compost

Building up your soil is an advantage

no matter where you are. However, with

Selwyn's often stony soil, adding compost

is particularly helpful for minimising water

usage come summer. Composting is a bit

of a golden ticket, it helps with suppressing

weeds, moisture retention, and overall plant

health.

Prevention is better than a cure

Setting up your garden now will help

reduce ongoing maintenance requirements.

If it all sounds too much like hard work,

Revive Landscaping can take the weight off

your shoulders with an annual garden tidy

up or regular assisted maintenance, so you

can relax and enjoy more of what you love.

Ross and his team are skilled in all aspects

of landscaping including pruning, planting,

paving, and landscape construction.

For a free garden consultation and

quote, get in touch with Ross on 027 222

0388 or check out our website at www.

revivelandscaping.co.nz

Setting up your garden now will help reduce

ongoing maintenance requirements.

LANDSCAPE CONSTRUCTION

& GARDEN MAINTENANCE

YOU can have your

gardens, trees,

shrubs, plants and

lawns maintained

to look their BEST

all year round, for a

great price.

RESIDENTIAL, NEW HOME

LANDSCAPING & MAINTENANCE

P: Ross Legg - 027 222 0388 E: ross@revivelandscaping.co.nz

www.revivelandscaping.co.nz

Wedding flowers

Broadfield Flowers has 23 combined years

of experience with wedding flowers.

Bouquets, venue decoration, table decoration,

venue setup.

Come in and talk to us about flowers, styles,

colours and prices. View our wedding

flower magazines or bring in your own

photos and we will give you a free

consultation and quote .

P 325 2621 | 3 Gerald Street, Lincoln | Order online www.broadfieldflowersflorist.co.nz

Lagoon

Pools

03 349 2160

0800 92 72 82

Manufacturers and

suppliers of superior quality

garage doors throughout

New Zealand.

• Cedar Doors

• Specialising in " one-off

custom designs"

• Negative detail /Flat Panel

and Insulated designs

• Merlin Auto Openers, repair

& Maintenance

Contact us for a free measure and quote.

Showroom: 276 Larcombs Road, Weedons

Phone 3478333 or 0800 661 366
---
32 6 Wednesday [Edition datE] August 22 2018

Latest Christchurch news at www.star.kiwi

HOME PROFESSIONALS

SELWYN TIMES

Proven product extends

the life of your spouting

While most of us appreciate nature, the

dawn chorus can be a problem when we

are woken too early by the noise. But as

Rohan Rudd of Gumleaf Gutter Guard

points out, that's not the only issue with

birds, especially in spring when they nest

in the spouting. The eggs and young chicks

attract vermin, which can then get inside

roof cavities, and rats and mice will chew

through wiring creating a fire hazard, he

says.

Gumleaf Gutter Guard is an effective way

of preventing birds from making nests in

the spouting, and perching on the spouting

and soiling walls and windows with their

droppings, while it also protects tank water

from being contaminated, ensuring the

safety and quality of the water supply.

Another key advantage of Gumleaf

Gutter Guard is that it prevents leaf litter

from gathering in the spouting.

"Leaf litter remains damp and acidic and

that wrecks the spouting," Rohan says. "By

having Gumleaf Gutter Guard installed, the

life of the spouting is extended to the life of

the roof."

Snow can also damage spouting, and

again Gumleaf Gutter Guard will protect

the spouting by spreading the load, Rohan

says.

Developed in Australia more than 20

years ago, Gumleaf Gutter Guard has been

providing a quality and effective solution

in New Zealand for the last decade, Rohan

says. Much of his work comes from repeat

business, with customers happy with both

the product quality and the service he

provides.

Customers requesting a quote will receive

it within 24 hours, and Rohan says he will

"go anywhere to provide a quote".

He is also available Monday to Saturday

to speak to customers who call him.

"Even if I am working on a job, I will talk

to anyone who calls me," he says.

Once a quote is accepted, the job is

started within 10 days, with installation on

an average-size house taking one to two

days. Rohan also does any necessary minor

repair jobs on the roof at the same time.

To discuss your requirements with

Gumleaf Gutter Guard, phone 0800 486

532, or email rohan@gumleaf.co.nz

Gumleaf

Gutter Guard

can be protect

spouting on

both tile and

corrugated

iron roofs.

STOP LEAVES

birds, snow, hail & vermin from

blocking up your spouting

Quality materials: BHP Colorbond steel mesh with unique patented

louvre which will even keep out pine needles. Will not rust or sag with age or

load. 10 year warranty, range of colours

Proven in Australia & New Zealand over the last 15 years.

FOR SAFE, PURE DRINKING WATER FROM

YOUR ROOF.

NOW AVAILABLE: STAINLESS STEEL MICRO MESH

www.gumleaf.co.nz

Call Rohan Rudd anytime Mon-Sat

for a no-obligation assessment & quote

0800 486 532 www.gumleaf.co.nz

LET'S GET

GARDENING

INTELLIGRO OFFERS:

Expert gardening advice

High quality products

South-Hort growing mixes

VIP rewards

Buy in-store and online

Handy delivery service

For more information,

check out our website: www.igro.co.nz or visit

our facebook page: www.facebook.com/igro.co.nz

261 Manion Rd, Weedons

info@igro.co.nz | www.igro.co.nz | Phone 03 347 9415

PATIOS - OUTDOOR AREAS - CAR PORTS

Shadecraft is a locally owned company who specialise in shade and weather

protection products to enhance your homes design and use of outdoor areas.

SHADE SAILS – UMBRELLAS – ALL WEATHER CANOPIES

ShadeCraft (SI) Ltd

0800 742332 • Cell 0274 981239 • www.shadecraft.co.nz
---
SELWYN TIMES Latest Christchurch news at www.star.kiwi

Wednesday August [Edition 22 datE] 2018 337

HOME PROFESSIONALS

New garden centre offers

inspiration for spring planting

Stepping inside the new, purpose-built Garden

Centre at Southern Woods Nursery you will be

thrilled and inspired as you survey the vast selection

of beautiful, healthy plants, shrubs and trees – most

grown on the premises and all ready to be whisked

away and planted in people's gardens.

This is the first spring for the garden centre, which is

the result of about nine months of hard work getting it

ready, marketing manager Rico Mannall says. He and

the almost 40 staff members at Southern Woods are

thrilled with the new Garden Centre, which was set up

as the retail arm of the well-established wholesaling

business.

Rico says as the days get warmer, spring is the ideal

time for new planting, and he notes there is certainly

plenty to choose from at Southern Woods. On display

is a wide selection of landscaping plants including

deciduous trees, hedging, natives, grasses and ground

cover, with the knowledgeable staff able to give free

advice on what plants are best for particular conditions

and sites.

"That's the key part of what makes us different," Rico

says "being able to help our customers with sound

advice so they get the best results. Our staff know

about plants."

Southern Woods Garden Centre can also provide

on-site consultations and design landscape plans for

new sections, and will advise on soil preparation to

get the best results. Alternatively, you can take in your

plans and they will suggest what plants to use.

The Garden Centre also offers a full range of disease

and pest control products, as well as gardening tools

and accessories.

"We offer top-quality brands from Japan and

Germany, so our customers can be confident their

tools will last for many years," Rico says.

Open seven days, Southern Woods Garden Centre

is located on the corner of Main South Road and

Robinsons Road, between Templeton and Rolleston.

It is well-signposted, and there is plenty of off-street

parking.

Check out their website for further information

and inspiration, www.southernwoods.co.nz

Fruit Trees

Available now!

Sharon CroftS

LandSCape d e S ign

• Consultations • Design Concepts • Planting Plans

Winter is a great time to plant

deciduous fruit trees.

- Landscaping plants for all projects

- Ornamental & Specimen trees

- Canterbury's largest range of natives

- Hedging & Topiaries

- Fruit & Nut plants

Get great fruit tree planting

advice from our friendly team.

2018 Catalogue out now.

OPEN

7 DAYS

P. 329 6229

M. 0274 311 558

s-crofts@xtra.co.nz

www.sharoncrofts.co.nz

1002 Robinsons Rd, Chch - 0800 800 352 - southernwoods.co.nz

Paving, Irrigation, Lawns, Planting, Fences, Pergolas, Water-features,

Outdoor fires, Raised Vege beds, Decks, Artificial grass & more...

Call Aaron & the team today! Phone: 03 3474422 or 021542402

Email: landscapeyouroutdoorspace@gmail.com

www.theoutdoorspace.co.nz

Spring is on its way

and its time to think

about your new lawn!

Canterbury Lawns specialise in

Hydroseeding and roll out Lush Lawn

Get in touch so we can talk about getting your lawn prepared for Spring!

before

after

Phone Zac Swale on 347 4000 or 027 456 7777

zac@canterburylawns.co.nz | www.canterburylawns.co.nz

✓ Locally Owned & Operated

✓ Domestic & Commercial Lawns

✓ Erosion Control

✓ Ground Rotary Hoeing

✓ Site Preparation

✓ Dust Control

✓ Fencing & Posthold Boring

✓ Truck Hire

✓ Small Load Deliveries

✓ Irrigation

Canterbury Lawns LtD
---
34 Wednesday August 22 2018

Latest Christchurch news at www.star.kiwi

Gardening

Local

News

Now

SELWYN TIMES

Fire rages, homes at risk

Weed cuisine from your backyard

FANCY a tangy wild pesto

made from weeds? This is just

one of the many ways you can

befriend common weeds that

like to take up residence in your

garden patches and flower beds.

In this day and age of

convenience shopping, weeds

are not plants most people would

consider eating on a regular

basis.

We have become wary of

anything that comes without

shrink wrap or a barcode.

However, wild green plants

(aka weeds) are still collected in

many countries, supplying major

sources of trace elements and

vitamins in the diet.

It is easy to forget that most

fruits and vegetables occur

somewhere naturally as weeds.

Every vegetable food cultivated

today was once a wild plant,

although most have been

'improved' beyond recognition.

Wild vegetables have specific

genetic qualities that tend to get

bred out during cultivation such

as resistance to disease, resilience

to climatic variations and longer

flowering seasons.

While the practice of foraging

for wild greens may not be

a component of your food

gathering strategies as yet, you

may be pleasantly surprised to

find that some of these healthgiving

plants are growing right

under your nose in your own

patch.

Time to head out to the garden

and scrutinise your weeds with

edibility in mind.

Instead of cursing those pesky

weeds, pick yourself a handful of

a wilder variety of greens.

Give them a vigorous rinse

under flowing tap water and whip

up a batch of pesto.

All edible wild greens are very

high in chlorophyll.

Chlorophyll is rich in

digestive enzymes, which

can assist in the digestion of

heavier foods like starches and

proteins.

It is best to consume these

plants fresh as cooking destroys

these enzymes.

Use your outdoor living areas

all year round

• Warm & dry in winter

• UV protection for summer

• Stylish & permanent

• 5 year warranty

"AS SEEN ON TV"

Chris Thorndycroft

Grant Stewart

Phone 0508 272 446 | www.archgola.co.nz

Safety

in the

Garden

As we approach the prime time for gardening, it is a

timely reminder for everyone about the safe practices for

gardening.

Gardening is very popular here in Canterbury and as the

weather improves we will find ourselves out and about

in the garden more over the coming months. With this in

mind, we want to ensure everyone is aware of the safe

practices of gardening, most importantly how to protect

yourself from contracting Legionnaires.

Legionellosis (Legionnaire's disease) is a form of

pneumonia, and is caused by a bacterium called

Legionella found in moist conditions in the environment.

You can catch the disease by inhaling airborne droplets

or particles that contain the bacteria. The illness can

present itself in mild or severe cases, and can sometimes

be fatal. It is more common in elderly people, particularly

if they smoke, have poor immunity, or are already ill. It

will usually develop in 2-10 days after exposure to the

bacteria and symptoms include fever, chills, headaches

and muscle pain. It will then develop into chest infectionlike

symptoms. If you do present with these symptoms

after gardening, inform your Doctor you have been doing

so, so they can test for Legionnaires.

Please head to our website www.igro.co.nz for more

information about Legionnaires, or give us a call on 03

3479415.

15 months

INTEREST FREE

Normal lending criteria apply

Here are some tips to reduce

your chances of contracting

this disease:

• Read the warning labels

on bags of compost and

potting mixes

• Wear gloves when

handling soils, mulches,

composts and potting

mixes

• Wear a dust mask if you

are using these mixes

indoors, or if it is windy

• Dampen mixes before

using them

• Always open bags away

from your face and in

an open area (not in a

greenhouse)

• Wash your hands

thoroughly before eating,

drinking or smoking or

touching your face

CHICKWEED: Scrutinise your weeds with edibility in mind.

SAFER ACCESS

TO INTELLIGRO

Heading north on Main South Road you will use the Weedons

Ross Road off ramp. Manion Road is just before the railway

lines on the left-hand side. If you are heading south along Main South

Road, then turn right into Curraghs Road, and Manion Road is on your left just

before the railway line. You cannot miss our big green sign. Our team look

forward to seeing you in store!

Main South Road (SH1)

Proposed Christchurch Southern Motorway Stage 2 (CSM2) alignment

New local road

For more information, check out our website:

www.igro.co.nz

or visit our facebook page:

www.facebook.com/igro.co.nz

261 Manion Road, Weedons

Access to Intelligro from Manion Road is now available from both the Weedons Ross Road end,

and Curraghs Road entrances.

www.igro.co.nz | Phone 03 347 9415

N

Weedons Ross Road

261

Alston Road

Railway Line

Manion Road

Berketts Road

Jones Road

Larcombs Road

Justine Drive

Curraghs Road

Robinsons Road

Dawsons

Road
---
SELWYN TIMES Latest Christchurch news at www.star.kiwi

Wednesday August 22 2018 35

Crafternoon – Craft & Chat

Wednesdays and Saturdays,

2-3pm

Go along to drop-in craft

sessions in the library. Share

and learn new skills, swap tips,

improve your techniques and

be inspired while crafting with

others. Take your own projects,

materials and crafting kits. No

bookings required. All ages and

abilities welcome for term 3.

Contact the library.

All Selwyn libraries

Genealogy/Family History

Groups – Darfield

Wednesday and Saturday,

10am-noon

Go along to research your

ancestry. It is interesting as well

as fun and you may be surprised

who you discover. Phone Bev

Robb on 318 8315 for more

information.

Meeting Room 1A - Darfield

Library, 1 South Tce

Finnegans Runners

Wednesday, 6pm

Go along and enjoy some

social running over a 3km or

6km course. Walk or run and it

is all for fun. Visit the Finnegans

Runners' Facebook page for

more information. Gold coin

donation.

Finnegans Irish Bar/Prebbleton

Email emily.oconnell@starmedia.kiwi by

5pm each Wednesday

Tavern, 585 Springs Rd,

Prebbleton

Brain Bafflers

Thursday, 3.30-4.30pm

Go along and join in on an

adventure through the baffling

brain. How can one small organ

be in charge of so many things?

How does the body 'talk' to the

brain and how does the brain

respond? What happens when

things go wrong in our brain

and the messages get scrambled?

Join in on the one-hour session

and meet Neut the Neuron and

make a model of it to take home.

Suitable for five to 10-year-olds.

Children aged under eight-yearsold

require adult supervision.

Bookings essential. To book and

for more information please

visit http://www.selwynlibraries.

co.nz.

Rolleston Library, 94 Rolleston

Drive, Rolleston

Don't Treat Your Soil Like

Dirt

Saturday, 10-11.30am

A workshop on the key

characteristics, their importance

and the maintenance of healthy

garden soil. Presented by Roger

McLenaghen and Judith van

Dijk of Lincoln University. Gold

coin donation appreciated. For

more information phone Ruth

Wood on 325 2193 or email ruth.

wood@xtra.co.nz.

Lincoln Envirotown

Community Gardens, James St,

Lincoln

Get a Heads Up on epilepsy

Saturday, 3-4.30pm

Epilepsy can happen to

anyone, at any age and from any

background. Do you care for, or

work with children, youth, adults

or the elderly? Do you want

to be informed? Join Epilepsy

New Zealand in a presentation

about the impact of epilepsy.

Discover the stigmas and myths

surrounding it. Recognise

the signs, know the facts and

be prepared. An informative,

engaging session for people

from all walks of life. Bookings

essential.

Rolleston Community Centre,

94 Rolleston Drive, Rolleston

Patchwork Plus

Every Monday, 10am-3pm

Take along any craft you wish

and have a chat. Phone Jill Percy

on 324 2331 for information.

Leeston Library, 19 Messines St

JP Clinic – Rolleston

Monday, noon-1pm

A justice of the peace will

be available to members of

the community to witness

signatures and documents,

certify document copies, hear

oaths, declarations, affidavits

or affirmations as well as sign

citizenship, sponsorship or rates

rebates applications.

Rolleston Library, 94 Rolleston

Drive

Rhyme Time

Monday, Tuesday and

Wednesday various times

Rhyme Time is a fun,

interactive session of stories,

songs, rhyme and bubbles. Aimed

at children under 18 months.

All Selwyn libraries

Storytime

Monday, Tuesday and

Thursday, various times

Storytime is a fun interactive

session of stories, activities and

ACTIVITIES: Love board

games? Join the Board

Games Club at Rolleston

Library on Saturday from

1.30 to 3pm to play a variety

of exciting games. Suitable

for those new to board

games, as well as regular

players. Recommended

for intermediate and high

school-aged children aged

between 11 and 18-yearsold.

Drop in – no booking

required. Ask at Rolleston

Library on 94 Rolleston

Drive, Rolleston for details. ​

songs. Aimed at two to five-yearolds.

All Selwyn Libraries

Markets:

West Melton Market: Saturday,

9am-noon. St Paul's Church.

Lincoln Farmers' and Craft

Market: Saturday, 9.30am-

12.30pm. Gerald St, Lincoln.

Darfield Market: Saturday,

9am-1pm, opposite Challenge

Darfield, South Tce.

Running groups:

Lincoln Road Runners: Tuesday

registration from 5.30pm starts

at 6pm. 3km or 6km events.

Starts at Lincoln University. Gold

coin donation.

Malvern Road Runners:

Tuesday registration begins

at 5.45pm and the first of the

6km runners leave at 6pm. 3km

or 6km. Starts from Malvern

Netball Centre.

Ellesmere Road Runners:

Wednesday registration from

5.45pm starts at 6pm. 3km or

6km walk or run. Starts from

Leeston physiotherapy.

HEAT PUMP

SALE NOW ON!

Amazin' winter Specials!!

• We will offer you the best quality brands and

option of heat pump for your home/business

• Providing Heat Pump solutions for over 16 years to Cantabrians

• We personally guarantee all our products & installs for 5 years

(providing annual maintenance has been completed)

Phone us today for your free consultation & quote

41A SHAKESPEARE RD, WALTHAM

PHONE 03 366 0525

www.enviromaster.co.nz

"A local team for local people"

'Famous for their roasts!'

SENIORS SPECIAL

Two courses: $

22

Soup/Roast or Roast/Dessert

Special available lunch only

Monday - Saturday 12pm - 2.30pm

Conditions apply

FAMILY FRIENDLY

Kid's Special

Two courses

Great Kids menu plus

designated play area.

$

13

RESTAURANT & CAFÉ

Open daily from 6.30am - Breakfast, Lunch & Dinner

The

RACECOURSE HOTEL

& Motorlodge

118 Racecourse Rd, Sockburn,

Christchurch. Ph 03 342 7150

www.racecoursehotel.co.nz

H ORNBY

WORKINGMEN'S

CLUB

THIS WEEKEND

SATURDAY

4.30PM: PETER CAIRNS

8PM: JOHN McCABE

SUNDAY 1.30PM: $6 entry

HEART OF THE

COUNTRY SHOWCASE

Club CAFÉ

OPEN

EVERY DAY

LUNCH & DINNER

FAMILY FRIENDLY DINING

COMING UP

SATURDAY 1 SEPT

8PM. Tickets $20

Chalmers

Restaurant

OPEN

FRI, SAT, SUN

FROM 5.30PM

WIN YOUR

DAD A

V8

SUPERDRIVE

EXPERIENCE

Conditions apply

The Hornby Club | ph 03 349 9026 | 17 Carmen Rd | Hornby

www.hornbywmc.co.nz | Members, guests & affiliates welcome
---
36 Wednesday August 22 2018

Latest Christchurch news at www.star.kiwi

SELWYN TIMES

26th August 2018

10am – 3pm

Air Force Museum, Wigram

Tickets only $20

available on the door

ON THIS SUNDAY!

$15,000 worth of prizes to be won

celebrate

BRIDALSHOW

Weddings at The George

goodcompany.nz

The luxury boutique hotel on the park

P: 03 371 0255

E: weddings@thegeorge.com

W: https://www.thegeorge.com/weddings

" Your day,

your way."

"we will beat any competitors written quote"

651 Pound Road, Christchurch

Contact: Dee Taylor

Phone: 021 914 817

info@thevinesclub.co.nz

www.thevinesclub.co.nz

T R E N T S V I N E Y A R D

T R U S T C A N T E R B U R Y S P R E M I E R W E D D I N G V E N U E

W W W . T R E N T S V I N E Y A R D . C O . N Z

@ T R E N T S V I N E Y A R D
---
SELWYN TIMES Latest Christchurch news at www.star.kiwi

Wednesday August 22 2018 37

Classifieds Contact us today Phone our local team 03 379 1100

Caravans, Motorhomes

& Traliers

CARAVAN Wanted to

buy. Up to $5000 cash

today 027 488-5284.

Gardening

& Supplies

PEA STRAW

For Sale

Ellesmere Lions

have pea straw

Medium

Squares

available

at $50

All a delivered

price in the

Selwyn Area

Ph for orders

324 4094

Funeral Directors

Caravans, Motorhomes

& Traliers

CARAVAN Wanted to

buy. Up to $5000 cash

today 027 488-5284.

Non-Service Cremation $2,050

Just Funerals, a family owned and

operated company with qualified,

registered and experienced staff.

Other services also

available, please

call to enquire.

Phone 0800 804 663 - 24 Hour Availability

Email: info@justfunerals.co.nz

christchurch.justfunerals.co.nz

Holiday

Accommodation

WANAKA.

Stunning holiday

accommodation in

Wanaka at the Pines

Resort available, during

ski season.

From the 7th of September

till the 14th you can stay

at this fabulous resort.

Cardrona Ski Resort and

Treble Cone are not far

away. $1200 for the week,

only at $171.00 per night.

Would suit family sleeps

up to 5.

See http://www.

classicholidays.com.au/

resort/pines-resort/>for

full details. More details

and to book, call Jacqui on

027-201-3244

Select Services

Hedge tRimming

& gaRden

maintenance

• Hedge Trimming

• Small Trees and Shrubs Topped,

Shaped or Removed

• Trenching and Digging Buckets

• Garden Maintenance

• Landscaping

• Cleanups Available

• Wood Splitter for Hire

Stu Reid OWNER OPERATOR

Phone: (03) 325-4664 | Mobile: 021-500-519

hedgesandmore.co.nz

Select Services

Need a hand?

✤ Lawns & Edges

✤ Landscaping

✤ Gardening

✤ Hedge Trimming

✤ Handyman Jobs

✤ Casual or One Off

Phone Mike Lineton

022 341 8848

Your local

Selwyn District

GARDENER/

HANDYMAN

JuSt Small

HedgeS

Storage

STORAGE

CONTAINERS. $35

pw. 350 Brookside Rd,

Rolleston. Brookside

Storage on Trademe. Ph

0210650934.

To Let

RENT ME!

Ideal as an extra

bedroom or office.

no bond required

Fully insulated and double glazed for warmth.

Three convenient sizes from $70 a week:

Standard 3.6m x 2.4m

Large 4.2m x 2.4m | Xtra-large 4.8m x 2.4m

Visit our website

www.justcabins.co.nz

for display cabin locations

www.justcabins.co.nz

Trades & Services

BUILDING REPAIRS

GIB STOPPING | FENCING

YARD CLEARING / CLEAN UP

SMALL DIGGER WORK

DRIVEWAYS & CONCRETE REPAIRS

RC MAINTENANCE

no job too small

LTD

Tours

World of Wearable Arts

Departs 6th October 2018

2 nights including Premium WOW tickets

$1100.00 pp twin share

Hokianga and Far North

Departs 21st September 2018

8 days - $2250.00 pp twin share

Tasmania

Departs 30th October 2018

12 days - $4900.00 pp twin share

Call Reid Tours 0800 446 886

www.reidtours.com

ROSS CHESTNUT

ROSS Owner CHESTNUT

/ Operator

Owner / Operator

021 969 654

021 969 654

ross@rcmaintenance.co.nz

ross@rcmaintenance.co.nz

PO Box 92010

PO Box 92010

Farringdon, Rolleston

Farringdon

Rolleston 7650

Storage

STORAGE

CONTAINERS. $35

pw. 350 Brookside Rd,

Rolleston. Brookside

Storage on Trademe. Ph

0210650934.

BUILDING REPAIRS | GIBB STOPPING | YARD CLEARING / CLEAN UP

SMALL DIGGER WORK | FENCING | DRIVEWAYS & CONCRETE REPAIRS

Trades & Services

SCOTT'S TREE

TRIMMING &

TOPPING

• Shelter Belt & Trimming

• Tree Topping

• Root Racking

• Full Hedge Removals

• Stump Removals

• Excavations

Sam 027 918 5155

Bill 027 433 7869

Email:

nathanandhayley@

scorch.co.nz

Panelbeating/Spraypainting

Insurance Collision Repairs

All Makes & Models

Jetboat Refinishing

Loan Cars

10 Station Street,

Leeston

www.emb.nz

Contact Phil & his team on 03 324 3622

Trades & Services

TAI TAPU TYRES

53 Main Rd Tai Tapu

Ph. 03 329 6767

Will better any

other quoted price

Stockists of Kumho, Goodride and

Petlas Tyres, for all cars, 4WD, bikes,

tractors and trucks.

green acres

Lawn &

garden care

• General

gardening

• Ride on service

• Weeding and

clearing

• Hedge trimming

• Tree pruning

and removals

• Fully insured

• Section

clearing/

maintenance

• Free quotes

• Security

checked

and

satisfaction

guaranteed

0800 803 200

www.greenacres.co.nz

• Irrigation • Drainage • Driveways

• Auger Hole Drilling

• Land Clearing & Development

• Culvert Installation • Construction Site Works

• Tree & Hedge Removal • Concrete Breaker

Phone Mike: 027 272 8058 OR 03 324 4323 A/H

g.m.contracting@xtra.co.nz

www.gmcontracting.co.nz

"Totally Dependable"

Maintenance & Servicing | New Housing | Hot Water Systems

Upgrades | Solar Hot Water | Central Heating

Commercial & Backflow Prevention | Pumps & Filtration

Town & Rural

Laser Plumbing Christchurch West

Phone: 03 348 6920

Email: chchwest@laserplumbing.co.nz

www.laserplumbing.co.nz

AUTO ELECTRICIAN

Ellesmere

Auto

Electrical

• Air Conditioning • Alternators

• Starter Motors • Wiring Repairs

• Diagnostics • Lighting • Batteries

Mobile Auto Electrician

022 644 9664

Farmlands Card Accepted

CARPET carpet/furnishings

/ FURNISHINGS

Di's Carpet

BinDing

Have your carpet

off-cuts bound

124 Halswell Junction Rd, Halswell

Phone 322 1103 Mobile 027 586 4830

Hours Mon - Fri 9.30am - 5.00pm

carpet layer

CARPET

LAYER

45 YRS + EXPERIENCE

Repair, Uplifting,

Relaying, Restretching

All preparation work undertaken

*Also GARAGE CARPET

Phone John 027 208 7383

jandcbennett@xtra.co.nz

ELECTRICAL

SELWYN

ELECTRICAL

SERVICE

Don't let electrical

problems worry you

For all electrical

repairs & service

CALL TODAY

027 492 8971

or ah 344 6202

SHELTERBELT TRIMMING

Boundary

Trimming

Call Tony Dempsey

Phone 03 325 3256

Mobile 0274 323 943

vinyl laying

VINYL

LAYING *

*SPECIALISING

IN VINYL PLANK

Selection available or

customer supply

All floor preparation

undertaken

Contractors rates

Phone John 027 208 7383

jandcbennett@xtra.co.nz
---
38

Latest Christchurch news at www.star.kiwi

Wednesday August 22 2018

SELWYN TIMES

Classifieds Contact us today Phone our local team 03 379 1100

Trades & Services

CONCRETE

NEED CONCRETE FOR...

Paths, patios, driveways,

Landscaping projects

We can supply

Mini Readymix Concrete*

* up to 3m loads

Local Rolleston Based,

Most competitive rates around

Ph. 0508 872 672 www.tcltd.nz

10 Railway, Rolleston 7614

-next to Mobil fuel stop

concrete & paving

• Driveways

• Earthquake repairs

• New Home Specialists

• Patios & Paths

tel: 0508 873 7483

email: sales@affordableconcrete.co.nz

www.affordableconcrete.co.nz

DECORATORS

New Paint • Repaints

Wallpapering • Fences

Repairs • Feature Walls

Floor & Roof Painting

Spray Painting

Light Commercial

Restoring Timber

Selwyn based but service the whole of Canterbury

www.andertondecorators.co.nz

www.facebook.com/andertondecorators

027 724 6846 027 PAINTIN

Trades & Services

Driveways

SWAINS KIWI KERB

DRIVEWAY

CONSTRUCTION

Free Measure & Quote

• Asphalt

• Driveways

• Kerb

Quality Workmanship -

Over 10 Years Experience

electrician

• Registered Electrician

• Over 20 years

experience

FOR ALL YOUR

RESIDENTIAL & COMMERCIAL

ELECTRICAL NEEDS

Light Up Electrics Pty LTD

FREE QUOTES

• Chipseal

• Chip

PH 0800 081- 400 • 980-1123

Mob 0274 325 457

CALL DANIEL 027 570 3534

or 03 3477 213

lightup@live.com.au

Excavations

• Driveways

• Car Parks

• Site Cleaning

• Demolition

• Farm Tracks

• Drain Cleaning

• Stump & Hedge

Removal

• Ashpalt Concrete

Wide range

oF TruckS

• Tennis Courts &

Swimming Pools

• Chip Seal Driveways

• Diggers – 2 Ton

up to 20 Ton

• Excavators

• Bobcat & Drilling

• For Posthole &

Fence hole

For a Free Quote

on your next project

Phone Steve on 021 338 247

or 325 7922

Free

QuoTe

Sick of drinking

chlorinated water?

CJ's Plumbing can help!

Get a water filter

installed today

for cleaner water

that has no bad

smell or taste.

Make water taste

like it should!

CJ's Plumbing

Call uS now

03 347 4475

www.cjsplumbing.co.nz

Trades & Services

UDI PAINTING &

DECORATING

For all painting and

decorating services.

Fully Qualified

• Interior &

Exterior Painting

• Wallpapering

• Plastering

• Roof Painting

All work guaranteed

FREE QUOTES

Contact Udi Aale

Ph. 021 074 2075

Trades & Services

Canterbury

Trenching and

Excavation

Commercial

and

Residential

3 Drainage and Trenching

3 Section Clearing

3 Stump Removal

3 Supply & Install Devon Water

Tanks & Septic Systems

3 Supply of Hard Fill & Top Soil

3 Digger and Truck Hire

PHONE 027 317 8128

ppsplumbingservices@gmail.com

Trades & Services

Trades & Services

Driveway

Ramp

Bumping &

Grinding over

your driveway?

Get the

Driveway Ramp

For a free quote

call Wayne on

021 038 0511

ROOF

PAINTING

Rope & harness

a speciality,

no scaffolding

required,

30 years of

breathtaking

experience.

FREE QUOTES

Exterior staining,

exterior painting,

moss and mould

treatment and

waterblasting

Phone Kevin

027 561 4629

Heatpump

Cleaning

Is your heatpump

ready for wInter?

• Save power, Save Money

• Cleaner healthier air

• Friendly, professional

service

Bemer

Heatpump

Cleaning

Rob Spink

• 0800 423 637

• (A/H) 03 325 2713

spinkfam@xtra.co.nz

Trades & Services

ACE HIGH

PLUMBING

All Plumbing

Gasfitting

Drainlaying

Blocked Drains

Log Fires,

Wetbacks

Gas Hotwater

Phone

021 454 864

CARPENTER

HANDYMAN

Small Job Specialists,

Carpentry, Repairs,

Decking & Maintenance,

40 years experience, no

job too small, Ph Warren

03 322-1103 or 027 697-

8541

CARPET & ViNYl

lAYiNg

Exp. Repairs, uplifting,

relaying, restretching.

Email jflattery@xtra.co.nz

ph 0800 003 181 or 027

2407416

CONCRETE CUTTiNg

Affordable Concrete

Cutting with Quality, and

removal work. Free quote.

No job to small. Phone 027

442-2219, Fax 359-6052

a/h 359- 4605

FENCiNg

Quality timber fencing -

gates & repairs, ph Ryan

027 951 8892

Trades & Services

Bellamy's

Furniture

Furniture made to

order and restoration

by tradesman with

35yrs experience.

PH Stephen

021 073 2624

lANDSCAPiNg

Paving, Lawns, Irrigation,

Decking, Fencing.

Kanga & small digger

services. Check out Squire

Landscaping on facebook.

FREE QUOTES. Ph

Arthur 347-8796, 027

220-7014 Edwin 027 220-

7154

Real Estate

Real Estate

Real Estate

HOUSES READY BUILT AND AVAILABLE FOR IMMEDIATE DELIVERY. CALL US TODAY.

www.keithhayhomes.co.nz

Keith Hay Homes Christchurch,

533 Main South Road, Hornby, 03 349 9102
---
SELWYN TIMES Latest Christchurch news at www.star.kiwi

Wednesday August 22 2018 39

Classifieds Contact us today Phone our local team 03 379 1100

Trades & Services

MASONRY

DAMAGED

MASONRY??

Rock and Blocks Work Ltd

for all your brick, block

and tile laying needs.

Friendly service Licensed

Building Practitioner

phone Devon on 021 375-

888 or 03 329-5511

RJB PluMBiNG

Renovations, New Houses,

Hot Water Cylinders,

Kitchens Bathroom

Upgrades, Laundries,

General Maintenance ,

Water Filters. Phone Mark

0278690026

SHEEP SHEARiNG

MOBILE .Fast friendly

professional service.

25 yrs exp. Shearing,

drenching, hoof trimming

etc. Call Shaun 021 204

1274

TiliNG

Flooring - Splashbacks

-Wall incl tile removal, reg

master tiler, ph Dave 027

334 4125

Wanted To Buy

AAA Buying goods

in Rolleston,Lincoln,

Prebbleton. Quality

furniture, Beds, Stoves,

Washing machines,

Fridge Freezers. Same day

service. Selwyn Dealers.

Phone 980 5812 or 027

313 8156

CARAVAN OR

MOTORHOME wantd.

Family sized, repairs ok.

Ph 351-6696

TOOLS Garden,

garage, woodworking,

mechanical, engineering,

sawbenches, lathes, cash

buyer, ph 355-2045

Wanted To Rent

SMALL PIECE OF

LAND. Prefer with water

& power. To live on with

motorhome or old house.

Somewhere in the country.

Ph 03 3476560

Vehicles Public Notices Wanted

Situations Vacant

HEAVY TRAFFIC

LICENCE COURSE

INTEREST FREE TIME PAYMENT

(conditions apply)

FROM FULL CAR (Class 1)

TO FULL TRUCK (Class 2)

(Road code & pre-assessment driving training provided)

Courses in Christchurch, Invercargill,

Cromwell & Mosgiel daily.

Other areas by arrangement

"TRAINING TOMORROWS DRIVERS TODAY"

OTHER COURSES/LICENCE

ENDORSEMENTS AVAILABLE ARE:

Class 3, 4 & 5, Vehicle Recovery, Wheels, Tracks,

Rollers, Dangerous Goods

Driving Related Health & Saftey Training

Passenger, Logbook & Load Security Training

DRIVETECH LTD

FREEPHONE 0508 2 DRIVE (37483) OR 03 348 8481

info@drivetech.co.nz | www.drivetech.co.nz

Teacher Aide

We are looking for an outstanding,

innovative and enthusiastic Teacher Aide

to join our team.

• Full time or part time position

• Term time only

• This Teacher Aide position may involve Special

Assessment Condition and Testing Support for the

Learning Support Teaching Team and the successful

applicant will have strong computer skills, the ability to

work independently and an attention to detail

• This position may involve work with high

needs ORRS student(s)

• This position may involve classroom teacher aiding

Application pack available, by email, from:

Tracy Roberts - trb@lincoln.school.nz

Applications close Tuesday 4 September 2018 at 3pm

CAR REMOVALS

$$CASH PAID$$

CARS, VANS, UTES

& 4X4 WANTED

NZ OWNED

AND

OPERATED

FOR

24 YEARS

We use world class vehicle

depollution systems

0800 8200 600

www.pickapart.co.nz

Situations Vacant

School Bus Driver

– Leeston

Get on Board with Go Bus Transport and make a change in your life.

Looking for a competitive remuneration and career progression with a great

company?

We provide the very best service and have a strong history of success. We are

looking for permanent part time School Bus Drivers to work out of our Leeston depot.

We offer Ongoing Training, Career progression, Competitive remuneration and a

supporting work environment.

What you'll need:

• Class 2 driving license

• A current P endorsement (although we can assist you in obtaining this)

• A positive attitude and teamwork.

• Excellent customer service and communication skills.

If you want to be part of our special team or want to know more, then we want to

hear from you! Our recruitment process includes a Drug and Alcohol Test and

New Zealand Police vetting.

Don't let this role drive by! Apply today!

To apply either go to our careers page at https://gobus.co.nz/careers (Ref 1051) or

forward your CV to Heather Anderson at heather.anderson@gobus.co.nz

District Customer

Assistant x2 (Casual)

The Selwyn Libraries team provides an exceptional

service to the community and your skills and

experience will complement and encourage this.

We are looking for two enthusiastic and passionate

library and service centre customer service officers

to join us and provide support across our library

and service centre network on a casual basis.

In this role you will be lending a hand and providing

outstanding customer service when needed,

ensuring we can maintain our exceptional

customer service level at all times. You will work

actively with a diverse range of library users to

develop new skills enabling them to connect with

knowledge, ideas and technology.

To be successful in this role you will have strong

customer service experience, be able to relate well to

a wide range of people and have a genuine passion

for libraries and their place in our communities.

In this flexible and rewarding role with the chance

to work across all of our libraries you can explore

the unique elements of each one whilst providing

valuable assistance to our teams.

If this sounds like a role for you, apply today to work

at Selwyn Libraries and Service Centres and to join

Selwyn District Council's Community Services

Team - "striving for outstanding customer service

and community experiences."

To apply for this job go to:

www.sdcjobs.co.nz

& enter ref code: 4309490.

Applications close 02 September 2018

ADVERTISE YOUR BUSINESS HERE

Public Notices

STATE HIGHWAY

VEGETATION CONTROL

The NZ Transport Agency wish to advise

the terms of Resource Consent No. 084848

which permits the discharge of herbicides

onto land and into water adjacent to State

Highways in the Hurunui, Kaikoura, Selwyn,

Waimakariri, and Banks Peninsula Districts,

and Christchurch City.

Spraying will commence 27th August 2018

and be completed by 28th June 2019.

The work will include spraying around

sign posts, guardrails, marker pegs, water

channels, and spraying noxious weeds.

For further information regarding this

activity please contact Grounds & Services

Ltd (Registered Chemical Applicators) on

(03) 349 0634

Phone for further details

(03) 379 1100
---
40 Wednesday August 22 2018

Latest Christchurch news at www.star.kiwi

SELWYN TIMES

Shop

Online

Nationwide

Delivery

Finance

Options

targetfurniture.co.nz

Cnr Blenheim & Curletts Rds, Christchurch

Ph: 0800 TARGET (0800 827 438)

Offers and product prices advertised here expire 27/08/18.

Sale excludes Manchester and Accessories.
---
SELWYN TIMES Latest Christchurch news at www.star.kiwi

Wednesday August 22 2018 41

Rolleston's fiRst RetiRement village

tO bE PrOviding thE full COntinuum Of CarE

Contract for three bedroom show villa now available,

with occupancy in October

boulevardvillage.co.nz

E: info@boulevardvillage.co.nz | Phone Karen: 027 3739 463
---
42 Wednesday August 22 2018

Latest Christchurch news at www.star.kiwi

SELWYN TIMES

Boutique retirement

village almost complete

Construction on the first stage of the

Boulevard Village in Rolleston is nearing

completion, with villas expected to be ready

for occupancy by next month.

The only one of its kind in Rolleston,

Boulevard Village is owned and operated by

Dean and Karen Harris, who have over 30

years' industry experience and are known for

providing exceptional service in village, rest

home and hospital-level care.

Grant England owner of GE Construction,

which is building the village, is a shareholder,

along with Trish and Tony Palmer, who have

many years' experience owning and running a

hospital and rest home.

Karen says they are all thrilled with the way

the village is taking shape.

"It has been a long journey, and as the first

stage nears completion it is becoming very

exciting. The outside areas will be stunning.

Sean from Design2 has done a great job with

the landscape plan allowing plenty of outdoor

areas around the villas. This is not seen in

many villages so is a great asset. Grant has

made the build process easy and has been

very adaptable with residents' individual

requests," Karen says.

"We are always open to suggestions where

we can adapt, and this is something that

only a smaller village can do. Grant believes

there is an enormous need for a village of

this kind in Rolleston. Since starting work, his

team continues to get people stopping to ask

how they can secure a villa, which is really

great. I'll be ensuring the build is to a very

high standard so the village is future-proofed

going forward, while the different villa designs

provide a point of difference," Grant says.

People viewing Boulevard Village recently

were impressed that there were footpaths

for people to walk on and villas not looking

identical, Karen says.

"They were also very impressed that we

provide all drapes, heat pump, microwave,

fridge, electric fire, television and washing

machine and dryer. I think residents should

be able to just move in and have everything

ready to go. Having to sort out heating and

drapes, putting up televisions, trying to fit

existing fridges, washing machines and

dryers, is not the pressure you want when

moving."

Each villa will have its own iPad to keep up

to date with what is happening in the village.

It will also control the security system for the

villa, call alarm and gate access.

Garden and external maintenance

like window cleaning, lawn mowing and

gardening will all be taken care of, along with

rates and insurance payments ensuring a

relaxed enjoyable life, Karen says.

The Boulevard will have 54 two-bedroom

villas and five three-bedroom villas, 40 one

and two-bedroom apartments, 20 care suites,

and 58 hospital rest home and dementia

beds, and a large community lodge with

dining and lounge areas, meeting/small

function room, bar and café, beautician/

therapy clinic, gym, library, computer nook

and outdoor sheltered courtyard.

There will also be a men's shed, raised

planter beds, a small putting green, a swim

spa and a barbeque area around the lodge.

The Boulevard is located at 200 Dunns

Crossing Road and is surrounded by quality

homes. The village is a five-minute drive from

Rolleston's shopping centre and handy to

Faringdon's South Point.

Check out the website for opening hours

for the site office and show villa.

The Boulevard village will have:

• 54 two-bedroom villas • Five three-bedroom villas

• 40 single bedroom apartments • 40 two-bedroom apartments

• 20 care suites • 58 hospital rest home and dementia beds

and much more!

LiMiTed viLLaS In OUr neXT TWO STageS

Our three bedroom villas have been in great demand and only one not under contract. In

response to that we are now making OUR SHoW THree BedrooM viLLa avaiLaBLe.

This will be open for viewing at the weekend and while the landscaping is being completed

it will be by appointment through the week.

"We have recently had a TWo BedrooM viLLa, which was under contract, become

available and I know that will not be that way for long" says Karen. It is in a prime spot with

extensive gardens and full sunshine.

I will be in the site office through the week now and happy to talk to you about what will be

available in the next stages which will be six two bedroom and two three bedroom villas.

A pleasure to be working alongside Karen & Dean of The Boulevard Retirement Village

D E S I G N

S Q U A R E D

Aotea

ElEctric

• rESiDENtiAl ElEctricAl

• HOME AUtOMAtiON & cONtrOl

L A N D S C A P E

A R C H I T E C T S

www.design2.co.nz

0274 511 486

RESIDENTIAL LIFESTYLE RETIREMENT COMMERCIAL

• MAtV & StrUctUrED cABliNG

• Air cONDitiONiNG

• SEcUritY

• rENEWABlE ENErGY SOlUtiONS

Ph (03) 365 9712 www.aoteaelectric.co.nz

ELECTRIC • COMMUNICATIONS • SECURITY • AUTOMATION
---
SELWYN TIMES Latest Christchurch news at www.star.kiwi

Wednesday August 22 2018 43

Well-planned village offers

many benefits

Recognising there is a lot of talk about retirement

villages in comparison with housing designed for the

over-60s, Karen Harris, owner/operator of Boulevard

Village in Rolleston says she believes there are places

to meet everyone's needs and financial positions in

Rolleston.

"Choice is so important," she says. "We are

attracting people who are looking for something

different from the norm and they recognise the longterm

benefits of a boutique village like ours.

"However, as my heart is fully in this industry I

would support any person to make the right decision

for them, which means I will not downplay or promote

one village over another. It comes down to choice and

lifestyle options. One model does not suit all.

"The Boulevard, like most retirement villages, is

regulated by the Retirement Villages Act and coming

into a village like ours means you will always have

your villa, other buildings and grounds maintained to

a high standard, which will attract people for years to

come. This is not your responsibility to organise and

it is covered under the conditions of the Occupation

Right Agreement.

"We believe that being a boutique village we are

appealing to people who appreciate quality and will

enjoy living in a village that has been well planned to

meet needs now and in the future. Having that full

continuum of care is very important.

"We have also found that many people are

delighted The Boulevard will allow them to live

closer to their family in a safe, secure and worryfree

environment, while having the opportunity to

socialise, make friends and enjoy outings and social

events," Karen says.

Interest in the village remains strong, and there

is not a weekend where she does not have people

coming through to discuss their options, Karen says.

Recently, the Boulveard held an information

afternoon where a lawyer and statutory supervisor

were available to explain the legal aspect of coming

into a village.

"There are a lot of misconceptions out there and

this allowed interested people to hear the facts and

the benefits of living in a retirement village. It is all

very transparent and offers a lot of advantages over

unregulated villages," Karen says.

The next seminar, which will be on Enduring Power

of Attorney, will be held in October, with the date and

time to be posted on the website,

www.boulevardvillage.co.nz. All are welcome.

The Boulevard is located at 200 Dunns Crossing

Road, Rolleston.

Live closer to your family in a safe, secure and worry-free environment, while having the

opportunity to socialise, make friends and enjoy outings and social events.

BouLevard viLLage

garden plan

choose an outdoor environment

which appeals to you

If you want the best of both worlds then the Boulevard Village will

suit you well. Landscaping will allow for your own space surrounded

by extensive lawn and garden areas adding that extra living space

and privacy.

The street frontage adds further green areas with planted mounds

to add to the garden like entrance. "We wanted to look like any other

subdivision and not a village within enclosed fences. We can still

provide security with gates which can be locked at night and security

cameras placed strategically around the village, as feeling safe and

secure ticked a lot of the box's with residents coming into the village"

We have planned different themes around the village to allow you

to choose the outdoor environment which appeals to you. Sun is

foremost and there will be different meeting areas around the village

connected by foot paths, sitting areas and communal letter boxes.

Proud to be awarded main contractor of

the Boulevard Retirement Village

Proud to supply

Boulevard Village

Manufacturers of

• Timber Windows & Doors

• Wall Units • Vanities • Stairs

• Kitchens • Shop Fitting

P. 388 8111 | E. joinery@xtra.co.nz | www.batesjoinery.co.nz

Light Commercial • Architectural Homes

New Home Builds • Renovations

EQR Repairs • Bars & Restaurants

Extensions • Decks

Contact Us Today geconstruction@xtra.co.nz

www.geconstruction.co.nz
---
44 Wednesday August 22 2018

Latest Christchurch news at www.star.kiwi

SELWYN TIMES

Godinet's Interiors are proud to be the

provider of soft furnishings at

The Boulevard Village.

Ph: 021 406 561

E: kaylenegodinet@gmail.com

Rolleston's fiRst RetiRement village

to bE Providing thE full continuum of carE

boulevardvillage.co.nz

E: info@boulevardvillage.co.nz | Phone Karen: 027 3739 463

Civil

Construction

Earthworks

Demolition Proud to be associated with

Drainage

Siteworks The Boulevard Retirement Village

Roading

Quarries W. taggart.net.nz | P. 323 7085