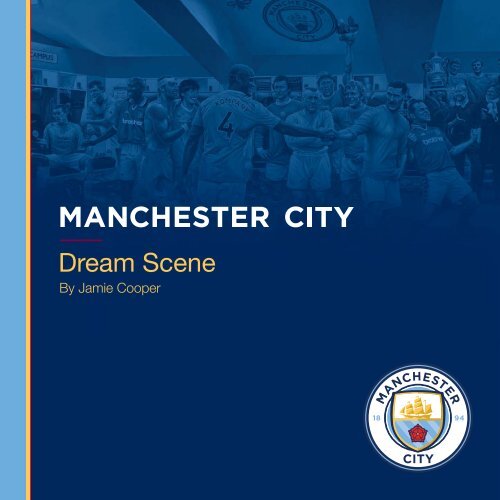 Jamie Cooper Manchester DS_Booklet
After a record-breaking season which saw many Premier League and long established club records smashed, Manchester City Football Club commissioned renowned international sports artist Jamie Cooper to create a truly unique artwork encapsulating the Club's proud history.
After a record-breaking season which saw many Premier League and long established club records smashed, Manchester City Football Club commissioned renowned international sports artist Jamie Cooper to create a truly unique artwork encapsulating the Club's proud history.
SHOW MORE
SHOW LESS
Create successful ePaper yourself
Turn your PDF publications into a flip-book with our unique Google optimized e-Paper software.
INTRODUCTION

After a record-breaking season which

saw many Premier League and long

established club records smashed,

Manchester City Football Club

commissioned renowned international

sports artist Jamie Cooper to create

a truly unique artwork encapsulating

the Club's proud history.

He was given the weighty task of

creating a defining image that distilled

the spirit, humour, character, and

culture of this Manchester institution

and the path which has led to the

successes of the modern era. His

detailed 3 metre oil on canvas

brings together 31 figures who have

contributed to the story of the Club

during its long history. It has been a

near-impossible task to capture the

Blues' history in this manner but, thanks

to Jamie's talents, this amazing artwork

has managed to bring to life our story

in a remarkable and unique way.

This booklet reveals the creative

inspiration and process behind

the many stories woven into the

Manchester City Dream Scene and

encourages us to imagine what

conversations the figures from different

eras would be having. Envisage how

thrilled the great Joe Mercer would be

with Pep Guardiola and his team of

record-breaking Centurions. Wouldn't

we all want to spend a few moments

in this dressing room scene?

In the

artist's

own

words…

"It is a great honour to have been

entrusted with this challenge and

responsibility. It is one that I take very

seriously. As a professional footballer

in my homeland of Australia, I have

a deep understanding of what a

football club means to its community.

A club like Manchester City has

meaning far beyond what happens

on the field. It is a community, a

family that extends well past the

boundaries of the white lines.

I travelled across the world several

times to meet with people in and

around the club to get a sense

of what City's culture is about.

I listened, read and gathered

information for months before a

brush was picked up.

So why me… an ex footballer from

the other side of the world? Since

retiring from my playing career I have

spent 20 years honing this particular

skill, creating images for professional

sporting clubs around the world,

where players from several

generations are brought together

into a Dream Scene. I painstakingly

piece together 100's of images from

different times to create a believable

scene where these legends live and

breathe together. They interact in a

moment that is surely, every fan's

dream come true.

My endeavour is to not only to bring

them together, but to tell a story…

your story. Imagine what these

characters are saying to each other,

what tales are being told by the

different personalities drawn together

in this impossible gathering. So come

with me now to walk amongst them,

mingle with them as they celebrate

playing the greatest game of all."

Imagine if you will…

Jamie Cooper

1
---
CONSISTENT

ASSISTANT

THE RISE OF

WOMEN'S FOOTBALL

THE PRODIGAL

SON RETURNS

Kevin De Bruyne

2015 - present.

143 games. 34 goals

(up to summer 2018).

The brilliant Belgian has become one of

the greatest playmakers in world football

today. He was key in the team's offensive

dominance during the 2017-18 title winning

season, a season that was drenched

with scintillating set ups for his lucky team

mates. Since his League debut in 2015

through to the end of the double trophy

winning 2017-18 season he has been

one of the Blues leading figures.

Steph Houghton

2014 - present

When Manchester City relaunched their

women's team in 2014 there was one

player the Blues wanted above all others

to lead the team and that was Durham's

Steph Houghton. She has been at the

forefront in the rise of professional women's

football in Europe and is a highly talented

and respected player. As a natural leader

she has guided the Club to a number of

major titles over the past few years and

is seen here kissing the Women's FA

Cup – the longest established of all the

national competitions for women and a

trophy lifted by Steph with City in 2017.

A role model for aspiring footballers,

Steph is the perfect ambassador for

Manchester City and football.

Shaun Wright Phillips

(1995 – 2005) (2008 – 2011).

274 games. 46 goals.

A product of City's Academy, the

diminutive winger with the big heart

became a crowd favourite after making

his League debut in 1999. The club

had just been promoted via the playoffs

and Shaun became a hero as the

club attempted to return to a position of

strength within the game. After helping

City stabilise in the Premier League by

the summer of 2005 he was reluctantly

released to Chelsea who had offered

the cash strapped Blues £21m for his

services. No one wanted him to leave

and his departure was a sign that the

financial muscle of some clubs meant

City were lagging behind. It wasn't the

last we saw of Shaun though and in

2008 he returned and was welcomed back

with all the love and attention a long lost

son deserved. Here he shows his delight

in coming back home to the club he had

helped resurrect only a few years earlier.

MANCHESTER CITY | DREAM SCENE | 2
---
A MOMENT IN

TIME... 93.20

Sergio Aguero

2011 – present.

292 games. 199 goals

(up to summer 2018).

The greatest moment in Premier League

history! This was the moment that defined

a career and brought the Premier League

trophy to City for the first time! In a career

that is stacked with highlights, it is unlikely

anything can top this one – nor will the

Premier League ever see such drama

again. The 94th minute of the final game

in 2012 v QPR saw Sergio's strike enter

the net as Manchester went wild. The

Aguerooooooooooooo moment denied

an expectant Manchester United and

brought City their first top flight title since

1968. This image is taken directly from that

ecstatic moment as Kun raced towards

the East Stand waving his shirt in joy.

Note the label

on his shirt.

Uwe Rosler

1994 - 1998.

176 games. 64 goals.

Rosler became a cult figure almost on

arrival as he netted five goals in his first

12 League games. For three successive

seasons he was City's top scorer. His

best haul was four goals against Notts

County in 1995. He moved on in 1998 but

remained a popular figure and when the

news was released that he was fighting

a battle with cancer in 2003, fans made

their feelings and appreciation of his time

known. Rosler won that battle and has

been a frequent visitor since.

3 | MANCHESTER CITY | DREAM SCENE
---
COMETH THE HOUR,

COMETH THE MAN

SEEING

RED

Yaya Toure

2010 – 2018. 316 games. 81 goals.

Yaya was the catalyst for several prominent

City chants of the last decade including

the hugely popular Kolo-Yaya No Limits

chant. Kolo, of course, refers to his brother

who persuaded him to come to City and it

was a perfect move as Yaya proved to be

a powerful midfielder. His surging runs led

to the club achieving its first successes of

the modern era. In the big games the big

fellow brought his A game and was the

man who could be relied upon to keep City

pushing forward. Vital (and only) strikes in

the 2011 FA Cup semi final and final along

were pivotal in the club's first League title

in 44 years (2011-12).

Richard Dunne

2000 – 2010.

352 games. 7 goals.

After joining City from Everton in 2000 this

proud and passionate Irishman played

352 games for Manchester's Blues in all

competitions and gave his all in every

one. This passion led to a rather colourful

career. That colour being Red! One of the

Club's greatest defenders, Dunne holds

the Premier League record for the most

red cards, 8 in all.

More importantly he also holds the

record for the most City Player of the

Year awards, having 4 of those. His

dedication and time as captain helped

the Blues first stabilise then begin to

challenge once more in the Premier

League and his significance should never

be underestimated. Note the Player of the

Year trophy in his locker.

For this he has

plenty to celebrate,

not to mention his

birthday which is duly

recognised in his

head locker.

MANCHESTER CITY | DREAM SCENE | 4
---
TWINKLE

TOES

FEED THE GOAT

AND HE WILL SCORE

As the major

talent during

his time, Kinky

became the

focus of a fan

chant using the

Oasis song -

Wonderwall.

Georgi Kinkladze

1995 – 1998.

121 games. 22 Goals.

Kinkladze was unlike anything City

supporters had witnessed for a long time,

a marvelously evasive dribbler with an eye

for a through-ball and the odd wonder

goal. He remained loyal to the club through

some difficult times, winning the hearts

of all Cityzens. An amazing talent playing

during a difficult period, supporters often

wonder what he would have achieved had

his City career come two decades later.

His amazing

footwork was

partly attributed

to his father

forcing him to

take ballet lessons

as a youngster.

Shaun Goater

1998 – 2003. 212 games. 103 goals.

The Goat was an unlikely hero in attack for the Blues in a very difficult

time in the Club's history. Perceived by some as an unorthodox

mover, Shaun impressed as City progressed up the divisions during

Joe Royle's tenure as manager. With an ability to be in the right place

at the right time, he topped the City League goal scoring chart in

three separate seasons. He was also the first City goalscorer to net

more than 30 seasonal goals in all competitions for 39 years, when he

achieved this feat in 2001-02. For his contribution to football he was

awarded a national day in his name in his home country of Bermuda.

Note the calendar on

the wall behind him.

5 | MANCHESTER CITY | DREAM SCENE
---
WHERE ANGELS

FEAR TO TREAD

MERLIN

THE MAGICIAN

Pablo Zabaleta

2008 – 2017.

333 games. 12 goals.

Pablo joined the

Blues in the summer

of 2008 along with

Vincent Kompany.

Demonstrating his

qualities throughout

the time that followed

has made him a true

blue legend.

Zabba is depicted in the Dream Scene

in the only way possible: Shirtless and

bloodied! He is famous for his selfless and

courageous playing style, a man that put

his body on the line for the club he loved.

He was a key component in all City's

trophy successes during his 9 seasons

with the Club and made sure he was back

at the Etihad to help the Blues celebrate

their 2017-18 success – he even netted

the 100th goal for the Blues that season

as a loose ball bounced off his back

accidentally and entered the net!

David Silva

2010 – present.

346 games. 61 goals

(by end of 2017-18 season).

Essentially a traditional number 10, his

composure on the ball, as well as his

vision, passing accuracy, ability to read

the game, pick a pass, and control the

tempo of his team's play have seen him

become one of the best players in the

world in his position, and earned him

the nickname Merlin.

Here he has wand in

hand, ready to cast

another spell.

MANCHESTER CITY | DREAM SCENE | 6
---
SHAKING HANDS

ACROSS TIME

7 | MANCHESTER CITY | DREAM SCENE
---
THE THOUGHTS

OF A LEADER

Vincent Kompany

2008 – present.

334 games. 19 goals.

This is the centre piece and heart of the

painting. Current title winning captain

Vincent Kompany, reaches out across

125 years of history to the clubs first

"superstar" and early captain Billy

Meredith. This union symbolises the vast

journey the Club has taken from humble

beginnings, to be where it is today…

a global power in football.

The thoughts of a leader

Vincent is an intelligent leader and great role

model to any youngster.

City's most successful captain became

that through determination on the pitch, but

Vincent also gained much from his interest in

reading how others developed their lives and

focused on what mattered. An avid reader,

he is sometimes ribbed for spending too

much time in the dressing room with his

head in a good book. His favourite, Nelson

Mandela's Walk to Freedom and a selection

of Belgian philosophical books are stored in

Vincent's locker.

THE FIRST

SUPERSTAR

Billy Meredith

1894 – 1906, 1921 – 1924.

394 games. 152 goals

One of the football's first superstars,

Meredith joined the Blues within months

of the relaunch as Manchester City in

1894 and quickly became established

as the leading player during the club's

formative years. Captain of both the

Club's and importantly Manchester's first

major title, the 1904 FA Cup, he was a

seasoned campaigner playing until he was

49 years old! The Welsh Wizard, famous

for chewing a toothpick as he raced

down the wing leading attacks, would do

anything to bring advantage City's way.

So much so that he was occasionally

in trouble with the FA, including one

infamous indiscretion involving a 10 pound

note, but the less said about that the

better. Billy was a devoted servant of the

club through its first successful period

and, after a ban which led to him joining

United, he returned home to City, playing

in Maine Road's first season of 1923-24.

City's first successful captain is seen here

shaking hands with the club's current

and most successful captain, Vincent

Kompany. He also had the unusual habit

of playing whilst chewing on a toothpick!?

MANCHESTER CITY | DREAM SCENE | 8
---
ESCAPE

TO VICTORY

SURGING

FORWARD

THE FINAL PIECE

OF THE JIGSAW

Mike Summerbee

1965 – 1975.

452 games. 67 goals.

"Buzzer" was a flamboyant figure both

on and off the field and a great exponent

of the belief that football was all about

entertainment. Stories of his on-the-pitch

humour are well known, such as the

time he pretended to wipe his nose on

an opposition corner flag, or when his

performances angered the opposition

fans so much that they hurled coins at

him. Summerbee picked the coins up,

put them into a specially created pocket

in his shorts and made a tidy sum. He

was a determined winger in one of the

most successful periods in the club's

history and became the first City player of

that era to play for England. Off the field

he was equally as colourful, starring in a

movie with Sylvester Stallone and Michael

Caine, where he also took the opportunity

to sell the star actors shirts from his

business interest. See the "Escape to

Victory" clapper in his locker.

Eric Brook

1928 – 1939.

493 games. 177 goals.

Brook is regarded as one of City's and

England's greatest ever players. He was

a talented roving forward and scored

some spectacular goals including one

that lived in the memory of all who saw

it for the rest of their lives. That was the

only goal of the 1934 match with Stoke

which established City's record crowd of

84,569. Eric was out wide on the wing

roughly forty yards from goal when he

angled a shot which flew into the top right

corner of the Platt Lane goal out of reach

of the keeper. Brook could play anywhere

on the pitch if the need required, including

in goal. He replaced an injured goalkeeper

on at least three occasions over the

course of his City career which was

sadly cut short through a head injury

at the start of World War Two.

He stands proudly in the centre of

the painting surrounded by the

Club's Holy trinity.

Francis Lee

1967 – 1974.

330 games. 148 goals.

Often described by manager Joe Mercer

as the final piece of the jigsaw, Franny

was a fast forward who helped City find

their first major successes of the 1960s.

He arrived in October 1967 when City

seemed unlikely to mount a serious title

challenge, yet within seven months they

were not only league leaders but also

thrilling crowds across the country. A

swashbuckling forward, Lee was a key

member of the powerful offensive team

that won four major trophies in three

seasons between 1967 and 1970.

He was a penalty specialist (hence the

white spot in front of him on the carpet).

His success continued after his playing

days as a well-regarded racehorse

trainer and business owner which

saw him make a fortune out of paper

recycling and toilet rolls.

9 | MANCHESTER CITY | DREAM SCENE
---
LET'S GET THIS

PARTY STARTED

Paul Dickov

1996 – 2002. 2006 – 2008.

200 games 41 goals.

The goal that saved the club. After

dropping to its lowest level, the 1998-

99 season needed committed players

to help resurrect the club. None came

bigger, in terms of battling spirit, than

Dickov. It was his goal in the play-off final

against Gillingham that he will always be

remembered for. That day in added time

with all appearing lost, he scored the goal

that brought a draw and extra time but

ultimately paved the way for promotion.

Without that goal everything that has

followed may never have occurred and

City may never have reached the heights

of recent years. Dickov's fire and passion

is evident even in the dressing rooms

here as he is more than ready to get

the party started.

THE KING

OF KIPPAX

His shirt from that fateful day in May 1999

hangs in his locker behind him.

Colin Bell

1966 – 1979.

501 games. 153 goals.

Nicknamed Nijinsky after the famous

racehorse, full of class and a great

aerobic capacity, Bell was a dedicated

thoroughbred for both City and England.

He holds the crown made by a fan, who

ran on to the pitch to give it to him during

one memorable performance. It now

resides in the National Football Museum.

Part of a famous trio he is depicted next

to Summerbee and Lee.

Joe Hart

2006 – present.

348 games.

Fan favourite Joe Hart is ready to get this

party started. This image is a recreation of

the famous moment in the dressing rooms

after the 2014 title win. I am told that when

Joe is both happy or angry he has the

same "war" face.. so here it is in

all its glory!

MANCHESTER CITY | DREAM SCENE | 10
---
MEETING OF

THE MINDS

Malcolm Alison

1965 – 1973

Not only was Malcolm a dynamic and charismatic assistant

manager, he was also a creative genius, developing coaching

and tactical practices years ahead of his rivals. Seen here in his

trademark Fedora hat, he shares a little secret with his peers.

When he became assistant to Joe Mercer in 1965 he told Matt

Busby's son that his father had a thirty year start on him, but City

would pass United in three years. It was a wild prediction but by

the time Allison left in 1973 his team had won four major trophies.

He achieved this with his loyal captain Tony Book who. According

to City folklore, Allison had persuaded 'Skip' to make the last

number of the birth year on his birth certificate a little "unclear"

to imply he was younger than he actually was. Tony went on to

be the most decorated Captain in the Club's history until Vincent

Kompany surpassed those achievements.

Pep Guardiola

2016 – present.

If anyone can appreciate Big Mal's

creativity and innovation it would have

to be Pep Guardiola. Pep seems to be

at least seeing the humour in Alison's

determination to get the job done.

Pep is renowned for his out of the

box perspective on the game and his

willingness to take the game on tactically.

This has led to a dynamic impact on the

team's playing style since his arrival in

2016. A blend of tough defence and bold

innovative offence has created a unique

game plan that is thrilling to watch. This

has culminated in a record breaking

2017/18 season raking up 100 points

and an amazing + 79 goal difference.

Roberto Mancini

2009 – 2013.

Mancini was appointed City manager in

December 2009 and quickly instilled a

winning culture at the club, taking the Blues

from mid-table to the pinnacle of English

football, combining defensive solidity with

attacking flair. In his second season at the

club he guided City to Champions League

football and their first major trophy for 35

years, the FA Cup. The following year his

team of talented individuals brought the

club its first league title since 1967-68 and

Mancini's status amongst fans reached an

all-time high, helped in no small way by him

sporting a blue and white City scarf. Apart

from his trophy successes the City boss's

perfect day came at Old Trafford when

his delight at seeing the noisy neighbours

defeat Ferguson's United 6-1, was clear

for all to see.

Joe Mercer

1965 – 1972.

One of English football's greatest ever

figures, Joe was a hugely successful

footballer with Everton and Arsenal and

had found trophy success at Aston Villa

as a manager. His arrival at City stunned

the football world. Joe suffered a stroke

which ended his time at Villa and, while

still recuperating, he accepted the job. He

knew his health issues would prevent him

from working closely with the players so

he searched for Malcolm Allison, offering

him the assistant's role. Mercer lifted City

to major successes within five years of

his arrival. It was a golden era with the

Blues winning the Second Division title,

the League Championship, the FA Cup,

the League Cup and the European Cup

Winners' Cup. They started the 1970s

as the most successful team of the era

thanks to Genial Joe and Big Mal.

11 | MANCHESTER CITY | DREAM SCENE
---
Skip Mr Dependable Our Nelly

Tony Book

1966 – 1974.

315 games. 5 goals.

Arriving at the club as a 30-year-old who

could have imagined how his career

would pan out. As captain he led the

club to four major trophies to become

the most decorated Captain in the Club's

history – until Vincent came along of

course! – and forever earning the title

Skip. Here we see him proudly holding

aloft the 1969 FA Cup with his 2 great

team mates of the same golden era. That

year Book was voted the Football Writers'

Player of the Year. After his playing career

ended Book became assistant manager

and then manager in his own right,

winning the League Cup in 1976. His

side oozed quality while his level-headed

approach to the game ensured City were

always challenging for honours during his

time at Maine Road.

Alan Oakes

1959 – 1976.

680 games. 34 goals.

The record appearance holder for

the Club, Alan was a consistent and

reliable midfielder spanning 3 decades

and playing his part in every success

achieved during that time. The great

Liverpool manager Bill Shankly often

described Oakes as the perfect role

model and stressed his qualities. In Tony

Book's absence he often captained the

side and, fittingly, he sits alongside Book

and team mate Neil Young, another hero

of this period.

Neil Young

1961 – 1972.

416 games. 108 goals.

Young, widely regarded as one of City's

most important strikers, was often the

goalscorer for the big occasion. It was

Young who netted the opener in the

1970 ECWC final and the only goal of

the 1969 FA Cup final. So of course

he has to be wearing his red and black

scarf to commemorate these moments.

Young, like Oakes and Doyle, bridged the

gap between the struggling team of the

early sixties through to the glory years of

Mercer and Allison. People may talk about

Bell, Lee and Summerbee but Young was

the man who topped the scoring charts

for three important seasons, including

the 1967-68 title winner.

MANCHESTER CITY | DREAM SCENE | 12
---
THEY DON'T MAKE THEM

LIKE THEY USED TO.

IN GOOD

HANDS

Bert Trautmann

1949 – 1964.

545 games.

A German Paratrooper in the Second

World War, before being captured and

brought to England as a Prisoner of War.

What followed was an incredible story as

the former 'enemy' became a local hero.

Trautmann earned the respect of all those

that knew him. In the 1956 FA Cup final

Trautmann collided with Birmingham's

Murphy and the opposition player's foot

hit Bert's neck. The City 'keeper was

knocked unconscious. A few minutes

later, thanks to trainer Laurie Barnett's

wet sponge, he came around and, in

great pain, he made a few more vital

saves while tangling with both opposition

players and his own. Days later, still in

agony he finally had his neck and spine

x-rayed only to discover that he had

broken his neck! So he now deservedly

receives the next massage from Frank

Swift and an ice pack to sooth his aches.

Perhaps, for medicinal purposes, he also

finished that bottle of Champagne he has

his foot up on?

Frank Swift

1933 – 1949.

375 games.

Even though his hands were said to be

the size of frying pans, they may also

have had some healing powers. So he is

applying them to Bert Trautmann's broken

neck, although it was said in 1956 that

the Big Fella was so impressed with

Trautmann's performance in the 1956

final that at the homecoming he gave

his successor a friendly slap on the

back which may have exacerbated

the German's neck problem!

13 | MANCHESTER CITY | DREAM SCENE
---
BORN

BLUE

Also, in Frank's locker

is a News of the World

newspaper. He went

on to be a journalist

for the paper after his

playing career. Sadly

he was on assignment

covering Manchester

United European Cup

run when he was killed

in the Munich air disaster

at age 44. Perceived at

the time as England's

greatest 'keeper, he

remains a legendary

figure for the Blues and

his Country.

Mike Doyle

1965 – 1978.

570 games. 41 goals.

Doyle is shown here in one of his finest moments; as Captain of his beloved Blues,

hoisting aloft the 1976 Football league Cup. As a born and bred Mancunian Doyle

considered himself blessed to be representing the team he had loved his whole life.

Notice that when his arm is cut, he even bleeds BLUE.

MANCHESTER CITY | DREAM SCENE | 14
---
FOR WHOM

THE BELL TOLLS.

Joe Corrigan

1967 – 1983.

603 games.

In total Corrigan made 592 appearances

for Manchester City - a club record for

a goalkeeper. His early years in the first

team were marked with some incredible

highs, such as winning the European

Cup Winners Cup in 1970, and some

inconsistent moments for the young

'keeper. When City signed Keith Macrae,

a record fee for a 'keeper in 1973, Joe's

days seemed numbered and he went

out on loan. This is when the 'keeper's

dedication and determination shone

through as, on his return from loan, he

continued to push and challenge, waiting

for his opportunity to come once more.

When it did Corrigan made sure he

performed at his best and he became

the first choice once more. Not only that

but he became an England international

and, at a club where goalkeepers have

to be the best, he soon became

recognised as a true City legend

alongside Swift and Trautmann.

He also developed a connection with

dedicated fan Helen 'the Bell' Turner, who

sat behind his goal every game and rang

a bell to encourage the Blues. Helen was

the ultimate Manchester City super-fan.

Every single game, come hell or high

water, rain or shine, she was there at

the front of the North Stand behind her

beloved Corrigan.

She also used to give him a sprig of

heather each week for luck.

15 | MANCHESTER CITY | DREAM SCENE
---
SPEAKING

YOUR MIND

Micah Richards.

2005 - 2014.

244 games. 10 goals.

It's the players that show their true

feelings and express themselves that win

the hearts of the fans. Micah, as a 17-

year old in just his fourth game, scored

the equaliser in an FA Cup match against

Villa, famously let the F Bomb slip in a

post-match interview. Can you blame him

for being human?

He wasn't fined for

the indiscretion but

still needs to wash his

mouth out with soap to

appease his Mum.

He was also built out of stone and always

swore (pun intended) he never lifted

weights. His team mates have slipped a

dumb-bell into his locker to wind him up.

Micah also appeared in the 'Heartbroken'

music video with his friend T2, which is

playing on his ipod.

MANCHESTER CITY | DREAM SCENE | 16
---
MANCHESTER CITY

DREAM SCENE DETAILS

Blow up banana

Throughout history City fans have

been the lifeblood of the club. From

the earliest years when their noise and

fervour created an electric atmosphere

at Hyde Road they have contributed

significantly. In the 1980s when football

was at a low and hooliganism was rife it

was the supporters of Manchester City

that demonstrated that the game could

be different. After Frank Newton brought

an inflatable banana to a game the craze

grew, so much so that in December

1987 over 12,000 fans travelled to

Stoke carrying inflatables and wearing

fancy dress. They helped put the fun

back into football and were recognised

as a positive force within the game.

Welcome to Manchester

It's only polite to welcome a new arrival

to your club and so when Carlos Tevez

joined City in 2009 a poster welcoming

the Argentinian was placed on Deansgate.

It seemed simple enough and was loved

by Blues. It has been copied and parodied

often since. Who'd have thought that a

simple 'welcome' message could receive

so much attention?

Rose the tea lady

Since the early 1970s one woman has

become a match day institution at City,

Rose Woolrich. Rose was first brought

to the club by legendary groundsman

Stan Gibson who asked her if she could

help provide food and drink for the

photographers on match day. In the years

that followed Rose established a special

room for them at Maine Road, decorated

it and ensured they were looked after with

great hospitality. She still works matchdays

at the Etihad Stadium to this day,

in her own special room.

17 | MANCHESTER CITY | DREAM SCENE
---
MANCHESTER CITY

DREAM SCENE DETAILS

Chappy's Kitbag

A player with a variety of clubs including

Oldham and Huddersfield, Les Chapman

became a popular figure at City after his

arrival as part of the coaching staff in

the 1990s. But, it was his time as City's

kit-man which established him as an

essential part of the furniture and fabric

of the Blues.

Marios t shirt

It was derby day 2011 and Mario

Balotelli asked Chappy if he could print

some words on to a tee shirt for him.

After some discussion a phrase was

chosen and then, as if by magic, super

Mario scored the opener at Old Trafford

and then raised his shirt to reveal

the words 'Why always me?' After a

variety of media stories had appeared

in previous weeks the mood seemed

right. City fans loved it – especially as

the game progressed and the Blues

defeated the Reds 6-1 – but the ref

didn't and he immediately booked him.

Manchester Bee

It has been an emblem of the City for over

150 years and, as a club that has always

been based within the city of Manchester,

Manchester City is rightly proud of its

connection to the city. Both the football

club and Manchester have experienced

tremendous successes over the years but

there have also been some terrible lows.

It is at those times that Manchester pulls

together and the Manchester Worker Bee

demonstrates the community spirit and

endeavor that marks both the Club and

its city.

The Gorton Cross

After the club became established as St Mark's, playing its first reported game

in November 1880, it had a number of different transformations. In 1884 it was

reformed as Gorton Association Football club and a white cross pattée was placed

on the club's new black shirts. Some say the white cross signified that the link with

St Mark's was still there.
---
MANCHESTER CITY

Official Licensed Product