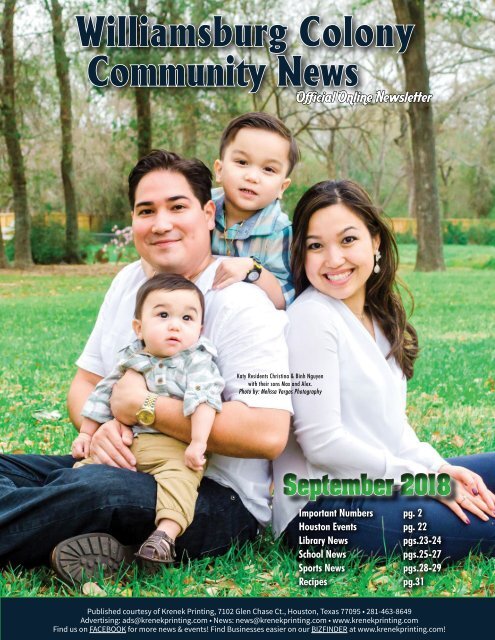 Williamsburg Colony September 2018
Create successful ePaper yourself
Turn your PDF publications into a flip-book with our unique Google optimized e-Paper software.
Williamsburg Colony

Community News

Official Online Newsletter

Katy Residents Christina & Binh Nguyen

with their sons Max and Alex.

Photo by: Melissa Vargas Photography

September 2018

Important Numbers pg. 2

Houston Events pg. 22

Library News

pgs.23-24

School News

pgs.25-27

Sports News

pgs.28-29

Recipes

pg.31

Published courtesy of Krenek Printing, 7102 Glen Chase Ct., Houston, Texas 77095 • 281-463-8649

Advertising: ads@krenekprinting.com • News: news@krenekprinting.com • www.krenekprinting.com

Find us on FACEBOOK for more news & events! Find Businesses easier on our BIZFINDER at www.krenekprinting.com!
---
TEENAGE JOB SEEKER'S LIST MAY NOT BE VIEWED ONLINE

AVAILABLE IN PRINTED NEWSLETTERS ONLY

WILLIAMSBURG COLONY HELPFUL NUMBERS

COMMUNITY MANAGEMENT

(Pool Badges, Tennis Keys, Deed Restriction, Mosquito

Control)

PCMI/Severn Trent 281-870-0585

2002 West Grand parkway North, Ste. 100-Katy, TX 77449

https://williamsburgcolonykaty.nabrnetwork.com

Gloria C Black 281-504-1306

Gloria.Black@STservices.com

Assistant – Dina Defenbaugh 281-504-1397

Dina.Defenbaugh@STservices.com

CIVIC ASSOCIATION

W.C.C.A. • P.O. Box 6636 • Katy, TX 77491

CLUBHOUSE RENTAL

The Community Clubhouse is available for rent to

residents with current maintenance fees.

Doray Wallace 713-906-7774

colonyclubhouse@gmail.com

W.C.M.A. BOARD MEMBERS

John Atkins, President 281-636-6398

Raushanah Bashir, Vice President 832-350-9270

Charles "Chad" Ray, Treasurer 832-766-3951

Yvette Smalls, Secretary 832-721-4157

Terry Thurman, Director at Large unpublished

www.colonyonline.org

BOARD OF DIRECTORS MEETINGS

The monthly Board of Directors meeting for Williamsburg Colony

generally are held on the 2 nd Wednesday of each month at 6:00

PM, at the clubhouse located at 2315 John Crump. Anyone that

would like to attend a meeting and address the Board should

contact PCMI's office 281-870-0585, at least a week prior to the

meeting so that you can be included on the agenda.

SAFETY CORNER

Remember to keep all cars and trucks locked and windows rolled

up. Call on any suspicious persons or vehicles. We need everyone's

help here. Please call the Constables at 281-463-6666.

STREET LIGHTS

Your Association pays for your streetlights from your annual dues,

whether they work or not. If a light is out in your area, please call

713-207-2222 and report it. Each light pole should have a number

on it. When reporting the out or malfunctioning light, give them

the pole number and closest street address. We want all of our

lights to work. A lighted area is a safer area.

Courtesy of Krenek Printing

7102 Glen Chase Ct., Houston, TX 77095

281-463-8649 • www.krenekprinting.com

www.colonyonline.org

WILLIAMSBURG COLONY TEENAGE JOB SEEKERS

If you are between 12 and 18 and would like to be added to the teenage job seeker's

list, please fill out the form on our website (www.krenekprinting.com, click

submissions and choose Jobseekers) with your name, birthdate (mo. & yr.), phone

number, year you will graduate and the name of your newsletter/subdivision. Check

the list of jobs you want on your form. Please make sure your email is correct, we

send emails in the summer to make sure all the info is still good and that you want

to stay on the list. If we do not hear back from you after 3 tries, we will remove you

from the list until we do. Must have parent(s) permission.

DISCLAIMER

Neither the Williamsburg Colony, nor Krenek Printing is responsible for those

listed on the Teenage Job Seeker List. Please ask for and check out references if

you do not personally know those listed. This is just a list of teenagers from the

subdivision who wish to find part time jobs. Responsibility for any work done by

these teenagers is between those seeking helpers and the teens and their parents.

CODE KEY:

B - BABYSITTING, CPR - CPR CERT., FAC - FIRST AID CERT., RCC - RED CROSS CERT., SS - SAFE

SITTER, SL - SWIM LESSONS, PP - PET/PLANT SITTER, P - PET CARE ONLY, H - HOUSE CARE,

L - LAWN CARE, C- CAR CARE/DETAILING, T - TUTORING

MUD # 2 DIRECTORS

Melanie Mueller 281-347-3665

Loretta Evans 281-347-6657

John Eberlan 281-392-4595

Vera Weatherspoon 281-701-7861

Chris Johnson 713-515-3246

HELPFUL NUMBERS

Centerpoint Energy 713-207-2222

Reliant Energy 713-207-1111

Street Lights - not working 713-207-2222

Gas - Entex 713-659-2111

Water & Sewer - MUD #2 281-347-8686

Waste Management - Garbage 713-695-4055

Comcast 713-341-1000

Consolidated Telephone Co. 1-866-989-2255

TAXING AUTHORITIES

Harris Co. Appraisal Dist. 713-683-9200

Tax Roll Name Change (MUD #2) 713-462-8906

Waller Co. Appraisal Dist. / KISD Tax 281-391-3188

SCHOOLS

KISD Administration KISD 281-396-6000

Transportation 281-396-7560

Winborn Elem. 281-237-6650

Morton Ranch Jr. High 281-237-7400

Morton Ranch High School 281-237-7800

IMPORTANT NUMBERS

EMERGENCIES 911

Harris Co. Constable 281-463-6666

Memorial Hermann Katy Hospital 281-644-7000

Poison Control 800-764-7661

Animal Control 281-999-3191

Harris County Health Dept. 713-526-1841

2 September 2018 | Community Newsletter
---
School Year Curriculum:

• is designed to complement each stage of

your child's development

• stimulates creativity and academic growth

for each child

• arouses the development of knowledge and skills,

as well as create a love of learning

Walk through our doors and hear laughter

in our ABC's and giggles in our 123's

BASHANS PAINTING

& HOME REPAIR

• Interior & Exterior Painting

• Wallpaper Removal

• HARDIPLANK ® Installation • Custom Texturing

• Sheetrock Repair

• Pressure Washing

• Cabinet Painting

• Fence Repair/Replacement

• Wood Replacement

• Garage Floor Epoxy

• Interior Carpentry

• Custom Staining

• Crown Molding

• Roofing

• Faux Painting

• Gutter Repair & Replacement

NO No MONEY moNey UP up FRONT froNt

25+ Years Experience • References Available

COMMERCIAL/RESIDENTIAL

CommerCial/residential

- FREE Free ESTIMATES- estimates-

BashansPainting@earthlink.net

** FULLY INSURED **

FULLY INSURED

281-347-6702 office

281-731-3383 cell

We accept all major credit cards

6:00 am - 6:30 pm Newborns to Age 12

22711 Franz Rd.

(North of I-10 between Mason Rd. and Grand Parkway.)

281-347-3401

Family Owned

& Operated

Any Repair

with this ad

Cannot be combined

with any other offer.

Over 25 years

of experience

• Toilets • Re-pipes • Remodels • Pipe Leaks • Water Heaters • Drain Services

• Fixture Replacement • Gas Tests & Gas Lines • Sewer Camera Inspections

• Sewer Repair & Replacement • Water lines & Water Main Yard Leaks • and much more

www.PolsgrovePlumbing.com

J. Russ Polsgrove RMPL#38482 281-802-5233

LICENSED

TACLB021058E

INSURED

HEAT

FREE 1st lb. Freon (R410 only)

1/2 Priced Condenser Coil Cleaning

1 Yr. Warranty On Parts Changed

We Value Your Business

All Brands Serviced

Local Neighborhood Company

Fast Personalized Service

We Will Heat & Cool Your Castle!

COOL

Community Newsletter | September 2018

3
---
HABITAT FOR HUMANITY NORTHWEST

HARRIS COUNTY

If you are a homeowner in the Northwest Harris County area and are

still in need of home repair from damage experienced by Hurricane

Harvey, you may qualify for Habitat for Humanity's Northwest Harris

County Hurricane Harvey Disaster Recovery Home Repair program.

This is at no cost to you and is made possible by the Hurricane

Harvey Relief Fund. To submit an application, contact Robert at

281-477-0460 or visit www.HarveyHomeConnect.org. Apply today

as limited funding is available.

You can support Habitat by sponsorship, monetary donations and/

or volunteer by assisting with the construction of a new home for a

deserving family, repair an existing home, serve lunch, assist with

events and much more. If your business or organization is seeking

a fun, energetic teambuilding event, we can customize an onsite

construction project.

Dr. Brad McCary, DVM

www.williamsburg-vets.com

Habitat is a non-profit, faith based and volunteer driven organization

dedicated to advocating for families who currently reside in

sub-standard housing within the Northwest Harris County area.

Our mission is to provide safe, decent and affordable housing to

those in need by partnering with qualified families in the building

of their new home.

For volunteer opportunities, call 281-477-0460. Donations can be

mailed to Habitat for Humanity Northwest Harris County, PO Box

682785, Houston, TX 77268-2785 or dropped off at our office at

13350 Jones Rd., Houston.

281-347-0246

1827 N. Mason Rd.

Katy, TX 77449

Mon, Tues, Thurs, & Fri: 7:30AM-6:00PM

Wednesday: 7:30AM-12:00 Noon

Saturday: 8:00AM-12:00 Noon

Sunday: Closed

GET READY FOR GRANDPARENTS DAY 2018

SEPTEMBER 9 TH !

HISTORY, ACTIVITIES AND GIFT IDEAS

Grandparents Day is always celebrated on the first Sunday after Labor Day.

Take the time to honor your grandparents with these ideas!

WHY DO WE CELEBRATE GRANDPARENTS DAY?

History of Grandparents Day: Marian McQuade hoped to establish a national

day that would honor grandparents and in 1970 she began a campaign to

do so. McQuade raised awareness about senior citizens throughout the

1970s. In 1978, President Jimmy Carter declared the first Sunday after Labor

Day to be National Grandparents Day. Each year, the president issues

a proclamation to keep the tradition going.

Grandparents Day has both an official flower and song. The official flower is

the forget-me-not, and the song is Johnny Prill's "A Song for Grandma and

Grandpa." Both were chosen by the National Grandparents Day Council.

GRANDPARENTS DAY ACTIVITIES AND GIFTS

Let's appreciate all the joy and wisdom that grandparents bring to our

lives! Many schools celebrate Grandparents Day with special activities or

assemblies. Students often invite their grandparents into the schools for

a day and the children find creative ways to celebrate their grandparents.

Some towns will also hold special events for Grandparents Day.

4 September 2018 | Community Newsletter
---
When it needs more than a band-aid,

Urgent Care vs. Emergency Room?

Did you know a visit to the ER can cost as much as five times

more than a visit to Excel Urgent Care, for the same problem?

$$

$$

$

$ - $$

$$

$$

VS.

Sprains

Minor Lacerations

Cold, Flu, Fever

Occupational Medicine

Lab & Drug Screen (on site)

X-Ray

Emergency

Room

$$$$

$$$$

$$$$

$$$$

$$$$

$$$$

855-EXCEL-UC

www.excelurgentcare.com

Serving Cypress, Missouri City & Katy Areas

Open Everyday 9am - 9pm No appointment needed.

Save time and money at...

19450 Katy Freeway

Houston, TX 77094

281-829-9900

Most grandparents don't care what activity they

do-they just want to spetime with their grandchildren.

Maybe ask your grandparents to show

you one of their favorite hobbies. Many National

Parks hold special Grandparents Day events and it

can be fun to spend time with your grandparents

exploring nature. If your grandparent would prefer

a calm day, ask them to show you their favorite

movie. No matter what, the best Grandparents

Day activity involves you and your grandparents

together, celebrating your family and each other.

Some families get cards or gifts for the grandparents

on Grandparents Day. Most grandparents would say

that a handwritten card is the perfect gift.

Another great gift is simply to take your grandparents

somewhere fun. Maybe your grandfather

loves baseball, so you can get him tickets to see

his favorite team with you. Let your grandparents

teach you a skill, like how to fish. Or, perhaps it

would be fun to make arts and crafts together.

Maybe you can bring them some treats, like Grandpa's

Banana Bread or Grandmother's Blueberry Cake, both

made by talented grandparents. Or, try making one of

the dishes that your grandparents usually make for you.

On Grandparents Day, it really is the thought that

counts-just make sure your grandparents know

that you're thinking of them.

What's your favorite way to celebrate Grandparents

Day? Let us know below, and happy

Grandparents Day!

Source: www.almanac.com/content/whengrandparents-day

GOOD NEIGHBOR DAY

SEPTEMBER 28 TH

Neighbors are an integral part of our social lives - whether at home or at work. Good Neighbor

Day on September 28 th is an annual holiday that promotes neighborliness and niceness towards

people who surround us.

How to Celebrate?

• Be nice to your neighbor - at home or elsewhere.

• If you don't know your neighbors well, maybe today is your

chance to go up to them and strike up a conversation.

• Bake some goodies and share them with your neighbors.

Bring them to work for your work neighbors.

• Invite your neighbors to your home for a meal.

Did You Know…

…that the word neighbor comes from the Old English word neahgebur,

where neah means near and gebur means inhabitant?

On September 28 th , National Good Neighbor Day is celebrated. This annual holiday was first proclaimed

by President Jimmy Carter in 1978. Mrs. Becky Mattson from Lakeside, Montana came up

with the idea of a national holiday recognizing the importance of good neighbors in 1971. In 1978,

U.S. President Jimmy Carter announced the creation of a national day aimed at raising public

awareness that good neighbors help achieve human understanding and build strong, thriving

communities. Since then, National Good Neighbor Day has been acknowledged by various levels

of government and is celebrated every year. The holiday was originally celebrated on the fourth

Sunday in September, but in 2003 its date was changed to September 28 th . On this day, Nextdoor.

com, a social network for neighborhoods, announces the recipients of Nextdoor's Good Neighbor

Award. Everyone can nominate a neighbor or a group of neighbors by writing a short story about

what they have done to help their local community and make it a better place. National Good

Neighbor Day is the perfect occasion to honor the people who make significant contributions to

creating safer neighborhoods and stronger communities across the United States.

Sources: www.awarenessdays.com/us/awareness-days-calendar/national-good-neighbor-day-2018/

and www.timeanddate.com/holidays/fun/good-neighbor-day

Community Newsletter | September 2018

5
---
GARDEN TIPS FOR SEPTEMBER

Time now to make plans for fall landscaping projects.

• Clean up flowerbeds of fallen foliage, yellowed leaves and dead wood.

Light green leaves may signify lack of iron (chlorosis).

Correct with iron cheleates.

• Cut off old dead foliage on irises. Scratch in a little bone meal

around the roots.

• Prune roses to reshape and groom plants for fall growth.

Follow up with a dose of fertilizer the first week of September.

• Plants come out of summer rest and go crazy. Insect populations

explode as weget into cooler temperatures.

Diseases that have been dormant wake up.

- Citrus, croton, avocado and mango are susceptible to spider

mites and thrips. Discourage them with a strong jet of water '

from a hose directed to the undersides of the leaves.

- Hibiscus, citrus, palms, gardenia and ixora are susceptible

to scale and mealybug.

• Winter vegetable gardens and perennials get planted.

• Wait until November to plant petunias and pansies.

• Fire ants baits should be put out in September-October

to lessen the number of eggs that make it to Spring.

• St. Augustine grass gets its fall fertilizer during September.

Continue to mow at maximum height. You want to leave a lot

of leaf surface to produce carbohydrate reserves for the winter.

• Keep an eye out for sod webworms. First sign of them is grass

that appears to stop growing. You need to get them early for biological

controls to work. When the caterpillars are only 1/4 inch,

Bacillus thuringiensis applications can slow them.

Bt is a bacteria that works on the caterpillars' digestive systems

and makes them stop feeding. Do the application late in the day.

The larvae feed at night and you want them to get nice fresh Bt.

• When the heat and drought end, the weather could bring

brown patch disease in the St. Augustine grass. Watch for yellowish

spots if the nights drop into the 60's and days stay in the 80's.

• Get any pruning of hedges and such done now.

You want the flush of new growth to be hardened-off before the

end of October. Tree pruning should be put off until winter,

when the trees are dormant.

• Pre-emerge herbicide applications targeting annual bluegrass

and the earlier-germinating winter broadleaf weeds needed to be

put out starting in mid-August.

6 September 2018 | Community Newsletter
---
Take classes close to home!

´ Houston Community College - Katy Campus

Earns anA

Send your kids to school with a nutritious breakfast and they

might come home with better test scores and fewer behavioral

problems. There's no doubt about it - breakfast is a big deal.

Decades of research have shown that kids who make this meal

a habit have better diets, healthier bodies, higher test scores,

lighter moods and more mental stamina. No matter how hectic

your mornings are, it's worth taking the time to make sure your

kids get good food before school starts.

Does breakfast really make a difference?

Food fuels the body with glucose, the main energy source for the

mind and muscles. This refueling is especially important in the

morning because the body hasn't had any food since the night

before. Children's daily nutrient intake also tends to be higher

when they eat breakfast, according to the American Dietetic

Association (ADA). Whole-grain cereal with milk and a glass of

citrus juice, for example, delivers lots of vitamin C, calcium,

thiamin, riboflavin, fiber, iron and folate.

Children who eat breakfast are also more likely to have lower

blood cholesterol levels and are less likely to gain weight, miss

school or visit the school nurse than children who don't have

a morning meal.

Make a breakfast plan

Mornings can often be the busiest part of the day. To help make

sure breakfast stays on your family's schedule no matter how

pressed for time you are, try these tips from the ADA and the

American Academy of Pediatrics (AAP).

• Set your table the night before. Save yourself a few precious

minutes in the morning by setting out dishes, cereal, bagels,

bread, fruit or instant breakfast mix before you go to bed.

• Use last night's leftovers. Don't fret if it's not traditional breakfast

food. A slice of pizza or macaroni and cheese warmed up in

the microwave can still provide needed nutrients.

• Keep your cupboards and fridge stocked with quick, healthy

breakfast foods, such as granola bars, bagels, bananas, yogurt,

cottage cheese, dried fruit, instant oatmeal, whole-wheat toaster

waffles and fruit or vegetable juice.

• Be flexible. If your child can't or won't eat first thing in the

morning, offer fruit juice at home and pack a breakfast to go.

English muffins or bagels with peanut butter, a low-fat cheese

sandwich or whole-wheat banana nut bread will travel well. You

can also ask if your child can have breakfast at school-many

school cafeterias offer morning meals.

The best breakfasts include foods with carbohydrates, proteins

and fats. This type of meal can satisfy hunger and maintain blood

sugar levels for hours. Sugary foods cause a quick rise in blood

sugar and energy that fizzles out in about one hour.

The bottom line on breakfast

A morning meal gives kids an edge on hunger, energy and brainpower.

Even if it means setting alarm clocks 20 minutes early,

find a way to make breakfast a regular at your house-your kids

aren't ready for school without it.

Academic courses

transfer to

four-year

universities!

LOU'S PAINTING, Ltd.

• Interior - Exterior

• Power Washing

• Sheetrock & Texture

• HardiPlank ® Replacement

• Minor Repairs

Free Estimates

Your home is an expensive investment!

Painting beautifies & preserves that

investment!

281-492-2643

Mike McKay

"Doing business from the same location since 1978"

HAPPY TAILS PET SITTING

LET YOUR PET STAY HOME WHILE YOU TRAVEL

FULL PET CARE

FULL HOME CARE

TLC FOR YOUR PET WHILE YOU'RE AWAY

INSURED & BONDED

Register today: www.hccs.edu

Call: 713.718.8558

Visit: 1550 Foxlake Dr., Houston

We're here Mon. - Fri. to get you

on your way to a college degree,

832-437-8573

Winner - Best of Katy for the past 11 consecutive years - 2008-18 • Katy Business Hall of Fame

Member Pet Sitters International

Community Newsletter | September 2018

7
---
ADVANCED

HOME EXTERIORS

WE DON'T TRY TO DO IT ALL...

WE ONLY DO WHAT WE DO BEST!

SIDING, WINDOWS & ROOFING

HardiePlank Siding & Exterior Painting

$500 OFF *

HardiePlank and Window Replacement

*Minimum purchase required

Hardie ColorPlus from

Advanced Home Exteriors

is recommended by

Tom Tynan, HomeShow Radio

Financing Available

Call Today for Your Free Estimate!

832-363-3772

Itch, Ouch, Scratch, It's Bug Season

Whether you're attacked while working in the garden, enjoying a

picnic in the park or lounging by the pool, bug bites and stings are

an inevitable summer annoyance. At best, bites and stings can be

uncomfortable for a few days; at worst, they can be a serious, lifethreatening

hazard.

Here are some tips on how to relieve the itch or sting and when to

know if you should seek medical attention:

If the bite or sting is mildly painful or itchy, apply over-the-counter

medication that contains Benadryl or cortisone for topical relief. Other

home remedies, like applying a paste made from baking soda and

water, dabbing on ammonia with a cotton ball, soaking in oatmeal

baths or even applying toothpaste to the site may also provide relief.

Whatever you do, don't scratch. This can cause an infection and leave

a scar. And it won't relieve the itch or sting.

If you feel faint, nauseous, dizzy or disoriented or if you experience

rapid heartbeat, difficulty breathing or your lips, tongue or throat

swell, call 911 immediately and get medical attention. These

symptoms indicate a severe allergy to the insect's venom. Administer

an Epi-pen (injectable epinephrine) if one is available and administer

CPR if symptoms worsen before emergency personnel arrive. After

the episode, follow up with a physician who can determine an allergy

prevention treatment.

Stay alert for delayed symptoms around the bite or sting, like redness

or swelling, which could indicate an infection or other condition.

And see a doctor right away if you have a headache, fever or joint

pain within a few days of being bitten. Some insects, like ticks and

mosquitoes, can infect their victims with serious, flulike illnesses,

such as Rocky Mountain spotted fever, Lyme disease and West Nile

virus, which only a physician can diagnose and treat.

Most important, use insect repellant when outdoors and wear light-weight,

light-colored clothing over arms, legs and feet to keep insects off your skin.

And avoid wearing perfume and fragrances, which can attract bugs.

Your Neighborhood Plumber

Aaron's

Up-front Pricing

$25 OFF

With this Ad

Since 1974

LIC. 17773

Complete Plumbing & Drain Service

We Welcome Your Questions • Open 7 Days a Week

281-444-2000 www.aarons-plumbing.com

8 September 2018 | Community Newsletter
---
CINCO RANCH LADIES CLUB

The Cinco Ranch Ladies Club (CRLC) is a 501(c)3 providing residents

in Katy and surrounding cities with activities, both social and charitable.

We designate charities each year as recipients for our fundraising

events. We typically meet each month as an entire club at The Golf

Club at Cinco Ranch at 7 PM to partake in themed events such as a Chili

Cook Off, Halloween Party, Craft Fairs, Silent Auction, Line Dancing,

Self--Defense Class, Favorite Things Exchange and Luau.

We also offer about 22 sub-clubs that each meet once a month on a small

scale in residents homes, businesses, restaurants and walking trails. A few

special interest clubs are Book, Business Network, Bunco, Coffee, Craft,

Dining, Lunch, Ladies Night Out, Movie, Garden, Game Night, Meditation,

Wine, Walking and more. $35 annual dues for all the social and charitable fun.

Instagram: www.instagram.com/cincoranchladiesclub

Facebook: www.facebook.com/groups/cincranchladiesclub

Website: www.CincoRanchLadiesClub.org

Marketing Board Member Nancy Pham Medina

nancypmedina@gmail.com

NOTTINGHAM COUNTRY GARDEN CLUB (NCGC)

On Thursday, September 6, 2018, Nottingham Country Garden Club

(NCGC) will feature Mary Karish with a presentation on "Insects: the

Good, the Bad and the Not So Ugly." Mary's gardening adventures

started when she helped her grandmother in the family garden. Mary

has been a Master Gardener with the State of Texas since 2009. She

is a certified specialist in growing citrus, composting and home fruit

orchards.

Monthly meetings are held on the first Thursday of each month from

September through May. We welcome all people interested in gardening

and gardening related topics. We serve the West Houston and Katy

areas. You do not have to live in the Nottingham Country neighborhood

to belong to our group! NCGC is a non-profit organization affiliated with

Community Newsletter | September 2018

the Houston Federation of Garden Clubs, the Texas State Garden Clubs

and the National Garden Clubs. The purpose of the club is to promote

the beautification of our community, support local and national educational

and civic organizations and educate the community about

our environment. Donations from the NCGC are funded by our​ ​annual​

Spring​ ​Sale​ ​and​ ​projects​ ​that​ ​vary​ ​each​ ​year.

Meet and greet time begins at 9:30 AM and the program will begin at

10 AM, followed by the NCGC business meeting. Please join us at the

Municipal Utility Building #81 at 805 Hidden Canyon Drive, Katy, 77450.

For more information, see our website: www.ncgctx.org.

AN ATTITUDE OF GRATITUDE

An attitude of gratitude means making it a habit to express thankfulness

and appreciation in all parts of your life, on a regular basis,

for both the big and small things alike. Here is a menu of tactics to

develop this mindset:

• Wake up every day and express to yourself what you are grateful for.

• Tell whomever you are with at the end of the day the 3 things you

are most grateful for.

• Tell whomever you are with right now (significant other, friend, family

member, etc.) the 3 things that you are most grateful for in this moment.

• Start a gratitude journal - Express gratitude in this journal every night

by noting the things that you are grateful for, proud of and excited

about.

• Acknowledge yourself for what you have done and accomplished in

the last day/week/month/year. Instead of comparing yourself to others,

give yourself credit for the big and small things you have been doing!

• Acknowledge other people and thank them for inspiring/helping/

supporting you - oftentimes people wait their whole lives to be acknowledged

(and yet it happens far too infrequently)!

Courtesy of: www.huffingtonpost.com/andrew-merle/how-to-havean-attitude-of-gratitude_b_8644102.html

9
---
STEPS FOR HAVING A

GREAT LABOR DAY

1. Have a good old-fashioned last summer fling. Take

yourself, your family and friends to your town's parade.

Then go home or to your favorite park and stage

the biggest, best barbecue of the summer.

2. Sit down after your fling and give some thought to

labor - especially yours.

3. Start doing something about that career change

you've been pondering. Schedule some informational

interviews or sign up for a class in your chosen

endeavor.

4. Find some direction if your thoughts are still vague.

Make an appointment with a counselor organize a

brainstorming session with like-minded friends or just

gather up a few good books on fields that interest you.

5. Take some time to appreciate your work if you

enjoy what you do and pat yourself on the back for

a job well done.

6. Go out and find yourself a hobby if you think you

like your work a little too much. Look for balance.

And remember the words on one Mathew Maguire

banner: "Eight Hours for Work, Eight Hours for Rest,

Eight Hours for Recreation!"

All Americans! When thinking of today's work force,

think of your Armed Forces. They may not be in an

office, but they still work.

Enjoy! Enjoy your family and show them your love

everyday ... not just for today.

WHAT'S OPEN AND CLOSED ON LABOR DAY

Labor Day began in the late 19 th century as a way to celebrate

the achievements of workers in the U.S. As such, it is intended

to give all working people a chance to rest.

September 3, 2018

LABOR DAY FACTS AND STATS

• 153.2+ Million- number of Americans (over 16 years) in the labor force

six years ago, that number is down 1.2 million from Labor Day 2010.

• 12% of American workers belonged to a labor union

in 2009.

• 84.7% of full time workers have health insurance.

• 2.2 Million more females than males are in management

positions as of 2009.

• Registered Nurse- occupation expected to add

the most positions in the next 10 years.

• 25 minutes - average time for the commute to work.

• 5.9 Million people worked from home in 2009.

We've already begun preparing for the long Labor Day weekend,

getting ready for beach getaways, cookouts and road trips. A

variety of services and stores may be closed including:

• Post offices, government services and Federal Reserve banks

will all be closed Monday.

• As it is a federal holiday, schools and most offices will

also be closed.

• Big box stores will all be open and have a variety

of sales offers ongoing.

• For travelers on the road, most fast food chains, pharmacies

and convenience stores are set to remain open

• Many supermarkets will remain open with shortened hours

and shoppers should call ahead.

Courtesy of:

www.travelandleisure.com/holiday-travel/labor-day/closed-on-labor-day

10 September 2018 | Community Newsletter
---
BEST THINGS TO BUY IN SEPTEMBER

September feels more like the start of a new year than January - that's

why many manufacturers treat it as such. The transition from summer

to fall is a great time to release new models and send the old to

the clearance section. Here's your guide to the best things to buy in

September:

HOLIDAY WEEKEND ROAD TRIPS FROM H-TOWN!

• Apple products

• Airfare

• Bicycles

• Large appliances

• Grills and accessories

• Luggage

• Sunglasses

• Mattresses and linens

• Cars

• Summer apparel and shoes

• China, housewares, small appliances

Houston is conveniently located by many fun places that are so close.

Whether you're looking for something trendy, educational or just something

in the great outdoors, you can find it in Texas:

1. Magnolia Market (Waco, Texas) - About 3 hour drive

2. Hamilton Pool Preserve (Austin, Texas) - About 3 hour drive

3. The Comal or Guadalupe River (New Braunfels, Texas) -

About 2.5 hour drive

4. The Alamo/ Riverwalk (San Antonio, Texas) - About 3 hour drive

5. Corpus Christi, Texas - About 3 hour drive

6. Marfa, Texas - About 8 hour drive

7. Pedernales Falls State Park (Johnson City, Texas) - About 3 hours drive

8. Palo Duro Canyon State Park (Canyon, Texas) - About 9.5 hour drive

9. Hill Country (Wimberley/ Fredricksberg, Texas) - About 3 hour drive

10. Enchanted Rock State Natural Area (Fredericksburg, Texas) -

About 4 hour drive

Courtesy of:

http://abc13.com/travel/10-quick-road-trips-from-houston/2012226/

KEEP FRUITS AND VEGETABLES FRESH LONGER

• Berries: Rinse with vinegar

• Lettuce: Store with paper towel

• Avocado: Squirt with lemon

• Carrots: Store with water

• Lemons: Avoid cutting in half

• Onions: Wrap in pantyhose (ha ha!)

• Potatoes: Store with apples

• Apples: Soak slices in salt water

• Celery: Wrap in aluminum foil

• Bananas: Wrap stems with plastic wrap

Courtesy of:

www.rd.com/food/fun/keep-fruits-and-veggies-fresh-longer/

Community Newsletter | September 2018

11
---
Whether you need advertising, printed materials, branded merchandise,

a website or other marketing for your business...

We Have The Solution For Your Business!

Krenek Printing

NEIGHBORHOOD NEWSLETTERS

LLC

SERVICES:

Advertising • Layout Design

Printing Services

Flyers • Brochures • Pamphlets

Newsletters • Postcards • Envelopes

Mailing Services

Direct (EDDM) • Bulk • First Class

Branded Merchandise • Marketing Services

YOUR AD COULD

BE HERE!

281-463-8649 • 7102 Glen Chase Ct, Houston, Texas 77095 • www.KrenekPrinting.com

IMPORTANT DATES & HOLIDAYS IN SEPTEMBER 2018

SEPTEMBER OBSERVANCES & FUN FACTS

September is observed as:

• National Cholesterol Education Month

• National Honey Month

• Whole Grains Month

• Prostate Cancer Awareness Month

Birthstone: Sapphire

Fruit & Veggies for September:

• Nectarines, Figs

• Cayenne Pepper

• Chili Peppers, Poblano Peppers

• Serrano Pepper, Jalapeno Pepper

Flower: Aster & Forget-me-not

Astrological Signs: Virgo & Libra

Holidays:

September 3 rd : Labor Day

September 9 th : Rosh Hashana (Start), September 11 th (End)

September 9 th : Grandparents Day

September 11 th : Patriot Day

September 19 th : Yom Kippur

September 22 nd : September Equinox/Fall begins

September 23 rd : Sukkot (Start), September 30 th (End)

PET ID TAGS

Folks - as soon as the vet gives your young pets their Rabies shot remember

to get their ID tags. The Rabies tag lists the name, phone number and

address of the vet. So! All you need to do is put the Rabies tag onto the

pet's collar and leave it there all the time. That way, if the pet gets loose,

anyone finding him or her can look at the tag to see the vet's phone

number and call to report the lost animal. Better yet, add another tag

to your pet's collar that lists the dog or cat's name and your own phone

number or address. You can get these from any pet store. When a pet

has these but goes astray, anyone finding it can call you and you can go

get him or her right away. Your pet will be very glad to see you! A happy

pet is a loving pet.

ATTENTION! PET POOPS / YOU SCOOP

Please be respectful of community grounds and neighbors' yards. If your

pet poops during your walk, be prepared to scoop and trash. Come with

a scooper and a recycled grocery bag or anything else. It may not be

the most fabulous way to walk your pet, but it does show your respect

for every homeowner and our beautiful community.

HARRIS COUNTY LEASH LAW

Animals that are not properly restrained pose a threat to all our residents.

While you may know your pet is friendly, an animal running

at someone who is walking by is very scary for that person. Many

children are afraid of animals and become frightened, which could

result in the child getting hurt trying to avoid the animal.

Harris County Animal Control advises, "All dogs and cats must be

kept under restraint while in the unincorporated areas of Harris

County, Texas. The custodian of a dog or cat is not authorized to

have, harbor or keep any unlicensed dog or cat, nor to allow any

dog or cat to become a stray."

12 September 2018 | Community Newsletter
---
Restraint is defined as "the control of a dog or cat under the following

circumstances:

1. When it is controlled by a line or leash not more than six (6) feet

in length, if the line or leash is held by a human being, who

is capable of controlling or governing the dog or cat in question

2. When it is within a fully enclosed vehicle

3. When it is on the premise of the custodian and the animal

does not have access to sidewalk or street."

While it may be nice to have your animal out in the yard while you work

or play, it is against the law, unless the animal is properly restrained.

Let's all help keep our community a safe and comfortable place for

all our residents by being responsible pet owners. This will not only

protect anyone who may be walking or bicycling in the area, but also

the pet owner who could be held legally responsible or possibly sued

for failing to properly restrain their pet.

To make a complaint or report an animal that is not properly

restrained please contact:

Harris County Precinct #5, Contract #87: 281-463-6666

Harris County Animal Control: 281-999-3191

Harris County Health Department, Rabies/Animal Control Section

2223 West Loop South, Houston, Texas 77027-3588

www.countypets.com

THE TOP DOG

By Cheryl Conley

Living just a few miles north of Houston, it's not uncommon for me to hear

coyotes howling at night. I get a little nervous when I hear them because

they have been known to attack domestic animals. I saw on the news a few

weeks ago where a coyote jumped a fence in broad daylight and attacked

a small dog. Luckily, the owner was able to scare the coyote and no harm

was done to the dog. Because natural habitats are disappearing, more and

more coyotes are being sighted in urban settings.

TWRC only accepts coyote pups and we get very few of them but they

are very interesting animals and I thought you might enjoy learning

about them.

• They are about the size of a small German Shepherd.

They have yellowish eyes.

• They are highly intelligent members of the dog family and are

described by wildlife experts as clever, cunning and sneaky. They

have a strong sense of hearing, smell and sight.

• Dogs run with their tails up; coyotes run with their tails down.

• They are classified as carnivores but will eat almost anything.

• The coyote is very vocal. A long howl lets others know its location.

Short barks warn others of danger. They "yip" when reuniting with

other pack members and will growl to establish dominance within

the pack. They whimper and whine when bonding and make a highpitched

bark to call its pups.

• They can live up to 14 years in the wild.

• Some consider them a nuisance and attempt trapping and other

nuisance-control measures. This will never eliminate them. Remove

one and another one will move in to take its place. In The Woodlands,

Texas, a few years ago several coyotes were removed. The result was

that feral pigs moved in and destroyed lawns. According to Texas

Parks and Wildlife, "The real solution and the greater need facing

Texans right now is public education. We need to inform and empower

people to take steps to coexist with coyotes and other urban wildlife."

• Coyotes can run up to 40 mph.

• Coyotes are 100% monogamous according to a study by scientists

at Ohio State University in 2012. "I was surprised we didn't find

any cheating going on," said study co-author Stan Gehrt, a wildlife

ecologist with Ohio State's School of Environment and Natural

Resources.

• Coyotes are great swimmers.

If you have questions about wildlife, please refer to our website at

www.twrcwildlifecenter.org. If you can't find the answers you need,

give us a call at 713-468-8972.

Community Newsletter | September 2018

KATY PAINTING

"Quality at a price you can afford."

Interior & Exterior Painting

Home Repairs • Pressure Washing

HardiPlank Installation

Sheetrock & Texture

Larry Mikeska

Serving Katy since 1982 • Katy Resident 53 years

281-391-1595 www.KatyPainting.net

KATY KATY

PET

Pet Pet Sitting in in Your Home

Pet Sitting in Your Home

Kim & Dave 281-395-0182

www.katypetnannies.com

pets@katypetnannies.com

Your Pets Deserve the Luxury of a Nanny

13
---
A child in KCM's Homework Buddies program

getting afterschool assistance with

homework.

Volunteers Jane Lebo, Jennifer Brown, and KCM staff member Lynn

Hooge pose in the KCM Food Pantry as they switch to a 100% Client

Choice distribution system for families in need of supplemental

food assistance.

KCM Red Apple School Supplies Program.

Supplies ready to help children in

need start the school year strong.

KATY CHRISTIAN MINISTRIES SPENDS

$3.25 MILLION ON PROGRAMS ASSISTING

LOCAL FAMILIES IN NEED

8,216 Families Served and 605,588 Meals Distributed in 2017.

[Katy, TX, July 18th, 2018] Katy Christian Ministries (KCM) has been

a place of hope and transformation for 34 years in the Katy/West

Houston Community. Founded by a collaboration of churches as

a way to address growing needs in the community, KCM provides

critical help at what is often the point of desperation in the lives of

those who need it. KCM strives to strengthen families by providing

comprehensive case management, emergency financial assistance

to prevent homelessness, supplemental food, help with Health

Benefits Access such as Gold Card, SNAP, TANF, Medicaid, Medicare,

and CHIP, as well as safety planning, counseling, and advocacy for

victims of Domestic Violence or Sexual Abuse. "KCM helped me and

my family 7 years ago. I now own my own business and I am able to

come back and share the love back with them. Whatever situation

you are in, never give up...let this be an example that anything is

possible" - Andrew, former client, now a donor.

Key Achievements of Katy Christian Ministries in 2017:

• KCM spent $3.25m on Programs providing services free

of charge to the community.

• The Crisis Center assisted 620 victims of domestic violence

and 292 victims of sexual abuse.

• Social Services assisted 8,216 families.

• $424,000 was used for direct financial assistance for

emergency shelter, mortgage/rent, and utilities.

• 1,658 families were assisted with Health Benefits Access Program

including, Medicaid, Medicare, SNAP (Supplemental Nutrition

Assistance Program), Gold Card, TANF (Temporary Assistance

for Needy Families), CHIP (Children's Health Insurance Program).

• The Food Pantry served 3,166 families and distributed

605,588 meals.

• With the Board of Directors assistance, KCM achieved a successful

& clean 2017 Audited Financial Statement for the second year in a

row, confirming all financial controls are in place and in compliance.

• KCM improved efficiencies to invest an outstanding 0.89 cents of

every dollar to helping our families in need through their Counseling,

Crisis Center, Food Pantry, and Social Services Programs.

"Financial accountability and transparency is important to us

at Katy Christian Ministries and we have worked very hard to

demonstrate a new standard of good stewardship to the churches,

foundations, organizations, businesses, and individuals who give to

support the life transforming work of KCM" says Deysi Crespo, Executive

Director. "The 89% ratio is remarkably high, and we attribute

this to our increased commitment to financial accountability and

board involvement. We are so blessed to live in such a generous,

loving, and faithful community that allowed us to achieve great

outcomes even in the midst of Harvey and during the long term

recovery phase we are currently in."

14TH ANNUAL GALA

"TRANSFORMING LIVES"

Katy Christian Ministries would like to invite

the community to attend their 14th Annual

"Transforming Lives" Gala, September 25th,

2018 starting at 6pm at the historical Beckendorff

Farms in Katy, TX. Tickets and Sponsorship

information are available at www.ktcm.

org/gala2018. An exciting announcement will

be made at the event that you won't want to

miss. Katy Christian Ministries relies on the

financial support of local churches, organizations,

foundations, businesses, social clubs,

and community members to continue serving

the needs of the community.

Katy Christian Ministries is accredited by the Evangelical Counsil for

Financial Accountability (ECFA), meeting their Seven Standards of

Responsible Stewardship. KCM is also a Gold Star participant with

GuideStar.org, and is an Accredited Charity by the BBB of Greater

Houston and South Texas. The organization's financial statements

are available to the public and can be found online at

www.ktcm.org.

"Katy Christian Ministries is grateful to all those in our community

for their ongoing support that allowed us to overcome the obstacles

Harvey presented with our own facilities being flooded. Despite

these challenges, KCM accomplished much in 2017 through God's

provision and guidance, and continues to thrive and grow with

realistic goals aligned with our Strategic Plan for the coming years,"

Kent Black, KCM Board President.

For more information please visit: www.ktcm.org or email

info@ktcm.org. To stay informed about KCM, Text "KCM" to 42828.

14 September 2018 | Community Newsletter
---
PREGNANCY HELP CENTER SEEKS NEW VOLUNTEERS

Invest your time by volunteering with Pregnancy Help Center of West

Houston educating and supporting men and women in making healthy

choices for life in sexual integrity, unplanned pregnancy and post-abortion

loss. Volunteer opportunities include mentoring, facilitating small

groups, administrative assistance, medical services, donation room and

development. Discover your calling!

For information inquire through the web site vsc@phckaty.org or call 281-

578-0078, Volunteer Services Coordinator. The Pregnancy Help Center of

West Houston is a non-profit faith based organization.

KATY COMMUNITY GIVING CIRCLE

The Katy Community Giving Circle is open to any resident of the Katy area

or surrounding communities who wants to make a difference by giving

collectively. Our mission is to create a circle of giving by providing grants

to local 501(c)3 organizations that will benefit or improve the lives of the

people in our Katy community. By combining members tax deductible

donations of just $10 per month, we are making a greater giving impact!

Our circle provides members opportunities to learn about other organizations

who may need volunteers or donations in our area through our

nomination process. Since starting in 2015 The Katy Community Giving

Circle has collected over $10,000 and given grants to organizations that

have provided services and financial assistance to families all over our area.

We are building a community of giving as we grow! For more information

please visit our Facebook page facebook.com/katycommunitygivingcircle.

TEXAS CHILDREN'S HOSPITAL WEST CAMPUS (KATY)

We are looking for volunteers 18 years old and up, be committed once a week

3-4 consecutive hours for a minimum of six months. Different assignments

are available to choose from 7 AM-midnight Monday - Sunday to support

patients, families and staff. Please contact us if you are interested at 832-

227-1185 or www.waystogive.texaschildrens.org/ways-to-give/volunteer/.

VOLUNTEERS NEEDED AT

MEMORIAL HERMANN KATY HOSPITAL

Memorial Hermann Katy Hospital has volunteer opportunities available.

Whether you are interested in working in the nursery, at our reception

desk, in our gift shop or even transporting patients, we have a place for

you. For more information, please contact Heather Rojas, Manager of

Volunteer Services at 281-644-7581.

TEXAS WILDLIFE REHABILITATION COALITION, INC

VOLUNTEER OPPORTUNITIES FOR WILDLIFE ADVOCATES

Love Animals? Looking for a rewarding opportunity? Get involved in one

of TWRC's many volunteer opportunities to help Texas wildlife. Volunteers

at TWRC Wildlife Center are the backbone of our organization. We offer

several ways to help including our Animal Care Program, Education and

Outreach, working in our main enter and we can even help you become

an independent Texas Wildlife Rehabilitator! Please Go To www.twrcwildlifecenter.org/volunteer

for more information.

Community Newsletter | September 2018

SIRE, HOUSTON'S THERAPEUTIC EQUESTRIAN CENTERS

Nothing else can compare with therapy on horseback. Equine-assisted activities

improve physical balance and coordination, mental acuity, emotional

stability and social interactions. At SIRE, we see miracles on horseback

happen every day. The work of our dedicated volunteers helps guarantee

that children and adults with disabilities in the Greater Houston Area will

have the programs they need to live longer, healthier, more productive lives.

In addition to their weekly work in the arena, many of our volunteers

donate their time and talents at fund-raising events such as our annual

Ride-A-Thon and the yearly Trailblazers Luncheon. Volunteers are on

hand during the NARHA on-site certification and annual SIRE Show-Off

and volunteers are vital to our Clients' successes at the Top Hands Horse

Show, during the Houston Rodeo and competition at the regional and state

Special Olympics. Therapeutic horseback riding creates a bond of success

between the rider and their horse. Volunteers are their own personal cheering

section and the instructor is their mentor and coach. Clients become

more empowered and better equipped to fully live their lives, each day.

To volunteer, please call one of our arenas and ask to speak with a volunteer

coordinator. SIRESpring, call 281-353-6160. SIREHockley, call 281-

356-7588. SIRE Fort Bend, call 281-344-4308.

VOLUNTEERS NEEDED AT AUTUMN GROVE COTTAGE

Do you enjoy spending time with seniors? Autumn Grove Cottage is an

assisted living facility for individuals with Alzheimer's or dementia related

illnesses. We are interested in volunteers socializing with our Residents.

We are a small cottage, close to your neighborhood, with just 16 Residents.

If you would like to volunteer in a cozy, home-like atmosphere then call

the Volunteer Coordinator at 281-398-6845 or visit our website www.

autumngrovecottage.com. Come be a part of our philosophy - "To honor

our Residents and those who love and care for them." Volunteers will need

to complete a volunteer application and attend a brief training session.

BECOME A SUNRISE VOLUNTEER

Fond memories and treasured traditions start here! Enrich lives through

your generous gift of service as a Sunrise Volunteer. Please call the Activity

and Volunteer Coordinator for opportunities and details at 281-240-0500

or email cinco-ranch.avc@sunriseseniorliving.com. Sunrise Assisted Living of

Cinco Ranch is located at 21939 Cinco Ranch Blvd., Katy, Texas, 77450. For more

information, you can also visit our website at www.sunriseseniorliving.com.

VOLUNTEER KATY

Meet with other local people who will gather and discuss/plan community

service projects and try to figure out the best way to make a difference

in our community. All volunteers welcome. Contact: Linda Wilson at 281-

222-1771 or visit http://volunteerism.meetup.com/230.

15
---
Air Conditioning Contractors of America

Extend Life Service A/C Save Money

281-394-0028

Free estimate or 2 nd opinion

$25 off

any

repair

MPL#40046

License TACLB 24777E and Insured

Expires 9/30/18

FREE

Duct Inspection

with tune-up

• Annual

Maintenance

Programs

• All repairs

guaranteed

• Serving area

since 1994

0% Interest

financing available

Expires 9/30/18 WAC

Expires 9/30/18

IdealAirServices.com

Any job

over $95

For all of your plumbing needs! ONE CALL DOES IT ALL!

info@petersplumbingtx.com

Sewer Camera Inspection and Drain Cleaning

Garbage Disposal and Faucet • Water Heater • Repipe

Water Leak Detection • Pipe Repair • Toilet Installation

Follow me on

Licensed and Insured

FREE ESTIMATES

Low Price Guarantee

CLOTHED BY FAITH

We are looking for volunteers to join our amazing team! Please see our

website www.clothedbyfaith.com for more information or email yiasmere@

clothedbyfaith.org. Located at 802 Dominion Drive, Suite 100 in Katy. CBF

demonstrates God's love through the provision of gently used clothing to

those in need.

ADOPT A US SOLDIER

Adopt A US Soldier is a non-profit organization that seeks volunteers and

donors to help show the brave men and women fighting for our freedom

that their sacrifices will not go unnoticed. It connects supportive civilians

with deployed soldiers and offers a channel by which to communicate

encouragement and express gratitude to those serving in the United States

Armed Forces. Adopt A US Soldier is sustained by its volunteer workforce

located across the United States.

After a supporter asked a soldier what they needed, his response was as

follows: "No requests, just don't want to be forgotten." -LCPL O.J.T. III

When registering for Adopt A US Soldier your involvement can range from

writing letters and sending postcards, to mailing care packages full of items

a soldier may need or want. Handwritten letters are most important and

meaningful to soldiers. Adopt A US Soldier encourages civilians to adopt

a soldier to show your support for those that are making sacrifices for our

country. If interested, please go to www.adoptaussoldier.org to register.

SPANISH MEADOWS VOLUNTEER OPPORTUNITY

In just 1 hour you could touch the hearts of at least 4 seniors. Do you have a little

free time? Do you enjoy the company of seniors? We would love to have you

volunteer your time and services to our wonderful residents. Spanish Meadows

Nursing and Rehab opened its doors in the fall of 2005 bringing quality care in

a luxury environment to Katy and surrounding communities. We are located

at 1480 Katy Flewellen Road, Katy, TX 77494. To get further information on

volunteering, please contact Robbin at 281-394-0088 or spanishmeadowsactivities@gmail.com.

Please visit our website at www.spanish-meadows.com.

VOLUNTEER OPPORTUNITIES AT

HOUSTON APHASIA RECOVERY CENTER

HARC, a non-profit wellness facility for persons with aphasia, is looking for

volunteers to help in our programs. HARC is located at 3701 Briarpark Drive,

Suite #310, Houston 77042, which is just inside of Beltway 8 in the Westchase

district of town. We offer training and support to all of our volunteers.

Volunteer days and times are flexible based on need. For more information,

contact our center at 713-781-7100. More information about HARC and

aphasia is also available on our website: www.harctx.org.

KATY CHRISTIAN MINISTRIES NEEDS VOLUNTEERS

Katy Christian Ministries is looking for volunteers to help in various areas

of the ministry and special events. If you would love to make a difference

in the community by volunteering, please visit our website at www.ktcm.

org, email info@ktcm.org or call 281-391-5261 for further information.

KATY QUILTERS NEEDS HELP FOR CHARITIES

Calling on all the quilters in the area to help make pillowcases and small

blankets. This last year we donated over 200 pillowcases and small blankets

to various charities. The demand is even higher with all of the families that

have lost their homes because of the fires in and around our area. We need

you and we have fabric that has been donated but we need your hands

and time to make someone smile. If you would like to help, call the Katy

Quilters, Shari Medford at 281-635-3000.

VOLUNTEER OPPORTUNITIES: VANTAGE HOSPICE

Vantage Volunteers Needed! Looking to volunteer in a way that makes a

difference in people's lives? This is it! Our compassionate volunteer team

takes an individualized approach to care. We help provide the best quality

of life, for the end of life. This is accomplished through social interaction,

companionship, active listening and activities. In addition, sometimes we

aide and support the family by relieving the caregiver. If interested, contact

Tracy Roth at troth@vantagehospice.com.

16 September 2018 | Community Newsletter
---
FOSTER CHILDREN: PREPARATION FOR ADULT LIVING (PAL)

When foster children reach age 18, they are considered independent.

That's difficult for kids who have been wards of the state, with necessities

arranged by caseworkers with state funds. Now they'll have to figure out

how to organize themselves and make their money last a whole month.

Fortunately, Child protective Services offers them a program to help prepare

for independence: Preparation for Adult Living (PAL). The year-long course

culminates in an all-day workshop hosted by the National Council for Jewish

Women (NCJW). The course is held at Junior Achievement's BizTown, using

computer kiosks sponsored by local businesses. Want to help with PAL or

other NCJW programs that help change lives with hands-on community

service? Contact info@ncjwhouston.org or see www.ncjwhouston.org.

Become a Dental Assistant

in just 10 weeks!

VOLUNTEER OPPORTUNITIES AT CHRIST CLINIC KATY

Christ Clinic Katy is a nonprofit that provides quality healthcare to uninsured

and underinsured patients living Fort Bend and Harris Counties.

Volunteers Medical Providers (MD, DO, NP, PA or specialty provider) Nurses,

Medical Assistants, medical students and individuals looking to learn more

about the medical field are needed to help Christ Clinic fulfill its mission.

To volunteer, please call Beverly Allen at 281-574-1540 or via email at beverly@christclinickaty.org.

Or visit www.christclinickaty.org to register for

an upcoming volunteer orientation.

GIVE BACK & MENTOR A LOCAL JUVENILE

Please commit to becoming a positive adult role model for the youth in our

community. The juveniles are referred by the Fort Bend County Juvenile

Probation Department. There are so many children in need of a listening

ear and encouragement. Come forward and be that person for someone

in need… you may be the ONLY one! Mentors must be 21 years of age and

willing to give a minimum of an hour per week. Please visit our website at

www.fbpfy.org for more information.

GIVE A SENIOR THE GIFT OF MOBILITY!

KATY AREA RIDE SERVICE NEEDS YOUR

HELP DRIVING OLDER ADULTS

Katy Area Ride Service (KARS) is looking for your assistance in transporting

seniors in need of personal (hair salon, bank, classes, volunteering, visiting

a loved one, taking a pet to the vet) and occasional medical rides. Rides are

provided in your personal vehicles to passengers who are age 65+ and ambulatory

(not wheelchair bound, may use walking aids). Time commitment

is flexible and you choose the Katy territory in which you want to drive.

Volunteers do not provide rides that go east of Barker Cypress, north of

Clay Road, west of FM 1463 or south of Bellaire Blvd at the Grand Parkway.

Benefits to Volunteer Drivers include the opportunity to help seniors retain

independent living, dignity and freedom. Drivers tell us the day(s) and times

they are able to drive. Drivers choose if they wait for the senior or return

later to pick them up. Drivers must be between 21 years of age and 78 years

of age with a good driving record, pass a background check and show

proof of insurance coverage (state minimums) as required by the State

of Texas. To request a volunteer driver application, call 832-773-8645

or email info@karskaty.org. KARS operates under an official 501(c)(3)

that designates it as a transportation service provider for seniors and

non-wheelchair bound persons with disabilities.

INTERPRETERS NEEDED

Christ Clinic, 25722 Kingsland, Blvd Suite 101, Katy, TX 77494, provides

quality medical care to the uninsured. We need bilingual volunteers

to facilitate communication between Spanish-speaking patients and

English-speaking staff by providing skilled language interpretation

services. Volunteers will serve as Interpreters for doctors, nurses and

other health professionals. The clinic is also in need of Medical Providers

(MD, DO, NP, PA or specialty provider) Registered Nurses, Medical

Assistants and medical students looking to gain experience in a charity

medical clinic setting. To volunteer, please call Michael Peterson at

832-913-8476 or via email at michael@christclinickaty.org. Visit www.

christclinickaty.org to complete a volunteer form.

Call Anytime!

Local Utility Rebates Now Available

TACLB019260E

HEATING • AIR CONDITIONING

UP TO $ 1100 REBATE

$

35 OFF

on a New A/C & Heating System

0% Interest Payment Plans

Qualifying Models only. Call for Details.

Must present at time of service. Expires 9/30/18.

Any Repair

Cannot be combined with any other offer.

Must present at time of service. Expires 9/30/18.

281-492-3450 myACandHEAT.com

FREE ESTIMATES on New Equipment

"We work as unto

the Lord"

RESIDENTIAL &

COMMERCIAL

Approved by the TWC Career Schools and Colleges

www.hdas.biz | For info packet call 281-363-0600 or email admin@hdas.biz

Katy • Clear Lake • The Woodlands

Geyer roofinG

Specializing in

Re-Roofing

Ron Geyer

713-462-3898

REMODELING

• Kitchens • Bathrooms • Windows / Doors • Floors • Hardi Siding

• Rooms Additions • Complete Renovations • Patio Covers

Rob Geyer

281-477-3456

Training Since 1995

10 Week Course - Tuition $3250 • Payment Plans

Fall Session begins 9/29

Same-Day Service

Community Newsletter | September 2018

17
---
A.A.A.

Tree Services

& Landscaping

925 South Mason Rd. P.M.B. 239

Katy, TX 77450

281-798-5224

a.a.a.landscaping.2005@gmail.com

• Tree Removal

• Tree Trimming

• Palm Tree Trimming

• Stump Removal

• Lots Cleaned Up

• Landscaping Designs

15% OFF

Any Service

With this ad.

Fence

Installation

Special

• Flagstone & Paver Patios

• Sod Replacement

• Sprinklers Repair

• Fence Installation & Repair

• Mulch

• Monthly Packages

• Drainage System

BACK TO SCHOOL PARENT

EMPOWERMENT SEMINAR

Saturday, September 8, 2018

Wyndham Energy Corridor, 14703 Park Row

Drive, Houston Texas 77079

8:30 AM: Open Registration

9:30 AM-2:30 PM: Instruction

2:30-3 PM: Audience Q&A

Lunch Provided

Register on Enentbrite at www.enentbrite.

com, search for "Childproof America."

Childproof America-Safeguarding Children against

sex trafficking - www.childproofamerica.org.

1 ST ANNUAL RUN WILD RUN FREE

5K RUN/WALK

Hey Runners! Come Run Wild with TWRC

Wildlife Center at our 1 st Annual Run Wild Run

Free 5K Run/Walk, September 8, 2018 at Burroughs

Park in Tomball, Texas. Proceeds will

help with the care and rehabilitation of Texas

Wildlife right here in Houston. There will be

prizes for top male and female runners, best

wildlife costume, face painting for the kids

and much more. This will be fun for the whole

family. Register at www.twrcwildlifecenter.

org/5k-walk-run-registration.

KATY VOCAL EXPRESS CHORUS

OPEN HOUSE

Monday, September 10 th , 7-9 PM

Love to sing? Can't find a place to sing with

other women in a friendly, fun chorus? Your

voice has a place in our chorus! Katy Vocal

Express is a prospective chorus of Sweet

Adelines International, the premier organization

for women that love to sing. Over 23,000

women of all ages, throughout the world sing

4 part, acappella harmony in Sweet Adelines

choruses. Katy Vocal Express was formed in

2016 and is always accepting new singers.

Whether you are an experienced singer or

just like to sing along with the radio, there is a

place for you on our risers. Can't read music?

No problem, we'll help you. Don't sing harmony?

We'll teach you or have you sing melody.

Not sure if this is for you? Come visit and listen!

Katy Vocal Express will be holding an Open

House for ladies that love to sing, age 14 and

up, Monday, September 10 th , 7-9 PM in the

choir room of Holy Covenant United Methodist

Church, 22111 Morton Ranch Road, Katy

77449. Come see what singing barbershop

harmony is all about. For information about

Katy Vocal Express go to www.katyvocalexpress.org

and it will take you to our information.

To let us know you are coming, please

email katyvocalexpress@gmail.com. Hope

you find a place in our chorus.

KATY LIONS CLUB 15 TH ANNUAL

GOLF TOURNAMENT

Friday, September 14 th , 5-8 PM

Top Golf in Katy -

1030 Memorial Brook Blvd. Houston, TX

The annual Katy Lions Club Golf Tournament

has a new location and format this year. Please

join us at Top Golf Houston-Katy for a top

contender tournament game. This a family

friendly format and all are welcome to come

and support Lions Club charities and have a

good time as well. Your entry fee will cover

your game, dinner and unlimited non-alcoholic

beverages. Tickets will be available for

Mulligans and raffle items.

All proceeds will go to benefit Lions Club

Charities including:

Texas Lions Camp for children with

physical disabilities

Lions Eye Bank of Texas

Leader Dogs for the Blind

Scholarships for Katy ISD high school seniors

Eye exams and glasses for Katy ISD students

in need

Donations to the Lions Club International Foundation

For more information and to reserve a place,

contact Janice Sayer-Jackson at sawyer-jackson@att.com.

Sponsorships and donations are welcome. The

Katy Lions Club is a 501(c)3 organization. All

donations are tax deductible.

INIT2WINIT JUMPER QUALIFIER

The Great Southwest Equestrian Center would like

to invite the community to experience the excitement

of horse show jumping! On September 29 th

at 7 PM, GSEC will be hosting a $15,000 InIt2WinIt

Jumper Qualifier. Horse & Rider combinations will

be jumping obstacles nearly 5' tall for a fastest

with no faults competition. The top 3 placing rider

of this event will advance to the $100,00 Finals

held in Omaha in April 2019. The Saturday night

event is free to the public. The pre-show will start

at 6:15 PM for a chance to win GSEC merchandise.

At the end of the class spectators will have a

chance to meet the pro-riders, receive autographs,

take photos and will also be allowed to walk out

onto the course and see the obstacles up close.

Where: Great Southwest Equestrian Center, 2501

S Mason Road, Katy, Tx 77450

Name of the Event:

$15,000 InIt2WinIt Jumper Qualifier

When: September 29, 2018

Pre-Show: 6:15 PM

Competition Start time: 7 PM

Questions about the event: Val Garza,

Operations Manager, 210-870-4584 or

email at ValGarza@gswec.com

18 September 2018 | Community Newsletter
---
MUSIC LESSONS

Back to School Special

FREE MUSIC LESSON

Up to $40 Value! Must register before 9/30/18. Cannot combine with any other special.

One-on-One Instruction • Highly Qualified Instructional Staff

Private Instruction in:

Piano • Guitar • Violin • Voice • And Other Instruments

Voted

BEST in KATY

2014-2017

KATY CHRISTIAN MINISTRIES 14 TH ANNUAL

"TRANSFORMING LIVES" GALA,

SEPTEMBER 25, 2018

Katy Christian Ministries would like to invite the community to

attend their 14 th Annual "Transforming Lives" Gala, September 25,

2018 starting at 6 PM at the historical Beckendorff Farms in Katy,

TX. Tickets and Sponsorship information are available at www.

ktcm.org/gala2018. An exciting announcement will be made at

the event that you won't want to miss. Katy Christian Ministries

relies on the financial support of local churches, organizations,

foundations, businesses, social clubs and community members

to continue serving the needs of the community.

BIRDIES "FORE" THE CHILDREN 7 TH ANNUAL CHARITY

GOLF TOURNAMENT

We are excited to invite you to participate in

the Birdies "Fore" the Children 7 th Annual Charity

Golf Tournament 2018 benefiting Shriner's

Hospital for burned children in Galveston, Texas.

This tournament will be held at Tour 18 Golf Course, on Saturday

October 27, 2018. Registration begins now online. Registration and

breakfast will start at 6:30 AM. The tournament will start at 8 AM

sharp. Our goal is to raise $50,000 to provide funds for the tissue

bank at Shriner's Hospital. Our sponsors and players truly help us

provide funds that directly go to Shriner's Tissue Bank where hundreds

of patients receive life-saving tissue which helps the children

not only survive but also return home to their families! Thanks to

all our friends and family for helping us reach $167,360 since 2011.

In order to speed up the registration process the morning of the

tournament, we have added the ability to pay by card on our website.

This payment method will be shown once you complete your

online registration. If you plan to pay by check, please mail in your

checks to the address listed on your invoice as quickly as you can.

We are still accepting cash, checks and cards at the tournament

for registration, but, we ask that you please pay upfront before the

tournament. We are looking forward to spending the day with all

of our supporters and players, we look forward to seeing you out

there and having a great 2018 golf tournament.

GO HERE TO REGISTER:

http://birdeasepro.com/birdiesforethechildren

3719 N. Fry Road #N2

Katy, TX 77449

832-321-3382

23922 Cinco Village Center Blvd

Katy, TX 77494

832-437-4511

www.TheConservatoryOfMusic.org/Special

CRAFT SHOWS/FESTIVALS

6 TH ANNUAL ST PAUL'S EPISCOPAL CHURCH

FALL FESTIVAL & CRAFT SHOW

Please join us for our 6 th Annual St Paul's Episcopal Church Fall Festival &

Craft Show. Grab a friend and join us for shopping, children's activities,

Petting Zoo and BBQ. Special Guests include the Katy Fire Department &

Katy Police department!!

Saturday, October 6, 2018 at 5373 Franz Road, from 9 AM to 4 PM. FREE admission!

Interested vendors please contact Mary at saintpaulschurch@charter.net.

2 ND ANNUAL WESTLAND'S WELCOME HOME CRAFT SHOW

The 2 nd Annual Westland's Welcome Home Craft Show will be held October

6, 2018 at Westland Baptist Church. We are located at 1407 W Grand Parkway

South in Katy.

26 TH ANNUAL GINGERBREAD VILLAGE HOLIDAY MARKET

OCTOBER 27, 2018

The Ladies Auxiliary from St. Elizabeth Ann Seton is holding their 26 th annual

Gingerbread Village Holiday Market on October 27, 2018. We are located at

6646 Addicks Satsuma Road, Houston, 77084. Featuring arts, crafts, specialty

foods, fashion good and more

4 TH ANNUAL MISTLETOE MARKET

The St. Faustina Women of Mercy cordially invite you to their 4 th Annual

Mistletoe Market. Saturday, November 3, 2018, 9 AM to 4 PM. Westlake

Preparatory Lutheran Academy, 23300 Bellaire Blvd, Richmond, TX 77406.

(Do NOT call the school about booths or questions.) Come enjoy THE BEST

SHOPPING experience Christmas can bring! As always, Santa will make a

surprise guest appearance! All booth inquiries, please email Lisa Thigpen

at Lisab0912@gmail.com.

VENDORS WANTED

VENDORS NEEDED

The 2 nd Annual Westland's Welcome Home Craft Show will be held October 6,

2018 at Westland Baptist Church. We are located at 1407 W Grand Parkway

South in Katy. Interested vendors should send an email to Martha Wells

Community Newsletter | September 2018

19
---
Take classes close to home!

´ Houston Community College - Katy Campus

Register today: www.hccs.edu

Call: 713.718.8558

Visit: 1550 Foxlake Dr., Houston

We're here Mon. - Fri. to get you

on your way to a college degree,

at westlandcraftshow@gmail.com with a description of what you are

selling. A 10x10 booth space is $60. Only one national/retail rep will be

accepted on a first come basis.

VENDORS WANTED

THINKING HOLIDAYS?! The Ladies Auxiliary from St. Elizabeth Ann Seton

Catholic Church will hold their 26 th Annual Gingerbread Village Holiday

Market on October 27, 2018. If you are interested in showcasing your

arts, craft, products, etc., consider joining us as a vendor this year! For

an application or more information regarding this event, please email:

gingerbreadvillage@yahoo.com.

THEATER/ARTS

A.D PLAYERS AT THE GEORGE THEATER

5420 Westheimer Rd, Houston, TX 77056

Academic courses

transfer to

four-year

universities!

Around the World in 80 Days -

September 14 th -30 th

(Previews September 12 th -13 th )

Showtimes are Thursday-Saturday

7:30 PM and Sunday 2 PM.

Box Office: 713-526-2721

Hours: 10 AM-6 PM, Monday-Friday

KATY VISUAL & PERFORMING ARTS CENTER (KVPAC)

www.kvpac.org

2501 S Mason Rd., Suite 290, Katy, TX 77450

T

K

C

he

leaning

ompany

• Load & Unload Dishwasher

• Clean Outside of Appliances

• Sweep Front Porch

• Change Linens & Towels

• Dust Window Ledges & Sills

• Remove Trash

• Dust Mini Blinds & Ceiling Fans

• Damp Wipe Outside of Cabinets

• Clean Baseboards

281-861-0394

Behlmann Law Firm, LP

Estate Planning & Asset Protection

Board Certified in Estate Planning & Probate

Law by the Texas Board of Legal Specialization

• Probate Specialist

• Living Trusts & Wills

• Powers of Attorney & Health Care Directives

• Medicaid Trusts, Elder Law, Medicaid Planning

• Special Needs Planning & Guardianships

• LLC's, Family LLC's & Limited Partnerships

• Business Formation & Planning

• Pool Services

• Personal Assistance Care

• Move In/Out

• Competitive Rates

• Locally Owned & Operated

• Bonded & Insured

• FREE PHONE ESTIMATE

$

10 OFF

First Visit

www.thekleaningcompany.com

"Dust if you must, but why not have us."

Richard Behlmann

Founder

Free Initial Estate Planning & Probate Consultations

www.behlmannlaw.com

281-398-0088

21218 Kingsland Blvd., Katy, Texas 77450

Season Tickets, including all new FLEX Packages, are on-sale now

to lock-in the best price and choice seat. Pre-Sale Show Tickets are

$15 Adults and $12 Seniors. Tickets increase by $3 at the door. Group

rates are available at www.kvpac.org or in person. For Katy audience

members who seek an evening at the theater, they can look to Encore

Players as a source to enjoy the theater in their own home town without

the long commute or high cost involved with heading to one of

downtown Houston's theaters. Katy Visual & Performing Arts Center

(KVPAC) is a non-profit arts education organization helping artists find

their light since 2001.

MILDRED'S UMBRELLA THEATER CO.

MAINSTAGE SEASON

Chelsea Market Theater, 4617 Montrose Blvd. #100,

Houston, TX 77006

THE MOORS: August 30-September 15, 2018 - Thursdays-Saturdays

at 8 PM; Sunday, September 9, 2018 at 3 PM and

Monday, September 10, 2018 at 8 PM

Cost: All Shows Pay What You Can

MORE INFO/RESERVATIONS: www.mildredsumbrella.com,

info@mildredsumbrella.com or 832-463-0409.

STAGEWORKS THEATRE

Five Women Wearing the Same Dress: September 7-30, 2018

Fridays and Saturdays at 7:30 PM

Sunday matinees at 3 PM

Stageworks Theatre is located

at 10760 Grant Road,

Houston, Texas 77070.

Website:

www.stageworkshouston.org.

20 September 2018 | Community Newsletter
---
PECKHAM PARK ACTIVITIES

These classes are free with priority to Harris Co. residents.

5597 Gardenia, 281-391-4482 - web www.pct3.hctx.net

PRIORITY IS GIVEN TO HARRIS COUNTY RESIDENTS & THOSE WHO

LIVE WITHIN THE CITY LIMITS OF KATY

MARY JO PECKHAM PARK FISHING LAKE: The lake is a stocked.

Rules are posted out by the lake. Park hours are 6 AM-10 PM. If you

have questions, please call the Parks Office at 281-531-1592.

ONGOING CLASSES

LAND -

PILATES - Mondays and Fridays - 10:45 AM-11:45 AM.

YOGA - Tuesdays & Thursdays, 9:30 AM - 10:45 AM & Mondays &

Wednesdays, 5 PM-6 PM.

ZUMBA - Tuesdays - 11 AM-12 PM (HC & KCL residents call Tuesday

starting at 7 AM for reservations, other counties call Tuesday

starting at 10 AM) & Thursdays 5 PM - 6 PM (HC & KCL residents,

call Thursday starting at 7 AM for reservations, other counties call

Thursday starting at 10 AM) and Saturdays - 8:15-9:15 AM (HC &

KCL residents, call Friday starting at 7 AM for reservations, other

counties call Friday starting at 10 AM).

SENIOR OUTDOOR FIT & FUN - Tuesdays - 11-11:30 AM.

FITNESS MACHINES – This is a time when you can work out on your

own on the fitness equiPMent. You must be 16 year and up & bring

a full size towel and wear atheletic shoes. Various times available

daily. The machines are closed during class times.

POOL -

DEEP WATER AEROBICS - This hour class is a high cardio vascular

workout. A flotation device is advised. Monday - Friday, 8 AM - 9 AM.

WATER AEROBICS - This one hour class is low-impact, which is

easy on the joints. Monday-Friday, 9:05 AM-10:05 AM. Monday &

Wednesday 5:45 PM-6:45 PM.

ARTHRITIS AQUATICS - This class consists of range of motion,

muscle strengthening and endurance-building activities. Mondays,

Wednesdays & Fridays, 11 AM - 12 PM.

RECREATIONAL SWIM (call to reserve a spot) - There is no lap

swimming at this time. Mondays & Wednesdays, 4 PM-5:30 PM,

Tuesdays & Thursdays, 11 AM-12:30 PM, Saturday & Sunday, 2:30

PM-4 PM. Reservations may be made 1 day in advance for Harris

County residents & those who reside within the Katy City Limits.

Other counties may call the day of the Recreational Time.

LAP SWIM/WATER WALK - Various times daily. (for ages 12years

and up)

LAP SWIM FOR AGES 8-11 - Saturdays and Sundays, 11:30 AM-1:30

PM (in 30 minute increments). Call to reserve a lane. Reservations

may be made 1 day in advance for Harris County residents & those

who reside within the Katy City Limits. Other counties may call

the day of.

AMERICAN RED CROSS SWIM LESSONS - Ages 6 months - Adults.

Call or come in to get schedule for lessons.

THE TEXAS DOOR EXPERT

Repair - Replace

ANY DOOR

48 Years Experience

832-302-0069

www.txdoorexpert.com

Community Newsletter | September 2018

Classes we offer:

• Mom & Tot/Me

(Walking-3 years)

• Preschool Gymnastics

(3-5 years)

• Girls & Boys Gymnastics

(Beginner-Advanced)

• Tumbling

(Beginner-Advanced)

• Cheer Technique

(Beginner-Advanced)

• Special Needs

(Ages 5 & Up)

Special

Events

• Ballet

• Tap

• Jazz

• Hip Hop

• Acro

• Dancing Tots

• Combo Ballet/Tap/Jazz

• Lyrical/Contemporary

• Leaps & Turns

• Drill Team Prep

Call for FREE Trial!

281-347-2000

www.westwoodgym.com

23333 Taswell Dr., Katy, TX 77494

20 Years of AWESOMENESS!

Types of Dance we offer:

Play Dates « Open Gym

Flip Flop Clinic « Skills Clinic

Birthday Parties « Parent's Day Out

COME DANCE WITH US!

Call for FREE Trial!

281-347-2000

www.westwooddance.com

23333 Taswell Dr., Katy, TX 77494

21
---
SEPTEMBER 2018 HOUSTON AREA EVENTS AND ROAD TRIPS

Music in the Plaza - September 1, 2018, 7:30-9:30 PM. Admission is free.

Sugar Land Town Square, 2711 Plaza Drive, Sugar Land, TX 77479. Pack up

your lawn chairs and head to the Plaza for a night of great tunes! Named the

2018 CMA of Texas Band Of The Year and made up of members of the former

high energy, dynamic, crowd-pleasing Chris Brade Band, Southern County

Line has become one of the premier country music acts in the Houston area.

They are also the band that backs the popular Tribute to George Strait Show

featuring Derek Spence.

Labor Day Backyard Barbecue - September 1, 2018 and September 3,

2018, 9 AM-5 PM. George Ranch Historical Park, 10215 FM 762 Road, Richmond,

TX 77469. Celebrate Labor Day weekend with traditional games and

an old-fashioned 1930s barbecue at the George Ranch House. Listen to period

music on a vintage radio, play games from the past and help make ice cream

the old-fashioned way from 11 AM to 2 PM! At 12:30 PM, chow down on some

hearty Texas grub in the yard of the 1930s George Ranch Home. Cost for the

meal is $15 for adults ages 13 and older; $12 for children ages 5-12 and $4 for

children 4 and under. Please call 281-243-0218 to make reservations for the

historic meal.

First Saturday Arts Market - September 1, 2018 and October 1, 2018, 6-10

PM. Historic Houston Heights, 530 W. 19 th Street, Houston, TX 77008. Admission

is free. First Saturday Arts Market is a monthly outdoor fine arts event featuring

the works of dozens of visual artists. The market showcases paintings, sculpture,

photography, jewelry and handcrafted items. The entire family is welcome to

come enjoy the great outdoors, live music and delicious fare from some of the

area's best gourmet food trucks. For more information, visit us at

www.FirstSaturdayArtsMarket.com or call 713-802-1213.

September 6 th - Toddler Music with Sessions, 9:30-10:15 AM. Sing, Sway,

Laugh, Play! Join us for a FREE class on the Plaza with Sessions Music. Immerse

your child in a musical atmosphere of play, song and dance, all while developing

fundamental skills and connecting with other moms, dads and families. Recommended

for ages newborn - 7 years. For more information, visit

www.sugarlandtownsquare.com.

September 7 th - Summer Music Festival. Gather with friends on our pool deck

for the end of our second annual Summer Music Festival! Enjoy live concert

performances, $5 beers and poolside. Featured artist for September 7 th it is

DJ Baby Roo.Complimentary admission and open to the public. Guests who

attend the events will receive complimentary valet parking. For more information

on our live art bar, please call the Four Seasons Hotel at 713-650-1300.

Fall Katy Home and Garden Show - September 8, 2018, 10 AM-6 PM and September

9, 2018, 11 AM-5 PM. Merrell Center & Robinson Pavilion, 6301 S Stadium

Ln., Katy, TX 77494. Admission: $7 for adults; $6 for seniors and $3 for military, Kids

under 12 are FREE. Fall in love with the latest trends in home design at the Fall

Katy Home and Garden Show, where Texas-size ingenuity will be on full display

including the unveiling of a Tiny Home Village, Vintage Market, Kitchen & Bath Idea

Center and much more. Master chalk-painting with help from local Vintage Artists,

Arcalee Gautier and Megan Morgan of Vintage Back Roads, as they teach you how

to create your own vintage master piece. Spruce up the yard and patio at the Fall

Plant Sale from Brookwood Community. Get inspired and ready to renovate and

decorate! For ticket information, directions, and hours visit

www.FallKatyHomeandGardenshow.com or call 832-392-0165.

104.1 KRBE Roula & Ryan Road Show - September 14, 2018, 7:30 PM. Smart

Financial Centre, 18111 Lexington Blvd., Sugar Land, TX 77479. Admission:

$35-$58. The Roula and Ryan Show takes their popular show on the road

again. Fans will experience everything they love about the show - LIVE - in a

unique, variety-style show, including Roula & Ryan's Roses, Special K's Prank

Calls and/or The Mystery Box! Plus, this year's show will showcase a special

"Game Night Edition," featuring activities where fans could be a part of the fun

on stage with Roula, Ryan, Producer Eric, Special K, Krystina and Mumbles.

CineBrew Sip & Screen presented by Houston Cinema Arts Society - September

20, 2018, 7:30-10 PM. Admission is free. 8 th Wonder Brewery, 2202 Dallas Street. Join

us for a fun evening full of beer and film as we partner with 8 th Wonder Brewery to

present Richard Linklater's hilarious 2003 comedy, "School of Rock," featuring Jack

Black. Special brews, merchandise and memberships will be available! Local, Houstonian

short films will start at 7:30 PM before the movie, which will be screened at 8 PM.

Comedy Night at HPL - Monthly on the 3 rd Thursday, 6-8 PM. Houston Public

Library, 500 Mckinney Avenue, Houston, TX 77002. Admission is free.

The Houston Public Library offers "Open Mic" comedy night where local

and non local comedians, comediennes, ventriloquists and impressionists

of ALL ages present family comedy to the audience. Improv Performers from

Station Theater closes out the night with games that involve the audience.

Everyone who participates in at least one open mic throughout the year become

eligible to participate in the Annual Comedy competition which is held

in December. Prizes in the amounts of $100 and $75 gift cards are given to the

4 winners. Two adult and two youth. Event is free and open to the public. Food

and non alcoholic beverages are allowed in the sitting area during this event

only. You can bring your own food and order from many of the surrounding

food places. All ages.

Beetles, Brew and Barbecue - September 29, 2018, 8:30 AM-4 PM. Balls Out

Burger Main, (FM 2920) and Walnut Streets, Tomball, TX 77375. Admission: All

Spectators free, free parking, $15 entry fee. The North Houston VW Club's 24 th

annual show takes place at the beautiful park surrounding Tomball's Historic

Downtown Train Depot. See great cars and sample Texas craft beer from Houston-area

brewers. Mouth-watering Texas-style barbecue, local area vendors of

all kinds and live music onstage. Swap meet area too. All air or water-cooled

Volkswagens are welcomed. Registration is from 8:30-11:00 AM. Awards and

prize winners announced at 3 PM. Over 40 Trophies and Awards! Raffles, door

prizes, the best goodie bags in Texas, manufacturers samples and gift certificates,

local garage gift certificates and discounts, many gift baskets and great

fun! All proceeds benefit local NW Houston charities.

Carlos Cruz-Diez at the Cistern: Spatial Chromointerference - Weekly

through January 13, 2019. Cistern At Buffalo Bayou Park, 105 Sabine Street,

Houston, TX 77007. Times: Wednesday through Friday - 3:30-6 PM; Saturday

and Sunday - 11 AM-6 PM. Admission: $10 per person; $8 for Seniors, Youth

and Students. The Cistern's distinctive architecture as well as its sheer size

and raw interior, punctuated by a series of rhythmical columns, will make for

an intriguing and interactive experience. Visitors to Carlos Cruz-Diez at the

Cistern: Spatial Chromointerference will be encouraged to wear white or light

colored clothing and will actively participate in viewing as the color changes

creating a sensation of movement.

Open House - Daily from dawn until dusk through February 28, 2019,

admission free. Sam Houston Park, 1100 Bagby, Houston, TX 77002. The artistic

duo, Havel Ruck Projects, made up of local artists, Dan Havel and Dean Ruck,

transformed a previously abandoned house into an interactive temporary

public sculpture. Sourced from Cherry House Moving Company, the 1940s-era

house was originally located in Santa Fe, Texas. After moving the home to Sam

Houston Park in April, Havel and Ruck stripped the structure's interior and

exterior using drill saws and other tools. They cut circular holes into the walls

and filled them with PVC pipe to create a "Swiss cheese" or "lace" appearance

and collaged the interior walls with vintage images sourced from family, friends

and local resale shops representing the city's people, places and past.

The International Exhibition of Sherlock Holmes - Daily through September

30, 2018. Houston Museum Of Natural Science, 5555 Hermann Park

Drive, Houston, TX 77030. Museum visitors will learn how Sherlock Holmes,

a scientific expert ahead of his time, used seemingly trivial observations of

clues others missed to solve some of his era's most mysterious crimes. The

exhibition features original manuscripts and period artifacts, investigative

tools influenced and used by Sherlock Holmes and interactive crime-solving

opportunities. Guests will be transported into Sherlock Holmes' London to

solve a crime in a world filled with innovation and experimentation and just

receiving its introduction to his ground-breaking methods.

Cars and Coffee - through December 29, 2018, 9 AM-12 PM. Gateway Classic

Cars Of Houston, 1910 Cypress Station Drive, Suite 200, Houston, TX 77090.

Admission is free. Cruise in to Gateway Classic Cars every last Saturday of the

month for Cars & Coffee. So far we have had some amazing turnouts, but we

want to continue to grow! Enjoy delicious donuts, coffee and all of our sweet

rides! No Admission fee and everyone is welcome! No cruiser? No sweat bring

the daily driver. Hope to see you there. 250+ classic & exotics.

Farmers Market at Imperial - Saturdays through December 29, 2018, 9

AM-1 PM, 234 Matlage Way, Sugar Land, TX 77478. Admission is free. In addition

to a wonderful selection of vendors, the Farmers Market brings you family fun!

Each week, the Market features live music, cooking demonstrations or other

seasonal entertainment. Presented by the Fort Bend Chamber of Commerce.

22 September 2018 | Community Newsletter
---
LIBRARY NEWS

MAUD MARKS LIBRARY

1815 Westgreen Blvd., Katy, TX 77450, 281-492-8592

LIBRARY HOURS - Mon. 1 PM - 9 PM, Tues. 10 AM - 9 PM,

Wed. 10 AM - 6 PM, Thurs. 10 AM - 6 PM, Fri. 1 PM - 6 PM,

Sat. 10 AM - 5 PM, Sun. closed.

To register online for any of the programs at the library's website (www.

hcpl.net), click on "Events Calendar" and select "Maud Marks." Participants

may also register by calling or by visiting the library.

"Like" us on Facebook: www.facebook.com/maudmarkslibrary.

Subscribe to our newsletter at www.hcpl.net/content/it-has-arrived.

We will be closed for Labor Day.

SPECIAL EVENTS

• BOOK SALE - The Friends of the Maud Marks Library will hold their

next book sales on Saturday, September 1 st and September 29 th

at 10 AM until 4 PM. There is a large selection of hardback fiction and

nonfiction, as well as children's books and paperbacks. All proceeds

will benefit the library.

• VOLUNTEER AT THE LIBRARY - Volunteer opportunities abound at

the library. Volunteers are needed to help shelve, count patrons and

more. Students should be in high school and must be able to commit to

two hours a week. If you would like to help in any way, please contact

Elizabeth Herndon at 281-492-8592.

• CHESS WARS - Teens and tweens are invited to join us for Chess Wars!

You played during the summer, now play during the school year! Join

us every Tuesday, beginning September 4 th at 4:45 PM as we battle

it out on the chessboard. Come learn basic strategies and techniques

to up your chess game so you too can play out of this world.

• TEENMAKERS - Teens & tweens in 6 th grade and up are invited to come

MAKE something at the library. This will be a monthly program, which

will include robotics, science experiments, art & crafts and more! We

will be meeting one Thursday a month beginning September 6 th at

4:30 PM. Come have fun and MAKE something!

• TEEN BOOK CLUB - We have started a teen book club! Teens are invited

to join us on Thursday, September 20 th at 4:30 PM as we discuss the

book Children of Blood and Bone by Tomi Adeyemi. If you are interested

in joining us, extra copies of the book are available at the checkout desk

beginning September 1 st . Please register if you plan to attend.

• S.C.O.R.E. - The library likes supporting our local businesses. This month,

on Saturday, September 15 th at 1 PM, S.C.O.R.E. will be here to present a

seminar on exporting. Houston is increasing its exporting opportunities.

Here is a chance to get in on the ground floor. Seating is limited.

• DIY WORKSHOP - Ole! Celebrate Hispanic Heritage Month at the library.

On the second Tuesday of every month the library hosts a fun

adult time. This month, September 11 th at 2 PM, we will be making

crepe paper marigolds. All materials will be provided.

Community Newsletter | September 2018

• KATY MAKERSPACE - Did you know that the Katy area has its very own

MakerSpace? We'll be learning all about this special place for creators

and inventors at the library on Tuesday, September 11 th at 7 PM. Harry

Krueger will be here to give us an introduction to Katy MakerSpace and

all you can do there. Makers of all ages and disciplines are encouraged

to join us as we learn everything our new MakerSpace has to offer.

• GREEN THUMB GARDENING - Master Gardeners of Harris County

will once again be bringing their Green Thumb series once a month

where they will discuss various topics unique to gardening in the

Houston area. This month, on September 15 th at 10:30 AM, learn all

about roses, their planting, growing and upkeep. Seating is extremely

limited for this class.

• STAYING FIT AND FLEXIBLE FOR THE LONG HAUL - Senior citizens

and their family members are invited to join us for a new series at the

library. Every 3 rd Friday of the month, experts will be here to discuss

various topics pertinent to senior living. On September 21 st at 10:30

AM, Dr. Robert Rocque will be here to teach us all about physically fit

in our more mature years. Come discover what kind of life is best for

you or your loved one.

• TIMELESS TRAVELERS: GEORGE OBSERVATORY - Seniors 55+ are

invited to join the library's Timeless Travelers program for a trip to

the George Observatory. The bus will be departing for the George

Observatory on Friday, September 21 st at 4 PM. We will be gaining

first-hand knowledge of the beautiful and awe-inspiring sights of the

night. Seating is extremely limited. Registration required and began

August 31 st .

• COLOR ME RELAXED - What is the newest way for adults to relax and

have a good time? Coloring! The library now has an adult coloring hour

on the 4 th Tuesday of every month. Join us as we color, chat, have a

snack and listen to relaxing music. We will provide plenty of pages for

coloring and colored pencils, although, you are more than welcome

to bring your own.

• BOOK DISCUSSION CLUBS - The Library hosts book clubs that meet

monthly. The Afternoon Book Club meets on the second Thursday of

the month at 1 PM.

• JUST DESSERTS MYSTERY BOOK CLUB - Meetings held the third

Wednesday of the month at 2 PM. You are encouraged to bring your

favorite dessert to eat while we discuss whether our villains get their

just desserts.

• COMPUTER CLASSES - The library offers a variety of computer classes

each month. You must know how to use a mouse and a keyboard.

Seating for this is extremely limited. Registration is required. To see

this month's classes go to the library's website www.hcpl.net, click on

"Events Calendar" and select "Maud Marks."

CHILDREN

• WEDNESDAY WONDERS - Come to the library and let imaginations

soar as you explore STEAM (Science, Technology, Engineering, Art

and Math) with crafts and activities. On Wednesdays at 4:30 PM, the

library will host Wednesday Wonders for ages 6-11. These programs

23
---
normally last about one hour. All necessary materials are provided.

This is a ticketed program. Tickets will be available at 4 PM.

• SUNSET STORYTIME - Bring the entire family out to our bedtime

storytime. This storytime will meet on Tuesdays, September 4 th &

18 th at 6:30 PM. We will have stories, songs and rhymes for the whole

family. Children are welcome to wear their pajamas.

• INFANT STORYTIME - This program will meet each Tuesday morning

at 10:15 AM and 11:15 AM. This is an interactive program for children,

ages 0 to 12 months and their caregivers. Each session will last about

20 minutes, featuring nursery rhymes, songs and finger plays.

• STORYTIME - Storytime for preschool-aged children is held each

Wednesday at 10:15 AM. Stories, fingerplays and songs are featured.

This is ideal for children ages 3 to 5, but all children and their caregivers

are welcome.

• PRE SCHOOL EXPLORERS - Is your pre-schooler ready to explore

the world? Children ages 2 ½ to 5 are invited to come to the library on

Wednesdays at 11:15 AM as we learn about the world. There will be

plenty of stations for science and sensory exploration.

• TOTALLY TODDLER STORYTIME - Toddlers, ages 18 to 36 months,

are invited to participate in our Totally Toddler Storytime, which will

be held on Thursdays, at 10:15 AM and 11:15 AM. Tickets are required

for Toddler Storytime. Tickets are given to the first 30 toddlers the day

of the event.

"Like" us on Facebook: www.facebook.com/maudmarkslibrary.

KATY BRANCH LIBRARY

5414 Franz Road, Katy, TX 77493, 281-391-3509

Hours of Operation: Monday & Tuesday 10 AM - 7 PM, Wednesday

1 PM - 8 PM, Thursday 10 AM - 6 PM, Friday 1 PM - 6 PM, Saturday

10 AM - 5 PM, Sunday CLOSED. Join online at www.hcpl.net or come

by in person and we'll help you sign up!

MONTHLY PROGRAMS

• HISPANIC BOOK GROUP/CLUB HISPANO DE LIBROS - First

Wednesday of each month, 6 PM. Every month, a group of Spanish

speaking adults get together to discuss a chosen book. Les invitamos

a que todos los meses se reuna con nosotros para conversar

sobre un libro. Lláme para más información.

• SUPERACION PERSONAL - Second Wednesday of every month,

6 PM. The Katy Branch Library hosts motivational discussions in

Spanish.

• SPANISH COMPUTER CLASS/CLASE DE LA COMPUTADORA -

Every Friday, 4:30 PM. Basic computer classes taught in Spanish.

• ADULT COMPUTER CLASSES - The Katy Library offers an array

of computer classes in English - please call for more information.

• MANGO ESL CLASS - Every Friday, 3:30 PM. Learn English with

a group going through Mango Languages, an online computer

program.

• GARDENING CLUB - Every month on the 2 nd Thursday, 11 AM.

Join other gardeners in the area to learn new ways to grow. Bring

your leftover seeds and exchange them for new seeds to try.

WEEKLY PROGRAMS

• GENEALOGY SQUAD - Every Monday, 2 PM. Bring your lunch and

join us for an informal genealogy get-together. We'll have computers,

Ancestry.com and other genealogists to help each other with

our searches.

• KNOTTY & NICE CLUB - Every Wednesday, 1 PM. The Knotty &

Nice Club is the place for you if you want to learn new needlework

techniques, teach someone else or just hang out with other crafters.

Come & join the club!

CHILDREN

Mondays, 10:15 AM - Baby Bounce

Tuesdays, 10:15 AM and 11 AM - Toddler Time

Thursdays, 10:15 AM and 11 AM - Preschool Storytime

HOW TO CELEBRATE READ A BOOK DAY

Read a Book Day comes to us every September 6 th . It may seem strange

to celebrate an activity that plenty of us enjoy many, if not most, days

of the year. But it never hurts to indulge in something extra to make a

cherished activity more enjoyable. You can read outside, enjoy a snack,

reflect on what a favorite book means to you and more. Here are five

ideas to celebrate Read a Book Day.

Read Outside

Read a Book Day fortunately coincides with a time of year that for much

of the globe brings pleasant weather. Late summer often provides the

right amount of sun and heat, begging a reader to bring books outside.

Granted, that's a bit difficult for those of us who have to spend prime

daylight hours at work or in school, but you can always sneak some

reading time in the early morning, late afternoon or evening. Take your

book to the beach, an outdoor table, the porch or anywhere else that

makes your day of reading a little more special.

Enjoy a Book With Good Food (or a Drink)

C.S. Lewis said that "Eating and reading are two pleasures that combine

admirably." We might take this as a cue for our own Read a Book

Day celebration. There are some things to consider, though. I, for one,

traditionally have trouble finding the right food to eat while reading

(fruit like grapes and strawberries wet my fingers and the pages and

large meals involving fork and knife make holding the book open unwieldy).

But for Read a Book Day, I might put those past failures behind

me. Baked goods like cookies and pastries make for great company,

while coffee and tea are always enhancements to a good story. Heck,

it's the summer. You might even celebrate the day with a glass of wine

or a special cocktail.

Share a Quote or Reflection on Social Media

Many a book goes unread because it gets lost in the noise. It can be

hard to know what's worth our attention in the dizzying selection of

books we have available and one of the most important resources we

have as readers is a good recommendation. You can celebrate reading

by excerpting a favorite quote from a book and sharing it on Facebook

or Twitter. If you want to go the extra mile, dress up a favorite title for

a photo on Instagram and caption it with why it means something to

you. Picking the right book intimidates more people than you think

and you never know who you're helping and who might add your

recommendation to their reading list.

Go Outside of Your Typical Selection Habits

Some readers want to own their books and love bookstores. Some

readers prefer the different selection and freedom of a library. Others

prefer shopping online. All of these habits are great, but it can be

rewarding to try something new. Does your community have a used

bookstore? There's a lot that might surprise you, especially if you're

used to going to Barnes & Noble. Do you like to shop online for books?

There are plenty of places where you can get old, unusual, rare or interesting

editions that the major vendors won't have. Plus, it always

pays to visit your local library. A little difference can go a long way in

reminding you of the wide cultural world of books.

Ask Someone for a Recommendation

Celebrating books goes the other way, too. It's always good to make

something solitary, like reading, more social. A good way to do this is to

reach out to someone who could give you a recommendation. People

are always happy to share their favorite titles and it's a nice way to

reconnect with someone over books. After all, a book's very purpose

is to connect us better to the world in the first place.

Source:

https://blog.bookstellyouwhy.com/how-to-celebrate-read-a-book-day

24 September 2018 | Community Newsletter
---
KATY INDEPENDENT SCHOOL DISTRICT

WWW.KATYISD.ORG

IMPORTANT DATES

September 3 rd - Holiday - Students and Staff

KATY ISD VARSITY FOOTBALL TICKETS

Season Tickets may be purchased online at www.katyisdtix.com

until the first football game of your schools' season at the Academy

Sports + Outdoors Student Activities Complex. The season ticket

price is $10 per ticket and $6 per transaction convenience fee for

online purchases.

For Individual Varsity football tickets at Legacy and Rhodes Stadium

the prices are:

Pre-sale on Campus Adults - $6 Students - $4

Gate Prices Adults - $10 Students - $5 (with a valid student ID)

Senior Citizen - Free with Gold Card or $5

(with a valid driver's license)

Military - Free with ID

Individual tickets also available online,

www.katyisdtix.com,

the Monday of game week.

GOLD CARD CLUB​

The Gold Card Club is free to Katy ISD residents who are 65 years of age or

older. To obtain a Gold Card, present a valid driver's license at the reception

area of the Education Support Complex and fill out a small application.

Questions should be directed to the Katy ISD Communications Department

at 281-396-2308. Membership benefits include the following:

Free or reduced-price admission to most Katy ISD fine arts events such as

plays, musicals and concerts in all district schools with the exception of

fund-raising events such as dinners.

Free admission to district-sponsored regular season athletic events (not

playoffs) at Katy schools and Rhodes Stadium.

Athletic schedules are available through the Katy ISD Athletic Department

website or individual schools. Fine arts schedules are posted on each

school's website. Many fine arts performances such as band, orchestra

and choir concerts offer a free admission, but some events such as plays,

musical productions or dance shows may require an admission charge.

Reduced-price admissions to these events are available to Gold Card

members. Reservations may be required and some performances may

have limited free-admission seating for Gold Card members.

Gold Card Members that have an original card signed by Dr. Merrell are still

valid. The information on the back of the card has been updated to reflect

that not all plays and other events will always be free.

For more information or to join the Gold Card Club, contact the Katy ISD Communications

Department at 281-396-2308 or email goldcard@katyisd.org.

KATY VARSITY FOOTBALL SCHEDULE

DEC - Approved KISD Varsity Football Schedule 2018 4-6-18

Cinco Ranch Katy Mayde Creek Morton Ranch Seven Lakes James E. Taylor

Tompkins

Paetow

SCRIM

Stratford Klein Collins Aldine Davis Clear Lake Cy Lakes Ridge Point Cy Ridge Cy Springs

Aug Cinco Ranch Away Legacy Home Aldine Davis Away Challenger Away Cy Lakes Away Ridge Point Away Away Rhodes Home

Friday Aug 24 6:30 Friday Aug 24 4pm TBD TBD TBD Friday Aug 24 7:00 Friday Aug 24 6:30 Friday Aug 24 6:00 Friday Aug 24 TBA Friday Aug 24 4pm

Week 1

Cy Ranch Northshore Conroe Cy Lakes SB Memorial Atascocita

Ft. Bend Austin

Stafford

Aug/Sept C-F FCU Stadium Away Legacy Home Legacy Home C-F FCU Stadium Away Tully Away Turner Stadium Away Rhodes Home Rhodes Home

30-1 Thur Aug 30 7:00 Friday Aug 31 6:30 Sat Sept 1 6:00 Sat Sept 1 6:00 Thurs Aug 30 7:00 Fri Aug 31 7:00 Sat Sept 1 7:00 Friday Aug 31 7:30

Week 2

Jersey Village Atascocita Ft. Bend Austin Cy Ridge Laporte Cy Springs Klein Cain Northbrook

Sept. Pridgeon Away Legacy Home Mercer Away Legacy Home Rhodes Home Rhodes Home Klein Memorial Away Legacy Home

6-8 Fri Sept 7 7:00 Sat Sept 8 6:00 Fri Sept 7 7:00 Fri Sept 7 6:30 Fri Sept 7 7:30 Sat Sept 8 7:00 Fri Sept 7 7:00 Thur Sept 6 6:00

Parent Night

JH Night

Week 3

Pearland IPN Aldine Nimitz Westside Ft Bend Austin Deer Park

Alvin

Clements

Sept. Legacy Home Legacy Home Rhodes Home Rhodes Home Mercer Away Abshier Stadium Away AISD Memorial Away Mercer Away

13-15 Sat Sept 15 6:00 Fri Sept 14 6:30 Fri Sept 14 7:30 Sat Sept 15 7:00 Thurs Sept 13 7:00 Fri Sept 14 7:00 Fri Sept 14 7:30 Friday Sept 14 7:00

Parent Night Homecoming Homecoming

Week 4

Cedar Park Clear Springs Alvin Sam Houston Houston Heights Dickinson Clear Creek OPEN

Sept. Legacy Home Challenger Away Legacy Home Rhodes Home Legacy Home Sam Vitanza Away Veterans Mem. Away

20-22 Fri Sept. 21 6:30 Sat Sept 22 6:30 Sat Sept 22 6:00 Fri Sept. 21 7:30 Thurs Sept 20 6:30 Fri Sept 21 7:00 Fri Sept 21 7:00

JH Night/ 20 Year Parent Night Parent Night

Week 5

Mayde Creek OPEN Cinco Ranch Taylor Tompkins Morton Ranch

Seven Lakes

Cleveland

Sept. Rhodes Home Rhodes Away Legacy Away Legacy Away Legacy Home Legacy Home Indian Stadium Away

27-29 Fri Sept 28 7:30 Fri Sept 28 7:30 Sat Sept 29 6:00 Fri Sept 28 6:30 Sat Sept 29 6:00 Fri Sept 28 6:30 Fri Sept 28 7:30

Homecoming

JH Night

JH Night

Week 6

Morton Ranch Tompkins OPEN Cinco Ranch Taylor Seven Lakes Katy Lake Creek

Oct Rhodes Away Rhodes Home Rhodes Home Legacy Home Legacy Away Rhodes Away Legacy Home

4-6 Sat Oct 6 7:00 Fri Oct 5 7:30 Sat Oct 6 7:00 Fri Oct 5 6:30 Fri Oct 5 6:30 Fri Oct 5 7:30 Sat Oct 6 6:00

Parent Night

Homecoming

Week 7

Taylor Morton Ranch Tompkins Katy OPEN Cinco Ranch

Mayde Creek

Bryan Rudder

Oct. Rhodes Away Legacy Home Legacy Away Legacy Away Rhodes Home Legacy Home Merrill Green Away

11-13 Fri Oct 12 7:30 Fri Oct 12 6:30 Thurs Oct 11 6:30 Fri Oct 12 6:30 Fri Oct 12 7:30 Thurs Oct 11 6:30 Fri Oct 12 7:30

Band Fest.

JH Night

Homecoming

Week 8

OPEN Seven Lakes Taylor Tompkins Katy Mayde Creek Morton Ranch A&M Consolidated

Oct. Rhodes Away Legacy Away Rhodes Home Rhodes Home Legacy Home Rhodes Away Legacy Home

18-20 Sat Oct 20 Noon Fri Oct 19 6:30 Fri Oct. 19 7:30 Sat Oct 20 Noon Fri Oct 19 6:30 Fri Oct. 19 7:30 Sat Oct 20 2:00

JH Night

Homecoming

Week 9

Katy Cinco Ranch Seven Lakes OPEN Mayde Creek Tompkins

Taylor

Huntsville

Oct. Legacy Away Legacy Home Rhodes Away Rhodes Home Legacy Away Legacy Home Bower Stadium Away

25-27 Fri Oct 26 6:30 Fri Oct 26 6:30 Fri Oct 26 7:30 Fri Oct 26 7:30 Thur Oct 25 6:30 Thur Oct 25 6:30 Fri Oct 26 7:30

Area band

Parent Night

Parent Night

Week 10

Tompkins Mayde Creek Katy Seven Lakes Morton Ranch OPEN Cinco Ranch Montgomery

Nov. Legacy Home Rhodes Away Rhodes Home Legacy Home Legacy Away Legacy Away Rhodes Home

1-3 Sat Nov 3 11:00 Fri Nov 2 7:30 Fri Nov 2 7:30 Fri Nov 2 6:30 Fri Nov 2 6:30 Sat Nov 3 11:00 Sat Nov 3 2:00

Homecoming

JH Night

Week 11

Seven Lakes Taylor Morton Ranch Mayde Creek Cinco Ranch Katy

OPEN

Lamar Consolidated

Nov. Legacy Home Legacy Away Rhodes Home Rhodes Away Legacy Away Legacy Home Rhodes Home

8-10 Fri Nov 9 6:30 Thur Nov 8 6:00 Thurs Nov 8 7:00 Thurs Nov 8 7:00 Fri Nov 9 6:30 Thur Nov 8 6:00 Fri Nov 9 7:30

Homecoming

Community Newsletter | September 2018

25
---
TWO KATY ISD HIGH SCHOOLS ARE "BEST IN HOUSTON AREA"

Katy ISD is known to have some of the best schools in the area and just

recently Cinco Ranch High and Seven Lakes High were recognized as

part of the top 100 list of "the best high schools in the Houston area

for 2018" according to the nonprofit organization Children at Risk.

For 13 years, Children at Risk has ranked Texas schools to help

parents, educators and community members understand how

their schools are performing and to spark dialogue on the quality

of public education across Texas. This year Seven Lakes High School

received an A+ and Cinco Ranch received an A.

Discount Fence Company

"When a good job really matters."

Residential and Commercial Fences

• Wood Privacy Fences

• Chain Link Fences

• Fence Repairs

• Insured and Bonded

• Free Estimates

• Tree Trimming (Certified Arborist)

No Job Too Big

or Too Small

Daniel Burgess

832-378-2337

Always there for you!

"Katy ISD has a total of 10 high schools, including our Miller Career

& Technology School and Raines High School and many of them

often find themselves ranking high on these prestigious lists," said

Assistant Superintendent for Secondary School Leadership and

Support Jeff Stocks. "Katy ISD continues to be a destination school

district where families find great opportunities for their children to

reach their fullest potential."

To rank the schools, researchers examine student achievement, achievement

plus poverty level, student growth and college readiness. To view

the full list of high school rankings, visit Texas School Guide webpage.

SEVEN LAKES HIGH SCHOOL

MPL#40815

Water Heaters • Drain Problems

Faucet Installation & Repair

Gas Test • Water Leaks & Much More

35+ Years Experience

832-890-8449

info@tonysplumbingtx.com

www.tonysplumbingtx.com

$30 off

any Job

Over $95

Low Price Guarantee

Licensed & Insured

FREE ESTIMATES

Roof Leaking?

Specialized in Roof Repairs

Our Family Trade Since 1945

• Whole Roofs & Roof Repairs

• Seamless Gutters & Downspouts

• Wall Flashing

• Soffit & Fascia

• Skylights & Chimneys

• Window Replacement

• Other Difficult Repairs

281-391-8257

www.callenroofing.com

WE FIX IT RIGHT

THE FIRST TIME!

SEVEN LAKES HIGH SCHOOL BEST BUDDIES

Seven Lakes High School Best Buddies President, Reagan Kallina and

Co-Vice President, Tania Swain, represented their chapter at the 2018

Best Buddies International Leadership Conference in Indiana in July.

The SLHS chapter was awarded the Overall International Outstanding

High School Chapter, Outstanding High School Chapter in Texas for the

3 rd year in a row, National Pacesetter Award and was honored for being

one of the top fundraisers in the nation.

Founded in 1989 by Anthony K. Shriver, Best Buddies is a vibrant organization

that has grown from one original chapter to nearly 2,500 chapters

worldwide, positively impacting the lives of over 1.2 million people with

and without intellectual and developmental disabilities. Best Buddies

programs engage participants in each of the 50 states and in 50 countries

around the world. For more information, go to www.bestbuddies.org.

26 September 2018 | Community Newsletter
---
SEVEN LAKES HIGH

SCHOOL STUDIO VII

THEATRE COMPANY

PRESENTS

A Midsummer/Jersey

October 11-13, 2018

Showtimes: 7 PM Daily and 2

PM Matinee on Saturday

Midsummer/Jersey is the hilarious

high-octane re-telling

of Shakespeare's Midsummer

Night's Dream set on the

boardwalk of a seaside town in

modern-day New Jersey.

s

ST. BARTHOLOMEW CATHOLIC PRESCHOOL

St. Bartholomew Catholic Preschool has been designed to:

• Nurture Catholic faith development in each child

and in each child's family.

• Teach students about prayer and to respect the world

around them.

• Allow opportunities for young children to learn socialization skills.

• Encourage self-esteem while teaching acceptable behavior.

• Provide a low teacher-child ratio with caring, experienced staff.

• Offer a curriculum that will help prepare our students for

Kindergarten and the world.

• Expose the children to a variety of learning opportunities

like Spanish, motor lab, and music.

• Foster an appreciation of others through charitable

acts of kindness.

We have openings in our M/W and T/Th 18 month Class, 2 spots

in our 2's class and 4 spots left in our 4's class. Please email Rose

Stornello at rose@st-bart.org or Juli Ondrush at juli@st-bart.org or

call the preschool office at 281-391-0993.

DISCLAIMER: Articles and ads in this newsletter express the opinions

of their authors and do not necessarily reflect to opinions of Krenek

Printing Co. or its employees. Krenek Printing is not responsible for

the accuracy of any facts stated in articles submitted by others. The

publisher also assumes no responsibility for the advertising content

with in this publication. All warranties and representations make in the

advertising content are solely that of the advertiser and any such claims

regarding its content should be taken up with the advertiser.

The publisher assumes no liability with regard to its advertisers for

misprints or failure to place advertising in this publication except for the

actual cost of such advertising.

Although every effort is taken to avoid mistakes and/or misprints in this

publication the publisher assumes no responsibility for any errors of information

or typographical mistakes, except as limited to the cost of advertising as stated

above or in the case of misinformation, a printed retraction/correction. Under no

circumstances shall the publisher be held liable for incidental or consequential

damages, inconvenience, loss of business or services, or any other liabilities

from failure to publish, or from failure to publish in a timely manner, except as

limited to liabilities stated above.

Published by: KRENEK PRINTING CO.

www.krenekprinting.com

Community Newsletter | September 2018

Forever Landscape

• Tree Trimming

• Tree Removal

• Tree Fertilizer

• Trim Bushes

• Flower Bed Design

• Planting, Renovation

• Stone Border

• Pavers

Call Everth

Amelia Norabuena

• Flat Stones

• Drain System

• Garden Soil, Top Soil

• Grass Installation

• Lawn Aeration

• Lawn Dethatcher

• Mulch

• Clean Gutters

281-891-0370

Visit us at

www.foreverlandscape.com

Fully insured for your protection.

Free

Estimates

MAID SERVICES

281-912-5036

27
---
Fall Sports

HIGHFLYERS JUMP ROPE TEAM OF KATY

Six members of the Highflyers Jump Rope Team of Katy, Texas competed

in the U.S. National Jump Rope Championship June 20-24, 2018,

in Wisconsin Dells, Wisconsin. The team has competed at the National

Championship each year since 2001. Qualification to the Championship

is via a Regional Tournament, which for the second consecutive year,

was hosted by the Highflyers in Katy in late April.

49 teams from across the United States were present at the National

Championship. More than 550 jumpers competed within their age

groups. The top 12 from all age groups progressed to Grand Nationals

on the final day. The competition included individual, pairs and

group entries in speed, power and freestyle events with single rope

and Double Dutch.

The Highflyers had a successful Championship with many members

achieving personal bests and/or placing in their age group. Cinco

Ranch High School Sophomore Stephanie Detgen, won gold in both

30 Second Speed and Double Unders within her age group. In addition,

the team's four person Double Dutch freestyle team scored sufficiently

high enough in their age group to qualify for Grand Nationals - placing

as the seventh best team in the nation.

The Highflyers Jump Rope Team is a competitive and performance

youth team whose mission is to promote the sport of jump rope as a

fun, heart healthy activity that also promotes teamwork, dedication

and responsibility.

WESTSIDE GOLF LEAGUE

Westside Golf League is actively encouraging

new members. We invite you to join us every

Tuesday morning at Cinco Ranch Golf Club.

Our purpose is to allow ladies of all levels to

meet new friends and have fun while improving

golfing skills. For more information, contact the

Pro Shop at Cinco Ranch, 281-395-4653.

MONTY BALLARD YMCA AT CINCO RANCH

22807 Westheimer Pkwy., Katy, TX 77494

Monty Ballard YMCA Fall Sports:

Tiny Tots Soccer (age 3 and 4 years)

Youth Soccer League (grades K-7)

Youth flag Football league (grades 1-7)

Youth Volleyball League (grades 3-6)

Teen Volleyball League (grades 7-12)

Teen basketball League (grades 7-12)

Fall tennis lessons (grades K-7)

Start Date for Traditional League

Practice: Week of 9/17/18

Start Date for Tiny Tots Practices:

Week of 9/24/18

First Game Day (Season Starts) 9/29/18

Last game: 11/10/18

For the best pricing to join one of our league,

please see below. You can come into the Monty

Ballard YMCA or Katy Main Street YMCA to register

or go to: www.ymcahouston.org.

Regular Registration period:

8/14/18 to 9/10/18

Extended Registration Period: 9/11/2018

SWIM LESSONS: The Y has been teaching swim

lessons for over 100 years! All ages and ability levels

welcome. Morning, evening, group and private sessions

available. Call the Y, stop by the welcome center

or visit us online at www.ymcahouston.org/blog/

swim-programs-monty-ballard-ymca-cinco-ranch.

FALL SOCCER SIGN UPS - KATY/

FULSHEAR/WEST HOUSTON/SPRING

BRANCH/WESTPARK BELTWAY

Registration - Now Open!

Registration for Fun, Fair, Positive Soccer (FFPS) is open

for boys and girls ages 4 to 18 for the Fall Season. Games

start on October 6, 2018. FFPS is a non-profit youth

soccer program dedicated to providing a positive youth

sports experience for all children. Founded in 1986 in

Katy, Texas, FFPS has grown to 22 leagues and 16,000

players throughout the Greater Houston area. FFPS offers

children a fun and fair experience, including one practice

per week, a full uniform and trophy for every player, equal

playing time and play every position, co-ed/balanced

teams, positive coaching and more. No tryouts

are required.

28 September 2018 | Community Newsletter
---
Online Registration schedule and fees

(sign up early and save):

Through September 17 th : $124

September 18 th until teams full: $129

Go to www.FFPS.org to sign up. Registration

fee includes a full uniform (jersey, shorts and

socks), trophy, trained positive coaches, nice

fields and background checks on all volunteers.

Coaches will call players to schedule practice by

October 2 nd . Practice times and location will be

determined by the coach and team. The schedule

includes eight games, played locally on Saturdays,

October 6 th to December 1 st . Our Katy

league plays at George Bush Park - FFPS Soccer

Complex (20150 Westheimer Parkway). Our Fulshear

League plays at Huggins Elementary (No.

1 Huggins Dr). Our West Houston League plays

at Westside High School (14201 Briar Forest).

Our Westpark/Beltway League plays at Quillian

Center (10570 Westpark Dr). Our Spring Branch/

Memorial League plays at St. Andrew Lutheran

Church (1353 Witte Rd).

For more information, map of all locations or to

sign up, visit www.FFPS.org or call

1-800-828-PLAY (7529).

REGISTRATION IS OPEN FOR LW SPORTS'

JR. ROCKETS FALL BASKETBALL

AND FALL SOCCER LEAGUES

JR. ROCKETS FALL BASKETBALL LEAGUE

Dates: Through October

Cost: $75

Ages: 4-15 (boys and girls!)

Each paid participant receives: a Rockets jersey

for games, a FREE ticket to a Houston Rockets

game & an entry into a drawing for a J

ames Harden SIGNED Rockets Jersey!

FALL SOCCER LEAGUE

Dates: Through October

Ages: 3-8 (co-ed)

Each participant will receive a game jersey.

For more information go to:

www.myLWSports.com or call 281-500-8913!

HCYA HOMESCHOOL BASKETBALL

Registration is now open for the

2018-2019 Season

HYCA (Homeschool Christian Youth Association)

is now accepting registrations through October

15 th for the 2018-2019 season. The organization

has been in existence for more than 25 years and

our coaching staff has over 30 years of total experience

with HCYA. We have a number of teams

to accommodate boys ages 8 through the Varsity

Level. We compete against private schools,

public schools and home school organizations.

We practice at Katy Hustle gym.

Visit our website at www.hcyawarriors.com for

more information.

AHFC JUNIOR HURRICANES (JHSL)

REGISTRATION FOR FALL 2018 NOW OPEN

The Junior Hurricanes Soccer League (JHSL) is

led by professional United States Soccer Federation

(USSF) licensed staff and is designed for boys

& girls who want to play and have fun in a safe

Community Newsletter | September 2018

and developmentally appropriate environment.

The JHSL program is being offered at multiple

locations and in conjunction with CFSA at the

Schiel Road Complex. To learn more about each

location and to register please visit www.albionhurricanes.org.

Season begins in September!

For those wishing only to train, join us in Katy for

AHFC Friday Night Academy. Visit Katy Youth Soccer

to register for this Friday Fun Program. AHFC

is proud to partner with New Territory and offer

New Territory Thursday Night Academy, a 5-week

Skills Program. Email us at jhsl@albionhurricanes.

org for more information or questions.

Want a more competitive program? Join AHFC!

Call us and we can find you a team: 713-939-7473.

Website: www.albionhurricanes.org.

WEST HOUSTON RUGBY CLUB

West Houston Rugby Club offers excellent opportunities

for players of all ages from minis to adults

to participate in one of America's fastest growing

sports. Our coaches are fully accredited with USA

Rugby and include former European premiership

players. We are a not for profit club with a mission

to provide outstanding club management, a fun

social environment and the feeling of a rugby family.

Registration is now open for the 2018 season at

www.westhoustonrugby.com. Enquiries may be

sent to info@westhoustonrugby.com. Come and

join the fastest growing club in Houston!

KATY AREA RUNNING CLUB

The Katy Area Running Club is a 501(c)3 non-profit

corporation which exists to serve people living

in and around Katy, Texas who have an interest

in running. We are a community of people of all

ages, backgrounds, heritages and abilities who

share a common interest - running! Our focus is on

group runs, having fun, socializing and sharing our

knowledge and experience with our members and

the public. We welcome all who are interested in

joining us. We have a full calendar of runs, events

and socials. We hold group runs every Saturday

morning at the Sergeant Hatch Sports Park off the

south I-10 feeder road just east of Barker Cypress

Rd. On Tuesdays (5 AM and 6:30 PM) we meet at

one of the KISD junior high tracks for speedwork

and on Thursday (6:30 PM) we meet at Crosspoint

Community Church for tempo runs of various

distances and paces. To find out more and to join

our club, visit www.KatyAreaRunningClub.com.

TRACK HOUSTON YOUTH TRACK CLUB

Track Houston is the nation's largest and most

successful youth track and field organization. Our

goal is to assist interested boys and girls ages 6

to18 years old in improving their physical fitness

and mental stamina. We have multiple practice

sites in the Greater Houston area including Mc-

Means Junior High School in Katy and Cypress

Lakes High School in Cypress. Visit www.trackhouston.com

to register for a location near you.

KATY CANOE & KAYAK CLUB (KC/KC)

Established March of 2014 (Over 200 Members).

Never paddled before, that's okay too! We don't

own a store, don't purchase anything yet! Join

our meetings and we can answer your questions

and/or assist you in trying out new gear and

equipment. KC/KC is a non-profit organization

with major Sponsors. Must be at least 21 years of

age to join. LIFE VEST/PFD IS A MUST!!!!

We meet every 3 rd Wednesday of each month

at 24638 Kingsland Blvd., Katy TX 77494 (Manta

Ray Enterprises, Inc.), 7-9 PM. For more information,

call Philip at 713-826-5705 or 281-782-7252.

"Remember-Think Safe, Paddle Safe"

NETBALL CLUBS

Katy Swifts Netball Club invites people to come

and learn about netball and have some fun playing

a great team sport. Open to everyone from

eight years and up including adults. Contact katynetball@netballamerica

for further information.

Houston Shooting Stars welcomes ladies, men

and youth to join in, play and learn netball,

Tuesday nights at The British School of Houston.

Contact houstonnetball@netballamerica.com

for further information.

You can also "like" the Texas Netball Association

on Facebook to see regular announcements

about netball in the Lonestar State! Also visit

netballamerica.com for general information

about netball in America.

WOMEN'S FLAT TRACK ROLLER DERBY

Southwest Houston's own brand new women's

flat track roller derby team is now forming. This

isn't the old school roller derby you've seen in

the past. We train derby athletes to compete

according to the rules and guidelines set forth by

WFTDA, the Women's Flat Track Derby Association.

We are actively recruiting skaters, referees

and volunteers. Skaters must be female and 18

or older. Referees and volunteers must be 18 or

older. Email us at yellowrosederbygirls@yahoo.

com for more information. You can also find us

at www.yellowrosederbygirls.com and on Facebook.

Join up now to become an integral part in

founding and building our league.

VOLLEYBALL

Please contact Dean at volleyballkaty@yahoo.

com if you are interested in playing volleyball.

You must be at least 18 years old and be able to

play at intermediate level. We play at different

locations in and around Katy area.

KATY RUGBY CLUB

Want to learn the newest Olympic Sport - Rugby?

All ages welcome - boys & girls, Training every Sunday

2-4 PM at Cinco Ranch High School, For more

information, please visit www.katyrugbyclub.com.

KATY CAVALIER LACROSSE CLUB

The Katy Cavalier Lacrosse Club invites you to come

and see what Lacrosse is all about. Join us as we

continue to bring one of the fastest growing team

sports in the United States to the youth of Katy.

Katy Cavalier Lacrosse Club offers lacrosse for boys

and girls from Kindergarten thru High School. No

experience needed. For more information visit our

website, www.katycavalierlacrosse.org.

Did you play Lacrosse in college, coached lacrosse

or just love the sport? We are looking for Coaches

for boys and girls. Please contact us for more information

if you would like to volunteer and be a part

of the Katy Cavalier Lacrosse Club, 281-942-8822.

29
---
Krenek Printing

NEIGHBORHOOD NEWSLETTERS

www.krenekprinting.com

281-463-8649

RESIDENTS:

Please support the businesses within

this newsletter. It is because of their support

that you receive this paper at no charge

to you or your HOA.

Share your community news with us.

Non-profit, scouts, school, dated events, etc.

send to news@krenekprinting.com

ADVERTISERS:

Want your ad to be placed in this newsletter

and mailed to the homeowners every month?

For more information, pricing or to view

newsletters online please visit

www.krenekprinting.com or email

ads@krenekprinting.com

BUSINESS FINDER:

Search for businesses in your local area

and find great deals on the goods and

services you are looking for!

NEWSLETTERS:

View your newsletter online! You can

read your community news on our website

or download it to take with you and print.

Archived issues are also available.

LLC

MOBILE:

You now have access to our full website optimized for

your mobile device, making it even easier to find the

things you need on the go!

MORE:

Find information about advertising

opportunities, article submissions, our

company, frequently asked questions,

and submit your classified ads online.

NOW OFFERING FULL COLOR

PRINTING SERVICES!

Call today for a quote!

RELIGIOUS INFORMATION

LIVING STONES CHURCH OF

HOUSTON - DISCERNING THE VOICE

OF GOD BY PRISCILLA SHIVER

LADIES BIBLE STUDY

23501 Cinco Ranch Blvd.,

Ste. H120-300, Katy, TX 77494

All Katy ladies invited! Discerning

the Voice of God by Priscilla Shiver

Ladies Bible Study starts Tuesday,

September 18, 2018, 9:30-11:30 AM

for a 7-week series. Meeting at home

near Tompkins High School. For more

information or to register, visit

livingstones.org/discerning.

KATY CHRISTIAN WOMEN'S

CONNECTION (KCWC)

KCWC is part of Stonecroft, a ministry

for women which provides Bible Studies,

Prayer Connections and fellowship

luncheons around the US. Katy Christian

Women also sponsors monthly

Prayer Coffees. These are held on the

second Thursday of each month.

New Bible Studies started in January.

Please visit our website at Katycwc.

org for locations or call Janet Collins

at 281-762-8252.

For more information or to RSVP for the

luncheon, please email Nancy at Katycwc@gmail.com

or call 281-232-8338.

KATY WOMEN'S AGLOW

Katy Women's Aglow, a part of Aglow

International, is a local, spirit-filled

women's ministry fellowship. We

meet monthly, usually on the fourth

Saturday 10-11:30 AM. We come

together for fellowship, to worship

and to hear inspirational speakers

and testimonies, as well as for special

events. Katy Women's Aglow is a great

place to make new friends! View our

website for information about current

Bible studies. Prayer meetings, special

events and speaker biographies,

www.katyaglow.com.

HOPE IMPACTS BIBLE STUDIES

Mondays at the Bagel Café 7-8:30 PM.

Bible Study includes dinner. Located

631 S Mason Rd, Katy, TX 77450

Thursdays 12-1:30 PM, Ladies Discovery

Bible Study and lunch on the first

3 weeks of the month. Hope Impacts

office is located at 802 Dominion Suite

300, Katy, TX 77450. Registration is required

and onsite childcare provided

upon advance request. Minimum participation

2, Maximum 10. Questions

call 713-705-7884 ask for

Marilyn or Tina.

PROPHETIC BIBLE STUDY

FROM THE TORAH

Prophetic Bible Study from the Torah

starting with Leviticus chapter 23, "the

feasts of the Lord," using authentic Hebrew

Scrolls and the New Testament.

The lessons are in English, Chinese

and partially finished in the Russian

language. Lessons are web based until

a group study is formed in Katy http://

scrolls4all.org. Contact: Gary Zimmerman

scrolls4all.org@gmail.com.

TRINITY BAPTIST CHURCH

SENIOR ADULT NEWS

Trinity Baptist Church Senior Adults

get together on Monday afternoons

from 1-4 PM for a time of fellowship,

prayer and games... Come join the fun!

Trinity Baptist Church is located at

10000 Spring Green Blvd. (corner of

Spring Green and Fry). For more information,

visit www.trinity-katy.org or

call the church office at 281-579-6724.

AREA BINGOS

EPIPHANY BINGO

Epiphany conducts their bingo games

every Friday night except holidays.

THERE IS NO SMOKING ALLOWED

DURING ALL BINGO GAMES. They have

security, lighted parking, big screen

color monitor, computerized bingo

equipment, snack bar and large cash

prizes. Profits benefit charitable outreach

programs. Epiphany Catholic

Church, Church Community Center,

1530 Norwalk Dr. (between Fry and

Mason Roads, south of I-10 behind

Nottingham Subdivision) off Highland

Knolls. Early bird games begin at 7:30

PM and regular games at 8 PM. For

more info, call the bingo hall number

at 281-578-3905.

ST. BARTHOLOMEW THE APOSTLE

CATHOLIC CHURCH BINGO

At St. Bartholomew the Apostle Catholic

Church in downtown Katy, "BINGO" is

being played in our Parish Hall every

Friday evening except Holidays. Doors

open at 7 PM, games start at 7:15 PM

with four Early Bird games. Regular

games start at 7:30 PM. All profits will

benefit community outreach and Religious

Education programs. The Church

is located in downtown Katy at 5356

Eleventh St. You can get to the church

if traveling west on Hwy. 90 to Katyland

Rd. Turn right at the light, go to the second

stop sign (at the stadium) Eleventh

St., turn left and the Church Hall will be

on your right one block down. For more

info., call 281-391-4758.

30 September 2018 | Community Newsletter
---
RECIPES

ITALIAN WEDDING SOUP

Made with the most perfectly tender,

juicy, chicken meatballs! So hearty

and flavorful. Not to mention, it's

simple, quick and easy!

Ingredients:

2 tablespoons olive oil, divided

3 cloves garlic, minced

1 onion, diced

3 carrots, peeled and diced

2 stalks celery, diced

1/2 teaspoon dried thyme

8 cups chicken stock

2 bay leaves

1/2 cup uncooked acini di pepe pasta

1 sprig rosemary

3 cups baby spinach, chopped

1 tablespoon freshly squeezed lemon juice

2 tablespoons chopped fresh parsley leaves

Kosher salt and freshly ground black pepper, to taste

1/4 cup freshly grated Parmesan

For the chicken meatballs

1/2 pound ground chicken

1/2 pound chicken sausage, casing removed

1/3 cup Panko

1/4 cup freshly grated Parmesan

1 large egg

1/2 teaspoon dried oregano

1/2 teaspoon dried basil

1/2 teaspoon dried parsley

1/4 teaspoon garlic powder

Kosher salt and freshly ground black pepper, to taste

Directions:

In a large bowl, combine ground chicken, chicken sausage, Panko,

Parmesan, egg, oregano, basil, parsley and garlic powder; season

with salt and pepper, to taste. Using a wooden spoon or clean hands,

stir until well combined. Roll the mixture into 3/4-to-1-inch meatballs,

forming about 25-30 meatballs.

• Heat 1 tablespoon olive oil in a large stockpot or Dutch oven over

medium heat. Add meatballs, in batches, and cook until all sides

are browned, about 2-3 minutes. Transfer to a paper towel-lined

plate; set aside.

• Add remaining 1 tablespoon olive oil to the stockpot. Add garlic,

onion, carrots and celery. Cook, stirring occasionally, until tender,

about 3-4 minutes. Stir in thyme until fragrant, about 1 minute.

• Whisk in chicken stock and bay leaves; bring to a boil. Stir in acini di

pepe, rosemary and meatballs; reduce heat and simmer until pasta

is tender and meatballs are cooked through, about 9-12 minutes.

• Stir in spinach, lemon juice and parsley until spinach has wilted,

about 2 minutes; season with salt and pepper, to taste.

• Serve immediately, garnished with Parmesan, if desired.

This delicious recipe brought to you by Damn Delicious

https://damndelicious.net/2018/07/29/italian-wedding-soup/

Community Newsletter | September 2018

APPLE DUMPLING

You could make this on National Apple Dumpling Day September 17 th !

INGREDIENTS:

1 pastry for double-crust pie

6 large Granny Smith apples, peeled and cored

1/2 cup butter

3/4 cup brown sugar

1 teaspoon ground cinnamon

1/2 teaspoon ground nutmeg

3 cups water

2 cups white sugar

1 teaspoon vanilla extract

DIRECTIONS:

Preheat oven to 400 degrees F (200 degrees C).

Butter a 9x13 inch pan.

On a lightly floured surface, roll pastry into a large rectangle, about 24 by

16 inches. Cut into 6 square pieces. Place an apple on each pastry square

with the cored opening facing upward. Cut butter into 8 pieces. Place 1

piece of butter in the opening of each apple; reserve remaining butter for

sauce. Divide brown sugar between apples, poking some inside each cored

opening and the rest around the base of each apple. Sprinkle cinnamon and

nutmeg over the apples.

With slightly wet fingertips, bring one corner of pastry square up to the top

of the apple, then bring the opposite corner to the top and press together.

Bring up the two remaining corners and seal. Slightly pinch the dough at

the sides to completely seal in the apple. Repeat with the remaining apples.

Place in prepared baking dish.

In a saucepan, combine water, white sugar, vanilla extract and reserved butter.

Place over medium heat and bring to a boil in a large saucepan. Boil for 5

minutes or until sugar is dissolved. Carefully pour over dumplings.

Bake in preheated oven for 50 to 60 minutes. Place each apple dumpling in

a dessert bowl and spoon some sauce over the top.

Source: http://allrecipes.com/

HOAGIE DIP

You could make this on National Eat a Hoagie Day September 14 th !

INGREDIENTS:

1/2 pound cooked ham, thinly sliced

1/2 pound Genoa salami, thinly sliced

1 pound processed American cheese, sliced

2 cups mayonnaise

2 teaspoons dried oregano

1 onion, chopped

1/2 head iceberg lettuce, shredded

2 tomatoes, diced

12 hoagie rolls, torn into pieces for dipping

DIRECTIONS:

Tear the ham, salami and

American cheese into small pieces.

Place in a large bowl.

In a medium bowl, blend the mayonnaise and oregano.

Mix the mayonnaise mixture into the ham mixture 1/2 cup at a time,

until meats and cheese are well coated. Mix in the onion.

Before serving, mix in the lettuce and tomatoes.

Serve with the hoagie roll pieces for dipping.

Source: http://allrecipes.com/

31
---
EZFLOORS

PROUD TO SERVE YOU

Katy's Unique Flooring Store

NEW LOCATION IN KATY/FULSHEAR

2721 FM 1463 Ste. 100

832-437-5305

20680 Westheimer Parkway #150

281-647-0777

NEW

2721 FM 1463 #100

832-437-5305

1557 W. Sam Houston Pkwy. #110

713-465-6741

ASK ABOUT OUR LIFETIME WARRANTY ON INSTALLATION

Handscraped

Hardwoods

Starting from

$

3 79

sq.ft.

ALL HARDWOOD AND LAMINATE INSTALLATIONS INCLUDE GLUE,

MOLDINGS, QUARTER ROUNDS AND PADDING

Installed All

Trim Included

(limited time offer)

Handscraped

Laminate

12mm Starting from

$

2 59

sq.ft.

Installed All

Trim Included

(limited time offer)

Granite

Countertops

Starting from

$

27 99

sq.ft.

Installed, Including

11/2" Bullnose

(limited time offer)

16945 N. Eldridge Pkwy. #100

281-257-5955

17111 West Rd. #105

281-656-2224

24150 Hwy 290 #270

281-758-2980

5015 FM 2920 Suite A

281-288-2300

NEW

18024 Hwy 105 W. Ste. 200

936-582-4000

UP TO 12 MONTHS

NO INTEREST FINANCING W.A.C.

American Made

Handscraped Hardwood

Starting from

$

4 99

sq.ft.

Installed All

Trim Included

(limited time offer)

Laminate

Starting from

$

2 29

sq.ft.

Installed All

Trim Included

(limited time offer)

Starting from

$

2 69

sq.ft.

Tile

Includes

Installation

(limited time offer)

20x20

Porcelain Tile

Starting from

$

3 19

sq.ft.

Includes

Installation

(limited time offer)

Starting from

$

1 69

sq.ft.

Carpet

Starting

$

1 09

from

sq.ft.

Includes Installation,

Padding & Removal

of All Carpet

(limited time offer)

$

100 Off

Purchase of $1,500 or More

Present at time of purchase. Not valid

with any specials. (limited time offer)

Includes Installation,

Padding & Removal of All Carpet

(limited time offer)