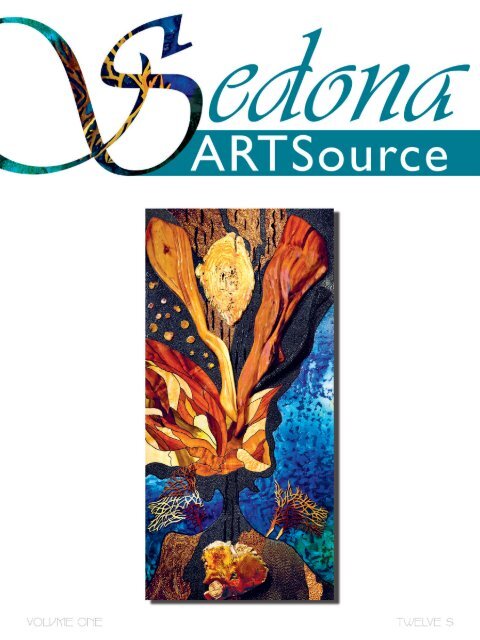 Sedona Art Source - Volume One
The premiere issue of Sedona Art Source opens with Sedona Mayor Sandy Moriarty's perspective on the arts and continues with spotlights on local artists including Connie Frasca and Karen Halliday, John and Ruth Waddell, Mary Margaret Sather, Patricia Saxton, James N. Muir, Tom and Shondra Jepperson, Michael Colpitts, Anthony Mazzella, Michael McClellan, and Vince Fazio. Discover the history of Tlaquepaque Arts and Craft Village and learn about the making of architectural elements at Mariposa Grill. Read an interview with Executive Director of the Sedona International Film Festival, Patrick Schweiss, and learn about artist residencies and workshops at the Sedona Summer Colony.
The premiere issue of Sedona Art Source opens with Sedona Mayor Sandy Moriarty's perspective on the arts and continues with spotlights on local artists including Connie Frasca and Karen Halliday, John and Ruth Waddell, Mary Margaret Sather, Patricia Saxton, James N. Muir, Tom and Shondra Jepperson, Michael Colpitts, Anthony Mazzella, Michael McClellan, and Vince Fazio. Discover the history of Tlaquepaque Arts and Craft Village and learn about the making of architectural elements at Mariposa Grill. Read an interview with Executive Director of the Sedona International Film Festival, Patrick Schweiss, and learn about artist residencies and workshops at the Sedona Summer Colony.
SHOW MORE
SHOW LESS
Create successful ePaper yourself
Turn your PDF publications into a flip-book with our unique Google optimized e-Paper software.
Always has been

Always will be ...

The Art of Fine Dining

Reservations - (928) 282-5219

dahlanddiluca.com
---
FROM THE PUBLISHER

Sedona ArtSource has a simple yet purposeful

mission: Support the arts and support the rich

artist community in Sedona. Our privilege is

to trumpet the talent while promoting available

options for embracing it.

I appreciate being associated with a team of

like-minded people in accomplishing this

effort. The talented group that comprise the

ArtSource team have invested their lives as

creators and promoters of the arts — people

with backgrounds in the performing, literary,

visual and design genres. Gratitude goes to

Carol Kahn, Kristina Gabrielle, Rick Cyge,

Patti Polinard and Lynn Alison Trombetta,

core members of an even larger team

committed to bringing Sedona ArtSource

to successful fruition as the entity supporting

all the arts in the stimulating presence of

Sedona's accessible energies.

Greg Lawson

6 Editor's Message

8 Mayor Sandy Moriarty

Perspective

11 Nancy Lattanzi

Art Enthusiast

12 City of Sedona

State of the Arts

16 Frasca & Halliday

An Ode to Mother Nature

22 Native Jewelry of Sedona

24 John & Ruth Waddell

Common Ground

30 A Parallel Universe

The History of Tlaquepaque

2

Sedona ARTSource

ON OUR COVER

Frasca and Halliday's

"Mother Earth" depicts

nature's majesty. "We

had just come back

from a trip and had

seen beautiful forests

and lakes. It was one

of those peaceful

experiences that only

nature can provide.

The flower in the

center of the piece has

branches and vines

that represent the

intricacies of life."

— Connie Frasca and

Karen Halliday

Frasca & Halliday - An

Ode to Mother Nature,

PAGE 16

Sedona

ARTSource

Published by Sedona ArtSource

2679 West State Route 89A

Sedona, AZ 86336

Volume One

Design elements by Erick Hale Agency

and Nadezda Skocajic

Printed in PRC

SedonaArtSource.com

Sedona ArtSource is published quaterly.

Copyright © 2018 Sedona ArtSource. All world rights reserved. No part

of this publication may be reproduced, transmitted, transcribed, stored

in a retrieval system or used as a model for any type of reproduction,

in any medium, by any means without the publisher's prior written permission.

The publisher assumes no responsibility for errors or omissions.

Opinions expressed do not necessarily refl ect the views of the publisher.
---
CONTENTS

36 Patrick Schweiss

5 Questions

38 Mary Margaret Sather

"I am a Potter"

44 Patricia Saxton

En Pointe

49 James N. Muir

Spiritual Storyteller

53 Tom & Shondra

Many Faces

59 Michael Colpitts

Artist Spotlight

60 Mariposa

A Metamorphosis

70 Anthony Mazzella

Heavenly Music

74 Michael McClellan

Artist's Perpective

76 Sedona Culture Collaborative

A New Arts Initiative in Sedona

79 Artwork on the Secondary Market

80 Vince Fazio

What is Art?

82 Sedona Summer Colony

85 ArtSource Resource

86 Sedona Gallery Map

88 Sedona Gallery Index

24 30 38 49 60

Publisher

Editor

Graphic Design

Web Master

Writer and Public Relations

Marketing

Greg Lawson

Carol Kahn

Kristina Gabrielle

Rick Cyge

Lynn Alison Trombetta

Patti Polinard

SedonaArtSource.com

info@SedonaArtSource.com

Facebook.com/SedonaArtSource

Twitter.com/SedonaArtSource

Gifted voice commands an ear

Vision charms the eye

Compositions will inspire

While stars inherit sky

— Greg Lawson

Sedona ARTSource

5
---
A vision of Old Mexico

with five restaurants and

over 45 shops and galleries

around every corner.

Open daily -10 am.

Enjoy our magazine at tlaq.com

Tlaquepaque arTs & CrafTs Village

336 State Route 179 in Sedona , Arizona • www.tlaq.com • 928-282-4838
---
FROM THE EDITOR

Welcome to the Premier Issue of Sedona ArtSource.

It is an honor and a privilege to introduce you to our first

volume, as well as some of the talented artists who reside in

this beautiful place we call home.

Sedona's beauty is majestic and enchanting. This magical

place captured my heart and soul nine years ago and became a

personal sanctuary. I was living in Las Vegas at the time, and

visited Sedona every three months without fail for six years.

It became my home away from home. In 2015, while dining at

Mariposa, a friend asked, "Why don't you move here already?

You're here all the time." I shared with him my fear of moving

to Sedona and having it lose its magic. "Well perhaps the

magic will be enhanced," he said. After considering that

thought, as well as questioning my own limitations, Sedona

actually showed me the way. I am proud to report the magic

has been enhanced in more ways than I could have imagined.

The amazing and talented people I have met here enrich my

life on a daily basis.

Sedona as an art destination boasts more than 50 galleries within a very small radius. It is

an art-filled community, brimming with creative people. Every day they work at their craft,

while tapping into an infinite energy that many call "the zone." Each day they immerse

themselves into their creative passions. "Creativity takes courage," as Henri Matisse once

said. It takes an enormous amount of courage for artists, to put their work out into the

world on a daily basis, to be finally judged by the public. Such artists are risk-takers who are

doing what they love to do, regardless of the outcome. Perhaps we can all learn something

from this.

Art is all encompassing. We are surrounded by art in every created form, and we see it as

well in nature. Nature exudes color and form. But, what is art? I have asked this question

hundreds of times hoping to get an answer that could explain it all. I am often met with an

inquisitive blank stare. Many, including artists, have a hard time explaining what art is. In

all of its abstractness, art is in the eye of the beholder.

As an avid art enthusiast and a creative, the role of Editor of Sedona ArtSource is the perfect

fit. I must thank Greg Lawson, our Publisher, for recognizing my love and passion for the

arts along with my exuberance for storytelling. I believe that everyone has a story. With that

comes an enormous responsibility of sharing these stories with the world, hoping to inspire,

motivate, and perhaps change a life, as they are told. Within the pages of Sedona ArtSource lie

the heart and soul of those who embody art. We would like to share with you their gift, their

journey, and their persistence to follow their dreams and passions, sometimes unrequitedly.

I would like to thank each of the artists, our advertisers, the Sedona ArtSource team and all

those who support us as we embark on this new adventure together.

Carol Kahn

Editor

Sedona ARTSource
---
PERSPECTIVE

MAYOR

SANDY MORIARTY

For me, the importance of the arts is simply undeniable.

Throughout the history of mankind, the arts have always been

an integral part of life. They open our minds and speak to our

hearts and souls. In today's complex world, communication is

all-important, and when we think of communicating, our first

thought is of doing so with words, but language barriers often

intervene. The arts come to the rescue, offering a rich source

of non-verbal communication, which can be understood across

cultures, and languages, bringing out the creativity in all of us. It

is creativity that allows us to learn, grow, and solve the many

problems that are a part of everyday existence.

Those of us who live here are so lucky to be able to live amidst

the great beauty that we see as a natural work of art that inspires

us every day. It is fitting that the City's mission statement

recognizes that we are a city animated by the arts. I am proud

of living up to that mission in meaningful ways, such as our

incomparable Artist in the Classroom program, our Moment of

Art at City Council meetings, and the contributions to public art

made through our Art in Public Places ordinance.

8

Sedona ARTSource
---
Sedona ARTSource
---
NANCY LATTANZI

By Carol Kahn

Exuberant. Passionate. Artistic. Creative.

These adjectives well describe Nancy Lattanzi,

Arts and Culture Coordinator for the City of

Sedona. Nancy and her husband discovered

Sedona in 2008 while on a road-trip. They fell

in love with the natural beauty and the artfi

lled community. Feeling right at home, it didn't

take long for her to realize that this is where

she wanted to be. Not wasting a moment, she

quickly opened an art studio, Planet Art, teaching

students about taking care of the earth, and

creating art from found and recycled objects.

That was just the beginning of her artistic

endeavors in Sedona.

Nancy's life imbues art! Her sentences run

together as she talks excitedly about her

passion. Art, she says, is a universal language.

It's a form of expression whether you are

an artist, an art appreciator, or simply an art

observer. "I think art is healing and therapeutic.

'There is no right or wrong,' I tell the kids I

teach. It's subjective. It helps us understand the

differences we have. I think it opens our eyes to

show how we are all different, yet we are all the

same."

Nancy is certainly not someone you would

describe as being complacent or satisfied

with status quo. Her life story

proves it. She is always thinking,

creating, inventing and discovering

new ways to bring art into the

forefront.

While in college, she decided she

wanted to be a graphic designer.

Her college didn't offer a

program that would give her the

necessary skills she would need.

Instead of making due with her

college curriculum, she decided

to create a work-study program,

Art Enthusiast

'An Intro to Graphic Arts,' that earned her nine

credits and eventually became an accredited

course at her school. Upon graduating, she

found a job as a graphic designer and later

became a creative director. Nancy worked for

a variety of publishers including The New York

Times, Discover Magazine, Fortune, People and

McGraw Hill Publications.

Photo: Rick Dembow

NANCY LATTANZI

Arts & Culture Coordinator

City of Sedona

A happenstance conversation following jury duty

changed the direction of her career. The fellow

juror was a director of a progressive school in

New York and was looking for an art teacher.

She invited Nancy to visit the school and offered

her an opportunity. The school, modeled after

The Reggio Emilia School in Italy, made headlines

in Newsweek, touting their philosophies

on valuing children's possibilities, potential,

capabilities and competencies. "After working

in Corporate America for so long, I decided to

accept this offer even though my salary was to

drop substantially. It was the first time I realized

that I was doing what I loved. It wasn't about

the money; it was about my love for art."

"I am proud of what I have done, and I am

passionate about art. I look back and think,

'How did I do this? How did I do all of this?"

Nancy has volumes of scrapbooks filled with

stories and achievements – all

documented – of the projects

she has created. Working with

the City of Sedona for the last

five years, she is hands-on in

implementing programs and

initiatives: the Mayor's Arts

Awards, Arts in the Classroom,

Art in Public Places, City Hall Art

Rotations and Arts and Culture

Initiatives work group are just a

few of these. Her hands are full.

But to Nancy, it's never enough.

She's already on to the next thing,

blazing a trail.

Sedona ARTSource

11
---
"There is an endlless play to shapes, color

and light in the gardens and flowers for me

to paint. The garden is the place to go to

recover lost innocence ..." MEG MUNRO

Sedona ARTSource

"DREAMER" FROM MEG MUNRO'S "IRIS INTEGRITY" SERIES.

Meg Munro's "The Garden of Life" will be featured at

Sedona City Hall, May through August, 2018.
---
THEArts

STATE

OF

By Nancy Lattanzi

In the words of Friedrich Nietzsche, "The essence of all beautiful art, all great art, is gratitude."

I am very grateful to live in a place that IS a work of art. This spectacular landscape and ever

changing light that accentuates the sandstone cliffs, copper canyons and towering crimson red

rocks is truly palpable beauty. It is no wonder that Sedona has attracted a diverse group of talented

artists that have found inspiration here. As Arts & Culture Coordinator for the City of Sedona, I am

thankful to work with so many artists who cross my path daily and feel fortunate to work for a City that

supports a wide range of creative programming.

The main areas under my purview that keep my days full are: the City Hall Art Rotation program, Artist in the

Classroom, the Mayor's Arts Awards, Art in Public Places, the Moment of Art and the Street Performance Program.

CITY HALL ART ROTATION PROGRAM

currently exhibits 2 artists every 4 months in

the Council Chambers and Vultee Conference

room. Press releases go out to all local media

and artists are also featured on our website, as

well as given a public reception. The public can

make an appointment to view exhibits and many

have passed through our campus to admire and

purchase work. Exhibits in 2018 include "Uplifting

Inspiration," featuring exuberant paintings by

Michael Colpitts; "A Flower For Your Hair,"

relationship themed paintings by Allison Rae

Nichols; and "The Garden of Life" watercolors by

award winning painter Meg Munro.

ARTIST IN THE CLASSROOM PROGAM

employs 25 accomplished artists; including 7 new

artists added this school year. Visual, performance

and literary artists are requested by educators in

all local schools servicing K through 12th grade.

Once matched, the team is connected and meets

to collaborate on engaging creative projects that

augment curriculum. This school year the program

has supported: drawing, painting, pastel and clay

classes, as well as writing, journalism, storytelling,

mask making, dance, theater, sewing and creating

mobiles. There is an outdoor peace & unity mural

by students at West Sedona Elementary, as well as

a beautiful origami display in the Red Rock High

School library.

Photo: Greg Griffin

PEGGY LANNING (left) receives

Lifetime Achievement Award.

MAYOR SANDY MORIARTY (right)

MAYOR'S ARTS AWARDS was celebrated to a full house

in June 2017 at the Mary D. Fisher Theatre. Honored

recipients were: Peggy Lanning for Lifetime Achievement for

her 45 years running her thriving art galleries, Turquoise

Tortoise and Lanning Gallery, as well as founder of the

Sedona Gallery Association and First Fridays. Joe McNeill

was celebrated as Individual for preserving Sedona's film

history in his tome, "Arizona's Little Hollywood." Dennis Ott

received an award for Education for his 20+ years as leading

arts educator in ceramics and for his Loving Bowls annual

benefit. The Red Rock Arts Council was honored for 25+

years of work and creating the first Sculpture Walk, installing

iconic sculptures, such as Sedona Schnebly at the Sedona

Library and for helping the city adopt a Public Art Ordinance.

ORIGAMI QUILT Photo: Karen Elaine Parsons

Sedona ARTSource

13
---
Photo: Nancy Lattanzi

ART IN PUBLIC

PLACES How

opportune to

have a city that

has a Public Art

Ordinance, where

a percentage of

new development

is put towards

our Art in Public

Places fund. When

enough money is

accrued, a request

for proposal

goes out and the

ARVEL BIRD

process begins

for submissions

for a new sculpture to be commissioned. The last

project installed was "The Open Gate," placed in

the Schnebly Hill roundabout. The talented Reagan

Word created this magnificent piece and symbols

include elements indigenous to our community:

a Great Blue Heron, an apple tree and red rocks.

The gate motif is a beautiful way to welcome

residents and visitors into Sedona after driving up

our scenic highway.

MOMENT OF ART Being a city animated by the

arts, it was agreed to invite an artist to perform

at the beginning of the City Council meeting

on the second Tuesday of each month. It is a

pleasure to have a variety of artists to have this

exposure, which is recorded and kept in our

archives. Poets, actors, dancers, a mask maker,

musicians, and photographers all have shared their

craft. In January, the talented Arvel Bird, a Celtic

Native American, played fl ute and violin from his

classical recording, Tribal Music Suite: Journey of a

Paiute. This performance was about birth and new

beginnings. In February, Oman Ken, a talented

multi-instrumentalist, performed his original song,

Love is the Way on guitar.

STREET PERFORMER'S PROGRAM has

been established for artists to perform in our

community. There are 9 designated areas in

Uptown Sedona suggesting where to perform.

Guidelines and an area map are provided to those

who are interested.

I am always happy to be a conduit and

collaborator for Arts & Culture groups

locally, as well as with other municipalities.

It is nice to know other municipalities

look to Sedona and seek answers on

what the process is to install artwork on

a roundabout, or how they can create

a rotating exhibit program for their

community. The most common question

is: "How can we bring our creative

community together?"

"THE OPEN GATE" designed by Reagan Word

The founders of Sedona ArtSource are

defi nitely taking charge in answering

that question. I wish this resourceful new

publication great success going forward in disseminating information and connecting all artists to one

another, because in the words of Einstein, "Creativity is contagious passion."

Photo: Erick Hale

14

Sedona ARTSource
---
Now available in hardcover and softcover editions at select locations.

ArtSource is the Smart Source

This is more that just a tagline. Here's why:

• ArtSource acknowledges all arts

opportunities in Sedona, not only

those affi liated with a particular group

or organization. This increases public

awareness, which in turn increases public

support, appreciation and opportunity.

• ArtSource quarterly volumes in print

feature interviews and articles about artists

and their genres ranging from performing

to visual to literary to culinary to design.

Visit us online at SedonaArtSource.com

• ArtSource promotes the arts and the

artists in Sedona by forging a benefi cial

alliance between the arts and business

communities.

• ArtSource online publishes performance

venues as a public service. All Sedona

venues have a free promotional

opportunity for their events and

performances at SedonaArtSource.com/

sedona-event-calendar

Sedona ARTSource

15
---
"Earth at Peace in Sedona"

FRASCA &

Sedona ARTSource
---
There's no such thing as being alone in

the universe, and so there's no such thing

as creating alone. Everything – every

impulse, every creative gift of beauty –

everything is a co-creation.

GARY ZUKAV

When artists labor together, a profound connection may

manifest itself: They are co-creating — making individual

expressions while they dance with one another to a silent

rhythmic beat. This cooperative process can be quite the

conundrum. There is an inner essence driving each artist to

express themselves, while a subconscious force is simmering

beneath the surface, preparing to explode as a symphony of

creativity. "We explore creativity like we explore the infinite

mysteries of the universe. Trying to capture infinity while

trying to create infinity is the epitome of inspiration," says

Connie Frasca of the Frasca and Halliday creative-arts team.

An Ode to Mother Nature

By Carol Kahn

Connie Frasca and Karen Halliday are partners in

art as well as partners in life. They don't complete

each other's sentences, but they do complement

one another's creative ingenuity. Karen is visual,

creative, and enjoys free form art with no restrictions.

Connie is also creative, but, on the other hand, she's

more linear thinking, logical, and intuitive. "Karen

is definitely more right-brained, but I exude both

right and left-brain qualities," says Connie. "It's

definitely a dichotomy. I wish I could explain it, but

the creative process is something I just need to do."

Individually and collectively they have a relentless

need to create. It's not a choice. Both consider this

proliferation an ode to nature. Together they create

one of-a-kind mixed media wall pieces and vessels

using exotic woods, and choosing to emphasize the

inherent beauty of the elements. "People are drawn

to the uniqueness and the color. The color pops! It is

not one-dimensional. We started doing mixed media

thirty years ago when no one was doing this particular

kind of work," says Connie.

Sedona ARTSource

17
---
Mixed media art refers to a visual art

form that combines a variety of mediums

in a single work. Many artists will explore

new techniques and combinations of styles

when working with mixed media while

they continually evolve the art form. Notable

artists such as Max Ernst, Edgar Degas, Marcel

Duchamp, Paul Klee, Pablo Picasso, and Man

Ray have dabbled in mixed media. Robert

Rauschenberg's art has always been one of

thoughtful inclusion.

Frasca and Halliday's work celebrates both art

and life. With wood, stone, sand and even

fossils, they create art that is organic in feel

and timeless in style. Their wall pieces are

made from exotic woods such as buckeye,

lace wood, redwood, and maple, which

work to accentuate the natural beauty

of the materials. They intricately

cut each piece by hand; their work

is free flowing and natural. The

collaboration might begin with a

singular piece of wood; then they

layer in other pieces like one big

jigsaw puzzle. "We never know

exactly what we are going to do,"

says Karen. "We just get in there

and start, and something takes

over." They take turns inspiring

one another with their own unique

creativity.

Their processes and

media have enough variation and

color that there really is no plotted

beginning or perceived finish, though

each piece will take months to complete.

Their vessels are created from a burl or

root of a redwood tree.

Each piece is

rough-cut then set aside to dry. Hours

upon hours are spent carving and adding

texture to the vessel. Each is a one-ofa-kind

production and may contain

wood inlays or stone.

Frasca and Halliday's work evolves

and revolves. When a piece is

complete, they both look at it

objectively. Karen describes

the process as an out-of-body

experience with no attachment.

Connie on the other hand likens

it to a bull ride. "It's a fascinating

phenomenon that takes place. We

are fully into the creative side; and it

takes a lot of exerted energy, but when

we fall off, we are done! We have no idea

what happened within that experience.

Sometimes the ride is incredible and

sometimes it's not," she says.

Each piece of artwork they create

releases a different energy, drawing

the viewer in again and again.

With each glance, something

new appears. Both of them

want people to understand

something beyond just the

intellectual aspect. "We

never know what we are

going to come up with next.

Collectors tell us that our

work is refreshing," says

Connie. "A client, who is a

pilot, described our wall art as

the geological landscape of the

earth below. I never thought of it

that way. As a pilot myself, I know

what he is talking about. Perhaps that

is a subliminal influence in our work."

Their varied backgrounds are completely

opposite, yet their work speaks eloquently

of the synergy found in the composition of

their art. Connie was a production engineer,

a pilot, and a self-taught custom homebuilder,

as well as a writer. "She lived ten lives before

I met her. I actually met her on the back

half," says Karen laughing. Karen was in the

entertainment business , but wanted to pursue

art. While Connie nurtured Karen's talents

by pushing her to achieve her dreams and

ambitions, she had to deal with her own

worthiness. Connie has reached many

goals and realized many aspirations in

her life, but most of these have come

through trial and tribulation. As

a child, she was a 'military brat',

Left: "Refi ned By Birth" Vessel

Opposite: "Organic Elites"

18

Sedona ARTSource
---
Sedona ARTSource

19
---
Today, Frasca and Halliday are busy working on

their next big creation. Lips sealed, they won't

say what it is. But with a twinkle in their eyes

and a childlike exuberance, they know it will

be big. They are both in it for the long haul,

loving every minute of it. "I am totally happy,"

says Connie. "I think I have way too much

dopamine! I wouldn't have it any other way."

Karen nods her head in agreement.

"Artistic creation is a mystery. Perhaps it is like

nature, something that simply is."

Frasca and Halliday are two soulful artists cocreating

with nature. They both exude a joy of

life and a heart for art that is truly meaningful.

Frasca and Halliday's vessels, panels, and threedimensional

wall art can be found in their own

gallery space within Exposures International Gallery

of Fine Art in Sedona. Their art is embraced

throughout the world and has been exhibited from

Dubai in the UAE, to Phoenix in the USA where

it is displayed in the Phoenix Museum of Art and

Children's Hospital.

moving twenty-three times by the time she was

eighteen. Her father pushed her to be the best that

she could be. Regardless, she felt that she was never

good enough and always wanted to do better.

She spent much of her life working as an

entrepreneur. She built, remodeled, and flipped

everything from antique cars to homes. As a

self-taught builder, designer, and contractor,

she began constructing custom homes in the

Pinnacle Peak area of Scottsdale. Her designs

were 'out of the box' adding unique features and

incorporating the finest materials. "We had to be

out of our minds to do things the way we did,"

says Karen looking back. "I had no fear of making

a mistake, because I knew I would be able to fix

it," Connie emphatically concludes.

In 2001, during the home-building phase, they

collectively gave birth to the fantastic threedimensional

wall sculptures they are known for.

Following this creative milestone they became

inspired by the natural beauty of Sedona and

decided to move here to create their art full time.

20

Sedona ARTSource
---
F r a s c a & Halli d a y

"Loving Embrace"

90"h x 84"w x 4"d

Connie Frasca and Karen Halliday

Sophisticated collectors world-wide have been moved by

their gorgeous, three-dimensional interpretations for over two decades.

©2018 Exposures International LLC

800-526-7668 ExposuresFineArt.com Sales@ExposuresFineArt.com 561 State Route 179, Sedona, AZ 86336

"One of the Largest and Most Unique Galleries in the World"

G A LLERY

23

C ATA LO G
---
NATIVE JEWELRY

By Patti Polinard

OF SEDONA

Irena Galovic, owner of Native Jewelry of Sedona,

buys directly from a network of artisans from the

Navajo, Hopi, Santo Domingo, Zuni, and Apache

tribes; the same people that she has been working

with for generations.

Her Uptown Sedona gallery has the largest

collection of strictly native, always unique, 14k

gold jewelry pieces in Sedona. Everything here is

authentic and one-of-a-kind.

Native Jewelry of Sedona is located in Uptown and

operates seven days a week. The gallery features

the work of several noted Native Americans

including Zuni artist, Effie Calavaza who famously

took her copyright protection case all the way

to the Supreme Court. Navajo artist Lori Smith,

known for creating 24k liquid gold inlays aligned

with sleeping beauty turquoise in her pottery is

also represented. Other artists featured include

Andrew Alvarez, Gerald Lomaventema, Bruce

Morgan, Marlene Rosetta, Charlene Reano, and

Christopher Niete.

Irena and her daughter, Daniella, are happy to

educate collectors. Most of the work displayed is

enveloped with stories that include articles about

the artisans. The gallery also displays raw stones to

aid in helping customers learn more of the process

that goes into creating original jewelry pieces.

Whether traditional or contemporary, Native

Jewelry of Sedona features original pieces, and

serves as an international collector's haven for

acquiring genuine Native American jewelry.

Sedona ARTSource
---
24

Sedona ARTSource
---
Common

Ground

The camaraderie of seven decades of shared creativity, shared art,

and shared memories comes together in this interview with two of

Sedona's most notable artists, John Henry Waddell and his wife,

Ruth Waddell, who have lived in the Verde Valley near Sedona,

Arizona, since 1970.

By Lynn Alison Trombetta

Inside the spacious working studio of artists

John Henry Waddell and Ruth Waddell, a

small, barely audible tapping sound became

evident. As if to illustrate the quiet of the setting

just outside, a lone bee searched for a way in,

tapping its body ever so lightly against the window

pane.

The only evidence of the nearby towns of Sedona

and Cornville lies back along the dirt road that

traverses to the top of the hill where the studio

sits — amid decades of creativity formed into

figures poised in graceful clusters around the

expansive property.

The studio is a place of quiet solitude: nearly

sacred ground that it seems would naturally call

the creative spirit into action. Yet, on some days,

one might arrive at a peace-filled state of mind

and spirit that could reveal things that even the

artist did not notice as he worked so long ago.

As we studied John's smaller three-dimensional

works displayed in cubicles that lined the entire

Sedona ARTSource

25
---
One thing you learn through the years is

that you never know what each other's

experience is.

RUTH WADDELL

studio wall from floor to

ceiling, Ruth explained that

John worked first in clay,

sometimes in wax, before

casting the final figures. His

work is found in collections,

civic squares and sculpture

gardens from coast to coast

and as far away as Austria.

"We didn't start off with

a studio this big," Ruth

explained as we left the

building. "He had begun

working on the 'Dance'

sculpture down in Tempe, and when we came

up here after the fire that destroyed everything

there, he continued working on it. We were

very fortunate to be able to build the studio big

enough for work on the twelve figure group that

is 'Dance.'

housed the few fire-damaged figures that were left

standing after the 1984 blaze.

As colder-than-usual winds stirred the dried

winter grasses near one of the clusters of figures,

we moved past still more along the path toward

the bottom of the hill, and into the comfort of the

Waddell's home.

The walls inside were lined with intriguing images

of trees deep along a creek and figure studies done

in pastel. "These on the wall are all mine," Ruth

explained. "I still like to show my work with the

Sedona Visual Artists, of which we are honorary

members. There was a show at the Sedona Arts

Center this year that we each had a few things in,

and another at the Hub, and we showed a couple

in Phoenix at The Herberger Gallery at Arizona

Center."

Ruth paused near one of the pastel nude studies,

Following the studio tour,

we stepped back outside

to walk to one of the

many groupings of lifesize

sculptures atop a hill

overlooking Spring Creek.

Each bronze figure, sculpted

from live models, whether

dancing, posed, or seated in

introspection, seemed as if

a personality had found its

way to this place and left a

material presence behind,

while the misty spirit of that

moment of creation still

soared in the breezes that

wound around us on the

hilltop.

Ruth walked on, leading

the way to peer through

the dusty window panes

of a smaller building that

26

Sedona ARTSource
---
a moment of sunlight calling attention to the image's beautiful

skin tones. "She was modeling for John. He did a life-size

sculpture of her. I did a lot of sketches."

It was here that the conversation turned to the ways that the

couple's lives have intertwined over the years as we joined John

in another room.

"We met at Chicago Art Institute; married in 1949 in Chicago …

it will be 70 years in 2019! Our art has been our livelihood since

John left teaching when he was forty, which was 56 years ago. So

we have really lived off the art."

John smiled, "I think it's been wonderful. We have a great deal

in common. We were very fortunate."

Ruth was first to comment about the early influences that led

each of them to the life they created for themselves as artists.

"In our family we did everything — we did art, we did music,

literature, studied cultural things, all of that. So it was meant

to be part of life … for everybody. Not necessarily 'doing' it, but

Anything before today is historical.

RUTH WADDELL

also 'seeing it, appreciating' it, the whole thing.

But we 'did' it too, because we started going to the

Art Institute classes when we were quite little."

John commented, "My parents started me in

art classes at Drake University in Des Moines

when I was seven years old. That's what I've

been preoccupied with ever since that time. My

parents weren't artists, but they were sensitive."

Ruth added, "The curriculum at the center was

well-rounded, but he gravitated to the threedimensional

work. He's also always been good at

drawing and has done tons of painting, although

people don't always realize this."

As for their influences, Ruth explained, "We grew

up in the Art Institute of Chicago, where you've

got this huge collection of Impressionists and

Rembrandts — all those guys and the German

Expressionists, the Romanticists. We spent a lot

of time in those galleries. And then, wherever

John and I traveled, we just feasted on galleries —

Sedona ARTSource

27
---
that's the main thing we do when we travel."

John offered some insight into his artistic process

as he spoke about his creation, 'Dance.' "That

one can be seen in front of the Herberger Theatre

in central Phoenix. Each figure is different; they

are not stylized. I call it 'the beauty of individual

differences.' That's why I like to work with

different people as models … It's so exciting. It's

a form of psychoanalysis, except that it's visual."

He continued, "My own most intense group is a

memorial to the four girls that were killed in the

As with most artists, the task is to translate what

they experienced to the person who observes the

art at a later point in time. This is something John

and Ruth have achieved, both separately and

together.

Ruth explained, "While I think the joy can happen

while you're working, it's not always happening.

Most of the time, it's this search, search, search.

This is what makes my own work come out the

way it does. It's a search for what you're trying

to get, but sometimes, something happens that

makes you smile."

She paused a while, deep in her

thoughts before elaborating, "As

with the images of the trees, it's

not the place — it's how the place

affected me at a certain point in my

life. Like, I can walk back to the

place where I did these, and I just

did recently, but it's not the same

for me. I'm objective. I'm looking

at the place; I know I've had a

lot of experience there — I did

about seven on that same place —

moving around and working, and

I put down what I experienced, so

it's not the spot. Instead, it's the

experience that I'm having and

what it's saying to me. It speaks to

me, figuratively. Everything I do is

because of that — to capture that."

Birmingham, Alabama, church bombing in 1963.

It's called 'That Which Might Have Been.' The

Minister of the Unitarian Universalist Church

in Phoenix on Lincoln Drive was a good friend

of mine, and he said he would put them at a

beautiful spot behind the church, where they are

on permanent display. There are four figures, and

they are of different proportions. One of them is

quite sturdy, one is quite thin and I used different

models for them. I was very engrossed in that

process."

She then added, "One thing you

learn through the years is that

you never know what each other's

experience is."

In spite of the truth of her comment, one must

also acknowledge the times when two people

can appreciate that a process is there, as well as a

common language that is shared, whether the art

is discussed in actual words, or merely absorbed

as a common experience. Through this, the

camaraderie of seven decades of shared creativity,

shared art, and shared memories came to the

forefront in the room as the energy between them

grew softer and more tender.

28

Sedona ARTSource
---
Regarding the 'historical' photographs of the

artistic couple in younger years that had been

requested to go along with this article, Ruth

quipped, "Anything before today is historical."

Then she paused, and a smile came across her face.

"I don't know if I still have it, and I have no idea

where it would be, but there's a photo of our first

date which was a costume ball at the Art Institute.

He came as Charlie Chaplin with a mustache and

all that!"

John chuckled.

Ruth smiled, "And I took a lamp shade and put a

great, big rose on it, and painted my lips and put

a beauty mark on my face: I was Theda Bara, one

of those early movie stars. And I had a sweater

that my mother had worn back in 1920, and rouge,

and stuff that I didn't wear all the time … a good

photographer did catch a nice shot of the two of

us. Yes, he used to do a great Charlie Chaplin!"

John chuckled once more, and their eyes danced

with the memories of that night, while the

sculpted figures continued their vigil on the hill,

just outside the door.

Sedona ARTSource

29
---
A PARALLEL UNIVERSE

The History of

By Carol Kahn

"This is such a great place, and Abe

Miller was a wonderful man with a huge

vision. He created Tlaquepaque as a

labor of love, and it shows. It was not a

commercial venture, which made

it incredibly special. If you ask me how

to describe Abe, I would tell you that you

need to read the words on the plaque that

hangs in the Tlaquepaque Chapel.

It says: 'Some men only dream. Others

make dreams come true.' "

Wendy Lippman, General Manager and

Resident Partner of Tlaquepaque

Historic images

provided by Wendy Lippman.

30

Mr. and Mrs. Abe Miller and daughter Carolyn

Published in Tucson Daily Citizen

Sedona ARTSource
---
In a setting of superlative natural qualities man has created something of

beauty, quaintness and picturesque design that make it almost impossible

to close the eyes and contain the soul — Arizona Highways

Dream on. Walking through

the gates of Tlaquepaque, you

are transported back in time to

a village with historic intrigue.

You are not sure whether this

mirage is a Spanish mission or a

fortress of sorts. Or perhaps it's

a place conjured up in a dreamstate

of imagination. Either

way, Tlaquepaque is a magical

interlude of past and present.

Huge sycamore trees surround

the property, along with plantings

of stately evergreens enhanced

by compatible understory.

Stucco facades, arches, steeples,

and hand-laid stone walkways,

along with wrought iron

elements add to the charm

of the village. Alleys that lead

to open patios feel more like

secret passageways leading to

undiscovered treasures. Every

corner turned reveals another

element of surprise. Seemingly

ancient water fountains with

seasonal flowers grace the

courtyards and pathways, adding

brilliant color. Like any Mexican

village, sounds of bells from

majestic towers ring every hour.

It's romantic. It's enchanting.

It is a place with the "best of

everything." Tlaquepaque really

is a dream come true.

"Tlaquepaque" means

the "best of everything"

in Nahuatl, the ancient

language of the Aztecs.

Abe Miller, a Las Vegas

businessman, traveled often

to Mexico. He loved the

architecture that provided

an artisan's workplace, noisy

markets, soaring churches, and

places people could go to mill

about. He became particularly

fascinated with a village known

as San Pedro Tlaquepaque, which

is in the Mexican state of Jalisco.

This historic center evoked the

charm of beautiful colonial-era

churches, old mansions, colorful

flowers, and artistry. It became

the inspiration for the village he

wanted to create.

The land where Tlaquepaque

now stands once belonged to a

nurseryman, Harry Girard,

Artist's rendering of Tlaquepaque

featured in Arizona Highways, August 1973.

Sedona ARTSource

31
---
who, with his wife Ruby, moved

from Illinois to Sedona in 1955.

They opened Tranquil Waters

Nursery ten years later. In 1969,

Harry sold a major portion of

the property to Abe, convinced

that he would preserve its

beauty. Abe's fi rst intention was

to build a house somewhere on

the property and then sell the

other three or four lots, making

Tlaquepaque Executive's Suite, 1973

it an exclusive small compound.

Fortunately, he soon realized

that Sedona was the perfect

place to construct his visionary

masterpiece.

Abe, along with architect

Robert McIntyre and builder Bill

Herrick, spent time in Mexico

photographing, documenting, and

sketching various structures and

places. Upon visiting Sedona, the

trio set out to create a village

within the trees — emerging

as protectors and creators of

beauty, rather than its despoilers.

Abe was enthralled with the

property's many sycamores, as

well as a singular ponderosa pine.

His mission was to preserve

the trees that graced the site,

and they were given priority in

the planning. Envisioned as an

integral part of the total beauty,

they were not to be destroyed

or harmed. The workmen were

instructed to unlearn much of

what they had been taught about

the essentials of straight lines —

in order to cradle the curving

limbs and build around the

towering trunks.

In 1971, construction began

on Tlaquepaque; it took seven

years to complete. An enclave

of fine galleries, shops, and

restaurants, as well as a nineunit

artisan center where

gifted craftsmen produced and

marketed their wares was finally

32

Sedona ARTSource
---
uilt. Tlaquepaque seemed like an enigma

to many. Visitors thought that it was an

old mission. Most could not pronounce

it. (Tuh-lah-kah-pah-key). Abe Miller

beamed at the inquiries. He felt that his

attempts to age a brand-new venture were

successful. "The atmosphere and feeling —

that's what we are all about," he said. "If

we haven't achieved it, we've failed."

Nearly forty-fi ve years later, a few of its

long-time merchants still exist and are

part of Tlaquepaque's history. Esteban's

was one of the very fi rst tenants, along

with Ninibah's, Kuivato, El Rincon, Rene,

and Cocopah. Bill Hardwicke and

Deanne Sabeck, who own Kuivato and specialize

in colorful handmade stained glass, created much

of the stained glass seen on the property, as well

as within the Chapel. The Chapel was one of the

absolute necessities of Tlaquepaque — mandatory,

despite any fi nancial issues, according to

Abe Miller. He felt that the

Chapel should not

be dedicated

nor sanctifi ed.

It would be

a chapel in

architectural

style only; a place

suitable for rest

and meditation.

With the spirit of

Mexico now behind

its formation, Abe's

vision was complete

when he passed the

baton to his daughter

Carolyn to manage the

property.

Fast forward to 1998,

where history was about

to repeat itself. Two women,

who lived two thousand

miles apart, were about to

fi nd out that their lives were

synchronistically intertwined.

Carolyn Miller in Sedona and

Wendy Lippman in New York

lived parallel lives. Coincidentally,

both of their fathers were visionaries; both

owned Tlaquepaque (Wendy's father purchased

Tlaquepaque in February of 1998); both shared

a similar dream of having an

artisan enclave; both fathers

entrusted the management

of Tlaquepaque to their

daughters. Wendy Lippman

remembers the day she

received a call from her

father asking her to come

to Sedona.

"He wanted me to take

a look at this property

he purchased — I

thought he had lost

his mind," she says

laughing. "But I was

going through a

transition in my life,

and I was ready to

leave New York,

so I thought I

would try it."

Wendy was

living in New

York and was

working as

a national

sales director

for Tommy Hilfiger. She

made a deal with her father that if she

were to manage Tlaquepaque, she wanted part

ownership of it. She planned on staying in Sedona for

Sedona ARTSource

33
---
three years and then would fi gure out the next

phase of her life. That was twenty years ago.

"I believe Tlaquepaque is a bona fi de landmark," she

says. "We are ingrained in the soul of Sedona. I feel

like we have established a place in the community,

and people have learned to love it as much as I do.

Hopefully, it's because of all the love I have given

it. Everyone who knows me knows that I 'live and

breathe' Tlaquepaque. It is my child.

"Dad loves this place. It does something to him.

I'm always amazed. He comes to visit, and he just

wants to sit here and take it in. He loves to talk to

the shop owners. He is mesmerized by this place,"

she says, beaming proudly. "He has been my mentor

— in so many ways throughout my life. I am so

lucky I have him. He is my teacher and allowed me

to do the things that inspire me. Yes, he is thrilled

with the progress, and that means a lot to me."

Today, Tlaquepaque serves as the cultural icon

it was envisioned to be years ago. Art is the

cornerstone of this incredible village. With over

nineteen galleries, among other retail shops, one

can find art in all genres and mediums — from

classic Southwestern fine art to contemporary,

abstract, Native American, and spiritually

contemplative works.

In 2016, Tlaquepaque North was completed, just

across the street — with the same attention to

detail and the same concern for building around

the sycamore trees. One may wonder if this is

it, or will there be more things happening with

Tlaquepaque? "I have ideas, but nothing I am ready

to share," says Wendy. "Change is everything. I

would be crazy to say I'm done. You are never

done. I just keep going." Wendy Lippman is a

visionary. Her commitment to honor Abe Miller's

beautiful journey through time is, without a doubt,

a labor of love.

This legacy is exactly what Abe Miller wanted:

To carry on his vision and keep his dream alive.

Historic Artisan Center, Tlaquepaque

34

Sedona ARTSource
---
NEW DAY

SPA

Your Private

Retreat

Voted BEST DAY SPA for 10 years.

3004 W SR 89A • Sedona, AZ 86336 • (928) 282 7502

welcome@sedonanewdayspa.com • www.sedonanewdayspa.com

Sedona ARTSource

35
---
5 QUESTIONS

for

PATRICK

SCHWEISS

EXECUTIVE DIRECTOR

OF THE SEDONA

INTERNATIONAL

FILM FESTIVAL AND

THE MARY D. FISHER

THEATRE SPEAKS ABOUT

FILMMAKING AND THE

ART COMMUNITY OF

SEDONA

Interview by Carol Kahn

The Sedona International

Film Festival, founded in

1994, brings filmmakers

and audiences from

around the world to

this nine day, worldclass

event. The festival

showcases feature films,

documentaries, short

films, independent

films, animated films,

and workshops and

is gaining recognition

as one of the top film

festivals to attend.

Celebrating its twentyfourth

anniversary, the

Sedona International

Film Festival gets bigger

and better, both in the

number of films shown

(over 170 this year)

and in the number of

people attending the

festival. Patrick Schweiss,

Executive Director of

SIFF for the last 14 years,

spoke to Sedona Art

Source recently about

film as an art form.

Left to Right: Patrick Schweiss, Jane Alexander, Mary Y. Frates, Richard and Susan Loveless

SAS: You have been the

Executive Director for the Sedona

International Film Festival for close

to fourteen years. How has the

festival evolved over the years?

PS: We are definitely seeing

higher-quality films. Our festival

has gained a lot of stature, and

our reputation in the industry

has increased. Filmmakers are

now sending us their films, but

may not have considered this

festival in the past. We are

hearing, from both filmmakers

and audience members, that

the Sedona International Film

Festival is getting better and

better, and they feel it is a

legitimate festival from which to

launch or showcase their films.

SAS: Do you think Sedona is the

place to be for art and artists?

PS: Sedona is an art mecca. For

a tiny little town, we have a large

number of galleries, as well as a

plethora of artists who live here.

Couple that with what we bring

with the Mary D. Fisher Theatre,

the Sedona Film Festival, as well

as all the community events. It's

quite amazing! There is so much

that Sedona has to offer. We

hear compliments from people

all the time because there is

always something to do. We are

so lucky. As a resident of the

community, I am very proud and

blessed to be here.

SAS: You are a major influence in

the cultural progression of bringing

film, as an art form, to Sedona. You

have a bird's-eye view of what is

out there and a pretty good idea of

what will work here, don't you?

PS: That's so exciting for us.

We know what we are about

to expose to the public, and we

know what kind of reaction we

are going to get from it. That

is a real feeling of joy, because

then we know people will be

talking about it for a week or

more. We are very fortunate to

have the Mary D. Fisher Theatre;

it allows us to bring art and

cultural events to Sedona year

round. We went from a threeday

festival to a nine-day festival,

and we now are able to include

visual arts and performances

like theatrical productions

from London and Broadway,

concert events, and independent

films. We have adapted the

36 Sedona ARTSource
---
slogan: "The cultural heart of

Sedona." I always say you can

come here and experience the

world, without ever leaving your

seat. We are humbled by how

much support the community

has given us in wanting to

experience these art forms.

SAS: What do you say about

fi lmmaking as an art?

PS: The big screen is the

fi lmmaker's pallet, just like a

painter paints or a sculptor

sculpts or a dancer dances or

a culinary artist creates food.

For filmmakers, this is their art

form. This is their expression.

Whether it's the director, the

cinematographer or the costume

designer, this is their art world. I

believe fi lm as an art form unifi es

people.

SAS: What is Art to you?

PS: It's pretty simple for me.

Art is something that makes you

feel. Whether you are looking

at something, and you have a

certain inner reaction, or you

are touching something, like a

sculpture, and you experience

some type of emotional,

moving feeling. If you are

feeling excitement, joy, sadness,

or inspiration then you are

experiencing something. Dance,

ballet, music, opera, going to a

gallery, all elicit something that

makes you feel — it is all art.

And in our case, when you leave

the Theatre, you will continue to

think about it, talk about it, do

something about it, join a cause,

or be part of a movement.

That is art in action.
---
MARY MARGARET SATHER

"I am a Potter"By Carol

"Thank you for a life of clay.

Thank you for family and

friends who support me.

Thank you for a home

whose name is Sedona.

Fifty years ago, I happily

put 'potter' on the line

that asked 'occupation.'

It's the only title I claim.

The word potter covers my

life in clay. I have never

had a degree or a coll ege

education. Museums, travel,

and potters along the way

have been my teachers.

I wouldn't have it

any other way."

Kahn

MARY MARGARET SATHER

The comment above is a prayer

of gratitude that appears in

Mary Margaret Sather's book,

"50 Years of Fire & Clay." It

indicates her life's ambition.

But what it doesn't tell in

great detail is her adventurous

journey getting there. Sure,

there are bits and pieces of who

she trained with and where she

traveled, but how she got there

is the real story.

Mary Margaret Sather has

chutzpah, a Yiddish term that

38

Sedona ARTSource

means, "guts, nerve, and

boldness." She can attest to

that. She has the guts to go

after something she wants

to do, has the nerve to stand

up for herself, and is bold

enough to tell you she is not

complacent about the word

"No!" Mary Margaret is a force

to be reckoned with. She tells

a story about a high school

teacher who wanted her to do

a clay project. Mary Margaret

was adamant that she did

not like clay — she preferred

working in metal, welding and

creating jewelry.

After having a dream about

making pots, though, she

approached her teacher and

said she was ready to try her

hand at being a potter. The

teacher refused to believe

her, so off she went on her

own, traveling from Northern

California to Mexico

City. With a little money

in her pocket and a lot of

determination, she applied and
---
was accepted to train at the

famous Bellas Artes School.

She got as far as Guadalajara,

where she met some students

from the United States on a

summer study program and

decided to stay with them.

She worked at Ken Edwards'

Stoneware, where the factory

workers were her teachers, and

she learned all she could about

being a potter. Whether it was

digging clay or making pottery

wheels, Mary Margaret learned

what she needed to; and

learned it from the ground up.

"I will never forget the day my

teacher and his wife showed

up and told me that I had

made my point. They asked if

I was ready to go home." She

laughed proudly, "Not yet!"

The next venture took Mary

Margaret to England where

she wanted to be an apprentice

under the tutelage of Thomas

Plowman, a master potter.

She bought a one-way ticket

and upon arriving, used her

boldness and explained to

Plowman that she wanted to

work with him. "He told me

that I was crazy enough to fit

in. He made a deal with me

and said that he would work

me so

hard that

either I

would

become

a potter

for life, or

I would

never

want to

touch

clay

again."

She

worked day and night,

rising through the ranks of

apprenticeship, journeyman,

and finally achieved the title of

Master. "It means something,

but only to me," says Mary

Margaret. "I do have a stamp

registered in England, and

I have the right to use it. In

order to be certified, I had to

design my own line of domestic

Sedona ARTSource

39
---
ware, create glazes, and develop

my own style. I did part of my

work in England and part in

America. When my studies

were completed, I took all my

work back to England to the

master potter who taught me,

and it is he who critiqued my

work. This is the only way you

can get certified and be given

the right to use a registered

mark on your pottery."

Mary Margaret's career moved

as fast as a potter's wheel, and

seemingly with fate at her

side. She has trained with

Elizabeth White on the Hopi

Reservation in Arizona and

attended classes led by Juan

Quezada at the famous Mata

Ortiz pottery in Mexico, where

some of the finest ceramics in

the world are created.

The style of her work is

influenced by Japanese and

English traditions, specifically

potter Shōji Hamada. "I love

creating utilitarian pottery.

I worked at nothing but the

wheel for 20 years. I like

making pots, and having

people use them, especially

mugs. People seem to love my

mugs and keep coming back

to buy more. I get to connect

with people through my

pottery," she says. "I would

rather have someone get one of

my mugs than for me to get an

award. An award doesn't really

mean anything to me."

Mary Margaret's studio is

nestled among tall bamboo

trees and her fruit and

vegetable garden on one acre of

land is blessed with a babbling

stream. Not surprisingly,

English and Japanese

influences that are found in

her pottery are also on the land

that surrounds her studio in

Copper Cliffs. It is here that

she taps into a universal energy

that simply beams down upon

her. "I wish I could explain it,"

she says. "I can tell you this:

I go to work every day. I have

clay in my hands every day. I

usually have all the pieces in

place, but I have no idea what I

am going to make. The instant

that creativity hits, I don't

stop, I barely breathe, I don't

eat, I just keep on going. The

world has gone by. Somewhere

between a cup of coffee and

five candy bars, I look down

and I am surprised to see what

I have created. I 'd love to be

able to tell you how it happens,

but I am moving so fast I don't

even take note."

Reflecting on her life as a

potter, she understands the

responsibility of honoring the

40

Sedona ARTSource
---
traditions of her craft and not

taking anything for granted.

"I want to constantly do

better," she says humbly. "If

you take your craft and push it

to your highest potential, then

you can call it art. I believe art

is everyone's finest work."

As for her legacy, Mary

Margaret responds

emphatically. "It has nothing

to do with pottery. I have

cultivated the land where my

studio is, and I just want to

leave it better than I found it. I

am so thankful for where I am

today. Every day I say, 'Thank

you!' I love my life. I love my

husband. I love my pots and

my dogs, Mert and Albert. I

have to admit that my dogs do

come above everything else,"

she says jokingly.

Truth is, Mary Margaret

wouldn't have it any other way.

Sedona ARTSource

41
---
Sedona ARTSource
---
Sedona ARTSource
---
En Pointe

By Lynn Alison Trombetta

Creativity Begins At The Point of a Pencil

for Designer/Author/Ill ustrator, Patricia Saxton

Her daughter's love of mermaids

served as inspiration for

Patricia Saxton's first book.

Newly located to Sedona,

she shares her books,

creative journey and

her illustrative process.

Patricia Saxton's imaginative career began

when she was quite young and first learned

to use a pencil for drawing out the images

that danced in her mind. This award-winning

fine art and graphic artist's work is found in

corporate and private collections around the

country and her talents are put to good use in

her well-established graphic design, illustration

and writing firm, Saxton Studio.

The graphic of a sharpened pencil point is a

fitting logo for her design business and she

toys with the image, illustrating her thought

process. "I take the pencil point and turn it into

everything you could possibly imagine, and I'm

still thinking of things to do with it!"

As further example of her creative process,

her imaginative designs for her postcard book,

52 Weeks of Peace, combine the universally

44

Sedona ARTSource
---
ecognized peace symbol with images

found in daily life.

A different kind of imagination

fills the pages of her children's

books, The Book of Mermaids,

A Book of Fairies and

Book of Dragons as well as Patricia's game,

Magnetic Mermaid Dress Up.

Her daughter's love of mermaids served as

inspiration for Saxton's first book. "When my

daughter was six or seven, we went to the library

and discovered there was hardly

anything there about mermaids.

So, we decided to make our own

book, just for fun! We talked

about it and I got ideas from her.

She actually contributed some of the

artwork in the final book. That was a

fun thing, and we got picked up by a

publisher." Later, Saxton's daughter and

her friends served as models for some of

the fairies in her second offering.

Saxton's books have allowed her to

combine creativity and technical skills

in each publication. "My work is very

diverse, my books have allowed me to bring

all of my work together … so there's painting

in there, there's drawing, there's writing,

and there's graphic design (that has been my

profession for most of my life)."

She added, "I've always been interested in art.

As a kid, it was something I always did, and I've

always written … it all just kept calling me."

Recently, she heard another call and followed

Sedona ARTSource

45
---
her heart and her imagination to a new home/studio in the red rocks of

Sedona.

"I had lived here for about six months twenty-two years ago − as kind

of a sabbatical for myself − and I just fell in love with it. This time

around, my daughter is graduating from college, New Jersey taxes are

high, and Sedona is a perfect place for my art and me. The general

magic of the place has inspired me ever since I came here all those years

ago."

Saxton sees her life as an evolution with many more books and

paintings in the works. "It's endless. It has been going on forever.

I never have a dry spell, and I don't mean that in a bragging way, but

inspiration just keeps coming."

Her process is graphic in design and artistic in result, utilizing a variety

of mediums. She explained, "I often start with a sketch, then pretty

tight drawings, to which I'll add color with watercolor or acrylics.

For the books, I incorporate them with background paintings on

the computer. So you have mixed media using pencil, pen and ink,

markers, acrylics, and oils."

Bringing us full circle, back to that simple, sharpened pencil, Saxton added, "There's no particular

order, but usually I start with pencil drawings."

46

Sedona ARTSource
---
I take the pencil point

and turn it into everything

you could possibly imagine...

Sedona ARTSource

47
---
Tlaquepaque North

Pump House Station Urban Eatery

Caravana North u Quilts ltd. Gallery

The Artist's Kitchen Shop

Renee Taylor Jewelry

tlaquepaque north • 313 State Route 179 • Sedona, az

928.282.4838 • www.tlaq.com
---
James N. Muir

SPIRITUAL STORYTELLER

By Lynn Alison Trombetta

Not long ago, I had the

honor of a private

and revealing studio

interview with our beloved

bronze sculptor, James N. Muir.

Before we began, he paused for

a moment of silence and then

shared his deepest thoughts on

his bronze creations.

Above: "Our Lady of Mercy" by Miguel Martinez

Right detail: "Christ of the Holy Cross" by James N. Muir

For this largely self-taught sculptor, steps along his journey in life

have laid themselves out one at a time, illuminated by his own light from

within. They have been crafted into bronze, many of them monumental in

size, and through them, Muir has shared his personal journey with the world.

He lovingly shapes the clay, forming the intricate, allegorical details for which he

is known. "My challenge is not just doing what I must do, but to always do it better.

And you know this yourself; once you recognize the concept that talent is God's gift to

a person, what we do with that talent is our gift back."
---
James N. Muir puts the fi nishing touches on "Christ of the Holy Cross"

As testament to a lifetime of sharing that gift, his

book, "Lanterns Along the Path: The Allegorical

Art Of James N. Muir," lies open on the coffee

table. Muir's subjects range from historical to

contemporary, table-sized to huge. With more

than sixty life-size, and larger, public sculptures

throughout the United States and abroad,

including over twenty in Arizona, Muir captures

meaningful moments in time that speak to the

inner self. His monuments are found worldwide,

from Sedona to West Point to Auschwitz.

He commented, "I would probably describe

myself as a storyteller, a spiritual storyteller … a

storyteller of our spiritual journey to our ultimate

and inevitable destination. A number of pieces

tie in as being yet another lantern, but farther

down the path that I've been traveling; each one

connects to previous lanterns and points toward

the next one to be looked for even farther down the

path, around the bend, over the mountain."

True to his mission, Muir works quietly and

alone, allowing the story, the journey, and the

clay to speak to him. With hands that left no

detail unspoken, and a heart that pressed into the

work, he neared completion on the maquette, or

preliminary aspect, of a very special new piece,

"Christ of the Holy Cross."

It was in 2016 that Muir was one of three artists

commissioned by the Diocese of Phoenix to

create pieces for the Chapel of the Holy Cross

in Sedona. This spring, the resulting 33-foot-tall

sculpture was installed in the Chapel so that all

could experience this magnificent depiction of the

Living Christ.

Crucified upon the Tree of Life, the Living

Christ depicts humanity's journey from its

primal roots in the depths of earthly creation

to the spiritual perfection of the Holy Trinity.

Muir explained, "From the Crown adorned

with 100 thorns representing the '90 and 9 + 1'

for the 'lost sheep' found by the Good Shepherd

— that none shall ever be truly 'lost' — to the

Golden Rose symbolizing that incremental,

inevitable unfolding of perfection as epitomized

by the Christ whose omnipresence, though often

concealed, has always been, and will always be."

The Chapel of the Holy Cross in Sedona

is open to the public,

www.chapeloftheholycross.com

The work of James N. Muir is represented

by Goldenstein Gallery in Sedona,

www.goldensteinart.com

50

Sedona ARTSource
---
"Christ of the Holy Cross" by James N. Muir Photography by Greg Lawson
---
GERARDO'S

Italian Kitchen

2675 West State Route 89A, Sedona

GerardosItalianKitchen.com

928.862.4009
---
The Many Faces of

By Lynn Alison Trombetta

Mix two extroverts, decades of

entertaining experience and a keen

sense of comedy. Combine well for

40 years and you have the recipe

that is the dynamic Tom & Shondra.

TOM&

SHOND A

R

The trajectory

that brought

these two

Sedona entertainers

together was clearly

present from

the start, yet the

stars in their eyes

originated worlds

apart. For Shondra,

the experience of

watching her parents

from backstage led to

more than 40 years

in the entertainment

business.

"I wanted so badly

to be a part of a play,

part of a musical. I

love community and

I think of the theatre

as very community

oriented. Backstage,

when my parents

did a 'magic circle'

with the cast before a show, there was this sense

of family, and I just love that, which could be

the main reason I love theatre as much as I do. I

feel really at home on stage. I'm in love with the

greasepaint smell and the whole bit!"

For Tom, a keen interest in astronomy was a first

step on his journey. "I loved science, excelled

in math and science in school and ended up

with a scholarship and the idea of doing that.

Continued on page 56...

But, when I looked at the reality of being an

astronomer, I understood that I was going to be

stuck on some mountaintop for the rest of my

life. It's very introverted but I'm an extroverted

person. I realized this was not something I could

really do as a profession. I certainly had the

passion for it, but my obsession was probably

because I loved the idea of space travel, which

sparked an interest in writing science fiction.

However, music was always intertwined with

Sedona ARTSource

53
---
Tom Talks

About Shondra

By Lynn Alison Trombetta

Who's the real girl behind the country

twang, greasepaint, and exaggerated bosoms

of "Emmylou Doll y Loretta South"?

"Tammy Whynot"

LT: Tom, of the many comical characters that Shondra

portrays, which most reveals her true personality?

TJ: There's a little bit of her in all of those characters, so all

the idiosyncrasies that are 'her' do come out. I recognize them

because I know every little thing of her. We've actually been

together over forty years. She's not a frilly gal. I call her a

'dudette.' She can lift equipment; she's the sound person. Years

ago, we were in San Diego and were bringing down the

equipment. These sound guys asked what

we had. I said, "You're going to have to talk

to her, she's the sound person." The guys

asked, "You mean the chick?" We still

laugh about it.

Anytime she's doing a character where

she's got 'moxie,' that's her. So, I'd say that

the most revealing character's name is,

"Emmylou Dolly Loretta South." She's

like every country western singer,

and she's got the 'Dolly part' for sure.

Shondra's been doing that character

ever since her own shows in Vegas

and Reno when she was about

twenty-three! As she says, "That's

an old character that keeps showing up."

"Gladis" of "Harry & Gladis"

LT: It seems the 'moxie' serves Shondra well!

TJ: Yes, Shondra's an amazing fundraiser and organizer. That's why

she received the 2017 awards - she's got a big heart, but more than

that, she's just tremendous at being able to get people together to do

things.

"Emmy Lou Dolly Loretta South"

LT: Thanks, Tom!

54

Sedona ARTSource
---
Shondra Talks

About Tom

By Lynn Alison Trombetta

Find out who reall y lurks behind the

greasepaint and character study

that is Al Catraz!

LT: Shondra, of the many comical characters Tom

portrays, which most reveals his true personality?

SJ: That would be one of the Murder Mystery Characters,

who is just a cracker! It's "Al Catraz," a character originally

created by Dev Ross. Here's the thing about Tom; people

think that he is really intense, but he isn't – he's really

funny! Al Catraz shows up like a gangster, lurking around

the corner, holding a violin case, and he comes in like a

real gangster. He looks like you

might think, "Uh, Oh…" when

you see him. However, we find

out about him and really, he's

a softie inside. He's funny.

That's Tom; he kind of looks

like a tough guy, but he's a

softie inside.

Tom is always ready to gift,

always ready to support a

fundraiser, anytime. Most

often, because I book us,

the people come to me.

Or, if I have an idea, like

Artists for Animals or the

prior fundraiser we did

for Sammy Davis and two other families,

he says "yes." He's always supportive of anything and

everything that I want to do.

"Otis" at the Blazin' M Ranch

"Al Catraz"

"Harry" of "Harry & Gladis"

LT: Thanks, Shondra!

Sedona ARTSource

55
---
my life, especially with my family and me. I

always sang, so it became clear that this is what

I needed to do. I started extended courses at

UCLA and USC. The rest is history."

"Both of our families were musical," Shondra

commented. "Tom's singing had always

been recorded by his family, and I have the

same thing. We were always doing funny

commercials, recording them on reel-toreel.

Tom's great aunt was head of the music

department at BYU …"

Tom finished her sentence, "She was a

Mormon, and she actually conducted Mormon

Tabernacle Choir at one point! She was a

renowned singer whose whole life was involved

with church and going around organizing

women's choruses! My grandfather marched

with John Philip Sousa! Hello! Composer,

musician, all that was just there!"

There was no breaking free of that orbit, and

for both, a love of music won.

"For me, it was all about music and theatre,"

Shondra exclaimed proudly. "I grew up behind

the stage and

got the theatre

bug. It became

my passion to

do anything

and everything

I could in

theatre all

through high

school. I won

awards, got

accepted into

Juilliard School

of Drama, and

then came back

to the music. I

worked alone

and in every

combination

of music band

you can think

of from duos, trios, full bands, rock and roll

and standard bands, did eighteen years of club

work and had my own shows in Vegas and

Reno, and did concerts throughout Southern

California. I created characters at Sea World

with their own shows and developed a huge

catalog of original songs that covers a vast

range of genres from rock, pop, country rock,

blues, power ballads, theme songs, anthems

and New Thought inspirational pop tunes

— many have been published in songbooks.

I've done studio recording, voice-overs for

websites; I'm a MIDI sound designer who can

play all types of instruments and am currently

recording my third CD. I'm producing

events, mentoring students, getting kids into

conservatories in London, New York and

L.A. and now I also do a lot of life coaching

for adults. I've served ten years as the Music

Director for Unity of Sedona and Center for

Positive Living, Sedona. I've done lots of

theatre and musicals. I also worked at Mingus

High School coaching the principal leads for

their musicals, composing songs for shows, and

co-producing and performing, while still doing

my shows with

Tom and giving

back, giving

back, giving

back!"

Tom

reminisced,

"The music

was always

intertwined

in our lives.

Shondra's

mother ran a

talent agency

and that is how

we met in San

Diego. We

just celebrated

our 40th

anniversary!

I grew up in

56

Sedona ARTSource
---
Los Angeles. My dad was

a singer, my grandfather

a composer. So, I'm now

seventy-five, which means I've

been performing for almost

fifty-five years as a singer,

actor, producer, director,

writer, emcee, voice-over

artist and overall entertainer!

I did leads in school and my

first professional gig was

soloist at churches. I went

into theatre, did Broadway.

I was in national tours

of Camelot, South Pacific,

Oklahoma, played Gurdjieff

in the musical Crazy Wisdom,

portrayed Al Lewis in the

Sunshine Boys and played

Frank in How the Other Half

Loves. I could go on and on

about the shows I've done!

I did some television and

film and I was close friends

with James Drury and Doug

McClure, when we were all looking to make it in

the business."

Shondra recalled that they had both performed

shows on several cruise lines and added to Tom's

list of highlights from his career: "He performed

in Lake Tahoe and Vegas as the warm-up act

for Tony Bennett, Shari Lewis, Red Buttons

and J.P Morgan, to name a few! Tom has also

performed in musicals with Florence Henderson,

Chita Rivera, Leslie Nielsen, Darren McGavin,

Earl Holliman, Ricardo Montalban, Dorothy

Warenskjold, Juliet Prowse, Johnny Mann,

Celeste Holm, and Burt Lancaster. He toured

the USA in shows with Jane Powell & Company

and Dorothy Warenskjold Opera Tour too!"

Through their many years together, the couple

has created numerous stage characters for their

productions. In fact, Shondra has so many

disguises that she's been referred to as "The

Tracey Ullman of Sedona."

Shondra laughed, "Tom's been 'Otis' at the

Blazin' M Ranch for twelve years and often

people don't recognize him. But I'd say that

of the disguisers, I'm the one now. We have

pictures on the wall including one of me

dressed as a ninety-seven year old, and people

say there's no way those are me!"

Their roster of characters includes "Harry"

and "Gladis," "Emmylou Dolly Loretta

South" and "Tex," murder mystery characters,

children's show characters and more. Shondra

commented, "I have more characters than

Tom does and they are complete disguises. It's

hard to not recognize Tom, we're not putting

boobs on him … although I will tell you that

he did play a woman once, he was one of the

'Devil Mint Twins,' and we're talking long

hairpiece, heels and the whole bit, and that was

hysterical!"

When asked what song would be an

appropriate theme song for their relationship,

Sedona ARTSource

57
---
their reply was robust. "For Good," they

chimed in unison. Shondra explained, "That

song comes from Wicked and it is by far my

favorite song I sing with him."

Tom added, "It's a great song, just perfect for us

because the most important thing is friendship.

We are each other's best friend. On that note,

my grandparents were married for seventy-six

years. I remember at

some point, maybe

fifty or fifty-five years, I

asked my grandmother,

'What's the secret?'

She didn't hesitate,

'We are best friends.'

And that's how we feel.

I want the very best for

Shondra and I know

she wants the very best

for me. That sums it

up."

The year 2017 was

eventful for the

pair. Shondra was

recognized with

awards for community

service including

Arizona Foundation's

2017 "Community

Collaborator of the

Year" Award and the

National Association

of Women Business

Owners, NAWBO 2017 "Community

Involvement Award." Also last year, she wrote

songs for Delta Dental's touring show The

Mouth Project.

This year looks bright, as the musical she

wrote with creative partner Dev Ross, Hot

Flashes on the Trail returned for another run

this spring with three new songs Shondra

wrote.

Tom has penned several Sci-Fi/Fantasy short

stories ready to be published in 2018. He

added, "We also have more monthly murder

mystery dinner shows coming up too and are

currently preparing two separate performance

tours for 2018 – one in southern Arizona and

the other in France."

When asked what message they would deliver

if given the opportunity to fill a one-minute

public service announcement on national

television, they answered, "We feel really

strongly about

mentoring, and

also about music

and performing

art programs in

schools."

"Prevention of cruelty for animals."

Tom added, "We are

both very grateful

that we have these

talents and can offer

them and also make

a living; it's all about

paying it forward."

Their passion spilled

over into a list that

revealed the depth

of the commitment

to give back to the

community. They

took turns adding

favorite causes:

"Shelters for women

and children."

"Walking Free Against Sex Trafficking."

"We believe strongly in standing for those who

can't stand for themselves," they both agreed.

Their energy suddenly merged into one

palpable force, as their words finally came to

rest on a single, loving phrase: "We're both

'on page' with this; our reason for doing what

we do is to be of service and make a positive

difference in our community."

58

Sedona ARTSource
---
ARTIST SPOTLIGHT:

By Nancy Lattanzi

Michael Colpitts

Michael

Colpitts has

displayed

the radiant

joy and

passionate

energy of

his mixed

media

paintings

at Sedona's

City Hall

and is a

MICHAEL COLPITTS

resident

artist at Creative Gateways Gallery.

Originally a pilot for TWA, Colpitts decided

to pursue an unpredictable adventure,

packing up and moving to Ibiza, Spain from

1975 to 1982. His extensive travels continued,

eventually taking him to India, where he

began studying spiritual teachings. It was

here that he met his wife Sumati, a ceramics

artist. Now a proud Sedona resident, his

adventures are reflected in his artwork.

pilot, to the natives of the North African

deserts, to the beauty of natural structures.

More than anything his artistic intention

involves a connection with his audience.

"There's a quality of suggestion without

definition, which creates feelings and

emotions allowing space for the viewer's

own personal and unique interpretation,"

Colpitts says.

Colpitts work has been shown in Barcelona,

Ibiza and Manises, Spain, as well as Sun

Valley, Idaho and Marin County, California.

To view more of his paintings and see his

working studio, visit Creative Gateways in

West Sedona.

Colpitts employs a wide variety of

techniques and materials in his mixed media

paintings including: the use of gesso, fabrics

and papers, light charcoal, modeling paste,

grog, sand, thick oil colors, acrylic washes

and transparent oil washes. The result are

paintings with incredible depth and allure.

Guided by instinct, he imbues his pieces

with an undeniable sense of ebullience and a

strong sense of motion.

He is inspired by a multitude of things from

the freedom of flight he experienced as a

BLUE BAYOU by Michael Colpitts

MICHAEL COLPITTS and "BLUE BAYOU" photo: Marika Israelson

Sedona ARTSource

59
---
Photos by Scott Yates

MARIPOSABy Carol Kahn

A METAMORPHOSIS

"Art comes in many forms,

and I love all forms of art.

It's my sensory connection into

the world of beauty. Art is the

backdrop that sets the tone for

the whole dining experience

in my restaurants."

LISA DAHL

Butterflies are mesmerizing. Their elegance,

beauty, power of flight, and the spiritual

meaning of their metamorphosis are

symbolic of life. Transformed from a caterpillar

in the chrysalis or the cocoon, butterflies

represent rebirth, regeneration, joy, and

happiness.

According to Native American legend, if you

desire a wish to come true, you must first capture

a butterfly, whisper your wish to it, and release it.

Since a butterfly can make no sound, it cannot

reveal the wish to anyone but the Great Spirit,

who hears and sees all. In gratitude for giving

the beautiful butterfly its freedom, the Great

Spirit always grants the wish.

60

Sedona ARTSource
---
Sedona ARTSource

61
---
To Lisa Dahl, head of the Dahl Restaurant

Group and an award-winning chef and

restauranteur, the butterfly is a universal

symbol for hope. "Many people have chosen the

butterfly as a symbol of healing especially when

a loved one has crossed over. When a butterfly

appears, it is a sign that their loved one is near,"

she says.

Lisa believes that the name of her fourth

restaurant was divinely inspired while standing

on its sacred land. "I was looking out at the vast

beauty of the mountains and rocks; the scene

was very austere. I was thinking of a name

for this restaurant, and 'Mariposa' came to

me effortlessly. In Spanish, 'Mariposa' means

butterfly. It was a perfect fit for me, in terms of

my son Justin, who is now my guardian angel."

Perhaps it was her son who whispered in her

ear the symbolic word that had wings and took

flight. Serendipitously, it was also a magical and

spiritual moment for Lisa Dahl. Each of her

restaurants contain a shrine to her son, some

tucked away, and some in plain view. There

is one additional tribute to Justin at Mariposa,

which was a surprise gift from her partners,

concealed from her until it's unveiling at the

opening of the restaurant. In the driveway

roundabout lies a granite mandala, carved with

her son's name. "There are no words to describe

that moment. It is one of the beautiful tributes

to Justin. Not everyone notices it — those who

do are awestruck. It symbolizes that he will live

on in perpetuity.

"My salvation is the belief that he is still with me.

Sedona ARTSource
---
I have always felt that making these restaurants

with shrines as healing for those in need would

be the foundation of them. The love of cooking

and the love of creating the ambiance make

it more than a place to eat," Dahl explains. "I

want to create a multidimensional experience

for those who come here to dine. They might

be surprised by what they see, but they feel an

energy and leave with something more. Mariposa

is an honor to have been bestowed upon me.

It wasn't something I went after. The way it

happened is just as elusive as the butterfly!"

of the red rocks, Mariposa is homage to the

sacredness of Sedona.

"It captures your heart and soul the minute you

walk in — it's not just a restaurant. It takes your

breath away every time," says Lisa. "People feel a

tranquility here — it's a freestyle restaurant that

doesn't conform to any particular restrictions.

People are free to go out on the lawn and enjoy

the views; it has a shrine-like aspect to it."

In planning and building Mariposa, no stone

was left unturned — a metaphor of sorts. The

"We delight in the beauty of the butterfly,

but rarely admit the changes it has gone

through to achieve that beauty."

MAYA ANGELOU

The restaurant feels like both a home and a

gallery. Every perspective is in harmony with

nature. It is a sanctuary in its own right. Built

on land with one of the most picturesque views

attention to detail is one of intention and

intuition. Upon entering, you can see the

antique gates that set the tone, with their huge

globes of fire artistically emblazoned with

butterflies.

Walking a few steps down the pathway to the

entrance, you are met by a massive door. This is

no ordinary door; it is one like no other. Made

with quartz crystals and gemstones, it illuminates

in the evening light beckoning you to enter.

Doors can be intriguing. In literature, doors

Sedona ARTSource

63
---
sometimes represent a

mystical passageway

to the unknown,

tempting us to imagine

that it's possible to

open an ordinary door

and find ourselves in

a real-life adventure.

Inquisitively, just like a

character from C.S. Lewis's

series, The Chronicles of Narnia,

you open the door, and now you are

entering the magical realm of Mariposa.

"Most people just stop in amazement," Lisa

says. "It's not like anything you have ever seen

before. The door represents the opening to your

own experience. It is massive; it has a quality

that gives you a sense of reverence by the way it

opens. Doors to me represent the opening to the

soul. This door was the last piece of the puzzle,

and it was a mystery to me. I knew it had to be

something that was unique and would fit the

ambiance and iconic symbol of Mariposa."

While on a trip to in Santa Fe, Lisa passed by

a store with butterflies in the window. Her

"Every now and

then, one paints

a picture that

seems to have

opened a door

and serves as a

stepping stone

to other things."

PABLO PICASSO

fascination with these winged creatures was

enough to draw her inside. There, she found the

most incredible artwork hanging on the wall.

"I was drawn to the pattern of colors and the

matrixes in the stones. The minute I saw it, I

knew I had to locate the artist." Trying to track

artist Zee Haag down was an adventure in itself.

He didn't have a website at the time, but she

found out that he was from Tucson. Upon

64

Sedona ARTSource
---
uying and selling precious gems and minerals

before his 18th birthday. Today, Zee Haag is one

of the biggest names in the gem and mineral

world and has emerged onto the international

art scene. He has the ability to take what nature

has provided and repurpose it into a refined

expression of life and matter. "I have been

around rocks and gems all my life; my personal

experience has been supplying stones to a lot

of people, especially for healing. There is no

question in my mind that there is something

metaphysical with stones — there is this

unknown or scientific power within certain

minerals and crystals that can heal, especially

quartz and tourmaline," says Zee.

locating him, she invited him to the construction

site of Mariposa. "He was very elusive," she says.

"I asked if he would come to our building and

take a look around to get a feel of the restaurant.

There were no walls — we had the structure

built, but that was about it. We didn't even have

a concept of what we wanted. I just had this

sixth sense about him and knew he was the right

person to create what I had envisioned," she

says.

Lisa Dahl will be the first to tell you that she

doesn't like the ordinary; she prefers things

that are extraordinary. Once a blank canvas,

Mariposa is now a masterpiece. Lisa wanted to

create an unforgettable entrance. She didn't

want a typical wood or glass door with a butterfly

motif; she wanted it to be more abstract. The

door had to make a statement, yet fit within

the confines of its panoramic surroundings. "I

wanted a raw feel to it. I left the decisions about

choosing the gemstones to Zee.

I love working with artists, and I wanted him to

be true to who he is as an artist. He respected my

Zee Haag is an artist who uses precious stones

and rare fossils set in mosaics, steel, and

copper. His mosaic-style art pieces glow on a

wall showcasing the beauty and color of the

earth's minerals and gemstones. Drawing on his

inspiration from nature, dreams, religion, and

myth, he is able to incorporate his love for gems

into his artistic vision.

His fascination with rocks began as a teenager.

"My grandmother and my parents collected

rocks. My father worked in an underground

copper mine for a while in Indonesia, so it was

natural for me to be interested in gems and

minerals," Haag explains. He started mining,

Sedona ARTSource

65
---
66

Sedona ARTSource

Door features abstract butterfly in quartz crystals
---
Watermelon Tourmaline

opinions and vision

and allowed me to

work through the

process, which was

a daunting task. He

never said, 'Well, I am

the artist, so it's my

way or the highway,'

and I didn't say, 'Well,

I am the visionary, so

it's my way or the highway,' "she laughs. "I think we joined forces

equally on this magical interlude."

Artist Zee Haag and Lisa Dahl

Zee, his assistant, Gerardo Leyva, and a Shaman artist friend,

as Lisa calls him, surveyed the land of Mariposa. Haag acknowledges

this project as one of the largest he's ever done and, from some aspects,

it proved to be a first for him. He had never created a door of this

magnitude. "It took a while to come up with the concept. I knew

Lisa wanted an abstract butterfly, and it had to have crystals,

minerals, and gems. I was patient, while Lisa took

a long time exploring all angles and

concepts before she said, 'OK Let's

do it!' Even though we got the door

and components together, we were

still waiting for the main ingredients. It

took a long time," he says, describing the process

in more detail: "It was like painting on a fresh

canvas."

Amethyst

Door: Why it's simply impassible!

Alice: Why, don't you mean impossible?

Door: No, I do mean impassible

(Chuckles) Nothing's impossible!

LEWIS CARROLL

Alice's Adventures in Wonderland &

Through the Looking-Glass

The door is massive, but had to be functional in

design and weight. Laden with slices of giant

quartz crystals, each piece was pre-cut to fit

precisely within the structure. Each gemstone

used has certain metaphysical properties, as Zee

has explained. This specific quartz came from

Madagascar and is known to be a power stone.

It has been called the "Universal Crystal"

because of its many uses. Blue Kyanite from

Brazil and Watermelon Tourmaline, which

is mined in Africa, were also selected for the

Sedona ARTSource

67
---
utterfly motif. Pyrite was used for the handle

and was sculpted by hand. Each piece is unique.

"Everything we made or created was either

grown or mined. I feel like God put me here as

the person to go out to find all this stuff and give

it to the people who know what to do with it. I

feel like I am a channel, but I don't believe I am

metaphysical in any sense of the word. I am an

artist, and I believe God created all of this stuff,

in His design, and His design is mind-blowing.

All of this, I believe, is a replication

of the greatest artist in the world,"

says Zee emphatically.

The installation of the door

was a challenge unto itself.

Eighteen-hundred pounds of

stone and steel was driven to

Sedona from Tucson, with

trucks maneuvering through

eleven roundabouts before

reaching their destination.

It took a forklift, and three

men, who welded the door

in place. "That door is

pretty amazing," says

Zee proudly. "I do only

a few pieces a year that

are truly mind-boggling,

and this is one of them. I have to

give credit to Scott Yates, who assisted on the

project. He's the one who got the opening and

closing mechanisms of the door to work. I can't

take credit for that. That door operation is as

smooth as butter!"

Art, to Zee, is something you cannot walk by

without looking at. He believes good art causes

you to look at it every time you pass by it. It

needs to emote a deep feeling in your soul. "If

you don't feel a connection to your art, or don't

look at it, then you need to throw it away. Art

should have some kind of personal meaning

to you." The irony of his thoughts regarding

art and the door he co-created at Mariposa run

parallel. Each day, hundreds of people enter

the restaurant through this piece de resistance

and admire its sheer beauty. "I am humbled

and excited to see my work there. This door

is probably the one thing I am most proud of,"

says Zee, smiling. "I've never done anything like

this. It's pretty amazing. I am taking what God

has already created — this incredible design

and pattern that is completely natural — and

arranging it into art. It's hard for me to take a

lot of credit. I get compliments from people

who say great things about my art, like it's

'genius,' but I don't want to hear that. I am very

appreciative, but I don't think I am good at what

I do. I have been cutting stones almost since I

was born, and at my age, I have cut more than

a million stones by hand. I have been digging

rocks since the time I could crawl, so I would

hope that I would have some level of

skill. In my mind, on a scale of

one to ten, I consider

my work a five; about

a two with my art. I

want my art to get better

every year. This concept

also freaks me out! At my

age, I have twenty more

years to create art. If I am at

a five and I want to achieve

a ten, I need to reach a sense

of urgency. I have to focus on

the art and every year take it

up a notch, and by the time I hit

eighty, I will be a ten. Then I can

say, I'm done!"

There is no doubt that there is a

common bond of artistry that runs

deep, just like the matrix in stone,

between Zee Haag and Lisa Dahl. Together,

they created this magnificent monument at the

entranceway to Mariposa. In addition to the

view, it is one of the most stunning features of

the restaurant. As the door swings open, there

appears to be one more element of surprise.

Beyond the door, emblazoned on the back wall

is a mirror featuring an enormous chiseled

butterfly — the enigmatic icon that represents

our soul's journey.

What once was a caterpillar has now emerged

into a beautiful butterfly. This particular

metamorphosis was kismet. "I have a feeling

that finding Zee was meant to be," says Lisa. "I

believe there is a higher divine guidance, and

apparently Zee believes that too. I truly believe

our angels put us together!"

68

Sedona ARTSource
---
Where the celebration of dining is never a lost art.

Reservations

928.862.4444

mariposasedona.com

"Top 20 Outdoor dining

destinations in the world."

American Express Essentials
---
70

Sedona ARTSource
---
The Heavenly Music of

Anthony Mazzell a

By Carol Kahn

"Music is a moral law. It gives a soul to the universe, wings to the

mind, fl ight to the imagination, a charm to sadness, and life to

everything. It is the essence of order and leads to all that is good,

just and beautiful, of which it is the invisible, but nevertheless

dazzling, passionate, and eternal form." – Plato

This quotation has created much controversy

and debate among educators and philosophers

as to whether it was actually Plato who said it.

Regardless, whoever did, understood the essence

and power of the vibrational sound of music.

Music is all encompassing. Music connects us

to one another. Music, truly, is the "soul of the

universe."

Music is Anthony Mazzella's inspiration. "If

you sit me on the edge of the Grand Canyon,

no music will come out of me. Life is perfect. If

you sit me in a dark basement with the lights off,

I will write you a symphony. If I am alive out in

the world and inspired by my surroundings, I

don't have a sense of needing or wanting to play

music. I am present in the moment, but, if I hear

a musician playing music or one who inspires

me, Boom, I'm on fire! My musical mind goes

nuts. My soul starts vibrating out of my body

and completely wakes me up."

Anthony Mazzella's musical commitment began

at the age of 5. "I was in kindergarten, and the

music teacher came around and asked if anyone

wanted to play an instrument. I remember my

hand went straight up. I chose the violin. I

remember fantasizing I was up on stage in a

tux and a bow tie playing the violin as a soloist.

Where I got that image, I have no idea. But here

I am many years later. I always had a passion for

music."

Music has always been a large part of Mazella's

life, and he is influenced by his mother's love of

all genres. She would listen to 50s rock 'n' roll

legends like Chuck Berry, Fats Domino, and

Chubby Checker, as well as Broadway show

tunes and Barbra Streisand. His mother was an

amateur pianist who played classical sonatas,

including Beethoven's. "I grew up listening to all

this music. No matter how good a musician you

are, there is a musical sensibility. The more that

you're exposed to at an early age, or any age, the

better musician you are going to be because you

know how to draw from that experience."

During his teenage years, Anthony dreamed of

being a rock star. "I loved the whole image of it,

but first and foremost, I loved the music. I loved

rock 'n' roll. I loved the outfits. You know, the

early '80s heavy metal — it was all that! It was

fun. I was just a normal kid from Long Island,

New York, just totally being seduced by rock 'n'

roll and guitars."

His dreams of becoming a bona fide rock star and

playing to crowds of 30,000 have diminished,

but his love of Led Zeppelin, The Who, Jimi

Hendrix, and Eddie Van Halen will never wane.

After graduating high school he experienced

a rite of passage, as he calls it, which changed

the direction of his music. "I was getting

into more avant-garde approaches to playing

acoustic finger-style guitar. I was studying a lot

of medieval music, as well as learning Latin. I

was really connecting with the world of music,

and this entire journey put me in touch with its

spiritual side. I wanted to be well rounded. I was

so in love with these new musical styles I was

discovering, that it changed my perspective on

where I wanted to go with it. All I ever wanted

was to be a great musician. I didn't care about

Sedona ARTSource

71
---
eing rich and famous and all the rock star kind

of stuff. But, when I listen to music that stirs

passion — there is nothing better than that.

That feeling … of being connected to source … is

what it's all about."

Creative in his own right, Anthony loves the

process of composing music and the road getting

there. He draws his mastery from his "bag of

tricks," playing the sounds and melodies of

music he is familiar with. "I have studied so

much music, and I know the theory behind it, so

I never have writer's block. I have a foundation

of the 50s music of rock 'n' roll, Broadway hits,

and classical music. I have played so many solos

and musical lines that were sung by others, and I

just pull from that."

Music gives "wings to the

mind," but Anthony

Mazzella's performances

takes you on a journey,

a flight into the imagination, if you will, as if he

is encountering an out-of-body experience. He

is removed from his audience, but not from his

music. He appears to be in a state of meditation,

or prayer, using guitar chords as his mantra. He

closes his eyes, "accessing the voice of God,"

as he describes it, focusing on the passion in

his music and also allowing the audience to

experience this communication with God.

"I really want the audience to feel what I am

feeling, and if I'm not feeling it, they aren't going

to feel it either. I put myself in a bubble and

check out. I used to practice in the dark with my

eyes closed for seven hours a day," he says, "and

to be able to do that took a lot of practice to get

to that stage of mastery. It's a process of letting

go, connecting to the harmonic resonances of

the universe, and at that point, it becomes

its own thing. It is my own religious

experience."

There is a harmonious language

between other art forms and

Mazzella's music. On a recent

trip to New York, Anthony

visited the Metropolitan

Museum of Art and became

mesmerized by the work of

eighteenth and nineteenth

century European painters. He

paid close attention to the details of

the subjects in these masterpieces and

says he sensed a connection as he peered

into their eyes, "catching a glimpse of their

soul."

It should come as no surprise that he is drawn

to this time period and to these works of art.

Neoclassicism was the artistic component of

the intellectual movement known as the "The

Enlightenment" that dominated the world of

ideas in Europe during the eighteenth century.

"The Age of Reason," as it's also known,

emphasized objectivity, reason, empirical

truth, and the scientific method, along with an

increased questioning of religious orthodoxy

— an attitude captured by the phrase "Sapere

Aude," or "Dare to Know"— enlightenment

Mazzella seeks for himself.

To know Anthony Mazzella, or his music,

Sedona ARTSource
---
equires one

to dare to

understand

the empirical

evidence

or sensory

experience

that occurs

while he

plays his

guitar. There

is some sort

of "juju"

occurring, as

he explains

it. Some of

his students

think of him

as a wizard

and watch in

amazement,

hoping that

one day they

will play a

guitar just as he does. He is likened to a sorcerer,

as he explains this transference of energy

between himself and his muse. "The guitar is

one of the most challenging instruments. I wish

it were easier. There is so much coordination

going on at the same time. When I am playing

the guitar, I can feel its vibration against my

body. There is eroticism, a passion that a guitar

exudes. It is sexy, it's shaped like a woman, and

when you watch guys like Eddie Van Halen or

Elvis play guitar, they made it look fun and cool."

Mazzella is a believer in following your passions,

regardless of a big pay-off in the end. He tells

his students that if they are in music to be rich

and famous, they are in it for all the wrong

reasons. "Being able to execute music is a reward

completely unto itself," he says. "It's a great

journey because you're getting the satisfaction of

doing what you love to do, creating something,

and trusting that the money will follow. For

people who are that passionate, there is no 'Plan

B'; this is it, do-or-die. For me, I've jumped

off the cliff. I got to a certain point in my life

where I said that I was done with everything

else. I would rather be a poor musician than a

millionaire doing anything else. That decision

was a huge turning point for me."

Anthony Mazzella speaks about success and

fame: "I have had so much recognition through

my life that I am grateful for, but I just don't

need my ego fed with that stuff anymore. What

matters to me is that my music connects with

you and that it connects with other people."

At this point in his life, Anthony is more focused

on his daughter's experiences and being a

supportive father. He beams as he talks about

his daughter, Olivia, whom he cherishes. "I just

have this innate parental love, and it takes over

my life. It's a big game changer. My daughter

was born, and it became all about her. I'm okay

with that. I look at my life as two bookends. On

one side, I had this amazing life. I've traveled the

world. I didn't get to be as big as Led Zeppelin,

but I have no regrets," Mazzella laughs. "But

aside from that adolescent rock star dream and

having that life, matched with the bookend

of my daughter being born … there is nothing

better than that.

"I do have dreams of her being a great musician,

but at the same time, I haven't pushed it. I will

nudge her toward it, but I am giving her the same

experience I had at her age: She listens to music

every day. She sings. She plays bass, guitar,

and drums. All I am doing right now is training

her ears to music. Each time she gets in the car,

music is playing. Currently, she's listening to a

Mozart Concerto and can sing the tune. That's

pretty good for someone her age."

Anthony Mazzella is living in the moment. He

doesn't feel the need to be remembered for his

music. His scope of life and its reality is much

bigger than any ego — or even the feeling that

his music needs to live on. He is not attached to

his creations and doesn't take responsibility for

his gift of music. Mazzella says that he is just a

messenger. "I've spent years studying, and I have

done the work, but the collection of musicians

out there — and their work — is so much bigger

than mine. They are the ones who need to be

recognized. I just want to enjoy my life while I'm

here."

Music in life is everything.

Sedona ARTSource

73
---
Cinematographer & Photographer

Boom Town

Michael McClellan

The Art Of Creating

Cinematography

Within A Photograph.

Interview and Compilation by Carol Kahn

"The journey of discovering my passion for

photography began in my early teens when I saw

the Michael Mann movie, Last of the Mohicans.

It was Dante Spinotti's cinematography in that

movie that made me fall in love with composition

and lighting. From that moment, I spent the rest

of my teenage years with a camera in my hand,

making home movies or studying films, dreaming

of becoming a professional filmmaker.

"I would then spend more than a decade

convincing myself that I needed to put away my

childhood dreams and pursue a career that was

less of a risk. It wasn't until recently — when

circumstances led to the realization that playing

it safe in life was just as much of a gamble as

following my dreams — that I decided to throw

caution to the wind. I maxed out my credit cards

to buy some lighting equipment and a brand

new DSLR camera that could shoot high quality

video, in addition to gorgeous still photography.

"I don't consider myself a photographer. I

consider myself an artist, one who spends a

lot of time in the editing process. I am not big

on capturing things as they really are. I have a

lot of respect for the purist photographer, but

that is not my direction. The original shot is my

canvas and I throw myself into editing, layering

and manipulating the photograph until I find

something unique that I am satisfied with. I am

always looking to create something dramatic.

"One of the things I hear people say about my

photography is that it has a cinematic quality. I

had never thought about how my cinematography

background would affect my photography, but

now I fully embrace how integral it has become

to my artistic style. I always looked at movies as

an escape from reality, so I try to capture subjects

in a lighting, composition, and color profile, that

appears a little more surreal than the everyday

nature of reality. Whether it is long-exposure

night shots that look almost like they were taken

74

Sedona ARTSource
---
during the daytime, or artificially creating and

exaggerating the soft warm glow of sunrise and

sunset, or capturing high contrast black-andwhite

noir portraiture, I try to create emotional

experiences with my photos that accentuates the

aspects of the subject that I find the most visually

and emotionally interesting.

"Composition always came easy to me. Instinctively,

I knew about the rule of thirds in

framing a shot before I learned about it in

school. I don't have any mentors or anyone I try

to emulate. I believe there is a lot to be learned in

studying, and I do read books on lighting, but I

don't want to copy or be influenced by anyone.

It's about creating my own style.

The beauty of art is that

it resonates differently

with everyone.

MICHAEL MCCLELLAN

"When shooting landscape photography, I try

to find a day with lots of clouds and a variety

of light. There has to be something incredible

happening for me to shoot landscapes to begin

with. My passion, though, is people. When I

do portraits, I am creating light and setting a

mood. I really geek out on it. I love capturing

the emotions in faces, whether they are happy

or sad. The more dramatic the better.

"The main reason I prefer doing portrait shoots

over landscapes is because I enjoy collaborating

with other artists. I love the energy and passion

each person brings and how they open up new

possibilities and directions that I could not come

up with on my own. The models, makeup team,

and art directors, all have their own experiences

and visions that they bring to the table. I love

adding to the work and creating something

bigger and better than anything I could do on my

own. There is a bond that happens during the

production including the shared excitement and

congratulations of the finished project. That

to me, is my biggest addiction in the realm of

photography or film production."

Flatiron

Tim McClellan

Cathedral Moon

Sedona ARTSource

75
---
A New Arts Initiative

By Pam Frazier, Winnie Muench, Carol Gandolfo and Jim Peterson

In Sedona

Sedona Culture Coll aborative

Launches Arts Services Program

arts, literary arts, culinary

arts, and the humanities.

In other words, the entire

spectrum of the arts.

Initially formed several

years ago, SCC has been

slow and deliberate in

defining its vision. One

thing was always clear:

we want to benefit artists

and arts organizations, not

compete with them. And it

would be nice to soften the

boundaries of individual

silos and see artists and

arts organizations gain

strength by combining

their efforts, when

appropriate.

So, you've heard of the Sedona Culture

Collaborative, right? And you know what

it's all about, correct?

Well, hang on – things are changing! It's not

the same old SCC any more. Here's what we're

brewing up.

First, a bit of background: The Sedona Culture

Collaborative is a nonprofit organization

composed of arts leaders in the Sedona

community who would like to help our city live up

to its motto: "A city animated by the arts." SCC's

goal is to put Sedona's vibrant arts community on

the global map as a destination for education and

engagement in the arts — performing arts, visual

To help define SCC's

niche, we conducted two

SCC logo by Andrea Smith

surveys of artists and arts

organizations in Sedona and held two public

forums. The first aimed to determine whether

our goal of collaborating to grow arts education

was supported by the arts community. The

answer was Yes, 100 percent. The second was

to determine what area artists need in order to

become more visible, excel in their respective

genres, and expand educational opportunities for

themselves and others.

SCC's niche clicked into focus. It was through

the work of our Visioning Task Force that we

defined our target. The best and most efficient

way to support artists and arts organizations is to

establish the Sedona Culture Collaborative as an

arts service organization (ASO). It is our goal to

76

Sedona ARTSource
---
increase public awareness of, engagement with,

and support for the arts in Sedona. It will take

time, but we are developing:

• A directory of artists and arts organizations in

the greater Sedona area, so that they can find

each other easily, and visitors wanting an arts

experience during their trip can find individual

opportunities by genre.

• In collaboration with Sedona Chamber of

Commerce and Sedona ArtSource, a centralized

calendar of events.

• A centralized ticketing service

• A directory of spaces available for studios,

teaching classrooms and lecture facilities,

rehearsals, performances, and exhibits

• Access to specialized software and tech support

needed by artists and arts groups

• An organized pool of volunteers

• Instruction in business skills related to the arts

• Dissemination of information such as the

economic impact of the arts in the community

• Discussion and networking groups and events

A recent study by the Boston Foundation

ascertained that, "Because arts service

organizations collaborate and network across

sectors, other constituents are often served by and

benefit from the work of ASOs." They further

maintained that Arts Service Organizations are,

in many ways, gems of the cultural ecosystem.

They play an important role in supporting the

work of artists, nonprofits, and arts communities

in developing the sector's cohesion and ability to

meet its collective needs.

To learn more about the Sedona Culture

Collaborative or to get involved in its

exciting projects and activities, contact

President Jim Peterson at 928-554-4340 or

president@sedonacollaborative.org
---
ARTWORK ON THE SECONDARY MARKET

BY MARK SCHRADER

ALT GALLERY

Artwork is a treasured

possession. It may have been

very thoughtfully acquired

and a part of your life for

many years. There may

be charming stories about

how, when, and where it

was purchased. Frequently,

the owners may have met

the artist and learned how

the work came to be or

obtained an intriguing bit

of information about the

piece. The art may have been

passed down from previous

generations. Significant

sums of money and time

could have been invested in

the acquisition of the pieces.

However, there does come a time when it is

necessary to let artwork go to a new owner. You

may be downsizing to a new place, changing to a

new look, or relocating to a new area incompatible

with your current collection. You may have been

tasked with finding new homes for possessions

from a relative. Maybe you are looking for

funds for another purchase or even combining

households. For whatever reason, you feel that

it's time to sell some art.

When artwork is purchased for the first time

from an artist or gallery, it is said to have been

bought on the primary market. Previously owned

art is resold on the secondary market. Places

to purchase secondary market artwork include

auction houses, consignment dealers, estate sales,

print classifieds, online listings, or directly from

the current owner.

The secondary market for artwork is untethered

from the careful control of the gallery and the

artist, who both have an interest in maintaining

a stable and coherent pricing environment for

the work. Both the gallery and the artist may

provide significant value that can be added to the

art buying experience. Artwork on the secondary

market, however, is subject to the sometimes

heady, sometimes cruel, laws of supply and

demand.

In our next installment, we will explore how

secondary market valuations are determined.

"The Falls" - Oil on Canvas - Frank McCarthy

Patti Polinard Quarter Ad Final:Layout 1 4/16/18 11:46 AM Page 1

Heart Stones of Mother Earth

Transformational Art Revealing A Connective Thread

Available at:

Art & Soul Gallery of Sedona in Hillside Shopping Ctr.

Sedona's New Day Spa at 3004 W SR 89A in West Sedona

For Special Orders Contact Artist — PATTI POLINARD

commonthreadsforus@gmail.com

Sedona ARTSource

79
---
WHAT IS

"Slice of Heaven" (above) and "Pinnacle at Thunder Mountain" (opposite) by Vince Fazio

80

Sedona ARTSource
---
ART ?

5

Answers from

VINCE FAZIO

Vince Fazio is an accomplished painter

who also serves as Executive Director of

the Sedona Arts Center. His professional

goal is to continue the Center's sixty-year

mission of creating a space where artists

have a place to share ideas, techniques,

and artwork, while keeping the

business side financially

successful.

Vince is one of 100

artists whose work

is displayed at the

Arts Center gallery.

He feels that Sedona

is a sweet spot for art

because of the people who

settled here and the beauty

of the landscape that surrounds it. He's a

big proponent of finding ways to support

the arts through state funding, and he

acknowledges the importance of educating

our future generations.

Sedona ArtSource stopped by his office

recently to ask him, "What is art?"

Answer 1: "I like to think of art as an object

that defies that category of being an object.

There are so many different ways of creating

art. Art is a process that goes through the

individual, but comes out as a public display

that can be understood on many levels;

emotionally, intellectually, in terms of

beauty."

Answer 2: "Art hits us in an immediate

way — before we have a chance

to determine what it is or what

we are seeing. It already

happened. It goes right into

us and hits us emotionally;

we then process it, and

understand later what

happened."

Answer 3: "Art makes

me feel all different

kinds of ways. As an

artist myself, I get the

thrill that I am seeing

something very special.

When I create art, I go into

a zone — I find that going in, I

am able to do things I didn't know

I could do, and coming out of the zone,

I find that I am surprised at what I did. It

seems like it is always ahead of me in a

way. It has already happened, even when I

created it. I find that interesting."

Answer 4: "It's so diverse that you can't

get it right or pin it down. There is clarity

when you see it; it's perplexing. It grabs me

emotionally and intellectually."

Answer 5: "That's a little complex of an

answer, isn't it? I think I am resistant to

defining art!"

Sedona ARTSource

81
---
SEDONA SUMMER COLONY

Individual Artists Residencies

Workshop Residencies

By Vince Fazio and Carol Holyoake

Day Residencies for Verde Valley Artists

Now in its third year, the Sedona

Summer Colony continues to evolve as a

partnership project between the Sedona

Arts Center and Verde Valley School.

This year, the Colony includes four unique

residency workshops that kick-start the

creative process. The four workshops

take place July 16 – 20, 2018, and create an

opportunity for artists to explore a new

realm of creativity or gather a new creative

skill set. Artists can take a workshop as

a stand-alone experience or continue on

with an individual residency following a

workshop.

Individual artist residencies remain the

Colony's primary objective, to support the

inspiration and creation of new artistic

work and cultural content by providing

undisturbed time, temporary living

space, regular meals, and studio or work

space. Because of the collective nature of

a residency program, new connections

and dialogue among participants create

new opportunities for cross-disciplinary

interaction and thinking. The residencies

and workshops take place on the beautiful

Verde Valley School campus, and for a

very reasonable daily fee, artists get a living

space, a separate work space and two meals

daily. Individual artist residencies are

available July 21 – Aug 12, and artists can

register for 1 week, 2 weeks or 3 weeks.

The workshop offerings are profiled in full

on the Sedona Summer Colony page of the

Sedona Arts Center website and address

a variety of options for exploration.

Playing off the influence of Max Ernst,

who lived in Sedona and worked with the

82

Sedona ARTSource
---
Arts Center's founder Nassan Gobran,

"The Magic of Surrealism," taught

by Libby Caldwell, invites artists to

begin afresh, exactly where so many

modern art movements began. Painting

outdoors and in the studio, artists

can delve into a "Plein Air Painting

Immersion" taught by Matt Sterbenz

during the dramatic monsoon season.

Participants can discover the richness of

indigenous culture through the "Hopi

Pottery Experience," taught by Hopi

potter, Rachel Sahmie Nampeyo. Joan

Fullerton returns to Sedona to teach

"Contemporary Mixed Media," which

involves mixing collage with images

and explores many painting techniques.

All the workshops are also perfect for

teachers seeking continuing education

credits over the summer and are made

possible through the Yavapai College,

School of the Arts and Humanities.

Sedona ARTSource

83
---
A final objective of the program is

to connect cultural producers from

around the world with our Sedona

community and link them with

the unique and diverse heritage,

community, environment, and

influences found only in the Verde

Valley and Northern Arizona.

During the last week of the Sedona

Summer Colony program, one

additional workshop is available. "The Spoken Word" will be taught by Thomas Eldon Anderson and

offers coaching and experiential learning for any level of student who would like to enhance his or

her abilities in the principles of clarity of thinking, melody of meaning, and emotional intent in the

service of "storytelling." The workshop, which culminates in a public performance, is for actors, as

well as business or professional speakers, and will be held Aug 6 – 11.

More information about the Sedona Summer Colony and details on how to register can be found

online at www.sedonasummercolony.org. Artists of all genres and levels of experience are welcome to

apply.

84

Sedona ARTSource
---
ArtSource Resources

SEDONA

GALLERY ASSOCIATON

The Sedona Gallery Association is

a membership-based organization

comprised primarily of local art

galleries that work together to

promote common objectives. The

SGA is the originator of the 1st

Friday Gallery Tour and member

galleries participate in this monthly

event highlighting artists and

special exhibits. Member galleries

can be identified and accessed

online at the association's website,

sedonagalleryassociation.com

SEDONA

ART SOURCE

Sedona Art Source serves as a

resource for the artist community

and advances daily to fulfill its

mission of supporting artists and

the arts community at large. Sedona

Art Source maintains a website,

sedonaartsource.com that is designed

to acknowledge all working artists

in the community, along with all

arts-related businesses and entities.

Sedona ArtSource magazine is

published quarterly by Sedona Art

Source.

SEDONA CULTURE

COLLABORATIVE

Sedona Culture Collaborative is a

non-profit organization staffed by

volunteers that serve on various

committees to promote the arts

in Sedona. Their stated mission is

to "establish Greater Sedona as an

internationally-recognized learning

community for arts education

& engagement and cultural

enrichment." Learn more at:

sedonacollaborative.org

ART STUDIO AVAILABLE:

Gandolfo Art Studio in West Sedona is available for artists, teachers as a venue to rent for short or longer term projects.

The studio portion is about 15 X 25 feet with about 10 available easels. There is plenty of parking. There is a full kitchen.

The main room has views of Thunder Mountain and Coffee Pot Rock. Call 928-961-6535 for quotes and availability.

Sedona ARTSource

85
---
86 Sedona

ARTSource
---
Sedona ARTSource

87
---
Sedona Art

Galleries - See Ma

M p pa

ag

eS 86-87

E2

Adonai Chrisan Fine Art Gallery

101 N SR 89A

D3

Great Southwest Gallery

336 SR 179

E2

R.C. Gorman Navajo Gallery

285 Jordan Road

B3

D3

D3

D3

A5

D3

D3

C3

D3

D2

D3

E3

E3

D3

C3

E3

D2

ALT Gallery

2301 W SR 89A

Andrea Smith Gallery

336 SR 179

Art & Soul of Sedona

671 SR 179

Azadi Rug Galleries

336 SR 179

Bearcloud Gallery

7000 SR 179

BearcloudGallery.com

Big Vision Art Gallery

& Design Studio

251 SR 179

BigVisionArts.com

Carre D'Arstes

336 SR 179

Creave Gateways

45 Birch Blvd

Eclecc Image Gallery

336 SR 179

El Dorado

101 N SR 89A

El Picaflor Gallery

336 SR 179

Eve Franc Gallery

431 SR 179

Exposures Internaonal

Gallery of Fine Art

561 SR 179

ExposuresFineArt.com

Gallery of Modern Masters

671 SR 179

Gallery Tesla

2030 W SR 89A

Garland's Navajo Rugs/

The Collector's Room

411 SR 179

Goldenstein Gallery

150 SR 179

GoldensteinArt.com

E2

A3

E1

D3

D3

D3

D3

E3

D3

E3

E3

A5

D3

E2

E2

D3

Greg Lawson Galleries:

Art Tasng Room

270 N SR 89A

GregLawsonGalleries.com

Greg Lawson Galleries:

Passion for Place

2679 W SR 89A

GregLawsonGalleries.com

Hoel's Indian Shop

9589 N SR 89A

Honshin Fine Art:

Gallery of Wholeness,

Harmony & Radiance

336 SR 179

Honshin Fine Art:

Gallery of the Ascending Spirit

336 SR 179

Inner Eye Gallery

336 SR 179

James Ratliff Gallery

671 SR 179

Kopavi

411 SR 179

Kuivato Glass Gallery

336 SR 179

KuivatoGlassGallery.com

Lanning Gallery

431 SR 179

Lark Art

431 SR 179

Magical Mandala

Kaleidoscope Gallery

7000 SR 179

Mountain Trails Galleries

336 SR 179

Nave American Traders

321 N SR 89A

Nave Jewelry of Sedona

276 N SR 89A

NaveJewelryGallery.com

Navarro Gallery

336 SR 179

D3

D3

B3

E2

B3

A5

E3

B4

D4

D2

C3

E2

E3

A5

A5

D2

D3

C3

Renee Taylor Galleries

336 SR 179

Rowe Fine Art Gallery

336 SR 179

Sedona Arst Market

2081 W SR 89A

SedonaArstMarket.com

Sedona Arts Center

15 Art Barn Road

Sedona Giclee Gallery

2055 W SR 89A

Sedona Hummingbird Gallery

6560 SR 179

Sedona Poery

411 SR 179

SedonaPoer.com

Soderberg Bronze

45 Finley Drive

Son Silver West Gallery

1476 SR 179

The DeSerio Gallery

101 N SR 89A

The Melng Point

1449 W SR 89A

Touchstone Gallery

320 N SR 89A

Turquoise Tortoise Gallery

431 SR 179

Van Loenen Gallery

7000 SR 179

Village Gallery of Local Arsts

6512 SR 179

SedonaLocalArsts.com

Visions Fine Art Gallery

101 N SR 89A

Vue Gallery

336 SR 179

Wayne B. Light Gallery

40 Soldier Pass Road

B3

Gordon's Clock Soup Gallery

2370 W SR 89A

D3

Quilts Ltd. Gallery

313 SR 179

ArtSource adversers listed in bold

88

Sedona ARTSource
---
SteakHouse 89

c l a s s i c s t e a k h o u s e • m o de r n s o p h i s t i c a t i o n

steakhouse 89 works with local farmers,

purveyors, and producers to prepare

what's fresh and in season.

Serving responsibly raised meats,

bread baked from scratch daily,

and an extensive selection of

beer, wine & cocktails.

classic Sunday Brunch

with live music.

2620 SR 89A Sedona, Arizona

www.SteakHouse89.com

928.204.2000
---
Extraordinary

and

Unforgettable

"One of the Largest and Most Unique Galleries in the World"

800-526-7668 561 State Route 179, Sedona, AZ 86336 928-282-1125

ExposuresFineArt.com

Sales@ExposuresFineArt.com

©2018 Exposures International LLC