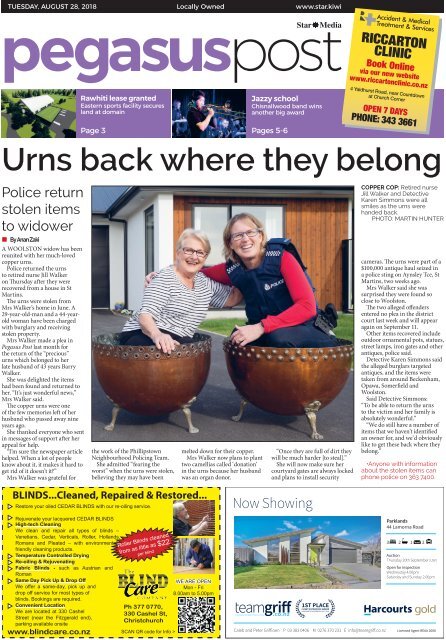 Pegasus Post: August 28, 2018
You also want an ePaper? Increase the reach of your titles
YUMPU automatically turns print PDFs into web optimized ePapers that Google loves.
TUESDAY, AUGUST 28, 2018

Locally Owned

www.star.kiwi

Land size Land size Land Bedroom sizeBedroom

Bedroom Bathroom Bathroom Bathroom

Garage

Garage

Garage

Carport

Carport

Carport

Car pad

Car pad

Car pad

Lounge Lounge Lounge

Boat pad

Boat pad

Boat pad

Land size

Dining

Dining Garage

Toilet

Toilet

Bedroom

Carport

Shower

1 2Pool

3 Tennis court 4 5

Pool

Tennis court

Pool

Tennis court

1 2 3 4 5 6 7 8 9 10 11 12 13

1 2 3 4 5 6 7 8 9 10 11 12 13

1 2 3 4 5 6 7 8 9 10 11 12 13

Bathroom

S

RICCARTON

CLINIC

Book Online

via our new website

www.riccartonclinic.co.nz

Rawhiti lease granted

Eastern sports facility secures

land at domain

Jazzy school

Chisnallwood band wins

another big award

Page 3 Pages 5-6

4 Yaldhurst Road, near Countdown

at Church Corner

OPEN 7 DAYS

PHONE: 343 3661

Urns back where they belong

Police return

stolen items

to widower

COPPER COP: Retired nurse

Jill Walker and Detective

Karen Simmons were all

smiles as the urns were

handed back.

PHOTO: MARTIN HUNTER

• By Anan Zaki

A WOOLSTON widow has been

reunited with her much-loved

copper urns.

Police returned the urns

to retired nurse Jill Walker

on Thursday after they were

recovered from a house in St

Martins.

The urns were stolen from

Mrs Walker's home in June. A

29-year-old-man and a 44-yearold

woman have been charged

with burglary and receiving

stolen property.

Mrs Walker made a plea in

Pegasus Post last month for

the return of the "precious"

urns which belonged to her

late husband of 43 years Barry

Walker.

She was delighted the items

had been found and returned to

her. "It's just wonderful news,"

Mrs Walker said.

The copper urns were one

of the few memories left of her

husband who passed away nine

years ago.

She thanked everyone who sent

in messages of support after her

appeal for help.

"I'm sure the newspaper article

helped. When a lot of people

know about it, it makes it hard to

get rid of it doesn't it?"

Mrs Walker was grateful for

the work of the Phillipstown

Neighbourhood Policing Team.

She admitted "fearing the

worst" when the urns were stolen,

believing they may have been

melted down for their copper.

Mrs Walker now plans to plant

two camellias called 'donation'

in the urns because her husband

was an organ donor.

"Once they are full of dirt they

will be much harder [to steal]."

She will now make sure her

courtyard gates are always locked

and plans to install security

cameras. The urns were part of a

$100,000 antique haul seized in

a police sting on Aynsley Tce, St

Martins, two weeks ago.

Mrs Walker said she was

surprised they were found so

close to Woolston.

The two alleged offenders

entered no plea in the district

court last week and will appear

again on September 11.

Other items recovered include

outdoor ornamental pots, statues,

street lamps, iron gates and other

antiques, police said.

Detective Karen Simmons said

the alleged burglars targeted

antiques, and the items were

taken from around Beckenham,

Opawa, Somerfield and

Woolston.

Said Detective Simmons:

"To be able to return the urns

to the victim and her family is

absolutely wonderful."

"We do still have a number of

items that we haven't identified

an owner for, and we'd obviously

like to get these back where they

belong."

•Anyone with information

about the stolen items can

phone police on 363 7400.

BLINDS...Cleaned, Repaired & Restored...

Restore your oiled CEDAR BLINDS with our re-oiling service.

Rejuvenate your lacquered CEDAR BLINDS

High-tech Cleaning

We clean and repair all types of blinds –

Venetians, Cedar, Verticals, Roller, Hollands,

Romans and Pleated – with environmentally

friendly cleaning products.

Temperature Controlled Drying

Re-oiling & Rejuvenating

Fabric Blinds - such as Austrian and

Roman

Same Day Pick Up & Drop Off

We offer a same-day, pick up and

drop off service for most types of

blinds. Bookings are required.

Convenient Location

We are located at 330 Cashel

Street (near the Fitzgerald end),

parking available onsite

Roller Blinds cleaned

from as little as $22

per blind

Ph 377 0770,

330 Cashel St,

Christchurch

www.blindcare.co.nz SCAN QR code for Info >

WE ARE OPEN

Mon - Fri

8.00am to 5.00pm

1ST PLACE

CLIENT EXPERIENCE AWARD

HARCOURTS CANTERBURY 2017-2018

850m 4 2

850m 4 2 1 2.5

850m 4 2 1 2.5

850m 4 2 1 2.5
---
2 Tuesday August 28 2018

Latest Christchurch news at www.star.kiwi

get in touch

from the editor's desk

NOW THAT'S a great story on the front

page today - and a terrific photo too.

Two urns that belonged to Jill Walker's

late husband Barry were stolen a couple of

months ago.

The chance of them being found was

remote. Understandably, Jill was fairly upset as her husband

adored them. They had major sentimental value.

But never underestimate the police and during an operation

they were found alongside other stolen antiques and property.

We had published an article the theft at the time in the hope

someone might find and return them.

But behind the scenes police were beavering away on the case.

The police played ball with us last week and agreed to be photographed

at the hand over.

A good result all round.

- Barry Clarke

GENERAL ENQUIRIES Ph 379 7100

CLASSIFIED ADVERTISING Ph 379 1100

Star Media, a division of Allied Press Ltd

PO box 1467, Christchurch

starmedia.kiwi

your local views

Keep the fireworks

Check out what readers have to say about city councillors'

pledge to keep Guy Fawkes in New Brighton.

Page 6

news

From the league field to the stage

Peni Junior Iva is gearing up for two very different national

competitions in Auckland in September.

Page 9

community events

PEGASUS POST

Book Discussion Club

Share in a discussion with other friendly book lovers at the

Parklands Library on Tuesday at 7.30pm.

NEWS

Georgia O'Connor-Harding

Ph: 364 7438

georgia.oconnor@starmedia.kiwi

ADVERTISING

Elaine Moon

Ph: 364 7436

elaine.moon@starmedia.kiwi

Page 15

The best-read local newspaper, delivered to

15,657 homes every Tuesday

Linwood, Avonside, Richmond, Shirley, Burwood, Dallington,

Wainoni, Bromley, Aranui, Avondale, Bexley, New Brighton,

Northshore, Queenspark, Parklands, South Brighton.

Archer

GROUP

Linrose Village

472 Linwood Ave, Linwood

Linrose is our independent-living lifestyle village

For inquiries phone Sue (Sales Manager) on 021 902 626

or 943 6006 or email sue@archer.org.nz

LOVELY 2 BEDROOM VILLAS

WITH INTERNAL ACCESS GARAGE

from $299,900

Archer is locally

owned and a

charitable trust

Archer Village | Linrose Village | Thorrington Village | Archer Homes | Archer Tours

www.archer.org.nz
---
PEGASUS POST Latest Christchurch news at www.star.kiwi

Tuesday August 28 2018 3

News

Lease granted for sports centre

COMING SOON: Eastern Community Sport and Recreation Inc has secured its lease to part of

Rāwhiti Domain. ​

• By Matt Salmons

THE LEASE is secured, now

onto consents and funding say

Eastern Community Sports and

Recreation Inc organisers.

Plans for a $2.2 million sports

facility in New Brighton started

coming to fruition last week

when the group's lease of two

spaces in Rāwhiti Domain totalling

4325m 2 was granted.

A recommendation had been

sent to the Burwood-Coastal

Community Board from a hearings

panel, giving the board the

authority to grant the lease at its

meeting last week.

The area leased included the

tennis and netball courts, which

the group planned to relay and

cover with a Canadian built $1.3

million kit-set canopy. The first

of its kind in New Zealand.

Group chairman Peter Burley

said the focus now would shift

to resource and building consents

and applying for Lotteries

Commission funding. He said

the group still planned on work

beginning early next year.

"We're quite excited about

the next step. It's a recreational

reserve and it means we can go

in there and increase the utilisation

of it."

The majority of public submissions

during consultation in May

were in support of the idea, only

seven out of 62 being against.

Five submissions supported the

idea but expressed concern about

reduced public access to the tennis

courts.

Mr Burley said that while it

would have a small impact in the

availability for casual users, it

would significantly increase and

improve the use of the area for its

intended purpose.

"It's the way of the future really.

What it loses in occasional use

by residents, it gains in giving

them a much higher experience,"

Mr Burley said.

The group planned for the

court outside the canopy to be

available as much as possible

for general use. Only using it

if trainings or tournaments attracted

too many people.

Local

News

Now

In Brief

Fire rages, homes at risk

BIRD RESCUE

A black gull was rescued by a fire

crew on Hawke St last Sunday. The

bird, which was stuck in a ladder

cage on Hawke St near Shaw Ave

was freed around 2.30pm. Also

on Sunday, around 2.30am, police

attended a fire on Marshland Rd.

When the two crews arrived, a

double garage was "well involved"

in fire. The cause of the fire

is not yet know, but is being

treated as suspicious. Fire risk

management officer Bruce Irvine

is investigating.

NEW EQUIPMENT

A new MRI scanner has be

installed at Burwood Hospital

to help reduce the pressure at

Christchurch Hospital. The

machine will be used by the

radiology service. The first patient

is expected to be scanned at

Burwood on September 10.

DONATIONS NEEDED

The Dogwatch Variety Shop on

Beresford St, New Brighton, needs

stock. All proceeds from shop's

sales go towards caring for rescued

dogs. It is asking for quality used

household items, clothes, bric-abrac,

toys and books. You can drop

off goods at the store from 10am

to 3pm Monday to Friday or to the

Dogwatch centre at 230 Dyers Rd,

Bromley anytime.

New Spiralin Products

NOW AVAILABLE

"Highly effective natural antiviral, anti fungal, anti bacterial

& cell regenerative properties'

MADE IN GERMANY

for appointments phone 03 348 7910 | www.feetfirst.co.nz

Bringing

the heat

Wherever you are,

Mini-Tankers can help keep

you cosy with on-site refuelling

for your home heating

system. Simple and safe.

Mini-Tankers Canterbury

027 4333 801

riccarton

37 main south road

redcliffs

2 augusta street

marshlands

427 marshland road

darfield

darfield pharmacy

now servicing

oXford

Terms and conditions apply.

THIS WEEKS SPECIALS

MON - $20 Ribs, Chips & House drink

TUES - $20 Pizza & House drink

WED - $20 Burger, Chips & House drink

THURS - $20 Fish n Chips & House drink

FRI & SAT - Live Music

SUN - Free Pool

03 260 0325 - Cnr of Worcester St & Stanmore Road

Free off street parking
---
4 Tuesday August 28 2018

Latest Christchurch news at www.star.kiwi

PEGASUS POST

HALF SALE PRICE KNITWEAR

this applies to our entire knitwear stock currently instore in Sydenham

Bring in this advertisement page as your Coupon for the

discount. Applicable to 3pm Saturday 1st September 2018.

NO ADVERT - NO DISCOUNT - NO EXCEPTIONS

FATHER'S DAY 2 nd SEPT

SHIRTS

We have made huge reductions across all the remaining

brand long sleeve casual shirts, including those with the extra

length sleeve.

There are over 45 different patterns from business to subtle

checks and the 'in yer face' big madras checks (great with

denims). Because they are being cleared at super low prices,

they are oddment and broken size ranges. Cloths are all cotton in

qualities you can rely on, just ask the people who know. The sizes

available start at M right up the 4XL in the classic fit (they don't

impede your golf swing). RRP $ 89.90 to $ 109.90

SALE

$

18 $ 24 $

28 $ 33 $

38

PULLOVERS

We have a wide selection of . All Merino ¼ zip style

pullovers in three different knit styles. We have limited sizes in some

color/knit choices. Be in quick for your choice. Colours, Charcoal,

Eclipse blue, Fig, Grey tweed, Black. These are the comfortable

classic sizing from SM to 4XL which you know. RRP $ 159.90

SALE $ 80 Fig shade only, they sent the wrong shade.

$

SALE 118 $

124 $

128

MOLESKIN JEANS

Enjoy the comfort and proven fit of light weight STRETCH

moleskin jean. Colors of moss, olive, gunmetal. Sizes available

84 to 104cm. RRP up to $ 109.90

SALE $ 64 or 2 for $ 80

CASUAL PANTS

Summer weight cotton casual in shades of Putty or Khaki

available in sizes 84 to 107cm. RRP $ 109.90

SALE $ 30 or 2 for $ 60

KNITWEAR

We have started the seasonal cull of our huge knitwear range,

pullovers, cardigans and slipons. We have separated out all the

'must go' items and marked them down drastically.

Slipons from $ 30 to $ 60

Cardigans under $ 80 to $ 125

Pullovers $ 60 to $ 90

JEANS

Navy STRETCH denim, summer weight, comfy with slim leg

84 to 96cm. RRP $ 99.90

SALE $ 38

CORDUROY PANTS - stretch cloth

We have various oddments in both sizes and colors left over

which 'must go'. These are the Savane brand which you are

familiar with. This has now become a dis-continued line for us.

SALE $ 64 each or 2 for $ 80

or 3 for $ 90 or 4 for $ 100

Yes, you can share them around family, friends & neighbors!

the MENSWEAR

387 Colombo Street

Parking behind Butlers Auto Mart

@ SYDENHAM

News

Top award for school

• By Georgia O'Connor-

Harding

CHISNALLWOOD

Intermediate's talented

jazz band has won another

top award after competing

against some of the

country's best high school

bands.

The band, which is

made up of pupils aged

11 to 13, was awarded a

gold certificate in the big

band category for the Ara

Institute of Canterbury's

JazzQuest competition.

The school was competing

against 12 other high

school big bands.

To win a gold certificate

the band needed to be

graded between 85 to 100

per cent and were judged

on intonation, balance,

presentation, tightness in

musical phrasing, repertoire

and improvisation.

Music programme coordinator

Judith Bell said it

was amazing for the pupils

to meet the gold standard

criteria at an intermediate

age.

The band performed a

varied repertoire of seven

songs including Neal Hefti's

Splanky, Louis Prima's

Sing Sing Sing and Billie

Jean by Michael Jackson.

Pupil William Kao performed

an original song

titled Never Enough Brass.

William has been playing

trombone for a year and a

half. He also plays piano,

the Irish bodhran drum

and cello.

Since 2008 the band has

won several awards at Jazzquest

– four bronze, nine

silver, four gold and one

"best combo" award.

It has already taken part

in several music competitions

this year including

the Steampunk NZ

Festival in Oamaru and

the New Zealand School of

Music Annual Jazz Festival

in Wellington.

SUCCESS: The Chisnallwood Intermediate jazz

band was awarded a gold certificate in the big

band category for the Ara Institute of Canterbury's

JazzQuest competition.

The band is planning to

take part in the Christchurch

Big Band Festival in

October and have been

invited to perform at music

in the summer air festival

youth summer music camp

in Shanghai next year.

It is also planning to perform

at the Christchurch

Santa Parade and to record

an album at the end of the

year.

"The band is vibrant.

They look and sound like

they enjoy themselves, and

they enjoy rising to challenges

and achieving great

levels of playing," Ms Bell

said.

Ms Bell said the band

has been performing for

more than 19 years after an

international student from

Thailand asked if he could

join.

"I thought well I have

got nothing to lose and it

just grew from there," she

said.

Hours: Mon to Fri 10am to 4pm. Sat 10am to 3pm.

Closed Sun.

RHYTHM: Sarah McCaffery, Izzy Payne and Laura Powley, playing baritone and

tenor saxophones.
---
PEGASUS POST Latest Christchurch news at www.star.kiwi

Tuesday August 28 2018 5

jazz band

JAZZED UP: Music programme co-ordinator Judith Bell says the pupils make a

vibrant band that looks and sounds like it's having fun.

OUTLET

STORE

MASSIVE

TV & AUDIO

CLEARANCE

BELOW COST PRICING!

BRASSY: William Kao on the trombone.

FRIDGE FREEZERS • WASHING MACHINES • DRYERS • COOKING

SMALL APPLIANCES • AUDIO • MANCHESTER • LOUNGE SUITES

DINING SUITES • BEDROOM SUITES • BEDS & HEAPS MORE!

ALL AT CRAZY OUTLET PRICES!

99 FERRY RD, CHRISTCHURCH

12

MONTHS INTEREST FREE

ON ANY PURCHASE OVER $499 #

HURRY, ONCE IT'S GONE, IT'S GONE!

Call us on 03 3798249 or email us chchoutlet@smithscity.co.nz

DUO: Pupils Josh Hardy and William Kao performing in the jazz band.

PHOTOS: ROSEANNE JONES

Stock is limited. Images are indicative only. # Credit criteria applies, ask in-store for details.

Outlet Store items are over stocked, end of line, scratch & dent, ex display, ex repair items and more.
---
6 Tuesday August 28 2018

Latest Christchurch news at www.star.kiwi

Your Local Views

Local

News

Now

PEGASUS POST

Fire rages, homes at risk

Readers respond to the

Pegasus Post article on

city councillors David East

and Glenn Livingstone

pledging to help keep the

New Brighton Guy Fawkes

fireworks event at the pier

Karen Hibberd – Ban all

fireworks.

Taina Kahutia Tawhitopou

Connell – Ban it.

Amanda White – Stay!

They can't do the big bangers in

the city and Brighton has lost

enough.

Heather Knox – Get rid of

it and replace with a Matariki or

Parihaka event, more relevant to

New Zealand.

Ryan Nield – I think the

current council needs to go.

Sam Stoner – Keep it. It's

one of the few events we have in

Christchurch.

Christine Weston – Keep it

in Brighton.

We said:

Eighteen families in

Shirley have received free

firewood as a result of a

large community effort

You said:

Ryan Baker – Brilliant idea

of city council and Environment

Canterbury to try and push people

into heat pumps and electric

heating. Fastest way to cripple

vulnerable people's health and

financial security.

Brian Tones – I wish they

would do more for pensioners, as

most of our power bills in winter

get up around the $400 a month

mark.

Stef Fagan – I'm really

confused. A big load if firewood

costs way less than $700 and

would last longer than a month.

I'm not saying they don't struggle

but it seems they attack it

from the wrong end?

Traci Leigh – This is

great. But loads of families in

Christchurch don't have a fire as

we're not allowed them. Where

is the help for them?

Karen Drummond – Great

to know families won't be going

cold.

Stephan Lance Gardiner

– Power is what you want it to

be.

Board gets help

to understand

flooding issues

• By Sarla Donovan

THE Linwood-Central-

Heathcote Community Board

has requested an "outside

support person" to

help it understand

Higher Flood Hazard

Management Areas

and Restricted Unit

Overlays.

Christchurch

Coastal Residents

United deputy

chairman Warwick

Schaffer attended a

public-excluded city

council seminar about the topics

last week after the city council

agreed to the request.

The outside adviser was to

help the board "interpret the

information and ask questions,"

said member Darrell Latham.

He said there were

"incongruities" in city council

policy related to HFHMA which

had serious implications for

residents.

"We need clarification and

answers now," Dr Latham said.

Darrell Latham

The Coastal-Burwood

Community Board was also at

the seminar.

CCRU is a group made up of

coastal residents and experts

who have recently flagged

concerns about how 1486

sites in a Restricted Unit

Overlay within the HF-

HMA are being treated

by city council planners.

It recently held a public

meeting, which attracted

more than 100 residents,

to discuss the concerns.

The CCRU believes a

restricted discretionary

activity rule, recommended by

the replacement District Plan

independent hearings panel,

was left out when the plan was

finalised last year.

Without the discretionary

rule, under the District Plan new

developments or intensification

of land use in the HFHMA is to

be avoided.

Dr Latham said the seminar

was for information sharing

rather than decision-making

purposes.

Pupils haul in accolades at Bandquest

• By Matt Salmons

PUPILS FROM schools in

the Pegasus Post area have

claimed a number of titles

at the Canterbury Rockshop

Bandquest, with Chisnallwood

Intermediate hauling in the

awards.

Bandquest is a national music

contest for intermediate and

primary pupils to compete in

bands of three to 10 members.

Each band plays a short set of

covers or originals with a focus

on performance skills.

Last week, 46 bands competed

at St Margaret's College over

three nights. Rāwhiti School's

Molly Seal won the rock-solid

bassist award and Waitakiri

Primary School's Minori Naoi

took out best keyboardist on the

first night.

On night two, South New

Brighton School band Beach

Break secured two awards, best

original song and the rocking

drummer award to Braithan

Bailey.

Chisnallwood Intermediate

dominated the final night,

with four of the school's bands

receiving awards.

Jandal Smack took out first

place and a killer guitarist

award for Jacob Carey. Heinrich

Muller won best vocalist with

Chisnallwood's TCP while

Ricochet won best original song.

The Radio Wreckers' Hiromu

Crosado took home best

keyboardist and Niko Tudor-

Oakley the rocking drummer

award.

WINNERS: Chisnallwood Intermediate's Jandal Smack at

Bandquest.

Community Clinics

I will be coming to your neighbourhood on a

bi-monthly basis to hear your concerns.

Starting on the first Monday in

March and bi monthly there after.

9am – 9:40am - Linwood, Linwood Avenue, Outside

the Salvation Army

9:50am – 10:30am - Dallington, Cnr of Gayhurst

Road and Claydon Place

10:40am – 11:20am - Stanmore/Richmond,

Stanmore Road opposite New World at the park

11:30am – 12:10 - Shirley, Cnr Marshlands Road and

Hammersley Avenue

Starting on the first Friday in

March and bi monthly there after.

9am – 9:40am - Bromley – Outside the Bromley

Community Centre on Bromley Road

9:50am – 10:30am - Aranui, Aranui Library,

Aldershot Street

10:40am – 11:20am - Burwood, 17 Parnwell Road

next to the Education Centre

11:30am – 12:10am - Parklands, Queenspark Drive,

outside Harcourt's

EXPERIENCE

the difference

Stunning

results

FOOT

HEEL PEEL

Usually $50

Book now &

pay only

$ 35

Before

After

Good As Gold Tanning and Beauty

Parklands • 021 0807 0422
---
PEGASUS POST Latest Christchurch news at www.star.kiwi

Tuesday August 28 2018 7

IT'S

FREE

everyone

welcome

We're having a party and you're invited! Tennis clubs

across Canterbury are opening their doors for a fun,

FREE event for all ages. Bring yourself or bring your

family to find out all there is to love about tennis!

www.lovetennis.kiwi #lovetenniscanterbury

Come play

Racquets supplied. BBQ. Prizes. Giveaways.

Avonhead Tennis Club

Beckenham Tennis Club

Bishopdale Tennis Club

Burnside Park Tennis Club

Burwood Park Tennis Club

Cashmere Tennis Club

Edgeware Tennis Club

You could WIN A TRIP FOR TWO to the

ASB CLASSIC in Auckland this January.

*Times may vary by club. Please check website for details.

Elmwood Tennis Club

Halswell Tennis Club

Mt Pleasant Tennis Club

Opawa Tennis Club

Oxford Tennis Club

Riccarton Domain Tennis Club

Rolleston Tennis Club

Shirley Tennis Club

South Brighton Tennis Club

Southbridge Tennis Club

Spreydon Tennis Club

Springston Tennis Club

Te Kura Hagley Park Tennis Club

Waimairi Tennis Club

Voucher for a FREE pizza

for every visitor

Saturday

8 Sept

Sunday

9 Sept

1-4pm*

Rain dates: 15 & 16 Sept
---
8 Tuesday August 28 2018

Latest Christchurch news at www.star.kiwi

News

Local

News

Now

PEGASUS POST

Fire rages, homes at risk

Haeata girls art heads to Hagley

Two Haeata

students have won

the Re:ACTIVATE

competition, with a 6m

korowai they designed is

set to be built in Hagley

Park. Julia Evans reports

A 6M steel korowai, stop-go

signs and a sculpture that breaks

if one piece is removed.

The designers of these three

works are about to become fully

fledged artists,

with their work

on display in

Hagley Park –

and they're all

under the age

of 18.

SCAPE Public

Kayla Folwell

Manaia

Mahuika

Davis

Art announced

the winners of

its Re:ACTIVE

competition on

Friday after it

put out a call for

young artists'

designs.

A 6m tall

korowai, called

Kākahu, is a

Maori cloak

designed by year

10 and year 12

Haeata Community Campus

students and cousins

Kayla Folwell and Manaia

REFLECTION: Haeata Community Campus students Kayla Folwell and Manaia Mahuika Davis

asked for students to send them designs for their 6m korowai's feathers.

Mahuika Davis.

The girls were inspired by a

cloak made of paper, which was

already on display at the school.

"We were just looking around

the school for inspiration. In

one of the classrooms, there's a

korowai made of paper," Manaia

said. But instead of designing the

feathers themselves, they decided

to enlist the help of schools from

around the city.

"We chose to do that so we

could collaborate with the different

students. Part of the brief was

about braided rivers, which join

HOLD: Christ's

College student

Ollie Moginie's work

(left) will break if one

piece is removed.

together," she said.

Kayla and Manaia had 60

feather designs sent in from 10

different school around the city,

across all levels from early childhood

to high school.

Last week they were taken into

Hagley Park to see the space

where their korowai will be

installed.

"It was really cool," they said.

Also chosen was Changing

Pathways by nine-year-old

Thorrington School pupil, Katie

Temple, and Our Stories Make

Us, designed by Christ's College

year 11 student Ollie Moginie.

Katie's sculpture was inspired

by visits to her grandparents at

Lake Coleridge.

"The Rakaia River is always

in a different place, height, or

speed. It's like it's alive and has

a choice of where it's going,

its amazing. We have a choice

everyday to do the right thing, or

not to, and that is what my signs

are all about."

Ollie said his sculpture represents

the importance of conservation

of the environment.

"Together all these sticks (the

parts of our environment) are

from one beautiful sculpture

(representing New Zealand).

This sculpture is held together

by each stick and if we let one of

them go (let our rivers get polluted)

then the whole sculpture

will fall apart, and it will just be

on flat pile of sticks," Ollie said.

Katie, Kayla, Manaia and

Ollie will watch their designs

be created and displayed in

Hagley Park as part of Scape's

six-week season from October 6

to November 17.

INSPIRATION:

Thorrington School

pupil Katie Temple's

design was inspired

by trips to her

grandparent's house.

We Make Great Smiles

The finest dentures in the world aren't any use to you if

they don't fit properly.

That's why we make comfort our number one priority.

How? By spending a lot of time with you before deciding

which system will suit you the best, tailoring your dentures

through the latest technology, and following up regularly.

So you'll feel comfortable and confident, and ready to live

life to the fullest.

Isn't that something to smile about?!

0800 866 8448 duchenne.co.nz

Call now to book a FREE consultation*

*Conditions apply.
---
PEGASUS POST Latest Christchurch news at www.star.kiwi

Tuesday August 28 2018 9

From the field to the stage

SPORTS

• By Matt Salmons

HAEATA'S Peni Junior Iva is

gearing up for two national

competitions in Auckland next

month – one on the sports field

and another on stage.

As if beginning each weekday

with an hour long bus trip to

Haeata Community Campus

from his home in Halswell

was not busy enough, the year

13 student splits his free time

between his passions- club and

school rugby league games,

youth group, band rehearsals

and training.

"It's a bit of a struggle every

morning [to travel to Haeata] .

. . but just with how the school

goes, it fits in well with how I

am," he said.

PJ said he started playing

rugby union when he was 13, but

switched to league as it was "just

much more chill and fun."

He said it also keeps fitness

levels high.

In early September, he will

play for Haeata at the secondary

schools national rugby league

development tournament in

Auckland. Last year Haeata went

all the way to the televised final,

but was beaten by Auckland's

Marcellin College.

"It's such a fun tournament,

MULTI-TALENTED: Halswell's Peni Junior Iva, 18, is a young man of many talents, both on the

sports field and live on stage.

playing alongside amazing

players and learning off them.

"We're hoping to get ourselves

[in the final] again this year and

take it out. We've got a lot of

juniors stepping up, so it's cool

for them," he said.

PJ is used to the responsibility

of setting a positive example to

younger peers both on and off

the field.

On Fridays he volunteers as a

youth leader at Fusion Youth and

leads the group's band alongside

his sister, Nesa.

He started learning the guitar

when he was nine and PJ is now

able to play a range of instruments

including the bass guitar,

drums and piano

"I try to learn as much as possible.

For the youth bands for example,

people come in and want

to learn and I'm able to teach

them any instrument," he said.

PJ's drumming ability helped

get Haeata band Proud Brown

to the Rockquest Tangata Beats

final in Auckland last year

and win the best vocals award.

This year, his duo PJ and Evile

came second in the Canterbury

Rockquest finals and first in the

region's Tangata Beats final.

The win entered the duo into

the Tangata Beats national finals

- part of the Rockquest finals

held in Auckland on September

22.

"I'm definitely looking forward

to that ... just the whole atmosphere."

For his future, PJ said he would

study at Ara Institute of Music

Arts with an aim to eventually

qualify as a music teacher.

"My dream is to travel the

world playing music, but if that

doesn't work out, coming back

as a music teacher. You're still

working with kids and I'd still

get to do what I love either way."

Jackson swims to

six Canterbury records

• By Jacob Page

WAITIKIRI PRIMARY School

swimmer Jackson Close has

broken six Canterbury agegroup

swimming records.

The 10-year-old who swims for

Jasi Swim Club, was presented

with his certificates last week.

Jackson, who is the youngest

of eight siblings, broke records

in the 50m, 100m and 200m

freestyle as well as the 100m and

200m individual medley and the

100m butterfly at the Wharenui,

Timaru and Ashburton swim

meets.

Jackson said he first

remembered swimming when he

was five-years-old.

He started racing two years

ago.

He said he enjoyed both

racing and winning and said his

favourite stroke was butterfly.

Jackson has recently moved

to the Jasi Swim Club 'A' squad

becoming its youngest member.

"It's quite scary but exciting,"

he said. "They give me advice."

His coach, Reuben Lim, said

he is a dedicated athlete for his

age.

"He's very motivated to well

and picks things up quickly," he

said. "Being the youngest child

and having brothers and sisters

who swam at his age means he's

quite well prepared.

"Whenever I give him a new

drill to lean he manages it

quickly and when we discuss

time for his races he's very

aware of what he'd like to

achieve which is amazing for

someone so young," he said.

Jackson said his next meet

would be in early September

when he competes in the North

Canterbury championships in

Rangiora.

"I want to work on some of my

other strokes," Jackson said.

"Not just my good ones."

TALENTED: Waitikiri Primary School swimmer Jackson Close,

10, with coach Reuben Lim after being presented with his six

Canterbury record certificates.

Learn

Computer Skills

0800 834 834

vision.ac.nz

50 Hazeldean Road, Addington

Looking for an administration role?

This FEES FREE* 20 week course will give you the

skills to work in a modern office, covering advanced

use of Microsoft Word, Excel, Publisher and other

computer based business applications.

For more info txt 'OFFICE' to 027 557 8839

*Conditions apply
---
10

Tuesday August 28 2018

Latest Christchurch news at www.star.kiwi

PEGASUS POST

Mairehau

high School

Encouraging ExcEllEncE in our community

-

The

Principal's

Desk

Mairehau high School continues as a solid, viable

co-educational school in the east of christchurch.

We are working with other schools, clusters, and

community sector groups to develop a plan

which will enhance the provision of education

for all students in christchurch. all schools

Harry romana, Principal

want students to access quality education outcomes, to access quality teaching, and quality

learning. i wish to share with you an insight into the future of education by providing our

community with progress on 'Modern learning Practices' and collaboration. Mairehau high

School continues to build and strengthen our relationship with christchurch east Schools and

early childhood centres, through our involvement with the 'Te ara Tūhura cluster.'

We feel we are in a strong position to offer students opportunities which will enable them

to become decent, worthwhile citizens of the world, people who will contribute to their

communities. Students who pass through our school gates, learn in our classrooms, and access

technology through our wireless internet provision will be well set in the future.

i trust you can pass on to your friends and family, the opportunities that a co-education school

such as Mairehau high School can provide for christchurch east.

Towards 2019

Mairehau high School is committed to innovation by focusing on strategies which improve

learning outcomes for all students. Mairehau high School is now planning for 2019 and

beyond with continued roll growth and a recent addition of a new Year 9 class.

For several years we have implemented in our junior school modern learning practices, a

programme to enhance independent learning, balanced with good old traditional teaching

approaches. There are more sharing and collaborative practices between learning areas and

stronger links with the use of BYoD devices in the classroom. These modern learning strategies

engage and improve outcomes for all learners. learning Teams are embedding crosscurricular

teaching and learning programmes in the classroom.

NCEA

our new government is providing opportunities for students, staff and community to

'have their Say' as the review of our Ncea qualifications are currently underway. Ncea was

introduced into secondary schools over 15 years ago and is an internationally recognised

and respected qualification. This year we have a powerful opportunity to explore ways to

strengthen it to meet its full potential. The government is reviewing Ncea as part of the wider

national education conversation/Kōrero Mātauranga. i believe this review is important and

timely, and i want to make sure we are able to encourage as many people in our community as

possible to feedback on it.

i am currently writing a submission to the government on potentially providing a cultural lens

option across our qualifications. in my view New Zealand as a nation is beginning to grow

up, as a small nation in a global environment, we tend to punch above our weight. We have a

strong connection to the Black jersey, silver fern, haka, and Māori icons. Perhaps it is now time

to have a mandatory cultural component as a requirement of our school qualification. 'have

your say at http.conversation.education.govt.nz"

Christchurch East Schools - Te Ara Tūhura

Mairehau high School is still committed to the vision with other christchurch east Schools

based on the premise of sharing, collaboration and working together to enable every student

in the east to be provided with opportunities to curriculum delivery and curriculum access.

Many of these schools are accessing the learn, create and Share practices being implemented

by successful ManaiaKalani School throughout New Zealand.

i am confident in ensuring a quality education system for all students who live in the east.

Students will have a choice, opportunity and access to learning. i am confident in working

with other east christchurch Secondary schools on the future and quality of Teaching and

learning for our communities. i take this opportunity to acknowledge all of the Te ara

Tūhara christchurch east Schools/ early childhood centres for your continued support of our

community.

A time to enjoy

i wish to conclude by saying that as Principal i get much pleasure watching students enjoying

and having fun in their learning. We need to have the ability to laugh at ourselves and others,

and a time to enjoy the moment. i was so proud of the students who participated in the recent

Mairehau high School talent quest, Voices of canterbury choral Festival, School formal and our

School production. i look forward to the many other upcoming events.

Outdoor Education Programme

our outdoor education programme has been in full swing this term. our Year 11 oeD students

went to Bottle lake Forest and did some serious mountain biking, while our senior oeD students

had a 2 day tramp in oxford along

with a 3 day mountain biking camp

in hanmer Springs. our Senior oeD

students have 2 more camps this

term – one being sea kayaking in

Kaikoura with the other being a 3

day camp at craigieburn, where

they will participate in caving,

biking, tramping, snow caving, and

kayaking.

We recently had a school wide

snow day at Mt hutt. it was a

glorious day with fresh snow and

loads of sunshine. Some very tired

bodies (staff included) travelled

back to school after the big day

out.

Junior Boys' Rugby

our junior boys' rugby team played their semi-final match against ellesmere college. We lost 76-24

however the boys put up a great fight, scoring the first 2 tries in the first half and holding the lead

for a good portion of the game. our congratulations to ellesmere college. Their fitness got the best

of us in the end but it was a great way to end our season.

Mairehau High School, Hills Road, Christchurch P. 385 3145 F. 385 3143 admin@mairehau.school.nz www.mairehau.school.nz
---
PEGASUS POST Latest Christchurch news at www.star.kiwi

Tuesday August 28 2018

11

Mairehau

high School

Encouraging ExcEllEncE in our community

Senior Formal

Saturday august 11 was one day in our seniors'

social calendar they weren't going to miss – our

School Formal which was held at addington

Show gate.

The venue was decorated by our student social

committee with the theme of 'Starry Nights'.

it was a great night with many laughs, food,

great conversation and many very elegant

gowns and suits.

Tayla Prouting and chris curtis came away with

the 'Best Dressed couple 2018' title.

Ms Swanson (assistant Principal)

with Year 13 student Shannon adam

Best

Dressed

Couple

2018

Flexible Learning in Early Childcare

as part of our FlT (Flexible learning Time) with our junior students, students were given a project

to complete on 3 different topics – early childcare, hunting & Fishing or Wearable art. over 40

Year 9 and Year 10 students chose early childcare. each student was required to complete 4 hours

work experience at a local kindergarten or Preschool and then complete their project.

We had such wonderful feedback from the kindergartens on our students' willingness to learn and

their attitude towards the young children and staff. Several kindergartens were sorry to see our

students leave but are looking forward to repeating the project again next year.

We would like to thank the following Kindergartens and Preschools for welcoming our students:

- Kidsfirst Mairehau

- Kidsfirst Macfarlane Park

- Kidsfirst North avon road

- edukids Prestons

Early Childcare - what we did

- Fundamentals Preschool

- Dudley creek Preschool

- annabel's educare

- Bottle lake Preschool

- research about babies, toddlers and pre-schoolers

- First aid and safety

- Wrote a letter of application for Plunket babysitting course

- Two and three hour visits to eight different kindergartens, childcare centres and pre-schools

for hands on experience

- a full day Plunket babysitting course with a certificate upon completion

- Planned catering

- Viewed a documentary

- evaluated what we had learned, which was a lot!

Year 12 Darrell Suaesi Faamau with Mr MacDonald (Music) Tayla Prouting and chris curtis, Best Dressed couple 2018.

Students visited

eight different

kindergartens,

childcare centres

and pre-schools

for hands on

experience.

Music Tour 2018

This year our annual music tour visited Marshland School where we gave an hour long concert to a

large and enthusiastic audience.

in the afternoon we performed to another keen audience at amberley School, before staying the

night in hanmer Springs. We certainly enjoyed some down time in hanmer making the most of the

hot pools. our final concert was at Waiau School as we headed home.

Thank you to all our staff and students who performed so well and to our tech crew, Niko Smith,

Don MacDonald and Paul lucas. We couldn't do it without you.

Students also

planned and

budgeted a shared

lunch and snacks -

chicken and salad

wraps, fruit and

biscuits!

Mairehau High School, Hills Road, Christchurch P. 385 3145 F. 385 3143 admin@mairehau.school.nz www.mairehau.school.nz
---
12

ON

NOW!

Tuesday August 28 2018

Promotion closes 1st October 2018.

Conditions apply.

Shop

Win

& Relax

Latest Christchurch news at www.star.kiwi

SUPPORT YOUR LOCAL

BUSINESSES

TO WIN 1 OF 5

FAMILY GETAWAYS

TO HANMER

SPRINGS

Enter every time you shop at any

of these participating businesses

More chances to win!

Proudly supported by...

PEGASUS POST

Burwood

Spring into fitneSS

Home of the $40 service

LayBy FOR XMaS nOw

269 Burwood Rd, Burwood Ph: 383 2114

HOURS Mon-Fri 8:30am-5:30pm, Sat 9am-4pm

YOUR LOCAL GARAGE

• All vehicle repairs

• Oil changes and services

• Brakes • Loan car available

• Tyres, punctures & batteries

• W.O.F • Tune up

Your LocaL GaraGe

VERY FRIENDLY SERVICE AND ADVICE

Phone: 03 388 3630

40 Hawke St

(behind Z Petrol Station)

Brighton Salon 388 8277 Lyttelton salon 328 8827 soulstylehair.nz

Crispy Crunchy Batter

Try a tasty souvlaki!

• Souvlaki • Great Burger Selection

• Garlic Butter Chips • Cheese on Chips

* Specialty fish cooked to order…

Blue Cod, Gurnard, Sole, Hoki, and more!

Try our souvlaki and also our

chocolate explosion / Mars Bar!

GOURMET SEAFOODS QEII

Ph: 388 2531, QEII Shopping Centre

251 Travis Road

Mon - Wed 11.30am - 8.30pm (Tues from 4.30pm), Thurs - Sat 11.30am - 9.00pm;

Sun 12 noon - 8.30pm. Daily break 3.15 - 4.30pm.

PRINTER

CARTRIDGES

New compatible toner cartridges

New compatible ink cartridges

Brand ink cartridges

HUGE SAVINGS ON VALUE PACKS

www.cartridgerefills.co.nz

35 Woodgrove Ave, North Beach, Chch

Ph. 03 382 5858 • info@cartridgerefills.co.nz

JuST

INCREDIBLE

IT's

• Barrington Mall

• The Hub, Hornby

• New Brighton Mall

• South City Centre

Instore Specials!

Make sure your vehicle is up to scratch

We're 100% locally owned and here to help you.

Stanmore Road Auto Spares

P. 03 389 4555 | 245 Stanmore Rd

Shop

Win

& Relax

The diesel

professionals

specialising in

4wd

repAirs &

servicing

Proudly supported by...

Diesel

www.dieseldoctor.co.nz

All work

guArAnteed

288 Lincoln Road

(opp ANZ)

Ph: 338 8884

Christchurch's largest

range of quality guaranteed

used bikes & parts

Come check out our 50% OFF

parts & accessories table

AROUND AGAIN CYCLES

OPEN 6 DAYS

BEST

VALUE

REPAIRS

620 Ferry Rd, Woolston. Ph 03 376-6377. Email: aroundagaincycles@gmail.com
---
PEGASUS POST Latest Christchurch news at www.star.kiwi

Tuesday August 28 2018 13

ON

NOW!

Promotion closes 1st October 2018.

Conditions apply.

Shop

Win

& Relax

SUPPORT YOUR LOCAL

BUSINESSES

TO WIN 1 OF 5

FAMILY GETAWAYS

TO HANMER

SPRINGS

Enter every time you shop at any

of these participating businesses

More chances to win!

Proudly supported by...

The only book and stationery store with

Fly Buys and Big Deal VIP Rewards

Daily

Specials

238 Port Hills Road,

Heathcote

Open

Mon to Sat

8am - 6pm

Sun 9am - 4pm

72 New Brighton Mall, New Brighton

Phone: 03 388 1809

Mon to Fri 8:30-5:30

Sat 9:00-5:30 Sun 10:00-4:00

www.paperplus.co.nz

Buy any

Good Health product

and get a

Turmeric 15800

complex 60s

for $10

New Zealand's NUMBER 1

TURMERIC SUPPLEMENT BRAND

For a limited time only, while stocks last.

www.unlimitedairsoftshop.co.nz

249a Annex Rd, Middleton

The Automotive Lamp Specialists

New and Used Lamps for Cars,

Trucks, Vans, 4WD and Motorhomes

95 Gasson St, Christchurch Ph. 0800 225 483

this weeks specials

LAMB LEG

ROAST

$10.99 kg

LAMB SHOULDER

CHOPS

$9.99 kg

PORK LOIN

CHOPS

$8.99 kg

Now open 7 days a week!

Mon-Fri 7.30am-5.30pm, Sat 7.30am-4.30pm and Sunday 9.30am-4.30pm

BUTCHERY

101 Stanmore Rd, Linwood,

ChrisTchurch

Phone: 03 389 8065

Boost Brain Performance

ENZO:PROFESSIONAL (ENZOGENOL)

is a potent antioxidant extract of the N.Z. pine bark and has

SUPER PRicE!

been clinically shown to improve memory, concentration &

brain performance. 60's only $45.30, save $5.00

120's only $84.90, save $15.70

MARSHALLS HEALTH & NATURAL THERAPY

CONSULTING - PRESCRIBING - DISPENSING -

MANUFACTURING - MEDICAL HERBALISTS

110 SEAVIEW RD, NEW BRIGHTON • PH 03 388 5757

Email: enquiry@marshallshealthshop.co.nz

Detailed Information Available

Bringing You the Best in

Natural Health!

- WE ARE ALWAYS HAPPY

TO HELP! -

2018 SEASON

StArtiNg SOON!

SEASON pASSES

AvAilAblE

At thE

wOOdfOrd

glEN ShOp

129 North Avon Road, ChCh | Ph (03) 385 1515 | Check out www.woodfordglen.co.nz for meeting dates |
---
14 Tuesday August 28 2018

Latest Christchurch news at www.star.kiwi

News

• By Georgia O'Connor-Harding

A SECOND-HAND book shop

in New Brighton is helping raise

funds to support community

initiatives in Aranui and

Linwood.

The St Christopher's Trust has

gifted the ownership of the

Barnabas Book Shop to the St

Ambrose Anglican Church in

Aranui and St Chad's Linwood

Anglican Church.

The two churches now have the

opportunity to put all proceeds

from the book shop towards its

community work in the east side

of the city.

The ownership was handed

over due to the trust having book

shops in Papanui and Bishopdale

and it was too far for them to

travel to New Brighton.

Reverend Anne Russell-

Brighty said the trust has been

a long time supporter of the

churches and the food banks

they organise.

"They have gifted it to us

completely in recognition of the

thought the New Brighton people

have given to the book shop,"

she said.

Rev Russell -Brighty said the

proceeds will go to community

work in the east side of the city

including the churches' breakfast

club, food bank, community

lunches and cafes.

The churches took over ownership

earlier this month.

"People are very excited to

discover it is still there. It is not

going anywhere, it is not closing

down. It is going to continue the

same," Rev Russell- Brighty said.

All books are donated.

•For information on the book

shop go to the Barnabas

Book Shop Facebook

page. It is open Tuesday to

Saturday 10am to 4pm.

PEGASUS POST

Community initiatives to benefit from book shop

CHARITABLE:

The Barnabas

Book Shop in

New Brighton

has been

gifted to the

St Ambrose

Anglican

Church in

Aranui and

St Chad's

Linwood

Anglican

Church. ​

Phen Day Dhargyey Ling (Tibetan)

- 'A Centre for the Source of Benefit and

Happiness' is the meaning of the name given

by the esteemed lama Lhagon Rinpoche.

The Christchurch people have the wonderful opportunity to engage in Tibetan Buddhist

philosophy and tradition with the local resident spiritual 'friend', as he likes to be referred

as, Venerable Geshe Nyima Dorje (Geshe-la).

The Christchurch Centre was started due

to requests made to have a highly qualified

authentic Tibetan Buddhist teacher

residing in the city and carrying out weekly

teachings, meditation classes and retreats.

Fulfilling this request Geshe-la now teaches

every Tuesday night and Sunday morning.

• Geshe-la graduated from the largest

Tibetan Buddhist monastery in the

world, Sera Monastic University

in South India. His main teachers

included His Holiness the Dalai Lama,

the late Venerable Khensur Urgyen

Tseten, Venerable Khensur Kangurwa

Lobsang Thupten and Venerable

Khenpo Lobsang Palden.

• Geshe-la arrived in New Zealand in

2008 teaching originally in Dunedin

then through requests moved to

Christchurch 2011, ever since proving

to be lively and entertaining, fresh

and eloquent. Certainly he is very

experienced, having taught younger

monks in the monastery, in his home

region of Tibet and for 3 years in

the traditionally Tibetan-Buddhist

country of Mongolia. Having Geshela

to teach in Christchurch therefore,

is quite a wonderful opportunity for

people to make a deep connection

with age-old teachings.

• At the Centre Geshe-la's classes focus

on understanding the mind, mind

training and meditation practices.

Tuesday Night 7pm

Buddhist philosophy and study classes

Sundays 10am

Meditation and Mind Training classes

Introduction to Buddhism

Starting August, register now

www.tibetanbuddhistcentre.org.nz

christchurch.dhargyey@gmail.com

Ph. 021 062 1092

ADVERTORIAL

Meditation & Mind Training;

• How to generate love, compassion,

generosity and patience. The purpose

is to create a peaceful mind. When

our mind is disturbed it lacks love,

compassion and patience. If we know

how to generate these qualities we

can create a more peaceful mind. We

have accustomed our minds more to

disturbances. We know that as we can

see how easy it is to become angry and

how much effort is needed to remain

patient. Familiarisation is the key.

Also if we apply our understanding

to our own situation; we need to

be loved and if we need this then it

is fair to say others also want to be

loved. If we generate this to others

then we gain the benefits, as we then

receive love and compassion. 'Others'

mean all beings, if we have this

mental expansion there are enormous

benefits.

• As long as we have strong compassion

we have more patience, from this we

don't get angry as quickly or as easily

then we have peace of mind.

• The Mind Training constitutes these

kinds of practices, learning and

practicing how to become acquainted

with these qualities of mind, so that

arises spontaneously, or at least are

generated more easily.

Grow your own food

The Canterbury

Horticultural Society's

fruit and vegetable

growing meetings

start next week.

Each event will offer

an opportunity to

learn and discuss

techniques, buy seeds

and share stories

SPRING flowers

blossoming throughout the

city is a clear signal that it's

time to get your vegetable

garden set up and ready to

go.

To help, the Canterbury

Horticultural Society has

set up a specialist fruit and

vegetable group focusing

on edible gardening.

Organisers said the

group would be an

invaluable way for new

gardeners to learn how

gardens were managed

in each season and about

techniques such as crop

rotation, composting, and

fertilising.

The first session will

focus on tips and tricks for

growing plants from seeds.

Experienced Christchurch

home gardener Phil Ducker

will give a demonstration

on how best to plant seeds.

The presentation by Mr

Fruit and vegetable circle

programme 2018/19

All sessions at the Deaf Society

rooms, 80 Fitzgerald Ave

•Growing From Seed –Tips and

Tricks: Presented by Phil Ducker,

followed by Peter Saunders' Visual

Guide To Gardening Through The

Year – Part 1, August 29, 7.30pm.

•Planning A New Garden: Presented

by Canterbury Horticultural Society

president Alan Joliffe and followed

by Peter Saunders' Visual Guide To

Gardening Through The Year – Part

2, September 26, 7.30pm.

•Vegetables – Improving Plant

Health: Presented by Jeff Humm,

followed by Peter Saunders' Visual

Guide To Gardening Through The

Year – Part 3, October 31, 7.30pm

•Dinner, Table Design Using Fruit and

Vege: Presented by Elaine Alexander,

take food , plates and cutlery to

share. Followed by Peter Saunders'

GREEN THUMB: The manicured garden of

Christchurch's Phil Ducker.

Ducker could provide

answers on where to

plant, how close to plant,

how deep to plant, which

companion plants did best

together, which were better

separate and which plants

could be directly sown in

the garden.

Canterbury Horticultural

Society programme coordinator

Michele Moore

said there was a lot to know

on the subject.

"As well there will be

recommendations on

where to get your seed and

which varieties do well here

in Canterbury. Each variety

has particular requirements,

so success depends

on getting these things

right," she said.

It was important to share

that information down the

generations, Mrs Moore

said, so that it was not lost.

Each month, Peter Saunders

would present a segment

of his running commentary

A Visual Guide

To Gardening Through The

Year, focussing on what

he has been doing in his

garden. By following Mr

Saunders' progress, it was

hoped other attendees

could gain some insights to

apply in their own gardens.

Meetings would be held

monthly at the Deaf Society

rooms, 80 Fitzgerald

Ave, with plants, books and

tools available for purchase

on site, as well as raffles

and refreshments.

Visual Guide To Gardening Through

The Year – Part 4, November 28,

6.30pm.

No meeting in December.

•Garden Party at Phil and Linda's:

Decorate and wear a garden themed

hat. January 30, 4.30pm, confirm

location with Canterbury Horticultural

Society.

•Mahinga Kai: Learn to grow, gather

and use indigenous edible plants,

followed by Peter Saunders' Visual

Guide To Gardening Through The

Year – Part 5, February 27, 7.30pm.

•Pip And Stone Fruits: Presented by

Richard Smith and followed by Peter

Saunders' Visual Guide To Gardening

Through The Year – Part 6, March 27,

7.30pm.

•New Ways With Strawberries:

Presented by Jean Osborne.

Followed by Peter Saunders' Visual

Guide To Gardening Through The

Year – Part 7, April 24, 7.30pm.
---
PEGASUS POST Latest Christchurch news at www.star.kiwi

Tuesday August 28 2018 15

Email georgia.oconnor@starmedia.kiwi

by 5pm each Wednesday

JP Clinic at Shirley Library

Tuesday, 10am–1pm

A justice of the peace will

be available to members of

the community, to witness

signatures and documents,

certify document copies, hear

oaths, declarations, affidavits

or affirmations as well as sign

citizenship, sponsorship or rates

rebates applications. There is no

charge for this service.

Shirley Library, 36 Marshland

Rd

Storytimes/Wā Kōrerō

Tuesday, 10.30–11am

Encourage learning through a

love for stories. Storytimes is an

interactive programme including

stories, songs, rhymes and play.

This is a free session.

New Brighton Library, 213

Marine Pde and Shirley Library,

36 Marshland Rd

Babytimes/Wā Pēpi

Tuesday, 11.15 – 11.45am

Encourage learning through

language. Babytimes is an

interactive programme including

rhymes, songs, stories and play.

This is a free session.

Aranui Library, 109 Aldershot

St

Scrabble Club

Tuesday, 1.30–2.30pm

Enjoy Scrabble? Go along to the

library for a friendly game or two

with other like-minded folk.

Parklands Library, 46

Queenspark Dr

Reading To Dogs

Tuesday, 3.30-4.30pm

A relaxed, non-threatening

atmosphere which encourages

children to practise their reading

skills and develop a love of

reading by sharing a story with a

furry friend.

Shirley Library, 36 Marshland

Rd

Rocket Club

Wednesday, 3.30-4.30pm

Rocket Club is a weekly afterschool

programme which runs

during term time. All family are

welcome to join the club and

become involved in different

activities based on local and

current events in a fun learning

environment. Homework help is

available during this time. Free to

attend and no bookings required.

Aranui Library, 109 Aldershot

St

CV Drop-In

Thursday, 10am–11.30am

A librarian will be on hand to

assist customers who are needing

help with their resume. You will

be offered guidance on creating,

Parklands Library Book Discussion Club: For those who love reading and want to share in discussion

with other friendly book lovers. Held on the first Tuesday of the month at 7.30pm. Places are

limited so phone 941 7923 to inquire about availability and cost.

updating, and editing your CV.

New Brighton Library, 213

Marine Pde

Maker Space

Thursday, 3.30-4.40pm

Join in fun activities at Maker

Space sessions held weekly

during term time at Aranui

Library. There will be a variety of

activities and fun to be had for all

at the free sessions.

Aranui Library, 109 Aldershot

St

Cards Club

Friday, 1.30-3.30pm

The weekly card club is on

every Friday, go along and join

the fun. Free, no bookings

required.

Shirley Library, 36 Marshland

Rd

Barrier Free Computing

Saturday, 10am-noon

Barrier Free Computing

provided by Computer for

Special Needs Trust is an

organisation that offers assistance

with using computers for people

experiencing disability in a

friendly and supportive setting.

Tutors will be on hand to help

beginners as well as provide

assistance with emailing,

accessing the internet, playing

games, researching a homework

assignment, and literacy or

numeracy development. There

is also the opportunity for

socialising with others with

similar interets. Standard library

printing and copying costs apply.

The event is free.

New Brighton Library, 213

Marine Pde

New Brighton Seaside Market

Saturday, 10am-2pm

Held in the Brighton Mall

every Saturday, there will be

bakery, clothing, vegetables,

crafts of all kinds and food stalls,

face painting, entertainment,

just across the road from the

beach and the new children's

playground.

New Brighton Pedestrian Mall,

cnr Marine Pde and Beresford St

JOIN US NOW!

See website for details

ANDREA BIANI

Men's Shoes $20 Off the Lowest

Marked Price on Shoes Over $99.90

(excludes sale goods)

BENDON BIGGEST BRA SALE

Bras from $10, Briefs from $5.

MAX FASHIONS

Nothing Over $39 Storewide.

LAZEEZA JEWELLERS

50% Off the Original Price on All

Men's Jewellery & Accessories.

STYLES MAY DIFFER TO IMAGE SHOWN

TAROCASH

Nothing Over $60

(excludes suits, while stocks last).

THE ROYAL NAIL

Get $5 Off when you get both a

Manicure & Spa Pedicure.

Get $10 Off when you get both a Gel

Manicure & Gel Spa Pedicure.

Sign up to Smart Deals & be in the monthly draw for a $100 Dress-Smart gift card!

Be one of the first to hear about the latest deals, sent straight to your inbox each week!

CHRISTCHURCH 409 Main South Road, Hornby

Open 10am-5pm, 7 Days 03 349 5750

www.dress-smart.co.nz
---
16

Tuesday August 28 2018

Latest Christchurch news at www.star.kiwi

PEGASUS POST

RICHMOND DISCOUNT

Furniture and Bedding - The Best Little Furniture Shop in Town

BEDROOM FURNITURE

BEDS, TALLBOYS, MIRRORS, CABINETS, CHESTS & MORE!

Queen Frame

& Mattress

Ther-a-pedic Mattress & Base

Reversible pillowtop innersprung

Lowboy

6 Drawer

1130x410x820

Duchess with

Mirror

1090x410x820

NZ MADE

Solid Timber

Free

Standing

Mirror

ONLY

$599

SINGLE $499

KING SINGLE/DBLE/ 3/4 $599

QUEEN $699

ONLY

$449

ONLY

$549

WAS $169

ONLY

$129

Midi 7 Drawer

Scotch Chest

975x760x410

With metal runners.

Also available in Black.

Bedside Cabinet

540x460

With metal runners.

Also available

in Black.

7 Drawer

Scotch Chest

1140x800x410

Also available in black.

Jumbo 4

Drawer Chest

1140x800x400

NZ MADE. Metal runners.

Also available in black.

Tallboy 4 Drawer

600x400x900

Towerboy 6

Drawer

1260x460x410

With metal

runners.

Also

available

in Black.

Bombay

Chest

ONLY

$349

ONLY

$269

FROM

$130

ONLY

$299

ONLY

$269

ONLY

$199

ONLY

$220

Bombay

Bedside

ONLY

$129 EACH

FURNITURE

STORAGE SHELVES, BOOKCASES, BUFFET UNITS, DINING TABLES, HALL TABLES, SIDE CABINETS & MORE!

White Bookcase/

Storage Shelf

800x1600x300

Foundry Display

Cabinet

900x1800x420

Timber Bookcase

600x320x1200

Buffet Unit

1500x800x420

Buffet

Unit

1175x

430x840

Nest of Tables

Entertainment

Unit

1530x520x660

Solid Timber.

Buffet Unit

with Wine Rack

1300x840x430

ONLY

$199

ONLY

$599

ONLY

$199

ONLY

$549

ONLY

$399

EACH

ONLY

$149

ONLY

$499

Entertainment Unit

1900x600x450

2 Draw Entertainment Unit

1200x600x450

Entertainment Unit

1100x400x480

Entertainment Unit

980x600x460

Solid Timber.

Hall Tables

2 Drawers

ONLY

$279

ONLY

$499

ONLY

$399

ONLY

$299

ONLY

$299

3 Piece

Dining Suite

600x600

2 Draw Hall Table

1200x810x420

ONLY

$379

Side Cabinet

600x600x450

ONLY

$199

Hall Table

1500x800x420

ONLY

$449

Coffee Tables

Solid Timber.

ONLY

$169

1200x600

ONLY

$329

Coffee Table

1200x400x600

ONLY

$399

ONLY

$399

Hall Tables

3 Drawers

ONLY

$349

7 Drawer TV/DVD Chest

760x1140

x410

(Gap 150)

Corner TV Unit

1000x750x550

Entertainment Unit

Solid

Timber

Buffet

Units

Buffet

700x

320x

1070

ONLY

$299

ONLY

$299

ONLY

$649

ONLY

$299

ONLY

$299

233 STANMORE ROAD • PHONE 03 389 0536

WE ACCEPT EFTPOS, VISA AND MASTERCARD... PARKING AT REAR
---
PEGASUS POST Latest Christchurch news at www.star.kiwi

Tuesday August 28 2018 17

REAL ESTATE

Premium Purau Valley Property

33 Purau Port Levy Rd – 5.6 hectares

Price: $1,150,000

4 bedrooms | 2 bathrooms | 1 large open plan living room/kitchen/dining room

| 2 car garage | 3 off-street parks | plus 2 bedroom cottage | Listing #7407

With spectacular views of Mt Evans and

Purau Bay this has to be one of the most

beautiful and sought after properties in

the picturesque Purau Valley. Peaceful and

private this modern energy efficient home

sits on a very usable elevated 5.6 hectare

site, a mixture of very well fenced flat

paddocks, mature trees, some fruit trees,

a meandering stream and a woodlot, so

firewood forever!

North facing, sheltered and enjoying

good sun and lovely views of Mt Evans

and Purau Bay. Constructed of Hebel and

block, this 11 year old home (approx) is

fully insulated, double glazed with solar

under-floor heating and a grunty woodburner

with a wetback. There are 4 double

bedrooms, 2 bathrooms including an en

suite and large open plan living opening

onto a North facing patio area to enjoy the

afternoon sun. There is also an internal

access double garage.

The land is fully fenced for stock to a high

standard is well irrigated and has excellent

and priceless water supplies including its

own spring making this versatile property

suitable for a diverse number of uses or

alternatively a great lifestyle property for a

family.

There is also a very tidy modern 2

bedroom cottage set well away from the

main house and also enjoying privacy and

lovely views, ideal as a homestay, Airbnb or

extended family but certainly some income

potential. Plenty of storage with a 3 or 4 bay

shed, easily converted for horses, mature

walnut trees and plenty of places to explore.

Seldom do properties like this come

to the market, here is the chance only 30

minutes' drive from town to live the dream

and if you desire to be semi self-sufficient.

Local amenities are many and varied to

indulge in and in the pipeline is a cinema,

supermarket and additional shops, as well

as the development of Te Ana Marina

at Lyttelton stage 1 now complete. The

local school and Kidsfirst centre have an

excellent reputation and the zoned high

school is Cashmere.

To view this wonderful harbour lifestyle

property contact Tim Dunningham of

Min Sarginson Real Estate (Licensed

Agent REAA 2008), phone 027 651 5474

or 329 4161

growing with you June 2018 | 100%

Plants For

winter wow

Cool Choices

For Colour

& Contrast

From swamp

to sea views

The journey

begins with sarah

the Gardener

$7.90 incl. GST

Snap it up

Enter our annual

Birdlife Photo

Competition to win

great prizes!

clear the air

Why groWing

indoor PLAnTs is

so good for you

give it a grow

from gArLic

To chinese

ArTichokes,

We hAve your

groWing TiPs

covered

the latest releases

into the rose world

+ rose care

through winter

The magazine for

gardeners who like to get

their hands dirty

SUBSCRIBE FROM

$43. 50*

*6 issues/6 months

SUBSCRIPTIONS FREEPHONE

0800 77 77 10

WWW.GARDENER.KIWI
---
18

Latest Christchurch news at www.star.kiwi

Tuesday August 28 2018

PEGASUS POST

Classifieds Contact us today Phone our local team 03 379 1100

Caravans, Motorhomes

& Traliers

CARAVAN Wanted to

buy. Up to $5000 cash

today 027 488-5284.

Community Events

ALCOHOLICS

ANONYMOUS, If you

want to have a drink that's

your business. If you want

to stop, we can help. Phone

0800 229-6757

Computers

ALL

YOUR

COMPUTER

WORRIES SOLVED!

*$30.00 off your first

service with this coupon!*

No problem too big or

small from home PC's to

business networks. PC

slow? An end to Viruses,

Spyware, and Clogged

Systems. Safe secure

hassle-free computing.

Lost files recovered.

Microsoft Certified,

MCSE, MCP+l. 30 years

experience. Call Andrew

Buxton this week on 326-

6740 or 027 435-7596

for $30.00 off* Custom

Computers Christchurch

Curtains

www.curtainfabric-outlet.com

Fashion Designs & Colours

Discontinued Designs

End of Lines Bargain Prices

Call at Our Shop

CURTAIN FABRIC OUTLET

71 Hawdon St Sydenham

Ph 366-5026

Holiday

Accommodation

Australia QLD

SUNSHINE

COAST

RESORT

ALEXANDRA HEADLAND

All Units Have Ocean Views.

Heated Pools, Spa & Sauna,

Free Wifi, Tennis

& Mini Golf.

CHECK OUR GREAT

WINTER SPECIALS

www.mandolin.com.au

0061 7 5443 5011

JUNE to AUG temps 20C

Holiday

Accommodation

WANAKA.

Stunning holiday

accommodation in

Wanaka at the Pines

Resort available, during

ski season.

From the 7th of September

till the 14th you can stay

at this fabulous resort.

Cardrona Ski Resort and

Treble Cone are not far

away. $1200 for the week,

only at $171.00 per night.

Would suit family sleeps

up to 5.

See http://www.

classicholidays.com.au/

resort/pines-resort/>for

full details. More details

and to book, call Jacqui on

027-201-3244

• General

gardening

• Ride on service

• Weeding and

clearing

• Hedge trimming

• Tree pruning

and removals

• Fully insured

Trades & Services

FOR ALL YOUR

★Garden Clean-ups

★Pruning

★Lawn Mowing

★Garden Maintenance

Call us today for a FREE quote

PH 0800 4 546 546

(0800 4 JIMJIM)

PAINTER

Houses Interior/Exterior

27 years exp.

Tidy workmanship

On the spot written

quotes

Ph: 0274 360-298

Trades & Services

green acres

Lawn &

garden care

• Section

clearing/

maintenance

• Free quotes

• Security

checked

and

satisfaction

guaranteed

0800 803 200

www.greenacres.co.nz

ROOF REPAIRS

Locally owned & operated with

over 30 years experience.

• Extensions & repair • Roof coating

• Concrete & clay tiles • Butynol

• Malthoid • Asbestos Certified

• Coloursteel • Old iron • Guttering

Phone Dave 981 0278

or 021 223 4200

E: dave@beaumontroofing.co.nz

BEAUMONT ROOFING LTD

Trades & Services

HOUSE

CLEARING

Are you

moving house

or trying to

downsize?

Call All Clear

Canterbury. We work

with you to recycle,

sell and dispose of

unwanted items.

Ph: 03 260 0934

or 021 078 4553

raewynlcooke@gmail.com

www.allclearcanterbury.co.nz

ADD SOME

COLOUR

TO YOUR ADVERT!

Trades & Services

junk

Trades & Services

Lawns, Gardens

& Home Cleaning

Why go to the Dump? Junkman comes to you!

Items too big for the rubbish bin?

Or too heavy for you to move?

Junkman comes to FROM

you & takes it away $

65 *

*Prices vary depending on items and volume – minimum charge $65

Public Notices

0800 586 5626

www.junkman.co.nz office@junkman.co.nz

9185885AA

Free Quotes

Professional, personalised

service. Regular &

one-offs. Fixed price.

Ph: 377-5814

For all your property and

cleaning requirements

Trained, insured & security

screened owner/operators

Multi-award winning

systems & Franchises

Franchises Available

www.fviphomeservices.co.nz

Trades & Services

AAA HANDYMAN

licensed carpenter

LBP, all property and

building maintenance,

repairs, bathroom/shower

installations, with free

quotes 03 383 1927 or 027

245 5226 ciey@xtra.co.nz

BUILDER

For all building work

but specialist in bathroom

renovations, 30 yrs

experience, with service

and integrity. Free Quotes.

Ph Lachlan 383-1723 or

0274 367-067.

*****************

CARPET & VINYL

LAYING

Exp Repairs, uplifting,

relaying, restretching.

Email jflattery@xtra.co.nz

ph John on 0800 003 181

or 027 2407416

FENCING

All styles and shapes,

gates, wooden, ph Mark

0273 313-223

PAINTING

& DECORATING

Wingfields Contracting,

all interior & exterior

painting & all forms of

interior plastering & jib

fixing, ph Mark 021 171-

1586 or 355-5994

PAINTER AVAILABLE

All aspects in painting.

Very competitive in roofs

and fences. Please call 027

241-7471 or 335-0265

PLUMBER

ALF THORPE

PLUMBING Certifying

Plumber for all types of

plumbing, maintenance,

spouting, alterations etc.

Phone 352-7402 or 0274-

350-231

Trades & Services

PLUMBER

A Top Plumbing job

completed at a fair price,

prompt service, all work

guaranteed, ph Brian 960-

7673 or 021 112-3492

ROOFING REPAIRS

Fully qualified, over 40

yrs experience. Ph John

027 432-3822 or 351-

9147 email johnchmill@

outlook.com

SPOUTING CLEANING

Spouting Unblocked,

Cleaned Out and Flushed

Out. Call Trevor 332 8949

or 021 043 2034

TILER/CARPENTER

35 years exp, no job

too small. Ph Ross 027

4311440.

T.V. SERVICE

CENTRE

Repairs, tvs, microwaves,

.Aerial & satellite

installations , kitsets, 480

Moorhouse Ave, ph 03 379

1400

VHS VIDEO TAPES

& all camera tapes

converted to DVD, video

taping special occasions,

www.grahamsvideo.co.nz

ph 03 338-1655

WINDOW CLEANING

Average 3 bdrm house

inside or out $40. Both

$70. Phone Trevor 344-

2170

Wanted To Buy

AAA Buying goods

quality furniture, beds,

stoves, washing machines,

fridge freezers. Same day

service. Selwyn Dealers.

Phone 980 5812 or 027

313 8156

A+ Household effects,

fridges, freezers, washing

machines, ovens. Good

cash paid. Ph Paul 022

0891 671

TOOLS Garden,

garage, woodworking,

mechanical, engineering,

sawbenches, lathes, cash

buyer, ph 355-2045

TOP DOG THEATRE

presents

September 5th - 15th

Merivale Lane Theatre,

Rangi Ruru

cnr Rossall Street & Merivale Lane

Tickets: www.topdogtheatre.com

ADVERTISE YOUR BUSINESS HERE

Entertainment

Phone for further details

by

KATE DE GOLDI

(03) 379 1100

adapted by

JANE WADDELL
---
PEGASUS POST Latest Christchurch news at www.star.kiwi

Tuesday August 28 2018 19

What's On

Entertainment

LEGENDS

BEST OF

BRITISH

SHOW

THE music of Rod Stewart and Joe

Cocker feature in a shagadelic show at the

Hornby WMC this Saturday night.

Presented by Auckland based

entertainment company Stage 51, the

show stars John Crane as Rod Stewart and

Col Jones as Joe Cocker, MC'ed by none

other than Austin Powers (Gary Brown).

Gary Brown is well known for his

incredible impersonation and

performance skills. He has appeared in

stage shows, TV commercials, soap

operas, and even the occasional game

show. Gary has been shaking his mojo as

Austin Powers since 2000 and is the only

world wide individual authorised by

Warner Bros & New Line Cinema to

perform as Austin Powers. Most recently

he has been touring the country with the

Legends, Best of British Show.

Originally from Edinburgh, John

Crane has been performing as Rod

Stewart for the past 17 years. His act has

been well received globally earning him

the position as one of the top Rod Stewart

To advertise, contact

Jo Fuller 027 458 8590

jo.fuller@starmedia.kiwi

impersonators in the world.

British born Col Jones as Joe Cocker

will transport you back to when the 70's

were cool with awless renditions of hits

including 'e Letter', 'Feelin' Alright', 'You

Are So Beautiful', and 'A Little Help From

My Friends'.

"What a show, danced all night, to the

music and some comedy, from 'groovy

baby' Austin Powers, was denitely 'e

Best of British'! oroughly enjoyed our

night, especially John Crane! His voice is

amazing! Absolutely THE BEST

impression of Rod Stewart I've ever heard.

Brilliant! Can't wait for the next Best of

British Show!" - Catherine C.

Legends, Best of British featuring

Austin Powers, Rod Stewart and Joe

Cocker takes place at the Hornby WMC

this Saturday. 8pm start. Tickets to

Legends, Best of British are $20 and on

sale now at the Club office, 17 Carmen

Rd, phone 03 349 9026. Members, guests

& affiliates all welcome.

'Famous for their roasts!'

SENIORS SPECIAL

Two courses: $

22

Soup/Roast or Roast/Dessert

Special available lunch only

Monday - Saturday 12pm - 2.30pm

Conditions apply

FAMILY FRIENDLY

Kid's Special

Two courses

Great Kids menu plus

designated play area.

$

13

What's On

TUESDAYS & THURSDAYS

MEMBERS LUCKY

CARD DRAW

LIVE MUSIC

Sunday 9th Sept, 2-6pm

UNFINISHED

BUSINESS

Shuttle operating 1.30-6.30pm

GAMING ROOM

TAB POD

RESTAURANT & CAFÉ

UPSTAIRS

Open daily from 6.30am - Breakfast, Lunch & Dinner

The

RACECOURSE HOTEL

& Motorlodge

118 Racecourse Rd, Sockburn,

Christchurch. Ph 03 342 7150

www.racecoursehotel.co.nz

Dine by the Beach

PIERVIEW

RESTAURANT

Open from 5.30pm Fri, Sat,

Sun, and Sunday Brunch

from 10.30am to 2pm.

PIERVIEW'S

FATHER'S DAY

BUFFET LUNCH

Sunday 2nd Sept

11.30am-2pm

Booking Essential!

Sorry, we will not be open

for brunch on Sept 2.

$12

TREAT DAD!

FATHER'S DAY

IS COMING!

Sunday 2 Sept

PIERVIEW'S MONTH-END

SUNDAY NIGHT

BUFFET $25pp

Sunday 26th August

from 5.30pm

BOOK NOW!

CLUBBISTRO

DOWNSTAIRS

Open Tuesday to Saturday

12pm - 2pm & from 5pm

BISTRO ROAST SPECIAL

Tuesday - Thursday

Dine in only

202 Marine Pde | Ph 388 9416 | www.newbrightonclub.co.nz | Members, guests & affiliates welcome

Lunch & Dinner

All you can eat

7 days

Bookings Essential

PH 386 0088

fb.com/GardenHotelRestaurant

www.gardenhotel.co.nz

SERVING

HAPPY HOUR

5PM - 7PM DAILY

OUR CABINET ITEMS

ARE HOMEMADE

CREATED FRESH ON SITE DAILY

$12

LUNCH

SPECIALS

Live Music:

6PM.SAT 1 SEPT

COFFEE

HAPPY

H O U R

2PM-4PM

DAILY

$3.50

Offer available for a limited time

and includes tea, hot chocolate

MON: ROAST MEAL

TUE: FISH & CHIPS

WED: FISH BURGER

THU: ROAST MEAL

SAT: FISH & CHIPS

AVAILABLE

FROM

11.30AM-2PM

FOR A

LIMITED TIME

Rhonda Campbell

PHONE 385 8880 FIND US ON FACEBOOK fb.com/GBCCHCH

THE GARDEN HOTEL COMPLEX | 110 MARSHLAND RD

www.gardenhotel.co.nz | phone 385 3132

H ORNBY

WORKINGMEN'S

CLUB

GREAT ENTERTAINMENT

SATURDAY (DOWNSTAIRS)

4.30PM: NORM BLAND | 8PM: TH' ART OF CHEESE

Club CAFÉ

OPEN

EVERY DAY

LUNCH & DINNER

SATURDAY (UPSTAIRS)

SUNDAY - FATHER'S DAY

1.30PM - 4.30PM:

ELLESMERE BIG BAND $6 ENTRY

FAMILY FRIENDLY DINING

Chalmers

Restaurant

SATURDAY

8PM

Tickets $20

OPEN

FRI, SAT, SUN

FROM 5.30PM

WIN YOUR

DAD A

V8

SUPERDRIVE

EXPERIENCE

Conditions apply

17 Carmen Rd, Hornby | ph 03 349 9026 | www.hornbywmc.co.nz

Members, guests & affiliates welcome
---
20 Tuesday August 28 2018

Latest Christchurch news at www.star.kiwi

PEGASUS POST

END OF SEASON

DINING

LOUNGE

BEDROOM

SALE ENDS 10.09.18

Shop

Online

Nationwide

Delivery

Finance

Options

targetfurniture.co.nz

Cnr Blenheim & Curletts Rds, Christchurch

Ph: 0800 TARGET (0800 827 438)

Offers and product prices advertised here expire 10/09/18.

Sale excludes Manchester, Accessories and Outdoor.