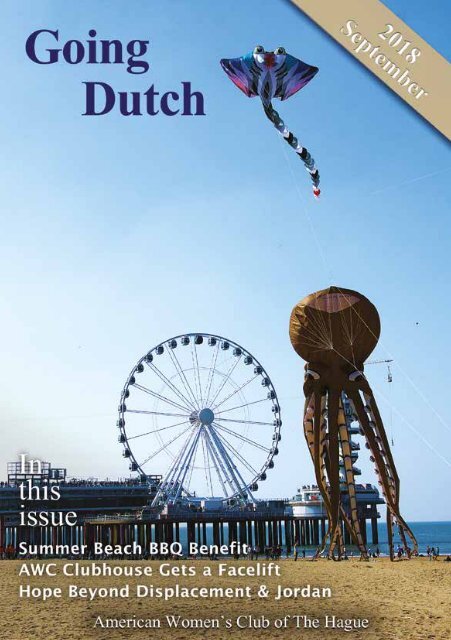 AWC Going Dutch Sept 2018
American Women's Club magazine
American Women's Club magazine
SHOW MORE
SHOW LESS
Create successful ePaper yourself
Turn your PDF publications into a flip-book with our unique Google optimized e-Paper software.
unlimited

Permanent hair removal

Bikini/Brazilian

1 price

no extra costs

from

€873

for

€79

Book your free intake online

Scan the code for more Super deals!

www.lifestylesalonthehague.nl

Denneweg 56, 2514CH, The Hague

Going Dutch

September 2018

New Club Year: New Board of Officers!

Jordan Journey with FAWCO

6

40

44

Learn a little more about Chat, Craft and

Cake

48

Road Trip through Northern France:

Normandy and Mont Saint Michele

The Magazine of the

American Women's Club

of The Hague

5 Officers and Chairwomen

6 May Installation of Officers

8 Message from the President

9 September Kick-Off

10 Letter from the Editor

12 Membership

13 Friendship Quilt

14 Ongoing Activities

19 One-of-a-Kind Activities

22 Summer Beach Barbeque

Benefit

28 AWC and the Arts

29 New Look Campaign

30 September Calendar

33 Kid's Club

33 Walkie Talkies Special

Outing

34 Walkie Talkies Collage

36 A Ceremony of

Remembrance and Hope

38 FAWCO Corner

40 FAWCO Jordan

43 Fran Mainella

44 Chat, Craft and Cake

46 The Dutch Daily

48 Normandy— A Road Trip

50 Summer Activites Collage

53 Announcements

56 Classifieds

57 Index of Advertisers

57 Ad Rates

58 Proost! Interview

SEPTEMBER 2018 3
---
Editor

Audrey Goodman

2018-2019 AWC Officers

Committee Chairs

AWC Clubhouse

Johan van Oldenbarneveltlaan 43

2582 NJ Den Haag

Tel: 070 350 6007

info@awcthehague.org

www.awcthehague.org

Going Dutch Magazine

goingdutchmag@gmail.com

Clubhouse Hours

Tuesday and Thursday

10 a.m. - 2 p.m.

Monday, Wednesday and Friday Closed

Dues (Effective 2018-2019)

€ 110 per year (€ 66 after January 1)

€ 90 business, professional

€ 55 valid US military ID

€ 35 student

€ 35 Outside the Netherlands (Going

Dutch magazine not included)

Add € 15 new member registration fee

Design and Layout

Teresa Mahoney

Cover Photo

A Giant Squid Over Scheveningen Beach by

Melissa White

Photography

Mary Adams, Jane Choy, Sabine Crowley,

Greetje Engelsman, FAWCO, Dena

Haggerty, Teresa Insalaco, Suzanne

MacNeil, Julie Mowat, Perspektief, Melissa

Rider, Anne van Oorschot, Melissa White

Proofreaders

Celeste Brown, Jane Gulde, Diane Schaap,

Debbie van Hees

Advertising Invoicing

Open

Contributors

Jane Choy, Susanne Dundas, Roberta

Enschede, Jan Essad, Heather DeWitt, Dena

Haggerty, Marsha Hagney, Eileen Harloff,

Deana Kreitler, Suzanne MacNeil, Sunita

Menon, Julie Mowat, Melissa Rider, Lindsay

Turnau, Emily van Eerten, Melissa White

Printer

www.dwcprint.nl

AWC Bank Account Number

IBAN: NL42ABNA0431421757

KvK Den Haag

40409274

Honorary President Diane Hoekstra

President Suzanne MacNeil

awcthehague.president@gmail.com

Vice President Marsha Hagney

awcthehague.firstvp@gmail.com

Treasurer Sheyla Karman

awcthehague.treasurer@gmail.com

Secretary Heather DeWitt & Laura Suttles

awcthehague.secretary@gmail.com

Club and Community Development

Open

awcthehague.community@gmail.com

Clubhouse Administrator

Jan Essad & Sunita Menon

awcthehague.clubhousemgr@gmail.com

Communications Rebecca Niles-Pourier

awcthehague.communications@gmail.com

Front Office

Liduine Bekman, Siska Datema-Kool,

Dominique Duysens, Amber Gatewood,

Machelle Hollar, Paula Looijmans, Melissa

Rider, Robin Rose, Holly Savoie, Carol

Schapira, Chelsea Wald

Activities: Open

Arts: Jane Choy

Assistant Treasurer: Teresa Insalaco

Board Advisor: Jessie Rodell

Caring Committee: Naomi Keip

Chat, Craft & Cake: Suzanne Dundas

Community Service Team: Open

eNews Amber Gatewood

Evening Events: Open

FAWCO: Julie Mowat

Front Office Coordinator: Open

General Meeting Programs: Dena

Haggerty

Heart Pillow: Jan de Vries

Historian/Archivist: Open

Holiday Bazaar: Jaimie Keppel-Molenaar

Hospitality: Open

IT Administrator: Julie Otten

Kids' Club: Lindsey Turnau

Library: Dena Haggerty

Membership: Melissa Rider

Newcomers: Holly Savoie, Greetje

Engelsman

Parliamentarian: Georgia Regnault

Philanthropy: Holly Savoie

Public Relations: Open

Social Media: Rebecca Niles-Pourier and

Julie Otten

Social Media Recruitment: Ceci Wong

Tennis: Molly Boed

Volunteer Coordinator: Laurie

Martecchini

Webmaster: Julie Otten

Women with Dutch Partners: Loren

Mealey

Deadlines: Submissions are due no later than the last Monday of the month preceding the publication month.

For example, for the October issue, submissions are due before Monday, September 24

Please Note: Articles submitted to Going Dutch will be published subject to space limitations and editorial approval.

All rights reserved; reprints only by written permission of the Editor. Please email to: goingdutchmag@

gmail.com

Legal Notice: Articles in Going Dutch express the views and opinions of their authors alone, and not necessarily

those of the AWC of The Hague, its Members or this publication.

4 GOING DUTCH

AWC Mission Statement

The AWC is an association formed to provide social and educational activities for American

women living in the Netherlands and to promote amicable relations among people of all nations,

as well as acquiring funds for general public interest. Membership in the club is open

to women of all nations who are friendly and welcoming to American culture. The association

does not endeavor to make a profit. The AWC is a 100% volunteer organization.

SEPTEMBER 2018 5
---
2018-2019 Board Installation
---
Message from the President

by Suzanne MacNeil

September Kick-Off

by Marsha Hagney

Welcome to the new Club year and

welcome back if you've traveled

this summer. I spent two weeks in

Ireland in June, one week for a mosaic workshop

and the other driving through the lovely

countryside with Tim. We ended our trip in

a small town outside Belfast to meet Tim's

cousins and visit the stone house where his

grandmother and great-grandmother were

born. Then it was a week in Jacksonville

to see my mom and a week with Fran

Mainella and her husband in Amsterdam

and The Hague. Fran graciously stopped

by the Clubhouse in July to share her story

about her time as director of the National

Park Service. If you didn't make it to Fran's

discussion, Emily van Eerten sums it up

nicely on page 43.

In between travels, your Board met several

times during the summer and we have

events, activities, and travels already on the

books. Please be sure to check Ongoing

Activities and One-of-a-Kind Activities in

this edition of Going Dutch. If you plan to

take part in any of the activities listed, go to

the Club calendar on our website to sign up.

Our Club was founded in 1930 as a social

organization. It continues to be just that, a

fun group that offers friendship and opportunities

to dig in to our Dutch life. Without

the AWC, my time as an expat (since 2013)

would been more stressful and lonely. It is

thanks to the lovely women in the Club that

I adjusted more quickly to being far from my

family, and it's my AWC

friends who introduced

me to the

grand world that

living abroad

offers. I hope

that you have

found a circle

of women

within the

Club who do

the same for you,

8 GOING DUTCH

and I would

hope that you

offer new expats

and women you

meet the opportunity

to join our

AWC. Growing

our membership

is fundamental

so the Club can

continue at least

another 90 years!

If you're

looking for an opportunity to introduce

friends to the Club, be sure to bring them

to our Prinsjesdag Luncheon on Tuesday,

September 18 to watch the King, Queen, and

other royals ride along the route of the Golden

Coach. The procession leaves Noordeinde

Palace and travels to the Binnenhof where

King Willem-Alexander will address parliament.

We will have a bird's-eye view of the

procession from an upper floor of Restaurant

Garoeda. Be sure to sign up ASAP!

Since we're nearing our stone anniversary

(90 years), the Board is looking ahead

and we are developing a three-to-five-year

plan for the Club. Our AWC is not unlike a

business. Members are our target customers,

and the Board and committees focus on

meeting our Members' needs. The Board is

reviewing our strengths, weaknesses, and

opportunities to ensure we can achieve our

potential and improve where necessary. Just

as businesses are always working to improve

their operations, the Board is actively looking

at ways to refine how we manage certain

aspects of the Club. One step we have taken

is the implementation of a fundraising/donation

request form that must be filled out by

Members and non-members to ensure the

Board fully understands each request and

if it meets the Club's mission. This change,

along with other updates, and improvements

are helping the Board, and the Club, to set

priorities and remain financially sound. >>52

Morning and Evening

Events

Welcome back to Members and welcome to

new Members and friends! Join us to meet

others and learn about Club activities and

events. Sign up for scheduled events, learn

about volunteer opportunities, enjoy some

refreshments, and spend some time catching

up with friends or getting acquainted

with new and prospective Members. All

Members are encouraged to invite friends

and acquaintances who may be interested in

joining the AWC!

Thursday, September 13

Morning Session 11:00 a.m. – 2:00 p.m.

Evening Session 5:00 – 8:00 p.m.

AWC Clubhouse

Heads-up: The October issue will arrive a few days late. Our fearless Design and

Layout Specialist, Teresa Mahoney, is unplugging to climb a mountain (seriously!)

and will work on the issue after her descent. But don't worry, you can still find

important AWC news and information on Facebook and GroupSpaces.

AWC new Board Installation (see p 6 for more photos)

SEPTEMBER 2018 9
---
Letter from the Editor

by Audrey Goodman

Early last summer, I received a mid-day

call from my husband, "Hey, I just need

to know if you would ever consider living

overseas?" "Umm, honey. I need a little

more information. For starters, which continent

are we talking about?" He had no specifics,

except that he was pretty sure it would be

Europe. Over the next couple months, the details

started emerging: Europe… The Hague...

Early 2018... Two Years. So, here I am!

We spent the last part of 2017 making

the necessary arrangements and spending as

much time with friends and family as possible.

use various laundry detergents sorted by color,

stay out of the way of bicycles, always carry

an umbrella, and add salt to my dishwasher.

(On that note: I highly recommend attending

the Dutch Products class offered by Carol

Slootweg on Wednesday, September 25 at the

Clubhouse, if you're new to the Netherlands.)

This Spring, after the previous editor,

Suzanne MacNeil, accepted the role as our

new Club president, I offered to take on the

editorship of Going Dutch. I swear, I only had

half a glass of wine when I made the decision!

Suzanne, Melissa White and Teresa

If you want something said, ask a man;

If you want something done, ask a woman.

Margaret Thatcher

On January 2, 2018 we left Baltimore, and it

has been an amazing whirlwind ever since.

I was introduced to the AWC by the former

president, Mary Ann Nation-Greenwall,

(at a Thirsty Thursday, of course!) and it

was the best decision I made since arriving.

I jumped right in to the activities and have

met so many wonderful and amazing women,

from all backgrounds, with very different

experiences, and with various interests. My

fear of being bored or isolated very quickly

dissolved, and I feel incredibly lucky to be

part of such a fantastic organization.

Nearly everyone speaks English in the

Netherlands, making this country seem like

"Expat for Dummies". But it's been the little

things that I've struggled with since moving

here. The day we arrived, we made our first

trip to Albert Heijn, and we also made our

first mistake. I now know that AH doesn't

accept MasterCard, or Visa, or Discover, or

any other American credit card. After an extremely

embarrassing trip to the ATM, we had

the basic necessities for our extremely tiny

refrigerator. I've also learned that I need to

10 GOING DUTCH

Mahoney have been have been overwhelmingly

helpful through this transition. Melissa

is also a former Going Dutch editor, and still

contributes greatly to the magazine (check out

the Announcements section!). Teresa handles

the design and layout, making the magazine

absolutely beautiful. Countless hours and

lots of hard work go into the magazine every

month, and without these women, Going

Dutch wouldn't exist. I have big shoes to fill,

and I hope I can live up to the reputations of

my predecessors.

As we start a new Club year, I would

like to add a new element to the magazine.

It seems everyone has a tried-and-true recipe

that I'm sure is worth sharing. So please pass

along some of your favorites to be included

in upcoming issues! And I'm certainly open

to new article ideas, so don't hesitate to send

me an email or strike up a conversation at a

Club event. Or, better yet, let's make plans to

discuss your idea over coffee or wine!

Audrey

SEPTEMBER 2018 11
---
Membership

by Melissa Rider

Welcome New Members!

Kristina Andrews

Patti Calabro

Jeanne Crandall

Naya Pessoa

2018-2019 Membership Dues

If you have not yet paid your membership

dues, please note they are due no later

than September 30 to avoid a late fee.

The best way to renew is by electronic

transfer to our bank account with IBAN:

NL42ABNA0431421757 (be sure to include

your name and Membership Dues in the

memo section). You can also pay by PIN at

the Clubhouse during office hours. Dues remain

the same as last year: € 110 for Regular

and Associate Members, € 90 for Business/

Professionals, € 55 for Military (with valid

military ID) and € 35 for Students (with valid

student ID).

Update Your Information

It is very important to keep both your

email and mailing addresses accurate, so

you receive

eNews and

Going Dutch

in a timely

fashion. If

you have

m o v e d

recently,

p l e a s e

contact me at awcthehague.membership@

gmail.com with your updated contact

information.

GDPR

The AWC, like all other businesses and organizations

in Europe, must comply with

the General Data Protection Regulation

(GDPR) which sets new rules for the collection

of data of those living in the EU. The

new privacy measures mean you now have

to give the AWC explicit and informed consent

for the Club to use your name and likeness

in Going Dutch, either of our Facebook

pages, and in our Membership Directory.

Birthday wishes, unfortunately, will no longer

be published in Going Dutch, as another

measure towards ensuring your privacy. We

appreciate your help as we work to make

sure we follow the rule of law.

"Tell Me A Story" – The 2019

Friendship Quilt

by Julie Mowat

Every year since 1995, FAWCO members

around the globe have worked together,

contributing to the FAWCO Friendship

Quilt. The greatly coveted product is raffled

off at the annual FAWCO Conference to raise

money for The Foundation's programs and

charitable causes. This is a great time to start

working on your 2019 quilt squares. What

better way than a book-themed quilt to wrap

up the Target Education cycle!

Deadline: October 10

Square instructions:

www.fawcofoundation.org

Contact Suzanne Dundas at

awcthehague.crafts@gmail.com to

coordinate mailing the squares.

Going Dutch is Available Online

Go to www.awcthehague.org to share the current month's issue with friends and family. You

will also find links to our annual advertisers, whose support makes this magazine possible. If

you visit or contact one of our advertisers, let them know

Going Dutch sent you!

Birthdays

Due to changes in European privacy laws, and because Going Dutch will soon be posted

on our external Facebook page, we won't be sharing birthdays in print any longer.

Instead, you'll see Members' birthdays in the weekly eNews, which is sent to your private

email account and is more secure. We value our Members' privacy. If you have any

questions, please contact Melissa Rider, our Membership Coordinator, at awcthehague.

membership@gmail.com.

12 GOING DUTCH

SEPTEMBER 2018 13
---
Photo credit: GoodReads

Ongoing Activities

Book Clubs

The AWC Book Clubs are open to all readers,

and new Members are especially welcome!

There's no requirement to attend every

meeting or lead a discussion. Snacks are

provided by a different Member each month.

There are two Book Clubs hosted by AWC

Members: One in the daytime and one in

the evening. Questions? Teresa Mahoney

organizes the daytime group, and Dena

Haggerty handles the evening meetings.

For more information, please contact them at

awcthehague.bookclub@gmail.com. Happy

reading!

Daytime Book Club

September Selection:

Days without End follows

the experiences of Thomas

McNulty, a teenage immigrant

from Ireland, who fled

the Great Famine for the

United States. He enlisted in

the Army in the 1850s and

served in both the Indian

Wars and the Civil War. The story follows his

struggles, heartbreak and lost youth during

the Wars. The New York Times describes this

book as "a haunting archaeology of youth …

A dreamlike Western with a different kind of

hero."

Thursday, September 27

10 a.m.

AWC Clubhouse

FREE

Daytime Book Club Recap – April

My Absolute Darling, by Gabriel Tallent,

provided for a lively discussion during the

April meeting. The author purposefully

wrote a book full of the flora and fauna of

the northern California coast, and some of the

Members had been to a live session with him

prior to the meeting, so they knew his proclivity

for that part of the United States. The

main character, Turtle, is a young teenager

just blossoming into puberty who lives with

her father. Turtle seems to take care of herself

most of the time and has been allowed the

14 GOING DUTCH

freedom to roam the cliffs near their home,

where she exhibits an uncanny knowledge

of the plants and animals around her. Once

into the book, one is mesmerized by the language,

often sending one to the dictionary.

The main theme of the story emerges into

one of the emotional, physical, and sexual

abuse that Turtle endures by her father. Later

in the story, after a long absence, he returns

with a much younger girl who ends up going

through similar seemingly torturous trials

at the whim of the father. Was Turtle brave,

cowardly, entrapped? It was a maternal instinct

for the younger girl that finally brought

her into action to leave the situation and save

herself. The book was definitely a page-turner,

and an impossible-to-put-down selection.

Daytime Book Club Recap – May

Notes on a Foreign Country: An American

Abroad in a Post-American World by Suzy

Hansen. Suzy Hansen left New York City

at the age of 25 with a grant for overseas

journalism and decided to base herself in

Istanbul. Over the next decade, she travelled

to Greece, Egypt, Afghanistan, Iran, and then

to the Mississippi Delta. As time passed, she

gathered foreigners' impressions and histories,

and began to note a change in her own

views of America: "We cannot go abroad as

Americans in the twenty-first century and not

realize that the main thing terrorizing us is

our own ignorance." She uses the complex

histories of these countries to illuminate the

way she looks at her own country and the assumptions

of American exceptionalism that

are inculcated by our families, our schools,

and our media. This book is a travelogue

combined with a personal memoir that details

"the vertiginous distance that exists between

what America is and what it thinks of itself".

Our Members discussed the range of important

issues raised by this book in the light of

their own personal recognition. As expats,

each of us has experienced the uncomfortable

epiphany so eloquently described by

Hansen. The group recommends this book

unanimously and would like to see its readership

widened in the United States.

Daytime Book Club Recap – June

Bernard MacLaverty's Midwinter Break

is his first novel in 16 years. Set during a

short holiday in Amsterdam during a wintry

January, the novel explores a very mature

marriage that is in quiet difficulty. Gerry

and Stella Gilmore have reached a fork in

the road of their relationship. Gerry's drinking

has increased in frequency and duration;

Stella desires a contemplative religious life

devoted to service during the years that remain

to her. To achieve this will involve

leaving Gerry possibly for a life in the

Begijnhof in Amsterdam. Familiar tourist

destinations, such as the Anne Frank House

and the Rijksmuseum, serve to move the plot

forward and to reveal more of the marriage,

as well as the unresolved act of violence in

their past that is the impetus for their individual

unhappiness. MacLaverty's focus on the

poetry of the mundane, lends truthfulness to

his examination of the interior lives of his

characters. This book was well received by

the book club, but it was felt it would be best

appreciated by those in mature relationships.

Daytime Book Club Recap – July

In Revolution Song: A Story of American

Freedom, Russell Shorto weaves six personal

histories into a fascinating look at

the American Revolution. He relies on the

well-documented biographical trails of six

very different people: George Washington,

Indian leader Cornplanter, British Secretary

of State for the Colonies George Germain,

runaway child bride turned professional mistress

Margaret Coghlan, freed slave Venture

Daytime Book Club Reading List:

Thursday, September 27: Days Without

End by Sebastian Barry

Thursday, October 25: Homegoing by

Yaa Gyasi

Thursday, November 15: Educated: A

Memoir by Tara Westover

Evening Book Club Reading List:

October: TBD: see eNews for October

book and date

Smith, and Albany shoemaker turned framer

of the US Constitution Abraham Yates.

Building on the theme of personal freedom

unleashed by the Enlightenment, Shorto

masterfully tells the six tales against the

backdrop of colonies fighting for both political

and individual freedom and struggling to

construct a new nation once that freedom is

won. A colossal, timely, and endlessly fascinating

book.

Evening Book Club

September Selection:

The Italian Teacher by Tom

Rachman

What makes an artist?

In The Italian Teacher, Tom

Rachman displays a nuanced

understanding of art and its

demons. Moreover, in Pinch

he achieves a portrait of vulnerability

and frustrated talent that—with

his signature humor and humanity—challenges

the very idea of greatness.

Wednesday, September 19

7:30 p.m.

AWC Clubhouse

FREE

>> 16

SEPTEMBER 2018 15

Photo credit: GoodReads
---
Ongoing Activities (cont.)

Continued from page 15

Chat, Craft & Cake

Chat, Craft and Cake is a weekly

highlight for those who enjoy crafts

and camaraderie. Whether your craft is

knitting, quilting, needlepoint or simply

mending your clothes, or whether you are

a beginner or an expert, you are welcome to

join us. Fish that UFO (Unfinished Object)

out of the drawer and get going on it again.

CCandCer's are always ready with a helping

hand, a lesson, or some advice. Each week,

a different Member brings a tried and true

or experimental cake. Babysitting is not

available and there are lots of sharp objects

about (pins, needles, scissors and wit), so

we cannot accommodate children. Contact

Suzanne Dundas at awcthehague.crafts@

gmail.com for more information

Every Tuesday

10 a.m. – Noon

AWC Clubhouse

FREE

Heart Pillow Project

Members work together to make heartshaped

pillows designed to help support

the arms of recent mastectomy patients.

Each pillow is made with TLC, wrapped,

and comes with a note signed by an AWC

volunteer. No sewing skills are needed, as

you can cut, stuff, or wrap the heart pillows.

We are proud to provide women and men

with something both practical and comforting,

and we know our work helps because

we often receive thank-you notes and emails

from the patients who have received a heart

pillow. For more information, please contact

Jan de Vries at awcthehague.heartpillow@

gmail.com.

Tuesday, September 4

Noon – 2 p.m.

AWC Clubhouse

FREE

Visitors Welcome

Out to Lunch Bunch: September

For a change in venue, the Lunch Bunch will

be having lunch in Leiden this month. This

restaurant, close to the train station, forms

the gateway to the old town of Leiden. It is

named after Pieter Van der Werff, a 16thcentury

mayor of Leiden, who offered his

arm to the starving city. (Info about this

later!) The atmosphere in Stadscafe Van

der Werff is similar to what you find in the

city of Leiden: sparkling and cozy. Curious?

Come and have lunch!

Stadscafe Van der Werff

Steenstraat 2, Leiden

www.stadscafevanderwerff.nl

Thursday, September 27

12:15 p.m.

Sign up on GroupSpaces

Tennis League

Players needed! The AWC Tennis

Group plays doubles every Tuesday in

Warmond. Ladies move up and down

the courts according to a ladder tennis

system. The emphasis is on having fun!

The League is available for all levels >> 18

16 GOING DUTCH

SEPTEMBER 2018 17
---
Ongoing Activities (cont.)

Continued from page 17

One-of-a-Kind Activities

by Dena Haggerty

except true beginners. Contact Molly

Boed at mollyboed@gmail.com for more

information.

Tuesdays starting September 4

(except specific holidays TBD)

1 –3 p.m.

Dekker Tennis Courts

Veerpolder 14, Warmond

€275 Members / €325 Nonmembers

Sign up on GroupSpaces

Thirsty Thursday

Join us for a casual evening at our first

Thirsty Thursday of the new Club year. For

just €15, Fratelli's Restaurant is providing

two drinks + pizza, bruschetta, and ciabatta.

Relax with AWC friends and be sure to

bring anyone you know who might be interested

in joining the Club. It's a fun and easy

night to get back into fall.

Thursday, September 20

6–9 p.m.

Tournooiveld 1, Den Haag (Near Lange

Voorhout)

€15 for two drinks and food

No RSVP needed

Walkie Talkies

Whether you count your steps or just want

to walk with friends, the Monday morning

Walkie Talkies is a fun, healthy and energetic

way to start the week. The group meets

in front of the Clubhouse before heading out

to walk to various destinations in the area,

usually racking up 10,000 steps along the

way. Sign up on GroupSpaces to receive

email updates or contact Emily van Eerten

18 GOING DUTCH

at vaneerten@gmail.com (or Greetje

Engelsman at greetje.engelsman@gmail.

com).

Mondays

9:30 a.m.

AWC Clubhouse

FREE

Sign up on GroupSpaces

Wassenaar Coffee & Conversation

If you live in or north

of Wassenaar, join

your neighbors for

coffee and conversation

once-a-month

without having to

drive to the clubhouse.

One Member will host a casual coffee at her

home at 9:30 on the first Thursday of every

month. Suzanne Dundas coordinates these

gatherings, so please contact her if you are

interested in attending or for more information.

Prospective Members are always welcome

too.

Thursday, September 6

9:30 a.m.

FREE

Members: eNews Distribution

A weekly electronic newsletter is sent to

all AWC Members. If you have not been

receiving your eNews, please contact

Melissa at

awcthehague.membership@gmail.com.

RSVP directly on AWC GroupSpaces.com. Direct any questions to

awcthehague.firstvp@gmail.com.

Payment must be made within 5 calendar days of reserving or your name will be moved to

a waitlist. Payment can be made in the Front Office by PIN or by bank transfer to the AWC

account NL42ABNA0431421757.

Walk the Route of the Golden

Coach (Gouden Koets)

Although the Golden Coach is under repair,

the route the royals will follow in the

Glass Coach on their way to the Binnenhof

on Prinsjesdag to open parliament is one

and the same. Join Greetje Engelsman

(AWC Member and Dutch ex-expat ) for a

royal walk from the Noordeinde Palace to the

Ridderzaal (Knights Hall). Learn more about

Prinsjesdag (budget day), Dutch royalty and

democracy, and the buildings and institutions

along the route—their history and current

use.

Sligro The Hague Forepark is the perfect fit for you as entrepreneur.

We inspire and support you with our products and services, that will

help you with your business. Our people are always there for you

with professional and tailored advice.

sligro.nl

Linge 2, The Hague

Monday, September 17

2 – 3:30 p.m.

Meet opposite the Noordeinde Palace,

Noordeinde 68, Den Haag

Maximum 15 / FREE

Sign up on GroupSpaces >> 20

Unique products

for entrepreneurs

1061246

SEPTEMBER 2018 19
---
One-of-a-Kind Activities (cont.)

Continued from page 19

Prinjesdag Parade & Buffet

Luncheon

An AWC tradition! View this special, festive

day from a unique vantage point reserved

specifically for AWC Members and

friends. Sign up now to view King Willem-

Alexander and Queen Maxima's parade as

they arrive for the King to open Parliament.

The third floor of Garoeda Restaurant is

the perfect viewing opportunity for this traditional

Nederlands event! The King and

Queen ride from the palace at Noordeinde to

the Binnenhof and back, escorted by horsemen,

bands, and horse-drawn carriages. The

pomp and circumstance make this a must

see! Price includes Indonesian rijsttafel, a

glass of wine and tea or coffee.

Cancellation Policy

Members may reserve a spot for an AWC tour, activity or

event in advance. Payment is required within five business

days of the reservation or before the deadline date (whichever

is sooner) otherwise your name will be moved to a waitlist.

It is the responsibility of the Member to notify the Club at

awcthehague.finance@gmail.com to cancel a reservation

prior to the cancellation deadline. Please note that there will

be NO REFUNDS (no exceptions) after the cancellation deadline.

Members may find a substitute in lieu of cancellation

provided that arrangements are made with the tour, activity

or event organizer. Members shall be held responsible for

their guest reservations in accordance with this policy.

20 GOING DUTCH

Tuesday, September 18

Arrive no later than 11:00 a.m.

Garoeda Restaurant

Kneuterdijk 18A, Den Haag

€50 Members (€55 non-Members)

Sign up on GroupSpaces

Cancellation deadline: September 7

AWC Guest Policy

Guests are welcome

to participate in AWC

activities and tours on

a limited basis. As a

nonmember, a guest is

limited to attend two

functions per calendar

year and will be

charged an additional

nonmember fee. Only

Members are entitled to

use babysitting services.

Nederlands Dans Theater

Invitation

Nederlands Dans Theater (NDT) has invited

the AWC to watch a morning lesson. NDT

was founded in 1959 and is known for its

avant-garde aesthetic, and nonconformist

and progressive productions. The company

will hold eight world premieres this season,

including numerous original works and several

revivals.

Paul Lightfoot

has served as

the artistic director

since

2011, and says

his choices for

the season are,

"About artistic

creation, not

just choreography."

Prior to

the start of the

lesson, there will be an introduction about

the lesson. This is a unique opportunity for

our Members to watch the talented dancers

of NDT. There are limited spots for the

lesson, and only 15 guests will be able to

attend. AWC Members will be given first

priority, so please sign up ASAP.

Wednesday, September 19

Arrive no later than 10:30 a.m.

Schedeldoekshaven 60, Den Haag

Maximum 15 / FREE

Sign up on GroupSpaces

Photo credit: © Rahi Rezvani

Dutch Products Class

AWC Member Carol Slootweg will explain

Dutch cooking and cleaning products. As

a long-time Dutch resident and cooking

instructor, Carol is an expert in using local

products and converting American recipes.

Carol and Greetje Engelsman have coauthored

a book entitled Dutch Products,

which will be offered for sale for €10.

Join us and say goodbye to that confusion

we've all experienced in the kitchen (and

grocery store)! If you have questions,

contact Greetje Engelsman at awcthehague.

newcomers@gmail.com.

Tuesday, September 25

10 a.m. – Noon

AWC Clubhouse

No max / FREE

Welcome Back BBQ

Fall has arrived and with it comes a new Club

year! What better way to say "Welcome

Back" than with an American BBQ? Come

one, come all and join us for this great event

for Members and their families. We'll be

grilling hamburgers, veggie burgers and hotdogs.

Side dishes, soft drinks, beer and wine

will be provided. We've got the food and

drinks covered. Just bring your appetite!

Saturday, September 29

6:00 – 9:00 p.m.

€10 Members or Partners

(€15 Non-Members). Children under age

of 12 are half-price.

Sign up on GroupSpaces

Cancellation deadline: September 24

Delft Blue Tile Workshop

Our day will begin at PAAUW 1651 where

we will discover how the world-famous Delft

Blue porcelain is made. A professional guide

will show us around the pottery factory and

will explain each step in the production of

Delftware.

After the tour, we will begin the tile workshop

which will take place in a painter's room. A

professional painter will guide us through

the process of painting our own Delft tile.

Unfortunately, we will not be taking a completed

tile home with us that day. The tiles

will be collected, so that they can be glazed

and fired. After seven days, Holly Savoie will

pick up all the completed tiles. You will be

notified by email when your finished piece is

ready to be picked up at the AWC Clubhouse.

After the workshop, we will have lunch at

de Brasserij (www.brasserig.nl). Feel free

to join us after lunch as we wander the town

center of Delft, or head back on your own after

the workshop or lunch. We will be traveling

via public transportation, so please bring

your OV Chipkaart and money for lunch.

Wednesday, September 26

Meet at Starbucks in Den Haag Central:

8:50 a.m.

3 Min/35 Max / €29.50 Members

Sign up on GroupSpaces

Cancellation deadline: September 19

SEPTEMBER 2018 21
---
Summer Beach Barbeque Benefit

by Dena Haggerty

Thanks to all the AWC Members, their

partners and friends who came out on

June 2 with their thinking caps on, the

Summer Beach Barbeque Benefit was a great

success. The Strandpaviljoen Sport was filled

to capacity with guests coming out to benefit

Perspektief, our selected charity. The evening

began with a cocktail while everyone

perused the silent auction items. Although

the items in the silent auction were limited

in number, the items were varied enough to

pique everyone's interest. While some items

led to bidding wars, other items were cut out

of the competition by a Member immediately

purchasing the item to lock out the competition.

It was all in good fun for a great cause!

The evening really heated up when we

began the main event of the benefit—the

trivia quiz! Twelve teams participated in

four rounds of quiz questions varying from

"What is the most common metal on earth?"

to "In which Star Wars movie did Ewoks

first appear?" to "How many men walked

on the moon?". The competition was fierce.

At the end of four rounds, two teams were

tied leading to a tie-break round. The tie was

only broken when one team misspelled the

word Scoville (of the Scoville scale). I'm

sure the losing team won't ever forget how

to spell Scoville again!

The evening continued with the announcement

of the winner of the raffle. There

were over 100 raffle tickets sold leading

up to the benefit and over the course of the

evening. Perspektief graciously supplied a

bench, which had been handcrafted in their

woodworking workshop for the winner of

the raffle. There were many sighs of disappointment

in the tent when the winner was

announced.

With the 'agenda' of the evening completed,

it was time to party! The DJ played

a variety of 80s music to ensure everyone

could get their boogie on. The night ended

with a bang when fireworks lit up the sky

over the beach.

Proceeds from the tickets (25% of the

entry cost), the raffle tickets, and the silent

auction will be used to benefit our chosen

charity: Perspektief. Barbara Berkelaar, director

of Perspektief, explained the organization

and their goals with the help of a video.

She was also on hand during the evening

to discuss the organization with attendees.

Perspektief is dedicated to supporting

and counseling victims of domestic abuse,

the homeless and other at-risk individuals.

In different areas of life, Perspektief helps

these individuals restore their lives. This

can be by providing housing, helping with

finances, providing network connections, or

teaching a trade. Our donation is earmarked

for women's causes within the organization.

This can be to help women learn a trade

or to support domestic abuse victims, for

example.

>> 24

22 GOING DUTCH

SEPTEMBER 2018 23
---
Summer Beach BBQ Benefit (cont.)

Continued from page 23

At the September Kick-Off, the donation

amount will be announced, and

Perspektief will be provided with a check

in that amount. Make sure you come along

to Kick-Off to hear how much money was

raised and for a chance to meet the women

who ensure the good work of Perspektief

continues.

None of the above would have been possible

without the support of the Members

of the AWC. Specifically, the Committee

Members worked tirelessly to ensure the

night was a success. Thanks to Audrey

Goodman, Teresa Insalaco, Rebecca Niles-

Pourier, Anna-Lena Thuren-Vogel, and

Suzanne MacNeil. Only through their hard

work was this evening possible.

24 GOING DUTCH

SEPTEMBER 2018 25
---
Summer Beach BBQ Benefit (cont.)

With Deep Gratitude to Our Sponsors

26 GOING DUTCH

SEPTEMBER 2018 27
---
AWC and the Arts

by Jane Choy, AWC Member and Mauritshuis Docent

"New Look Campaign" (Phase One)!

by Jan Essad and Sunita Menon

Guided Tour of Dutch Masters

from British Country Houses

This autumn there will be a special exhibit

at the Mauritshuis of Dutch 17th century

paintings that are found in National Trust

Houses. English country houses have traditionally

been the home to Dutch Golden

Age Masters. Most of these paintings were

acquired in the 18th century, the heyday

of the English country house. Although

RSVP for all Arts Activities directly on

AWC GroupSpaces.com

Direct any questions to jechoy@me.com

over time many owners were forced to

sell works to raise funds, there are still

many extraordinary paintings to be found

in country houses today. For this exhibition,

the Mauritshuis has selected the most

beautiful Dutch paintings from houses

managed by the National Trust. This will

be a first for the Mauritshuis: Never before

has such a selection been exhibited in the

Netherlands. For further information, contact

Jane Choy.

Thursday, November 1

6:00 – 7:30 p.m.

Mauritshuis

Museum Plein 29, The Hague

€10 Members / €15 Non-members

Museum entrance fee of €15.50 is not

included (entrance is free with Museum

Card)

Maximum 15 / Minimum 12

Cancellation deadline: October 22 (It

is possible to sign up after this date, if

there is space)

Sign up on GroupSpaces

Did you know that any woman who speaks English is eligible to join the

American Women's Club?

What a great summer it has been here

in The Hague…sunshine, seaside

activities, travel, and vacation fun!

Ahh, but somewhere in between all that fun

our "Home Away from Home" received a

little bit of a facelift.

Since our installation, we were excitedly

planning our way to refurbishing the clubhouse.

But first things first: clean-out days!

Once we had the plan and the dates (July 10

and 11), it was truly amazing all the help we

received to make it all happen. The old cliché

"many hands make light work" is definitely

true as we found out when Dena Haggerty,

Cynthia Chung, Heather DeWitt, Krishna

Thakrar, Debbie van Hees, Deana Kreitler,

Melissa Rider, Avanti Menon, Andre Langa,

Una Mulvihill, Chelsea Wald, Anneke van

Hees, Carol Slootweg, Amber Broughton,

Teresa Insalaco, Natalie Essad, Sheyla

Karmen, and Fiona Passantino all showed

up for the first phase of our "new look" campaign.

These industrious workers were a

whirlwind: sorting books and toys, clearing

and wiping cabinets, shredding, transforming

the front office desk, and cleaning the kitchen

from top to bottom. Even the basement

got a much-needed thorough cleaning and

reorganizing. The list of tasks they accomplished

goes on and on. And where would

we have been without Georgia Regnault's

super shredder. Thank you, Georgia. What

an enormous difference two afternoons of

cleaning can make! And of course, there was

food, drink, laughter, fun and great company.

So, in the end, it truly wasn't like work at all.

We are so grateful to all of you who came

out and rolled up your sleeves to make this

little facelift a success. Very special thanks to

Dena Haggerty for all her work spearheading

the consolidation of our library, to Fiona

Passantino for the donation of a beautiful

Chinese credenza, to Sarah Dunn for the donation

of two lovely chairs at the front desk,

and Suzanne and Paul Dundas for taking the

time and effort to dispose of all the unwanted,

obsolete items. Together all these things created

a wonderful transformation of our space.

We hope you'll find your Clubhouse

even more open and inviting! We have many

more plans in the works and are looking forward

to a great Club year as your Clubhouse

Administrators. We always welcome innovative

ideas and suggestions, so please don't

hesitate to be in touch. We look forward to

hearing from you!

Invite your English-speaking friends, wherever they're from, to join us today!

28 GOING DUTCH

SEPTEMBER 2018 29
---
September 2018

Sun Mon Tue Wed Thu Fri Sat

Upcoming:

Dutch Masters Mauritshuis Tour - November 1

Holiday Bazaar - November 10-11

Thanksgiving in Leiden - November 22

Jewelry/Pearl Party - December 6

1

2 3

4

5 6

7 8

Walkie Talkies 9:30 a.m

Chat, Crafts & Cake 10 a.m.

Heart Pillow Workshop

Noon

Wassenaar Coffee and

Conversation 9 a.m.

AWC Baord Meeting Noon

AWC Tennis 1 p.m.

9 10

11

12

13 14 15

16 17

Walkie Talkies 9:30 a.m

18

Chat, Crafts & Cake 10 a.m.

AWC Tennis 1 p.m.

A Ceremony of

Remembrance and Hope

5:30 p.m.

19

Walkie Talkies Special

Outing 9:30 a.m

Buddy Check 12

20

Fall Kick-Off - Daytime

Session 11 a.m. - 2 p.m.

Fall Kick-Off - Evening

Session 5 -8 p.m.

21 22

Walkie Talkies 9:30 a.m

Route of the Golden Coach

Walk 2 p.m.

Chat, Crafts & Cake 10 a.m.

Prinsjesdag Parade and

Luncheon 11 a.m.

AWC Tennis 1 p.m.

NDT Dance Rehearsal

10:30 a.m.

Evening Book Club

7:30 p.m.

Thirsty Thursday 6 p.m.

23 24

25

26

27

28 29

Walkie Talkies 9:30 a.m

Dutch Products Class

10 a.m.

Delft Blue Tile Workshop

8:50 a.m.

Daytime Book Club 10 a.m.

Chat, Crafts & Cake 10 a.m.

AWC Tennis 1 p.m.

Welcome Back BBQ

6 p.m.

Out to Lunch Bunch

12:15 p.m.

30

30 GOING DUTCH

SEPTEMBER 2018 31
---
Kid's Club

by Lindsay Turnau

Calling All Mamas!

The AWC Kid's Club is gearing up for another

great year! We're looking forward to

sponsoring great events for all the international

kids in the Den Haag area and need

your help.

Are you a mama to international kids in

the area and want to stay up to date on our

events? Let us know! Maybe your kids are

grown but you're still interested in helping

with our monthly social events or holiday

events?

Please contact our new chair, Lindsey

Turnau, at awcthehague.kidsclub@gmail.

com. We're looking forward to a fantastic,

fun filled year for the kids and their families.

Walkie Talkies Special Outing

by Melissa Rider

With the start of the new Club year,

the Walkie Talkies will host another

long-distance walk on Wednesday,

September 12. While this walk will be longer

in mileage than our weekly Monday walks,

all levels of walkers are welcome as the distance

can be shortened to your preference.

The group will walk through the various parks

connecting Den Haag to Wassenaar, totaling

roughly 14 km. There will be several

opportunities along the route to catch a bus

back to Den Haag Centraal, if you prefer a

shorter day hike. Further details regarding

the walk will be posted on our Facebook page

and on eNews.

Please email me to confirm your participation

in the walk or if you have questions:

awcthehague.membership@gmail.com.

Wednesday, September 12

Meet at Den Haag Centraal by the

Starbucks at 9:30 a.m.

Bus fare and lunch at your own expense

32 GOING DUTCH

SEPTEMBER 2018 33
---
34 GOING DUTCH

Walkie

Talkies
---
A Ceremony of Remembrance and Hope

by Roberta Enschede

An elementary school child from P.S. 22 in Staten Island, New York wrote, "What the

terrorists wanted is for us to be scared, to go in our house and never come out. But

we didn't do that. We didn't hide in the shadows. We went in the sun."

When we speak of 9/11 today, we remember the 2,983 people who died that blue and

golden morning, when the north and south towers of the World Trade Center crumbled, when

the Pentagon was seared and sliced, when a meadow in Shanksville, Pennsylvania burned! We

remember ordinary people, the firefighters, police, members of the military, first responders.

We remember minute details of that day and all the days that followed.

I was at the American School marking papers in the teacher's lounge. The kids had gone

home. One of the teachers who always stayed late walked in and said, "They just bombed

the World Trade Center. Go down and see!" I couldn't believe it so I went to the library to

check out her story. A few teachers and students were gathered in front of a small TV. A

man I didn't know sat and stared. His legs and arms were crossed around each other like he

was isolating himself. He never said a word. Finally, he uttered, "It's gonna fall." Seconds

later, I watched the south tower crumble. The man was a substitute teacher and was a retired

engineer. He understood what I could not conceive, what millions could not conceive. At

9:59 a.m. Eastern Daylight Time, the south tower fell. At 10:28 a.m., the north tower fell.

It's been 17 years since that day. Still,

when we say September 11th, each of us

remembers where we were and what we

were doing. We remember all the times we

talked about what happened and why. We

remember conversations with friends who lost

friends and family. We remember the stories

Tuesday, September 11

AWC Clubhouse, 5:30 p.m.

Everyone is welcome

of firefighters and policemen, and first responders, and ordinary people who did whatever

they could to save lives and those who lost their own life.

"They didn't hide in the shadows. They went in the sun." David Halberstam, the distinguished

American journalist wrote: "There are dates which seem to separate yesterday from

today and then from now. September 11th, 2001 is such a date."

Etched into the stone of the 9/11 Memorial is a challenge! "Dedicated to those who fell

and those who carry on. May we never forget."

"It was the worst day we've ever seen,

but it brought out the best in all of us."

John Kerry, former Secretary of State

And so, each year, we hold A Ceremony of Remembrance and Hope. We remember former

AWC Member Rebecca Fry's friend Barbara Olsen who died on American Airlines flight 77

when it crashed into the Pentagon. We remember firefighter Steve Blackwell, the best friend

of a former security attaché at the American Embassy, who ran into the Trade Center twice.

He didn't come out the second time. We remember the best friend of Cameron Mitchell's

dad, a firefighter, who Cameron is named after. We remember the men and women of Squad

One in Brooklyn. We adopted their firehouse and collected money for their Widows and

Children's Fund. We remember names.

Zelda, an Israeli poet wrote, "Each man has a name given him by his father and mother.

Each man has a name, given him by the sea and given him by his death." At the first ceremony

of Remembrance and Hope, we repeated that couplet in English, French, Spanish, Dutch,

Hebrew, Arabic, Russian, Japanese, Chinese, and Korean, all the languages the students at

the American School spoke. 9/11 was not and is not an American tragedy. It was and will

always be a challenge for our common humanity.

This year, Pete Hoekstra, the American Ambassador to the Netherlands, will join us

at the ceremony. Ambassador Hoekstra was a member of Congress at the time. Jim Hines

from the NYPD will also join us. Officer Hines was at 9/11 from that day until January. U.S.

Marine Sgt. Shane Cell will share his personal thoughts. "That's one of the reasons I joined

the Marines," he said.

For more information please contact Roberta Enschede - OAR coordinator at 0654253650

oarinnl@yahoo.com, a.beeuwkes@xs4all.nl, mcgrewta@state.gov, jessierodell@gmail. com,

or meow00@hetnet.nl

36 GOING DUTCH

SEPTEMBER 2018 37
---
FAWCO Corner

by Julie Mowat, AWC The Hague FAWCO Representative

Federation of American Women's Clubs Overseas, a United Nations NGO with

consultative status with the UN Economic and Social Council

www.fawco.org.

FAWCO Development Grant:

Creating Better Futures

Development Grant

AWC The Hague has decided to donate

$4,500 to support FAWCO's "Creating

Better Futures" Development Grant. The

Kitchen for Rural Kenyan Catering Program

in Chepkanga, Kenya is the current recipient

of our AWC The Hague Development

Grant. The nominating club, AAWE Paris,

has been affiliated with the organization for

ten years.

The grant will provide funding to Rafiki

Ya Maisha, an NGO that raises money for

schools in Kenya. The funds will construct

At FAWCO's General Meeting in

India in April 2017, Hope Beyond

Displacement, a program created and

run by the Collateral Report Project (CRP) in

Amman, Jordan was announced as the next

Target Project. The Target Project is a project

voted on by all the FAWCO Member Clubs.

Once selected, the FAWCO Rep brings information

about the issue to the club members

and we help raise money for the organization

for two years. The excitement was everywhere,

and this project was clearly very supported.

The Target Chair, Tricia Saur, asked to meet

with me and we began to discuss a possible

site visit. This would be a first for FAWCO.

Therese Hartwell, who is on the board of CRP

and is FAUSA President, was also very enthusiastic

and the work began. We wanted

to make sure that everyone who belongs to a

a teaching kitchen at the Sergoek Vocational

Training Center in Chepkanga. The Center

provides education and training to 126 rural

youths. The catering program is the flagship

program of the center and currently has 18

students. Programs offered at the Center

help youths, particularly girls, find employment

outside the home and break the cycle of

poverty. Construction of the Center started

in 2007 and buildings have grown as funds

become available. There are currently nine

classrooms, a small administrative building,

a makeshift corrugated iron kitchen and pit

latrines. A proper kitchen will help improve

professionalism as well as the self-esteem of

the students.

FAWCO: Hope Beyond Displacement

by Julie Mowat, AWC The Hague FAWCO Representative

38 GOING DUTCH

FAWCO Member Club would have a chance

to sign up for a potential spot on the trip. We

also wanted to make sure that club members

from as many FAWCO regions as possible

would be able to attend. Our final challenge

was to keep our numbers small enough so CRP

could accommodate our visit. A year later, 22

of us, representing 6 regions and FAUSA were

off to Jordan!

We traveled together for five days in April

2018 visiting sites of historical and cultural

importance. (Please see my Jordan article

on page 40 about the sightseeing.) We got to

know one another while learning about the

country's history, culture, and current conditions.

We arrived at CRP comfortable with

each other and with a good understanding

of the past and recent history of the region,

including the social and economic implications

Jordan copes with, as a result of hosting

such a large number of displaced persons

in relation to their population size. With this

background, we were ready to meet the CRP

community!

CRP is based in a residential area close to the

center of Amman. It is a grassroots effort that

brings much-needed assistance to refugees

and other victims of war and conflict—those

commonly referred to as "collateral damage."

CRP mainly serves Iraqi and Syrian refugees,

but they have now added services for

the most recent victims of war and conflict

(Yemen, Sudan and Somalia). The programs

that FAWCO supports through Hope Beyond

Displacement include Super Girls, Gender-

Based Violence, Women Empowerment,

Vocational Training, and Hope Workshop

(which makes crafts to sell).

During the three-day visit, we spoke to the

staff (mostly refugees themselves) about

their experiences and challenges; met with

the yoga kids; saw Super Girls in action;

admired the efforts of the Hope Workshop

women; heard the teen group talk about their

challenges; and listened to the men in the

Gender-Based Violence groups. We had interpreters

and learned so much. We had cooking

lessons and were "clients" for the women

who had just finished beauty training. We

made connections with people and I know I

am forever changed. Every one of us came

away humbled and inspired.

After this site visit, I can say with complete

confidence that the money our club raises for

CRP's Hope Beyond Displacement has been,

and will be, very well spent. The programs

are very helpful for these vulnerable people

and we are helping to make a difference in

so many people's lives. We are making a big

impact!

If you have any questions about this organizations,

please do not hesitate to ask myself

or Celeste Brown. CRP's website is www.

collateralrepairproject.org/.

For more detailed info about our trip including agenda, participant's thoughts, etc., please visit

www.fawco.org/global-issues/target-program/education/blog-let-s-get-schooled/3 920-site-visitpart-one

SEPTEMBER 2018 39
---
My Journey to Jordan

by Julie Mowat

In April 2018, a group of FAWCO women

went to visit Hope Beyond Displacement,

the program run by the Collateral Repair

Project in Amman, Jordan that is FAWCO's

current Target Project. One of the trip's goals

was to learn about the region to better understand

the challenges facing the refugees. So

we were tourists for a few days before visiting

the program.

One of the best trips of my life! Jordan is an

amazing country that I highly recommend

visiting. While its history is thousands of

years old, as a country it is only 100 years

old. A little over 50 years ago, 85% of the

people were nomads. Today it's 1%. The

people were so incredibly kind, I felt very

safe, the food was delicious, and the history

was nothing short of amazing. Our tour

guide described Jordan as an open-air museum

and that was a perfect description. There

are too many experiences to write about,

so I will only mention a few. But please do

not hesitate to reach out if you want to learn

40 GOING DUTCH

more about Jordan. I would be happy to

share travel agent info, agenda, recommendations,

etc.

Our group was in Jordan during their high

season in April. Overall, however, tourism

is down. Every day, one of the local residents

thanked me for being there. Because

they do not have large amounts of natural

resources, they are dependent on tourism.

Speaking of a lack of resources, they have

a huge water shortage and only get water in

their homes one to two times a week. Most

homes have a rain collector on their roof

and it doesn't rain often!

Anjara

Our first stop was ​Anjara​, a quiet and unassuming

town. Tradition holds that Jesus,

Mary and some of his disciples stayed overnight

in a cave in the Ajloun Mountains

nearby during one of Jesus' trips from

Jerusalem to Galilee. We visited Our Lady

of the Mount. In 2010, the statue of Mary

was found with tears of human blood.

Thousands go on a pilgrimage there though

we were the only ones there during our visit.

Jerash

Jerash was the perfect example of what Zaid,

our tour guide, meant when he described

Jordan as an open-air museum. The excavations

were started 75 years ago but due to

lack of money and resources, there is still so

much more to find. While walking around,

I could see 2,000-year-old pottery sticking

out of the walls. Astonishing! They recently​

unearthed two human skulls that date back

to the Neolithic​period, 7500 – 5500 B.C.

The visible ruins in Jerash include Hadrian's

Arch, a hippodrome, temples, aqueducts, a

theater, and much more.

Dead Sea

Another wonderful stop on the journey was

the ​Dead Sea​. It is the Earth's lowest point

on land and is a salt lake. It was the first

health resort for King Herod and believed

to be the place of refuge to King David.

Floating in the Dead Sea watching the sunset

was a highlight!

Mosaics

Madaba​is known for its Byzantine-era

mosaics. The mosaic map on the floor of

St. George's Church was beautiful. I love

how it explains so much history. Our travel

agent, Nimisha, knew how much our group

would appreciate not only seeing the mosaics,

but also the making of mosaics. She

arranged for us to visit a place where differently-abled

people were employed to make

exquisite mosaics. I fell in love with a piece

that is now home with me! >> 40

SEPTEMBER 2018 41
---
Jordan (cont.)

Continued from page 39

Petra

There has been so much written about ​Petra​

(Rose City) so I will keep it brief. It is the

most popular place to visit in Jordan and I

highly recommend it. It is listed as one of the

new Seven Wonders of the World. Arab people

settled here more than 2,000 years ago

as it was a safe location among the rocks. It

became an important hub for the silk, spice,

and other trade routes. ​Petra ​

was hidden

from Western eyes for hundreds of years until

the 1800s, and became quite known when

it was featured in Indiana Jones III.

There is so much amazing history to see,

starting with the gorgeous walk in the gorge.

We were fortunate to be able to make the

walk twice, once during the day and once

at night lit by candles and the stars. Celeste

Brown and I enjoyed ourselves in the Cave

Bar, the oldest bar in the world as well as at

a cooking class of traditional foods at Petra

Kitchen.

Wadi Rum

The final day was spent in Wadi Rum. I was

especially excited to stay where they filmed

The Martian (one of my favorite books).

Wadi Rum is gorgeous. Fun experience taking

the "jeeps" (pickup trucks with benches

in back) around looking at the gorgeous nature,

including the sunset. I was amazed at

the 4,000-year-old map-carved rock, that

helped travelers know where to go. Out in

the open for anyone to damage. Again, another

reminder of how Jordan is an open-air

museum.

Traveling in Jordan with 22 FAWCO women

was an amazing experience. I learned so

much about myself, others, and our world. I

treasure this experience and the friendships

made! Highly recommend Jordan!!

Fran Mainella,

Director National Parks Service (ret.)

by Emily van Eerten

I

really enjoyed the opportunity to hear Fran Mainella, the

former (and first female) director of the National Park

Service (NPS) speak at the Clubhouse this summer and was

very happy to be able to have my daughter Silke tag along. I

was super impressed with her can-do pragmatism. Hearing

about her challenges and successes during her career, and

particularly during her stint as NPS director from 2001—2006,

I was struck by how effective a person can be when they are

issue-driven and not handicapped by partisanship.

It was great to hear how she accomplished some of her goals throughout her career and

it was also interesting to hear how her mandate shifted and evolved having assumed the NPS

director's role in the summer before 9/11. It was a reminder that EVERYTHING changed in

the aftermath of 9/11, and the National Park

Service was no exception.

Fran is clearly a natural at understanding

the need for public and private interests to

work together to make good things happen.

She had great tips for working in a political

environment and she was genuinely inspiring

as a female role model, encouraging young

women to adopt the three Cs—courage, connections,

and communication—as a way to

keep moving forward.

42 GOING DUTCH

SEPTEMBER 2018 43
---
Chat, Craft and Cake: The Culture

(Part One of a Two-Part Series)

by Suzanne Dundas

We Call it CCandC For Short

Chat, Craft and Cake meets every Tuesday

at 10 a.m. in the wonderful natural light of

our Clubhouse's backroom. We appreciate

just how great this overhead light is because

we began meeting eight years ago in

our former, darker, Clubhouse on Nieuwe

Duinweg. We've enjoyed as many as 15

people around our big table but, depending

on the time of year, we number usually between

5 and 7. Being from many countries

besides the U.S., we are proud poster girls

for today's multinational AWC.

Conversation, Craft, and Cake

The gentle clacking of knitting needles and

the scratchy scrape of a tapestry needle being

pulled through rough canvas are not the

sounds you hear when you enter our room.

In fact, it's a good bet you'll hear us before

you enter the room. We're talking and we

like it. We are not silently immersed in

our handwork because, as Members of the

American Women's Club of The Hague,

our default settings are "Interesting" and

"Interested."

44 GOING DUTCH

We carry on a

long American

tradition of sewing

circles and

quilting bees but

with a decidedly

modern take. Our

conversations careen

from families

to travel to sports to popular culture.

Sometimes sex. Occasionally gossip. Only

under extraordinary circumstances does the

gossip involve sex.

And, in a changing world, it is a given we

discuss controversial topics. But we keep

it civil. We listen respectfully, even if we'll

never agree on such important issues as

whether the Outlander tv series lives up to

the promise of Diana Gabaldon's Outlander

novels.

Chat, Craft, and Cooking

Originally, our group was called Chat and

Craft. Janet van der Laan, a charter

CCandC member and a former home economist

with the Netherland's Libelle and the

U.K.'s Good Housekeeping, (she knows

Delia Smith!) suggested the group would

enjoy trying out cake recipes on each other.

And we do. We take turns baking (because

having us all bake every week would be…

let's call it…"excessive"). We have had

some colossal successes and colossal failures.

My Bill Gerritz's Serbian Dream Cake

was as dry as adobe.

Some of our bakers treat us to old favorites

and some experiment on us, sometimes ambitiously.

In July, Loren Mealey treated

us to the wedding cake of the Duke and

Duchess of Sussex (Harry and Meghan):

Lemon and Elderflower Cake with a Swiss

Merinque Buttercream icing. Some love to

decorate their creations with sugar flowers.

Others go for bounty and not décor. And,

sometimes, our "mistress of the cake" decides

a quick stop at the French bakery suits

her schedule better this week.

So far, we've managed to choke everything

down. The AWC's delicious coffee

is a great accompaniment but also a multipurpose

fix. A dousing in coffee transforms

chocolate adobe into "Interesting texture,

Suzanne."

Chat, Creativity, and Cake

What crafts do we do in CCandC? Whatever

we want—whatever we're good at, whatever

we want to learn, and sometimes, whatever

FAWCO or the AWC asks of us. I've described

the crafts separately in an adjoining

article, Chat, Craft and Cake: The Crafts.

My third article in this series will be Chat,

Craft and Cake: How Historically Accurate

is Outlander?

Our skill levels may vary but our enthusiasm,

the soothing pleasure we take in simply

keeping our hands busy, and our joy

in creating something that wasn't there

before never wane. Many of us started

young. Beverley Bennett began knitting at

age four. I began sewing at 12, in Middle

School Home Economics class. Sonja Kelle

knitted a lot as a child in Germany and took

it up again as an adult because a group of

friends met weekly to knit.

Chat, Cooperation and Cake

We share. "Would anyone like…" is often

heard before a pattern book, extra wool, unneeded

fabric, the wrong size crochet hook

is laid out on our table. "Take what you

need."

We ask. "Does anyone have any fabric in

soft pinks they don't want?" Anja Knoop

was working on a quilt for a new granddaughter

and simply could not find what

she needed. We had more than enough soft

pinks in our fabric stashes.

Knowledge is freely shared too. "How do

I …?" leads to brainstorming over the solution

to a technical quilting problem. "Do

you think I should…" and a sweater the

knitter thought too plain takes on kicky

pom-poms or a lacy hem. "Can you teach

me to…?" We teach each other informally

but we have also arranged classes for all of

the AWC.

One such course was Back Basted Applique,

which Beverley Bennett taught us as a

trial run for a course she would later teach

at the traditional fabric store Den Haan en

Wagenmakers in Amsterdam. We came

away not only with a new skill, but a cute

needle holder with various appliqué needles

and a detailed instruction booklet. Beverley

came away with an understanding of how to

deal with an obtuse student or two.

Agatha Zwaan taught a nine-week Sampler

Quilt course. In a sampler quilt, each block

is a different pattern or uses a different technique.

Paula Traynor, who had never quilted,

discovered she had a flair for color, grew

to love quilting, and ended the course with a

quilt of vivid batik fabrics.

Paula has since repatriated to the U.S. and

Agatha lives in Oman, but both come back

to CCandC when they are in town. In fact,

we often welcome returning visitors to

CCandC. It always feels like they never left.

"Pat Raynolds, it is so good to see you!"

Chat, Craft, and (ex)Cursion

Some things just must be seen and occasionally

we go to see them. For instance, we

piled into a train to see the Open European

Quilt Championship and EXPO in

Veldhoven.. We've also driven to see something

interesting, most recently American

quilts made from feed sacks at the Textile

Research Center in Leiden.

Chat, Community, and Cake

We are a community within the AWC but

we were once individuals who decided to

check out Chat, Craft and Cake and bravely

ventured into the Clubhouse one Tuesday,

maybe toting a UFO. That's "Unfinished

Object," crafters slang for that project you

never got around to finishing. Crafters

slang. We're just that cool. So, come see us.

Pull up a chair. Have a cup of coffee and a

slice of whatever. Pull out that project you

started before your child was born and begin

anew. Join us.

SEPTEMBER 2018 45
---
Credit: Algemeen Nederalnds Persbureau © ANP

The Dutch Daily

by Eileen Harloff

Welcome back to the Netherlands,

The Hague, and/or the American

Women's Club if you've been away,

or back to the autumn-winter schedule if

you've braved the summer here (which you

might have thought was going to be cool and

rainy, but which surprised us all by being

sunny and just plain hot). It's time to meet

up with old friends, welcome newcomers and

"get back to business" in this rapidly changing

world. First, a follow-up on three stories that

took our attention prior to the break, and then

on to the present and the future.

Gone, but Not Forgotten

The first follow-up story is about six-year

old Tijn Kolsteren who was mentioned in

the September 2017 issue of Going Dutch.

He was suffering from an incurable brain

cancer and wanted to raise funds for an organization

that grants wishes of sick children.

His idea was to paint people's fingernails

for a small fee. The idea caught on

and in December 2016, all over the country

nails were being painted on young and old,

women and men, including the Dutch Prime

Minister. The end result of this initiative was

an overwhelming 2.5 million euros, and its

initiator was himself a recipient and was given

a trip to Disneyland Paris. His sunny personality,

wish to help others, and acceptance

of his illness made him a young hero, and

he was honored by having a planetoid which

circles the sun being being named after him.

He then became one of a very exclusive

group of Dutch recipients, such as the diary

writer Anne Frank and the artist Vincent van

46 GOING DUTCH

Gogh, to receive this honor. And now, a year

after Tijn's death a monument to him has

been unveiled at the Netherlands Red Cross

Headquarters on the Anne van Saksenlaan

in The Hague: a wall of nail polishes. Due

to the large amount of money that he helped

raise, by the end of this year a new machine

for the treatment of children's brain cancer

will be installed at the Princess Maxima

Centrum in Utrecht, and on the wall at the

Red Cross Headquarters there are three long

shelves filled with multi-colored nail polish

bottles, a simple but touching reminder of a

young hero.

American Street Musician

The next follow-up story is of a person on

the upper side of the age ladder. Chuck

Deely was a seemingly permanent fixture

on the Grote Marktstraat in The Hague city

center. He sat outside the HEMA store, playing

his guitar and singing in a somewhat

gruff voice, his dog and a small cardboard

box for donations always at his feet. People

would stop to have a chat about his music

or the world in general, and he came to be

considered as part of the local crowd. After

he died last winter, his friends and casual

acquaintances took up a collection to pay

for his funeral and to set up a competition to

choose a painting to be created on the wall

of a nearby tram tunnel with high-visibility.

And now a book about his life has been

written by author Ineke Bosman. It is based

on weekly talks she had with him when he

came to lunch with her and her American

husband. Chuck agreed to the idea saying

that he knew everyone, but no one knew

Credit: Rode Kruis (Red Cross)

Credit: Ineke Bosman

him—in fact, it was only later that it was

learned that he was of American Indian origin.

Ineke and her husband were in Africa

when Chuck died, so she was not able to

continue her talks with him. She wanted to

honor him by publishing what she knew,

which she has called Chuck Was In The

Hague, with the proceeds from the sale of

the book to be given to Operation Clear

Mind Ghana, a Ghanese organization that

gives help and support to people suffering

from alcohol addiction.

Mega Crane goes East

Our last follow-up story concerns the crane

whose designers and producers have called

"the crane that conquers the world ". Its first

overseas operation is in Malaysia, where

it will be in operation in two months' time

unloading ship cargoes. Although it has a

volume of only 162 cubic meters, it can nevertheless

handle a 60-ton load. This is equivalent

to the weight of 85 Volkswagen Ups

which, when put in a row, would measure

almost 300 meters. Back in the Netherlands,

the designers are continuing to make ever

smaller cranes to move ever heavier loads.

Note--for those like me, who know little

about automobiles, the Volkswagen Up! is a

small family city car.

Here a Robot, There a Robot

And now, into the present and the future.

Old MacDonald certainly could have used

robots on his farm, but unfortunately he was

too early to profit from our new BFF's (best

friends). A new BFF for the City of Delft

will be Urby, a rubbish/refuse robot who is

now in the testing phase at Delft Technical

University, being worked on by 23 students

from various colleges and schools in the

area. He/it has an enormous task ahead,

namely to encourage us, the people, to put

our trash into his open mouth instead of

dropping it on the street or in the bushes.

Urby is not expected to take over the city's

street cleaning task but to help with it, and

particularly in times of large gatherings such

as festivals or "Shopping Sundays". When

trash is thrown into its thirsty mouth the

thrower will be thanked with a large wink

of Urby's eye. The inspiration for Urby's

eye winking has come from Holle Bolle

Gijs, a paper gobbling trash can that speaks

to you at the theme park Efteling in North

Brabant, and Wall.E, the well-known trash

collector from the Pixar Animation Studios

in the U.S.

Another robot, developed by KLM, is in

its first testing stage this summer at JFK in

NYC and SFO in San Francisco. It's called

the Care-E Trolley. This "help for travelers"

will be a robot of many tasks: helping the

traveler to find his/her gate, carrying suitcases,

making sure the traveler is on time,

announcing gate changes, etc. What a delight

these robots will be—it's too bad that

they will not also be able to quickly steer the

traveler through check-in and luggage control;

but on the other hand, they will never

go on strike.

SEPTEMBER 2018 47

Credit: Omroep West
---
Normandy – A Road Trip

by Deana Kreitler

Being new expats with an interest in

the rich history and culture of the

European countries, my husband and

I took a three-day road trip to the Normandy

region of France. We found the road trip

through southern Netherlands and Belgium

not particularly scenic, and traffic can be a bit

of a bear, but luckily things got much more

interesting as we approached Normandy.

We spent a couple of days soaking up the

considerable history of beaches, battlefields,

bunkers, and museums, and paying respect

to the heroic efforts of those who sacrificed

greatly during World War II. What I found

fascinating were the personal stories from

and about real people who were there. It felt

so different than the textbook education I

received back in the United States. In Europe,

all this history includes an effort to provide an

understanding for the difficult decisions real

people had to make in such terribly difficult

times. Very moving.

We spent one night in the old fishing village

of Port-en-Bessin. We had a long lovely

dinner overlooking the harbor and then stayed

out late to celebrate Bastille Day with the locals

which included a wonderful celebratory

firework display over the harbor.

As interesting as the rest of the trip was,

our highlight was visiting Mont Saint-Michel.

We spent an amazing night on the island

where we had the unique opportunity to stay

in a modest three-star hotel, La Mère Poulard.

In spite of the lack of air conditioning and four

flights of stairs, it quickly became the favorite

of the trip. The ability to stay overnight gave

us the chance to experience the island after the

day traffic left for the day. It was incredible

to be able to explore the ramparts and views

without crowds and to watch the awesome

tide while we ate dinner.

Between low and high tides, the water

tables can vary by 64 feet. It literally transitions

from an uncovered bay area to one

that is almost completely covered by water.

Although we didn't do it ourselves, many

people wandered around to explore the bay

during low tide. I am not sure I would have

felt safe enough to "follow in their footsteps"

as the tides were coming in, but our

evening entertainment included watching a

brave group stand right on the edge of the

incoming tide and then journey back to the

safety of the island, staying just in front

of the water. Our explorations, watching

the tide, and listening to the final cheers as

France overtook Croatia to win the World

Cup made for a very interesting and memorable

evening.

The next morning, we enjoyed a nice

breakfast at the hotel before trekking back

up the numerous steps towards the Abbey

for an early morning tour. The audio guide

provided a good overview of the long history

of this monument that exhibits an incredible

diversity of architectural styles since its construction

began in the 10th century continuing

up to 19th century restorations.

Between the tidal activity and the history

and architecture of the Abbey, we definitely

got to see first-hand why the bay around Mont

Saint-Michel has the distinction of being categorized

as one of the world's most beautiful

bays. Both the bay and Mont Saint-Michel are

listed as a UNESCO World Heritage Site. This

weekend road trip was an experience that I

would highly recommend!

48 GOING DUTCH

SEPTEMBER 2018 49
---
Fourth of July

Summer

Activities

Out to Lunch Bunch

Clubhouse Cleanup

Clubhouse Cleanup

>> 50

Van Kleef Tour

Walkie Talkies

50 GOING DUTCH

Thirsty Thursday

Van Kleef Tour

SEPTEMBER 2018 51
---
Message from the President (cont.)

Continued from page 8

You'll see the early fruits of change when

you drop by the Clubhouse for Kick-Off on

Thursday, September 13. Jan Essad, our

Clubhouse Administrator, and Sunita Menon

who co-chairs with Jan, have spent the summer

cleaning and redecorating the Clubhouse.

The transformation is noticeable as soon as

you walk into the building where you'll see

the new décor, a beautiful credenza donated

by Fiona Passatino, two new chairs for the

office donated by Sarah Dunn, and fewer

bookshelves, giving the Clubhouse more open

space. Jan and Sunita are on their way to

creating a more gezellig Clubhouse.

In addition to our social activities, philanthropy

is key. Our annual Holiday Bazaar

is the only fundraiser that directly helps the

AWC continue our work within the community.

The Holiday Bazaar returns in November

with Jaimie Keppel-Molenaar at the helm.

The big news for this year's event is it is

moving to the Hilton Hotel. The new location

offers a much larger space for our vendors

and guests as they peruse all the items

that are perfect for your gift giving this year.

Jaimie is just one of many volunteers who

have stepped up this Club year and we could

52 GOING DUTCH

not continue without their help. My hope is

that you find a group or committee that you

want to become more involved with and will

have time to spare to volunteer.

And, speaking of volunteers, many

thanks to Lindsey Turnau who is reviving

the Kids' Club. She has lots of ideas and

plans for parties and activities for our littlest

Members! Lindsey has also agreed to serve

with Emily van Eerten and me on an ad hoc

committee to review and revise the Club's

Policies and Procedures Manual, Bylaws,

and Constitution. Several other Members are

needed to help on the committee, so please

consider volunteering as this is a key project

for the Club going forward.

Don't hesitate to let me know if you

have ideas to improve the Club, are looking

for a volunteer opportunity, or just want to

schmooze! I look forward to a fun Club year

with all the fabulous women in our AWC.

Tot ziens,

Suzanne

Announcements

Embassy Festival

You can take a cultural trip around

the world at this free festival which

spotlights the many different cultures of

The Hague through music, art, dance and

culinary delights. The musical program

includes pop, jazz, folk and classical.

Activities geared towards children will

allow them to experience various cultures

and open their eyes to different ways

of playing. The international market

features global delights. The Embassy

Festival is organized in close co-operation

with the Municipality of The Hague's

Department of International Affairs and

the city's many embassies, spotlighting the

different cultures that reside in the Dutch

administrative capital.

Friday, August 31 and

Saturday, September 1

Lange Voorhout, Den Haag

www.embassyfestival.com

Comic Con in Amsterdam

Lovers of movies, TV shows, gaming, comics,

superheroes and pop culture can meet

their heroes and participate in a variety of

activities, such as photo shoots or signing

sessions with Hollywood stars (at additional

charge), Q&A panels, workshops, demos

and live acts. This event often sells out, so

check if there are any tickets left at www.

comiccon-europe.com.

Saturday, September 1 and

Sunday, September 2

RAI

Europaplein 2-22, Amsterdam

Food Truck Festival

Whereas once food trucks were referred to

as "roach mobiles," they are now very trendy

and offer a wide assortment of gourmet

foods. See what all the fuss is about when

Westbroekpark is transformed into one large

attractive open-air restaurant during this festival

with free admission. In addition to a

large variety of tasty foods, there will be live

music and other entertainment.

Thursday, September 6 –

Sunday, September 9

Westbroekpark

Kapelweg, Den Haag

www.festival-trek.nl

World Port Days Rotterdam

Wereldhavendagen (World Port Days) is a

large, annual free maritime event that will

appeal to your whole family. During this festive

weekend, you can get a glimpse behind

the scenes of Europe's busiest port through a

wide range of activities, such as ship tours,

demonstrations, excursions and exhibitions.

Port companies demonstrate exactly

what their ships and other sailing equipment

are capable of in a continuous program of

spectacular presentations with breathtaking

stunts and nautical expertise. You can experience

it all from the Erasmus Bridge or near

the grandstand on the Wilhelminakade. This

year's theme is Energize, highlighting how

Rotterdam Port is turning to sustainable energy

to become the cleanest port in the world.

Rotterdam Europoort

Friday, September 7 through

Sunday, September 9

www.wereldhavendagen.nl

>> 54

SEPTEMBER 2018 53
---
Announcements (cont.)

Continued from page 53

Open Monument Days

Open Monumentendag (European Heritage

Days in the Netherlands) is designed to

bring people into historical buildings in an

effort to rally support for the preservation

of historical monuments. About 4,000 historical

buildings and sites across the country

will be open to the public free of charge.

Here's your chance to enter some buildings

that are not normally accessible to the public.

This year's theme is In Europe.

Saturday, September 8 and

Sunday, September 9

Countrywide

www.openmonumentendag.nl

Dahlia Flower Parade

Since 1929, Lichtenvoorde (east of Arnhem)

has hosted a parade featuring impressive

floats covered by dahlias grown in local

fields. Approximately 1,000 volunteers

participate in this impressive spectacle.

Entrance tickets are required to stand along

the 1.5-mile (2.5-kilometer) route and can

be purchased online. The parade ends at the

exhibition grounds, which charges a nominal

fee to see the floats illuminated at night.

Sunday, September 9

Lichtenvoorde Centrum

www.bloemencorso.com

The Plunge, an Audio Tour

The Plunge is an on-location cultural project

concluding on September 9, which

54 GOING DUTCH

features an audio tour that takes you on a

literary walk through Scheveningen Beach.

It centers around German composer Felix

Mendelssohn, who came to Scheveningen

in 1836 in the hope of restoring his failing

health. Novelist Marente de Moor, winner of

the EU Prize for Literature, has written two

short stories―one for grown-ups and one

for children aged six and over―inspired by

Mendelssohn's sojourn on the Dutch coast.

The tour starts on the Pier after you rent an

MP3 player and headset. What at first seems

to be an ordinary walk, leads to three dramatic

locations designed for sitting and listening.

www.en.ohdiezee.nl

The Hague Hat Walk

On the Saturday before Prinsjesdag, which

is also the International Day of Democracy,

the first edition of The Hague Hat Walk will

take place. The walk starts and ends at the

Plein, giving you the opportunity to be a

spectator after the walk at the Prinsjes Hat

Walk, the hat design competition of the year.

Saturday, September 15

1:15 – 2:45 p.m.

Plein, Den Haag

www.prinsjesfestival.nl

Closing of Storm Surge Barrier

Once a year, the Maeslant Storm Surge

Barrier in Hoek van Holland is closed as

part of an annual test of the system in preparation

for hurricane season, which runs from

October 1 to April 15. Opened in 1997 as

part of the Delta Works to protect Rotterdam

Harbor and surrounding cities, it is one of

the largest moving structures on Earth.

Check the website for timing if you want

to witness this unique engineering marvel.

Tours in English are available; reservations

are strongly encouraged.

Saturday, September 15

Keringhuis

Maeslantkeringweg 139, Hoek van

Holland

www.keringhuis.nl

New Hague Art Festival

Masterly The Hague is a new annual festival

for Old Masters and Dutch Design. Three

magnificent historic buildings located opposite

the Hofvijver will open to the public

together for the first time presenting

the collections of Dr. Abraham Bredius,

Hoogsteder & Hoogsteder, and Cornelis

Kruseman. This new festival will introduce

these historical paintings in combination

with works by contemporary designers

specially commissioned for this

event. Tickets can be purchased online at

www.masterlythehague.com.

Thursday, September 20 –

Sunday, September 23

Lange Vijverberg 14 – 16, Den Haag

40th International Kite Festival

Scheveningen is ideally situated for kite-flying

with consistent prevailing winds blowing

along the beach. During this annual free festival,

international kite builders and enthusiasts

come together to show their skills along

the beach surrounding the pier. This year's

theme is Sea Aquarium. The skies will be

filled with Megabyte, the world's largest flying

monster, as well as a huge variety of kites

of every shape and color including teddy

bears, dragons and fish.

Saturday, September 29 and

Sunday, September 30

Scheveningen Beach

www.vliegerfeestscheveningen.nl

Leiden Liberation Celebration

This annual Leiden event commemorates

the Spanish siege and subsequent relief of

the city in 1574. The party starts on Tuesday,

October 2 at 1 p.m. with a huge fun fair and

market that covers a large part of the city

center. On Wednesday, October 3, the official

day of liberation, Breestraat is turned into a

lively street theater with a giant parade featuring

floats, bands, and dancers starting at

1 p.m. The day concludes with fireworks at

11:30 p.m. www.3october.nl

SEPTEMBER 2018 55
---
Classifieds

Bijoux-dor Gold &

Silversmith

Professionally trained gold

and silversmith specializing

in handmade and custom

jewelry, and repairs. AWC

members are eligible for a

10% discount on custom work.

Visit my atelier at Noordeinde

47, 1st floor, The Hague

or call 0687598566 for an

appointment or send an email

to meriemoukil@hotmail.com.

www.meriem-dor.com

Counselling International

For professional, confidential

individual counselling or

coaching, relationship/couple

therapy or conflict mediation.

Experienced, multilingual

professional Els Barkema-Sala,

MPhil, MBACP.

Contact 071 528 2661 for FREE

initial telephone consultation

or for an appointment.

www.counsellinginternational.

com

Pippa's Friendly Pilates

I am a certified Stott Pilates

Instructor offering private

matwork and reformer lessons

in a comfortable setting at

my home studio in central

Den Haag. Please contact

me at pippahillstrathy@gmail.

com or 06 82529931 for more

information.

Expat Families in Transit &

Work Life Balance

Ingrid offers Child & Teens

Counseling, Life Work

Coaching, Accountability

Coaching and Workshops

& Training. Experienced

Bilingual Psychosocial

Therapist/Counselor & Coach.

Certified NFG member.

Check for Coverage Health

Care Insurance. Contact

0640216544. FREE 30 MIN

CONSULTATION. www.

ingridmasselinkandreas@

gmail.com

Household Help

Young woman is searching for

a job in the household taking

care of the children and doing

light chores in the Hague.

I'm able to start on the first of

August. Please contact me at:

0625495312

Blossoming Health and

Beauty

Looking for a professional,

licensed acupuncturist?

Contact Linda Chen

at 06-37315840. With a

background in leadership

development by Shell, Linda

graduated with Cum Laude

in TCM Acupuncture. She

is a registered member of

the professional association

ZHONG.

Insurance

reimbursement of the fee is

possible.

www.blossoming-healthbeauty.

com

Index of Advertisers

ACCESS

page 32

American Travel

Center

page 41

Aveda Lifestyle

Salon

Inside Cover

Beacon Financial

Education

Back Cover

Frans Burgers

Tapijt

page 13

FRITSTAXI

Airport Service

Inside Back Cover

Happy Critters

page 15

Marcel

Vermeulen

Jewelry

page 11

Petros Eyewear

Sligro

page 11

Wassalon

Weissenbruch

page 32

Your Cleaning

Service

page 32

The AWC is not responsible for accidents or injuries occurring at

Club activities or on Club property. Sports and exercise instructors

must carry their own liability insurance.

Support Fellow AWC Members

Find links to a large variety of businesses owned by AWC Members at www.awcthehague.

org/site/newcomers/business-links

page 19

VERHEY VAN

WIJK brilmode

page 17

Event information, suggestions or comments for eNews?

***New email account***

Please send all eNews information to awcthehague.enews@gmail.com no later than end of day

each Friday for the following week's eNews.

Member Privacy

Please be reminded that the AWC Membership List is for AWC Member reference only and use of this

information in any communication other than AWC official business is strictly prohibited. Members may

not share the list with anyone other than another AWC Member in good standing and never to any

third party.

The AWC takes care to protect Member information and adherence to this policy is critical to maintain

Member privacy. Members are asked to report suspected misuse of the list to any AWC Board Member.

56 GOING DUTCH

Rates

Classified Mini-Ads:

Deadline: In general, the 1st of the month prior to the

month in which your ad will appear, although subject to

change due to holiday schedule.

AWC Member Rates:

For 45 Words

Non-Member Rates:

For 45 Words

For 25 Additional Words

Per Issue € 15 € 8

Eight Issues € 110 € 55

For 25 Additional Words

Per Issue € 10 € 5

Eight Issues € 70 € 30

How to Submit Your Ad:

Email your ad to: goingdutchads@gmail.com

Payment Information:

Please indicate the name of your ad on your payment so that

we are able to match up your payment with your ad.

By Bank Transfer:

ABN-AMRO

43.14.21.757

IBAN: NL42ABNA0431421757

Display Ads:

For full, half, third or quarter page commercial display ads,

email our magazine staff at goingdutchads@gmail.com

SEPTEMBER 2018 57
---
Proost! Questionnaire

by Heather DeWitt

Why are you living in the Netherlands, and

when did you arrive?

I'm a trailing spouse! My husband works

for Shell, and we arrived in mid-January.

What do you love best about living here?

The experience. It's a totally different

freedom without kids, and we're

rediscovering our pre-kid life.

Your Home Away from Home

Tours, Activities, Philanthropy, and

Friendship!

Any English-speaking woman may

join the AWC.

Thursday, September 13

Morning Session: 11 - 2 a.m.

Evening Session: 5 - 8 p.m.

Give us a quick wrap-up of your family.

I am here with my husband, Mike, and we

have two children. Logan is 19 and a rising

sophomore at Purdue, studying Mechanical

Engineering. Skyler is 23 and will graduate

in August with her Physician's Assistant

degree.

www.AWCTheHague.org

Johan van Oldenbarneveltlaan 43, 2582 NJ, The Hague

Questions: AWCTheHague.Membership@gmail.com

Tell us about your pet.

Rocky is a big, sloppy chocolate lab. He's

been a good friend, and a comfort in our

travels.

What is it about the AWC that you most

enjoy?

The comradery. We all have at least one

common thread, even though we're all so

different.

What do you consider the most overrated

virtue of being an expat?

People have a weird connotation about

living abroad. Growing up overseas, this

has been a dream. But many people back in

the U.S. don't understand, if they've never

travelled.

Which travel experience has been the

most memorable?

In 1980, my parents bought a Suburban and

had it shipped to Rotterdam. We drove it

home to Saudi Arabia.

Which locations haven't been ticked off

your bucket list?

Spain, South Africa, and Dubai.

Where would you most like to live?

We purchased lakefront property in

Knoxville, Tennessee, for our retirement.

What's your hobby?

Sewing, reading, and walking. I'm training

for the Santiago de Camino, which I will do

with my parents and daughter in September.

Who's a better chef at home, you or your

partner, and why?

I'm the Cook, but Mike is the Grill Master.

Which living person do you most admire?

My mom, Linda.

What is your most treasured possession?

A bracelet my husband gave me, around the

time we got married.

What is your favorite dessert?

Grandma Ellie's cream puffs, which are

strangely similar to the Hema cream puffs.

What is your favorite drink?

Gin and tonic.

58 GOING DUTCH

SEPTEMBER 2018 59
---
WE'RE EXPATS TOO!

At Beacon Financial Education

we offer fundamental financial

education knowledge, as well as

tools for the sophisticated investor

looking for options in today's

expanding global market.

Our Mission is to empower Global

Mobility through Financial Freedom

for Expats no matter where they

are, today or tomorrow.

HAVE YOU LIVED OR WORKED IN

MULTIPLE COUNTRIES?

HAVING TROUBLE INVESTING IN

THE NETHERLANDS OR EUROPE?

ARE YOU TRYING TO RESOLVE

FATCA AND PFIC ISSUES?

Contact us today for a free consultation

with an independent financial advisor!

www.beaconfinancialeducation.org/

freeconsultation

Your wealth. Your future.

SeamleSS Service.

wherever in the world You reSide.

www.beaconfinancialeducation.org

info@beaconfinancialeducation.org

Beacon Financial Education does not provide financial, tax or legal advice. None of the information should be considered financial, tax or legal advice.

You should consult your financial, tax or legal advisers for information concerning your own specific tax/legal situation.