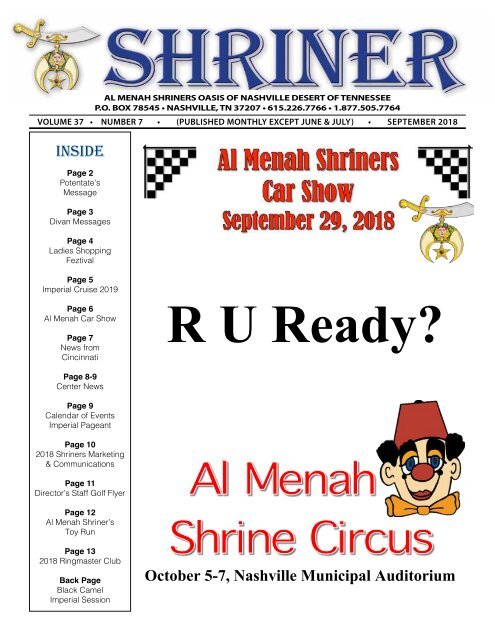 SHRINER SEPTEMBER 2018
Magazine of upcoming events for the Al Menah Shriners, with detail information needed for members to plan their activities.
Magazine of upcoming events for the Al Menah Shriners, with detail information needed for members to plan their activities.
SHOW MORE
SHOW LESS
Create successful ePaper yourself
Turn your PDF publications into a flip-book with our unique Google optimized e-Paper software.
AL MENAH SHRINERS OASIS OF NASHVILLE DESERT OF TENNESSEE

P.O. BOX 78545 • NASHVILLE, TN 37207 • 615.226.7766 • 1.877.505.7764

VOLUME 3637 • NUMBER • NUMBER 4 7 • • (PUBLISHED MONTHLY EXCEPT JUNE && JULY) • • SEPTEMBER APRIL 2018 2017

INSIDE

THIS

Page 2

ISSUE

Potentate's

Message

Page 3

Divan Messages

Page 4

Ladies Shopping

Feztival

Page 5

Imperial Cruise 2019

Page 6

Al Menah Car Show

Page 7

News from

Cincinnati

R U Ready?

R U Ready?

Page 8-9

Center News

Page 9

Calendar of Events

Imperial Pageant

Page 10

2018 Shriners Marketing

& Communications

Page 11

Director's Staff Golf Flyer

Page 12

Al Menah Shriner's

Toy Run

Page 13

2018 Ringmaster Club

Back Page

Black Camel

Imperial Session

October October 5-7, Nashville 5-7, Nashville Municipal Municipal Auditorium Auditorium

October 5-7, Nashville Municipal Auditorium
---
Al Menah Al Menah Temple Temple

Oasis of Nashville

Oasis

Desert

of Nashville

of TennessEE

Desert of TennessEE

P.O.Box 78545 • Nashville, TN 37207

P.O.Box 78545 Phones • Nashville, 1.615.226.7766 TN 37207

Phones 1.615.226.7766

1.877.505.7766

1.877.505.7766

www.almenahShriners.org

www.almenahShriners.org

The Publication Committee

The Publication Committee

The Divan/Board of Directors

Potentate .................... Horace Frank Perkins Hester III

The Chief Divan/Board Rabban. ..........Randy of Directors Horace Perkins Williams III

otentate Assistant .................... Rabban ........... .........Randy Frank Hester Scott Williams Jones

hief Rabban High Priest ........... & Prophet. Horace .......... Donny Perkins Scott Drayton IIIJones

ssistant Oriental Rabban Guide ..........Randy . Vernon Donnie Williams Blackburn Drayton

igh Priest Treasurer & Prophet . ....................... Scott Jones Wes Frye

riental Recorder. Guide ...................Robert Donnie Drayton

Daniel

reasurer Editor. ........................ Maurice Wes Frye Smmith Smith

ecorder ...................Robert Published monthly except June Daniel and July

ditor ..................... www.almenahShriners.org

Maurice Smith

PAST POTENTATES

Published monthly except June and July

www.almenahShriners.org

*Charles Barham

*John E. Patton

*V. *Charles K. Stevenson Barham

*John D. E. Patton Whalley

*V. K. Stevenson

*John D. Whalley

PAST *W. *W. F. F. Hunt Hunt POTENTATES

Jack Norman, Jr.

*J. Pink Lawrence *Albert Jack Norman, Bennett Jr.

*J. Pink Lawrence

*Albert Bennett

Charles Barham *Ed R. Burr

*Ed R. Burr *John E. *Clyde

*Clyde Patton R. Watson

R. Watson

V. K. Stevenson

*J. Harry Murphy

*J. Harry Murphy *John D. *Marshall

*Marshall Whalley S. Whitley

*Charles N. Rolfe *James J. White S. Whitley

W. F. Hunt*Charles N. Rolfe Jack Norman, *James Jr.

*Paul DeWitt

*G. Cooper J. White Holt

J. Pink Lawrence *E. *Paul M. DeWitt Kelly *Albert Bennett

*J. *G. Coleman Cooper Holt Hayes

Ed R. Burr *Joseph *E. M. Kelly Higgins *Clyde R. *Donald

*J. Watson Coleman

R. Dunning

Hayes

J. Harry Murphy *Ira *Joseph E. Parker Higgins *Marshall *J.

*Donald S. P. Whitley Foster

R. Dunning

Charles N. *Martin

*Ira Rolfe E. Parker

S. Roberts *James J. *Gale

*J. White P. Foster

Robinson

Paul DeWitt *R.

*Martin

C. Derivaux

S. Roberts *G. Cooper *C.

*Gale

V. Holt Robinson

Cramb

E. M. Kelly *Oren

*R. C.

A.

Derivaux

Oliver *J. Coleman *J.

*C.

Nelson

V. Hayes Cramb

Bryan

Joseph Higgins *Lee

*Oren

L.

A.

Gamble

Oliver

*Donald*Robert *J.

R.

Nelson

Dunning Battle

Bryan

*Lee L. Gamble

*Robert Battle

Ira E. Parker *R. R. Clark

*R. R. Clark

*J. P. Foster *Jerry N. Tate

*Jerry N. Tate

Martin S. *William Roberts Raine

*William Raine *Gale Robinson *Fred H. Gay, Jr.

*Fred H. Gay, Jr.

R. C. Derivaux *Hugh F. Smith, Jr.

*Hugh F. Smith, Jr. *C. V. Cramb James A. Campbell

James A. Campbell

Oren A. Oliver *W. A. Bryan

*W. A. Bryan *J. Nelson *Claude

*Claude BryanG. G.

Southall

Southall

Lee L. Gamble *Charles L. Cornelius

*Charles L. Cornelius*Robert *W. Battle *W. B.

B.

Lawson

Lawson

R. R. Clark

*W.

*W.

Bush

Bush Herbert

Herbert

*Jerry N.

*Gale

*Gale Tate Robinson

Robinson

*Marshall

*Marshall

Hotchkiss

Hotchkiss

J.

J.

Dudley

Dudley Phillips

Phillips

William Raine

*Jess

*Jess

B.

B.

Templeton

*Fred H.

Hugh F. Smith, Jr. Templeton

*M.

Gay,

*M.

Norris

Jr.

Norris Jenkins

Jenkins

*T.

W. A. Bryan *T.

A.

A.

Springfield James A.

Springfield

*James Campbell

*James F.

F.

Scalf,

Scalf,

Jr.

Jr.

*James

Charles L. *James

G.

Cornelius G. Stahlman

Stahlman *Claude*William G. Southall

*William B.

B.

Jones

Jones

*J.

W. Bush Herbert

*J.

Clark

Clark

Akers *W. B. Lawson

Akers

Jack

Jack

C.

C. Phelps

Phelps

*R.

*R.

E.

E.

Baulch *Gale Robinson

Baulch

*David P. P. Brumfield Brumfield

Marshall *Thomas Hotchkiss

*Thomas

E.

E.

Doss

Doss

J. Dudley *Zack Phillips

S. S. Parrish, Parrish, Sr. Sr.

Jess B. Templeton Kerbela Kerbela Temple '28 '28 *M. Norris *Robert Jenkins E. Newman

T. A. Springfield *Maurice Weinberger

*James F. *George Scalf, Jr. Cook Cook

James G. *S. Stahlman *S. N. N. Allen

*William*R. *R. B. Parker Jones Graham

J. Clark Akers *W. *W. B. B. Hager

Jack C. Phelps H. H. Parker Toler

R. E. Baulch *O. *O. Lynn Meek

*David P. *R. Brumfield T. T. McNaney

Thomas E. *Jack *Jack Doss Norman

*Zack S. James Parrish, L. Ham Sr.

erbela Temple

*James '28

J. J. Vaughn

*Robert*Charles E. Newman H. H. Williams Williams

*C.

Maurice Weinberger

*C. H. H. Smith

William

*George Cook

D. Jones

*Fred

S. N. Allen

C. C. Laskey

John

*R. Parker L.

Graham

Weaver, III

*Ivo

W. B. Hager

A. A. Burton

Gale

H. Parker Toler

B. Robinson

*T.

O. Lynn Meek

*T. W. W. Bray, Jr.

Joe

*R. T. McNaney

Bell

*James R. Cox

Ronny L. Greer

Jack Norman *Paul R. R. Jarratt

James L. Charles Ham

E. Cardwell

James J. Vaughn *J. *J. Sumpter Anderson

Charles J. H. J. Franklin Williams "Jay" Scalf, III III

C. H. Smith *Hugh W. Robertson

William Conley D. Jones

Dykes

Fred C. Laskey *M. T. T. Gossett

John L. Weaver, David Smith III

Ivo A. Burton *Joe C. Carr

Gale B. Robinson Jim Cain

T. W. Bray, *James Jr. T. Hayes

Joe Bell *Mike Martin

James R. Cox *E. Lee Bennett

Ronny L. *Johnny Greer Dudley

Paul R. Jarratt *Orris E. E. Davis

Charles David E. Cardwell Wantland

J. Sumpter *Raymond AndersonH. Leathers J. Franklin Melvin "Jay" Meadows Scalf, III

Hugh W.

*Hilry

Robertson

H. Shaffer

Conley Dykes

Dennis Belford

*James N. Stansell

M. T. Gossett

*James

David

N. David

Smith

Vaughn

Stansell Carl E. Barnes

Joe C. Carr

Jim CainMike Van Sant

James T. Hayes

*Mike Martin Jeff Head

E. Lee Bennett

*Johnny Frank Dudley Hester

Orris E. Davis

David Wantland * Deceased

Raymond H. Leathers Melvin Meadows

Hilry H. Shaffer

2

* Deceased

Dennis Belford

*James N. David Vaughn

I would like to take a minute to thank the Nobility

for what you do for Al Menah and our Hospitals.

Please make plans to attend the September Stated

Meeting. We will be taking in William Lee Golden of

the Oak Ridge Boys, and Imperial Sir Jim Cain will

have the honor of doing it. The attire for the meeting

will be dress casual. Please dress appropriately

because we will take a picture that will go in a

newsletter that goes out all over the country. We

need over 200 Nobles that night, so please make

plans to attend. I will be giving away a gift certificate

to Goodlettsville Gun Shop for $200! We will be

planning a bus ride downtown on the Honky Tonk

Bus. More info to follow.

In closing, make plans to be at the Circus October

5th-7th.

BE HUMBLE, BE KIND, BE NOBLE

Horace Perkins, III

Potentate
---
From the desk of...

CHIEF RABBAN

WOW… What a GREAT SHOWING at this

year SESA, Our Clowns Our Legion of Honor

and Our Provost Guard All Took TOP

HONORS and AWARDS in their Areas.

Most of all To The SESA….. GREAT

MOVE… Taking the SESA to Pigeon

Forge Tennessee, and for the next 3 years

also. The SESA was hopping for 300 this

year BUT, had little over 600 to come in

for the event.

What's next for the Nobles of Al Menah…THE

2018 AL MENAN SHRINE CIRCUS. Are YOU ready – The Lights...

Sounds… Popcorn… Cotton Candy… Animals… 3-Rings… IT'S

SHOW TIME. Remember this is OUR TEMPLE FUNDRAISER

for 2019 Year. Here are 3 way that YOU as a Noble can HELP -

1)Send your money back in on YOUR Tickets 2)Let others about the

GREAT SHOWS that we have 3)Come down and help out in some way

New email: almenahshrine2019@gmail.com If you have an IDEA or

LIKE TO HELP in some way for next year let me know.

Chief Rabban

Randy Williams

ASSISTANT RABBAN

If you didn't get to attend SESA this year, then

you missed ONE great time! Our attendance

doubled to over 600 nobles… Awesome!

Congratulations to the LOH, Provost

Guard and Clowns for representing Al

Menah with all their wins!!! It looks like

SESA is back on track with growth for

many, many years. We look forward to

ASSISTANT RABBAN

everyone attending next year!

As the outgoing President of SESCA,

I want to give a BIG ThAnKs to all of

the clown ladies, Al Menah Clowns and

Alhambra Clowns for all their hard work and

dedication! We would not have been able to do it without all of

you! Thanks to the fabulous clowns that attended… we had clowns

that traveled from as far away as Mobile, AL and Albany, GA to

compete at SESCA! Congratulations to our new President, Perry

"Doc Rock" Perkins. He will do a great job with the continued

growth of SESCA. We look forward to supporting him!

Lots of fun and important events are coming soon… Fall

Ceremonial, Car Show, Circus and many more events! Kim and

I hope to see everyone at these upcoming events and many more.

Assistant Rabban

Scott Jones

HIGH PRIEST AND PROPHET

I got some really good news this week—I don't

have to go to membership school in Tampa

this year!! That's important because the

dates for the school overlap the Circus.

If you haven't heard, Illustrious Sir

Dennis (the Slug) Belford has been

made the Imperial Chaplain and

that's important as well, since now

the Clowns have a direct connection to

the Lord Almighty! It's been reported that

HIGH PRIEST AND PROPHET

the "The Slug" stands in good with the Lord and with His divine

guidance maybe, just maybe, with lots of practice the Clowns might

be able to hit the Oriental Guide with a pie this year. Jingles said he

didn't have any worries since the Clowns couldn't hit the broad side

of a barn with a cream pie, and besides he's a Clown, they wouldn't

dare. Now me, I wouldn't be quite that cocky, but he's got a point. It

comes down to this, the Circus is the first weekend in October and if

you want to see how this turns out, buy your Circus tickets-and come

down to watch the fight.

High Priest and Prophet

Donnie Drayton

ORIENTAL GUIDE

Time moves slowly, but passes quickly.

I'm certain I'm not the only one that

occasionally hears something on the

news, or radio that makes you stop

for a second and realize how fast

time truly passes. Al Menah has had

a very memorable year, and I expect

the last few months of 2018 to be just

as exciting.

You do not want to miss the September

Stated Meeting as Imperial Sir Jim Cain

will be here to install our newest Al Menah Shriner, Mr.

William Lee Golden. This will be yet another memorable

event for Al Menah.

Remind all your Show Car enthusiast friends about the annual

Al Menah Shrine Car Show scheduled for September 29 here

at Al Menah. Come and see all the great cars and show your

ORIENTAL GUIDE

support for Al Menah and the car show community. You never

know where you'll meet our next Shriner.

The most exciting time of year is upon us. That's right….

IT'S CIRCUS TIME!!!! The Clowns will be in full force as

always and with that comes thousands of little smiling faces

and uncontrollable laughter filling Municipal Auditorium.

Unfortunately, by mandate of Ill. Sir Horace Perkins III, there

is to be no water or silly clown antics this year. HP&P Don

Drayton was so excited when he heard of this mandate he

giggled like a little schoolgirl. All the comments he'd made

since circus last year about the clowns needing to practice their

aim, all the hype. He knew now would have to go unanswered.

The clowns were ready to unleash all the greatest tricks and

treats they had learned in years past, all in Donnie's honor.

Surely, the Ill. Sir would have to reconsider his decision. But

then, all of a sudden the mandate was discovered to be null

and void. You see, the Ill. Sir Horace Perkins III did issue

a mandate, but upon further review, it was directed to the L

Menh Clowns not the Al Menah Clowns.

Ill. Sir Horace Perkins III had left out the A.

It's Circus time Donnie.

Oriental Guide

Vernon Blackburn

3

3
---
4
---
Imperial Cruise 2019

5
---
Dash Plates Awarded To All Entries

Trophies To Be Given For All Classes

Special Awards:

Potentate's Trophy

Original Best of Show

Modified Best of Show

Ladies Choice

Farthest Traveled

Oldest or Most Unusual Vehicle

Club Participation

14 Acre Show Site

At

Al Menah Shrine Center

1354 Brick Church Pike

Nashville, TN 37207

Exit 87, Trinity Lane

Call for directions

615-226-7766

Gates open at 7:30am

All vehicles will be classed at registration from 8:00am until 11:00am

Judging will be from 11:30am until 1:30pm / Awards will be presented at 3:00pm

"RAIN or SHINE"

Entry fee per vehicle is: $20.00 at the gate

Vendor space is available for $25.00 / 10' x 10'

Class Sponsorships are available

Kids Model Car Show is $5.00

To be judged, all vehicles must have the hood up, doors open or unlocked and the trunk open. Vehicles failing to be properly displayed

will not be classed or judged. Al Menah Shriners reserve the right to reclassify, add, delete, split or combine classes on the day of the

show based on participation. Al Menah Shriners reserve the right to remove offense, lewd or objectionable material.

All proceeds benefit Al Menah Shrine Center and are not deductible as a charitable donation

Make all checks payable to:

Al Menah Shriners

Attn: Car Show

P.O. Box 78545

Nashville, TN 37207

For More Information:

Shrine Center Office: 615-226-7766

Or

Keary D. Fleenor: 615-289-8272

6
---
News from Cincinnati

Shriners Patient to College Football Player!

Justin was just 11 months old when he

sustained a serious burn on his hand from a

humidifier in the winter of 1998. "I remember

that scream to this day," his father Ed recalled

emotionally. He and wife Cheryl took Justin to

an Akron, Ohio pediatric hospital, where an

out-of-network specialist was brought in to

treat the boy's injury. The family had just purchased

a new home, and the $32,000 medical

bill was challenging.

The next summer, the family visited a local fair, where they visited an exhibit

by local Shriners. As they browsed, one of the Shriners said, "Do you

know any children with burns?" Though stunned by the coincidence, they

learned about the Cincinnati hospital specializing in pediatric burn treatment.

Later, Ed said to Cheryl, "I think it's for people who have no money,"

but decided to visit. Once there, they were convinced that Shriners Hospitals

for Children ® — Cincinnati was exactly where Justin belonged.

Ed and Cheryl were amazed by the superior skill and expertise in pediatric

skin grafting in contrast to their first experience. Justin's surgery not only

advanced his progress, it vastly improved the results of his initial treatment.

Today, Justin is a student

and football player

at Youngstown State University,

and recently had

his last of five surgeries.

Both he and his family

have become cheerleaders

for Cincinnati Shriners

Hospital, recommending

it to anyone in need of its

superior skill and care. Justin shared a recent

conversation with one of his coaches. "He asked

me why I didn't have the surgery somewhere

local," Justin recalled. "I said, 'You don't understand.

Cincinnati Shriners Hospital is the best

burn hospital in the world - period. I've been going there since I was one,

and I wouldn't go anywhere else.'"

Shriners Play a Big Role

in Referrals

When it comes to finding medical

help for children, Shriners are now

more important than ever. Members

of the fraternity have always played

a critical role in helping families in

their communities get connected

with Shriners Hospitals for Children –

Cincinnati, and now it has become even

easier with a website and referral cards.

Website

Shriners Hospitals for Children

– Cincinnati continues to make

referring a patient and obtaining

an appointment for care easier

than ever through the www.

shrinershospitalcincinnati.org

website.

Follow us on Facebook:

https://www.facebook.com/

ShrinersHospitalCincinnati

Conditions Treated

Burns

Cleft Lip & Palate

Plastic & Reconstructive Surgery

Complex Wounds & Skin Condtions

All Services Provided Regardless of

a Family's Ability to Pay

If you know a child we can help, go to

shrinershospitalcincinnati.org or call:

Shriners Hospitals for Children ® — Cincinnati is one of only four freestanding hospitals in the country dedicated to the treatment of pediatric burns and

specializing in plastic and reconstructive surgery. Our physicians' experience and expertise in pediatric burn treatment, cleft lip and palate, complex

wound and skin conditions, and plastic and reconstructive surgery makes Shriners Hospitals for Children — Cincinnati a first choice for care.

7

SHC-CIN_Media Resources.August._2018
---
CeNter

NeWS

Clowns

The Fabulous Al Menah Clowns strike

again! Quite a few clowns attended the

S.E.S.A convention August 15th– 19thin

Pigeon Forge, Tennessee. We had eight

clowns participate in the S.E.S.C.A. competition

Friday, August 17th. We took home

a lot of hardware and memories! Here are

the results:

• 1st Place Tramp, Captain Frank "Froggy"

Wilson

• 2nd Place Tramp, Ronnie "Useless"

Brown

• 1st Place Auguste, Geoff "Sticks" King

• 2nd Place Auguste, Guy "String Bean"

Whitley

• 1st Place Whiteface, James "Puzzles"

Chambers

• 3rd Place Whiteface, Clay "Flat Top"

Hedgepath

• 1st Place Character, Jim "Snips" Lee

• 1st Place Senior, Danny "Oilcan/Slapstick/Peaches"

Gentry

• 1st Place Paradeability, James "Puzzles"

Chambers

• 1st Place Single Man Skit, Jim "Snips"

Lee

• 3rd Place Single Man Skit, James "Puzzles"

Chambers

• 1st Place Two Man Skit, James "Puzzles"

Chambers and Jim "Snips" Lee

• 2nd Place Two Man Skit, Ronnie "Useless"

Brown

• 2nd Place Unit Skit, The Fabulous Al

Menah Clowns

• 1st Place Unit Paradeability, The Fabulous

Al Menah Clowns

• 3rd Place Multiple Balloon, Geoff

"Sticks" King

• 1st Place Scrapebook, The Fabulous Al

Menah Clowns

Just goes to show that Al Menah has one

of the best, if not THE best,

hard working clown units out

there!

8

September means the Fabulous Al

Menah Clowns will be performing at the

Tennessee State Fair! Y'all come out and

see us, three performances a day, Saturday

and Sunday of both weekends. September

8th– 9th, and September 15th– 16th.

The Annual Clown Auction will be held

October 13th. Come out and make a bid

on some great stuff and help support our

hospitals.

Also in October! The Circus is almost

here! Get out and sell some Circus ads!

And… thanks to all of you for supporting

our children's hospitals. Please keep those

that are sick and unable to attend our events

in your prayers.

Keep on Clowning!!

Jim "Snips" Lee

Secretary

Director's Staff

It is hard to believe that summer is over.

The children are back in school and the

roads are very busy again. We the Director

Staff are very much like the children in that

we have commitments that we must fulfill

like attending our meetings as well as the

Shrine Stated Meetings.

As we look forward to the fall there are

several activities that we need to keep our

agenda's open for:

The Ceremonial is scheduled for Sept

15th and we do have some new ideas that

we will require help doing.

The Directors Staff Golf Tournament at

Nashboro Golf club on Sept 20.

Al Menah car Show Sept 29

Oct 5 The Shrine Circus

Oct 11 The Scottish Rite Golf Tournament

at the Nashboro Golf Club

The Ray Stevens Charity Golf Classic

Oct 21& 22

Please note these dates, plan to attend, and

help out as needed.

Fred Lysak

Lt Directors Staff

Motor Corps

Wow! Lots was said and lots was shared

in the August Shriner…but here is a little

bit of the r est of the story, as Paul Harvey

would say….What a great time we had at

the Imperial Session in Daytona Beach,

Florida as the Motor Corps welcomed

the Imperial Potentate Jim Cain and First

Lady Patsy! Al Menah Motor Corps was

well represented on stage, including 3 Past

Potentates, Past Captains, members and

their Ladies, as they presented the Imperial

Sir with his very own chrome motorcycle

helmet donned with his Imperial Logo. It

was a good fit! We presented Lady Patsy

with her own bedazzled goggles and bright

red "doo-rag" so she may ride in style along

with him. I, along with my Lady Debbie,

personally had the honor of bringing Imperial

Sir Jim and First Lady Patsy in to the

Imperial Pageant and what a glorious honor

it was to be asked to present them as they

continued down the "country road" in his

custom-made Golf Cart Pickup painted in

shiny red! Next year is sure to be a "Grand

Ole" time in Nashville!

Also, the Ladies of Al Menah's Extravaganza

Committee presented the First Lady

with a check for over $30,000.00 for her

"POPS" program. Way to go, Ladies!!

As we are winding down the last days

of summertime…and gearing up for the

busy fall and Holiday season with the

circus, toy runs, parades and more, let's all

remember the reason we are Shriners! No

Man Stands So Tall As When He Stoops To

Help A Child!

2018 Motor Corps Journalist

Fat Rabbit

Legion of Honor

We had a successful Paper Sale, and we

had our largest turnout of Nobles in recent

times. Noble Rodriguez set up the teams

and times, which all Nobles fulfilled.

The Legion is working on a complete

rewrite of our bylaws, which will be

presented to the Unit Members in August.

Based upon the Unit's approval, we will

present to the Divan in September for their

concurrence and approval.

With Noble Dunn as the Commander

and Noble Silva as the Vice Commander
---
of SESA's LOH, we are preparing for our

August meeting in Gatlinburg. It is a great

honor to have two Nobles in the lead position

of the SESA LOH.

All continues well for the LOH, and we

look forward to the fall schedule to continue

our work.!

Art De Vooght

Commander 2018

Provost Guard

The Provost Guard has been busy the past

couple months. Last month we went to

Daytona Beach Fla. to the Shriners International

and escorted our Illustrious Imperial

Sir Mr. Jim Cain and his Lady Patsy up to

the stage.

The Provost Guard drill team won first

place at Dixie in Panama City Fla. Last

week at S.E.S.A 1st place competition drill

and second place obstacle course. 1st place

Provost Guard uniform inspection. Gordon

Macdonald won Provost Guard of the year.

We want to thank our illustrious potentate

Horace Perkins and Chris Johnson and

brother Leo for joining us at the Provost

Guard banquet.

Now the parade season is about to begin

so we be looking forward to that.

Secretary

Ken Loftis

Shrine Club News

Williamson County Shrine Club

We have a little drawing at our meetings

and you do have to be present to win. If we

don't have a winner, the pot carries over to

the next meeting. For our next meeting we

have a carry-over of $360.00. Come on out

CALENDAR OF EVENTS

AS OF THIS PUBLICATION – SUBJECT TO CHANGE

to the meeting and see if you're a winner?

attend the WCSC Meeting! Our meetings

are normally on the third Thursday of the

Month at the Brewhouse South in Cool

Springs.

We have been getting some complaints

about the noise level at the Brewhouse. Our

President is looking at two locations where

we might move the meetings. They are The

Sportsman's Grill and Millers Ale House

(OLD LOGAN'S LOCATION) which

opens on September third. We will be at the

Brewhouse for our September meeting and

will probably vote on a new meeting place

at that time. Watch your e-mail and the

E-Vite for updates on this!

Come on out and let's have some fun!

Please remember to keep those who

have lost loved ones and our sick list in

your prayers. Remember to thank God

every day for this great Country of ours.

Butch Mayes

WCSC Ambassador

SEPTEMBER

Sept 15 Ceremonial

Sept 20 Director's Staff Golf Tourney

Sept 30 Car Show

OCTOBER

Oct 5-7 Al Menah Shrine Circus

Oct13 Clown Dinner & Auction

Oct 20 Fall Party

NOVEMBER

Nov 3 Ladies Extravaganza

Nov 10 Directors Staff Auction

Additional Imperial Pageant Photos

9
---
10
---
AL MENAH SHRINERS

DIRECTOR'S STAFF

ANNUAL GOLF TOURNAMENT

2018

PLACE: NASHBORO VILLAGE (PHONE 615-367-2311)

DATE:

SEPT. 20, 2018 (THURSDAY)

CHECK-IN:

10:00 AM - 11:30 AM

LUNCH:

11:30 AM

TIME:

12:30 PM SHOTGUN START

COST: $80.00 PER PLAYER at golf course pre paid registration-$75.00

INCLUDES LUNCH, GOLF, CART, PUTTING CONTEST,

FREE RANGE BALLS & SPECIAL DOOR PRIZES

FORMAT:

FOUR MAN SCRAMBLE —- 59 & under White Tees

60 to 69 Gold tees —70 up and Ladies Red Tees

PRIZES

* FLIGHTED ( 3 flites 1 & 2) * CLOSEST TO HOLE/ ALL PAR 3'S

PLAYER (1)______________________________

(NAME & PHONE)

PLAYER (2)______________________________

(NAME & PHONE)

PLAYER (3)_______________________________

(NAME & PHONE)

PLAYER (4)_______________________________

(NAME & PHONE)

CONTACTS

JIM BELLAR (615) 330-3343 *** JAMES HAM (615) 804-7411 *** EDDIE HILL (615) 973-4789

DON HEATH (615) 642-8694 *** GARY GRAF (615) 516-1341 *** DON HILL (615) 394-5962

RANDY WOODARD (615) 943-0704

PLEASE MAKE ALL CHECKS payable to:

AL MENAH Directors Staff

P. O. BOX 78454 — NASHVILLE, TN 37207

(615) 226-7766

9 th

Annual

Remember to add your $25.00 per team

Mini Hole Sponsorship—-the kids need you

11
---
Al Menah Shriner's

ANNl:JAL

RAIN OR SMINE !!

SATURDAY ~ OCT. 20, 2018

$10.00 per person, plus a Toy!

Registration - 9 am Vision Bldg

Leave Shrine Center - 10 am

All Welcome! Bikes & Cars

I

Join us for a great backroads ride for

lunch to Montgomery Bell State Park.

Al Menah Shrine Center~ 1354 Brick Church Pike, Nashville, TN

For more info contact Frank Wilson @ 615-290-0915 or

12

Van Miller @ 423-414-8536 or Fat Rabbit @ 615-268-6547

Fat Rabbit @ 615-268-6547
---
Chief Rabban Randy Williams & Lady Beth

invite you to join the 2018 Ringmaster Club

Men's membership is $130 which includes

• Four Reserved Seats for the Circus

• A Soft Shell Fez case,

• A men's travel suit bag

Shriner's Lady will receive a travel dress

bag of their own for an additional $40

Contact the Center office for more information.

PROCEEDS ARE FOR THE BENEFIT OF AL MENAH SHRINERS AND DONATIONS ARE

NOT TAX DEDUCTIBLE

13
---
Paper Sale Donation from Kroger

On Monday, 7/18 Potentate Jeff Head and members of the Williamson

County Shrine Club were with Kroger Management at their Belle

Meade store where they presented a $1,000.00 to us for the Shrine

Hospitals for Children. The Kroger Manager was an acquaintance of

Scotty and Teresa Travis who put this together for the Al Menah Shrine

Hospitals for Children Paper Sale.

This is a portion of a message from Phyllis Berry, wife of this

Kroger Store Manager, Michael Berry.

Let me tell you, our son was a Shrine Hospital patient

and we are forever grateful The experience was an

awakening in humanity. The care was phenomenal. The

friendship my family made. The support from the men in

your fraternity was phenomenal. We thank you for all you

and your members do for children across the country.

Sincerely

Phyllis Berry

Fraternally,

Butch Mayes, WCSC

14
---
REMINDER!

NOTICe:

ALL communications

for the Shriner

should be sent to

editor.amsc@gmail.com

15
---
William A. Adams

Nashville

01/14/44 – 05/18/18

Charles T. Bozman

Murfreesboro

06/6/43 – 07/12/18

Nobles Visited Visited By By

The The Black Black Camel Camel Nobles Visited By

The Black Camel

Richard R. Hodgens

Nashville

09/1/41 – 08/7/18

Donald B. Hollis

Joelton

09/19/29 – 08/14/18

Gerald B. Lee Sr.

Smyrna

04/27/40 – 07/22/18

Stuart M. Lusty Jr.

Charlotte

10/13/30 – 07/5/18

AL MENAH AL MENAH TEMPLE TEMP

AL MENAH TEMPLE

A.A.O.N.M.S. A.A.O.N.M.S.

A.A.O.N.M.S.

1354 BRICK 1354 CHURCH BRICK PIKE CHURCH PIKE

P. O. Box 78545 P. O. Box 78545

NASHVILLE,

1354 BRICK TN CHURCH 37207PIKE

NASHVILLE,

P. O. Box 78545

TN 37207

NASHVILLE, TN 37207

www.almenahshriners.org

www.almenahshriners.org

William A. Crow

Dickson

02/16/29 – 06/11/18

Richard H. Frank Jr.

Nashville

05/31/28 – 05/31/18

James A. Hafner

Nashville

11/15/36 – 08/2/18

Warren G. Hayes

Springfield

12/16/21 – 07/2/18

James E. Holt

Nashville

09/21/31 – 05/24/18

James F. Judd

Nashville

10/23/24 – 08/16/18

Robert K. Kemp

Carthage

01/23/39 – 07/13/18

Julian L. Lane Jr.

Lebanon

04/29/25 – 08/3/18

Verble Randolph

Cookeville

10/31/36 – 07/2/18

James A. Reed

Tullahoma

01/11/44 – 07/29/18

Clarence Suiter Jr.

Brentwood

06/19/23 – 05/30/18

Harlie B. Walker

Franklin

02/9/28 – 06/6/18

DEADLINE FOR OCTOBER 2018 SHRINER IS SEPTEMBER 19TH

16