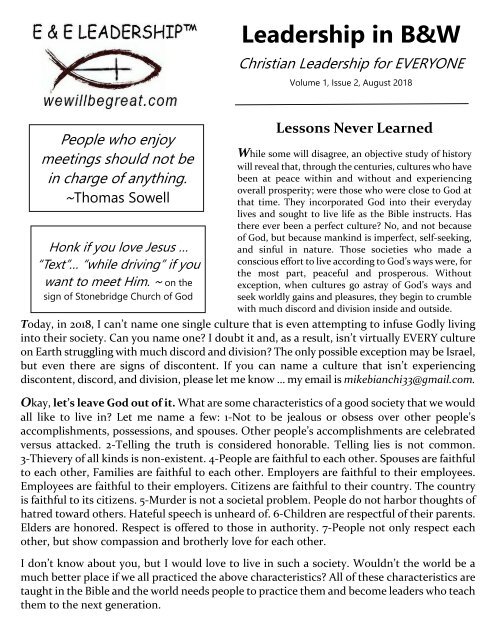 Create successful ePaper yourself
Turn your PDF publications into a flip-book with our unique Google optimized e-Paper software.
Leadership in B&W

Volume 1, Issue 2, August 2018

Thomas Sowell

on the

sign of Stonebridge Church of God

Lessons Never Learned

While some will disagree, an objective study of history

will reveal that, through the centuries, cultures who have

been at peace within and without and experiencing

overall prosperity; were those who were close to God at

that time. They incorporated God into their everyday

lives and sought to live life as the Bible instructs. Has

there ever been a perfect culture? No, and not because

of God, but because mankind is imperfect, self-seeking,

and sinful in nature. Those societies who made a

conscious effort to live according to God's ways were, for

the most part, peaceful and prosperous. Without

exception, when cultures go astray of God's ways and

seek worldly gains and pleasures, they begin to crumble

with much discord and division inside and outside.

Today, in 2018, I can't name one single culture that is even attempting to infuse Godly living

into their society. Can you name one? I doubt it and, as a result, isn't virtually EVERY culture

on Earth struggling with much discord and division? The only possible exception may be Israel,

but even there are signs of discontent. If you can name a culture that isn't experiencing

discontent, discord, and division, please let me know … my email is mikebianchi33@gmail.com.

Okay, let's leave God out of it. What are some characteristics of a good society that we would

all like to live in? Let me name a few: 1-Not to be jealous or obsess over other people's

accomplishments, possessions, and spouses. Other people's accomplishments are celebrated

versus attacked. 2-Telling the truth is considered honorable. Telling lies is not common.

3-Thievery of all kinds is non-existent. 4-People are faithful to each other. Spouses are faithful

to each other, Families are faithful to each other. Employers are faithful to their employees.

Employees are faithful to their employers. Citizens are faithful to their country. The country

is faithful to its citizens. 5-Murder is not a societal problem. People do not harbor thoughts of

hatred toward others. Hateful speech is unheard of. 6-Children are respectful of their parents.

Elders are honored. Respect is offered to those in authority. 7-People not only respect each

other, but show compassion and brotherly love for each other.

I don't know about you, but I would love to live in such a society. Wouldn't the world be a

much better place if we all practiced the above characteristics? All of these characteristics are

taught in the Bible and the world needs people to practice them and become leaders who teach

them to the next generation.
---
Leadership in B&W

page 2

Following is an excerpt from my upcoming book,

Effective & Enduring Leadership … Visions of Greatness!

Legacies Lost

Over many decades, indeed centuries, Christianity

has lost its legacies and has not developed or

Discipled Effective & Enduring Leaders and so

Christians do not understand or know how to become

great in God's eyes. Indeed, God expects us to be E &

E Leaders for our families, our communities, our

work, our government, and society in general. Billy

Graham said, "Every generation is crucial, every

generation is strategic. But we are not responsible for

the past generation, and we cannot bear full

responsibility for the next one. However, we do have

our generation! God will hold us responsible at the

Judgement Seat of Christ for how well we fulfilled our

responsibilities and took advantage of our

opportunities." What 'responsibilities' are Billy

Graham talking about? Perhaps he is talking about

God's New Testament purposes for our lives as

discussed by Rick Warren; Worship, Fellowship,

Discipleship, Ministry, and Mission.

Moses spent most of forty years mentoring Joshua to

be the next leader of the nation of Israel. Moses was

truly an Effective & Enduring Leader. While Joshua

was an exceptional military leader and the one God

selected for His people at that time, he failed to

mentor a good successor for the next generation. As

you will see later in this book, Joshua made an

excellent Level 3 Leader and that is a good thing, but

it did not make him an E & E Leader. Since that time,

we (Christianity) have failed over and over again to

mentor Christian leaders for future generations,

whether the setting has been in the home,

To

Or provide feedback,

send an email to:

wewillbegreat.com

the church, our schools, our communities, our work,

or government.

John Maxwell, in The Maxwell Leadership Bible,

talks about Joshua and his failure to mentor a

successor, ""Joshua's leadership failed at only one

major point: He left no "Joshua" to follow him, as he

had followed Moses. Joshua did not reproduce his

leadership in someone else.""

It is imperative that the Christian community seeks

to Disciple strong leaders in order to see as many

souls come to Christ as possible. We are now at a

point in society where we can no longer be apathetic

about mentoring new Christian leaders. Perhaps it is

late in the game, perhaps not. No one knows God's

timing. The Bible does tell us that Christian's will be

removed from the earth at the Rapture. Those who

remain will go through the seven year Tribulation

period. Many seeds planted by Effective & Enduring

Leaders will come to harvest during this time. If E &

E Leaders do not plant seeds into future generations

then many more people will be lost to satan during

the Tribulation period who might otherwise be saved.

Michael R. Bianchi is the author of

and