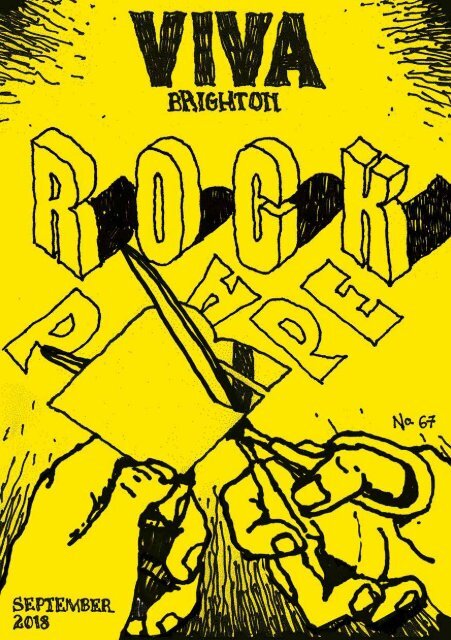 Viva Brighton Issue #67 September 2018
Create successful ePaper yourself
Turn your PDF publications into a flip-book with our unique Google optimized e-Paper software.
OPEN DAYS

Prep School (ages 3-11) | Saturday 13 th October, 10am

Senior School with Y4-6 Masterclasses | Saturday 29 th September, 9am

Sixth Form | Saturday 10 th November, 9am

Prep - rsvp 01273 280200 | prepenquiries@bhhs.gdst.net

High & Sixth - rsvp 01273 280170 | enquiries@bhhs.gdst.net

For more information and other events please see our website

www.bhhs.gdst.net

Reg charity no 306983
---
VIVA

B R I G H T O N

#67. SEPT 2018

EDITORIAL

...........................

.......................

Viva Magazines is based at:

Lewes House, 32 High St,

Lewes, BN7 2LX.

For all enquiries call:

01273 488882.

Every care has been taken to

ensure the accuracy of our content.

We cannot be held responsible for

any omissions, errors or alterations.

I heard recently that the UK's creative industries

are worth upwards of £90 billion per annum and

are expected to grow faster than any other sector

in the economy. They're also the least likely jobs

to be replaced by artificial intelligence. So, as

everyone goes back to school, I wonder, are we

educating our children to be creative enough for

the future?

Giving the right answers becomes increasingly

important as you go through school, and, with the

focus on teaching to measurable targets, time for

creative play, free thinking and experimentation is

squeezed out of the timetable. But I would argue

that we don't always need to be instructed as to

the 'right' answer. That being allowed the time to

figure things out can lead to new and surprising

solutions. That being really intelligently wrong

is not a bad place to be. "There is freedom in

not knowing everything," says Little Inventors

founder, Dominic Wilcox (see pg 70), and I'm

inclined to agree with him.

So in our 'rock, paper, scissors' issue we've sought

out people who can take an idea, some materials

and some know-how, and engineer a solution.

People who know one end of a chisel from the

other and who aren't afraid to try out new things.

Who value the chance to get hands-on and to test

their theories in the real world, or even in space,

as one Sussex Uni physicist is about to get the

chance to do. In short, it's full of people who can

both make a box and think outside it too.
---
HURSTPIERPOINT COLLEGE
---
VIVA

B R I G H T O N

THE TEAM

.....................

EDITOR: Lizzie Lower lizzie@vivamagazines.com

DEPUTY EDITOR: Rebecca Cunningham rebecca@vivamagazines.com

SUB EDITOR: David Jarman

ART DIRECTOR: Katie Moorman katie@vivamagazines.com

PHOTOGRAPHER AT LARGE: Adam Bronkhorst mail@adambronkhorst.com

ADVERTISING: Hilary Maguire hilary@vivamagazines.com,

Sarah Jane Lewis sarah-jane@vivamagazines.com

ADMINISTRATION & ACCOUNTS: Kelly Hill kelly@vivamagazines.com

DISTRIBUTION: David Pardue distribution@vivamagazines.com

CONTRIBUTORS: Alex Leith, Alexandra Loske, Amy Holtz, Andrew Darling, Ben Bailey,

Cammie Toloui, Chloë King, Chris Riddell, Elise Ilett, Emma Chaplin, JJ Waller,

Jacqui Bealing, Jay Collins, Joda, Joe Decie, John Helmer, John O'Donoghue,

Lizzie Enfield, Mark Bridge, Mark Greco, Michael Blencowe and Nione Meakin

PUBLISHER: Becky Ramsden becky@vivamagazines.com

Please recycle your Viva (or keep us forever).
---
eautifully imperfect since 2009
---
CONTENTS

...............................

Bits & bobs.

10-27. The ever-elusive Batman breaks

cover; Alexandra Loske unveils the

refurbished saloon at the Royal Pavilion,

and glass-animal man Bill Axcell is on the

buses. Elsewhere, JJ Waller photographs a

rocket in an unlikely place; Joe Decie does

some old skool home-schooling; we have a

pint (and a game of Space Invaders) at The

World's End; discover an honest guide to

fatherhood; avoid a punch-up with a drunken

octopus, and much more besides.

My Brighton.

28-29. Artistic Director of Same Sky, John

Varah, on building creative communities.

31

Photo © James Winspear

Photo by Malin Johansson

Photography.

31-37. James Winspear photographs makers

and their spaces.

55

Columns.

39-43. Lizzie Enfield is (unintentionally) off

grid; John Helmer revels in relief, and Amy

Holtz is incomprehensible.

On this month.

45-59. Ben Bailey rounds up the Brighton

gig scene; we head out of town for AL

Kennedy at the Small Wonder short story

festival; meet the woman over fifty behind

the Women Over Fifty Film Festival, and

a family who built a charity out of a crisis.

There's a rockstar lutenist at the Lapwing

Festival; Augusto Corrieri contemplates

what becomes of an empty theatre at

ACCA; José González, forever on the road,

stops off at the Dome; choreographer

Andrea Walker explores transgender experience

through dance and hip hop at The

Old Market, and there's a chance for kids to

get creative backstage at the Theatre Royal.

....7 ....
---
CONTENTS

...............................

Art & design.

60-71. Brighton Photo Biennial returns

for its 8th edition with new curator Shoair

Mavlian. We peel back the layers of paper-flower

making with Susie Beech; Chloë

King discovers what happens when you

take young inventors' ideas seriously, and

we round up just a bit of what's on, art-wise,

this month.

The way we work.

73-77. Adam Bronkhorst makes pictures of

people who work with rock, paper, scissors

(and clay, leather, wood and metal too).

Food.

79-83. Bison Beer's not-so-humble bar

snacks; a brownie that sounds like it might

be good for you from The Mighty Seed; a

village pizzeria, and a few more morsels of

food news.

68

73

Features.

84-95. A chef-meets-potter collaboration

that's turning waste glass into tableware;

drawing for wellbeing on the NHS, and

the lowdown on becoming an industry

-ready graphic designer (in twelve weeks)

from Bill Strohacker. There's a newly commissioned

sculpture and celebratory garden

party for a historic house; old seamlessly

meets new at the gleaming new galleries at

Charleston, and one Sussex physicist finally

gets to blast his experiment into space.

Wildlife.

97. Michael Blencowe takes a loving look at

the female Wasp Spider.

Inside left.

98. Likely lads, 1925.

Photo by Adam Bronkhorst

....8 ....
---
Imogen

Lower Sixth

Academic and

Drama Scholar

You are warmly invited to our

Senior School Open Morning

Saturday 15 September 2018

9.30am to noon

HMC – Day, weekly and full boarding

Boys and girls 13 to 18

(Entry at 13 and 16)

To register please contact:

admissions@bedes.org

T 01323 843252

or online at bedes.org

Bede's Senior School

Upper Dicker

East Sussex BN27 3QH
---
THIS MONTH'S COVER ARTIST

.......................................................

This month's cover art is the work of Batman (not

the caped superhero, although you may occasionally

spot him perched on the edge of a rooftop). This

is the local graffiti artist who's been working under

the name for the past seven years. "It was kind of a

novelty," he says of the pseudonym. "I just wanted

something a bit silly and fun. If I was gonna go

deeper I'd say it's like an alter-ego thing, because I

suppose graffiti's been a bit like a separate life for

me… but that wasn't the original reason, I made

that up later."

Batman found his way into graffiti at a very young

age: "I've been interested in it since I was about

eight or nine years old," he says, "so I started earlier

than a lot of friends of mine. I think graffiti is the

perfect form of expression when you're like 15

to 18, and you're trying to be a bit rebellious and

form your own identity – that was why I found it so

fascinating. And there was a lot about the mystery

of it that got me engaged initially. As you get more

involved, you get to know who's doing what and

how they're doing it, so the mystery goes a bit

and instead it becomes much more about the

quality of the work you're doing."

Over the past couple of years, Batman's work

has taken on a new purpose. "I've been getting

more into environmental activism – that's been

quite an interesting journey for me. Graffiti is

powerful because it's in a public space, it gives

you the opportunity to raise awareness about

certain things." A recent piece that gained a lot

of attention highlighted Shell's 'greenwashing'

of non-sustainable energies, painted at one

of the city's busiest graffiti spots, Trafalgar

Lane. The response to that has been "really

positive," he says. "It's been up for like a month

and a half, and just for it to stay for that long

is really nice. The turnover on Trafalgar Lane

is so high that the piece staying up and people

....10....
---
BATMAN

.......................................................

having respect for it really means a lot to me. I've got

an intention with any work that I do in the future to try

and integrate some of those messages, and to use graffiti

as a platform to communicate things."

As well as his graffiti work, Batman is part of a group of

artists called The Friendly Gang: "There's about ten of

us, and it's about openness and just being cool to people

and trying not to have the egos in the way so much.

We've done a couple of shows now and they've both

been really fun; just a lot of people that are really open

to interesting conversation and having a nice time and

not trying to inflate themselves too much, that's been

the priority." He's also been producing a limited number

of screen prints, which he sells through Instagram. "I've

been exploring screen printing as a technique because it

suits my style so well, it's great to be able to utilise that."

Follow his work at @batman.saves

Rebecca Cunningham

....11....
---
BITS AND BUSES

...............................

ON THE BUSES #41: BILL AXCELL (ROUTE 12A)

The name Bill Axcell might not mean much to you but, if you spent any

time in Brighton between the 60s and the 80s, you'd probably remember

'the glass animal man'. That was Bill, in his yellow-tinted specs, working

away making lampworked glass trinkets as seaside souvenirs. Born in

Leigh-on-Sea, Bill moved to Brighton in the 50s, first setting up shop in

a booth by the aquarium and later at 28 Queens Road, where enthralled

passersby continued to press their noses against the window, watching Bill

turn glass rods into all sorts of creatures. He was always open to requests;

seahorses, dragons, swallows, poodles, Alsatians, Siamese cats, octopi,

elephants holding hands - but, it seems, not squirrels. According to one fan of Bill's; 'like others, I spent

hours watching him work. I asked him for a squirrel and was told: "I don't like to make them". Instead,

I watched, with a sense of amazement, as he created a wonderful giraffe for me, which, thirty years later,

I still treasure.' The sense of wonder was well shared, including by Bill himself, who maintained that he

never did a day's work in his life as his job was his hobby and life-long love. There is a brief clip of Bill in

his element - at work - on the British Pathé website [britishpathe.com]. He continued to create his fragile

trinkets in his Queens Road shop until he died in 1991, at the age of 63. Lizzie Lower

Illustration by Joda (@joda_art)

GO

FALCONRY DISPLAYS • INTERACTIVE ACTIVITIES • TERRIER RACING • SHOPPING • FOOD & DRINK

THE ULTIMATE COUNTRYSIDE EXPERIENCE

CLAY PIGEON SHOOTING • FLY FISHING • STEAM ENGINES • ANIMAL BARN • GARDEN DISPLAYS

BOOK TICKETS TODAY

seas.org.uk/booking • 01444 892700

South of England Showground, Ardingly, West Sussex RH17 6TL

seas.org.uk • Under 16s FREE with paying adult

SAVE

10%

ONLINE

ENDS 5 OCT*

@SouthEngShows
---
We care

We don't judge

Friendly Local Solicitors, serving

Brighton since 1773

Call us

NOW

01273 838 674

No obligation

Specialists in commercial litigation, including:

• Commercial contract • Commercial property disputes

disputes

• Construction disputes

• Intellectual Property • Professional negligence

disputes

• Commercial debt collection

QualitySolicitors

Howlett Clarke

Branches in Brighton & Southwick

01273 838 674 info@howlettclarke.co.uk

www.qualitysolicitors.com/howlettclarke

SPREAD THE WORD

Actor, voice artist and VB reader Philippa Hammond

took our botanical issue to Castle Cornet,

the 800-year-old castle which stands at the mouth

of the harbour in St Peter Port, Guernsey. She

was snapped here by mum Anthea and completely

unruffled by the firing of the noon-day gun.

Here we are in Taipei, with Davide Cusseddu and

Victor Juma. Both completing a maths PhD at

Sussex, they were at a conference in the city and

took some time out to do a little guerrilla marketing

for the Sardinian reggae band Riptiders (Davide

is from Sardinia) and for Viva too! "I would

love to go around the world spreading music," says

Davide, "but I'm still far away from earning a living

doing that!" Keep taking us with you and keep

spreading the word. Send your pics and a few words

about your trip to hello@vivamagazines.com

....13....
---
CURATOR'S CITY

...............................

'SUPERIOR TASTE AND COSTLINESS':

THE REOPENING OF THE ROYAL PAVILION'S SALOON

The Saloon in 1823. All images © Royal Pavilion & Museums

This month the Saloon, one of the grandest state

rooms of the Royal Pavilion, will reopen after

a six-year intensive restoration project, which

included the re-creation of the lost Axminster

carpet, the silvered wall decorations, the splendid

crimson-coloured silk curtains and many more

features of this shimmering and sparkling interior,

originally introduced in 1823.

The Saloon is located on the east side of the

Pavilion and formed part of a suite of rooms of

the neo-classical 'Marine Pavilion' designed by the

architect Henry Holland in 1787. The room has

never changed its shape or central location and has

retained its high status throughout all the decorative

changes it has undergone. It was decorated

four times in George IV's tenure: the first scheme

was neo-classical, like the exterior; this was replaced

by a chinoiserie scheme in 1802 (modified

in 1815), which gave the air of a Chinese garden

arbour, complete with Chinese export wallpaper

depicting birds, trees and flowers. In 1823 this in

turn was replaced with a scheme by the myste-

....14....
---
CURATOR'S CITY

...............................

rious genius Robert Jones. He transformed the

Saloon into a room of imperial magnificence and

grandeur appropriate to George's changed status

from Regent to King in 1820. This was achieved

through the use of lavish gilding, crimson silk and

silvered wall decoration.

This kind of splendour did not come cheap: in

an early complete description of the Pavilion

from 1838, the Brighton historian EW Brayley

commented that the Saloon was of 'a style of far

superior taste and costliness than had previously

exhibited'. His detailed descriptions of individual

features give a better idea of the magnificence of

the room: 'Large vases, of China, and other vessels

in rich settings, beautifully wrought with sundry

kinds of insects in low relief, constitute a part of

the ornamented furniture of the Saloon; which

also includes some fine cabinets, and splendid

ottomans of ruby-coloured silk, fringed with

gold, with couches and chairs of corresponding

elegance. The carpet, which is of Axminster manufacture,

and wrought on a circular plan to fit the

room, accords with the other decorations. In the

centre is a dragon and two serpents, surrounded by

lotus flowers and leaves; roses, stars, serpents, and

other forms, alternating succession, diversify the

borderings.'

Like all other rooms in the building, the Saloon

was stripped of its contents in 1847-8, following

Queen Victoria's decision to dispose of the

Pavilion. Most of the furniture and fittings,

including the stupendous chimneypiece, were sent

to Buckingham Palace. Since then the room has

seen some partial restoration, and original features

from the Robert Jones scheme were reinstated,

including the eight pilasters returned by George V

in 1934. The newly completed restoration allows

us to once again experience the complete sequence

of state rooms on the east side of the Pavilion

and imagine we are in the 'superb and elegantly

ornamented apartment' of 1823. Alexandra Loske,

Art Historian and Curator, The Royal Pavilion

The Saloon will reopen on 8th September 2018.

From 15th September a display in the Prince Regent

Gallery in the Royal Pavilion will tell the story not

only of the room itself, but of the expertise of the

conservators, curators, artists and technicians who

completed this complex restoration project. Free

with admission to the Royal Pavilion.

The Saloon in 1790 The 12 colours of the new Axminster carpet Designs for the new Axminster carpet, by Anne Sowden

....15....
---
FAMILY TICKETS

AVAILABLE

THE

MIDNIGHT

GANG

By David Walliams

Adapted by Bryony Lavery

Music & Lyrics by Joe Stilgoe

Ages 7+

WORLD PREMIERE

13 October – 3 November

cft.org.uk/forfamilies 01243 781312
---
JOE DECIE

...............................

....17....
---
BITS AND PUBS

...............................

PUB: THE WORLD'S END

In 1979, when me and my mates were just

shy of 16, the arcade game Space Invaders

became a big obsession. We used to go

down the arcade on West Street to play

it. When, in the same year, my favourite

band, The Piranhas, brought out a single

called Space Invaders, our cup was full.

Two obsessions in one hit!

Since then arcade games have moved

on somewhat, but I didn't go with them.

In fact, I got lost somewhere between

Galaxian and Donkey Kong.

Which is why I feel a bit wary approaching

The World's End, on London

Road, a pub I've never been in before.

The whole place, you see, is dedicated to

arcade games. Modern arcade games.

Back in 1979, it wasn't even a pub. It has

had many incarnations in its 100+ year

history, spending much of its life as a

furniture store (Cobb's) before turning

into a FADS (a DIY chain owned by Bill

Archer) then a Marley's Homecare. It became

a boozer in the late nineties when it

was reincarnated, after some years empty,

as The Hogshead. Those were the days

when pubs were being given 'authentic'

sounding names like that.

It became The World's End in 2006, and

around ten years later got its current facelift,

a giant squid spreading its tentacles

across the large blacked-out windows on

the first floor, publicising Kraken rum.

Not a place designed to entice a 50-plus

bloke inside.

But this is a Laines pub, meaning there's

a big choice of good beers on offer, which

pulls me through the door into the spacious, high-ceilinged

interior. Turning my back to the virtual reality booths opposite

the bar (it's 6pm, nobody's playing on them yet) I opt for

a craft lager from their massive steel tun. I'm not hungry, so

I forego the food – the 'Killer Bites' menu includes burgers

like 'The Mario', 'Shroom Raider' and, gloriously, 'Spice

Invaders'.

I wander upstairs. A guy with a baseball cap is turning on all

the other machines, including one which looks like a superannuated

Scalextric game. Then I spot a familiar-sized machine.

It's an old-fashioned stand-up arcade console, and on it I find

Space Invaders. I stick in my quid, and am suddenly filled

with a familiar mix of terror and excitement, as a phalanx of

green monsters starts marching across the black screen in

front of me, making that noise…

Alex Leith

Photo by Jay Collins

....19....
---
BITS AND MOGS

...............................

CATS SEEKING LAPS #4

Single White Male Seeks Cuddle Friend

Name: Max

Age: 11 years

Occupation: Lovable gummy bear

Me: Hopelessly romantic, sensitive-but-rugged

outdoorsy type. Recently went on a spontaneous

adventure in the wilds of Eastbourne and

had to be rescued: starvation, fur loss, search

party... long story. I'm back now, a little rough

around the edges but ready for something real

with the right person. Missing a few teeth - ok,

all my teeth - but feelin' good and, after all,

looks aren't everything.

Interests: The Great Outdoors (I'm a bit of a

bird nerd), soft food, spiders and clean laundry.

Seeking: Someone who values life experience,

who knows that heartbreak only makes you

stronger and wiser, who enjoys dinner and a

movie - maybe even a bit of lap-sitting and stroking

if the mood takes us. Must be willing to mash

my food and groom me.

Dislikes: Unexpected guests, mastication,

commitment-phobes, the Eastbourne Badlands.

Words and picture by Cammie Toloui

Find Max and his many feline friends at Raystede

Centre for Animal Welfare. All their animals are

vet-checked, microchipped and character-assessed,

and Raystede provide life-long support and advice

for their rescued animals. raystede.org
---
BITS AND BOX

...............................

CHARITY BOX #29: MARTLETS HOSPICE

Martlets has been here 21

years. At the hospice we have

an inpatient unit with 18 beds,

but most of the care we offer

is outside of the hospice in patients'

homes or through our

day services. Having a terminal

illness doesn't necessarily mean

that you're going to die any time

soon. We like to have somebody

referred to us as soon as possible,

so that we can help them to live

well for as long as they can.

The first stage is that they will

be referred to us, by their GP,

nurse or hospital, and we will

assess their needs. They may only

need ad-hoc, light-touch interventions

from us for quite a long

time. They can access what we

call our day services – therapies,

clinical expertise, advice – and

they can pick and choose from

all the things on offer. We have

massage, reiki, tai chi, all sorts

of therapies – all given to us as

services by volunteers. They

can come in for welfare advice,

hairdressing and pampering; we

have a gardening group, a choir,

social events.

Half of the patients that stay in

our inpatient unit do go home

again. Some are here for respite

care, so their carers can have a

bit of a break, or because there's

been a change in their symptoms

and they need some short-term

support. We do have some cases

where people stay here right

through to end of life care, or are

supported to die at home. If that's

what they want, we will move

mountains to make that happen

for them. The last place many

people want to be when they die

is in a hospital, so we really try

to prevent unnecessary hospital

admissions.

I think there's a perception

that we're run and funded by

the NHS, but we're not. We

need to raise £7 million a year to

run the hospice and that comes

from a number of sources. Our

biggest income source is from

legacies – people leaving a gift in

their will. The NHS provide £1.5

million a year, and we have income

generated from a subsidiary

company called Martlets Care,

a domiciliary care agency who

donate all their profits back to

the hospice. The rest comes from

our shops and from all sorts of

fundraising events.

Snailspace is a huge fundraiser

this year, which we hope will

raise in the region of £300,000

for the charity. There are 50 large

snails, which are sponsored by

local companies, and each has

been decorated by a different

artist. This year there are also

57 junior snails that have been

painted by schools, youth groups

and nurseries, and they're going

to be part of the trail as well.

They'll all appear on the streets

of Brighton & Hove on the 15th

of September. There's a map, and

there's an app you can download,

which unlocks all sorts of special

offers and competitions. You can

get all the information from the

website: snailspacebrighton.co.uk.

As told to RC by Sally Brighton

themartlets.org.uk

....21....
---
ADVERTORIAL

A Call to

Adventure!

Have you ever wanted to just get up

and go? To leave the rat race behind

and discover what amazing treasures

the world holds?

Of course you have. But, how? That's the question

Brighton residents Harry and Georgina Kelly asked

themselves 6 months ago, and now the couple are

driving around Europe in a camper van with no

intention of coming home anytime soon.

"We'd always wanted to do some proper travelling

and when we both got an unexpected break

from work, we just thought, why not?" Georgina

Explains.

"We wondered how we'd pay for it, but started to

think about all the wonderful places we'd stayed

through Airbnb and thought that by renting our

home to Brighton holidaymakers we might be

able to get some income that way."

The couple had heard about Airsorted from a

friend's recommendation and decided to give

them a go

"After having a friendly chat with us, they listed

our home on all the rental sites, including

Airbnb and within 5 days we were off! They've

managed all the communications, keys,

cleaning and even topping up the shampoo and

shower gel! It's been completely hassle-free",

Harry adds.

"We also have access to our Airsorted 'dashboard',

so we can see our bookings and are

kept in the loop when we're away, which gives

us peace of mind. Income is deposited every

month, so we don't even have to think about it."

The Kellys are planning on heading to Italy next

before they embark on a trek through Eastern

Europe. "We've just spent the last month in

the South of France, biking our way around the

Languedoc region. We started in the Netherlands

and took the long way down through Germany

and then into France." Georgina explains.

"Once you get the travel bug, it's impossible

not to keep going. I think travel gives you a

different perspective of the world, it opens

your eyes to things. I definitely prefer to travel

rather than a holiday - I'm not very good at

sitting still!"

Are you a Brighton-based host already, or are

you new to home sharing and interested in

hosting in Brighton? We'd love to hear from you

so give us a call on 01273 257541 or visit our

website at https://airsorted.uk/brighton

VISIT AIRSORTED.COM/BRIGHTON FOR MORE DETAILS.
---
JJ WALLER

...............................

The theme of 'rock, paper, scissors' stumped JJ Waller, until we asked him to think

about images of makers and creatives. Then he instantly recalled a portrait he had

made of the infamous, iconoclastic clown Chris Lynam. "For over forty years, Chris

has consistently risen to the challenge of creating pioneering and surreal comic

inventions. Comedians are craftspeople too." He could certainly do with some safety

specs (and a pair of asbestos underpants).

....23....
---
Share the Roads,

Brighton & Hove

focus

LOOK

LISTEN

42% of collisions in Brighton & Hove

occurred because people were

not looking properly

6241_road_safety_A4.indd 1 14/09/2017 15:08

GARDEN CENTRE

FARM SHOP

OPENING

TIMES

MON-SAT

FARM SHOP

8am-6pm

SUN &

BANK HOLS

GARDEN CENTRE

9am-5pm

GARDEN CENTRE FARM SHOP

Now stocking a FARM large SHOP

selection of Spring

ßowering bulbs and Autumn bedding

20% off ornamental and fruit trees

GARDEN CENTRE

during September

Brighton Road, Henfield, West Sussex BN5 9RP 01273 494582 www.swainsfarmshop.co.uk

8 WEEKS, MONDAY NIGHTS, 1 ST OCT - 19 TH NOV @ THE MAYDAYS STUDIO, 12A REGENCY SQUARE.

£175 - BOOK BEFORE 3 RD SEPT FOR A 10% EARLY BIRD DISCOUNT: WWW.THEMAYDAYS.CO.UK/COURSES
---
BITS AND BOGS

...............................

MAGAZINE OF THE MONTH: FATHERS

Part of the journey when becoming

a parent is discovering

the seemingly infinite number

of skills that are required to

raise a child. You're expected

to be a mediator, a protector,

an entertainer, a multi-tasker…

There are bound to be moments

when it all feels too much,

and seeing representations of

polished kids with seemingly

perfect lives can feel demotivating

and far from reach. Social

media influencers have only

compounded the problem: proud parents carefully

curate profiles to show the photogenic side of

childhood, with the scuffed shoes, paint-stained

fingernails and blemished skin all kept out of sight.

Fathers is a magazine that doesn't seek to present

the perfect parent, but rather to show the precious,

genuine moments of life with your child. With

dads today far more involved in parenting than

previous generations, the approach to mentoring

from a paternal point of view is a refreshing

change for those looking for guidance.

Although being a guardian is

a natural instinct to an extent,

navigating the hurdles of

parenthood is never straightforward.

The journey requires

skills to be developed and

improved with careful reflection

and understanding. Fathers

shares not only the values a

dad may teach, but also the

lessons they have learnt from

their children along the way.

We learn that the presence of

children doesn't diminish the

opportunity to indulge in your own hobbies and

goals but deepens them. There are stories of how

sharing passions with children, learning together

and having joint experiences can develop an

unbreakable bond.

There are times that you might need all your

available resources simultaneously to deal with

the challenges that parenting will throw your way.

Fathers beautifully demonstrates the methods some

choose to handle the complexities.

Elise Ilett, MagazineBrighton

TOILET GRAFFITO #44

We've spotted a few of these pie-eyed octopi

around the city, but our advice is never to go toe to

toe with one. Instead, we find that most things can

be settled with a few rounds of rock, paper, scissors.

But where is it?

Last month's answer: Fortune of War

....25....
---
'Fantastic place, full of beautiful magazines. I just love this shop.'

the world of great indie mags is here in Brighton.

22 Trafalgar Street

magazinebrighton.com

@magbrighton

magazinebrighton
---
BITS AND BOOKS

...............................

NARCISSISM FOR BEGINNERS

BY MARTINE Mc DONAGH

There are certain books that stay

with us, never to be displaced by

the great works we might go on

to read. I'm thinking of tomes

like the Beano annuals I pored

over as a child, The Scout Handbook,

Richard Allen's Skinhead.

One book I often think about as

I mooch around the North Laine

is Alternative London, compiled

by Nicholas Saunders, and first

published in the early 70s.

This was my introduction to

hippydom. I tracked down a copy

a few years ago, and it was like stepping into a different

world. Headshops, where to find somewhere

to practise yoga, Eastern religions, and who to seek

out to follow them. Actually, come to think of it,

not so different from the North Laine after all.

Narcissism for Beginners explores an aspect of this

alternative world we've all come to set beside

footage of naked hippies frolicking in the mud

at Woodstock: namely, the manipulation of the

credulous by the unscrupulous. The novel tells the

story of Sonny Anderson and takes the form of a

letter to the mother he barely remembers. This is

because when he was five his father kidnapped him

from his home in Scotland and took him to live on

a commune in Brazil.

McDonagh voices Sonny in the first person, and

this is what gives the novel its great charm and

humour. Sonny has been raised since he was eleven

in Southern California by his guardian, Thomas,

and is as fluent in Valley Speak as he is knowledgeable

about his favourite movie, Shaun of the Dead.

Sonny has his quirks: he doesn't like the sound of

people chewing, kissing, or lying

to him and themselves. And he

doesn't think much of his father.

This is because on his twenty-first

birthday Sonny makes the first

of several journeys. The first is

to 'Trustafaria', when Thomas

informs him that he is now the

beneficiary of the Estate Agelaste-

Bim. Sonny is a multi-millionaire.

His guardian then suggests he

goes over to the UK and traces

those Shaun of the Dead locations

he's always wanted to see.

Thomas also gives Sonny the names and addresses

of people he should look up, and a series of letters

Thomas has written himself.

And so Sonny goes to London, Torquay, Brighton,

Scotland and the Lake District, as he pieces together

the story of his parents, and his upbringing.

His father was 'Guru Bim', leader of a cult, a

manipulative charlatan who damaged more people

than he ever enlightened.

This clever blending of the novel's oldest epistolary

form with contemporary cultural references,

and its treatment of the Larkinesque theme of

parents and what they can do to us, is brilliantly

handled. The novel made me think of a very

different narrator, Kenneth Toomey, the voice

in Anthony Burgess's Earthly Powers. In the end,

Sonny transcends family, to disprove Larkin's

assertion, and leave the door open for a sequel. I

for one can't wait to meet Sonny again.

John O'Donoghue

Narcissism for Beginners, Martine McDonagh,

Unbound, £8.99

....27....
---
Photo by Rebecca Cunningham

....28....
---
INTERVIEW

..........................................

MYbrighton: John Varah

Artistic Director, Same Sky

Are you local? I'm originally from London. I

lived in Devon for about four years, which was

lovely but a bit remote, and then I ended up living

in Spain for seven months. When I was thinking

about where to come back to in England, I

thought, well, I'll go to Brighton.

What do you do? I'm the Artistic Director of the

community arts charity Same Sky. It was started

in '87 after the murder of the two girls in Wild

Park. The council went up to Moulsecoomb

and realised it was more run down than they

thought. They realised there were problems on

the estate and they put some resources towards

an intervention or a community engagement

project. Obviously, the murderers have never been

found, and after a while the remit became more

Brighton-wide, particularly on the estates. I got

involved in '92 as a freelancer and then in 2001 I

went for the interview as Artistic Director. I was

part of the team who started the Phoenix over the

road, so I obviously had skills in finding money.

The trouble in Brighton is there's often no money

for anyone to do things, because it appears on the

surface to be well-supported.

Which events does Same Sky put on? The main

ones we do in Brighton now are the Children's

Parade and Burning the Clocks, and we do about

28 other events in the region. We took over the

Children's Parade, which had been running for

two years in the Pavilion Gardens, and we've done

26 of those. In about '97 we started Burning the

Clocks and that's now totally self-funded. We raise

money through crowdfunding, from donations on

the night, and from local organisations like Chilli

Pickle and ARKA supporting us.

What do you like most about Brighton? The

diversity of ideas. It's not as culturally diverse as

some of the places we work, but there are hightech

people and low-tech people and they all

tolerate each other, generally speaking. There's

a great willingness to network with people from

different creative backgrounds, and there are

a lot of interesting, quirky, give-it-a-go things

happening.

What would you change about it? I think the

problem is that everything's now becoming more

homogenised by the drive to build more housing.

Obviously it's necessary to have places for people

to live, but it means that over the years, lots of

little places have been disappearing. We're going

to have to leave our premises soon because the

building is being sold by the council. We've been

hiding in here for 30 years hoping no one would

notice, and there are about 20 illustrators working

upstairs, because it's stayed so cheap while the rest

of Brighton has become so expensive. Everyone

wants to come to Brighton because interesting

things happen here, but if everyone's gone that

makes those things happen, what will be left? I

guess my worry is that it will end up becoming a

victim of its own success.

Where would you live if you didn't live here?

We've been toying with living in the country

but we're not too sure… We've been wondering

about experimenting with it – going and living for

three months out near Ditchling or Barcombe.

Otherwise probably somewhere like Wales. I'm

sixty next year, so I probably haven't got that

many changes left in me. And we've got kids, and

they're starting to have kids, and that pulls you

more in to being nearer. Rebecca Cunningham

samesky.co.uk

....29....
---
BRIGHTON

PHOTOGRAPHY

You won't find the best views of Brighton

and the Downs at the top of the i360.

You'll find them at the

gallery next door.

Prints | Books | Cards

brightonphotography.com | 52-53 Kings Road Arches | 01273 227 523

BrightonPhotography-VIVA2018-1.indd 1 18/06/2018 11:38
---
PHOTOGRAPHY

....................................

James Winspear

Makers' spaces

This series began when I

photographed the artists

at Limehouse Arts and

Carpenter Road Studios

for my degree show at

London College of Printing.

I started by making portraits

of them in their studios,

but then I'd take the person

out and just photograph

the interior, trying to get a

sense of the person in their

space without them being

there. I've always found that

fascinating.

Painters' floors can be

very interesting. Pretty

knackered, with splashes

of paint and marks; almost like a still life within

themselves. Like Sophie Abbott's studio at Phoenix

Brighton. Her space had a crazy floor. Colourful like

her paintings. At first, I shot it on black and white

film but then thought, 'why would I do that when

there are all those shades of blue?'

It would be interesting to make a whole series of

photos of artists' floors. You can have four painters

working in a studio, but their individual spaces will

be quite different. They'll all have little personal

things on the wall: a snapshot, stuff they've clipped

out of magazines for inspiration and various objects

they've brought in to personalise the space. I like to

capture these little biographical details.

I find my subjects by word of mouth and by

visiting open studios. I'm usually attracted to the

artwork but sometimes equally by the space itself.

Most of this series has been shot at Phoenix Brighton

and at Cockpit Arts in Deptford and Holborn, but

I've also been visiting people at their home studios.

I enjoy photographing the making process, and

I'm interested in how

other people work and

the objects and tools that

they use. So much work

goes into the pieces

they produce. That was

especially true at my

most recent shoot with

Annemarie O'Sullivan,

a basketmaker in Isfield.

And Harry Owen,

who is a leatherworker

making amazing bags

for men. The amount

of work that goes into

them is extraordinary:

just working a little

piece of leather,

burnishing it, painting the edge and then repeating

the process. Each tiny piece takes so much time.

I left college with a portfolio of black and white

street photography naïvely thinking I would be

the next member of Magnum. I was a bit green. I

had a little Roliflex camera, a reflector and a tripod,

and started shooting some interiors and editorial

portraits for magazines like the Guardian Weekend,

Blueprint, Elle and Elle Decoration. I use a bit more kit

now and have been photographing food and chefs for

Deliveroo for the last year, but it's been nice to keep

up the artists and makers as a personal project.

I'd love to photograph someone making their

product from start to finish. That would be a

great commission. I'd like to find a glassmaker, a

shoemaker… all those lovely wooden lasts. Any

Sussex crafts people working in interesting spaces,

drop me a line.

As told to Lizzie Lower

jameswinspearphotography.co.uk

instagram.com/jameswinspearphoto

....31....
---
PHOTOGRAPHY

....................................

Artist - Allan Ramsay

....32....
---
PHOTOGRAPHY

....................................

Maker - Grain & Knot

Photos © James Winspear

....33....
---
PHOTOGRAPHY

....................................

Maker - Marmor Paperie

....34....
---
PHOTOGRAPHY

....................................

Artist - Sophie Abbott

Photos © James Winspear

....35....
---
PHOTOGRAPHY

....................................

Leatherworker - Harry Owen

Basketmaker - Annemarie O'Sullivan

....36....
---
PHOTOGRAPHY

....................................

Letterpress printer - Theo Wang

Photos © James Winspear

....37....
---
lola james harper

boy smells

basalt

skandinavisk

joya

seven seventeen

100 acres

maison balzac

earl of east

la montana

blackbird

voluspa

evolve beauty

bondi wash

votivo

moa

terrible twins

corinne taylor

kobo

wickcandleboutique.com

Wick Candle Boutique

is Brighton + Hove's unique

candle, home scent and

organic bath & beauty

specialist.

Find over 50 luxury &

artisan independent brands,

with free gift wrapping.

Shop online too

120 Portland Road, Hove

01273 911151
---
COLUMN

...........................

Lizzie Enfield

Notes from North Village

The house is quiet and candlelit when I arrive home.

The teenage boys are sitting quietly, absorbed in a

game of Monopoly.

I'd expected to find them agitated and grumpy after

an overdose of online gaming.

"Is it ok if I have friends round for a bit of

technological carnage?" my son had asked, before I

left for a day in London.

He knows that, like all good North Village parents,

I worry about the impact of computer games, while

recognizing they are part of the social fabric of his

generation.

"Make sure you eat first," I say. "Properly."

As if green vegetables will protect him from screeninduced

hyperactivity.

"We will," he replies and I can see that they have

eaten, as soon as I enter the sitting room. It's littered

with coke cans, bottles of something blue, crisp

packets and sweet wrappers – and board games.

As well as Monopoly, Articulate is out, plus the chess

set and draughts.

"No one left to kill in Call of Duty?" I ask, raising an

eyebrow, which they won't be able to see in the near

dark.

"Power cut," my son replies. "There was a massive

thunderstorm and there's no electricity now."

"Ah!" I go to the fuse box hoping a flick of a switch or

two will restore it. But nothing.

I go into the street, hoping to find other neighbours

wondering when power will be restored, but see only

the soft glow of electric lights coming from their

homes.

It's just our house in the dark.

I find a 24-hour electrician. I need to Pass Go to

afford his call-out charge but a credit card will do.

He arrives a couple of hours later, diagnoses dampinduced

short circuiting and says the remedy involves

extensive re-wiring.

It's late by now and he suggests making a start in the

morning when it's light. Will you manage without

power this evening?

It seems we will have to.

My son's friends cannot. They've had enough of the

dark and board games.

They leave.

The following week feels much longer than a week.

There are so many electricians pulling up floorboards

and drilling into walls. And so little electricity.

We are reduced to a single power point and a

dangerous-looking array of extension leads. The

boiler is off limits so no hot water. The idiom "we're

cooking on gas" gets used a lot. It's the silver lining.

But eventually it's sorted and everything works again.

And not long after there's a knock at the door.

It's one of my son's friends, one of the candlelit

Monopoly crew; or so I think.

"We have electricity!" I say, triumphantly, as I open

the door to him. "And hot water!"

"Oh, that's nice," he says, looking at me nervously.

"Mum," I hear my son coming down the brightly lit

stairs. "Jem wasn't here last week."

I think about telling him we're playing Monopoly and

I have all the utility companies, but I don't.

Illustration by Joda (@joda_art)

....39....
---
Lancing College

Preparatory Schools, Senior School & Sixth Form

Open Mornings

Saturday

6 October 2018

10.30am – 1pm

Lancing College

Lancing

West Sussex BN15 0RW

T 01273 465 805

E admissions@lancing.org.uk

Saturday

13 October 2018

10am – 12 noon

Lancing Prep Hove

The Droveway, Hove

East Sussex BN3 6LU

T 01273 503 452

E hove@lancing.org.uk

Saturday

13 October 2018

10am – 12 noon

Lancing Prep Worthing

Broadwater Road, Worthing

West Sussex BN14 8HU

T 01903 201 123

E worthing@lancing.org.uk

Registered Charities

Lancing College & Lancing Prep Hove 1076483. Lancing Prep Worthing 1155150
---
COLUMN

...........................................

John Helmer

Good times

Illustration by Chris Riddell

"When was the last time you went to something

like this?" asks our son Freddy.

"A festival?" My wife has to think about it.

"Knebworth, 1979."

"Wow."

For me it's a bit more recent; Hard Rock Calling

in Hyde Park 2012, featuring Iggy and the

Stooges, which I went to with Freddy. Like Kate I

tend to avoid outdoor gigs. The music I like best

comes out of dark, dingy clubs, and in my view

should stay there. Gigs outdoors just feel wrong.

I have a vivid memory from my own gigging

days of being chased around the stage by a wasp

when supporting the Gang of Four at a festival in

Amsterdam.

Outdoor gigs, besides, heap countless indignities

and discomforts on their punters. Not that we

can complain right now: we're cool and chilled

under a tree eating tacos and drinking mojitos.

Meanwhile, from a birdcage on top of the cocktail

van, a shaven-headed glitter-goth fights gamely to

pitch his counter-tenor voice above some inexpert

hard rock from the BIMM-stage on one flank, and

Jess Glynn's whingey pop on the other. Freddy's

younger sister Poppy appears with her posse and

demands cash for ice-cream. I pass a note and the

teenagers instantly dematerialise. Finally, cocktails

drained, we amble down to the main stage.

Perhaps the reason I don't like big gigs in

general is because I've always been wary of

pop's mainstream (even when I was part of that

mainstream). Chic, however, tonight's headliners,

were always the acceptable face of disco for

whingey indie types like me. And I'll forgive

Nile Rodgers anything - including detailing his

commercial successes on the house-high video

screens like it was some corporate CEO's end-ofyear

results deck. For he has given us some of the

best dance music known to humanity, and here

he is now playing it live for me - here, in Preston

Park, where on normal days I would be walking a

dog, or riding a bicycle.

After an hour of disco fun I take a break to visit

the portaloos and on returning can't find the

others. I wander, mildly panic-stricken, among

crowds of strangers as Nile Rodgers tells the story

of his recent brush with The Big C: "…And now

I'm here with you today, completely cancer-free!"

Huge cheers. Then Freddy spots me and I am

shepherded back to the fold. "I thought I'd lost

you," I say to Kate. She gives me a look.

Two years ago we were just over the road from this

spot in the NHS Park Centre, learning a game of

rock, paper, scissors,

whose new labels

were surgery,

chemo, and

radiotherapy.

But now we're

here together,

and also

cancer-free.

Then Nile

scrubs out the

familiar riff of

a song played

at pretty much

every wedding

disco ever, and

we are all for the

moment (quite

literally in the case

of Kate, Freddy

and me) family.

....41....
---
Sunday 30 th September

Wedding Fair

Malmaison Hotel, Brighton Marina

11.00am - 3.00pm

Come and meet a handpicked selection of fine quality wedding suppliers

Meet the Malmaison events team and take a private tour of this boutique styled, waterfront venue

Fantastic Exhibitors • Gifts for all the couples • Drinks on arrival

www.empiricalevents.co.uk

Tel: 01424 310580 @empiricaleventsweddingshows @empiricalevents

empirical

EVENTS

吀 爀 愀 渀 猀 昀 漀 爀 洀 礀 漀 甀 爀 栀 漀 洀 攀 眀 椀 琀 栀 漀 甀 爀 昀 椀 渀 攀 猀 琀 焀 甀 愀 氀 椀 琀 礀

匀 㨀 䌀 刀 䄀 䘀 吀 洀 愀 搀 攀 ⴀ 琀 漀 ⴀ 洀 攀 愀 猀 甀 爀 攀 椀 渀 琀 攀 爀 椀 漀 爀 猀 栀 甀 琀 琀 攀 爀 猀 ⸀

琀 ⸀ ㈀ 㜀 アパート アパート アパート 㠀 㐀 ㈀

攀 ⸀ 挀 漀 渀 琀 愀 挀 琀 䀀 戀 攀 氀 氀 愀 瘀 椀 猀 琀 愀 猀 栀 甀 琀 琀 攀 爀 猀 ⸀ 挀 漀 ⸀ 甀 欀

眀 ⸀ 眀 眀 眀 ⸀ 戀 攀 氀 氀 愀 瘀 椀 猀 琀 愀 猀 栀 甀 琀 琀 攀 爀 猀 ⸀ 挀 漀 ⸀ 甀 欀
---
COLUMN

...........................

Amy Holtz

The truth is, I'm a Minnesotan

We're listening to Radio 1

in the office. It's a penance

for putting the young one

through consecutive days of

Radcliffe and Maconie; the

small but significant divide

between our generations. But

their news is just as grim.

'The wasps, whose numbers

are surging because of the

prolonged heat wave, seek

out sources of sugar. This

means they're popping

up around beer gardens

in the UK. Drinking this fermented fruit,' The

Sussex Wildlife Trust explains, 'often leaves them

inebriated, which in turn makes them more likely

to sting.'

The other presenter chuckles, quips about

finishing all your cider. I snort, "Surely the wasps

are not actually getting drunk. Radio 1 – so

hyperbolic."

"There have been a lot around recently," my

colleague says, eyeing our open windows warily.

"If a wasp has a sip of cider, is that like a human

having a pint? So three sips is a guaranteed FWI?

Flying while intoxicated? Geddit?" I hear myself

braying at my own joke and realise it's definitely

time to get some air. The weather's been making

us all a little unhinged.

Outside, big gusts of wind buffet detritus from

Britney's visit to Preston Park - pink feathers,

sequins, cigarette butts - propelling me along on

my bike.

I'm watching as a seagull ferrets a mangled glow

stick out of a rose bush when something barrels

into my face. Instinctively my hand whips up,

swiping for the intruder, only it's not the usual,

unlucky fly but something

much, much bigger, with a

stubborn meaty, shape. Then,

a tiny knife seems to be

stabbing my lip repeatedly –

jab, jab, jab and I realise... oh

shit. I've been got.

A wooziness slows and drags

me over to the pavement, a

wispy fog settles in my head

and – I feel gingerly for the

place where my face has blown

up, throbbing – there seems

to be a poison-laced dagger

dangling from my lip.

"Could I hab a minute wiv the doctor?"

The receptionist looks up at me from her

paperwork and then, wincing, peers intently at the

lower half of my face. In the space of five minutes,

I've become The Thing.

"I juss want theb to tell be by face won't fall off."

Tapping furiously on her keyboard, she nods once.

"I'm messaging him now."

The doctor too, can't hide his incredulity.

"Wasp. Drunk." I mutter, trying to close my

mouth around the words. I might be drooling.

"Oh," I exclaim, "not be – the wasps. Doctor, be

honest wiv be," I say, leaning forward. "Is thiss the

most ridiculous thing you'b eber seen?"

He doesn't answer, and as he turns to his computer

I swear his shoulders shake. "Ice, paracetamol,

antihistamines. Should go down in a few days." He

hazards another glance, grimaces. "I'm sure that

really hurts."

"It's kinda sexy, though." A friend says, a day later.

"Well, from that side."

"It looks like I could only afford half the filler." I

say, with a sigh as big as my lip.

....43....
---
Sat 15 Sep

Live at Brighton Dome

Stand up comedy featuring Rob Delaney, John Kearns,

Fern Brady, John Robins and compère Mae Martin

Sun 23 Sep

Austentatious

Sat 29 Sep

Jazz Jamaica All Stars

The Trojan Story

Wed 10 Oct

Michael Clark Company

Fri 19 Oct

TROPE: Spoken Word Night

Tue 6 Nov

Hofesh Shechter Company

Sat 17 Nov

kraftwerk re:werk

17.9 | Komedia, Brighton

Lost Horizons

27.9

Church of Annunciation, Brighton

Emilie Levienaise

-Farrouch

Resina

Shida Shahabi

13.10 | Rialto, Brighton

Halo Maud

15.10 | The Greys, Brighton

Benjamin

Lazar Davis

18.10 | The Greys, Brighton

Dawn Landes

23.10 | Komedia, Brighton

Tunng

24.10 | Green Door Store, Brighton

BC Camplight

9.11 | The Old Market, Brighton

Gruff Rhys

11.11 | Rialto, Brighton

HALEY

15.11 | Green Door Store, Brighton

TVAM

22.11| Green Door Store, Brighton

The Lucid

Dream

27 .11 | Ropetackle, Shoreham

LAU

01273 709709

brightondome.org

Michael Clark Company © Hugo Glendinning

Tickets for shows are available from your local record shop,

ticketweb.co.uk or the venue where possible.

meltingvinyl.co.uk
---
MUSIC

..........................

Ben Bailey rounds up the local music scene

Photo by Jarrad Seng

PASSENGER

Sun 9, Brighton Dome, 7pm, £26

Once upon a time there was a local band called Passenger who

released one album and split up without much ado. Ten years

later, a similar-sounding act, also called Passenger, are packing

out the Brighton Dome. Songwriter Mike Rosenberg took to

busking around Europe when he quit his band, but kept the

name. He toured Australia, somehow became mates with Ed

Sheeran and ended up winning an Ivor Novello Award for hit

single Let Her Go (a song, he says, which continues to be confused

with the ballad of Queen Elsa). Judging by the crowd that gathered back in June when Mike

popped up for an acoustic set on a tiny stage by TK Maxx on North Street, this will be rammed.

Photo by Todd McConnochie

LOST HORIZONS

Mon 17, Komedia, 7.30pm, £12

After 20 years on the sidelines, former Cocteau Twin bassist Simon

Raymonde was coaxed into the studio by old music biz buddy Richie

Thomas, himself a veteran of the post-punk indie scene from his days

in Dif Juz and The Jesus and Mary Chain. What started as an informal

jam session resulted in a 15-track album of lush, old-school shoegaze

featuring a dozen guest vocalists. Raymonde, who also runs indie label

Bella Union, opened a record shop in the Lanes a couple of years ago and has since recruited a crop

of Brighton talent for the band's live shows. Originally booked for April, this rescheduled date features

support from Penelope Isles and Crayola Lectern.

STRANGE CAGES

Wed 26, Hope & Ruin, 8pm, £7/5

Though they've nailed the moody look of heyday-era Suede, Strange Cages'

sound owes more to the fuzzed-up mayhem of 60s psych and post-punk.

Their take on rock'n'roll also captures something of the single-mindedness

of perennially cool groups like The Stooges and The Cramps. With paranoid

vocals wedded to sludgy grooves and frenetic surf-rock riffs, the Brighton

trio deal in the sort of upbeat doom that will probably appeal to fans of The

Wytches or Thee Oh Sees. This Hope & Ruin show, organised by rising

local promoters Acid Box, marks the launch of their new EP, Silver Queen. The band's live show is

something to behold, so anyone averse to the idea of a moshpit should consider themselves warned.

....45....
---
TASTING ROOM

& CELLAR DOOR

-

Dine in the heart of a Sussex Vineyard from a

menu of seasonal, modern British cuisine

DINE IN OUR

RESTAURANT

TASTE OUR

WINES

PURCHASE OUR

WINES & SPIRITS

XMAS BOOKINGS

WELCOME

Tasting Room, Rathfinny Wine Estate, Alfriston, Sussex, BN26 5TU

01323 870 022

rathfinnyestate.com

@RathfinnyTR
---
LITERATURE

.............................

AL Kennedy

'I'm more a realist than a pessimist'

A certain reputation

precedes AL Kennedy. She

is a formidable writer, of

course, an award winner

for many of her novels

and short stories. She has

been selected three times

as a Granta Young British

Novelist. The words most

often used to describe her

writing are 'bleak' or 'grim'.

As The Independent once

noted: "She knows grimness

the way some novelists

know music or food." In occasional interviews

(apparently she is not a fan of journalists) she

comes across as intense; serious; terse.

Our email exchange doesn't exactly contradict

this picture. But the Scottish author seems a little

weary of this caricature. "Reviewers read reviews,

so initial judgments will repeat," she writes in

response to a question about the darkness of her

material. I can almost hear her sigh. "I've been

asked that question for around 30 years now, for

example. Generally readers report the work as

funny and/or moving, which I'm happy about. I'm

more a realist than a pessimist."

Similarly, she brushes away the idea she is

especially interested in writing about people whose

lives have been overlooked - characters such as

the troubled WW1 airman Alfred Day in her

2007 Costa Book Award-winning Day. "I'm drawn

to people. Most people have lives like that." She

wishes interviewers would ask her instead about

topics such as "voice, joy, and passion". "I almost

never get asked about them," she comments,

bringing to mind a Goth sad not to have been

invited to a barbecue.

But it must be annoying to be painted as an

arch-miserablist when

one's work is as complex

as Kennedy's. In a recent

interview with The

Guardian she described

London, which she

recently made her home,

as being 'not so much

a city as an investment

opportunity'. But she also

talked about the many

touching incidents she had

witnessed between people

there, and had woven into

her latest novel, Serious Sweet.

Then there is her apparently unlikely sideline in

stand-up comedy, a genre she sees as 'just another

form of storytelling'. "You can talk about today's

news to today's people, not write something and

see it in a book two years later. And if it bombed,

that's gone and if it was great, that's gone. You

move on." Writers and comics have more in

common than it may seem, she adds. "Generally

there's more vulnerability amongst comics and

very good conversations about books, simply based

on love. But the worlds are not dissimilar."

We move on to her forthcoming appearance at an

event celebrating 20 years of Mslexia magazine at

Charleston's Small Wonder short story festival.

She's as surprised as I am by the mention of

'women writers' in the event blurb. Perhaps,

she suggests, it's because Mslexia was set up to

promote writing by women. Either that or it's 'the

Edwardian air down at Charleston.' I'm only a

little bit surprised to see the comment followed by

a smiling emoji. Nione Meakin

The Literary Monologue: Celebrating 20 Years of

Mslexia, 28th September, part of Charleston's Small

Wonder short story festival, 28th-30th September.

Photo by Donna Lisa Healey

....47....
---
Tourist Destination of the Year

Lewes District Business Awards 2018

Depot Cinema, Kitchen & Bar

"This place is a triumph.

3 screen cinema … the food

is superb."

TripAdvisor reviewer

"Great place to go for a meal or

drink. My new fave cinema …

Lewes is very lucky!"

TripAdvisor reviewer

lewesdepot.org

Next to Lewes station

Pinwell Road, Lewes BN7 2JS

01273 525354

4.8

4.8 213 Facebook reviews

4.5 327 Google reviews
---
FILM

.............................

W0FFF

Women Over Fifty Film Festival

Director Nuala

O'Sullivan founded

the Women Over

Fifty Film Festival

(WOFFF) in

response to the

evident lack of roles

for older women in

front of and behind

the camera.

"What I find, as a

woman who has

gone through the menopause," Nuala tells me, "is

being over fifty can be an incredibly positive and

creative time. Talking to women in their fifties

and beyond, it's kind of like they have a whole

new lease of life. I think the quality and quantity

of work we see submitted to WOFFF really

reflects that."

Sadly, the need for events like WOFFF is clear,

because this work just isn't often seen. Of the few

women who direct feature films an even smaller

percentage create a second, and numerous barriers

prevent gender equality, including motherhood

and other caring responsibilities, as Nuala

explains. "We're also talking about ageism and

sexism… the 'glamour' and 'beauty' of the movie

industry. All of these things mitigate quite badly

against older women. As a writer and producer, I

wanted to take something that was quite negative

and make it into something positive, something

community-focused and fun."

WOFFF started four years ago, says Nuala, "at a

wee community hall in Seven Dials". This year it

is a four-day festival. The event will encompass

screenings of two features and over fifty short

films, workshops, networking events, talks, panel

discussion and an awards ceremony.

"Equality in film is something everybody has to

push at," says Nuala.

"I think movements

like #metoo and

#whatsnext have

made a massive impact

in terms of how

people are making

work; what film

crews are looking

like; what behaviour

is like on set, and

what kind of stories

we're seeing on screen. It's made audiences and

filmmakers aware of, and crave, other stories - not

only those of cis, white, straight, young men.

"The thing I can do, in my way, is to celebrate

older women. Organisations like Raising Films,

Directors UK and Women in Film & TV are all

looking at it from different angles and I think

that's the way to go. Audiences are really important

- they have the power. What films do they go

and see, particularly on opening weekends?"

The premise of everything shown at WOFFF

is that there must be a woman over fifty really

driving the action on screen or as part of the core

creative team. "What this means," says Nuala, "is

we're a really inclusive festival – a documentary

by a 16-year-old boy about his 53-year-old grandmother

would be welcome at WOFFF.

"I think women in their fifties and beyond are

experienced and complex and layered and angry

and exciting and sexy, so the binding theme of the

festival, if there is one, is that the stories are good.

It's about weaving all of their experience and their

life and their love into the work that they do…

The breadth of work that's submitted is quite

amazing." Chloë King

20th-23rd Sept at Duke of York's Cinema and

Lewes Depot. wofff.co.uk

Photo of Nuala O'Sullivan by Daniel D Reimer

....49....
---
MUSIC

.............................

KitFest

Together through tragedy

An incredible line-up of

Brighton performers, including

Fujiya & Miyagi and

Alice Russell, are coming together

this month, alongside

compère David Shrigley, for

a unique fundraising concert

inspired by a local family

tragedy.

James de Malplaquet is

organising the event after he

and his wife Sarah lost their

newborn baby, Kit, last year

to a little-understood viral infection. In the wake

of this devastating experience James and Sarah

decided to set up a charity to raise awareness

about the condition, neonatal herpes, which

took the life of their child.

"It's not easy to explain what it's like to lose a

baby in such circumstances," explains James.

"Pretty much everything falls apart. I decided

we should get away for a bit to try to recover a

little, and while we travelled there were many

sleepless nights. During one of them, Sarah

realised that she was in a unique position to

make a difference."

The Kit Tarka Foundation (KTF) was formed

in January this year, with Sarah at the helm. The

foundation's aim is to prevent the death of newborn

babies through research and education.

"Neither of us have a medical background," says

James, "so it has been a steep learning curve

getting our heads around what happened to Kit

– especially considering the lack of information

and research out there. Sarah persuaded me that

we have a moral obligation to try to prevent this

happening to other parents. It's not often that

you can honestly say that you can save lives, but

we are certain KTF will."

James, who used to front

Brighton band The Miserable

Rich, realised he was able

to make a contribution by

calling in some favours from

old friends. He's now rounded

up an impressive roster of

local acts for a special oneoff

concert that's come to be

known as KitFest.

"I know a lot of musicians

from gigs, bands, shared

friends and parties. When we started plans for

fundraising events this seemed like the obvious

thing for me to do. Brighton's top motorik band

Fujiya & Miyagi and soul queen Alice Russell –

the latter rolling back the years in an intimate

acoustic set with TM Juke – have both kindly

agreed to play for free, as have Gloria Cycles (in

their first gig for eight years), 40-piece female

pop choir We Bop and songstress Jess Bishop.

My own band, The Miserable Rich, will also be

getting back together for what is likely to be a

highly emotional set.

"Obviously, it's a tragedy that's bringing us

together. I think it will be a difficult weekend

for us – but we have had such a difficult year,

that's really the new norm. KitFest will raise

further funds for research and education – as

well as marking what should have been the first

birthday weekend of our son. However, we are

trying to avert future tragedies and that is a very

positive thing, so we are determined to make a

positive, even joyful, day out of it." Ben Bailey

St George's Church, Sat 15th Sept, 4.30pm, £18

Tickets from kittarkafoundation.org/kitfest or

from Resident records and The Hand In Hand.

....50....
---
MUSIC

....................................

Thomas Dunford

The lutenist and the Lapwing

At the age of fifteen,

Thomas Dunford was

performing on stage at

the Comédie Française

theatre in Paris. The

Spectator described him

as 'a teenage rock star

of the lute', while BBC

Music Magazine made

favourable comparisons

with guitarist

Eric Clapton. So what

brings this internationally acclaimed musician to

the 60-seat Lapwing Festival at the Coastguard

Cottages at Cuckmere Haven on Sunday 2nd

September? "When people are friendly and the

place is beautiful, it's as good for me as being in

Carnegie Hall," Thomas tells me.

The lute is often seen as a medieval instrument,

although its origins can be traced back much

further. However, you're unlikely to hear a

truly original lute being played. "It's one of the

most fragile instruments that exists because it's

extremely thin," admits Thomas. "Most instruments

that are from the time have to be restored;

they don't age like violins. After 30 years, the

soundboard gets a little tired."

As well as having a long history, the lute is also

more broadly defined than most modern instruments,

with the number of 'courses' (strings)

varying depending on the musical style and the

manufacturer's preference. "The 'lute' could mean

a six-course lute or a seven-course lute, theorbo or

chitarrone [types of long-necked bass lute]… there

are maybe a hundred different ways of playing and

making the instrument," explains Thomas.

Innovative interpretation is something he has

embraced. He's recently formed 'Jupiter', a

group of musicians

who "play baroque

music with my own

convictions, which are

that this music should

be not conducted but

everybody has to be the

composer together."

This is how he believes

the music was originally

performed. "I

think the way baroque

musicians would work was closer to what we do

now with jazz music, where they improvise a lot.

Bach himself was known more as an improviser

than as a composer in his time. In order for us

to play music by extraordinary improvisers, we

have to know what it is like to create music out of

nothing because that is what they were doing all

the time in the baroque world.

"The lute is one of the most subtle instruments

that I know. There are so many possibilities of

tone colours – and it's an instrument that asks

for silence. You play one note; there's a lot of

resonance… and the resonance is always dying

out. So it's an instrument that always invites the

silence into variety."

Earlier this year Thomas released a CD of music

by JS Bach, including some pieces that were

originally written for other instruments. "When

he writes, you feel that he's not thinking of any

technical means, he's thinking in pure musical

form," he says. "That's why Bach works on any

instrument. It's the hardest and also some of the

most beautiful music." Mark Bridge

The Lapwing Festival runs from August 31st until

September 2nd at Cuckmere Haven.

lapwingfestival.com

Photo by Julien Benhamou

....51....
---
TALK

.............................

Augusto Corrieri

The magic of theatres

What does a magician write

about when he writes about

the theatre?

If you went to Edinburgh in

August you might have seen

Vincent Gambini performing

a post-modern conjuring

show at the Underbelly.

Gambini's real name is

Augusto Corrieri, he's a

lecturer at the University

of Sussex, and he's doing a

performance at ACCA this

month based on his book In

Place of a Show, which asks

the question: 'what happens

in theatres when nothing is

happening'.

"Fact or fiction?" I ask him, down the phone,

having spent a couple of days with the book, in

which Corrieri examines four different theatres

which, in one way or another, aren't what they

used to be.

"It's kind of activated imagination," he tells me,

citing the first of four buildings he examines, the

Munich Cuvilliés-Theater, whose rococo interior

was taken away during the war to save it from the

Allied bombing raids which later destroyed the

rest of the building. Then, in a kind of reverse

'now you see it now you don't' it was rebuilt as

an exact replica in the same spot in 1951.

Or so Corrieri tells us in the first chapter. In the

second, he reveals this "idea of the theatre that

refused to go away" to be a popular misconception,

spread by propagandists. It was actually restructured

in a different space: a modern theatre

had by then been built where it used to stand. A

sleight of hand, then.

Corrieri then leads us a merrily

erudite dance round three

other theatres. First it's the

Dalston Theatre, torn down

before he moved to the area in

2007, where he sat for hours a

day looking at the space where

the stage used to be (by then a

Starbucks). Next up the Teatro

Olimpico in Vicenza, built

four hundred-odd years ago by

Palladio, hardly used since, and

inhabited by a sole swallow.

And, finally, the Manaus Opera

House, built in the rainforest

during the brief Brazilian

rubber boom, and since, he's

told by a tour guide, used as a

football pitch, and a car showroom. Or was it?

Along this twisting way he peppers us with

thoughts on the theatre by the likes of Calvino

and Kafka, Borges and Barthes, while increasingly

bringing himself into the narrative. But does

he tell it like it happened? "The order of things

is different and certainly the discoveries I made

along the way are entirely edited, amplified, taken

away and made to look like this one smooth

event," he says. So that's how the magic happens.

After a two-year hiatus, Corrieri is reprising his

show at the Attenborough Centre to coincide

with the release of a new paperback version of

the book. He held the launch of the hardback in

the same space two years ago, though he didn't

attend it. Neither did anyone else, for that matter:

the theatre was closed down for an hour and

invitees were asked to stay where they were and

imagine being at the party. Alex Leith

ACCA, 27th September, 7pm, £5/3

....53....
---
Sparkling arts events in the heart of Shoreham-by-Sea

THE KING IS BACK

Sat 1 Sep

PAW PATROL LIVE!

Sat 8 & Sun 9 Sep

CHAMPIONS LEAGUE

OF DARTS

Sat 22 & Sun 23 Sep

JACK WHITE

Tue 16 Oct

box office 0844 847 1515 *

www.brightoncentre.co.uk

*calls cost 7p per minute plus your phone

company's access charge

TREASON PRODUCTIONS

BRIGHTON'S RECORD BREAKING SMASH HIT SATIRICAL COMEDY SHOW

THE TREAS N SHOW

"Brighton is rightly very proud of this company" The Argus

They're Not There For You

BOX OFFICE: 01273 464 440

LITTLE HIGH STREET, SHOREHAM-BY-SEA, BN43 5EG

The Argus Chortle.com

"Savagely funny-fantastically silly" THE GUARDIAN

Fri 14 & Sat 15 September

8.30pm (doors 7pm)

The Latest

Tickets from £10.00 -£16.00

add £10 for fish & chips meal DeaL

Book online www.treasonshow.co.uk

Table reservations now available for advance booking
---
MUSIC

....................................

José González

and The String Theory orchestra

José González, the Swedish-Argentinian guitarist

and singer who most people discovered

through his 2006 cover of Heartbeats, comes

to Brighton this month backed by The String

Theory orchestra for a radical overhaul of his

usually minimalist music.

What is The String Theory? It's a 22-piece

orchestra that started off in Berlin as a collaboration

between a collective of musicians and

arrangers. When one of them moved to Sweden

they decided to do the same sort of experimental

collaborations, but in Gothenburg. And I was

one of the invited artists. We did one song and I

liked it a lot, so I asked them to do more and we

ended up touring Europe and the States. Now

we're back on tour again, this time hopefully

with a live album coming out.

What kind of stuff will you be playing? The

songs are all mine and most of them are pretty

old, but the arrangements are quite creative

and varied. They range from very classical and

harmonic, to a bit more soundscape-orientated.

We have string, brass and woodwind sections,

and we decided to add some electric guitar

with effects, to get a more Spiritualized type of

feeling. It's still my voice, and I'm not singing in

different ways, but a couple of the arrangements

are a bit more out there.

Were you surprised by any of the arrangements

they came up with? Most of them,

actually. It's worth mentioning Every Age, which

is very simple on the recording with my guitar.

It's one of the most simple songs, but in the

orchestral version there's a pretty long intro

that's very melancholic. It reminds me of the

composer Arvo Pärt in its simplicity with all the

strings, and then it ends with a very bombastic

and larger-than-life type of feeling.

Do you still enjoy touring? It's great, but I

definitely overdid it in the past. There's a sense

of not knowing if this will last forever, so it's like

riding the wave while it's still there. I can sort

of understand why I did what I did, but looking

back I think I toured way more than I needed

to. It's all good in a way, I can sit back and know

that lots of people heard me, maybe ten years

ago, and maybe they want a nostalgic moment. I

think I reached a lot of people with touring.

How have the new arrangements gone down

with your fans? Judging from the audiences

when we tour with the orchestra, the reactions

are pretty positive. There's something about

hearing these songs in fleshed out versions with

so many acoustic instruments. It adds another

layer to the whole thing and hopefully this will

make the songs last longer, in a way. I wouldn't

mind growing old by doing these sorts of concerts.

As told to Ben Bailey

Brighton Dome, Fri 21st Sept, 7.30pm,

£31.50/26.50

Photo by Malin Johansson

....55....
---
LAURIE ANDERSON

& HSIN-CHIEN HUANG

CHALKROOM

4 – 25 OCTOBER

MAX COOPER: AETHER

4 – 6 OCTOBER

SUZANNE CIANI &

MARTIN MESSIER

8 OCTOBER

GAIKA &

GAZELLE TWIN

11 OCTOBER

JAMES HOLDEN &

THE ANIMAL SPIRITS

12 OCTOBER

01273 678 822

attenboroughcentre.com

University of Sussex, Gardner Centre Road, Brighton BN1 9RA

BRIGHTON

DIGITAL

FESTIVAL

2018

EVENTS

DJ YODA

Saturday 1 September

CORINNE BAILEY RAE

Friday 7 September

PARK(ING) DAY

Friday 21 September

THE ROBERT CRAY BAND

Monday 15 October

THE FEELING

Thursday 18 October

EXHIBITION

LUCY BEECH

REPRODUCTION EXILE

Saturday 15 September

CHARITY NUMBER: 1065586

1574.3 DLWP Viva Lewes ad Sept 28x94mm.indd 1 13/08/2018 16:41
---
DANCE

....................

SKIN

Difficult stories through dance

'Hip-hop is a fantastic medium to tell stories

that might otherwise go unheard.' Brighton-based

choreographer Andrea Walker on

why his company 201 Dance is highlighting

transgender experience in its latest work.

Why did you want to make a show about

gender transition? Trans identity and trans

experience are still very underrepresented in

popular culture. The mix of urban movement

and storytelling in our previous show Smother

attracted an audience who wouldn't normally be

exposed to such stories, so we thought it'd be

exciting to continue on that path with SKIN.

How was your own understanding of gender

shaped? I grew up in Italy, which, even today,

isn't the most progressive of places. When

I was 16 I spent a year in the United States

studying dance and film at the Metropolitan

Arts Institute in Phoenix, Arizona. It was there

- surrounded by some incredible people - that

I understood how varied the gender spectrum

really is.

What were the challenges of tackling such a

complex topic via dance? It was hard to keep

the story clear and powerful without sacrificing

any of the important messages we wanted to

portray. We worked hard with dramaturg Kit

Redstone to find the right balance. The final

result is an emotional story of family, identity

and belonging.

Why hip-hop? There are countless members

of the LGBTQ+ community who are hip-hop

dancers, yet LGBTQ+ stories are not usually

presented on stage through this style of dance.

Hip-hop is a style that audiences associate with

entertaining, powerful and accessible movement.

I think it's a fantastic medium to tell

Photo by Christopher Nash

stories that otherwise might go unheard.

What did you want from the dancers? I like

dancers who can take on my choreography but

also add their own personal flair. The show

is very physically demanding, so the dancers

need to have a lot of stamina and explosive

power, whilst also being emotionally engaged

with the material.

One of the dancers portrays the protagonist

as a female child; how did you explain the

character's struggle to a dancer that age?

We were surprised to find all the children we

worked with to be incredibly 'woke'! Our producer

and associate director Patrick Collier was

fantastic in talking them through the struggles

our main character faced and what their place

in the show represented.

The stated aim of your company is to

confront controversial issues and challenge

social prejudices; do you feel you have

achieved this? More can always be done! With

both Smother and SKIN we aimed to tell difficult

stories through a medium that wouldn't

normally tackle such experiences. With our UK

tour of SKIN we hope to reach more people

than we've ever done before.

Why did you make Brighton your home?

I've always been open about my struggles with

anxiety, and Brighton's air and seaside has had

a great impact on that. It's also been incredible

for my work. It's a place filled with artists and

creativity, all of which really help me keep

inspired. Nione Meakin

SKIN, The Old Market, 7th September

....57....
---
FAMILY

.............................

Kids' theatre workshops

What's the fly floor for?

Aspiring young

stage managers

and set designers

have the opportunity

to gain some

backstage experience

at Brighton's

oldest theatre. The

Theatre Workshop

course is a nineweek

programme in

which kids aged ten to twelve get to try their

hand at devising and writing a theatre piece,

designing their own sets and learning what the

'fly floor' is all about.

"The course is for children and young people

to find their creativity and be in a building

which inspires them," explains Jackie Alexander,

Creative Learning Manager at Theatre Royal

Brighton, "whether they just want to find out

more about the theatre, or whether it might be

something they want to pursue in the future."

The course is very much "led by the children

and their individual interests," Jackie says. "If

one of the participants is particularly interested

in writing, we'll nurture that part; if one of

them is especially technical, there are opportunities

for them to have a session with our

crew where they can find out how the light and

sound work, and go up to the fly floor." The

fly floor is a platform to the side of the stage,

from which equipment and set parts are raised

and lowered, manually, by rope. "I think we're

one of only two 'hemp houses' left," Jackie says.

"Most theatres now are able to bring things in

and out by pressing a button, but ours is all done

on rope, with people pulling them in and out.

It's great when the kids go up there and have a

go - it's a very unusual experience for them."

Jackie has herself

had a varied career

in theatre, since

leaving school: "I

started in my home

theatre, Wimbledon,

working

backstage, doing

dressing and general

stage crew. Then

I moved into box

office, and I worked in children's theatre, and

I've been a producer… Everybody here has had

a very different route into theatre, so when I

meet young people who are interested in working

in this business, I always encourage them to

find some front of house work or get in there

somehow, and then show their willingness and

interest in learning."

Introducing young people to the many ways in

which they could pursue a career in theatre is

one of the major parts of Jackie's role. "Because

how would you know, otherwise? If you don't

know anybody who works in theatre, you

wouldn't have a clue how to get into it. It still

is one of those businesses that really helps if

you've got some sort of inroad. Coming here

to do a workshop when you're a kid means that

you haven't got that fear - you know what a

theatre looks like and you know that everybody

who works here is actually alright, they're not

terribly posh and speaking in Shakespeare

all the time. I think that makes a really big

difference."

Rebecca Cunningham

Theatre Workshop course: Tuesdays 18th Sept

– 20th Nov (excl 23rd & 30th Oct). Final session

Wed 28th Nov. £10 per session, book at

atgtickets.com/brighton

....59....
---
PHOTOGRAHY

.............................

© Émeric Lhuisset 'L'Autre Rive', Iraq, Turkey, Greece, Germany, France, Denmark, Syria, 2010 - 2017

Brighton Photography Biennial

A new Europe

24 billion selfies were uploaded to the internet in

2016. 24 billion.

Mass access to digital technology doesn't mean

that great photographic art isn't being produced,

though. Despite government attempts to return

the curriculum to a Nigel Molesworth era of 'lat,

french, geog, hist, algy, geom', A-level photography

has never been more popular, and this month

sees the return of the internationally renowned

Brighton Photo Biennial, with four inspiring

weeks of free exhibitions and events.

This is the 8th Biennial, and it's organised by

Photoworks, a national development agency for

photography, based at the University of Brighton,

and supported by Arts Council England. Shoair

Mavlian, recently appointed as Director at

Photoworks after six years at the Tate Modern, is

the curator.

"The theme is 'A New Europe', which is such

a hot topic, and the works we're showing will

provide a space where people can come and talk

and debate our current state of flux," she explains.

"Donovan Wylie, who lives in Belfast, does

landscape work, and we're showing his lighthouse

series. He's interested in the physical barrier of

the sea between us and Europe. On a clear day, as

his work shows, you can see lighthouses in France

from the UK, so his work really conveys that sense

of being separate and yet connected.

"Emeric Lhuisset's work is particularly interesting,

in that he's using a 19th century technique, cyanotype.

The pictures fade when exposed to light, so if

....60....
---
PHOTOGRAHY

.............................

© Harley Weir, Homes, 2016

you see it on the opening day and then come back

a couple of weeks later, you'll see them fade to

blue, which suggests the ocean and the EU flag.

"We're also going to be looking back to the 1990s

when the opening of the Channel Tunnel physically

linked Britain to the continent for the first time.

The Cross Channel Photographic Mission was

the predecessor of Photoworks, and the idea was

that the building of the Channel Tunnel would be

documented on both sides, in France and in England.

The opening of the tunnel was huge. For the

French, as the photos from Calais show, there was

a lot of optimism, whereas here there's always been

some scepticism."

There's a whole programme of tours and

workshops throughout the exhibition, at various

venues, including the chance to see what develops

when you do cyanotype work, and there are opportunities

for the resulting work to be shown in

pop-up galleries both in and outdoors.

"We have 30,000 followers on the Photoworks

Instagram page" says Shoair, "and we get a

different artist to take over each week. We find

them via Instagram, so that's really positive; 52

new artists a year. There are so many images

circulating these days, and the way we share them

is changing. It's a really diverse career now, with

people doing so much crossover work: personal,

artistic and commercial. I think it's a great time to

be a photographer!" Andy Darling

Brighton Photo Biennial, 28th Sep – 28th Oct,

bpb.org.uk

....61....
---
ART

....................................

ART & ABOUT

In town this month...

Alex Peckham

It's all going digital at Phoenix this month, with three Brighton

Digital Festival exhibitions running side by side. Forever is a

virtual reality artwork, by Alex Peckham, premiering at Phoenix

from the 14th-17th. Peckham, whose show Memoria was a big hit

in the same space last year, intersperses fantastic and dreamlike

elements into his own home, to create, for the goggle-wearing

public, 'a unique and dreamlike experience'. It's free, but booking

is recommended. CAS50, meanwhile, celebrates 50 years of the

Computer Arts Society (13th-23rd), with works by the likes of Stephen Bell, Desmond Henry, Ernest

Edmonds and Sue Gollifer. And finally, the Lumen Prize Exhibition (13th-23rd) showcases a selection of

this year's shortlist chosen by Brighton Digital Festival director Laurence Hill.

Remember those colourful Snowdogs that appeared all over

town last year? That campaign was so successful – raising

£310,000 for Martlet's Hospice – that the charity has come

up with another idea. It's called Snailspace (not Snailtrail,

sadly) and instead of giant dogs, you'll see an army of giant

snails dispersed around town, each one decorated by a

different artist, and sponsored by a different company (see

pg 21). [snailspacebrighton.co.uk / #bemoresnail]

Beverley Naidus

There's some pretty rad

stuff going on at ONCA.

Beverley Naidus' We

Almost Didn't Make It

continues till the 9th; from

the 17th to the 23rd, Irene

Fubara-Manuel presents

her installation Dreams

of Desire, which is, in the

gallery's words 'a traversal

of the virtual border and

the racialized biometric

technologies in which

this space exists. It blurs

documentary truth and science fiction, to reveal the ubiquitous

surveillance of migrants, the violence inherent in this practice

and the desire for opacity'. Go figure.

Walking into Paradise (detail) by Luke Hannam

Finally, it's worth popping over to

Hove - if you're not already there -

where Cameron Contemporary

Art are showing the work of

Luke Hannam, whose colourful

canvases, inspired by Picasso and

Matisse, will bring the walls to life.

[cameroncontemporaryart.com]

....63....
---
ILLUSTRATION

+ PRINT FAIR

INK PAPER + PRINT PRESENTS THE 2018

© Robert Tavener with kind permission of the Emma Mason Gallery

TOWNER ART GALLERY

COLLEGE RD, EASTBOURNE BN21 4JJ

SATURDAY & SUNDAY

13 TH – 14 TH OCTOBER, 2018

FREE ADMISSION

OVER 75 EXHIBITORS OF PRINTS, BOOKS + EPHEMERA

Admission from 11am

Creative courses

Our popular creative courses for adults

provide a lively and diverse mix of high

quality workshops for beginners and art

lovers as well as aspiring and practicing

artists. Skills are taught by professional artists

in a creative and supportive environment.

phoenixbrighton.org

RELEASE YOUR CREATIVITY

One day to week long courses | Expert tutors and fully-equipped workshops

Inspiring surroundings with arts heritage and award-winning gardens

Art | Craft | Gardening | Textiles | Photography | Wood | Metalwork | Pottery | and more

www.westdean.org.uk bookingsoffice@westdean.org.uk 01243 818300

West Dean College of Arts and Conservation, Chichester, West Sussex PO18 0QZ
---
ART

....................................

Out of town...

Pink by Matt Smith, 2017. Wool

© Matt Smith. Courtesy Matt Smith

We're very excited about the brand-new galleries at

Charleston (see pg 92), which will be presenting three

connected shows in their inaugural month, starting

September 8th. The main event, marking 90 years since

the publication of Virginia Woolf's Orlando: A Biography,

presents a contemporary response to the groundbreaking

novel, whose gender-switching narrator lives

over many centuries. Orlando at the present time features

new works from: modernism-influenced figurative

artist Kaye Donachie; cross-dressing self-portraitist

Paul Kindersley; mixed-media anti-racist artist

Delaine Le Bas, and site-specific LGBT-oriented

ceramicist Matt Smith, alongside photographs and

objects pertaining to the

original publication of the

novel. This exhibition will

be accompanied by two

displays. Zanele Muholi: Faces and Phases features portraits of genderstereotype-challenging

subjects from South Africa and beyond by the

eponymous artist; Vanessa Bell and Duncan Grant's Famous Women

Dinner Service, meanwhile, features a set of 50 china plates decorated

with portraits of illustrious females, from Cleopatra to Greta Garbo.

Exhibitions continue until the 6th of January 2019.

Oh! by Paul Kindersley, 2018. iPhone photographic print on vinyl

© Paul Kindersley. Courtesy the artist and Belmacz

The Attenborough Centre at the University of Sussex starts its

autumn programme with a free drop-in 'pop-up shoe shop' where

the audience is invited to listen to the audio stories of individuals

who have gone through out-of-the-ordinary experiences – from sex

workers to refugees, entitled Empathy Museum – A Mile in My Shoes

(14th-23rd, 11am-5pm); at the same venue the Brighton Digital

Festival returns with The Messy Edge, a conference discussing the

cutting-edge forces shaping our lives (28th).

Morag Myerscough,

We Make Belonging, 2017

Newhaven Fort is going along with the avant-garde feel of the month, with a one-day

festival entitled Fort Process (22nd) featuring international artists of sound art and

music, of the calibre of Rhys Chatham, Tetsuya Uneda and Ana Gutieszca (plus

many more, fortprocess.co.uk). Tracing that cutting edge back to the 60s, the work of

activist pop-art nun Corita Kent continues to be displayed at Ditchling Museum of

Art + Craft (till Oct 14th) alongside Morag Myerscough's new work Belonging (till

Sept 30th).

....65....
---
ART

....................................

Further afield...

Philip Core, The Chance Meeting on an Operating Table of a Sewing

Machine and an Umbrella: Andy Warhol and Marcel Duchamp, 1978

Arts Council Collection, © the artist's estate

Debatably, it all started with Marcel Duchamp's

million-argument-provoking urinal in 1917: The

Everyday and Extraordinary is a touring exhibition

visiting Towner, from Sept 28th – Jan 6th 2019,

celebrating modern and contemporary artists' use of

objets trouvés in their work. Expect pieces from the

likes of Jess Flood Paddock, Chris Plowman and

Huang Xu. Before

that, the exhibition

of the (colourful

and atmospheric)

works of Edward

Stott, 'the poetpainter

of the

twilight', continues

till the 16th.

Jordan Baseman, Based on Actual Events, 1995,

teeth and dental acrylic. Arts Council Collection

© the artist. Gift of Charles Saatchi 2002

Birdman (detail), 2018. Archival Digital Prints on Dibond. Dimensions

variable. Courtesy the artist and Hauser & Wirth © Mark Wallinger

Over in Hastings, Jerwood Gallery's Mark

Wallinger show, The Human Figure in Space,

continues till October 7th, as do their displays

featuring Quentin Blake and Wilhemina Barns-

Graham; if you want to book a spell in Henry

Krokatis' Saunakabin in the courtyard before or

after, you have till Sept 16th: a dip in the sea is

recommended afterwards.

At Pallant House, in Chichester, it's

your last chance to see Virginia Woolf: an

exhibition inspired by her writings, an eclectic

show organised by Tate St Ives, featuring 80

women artists from Barbara Hepworth to

Eileen Agar, on till Sept 16th.

Claude Cahun, Self-portrait (as weight trainer), 1927, exhibition print from

monochrome negative, Jersey Heritage Trust © Jersey Heritage Collection

....67....
---
LOCAL MAKER

....................................

Susie Beech

Paper florist

Susie Beech started her paper

flower-making business A

Petal Unfolds in 2013, while

looking for a way to spend less

time in front of the screen. She

had graduated with a degree

in Fine Art Printmaking from

Brighton and was beginning a

career in digital photography,

but "I was getting restless," she

says. "I wanted to get back to

making things with my hands,

so I started trying out different

crafts and came across paper

flower-making. I was blown

away – I'd never seen anything

like it before." She started by

following online tutorials posted

by a blogger in America and

before long she was hooked.

"There wasn't a huge amount

of instruction on how to make

them back then, but I found

an old booklet on paper flower

-making from the 60s and I

learnt a lot from that. Once you

pick up a few techniques, you

can start making new designs, in

your own way."

Her main material is crêpe

paper, "because you can bend it

and shape it. It's got a stretch to

it, so you can manipulate it really

easily to get a natural, organic

look." The flowers are each built

around a piece of floral wire,

and the tiny stamens are the

same as those used in sugarcraft.

Everything is held together with

a few dots of Aleene's Tacky

Glue – "legendary" among the

paper flower-making community.

"They're stronger than they

look," she says. "People are a

bit wary of touching them, but

you can bend them and drop

them and they're fine – they're

tougher than real ones."

Over the last five years, paper

flower craft has been making

a comeback. "There are more

and more people doing it, and

it's become more and more

realistic," Susie says. "People

....68....
---
LOCAL MAKER

....................................

are really pushing the limits

of what you can achieve with

crêpe paper: the flowers can

look like real botanical pieces."

She began to connect with

other 'paper florists' on Instagram

and soon their work was

picked up by the creative blog

Design*Sponge. "We started

gaining a following, and it

really took off from there."

People have bought the flowers

for paper wedding anniversaries,

and as gifts in hospital wards

that don't allow real flowers.

"My very first sale was to a

florist who needed daffodils, but

they were out of season," says

Susie. Increasingly, her customers

have been people wanting to

learn the craft for themselves;

most of her time now is spent

running workshops in Brighton

and in London, in which she

teaches people how to make

their first basic flower. This

month she's running a Paper

Wild Rose workshop at One

Girl Band in Vine Street (tickets

£50 from onegirlband.co.uk).

"The best one I've made recently

is a Columbine flower," Susie

says. "They're pretty complicated

– they've got this amazing tail

on the back like something from

another world. My favourites

are always the latest ones I've

made because they're exciting

and new." But the customers'

favourites? "Always peonies.

People go crazy for peonies."

Rebecca Cunningham

apetalunfolds.com

Photos by Rebecca Cunningham

....69....
---
DESIGN

....................................

Little Inventors

Imagination unlimited

A family scooter. A plaster cast with integrated

electrical charge. A tennis ball that will play slow or

fast. These are just a few of literally thousands of inspiring

creations brought to life by Little Inventors.

Founded by artist and designer Dominic Wilcox

(pictured above) in 2015, Little Inventors invites

children to submit ideas - no matter how fanciful -

that they would like to 'make real'. "The idea," says

Dominic, "is to combine the imagination of children

with the skills and experience of adult makers."

"As adults," he explains, "we become very aware of -

or we think we know - what is difficult or impossible,

and so we stop our ideas earlier. We don't allow

them to be developed."

We learn a lot from children's 'unrestricted imagination',

which opens the door to new and surprising

solutions. "There is freedom in not knowing everything,"

says Dominic.

The best inventions submitted to the website are

developed by designer-makers and professional

organisations, such as nine-year-old Andrew's

Pulser-cast, which was prototyped by NHS Innovation

Labs. This ingenious plaster cast aims to

prevent muscle wastage by stimulating the muscles

while a bone heals. Other inventions, such as the

War Avoider, Superfast Tennis Ball and Family

Scooter have been acquired by the V&A's permanent

collection.

Little Inventors has become something of a global

community, with workshops delivered through

....70....
---
DESIGN

....................................

Pulser cast invented by Andrew, age 9

partnering 'Super Schools', and challenges set

by organisations such as Ocado and The Great

Exhibition of the North. It's free and easy to take

part, with resources available to download and print

at home today.

The overall aim is to inspire and nurture the problem

solvers of the future, because problem solving,

as Dominic points out, is a form of creativity that is

regularly misunderstood. "Some people think that

creativity is something that artists and designers

do, and if you're not one of them, you're not

creative," he says. "That's not true. Creativity can

be in all walks of life and all types of jobs."

"If you've seen my work, it's very much about

concepts for the future and imagined creations, not

limited by the practicalities of money or current

technology. It's about ideas, and so we welcome the

bonkers, crazy idea as equally as the practical idea."

This might seem to some like a road to disappointment,

but Dominic believes that out-of-the

box thinking is key to creating a positive future

for our children. "There are many problems and

challenges in the world," he says, "and we need

more problem solvers."

We do this by teaching kids "the skill of how to

think" - something not easily measurable by exams

or league tables, but of certain importance in our

technological age.

Dominic's biggest tip for parents wanting to raise

Little Inventors is to offer children constant encouragement.

Negative statements like 'you can't do

that' or 'that isn't a good drawing' can be stifling, no

matter how valid they might seem.

"Creative thinking is dependent on self-confidence

and belief," he says, "and you build creative confidence

by doing things." Chloë King

Dominic takes part in the Reasons.to design and

code conference in Brighton this month (Sept 6th &

7th, reasons.to) and his book, The Little Inventors

Handbook, is on sale this October. littleinventors.org

....71....
---
T H E G R A N G E G A L L E R Y ,

R O T T I N G D E A N , B N 2 7 H E

1 1 - 1 6 S E P T E M B E R 2 0 1 8

1 0 . 0 0 - 1 6 . 0 0

Contemporary

British Painting and

Sculpture

We look forward to welcoming

you to our gallery in Hove.

OPENING TIMES

Mon—Sat 10.30am—5pm

Sunday/bank holidays 12pm—5pm

Closed Tuesday

For more details visit

CAMERONCONTEMPORARY.COM
---
THE WAY WE WORK

This month we sent Adam Bronkhorst into the workshops of five local

craftspeople, each working with a different traditional material.

We asked them: what's your favourite tool?

adambronkhorst.com | 07879 401333

Jo Sweeting, stone carver

"My favourite tool is a bronze dummy (small mallet) which was made for me by a student.

It reminds me of John Skelton (letter carver and sculptor, and Eric Gill's nephew)

as he had one in his studio when I met him years ago. It feels like a direct link to carving history!"
---
THE WAY WE WORK

Balys Morkunas, wood worker. Tree House Timber

"The most important tool is the router."
---
THE WAY WE WORK

Silvia Kamodyova, ceramicist. Silvia K Ceramics

"My favourite tool is my forged steel modelling tool.

I use it for cutting, carving, mould-making and fettling cast pieces."
---
PICK UP A VIVA LEWES

Cover by Lydia Crook

@ lydias_paper_shop
---
THE WAY WE WORK

Jennifer Wall, jeweller. Brass Monkeys

"My tree stump (pictured); one of the first things I bought when I graduated

over 20 years ago, and almost everything I make is hammered into it."
---
e x c e p t i o n a l

quality

at affordable prices

Bringing you the finest, most delicious artisanal local and international gourmet

cheeses and other dairy products, charcuterie, preserves, condiments, pickles,

seafood, ice creams, chocolates, biscuits, olive oils, vinegars,

ready meals, drinks, snacks and much more to excite the taste buds

29 trafalgar street brighton bn1 4ed telephone 01273 606001

info@alchemyfinefoods.co.uk alchemyfinefoods.co.uk

CELEBRATE THE

FESTIVE SEASON

IN OUR STATE ROOMS

Enjoy a real sense of occasion in our grand State Rooms, with

oppulent décor showcasing a rich arts history.

Christmas lunches and dinners from £35pp for 10 - 90 guests

Book now for 17 November - 21 December

www.westdeanvenues.org.uk

Tel 01243 818258 | Email christmas@westdean.org.uk

West Dean College of Arts and Conservation, West Dean, Chichester, West Sussex PO18 0QZ
---
FOOD

............................

Bison Beer

Craft bar snacks

When did bar snacks get so classy? I remember

when a pint at the pub was accompanied by a

packet of cheese & onion crisps and possibly a

pickled egg, but that was a long time ago. We're

all a bit more civilised now and our taste buds

are too.

It's fitting, then, that Brighton's craft beer

pioneers should up the ante on the bar snacks.

Bison's new 'bar, kitchen and hideout' has

recently opened in North Road, with the kitchen

part of the equation delivered by Humble Plates,

who've found a home for their 'modern campfire

cooking' in the revamped premises.

If these plates are humble, I can't imagine

what they'd call fancy. There are 18 choices

on the menu, including duck leg croquettes

with Szechuan yoghurt; pork belly with

chorizo, black pudding, potatoes and fried egg,

and grilled fennel with orange, almonds and

lavender vinegar. The closest thing to a pickled

egg is the scotch egg with chorizo mayo.

The place has been made over in unmistakable

Bison style, too. There are traces of Dan

Walters' distinctive Bison branding both inside

and out, with creatures from his bespoke

wallpaper escaping to the outside walls. There's

a cosy basement lounge (the hideout, available

for private hire), curb side tables outside the

ground floor bar, and an airy upstairs.

Dan, Dale and I take a booth upstairs and

consider our options. Each dish has a suggested

pairing with one of the 14 keg beers on offer,

and there's a food and beer tasting flight for

the indecisive. Dazzled by the choice, we go for

flame-grilled English peas in the pod; paneer,

miso and spring onions; fries with chives,

cheese and truffle oil plus the optional trio

of BeFries sauces on the side. We also order

BBQ ribs with BeerBQ sauce; a royale with

cheese; Hoisin fried cauliflower with tofu and

peanuts; gin-cured salmon tacos with avocado

and pickled cucumber, and macaroni cheese

croquettes with truffle mayo. It's all pretty tasty

but, for my money (£4.50), the mac & cheese

morsels are the star attraction. Made with

manchego, mozzarella, gouda, two types of

cheddar and parmesan, rolled in breadcrumbs

and fried to a golden crisp, they are five-star

finger food.

Priced between £3.50-£7.50 a plate, our food

comes in at £46 between the three of us, which

is a little more than I'd usually pay for my bar

snacks. That said, we have definitely overdone

it (there's just enough room left on our table

for drinks) and they don't make cheese & onion

crisps with a blend of six cheeses and truffle

mayo. Yet. Lizzie Lower

103 North Road. Kitchen open 12pm-10pm

Monday to Saturday and 12pm-5pm Sundays

....79....
---
RECIPE

..........................................

Photo by Rebecca Cunningham

....80....
---
RECIPE

..........................................

Chocolate brownies

A recipe by Nick Grist and Alex Cotter, who run The Mighty Seed café

in Hanover, and a much bigger project besides…

Nick: The Mighty Seed is a social enterprise. Alex

and I have both worked on educational projects and

developed skills in different areas – she's qualified

in permaculture design and horticulture, and I've

studied nutrition – so we wanted to find a project

that would combine our skills. We've got a plot

of organic food-growing land in Stanmer Park,

which, when we took it on, was a big stinging nettle

patch. We've reclaimed it and we're in our first year

of production now. This year we've managed to

grow potatoes, squash, purple beans, purple peas,

beetroot, chard, fennel, sweetcorn... We've even

got a mini orchard at the bottom of the plot, and

a walnut tree, which we're slowly nursing back to

health. Our plan is that in five years' time, our café

will be supplied almost entirely by our plot. We've

only got a third of an acre of growing land, but

we're looking at building some wooden structures

that would allow us to grow vertically, tripling or

quadrupling our growing space.

Over time, we're developing an employability

programme, where we can get people who are

not in employment, education or training up to

the plot and teach them a bit about food growing

and nutrition. The ones who take to it will come

and work with us in the café in proper paid

employment. We're starting to make connections

with other social enterprises who can train them

as chefs or baristas, or develop their skills in other

areas, so we can help to get those who have fallen

out of the system back into employment in a way

that's supported, rather than just throwing them in

at the deep end.

Alex: This is a recipe that Nick's been perfecting

over the last few months: a vegan, gluten-free

brownie. It uses 'chia eggs' as a substitute for real

eggs: these are a one to four ratio of chia seeds to

water, which you just leave to sit for ten minutes

and they make a sort of gel. That essentially binds

the other ingredients together in the same way as an

egg. You don't get a rise with these because there's

no flour, but if you like a gooey brownie, these are

incredible.

Ingredients (makes nine): 150g 85% dark

chocolate; 80g coconut oil; 3 chia eggs*; 125g

light brown sugar; 125g dark muscovado sugar;

100g ground almonds; 1½tsp vanilla extract; 85g

roughly chopped walnuts or hazelnuts. (*1 chia

egg = 1 dessertspoonful of chia seeds, mixed with

4 dessertspoons of water and left to soak for ten

minutes to form a gel.)

Method: Preheat the oven to 170°C. Lightly grease

a nine-inch square baking tin and place a sheet of

greaseproof paper on the bottom.

Break the chocolate into small pieces and place in a

heatproof bowl along with the coconut oil. Suspend

the bowl over a pan of gently simmering water and

melt together the chocolate and the oil.

Make up the chia eggs; leave to stand for ten

minutes, stirring halfway through.

Gradually add the sugars to the chia egg and

mix together to form a golden paste. Stir in the

chocolate mixture and the vanilla extract, then fold

in the ground almonds and the chopped nuts.

Spoon the mixture into the tin and bake for 20

minutes (for a really gooey brownie) or 25 minutes

(if you prefer the less gooey variety). You'll know it's

done when the surface starts to gently bubble.

Leave to cool completely and then place the tin

in the fridge for 20 minutes, before removing and

cutting into squares. As told to Rebecca Cunningham

135a Islingword Road / themightyseed.co.uk

....81....
---
吀 䠀 䔀 嘀 䔀 䜀 䔀 吀 䄀 刀 䤀 䄀 一 刀 䔀 匀 吀 䄀 唀 刀 䄀 一 吀

FOOD

........................

Wild Flour Pizza

Back-garden gourmet

There's a fabulous little pizza place hiding away

in Ovingdean, but only between five and nine on

Thursday evenings. Wild Flour Pizza is a small-scale

operation run by Chris and Virginia Phillips from

their home in the village. I phone just before 8pm,

from my bike, on the Undercliff, where I've been

cycling with my friend Tom, and Virginia reads us

out the veggie options on speakerphone.

I like the sound of 'The Mushroom One'

(mushrooms, mozzarella, garlic butter, rosemary,

truffle oil, parmesan) and 'The Goats' Cheese One'

(tomato sauce, mozzarella, goats' cheese, roasted

peppers with a balsamic glaze). We order one of each,

plus a side of Wild Flour Slaw. "They'll be ready at

8.25pm," she says. Half an hour away: just enough

time to pick up some beers and cycle over to the

house.

We park our

bikes up and

follow another

couple through a side door to the garden, where the

Wild Flour family are busily prepping the pizzas.

The smell of the truffle oil when the boxes are

handed over to us is mouth-watering.

We take our pizzas across the road to a field,

complete with grazing cows. It's quite idyllic. The

pizza crusts are bubbly and lightly blackened, and the

oil oozes out of mine. I tear off a slice of Tom's: the

rich goats' cheese perfectly complemented by the tart

glaze. It's the best pizza I've had in ages – well worth

holding out till Thursday for. Rebecca Cunningham

Pizzas £10, slaw £4. Call 01273 950991 to order.

....82....
---
A-news bouche

It's been a bumper year for Sussex wines and the

vineyards are bursting with grapes. Rathfinny

have opened their spectacular Tasting Room &

Cellar Door restaurant, where you can enjoy local,

seasonal food – book your table before they close

for a couple of weeks in October to gather in the

harvest. [rathfinnyestate.com]

If that leaves you feeling inspired,

check out the wine-making

courses at Plumpton College

(where Rathfinny's Mark

Driver got started).

THE BLUE MAN LOUNGE BAR

www.bluemanbrighton.com

There's workshops galore in town this month,

from a Historic Pickle Workshop at The

Regency Town House on the 7th to a pay-bydonation

Vegan Cookery Class at the Cowley

Club on the 16th. Fermented-food enthusiast

Olivia Wall, from Wild Cultures, is running two

workshops: one on the 25th at SIX on Western

Road and another on the 29th at The Snug

in Stoneham Park. You'll learn how

to make sauerkraut, kimchi,

kefir, probiotic ginger beer

and kombucha, and leave with

everything you'll need to carry

on fermenting at home.

[wildcultures.co.uk]

For more info and prices: 07861730925 /

kaae@flowershowpresents.co.uk

....83....

Brighton Permaculture Trust hold their annual

harvest celebration Apple Day at Stanmer

Park on Sunday 23rd, 11am to 5pm. Stop by

The Fruit Factory, a scrumping project which

processes tons of unwanted fruit from local

gardens and orchards into delicious juice and

preserves. Have a go on the

traditional press and enjoy a

glass of freshly pressed apple

juice. The event is free to

attend but parking is £10

per car, so come by public
---
We print 15,000

magazines every month

We deliver 7,500

into homes

7,500 to high

visibility pick ups

Advertise with us

01273 488882

V I V A M A G A Z I N E S . C O M
---
FEATURE

........................

Glass porcelain

Reimagining waste

"He called me one

day and said he had a

thing that was really

bothering him," says

potter Mark Ciavola

(right in photo)

of his friend and

collaborator Doug

McMaster. "Silo is a

zero-waste restaurant

and the only things

they had to recycle

were the glass wine bottles. He asked me, 'If we

crushed the bottles into sand, what could you

do with it?' Obviously, glass is made from silica,

which is a major part of the recipe for clay and

glazes, so I knew there was some potential."

Mark has been making with clay for the past 30

years and is still fascinated by the material. A

production thrower who specialises in tableware

for restaurants, he's recently moved his studio,

Potter's Thumb, to new premises on Grand

Parade. It's a busy studio, with Mark keeping up

his own work and restaurant commissions whilst

renting wheel space to established potters and

teaching classes to beginners. "Making pots is my

happy place," he says. "Working with clay has a

therapeutic effect and I just want people to get

hands on as much as possible." In between times,

he's been applying his 30 years of knowledge and

experience to Doug's predicament.

"I've developed a process that I think is unique:

milling the glass down to a fine powder which

we can slip cast and use like a clay. The finished

material resembles a very light jade-coloured

porcelain. It has a similar texture; smooth, opaque

and really tactile."

With Mark having cracked the process, the pair

successfully crowdfunded the means to buy a glass

milling machine,

more usually used to

render glass into sand

for the construction

industry.

"To borrow Doug's

quote, 'waste equals

zero imagination'. I

really believe in that.

He involves other

people, like me, to

help come up with

positive solutions. It makes you think outside of

the box." With the mill on its way, Mark is eager

to get making tableware for Silo.

"Bringing handmade pots back into everyday use,

it's a sort of rebellion. It reminds us that we're

still capable of producing, of making things for

ourselves, and it reminds us that we have been

hypnotised and sedated by the ready-made,

disposable culture, where nothing is precious.

When you don't value the work that has gone into

the making of an object, it doesn't give you any joy

to use it."

"It's the same exact thing with food," adds Doug,

joining us in the studio. "In the industrial food

system, you have the same relationship with food

that you do with an Ikea mug, because it's not seen

as valuable. That detachment has created waste.

"Silo is 99.9% zero waste, truly. When we kick off

the glass project, and close the loop on waste glass,

we will no longer need to recycle anything.

"I think so many problems exist in the world

because people get to a certain stage and put the

blinkers on and stop being open to new ideas. As

a creative person, the most important thing is to

always keep those blinkers off and to be open to

new information." Lizzie Lower

pottersthumb.com / silobrighton.com

....85....
---
FIRST

SESSION

FREE!

Asthma Eczema Bronchiolitis Acne

Wheezing Hay Fever Tonsilitis

COPD Ear Infection Flu Psoriasis

Snoring Coughs Sinusitis Bronchitis

Tel: 01273 973843

372-374 Portland Road

Hove BN3 5SD

brighton@saltspace.co.uk

www.saltspace.co.uk

CNM

COLLEGE OF

NATUROPATHIC

MEDICINE

Training Successful Practitioners

CHANGE CAREER

Train to become a…

Nutritionist

Herbalist

Postgraduate Courses & Short Courses also available

Part time and full time studies

Acupuncturist

Homeopath

London, Brighton, Bristol, Birmingham, Manchester,

Edinburgh, Belfast and Ireland

01342 410 505 www.naturopathy-uk.com

Attend a FREE

Open Evening

Naturopath

Natural Chef

NEW
---
HEALTH

...........................................

Drawings from the exhibition

A Year of Drawing

Making a mark on mental health

'Being lost in art was a new pleasure when I never

thought I would again feel any joy.'

"I think that's what it's about, really," says Joanna

Stevens, the Arts and Health Programme Leader

for Sussex Partnership NHS Foundation Trust,

which provides mental health and learning

disability services across the South of England.

The quote has come from one of the participants

of A Year of Drawing, a project run by the Trust

over the past year. "We deliver a programme of

different arts projects to mental health service

users, including adults, children and young people.

With this project we wanted to try to include as

many of them as possible. We thought, what's very

low-tech and accessible, that could really engage

people? Drawing is pleasurable, it's interesting, it

can be exciting, it can help you express yourself, it

can help you communicate – it encompasses all of

those different things."

The project has been made up of many different

elements: public drawing events, pop-up art

studios within mental health settings, and creative

courses run in partnership with Sussex Recovery

College. "All of those courses were jointly

designed and delivered by a professional artist and

a peer arts worker with lived experience of mental

health challenges," Joanna explains. "We ran

them in places like the De La Warr Pavilion and

Worthing Museum, the aim being for our service

users to go into art gallery settings, where they

might not have felt welcome before. By taking part

and going back every week, you can begin to feel,

'this is my place' and get that sense of ownership."

A particularly isolated group that A Year of

Drawing aims to reach are "people in a locked

setting," says Joanna, "for example, people in

our secure and forensic services (who might

have become involved with the criminal justice

system at a time that they were experiencing acute

difficulties with their mental health). We wanted

to be able to bring the art galleries to them, so

we've worked with three galleries, Towner, Cass

Sculpture and the Royal Pavilion and Museums,

to curate a collection of artworks, which we've had

printed as a set of postcards that people can draw

from or just look at and put on their walls."

Altogether there have been over 700 participants

throughout the year, and three exhibitions of the

work created: one at Southampton Art Gallery,

one at the Phoenix Gallery and one at the

University of Brighton. The culmination of all

of this will be a symposium, held at the Brighton

& Sussex Medical School, in Falmer, on the 12th

September. "It's an opportunity to bring together

all of our learning from across the year. We'll

consider a range of drawing practices and the way

they can help us connect and communicate. We

want the symposium to be not just about talking

but also about drawing, so there will be activities

to join in with amongst the discussion." The event

is open to the public and entry is free, but you

must register (tickets via Eventbrite).

Rebecca Cunningham

makeyourmarknhs.co.uk

....87....
---
LOWDOWN ON,,,

....................................

Strohacker Design School

Industry-ready education, by design

My background is in design and branding.

I started out designing Smash Hits magazine,

then worked for Richard Branson at Virgin. I

also taught on graphics and illustration courses,

whilst running my own design studio, but

there were 35 students in a group with only

2.5 hours a day to teach them.

I kept thinking there had to be a better

way, so I contacted 100 agencies in the UK

and asked them 'what do you want from a

student?' Not one of them said qualifications.

They said things like enthusiasm, a good

creative portfolio but a practical portfolio, and

having an interest in the subject.

I realised if I could get a small group of

students in a room for seven hours a day,

for five days a week, I could really teach

them a lot. And if I brought in high-end industry

people to devise and deliver the design

briefs, they were going to learn so much more.

I asked my industry connections to come

on board and without fail they all said yes,

because they understood the concept. Jamie

Hewlett (Tank Girl/Gorillaz) has been our

patron from the start and Glyn Dillon (Lucas

film/Disney) asked to get involved.

We teach nine modules over three months:

Advertising, Branding & identity, Apparel &

packaging, Portfolio & book design, Editorial

& magazine design, Packaging design, Website

design, UX [user experience] design, and

understanding the design business - including

how to promote yourself to the industry. Our

Apparel & packaging module was designed by

Nick Williams, who was creative lead at Levi's

and the worldwide graphics director for Puma.

I got him to write the brief based on what he'd

want a student to show him.

There are five or six students in each

cohort and they tend to fall into three categories:

career changers, people seeking an alternative

to a degree who don't want to spend

three years or all that money, and people who

are working in a creative role but who've never

been trained (I run a part-time course for people

who can't commit to attending full time).

Magazine design by Jo Kilgour Photo by Ian Schneider

....88....
---
It's an intensive thing. At the end of

the course students have a physical portfolio

that they can take to interview and

a personal website. I also offer a year of

support for their job search. Our focus

is on employability and we've had a 90%

success rate so far.

I ask them to read 'The Fundamentals

of Typography' before they start.

Other than that, there are no prerequisites.

If you complete these projects,

you'll be equipped to get a job in design.

As long as you bring enthusiasm, an

interest in the subject and total commitment

to the course.

It costs just under £7,000 but there

are more contact hours in the three

months than there are in a year at art

college. By the time they've finished,

students have presented their work seven

or eight times to leading industry people,

so no one is going to scare them.

As told to Lizzie Lower by Bill Strohacker

strohackerdesignschool.co.uk

Strohacker studio Magazine design by Zak Clisby Photo of Bill Strohacker by Lizzie Lower

....89....
---
HISTORY

...........................................

Danny House

The 1918 Armistice, approved in Sussex

Sussex is an excellent place to

escape London, as it was 100

years ago. That's when News

of the World owner Sir George

Riddell rented Danny House,

south of Hurstpierpoint, to allow

the Prime Minister David

Lloyd George, his wife Margaret,

his secretary and mistress

Frances Stevenson, plus the

family dog, to relax, away from

the stress of air raids.

It was meant to be a threemonth

summer stay, but

this was extended. And,

critically, between the 27th

and the 28th of September

1918, Lloyd George agreed

the terms of the Armistice there, later chairing

the unofficial War Cabinet in the Great Hall on

October 13th, which approved President Wilson's

Fourteen Points. The Armistice, of course, was

finally declared on November 11th.

The name 'Danny' comes from a corruption of the

Saxon 'Danehithe', meaning valley and haven. It was

a hunting lodge in the 13th century, albeit a smart

one, after the de Pierpoints were granted a Royal

Charter for the 400-acre park. The handsome 141-

room Grade I-listed Elizabethan mansion we see

now was built by George Goring in 1586 (Goring

had previously built Pelham House in Lewes).

Over the centuries, Danny has been modernised

and extended under the ownership of several

families. In 1956, the Country Houses Association

took it over, then current owner Richard Burrows

bought it in 2004, creating a number of serviced

apartments for retired people.

When Judith Brent was working as an archivist for

the Record Office, she was asked to catalogue the

archives from Danny. Subsequently, she and husband

Colin wrote a book called

Danny House, A Sussex Mansion

through Seven Centuries, which

includes a chapter entitled

The Great War, the PM and

his 'Darling Pussy'.

Colin describes Lloyd

George, also known as the

Welsh Wizard, as a brilliant

politician and a real character,

with a habitual twinkle in his

eye. He hosted a grand party

at Danny in August 1918,

with the Sussex Yeomanry

cadet band, dancing and

patriotic songs, attended by

locals, Cabinet ministers and

convalescents.

Lloyd George would customarily climb nearby

Wolstonbury Hill before breakfast with War Cabinet

papers, which he'd sometimes leave behind if it

rained, and which his secretary/lover Frances Stevenson

had to retrieve. Colin tells me he is unsure

whether Margaret knew about the affair. Certainly,

their daughter was friends with Frances until she

found out. Lloyd George had made a career being

a champion of Welsh nonconformism and knew

public knowledge would destroy his power base.

But he wrote a number of ardent notes to Frances

at Danny, addressed to 'My darling Pussy'.

Emma Chaplin

To commemorate 100 years since the end of the

Great War, there will be a garden party, including

an unveiling of a new sculpture of Lloyd George,

by Philip Jackson (above). Sunday 2nd September,

2-6pm, £5 in advance, £20 for a family ticket. Part of

Hurst Festival, whose events include the premiere

of a play about Lloyd George's time at Danny called

Winning the Peace. hurstfestival.org

Grateful thanks to Judith and Colin Brent.

....91....
---
BRICKS AND MORTAR

...........................................

Photo by Axel Hesslenberg

....92....
---
BRICKS AND MORTAR

...........................................

A radical extension

'Prepare to see Charleston in a whole new light'

"The Bloomsbury group

were radical pioneers, so

it's entirely fitting that

one of the best architects

working at the moment

in the UK was chosen to

design an innovative and

quite radical building,

but one which doesn't

impose itself onto the

surroundings."

Nathaniel Hepburn, the director at Charleston

(pictured), is showing me around a well-ordered

building site, neatly dove-tailed between the

existing outbuildings of the Bloomsbury Group's

farmhouse home and the working dairy farm next

door. "It's important that it fits seamlessly into the

historical site. From all the historic curtilage of

Charleston itself, it's entirely invisible."

The two restored barns and newly built galleries

will open on the 8th of September, adding 570

square meters of exhibition, restaurant and

auditorium space, a visitor reception and shop. It's

been years in the planning and has been exactingly

rendered by an illustrious rollcall of architects,

designers, and contractors.

The courtyard entrance, landscaped by Tom Stuart-

Smith, whose other projects include The Hepworth

Wakefield and The Royal Academy, is enclosed

on two sides by a crisp glass and timber building.

Designed by architect Jamie Fobert, who will lead

the transformation of the National Portrait Gallery

and whose Tate St Ives extension is shortlisted

for the 2018 Stirling Prize, it houses five intimate

gallery spaces, each with the environmental and

security specifications that allow for work to be

borrowed from international collections.

"The gallery programme will have Bloomsbury

at its heart, but it won't just be showing work

by Bloomsbury artists. Charleston was a place

where ideas were discussed, a meeting place

Photo by Axel Hesslenberg

for great novelists,

great intellectuals,

great thinkers, great

economists, so the scope

of our programme

will reflect the ideas

that were discussed

around the dinner

table. We'll be showing

work by contemporary

international artists who

are exploring the same ideas that were explored

here 100 years ago."

The new building adjoins the two historic barns

which have been both conserved and transformed

by heritage architect Julian Harrap. The 18thcentury

oak timbers have been retained where

possible and carefully spliced with new where not.

A loft has been created for the resident bats. It

feels unspoiled and yet there's underfloor heating

beneath the polished concrete floor and a sound

and lighting system that will make it a superb venue

for a year-round programme of events.

The improved visitor facilities will also allow for

the house to remain open for the winter, albeit with

restricted access. "Winter is very different in the

house. It has a very intimate feel. You'll be able to

see the house both as the Bloomsbury group lived

in it through the winter, but also as a museum that

is working to preserve, restore and protect its very

fragile collection.

"These new facilities are beautiful, beautiful

spaces that allow Charleston to welcome in

wider audiences and to tell different stories about

Bloomsbury and its continuing influence."

If you think you've come to know Charleston,

prepare to see it in a whole new light. Lizzie Lower

The galleries open to the public on the 8th of

September with a weekend of activities looking at the

restoration of the spaces as well as opening the three

exhibitions (see pg 65). charleston.org.uk

....93....
---
SPECIMEN PLANTS, TREE FERNS, OLIVES, ORNAMENTAL GRASSES, HERBACEOUS PERENNIALS.

Chelsea Flower Show & Hampton Court award-winning garden design service.

Quercus Nursery Ltd., Littlehampton Road, Ferring, Worthing, BN12 6PG.

WWW.QUERCUSNURSERY.CO.UK

WE WILL NOT BE BEATEN ON PRICE *

ON ANY PANASONIC CAMERA,

LENS OR ACCESSORY

WE ALSO STOCK A RANGE OF LENSES & ACCESSORIES

BRIGHTON

in store | online | mobile

11 Imperial Arcade, Brighton, West Sussex BN1 3EA

Call: 01273 827450 | Visit: www.panasonicstore-brighton.co.uk

*Prices apply to authorised UK Panasonic dealers (high street and online). This will not include any independent offers not direct from Panasonic.

Please let us know any non-authorised dealer offers and we will attempt to beat them
---
FEATURE

...........................................

Science in space

Barry Garraway's atomic bubble trap

It took more than

a hundred years for

scientists to prove the

existence of Einstein's

gravitational waves, which

he had first predicted in

1915 as part of his theory

of general relativity.

Now a University of

Sussex physicist is about

to find out if a theory he first came up with

eighteen years ago is correct.

During the coming months, NASA astronauts

on board the International Space Station will be

testing Professor Barry Garraway's atomic bubble

trap. The small, box-shaped device uses special

lasers and magnets to cool atoms to a fraction

above absolute zero (minus 273°C) in a gravityfree

environment.

The answers will give insights into some of the

fundamental properties of matter and the nature of

gravity, and could also unlock the mysteries of dark

energy - the bits of the universe we know exist but

cannot see.

"I was delighted that my experiment was selected

by NASA out of thousands that were under

consideration," says Garraway. "As a theoretical

physicist, it's incredibly exciting to see the moment

when experimentalists pick up on your theory and

actually do the experiment."

Garraway developed his bubble trap experiment

in 2000 after his colleagues at Sussex were the first

physicists in the UK to create a Bose-Einstein

Condensate, in which 100,000 atoms were cooled

to just a few hundred billionths of a degree above

the coldest temperature it is possible to reach.

In this state atoms are virtually motionless and

without energy, which causes them to collapse and

merge into a 'superatom'.

Although predicted by

Saytendra Bose and

Albert Einstein in the

1920s, the phenomenon

was only proved through

experiments in 1995.

Garraway proposed to

develop the experiment

further by creating a

bubble shape with the cooled atoms to observe

what would happen. He hoped to see the atomic

bubble move in a wave motion, but the effect of

the Earth's gravity caused the atoms to collapse

before scientific observations could be completed.

"I knew that gravity was an issue with this," he

says. "But as we didn't have the option of trying it

in space, I put the experiments aside and moved on

to other work.

"The fact that this is now being followed up by

NASA has renewed my interest. I am thinking

about different technical aspects of the experiment.

We could get the bubble of atomic matter to

collapse and vibrate and make different shapes.

Choosing different topologies usually means that

something interesting happens."

The challenge for the NASA astronauts when the

experiment is running will be in creating as little

disturbance in the ISS as possible.

"It's a very fragile experiment for what is still

quite a hostile environment," says Garraway. "So

the experiment will be run during the astronauts'

rest periods and will be controlled remotely from

the ground."

The excitement now is waiting for the results.

As Garraway says: "This could reshape our

understanding of matter and the fundamental

nature of gravity." Jacqui Bealing

....95....
---
WILDLIFE

...........................................

Wasp Spiders

Love and death in the long grass

Illustration by Mark Greco

I never thought I'd say this, but I've fallen in love

with a spider. And coming from a lifelong arachnophobe

that's quite a claim. Whereas every other

spider species sends me screaming in utter terror,

the Wasp Spider has melted my heart. They are gorgeous.

I met one on the South Downs last weekend

and, hypnotised by her beauty, I spent hours with her,

lying in the grass, staring lovingly into her eight eyes.

Wasp Spiders' rotund abdomens are delicately

patterned with exotic black, yellow and white stripes.

Every spider looks subtly different – as if each has

been individually hand painted. Their eight legs wear

stripy black and white stockings – the sort favoured

by the Wicked Witch of the East. This stripy, waspish

appearance has given the spider its name and is used

as a defence mechanism to ward off predators who

equate this colouration with being stung.

They're a relatively new resident in England. The

first British Wasp Spider was found near Rye in 1922.

Since then they have slowly spread across Sussex,

and you can find them in any area of grassland.

Here, inside their long-grass lair, they weave their

silky circular webs which – like all spider webs – are

masterpieces of arachnoid architecture. As if proud

of her accomplishment the Wasp Spider autographs

her web with a unique silken squiggle. The actual

purpose of this thick zigzag flourish (the stabilimentum)

is a mystery. Some believe it reflects UV light,

luring in pollinating insects who mistake the web for

a flower.

Male Wasp Spiders don't have it easy. Physically they

lack any snazzy patterning and at 5mm are a third

of the size of their hulking female counterparts. And

when it comes to spider sex she dominates the male

too. During mating she turns her lover into lunch.

So, as the female lies enticingly in her web, the male

approaches her with understandable trepidation. It's

all about timing. After she slips out of her old exoskeleton

her fresh body is temporarily soft – and so

are her jaws. This is her Achilles heel, an opportunity

for the male to jump in, do his business and get out

before being eaten.

This sort of pressure would affect any fella's performance

but the male Wasp Spider has a trick up his

eight sleeves: he can detach his sexual organs, leave

them inside the female and scarper. I always assumed

that jettisoning his genitalia allowed the spider to

survive but almost every sex session ends in death

for the males; a kamikaze copulation. Scientists have

found that after this self-imposed castration the spider's

sexual organs keep on fertilising the female and

block other males' attempts at mating. The spider

sacrifices his own life and his todger to ensure he

becomes a father. Wow, what a way to go.

Michael Blencowe, Senior Learning & Engagement

Officer, Sussex Wildlife Trust

....97....
---
INSIDE LEFT: HOVE, 1925

.....................................................................................

In appreciation of all our readers – both teachers

and students – who have to go back to school this

month, here's a shot from 1925 of three lads on

their way back to their place of education, after a

game of soccer.

We don't know who the boys are, but we do

know which school they went to: Hove High

School for Boys, which was a small private school

based at 49 Clarendon Villas, in Hove, now

private flats.

The picture is one of a set of six in the James

Gray collection, which the archivist has captioned

as 'culled from a private family collection'.

A couple of the shots show the boys kicking a ball

around, and a couple, including this one, show

them returning to school.

The boy with the bicycle is fortunate: the playing

fields were a good mile from the school, just

south of West Blatchington, straddling what is

now Holmes Avenue. The shot is taken just north

of Elm Drive and Cranmer Avenue.

Their school had been in the same location

since the 1880s, catering for sons of middle class

parents. It housed 200 or so day pupils, in classes

of 20-30. School colours were yellow and red,

and the school motto was Deus Fortitudo Mea,

'God is my strength'. Walk past now, and you can

see a ship's-figurehead-like female bust above the

door; sadly the boys' nickname for that is lost in

the mists of time.

At the time the school was run by Charles Whitsed

Kingston, who was responsible for the plaque

still attached to the porch wall, commemorating

the 27 'Old Hoverians' who died in the First

World War. Presumably many of these would

have been among the young commissioned

officers who led the charges over the top in the

Western Front.

Kingston died in office in 1930. He was replaced

by his son, the Reverend Herbert John Kingston,

also vicar of St Mary's in Kemptown, whose

favourite dictum was 'Smut. Won't have it!'. He

was responsible for the addition of a Hove (and

Aldrington) High School for Girls, at no 47.

Kingston Jr passed the running of the schools

over to his daughter and son-in-law in 1951; by

1959 both had shut down. Alex Leith

Thanks, as ever, to the Regency Society for the use

of this picture; also to hovehistory.blogspot.com

for information on the school.

....98....
---
The specialists in

LISTED BUILDINGS WITH A

PASSION FOR CONSERVATION

Pantone

5497C

Black

10% OFF ALL listed TIMBER WINDOWS & DOORS THIS SEPTEMBER

Timber Windows' Listed range – a collection of specially designed windows and doors that have gained positive feedback and approval

from planning authorities across the UK.

We have assisted homeowners with buildings from a host of historical periods to meet the planning, conservation and preservation rules for

their particular areas with authentically designed timber windows and doors for homes of conservation and listed status.

Timber Windows of Horsham provides the perfect environment to browse the many options available & discuss your plans for your home.

Visit our showroom

Tel: 01403 732822

enquiries@timberwindowshorsham.com

www.timberwindows.com

Unit 1, Blunts Yard, Newbuildings Place, Dragons Green Road, Dragons Green, Horsham RH13 8GQ
---
Now a part of

There's still

time to

apply!

for a course at Sussex

Downs College!

We're still enrolling

for a number of

courses. Apply now

to secure your place!

Visit our website or call

030 300 39551

for details on how to apply.

www.sussexdowns.ac.uk