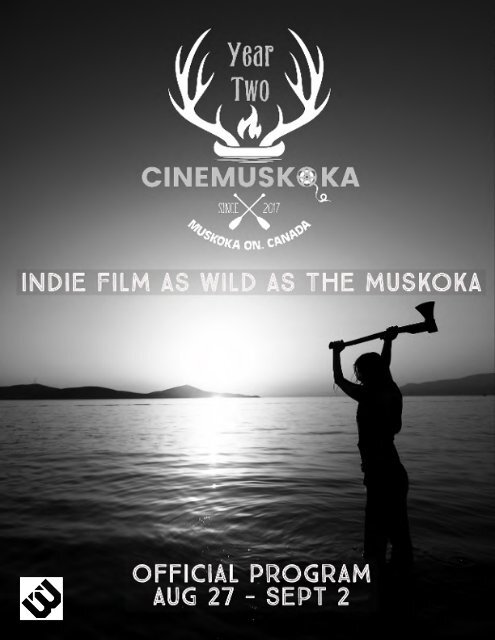 Cinemuskoka Program 2018
Cinemuskoka Program 2018
Cinemuskoka Program 2018
SHOW MORE
SHOW LESS
You also want an ePaper? Increase the reach of your titles
YUMPU automatically turns print PDFs into web optimized ePapers that Google loves.
WELCOME

PROGRAMMINGDIRECTOR/ CO-FOUNDER

JEREMYMUNCE

CineMuskoka 2018 ~

A note from the Programmer :

Dear CineMuskokans,

It was an absolute joy to program

CineMuskoka?s follow up year after our

fledgling flight into the unknown in 2017. To

make a solid program for our launch, we had

to scramble for content? putting the word

out to friends, and friends of friends,

colleagues, connections within the industry;

we invited anyone we could to submit to our

not yet newborn festival.

With our inaugural festival under our belts,

we quietly accepted submissions from around

the globe throughout the year. The resulting

program is a collection of films that I hope will

make you laugh and cry, films that can open

our eyes to other cultures and ways of life.

There are films that will introduce you to new

heroes who inspire as we experience their

plights and glories along with them. And there

are films in the program that do everything a

film should do: to open our minds and

connect.

More than 20 years ago, as a high school student

here in Huntsville, I fell in love with film, with the

art of the Cinema: the telling of stories with

moving pictures and immersive sound. What

attracted me to film enough to be able to call it

my calling, was the idea that the medium holds

the potential to carry a vision? some simple

truth held in a story? to all corners of the globe.

Every film? if it?s good enough, real enough,

deep enough, or if it?s dazzling enough to the

eyes and mind? has the potential to be seen and

experienced all over the world. Any little film can

travel to festivals like this one, to communicate

an idea across cultures and languages, to engage

an empathic heart.

I hope you will be part of this legacy, by choosing

to be a member of the audience. I hope the

visions we?ve chosen will satisfy seasoned

cinephiles as well as curious new-comers.

Whether you?re coming to see any of the films in

competition at the Algonquin Theatre, or to treat

yourself and your kids to a favourite cinematic

throwback under the stars in RiverMill Park, I

hope you enjoy being captivated by the power of

Cinema!

JL Munce
---
Documentary : Tew eikan Revived

Friday Aug 31 - 12:30

& Sun Sept 2nd 4:00

DIRECTOR Kim O'Bom saw in

WRITER Jacint he Beaudet

CINEMATOGRAPHER Michel Valiquet t e

PRODUCERS Andree-Anne Frenet t e, Reginald

Vollant , Ian Boyd

Runt im e : 52 m inut es

Synopsis

A long time ago, men, women and children of all ages, clans, allegiances and

nations were united by the sound of its vibrations. In the hands of contemporary

singer-songwriters Pakesso Mukash (Cri/Abénaki), Shauit (Innu) and Moe Clark

(Métis), it is still a powerful tool of communion. With hip hop, folk, electro or reggae

undertones, the teweikan - traditional drum - still strives today to create bridges

between generations, territories, the living and the dead, the conquered and the

rebellious.

By following the three musicians in their respective communities, we will discover

the vitality of Canadian Indigenous artists, the causes they cherish and their deep

aspirations. We trace the history of First Nations music, and witness how the

teweikan is being revived, from Montreal to the Hudson Bay, from the Plains to the

Côte-Nord.
---
Docum ent ary : Mishkeegogamang

Friday Aug 31 - 12:30

& Sun Sept 2nd 4:00

DIRECTOR / WRITER Jon Wesselink

Runt im e : 30 m iinut es

Directors statement: '

Mishkeegogamang' is the story of a mural created in the Mishkeegogamang

Ojibwe Nation in Northwestern Ontario - or rather, a story of the strength,

and resiliency that comes out of that community. Our goal is to give

audiences across Canada and the United States a short glimpse into the lives

of the Mishkeegogamang Nation. Filmmaker Jon Wesselink - 19, of Thunder

Bay - his brother and coordinator Gerrit, and artist Mique Michelle travel to

the community to complete the project, and share the community's story to

other communities across North America.

Thank you t o our local sponsors
---
Virt ual Realit y Screenings

in Part ners Hall

At t he Algonquin Theat re

Friday Aug 31 t o Sat urday Sept 2nd

Brought t o you by
---
Short s Program

WOMEN IN SHORTS 1

At hrú

Friday Aug 31 - 2:15pm

&

Sat urday Sept 1st - 6:00pm

Athrú is a film about a mother?s journey to save her son from the clutches of

dark magic. It?s a fantasy/action film, taking place in an old Celtic world. With

her companion rabbit by her side, she will come face to face with a

dangerous Wytch, and secrets will be revealed.

DIRECTOR / WRITER - Miranda Quesnel

Runt im e - 2:56

Orchid

Nita, housekeeper to Toronto trophy wife Julia, tries to keep it together

when her son goes missing in the drug wars back home in the

Philippines. When Nita discovers her employer?s secret, her next move

sets them both free.

DIRECTOR - Molly Flood

Runt im e - 13:09

ENOUGH |

The Em pow ered Wom en of Korogocho

Beatrice Nyariara lives in Korogocho. It's widely

considered to be Nairobi's most dangerous slum.

More than 150,000 people are packed into the

shanty town which is less than two square

kilometers.

Crime is high. Gangs are active. Addiction is

rampant.

A while back, men in her community started to

attack the "grandmothers" of Korogocho at night.

Most of the women attacked are sexually

assaulted, and some have been killed. The men

believe that the elder women were less likely to be

HIV positive. They also saw them as vulnerable.

A few years ago, Beatrice decided enough was

enough. It was time to fight back. It was time to

develop a community.

The result of that decision empowered the group

and taught their community to respect them, value

them, and to know how to be there for them.

Together, they are taking back Korogocho.

DIRECTOR - Brent Fost er

Runt im e - 7:40
---
Short s Program

WOMEN IN SHORTS 1

CONTINUED

For t he Love of Salm on

Under a haze of wildfire smoke and with her ancestors watching from above,

Keely Weget-Whitney steps into the frigid and fast-moving waters of the

Fraser River with one goal in mind: make people care. Join the 25-year-old

member of the Stl'atl'imx First Nation as she embarks on a 60 kilometre swim

to bring awareness to the depleting number of salmon and its impacts on

her culture and the environment. "I just feel that if I care, a young Indigenous

Stl'atl'imx mother, people will reflect on that, and they'll say why am I not

caring, what can I do for a change?" As she battles the strong current and her

own self doubt, Keely encourages us all to come together to make change.

DIRECTOR - Jan Vozenilek

Runt im e - 8:00

A Voice for Change: The Laura Hillier St ory

After complications in the Ontario medical system delayed her

much-needed treatment, Laura Hillier's dedication to create

change during the months leading up to her tragic passing

inspired a movement that has saved the lives of many

DIRECTOR - Sarah Gonyea

Runt im e - 6:50

La Ville Episode 02

Complaining about Paris is being Parisian. ?LA VILLE? is a comedic web

series about people living in Paris and experiencing the many ironic

and humorous situations that both frustrate and entertain those living

in the famed city of lights and love.

Episode 02 - The city is a hustler

Olivia, a recent graduate, finds herself euroless, and while she works

checking in rich tourists into luxe Parisian apartments, she gets a

lucrative idea.

DIRECTOR - Andrea Marcelino

Runt im e - 7:30
---
Short s Program

WOMEN IN SHORTS 1

CONTINUED

Ainhoa

Ainhoa is 9 years old and she has left home, bringing only her

school bag and a Playmobil. "Ainhoa is a story that, instead of trying

to put children to sleep, tries to wake up the adults."

DIRECTOR - Ivan Sainz-Pardo

Runt im e - 19:00

We/ Men Wom an

Women of different age, profession and nationality tell about

themselves for a common purpose.

DIRECTOR - Andrea Vaccarelli

Runt im e - 6:02
---
Docum ent ary :

Modified

Friday Aug 31 - 4:00

DIRECTOR / WRITER / DP - Aube Giroux

PRODUCER : Cam elia Frieberg

Runt im e : 1 hour 37 m inut es

Synopsis :

In Modified, the filmmaker and her mother embark on a personal and poignant investigative

journey to find out why genetically modified organisms (GMOs) are not labeled on food products in

the US and Canada, despite being labeled in 64 countries around the world. Shot over a span of

ten years, the film explores the impacts of genetic engineering, exposing the cozy relations

between the biotech industry and governments. The film is anchored in the intimate story of the

filmmaker?s relationship to her mom, a prolific gardener, seed saver, and food activist who battled

cancer while the film production was underway. Interweaving the personal and the political, the

film uses family archives, animations, and mouth-watering vignettes from the filmmaker?s

award-winning PBS cooking show to create a moving account of family legacy and the journey

towards a more sustainable and transparent food system, debunking the myth that GMOs are

needed to feed the world. Winner of 8 festival awards including 3 Audience Choice awards, the film

has been praised by world-renowned chef Jacques Pépin as 'a very personal, tender, touching

tribute and a well-researched, enlightening and powerful documentary?
---
Short s Program 2

COMEDY = TRAGEDY + TIME

Friday Aug 31 - 6:00

Sunday Sept 2nd - 12:30

Panic At t ack

You know the nagging thoughts that start with "did I leave the coffee on?"

and turn in to "am I pregnant with a devil-baby?? This hand-drawn animation

explores anxiety, obsession, and one woman?s slippery hold on reality.

DIRECTOR / WRITER - Eileen O'Meara

Runt im e - 3:00

Joni and t he Banker w it h Nice Eyes

JONI AND THE BANKER WITH NICE EYES is a dreamy,

picturesque, pastel-painted world full of sincerity and hope

within the tragic dating climate of career-obsessed artists.

DIRECTOR - Carly Blane

Runt im e - 3:44

Chrono

This short movie showcases the retrospection of a soul who looks back at the events of the last day of

his life. In order to find out the reason for his death, he finds himself introspecting his actions

throughout. Addicted to using his phone, in hindsight he realizes that he missed out on the one thing

he wanted to know the most: whether the person he loved, loved him back....

DIRECTOR - Vivek Anand B

Runt im e - 11:22
---
Short s Program 2

COMEDY = TRAGEDY + TIME

CONTINUED

To Do List

She has a long list of things to get done. He has

a long story to tell. Her list just got longer.

DIRECTOR - Ryan Aust in

Runt im e - 9:20

Line Sit t ers

See what happens when two passionate brothers

explain the fine Art of Line Sitting. Line Sitting is

waiting for tickets for concerts, new technology,

etc. While they visit the local store to buy some

sitting equipment things get out of control.

DIRECTOR - Myles Vosylius

Runt im e - 4:30

Full Met al Racket

Matt DiRico is a student filmmaker extraordinaire, but his

talents become challenged when he is forced to work with a

film crew for the first time

DIRECTOR - Gem m a Eva

Runt im e - 5:53

#BasicBaes

The girls have gotten so used to connecting through

their phones, getting together proves more difficult

than it should. And when they finally do succeed in

showing up to a much needed boozy-brunch... it?s a

little bit #Awkward.

DIRECTOR - Dennis Nicholson

Runt im e - 12:44
---
Short s Program 2

COMEDY = TRAGEDY + TIME

CONTINUED

Talking Heads

A frightening surrealist fable about the lengths to

which a woman will go to be beautiful.

DIRECTOR - Alyx Melone

Runt im e - 10:03

Tim e Out

While on a trip to Milan, a couple pretends to

meet as their younger selves, to determine their

future together.

DIRECTOR - Navin Ram asw aran

Runt im e - 9:59

Eart hling House Hunt ress

An optimistic young real estate agent is on a quest to help

extraterrestrials find their forever homes in the Greater

Toronto Area, however bizarre, perplexing or impossible

their housing needs.

DIRECTOR - Sim one St ock

Runt im e - 6:45
---
Docum ent ary

Friday Aug 31 - 7:30

DIRECTOR - Derrick Belcham

PRODUCER : A St ory Told Well

Runt im e : 1 hour 4 m inut es

At Noon Fell A Darkness is a poetic profile of 15 prominent Icelandic musicians and poets as they

travel home to Reykjavik for Sigur Ros's inaugural Norður og Niður festival in the winter of 2017-18.

The film follows acclaimed and award-winning artists such as Gyða Valtýsdóttir, Sóley

Stefánsdóttir, Bára Gísladóttir, Sigrún Jónsdóttir, Kristín Anna Valtýsdóttir, Kórus, Mammút, Úlfur

Hansson, Alex Somers, Gerður Kristný, Fríða Ísberg and Arngunnur Árnadóttir to lighthouses,

abandoned pools, the feet of mountains and to volcanic beaches to create an experimental

documentary of a contemporary moment in the history of Icelandic art.

Thank you t o our local sponsors
---
Documentary :

Sist er of Savannah

Sat Sept 1st - 12:30

DIRECTOR / WRITER - Mark & Cait lin St arow icz

PRODUCER - Cait lin St arw oicz, George Flakm

Mark St arow xicz, Diana Warm é

Runt im e : 53 m inut es

Lions, elephants, and baboons: Three sisterhoods of the savannah, where the mothers rule, and

the daughters inherit the wilderness.

Documentary filmmaker, producer and journalist Mark Starowicz created some of Canada?s most

influential current affairs and documentary programs, as well several international documentary

series.

An award-winning writer, producer and director, Caitlin Starowicz works on projects at the creative

forefront of digital content creation.

As a father-daughter directing team, this was a very special film to make together. Strong females

have always been a theme in our work, and the opportunity to film three of the greatest

matriarchal societies on Earth was inspiring.

Sat Sept 1st - 12:30

A grandparent in generally involved in their

grandchildren's life but when your grandchild has a

disability, the rules are different and everyone has to

adapt. Love is steadfast.

Producer/ Int erview er : Krist en (Wood) Huys

Direct ors: Raina and Wilson

DP : Jonat han St aav

Edit or : John Gallagher

Runt im e - 4 m inut es 39 seconds
---
Short s Program 3

St ringers and Tear Jerker

Sat Sept 1st - 2:15

Sunday Sept 2nd - 5:30

Habit at

In the last few years I traveled to different parts of our

planet, from the intimidating vast arctic north, to the

tropical rich rainforest's in Costa Rica.

Ironically It?s been those places far away from human

civilization that taught me the most about us.

DIRECTOR - St effen Krones

Runt im e - 2:15

An Int rovert

A short film about connecting to people in

an increasingly digital world, and the

consequences of the distance it creates.

DIRECTOR - Trevor Wilson

Runt im e - 2:00

SAVE

Dawn. A baby breaks the silence.

"54 International Awards. More than 300

official selections."

DIRECTOR / WRITER - Iván Sáinz-Pardo

Runt im e - 3:54

Aw ay Hom e

A man returns to his family home on the East

Coast of Canada to unite his family and say

goodbye to his terminally ill mother.

DIRECTOR - Jana St ackhouse

Runt im e - 21:16
---
Short s Program 3

St ringers and Tear Jerker

cont inued

Accident als

An estranged father and daughter come to terms with their

frayed relationship during a tense road trip as they each limp

towards the realization that neither of them is doing okay on

their own.

DIRECTOR - Nat alie Now ak

Runt im e - 11:00

Basic Inst inct

This story revolves around an auto rickshaw driver

who has the same mindset wherein he gets an

opportunity to wrong another person and gain profit

out of it. What he does at that particular instinct is

what every person?s basic instinct is.

DIRECTOR - Johnny Aangraj

Runt im e - 12:11

Aux bat t em ent s du parloir (Jail quart ers)

Five pieces of life showing the path of a young man

from childhood to his twenties, as he visits his

imprisoned father with his mother.

DIRECTOR / WRITER - Pascal Marc

Runt im e - 13:30
---
Docum ent ary :

Living Proof

Sat urday Sept 1 - 4:00

DIRECTOR Mat t Em bry

Writ ers : Mat t Em bry, Tyler McLeod

Runt im e : 1 hour 33 m inut es

When a young man is diagnosed with a debilitating autoimmune disease with no cure, he and his

father go on a journey to find answers and hope.

Filmmaker Matt Embry and his family are devastated when he is diagnosed with multiple sclerosis.

Having previously directed documentaries on Theo Fleury, Jann Arden, Ian Tyson and WP Kinsella,

Embry allows cameras into his own life as he and his father, Dr. Ashton Embry, embark on a quest

to find insight into the incurable disease. Instead, they discover controversy, confusion and even

allegations of conflicts of interest between Big Pharma and MS charities. ?

?

From England to Iowa, Embry encounters other MS-sufferers who share their own information and

question if neurologists, Big Pharma, academia, government and multiple sclerosis charities are

keeping MS patients from accessing alternative treatments for the sake of profit and greed.

?

In the vein of Roger and Me and League of Denial, Living Proof stylistically blends first-person

investigative filmmaking, hard science and a compelling, heartfelt story of a father and son?s fight

to discover the truth and save lives.
---
SATURDAY SEPT 1st

7:30

Shiraz

A young Canadian travelling to Iran has a

conversation with an older Persian man. While

neither speak the other person's language, over the

course of an afternoon they find ways to connect.

DIRECTOR - Nat hanael Draper

Runt im e - 12:40

A Monologue in t he Int erm ission

?A Monologue in the Intermission? is a documentary movie,

portrait of the prima ballerina Vessa Tonova. The movie is

filmed for six hours only, during the play ?Swan lake? in Sofia

Opera and Ballet in 2014. During this short time, filled with

adrenaline and stress, Vesa Tonova makes the most sincere

confession of her life. Her whole confession is filmed in her

dressing room, during the intermission and between the

scenes she doesn?t play in.

DIRECTOR - Peter Vulchev

Runt im e - 24:44

The Tim es and Tales of Tw o Beirut s

A son goes to see his father in Beirut to help him prepare his

first photography exhibition, recalling the golden days of the

city (1960-1975). In that time, the son will get to know a new

side of this city, this country - and his father.

DIRECTOR - Teym ur Faris

Runt im e - 27 m inut es
---
Official Event s Sponsor

Free m ovies in River Mill Park

Brought t o you by
---
Before t he Plat e

Sun Sept 2nd - 2:15

Docum ent ary

DIRECTOR - Sagi Kahane-Rapport

WRITER / PRODUCER - Dylan Sher

PRODUCER - A St ory Told Well

Runt im e - 1 hour 35 m inut es

Before the Plate is a feature length documentary that follows a single plate of food backwards to

the farms its ingredients came from, upsetting modern myths about farming and revealing the

challenges the industry faces as it moves forwards. Starring John Horne, executive chef of the

downtown Toronto restaurant Canoe, Before the Plate showcases 10 ingredients from planting to

cooking (and every step in between) to help better connect the modern consumer with their

food.

Thank you t o our local sponsors
---
MUSIC VIDEOS

Riverm ill Park

Aug 31 - Sept 2nd

8pm

Locom ot ive 8 - Encore

An astronaut travels deep into a black hole to

find a way to save his dying love.

DIRECTOR - Sean Janisse

Lava Fizz - Yout h is Dead

A brief reunion with the lost

youth.

DIRECTOR - Javier Mazuelas

DESIRE, FANTASY & ART

Sm oot h At t ack -

DIRECTOR - Dom inik Fehr

St ing of t he Cact us

In this fun-filled slice of musical life, stop-motion

animator and cartoonist Bekky O'Neil captures

singer-songwriter's Ori Dagan's journey in jazz,

from the streets of Toronto to the world stage.

DIRECTOR - Bekky O'Neil
---
Cinem uskoka Charit y Part ner

Cinem uskoka Aw ard Cerem ony

Sunday Sept 2nd - 7pm

@ The Algonquin Theat re

Aw ards m ade by
---
Thank you t o our sponsors
---
Thank you t o our sponsors