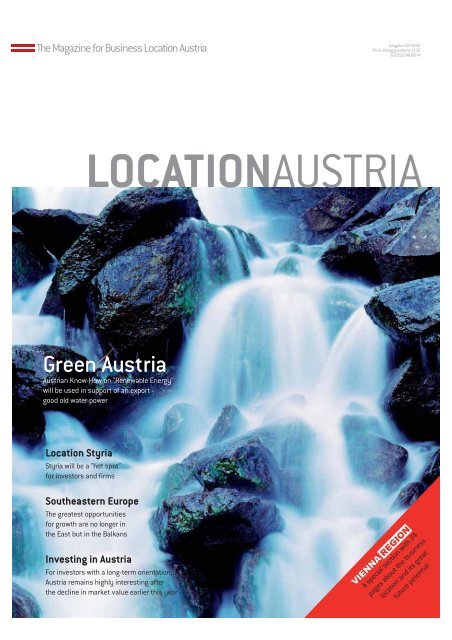 Green Austria
Green Austria
Green Austria
SHOW MORE
SHOW LESS
Create successful ePaper yourself
Turn your PDF publications into a flip-book with our unique Google optimized e-Paper software.
The Magazine for Business Location Austria

Ausgabe 02/2006

P.b.b. Verlagspostamt 1130

GZ02Z034082 M

LOCATIONAUSTRIA

Green Austria

Austrian Know-How on "Renewable Energy"

will be used in support of an export -

good old water-power

Location Styria

Styria will be a "hot spot"

for investors and firms

Southeastern Europe

The greatest opportunities

for growth are no longer in

the East but in the Balkans

Investing in Austria

For investors with a long-term orientation,

Austria remains highly interesting after

the decline in market value earlier this year

A special section with 24

pages about the business

location and its great

future potential
---
More Information – more Success

Top stories

................................................................................

Slovak Economy Minister Now in Favour of Transpetrol Buy

Economic Dialogue between BIH and the EU Underway

Slovenia Blackmails Croatia with the Krsko Nuclear Power Pl

New Mobi 63 Company Set up by Austrian Investors and Ser

Romania on High Alert Because of Unprecedented High Levels

Gazprom may buy leading newspaper Kommersant

Sharp's Investment in Poland Increasingly Likely

Hungary's OTP misses Panonska train, MKB steps aboard

Czechs Improve in Waste Recycling, Second in EU

Poland Reaches Preliminary Deal with wit UniCredit

RTL Does Not Give up on a Serbian an National Natio Broadcast Licence

Romania: OMV Changes Petrom General Genera Manager

Latvia's Izzi buys cable TV, Internet ternet operator op FAO

Czech Republic: Dolezel Charged ed wit with Attempted Fraud in Unipetrol C

Erste Chief: We Won't Change e Cesk Ceska Sporitelna's Name

Serbian Government to Earmark mark EUR EUR 1 Billion for Public Investments

Ljubljanska Bank

Rothschild Elected Serbian Telecom Telec Privatisation Advisor

Lithuania's Sanitas to pay EUR EUR 135 1 million for Poland's Jelfa

Goodyear to close plant in in Poland Pol

considerable market et pow power

> Lithuania's Sanitas tas to to pa pay EUR 135 million for Poland's Jelfa

> Analysts mulling g the the co consequences of Eurochem status changes for Lithuania's

more storie

> 67 per cent of f Energoinvest Ener shares privatised

> Austria will ll cont continue to invest in BIH

more stories >>

> Bulgaria to See a Complete VAT Act Rewrite

> Bulgaria to Speed up Rehabilitation Works at Kapitan Andreevo, Kalotina, Kulata

Checkpoints

> Bulgaria's Chief Prosecutor to Demand Seven MPs' Strip of Imm

20 200 22

00 st sto st tor ories
---
LOCATION

STYRIA

04 Innovative location

with great dynamism

Styria will be a "hot spot" for

investors and businesses

07 Joanneum

The platform "Design in Green"

is working successfully on a

network of young Styrian designers

with potential customers

both at home and abroad

EASTERN EUROPE

24 Focus Southeastern

Europe

Austria as a turntable between

the West and the Balkans

IMPRINT Owner

M&B Zeitschriftenproduktions GmbH

Münichreiterstr. 25, 1130 Vienna

Tel. +43 (0)1/917 51 18-0, Fax DW 23

office@austriatoday.at

GREEN AUSTRIA

10 Carinthia and the power

of water

12 Green ideas

The innovative ecological spirit

of Austria

16 Domestic materials on

the international level

New and alternative materials

from Austria are conquering

the market

20 Key exports

Water know-how

Austrian firms on a successful

course in the East

Thomas Brey,

editor of LOCATION

AUSTRIA

Manager

Mag. Thomas Brey

Publisher

Mag. Elfi Mayr

Editor: Mag. Thomas Brey

VIENNA REGION

29 Austrian success

in the East

A special, 24-page section on

the Vienna Region

34 A booming location in the

center of Europe

44 A high-tech location

number one

The high-tech scene in the

Vienna Region has already

gotten into the act as a world

leader

50 Score with quality of life

A modern infrastructure and

well-trained specialists are not

the only factors that play an

important role in the choice of

a business location

Dear Reader!

Editorial / Contents

INVESTING IN

AUSTRIA

53 Austria a model of

success as a financial

center

A special, 16-page section

"Investing in Austria"

54 A stock exchange with

potential

Despite the decline in market

value earlier this year, the

Vienna stock exchange is one

of the most-attractive financial

institutions in Europe

57 When billions roll

The Vienna stock exchange will

raise more capital in 2006 than

ever before

58 A good framework

A good performance

LOCATION AUSTRIA has not only been redesigned graphically,

with a new style created by Verena Govoni, one of Austria's leading

art directors, but also has new content. Location Austria's more diverse

articles make it more than ever before the best national and international

source of information on Austria as a business location.

The current issue's spectrum of topics highlights Location Austria's

status in that regard. Environmental technology has become one of

the most-successful branches of the Austrian economy - from production

of sustainable energy to materials technology. A success story of

another sort is the economic boom of the Vienna Region, which consists

of the eastern provinces Vienna, Lower Austria and Burgenland.

The special section "Vienna Region" shows where the most-important

future potential of the Region is.

Last but not least, Austria's successful economic development has

also made it attractive to investors - the recent decline in market value

on the Vienna stock exchange has hardly changed the generally

very satisfactory development of the past five years. The current situation

indicates that domestic firms' future prospects are excellent

and that the probability of success by "Investing in Austria" is high.

Production: Mag. Uta Apfelknab

Graphics: Ewaryst Izewski, Martin Völker

Proof-reading: Neil Gillespie

Cover: Verbund

Photo page 55: BÖHLER Edelstahl GmbH

Advertising

Mag. Erich Danneberg: +43 (0)1/86670-22349; e.danneberg@kgv.at

Anton Reiter: +43 (0)316/90331-2767; anton.reiter@mediaconsult.at

Harald Kopeter: +43 (0)316/90331-2751; harald.kopeter@mediaconsult.at

Peter Hirschfeld: +43 (0)1/86670-22335; p.hirschfeld@kgv.at

02/2006 LOCATIONAUSTRIA 03
---
GRAZ TOURISMUS

Schlossberg: Graz: city of

science and research, largest

connected Old Town in Europe

(UNESCO World Heritage Site)

Location: Styria

Styria wants to become a new hot spot for investors and companies. Therefore, the aim

is set at expanding strengths such as the interesting R&D landscape, the hunger for

innovation and the country's cluster initiatives and at overcoming weaknesses, especially

in the field of infrastructure.

Over the last ten years, Styria has become

an innovational location with dynamics

of its own. On the European Innovation Scoreboard,

Styria ranked second in 2001, following

Vienna as the second busiest ground-breaking

region. This position is also due to a high density

of universities and colleges of higher education

as well as the significant percentage of

private R&D expenditure. This is especially

Business location Graz

Graz – a platform for South-east Europe

• Centre of the Austrian automobile cluster – Detroit in the Alps

•Seat of internationally leading companies – Magna-Steyr Fahrzeugtechnik,

Daimler-Chrysler, AVL, Roche Diagnostics, Siemens, STRABAG, Andritz AG etc.

• City of congresses and trade fairs with international flair

• European traffic junction

- Intersection point of the A 2/E 66 – Südautobahn highway (Vienna - Graz - Italy)

with the A 9/E 57 - Phyrnautobahn highway (Regensburg - Passau - Graz - Slovenia)

Railway junction point: Südbahn and Ostbahn railway

Koralmbahn railway/Westbahn railway(under construction)

• Cargo Center Graz – freight transportation terminal

• International Airport Graz with cargo terminal

worthy of mention considering that 99,6 per

cent of all companies in Styria are SMEs. Great

potential also lies in the innovational broadness:

at present, 10.000 companies can call themselves

businesses on the swell of innovation.

In order to strengthen the region's status as

a modern business location, Styria is currently

systematically investing in the fields of research

and development. Notedly before 2010,

the R&D rate is supposed to be boosted to more

than 3 per cent, and in 2010 the rate is expected

to be 3,5 per cent. Nevertheless, Styria already

ranks among the top 25 (R&D expenditure

of more than 2,5 percent of the gross regional

product) in the European regions' research ranking

today. Moreover, the country's research

is also ideally integrated into a number of international

networks and the participation in

EU research programmes is twice as high as

the Austrian average. Reasons for this are an

4 LOCATIONAUSTRIA 02/2006
---
excellent research infrastructure as well as above-average

innovative companies.

The coming seventh EU research programme

will set its research focus on thematic main

points, ranging from bio technology and nano

technology to security research. Styria as an

R&D location can therefore operate on a solid

base while the growing number of foreign companies

that have their research done in Austria

speaks for itself.

Thematically, Styria is especially popular in

the fields of substance research and technology,

automotive engineering and engine construction,

human technology (bio sciences,

medical technology), telecommunications, environmental

research and technology as well

as nano technology. The latest success stories

have been coming from the field of computer

simulation. The cooperation of science and economy

at universities, scientific spin-ofs, colleges

of higher education and

technology-orientated competence centres is

a special quality feature. "Nevertheless, Sty-

ria's profile as a research location is still not

well enough recognised internationally", says

Michael Steiner, head of the department for

technological and regional politics at Joanneum

Research.

In an extensive survey, the department for

economic and locational development at WK

Steiermark has analysed Styria's economic

structure. Through benchmarking with the

other countries and other European regions,

a few factors for the business location's success

and competitive ability were determined.

Styria's weakest points at present are ineffi-

Your business location

in the heart of the EU future region South-East

Graz – a meeting point for technology and culture

• City of universities and colleges of higher education

- Technical University

- Karl Franzens University

- Medical University

- University für Music und Visual Arts

- Austria's largest centre for colleges of higher education

• City of science and research

• Europe's cultural capital city 2003

• Largest connected Old Town in Europe - UNESCO World Heritage Site

• City of human rights

• Eco-city

Dr. Michael Moor

WEGRAZ Gesellschaft für Stadterneuerung

und Assanierung mbH

Tel.: +43 - 316 - 38 49 09 -30

michael.moor@teccenterlebring.com

www.teccenterlebring.com

Location Styria

just 30 km south of Graz,

40 km north of Maribor,

situated directly in the area of the

Styrian automotive cluster!

We offer:

25.000 m2 of production, logistics and office spaces starting at 1.500 m2

high quality, climate-controlled clean rooms (3.000 m2)

40 000m2 of building plots for further development

attractive subsidies (EU target area 2)

a fully developed infrastructure with easy access to the A9 motorway

15 minutes drive to airport Graz/Thalerhof, railway line connection available

close to universities and research institutions in Graz

Graz

Lebring

02/2006 LOCATIONAUSTRIA 5

Marburg
---
TELEKOM AUSTRIA

*Xxxxx

Aflenz, earth station: Those

who want to be competitive

have to communicate across

the borders. From the earth

station in Aflenz, FAXs, e-mails

and Telefone calls can be

transferred throughout the

whole world.

GBG – Grazer Bau- und

GrünlandsicherungsGmbH

The Real-Estate and Construction

Contractor of the City of Graz

Brückenkopfgasse 1/IV

A-8020 Graz

Tel +43/(0)316/872-2950

od. 2960

Fax +43/(0)316/872-2959

gbg@gbg.at

www.gbg.at

cient transport and energy networks. Good

accessability and transport connections are

elemental location factors. There is still a lot

to be done in the fields of road and rail. The

security of supply will definitely be enhanced

once the 380-k-V-wire has been finished. The

expansion of the region's infrastructure is also

important concerning the coming positioning

GBG – We Know What Is Going On in Graz

The Graz Bau- und GrünlandsicherungsGmbH functions as

the real-estate and construction contractor of the city of

Graz. The first contact partner when it comes to business

properties in the Styrian capital, it constructs municipal

buildings and is a reliable cooperation partner on the model

of public-private-partnerships.

In the area of "location development", GBG aggressively

handles business locations and undertakes projects in the

sectors of individual locations and the development of parts

of the city.

as a platform for South-east Europe. Styria

has practically got a number of growth markets

right at its front door. The area's geographic

position is an immense benefit. In

numerous countries in the South and in the

East, Austria is the most important investor.

Therefore, the task is to further expand and

make use of these traditionally good economic

relations with Slovenia, Croatia and Hungary.

In Eastern Europe, Austrians are regarded

as bridge-builders. Nevertheless, Austria still

has no chance in the price competition so it

has to set its aims at overall quality, knowhow

and service quality. The concept is easy:

twice as expensive but four times as good, as

fast and as reliable. In the long run, a business

location also profits from the innovations

and the market success of the small and medium-sized

enterprises. Meanwhile, a large

number of national companies coming from

niches have worked their way up to worldwide

market leadership.

An exclusive study of the location consulting

ageny Contor on behalf of the Manager

PROMOTION

The successful location of a medical center in the western

part of Graz comprising 28,000 m 2 is only one example.

GBG was able to offer another attractive site for construction

of the firm Uniopt's new business location in Stadium

City Liebenau (19,000 m 2 ). In the southern part of the Styrian

capital, other sites of interest to prospective investors

with a total area of 200,000 m 2 are available. The number

of firms locating at Innovation Park Graz (IPG) has been

steadily increasing.

6 LOCATIONAUSTRIA 02/2006
---
JOANNEUM RESEARCH is a key

player in this respect.

The primary corporate aim of JOANNEUM RESEARCH is to contribute to the further

development of Styria within the EU Region of the Future and to strengthen its position

as a business location, especially by creating employment opportunities for qualified

specialists.

JOANNEUM RESEARCH seeks to consolidate

its position not only in the national

research and development landscape, but also

at an international level. Our company holds

a strong international position thanks to our

successful participation in the EU Framework

Programmes and our increased presence in the

new EU member countries, in particular in the

EU Region of the Future. This positioning process

is enhanced by the close cooperation with

the Dutch research organisation TNO, which

has acquired a participating interest in JOAN-

NEUM RESEARCH, while the Styrian government

remains the majority shareholder.

In the period from 2002 to 2005, JOANNE-

UM RESEARCH carried out and/or completed

50 projects (32 of them EU projects) in

the EU Region of the Future, which includes

Slovenia, Hungary, Croatia and the northern

Italian regions of Friuli-Venezia Giulia and

Veneto.

The internal communication strategy has also

been optimised to support internationalisation:

the periodic newsletter »JR goes South

East« informs all JOANNEUM RESEARCH

employees about the company's activities within

the EU Region of the Future, whilst also

providing news of general interest from that

region.

By establishing strategic partnerships and

research networks (e.g. with the Jozˇ ef Stefan

Institute), JOANNEUM RESEARCH intends to

further intensify scientific cooperation within

the EU Region of the Future in order to develop

it into a European model region.

Joanneum Research

Mag. Edmund Müller

(JOANNEUM RESEARCH),

Director Prof. Dr. Jadran

Lenarãiã (JoÏef Stefan Institute)

and Federal-Minister

Mag. Kristina Edlinger-Ploder at

the signing of the agreement

02/2006 LOCATIONAUSTRIA 7
---
WWW.PHOTOCASE.COM

*Xxxxx

Leoben-Donawitz: Over the last ten years, Styria has become an innovational location with

dynamics of its own.

magazine recently analysed 1207 European

regions following twelve typical location factors

for technologically challenging industrial

firms (including regional availability of

labourers, labour costs, yearly hours, taxes on

income, distances from major highways, airports,

signs of crime and corruption as well

as long-term chances of growth). As a result,

Austria - and especially the locations of Graz

and Eastern Styria - were given a truly attractive

report card. Both regions are part of the

top ten regions in Austria for high-tech companies.

In the future too, Styria will concentrate

on its intellectual capital, its employees'

qualifications as well as innovation. Five universities,

a wide range of different colleges

of higher education and the Joanneum Research,

one of Europe's largest centres for research

and technology, are the source of the

region's good innovational and competitive

ability. Since the country's raw materials are

not buried in the ground but can be found in

people's heads, Styria is the first region to systematically

make use of its creative potential.

Infineon Austria:

A Successful Competence Center for Micro-electronics

Infineon Austria has been able to increase its international competence

in research, development and production in the automotive, industrial

and multi-market sectors, as well as in communication solutions,

during the past few years. Its technological know-how makes Infineon

an important pillar for Austria as a business and research location.

Infineon Technologies Austria AG, a subsidiary of international

semiconductor manufacturer Infineon Technologies

AG, has a successful strategy: namely, the expansion

of research and development as well as their role in

microchip production. Infineon Austria employs around

2,700 people from 35 countries, of whom 800 are working

in research and development, in Villach, Klagenfurt,

Graz, Linz and Vienna. The firm is the largest private employer

in Carinthia. Around 790 employees of partner

companies are also on site. Some 5,000 people at Infineon's

800 suppliers and service providers owe their jobs

to the firm. Infineon's innovative ability and value creation

are very important to the region.

PROMOTION

Infineon strengthens research and development

As a leading firm, Infineon Technologies Austria emphasises

cooperation in business and research. Infineon is a

founding member of Carinthian micro-electronics cluster

me2c, a combination of more than one hundred regional

companies, educational institutions and research centers

in the areas of electronics and micro-electronics. As an

automotive undertaking, Infineon is a partner member of

auto-cluster ACstyria. A competence center for automotive

and industrial electronics (KAI) was recently established

at Villach Technology Park. At KAI, firms such as

Infineon, Magna Steyr, EPCOS and Flextronics, as well as

Austrian research institutes, are conducting research,

among other things, on reducing the sensitivity of electronic

auto parts to heat and cold.

8 LOCATIONAUSTRIA 02/2006
---
Succeed through Quality

Green Austria interview with Konrad Scheiber, General Manager of Quality Austria

Training, Certification and Evaluation Ltd.

'Success through Quality' is Quality Austria's

motto. What does Quality Austria do in order

to enhance Austria's leading market position

in the field of environmental protection in Europe?

Konrad Scheiber: Effective and efficient processes

in companies are the basis for high

product quality and security as well as the

products' long durability. Quality management

is the true key to success and the first

step in the direction of more efficiency in dealing

with resources. In numerous studies,

the convenience of environmental management

has been attested: clarity and conformity

with the law, an increase in eco-efficiency,

clear cost savings as well as more motivated

employees are a few of the benefits that environmental

management according to ISO

14001 or EMAS can bring. With more than

600 ISO 14001 certificates issued in Austria

and abroad, Quality Austria can claim many

years of experience in various fields. Security

management too, is becoming more and

more important, meaning that the group of

stakeholders - customer, consumer and the

environment - is enlarged through the category

of jobholders. It is our goal to enhance

occupational health care and security. At Quality

Austria, the number of certificates issued

that follow OHSAS 18001 has more than

doubled in one year.

Can you detect certain trends?

Konrad Scheiber: There have been legal changes

in both the European and the national field.

Since 01 January 2005, position reports of large

corporate identities and companies have to

present an analysis of the most important nonfinancial

indicators such as information regarding

the interest of jobholders and the

environment in addition to the financial indicators.

For this new requirement, an environmental

management system is truly convenient.

The same is also true for the employees' security

following OHSAS 18001.

That means that companies would be well

advised systematically to create an extensive

management system and start using the synergies

in other fields?

Konrad Scheiber: Yes, especially against the background

of the new law concerning association

responsibility (VbVG). This confusing title

stands for a new liability regulation that can

be of major importance for companies. According

to the law, associations can be defined as

incorporations such as joint stock companies,

limited liability companies, co-operatives and

commercial partnerships. From now on, companies

themselves can be liable for delicts. It

is the goal of the European Union further to

prevent ecocomic and environmental crimes

and personal injury. Nevertheless, the new regulation

can also be understood as a chance

to support sustainably preventive measures in

companies and to reduce possible risks. For

this purpose, quality, environmental and security

management as well as risk-management

pose approved tools. Especially is ISO 9001

one of the key management tools. Many norms

are built upon these systematics and can therefore

be perfectly integrated. ISO 19001 is a

true basis for success, as demonstrated by the

companies attenting the Winner's Conference

in Vienna on April 19, 2005.

How can organisations guarantee to meet all

relevant laws and requirements?

Konrad Scheiber: It is management's responsibility

to make sure that a company meets all

legal requirements. Therefore, a company has

to clear which legal requirements are relevant

to the organisation and what their effects are.

This is a measure creating legal clarity and security.

Furthermore, legal conformity can be

achieved through an active legal management.

As a handy guide through the confusing jungle

of paragraphs, I can recommend Quality

Austria's newly published book 'Actively managing

occupational obligations'. It contains

extensive checklists and case studies.

PROMOTION

'In cooperation with Erwin

Buchinger from the provincial

government, we have started

the CSR (Corporate Social

Responsibility) Initiative

Salzburg in order to further

establish CSR in companies

through qualification

measures.'

Quality Austria

Trainings-, Zertifizierungs- und

Begutachtungs GmbH

Gonzagagasse 1/24

1010 Wien, Austria

Tel. (+43 1) 274 87 47

Fax (+43 1)274 87 47-100

office@qualityaustria.com

www.qualityaustria.com

02/2006 LOCATIONAUSTRIA 9
---
Magnificent Trails, Spectacular Scenery and Artistic

Attractions in 2006: Carinthia and the Power of Water

Carinthia is Austria's 'water.realm', whose waterways guests have been exploring since 2004. This year one region

will again become the centre of discoveries, exhibits and extraordinary trails focusing on the world's most valuable

resource: water!

Located at the confluence of two rivers is Austria's first 'water art town',

Gmünd. Here the art of water is presented in all its facets. With the Gmünd Culture

Pass guests can visit three international exhibits, the 'Amazing World of

Water' with an exciting hands-on experimental station as well as numerous

open-air events on the squares and streets of the medieval city.

The Water Power adventure trip offers a versatile programme for the entire family.

The fairytale trail in Trebesing, which is known for the longest suspension

bridge in the Alps (175 metres), has been expanded by three new

attractions this year. The theme trail in Innerkrems known as the Wasserknappenweg

is also legendary with its search for the Nock dwarves' treasure, an

informative and entertaining treasure hunt with numerous surprises. Located

beside Carinthia's highest waterfall, the new water playground and amusement

park in Malta is unique. Here kids will be thrilled with the water laboratory,

hands-on water huts, a sensory platform, a mill as well as the

water-and-mud pit.

The unique thing about WasserPower 2006 is that it is located in two national

parks, the Hohe Tauern and Nock Mountains, which attract guests with their

spectacular nature experiences such as the Maltein rock formations, the Pölla

Valley stream trail, the Nöring water-and-sun trail, traditional farm spas in Karlbad,

Austria's first wellness farm and the highest dam in Austria, the Kölnbrein.

Left: relaxation pool at the Nöring

wellness farm

Top right: view of Austria's

highest dam, the Kölnbrein dam in

Malta

Bottom right: guests best experience

water hand-on in the 28

Carinthian wasser.reich hotels as

well as at locations such as the

Millstätter See at 'Dinner for 2'

pictured here.

WaterGold is still flowing as well, with the journey of exploration now into its

third year. WaterGold in the Upper Möll Valley can be visited starting in May. In

Mörtschach two exhibition farms will provide insight into the role of water in

the manufacture of wool. The Mentlhof in Apriach invites guests into the past

world of miners, where water was the driving power for mills, and for smelting

and threshing was indispensable. In addition to the Wasserwunderweg Jungfernsprung

waterfalls and the healing waters on the Briccius path near Heiligenblut,

it is especially the Schatztunnel gallery along the Gamsgruben trail

on the Kaiser Franz Josef ridge facing the Großglockner which provides a

spectacular experience. Water, gold and crystal are displayed in six galleries

with a view of the Glockner's unsurpassed panorama.

In addition to the water adventure regions, a network of 28 water.realm locations

spans through Carinthia awaiting guests with specific attractions. Every

water sport enthusiast will feel comfortable canoeing on the Drau, rafting or

paddling on the Möll in the middle of the Hohe Tauern National Park.

Those yearning for lakes will do best at one of the Carinthian lakes; handson

at a 1000 Hände-Massage ® on the Millstätter See, family-friendly at

Austria's warmest swimming lake, the Klopeiner See, or chic at Wörthersee

with the wonderful beach or on a cruise with the St. Lucia from Velden. The

Drau cruise on the Völkermarkt dam is also entirely new in Carinthia from

2006.

10 LOCATIONAUSTRIA 02/2006
---
PROMOTION

The water-artist city Gmünd is one of the highlights of the adventure trip

water-power in Carinthia's Lieser/Malta valley. The "Pankratium" has 24

exciting, bizarre, melodic areas in the "Water World of the Astounding." In the

photo: a resonating bowel.

A total of 28 specialists have devoted themselves to the subject of water,

among them four-star hotels focused on Seen Wellness ® as well as holidays

on farms or at camping facilities with a wide-ranging programme of water

sports. They all have one thing in common, however: they are certified hosts

for Carinthia's water.realm programme. In addition to a prominent location on

the water, the basic requirements are a distinctive atmosphere in the enterprise

itself and special activities involving water as well as eco-friendly treatment

of water as a resource, the integration of water into the design and a

water landscape at the host establishment.

Detailed information can be found at

www.wasserreich.at.

A free Adventure map for wasser.reich can

be obtained at the Carinthian information

centre, Kärnten Information,

Casinoplatz 1, A-9220 Velden,

Tel. 0043/(0)463/3000,

Fax 0043/(0)4274/52100-50,

e-mail: info@kaernten.at

02/2006 LOCATIONAUSTRIA 11
---
Nanoident AG in Linz operates

the world's first plant for organic

semiconductor sensors.

Green powerhouse of ideas

Algae instead of styrofoam, electricity and heat produced from grass, pharmaceuticals

made from strainer residues in beer production and organic microchips: ecological,

innovational spirit made in Austria.

The key word is sustainability – and it is

more and more becoming the most important

criterion of our overall economic and social

development. Austria's creatives are more

than ever looking in this direction and are calling

for progress only in consideration of ecologic

conditions, economic structures and social

potentials.

The country's 'green ideas' are present in all

fields, ranging from the textile industry and

waste processing all the way to nanotechnology.

In this new development, flagships such

as family-run companies make use of all synergies

that help establish and ameliorate their

products' and services' sustainable development:

facilities for business development function

as pulsers, while numerous technical

research departments have come to take a more

and more central position as the link between

nature and society.

The trend is definitely going towards the usage

of regrowing resources, in which it has become

more important than ever to avoid

mistreating nature and its resources in an ecologically

maintainable cycle. Other fields of

growing importance are recycling, the economical

usage of energy and resources and last

but not least the aim for the new products' longevity.

The core statement in all the ideas of Creatives

in research and development, though, is

naturally the Archilles heel of the western world:

One wants to abandon the dependance on fos-

sil fuels that we manouvered ourselves into

over the last decades. Reasons for this intention

are not so much limited resources as prices

and politics. The dream of the car that runs on

hydrogen, for example, has just come a little

bit closer to reality through research in the field

of low-temperature fuel cell systems at the

Technical University of Graz in cooperation

with industrial partners AVL List GmbH and

OMV AG.

With the growing difficulty with crude oil,

the branch currently experiences a true comeback

of technologies that work with natural fabrics

and had been pushed away because of

the possibilities of fossil resources. Natural fibres

are used in the fields of automobile manufacturing

and construction, and wood is

applied again in all imaginable areas. It is especially

enjoyable to watch the evolution of

pellets that allow for heating emissions far below

the critical values of, for example, particulate

matters.

The field of waste processing, too, can offer

some interesting examples: The Technical University

of Graz has, for example, come up with

an eco friendly product for degreasing. The

by-products in the extraction of maize kernel

are processed into a smooth granulate that is

later used for degreasing polluted metal parts

by means of sandblasting. This solvent-free

method created in Austria is mainly used in

the United States in the field of metal construction.

Another programme for lucratively recycling

a valuable wasteproduct is the

12 LOCATIONAUSTRIA 02/2006
---
econditioning of strainer residues in beer production.

The project, carried out by the Life

Science Project Management and the department

for applied microbiology at the BOKU

Vienna, has set its goal at developing a method

to create an innovative pharmaceutical

substance. The hoped-for future product is intended

to help with acne, menopause discomfort

and gastrointestinal disorders.

The field of nanotechnology too, has got some

green inventions to offer, for example in the

sector of organic semiconductors. In comparison

to ordinary silicon chips, these can be produced

faster, cheaper and with less effort

regarding energy and chemical substances involved

in the process. Nanoident AG based in

Linz has recently presented the method of production

for the first industrial production of organic

photodetectors worldwide. In the future,

the innovative factory for semiconductor sensors

– the Nanoident organic fab – will therefore

be producing for new industrial mass

markets while treating nature and its resources

with care.

Projects that have set their aim at sparing resources

and minimising pollutant emissions

are also the ones that are of most use for our

environment. The 'green idea' here is not so

much the development of cutting edge products

or materials as the task of operational organisation.

Wolfram Anderle from Austria

Wirtschaftsservice explains this using an example:

If a company did not power up its machines

all at the same time but rather following

a cleverly created, staged system, top usage

periods can be considerably reduced.

wood fibre

Like all fibre made in Lenzing, Lyocell fibres consist of

cellulose that is extracted from wood, a cultivatable material.

The fibre is versatile and open to innovative ideas regarding

the surface design. Moreover, the material is

extracted in an eco friendly way and it is one hundred per

cent biodegradable and economic in further processing.

The cellulose fibre Rainbow holds special colouring characteristics

that turn out to be of great use for the colourer.

This way, not only time can be saved but the

reduction in usage of water, sewage and energy moreover

reduce the ecological damage.

Valuable resource grass

Green Ideas

As a result of the change in agricultural structures in Austria to the disadvantage of livestock farming,

there is now an increase in spare grassland biomass. In order to preserve the affluently

structured Austrian culture landscape, the technology concept of a green bio-refinery was created.

Unlike a crude oil refinery, the resource 'grassland biomass' is planned to be processed into

numerous saleable products in a single processing plant entirely and with hardly any byproducts.

As a first step, the fresh grass is processed into high-quality silage that is ideal for industrial utilisation

as a resource due to its long shelf-life.The research team has set its goal at extracting potential

recyclables such as amino acid and lactic acid from the silage by means of an innovative

separation technology.

The application possibilities of amino acids are very versatile and range from the fields of feeding

and foodstuff all the way to the usage in cosmetic products. Lactic acid as a bulk chemical especially

is expected to grow in the future, as it is also used as a resource for biodegradable plastic (Polylactat)

or a solvent substitute (Ethyllactat).

Moreover, the green bio-refinery holds a grass pressing machine that can be used in bio-gas-facilities

for producing electricity and heat. Plans for the future also call for the idea of inserting grass

fibre into products such as fibreboards, insulators and card webs.

The development of the green bio-refinery in Austria is supported by the main point of researchchemical-technical

usage of plants- in the JOANNEUM RESEARCH as well as by BioRefSYS ® - BioRefinery

Systems (Dr. Kromus). The developers are confident that a pilot plant will be able to start

running in the near future

www.joanneum.at/nts

02/2006 LOCATIONAUSTRIA 13
---
Green Ideas

textile colouring

Vegetable colours for textiles

are becoming more and more

popular. Soon it will be possible

to colour textiles industrially

using onion skins, bark or

black tea pomaces..

bio bags

The new weaving method

Double Twist Technology, also

invented by VPZ Graz; every

thread is entwined around the

next twice. This way, less material

than before creates more

break-resistant strength in the

natural material.

wood plastic composite

A totally new class of material

that is being researched,

amongst others, by the competence

centre Wood in Linz, is

called wood plastic composite:

The combination of wood and

plastic allows researchers to

combine the two materials' positive

attributes and reduce

the negative characteristics.

Algen statt Styropor

Schaumstoff aus Algen

brennt nicht, ist gut

kompostierbar und weist

gute Wärmedämmungswerte

auf. Außerdem wird

das Produkt des Verspackungszentrum

Graz

mit Luft – und nicht wie

Styropor mit FCKW – aufgeschäumt.

14 LOCATIONAUSTRIA 02/2006
---
CHRISTIAN HOUDEK

Fernwärme Wien: Battery Recycling

Thermal battery recycling in the Simmeringer Haide plant of Fernwärme

Wien stands for:

• The safest way to recycle spent batteries • No environmental risk caused

by mercury and o other heavy metal from spent batteries • A possibility to

separate non-sorted batteries in • different recyclable fractions • A combination

of best available battery treatment • and flue gas cleaning technology

using a plant • interface with the main hazardous waste treatment plant

Technical highlights

Thermal treatment of alkaline and zinc-carbon • batteries at above 700 °C

• Battery throughput: 450 kg/h • Annual capacity: 3,000 t • Energy consumption

1,200 MJ/t • Extracted average mercury quantity: 120 g/t • 77%

of the spent batteries can be recycled after the • process

Despite a legal ban in the EU mercury containing batteries are still manufactured

in many countries and will continue to be available in the foreseeable

future. As a result many non-rechargeable batteries still contain

between 100 and 150 ppm of mercury and other heavy metals.

Mercury is a dangerous toxin for humans that causes cancer and harms

the nervous system. Furthermore, it is pestilent for fauna and flora. It is

thus inevitable to avoid emissions of mercury as well as other heavy metals.

At the Simmeringer Haide plant of Fernwärme Wien a battery recycling

plant is operated ensuring an environmentally sound disposal of these

dangerous environmental toxins.

After this pre-treatment the residual contents of spent batteries (predominantly

zinc, manganese and iron) can be recycled and re-used as a

secondary raw material.

Prior to the recycling process the collected spent batteries need to be

separated in order to allow a type-specific recovery of the wide variety of

materials. Fernwärme Wien offers the service for accurate separation of

the different battery types.

FERNWÄRME WIEN

PROMOTION

The process flow diagram to the right shows that pre- sorted batteries

(zinc-carbon and alkali-manganese) are first stored and filled into a feeding

bin. Transported by a conveyor and feeding system they are brought

into the rotary kiln where they are treated at temperatures above 700 °C

for about one hour. In this process the spent batteries disintegrate, carbon,

zinc and manganese are oxidised and mercury as well as heavy metals

leave the kiln with the dust fraction of the flue gas.

After a post combustion the solids (i.e. the recyclable fraction) are

shredded, sieved and divided by a magnetic separator into a zinc/manganeseoxide

fraction and a scrap metal (steel) fraction. These fractions can be

recycled in raw material industry for the production of zinc and steel.

The remaining volatiles are first dedusted in a hot gas cyclone and then

cleaned in a three stage flue gas treatment system. Large amounts of

hazardous contents (such as mercury) are washed out of the flue gas.

Fernwärme Wien uses best facilities for the treatment of the remaining flue

gas and waste water. The flue gas is connected to the post combustion

system of the main hazardous waste kiln and is treated at 1,200 °C again.

Afterwards it passes the same multi-stage gas cleaning system including

scrubbers, activated carbon filter and nitrogen oxide removal as the flue

gas out of the main hazardous waste treatment plant. Similarly the waste

water from the battery recycling process is treated in the main waste water

treatment facility. The remaining filter cake is disposed of in an

environmentally sound underground landfill.

Since the Simmeringer Haide plant fulfils the latest and strictest emission

standards within the EU battery recycling by Fernwärme Wien can be

counted as one of the safest ways to treat spent batteries.

Fernwärme Wien GmbH

Spittelauer Lände, 1090 Wien

Tel: +43 (1) 313 26-0

info@fernwaermewien.at

www.fernwaermewien.at

02/2006 LOCATIONAUSTRIA 15
---
Straw. The natural all-around

material. Found today in housing

construction, for example

in classic insulation, due to its

heat- and soundproofing properties

or as a layer of flooring.

If it is up to material researchers,

it will also be used as a

(bearing) component of a bus:

natural components are increasingly

finding their way

into technologically more sophisticated

areas.

The Stuff Markets Are Made Of

For decades conventional materials such as steel and plastic have formed the foundation

for successful products and applications. Today, however, new and alternative

materials are becoming increasingly important.

Materials inspire interest and create opportunities

for application for industry

and consumers through special material properties

such as high resistance and low weight.

So-called 'new materials' are either innovations

of conventional methods or the replacement

of conventional natural materials. One

innovation, for example, was the material polycarbonate,

which facilitated the compact disc's

entry into the market. Without the

development of new materials, however, it is

not only CDs which probably never would have

emerged: without new materials there would

be just as few non-flammable airplane components,

fire-protective clothing, and ceramic cutting

tools for metal processing as contact lenses,

clothing fabric like Goretex and Sympatex and

various applications in the automotive sector.

World-Class Domestic Materials

The development of new and innovative materials

which meet the demands of the market

require targeted, costly and long-term rese-

arch. Big companies and increasingly SMEs

are involved in an international competition

for technology and require access to the latest

materials know-how. In Austria researchers

are attempting to find a remedy for the shortage

of big companies and research institutions

through cooperative ventures. Clusters and

other multiple-enterprise institutions are helping

to fill in the gaps between materials development

and their use in products so that

users can take advantage of the know-how of

the materials developer to be able better to

meet the needs of the market. For this reason

innovative materials are the focus of research

in the strategic programme Innovative Upper

Austria 2010, where plastics, mechatronics and

many of the other Austrian clusters have united

their skills to conduct joint materials research.

The 'big players' research materials independently

and in clusters – the international

group Voest, for example. Non-alloys as well

as manganese, rust- and acid-resistant steel

16 LOCATIONAUSTRIA 02/2006
---
castings are manufactured in the company's

Traisen factory. The Plansee group also offers

a wide-ranging spectrum of high-performance

materials encompassing the fields of development

and production, processing and

engineering. The range of materials at Plansee

functions in temperatures of up to 3000 °C,

producing high-quality materials which are

used in the areas of lighting technology, the

automotive industry, energy technology as well

as glass and ceramic production. In a joint project

on the subject of mechatronics, under the

leadership of Siemens, companies and research

institutes have developed a series of functional

materials which are to create standards

in the manufacture of electrical devices, machines

and cars and advance the miniaturisation

of various components. In this regard it is

mainly multi-property plastics being produced,

which conduct light, heat or electricity

and can be manufactured to some extent as

simply and cheaply as a plastic toy. "The goal

was the development of new materials and

their integration into products," says project

manager Reinhard Kleinert of Siemens Corpo-

FABULOUS

PET RECYCLING

...

...

rate Technology. "For this purpose we focused

on five material properties: electrical conductivity,

magnetisability, laser structurability, thermal

conductivity and optical transparency of

the materials."

Natural Plastics

The use of natural materials and the combination

of recyclable or biodegradable with

artificially produced materials is also becoming

increasingly important: natural fibreenhanced

plastics are noticably conquering

the international markets. In the US and Japan

their annual growth rates are already 25

per cent. In addition to hemp and flax fibres,

which are used primarily in the construction

of vehicles, wood fibres are also gaining appreciably

in importance in their use in technical

applications – the so-called 'wood plastic

composites'. How wood can be refined into

high-quality products in the form in which

it accumulates at the producer – wood chips,

for example – is the subject of a research project

at the Upper Austrian Research Transfer

Centre for Plastics Technology in Wels.

Werkstoffe

PROMOTION

...Sounds like a fairytale, but it is true: throughout

Austria ÖKK Österreichischer Kunststoff Kreislauf AG

organises the recycling of the plastic packaging collected in

the yellow bags and bins. Out of the sorted plastics, recycling

partners of ÖKK create a lentil-shaped granulate which

serves as the basic material for many new products such as

pipes, bottles, canisters, bags, folia and fibres. Brand new

fleece jackets can be made out of your old PET bottles, for

example.

Moreover, not only are resources protected but a sustainable

contribution to climate protection is made by using recycled material in

new plastic products.

02/2006 LOCATIONAUSTRIA 17
---
Werkstoffe

The development of new and

innovative materials which

meet the demands of the markets

require targeted, costly

and long-term research. The results

are interesting for industry

and consumers due to

particular material properties.

Materials can be manufactured

as innovations of conventional

methods or by replacing conventional

materials with natural

ones such as felt, wood or

straw

The turntable

for research and

development in

Wechselland

Contact:

Environmental Competence

Center Wechselland

Dr. Karl Putz-Weg 1

8244 Schäffern

Alternatively:

Civilian Engineering Agency

Dr. Putz ZT-KEG

8244 Schäffern 143

Tel.: 03352/35 340

www.zt-putz.at

New materials whose characteristics are similar

to wood are being manufactured out

of wood chips in combination with small amounts

of plastics and can be made using manufacturing

technologies from the plastics

industry. In the EU project TREEPLAST, in

which Austrian companies are also involved,

the focus is target-oriented product innova-

Environmental Competence Center Wechselland

tions which are to focus on the advantages

and strengths of thermoplastic biodegradable

products.

Natural or renewable raw materials supply

biodegradable substances for the manufacture

of environmentally friendly material

alternatives which break down in soil and water.

These materials can be manufactured from

plant materials through special processes. The

starting materials are starches from potatoes,

grains or corn or granulate from polylactic

acid. These materials can then be used as disposable

plastic items, for example as dishes

or plastic bags. Biodegradable foil made of starch

has particular advantages in farming,

particularly in the cultivation of vegetables:

the process of biodegradation takes place during

use.

Industry uses approximately 40 tonnes of

lubricants as well as transmission and motor

oil per year in Europe alone. Bio-lubricants

made of plant-based oils provide an environmentally

compatible and nearly unlimited

alternative to petrochemical mineral oils.

Planning: Architect Erwin Kaltenegger - Passail/Weiz - Passive House Technology - www.dike.at.

PROMOTION

The civilian engineering agency Dr. Putz ZT-KEG is setting up Environmental Competence Center Wechselland in Wechselland

at autobahn exit Schäffern. As a result of an advantageous siting between the two business centers Vienna and Graz

and proximity to Hungary, this location offers ideal conditions for inter-disciplinary, transnational cooperation.

The civilian engineering agency Dr. Putz ZT-KEG will create a network for its business sectors, which include

• waste management • environmental economic

• agricultural economic • energy industry

• security management • innovation.

That will place the concentration and combination of competencies in the foreground, on the one hand strengthening the

economic and scientific status of the region and on the other hand enhancing its international competitiveness. Cooperation

with well-known research and educational institutions will make future solutions with new, intelligent technology

possible. The introduction of innovative small and medium-sized enterprises will result in the location of environmental

analysis and a so-called "Wechselland Academy" in Schäffern.

18 LOCATIONAUSTRIA 02/2006
---
They are quickly biodegradable in soil and

water due to microorganisms, less toxic and

volatile and exhibit better lubricating properties

than their mineral-oil based relatives.

In addition to motor oils, hydraulic and

transmission oils comprise a large group of

lubricants made of rapeseed and sunflower

oil.

Building and Bus from Farmers

An important consumer of renewable raw

material-based products is the building sector.

The raw material wood plays a large role

in this regard. Demand for window, door and

flooring components as well as wall and ceiling

panels made from domestic wood is increasing

enormously. Yet insulation materials

made of flax, hemp, straw, reed, wool and

paper are also finding a growing number of

adherents. These materials reduce the strain

on the environment and provide for comfortable

living without risks to health. Insulation

materials made of plant-based substances

provide an environmentally friendly alternative

to conventional insulation materials

such as glass and rock wool or polystyrol.

The plants from which natural fibre can be

obtained also bind carbon dioxide from the

atmosphere and replenish the air with oxygen

during their growth phase. And the possibilities

for using 'simple' straw in the building

of houses are also multiple, ranging from

classic insulation with matting and injection

material to non-bearing wall elements, which

exhibit good thermal- and sound-proofing

characteristics.

Werkstoffe

Materials made in Austria: the

user is to take better advantage

of the know-how of the material

developer and better meet the

needs of the market. Here in

Austria global companies such

as Voest are researching new

materials, yet small and medium-sized

enterprises have also

shown considerable initiative in

this field - initiative .
---
Hydropower is a clean form of

energy; renewable and sustainable

and, given the abundance

of water in the country,

Austrian interest in the field is

high. Employment in the hydropower

sector continues to

rise and the associated technologies

are increasingly playing

an important role as

exports.

Hydropower: Austria's Major

Source of Electricity

The demand for energy is rising; supply, especially of fossil fuels, is becoming increasingly

scarce, more expensive and, as demonstrated by the war in Iraq, more political.

Sources of electricity and motor fuel are existential requirements for states and their

national economies.

he supply of electricity has reached its

"Tzenith in Austria, as in the rest of the

world. Energy policies are decisive challenges

of the future", says Leo Windter, president of

VEÖ (Austrian Association of Electricity Companies).

Given the abundance of water in Austria,

this source of power is of particular

importance to the generation of electricity: Hydropower

accounts for around 70% of national

electricity production and almost 15% of total

consumption. Employment in the sector continues

to increase, partially due to the opening

up of new areas of application and because of

the increasing importance of green technology

as an export product. 20% of global electricity

is currently generated using hydropower,

with this figure rising sharply.

Almost 100 Years of Experience

According to the figures for 2004, the volume

of electricity generated from hydropower

in Austria has increased further, to over 36,000

GWh (gigawatt hours) today.

In addition to the hydroelectric power stations

operated by energy suppliers, Austria is

also home to a large number of small and smallest-scale

power stations. Hydroelectric power

stations are classified as small-scale if

they have a maximum capacity of 1MW; over

1,000 such power stations are in operation

across Austria. As such, electricity from these

power stations accounts for almost 13% of

the gross electricity generated from hydropower.

Furthermore, another 4,000 to 5,000 smallest-scale

stations exist in Austria. The exact

statistics are unknown as these stations are

not connected to the public grid. These stations

further increase overall output by another

10 to 15%.

Large-scale (re)construction of hydroelectric

power plants has once again been the focus of

Austrian energy providers. For example, a new

hydroelectric power plant was opened by Salzburg

AG last June in Rott on the river Saalach.

Total investment in the project totalled 20 mil-

20 LOCATIONAUSTRIA 02/2006
---
Austria needs new power plants

Verbund builds environmentally sound

Power consumption in Austria is growing unstoppably: By the year 2020, it

will increase by almost one-third. Verbund, Austria's leading electricity company,

which generates around 90% of its electricity from hydro power, is

therefore pleading in favour of the construction of new, resource-protecting

and low-emission power plants. Chairman of the Managing Board of Verbund,

Hans Haider: "As one of the most environmentally friendly, large, electricity

producers in Europe, we want, of course, to be a good example as we forge

ahead."

Thus Verbund is working on a completely underground hydro power plant and

on the new generation of natural gas combination heat and power plants that

generate power and heat at the same time with sharply increased energy

efficiency.

The new pumped storage power plant Limberg II will more than double the

capacity of the Verbund power plant group in Kaprun. With the expensive

facility, which cost Euro 365 million, the Austrian power supply at peak consumption

times will be secured even better from the year 2012. Verbund CEO

Haider: "The new power plant will be very compatible with the countryside as

it will be constructed completely underground in caverns."

Verbund is planning ultra-modern combined heat and power plants in

Mellach, close to Graz, and on the outskirts of Klagenfurt. They will supply

electricity and heat, with a tremendously high degree of fuel utilisation of

80%. Simultaneously, the CO2 emissions of these very reliable plants will be

only half the amount of a modern coal-fired power plant.

Global Power Solutions

ALSTOM, a global leader in energy and transport.

© Verbund/Petra Spiola

Chairman of the Managing Board

of Verbund Hans Haider

VERBUND

Abteilung Holding Kommunikation (HK)

Am Hof 6a, 1010 Wien

Tel.: +43 1 53113-53745

Fax: +43 1 53113-53848

www.verbund.at

PROMOTION

The Verbund

storage power

plant in Kaprun

will be more

than twice as

powerful.

Clemens-Holzmeister-Str. 4, A-1100 Vienna · Phone +43-1-608 88-0 · Fax +43-1-608 88-8230 www.at.alstom.com
---
Hydropower

Leading the way on energy and

environmental protection,

Austrian energy providers place

emphasis on optimal material

flow management,

excellent environment management

systems and commitment

to the environment.

Wolfgang Kölliker, Managing

Director of ALSTOM Power Austria

GmbH: "Hydro power in Austria

can look back on a tradition

lasting for decades. Austrian expertise

concerning hydroelectric

power stations is

consequently in high demand".

lion Euro, and 28 million kWh of electricity will

be produced annually, corresponding to the

power consumption of approximately 8,500

households. According to Arno Gasteiger and

August Hirschbichler, managing directors at

Salzburg AG, "Salzburg AG is once again investing

in clean hydropower as part of this project".

Because of the high importance accorded to

hydropower at Energie Steiermark AG, the distribution

company "Unsere Wasserkraft" (Our

Hydropower) was fully integrated into the corporation.

Furthermore, 2005 saw the commencement

of the planning phase for two new

hydroelectric power station in Kalsdorf and

Gössendorf, with a capacity of 17 and 18 Megawatts

respectively and an annual energy output

of 160 GWh. The power stations will be

ready for operation in 2011, with the total volume

of investment in the project around 115

million Euro. "These power stations are an important

signal for Energie Steiermark", says

Energie Steiermark member of the board Kailbauer.

Top Export: Hydro Experience

From an Austrian perspective, new opportunities

are arising internationally in the field

of hydropower. Activities in Southeast Europe

are of special importance to Austrian providers:

in 2006, contracts were concluded between

VA Tech Hydro GmbH & Co and Bulgarian

client Natsionalna Elektricheska Kompania

EAD (NEK), covering the rehabilitation of the

hydroelectric power stations at Kardzhali, Studen

Kladenets and Ivailovgrad in Bulgaria.

Austrian enterprise ALSTOM POWER AUS-

TRIA GmbH in turn functions as a subcontractor

for Siemens subsidiary VA Tech. The complete

rehabilitation of the three power stations, as

well as the installation of a fifth engine in Studen

Kladenets will be carried out over a period

of 60 months and covers, inter alia, turbine

propellers and hydraulic equipment.

With revenues of 15 billion Euro, ALSTOM

is one of the international market leaders in

the energy and transportation sectors. The company

employs over 69,000 staff in more than

70 countries worldwide.

ALMSTOM provides a complete range of

plants, components and services, which include

both manufacturing, initial operation and

long-term maintenance. As part of the aforementioned

deal, ALMSTOM is responsible for

basic and detailed engineering, delivery, project

management, software, overseeing assembly

and initial operation of the process control

system in the power plants, as well as the medium

and low voltage plants at Studen Kladenets.

This contract is the result of successful cooperation

with Bulgarian client NEK dating back

22 LOCATIONAUSTRIA 02/2006
---
many years. The comprehensive list of references

speaks for itself, and contains projects

such as the rehabilitation of the power stations

at Peshtera, Momina Klisura, Sestrimo, Belmeken,

Batak and Aleko. Renovation is currently

under way at both the Orfeus and Krichim power

stations in a major contract worth 17.5 million

Euro, with the project being managed by

an Austrian consortium and lead-managed by

ALSTOM Power Austria GmbH.

The 'hydro and export power' possessed by

Austrian enterprise ALSTOM is further underlined

by the modernisation of the hydroelectric

power plant in Jablanica in

Bosnia-Herzegovina and the construction of

the Ermenek hydroelectric power plant in Turkey

in a deal totalling some 550 million Euro.

The power station project is managed by a consortium

consisting of ALSTOM Power Austria

GmbH (lead-management and financing), VA

Tech Hydro, Voith Siemens, Alpine Mayreder,

Verbundplan and the Turkish construction firm

BM.

Specialists in Sustainable Energy

Highly-qualified specialists in sustainable-energy production will be trained in the

course "MSc Program - Renewable Energy in Central and Eastern Europe" at Vienna's

Technical University.

The sharp increase in the price of oil and growing

concern about energy supplies have greatly

increased attention to the topic of renewable,

sustainable energy production. It is no surprise

that the course, begun in 2005, has been in

great demand and that a good 60 people are

competing for the 25 available seats.

"Technical knowledge often does not keep

pace with enthusiasm for sustainable-energy

production," course instructor Professor Helmut

Drobir says. "Here, there is still a need to

learn in order to produce results that are really

in accord with basic standards, technically

optimal and economically representative." The

post-graduate course is not only designed for

technicians but also for financial specialists,

jurists and administrative and political experts.

The goal is the acquisition of comprehensive

understanding of the technical, economic and

environmental aspects of sustainable-energy

production.

The course deals with all renewable sources

of energy, from water-power to wind and

solar energy to geothermics and biomass, and

with management, the evaluation of sustainable-energy

systems, EU enlargement and topic-related

law. English is the exclusive

language of instruction. About one-third of

those registered for the course come from the

scientific, manufacturing and business sectors.

An absolutely practical orientation is guaranteed.

Professor Drobir believes that cooperation

with international partners is important. Vienna

Technical University offer a post-graduate

masters' program in cooperation with Energy

Park Bruck/Leitha. Cooperation with Hungary

and Slovakia is especially close, and part of

the course program takes place in Györ in western

Hungary and in Bratislava. Owing to

strong demand, repetition of the course occurred

six months after it began, again with around

25 participants.

In the future, the course will begin each year

in the autumn.

Hydropower

Success on the domestic and

international markets: Austrian

businesses offer a complete

range of plants, components

and services covering conception,

manufacture, initial operation

and maintenance.

Bulgaria, Romania, Turkey and

Bosnia are just a few of the

countries interested in Austria

hydro expertise.

Prof. Dr. Helmut Drobir

MSc Program

– Renewable Energy

in Central and Eastern Europe

Mag. Petra Aigner

Continuing Education Center

der TU Wien

Tel.: +43 /(0)1 / 58801-41701

Fax: +43 /(0)1 / 58801-41799

newenergy@tuwien.ac.at

www.newenergy.tuwien.ac.at

02/2006 LOCATIONAUSTRIA 23
---
OMV established itself as the

big player in South-eastern Europe

due to acquisitions such

as those of the Romanian company

Petrom and the 34% stake

in the Turkish company

Petrol Ofisi.

Focus on South-eastern Europe

Austria is distinguished in many SEE markets not only as the most important investor but

because it also functions successfully as the hub between the West and the Balkans.

While the boom in the Central European

markets is slowing down, Austrian

as well as international investors are increasingly

turning to South-eastern European

markets. In their processes of transformation

the nations of the second wave of EU accession,

Romania and Bulgaria, offer an especially

wide range of opportunities for the creation

and development of highly promising economic

relations and for infrastructural investments.

In the development of the new markets

of the South-east, Austria in turn has been

consolidating its position as a location for

headquarters. Its established know-how, geographical

location, historical connections to

the Balkan countries, initiatives for the promoting

and guaranteeing location Austria in

headquarters functions (www.headquarters.at)

and not least the active political contacts,

make Austria a gateway between West and

South-east and at the same time the most important

investor in these nations. In this regard,

one of the main focal points of the

Austrian Council Presidency lies in the integration

of the region, among other things

through a process of stabilisation and association

as well as in the development of a new

EU financing instrument for the Western Balkans.

The dynamic foreign trade figures achieved

last year speak for themselves: Austrian

exports of Euro 4.7 billion contrasted with imports

totalling Euro 2.7 billion (see table at

page 28). As a result, in exports there are four

markets with a volume equivalent to that of

24 LOCATIONAUSTRIA 02/2006
---
China virtually at our doorstep. The increase

of 16.4% in exports and 8.6% in imports

was far above the growth generated in global

and in Europe-wide foreign trade.

According to the Vienna Institute for International

Economic Comparison

(www.wiiw.ac.at), regional stability and the

prospect of EU accession are crucial for economic

development in South-eastern Europe.

Top Investors

One of the countries in South-eastern Europe

currently considered most capable of

development is Romania, followed by Bulgaria.

Anticipated EU accession has especially

motivated direct investors to jump the train

to the western Balkans. While foreign funds

have generally flowed into Greenfield investments

over the last few years, in 2005 privatisation

played a decisive role. In December

last year Erste Bank initiated is largest acquisition

abroad to date with the takeover of

clear market leader Banca Comerciala Romana

whose market share is 30% with 2.8 million

customers. The takeover will be wrapped

up by the end of the second quarter of 2006.

As a result, Erste Bank is at the top along with

the biggest investor in South-eastern Europe,

OMV. The mineral oil company opted for

an early foray into the East. OMV has been

in Romania and Bulgaria since 1999 and in

Serbia and Montenegro since 2002. One year

after that, market entry followed in Bosnia

and Herzegovina. The company's goal was

to develop a solid position for attractive investments

and filling station locations ahead

of the global players by means of a systematically

implemented early-entry strategy.

Through the acquisition of the Romanian company

Petrom, OMV expanded its leading position

in the Danubian region, an area spanning

from the Black Forest to the Black Sea with

more than 100 million people and yearly consumption

of 80 million tonnes of mineral oil

products.

The Explosive EU

In view of their scheduled accession to the

EU, Romania and Bulgaria are in high gear,

adapting their standards to EU levels. The greatest

need to catch up currently lies in the area

of infrastructure while, in addition to internationally

tendered large-scale projects, private

operators are also taking advantage of the opportunity

to get a slice of the cake. Austria's

export business sees the biggest opportunities

(www.wko.at/awo) in the areas of financial services,

building, energy and transport infrastructure,

tourism, media and telecommunication

as well as in environmental technology. "The

deadline for implementation of the EU directives

creates a guarantee that the projects lined

up will actually be realised," says Michaela

Wolschner of SW Environmental Technology,

emphasising the enormous potential which lies,

for example, in the development of the purification

of sewage and the water supply: 40%

of the Romanian households are linked to the

public canalisation system: half of them date

from a period prior to the First World War and

Focus South-eastern Europe

Construction site Southeastern

Europe: the largest opportunities

for foreign investors lie in

the development of

infrastructure.
---
Focus South-eastern Europe

HR Specialist for CEE and SEE

have to be renovated. By 2018 83% have to be

provided with connections.

Boom in the Regions

Bucharest is still considered the construction

site of Europe. However, the interest of

investors is increasingly turning to the second

most important cities of the 'new' countries.

Franz Rößler, regional manager for South-eastern

Europe for Austria's export business,

characterises the Iasi region in Northern Romania,

where Austria has already made a

name for itself as the biggest foreign investor,

as a prime example of this trend. Daily flights

from Vienna to Iasi, its renowned university

with 60,000 students (and 320,000 residents),

its cost-effective and well-educated labour

force as well as the presence of Austrian banks

facilitate market entry for new arrivals from

Austria. "In the Northern Romanian district

of Iasi there is particular know-how in the

field of information technology and software

production, in the pharmaceutical business

as well as in the furniture and clothing indu-

Personnel and management consultant HILL

International has established itself as a leading specialist

in filling key positions in Central, Eastern and

Southeastern Europe. As a pioneer in the region, the firm

was able to build an area-wide network very early on.

In no other part of Europe is there a similar great need for executives

and specialists as in the booming new EU countries and candidate states

in Central, Eastern and Southeastern Europe. This seems readily apparent

today, but was practically unthinkable in 1989. "We were a pioneer

in the region and became aware of its market potential very early on.

While other consultants continued to expand in the West, we had already

opened our first branch offices in the East," says Othmar Hill, the founder

and president of HILL International. The firm is represented today by

more than 30 offices in 20 countries. That makes it an international partner

with regional competence and a specialist in the strategic management

support of companies in Central, Eastern and Southeastern Europe.

HILL's local presence is a big advantage, especially in Southeastern Europe

with its small national markets. The HILL offices in Serbia and Montenegro,

Bulgaria, Romania, Slovenia, Croatia, Bosnia-Herzegovina and,

since a short time ago, Turkey are working at full capacity. Besides personnel

search and selection, the support of mergers and acquisitions

stry," said Lucian Flaiser, president of the

district council of Iasi at a presentation of his

region in June in Vienna.

Popular Austria

Austria has been operating as the largest investor

in the countries of Bulgaria, Romania,

Croatia, Bosnia-Herzegovina and Serbia and

Montenegro. In addition to the geographical

location, this is attributed to the historically

positive connections with most countries of

South-eastern Europe arising from a common

history and political manoeuvre: for example,

Austria offered substantial support to Albania

in its attempts to gain independence

and was recently the first EU country officially

to recognise Montenegro as an independent

state. One particular advantage in Austria,

however, lies in the 'software'. With regard

to exports it is often said that Austria's mentality

is far closer to that of South-eastern Europe

than those of the other countries in

Western and Central Europe. The benefits of

these 'inborn soft skills' are useful for inter-

and management audits are key firm services."The human factor plays a

decisive role during times of change. Our appreciation of soft facts like

intercultural aspects enables us to create stability," Hill explains. "The

HILL Competence Analysis guarantees that we will recognise and develop

the full potential of individuals and organisations." In this regard, HILL

has the trust of such international enterprises as McDonald's, BMW and

Siemens. Othmar Hill adds that "international companies face very special

challenges in Southeastern Europe. This includes the area of human

resources, in which we naturally have great competence as the leading

specialist in the region."

HILL International GmbH

Schwarzenbergplatz 7

1030 Vienna

T. 43 /1 / 796 97 98 - 0

hill@hill.co.at

www.hill-international.com

Othmar Hill, the founder

and president of

HILL International

PROMOTION

26 LOCATIONAUSTRIA 02/2006
---
national investors in that they can develop

the market of South-eastern Europe through

Austria. That Austria is a worthy partner for

the countries of South-eastern Europe and

has a special competence for new enterprise

has provided the impetus for Vienna's location

of the new Hermes Südosteuropa Versicherungsholding

GmbH (HSSE), the recently

established joint venture of Hermes Kreditversicherung

in Hamburg and the Austrian

Control Bank. HSSE will initially focus on the

countries of Romania, Bulgaria, Slovenia and

Croatia. Vienna's World Bank institution MIGA

(www.mga.org), which promotes the development

of European investments in the Western

Balkans, is concerned with advancing

the function of Austria as a hub between the

West and South-east.

Dynamic Employment Market

The German company Knauf, a manufacturer

of building systems, has conducted business

in Eastern and South-eastern Europe from

Vienna since 1989. Knauf has been active in

SW Umwelttechnik: Growth Opportunities

in Central and Southeastern Europe

A CEE pioneer, SW Umwelttechnik is expanding in

Romania.

As a Carinthian family business, SW Umwelttechnik began its activity in

the CEEs in 1990 in Hungary. The firm listed on the Vienna stock exchange

in 1997 to facilitate domestic expansion as well as activity in the direction

of Eastern Europe. Proceeds from the IPO were used primarily for investments

in new EU areas, above all in Hungary, where some 40 million euros

have been invested.

The clear focus of investment activity will be on Romania during the next

five years. There is an enormous backlog of needed investment there,

where the firm has been active since 2001, in the areas of potable water,

sewage and infrastructure that Romania must finance during the course of

its admission to the European Union.

The first production facility in Timisoara, Romania will begin operation this

year. The plant will first manufacture products for water-protection and

then others for infrastructure. Construction of a second facility in

Bucharest will begin in the second half of the year, and another in northern

Romania that is still in the planning stage will be built in 2008.

Dr. Bernd Wolschner, the SW Umwelttechnik board member responsible for

Eastern and Southeastern Europe, says that "the new political and economic

order in Southeastern Europe offers our firm in its product offerings a

unique historic growth opportunity."

Romania since 1993 and for years has reported

two-digit market growth. In Romania alone

the company is market leader with 70 sales

partners marketing 500 different products and

systems. In 1994 Knauf expanded its foreign

interest to Macedonia, Bosnia-Herzegovina

and Albania. From the beginning Knauf has

successfully pursued a strategy of having local

employees trained on location by Austrians.

Austria's strategy of sending Austrians to

South-eastern Europe is assessed by Elisabeth

Leyser, managing partner of HILL International,

as beneficial due to geographic location

and cultural similarity. The manager markets

are generally very small and developed to varying

degrees in the individual countries. For investors

it is advantageous to be continuously

advised by local human resource experts as to

which ideas can be realised with a view to the

qualifications in a particular region, for the supply

of top qualified employees with experience

in a western environment is still scant. The

situation in the Western Balkans is assessed

by HILL international as particularly challen-

Focus South-eastern Europe

SW Umwelttechnik

Stoiser & Wolschner AG

A-9021 Klagenfurt, Bahnstraße 87-93

Tel.: 0463 / 32109-0

office@sw-umwelttechnik.com

www.sw-umwelttechnik.com

PROMOTION

02/2006 LOCATIONAUSTRIA 27
---
Focus South-eastern Europe

Banca Comerciala Romana in Bucharest:

With the acquisition of Banca Comerciala Romana Erste Bank is one of the largest

direct investors in Romania.

ging and dynamic, a trend which will be further strengthened

in the next few years.

Marketplace for SMEs

In order to promote foreign investment in the region

including Albania, Bosnia-Herzegovina, Croatia, Macedonia

and Serbia and Montenegro, the subsidiary of

the World Bank Group MIGA formed the European Investor

Outreach Programme (www.eiop.org) with support

from the Austrian Ministry of Finance. The EIOP

supports potential investors by preparing data and information

which are relevant for making investment decisions

and offers free assistance in the selection of

suitable locations and partner companies and in establishing

contact with local officials. Small and mediumsize

enterprises have made particular use of this service,

for it is especially the subsectors which are the most

promising. Numerous investors have joined the tradition

of the automotive component sector and appreciate

the location for its more cost-effective labour force which

already possess the required know-how and has considerable

working experience in Western Europe. The

food industry has also proven to be interesting for the

rise in purchasing power and the 'hunger' for western

products has opened up enormous potential for import

substitution.

Exports 2005 Change Imports 2005 Change

in mio. Euro in mio. Euro

Romania 1,427 15.5 % 727 0.6%

Croatia 1,208 -1 % 516 -11.7%

Turkey 732 -7,5% 801 7.6%

Serbia and Montenegro 430 -2 % 110 -1.7 %

Bulgaria 446 14.7% 389 11.2%

Bosnia-Herzegowina 280 23.1 % 103 26%

Mazedonia 65 10.8% 18 96.1%

Albania 40 63.6% 4 -17.3%

Moldova 23 18.7% 15 29.4%

Region 4,651 +16.4% 2,683 +8.6

In comparison:

China 1,218 8.8% 2,907 26.7%

Europe 78,780 4.3 % 80,454 3.6%

World 93,996 4.6% 95,493 4.8%

Value in mio. Euro. Source: Statistik AUSTRIA/AWO

28 LOCATIONAUSTRIA 02/2006
---
The Magazine for Business Location Austria

LOCATIONAUSTRIA

Vienna Region

A booming business

location in the

centre of Europe

Life Sciences

Biotechnology as a new booming branch

IT-Industry

Innovative firms score in an attractive niche

Know-how for the future

New educational opportunitites strengthen the Vienna Region
---
PROMOTION

Observation of material transfer using

the AC²T-Imaging-System

SRV-Tribometer High

Frequency Friction Machine

The Friction Professionals

With a system-technical approach, the Center of Competence for Tribology - AC²T is working in the areas of lubrication and

friction technology on the optimisation of abrasion processes for customers in sectors ranging from the automotive to

the medical-technological.

Professor Friedrich FRANEK, the head and scientific manager of the Austrian

Center of Competence for Tribology - AC²T research GmbH (AC²T), does not

have an easy job when it comes to a description for laymen of research at his

institute. "Tribology aims at optimalisation of entire systems in regard to the

minimisation of abrasion and maintenance costs as well as the optimisation

of product reliability, especially with allowance for interaction among different

materials, lubricants and product design.

That is rather complicated for the simplest definition, and in fact tribology is

an especially complex, special technical area, the applications of which

apply to e.g. machines, production equipment, transportation systems, drive-trains

and tools. Meanwhile, more than 50 scientists are working at the

Wiener Neustadt Technology and Research Center (TFZ), especially in the

areas of tribo-metrics and system technology, lubricants and lubrication

technology, functional surfaces, the interaction of lubricants and construction

materials, the creation of reaction strata and the modelling of friction

contacts and abrasion processes, as well as specific sensor and condition

monitoring.

The research institute was established in the framework of Kplus-Competence

Center Program. AC²T research GmbH is a privately organised research society,

which representatives of both industry and Vienna's Technical

University are members of. In that configuration, AC²T is unique in Austria,

and there are no comparable institutions in other European countries that

have an interdisciplinary focus on tribology research at only one location.

Meanwhile, industry is increasingly acknowledging the importance of tribology

research. The high cost of the failure of machinery and other equipment

based on tribo-technology demands assurance of the quality of products

through methodical tribo-design. Through exhaustive analysis of a case of

damage with the help of tribo-technology damage analysis (through fractography,

metallography, microanalysis, etc.), the cause can be detected in a

fast and goal-oriented way.

In the area of chemical analysis, a high-resolution (emissions-) spectrometer

is available. The surface tension, prospensity to foam, precipitation behaviour,

and effects of ageing of lubricants (and other liquids) can be analysed. For the

experimental characterisation of tribological systems and abrasion processes,

AC²T has a palette of testing devices (tribometer) at its disposal. Specific

analyses require the use of the most-modern analytic and experimental procedures

that AC²T is using and will continue to develop.

For example, AC²T in cooperation with TU Vienna has developed a closed, liquid

cell for grid-patter-power microscopy in analyses in the nanometer area.

AC²T's field of activity is especially broad. About half of its contracts are in the

automotive area. But AC²T also has research contracts with firms in the areas

of electro-mechanics, mechatronics and the materials sector.

AC²T research GmbH

Viktor Kaplan-Straße 2

2700 Wiener Neustadt

Tel: +43 / 2622 / 816 00

Fax: +43 / 2622 / 816 00 99

office@ac2t.at

www.ac2t.at
---
VIENNA

REGION

32 Facts and Figures

Growth, Education and Many

New Jobs: Facts and Figures

Vienna Region

34 A Booming Location in

Central Europe

The three provinces, Vienna,

Lower Austria and Burgenland

are creating a dynamic and

steadily wealthier economic

region in the centre of Europe

VBA

IMPRINT Owner

M&B Zeitschriftenproduktions GmbH

Münichreiterstr. 25, 1130 Vienna

Tel. +43 (0)1/917 51 18-0, Fax DW 23

office@austriatoday.at

SERVICES

38 VBA

An overview of the services

of the Vienna Business

Agency

40 ecoplus

An overview of the Lower

Austrian business agency

ecoplus

42 WiBAG

An overview of the services of

Wirtschaftsservice Burgenland

Aktiengesellschaft - WiBAG

Manager

Mag. Thomas Brey

Publisher

Mag. Elfi Mayr

Editor: Mag. Thomas Brey

HIGH TECH

44 Booming Sector

Life Sciences

Biotechnology has developed

into one of the most-important

growth sectors in the Vienna

Region

46 New impetus in the

IT industry

International firms and innovative

domestic companies are

growing at an impressive rate.

47 High-Tech Stars

Numerous firms in the Vienna

Region are enjoying top technological

performance.

Historic Chance

Vienna Region / Contents

EDUCATION AND

QUALITY OF LIFE

48 Know-how for the future

The Vienna Region offers a

broad spectrum of scientific

and practical educational

opportunities

50 Location Factor

Quality of Life

Cultural offerings, high environmental

standards, safety and

attractive leisure-time activities

make the Vienna Region more

attractive to international executives

than any other business

metropole.

Yesterday a peripheral area in the shadow of the Iron Curtain, today

in the centre of the fastest-growing economic area of the continent: the

change that the Vienna Region, the name by which the Provinces of

Vienna, Lower Austria and Burgenland present themselves internationally,

is doubtlessly a development that merits the phrase 'historic

chance'.

The Vienna Region has used that chance - the provinces' economic

policy as well as the firms located there. No matter whether it's OMV in

the oil and gas sector, large domestic banks like Bank Austria, Erste

Bank and, above all, Raiffeisen, insurance firms like Wiener Städtische

or Uniqa, Real Estate investors such as Immoeast or many others, they

have all made optimal use of the advantage of location in the historic

centre of Central, Eastern and South-eastern Europe and acquired

dominant market shares in Central and Eastern Europe. That development

has led to an unparalleled concentration of experts on the East in

the Vienna Region and again predestined it as a location for international

firms which want to use it as a springboard for conquering eastern

markets. The advantage of geography has resulted in a competitive

edge in know-how that will count for more than anything else in the

long-term.

Editorial Staff

Production: Mag. Uta Apfelknab

Graphics: Ewaryst Izewski, Martin Völker

Proof-Reading: Neil Gillespie

Cover Photo: VBA

Advertising

Mag. Erich Danneberg: +43 (0)1/86670-22349; e.danneberg@kgv.at

Anton Reiter: +43 (0)316/90331-2767; anton.reiter@mediaconsult.at

Harald Kopeter: +43 (0)316/90331-2751; harald.kopeter@mediaconsult.at

Peter Hirschfeld: +43 (0)1/86670-22335; p.hirschfeld@kgv.at

02/2006 LOCATIONAUSTRIA 31
---
Vienna Region / Facts and Figures

Size compared to Austria

Vienna Region 28.5%

Rest

of Austria 71.5%

Vienna 0.5%

Growth, Education and many

new Jobs

The boom in the Vienna Region is also reflected in the impressive development of

economic indicators. An overview of the most important data concerning the Vienna

Region.

In the end, it is the numbers that count. Nowhere

is this more applicable than to the

economy. The numbers are right in the Vienna

Region. After the fall of the Iron Curtain,

what had once been a frontier post has moved

into the central position in a unifying Europe.

The Vienna Region boasts long-term growth

figures that have constantly and noticeably

above-average growth rates.

Lower Austria

23%

Burgenland

5%

Employment by Sector

percentage 1995/2004

0.8

0.8

30.8

26.9

65.2

68.4

1.7

1.3

LOISIUM/ROBERT HERBST HAIDEN-BAUMANN

Austria

Vienna Region

Austria Vienna Region

This in turn is reflected in the key economic

indicators. The number of jobs, especially in

top positions, has risen as strongly as economic

output and income per capita. In addition,

numerous regional headquarters of multinational

corporations have been established in

the region, and have had a perceptible and extremely

positive impact. For all the economic

indicators for the Vienna region, see:

www.viennaregion.at

University, Technical College and College graduates

as a % of the population older than 20 (2001) Source: Statistik Austria

32 LOCATIONAUSTRIA 02/2006

29.8

24.4

65.9

71

Agriculture and Forestry 1995

Manufacturing 1995

Services 1995

Agriculture and Forestry 2004

Manufacturing 2004

Services 2004

6.2

6.5
---
Proportion of Start-ups 2005

in %

Source: Statistik Austria, WKO

14.0

12.0

10.0

8.0

6.0

4.0

2.0

0.0

HAIDEN-BAUMANN

Gross Regional Product 2003

absolute, current prices, million Euro Source: Statistik Austria

Austria

Vienna Region

Austria

Vienna Region

103,045

Gross Regional Product per capita 2003

in EUR.

Source: Statistik Austria

40,000

35,000

30,000

25,000

20,000

15,000

10,000

5,000

0

28,000

Austria

27,166

Vienna Region

Start-ups 1995-2005

35,000

30,000

25,000

20,000

15,000

10,000

5,000

0

226,968

Austria

Vienna Region

Vienna Region / Facts and Figures

Increase 1995-2003

in %

Austria

Vienna Region

Increase 1995-2003

in % Quelle: Statistik Austria

02/2006 LOCATIONAUSTRIA 33

40

35

30

25

20

15

10

5

0

1995

26.7

Austria

29.3

Vienna Region

2005

Source: Statistik Austria, WKO

31,625

16,406

29.3

31.4
---
PRESSE- UND INFORMATIONSDIENST DER STADT WIEN BURGENLAND TOURISMUS

NÖ-WERBUNG/LAMMERHUBER

The Vienna Region encompasses

the Provinces of Vienna, Lower

Austria and Burgenland and is

the geographic and economic

centre of an expanded Europe.

The region demonstrates that the

intelligent stimulation of a

location can be successful in a

globalized economy.

Vienna Region: Booming

Location at the Centre of Europe

The Vienna Region encompasses three Provinces, Vienna, Lower Austria and Burgenland,

and forms a dynamic and forward-looking economic region in the heart of Europe.

The location provides optimal conditions for a range of sectors at the centre of a booming,

cross-border market that includes the new EU member states.

Nokia, eTel, Siemens, Baxter, Henkel

CEE, Italian insurance firm Generali,

McDonalds, Novartis and pharmaceutical

giant Eli Lilly; the list of multinational

corporations and enterprises which have located

in the Vienna region continues ad infinitum.

Some 300 international firms have

relocated their Eastern European headquarters

to the region which provides access to the

growth markets in Central and Eastern Europe

from a top business location. There are

strong reasons behind these decisions, as the

list of renowned companies suggests. The

Vienna Region combines one of the most productive

economic regions in the world with

the chances and opportunities provided by

bordering growth regions, due to the region's

geographical location and historical ties to the

booming markets in Central and Eastern

Europe. Often cited, and still continuing unabated,

is the important role played by Austrian

businesses in Eastern Europe, especially

domestic banking institutes, business consultants

and insurance firms which provide

international corporations from a wide range

of sectors with immense advantages in the

race for access to the Eastern markets from

locations in Austria.

Excellent Quality of Life

The Vienna Region gets top marks for its

quality of life, with a pristine natural environment,

numerous top destinations for excursions

and a variety of sport and leisure

34 LOCATIONAUSTRIA 02/2006
---
activities. The spectrum ranges from the winegrowing

areas in Lower Austria, to the recreational

areas surrounding the Neusiedler See,

to the cultural metropolis of Vienna. In addition

to the exquisite cuisine, the high levels

of personal security are further important

foundations that determine the quality of life

in the Vienna region. These facts are wellknown

internationally: Vienna was ranked

top by quite a margin by US consultants Mercer

Human Resource Consulting in a recently

published report on the quality of life in the

largest cities in the EU. The Austrian capital

has been continuously ranked amongst the

top cities in the world in international comparisons

for years.

However, the excellent quality of life is not

the only reason that the Vienna Region is

amongst the most popular business locations

in Europe. For while the quality of life may

be an important factor for international enterprises

aiming to attract top employees to a

company by locating the business in a region

boasting an excellent quality of life, what

counts in the end are the hard facts. In this

respect, the moderate tax burden (see chart)

is responsible for creating the necessary corporate-friendly

atmosphere. Corporate income

tax rates in Austria are amongst the most

attractive in Europe.

Security and Competitiveness

Austria also represents legal security coupled

with political and economic stability,

which create the optimum framework conditions

for enterprises to flourish. The World

Competitiveness Yearbook 2006, an annual

report on the competitiveness of countries

carried out by Swiss research institute IMD,

ranks Austria an impressive sixth in this

respect. Furthermore, with regard to security

(social, personal and property), the

Vienna Region is one of the safest economic

regions in the world. A factor that is not only

gaining in importance in the selection of a

business location in a climate of global political

crises. Social security and an excellent

basis for discussion between employees and

employers, as well as a willingness to reach

agreements, are reflected in the joint lowest

strike rate worldwide (shared with Japan).

Between 1994 and 2004, only 1.3 days of strike

per 1,000 employees were recorded. Salaries

have generally only risen in tandem

with productivity, resulting in internationally

competitive unit labour costs.

The Vienna region, consisting of Vienna,

Lower Austria and Burgenland has developed

to become the gateway to the growth markets in

Central and Eastern Europe, and as such provide

an ideal business location.

Vienna Region

Corporate-friendly climate

An indication of the corporatefriendly

climate in Austria is the

moderate corporate income tax,

with internationally favourable

rates of 25 per cent.

Highest Security

Austria is ranked number 2

worldwide in terms of security of

property and persons.

Excellent Quality of Life

The quality of life in the Vienna

Region is well-known internationally,

with the city ranked highly

in international rankings.

02/2006 LOCATIONAUSTRIA 35
---
Vienna Region

Eisenstadt paved the way to

becoming a hi-tech location

focusing on IT and

communications technology by

attracting Nokia and eTel

to the city.

Diamond Aircraft Industries, an

international manufacturer of

lightweight glass fiber and

carbon fiber airplanes, employs

a staff of 500 in Wiener

Neustadt and is synonymous

with the appeal of the location.

With the construction of a

modern biotechnology centre, in

which a staff of 500 to 600 of

international biotechnology

company Baxter will be

employed, Vienna has further

established itself as an

appealing location for corporate

or regional headquarters.

HAIDEN-BAUMANN

BAXTER/BEZARD

Human Success Factor

The productivity of domestic employees is

based on an enormous willingness to perform,

high motivation and, above all, excellent

schooling. Foreign investors appreciate the

forceful combination of theory and practice

in the Austrian education system and the excellent

schooling of domestic technicians.

Furthermore, the Vienna Region is home to

the highest density of universities, technical

colleges and other educational institutes in

all of Austria. Austrian academics and engineers

form the backbone of Austria's appeal

as a location for research and development.

Domestic researchers are amongst the inter-

national elite in such diverse fields as green

technology, pharmaceuticals, vehicle construction,

optoelectronics, chemistry, biotechnology,

materials, IT, agricultural

biotechnology, microsystems technology,

electrochemistry, tribology, medical engineering

and regenerative medicines.

Ever more High Tech

The quality of the location is further evidenced

in the economic success of those sectors

located here. A definite sector for the future

is the automotive sector, for example, which

has made the Vienna Region the quickest growing

automotive region in Austria, employing

around 40,000 people. The foundation of the

Automotive Cluster Vienna Region (ACVR) in

2001 by the Viennese and Lower Austrian business

agencies (Vienna Business Agency and

ecoplus respectively) promotes the cooperation

between innovative enterprises that supply

auto parts, makes the most of the potential

for synergy and thus increases the competitiveness

of the region enormously. The promising

future of the sector is demonstrated by the

enormous capacity to produce vehicles in the

new EU member states (2008: 3.2 million cars

per year), 90 per cent of which are produced

within a 300 kilometer radius of Vienna.

The Life Science Austria Vienna Region (LISA

VR) network promotes the long-term settlement

of other enterprises in the Vienna region

in yet another high-tech sector, the life

sciences. Other examples include the IT network,

Vienna IT Enterprises (VITE), the Timber

Cluster Lower Austria, the Wellbeing Cluster

Lower Austria, the Green Building Cluster Lower

Austria and the Plastics Cluster.

Since 2004, ecoplus has placed further focus

on technology in Lower Austria with its technopol

program. The three technopol locations

in Krems, Tulln and Wiener Neustadt provide

high-tech companies with the necessary infrastructure

required by the sector. While Krems

focuses on medical biotechnology, Wiener Neustadt

provides locations for enterprises from

the 'Modern Industrial Technologies' sector

and Tulln provides agricultural and environmental

biotechnology firms with optimal locations.

These locations provide the opportunity

for research and development institutes to cooperate

with educational institutes and business.

The Vienna Region offers a wide range of

attractive locations, ranging from technology

parks equipped with cutting-edge facilities to

factory premises, business parks, turnkey

offices and retail outlets.

36 LOCATIONAUSTRIA 02/2006
---
In the Heart of Europe

The Vienna Region is not only situated at the

heart of Europe from a geographic point of

view; since the fall of the iron curtain it has developed

into a turntable between East and

West. This development is seen in the excellent

infrastructure in the region, which provides

an ideal springboard for servicing the

markets in Central and Eastern Europe. Infrastructure

ranges from the massive support provided

by business agencies (Vienna Business

Agency, ecoplus and WiBAG) over service providers

to a closely interwoven transportation

network. The boom regions in the Czech

Republic, Hungary and Slovakia, which are already

close to the Vienna Region, will be brought

even closer together by the expansion of the

excellent existing transportation networks. The

expansion of the North motorway between

Vienna and the Czech Republic, the East motorway

and the Vienna by-pass will provide

optimal connections to the nearby growth markets

by 2010. The Vienna Region is also an important

hub for air transit, with Vienna

International Airport offering over 500 flights

per week to more than 40 destinations in Central

and Eastern Europe, providing the quickest

and easiest possible access to the prospering

countries in the CEE region.

The Danube is also playing an increasingly

important international role as a transit route

for goods and provides an efficient and environmentally-friendly

alternative means of

freighting goods between the Baltic Sea and

the Black Sea. The ports in Vienna, Krems and

Enns-Ennsdorf provide easy and comfortable

access to this alternative and convincing transit

route. Vienna harbour is already the largest

public harbour on the Danube, and is set to expand

to become one of the most efficient, modern

and largest container terminals in Europe.

BAXTER/BEZARD

Numerous international forwarding agents are

already making use of the versatile infrastructure

in the Vienna Region, providing efficient and

competitive freight services from Vienna throughout

Europe.

Centrope – Europe is growing together

In order to strengthen the growing economic

and infrastructural ties with neighbouring

regions in the East, a cross-border marketing

program for the region was founded in the

shape of Centrope (www.centrope.info), as

part of the EU project DIANE (Direct Investment

Agency Net). At the heart of the intersection

of four country's borders lies the 'Twin

City' region. It includes the capitals Vienna

and Bratislava, an area which has demonstrated

enormous potential due to the geographical

proximity of the two cites (only 60

kilometers apart), and the cities wish to strengthen

this enormous potential through targeted

cooperation. Accordingly, a ship service between

the two city centres was introduced in

the Spring of this year.

The Vienna Region aims to strengthen the

dynamic growth of the area in tandem with the

competitive regions in western Hungary, western

Slovakia, southern Moravia and southern

Bohemia, turning the region into the strongest

growth region in Europe - an economic region

that is home to over seven million inhabitants.

The new mood in the new EU member

states, coupled with the lingual diversity, economic

expertise and the historically tried and

tested ties amongst the participating regions

provide an optimistic backdrop against which

Centrope should fulfil its aims. The first concrete

steps towards cross-border prosperity for

the region have already been taken with the

introduction of the common marketing initiative,

'Centrope – Enter the growth market'.

Vienna Region

VIENNA REGION

Business Agency GmbH

Herrengasse 13

A - 1010 Vienna

Tel. 43(0)1.904 21 04

office@viennaregion.at

www.viennaregion.at

Vienna Business Agency (VBA)

Ebendorferstrasse 2

A-1010 Vienna

Tel. +43 (0)1 960 90

info@vba.at

www.vba.at

ecoplus. The business agency

for Lower Austria

IZ NÖ-Süd, Strasse 3,

2355 Wiener Neudorf

Tel. +43 (0) 2236 61626- 0

Fax +43 (0) 2236 61626- 40

businesslocation@ecoplus.at

www.ecoplus.at,

www.loweraustria.biz

Wirtschaftsservice

Burgenland AG - WiBAG

Technologiezentrum

7000 Eisenstadt

Tel. +43 (0)5 9010 - 210

Fax +43 (0)5 9010 – 2110

office@wibag.at, www.wibag.at

City of Vienna -

Press and Information Services

Lichtenfelsgasse 2

1010 Vienna

Tel +43 (0)1 4000 – 81015

Fax +43 (0)1 4000 – 9981015

post@m53.magwien.gv.at

www.wien.gv.at

02/2006 LOCATIONAUSTRIA 37
---
MARCUS WERRES

*Xxxxx

With the completion of the

technology and start-up centre

TECHbase Vienna in November

2005, the Vienna Region took

another step in the direction of

modernity and technology with

respect to developing the business

location

Vienna Region / VBA

The Vienna Business Agency

and Its Service

The creation of an atmosphere friendly to

companies, researchers and innovation

in Vienna's business environment – that is,

the modernization of Vienna as a business location

- is the primary concern of the Vienna

Business Agency (VBA). The numerous

activities of the VBA help fortify the competitive

capacity and strength of innovation of

companies in the Vienna location. Inseparable

from this is the stimulation of the employment

market as well as ensuring a high quality

of life for Vienna's residents. In its understanding

of itself as a modern business agency

for the City of Vienna, the VBA sees business

development as more than just the targeted

allocation of funds, though this aspect is

certainly a significant pillar of Vienna's bu-

VBA Managing Director

Bernd Riessland:

"With a series of activities and

initiatives, Vienna Business

Agency, aims to accelerate the

modernization of Vienna as a

business location, enhance

competitive capacity and increase

the strength of innovation

of Vienna's businesses as

well as to stimulate the employment

market. We are continuously

developing our range of

services in order to best support

all the companies in Vienna."

siness policy. In addition to advising and concrete

assistance in handling everyday business

problems as well as the development of

networks and cooperative ventures, the provision

of space for companies as well as research

and development institutions are

especially important components of contemporary

business promotion. The core activities

of the VBA also include advising and the

provision of information for all of Vienna's

business enterprises as well as start-ups and

young entrepreneurs. The VBA's women's

service also supports Vienna's female entrepreneurs

and start-ups initiated by women.

The VBA has also assumed an important function

in the international marketing of the

business location and in the settlement of new

38 LOCATIONAUSTRIA 02/2006
---
JOSEF TUCZAI ZIT

TECHbase Vienna, Business & Research Center Höchstädtplatz and

Medienzentrum MARX: in the last few years the planning, establishment and operation of high-quality multifunctional

specialized properties have gained increasingly in importance for the VBA.

With such projects the VBA generally cooperates with private partners (public private partnerships), often via its own

technology subsidiary ZIT Center for Innovation and Technology.

companies from within and outside of Austria.

For international investors and companies

interested in Vienna as a business location,

the first point of contact is the VBA with its

numerous services ranging from assistance

in the search for office space, business locations

and employees, to making contacts with

officials, banks and tax consultants, and including

information on employment, residence

and tax laws.

The VBA's range of promotional services

The VBA's customized promotional services

range from funding for start-ups and young

entrepreneurs, to injections for promising

investment and technological innovations

and include support for the construction of

garages in order to mitigate the need for

parking.

With its new line of promotion for stimulating

growth and employment, the VBA offers

concrete support for small Viennese companies

which want to improve their competitive

capacity and require capital in order to

finance growth and development initiatives.

Another instrument designed to facilitate

access to financing for Vienna's SMEs is the

so-called Wiener Wachtstumsfonds or Vienna

Growth Fund. Initiated by the VBA, this

venture capital fund was endowed with Euro

32 million in its initial phase and offers companies

in growth phases a chance to

improve their equity situation.

The subsidiaries of VBA

At the start of the millennium the VBA established

its first subsidiary with ZIT Center for

Innovation and Technology GmbH. Among the

tasks of the Vienna's technology agency are

the creation of an optimal environment for technology

companies and support for technology-oriented

businesses using customized

development programmes and Real Estate

offers. www.zit.co.at

In 2003 a second company wholly owned by

the VBA was created, called departure wirtschaft,

kunst und kultur gmbh, making

Vienna one of the first cities to recognize and

promote the economic potential of the creative

industries. At the interface between art/culture

and business, departure offers companies in the

creative industries support in commercial use of

creative production. www.departure.at

Commercial Property and Project Development

With approximately 3.5 million m 2 the VBA

is one of the biggest property owners in Vienna.

Supplying Vienna as a business location

with technology and commercial Real Estate

is assuming an ever greater significance in the

VBA's work. A particular priority is the establishment

of technology and start-up centres

together with private partners. For Vienna's

SMEs, young entrepreneurs and start-ups the

VBA offers commercial property or start-up

centres specifically oriented to the needs of

tenants at various locations in Vienna.

Vienna Region / VBA

Technology and Start-up

Centres of the VBA and ZIT:

Business & Research Center

Höchstädtplatz (BRC)

1200 Vienna, Meldemannstr. 18

Space: 4,200 sqm

Focus: Information and communication

technologies

TECHbase Vienna

1210 Vienna,

Giefingg. 2/Siemensstr. 103

Space: 13.000 sqm

Focus: Automotive, logistics and

renewable energies

TECH21

1210 Vienna, Ignaz-Köck-Str. 10

Space: 5,500 sqm

Focus: Office building and commercial

premises for Vienna's

SMEs

Campus Vienna Biocenter 2

1030 Vienna,

Campus Vienna Biocenter 2

Space: 4.500 sqm

Focus: Biotechnology (laboratory

and office space)

Campus Vienna Biocenter 3

Start of construction 2006

Space: 7,000 sqm

Focus: Biotechnology (laboratory

and office space)

Life Sciences Quarter Polyclinic

MEDIA QUARTER MARX

1030 Vienna, Maria Jacobi-G. 1

Space: 2.200 sqm

Substantive focus:

Multimedia building (TV studios,

office and event space), expansion

by 24,000 sqm in 2007

www.mediaquarter.at

All information concerning the

Vienna Business Agency can be

accessed at www.vba.at

02/2006 LOCATIONAUSTRIA 39
---
*ecoplus

ecoplus supports

companies from

A-Z

From the moment of initial

contact to their successful

settlement, ecoplus supports

and advises enterprises with

their choice of location, contacts

with officials and banks,

information concerning development

funding as well as in

the search for partners. ecoplus

provides investors with

comprehensive information

about Lower Austria as a business

location, including data

concerning educational institutions,

the focal points of R & D,

technology and competence

centres, transport logistics,

start-up centres, the labour

market and much more. With

the help of an extensive database,

economic and business

parks, offices, industrial spaces

and commercial properties

can be accessed as required.

ecoplus. The Business Agency

of Lower Austria

Emphasis on Company Support

Lower Austria has been particularly successful

with its dynamic economic development.

In the last few years, for example,

economic growth has always been above the

Austrian average: Lower Austria in 2004 - 2.6

% and for 2005 2.2 % is expected (Austria in

2004 - 1.9 % and 2005 - 2.0 %).

More and more companies from all over the

world are interested in Lower Austria as a

business location. With the help of ecoplus,

60 companies relocated to or expanded operations

in Lower Austria last year, while 2800

jobs were either newly created or guaranteed.

The push in the development of the so-called

'technopols' of Krems, Tulln and Wiener

Neustadt has encountered a high degree of

international recognition as demonstrated by

the innovative companies and projects at these

locations. The six cluster initiatives in Lower

Austria comprise 480 companies with

more than 57,000 employees. In the more than

19 years of implementing ecoplus' regional

development program 1500 projects have been

supported and Euro 1.7 billion in investments

made.

These examples show that ecoplus has made

a substantial contribution to the performance

of Austria's largest province. The focus of

activities is the development of Lower Austria

as a business location – and the support

of companies in Lower Austria. Whether for

settlement or expansion of a company or the

LOISIUM/ROBERT HERBST HAIDEN-BAUMANN

preparation of attractive company locations,

new cooperative ventures and networks, easier

access to research and development facilities,

funding of important regional projects

or the step into the markets of the new Europe:

ecoplus continually develops targeted

services in order to meet the new challenges

of the economy.

16 ecoplus Business Parks in Lower Austria

ecoplus has operated business parks in Lower

Austria for more than 40 years, including

a total of 16 business parks, 8 of which are

owned by ecoplus and 8 run by shareholders.

In the parks a total of 860 hectares of outstanding

infrastructure and a generous amount

of commercial space are available to

companies. Currently, nearly 500 enterprises

with 13,500 employees are enjoying success

in these business parks.

The companies have found excellent conditions

and state-of-the-art infrastructure at

the ecoplus business parks: optimal transport

connections, fully accessible properties, the

highest standard of power supply, communication

and service facilities; the rapid set-up

of operations is also possible and there are

flexible expansion opportunities with just one

contact partner – ecoplus!

More and More High-Tech Projects in Lower Austria

In April 2004 the province of Lower Austria

launched the 'Technopol Program' with

40 LOCATIONAUSTRIA 02/2006
---
the aim of positioning the province as a top

technology location.

The aim of the 'Technopol Program' is to

initiate and support research projects between

business and research institutions. So

far this has been an enormous success; the

direct transfer of research results to businesses

in Lower Austria's 'technopols' is truly exemplary.

'Technopol Krems' is specialised in medical

biotechnology fields such as cell biology,

tissue engineering, biochemistry, blood purification,

measuring technology and adsorption

technologies. Developments in biomedical

research here are extremely dynamic, steadily

and quickly leading to new and effective

therapies for patients. Researchers at Cell

Danube are working on a single cell inoculation

against cancer. The company Arthro

Kinetics produces joint cartilage replacement

in high-tech laboratories.

'Technopol Tulln' is the centre for agricultural

and environmental biotechnology. Numerous

projects have already been carried

out here, for example in the field of modern

bioanalytics, the production of new materials

from beverage cartons, product refinement

using special fluidisation equipment as

well as projects in the area of food and feed

safety. At the beginning of this year technopol

Tulln was awarded the Dr. Wolfgang Houska

Award for excellent results in scientific

research in the area of moulds on food. Focused

on modern industrial technologies particularly

in the field of surface technologies,

technopol Wiener Neustadt was expanded to

include a third competence centre; following

the Competence Centres for Electrochemistry

(ECHEM) and tribology, Integrated Microsystems

Austria (IMA), a centre for microsystem

technology, went into full-time operation, ma-

HAIDEN-BAUMANN HAIDEN-BAUMANN

king it the first development and prototype

centre for microsystem technology in Austria.

Advantage through Cooperation - Lower Austria

Focuses on Cluster Initiatives

Small and medium-sized enterprises (SMEs)

are the pillars of the Lower Austrian economy.

Yet it is precisely the SMEs which are most seriously

affected by the increasing globalisation

of the markets. As a result,there is a need

for innovation, a specialisation in 'one-stop'

core competencies andholistic solutions. One

company alone is often unable to handle many

of these demands. For this reason, a vital company

strategy could be to enter into strategic

alliances with other companies focusing on

joint product development and organizational

optimization to shared procurement and use

of equipment and overall market activities.

"Clusters and networks are the concepts which

provide new opportunities to many companies

and decisively strengthen competitive capacity,"

says Richard Plitzka. ecoplus has already

established six cluster initiatives and networks.

Thus, cluster management at ecoplus is the

best point of initial contact for companies involved

in innovation and cooperation.

Advance into the new countries of the EU

Lower Austria's excellent geopolitical location

provides the best framework for interregional

activities. Thus, ecoplus has established

business agencies in Budapest, Bratislava,

Prague and Warsaw in order to accelerate

economic relations between Lower Austria

and the new EU countries. All offers of support

are bundled together in the scope of the

new ecoplus program 'Focusing on internationalization

in the enlargement zone.'

Further information:

www.ecoplus.at

ecoplus*

Richard Plitzka, CEO ecoplus

Lower Austrian Minister for Economic

Affairs and Vice-Governor

Ernest Gabmann: "The Lower

Austrian organisation ecoplus

was established more than 40

years ago with the aim of company

settlement. Today as a business

agency for Lower Austria

it is the interface between business

and policymakers, companies

and administration,

investors and the initiators of

regional projects – both national

and international."

02/2006 LOCATIONAUSTRIA 41
---
*WIBAG

With its primary location in

central Burgenland, Techno-

Area Neutal provides wellknown

companies such as

Siemens and the Swarovski

Group's Swarco Futurit, optimal

access to markets of the east

and west.

WiBAG – Good for Burgenland

Business Location with a Future

Wirtschaftsservice Burgenland AG –

WiBAG has been Burgenland's central

agency for business development and company

settlement for 10 years. Customised, individual

services for national and international

companies are one of its main tasks. WiBAG's

spectrum of services is diverse and includes

the trusted handling of the Province of Burgenland's

business development and Objective

1 grants through 2006, support of small

and medium-sized enterprises en route to the

EU's new markets and easier access to venture

capital. Moreover, WiBAG is a business trendsetter

with its technology centres, business

parks as well as thermal and wellness resorts.

TCs – sources of momentum for the economy

Burgenland's technology centres are a visible

sign of innovation and are the region's sources

of momentum. As centres of competency

with state-of-the-art facilities, they link business,

research and instruction, thereby increasing

the location's attractiveness. Its main areas

of focus, comprehensive services and the formation

of networks have generated a series of

satisfied tenants. In Burgenland there are al-

together six technology centres with lettable

space of 50,000 m 2 at the locations of Neusiedl,

Eisenstadt, Neutal, Pinkafeld, Güssing and

Jennersdorf in whose establishment Euro 102

million have been invested. To the companies

settled there they offer the best infrastructure

and numerous opportunities for cooperating

under attractive conditions.

The recent development of two promising

European competence centres demonstrates

their success: WiBAG has been able to provide

competent and sustainable support for the

Güssing and Jennersdorf technology centres

on their way to becoming distinct leaders in

the areas of 'renewable energy' and 'optoelectronics'

know-how. In Eisenstadt, however,

the focus lies on information and communication

technology due to the settlement of international

companies such as Nokia and eTel.

The hub of the metal working and processing

industries is the technology centre of Central

Burgenland in Neutal, where Siemens Business

Service has settled and a high-performance

computing centre for internet applications

has been developed.

42 LOCATIONAUSTRIA 02/2006

WIBAG
---
WIBAG

The successful marketing of business parks

WiBAG has acquired a new, important responsibility

recently: the marketing of the business

parks in Kittsee, Parndorf and Neusiedl am

See. In the course of the sale of Bank Burgenland,

the owners of the business park Burgenland

Nord Kittsee-Parndorf Aquisition and

Development Ltd. and the property administration

and acquisition company LVA were taken

over by WiBAG and entrusted with the exploitation

of unused spaces in the individual business

parks. Together with the cross-border business

park Heiligenkreuz/Szentgotthard, WiBAG has

prime locations in North as well as South Burgenland

which provide a considerable number

of advantages for investors due to Burgenland's

central location in the middle of the Vienna Region

and the European region known as Centrope.

Not least due to current funding opportunities

in the scope of the Objective-1 region as well as

the structural funds involved in the phasing out

period between 2007 and 2013, through WiBAG

the Province of Burgenland will be able to establish

an outstanding framework for future investors

in companies and development. In view of

this approach, since the end of 2005 a substan-

tial increase in the number of requests from national

as well as international parties interested

in a location in Burgenland has been found and

several important business settlement agreements

concluded.

Tourism as a business factor

The extensive range of holiday and experience-holiday

offers makes Burgenland and its

thermal and wellness resorts one of the most

beautiful tourism regions in Austria. The gradual

development of regional concepts – with

emphases on wellness, beauty and golf to family

and baby-friendly programmes – at the

three locations of Bad Sauerbrunn, Lutzmannsburg-Frankenau

and Stegersbach, has increased

the sunny province's economic attractiveness.

In the new planning period for programmes,

WiBAG will promote the development of existing

tourism destinations especially. The only

new large-scale thermal project is the establishment

of the thermal spa known as 'Seewinkeltherme'

which will be of substantial importance

for year-round tourism as well as an enhancement

to the first-rate range of tourism offers already

available in the Neusiedlersee region.

Vienna Region / WiBAG

In order to ensure Burgenland's

competitive capacity as a tourism

location with respect to rivals

in the future, WiBAG is

focusing on a diverse range of

ideas – with wellness, beauty,

golf as well as family and babyfriendly

programs, the economic

attractiveness of the

sunny province has increased.

WIBAG WIBAG

WiBAG Board of Directors –

Werner Eckhardt and Peter

Schmitl: "The establishment

and expansion of spas and

health resorts as well as technology

centres, which are becoming

increasingly

indispensable as regional

centres of momentum for

aspiring commercial enterprises

and the tourism industry,

play an important role for

WiBAG as a primary service

centre for Burgenland's economy."

All information about

WiBAG at www.wibag.at

02/2006 LOCATIONAUSTRIA 43
---
*Vienna Region / High Tech

From Vienna, Boehringer

Ingelheim operates

pharmaceutical businesses in

29 countries.

The Life Sciences Boom

Successful start-ups and the settlement of large well-known companies make the

Vienna Region a pulsating centre of biotechnology.

The region around Vienna boasts a long

and prominent tradition in the field of red

biotechnology – think only of Gregor Mendel

or Brandl and Margreiter, the discoverers of

acid-stable penicillin. Beginning with these

success stories, the Vienna Region's focal points

today are in the areas of cancer research, immunology,

the development of vaccines, antiinfectious

drugs as well as research and

development linked to dementia.

The life sciences, and in particular medical

biotechnology, are probably some of the most

dynamic areas of Austrian business, as demonstrated

by the large number of new companies,

the development of research centres as well as

the settlement of internationally renowned

companies. In the last five years Boehringer

Ingelheim alone has created 430 new jobs for

highly qualified personnel and invested Euro

170 million in the construction of new buildings

and infrastructure at their Vienna location.

Moreover, the company spends approximate-

ly Euro 65 million per year on research and development,

largely in the field of oncology. "A

research-friendly and dependable framework

in the long-term is the key to making location

decisions," says Klaus Stochl, head of Boehringer

Ingelheim Austria, Central and Eastern

Europe.

In fact, for European life sciences the

Vienna Region is one of the most dynamic locations

there is. In addition to the stability and

safety factors and the excellent academic environment,

the corporate-friendly tax system,

bordering on the up-and-coming East, makes

the region particularly attractive to international

investors such as Eli Lilly, Baxter and Novartis.

In the Vienna Region 170 companies with

some 11,000 employees work in the area of life

sciences alone. In addition to this, there are

4,300 researchers at universities and extra-university

research institutions. The strong commitment

on the part of the public sector has

provided a suitable foundation for the extraor-

44 LOCATIONAUSTRIA 02/2006

ERHARDT
---
dinarily dynamic developments, one example

being the funding competitions of Vienna's ZIT

Center for Innovation and Technology, the technology

subsidiary of the Vienna Business Agency

which has provided financial and infrastructural

support in all phases of the innovation process

since 2000. onepharm, one of the numerous

start-ups in the last few years, is specialised in

the development of new medications in the area

of bronchial viruses such as sinus diseases, 'flu,

avian 'flu and SARS and recently received approval

for the ZIT funding program, 'Vienna

Spot of Excellence'.

Also making efforts in the development of

the life sciences scene is Life Science Austria

Vienna Region (LISA VR), a joint initiative of

ZIT and Austria Business Service, a development

funding institution for companies in Austria.

As a central life sciences advising and

coordination service in the region of Vienna,

LISA VR (www.lisavr.at) offers support for establishing

and financing companies and focuses

on internationally successful activities aimed

at further developing and sustainably positioning

the life sciences location Vienna Region.

A key role in the successes of red biotechnology

is certainly played by the 'synergy friendly'

atmosphere resulting from the focus on

a few but significant locations. The Vienna subsidiary

of the Novartis Institute for Biomedical

Research (NIBR Vienna), which works on new

therapies for dandruff and neurodermatitis, has

developed important partnerships in its 36 years

of existence in Vienna.

The infrastructure for the promising field of

life sciences is also being continually improved

through ZIT's activities in the field of technology

real estate.

There is another life science campus on the

premises of the former polyclinic near the Vienna

General Hospital. The existing office and

laboratory buildings of the Vienna Competence

Center (VCC) will be expanded in the near

future. With 1,200 researchers from over 40

countries, the centre of life sciences in Vienna

is the Campus Vienna Biocenter, where ZIT

has already built a laboratory and office building.

A second one is in the planning stage. In

addition to successful start-ups and recognised

educational and research institutions, Intercell

AG, the first biotech company in Austria

to join the Vienna Stock Exchange, is also located

on the campus of Vienna Biocenter.

Alexander von Gabain, who gave up his

teaching position at the University of Vienna

to go into business, is developing a worldwide

unique product portfolio which now has 140

employees. His 'smart vaccines' are synthetic

vaccines directed against various infectious diseases

as well as cancer. "Austria and Europe

need success stories in biotechnology. Together

with the Austrian and Viennese biotechnology

clusters, with our development we hope to

make a contribution to the overall success,"

says Gabain.

Developments have also been satisfying in

Krems where products exploiting biological

cell functions are the focal point of research

and manufacture. For two years Arthro Kinetics

has been manufacturing cartilage replacement

using a special regeneration technology,

CaReS®, in the technopol's 'good manufacturing

practice' (GMP) laboratories. Based on a

3D-collagen-gel matrix, an individual pressureproof

and stable transplant can be made in just

10 to 14 days. Managing Director Martin Hennes

explains the transplants' enormous degree

of acceptance with recognised product safety

and high quality standards: "500 successful

transplants in not even two years speak for

themselves." Researchers and companies in

the technopol Krems often make news with innovative

achievements. For example, blood

purification systems have been developed which

can be used for liver failure and in Krems Biotec

Systems manufactures the adsorber technology

required for this. The company produces

highly specified filter systems for liver transplant

therapy. Its German parent company Fresenius

Medical Care is working on a production

line for special blood purification filters. Moreover,

the production centre for an innovative

medication for the treatment of autoimmune

diseases was recently expanded and relocated

from Germany to Krems.

Researchers of the company Cell Danube

are working on a single-cell inoculation against

cancer under the direction of university professor

Johannes Huber. Additional companies

which conduct research at the technopol Krems

are Tissue Med Biosciences GmbH and Cells+Tissuebank,

the Austrian tissue bank.

Technopol Tulln is specialised in agricultural

and environmental technology. The companies

Romer Labs ® and Biopure were the

first to settle in the technology centre of Tulln.

Both work in the area of mycotoxin research

(poisonous mould toxins). The new firm 55Pharma

is conducting research and development

in the ara of natural-material chemistry in Technology

Center Tulln. Starting in September

2009 the biogenetics department at ARC Seibersdorf

as well as the department for applied

plant biotechnology and plant sciences at Vienna's

University of Crop and Soil Sciences will

come to Technopol Tulln.

Vienna Region / High Tech

THULE G. JUG

HAIDEN-BAUMANN

Technology centre Tulln:

Due to the concentration of

numerous outstanding institutions

in one location, each one

profits from the other:

education, research and

business work hand in hand.

02/2006 LOCATIONAUSTRIA 45
---
Vienna Region / High Tech

Due to the settlement of international

companies such as

eTel and Nokia, in the technology

centre in Eisenstadt the

focus lies in the information

and communication business.

LUDWIG RUSCH

The Business & Research

Center Höchstädtplatz

provides space for companies

focusing on information and

communication technologies.

Seriously on the Up

Innovative companies and good ideas dominate the IT landscape in Austria.

In the last few years Vienna has established

itself as the most important point in

Central Europe for information and communication

technologies (ICT). With over 8,000 companies

and 75,000 employees, Vienna is among

Europe's elite, along with Munich and London,

and international groups such as Microsoft,

Hewlett Packard, Philips, IBM and Alcatel have

established their Eastern European headquarters

here. Vienna is the gateway to the East in

the ICT sector as well, functioning as an infrastructurally

high-quality location which offers

an ideal setting for developing the new growth

markets.

To strengthen and develop the location further

the Vienna Business Agency (VBA) has

recently begun implementing a series of measures.

Among them are the creation of stateof-the-art

technology and start-up centres such

as the Business & Research Center Höchstädtplatz

as well as the establishment of the IT network

Vienna IT Enterprises (VITE). Nearly 100

companies as well as educational and R&D institutions

have bundled their areas of competency

in the 'two-year-young' network. As a

platform for the implementation of businessoriented

ideas and projects, VITE (www.vite.at)

has made development of its partners' strengths

in innovation and competitive capacities as

well as the increase in awareness of the City

of Vienna as an IT location its medium and

long-term goal.

In Burgenland WiBAG is active as a stimulus

to the economy and the IT scene is concentrated

in the technology centre of Eisenstadt,

where international giants such as Nokia and

eTel have pitched their tents.

With 40 employees on location, in Eisenstadt

Nokia focuses on service for mobile commu-

nication providers rather than mobile phone

production. For Mobilkom Austria, for example,

Nokia operates a push-to-talk platform, a

form of news transmission which is used in the

security branch as well as in large enterprises.

Every push-to-talk call between Bulgaria,

Slovenia, Croatia and Austria runs through

the system in Eisenstadt. eTel, Austria's second

largest alternative telephone and internet

provider with 100 employees is also satisfied:

"The technology park in Eisenstadt is the perfect

location for us because the expansion of

eTel's subsidiaries to the new EU countries of

Hungary, the Czech Republic and Poland will

be accelerated from our headquarters in

Eisenstadt," says eTel Board member Achim

Kaspar. The Vienna Region plays host to more

than just international IT groups however. Lining

up with interesting technologies are domestic

companies, including highly successful

start-ups. The young Viennese company Jajah,

for example, offers internet telephony, or

Skype 'Austria style': after entering your own

number and the number you are calling online,

the service connects the callers on the

conventional telephone at the low-cost internet

rate. This technology rapidly brought the

innovative start-up investors and international

recognition. Logistics-intensive companies

with production and storage of national

and international format have also settled in

Lower Austria, for example the computer manufacturer

Acer Austria in Brunn am Gebirge.

Moreover, Lower Austria is proud of the

successes of the broadband initiative launched

in 2003, for whose implementation the

EVN Group's companies nökom and kabelsignal

are responsible: according to a survey

by ecoplus, if at that time 400 of 573 Lower

Austrian communities were still without broadband,

today 556 communities have been

provided with it.

"Lower Austria's initial spark for broadband

was effective, for wavenet has expanded considerably

beyond what was contractually required.

Our targets were exceeded! We now

provide broadband services to more than 35,000

customers in Lower Austria," says nökom Managing

Director Alois Ecker.

46 LOCATIONAUSTRIA 02/2006
---
The Home of High-tech Stars

Vienna Region / High Tech

The Vienna Region's excellent economic data speak for themselves. Its outstanding infrastructure, Austria's

attractive tax policy and a location in the heart of Europe have resulted in the region's development as an important

economic area in the centre of the European Union in the past few years.

EU enlargement and proximity to

growth markets in Central and

Eastern Europe make the region's chances

of further successful economic development

very good. It is therefore no

surprise that numerous high-tech enterprises

are relying on the Vienna Region's

amenities.

I&T Innovation

Technology Entwicklungs- und Holding AG

Innovation Technology Entwicklungsund

Holding AG, located in Siegendorf,

Burgenland, counts as one of the most

innovative firms for flat conductor technologies

in the auto-supply industry. Diamond Aircraft Industries

Diamond Aircraft – an international

manufacturer of the most modern glassand

carbon-fiber composite aircraft –

has its headquarters, design centre, development

division, production facilities

and distribution centre in Wiener

Neustadt. Some 500 employees research

and develop other applications in

a production area of 22,000 m2 I&T INNOVATION

.

LEXEDIS Lighting GmbH

The firm LEXEDIS Lighting, located

in Jennersdorf, specialises in highly-efficient

digital light sources. With its new

technology "XED," it has transcended

the existing frontiers of old technology

and given birth to the next generation

of LED-light sources.

DILEXEDIS LIGHTING GMBH

DIAMOND AIRCRAFT INDUSTRIES

igm Robotersysteme AG

As Austria's only manufacturer of

robots, which are specifically developed

for electric-arc welding, the firm

puts comprehensive technical knowledge

at the customers' disposal. At the

headquarters in Wiener Neustadt, the

development and construction, international

marketing and service divisions

among others, of this internationally active

firm, are located.

Intercell AG

Biotech firm Intercell, on the Campus

Vienna Biocenter at the Vienna Life

Sciences Center, specialises in the development

of modern vaccines against

infectious diseases and counts as one of

the most successful in its field. At the

moment 160 employees of the comprehensive

firm are developing a very promising

vaccine against Japanese

encephalitis.

arsenal research

Vienna research center 'arsenal research',

located since autumn 2005 at Technology

and Start-up Centre TECHbase

Vienna, offers comprehensive benefits

in the energy and mobility sectors.

Through demand and market-oriented

research, 'arsenal research' is improving

the innovative ability of its numerous

business, scientific and public

partners and thereby boosting their competitiveness.

ARSENAL RESEARCH

Eybl International

Eybl International, based in Krems,

has 4,178 employees. In addition to textiles

for the auto industry (nine of the

ten most-important firms are among its

customers), the firm produces 'fashion

textiles' for sports and leisure-time clothing.

Eybl's own research centre in

Krems has contributed to continuous improvement

of the firm's products.

DIEYBL INTERNATIONAL

02/2006 LOCATIONAUSTRIA 47
---
HAIDEN-BAUMANN

Vienna Region / Education

The Vienna Region sets its

main goal at the cooperation of

science and economy, -

especially concentrating

especially on the promotion of

application-oriented research

on the one hand and the support

of academic spin-offs or

start-ups on the other hand.

www.fachhochschulen.at

Education for future jobs moves

closer towards the economy

Study and at the same time receive seminal job instruction?

No problem! The Vienna Region offers a wide range of academic job training facilities.

There are numerous universities of applied

sciences ( FH) and universities which have

set their goal at offering their students an education

which qualifies them for real-life economy.

In 2001 the percentage of university and

FH graduates in the Vienna Region was 6,5

per cent of the total population, just about exceeding

Austria's average. In the winter term

of 2004, the Vienna Region had more than

126.000 university students. The large percentage

of foreigners, namely 26,7 per cent, demonstrates

the region's attractiveness for

international students. In the field of postgraduate

studies too, the Vienna Region is in the

top league with institutions such as the IMA-

DEC University or the Webster University. The

large variety of international schools is especially

important concerning the Vienna Region's

attractiveness as a location for the

headquarters of international companies.

The cooperation of economy and science is

one of the major aspects of the Vienna Region's

educational landscape. The two main goals are

the promotion of application-oriented research

on the one hand and the support of academic

spin-offs or start-ups on the other hand.

In Vienna alone, there are 46 courses of studies

in universities of applied sciences as well

as nine universities, the most important being

the University for Medicine, the Technical University,

the University of Economics, the University

of Vienna as well as three Art Universities.

Over the past years, the universities of applied

sciences' especially, concentrated on their students'

scientific and technical education. In this

way, new courses of studies at the universities

of applied sciences', such as robotics, bio-engineering

and bio-technology were created. In

the last-mentioned course of studies, the students

on the universities of applied sciences campus

(FH campus) in the Vienna Biocenter (VBC)

learn how to transform biological research results

into technically adaptable appliances. In

this internationally prominent research facility,

courses are taught by scientists from the VBC

and other academic institutions in Vienna. If one

believes the statements of job market experts all

over the world though, specialists from the hightech

field too, will be sought after in the future.

Therefore, the university of applied sciences in

Wiener Neustadt currently concentrates on its

students becoming mechatronics specialists. One

of the main goals of this course of studies is to

develop new technologies that can be used when

dealing with cars and computers. In order to

transpose their ideas practically, the students receive

a broad technical basic education. They

can then use their theoretic knowledge in the

university of applied sciences laboratories or in

the laboratories of European Organization for

Nuclear Research (CERN).

The students at the university of applied sciences

Tulln too, receive a comparably good practical

education while learning about biotechnical

procedures. Nevertheless, Lower Austria's FHs

do not offer only technically orientated courses

of studies. At the IMC Krems, for example, students

can study not only bio-technology but

also health or tourism management as well as

business management. The Danube Universiy

Krems, too is situated in the area, specialising

in further academic education and therefore

offering postgraduate studies in various fields.

The students of the university of applied sciences

course of studies energy and environmental

management too, look into a bright future. In

Pinkafeld in the southern Burgenland, young

people with an interest in energy administration,

environmental issues, economy and languages

are educated to become experts in their

field. In their later everyday job life, the graduates

often function as a link between technology

and economy. Director of the course of studies,

Gernot Hanreich says of the graduates: "They

are capable of dealing successfully with operational

and strategically flexible methods of resolution

in the fields of energy, environment and

building services engineering."

48 LOCATIONAUSTRIA 02/2006

STICKLERFOTOGRAFIE
---
More-efficient Biotech

Development

At the "Austrian Center of Biopharmaceutical Technolgy,"

universities and industry are working highly successfully

on development of more-efficient procedures for

development of bio-pharmaceuticals.

More-efficient procedures, shorter development periods and lower costs in production

of modern bio-pharmaceuticals are the goals of the "Academic-Industrial

Partnership" of the Austrian Center of Biopharmaceutical Technology

(ACBT), founded in 2001, in the framework of the Kind/Knet Competence Center

Programme. There, the biotech firms Boehringer Ingelheim, Sandoz, Polymun

Scientific (until 2006) and Ionimed Analytik (since 2006) are working together

with the Institute for Applied Microbiology of the University of Natural Resources

and Applied Life Sciences and Innsbruck University's Institute for Biochemistry.

ACBT is concentrating on the optimisation of technologies for

production of therapeutic proteins.

That cooperation has been especially efficient and successful. It has resulted,

for example, in a new procedure for production of therapeutic proteins in bacteriae.

That innovative, new technology makes possible the production of qualitatively

more-valuable products with higher yields compared to those achieved

when using conventional procedures. Process development periods are also

shorter. ACBT's industry partners will use the new procedure in the production

of therapeutic products. That demonstrates that close cooperation between

academic and industrial partners makes possible more-efficient transfer of

Where High Tech is at Home

Tech Gate Vienna offers perfect conditions for

research-intensive enterprises. Tech Gate Tower

opens up additional possibilities.

Tech Gate Vienna is Vienna´s first science and technology park, a common

site for research institutes, technology-oriented companies and supportive

consulting firms. Here, Vienna has its focus on high-tech development. Concentration

on specific thematic areas will ensure effectiveness and provide an

important condition for development of synergies.

More than 45 technology enterprises, non-university research institutes

and complementary consulting firms have already successfully located

at Tech Gate Vienna. Around 800 highly-qualified employees have found

jobs there. With cooperation partners next door to one another, the future

success of promising projects is assured. The established competence

centers and firms linked to them at Tech Gate Vienna are working on

key technologies in the areas of telecommunications, IT and software development,

virtual reality and pattern recognition.

Expansion by means of the imposing Tech Gate Tower opens completely

new perspectives and has increased total floor-area by around 50 per

cent to 54,000 square meters, Tech Gate Vienna is thus Austria´s

biggest technology center. That will make it possible to work on other key

PROMOTION

technology. The Center's outstanding achievements have recently been confirmed

by independent scientific experts. The Ministry of Economics and Labour,

together with the provinces of Tyrol and Vienna, will support ACBT for another

three years to enable it to continue its successful research activity. In the framework

of the ongoing research program, additional innovative processes for

the production of recombinant biopharmaceuticals will be developed. They will

contribute to further development of Austria as a biotech location.

technologies and provide space for

firms in the areas of nanotechnology,

sensor technology and telematics. The

first tenants in the 80-meter-high tower

located there in summer, 2005.

Located in a pulsating environment,

Tech Gate Vienna is also a modern and

comfortable site for events, conferences

and meetings that are equally valued

by tenants and by outside

enterprises. Tech Gate Vienna is a focal

point of public interest that gives publicity

to each individual firm.

Tech Gate Vienna Wissenschafts-

und Technologiepark GmbH

Donau-City-Strasse 1

1220 Vienna

Tel. +43 (0)1 / 20 501 11 - 0

www.techgate.at

Austrian Center of

Biopharmaceutical Technology (ACBT)

Muthgase 18

1190 Vienna

T. + 43 /1 / 36006 6806

www.acbt.at

PROMOTION
---
Vienna Region / Quality of Life

NÖ-WERBUNG HORVATH

The Vienna Region scores

with enhanced quality of life

An excellent business location is not only characterised by modern infrastructure and

well-trained specialists. Quality of life, too, has become a crucial factor when it comes

to choosing a business location. Concerning this matter, the Vienna Region area has a

lot to offer.

In international surveys, Vienna has been

ranked at the top for years as the city with

the highest quality of life throughout the

European Union. In a worldwide comparison

of cities too, Vienna is traditionally among the

top five. The metropolis at the Danube combines

safety and quality of housing, a highly developed

system of health and social

establishments, versatile leisure and culture

facilities, numerous green areas and recreational

areas close to the city and a lot more. Citizens

as well as tourists can, for example, go for

long strolls along the Danube in the summer

or enjoy iceskating in front of the lit-up town

hall in winter. For those interested in culture,

Vienna offers a large number of modern or tra-

ditional art museums. Last but not least, the

city is famous for its coffee shops and their unique

flair. Therefore, Vienna is one of the top

locations for international managers.

In Lower Austria, those in favour of sports

also find plenty of pasttime activities. In the

region around Poysdorf, a large cycling area

has been created, named after various wines

from the region. As an unique world cultural

heritage, the Wachau region can also be explored

by experts using bicycles as well as by

hobby cyclists. Those who enjoy hiking will

like the Semmering area. Here, walkers can

choose between various routes of different

lengths. Some of the paths run along the tracks

of the prominent Ghegabahn, which is the ol-

50 LOCATIONAUSTRIA 02/2006
---
LISI GRADNITZER & MQ ERRICHTUNGS- UND BETRIEBSGESMBH

dest mountain train in the world and was officially

recognised as a World Heritage Site in

1998. Golfers too, will find plenty to do in Lower

Austria: As many as 40 golf courses await

their visitors. Those who would rather relax

get their money's worth in the Therme Laa. On

more than 6,000 m 2 , visitors' bodies and souls

are pampered with water, warmth, light and

music. Apart from those interested in sports,

Lower Austria is also the ideal place for true

bon vivants. In a total area of 30,000 hectares,

the region cultivates wines such as Müller Thurgau,

Riesling or Zweigelt, and even specialities

such as Zierfandler or Rotgipfler can be

found here. The precious wines can be tasted

in the numerous restaurants and taverns in

combination with regional specialities. Nevertheless,

those interested rather in culture than

in food are also in the right place in Lower Austria.

The Kunsthalle Krems, the Essl Collection

in Klosterneuburg and the Caricature Museum

in Krems are known beyond the country's

borders. The Museum of Lower Austria in St.

Pölten too, attracts many visitors every year.

Culture festivals and local festivals as well as

the prominent Lower Austrian Theater Summer

are celebrated, for example, in the cities

of St. Pölten, Amstetten, Berndorf and Wiener

Neustadt.

The region around Lake Neusiedl too, offers

a high level of quality of life. The residents of

the area in Burgenland can't stop enthusing

about their country's culinary and cultural appeal.

The region around the famous lake is

used as farmland for fruity white wines and

rich red wines that can be tasted and purchased

in the old cellar districts or directly from

various vineyards. Apart from precious wines

though, the Burgenland also concentrates on

cultural events. On Europe's largest operetta

stage in Mörbisch, visitors every year can enjoy

colourful performances of works by famous

composers such as Johann Strauss or Franz

Lehár . This year, the main act will be the 'Graf

von Luxemburg', which is expected to attract

more than 220.000 visitors.

BURGENLAND TOURISMUS

BURGENLAND TOURISMUS

NÖ-WERBUNG WESTERMANN

© WIENTOURISMUS / ROBERT OSMARK

Vienna Region / Quality of Life

NÖ-WERBUNG WESTERMANN

www.wde.at

www.niederoesterreich.at

www.wien.info

www.neusiedlersee.com

02/2006 LOCATIONAUSTRIA 51
---
floridopower

www.floridotower.at

BUSINESS

with top prospects

We'll bring you all

the way to the top!

State-of-the-art office

space from 350 to 5.800

m 2 with a view of Vienna

for everyone.

Make an appointment for

a personal inspection now.

Information:

>> Tel.: 050 626-1050

Closer to the people

In floridotower, renters enjoy the same

quality of service as at a five-star hotel.

Here, companies can concentrate on their

core business. House management takes

care of the many necessary but seldom

pleasant organisational tasks required for

a firm's normal operation. A relocation

service is also available.

Office concepts upon request

Have your office space in floridotower

entirely custom-designed. From modern

interior architecture to interior decoration.

CONTACT:

Floridotower

A-1210 Vienna

Floridsdorfer Hauptstraße 1

www.floridotower.at

office@floridotower.at
---
LAE_Cover IV.qxp 22.06.2006 16:57 Uhr Seite 53

The Magazine for Business Location Austria

LOCATIONAUSTRIA

Investing in Austria

A high growth rate and successful companies make investment in Austrian shares

more attractive for domestic and international firms than ever before

Strong Performance

Despite the decline in market value earlier

this year, the Vienna stock exchange has

been for years one of the most-successful

stock markets in Europe

Boom in issues of shares in

Vienna

Austrian firms will raise more capital on the

stock exchange in 2006 than ever before

Good general conditions

Better legal, tax and organisational conditions

basically account for the success of Austria

as a financial center
---
*Investing in Austria / Financial Market

The large-scale expansion

of Austrian enterprises outside

the country, such as

that of oil and gas group

OMV have played a major

role in the upswing enjoyed

by the Vienna Stock

Exchange. Conversely, the

added appeal of the Vienna

market has provided Austrian

enterprises with the

opportunity to raise large

amounts of capital in order

to provide a solid financial

background for their

expansion abroad.

Continued Boom

The improved economic conditions in Austria have also had highly pleasing repercussions

for the domestic capital market. The Vienna Stock Exchange has been flying high for several

years, making it one of the most successful financial markets in Europe.

ringe market? By no means!" The slight-

"Fly condescending judgement that accompanied

the Vienna Stock Exchange for

years is now long forgotten. Whilst the Austrian

capital market may still not be one of the

largest financial markets in Europe, it has become

without a doubt one of the most successful,

and is one of the fastest growing.

These trends are most noticable in comparison

to its larger neighbour, the Frankfurt Stock

Exchange. Whilst the Austrian share index,

ATX, was barely able to keep up with the rise

of the German DAX from 1995 until the beginning

of 2000, this has changed considerably

following the crash of 2001. The ATX's

performance over the past three years has been

35% (in 2003), 57% (2004) and 51% (2005), sig-

nificantly higher than the increase experienced

by the German share index as well as pan-

European indices such as the Eurostoxx 50

index. "The 'Austrian shares' fund category

has had the highest average returns over the

past five years of all the fund categories studied",

says Hellmut Longin, president of Aktienforum.

However, the attractiveness of certain

fund categories on the domestic capital market

have not been recognised to their full extent."

Investor relations activities on the part

of both companies and the Vienna Stock Exchange

should also be able to convince the remaining

fund managers of the tangible advantages

of investing in Austria." Over-weighting Austria

will continue to be an easy bet to win", is

a statement that applies to both institutional

and private investors, according to Longin.

54 LOCATIONAUSTRIA 02/2006

OMV AKTIENGESLLSCHAFT
---
"These dynamic developments are the result

of our long-term measures aimed at strengthening

the Austrian capital market", enthused

Minister of Finance Karl-Heinz Grasser back

in June 2005, when the ATX passed the important

psychological barrier of 3,000 points.

However, for experts, that is only part of the

truth. Whilst the improved market conditions

for listed companies, such as corporate tax reductions

and the introduction of group taxation,

have important resonances for the capital market,

these developments alone cannot explain

the massive upswing.

There have been three driving forces behind

the continuing success of the Vienna Stock

Exchange: tax reforms, the enlargement of the

European Union and the improved competitiveness

of Austrian businesses. The latter factor

is too often ignored. Austrian businesses,

especially the industries, have been subject of

an enormous drive for modernisation, which

has resulted in unit labour costs and productivity

now ranking amongst the highest in the

world. A considerable portion of the increased

profits reported by listed companies is due to

this factor.

The momentum provided by the enlargement

of the EU should continue into the longterm,

according to Michael Buhl, member of

the Board of the Vienna Stock Exchange:

"Around 80 per cent of the enterprises listed

on the ATX operate in Eastern Europe. The

dynamic economic growth experienced by

the region will continue to play a defining

role in the coming years." RZB head analyst

Peter Brezinschek, one of Austria's best known

capital market experts, expects that the positive

developments of the domestic capital

market are unlikely to end abruptly: "Austria

has implemented important reforms and

improved structural conditions that provide

the basis for economic growth and a

positive grounding for the capital market over

the next ten years."

Catalyst for the Business Location

The sharp rise in the share index is only part

of the success story of the Vienna Stock

Exchange. Revenues have been developing

positively and the opportunities for Austria

businesses to raise capital through the Stock

Exchange in order to finance their expansion,

has also been bettered dramatically.

An important economic indicator of the financial

market in Austria is stock market ca-

Investing in Austria / Financial Market*

pitalisation. In addition to the rising share prices,

capital increases and new share issues are

also responsible for the development of this figure.

Market capitalisation as a percentage of

the gross domestic product in Austria has increased

by over 36 per cent to 41 per cent today.

"The main reason for this increase were

the gains made by the share index, which increased

by around 35 billion Euro; but new

share issues worth 5.4 billion Euro have also

played an important role in the overall picture",

says Markus Fichtinger, CEO at Aktienforum.

After five IPOs and 18 capital increases

in the last year, optimism is increasing that the

coming year an even higher number of businesses

will take the plunge and be listed on the

Stock Exchange. A study by the Institute for

Industrial Research determined that there are

potentially around 170 businesses that would

like to be listed on the Stock Exchange and

fulfil the necessary requirements.

In 2004, an average day at the Stock Exchange

would see shares worth approximately 160

million Euro traded; in 2005 the figure was already

299 million, an increase of 87 per cent.

Stock market capitalisation increased by more

than 150 per cent; the bond market followed

not far behind with growth of 104 per cent. An

end to these developments is not in sight. Experts

at RZB (Raiffeisen Zentralbank) forecast

that market capitalisation should increase twofold

by 2014, from 60 billion Euro today.

The entire Austrian economy is profiting from

the rallying on the Vienna Stock Exchange,

which makes new capital available for new investments

and thus creates and secures new

jobs in the country. According to a report by

IHS Consulting, a fivefold increase in turnover

on the Stock Exchange results in a GDP increase

of 0.4 per cent, or around 850 million

Euro per year. The same increase reduces unemployment

by 0.6 per cent, or 21,000 jobs.

But above all, Austrian businesses are better

able than ever before to finance themselves

via the stock exchange. With 6.4 billion Euro

in capital having been raised through the Stock

Exchange in 2005, an impressive record figure

was reached. However, this record will not

last long; this amount has already been reached

in the first half of 2006. "The Vienna Stock

Exchange has developed to become an internationally

recognised financial market", according

to the Board of the Stock Exchange.

According to Michael Buhl, 54.5 per cent of

trade volume comes from international members.

The fact that Austrians themselves still

Michael Buhl, member of the

board at the Vienna Stock Exchange:

"Around 80 percent of

the enterprises listed on the ATX

operate in Eastern Europe. The

dynamic economic growth experienced

by the region will continue

to play a defining role in

the coming years."

02/2006 LOCATIONAUSTRIA 55
---
Investing in Austria / Financial Market

Hellmut Longin, president of

Aktienforum: "Investor relations

activities on the part of both

companies and the Vienna Stock

Exchange should also be able to

convince the remaining fund

managers of the tangible advantages

of investing in Austria."

lag behind the international average in terms

of shareholder numbers (only seven per cent

of Austrians hold shares) is a downer; however,

the trend is definitely upwards.

Looking Eastwards

The Viennese financial market should be secured

by a series of strategic measures and alliances.

The main focus is on the obvious

opportunities for Vienna in the East. As part of

the 'Internationalisation of the Vienna Stock

Exchange', the following projects have been

completed since 2004: The purchase of 68.8

per cent of the Budapest Stock Exchange together

with an Austro-Hungarian banking consortium,

a contract covering cooperation with

Shanghai Stock Exchange, a Memorandum of

VIENNA STOCK EXCHANGE COMPARED TO INTERNATIONAL MARKETS

ATX, the Vienna share index, has easily surpassed all the larger markets since 2000

450

400

350

300

250

200

150

100

50

0

DAX ATX DJI FTSE CAC 40 SMI BUX

31.12.2000

31.3.2001

31.6.2001

31.9.2001

31.12.2001

31.3.2002

31.6.2002

31.9.2002

31.12.2002

31.12.2003

31.3.2004

31.6.2004

31.9.2004

31.12.2004

31.3.2003

31.6.2003

31.9.2003

288,91 %

31.3.2005

31.6.2005

31.9.2005

31.12.2005

31.3.2006

IPOS ON THE VIENNA STOCK EXCHANGE IN 2005

RISING MARKET CAPITALISATION

Market Capitalisation of the Vienna

Stock Exchange [in bn Euro]

Issuing price Market price Perfor-

15.5.2006 mance

CENTURY CASINOS INC 5.78

ECO BUSINESS-

8.40 45.33 %

IMMOBILIEN AG 10.60 12.20 15.09 %

INTERCELL AG

RAIFFEISEN INT.

5.50 12.60 129.09 %

BANK-HLDG AG 32.50 72.60 123.38 %

SKYEUROPE HOLDING AG 6.00 5.51 -8.17 %

140

120

100

80

60

40

20

0

28,3

Ultimo

2001

HIGH-FLYING ATX

+62,67%

32,2

Ultimo

2002

44,8

Ultimo

2003

64,6

Ultimo

2004

107,1

Ultimo

2005

Apr Jun Jul Aug Sep Okt Nov Dez Jän Feb Mär Apr

2005 2006

125,5

Apr.06

4302,41

Understanding (MoU) with the Bucharest Stock

Exchange, index cooperation with the stock

exchanges in Shanghai and Bucharest (ROTX),

as well as MoUs with the stock exchanges in

Dubai and Zagreb. The stock exchanges aim

to cooperate in the fields of indices and data

distribution as well as products. Furthermore,

Vienna has recently begun to provide an individual

segment for structured products.

420

400

380

360

340

320

300

280

2538,15 260

56 LOCATIONAUSTRIA 02/2006
---
When the Billions come Rolling in

Never before have Austrian companies raised so much capital on the Vienna Stock Exchange.

IPOs and capital increases in 2005 resulted in a record volume of 6.4 billion Euro; in

2006, this figure will easily be surpassed in the first half of the year. The large amount of

trust shown by investors opens up new growth opportunities for enterprises.

One record after another is being broken in

the Austrian capital market. Not only has

the number of IPOs and capital increases

reached new heights; the scale of issues has

reached dimensions that would have been unimaginiable

in Austria a short time ago.

The record-breaking series began at the end

of 2004, when OMV raised the 657

million Euro in capital required to takeover the

Romanian state energy supplier Petrom on the

Stock Exchange. In spring 2005, Raiffeisen

International (Raiffeisen's eastern holding company)

followed with an IPO worth 1.1 billion

Euro. The move made it possible to finance a

number of acquisitions in Eastern Europe, including

the purchase of Aval Bank in the Ukraine.

Wiener Städtische Versicherung also raised

913 million Euro for its eastward expansion.

The series continued unabated into 2006.

Erst Bank raised 2.9 billion in capital in order

to finance the takeover of major Romanian

bank BCR. The three IPOs in the first half of

2006 ( Polytec, Zumtobel and Post AG)

together accounted for a further influx of 1.2

billion Euro in capital. The preliminary

bottom line was drawn by Austrian Real Estate

enterprises: Immofinanz and Meinl European

Land both raised around 900 million

Euro from investors and Immofinanz subsidiary

Immoeast is set to raise the gigantic sum

of 3 billion Euro as part of its latest capital increase

in May and July, in order to consolidate

its position as the leading Real Estate investor

in Central and Eastern Europe.

A common thread running through almost

all IPOs and capital increases on the Vienna

Exchange is the orientation eastwards. "That

is the story of the Vienna Stock Exchange",

Immoeast Chairman of the Board Karl Petrikovics

explains. "Institutional investors worldwide

understand the Austrian enterprises have

an ideal starting position in Central and Eastern

Europe. The geographical proximity, historical

links, understanding of the mentality in

Eastern Europe and, last but not least, a num-

ber of top class experts on Eastern

Europe and personal contacts all underline the

important advantages enjoyed by Austrian

businesses over those from other countries in

the West. For this reason, it is only logical that

there is an enormous willingness to invest in

Austrian businesses. We could, if necessary,

undoubtedly raise much more capital."

Investing in Austria / Emissions

Thanks to a potentially recordbreaking

IPO amounting to 1.1

billion Euro in Spring 2005, Raiffeisen

International, the

eastern holding company of

Raiffeisen, was able to carry out

numerous investments, particularly

in Eastern Europe.

02/2006 LOCATIONAUSTRIA 57
---
Tax reform, stricter regulations

against insider trading and implementing

the Corporate Governance

Codex to a large extent

have improved the international

acceptance of the Viennese

financial market.

Good Framework, Good Performance

Changes to the legal, tax and organisational frameworks have played a considerable role

in the success of the Austrian financial market and especially the Vienna Stock Exchange.

Tax reforms, private pension funds and the Corporate Governance Codex are all important

foundations of this success.

When the reduction of corporate tax

(KÖSt) from 34 per cent to 25 per cent

was announced in 2004, the Stock Exchange

reacted promptly, with the ATX beginning a

continuous rise that is still ongoing. No wonder,

as the reduction in corporate tax directly

results in higher after-tax profits and consequently

an improvement in the share price/profit

ratio of a company's stock.

Although the introduction of group taxation

has not received as much attention, this

step was at least as effective in practice as

reducing corporate taxes, allowing the results

of various regional enterprises to be

offset against one another within a corporation.

This also results in a noticeable reduction

in the tax burden placed upon listed

companies.

The tax reform was thus a trigger for the

upswing and impressive performance of the

Vienna Stock Exchange which has been

well above the international average for

some years. Above all, it is the indirect effect

of the tax reforms that are now resulting

in improved accounts. Higher net profits are

reinvested on a large scale and are a driving

force behind the major role played by Austrian

businesses in Central and Eastern Europe.

Today, Austria is able to profit from the

booming Eastern markets more than any

other country in the West. It has become in-

creasingly attractive for international corporations

either to set up new regional headquarters

in Austria or to retain their existing

locations.

An important role is also played by taxdeductible

pension funds, which has led to

Austrians investing more in domestic shares

than ever before, at least indirectly. Consequently,

enterprises have been able to markedly

increase their proportions of Austrian

shareholders.

The improvement of the 'rules of the

game' on the Vienna Stock Exchange are of

prime importance to international institutional

investors. For example, bringing the regulations

concerning insider trading into

line with international standards or via the

Corporate Governance Codex introduced in

January, binding corporations to more transparency

and increasing the rights of shareholders.

Dr. Hellmut Longin, president of

the Aktienforum underlines the importance

of these measures: "The concept of independent

supervisory boards has now been

introduced to Austria and adapted sensibly

to take into account domestic legislature,

such as staff participation or the two-tier

model of managing board and supervisory

board. The long-term positive development

of the domestic capital market has thus been

secured."

58 LOCATIONAUSTRIA 02/2006
---
Sharp rise in trading activities: Turnover of Austrian shares

has more or less exploded in the past few years. The

days in which Vienna was viewed as a illiquid fringe market

have long since been things of the past.

"VIENNA IS OUR CLEAR FAVOURITE"

Strabag, one of Europe's largest construction firms will

probably select the Vienna Stock Exchange for its

planned IPO in autumn. Not necessarily self-evident,

given that Strabag is actually a German company under

Austrian ownership. "The decision will naturally only be

reached when we actually issue the shares but Vienna

has developed exceptionally well and is therefore our

clear favourite.", says Strabag Speaker Christian Ebner.

He also praises the Stock Exchange itself for the important

role it has played in boosting the market. "There

were a number of comprehensive presentations in front

of international investors that have since put Vienna on

the map of the financial community."

Last but not least, Ebner claims that there is a form of

'Vienna bonus' for enterprises with a wide range of interests

in the East. "Investors who wish to invest in shares

with an eastward perspective first look for these in Vienna.

And in future, they may well find Strabag there."

Investing in Austria / Corporate Tax and Codex

"Still some

construction sites"

Dr. Richard Schenz, commercial

counsel and vice-President of the

Austrian Federal Economic Chamber

talks about further measures

necessary to optimise the framework

within which the Vienna

Stock Exchange operates.

Dr. Schenz, what is your assessment of the measures taken to strengthen

the Austrian capital market?

Schenz: All in all, definitely very positive. The corporate tax reduction

and group taxation have improved the profit situation for listed companies

considerably and played a major role in the increases in share

prices. Without these measures, it would be hard to imagine that in

2005 alone, 6.5 billion Euro of new capital was raised through the Stock

Exchange and that this number is likely to reach more than 10 billion

this year. Furthermore, the tax-deductible pension funds are also having

a positive effect.

So it has not just been fiscal measures that the Stock Exchange has profited

from. A lot has been done to increase trust in the Austrian capital

market. The Corporate Governance Codex definitely has a key role

to play here. In addition, tighter regulations on insider trading, bringing

these in line with international standards, have also been important

steps. Both have cost the Ministry of Finance nothing and yet have

had resounding effects.

So you are fully satisfied? Do you not have any further wishes?

Schenz: That I am pleased is one thing. But there are still some

construction sites remaining, where much still needs to be done. In the

case of private pension funds, more flexibility would be desirable,

above all catering for one-time payments and variations without guaranteed

capital.

The generally accepted goal is to strengthen the equity capital of

businesses; this is directly opposed by the corporate income tax which

almost drives companies to seek alternative means of financing activities

using foreign capital, rather than through the Stock Exchange.

Abolishing this tax is long overdue.

And last but not least, we definitely still have some weaknesses in the

area of private equity / venture capital, which have negative ramifications

for start-ups in research-intensive sectors. However, this is an

area where legislative bodies have less influence; above all, banks and

financial service providers still need to catch up.

02/2006 LOCATIONAUSTRIA 59
---
Wiener Städtische Group

Vienna Insurance Group: Big Player in CEE

The Vienna Insurance Group is the leading Austrian insurance group in Central and Eastern Europe. Every third euro

of the company's premiums comes from this rapidly growing region.

Based on its leading position in Austria, Wiener Städtische has been investing

in the new markets of Central and Eastern Europe for over 15

years. Its vigorous expansion in the last few years is also reflected in the

company's image. Since the beginning of 2006 the "Vienna Insurance

Group" has been the company's new umbrella brand.

The umbrella brand demonstrates the shared identity of all of the group's

companies, which will continue to retain the well established brands on

their local markets. Furthermore, with the umbrella brand the Wiener

Städtische group points to its financial strength as a major Central European

insurer headquartered in Vienna. The Vienna Insurance Group is currently

represented in 17 countries with a total of 17 million customers.

Over 16,000 employees handle customer concerns.

With an increase of 22.1 percent, for the first time the Vienna Insurance Group

successfully exceeded the five billion euro mark for premiums in 2005. Consolidated

pre-tax profit also rose in 2005 by 84 million to 240 million euro.

Particularly pleasing is the fact that the Central and Eastern European affiliates

contributed a substantial 37 percent to the consolidated profit.

Life insurance also contributed to growth, particularly in Austria. Furthermore,

it is remarkable that the CEE share of the group's total premiums

came to 45 percent in the area of property and casualty insurance. The

total CEE premiums calculated rose by 32.3 percent to 1.56 billion euro,

reaching nearly one third of the group's premiums.

Dr. Günter Geyer, CEO of Wiener Städtische: "The Vienna Insurance Group

covers 17 European countries on the map – those markets exhibiting the

strongest potential for growth."

The dynamic economic development in the CEE region has led to a

marked increase in demand for insurance services. Dr. Günter Geyer anticipates

the boom in the insurance business in Eastern Europe will long

continue and substantiates his expectations with a comparison: "In Austria

the insurance density, or premium per capita, is 14 times as high as

the average in the relevant CEE countries. This shows that there is enormous

potential for catching up. For years the economies in the countries

of Eastern Europe have been growing at least twice as rapidly as those in

the eurozone. This dynamic growth has increased the standard of living.

After insurance of material assets such as vehicles and homes, with a rising

standard of living pension products are also increasingly in demand.

This provides considerable business potential for the next 15 to 20 years."

Long-term investments and the reinvestment of profits in the country of

origin are important pillars of the Vienna Insurance Group's success and

strengthen the companies in the local markets.

For the first time and as the only Austrian insurance company to do so,

the Vienna Insurance Group has presented its European embedded value.

The consolidated embedded value (after taxes) for the Vienna Insurance

Group totalled 3.8 billion euro as of December 31, 2005. This value is

based solely on business concluded in the past and does not consider the

enormous chances for growth in the future.

DOUBLE-DIGIT GROWTH IN GROUP PREMIUM INCOME

IN THE 1ST QUARTER 2006

In the first three months of 2006, total consolidated premiums written of

the Vienna Insurance Group increased by 11.6 percent to EUR 1.75 billion.

The Group's profit before tax amounted to EUR 72.91 million in the first quarter

of 2006 and thus surpasses the comparative value of the same period

of the previous year by EUR 17.45 million. These figures represent a considerable

increase of 31.5 percent. In Central and Eastern Europe, a steep

increase in premiums written of 26.8 percent to EUR 547.18 million was

achieved.

With the results achieved for the first quarter of 2006, the Vienna Insurance

Group has given itself a solid basis for a successful financial year 2006. The

Group is now targeting a profit before taxes of approx. 290 million Euro for

the year 2006, and approx. 350 million Euro for the financial year 2007.

More information on the company and

Wiener Städtische's products can be

obtained at the telephone service line

050 350 350 or on the internet under

www.wienerstaedtische.at.

60 LOCATIONAUSTRIA 02/2006

PEROUTKA

Günter Geyer,

CEO Wiener Städtische Versicherung:

Successful due to large-scale expansion

to Central and Eastern Europe.
---
READY-TO-RACE

With the premium brand in the off-road sport motorbike market as well as its push into the sport-oriented road segment,

KTM has become Europe's second largest sport motorbike producer. More than 100 world championship titles, five victories

in the Dakar Rally and countless national championship titles are proof of the high degree of technical competence.

KTM Power Sports AG (previously CROSS Holding AG) has been listed on the

Vienna Stock Exchange's over-the-counter market since 12.12.2003 and the

Prime Market segment since 15. 12. 2004. In the business year 2004/05*

KTM Power Sports AG acquired 100% of the stake in the KTM Group in several

phases. Following the successful takeover of the stake that BC Partners

held in KTM (48.9%) in December 2004, which was to a large extent financed

by the issue of 1.9 million shares totalling 57 million EUR, the chance

emerged to take over the remaining 10.8% of the stakes in the KTM Group,

integrating them into KTM Power Sports AG. Since the sale of the stake in

Rosenbauer International AG in June 2005, KTM Group is now the only

shareholder of KTM Power Sports AG.

The essential sales impulse in the last business year resulted from the successful

introduction of the new two-cylinder road models (Travel Enduro, Naked

Bike, Supermoto) on the market as well as the continuous expansion of

the enormously profitable accessories and spare parts sector . The motorbikes

- 990 Adventure, 990 Super Duke, 250 EXC-F - will contribute substantially

to future growth as will further models the company is planning to

introduce. More than 80% of sales takes place through independent subsidiaries.

For the future, takeovers of additional markets and their integration

into the company's distribution as well as further expansion of the global network

of dealers are planned. Subsidiaries have recently been established in

Hungary, Slovenia and Finland and have already developed successfully.

FOCUS & REPOSITIONING

At the Extraordinary Shareholders' Meeting which took place on 07 July 2005

the focus of the former CROSS Holding AG on power sports and the renaming

of the company, to KTM Power Sports AG, was decided.

For KTM Power Sports AG an interesting opportunity for cooperation emerged

in the area of ATV's (all terrain vehicles, quads). The cooperation agreement

made with Polaris Industries Inc. in Minneapolis/USA has furnished KTM with

entirely new perspectives for the future and a remarkable expansion in the

business field.

COOPERATION WITH POLARIS

In the last business year Polaris acquired 24.9% of the stake in KTM Power

Sports AG. On the operating level several projects were defined for joint coo-

Share price development of the

KTM Power Sports AG share

Investing in Austria / KTM

Mar May

Apr Jun Jul Aug Sep Oct Nov Dec Jan Feb

2005 2006

In addition to global market leadership in the racing-oriented off-road

segment, new and profitable niches are to be conquered with the

sport-oriented KTM road models and the brand KTM sustainably

positioned in the road segment.

peration and implementation has been started. "The cooperation with Polaris

is in full swing, is developing positively and within the designated time frame,"

says DI Stefan Pierer. The main focus lies in the preparation of significant

ATV/Quad activities for the business year 2006/07.

BUSINESS PERFORMANCE

In the last business year KTM continued its successful performance despite

the prolonged difficult market conditions. In the business year 2004/05 the

company generated revenues of 382 million EUR (EBIT 17.7 million EUR) with

1,600 employees. The increase in the KTM stake permitted full consolidation on

01 December 2004.

OUTSTANDING PERFORMANCE

Since the IPO in December 2004 a favourable increase in the

share price has been achieved, with the price never falling below

the issue price of 25 EUR. In December 2004 1.9 million

new shares were successfully floated thereby increasing the

number of shares issued to 6.3 million. The acquisition of the

KTM stakes was financed to a large extent with the proceeds

from this issue.

BY 2004/05* HY 2005/06

In M EUR

Revenues: 381.9 235.4

EBITDA: 32.8 27.7

Number of employees (as of date): 1,582 1,601

Market capitalisation: 332.9 314.0

Share performance 2005: + 37,28 % (Dec. 04 – Dec. 05)

*) Based on the proportionate consolidation (38.3%) of the KTM Group in the

first quarter of 2004/05 and subsequent full consolidation at 01 December

2004 (100%), the previous period is comparable only to a certain extent (KTM

Group GmbH : revenues 2004/05 : 451.2 million EUR, EBITDA 43 million EUR).

KTM Power Sports AG

Bauernstraße 9, A-4600 Wels

Tel: +43 (0) 7242 / 694 02

ir@ktmpowersports.com

www.ktm.com

02/2006 LOCATIONAUSTRIA 61

50

48

46

44

42

40

38

36

34
---
voestalpine

Intelligent Strategy and Successful Implementation

The development of voestalpine from steel producer to a diversified and broadly positioned group has borne fruit:

record profits once again and a sustainable development in result which is largely independent of the steel cycle.

voestalpine has systematically followed the path taken a few years ago,

developing from a steel producer into a group with technology and product

competence based on competence in the material steel. Today the

correctness of this strategy is reflected in the key data of the group as

well as the increase in company value on the international stock

exchanges. After several outstanding years, this year reports significant

improvements again for all the key figures.

This is reflected in the share price performance, which reached an all

time high of 136 EUR in May 2006.

The organisational implementation of a vertical growth strategy which

is commensurate with the enlargement in the value creation chain has

divided the group into four divisions. What they have in common is that

they supply no standard products (commodities) but top technological

services instead.

Europe's no. 3 for high-quality automotive sheet metal, the steel division

produces the highest quality steel products used in automotive production,

the household industry (Europe's no. 2), the building industry

as well as the energy industry. In the scope of a longer lasting investment

programme, at the Linz location 2 billion EUR will be invested in

facilities and equipment in order to increase efficiency. The railway systems

division has grown from a producer of rails into a comprehensive

provider of infrastructure for setting up railway systems. In addition to

the manufacture of rails (European market leader), this also includes

the production of switches (global market leader) as well as planning

and service responsibilities. High-quality wire products and wireless tubes

are also manufactured in this division for the oil industry.

Based on steel know-how in the automotive division parts and modules

are prefabricated and supplied for the automotive industry. The division

has grown primarily from acquisitions and is to be developed into a significant

player in the supplier industry in the next few years.

With the production of profiles and pipes in the profilform division, the

company has gone from a commodity business to becoming a special

provider capable of handling even the most complex customer demands.

Course of the price of voestalpine stock

Dr. Wolfgang Eder, Chairman of the Board of voestalpine AG: The

most-successful year since the 1995 listing on the stock exchange

The business of storage technology, in which high-rack storage facilities

are built, is particularly promising.

Voestalpine's market environment is currently shaped by the steady

strong demand for steel and steel products. Voestalpine's broad positioning

allows it to participate in this boom without becoming dependent

upon it too strongly. Its positioning in several segments also keeps the

group's results stable in the steel cycle's phases of weakness.

The Share

In the last few years the development of voestalpine's share has been

marked by continual growth in value. This trend was not only successfully

maintained in the 2005/06 business year but considerably accelerated

as well.

In all of this business year's phases the value of the voestalpine share

remained above the most important stock exchange indices – the Dow

Jones Stoxx (USA) and the Stoxx Index (Europe). Having risen to a historic

high itself, Austria's key index, the ATX, was also outperformed in the

last business year.

With this outstanding performance, the last business year was by far the

most successful since the IPO in 1995.

Thus, the systematic implementation of voestalpine AG's strategy of expanding

the value creation chain to include the customer has also been

commensurately rewarded by the capital market.

voestalpine AG

voestalpine-Straße 1, 4020 Linz

Tel: +43 (0) 732 / 6585-0

info@voestalpine.com

www.voestalpine.com

62 LOCATIONAUSTRIA 02/2006
---
2005 was the most successful year in AvW Invest AG company's history.

The annual surplus rose 117 per cent to 4.462 million Euro (2004: 2.051

million Euro) while the Balance Sheet total increased to 32 million Euro

(2004:27 million Euro). At the same time equity was boosted to 28 million

Euro (2004: 22.3 million Euro). As a result, return on equity rose to an extraordinary

87.6 per cent (2004: 82.6 per cent).

"We exceeded our expectations with this record result," says AvW Chairman

of the Board Wolfgang Auer von Welsbach. "In 2005 we made enormous

gains in financial services and especially in investment banking. At the

same time our investments showed outstanding development."

The Austrian company AvW Invest AG is a company of the AvW Group

(www.avw.at). In 1991 Dr. Wolfgang Auer von Welsbach established AvW Invest

AG, followed in 1996 by entry on the Vienna Stock Exchange. Since

2001 its common shares have been listed on the ATX Prime Market segment.

In 2005 the preferred and common shares were combined.

AvW Invest AG concentrates primarily on the business fields of financial services,

investments and Real Estate. Since its establishment the company

has shown extraordinary positive development and has grown enormously.

With its headquarters in Krumpendorf by Wörthersee, AvW Invest AG is now

one of the most successful and most profitable companies in Austria. In its

core business of financial services, AVW focuses above all on the sale of its

own participating certificate, the AvW Index. This share-like security came

on the market in 1995 and since then has achieved an average net performance

of 13.5 per cent per year. The AvW Index is listed on the Frankfurt

Stock Exchange.

For its shareholdings AvW invests in national and international companies.

Larger share packages are held in the Austrian companies S&T (15 per

cent), Hirsch Servo (ten per cent) and Pankl Racing (five per cent). AvW Invest

AG also has stakes in several international companies: 40 per cent in

the German advertising agency New Econ AG, six per cent in the Chinese

AvW Invest AG

AvW Chairman of the Board Wolfgang Auer von Welsbach: "Record

results in 2005 exceeded our expectations. ".

Bull and Bear on Wörthersee

AvW Invest AG accomplished its third consecutive record year in 2005. For this year the Board anticipates another

increase in profit. Growth and expansion will be continued under supervision. The internationalisation of the

Austrian financial service provider and investment company will be advanced further.

company CASH Financial Services Group, five per cent in the German IT firm

Cancom, and one per cent each in the Australian mines Macmin Silver and

Equigold, the Indonesian cacao producer Pan Sino and the Chinese company

Pine Technology. CEO Wolfgang Auer von Welsbach on his investment strategy:

"We seek hidden pearls throughout the world. That means companies

with enormous prospects for growth and/or high dividend yields".

In Real Estate AvW focuses especially on the development of capital. AvW

currently owns eight pieces of Real Estate in Austria. Its aim is to acquire

one property per year.

EXCELLENT PERFORMANCE

In 2006 Invest AG intends to increase its annual surplus

by 50 per cent to 6.6 million Euro. Last year it was 4.46 million

Euro. Based on this, profit per share will increase to

2.20 Euro in the current business year (2005: 1.48 Euro),

gross profit (EBT) to 8.5 million Euro (2005: 5.8 million

Euro).

As a result of the extraordinary increases in profit in the

last few years, the P/E ratio was also continuously dropped

- from 80 in 2003 to 72 (2004) to 42 in 2005. With the

current profit forecast the P/E ratio is a respectable 29. AvW

Invest AG's share is also a success story: it has increased

tenfold since its listing in 1996.

Kontakinfo AvW

Adresse:

Tel

Email

www

02/2006 LOCATIONAUSTRIA 63
---
Erste Bank:

The sun rises in the East...

The dynamic expansion of Erste Bank into the countries of Central and Eastern Europe is a real success story.

1997 was a trend-setting year for Erste Bank. The company's initial public

offering paved the way for its eastward expansion. An important step along

the way was the acquisition of a majority stake in Ceska Sporitelna. Investing

in the leading retail bank in the Czech Republic was considered too risky by

most of Erste Bank's competitors and financial experts. However, with the

benefit of hindsight, it was the correct strategic move. The bank returned to

profitability sooner than expected, which formed the basis for the dynamic

growth over the following years in Central and Eastern Europe. The logical

consequence of the acquisition of Ceska Sporitelna was to enter the Slovakian

market. Erste Bank acquired a controlling interest in Slovenska Sporitelna

at the beginning of 2001, with its previous experience in the Czech Republic

proving a valuable asset and resulting in the rapid integration of its new addition.

The takeover of Hungarian Postabank followed in December 2003; it was

swiftly merged with Erste Bank Hungary (acquired in 1997, previously Mezöbank).

Erste Bank Croatia, formed in 2000 by the merger of three smaller

banks was subsequently merged with Rijecka banka, acquired in the first

quarter of 2002.

The dynamic expansion of Erste Bank reached its preliminary peak in 2005.

Solid foundations for the future were laid with acquisitions in Serbia and

especially Romania. The Romanian market promises above-average growth

rates over the coming years, and Erste Bank is well positioned to take advantage

of this through its stake in Banca Comerciala Romana (BCR).

As a result of its latest acquisitions, Erste Bank operates in markets that are

at different stages of development. Emerging markets, as Romania and Serbia,

should deliver growth over the next 5 to 20 years.

The track record of Erste Bank is impressive. Strong growth in regional coverage

as well as transaction volumes were accompanied by excellent operating

results. Following the acquisitions in 2005, Erste Bank is now active in an

economic region that is home to over 70 million people.

Erste Bank has about 15 million customers in the region, and commands a

market share of over 20%.

All the key financial indicators have risen sharply since 1997 for Erste Bank.

Total assets increased from 50 billion Euro to 153 billion Euro in 2005, a

more than threefold increase. Operating results increased by an impressive

factor or five, to 1.65 billion Euro. Return on equity (ROE) rose from 10% to

19% over the same period. As a result of its dynamic expansion into Central

PROMOTION

and Eastern Europe, Erste Bank employed about 36,000 staff at the end of

2005. Including BCR this number will leap to 48,000. In comparison, the

bank only employed 9,356 staff at the end of 1997.

Erste Bank now has a network of 2,700 branches as opposed to 461 eight

years ago.

Erste Bank der oesterreichischne Sparkassen AG

Graben 21, A-1010 Wien,

Tel: +43 (0)5 0100 50100,

investor.relations@erstebank.at

www.erstebank.com

64 LOCATIONAUSTRIA 02/2006
---
Rising Numbers at Vienna Airport

Flughafen Wien AG is one of the few listed airport operators in Europe. 40

percent of the company's capital stock is held by the public sector, with

stakes owned in equal parts by the Province of Lower Austria and the City

of Vienna. Following a decision at the annual general meeting in 2000, 10

percent of company stock was transferred to a employee foundation, with

employees consequently participating in the company's success. The remaining

50 percent of shares are free float. Fulghafen Wien AG is the developer,

constructor and sole operator of Vienna International Airport, as

well as a provider of all associated services. As one of the leading hubs to

the prospering destinations in Central and Eastern Europe, we are prepared

for above average growth in the near future. Our expansion strategy is

also driven by increasing demand for flights to and from destinations in

the Far and Middle East, as well as by the thriving low cost carrier sector.

OVERVIEW OF THE 2005 FISCAL YEAR

Flughafen Wien AG again posted good results in 2005, resulting in a further

increase on the good results achieved in 2004. Revenue over the fiscal

year totaled 410.3 million Euro (+3.0 percent). Annual profit rose 3.6

percent to 64.3 million Euro.

Increasing traffic was the driving factor behind these developments. Passenger

numbers increased by 7.3 percent to 15.9 million passengers. Low

cost carriers are becoming an increasingly important force; the proportion

of passengers carried by low cost carriers rose by 11.1 percent in

2005 to 12.4 percent. Traffic to Eastern Europe developed positively (+9.9

percent), as did traffic to the Far East (+12.9 percent), the Near and Middle

East (+34.0 percent). The number of transfers also rose. Vienna International

Airport's important role as a hub was thus strengthened even

further. Increasing the number of purely cargo flights also resulted in corresponding

increases in the turnover of goods; 234,677 tonnes of freight

mean an increase of 12 percent.

2006 Forecast

The management of Flughafen Wien AG forecast that positive economic

developments in Austria and the EU will also have a positive impact on

VIENNA INTERNATIONAL AIRPORT - FIGURES

Vienna International Airport

Skeleton construction work on the Skylink terminal will be

complete in just a few months.

The subterranean train station for long-distance trains has

already been nearly tiled completely.

An increase in passenger numbers of 7.3 percent is only part of the story. The good business results achieved by

Flughafen Wien AG in 2005 mean a further increase over the previous years.

traffic at the airport. Additional stimulation is also expected from the

continuing boom in the new EU member states situated within the airport's

catchment area.

Passenger numbers are predicted to rise by around 6 percent, flight

numbers by 2 percent, and maximum take-off weight by 3 percent,

provided the current economic stability continues. Thanks to a multi-tiered

and flexible expansion strategy, long-term expansion projects can be

implemented independent of the development of passenger numbers.

Between 2006 and 2010, investments in airport and other non-aviation

projects of 533 million Euro are planned, 208 million of which are earmarked

for the timely continuation of expansion works in 2006.

The main investment focus for 2006 is on the VIE-Skylink project, with a

total volume of investment of 121 million, on the baggage sorting equipment

with 11 million Euro, on phase 2 of the Office Park with 21 million

Euro and on the apron with 26 million Euro.

Population in catchment area approx. 14 mio.

Total Area (in km 2) approx. 10

Companies m Standort rund 200

Airlines 1) 69 carriers

Destinations 1) 176 carriers

Staff Flughafen Wien group 3,581

Staff airport approx. 14,000

Passengers 15,859,050

Pieces of Baggage Handling 14,168,786

1) as of 31.12.2005

Cargo (incl trucking) 234,677 t

Check-in counters 124

Parking positions maximum 80

of which docking positions 20

Rentable cargo space (in m 2) 30,206

Rentable office space (in m 2) 70,688

Retail space (in m 2) 5,977

Space for gastronomy (in m 2) 3,451

Indoor parking spaces excl. long-term 4,800

Outdoor parking spaces excl. long-term 4,200

Long-term parking spaces approx. 6,000

Further information:

● www.viennaairport.com under "Information for Shareholders"

● Online financial report: http://vie2005de.genesto.com/

● Subscribe to our financial reports and newsletter

- send an e-mail to investor-relations@viennaairport.com

02/2006 LOCATIONAUSTRIA 65
---
East

Eastexpress

+

Order your free subscription:

Country newsletter:

www.eastbusiness.org/countries

Romaniaexpress

An Eastbusiness.org newsletter in cooperation with

SkyEurope: The low-cost connection to Bucharest. Starting in 6 weeks

Eastexpress

Bulgariaexpress

An Eastbusiness.org newsletter in cooperation with

SkyEurope: The low-cost connection to Sofia. Starting in 3 weeks

A joint product of www.wirtschaftsblatt.at and www.eastbusiness.org

Eastexpress

www.wirtschaftsblatt.at/nl/

Eastexpress
---
Daylight, Peace & Quiet

and Transparent Prices

The Eventhotel Module in Vienna -

A Site for Parties & Conventions

More than 80,000 seminar guests are accommodated here annually.

Specialisation in the events area means that there is no noise problem,

the same as is the case at a major tourist hotel.

All rooms have daylight and absolute peace and quiet. Thanks to a

flexible concept of space, any event, whatever its size, can be held.

More than 1,200 square meters of area for events on three levels provides

room for those ranging from small ones for 20 people to large conventions

with 600 attendees. The modernly-equipped rooms can be

quickly changed from areas for meetings to those for large balls and

conferences.

An inhouse Business Service oversees every event from A to Z, helps

with organisation and, among other things, provides fax and secretarial

service, as well as a free Internet corner.

The most-popular service is the Modul's transparent billing system with

very reasonable flat rates for drinks and meetings. Ask about bargain

summer offers in the seminar area.

Eventhotel Modul

Peter Jordan Straße 78

1190 Vienna

T. +43-1-47660-116

modulhotel@wkw.at

www.hotelmodul.at

PROMOTION
---
Get on the fast track!

With Austrian Equities.

EUR 60

Starting Portfolio

for the first 500 new customers*

As low-priced as never before:

Trading at the Vienna Stock

Exchange from EUR 3!

Celebrate with us the Festival of the Austrian equity - with this and many other advantages. Trading securities has never

been so easy and low-priced. Therefore, get on the fast track now with brokerjet, the online broker of the Erste Bank Group

from Austria.

*All promotion details at: www.brokerjet.com