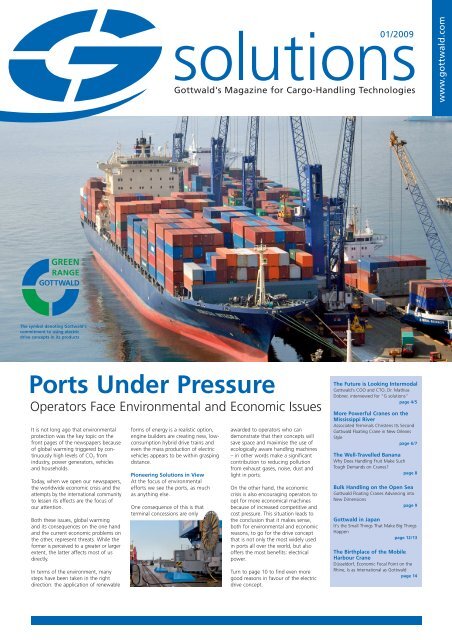 G solutions - Gottwald Port Technology
G solutions - Gottwald Port Technology
G solutions - Gottwald Port Technology
SHOW MORE
SHOW LESS
You also want an ePaper? Increase the reach of your titles
YUMPU automatically turns print PDFs into web optimized ePapers that Google loves.
The symbol denoting Gottwald's

commitment to using electric

drive concepts in its products

Ports Under Pressure

Operators Face Environmental and Economic Issues

It is not long ago that environmental

protection was the key topic on the

front pages of the newspapers because

of global warming triggered by continuously

high levels of CO 2 from

industry, power generators, vehicles

and households.

Today, when we open our newspapers,

the worldwide economic crisis and the

attempts by the international community

to lessen its effects are the focus of

our attention.

Both these issues, global warming

and its consequences on the one hand

and the current economic problems on

the other, represent threats. While the

former is perceived to a greater or larger

extent, the latter affects most of us

directly.

In terms of the environment, many

steps have been taken in the right

direction: the application of renewable

forms of energy is a realistic option,

engine builders are creating new, lowconsumption

hybrid drive trains and

even the mass production of electric

vehicles appears to be within grasping

distance.

Pioneering Solutions in View

At the focus of environmental

efforts we see the ports, as much

as anything else.

One consequence of this is that

terminal concessions are only

solutions

01/2009

Gottwald's Magazine for Cargo-Handling Technologies

awarded to operators who can

demonstrate that their concepts will

save space and maximise the use of

ecologically aware handling machines

– in other words make a significant

contribution to reducing pollution

from exhaust gases, noise, dust and

light in ports.

On the other hand, the economic

crisis is also encouraging operators to

opt for more economical machines

because of increased competitive and

cost pressure. This situation leads to

the conclusion that it makes sense,

both for environmental and economic

reasons, to go for the drive concept

that is not only the most widely used

in ports all over the world, but also

offers the most benefits: electrical

power.

Turn to page 10 to find even more

good reasons in favour of the electric

drive concept.

The Future is Looking Intermodal

Gottwald's COO and CTO, Dr. Mathias

Dobner, interviewed for "G solutions"

page 4/5

More Powerful Cranes on the

Mississippi River

Associated Terminals Christens Its Second

Gottwald Floating Crane in New Orleans

Style

page 6/7

The Well-Travelled Banana

Why Does Handling Fruit Make Such

Tough Demands on Cranes?

page 8

Bulk Handling on the Open Sea

Gottwald Floating Cranes Advancing into

New Dimensions

page 9

Gottwald in Japan

It's the Small Things That Make Big Things

Happen

page 12/13

The Birthplace of the Mobile

Harbour Crane

Düsseldorf, Economic Focal Point on the

Rhine, Is as International as Gottwald

page 14

www.gottwald.com
---
EDITORIAL

Dear Customers and

Business Partners,

The world economy is slowing down.

All over the world, production and

consumption and, with them, the

movement of goods around the

world, are experiencing a dramatic

downturn. The transport of containers

and bulk materials is, understandably,

no exception. At times like these,

investment budgets tend to be

reduced. However, medium-term

challenges remain unchanged. No

surveys conducted in recent times

would suggest that medium to longterm

sustainability was the wrong

course of action in contrast to globalisation

as a driver of growth or the

persisting infrastructure investment

blockage in emerging economies, in

particular. Improvements in efficiency

are, today, far more than just a buzz

word. Gottwald pursues this aim not

only within its own organisation but,

more specifically, by continuing to

develop its products with a steady

focus on the challenges faced by

the market.

Which means that this is the right

time to improve on our own products

in terms of environmental

friendliness and efficiency. Now is

also the time to learn more from each

other. For this reason, we wish to

focus more intently and systematically

than before on the needs of our

customers and business partners,

in other words, your needs, and

use them to generate solutions.

Moreover, we shall be strengthening

our presence on the ground and

expanding our service and distribution

network, which will shorten response

times and enhance mutual cooperation.

One thing is certain, the current

crisis will one day be history. If we

read the signs and set off down

the right road, we will be first to

cross the finishing line.

We trust you will enjoy reading this,

the second issue of G solutions, our

customer magazine.

Peter Klein

Head of Marketing

2

Modern Ports in India Put their Faith in

Gottwald Mobile Harbour Cranes

Shyam

Pathak,

Gottwald's

representative

in India

Gangavaram Port has one of the most

modern and, with its 20 m draft, also

the deepest harbour in India. As a

result, it is the only port on the subcontinent

capable of servicing Super

Cape-Size vessels and handling a

broad range of cargoes including

iron ore and coal.

Gottwald Among First On-Site

The idea was that the cargo-handling

machines were to match the splendour

of the port in every way. As a consequence,

the port's management opted

for, among other port equipment, two

G HMK 6407 B Mobile Harbour Cranes,

the 4-rope grab variant of Gottwald's

Model 6, the company's bestseller.

Pranav Choudhary, Chief Financial

Officer of Gangavaram Port Limited

(GPL) explains: "Gottwald's cranes are

among the first cranes used in the port

and have already made a considerable

impact on the total quantities handled

to date. These machines even exceeded

our expectations and we were also

very impressed by the speed at which

they were set up and ready for work

so quickly after we placed our order."

High Handling Rates

The port, which was commissioned for

commercial activities in August 2008

after three years of building work, has

five berths at its disposal. These include

multipurpose berths which are serviced

by the two G HMK 6407 B machines

where they handle, among other things,

coal. The two cranes have 50t grab

curves and a maximum lifting capacity

of up to 100 tonnes. At maximum

hoisting speeds of 110 m/min, each of

the two cranes working in continuous-

The two Gottwald G HMK 6407 B Mobile

Harbour Cranes together unloaded no less

than 42,000 t of coal from a Panamax vessel

on a single day (3/4 Nov. 2008). The entire

ship (with a capacity of 72,000 t) was

unloaded in only 58 hrs.

duty bulk handling achieves excellent

rates, which enables the port's

customers to keep ship laytimes to

a minimum. Apart from their outstanding

performance when handling

coal, these Mobile Harbour Cranes

have also proved their worth handling

bulky project cargoes.

Gottwald's Customer Base Expanded

to 93 Countries

Having sold and delivered its first ever

Mobile Harbour Cranes to Paraguay

and Suriname last year, Gottwald once

again breaks new ground, this time in

the Dominican Republic. This successful

sale takes the number of countries

worldwide in which Gottwald's Harbour

Cranes are in use to no less than 93.

Dominican Republic Opts for

Gottwald

This, the first order for the Dominican

Republic, is for two G HMK 6407

Mobile Harbour Cranes.

Variants of the highly

successful Model 6

series, these

Gottwald cranes

have been

selected for

handling

mainly containers

in

the Port of

Caucedo. The

delivery and

installation are

currently in progress,

so the two cranes are

expected to be commis-

sioned by April. The order for

these two new Mobile Harbour

Cranes was received from Dubai

because the terminal in the

Port of Caucedo is operated by

DP World – as are many other terminals

worldwide where numerous other

Gottwald Mobile Harbour Cranes, in

particular this model, are in daily use.

Positive Experience Generates Sales

According to DP World, previous

Gottwald machines have been highly

satisfactory: "Our experience from all

locations worldwide with Harbour

Cranes made by Gottwald has always

been exceptionally good, which is why

The number of countries to which Gottwald supplies its Mobile

Harbour Crane technology is growing continually. In 2008, six

new countries joined the list: Georgia and Estonia, Oman,

Guinea, Paraguay and Suriname. At the beginning of 2009, the

Dominican Republic was added as the ninety-third country.

we opted for this technology for

the DP World terminal in the Dominican

Republic." While Andrew Hoad,

Executive Director of the terminal, adds:

"We are highly pleased that we can

increase our terminal's output by the

purchase of these two high-performance

Gottwald Mobile Harbour Cranes,

which are capable of servicing container

vessels up to post Panamax size. This

allows DP World Caucedo to help

customers save costs through increasing

our productivity during the current

challenging economic

circumstances."

Gottwald's representatives

for

DP World are

Dirk Stoll and

Fawaz Al Kaati.

The two representatives

are

convinced that

it is thanks to

such key aspects

as efficiency and

cost effectiveness

that global players such

as DP World with terminals

in many different countries

and continents keep opting

for Mobile Harbour Crane

technology made by Gottwald

as a matter of preference.

G solutions 01/2009
---
Sales & Service Centre Belgium

Reorganisation Provides Improved Customer Support

Gottwald Port Technology is in the

process of adapting its worldwide Sales

& Service organisation to take account of

changing customer needs and to be able

to respond quicker and more efficiently.

A key role is being played during this

reorganisation phase and the associated

closer contact to our customers by

one of Gottwald's largest and most

important Sales & Service facilities

worldwide: that in Antwerp, Belgium.

New Manager:

Wannes de Wit

The reorganisation

process here is directly

linked to a key staffing

change. With effect

from 1 December

2008, Mr Wannes De

Wit has held the new

post of "Head of Sales

& Service Centre

Wannes de Wit, Belgium". "Customer

Head of Sales & Service satisfaction and prox-

Centre Belgium imity to the customer

are at the top of my

priorities list", emphasises the 47-yearold

Belgian. His objective is to put this

philosophy into practice not only at the

large maritime ports such as Antwerp,

Zeebrugge and Gent, to which locations

Gottwald has already supplied over

100 Mobile Harbour Cranes in four

decades. Indeed, he envisages putting

the new Gottwald Sales & Service

approach to work right across Belgium –

In view of the great importance of

customer-orientated service activities,

including the reliable supply with

spare parts and tailored Service

Packages, Gottwald is

taking on additional

staff. This means that

there are new staff

members in the service

sections in Brazil

and the United States.

Gottwald's service

team in Brazil has

been strengthened

with effect from

17 November 2008 by

Benito Casado, 40, a

new staff member. He is qualified as

an electrician, is married with two

children, and can call on many years'

www.gottwald.com

which means it would include the river

ports along the main inland waterways,

such as Liege, Namur and Charleroi.

De Wit knows what he is talking about.

In the last fifteen years, he has successfully

held numerous management positions

in intermodal, trimodal and river

barge terminals in Belgium.

In his leisure time, Wannes De Wit

enjoys family life and is also passionate

about the local basketball club, the

"Antwerp Giants", for whom he also

takes on PR work.

Antwerp Base

Antwerp, located on the

estuary of the River Schelde,

has a highly sophisticated

terminal structure and is not

merely Belgium's gateway to

the world but also boasts by

far the greatest density of

Gottwald Mobile Harbour

Cranes with no less than

110 machines at last count.

Against this backdrop, it

was an obvious move, some

years ago, for Gottwald to

set up a service base in

Antwerp, the largest Belgian

maritime port, to ensure the

availability of this, the largest

fleet of cranes.

Besides providing a comprehensive

range of services for

experience in service work for a number

of companies involved in electrics and

electronics. He also speaks both

Portuguese and English.

As the largest country in South

America, Brazil is also our

biggest market in that region.

To date, Gottwald has already

installed 25 Mobile Harbour

Cranes in 10 ports there. To

ensure maximum availability

of our handling machines,

we offer a range of service

activities, controlled for the

Brazilian market from Sao

Paulo. By adding Benito

Casado to the team,

Gottwald has strengthened its

presence there.

this fleet of cranes, Gottwald's facility

in the Port of Antwerp also assembles

Mobile Harbour Cranes and subjects

them to thorough testing on a

7,000 sq. m assembly and test ground

before they are dispatched by RoRo

or heavy-load vessels via the adjacent

deep-water berths to their destinations

worldwide. In future, a team made

up of a good two dozen experienced

employees will be controlling all

sales & service activities for the

entire Belgian market from here.

New Service Staff

in Brazil … … and the

United States

In Tampa, Florida, USA, Gottwald has

also boosted its service capacities since

January 2009 with the addition of

John Santos, 57. He is an engineering

graduate, is married with a son and

is now employed as Service Manager,

which means he is responsible

for organising service

activities and the supply

of spare parts in North

America, Mexico and

the Caribbean. John

Santos may be familiar

to some of our readers

since he has already

supported some

Gottwald customers

in the USA as an

"Equipment and

M & R" manager.

"I am a team player and my credo is

communication", emphasises Wannes

De Wit, the new Manager of the Belgian

facility. His objective is not only to add

his own managerial and technical abilities

and high levels of motivation to

the existing skills of his well qualified

staff, but to ensure, by creating closer

links between his team, the customers

and Gottwald as an organisation, that

these cargo-handling customers also

benefit from the new structure.

In that capacity, he monitored and

supported maintenance and repair

work for machines in both intermodal

handling and at maritime terminals.

As a fluent speaker

of English, Spanish

and Portuguese,

John Santos has

spent some of his

professional career

in Central America

and benefits in his

work from his experience in a number

of different cultures.

Gottwald's Service Director,

Klaus Berling, commented

on the new employees:

"We are pleased to have

selected such capable people

for our activities in Brazil

and the USA, where our

installed crane fleets are

growing and we are sure

they will contribute with

their corresponding service

teams to maintaining our

high standard of service."

3
---
The Future is Looking Intermodal

Gottwald's COO and CTO, Dr. Mathias Dobner, interviewed for "G solutions"

Dr. Mathias Dobner, Chief Operating Officer

and Chief Technical Officer of Gottwald Port

Technology

4

Innovative, automated

solutions using Gottwald

ASCs and AGVs for

intermodal cargo

handling

Dr Dobner, for many decades, terminal

operators have been relying on

innovative crane technology provided

by Gottwald, the word 'Port' is

even included in the company's

name. The latest Portal Crane has

been sold to a Swiss rail terminal

operator, without a coastline in

sight. Is Gottwald changing to a

different industrial sector?

That really cannot be called a change in

the industrial sector. Even though the

current crisis has interrupted the steady

increase in container traffic, in the long

term that increase will have a major

impact on cargo-handling locations.

That includes rail terminals, like the

one in Frenkendorf in Switzerland,

which we will, indeed, be supplying

with an intermodal crane, as we did

some years ago. We have already

gathered considerable experience with

large rail terminals in the hinterland.

Just think of the large Hupac terminal

near Milan, for example, which we

equipped with no less than six Portal

Cranes from our WSG series.

The increasing number of containers

building up in the

maritime ports

somehow has

to be transported

to the

hinterland. This

cannot be dealt with

by adding more and more

road trucks. Quite simply

because the roads are becoming

jammed up not only in Europe but

also in other parts of the world. So

alternative methods of transport are

needed to take over, like the railways

and inland shipping routes. As a result,

the future lies in increased intermodal

traffic with rail terminals taking on a

key role.

What does Gottwald have to offer

that's so different?

Well, the fascinating thing about our

system solutions is that the handling

concept originally designed for use in

maritime ports can be transferred to

rail terminals. Today, far too little container

cargo is transported by rail. First

of all, the level of rail usage is lower

than it could be, which means that

existing transport capacities are simply

not being used effectively. Secondly,

there is currently no suitable handling

equipment available in intermodal

cargo handling between rail and road

vehicles to enable railway trains to be

quickly and efficiently processed within

strict time windows. However this is

the case with cargo handling on ships

where it is essential to bear in mind

the tides and where, as a result, the

productivity of handling machines is

of the utmost importance.

The professionalisation of cargo handling,

which has already taken place in

maritime ports, is now an essential

factor for rail traffic and rail terminals,

in particular. For this reason, Gottwald

has developed pioneering new

concepts for intermodal

handling on the basis of its

existing crane, transport

and software technologies

which are expected to provide

intermodal handling with a

boost by means of automated rail

terminals. This whole concept will be

based on our ASC and AGV solutions,

proven in leading maritime terminals,

which will enable customers to provide

faster handling in shorter times and

thus prevent rail bottlenecks occurring

in the first place.

Even before the current financial

crisis, operators of maritime and

river port terminals were already

wondering how they could become

more cost efficient. What answers

can Gottwald offer here?

The objective is to increase the

amount of cargo handled overall

while reducing the time needed to

do it, which improves productivity.

This can be achieved not only by applying

automated solutions but also in

conventional handling environments.

Take, for example, our Generation 5

Mobile Harbour Cranes where, compared

with the previous generation,

we have significantly increased the

hoisting speeds, which are crucial in

terms of handling performance for

loading and unloading ships.

Do you also take environmental

protection into account?

Cost effectiveness and environmental

friendliness are, indeed, two sides

of the same coin. Lower energy consumption

also means lower emission

of exhaust fumes. We already have a

clear lead on the competition in terms

of environmental compatibility. Take,

for example, the consistent use of

electric drives throughout our entire

range of machines. Add to these the

new technologies for energy recovery

which will make our Mobile Harbour

Cranes, in particular, more efficient.

These technologies benefit not only our

latest models but will also be available

for existing cranes in the field once we

have developed the retrofitting packages.

What about automated machines?

Our ideas for emission-free

terminals are nothing short

of visionary. One

decisive step along

this path is

our new

Due for

testing soon: the

prototype of the first

Gottwald Battery AGV

battery-driven Automated

Guided Vehicle (AGV). The first

prototype of this vehicle, whose battery

cells will provide for a shift of eight

hours and which does not produce any

exhaust gases and, on top of that, is

remarkably quiet, is well on the way to

completion. In the coming weeks we will

be running tests in Düsseldorf and will

then be integrating the prototype in a

customer's AGV fleet to see how it

fares in live tests. When the batterypowered

system is ready for the market,

G solutions 01/2009
---
it will include a battery-change robot

which will be able to replace flat batteries

with charged ones in a fully-automated

process round-the-clock. There

will not be any time lost for recharging.

And, if you ask me, a uniform battery

replacement system could well be a solution

for electrically powered cars. But

that really isn't our field of business.

What else are you working on?

On our Mobile Harbour Cranes. In

developing Models 6, 7 and 8, the

many variants of Generation 5, Gottwald

consolidated its leading market position

in particular with regard to large, highperformance

cranes for all the world

to see. Having placed considerable

research & development emphasis on

the larger classes of crane, we will

now be focussing on the medium to

small capacity ranges. The aim here is

to develop state-of-the-art, environmentally

aware Mobile Harbour Cranes,

powered by energy-saving diesel-electric

technology, which we will tailor specifically

to meet the needs of smaller maritime

terminals and river ports. This is

a logical step in view of the increasing

importance of river and rail terminals

in handling the flow of goods.

With these models, we will also be

drawing on the proven technology of

our modular design principle, as we

did with Model 4, which was launched

at the end of 2007, to ensure a high

degree of standardisation. In this way,

we manufacture electrics rooms, for

example, and many other components

for the machinery house, that are independent

of the actual crane model. The

decision as to whether these parts are

then included in a Model 4 crane or

another model is not taken until a crane

is completed in response to a customer

order. This modular principle enables us

to offer customers a broad range of

variants while, at the same time, keeping

delivery times short – which is in

line with our slogan, "You Name it, We

Crane it". After all, without wishing to

be too modest, we still sell a considerable

number of Mobile Harbour Cranes of

12 to 14 variants every year. This alone

means we have to optimise production

processes to keep costs down.

Dr. Dobner, many thanks for taking

the time to talk to us.

www.gottwald.com

Better Skills Improve Productivity

Customers Benefit from Gottwald's Training Courses

Consolidating knowledge to ensure

confident use of Gottwald Harbour

Cranes is the objective of Gottwald's

range of training courses, which is

offered by the company to maintenance

fitters and crane operators

employed by terminal operators.

The fact that the number of participants

on Gottwald's training courses has

doubled in the last five years is positive

evidence that customers are taking up

the offer. Gottwald's Head of Training,

Christoph Hermreck, explains: "More

and more customers are recognising

the value of our training courses for

their work. They secure the maximum

possible availability, reliability and efficiency

of Gottwald Harbour Cranes.

In this way, customers get maximum

return on their investment."

Our range of technical training courses

includes training workshops for our

upgrade packages and crane operator

training workshops. The workshops,

generally held in English and tailored

to the number of participants (trained

in small groups), are held either at

Gottwald's state-of-the-art Training

Centre in Düsseldorf, Germany, or at

the customer's work site, which allows

crane operators to work hands-on on

"their" own machine. In all cases, training

is carried out by highly experienced

specialists.

Training on-site in the electrics room of a

Gottwald HMK 260 E Mobile Harbour

Crane operated by our customer BICT in

the Black Sea Port of Batumi, Georgia

Technical Training

This training programme, which is

specifically tailored to apply directly to

the Gottwald crane in question, provides

participants with in-depth, hands-on

knowledge of all aspects of the operation

and maintenance of the machines.

Training courses are divided into Basic

and Advanced levels and are aimed

at customers' employees involved in

maintenance work, fault diagnosis

and remedy. For example, we train the

location and remedying of faults in the

hardware and software using computer

simulators. As a rule, this training

workshop is offered when a customer

purchases a Gottwald crane but can

also be booked at any time.

Crane Operators

The training workshop communicates

handy hints and tricks that are useful

when operating a Gottwald crane and

is available on request. Apart from preventing

injuries to people and damage

to the machine, training increases cargo

handling performance. Take this calculation,

for example: if a crane operator

succeeds in moving one more container

per hour and if we assume a revenue

of € 100 per

container and an

annual volume of

2,000 operating

hours, the actual

improvement will be around € 200,000

per year with no change in staffing

levels.

Online Information

In the future, Gottwald's customers

will have the opportunity to call up

detailed descriptions of individual

training workshops online and to

register for them via the new Gottwald

customer extranet portal. The portal

is expected to go live this summer.

We will keep you informed closer

to the time and provide feedback

in future editions of G solutions.

By applying state-of-theart

teaching materials and

methods, the instructors

can ensure that the training

workshops communicate

comprehensive expertise

and know-how

Gottwald's Head of Training,

Christoph Hermreck

If you have specific queries about

Gottwald training, please contact:

Christiane Klassen / Christoph Hermreck

Phone: +49 211 7102 - 36 73

Fax: +49 211 7102 - 53 67 3

e-mail: christiane.klassen@gottwald.com

christoph.hermreck@gottwald.com

Participants and instructors pose for a photo

during a technical training session at

Gottwald's facility in Düsseldorf, Germany

5
---
More Powerful Cranes on the

Associated Terminals Christens Its Second Gottwald Floating Crane in New

Associated

Terminals – One

of the Largest

Midstream

Stevedoring

Companies on the

Mississippi River

Founded in 1990 as a provider of

transloading services on the Mississippi,

Associated Terminals LLC (AT) today

offers logistical services which include

the total coordination of cargo movements

to provide customers with a

complete transport and stevedoring

package. The majority of AT's cargo

transloading activities occurs on the

lower Mississippi River at twelve

midstream transfer facilities. These

systems allow for the simultaneous

two-sided discharge of deep draft

ocean vessels on the lower Mississippi

River. These activities are complimented

by dockside and on-site operations

at the Port of South Louisiana and

the Port of St. Bernard where AT

serves as the exclusive operator. The

midstream unloading locations are

serviced by AT's fleet of twelve barge

mounted stevedoring cranes, including

two Gottwald Floating Cranes.

The Cranes' Namesakes

The two Gottwald Floating Cranes operated by Associated Terminals (AT),

the HPK 330 EG and the G HPK 6400 B, are named after two team members

of the AT family.

Glenn Schexnayder, Senior Vice

President of Sales and the namesake

of the HPK 330 EG, is said to be the

face and voice of AT to customers

across the United States and in

countries around the world. He is

one of AT's longest-serving team

members, and he exemplifies the

level of work performed on a daily

basis by his many colleagues.

Tom A. Lange, Senior Vice President

and the namesake of the G HPK 6400 B,

is said to be a trusted and true friend

to the entire AT family, a great leader,

especially committed to promoting the

business and safety in the workplace.

He came up with AT's slogan: "The

ability and attitude to accomplish

anything".

6 G solutions 01/2009

The new G HPK 6400 B

Floating Crane against

the skyline of New

Orleans
---
Mississippi River

Orleans Style

The Mississippi, mother of all rivers.

Day in, day out, along this economically

crucial US waterway, ocean-going ships

and river barges move thousands of

tonnes of cargo up and down the river.

The stevedoring companies' ability

safely and efficiently to offload, onload

and move cargo with the help of floating

cranes is a vital part of this region's

economy. But technology moves fast

and many floating cranes in use today

have become dated. On the other hand,

new floating cranes are not easily available

on the market. They often have to

www.gottwald.com

Gorgeous weather, a brass band, an

enthusiastic crowd of people on the

Mississippi River in New Orleans – with

the riverfront serving as a backdrop,

Associated Terminals LLC (AT), one of

the largest stevedoring and terminal

management firms in the Gulf South,

christened its twelfth Floating Crane,

the T. Lange, in an impressive ceremony

held on 22 January 2009. The crane, a

Model 6, G HPK 6400 B machine from

Gottwald's Generation 5 series, is AT's

second Floating Crane from Gottwald.

"What a beautiful day," said David

Fennelly, President of AT, and he

reminded the audience of the sunny

day, 5 January 2007, when the company

inaugurated its first Gottwald Floating

Crane, the Glenn S, a Generation 4,

HPK 330 EG. "This has something to

do with the luck of the Irish," Fennelly

said with an eye on the weather, then,

introducing the latest addition to the

AT crane fleet, he asked the audience

to feast their eyes on the G HPK 6400 B.

"Let's have a round of applause for all

the people who helped to put this

amazing crane together. This is a very

big day for the Associated Terminals

family," he enthused.

Enhanced Performance with

Gottwald Floating Cranes

Adding the two Gottwald Floating

Cranes, Glenn S. and T. Lange, to its

fleet has put AT in a position to offer

enhanced services and performance

to its worldwide customer base. Both

cranes, sitting atop newly refurbished

barges, are the most powerful cranes

in AT's fleet and among the most

powerful on the Mississippi River.

Following the invocation and an opening

prayer by Deacon Richard Henderson,

Kerry Robertson, AT's Senior Operations

Manager, highlighted some technical

details of "this impressive looking crane",

the four-rope grab G HPK 6400 B from

Gottwald with its diesel-electric drive,

Gottwald Floating Cranes – Raising Performance Levels

be custom-made in complex and

costly single-unit production.

In order to respond to the ever increasing

demands, Gottwald has adapted its

proven Mobile Harbour Crane technology

for use on barges and is now

riding on a wave of success with this

unique concept, developed for fast,

easy and cost-effective production of

Floating Cranes that can be customised

according to customer demands.

Major handling operations such as

Associated Terminals are extending and

L to R: Bob Histon, Dr. Robert

Wassmer, David Fennelly, Tom

Lange, Garry Poirrier

and underlined

its handling

rates of up

to 1,200 tph,

164 foot boom

length, operator

eye level of 75 feet above the waterline,

self-lubricating and self-fuelling

system as well as the cameras that

allow the operator to look deep into

the ship holds for accurate bucket placing.

"Thank you Gottwald, Dr. Robert

Wassmer, Bob Histon and the whole

crane group for a great job, for the

delivery, assembly and commissioning

of this wonderful piece of equipment.

Thank you very much," Robertson said.

"With commitments like this, we ensure

our place here in the stevedoring business

on the Mississippi River for a very

long time to come."

New Equipment Signals Growth

Capt. Lincoln Stroh, the Coast Guard's

New Orleans sector commander, who

presented the U.S. colours, stressed

the importance of the investment in

new equipment with regard to improved

efficiency and safety and the future of

this economically important waterway

and the region's economy. "New equipment

signals growth," he emphasised.

Also participating in the ceremony was

Dr. Robert Wassmer, CEO of Gottwald,

modernising their fleets with the new

Gottwald cranes and regard them as a

significant technological advancement

for their cargo handling business.

Gottwald Floating Cranes – like Gottwald

Portal Harbour Cranes – benefit from

the proven, leading-edge technology

used in some 1,300 Gottwald Mobile

Harbour Cranes around the world. In

fact, all three crane types – mounted

on barges, rails or rubber tyres – are

based on the same standardised concept

and use the same assemblies

who handed over a symbolic key to

Tom Lange, after whom the crane is

named. "We are very honoured by

the trust you place in our products,"

he said. "This is the second Gottwald

crane here in the family of AT and the

eighth Floating Crane from Gottwald

on the Mississippi River. We understand

very well that this trust in our

products is also an obligation to serve

our customer AT and its cranes in the

best way during the cranes' lifetimes

and make sure that they always produce

the productivity the customer expects."

Making Dreams Happen

In preparation for the official christening,

Reverend Matthew Clark said a prayer

to bless the crane and all the staff at AT.

Finally, before breaking a champagne

bottle with his wife Maureen, Tom

Lange, Senior Vice President of AT

and the crane's namesake, came to

the podium. "We have come up with

the right selection," he said. "Certainly,

we had a lot of good experience with

Gottwald." And he concluded: "As

Thomas Jefferson once said, I certainly

prefer the

dreams of

the future

rather than

the history

of the past.

And the

dreams of

the future

is what we

are here to

see today

and what

we are here

to make sure

happens."

from the slew ring up, thus all offering

the same renowned performance.

Operators profit from all the benefits

of a proven crane series, series components

that ensure short delivery leadtimes,

a high degree of reliability and

long-term spare parts availability.

Gottwald Floating Cranes are based on

crane models manufactured according

to a uniform design principle and sharing

many common parts; subsequently

adapted to waterway operation and

combined with a customised barge.

7
---
The Well-Travelled Banana

Why Does Handling Fruit Make Such Tough Demands on Cranes?

When little Svenja, who lives in Brussels,

takes a bite of a freshly peeled banana,

she can hardly be expected to know,

at the tender age of five, what logistical

efforts were necessary to get that

banana to her. She will not, for example,

have any idea that the banana has survived

a journey of several thousand

kilometres during which its temperature

has been carefully monitored and

that a fast Gottwald Mobile Harbour

Crane made a major contribution to

ensuring the quality of her banana.

The following story shows how the

journey unfolds.

It all begins in the "Banana

Capital of the World"

About 1.2 m tonnes of

these fruit are imported

into Belgium every year

to cater to the

needs of both

the Belgians

and the

neighbouring European countries. A

major proportion of the fruit destined

for Europe is handled at ports like

Antwerp and Hamburg, for example.

The greater part of these deliveries

are bananas from Ecuador in South

America, neighbouring Colombia and

the ACP countries. From Machala in

Ecuador, the "Banana Capital of the

World", via its port, Puerto Bolívar, more

than 4.6 m tonnes of them set off

every year on their journey through the

Panama Canal and across the Atlantic

bound for Europe. The journey covers

over 10,000 kilometres and

takes around three weeks.

A Fruit with a Pedigree

Today, the most important

banana from an economic viewpoint

is the 'Cavendish'. It is named after

William Cavendish, the sixth Duke of

Devonshire (1790-1858), who cultivated

banana trees from China in his gardens

in England around 1800. This variety

of banana tree can be planted closer

together than other types. Since its

introduction to the South American

plantations in the 1950s, yields for a

given area have doubled. One disadvantage

of Cavendish bananas, however,

is that their skins are relatively

thin and this makes them highly sensitive

to jolts and pressure. As a result of

their sensitive disposition, bananas have

to be handled with great care during

the packaging stage, in transit and

when being loaded and unloaded.

Temperature Is a Crucial Factor

And there is another factor that is

crucial when handling bananas: speed.

European traders like their bananas

to be yellow with green tips, or

ripeness grade 4. This quality can

only be achieved if the ripening

process is suspended for the

duration of the transport

across the Atlantic, which

takes several weeks.

To this end, the

bananas

have to

be

maintained at a constant temperature

of around 13° Celsius

on board the vessel and at the

handling yard. This temperature

has to be exactly kept to

throughout the loading process.

For this reason, bananas are

loaded in the Port of Puerto

Bolivar at night, when the outside

temperatures are lower.

At the same time, damage

from the heat can be minimised

if the bananas are loaded on

board the special ships at the

shipping port and unloaded at

the import terminal as quickly

as possible. For the terminal

operators, this means they

need machines for fruit handling

that are fast, reliable and

gentle to sensitive cargo. This

is the reason why stevedoring

companies in Antwerp, Hamburg,

Dover, Portsmouth and other

European ports prefer Mobile

Harbour Cranes made by Gottwald

for handling such sensitive cargoes as

bananas. These include the HMK 90 E

Mobile Harbour Crane, to date the

smallest member of Gottwald's dieselelectric

crane family, which can move

up to 1,600 fruit pallets per shift. This

puts the high-speed HMK 90 E, however

small it may be, firmly alongside

the new Generation 5 cranes which,

besides offering a considerable choice

of variants and excellent service friendliness,

also boast high working speeds

to achieve outstanding handling

rates – not just for bananas –

but also for a wide range

of general

cargoes.

Value Quadrupled

on the Journey

Across the

Atlantic

The economic

importance of highspeed

fruit handling,

during which the cold

chain must not be interrupted,

can be seen from the

increase in the value of a banana

during its passage to Europe. At the

port in Ecuador, a kilo of bananas is

valued at around 35 eurocents. As

a result of the transport by ship

across the Atlantic, its value

increases four-fold. At a

Fleet of Gottwald Mobile Harbour Cranes, including

an HMK 90 E handling fruit at the BNFW terminal in

Antwerp, Belgium

Belgian supermarket, a kilo of bananas

will cost around € 1.40, provided it has

exactly the right grade of ripeness.

It is doubtful that little Svenja is at all

aware of the effort Gottwald has put

into getting a few of those delicious

fruit into her lunchbox at the right

quality standard.

Gottwald Mobile

Harbour Cranes

are ideally suited

to handling all

manner of general

cargoes including

steel coils and ingots

and fruit pallets loaded

with bananas, citrus fruits

and kiwi fruits. Depending on

their field of operation, they can have

high lifting capacities at large working

radii or very high working speeds,

when handling bananas, for example,

where the goods must be kept at a

low temperature.

8 G solutions 01/2009
---
Bulk Handling on the Open Sea

Gottwald Floating Cranes Advancing into New Dimensions

Gottwald's first G HPK 8200 B Floating Crane

operated on the open sea. A similar machine will

be operated by PT Indo Straits 4 km (2.5 miles)

off the Indonesian coast.

■ 63-tonne grab curve up to 34 m radius and

50 tonnes up to a radius of 43 m

■ Barge dimensions: 75.7 m x 24.5 m x 5.4 m

Gottwald Floating Cranes also cut a

good figure on the open sea, e.g. in

winds up to force 9 Bft and significant

wave heights up to 2.5 m. The

G HPK 8200 B Generation 5 Floating

Crane, a Model 8 variant, most recently

supplied to PT Indo Straits – a wholly

owned subsidiary of Straits Asia

Resources Ltd – engaged in marine

works and contracts, including coal

barging and transhipment, is scheduled

to start commercial operation

off the Indonesian coast by June of

this year. This is the second Model 8

Floating Crane to take Gottwald's

Floating Crane technology, derived

from proven Mobile Harbour Cranes,

to new places. Like the first crane for

open-sea use, which has also been

www.gottwald.com

operated successfully since 2007 by

PT Puteri Borneo Company 35 km

(22 miles) off the Indonesian coast,

the one for PT Indo Straits is destined

for transhipping coal from river barges

to ocean-going vessels, this time 4 km

(2.5 miles) off the coast.

While the crane was built in Gottwald's

works in Düsseldorf, the barge was

manufactured locally. In its Floating

Cranes, Gottwald combines its crane

know-how with the expertise of thirdparty

barge manufacturers. Customers

can either order the barge themselves

or appoint Gottwald to manage the

whole project as a general contractor.

The size and design of the barge can

be adapted to the customer's own

Gottwald Floating Cranes –

the Right Package From a Single Source

Crane

Crane Crane pedestal

Crane pedestal

Gottwald Floating Cranes are obtainable

in all the different Gottwald

Harbour Crane variants, so the concept

is very flexible, covering all ship

sizes, cargo types and throughput

requirements. Gottwald offers a wide

range of possibilities: from the supply

Crane Crane pedestal

Crane maritime

classification

Crane maritime

classification

Barge design

package

Crane

Crane Crane pedestal

Crane maritime

classification

Barge design

package

Barge

Turnkey Solution

of a crane only up to complete

turnkey floating crane projects,

including the crane, the crane

pedestal, crane maritime classification,

and a barge design package

and the barge.

requirements. In addition to

the crane parameters, any

further equipment and resources

required by the operator must be

taken into consideration, e.g. winches,

storage area for lifting gear, tools

and other material and, if necessary,

accommodation for the crew. The

barge of the G HPK 8200 B is designed

for long offshore stays, fitted with

comfortable accommodation for up

to 24 persons. And, as with the crane,

the barge is also Lloyd's Register classified.

In Kalimantan, Indonesia's region of

Borneo, coal resources are abundant

and most of the coal production goes

to the export market. Due to the lack

of sufficient harbour facilities able to

accommodate large bulk carriers, most

of the coal is shipped by small barges

and transloaded onto large vessels up

to Capesize on the Java Sea.

Proven Technology Adapted to

Open-Sea Conditions

The open-sea conditions under which

the Floating Crane operates are particularly

demanding on the steel structure

and other structural elements. The

wind pressure and swell, for example,

give rise to additional heeling moments

along with increased motion of the

crane. Gottwald accounted for these

severe conditions by modifying the

design of the Floating Crane – including

a reinforced boom design and an

increased number of slewing gear

drive units.

A Class of its Own – Crane

Classification by Lloyd's Register

As with the first crane for open-sea

use, the one for PT Indo Straits has

also been granted Lloyd's Register

Certification, this time for significant

wave heights of 2.5 m. The entire

Singapore, December 2008:

Klaus Roehrig (left), Gottwald's

Regional Director, handing over

a model of the new G HPK 8200 B

Floating Crane to Archie Enriquez,

Straits Asia's Director of Marketing

and Francis

Ng Teck Jin,

Business

Development

Engineer of

Straits Asia

Resources (not

in the photo).

PT Indo Straits is

a wholly owned

subsidiary of

Singapore listed

Straits Asia Resources Ltd., which is

primarily engaged in thermal coal

mining in Kalimantan. PT Indo Straits

is responsible for coal barging and

transhipment from the mines of

Straits Asia and Third Party mines.

crane construction was assessed and

approved by Lloyd's Register. This

enables the owner of the floating

crane to apply for the special feature

class notation "LA". This classification

confirms that the crane meets the

highest demands in terms of materials

used, its overall mechanical and structural

design and construction (e.g. steel

structure, machinery and electrical

installations) and is thus compliant

with Lloyd's Register "Code for Lifting

Appliances in a Marine Environment".

The Lloyd's Register approval procedure

included a complete check of the

crane design, components structure as

well as surveys during manufacturing

and commissioning, including special

non-destructive material tests.

A8 Classified

Thanks to their high crane classification

(A8 in grab operation) Gottwald

Floating Cranes, in terms of their

mechanical, structural and steel

design and their construction, are

designed for a significantly longer

service life than cranes designed as

shipboard cranes. The high classification

ensures a long service life even

for floating cranes which are subject

to additional forces, such as listing,

trimming and waves.

9
---
Good Reasons for Electrical Drive Concepts

Why Gottwald Prefers Diesel-Electric Drives for its Mobile Harbour Cranes

Efficiency is significantly

improved if an external

power supply from the

terminal mains is installed

The drive systems used in Mobile

Harbour Cranes have not suddenly

attracted the attention of terminal

operators just because there has been

an increase in environmental awareness.

It has always been of interest to compare

the systems available in terms of their

operation, controller, fuel consumption

and ease of maintenance.

High Efficiency Rating

The discussion about the advantages

or disadvantages of drive systems in

Mobile Harbour Cranes and which one

is "right" has always been and continues

to be a hotly debated issue, while

the use of electrically powered

systems is well established in

non-mobile handling machines.

This discussion is all the more

surprising since it is the very

facts laid down by the laws

of physics that speak in

favour of diesel-electric

drives and produce higher

degrees of efficiency. This is

because these drives have

fewer components arranged

in series. The result is

reduced fuel consumption

and exhaust gas emissions,

which produces a corresponding

reduction in operating

costs and takes a load off the

environment.

Diesel-Electric

Right from the Start

Gottwald is not only acknowledged

as the inventor of the Mobile Harbour

Crane, it is also the only world-class

manufacturer of Mobile Harbour

Cranes to commit itself from a very

early point and for very good reasons

to the diesel-electric drive system. In so

doing, the company has consistently

applied electrical drive technology

throughout its entire range of products.

Smooth Operators

However, it is not merely the high

degree of efficiency of electrical drive

systems that is so favourable for use

in Mobile Harbour Cranes.

The power generation technology

built into the superstructure consists

of a high-grade diesel engine and

generator and produces 3-phase

current which is converted to DC by

a rectifier and this DC is then used

to power the hoists and slewing gear

motors. Using electrical energy ensures

that the main crane motions, hoisting

and slewing, for example, can be

accelerated and decelerated very

smoothly – an advantage inherent in

electrically powered drive systems that

makes the work process easier and

more pleasant for the crane operator,

which is reflected in higher handling

rates.

Potential for Improving

Efficiency

The fact that the decision

on the type of drive preferred,

once it has been

taken, is a crucial one in

terms of maximum flexibility,

availability and the

best possible energy-saving

potential in the future, is

shown twofold.

Diesel-electric drive systems

offer considerable potential

as regards reducing diesel

fuel costs, which makes

them particularly interesting

to operators with high

expenditures on fuel. If a

terminal operator decides

not to use the on-board

drive system, i.e. the diesel

engine, but to make use of

the electrical mains available

on-site at the terminal,

the diesel engine used in

both systems is bypassed. While in the

diesel-electric system this produces a

further increase in efficiency – because

the losses inherent in the generator as a

drive component are, logically, avoided –

the diesel-hydraulic drive requires yet

more components as a result of fitting

the additional, necessary, electric motor.

In this way, the efficiency of that system

is not improved at all, it is reduced. At

the same time, with Gottwald's Mobile

Harbour Cranes, the energy recovered

from the crane's braking and lowering

motions can be returned to the harbour

mains.

Electrically driven hoist, arranged in a U shape

in Gottwald Mobile Harbour Cranes

But even where the option of feeding

external power is either not possible

or not desired – Mobile Harbour Cranes

frequently work autonomously throughout

the terminal area even if there is

no specific quayside infrastructure –

Gottwald's diesel-electric Mobile Harbour

Cranes will, in the near future, be able

to store the excess power generated

by their working and braking actions

on-board for a transient period, thanks

to the use of state-of-the-art HiCaps,

and this energy can then be returned

to the system, which not only saves

fuel but also means that the diesel

On-board power station: diesel-generators with an installed output of up to 1,656 kW

10 G solutions 01/2009
---
engines used can be ones with a lower

output. This technology is already

being used to an increasing extent for

hybrid drives in the automotive industry.

'G solutions' will keep readers informed

of our progress.

More Advantages – This Time in

Maintenance

The diesel-electric drive offers many

more benefits that are very much

appreciated by operators. It is highly

robust and equally at home in very

cold and very hot ambient conditions.

The much reduced number of

components in the drive train almost

automatically improves reliability since

there are fewer parts to fail. Fewer

components means reduced maintenance

work and fewer downtimes.

It also means increased availability

which equates to higher productivity

and a corresponding improvement

in cost effectiveness.

A Bestseller for the Black Sea

The Port of Varna Expands its Capacities with a G HMK 6407

"The future looks

promising for the

Port of Varna.

We are very

pleased that this

G HMK 6407 will

be making such a

valuable contribution

to its future

successes", emphasised

Heinz Hippler,

Gottwald's Regional

Sales Manager, as

he presented the

symbolic key to

Danail Papazov

(foreground, right)

in Varna, Bulgaria

If proof were needed that Gottwald's

fleet of Mobile Harbour Cranes on the

Black Sea is growing, this was provided

on 3 November 2008 in the Port of

Varna, Bulgaria. On that day, Danail

Papazov, General Manager of the

largest port in the region, invited

numerous people to the inauguration

ceremony for its latest addition, a

Gottwald G HMK 6407 Mobile Harbour

Crane. The G HMK 6407 is a Model 6

variant, the current bestseller in

www.gottwald.com

Gottwald's Harbour Crane portfolio,

of which the company sold no less

than 47 worldwide in the last year.

"As a Black Sea port, Varna is increasing

in importance. The annual handling

volume has increased yet again and

stood at around 200,000 TEUs in 2008.

With our new Gottwald Mobile Harbour

Crane, we have the best possible

solution to handle this expansion",

explained Papazov.

Electricity Works Best

At Gottwald, reliability, cost effectiveness

and environmental compatibility are the

top priorities. This is why the company

decided early on to concentrate on

electrical drive technology, as borne

out by these key arguments: reduced

operating costs, increased reliability

and maximum flexibility – decisive criteria

for crane owners.

Terminal operators with an eye on the

environment and cost effectiveness,

service friendliness, ease of operation

to promote higher cargo handling

performance by crane operators, are

recommended to go electric with

Gottwald.

Smooth acceleration and deceleration –

an advantage inherent in electrically

powered drives that makes work easier

and more pleasant for the crane operator

and generates higher handling rates

For Handling Containers and

General Cargoes

The new Mobile Harbour Crane at

Varna is a 100t machine and has a

maximum hoisting speed of 90 m/min –

which guarantees high handling

rates. At this terminal, which is frequented

mainly by feeder vessels, the

G HMK 6407 will be used for handling

both containers and heavy-duty general

cargo.

Gottwald Establishes a Firm

Foothold in Bulgaria

At its new location, this

G HMK 6407 is in good

company. Gottwald has

already sold no less than

32 machines to locations

around the Black Sea. A large

proportion went to Russia, but

terminal operators in Georgia, the

Ukraine, Romania and Turkey also

place their trust in Gottwald technology.

This new purchase in Varna is proof

that Gottwald products are now also

becoming established in Bulgaria.

Back in 2005, Danail Papazov ordered

a Gottwald Mobile Harbour Crane for

the terminal, in those days it was an

HMK 300 E. That was the first Gottwald

Gottwald now concentrates exclusively

on using electrical power for its drive

technologies but, in the course of

earlier product generations, has also

gathered profound understanding

of diesel-hydraulic drives, amongst

others, and can, as a result, claim to

be well informed about the benefits

and drawbacks of the various systems

available. We have determined that

electrical drives in Mobile Harbour

Cranes result in a significant saving

in diesel fuel compared with dieselhydraulic

systems.

Terminal operators who have

experience in both types of drive

from Gottwald, e.g. in AGV

Automated Guided Vehicles, have

reported that, after the change from

diesel-hydraulic to diesel-electric

drives some years ago, they have

often noticed considerable savings.

Mobile Harbour Crane ever ordered

for Bulgaria – and the excellent results

achieved with that crane were reason

enough for the terminal to opt, once

again, for Gottwald. And so, there is

now another Gottwald crane, this

time a G HMK 6407, hard at work

in Bulgaria.

11
---
Gottwald in Japan

It's the Small Things That Make Big Things Happen

Most popular Gottwald

crane in Japan: HMK 170 E

Mobile Harbour Crane

handling containers at

Ofunato Container Terminal

Mobile Harbour Crane

Sales/Service Station

Fukuoka

Karatsu

Miike

Shimonoseki

12

JAPAN

Hiroshima

Takamatsu

Iwakuni

Satsuma-Sendai

Ofunato

Tokyo

Made up of several thousand islands,

strung out in a 3,000-kilometre chain

from the icy border with Russia to the

tropical climes of Okinawa, Japan is a

country of extremes and contradictions.

Ancient religious monuments and

wonderful traditions – samurai, geishas,

bonsai and zen spirituality – on the

one hand. On the other hand: furious

modernism and state-of-the-art cutting

edge technology – mangas, stereos,

computers, cars, one of the largest

world economies with a high export

ratio, making it easy to forget that the

Land of the Rising Sun has only had its

borders opened to the rest of the world

for less than 150 years.

In 2003, Japan opened its ports to

Gottwald to take advantage of modern

Mobile Harbour Crane technology.

Gottwald managed to break into Japan,

which is one of the biggest crane

markets of the world, with an order

for an HMK 170 E Mobile Harbour

Crane – Gottwald's entry-level Mobile

Harbour Crane for professional cargo

handling. The crane is operated by

Matsuura Express Co. Ltd at Karatsu

Port of Saga Prefecture.

Gottwald – A Safe Port of Call

This first delivery paved the way for

the continuous development of

Gottwald's operations in Japan. To

date Gottwald has received orders for

seven Mobile Harbour Cranes from

Japanese ports on three of the four

main islands: Karatsu, Iwakuni, Ofunato

and Miike, Sendai, Shimonoseki and

Takamatsu have found safe anchorage

with Gottwald, interestingly all through

the multipurpose Gottwald HMK 170 E

Mobile Harbour Cranes designed for

economical handling of containers, bulk,

steel and other kinds of cargo. A success

that did not happen by chance.

Despite its opening to the West, Japan

is still a market difficult to penetrate.

In 1956 – at a time when Japan was in

a period of unprecedented economic

growth – known as the 'economic

miracle', Gottwald invented the world's

first ever Mobile Harbour Crane

(Generation 1) recognising that many

rail-mounted cranes in maritime ports

are not cost-effective and cannot be

but into effective use. With continuous

innovation, modifications and technical

advancements the Mobile Harbour

Crane has become and continues to

be a worldwide success, shown by the

ever newly emerging generations of

Serving Maintenance

Needs in Japan

Second-to-none ease of maintenance

and customer service is provided by

a dedicated sales and service organisation

at various locations throughout

the country: a representation in

Tokyo and service representatives in

Hiroshima and Fukuoka.

Gottwald Japan Contact:

Mr Shuzo Shibano

3-3-15-101, Takaido-higashi

Suginamiku 168-0072, Tokyo, Japan

Phone & Fax: +81 3 6762 2852

Mobile: +81 90 7414 7309

e-mail: s_shibano@kza.biglobe.ne.jp

cranes of different sizes and capacities

(currently Generation 4 & 5), setting

visible milestones in ports all over

the world. This philosophy, to create

products that create markets, to

show customers new ways in crane

technology and application – not to

follow them, coupled with understanding

the customer's industry

and culture is also what paid off

in Gottwald's efforts in Japan.

HMK 170 E – Meeting Japanese

Needs

The HMK 170 E Mobile Harbour Crane,

a Generation 4 machine, which is so

successful in Japan, is a preferred option

in ports which are heavily frequented

by feeder ships and other vessels with

widths of up to 20 metres. Equipped

with spreader, motor grab and other

types of lifting gear the crane is suitable

for many different applications

including container, bulk materials,

pallets and general cargo. The crane

relies on a diesel-electric drive which

guarantees excellent efficiency and

reliability.

Among Japanese ports the HMK 170 E

has gained popularity for handling

containers, but also for steel, bulk and

other kinds of cargo. It is frequently

employed in servicing international

freight traffic, but also for dedicated

feeder services.

Matsuura Express Co., Ltd., for example,

with its head office in Karatsu, Saga

Prefecture in Japan, offers a wide range

of services, among others carrier,

storage and port shipping services. The

port in Karatsu is a vital component in

Matsuura's integrated shipping system,

offering extensive service in collecting,

storing and distributing goods for sea

shipment. Prior to the purchase of the

Gottwald HMK 170 E Matsuura had to

rely on rented cranes. The HMK 170 E

has helped the terminal to increase

productivity and to meet the demands

Gottwald Service Representatives:

MEC Engineering Service Co., Ltd.

Mr S. Iwane

5-1 Ebaoki-machi, Naka-ku

Hiroshima 730-8641, Japan

Phone: +81 82 292 3259

Fax: +81 82 295 0123

e-mail: iwane_s@mec.hmw.mhi.co.jp

Chikuho Seisakusho Co., Ltd.

Mr K. Higashi

Fukuoka Branch

741-1, Matono, Shingu-cho, Kasuya-gun

Fukuoka 811-0196, Japan

Phone: +81 92 963 3161

Fax: +81 92 963 3121

e-mail: k_higashi_cs@yahoo.co.jp

G solutions 01/2009
---
of shipping lines worldwide for professional

cargo handling. The main application

at Matsuura is container handling.

In addition, the HMK 170 E Mobile

Harbour Crane also handles scrap and

other break bulk material including

steel plates.

Japanese terminal operators are more

than satisfied with Gottwald's HMK 170 E

Mobile Harbour Cranes, thanks to the

cutting edge technology, high handling

rates, high degree of equipment

reliability, second-to-none ease of

maintenance and customer service

provided by a dedicated sales and

service organisation at various locations

throughout the country.

Model 4 Attracting Japanese

Customers

But technology has advanced significantly

in recent years and Gottwald

sees this as an opportunity to raise the

Did you know?

Although the business is all about

cranes, it touches a wide variety of

diverse cultures worldwide, all of them

connected through their need of cargo

handling. So, in addition to talking

about crane technology, one keeps

in touch with foreign cultures.

Located on the eastern edge of the

Asian continent, Japan is still exotic

to many people living in the Western

hemisphere. Many think of a big,

strange country, which is far away,

when they hear the word Japan, but

from certain points of view it is not

so far removed from Europe. In terms

of size (approx. 378,000 km 2) it is for

example comparable to Italy (approx.

301,000 km 2). The size of population,

on the contrary, is typical for Japan's

www.gottwald.com

bar. Currently, for example, Gottwald

sees great interest with Japanese terminals

for its Generation 5, Model 4

cranes on hand.

The Model 4 crane with lifting capacities

of up to 100 tonnes is currently the

latest and most compact machine in

the Generation 5 series of Gottwald

Mobile Harbour Cranes. Equipped

for universal application, Model 4

cranes are the ideal starting point in

the 100-tonne class. This compact,

universally applicable handling machine

meets all the needs of universal and

special terminals and can service ships

up to Panamax class. A solution opening

up new perspectives for Japanese

ports, since it is ideal for terminals

which, on account of their size and

development potential, are already

anticipating larger cargo handling

volumes and increasing annual operating

hours for handling equipment.

extremes. Currently, Japan's population

is some 127 million, which is

approximately twice as much as

in Italy, and making it the world's

tenth most populated country. It

is surrounded by ocean and is very

mountainous with the majority of

the population living on a small

percentage of land, in urban areas

and on the coastline.

The climate varies considerably, but

temperature extremes are less pronounced

than in the United States.

Some people tend to say that Japan's

climate is not so far removed from

the UK's, with the four distinct seasons

of spring, summer, autumn and

winter. Spring is said to be a good

time to visit thanks to warm but not

hot temperatures

and the famous

cherry blossoms

and festivals.

Portugal is a must

to mention in connection

with Japan,

since it was a door-

Golden pavilion in Japan's previous

capital, Kyoto, quite possibly the most

popular photographic subject in Japan

Japanese is considered to be one of the most difficult

written and spoken languages in the world. It uses,

amongst other things, the kanji characters which are

the logographic symbols taken over from Chinese in the

6th century AD. The language also uses two sets of

syllabaries, or syllable renderings, called hiragana and

katakana. The pair of kanji shown here stand for

'Japan' and actually mean "the land of the rising sun".

HMK 170 E in the Port of Iwakuni

opener in terms of Japan's opening to

the West. The first contact between

Japan and Portugal began in the

middle of the 16th century, in 1542

when three Portuguese seafarers

reached the southern tip of Japanese

Archipelago after their boat was

blown off course.

Hirado and Nagasaki were Japan's

first ports to accommodate European

trade, dealing mainly with trade from

Portugal, which also became the

first European country visited by the

Japanese. Since then, until Japan

adopted the policy of seclusion and

except for a short period of absence

after the Second World War, Japan

and Portugal have enjoyed good relations.

In 1860, Japan and Portugal

established their diplomatic relations

officially, when the Treaty of Peace,

Amity and Trade was signed.

During Japan's national seclusion in

the Edo period (1603-1868), under

which trade, traffic, and exchange

with most foreign countries were

prohibited, Nagasaki as Japan's one

and only open port was permitted to

trade with the Netherlands and China.

In this way, Nagasaki was the point of

first contact with European cultures.

Knowledge and technology from the

West entered and spread throughout

the country from here.

Mount Fuji: with its tip at 3,776 m (12,388 ft)

above sea level, this is the highest and most

attractive mountain in Japan and can even

be seen from Tokyo on clear days

13
---
The Birthplace of the Mobile Harbour Crane

Düsseldorf, Economic Focal Point on the Rhine, Is as International as Gottwald

The old crane on view in the port of

Düsseldorf, the home of Gottwald,

has long since been pensioned off.

"Gottwald – year of construction 1957"

Gottwald crane

from 1957

is printed on

the rating plate

of this technical

monument for

the curious to

see. This part

of the port

is called the

"Medienhafen"

("Media Port")

and is home

to advertising

agencies,

PR agencies,

fashion firms,

smart restaurants

and bars,

cinemas, hotels

and office blocks designed by international

architects. This complex, appreciated

equally by business people and

"night owls", is situated on the fringe

of Düsseldorf's city centre on an eyecatching

sweeping bend in the Rhine.

Germany's Third-Largest River Port

Only a few hundred metres away, more

modern cranes are busy handling coal

and steel goods alongside river barges

in a different, commercially used harbour

basin. New delivery vans are driving up

the ramps onto special ships ready for

export to the USA via Rotterdam in the

Netherlands. And a one-hundred tonne

HMK 260 E Mobile Harbour Crane from

Gottwald is in operation here – almost

on Gottwald's front doorstep – and

has been in use here for several years

handling containers in the extensive

"Neuss-Düsseldorfer-Häfen" river terminal.

This business was created in

2003 when the ports of Neuss (on the

left bank) and Düsseldorf (on the right

bank) merged to become the third

largest river port complex in Germany.

Düsseldorf – Gottwald's headquarters have

been based here for over 100 years. Focal

point of industry, financial institutions and

the Stock Exchange and a key venue for

congresses, trade fairs and fashion events.

If it were possible to leap over the Rhine

at this point, one would touch down

in the other part of the sprawling port.

Thousands of cars are loaded here and

containers stacked, waiting their turn.

In 2008, ten million tonnes of food

and animal feeds, rocks, soil, ore and

metal, vehicles and machines were

transhipped in the two halves of the

port belonging to the towns of Neuss

and Düsseldorf, which are separated

only by the Rhine. Railway tracks,

motorways and the river port merge

here to create a busy, trimodal cargohandling

hub.

A further component of the Neuss-

Düsseldorf river port is the Reisholz

terminal, which is in the immediate

vicinity of Gottwald's Düsseldorf facility.

Here, Gottwald loads its cranes onto

coasters or barges ready for delivery to

customers worldwide.

Right at the Heart of the European

Market

The heart of the Rhine & Ruhr region,

where around 400,000 enterprises are

Düsseldorf-Reisholz terminal: the starting

point for the water-based journey to the

customer

Gottwald's

headquarters

and manufacturing

facility

in Düsseldorf-

Benrath – in

the immediate

vicinity of the

Rhine for easy

shipment of

Gottwald

products

based and which is acknowledged as

being the most powerful economic

conurbation in Germany, is Düsseldorf.

It is also at the economic centre of

Europe, whose capital cities are only

one or two hours away by plane from

the city's international airport.

With its population of around 600,000,

Düsseldorf is only the eighth largest

city in Germany. Despite that, the

capital of the federal State of North

Rhine-Westphalia, Germany's most

populous state, is one of the three

most future-orientated cities in the

country together with Hamburg and

Munich, as market researchers have

recently discovered. This is by no

means accidental – Düsseldorf offers

an impressive mix of German and non-

German enterprises from all sectors of

industry. Company administration, insurance

companies, creative thinkers from

the fashion and media industries, large

and small industrial companies and

service providers form an innovative,

well-matched blend in Düsseldorf.

A High Quality of Life

In view of all these details, it is hardly

surprising that Düsseldorf attracts highly

qualified employees and its population

has been expanding for some years.

Düsseldorf is used to adapting to rapidly

changing markets and trends – as, too,

is Gottwald – and is likely to maintain

its status as a boomtown even in these

days of economic turbulence. And this

will, in part, be down to the fact that

Düsseldorf, along with Auckland,

Vienna, Geneva, Zurich and Vancouver,

is counted as being among the cities

of the world with the highest quality

of life. This is the result of a survey by

Mercer Human Resource Consulting

2007 and in many other national and

international ratings, Düsseldorf is at

or near the top of the lists.

Why not visit: www.duesseldorf.de

14 G solutions 01/2009
---
Gottwald's Automated Stacking System

A World First

Their vertical guiding beams stand out

from a distance and make them easily

distinguishable from other RMGs. We

are talking about Gottwald's Automated

Stacking Cranes, or ASCs, as used in

DP World's Antwerp Gateway terminal.

"Really, we prefer to call them Stacking

Robots," comments Jan Cuppens,

Gottwald's Key Account Manager

for Automated Terminal Systems.

On the

quayside,

Gottwald's ASCs also work

hand-in-hand with Gottwald's Lift

AGVs to form a holistic system from

quay to stackyard to gate

There are now 14 of these state-ofthe-art

machines working a total of

seven stacks hand-in-hand with

manually operated straddle carriers.

They are used at Antwerp Gateway

for both the horizontal container

transport to the ASCs and operations

in the conventional stacking area.

"This successful implementation of

our new ASC technology has, once

again, demonstrated our capability as

a supplier of integrated systems and

shows that we are well able to provide

holistic handling solutions from quay

to stackyard to gate," enthuses

Cuppens. This is because Gottwald's

ASC machines can work not only with

manually operated straddle carriers –

as in Antwerp – but also in a fully

automated combination with Gottwald

AGVs or Lift AGVs – linked through

Gottwald's management and navigation

software developed in-house.

Pioneering Technological Concept

With its ASC technology, Gottwald

can indeed offer its customers a system

which combines a wide range of technological

and economic advantages with

a very competitive total cost of ownership.

This is achieved by a unique and

somewhat unexpected method of

construction which guarantees rigidity

in all three axes thanks to the fixed

leg concept and rigid guiding beam

which is used instead of conventional

rope fields. This means that ASCs can

still position their loads quickly and

www.gottwald.com

accurately, even in difficult wind

conditions. A further advantage of

Gottwald's method of construction

is that the forces are spread evenly

to both the rails, which is a double

benefit: first, the investment costs

for rail foundations are reduced

and, second, the costs of possible

rail corrections are minimised.

Moreover, the design maximises the

stacking density thanks to the Twin

ASC principle, where a pair of compact

stacking cranes run on a single

set of rails. High-performance stacking

of containers is achieved, from the

quayside interchange zone, where the

ASCs can work in parallel with straddle

carriers, through good stack management

and easy retrieval to the landside

where innovative CCTV units, which

are fully integrated in the crane control

systems, enable semi-automated truck

handling.

Raising Optimisation Potential

After the successful startup of the first

two stacking modules with four cranes

and the latest expansion with an additional

five modules, Gottwald is now

in the process of further optimising

Handling capacity to date on the quayside: 20 containers an hour.

Operation with two synchronised ASCs in the interchange zone

increases handling capacity by around 50%.

the operation of the ASC system in

Antwerp, particularly in the quayside

and landside interchange zones.

Higher Productivity on the

Quayside

"The smooth interplay between the

reliable control system with its failsafe

technology, innovative braking concept

and extremely compact crane construction

will be key factors as we increase

the productivity of the ASC system on

the quayside even more", emphasises

Gottwald's automation team. The

control system and software are now

so well developed that both ASCs can

move together into the quayside interchange

zone and, at the same time,

pick up or deposit containers (synchronous

operation).

The existing feature that enables

straddle carriers and cranes to work

in parallel without jeopardising driver

safety remains intact. As a result of

these sophisticated techniques, Gottwald

anticipates that DP World will not only

be able to handle more than an average

of 20 containers an hour on the

quayside but will also be able to boost

its cargo handling performance by

around 50%, which is a tremendous

gain at peak times when the quay

cranes are unloading containers in

tandem operation."

More Flexibility and Greater Degree

of Automation on the Landside

Gottwald also intends to make a

considerable improvement in camerasupported

semi-automated truck

handling. The idea is not only to load

and unload standard container chassis

in a fully automated process but also

to handle all kinds of multimodal road

chassis.

Initial tests in the landside interchange

zone have been very promising in

particular as no loss in performance

was detected. Realistic hitrates in

excess of 80% will be achieved. The

remaining fifth would then be handled

by the existing semi-automated process.

The advantages are evident: the number

of moves which the remote operator

would need to make would be consid-

erably reduced and this will have a

corresponding effect on operating

costs.

More flexible operation and increased automation on the landside:

handling of all kinds of multimodal road chassis. The number of moves

for which the remote operator is needed is considerably reduced.

15
---
Generation 1: 1956 Generation 2: 1978 Generation 3: 1985 Generation 4: 1995/2000 Generation 5: 2006

The latest Mobile Harbour

Crane generation was

launched in 2006 – offering

a range of variants never

seen before

Have you ever wondered why

Gottwald's Mobile Harbour Crane

bears the abbreviation HMK? Perhaps

someone pulled a handful of letters

out of a hat? The answer actually

goes back 53 years. At that time,

the company's owner and manager,

Consul General Leo Gottwald, had,

indeed, just pulled something out of

a hat, but it was a completely new

technological concept and not just a

group of letters, to the amazement

of the crane builders of the time. His

Neil Griffiths, Sales & Operations Manager

feeling that rail-mounted cranes in

ports were often not economical

encouraged him to design a harbour

crane mounted on rubber tyres to

provide maximum possible mobility

and versatility and allow operation at

various sites within the terminal: the

Mobile Harbour Crane was born. And

it soon became a best seller. Since it

Upcoming Trade Fairs

first saw the light of day at its birthplace

in Düsseldorf, in Germany, the

new handling machine was given the

German model name MK, which was

short for "MobilKran" (mobile crane).

During the 1960s, the "H" (for harbour)

was added. In 2006, when the

Generation 5 Harbour Cranes were

launched internationally, the managers

You will find Gottwald represented at the following trade fairs soon:

12 - 15

May 2009

Transport Logistic

Munich, Germany

Neue Messe München

Hall B4

Booth 427

Signs of the Times

3 - 4

June 2009

ASEAN

Ports & Shipping

Jakarta, Indonesia

Shangri-La Hotel

16 - 18

June 2009

23 - 25

June 2009

TOC Europe Forums INFOVRAC

Bremen, Germany

Bremen Exhibition &

Conference Centre

Paris, France

Le Palais de

Congrès de Paris

of the company added the "G" for

Gottwald to the names of these

showpiece products, but, in order not

to alienate loyal customers of the

world-renowned HMK, of which over

90 per cent are exported every year,

decided to retain the abbreviation.

Which means that every terminal

operator, whether based in Europe,

the USA, Africa or Asia, who buys

a G HMK is also buying a piece of

German corporate tradition.

New Sales & Operations Manager in UK

To further strengthen Gottwald's

UK organisation, we are pleased to

welcome Neil Griffiths to the Banbury

based team. Neil joined us at the

beginning of 2009 as Sales &

Operations Manager. Neil brings with

him many years of experience in

equipment mechanics having worked

as an engineer for various Demag

companies, and many of the UK ports

and port related industries.

Mark Reardon, Gottwald's Regional

Director, is pleased to welcome Neil

on board: "We need to respond to

Booth

25

Hall 5

Booth F 16

customer demands quickly, Neil has

gained good experience working

within the ports industry and this will

serve as a great advantage, enabling

Neil to make a valuable and immediate

contribution to our work."

A Port of Call for Customers

As Sales & Operations Manager, Neil is

responsible for a range of commercial

activities. He will be the first port of

call for his customer base of 13 in the

south and east of the UK together

with ports in Northern Ireland. Neil's

areas of responsibility include: new

www.gottwald.com

Hall 5

Booth F 16

crane sales, service contracts, spare

parts supply and co-ordinating his

customers' engineering requirements.

Neil is also equipped to promote and

implement the full range of service

products that Gottwald offers.

Neil's home base is Southampton on

the south coast of England. He lives

here together with his wife, and they

are expecting the arrival of their first

child later this year. Southampton is

one of the UK's major ports.

G solutions

2nd year, no. 1/2009

■ Published by:

Gottwald Port Technology GmbH

Postfach 18 03 43

40570 Düsseldorf, Germany

Phone: +49 (211) 7102-0

Fax: +49 (211) 7102-3651

■ Editor: Peter Klein

peter.klein@gottwald.com

■ Translated by Gottwald

Language Services

■ Production: Simon+Stroex

Werbeagentur GmbH

■ Circulation: 2,500 in English

Gottwald Port Technology GmbH

is a subsidiary of Demag Cranes AG

16 G solutions 01/2009