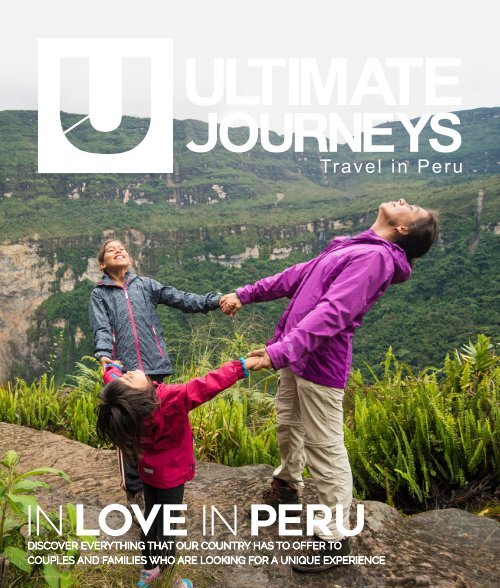 Create successful ePaper yourself
Turn your PDF publications into a flip-book with our unique Google optimized e-Paper software.
IN LOVE IN PERU

DISCOVER EVERYTHING THAT OUR COUNTRY HAS TO OFFER TO

COUPLES AND FAMILIES WHO ARE LOOKING FOR A UNIQUE EXPERIENCE

1
---
2
---
Private sailing on Lake Titicaca, the world's highest navigable lake.

3
---
CURRENT ISSUES / 08

PERU, A PLACE FOR

EVERYONE / 10

INDEX

INFOGRAPHY: A PERUVIAN

STYLE HONEYMOON / 16

INTERVIEW: HARVEY MARTINEZ,

OFFICIAL TOUR GUIDE / 18

ROMANTIC CUSCO, A DREAM

WEDDING DESTINATION / 24
---
UNIQUE FAMILIES,

UNIQUE DESTINATION / 30

This edition of Ultimate

Journeys - Travel in Peru was

produced by LimaTours'

marketing team.

UJ GENERAL DIRECTOR

Gerardo Sugay

CONTENT DIRECTOR

Gerardo Sugay

Ana Paula Albín

Ximena Arrieta

GENERAL EDITOR

Ximena Arrieta

PRODUCT DESIGN

Dafne Vargas

COORDINATION

Karla Huertas

ART DIRECTOR

INFOGRAPHY: IN

SEARCH OF THE IDEAL

DESTINATION / 36

CHARMING PERU / 38

PROGRAM: A PERUVIAN

ROMANCE / 48

PROGRAM: PERU, FAMILY

ESSENCE / 56

LimaTours

GRAPHIC DESIGN

Sergio Salazar

ILLUSTRATIONS

Juan Diego León

INFOGRAPHICS

LimaTours

EDITORIAL STAFF

Ximena Arrieta

PHOTOGRAPHS

Archivo LimaTours

Alex Bryce

Christian Declercq

Diego Nishiyama

Sergio Salazar

COVER PAGE PHOTO

CREDIT

Gocta Lodge
---
EDITORIAL

Kuelap, hidden Fortress of the Chachapoya People, a highlight of Peru's Northern Circuit.

DEAR READER:

It is no secret that Peru is a fascinating country capable of dazzling locals and foreigners with its natural wonders,

legendary history, and its millenary traditions that have stood the test of time. All this and more have made us one of

the favourite destinations for tourists from all over the world looking to indulge in unforgettable travel experiences,

be it alone or in good company.

This edition of the Ultimate Journeys – Travel in Peru magazine is dedicated to the families and couples who are looking

at Peru as an ideal destination for their next trip. For those in search of adventure, to those looking to disconnect,

Peru offers unique adventures guaranteed to enamour its visitors.

Discover Cusco's romantic side as you learn about it as one of the preferred destination-wedding spots for couples

looking to break the mould. Gorgeous scenery, colonial churches, and Andean union ceremonies performed under

the protection of the Apus and the Pachamama are just some of what this city has to offer. After tying the knot, there

is nothing more essential than easing into your newlywed life. Thus, we take you on a tour of Peru's best honeymoon

activities and invite you to celebrate love with wonderful art, incredible gastronomy, and a whole lot of romance.

Traveling with children can be a daunting task, but in Peru, it does not have to be. In the following pages we share

the best destinations for unforgettable family adventures, making sure to include something for everyone. And if

you are still unsure of where to go, a fun game will guide you towards the perfect place for your next vacation. Are

you ready to discover it?

Happy reading and enjoy!

Your friends at LimaTours

Design and management of tour programmes, in all areas of the company

(quotation, product design, suppliers management, Lima operations, billing

and collection)

6
---
7
---
CURRENT ISSUES

Facebook IK

The Peruvian chef Francesca Ferreyros is taking over the

kitchen at IK Restaurant. With ten years of experience in the

culinary world, and after having spend time abroad, Ferreyros

has returned to her home country to undertake this project

inherited from her mentor, Ivan Kisic.

CURRENT ISSUES

FRANCESCA FERREYROS

TO HEAD IK

In hopes to better passenger experiences, Inca Rail has launched

their InTrain Information service on their The 360° train. These

services allow passengers to access information about the route

to Machu Picchu, read about the importance of the Sacred Valley

for the Inca culture, and see weather updates, among other things.

On the other hand, as of August 15th, PeruRail's Adventure Train

has begun to sell food and beverages on board with the goal

of providing passengers with a more personalized experience.

Thus, the complimentary snack and beverage service has been

suspended.

SERVICE CHANGES

FOR INCA RAIL AND

PERU RAIL

Inca Rail

Francesca's culinary career took her through restaurants in

the United States, Spain, and Thailand. She became part of the

IK team at the beginning of this year, and has just launched

her first tasting menu, which includes curries, Andean tubers,

mushrooms, and preserves.

SUMMUM PERU

AWARD FINALISTS

ANNOUNCED

Malabar Restaurant

The 100 restaurant finalists of the Summum Awards have been

announced. These awards – one of the main gastronomic events

of the year – are an homage to Peruvian cuisine and look to

recognize the best restaurants in the country.

The categories are divided according to the type of food each

restaurant offers: meat and grille, Chinese, Italian, Nikkei (Peruvian-

Japanese fusion), Peruvian-Creole, contemporary-Peruvian,

regional, world cuisine, fish and seafood, country food, pollo a la

brasa (Peruvian style rotisserie chicken), cafes, and restobars. The

announcement of 2017's best new restaurant will also be made,

as well as the restaurant with the best Pisco bar.

8
---
LATIN AMERICA'S BEST

RESTAURANTS WILL BE

ANNOUNCED IN OCTOBER

The sixth edition of Latin America's 50 Best Restaurants will be held

on the 30th of October, in Bogota, Colombia. Chefs, sommeliers,

restaurant owners, and other specialists will come together for the

event, considered one of the most important of its kind, and participate

in presentations and talks from the #50besttalks.

Last year, Peruvian restaurants Maido and Central occupied the first

and second places. Other recognized Peruvian locals included: Astrid

y Gaston (7th place), Osso Butcher's shop and Restaurant (12th place),

La Mar (15th place), Isolina (21st place), Rafael (24th place), Malabar

(30th place), Fiesta (46th place), and Amaz (47th place).

ANDES RACE,

AN HOMAGE TO

THE CHASKIS

Andes Race Maido

The archaeologists responsible for the on-going research of Caral and its

neighbouring areas have uncovered a "new" mural done in relief, depicting

human and serpent faces, located in Vichama, north of Lima.

Doctor Ruth Shady, director of the Caral Archaeological Area, explained

that the motifs present in this mural symbolize fertility: the serpents

represent the deity that is related to the water that filters into the earth and

germinates the seeds. Caral is the oldest civilization in the Americas, dating

back over 5,000.

3,800 YEAR OLD

MURAL DISCOVERED

NORTH OF LIMA

Media

Since 2015, the Andes Race has brought mountain racing fans together

on four impressive routes of 13, 30, 60, and 100 kilometres through

Cusco's Sacred Valley of the Incas. This competition looks to pay homage

to the chaskis, the messengers of the Inca Empire who relayed through

the mountains delivering important information across Tahuantinsuyo.

This 24th and 25th of August, runners will cross pre-determined routes

that ascend from 2,800 to 4,700 meters above sea level. Beautiful snow

capped mountains and blue lagoons will accompany the competitors

on this unforgettable journey.

9
---
10

PERU, A PLACE FOR EVERYONE
---
TRAVELLING WITH

A LOVED ONE – OR

LOVED ONES – IS A

WONDERFUL AND

IMPORTANT WAY

TO EXPERIENCE

THE WORLD, AND

STRENGTHEN BONDS.

PERU IS WITHOUT

A DOUBT, AN IDEAL

DESTINATION FOR ALL,

AS IT OFFERS A VARIETY

OF EXPERIENCES

FOR PEOPLE OF ALL

BACKGROUNDS AND

ALL AGES: FROM

ROMANTIC ESCAPADES

TO FAMILY-FRIENDLY

EXCITEMENT.

PERU

A PLACE FOR EVERYONE

Colca Lodge

Children and

grown-ups can

enjoy unforgettable

experiences that

bring nature,

history, and culture

together.

11
---
PERU, A PLACE FOR EVERYONE

LimaTours

Why do we travel? Why do we invest time and money to

plan dream vacations? Why do we pack our lives into a

suitcase, leave our comfort zones, and set off to discover

the world? While the answers to these questions

might vary, the underlying constant is this: we want to

experience new things.

The ways in which we travel transform over time. A quick,

weekend escape with friends is an ideal plan when we

are young. This usually transforms into solo journeys

around the world as a way to get to know ourselves

better as we get older. When we are in love, we count the

hours until being able to sneak of on a romantic trip with

Veronica Smulders, Of trips and tales

our other half. When kids come along, however, travel

becomes about creating memories and spending time

together before they leave the nest.

Adventure tourism is

becoming increasingly

popular with young

people.

According to the statistics collected by PromPeru in 2016,

the second most common visiting tourist profile after solo

travellers (40%), is that of couples traveling together (27%).

Meanwhile, international family tourist groups (8%) come

in at fourth – a number that continues to grow.

Veronica Smulders, Of trips and tales

Painting and sculpturebased

activities show

kids the country's

essence.

12

Participate in

enriching moments

of cultural

exchange with

people from Andean

communities.

Veronica Smulders, Of trips and tales

So, what makes a destination captivating for families? For

Peruvians, family is the main support group. Our society

is based on family structure as the foundation of our

communities, especially in the Andes. It is essential to

make sure there are diverse enough activities available

so that each group member's interests are represented,

whether it be: bicycle rides, touring museums, flying

Let your children

discover Peru's most

charming animals.
---
LimaTours

Cusco is the destination

with the widest variety

of family-friendly

activities available.

Native animals complete the

experience.

Colca Lodge

Alex Bryce

Looking for a

break? Escape

to the beaches

of the north

and relax

under the sun.

across zip lines, interacting with incredible animals,

walking through the mountains, or discovering new,

exotic tastes.

To have such a variety of activities will not only keep

everyone entertained, but it also offers an incredible

educational opportunity for kids and young people. The

best way to arouse interest in nature and conservation is

experiencing it first hand, and for this, there is no better

place than the wondrous Amazon Jungle. Meanwhile,

there is no better way to learn about how past cultures

lived than visiting Machu Picchu, the mind-boggling

architectural and engineering masterpiece.

When considering a romantic couple's vacation, on the

other hand, Peru has no reason to envy any of the world's

classic dream destinations. With beautiful sunsets over

The Peruvian Amazon is a perfect

destination to connect to and learn

from nature.

Alex Bryce

13
---
PERU, A PLACE FOR EVERYONE

Belmond Hotel Río Sagrado

Cusco's colonial

churches boast

impressive details.

the ocean, magical cities that capture the heart, romantic

meals at luxury restaurants with food good enough to

win over even the most demanding palates, star-filled

jungle skies, and charming beaches, Peru holds its own

as a ideal spot for romance-filled vacations.

Belmond Hotel Monasterio

look to honour their love. Whether it is in a traditional

ceremony or an alternative Andean celebration focused

on celebrating the spiritual union, as well as their

connection to the Pachamama, or Mother Earth, Cusco

offers lovers unique and unforgettable experiences.

Whether it is a romantic trip or a family vacation, Peru

is a fantastic travel alternative with unparalleled charm

and incredible adventures perfect for people of all ages.

The Sacred

Valley of the

Incas is an

ideal setting for

country-style

weddings.

Hotels offer

unique

experiences for

couples looking

to tie the knot.

14

Andean

ceremonies

are a more

spiritual

alternative

to traditional

weddings.

La Casona Princesita

This passionate aura that envelopes the country

provides the perfect setting for memorable wedding

celebrations. With destination weddings becoming

increasingly popular, Cusco has turned into a coveted

location, attracting couples from all over the world who

Belmond Hotel Monasterio
---
DISCOVER

THE AMAZON RAINFOREST

EXPLORE

WITH YOUR LOVED ONES

WWW.PERUNATURE.COM

15
---
A PERUVIAN STYLE

ALL NEWLYWEDS DREAM OF AN

UNFORGETTABLE HONEYMOON,

AND PERU OFFERS NEWLYWEDS

DOZENS OF INCREDIBLE, UNIQUE

EXPERIENCES THAT RANGE FROM

ROMANTIC TO ADVENTUROUS.

ARTISANS

FOR A DAY

Learn about Cusco's art

as you participate in a

special workshop and

make your own, unique

piece of art that can be

taken home as a souvenir

of your wonderful

honeymoon experience.

RELAX WITH A

SEA VIEW

Leave everyday worries behind

as you connect with your inner

self during an intimate yoga

session. Upon finishing, let the

relaxation continue during a

seafront massage with a view of

Peru's northern beaches.

FOR ADVENTURES

Cusco is the perfect destination

for trekking enthusiasts, as it

offers an assortment of

interesting and breath-taking

routes surrounding the city that

can be explored in a matter of

hours, as well as the famous,

four-day Inca Trail hike.

EXQUISITE PALATES

The best way to enjoy Peruvian gastronomy is to

experience it. Participate in a fun cooking class and

learn how to prepare some of the most popular

16

traditional dishes, led by talented local chefs.
---
CLICK

HERE TO

ENLARGE

AN EXCURSION

THROUGH THE

JUNGLE

Connect with nature in an incredible

and unique way as you make your

way though the Amazon jungle on a

luxurious cruise ship. Explore

Loreto's Pacaya Samiria National

Reserve and discover the endless

diversity the jungle has to offer.

TRIP ACROSS

LAKE TITICACA

Spend an unforgettable day

steering across Lake Titicaca

on a Polynesian canoe and

visit the man-made Uros

Islands, made from local

totora reed by the islands'

inhabitants. This incredible

activity wonderfully

combines physical activity,

nature, and culture.

SUNSET IN

THE NORTH

Spend your afternoon

contemplating the

scenery as you drift

across the ocean on an

exclusive yacht, and toast

to life as the sun sets on

the pacific horizon.

HISTORY AND ROMANCE

Explore Peru's pre-Inca past as you make your way

through Lima's Larco Museum, considered one of

the best museums in the world. Complement your

experience with a delicious coffee in the lovely

on-site restaurant, surrounded by romantic

gardens and a view of the colonial mansion.

17
---
INTERVIEW

Harvey is the only Peruvian tour guide who has

been awarded a 'Mousecar' by Disney.

Diego Nishiyama

18
---
HARVEY

MARTÍNEZ

OFFICIAL TOUR GUIDE

FOR THE LAST 17 YEARS, HARVEY HAS BEEN SHARING HIS ENTHUSIASM

FOR PERU WITH PASSENGERS FROM ALL OVER THE WORLD. HIS

UNDENIABLE PASSION FOR HIS WORK HAS GOTTEN HIM THE

ATTENTION OF NUMEROUS INTERNATIONAL AGENCIES, LIKE DISNEY.

When it comes to travel, a great guide can go a long way.

A leader with good energy, ample knowledge, and the

ability to connect with others can easily transform simple

experiences into memorable ones.

When it comes to family vacations, the guide is often

a key component in securing the bond between all

members of the group. In this interview, Harvey Martinez,

an official LimaTours guide with 17 years of experience,

shares his thoughts on what makes Peru such a special

and unforgettable destination.

passengers leave asking questions, when they say: "I

need to learn more about the Incas, I had no idea." If

they don't ask questions, I feel as though I haven't done

a good enough job.

Christian Declercq

What made you want to become a guide?

Harvey: I was always involved in the business because

my father is a guide as well. But the main reason was

the Inca Trail. When I was younger, he asked me to

accompany him as his assistant on a trek. Up to that

point, I had no idea what I wanted to do, but the trek

had such an impact on me that I decided to follow in my

father's footsteps and study to become a guide.

What do you most enjoy about your job?

Harvey: That I get to show off my country and culture.

There are people who arrive with a preconceived notion

of what they are going to encounter, but when they

see all the new details and studies, they are shocked

with how special Peru really is. I feel satisfied when

The Inca Trail, one of the most popular treks in the

world, unites Ollantaytambo with Machu Picchu

19
---
INTERVIEW

For Harvey, a guide is not just a person who directs

the group. They become a part of the experience.

Diego Nishiyama

What is the main characteristic a guide should have?

Harvey: Patience. Sometimes it is hard to understand

that there are passengers looking for an experience

different than the one you are offering. You can have

the best information, but every person is unique, and

at times they want something you weren't necessarily

planning on presenting. One mustn't get frustrated.

What is the best thing that has happened to you

during your career as a guide?

Harvey: I think I would have to go back to my trekking

days. To live with people who you don't know, but who

- in some ways – end up becoming family, it's incredibly

gratifying. That moment when the trek ends and the

passenger doesn't only thank you for your work, but

tells you that they want to return, or that you can go

visit them at their home whenever you'd like. To feel

like you have become part of something greater, that

is the best.

LimaTours

Let's talk about Peru as a family destination. What

characterizes us as such?

Harvey: Our very culture is based on a family system,

on the idea of community. Families here are large, they

Veronica Smulders, Of trips and tales

20

Cusco for families? The two faces of Sacsayhuaman: an

archaeological site for adults and a fun escape for children.
---
LimaTours

for different activities. For example, there are some

people who cannot river raft, but they still go with their

families and enjoy the day.

Can it be complicated to guide a family?

Harvey: No, quite the contrary. It is easier because

everyone is travelling with the same intention. It can be

complicated to travel with various families or with a group

of strangers because each person has their own purpose.

How do you manage that? Do you have a particular

strategy to get everyone's attention?

Harvey: Many times there are young people or kids who

get distracted with other activities, like cell phones and

It is important

for a guide to

determine the

group's objective,

explained Harvey.

come together, they are a support system; that is very

special and visitors can feel it.

Additionally, our country offers diverse adventure

tourism activities. The great thing about this kind of

tourism is that it doesn't have age restrictions, rather, it

involves all members of the group. Beyond the history

and gastronomy we offer as a country, to have the

chance to experience a wide range of things together as

a family is important.

tablets. It is important to ask them simple questions so

that that they feel included in the group. As they become

more involved and form part of the conversation, you

can take the lead and start exploring other topics.

Families are

usually more

open to trying

less-conventional

activities.

So, is adventure tourism starting to earn a place

among family travel alternatives?

Harvey: Yes. Some families are more willing than

others to do things like long hikes. Now there are more

diverse programs that allow families to stick together

during the experiences, which is not common for

destinations in which family members tend to separate

Diego Nishiyama

Christian Declercq

"PERU IS A FAMILY

DESTINATION BECAUSE OUR

VERY CULTURE IS BASED ON A

COMMUNITY SYSTEM. FAMILIES

HERE ARE A SUPPORT SYSTEM

AND VISITORS CAN FEEL IT

WHEN THEY ARRIVE."

Harvey takes great pride

in sharing his city's legacy

with visitors.

21
---
INTERVIEW

Diego Nishiyama

Your vast experience has gotten you special

recognition from Disney. Tell me a bit about that.

Harvey: Disney offers two awards to its guides. The first

is a certificate given to those who acquire 100 points

without any negative comments; the other is given to

guides whose passengers rate their travel experience as

excellent. Those who are given the latter get a 'Mousecar,'

which is a small statue of Mickey that looks like an Oscar.

Are you the only Peruvian who has been awarded

a Mousecar?

Harvey: As far as I understand, yes. The Disney team has

over 300 guides across the world, so to be selected was

great news for me. I received the award in 2016 with six

other guides after my client commentaries were evaluated,

along with the number of groups I have worked with. I feel

super proud of and happy about that prize.

Disney awarded

Harvey this prize

after receiving

good comments

and evaluations

regarding his work

with Adventures

by Disney.

ACCORDING

TO THE

EXPERT

1

2

3

Pachamanca

"The history and preparation of this meal

involves much more family contact. It is

also delicious."

Kayak en Chinchero o canotaje en

Valle Sagrado

"The scenery is impressive."

Machu Picchu

Are you thinking about

taking a family trip to Cusco?

Harvey recommends five

unmissable activities:

4

5

Visita al mercado y cooking demo

"Families can immerse themselves in

local culture and cuisine."

Cabalgata por las montañas

"It's relaxing and appropriate for

everyone."

22
---
23
---
ROMANTIC CUSCO, A DREAM WEDDING DESTINATION

ROMANTIC

CUSCO

A DREAM WEDDING DESTINATION

24
---
DESTINATION

WEDDINGS HAVE

BECOME QUITE THE

TREND IN THE LAST

FEW YEARS, AND

WITHIN PERU, CUSCO

TAKES THE CAKE AS

THE DESTINATION OF

CHOICE FOR THOSE

LOOKING FOR A

UNIQUE EXPERIENCE.

FULL OF MYSTICISM

AND BRIMMING WITH

AN UNDENIABLE

ENERGY, THIS CITY AND

ITS SURROUNDINGS

PROVIDE GREAT AND

MEMORABLE WEDDING

ALTERNATIVES.

Sumaq Machu Picchu Hotel

Cusco offers

alternative

ceremonies for

couples who

are in search of

a different kind

of romantic

experience.

25
---
ROMANTIC CUSCO, A DREAM WEDDING DESTINATION

LimaTours

Cusco's magic

attracts couples

looking to get

married, as well

as spouses who

want to renew

their vows.

Anyone who has made the trip to Cusco can attest to

its wonderful, particular energy, and the mystical vibe

that permeates throughout the city. Some attribute

these things to the surrounding Apus, or mountains,

others to the Inca legacy and spirit, which can still

be felt as you walk down streets; or perhaps it is the

city's location, specifically designed in accordance to

the constellations. Whatever it is, the Imperial City is

inarguably a magical place.

It is this very magic that makes Cusco one of the preferred

wedding locations for couples from near and far looking

to have an unforgettable ceremony. Both the city itself

and its outskirts provide wonderful settings for weddings,

complimented by the peaceful, natural scenery and

good vibes. With options ranging from baroque chapels

to Inca-inspired ceremonies, all lovebirds will find a ritual

that fits with their wedding day fantasy.

A WEDDING WITH DETAILS

FROM THE PAST

When walking through Cusco's Historic City Centre, it is easy

to understand why it is considered to be so special. There

are stunning old churches with a beautiful facades and goldleaf

altars, and a few meters down the street, impressive Inca

walls with impeccably fitted stones, that have stood the test

of time and remain intact 500 years after their construction.

"Cusco is primarily indigenous-Baroque in style, with

important monuments and catholic churches built upon

The city's colonial

churches are

the perfect

historic setting

for a traditional

wedding.

Belmond Hotel Monasterio

Belmond Hotel Monasterio

The Belmond 26 Monasterio's

interior patio, ideal for

cocktails and receptions.
---
Belmond Hotel Monasterio

Belmond Hotel Monasterio

Paintings from

the Cusco School

of Art decorate

the walls of

the Belmond

Monasterio.

what were once Inca palaces. It is magical and impressive,

each place is so unique and full of history - perfect for

celebrating a wedding," explains Desiree Tejada, Belmond

Hotels' public relations coordinator.

The Belmond Hotel chain's two Cusco properties, the

Belmond Monasterio and the Belmond Palacio Nazarenas,

provide couples with wonderfully unique wedding spaces.

Featuring paintings from the Cusco School of Art, fountains

from the former San Antonio Abad Seminary, and incredible

stonewalls from the Amaru Qhala Inca Palace, both hotels

incorporate important and stunning details from the past.

The colonial San Antonio Abad Chapel is an architectural

gem, boasting 24-karat gold-leaf altars, and original paintings.

Thus, couples looking for a traditional, religious wedding

ceremony have a gorgeous alternative, complimented by an

intimate reception in one of the hotel's lovely terraces.

areas, and see the impressive mountainous scenery are

captivated by the fantasy of living here. It is that magic that

makes it such a great romantic destination and setting for

a couples' most important day," comments Erika Hurtado,

La Princesita's corporate manager.

The Casona Princesita is the perfect place to indulge in

an open-air, country-style wedding without having to

travel far from the city. Its proximity to Cusco is ideal for

international or bi-national couples who are only in the

country for a short amount of time. The space's ample

gardens are the perfect place to share your vows under

the soft afternoon sunlight, while the main house's rustic

style – with its wooden detail and traditional Cusco-style

rooftop – is great for a festive reception.

The San

Antonio Abad

Chapel and

its beautiful,

gold-leaf

altar.

La Casona Princesita

A WEDDING WITH A NATURAL

CONNECTION

Fifteen minutes outside Cusco's Plaza de Armas lies

Llaulipata, an area thought to have belonged to Francisco

Pizzaro's daughter with the Inca Princess Quispe Sisa. It is

here where one can find the Casona Princesita, a space

that boasts a privileged view of the stunning surrounding

nature, and specializes in hosting events and weddings.

"Cusco is already generally considered a dream destination.

So, many people who walk the city's streets, visit its historic

Cusco attracts many

bi-national couples.

27
---
ROMANTIC CUSCO, A DREAM WEDDING DESTINATION

La Casona Princesita La Casona Princesita La Casona Princesita

Flowers and local artisanal

decorations give weddings

in Cusco a special touch.

La Casona Princesita

"One must be versatile in this business. Although the

process is generally personal, we provide the setting

and expert advice," explains Hurtado. In offering four

different options – from traditional Andean ceremonies to

boutique-style weddings – we focus on being flexible and

adapting to the couple's requirements, with the option of

coordinating in English or in Spanish."

ARAC MASIN:

INCA SPIRIT

Imagine celebrating your love surrounded on a bed of

flower petals, with the Vilcanota River in the background

as you receive blessings from the Apus and Pachamama

(Mother Earth). For those looking for a one-of-a-kind

experience, the Arac Masin, or Inca wedding, is it.

La Casona Princesita

"The ceremony of love, or Arac Masin, looks to celebrate the

spiritual duality of the couple, arriving at a mental, physical,

28
---
Nature-loving couples can enjoy

a series of romantic activities

during their time in Cusco.

and spiritual balance, and reaching absolute love whilst in

harmony with ones self and with nature," comments Lizeth

Giurfa of the Sumaq Machu Picchu Hotel.

The Arac Masin transports couples into one of the most

important local ancestral rituals, which is still practiced in

some Andean communities. During the ritual, the couple

undergoes a series of offerings as guided by a shaman

who shares songs and prayers in Quechua. Because this

ceremony is not legally recognized, it is often chosen by

couples who – previously married or not – wish to renew

and strengthen their bond.

Sumaq Machu Picchu Hotel

The bride and groom dress in traditional garb – she

wears a lliclla, and he wears a chumpi – and make

their entrance on a carpet of roses, with four areas

separated by maize grains of different colours. Each

colour represents an important aspect of the union: red

symbolizes power, white, purity, yellow, love, and purple,

balance. The shaman then uses the sacred quintu – a

symbol composed of three coca leaves – to purify the

couple before giving them the chance to share their

The Sumaq Machu

Picchu Hotel, located

a short distance from

Machu Picchu, offers

special packages for

couples.

vows with each other. The ritual ends with a binding of

the couples hands, using a chain of flowers.

The Sumaq Machu Picchu Hotel in the town of Aguas

Calientes offers a special area designed to conduct

Sumaq Machu Picchu Hotel

these types of ceremonies. The service includes the

shaman, the bride and grooms traditional garments, and

a private interpreter. The hotel's modern installations

come together with Andean details, creating a warm

experience with a mystical touch, right in the shadow of

the stunning Machu Picchu Mountain.

The Arac Masin is

an experience that

looks to connect

the couple with

each other, and to

the Andean deities.

Sumaq Machu Picchu Hotel

Sumaq Machu Picchu Hotel

Andean wedding

ceremonies are led by

a local Shaman.

29
---
UNIQUE FAMILIES, UNIQUE DESTINATION

UNIQUE FAMILIES,

UNIQUE DESTINATION

30
---
ENJOY AN

UNFORGETTABLE

FAMILY VACATION IN

PERU AND EXPLORE

THE COUNTRY'S

INCREDIBLE AND

VAST NATURE

AND HISTORY

THROUGH AN

EXCITING ARRAY OF

FAMILY-FRIENDLY

ACTIVITIES,

TAILORED FOR

CHILDREN AND

GROWN-UPS OF ALL

AGES.

Discover Peru

with your

loved ones

and share

unforgettable

experiences

together.

Piuray Outdoor Center

31
---
Sergio Salazar

Get to know

Lima by

bicycle, a fun

and healthy

activity for all.

The Magical

Water Circuit

and its light

show.

To plan a trip is an exciting endeavour. The idea of

stepping out of ones routine and traveling to a new place

full of unique experiences, gorgeous scenery, and exotic

cuisine is enough to keep us packing and unpacking our

bags throughout our lifetimes. Family trips, however,

are a whole different beast, usually requiring next-level

logistics.

When travelling with family, trips become more than just

making it to most iconic spots. Comfort and commodities

THE MAGIC OF LIMA

From fun bicycle rides on the esplanade overlooking the

Pacific Ocean, to some of the world's best restaurants,

Peru's capital deserves a few days to show off what it

has to offer.

Lima is home to the Circuito Magico del Agua, or Magic

Water Circuit, the biggest complex of fountains in the

world according to the 2007 Guinness Book of World

Records. Let your kids run freely amongst the illuminated

fountains, and watch the nightly light and music show

accompanied by a hydraulic spectacle. If in the mood for

something a little bit more low-key, wander through the

surrounding Parque de la Reserva – founded in 1929 –

and take a trip into the city's past.

LimaTours

Walking enthusiasts can wander down the esplanade

from the Miraflores to the Barranco district and enjoy

the parks, resting areas, and incredible views along

the way. Barranco is considered Lima's bohemian

neighbourhood, and houses a number of interesting

art galleries and shops to peruse. Stroll through the

The Larco

Museum boasts

a collection with

more than 45

thousand pieces.

are important, as is building an age-appropriate itinerary

full of exciting things that will keep members of the

group of all ages engaged.

Peru is an ideal destination for family trips as it offers

something for everyone: nature and animal lovers,

history buffs, shopping enthusiasts, and even sports

fans will find a reason to fall in love with the place.

32

Museo Larco
---
Between stories and

legends, let your children

discover the way the Incas

understood the world.

neighbourhood's historic area make a stop at the main

square to enjoy a delicious artisanal ice cream as you

take in the surrounding architecture.

If you are looking for history, on the other hand, the Larco

Museum – located in Pueblo Libre – is considered one of

Children can

come face to

face with llamas

and learn about

the Andean

camelids.

the best museums in Peru. Tour the spaces of this former

private residence and learn about the county's pre-Incan

history. There are activities for children, and an interesting

collection of pre-Incan erotic pottery for the adults.

Sumaq Machu Picchu Hotel

Belmond Hotel Río Sagrado

CUSCO'S CHARM

One thing to consider before planning a trip to Cusco

is the altitude. It is common to feel some headache or

dizziness when arriving in the Imperial City, so a direct

visit to the Sacred Valley can help you acclimatise. Moving

at a slow and steady pace, and consuming plenty of fluids

during your first couple of days is the perfect way to ease

into the altitude.

Sumaq Machu Picchu Hotel

signature highland camelids – the llamas and alpacas –

than Cusco, where these creatures roam in abundance.

When it comes to needing a small pick-me-up, children

will be thrilled to try the many flavours and styles of local

artisanal chocolate made in the region, while adults can

indulge in a warm and delicious cup of organic coffee in

any of the many specialty coffee shops.

Specialized

guides will ensure

that visits to

archaeological sites

will be entertaining

for kids.

Cusco's main attractions are its archaeological sites – so

grand and majestic, that they impress people of all ages

and all walks of life. To stroll through the city's streets

and markets is an unforgettable visual experience full of

colour and wonderful handmade products sure to get

the attention of any young traveller: from dolls wearing

typical garments and stuffed animals made with alpaca

wool, to local musical instruments, like the quena and

pompon. Meanwhile, adults will delight in the gorgeous

alpaca goods – from sweaters to scarves to hats – and

unique, hand-made silver jewellery pieces.

There is no better place to come face to face with Peru's

The younger travellers will have the

chance to immerse themselves in

Cusco's art, culture, and excitement.

Veronica Smulders, Of trips and tales

33
---
There is no better way to understand the importance of

conservation than to spend time in the Amazon Jungle.

UNIQUE FAMILIES, UNIQUE DESTINATION

NORTHERN PLEASURES

If your idea of a family trip is to relax and enjoy refreshing

dips into the sea, Peru's northern beaches are the place

for you. With year-round sunshine, they are a great

alternative at any time, offering endless fun for kids, and

the possibility of romantic, moonlit escapades for adults.

The beaches of Tumbes and Piura house a variety of

marine animals, and the Ñuro Beach – only 10 kilometres

from Mancora – is home to sea turtles who can be

joined for a swim around the pier, where they tend to

congregate. The real spectacle, however, occurs between

Pacific Adventures

July and October, when humpback whales appear during

their migration from Antarctica, as they search for

warmer water to breeding in. To watch these majestic

creatures breech and jump out of the sea is no doubt, an

unforgettable experience.

Come together as a family, amidst giant trees and lush

vegetation, and let expert guides lead you on a discovery

of the Amazon's flora and fauna. Lodges offer a variety

of daytime activities for their guests, and the chance to

enjoy unparalleled stargazing from the comfort of your

room. Immersed in the dense forest, far from cities, and

without electricity, the night sky is guaranteed to shine

brighter than ever.

Alex Bryce

Amazonia is synonymous with water, thus there are

plenty of ways to enjoy the surrounding rivers, lagoons,

and tributaries. Hop into a kayak, onto a stand up

paddleboard, or aboard a peque-peque – the name for

the local motorized canoes, and explore the jungle in a

different way.

Christian Declercq

Whale season is

the best time to

visit the north.

THE MYSTICAL AMAZON

The Amazon Jungle is a paradise for nature lovers, adventure

enthusiasts, and plant and animal fans of all ages.

To visit the Amazon is special and exciting. Not only will

families have the chance to see amazing and magical

species – like the pink dolphin – up close, but also, being in

the "lungs of the world" presents the perfect opportunity

to delve into the importance of the conservation of both

the environment and the human species.

34

The jungle offers different activities sourrounded

by a unique environment in the world.
---
35
---
IN SEARCH OF THE

IDEAL DESTINATION

TELL ME WITH WHOM YOU

TRAVEL, AND I WILL TELL YOU

WHERE TO GO. LET US HELP

YOU CHOOSE A PLACE TO VISIT

DURING YOUR TRIP TO OUR

COUNTRY WITH THIS FUN

INFOGRAPH. ARE YOU READY?

Do you travel

with young kids?

Yes

No

Would you try guinea

pig or 'Lomo saltado'?

Try as much

as I can

With kids

What's your

ideal trip?

DO YOU TRAVEL

WITH KIDS OR

AS A COUPLE

Rest and

relax

As a couple

Nature

Would you

go deep into

the jungle?

No chance!

36

Do you want a

nature or a

city vacation?

City

¿Do you want

to walk?

Sounds great!

No

Yes
---
CLICK

HERE TO

ENLARGE

LIMA

Guinea pig

Do you want to

see archaeology

or art?

ART

Lomo saltado

ARCHAEOLOGY

CUSCO

OF COURSE!

Can you live

without an Internet

connection?

AMAZONAS

No way!

MOUNTAINS

NORTH BEACHES

Do you prefer the

mountains or the sea?

SEA

37
---
EXPERIENCES

CHARMING PERU

38
---
Belmond Andean Explorer

No matter how you choose to travel to Peru, unforgettable

experiences with those you love are a guarantee. Whether you

are travelling in a couple or with your family, the country's cultural,

historic, and natural wealth is certain to captivate and transport

you on a journey through its millenary past – boasting incredible

scenery and activities suitable for all.

This catalogue takes you on a tour through the many different

experiences you can enjoy as you make your way through cities

like Cusco and Lima. Get carried away by the mouth-watering local

cuisine, wander back in time as you tour fascinating archaeological

sites, peruse local contemporary art galleries, or get adventurous

with a good dose of adrenaline.

39
---
IK Restaurante

COUPLE

PLEASING YOUR PALETES

LIMA

Despite Lima's reputation as a large metropolis, the

historic city has a quiet romantic side. Start your evening

with a walk down the esplanade and take in the views

of South America's only coastal capital city as you watch

the sun set over the Pacific Ocean.

After appreciating the gorgeous natural spectacle, make

your way over to IK Restaurant for a seven-course tasting

menu guaranteed to delight your palate. Each dish

seamlessly showcases new flavours and culinary techniques,

bringing together traditional and contemporary favourites

in an intimate and inviting setting.

40
---
COUPLE

PISCO WITH A "P"

ICA

Delve into the wonderful world of pisco, Peru's national

liquor. Travel south to the Ica province where you will

spend the night at the lovely Viñas Queirolo Hotel,

housed in a centuries-old traditional hacienda. Rekindle

your romantic spark as you watch the sun set amongst

the vineyards.

and bask in the beautiful details of the high wooden

ceilings and the breath taking views of the surrounding

crops. Become familiar with the production process

and the delightful results during personalized tastings,

or spend your time relaxing in front of a fireplace with

a glass of great pisco in hand.

As you walk through the hotel, take in the gorgeous

rooms of this mansion from Peru's Republican epoch,

Viñas Queirolo Hotel

41
---
LimaTours

COUPLE

COMMUNING

WITH NATURE

PARACAS

Upon arriving at the Paracas bay, take a stroll down

the esplanade and get a sense of your surroundings

before boarding a private yacht that will take you on a

tour of one of the most beautiful natural reserves in the

country. As you approach the Ballestas Islands – home

to sea lions, dozens of bird species, and Humboldt

penguins – you will have the chance to appreciate the

islands' incredible natural wealth up close.

While you spend the day under the southern sun on

this luxurious adventure, an on-board chef will make

sure to keep everyone hydrated and satiated with a

fresh assortment of delicious dishes and refreshing

beverages for you to enjoy.

42
---
COUPLE

LUXURY ROMANCE

PUNO

Indulge in a romantic and unforgettable experience

as you board the Belmond Andean Explorer, the first

luxury train in South America. Marvel at the breath

taking landscapes while you make your way through

the Peruvian Andes via Cusco, Puno, and Arequipa.

This all-inclusive tour connects you with Peru's living

culture. Visit rich archaeological sites, impressive

natural destinations – like Lake Titicaca, or fascinating

communities – like the Uros or Taquile. The adventure

culminates in Arequipa with the chance to visit the

Colca Canyon, one of the deepest in the world.

Belmond Andean Explorer

43
---
Row Peru

COUPLE

LIVING CULTURE

IN TITICACA

PUNO

Do not miss the opportunity to become familiar with

two of the most traditional communities in the Andean

Antiplano. Hop onto a Polynesian canoe and make your

way to the ancestral Uros Islands located in the middle

of Lake Titicaca. The community inhabits these manmade

islands that are made from local tototra reed.

Your journey then continues to Taquille, an island

where the Inca's legacy can be appreciated in many of

the local buildings. Take in the impressive surrounding

views of the lake and the white-sand beaches as you

learn about the community. Taquile is famous for

its lovely traditional weavings, a task overseen and

executed by male community members.

44
---
COUPLE

AWAKEN IN

THE JUNGLE

AMAZONAS

Can you imagine what it would be like to open your

eyes in the morning and see an incredible, 700 meterhigh

waterfall before you? That fantasy becomes a

reality at beautiful Gocta Lodge, a hotel located in the

Chachapoyas province, in the heart of the Amazonian

Andes, in northern Peru.

Complement this romantic escape with a scenic walk

to the waterfall, and make your way through huge

trees and fragrant tropical flowers. This unforgettable

experience is perfect for adventurous, nature-loving

couples.

Gocta Lodge

45
---
Tambo del Inka

COUPLE

ESCAPE AND

RELAXATION

CUSCO

Enjoy a relaxing experience with a unique view of the

Sacred Valley. The spa at the Tambo del Inka hotel in

Urubamba offers a series of services that combine

the legendary heritage of Andean ingredients with a

luxurious ambience that invites to disconnection.

Its treatments are based on the healing power of

water, evidenced in its indoor and outdoor pools

with regulated temperature, underwater beds and

hydrotherapy treatments. Massages with coca leaves

and Yucamani stones will link you with nature.

46
---
OUR OTHER EXCEPTIONAL PERUVIAN EXPERIENCES

BELMOND MIRAFLORES PARK LIMA | BELMOND HOTEL MONASTERIO CUSCO | BELMOND LAS CASITAS COLCA | BELMOND HOTEL RIO SAGRADO SACRED VALLEY

BELMOND SANCTUARY LODGE MACHU PICCHU | BELMOND ANDEAN EXPLORER CUSCO - PUNO - AREQUIPA | BELMOND HIRAM BINGHAM CUSCO - MACHU PICCHU

Reservations: +51 (1) 610 8300 | email: perures.fits@belmond.com

BELMOND.COM

47
---
PROGRAMME

Romance

7 DAYS / 6 NIGHTS

A PERUVIAN

DAY 1

Arrival in Cusco and transfer to the Sacred

Valley. Lunch at the Casa Hacienda Orihuela and

horseback ride.

DAY 5

Wake up surrounded by the natural beauty of

Lake Titicaca. Spend the day aboard a Polynesian

canoe touring the Uros and Taquile Islands.

Albergue Ollantaytambo

DAY 2

DAY 6

Visit the Sacred Valley of the Inca's main

attractions. Lunch at the Albergue Ollantaytambo

Restaurant before boarding your train to Aguas

Calientes.

DAY 3

Spend the morning partaking in a traditional

Andean wedding ceremony to strengthen your

spiritual bond. In the afternoon, take time to

tour the Machu Picchu Citadel before returning

to Cusco in the evening.

Return to Lima. Take a stroll down the esplanade

and watch the sun set over the Pacific Ocean

before heading to IK Restaurant for dinner.

DAY 7

Transfer to the airport with a quick visit to

the Callao Monumental art area en route.

International departure.

DAY 4

Board the 'Andean Explorer: Spirit of the Water'

train to Puno. Tour the Raqchi Archaeological Site

and enjoy a cocktail on board.

LimaTours

48
---
Sumaq Hotel

IK Restaurante

LimaTours

Callao Monumental

Belmond Andean Explorer

49
---
Larco Museum

FAMILY

PLAYING WITH

HISTORY

LIMA

Join your children on a riveting journey through Peru's

pre-Incan past as you tour the Larco Museum, one of

the best in the country. Through a series of creative

activities – like drawing and treasure hunting – children

uncover and learn about the Mochica culture and its

importance.

Legend has it that Ai Apaec was the great provider

god of the Mochica, and it was he who guided the

community's military triumphs. With the "Journeys of

Ai Apaec" activity, you will become familiar with this

impressive civilization's fascinating worldview.

50
---
FAMILY

SWEET

CHOCOLATE

LIMA

Peru is known for its top-quality cacao, and the

Chocomuseum is the best place to discover the stories

behind this sweet treat. With locations in Lima and

Cusco, children can come here to learn all about the

beloved bean and its products.

Come together as a family and learn about the

chocolate making process – from selecting the bean, to

the artisanal process of turning the cacao into chocolate.

Discover the dozens of varieties, and enjoy the endless

cacao-based products sold here. As if that weren't

enough, your family will have the chance to prepare

your own chocolates and take them home as a delicious,

edible souvenir.

Chocomuseo

51
---
Veronica Smulders, Of trips and tales

FAMILY

ARTISANS

FOR A DAY

CUSCO

Paint, play, and enjoy learning about Cusco's folk art

scene. Discover the history of the Pucara bulls, one

of Peru's most famous crafts, which represent fertility

and attract good luck and wellbeing.

Expert artisans will guide you through this activity,

and help you create and paint your own bull as you

simultaneously learn about local art and its cultural

relevance in the Imperial City. After completing your

masterpiece, it will undergo a quick drying process so

that you can take it home with you.

52
---
FAMILY

SKY-HIGH

ADRENALINE

CUSCO

If you are looking for a unique adventure fit for adrenaline

junkies big and small, this is it. Imagine climbing a cliffside

with a view of Peru's Sacred Valley of the Incas, only

to fly across the sky minutes later on a zip line.

Your day begins with a 400-metre ascent to the heights

of the zip line course. Once there, take a moment to

look around and revel in the gorgeous mountain

views that surround you before enjoying a tasty and

re-energizing boxed lunch. After finishing, you will be

secured and invited to make your way down the six zip

lines that vary from 150 to 700 meters in length, taking

you on an unforgettable trip across Cusco's impossibly

blue sky.

LimaTours

53
---
Piuray Outdoor Center

FAMILY

THE COCHAMAMA

AND HER WATERS

CUSCO

Cusco is a paradise for aquatic adventure enthusiasts

thanks to its numerous, beautiful clear-water lagoons

with breath taking views. Take a family paddleboard

or kayak trip across Piuray Lagoon's blue waters, and

admire the surrounding views of the snow-capped

Veronica, Chicon, and Salkantay Mountains.

If that is not active enough, compliment your day with

hikes, bike rides, and open-air yoga classes. You will

also have the chance to partake in a fun and delicious

cooking class, or enjoy a traditional pachamanca lunch

made with fresh, local ingredients.

54
---
FAMILY

THE CALL OF

THE ALPACA

CUSCO

Explore the impressive Maras Salt pools with your

children, and learn about how the locals have extracted

this unique, pink salt from the Sacred Valley since

pre-Inca times. Today, over 500 years later, the local

community members continue to manage the area,

and now sell their products worldwide.

Finish your day with an interesting tour of the Yucay

Living Museum. This centre for Andean traditions

has demonstrations of local artisanal textile, ceramic,

and silversmith traditions. Young children can enjoy

befriending resident llamas and alpacas.

LimaTours

55
---
PROGRAMME

PERU

FAMILY ESSENCE

7 DAYS / 6 NIGHTS

DAY 1

DAY 6

Arrive in Cusco and transfer to the Sacred Valley

with a visit to the Yucay Living Museum.

DAY 2

Tour the Maras salt pools before heading to

the Piuray Lagoon to enjoy a variety of aquatic

activities.

Sweeten your morning with a chocolate experience at

the Chocomuseo. Then, spend the afternoon watching

the fountain show at the Magical Water Circuit.

DAY 7

Transfer to the airport. International departure.

DAY 3

Spend the day wandering through the Machu

Picchu Inca Citadel before returning to Cusco in

the afternoon.

DAY 4

Museo Vivo de Yucay

Return to Lima. In the evening, take part in

the 'Journeys of Ai Apaec' activity at the Larco

Museum.

DAY 5

56

Retornen a Lima. Por la tarde, participen de la

actividad 'Los viajes de Ai Apaiec' en el Museo Larco.

Piuray Outdoor Center
---
LimaTours

LimaTours

Chocomuseo

Art Trail

Larco Museum

57
---
58

Unique clay and rock formation on Peru's Pacific Coast, reachable only at low tide.