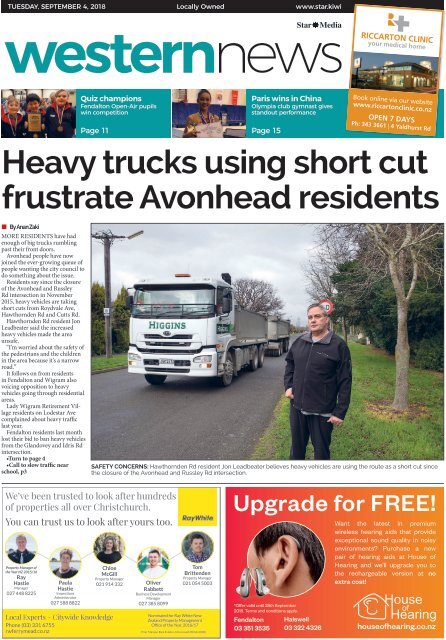 Western News: September 04, 2018
You also want an ePaper? Increase the reach of your titles
YUMPU automatically turns print PDFs into web optimized ePapers that Google loves.
TUESDAY, SEPTEMBER 4, 2018

Locally Owned

www.star.kiwi

Quiz champions

Fendalton Open-Air pupils

win competition

Page 11 Page 15

Paris wins in China

Olympia club gymnast gives

standout performance

Book online via our website

www.riccartonclinic.co.nz

OPEN 7 DAYS

Ph: 343 3661 | 4 Yaldhurst Rd

Heavy trucks using short cut

frustrate Avonhead residents

• By Anan Zaki

MORE RESIDENTS have had

enough of big trucks rumbling

past their front doors.

Avonhead people have now

joined the ever-growing queue of

people wanting the city council to

do something about the issue.

Residents say since the closure

of the Avonhead and Russley

Rd intersection in November

2015, heavy vehicles are taking

short cuts from Roydvale Ave,

Hawthornden Rd and Cutts Rd.

Hawthornden Rd resident Jon

Leadbeater said the increased

heavy vehicles made the area

unsafe.

"I'm worried about the safety of

the pedestrians and the children

in the area because it's a narrow

road."

It follows on from residents

in Fendalton and Wigram also

voicing opposition to heavy

vehicles going through residential

areas.

Lady Wigram Retirement Village

residents on Lodestar Ave

complained about heavy traffic

last year.

Fendalton residents last month

lost their bid to ban heavy vehicles

from the Glandovey and Idris Rd

intersection.

•Turn to page 4

•Call to slow traffic near

school, p3

SAFETY CONCERNS: Hawthornden Rd resident Jon Leadbeater believes heavy vehicles are using the route as a short cut since

the closure of the Avonhead and Russley Rd intersection.

We've been trusted to look after hundreds

of properties all over Christchurch.

You can trust us to look after yours too.

Property Manager of

the Year NZ 2015/16

Ray

Hastie

Manager

027 448 8225

Local Experts – Citywide Knowledge

Phone (03) 331 6755

rwferrymead.co.nz

Paula

Hastie

Inspections

Administrator

027 588 8822

Chloe

McGill

Property Manager

021 914 332 Oliver

Rabbett

Business Development

Manager

027 385 8099

Tom

Brittenden

Property Manager

021 054 5003

Nominated for Ray White New

Zealand Property Management

Office of the Year, 2016/17

Prier Manson Real Estate Ltd Licensed (REAA 2008)

Upgrade for FREE!

*Offer valid until 28th September

2018. Terms and conditions apply.

Fendalton

03 351 3535

Halswell

03 322 4326

Want the latest in premium

wireless hearing aids that provide

exceptional sound quality in noisy

environments? Purchase a new

pair of hearing aids at House of

Hearing and we'll upgrade you to

the rechargeable version at no

extra cost!

houseofhearing.co.nz
---
2 Tuesday September 4 2018

Latest Christchurch news at www.star.kiwi

get in touch

from the editor's desk

YOU HAVE to sympathise with residents

having to deal with big trucks rumbling

past their homes (see page 1).

Christchurch is growing at a quick

rate. That means more people, more

housing, more cars and more trucks. The roads are becoming

increasingly congested. We're nothing like Auckland but

nevertheless our roading network is busy.

It's no surprise increasing numbers of motorists are seeking

a quicker route to get to where they are going, and that often

means away from the main arterials which grind to walking

pace at times.

Once quiet residential streets and roads are now busy.

The answer is not an easy one, but there is one guarantee: Big

trucks will continue to roll through more neighbourhoods.

- Barry Clarke

GENERAL ENQUIRIES Ph 379 7100

CLASSIFIED ADVERTISING Ph 379 1100

Star Media, a division of Allied Press Ltd

PO Box 1467, Christchurch

starmedia.kiwi

news

Funding allocated

The Hornby Presbyterian Community Trust is one group

who will receive a share of a $278,000 community board

grant.

Pages 6 & 7

sport

Women boxers shape up

Halswell boxer Megyn McLennan will main event the Pacific

Warriors 2 night at the Hagley Sports Centre on September

15.

Page 15

community events

WESTERN NEWS

Seed swap

Celebrate spring, the season of growing and greenery. Take your

unwanted seeds or plants to the Linwood Library Wednesday

to Sunday until September 16, Te Hapua: Halswell Centre, 341

Halswell Rd.

NEWS

Anan Zaki

Ph: 371 0777

anan.zaki@starmedia.kiwi

ADVERTISING

Alana Powell

Ph: 962 8753

alana.powell@starmedia.kiwi

Page 20

The best-read local newspaper, delivered to

18,190 homes every Tuesday

Templeton, Islington, Hei Hei, Broomfield, Halswell, Oaklands,

Westlake, Hornby, Wigram, Sockburn, Church Corner, Ilam,

Russley, Hyde Park, Avonhead, Riccarton Park, Riccarton.

Thinking

Luggage?

03 349 5050

free

denture

checks

Think

Just

Bagz!

Eminent Superlight

Eminent TPO

New Dentures > Relines > Repairs >

6 Brynley Street, Hornby, Christchurch

www.betterdenture.co.nz

Mr Mobility

Samsonite Range

DressSmart Mall | 03 349 7887

417 Main South Rd, Hornby

just

SO LITE luggage

bagZ

SCooTer Sale

35% oFF

NoW $3,495

Trade-in oK

Free Home Trial

Call Now! 0204 100 2737
---
WESTERN NEWS Latest Christchurch news at www.star.kiwi

Tuesday September 4 2018 3

News

Call to slow traffic near school

• By Anan Zaki

VILLA MARIA College

principal Deborah Brosnahan

wants traffic to slow down before

a student gets killed.

Ms Brosnahan said Brodie St,

on the west side of the school is

dangerous in peak times.

This year there have been two

crashes at the intersection of

Yaldhurst Rd and Brodie St, she

said.

"Teachers are always on duty

to keep an eye on what's happening,

but we're very conscious of

the fear that a girl could be killed

out there."

Both crashes were minor, she

said.

"One of them was a member of

staff trying to cross [the intersection]

in her car, and [she was

with] one of our special needs

students.

"Some of our girls had to step

into help an elderly woman who

had a crash on that corner," Ms

Brosnahan said.

The current speed limit on

Brodie St is 50km/h.

"That [speed limit] seems silly

because most of us should be

sensible and slowing down.

"They do have some trafficcalming

measures like speed

bumps, but it is a narrow street

and some signage to slow traffic

would be good," Ms Brosnahan

said.

The school also wanted parking

restrictions to be better

enforced on Brodie St. The street

has a 30min parking limit on

school days.

Ms Brosnahan said many of

the culprits were students but

said reducing the parked cars

would also improve safety.

The community board has

asked city council staff to look

into reducing the speed limit on

the street.

Said board chairman Mike

Mora: "We've already got staff

working on it, they are doing traffic

counts and research into the area."

DANGER: Villa

Maria College

principal

Deborah

Brosnahan is

concerned

about the

speed of

Brodie St

traffic.

He said the board gave the city

council traffic department until

October to report back with

their findings.

"We are looking at reducing

the speed limit to 30km/h or

40km/h and whatever other

measures the traffic engineers

may recommend," Mr Mora

said.

Local

News

Now

In Brief

Fire rages, homes at risk

BURGLARIES DRY UP

The number of 'door-stepping'

burglaries has slowed down,

Hornby police Senior Constable

Bruce Ward says. There have been

no reports of door-step burglaries

in Broomfield, Hei Hei, Hornby,

Rolleston and Wigram in the past

two weeks, he said. This follows

on after nine reported instances

of door-stepping from mid-July

to mid-August, after Western

News highlighted the issue in July.

STREET NAMES

The Halswell-Hornby-Riccarton

Community Board has approved

street names for two subdivisions.

The Cloverden subdivision in

Halswell will have six new street

names. They are, Blue Jacket

Drive, Conailus St, Elsie St,

Kilmurry St, Mardyke St and

Skibbereen Drive. The new street

names for the second stage of

the Riccarton Park subdivision

are; Kahukura Rd, Koral Lane,

Miromiro St, Musket Lane and

Piripiri Pl.

SKATE PARK OPENING

Halswell's Knights Stream skate

park will be officially opened

on October 12. Members of the

Halswell-Hornby-Riccarton

Community Board will be present

and a skateboard show will be

held. Skateboarders have been able

to use the site since the end of July.

WOF

$45 .00

• Courtesy cars • Oil changes

• Full mechanical repairs

• Brake & clutch repairs

• Transmission flush service

• Tyres & batteries

• Petrol & diesel servicing

Fitzgerald Motors

PHONE 03 349 7813

We've shifted now located at

Unit 8,193 Waterloo Road, Hornby

(6 doors down from our old site)

HEAT PUMP

SALE NOW ON!

Amazin' spring Specials!!

• We will offer you the best quality brands and

option of heat pump for your home/business

• Providing Heat Pump solutions for over 16 years to Cantabrians

• We personally guarantee all our products & installs for 5 years

(providing annual maintenance has been completed)

Phone us today for your free consultation & quote

41A SHAKESPEARE RD, WALTHAM

PHONE 03 366 0525

www.enviromaster.co.nz

"A local team for local people"

Our gorgeous range of..

sandwiches, paninis, bagels,

scones, slices, muffins,

quiches, sausage rolls & pies,

coffee and more!

CATERING AVAILABLE!

Gorgeous Food

specialist bakery

OPEN

SATURDAY

7am - 1.30pm

66-68 Springs Rd Ph: 344 6044 Email: gorgeousfood@xtra.co.nz

Open Monday-Friday 6am-3.30pm www.gorgeousfood.co.nz
---
4 Tuesday September 4 2018

Latest Christchurch news at www.star.kiwi

News

In Brief

RECYCLED SPORTS GEAR

Two more Riccarton locations have

been added to the "Give Gear Get

Great" initiative, which recycles

used or unused sports equipment.

The new bins are at Howzat Indoor

Sports on Matipo St and Rebel

Sports on Rotherham St. The only

other bin in the area is at La Vida

Church on Hansons Lane. The

sports equipment collected will be

given back to those in need in the

community.

SENIOR COOKING

The Riccarton Baptist Church

will next month begin a free

community cooking programme

for senior citizens. The

programme, named Senior Chef,

is organised by Pegasus Health.

Senior chef co-ordinator Jane

Callahan says healthcare research

has shown that as older people

were unlikely to prepare their own

meals. Senior Chef consists of eight

sessions, commencing on October

15. To enrol phone 374 1639.

GARDEN REOPENS

The Riccarton West Community

Garden reopened last week

after being closed since June

for maintenance. The garden

on Peverel St, was opened in

2013 by members of the Student

Volunteer Army and the Riccarton

community. The land has been

loaned to the community by

Housing New Zealand.

•From page 1

Mr Leadbeater said heavy vehicles

cutting through Avonhead

should use a "main arterial"

such as Withells Rd.

"Windows are vibrating on the

houses in the morning, it's just

not suitable for heavy traffic.

"There should be a limit put

on the weight of vehicles travelling

on Hawthornden and the

bottom of Avonhead Rd and

Roydvale Ave," Mr Leadbeater

said.

The Avonhead Community

Group asked the Fendalton-

Waimairi-Harewood Community

Board in April last year to

restrict heavy vehicle usage on

the streets.

The board asked council staff

to investigate whether vehicles

weighing nine tonnes or greater

could be banned from taking

the route which beginning at

Roydvale Ave.

City council transport operations

manager Steffan Thomas

said that Roydvale Ave is a

collector road, and intended to

carry more heavy traffic than

local residential streets.

And for Hawthornden Rd, Mr

Thomas said staff has not considered

if heavy vehicles should

be restricted at the present time.

There is also no traffic count

LOUD: A truck on Hawthornden Rd.

data on the road, he said.

The lack progress has frustrated

Mr Leadbeater.

"We were hoping that would

all get sorted out, but nothing

has happened."

Waimairi Ward councillor

Raf Manji agreed with a heavy

vehicle restriction at Roydvale

Ave and Hawthornden Rd.

"It can be a frustrating for

elected members given we're

taking feedback from the community,

but the way the traffic

operations work is they have to

do [traffic] counts and [they]

tend to determine what the

policy outcome is," Cr Manji

said.

The new Summerset

WESTERN NEWS

Local

News

Now

Trucks frustrate residents

Fire rages, homes at risk

retirement village development

has added to the heavy vehicle

usage and the city council

needed to look at the issue again,

he said.

"I think that's definitely a

more vulnerable area in terms

of the clash between residential

and heavy freight movements for

developments."

A brand new look and location

Halswell Pharmacy hasn't moved far. Just

next door. So it is still conveniently located

opposite Halswellhealth doctors on Ensign

Street. Come and visit the warm, spacious

new pharmacy today.

As you enter, the highly skilled and trained

pharmacy team will greet you with a smile.

They are part of your healthcare team and

will help answer any of your questions.

Browse through the neat and easily laid out

shop to find any of your desired healthcare

and beauty needs.

Needing to buy a gift? You will find a great

selection at Halswell Pharmacy.

Pharmacist and owner, Karen, is passionate

about pharmacy and her customers. She

has 20 years experience as a pharmacist,

ten of that at Halswell Pharmacy! There

is always a pharmacist on duty and they

are now easily recognised in their white

dispensing jackets.

Call in to Halswell Pharmacy today for any

of your health needs, questions or concerns.

Karen, Casey, Amanda, Aynsley, Leah, Kelly

and Nicky are there to help you.

Pharmacy services

• Prescriptions

• Private consultations

• Seasonal ailments

• Medico blister packs

• Natural Health

• Blood pressure testing

• Pain management

• Emergency contraceptive pill

• First aid advise

• Skin care

• Oral contraceptive pill

• Erectile dysfunction treatment

• Smoking cessation

• Gifts & much more

• Safe disposal of expired

& unused medicines

• Eye infection (conjunctivitis)

Rosamund Pl

STOCKISTS OF Ethique, Revlon (20% OFF) , Trilogy, Evolu, Sukin & Olive

'Where patient care comes first'

29 Ensign Street, Halswell

Open Mon - Fri 8.30am-6pm

t 03 322 8737 f 03 322 8777

e info@halswellpharmacy.co.nz

w halswellpharmacy.co.nz

WE ARE HERE

29 Ensign Street

Balcairn St

Ensign St
---
WESTERN NEWS Latest Christchurch news at www.star.kiwi

Tuesday September 4 2018 5

News

Local

News

Now

Firefighters move into new Wigram base

Fire rages, homes at risk

• By Anan Zaki

THE NEW $7.4 million fire

station in Wigram was opened

on Friday.

The station replaces the old

Sockburn station at the former

Wigram Air Force base and will

be home to 28 firefighters.

Fire and

Emergency

Area Commander

Dave

Stackhouse

said the new

station will be a

state of the art

Dave

Stackhouse

facility.

"[It] has been

designed to

meet the future

needs of the Christchurch community.

"The new station is equipped to

deal with major events, including

self-sufficient water storage, an

on-site power generator and grey

water holding tanks," Mr Stackhouse

said.

The new station's location

on the corner of Wilmers and

Springs Rd, will put the crew in

a strategic position to support

other stations in the city, he said.

There will also be a purposebuilt

chemical decontamination

facility.

"It means the crew coming

back from a fire or emergency

can decontaminate in a clean

zone," Mr Stackhouse said.

The new station is part of Fire

and Emergency's $50 million city

rebuild programme.

It will see six career, one composite

(career and volunteer) and

three volunteer stations built in a

redevelopment of the city's entire

network of fire stations.

Other stations that have been

completed are Anzac Drive,

Spreydon and Woolston.

"Fire and Emergency has provided

the foundation of a great

emergency service capability, one

that will contribute to Christchurch's

protection and resilience

for many years.

"This rebuild programme

represents a significant organisational

investment and has

provided a unique opportunity to

build a future-proofed network

of stations in Christchurch that

meets community needs and

addresses an ever-changing call

type and demand."

NEW STATION:

Duty fire crew

outside the new

Wigram fire

station. From

left – Adam

Milne, Liam

Sergeant, Ed

Love and Greg

Koppert.

Sockburn Station first opened

in 1956 in its original location

on the corner of Blenheim and

Watts Rd.

It relocated to the former

RNZAF Wigram fire station in

1997.

In 2017, firefighters in

Wigram Station responded to

1526 incidents in their area.

How can we continue to live well in retirement?

Arvida has begun a revolution that is transforming the ageing experience.

18774_STAR4_0918

We're focused on the holistic wellbeing of each person and

we support them to feel truly at home. We live in home

environments rather than institutions with rules and timetables,

so residents have the freedom to make their own choices and

spend their day doing the things they love. Before you make a

decision about retirement care for yourself or a loved one, why

not visit one of our 11 villages in the Christchurch region.

The attitude of living well.

At Mayfair and Wendover, we have resthome rooms

and hospital care beds available right now. Ask about our

Free 1 Day Respite Care Offer, so you can experience

our friendly personalised care first hand.

104 Wharenui Road

Upper Riccarton, Christchurch.

Phone: 0800 880 009

or 03 348 2445

www.arvida.co.nz

33 Erica Street

Papanui, Christchurch.

Phone: 0800 278 432

or 03 352 6089
---
6 Tuesday September 4 2018

Latest Christchurch news at www.star.kiwi

WESTERN NEWS

News

Community groups share $278,000

• By Anan Zaki

THIRTY-THREE community

groups will be getting a share

of a $278,000 ratepayer-funded

grant.

The Halswell-Hornby-Riccarton

Community Board moved

to grant the money last week.

The highest beneficiary of the

fund was Hornby Presbyterian

Community Trust, which received

$38,000. The trust is in its

30th year of operation.

The money will come from the

board's $570,000 Strengthening

Communities Fund.

The trust's director Dr Blair

Stirling said the funding from

the community board is invaluable

and provides cover for staff

wages providing social services.

"We're trying to provide for

psychological, sociological and

physical needs of people."

The trust has 13 counsellors

and two social workers providing

services for 200 children

in the south-west of the city. In

total, the trust sees 2000 clients

a year.

The services also include providing

firewood to families in

need, Dr Stirling said.

"The [board's] contribution is

part of quite a significant bit of

work that we do."

It operates a mixed payment

system, he said.

"Where people can afford

the service, they pay. We use

the profit to fully subsidise the

service to the more vulnerable,"

Dr Stirling said.

The board has provided funding

to the group throughout the

past decade.

"The community board has

been a tremendous support for

the trust over the years," Dr

Stirling said.

One-hundred and twenty-five

thousand dollars from the fund

was pre-allocated last year for

four multi-year community projects.

They were the Community

Development Network, Halswell

Community Project, Halswell

Menzshed and the Oak Development

Trust.

Board chairman Mike Mora

said it was normal to allocate

a six-figure sum to various

community groups early in the

financial year.

Mr Mora said the fund has a

strict criteria and can only be

used by non-profit community

organisations.

Nine sports clubs from the

city's west also received a share

of the fund.

BACKING: Hornby Presbyterian Community Trust support workers Kerrie van Woerden, Kirstin

Dingwall-Okoye, Jo Down and director Blair Stirling. The trust received a $38,000 grant from the

Halswell-Hornby-Riccarton Community Board last week.

Mō tātou, ā, mō kā uri ā muri ake nei – For us and our children after us
---
WESTERN NEWS Latest Christchurch news at www.star.kiwi

Tuesday September 4 2018 7

funding grant

Organisations receiving a share

of the $278,000:

Anglican Care Community

Development – $27,000

Canterbury Fiji Social Services

Trust – $31,000

Hei Hei Broomfield Community

Development Trust – $7000

Hornby Presbyterian Community

Trust – $38,000

La Vida Youth Trust – $34,000

The Salvation Army New Zealand

Trust – $9000

Avonhead Community Trust –

$6000

Burnside Rugby Football Club Inc

– $1700

Canterbury Tamil Society Inc –

$3000

Christchurch Iranian Society Inc –

$2500

Christchurch Korean Community

School – $2000

FC Twenty 11 – $4500

Halswell Scout Group – $2060

Halswell United Association

Football Club – $8000

Hornby Community Care Trust –

$2550

Hornby Day Care Trust –

$7000

Hornby Rugby Football Club Inc

– $5000

K2 Youth Development Trust –

$18,000

Lions Club of Halswell District Inc

– $2900

Nepal New Zealand Friendship

Society of Canterbury Inc –

$6000

Riccarton Baptist Church – $2500

Riccarton Community Church –

$2400

SEEDS RUR Trust – $12,500

Seventh Day Adventist Church

(Addington Samoan) – $1000

Southern United Hockey Club Inc

– $2000

South West Football Foundation

Trust – $3000

Spreydon Youth Community

Trust – $7000

Sydenham Junior Cricket Club –

$2000

Te Kura Tennis Club Inc – $1200

University of Canterbury Athletics

Club Inc – $1200

Uru Manuka Education Trust –

$7000

Westside Community Trust –

$3000

Youth South West Christchurch

Trust – $16,000

Spring

CLEANOUT

RUGS FROM ONLY $ 50

SHEET SETS FROM ONLY $ 15

CUSHIONS & THROWS FROM ONLY $ 10

PILLOWS, DUVETS & ANY OTHER

MANCHESTER AT CRAZY PRICES!

HUGE RANGE OF WHITEWARE & FURNITURE

AT OUTLET PRICES!

5 Warning Signs of Spinal Stress!

André Grob,

Dr of Chiropractic,

has had over

15 years

experience of

specialty spinal

care in Australia

and New Zealand.

A healthy spine is vital to

your wellbeing.

Specialist spinal therapy

at Southern Chiropractic

consists of:

• Manual manipulative therapy

• Soft tissue Massage

• Low level Laser therapy

• Exercise and postural

education

HEADACHES

NECK PAIN

AND TENSION

MID BACK PAIN

AND TENSION

HURRY

LIMITED STOCK

- Dings & dents

- End of line & deleted models

- Exchange & factory seconds

SCIATIC PAIN

LOW BACK PAIN

99 FERRY RD, CHRISTCHURCH

Southern Chiropractic Ltd

NEW PREMISES

Unit 4, 3 Kennedys Bush Road, Halswell

(Down the drive beside Pringle Homes offices)

Telephone 322 1432

www.southernchiropractic.co.nz

Email dre.nik@xtra.co.nz

FOR BETTER SPINAL HEALTH

ACT NOW… RING 322-1432

Halswell Jct Road

Halswell

Road

Kennedys

Bush Road

3 Kennedys

Bush Road

Sparks Road

OUTLETSTORE

ASK US ABOUT OUR FINANCE OPTIONS

Call us on 03 3798249 or email us chchoutlet@smithscity.co.nz

Stock is limited. Images are indicative only. # Credit criteria applies, ask in-store for details.

Outlet Store items are over stocked, end of line, scratch & dent, ex display, ex repair items and more.
---
8 Tuesday September 4 2018

Latest Christchurch news at www.star.kiwi

News

CAUGHT ON CAMERA: Two offenders who broke into the New Zealand Cars yard were caught

on a CCTV security camera. (Below) – Managers Ryan Lawton and Christopher Schwartz stand by

the now repaired fence, which was cut open by the thieves.

Car yard burglars caught

on camera in Sockburn

• By Anan Zaki

BURGLARS BROKE into a

Sockburn car yard and stole two

cars, using one to tow the other

away.

Two offenders cut through

a fence at New Zealand Cars

Canterbury on Waterloo Rd in

the early hours of Monday last

week.

A $23,000 red 2009 Mazda

MPS turbo, and a $9000 white

2007 Toyota Wish were stolen,

business manager Christopher

Schwartz said.

Both cars did not have

registration number plates.

The stolen Mazda MPS was

a "relatively rare" version with

only eight or nine in the city, he

said.

"They had to tow that one

out by using the other stolen

[Toyota Wish]." A set of number

plates from another car at the

dealership was also stolen. The

registration number GTW691

was taken from a 2008 Mazda

Atenza sedan.

"It's a sad event really," Mr

Schwartz said.

The break-in was captured on a

CCTV security camera. But

the offenders could not be

identified because of the quality

of the footage. Mr Schwartz

appealed for witnesses to come

forward.

Anyone with information

should phone the police on 363

7400.

EXTENDED ROAD barriers

are being installed in some

parts of the red zone to stop

illegal rubbish dumping and

boy racers from destroying the

vegetation.

They will also create tighter

security in the

area. In early

2016, barriers

were placed

across roads in

the red zone to

deter anti-social

Steffan

Thomas

behaviour and

illegal rubbish

dumping.

"The barriers

were designed to allow

pedestrians and cyclists access

to the area but to keep vehicles

out. Unfortunately, some

drivers continued to bypass

the barriers by mounting the

footpath and driving around

them,'' said city council

transport operations manager

Steffan Thomas.

"Once past the barriers,

they're using the area as

a dumping ground for

their rubbish, which is

unacceptable," he said.

"We want to prevent that

from happening and have been

working on the issue with Land

Information New Zealand," Mr

Thomas said.

LINZ manages red-zoned

land for the Crown but the city

council owns the roads and

footpaths.

"LINZ has been working

to lengthen the barriers

WESTERN NEWS

Local

News

Now

Fire rages, homes at risk

Red zone barriers

get bigger to deter

boy racers, vandals

in targeted areas so it no

longer possible for cars to get

around them by driving on

the footpath. They're adding

additional bollards on the

footpath and berm areas and

stringing chains between them,

so that cars can't get past but

cyclists and pedestrians can

still get through,'' Mr Thomas

said.

"We hope this will bring an

end to the illegal dumping and

stop unauthorised vehicles

from accessing the area.''

LINZ has been working

closely with landscaping

contractors and others

who need legitimate access

through a smart lock and

key system to open the

barriers.

"In the past weeks, our team

has also been working closely

with whitebaiters who want

to get access to their favourite

spots," said Mr Bradley

"We have successfully

arranged access for over 60

individuals and the feedback

has been very positive," he

said.

The whitebaiters register

their names with LINZ in

exchange for a special key to

open specific gates.

Mr Bradley said vandals

rammed some of the new gates

to get access to the streets.

"But we have replaced those

gates with heavier posts and

other security measures, like

cameras, to keep those people

out of the red zone."

BLOCKED:

Extended

road barriers

are being

installed in

parts of the

red zone

to deter

vandals. ​

Fujitsu

Heat

Pumps

Installed from

$1990

+ GST

Fujitsu accredited

air conditioning specialists

Website: www.pshc.co.nz

*Conditions apply. Back to back installations 5 metre pipe run.

Phone today: 03 381 6950 Email: info@pshc.co.nz
---
WESTERN NEWS Latest Christchurch news at www.star.kiwi

Tuesday September 4 2018 9

Serviced Apartment, Resthome, Hospital & Dementia Care

Open Afternoon

Sunday 9 September, 1-4pm

with an information presentation at 2pm

We are delighted to offer you an opportunity for a special tour of our

serviced apartments, resthome, hospital and dementia care centres.

You are welcome to visit our Anthony Wilding, Diana Isaac or Margaret Stoddart villages

any time between 1pm and 4pm on Sunday afternoon, for a no obligation tour.

Feel free to bring a friend or family member with you, and please

call us if you require assistance with transport.

Sharon, Nicki, Merrin and their teams are looking forward to seeing you.

Serviced apartments,

resthome, hospital and

dementia care

5 Corbett Crescent,

Aidanfield, 338 5820

Serviced apartments,

resthome, hospital and

dementia care

1 Lady Isaac Way,

Mairehau, 386 3018

Care apartments

and resthome

23 Bartlett Street,

Riccarton, 348 4955

8607
---
10

Latest Christchurch news at www.star.kiwi

Tuesday September 4 2018

WESTERN NEWS

raNGiora • Northwood • st martiNs • tower juNctioN • BishoPdaLe • raNGiora • Northwood

Northwood • st martiNs • tower juNctioN • BishoPdaLe • raNGiora • Northwood • st martiNs • tower juNctioN • BishoPdaLe •

SALE

40 %

off*

BARGAIN

BOOKS

*Excludes picture books, paperbacks,

kids fiction reads and stock may vary

from store-to-store.

30 %

off*

CALENDARS

& DIARIES

*Stock may vary from store-to-store.

MASSIVE

SPRING

CLEAROUT

TOWER JUNCTION:

LARGEST

RANGE

IN CHRISTCHURCH

Follow us on Facebook:

@papertreestores

tower junction, off Clarence St, Riccarton | Bishopdale, 31 Bishopdale Court, Bishopdale | rangiora, 206 High Street, Rangiora

Northwood supa centre, Main North Road, Belfast | st martins shopping centre, Wilsons Road, St Martins

• st martiNs • tower juNctioN • BishoPdaLe • raNGiora • Northwood • st martiNs • tower juNctioN • BishoPdaLe • raNGiora
---
WESTERN NEWS Latest Christchurch news at www.star.kiwi

Tuesday September 4 2018 11

Quizmasters battle at Cobham Intermediate

• By Anan Zaki

FENDALTON Open-Air

and St Martins schools took

out the Otago Daily Times

Extra! Canterbury quiz at

Cobham Intermediate on

Wednesday.

The winners of the year 5

and 6 quiz were Sam Atkinson,

11, Aran Cudmore, 10, and

Aaron Kwak, 10, with a score 90

out of 100.

Sam, who was part of the

victorious Fendalton team, said

it was the first time the trio had

won and it felt "pretty awesome".

He was also proud of his teammates.

"It was probably Aaron's

knowledge of everything that got

us the win," Sam said.

The second and third-placed

teams finished neck and neck,

with Prebbleton School on 82

points and Avonhead School on

81 points.

Year 5 and 6 defending champions,

Medbury School, finished

sixth. The St Martins School trio

took out the year 7 and 8

quiz, and were elated after the

win. Dilkee Nanayokkara, Stella

Shields and Oliver Williams,

all 12, scored 94 points out of

100. Stella said her team was the

strongest in the world mapping

question. "We struggled on the

newspaper search and guess who

question," Dilkee said.

It was the first time the three

pupils from St Martins had won

the competition.

Christchurch South

Intermediate finished second

on 88 points ahead of defending

champions Cobham Intermediate

which were

third on 83 points.

SCHOOLS

QUESTIONS: The Otago Daily Times Extra! Canterbury quiz

was held at Cobham Intermediate on Wednesday.

PHOTOS: ANAN ZAKI

It was organiser Tricia Rowe's

first time running the quiz.

"It's been really exciting

and nerve-wracking. It's been

challenging making sure

the questions were pitched

at the right level," Mrs Rowe

WINNERS: (Above) – St Martins School pupils Oliver Williams,

Dilkee Nanayokkara and Stella Shields, and (below) Fendalton

Open Air School's Aran Cudmore, Aaron Kwak and Sam

Atkinson won their respective quizzes.

said. Both quizzes attracted 237

pupils from across Canterbury.

They were run by the Otago

Daily Times through Extra! – its

monthly Newspapers in Education

publication for primary, intermediate

and junior secondary

school pupils.
---
and should be used wherever possible. A dropshadow version

is also available for use but can only be used on a yellow background.

Where full colour cannot be used, the black and

white logo should be used.

When the AA circle within the logo becomes less than 10mm then the

is also available for use but can only be used on a yellow background.

Where full colour cannot be used, the black and

white logo should be used.

MARCH 2014

12

Tuesday September 4 2018

Latest Christchurch news at www.star.kiwi

WESTERN NEWS

ON

NOW!

Promotion

closes 1st

October

2018.

Conditions

apply.

Shop

Win

& Relax

SUPPORT YOUR LO

TO WIN 1 OF 5 FAM

TO HANMER

Enter every time you shop at any o

More chanc

PARA PARA PARA PARA PARA PARA PARA PARA P

PARA PARA PARA PARA PARA PARA

MATTRES

FOR ALL OCCASIONS

127 Blenheim Road PHONE 3

No rainchecks. Cash sales only.

ARA PARA PARA PARA PARA PARA PARA PARA

Exclusive Range of Pottery, Furniture,

Handcrafts, Stoneware & Gifts

Open 7 days Mon-Fri 10-4.30pm, Weekends 10-4pm

395 Brougham St, Christchurch | Ph (03) 365-3411

Sho

Wi

*Airsoft War

*Gel Ball Shooter

*Archery Range

*Family fun

*Birthday party

*Corporate

0800-247 7638

www.zone67.co.nz

67 Kennaway Rd, Woolston

Christchurch

Indoor Arena

Want the best

dog food possible?

• Pure meat • No Chemicals • No Fillers

• Dogs love Essential • Convienent chilled roll

• Affordable $1 a day for a medium dog

BUY INSTORE AT...

FORMULATED

FOR DOGS

Shop 33, Bishopdale Mall. Ph 359 5118

& Re

UP TO 85% OFF BEAUTY, MAKEUP, SKIN, NAIL, HAIRCARE, PHARMACY

OPENING SPECIALS!!

HUGH LA GIRL SALE!! TAKE 70% OFF RRP ON ALL GIFT SETS

PERFUMES, AFTERSHAVES ALL $10 LEATHER GLOVES ALL $8

BEAUTY SALON SKINCARE,VITAMINS NOW ALL BELOW COST 50% OFF TOP BRAND GLASSES

NAIL GELS $15 NAIL POLISH $2

WE HAVE MOVED FROM HORNBY TO 227 BLENHEIM RD BESIDE WAREHOUSE STAT

SHOP ONLINE WWW.CLEARANCEHEALTHANDBEAUTY.CO.NZ PH 033440333

Enjoy your journey with Caltex Hornby

gas up with us today!!!

ATM | COFFEE

LPG SWAPPA BOTTLE | MINI SUPERMARKET

FIREWOOD | TRAILER HIRE

FORECOURT SERVICE | TOUCH FREE CARWASH

Logo

Tagline

LOCALLY OWNED & OPERATED

427 MAIN SOUTH RD - PH 349 2407

www.caltexhornby.co.nz

No tagline

Proudly supported by...

3

WIGRAM

SUPER RANGE OF

BEER, SPIRITS,

INTERNATIONAL

& LOCAL WINES

Super Liquor Wigram

187 Wigram Rd (next to Culture Fitness)

Ph (03) 322 4000

Convenient

location to

Wigram Skies

CHILL-AHH HIRE

GLASS HIRE

Thinking

Luggage? SO LITE luggage Eminent TPO

Think

Just

Bagz!

DressSmart Mall | 417 Main South Rd, Hornby | 03 349
---
WESTERN NEWS

CAL BUSINESSES

ILY GETAWAYS

SPRINGS

f these participating businesses

es to win!

Latest Christchurch news at www.star.kiwi

Proudly supported by...

Tuesday September 4 2018

13

ARA PARA PARA PARA PARA PARA PARA PARA

SES

43 9820

BLENHEIM

MATIPO

CLARENCE

PARA PARA PARA PARA PARA PARA PARA PARA P

PARA PARA PARA PARA PARA PARA

• Re-thread broken necklaces

• Re-knot pearls

• Magnetic clasps fitted

• All jewellery repairs

at any level

Jewellery

& Giftware

JEWELLERY REPAIRS

HOURS: Mon-Fri 9am-5pm, Sat 9am-1pm

79 Wrights Road, Middleton.

Ph: (03) 338 0171

Email: sales@warrenagencies.co.nz

www.warrenagencies.co.nz

Boost Brain Performance

ENZO:PROFESSIONAL (ENZOGENOL)

is a potent antioxidant extract of the N.Z. pine bark and has

SUPER PRicE!

been clinically shown to improve memory, concentration &

brain performance. 60's only $45.30, save $5.00

120's only $84.90, save $15.70

MARSHALLS HEALTH & NATURAL THERAPY

CONSULTING - PRESCRIBING - DISPENSING -

MANUFACTURING - MEDICAL HERBALISTS

110 SEAVIEW RD, NEW BRIGHTON • PH 03 388 5757

Email: enquiry@marshallshealthshop.co.nz

Detailed Information Available

Bringing You the Best in

Natural Health!

- WE ARE ALWAYS HAPPY

TO HELP! -

p

OUTDOORS &

CAMPING GEAR

Check out our great range of

quality tramping boots, sleeping bags

& camping accessories

Open 7 days

dressmart HOrnby,

main sOutH rd

pH 03 344 5304

Amyes

Road

• help us to help others • donations appreciated

• open 6 days We welcome you to come in for a chat!

FREE

PICK UP

Can be arranged for

your quality donations -

Phone 349 4163

Dress

Smart

Goulding Ave

Main South Rd

Shands Rd

We ARe

HeRe!

Amyes Rd

Hornby Family Store

1 Amyes Rd, Hornby

Ph. 349 4163

Hansons Lane

Waimari Rd

Lone Star

Riccarton Rd

We ARe

HeRe!

Auburn Ave

Riccarton Family Store

335b Riccarton Rd, Church Cr

Ph. 341 8539

Present this advert along with your truck donation for a $10 credit (Conditions Apply)

nlax

Cafe

❀ High Teas

❀ Breakfast

❀ Lunch

❀ Catering

❀ Takeaways

OPEN 7am–5pm Walk-ins welcome

670 Main South Rd, Islington Ph 349 7337

Daily

Specials

238 Port Hills Road,

Heathcote

Open

Mon to Sat

8am - 6pm

Sun 9am - 4pm

JuST

INCREDIBLE

IT's

• Barrington Mall

• The Hub, Hornby

• New Brighton Mall

• South City Centre

wycola turkish kebabs

• Lamb, Chicken and Falafel kebabs

• Kebab burgers • Chips • Salad

• Gluten Free • Fresh fruit and veges

All food made fresh for you with love

Phone 03 349 0339 to order

Eminent Superlight

Samsonite Range

FrOm

$129

7887

just

bagZ

Ilam Watchmakers

207 Waimairi Road, Ilam, Christchurch 8041

P: 357 1002 | www.ilam-watchmakers.co.nz
---
14 Tuesday September 4 2018

Latest Christchurch news at www.star.kiwi

Your Local Views

Frustration over Russley parking

Avonhead

Community

Group

chairman

Somnath

Sarkar Bagchi

is critical

of the city

council's ability to solve

ongoing parking problems

in Russley

WESTERN NEWS

THE CITY council in my

view has a simple community

involvement strategy: "Stall and

they'll go away."

The ratepayers of north-west

Christchurch are unfortunately

all too familiar with this strategy.

Seldom have city council

officers genuinely listened to

residents' concerns and taken

meaningful steps to address

them.

One recent example comes to

mind – the parking problems

faced by residents of Fenhall St,

Pinehurst Cres and Bentley St.

These residents have had to

put up with cars parked in front

of their houses all day for six

years. This is a result of a bungled

city council decision to allow a

business park at the end of their

street without sufficient on-site

parking.

Residents got fed up with

council trying to "mitigate" with

NUISANCE: Car parking spaces are hard to come by on Fenhall

St near the Airport Business Park. PHOTO: MARTIN HUNTER

poorly enforced parking limits

and, in April last year, asked for

a "residents only" parking policy

for the area.

Sixteen months later, the city

council has not yet formed a view

on whether or not "residents

only" parking is an option.

City council officers are simply

not interested in responding

meaningfully to residents'

concerns. This is at odds with

the message that we get from our

elected representatives.

Representatives encourage us

to come up with initiatives and

approach them with the local

issues.

We do so and then the city

council does nothing about them.

Our councillors have ultimately

failed to break the officers'

hegemony over deciding what

happens where.

Readers respond to the planned demolition of the

Sockburn Service Centre not scheduled until 2022

Denis Lynn Gillision –

Why are we so slow at doing

these things?

Japan could have

rebuilt two large

cities by now. It's

pathetic how slow

things move.

Adele Robyn

– Bulldoze it now.

It's an eyesore.

Amanda Holden –

Bulldoze Antonio Hall as well.

Robyn Rodgers – By 2022

the price to demolish will have

doubled, what

are they waiting

for?

Amanda

Stewart –

Eyesore and needs

to go.

Craig Watson

– You probably

couldn't call this leading by

example.

The Subs to play Rockquest final

CHRIST'S College band

The Subs has kept its

Smokefreerockquest dream

alive.

The band has been named

the people's choice public vote

winner to book a spot in next

month's national final.

The Subs won the regional

final in June but were not

selected for the national final

after submitting a video to

judges.

However, the five-piece,

pop-punk band rallied to gain

the support needed to win the

people's choice vote and the

last remaining place in the top

10. The Subs will now play in

SCHOOLS

the final on September 22 at

the Dorothy Winstone Centre,

Auckland.

The band is made up of

year 12 students Jono Stewart,

vocals and rhythm guitar;

Zac Matson, bass; Humphrey

Bullen, lead guitar; Matias

Biraben-Clough, drums; and

Max Toth, keyboard and

synth.

Jono said the band is called

The Subs because it is made

up of "bench-warmers" from

Run77 – the winner of last

year's regional Smokefreerockquest

final.

The Subs beat Run77 to

claim the regional final title

this year.

"When I heard second and

third place read out, my heart

sank – I thought Run77 would

win . . . I thought we hadn't

made it," Jono said.

But he did admit the rivalry

was a "bit of a joke" between

the bands – they're actually

good friends.

Jono said The Subs entered

the Smokefreerockquest last

year but didn't even make it

through the heats.

TOP 10: The Subs won the people's choice award to book a spot in the

Smokefreerockquest final in Auckland on September 22.

WHY PAY RENT?

AfforDABLE HomE

& LAND PACKAGES

from $395 per week

20% dEPosiT - 4.15% ovER 3o YEARs

Terms, conditions & lending criteria apply.

Daniel M. 027 433 0074

e. daniel@todayhomes.co.nz

anGela M. 0274 888 930

e. angela@todayhomes.co.nz

SECTIONS FROM

$130,000

Stan Jer

Licensed Sales Consultant

Grenadier Real Estate Ltd MREINZ

Licensed Agent REAA 2008

e. stan.jer@harcourts.co.nz

P. 03 379 6596 M. 027 433 3556

Fou
---
WESTERN NEWS Latest Christchurch news at www.star.kiwi

Tuesday September 4 2018 15

Eight Hornby club

SPORTS

gymnasts on podium

at China tournament

HORNBY'S Olympia

Gymnastics Club has done

exceptionally well at a

high-quality tournament in

Beijing.

THe team competed in China

under the guidance of coach

Elena Mesheryakova. They

claimed eight podium finishes

against a top international field

from China, Russia, Malaysia,

Thailand, Philippines, Hong

Kong, South Korea and Ukraine.

Burnside High School student

Paris Chin was the standout

performer for the Olympia

team, and won the overall

junior category against many

experienced international

gymnasts.

"Paris is one of New

Zealand's top gymnasts, and

the prize money will help her

to achieve her goals to become

a top international performer,"

Mesheryakova said.

The tournament was organised

and hosted by well known

Chinese gymnast Ling Zhong,

who represented his country at

the 2004 Olympics in Athens. It

also featured many other famous

Olympians as special guests and

judges.

The Olympia squad returned

with medals in several different

age group categories for most of

their routines.

Ava Gearry from Oaklands

School and Lilly Eastmure from

Halswell School dominated

their age groups, winning

the freehand, ball and rope

competitions.

Ava won the freehand

competition ahead of Lilly. But

Lilly claimed gold in the ball

category with Ava in fourth. The

Oaklands pupil then got another

gold in the rope competition.

St Andrew's College year 3

pupil Nika Meyn claimed gold

for Olympia in the freehand

section and bronze with the

ball.

PERFORMANCE: Paris Chin won the overall junior category at

the Zhong Ling Cup in China.

PHOTO: OLYMPIA GYMNASTICS CLUB ​

Jocelyn Cai from Oaklands

School completed Olympia's

success in the freehand by taking

out silver, as well as a runner-up

medal in the hoop routine.

Eleasha Chan, a year 6 pupil

from Aidanfield Christian

School, took bronze in the

freehand and finished fourth

with her ribbon, while year

7 pupil Mikayla Chin from

Avonhead School claimed two

fourth places in the freehand

and rope sections.

The competition was

the second in Asia for the

Olympia squad this year after a

tournament in Osaka, Japan.

Mesheryakova said the

importance of international

experience and exposure cannot

be underestimated.

"These tournaments are very

important for the girls progress

and development as well as

the valuable life and cultural

experiences they gain," said

Mesheryakova, who used to

coach in Uzbekistan, her native

country.

"Rhythmic gymnastics is a

dynamic and compelling sport

for girls that challenges body

and mind."

READY: Halswell boxer Megyn McLennan will main event

the Pacific Warriors 2 night at the Hagley Sports Centre on

September 15 against Kirwee's Michaela Jenkins.

McLennan in

ring for first pro

boxing event

• By Jacob Page

HALSWELL'S Megyn

McLennan started boxing five

years ago purely to lose weight.

But in 11 days, she will be part

of the first professional women's

bout to main event a card in

Christchurch.

The 39-year-old registered

nurse will be in the main event

at Strikeforce Boxing's Pacific

Warriors 2 fundraising night at

the Hagley Sports Centre.

There will be at least six

corporate and amateur bouts on

the under card with McLennan

facing New Zealand Muay Thai

champion, Michaela Jenkins, in

a four-round contest to end the

night.

"If you'd told me I'd be boxing

professionally five years ago,

I would have laughed in your

face," McLennan said.

"When I first started, the

coaches would laugh at me

because I was the person who

could barely run and couldn't do

a push-up." McLennan will enter

her 11th bout overall and second

professional outing after losing

to Nelson's Dawn Chalmers in

Motueka earlier this year.

"I like to think I'm a busy

fighter but working with

(Strikeforce coach) Steve Brown

has really sharpened my game,"

McLennan said.

"He gives us a toolbox of skills

we can use in the ring and it's up

to us to make the most of it."

Kirwee-based Jenkins is

coming off winning her New

Zealand Muay Thai title in June

and was offered this bout almost

straight away.

"I've been in camps since

February so it seemed like a

good match-up to take," said

Jenkins. She said she was

impressed with McLennan's

effort in her loss to Chalmers.

"I thought she showed how

tough she was because Dawn

is a very credible fighter so I'm

looking forward to the challenge

of taking her on."

Learn

Computer Skills

0800 834 834

vision.ac.nz

50 Hazeldean Road, Addington

Looking for an administration role?

This FEES FREE* 20 week course will give you the

skills to work in a modern office, covering advanced

use of Microsoft Word, Excel, Publisher and other

computer based business applications.

For more info txt 'OFFICE' to 027 557 8839

*Conditions apply
---
16 Tuesday September 4 2018

Latest Christchurch news at www.star.kiwi

New challenge for St Thomas footballers

WESTERN NEWS

• By Jacob Page

THE ST Thomas of Canterbury

College football team has

sounded a warning to their

rivals ahead of the nationals

in Christchurch this week

by claiming the Canterbury

secondary schools title 2-1 over

Burnside.

St Thomas' finished fourth

at the nationals last year after

losing the Canterbury final to St

Andrew's College on penalties

and the team is eager to push for

more success this week.

The nationals are being held at

Avonhead Park and the Christchurch

Football Centre.

St Andrew's , Cashmere High

School, Lincoln High School,

Christchurch Boys' High School

and Burnside will also take part

in the tournament.

St Thomas' co-coach Jacob Allen

said he was thrilled how his

team bounced-back from conceding

a goal in the first two minutes

of the final, last Wednesday night

to claim victory.

"The boys didn't want to have

the same feeling they had last

year so the fought hard to get

back into the game after the early

set-back."

Allen said they would love to

repeat their fourth place at nationals

but accepted making the

quarter-finals would be a good

start.

"It's tournament football so if

we can make the top eight and

then right our luck from there

that'd be a good start," he said.

"We only lost four Year 13s

from last year so we still have a

good core of players so if we get

a bit of luck like we did last year

then we should go well."

Hamilton Boys' High School

are defending champions.

SPORTS

CELEBRATIONS: St Thomas' claimed the Canterbury premier secondary school football title after

a 2-1 win over Burnside High School last Wednesday.

Hornby High School prevail in tight final

HORNBY HIGH School won the

Friday night open division one

basketball competition with a

57-47 win over Lincoln High

School.

The game was closer than the

10-point margin suggested, with

Lincoln staying within striking

distance for much of the first

three-quarters.

Hornby were able to hold

their nerve in the closing minutes

to end their campaign as champions.

Principal Robin Sutton said the

school was proud of their

achievement.

"The girl's achievement was

an outstanding demonstration

of our school values of commitment,

achievement, resilience and

respect," he said.

"We are proud of them all.

WINNERS:

The Hornby

High School

division one girls

basketball team

celebrate their

victory in the

open grade Friday

night competition.

Come out and play

at Westfield Riccarton

this weekend!

Exclusive offers, hair and beauty

makeovers, hand massages,

food tastings, express styling,

kids crafts and more!

Saturday 8 - Sunday 9 September

westfield.co.nz/riccarton
---
WESTERN NEWS Latest Christchurch news at www.star.kiwi

Tuesday September 4 2018 17

END OF SEASON

DINING

LOUNGE

BEDROOM

SALE ENDS 10.09.18

Shop

Online

Nationwide

Delivery

Finance

Options

targetfurniture.co.nz

Cnr Blenheim & Curletts Rds, Christchurch

Ph: 0800 TARGET (0800 827 438)

Offers and product prices advertised here expire 10/09/18.

Sale excludes Manchester, Accessories and Outdoor.
---
18 Tuesday September 4 2018

Latest Christchurch news at www.star.kiwi

SENIOR LIVING

WESTERN NEWS

Golden Healthcare

Group

Golden Healthcare Group provides

dementia, aged care and mental health

support at seven facilities employing

259 staff and cares for approximately

350 residents. Also provides Villas and

Apartments

Rest home care is provided in Golden

Age Rest Home and Brookhaven Rest

Home, both of which also encompass

retirement villages. Brookhaven also

has a dementia care unit along with the

dedicated Camellia Court, Albarosa, and

Somerfield Rest Homes. Furthermore,

Hoon Hay Rest Home is a dedicated

dementia unit, but Hoon Hay House on

the same site specialises in mental health.

Also owned by Golden Healthcare

Group is The Lady Wigram Village.

The latest hotel style accommodation

includes a restaurant, licensed bar,

billiard room, movie theatre and library.

They have available the last of the Villas

and the apartments ready for occupation

now with staff available daily to show

people around.

Apartments are a perfect balance

of independence and peace of mind.

Provided are a daily meal, morning

and afternoon tea plus support in

maintaining the apartment leaving more

time for socialising. They have a singing

group, knitting and lots of other groups

to fill in the day.

The next stage of Lady Wigram is

now well underway, featuring another

14 apartments, swimming pool, spa

and gym. These will be completed by

Christmas.

When completed Lady Wigram

will have 73 apartments, a rest home,

a dementia facility and a hospital in

addition to the Villas.

"In our experience, a lot of people are

choosing to move into retirement village

life earlier because they recognise the

benefits of the ease of living and it allows

them greater freedom and more social

interaction. This means that it's really

important for us to provide amenities

that help residents to socialise and

keep active. More and more, retirement

villages are becoming communities

within their own right."

Call into 210 Kittyhawk Avenue

Wigram for a tour of their latest site.

The Golden Healthcare Group

website goldenhealthcare.co.nz

provides full contact details.

Device to prevent

snoring

Why put up with broken sleep, when

help is at hand with Snorex, an appliance

that prevents snoring, sleep apnoea, and

dry and raw throats.

Snorex is custom-fitted to your mouth

for comfort, and a follow up service is

provided.

Denise Lim has been involved with

Snores for 22 years

and has had a 98%

success rate with

people using the

appliance. Snoring

can be a health

hazard, causing

sleep apnoea, where

the person actually

stops breathing for

short periods.

It can cause

short-term memory

loss, tiredness and

contribute to high

blood pressure.

The Snorex

device does not feel

restrictive, is noninvasive

and carries

a money-back guarantee.

Many people are referred by ear, nose

and throat specialists, however, anyone

can phone for an appointment.

For an information pack or to discuss

the Snorex further, phone Denise Lim

on 377 4318 or check out the website

www.snorex.co.nz

Support and Resources for Independent Living

walkers to

purchase

(FroM $230)

or hire

$20

per week

Can we help you or someone you support?

Disability Information Service – a 'one stop

information service' which offers unbiased

advice to assist people navigate their way to

organisations or services that can provide them

with support or advice.

Aspire Canterbury Shop – shop online or call in

to our shop at 314 Worcester Street and view our

range of easier living products We also hire out

wheelchairs, ramps and walkers.

Total Mobility Discounted Taxi Service – a scheme

which provides 50% discounts on taxi journeys to

eligible people in the Christchurch area who, due

to health conditions, are unable to access public

transport. Contact us for more information on

03 366 9093 or visit our website.

Mobile Service – Fun interactive presentations of

our information, services and easier living

equipment. We come to you!

To book our presenter to speak to your

group call the numbers below or email

mobileservices@aspirecanterbury.org.nz

Mobility scooter demonstrations available.

Aspire Canterbury is a not-for-profit organisation

providing services to the community since 1981

Physical Address:

314 Worcester Street

Linwood Christchurch

Postal Address:

PO Box 32074

Christchurch 8147

2015 NZ Disability

Information Centre

of the Year

Ph: 03 366 6189

Freephone: 0800 347 242

Ph: (Total Mobility) 03 366 9093

E: admin@aspirecanterbury.org.nz

W: www.aspirecanterbury.org.nz

A Leader in

Healthcare

Excellence for

the Older Person

Brookhaven

Retirement Village

29 Alport Place

Woolston

Phone 03 384 5046

Albarosa

Dementia

80 Harewood Road

Papanui

Phone 03 375 0727

Somerfield

Dementia

137 Barrington Street

Somerfield

Phone 03 332 5897

www.goldenhealthcare.co.nz

Golden Age

Retirement Village

96 Harewood Road

Papanui

Phone 03 375 0720

Camellia Court

Dementia

84 Harewood Road

Papanui

Phone 03 375 0722

Hoon Hay

Dementia

16 Anvers Place

Hoon Hay

Phone 03 379 7825

Lady Wigram

Retirement Village

Sarah Jacobson

Village Manager

210 Kittyhawk Ave,

Wigram

Phone 027 3411 464

you can stop him

snoring with a

SNOREX

Why put up with a broken

night's sleep?

Ph 377-4318 or 027 682 1752

DENISE LIM

FOR A FREE INFO PACK

Website: www.snorex.co.nz
---
WESTERN NEWS Latest Christchurch news at www.star.kiwi

Tuesday September [Edition 4 datE] 2018 193

SENIOR LIVING

Modern diet

leads to illness!

Two Australian Naturopaths Stephen eaters and the elderly. It is also suitable

and Shane noticed at the end of the for people with dietary restrictions and

20th century more and more of their is gluten, wheat and dairy free. VITAL

patients were experiencing gut, bowel and ALL IN ONE will help remove toxic

digestive issues that were often leading to waste from the body while supporting all

more serious chronic health conditions. organs. You'll often notice more energy

Being Naturopaths they wanted to and endurance, better sleep, a more

find what was going wrong and began positive mood, skin problems improving,

extensive research. What they found less sickness, improved eyesight and

was although their clients were generally overall better more optimum health.

eating good food they were not obtaining Further information and how to

all the nutrients required for good

obtain the maximum benefits from

health from this food. Further research VITAL ALL IN ONE as well as tastings

showed one of the main problems was is available from the Natural Health

the digestive system, "it's not what you Advisers at Marshall's Health & Natural

eat but what you absorb." Another wellknown

problem is the soils the crops are Brighton, Phone: 388-5757. We are

Therapy, 110 Seaview Road, New

grown in have been depleted of many Always Happy to Help!

trace elements and other nutrients that are

known to be essential for good health and

therefore the crops and food are also

depleted. If we do not obtain all the

nutrients we require the body will

compensate to some degree but a

lack of too many nutrients

will eventually lead to

health issues.

Based on this they

developed VITAL

GREENS, now call VITAL

ALL IN ONE, a nutrient

dense powdered formula that

provides superior absorption as well as

comprehensive nutrition. They decided on

a powdered formula that could be made

as a great tasting drink because liquid

nutrition is the easiest way for the body

to absorb nutrients especially if digestive

issues are present. The formula provides

78 vital ingredients that work together

in synergy optimising each other's

absorption and benefits. Vital Greens

contains a carefully balanced blend of

nutritionally rich greens, vegetables,

fruits, minerals, vitamins, essential

fatty acids, plant and herbal extracts,

superfoods, powerful antioxidants,

probiotics, essential amino acids, digestive

enzymes, fibre plus a uniquely alkalising

pea protein. It provides superior nutrition

to a multivitamin and just about anyone

will benefit from it. It is designed to

provide all the nutrients the body requires

for good health. It is also ideal for those

in poor health, those recovering from

injury or sickness, children, athletes, poor

Are you Magnesium

deficient?

Minerals are the building blocks of

good health. Some minerals are only

needed in trace amounts where others

like magnesium are need in much larger

amounts and on a regular basis to prevent

deficiency and maintain optimum health.

A large number of us do not obtain

sufficient magnesium from our diet

and may notice some of the common

signs of deficiency. Some of the more

common symptoms that may be caused by

insufficient magnesium are: leg and muscle

cramps, twitches, muscle pain, muscle

fatigue and weakness, tremors of hands,

blurred vision, restlessness, poor sleep,

raised and/or unstable blood pressure,

poor circulation, irregular heartbeat,

shortness of breath, swallowing problems,

dizziness, headaches, anxiety, agitation,

irritability, seizures, poor concentration

and many more.

Although many young people now

show signs of magnesium deficiency

symptoms generally worsen as we age

due to our digestive system being less

efficient. Taking a magnesium supplement

of sufficient strength may be a sensible

option to top up our vital magnesium

levels. Not all magnesium supplements

however are well absorbed by everyone.

Luckily GO HEALTHY'S marine sourced

magnesium offers excellent absorption due

to its natural co-factors that include many

trace nutrients that are low in the diet but

Are You MAgnesiuM Deficient?

Minerals are the building blocks of good health. Some minerals are only

needed in trace amounts where others like magnesium are need in much

larger amounts & on a regular basis to prevent deficiency & maintain

optimum health. A large number of us do not obtain sufficient magnesium

from our diet & may notice some of the common signs of deficiency.

Some of the more common symptoms that may be caused by insufficient

magnesium are: leg & muscle cramps, twitches, muscle pain, muscle

fatigue & weakness, tremors of hands, blurred vision, restlessness, poor

sleep, raised &/or unstable blood pressure, poor circulation, irregular

heartbeat, shortness of breath, swallowing problems, dizziness, headaches,

anxiety, agitation, irritability, seizures, poor concentration & many more.

Although many young people now show signs of magnesium deficiency

symptoms generally worsen as we age due to our digestive system being

less efficient. Taking a magnesium supplement of sufficient strength

may be a sensible option to top up our vital magnesium levels. Not all

magnesium supplements however are well absorbed by everyone. Luckily

a new marine sourced magnesium has been found that offers good levels

of absorbable magnesium as well as many trace nutrients that are low in

the diet but essential for good health.

Super Price

60 capsules

Only $19.90 Save $16.00

120 capsules

Only $39.90 Save $18.00

200 capsules

Only $59.90 Save $20.00

400 capsules

Only $109.90 Save $49.90

MAIL ORDER AVAILABLE

Bringing You the Best in Natural Health!

MArsHALLs HeALtH & nAturAL tHerAPY

CONSULTING - PRESCRIBING - DISPENSING - MANUFACTURING - MEDICAL HERBALISTS

110 SEAVIEW RD, NEW BRIGHTON • PH 03 388 5757 • Email: enquiry@marshallshealthshop.co.nz

- We Are ALWAYs HAPPY to HeLP! -

essential for good health.

Further information is available in

store from our natural health advisers,

and medical herbalists. Marshall's Health

& Natural Therapy, 110 Seaview Road,

New Brighton, Phone: 388-5757. Bringing

You the Best in Natural Health!

Would you

like to profile

and grow your

Business?

For feature advertising

please phone

Jenny Wright

03 364 7446 or 021 220 3484

jenny@starmedia.kiwi

ARE YOU RECEIVING ALL THE NUTRIENTS YOU REQUIRE?

Take the VITAL ALL-IN-ONE 12 day Challenge to Better Health!

VITAL ALL-IN-ONE has been developed to provide superior nutritional

support to your body. It is near impossible to obtain all the nutrients your

body requires from a modern diet. VITAL ALL-IN-ONE contains 78 vital

nutrients in a balanced & highly absorbable form to help you receive

all the nutrients you require for optimum health. It consists of a blend

of nutrient dense greens, fruits, herbs, superfoods, vitamins, minerals,

antioxidants, prebiotics & 14 billion probiotics, essential fatty acids, fibre,

digestive enzymes, plus a uniquely high alkalising pea protein.

- Increased Energy & Endurance

- Better Digestion & Assimilation of Nutrients

- Optimised Immune Function

- Reduced Brain Fog

- More Balanced Blood Sugar

- 78 Vital Nutrients to Support Optimal Health

- Superior to a Multivitamin Tablet

- Dairy Free, Gluten Free, Vegan Friendly, Wheat Free

- Gently Detoxifies, Cleanses & Energises Every Cell in Our Body

- ALL YOU NEED – ALL IN ONE – DAILY HEALTH SUPPLEMENT

Super Low Prices

120g only $19.90, save $15.10

300g only $54.90, save $20.10

600g only $94.90, save $44.10

1kg only $138.90, save $60.10

MAIL ORDER

AVAILABLE

Bringing You the Best

in Natural Health!

MARSHALLS HEALTH & NATURAL THERAPY

CONSULTING - PRESCRIBING - DISPENSING - MANUFACTURING - MEDICAL HERBALISTS

110 SEAVIEW RD, NEW BRIGHTON • PH 03 388 5757 • Email: enquiry@marshallshealthshop.co.nz

- WE ARE ALWAYS HAPPY TO HELP! -

FREE

TASTINGS

INSTORE

LIVE THE DREAM

Live the carefree McKenzie Village

lifestyle in a friendly community. It makes

great financial sense, too. Who could

ask for more? We have the last few villas

nearing completion so there is still a

chance to make this Geraldine village

lifestyle your own.

Talk to Hayley Grant today

on 0800 84 55 24.

M E M B E R O F R V A
---
20

Tuesday September 4 2018

Latest Christchurch news at www.star.kiwi

WESTERN NEWS

Email anan.zaki@starmedia.kiwi by 5pm

each Wednesday

Babytimes/Wā Pēpi

Tuesday, 10-10.30am

Encourage learning through

language. Babytimes is an interactive

programme including

rhymes, songs, stories and play.

This is a free session.

Upper Riccarton Library, 71

Main South Rd, Sockburn

Storytimes/Wā Kōrerō

Tuesday, 10.30-11am

Encourage learning through a

love for stories. Storytimes is an

interactive programme including

stories, songs, rhymes and play.

This is a free session.

Fendalton Library, 4 Jeffreys Rd,

cnr Clyde and Jeffreys Rds

Babytimes - Bilingual

English/Mandarin

Tuesday, 11-11.30am

Encourage learning through

language. Babytimes is an interactive

programme including

rhymes, songs, stories and play in

English and Mandarin. This is a

free session.

Te Hāpua: Halswell Centre, 341

Halswell Rd

Citizens Advice Bureau –

Fendalton

Tuesday, 2-5pm

Citizens advice bureau provides

free and confidential advice

to everyone. They take the time

to listen to you and equip you

with the information, options

and support that fit your needs. It

is in an office inside the building

entrance.

Fendalton Library, 4 Jeffreys Rd,

cnr Clyde and Jeffreys Rds

Citizens Advice Bureau –

Hornby

Tuesday, 9am-5pm

Citizens Advice Bureau provides

free and confidential advice

to everyone. They take the time

to listen to you and equip you

with the information, options

and support that fit your needs.

They are in an office inside the

building entrance.

Hornby Library, 8 Goulding Ave

JP Clinics at Fendalton

Library and Te Hapua Halswell

Centre

Tuesday, 10am-1pm

A justice of the peace is on site

to take declarations, affidavits

and affirmations, to witness signatures

on documents and to certify

document copies. The JP can

witness citizenship applications

and rates rebate applications.

Fendalton Library, 4 Jeffreys

Rd, and at Te Hāpua: Halswell

Centre, 341 Halswell Rd

Knit 'n' Yarn

Tuesday, 10am-noon

The Great Library Seed and Plant Swap is happening. It's now spring and to celebrate the season

of growing and greenery, Linwood Library is hosting seed swaps. Take in your leftover seeds to

the library and they will be put out to share. Vegetable, herb, flower, native and heritage seeds

are welcome. You could take any spare potted-up seedlings too. Seeds can be dropped in any

time Wednesday to Sunday. Te Hapua: Halswell Centre, 341 Halswell Rd.

Take along your knitting,

crochet or any portable craft and

join the friendly group for an

hour or two of companionship

and crafting. Beginners most

welcome.

Hornby Library, 8 Goulding

Ave

Knit 'n' Yarn

Thursday, 1-3pm

Go along to the sitting room

in the library for a relaxing

afternoon. Take your knitting,

crochet, stitching or any other

handcraft and enjoy the company

of others. Share skills and be

inspired.

Te Hāpua: Halswell Centre, 341

Halswell Rd

Bookbuddies – David

Williams #10

Saturday, 10.30-11.30pm

Do you enjoy reading? Do

you fancy trying something

new? Would you like to share

your thoughts about books?

Do you want to read more? Are

you unsure what to read next?

Bookbuddies is a book group for

eight to 11-year-olds. Each week's

session is themed with different

activities and books. Sessions are

held during term time, and not

held in the holidays or the first

week of term.

Te Hāpua: Halswell Centre, 341

Halswell Rd

Chinese ESOL Club

Monday, 1 – 2.30pm

This club is for Mandarin

speakers who would like to

practice English in a relaxed,

pressure-free environment.

Every week they have a

different themed topics to

guide conversational practice.

Go and join the friendly group

any time. Free, no bookings

required.

Te Hāpua: Halswell Centre, 341

Halswell Rd

wycola turkish kebabs

• Lamb, Chicken

and Falafel kebabs

• Kebab burgers

• Chips • Salad

• Gluten Free

• Fresh fruit and veges

All food made fresh

for you with love

Phone 03 349 0339 to order

Read us anywhere..

anytime!

Read your local

newspaper

online 24/7

www.star.kiwi/digital-editions

Knights Stream School

Mingimingi Hautoa

Enrolment Zone

To deal with a situation where the school has, or is likely to have, more applicants

for enrolment than there are places available at the school, the board of Knights

Stream School | Mingimingi Hautoa has adopted an enrolment scheme, which has

been approved by the Secretary for Education. Under this scheme, first priority

on enrolment places will be given to preference students for whom the school is

reasonably convenient. A description of how "reasonably convenient" is defined

is contained in the scheme. The enrolment scheme may be viewed at the school

office and on our school website: www.knightsstream.school.nz. The board has

determined that no out of zone places are available for enrolments next year.

The board invites applications from in zone parents/caregivers who wish to enrol

their children at Knights Stream School | Mingimingi Hautoa for 2019.

For enrolment queries please contact: office@knightsstream.school.nz

FREE brake and

suspension safety check

with every set of tyres purchased

• WOF • A grade mechanic • Over 70 years experience

•Courtesy cars available • Monday - Friday 8am-5pm

WAYNE WILSON

AUTOMOTIVE LTD.

77 McFaddens Rd, St Albans, Christchurch

Ph 03 355 9688 | Fax 03 355 9689

wwwauto@xtra.co.nz | www.waynewilsonauto.co.nz
---
WESTERN NEWS Latest Christchurch news at www.star.kiwi

Tuesday September 4 2018 21

REAL ESTATE

Immaculate by the park

116 McCormacks Bay Rd, Redcliffs

Auction: Thursday, 20 September 2018 Unless Sold Prior

4 bedrooms | 2 bathrooms | 3 toilets | 2 living rooms | 2 car-garage | 1 off-street park | Listing #SM0066

Overlooking the expanse of

McCormacks Bay Reserve and close to the

coastline, this four-bedroom home offers

a tantalising combination of location,

lifestyle, comfort and convenience.

Designed with function and flexibility

in mind the floor plan hosts an open

plan living area and an adjoining formal

lounge, with the latter not only offering an

alternative retreat, but it can also be opened

to create one expansive entertaining space.

However, if your inclination is to unwind

outdoors, then there is an opening off

the dining area which extends out to the

courtyard and garden.

Contributing further appeal and

convenience to this already attractive

home, buyers have the option to negotiate

and purchase the property fully furnished

which would allow you to quite literally

move in and enjoy.

Four double bedrooms include a master

with a walk-in wardrobe, ensuite and

French doors that extend out to your own

private balcony. One bedroom is presently

used as an office allowing you to work

from home.

Benefiting from a north-facing aspect

that attracts abundant sunlight, the

interior enjoys the warmth and comfort

that's offered by a gas fire and a heat pump

which guarantees a comfortable climate

throughout the year.

Situated over the road from the reserve

and a short drive from the vast selection of

cafes, restaurants, bars and shops in both

Redcliffs and Ferrymead. This property

is zoned for Redcliffs School and has easy

access to the sea, coastal pathway and

cycle tracks. Walk along to the Saturdays

farmers market and enjoy the lifestyle on

offer here.

Our owner has purchased in Australia

and is serious about selling. Don't be slow,

it's got to go!

Auction date Thursday 20 September

12:00pm (Grenadier House, 98

Moorhouse Ave) Unless Sold Prior

Open homes Wednesdays, Saturdays

and Sundays 1:00pm - 1:45pm.

See you at the open homes or for a

private viewing or for more information

contact Alison Carter of Harcourts

Grenadier Ferrymead (Licensed Agent

REAA 2008) on 384 7950 or mobile 0274

318 960.

Retirement Villages

Explore life at Bupa

Parklands on Papanui

At Bupa Parklands on Papanui you can meet

new people and enjoy our modern village. We

currently have three lovely apartments available,

a one bedroom for $350,000, a two bedroom for

$408,000, and a three bedroom for $486,000.

Open day Sunday 9 September, 1pm–3pm

Prices

start from

$350,000

429 Papanui Road, Papanui

Call Lynda on (03) 373 8571 or 027 702 9619

bupa.co.nz
---
22

Latest Christchurch news at www.star.kiwi

Tuesday September 4 2018

WESTERN NEWS

Classifieds Contact us today Phone our local team 03 379 1100

Business for Sale

Trades & Services

Trades & Services

Entertainment

Curtains

www.curtainfabric-outlet.com

Fashion Designs & Colours

Discontinued Designs

End of Lines Bargain Prices

Call at Our Shop

CURTAIN FABRIC OUTLET

71 Hawdon St Sydenham

Ph 366-5026

For Sale

COLLECTABLES

FAIR

Run by the New

Zealand Postcard

Society

Free Valuation and

advice given on

postcards by society

expert.

7 Dealers attending.

Philatelic Centre,

67 Mandeville St,

Riccarton,

Christchurch

10am-4pm

Sunday 9 th Sept

Ph 027 694 0930

ADD SOME

COLOUR

TO YOUR ADVERT!

Gardening

& Supplies

A GARDEN OR

LANDSCAPING TIDY

UP?

Shrub, hedge & tree

pruning, Lawns,

Gardening, consistently

reliable general property

upkeep, Dip. Hort. 10

yrs experience, One off

tidy ups or on-going

service. Nick's Garden

Maintenance. Keeping

your garden beautiful.

Free Quote. Ph. 942-4440

& 022 264 7452

Holiday

Accommodation

Funeral Directors

Australia QLD

SUNSHINE

COAST

RESORT

ALEXANDRA HEADLAND

All Units Have Ocean Views.

Heated Pools, Spa & Sauna,

Free Wifi, Tennis

& Mini Golf.

CHECK OUR GREAT

WINTER SPECIALS

www.mandolin.com.au

0061 7 5443 5011

JUNE to AUG temps 20C

For all of your

Carpet and Upholstery

Cleaning needs

ContaCt Deon:

03 366 6230 or

0800 122 532

8thwonder.co.nz

admin@8thwonder.co.nz

green acres

Lawn &

garden care

• General

gardening

• Ride on service

• Weeding and

clearing

• Hedge trimming

• Tree pruning

and removals

• Fully insured

• Section

clearing/

maintenance

• Free quotes

• Security

checked

and

satisfaction

guaranteed

0800 803 200

www.greenacres.co.nz

for an uplift of your

tiled area:

Shower, bathroom,

kitchen, pool

surround, deck

etc. Brett will

give you a quote

and honest,

professional

advice on your

tiles and grout.

Call brett at

Groupro on

027 746 7632

before

after

WINDOW TINTING

tintawindow

advanced film solutions

99% uv block

fade protection

heat control

reduce glare

25 Years Experience

FOOTCARE

OASIS

Senior Citizens Foot Care

25 Conway Street, Spreydon

Treating hard thick nails, calluses

and corns finishing with a foot massage

Price $30 Allow 45 mins

Home Visits available by appointment

Therapist – Amanda

(30 years experience)

Ph. 942-6036 for an appointment

HOURS ARE FLEXIBLE

privacy films

frosting designs

non-darkening films

Workmanship Guaranteed

Lifetime Warranties on Most Films

UV

block

Free Quotes Canterbury and Districts

03 365 3653 0800 368 468

Landscape

Design &

Construction

Landscape designers

Builders of quality

gardens

Andy Cox

Mobile: 027 433 7629

pegasus.landscapes@gmail.com

HOUSE

CLEARING

Are you

moving house

or trying to

downsize?

Call All Clear

Canterbury. We work

with you to recycle,

sell and dispose of

unwanted items.

Ph: 03 260 0934

or 021 078 4553

raewynlcooke@gmail.com

www.allclearcanterbury.co.nz

Lawns, Gardens

& Home Cleaning

9185885AA

Free Quotes

Professional, personalised

service. Regular &

one-offs. Fixed price.

Ph: 377-5814

For all your property and

cleaning requirements

Trained, insured & security

screened owner/operators

Multi-award winning

systems & Franchises

Franchises Available

www.fviphomeservices.co.nz

ROOF

PAINTING

Rope & harness

a speciality,

no scaffolding

required,

30 years of

breathtaking

experience.

FREE QUOTES

Exterior staining,

exterior painting,

moss and mould

treatment and

waterblasting

Phone Kevin

027 561 4629

BATHROOM

Renovations, complete

service from start to finish,

free quotes, ph Dave 027

334 4125

BRICKLAYER

George Lockyer. Over

35 years bricklaying

experience. UK trained.

. Insurance work.

EQC repairs. Heritage

brickwork and stonework

a speciality. No job too

small. Governors Bay.

Home 329-9344, Cell

027 684 4046, email

georgelockyer@xtra.co.nz

TOP DOG THEATRE

presents

September 5th - 15th

Merivale Lane Theatre,

Rangi Ruru

cnr Rossall Street & Merivale Lane

Tickets: www.topdogtheatre.com

Trades & Services

BUILDER

For all building work

but specialist in bathroom

renovations, 30 yrs

experience, with service

and integrity. Free Quotes.

Ph Lachlan 383-1723 or

0274 367-067.

**************

CARPET & VInYL

LAYIng

Exp. Repairs, uplifting,

relaying, restretching.

Email jflattery@xtra.co.nz

ph 0800 003 181 or 027

2407416

ELECTRICIAn

Registered, electrical

installation and repairs,

Gorbie Electrical, ph 021

026 73375 or 03 322 4209

PAInTIng

& DECORATIng

Wingfields Contracting,

all interior & exterior

painting & all forms of

interior plastering & jib

fixing, ph Mark 021 171-

1586 or 355-5994

PAInTER AVAILABLE

All aspects in painting.

Very competitive in roofs

and fences. Please call 027

241-7471 or 335-0265

PAInTIng

Indoor / Outdoor, over 30

yrs exp, same day quotes,

ph Steve 021 255 7968

PAInTIng

30 years experience,

workmanship

guaranteed, pensioners

discounts, free quotes, ph

Robert 021 026-30757

PLASTERER

Gib Stopping, Small

job specialty. 30 + years

experience. Ring 0800

387-369

PLUMBER

A Top Plumbing job

completed at a fair price,

prompt service, all work

guaranteed, Ph Brian 960-

7673 or 021 112-3492

ROOFIng REPAIRS

Fully qualified, over 40

yrs experience. Ph John

027 432-3822 or 351-

9147 email johnchmill@

outlook.com

ROSE PRUnIng &

gARDEnIng

Also ideas for your garden.

Ph Graeme 027 341 8596 /

342-5151

SPOUTIng CLEAnIng

Spouting Unblocked,

Cleaned Out and Flushed

Out. Call Trevor 332 8949

or 021 043 2034

by

Trades & Services

TILER/CARPEnTER

35 years exp, no job

too small. Ph Ross 027

4311440.

TILIng

Flooring - Splashbacks -

Wall incl tile removal, reg

master tiler, ph Dave 027

334 4125

T.V. SERVICE

CEnTRE

Repairs, tvs, microwaves,

.Aerial & satellite

installations , kitsets, 480

Moorhouse Ave, ph 03 379

1400

VHS VIDEO TAPES

& all camera tapes

converted to DVD, video

taping special occasions,

www.grahamsvideo.co.nz

ph 03 338-1655

WInDOW CLEAnIng

Average 3 bdrm house

inside or out $40. Both

$70. Phone Trevor 344-

2170

Tuition

PIANO Tuition.

Registered Teacher has

vacancies for beginners.

Halswell area. Raewyn

Clegg, phone 322-9377

Wanted To Buy

CASH FOR

STAMPS

Do you have an

Old Stamp or Coin

collection tucked away

somewhere? It could

be worth a fortune!

We are currently Buying

old collections in the

Christchurch area to stock

our retail shop in Riccarton.

Free Appraisal and Cash

Offers on most items.

Call Matt Power

0800 39 24 26

The Stamp Exchange

134a Riccarton Road. Opposite

the Mall carpark.

Wanted To Buy

AAA Buying goods

quality furniture,

Beds, Stoves, Washing

machines, Fridge Freezers.

Same day service. Selwyn

Dealers. Phone 980 5812

or 027 313 8156

TOOLS Garden,

garage, woodworking,

mechanical, engineering,

sawbenches, lathes, cash

buyer, ph 355-2045

KATE DE GOLDI

adapted by

JANE WADDELL

Public Notices

Gaming Fund

The Hornby WMC & MSA Inc

invites applications from

recognised charitable, welfare

and educational organisations

and from amateur sporting or

youth organisations within the

local community to further the

objectives of these groups.

Application forms are

available from the Hornby

WMC Office, 17 Carmen Rd,

Hornby, Christchurch; by

emailing

reception@hornbywmc.co.nz;

or on our website

www.hornbywmc.co.nz.

Fully completed application

forms must be received at the

Club Office no later than 5pm

Friday 21 September 2018.

P. Inwood

General Manager
---
WESTERN NEWS Latest Christchurch news at www.star.kiwi

Tuesday September 4 2018 23

What's On

Entertainment

To advertise, contact

Jo Fuller 027 458 8590

jo.fuller@starmedia.kiwi

Two days of Military

Tattoo

'Famous for their roasts!'

SENIORS SPECIAL

Two courses: $

22

Soup/Roast or Roast/Dessert

Special available lunch only

Monday - Saturday 12pm - 2.30pm

Conditions apply

FAMILY FRIENDLY

Kid's Special

Two courses

Great Kids menu plus

designated play area.

$

13

RESTAURANT & CAFÉ

Open daily from 6.30am - Breakfast, Lunch & Dinner

The

RACECOURSE HOTEL

& Motorlodge

118 Racecourse Rd, Sockburn,

Christchurch. Ph 03 342 7150

www.racecoursehotel.co.nz

Joy Adams Willie McArthur Dunedin Fiddle Orchestra

A MYRIAD of top performers take to

the stage in November for the 2018

Military Tattoo.

e event runs over two days and

features great acts - the Dunedin Fiddle

Orchestra, International champion

Bagpipers (from Manawatu), Highland

Dancers, Liedertafel Male Voice Choir,

Brass Quintet, Pat Dugan, Willie

McArthur, Allan Barron, and Joy

Adams.

Taking place at the Hornby WMC

on Saturday 10th and Sunday 11th

November, festivities start at 8pm

Saturday with the Celtic Tattoo. Prize

for the best Celtic dress (Scottish, Irish,

Welsh, Manx, Corning, Brittany).

An aer-Tattoo party follows

featuring Willie McArthur, an Irish

band, and Allan Barron. Entry to the

aer party is free.

Another full programme is

scheduled for Sunday with the WW1

Tattoo. Commemorating a century

since the end of WW1 there will be a

prize for the best WW1 costume

(medals may be worn).

Hamilton recording artist Joy Adams

entertains aer the Tattoo performing

Vera Lynn, country, and her own

material.

Tickets are on sale now at the

Hornby WMC office, Carmen Rd,

phone 03 349 9026.

Tickets are priced at $35 for

Saturday's Tattoo, $25 for Sunday's

Tattoo, or attend BOTH for $50. For

more information contact Gavin on

027 448 3224.

What's On

TUESDAYS & THURSDAYS

MEMBERS LUCKY

CARD DRAW

LIVE MUSIC

THIS SUNDAY, 2-6pm

UNFINISHED

BUSINESS

Shuttle operating 1.30-6.30pm

GAMING ROOM

TAB POD

UPSTAIRS

Dine by the Beach

PIERVIEW

RESTAURANT

Open from 5.30pm Fri, Sat,

Sun, and Sunday Brunch

from 10.30am to 2pm.

PIERVIEW'S

FATHER'S DAY

BUFFET LUNCH

Sunday 2nd Sept

11.30am-2pm

Booking Essential!

Sorry, we will not be open

for brunch on Sept 2.

$12

PIERVIEW'S MONTH-END

SUNDAY NIGHT

BUFFET $25pp

Sunday 30th Sept

from 5.30pm

BOOK NOW!

CLUBBISTRO

DOWNSTAIRS

Open Tuesday to Saturday

12pm - 2pm & from 5pm

BISTRO ROAST SPECIAL

Tuesday - Thursday

Dine in only

202 Marine Pde | Ph 388 9416 | www.newbrightonclub.co.nz | Members, guests & affiliates welcome

SERVING

HAPPY HOUR

5PM - 7PM DAILY

OUR CABINET ITEMS

ARE HOMEMADE

CREATED FRESH ON SITE DAILY

$12

LUNCH

SPECIALS

Live Music:

6PM.SAT 8 SEPT

Lunch & Dinner

All you can eat, 7 days

Bookings Essential PH 386 0088

fb.com/GardenHotelRestaurant www.gardenhotel.co.nz

COFFEE

HAPPY

H O U R

2PM-4PM

DAILY

$3.50

Offer available for a limited time

and includes tea, hot chocolate

MON: ROAST MEAL

TUE: FISH & CHIPS

WED: FISH BURGER

THU: ROAST MEAL

SAT: FISH & CHIPS

AVAILABLE

FROM

11.30AM-2PM

FOR A

LIMITED TIME

DnD DUO

Jojo & Mark

PHONE 385 8880 FIND US ON FACEBOOK fb.com/GBCCHCH

THE GARDEN HOTEL COMPLEX | 110 MARSHLAND RD

www.gardenhotel.co.nz | phone 385 3132

H ORNBY

WORKINGMEN'S

CLUB

GREAT ENTERTAINMENT

Club CAFÉ

OPEN

EVERY DAY

LUNCH &

DINNER

FRIDAY

7PM: JO'S KARAOKE

SATURDAY

4.30PM: MARION'S OUTLAWS

8PM: KRAKKAJACK

FAMILY FRIENDLY DINING

Chalmers

Restaurant

OPEN

FRI, SAT, SUN

FROM 5.30PM

5-8PM SUNDAY NIGHTS

MEMBERS, GUEST & AFFILIATES ALL WELCOME

ADULTS $27, KIDS 12 & UNDER JUST $1 PER YEAR OF AGE

The Hornby Club | ph 03 349 9026 | 17 Carmen Rd | Hornby

www.hornbywmc.co.nz | Members, guests & affiliates welcome
---
24 Tuesday September 4 2018

Latest Christchurch news at www.star.kiwi

WESTERN NEWS

386 Moorhouse Avenue, Christchurch.

Sales, Service, Parts & Finance: 03 379 0588

VALUE YOU CAN'T GO PAST

Now you can own an elegantly designed SUV for less than you've ever paid. You'll also drive away with a

surprising array of features: • Smartphone Connectivity • Reversing Camera • Sports Trim • Keyless Entry

• 2.0L Engine • Daytime Running Lights • 18" Alloys • 7.6L per 100km efficiency • 5-Star Safety and

10 Year Warranty Call. Call 03 379 0588, visit christchurchmitsubishi.co.nz or come and see us.

* Price listed is for ASX 2WD XLS. Price excludes On Road Costs, which includes WoF, Registration and a full tank of fuel.

Visit mmnz.co.nz for full Diamond Advantage terms and conditions.

PRE-OWNED SELECTION AVAILABLE FROM CHRISTCHURCH MITSUBISHI

2014 Mitsubishi ASX XLS, 2.0L

Petrol, Auto, NZ New, Reversing

Camera, 76,000km $19,990

2006 Mitsubishi Pajero

3.0L Petrol, 4x4, Auto, tow bar,

Bluetooth, 64,000km $19,990

2015 Mazda 2 GLX,

1.5L Petrol, 4WD, 6 spd Auto, NZ

New, 23,000km $17,490

2014 Mitsubishi Pajero

Exceed, 3.2L Diesel, NZ New, 4WD

Auto, 7 seats, 74,000km $41,990

2011 Ford Ranger Wildtrak, 3.0L

TD, 4x4, manual, deck liner, tow bar,

sliding lid, 157,000km $27,990

2006 Lexus IS 250 Limited

2.5L Petrol, 6 spd Auto, Leather, Tow

bar, 87,000km $15,990

2008 Ford Escape XLT V6,

3.0L V6 Petrol, NZ New, Auto, Cruise

Control, 100,000km $10,990

2014 Honda CRV N

2.4L Petrol, Sat Nav, Auto, Bluetooth,

119,000km $19,990

386 Moorhouse Avenue, Christchurch. Sales, Service, Parts & Finance: 03 379 0588