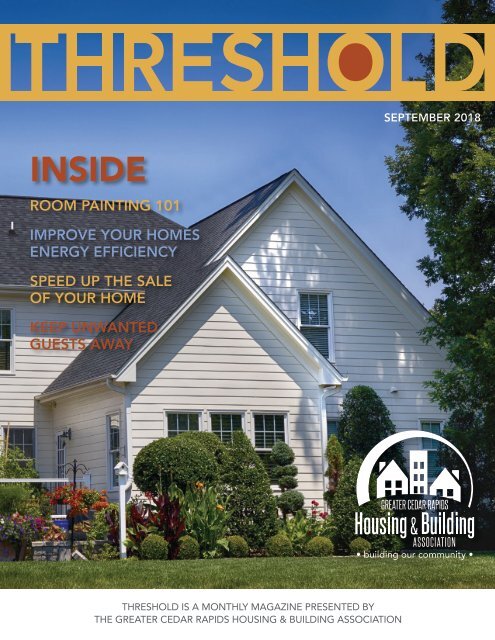 Create successful ePaper yourself
Turn your PDF publications into a flip-book with our unique Google optimized e-Paper software.
SEPTEMBER 2018

INSIDE

ROOM PAINTING 101

IMPROVE YOUR HOMES

ENERGY EFFICIENCY

SPEED UP THE SALE

OF YOUR HOME

KEEP UNWANTED

GUESTS AWAY

THRESHOLD IS A MONTHLY MAGAZINE PRESENTED BY

THE GREATER CEDAR RAPIDS HOUSING & BUILDING ASSOCIATION
---
FEATURES

TABLE OF CONTENTS

6

ROOM PAINTING 101

16

SPEED UP THE SALE

OF YOUR HOME

20

5

8

12

BUILDING OUR COMMUNITY

Cedar Valley Habitat for Humanity Video

SUPPORT SMALL BUSINESSES

IMPROVE YOUR HOMES EFFICIENCY

through technology

A publication of the Greater Cedar Rapids

Housing and Building Association

KEEP UNWANTED

GUEST AWAY

DEPARTMENTS

9 NEW MEMBERS

9 SAVE THE DATE

23 GCRHBA BOARD

24 THE SPIKE CLUB

2 THRESHOLD SEPTEMBER 2018
---
EXECUTIVE OFFICER'S MESSAGE

A very busy month

MELISSA

OLSON

August was a busy month with all of our member networking

events. Thank you to Weston Darling with

Splash Pool & Spa Builders for sponsoring and hosting

a wonderful event at your new location; which is

beautiful so if you have not stopped by please do so!

Splash Pool & Spa Builders provided fantastic hospitality

along with beverages and delicious food from a

food truck so thank you again!

We also held our Annual Nail Drivers' Open at St.

Andrews Golf Course. Thank you to everyone at Mc-

Grath Fleet & Commercial and Altorfer CAT for sponsoring

and making this event so fun for everyone that

attends! In addition, we had 44 supporting sponsors

that went above and beyond to make sure the golfers

had a fabulous time on the course, so thank you to

all of you!

I would like to personally thank our Nail Drivers'

Open Committee that helped make this event so successful

this year (our best one ever)…Ontario Caudill,

Susan Forinash, John Guidinger, Brent Nichols, Robert

Riley, Ryan Sullivan, Justin Zimmerman, and Sarah

Zimmerman. And finally our month wrapped up

with a Fall Mixer with the CR & IC HBA members. A

special thank you to Karyl Bohnsack, EO with the IC

HBA, for coordinating the event. As well as Hills Bank

& Trust and all the sponsors that supported this event.

September is Fall Parade of Homes time! We have

16 new and 3 remodeled homes that will be open to

tour! Please make sure you come out to support our

builder and associate members that put a lot of work

into these beautiful homes! We will also hold our annual

Members Only Breakfast & Tour on October 3, so

mark your calendars now to join us!

And finally, we are very excited to announce the

launch of our new website! This has been a dream of

mine and something I am very proud of! Thank you

to Josh Krueger, CEO & Founder of Dotcom Design,

for taking on the challenge to do such an extensive

website for our association! Please make sure you

check it out at crhba.org.

Sincerely,

Melissa Olson, Executive Officer

Greater Cedar Rapids Housing & Building Association

MEMBERSHIP VALUE

Valuable Member Discounts through

NAHB's Member Advantage Program. Your

membership entitles you to discounts and

savings opportunities offered by many

top companies on vehicles, shipping, cell

phone plans, computers, car rentals, office

supplies and more. NAHB's purchasing

power means big savings for you!

THRESHOLD SEPTEMBER 2018 3
---
PRESIDENT'S MESSAGE

September Message

MIKE FARR

Thank you for your membership and participation!

We held our Golf Outing on Friday, August

17th. It was a huge success! I want to that all the

participants and the committee for their hard

work! If you have any suggestions on how to make

it better, contact Justin Zimmerman or Melissa at

the HBA office. We also held a joint meeting with

Iowa City HBA on September 30th. It seemed to

go very well, but Iowa City brought more members

to the event then we had ourselves. The

meeting was at Kirkwood Hotel pavilion.

Are you looking for workers? Kirkwood has

students that are looking for internships and jobs

as they graduate. Contact the HBA office or Kirkwood

about finding a student!

Check out our website, looking for feedback!

Also looking for feedback on our new electronic

Threshold!

Putting a call out to our members to join the

Membership Committee! We need eager people

that want to make the call to perspective members

and to existing members and to our Spikes!

Members are the life blood to our association!

Contact Melissa at the HBA office to include you

to the committee email list!

It was hard to believe another summer has

come and gone! I hope that everyone and their

families were able to enjoy the time together and

are ready for the start of another school year! Best

wishes to all!

Take Care,

Mike Farr, President

Greater Cedar Rapids Housing & Building

Association

NETWORKING AFTER HOURS

MEMBER EVENTS

Fall Parade of Homes

Saturday, Sept. 29, 12-5 PM

Sunday, Sept. 30, 12-5 PM

Thursday, Oct. 4, 5-8 PM

Saturday, Oct. 5, 12-5 PM

Sunday, Oct. 7, 12-5 PM

See page 21 for more information.

Suburban Lumber

Oktoberfest

Thursday, October 18

5-7 PM

Suburban Lumber,

2630 Wiley Blvd SW, Cedar Rapids

See page 14 for more information.

4 THRESHOLD SEPTEMBER 2018
---
BUILDING OUR COMMUNITY

Cedar Valley Habitat for Humanity

Video Captures the Commitment

Thank you to the commitment of

Cedar Valley Habitat for Humanity,

five dedicated builders and

dozens of associate members,

three area families have received

an opportunity to build strength,

stability, and self-reliance in

homes of their own! It is truly

amazing what we can accomplish

when we partner together!

WATCH

VIDEO

Our new website

has launched!

CHECK IT OUT!

crhba.org

THRESHOLD SEPTEMBER 2018 5
---
DIY PAINTING

ROOM PAINTING

101

Ready for a new look in your home,

but don't have a budget for a big

remodel? There's nothing faster or more

economical to give your home a quick

update than by painting your rooms a

new color. A well-planned and executed

paint job can make a room look larger

or cozier, can accent features or hide

flaws, or reflect your own personal flair.

Article provided by National Association of Home Builders

6 THRESHOLD SEPTEMBER 2018
---
Some tips to help make your

painting project a success.

CHOOSE THE RIGHT COLOR

Go to a paint or home improvement store

and get swatches of colors to take home. Select

a lot of options, chances are the florescent

lights in the store will make the colors

look completely different than they will in

your home.

See how you like the colors on different

walls and in different lighting conditions —

early morning sun, midday and nighttime

lamplight — to make sure you're happy with

your final choice.

Another option is to paint a few colors

on your walls. Many companies offer sample

sizes in either a selection of popular colors,

or in any color they offer. These samples

cost much less than a full gallon and give

you the opportunity to try them out on the

wall before spending a lot of money.

SELECT AN APPROPRIATE FINISH

Choose a paint finish depending on how the room or surface

will be used:

• A flat or matte finish helps conceal flaws and absorbs

light in well-lit rooms.

• Satin or eggshell finishes are a good choice for

high-traffic areas such as foyers, family rooms, kitchens

and bathrooms because they clean more easily than flat or

matte paint.

• Baseboards, molding and railings look best in a semigloss

finish, which is a shiny finish that is the easiest to

clean and provides a contrast to the walls.

Many paint companies also now offer "all-in-one"

paints that already contain primer. These enable you to

paint over a darker paint color or area that's been repaired

with patching compound without having to apply a coat of

primer before the paint.

STOCK UP ON SUPPLIES

Here are the basic supplies you'll need whether you're

painting several rooms or just one:

• Brushes and rollers

• Paint trays

• Painter's tape

• Sheets or tarps to cover furniture

PREPARE THE ROOM

Give yourself adequate space to maneuver while you

paint and protect your valuable furniture and belongings.

Move as much of the room's contents as you can either

out of the room or away from the walls.

Cover whatever is going to stay and the floor, especially

where it meets the walls, with old sheets or plastic

tarps.

Next, remove the switch plates and electrical outlet

covers. It's easier than trying to cover them with painter's

tape and definitely looks better — and is safer — than

just painting over them. Don't forget to repair nail holes,

dents or chipped spots with a patching compound.

If you have any doubt about your ability to paint a perfectly

straight line, or you don't have a very steady hand,

use painter's tape to protect features you don't want paint

to get on. This could include baseboards, window and

door trim, and where the wall meets the ceiling or crown

molding. Make sure the tape adheres properly by running

a finger or mixing stick along the tape.

Clean the walls with a mild detergent solution or wipe

them with a damp lint-free cloth to remove cobwebs and

dust that will cause blemishes in your paint. Vacuum or

dust the room to make sure dust or animal hair doesn't

get in your paint and on your walls.

Now you're ready to make a colorful change! T

THRESHOLD SEPTEMBER 2018 7
---
SUPPORT SMALL

BUSINESSES

Small businesses are the backbone of

America. They build a strong economy and

strong communities.

Many builders, remodelers and related

businesses in the housing industry are small

businesses making vital contributions to our

economy. In fact, 15% of the U.S. economy

relies on housing.

A healthy housing industry means more

jobs and a stronger economy. Constructing

100 new single-family homes creates 297

full-time jobs, $28 million in wage and business

income and $11.1 million in federal,

state and local tax revenue.

Housing, like no other business sector, is

"Made in America." Most of

the products used in home

construction and remodeling

are manufactured here in the

United States.

That's why it's important to

support small businesses.

CLICK HERE FOR A LIST OF

YOUR LOCAL HBA MEMBERS

Article provided by National Association of Home Builders

8 THRESHOLD SEPTEMBER 2018
---
SAVE THE DATE

The Greater Cedar Rapids Housing & Building

Association is the main sponsor of several events

throughout the year, that allow consumers direct

access to the latest in building products, actual

building contractors of new homes, and remodelers

of existing homes.

SEPTEMBER 29 & 30, OCTOBER 4, 6 & 7

Fall Parade of Homes

OCTOBER 3

Members Only Parade of Homes Breakfast & Tour

OCTOBER 18

Suburban Lumber Mixer

PLEASE NOTE DATE CHANGE

NOVEMBER 8

Annual Awards Banquet

NEW MEMBERS

Carlton Saunders

Doors by George

Pat Lang

P. Lang Construction

THRESHOLD SEPTEMBER 2018 9
---
McGrath Fleet & Commercial/Altorfer CAT

2018 Nail Drivers' Open

10 THRESHOLD SEPTEMBER 2018
---
Thank You!

McGrath Fleet & Commercial/Altorfer CAT

2018 Nail Drivers' Open

THANK YOU TO OUR

SUPPORTING SPONSORS:

* Four person best shot (ALL parties hit from WHITE tees) * 2 Putt Max Rule

* $500 Putting Contest #10

* Flag Events: Long Drive #4, Closest to Pin #12 and Long Put #18

* Prize to lowest score team : 4 rounds of golf and 2 carts from St. Andrews Golf Course

ABC Supply Company

ON-COURSE Glass Concepts FOOD STATIONS:

Acme Tools #2 Grilled Pork Loins #4 Walking Greg's Lawn Tacos #9 Snacks & Desserts #10 Hot Dogs

Advance Millwork

RAFFLE PRIZES! Buy your tickets at hole #10 or from the beverage cart!

Hanna Plumbing & Heating A VERY SPECIAL

Raffle Ticket Prices: 1/$5, 3/$10, Illuminate 8/$20, Lighting 30/$50, 40/$60, 60/$80 or GO BIG! THANK 80/$100 YOU

THANK YOU TO

Iowa

OUR

Appliance

SUPPORTING

Center

SPONSORS: to our Nail Drivers'

Kelly Concrete

Open Committee:

Ahmann Companies

Allied Glass Products

Anderson Bogert

Hall & Hall Engineers

BankIowa ABC Supply Company City Wide Construction Kelly Concrete

BerganKDV Acme Tools CliftonLarsonAllen Lumber Specialties LLP Lumber Specialties

Advance Millwork Culligan of Cedar Rapids NXT Bank

Bobcat of Cedar Rapids

NXT Bank

Ontario Caudill

Ahmann Companies Delaney Concrete Ogden & Adams Lumber

Bradley Allied & Riley Glass PC Products Duball Ogden Electric & Adams Lumber Ollinger Garage Robert Doors Riley

Budget Blinds Anderson of Eastern Bogert Iowa Federated Ollinger Garage Insurance Doors

Pinnacle Realty Susan Forinash

BankIowa Ferguson Bath, Kitchen & Lighting Plumb Supply

Cascade Manufacturing

Pinnacle Realty

Ryan Sullivan

BerganKDV First Supply Price Electric

Cedar Valley Bobcat Habitat of Cedar for Rapids Humanity Glass Plumb Concepts Supply

Rathje Construction John Guidinger

City Wide Bradley Construction & Riley PC Greg's Price Electric Lawn Squaw Creek Justin Millwork Zimmerman

Budget Blinds of Eastern Iowa Hall & Hall Engineers

Suburban Lumber

CliftonLarsonAllen LLP

Rathje Construction

Cascade Manufacturing Hanna Plumbing & Heating UICCU

Culligan Cedar of Cedar Valley Rapids Habitat for Illuminate Squaw Creek Lighting Millwork

Universal Lending

Delaney Concrete Humanity Iowa Suburban Appliance Lumber Center Windows by Pella

Duball Electric A VERY SPECIAL THANK UICCUYOU to our Nail Drivers' Open Committee:

Ferguson Bath, Kitchen Ontario & Lighting Caudill Susan Universal Forinash LendingJohn Guidinger Brent Nichols

First Supply Robert Riley Ryan Windows Sullivan by PellaJustin

Zimmerman Sarah Zimmerman

THRESHOLD SEPTEMBER 2018 11
---
HOME IMPROVEMENT

Improve Your

Home's Energy

Efficiency with

Technology

12 THRESHOLD SEPTEMBER 2018
---
Today's home buyers are

looking for ways to incorporate

home technologies

that increase

the long-term value

of their house but also

provide convenience,

safety and comfort. In fact,

NAHB research shows that most

home buyers desire an energy-efficient

home and are willing to pay

more for it.

NAHB's consumer preferences

survey of more than 3,600 recent

and prospective home buyers examined

the features, products,

amenities and layouts preferred in

a new home.

In the home technology category,

home buyers highly ranked

features that improve a home's

efficiency, including multi-zone

heating, ventilation and air-conditioning

(HVAC), lighting controls

and a programmable thermostat.

By incorporating the following

technologies, home owners can

save money on their utility bills:

AUTOMATED HVAC SYSTEMS

can maintain a more energy-efficient

temperature while the home

68

owners are away at work

but switch to a more

comfortable temperature

prior to their arrival

home. Zones can also

be created to heat or cool

only the areas most used

by the occupants, keeping

other areas, such as guest bedrooms,

shut down until they are

needed. According to ENERGY

STAR, a joint program of the U.S.

Environmental Protection Agency

and the U.S. Department of Energy,

programmable thermostats can

save consumers about $180 per

year in energy costs.

TANKLESS WATER HEATERS —

which save energy by heating water

only when needed — are comparable

in cost to traditional gas water

heaters but are 30% more efficient,

according to the U.S. Department

of Energy.

LIGHTING can make up 10-

20% of the total electrical usage

of the home. Installing an automatic

dimmer, which adjusts to

the home owner's needs based

on time of day or occupancy,

will lower electricity bills and increase

the life expectancy of light

bulbs.

BLINDS AND DRAPES can be

programmed to close during the

hottest part of the day to block out

the sun; keeping the house cooler.

In the colder winter months, they

can open up to allow the sun in to

warm the house, which helps regulate

the room temperature.

By incorporating technologies that

help make your home operate more

efficiently, ENERGY STAR estimates

that home owners can save $200 to

$400 annually on their energy bills.

To learn more steps that you

can take to improve your home's

efficiency, visit ENERGY STAR's

website.

Research shows that most home buyers

desire an energy-efficient home and

are willing to pay more for it.

Contact your local HBA for help with

improving your homes efficiency.

Article provided by National Association of Home Builders

THRESHOLD SEPTEMBER 2018 13
---
MEMBER EVENT

OKTOBERFEST

AROMA

ARTISAN PIZZA

will provide

appetizers and be

cooking pizzas

on site

Thursday, October 18

5-7 p.m.

Suburban Lumber

2630 Wiley Blvd SW, CR

BEVERAGES

including

Oktoberfest Beer,

Wine, Water and

Soft Drinks

Please email reservations to eo@crhba.org by

October 16

Courtesy of Suburban Lumber

Entertainment

provided by

Bryce Janey

14 THRESHOLD SEPTEMBER 2018
---
IC/CR HBA's Fall Mixer

THRESHOLD SEPTEMBER 2018 15
---
Speed Up

the Sale of

Your Home

SOLD

Putting your home up for

sale can be an exhausting,

stressful experience. But there

are several things you can

do to improve your home's

marketability. By expending a

bit of effort before it goes on

the market, you can ensure your

home presents well, stands out

from the crowd and doesn't

turn off potential buyers so

that you can sell quickly…and

at the best price.

First

Impressions

Count

16 THRESHOLD SEPTEMBER 2018
---
Clean your house top to bottom including

walls, floors, furniture and tabletops.

Everything should be sparkling clean

when a buyer makes that all-important

first visit. Don't leave dirty dishes in the

sink, crumbs on the counter or laundry

stacked in the bedroom.

Take a long, hard look at your home from

the street. Does it have curb appeal? Is it

warm, inviting and well-kept? Make sure

by mowing the lawn, weeding garden

areas, trimming unruly bushes, resealing

the driveway and sweeping the porch.

Pay particular attention to your front

door. Repaint it if necessary. Polish the

doorknob and knocker and clean the

glass and screen door. When a buyer

waits at the front door to enter, make

sure he or she sees that your home was

cared for lovingly.

THRESHOLD SEPTEMBER 2018 17
---
Tone Down

Personality

Don't

Burden the

Buyer with

Repairs

Your bookshelves may be filled with Pulitzer-Prize winners

and your collection of Americana figurines may

reflect your personal interests, but to home buyers, it

looks busy and cluttered, and may distract them from

truly seeing your home's unique architectural features

and spacious rooms. Also consider whether family

pictures help or hinder a sale: Future home owners

may not be able to look past your kids' smiling faces

plastered all over the walls and see themselves building

their own future in your home.

Since you hope to move soon anyway, go ahead and

box them up and put them in storage in advance of

the open house or showing.

While that red accent

wall opposite the lime

green fireplace perfectly

ties in with your

ultra-modern furniture,

a potential buyer at

your open house may

be turned off immediately

and decide that

the entire house doesn't

reflect their style.

Consider painting walls a neutral color such as beige

or taupe. The interior paint job should be fresh and

clean and in a single, neutral color throughout.

The same goes for the exterior. Don't forget shutters

and windows. If your home has vinyl or aluminum siding,

be sure it's clean. Moldy, dirty siding will tell a buyer

that your home has not been taken care of properly.

Old, matted carpeting will be a detriment to your

home selling. Real estate agents all have a dozen stories

of a home that sat and sat on the market until the

old carpeting was replaced. Then, it sold immediately.

If you have hardwood floors under old carpet, tear

up the carpet to expose them; today's buyers love

hardwood floors.

If there are problem areas in your home,

get them fixed before the showing. When

prospective buyers tour the house and

see leak stains on the ceiling or peeling

paint, they will also see future work and

assume that bigger maintenance and repair

issues are lurking behind those small

problems.

This is particularly true in kitchens and

bathrooms, which are often the two

rooms that make or break a sale. The expenses

you incur on the front end sprucing

up your home will be cheaper than

the profits you could lose by having to

lower the price to meet buyer demand.

If your home's appliances, like the dishwasher,

oven, refrigerator and washer and

dryer, are old and outdated, it could pay

to replace them.

Buyers do not

want to be faced

with the possibility

of having to

replace appliances

upon moving

in to a new

house. Shiny,

new appliances

already in place

will be a big

selling point.

18 THRESHOLD SEPTEMBER 2018

Article provided by National Association of Home Builders
---
VISIT THIS YEAR'S HOMES!

The Greater Cedar Rapids Housing

& Building Association presents

the Fall 2018 Parade of Homes.

Tour new and remodeled homes

in the greater Cedar Rapids

area to see the

latest advances

in home

construction

and design.

LOOK IN YOUR SEPTEMBER 23RD GAZETTE FOR OFFICIAL PARADE OF HOME GUIDE

new homes:

HOME 1 • Legacy GreenBuilders & Developers

334 RIDGE VIEW DR., FAIRFAX

HOME 2 • Schrage Construction, Inc.

2768 CREEKVIEW TRAIL, PALO

HOME 3 • Scallon Custom Homes, LLC

6710 COTTAGE HILL LANE NE, CEDAR RAPIDS

HOME 4 • Sattler Homes & Remodeling

314 WORTHINGTON CT., HIAWATHA

HOME 5 • Platten Construction LLC

6107 MICHAEL DR. NE, CEDAR RAPIDS

HOME 6 • JP Homes

9300 FEATHER RIDGE WAY, CEDAR RAPIDS

HOME 7 • B. Hancock Construction, Inc.

3062 DELL RIDGE LANE, HIAWATHA

HOME 8 • Frey Homes LLC

3088 WINDSOR DR., ROBINS

HOME 9 • Donohoe Custom Homes

3104 BRIMLEY PASS, ROBINS

HOME 10 • Skogman Homes

8726 GRAND OAKS DR. NE, CEDAR RAPIDS

HOME 11 • Skogman Homes

1482 CRESCENT OAK LANE, MARION

HOME 12 • Premier Plus Custom Homes

1159 KETTERING RD., MARION

HOME 13 • B. Hancock Construction, Inc.

1184 FOXBOROUGH DR., MARION

HOME 14 • Garman Built

345 LINDEN ST., ALBURNETT

HOME 15 • Flynn Homes, Inc.

1622 38TH ST. SE, CEDAR RAPIDS

HOME 16 • H&H Home Builders

4396 PIONEER TRAIL SE, CEDAR RAPIDS

remodeled homes:

ONLY OPEN OCT. 6-7

HOME A • Jim Buresh Construction Co.

4771 DOE RUN DR., CEDAR RAPIDS

HOME B • Sunderman Construction

2987 COUNTY HOME RD., MARION

HOME C • Home Town Restyling

2410 HILLVIEW DR., MARION

Tickets are $10 each and are available at each parade home, Hills Bank & Trust locations and Ferguson Bath, Kitchen & Lighting Gallery.

Or you can purchase discounted tickets at any local Casey's General Store for $9. Children 12 & under are FREE!

$

1 00

*

OFF

Fall 2018 Parade Ticket

NEW HOMES

Saturday, September 29 • 12-5 p.m.

Sunday, September 30 • 12-5 p.m.

Thursday, October 4 • 5-8 p.m.

NEW & REMODELED HOMES

Saturday, October 6 • 12-5 p.m.

Sunday, October 7 • 12-5 p.m.

*Valid on one ticket. Not valid at Casey's General Store.

Sponsored by

R

THRESHOLD SEPTEMBER 2018 19
---
Greater Cedar Rapids Housing & Building Association members are invited

to a breakfast and private showing of the Fall 2018 Parade of Homes!

Wednesday, October 3 rd

8:00 - 10:00 a.m. - Breakfast

Join us for a made-to-order omelet bar, coffee,

and networking at the Members Only breakfast.

Hills Bank and Trust Company

3905 Blairs Ferry Rd NE, Cedar Rapids

Lower level - please park in the River of Life parking lot

10:00 a.m. - 4:00 p.m. - Tour

Members Only Tour tickets are required to enter the homes.

Stop by Hills Bank during breakfast to pick up your tickets.

Cost: $20/member

A FREE lunch coupon at any local Subway sponsored by

The Gazette will be provided with your Members Only Tour ticket.

Reserve your ticket by October 1 st at www.crhba.org.

Members Only Breakfast Sponsored by:

Member FDIC
---
Keep Unwanted Guests Away

Pest infestations are more than a nuisance. It is important

to protect your family from disease due to

food contamination and allergens and your property

from wood and foundation damage.

The cost for a home owner to treat an existing

pest problem averages more than $1,000 — which

doesn't include the cost to correct the damage that

has already been done. Termites alone have been estimated

to cause $5 billion worth of damage in the

U.S. every year, according to the National Pest Management

Association. Here are some steps you can

take now to help keep your home pest-free for years

to come.

Inside Your Home

The U.S. Environmental Protection Agency (EPA)

recommends a few things you can do inside your

house to control future infestations:

• Starve them out — keep a tight lid on the trash

and empty it often. Clean up spills immediately and

store food such as cereal, flour and sugar in plastic

containers rather than in their original packaging.

• Dry them out — some pests, such as cockroaches,

can survive a long time without food, but need

water more often to survive. To shut off

their supply, be sure to fix leaky faucets,

radiators, dishwashers,

and washing machines immediately and empty flower

pots and plant stands of excess water.

• Keep them out — seal cracks and openings along

baseboards, behind sinks, and around pipes and

windows. Repair holes in door and window screens.

Outside Your Home

Pests enter your home from the outside, so you will

also need to prepare the exterior of your house to

keep pests out:

• Look for cracks and holes on the outside of your

home and seal them up. Be sure to include points

where utility lines enter the house. Also address

damage to the basement foundation and windows.

• Check your landscaping. Rake mulch away from

the base of your home and keep it to a minimum to

allow for adequate drainage. Trim back tree branches

and bushes so they do not make contact with the

house. Remove tree stumps from your yard.

• Keep firewood piles stacked outside of your home

neat, away from the house and off the ground.

• Make sure basements and attics are well ventilated

and dry.

• Head up to the roof to look for any rotted or decaying

shingles.

• When you're looking at your roof, also check

that your gutters are free of debris.

These simple steps now

can save you a lot of

headache and money

down the road from

these unwanted visitors.

Article provided by National Association of Home Builders

21 THRESHOLD SEPTEMBER 2018

THRESHOLD SEPTEMBER 2018 21
---
Thanks for a

fun evening!

Splash Pool & Spa Come make a Splash! Event

22 THRESHOLD SEPTEMBER 2018
---
Connect with Us

President

Mike Farr

Cascade Manufacturing Co.

Office: 563.852.3231

mgfarr@cascade-mfg-co.com

Vice-President

Rob Hajek

Home Repair Team

Office: 319.626.4663

robh@homerepairteam.com

Board Member

Jeff Capps

Cedar Valley Habitat for

Humanity/ReStore

Office: 319.366.4485

jeffcapps@cvhabitat.org

Board Member

Randy Dostal

Thomas Dostal Developers

Office: 319.431.3881

allamericanlc@hotmail.com

Board Member

Andrea Rhoades

Corridor Business Journal

Office: 319.665.6397

Andrea@corridorbusiness.com

Board Member

Robert Riley

Windows by Pella, Inc.

Office: 319.363.5768

robert.pellawindows@gmail.com

Second Vice-President

Dustin Kern

DK Land Services, Inc.

Office: 319.654.6706

dustin@dklandservices.com

Board Member

Mike Flynn

Flynn Homes, Inc.

Office: 319.366.6826

mike@flynnhomes.com

Board Member

Hunter Skogman

Skogman Homes

Office: 319.363.8285

hskogman@skogman.com

Treasurer

Justin Zimmerman

CliftonLarsonAllen, LLP

Office: 319.363.2697

justin.zimmerman@claconnect.com

Board Member

Benton Frey

Frey Homes, LLC

Office: 319.640.2300

benton@freyhomes.com

Board Member

Dean A. Spina

Bradley & Riley PC

Office: 319.861.8725

dspina@bradleyriley.com

Secretary

Jim Sattler

Jim Sattler Custom Homes

Office: 319.395.9157

jsattler@sattlerinc.com

Board Member

Joe Greathouse

Kirkwood Community College

Office: 319.398.5411

joe.greathouse@kirkwood.edu

Board Member

Ryan Sullivan

Amerhart, Ltd.

Office: 608.825.3322

ryan.sullivan@amerhart.com

Immediate Past President

Chad Pelley

Ahmann Design

Office: 319.395.7900

cpelley@ahmanncompanies.com

Board Member

Jim McGrew

Suburban Lumber Company

Office: 319.362.3115

jmcgrew@suburbanlumber.com

Board Member

Bryan Thumma

Affordable Heating & Cooling

Office: 319.462.3638

bryan.thumma@affordable-hvac.com

Remodelers Council First

Vice-Chair

Joe Sattler

Sattler Homes & Remodeling

Office: 319.395.9475

joe@sattlerhomes.com

Board Member

Amy Miller

Hills Bank and Trust Company

Office: 319.654.8007

amy_miller@hillsbank.com

Executive Officer

Melissa Olson

Greater Cedar Rapids Housing &

Building Association

Office: 319.395.0778

eo@crhba.org

Board Member

JR Blok

Blok Construction

Office: 319.533.4394

jrblok2@mchsi.com

Board Member

Drew Retz

Jerry's Homes, Inc.

Office: 319.294.2290

drewr@jerryshomes.com

THRESHOLD SEPTEMBER 2018 23
---
THE SPIKE CLUB

This month's

SPIKE LEADER!

Growing our Strength through

Member Recruitment, Retention

and Involvement

Recruiting new members to your local association is an activity

recognized and rewarded through the Spike Club. Those who

participate are called Spikes, and they are among the most valued

members of the association.

Member-to-member recruitment and retention efforts are the

largest source of growth for the federation. Spikes bring grassroots

growth and stability. These efforts lend to the development

of the general membership and our leadership pipeline,

keeping the face of the federation true to that of our industry

and the scope of interests we represent.

Spikes are the membership leaders of our federation, building

the voice, power and influence on every level, in every state.

DUSTIN KERN

5.5 CREDITS

Watch this video and learn more about the

Spike Club.

C ongratulations

to Dustin!

24 THRESHOLD SEPTEMBER 2018
---
SPIKE MEMBERS

SUPER SPIKE

James Sattler 465.50

Mike Farr 343.00

ROYAL SPIKE

Michael Flynn 267.00

Mike Sattler 224.50

Wayne Winn 207.00

Randy Dostal 179.00

Rob Hajek 171.75

Tom Takes 170.25

Doug Kohoutek 167.25

Jim Buresh 157.75

RED SPIKE

Mark Wood 123.50

Drew Retz 116.75

Tari Dailey 110.25

Alvin Frey 102.25

GREEN SPIKE

Joseph Ahmann 75.00

Robert Meyer 74.50

Paul Brundell 70.50

Jim McGrew 67.75

YELLOW SPIKE

Joe Sattler 43.25

JR Blok 42.00

Steve Erusha 41.75

Ron Valenta 34.00

BLUE SPIKE

Todd Frazier 23.50

Kyle Skogman 23.00

Chad Pelley 20.50

Bryan Thumma 20.50

Benton Frey 13.50

Brian Ophoff 12.50

Ray Vasser 11.00

Chris Mottinger 9.50

Dustin Kern 7.50

Dustin Lee 7.50

K Flynn 7.75

SPIKE

CANDIDATES

Six (6) credits needed to

become a SPIKE MEMBER

Jeff Platten 5.50

Bob Rathje 5.25

Tom Kurtz 5.00

Mark Ralston 5.00

Chuck Rhode 5.00

Todd Richardson 5.00

Pat Sauter 5.00

Mark Sillman 5.00

Jeff Melcher 4.50

Al Sattler 4.50

Paul Scallon 4.50

Jerry Sunderman 4.00

Timothy Vaske 4.00

Kirk Sadilek 3.50

Todd Wood 3.50

Jamie Buresh 3.00

Ben Dahl 3.00

Chad Kelly 3.00

TJ Heefner 2.50

Terry Bjornsen 2.00

Matt Burger 2.00

Brad Joens 2.00

Dave Vanous 2.00

Mark Bertelli 1.50

Marc Daubitz 1.50

Mike Delaney 1.00

Rex Hamilton 1.00

Brian Hancock 1.00

Jennifer Hughes 1.00

Casey Johannes 1.00

Hanna Kustes 1.00

Brad Nielson 1.00

Justin Wright 1.00

2018 SPIKE

CHAMPIONS

Dustin Kern 5.5

Mike Farr 2.0

Jim McGrew 2.0

Ben Dahl 1.5

Randy Dostal 1.0

Rob Hajek 1.0

TJ Heefner 1.0

Tyler Janssen 1.0

Mike Ludvicek 1.0

Jeff Melcher 1.0

Drew Retz 1.0

Justin Wright 1.0

Gary Doerrfeld 0.5

Doug Kohoutek 0.5

Chad Pelley 0.5

WHO WILL

BE THIS

YEAR'S

GRAND

CHAMPION

"SPIKER"

THRESHOLD SEPTEMBER 2018 25
---
Need a

?

Visit crhba.org for all your

housing & building needs.

• Free Referrals • Reputable Members • Peace of Mind •

crhba.org • 319.395.0778

26 THRESHOLD SEPTEMBER 2018