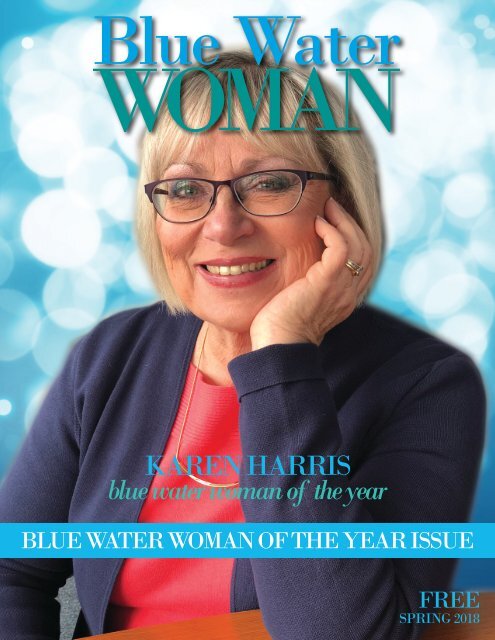 blue water woman--spring 2018--FINAL for yumpu
Blue Water Woman magazine is the premiere publication for women living, working and playing in the Blue Water Area of Michigan, also known as the Thumb of Michigan.
Blue Water Woman magazine is the premiere publication for women living, working and playing in the Blue Water Area of Michigan, also known as the Thumb of Michigan.
SHOW MORE
SHOW LESS
Create successful ePaper yourself
Turn your PDF publications into a flip-book with our unique Google optimized e-Paper software.
karEN harris

blue water woman of the year

bluE waTEr wOmaN OF ThE yEar issuE

FrEE

sPriNg 2018
---
I

from the editor

I have never been so proud of woman-kind as I am at this point in my adult life.

It feels as if we are, indeed, finally finding our voices.

Over the past two years, stories about women have carried the headlines. Not

all of them are good and, in fact, some of them are sad and downright horrific.

Stories of sexual harassment and sexual assault in the workplace, the entire

#metoo movement, the Time's Up movement, the

Dr. Larry Nassar trial at Michigan State University,

and inequality in pay and gender discrimination in

the workplace have all made the headlines on a daily

basis over the past year, with a lot of those stories

coming to light in just the past six months.

It would be easy to sit here at my desk and feel

discouraged. A female friend asked me the other day,

"How far have we come, really, Patti, in the past 40

years since the Women's Liberation movement began

in the 70s? It doesn't feel like the needle has moved

much…"

The realist in me knows the needle hasn't moved

far enough over 40-plus years time, but both my

friend and I agreed that it doesn't do us any good to

look back at what hasn't happened.

And, in fact, what IS happening right now is

editor patti samar

& Friend Pam Wall

at the 2018

women's march

in lansing

exciting and inspirational as women begin talking

out loud, in public, about things that were either

never shared before or were only shared in quiet

whispers.

At long last, it seems, women are beginning to

learn that it is time to speak up. It is time to talk about the realities of being

female in the United States in 2018. Some of our stories ARE horrific and sad,

but many, many others are motivating and inspirational.

And not only are our personal stories about our life experiences worth

hearing, but women are intelligent and we have an awful lot to offer in the work

environment, whether that is in a corporate board room or on the floor of a fast

food restaurant.

I encourage all women – most especially the young women reading this – to

please, please, please speak up. Use your voice. And if someone interrupts and

speaks over you, do not be afraid to speak up again and take back your time.

Your voice is important and you deserve to be heard.

The women featured in this, the seventh annual Blue Water Woman of the

Year Awards issue, have all found their voices. They have all moved mountains to

accomplish both personal and professional goals.

All of them have carved a path through what can sometimes feel like granite so

that the women who follow them have an easier path.

What I admire about all of them is their tenacity and diligence. All have a "roll

up your sleeves and work" attitude. All believe in teamwork and understand

that "it takes a village" to build a successful company, educational institution,

healthcare organization, city administration and fitness program.

I am honored and humbled to share with you their stories in this issue of the

magazine. I am inspired by the accomplishments of each and every one of them

and I am sure you will be too.

Peace,

CONTENT

karen harris 5

nancy winzer 6

donna russell-kuhr 8

deborah snyder 10

susan smith 12

advertise

in Blue Water Woman!

it works!

just ask our advertisers!

The ad deadline for the next issue

of Blue Water Woman is May 1, 2018.

Prices start at just $125 for a business card sized ad!

Our most popular ad size is a quarter page at just $250;

sign a one-year contract and it becomes just $225 a quarter!

For more information, contact Patti Samar

at 810-300-2176 or email her at pjsamar@aol.com

volume 8, number 1 Spring 2018

Blue Water Woman is published quarterly by The Write Company,

511 La Salle Blvd., Port Huron, MI 48060. Circulation 5,000.

Editor & Publisher:

Patti Samar, owner, The Write Company

Advertising, questions, comments or story ideas:

Email Patti Samar at pjsamar@aol.com

Mission:

Blue Water Woman is the premiere publication

for women living, working and playing

in the Blue Water Area of Michigan.

Its stories and features are written and designed

to be inspriational, motivational and encouraging.

www.BlueWaterWoman.com

© Blue Water Woman is the property

of Patti Samar of The Write Company

The Write Company is a writing, graphic design

and marketing consultation firm.

View our online portfolio at:

www.TheWriteCompany.net

Patti Samar

Editor & Publisher

Blue Water Woman

2 SPRING 2018 BlueWaterWoman.com
---
Protect your world

Auto • Home • Life • Retirement

Insurance subject to terms, qualifications and availability. Allstate Property and Casualty Insurance Co., Allstate

Indemnity Co., Allstate Vehicle and Property Insurance Co., Allstate Fire and Casualty Insurance Co. Life insurance

offered through Allstate Life Ins. Co. & Allstate Assurance Co. Northbrook, IL; Lincoln Benefit Life Co., Lincoln, NE;

and American Heritage Life Insurance Co., Jacksonville, FL . Securities offered by Personal Financial Representatives

through Allstate Financial Services, LLC (LSA Securities in LA and PA). Registered Broker-Dealer. Member FINRA,

SIPC. Main Office: 2920 South 84th Street, Lincoln, NE 68506. (877) 525-5727. © 2010 Allstate Insurance Co.

173533
---
Woman

late last year, Blue Water Woman asked the community to nominate very special women who

are deserving of recognition as we prepared to present the seventh annual blue water woman of

the year awards.

we then sent the nominations to a far away, cold and snowy place known as the upper

Peninsula, where a very distinguished panel of women sequestered themselves for an evening and

emerged with five very deserving award recipients.

indeed, we are very fortunate in the blue water area to be surrounded by so many thoughtful,

smart and compassionate women.

so in this issue, Blue Water Woman is pleased to honor five of the very best:

karen harris

blue water woman of the year

Nancy winzer

blue water woman Civic leader of the year

donna russell-kuhr

blue water woman manufacturing Executive of the year

dr. deborah snyder

blue water woman Educator of the year

susan smith

blue water woman Physical Fitness advocate of the year
---
full package

president

karen harris

by Patti Samar

Karen Harris likes taking care of people.

Her desire to help others eventually led her to nursing school and that

led to a career as a healthcare administrator where, over the years, she has

been responsible for hundreds of staff members and multi-million dollar

budgets.

Harris, the president and chief executive officer at Visiting Nurse

Association and Blue Water Hospice of Port Huron, said that all of her

career successes can be attributed to the core of what still drives her: her

desire to take care of people.

Harris's ability to drive organizational and cultural change at VNA/

BWH while increasing patient census, consistently maintaining one of the

highest home health care quality of patient care scores in the community

and working with staff to dramatically improve the overall financial

performance of the nonprofit she oversees all contributed to Harris being

named the Blue Water Woman of the Year. She was nominated by Karen

Dech, the vice president of finance and chief financial officer at VNA/

BWH.

"I watched as Karen assessed the operational needs of the organization

and she implemented good, common sense practices that addressed both

the needs of the patients and the staff," Dech said in her nomination.

"Within months, very significant recognition came to the organization

when the Centers for Medicare and Medicaid Services rated the VNA/

BWH home health care quality of care among the top three percent in

the nation. At that time, VNA/BWH was one of only 10 home health care

agencies in the state of Michigan to receive a five-star rating for quality of

care. We were the only agency in our county to receive this designation."

Harris, who married her high school sweetheart at age 19, worked in

a factory until she began having children and became at stay-at-home

mom. At age 28, she decided to attend St. Clair County Community

College and eventually graduated from the nursing program there. She

went on to earn a bachelor's degree from the University of Michigan and

a master's degree from Central Michigan University.

In her nomination, Dech said: "VNA/BWH had been under the

direction of three different CEOs within a five year period. While each

of those individuals brought a skill set of strengths, the VNA/BWH

board received the 'full package' when it hired Karen to become the CEO.

Her previous experience working her way up from a registered nurse to

becoming the vice president of nursing and chief nursing officer at St.

Joseph Mercy Hospital provided Karen with the experience and depth of

knowledge of the administration of a healthcare organization to do the

job in an above and beyond capacity."

One of Harris's strengths as a CEO is her ability to see the "big picture,"

according to Dech, and Harris concurs that she enjoys that part of her

job.

"I do 'get' how it all connects," Harris said of organizational structure.

"The planning, the strategy and the people and how it all comes together.

I believe a strategic plan is a living document. We review it and we live it.

"You have to give equal attention to all aspects of the business," she said.

"The finances, the patients, the quality of care, the patient satisfaction and

the staffing. I think I have a knack for building a great team."

In her nomination, Dech made special note of one of the organization's

biggest achievements under Harris's leadership: paying off a multi-million

dollar debt years ahead of schedule.

"She inherited a multi-million dollar debt of mortgage on the Blue

Water Hospice Home and, by working closely with staff, put together an

action plan to completely retire the debt on the building within two years.

That goal will be achieved in 2018."

Harris said she still sees her day-to-day work as a form of caring for

others. "I get personal gratification from it, so I'm really feeding myself

when I'm caring for others. With staff, I think I'm good at rallying around

people and letting them find their strengths and letting them focus on

them," she said. "It's about finding a way to make our workplace work for

the staff. When you allow them to blossom, the morale is really good then.

"People go above and beyond if you trust them and believe in them."

SPRING 2018 BlueWaterWoman.com 5
---
uilding

a winning team

by dale hemmila

nancy winzer

6 SPRING 2018 BlueWaterWoman.com

Nancy Winzer believes in team work.

If every winning team has an exceptional coach, Winzer could very

well earn the title "Coach of the Year." The director of parks and

recreation for the City of Port Huron, Winzer is passionate about

the city and those who recreate there. Her creativity, dedication,

commitment, hard work and ability to rally the troops and pull off

numerous community-wide events have led to innovative and creative

recreation and entertainment opportunities for people of all ages in St.

Clair County.

Recognizing her diligence and success, Winzer has been named Blue

Water Woman Civic Leader of the Year. She was nominated by Port

Huron Mayor Pauline Repp.

Winzer began working for the city in 1993 and became director of her

department five years ago. She currently oversees 26 parks, 15 other

facilities and a workforce of 30 employees. In addition to supervising

venues and people, Winzer has also directed a process that has landed

more than $1.3 million in grant funds to improve city facilities to better

serve community members who use them every day.

"I just want to make Port Huron the best that it can be," she said.

"I want people to live, work and play where there are good recreational

opportunities."

And her passion for the job and the city is apparent to those who she

encounters in her position.

"The word 'NO' is rarely, if ever, in Nancy's vocabulary," Repp wrote

in her nomination. "If there is a way to improve something or add

greater benefit to someone's experience, she will find a way."

While Winzer is passionate about her job -- "I love what I do, I love

coming to work every day" -- she is also passionate about those she

works with.

"I wouldn't be where I am without the people who work for me," she

said. "They are very talented and work a lot of hours. We have a good

city council and a good city manager. Everyone is trying to make Port

Huron a better place to live."

In her role as department head, Winzer oversees both the parks

and recreation department in addition to the cemeteries and forestry

departments. In 2016, Winzer was handed the management of

McMorran Place after the city ended a contract with an outside

management company.

Mayor Repp noted in her nomination that energy has returned to

McMorran Place under Winzer's leadership. "McMorran has received

multiple cosmetic upgrades including new carpeting, epoxy flooring,

drywall paint and a new bar for spectators to enjoy during Port Huron

Prowler games," she said. "Nancy and her team have worked tirelessly to

bring more concerts, shows and family-friendly activities to the facility."

While initially a little nervous at taking on the McMorran

management, Winzer said it has become a good fit for her department.

"It's an amazing recreational facility," she said, "and we are blessed to

have it. It's where it should be in the parks and recreation department

and the talented staff at McMorran is amazing and a nice addition to

parks and recreation. When I go downtown and see people coming

to McMorran, it gives me goosebumps. There are always people at

McMorran and it's going to keep getting better as the downtown keeps

getting better."

Watching Port Huron get "better and better" is all part of the payoff

for Winzer.

"The next five years is about making unique recreational

opportunities to get people and kids and families outside to recreate,"

she said. "The pay for me is to go to an event and see people having a

good time, or go to a park and see kids enjoying themselves—that's the

pay for me."
---
Every day is the perfect day

to send flowers.

Full Service Florist:

Special Occasions • Funerals • Just Because • Holiday Décor

Wedding Floral Design • Bouquets • Boutonnieres • Corsages

NEW LOCATION! Corner of Hancock & 14th Avenue

1719 Hancock Street • Port Huron • (810) 989 - 7673

SPRING 2018 BlueWaterWoman.com 7
---
visionary

leader

by dale hemmila

donna russell-kuhr

8 SPRING 2018 BlueWaterWoman.com

Enthusiasm. Excitement. Exuberance. Energy.

Donna Russell-Kuhr has them all.

Whether she is talking about her role as president and CEO of PTM

Corporation in Ira Township, or she is extolling the value of living in St.

Clair County and her plans to improve employment opportunities in

the region as the new president of the Economic Development Alliance

(EDA) of St. Clair County, Russell-Kuhr's cup runneth over when talking

about all of the positive possibilities she sees in the future in the Blue

Water Area.

It is due to her business success and vision that she has been named

Blue Water Woman Manufacturing Executive of the Year. Russell-Kuhr

was nominated by Marysville City Manager Randy Fernandez.

PTM Corporation, which is owned by Russell-Kuhr and her three

sisters, bills itself as an engineering, prototype, production and assembly

facility in Ira Township. Their slogan—Making Magic with Metal since

1972—is an indication of what they do and how long they have been

doing it. The company, founded by Russell-Kuhr's father in his garage,

has gone from manufacturing fasteners, metal clips and stampings to

design, prototype and development for companies with household names.

A tour of the PTM facilities will find work in progress for customers as

diverse as Electrolux and NASCAR to nearly every automaker in the

United States.

Now, from that simple garage beginning, Russell-Kuhr oversees an

operation with a 74-acre footprint encompassing 300,000 square feet of

production facilities that employs 300 people. While she happens to be

where the buck stops, Russell-Kuhr is quick to spread the credit for their

success.

"It's not about me," she said in reviewing PTM's accomplishments. "I

have a knack for identifying talent and the talent in this organization has

made this company grow. We have a really good team right now and they

make me look good, the people in the plant are doing their job above and

beyond."

She ought to know what makes a plant run. Russell-Kuhr grew up in

the business. From being the first floor sweeper at age 10, and making

deliveries by age 15, she learned the business from her father Charlie.

"I worked by my dad's side every day for 30 some-odd years," she said.

"I loved coming to work with my daddy. It's an addiction. I'm a metal

manufacturer, it's in my blood."

Russell-Kuhr transitioned into her father's role in 2015, when he semiretired.

Though he passed away in 2016, it is clear that the Russell family

heart beats strong in PTM. Many family members are also employed

there.

Says Russell-Kuhr: "It's very important to provide opportunity, but

they have to do the job."

And providing opportunity is what she is looking to do as she begins

her term as president of the EDA. She has set two main goals for her

tenure: One, grow the EDA membership, and two, provide education

opportunities in the skilled trades.

While goal number two is an obvious fit for her business, Russell Kuhr's

vision goes beyond the parochial.

"I want to provide some sort of solution for St. Clair County businesses

and people," she said.

Providing skilled trade employment opportunities by increasing

education in the trades is "good for a variety of businesses and can provide

good paying jobs for people who are unemployed or underemployed."

In addition to her success at work, Russell-Kuhr also believes in giving

back to the community. She is involved in numerous philanthropic

endeavors and has served on boards and committees throughout the

community.

So while continuing to add value at her own business, Russell-Kuhr

also looks to find ways to benefit others outside of metal manufacturing.

Success in those areas will provide value to all of St. Clair County and

those undertakings are certain to receive a good dose of Russel-Kuhr's

enthusiasm, excitement, exuberance and energy.
---
SPRING 2018 BlueWaterWoman.com 9
---
achieving

goals

dr. deborah snyder

10 SPRING 2018 BlueWaterWoman.com

by patti samar

When Dr. Deborah Snyder was just six years old, she stood in front of

childhood friends and used a miniature chalkboard to teach lessons.

As an adult, she finally fulfilled her childhood dream of becoming an

educator by following a less-than-linear path that eventually led to her first

official classrooms as a collegiate adjunct instructor on weekends while

holding down a "day job" in another industry during the week.

Now the president of St. Clair County Community College, Snyder – a

native of St. Clair County – leads the institution where she first attended

college. During her two years in the president's office at SC4, she has been

very efficient, having tackled a number of difficult projects that would

have been a challenge for even a much more tenured administrator at any

institution.

It is because of her strong leadership skills and her dedication to helping

students achieve their educational goals that Snyder has been named Blue

Water Woman Educator of the Year. She was nominated by Pete Lacey,

vice president of student services and communications at SC4.

"Under her direction, the college has implemented a variety of successful

initiatives and has completed several significant projects," said Lacey in his

nomination. "Her visionary leadership has helped transform our campus

and it has improved our community."

Snyder understands the importance and impact a community college

makes on a student's life because she once was that student at SC4. "I was

just trying to hold down a full time job at the telephone company and

go to school at night," she said. "I came here and I had some of the best

teachers. Janet Kelly, who was a sociology teacher here, was the first person

who said to me, 'Have you thought about getting a Ph.d?'

"She was the most important person in my SC4 life. She inspired me. It

was a time when girls were secretaries, telephone operators and cashiers.

Most women did not go on to get their doctorate."

Before all was said and done, Snyder had gone on to earn a bachelor's

degree, a master's degree and a doctorate.

Prior to becoming president at SC4, Snyder served in a variety of

administrative capacities on several different college campuses. She last

served as president and chief academic officer at Cogswell College in

northern California.

A pioneer in producing online classes for colleges – she taught herself

HTML and put together the very first online class taught by Walsh

College – she went on to do consulting work for colleges across the country,

teaching them how to build successful online courses.

An author of two published books – one that came about as a result of

her early comfort level with the internet, e-Marketing Basics – she is about

to publish her third book, Old School, New School, No School, about the

value of higher education.

Snyder is proud of the work she has done during her short time at SC4.

"When I arrived, getting the faculty contract settled and getting everyone

back to work and doing what they do best was in the best interest of

everyone," she said. "The faculty deliver our service. I value the job the

faculty does on our campus."

Under Snyder's leadership, the college has also received a 10-year

accreditation – the highest possible recognition – from the Higher Learning

Commission. A number of major construction and renovation projects

have also been undertaken during Snyder's tenure:

--The renovation and transformation of the old McMorran Pavilion into

the new SC4 Fieldhouse.

--The college recently received approval of funding to move forward

with the renovation of the A.J. Theisen building. Once the renovation is

complete, the building will be home to expanded health science programs.

--Through collaboration with the Community Foundation of St. Clair

County, SC4 is constructing new student housing.

Snyder notes that she has not done her job alone.

"People here are open to good ideas," she said. "The community is open

to partnerships. People are cheerleaders here because they want what is

best for the community."
---
SPRING 2018 BlueWaterWoman.com 11
---
community

fitness

by dale hemmila

SUSan Smith

12 SPRING 2018 BlueWaterWoman.com

To say Susan Smith of Port Huron is active would probably do a

disservice to the word active. Smith plays tennis. She golfs. She paints.

She is a birder and member of the Blue Water Audubon Society. She

belongs to the Alter Guild at Grace Episcopal Church where she is a

member of the Vestry. She is president of the Port Huron Garden Club,

and, to top it all off, she enjoys her family of three children and six

grandchildren and still finds time to go dancing with her husband Art.

But Smith's passion and a focal point of her life is the work she does

as an exercise instructor for two classes of senior citizens three days

a week at the YMCA of the Blue Water Area. Her dedication and

commitment to endorsing and serving as a living example of a healthy,

active lifestyle has earned her the title of Blue Water Woman Physical

Fitness Advocate of the Year.

Smith, who was nominated for this award by her husband, would

have qualified for such an award at any time over the past 30-plus

years. She began leading senior exercise classes in the Blue Water Area

in 1986 after she became a certified instructor for a program called

Body Recall. She has been helping seniors remain active ever since.

"You realize the benefit for other people," she said while explaining

the program, "especially for those who haven't exercised for a while and

all of a sudden they are feeling better."

Smith teaches a total of 85 students at the YMCA on Mondays,

Wednesdays and Fridays. The 45-minute workouts cover a variety of

physical activity, including range of motion, balance coordination,

aerobics and weights.

"We try to do a full body workup," she said.

But it's not just the body she tries to keep active. Cognitive activities

and other elements of the class are designed to help keep participants

mentally sharp. The classes are also an opportunity for the senior class

participants to engage socially, as well. The combination of knowing

she is helping seniors feel better physically, mentally and emotionally

provides a great deal of satisfaction for Smith at the end of the day.

"When students leave, they are usually happy and feel so much

better being active rather than just keeping to their homes," Smith

said. "It's good to be out doing things and staying independent for as

long as possible."

While most of the classes are focused on senior citizens, occasionally

she has younger folks who may need to begin an exercise program

or are going through a rehab regimen. But most of her students are

seniors and many have been with her for years.

"I have people that have been in the program for 25 years," she

said. "I usually say this is one of your doctor's appointments and you

wouldn't want to miss your doctor's appointment."

Meanwhile Smith has led and promoted a healthy, active lifestyle

throughout her life. She was physically active in high school and

later began running competitively. She completed marathons in New

York and Hawaii. In 2017, the entire Smith family—all 14 of them,

including Susan, who had pulled some ligaments in her foot—played

in the Francis J. Robinson Memorial International Tennis Tournament

to honor her husband Art's 60th year of competing in it.

At 75 years young, Smith said she plans to remain active as a physical

fitness instructor for as long as possible, acknowledging that it is just as

good for her as for those she leads.

"I probably need it more now than when I started," she laughed.
---
Agents protecting

all your life's moments

Kim Judge

kjudge@fbinsmi.com

Tammy Hutchinson

thutchi@fbinsmi.com

(810) 385-8800 | 7147 Lakeshore Road, Lakeport

FarmBureauInsurance.com

Providing complimentary lodging

for families of hospitalized patients

Two locations conveniently located within steps

of both McLaren Port Huron & Lake Huron Medical Center.

To make reservations, call:

810-824-3679

www.HunterHospitalityHouse.com

The Write Company

provides creative solutions

to business marketing challenges via:

• Publication Copywriting & Design

Print & eNewsletters/Magazines

• Advertising design & strategy

• Logos/Brand Identities

• Digital Marketing: Social Media/Web

• Editing of grant proposals

• Creation of fundraising collateral

Patti Samar, Owner/Editor/Publisher Blue Water Woman

pjsamar@aol.com 810.300.2176 www.TheWriteCompany.net

sPriNg 2018 bluEwaTErwOmaN.COm 13
---
The Area's

Only Verified

Trauma Center

ANOTHER FIRST FROM McLAREN PORT HURON

Most of the time, surgeries are planned and

scheduled. You know when it will happen. You have

time to prepare.

But when a surgery is needed immediately, the

trauma team at McLaren Port Huron is prepared

and stands ready. Around the clock. Day or night.

McLaren is the area's only verified

trauma center

McLaren Port Huron has earned Level III Trauma

Center verification from the American College of

Surgeons. This means we are able to care for the

most serious trauma emergencies. Our staff and

surgeons have gone through special training, and

we have developed protocols and quality controls

so we can provide the right care, right away.

When seconds matter, think fast.

Think McLaren.

When it's an emergency that requires surgery,

the trauma team is here for you. Learn more

about our national verification at

www.mclaren.org/phtrauma.

Learn more at www.mclaren.org/phtrauma

1221 Pine Grove Avenue, Port Huron, MI 48060 | (810) 987-5000 | mclaren.org/porthuron