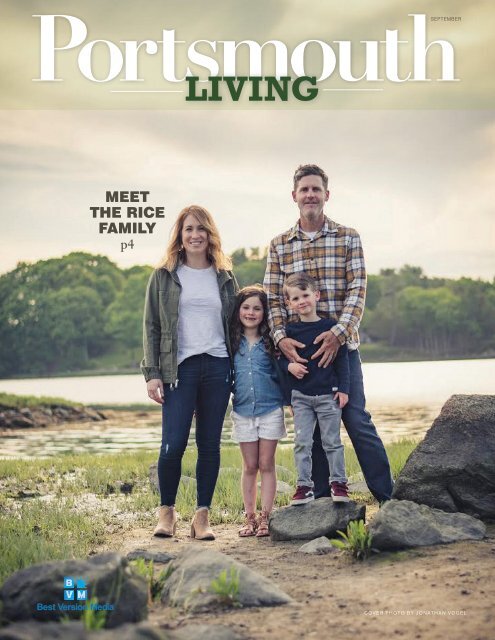 Portsmouth Living Magazine September 2018
September Issue of Portsmouth Living Magazine
September Issue of Portsmouth Living Magazine
SHOW MORE
SHOW LESS
You also want an ePaper? Increase the reach of your titles
YUMPU automatically turns print PDFs into web optimized ePapers that Google loves.
Portsmouth

SEPTEMBER

LIVING

MEET

THE RICE

FAMILY

p4

COVER PHOTO BY JONATHAN VOGEL
---
FINAL

WATERFRONT LOT!

Build Your Dream Home!

PUBLICATION TEAM

PUBLISHER | Mark Kasper

DESIGNER | Gabrielle Rohmer

CONTENT COORDINATOR | Robert Levey

Welcome, Portsmouth Neighbors!

Wow! Is it September already? Well, it's back

to school for the kids and back to business for

the rest of us.

There are a few articles this month that speak

to that, too.

Hopefully, you had a good summer and

enjoyed some of this beautiful weather.

Fall is right around the corner and there's

plenty of things to see and do in the next

few months

We will try to keep you apprised of things

going on in Portsmouth, but if you have something

that you would like to submit to us, please

reach out to me Mark Kasper at mkasper@

bestversionmedia.com, or our editor, Rob

Levey at rlevey@bestversionmedia.com.

MARK KASPER

Publisher

Send us your ideas events

and/or comments. We look

forward to hearing from you!

~ Mark

ADVERTISING

CONTACT | Mark Kasper

EMAIL | mkasper@bestversionmedia.com

PHONE | (603) 686-3131

FEEDBACK/IDEAS/SUBMISSIONS

Barbara Dunkle | NH & ME Broker

PLATINUM GROUP MEMBER

Web: www.barbaradunkle.com

Cell: 603-498-7927

Office: 800-450-7784 ext.7078

Email: barbara.dunkle@beangroup.com

Country Club living at its finest ~

Build your dream on this 1.01 acre lot overlooking

the Wentworth By The Sea Hotel & Marina.

®

®

Have feedback, ideas or submissions? We are always happy to hear from you!

Deadlines for submissions are the 1st of each month. Go to www.bestversionmedia.comand

click "Submit Content." You may also email your thoughts, ideas,

and photos to rlevey@bestversionmedia.com.

IMPORTANT PHONE NUMBERS

Emergency.......................................................................................................... 911

Police Department........................................................................(603) 427-1500

Fire Department.............................................................. ..............(603) 427-1515

City Hall........................................................................................(603) 431-2000

Library......................................................................................... (603) 427-1540

Recreation Department......................................................... ......(603) 427-1548

School Department....................................................................(603) 431-5080

Important Websites.................................................www.cityofportsmouth.com

EXPERT CONTRIBUTORS

To learn more about becoming an expert contributor, contact BVM

at mkasper@bestversionmedia.com or (603) 686-3131.

CONTENT SUBMISSION DEADLINES

DEADLINE FOR CONTENT SUBMISSION

IS THE I ST OF EACH MONTH

Lawn Cutting

SPECIAL

EVERY

3rd Cut

Is Half Price!

New Customers Only

(603) 502-0016

Clipperlandscaping.com

Distinctive Properties. Exceptional Service.

Any content, resident submissions, guest columns, advertisements and advertorials are not necessarily endorsed by or

represent the views of Best Version Media (BVM) or any municipality, homeowners associations, businesses or organizations

that this publication serves. BVM is not responsible for the reliability, suitability or timeliness of any content submitted.

All content submitted is done so at the sole discretion of the submitting party. © 2018 Best Version Media. All rights reserved.

©2018 Bean Group, All Rights Reserved.

2 PORTSMOUTH LIVING

SEPTEMBER 2018
---
Resident Feature

BY ROBERT LEVEY

PHOTOS SUBMITTED

BY THE RICES

Residents of

the Sherbourne

neighborhood

in Portsmouth,

Meghan and Chris Rice

love their home, especially

now that they have

been joined by kids,

Lennon and James, ages

6 and 4, respectively.

"The first home we

bought in Portsmouth

was in Atlantic Heights,

and we loved the neighborhood,

but we quickly

outgrew it once we had our kids," she

says. "When we were selling our first

home, we knew we wanted to stay in

Portsmouth because we felt it was a

great place to raise our kids with so

many opportunities, great culture and

good schools."

Natives of Nashua, although they

did not meet until they were adults,

Meghan says she got an apartment in

Portsmouth 14 years ago after graduating

from UNH with an undergraduate

degree in Psychology. Chris joined her

soon thereafter. She then earned an

MEd in Elementary Education from

Franklin Pierce and and now works for

New Heights, a local non-profit that

provides experiential education programs

in STEAM and Adventure for

Seacoast youth.

MEET

THE RICE

FAMILY

As for why they love their current

home so much, Rice says it all starts

with their neighborhood with "a special

shout-out to the Holly Lane crew."

In the summer, we will all meet up at

the neighborhood playground, which

is a total hidden gem, or we will have

family Barbecues," she says. "In the

winter, we keep each other sane by

having sledding dates at the huge hill in

the back of the neighborhood whenever

school is canceled."

This coming winter, the Rices will be

joined by their black Lab named Willow,

who just turned 1 on August 2nd.

"The kids are insisting that we throw

a party for her and make her a cake,"

says Meghan, who notes Willow has

a great friend in Buster whom she

describes as "a humongous English

Mastiff."

Willow and Buster are best friends

and spend as much time together as

possible in our yard or next door," she

This year, we ventured

up to Hermit Island in

Maine for two nights.

It was a magical place

and our campsites were

right on the Casco Bay.

says. "Buster will actually come to our

door to get Willow."

As for family excursions, Meghan

says Chris has been teaching all of them

how to camp. Last year, they started

an annual summer camping trip

tradition.

"It's 6 families that participate,"

she explains. "Last year, we started

small and got sites next to each

other at Pawtuckaway for one

night. This year, we ventured up

to Hermit Island in Maine for

two nights. It was a magical place

and our campsites were right on

the Casco Bay. During the day we

explored and played at the beach. At

night, we hung out by the campfire

and made s'mores. I highly recommend

this campsite--just bring all the bug

spray."

When not heading out on camping

adventures, Meghan says the family

has plenty to do locally, too. Lennon,

who will be a first grader at New

Franklin School, loves reading and art.

"She had an amazing first year at

school and we adore the New Franklin

"In the winter, we keep

each other sane by

having sledding dates at

the huge hill in the back

of the neighborhood

whenever school

is canceled."

We would like to thank our sponsor, Porstmouth Christian Academy for the opportunity to bring you this story.

Community," says Meghan. "The

staff and families truly make it such

a special place."

Outside of school, Lennon participates

in gymnastics, ballet and

soccer.

"Currently Lennon is growing her

hair really long so she can donate 8

inches to an organization that makes

wigs for children,"

adds

Meghan. "She's

almost there.

5 in October,

James is in Pre-

K at Seacoast

Community

School, which

is where both

kids started

when they were

4 months old.

James is obsessed

Newest member of the family Willow!

4 PORTSMOUTH LIVING

SEPTEMBER 2018 5
---
We love everything Portsmouth has to offer...

Having fun at Willow's birthday party!

with Star Wars, loves to ride his bike

and swim.

"Both kids always participate in

swim lessons at the Peirce Island pool

during the summer, and they are free

for Portsmouth residents," she adds.

For Meghan, barre and yoga is a

huge part of her life.

"I take classes regularly at Barre &

Soul in downtown Portsmouth," she

says. "It's a great workout, but it's also

a lovely community of women."

Chris is and always has been a

skateboarder.

"Chris has a background in skateboard

and snowboard retail, but

decided to change paths a few years

ago and is now the Head Groundskeeper

at South Cemetery."

Regardless of where they are in

Portsmouth, Meghan says they are

happy to be here.

We love everything Portsmouth

has to offer," she says. "We feel lucky

to live here."

DO YOU HAVE A NEIGHBOR WHO

HAS A STORY TO SHARE?

Lennon almost 7 (in November) and James almost 5 (in October)

Real Estate

LOWEST INVENTORY IN THE LAST 6 YEARS

DRIVES TOP DOLLAR FOR SELLERS IN PORTSMOUTH

Condo Sales for Downtown Portsmouth & Surrounding Area 2018

ADDRESS

SELLING PRICE

101 LANGDON STREET $818,400

194 WIBIRD STREET $870,000

243 WIBIRD STREET $895,000

226 UNION STREET $901,845

45 MILLER AVENUE $920,000

364 MILLER AVENUE $930,000

281 SAGAMORE AVENUE $948,000

215 WASHINGTON STREET $949,000

99 GATES STREET $950,000

752 SOUTH STREET $972,350

37 WHOLEY WAY $1,000,000

47 HOWARD STREET $1,010,000

137 WIBIRD STREET $1,150,000

35 PLEASANT POINT DRIVE $1,350,000

255 GOSPORT ROAD $1,400,000

179 PLEASANT STREET $2,600,000

Best Version Media does not guarantee the accuracy of the statistical data on this page. Any real estate agent's ad appearing

in this magazine is separate from any statistical data provided which is in no way a part of their advertisement.

Attention:

Portsmouth

Cooks!

Send us your favorite family recipe(s)

to share with your neighbors.

Email them to mkasper@bestversionmedia.com

Subject to copyright and space availability.

6 PORTSMOUTH LIVING

Contact us at:

mkasper@bestversionmedia.com

NEIGHBORHOOD

Classifieds

To place your free classified, go

to www.bestversionmedia.com and

click "Submit Content." For FREE

listings, ads must be 40 words or

less, non-business related.

You will receive email confirmation.

SAMPLE:

HAVE SOMETHING

TO SELL

OR GIVE AWAY?

PET SITTING | Maya

My name is Maya. I pet sit cats,

dogs, hamsters, rabbits, and small

birds. I have been pet sitting for

3 years.

For more information

please call 000-000-0000.

YOUTH

Classifieds

Hey Kids!

Be in business for yourself and

make a little money –

all while helping your neighbors!

To place your free classified offering

services, go to

www.bestversionmedia.com

and click "Submit Content."

Please limit to 40 words.

Please be advised that all

communication regarding

Kids' Classifieds will be

directed through a parent or

guardian.

You can also email your ad

to the publisher, at

mkasper@bestversionmedia.com

$725,900

I know what your home is worth...do you?

$575,900

$439,900

$565,500

Barbara Dunkle | NH & ME Broker

Web: www.barbaradunkle.com

Cell: 603-498-7927

Office: 800-450-7784 ext.7078

Email: barbara.dunkle@beangroup.com

$795,000

$699,500

Contact me for a FREE home valuation

and comprehensive assessment of the

current real estate market in your area.

SEPTEMBER 2018 7
---
Community

H E L L O B E A U T I F U L

Reveal the New You

OUTDOOR CLASSROOM

ON THE BELLAMY RIVER

BY ROB LEVEY

Laser

For Hair Removal,

Wrinkles, Age Spots,

Acne, Broken Capillaries

50 Sheffield Dr,

STE 101,

Dover, NH

Injectables

Botox and Dermal Fillers

Body Sculpting

Cool Sculpting

Eliminates Stubborn Fat

Skin Care

Chemical Peels and

Collagen Therapy

Weight Loss

Appetite Control Programs

HCG Diet

FREE

lipotropic

injection

for first 30 callers

Call Today!

781.569.5100

or book online

www.ageweighless.com

Inspiring students on the Seacoast to

maximize their potential for nearly

forty years, Portsmouth Christian

Academy recently received a second

national award from The Christian Education

Charitable Trust (CECT) to fund

an Outdoor Classroom on the Bellamy

River.

The $50,000 matching grant from

CECT, a division of the Tennesseebased

Maclellan Foundation, follows

an initial round of start-up funding

awarded in 2016 that enabled PCA to

launch an innovative STEM program to

monitor the waterfront's health.

In its first year, the Environmental

Stewardship Pilot Project provided

hands-on learning opportunities for

PCA students in preschool through

Grade 12 and contributed in a meaningful

way to active research at the University

level.

"Students were eager to take what

they had learned in class about testing

water quality and try carrying out the

testing for themselves," says junior high

science teacher Jennifer Will. "They also

had a lot of fun using magnifiers to examine

the plankton found in the river."

She says 6th graders made their own

Secchi disks in class and then took them

to the dock to measure the turbidity

of the water. While there, they made

observations about tide and measured

the water's depth at different times of

the day.

"During their study of ecosystems, 7th

graders enjoyed going out by the river

and making observations about the

different types of plant and animal life

in the area," she adds.

PCA Robotics Teacher and IT Director

Michael Shevenell led a cadre

of students who were instrumental

in the technical configuration of the

waterfront project.

"A key aspect of this initiative has

been student learning through activities

related to the Bellamy River Estuary,"

he says. "There were five Upper School

students and 3 Lower School students

who were involved in the engineering

aspects of this initiative."

The Upper School students were

instrumental in the configuration of the

Waterfront Research Station. While the

building itself was a prebuilt unit, Mr.

Shevenell says a number of modifications

were necessary to support the installation

of the solar panels and instrumentation

of the project.

"The students were involved in moving,

unpacking, measuring and assembling

of the solar panel units as well as

the mounting of the electronics to control

the battery charger, control panel

and inverter to power the building," he

explains.

The Lower School students were

involved in the 'sensor packaging'

initiative in which several commercially

available sensors were integrated into a

package that will eventually be deployed

in the estuary. The goal of this initiative

was to design and fabricate a packaging

system that was low cost and retained

the benefits of protecting the equipment

and floating.

"A creative approach using discarded

packing Styrofoam to house the sensors

was developed," adds Shevenell. "The

students developed a number of packaging

prototypes, learning strengths and

weaknesses of their design and fabrication

approaches with each iteration."

This second grant from the Maclellan

Foundation will make it possible for PCA

to build on the success of the project by:

• Establishing PCA as an Official

Oyster Research Site

• Equipping the junior high and high school

science labs to support water testing;

• Expanding application of solar panels used to

power the waterfront Research Station

• Providing ADA compliant access to

the waterfront

• Offering additional educational programming,

summer camp opportunities, and extracurricular

activities that make use of PCA's unique

location on the Bellamy River.

Curriculum will be adapted at the

Upper School to make the most of

the grant, including opportunities for

Marine Biology students to learn how

to construct and nurture a reef site on a

tidal river. AP Chemistry students will

learn how to analyze water for nitrates,

turbidity, and other chemicals.

Located just minutes northwest of Portsmouth,

NH on a fifty-acre riverfront

campus, PCA is a dually accredited, independent,

college-preparatory, day school

where young people from preschool

to Grade 12 are challenged to thrive

academically and grow as servant-leaders

prepared to impact the world for good.

For more information, visit pcaschool.org.

8 PORTSMOUTH LIVING

SEPTEMBER 2018 9
---
September | 2018

Every Week in Portsmouth

LOCAL

FARMERS

MARKETS

DURHAM

FARMERS MARKET

MONDAYS

2:15m-6pm

Jackson's Landing

www.www.seacoastgrowers.org

DOVER

FARMERS MARKET

WEDNESDAYS

2:15pm-6pm

Dover Chamber of Commerce

www.seacoastgrowers.org

EXETER

FARMERS MARKET

THURSDAYS

2:15pm-6pm

Swasey Parkway

www.seacoastgrowers.org

PORTSMOUTH

FARMERS MARKET

SATURDAYS

8am-1pm

Portsmouth City Hall

www.seacoastgrowers.org

SATURDAY, SEPTEMBER 1

SKETCHING IN THE GALLERY

@Discover Portsmouth

Artists young and old are invited to grab a pencil

and paper and sketch in our beautiful Balcony

Gallery at Discover Portsmouth. Use the inspiration

of the four local artists, Amy Brnger, Donna

Harkins, Sydney Bella Sparrow, and Pamela duLong

Williams, all on display in "Seacoast Masters

Today," to create your own masterpiece. On select

Saturdays, local artists will be in the gallery to work

with you and provide insight into the artwork.

TIME 10am-12pm

COST FREE and open to all ages

www.portsmouthhistory.org/sketching-in-the-gallery

-free-for-all-ages/

THURSDAY, SEPTEMBER 6

PASSEGGIATA: WALK OF WINE

@Tuscan Kitchen

Wine Director Joe Comforti is hosting a PASSEG-

GIATA: WALK OF WINE in Portsmouth! Come taste

over 50 Italian & World Wines with samples from

our catering menus.

TIME 5:30pm-7:30pm

COST $40 General Admission

Limited Tickets!

www.eventbrite.com/e/passeggiata-walk-of-wine-tickets-47676774516

THURSDAY, SEPTEMBER 6

5TH ANNUAL JOHN PAUL JONES JUBILEE

& SILENT AUCTION

Eat, Drink, Bid! A Fundraiser for the John Paul Paul

Jones House and Portsmouth Historical Society.

Hors d'oeuvres from the best Seacoast restaurants

and wines from private vineyards. Smooth

sounds of live jazz by Dry Martini. Fine wine raffle

and more than 75 stellar silent auction items! All

proceeds to benefit Portsmouth Historical Society

& John Paul Jones House.

TIME 5:30pm-8:30pm

COST $30 for Members / $40 for Non-

Members - Buy your tickets by August 31 for

an Early Bird Discount $25 for Members / $35

for Non-Members

www.portsmouthhistory.org/sketching-in-the-gallery

-free-for-all-ages/

SUNDAY, SEPTEMBER 16

ISLES OF SHOALS -

9TH ANNUAL GOSPORT REGATTA

@Isles of Shoals

An open sailing race from Portsmouth Harbor to

Gosport Harbor at the Isles of Shoals. Spectators

are welcomed to enjoy the sailing competition

from the deck of the M/V Thomas Laighton, Isles

of Shoals Steamship Company (ISSCO). Join us on

Star Island after the race for regatta festivities for

the whole family – including the award ceremony,

delicious barbecue, live music, a kite festival,

games and activities for children. Announcing an

OVERNIGHT option! Enjoy the race day festivities

then spend the night on Star Island.

TIME 9:45am-8pm

COST Adult day ticket $65. See website for

details on overnight lodging and to register.

www.starisland.org/regatta/

FRIDAY, SEPTEMBER 21

LUNCHTIME EXHIBITION

TOUR OF GERTRUDE FISKE

@Wentworth by the Sea Country Club

Visitors to Discover Portsmouth are invited to a

special gallery tour of Gertrude Fiske: American

Master. Join our exhibition curator or curator

trained guides on an in-depth look at the remarkable

art of Gertrude Fiske. Lunchtime Exhibition

tours have limited space.TIME 12pm-12:45pm

COST Free and open to all ages - Private

tours are also available upon request for a fee.

Please call (603) 436-8433 for more information.

www.portsmouthhistory.org/gertrude-fiske-americanmaster/

SUNDAY, SEPTEMBER 23

SEACOAST CANCER 5K

@Wentworth-Douglass Hospital in Dover, NH

One of the region's largest fundraising events,

it's a celebration of life and the lifesaving work of

Wentworth-Douglass Hospital's Seacoast Cancer

Center. The Seacoast Cancer 5K is a positive

experience from beginning to end, with hundreds

of neighbors, friends and family lining the route to

cheer. And at the start/finish line, you'll find music,

food and activities for the kids. Best of all, every

dollar raised supports cancer care right here in our

community.

TIME 9am-12pm

COST $35 same day registration fee.

Or register online $25

www./portsmouthhistory.org/sketching-in-the-gallery

-free-for-all-ages/

MONDAYS

PAPA WHEELIES SHOP

GROUP RIDES

@Papa Wheelies

This is our No Drop Weekly road group ride.

We encourage riders of all abilities to come

ride with us. We'll work on group riding &

pace line skills and just set a goal to have a

great safe ride. We will ride anywhere

from 20-30 miles.

TIME 6pm

COST FREE

www.papa-wheelies.com

TUESDAYS

TUESDAYS ON THE TERRACE

@Strawberry Banke Museum

Enjoy the historic landscape of the 10-acre

living history museum with live music on the

terrace of the visitors center. Food and

beverages are available from Figtree Kitchen

Cafe, including beer and wine.

TIME 5pm-7pm

COST $5

www.strawberybanke.org

BOARD GAME NIGHT

@Diversions Puzzles & Games

Join us and you can find new games to learn

and play! We have a constantly updated game

library which you may pick games from to

play or you can bring your favorites from

home!

TIME 5-9pm

COST FREE

www.diversionsgames.com

NHAA PLEIN AIR 2018

@New Hampshire Art Association

Coordinated by NHAA artist Lennie Mullaney,

Tuesday morning plein air events are free

and open to all artists or photographers,

including non-members of NHAA.

TIME 8:30am-12pm

COST FREE

www.nhartassociation.org

THURSDAYS

STORY TIME WITH THE

ANIMALS AT THE NHSPCA

@NHSPCA

For Ages 2 to 5: Story Time with the Animals

is held every Thursday morning at 10:30 in

the Humane Education classroom. Children

listen to a story about an animal, color a

picture of an animal and visit the animals in

the classroom. No registration is required.

TIME 10:30am

COST A donation of $5 is suggested

and appreciated.

www./nhspca.org/programs-for-kids/

RUNNERS ALLEY

WEEKLY RUNNING GROUP

@Runners Alley

Join us at one of our store locations for a

casual group run - we run year-round!

All levels and all speeds welcome!

Runs are 4-6 miles Thursdays.

TIME 6pm

COST FREE

www.runnersalley.com/groups/

weekly-running-groups

FRIDAYS

FREE PIZZA FRIDAY

(2 SLICES PER JUMPER)

@Blitz Air Park

Indoor amusement center offering

wall-to-wall trampolines, theme nights,

an arcade and a toddler room.

TIME 7-9pm

COST $15 per person plus $3 for

re-usable Blitz Grip Socks (if you

don't have a pair)

www./blitzairpark.com

SATURDAYS

RUNNERS ALLEY

WEEKLY RUNNING GROUP

@Runners Alley

Join us at one of our store locations for a

casual group run - we run year-round!

All levels and all speeds welcome!

Runs are 4-8 miles Saturdays.

TIME 10am

COST FREE

www.runnersalley.com/groups/

weekly-running-groups

SALSA IN THE PARK

@South Playground

Salsa in the Park offers an opportunity to

dance outside in the summer months,

free of charge.

TIME 3-6pm

COST FREE

www.salsasecrets-portsmouth.com/sitp

SUNDAYS

OPEN HOUSE AT PORTSMOUTH

HARBOR LIGHTHOUSE

@Portsmouth Harbor Lighthouse

Visitors get to climb to the lantern room to

enjoy the magnificent view and to see the

fourth-order Fresnel lens up close.

TIME 1-5pm

COST $2 - $4

www.portsmouthharborlighthouse.org

HAVE AN EVENT

FOR OUR

NEXT ISSUE?

Contact us at:

rlevey@bestversionmedia.com

10 PORTSMOUTH LIVING

SEPTEMBER 2018 11
---
AUGUST 2018

COVER PHOTO BY LORI TIERNAN

MAY

2018

COVER PHOTO

BY DIANE BIBLE

JULY 2018

Reach Out To Your Local Community

Advertise Your

Business in

Portsmouth Living

Call (603) 686-3131 Today!

THE

MCDERMOTT

FAMILY

WEALTH MANAGEMENT

ELEVATING

TO AN ART FORM

Portsmouth

p4

LIVING

COVER PHOTO SUBMITTED BY FAMILY

Portsmouth

LORI TIERNAN

& DEAGLAN

MCEACHERN

Committed to Family

and Community

p4

LIVING

Portsmouth

LIVING

The name "Dakota" means friend and ally –

here at Dakota Wealth Management, we

focus on caring for you, understanding

your family, lifestyle needs, goals and

long-term aspirations.

At a time when the financial industry has

resorted to passive strategies and

computer-generated models, our team of

investment managers and advisors brings

experience, knowledge and sound

judgment to thoughtfully position every

aspect of your financial life to ensure the

greatest success.

THE

CROTTO

FAMILY

On the go

in Portsmouth

p4

Nonprofit Spotlight

RAISING AWARENESS

AT SEACOAST MENTAL

HEALTH CENTER

Headquartered in Portsmouth, Seacoast Mental

Health Center (SMHC) has addressed the mental

health needs of local residents since 1963, a fact particularly

pertinent in September, which is National Suicide

Prevention Awareness Month.

"This is a month that puts a spotlight on what we

do, who we serve and why mental health services are

needed," says Jay Couture, executive director.

With suicide

the second leading

cause of death in

NH for youth ages

10-24, SMHC is

implementing the

Zero Suicide program,

led by Patty

Driscoll, Director

of Adult Services.

"This program

represents our

strong commitment

to suicide

prevention in health and behavioral healthcare systems,"

says Driscoll. "The program provides a specific set of

tools and strategies to identify warning signs and what

to do if someone exhibits them." She says the organizational

belief behind Zero Suicide is that suicide deaths

for individuals under care within health and behavioral

health systems are preventable. "It presents a bold goal

and an aspirational challenge," she adds. "Zero Suicide

assists us with transforming our practices and bringing

us to new levels of prevention."

BY ROBERT LEVEY

MATCH

According to Couture, recent highlights include

Master's level staff in the Child, Adolescent, and Family

Services department trained in MATCH, which stands

for Modular Approach to Therapy for Children with

Anxiety, Depression, Trauma, or Conduct Problems.

MATCH is comprised of 33 modules – safety planning,

relaxation practices, understanding symptoms, praise,

rewards, etc.– that represent treatment components frequently

found in cognitive behavioral therapy protocols

for depression, anxiety including post-traumatic stress,

and behavioral parent training for disruptive behavior.

At SMHC, this model is combined with a child progress

and outcome monitoring system called Treatment

Response Assessment for Children (TRAC).

"This is an evidence-based service that enables us to

meet diverse needs," says Couture. "With 1 in 4 children

in New Hampshire living with a diagnosable mental

illness and the opioid crisis creating changes in many

family systems, the need for services like MATCH has

never been greater.

SMHC also provides Substance Use Disorder (SUD)

Services, which are in high demand across the state. Designed

for adults, these services include the evidencedbase

practice of Integrated Treatment for Co-Occurring

Disorders (ITCOD) and an outpatient Medication

Assisted Treatment program (Suboxone). To better meet

the needs of clients, SMHC has initiated a transportation

service for its Addiction Services clients.

Orion (detail) by Brian Rutenberg

In everything we do, from crafting

portfolios to facilitating a comprehensive

wealth management experience, Dakota

brings a highly-personalized wealth

management approach to downtown

Portsmouth.

Contact Marilyn Rios, Partner and Senior Client Advisor

147 Middle Street

Portsmouth, New Hampshire

(603) 766-7694 | mrios@dakotawm.com

www.dakotawm.com

Pearl Street

Painting Company

Artisan Painting

Interior | Exterior

603.380.8627

pearlstreetpainting.com

12 PORTSMOUTH LIVING

SEPTEMBER 2018 13
---
Community

BACK TO SCHOOL WITH

NEW HEIGHTS

BY ROBERT LEVEY

So your child is nervous about going to school and

you are wondering what you can do as a parent to

help him/her get past the nerves?

The answer to how you support your child depends on

where he/she is at developmentally. For younger kids in

elementary school, it is all about setting up opportunities

to get them back into the school year groove. Most

schools provide plenty of these opportunities for kindergarten.

They offer play dates at the school playground

throughout the summer for the incoming students and

their families.

"When my daughter entered kindergarten, this was

helpful to calm both of our nerves," says Meghan Rice,

assistant director at New Heights, which provides experiential

learning opportunities for kids, grades 3 and

up, on the greater Seacoast. "We were able to meet her

teacher, classmates and other school staff--and playing on

the playground with your friends is fun so hopefully that

translates into school is fun."

Rice says one tip is to practice your families' morning

school routine prior to school actually starting. Whether

you drive, walk, or ride bikes, she says to do this a few

times leading up to school.

"More kids, more experiences, more

successes, more failures – a child doesn't

know what he or she doesn't know."

"Just the act of creating a routine will ease the child's

nerves--they want to know what to expect," she says.

She says to also ask your child what he/she is nervous

about and then talk through some solutions. If they are

nervous about making friends, she says to remind them

how in past situations they have made friends.

"Whatever their concern, give them the tools to work

through it.

If your child is in middle school or high school, their

nerves will typically stem from social or academic concerns.

Again, it is best to talk to your child about their

concerns and then give them tools to set them up for success.

If they are worried about academics, then talk about

staying after for extra help, setting up quiet study hours,

or utilizing online resources.

"No matter the age of your child, if they are having

severe, debilitating anxiety then set them up to talk to a

therapist," she says.

According to Rice, activities such as those offered at

New Heights, which include STEM and adventure, are

specifically designed to address the needs of a wide array

of children.

They provide social interaction, new experiences, and

how to be in a group of peers," she says.

"Programs like ours offer the component of failing and

making mistakes in a safe environment. Failure is part of

life and being able to move on from it is important."

According to Rice, one critical role of youth development

programs, or parents and caregivers for that matter, is to help

children identify and understand their strengths as an individual

or in a group.

"When they finally do go to school, you want them to have

confidence in their abilities," she says. "You want them to find

their passion, something they are really good at to help them

feel more secure at school."

According to Tracey Tucker, executive director at New

Heights, one takeaway for parents or caregivers is the importance

of emotional empathy within kids and the role supervised,

structured activities can play to affect such an outcome.

"Anytime a child engages in an activity, it exposes them

to something new," she says. "More kids, more experiences,

more successes, more failures--a child doesn't know what he

or she doesn't know."

For parents still worried about their child and any overt

anxiety, Tucker says it is important to recognize that it is a

normal part of life for a kid.

"Kids are going to be anxious from time to time," she says.

"It helps if the parents don't get anxious as well--just stay

calm."

In addition to staying calm, Tucker and Rice both emphasize

"communication."

"Talk to your kids," says Tucker. "You won't know what's

going on if you don't ask."

Mark Your

Calendar!

September 29 and 30

Saturday 10am-10pm | Sunday 1pm-5:30pm

19th Annual

Maritime Folk Festival

Portsmouth 2018

Every September, dozens of folk and sea music

performers bring maritime folk music and song to

downtown Portsmouth, NH. The 19th annual festival

showcases music from the US, British Isles and Canada at

venues in the Market Square area. Performers in 2018

include David Jones, The Johnson Girls, Tim Eriksen,

Anayis Wright, Craig Edwards, Ken Schatz and more.

Singing in the streets, in the pubs

and special gathering places!

All events FREE - donations appreciated | www.pmffest.org

Seacoast Financial Planning

A financial advisory practice of

Ameriprise Financial Services, Inc.

603.427.8252

314 Middle Street, Portsmouth,

NH 03801

contact:

charles.m.beynon@ampf.com

gregory.m.vallee@ampf.com

nicolas.curtis@ampf.com

seacoastfinancialplanning.com

14 PORTSMOUTH LIVING

SEPTEMBER 2018 15
---
TOP 10 RECOMMENDATIONS

for Improving Your Home's Value with Realtor Barbara Dunkle

CONTRIBUTED BY BARBARA DUNKLE

According to realtor Barbara

Dunkle, there are ten things

you can do today to improve

the value of your home.

1 | UPDATE YOUR KITCHEN

EVERY 7-10 YEARS. Current trends

are clean and fresh with coastal styles,

bright whites and soft gray tones.

People appreciate a kitchen that is

welcoming and in keeping with these

trends. If you can't afford a total renovation

with a kitchen designer, simple

and affordable edits can be done by

changing the color of the walls, adding

new hardware on cabinets, painting

existing cabinets from dark wood to

white or gray, new granite or Quartz

counters, new appliances or possibly

adding new light fixtures. You don't

have to break the bank to liven up your

outdated kitchen.

2 | UPDATE YOUR BATHROOMS.

Another area in which people look to

see some sense of style is in the bathrooms.

Having tile from the 1960's

all over the walls tells a buyer that

upgrading your home has not been a

priority. Remove tiles found on walls

and use painted beadboard or shiplap

to cover them. Carrera marble on

floors and counters bring brightness to

the room. New fixtures and lights will

enhance the style of the home.

3 | PAINT. Interior walls should

be painted with a neutral palette that

is pleasing to all audiences. Having a

painting schedule for the entire home

inside & out will show the house has

been well maintained throughout the

years. It will always look new & fresh.

4 | MAINTENANCE. Regular maintenance/repairs

as needed allow the

homeowner to stay ahead of useful life

on appliances, heating system, irrigation,

rotting of trim, etc.

5 | FLOORS. Hardwood floors are

beautiful to have throughout a home.

Remove old carpeting and install

wood. If you currently have hardwood,

it is important to maintain the beauty

of these floors by realizing when it is

time to have the floors sanded again

and brought back to life. This is especially

important if children and pets

live in the home with you. If you love

carpet, replace every 5 to 10 years.

6 | LANDSCAPING. Maintain

the landscaping by replacing dead

shrubs, trimming back those that are

outgrown or adding new beds and

gardens as the budget allows. Seeing a

well landscaped yard tells a buyer that

there's been some pride in ownership.

7 | DRIVEWAY. Keep the driveway

looking new by sealcoating or repairing

large cracks or upgrade by adding

pavers.

8 | COOLING. More and more

people are looking for homes that already

have air conditioning installed in

the home. If you have the duct work in

place, this is a simple addition that will

provide great value. If the duct work

is not there, splits can be installed in

rooms as needed.

9 | DRY BASEMENT. There's nothing

worse than a wet basement to cause

concern for a new buyer. Be sure to

have functioning sump pumps or bring

in an expert to find a total solution for

any water penetration.

10 | GENERATOR. With power

outages becoming a more common

occurrence, people appreciate that a

generator is already installed.

In addition to these tips, Dunkle

commented on the local housing

market, which she describes as "robust,"

fueled by low interest rates, high

demand and limited inventory on a

national scale.

"While some areas around the

nation are seeing some noticeable

changes in these housing trends as interest

rates creep up, the NH Seacoast

continues to thrive," she says. "More

and more people are discovering that

the Seacoast is a hidden gem with

beautiful beaches along the 18 miles of

coastline."

She says many buyers are coming

to this area for the quality of lifestyle

either as second home buyers or outof-staters

looking to take advantage of

the NH Income tax-free status.

"Those of us who already live here

appreciate the quaint village charm of

New Castle, fine dining and cultural

experience in iconic Portsmouth or the

laid back beach lifestyle that Hampton

and Rye have to offer," she says. "Locals

tend to stay in the area and house

hop closer to the beaches or town

depending on their priorities."

For those hoping to buy, she says you

have to act fast.

"The secret is out – the NH seacoast

is the place to be," she says.

About Dunkle

Dunkle has more than 20 years of luxury real estate experience

and most recently served as Managing Broker for Carey

& Giampa's Rye Office prior to joining Bean Group in January

2013. As an associate of Bean Group Platinum, Barbara

provides exceptional service to clients who have come an

unparalleled real estate experience.

Helping you

design for

the life you

want to lead!

Monday-Friday

7am-5pm

Saturday

8am-4pm

105 Bartlett Street,

Portsmouth

(603)436-7480

www.riccilumber.com

"Looks AMAZING"

~everyone who sees your new kitchen

16 PORTSMOUTH LIVING

SEPTEMBER 2018 17 15
---
WEATHERPROOFING

FOR YOUR HOME

CONTRIBUTED BY BETSY MURRAY

Every season brings a different

array of household issues with

which we must contend in New

England. During excessive rain storms,

your basement could become flooded.

During the hot and humid weather, the

AC needs to work hard to keep your

interiors cool.

Many homeowners, though, miss the

fact that they need to adequately weatherproof

their homes to avoid potentially

awful conditions. If ignored, this could

mean complicated and expensive consequences

for your home.

WHAT IS WEATHERPROOFING?

"Weatherproofing" refers to helping

your home better maintain its temperature,

such as heating system improvements,

attic and wall caulking, insulation,

and weather-stripping. There are

several small changes you can make

that may result in significant savings

and can help protect your home's value.

WHY WEATHERPROOFING?

Weatherproofing is an excellent way

to keep your home safe and comfortable

for all inhabitants. Without proper

weatherproofing in place, you could

suffer from costly utility bills and your

home can decrease in value due to damage

to the structural foundation of your

home.

During heavy rains, weatherproofing

can prevent mold and mildew from

growing in your home and create a

safer and ideal atmosphere for your

family. Without weatherproofing, small

issues can turn into major concerns.

You want to put these protective and

preventive measures in place to address

the current issues and prevent them

from worsening.

Are you ready to weatherproof your

home as we begin to enter the fall

season?

Here are the best steps to take in

every area of your house to make sure

your entire home is energy-efficient

and protected from the elements

throughout the year.

CLE AN

COOLING

DEVICES

Cooling devices

are essential in New

Hampshire summers.

Take some time to clean them and give

them some TLC, which can improve

performance and also help to save

money. Cleaning improves how well

they function and also keeps the indoor

air as healthy as possible.

One way to clean your blades is with an

old pillowcase. Make sure to clean the

fans every few months to keep them in

great working condition. As fall comes,

it is a great time to clean your air conditioning

unit. You can then remove the

clean air conditioning unit, wrap it with

a durable cover to prevent dirt and dust.

When you need the air conditioning

the following summer, it will be ready

to go and in tip top condition.

UPGRADE YOUR WINDOWS

Windows are a common source of

drafts and leaks, especially if your home

has any single-pane windows. Older

windows are not as energy-efficient

and can make your home interiors feel

uncomfortable. A decision to upgrade

the windows of your home can be one

of the best investments you make, especially

if you know your old windows are

a spot of energy loss in your home.

The Department of Energy advises

that your replacement windows be

designed to maximize energy efficiency

in your home. The Energy-Star rating

is essential when picking windows

for your home. Another feature for

energy-efficient windows is glazing,

which helps minimize solar heat gain.

It is recommended to have professional

installation to make sure that windows

are airtight against their frames to prevent

any future leaks. While replacing

windows can be a costly upgrade, they

will be cost effective over time as they

protect your home in all seasons and

will reflect in your utility bills.

FRESH PAINT

In addition to bringing warmth and

style to your home, paint protects your

home from nature's elements. Paint can

be sensitive to sunlight and moisture

and can begin to breakdown. In humid

weather, paint can expand and crack. In

the cold season, moisture can seep into

paint and cause the growth of mildew

and mold.

A fresh coat of paint for your home

can assist in weather-stripping. If you

want a cooler atmosphere, paint your

home with light colors. Dark colors absorb

sunlight better while light bounces

off lighter colors more easily.

INSTALL NEW OUTLETS

Another key area that may be neglected

are gaps and leaks around your

power outlets of your home. Electrical

boxes may have small holes where air

can leave or enter. This creates an draft

inside your home. This seems small

until you think of all of the electrical

outlets that you may have around your

home.

Hot or cold air can enter your home

through these outlets, which leads to

loss of energy and discomfort in your

home. Moisture is also a threat and may

seep in and enter outlets during rainy

weather. To prevent and insulate the

surrounding area of the outlet, foam

gaskets can be a great solution. This is

a basic, low cost solution and has a great

return in your utility bills.

CONCLUSION

You may have to spend some money,

time and resources to achieve a sufficiently

weatherproofed home, but all

of these will pay for themselves in the

long run. Weatherproofing your home

is a wise investment with rewards you

can reap year round.

Come in for Our

Fall SALE!

COME AND SEE

Why So Many in Portsmouth Choose Us

Quality Furniture That Lasts

STORE HOURS

Monday-Saturday 10:00am - 6:00pm

Sunday 11:00am - 5:00pm

603-433-2217

www.furnitureforever.com

18 PORTSMOUTH LIVING

SEPTEMBER 2018 19
---
2786

Portsmouth

LIVING

THE ALL NEW

VOLVO S90

THE ALL NEW

VOLVO S90

New Showroom Coming Soon!

We Are Open During Construction –

The sophisticated S90 shines with its intrinsic style, conspicuous

safety, and a limo-like back seat. It's available with two four-cylinder

engines: the

the

250-hp

Best

turbocharged

Luxury

T5 or the

Compact

The sophisticated S90 shines with it's Scandinavian316-hp style, world

turbocharged

and supercharged class safety and the T6. most Both interior pairroom withofa any silky car eight-speed in it's class. automatic.

Industry leading features like semi autonomous driving and

available 400hp hybrid engine make this a true luxury sedan.

Come in for a test drive

Come in for a test drive

1-603-772-5975

Come in and Test Drive

the VOLVO XC60:

1-603-772-5975

VOLVO CARS OF EXETER

VOLVO CARS OF EXETER

SUV of 2018

140 140 PORTSMOUTH AVENUE EXETER, NH 03833 NH 03833

https://www.volvocarsexeter.com

USE THE CAMERA

ON YOUR PHONE

TO CHECK OUT OUR

INVENTORY OF XC60S!