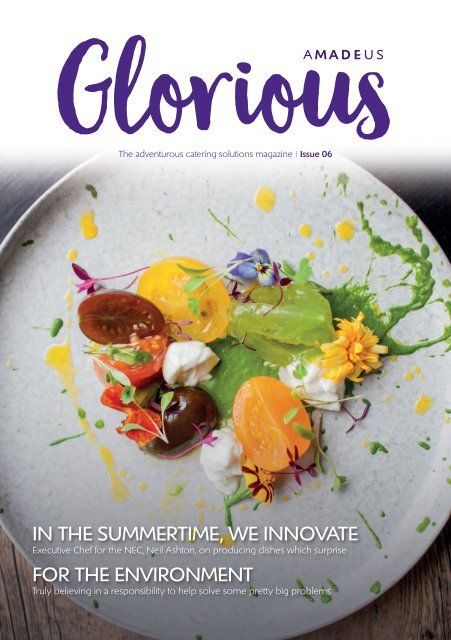 Amadeus Glorious Magazine Issue 06
You also want an ePaper? Increase the reach of your titles
YUMPU automatically turns print PDFs into web optimized ePapers that Google loves.
Glorious

The adventurous catering solutions magazine | Issue 06

IN THE SUMMERTIME, WE INNOVATE

Executive Chef for the NEC, Neil Ashton, on producing dishes which surprise

FOR THE ENVIRONMENT

Truly believing in a responsibility to help solve some pretty big problems
---
DID YOU KNOW WE'RE ON LINKEDIN?

Visit www.linkedin.com/company/amadeusfood

and follow us for the latest Amadeus news, jobs, coverage

and more or simply visit our website, scroll to the bottom

and click the LinkedIn button to visit our page.

www.amadeusfood.co.uk
---
Welcome

•

With new contracts, new award wins and new faces joining the team, 2018 has

been a fantastic year so far for Amadeus – and with an exciting pipeline of events

and opportunities coming up, there is no sign of things slowing down.

For a quick overview of our recent successes,

take a look at our Innovation News (page 6)

section containing bite-sized updates, interviews

and announcements from the team. Read on to find

out how Amadeus are tackling the shortfall in staff in

the hospitality industry by investing in apprenticeships.

After a lot of hard work from the team I'm

proud to say we're on track to recruit and

train 200 apprentices by 2020.

Always looking to enhance the customer

experience, on pages 18-19 you can read

about our new cashless initiative at the

Genting Arena which has helped

speed up customer transactions by

an impressive 20 seconds.

In our regular chef feature, we talk

to Neil Ashton, Executive Chef at

the NEC, about how he stays

ahead of industry trends and

keeps his menus fresh for the 2.4

million visitors that come to the

venue every year. In addition, he

shares with us a fantastic summer recipe (page 26)

that is sure to be a hit with friends and family alike.

On pages 34-37 find out about our newest catering

contract with Stratford Racecourse and how we plan

to raise the bar at the leading sporting institution,

while on pages 42-44 you'll find details of our

new industry leading online menu selector

created for one of our longest standing

clients, the ICC.

In this issue, you'll also read about Amadeus'

commitment to sustainability and how we

address environmental issues in

unique ways, meet a number of

our newest board members

and have a chance to catch up

with all the regular Glorious

Magazine features.

We hope you enjoy this issue,

packed full with our most

exciting updates and industry

innovations.

•

Ellie Rance

Editor

info@amadeusfood.co.uk

0121 767 3329

amadeusfood.co.uk

Follow us...

@amadeusfood

This magazine has been produced

in conjunction with EP

EP 4 Lombard Street, London EC3V 9HD

020 7933 8760

epmagazine.co.uk

Ben Butler

Managing Editor

Advertising Ben Butler

ben.butler@epmagazine.co.uk

020 7933 8763

Design Domino 4 Limited

andrew@domino4.co.uk

01932 988677

domino4.co.uk

AMADEUSFOOD CO UK 3
---
IN THIS ISSUE READ ALL ABOUT IT

Contents

Issue 06

Glorious

The adventurous catering solutions magazine | Issue 06

Hot

topic

IN THE SUMMERTIME, WE INNOVATE

Executive Chef for the NEC, Neil Ashton, on producing dishes which surprise

FOR THE ENVIRONMENT

Truly believing in a responsibility to help solve some pretty big problems

REGULARS

06

46

Food innovations

The latest news from

Amadeus and why they're

at the forefront of innovation

Calendar of events

The definitive guide to

what's going on over the

next few months 34

4 GLORIOUS
---
READ ALL ABOUT IT IN THIS ISSUE

42

FEATURES

14 Apprenticeships

Working with

education to plug

the chefs' skill crisis

18 Transforming

arena catering

Following a successful

trial the Genting Arena

has gone cashless

20

28

30

Food experience

In the summertime,

Neil Ashton and his

brigade innovates

For now and the future

Working hard in being

as sustainable as a

catering business can get

Innovation Hub

Innovating for

a better future

34

38

40

42

50

And we're off!

Catering for a leading

horseracing track

Plastic bandwagon

The importance of taking

time to work out what's

best for the environment

Home and away

Two senior appointments

reflecting rapid growth

Pic n' Mix

Creating a brand new

online menu selector

Amadeus made my day

Catering Manager Irina

Andrejeva at three of our

venues in Belfast shares

her positive thoughts on

team work

AMADEUSFOOD CO UK 5
---
NEWS FOOD INNOVATIONS

News

AMADEUS GAINS FOOD FOR THE BRAIN

ACCREDITATION FOR SECOND CONSECUTIVE YEAR

Amadeus have gained accreditation for the second

consecutive year from Food for the Brain – an

educational charity which promotes the importance

of nutrition in mental health and well-being – for the

ICC in Birmingham.

After pioneering the ICC to become the first

conference centre in the UK to gain the accreditation

in early 2017, the team took a new, progressive step to

introduce delicious new conference menus

specifically designed to support delegates with the

challenge of remaining alert, productive and engaged

during the longest of days.

David Titman, Food for the Brain Relationship

Manager, said: "The successful implementation of the

menu, positive feedback from clients and proactive

training of staff around the specific benefits of the

menu has played a huge part in the ICC being

reaccredited for a second year.

"Achieving accreditation status requires that a range of

standards must be met across several criteria including

the nutritional value of the menu, ingredient quality

and cooking methods used. The team excelled across

all the areas, achieving a 96% pass rate, when we only

require 75%, for the second year.

The new "Focus Food" menu packs were designed

collaboratively with the Food for the Brain Foundation

over a period of six months and provide a range of

healthy options that help delegates maintain

concentration throughout the working day as well as

supporting general health.

In the last 12 months, nearly 5,000 have sampled the

accredited 'Focus Food' menu which features food

and drink designed to keep delegates mentally alert

by maintaining a balanced blood sugar level. Each

course is served at the time considered best for

boosting performance and concentration, while

portion sizes are controlled so calorie intake is

appropriate for that time of day.

"We enjoy working with the ICC team and have been

particularly impressed with how they have

implemented a specific training programme that

includes kitchen staff, front of house and sales staff so

they know how and why the menus have been

designed to get give delegates the best

possible nutrition."

Craig Hancox, Amadeus General Manager for the ICC,

said: "We are delighted to have been reaccredited by

Food for the Brain, and thank David for the time he

has spent with us over the last couple of years.

"Across the industry, there is a growing expectation for

healthier foods to be provided at conferences.

06 GLORIOUS
---
nearly 5,000 have

sampled the accredited

'Focus Food' menu

Delegates are no different to the everyday shopper –

they want, and rightly expect, caterers at events to

provide healthy options which can accommodate

every allergen and dietary requirement.

"We are extremely proud of our 'Food Focus' menu

and have worked hard to design dishes that

embodies both the methodology and nutrition

recommended by Food for the Brain but also the

philosophy that underlines the charity.

"We have heavily invested in the training of our

teams – appointing champions across the business

– so they can inform clients and delegates of the

benefits of the 'Focus Food' menu. The success of

the initiative over the last year will see us look into

other opportunities in the future such as adapting the

menu for galas dinners and creating grab and go

lunches for our busy delegates."

•

>

AMADEUSFOOD CO UK 07
---
NEWS FOOD INNOVATIONS

PRESTIGIOUS 'HEALTH AND NUTRITION'

AWARD AT THE CATEYS 2018!

Amadeus has scooped a prestigious award at the

Cateys 2018, celebrating excellence across the

foodservice and catering industry.

The leading caterer was presented with the 'Health

and Nutrition' award for its menu innovation within

the conference sector and its pioneering work with

education charity Food For The Brain.

Working with the charity – which promotes the

importance of nutrition in mental health and wellbeing

– the Amadeus team recently took a

progressive step to introduce delicious new

conference menus to the International Convention

Centre (ICC), specifically designed to support delegates

to remain alert, productive and engaged during the

longest of days.

In the last 12 months, nearly 5,000 have sampled

the accredited 'Focus Food' menu – each course is

served at the time considered best for boosting

performance and concentration, while portion sizes

are controlled so calorie intake is appropriate for

that time of day.

08 GLORIOUS
---
"At Amadeus, we like to push the boundaries –

the development of the 'Focus Food' menu is a

real differentiator for event bookers within the

conference industry.

Winning this accolade

is testament to the

team's hard work

and commitment

"So far the menu has attracted custom from many

clients, in particular – but not limited to – organisations

linked to the health care sector who are primarily

motivated by the health message associated with the

'Focus Food' menu. Due to the success of the menu

at the ICC, Amadeus is now working with other

conferencing venues within its portfolio to achieve

the accreditation."

The biggest awards of their kind in the hospitality

industry, the internationally renowned Cateys,

presented by The Caterer in partnership with Bunzl

Catering and Hospitality Division, recognise the

strongest performers, latest emerging brands and

highest flyers in the sector, as determined by the

industry itself.

•

The ICC became the first conference centre in the

UK to gain 'Food for the Brain' accreditation in early

2017 following the introduction of the menus, and

has gained the accreditation for a second consecutive

year in 2018.

The award was presented to Craig Hancox, Catering

General Manager (ICC), Simon Hellier, Executive Chef

(ICC) and Wayne Hall, Catering Operations Manager

(ICC) at the prestigious ceremony held at Grosvenor

House in London yesterday evening.

Kevin Watson, Managing Director at Amadeus, said:

"Winning this accolade is testament to the team's hard

work and commitment to innovation within the area

of conference and events catering.

INTERVIEW WITH

SEAN HOPKINSON,

SENIOR FOOD AND

SAFETY OFFICER

Sean Hopkinson is the Senior Food and Safety

Officer for Amadeus. With over 15 years' experience

within the catering industry firstly as an operator

before moving in to food safety including working in

both the private and public sector, Sean is responsible

for ensuring that Amadeus comply with all Food

Safety, Food Standards, Health and Safety and Fire

Safety Regulations.

As part of the BHA food experts group Sean also

helped shape the Industry Guide to Good Hygiene

Practice: Catering 2016 and also regularly links up with

AMADEUSFOOD CO UK 09
---
NEWS FOOD INNOVATIONS

the practical application of what we ask our teams to

do and we always strive to make safe simple.

Moving forward and no matter how Food Safety

Legislation shapes itself or how it is regulated Food

will still be our product and so food safety will still be

our number one priority."

•

THE LITTLE BOOK OF

COCKTAILS TAKES

AMPLIFY HOSPITALITY

INTO SUMMER

To kick off the summer in style, the Midland's

premium hospitality provider, Amplify, has launched

a brand-new cocktail menu, designed by its awardwinning

catering arm, Amadeus.

the Association of Event venues (AEV) catering group

to advise on Food Safety Legislation.

Available in the Lakeside Lounge at the Genting

Arena, 'The Little Book of Cocktails' is a 10-piece

menu devised by Hospitality Bar Supervisor, Amdi

Browne. Taking inspiration from his home island of

Anguilla, the cocktails offer a wide variety of

Caribbean flavours including rum, gin and brandy

infused with fruits and other liquors – the perfect way

to set off a summer's evening.

Sean said: "Food is our product and so food safety

has to be our number one priority and we pride

ourselves on our 100% 5 food hygiene ratings across

all of our businesses. With a dedicated team of just

two internal food and safety advisors it means our

operational teams are key to our success. We actively

encourage and involve our operational teams when

creating, reviewing and implementing our food safety

management system. Coming from a catering

background before moving in to food safety was a

blessing as it always made me stop and think about

Speaking of his creations Amdi said: "I noticed

there was a demand for a cocktail menu from our

hospitality customers, so I've developed a range

of beverages that offer a taste of home; from

'Smile' that was inspired by Rainbow City, through

to 'Long Bay', with colours representing the sea,

sand and coconut trees on the beaches. My favourite

is 'Sunset', a refreshing blend that symbolises the

best time of day on the Caribbean islands."

General Manager for Amplify, Sally Walder

10 GLORIOUS
---
I noticed there was a demand for a

cocktail menu from our hospitality

customers, so I've developed a range of

beverages that offer a taste of home

added: "This is a great addition to the extensive

bar and dining options we have available at the

Arena. Not only is it authentic, but has been

exclusively designed by one of the in-house team.

Amplify is always looking at new ways of enhancing

the experience for customers, and touches like this

can make our events that extra bit special."

Amplify is the premium hospitality provider

for the Genting Arena and Arena Birmingham. It

delivers a first-class service and exquisite dining

experiences courtesy of award-winning caterer

Amadeus. The Genting Arena is due to play host to a

range of artists this Summer including Paul Weller and

Britney Spears.

•

>

AMADEUSFOOD CO UK 11
---
NEWS FOOD INNOVATIONS

CULINARY CHIEF

JOINS THE NEC'S

CATERING ARM

Leading event and venue caterer, Amadeus, has

appointed a new catering General Manager for the

National Exhibition Centre (NEC).

Kane Bridgman brings with him over 40 years'

experience within the foodservice industry, having

previously worked in the contract catering, corporate

hospitality and education catering sectors among

others. A specialist in retail catering, Kane has acted as

a catering consultant to a wide range of household

brands including Merlin Entertainments, Premier

League football clubs and Sainsbury's. He joins

Amadeus from Crystal Palace Football Club where he

was the Head of Catering for two years overseeing

retail and corporate hospitality.

having doubled in the last 12 months as the venue

continues to attract a more diverse client base.

He will be responsible for delivering catering

operations at the NEC – with ever climbing visitor

numbers, the venue currently hosts over 500 events

every year and welcomes 2.4million visitors annually.

In a bid to improve the customer experience at the

venue, Kane will continue the roll out of 'The Edge',

Amadeus' in-hall catering offer, to the NEC's 20

exhibition halls by 2020. To date, £5.5m has been

invested in rolling out the concept– a move which is

delivering £0.5m profit per annum for Amadeus.

In addition to providing retail catering at exhibitions,

he will be responsible for Amadeus' live events

portfolio at the NEC. This is a key area of interest for

Amadeus with demand for live events at the NEC

The exhibition and events market brings many

unique challenges with it – challenges Kane plans to

address head on. Kane said: "As with any retail

catering environment, the main challenge for

exhibition venues is how do we continue to deliver

great value, quality and consistency to our customers.

As caterers, we can't afford to be complacent but must

always react to market trends, creating new concepts

and innovative products that work for our particular

audiences and demographics.

"Over the last few years the Amadeus team have

taken Amadeus' catering offer to new heights at the

NEC – I hope to develop this further by enhancing

12 GLORIOUS
---
SOCIAL SCOOP

Kane Bridgman brings

with him over 40 years'

experience within the

foodservice industry,

having previously worked

in the contract catering,

corporate hospitality and

education catering sectors

among others

the venue's artisan food offer, including its street

food offer."

Kevin Watson, Managing Director of Amadeus, said:

"Kane joins a diverse and committed team comprising

some of the best talent in the industry. Over the last

five years we have succeeding in raising the bar for

exhibition catering – with Kane's appointment we

hope to take this even further, helping the NEC to

stand out as a competitor for clients and customer

alike due to its food and drink offering."

The appointments have been made following five

years of impressive business growth under Managing

Director Kevin Watson's leadership. Since 2012, the

company has evolved from a £25m – £47m business

with a 239% growth in profit.

•

AMADEUSFOOD CO UK 00
---
APPRENTICESHIPS WORKING WITH EDUCATION

Apprenticeships

WORKING WITH EDUCATION TO

PLUG THE CHEFS SKILL CRISIS

•

Why Amadeus have set themselves the target of training 200 apprentices by 2020.

There is no getting away from the fact that there is a

skill shortage across the entire hospitality industry.

This is especially prevalent in the kitchen where the

sector is facing the challenge of both a shortage of

skilled chefs but also chefs in general. Amadeus have

recognised this and are working hard to combat and

tackle this in a way which should make a difference

for the business but also the overall industry. The

large food service player is working with Solihull

College & University Centre and University College

Birmingham (UCB) to ensure they are supporting

young talent who could become the leading chefs

of the future. Already this year they have successfully

recruited new apprentices and created 15 bespoke

Level 2 Hospitality Team Member Apprenticeships.

For those going through the forward-thinking

apprenticeship scheme they are gaining practical,

real-life experiences by working within the NEC

Group venues. This is combined with practical

training, provided in partnership with local

educational institution (UCB). UCB, internationally

renowned for its food and hospitality courses, have

joined forces with Amadeus for the first time to offer

bespoke Level 2 Commis Chef Apprenticeships.

Working alongside professional chefs both within

Amadeus and UCB, the recruited apprentices will

learn how to develop and deliver high end menus

and products.

The candidates will work towards positions of

permanent employment with Amadeus in a bid

to help the company develop a strong pipeline

of future talent, with additional apprenticeship

drives taking place through the year. "People are

the lifeblood of Amadeus – like all other large-scale

caterers, we are constantly in need of new talent

to help the company thrive. It's no secret that

hospitality leaders are struggling to recruit, and that

businesses need to take innovative steps in order to

attract and retain talent the sector needs." Says Kevin

Watson, Managing Director of Amadeus. He adds,

"Amadeus have always invested in apprenticeships,

but our ambitious targets demonstrate our

commitment to building exciting and rewarding

careers in hospitality and catering. By developing

bespoke programmes in partnership with our local

institutions, we are training up versatile individuals

that understand the nuances of different types of

catering we operate in – be that retail, hospitality

or standalone banqueting."

14 GLORIOUS
---
Gail Tipper, Head of Apprenticeships at UCB, "Earlier

this year we cemented our partnership with Amadeus

– the deal is one of the first for UCB that reflects the

government's new apprenticeship regulations and we

are excited to be part of Amadeus' quest to bring on

the next generation of top chefs."

Combining on-the-job training at the Amadeus sites,

and learning at UCB's state-of-the-art facilities in

Birmingham's city centre, apprentices have the

opportunity to learn from an abundance of sources

and can develop their practical skills at the same time.

The hope is that those who go through the process

will remain in the industry and plug the gap in skilled

chefs. The combination of theory and practical should

also provide the apprentices with the opportunity for

career progression. They will be learning the ropes

from a fantastic range of coaches, mentors and

leaders and all combined should receive a very

effective education and training. The hope is they will

remain in the sector and this can only be of benefit

for the industry.

•

Uniting to provide more

apprenticeship opportunities

Over at Solihull College & University Centre, Amadeus

are introducing candidates to exciting apprenticeship

"At the College we are

constantly looking towards

providing the best opportunities

for our students in their career

progressions. Our current

initiative with Amadeus not only

addresses the skills shortage but

creates exciting roles and futures

for our students. We are proud to

partner with NEC group and look

forward to a thriving future as

apprenticeship partners

"

opportunities in hospitality. By joining forces to create

15 bespoke Level 2 Hospitality Team Member

Apprenticeships, candidates have the chance to earn

while they train with a multi award-winning employer

and first-class educational institution. Apprentices will >

AMADEUSFOOD CO UK 15
---
APPRENTICESHIPS WORKING WITH EDUCATION

have practical experience within the NEC Group

venues and combine this with theory-based

learning. Candidates will work toward a hospitality

team member apprentice standard and a

permanent position of employment. Successful

candidate's may be given the opportunity to

progress to a higher-level Hospitality Supervisor

Apprenticeship where they can work toward

becoming a team leader.

Sara Sweeney, Head of School for Retail and

Commercial at Solihull College & University Centre,

said: "At the College we are constantly looking

towards providing the best opportunities for our

students in their career progressions. Our current

initiative with Amadeus not only addresses the skills

shortage but creates exciting roles and futures for

our students. We are proud to partner with NEC

group and look forward to a thriving future as

apprenticeship partners".

Emma Cope, HR Business Partner for Amadeus,

said: "With a pledge from the government to

increase the number of apprenticeships to three

million by 2020, this exciting new apprenticeship

programme is part of a sustained effort to address

the significant skills shortage in the UK catering

industry, particularly for young people. The catering

industry constantly needs new talent to grow and

diversify – at Amadeus, we see apprenticeships as a

way of building the talent of the future providing

those who aspire to a career in hospitality the

opportunity to learn from the very best."

•

CASE STUDY 1:

Alvaro Bastos, 34, Fully Qualified Chef

Alvaro came to England from Portugal six years

ago, and worked in a number of foodservice roles

before moving to Birmingham and discovering

Amadeus. He joined the business as a Kitchen

Porter at the ICC . From day one, Alvaro's talent

shone through and Executive Chef Simon Hellier

put him forward to take part in Amadeus'

apprenticeship scheme. Over 18 months, Alvaro

trained as a Chef Apprentice, spending one day

a week at Solihull College and University Centre

where he gained his maths and English

qualifications and attended theory sessions, the

rest of the week was spent learning practical

skills in the kitchen.

Today, Alvaro is a fully qualified chef and hopes to

stay with Amadeus gaining more skills and rising

up the ranks. As part of his personal development,

Alvaro is currently undertaking training sessions

in a Michelin starred restaurant in Birmingham – an

opportunity that opened up to him following his

involvement with Amadeus.

Alvaro said: "Amadeus is a great company to work

for. The company puts a lot of effort into training

16 GLORIOUS
---
and developing staff, so that they progress and gain

more skills with Amadeus.

"Training as a Chef Apprentice with Amadeus

really appealed to me as Amadeus offers a great

package – the pay is good compared to other

industry apprentices and even staff on zero hour

contracts like me still get to accrue great benefits

like holidays.

"Only the NEC Group can give you this level of

experience, variety and excitement while training as

an apprentice, and I truly believe if you can stand

the pressure in the kitchen while working for

Amadeus, you can stand it anywhere!"

Abdul spent one day a week at Solihull

College where he gained his maths and English

qualifications and attended theory sessions.

The rest of the week learning practical skills at the

ICC, one of the UK's busiest conference centres.

While training for his qualification, he learnt skills

such as serving dinners, plate waiting and money

handling. In addition to these industry specific skills,

he also gained lots of transferable skills such as

time-keeping and organisation which are

essential skills for any industry.

Today, Abdul is a Duty Managerial Assistant

following the successful completion of his level 2

apprenticeship. Abdul plans to continue on to a

higher level apprenticeship – this will be the

hospitality supervisory standard at level 3 which he

will complete with the support of Solihull College

and University Centre. Abdul now has more

responsibility and more emphasis is placed on him

to get the job done to the very best standard he

can achieve.

Abdul said: "Working for Amadeus is amazing

because you get vast experience working in this

company. Every single day is different – in the

same day you can go from serving at a small

event for 10 to a banquet for 300!

CASE STUDY 2:

Abdul Rahman, 19, Duty Managerial Assistant

At an early age Abdul decided full time education

wasn't for him as he needed to work and train at

the same time to support his young family. He

heard about the apprenticeship opportunities

Amadeus was offering in partnership with Solihull

College and University Centre and he decided to

begin training towards his Hospitality and Catering

L2 qualification.

"In terms of my role, I see providing flawless

hospitality as an art – when you get feedback

from clients that the catering staff made the

event go perfectly, it makes you very proud.

"I love that you get real life skills on the job, rather

than by just sitting in a classroom. Amadues and

the NEC Group are well-renowned businesses

– if you've worked at the NEC Group, and

experienced all the different types of catering it

does, you can work anywhere! You get lots of

training and support to be your very best and

there's lots of job opportunities here once you've

completed your apprenticeship."

AMADEUSFOOD CO UK 17
---
CASHLESS TRANSFORMING ARENA CATERING

Cashless

TRANSFORMING ARENA CATERING

•

Amadeus have transformed the Genting Arena where all food and beverages has

gone cashless. Following a successive trial, the service has been rolled out for the benefit

of the customer and increase the speed of service.

A pioneering initiative has seen the Genting Arena

become the first UK arena to go 'cashless' across

Amadeus's food and beverage concessions. Trialled

at the venue in early 2017, the Arena officially went

'cashless' in November 2017 in a bid to increase

speed of service for its customers, without

compromising on quality. As part of the cashless

drive, Amadeus has removed cash from all EPOS tills

on F&B concessions to encourage customers to pay

by card (contactless or chip and pin), with one mobile

POS cash till per concession in reserve just in case

customers could not pay by card. Prior to the

initiative, 70% of F&B transactions were being paid for

in cash – since November 2017, this has reduced to

just 20%, with 80% of transactions being made on

card. With cashless payments speeding up every

transaction by around 20 seconds, this has helped

to reduce queues, allowing customers to enjoy more

time watching the main act or performer they

came to see.

Annie Monnox, General Manager for Amadeus at the

Genting Arena, "Busy arenas bring with them unique

challenges for caterers, including dealing with peaks

in footfall and ensuring speed of service without

compromising quality. At a typical event at the

Genting Arena, Amadeus serves up to 15,000

customers in a 90-120-minute window before the

main act – so we need to make sure we are

doing everything possible to ensure efficient and

quick service.

"Considering the fact that the majority of customers

spend less than £30 on food and beverage at a show,

we saw the potential benefits of getting more

customers to pay by card – in particular, by using

contactless technology – as opposed to cash. The

results have been phenomenal and customers have

really embraced the change."

Changing to a cashless model also has significant

benefits for Amadeus in terms of labour cost and

welfare. On average, staff saved 30 minutes 'cashing

up' at the end of each event – the equivalent of

£8,500 per annum for the Arena. In addition,

18 GLORIOUS
---
anking costs have been reduced and less cash

handling has resulted in Amadeus' team leaders

having more time to spend with both staff and

customers, delivering a better visitor experience.

Kevin Watson, Managing Director for Amadeus, "At

Amadeus, we keep a close eye on consumer trends

and invest in innovation that improves the customer

experience. Our cashless initiative further cements our

reputation as an industry leader with the Genting

Arena the very first arena to offer cashless payments

across all its F&B concessions."

Changing mind-set

A successful marketing campaign designed to

influence customer behaviour – and get visitors to

leave their cash at home – has seen a dramatic shift in

purchasing patterns. Whilst this was ahead of recent

curves, it has worked successfully as customers are

carrying less and less cash. Gone are the days where

futurists predict a cashless future because consumers

are already driving businesses to provide this sort of

service. It is no longer exceptional to use cards and

smartphones to make everyday purchases.

Customers are the most important influential group

for any food service business and by adapting their

offer to suit the current demands, Amadeus are

ensuring satisfaction is matched and exceeded.

Due to the success of the Genting Arena, Amadeus

are also looking to go cashless across all F&B

concessions and rolling out the cashless model to

all of the NEC Group venues.

•

Key

•

Advantages:

Allows customers to enjoy more time

•

at the event or exhibition they came to visit

Speeds up customer transactions by

•

approximately 20 seconds

Listening to the customer: 80% of food

and beverage transactions were being

•

made by card

The Genting Arena can serve up to

15,000 customers in a 90-120-minute

window before the main act, so this

enhances the customer experience

AMADEUSFOOD CO UK 19
---
FOOD EXPERIENCE IN THE SUMMERTIME, WE INNOVATE

Food Experience

IN THE SUMMERTIME, WE INNOVATE

•

Every summer Neil Ashton and his brigade of top chefs press the pause

button and go back to basics. They journey around the country exploring food

trends, fill up the refrigerator up with inventive treats, fire up the ovens and start

planning, creating and tasting delicious dishes. This is the time where the Executive

Chef for the National Exhibition Centre (NEC) and team explore what the customer

truly desires and produce dishes which surprise and exceed their expectations.

The modest top chef is always one to praise his team first and whilst he has won

numerous honours, Neil Ashton always wants to promote his brigade. The summertime

is when he can truly test their creative abilities and each year he eagerly awaits the

chance to tear up the rule book and create scrumptious dishes for all sorts of events

and exhibitions.

Neil Ashton is indispensable for Amadeus. He's

been with the leading food service provider for

30 years. He is Amadeus in many ways -

hardworking, humble, always there for others

but also adventurous, proud and determined.

He understands food, he knows the power it has,

and he recognises the need for a strong team and

culture. With these enviable traits combined, every

summer Neil takes the time to evaluate how the last

year has gone and crucially how they can improve

the offer to exceed the every-increasing customer

demands. This is how it should be. Chefs and food

service providers should always take stock of the

menu and really explore in depth what's working and

popular and simply what isn't. What worked last year

may not work for the next. Its sounds simple but this

is a task seldom done. So many food providers pick

and offer and expect it to do the work. This is where >

20 GLORIOUS
---
AMADEUSFOOD CO UK 21
---
FOOD EXPERIENCE IN THE SUMMERTIME, WE INNOVATE

Neil and his team really do stand head and shoulders

over others, they are always asking 'what trend does

the customer want to taste, explore, enjoy' – it makes

all the difference.

Neil explains why the summer season is the perfect

time to do this, "Our peak season is really September

to May and whilst its still busy outside that, we do

have a bit more time to get down to street food

markets and work on new dishes in the kitchen. We

are always asking, throughout the year, what's new

and trendy, and then come the warmer months we

look to update our offers to make them current and

relevant but also innovate at the forefront."

With so many trends and fads around now, chefs

must work out what's best for the customer in the

long term. A noticeable trend Neil has witnessed

growing is dietary requirements which food service

must adapt for. He explains, "Every visitor to our

locations, no matter what the reason, should have a

food offer which suits their diet and taste buds. It

doesn't matter if someone wants gluten free because

they have coeliac disease, or if they are choosing this

option for dietary reasons. We want to make sure it's

there, so they don't have to worry about having

something nice to eat. A noticeable diet we are

seeing in recent years is flexitarian. This plant-based

diet is increasing in popularity as customers look

towards it for potentially healthy benefits, but they may

also have views on animal welfare and care for the

environment." Neil is relaxed over the reasons why

some choose diets over others, his focused is on

people having a fantastic experience during their time

at a site and having a lunch, snack or dinner which

suits their requirements.

It's no secret that people are becoming more

conscious of what they are eating and the impact it

has on their mind, body and overall day. Neil has also

recently been looking at how to reduce the amount

of sugar which is high on the agenda for lots of >

Every visitor to our locations,

no matter what the reason,

should have a food offer

which suits their diet and

taste buds. It doesn't matter

if someone wants gluten free

because they have coeliac

disease, or if they are choosing

this option for dietary reasons.

22 GLORIOUS
---
AMADEUSFOOD CO UK 23
---
FOOD EXPERIENCE IN THE SUMMERTIME, WE INNOVATE

customers. Their deli cakes are all made in-house and

the team have been looked at how to cut out sugar

and replace with more natural choices which doesn't

dramatically affect the taste. "It's actually a really fun

process where we get the whole team together work

review the choices. I love it when two of the senior

chefs come together and present a new idea and we

follow this up with a successful tasting session. I want

them exploring and testing new ideas. Now not all of

them will work but that's a good thing. We want to

make mistakes and learn from them. It should make

us better at our jobs and in turn improves the

eventual food offer for the customers."

Neil encourages his chefs to collaborate in this way

wherever possible. The chefs may go and visit street

food markets and sample the latest high street and

retail trends, he wants them making this background

research and improving their knowledge. Whilst he's a

modest man, this creativity stems from Neil who

himself adventures into food markets to source tasty

ingredients and is always on the look out for

inspiration. This form of leadership empowers the

team around him and allows the chefs, especially the

younger ones, to explore and make a positive

difference. "The beauty of it is giving them the

ownership, one of the team may have one of their

creations end up on the menu and that's powerful."

Social media is also an area of inspiration for Neil and

the team and often the chefs are keeping an eye on

trends and seeing what's resonating with people. "It's

about taking inspiration from different sources." Neil

explains, "We like to innovate and that motivation

shoots from various places. What I love at the

moment is that there are no rules. We recently

created a Pear Tartlet with Stilton Cheese Sorbet – to

be served as a cheese course rather than a dessert.

It's amazing to try this – puff pastry case with cheese

sorbet – the rules have gone out the window and

that makes it so exciting. Standard pairings of food are

no more and even relevantly recent food trends like

the growth in fusion (mixing two food cultures

together) has started to fade out." Neil believes this is

being partly driven by customers who have

developed their knowledge from

television shows such as

MasterChef and being more

adventurous when eating

out. They have their own

opinions and tastes, but

the chefs can at times

dictate this.

2018 marks an exciting year

for Neil and Amadeus.

It's the biggest food

offer the NEC has

ever had.

Known as the

UK's No 1

24 GLORIOUS
---
venues for shows, exhibitions, meetings and events,

the Birmingham venue also a large range of food

offers. In June the venue hosted the BBC Good Food

Show and Neil has to ensure the food was diverse

enough to cater for this knowledgeable, foodie

crowd. "The show is full of live entertainment,

cooking inspiration, shopping and tasting and so we

are always making sure we have exciting offers for

this crowd. During the show we have our 300-cover

restaurant and our Edge restaurants which includes

four separate offers - Italian; EvViva, traditional British;

Oak Kitchen, deli delights; Made Handcrafted Café

and man vs. food offer; Butcher and Grill. We also

have mobile concepts dotted around the venue

and visitors can enjoy Big Cheese where we

serve big posh cheese sandwiches – four

different types of cheese with onion chutney

or maybe pan-fried curry butternut squash,

ham and mustard croc monsieur or our

tasty chicken and pesto offer. What's great

about this offer is visitors can enjoy any time

of the day – breakfast, lunch, as a snack or

dinner. We also have Taco Fusion which includes

tacos with Cajun salmon, slow cooked pork belly and

different types of slaws or dressings. This is light and

fresh and very popular so perfect for this time of

year. The show is so large we also have Street

Kitchen Brothers who are external, but we bring

them in because its important to collaborate and

support tasty offers. They provide Lebanese and

Greek street food so its great for the visitors. As they

journey around the NEC and take in the experience

we feel we have something for everyone. A sit down

formal lunch for around £26 all the way through to an

affordable £ grab n' go offer. Its good to have this

choice as some people prefer two or three lighter

meals during the day."

It's a fine array of food offers and visitors are certainly

spoiled for choice when it comes to picking

something delicious to eat. Neil credits the

hardworking team for having so many choices under

one roof and is keen to ensure it's a combined effort.

"We believe its so important to praise our chefs and

hold an annual internal award and also run an

appraisal system – this includes overall chef of the

year, best for food quality, best for food safety. Simply

if you perform well you will be acknowledged. >

AMADEUSFOOD CO UK 25
---
FOOD EXPERIENCE IN THE SUMMERTIME, WE INNOVATE

This system of rewarding chefs is also why Neil

believes they are able to retain their staff against a

backdrop in the hospitality industry. The current

standing of chefs is no secret, but Neil argues that

they don't have too much trouble holding onto

people at the moment. "Recently we have

promoted eight chefs internally and that makes a

huge difference to morale. We want to reward those

who work hard and today its very different to how it

was when I first entered the industry. Back then we

used to work split shifts with five hours over lunch

and five again in the evening. Today is straight hours

and I believe that's easier. There is a concern over

chefs wanting to get to the top so quickly because

they want to be the next Gordon Ramsey or Jamie

Oliver. That's fantastic and its great to aim high but it

has to be done in the right way. You don't get to the

top with ease and we teach this to all of our team

from day one. We have apprentices working in

various different departments for three months at a

time and after a year they can pick what they enjoyed

and go on to work in this area. They may prefer fast

food or casual dining or fine dining. They have that

choice and chance to try them. A great advantage

for Amadeus is we have external venues too, so

some of the team in the NEC can go and try external

catering or work in Stratford Racecourse or other

venue. The opportunities are there for those who

want them, and they can develop their passion

without our rewarding framework.

Neil is clearly passionate about supporting talent

and believes in the importance of a work life balance.

For Neil he likes nothing more than clearing his head

by cycling on his road bike or cheering on his

beloved Leicester Tigers. Whilst disappointed they

failed to finish in the top four for the first time in 13

years Neil is able to take his mind away from this by

cycling around the beautiful Malvern's or Peak District.

"Bit of time by yourself on the road" he adds. Looking

to the future Neil believes menu developed is key

and at the moment the chefs are all sitting down with

Summer recipe

At this time of year Neil believes one of the

best dishes you can enjoy at the NEC is the

pulled shoulder of pork in a sticky Korean

Soy BBQ glaze. Created by Adrian Ford,

Senior Head Chef, Hospitality, Live Events &

Development at the NEC, on the side

is a beetroot celeriac and red cabbage slaw

and a tasty Bloody Mary and smoked chipotle

ketchup. Finished with a leaf salad and pickled

gherkins on an artic flatbread.

A perfect dish for a family occasion as the

host doesn't need to spend time cooking in

the kitchen as it can all be prepared in advance.

Ingredients

Pork

Boneless shoulder of pork -3kg

Branded BBQ sauce -500

Soy sauce -75 ml

Fresh ginger -100 gram

Fresh garlic -25 gram

Chilli flakes -5 gram

A perfect

summer dish.

Slaw

Red cabbage -500 gram

Raw beetroot -300 gram

Celeriac -300 gram

White wine vinegar -50 ml

Salt and pepper

Olive oil -50 ml

Bloody Mary ketchup

Mayonnaise -250 ml

Tomato ketchup -50 ml

Chipotle tabasco sauce -10 ml

Vodka -25 ml

Mixed leaf, bread and garnish

Gem lettuce -4 each

Roquette lettuce -50 gram

Gherkins -250 gram

Artic flat breads -12

the sales team to evaluate. It's during these sessions

where the chefs find out the feedback from the

event bookers, clients and attendees. Neil believes

this is of the upmost importance and following this

the chefs work on ideas and hold tastings. This is

voted on by committee safe in the knowledge that

its what the customer really wants. His one to watch

on a future NEC menu? Katsu Chicken – a delicious

Japanese method.

•

26 GLORIOUS
---
Method

Korean BBQ glaze

Peel the garlic and ginger. Combine the BBQ sauce,

soy, ginger, garlic and chill flakes together in a food

processor and liquidise until smooth.

Pork shoulder

Cut into the rind of the meat approx. 1/2 cm deep all

over the joint at 2cm intervals, this will allow the

flavour to penetrate during cooking process and the

rind to crisp up.

Take 1/2 of the BBQ sauce and rub the pork all over

pushing the sauce into all the slits with your fingers,

this can be done in advance the day before and gets

the best flavour. The remainder of the sauce will need

saving as it will be heating up later to go back onto

the pulled meat.

Place the pork into a large roasting dish with approx.

1" of water this will keep the pork moist during

cooking. Cover the pork loosely with foil ensuring it

does not stick to the meat, close the edges of the foil

around the tin.

Cook at 130° for 4-6 hrs, basting the meat every hour.

For the last 45 minutes of the cooking process turn

up the heat to 170° and remove the foil to crisp up

the rind, cook until the pork's flesh is tender and pulls

away easily with a folk. Cooking times may vary

slightly depending on style of oven.

When cooked allow to rest for at least 20 minute ,

remove the rind and cut into smaller portion sizes.

Using two forks shred the pork up and add the

• PREP TIME: 25 MINS • COOK 4 HRS - 6 HRS • SERVES 12 •

required amount of heated BBQ sauce that was saved

to coat the meat.

Beetroot, celeriac and cabbage slaw

For best results make the day before.

Cut the red cabbage into 4 removing the root

then finely slice using a knife or food processor.

Peel and grate the beetroot and celeriac.

Mix the cabbage, celeriac, beetroot, vinegar, salt,

pepper all together in a large bowl, work altogether

so all is coated in the vinegar and salt mix.

Cover with cling film and refrigerate overnight,

drain the slaw mix in a colander to remove all liquid,

add the oil and check for seasoning.

Bloody Mary ketchup

Into a bowl add the mayonnaise, tomato

ketchup, tabasco and vodka, mix all together to

form the sauce.

Leaf and gherkin

Cut the gem lettuce in two lengthways and then cut

these two pieces in half again in the same way, then

cut out the root. Add the gem to the roquette lettuce

and wash and then dry thoroughly.

Dry the gherkins and slice those lengthways.

Assemble pork, salad and slaw on the flat bread

and drizzle with Bloody Mary ketchup. A perfect

summer dish.

AMADEUSFOOD CO UK 27
---
SUSTAINABLE CATERING

For now and

THE FUTURE, EVERYDAY

•

Whether compostable, recyclable or bio-degradable Amadeus are just about as

sustainable as a catering business can get. The leading food service company has been

working hard, long before the recent increase in the war on waste and truly believe in

having a responsibility to help solve some pretty big problems.

From their legacy of being the Olympic caterer, the

Amadeus team are also supporting both the venues

they work in and clients using their services, in their

own pledges and actions for a better future.

In recent years the food service company, based at

the heart of the NEC Group but operating in over

30 venues and delivering hundreds of events, has

kept a relatively low profile on their remarkable

achievements. They have worked with numerous

clients to ensure they are aware of how venues can

improve their waste streams. Despite the recent and

needed rise in the awareness of waste, Amadeus

have simply got on with the job – because it's the

right thing to do.

their food and beverage suppliers are also small

and medium sized enterprises.

For the award-winning caterer this is just part and

parcel of investing in our planet. Visitors heading

to one of the venues Amadeus caters for won't

The stats are there in black and white, 98% of their

disposable packaging spend is on sustainable

products. In addition, 80% of their food and

beverage suppliers can be found within a 30-mile

radius of the venues they cater at – meaning the

food you eat is not only fresh, but environmentally

friendly. The leading player is committed to

supporting local communities too – 60% of

28 GLORIOUS
---
Whilst all of this is impressive Amadeus won't

be resting anytime soon and it will be exciting to

watch the food service player continue to bring

their passion for sustainability to the forefront.

•

always know that Amadeus has a such an impressive

sustainability record. Looking to the future, Amadeus

believe the customer has a desire to know about

these initiatives so are also identifying where best

to profile this for the many customers they caterer

for every year. At the same time, they are actively

speaking to their clients to ensure they are aware of

the great things being achieved. It is all about trust

and doing the right thing.

"The stats are on there in

black and white, 98% of their

disposable packaging spend

is on sustainable products.

In addition, 80% of their

food and beverage suppliers

can be found within a 30-

mile radius of the venues they

cater at – meaning the food

you eat is not only fresh, but

environmentally friendly.

AMADEUSFOOD CO UK 29
---
INNOVATION HUB INNOVATING FOR A BETTER FUTURE

Innovation Hub

INNOVATING FOR A BETTER FUTURE

•

This year Amadeus in conjunction with EP Business in Hospitality launched the

'Amadeus Innovation Hub' – an exciting new platform where the latest ideas and

entrepreneurs are presented to the Board. It can be difficult for companies starting

out to become recognised and to find success so the Hub acts as an exciting

opportunity to work with the leading caterer.

The Hub is not only a great opportunity for the entrepreneurs, it's a way for Amadeus

to bring innovation into the business and enhance the customer experience.

The fast paced, multi-award-winning company have

40-years' experience catering for four million visitors

a year as part of the NEC Group, while also catering

for a range of different venues and locations. With a

growing portfolio, Amadeus place innovation at the

heart of their forward-thinking strategy and are

always looking to improve the customer experience.

It can be difficult at times for larger organisations to

innovate. It happens across all businesses over a

certain size as there are issues around coordination.

Therefore companies should be on the lookout for

exciting new developments which add value. This is

where the Hub can really excel. A small number of

entrepreneurs are able to present their business or

concept and have the chance to win a prize – to

work with Amadeus. Winning a prize often matters

less than the stimulus it provides for innovators, as

what it does do is spur on innovation and

breakthroughs. So part of the Hub is also

communicating out the messages it stands for via

both Amadeus's communication channels and EP's.

Pitching their innovation, services

and products on the day were:

• Snact – Handmade snacks, fruit jerky and

banana bars, packed with all the nutrition of

flawless fruit while also helping the UK tackle

food waste. The creators of Snact have been

saving unwanted and ugly fruit for the last few

years, turning it into delicious fruit jerky. An

amazing 1.4 million edible bananas are still being

thrown away each and every day in Britain.

The result is a ludicrous amount of wasted food,

water and carbon, with most bananas having

travelled half way across the world to reach us

and using 95 litres of water per banana to grow.

Snact are looking to do something to reverse

this trend in their fight to "create more taste and

less waste".

The Hub itself starts long before the day of pitches.

Entrepreneurs are invited to present their business

and the entries are then narrowed into a selection

>

30 GLORIOUS
---
Amadeus are continuing to take their customers to new

levels with the latest innovation and are making great

strides in embracing the latest concepts
---
INNOVATION HUB INNOVATING FOR A BETTER FUTURE

Pitching their innovation, services

and products on the day were:

of six. They must also send over details including

their business plan and how they feel they can best

work with Amadeus. During the pitches, the senior

players in the company discovered a range of

businesses which could potentially work with venues

in the caterer's portfolio including visitor attractions,

exhibitions and stadia venues.

• Nix & Kix – Natural, low calorie, sugar free

vegan adult soft drinks with a Cayenne kick.

Ideal for cocktails, mocktails or on its own.

Cayenne pepper, a chili native to Central and

South America, is believed to boost metabolism

and lower blood pressure. The drinks contain

less than 4.8g sugar per 100ml with no added

artificial sweeteners across the main variants are

Mango & Ginger, Peach & Vanilla and Cucumber

& Mint. The latest low-calorie flavour is blood

orange and turmeric.

• Digital Artisan Kitchen – Pioneering robotic

technology from founder Virgil Naslenas. The

London based inventor and former head chef

has 18 years of city fine dining background and

his technology creates a vegetarian or vegan

meal cooked to order in a robotic kitchen. Their

focus is on nutrition, taste and sustainability.

• The Wood Fired Pizza Company – Premium

quality Wood Fired Pizzas served from mobile

event catering units. The business thinks through

customer's eyes and challenge themselves on

product development and on service levels.

Pizza is one of the nation's favourite food items

and is highly competitive so a culinary passion

is essential.

32 GLORIOUS
---
With a strong reputation for delivering

excellence, Amadeus are continuing to take their

customers to new levels with the latest innovation

and are making great strides in embracing the

latest concepts and products and also provided

valuable feedback for the entrepreneurs on

the day.

•

"So part of the Hub is

communicating out the messages

it stands for via both Amadeus's

communication channels and EP's

also"

Pitching their innovation, services

and products on the day were:

• Vizzbook – Social word of mouth marketing

solution for businesses that want to generate

more customer conversations. Vizzbook has

taken the old-style Visitors Book, put it online

and linked it to social networks creating a

unique platform to help businesses drive

recommendations from satisfied customers

sharing their experiences with their friends and

followers on their social channels (uniquely at

the time of the experience).

• Chefs Eye – A food waste reduction software,

helping hospitality sites to take control of their

food waste, cut food costs & purchasing. They

provide an easy to use and affordable

technological solution which gives actionable

data on wastage to help kitchens be more

efficient and sustainable. A father and son

company who both have extensive experience

in the hospitality industry. They know from firsthand

experience how this can affect the allimportant

food cost and how it's causing serious

environmental impact.

AMADEUSFOOD CO UK 32
---
AND WE'RE OFF! CATERING FOR LEADING HORSERACING TRACK

And we're off!

CATERING FOR LEADING HORSERACING TRACK

•

Amadeus is now catering for Stratford Racecourse, one

of the country's leading small jump racecourse's.

The £2.5m catering contract is five years long and bolsters the

company's growing catering portfolio.

Stratford Racecourse has an excellent reputation for

levels of prize money and for being the host to 19

thrilling horseracing fixtures. Now the course can

include an award-winning caterer as another reason

to visit the picturesque track. With racing taking place

between March and November, many of the top

trainers and jockeys attend and the summer racedays

are a huge hit for both families and groups.

Amadeus will be providing the fuel for the attendees

and also those who use the racecourse on non-race

days. So this includes all retail and hospitality catering

at fixture race events alongside conference and

banqueting catering at the venue on non-race days.

Heading to the races is one of the most enjoyable

things people can experience – the thrill of a win in a

natural theatre, shared with good company and an

atmosphere of people simply wanting a good time.

Now visitors can enjoy the delicious retail offers and

hospitality that Amadeus provide at so many top

venues. With visitors arriving two hours before the

first race, they can enjoy a bite to eat whilst studying

the form and also exploring the track. For those

enjoying hospitality they can browse the race card

and pick out their favourite jockeys and horses. Over

fine menus they can view the all essential jockey's

colours and maybe even pop down to the

Parade Ring and have a look at the horses at they

are shown off.

34 GLORIOUS
---
This may be a new race track for Amadeus but the

leading caterer has vast experience in looking after

people and today caters for 7 million visitors a year as

part of the NEC Group. The impressive portfolio now

includes over 30 venues right across the UK which

range from visitor's attractions to exhibition and

stadia venues.

"With over 40-years'

experience in event catering,

we understand the complexities

of operating at outdoor

sporting events, adapting

our retail strategies to meet

challenges such as fluctuating

visitor numbers and

"

unpredictable weather.

On non-race days Amadeus uses its knowledge and

vast experience as a caterer who operates hundreds

of private events every year including several

prestigious sporting events. For ten years Amadeus

have worked with the IMG Ricoh Women's Open Golf

plus also the Lawn Tennis Association's Aegon

championships, Aberdeen Asset Management

Scottish Open. All three are renowned sporting days

and Amadeus is immensely proud of being the

caterer of choice for them all.

There are many viewing areas at Stratford Racecourse

where visitors can watch the horses in action. From a

high position in the Grandstand to the wonderful

balcony in the Tatterstalls. After the thrilling action,

people can refuel and relax over quality food and

drinks and even pop over to the Winners' Enclosure

and watch the winning horses return to their proud

and excited owners and trainers.

When Amadeus won the five-year contract, Ilona

Barnett, Stratford Racecourse Manager said, "We are

really looking forward to Amadeus bringing their

unique style of catering to the venue. They have a

fantastic reputation for delivering excellence at visitor

attractions and sporting events and we were >

AMADEUSFOOD CO UK 35
---
AND WE'RE OFF! CATERING FOR LEADING HORSERACING TRACK

impressed by their innovative menus and retail

concepts which will take our food and beverage

offering to a new level for our customers."

Over the last five years Amadeus has seen

phenomenal growth in its external venues and events

catering business. With a stimulating pipeline, the rest

of the year is going to be very exciting. The

racecourse is another great sign that Amadeus are

providing a delicious offer paired with great service.

This is what truly makes the difference for the visitor

experience and Amadeus are keen to continue their

growth and making a positive difference.

Stratford-upon-Avon is globally renowned as a major

English tourist town due to it being the birthplace of

William Shakespeare, whom many consider the

greatest playwright of all time. Having a venue just

36 GLORIOUS
---
down the road from such a major English tourist

town, can only be of value to Amadeus. Now visitors

can take in the delights of the market town and the

quality racecourse.

The catering team at Stratford Racecourse

is headed up by Amadeus' General Manager for

Events, Samantha Bates, who has over 22-years'

experience with the business. The knowledgeable

and hugely experienced events expert has worked

her way up the Amadeus ladder and is highly

regarded by all those who work with her. In

recent years Samantha and Amadeus were

awarded a top event caterer award at the annual

FSM Awards. They won the prestigious 'Event

Caterer' accolade which recognises those that excel

within the events sector of the contract catering

industry. It is these recognised high standards for food

and service that make them stand out.

Towards the beginning of the year when

Amadeus won the £2.5m contact, Kevin Watson,

Managing Director of Amadeus, said: "Last year,

Amadeus' events team achieved record results under

Sam's leadership and she will bring unparalleled

expertise to our partnership with Stratford

Racecourse.

"With over 40-years' experience in event catering,

we understand the complexities of operating at

outdoor sporting events, adapting our retail strategies

to meet challenges such as fluctuating visitor numbers

and unpredictable weather. In addition, we also

understand the art of great conference and

banqueting catering, constantly innovating and

tailoring our menu offering based on delegate or

visitor profile."

With many upcoming fixtures and a varied choice of

banqueting facilities, Stratford Racecourse is set to

continue its busy season and Amadeus are proud to

be supporting the top sporting venue.

•

AMADEUSFOOD CO UK 37
---
ENVIRONMENTAL COMMITMENT

Why is everyone

JUMPING ON THE

PLASTIC BANDWAGON?

•

"Dramatically changing how a caterer provides and serves F&B to their

customers may suit current marketing messages but isn't it important we take the

time to actually work out what's best for the environment and for the client?"

asks Marc Frankl, Food and Beverage Director at Amadeus.

It's a fair question. By acting too fast a business may

choose a short-term solution which doesn't actually

have the desired long-term impact or indeed look

after the planet. However, in the defence of some

companies, their clients are facing pressures from

their employees or visitors, so you can see why

many caterers are frantically trying to remove plastic

straws or pledge to reduce something by sometime.

Marc and Amadeus believe fully in the importance

of investing in the planet but also understand that

jumping the gun can have the wrong results.

"I ask the above question with the confidence of

knowing 98% of our disposable packaging spend is

on sustainable products. We have been looking at

our impact on the environment for many years – but

particularly after the 2012 Summer Olympics where

we were selected as the main caterer, working with

suppliers to make it the biggest zero waste event in

history." Marc says.

He explains that having the right sustainable strategies

needs be aligned to the venue or client because

all must be pulling in the same direction. "We meet

clients every day and listen to their expectations

and desires. I'm always delighted to explain how

98% of our disposable packaging spend is on

sustainable products and its brilliant seeing their faces

light up when they become aware of what we're

achieving. However, we also explain that the onus

for sustainability often falls on the caterer, which is

fine, we want to make a difference, but it's important

to find a balance with a venue too. We believe

it's only by working closely with our clients and

suppliers to understand the challenges around waste

management that we can achieve real sustainability.

For example, at the NEC – one of our biggest clients

– the venue operates a zero to landfill model with

any residual waste that cannot be recycled converted

into energy for local homes and businesses. We also

38 GLORIOUS
---
work to ensure as little food as possible is wasted,

but what's left is transported by the venue to Severn

Trent Green Power's food waste anaerobic digestion

plant and processed into energy, with the resulting

compost used as fertiliser by local farmers."

Transforming a business overnight won't happen

but progress can be made with the right vision and

objectives. Amadeus are clearly using their influence

to encourage wider action on environment

sustainability and Marc is keen to point out that they

are constantly exploring different ways to improve

sustainability – be that compostable, recyclable or

bio-degradable – at the diverse range of venues it

caters in.

He also acknowledges that some industries

or venues bring with them restrictions, "Many

arena venues have policies that require all drinks

receptacles to be crushable underfoot due to health

and safety regulations – so in this case, it wouldn't

be suitable to introduce reusable cups to the venue.

Plastic is also sometimes the most sustainable option

available – for example, if a venue currently has the

capacity to recycle plastic, but not an alternative, like

compostable cups.

"Our aim is not to use these conditions as excuses

but instead it drives us to innovate and challenge

current situations. The other fun part is motivating

our employees, so they also understand the

challenges and solutions being worked on – and I

mean all employees in every aspect of our business."

Amadeus are proud but don't always shout about

their achievements in this space. This is simply

because they believe with getting on with doing

the right thing. However, they also fully believe

in educating others so are working hard to

communicate their messaging beyond the internal.

Amadeus have gone from strength to strength

in ensuring they are as environmentally friendly

as possible. 80% of their food and beverage

suppliers can be found within a 30-mile radius of

the venues they cater at, and they're committed to

supporting local communities too – 60% of their

food and beverage suppliers are small and medium

sized enterprises.

The leading food service company are also aware

that whilst all the recent insight into eco-friendly

approaches and materials is needed, moving too fast

may not be as friendly as we all believe. With Marc

championing their approach and the caterer clearly

achieving lots, Amadeus have strong environmental

commitment. They believe in doing the right thing,

at the right time, in the right way.

•

AMADEUSFOOD CO UK 39
---
LOOKING AFTER HOME AND AWAY

Looking after

HOME AND AWAY

•

Amadeus has made two new senior appointments reflecting the rapid growth

in its event and venue catering portfolio.

Presenting Paul Bate, Operations Director of our Home Venues and

Peter Watson, Operations Director of our Regional Venues.

We're delighted to make these two senior

appointments as the business continues to expand.

We feel extremely confident that all of our venues

are being looked after by experienced and

passionate individuals who fully understand

what's required to look after esteemed venues.

Paul Bate takes up the post of Operations Director

for Amadeus' 'home venues' – this includes

managing the catering for four million visitors per

year at the NEC Group venues (the NEC, the ICC,

Genting Arena, Arena Birmingham and Vox

Conference Centre).

A commercially minded leader with years of seniorlevel

venue experience, Paul previously held the

position of Catering General Manager at the NEC for

six years. During this role he spearheaded a number

of initiatives including the introduction of 'The Edge', a

new customer retail concept, to the venue. To date,

£5.5m has been invested in rolling out the concept

across the NEC's 20 exhibition halls – a move

Paul Bate

40 GLORIOUS
---
Peter Watson

which is delivering £0.5m profit per annum

for Amadeus.

In addition, Peter Watson has been appointed

Operations Director, Regional Venues – a newly

created role reflecting the expansion of this side

of the business. Peter brings with him a wealth of

industry experience, having clocked up over

30 years in the hospitality business, including

spending 12 years managing catering operations

within the motorway services industry.

The role will see Peter manage a varied

portfolio of venues for Amadeus, including

Cadbury World, Belfast Zoo, Belfast Castle,

Compton Verney, Library of Birmingham and

the newly contracted Stratford Racecourse among

others. Alongside this, he will oversee

Amadeus' events arm of the business which sees

the team deliver hundreds of private and

corporate events each year including a number

of high profile, internationally renowned

sporting tournaments.

KEVIN WATSON, MANAGING DIRECTOR OF AMADEUS, SAID:

"We are excited to welcome Peter and Paul to the team – they join a diverse

and committed board comprising some of the best talent in the industry. These

two new appointments reflect Amadeus' continued growth over the last five

years – with the expansion of our team we aim to take Amadeus to new levels

by increasing our reach and penetration into new areas of the leisure and

retail industry."

The appointments have been made following five years of impressive business growth under Managing Director Kevin

Watson's leadership. Since 2012, the company has evolved from a £25m – £47m business with a 239% growth in profit.

AMADEUSFOOD CO UK 41
---
PIC N' MIX AT THE ICC

Pic n' Mix

AT THE ICC

•

Amadeus have created a brand new online menu selector for the conference industry

and have launched this bespoke menu technology at the International Convention

Centre (ICC) in Birmingham.

The menu selector isn't just for picking food but also theatre, suggested wine pairings

and many more valuable options for event bookers.

Events today play such an important role in all

sectors and industries. They are used to reward

employees, make new business acquaintances,

profile recent successes and even share recent poor

performance. Whether a business creates an event

for their own people or to invite others, the core is

that those who attend receive something – whether

an introduction to a company, knowledge share or

simply a celebration and good fun.

The ICC is a recognised institute in the country

and is known for conferences, banquets and

meetings of all sizes. The kitchen is overseen by

Executive Chef Simon Hellier who creates diverse

menus and sources the very best seasonal, quality

products. Any guest at the ICC knows they are

going to be in very suitable surroundings for their

event and are fully aware the food will be both

delicious and satisfying. So some may argue

that no more innovation is needed? But Amadeus

are not your typical caterer and are always listening.

"Speaking with our clients, and those within the

wider events industry, we found that a common

complaint of event organisers was the time it took

them to select catering options – particularly when it

came to booking large scale events over several

days." Says Craig Hancox, General Manager for

Amadeus at the ICC.

"No one in the conference and events industry

was offering a real alternative to the traditional

manual booking systems. We therefore decided to

launch a tool which is quick and easy to use

and could literally turn what could have been a

day's work for an organiser, into a few minutes."

He adds.

This is where Amadeus strive, they listen to

their customers and react to the feedback

provided. They created the ICC menu selector

which helps organisers plan a networking

event, conference, exhibition or banquet

and build the perfect menu to enhance

their event.

>

42 GLORIOUS
---
Speaking with our clients,

and those within the wider

events industry, we found

that a common complaint

of event organisers was the

time it took them to select

catering options

AMADEUSFOOD CO UK 43
---
PIC N' MIX AT THE ICC

Ultimately the tool has been

designed to save our customers' time

44 GLORIOUS
---
When launching the menu selector, Amadeus were

keen that the client didn't lose the personal service

element they've become known for and so once a

booker built their menu online, a dedicated catering

account manager works with them to suggest

refinements or enhancements to their booking.

The unique technology solution means

organisers can easily construct a bespoke menu

suitable for the requirements of their customers,

theme and budget and it also isn't just for food.

Amadeus are bringing a bit of theatre to the events

by offering the option to book live street food theatre

stations and pop-up cocktail bars too. Whilst at the

same time, the tried and tested conference packages

and suggested wine pairings for banqueting dishes

help make the selection process even quicker for

busy event organisers.

The events industry is forever changing and needs

to be extremely responsive to shifting trends and

customer demands. Now when chefs design a new

dish or have an idea for a new choice on the menu,

clients can immediately view this via the online

system. It also allows an instant change to seasonality

"We're really excited about this

unique product which Amadeus

has designed specifically for the ICC –

the first of its kind for the conference

industry. The online menu selector is

a one stop shop for event organisers,

allowing them to build a bespoke

menu suited to their specific needs –

from canapes to a seven-course

taster menu!

"Ultimately the tool has been

designed to save our customers'

time, allowing event organisers to

concentrate on other aspects of the

planning process knowing that

booking catering for even the most

complex of events can be achieved

quickly and easily."

JAMES ELSTON, SALES DIRECTOR AT THE ICC

and the team are constantly updating the offer to

keep things fresh and relevant for the customer. With

40 years' experience, Amadeus are constantly looking

to innovate to ensure continued quality and the best

customer service.

•

AMADEUSFOOD CO UK 45
---
AMADEUS CALENDAR OF EVENTS

CALENDAR OF EVENTS • The comprehensive guide to the upcoming shows and events this season

www.thenec.co.uk

www.arenabham.co.uk

www.gentingarena.co.uk

CALENDAR OF EVENTS

3-7•10

27•10

16•11

27•11

Cirque du Soleil: Ovo

Enrique Iglesias

Florence + The Machine

Ms. Lauryn Hill

GENTING ARENA

August

24 Paul Weller

31 Britney Spears

September

8 Shiiine On 1-Day Festival

21 Kylie

October

3-7 Horse of the Year Show

12-13 Made Festival

20 Cage Warriors 98

26 David Byrne

27 Enrique Iglesias

November

3 The National Children's WW1

Remembrance Concert

15 Rick Astley

16 Florence + The Machine

18 Jess Glynne

24 Free Radio Live 2018

KYLIE•21•SEPTEMBER

GENTING ARENA

December

1 Frankie Valli & The Four Seasons

8 Jeff Wayne's The War of the Worlds

20-24 Elf – A Christmas Spectacular

46 GLORIOUS
---
ARENA BIRMINGHAM

August

18 Paw Patrol Live!

27 Justin Timberlake

30 Kevin Hart

September

4 Barry Manilow

8 Eddie Hearn presents Amir Khan V Sammy Vargas

9 Guru Randhawa

13-14 The League of Gentlemen

15-16 Arctic Monkeys

18 50 CENT

22-23 Trampoline, Tumbling & DMT

British Championships

24 Shania Twain

26 Jason Derulo

27 Chris Tucker

28 Early Doors Live

29 Babbu Maan

October

3-7 Cirque du Soleil: Ovo

10, 12 & 13 Jeff Lynne's ELO

19-28 Disney on Ice presents Dream Big

ARCTIC MONKEYS•15-16•SEPTEMBER

ARENA BIRMINGHAM

YEARS & YEARS•30•NOVEMBER

ARENA BIRMINGHAM

November

5 WWE Live

7 Slayer

15 The Australian Pink Floyd

16 Culture Club

17 Noel Fitzpatrick is the Supervet

20 Nitro Circus

22 The Four Tops & The Temptations

24-25 The 2018 Birmingham International Tattoo

27 Ms. Lauryn Hill

28 Pete Tong & The Heritage Orchestra

perform Ibiza Classics

30 Years & Years

December

1 The Human League

2 Star Wars A New Hope – film with live orchestra

10 Nightwish

11 Black Stone Cherry

13 André Rieu

15 Madness

17 Def Leppard

21 UB40 >

AMADEUSFOOD CO UK 47
---
AMADEUS CALENDAR OF EVENTS

THE NATIONAL WEDDING SHOW

•28-30SEPT•

THE NEC

THE NEC

August

8Ju-19Aug Real Bodies The Exhibition

9-12 The Festival of Quilts

24-27 Insomnia63 – The UK's biggest gaming festival

September

20-23 EGX 2018

21-23 A Place in the Sun Live

21-23 The Monster

22-23 Miniatura – The Doll's House

& Miniatures Show

27-30 The Cycle Show

28-30 The National Wedding Show

30 Toy Collectors Fair

October

3-7 Horse of the Year Show

10-14 Grand Designs Live Birmingham

16-21 Motorhome and Caravan Show 2018

19-21 Destination Star Trek Birmingham

27-28 Dive 2018

November

1-4 BRICKLIVE, The UK's largest celebration of LEGO®

1-4 The Creative Craft Show

1-4 Simply Christmas – The Crafty Christmas Show

1-4 Cake International

2-3 Gradjobs Live!

2-4 Mind Body Spirit Wellbeing Festival 2018

3-4 The National Pet Show

9-11 Lancaster Insurance Classic Motor Show

9-11 Classic Motorbike Show

15-17 Worldskills UK Live

15-18 Festive Gift Fair

17-25 Motorcycle Live 2018

24-25 Baby to Toddler

24-25 MCM Comic Con Birmingham

24-25 Warley National Railway Exhibition

24-25 The Dating Show Live

29Nov-2Dec BBC Good Food Show Winter

30Nov-1Dec National Engineering

& Construction Recruitment

30Nov-22Dec Christmas Party World

December

27 Toy Collectors Fair

CHRISTMAS PARTY WORLD

•30NOV-22DEC•

THE NEC

48 GLORIOUS
---
Hungry for more?

SIGN UP FOR THE LATEST NEWS, CATERING

INNOVATIONS AND A LOOK AT THE DIVERSE

RANGE OF VENUES WE CATER FOR.

Visit our website

www.amadeusfood.co.uk

to sign up to receive our newsletter
---
AMADEUS MADE MY DAY

Team work

catering operations

AMADEUS MADE MY DAY

•

Glorious speaks to Irina Andrejeva, Catering Manager at three of our venues in Belfast

What does your role entail day to day?

I work around three venues in Belfast enabling

our full-time managers to take holidays, days off

and also to support them whilst we run some of

our events. On a daily basis my job involves pretty

much everything between staff training,

maintaining standards, stock control and liaising

with clients. The focus is on making sure all

events run smoothly but also many more little

things that ensure we deliver good service to staff

and our customers.

What is your proudest achievement while

working for Amadeus?

Working with Amadeus - every single day is different

from another. One thing that remains the same - it

never fails to challenge me. There are two things that

make me proudest of all - when young staff who I

have trained come to me saying thank you. Its always

a special moment and its great to hear that the team

are enjoying what they're doing. Equally I get a buzz

from when clients recognise that our teams go above

and beyond to deliver special and memorable

experiences. We always keep up with last minute

requests and in return we receive amazing feedback.

How do you measure success in your role?

My attitude is - happy people always work harder.

I measure my success by how much my team

manage to achieve in a short space of time - be it

teaching young ones to make a Latte Macchiato, pull a

proper pint in our bars or even upselling a tray bake.

I measure my success by timing how long it takes me

to figure out and solve any kind of arising problems.

But perhaps most importantly is the customer and

also my colleague's feedback.

What drew you to the catering industry?

I've been in the industry for over 13 years now and

the ever-increasing standards and challenges keep

me on my toes. It can become quite addictive.

Tell us something unusual about yourself?

I don't own a TV!

•

50 GLORIOUS
---
AMADEUSFOOD CO UK 51
---
Proudly presenting our new website

WE'VE UPDATED OUR WEBSITE TO DELIVER A BETTER USER EXPERIENCE

AND HAVE INTRODUCED A NUMBER OF NEW FEATURES INCLUDING OUR

HANDY VENUE SEARCH TOOL.

At Amadeus we combine culinary flair, attentive service and sustainable thinking to deliver

bespoke event catering solutions that stand out. Solutions that grab headlines, spark excitement and

deliver results. With over 40 years' catering industry experience under our aprons we also understand

the unique challenges of events, private and corporate catering. It's why we approach every brief

the same – by treating it differently. After all, that's what sets us apart.

Visit the website to:

• Find out why we're 'Made For You' and use •

our venue search tool to find the perfect

location for your conference, dinner, drinks

reception or wedding.

• Explore a timeline of our history from

1976 to today

• Meet our senior team

View our wide-ranging portfolio including

retail, conference, banqueting, hospitality

and event catering

• Discover our delicious food and meet

the chefs behind them

Find out more about our great suppliers

• All of this and much, much more

Visit www.amadeusfood.co.uk to have a look and explore our world