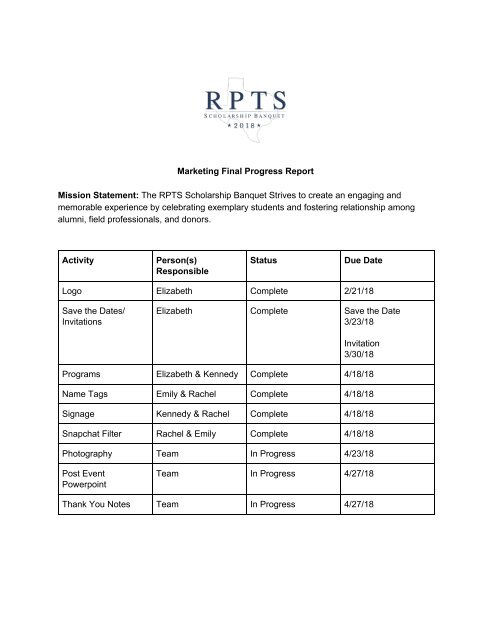 Create successful ePaper yourself
Turn your PDF publications into a flip-book with our unique Google optimized e-Paper software.
Marketing Final Progress Report

Mission Statement:​ The RPTS Scholarship Banquet Strives to create an engaging and

memorable experience by celebrating exemplary students and fostering relationship among

alumni, field professionals, and donors.

Activity

Person(s)

Responsible

Status

Due Date

Logo Elizabeth Complete 2/21/18

Save the Dates/

Invitations

Elizabeth Complete Save the Date

3/23/18

Invitation

3/30/18

Programs Elizabeth & Kennedy Complete 4/18/18

Name Tags Emily & Rachel Complete 4/18/18

Signage Kennedy & Rachel Complete 4/18/18

Snapchat Filter Rachel & Emily Complete 4/18/18

Photography Team In Progress 4/23/18

Post Event

Powerpoint

Team In Progress 4/27/18

Thank You Notes Team In Progress 4/27/18
---
The Logo: ​Creating the logo was vital and essential in branding the RPTS Awards Banquet. It

has set the tone and created excitement for event.

● Initial meeting with event group leaders held 2/2/18 to discuss event. We were informed

the theme was "western" and decided to focus on a classic and elegant

western/southern style (not overthetop cowboy)

○ Colors chosen: Navy, Cream, and Maroon

Maroon #482322

Cream #F2F3E8

Navy #2A3A58

●

Created several logo designs using Adobe Illustrator (attached), and submitted to

co-chairs and clients for final determination. Below is the logo design that was initially

chosen:

●

Logo was eventually redesigned to the logo below because RPTS staff thought it looked

as if the banquet was celebrating the years of 2020 and 2018, so an adjustment was

made to keep the 2018 numbers together.
---
Save the Dates: ​Save the Date notifications were determined to be beneficial in order to alert

students, faculty, staff and donors of the upcoming banquet, especially because the end of

semester becomes very hectic with a variety of activities.

● Coordinated with Ms. Stricklin on 3/21/18 to get names and email addresses of donors,

professors, staff, Rho Phi Lambda inductees and scholarship recipients. Also received

physical address of donors.

● Created and printed physical Save the Date Cards using Adobe Illustrator and

composed Save the Date email

● Communicated with sponsorship/budget team to determine a budget for printing and

mailing Save the Dates

● Mailed physical Save the Date cards to Donors;

● Provided Save the Date email to Ms. Stricklin which she sent out to entire guest list on

3/23/18.
---
Invitations:​ Formal invitations provide all pertinent information for an event including

instructions to RSVP which will aid in the planning of the banquet.

● Communicated with sponsorship/budget team to determine a budget for printing and

mailing invitations

● Created physical invitation using Adobe Illustrator

● Worked with Copy Corner to have 50 physical invitations printed for donors, professors,

and staff

● Created an email that included an attachment of the invitation and instructions to RSVP

to Google doc by April 10th; coordinated with Ms. Stricklin to send the email invitation to

all on guest list on 3/29/18

● Mailed physical invitations to donors in the surrounding area on 3/29/18

● Sent reminder emails to RSVP on 4/9/18

● RSVP was extended, so sent reminder email with new RSVP date on 4/11/18

● Coordinated with RPTS Department front desk to keep track of any RSVPs that may call

in instead of using Google doc

● Corresponded and answered banquet questions from various invited students

● Will send out a reminder email on 4/18/18The to all who RSVP that banquet is tomorrow
---
Program: ​The​ ​program is an important part of a banquet because it not only serves as a guide

to the events of the evening and recognizes sponsors, but as collateral, it serves as as a

memento that guests can take with them.

● Coordinated via email with Dr. Shafer, Ms. Scott, Ms. Barnes, Ms. Stricklin, Ms. Shatruk,

Dr. Outley, Mr. Petrick to get names of presenters, scholarship winners, and Rho Phi

Lambda inductees

● Met with execution team and banquet co-chairs to get information concerning timeline of

the event during class time

● Met with team and co-chairs to double check spelling of names during class time

● Created program using Canva

● Met with Dr. Shafer on 4/12/18 to go over program and get edits

● Met with team co-chairs on 4/16/18 to review edited programs

● Met with Dr. Shafer for final approval of program on 4/17/18

● Worked with Copy Corner to print 200 programs; negotiated for a discount on printing

costs
---
Name tags:​ Name tags are beneficial at an event when it is large and when participants may

not know everyone in attendance.

● Received finalized RSVP list on 4/13/18

● Created name tags for 143 attendees plus 50 extra in case extras attend

● Worked with Copy Corner to print tags

● Ordered plastic name tag holders from Amazon

● Will alphabetize name tags on the reception table before the event so the names are

easy to find

Signage: ​Signage is important at an event in that it helps guide attendees.

● Coordinated with eventscape team, risk management and F&B team, and activities team

to determine the signage needed and the wording for signage

● Created wooden signs for outside of venue that carried out the western theme; four

directional signs will be placed outside the venue to direct guests

● Created signage needed for inside of venue including food and beverage, directional,

registration table, etc.

● Worked with Copy Corner to print inside venue signs on cardstock

● Will arrive at event venue at 4:30pm on 4/19/18 to help set up and to place signage in

the designated locations
---
Snapchat Filter: ​Millennials enjoy using social media to document their activities, and one

popular app is Snapchat.

● Helps advertise and promote RPTS to other TAMU students when they see their friends'

feed

● Assists in branding the event by using the logo in the snapchat filter

● Worked with Snapchat to create a filter that incorporated the logo against a simple

cream colored circle backdrop in order to make it stand out on photos

● Provided Snapchat the geophysical location of Hildebrand Equine Center so that the

filter will be available from 5:00pm to 10:00pm in that specific area
---
Photography: ​Capturing an event through photographs is a meaningful and relevant part of an

event. It not only documents various aspects of an event, it also provides mementos to those

who receive special awards.

● Created shot list to give to photographers

○ Photograph of the outside and inside signage and eventscape

○ Candid shots of people enjoying mocktail hour and Rev

○ Candid shots of volunteers working

○ Candid shots of people enjoying the meal

○ Photographs of all speakers, award recipients, Rho Phi Lambda inductees when

receiving awards

○ Candid shots of entertainment ( Lil and Elite Wranglers)

○ Formal group picture of all recipients after event

● Create a photo drive (Dropbox) that can be shared with all participants after the event;

will be available on 4/23/18

Post-Event PowerPoint: ​It is important to celebrate and promote the accomplishments of the

RPTS Department. A powerpoint presentation can be a useful tool in communicating the

achievements of some of the brightest talent in the department.

● Coordinate with photographers to get photos from the event

● Create a powerpoint slideshow for the RPTS department to display on the TV's within

the RPTS building

● Approach the department head to see if the slideshow could be added to the

department's website

Thank You Notes: ​Thank you notes convey the appreciation of the committee to those who

had a part in making the event a success.

● Create list of all people and organizations that need to be thanked; work with co-chairs

to determine the list

● Will divide the thank you's between the marketing team members

● Create a sample thank you for team members to use

● Team meeting on 4/23/18 to divide the thank you list
---
Final Thoughts

●

●

Working with other groups: ​Teamwork has been essential in the success of

accomplishing our tasks. Not only was communication within our marketing group

important, but we also had to communicate with our co-chairs, the activities group, the

execution group, the volunteers/eventscape group, risk management/ food and

beverage group, budget/ sponsorship group. We learned that it takes all committees

working together to create a successful event.

Communication with the RPTS staff​: We were in very close communication with a

majority of the department determining the names for invitations as well as the names for

the award winners and Rho Phi Lambda inductees. Additionally, because we were in

charge of invitations, we also became the point person for questions from invited guests

and spent a significant amount of time answering their questions. We also spent a good

amount of time working with staff on changes to the scholarship winners, getting bios

and pictures for the program, as well as descriptions of the awards. We were in close

contact with Dr. Shafer as he helped edit the program to get it the best it could be.

Set up For Thursday: ​Our team will be arriving at 4:30 on thursday the 19th, to begin setting

up for the event. We will place our signage in the designated locations. Four directional signs

will be placed outside the Hildebrand Equine Center. Food and beverage signs will be placed

accordingly to help identify options. Name tags will be laid out for guests to pick up at check in.

Programs will be placed at each seat.