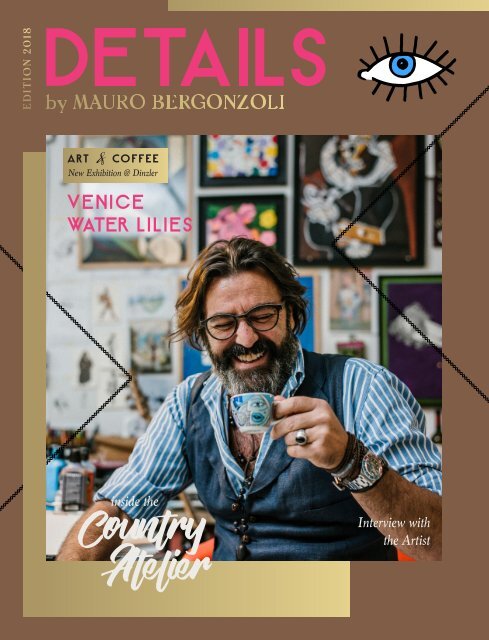 Mauro Bergonzoli - DETAILS 2018
Create successful ePaper yourself
Turn your PDF publications into a flip-book with our unique Google optimized e-Paper software.
New Exhibition @ Dinzler

VENICE

WATER LILIES

inside the

Country

Interview with

the Artist

Atelier
---
S. 1

EDITION

2018
---
S. 3

Interview with

the Artist

When did you first know you

are an artist?

My father was an engraver. One

day when I was 2 years old, he

drew a Donald Duck figure on

my bedroom wall. All I remember

since that moment is that I began

drawing everywhere I went, in

school, at home, in my head. I

haven't stopped since.

How do you feel when you

paint?

I feel like I'm doing what comes

naturally to me. It's something I

need to do. It's a necessity for

me, like breathing.

What is your creative process?

First I see an image in my head.

Then I transfer or download this

image onto my canvas with paint.

When do you know a painting

is finished?

When the painting matches the

image I had in my head before

I began, when there is nothing

else to add, then I know it's

perfect. Sometimes I need to

let a canvas rest for weeks or

months, sometimes years before

finishing it.

What is the most challenging

aspect of your profession?

Corruption in the art market.

And the most pleasurable?

Having art collectors who adore

and enjoy what I produce. I love

how they recognize that art is an

investment in beauty and pleasure

and not simply a money game.

Do you have a favourite painting

subject?

I love beautiful women, old-timers,

nature...whatever I find beautiful,

I like to paint.

Which artists, living or dead,

have influenced your style?

Masters of their craft like Picasso,

Matisse, Monet, Canaletto. I admire

those great artists who really

knew how to paint in any style,

realistic or abstract.

When you're not painting, what

do you enjoy most?

When I'm not painting I sometimes

think about what I will paint

next. Sometimes I just work in

my garden or play the guitar

and in my head I pick my next

painting subject. Actually, I'm

always painting.

How would you describe your

art collectors?

They are intelligent people who

are able to recognize what they

like. They know exactly what

they want and how they want it.

My art collectors have special

taste and enjoy the fruits of their

labour.

Why did you choose to live and

work in Bavaria, not Milan?

True Love brought me to Bavaria.

My Muse is Bavarian.

Where do you see yourself in

10 years from now?

I see myself still painting and

doing what I am doing today. I

also see my work represented

in many more private and public

art collections around the globe.
---
S. 4 S. 5

What art critics say...

Those who knew him, say Armando Testa, the greatest Italian

advertising expert of the 20th century, also acknowledged as

the historical era of communication, was "the most artistic

amongst advertisers and the most anomalous amongst artists".

This definition also applies to the art of Mauro Bergonzoli, eclectic and provocative,

a creator of ideas and images. With contemporary media bombarding

our daily lives, the artist brings metaphorical and surreal motifs generated

by an ironic and anti-academic vision of form, figure and composition.

Dr. Guido Folco

Art Historian, Art Critic

Director and President

Museo MIIT Torino

"Mauro Bergonzoli is, undoubtedly an ironic translator of

reality. In comic shape and vivid colors, Mauro Bergonzoli,

using the language of Pop-Art, confronts the common places

of a metropolitan lifestyle, trampled by mass culture. Here is

an artist who, without fearing the pollution of life, but working with it

instead, proposes visual work made up of scenes we always see, managing

to make them stand out like an advertisement designed to last and

promote thinking rather than just functioning as a fast sales campaign."

Francesco Gallo

Art Critic

In Bergonzoli's works, "The Lady with the Ermine" for example, becomes

a hymn to our Italian excellence and our culinary traditions, breaking up

objects and cubist-renaissance-esque faces, accompanied by Pop language

as a courageous antithesis between modernity and classicism. Paying

homage to great masters plays a pivotal role in Bergonzoli's array of

work, all the while harmonizing style and value with educated and humorous

references. As a result, a face influenced by the American artist, Roy

Lichtenstein, adds somatic details, turning into a Miró in which the eye

holds introspective and investigative value. At the same time a water lily

lake winks at Monet without forgetting how much the abstraction of the

20th century has completely shocked and turned upside down the naturalism

of the 19th century and the first optical experimentations which

followed, converting them into public icons of our time. In other works,

Bergonzoli technically combines painting and handwriting, a kind of growing

mural etching telling stories of exotic scenes with oriental interiors

as a visionary interpretation of space and time, so important for the definition

of a contemporary image.

In other moments the artist reminds us how 20th century esthetics has

married design, reaching us in the form of cars to be bought and desired,

as they have become symbols of social status with eternal appeal. What

strikes most about Bergonzoli's art is without a doubt his pure and innocent

worldview, free of formal or fashionable superstructures, reaching

his viewer directly and with the immediacy of a commercial. After all,

Pablo Picasso once said that in order to paint like a child he would have

had to work an entire lifetime. And so also the opening words on Bergonzoli's

website, contemporary instrument of communication, express the

following: " I have arrived where I wanted to begin", a testimony to his

profound awareness of existence, research and art."

"The color, expanded by the artist in plain form, as if it were a

print, or shaded by the superposition if matter, reminds the

audience of the first experiences with the young Pop Artist

who began to show his works to international critics.

Perhaps, even when we stared in amazement,for the first time, at the works

of Roy Lichtenstein, we already felt attracted by those bold and straightforward

words represented by the symbol of a black, defined stroke. This same

symbol is found in the hands of Mauro Bergonzoli."

Daniele Crippa

Art Curator

President of Museo del Parco

Portofino

"Mimmo Rotella in "The Gesture" grabbed manifestos from

the cities' streets and walls to later combine them in synthetic

and complex images as a mirror of a scaled society.

Bergonzoli's eye sees the world in this way, stealing fragments

of life, impressions, gestures and emotions to translate them into works

which are the quintessence of our chaotic daily life. Bergonzoli doesn't

want to own reali- ty as Pop Art does, he wants to create his own and

personal reality within it, in which the dynamism and movement of his

characters, the vivacity of color and the composition of the work of

art are in perfect symmetry, with his very own well-defined and never

ordinary style.

Picasso has defined art as "a lie that helps us recognize the truth." This

calls for a look at the com- plexity and not the linearity of the real world.

Bergonzoli observes life and reproduces it with firm, precise strokes,

essential In the conception of art that is open to everybody, to be

understood everywhere."

"Art is the lie that enables us to realize the truth." - Pablo Picasso

Mauro Bergonzoli, leading representative of Neo-Pop-Art,

unifies both Adorno's and Picasso's definition in his work.

He transports the observer into magical worlds in order to

show and illustrate truths of life. The magic of eternal femininity makes

up one focus of his artistic interests. Mythological, historical and contemporary

beauties populate Bergonzoli's Œuvre, equally embodying

self-esteem, strength and sex appeal. To the artist, paying homage to

the feminine means timeless consistency. Whether it's Cleopatra, Venus,

Amazons, Lady Godiva or Shakira, they all illustrate his conviction that

during the masked ball of life, the presence of female magic is forever

elementary, creative and productive, no matter in what shape, form, or

costume. For more magic about Mauro Bergonzoli go to www.maurobergonzoli.com

.

Francesca Bianucci

Art Curator

Dr. Sonja Lechner

Art Historian
---
S. 6 S. 7

Mauro Bergonzoli

Art Exhibition @

Dinzler Coffee

Roasting Company

Special thanks for making this

Exhibition possible goes to:

The Exhibition Art & Coffee

presents a selection of especially

created works about the History

of Coffee as well as classic

Bergonzoli paintings available

for public viewing at Dinzler in

Bavaria until November 20th

2018.

Text and Art Curator:

Franziska Countess Fugger-Babenhausen
---
S. 8

The History of Coffee

A legend of the 9th century tells the story of the Ethiopian goat-herder

Kaldi who discovered the magic power of coffee. After his goats had

eaten some bright cherries of a special tree they became highly

energized and active. Kaldi tasted one of the fruits and began to

experience the same effect. He delivered the news to a monk in a

nearby monastery who quickly tossed the beans into the fire. This

caused a delicious smell to arise and attracted other monks who

salvaged the roasted beans and cooked them in water. They drank

the black brew and were energized to stay awake during their nightly

prayers. The first cup of coffee was born.

Like taking a shot of aromatic espresso, Mauro Bergonzoli's work

"The History of Coffee" instantly invigorates it's viewer with powerful

colours and intricate details of luscious landscapes and beautiful

figures. A visual feast of images, this painting invites the observer

on a stimulating journey from plantation to basket, exotic ports to

high seas, Arabian carpets to oriental tents, and merchant ships to

bustling cafés.

As a true lover of women, the artist ignores the ancient prohibition

of female presence in coffee shops and allows the ladies to enter as

well. The careful observer may notice a woman with umbrella and

fashionable face-net approaching the coffeehouse from outside. A

blonde beauty dressed in racing green steps inside what used to be

a strictly "gentlemen's" domain. In Bergonzoli's artwork, anything is

possible.

Coffee has influenced humans ever since it's discovery in Africa

such a long time ago. The first coffee house "Kiva Han" was born in

1555 in Constantinople. 200 years later, Venice opened Casanova's

stomping ground, the famous "Caffè Florian". Vienna's "Kaffeehauskultur"

made the world richer in art, theatre and literature. Before the British

became professional tea drinkers, coffee was their beverage of

choice. In Germany port cities like Bremen and Hamburg were gateways

to constant shipments of the popular "black gold". Today everyone

can drink coffee, all perhaps thanks to Kaldi's Ethiopian goats!
---
S. 8

History of Coffee

Acrylic on canvas

200x500cm

2018
---
S. 10 S. 11

Napoli

Acrylic on canvas

100x100cm

2018

Roma

Acrylic on canvas

100x100cm

2018
---
S. 12

S. 13

Venezia

Acrylic on canvas

100x100cm

2018

Modena

Acrylic on canvas

100x100cm

2018
---
S. 14

S. 15

Brasil

Acrylic on canvas

100x100cm

2018

Otto

Acrylic on canvas

100x100cm

2018
---
S. 16 S. 17

Odalisques in Blue

Acrylic on canvas

100x100cm

2010

Blue Angel

Acrylic on canvas

100x100cm

2009
---
S. 18 S. 19

Can Can

Acrylic on canvas

100x100cm

2007

Gazpacho

Acrylic on canvas

100x100cm

2013
---
S. 20

S. 21

The Bush

Acrylic on canvas

100x100cm

2011

Magic Villa

Acrylic on canvas

100x100cm

2010
---
S. 22

S. 23

Odalisque

Acrylic on paper

50x60cm

2018

Madre Natura

Acrylic on paper

60x50cm

2018

Beauty and the Bunnies

Acrylic on paper

60x50cm

2018

Faces

Acrylic on paper

60x50cm

2018

Espresso Break

Acrylic on paper

60x50cm

2018

Oriental Lady

Acrylic on paper

60x50cm

2018
---
S. 24 S. 25

Coffee Lady 1

Acrylic on canvas

40x30cm

2018

Purple Tiger

Acrylic on canvas

80x120cm

2017

Coffee Lady 2

Acrylic on canvas

30x40cm

2018

Coffee Landrover

Acrylic on canvas

30x40cm

2018
---
S. 26 S. 27

African Masks

Acrylic on wood

60x50cm

2016

Magic Pub

Acrylic on canvas

128x203cm

2011
---
S. 28 S. 29

Chechale Kenya

Acrylic on canvas

70x50cm

2003

Chiquita Banana

Acrylic on canvas

60x50cm

2017

House Party

Acrylic on canvas

70x50cm

2003

4Kiss

Acrylic on canvas

70x50cm

2003
---
S. 30 S. 31

Toucan

Acrylic on canvas

30x40cm

2018

Hummingbird

Acrylic on canvas

30x40cm

2018

Tucano

Acrylic on canvas

100x100cm

2018
---
S. 32

Arabian Coffee

Acrylic on canvas

60x60cm

2018

Kilimanjaro

Acrylic on canvas

160x200cm

2017
---
S. 34

VENICE

Bergonzoli's paintings of Venice are modern

illustrations of one of the most spectacular

cities ever built. They are free of the current

contamination and suffocating tourism she

must endure.

With elegant brushstrokes and skilled

draftsmanship Bergonzoli highlights the rich

romance, unique history and ethereal beauty

that once defined this grandiose and ancient

city.
---
S. 36 S. 37

Interview about Venice

What were your thoughts when you painted Venice,

what relationship do you have to Venice?

I love Venice because it is a very unique city, the oldest

port of Italy, the city of merchants. In every Palace there is

something that comes from every corner of the world.

When I paint Venice I think of how beautiful she is and

how we must save her and protect her from human

destruction.

Please describe your style of painting.

My style is modern and antique at the same time. I love

painting what's beautiful: women, nature, flowers,

fantastic cars, amazing cities like Venice…etc. I love

strong colors and clear lines. I love to focus on details.

Women inspire me very much when I paint.

What fascinates you about Venice?

That she is built on water!

Do you have another artist that influenced / inspired

your paintings of Venice?

Il Canaletto because in his works he shows me how the

city was in the old times, without all the tourist cruise

ships, Mc Donald's, overflowing crowds, and stinky

canals.

La Fenice

Acrylic on canvas

205x103cm

2011
---
S. 38 S. 39

Canal Grande 1

Acrylic on canvas

80x120cm

2015

Canal Grande 2

Acrylic on canvas

80x120cm

2016
---
S. 40 S. 41

Snow in Venice

Ponte Rialto

Acrylic on canvas

50x70cm

2016

Christmas in Venice

Acrylic on canvas

120x150cm

2016
---
S. 42

S. 43

Venice on Ice

Acrylic on canvas

80x120cm

2016

Piazza San Marco

Acrylic on canvas

100x100cm

2015
---
S. 44 S. 45

Snow in Venice

Acrylic on canvas

50x70cm

2016

Snow in Venice -

cloudy day

Acrylic on canvas

50x70cm

2017

Snow in Venice

Acrylic on canvas

120x150cm

2015
---
S. 47

WATERLILIES

Mauro Bergonzoli's Water Lilies paintings create

portholes to other magical Edens and transcend

our present day world of digital speed and innovation.

These modern day Monetesque paintings celebrate

the healing vibrations of water and colorful flowers.

The artist creates instant vacations on canvas and

large windows into paradise. In beautiful detail, he

captures the light, natural movement and flow of

various water lilies sceneries allowing the viewer to

dive into a stimulating fresh oasis of visual pleasures.

Water Lilies - Turquoise

Acrylic on canvas

50x60cm

2018

Water Lilies - Orange

Acrylic on canvas

80x120cm

2018
---
S. 48 S. 49

Water Lilies -Purple

Acrylic on canvas

150x120cm

2015

Water Lilies - Blue

Acrylic on canvas

100x100cm

2016

Making of
---
S. 50 S. 51

ART

COMMISSIONS

Special order

Ju s t a s i t w a s c o m m o n d u r i n g

Renaissance times and the days of

Caravaggio, Goya, or Anthony van Dyck,

there are many collectors still today who

request a special piece of art created

exclusively for them by the artist.

Mauro Bergonzoli accepts his client´s

made to measure orders and paints every

painting 100% with his own hands. His

long experience in the advertising and

film world make him flexible enough to

carefully translate his collector´s wishes

into portraits, frescos, unique fashion

pieces, or sculptures.

Fuggerhäuser

private collection

Acrylic on canvas

50x70cm

2018

Augsburg

private collection

Acrylic on canvas

160x200cm

2018
---
S. 52 S. 53

White Rider

private collection

Acrylic on canvas

120x150cm

2017

Black Rider

private collection

Acrylic on canvas

120x150cm

2017

Arabian Stallion

private collection

Acrylic on canvas

50x60cm

2017
---
S. 54 S. 55

Commissioned

artwork in its place

Canal Grande

private collection

Acrylic on canvas

180x280cm

2017

Pool Party

private collection

Acrylic on canvas

180x130cm

2018
---
S. 56 S. 57

Portrait Franziska

private collection

Acrylic on canvas

60x50cm

2018

Puerto Rico

private collection

Acrylic on canvas

100x100cm

2018

Contessa

private collection

Acrylic on canvas

60x60cm

2018
---
S. 58 S. 59

Mauro Bergonzolis

Designlampen in der

Sammlung Hubert

Burda Media

Der aus Mailand stammende, in

Bayern lebende Künstler Mauro

Bergonzoli hat im Herbst 2014

im Auftrag von Dr. Burda für

das Haus Arabellastr. 21 zwei

Lampen gestaltet. Das Foyer des

Hauses wurde für ein paar Tage

–sehr zur Freude der Mitarbeiter-

zum Künstleratelier.

Begleitet wurde der Künstler von

dem jungen Filmteam Florentinfilm,

die einen wunderbaren

Film über die Entstehung der

beiden Lampen gedreht haben.

Schon im Sommer 2014 hat die

Kuratorin der Hubert Burda Media

Sammlung, Mon Muellerschoen,

den italienischen Künstler

in der Ausstellung "Selected

Works by Mauro Bergonzoli" mit

großem Erfolg in der Galerie

des Verlagshauses gezeigt.

Der Stil Bergonzolis ist einmalig.

Seine Kunstwerke sind eine farbenfrohe

Mischung aus Popart

und Comics, eines seiner Markenzeichen

ist das Auge, dass

er auch als Logo bzw. Signatur

nutzt.

Bergonzoli hat eine ganz eigene

Handschrift gefunden, mit

viel Humor karikiert er die Welt

wie er sie sieht. Er kreiert durch

seinen einzigar- tigen Neo-Pop-

Stil, seinen Humor, seine explodierende

Farbigkeit einen ganz

eige- nen magischen Kosmos.

Für die Hubert Burda Media

Sammlung hat er mit diesen beiden

Designobjekten zwei ganz

unterschiedliche Themen aufgegriffen:

Mit der bayerisch inspirierten

Lampe stellt er die Münchner

Glamour Welt mit den Wahrzeichen

von München und den Magazinen

des Verlagshauses dar.

Zitat Bergonzoli:

"Die Bayrische Lampe ist die

Vision meiner Umgebung bei

Hubert Burda Media während

der 2 Tage in denen ich

dort mein temporäres Atelier

aufschlagen durfte. Wie

man sehen kann, arbeiten

sehr viele starke und schöne

Frauen für Prof. Dr. Burda

und es entstehen grossartige

und wichtige Magazine in

diesem Verlag, all das wollte

ich dokumentieren."

Die träumerische Welt des Jugendstils

zeigt er in der "Country

Life" Lampe mit den von Monet

inspirierten Wasserlilien und

den "raining magic bunnies".

Der Künstler sagt dazu: "Questa

lampada é una fontana di luce

con colori della natura all' interno

della citta."

Dieses Objekt ist für den Künstler

ein Licht Brunnen mit den

Farben der Natur im Inneren der

Stadt. Die magic bunnies repräsentieren

die Ironie und den Humor

des Künstlers.

Fotos © arne schleef

Mon Muellerschoen

Hubert Burda und Mauro Bergonzoli
---
S. 60 S. 61

White Turf St. Moritz

private collection

Acrylic on canvas

100x150cm

2012

White Turf St. Moritz

private collection

Acrylic on canvas

100x150cm

2011

MAKING OF

White Turf St. Moritz

(Comissioned Artworks)

Powerful Polo

private collection

Acrylic on canvas

70x120cm

2011
---
MINIS

S. 63

Goldfinch

Acrylic on canvas

30x40cm

2018

Woodpecker

Acrylic on canvas

30x40cm

2018

Bullfinch Lady

Acrylic on canvas

30x40cm

2018

Bullfinch

Acrylic on canvas

30x40cm

2018

Wildboar

Acrylic on canvas

30x40cm

2018

Qatar Gazelle

Acrylic on canvas

30x40cm

2018
---
PRESS

S. 65

Hubert Burda and

Mauro Bergonzoli

society report

Begehrt: Bergonzolis

Version der beliebten

"Chucks", darüber

das Bild "I Love You" der

Ausstellung "Selected

Works" auf dem "Hubert

Burda Communication

Highway"

Eine gigantische Sammlung an Gemälden!

Ein Blick in das Münchner Atelier, in dem

Mauro und Gräfin Franziska Fugger zu

Babenhausen arbeiten

Seine Ausstellung –

eine Explosion

der Farben!

Der Maler mit Kunstkuratorin

Mon Muellerschoen in

München neben dem Gemälde

"Work in Progress"

Witzig, skurril, voller Ausdruckskraft

– so vielschichtig! Hier eine Wand aus

der Ausstellung "Selected Works" in

München mit den Bildern "Mr. Q" und

"Hermes Neopop" (v. r.)

Sein bunter Mix – für alle Sinne

eine Werke sind so bunt begeistert Kenner und Liebhaber

mit seinem einzigartigen erwecken, dass sie den Betrach-

Converse veredelte der Künstler

nem Pinsel so zum Leben zu sammenarbeit mit der Marke

und vielflächig wie ein Kaleidoskop,

mit einer Mix aus Form und Farbe. Exter

nicht einfach nur erreichen, eine auf 100 Stück limitierte

S

Strahlkraft, die ihresgleichen perten sagen: Er gilt als wichtigster

Vertreter der sogenann-

Kunst ist Kulisse – und sei-

mit seinen unverwechselbaren

sondern regelrecht begeistern. Auflage der legendären "Chucks"

sucht: mal witzig, mal bizarr –

plakativ und hintergründig zugleich.

Immer voller Lebens-

Und tatsächlich: Seine

Wahlmünchner er-

249 Euro). Das allererste Exemten

Neo-Pop-Art.

ne Kulisse ist die Welt. Der Entwürfen (Preis pro Paar:

Überall auf

freude, emotional und energiegeladen.

Willkommen in den gen. Erinnerungen an Grö-

der Welt Skulpturen und Fresrigens

niemand geringeres als

Bilder wecken Erinnerunschafft

nicht nur plar, die absolute Nr. 1, trägt üb-

Bilderwelten von Mauro Bergonzoli

(49) – einem der gefrag-

Warhol (†58), Roy Lichten-

derzeit aus Mode, verschönert spieler der Deutschen Fußballßen

des Genres wie Andy stellt Mauro ken, er entwirft auch Jérôme Boateng (25), Abwehrtesten

Künstler der Gegenwart! stein (†73) oder James Rizzi Wände. Bergonzoli bemalt Autos,

macht überdimensionierte Doch Bergonzolis Spektrum

nationalmannschaft.

Côte d'Azur, Argentinien, (†61). Viel Farbe, viel Detail,

Urugay, Deutschland. Überall viel Action, viel Humor. Wie Kaugummi-Packungen mit nur ist noch wesentlich breiter. Als

auf der Welt stellt Bergonzoli kaum einem anderen Künstler wenigen Strichen zu begehrten auf einer seiner Ausstellungen

derzeit aus (hierzulande in der seines Fachs gelingt es ihm, Objekten (s.r. oben), designt sogar

Style-Klassiker neu: In Zu-

Franzensberger

der hauseigene "Fessenbacher

Fugger Privatbank, Augsburg) selbst wildeste Ideen mit sei-

Spätburgun-

34 exklusive!

xklusive!

Ein Mann in seinem

Element: Hochkonzentriert

arbeitet

Bergonzoli im

Müncher Laden des

Herrenausstatters

Hirmer an einem

neuen Blickfang

Bergonzoli,

Franziska

Fugger zu

Babenhausen

und Töchterchen

Blue Aurora bei

der "Art Basel"

in Miami

DONNERSTAG, 6. APRIL 2017 NUMMER 81

Mindelheim und das Unterallgäu

29

Musikalische

Frühlingsgrüße

Konzert Dirigentin Nicole Simon spornt die

Bedernauer Musiker zu Höchstleistungen an

Kunst, so vielfältig

wie das Leben

Für Wrigley's

machte der

Wahlmünchner

einer Packung

Kau gummi zu

Kunst

Bedernau Es war zwar noch nicht so

richtig Frühling, aber mit etwa guten

Willen konnte man ihn beim

Jahreskonzert in Bedernau erahnen.

Die Sonne schien, der Himmel war

blau und die Wärme konnte man

sich gut dazudenken.

Der Saal war voll. Die Bühne voller.

Der Frühling stand vor der Tür

und man wollte ihn hereinlassen.

Und er kam mit dem Marsch "Arsenal"

von Jan van der Rost. Danach

war jegliche Frühjahrsmüdigkeit

weggeblasen. Es war der richtige

Vorgeschmack auf Sonnenschein

Veilchenduft und vielleicht auch

Verliebtheit.

Und natürlich ging es weiter mit

der Liebe. Der Musikverein führte

mit dem Pflichtstück für die Wertungsspiele

ins Mittelalter: "Ivanhoe".

Wer von den Reiferen denkt

Und immer wieder

geht es um die Liebe

der" des Medienhauses Burda alle Werke zieht und auch

ausgeschenkt wird, greift sich Besucher seiner Homepage

der Mailänder eine gigantische (maurobergonzoli.com) begrüßt: ein

6-Liter-Weinflasche des edlen einzelnes, weit aufgerissenes

Tropfens, bemalt sie aufwändig Auge, das Symbol für Wahrnehmung,

der Schlüssel zur Kunst.

von Hand (s. r. oben). Für Bergonzoli,

so scheint es, gibt es Sein Antrieb, seine Muse,

kaum etwas, das nicht mit wenigen

Handgriffen zu etwas Liebe – und seine Frauen: Her-

sein kreatives Elixier sind die

noch Größerem, noch Schönerem

gemacht werden kann. Fugger zu Babenhausen (35),

zensdame Gräfin Franziska

Früh übt sich, wer ein Meister

werden will: Mit sechs Er stammt liiert ist – und das ge-

mit der er seit Jahren glücklich

Jahren nimmt er erstmals

meinsame Töchterchen

aus einer

einen Pinsel zur Hand, als

Blue Aurora (4). "Das ist

Zwölfjähriger verkauft er verarmten Mauros Konzept. Er ist

bereits Comics. Heute erzielen

seine Gemälde Preise von die Frauen geliebt. Ich bin die

Familie Italiener und hat immer

über 20000 Euro, sind in der glückliche Muse. Ich habe die

High Society und bei Sammlern

gefragt wie nie. Sein Mar-

Franziska über ihren Lebensge-

Lotterie gewonnen", verrät

kenzeichen, das sich durch fast fährten. "Ganz viel Amore" also

Prost! Eine

6-Liter-Weinflasche

mit

Franzensberger

Wein

– von

Bergonzoli

rundum neu

gestaltet

da nicht gleich Robert Taylor oder

Roger Moore. Mehr Liebe und Intrige

gehen kaum. Das Stück von

Bert Appermont, Detailverliebt: der Burgen und

Für eine

Ritter auferstehen Charity-Aktion lässt und das Orchester

zu vollem Einsatz zwingt,

bemalte der

Künstler diesen

wird von der

Smart

jungen Dirigentin Nicole

Simon virtuos geleitet.

Auch ein Volkslied aus der irischen

Stadt Carrickfergus erzählt

von einer unerreichbaren Liebe.

Diese mit allen Schmerzen uns näherzubringen,

versteht Michael

Leinsle mit seinem Euphonium.

Wie gerne würde man da mitseufzen.

Nach diesem eher zarten Beitrag

wurde es noch einmal energisch.

Erzählt wurde die Geschichte

der weißen Jungfrau, die in den

Flammen einer Burg stirbt. Man

spürte die Flammen und man sah in

gewaltigen Phrasen die weiße Jungfrau.

Gut, dass dieses gewaltige und

auch gewaltig dargebrachte Opus

das Publikum in die Pause entließ.

Mit dem Song "Just a Gigolo",

der fast den fünfzigsten Geburtstag

feiert beeindruckte Manfred Simon,

bevor im Werk "Virginia" Jacob de

Haan das alte Amerika auferstehen

ließ. Es ging zunächst um die Sklaven

auf den Baumwollfeldern und

die Vorboten des Bürgerkriegs. Mit

ganz zarten Klängen der Befreiung

und der Hoffnung verklang schließlich

diese traurige Geschichte.

Mit dem "Latin Pop Special" voller

südamerikanischer Rhythmen

ging es schon in Richtung Finale,

doch fast zum Schluss kam noch

Kurt Gäble aus Lauben zu Wort.

Sein hinreißender Konzertmarsch

"Salemonia" führt an den Bodensee.

Und dass der Musikverein Bedernau

auch ganz modern kann, zeigten

schließlich noch Pia Haggenmüller

und Fabian Zedelmeier mit "Vivo

per lei" von Andrea Bocelli.

Am Schluss gab es viel Beifall für

das Orchester mit seinem harmonischen

Zusammenklang unter der

Leitung der jungen, starken Dirigentin

Nicole Simon. (xeno)

– kein Wunder findet sich auf

nahezu jedem seiner Gemälde

irgendwo ein Kussmund! Mal

ein wenig versteckt, mal

ganz offensichtlich. Eben typisch

Bergonzoli.

Mauro und Franziska –

zwei Seelen, die aus völlig unterschiedlichen

Verhältnissen

zueinander fanden: Sie Nachkomme

einer überaus vermögenden

Adelsfamilie, wohlbehütet

aufgewachsen im Familienschloss

in Babenhausen. Er

hingegen stammt aus bescheidensten

Verhältnissen, musste

jahrelang jeden Cent zweimal

umdrehen, wurde erst durch

seine Arbeit reich. Gegensätze

ziehen sich eben an – und

manchmal entsteht daraus

auch Großartiges für alle Sinne!

Fotos:

exklusive! 35

Von Tiefenried nach Hongkong: Mauro Bergonzoli stellt aus

Mauro Bergonzoli, der seit drei Jahren mit seiner

Frau Franziska Gräfin Fugger von Babenhausen in

Tiefenried lebt, hat seine Kunst jüngst auf der Art

Basel in Hongkong präsentiert. Der Künstler, der

zum ersten Mal in Asien ausstellt, hat dort eine Live-

Malerei-Performance mit Virtual-Reality-Art gemacht

(siehe Bild oben) – so entstand ein dreidimensionaler,

virtueller, aber echter "Bergonzoli" im für

ihn typischen Pop-Art-Stil (ein Teil davon ist auf

dem Bildschirm abgebildet). Der gebürtige Italiener

Mauro Bergonzoli hat Kunst auf der Straße präsentiert

und in Hongkong auch so manchen Prominenten

getroffen. Das Bild unten rechts zeigt ihn (von

links) mit Sean Lee Davies (Filmproduzent, Fotograf

und Aktivist), Jeanine Hsu (Schmuckdesignerin) und

Raline Shah, einer indonesischen Schauspielerin, der

auf Instagram rund 4,2 Millionen Menschen folgen.

Fotos: Bergonzoli/Davie

Senioren-Café bei

den Maltesern

Live Painting @ Jaguar

Jérôme Boateng and Mauro Bergonzoli

den privaten und insbesondere auch

more news on www.maurobergonzoli.com

Stuhlgang ins Depot

Rathaus Was der Kulturamtschef von neuen Möbeln hält

Unterallgäu kompakt

MINDELHEIM

Tauschring organisiert

wieder ein Repair-Café

Bereits zum dritten Mal wird am

Samstag, 8. April, von 14 bis 17.30

Uhr der Tauschring sein Repair-

Café öffnen. Besucher können ihre

kaputten Gegenstände wie Föhn,

Spielzeuge oder ähnliches ins Jugendcafé

Frox, am Schrannenplatz

4, in Mindelheim bringen und das

Team aus Bastlern versucht, die Gegenstände

wieder funktionsfähig

zu machen. Fahrräder, Laptops

oder Handys werden jedoch nicht

angenommen. Es empfiehlt sich, die

Bedienungsanleitung mitzubringen.

(fman)

Im Malteser Haus, Zeppelinweg 13,

in Mindelheim findet am Samstag,

8. April, wieder ein Senioren-Café

statt. Bei Kaffee und Kuchen informiert

Peter Ullrich außerdem

über das Wichtigste bei der Ersten

Hilfe. (fman)

Briefmarkensammler

treffen sich heute

Die Briefmarkensammler-Gemeinschaft

Mindelheim hat ein neues

Vereinslokal. Zukünftig treffen sich

die Mitglieder und Interessierten

immer am ersten Donnerstag im

Monat um 19.30 Uhr im Wirtshaus

& Restaurant Storchenbräu in Mindelheim.

Am heutigen Donnerstag,

6. April, findet zudem die Jahreshauptversammlung

statt. Die

Versammlung beginnt um 19.30

Uhr, danach ist wieder gemütliches

Beisammensein und Tauschabend.

(mei)

Tagesseminar zum

Frühjahrsputz für Profis

Das Amt für Ernährung, Landwirtschaft

und Forsten Mindelheim

bietet am Donnerstag, 27. April,

von 9.30 bis 16 Uhr in der Mindelheimer

Landwirtschaftsschule

ein Tagesseminar für Fachkräfte

unter dem Titel "Reinigen wie ein

Profi" an. Experten geben darin

grundsätzliche Informationen über

ergonomisches Reinigen, die nötigen

Hilfsmittel und aktuelle Neuerungen

bei Reinigungsmitteln für

den gewerblichen Bereich.

Anmeldungen sind bis spätestens

Freitag, 7. April, über das Bil-
---
S. 66 S. 67

inside the

PARADISE FOR

ARTIST AND

COLLECTOR

Hidden in the rolling hills of Bavaria's

idyllic countryside lies the famous

Country Atelier. Mauro Bergonzoli's

Art Oasis bursts with an endless variety

of flowers, fruits and majestic trees.

Complete with it's own water lily lake,

400 year old farmhouse and 1500m2

gallery space, this "Giverny Paradise"

provides the artist with fresh inspiration

and stimulates his production of new

paintings all year around. It is the

perfect platform for personal meetings

with collectors who travel from near

and far to come choose their favourite

painting or discuss specific wishes for

a commissioned artwork.

Mauro Bergonzoli prefers the Country

Atelier's peaceful and natural energy

to the hectic city life of his hometown

Milan. To relax in between painting

sessions, he tends to his botanical

park, plays the guitar and cooks for

his family and guests.
---
S. 68 S. 69
---
S. 70 S. 71
---
S. 73

Mauro Bergonzoli

international contemporary Artist

born December 24th 1965

Milan, Italy

Painting, drawing, sculpture,

design, animation, film.

Mauro Bergonzoli was born as

the son of an engraver in Milan

Italy on December 24th 1965. In

his father´s workshop he learned

at a young age how to master the

craft of drawing and precision.

At 14 he entered art school and

soon began selling his first paintings

and comics. Following a successful

career in the advertising and

commercial film industry, he

dedicates himself completely

since the year 2000, to the

production of his own original

artwork.

After his exhibitions received

great recognition all around the

globe, Bergonzoli has found his

Country Atelier headquarters

near Munich, Bavaria. With his

modern Neo-Pop-style of painting

he revisits historic subjects and

presents his observer with all

things beautiful.
---
S. 74 S. 75

Exhibitions

Artfairs

2018 Art & Coffee - Exhibtion DINZLER Coffee Roasting Company - Irschenberg, Germany

2017 Exhibition - Mauro Bergonzoli, Awethentic Gallery, Hong Kong, China

2016 "from Picasso and Miro' to Contemporary artists" - Museum Site Oud Sin-Jan,

di Bruges, Belgium

2016 Bergonzoli in Bavaria - Bavarian National Museum - Munich, Germany

2016 Musik and Art with Gerhard Polt, Country Atelier, Bavaria, Germany

2016 Creative Art and Food, Terra Madre, Museo MIIT, Torino, Italy

2016 Jakob in Venedig - Fürst Fuggerbank - Augsburg, Germany

2015 Exhibition Country Life - Country Atelier, Kirchheim - Bavaria, Germany

2015 Jaguar White Nights, Tegernsee, Germany

2014 Bergonzoli in Bavaria – Exhibition Bavarian National Museum – Munich, Germany

2014 Mozart - Exhibition Gut Bannacker – Augsburg, Germany

2014 Mauro Bergonzoli – selected works – Hubert Burda Media –

Communication Highway – Munich, Germany

2014 Magic Bunnies – Exhibition at Egerner Höfe – Rottach Egern, Germany

2013 Pferd International, Munich, Germany

2012 "Göttinnen" – De Martino Gallery, Munich, Germany

"Magic Kisses" – for Wrigley's Spearmint, Galerie Einstein – Berlin, Germany

2011 Moving Images" Scheublein Fine Art Gallery, St. Moritz, Switzerland

"The Magic Trip" Galerie Terminus, Munich, Germany

2010 "Finissage" Fürst Fugger Privat- bank, Augsburg, Germany

2009 "Living and Modern Art" – Fürst Fugger Privatbank, Augsburg Germany

2008 Galleria A.S. Contemporanea, Forli – Museo Mim, San Pietro in Cerro –

Villa Arconati, Milano, Italy

2008 Museo de Arte Tigre, Buenos Aires, Argentina

2007 Galleria A. S., Milano – Venice Art Fair, Forli – 52

Biennale di Venezia, Venice, Italy Autoria Art Gallery, Buenos Aires, Argentina

2006 Galleria Bocca, Milano, Galleria A.S. Contemporanea, Forli – Museo del Parco,

Portofino, Italy

2004 Galleria A.S., Milano – Galleria Studio, Buenos Aires, Argentina

2003 Wilson Art Gallery, Montevideo, Uruguay

2000 Galleria Studio, Buenos Aires, Argentina

2017 Art Basel Hong Kong, live VR painting performance - Awethentic Gallery, Hong Kong

2012 "Grafik 12" Art FAIR , Zurich, Switzerland

2011 Art Miami, Art FAIR, Miami, USA

2011 Art Fair 21, Köln, Germany

2007 Biennale Venezia, live performance for 100 giorni Joseph Beuys – 2007 Venezia, Italy

2007 Venice Art Fair, Forli, Italy

Advertising and Film

in Milan, Italy

1984 First publications of cartoons and storylines for Corrier Boy Cartoon Magazine

1985 Free lance art director and illustra- tor for Unilever, Minolta, Ferrero, Mercedes,

Bayer, Lipton Ice Tea,

1991 Creative director for Transatlantic Milano advertising agency

1993 First advertising agency "Reclam" working for Casio, Lorenz, and BAI BANK

1995 Joint venture with Landó Nardi agency advertising products for Ferrero,

Invicta Sport Wear, De Fonseca, Ras Bank

1997 Joint venture with "No advertising" agency producing campaigns for Diadora Sport

Wear, Ferrero, Scarpe e Scarpe, Nardi cucine, Ciao Web social network for Fiat

1997 Opens advertising agency "Los Angeles" inventing special products for clients:

Kinder Surprise, San Carlo Chips, Wackos, Ferrero Nutella seasonal campaigns,

Varadero Rum, Carrera sun glasses

1998- Director of short films animation made for Ferrero "Esta Thé" and Kinder Surprise,

2003 Nutella Christmas, Executive, Ciao Web, Geox shoes, San Carlo Chips

Other Projects

Group Exhibitions

2013 "Lebensmotor. Was uns antreibt" – Mercedes Benz Headquarters, Munich, Germany

2013 Domaine des Arts – St. Tropez, France

2011 "Wunderkunst Vernissage" Wunderkunst, Art de Vivre, Munich, Germany

2011 Polo + Art – Berenberg Polo Derby – Flo Peters Gallery – Hamburg, Germany

2010 Omeoart, Boiron - Homeopathic Medicine, Lyon,France

2008 Omeoart, Piacenza, Italy – Fondazione D ́ars Oscar Signorini, Castell ́Arquato, Italy

2007 Omeoart, Milano, Italy – Il Colore Del Domani, Palazzo Ducale, Genova, Italy

2014 Mauro Bergonzoli for converse – limited edition – www.notlikeyou.com

2014 Handpainted 6Liter Wine Bottle for Tribute to Bambi charity auction – children in need

2014 Mozart Festival – Augsburg – Exhibition, live painting and charity auction for

gifted children in music

2013 Rita Hayworth 30th Alzheimer's Association Gala – Waldorf Astoria

New York City – Mauro Bergonzo- li painting donated for the silent charity auction

2013 Charity project with Gut Aiderbichl and Mauro Bergonzoli

2013 Hadassah Hospital charity donation of a painting as well as a painted

Mercedes Benz Smart car

2013 Lebenshilfe München e.V. received a donation for a Mauro Bergonzoli painting

auctioned off for charity during the Pferd International 2013 in Munich, Germany

2012 Ritzenhoff "my little Darling" Espresso Cup – designed by Mauro Bergonzoli

– available online
---
S. 76

To purchase

Mauro Bergonzoli

artworks:

@ Country Atelier

Art Tours and personal meetings

with the Artist at the Country Atelier

by appointment only

please call us:

+49 8266 869230

or

+49 178 742 360 6

or write us an eMail:

moneypenny@maurobergonzoli.com

Find Us & Follow

Mauro Bergonzoli

instagram.com/bergonzoli.mauro

facebook.com/bergonzoli.mauro

pinterest.com/bergonzolimauro

@ Website

Starting december 2018 you

can purchase selected Mauro

Bergonzoli artworks, including

Bergonzoli Minis, prints and other

Bergonzoli products via our

website:

www.maurobergonzoli.com

www.maurobergonzoli.com

Artworks & Editorial:

Mauro Bergonzoli

www.maurobergonzoli.com

Text, Photo & Art Curation:

Franziska Countess

Fugger-Babenhausen

Design:

Anakin Design Studio

www.anakin.co

Atelier Photography:

Seifert&Übler

www.seifertuebler.com

Print:

F&W Medien

www.fw-medien.de