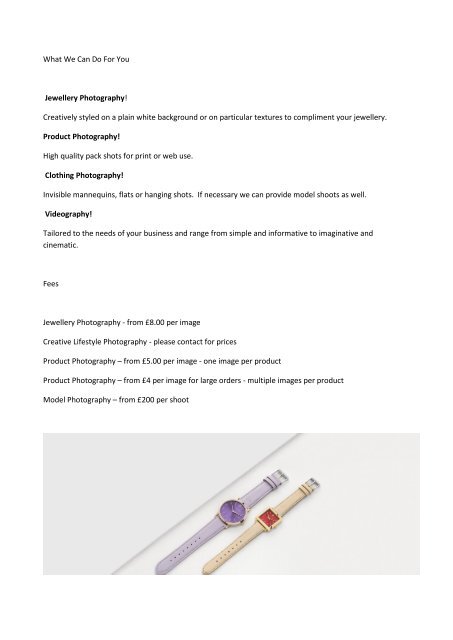 Product photography studio Mondo Olfi is a photography studio located in the heart of Birmingham's famous Jewellery Quarter. The Mondo Olfi team include talented photographers, retouchers and videographers, with broad experiences and expertise. We have over 10 years of e-commerce photography experience, we specialise in fashion and clothing photography, product photography, jewellery photography and creative still life photography.
What We Can Do For You

Jewellery Photography!

Creatively styled on a plain white background or on particular textures to compliment your jewellery.

Product Photography!

High quality pack shots for print or web use.

Clothing Photography!

Invisible mannequins, flats or hanging shots. If necessary we can provide model shoots as well.

Videography!

Tailored to the needs of your business and range from simple and informative to imaginative and

cinematic.

Fees

Jewellery Photography - from £8.00 per image

Creative Lifestyle Photography - please contact for prices

Product Photography – from £5.00 per image - one image per product

Product Photography – from £4 per image for large orders - multiple images per product

Model Photography – from £200 per shoot