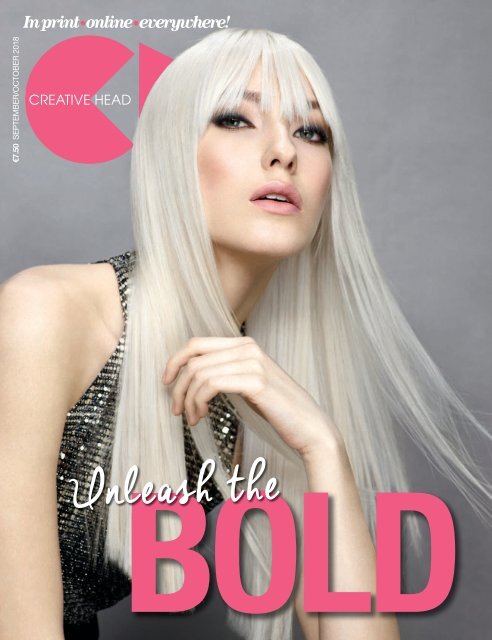 Creative HEAD IrelandSeptember2018
You also want an ePaper? Increase the reach of your titles
YUMPU automatically turns print PDFs into web optimized ePapers that Google loves.
In print•online•everywhere!

€7.50 SEPTEMBER/OCTOBER 2018

Unleash the

BOLD
---
CREATE BOLDLY,

LIVE BOLDLY

REVLON HAS BEEN REVOLUTIONISING GLAMOUR AND BEAUTY SINCE THE 1930S. NOW IT'S TIME

FOR YOU TO UNLEASH THE BOLDNESS IN YOUR CLIENTS WITH REVLON PROFESSIONAL

FOR MORE THAN eight decades Revlon has been at the

forefront of beauty, inspiring generations of women. From its

boundary-breaking representation of independent, charismatic

women of the '70s to the electrifying supermodels of the '90s

and the celebration of the diverse community of empowered

women today, Revlon champions strong, real women. Revlon

Professional, as part of this revolution, brings innovative products

to professionals to help them unleash the bold in their clients.

Bold is an attitude, it's style that turns heads, a force inside

every woman. Today, revealing beauty means looking at any

woman and seeing the best in her. It's about knowing exactly

how to make them shine with a style that's entirely their own.

Revlon Professional is the choice for stylists who understand that

every client is unique. Go ahead, unleash the boldness in every

woman – and in you.

CREATE BOLDLY, LIVE BOLDLY

SEE IT!

CREATE BOLDLY,

LIVE BOLDLY

CAMPAIGN

LAUNCHES

14 JUNE
---
CREATIVE HEAD ADVERTORIAL
---
SPOTLIGHT ON:

REVLONISSIMO

CREATE BOLD, BEAUTIFUL COLOUR AND LET YOUR CLIENT'S PERSONALITY SHINE THROUGH

CREATIVE HEAD ADVERTORIAL

Help clients to live boldly with Revlonissimo, a full

range of professional, permanent hair colour, formulated

with or without ammonia. So what can you expect

when you use Revlonissimo? Vibrant colour and care

with Revlon Professional's colour expertise and advanced

cosmetic ingredients for hair.

• Revlonissimo

Colorsmetique

professional hair

colour is formulated

to perform like a

hair mask. The

result is beautiful,

reliable, long-lasting

shades, stunning

shine and up to 100

per cent coverage.

• Revlonissimo

Colorsmetique

Intense Blonde

lifts up to fi ve levels

with superior toning

power. Powerful

but gentle, it results

in brighter, toned,

strong blondes.

• Revlonissimo

Cromatics gives

show-stopping

vibrant colours

and stunning

fantasy effects.

• Color Sublime

by Revlonissimo

is so much more

than an ammoniafree

colour – it

creates a sensorial

colour experience

with a selection

of fragrances and

provides naturallooking

results.

• Clients can

enjoy 100 per

cent coverage

and double the

shine with High

CoverAge. Infused

with age-restorative

ingredients to restore

the protective lipidic

layer, nine out of

10 women felt their

hair was fuller with

more body.

• Express your

creativity with Pure

Colors. Beautiful,

reliable shades

for intensifying,

achieving deep,

vibrant, cool

colours. Pure

Colour enables you

to personalise every

colour service to

make your clients

feel unique.
---
SPOTLIGHT ON:

STYLEMASTERS

HAIR STYLING IN THE HANDS OF A PROFESSIONAL BECOMES ART. SHOW THEM WHAT

YOU CAN DO WITH REVLON PROFESSIONAL'S STYLE MASTERS

IT'S TIME TO express your creativity in the best possible

way – through hair! But to do this, you need a product range

you know can not only keep up with you, but surpasses all

expectations. Style Masters is what you're looking for.

Each line in the range allows you to explore and reinvent

how you've always styled hair. Whether your clients are

looking for curl definition, volume or smooth locks, there's

something for everyone. Style Masters helps you bring out

the uniqueness in every one of your clients.

While styling is its aim, Style Masters also helps preserve

hair colour as it now comes with

added colour protection and

cares for the most creative

looks, thanks to the specialist

formulas that help you achieve

styles you never thought

possible. Be unconventional,

be passionate and use your

cutting-edge tools to create a

style like no other.
---
CREATIVE HEAD ADVERTORIAL

HAIR HERO!

Curls are in, frizz is out

so you need a curl defining

cream like no other. The

Style Masters Orbital flexible

curl activator is it. It's time to

experience the creative freedom

of a product that will give you

outstanding styling as well

as exceptional care.
---
SPOTLIGHT ON:

EKSPERIENCE

REVLON PROFESSIONAL HAS HARNESSED THE POWER OF NATURE WITH THE PRECISION

OF SCIENCE TO CREATE A NEW THALASSOTHERAPY HAIR RANGE

NOWADAYS, IT FEELS like everyone is obsessed with

all things natural. No harmful chemicals and no plastic,

just effective products that deliver. EKSperience is Revlon

Professional's first thalassotherapy hair range developed

for professionals that offers a highly effective combination

of science and nature, while delivering outstanding

performance. Every formula contains nutrient-rich algae

and pure seawater from the area around Noirmoutier island

in France, rich in elements that are a precious resource for

hair health and wellness. The brand also uses FSC-certified

paper that comes from sustainable, ethically managed

forests and recyclable plastic and glass for the bottles.

Covering everything from thinning hair and scalp care to

anti-frizz, colour care and sebum control, you can be sure

there is something for every client.

IN-SALON SERVICES

Inspired by the sea, science and the senses, EKSperience

is your opportunity to create fresh, tailor-made treatments

that will enhance any salon service, resolving hair and scalp

issues while providing a unique sensory experience.

SCIENCE

Intensive research, development and experimentation with

innovative ingredients.

SENSES

Beauty rituals that bring added value to the ordinary daily

gestures used by the hair EKSperts at the salon.

THE TREATMENTS

Talassotherapy is an exclusive range of in-salon

treatments that tackle sensitive scalp, excess sebum, hair

loss and dandruff.

Reconstruct is an exclusive range of in-salon products

formulated with keratin for reconstructing dry, damaged

and brittle hair.

Boost are versatile products for use in the salon or at

home that can be used on their own or in combination

with other EKSperience products.

SEA

Formulations made from precious elements that come

from the sea. EKSperience contains Aquamaris complex,

an exclusive mix of pure seawater and marine ingredients.
---
CREATIVE HEAD ADVERTORIAL
---
TAKE CONTROL

SOLUTIONS FOR HAIRCARE AND SCALP ISSUES THAT YOU CAN USE AT THE BACKWASH AND CLIENTS

CAN ENJOY IN THE COMFORT OF THEIR OWN HOME FOR A PERSONAL HAIR EKSPERIENCE

The Purity range is formulated to cleanse

with maximum effi cacy.

The Sebum Control range helps control

excess sebum and leaves the hair soft, light

and hydrated.

The EKSperience Hydro Nutritive treatment

provides nourishment with a re-mineralising

and hydrating action.

EKSperience Anti Hair Loss range

strengthens hair fi bre and has a

re-mineralising and astringent scalp action.

EKSperience Densi Pro returns vigour and

vitality to hair that has become thin and dry

due to ageing.

Scalp Comfort is formulated to soothe and

moisturise while gently cleansing.

For coloured and treated hair, EKSperience

Color Protection creates a protective barrier

to maintain colour for at least fi ve washes.

EKSperience Wave Remedy controls hair

that is diffi cult to manage, providing hydration,

frizz control and humidity protection.

BRING OUT THE BEST IN YOUR CLIENTS WITH REVLON PROFESSIONAL. TO FIND OUT MORE, CALL 020 7391 7440 (UK),

01 886 9300 (IRELAND) OR VISIT REVLONPROFESSIONAL.COM. FOLLOW ON SOCIAL MEDIA @REVLONPROFESSIONALUK
---
CREATIVEHEADMAG.COM

MAGAZINE EDUCATION EVENTS INSPIRATION CREATIVE HEAD STORE COMPETITIONS

They came, they partied, they OWNED the night! Catch up with all things

MWIT18 and meet our new Most Wanted champions

Catch our new Guest PAINTERS this

season – Zoë Irwin (pictured), Robert

Eaton and Clayde Baumann!

See what happened when we got colour

giants Larisa Love and Sophia Hilton

together for the first time to chat...

Inspired by '20s photographer

Man Ray, Emily Sweetman crafts a

collection that is stark in its softness

creativeheadmag.com

creativeheadmagofficial

@creativeheadmag
---
S T R I V E

T O B E

UNRIVALLED

TAKE YOUR PLACE AMONGST THE CRÈME DE LA CRÈME. BECOME A GREAT LENGTHS

EXTENSIONIST TO UNLOCK LIMITLESS LOOKS AND CREATIVE POSSIBILITIES.

Our extensions are 100% human hair. We have a global reputation for excellence and an inspiring team of expert educators.

Great Lengths is in a class of its own. Don't you want to be a part of it? Find out how you can become a

Great Lengths certified stylist.

GREATLENGTHSHAIR.CO.UK/BECOME-A-CERTIFIED-STYLIST
---
Editor's letter

34

58

The power of the hairdressing industry is such that it never

stays still for long. In recent years one of the biggest changes

has been the rise of barbering, with male grooming routines

becoming the norm and barber shops popping up on every high

street – and the modern man wants so much more than just a short

back and sides. We look at the grooming boom on page 30 and discuss

what this means for established barbers. The ever-changing world of hair

also means new trends and techniques are constantly being developed

and, with clients more informed than ever, it's up to you to get educated.

Flip to page 26 and find Creative HEAD's picks of the latest courses

that sharpen your skills and ignite your imagination. But of course

it's not all work and no play – we hosted the Creative HEAD Most

Wanted Grand Final in London, celebrating the brightest lights

of Irish and British hairdressing. Find all the gossip on page 58,

and congratulations to Dylan Bradshaw and Lloyds Hair, our

fabulous winners!

18

Anna Samson

Editor

anna@alfol.co.uk

creativeheadmag.com

creativeheadmagofficial

@creativeheadmag

06

CREATIVE HEAD IRELAND
---
001 RM_Cover_GW11.indd 1 01/08/2018 15:10

September/October

WHAT'S INSIDE

In print•online•everywhere!

€7.50 SEPTEMBER/OCTOBER 2018

SEPTEMBER/OCTOBER 2018

30

ON

THE EVOLUTION OF MAN

Male grooming s booming, so what does the modern

barber look like and how can you join in the gold rush?

CREATIVEHEADMAG.COM

Unleash the

BOLD

THE COVER

Hair by Revlon

Professional

THE

Outliers

Issue #01 2018

50

Free inside

The Outliers

The innovators and salons

disrupting the status quo

FASHION

The Wella Professionals Style Council's

new collection is dappled in sunlight

26

SHARPEN

YOUR SKILLS

We pick out the key courses

for your salon this autumn

EDITOR

ANNA SAMSON

EDITOR IN CHIEF

AMANDA NOTTAGE

ART DIRECTOR

NICK JABBAL

DIGITAL DESIGNER

EVA VESTMANN

CHIEF SUB EDITOR

ADAM WOOD

CONTRIBUTOR

BETH DAVIE

DIGITAL ASSISTANT

KELSEY DRING

ONLINE AND

DIGITAL EDITOR

ALISON ROWLEY

ADVERTISING

LAURA TUCKER

CLASSIFIED EXECUTIVE

DAVID HAMMOND

SPECIAL PROJECTS MANAGER

JENNY BROOKS

SPECIAL PROJECTS DIRECTOR

JOANNA ANDERSEN

PUBLISHER

CATHERINE HANDCOCK

Creative HEAD is printed on

paper certifi ed as being from

sustainable sources using only

vegetable-based inks. Printed

by Buxton Press, Environmental

Printer of the Year and Printing

Company of the Year.

WRITE TO US AT:

Creative HEAD Ireland

21 The Timberyard,

Drysdale Street,

London, N1 6ND

+44 20 7324 7540

anna@alfol.co.uk

Creative HEAD Ireland is published

6 times a year by Alfol Ltd.

Creative HEAD is a registered

trademark. No part of this magazine

may be reproduced without prior

permission of the publisher. All

information correct at time of going

to press. Printing by Buxton Press.

creativeheadmag.com

creativeheadmagofficial

@creativeheadmag

08

CREATIVE HEAD IRELAND
---
The edit

THE NEWS AND KNOW-HOW FROM YOUR INDUSTRY

Dylan Bradshaw

APPRENTICESHIP

CONSULTATIONS

TAKE PLACE

ACROSS THE

COUNTRY

FOLLOWING THE ANNOUNCEMENT

of an Irish apprenticeship in professional

hairdressing for the first time last year,

a series of consultation workshops have

been held around Ireland.

Entitled 'Shaping the Future',

these events were an opportunity for

hairdressing experts to unite and discuss

the new apprenticeship.

The events took place in Carleville in

Cork, Naas in Kildare and Carrick-on-

Shannon in Leitrim.

Attendees were given the opportunity

to meet those developing this new

apprenticeship and hear how it will affect

the industry and drive standards forward.

Participants were also encouraged to

propose modules and course content, and

the data collected from these workshops

will now be analysed to help create the

apprenticeship programme, ensuring it

covers everything needed for youngsters

to thrive in a modern salon.

Bridget Haren, president of the

Hairdressing Council of Ireland and

owner of Bridget Haren Hair & Beauty,

said: "This is going to be fantastic for

hairdressing in Ireland. It will most

certainly create opportunities and

attract young people into careers in

hairdressing.

"It will also provide them with

recognised qualifications, which

they can use to further progress their

career or indeed have the paperwork

to travel internationally."

Future briefings will be published at

hairdressingapprenticeship.ie.

Lloyds Hair

DYLAN HAT-TRICK

IS EXCEPTIONAL!

DYLAN BRADSHAW HAS scooped the Exceptional Stylist title at the Creative

HEAD Most Wanted Awards at the Natural History Museum in London, his

third consecutive win. This means that in 2019 he will be crowned a Most

Wanted Legend! The prestigious title is awarded to those who have won the

same category three times, proving their incredible expertise in the field. The

Exceptional Stylist trophy is for a hairdresser who has displays remarkable

artistic skill. Joining Dylan in flying the flag for Ireland was Lloyds Hair from

Waterford, who picked up the trophy for Most Wanted Supreme Team for the

second year running, thanks to their incredible teamwork and passion. Want all

the news from the night? Head to page 58 for the lowdown!

People tend to overuse the word 'innovation', but when we say

Wella Professionals' Koleston Perfect with ME+ is the brand's most

revolutionary colour innovation in more than a century, we mean

it. This is because Koleston Perfect with ME+ features breakthrough

technologies, Pure

Balance Technology and ME+,

proven to deliver rich results with

less damage, colour after colour.

It also reduces the risk of developing

a new allergy to hair colour.

Katherine Ryan

10

CREATIVE HEAD IRELAND
---
#CHedit

A ROSE IS A ROSE

FOR SEAN TAAFFE TEAM

FOR THE THIRD year, Sean Taaffe salon group partnered with the Rose of Tralee festival to

be the official hair and makeup sponsor. Preparations for the day began three months before

the event, and the team put together a lookbook before meeting the Roses ahead of the big

day. "This year our lookbook showcased a lot of soft, textured styles, simple hair worn down.

Make-up was dewy and all about the lips, showcasing lots of bright and bold colours," explains

Kara McDonagh, general manager at Sean Taaffe group. "We set up in the Festival Dome and

start working on the Roses – it's manic but so much fun! Hair is prepped in one area and then

sent to styling, and we broadcast live to our clients, bringing them behind the scenes."

MOVERS AND SHAKERS

At Wella Professionals, Robert Eaton, from

Russell Eaton salons, has been made UK and

Ireland technical director and will work with the

Wella Colour Creatives and deliver a selection of

Master Colour courses. The New York-based stylist

Richard Mannah joins Joico as international guest

artistic director. Callum Marks is the new brand

ambassador for The Bluebeards Revenge, Callum

is manager of Luka's Barbers in Plymouth, UK.

Antony Strianese has been announced as the new

managing director of ghd for the UK and Ireland.

SHOW YOUR

FANTASTIC SKILLS

The ALFAPARF Milano Fantastic Hairdresser

Awards will take place at the Royal Dublin Society

on the 11 November. There six creative, one

photographic and three business categories, along

with creations from Paul Stafford and the ALFAPARF

Milano Nexxt Generation Style Ambassador

Creative Team. Visit xpertpro.ie for closing dates

and information on entry requirements.

WELLA SCOUTS

YOUNG TALENT

WELLA PROFESSIONALS has named its

eighth Generation Now Team, and it includes

Roisin Hynes (pictured, below left) from Sarah

Mason Professional.

The hand-picked hairdressers on the team

will undertake an 18-month programme

designed to help them make their mark on

the industry. Their experience begins with

an intensive boot camp where they will be

mentored by industry stars. They will also

learn about presentation work, media relations

and products, before embarking on a schedule

of events including the Wella Professionals

TrendVision Award UK & Ireland final.

MY months

AHEAD

What September

and October

have in store for...

MICHELLE CHRISTLE

CHRISTLE HAIR

COMPANY

I have been selected

for ALFAPARF Milano's

Panel of Style Experts.

I'll see the latest

innovative products and

educate stylists and clients on

how to use them! I've recently

filmed three videos using the

Style Stories range which will

be released soon. I'm also

starting an education video

blog aimed at clients and their

everyday hair problems...

exciting times ahead!

HOLLY O'KEEFFE

PETER MARK

I oversee and manage

the delivery of the

training courses, along

with actively teaching

students on a daily

basis, and we've a

busy schedule! A key focus

will be our apprenticeships,

which entail induction for

first years to the Peter Mark

brand, foundation colour

courses and cutting courses.

We will also be running

training for senior stylists and

starting to think about next

year's courses.

MARIA CALLAGHAN

TONI&GUY

Our new collection

will be launched in

October, straight

after London Fashion

Week, which we have

always been heavily

involved with. Once launched

we provide workshops

across all our salons to teach

the newest techniques in

both colour and cut that form

the foundation of the latest

creative and inspirational

looks for 2018/2019.

CREATIVE HEAD IRELAND

11
---
American Crew Beard

Cleanser refreshes, cleanses

and conditions beards,

removing dirt and product

build-up to leave them feeling

fresh and healthy.

RRP €15.40

01 8869300

americancrew.com

Superstar colourist Guy Tang has launched an amazing

45 new #mydentity shades – there's everything from

gorgeous nudes to deep blues, so you can let your

creativity run wild in the salon.

IN-SALON SERVICE

1890 253402

salon-services.com

Banish brassy tones with the

new milk_shake Silver Shine

Conditioner. Full of milk

proteins and organic fruit

extracts, you can maintain

an ideal moisture balance,

while neutralising any

unwanted yellow tones.

RRP FROM €14.69

+44 1392 365177

milkshakehaircare.co.uk

Wetbrush keeps knocking

it out of the park with its

seasonal updates. We love its

gemstone-inspired, soothing

shades, but if you prefer

to add a little spice to your

life, opt for vivid colour

with the bold and beautiful

Moroccan collection.

RRP €15.99

+44 800 0988040

prowetbrush.com

The blonde trend isn't going anywhere, so the

lightweight JOICO Blonde Life Brilliant

Glow Brightening Oil is an essential for

light-haired clients. Perfectly clear, it

doesn't turn yellow like some oils and

it provides incredible shine. Thanks to

its de-frizzing abilities, hair is smooth

and silky, and colour is brightened and

left looking amazing. And, there is 87 per

cent less breakage on treated hair – so

blonde hair looks better for longer. Then

there's the JOICO Blonde Life Brilliant

Tone Violet Smoothing Foam, which

neutralises brassiness and polishes

strands. Apply before styling and

enjoy soft, touchable hair.

JOICO BLONDE LIFE BRILLIANT

GLOW BRIGHTENING OIL RRP €25,

JOICO BLONDE LIFE BRILLIANT

TONE VIOLET SMOOTHING FOAM

RRP €22

045 856487

xpertpro.ie

BLONDE

CARE

Color Gels Lacquers by

Redken is a permanent

liquid colour that offers the

saturation of a gel and the

mirror-shine of a lacquer –

it's really that good. And it's

designed to work perfectly

with Redken's Shades EQ.

IN-SALON SERVICE

+44 845 6600815

redken.co.uk

Pureology has

launched its first

styling range with

built-in colour

care. Style +

Protect System

includes Beach

Waves Sugar

Spray for

effortless styling,

and Shine Bright

Taming Serum to

tame flyaways.

RRP €26 EACH

+44 845 6000 815

pureology.co.uk

The new moisture plus range from milk_shake

is infused with organic papaya extract;

the shampoo, conditioner and whipped

cream are an indulgent yet effective

way to give hair a hit of hydration.

RRP FROM €15.99

+44 1392 365177

milkshakehaircare.co.uk

Clients with dry hair are in

luck as L'Oréal Professionnel

has added Nourishing

Shampoo to its Source

Essentielle range. It includes

jasmine flowers and sesame

oil and 96 per cent naturalorigin

ingredients.

RRP €20

01 6045918

lorealprofessionnel.co.uk

12

CREATIVE HEAD IRELAND
---
#CHedit

STOCK

OPTIONS

OUR PICK OF THE LAUNCHES TO

STACK ON SHELVES, ADD TO MENUS

AND SHARE WITH YOUR STYLISTS

LAUNCH OF

THE MONTH

What if you could predict your

client's hair needs before they could?

That's what ghd is offering with its

new platinum+, the world's first

predictive heated styler that adapts

to your client's personal hair needs.

Developed by the clever bods at

the ghd labs over a period of five

years, new ultra-zone with predictive

technology is the latest breakthrough

in heat styling and guarantees

consistent heat across the whole

straightener plate. This means the

straighteners are able to recognise the

thickness of the hair, the section size

and the speed at which you're styling,

and adjust as your working to

maintain the optimum styling

temperature. Long live good hair

days with ghd platinum+.

RRP €225

+44 845 3300 1133

ghdhair.com

IT'S ALL ABOUT... BOLD COLOUR

Schwarzkopf Professional

colour director, Rossa

Jurenas, and hair artist Linh

Phan, co-create deep and

seductive midnight colours

in the brand's third and final

IGORA #RoyalTakeover.

IN-SALON SERVICE

0800 526741

schwarzkopf-professional.

co.uk

Whatever the occasion, give your

clients a flash of colour with

#COLORFULHAIR Flash Pro Hair

Make-Up by L'Oréal Professionnel.

Just like applying eyeshadow, it

coats hair in pigmented colour that

washes out in one shampoo and is

visible on all hair bases.

IN-SALON SERVICE

01 6045918

lorealprofessionnel.co.uk

CREATIVE HEAD IRELAND

13
---
BOOST YOUR

BUSINESS WITH

ZEBA HAIRDRESSING GROUP IN DUBLIN (@ZEBAHAIRDRESSING) HAS MADE THOUSANDS SINCE THE LAUNCH OF SMARTBOND, THE

REVOLUTIONARY BONDING AGENT FROM L'ORÉAL PROFESSIONNEL. THE SALON GROUP HAS FOUND SMARTBOND INCREDIBLY EASY

TO SELL AND IT'S NEVER NEEDED A HARD PUSH AS CLIENTS GENERALLY WANT TO HAVE STRONG AND SHINY HAIR AFTER A COLOUR

SERVICE. FOR ZEBA HAIRDRESSING GROUP, SMARTBOND HAS CHANGED EVERYTHING, WITHOUT CHANGING ANYTHING. SALON DIRECTOR,

RICHARD DROMGOOLE, SHARES HIS TOP TIPS ON HOW TO MAKE THE MOST OF SMARTBOND IN THE SALON…

1 Create a language to ensure that all staff can talk to clients about Smartbond in the same way.

2 Ensure a little extra time is given to the whole colour appointment when using Smartbond.

3 Don't forget that Smartbond can be used as a standalone service. It really helps even out the porosity in naturally grey hair,

leaving the hair looking smoother and more manageable.

THE FIX

This stunning look was created by Melo Yelo

colourist, Kayleigh Bullman, with the Hugh Campbell

Hair Group (@hughcampbellhairgroup) using

L'Oréal Professionnel Botanēa.

Step 1: Shampoo with Source Essentielle Daily.

Step 2: Mix and apply the Medium Brown recipe

as a base colour. Develop for 60 minutes.

Step 3: Mix 90g of Henna + 10g of Indigo with

300 ml of water at 50˚C and apply to the lengths

and ends.

Step 4: Rinse and care using the Source

Essentielle range.

Share your transformations using @lorealpro

#botanea #empoweredbynature #lorealproire

RETAIL REHAB

Complement Botanēa with Source

Essentielle's Daily Shampoo

by L'Oréal Professionnel. This

lightweight shampoo

is suitable for fine to

normal hair.

With at least

80 per cent of

ingredients of

natural origin,

it is a perfect

everyday

product.

14

CREATIVE HEAD IRELAND
---
Be a

COLOUR

ADDICT

EMBRACE THE TREND FOR

ALL THINGS NATURAL

CREATIVE HEAD ADVERTORIAL

Have you noticed how increasingly aware your clients

are becoming about what they use, what they eat

and what they do? With the natural hair market growing

more than twice as fast as the professional market,*

Botanēa by L'Oréal Professionnel is your opportunity to

gain a new kind of colour client.

This 100 per cent herbal colour benefits from

the expertise of L'Oréal Research and offers a true

professional result for clients keen to try colour but have

perhaps previously been put off by the use of chemicals.

It's the perfect opportunity to recruit new clients to your

salon or lapsed colour clients that need to be drawn

back. You can't afford not to invest in Botanēa.

*Source – Natural haircare: Natural Personal Care: UK. Market

Analysis and Opportunities, Kline, 2016. Source – Professional

market: Salon Hair Care: United Kingdom Market Analysis

and Opportunities, Kline, 2017

BOTANĒA

Hugh Campbell, owner of Hugh Campbell Hair Group,

says: "Having Botanēa in the salon means we can now offer

a 100 per cent natural, professional colour service. With

lifestyle trends impacting salon demands, more clients have

been asking for natural chemical free products to be used.

"Botanēa is a sensorial experience – it smells like green

tea – and the clients are part of the service, seeing it all

mixed in front of them. It gives incredible condition and

shine to hair and means we can now cater for all clients,

including vegans and those concerned about chemicals."

DO THIS NOW

1)Identify your potential Botanēa clients. They might be

new or might not have coloured in some time.

2)Explain how Botanēa is different from existing colour.

Use the Botanēa digital diagnostic tool to choose the

perfect shade.

3)Create a unique salon experience. Engage your clients

by mixing the herbal ingredients in front of them.

4)Spread the word – promote #Botanea on your social

media channels and get up-to-speed on all things Botanēa

at lorealaccess.com

Get further addicted to colour with L'Oréal Professionnel – call 0800 030 4034 or visit lorealprofessionnel.co.uk

CREATIVE HEAD IRELAND

15
---
#CHedit

LIFE

LESSONS

KATHERINE

SWEENEY

FOUNDER, PREEN

My team is everything.

Without my team I can't

provide our customers

with first class service and

hairdressing expertise, so

my team is as important as

our customers. I always look

for ways to reward staff for

their hard work and loyalty.

Happy hairdressers equals

happy clients!

The anti-hierarchy policy.

I have an open door policy and

my team know they can speak

to me about any issue within

the salon no matter how big

or small.

Work 'on' the business not

just 'in' the business. I'm

learning that for me to get

PREEN to the next level that

I need to dedicate more time

to working 'on' the business.

Enjoy the journey! Success

is a journey not a destination,

and I try to enjoy all the small

victories along the way – that

could be a new monthly

target smashed, an assistant

finally nailing a haircut or

just appreciating the amazing

salon atmosphere we have

created at PREEN.

WHY DID YOU WANT TO BE A

HAIRDRESSER?

I've been around hairdressing

all my life, with my mum

being a hairdresser. I always

used to be in the salon and

was always watching colours

and creative cuts being done.

I remember when L'Oréal

Professionnel brought

out Hair Chalk, I was

9 or 10 at the time

and absolutely

amazed you

could put these

vibrant, fluorescent

colours through your

hair! Constantly seeing

inspiring hair work had

a real influence on me.

CALLUM O'DONOVAN

AGE: 16. SALON: THE EDGE HAIR DESIGN CORK

WHAT ARE YOUR HIGHLIGHTS SO FAR?

My biggest highlight so far was definitely

winning the L'Oréal Colour Trophy Star

Award this year. I remember going to all the

competition photoshoots for the Edge Hair

Design when I was younger and even then

I knew I wanted to win one! I entered L'Oréal

Colour Trophy just for the experience so

to get through to the semi-final was a huge

shock – I was ecstatic! I will never forget

being so nervous going into the Star Award

interview, getting the final I felt like I had

already won. I can still hear Headmasters'

Siobhan Jones calling out my name and me

just freezing in my exact position!

WHERE DO YOU SEE YOURSELF IN 10 YEARS TIME?

I would love to be inspiring the next

generation, in the way I am influenced by

Adam Reed, Siobhan Jones, Frédéric Pavard

and Eileen McGrath. To inspire someone

would be incredible. I'd also love to win a

L'Oréal Colour Trophy – who wouldn't!

WHAT IS YOUR DREAM HAIRDRESSING GIG?

My dream gig would be to create my own

L'Oréal Colour Trophy show – I feel that's

when you know you've made it! I would also

definitely love to work backstage at London

Fashion Week.

16

CREATIVE HEAD IRELAND
---
products that will leave your hair looking

gorgeous and smelling divine

DISCOVER MORE AT MILKSHAKEHAIRCARE.IE

milkshakehairireland

0044 1392 365177
---
#CHedit

Inside

story

INTERNATIONAL

INSPIRATION

HERSEHSONS LONDON

London institution Hershesons sets the bar for salons all over the world,

and the new fl agship in Soho looks, feels and behaves like nothing you've

ever seen before. The space combines hair salon with beauty services

as well as a café, work and social space. "The old salon model is dead,"

says creative director Luke Hersheson, who worked with an architect for

12 months on the concept. "It's a space that is built around our customer.

It's all about her and fi tting in with her life." There are numerous details that

break with the norm – mirrors are retractable so clients don't have to keep

staring at themselves during long processes, and they can choose where

they sit for comfort. "By mixing things up and putting things in unexpected

places, it completely changes the client experience. It removes the

intimidation factor." And staff love the new Hershesons, too – "They love

that every chair has a full set of equipment so they can work anywhere and

everywhere, and it's all on one fl oor." Job done.

HOT BUYS

SMALL AND MIGHTY

Slightly over a metre

in depth, the Compact

shampoo unit from

Salon Ambience delivers

on comfort and optimises

on space. It's also available

in four colours.

€799

0862427187

capitalhairandbeauty.ie

SEE MORE from Salon Ambience in the free

brochure with this issue of Creative HEAD Ireland!

THE A-LIST

The Welonda Alpha 1000 is a smart choice for a

barber, with its modern shapes and sophisticated

finish along with everything you need from a chair.

€2,300 (+VAT)

045856487

xpertpro.ie

18 CREATIVE HEAD IRELAND
---
TRAIN FOR

EXCELLENCE

THE ROBERT CHAMBERS HAIRDRESSING ACADEMY IS THE

FIRST ESTABLISHED AND LONGEST RUNNING HAIRDRESSING

SCHOOL IN IRELAND. THIS YEAR THE ACADEMY CELEBRATES

36 YEARS IN EDUCATION AND THE LEARNING GOES ON,

HERE'S A SELECTION OF WHAT'S ON OFFER FOR 2018/2019.

6 Month Fast Track Course

If you are a third or fourth year Trainee Hairdresser and want to finish your training

and qualify as a Graduate Stylist, this course is tailor-made and specifically designed

for YOU.

COURSE CONTENT: All aspects of modern, commercial hairdressing.

AWARDS: Robert Chambers Certificate of Qualification, Wella Certificate in

Foundation & Correction Colour.

DURATION: 6 months full-time or 10 months part-time. 9.30 - 5.30. Clients provided.

START DATES: October / January / March / June

REQUIREMENTS: Assessment and interview

COST: €4,999 - €500 discount for first 10 applicants before end of September, 2018.

Limited places available.

Advanced Diploma Hairdressing Course

The advanced diploma in Hairdressing is an intensive beginners course which

will qualify you to Graduate Stylist, in all aspects of hairdressing, in 16 Months.

Limited places available.

COURSE CONTENT: Theory, blow-drying, dressing hair, up-styling, heat styling,

perming, advanced colour and colour techniques, advanced cutting, salon

etiquette, customer services and communication.

AWARDS: Robert Chambers Advanced Diploma accreditation,

Qualified Advanced Graduate Stylist, Wella Certificates in

Foundation, Advanced and Corrective Colour,

Wella Certificate in Perming & System Professional.

DURATION: 16 months, full-time. Monday - Friday 9.30 - 5.30

START DATES: October / March

REQUIREMENTS: No former experience needed

COST: Leaving Cert Special for first 10 applicants

before end of September, 2018.

STAR PUPILS!

ROBERT CHAMBERS CAN HELP YOU CARVE

OUT AN INCREDIBLE CAREER – BUT DON'T

JUST TAKE OUR WORD FOR IT...

JOHANNA PITKANEN

TECHNICAL EDUCATOR FOR TIGI SOUTH WEST UK

"I loved my time at The Robert Chambers School of

Hairdressing. The teachers were amazing!

I learned so much and have gone on

to do amazing things. I am currently

Technical Educator for Tigi covering

the South West UK and work along

side the International Creative Team in

London. I worked at Lunatic Fringe Dublin

after my training and managed a salon in Melbourne

Australia. I am so happy I chose to go to The Robert

Chambers School of Hairdressing. It gave me the skills

and confidence to take my career anywhere!!"

FERGAL DOYLE

FIELD EDUCATOR AT WELLA PROFESSIONALS IRELAND

"I completed the course with Distinction and went

on to become a stylist in Lunatic

Fringe, Dublin, Trevor Sorbie

and Hob Salons in the UK. I am

now a Field Educator for Wella

Professionals Ireland. My career

couldn't have reached the glamorous

heights that it has without the education and solid

foundations I received as a student at the Robert

Chambers Academy."

If you would like to fast track your hairdressing career with Robert Chambers, renowned all over the country and abroad for his

reputation and status as an icon of Irish hairdressing and education, then call 01 677 1323 or email academy@robertchambers.ie

for an interview or tour of the academy or to secure a place on one of the courses.
---
THE SECRET TO…

A SUCCESSFUL INTRODUCTORY OFFER

THE BUSINESS EDIT

CAN ALTRUISM

HELP YOUR SALON

FLOURISH?

It's back to school this month,

which means clients are in the

mood to change up their routines

and start afresh, creating a great

opportunity for hair salons to attract

new customers, be it with fresh

highlights or a clean cut.

To cater to this group, you'll want

to be prepared with an attractive,

easy-to-implement introductory

off er – so make sure your off er has

the following features:

A DISCOUNTED, MULTI-APPOINTMENT

PACKAGE: Bring clients in at a

discounted price with the intent

of creating an optimal experience

that will help them see the value of

returning at full price. Off er more

than one appointment and include

a frequency recommendation. Clear

expiration dates also drive a sense

of urgency to book.

THE RIGHT PRICE: Remove the

pricing barrier that may have kept

potential clients from visiting your

salon. However, the goal is to retain

new clients, so you need to ensure

the entry price isn't too low. Don't

price so cheaply that it undervalues

what you off er.

EASY IMPLEMENTATION: Keep it

simple for you and your staff to

manage and sell, as well as easy for

clients to purchase. Make sure salon

software can facilitate new offers and

track the ones that are working.

IN ASSOCIATION WITH

For more salon-savvy secrets by MINDBODY,

visit uk.mindbodyonline.com

FOR ONE DAY every year, Lloyds Hair in

Waterford opens up from 11am until 4pm,

and the staff work for free – instead of filling

the tills, they donate their fees to a local

breast cancer charity.

It doesn't sound like a great decision

in terms of your cash takings, but owner

Danielle Kennedy believes that this yearly

event is actually a powerful tool for her

business profile.

"Our biggest charitable event every year

is our Annual Breast Cancer Fundraiser,"

explains Danielle, whose team at Lloyds

Hair won the Supreme Team title at both the

2017 and 2018 Most Wanted Awards. "We do

free blow-drying and up-styling in return for

donations. The lead up to, and the day itself,

is full of excitement and it creates a huge

positive energy around the salon. To date

we've raised nearly €15,000 for a local breast

cancer charity and it's something we, as a

team, are proud of."

Lloyds Hair also runs collections for

homeless charities throughout the year, and

has recently run a collection for a salon built

by Munster Chernobyl Aid.

"From a team perspective, giving back

to the community around us improves

morale and increases job satisfaction," says

Danielle. "We have quite a large budget

for donations of spot prizes (about €5,000 a

year) but still received requests we couldn't

honour, so in 2016 we changed our protocol

and now we only sponsor prizes for events

our clients are involved with.

"Clients are never refused a donation and

this helps us to strengthen our relationship

– giving back to our clients is a powerful

marketing tool.

She continues: "I think anyone in the

hair industry is naturally altruistic, as it's

ingrained in us to want to make people

feel fantastic and to make people happy.

Hold a team meeting and pick a charity or

charitable activity together – if it's part of

your salon's culture then everyone should

have a part in it."

It's this same philosophy that made

Siobhan Laffan, a stylist at Peter Mark Naas,

make contact with the UK-based charity –

and 2018 Most Wanted Award of Innovation

winner – Haircuts4Homeless and help set

up a project in Capuchin Day Centre in

Dublin. "We're basically a group of skilled

hairstylists and barbers who give up

our time once a month to cut homeless

people's hair free of charge," she explains.

"We've now set up a second project in

Limerick and our plan is to branch out all

across the country."

While it might seem to be a small thing

to offer a haircut to homeless person for

free, the charity Haircuts4Homeless has

found that spending time with someone on

the street and giving them the chance to

smarten up their appearance works wonders

for their mental wellbeing.

And by giving a boost to those in need,

your team will also feel invigorated. "It's

great to get everyone in the salon involved,

whether it's bringing them along to cut hair

or help with fundraising – it creates a good

buzz in the salon," adds Siobhan.

Aidan Fitzgerald, owner of Aidan

Fitzgerald in Blackrock, Dublin, also

understands the positive links between

altruism and business. "We specialise in

wigs for cancer patients, as fashion wigs are

not always suitable," he explains. "When

you lose a key part of your appearance, you

lose part of your identity – you might be

in and out of hospital dealing with doctors

and nurses, but nobody deals with your

hair. We realised this and saw that helping

these patients could add another side to our

business and open up another avenue."

20

CREATIVE HEAD IRELAND
---
BY

FOR URBAN MEN WITH A DISTINCT TASTE

PROFESSIONAL PRODUCTS FOR ALL BARBERING AND GROOMING NEEDS;

HAIR CARE, HAIR STYLING, FACE CARE & BEARD CARE

FULL RANGE AVAILABLE IN STORE AND ONLINE NOW!

salon-services.com/barbering-supplies 1890 253 402 In store

Stay inspired!
---
LONG LIVE

THE QUEENS

ALL HAIL PLATINUM+

The world's 1st SMART styler

that predicts your hair's needs.

#longlivethequeens

#ghdbreakthrough

For more information and to become a stockist,

contact your ghd account manager or call +44 (0) 1924 423400.
---
#longlivethequeens

CREATIVE HEAD ADVERTORIAL

A ERA

newMeet the fi rst smart styler: the ghd platinum+.

This ground-breaking gadget is what your kitbag

has been waiting for: with predictive technology,

it can calculate exactly what the hair needs, for

smarter styling and perfect results every time

*Versus a styler working at 230˚C. **Versus naturally dried hair.

THE TECHNOLOGY

A team of scientists and engineers worked for five years, accumulating 760,000

hours of testing, to create the breakthrough technology that makes the ghd

platinum+ so special.

Predictive technology – ghd platinum+ recognises the thickness of your hair, the

size of section and styling speed, adjusting the temperature to consistently style

at 185°C, for ultimate results on all hair types.

Infinity sensors – heat is measured 250 times a second, to ensure that the

optimum, safer-for-hair styling temperature is maintained.

Ultra-zone monitoring – heat is monitored and controlled over every millimetre of

the styler plates, for consistent results.

The results – 70 per cent healthier hair* with 20 per cent more shine** and twotimes

more colour integrity; so you can be sure clients' hair looks and feels better.

WHAT THE EXPERTS SAY…

"We've taken sensing and heating technology to

the physical maximum with platinum+. This styler can

ensure definitive styling longevity and shine, without

the damage. It is the ultimate hair styling tool"

Dr Tim Moore, ghd vice-president of smart devices

"ghd has just made the best styler even better! What

I love most about the ghd platinum+ is that it features

the most incredible SMART technology that adapts

to every individual's hair needs and this has made

styling so easy for me. I know I will get a consistent

result and a beautifully smooth finish across every

hair type"

Adam Reed, salon owner, session stylist

and ghd global ambassador

To discover the smartest styler ever, contact your ghd account manager or call +44 (0)1924 423400

CREATIVE HEAD IRELAND

23
---
HERE COME

THE GELS

PERMANENT HAIR COLOUR WITH LOW AMMONIA, INTENSE SATURATION AND

SHINE? REDKEN'S NEW COLOR GELS LACQUERS OFFER LONG-LASTING COLOUR

AND 100 PER CENT GREY COVERAGE. ARE YOU READY?

24

CREATIVE HEAD IRELAND
---
– attracting new clients to your salon at each

end of the age spectrum.

But perhaps the most exciting reason

that Color Gels Lacquers stand out from the

permanent hair colour crowd is the unique

pairing system. Colourists everywhere love

Shades EQ Demi Permanent Hair Gloss for its

ability to tone, colour-correct and add shine to

all hair types, and Color Gels Lacquers were

created to pair perfectly with Shades EQ gloss

shades. This means that when you touch up

roots with permanent colour, you can refresh

the rest of the hair with a Shades EQ gloss

shade that matches the root colour exactly.

What's more, because of this perfect liquid

colour pairing, you can create your favourite

hair colour trends using both colour lines.

Think rich, transitional sombré with a deep

root and lighter ends, or a subtle balayage

– where there's a desire for rich, saturated

colour, there's a need for Color Gels Lacquers.

CREATIVE HEAD ADVERTORIAL

EXCITING PACKAGING Inspired

by unique gel viscosity and trending

Instagram slimers!

IT'S THE FIRST PERMANENT liquid colour

to offer the saturation of a gel and the mirrorshine

of a lacquer. It's got a new-generation

gel base that makes it ideal for technique

work, with super-fast, high-precision

application from a bottle or a bowl. It's new

Redken Color Gels Lacquers – and if you're

already using Shades EQ in your salon, your

colour services are about to explode!

New Redken Color Gels Lacquers is an

exciting opportunity to drive new colour

business to your salon. For a start, this is

a high-performing colour range that's fast

and easy to use, delivering rich, long-lasting

results, including – thanks to advanced red

dye technology – longer-lasting reds. Your

regular colour clients are going to love the

finish they get with Color Gels, too – a superb,

high-gloss mirror shine exactly like a polish.

Color Gels Lacquers also mean 100 per cent

reliable grey coverage and accessible pricing

PACKAGING SEGMENTED ACCORDING TO COLOUR FAMILY

CREATIVE HEAD IRELAND

25
---
L'Oréal Academy

Sharpen

your skills

Welcome to Creative HEAD Ireland's

pick of the best hairdressing courses

this autumn…

HAIRDRESSING

LIVE

INSPIRED COLOUR

PLACEMENTS WITH

CAROLYN NEWMAN

Take an hour to update your

skills with Hairdressing

LIVE no matter where you

are – all you need is access

to the internet. This course,

led by renowned colourist

Carolyn Newman, takes

inspiration from artist Mark

Rothko and helps you learn

how to create a bespoke look

for your clients.

Date: 24 September

Cost: €20

Duration: One hour

Location: Online

Contact: hairdressinglive.com

ALFAPARF MILANO

METALLIC ILLUSION

COLLECTION 2018

The trend for metallic

hair colour is still shining

bright, so it's essential that

you can offer gold, silver

and bronze tones in the

salon this autumn/winter

season. This course will

take you right through the

process, including colour

demonstrations and even

cutting techniques that

will enhance these

glittering shades.

Date: 1 October

Cost: €200

Duration: One day

Location: Accademia, Dublin

Contact: xpertpro.ie

WELLA

PROFESSIONALS

COLOUR MASTERCLASS

Darren Lacken, founder of

Crow Street Collective and

winner of the International

Color Vision Platinum Award

in 2016, takes his colouring

expertise to the Wella

Studio in Dublin. Expect

techniques, trends and

plenty of inspiration from

one of the best colourists

that Ireland has to offer.

Date: 8 October

Cost: €300

Duration: One day

Location: Wella Studio

Dublin

Contact: 01 416 0900

education.wella.com

SALON SERVICES

ESSENTIAL COLOUR

SKILLS REFRESHER

COURSE

Take your colour skills to

the next level or simply

rejuvenate your existing

abilities, with this course

that's indispensable for

colourists at all levels.

It covers colour theory,

application methods and

aftercare advice, so you can

offer the best possible colour

service in your salon.

Date: 10 October

Cost: €93 +VAT

Duration: One day

Location: Dublin HBW

Contact: 1890 253405

salon-services.com/training

26 CREATIVE HEAD IRELAND
---
#Education

Gainfort Academy

L'ORÉAL

PROFESSIONNEL

INTERMEDIATE MEN'S

CUTTING

The male grooming industry

is growing at an impressive

rate, so if you want to gain

experience with mens' hair

then this is the course for

you. It takes you through

an overview of the latest

trends, a step-by-step of

how to create them and a

masterclass in product use.

Date: 16 October

Cost: €120

Duration: One day

Location: L'Oréal Academy

Dublin

Contact: 01 6045900

lorealaccess.com/ie

AFFINAGE

COLOUR TECHNIQUES

WITH ROCKIN REDZ

Rich hues are always a

popular option for clients

as the weather turns and

autumn nights draw in,

so this red-themed colour

training day is ready to get

you right on-trend. Your

Affinage educator will run a

demonstration and then it's

time to try out the rust and

ruby tones yourself.

Date: 16 October

Cost: €85

Duration: One day

Location: Gainfort Academy,

Wexford

Contact: 053 9123681

gainfort.com

SCHWARZKOPF

PROFESSIONAL

CREATIVE CUTTING

Say goodbye to your comfort

zone, and invigorate your

creative side, with this

one-day course led by a

Schwarzkopf Professional

guest artist and designed to

challenge your professional

skills. You'll learn hints and

tips that will help you bring

styles up to date and give a

new twist to the classics.

Date: 22 October

Cost: €280

Duration: One day

Location: Hennessy Hair &

Beauty, Cork

Contact: 01 4046424

skpevents.co.uk/askeducation

ROBERT

CHAMBERS

CONTEMPORARY

CLASSIC CUTTING

Designed for qualified

hairdressers who wish to

boost their cutting skills and

take on a new challenge,

this course teaches a

combination of classic and

fashion-forward techniques.

Tutors work closely to ensure

students not only master the

looks, but also how to adapt

them to individual clients.

Date: Various

Cost: €600

Duration: Five days

Location: Robert Chambers

Contact: 01 6771323

academy@robertchambers.ie

CREATIVE HEAD IRELAND

27
---
CENTRE OF

EXCELLENCE

TAKE A LOOK AT THE NEW ACCADEMIA IN DUBLIN,

WHERE EDUCATION MEETS EXCELLENCE

XPERT PROFESSIONAL HAS OPENED

Accademia, a 16,000 square foot education

centre of excellence in Dublin that offers

more than 500 courses a year from hair and

beauty experts in a state-of-the-art facility.

This standalone building was custom

designed for the Irish hair and beauty

distributor of luxury brands – including

ALFAPARF Milano, JOICO, Kemon and

Moroccanoil – by the award-winning Cooney

Architects of Dublin. Set out across four

floors, the minimalist, modern interiors

incorporate clean lines and exposed pipework

for a modern, industrial feel. And the building

is fitted with the latest environmentallyfriendly

technology, including an ecoconscious

heating and cooling design, water

filtration system and use of natural light.

Accademia is truly a hub of learning,

offering an environment that enables and

encourages professional development in the

pursuit of excellence.

For hairdressing professionals and trainees,

there are three salons with 12 styling stations

each, perfect for learning the latest precision

cuts and colour techniques. There are two

lecture theatres where business, marketing,

retail and customer service courses take place

and, for smaller breakout groups, there is the

boardroom. There is also a fully equipped

make-up and skincare room for professionals

in those sectors.

With top guest artists and international

artistic teams regularly visiting Accademia,

trainees and professionals are guaranteed to

be inspired.

28

CREATIVE HEAD IRELAND
---
CREATIVE HEAD ADVERTORIAL

MEET THE GUEST ARTISTS

PAUL STAFFORD

Award-winning ALFAPARF

Milano global ambassador

Paul juggles TV appearances

and magazine shoots with

educational seminars,

platform presentations and

an oversubscribed column.

MOD ROME

Rome-based Oni Quadrino

and Emanuele Vona of MOD

have collaborated with

Prada, Burberry, Vogue and

Vanity Fair. MOD courses are

designed to explore technical

and cultural knowledge.

RAMIRO MATA

Leading Spanish stylist

Ramiro shares his experience

and unique interpretation

of beauty, and encourages

participants to develop their

own flexibility and creativity

to bring success.

RICHARD ASHFORTH

Richard has a wealth of

knowledge and experience

from decades at the top of

the hairdressing profession

and his position as creative

director of international salon

and academy group SACO.

CREATIVE HEAD IRELAND

29
---
Davey Davey

30

CREATIVE HEAD IRELAND
---
#MaleGrooming

w

Evolution

y Man

Male grooming is booming – so what does the barber of today look like?

CAST YOUR MIND back 10 years; the male grooming

experience was very different indeed. Men generally had two

choices; either a cheap and cheerful cut picked from range of

standard styles in a nondescript walk-in barber shop, or an

expedition into a traditional salon, where hairdressers weren't

necessarily equipped to deal with men's hair.

Fast forward to today, and the barbering landscape is very

different. Barber shops are springing up all over Ireland,

offering new trends and services. According to Jobs.ie, the

number of openings for haircare professionals in Ireland has

increased by 84 per cent since 2012, and this expansion is

fuelled by the boom in male grooming.

"The metrosexual is dead. Male grooming is simply the

new normal," says Mark O'Keeffe, owner of the Sugar Culture

salon group that includes Sugar Daddy barber shop. He has

seen first-hand the explosion of wellbeing services for men

in Ireland: "New barber shops are offering far more skilled,

technical haircuts, which are now as important to men as they

have been to women for centuries," he adds.

Paul Davey, owner of Davey Davey salons, credits this surge

in popularity to the wellbeing trend. "The industry has taken

off because there is an increase in the trend for wellness

and this not only relates to health, but also looking good and

feeling good," he explains. "It has become common practice

for men to look for specialised grooming services to create

the looks they want. New trends in male grooming are more

accessible, and the internet provides the vocabulary so they

can ask for the styles they want to achieve."

Cíaran O'Sullivan, 2017 Irish winner of the American

Crew All Star Challenge and a barber at Wayne Lloyd

Hairdressing in Cork, agrees: "I started to see more and more

men looking after themselves, from wearing skinny jeans to

actually using a hairdryer to style their hair. People want to

look their best."

And with the advances in technology, barbers can improve

their standards and access new trends quicker than ever

before. "The knock-on effect of social media is that young

barbers can interact easily with some of the best barbers in

the world and learn from them," explains Frank Hackett,

owner of Retro Barbershop and Academy in Limerick.

"It raises their standards and pushes them to educate

themselves more."

CREATIVE HEAD IRELAND

31
---
American Crew

But in an industry experiencing this speed of growth, how

can you ensure your business stands out on the high street?

"We don't follow any other barber shop in Ireland or copy

them," says Sean Bryan, owner of Cut & Sew group. "I make

it my job to stay on-trend and keep up with what's happening

in art, film and fashion. We have a clothing line, we listen to

loud music in the shop and we also made a documentary last

year called Not Just a Barbershop – the list

goes on!"

It's also important to offer more, as

men's haircuts are becoming increasingly

intricate, requiring a higher level of

skill. "Our gent's hair specialist, Alan

Adderley, uses layering and point cutting

techniques to give soft texturising to

styles and keeps up to date with trends by

attending specialist courses throughout

the year," says Paul Davey.

And extra touches will keep clients

hungry for more. "We respect

the heritage of barbering and

we aim to bring a premium

experience to our clients," says

Mark O'Keeffe. "We have

added frills with Prizefight

Whiskey cocktails and Five Lamps Beer on offer, and we pride

ourselves on our Sugar Culture experience."

Cíaran O'Sullivan agrees maintaining a high quality will

ensure men keep coming back. "I'm a perfectionist, so every

cut I do is always to the best of my ability. I always look at my

clients as a walking billboard – it's the best advertising."

However, there is a downside to the barbering boom, in the

shape of rogue barbers promising quick results without the

right training. "Barber shops have popped up everywhere,"

says Frank Hackett. "There is a

perception that you can qualify

as a barber in six or 12 weeks

and it simply is not true. Like

any other trade, it takes years

and after that you are still

always learning."

Mark O'Keeffe agrees. "While

the trend is growing, it still needs

lots of nurturing," he explains.

"Barbers are fast-tracking training

and many think they're skilled

enough to occupy a seat in these

new barber shops, when in fact it's more

training and attention to detail they need.

Becoming a talented barber is no easy feat."

32
---
#MaleGrooming

Toysxthe boys

Stock your shelves and tap

into the growing male market

American Crew's new Beard

Balm promises to tame

grizzly beards. Infused with

sweet almond oil and shea

butter, the dual formula

both conditions and styles

and there's absolutely no

heaviness.

RRP €15.40

americancrew.com

The limited edition Cordless

Magic Clip by Wahl is

designed to add luxury to

a wet shave. Create the

smoothest cuts ever with

this lightweight piece of

technology, which creates

impeccable fades and blends.

RRP €117.99 +VAT

wahl.co.uk

L'Oréal Professionnel Homme

Poker Paste combines

powerful hold with a

reworkable texture. The matte

fi nish is long lasting and can

be shaped and re-shaped

throughout the day – perfect

for guys on the go.

RRP €16

lorealprofessionnel.co.uk

Redken Brews off ers a range

of four shampoos, including

Daily Shampoo for everyday

cleansing, Mint to invigorate

the scalp and Three-in-

One with conditioner and

bodywash. We love the Silver

shampoo to tone grey hair.

RRP €15

redken.co.uk

Kemon Hair Manya for him

is a stylish line wrapped in

monochrome packaging.

Divided into Washing, Shaving

and Finishing for ease of use,

it takes men through their

entire grooming routine.

RRP FROM €10.75

xpert.com

Men are getting more creative

with their hair than ever – so

add thickness or length with

the Great Lengths classic

bonded hair extensions.

They're discreet and secure

but also easy to look after.

IN-SALON SERVICE

greatlengthshair.co.uk

With more men choosing

pompadour styles, the best

hairdryers are essential.

The Dyson Supersonic hair

dryer Professional Edition

offers strength, precision and

limitless possibilities.

PRICE ON APPLICATION

dyson.co.uk

The System Professional Man

line is a bespoke routine for

your client – all they have to

do is answer a few questions

in-salon for you to off er them

the right products, such as

the SP Sculpting Paste.

IN-SALON SERVICE

systemprofessional.com

CREATIVE HEAD IRELAND

33
---
BOHO

WHEN IT COMES TO UNSTUDIED EFFORTLESSNESS, IS THERE

ANY ERA THAT BEATS THE SUPER-NATURAL '70S? DYSON

AMBASSADORS DYLAN BRADSHAW AND LARRY KING PROVE

THE POWER AND BEAUTY OF FREE-SPIRITED STYLING

DYLAN

THE STRAIGHT-TALKING DUBLIN SALON OWNER IS AT

THE FOREFRONT OF INNOVATIVE HAIRCARE – PERFECT

CREDENTIALS FOR A DYSON AMBASSADOR!

34 CREATIVE HEAD IRELAND
---
BOOM

CREATIVE HEAD PARTNERSHIP

LARRY

LARRY'S SALON IN SOUTH KENSINGTON

WAS ONE OF THE FIRST IN THE WORLD TO

BE EQUIPPED WITH THE DYSON SUPERSONIC

HAIR DRYER PROFESSIONAL EDITION. "DYSON

IS SUCH AN INCREDIBLE INNOVATOR AND

WORKING WITH THEM IS AN HONOUR"

#dysonprohair

CREATIVE HEAD IRELAND

35
---
36 CREATIVE HEAD IRELAND
---
CREATIVE HEAD PARTNERSHIP

A SPRITZ OF TEXTURISING SPRAY

AND THE INTELLIGENT DRYING

POWER OF THE NEW DYSON

SUPERSONIC PROFESSIONAL

EDITION – IT TOOK LITTLE MORE

TO CREATE A STUNNING SET OF

LAID-BACK LOOKS, EXCLUSIVELY

FOR CREATIVE HEAD

Industry icons Dylan and Larry have put the new

Dyson Supersonic hair dryer Professional edition

through its paces – and not only are the results

glowing (see overleaf), the stylist testimonials are, too.

"This dryer is so different and so much better than

anything else on the market," says Larry. "From the

speed of the airflow to the precision engineering of

the attachments, everything has been so carefully

designed to help us hair professionals create the most

incredible blow-drys. It's so compact, too – I like how

you can flip it and switch it around so easily to get

exactly the result you're after."

"Dyson has reinvented the wheel," says Dylan,

"and it's great to see them making such a difference

in terms of promoting hair health. I have such belief

in this brand and their dryer. To all stylists I would say,

use a Supersonic for a couple of weeks and you'll be

converted, just like I was. It helps, of course, that it's

such a lovely-looking piece of kit!"

REPORTAGE PHOTOGRAPHY

Hikaru Funnell

#dysonprohair

CREATIVE HEAD IRELAND

37
---
PHOTOGRAPHY

Alexander Jordan

HAIR

Dylan Bradshaw and

Larry King for Dyson

MAKE-UP

Tricia Woolston

FASHION

Sasha Barrie

38 CREATIVE HEAD IRELAND
---
CREATIVE HEAD PARTNERSHIP

EASY DOES IT

LOSE YOURSELF IN EASY, BREEZY '70S STYLING

#dysonprohair

CREATIVE HEAD IRELAND

39
---
MAN UP

"It's great to blow-dry men's hair

again," says Dylan, who used the

re-designed Concentrator – now

with a wider and thinner nozzle

that gives precision like no other –

to shape John's hair into the

perfect '70s flick and curled

sides. "This is hair that's

believable – not too perfect, and

definitely not over-cooked!"

40 CREATIVE HEAD IRELAND
---
AU NATUREL

If ever there was a hashtag that so

perfectly encapsulates the ̓70s trend,

it's #wokeuplikethis – gorgeous,

healthy, apparently untouched hair

that's actually had quite a bit of a

helping hand. "Working with the

Dyson Supersonic hair dryer

Professional edition is the equivalent

of putting hair through an Instagram

filter," says Dylan. "Its Intelligent

Heat Control keeps hair strong and

healthy, with incredible shine."

Dylan used the re-engineered

Smoothing Nozzle to blow-dry

with a gentle touch, creating

softly tumbling, nonchalant

waves that aren't too polished –

yet still perfect.

CREATIVE HEAD PARTNERSHIP

CURL POWER

With texture and curls so on-trend right now,

you'll love the new Diffuser – simulating

natural drying, it helps to reduce frizz and

deliver gorgeously defined curls. Just like all

the Dyson Supersonic hair dryer Professional

edition attachments, it is secured to the

Supersonic by a powerful magnetic force,

giving a secure 360-degree hold that you

can rely on.

#dysonprohair

CREATIVE HEAD IRELAND

41
---
"This is a clean, natural look

with lots of shine. I used the

Dyson Supersonic hair dryer

Professional edition to create

direction and shape, taking her

hair away from her face and

creating lots of volume around

the hairline"

LARRY

42 CREATIVE HEAD IRELAND
---
GROOVY

KIND OF

LOVE

The Spring/Summer 2019

menswear shows might have

elicited a groovy sense of déjà vu,

as '70s-inspired looks for men

dominated, to decidedly cool effect.

Side-parted shags at Salvatore

Ferragamo, rumpled waves in

Milan, and Gucci creative director

Alessandro Michele's signature

lengths were heightened with a

smattering of necklaces and a devilmay-care

attitude. All hail the 1970s!

CREATIVE HEAD PARTNERSHIP

SMOOTH MOVES

Be your salon's smoothest operator. Use the Dyson

Supersonic hair dryer Professional edition Smoothing

Nozzle to quickly remove excess water from your

client's hair, and blow-dry smooth with a gentle touch.

Meanwhile, at 3.3 metres, the new longer cable

allows you to move freely around clients as you work.

And with the powerful motor acoustically tuned to

produce one inaudible frequency, you can blow-dry

your client's hair and continue your conversation at

the same time!

#dysonprohair

CREATIVE HEAD IRELAND

43
---
REBEL, REBEL

Hair grew out of control in the '70s

– an act of rebellion against the

'squares' and 'norms', which for

most people meant their parents.

Here, Larry recreates the classic rock

& roll look – hair high on the crown,

sides blow-dried straight and smooth

with those little flicks nodding at a

refusal to be tamed…

44 CREATIVE HEAD IRELAND
---
CREATIVE HEAD PARTNERSHIP

SHINE ON

To avoid heat damage, hair should be dried

quickly and gently, using the right combination

of heat and airflow. The Dyson Supersonic hair

dryer Professional edition delivers Intelligent Heat

Control, measuring air temperature 20 times per

second in order to control its patented, doublestacked

heating element and avoid extreme

heat. The result of all this incredible technology?

Fabulously conditioned hair that reflects light

evenly with dazzling shine.

"Loose, unloaded,

shiny hair with light,

aerated texture

throughout – this is

stripped-back '70s

at its best"

DYLAN

#dysonprohair

CREATIVE HEAD IRELAND

45
---
EASY BREEZY

Using the new Dyson Supersonic

hair dryer Professional edition, this

blow-dry looks effortlessly natural,

yet completely aspirational. Larry

says: "There's a real sense of ease to

the glamour of this look, which sums

up perfectly the ethos of this '70s

trend: low-key, low-maintenance but

still glamorous." Tip from the shoot:

accent your blow-drys with curved

side partings or windswept volume

around the face to create a finish

that's beautifully manicured.

READY FOR LIFT-OFF

The Dyson Supersonic hair dryer Professional

edition's impressive Air Multiplier technology

produces a high-pressure, high-velocity jet

of air that's angled at 20 degrees to deliver

controlled, precise drying and styling. And if that

wasn't already enough, use the re- engineered

Concentrator – now wider and thinner and with

cool grip edges – to direct airflow where you

need it. So you get to create lift, volume, flicks,

curls and smoothness – exactly where you want

them. A stylist's dream!

46 CREATIVE HEAD IRELAND
---
CREATIVE HEAD PARTNERSHIP

"I'd originally blow-dried John's

hair in a smoothed-down look

[see page 74], but the fi nish I get

with the Dyson Supersonic hair

dryer Professional edition allows

me to run my hands through

afterwards and re-style easily"

LARRY

#dysonprohair

CREATIVE HEAD IRELAND

47
---
DYSON

IF YOU REFUSE TO COMPROMISE ON THE CONDITION OF

YOUR CLIENT'S HAIR AS WELL AS THE STYLES YOU CREATE,

THE NEW DYSON SUPERSONIC HAIR DRYER PROFESSIONAL

EDITION IS FOR YOU. THIS IMPECCABLY DESIGNED DRYER

IS NOT ONLY BEAUTIFUL TO LOOK AT AND EASY TO USE,

IT'S POWERED BY DYSON'S FAMOUS ENGINEERING

EXPERTISE TO DELIVER THE SMOOTHEST, SHINIEST, MOST

PRECISE BLOW-DRYS YOU EVER CREATED – WHILE ACTUALLY

IMPROVING HAIR HEALTH. WITH ITS LONGER CORD, MORE

POWERFUL MAGNETIC ATTACHMENTS, A WIDER AND

THINNER NOZZLE AND AN IMPROVED FILTER BUILT

ESPECIALLY FOR THE DEMANDS OF A BUSY SALON, THIS

NEWLY RE-ENGINEERED DYSON SUPERSONIC HAIR

DRYER PROFESSIONAL EDITION IS A PREMIUM DRYER

THAT MEETS YOUR NEEDS, DAY IN AND DAY OUT.

48 CREATIVE HEAD IRELAND
---
CREATIVE HEAD PARTNERSHIP

Interviews, videos

and more exclusive

content – online now at

creativeheadmag.com

The Dyson Supersonic hair dryer Professional edition is available now. For an exclusive

stylist price, call 01 4757109 or find out more at dyson.co.uk/professionalhaircare

#dysonprohair

CREATIVE HEAD IRELAND

49
---
ALAN KEVILLE

50

CREATIVE HEAD IRELAND
---
THE GREAT

OUTDOORS

THE LATEST COLLECTION BY THE WELLA PROFESSIONALS

STYLE COUNCIL IS AIRY AND MODERN, WITH ORGANIC SHAPES

AND RICH COLOURS REFLECTING DAPPLED SUNLIGHT

PHOTOGRAPHY BY BARRY MCCALL

JOANNE O'NEILL

CREATIVE HEAD IRELAND

51
---
HOUSE OF COLOUR

52

CREATIVE HEAD IRELAND
---
SARAH MASON PROFESSIONAL

HAIR The Wella Professionals Style Council and Leonardo Rizzo, international creative director of Sanrizz.

MAKE-UP Leonard Daly. STYLING Alison Conneely.

CREATIVE HEAD IRELAND

53
---
54

CREATIVE HEAD IRELAND
---
Glowing

embers

The Bridget Haren Artistic Team fuses a dark power with exquisite

craftsmanship in the new collection Phoenix, Arise from the Ashes

PHOTOGRAPHY BY KEST

CREATIVE HEAD IRELAND

55
---
56

CREATIVE HEAD IRELAND
---
HAIR Bridget Haren Artistic Team. MAKE-UP Linda Laffery. MODELS Unite Model Management.

CREATIVE HEAD IRELAND

57
---
Scene

THE HOTTEST EVENTS EVERY MONTH – GET YOURSELF SCENE!

Danielle Kennedy of Lloyds Hair

Dylan Bradshaw

We own

THE NIGHT

Creative HEAD Ireland

publisher, Catherine Handcock

The Most Wanted and It List Awards 2018 electrified London's Natural History

Museum with the coolest, brightest, and most highly-anticipated celebration

of hair talent and teamwork that the industry has ever seen. Canadian comedy

queen Katherine Ryan hosted for a second consecutive year and brought the

house down with her biting wit, as our guests helped to deliver a show-stopping

spectacular; complete with banging beatboxing from Mr Fox, a sumptuous menu,

and legendary surroundings. But forget the fossils (sorry Hope the blue whale),

a new timeline of greatness emerged. Flying the flag for the Republic of Ireland

was Dylan Bradshaw (who won the title of Exceptional Stylist for the third year in

a row) and Lloyds Hair Waterford, who took home the Supreme Team trophy for

the second year running. Hairdressers from the UK and Ireland were celebrated

under the Most Wanted spotlight in recognition of their terrific teamwork,

inspirational innovations, enviable career progression, mesmerising creativity,

business brilliance and superb levels of service. We'll raise a glass to that!

58

CREATIVE HEAD IRELAND
---
Sophia Hilton, Not Another Salon

Percy & Reed

Mr Fox

CREATIVE HEAD IRELAND 59
---
The finalists

IN THE

limelight

The Intercontinental Hotel in Ballsbridge Dublin threw its doors open for the

Wella Professionals TrendVision Irish heat. The show opened with a look at

the models in each of the three categories. Then Sanrizz showed a futuristic

collection, and Charlie Taylor presented pastel styles full of texture. Former

global TrendVision platinum winner, Darren Lacken of Crow Street Collective,

talked through his two models that made bad taste from the '90s look fresh

and cool. Next the Wella Style Council presented Parklife, a beautifully

choreographed story inspired by open urban places and youth tribes – see more

on page 50. And then it was the moment everyone had been waiting for – the

big reveal of this year's finalists, who will be jetting off to London in October to

compete for a place at the International Final in Lisbon this November.

Sanrizz

60

CREATIVE HEAD IRELAND
---
Style Council

Charlie Taylor

Crow Street Collective

Crow Street Collective

Charlie Taylor

Style Council

And the finalists are…

Color Vision

Stephen Aiken, Conroy Hair

Sara Gondek, Pazam Hair Studio

Jonathan Healy, Bellissimo

Vicky Hernon, House of Colour

Roisin Hynes, Sarah Mason Professional

Leandro Santana Santos, Decode Hair

Creative Vision

Steven Anthony, Easilocks

Marco Dias, The Studio

Aileen Hannan, Bellissimo

Stephanie Higgins, Sarah Mason Professional

Zara McIntyre, House of Colour

Kerry Moody, DKY Hair Company

Male Grooming

Danielle Ritchie, Cut & Sew

CREATIVE HEAD IRELAND 61
---
Party

TIME

CREATIVE HEAD TEAMED UP with Schwarzkopf

Professional to hold the Big Hair Do event – the

biggest and best hair party ever. Over one evening,

hairdressers all over Ireland and the UK spruced

up their stations and threw open their doors for a

unique evening, designed to show the public just

how amazing our salons and the talented staff who

run them are. Guests indulged in glasses of prosecco

and sweet treats and got to know their local hair

experts, who demonstrated styling tool techniques

and showed off Schwarzkopf Professional products

and services. One-to-one hair consultations took

place, with stylists dispensing hair hacks, discussing

the latest trends and solving hair dilemmas. And

it was a win-win situation, as salons raised funds

for charity, reinforced their connection to the local

community and, of course, shared expert knowledge.

62

CREATIVE HEAD IRELAND
---
JOIN THE REVOLUTION

IN COLOUR CREATIVITY!

HAIR BY PAUL STAFFORD HAIR

VIBRANT AND INTENSE COLOURS FOR BOLD, PERSONALISED LOOKS.

WWW.ALFAPARFMILANO.COM
---
Paul Mitchell

co-founder John

Paul DeJoria

Angus Mitchell

Robert Cromeans

We are

FAMILY

Take 3,000 hairstylists from around the globe. Mix in 4,540 mannequin heads,

a 167-foot screen, hundreds of models and dancers, and bake in the Las Vegas

desert until they are bubbling with excitement! This summer, Paul Mitchell's

The Gathering returned to the shimmering Aria Resort & Casino for three days

of inspiration, education and celebration. Featuring workshops led by business

brains, hands-on colour classes with the brand's top creatives and spectacular

shows helmed by cat-in-the-hat Robert Cromeans, Angus Mitchell and Colin

Caruso, the hairdressing extravaganza cemented the Paul Mitchell values of

peace, love and happiness and outlined what the group has in store for the

next 12 months. Alongside new charity partnerships focused on environmental

sustainability, the big news was the introduction of MVRCK, a barbering product

division under the Mitch brand that is soon to reach British shores. And as

if that wasn't enough, the PR team managed to land tickets to The Strip's

sell-out show, Magic Mike Live. Aside from saying it was an experience to

remember, our lips are sealed. After all, what happens in Vegas…

Colin Caruso

64

CREATIVE HEAD IRELAND
---
CREATIVE HEAD IRELAND 65
---
Had a ball with this bunch!

@the-hive-salon is such

a great team

Top of the Rock

#NYC

Big colour correction that

wouldn't have been possible

without #wellaplex

Soft balayage through

natural hair, with some layers

to encourage movement

In the

frame

Dean Monks of The Hive Salon,

Dublin (@dean_monks.hair)

snaps away

The wind sure is helping

with these messy waves

#testshoot

SHOOT AND SEND Want to give us

a snapshot of your world? Tweet

us at @creativeheadmag now!

The Hive on Dame Lane –

excited to be working here

Saturday transformation,

toned with @wellahair

This wedding party of 13 was a

crazy morning #bridal

I love styling BIG HAIR!

@the-hive-salon

#dublinsalon

#hairdresser #ireland

66

CREATIVE HEAD IRELAND