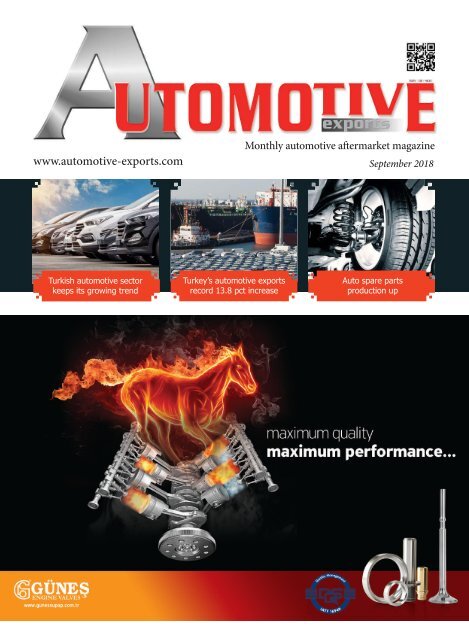 Automotive Exports September
Automotive Exports September
Automotive Exports September
SHOW MORE
SHOW LESS
Create successful ePaper yourself
Turn your PDF publications into a flip-book with our unique Google optimized e-Paper software.
www.automotive-exports.com

Monthly automotive aftermarket magazine

September 2018

Turkish automotive sector

keeps its growing trend

Turkey's automotive exports

record 13.8 pct increase

Auto spare parts

production up
---
NEW

www.yonteknik.com
---
ISO 9001:2008

Hall 5

STAND-B26

Automechanika

Frankfurt

AIR BRAKE & CLUTCH SYSTEMS AND

COMPONENTS FOR COMMERCIAL VEHICLES

The First and Major company manufacturing Air Brake & Clutch

Actuation Systems and components for Commercial Vehicles in

Turkey.

Product Reference: 03.5858.50

Product Description: AIR DRYER VALVE FOR E-APU

Cross Refs.: 932510 (1774871;2077974) 9562 / 9612 / 9442

Applications: SCA.

Product Reference: 85.5891.20

Product Description: ELC VALVE BLOCK

Cross Refs.: 0501100 (3944715;3944716) 031

Applications: VOL.

Product Reference

Product Description

Cross Refs.

Applications

:

:

:

:

63.5556.0F

CLUTCH SERVO UNIT

APGA 160*

FORD Otosan (OEM)

Products;

ABS & EBS Solenoid Modulator, ECAS Solenoid, Electronic, Air Dryer, Unloader, Air Processing Unit (APU), Foot Brake, Relay,

Circuit Protection, Load Sensing, Trailer Control, Levelling, Hand Brake, Door Control, Drain, Pneumatic Control, Directional

Control, Relay Emergency, Release, Pressure Regulator, Pressure Limiting, Lift Axle Control, Rotary Slide, Gear Box, Transmission

VALVES. Hydraulic Clutch Master Cylinders, Clutch Servo Units, Clutch Servo Actuators, Spring Brake Actuators

www.yonteknik.com

years
---
Monthly automotive aftermarket magazine

GROUP CHAIRMAN

H. FERRUH ISIK

PUBLISHER:

İstmag Magazin Gazetecilik

İç ve Dış Ticaret Ltd. Şti.

Genel Müdür

Managing Editor

Mehmet Söztutan

mehmet.soztutan@img.com.tr

Mehmet Soztutan, Editor-in-Chief

mehmet.soztutan@img.com.tr

We are at Automechanika,

Frankfurt 2018

Actually, the Turkish automotive and auto spare parts industry have prospered

dynamically in line with ever increasing demand from abroad. So, business

people operating in the industry have become outward oriented more than

ever before. This fact is also reflected through the pages of our publications.

Actually, the last decade has been a turning point for the Turkish automotive

industry in terms of its integration into the world economy. Foreign firms

that have been attentive to the potential that the Turkish automotive industry

possesses have been investing in Turkey. Foreign partners have begun to view

their facilities in Turkey as their production center for the global market.

The auto parts industry of Turkey has developed rapidly as a consequence of

developments in the automotive industry. The Turkish auto parts industry with

its large capacity, wide variety of production and high standards, supports

automotive industry production and the vehicles in Turkey and also has ample

potential for exports.

Following the shift of the focus on customers, markets, products and competition

from the local level to the global level, Turkish manufacturers and suppliers

position themselves globally rather than locally.

There are numerous producers of automotive components and services in

Turkey. These manufacturers compete in global markets and set high standards

of export figures. Many companies operating in the Turkish market possess

international certifications, enhancing their global market position.

As known, our publications remain at the service of those businesses people

seeking to increase their share in the increasingly competitive foreign markets.

This month, we participate in Automechanika,Frankfurt 2018.The Fair will be

celebrating its 25th anniversary with a host of new themes. We think that

the Fair will live up to its status as the world's major international trade fair for

automotive parts, accessories, equipment and services and the best platform

for tapping into the overseas markets. The Fair is very professional and highly

recognised as there are more international brands, and the overall quality of

exhibitors has increased in each edition.

We are convinced that the event would be instrumental to increase business

opportunities in the automotive industry as usual.

We wish all business people success and lucrative business.

Responsible Editor

Yusuf Okçu

yusuf.okcu@img.com.tr

Editor

Ayça Sarıoğlu

ayca.sarioglu@img.com.tr

Advertising Manager

Nihat Akman

otomotivnihat@gmail.com

Foreign Relations Manager

Yusuf Okcu

yusuf.okcu@img.com.tr

Consultant Editor

Leniiara Agliullina

Correspondent

İsmail Çakır

ismail.cakir@img.com.tr

Graphics & Printing Manager

Tayfun Aydın

tayfun.aydin@img.com.tr

Design & Graphics

sami.aktas@img.com.tr

Chief Accountant

Zekai Turasan

zturasan@img.com.tr

Finance Manager

Mustafa Aktas

mustafa.aktas@img.com.tr

Subsciption

İsmail Özçelik

ismail.ozcelik@img.com.tr

HEAD OFFICE:

Evren Mahallesi Bahar Caddesi Polat İş Merkezi

B Blok No:1 Kat: 4 Güneşli - Bağcılar/ İstanbul

Tel: (90.212) 604 51 00

Fax: (90.212) 604 51 35

www.img.com.tr turkey@ihlas.net.tr

KONYA:

Metin Demir

Hazım Uluşahin İş Merkezi C Blok

Kat: 6 No: 603-604-605 KONYA

Tel: (90.332)238 10 71 Fax: (90.332)238 01 74

PRINTED BY:

İHLAS GAZETECİLİK A.Ş.

Merkez Mahallesi 29 Ekim Caddesi İhlas Plaza

No:11 A/41 Yenibosna–Bahçelievler/ İSTANBUL

Tel: 0212 454 30 00

www.ihlasmatbaacilik.com

Please mention

Automotive Exports

when writing to advertisers
---
Monthly automotive aftermarket magazine

BDDK

decreases

Turkish

banks'

foreign

currency

swap limits

Turkey's banking watchdog the Banking

Regulation and Supervision Agency

(BDDK) decreased the daily limit in

foreign currency swap transactions from

50 percent of banks' equity capital to 25

percent in a bid to stabilize the lira.

"The total notional principle amount of

banks' currency swaps and other similar

transactions (spot plus forward FX) with

foreign counter parties where at the initial

date of the transaction local banks pay

TRY and receive FX should not exceed 25

percent of the bank's regulatory capital,"

the BDDK said in a statement.

"In this regard, unless current excess is

eliminated, no further transactions of these

types could be executed and maturing

transaction should not be renewed.

The above mentioned ratio should be

calculated daily on a consolidated and

individual basis," the statement added.

Turkish officials described the U.S.

moves and their effects on the lira as an

economic war, and retaliated in kind to

U.S. sanction.

12 SEPTEMBER 2018
---
Automechanika Frankfurt celebrates

silver anniversary

Automechanika Frankfurt is the biggest and most important

trade fair for the automotive industry. Its 25th anniversary is

scheduled for 11 – 15 September 2018. During the last edition

Messe Frankfurt welcomed a record number of participants -

4843 exhibitors from 76 countries and 132,944 trade visitors

from 170 countries.

Manufacturers of equipment, parts and accessories, suppliers

and service providers, industry associations, retailers, specialist

publishers come to Frankfurt for 5 days of discussions and

business deals. During Automechanika, decision makers are able

to consolidate existing accounts and establish new ones, find

investors or products, gain expertise and perspective,

Automechanika's significance and impact are undisputed -

the event boasts unmatched product array and explores the

automotive aftermarket in depth. It is where the mobility of

tomorrow can be seen through the projects of the industry's

innovators. The 4 focal points in 2018 will be Alternative drives,

Networked vehicles, New mobility services and New workshop

technologies.

From 2018 on, the number one event for the tyre industry REIFEN

will be co-located with Automechanika Frankfurt. The expanded

exhibition range, additional themes and business prospects will

produce the perfect synergy. REIFEN 2018 will occupy Messe

Frankfurt's new Hall 12.

In addition, classic and vintage cars will be introduced in a new

distinct area of their own. In 2018 the biennial trade fair will be

celebrating its 25th anniversary with a host of new themes and

REIFEN as a co-located show.

Today, the portfolio of Automechanika holds 16 events in 15

countries. Newest member of the family is NACE Automechanika

Atlanta The Automechanika brand is backed worldwide by

around 21,000 exhibitors, 600,000 trade visitors and about 50

years of experience.
---
CHOOSE

QUALITY PARTS

FOR HARSH CONDITIONS

ROTA branded steering and suspension parts are designed for working

under harsh conditions. The parts offer smooth and safe driving experiences

for commercial vehicles such as truck & trailer, bus, light trucks and vans.

ROTA produces more than 7125 OEM reference parts for European and

American commercial vehicles. In addition, ROTA develops around 200 new

products for commercial vehicles every year.

ROTA offers parts such as tie rod end, ball joint, centre rod, axial joint, V stay

arm, torque rod, rod/strut, stabiliser and repair kit for OEM/OES industry

and aftermarket of the following brands.

AGRALE, ASTRA, BMC, BOVA, BPW, BREDAMENARINI BUS, CHRYSLER -

ASKAM, DAF / LEYLAND DAF, DENNIS, EVOBUS / KÄSSBOHRER, FORD,

GÜLERYÜZ, HINO, IKARUS, IRISBUS, ISUZU, IVECO / MAGIRUS DEUTZ,

KARSAN, LIEBHERR, MAN, MERCEDES BENZ, METROCAB, MITSUBISHI,

NEOPLAN, NISSAN, OPTARE, OTOKAR, PEGASO, PEUGEOT, RENAULT V.I.,

SCANIA, SOLARIS, TEMSA, VAN HOOL, VDL, VOLKSWAGEN TRUCK, VOLVO.

11.09.2018 - 15.09.2018

FARANKFURT/ GERMANY

HALL 6.1 D24

20.09.2018 - 27.09.2018

HANOVER/ GERMANY

HALL 26 A45

/nskgrouprota /nskgroup_rota

/nskgrouprota /company/nskgrouprota

www.nskgroup.com.tr | info@nskgroup.com.tr
---
Monthly automotive aftermarket magazine

Turkish economy expected to be affected

positively by US-China trade war

According to U.S.-based credit rating

agency Fitch Ratings, the trade war

between the U.S. and China may

positively impact the Turkish economy

in 2019 and 2020.

A statement released by Fitch

indicates that the growing impact of

the U.S.-China trade war may cause

global economic growth to fall to

2.8 in 2019. The credit rating agency

said, "The possible rise of the trade

tension due to the imposition of new

tariffs on the $2 trillion dollar global

trade flow may result in a 0.4 percent

contraction in the global expansion in

2019." In its June Global Economic

Outlook report, Fitch estimated that

the world economy might register a

3.2 percent expansion in 2019.

However, due to the trade wars, the

agency cut back its estimations to 2.8

percent. The agency also expressed

its expectation that the U.S.-China led

trade war, which continues to grow,

may not affect the Turkish economy

this year, but the Turkish economy

is likely to see a 0.1 percent and 0.2

percent rise in its growth in 2019 and

2020, respectively, as a positive impact

of the tension. The statement also

highlighted that if the U.S. imposes 25

percent tariffs on automotive imports

from China, these tariffs will likely have

reverberations on other economies.
---
Monthly automotive aftermarket magazine

Turkish, German finance ministers

discuss recent developments,

agree to meet in September

Turkish Treasury and Finance

Minister Berat Albayrak and his

German counterpart Olaf Scholz

discussed recent developments in

Turkish economy in a phone call,

agreeing to hold a meeting in Berlin

on September 21 with their French

counterpart Bruno Le Maire.

Albayrak and Scholz discussed U.S.

sanctions and steps taken against

the Turkish economy in a phone

call, according to a statement

released by the ministry.

"Scholz underscored the

importance of the strong Turkish

economy both for Germany and

the European Union (EU)," the

statement read.

Minister Albayrak emphasized his

appreciation for the supportive

statements from Germany.

"The statements that came

particularly from German

Chancellor Angela Merkel and

other German and EU officials

boost the confidence in Turkey

ties with Germany and the EU," it

added.

Treasury and Finance Minister

Berat Albayrak emphasized that the

support for Turkey is promising for

a period in which a cooperative

and constructive approach will

yield positive result for both sides.

Both ministers have agreed to

take steps to strengthen economic

cooperation and initiate mutual

efforts to that end in the upcoming

period. They have also decided

to hold a meeting in Berlin, the

ministry's statement noted.

18 SEPTEMBER 2018
---
Monthly automotive aftermarket magazine

Borsa Istanbul's swap move to

attract London transactions

The Turkish stock exchange, Borsa

Istanbul (BIST) is establishing a

swap market to carry out overthe-counter

transactions between

financial market institutions in one

organized market.

This step to simplify liquidity

management and increase

transparency, would pull the overthe-counter

transactions from

the London market to this central

market in BIST and help monitor

financial markets more closely.

The market would also help

manage risks that occur as a result

of the positions that are opened

in the underlying assets, such as

exchange rates and interest rates,

more effectively. It will also produce

a liquid market where the risks are

cleared.

In terms of investors, with the

Istanbul Clearing, Settlement

and Custody Bank (Takasbank)

as the central counterparty, it will

be possible to produce a more

reliable environment so that the

institutions that have access to the

stock market can manage their risks

more effectively. Institutions that

have access to the stock market

in the financial markets will be

able to manage risks caused by

incompatibilities, such as maturity,

exchange rate, and interest type

differentiation, more effectively.

In a written statement BIST said that

"the swap market, which is one of

the most active markets in global

financial markets, has started to be

established in our stock market to

serve all financial sector participants,

especially our banks."

Accordingly, Takasbank, as the

central counterparty, will carry out

the clearing of the transactions in

this market and will provide risk and

guarantee management services.

"The commissioning of the swap

market in our stock market will

pave the way for such transactions,

which are often carried out overthe-counter,

to be carried out in

our country under the guarantee

of an organized market," the

statement read.

With the swap market, which is

planned to be realized for the

foreign exchange markets in the

first place, BIST will continue to work

on new products and markets, the

statement noted.

"The projects that will increase the

depth of our existing derivative

markets and their added-value

to the country's economy will be

accelerated," it added.

It stated that basic issues such

as market makers and liquidity

provision in the market operation

will be explained to the public

through consultation with all

stakeholders.

The Banking Regulation and

Supervision Agency (BDDK) has

recently set limits for banks in

Turkey to have up to 25 percent

of the bank's last calculated equity

as the sum of swaps and similar

transactions with residents abroad.

"If this restriction is relaxed for

transactions in BIST, the banks

may be relieved," said market

experts, stressing that transactions

between institutions themselves

will produce transparency in terms

of instantaneous visibility in this

organized market.

Analysts also pointed out that as

institutions like BIST and the BDDK

will carry out the flow of information

to the central bank very quickly, the

central bank will be more dominant

in the market and will be able to act

faster.

The Capital Markets Board (CMB)

said that data on these transactions

will be collected by Central Registry

Agency (CRA) and the necessary

regulations will be made quickly,

in order to transparentize the overthe-counter

derivative transactions

and monitor the risks.

22 SEPTEMBER 2018
---
Monthly automotive aftermarket magazine

Erdoğan, Steinmeier discuss

bilateral relations

President Recep Tayyip Erdoğan

and his German counterpart

Frank-Walter Steinmeier discussed

bilateral relations in a phone

call with the Turkish president's

state visit to Berlin approaching.

According to the president's

office, both leaders reiterated their

determination to enhance bilateral

ties, saying ministerial level visits will

accelerate relations. Both countries'

treasury and finance ministers

are expected to hold meetings.

Erdoğan also held a phone call

with British Prime Minister Theresa

May to discuss bilateral relations

and regional issues. The two also

exchanged views on the areas of

economy, trade and investment.

The European Union wants to see

stable economic development in

Turkey, Germany's foreign minister

said.

Speaking to German business

representatives and ambassadors

at the Foreign Ministry, Heiko

Maas criticized U.S. President

Donald Trump's sanctions and his

economic pressure policy toward

Turkey.

"Of course we Europeans have a

great interest in stable economic

development in Turkey," he said.

Maas said he will visit Turkey to

meet Turkish government officials

and discuss recent economic

developments.

Over the past two years political

relations between Ankara and

Berlin have suffered setbacks, but

in recent months both sides have

taken steps towards improving ties.

Germany is Turkey's main economic

and trade partner. More than 7,500

German companies are active in

Turkey. In 2017, the bilateral trade

volume reached 37.6 billion euros

($43.6 billion).

He said Washington's sanctions

forces Europe to formulate a

response because the actions affect

the bloc as well, adding that maybe

the same could be done in the

future "against our other important

trading partners."

European member states should

take joint steps against U.S.

dominance in global finance,

he suggested, and proposed a

European alternative to the U.S.-

dominated SWIFT payment system.

Germany's Economy Minister Peter

Altmaier also voiced support for

Turkey amid market worries after

Trump imposed sanctions and

raised tariffs on Turkey.

Political tensions between Ankara

and Washington had sparked

worries in markets early this

month, after Trump threatened

to use economic pressure over

the prosecution of an American

pastor who faces terrorism-related

charges in Turkey.

Altmaier underlined Turkey's

importance for Germany and for

the EU. "We can have no interest

in the destabilization of a country

like Turkey with a population of 80

million, which also hosts around 4

million refugees," he said.

Many of the European leaders

earlier this month raised their voices

to highlight the significance of the

Turkish economy that has recently

come under attack with the

threatening economic showdown

of Trump.

Among them, Germany was one of

the first countries that voiced strong

support for the stabilization of the

Turkish economy and emphasize

its importance for Turkey's major

partners, particularly EU countries.

German Chancellor Angela Merkel

emphasized the importance

of a strong Turkish economy

for Germany in a phone call

with President Erdoğan as the

two leaders stated their mutual

determination to maintain

cooperation between the two

countries.

24 SEPTEMBER 2018
---
Monthly automotive aftermarket magazine

Government sees no big

risk in Turkish economy and

financial system

The government sees no big risk

regarding Turkey's economy or

financial system, as the economy's

foundations are robust in mainly

three areas, Treasury and Finance

Minister Berat Albayrak has said.

En route from Paris to Ankara, he

also told a group of journalists

that the government has been

seeing the recent fluctuations as

an opportunity to strengthen the

country's economyand financial

system.

In elaborating on the strong

fundamentals, Albayrak said the

public sector's debt levels were

low, household indebtedness was

among the world's lowest and the

financial sector was quite robust.

"We do not see a big risk regarding

the Turkish economy and financial

system, as our economy has strong

fundamentals. The main point

here is for us to examine what our

deficiencies are … In this regard, we

will realize the required structural

reforms," the minister said on Aug.

27 when he was returning from

Paris, where he held a meeting

with his French counterpart Bruno

Le Maire.

According to Albayrak, the Turkish

economy has three characteristics

which will enable it "to minimize

the risks of any global crises."

"First of all, our public sector's debt

is one of the world's lowest in terms

of net indebtedness. There is not

any risk in this area," he said.

"Secondly, Turkey also has one

of the lowest levels of household

indebtedness," Albayrak added.

"Thirdly, our financial system is quite

robust. Despite all recent tests, the

system functions very well. The

capital adequacy rate of our banks

is at 16 percent, much higher than

the European limit at 8 percent," he

said, adding that "the government

does not see a big risk in general

thanks to these strengths."

Albayrak noted the government

saw the recent fluctuations in

Turkish markets and the lira as an

opportunity to do better.

"We must build a much stronger

structure to evade any future

economic or financial fluctuations.

We have taken the required lessons

from the recent developments. We

see this process as an opportunity

to build do better," he said, adding

that there were political reasons

behind the recent fluctuations.

"The recent process was completely

political, as there is not any change

in Turkey's strong economic

fundamentals," he said, while

signaling further cooperation in

economic terms with new actors

after Qatar.

A row with Washington over an

American evangelical Christian

pastor detained in Turkey on terror

charges has accelerated losses in

the lira, which is down about 38

percent against the dollar this year.

After a meeting with his French

counterpart in Paris, Albayrak

highlighted Ankara's push for

better ties with Europe and took

aim at the United States, saying

U.S. sanctions could ultimately

aggravate the region's terrorism

and refugee crises.

26 SEPTEMBER 2018
---
Monthly automotive aftermarket magazine

Istanbul to host international

automotive engineering conference

The movers and shakers of the global

automotive industry will attend

the "International Automotive

Engineering Conference" (IAEC'18)

being held for the third time in

Istanbul.

According to the written statement

released by the Uludağ Automotive

Industry Exporters' Association

(OİB), the conference will be

held at Swissotel The Bosphorus

from Nov. 1-2 to discuss future

automotive trends and address the

latest developments in automotive

electronics and software.

Preparations for the event jointly

organized by the OİB, the

Automotive Industry Association

(OSD), the Automotive Technology

Platform (OTEP), the Vehicles

Procurement Industrialists

Association (TAYSAD) and the

Association of American Automotive

Engineers (SAE) are underway.

The event is designed to facilitate

discussion about the necessary

steps to be taken by the automotive

industry in engineering in the

current dynamics of the sector

while taking into account the

opinions of international specialists

from a technical point of view.

Topics include: "New

Developments;" "Software Security

and Block Chain;" "Regulations and

Tests for Smart Vehicles;" "Adaptive

Platform for Smart Vehicles;"

"Impacts of Developing New

Technologies on the Automotive

Industry;" "Future of 5G and

Communication between Tools;"

"Future of Electronics in Vehicles;"

"Artificial Intelligence in Vehicles;"

"Technology and Ethics;" "Domestic

Entrepreneurship Strategies in

Automotive;" and "Impacts of

Developing Technologies and

Innovative Initiatives on the

Automotive Sector," and will be

addressed in the third edition

of the event under the theme

"Present and Future of Automotive

Electronics and Software."

For the first time this year, master's

theses and Ph.D. dissertations

completed in automotive-related

fields will be awarded at the

conference. The top three thesis

holders in the competition will

invited to join one of the SAE's

overseas conferences.

28 SEPTEMBER 2018
---
Monthly automotive aftermarket magazine

Turkey undoubtedly being

targeted, US economist

Perkins says

American economist and author John Perkins

American economist and author

John Perkins, best known for his

book titled "Confessions of an

Economic Hit Man" told Anadolu

Agency that he had no doubt "a

developing economy like in Turkey"

is being targeted by economic hit

men, adding that they not only

work for the U.S. but also for other

governments.

Perkins underlined that the global

financial order is being shaped

according to the benefits of

dominant powers, saying that

these powers obtain major financial

gains by promoting rivalry between

two states.

"They pit one country against

another in order to arrange huge

tax benefits, wage rates and other

labor conditions, and numerous

other policies that benefit their

corporations, but hurt the people

of the country," he said.

Speaking to Anadolu Agency,

the 73-year-old economist also

recommended that Turkey stay

away from the International

Monetary Fund (IMF), saying the

country has many options like

Qatar.

Perkins said that countries like

Turkey could use such offers as an

advantage to start a rivalry between

financial institutions in China, U.S.

and the Gulf region.

"Countries like Turkey should

definitely be negotiating with

Russia, China, the Gulf countries,

etc. I don't think they necessarily

need to form alliances, but should

use the leverage these countries

offer to strike deals that are much

more beneficial to their people," he

said.

"Turkey should do anything to

prevent further foreign debt,"

Perkins added.

The economist stressed that

developing economies need to

stand firm against the burden of

debt, advising these countries to

come together in order to reject

the repayment of such unfairly and

corruptly given debts.

"Countries like Iceland, Argentina,

and Ecuador provide an example

of how this can be done," he said.

Commenting on U.S. President

Donald Trump's international trade

policies, Perkins said that they pose

a threat to the future of global

economy.

"President Trump seems to be

determined to turn traditional

international relations and the

global economy upside down,"

Perkins said, adding that Trump's

policies were extremely dangerous

to the whole world, including the

U.S. itself.

Reminding that Turkey is not the

only state subject to U.S. sanctions,

the veteran economist said Ankara

should do everything possible to

retract Washington toward being

reasonable.

Turkey-U.S. relations deteriorated

to an unprecedented extent after

Washington decided to impose

sanctions on Interior Minister

Süleyman Soylu and Justice Minister

Abdulhamit Gül over the detention

of terror-linked pastor Andrew

Brunson.

Since then, Ankara has called on its

counterparts in the U.S. to come to

their senses and has been trying to

solve the matter through diplomatic

channels.

30 SEPTEMBER 2018
---
Monthly automotive aftermarket magazine

OECD: Turkey had highest

import shrink of G20

countries in Q2

Among G20 countries in the

second quarter of this year, Turkey

saw its imports shrink the most

according to the latest report on

foreign trade from the Organization

for Economic Co-operation and

Development (OECD).

The report by the Parisheadquartered

organization

indicates that Turkey's imports

were down by 9.4 percent in the

second quarter compared to the

first quarter.

Imports stood at $64.3 billion in the

first quarter, but declined to $58.3

billion in the second quarter.

In the same period, Turkey's exports

decreased by 0.9 percent from

$40.07 percent to $40.3 billion.

G20 international trade contracted

in the second quarter of this

year, following eight consecutive

quarters of growth, the OECD

said. G20 exports declined by

0.6 percent and imports by 0.9

percent, it noted.

It indicated that Saudi Arabia saw

the highest increase in exports in the

second quarter with 9.7 percent,

followed by India (5.7 percent),

the U.S. (4.4 percent), Canada (4.4

percent), Russia (1.2 percent) and

Australia (1.2 percent).

Saudi Arabian exports were $73.3

billion in the second quarter, while

India and the U.S. saw their exports

reach $80.8 billion and $427.3

billion, respectively.

Moreover, exports contracted

strongly in Argentina (19.9

percent), Brazil (9 percent), the

U.K. (6.9 percent), with falls also

recorded in China (2.8 percent)

and the European Union (1.9

percent).

China's exports were $645.2 billion

in the first quarter before declining

to $627.2 billion in the second

quarter.

"Imports contracted in most G20

economies, most significantly in

Turkey (9.4 percent) and Brazil (6.5

percent). Imports only increased in

India (2.9 percent), Canada (1.4

percent), Mexico (1.4 percent),

Japan (1.2 percent) and Indonesia

(1.2 percent," the OECD said in the

report.

The organization also said the

widespread contraction in

international trade can be partly

explained by the significant

depreciation of a number of

currencies against the U.S. dollar

in the second quarter, notably the

Argentine peso (down 18 percent),

the Turkish lira (down 15 percent)

and the Brazilian real (down 11

percent).

"These effects were partially offset

by rising oil prices: benchmark

Dubai Crude increased to $71.6

per barrel in the second quarter

compared to $64.0 in the previous

quarter," it added.

Meanwhile, Turkey's foreign trade

balance ran a $5.98 billion deficit in

July, marking a year-on-year fall of

32.6 percent, the national statistical

body announced.

Last month, the country's exports

amounted to $14.07 billion, an

11.6 percent annual hike, while

imports totaled $20.05 billion, a

6.7 percent decrease, compared

to July 2017, the Turkish Statistical

Institute (TurkStat) said.

TurkStat noted that from January to

July this year, exports were $96.27

billion - up 7 percent on a yearly

basis - and imports were some

$143 billion, an annual hike of 10.2

percent.

According to official figures,

the seven-month trade balance

showed a deficit of $46.75 billion,

up 10.2 percent over the same

period last year.

Official data showed that the ratio of

manufacturing industries products

in total exports was 94.9 percent in

July, amounting to $13.36 billion.

In 2014, Turkey's exports hit an alltime

high of $157.6 billion, while

the figure was nearly $157 billion

last year.

34 SEPTEMBER 2018
---
Monthly automotive aftermarket magazine

Turkish automotive sector

keeps its growing trend

According to a report by İşbank: Turkish automotive sector will continue

its growth in the coming years, though at a slower rate. In 2018, there might

be a downward pressure on the production front due to high-base effect.

Recent figures suggest that, in the first quarter of 2018, total automotive

production remained flat compared to the same period of last year.

In this period, production of

passenger cars fell 5% whereas

commercial vehicle production

increased by 13%yearly. On

the other hand, strong growth

in exports is expected to limit

the downside pressures on

production. In the first quarter,

total exports went up by 18% yoy

reaching 8.4 billion USD. In line

with the favourable outlook in

the external markets, especially

relatively solid economic activity

in Europe, exports are expected

to keep its strength throughout

the year. In 2018, appreciation of

euro against dollar will continue

to effect exports positively as

well. Moreover, the share of

domestically produced vehicles

in domestic market has been

growing as a result of rising

imported vehicle prices due to

higher FX rates.

The launch of new models also

contributed to this change in

consumption patterns. Hence, in

the first quarter of 2018, the share

of imports was realized as 61% in

total sales and 66% in passenger

car sales. In 2017, these figures

were 63% and 70%, respectively.

As for the long-term prospects,

low vehicle per capita ratio and

relatively old age of vehicle park

will keep on stimulating domestic

demand for the automotive sector

in Turkey.

In this sense, the scrappage

scheme which is settled in

March 2018 will contribute to

the expansion of the market

positively. On the investment

front, projects related to electric

and hybrid vehicle production

will be on the agenda. In this

context, under the treatment of

project-based public incentive

system, Turkish government

granted two companies to benefit

from the incentives on hybrid

and diesel engine investments.

Another project going on is the

"domestic car" which has been

undertaken by a joint venture of

domestic companies. For the time

being, the plan is to introduce a

prototype by 2019 and initiate its

first sale in 2021.

36 SEPTEMBER 2018
---
Monthly automotive aftermarket magazine

Turkey offers challenging opportunities

for global manufacturers

Tuğra Gönden, Cushman&Wakefield managing partner

According to Manufacturing

Risk Index 2018 research

carried out by the commercial

real estate consulting firm

Cushman&Wakefield, China has

maintained the lead in global

manufacturing, while Turkey with

a cost advantage, infrastructure

investments and geographical

location, has entered the top 10

in the world.

Withthe research, which examines

a range of risks and cost factors,

n the framework of research

including political and economic

risks as well as labor cost, a

comprehensive assessment of the

attractiveness of 42 countries for

global manufacturing was carried

out.

The report said the global

economy remains in good

shape despite the uncertainty

surrounding the future of U.S.'

trade policies, the shape of

Brexit in Europe and heightened

geopolitical risk in the Middle East,

parts of Asia and Latin America.

"Global GDP [gross domestic

product] growth is forecast to

accelerate to 3.2 percent in

2018 from 2.9 percent last year.

Multiple factors support this

outlook: The robust economic

fundamentals of the U.S., Europe

and China, a cautious monetary

policy by the major global central

banks and strong trade growth.

The global exports of goods are

expected to grow by 5.5 percent

in 2017 - their fastest pace in five

years - and by over 4 percent in

2018," the report read.

Industrial output in 2018 is

projected to increase by 3.8

percent globally - its fastest rate

since 2011 - and by 3.0 percent

in Europe, the report said.

It also suggested that economic

development and technological

trends will shape the type

and distribution of future

manufacturing, but the sector

will remain an engine of global

growth. By 2020, the report said,

manufacturing's share of the GDP

will exceed 20 percent in the top

60 largest global economies. In

China, manufacturing will still

account for a massive 30 percent

of the GDP in 2025. In the

eurozone, manufacturing makes

up 17 percent of the GDP, led by

Germany with over 23 percent.

The report revealed that wage

hikes and growing labor shortages

in Central Europe are pushing

more cost-sensitive industries east

to Lithuania, Romania, Bulgaria

and Turkey.

"Emerging manufacturing

locations in Turkey, Romania

and Bulgaria are increasing in

attractiveness based primarily on

cost," it added.

With infrastructure investments

and the strength of its

geographical location, Turkey

continues to be the leading

production base in the world.

Its cost advantage, infrastructure

investments and geographical

location has enabled the country

to enter among top 10 in the

world. In his assessment regarding

the report, Cushman&Wakefield

managing partner Tuğra Gönden

said economic, political and

technological developments

that have rapidly evolved have

affected countries' positions in the

production market.

Gönden also indicated that it is

possible with long-term structural

trends and strategic positioning to

ensure growth and sustainability

in an increasingly competitive

global manufacturing arena.

"Located at the intersection of

Europe, Asia, Russia and Africa,

Turkey's geographical location

and high-tech infrastructure

investments offer significant

advantages in terms of the

global manufacturing market.

Despite the geopolitical risks

faced, our country continues

to be the production base of

Europe and the world. I believe

that by correctly evaluating the

location and potential of Turkey,

the country will be a shining star

in production in the long term,"

Gönden said.

40 SEPTEMBER 2018
---
Monthly automotive aftermarket magazine

Swiss investor Faber says now good

time to invest in Turkish assets

Renowned global investor and

markets commentator Marc

Faber, best known for being a

market pessimist which earned

him the nickname "Dr. Doom",

said Turkish assets could present

a good investment opportunity at

the moment.

Although the economic strategist

has been warning since 2010

that global markets are headed

for a 1987-style market crash,

Faber told Anadolu Agency that

he didn't foresee such a grim

future for the Turkish economy.

"People always say they would

like to buy low and sell high. Well,

Turkish stocks are valued in U.S

dollars. At the moment they are

within buying range. I am going

to buy some Turkish assets, ETF's

(Exchange-Traded Funds)," he

said.

Stating that he already had some

Turkish bonds, although not in

very large quantities, Faber said

Marc Faber, İnvestor

now was a good time to invest in

Turkish assets.

Faber, who is also the publisher

of "The Gloom, Boom & Doom

Report", said Turkey must reduce

its sensitivities, narrow its trade

deficit and close its current

account deficit to not be affected

by volatility in the coming period.

Reiterating that the foreign and

economic policies of the United

States were not right, the Swiss

investor said: "Trump is not

pursuing diplomacy in foreign

policy. He is like a bull in a china

shop. He keeps picking on

everyone; there is no diplomacy

whatsoever. "

"Turkey's Trump card is NATO.

NATO has crucial bases in Turkey.

Turkey has two options in the

long-term; it can stay close to

Europe and stay in NATO or

join the Shanghai Cooperation

Organization. This would indicate

that Turkey has left the West or

that it will be in less contact with

it, becoming closer with Russia

and China instead. This is an

option in Mr. Erdoğan's hand. I

think Trump does not understand

that this is a very real possibility,"

he said adding that Turkey was

not without alternatives.

Underlining that U.S. President

Donald Trump's trade policies

could drag the world into

recession, Faber said, "Economists

around Trump believe that imports

from China are responsible for

the U.S.' trade deficit. China is

the indicator of the US.' declining

competitive power. The U.S. has

had low capital investment over

the last 20-30years. Economists

believed that consumption should

be increased to increase growth.

The result is naturally an increase

in trade deficit. "

Faber pointed out that the

consequences of the global trade

wars initiated by the U.S. could be

devastating, saying "Trade wars

are complete madness. They are

continuing at a time the global

economy is already slowing

down. Just look at copper prices

now, for example, they have

completely collapsed. This is a

sign that the global economy

is slowing down. I think we are

headed towards a recession."

President Trump announced

on Aug. 10 that the U.S. was

doubling aluminum and steel

import tariffs on Turkey, fixing

them at 20 percent and 50

percent, respectively.

In retaliation, Turkey also

increased tariffs on several U.S.-

origin products, including alcohol

and tobacco products and cars,

according to a new presidential

decree published in the official

gazette.

44 SEPTEMBER 2018
---
Monthly automotive aftermarket magazine

Bursa prospers in

automotive exports

Almost two-thirds of the roughly

900,000 vehicles that Turkey is

expected to export to foreign

markets are assembled in Bursa.

Thousands of people work in

giant car factories that produce

vehicles for global companies like

Renault and Fiat to be sold on the

growing Turkish market or to be

shipped to Europe.

The car industry in Bursa is hugewith

Renault and Fiat vehicles

manufactured in factories to

be sold in Turkey or exported

to Europe. More recently,

government officials and

businessmen have been trying

to promote Bursa as a tourist

destination.

The Turkish automotive and spare

parts industry is concentrated in

the Marmara Region, mainly in

Bursa. Two major car factories

and two "Organized Industrial

Zones" are located in Bursa.

The automotive supplier industry

of Bursa produces almost all

types of parts, components and

spare parts such as engines and

engine parts, power train parts

and components, brake and

clutch parts and components,

hydraulic and pneumatic systems,

suspension systems, security

systems, rubber and plastic parts,

chassis, frames and parts, casting

and forging, electrical equipment

and parts, lighting systems,

accumulator batteries, seats etc.

The auto parts industry of Bursa

has developed rapidly as a

consequence of developments

in the automotive industry.

The auto parts industry with its

large capacity, wide variety of

production and high standards,

supports automotive industry

production and the vehicles in

Bursa and also has ample potential

for exports. The automotive and

auto spare parts industry have

prospered dynamically in line

with ever increasing demand

from abroad.

46 SEPTEMBER 2018
---
Monthly automotive aftermarket magazine

Turkey's automotive exports

record 13.8 pct increase

Turkey's automotive exports in

July stood at $2.7 billion, with

an increase of 13.8 percent

compared to the same month last

year. According to the June data

of Uludağ Automotive Industry

Exporters' Association (OİB), the

sector's exports increased by

14.4 percent in the January-July

period, reaching $19.2 billion.

Exports of passenger cars

increased by 7 percent to $7.7

billion in the January-July period,

compared to the same period of

the previous year.

The automotive subindustry

exports rose by 22 percent,

exports of motor vehicles for

goods transport by 15 percent,

while bus-minibus-midibus

exports rose by 6 percent.

In terms of products group, the

automotive sub-industry exports

increased by 22 percent to

$913 million, while passenger

car exports surged by 5 percent

to $1.1 billion, motor vehicle

exports for goods transport by

11.5 percent to $487 million, and

midibus exports went up by 17

percent to $157 million.

In July, exports to the U.K.

increased by 30 percent,

followed by France with 36

percent. Exports to the U.S., on

the other hand, declined by 31

percent. Exports to Germany, the

leading market for the automotive

subindustry, increased by 9

percent, while exports to Italy

rose by 18 percent, followed

by France with an increase of

48 percent, Romania with 20

percent, the U.S. with 45 percent

and Russia with 42 percent.

Meanwhile, in bus-minibusmidibus

exports, there was an

increase of 42 percent in exports

to France. But Germany, another

important market in this respect,

experienced a decrease of 6

percent, while other leading

markets in this product group,

Italy, the U.K. and Spain showed

an increase of 75 percent,

102 percent and 77 percent,

respectively. On a country-bycountry

basis, the largest market

in July was Germany with $394

million in exports, with an

increase of 12 percent. It was

followed by the U.K. with $352

million. Exports to France, the

third-largest market for Turkey,

increased by 36 percent to

reach $322 million. Exports of

passenger cars to the U.K. rose by

39 percent while export of motor

vehicles for goods transport to the

country increased by 16 percent.

Passenger car exports to France,

on the other hand, increased by

39 percent and exports in the

automotive sub-industry rose

by 48 percent. In July, while

there was an increase in exports

to key markets - Slovenia by 42

percent, Poland by 23 percent,

Romania by 24 percent, Hungary

by 74 percent, and Russia by 29

percent, exports to Spain dropped

by 11.5 percent, to the U.S. by 31

percent, to Israel by 14.5 percent

and to Iran by 45 percent.

The increase in exports to

Slovenia was affected by the 58

percent increase in motor vehicle

exports along with the increase

of 26 percent in passenger cars.

In Spain, a 61 percent drop in

exports of motor vehicles for

goods also affected the overall

decline. Exports to the European

Union countries, the largest

market in country groups, rose by

15 percent to $2.2 million with

a share of 79 percent in exports.

With regards to the alternative

markets, African countries showed

an increase of 50 percent, while

exports to North American Free

Trade Zone fell by 20 percent.

48 SEPTEMBER 2018
---
Monthly automotive aftermarket magazine

Yeni İsp Oto Yedek Parça penetrates

into foreign markets

ABD,AAPEX fuar,2017 Martex,Polonya 2014 Rusya, OOO MZ Tonar 2006

Founded in 2001, Yeni İsp Oto Yedek

Parça has been exporting quality

auto spare parts and accessories to

Russia, Ukraine, Poland, Lithuania,

Belarus, Kazakhstan, Uzbekistan,

Bulgaria and many other countries

for 20 years.

The Company also involves in

marketing of the automotive

products of a series of leading firms

operating in the industry such as

Meklas, Maysan Mando, Aydınsan,

Sem Lastik, Kale Balata, Besel Bijon,

Hobby Exhaust, Mesa, Kormas.

Erman Nuroğlu, one of the founders

of the Company, being an Associate

Professor of Polymer Physics, shares

his experiences with the clients.

Mürsel Serter, other partner of the

Company, has become a locomotive

of this sector with Sertplas which

is a well known company of the

automotive world.

Erman Nuroğlu, Chairman of the

Board of the Company attended

conferences organized for the

10th and 15th anniversary of

the establishment of MZ TONAR,

one of the biggest truck & trailer

manufacturer of the Russian

Federation, in 2005 and 2010. He

also participated in the international

conference on the New Solutions

for Automotive Electricity in Kaluga,

Russian Federation.

Yeni İsp Oto Yedek Parça Dış Ticaret

Ltd.Şti. represents the Turkish spare

parts sector successfully abroad.

Erman Nuroğlu regularly participates

in promotional activities at Frankfurt,

Moscow, Shanghai and Poznan fairs

and also undertakes the promotion

of automotive products abroad

as a participant at Automechanica

Frankfurt, Istanbul fairs and AAPEX

2017 Las Vegas, USA.

İstanbul,Automechanika,2018

Moskova MIMS,2018

FUAR 2011 Moskova

50 SEPTEMBER 2018
---
Monthly automotive aftermarket magazine

Turkey becomes an attractive

base for Gulf investors

Gulf investors, were hosted

in Konya and Mersin this

year, Investment Support and

Promotion Agency of Turkey

(ISPAT) Gulf States Representative

M. Mustafa Göksu said, adding

that investors are interested in

agriculture and livestock.

Göksu said that they brought

hundreds of investors from the

Gulf countries to Turkey last year

and that this year they also hosted

163 investors primarily from Saudi

Arabia in Mersin and 200 in

Konya.

Göksu said in a statement that

interest from investors from the

Gulf in Turkey is increasing.

Prefacing that Turkey's economy

is growing, Göksu said investors

are coming to Turkey to address

the domestic market and realize

imports already made with

other countries from Turkey.

"This is a golden opportunity

for us. We will make Turkey a

base in investment and exports.

Because Turkey is a very attractive

country," Göksu said, adding that

investors examine the incentives

in all countries.

"Incentives are like icing on a

cake. If the cake is good, the icing

has meaning. If the cake is bad,

the icing has no meaning," Göksu

said.

He said that Turkey is a suitable

country for investment and that

investors rely on Turkey and its

stability. "The heart and soul of the

Arab world is with us. They want

to become locals by converting

this love into investment in

Turkey. Hopefully, just like every

year, we continue to increase the

investments this year by bringing

hundreds of investors in Turkey."

Göksu said they bring investors

from different sectors to Turkey

every year. "By introducing

Gulf investors to companies in

Turkey, we enable investments

and exports to increase and

partnerships to form, paving the

way for Turkish businesspeople

who want to expand their

businesses," Göksu said."As we

introduce these companies to

Gulf countries, we are bringing

together people who work in a

certain sector we determine every

year." Last year they brought

together Turkish companies and

investors operating in energy and

Göksu said that this year, they

brought together businesspeople

working in agriculture and

livestock from both Turkey and

the Gulf. "We aim to reduce

the meat imports of our country

and turn it into an exporter. Our

geography is very convenient for

this," he said.

Pointing to investors' desire to

come to Turkey, investment and

become locals, Göksu said despite

the fact that these people procure

the products they import more

cheaply from other countries,

they see Turkey as a supplier in

animal consumption and added

that they will bring these people

to Turkey.

Göksu previously said they will

familiarize Arab investors with

investment opportunities in Turkey

and introduce them to domestic

firms. He said that interest in

the forum was well above their

expectations and that they plan to

organize a second forum to meet

demand.

"With these activities, we aim to

introduce investors from Gulf

countries to domestic investors

and present the opportunities

Turkey has to offer to foreign

investors. Our goal is also to bring

Arab investors together with

those who do the same work for

them to establish partnerships

and enable them to carry these

partnerships to other countries,"

Göksu said.

Göksü said that last year they

hosted very productive programs

in Diyarbakır and Şanlıurfa for 50

businessmen from Saudi Arabia,

Qatar, Kuwait and Bahrain who

participated in the 8th Middle East

Agriculture, Livestock, Poultry and

Dairy Industry Fair. Arab investors

who and made connections

with local companies continue

to closely follow the domestic

market, he said.

56 SEPTEMBER 2018
---
Monthly automotive aftermarket magazine

VW to offer all-electric car sharing

service in Germany's Berlin

Volkswagen said it's launching an

all-electric car sharing service in

Berlin using its battery powered

Golf and Up! models as it seeks to

build a business serving people in

big cities who don't own cars.

The company said that it planned

to expand its" We Share" project

to big cities in Europe and North

America by 2020.

Volkswagen said it would deploy

2,000 of the compact cars in the

first months of next year to build

visibility and ensure that there

are enough cars available that

customers could always find one

near them.

It said Berlin was ideal because it

was big and densely populated.

Set to begin in the second quarter

of 2019, We Share will at first

offer 1,500 VW e-Golf compact

cars in the capital, with a further

500 smaller e-up! vehicles to be

added later.

The cars will gradually be replaced

as new models from VW's nextgeneration

"I.D." range become

available.

We Share will join other "free

floating" car sharing services --

in which autos are left parked

around the city for users to book

via a mobile phone app -- already

long present in Berlin and other

major cities around the world.

Executives at the world's biggest

carmaker see growth potential of

at least 15 percent per year for

such offerings in Europe.

But Wolfsburg-based VW faces

entrenched competition from the

likes of Daimler and BMW, who

agreed in March to merge their

car sharing apps Car2Go and

DriveNow.

The two high-end manufacturers

aim ultimately to offer a suite

of "mobility services" from car

sharing to taxi hailing or finding

free parking spaces and electric

car charging points, aiming to

compete with challengers like

California-based Uber.

Combined, Car2Go and

DriveNow already offer 20,000

vehicles for short-term rental in

some 31 cities, with four million

registered users.

VW also has big plans for

integrating different forms of

transport, with initiatives like

electric buses that can be hailed

to "virtual stops," currently being

tested in German port city

Hamburg.

It plans to spend 3.5 billion euros

($4 billion) by 2025 on a suite of

projects under its so-called "digital

offensive.

World Automotive Conference to

convene in Istanbul for 5th time

The World Automotive

Conference will bring together

key players, manufacturers and

suppliers from the sector for the

fifth time in Istanbul this October.

This year's key themes include

"Future of Manufacturing:

Robotics & Digitalisation,"

"Intelligent Supply Chain &

Logistics," "The Future 'Car':

electric vehicles, autonomous

& connected driving," "The

Aftermarket: changing consumer

preferences & the car-ownership

question mark," and "The Future

of Mobility: 5G & Smart Cities."

Aisin, Anadolu Isuzu, Autoliv,

BASF, BMC, BNP Paribas, Borçelik,

Borusan Lojistik, BP, Brisa

Bridgestone, CMS, Continental,

Daimler, EY, Facebook, Farplas,

Garanti, Google, Groupe Renault,

Hattat Holding, Hyundai, Karsan,

Magna, MAN, Maxion, NIO,

Otokar, Ricardo, Siemens, Temsa,

Tofas, VMware, Volkswagen will

be among this year's participants

at the conference.

International experts from the

sector will also hold panels as

part of the conference program,

in addition to presentations

from international companies

regarding their case studies and

research.

58 SEPTEMBER 2018
---
Monthly automotive aftermarket magazine

Turkey's car company due to

initiate operations in September

Mehmet Gürcan Karakaş,

CEO of Automobile

Initiative Group

Turkey is geared to manufacture

a domestic car company and

brand capable of competing

on the global scale. The CEO of

the newly formed Automobile

Initiative Group, Mehmet Gürcan

Karakaş told that group was ready

to commence with a qualified

team of specialists. Karakaş said

that he had analyzed the financial

and technical aspects of the

indigenous car project.

"Our mission is to carry out

a project of transforming

technology with a qualified team

of experts. We will give it its final

shape after we begin work on

Sept. 1," he said, pointing out

that they are acting with a vision

of a car brand that can compete

with and have a say in the global

market.

The partnership agreement

to launch Turkey's first locally

produced car brand was

signed on May 31, according

to a statement from the partner

companies.

Five local firms with 19 percent

shares each; Anadolu Group,

BMC, Kök Group, Turkcell,

and Zorlu Holding, along with

the Union of Chambers and

Commodity Exchanges of Turkey

(TOBB) with five percent shares,

will jointly lead the firm.

Karakaş, one of the top global

executives in technology giant

Bosch, was officially appointed as

the CEO of the new firm.

His appointment was announced

by President Recep Tayyip

Erdoğan during an interview .

"The indigenous car project's

shareholders' trust, commitment,

and adaptation impressed me,"

said Karakaş.

He said as an engineer who

has committed himself to the

automotive industry he was

excited to bring the experience

he gained abroad to Turkey.

The initiative came after repeated

calls from President Erdoğan for a

joint car project by TOBB and the

Science, Industry and Technology

Ministry.

Last November, President

Erdoğan announced that the

prototype of the first domestically

produced car - expected to be

produced in Ankara - would be

ready in 2019 and would enter

the market by 2021.

"I want to own the first automobile

(produced), provided that I

will pay for it. No one should

hesitate. We will produce Turkey's

car with the best design and

technology, both for our country

and the world," Erdoğan said in

November.

The President praised efforts to

ensure that the mass production

of the first domestically produced

automobile would be either

electric or hybrid.

Turkey attempted to produce

its first domestically produced

car the Devrim (Revolution) in

1961, however the attempt was

unsuccessful and production

was halted following the first

prototypes.

60 SEPTEMBER 2018
---
Monthly automotive aftermarket magazine

Turkish automotive industry

keeps its competitive power

and advantages

The foundation of Turkey's

automotive industry dates back to

the early 1960s. During a period of

rapid industrialization and progress,

this key sector transformed itself

from assembly-based partnerships

to a full-fledged industry with design

capability and massive production

capacity. Between 2000 and 2017,

original equipment manufacturers

(OEM) invested USD 14 billion

in their operations in Turkey.

These investments significantly

expanded their manufacturing

capabilities, which in turn led

Turkey to become an important

part of the global value chain of

international OEMs. Meeting and

exceeding international quality and

safety standards, today's Turkish

automotive industry is highly

efficient and competitive thanks to

value-added production.

• Leveraging a competitive and

highly-skilled workforce combined

with a dynamic local market and

favorable geographical location,

the vehicle production of 13 global

OEMs in Turkey increased from

374,000 in 2002 to over 1.7 million

units in 2017. This represents a

compound annual growth rate

(CAGR) of around 10 percent

during that period.

• Significant growth posted by

Turkey's automotive sector led to

Turkey becoming the 14th largest

automotive manufacturer in the

world and 5th largest in Europe by

the end of 2017.

• Turkey has already become

a center of excellence, particularly

with respect to the production of

commercial vehicles. By the end

of 2016, Turkey was the number

one producer of light commercial

vehicles (LCV) in Europe.

• Proven as a production hub of

excellence, the Turkish automotive

industry is now aiming at

improving its R&D, design, and

branding capabilities. As of the

end of 2017, 132 R&D and design

centers belonging to automotive

manufacturers and suppliers were

operational in Turkey.

• Notable examples of global brands

with product development, design,

and engineering activities in Turkey

include Ford, Fiat, Daimler, AVL,

and Segula. Ford Otosan's R&D

center is one of Ford's three largest

global R&D centers, while Fiat's

R&D center in Bursa is the Italian

company's only center serving the

European market outside its home

country. Meanwhile, Daimler's R&D

center in Istanbul complements

the German company's truck and

bus manufacturing operations in

Turkey. AVL Turkey, which opened

up its 2nd R&D center in Turkey,

started to develop autonomous

and hybrid vehicle technologies.

• Turkey offers a supportive

environment on the supply chain

side. There are around 1,100

component suppliers supporting

the production of OEMs. With

the parts going directly to the

production lines of vehicle

manufacturers, the localization rate

of OEMs varies between 50 and 70

percent.

• Turkey is home to many global

suppliers. There are more than 250

global suppliers that use Turkey

as a production base, with 28 of

them ranking among the 50 largest

global suppliers.

• Auto manufacturers increasingly

choose Turkey as a production

base for their export sales. This is

evidenced by the fact that around

80 percent of production in Turkey

was destined for foreign markets

in 2017. More than 1,300,000

vehicles were exported from Turkey

to foreign markets in the same

year. In addition, Turkey was the

number one vehicle exporter to

European markets with 986,000

units in 2017.

• While Germany, France, Italy,

the UK, and Spain are currently

the major export customers of

the Turkish automotive industry,

there is a trend of diversification in

export destinations with companies

looking to break into nearby

emerging countries where there

is considerably more demand

potential for new auto sales.

• The rise of per capita income

from USD 3,000 in the first few

years of the 2000s to around USD

11,000 in 2017 led to higher sales

in the motor vehicles market. While

the average annual sale figures in

the market were around 360,000

in the early 2000s, the average

sales increased to nearly 1,000,000

by 2017.

• Despite the strong increase in the

sales, the automobile penetration

in Turkey -- 165 cars per 1,000

people-is well behind the European

average of 500. This indicates

ample opportunities for carmakers

in the domestic market. Increased

purchasing power combined with

a low automobile ownership rate

should help drive automobile sales

in the coming years.

64 SEPTEMBER 2018
---
Monthly automotive aftermarket magazine

Comvex Istanbul Fair to be

held in November

Comvex İstanbul Fair is the most

important trade and marketing

platform which provide a

solid basis for an international

cooperation by gathering all part

of commercial vehicle, bus and

component sectors under a single

roof in Eurasian Region.

Comvex İstanbul 2018, 6th

International Commercial

Vehicles, Buses and Component

Expo will be held on 23-26

November, 2018 with the

cooperation of OSD (Automotive

Manufacturers Association),

TAİD (Heavy Commercial

Vehicle Association), TAYSAD

(Association of Automotive Parts

and Components Manufacturers)

and TÜYAP. The fair will present its

power once again.

Comvex İstanbul Fair which

exhibited the new products,

technologies and trends, hosted

more than 1.000 exhibitors and

120.000 visitors. The fair which

hosted 209 exhibitor companies

and 19.617 visitors in 2016, aim

to provide the same qualified

service for more exhibitors and

visitors in 2018. Comvex İstanbul

will continue to be the most

important exhibition of the sector

in 2018 and it will contribute to

the sector more than ever before.

66 SEPTEMBER 2018
---
Monthly automotive aftermarket magazine

Japan is making a push to

develop flying cars

Japan plans to develop flying

cars by 2020, enlisting about

20 companies to manufacture

airborne vehicles in the country,

according to Bloomberg.

According to the report, 20

companies, including Uber,

Boeing, NEC, Toyota Motorbacked

startup called Cartivator,

ANA, Japan Airlines and Yamato

representatives will gather at the

end of this month for the first of

their monthly meetings.

The Ministry of Economy, Trade

and Industry and the Transport

Ministry plan to draft a road map

for technological development and

regulations this year.

The ministry said it plans to seek

$40.4 million in funds to support

private-sector development of

equipment for flying cars, including

high-performance batteries and

motors.

"The Japanese government will

provide appropriate support to help

realize the concept of flying cars,

such as production of acceptable

rules," the trade ministry said.

68 SEPTEMBER 2018
---
Monthly automotive aftermarket magazine

Turkish car leasing firm

reclaims stake from

Japanese Mitsubishi

Intercity, one of Turkey's largest

car leasing companies, has

repurchased 47 percent of its stocks

from Japan's Mitsubishi Group.

With the repurchase of the stocks,

Intercity once again became a 100

percent domestic company.

The Japanese industrial giant had

acquired part of the Turkish car

rental company in 2008 when the

two sides agreed to invest around

$3 billion in Turkey's rental car

market over a period of four years.

The repurchased shares went to

Intercity founder Vural Ak. The

share repurchase process was

initiated last summer and was

completed recently.

Following the deal, Ak said,

"Intercity has regained its 'national

and domestic' title."

Intercity operates a fleet of 36,000

vehicles as of this June. It aims to

increase its revenue to TL 4 billion

($645.76 million) and its profit to TL

250 million by 2020.

Ak added that the company has

assets worth TL 3.255 billion. "If

we achieve our target of 60,000

vehicles by the end of 2020, we

will increase the total assets of our

company to TL 9 billion and our

own resources to TL 1.9 billion."

70 SEPTEMBER 2018
---
Monthly automotive aftermarket magazine

Turkey's exports up 5.3 pct in

first 8 months

The 12-month overall exports rose 6.5 percent on a yearly

basis, reaching $162.4 billion.

Turkey's exports from January to

August recorded a 5.3-percent

annual hike, Turkish Exporters'

Assembly (TIM) announced on

Sept. 1.

In the eight-month period, the

country's overall exports totaled

$108.7 billion, up from $103.2

billion in the same period last

year. In August alone, Turkish

exports amounted to $12.4

billion, representing a 6.5 percent

decrease compared to the same

month last year. TIM noted that

the fall in exports in August was

due to the nine-day Eid al-Adha

holiday break.

Turkey's exports hit an all-time

high of $157.6 billion in 2014.

They amounted to nearly $157

billion last year.

The exporters' assembly noted

that Turkish products were

exported to nearly 220 countries

in August.

"There was an increase in exports

to 96 of these countries while

the top five export markets were

Germany, the U.K., Iraq, the U.S.

and Spain," it said.

TIM figures showed the

automotive industry was the

leading sector with exports worth

$1.61 billion in August, followed

by ready-made garments and

apparel at $1.39 billion and

chemical products at $1.37

billion.

Jewelry exports climbed 177

percent year-on-year in August,

marking the best performance

among all sectors, while steel

and fresh fruit/vegetable exports

rose 43 percent and 10 percent,

respectively.

TIM data also showed that the

12-month overall exports rose

6.5 percent on a yearly basis,

reaching $162.4 billion.

72 SEPTEMBER 2018
---
Monthly automotive aftermarket magazine

Auto market targets over $30B

for exports

Baran Çelik, the chairman of Uludağ Automotive Industry Exporters' Association (OİB)

Baran Çelik, the chairman of Uludağ

Automotive Industry Exporters'

Association (OİB), said Bursa's share

in the automotive sector is around

40 percent.

"We call Bursa the 'capital of the

automotive industry.' OİB, the

export champion in Turkey for 12

years, is also located in Bursa for

this very reason," Çelik said. "The

investments being made in the

city in the past years are making

the automotive and subsidiary

industries sustainable. Bursa will

keep its position in both the general

industry and the automotive sector

in Turkey by strengthening it

thereafter."

Noting that the new industrial zones

established in Bursa in recent years

will help overcome the bottlenecks

at this point, he stressed that the

automotive industry for Bursa is

very important just as Bursa is for

the industry.

"Because Bursa has every kind of

supply source that the automotive

industry needs. The automotive

sub-industry is positioned in four

to five segments like plastic, metal,

electronics, et cetera. Almost

all of their world-renowned

organizations are in Bursa now,"

Çelik stated. The OİB chairman

earlier this month said automotive

industry exports will exceed $30

billion in 2018. Noting that the

industry aimed for $29 billion in

2018, Çelik had said, "If we look

at the data for the first half of the

year, we reached an export level of

$16.4 billion. This shows us that we

will exceed far beyond our aim. We

will exceed over $30 billion."

He said $16.4 billion of exports

in 2018 were an all-time record

for the first half of a year. Turkish

automotive sector's exports

reached $28.5 billion in 2017.

According to the Turkish Exporters'

Assembly (TİM), automotive was

the leading sector with $2.5

billion exports in June. The sector's

exports increased by 1.9 percent

compared to the same month the

previous year.

74 SEPTEMBER 2018
---
Monthly automotive aftermarket magazine

Auto spare parts production up

Every year more than 500.000 vehicles are sold in

Turkey, providing a high demand for parts and

component, and also for spare and replacement

parts. This paves the way for grounds for a powerful

parts industry and trade platform.

Domestic production of parts and components ranges

from diverse products of

engine and engine parts

to electrical equipment

and auto glass, just to

name a few.

There are 1,120 parts

and components

manufacturers in Turkey.

70 % of those are small

and medium sized

enterprises, supporting

many strong industrial

development zones all

across the country. The

parts and components

industry is mainly

concentrated in the

Marmara Region around

Bursa (a two hour drive

from Istanbul). Beside

Bursa, Istanbul, İzmir,

Kocaeli, Ankara, Konya,

Adana and Manisa

are home to many other

important manufacturing

sites.

Due to high demand all

over the country, vehicle

manufacturers have

already established their

authorized service station

network. In addition, there

are thousands of small and

medium sized garages

located in every part of the

country, servicing the repair

and maintenance needs of

the large vehicle park in

Turkey. Both the network

of service points and the

large pool of garages

are important to Turkey's

position as a producer and

consumer of parts and

components, as they are in

constant need of supply of

various parts from various price ranges.

Above that, there are more than 12,000 gas

stations in Turkey. Many of them offer repair and

maintenance services in addition to their car wash

facilities and contribute to the positive development

of the automotive parts industry.

76 SEPTEMBER 2018
---
Monthly automotive aftermarket magazine

German economy minister: Turkey

important for Europe's stability

Germany's Economy Minister Peter Altmaier

Germany's Economy Minister Peter

Altmaier voiced support for Turkey

amid market worries after U.S.

President Donald Trump imposed

sanctions and raised tariffs on

Turkey. Altmaier underlined Turkey's

importance for Germany and for

the European Union. "We can have

no interest in the destabilization

of a country like Turkey with a

population of 80 million, which also

hosts around 4 million refugees,"

he said.

Political tensions between Ankara

and Washington had sparked

worries in markets early this

month, after Trump threatened to

use economic pressure over the

prosecution of an American pastor

who faces terrorism-related charges

in Turkey.

The Turkish lira declined but staged

a recovery recently, after positive

messages from European capitals

and Qatar's decision to invest $15

billion in Turkey.

Altmaier did not totally rule out

possibility of assistance to Turkey, if

Ankara would ask for support from

its European partners.

But he stressed that the situation

has not come to such a point.

"I do not think that at the moment

we are in a situation where we

have to take concrete decisions on

financial or economic assistance,"

he said.

Altmaier, a close ally of Chancellor

Angela Merkel, acknowledged

political differences between

Berlin and Ankara on a number of

issues, but also expressed his hope

for overcoming them through

dialogue.

Political relations between Turkey

and Germany suffered several

setbacks in the past two years, but

both sides took steps in the recent

months toward the normalization

of ties.

President Recep Tayyip Erdoğan is

expected to pay an official visit to

Berlin on Sept. 28-29.

Germany is home to more than 3

million people with Turkish roots.

Many of them are second or thirdgeneration

Turkish families who

migrated to Germany in the 1960s.

EU heavyweight Germany is

Turkey's main economic and trade

partner, and more than 7,500

German companies are active in

the country. In 2017, the bilateral

trade volume reached 37.6 billion

euros ($43.6 billion).

European leaders earlier this month

raised their voices to highlight the

significance of the Turkish economy

that has recently come under attack

with the threatening economic

showdown of Trump.

Among them, Germany was one of

the first countries that voiced strong

support for the stabilization of the

Turkish economy and emphasize

its importance for Turkey's major

partners, particularly EU countries.

German Chancellor Angela Merkel

emphasized the importance of

the strong Turkish economy for

Germany in a phone call with

President Erdoğan earlier this

month, as the two leaders stated

their mutual determination to

maintain cooperation between the

two countries.

78 SEPTEMBER 2018
---
Monthly automotive aftermarket magazine

Putin's new luxurious car

unveiled at Moscow auto show

A new Russian-made luxury presidential car was

presented at the Moscow International Auto Salon (MIAS).

Russian Minister of Industry and

Trade Denis Manturov and Aurus

Chief Executive Franz Gerhard

Hilgert unveiled the Aurus Senat

sedan, which will also have a

limousine modification.

The Senat is part of the Kortezh

series, which includes a sedan, a

limousine, a minivan and an offroad

vehicle. Kortezh vehicles are

expected to cost 10 million rubles

($147,000) each. Aurus also aims

to start the serial production of

fully electric motorbikes not earlier

than 2020.

According to Manturov, Middle

Eastern countries will be the

first ones to import Aurus cars,

particularly the United Arab

Emirates (UAE).

"In 2021, we will have a new

structure, we will be ready to

increase the production of our

cars to 5,000 units. We will be

able to meet the global demand

for these cars," Hilgert said.

Russian President Vladimir Putin

used an Aurus Senat armored

limousine for his presidential

inauguration in May.

Stricter automobile emission

tests come into force across EU

Elzbieta Bienkowska,

EU Industry Commissioner

Stricter emissions tests for all new

cars in the European Union went

into force.

It comes in response to the 2015

Volkswagen emission scandal, in

which some of its diesel cars were

rigged to fool tests while actually

emitting illegal levels of fumes in

real driving situations.

The new controls are part of the

Worldwide Harmonised Light

Vehicle Test Procedure (WLTP).

They are designed to measure

emissions using real driving data,

rather than a theoretical driving

profile, which was the basis for

previous tests, the EU said.

The EU's roll-out of WLTP began

one year ago, affecting all

car models that were being

introduced to the market for the

first time.

The rules apply to every new car

for sale.

"In the last three years since the

emissions scandal broke out,

we've cardinally changed the rules

of the game to prevent emissions

cheating, protect our public

health and the environment,

and boost our industry's

global competitiveness," EU

Industry Commissioner Elzbieta

Bienkowska said in a statement.

82 SEPTEMBER 2018
---
Monthly automotive aftermarket magazine

Toyota allocates $500M

toward driverless car deal

with Uber

Toyota will allocate about $500

million into ride-share firm Uber

as part of a deal to work together

on mass-producing self-driving

vehicles, the Japanese car giant

said.

The deal, which reportedly values

Uber at about $72 billion, aims at

"advancing and bringing to market

autonomous ride-sharing as a

mobility service at scale," Toyota

said in a statement.

Analysts said the move showed

Toyota was motoring full speed

ahead toward a driverless car

future, in a race involving the

world's top auto firms as well as

tech giants such as Google and

Alibaba.

Technology from both companies

will be integrated into purpose-built

Toyota vehicles and deployed on

Uber's ride-sharing platform, with

the first pilot rollout set for 2021.

"Hundreds of vehicles" would

be involved in that first phase, a

spokesman told AFP.

"The deal is the first of its kind for

Uber and signals our commitment

to bringing world-class

technologies to the Uber network,"

said CEO Dara Khosrowshahi.

The agreement came after the

smartphone-summoned ride

service began to rein in its solo

effort to develop autonomous

vehicle technology.

Uber suspended its self-driving car

program after a crash in March,

which killed a woman pushing a

bicycle in a street in the U.S. state

of Arizona.

Last month, the San-Franciscobased

firm took a tentative step

towards restarting the program,

putting self-driving cars back on

the road in "manual mode," with a

driver at the wheel at all times.

The testing will enable Uber to

gather data on different scenarios

that will be produced in computer

simulations, and also develop more

accurate mapping for the vehicles.

Uber is among a number of

technology and car companies

racing toward what some say is an

inevitable future in which vehicles

drive themselves.

The statement said the "massproduced

autonomous vehicles"

would be owned and operated by

"mutually agreed-upon third-party

autonomous fleet operators."

Hans Greimel, Asia editor

for the specialist Automotive

News publication, said Toyota

was "gearing up big-time for

autonomous driving."

"They are feeling the pressure

and they are really turning their

attention towards this field," he

added.

"It is a wide-open field and

everybody is scrambling to feel their

way. Maybe Toyota feels a sense of

crisis, maybe they had a rough start

but I don't feel they are behind."

Traders appeared to welcome

the news, pushing Toyota stock

up 1.86 percent to 7.096 yen,

outperforming the wider market

which was 0.64 percent higher.

Toyota had already invested an

undisclosed amount in Uber in

2016 via its subsidiary Toyota

Financial Services and Greimel said

cash was the main attraction for

Uber.

"I think what they are after with

Toyota is the money more than

anything," he said.

However, he added that it was

possible that the more conservative

Toyota could end up slowing

down the Silicon Valley firm.

"Toyota is known for its safety and

is more conservative but it could

be a downside for a Silicon Valley

company used to being very

quick and nimble and making fast

decisions.

"Toyota needs to double-check,

triple-check everything and this

might slow them down a little bit,"

he said.

Khosrowshahi is also looking at

shifting cars to scooters and electric

bikes for shorter, inner-city trips, he

said in an interview published.

While he admitted the move would

likely cost the firm financially in the

near term, he told the Financial

Times it made sense as a long-term

strategy as "during rush hour, it is

very inefficient for a one-ton hulk

of metal to take one person 10

blocks."

86 SEPTEMBER 2018
---
Monthly automotive aftermarket magazine

American Varroc Lighting

acquires Turkish automotive firm

Exterior vehicle lighting specialist

U.S.-based Varroc Lighting Sytems

has acquired Istanbul-based Sa-ba

Automotive, a statement confirmed.

"Through Sa-ba Automotive,

Varroc Lighting gains valuable

manufacturing and production

capacity with a 10,000-squaremeter

manufacturing and

technology center near Istanbul,

and a new plant under construction

in Dimitrovgrad, Bulgaria," the

statement said. The terms and

conditions of the acquisition,

however, were not disclosed.

It also noted that the 20,000-squaremeter

Bulgaria plant will give

Varroc Lighting expanded and

scalable production capacity for its

European customers.

"This acquisition further

underscores our commitment to a

global footprint that provides our

customers with cost-effective and

high-quality lighting products and

technology," said Stephane Vedie,

president and CEO of Varroc

Lighting Systems.

"Turkey is a growing market,

and our presence there helps

us expand the services we can

provide to our growing customer

base, while substantially increasing

our capabilities in small lighting."

In the statement, Varroc Lighting

said that the acquisition was the

sixth business initiative in the past

16 months that directly support

the expansion of its global product

portfolio and manufacturing and

engineering footprint.

It also noted its manufacturing

and product development facilities

based in Morocco, Brazil, Japan,

and Poland. It recently opened an

expanded Lighting Development

Center in Ostrava, Czech Republic

while expanding manufacturing

capabilities in Vietnam.

With the acquisition of the Istanbulbased

company, Varroc Lighting

now has a global presence in 17

countries across five continents.

Turkey's automotive exports to

Europe reach new heights

The Turkish automotive industry,

which picked up some recent

losses in the domestic market, has

seen a rise in exports – exceeding

$16 billion in the first half of the

year – with more than 80 percent

going to European countries.

According to the Automotive

Distributors' Association (ODD)

and Turkish Exporters' Association

(TİM), the Turkish automotive and

light commercial vehicle industry

contracted 11.92 percent in the

first half of the year compared to

the previous year. The industry,

however, recorded $16.4 billion

in exports with a 14.5 percent rise

compared to the same period of

last year.

In accordance with these

figures, the automotive exports

constituted 20 percent of Turkey's

total exports in the first half,

which exceeded $80 billion.

Meanwhile in the first half of

2017, automotive exports stood

at $14.3 billion.

The automotive sector's exports

to the European Union and other

European countries in the first

half of the year increased by 15

percent and hit $13.6 billion,

making up 80.5 percent of

Turkey's $16.4 billion automotive

exports in the first half of the year.

Europe was followed by the

Middle East for the Turkish

automotive industry. Car sales

to Middle Eastern countries rose

by 2.2 percent, reaching $805.1

million.

With exports over $2.4 billion,

Germany was the biggest market

for Turkish manufacturers. It was

followed by Italy with $1.8 billion

and France with $1.7 billion. The

U.K. ranked fourth in Turkey's

automotive exports with $1.4

billion. Accordingly, automotive

sales separately to Germany,

Italy, France and the U.K. each

exceeded $1 billion.

In contrast, sales to the U.S.

dropped by $159 million and

stood at $463 million. Automotive

sales to Iran and Denmark also

fell by $51 million $22 million

respectively while the decrease

in exports to Ireland was at

$19 million. Turkish automotive

industry's exports to Syria also saw

a $15 million fall in the first half of

the year.

In 2017, the total automotive

production increased by 13

percent to 1.7 million compared

to 2016, while automobile

production reached 1.1 million

with an increase of 18 percent,

providing the sector with the

highest levels in both total

automotive and automobile

production, according to

Automotive Manufacturers

Association (OSD) data.

With these figures, both total

automotive and automobile

production reached their highest

levels in Turkey.

In 2017, total automotive exports

increased by 17 percent and

automobile exports by 24 percent

compared to the previous year.

In this period, total exports

amounted to 1.3 million units,

followed by automobile exports

with 921,000 units. Thus, 80

percent of the total production

in the automotive industry was

exported.

According to the Turkish

Exporters Assembly (TİM) data,

total automotive industry exports

maintained the leading position

in 2017 with an 18.2 percent

share in exports.

88 SEPTEMBER 2018
---
Monthly automotive aftermarket magazine

Bursa manufactured 2,041 vehicles

per day in first half of year

In Bursa, which hosts automotive

giants OYAK Renault, Tofaş and

Karsan, 2,041 vehicles were

produced per day in the first half

of the year, with an average 1,606

vehicles (78.69 percent) exported.

Bursa-based Tofaş, OYAK Renault

and Karsan reached 43.57 percent

(367,401 units) of total production

of 843,193 units excluding tractors

(367,401 units) in the January-

June period of this year. They also

reached 42.02 percent (289,124

units) of total exports of 688,081

units in the January-June period of

this year.

Ford Otosan closed the first half

of the year as the sector leader in

production and exports, followed

by OYAK Renault and Tofaş,

respectively.

According to data compiled from

Uludağ Automotive Industry

Exporters' Association (OİB)

and Automotive Manufacturers

Association (OSD), production of

the Turkish automotive industry,

which totaled 869,162 units,

excluding the tractors, in the

January-June period of 2017,

dropped by 3 percent to 843,193

in the same period this year.

Ford Otosan, which produced

198,600 vehicles, closed the first

half of the year as the sector leader

by providing close to one quarter

of total production (23.5 percent)

by itself, followed by OYAK Renault

with 189,006 vehicles and a

share of 22.41 percent and Tofaş

with 175,138 vehicles and a

share of 20.77 percent. Toyota,

on the other hand, came fourth

with 129,644 vehicles and 15.37

percent share, while Hyundai

Assan ranked fifth with 107,377

vehicles and 12.73 percent

share. In the city where another

Bursa-based company, Karsan,

produced 43.5 percent (367,401

units) of the total production with

3,257 vehicles, 85 vehicles were

produced per hour, amounting to

2,041 vehicles per day.

The exports of the automotive

industry decreased by 3.7 percent

to 688,081 units compared to last

year in the January-June period

when 714,283 units in were

produced, not including tractors.

In exports, Ford Otosan led the

way with 165,131 vehicles,

holding 24 percent of total

exports, in the first half of the

year, followed by Bursa-based

OYAK Renault with 147,119

vehicles and 21.38 percent share,

Tofaş with 140,191 vehicles and

20.39 percent share, Toyota

with 117,469 vehicles and 17.07

percent share and Hyundai Assan

with 98,346 vehicles and 14

percent share.

In Bursa, which realized 42.02

percent of total exports in the first

half of the year with Karsan's 1,714

units of exports, an average of 67

vehicles were exported per hour,

amounting to 1,606 vehicles per

day.

90 AUGUST 2018
---
Monthly automotive aftermarket magazine

Turkey - a global player in

the autumotive industry

During the 1990's, as other

international manufacturers like

Toyota, Honda, Hyundai, Isuzu

and Mercedes-Benz

entered the market, Turkey

rapidly became an automotive

production base which not only

caters to one-time

developments of the industry

but rather holds long-term

development options.

Today, Turkey has a thriving

automotive sector, demonstrating

substantial growth in the past. All

players involved, including local

authorities and the government,

are participating in providing

conditions to increase output in

the future. Some of the facts are:

-High level of integration into the

global automotive industry

-14th major automotive producer

in theWorld,with 78% average

export rate

-Vehicles of Turkish origin hold

the leading position among the

vehicles coming from outside of

EU

-Production, export, and

engineering hub of global brands

for international markets

-Quality products with high

export rates

-Hundreds of Tier 1 companies

working directly with OEMs

-Center of excellence in

automotive engineering and

R&D,in which new technologies

are developed

Strong international presence

-Giants of global automotive

value chain benefit from

Turkey's location, cost,

andcompetitiveadvantages

-Because of their profitable

business in the country,

companies in Turkey continue to

invest in the country's future

-9 R&D centers support not only

the local operations, but also

the operations in other plants of

parent companies.

-Ford Otosan's R&D department is

one of Ford's 3 largest global R&D

centers

-R&D centerin Bursa is the only

center of Fiat outside of Italy

serving the European market.

-For Courier, Ford's new light

commercial vehicle, the Yeniköy

plant is the sole production center

in the world.

-Toyota's C-HR Hybrid is produced

in Turkey for World markets

-Daimler R&D is the center of

competence for some parts and

carries global responsibility.

-With more than 40 thousand

employees, automotive OEMs are

one of the major employers in the

manufacturing industry.

92 SEPTEMBER 2018
---
Monthly automotive aftermarket magazine

Taysad: Competent

representative of the Turkish

automotive supplier industry

Established in 1978, TAYSAD is

the sole and most competent

representative of the Turkish

automotive supplier industry.

TAYSAD plans its activities in line

with its vision and mission and

aims at becoming a center of

attraction in the automotive

industry, by enhancing its

capability as a representative

association, its effectiveness in the

sector, as well as the cooperation

between members and by

providing better-quality services to

meet members' changing needs.

The major facts are:

• Established in 1978, TAYSAD

is the sole and most competent

representative of the Turkish

automotive supplier industry

• With 408 members, TAYSAD

represents 65% of the output of

the automotive supplier industry

and 70% of the industry's exports

• 80% of TAYSAD's members

operate in the Marmara

region;12% in the Aegean region

and 8% in other regions of Turkey

• 408 TAYSAD members employ

more than 160,000 people.

• 25% of TAYSAD members have

foreign partners who hold varying

levels of shares

• TAYSAD is a member of CLEPA,

the European Association of

Automotive Suppliers (www.

clepa.be)

• TAYSAD is the founding

partner of OTAM - Automotive

Technologies Research &

Development Company.

• TAYSAD has a reference position

within Turkey for domestic

and international OEM's, Tier

1 Suppliers and institutions

being the representative of

Turkish Automotive Parts and

Components Suppliers

• TAYSAD holds ESCA Silver Label

and ISO 9001 Certificates.

The product range of TAYSAD

members covers all sorts of

parts except a few items and is

sufficiently diversified to support

an 85-90% local parts ratio in

domestically-produced motor

vehicles. The main product

groups manufactured by TAYSAD

members operating in the motor

vehicle manufacturing industry

can be classified as follows:

• Complete engines and engine

parts,

• Radiators

• Heating, ventilating & air

conditioning systems (HVAC

systems)

• Power trains,

• Brake systems and parts,

• Hydraulic and pneumatic spare

parts,

• Suspension parts,

• Safety spare parts,

• Foam and rubber parts,

• Chassis parts and spare parts,

• Forged and cast parts,

• Electrical equipment and

illumination systems,

• Batteries,

• Automobile glass,

• Seats

• Design & Engineering services

• Simulation services

• Special vehicle production

In order to adapt to the changing

competitive environment,

TAYSAD members closely follow

technological developments

and continue to invest in

innovation and expansion.

With the help of their advanced

manufacturing capabilities, they

produce prototypes, use testing

facilities, perform CNC-based and

conventional machining, engage

in product development, pursue

collective R&D activities with

foreign and domestic companies

and use CAD-CAM applications

during the design process.

Vision

To become, by 2023, a sectoral

association representative of

all companies in Turkey, that

supply goods and services

directly and indirectly to the

automotive industry; a sectoral

association which pursues and

supports activities increasing the

local share in global automotive

manufacturing to at least 3%; and

a sectoral association which has

gained complete public support.

Mission

To provide the environment and

conditions for developing the

Turkish automotive industry as a

whole and making Turkey one

of the leading supply centers of

the global automotive industry,

by supporting its members as a

collective organization.

94 SEPTEMBER 2018
---
Monthly automotive aftermarket magazine

Turkey's industrial capacity

usage increases in August

Turkey's manufacturing industry

capacity utilization rate rose

slightly at 77.8 percent in August,

the Central Bank of the Republic

of Turkey (CBRT) announced.

The capacity utilization rate (CUR)

saw a 0.7-percentage point

monthly gain from 77.1 percent

in July, according to the bank.

The bank stated that the CUR

figures are based on the responses

given to its business tendency

survey by local units operating in

the manufacturing industry.

It added that while some 2,607

companies responded to the

survey in August, the monthly

data does not reflect the bank's

views or predictions.

Among over 20 sectors, the

highest capacity usage was seen

in the manufacturing of coal and

refined petroleum products with

88.4 percent in August, while

the lowest CUR was seen in the

leather and related products

sector, with 59.7 percent.

On the main industrial groups

side, the highest CUR was 79.7

percent for intermediate goods,

while the lowest capacity usage

was 71 percent in food and

beverages.

According to CBRT data,

manufacturers of investment

goods used 78.9 percent of their

capacity this month while the

CUR in consumer goods was 73

percent - durable goods at 71.6

percent, and non-durable goods

at 73.3 percent.

Last year, the average capacity

usage in the manufacturing

industry was 78.5 percent. Over

the past five years, the highest

CUR was seen last November with

79.9 percent, and the lowest was

73.5 percent in February 2013.

96 SEPTEMBER 2018
---
Monthly automotive aftermarket magazine

Peru, the gateway to South

American markets for exporters

from Turkey

Peru was the main topic in a

seminar held by TIM, Turkey

Exporters Assembly, for the 14th

time. Chairman of the Assembly,

Ismail Gullle emphasized on the

changes and transformations

in the world and mentioned

about the ending of free trade

agreement, new barriers in global

trade and trade wars through

tariffs.

The meeting was held for the

preparations running about a

commercial activity that will be

made between 14th to 19th

October 2018 to Peru under the

name of "Compass of Exports",

and more than 300 companies

were represented in the meeting.

In his opening address, Ismail Gulle

said that recent developments in

global trade that are dominated

by the moves of the USA who

ends free trade agreement, put

new barriers before trade and

engaged a commercial war

by rising the tariffs, "As Turkish

exporters we have been always

defended a trade that have

mutual benefits for both sides.

We are for a balanced trade and

want to sell as much as we buy.

It should be a mutually benefited

system. Our aim is to reach out

more new markets, and to sell as

much as possible what we have

produced. We want to have more

exporters active more countries."

He said, "Peru pursues a proactive

trade policy having serious

economic potentials. Annual

export volume is 40 billion dollars

and imports account 30 billion.

Our export volume to this market

is only 100 million dollars. We

import goods ow 75 million

dollars. We have to improve the

bilateral trade among us."

One of the guests in the meeting

was Fernando Albareda,

commercial attache of Peru

Republic in Turkey. He mentioned

that per capita income was 6,570

dollars and inflation is 3.2 percent

in Peru. Average annual growth

in Peru in the last 18 years was

5.1 percent, realized by mostly

private sector investments. In

2017 7 billion dollars of foreign

investments entered in the

country. He said, "As Peruvians,

we also try to understand the

market in Turkey. Peruvians know

about Turkey through Turkish

TV serials, they like them. Their

perceptions about Turkey will be

more positive thanks to this kind

of meetings."

The meeting was moderated by

Erkan Kaplan, deputy general

secretary of the assembly, and

several representatives of the

participating companies have

exchanged their experiences

and information about Peruvian

economy and possibilities for

commercial relations.

100 SEPTEMBER 2018