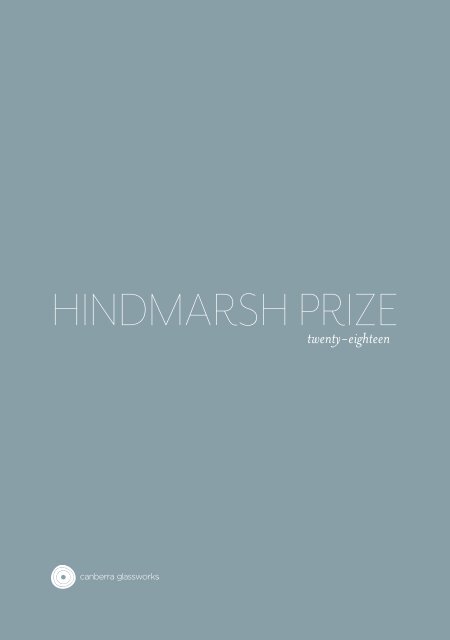 Create successful ePaper yourself
Turn your PDF publications into a flip-book with our unique Google optimized e-Paper software.
HINDMARSH PRIZE

twenty-eighteen
---
Hindmarsh Prize exhibition

Saturday 22 September to 30 September

10am to 4pm daily in the Fitters' Workshop, adjacent Canberra Glassworks

Sponsors

Major Sponsor

Exhibition Partners

Designed by Wendy Dawes

Printed by Canprint

Set in Mr Eaves San OT Book

© Canberra Glassworks 2018
---
Contents

Welcome 5

Curator 7

SELECTED ARTISTS

Brenda L Croft 10

Brendan van Hek 12

Clare Belfrage 14

Dan Venables 16

Emma-Kate Hart & Fernando Melendez 18

Harriet Schwarzrock 20

Holly Grace 22

Jeremy Lepisto & Nick Stranks 24

Kate Baker 26

Kate Nixon 28

Kirstie Rea 30

Lisa Cahill 32

Lucy Palmer 34

Madeline Cardone 36

Mark Eliott 38

Mel Douglas 40

不 NOT 42

Richard Whiteley 44

Rose-Mary Faulkner 46

Scott Chaseling 48

Yusuke Takemura 50
---
Welcome

Canberra Glassworks is delighted to

present the third Hindmarsh Prize, which

in 2018 showcases the work of some of

Australia's most interesting and talented

contemporary artists who work with glass.

The prize honours outstanding achievement

in contemporary glass art, celebrating the

work of remarkable artists whose practices

are among the most innovative and

influential in this medium.

From the outset, the exhibition and award

were intended to provide significant

benefits to artists. Art prizes are an

important means by which art museums

and collectors, large or small acquire

work to build their collections and as the

Hindmarsh Prize is peer assessed by gallery

curators and a director, it confirms that

the works selected are both worthy and

interesting. This year, with the support of

Hindmarsh and the Department of Foreign

Affairs and Trade, the finalist exhibition

will tour to Toyama Glass Museum in

Toyama, Japan. And of course, along with

the $10,000 prize money the winning artist

receives a four week residency at Canberra

Glassworks.

I would like to thank the artists who

submitted their work for consideration for

this year's exhibition and congratulate our

2018 finalists. We are grateful to the artists

for their commitment to contemporary

glass and to their representative galleries.

I would also like to thank Eva Czernis-

Ryl, Curator, Museum of Applied Arts

and Sciences; Aimee Frodsham, Artistic

Director, Canberra Glassworks and Nick

Mitzevich, Director, National Gallery of

Australia for generously giving their time

and expertise as the 2018 judges.

The Hindmarsh Prize would not be

possible without our supporters The

Tall Foundation, CRE8TIVE and King

and Wood Mallesons. I would also like

to acknowledge our wine sponsors Lake

George Winery.

I am immensely grateful to the small

and dedicated team here and extend

my thanks to Tom Rowney, Aimee

Frodsham and Wendy Dawes for their

work on the exhibition and this publication

and acknowledge all of the Canberra

Glassworks staff for helping to ensure the

exhibition's success.

Finally, heartfelt thanks go to John

Hindmarsh for his generous and passionate

support of the exhibition and the prize over

the past three years.

Julie Skate

CEO, Canberra Glassworks

5
---
Curator

Glass may cut and burn but it runs through

the veins of the artists who practice at

Canberra Glassworks. Despite this inherent

danger, or perhaps because of it, glass is

instantly seductive and yet the contrary can

be said for the time taken to master it.

When I began working with the material in

the early 90s I was told that it would take

me 10 years before I would make anything

worthwhile, and while this might be not

completely true, it is indicative of the time

required watching, learning and making to

gain a level of material knowledge.

Glass making can only be taught by using

and feeling the material; it cannot be

learned through simply watching. Much

of this knowledge has come from working

both with and for other makers with

more experience, sharing with others and

developing legacies of teacher to student,

much like the traditional master-apprentice

relationship.

Canberra Glassworks is at its core a making

facility championing such technical skills,

providing the necessary equipment and

pathways to gain and further a thirst for

material knowledge in glass. The skills

shared at Canberra Glassworks join us

together as a community of makers – be

they artist, craftsperson or designer –

creating a community that is unlike any

other I have experienced.

There have been, and will continue to be,

many great Australian studio glass makers

who choose to base their practice in and

around Canberra Glassworks and the

Hindmarsh Prize offers us the opportunity

to recognise the extraordinary skillset

amongst our community. These skills were

recognised when the inaugural Hindmarsh

Prize in 2016 was awarded to Masahiro

Asaka and in 2017 to Scott Chaseling;

these two artists created works that

epitomised quality, strength of concept and

craftsmanship.

In 2018, the Hindmarsh Prize will exhibit 21

finalists in Canberra and for the first time

this exhibition will travel and be exhibited at

the prestigious Toyama Art Glass Museum

in Japan. By showcasing and touring an

exhibition of such high-calibre works the

Hindmarsh Prize provides visibility to a

local, national and international audience

and continues to cement Canberra

Glassworks as the pre-eminent access

facility for artists across the world.

Aimee Frodsham

Artistic Director, Canberra Glassworks

7
---
SELECTED ARTISTS
---
BRENDA L CROFT

GROUNDED (RED, BLACK, WHITE)

Brenda L Croft is from the Victoria River region. A Gurindji/Malngin/Mudburra woman of

the Northern Territory, Croft also has Anglo-Australian/German/Irish/Chinese heritage. Croft

has been involved in the Indigenous and broader contemporary arts and cultural sectors as an

artist, arts administrator, curator, academic and consultant for over three decades.

Croft's artistic practice is multi-disciplinary. Although best known for photo-media, she

has also worked with printmaking, sculpture, glass, audio-visual/multi-media installation,

performance and sound work. The lead crystal stone axes, titled Grounded (red, black, white)

draw inspiration from the original material cultural object that found the artist (not the other

way around) on her Peoples' country during site visits with Gurindji elders and community

members back in June 2014.

Represented by Niagara Galleries, Melbourne.

Brenda L Croft, Grounded (red, black, white), 2018, kiln cast lead crystal, corten steel, stainless steel and

electrical components. Photos: Brenda L Croft

10
---
11
---
BRENDAN VAN HEK

CORRECTED HORIZON

(COBALT BLUE, TURQUOISE)

Brendan van Hek was awarded the prestigious International Studio & Curatorial Program

(ISCP) residency in New York as well as a fellowship through the Department for Culture and

the Arts WA that allowed him to research new techniques in neon production. Corrected

Horizon (cobalt blue, turquoise) is a neon work that relies on colour and geometry to create an

optical encounter that calls to the illusion that is the horizon line. In Corrected Horizon (cobalt

blue, turquoise) the horizon line has slipped – visually it needs to be corrected. The artwork is

rotated clockwise to achieve this, but balance is uncertain. The work considers the precarious

nature of contemporary existence as understood from many points – philosophically,

environmentally, politically, socially.

The artist is represented by Sarah Cottier Gallery, Sydney.

Brendan van Hek, Corrected Horizon (cobalt blue, turquoise), 2018, neon. Photo: Consuelo Cavaniglia

12
---
13
---
CLARE BELFRAGE

QUIET SHIFTING, GREEN AND CORAL

In 2016 Clare Belfrage re-interpreted her 2002 Quiet Shifting series, inspired by rock forms

encountered many years ago in the Australian Alps. The artist was interested in the slow and

occasionally dynamic movement of monoliths and clusters of rocks as well as the surface

covering of rocks; the growth of lichen and moss. In this interpretation, Quiet Shifting, Green

and Coral, 2018, there is movement described by broad stripes or washes of colour deep into

the body of the piece. The line work is finer, subtler and more intense, but the warp and weft

are still present. This work combines her technical developments with her current sensibility in

regards to landscape and the rhythms in the natural world.

The artist is represented by Sabbia Gallery, Sydney.

Clare Belfrage, Quiet Shifting, Green and Coral, 2018, blown and coldworked glass with cane drawing.

Photo: Pippy Mount

14
---
15
---
DAN VENABLES

OCCULUS SERIES (III – BLACK SUN)

Dan Venables' current body of work challenges the value of clinical diagnoses to the visceral

understanding of the experience of psychological darkness. Dan questions whether this

darkness can be more fully explored through an empathetic evaluation of the psyche instead.

In Dan's Occulus series, a blown glass lens is mounted on a timber tripod, compelling the viewer

to share a singular viewpoint. Due to the optical and refractive properties of blown glass, their

vision is altered, distorted.

Dan Venables, Occulus Series (iii - Black Sun), 2017, blown glass, timber. Photo: Adam McGrath

16
---
17
---
EMMA-KATE HART & FERNANDO MELENDEZ

ELECTRIC BELL JAR

Emma-Kate Hart is a commercial neon glass worker – the only full-time female tube bender in

Australia; Fernando Melendez is a Mexican-born architect who moved to Australia to pursue

a career in sculpture and painting. Their collaborative work, Electric Bell Jar is a sculptural

work that explores the commercialisation of the body. Referencing the historical use of neon

as a commercial medium, the sculpture serves as a critique on the hyper-sexualisation and

objectification of women. Hart and Melendez address how, when reduced to a mere physical

representation, the individual is stripped of her complexities and potential.

Emma-Kate Hart and Fernando Melendez, Electric Bell Jar, 2018, neon. Photo: Adam McGrath

18
---
19
---
HARRIET SCHWARZROCK

DEGREES BETWEEN

The poetic notion that all individuals are connected to each other by only six degrees of

separation has long fascinated Harriet Schwarzrock. This work continues a meditation on

this interconnectivity, becoming an exercise in making such intangible connections visible.

The blown and hot sculpted glass heart forms are filled with noble gases, excited by an

electromagnetic field – reacting when touched. Their undulating and pulsing movement is

contained, yet influenced by the subtle electricity of human touch. The arrangement of forms

references in a circle symbolises unending connection and movement, and celebrates the

asymmetric and sympathetic network of similar yet subtly different forms.

The artist is represented by Suki & Hugh Gallery, Bungendore.

Harriet Schwarzrock, degrees between, 2018, blown glass, neon. Photo: Sam Cooper

20
---
21
---
HOLLY GRACE

ILLUMINATING TIDBINBILLA

Holly Grace's recent artwork explores local histories of the Kosciuszko and Namadgi regions.

For the artist, glass has become a lens to explore the complexity of the natural world. Exploring

first with the camera and then with the material, Grace uses glass as a surface for translating

light and creating sublime landscapes both real and imagined.

Grace conducted research on people and place at the National Library of Australia and

National Archives of Australia; which was further explored through the artist's own personal

photography and documentation of the landscape. Following this period of research, Grace

began creating artwork layered with context and imagery to explore the cultural and the

physical landscapes, creating a poetic interpretation of the Australian vernacular.

The artist is represented by Beaver Galleries, Canberra and Sabbia Gallery, Sydney.

Holly Grace, Illuminating Tidbinbilla, 2018, blown glass. Photos: David McArthur

22
---
23
---
JEREMY LEPISTO & NICK STRANKS

THE FIX

The Fix is a work that perhaps requires more answers than it offers. The work is a heavy, rusted

toolbox whose floor holds an embedded image of a flooded farmhouse and the foreverpresent

dusted silhouette of a missing spanner. The contour and condition of the metal form

along with the content of the glass component combine to suggest what exactly The Fix is.

Jeremy Lepisto and Nick Stranks are known as makers and fixers. Within this collaborative work

a little of each artist remains in the work, evidence of their labour is obvious, but also evident is

a portrait of the makers. The Fix tells its own story, but also tells the story of its owner/maker.

Jeremy Lepisto is represented by Beaver Galleries, Canberra.

Jeremy Lepisto and Nick Stranks, The Fix, 2018, fabricated steel and bronze, kiln formed glass. Photos:

Adam McGrath

24
---
25
---
KATE BAKER

LENA ON THE TRAMP

The process of studio-based practice is the primary focus of Kate Baker's artistic research. This

direction provides for a challenging yet complex research environment in which concepts of our

immaterial nature can be explored, paradoxically through an intimate and rigorous engagement

with the material and the resulting abstraction.

This particular work has grown out of an ongoing investigation into the ethereal figure within

abstracted space and the potential for this exploration to create emotional and psychological

environments in which the viewer can be transported both visually and viscerally. Within this

work, the artist meditates on the question of what it means to love and be loved and where the

space for love and fulfilment really resides.

Kate Baker, Lena on the Tramp, 2018, hand and digitally printed silver mirror. Photo: Kate Baker

26
---
27
---
KATE NIXON

FOR COLLECTION

Kate Nixon's work explores how our private identities are expressed through the things we

collect and the material mass we will eventually leave behind. By exploiting the transformative

properties of glass, cheap knick-knacks, gaudy wallpaper and garbage bins morph into precious

decorative objects, in contrast to their humble origins.

For collection is part of a series of glass mosaics based on rubbish bins, trashcans and recycling

bins. Nixon's work has always been concerned with what happens to the 'stuff' left behind and

the transformation of value in those objects. The artist honours the act of releasing ourselves

from the burden of these objects and celebrates the humble rubbish bin as the bearer of these

artefacts.

Kate Nixon, For collection, 2018, hand-cut mirrored glass mosaic. Photo: Adam McGrath

28
---
29
---
KIRSTIE REA

CLARITY IN THE UNRESOLVED

Clarity in the Unresolved reflects the artist's ongoing and deep interest in seeking an

understanding of place and belonging. This has anchored much of Kirstie Rea's work over the

past three decades. The photographs on each glass panel are one image, one shot, with no

digital manipulation. They are the reflection on, and the image through the glass in the doors,

as one image. Cut and installed at an angle the glass panels reflect the partially open doors that

first captured the reflections photographed. This suggestion of open doors offers possibilities

and ongoing ways forward with our conversations, the artist seeks to acknowledge our past

history since colonisation and remind us that we all need to participate.

The artist is represented by Sabbia Gallery, Sydney and Suki & Hugh Gallery, Bungendore.

Kirstie Rea, Clarity in the Unresolved, 2018, digitally printed glass, steel. Photo: David Paterson

30
---
31
---
LISA CAHILL

Beside the Escarpment III

Inspired by both the natural world and the transitory nature of the urban experience, Lisa

Cahill's dreamlike images allow viewers to draw associations with their own remembered

landscapes, resulting in a meditative and emotional response. Having spent many years living

and travelling the world, much of this time spent in Denmark, her mother's homeland, Cahill's

kiln formed glass connects structures of urban architecture, the associations and memories

they invoke, and her innate respect for the natural landscape. Rather than a direct reproduction

they are more her own interpretation of light and landscape and become a place for quiet

contemplation. The artist's technique has affinities with both painting and sculpture.

The artist is represented by Sabbia Gallery, Sydney.

Lisa Cahill, Beside the Escarpment III, 2018, kiln formed and enamelled glass. Photos: Greg Piper

32
---
33
---
LUCY PALMER

INVERSE NOTION

Inverse Notion is an exploration into the intimate encounter between the ocean and sky,

creating a quiet state of contemplation through stillness and simplicity.

Lucy Palmer uses the form of the prism to create colour from light. The thin horizon takes

this light and transforms it, whilst the curve of the sphere attempts to contain the light and its

surroundings. Together these forms allow contemplation on the silent expanse of water and sky

against the horizon.

At first the work appears to provide an easy stillness and a level of crystalline clarity, until you

move and it all becomes uncertain. The spherical lenses create an illusory effect, forcing the

viewer to question their perception.

Lucy Palmer, Inverse Notion, 2018, hot sculpted, constructed and coldworked glass. Photo: Sam

Cooper

34
---
35
---
MADELINE CARDONE

SOMETHING ABOUT THE RAIN

Something About The Rain is an abstraction of observation, looking at the motion of rain on

glass. Madeline Cardone's work contemplates the relationship between the internal and the

external through exploring and challenging the material potential of kiln formed glass. The

imagery in her work is a narrative of connecting lines that form a dialogue from panel to panel.

The artist is interested in how simple lines and forms have the power to evoke certain emotional

responses from the viewer. The subtle tension of pull and resistance between form and material

suggests the presence of something ambiguous beneath the surface, inviting the interplay of

object and light and prompting the temptation of touch.

Madeline Cardone, Something About The Rain, 2018, kiln formed glass. Photo: Annette Liu

36
---
37
---
MARK ELIOTT

ESSENCE OF CLOUD ARTEFACTS

Following on from the artist's short animation Dr Mermaid and the Abovemarine and glass

installations at Sculpture by the Sea, Essence Of Cloud Artefacts represents a major turning

point. It is Mark Eliott's first attempt at a long-form body of work that delves deeper into

narrative and character development through detailed articulation of an imagined family

history, at some points intersecting with the real.

Essence Of Cloud Artefacts is a multi-faceted project comprised mainly of glass objects but also

text, mixed media, performance and animation.

Mark Eliott, Essence Of Cloud Artefacts, 2018, flameworked and sandblasted glass, assembled and

carved wood. Photos: Richard Weinstein

38
---
39
---
MEL DOUGLAS

LIMINAL

Line has always been an integral element in Mel Douglas's work, as well as a fundamental

constitute of the drawing vernacular. Objects and drawings are often thought of as two

separate entities. Her work explores and interweaves the creative possibilities of this hybrid

space, where the form is not just a 'substrate' for drawing; but a three-dimensional drawing

itself.

Using the unique qualities of the material, Douglas uses line as a way to inform, define and

enable three-dimensional space. The artist's aim is to concentrate the viewer's attention on the

proportion and linear relationships of the work. The repetitious and time-consuming method of

mark making is not only a meditative process; in its very creation it describes a singular moment

and a certain place.

The artist is represented by Beaver Galleries, Canberra, Bilk Gallery, Canberra and Sabbia

Gallery, Sydney.

Mel Douglas, liminal, 2018, kiln formed, coldworked and engraved glass. Photos: David Paterson

40
---
41
---
不 NOT

THE CHINA SYNDROME

The China syndrome takes its name from the 1979 film by James Bridges that, with eerie

prescience, was released 12 days before the world learnt of the nuclear power plant accident

at Three Mile Island in Pennsylvania. Like the film, NOT's The China syndrome is about the

phenomenology of playing with fire – in the case of this sculpture, four kilos of hot-formed

uranium glass shaped into a human skull and then cold-worked .

This artwork continues the artist's recent practice in the medium of hot formed and coldworked

glass, extending on themes of remembrance and reparation as part of a contemporary project

that seeks to nurture new understandings of our shared stories and histories.

The artist is represented by Kronenberg Wright Artists Projects, Sydney.

不 NOT, The China Syndrome, 2018, kiln cast and coldworked glass, monumental granite. Photos: Dan

Lorrimer

42
---
43
---
RICHARD WHITELEY

SOLID FLOW

Richard Whiteley employs voids as a primary compositional element, allowing the architecture

of this conversation to be shaped by the unique material properties of glass, which invites an

overlaying of form and light. The structuring and layering of often simple shapes becomes

complex when the voids and solids are read together.

Glass can be defined as having liquid and solid properties, and the artist represents this duality

by creating a work that aims to visualise an industrial structure which folds or flows into itself,

mimicking the duality of form as both container and liquid.

The artist is represented by Sabbia Gallery, Sydney.

Richard Whiteley, Solid Flow, 2018, cast glass. Photo: Adam McGrath

44
---
45
---
ROSE-MARY FAULKNER

BARE 2-4

Rose-Mary Faulkner's current work presents a study of the body from a unique and subjective

line of sight. The artist seeks to map and record the female figure through abstracted and

layered photographic imagery, analysing form and surface. Transferring photographs to glass,

Faulkner expands the depth of the original photographs by layering multiple images and

manipulating the surface and form through multiple fusings and coldworking.

Bare 2-4 is from a series of eight diptychs mapping an abstracted, soft figure in sections in order

to highlight areas of colour, line and form.

Rose-Mary Faulkner, Bare 2-4, 2018, kiln formed glass with decals. Photo: David Paterson & Wendy

Dawes

46
---
47
---
SCOTT CHASELING

DRAGGING ANCHOR (A SELF PORTRAIT)

Dragging Anchor is embedded with both literal and personal symbolism. By combining the

three main components of a flag, a glass bucket, and a mirror, he has created a narrative of selfreflection.

As a maker Chaseling is constantly questioning his position and therefore aiming to

push himself and his sculptures to new possibilities. This self-examination is both a burden and

an inspiration; feeding a path forward to a more concentrated body of work.

Working predominately with glass as the main material in his artworks, Chaseling blurs the

borders between art and craft, combining technical skills with conceptual foundations to create

new and thought provoking pieces.

Scott Chaseling, Dragging Anchor (A Self Portrait), 2018, blown glass, mirror, maritime flag. Photo:

Supplied by the artist

48
---
49
---
YUSUKE TAKEMURA

CLOSER TO SILENCE

Viewed from afar, Closer to silence is evocative of an abstracted human figure. Upon closer

inspection the object offers a complex surface created through cutting, grinding and polishing,

yielding an ethereal shell perforated by organic-shaped voids.

Inspired by the Zen philosophy of Daisetz Suzuki and his contemplative museum in Kanazawa,

Yusuke Takemura's artistic practice utilizes glass as medium to investigate the infinite

relationship between mind and body. Voids are bound by glass, mimicking the grounding of the

conscious and unconscious mind through a network of neural pathways.

The artist has continually explored coldworking techniques throughout his career, pushing

the limits of glass in order to balance positive and negative space while maintaining structural

integrity. The movement from sculptural vessel to multi-media installation represents a

significant new step for his work.

Yusuke Takemura, Closer to silence, 2018, blown and coldworked glass, timber, steel, water. Photo:

Adam McGrath

50
---
51
---
canberraglassworks.com

11 Wentworth Ave, Kingston ACT 2604

T 02 6260 7005

E contactus@canberraglassworks.com

Hindmarsh Prize exhibition

Saturday 22 September to 30 September, 2018

10am to 4pm daily in the Fitters' Workshop,

adjacent Canberra Glassworks