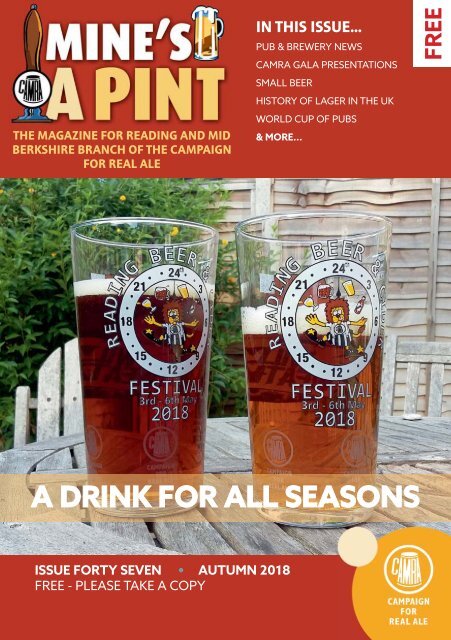 Mine's a Pint - Autumn 2018
The Autumn 2018 Magazine of the Reading & Mid-Berkshire Campaign for Real Ale (CAMRA).
The Autumn 2018 Magazine of the Reading & Mid-Berkshire Campaign for Real Ale (CAMRA).
SHOW MORE
SHOW LESS
You also want an ePaper? Increase the reach of your titles
YUMPU automatically turns print PDFs into web optimized ePapers that Google loves.
THE MAGAZINE FOR READING AND MID

BERKSHIRE BRANCH OF THE CAMPAIGN

FOR REAL ALE

IN THIS ISSUE...

PUB & BREWERY NEWS

CAMRA GALA PRESENTATIONS

SMALL BEER

HISTORY OF LAGER IN THE UK

WORLD CUP OF PUBS

& MORE...

FREE

A DRINK FOR ALL SEASONS

ISSUE FORTY SEVEN AUTUMN 2018

FREE - PLEASE TAKE A COPY
---
Shop and Taproom

Opening Hours

Shop Open Daily:

10am to 6pm

Taproom Open Daily:

10am to 6pm,

Weds - Sat until 11pm

Kitchen Open:

Tues - Sun 12pm to 3pm,

Weds - Sat 6pm to 9pm

Phone: 01635 767090

Email: info@wbbrew.co.uk

wbbtaproom

Available for private tours

Please call 01635 767090 or

Email: taproomandkitchen@wbbrew.co.uk

West Berkshire Brewery Shop, Taproom & Kitchen.

The Old Dairy, Yattendon, Berkshire, RG18 0XT
---
Branch Diary

All meetings and social events are relaxed and friendly.

Non-members are welcome to all events except branch

meetings. Please check the website before setting out in case

of any last-minute changes.

September

THURS 6: (20:00) First Thursday of the Month Social. Hop

Leaf, 163-165 Southampton Street, Reading, RG1 2QZ.

TUES 11: (20:00) Gala Awards Evening. Park House,

Whiteknights Campus, Reading, RG6 6UR. Note that bar is

cashless.

SAT 15: (10:25) No. 127 Bus Pub Crawl. Bus at 10:25 from

Reading, Friar Street (stop FC) to Shire Horse, Bath Road,

Littlewick Green SL6 3QA. Then bus to Knowl Hill, lunch

at Royal Oak, followed by other pubs on A4 and then bus

to Twyford. Return to Reading on 16:55 from Twyford

Crossroads, arrive Friar Street 17:27. Bus ticket Courtney

Network All Zones ticket (£6.50).

TUES 18: (20:00) Branch meeting. Castle Tap, 120 Castle

Street, Reading, RG1 7RJ. CAMRA members only, please.

October

THURS 4: (20:00) First Thursday of the Month Social. Nags

Head, 5 Russell Street, Reading, RG1 7XD.

TUES 16: (20:00) Branch meeting. Park House, Whiteknights

Campus, Reading, RG6 6UR. CAMRA members only, please.

Note that bar is cashless.

November

THURS 1: (20:00) First Thursday of the Month Social.

Details TBC.

SAT 24: (13:30) Branch AGM. Griffin, 10/12 Church Road,

Caversham, RG4 7AD (upstairs). CAMRA members only,

please.

December

THURS 6: (20:00) First Thursday of the Month Social.

Details TBC.

This is a guide only and Reading & Mid Berkshire CAMRA cannot be

held responsible for any loss due to the alteration or cancellation of

any of these events.

See www.readingcamra.org.uk for more details of events.

Mine's A Pint

3

Contact Us

Useful contact details for this

magazine, CAMRA and other

important things…

Mine's a Pint Circulation: 3,000.

Outlets: Over 70 across the region.

Editor: Phil Gill

editor@readingcamra.org.uk

0771 455 0293

81 Addison Road, Reading, RG1 8EG

Magazine published on behalf of

Reading and Mid Berkshire CAMRA

by:

Neil Richards MBE at Matelot

Marketing

01536 358670 / 07710 281381

n.richards@btinternet.com

Printed by CKN Print Ltd, 2 North

Portway Close, Round Spinney,

Northampton, NN3 8RQ

01604 645555

Reading & Mid Berkshire CAMRA

www.readingcamra.org.uk

Social Secretary: Chris Hinton

social@readingcamra.org.uk

Contact for all other branch matters:

Katrina Fletcher

contact@readingcamra.org.uk

0779 401 9437

Local Trading Standards

Reading Borough Council:

citizensadvice.org.uk / 03454 040506

West Berkshire Council:

tsadvice@westberks.gov.uk / 03454

040506

Royal Borough of Windsor &

Maidenhead:

citizensadvice.org.uk / 03454 040506

Wokingham Borough Council:

tsadvice@westberks.gov.uk / 03454

040506

The next issue of Mine's a Pint will be

published in early December. Please

feel free to submit any copy or ideas

by 1 st November.

The opinions expressed in Mine's a Pint

are not necessarily those of the editor or

the Campaign for Real Ale. © Campaign

for Real Ale 2018.
---
great beers from

oxfordshire since 2003

visit

us online

loddonbrewery.com

onb

Mine's A Pint
---
Mine's A Pint

5

From The Editor

I'm writing this in the middle of a heatwave so,

by rights, it should be cold and raining when

you read it! Luckily real ale, cider and perry

are the natural drinks for all weathers – cool

and refreshing in the sunshine, yet cheery and

comforting when it's colder.

As the long hot summer slips away though,

our thoughts turn to our great local pubs and

breweries and celebrating what they do for us.

Reading CAMRA's Gala Awards Evening in

September is a great way to say thank you to

those in the industry that have helped us in the

last twelve months, and everyone is welcome

to attend. There's more information about the

event in the feature in this issue, so put Tuesday

11th of September in your diary and get down

to Park House at the University to help us

celebrate.

Berkshire breweries must be doing something

right, as it's the second time in three years that

a local brewery has won CAMRA's Champion

Beer of Britain accolade. Following Binghams'

win in 2016 with their Vanilla Stout, this year

it was Siren Craft that came out on top in the

prestigious contest with their Broken Dream

Breakfast Stout. Berkshire certainly has a rich

brewing tradition but it's amazing to get such

recognition at a national level.

How about being a champion for your local

pub? There are something like 150 real ale pubs

in our branch area and we can't get to them all,

however much we'd like to try! So if you want

to let us know any news or info about your

local, contact us on contact@readingcamra.

org.uk or send us comments through WhatPub

on whatpub.com. If you could help deliver this

magazine to a pub or pubs near where you

live, that would also be great and we'd be very

happy to hear from you.

Have a pint at the same time and the publicans

will be very happy to see you too. Cheers!

Phil Gill

Editor

Contents

BRANCH DIARY 3

FROM THE EDITOR 5

PUB & BREWERY NEWS 6-13

SMALL BEER 14-17

JOIN CAMRA 18

CAMRA GALA PRESENTATION 19

BEHIND THE BAR 20

WORLD CUP OF PUBS 21-22

PUBS IN WORLD WAR 1 23

FURTHER HISTORY OF LAGER IN THE UK 24-26

BAMBERG 27-29

GDPR ADVERT 30
---
Pub & Brewery News

Pub News

CAVERSHAM

The RED COW on Star Road has unexpectedly

reopened. On an initial visit only keg

Boddingtons and Guinness were available,

together with some bottles including Black

Sheep. The landlord is reportedly looking

into getting some handpumps installed but we

have no further news about that. Star Road

was actually named after another pub, the

Star, which stood at the northern end by the

mini roundabout. It's now a Co-Op, fulfilling

community needs of a different kind.

Hopfest 3 at the FOX AND HOUNDS in

Gosbrook Road was a great success. Starting

with a tap takeover by Siren Craft, it was a

four day party featuring food, music and loads

of lovely beers including Cloudwater, Wylam,

Deya, Double-Barrelled and many more.

MORTIMER

The TURNERS ARMS has been reported to

be open only sporadically. We're told it's often

closed by 9pm, not open at all on Sunday

evenings and keeping erratic hours on other

days. If you have any other news or feedback

on this pub then we'd like to hear it, so please

get in touch.

READING

for the bar called Purple TurtAle, and other

beers from the same brewery have also featured

in this iconic venue. At over 25 years old the

Turtle is one of Reading's longest running

independent bars and is famous for offering

a wide choice of music events as well as very

late opening! And as we found out last year,

for being the destination of choice for people

who've just been hit by a bus (youtube.com/

watch?v=b2i4C1bG-8w).

The university bar on Redlands Road – once

the Cotton Club, now DAIRY – has taken out

its cask beers. They were due to be replaced by

a font of five craft keg beers – two regulars and

three changing. The manager we spoke to didn't

know whether any would be real ale keykeg

beers. In common with other university bars,

this one has also gone cashless i.e. payment is

by card only.

PAVLOV'S DOG on St Mary's Butts has

launched a new menu that includes a range of

vegan dishes as well as new burgers. There's

a Burger of the Month as well as daily deals

including Tuesday pancake day and Wing

Wednesdays.

A planning application to demolish the RED

LION in Southampton Street and replace it

with flats has been withdrawn.

The PURPLE TURTLE

on Gun Street now has

a house beer and it's a

LocAle! Maidenhead

brewery New Wharf

has produced a 5%

ABV hoppy, golden ale

Mine's A Pint

6
---
Fullers have bought the BEL & THE

DRAGON chain. It's made up of six properties

across Berkshire and Surrey including the bar

and restaurant in Gas Works Road, on the

Kennet. Presumably this will mean the local

breweries that have featured on the bar will

be replaced by Fullers brands, so expect to see

London Pride, Gales and Dark Star making an

appearance.

The LYNDHURST on Watlington Street has

been rebranded as a bar and kitchen, with a

more upmarket "casual fine dining" food offer

to try and compete with town centre chain

restaurants. It's now only open Wednesday to

Sunday with a set lunch from noon to 6pm

and an a la carte evening offer. Sandwiches and

Ploughman's boards will also be served during

the day. Landlord and chef Kris Dorward is

aiming to serve food that customers can't make

at home. Local suppliers like the Grumpy

Goat (cheese), Dudman's (fruit and veg) and

Tilehurst Village Butchers will feature.

The regular Autumn beer festival returns to

the CASTLE TAP on Castle Street. Opening at

6pm on Thursday 20 th September and running

till 11pm on Sunday 23 rd . Expect stillage and

a bar in the back room, interesting casks and

kegs plus extra cider. Also featuring a quiz,

live music and food, although possibly not all

at once. Other events coming up include the

Halloween party on Saturday 27 th October

– this year's theme is Fur & Fangs – and the

Travelling Talesman will be telling stories of

werewolves and other things that go bite in the

night on Wednesday 31 st October.

The 3Bs is set to make a reappearance as part

of refurbishment works to the Town Hall.

We expect it to reopen with a new look this

autumn, although there are no details about

whether real ale – or even any ale at all – will

feature. The cafe bar closed in 2011 and has

been open only occasionally for special events

since, including in April 2016 when BBC

Radio Berkshire hosted an evening to celebrate

the local brewing family Simonds. Raymond

Simonds has compiled a fascinating archive of

information about the history and times of H.

& G. Simonds Ltd. Brewery, which you can see

if you visit simondsfamily.me.uk.

There's an intriguing planning application

for the old Lloyds Bank building in Market

Place. The proposal is to change the use of the

ground floor to a food hall with bars, the first

and second floors to be a hotel and the third

floor to provide a rooftop bar. The application

describes it in more detail:

"The intention is to create a permanent internal

food market with a modern twist. The venue

will feature a permanent, artisanal bakery, café,

and pizza stall (all one stall), plus three further

stalls that will rotate regularly to allow an everchanging

range of Streetfood-style food offers

… There will be a main bar featuring a range

of independent cask and craft beers, a carefully

curated wine list, a wide range of premium

spirits and cocktails, and healthy smoothies

and juices. In addition, there will be a second

satellite bar that can be changed and which will

be focussed on a particular product (e.g. gin bar

or cocktail bar) … The rear of the ground floor

will see the former bank vault transformed into

a secret garden with a retractable roof, a small

Mine's A Pint

7
---
open area for al-fresco drinks and dining …

Within the small third floor level it is proposed

to create an intimate cocktail bar, opening out

onto an external roof terrace which is furnished

with seating booths."

Taylor's Champion Club. The brewery awards

Champion Club status to their loyal, permanent

stockists who continue to go the extra mile it

takes to serve their beer in perfect condition.

At the time of writing the application had not

been determined.

Meanwhile a separate application to develop a

container market to the south of Broad Street

Mall, which would have featured a rooftop

bar, has been refused. One reason was that

the Council believed it would increase crime,

or the perception of crime. The area still seems

to be suffering from the reputation of Eva's

nightclub, which closed down last year after

a series of major incidents, drug problems and

breaches of its licensing conditions.

Further news on the LOWER SHIP in Duke

Street, which we featured in the last issue as

having been closed since the 1980s. We noticed

over the summer that the hoardings had been

brought out to the edge of the pavement, which

we assume is an attempt to stop homeless

people sleeping there. So the owners Samuel

Smiths Brewery from Yorkshire do seem to be

keeping an eye on the place, which makes it

even more puzzling why they've kept it closed

for 30 years.

SHINFIELD

Nigel Lamb has left the BELL AND BOTTLE

and moved to Bournemouth for family care

responsibilities. At the time of writing we didn't

know who would be taking over the pub but

we hope they continue to build on the good

reputation that Nigel, and before him Mark

and Chrissie East, had build up for real ale.

THREE MILE CROSS

The SWAN is a member of the Timothy

Two Timothy Taylor ales are usually stocked

at the Swan – the well-known Landlord and

the more rarely seen Boltmaker – alongside

offerings from four other breweries. The

BUTLER in Reading is also a member of the

Champion Club.

TWYFORD

The GOLDEN CROSS in Station Road sells

Upham beers – and normally only Upham beers

– the only such pub in our branch area. Carl,

the licensee, has told us that he's negotiated

a deal with Upham to produce a unique (not

rebadged) beer for his pub. It will be a short

run brew to be sold for about two months

and called Umpire's Finger. The cricket link is

because of the pub's sponsorship of Twyford &

Ruscombe Cricket Club. It will be followed by

another special, the details of which are yet to

be decided.

Mine's A Pint

8
---
WOODLEY

The BULL & CHEQUERS in Church Road is a

Greene King pub, but can order from SIBA (the

Society of Independent Brewers). The person

who orders the beers tells us that he rotates

his third handpump with local breweries –

Andwell, Loddon and Rebellion. On a visit

over the summer the guest beer was Andell's

King John.

Mine's A Pint

9
---
Mine's A Pint

10

All images are courtesy of the breweries unless

otherwise stated.

BINGHAMS

Binghams have listened

to their customers

requesting they open a

little earlier on Saturdays

and so they are now

open 11am to 5pm

on Saturdays (was 12

to 6pm). Binghams

have responded to

comments from their

shop customers and so to

reduce the use of single

use plastics, they now have Stainless Steel 2 litre,

double walled growlers available in their brewery

shop. The first batch sold out very quickly but

a new batch is now in stock! The growlers are

double walled so help to keep your beer cool for

longer when you're out and about. Just wash them

out by hand after drinking the beer and bring them

in for a refill - with a discount compared to the 2

litre plastic bottles!

The latest monthly special is RyePA, which is a

golden IPA with Rye malt and US hops. The

Ricochet special is an Oatmeal Pale which is

unfined, unfiltered and brewed with oats and

lactose for a creamy, smooth, hoppy pale ale.

BOND BREWS

The brewery celebrated its third birthday over

the summer with a beer festival. Music, food and

plenty of beer, including the World Cup special

Moore Beer (4.0% ABV), were on offer and the

event raised nearly £300 for Prostate Cancer UK.

CHILTERN

The Chiltern Brewery are extremely proud to have

picked up a number of awards at the recent SIBA

Midlands Independent Beer Awards, including a

gold medal for Bodger's Barley Wine (8.5% ABV).

Available in 330ml bottles, this vegan beer is a

strong bottle conditioned barley wine described

as "heavenly nectar". A golden chestnut ale

with citrus fruits, juicy malt and spicy hops, it's

brewed with 100% pale Maris Otter malt and

large quantities of Fuggles and Goldings hops for

aroma.

Head Brewer, Tom Jenkinson, said on the day of

the awards that he was:

"Extremely proud that Bodger's Barley Wine has

won gold at the SIBA awards, building on the

success of winning three stars at last year's Great

Taste Awards. It is also great to see more awards

for two of our most popular beers, Monument

Gold & Beechwood Bitter, and we must thank all

of our loyal customers for their ongoing support

to make this possible."

DOUBLE-BARRELLED

Luci and Mike have just moved into their new

unit on Stadium Way Industrial Estate and work

has begun on fitting out the brewery installations.

They're looking at getting the first batches out

from the new site by the end of September. It's

a move from the old 150 litre brew kit in their

garage to a new 2,500 litre kit (about 15 brewers'

barrels) with 4 fermenters, so you can hopefully

expect to see the beer popping up more regularly

from then onwards. The next step after that will

be to get some small pack cans available too.

They've also applied for planning and licensing

to open a tap room on Friday evening and

Saturdays so, if that's approved, you'll be able

to come and drink straight from the brewery –
---
in the end. So they relocated the office elsewhere

in the brewery and the new taproom has three

lines of Loddon cask, one line of experimental keg

– where the plan is to try some new ideas – and

bottles and ciders in the fridge. It's the first stage

in an ongoing project to make the brewery into a

venue for events / parties / birthdays / weddings

etc., with a host of new events and open evenings

planned over the next few months.

THE NEW BREWERY UNIT – PLENTY OF

ROOM FOR EXPANSION!

hopefully by the end of the year. In advance of that

the plan is to provide tasting from the brewery,

tours and to offer take home beers to drink off

site. So lots of fingers crossed and hope for the

next few months ahead!

LODDON

The big news from Loddon is that they've had

the builders in! The old office and shop have

been transformed into a new tap room that was

launched at the end of July.

There are great, locally-roasted coffees to drink

in or take away, and the revamped shop has a

much bigger range of local products, from honey

to gin as well as beer. Work is due to start soon

on decking the outside area and it should be done

in time for the next appearance in Midsomer

Murders and the inevitable influx of tourists that

will come with it.

NEW WHARF

As mentioned elsewhere, Purple TurtAle, a 5%

ABV hoppy, unfiltered and unpasteurised beer is

being brewed especially for the Purple Turtle in

Reading. New Wharf have also become a sponsor

of Maidenhead Football Club and New Wharf

beer will be available in all of their bars.

REBELLION

The special beer for autumn on cask is planned to

be the simply-named Red, a 4.7% ABV warming,

autumnal red ale. Rich and malty with a balancing

bittersweet hop character, it's available from

September to November.

In bottles, the autumn offering is 24 Carat (5.0%

ABV). New World hops dominate the character of

this golden beer and a blend of traditional, home

grown malted barley gives it an intense, tropical

aroma and a distinctive bittersweet flavour,

typical of a contemporary American Pale Ale. It's

available in September and October.

Since opening the shop they've been delighted with

how popular it's been, but it just proved too small

Mine's A Pint

11

SIREN CRAFT

A huge congratulations to our friends at Siren

for winning CAMRA's Champion Beer of Britain

Contest. In a blind tasting held at the Great British

Beer Festival, Broken Dream Breakfast Stout was

declared the Supreme Champion for 2018. This

6% ABV stout has a gentle touch of smoke, coffee

and chocolate. Now the problem comes of how to

brew enough of it to keep up with demand.
---
Mine's A Pint

12

great drinking cities, Siren will be at the Bristol

Craft Beer Festival between 14-16 September, and

Craft Beer Calling at Wylam Brewery in Newcastle

between 18-20 October.

BROKEN DREAM AT THE GREAT BRITISH

BEER FESTIVAL. IMAGE COURTESY OF

GBBF (CAMRA): @GBBF

The brewers from Finchampstead continue the

innovation for which they have become renowned

with Spin Botany, a Gin and Tonic Gose (a

German style of slightly sour, slightly salty beer

with minimal bitterness) made in association with

the East London Liquor Company. Not only is it

infused with massive amounts of juniper for that

authentic gin experience, it's also brewed without

hops which makes it a "gruit". Technically it also

makes it an ale as opposed to a beer, but in the

UK that would confuse things too much so let's

stick with the continental term! Initially on the

bar in keg form, the plan is to make Spin Botany

available in bottles too.

This summer the brewers have been busy keeping

hopheads supplied with a number of variations

of their flagship West Coast IPA, Sound Wave.

Normally 5.6% ABV, all the new versions

are all lower ABV Session IPAs, each with an

individual twist. The first was a standard Session

IPA, followed by the excellent Double Citra and

Milkshake. Double Simcoe, due for release in late

August, rounds out the list.

If you fancy a trip further afield to one of our

WEST BERKSHIRE

This year there's not an Oktoberwest Beer

Festival at the brewery. Instead there's a "Not

Oktoberwest" beer festival, and it's on Saturday

22nd September between 12 – 10pm. Real ale,

other craft beers and gin are on offer, alongside live

music, street food and pizza. Confirmed breweries

and cider makers at the time of writing, alongside

West Berkshire Brewery, were Buxton, Burnt Mill,

Wild Card, Pohjala, Sandford Orchards and Tutts

Clump, with more to be announced. Visit wbbrew.

com for more details and tickets.

WINDSOR & ETON

Knight of the Garter won bronze in the Golden

Ales category of Champion Beer of Britain. At

3.8% ABV this is a straw coloured golden session

ale with Amarillo as the lead hop. An initial hit of

cut grapefruit zest gives way to a deliciously sharp

sherbet finish.

XT / ANIMAL

Hop Cat, the 3.9% ABV hoppy beer that we

featured a couple of issues ago, has had to be

renamed Hop Kitty following a legal battle with

a bar company in Grand Rapids, Michigan, USA

who claim worldwide ownership of the name. The

beer itself remains the same and has been joined

by two stronger limited edition versions: the street

fighting alley cat Bad Kitty at 5.9% and the utterly

feral Evil Kitty, which is 7.2% and was only

available to a limited number of pubs and at the

Great British Beer Festival.

Other new beers available at GBBF and beyond

are:

• Burton IPA, a proper old school IPA – brewed

strong at 7.1% and aged for three months in

full sized oak barrels.

• Animal Rhino, a quad hop amber ale – filled

with Amarillo, Simcoe, Citra and Sorachi

Ace hops.

• Collaboration Red, The Siamese Fighting

Fish (4.6%) – brewed with a leading malt

supplier who joined XT in the brewing

process, gave technical help and provided
---
Mine's A Pint

13

the trendy new Red-X malt. The beer also

uses liquid nitrogen frozen hops: Cryo-Hops

– a new technique for cracking out more

flavours.

PUB QUALITY

BEER

...AT HOME

Drink Rebellion cask ale

at home, fresh from the

brewery shop

Fresh beer, ready to drink

1 litre bottles up to 72 pint barrels

including 10% OFF beer

Fresh cider

Local produce

Over 300 worldwide wines

Free glass hire

Call 01628 476594

Shop opening hours:

Mon-Sat 8am-7pm

Or visit our website:

www.rebellionbeer.co.uk

@RebellionBeer

RebellionBeerCo

Rebellion Beer Co. Ltd. Bencombe Farm, Marlow Bottom, SL7 3LT

A GOLDEN WONDER

FRESH MIX OF HOPS FOR A DELICIOUS ALE

RICH RUBY ALE

SMOOTH AND MALTY WITH A FULL BODY
---
Small Beer

A round up of news and information

CHANGE TO LOCALE

SCHEME

(from 30 miles) for both beer and cider / perry.

This is consistent with most other CAMRA

branches in the region. That's still over 50

breweries brewing close-by, though!

You can find out more, including a list of

LocAle breweries and pubs, on our website

www.readingcamra.org.uk under the "LocAle

Breweries, Pubs & Shops" section.

The new LocAle radius of 25 miles

LocAle is an initiative that promotes pubs

stocking locally brewed real ale. The scheme

builds on a growing consumer demand

for quality local produce and an increased

awareness of "green" issues. Everyone benefits

from local pubs stocking locally-brewed real

ale:

• Public houses as stocking local real ales

can increase pub visits.

• Consumers who enjoy greater beer choice

and diversity.

• Local brewers who gain from increased

sales

• The local economy because more money is

spent and retained locally.

• The environment due to fewer "beer

miles" resulting in less road congestion

and pollution.

• Tourism due to an increased sense of local

identity and pride - let's celebrate what

makes our locality different.

As we were getting close to 90 LocAle

breweries, the branch has decided to reduce its

LocAle radius to 25 miles from central Reading

GOOD BEER GUIDE 2019

Britain's premier pub

and brewery guide,

the Good Beer Guide,

celebrates the release

of its 46 th edition

on 13 September.

The Good Beer

Guide is completely

independent, with

every one of its

4,500 pub listings

recommended and

evaluated by people

who know a thing

or two about good

beer – CAMRA volunteers. The Guide is the

result of thousands of volunteers' hard work

over the past year; scoring beers, surveying

pubs, surveying breweries and making difficult

choices. These entries have been curated and

checked by regional teams and finally brought

together by staff at CAMRA's HQ in St Albans.

All should be justifiably proud of their hard

work.

Visit the CAMRA shop at shop.camra.org.uk

to secure your copy. The Good Beer Guide App

is also available to download, allowing users

to find thousands of pubs, beers and breweries

at their fingertips. The app is available in both

Apple stores and Google Play and can be

downloaded at gbgapp.camra.org.uk.

Mine's A Pint

14
---
COMINGS AND GOINGS

Tim Page, CAMRA's Chief Executive, has

decided to leave the campaign. During the past

three and a half years, Tim was instrumental in

executing a major strategic review of CAMRA,

which aroused strong passions among the

membership. The decisions taken at this year's

AGM and Members' Weekend mean that

the Campaign will be in a stronger position

to recruit active members and to continue to

campaign effectively for real ale, cider and

perry, and pubs. Tim's previous two roles prior

to joining CAMRA were with charities and he

has decided to return to the charitable sector

for the last few years of his career.

CAMRA's Chief Campaigns Officer, Jonathan

Mail, will also be leaving the staff team in

October after almost 20 years of service to

the campaign. He is going to fulfil a long-held

ambition to spend six months travelling in India

– a country he has a great affection for and

has travelled to on many occasions previously.

The campaigns team will continue effective

campaigning until a new Chief Campaigns

Officer is in post.

Meanwhile the Minister for Small Business,

Andrew Griffiths, has resigned from government

after a newspaper revealed that he had sent

2,000 sex texts to two women. Griffiths,

who was formerly chair of the All-Party

Parliamentary Beer Group had controversially

been awarded CAMRA's Parliamentarian of

the Year Award in 2015. The award was for

his contribution to scrapping the beer duty

escalator and cutting beer duty, but many

people both inside and outside of CAMRA

were angry as they believed he had consistently

opposed CAMRA's campaign to strengthen

the planning process to protect pubs and had

fought against industry reform which would

have redressed the balance between pubcos and

their tenants. Few in the campaign will be sorry

to see him go.

BRITISH TRAPPIST BEER

Monks at Mount Saint Bernard Abbey in

Leicestershire have become the first in the

UK to be awarded Trappist accreditation for

brewing their own beer.

The abbey, near Coalville,

is only the 12 th in the world

to receive the accolade,

joining six in Belgium, two

in the Netherlands, and one

each in the USA, Austria

and Italy.

The monks started to look

at the idea of brewing in

2013 after they had to

close down their dairy farm

when it became economically unviable. After

much research they settled on a 7.4% dubbel

style, quite sweet and extremely smooth, and

reminiscent of other Trappist beers such as

Rochefort.

It marks a return to a 19 th century tradition of

brewing in Mount Saint Bernard abbey. When

the brethren first arrived in 1835 they settled

in a poor cottage on Tynt Meadow, now an

extension of the monastic enclosure.

To receive the rare Trappist accreditation, beer

must be brewed within an abbey directly by the

monks or under their supervision. The brewery's

activities must be secondary in importance to

the monastery's work and way of life. It should

not be run as a profit-making venture, with

funds going to fund the monks' living expenses

and grounds and to help charitable causes.

Dom Erik Varden, the abbot of Mount Saint

Bernard, hopes that the brewery will help them

extend their community work. "Beer is a good,

honest, nurturing drink - our Belgian friends

said more than once it should be liquid bread

and not coloured water, and that's what we're

aiming to live up to," he said.

Many abbeys licence their name to commercial

operations but these are called "abbey beers"

and cannot receive the Trappist seal of approval.

MASS LOBBY DAY

CAMRA will be holding a Mass Lobby Day in

Westminster on Tuesday 30 October. This will

be our opportunity to bring pressing campaign

Mine's A Pint

15
---
issues to the attention of up to 650 Members

of Parliament. The purpose of the Lobby Day

will be to ask MPs to commit to these CAMRA

campaigns:

• Axeing plans to increase beer duty in the

upcoming Autumn Budget.

• A permanent business rate relief for pubs

in England in the Autumn Budget.

• An urgent review of the Pubs Code so that

the Market Rent Only option becomes a

genuine choice for tenants in England and

Wales.

A Mass Lobby Day is an effective way to

communicate to MPs and the Government

about a cause which needs legislative change in

a short time period, creating a sense of urgency.

Meetings with multiple MPs on one single day

encourages them to discuss our campaigns with

Ministers, among each other within Parliament,

and outline their support for our campaigns on

social media.

CAMRA branches are taking the lead on

finding volunteers to contact their local MPs.

Activity will begin with registration at a

Westminster venue and will finish after a rally

with high profile speakers at 5.30pm. The exact

start time will depend on what time (and how

many) CAMRA members arrange to meet their

MP.

NEW POCKET GUIDE FOR

HOMEBREWERS

CAMRA's Essential Home Brewing, the musthave

new pocket guide book for both old hands

and novice homebrewers, is now available to

purchase from the CAMRA shop.

Ever since real ale captured the nation's

imagination in the 1970s, dedicated beer lovers

have been trying to brew their own to replicate

some of the fantastic recipes and flavours out

there. Even if you have never brewed before or

your brewing kit is gathering dust up on the

shelf, CAMRA's Essential Home Brewing can

help you get started on a new, exciting hobby.

For old hands at brewing, you can expand your

brewing repertoire with over 30 recipes from

leading British and international craft brewers.

Easy-to-follow instructions and a variety of

beer styles and recipes make this the perfect

companion to suit everyone's taste. Written

by Andy Parker, brewer and owner of Elusive

Brewing of Finchampstead, and Graham

Wheeler, internationally-renowned authority

on home brewing, CAMRA's Essential

Home Brewing provides an introduction

to homebrewing in a way that is easy to

understand and follow.

CAMRA's latest title retails for for £11.99

(£7.99 with the CAMRA members' discount).

For more information, or to order your copy,

visit shop.camra.org.uk

UPCOMING FESTIVALS

September: Sherfield on Loddon

Beer Festival

Saturday 15 September: Held in Sherfield

Village Hall and its garden, just off the A33.

Featuring 40+ real ales (mostly local with

some from further afield) and cider, hot food,

live bands, face painting and a free evening

minibus service to and from Bramley Station.

Tickets £5 on the door or £4 in advance, and

under 18s get in free when accompanied by an

adult. Open 11.30am – 11pm. More details at

sherfieldbeerfestival.org.uk.

Mine's A Pint

16
---
October: Ascot Beer Festival

Friday 5 – Saturday 6 October: This year's

festival organised by the Berkshire South East

CAMRA branch at Ascot racecourse will, as

usual, exhibit around 200 different real ales

and over 30 real ciders and perries. As well as

a fabulous selection of drinks, the festival will

also offer some top class flat racing and the

chance to have a flutter if you fancy, plus live

music.

To get in you need to buy a ticket for the race

meeting. As the festival is in the concourse of

the main grandstand any class of ticket will

get you to the beer, but the cheapest option

(and with no dress code) is to go for a "Queen

Anne Enclosure" ticket, available from tickets.

ascot.co.uk. Don't forget to use the code

CAMRA2018 to get 50% off a Queen Anne

Enclosure ticket when you book in advance,

and remember that under 18s get in free when

accompanied by an adult. More info available

on ascotbeerfest.org.uk.

November: Oxford Beer and Cider

Festival

Thursday 8 – Saturday 10 November: The

Oxford branch of CAMRA has a provisional

booking to hold its 21 st Beer and Cider Festival

in Oxford Town Hall. It's expected to follow a

very similar format to last year's festival, which

featured 140 different real ales and 40 more

held over to the Saturday, and 50 ciders and

perries. Hot and cold food will be on sale and

some seating available in the old library. Open

to the public from 5pm on the Thursday, entry

on the day (no advance ticket sales) is £10, or

£8 to card-carrying CAMRA members. Entry

includes a commemorative glass and drink

tokens, and more tokens can be purchased once

inside. Head to oxfordbeerfestival.camra.org.

uk for more details as they're confirmed.

Mine's A Pint

17
---
Join up, join in,

join the campaign

From

as little as

£25 †

a year. That's less

than a pint a

month!

Partner's Details (if Joint Membership)

Protect the traditions of great

British pubs and everything that

goes with them by joining today

at www.camra.org.uk/joinup

Or enter your details and complete the Direct Debit form below and you will receive

15 months membership for the price of 12 and save £2 on your membership subscription

Alternatively you can send a cheque payable to CAMRA Ltd with your completed form,

visit www.camra.org.uk/joinus, or call 01727 798440.* All forms should be addressed to

Membership Department, CAMRA, 230 Hatfield Road, St Albans, AL1 4LW.

Your details:

Direct Debit

Single Membership £25

Title ................................ Surname ...............................................................

(UK)

Forename(s) ..................................................................................................

Joint Membership £3

Date of Birth (dd/mm/yyyy) .....................................................................

(Partner at the same address)

Address ............................................................................................................

.............................................................................................................................

................................................................ Postcode ......................................

Email address ................................................................................................

Daytime Tel ....................................................................................................

Title ................................ Surname ................................................................

Forename(s) ....................................................................................................

Date of Birth (dd/mm/yyyy) ......................................................................

Non DD

£27

£32

For concessionary rates please visit

www.camra.org.uk or call 01727 798440.

I wish to join the Campaign for Real Ale, and

agree to abide by the Memorandum and

Articles of Association which can be found

on our website.

Signed ........................................................................

Date ............................................................................

Applications will be processed within 21 days.

To the Manager

Address

Instruction to your Bank or

Building Society to pay by Direct Debit

Please fill in the whole form using a ball point pen and send to:

Campaign for Real Ale Ltd. 230 Hatfield Road St. Albans, Herts AL1 4LW

Name and full postal address of your Bank or Building Society

Postcode

Name(s) of Account Holder

Bank or Building Society Account Number

Branch Sort Code

Reference

Bank or Building Society

Service User Number

9 2 6 1 2 9

FOR CAMRA OFFICIAL USE ONLY

This is not part of the instruction to your Bank or Building Society

Membership Number

Name

Postcode

Instructions to your Bank or Building Society

Please pay Campaign For Real Ale Limited Direct Debits

from the account detailed on this instruction subject to

the safeguards assured by the Direct Debit Guarantee. I

understand that this instruction may remain with Campaign

For Real Ale Limited and, if so, will be passed electronically

to my Bank/Building Society.

Signature(s)

Banks and Building Societies may not accept Direct Debit Instructions for some types of account.

Date

This Guarantee should be detached

and retained by the payer.

The Direct Debit Guarantee

This Guarantee is offered by all banks

and building societies that accept

instructions to pay by Direct Debits

If there are any changes to the amount,

date or frequency of your Direct Debit

The Campaign for Real Ale Ltd will notify

you 10 working days in advance of your

account being debited or as otherwise

agreed. If you request The Campaign

for Real Ale Ltd to collect a payment,

confirmation of the amount and date

will be given to you at the time of

the request

If an error is made in the payment of

your Direct Debit by The Campaign

for Real Ale Ltd or your bank or

building society, you are entitled to

a full and immediate refund of the

amount paid from your bank or

building society

If you receive a refund you are not

entitled to, you must pay it back

when The Campaign Real Ale Ltd

asks you to

You can cancel a Direct Debit at any

time by simply contacting your bank

or building society. Written confirmation

may be required. Please also notify us.

†Price of single membership when paying by Direct Debit. *Calls from landlines charged at local rates, cost may vary from mobile phones.

New Direct Debit members will receive a 12 month supply of vouchers in their first 15 months of membership.
---
CAMRA Gala

Presentation 2018

THE IMPRESSIVE ARRAY OF AWARDS AT LAST YEAR'S EVENT

The Reading & Mid Berks branch of CAMRA is

blessed with a wonderful selection of great pubs,

a multitude of local breweries and cider makers

supplying them and a great array of people

making, serving and drinking their produce.

Some of these worthies regularly qualified for

the nationally recognised awards of branch Pub

/ Club of the Year and winners of the Reading

Beer & Cider Festival awards. This meant various

certificates would be presented to the winners, but

at fairly low key events.

In 2015 that all changed. That year, one of the

key objectives for the branch that year was to

"Reward and recognise a wider group of the best

pubs in the branch". This was soon developed to

include people, not just pubs.

To get to be in the running to be a Pub of the

Year (POTY) is quite an achievement, so we

decided to award certificates to the finalists

as well as the winner and runner-up. We also

agreed to look to make one-off awards for any

outstanding developments or contributions in

the field. We started with a Best Newcomer

(licensee) and the Phoenix award for bring a pub

back from the dead. Moreover the presentations

were all combined into one grand event – a Gala

Presentation Evening. Since then there have been

an outstanding volunteer award, an award for

pubs collaborating to put on a community music

festival, licensee long service awards and several

others.

Mine's A Pint

19

The Gala Presentation Evening is a public event,

open to all members of the beer and cider drinking

public. This year it will be held on Tuesday

11 th September at Park House on the Reading

University Whiteknights campus – please note that

the bar is cashless and only accepts card payments.

Park House will be receiving an award for their

Outstanding Support and Promotion of LocAle.

There will be a certificate to commemorate the

long service of Carole Headland as licensee of the

Magpie & Parrot and Vic & Jenny Harrison at

the Swan, Three Mile Cross – both having started

35 years ago. The Outstanding Expansion at the

Shurlock Inn and the Outstanding Development

at the Black Boy will be celebrated. For only the

second time in four years, there was one pub which

received outstanding positive public feedback on

the Ale Trail and the Flower Pot at Aston will

be receiving a certificate to commemorate that.

The Royal Oak at Ruscombe will also receive a

certificate for its long term practical support to the

work of the branch.

The branch committee were unanimous in

agreeing a unique, though possibly undesirable

award to Samuel Smiths brewery. Over 30 years

ago they purchased the Lower Ship Inn in Duke

Street, Reading. It has remained closed since then.

The award goes to them for "The longest closed

pub for no good reason". It remains to be seen

if anyone from Sam Smiths comes to receive the

certificate.

Brian Jones
---
Behind the Bar -

Allied Arms

This is the part of the magazine where we turn

things over to a local landlord to tell us about their

pub. This time it's Moya Rolls of the Allied Arms.

The Allied Arms has been run by the Rolls family

since 2002. Steve and I were both working in the

corporate sales sector and decided that a change of

pace was required. Despite having no experience

of the pub trade, we took on the Allied Arms in

2002 and have been there ever since.

The building dates from the 16 th century but

according to records has been a pub since 1828.

In 2002 the range consisted of Courage Bitter and

London Pride (sometimes) on tap with a mixture

of fairly standard lagers and ciders on offer. Today

much has improved with ten ever-changing cask

ales (with one exception), a choice of bottled craft

beer, a unique wine selection and of course the

various lagers and ciders. The "exception" being

Steve's favourite tipple, Hullaballoo from Loddon

Brewery, which has been served at the Allied Arms

non-stop since 2003.

Slowly changing the pub from what it was to

what you see today, proved to be hard work, but

it has been the most enjoyable and rewarding task.

The Allied Arms is a "tied" pub, originally with

Unique Pub Company, which was taken over by

Enterprise Inns (now rebranded as EI Group). This

has its challenges, the most critical of which is the

prices they charge for product, which have to be

reflected in the Allied Arms price list. However,

this has not prevented improvements to the pub

and expanding the business over the years. It was

decided that the pub should be kept as original as

Mine's A Pint

20

possible and retain its quaint old-fashioned town

pub feel, whilst maintaining high standards of

product care.

One of the most obvious improvements that

has been made is to the garden. Originally very

overgrown and run down, there is now seating for

over 100 people. The garden is a true oasis in the

centre of Reading – who would believe that you

were in the town centre when you are sitting in

the sun in a garden, enjoying a nice pint of ale or

a chilled glass of wine? Efforts have been made to

make it a real garden with beautiful scented roses

and colourful plants and shrubs.

Since introducing ten ales and a craft beer

selection in mid-April, customer response has

been overwhelming in its support. At least 50%

of the beers are from local breweries, via the

SIBA scheme, and this is proving popular with

customers.

Although the Allied Arms does not serve meals,

customers may bring in their own food to enjoy

with their drinks. Neighbouring establishments

such as Pizza Express and Pierre's Baguettes are

both more than happy to oblige!

The bi-monthly pub quiz has proved popular over

the years with quiz teams taking it in turns to host

the quiz. This results in a wide style of quizzes as

each team comes with their own ideas and it keeps

it fresh. Anyone who fancies hosting a quiz can

add their name to the quiz calendar.

Recently the pub has been managed by resident

Ale Guru, Dom Humphries who has been with us

since 2013 and has proved to be more than equal

to the task.

It has been said that the Allied Arms is a Country

Pub in Town – an epithet well earned!

Moya Rolls

Allied Arms

57 St Mary's Butts

Reading

RG1 2LG

Tel: 0118 958 3323
---
World Cup

of Reading Pubs

Following on from the very successful World

Cup of Reading Restaurants voting tournament

held earlier in the year by Edible Reading,

I thought I'd do something similar with

Reading's best pubs, just in time to tie in with

the FIFA World Cup 2018. We launched it on

the Explore Reading Twitter feed (twitter.com/

explorerdg) on 14 th June as a bit of fun that

would promote the thriving Reading pub scene.

Shortlisting 32 of the top pubs in Reading and

using a random knockout generator, we placed

them in draws that played out over a series of

Twitter polls across the duration of the football

World Cup.

We ran one Twitter poll per day between two

pubs: no group stages, so you voted for your

favourite pub of the two, and the one with the

least votes got knocked out at each stage until

we reached the nail biting final. We even had

a wall chart which was updated regularly, you

can see the final version here.

At first it was slow going but soon people picked

up on it and a lot of games were very closely

fought and hundreds of people got involved

in many of the polls. There were, of course,

detractors and arguments about the definition

of a pub, that the votes were rigged, that the

draw had been staged and so on, but overall

it was well received and got a lot of people

talking. There were also plenty of comments

about people saying that they needed to re-visit

various pubs in the running as they hadn't been

in a while.

The pubs with active Twitter presences got

involved too, with playful competitive repartee

between opposing sides and encouraging their

Mine's A Pint

21
---
A big thank you to Explore Reading who

allowed me to pursue and host the idea on

their website and Twitter account. They do a

fantastic job of promoting all things Reading

and pubs and beer are no exception. You can

check them out at explorerdg.com or over on

Twitter at twitter.com/explorerdg

James Moore

various fans to get involved and vote for them.

Particular shout-outs to the semi-finalists Allied

Arms and Purple Turtle who got very involved

in encouraging people to vote on Twitter. The

Greyfriar also is worth a mention for doing the

same in earlier rounds.

After 30 days, 32 pubs and scores of votes, our

final poll was between The Fox & Hounds and

The Nag's Head on Sunday 15 July, the same

day as the big football final. It was very tightly

fought with 588 votes and fans of both pubs

being very vocal in their support. But in the

end, it was Caversham's Fox & Hounds which

emerged as Reading's favourite pub in a 52/48

percent split.

The extra interest that the competition

drummed up made all the pubs winners, and

just goes to show how lucky we are in Reading

to have so many excellent boozers of all shapes

and sizes that people can visit.

Mine's A Pint

22
---
Pubs in

World War One

The 100 th anniversary of the end of the 1 st

World War leads us to enquire what effect the

war had on pubs. The main effect was a severe

limitation on licensing hours which were cut to

six hours per day under the 1914 Defence of

the Realm Act, affectionately known as DORA,

and the Intoxicating Liquor (Temporary

Restriction) Act, also of 1914. This proved to

be anything but temporary as the spirit of Dora

survived, despite some extension of permitted

hours, through to the late 20 th century.

James Wyeth, landlord of The Barley Mow,

London Street, was one who fell foul of the law

when he was fined £3 for allowing drinking to

take place after 9pm in contravention of the

Act. At the Reading Borough Police Court in

June 1915, two customers were fined 10s (50p)

or seven days behind bars for consuming beer

after hours. Happily, when the police objected

to the renewal of Wyeth's licence, when next

up for renewal, he escaped with a caution and

carried on running the pub until his death in

1938.

copper informed the landlord that not only was

Walter a soldier fighting for King and Country

but a local as well. He was duly served but was

so incensed by the treatment he had received

that he poured the entire contents of the pint

mug over the bar and walked out!

Most pubs, however, were keen to support the

war effort. In 1917 and 1918 we read of what

almost seems friendly rivalry between such

pubs as the Sun and the Horn in raising money

for the Royal Berkshire Hospital's Comforts

for Wounded Soldiers appeal and the War

Hospitals Supplies Depot.

John Dearing

"I went into a public 'ouse to get a pint o' beer,

The publican 'e up an' sez, "We serve no redcoats

here." – wrote Kipling.

Unfortunately, this attitude seems to have

infected the landlord of the Rising Sun, Henry

Mainman, when a soldier in the Guards, Walter

Lush, came home on leave and on his way back

to Newtown from the station popped into the

Rising Sun for a pint. He was informed that

beer was in short supply and was kept for

the locals only. On emerging from the pub he

encountered a policeman of his acquaintance to

whom he told his woes. They re-entered and the

Mine's A Pint

23
---
The Further History of

Lager in the UK

PAUL DABROWSKI CONCLUDES THE STORY OF LAGER BREWING IN THE UK

By the 1980s it was increasingly apparent

that UK-brewed lagers were almost all being

pasteurised, akin to keg beers, whether

produced in the new megakeggeries established

by the Big Six combines in places such as

Luton, Magor, Northampton, Samlesbury and

Worton Grange or in the surviving 'traditional'

lager breweries such as Alloa, Moss Side and

Wrexham.

CAMRA, having been formed in response to

the artificial carbonation of traditional British

ale a decade earlier, began to direct its ire

towards the mock lagers that brewers, stung

by the hostility that had been generated against

fizz beer, had started to aggressively market

instead. Lagers such as Hofmeister (Courage)

and Fosters (Watneys) had become not only

weak and overpriced replacement products but

were being foisted on the undiscerning populace

by masquerading as genuinely continental (or

other foreign) beers when none were actually

being brewed abroad.

In 1959 lager had accounted for just 2% of all

beer sales. By 1990 it accounted for 50%, this

exponential growth partly stimulated by the

1961 Licensing Act which removed restrictions

on off-licences and the sales of alcohol in

grocers and the newly-fangled supermarkets.

Lager, too, seemed to suffer fewer detrimental

effects when being canned/kegged as compared

to traditional bitter which canning/kegging

only appeared to exacerbate.

Classic lager beers are characterised as having

a dry, hoppy, palate. They would be stored

(i.e. "lagered") for a minimum of a month

to cold-condition in the brewery and would

have a strength of c.1040. In sharp contrast,

the new wave of lagers were low in gravity –

in the low to mid-1030s – and were lucky to

even experience three weeks' maturation before

being despatched to pubs, clubs and other

retailers but were more likely to be released

for sale as quickly as keg (or even traditional)

beers were (i.e. "running beers" in brewers'

terminology). However, unlike real ales, having

no time in the pub cellar to develop any finesse

and, being served so chilled, what little taste

they may have had was completely lost. The

nadir of lager production in the UK probably

came with the advent of diet, or "lite" (sic),

versions; despite being even lower in alcohol

(some below 1030 were not, technically,

alcoholic products at all!) and also low in

Mine's A Pint

24
---
carbohydrates, they were often no less fattening

than other, stronger, brews.

Just like the keg beers which preceded them,

the pasteurisation of British lagers involved

a process frowned upon by top continental

brewers because of the cloying, off-taste,

imparted by a technique more appropriate for

a dairy to employ than a brewery. In Europe,

the serving of lagers either used the natural

carbon dioxide produced by the fermentation

process or strictly-controlled levels of applied

gas pressure to deliver the beer to the taps.

In the UK, there were no restraints on the levels

of gas pressure that could be applied in order to

pump lagers up from cellars – or to artificially

maintain shelf-life when invariably canned

rather than bottled – where, to add insult to

injury, they were wickedly overpriced as well,

presumably to help pay for the huge advertising

budgets that created, admittedly sometimes

memorable, TV and billboard commercials. No

stronger than most milds of that era, yet costing

as much as 6-10p per pint more than beers of

an equivalent strength (when a pint was about

50p!), it was little wonder that the public, with

CAMRA's help, eventually saw through the

advertising hype.

Meanwhile, many of the extant family brewers

had felt compelled to jump on the bandwagon

either with their own creations or lagers brewed

under licence from continental breweries to

pseudo-authentic recipes. Fuller's invested

heavily in conical fermenters to produce their

K2 lager, named after the second-highest peak

in the Himalayan mountain range. By contrast,

Young's used a top-fermenting yeast for their

Saxon Lager so it was little more than an

insipid pale ale!

Inevitably, most of these disappeared under

reciprocal deals with the Big Six producers to

take their heavilyadvertised

ersatz

lagers in exchange

for access to the

pub estates of the

larger companies

with their real ales

as guests. Notably,

a few persisted

with their more

genuine products

such as McMullens of Hertford who, until

comparatively recently, had two brands,

Steingold and Hartsman, and Samuel Smith

in Tadcaster who continue with Ayinger Bräu

under licence, this at least being brewed to

German beer purity law (or Reinheitsgebot)

standards.

It was not all doom and gloom for mainstream

UK-brewed lager as Allied (with probably

the best lager brewing heritage to squander

of any of the Big Six) had even nationally

promoted a real lager in 1983, served through

handpumps, as Ind Coope's Gold Cross (a

briefly revived recipe and brand from 80

years earlier) but it was only with the advent

of new, sustained, micro-breweries being

established, such as Harviestoun, that Britishbrewed

lager finally started to regain some

credibility. Their Schiehallion has stood as a

beacon for real ale lager for around a quarter

of a century since it was first brewed in 1995

and has been emulated by some other small

breweries. However it remained a fact that,

until the emergence of new-wave artisanal

breweries in the 21st century, the only way to

have sampled excellent, lagered, beer had been

to buy imported products from Europe and

countries beyond.

Despite the closure of the Wrexham Lager

brewery in 2000, it is still Britain's oldest lager

as, from 2011, it was again being produced in

Mine's A Pint

25
---
the town in a micro-brew plant utilising the

same name as the original company. Having

been originally launched by homesick German

emigrées from Saxony in 1882, the brand had

thrived with the introduction of mechanical

refrigeration.

When founded, the Wrexham site for the

original "Little Pilsen Brewery" had been

chosen for the quality of its water considered

eminently suitable for the production of the

particular continental style envisaged, that of

a dark Munich-type, soon supplemented by a

light lager and one in the Pilsner-style. It was

stocked by the White Star Line on ships such

as The Titanic, as well as the Cunard and Elder

Dempster shipping lines, despatched via both

Liverpool and Southampton Docks by the Great

Central and Great Western Railways and, from

the 1930s onwards, was the only lager available

on GWR trains and in their refreshment rooms

and hotels. It was also supplied to Clubs such

as the Carlton and Constitutional and there

is evidence of it having been drunk by British

soldiers at the siege of Khartoum in 1885. With

the demise of this lucrative liner trade in the

1970s, the original Wrexham Brewery had also

produced Sköl before closure.

supermarket chains had started to ditch their

volume, mainstream, lagers in favour of "craft"

beer products instead – Tesco removing as

many as 30 individual lines – and, as a result,

the likes of Heineken and Krœnenberg were no

longer heavily discounting their ersatz products

where they were still available. It has thus

been interesting to see how Ramsbury's real

Red Ram lager, Rebellion's new keykeg lager,

Truman's tank lager, Raw, and XT's "craft"

lager, Eisbar, (all from 2017) were received by

aficionados of the style.

Paul Dabrowski

with acknowledgements to: CAMRA, 1983 &

1984 Good Beer Guides; Peter Haydon, Beer

& Britannia; Where Have All the Breweries

Gone?, Norman Barber, Brewery History

Society

CAMAL (The Campaign for Authentic Lager)

may be of interest. Please visit www.camal.org.

uk for more details.

Amongst the proliferation of "craft" breweries

of the new millennium, a renewed interest

in lager as a beer style has also come to be

exemplified by Calvor's, near Needham Market

in Suffolk, that pre-empted – by three years

– the revival of Wrexham in being lager-only.

But other concerns such as London's Orbit

Beers, in SE17, and the Six O'Clock Beer Co.

in Manchester have both majored in producing

many foreign beer styles as well, brewed to

authentic recipes and strengths, rather than just

lagers and pilsners.

An equally welcome development in 2017

perhaps was the news that many major

Mine's A Pint

26
---
Bamberg - An Adventure in

Brewing, Malt, Smoke and Beer

The air was heavy with the aroma of gently

roasting malt as we disembarked from our

train. Standing on the platform we were taken

with the smell of the Weyermann maltings,

its majestic brick facade towering over the

beautiful Bavarian town of Bamberg.

We had travelled here to take part in a

collaboration brew at the brewery attached

to the 140 year old malting company.

Weyermann make some highly specialist

malts, many of which we use in our XT

and Animal beers. They have an amazing

no-expense-spared, high tech brewery to

test their malts and experiment with a wide

variety of beer styles, and we had been

invited here to play on it.

Bamberg must be one of the world's top

places for beer and it is well known for the

local smoked Rauchbiers. As with much of

Germany the locals are very loyal to their

local breweries and the styles particular to

the region. Generally I will always search out

the local beers in my travels, but to only see

local beer and no national or multinational

brews at all was a revelation. The Germans

see beer as a highly valued part of their

culture; it's not just a "drink" and somehow

inferior to wine. The brewing and serving of

beer here is a respected career choice.

THE TOP TABLE AT STERNLA

BAMBERG TOWN HALL

The old town of Bamberg is beautifully

preserved, and it's a pleasure to wander

around its old timbered houses, grand

churches and cobbled streets. The locals

get about on bikes on the many cycle paths

and somehow they manage to ride normal

looking machines without the need for lycra

Mine's A Pint

27

BREWING AT WEYERMANN
---
WEYERMANN MALTINGS AND

BREWERY

or carbon fibre. Most importantly however,

Bamberg is blessed with nine breweries, all

of which are within the old town environs.

The breweries all have their own traditional

bars attached, plus there are numerous pubs

to tempt you, it's actually quite hard to find

a bad one.

Here is a short list of some of our favourite

breweries and bars:

Spezial - A traditional brewery which still

smokes its own malts for the house speciality

Rauchbier. We stayed here during our time

in Bamberg, and it is well worth seeking out

these characterful places – take a look on

www.braugasthoefe.de for similar brewery

guest houses across Germany.

Zum Sternla – Thanks to our hosts

Weyermann, who are almost the Bamberg

royal family, we had the honour of sitting

at the "top table". This is a bit of tradition

where the landlord has his own reserved

table and holds his beery court. It's a great

way to meet a wide variety of the locals and

get to understand the traditions and enjoy

the respect that Germans have for their

Mine's A Pint

28

beer and the well trained staff that serve it

with such reverence. We sampled some very

fine Weissbier (wheat beer) here, which has

a deep rich flavour that's missing in many

more commercial versions.

Keesmann – Famous for its Herren-

Pils and Helles, but for me it was most

memorable for the huge food portions which

actually defeated my companion who is

not normally the loser in man vs. food. On

investigating the extensive brewery behind

the bar I spotted a huge machine which at

first I could not identify, after enquiring

I learned it was for the cleaning of beer

bottles. In Germany the regional breweries

use standardised bottles and they regularly

collect and refill them. This was eye opening

and a radically different way of thinking to

our own throw-away culture.

Mahr's Bräu – Opposite Kessmann,

we really enjoyed the biergarten here and,

after the night closed in, the convivial

conversation on long benches in the dark

wood panelled bar inside. The shared

tables in the bars are very much part of

the drinking culture. Everyone sits together

and, if you arouse their interest, you will

inevitably be drawn into the conversation of

your neighbours. This bar also introduced

us to the delights of "Ungespundet" which

literally means "unbunged". It's a process

for maturing beers with open vented vessels

leading to much less gassy beer. The age-old

Reinheitsgebot or purity law has far reaching

influence over the beers here. Interestingly it

also forbids the use of extraneous gas in the

beer, only gas from the fermentation can be

in the beer. So there is a little puzzler for you

real ale purists: is German keg beer real ale?

Klosterbräu – Attractive riverside

brewery here for over 450 years. The oldest

in Bamberg.
---
Schlenkerla – Probably the most famous

Rauchbier: Aecht Schlenkerla. The extensive

bar with several panelled rooms and covered

yards serves only one beer: it is black and it

is very smoky. Served directly from wooden

casks behind the bar, it's a very special beer

and special bar that encapsulates Bamberg

and its deep beer traditions. If heaven forbid

you want a different beer, you can buy the

bottled helles. And yes, that is smoky too!

I would definitely suggest a beer adventure

in Bamberg with its great beers and great

bars plus the added bonus that it's actually a

very attractive town. Bamberg is certainly up

there in the top ten beer cities of the world.

Russell Taylor

XT Brewing Co

Mine's A Pint

29
---
Choose the info

that matters to YOU!

Want to know all the latest on beer festivals?

Dedicated to blazing a campaign trail?

Need the lowdown on book releases?

Want to get more from your membership?

Things are changing - you can now choose

exactly what you want to hear about from CAMRA.

Make your information preferences clear by

updating your CAMRA member record:

1

2

3

Sign in using your membership

details at www.camra.org.uk

Select 'Edit your membership information'

to update your contact preferences

Sit back and enjoy getting the information

that matters to you!
---
THE BACK OF BEYOND

104–108 KINGS ROAD

READING

BERKSHIRE, RG1 3BY

TEL: 0118 959 5906

THE BARON CADOGAN

22–24 PROSPECT STREET

CAVERSHAM

BERKSHIRE, RG4 8JG

TEL: 0118 948 1078

THE HOPE TAP

99–105 FRIAR STREET

READING

BERKSHIRE, RG1 1EP

TEL: 0118 958 2266

REAL-ALE

AND CIDER

FESTIVAL

10 – 21 OCTOBER

GREAT RANGE OF QUALITY REAL ALES AVAILABLE

Featuring ales such as

Available on

iOS and Android

323ADVERT18A5

Subject to local licensing restrictions and availability at participating free houses. Photography is for guidance only. J D Wetherspoon plc reserves the right

to withdraw/change offers (without notice), at any time. See main menu for additional details of our terms and conditions.