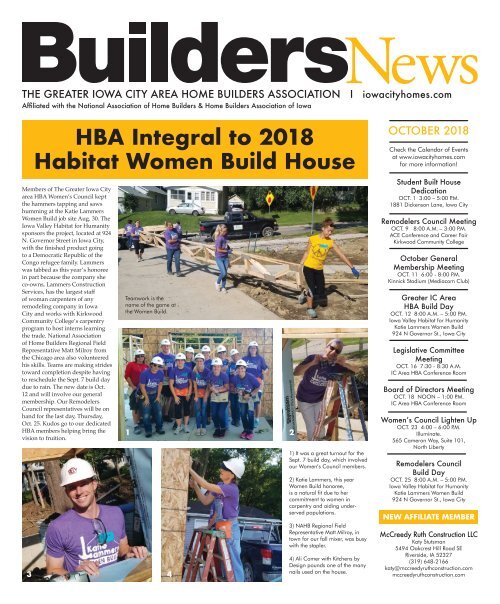 Create successful ePaper yourself
Turn your PDF publications into a flip-book with our unique Google optimized e-Paper software.
THE GREATER IOWA CITY AREA HOME BUILDERS ASSOCIATION I iowacityhomes.com

Affiliated with the National Association of Home Builders & Home Builders Association of Iowa

HBA Integral to 2018

Habitat Women Build House

Members of The Greater Iowa City

area HBA Women's Council kept

the hammers tapping and saws

humming at the Katie Lammers

Women Build job site Aug. 30. The

Iowa Valley Habitat for Humanity

sponsors the project, located at 924

N. Governor Street in Iowa City,

with the finished product going

to a Democratic Republic of the

Congo refugee family. Lammers

was tabbed as this year's honoree

in part because the company she

co-owns, Lammers Construction

Services, has the largest staff

of woman carpenters of any

remodeling company in Iowa

City and works with Kirkwood

Community College's carpentry

program to host interns learning

the trade. National Association

of Home Builders Regional Field

Representative Matt Milroy from

the Chicago area also volunteered

his skills. Teams are making strides

toward completion despite having

to reschedule the Sept. 7 build day

due to rain. The new date is Oct.

12 and will involve our general

membership. Our Remodelers

Council representatives will be on

hand for the last day, Thursday,

Oct. 25. Kudos go to our dedicated

HBA members helping bring the

vision to fruition.

Teamwork is the

name of the game at

the Women Build.

3 4

1 2

1) It was a great turnout for the

Sept. 7 build day, which involved

our Women's Council members.

2) Katie Lammers, this year

Women Build honoree,

is a natural fit due to her

commitment to women in

carpentry and aiding underserved

populations.

3) NAHB Regional Field

Representative Matt Milroy, in

town for our fall mixer, was busy

with the stapler.

4) Ali Comer with Kitchens by

Design pounds one of the many

nails used on the house.

OCTOBER 2018

Check the Calendar of Events

at www.iowacityhomes.com

for more information!

Student Built House

Dedication

OCT. 1 3:00 – 5:00 P.M.

1881 Dickenson Lane, Iowa City

Remodelers Council Meeting

OCT. 9 8:00 A.M. – 3:00 P.M.

ACE Conference and Career Fair

Kirkwood Community College

October General

Membership Meeting

OCT. 11 6:00 - 8:00 P.M.

Kinnick Stadium (Mediacom Club)

Greater IC Area

HBA Build Day

OCT. 12 8:00 A.M. – 5:00 P.M.

Iowa Valley Habitat for Humanity

Katie Lammers Women Build

924 N Governor St., Iowa City

Legislative Committee

Meeting

OCT. 16 7:30 - 8:30 A.M.

IC Area HBA Conference Room

Board of Directors Meeting

OCT. 18 NOON – 1:00 P.M.

IC Area HBA Conference Room

Women's Council Lighten Up

OCT. 23 4:00 – 6:00 P.M.

Illuminate.

565 Cameron Way, Suite 101,

North Liberty

Remodelers Council

Build Day

OCT. 25 8:00 A.M. – 5:00 P.M.

Iowa Valley Habitat for Humanity

Katie Lammers Women Build

924 N Governor St., Iowa City

NEW AFFILIATE MEMBER

McCreedy Ruth Construction LLC

Katy Stutsman

5494 Oakcrest Hill Road SE

Riverside, IA 52327

(319) 648-2166

katy@mccreedyruthconstruction.com

mccreedyruthconstruction.com
---
2 ICAHBA Builders News | October 2018

Message from the President

Dear HBA Members,

With what now seems to be an annual flood scare by our local

rivers, our regions recent flash flooding and another hurricane

hitting the coast, I thought it would be timely to discuss what

the NAHB has been doing

to support extension of

National Flood Insurance

Program (NFIP).

What is the National Flood

Insurance Program?

The National Flood

Insurance Program was

created by the Federal

Government because the

private insurance market

was unwilling to cover

flood damage. The NFIP

identifies flood-prone areas in the country, makes flood

insurance available to the property owners and encourages

efforts to mitigate flood hazards. It does so by providing

affordable insurance to property owners, renters and

businesses and by encouraging communities to adopt and

enforce floodplain management regulations. These efforts

help mitigate the effects of flooding on new and improved

structures. Congress requires all properties within the 100-

year floodplain purchased with a federally backed mortgage

to carry flood insurance for the term of the loan. Overall,

the program reduces the economic impact of disasters

by promoting the purchase and retention of general risk

insurance in addition to flood insurance, which they provide

with subsidized premiums.

Iowa City HBA Hires Marketing

and Administrative Coordinator

The Greater Iowa City Area HBA has hired Michelle Moore as our new

marketing and administrative coordinator. Michelle has more than 20

years of experience in the communications/marketing field with corporate

and nonprofit organizations, including

writing, publications production and

events management. She had her own

freelance business for 10 years. Michelle

has also worked multiple years in

office management, including records

maintenance and finances.

Originally from Sigourney, Iowa, she

has a degree in Journalism and Mass

Communications from The University

of Iowa (UI). Michelle returned to Iowa

City in 2010 after 18 years in the Kansas

City metro area. Ironically, it was her

husband Jeff's job as director of golf at the university's Finkbine Golf

Course that brought her back. Jeff and Michelle have two children, Emily

who is a sophomore at West High School, and Ryan a fourth grade at Horn

Elementary. Michelle feels she has come full circle in that the HBA office sits

across the street from Seashore Hall (currently being reconstructed), home

of the UI psychology program. She spent many hours at Seashore getting a

minor in the field.

Michelle likes to volunteer when she can and has put her professional skills

to use for numerous organizations. Currently, she is an assistant leader for

her son's Cub Scout den and team teaches religious education at St. Thomas

More Catholic Church in Coralville, in addition to smaller volunteer roles.

Why would someone build or purchase a home in the 100

year floodplain?

The major flood events in 2017 (think Hurricane Katrina,

Hurricane Wilma and Cedar Rapids in 2008) have raised concerns

about continuing to build in the floodplain. The properties that

are most likely to be damaged or repetitively flooded are older

housing. New construction is built to more stringent codes and

standards. In addition, all new construction homes are required to

pay full-risk unsubsidized rates which helps support the financial

stability of the flood insurance program.

So what is the issue?

The National Flood Insurance Program does not currently have

long term funding. On July 31 the Senate voted and approved

House-passed legislation that extended the NFIP until Nov. 30,

2018. Had they not acted the program would have expired on

July 31, 2018. It is anticipated that the four-month extension

will give the House and Senate time to hammer out a long term

reauthorization and funding of the NFIP.

What is the NAHB doing?

Your NAHB has been working tirelessly with lawmakers on a

long-term bill. NAHB reached an agreement with the House

Financial Services Committee on legislation that will provide a

five-year reauthorization and NAHB is working with the Senate

on their version of a legislation that will keep the NFIP financially

viable and let builders provide safe and affordable housing.

Sincerely, Adam Hahn

Watts Group - Director of Construction Services

2018 Greater Iowa City Area HBA President

Congressman Loebsack Visits

Iowa City HBA Office

Iowa Second District U.S. Congressman Dave

Loebsack visited with HBA members at The Greater

Iowa City Area HBA office Aug. 28. The group

discussed a number of things, including tariffs,

trade agreements, skilled labor, political landscapes

and local markets. "Representative Loebsack has

always been very accessible and an overall a friend

of our organization and industry," said HBA Iowa's

Jay Iverson, who was in attendance.

HBA members Rich Fitch-HBA Ames; Jay Iverson-

HBA Iowa; Drew Retz-HBA Cedar Rapids; Don

Beal-HBA Des Moines; Iowa City Area HBA

members Tim Ruth-McCreedy Ruth Construction;

Kelly Manning-Sobaski Abbey Carpet and

Flooring; and Mike Bails-Urban Acres Real Estate

talked about issues impacting home builders with

U.S. Congressman Dave Loebsack (fifth from left)

and his campaign manager.

2018 BOARD OF DIRECTORS

PRESIDENT

Adam Hahn

Watts Development Group

PAST PRESIDENT

Andy Martin

Martin Construction

1ST VICE PRESIDENT

GT Karr

Sueppel's Siding & Remodeling

2ND VICE PRESIDENT

Mike Bails

Urban Acres

SECRETARY

Kelly Manning

Sobaski Abbey Carpet & Floor

TREASURER

Marty Tunning

RSM US LLP

DIRECTORS

Glenn Siders - Siders Development

Mike Pugh - Pugh Hagan Prahm, PLC

Art Floss - CBI Bank & Trust

Chad Keune - Advantage Custom Builders

Rory Triplett - Insurance Associates Iowa City

Todd Helle - Terry Lockridge & Dunn

STATE REPRESENTATIVES

HBAI PAST PRESIDENT

Tim Ruth - McCreedy-Ruth Construction

HBAI TREASURER

Melissa Schooley - Great Western Bank

NATIONAL DIRECTOR

Aaron McGlynn - Cabinet Works

REMODELERS COUNCIL REPRESENTATIVE

Brad Storck - Bachmeier Carpet One

2018 COMMITTEE CONTACTS

PARADE OF HOMES

Dan Robertson - Overhead Door Company

of Cedar Rapids & Iowa City

Mitchell Manning – Sobaski Abbey

Carpet and Floor

IOWA CITY HOME SHOW

Katy Stutsman – McCreedy Ruth Construction

Maggie Gehrls – PSC Distribution

The Greater Iowa City Area

Home Builders Association

EXECUTIVE OFFICER

Karyl Bohnsack

karyl@hbaofic.org

MARKETING AND

ADMINISTRATIVE COORDINATOR

Michelle Moore

michelle@hbaofic.org

PO Box 3396, Iowa City, IA 52244

Phone: 319.351.5333 • Fax: 319.358.2443

Website: iowacityhomes.com
---
October 2018 | ICAHBA Builders News 3

YOU'RE

INVITED

WOMEN'S

COUNCIL

LIGHTEN UP

OCT. 23, 2018

illuminate.

565 Cameron Way

Suite 101, North Liberty

4:00 – 6:00 p.m.

Learn how to lighten up at illuminate's

new North Liberty showroom.

Relax with a glass of wine, learn about essential

oils and make bath salts to take home while

touring illuminate's new showroom!

Cost is $15/person with proceeds going to the

Women's Council Scholarship Fund.

RSVP to Karyl@HBAofIC.org or Michelle@HBAofIC.org

or call (319) 351-5333 by Friday, Oct. 19.

OCTOBER GENERAL MEMBERSHIP MEETING

JOIN US

Oct. 11, 2018

Kinnick Stadium

Level 2, Kinnick Mediacom Club

6:00 – 8:00 p.m.

Featuring Coach Terry Brands

$15/member – Gold Cards Apply

RSVP by Friday, Oct. 5 to Karyl@HBAofIC.org

or Michelle@HBAofIC.org.

Or call (319) 351-5333.

Speaker Sponsor: Social Sponsors: All of the proceeds will go to Raffle Sponsor:

The Red Shamrock Foundation
---
Document: CR-N15866_CR_HBA_POSTER.PDF;Page: 1;Date: 28.Aug 2018 14:47:09

Document: CR-N15866_CR_HBA_POSTER.PDF;Page: 1;Date: 28.Aug 2018 14:47:09

4 ICAHBA Builders News | October 2018

First Joint Iowa City-Cedar

Rapids Fall Mixer a Success

Iowa Well Represented at NAHB

Board of Directors Midyear Meeting

Nearly 130 HBA members convened for the first joint Cedar Rapids-Greater Iowa

City Area HBA Fall Mixer at The Hotel Kirkwood in Cedar Rapids Aug. 30. Special

thanks go to our sponsors (see accompanying image). Several individuals from our

two newest member companies – j. a. Lopez Design and Pearl City Wood Products

– experienced their initial HBA meeting, and National Association of Home

Builders Regional Field Representative Matt Milroy was on hand from the Chicago

area. Nate Knause with Elevation Home Builders was the lucky winner of a $100

gift card generously provided by Hills Bank and Trust.

NAHB

Regional Field

Representative

Matt Milroy (left)

chats with Greater

Iowa City Area

HBA President

Adam Hahn with

Watts Group.

A large group of HBA Iowa members attended the NAHB Midyear Meeting in

Portland, Ore., July 24-28. Pictured (left to right) are Drew Retz, Don Beal, Scott

Webster, Keith Butz, Aaron McGlynn, Adam Hahn, John Gunia, Jay Iverson, Willie

Delfs, Mike Farr, Mary Fitch, Bryan Thumma, Rich Fitch, Rachel Flint and Tim Ruth.

Meeting activities included a Region 10 caucus which involved Iowa representatives.

Greater Iowa City

Area HBA new

member company

Pearl City

Wood Products

representatives

(left to right)

Andy Christy, Jeff

Sorenson, John

Schumacher and

Blake Sorenson hit

their first fall mixer.

HBA member Tim Ruth of McCreedy Ruth Construction discussed Iowa- and Iowa

City- area workforce development at the NAHB Midyear Meeting. Tim serves in

a newly created NAHB working group geared toward implementing workforce

development nationwide.

Cabinet Works

Aaron McGlynn;

HBA Iowa Executive

Officer Jay Iverson;

and Kirkwood

College's Joe

Greathouse share

a laugh.

IC/CR HBA's Fall Mixer

IC/CR HBA's Fall Mixer

THANK YOU TO Sponsored OUR SPONSORS

by

SPONSORED BY:

Sponsored by

SOCIAL SPONSORS:

SOCIAL SPONSORS:

SOCIAL SPONSORS:

HOST SPONSORS:

ACME Tools

Overhead Door Company of Cedar Rapids & Iowa City

Suburban Lumber Co.

HOST SPONSORS:

HOST SPONSORS:

ACME Tools

ACME Tools Overhead Door Company of Cedar Rapids & Iowa CIty Suburban Lumber Co.

Overhead Door Company of Cedar Rapids & Iowa City

Suburban Lumber Co.

Attendees at the NAHB Board of Directors Meeting sent President Trump and

others in the decision-making process a video message asking that NAFTA be

negotiated immediately. Lumber prices have fallen recently, but it's still a long

way from the quantities and pricing needed to continue to fuel the home-building

industry. The third row back is a big part of the Iowa contingent. "It was one of

the better board of directors meetings we've had," said HBA Iowa's Jay Iverson.

"Fairly smooth and easy with everyone on the same page. The overall attitude was

very positive from our business community."
---
Document: CR-N15458_NAILDRIVERS.PDF;Page: 1;Date: 27.Jun 2018 09:36:03

October 2018 | ICAHBA Builders News 5

Good Times Abound at the Annual HBA Golf Tournament

A sold-out field of 144 players hit the links July 10 at Brown Deer Golf Club in

Coralville for the annual Greater Iowa City Area HBA Nail Drivers Open. Thanks go

to all sponsors (see accompanying image) and Golf Committee members Chad Keune,

Marty Tunning and Dan Wegman for all their hard work. Congratulations to the

many winners. First place, first flight honors went to Kevin Kasparek, Tyler Kleffman,

Nick Grimm and Mike Sandersfeld with Team Raynor Door of Cedar Rapids who

had a sizzling score of 55. Those needing a little leeway with their game could buy a

mulligan or two from the HBA Women's Council. A total of $840 was raised through

the extra strokes toward scholarships for graduating high school students going into

the trades. Hole prizes were a big hit, so much so that on the No. 14 Women Only

closest to the pin contest the one name listed turned out to be a man! With no woman

to reward, the red Milwaukee cooler and tree gift certificate were auctioned off. Aaron

Klosterman with Klosterman Construction walked away with the goods for $400,

which also went to the scholarship fund.

First place, first flight winners (left to right) Tyler Kleffman, Mike Sandersfeld, Kevin Kasparek

and Nick Grimm with Team Raynor Door of Cedar Rapids collect their winnings.

Heading to the first tee for Team

BerganKDV are (left to right) Justin Flick,

Jennifer Lough, Deb Hartsock and Tyler

McIntyre.

Hole sponsors, such as LattaHarris, help

make the golf tournament a success.

Pictured (left to right) are Kristie Bean,

Shari Sweeting and Brandi Baker.

Team Raydon Elimination Professionals (left to right)

Matt Olson, John Farlinger, Kevin Bachus and Jerad

Kilburg strike a family pose.

Golf Committee member Marty Tunning

welcomes golfers to the outing.

John Farlinger (right) collects his team's

award from Golf Committee members Dan

Wegman (left) and Chad Keune (center).

Games, for example this one involving

water guns, were a fun (and competitive)

part of the day.

Players catch a little shade between holes

on the warm July day.

Women's Council members (left to

right) Kim Miller, Jan Crosby and Kathy

Bachmeier sell mulligans to raise money

for their scholarship fund.

Nail Driver's Open -

IC Area HBA Golf Tournament

Brown Deer Golf Course

Tuesday, July 10, 2018

Thank you to our sponsors!

CORPORATE SPONSOR:

HOLE-IN-ONE SPONSOR:

GOLF COMMITTEE:

AW Welt Ambrisco Insurance

Advantage Custom Builders

RSM US LLP

REFRESHMENT SPONSORS:

Engineered Building Design

King's Material Inc

University of Iowa Community Credit Union

BREAKFAST SPONSOR:

Mike Bails

GAME SPONSORS:

Budget Blinds of Eastern Iowa

CBI Bank & Trust

Hills Bank and Trust Company

ImOn Communications LLC

LattaHarris LLP

McGrath Fleet and Commercial

Windows by Pella

SPOT THE SPONSOR GAME:

Radon Elimination Professionals

HOLE SPONSORS:

AW Welt Ambrisco

Acme Tools

Advance Millwork

Advantage Custom Builders

Alexander Lumber

Altorfer, Inc.

Bachmeier Carpet One Floor & Home

Beisser Lumber Company

BerganKDV

Blue Lagoon Pool & Spa

Budget Blinds of Eastern Iowa

Cascade Manufacturing Company

CBI Bank & Trust

Country Landscapes, Inc.

Davisson & Son Millwork

Edward Jones - Todd Nash

Gilcrest/Jewett Lumber Co

Great Western Bank

Hawkeye Title & Settlement

HD Supply White Cap

Hills Bank and Trust Company

ImOn Communications

Insurance Associates of Iowa City

Iowa City Landscaping & Garden Center

Larry Yoder Masonry

LattaHarris, LLP

McCreedy-Ruth Construction

McGrath Fleet and Commercial

MidWestOne Bank

MMS Consultants

Pugh Hagan Prahm PLC

Radon Elimination Professionals

RSM US LLP

South Slope Cooperative Communications

West Bank

Windows by Pella, Inc.
---
6 ICAHBA Builders News | October 2018

Student Built House

Garners Media Attention

Executives Learn Best Practices at AMC

to Optimize Members' Experience

Progress continues on the student built house – an initiative being sponsored by Greater

Iowa City Area HBA members and our Vocational Training Council – that broke ground

in June, and all involved can be proud. Rain has not affected the schedule, thankfully,

since recent work has mainly been inside. The build has received lots of media attention,

including features on Iowa Public Radio and KCRG Channel 9. Additionally, a video

comprised of interviews with our members was shot in the house and will run on the

Kirkwood Explore ACE website. The Greater Iowa City Area HBA is on the Kirkwood

Sector Board that created and maintains the site. Watch email and Facebook for a video

posting date and further details. Located at 1881 Dickenson Drive in Iowa City, the house

will belong to Reach for Your Potential, a nonprofit organization that provides services for

people with disabilities in the Iowa City area.

Three Iowans attended the National Association of Home Builders (NAHB) Association

Management Conference in August, where they met with NAHB senior officers. Pictured

(left to right) are Third Vice Chair Chuck Fowke; HBA Iowa Executive Officer Jay Iverson;

First Vice Chair Greg Ugalde; Des Moines HBA Executive Officer Dan Knoup; Second Vice

Chair Dean Mon; Iowa City HBA Executive Officer Karyl Bohnsack; Chairman Randy Noel;

and Past Chairman Granger MacDonald.

Cullen Klebe (left) from Highland High School is interviewed by KCRG's Dave Franzman

(center) about his experience with the project.

The hard work and commitment of all involved shows.

Students take a

break from putting

up plywood to talk

to Reach for Your

Potential founder Ron

Schieffer (right), whose

organization will use the

finished house.

Executives mingle at the 2018 NAHB Association Management Conference Aug. 11-14

in Long Beach, Calif. Shown are (left to right) Iowa City HBA Executive Officer Karyl

Bohnsack; Des Moines HBA Executive Officer Dan Knoup; HBA Iowa Executive Officer

Jay Iverson and his spouse Darla; and the Chevrolet sponsor representative. Conference

attendees received training in management, government affairs, leadership development

and more to benefit HBA members and operations.

ASAE 2018:

Keeping Leadership

Sharp for You

Shop teacher Tim Rouse from Durant High School (left); Tim Ruth of McCreedy Ruth

Construction (second from left) and Greater Iowa City Area HBA President Adam Hahn

(right) with Watts Group talk to KCRG's Dave Franzman about the lack of skilled workers in

the trades and the need to provide kids technical education earlier.

HBA Iowa had several

representatives meet with

more than 8,000 association

professionals in Chicago Aug.

18-22 for the American Society of

Association Executives (ASAE)

annual meeting. Amazing

educational sessions, networking

and a giant trade show makes

the ASAE conference a key

component to our leadership's

professional development.

Getting ready for a Chicago architecture tour at ASAE

are (left to right) NAHB Director, Executive Officers

Council Rick Burt; HBA Iowa Executive Officer Jay

Iverson; Des Moines HBA Executive Officer Dan Knoup;

and Iowa City HBA Executive Officer Karyl Bohnsack.
---
October 2018 | ICAHBA Builders News 7

Aging in Place Forums: Technology and Community

Resources for Downsizing, Staying at Home

Jennie Wunderlich with Studio

H2O Kitchen & Bath Showroom

shares how bathroom

technology can make staying

home longer easier.

Ruhl and Ruhl Realtors' Lorraine Bowans provides ideas on how those getting older can pass

along their things.

The Johnson County Council on Aging, in partnership with The Greater Iowa City Area

HBA, recently held three more Johnson County Aging in Place forums for area residents.

Two of them featured some of our members as presenters. The forums stem from the

Johnson County Livable Communities Action Team, of which we are a member.

On July 11 at the Coralville Public Library, Jennie Wunderlich and Maggie Gehrls with

Studio H2O Kitchen & Bath Showroom discussed how technology in shower assistive

devices and fixtures has changed the aging in place process. Attendees also learned about

mobility devices and resources; smart homes; and medication management. The Iowa City

Area Association of Realtors (ICAAR) Education Center in Coralville was host to the other

forums. Lorraine Bowans of Ruhl and Ruhl Realtors on Aug. 8 talked about dealing with

accumulated "stuff" when downsizing – including where in the area to get assistance, while

the Sept. 12 gathering addressed community resources to help residents stay at home longer.

The next forum, titled Your New Home: Levels of Care in the Community, is Oct. 10 at the

ICAAR Education Center (847 Quarry Road, Suite 10).

Special Spikes are VIPs at the

2019 IBS Closing Spike Concert

Special Spikes have a VIP area at the 2019 International Builders Show (IBS) concert. Spikes

who recruit five new members and qualify will be invited to RSVP for the event. The

sooner you recruit five people, the sooner your chance to sign-up. The VIP area is limited to

the first 150 qualifying recruiters, and their guest, who RSVP – so get recruiting.

Access to this special VIP area will be on a first-come, first-served basis. The area will be in

front of the VIP platform and includes an open bar, hors d'oeuvres and an additional guest

entry (Spike plus 1 guest). Spikes need to reach the following requirements before they will

be invited to RSVP:

• Must recruit five new builder or associate members in 2018

• Must be registered for IBS. RSVP's without accompanying IBS registration by Jan. 15 will

forfeit their spot and it will go to the next person.

Invites to RSVP will be sent out monthly. Official rules coming soon.

NAHB.ORG/MA IS NOW NAHB.ORG/SAVINGS

As a benefit of being a member, you have access to discounts and savings opportunities

offered by many top companies. Go to NAHB.org/Savings for your NAHB discounts!

Every Year

Thousands

Save Millions

Put Your NAHB Membership to Work Now.

Money-saving discounts that benefit you,

your business and your family

nahb.org/MA

Jeff Kellbach (right), aging

specialist with Johnson

County Health and Human

Services, welcomes residents

to an aging in place forum.

Kellbach is a new member of

the Johnson County Livable

Communities Action Team,

which includes the HBA.
---
8 ICAHBA Builders News | October 2018

REMODELER'S CORNER

BEFORE

AFTER

AFTER

BEFORE

M

cCreedy Ruth Construction has been in business more than 20 years in the Iowa

City area. Home remodeling has become a bigger portion of their work as families

grow and change but wish to remain in their homes longer and stay in the

neighborhoods to which they're accustomed.

The home in this remodel was built in the 1980s and suited the family fine for many

years. What started as a facelift for the kitchen grew to encompass the dining and living

room, half bath and laundry room updates as well as new flooring throughout.

To redesign the kitchen with new cabinets, crown moulding, tile backsplash and quartz

counters, the homeowners worked with Kevin McCreedy of McCreedy Ruth Construction

and Sonja Hawbaker from SK Cabinetry & Design LLC. A pantry was removed,

which allowed for a spacious island for family and friends to gather in the kitchen.

A built-in locker for coats, shoes and school bags was added in the hallway between

the kitchen and dining area, just off the garage entry. Throughout the kitchen, formal

dining room and front entryway area, new hardwood flooring from Bachmeier Carpet

One was installed. LVT was selected for the entryway from the garage into the laundry

room and half bath, to stand up to the wear and tear of three growing boys. In the

breakfast nook area, a patio door was added to allow more light.

Living room revisions involved installing a window where a 10-foot door was located

and a custom-built entertainment center to replace an outdated one. It's a great place

to relax and watch TV after a long day. A new high-efficiency furnace was moved to the

second story to allow more space for pantry cabinets. Other companies involved in this

project were Yoder Electrical Services Inc, which updated the lighting, and Kuenster

Heating & Air Conditioning. Now that the project is complete, the family is ready to

entertain during Hawkeye football season.

Need a Construction Loan?

Call Hills Bank!

R

• Free loan draws

• Draws processed within 24 hours

of receipt

• Receive dedicated, one-on-one

service by calling 1-800-445-5725

Member FDIC