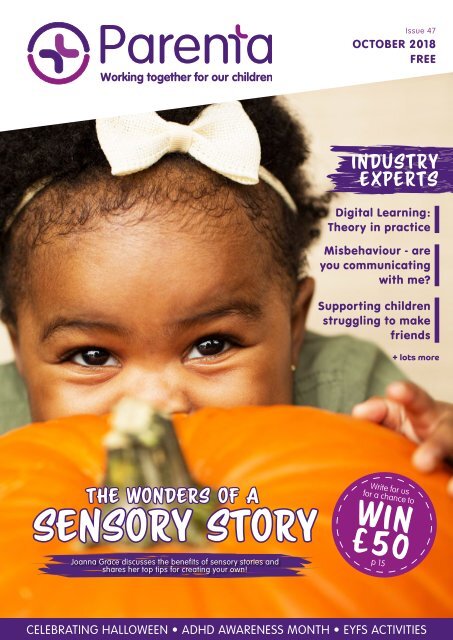 Magazine October 2018
This month whilst covering some great early years topics, we also have some spooktacular treats for you! There is a little Halloween history with a craft to go alongside. As well as this we have a piece covering ADHD awareness month, EYFS activity ideas to try today and one of our guest authors covers misbehaviour as a form of communication.
This month whilst covering some great early years topics, we also have some spooktacular treats for you! There is a little Halloween history with a craft to go alongside. As well as this we have a piece covering ADHD awareness month, EYFS activity ideas to try today and one of our guest authors covers misbehaviour as a form of communication.
SHOW MORE
SHOW LESS
You also want an ePaper? Increase the reach of your titles
YUMPU automatically turns print PDFs into web optimized ePapers that Google loves.
Issue 47

OCTOBER 2018

FREE

INDUSTRY

EXPERTS

Digital Learning:

Theory in practice

Misbehaviour - are

you communicating

with me?

Supporting children

struggling to make

friends

+ lots more

THE WONDERS OF A

SENSORY STORY

Joanna Grace discusses the benefits of sensory stories and

shares her top tips for creating your own!

Write for us

for a chance to

WIN

£50

p 15

CELEBRATING HALLOWEEN • ADHD AWARENESS MONTH • EYFS ACTIVITIES
---
hello

WELCOME TO OUR FAMILY

OCTOBER 2018 ISSUE 47

IN THIS EDITION

REGULARS

14 Paper plate pumpkin craft

15 Write for us for a chance to win £50

Hello and welcome to the October edition of the Parenta magazine!

It was announced recently by the NDNA that nursery closures have jumped by two-thirds since the

30 hours 'free' childcare was introduced. There is no way that the early years childcare industry can

withstand this increase in setting closures – what is the point of short-term gain for parents when, in the

long term, the very same parents will suffer as there will be no nurseries at all?

The government blindly committed to 30 hours 'free' childcare and it cannot possibly deliver that, it simply

does not have the money. I've always supported the position that Champagne Nurseries on Lemonade Funding

(CNLF) takes which is that the 30 hours should be made a subsidy against nursery fees. I'd love to know what our readers'

thoughts are on this!

On a brighter note, in this month's magazine, we've brought you some top tips on how to support children who are struggling to

make friends. We've also featured an article from Professor Sean MacBlain which explores the positive use of digital technology

in settings.

Talking of technology, if you're looking to buy EYFS software, make sure you read our advice piece on page 8 before you make

any purchases. Here, we've compiled all the essential steps to help you choose the right software to meet your needs.

Congratulations to sensory specialist Joanna Grace, who has won our guest author competition for two months in a row! If

you'd like to share your thoughts with us on a topic relevant to Early Years and be in with a chance to win a £50 voucher, turn to

page 15.

We're still collecting entries to win an incredible 1000-piece craft hamper for your setting until the 2nd November. Want to know

more about how to enter this spooky Halloween-themed competition? Full details are on page 29. Good luck!

18 Spotlight on... Sarah Ellis

22 What our customers say

26 The Adventures of Rocket Rabbit & Sidekick

Squirrel Part 3 – Agnes & Bones

39 Parenta job board

NEWS

4 Four out of ten providers fear closure due to 30-

hour scheme, says survey

5 Salford City Council searches for schools to take

on their nurseries

23 Parenta Trust news

ADVICE

6 October is ADHD Awareness Month

8 Essential steps to choosing the correct EYFS

learning journey software for your setting

Paper plate pumpkin craft 14

Top 10 messy play ideas 24

Best wishes,

Allan

STAMMERING

October 22nd

is International

Stammering

Awareness Day. Read

our suggestions on

how you can help

children who suffer 30

12 How did Halloween begin?

19 Lend your support to World Food Day 2018

24 Top 10 messy play ideas

30 International Stammering Awareness Day

34 EYFS activity ideas to try today

38 Wear your pyjamas with pride for Humphrey's

Pyjama Week

INDUSTRY EXPERTS

Humphrey's Pyjama Week 38

SENSORY

STORIES

Joanna Grace

explains sensory

stories and shares

top tips for creating

your own

16

MISBEHAVIOUR

Tamsin Grimmer discusses observing

children's behaviour objectively and

how to respond sensitively

36

10 Empowering children with kindness

16 The wonders of a sensory story

20 Digital learning: Theory in practice

32 How to use sociograms to support children

struggling to make friends

36 Misbehaviour – are you communicating with

me?

Sean MacBlain and co-author Martine Burke discuss

how theories inform practice in a changing world 20
---
Pre-School

Alliance

claims that

closures of

a fifth of

its settings

are due to

underfunding

Since January this year, the Pre-school Learning Alliance has shut down 23 of its nurseries due to the

government underfunding of the 15- and 30- hours childcare. With continuous problems and growing

costs of underfunding in the sector, this equates to the closure of more than a fifth of its settings.

Chief executive of the Alliance, Neil

Leitch said: "Over the past year, we

have had to make the incredibly

difficult decision to close down nearly

two dozen of our settings across the

country. Stagnant funding levels are

forcing settings to close their doors

for good and we at the Alliance

know this first hand – because it has

happened to us. Some of these were

offered the 30 hours, some just the

15 – but all suffered from the ongoing,

unsustainable lack of adequate

funding, to the point that when faced

with yet another year of rising rents,

wages and other costs, but little to no

change – and in some areas, a fall – in

funding, we could simply no longer find

a way to square the circle."

The Alliance confirmed that closures

of its settings were across England,

including London, Devon, Lincolnshire

and Suffolk, as settings in these areas

are more reliant on government funding

due to levels of deprivation.

The Pre-school Learning Alliance

was graded as the third biggest

nursery group in the UK, holding

108 settings and providing 4,223

registered childcare places in the 2017

Nursery Chains league table which

was published by Nursery World in

November.

Mr Leitch added: "The fact that we

operate predominantly in areas of

deprivation made this all the more

impossible, as this means that many

of our nurseries and pre-schools are

heavily reliant on 'free entitlement'

funding – and it was those settings

that were most reliant on government

funding that we were unable to keep

open. Doesn't that just say it all?"

He blames ministers for ignoring

evidence from early years settings

about the policy not working.

He added: "I cannot stand by and

watch the Government dismiss the

experiences of providers who have lost

their livelihoods, all because they are

not willing to admit there is a problem

with this policy."

In wake of the recent news that 70

MPs have signed a letter calling on the

Treasury to save nursery schools, Mr

Leitch said, "As the chief executive of a

provider working primarily in areas of

deprivation, this takes my breath away.

"Do politicians really think that it is only

the 400 maintained nursery schools

providing this vital service? That

the 24,000 pre-schools and 40,000

childminders have nothing to do with

it?"

This news follows the findings from the

PLA's recent survey which claims that

four out of ten providers fear closure

due to the 30 hours funded scheme,

although education secretary Damian

Hinds insists that nursery schools have

enough funds to deliver the 30 hours

funded childcare.

CEO of Parenta, Allan Presland

commented "The news from the Preschool

Learning Alliance that they have

closed a fifth of their settings since

January underlines the fundamental

failure of the government's policy of

the 30 hours funded childcare. The

government needs to listen to the

sector, and particularly the Champagne

Nurseries on Lemonade funding

pressure group and change the 30

hours free funding to 30 hours subsidy

– this way nurseries will be able to

continue to provide an outstanding

service, whilst offering parents

discounts on their childcare.

Salford City Council searches for schools to

take on their nurseries

In an effort to save its five day nurseries from shutting down, Salford City Council is looking for

schools to take over their settings. Since February, all five of the council-run nurseries have been

under the risk of closure as the council struggles to plug an early years budget gap of £1.75m.

The council will now consult on plans to

hand over the running of its nurseries to

local schools or other providers.

The new consultation is in response to

an earlier 90-day consultation, which

ran until June 2018, on a more costeffective

way to deliver the local authority

nurseries. Overall, out of the 11 responses

received, the majority agreed with the

proposal to 'find a more cost-effective

way of delivering the five local authority

nurseries'.

The council's conclusion found that a

school- or education-led provision was

the suggested choice, explaining schools

had 'seen the value' offered by the

nurseries and were 'genuinely interested'

in discovering more options to support

them.

The council wrote in a letter to parents:

"This would mean that the LA [Local

Authority] Day Nurseries would no

longer be operated and managed

by the Council and that a schools/

education provider would take over their

management and operation."

The council is also exploring the

possibility of using other providers during

the new 30-day consultation which runs

from 7th September.

Salford City Council said it hopes to

engage with 'desirable partners' in the

course of the new consultation.

A spokesperson for UNISON's Salford

branch said, "As things stand, the only

outcome that would be acceptable to

the parents and the staff would be for

the nurseries to remain open as council

nurseries beyond September 2019.

"We are completely opposed to

privatisation, transfer to the voluntary

sector or an employee-owned cooperative

because we know that this will

lead to worse terms and conditions for

staff and worse outcomes for children

and families.

"We may be willing to consider

alternative options that would retain the

nurseries in the public sector, but we

would not be inclined to support such an

approach unless we felt confident that

all possible attempts had been made to

secure the funding required to keep the

nurseries open as council-run nurseries."

In May, the Save Our Nurseries campaign

met with childcare minister Nadhim

Zahawi to talk over the issue and have

agreed a meeting with MPs at the Labour

Party conference in Liverpool later this

month.

Lee Shannon, part of the Save Our

Nurseries campaign, said, "The council

doesn't have the money to fund the

nurseries after next year so we have two

options. Either funding, like the £55m pot

available to nursery schools, has to come

from central Government, as it is them

who have taken it away, or we have to

go with whatever the council comes back

with.

"The consultation will suggest the

nurseries could merge with their

nearest schools but stay on the same

site, so funding will come from the

schools instead. Our worry would be

that schools don't have a lot of funding

either, and we are concerned that if it

doesn't work they will look to privatise,

so we want the Government to make

a decision to secure a future for our

nurseries.

"Ultimately, it's a financial problem

created by political decision, and that's

what we're campaigning to change. We

want to change Government policy on

early years funding and ensure the longterm

future of these nurseries for the

staff who work there and the children

who attend now and in generations to

come."

Lee Shannon added that the campaign

was appealing for support from across

the sector:

"One of the things Nadhim Zahawi asked

when we met with him was 'Why only

Salford? If this was a funding problem,

why aren't all local authority nurseries

coming to me?' This is why we're trying to

gain support nationally and join together

with any nurseries who are under similar

threat of closure or financial pressure.

We have to prove this is not one isolated

case but a nationwide problem. The

more support we have, and the wider it

spreads across the country, the better

chance we have of the Government

listening to us and making a decision to

change the current funding."

4 Parenta.com October 2018 5
---
October is ADHD

Awareness Month

Question:

What do Whoopi Goldberg, Jamie Oliver and record-breaking

Olympic swimmer, Michael Phelps, have in common?

Answer:

They have all been diagnosed with ADHD (attention-deficit

hyperactivity disorder).

It's also important to rule out

behavioural issues that may be just a

child's reaction to a specific parenting

style or specific teachers, as well

as symptoms attributed to another

developmental stage or another mental

disorder.

Nursery staff can potentially play a

crucial role in helping secure an accurate

and early ADHD diagnosis, which can

help alleviate misconceptions and

assumptions about the child's behaviour.

An early diagnosis also allows parents

and staff to work together to find

effective strategies to help manage the

condition.

Communication is key. But when talking

to parents or raising concerns about

incidents or behaviour, it is important to

remember that most parents will have

been told many times about their child's

'naughty behaviour', so try to maintain a

positive attitude, show professional care

and empathy, as well as an informed

understanding of the situation.

Is there a cure?

There is no cure for ADHD, but

medication such as methylphenidate can

help patients manage their condition,

improve their concentration, help them

feel calmer and less impulsive as well as

support them to learn new skills.

If a child has been diagnosed with

ADHD, they may need to take medication

during the day at regular intervals, so

adhering to your policy on medication

may be relevant.

Non-pharmacological treatments such

as cognitive behaviour therapy (CBT) and

social skills training may also help older

children.

And remember…

A diagnosis of ADHD is not an excuse to limit expectations for that child. Recent

studies have recognised that children with ADHD may have superior creativity

in performing certain tasks over children without a diagnosis. And many highly

successful people have attributed their achievements to the resilience learned in

dealing with their ADHD on a daily basis.

A child with ADHD has the right to a balanced education which is appropriately

tailored according to their needs and nursery schools are perfectly placed to help

facilitate this in their early years.

For more information on ADHD Awareness Month, visit

www.adhdawarenessmonth.org

ADHD FACTS

¥ ¥ Onset of symptoms is usually

between the ages of 3-6

¥ ¥ Average age of diagnosis is 7

¥ ¥ Boys are 3 times more likely to

be diagnosed than girls

¥ ¥ 39% of children with ADHD have

had fixed-term exclusions from

school

¥ ¥ Sufferers are 100 times more

likely to be permanently excluded

from school

In recent years, there has been an

increase in publicity about ADHD and

most people have now heard of it at

least, although there are still a lot of

misconceptions about what it is, and even

more about the people who suffer with

it. Many children are wrongly labelled as

'naughty' or 'badly-behaved' when they

are really struggling with undiagnosed

ADHD.

In 2004, National ADHD Awareness

Day was adopted in the States but

soon expanded to include the month of

October and is now recognised as ADHD

Awareness Month around the globe.

Three major ADHD organisations support

the project aiming to "educate the public

about ADHD by disseminating reliable

information based on the evidence of

science and peer-reviewed research".

This year's focus is on "Setting the record

straight".

What is ADHD?

ADHD is a common neurodevelopmental

disorder usually diagnosed in children

although adults can suffer with symptoms

too.

Causes and symptoms

The exact causes of ADHD are not

fully understood, although research

suggests that genetics and the structure/

functioning of the brain may be factors.

Symptoms are usually seen first between

the ages of 3-6 and preschool is often

one of the first environments where

symptoms become evident to nursery

staff and peers. The symptoms fall into 2

main categories: those of inattentiveness,

and those of hyperactivity and

impulsiveness.

Inattentiveness includes:

¥ ¥ having a short attention span,

¥ ¥ making careless mistakes,

¥ ¥ appearing unable to listen to, or

carry out instructions.

The main symptoms of hyperactivity

and impulsiveness include:

¥ ¥ having trouble sitting still,

¥ ¥ constant fidgeting or movement,

¥ ¥ being unable to wait in turn,

¥ ¥ having little sense of danger.

Diagnosis

Obtaining a diagnosis of ADHD is

complex. GPs are the first port of

call but the child needs to have

displayed 6 or more symptoms of

either inattentiveness, hyperactivity or

impulsiveness continuously for at least

6 months and in at least 2 different

settings: e.g. at home and at preschool.

WHAT YOU CAN DO

Looking after a child with ADHD is often challenging but following the tips below

can help make it rewarding too.

1

2

3

4

5

Plan the day with clear routines so the child knows what to expect.

Children with ADHD appreciate a stepped approach to tasks.

Be consistent with boundaries and ensure the child understands what

behaviour is expected from them. Reinforce positive behaviour with

praise or rewards. If the boundaries are crossed, then be consistent with

consequences so the child understands the repercussions.

Be specific and literal when giving instructions. For example, say "please

put the books on the bookshelf" rather than "please tidy up".

Intervene early if you see a child becoming agitated or upset. You can use

distraction techniques or take the child out of the situation to give them

chance to calm down.

Offer rewards or incentives for good behaviour or social interactions.

6 Parenta.com

Recognise the importance of a nutritious diet, regular exercise and

6

adequate sleep, although these may be factors outside October of the nursery's 2018 7

control.
---
Essential steps to choosing the

correct EYFS learning journey

software for your setting

In a busy setting, it can be a challenge to focus on providing outstanding childcare day-to-day,

while continuing to record meaningful, detailed and essential EYFS observations.

Recording and storing every child's

learning journey on paper is a

demanding task that takes nursery staff

away from doing the very thing that they

are passionate about and employed to

do – spending time with the children

in their care. Sharing this fundamental

learning journey information with parents

and carers can be just as difficult - but

not doing so will lead to a breakdown in

communication with parents and carers

and could result in a loss of confidence.

Ultimately, this could result in lost

business.

Switching to an online EYFS tracking

software will not only help you take

the strain out of working in the busy

environment of a setting but will allow

you to spend more time with the children

whilst you strive to follow the statutory

requirements of EYFS.

It's a very good idea to spend some

time researching and carrying out

credit checks before choosing your EYFS

software provider. Your

data is so important to

you that you need to

feel confident that the

provider you choose is

financially stable and that

you feel comfortable with

entrusting your data with

them.

Allan Presland, CEO of Parenta Group

shares his top tips for choosing the right

EYFS software for your setting.

Time is of the essence

When visiting settings around the country,

the subject of being time-poor comes up

again and again with nursery managers.

Anything you can do to save time, without

compromising on accuracy has to be a

bonus. Reducing unnecessary workload to

free you and your staff up to spend more

time with the children is always going to

be the first thing you think about when

you begin your research. When looking

at the many companies that supply EYFS

software, look for features that will enable

you to be able to view key information at a

glance on one screen, rather than having

to spend time switching screens, or even

switching software! Being able to observe,

track and assess with ease and speed is

essential.

Safeguarding

In today's society, where the physical,

emotional and digital safeguarding

of children is at the forefront of

every parent's and

carer's mind, it

is vital that this

safeguarding

not only starts

at home way

before they begin

school, but that the

responsibility also lies with early years

childcare providers. Being able to use

digital photography confidently, knowing

that you have full control over the images

of those children who you don't want to

be identified in a picture will give you

peace of mind when sharing with parents

and carers. The team at Parenta has

developed new facial recognition 'smart'

tagging and blurring technology for the

new EYFS tracking software – Footsteps

2 - which means children not tagged

in the photo are automatically blurred

out. In effect, all children can be tagged

in a photo, but when observations are

sent to individual parents and carers,

only the relevant faces will show, which

supports safeguarding regulations within

your setting and complies with the new

GDPR requirements. This also means

that children in the care system can

now take part in individual and group

photographs and the development of

these children shared with foster parents

and carers – this is unique to Footsteps

2. You can even crop, rotate, apply filters

and change the brightness and contrast

within the photo editing tools – so it can

be fun too!

GDPR compliance

The software you choose has be

compliant with new GDPR regulations

which came into effect earlier this year. It

can be confusing, so when you are doing

your research, ask to be taken through

everything so that once you have chosen

your software, you can have peace of

mind knowing that your data is secure,

hosted and backed up in line with new

GDPR compliance.

Support is everything

Don't settle for second best when it

comes to support! Many providers will

get you up and running and even provide

some initial training but then will often

leave you to it and expect you to pay

extra for on-going support and training.

Research the terms and conditions for

things like free set up, unlimited users

and training and 12 hours a day support.

It will take a load off your mind if you

know you have that exceptional service

at your fingertips.

Storage space

Something we don't always think about

straight away is storage space. The

amount of storage that you have on

your individual electronic devices will, of

course, differ from device to device but

watch out for providers who limit their

storage 'allowance' on the software.

Some software providers (just like mobile

phone providers) will limit the amount of

images, videos etc. on their software that

you are looking to

purchase. Observation

videos, images and

documents can be large in size and take

up a lot of space, so ensure you choose a

package that gives you unlimited storage.

EYFS Recognised

Having spent years completing EYFS

paperwork by hand, you don't want

to feel that you are "starting all over

again" simply because you have chosen

to buy an online learning journey for

the children in your care. Ensure you

find a software package that uses the

recognised language and colour coding

of EYFS, so that it is not only familiar to

you but also simple to use and won't

require additional training for your staff.

If you choose software that does this,

your staff will be able to quickly capture

detailed notes when observing a child

play or interact, as well as save time

when identifying where that child is in

their own development pathway. As a

busy setting, your staff need that ease

of use and flexibility and you could

definitely do with software that can be

used on both desktop computers and

tablets which will make it easy to update

information on-the-go.

See clearly!

Choosing online software that lets you

view key information at a glance on one

screen for all children in your setting –

including start date, leave date, gender,

key person, age, date of birth, any

medical conditions, allergies and if they

have SEND is really important as this will

save you hours of time. Look for software

that gives you this information at your

fingertips.

It's all about the Observations!

One of the fantastic things about

moving to online EYFS software for the

children in your

care, as opposed

to completing

paperwork by

hand is when it's time for an Ofsted visit,

the progression of one or more children

can be easily shown at the touch of a

button – that's smart technology and

will reduce your workload considerably -

something you could never do if you were

completing by hand! Things like being

able to easily record CoEL and Leuven

Scales as part of an observation as well

as quick cohort tracking will open up a

whole new world to you!

Although the whole EYFS curriculum is

stored within the majority of software

on the market, little extras like two-year

check assessments can give even more

insight into progress – helping you identify

even more the areas of development or

improvement needed. This is in addition

to the EYFS profile which gives a summary

of the child's progress throughout their

time in your setting. This will also assist

with their transition into primary education.

When it comes to communicating with

parents and carers, having this online

reporting to be able to share with them is

only going to lead to better relationships

with them, greater word of mouth and

hopefully more business for you!

If you would like to learn more about

Footsteps 2 - Parenta's EYFS online

learning journey software - the team

would love to hear from you! Our

in-house developers and customer

experience team will help you with any

questions you have and take you through

the new Footsteps 2 software which has

some unique features!

To arrange a free demo or find out

more information on

please contact our team

contact@parenta.com

0800 002 9242

8 Parenta.com October 2018 9
---
Empowering

children with

kindness

TEACHING CHILDREN KINDNESS

It's so important that we teach children about kindness and that, as parents and

practitioners, we model it in front of them. Here are some different ways that we can

encourage kindness in our settings:

1

Read books about kindness

Within many stories there are acts of kindness. Use these as a talking point with

the children and ask them their opinion. Stories are an amazing tool to allow

children to make sense of different concepts. Asking children to identify characters

that are kind can help to raise their awareness and encourage them to recreate

scenarios in their own lives

Kindness is one of the most

important qualities a person

can have. Some people

believe that it can be a sign

of weakness and naivety.

However, to be truly kind as a

person it takes strength and

courage. By teaching children

about kindness, we are giving

them a strong foundation for

the future.

Kindness strengthens relationships

It is far easier to react to people in

situations and to match a person's

level of disrespect than it is to keep

calm and speak in a kind, balanced

manner. You can still have strong

boundaries and be kind, but it is the

harder route to take. To approach a

challenging situation with kindness,

it means that you have to do what is

right rather than doing whatever it

takes to win, which is not always easy.

However, the ability to do this will

strengthen relationships because it

will allow you to step out of the drama

rather than engaging with it and

saying things you don't necessarily

mean.

Kindness makes people happy

When we do something kind for people,

it makes us feel happy because it is a

positive act. Likewise, when people do

something kind for us it makes us feel

warm and fuzzy. Research also shows

that acts of kindness can reduce social

anxiety because it allows people to

calm their minds by focusing on being

kind to others.

Kindness is contagious

Seeing someone being kind can plant

seeds in others. If you see the impact

that someone's kindness has on another

person, you are likely to feel inspired

to do the same. Also, if a person

approaches you in a kind manner about

a problem they have, you are more likely

to respond in a similar tone. It is very

hard to be mean to someone who is

being kind to you!

Kindness is good for your health

Seeing or experiencing acts of kindness

produces oxytocin, which is the 'love

hormone'. This hormone can actually

reduce blood pressure and improve

overall heart health.

The simple act of

smiling spreads

warmth and kindness

in a room - so smile at

the children as much as

possible

2

3

4

5

Smile more often!

Studies show that when you smile at someone it triggers an involuntary response

for them to smile back. The simple act of smiling spreads warmth and kindness in

a room - so smile at the children as much as possible

Compliment children and staff

Giving compliments is an act of kindness because it makes people feel good about

themselves. As you are passing children (or staff), compliment them on what they

are doing. You can also do activities that encourage children to compliment each

other (see point 4)

Practise gratitude daily

Studies show that regularly practising gratitude increases happiness and reduces

anxiety. By saying thank you and then acknowledging why we are grateful, we get

a deeper level of appreciation because we are highlighting the value or benefit

of what we are grateful for. This creates a positive mindset and a happier outlook

on life. People who are happy in life are more likely to act in a kind manner. To

practise gratitude in your setting, start every day with a little gratitude circle where

you can encourage children to appreciate the small things in life. You can also use

it as an opportunity to compliment others (see point 3) because children can show

gratitude for each other. Download your free gratitude pack at:

www.earlyyearsstorybox.com/gratitude

Explain everything

It's very easy to pull children up on their behaviour and to tell them to stop doing

something. However, it is really important when we do this to explain to them why

they mustn't do what they are doing. If a child is calling another child a name, ask

them to stop doing this, but then explain to them why it is important not to call

people names. Ask the child how they would feel if someone called them a name

and go on to explain that calling names hurts people's feelings and makes them

feel sad, which is something we don't want to do. Children are just finding their

way and constantly testing boundaries and learning limitations. By explaining

to children in a calm and kind way why we have asked them to stop doing

something, we are giving them an opportunity to learn and develop their empathy,

which is linked to kindness

As you can see there are many ways that we can teach children about kindness. However,

the most important way is to be a role model. Whatever we do, we must remember that

children are watching us and learning through our actions. If we are kind to others and to

ourselves (which is often something that gets overlooked), we won't go far wrong.

Stacey Kelly

Stacey Kelly is a former

teacher, a parent to 2

beautiful babies and the

founder of Early Years Story

Box, which is a subscription

website providing children's

storybooks and early years

resources. She is passionate

about building children's

imagination, creativity and

self-belief and about creating

awareness of the impact

that the Early Years have

on a child's future. Stacey

loves her role as a writer,

illustrator and public speaker

and believes in the power of

personal development. She is

also on a mission to empower

children to live a life full of

happiness and fulfillment,

which is why she launched

the #ThankYouOaky Gratitude

Movement.

Sign up to Stacey's Premium

Membership here and use the

code PARENTA20 to get 20%

off or contact Stacey for an

online demo.

Email:

stacey@earlyyearsstorybox.com

Facebook:

facebook.com/

earlyyearsstorybox

Twitter:

twitter.com/eystorybox

Instagram:

instagram.com/

earlyyearsstorybox

LinkedIn:

linkedin.com/in/stacey-kellya84534b2/

10 Parenta.com October 2018 11
---
How did Halloween begin?

When most people think of Halloween, they think of trick-or-treating, scary costumes and carving

pumpkins to make lanterns. But the origins of this annual tradition can actually be traced back to

Celtic times, over 2,000 years ago.

An annual festival marking the beginning of winter and

the Celtic New Year, called Samhain, was celebrated by

the Celts from the 31st October until the 1st November.

The Celts were a group of people who lived across most

of Europe during the Iron Age, which began in 800 BC.

The Celts held an ancient belief that the boundaries

between the living and the dead became blurred on one

day of the year – the 31st October. They believed that

ghosts would roam the earth at night. The Celts used to

leave food and drink on the doorstep of their homes as

offerings to these otherworldly visitors.

In the 7th century, Christianity became the dominating

faith and there was an annual celebration called All

Hallows Day. The word 'hallow' means a saint or

holy person and the purpose of this day was to give

thanks for the lives of saints.

In 837AD, Pope Gregory IV stated that All Hallows

Day should be celebrated on the 1st November, as it

originally took place in May. The intention behind this

change was to marginalise the Celtic Pagan

faith and replace it with Christianity.

Over time, the Celtic festival

of Samhain was indeed

overshadowed by the Christian

celebration of All Hallows Day. The

evening of the 31st October became

known as "All-hallows-even" then

"Hallowe'en".

Did you know?

The three creatures which typically symbolise

Halloween are bats, black cats and spiders, as

they were all thought to be associated with witches

during the Middle Ages.

The festival of Samhain sparked the idea of wearing

costumes at Halloween. During Samhain, Celts

used to dress up and wear masks to confuse evil

spirits who they believed would be looking for

humans.

Halloween is also known as All Hallows' Day, All

Saints Day, Hallowmas, Feast of All Saints and

Solemnity of All Saints.

Halloween is the second most popular celebration

after Christmas and continues to grow. In the UK

a decade ago, consumer spending on Halloween

totalled £12m. It has now become an industry worth

over £300m.

The famous magician Harry Houdini died on

Halloween night in 1926 as a result of appendicitis,

said to have been brought on by three stomach

punches.

An American holds the record for the world's

fastest pumpkin carving time: 16.47 seconds.

Stephen Clarke completed the amazing feat during

Halloween 2013 at a Jack-o'-lantern carving

competition. The rules stated that the pumpkin

must weigh less than 24 pounds and needed at

least eyes, nose, ears and a mouth.

The last 4 people to be sentenced to death for

witchcraft in England were Temperance Lloyd,

Susannah Edward and Mary Trembles in 1682 and

Alice Molland in 1685. The first three women, from

Devon, were dubbed "The Bideford Three" and were

charged with sorcery on the basis of accusations.

Today, this would be dismissed as malicious gossip

or hearsay.

The traditional colours of orange and black are

symbolic of Halloween. Orange typically represents

the harvest and autumn time, when the leaves on

the trees are changing colour. Black is normally

linked to death and darkness.

The largest pumpkin ever measured was grown by

Norm Craven. His mammoth pumpkin broke the

world record in 1993, topping the scales at nearly

60 stone!

The origins of trick-or-treating date back to the

early 9th century, when poor beggars would knock

at houses for a biscuit called a soul cake (a type

of shortbread). In return for one of these cakes, a

prayer would be said for the deceased relatives of

that household.

How will your setting be celebrating Halloween?

Send us photos of your activities and crafts to

marketing@parenta.com for a chance to be

featured in the next edition of the magazine!

Enter our spooktacular Halloween competition

for a chance to win a 1000 piece craft hamper!

For more details see page 29.

12 Parenta.com October 2018 13
---
Paper plate

pumpkin craft

YOU WILL NEED:

►►

A white paper plate

►►

Orange paint

►►

Paintbrush

►►

Black card

►►

Green card

►►

Scissors

►►

Glue stick or PVA

Write for us for a chance to win £50

We're always on the lookout for new authors to contribute insightful

articles for our monthly magazine.

If you've got a topic you'd like to write

about, why not send an article to us and be

in with a chance of winning? Each month,

we'll be giving away £50 to our "Guest

Author of the Month".

5

2

4

1

Ask children to paint their paper plate orange and leave this to dry.

Whilst the plate is drying, cut two small triangle shapes to make the pumpkin's eyes and one smaller

triangle shape for its nose.

3

To create the pumpkin's mouth, cut a shape of your choice in the black card.

Cut a long rectangle shape in the green card to create a stalk for the pumpkin.

When the pumpkin is dry, help each child to stick on the shapes you have

previously cut out for the face.

6

Leave the pumpkin

plates to dry for one

last time and watch

them come to life!

Here are the details:

••

Choose a topic that is relevant to early

years childcare

••

Submit an article of between 600-900

words to marketing@parenta.com

••

If we choose to feature your article in our

magazine, you'll be eligible to win £50

••

The winner will be picked based on

having the highest number of views for

their article during that month

This competition is open to both new and

existing authors, for any articles submitted to

feature in our Parenta magazine for 2018. The

lucky winner will be notified via email and we'll

also include an announcement in the following

month's edition of the magazine.

Got any questions or want to run a topic by us?

For more details email marketing@parenta.com

AUGUST'S WINNER

Joanna Grace

Congratulations to our guest author competition

winner who has won for the second consecutive

month! Joanna Grace's articles on sensory play are

proving to be very popular with our readers. Huge

well done, Joanna!

14 Parenta.com October 2018 15
---
The wonders of a

sensory story

Having typed that title, staring at the blank

page on my computer screen, I am rather

worried about what to say next. Or, rather, how

I would ever stop typing once I started. I have

previously written a whole book on this topic

and even that wasn't enough - a further five are

due out this year!

I am going to cut a long story

short – more for my benefit

than yours – and simply say:

Sensory stories are

wonderful!

I desperately want to justify

that with a long explanation

of their impact on cognition,

mental well-being, a

child's identity, connection,

community, inclusion, ability

to learn, concentration,

communication and more….

but I am holding that all

in. If you want to know, get

in touch and then brace

yourself for a tsunami-sized

answer! What I will do here

is simply explain what they

are. The simplicity of them as

a resource is deceptive. They

are far, far more than a way

to tell a story with sensory

experiences.

Sensory stories are concise

texts - typically a sensory

story is less than ten

sentences long. Don't worry,

you can get a lot into ten

sentences! Personally, I have

got the birth of a star in a

stellar nursery into seven

sentences, a retelling of Alice

in Wonderland into ten and

a romp through the world of

Rockhopper Penguins into

eight.

Each sentence of a sensory

story is partnered with a

rich and relevant sensory

experience. You might

be thinking that these

experiences act like the

pictures in a book or like the

objects you might keep in a

story sack to inspire interest,

but in a really good sensory

story they will go beyond

that. The sensations will tell

the story. You have heard the

phrase "A picture speaks a

thousand words". Well, in a

sensory story there are visual

experiences not pictures,

and sound experiences,

and taste and touch and

vestibular and proprioceptive

and smell experiences and

together these speak millions

of words.

Part of the wonder of a

sensory story is its lack

of reliance on language.

They are naturally inclusive

of those who do not use

language or who speak a

language that is not our own.

You can use them to support

the kinds of sensory needs

we have discussed through

this series of blogs; they are

particularly well suited to this

as an addition to the benefits

of structuring and repeating

sensory experience. They

also offer the benefits of the

storytelling space. Research

into this magical space tells

us that inside a story we are

braver, bolder, better able

to cope and we feel more

connected to others in the

Part of the wonder of a sensory

story is its lack of reliance on

language. They are naturally

inclusive of those who do not use

language or who speak a language

that is not our own.

space. Stories are innately

inclusive and the perfect

vehicle for difficult topics.

So, to sum it all up, you can

use a sensory story to tell a

story in a sensory way and to

support children with sensory

needs. I could continue this

list, but my last attempt here

was four pages long and no

doubt if I looked at it now I

would have more to add.

Trust me, sensory

stories are

wonderful!

You can find out more about

sensory stories and even

access a few free ones if you

visit my website and follow

the links. I am always happy

to support people looking

to share sensory stories, so

do not be shy about getting

in touch via social media or

email here.

5 top tips to create your very own sensory story

To create a sensory story, start with the text. Often, writing your own is easier than distilling

an existing text and means you can write a story about the people you will share it with

which makes it even more interesting. You have 8-10 sentences to tell your whole story in,

but you can get a lot into a small amount of space!

1

2

3

4

5

Partner each sentence with a rich and relevant sensory experience

Doing this means that the sense being targeted will be drawn to the experience or

filled by the experience, for example, neon colours draw our sense of vision to them;

looking through coloured cellophane fills our vision. The relevance is how strongly the

experience links to the part of the story that it is about. I always tell people to start

with the story and problem-solve the experiences, in this way you end up with more

interesting sensory adventures.

Aim for consistency

When you tell the story, aim to be consistent: say it in the same way each time

and facilitate the sensory experiences that accompany it in the same way. This

enables people to feel safe and secure within the story, which in turn fosters more

responsiveness from them and promotes understanding and anticipation of the

experiences and the story.

Think about who you're sharing the story with

Try not to add in extra words and take into account the sensory abilities and preferences

of the people you are sharing the story with.

Get organised

Make sure you have all the bits and bobs you need to tell the story ready to hand before

you begin. There is nothing worse than getting to the moment when the star is born in

the stellar nursery and discovering the batteries in the torch are dead!

Finally: repeat, repeat, repeat

So much of the magic of sensory stories comes about through their repetition. You won't

get bored as, although you'll be saying and doing the same thing, you'll be revelling in

the increased responses you get to the story each time you tell it.

Enjoy your sensory adventures together!

Joanna Grace

Joanna Grace is an

international Sensory

Engagement and Inclusion

Specialist, Trainer, Author,

TEDx speaker and Founder

of The Sensory Projects.

Consistently rated as

Outstanding by Ofsted,

Joanna has taught in

mainstream and special

school settings, connecting

with pupils of all ages and

abilities. To inform her

work, Joanna draws on her

own experience from her

private and professional

life as well as taking in all

the information she can

from the research archives.

Joanna's private life includes

family members with

disabilities and neurodiverse

conditions and time spent

as a registered foster carer

for children with profound

disabilities.

Joanna has published three

books: Sensory Stories

for children and teens,

Sensory-being for Sensory

Beings and Sharing Sensory

Stories and Conversations

with People with Dementia.

Her next two books will

be launched at TES SEN in

October.

Joanna is a big fan of social

media and is always happy

to connect with people

via Facebook, Twitter and

Linkedin.

Website:

thesensoryprojects.co.uk

16 Parenta.com October 2018 17
---
Spotlight on...

Sarah Ellis

Lend your support to World Food Day 2018

World Food Day will take place on the 16th October and is a day dedicated to tackling global

hunger. The event was created by the Food and Agriculture Organization (FAO) of the United

Nations to promote awareness of those suffering from food poverty.

Every month, we put the spotlight

on a member of the Parenta team. This time

around, it's one of our internal quality assurers.

Sarah monitors the quality and delivery of the

training we provide to our learners in their

apprenticeships.

What does a typical day look like

for you?

A typical day for me will start with

replying to any outstanding emails and

following up on any queries I have.

Then, for completions that are ready

to be claimed, I will verify that the

standards and framework requirements

have been fully met. Once all other

admin duties are complete, I will then

start to complete interim samples of

learners' portfolios, looking at all areas

of the portfolio and leaving detailed

feedback for the assessors.

Why is it important for us to

have an ongoing internal quality

assurance process?

To allow us to monitor the learning

journey for apprentices, ensure we

standardise our practice across

the company and to make sure all

the assessors are fully meeting the

delivery requirements.

What do you find most rewarding

about your role?

To be able to pass on years of my

experience in both early years and

training to other members of staff,

along with seeing learners achieve

their potential after overcoming

barriers to learning.

We also have a

great team of

assessors who are

passionate about

delivering the

highest standard

of qualifications to

learners

Could you give an example of

where you've reviewed and

improved an important part

of the learning process for our

apprentices?

Having only been with Parenta a few

months, I am currently working on

ensuring we are effectively supporting

learners to achieve Functional Skills in

a timely manner, whilst also showing

clear audit trails of planning and

support before a learner takes their

exam. This will hopefully aid timely

completion of Functional Skills and

improve our exam pass rates, along

with our overall success rates.

What do you think makes Parenta

stand out as a training provider?

We specifically work with early years

settings, meaning all our services

from qualification delivery to software

is aimed at the Early Years, which

allows us to provide an all-round

service. We also have a great team of

assessors who are passionate about

delivering the highest standard of

qualifications to learners.

Tell us something about yourself

that most people don't know

To support myself through college, I

painted little toy soldiers that are sold

in Harrods and worked in the local

bingo hall.

According to estimates from the FAO,

815 million people worldwide live with

chronic hunger –equating to 10.7% of the

population. Globally, over 150 million

children are thought to have had their

growth stunted due to lack of food. Over

40% of these children were found to live

in Africa.

However, food poverty and malnutrition

is not only happening in third world

countries. There's an increasing number

of food banks whose services provide a

vital stop-gap for families struggling in the

UK. An analysis by anti-poverty charity

The Trussell Trust found that, between the

1st April 2016 and the 31st March 2017,

their network provided over 1.1 million

emergency food parcels to people in crisis.

When this analysis was broken down

into different regions, the North West

of England was found to have the most

demand for food bank services, with

174,489 3-day emergency supplies given

out over the 1-year period.

Data compiled from the Trussell Trust

also revealed that the biggest cause of

families being referred to a food bank

was benefit delays and changes, which

accounts for 43% of all referrals.

How to open up a discussion about

hunger in your setting

Cut out a variety of food images from

magazines and let each child have a

piece of paper. Label it 'Foods we are

thankful for'. Ask children to choose

their favourite foods to stick to the

paper, as well as foods that make their

bodies healthy and strong. Open up a

conversation about how children would

feel if they were hungry all day and ask

"What should we do if someone doesn't

have enough food?" The children's

ideas can act as a great starting point

to think of ways to support people

suffering from food poverty in the runup

to World Food Day.

Activities to take part in

• Ask parents and children to collect vital food donations for your local food bank

or supermarket collection point. You can find out more about what goes into an

emergency food parcel here

• Encourage staff and parents to choose something they want to give up (such

as a daily chocolate bar) for a week and instead donate the money to a charity

which helps alleviate food poverty

• Read the children a book which tackles the theme of not having enough to eat

and the importance of sharing, such as Mama Panya's Pancakes: A Village Tale

from Kenya by Mary and Rich Chamberlain

• Organise a trip with the children to visit a local food bank where a volunteer can

explain to the children why these services exist and how they help local families in

need

Find out how you and your setting can get involved to help stop UK hunger by visiting The Trussell Trust's website.

18 Parenta.com October 2018 19
---
Digital learning: Theory in practice

In previous articles, I looked at the theories of Jerome Bruner, with his emphasis on children's

thinking skills, Albert Bandura who focused on the social nature of children's learning and Urie

Bronfenbrenner who examined children's learning in the wider context of society. In this article,

I would like to focus on how theories inform practice with the help of Martine Burke who is Lead

Practitioner of an outstanding nursery in Bristol. I began by inviting Martine to offer an example

of a new initiative she has introduced within her setting that draws upon sound theoretical

perspectives such as those discussed in previous articles on Bruner, Bandura and Bronfenbrenner.

Martine came up with a wonderful example where digital technology and its potential to develop

children's learning in her Centre were explored (see example below). The example offers insights

into how children's thinking and social interaction with their environments can be progressed

and extended by practitioners and how children's learning in a changing world, which is largely

influenced and shaped by technology, can be observed in practice.

The formation of children's

digital footprints

We now know that the digital

presence in children's lives

typically begins even before

birth when, for example,

expectant mothers show

ultrasound images of their

babies to friends and family -

with some even putting these

images on social media sites.

Before children are even born

some have already become

part of the 'App Generation'

where their mothers

have used apps on their

smartphones after becoming

pregnant, as demonstrated

by one young mother:

I used an app that gives

you a weekly update on the

development of the foetus

[which] it equates to the size

of a strawberry and then a

lemon - it really helps you

imagine.

How digital technologies

help with literacy

development

Children's digital footprints

then commence following

birth with many children

growing up in homes where

each day they come into

contact with a whole range

of digital devices; from their

first weeks and months

many children, therefore,

become immersed in home

environments that have a

heavy reliance on technology.

By the age of two, children

can even be seen using

tablets or computers. Indeed,

it has been estimated that

nearly half of children in

the UK use these every day

and that well over half of

3-7-year-olds have access to

a tablet computer at home.

Many young children now use

tablet computers as second

nature and may be observed

tapping and swiping the

screens on these devices

with confidence and ease

and often with excitement.

Whilst some parents find it

challenging to use technology

within their own lives, for

children growing up today

it has become their normal

experience. Indeed, children

do not limit their activities

to tablet computers but

increasingly they use their

parents' smartphones to play

games and watch videos,

video-message relatives such

as grandparents and even

send messages.

Children entering early

years settings today will

almost certainly have had

access to a wide range of

digital technology within

their homes. When used

properly, these devices can

offer very good learning

opportunities for young

children. The absence of

innovative attempts in using

digital technologies in early

years settings may work

against children having

exciting and worthwhile

learning opportunities. Tablet

computers can, for example,

emulate many features of

books and offer exciting

opportunities for literacy

development. Screens look

like the pages of books

and even young children

can swipe their fingers over

pages and enlarge the visual

details of a picture that

captures their interest. There

are also many apps that

are geared towards helping

children in making up their

own stories and can even

permit the children to add

pictures and sounds, making

them more visually appealing

and motivating the children

to engage further with books

and explore ideas in much

greater detail. Children

can then be encouraged to

become even more creative

with their engagement with

reading and writing.

Example of the benefits

of digital technology use

from Martine Burke of The

Southville Centre, Bristol:

When thinking about how

Information Computer

Technology (ICT) might be

used for children in the early

years, I asked the team

what this might mean for us.

After putting the question

to the team their response

was very positive. They saw

opportunities for the children

to develop their thinking skills

and knowledge by being

able to explore, observe and

have a go with iPads, tablets,

phones. This could also lead

to them using or observing

adults at home. I decided to

observe a group of children

exploring ICT equipment

in our setting. The children

are already very interested

in exploring cars, rolling,

positioning them next to each

other, forwards, backwards,

racing them along ramps and

showing lots of persistence

and imagination and in doing

so, developing their social

skills through playing with

others. I next offered some

remote-controlled cars for

the children to explore. The

children were between the

ages of 2 and 3 years of age.

The children straightaway

became very involved and

keen, pressing buttons,

observing what happens to

the cars when they do so

– importantly, the children

were making something

happen using thinking

skills and by having a go,

which are characteristics of

effective learning. It was a

joy to observe the children

working together, racing

the cars and practising

moving them forwards and

backwards. Having this

opportunity, I feel, enhances

the learning environment for

our children. Using the indoor

and outdoor environment,

up and down ramps, steps,

modelling language and

lots of repetition encouraged

many verbal responses from

the children. Reflecting upon

this, I will offer more ICT

opportunities to enhance and

support learning indoors and

outdoors. Next steps will be

metal detectors to explore.

The above example clearly

illustrates how one early

years setting is exploring

ways in which ICT can be

used positively to impact

on the learning of young

children, to increase

their thinking skills and

progress social development,

to interact with others,

acquire new vocabularies

and experiment with new

ideas and activities and to

improve coordination and

fine motor skills; all in a way

that motivates and excites

them with new learning. In

previous generations, when

theorists such as Bruner,

Bandura and Bronfenbrenner

were developing their

theories, most children

shaped their social lives

through exploration of the

physical worlds around

them; play was typically

'hands-on' and mostly, 'outof-doors'.

Children today,

however, can shape their

social lives and exploring

their physical worlds from

the comfort of their homes

and bedrooms. This process

has been reinforced by the

fact that many parents have

over recent years invested

in digital technology for

their children by buying

computers, tablet computers,

smartphones and paying for

access to the Internet in the

belief that this can benefit

their children's learning and

have real educational value

as evidenced by Martine in

the above example.

Sean MacBlain

Dr Sean MacBlain is a

distinguished author whose

most recent publication

is: MacBlain (Sage, 2018)

Learning Theories for

Early Years Practice. Other

publications include:

MacBlain (Sage, 2014)

How Children Learn; Gray

and MacBlain (Sage,

2015) Learning Theories in

Childhood, now going into

its 3 rd edition; MacBlain,

Long and Dunn, (Sage,

2015) Dyslexia, Literacy and

Inclusion: Child-centred

Perspectives; MacBlain,

Dunn and Luke (Sage, 2017)

Contemporary Childhood;

Sean's publications are used

by students, academics and

practitioners worldwide.

He is currently a senior

academic at Plymouth

Marjon University where

he teaches on a range of

undergraduate programmes

and supervises students at

Masters and Doctoral level.

Sean worked previously as a

Senior Lecturer in Education

and Developmental

Psychology at Stranmillis

University College, Queens

University Belfast and for

over twenty years as an

educational psychologist

in private practice. Sean

lives with his wife Angela in

Somerset, England.

For further information on how an understanding of ICT can

support practice in the early years, see the following link to Sean's

latest book: MacBlain, S.F. (2018) Learning Theories for Early Years

Practice. London: Sage: https://uk.sagepub.com/en-gb/eur/

learning-theories-for-early-years-practice/book259408

20 Parenta.com October 2018 21
---
What our customers say

WHAT OUR CUSTOMERS SAY

NEWS

Parenta Trust news

TRAINING

What do you think of

our services?

"Very good."

- Bi Shabana

SEPTEMBER

2018

TRAINING

I have just completed a level 3 early years

qualification with Parenta. I am emailing as I would

like to acknowledge the excellent support I received from

Jeanette Arnold, my assessor. Jeanette responded quickly to any

queries I had regarding assignments and observations and was also

very understanding on the couple of occasions I had to re-arrange due

to staffing issues at my setting, meaning I couldn't be out of ratio. I

have thanked Jeanette personally but felt I needed to make you aware

of the brilliant job she has done in supporting me throughout my

study. She is an asset to Parenta :) Thanks again.

The latest from the dairy project at

Nyakabale Nursery School

The dairy project at a Parenta Trust school in Kasese, Uganda

is going from strength to strength with the arrival of a new calf.

This is the second offspring successfully produced by Rambo,

Tulip and Daisy who have clearly been busy!

Help a child in a Parenta Trust school

look forward to a much brighter

future. For as little as 56p per day,

you can change a child's life! Find out

more about sponsoring a child today:

bit.ly/PTsponsor

- Christina Brown

SEPTEMBER 2018

SOFTWARE SUPPORT

Thanks Ellie. I always find you

helpful and patient with any

issues I have!

26th - 30th June 2019

- Rosie Farmer, Winton House

Day Nursery

AUGUST 2018

TRAINING

I have been working in Early Years for

over 20 years. I was approached by Pam

who recommended the level 5. I am a full-time

manager of a very busy setting and wasn't optimistic

at how I was going to fit in the study time. Pam, from

the beginning, made me believe in my own abilities. The

way the course is set out and managed really supported

my learning style. I have thoroughly loved learning with

such an incredible mentor. Pam has so much passion

in Early Years which inspired and motivated me

throughout the course. I would highly recommend

Parenta to others seeking to develop their skills

and knowledge further.

- Joanne Unsworth, Rainbow Childcare

Centre Nursery

SEPTEMBER 2018

SOFTWARE SUPPORT

Thank you so much for your help

and ongoing support. As someone

who is still learning about Parenta, I am

exceedingly happy with the support that I

have had lately.

- Pamela Smith, Bluebells Nursery

Manager

SEPTEMBER 2018

Last October, Parenta trustee Marie

Kershaw donated funds to help

Nyakabale Nursery School, which was

identified as being the most in need.

A small piece of land, two cows, a

bull, the animals' shelter and food for

1 year was bought with the generous

donation.

Earlier in the year, the Trust received

the happy news that the herd's first calf

had been born. Now, a second calf has

been produced by the affectionately

named Rambo, Tulip and Daisy.

As well as feeding the new arrival, milk

from the cows is also being used to

make nutritious meals for the children

who attend Nyakabale Nursery School.

The herd produces approximately 15

litres of milk for these pupils on a daily

basis.

One of the dairy project's main aims is

to improve the nutrition and health of

920 pupils through milk consumption by

2019.

Besides improving the children's diet,

the diary project also aims to equip

500 learners with skills in livestock

management which they can apply in

their homes. In the long run, the project

will also increase the school's income

through the sale of surplus dairy

products.

Registration is now open for the 2019

road trip of a lifetime – the Parenta

Trust Maidstone to Monaco Rally.

Don't miss this great adventure,

register today! From 26th – 30th June

2019, we will travel 2,000 miles across

8 countries in our banger cars and

finish in Monaco with a celebratory

night out! All proceeds from this

fundraiser will go towards building

our next pre-school in East Africa.

Find out more at:

bit.ly/2019PTrally

22 Parenta.com October 2018 23
---
Top 10 messy play ideas

5

WATER FIGHTS

8

SPAGHETTI SPOOLS

There's nothing kids love more than getting their hands dirty. Not

only is messy play bound to be your children's favourite kind, but

the sensory experience it extends can encourage learning in a truly

unique way.

1

THE GREAT OUTDOORS

Put a tarp down in your lounge or lawn, and have a go with the

following messy play ideas the next time your kids say they're bored!

3

PLAYDOUGH

For a summer's afternoon, there are few activities better than

a water fight. Arm your little warriors with water bombs and

a couple of water-guns, and watch as they chase each other

around in delight.

What's better is that water doesn't stain, so no need for

washing clothes after the kids have finished their battle!

6

OOBLECK MARBLING

Spaghetti is a vital material in every parent's messy-play

toolkit. You can colour it with different food dyes and watch

as your kids knit the strands together, you could help them

dye it black to make a "worm-pot" or you can even use

cooked spaghetti strands as brushes of sorts to create

swirly-whirly paintings.

9

MAKE SOME SLIME

The old-school, no-fuss version of messy play is letting the

kids go wild outside. Out in the garden, they'll find dirt, mud,

sand, insects, flowers – the list goes on. Encourage them to

take their shoes off and feel the grass beneath their feet.

There is a myriad of games kids can play in nature. Whether

it's crafting mud pies, helping you to do the gardening, or

playing a good old game of hide-and-seek in the bushes,

they'll be entertained for hours in the great outdoors.

There'll be few of us who don't remember with fondness the

times we made playdough from scratch – and this classic

play idea still offers buckets of fun for mess-loving kids.

All you need is a few household ingredients and a bit of

heating and kneading, and the kids will be away laughing.

4

BAKING

If you haven't heard of Oobleck before, it's simply mixed

cornstarch and water. Why not add food dye to the mix,

and introduce your kids to the colour palette? They'll love

handling this sticky, gooey stuff, and can even use it to

make splatter or marble paintings, if they want to!

Been meaning to teach your kids about non-Newtonian

substances? Get them on the chemistry train early by making

some homemade slime. It couldn't be simpler: you only need

one specific ingredient, Borax (sodium tetraborate), and once

you've got that, you can use household ingredients to make

all kinds of wonderful goo.

2

GLITTER PICTURES

7

FEET-PAINTING

10

GETTING SANDY

Do you have a budding art-and-crafter in your midst?

Allow them to exercise their talents by setting up a station

complete with glitter, glue, crayons, and the like.

Kids love to bake, and coaching them through simple

recipes can be a fantastic lesson in following instructions.

Plus, baking means eating the mixture and making a

delicious mess during things like cookie decoration (in other

words, every child's dream).

Parents can be understandably concerned about letting

their kids go wild in the kitchen – to reduce waste and

ensure their creations are edible, you could measure out the

ingredients prior and confine the mess to a mess-table.

Buy some poster paints and allow your kids to explore the fine

art of painting with their feet. What they produce will be an

invaluable keepsake for mum and dad as they grow older.

Many people's best childhood memories are made at the

beach. With all that sand, water, and interesting sea life to

peruse, beach-going can be as messy as the children want

it to be. Take the dog and some sandwiches along for a

proper family day out.

24 Parenta.com

Cloe Matheson is from Dunedin, NZ. Growing up, Cloe's favourite weekend activity was playing house with her friends. They

would gather sticks, stones and leaves from the backyard and "cook" them in their makeshift kitchen tent. To this day, these

memories still a bring a smile to Cloe's face. Visit Tumblr to see more of her published work.
---
The Adventures of Rocket Rabbit &

Sidekick Squirrel Part 3 – Agnes &

Bones

The Adventures of

Rocket Rabbit &

Sidekick Squirrel part 2

PREVIOUSLY ON ROCKET RABBIT &

SIDEKICK SQUIRREL…

Our little heroes were out on a mission. But instead,

they were led into a trap by The Badger and were left

thinking what may happen next…

Sidekick was shocked. She was hardly ever beaten –

especially by a baddie! Her mind was going over and

over what just happened and what she could have

done differently.

She was thinking that maybe it would be best if they

both returned home to talk about their plan. It would

give Sidekick time to come up with a new plan, work

out who or what they were up against, and the best

way to prepare.

Rocket was thinking the complete opposite! She

wanted to wait and find out who they were facing.

Returning to base would be a sign of weakness in

Rocket's mind.

Finally, Sidekick said what she had been thinking,

"We should return home, Rocket. We need to work

out what's going on here."

"No way!" Rocket said.

Sidekick sighed. She was used to Rocket's way of

doing things but, just once, she would like to be

listened to! Instead, she made the choice to stay with

her partner and come up with a plan to keep them

both safe.

Sidekick told Rocket about her plan and was so

happy that Rocket was actually listening to her!

Quickly, our two heroes hid in the shadows and

waited for whatever may be coming their way…

Agnes & Bones

...MEANWHILE...

Meanwhile, across the city, The Badger had gone

back to her hideout. "I did as you asked," she said

loudly. "The two fluffy heroes are trapped and ready

for you to talk to them."

A witch stepped out of the shadows and laughed

mischievously. "Good work," she said. "It's about time

I meet these two. They have been stopping all of my

good work all over the city."

The witch, Agnes, had sent The Badger to set up the

trap as she was unsure if it would work and it would

have been better for her if The Badger had been

caught instead. Now that it had worked, however, she

was happy and was certain that she and her partner

– The Skeleton - would be able to handle Rocket and

Sidekick

Agnes did not look like a witch, that is to say that she

did not have green skin nor a huge nose. She did,

however, have a huge black pointed hat, a broomstick,

and a black cat named Meow.

The witch was dressed in a dark cloak, but her face

was pleasant and smiley. She looked like she could be

someone's grandma – except for the broomstick!

Agnes went to a bookshelf and got down the biggest,

dustiest, filthiest book from the top shelf. She blew the

cobwebs off and made the cat sneeze! Spiders scuttled

across the floor, but the witch took no notice. She was

busy flicking through the pages looking for a special

spell.

She found it on page 804 under the heading:

SKELETON BUDDIES

Agnes went to the middle of the room, to her cauldron

in which she cooks all of her potions. She placed the

book on a special table stand and went around the

room collecting different spices and ingredients for the

spell. Into the pot they all went, forming a bright blue

liquid that was bubbling and hissing. Meow stayed out

of sight. She was afraid that some of it might spill on

her!

The witch danced around the room even though there

was no music playing. She was feeling very happy and

excited. It had been a long time since she had seen her

skeleton buddy.

At last the spell was complete and out of the cauldron

stepped a real live skeleton. Except, of course, that it

was not alive! The skeleton walked shakily toward the

witch… and gave her a huge hug!

"How I've missed you!" said the skeleton, whose name

was Bones, happily.

"I've missed you too!" replied Agnes, her smile as wide

as a river.

October 2018 27
---
"Come, my friend, we have work to do." Agnes said

as she climbed on to her broom. Bones climbed on

behind her and held tight to the witch.

The baddies took off into the sky, heading for where the

heroes were still hiding inside the shop.

Agnes flew the magic broom faster and faster. She

smashed it straight through the wall of the shop. Bricks

and rubble flew everywhere. Rocket and Sidekick were

still safe in their hiding spaces, however.

They had been ready for something to happen. Rocket

almost ran out then, but Sidekick shook her head.

Rocket waited.

"I know you are here, you pesky heroes!" Agnes called

out to them.

She slid off of her broom with Bones behind her. The

broom moved itself off to a corner of the room and

leaned against a wall.

'I never knew a broom could do that' thought Sidekick to

herself. She was shocked, but she stayed in position.

Bones was moving about the shop, slowly and quietly.

She had superpowers as much as Rocket and Sidekick –

she can see through walls!

She soon spotted where the two heroes were hiding but

they hadn't seen her yet.

Just as Rocket and Sidekick went to attack Agnes, Bones

threw some of her bones at them! They both slipped

and tripped over the rib bones from the skeleton and

found themselves helpless at the witch's feet…

Richard Dodd

Richard has been writing for

as long as he can remember.

English was a subject he

enjoyed in school as it just

made sense to him. He loved

to read and requested his

own bedroom so that he could

have a bookcase! His favourite

childhood authors included

Enid Blyton, R. L. Stine, M. D.

Spenser, and Charles Dickens.

Characters, stories and even

words he has taken in through

all of those books have stayed

with Richard for two decades.

He firmly believes that books

are integral in a person's

upbringing and that those

experiences will stay with them

throughout their lives.

He can recall parts of those

books in their entirety, from

the tone of voice described by

the author to certain scenes

from The Famous Five or Secret

Seven. Richard loves fiction

and the idea of escaping and

therefore creating an escape

for a reader is the very reason

he writes.

Richard has written four books,

three in the Fluffy the Magic

Penguin series and a standalone

book called 'The Secret

Passageway'.

Facebook:

www.facebook.com/

richarddodd.author/

Email:

Richard.dodd@upburypress.

co.uk

Website:

www.upburypress.co.uk

win a craft hamper in our

spooktacular halloween

competition!

Enter our Halloween competition with the chance to win a hamper crammed with

1000 craft items!

To enter, download the Halloween craft templates from our website, available here and

get ready to create ghoulish decorations for your setting.

Once you've completed your ghastly crafts, send a photo of these displayed in your setting

to marketing@parenta.com by Friday 2nd November 2018.

We'll upload this photo to our website and social media pages for a national vote – the one

with the most votes will win our incredible prize!

Happy Halloween crafting and good luck!

28 Parenta.com October 2018 29
---
International Stammering

Awareness Day

October 22nd is International Stammering Awareness Day. It aims to raise awareness about

the seventy million people across the globe who suffer with stammering*. It could be on

certain words, in certain situations, or in general, but the impact on sufferers is the same: a

communication problem that severely affects their confidence and quality of life.

We all have moments

where we lose our train of

thought or forget a word,

but in the case of people

who stammer, there can

be moments of prolonged

hesitation, repetition of

sounds or words, and times

when literally no sound is

made (silent blocking).

Many people do not know

how to react appropriately

when someone stammers.

Popular culture has often

increased social stigma

by creating either comic

(Porky Pig) or mentallyunstable

(Norman Bates)

characters who stammer.

It's only recently, with

the success of films like

The King's Speech, that a

more meaningful dialogue

has opened-up about

the causes, therapies

and long-term issues

surrounding stammering.

For children who

stammer, life

can be a

constant struggle to be

understood. It can lead

to frustration, anger,

behavioural issues,

poor confidence, and

withdrawal from social

situations. Many children

are bullied because of

their stammer and it can

affect their education and

employment chances as

adults.

Early intervention is vital,

and nurseries are in

an excellent position to

increase awareness and

offer a supportive and

nurturing environment that

helps develop language

and communication.

Stammering is not

unusual

Stammering affects people

from every culture, social

status and age group.

Approximately 5% of young

children experience some

difficulty with fluency

growing up. Whilst most

cases resolve without

intervention,

about 1%

of people will continue to

stammer as adults; men

being four times more

likely to stammer than

women.

Lewis Carroll, Gareth

Gates, Rowan Atkinson,

Ed Sheeran and Winston

Churchill all fought hard

to overcome childhood

stammers.

What causes

stammering?

Stammering is NOT caused

by nervousness. It is a

neurological condition

caused by physical

differences in the anatomy

of the brains of people

who stutter, compared to

those who do not. There

can also be differences in

the way the brain functions

and responds to emotional

inputs. Onset is usually

between 2½-3 years.

Genetics also play an

important part, and

stuttering can run in

families, often being

common amongst

siblings.

The severity and frequency

of stammering varies

between individuals,

but there are also

environmental, linguistic,

physical and psychological

factors that can also have

an effect.

Is there a cure?

There is no magical 'cure'

for stuttering although

early intervention in the

pre-school years is vital.

Research shows that

if tackled early, before

psychological issues such

as self-consciousness

or anxiety become

established, then most

children can learn to speak

more fluently.

Recognising the symptoms

and referring children to

a qualified speech and

language therapist is

essential in under-5s and

the British Stammering

Association has set up

the "Every Child's Chance

of Fluency" project

which aims to improve

therapeutic services

available to children.

How can you help children in your setting who stutter?

1

2

3

4

Improve education

Improving your team's understanding and knowledge about stuttering will help

disseminate best-practice ideas amongst early years professionals. International

Stammering Awareness Day is an ideal opportunity for some staff training or to

increase awareness in children. Be wary of singling out individuals however, so

they don't become more anxious or self-conscious.

Develop better listening skills

People who stammer like to talk for themselves so don't be tempted to finish their sentences. Instead,

the advice is to listen with patience. Do not be tempted to give advice either, such as 'slow down',

'take a breath' or 'relax'. This can exacerbate the problem and shows a misunderstanding of the real

causes of stammering.

Singing and choral speaking

People who stammer are normally fluent when singing, speaking in chorus, or whispering, so making

use of these in games or social activities can help children who stammer and build their confidence in

social situations.

Emphasise communication rather than fluency

Most people's goal in speaking is to engage in good communication – i.e. to have their needs and

feelings understood accurately. This goal should be prioritised over emphasising

perfect fluency in people who stammer.

Ways to mark International Stammering Awareness Day

The British Stammering Association want people to talk more about stammering. Here are some ways

they suggest you can mark International Stammering Awareness Day:

1

2

3

4

5

One important action could be to dispel the myths that stuttering is caused by

nervousness, or that people who stutter are less intelligent, which are simply untrue.

This means finding other ways in which children can communicate more easily

– perhaps using alternative words, images or gestures which can all help

communication. This will lessen the importance of perfect fluency, reducing

anxiety and frustration too.

Wear a sea-green ribbon, or sea-green-coloured clothes as a conversation starter. Sea-green has

been chosen because it represents the bond between peace/calmness (blue) and liberation (green) -

important factors for people trying to overcome a stammer.

Wear a BSA wristband, available from their website.

Use social media to spread the message.

Create and put up awareness posters.

Invite parents, carers, governors and friends to a display or talk.

For more information, visit

the British Stammering

Association website:

www.stammering.org

30 Parenta.com October 2018 31

*In the USA and Australia, the word 'stutter' is used more frequently than 'stammer'. 'Dysfluency' is also used

synonymously in the UK.
---
How to use sociograms

to support children

struggling to make friends

The introvert, extrovert and the ambivert child.

Are you an extrovert or an introvert?

Is it your idea of heaven to curl up on your own with a good

book? Or is it to dance the night away in a nightclub with

hundreds of other people? At what point in our lives do these

social preferences begin to emerge?

At around the age of three or four

children become more social in

their play. Their social attitudes and

approaches influence the way they

relate to others. Successful group

dynamics makes us happy, unsuccessful

ones make us miserable, regardless of

our age. Clearly, we need to place the

support of social relationships at the

heart of early years education.

A child's social attitude highlights their

social needs. The introverted child needs

more time to process what they are

thinking before they communicate, and

will probably prefer to play one-to-one

or in small groups. Extroverted children

come across as more confident and

assertive. They tend to interact more

easily. Lastly, ambiverted children are

a mixture of the two; they enjoy the

company of others as well as being

alone. Ambiverts roughly make up

between half and two-thirds of the

population, with introverts and extroverts

among the rest.

Our world tends to reward extrovertism

whereas introvertism is seen as

weakness or a problem. Regardless of

temperament and personality, every

child needs to feel supported, valued

and respected. Our job is to encourage

children to interact in healthy and

enjoyable ways that best suit them. How

do we do this?

Sociograms

Sociograms are visual representations

of the interpersonal relationships in a

group or class. Once a child's play is

interactive (usually around the age of

four) sociograms become a useful tool

for identifying children who may be

socially isolated and in need of some

help initiating interaction, or for flagging

up unbalanced friendships.

Take a look at the sociogram below.

The arrows represent who initiates

interaction with whom/who likes playing

with whom. Notice that Lisa initiates

interaction/likes playing with others,

but gets no response. She is not valued

as a play partner. This needs to be

addressed.

Ben

Milo

Oscar

Sam

James

Lisa

Lucy

Mutual interaction

One-way interaction

Tayla

Anna

Girls

Boys

Sara

A sociogram (see diagram) can be

created by:

• Observing who initiates interactions

with whom (verbal, non-verbal).

Several sociograms throughout one

session will build up a picture of social

behaviour for a focused child or group.

• Asking children (when no other children

are with them) who they enjoy playing

with. This method can be less reliable

for the younger child as they may well

give the name of the child they have

just been playing with. Once you have

recorded all the names the children

give, you can create the sociogram. This

is a 'one-off' sociogram.

Create the sociogram according to

whichever method you think will be most

effective in your setting.

What next?

Often sociograms simply confirm what

we already know. At other times, less

noticeable patterns of social behaviour/

friendship preferences become apparent.

Talk about the results with your colleagues.

What are the social patterns of the focused

child? Does the child talk more with adults

than children? Do they stay with one child/

group all session or flit from one to the

next? Are there any emerging friendships

or rifts?

Effective strategies can be created

to support children who struggle

with interaction/building friendships.

Modelling and encouraging healthy

interactions is key: "Sam and Lisa, I love

how you are playing together with the

play dough. You are having such a fun

game!"

Helen Garnett

Helen Garnett is a mother

of 4, and a committed and

experienced Early Years

consultant. She co-founded

a pre-school in 2005

and cares passionately

about young children and

connection. As a result,

she has written a book,

'Developing Empathy in

the Early Years: a guide for

practitioners'. She has also

co-written an Early Years

curriculum and assessment

tool, at present being

implemented in India. Helen

is also on the Think Equal

team, a global initiative led

by Leslee Udwin, developing

empathy in pre-schools and

schools across the world.

Highly appealing activities will draw the

shyest of children into a group situation,

providing the 'appeal' is tempting enough.

Crucially, when a setting's emotional

environment is healthy, children can

relax into social groups that suit them.

Not every child will have dozens of

friends. Some will have just one or two.

It is the quality of these friendships that

builds happy children through positive

interactions.

It is good practice to create regular termly

sociograms to build up a robust record

of a child's social behaviour. By carefully

noting friendships and interactions, and

following this through with effective

strategies, adults set up a supportive

learning environment, thus encouraging

social competence and cohesion

amongst our youngest children.

32 Parenta.com October 2018 33
---
EYFS activity ideas

to try today

MATCH THE SHAPE

ON THE STICK

PAPER PLATE

ALPHABET GAME

B

PLAY WITH POTS, PANS

AND SAND

Give these EYFS activities a go and let us know

what you think of them!

B

Communication and Language

Physical Development

Personal, Social and Emotional Development

Literacy

Mathematics

Understanding the World

Expressive Arts and Design

Please remember, as with any activity in

a childcare setting, staff will need to carry

out an appropriate risk assessment.

Teaching children how to match is an

important part of developing early

mathematics skills, helping them to

identify relationships between two or

more similar items. This simple shape

matching activity is a great way to

help older children's recognition of

shapes and space.

YOU'LL NEED:

• Wooden craft sticks

• Different coloured pens

AREAS OF THE EYFS:

Shapes, spaces and measures

Listening and attention

15 - 30

minutes

30 - 60

months

INSTRUCTIONS:

1. Take two of the wooden craft sticks and make

matching symmetrical shapes with your coloured

pens. The shape should form when the two sticks

are placed side by side

Learning the alphabet is a

foundational skill for reading and

writing. This activity is a great way

to test children's memory skills and

recognition of letters in the alphabet.

To mix things up a little, you could try

the game with numbers too!

YOU'LL NEED:

• A pen

• 24 paper plates

AREAS OF THE EYFS:

Making relationships

Listening and attention

Numbers

15 - 30

minutes

40 - 60

months

Understanding

Reading

INSTRUCTIONS:

1. Select 12 different letters of the alphabet and write

each one identically on two paper plates, so you'll

have 24 plates in total

Sand is one of the best nature-made

resources for play and is great for

children's physical development. Large

muscle skills develop as children pour,

sift and scoop their way through the

sandbox using various pots, pans,

sieves and colanders.

YOU'LL NEED:

• A sandbox

• Kitchen utensils

• Wooden spoons

• Pots and pans

• Sieves and colanders

AREAS OF THE EYFS:

Moving and handling

Being imaginative

Exploring and using media and materials

30 mins -

1 hour

8 - 36

months

INSTRUCTIONS:

1. Fill your sandbox with a variety of interesting

kitchen utensils, pots and pans

2. Gather the children and explain to them how to put

the sticks together to make a shape

3. Spread the wooden sticks randomly across a table

or flat surface and let the children explore them

4. It may help to draw two shapes on each set of

sticks to give the children a second reference point

so they find the task easier

2. Lay the plates out in random order in a 4 x 6 grid

3. Let each child have a turn to choose two plates to

turn over to try and find a matching pair

4. If the children find two letters which match, they

get to keep the plates

5. Keep playing until all the matching letters have

been found

2. Let the children explore the sandbox and discover

how to move the sand around and filter it through

the sieves and colanders

3. They may also like to make music by banging

wooden spoons on pans and pots

4. When children are able to start lifting heavier

pans, it may be time to swap them out for plastic

ones

34 Parenta.com October 2018 35
---
Misbehaviour

– are you

communicating

with me?

You will probably have come across the

phrase 'All behaviour is communication' at

some point in your life. There are several

different viewpoints and many scholars

and theorists have debated this to be true

or false depending on their stance. We do

know, however, that a high percentage of

communication is non-verbal and therefore we

are communicating how we feel and what we

think by the way that we act, our stance and

our gestures, regardless of whether we mean

to or not.

I personally think that it is helpful to consider the behaviour

of the children in our care as communication because it can

encourage us to ask the following questions:

►►

►►

►►

►►

►►

►►

►►

►►

►►

Is this child communicating something with us through the

way they behave? (Either consciously or not)

What is this child hoping to achieve through this

behaviour?

Has this behaviour been triggered by anything?

What happened prior to this child behaving in this way?

Could this behaviour be evidence of a schema?

Has anything different happened at home?

Is the child hungry or tired?

Is this behaviour a result of a social interaction?

Can we try to unpick why this child has acted or reacted in

this way?

Remember Alistair Bryce-

Clegg's idea of Thrill, Will,

Skill: "Without thrill there is no

will to take part and without

the will, how will children

successfully acquire the skill?"

You can probably think of

more questions that would

be helpful to ask. We can

use our observations of how

children behave in the same

way that we would use our

observations of their learning.

Reflect upon what the

behaviour is telling you and

then plan future provision and

interventions in the light of this

behaviour.

It could be that, as a result

of this behaviour, you decide

to change an aspect of your

practice, for example, if a

child has been frequently

running inside, can we move

the furniture in such a way

that it will discourage running?

You could choose to have an

informal chat with the child's

carer to check that everything

is OK at home. For example,

you may find that they have

had a couple of really late

nights which might explain

the misbehaviour. You may

decide that you want to

observe this child further to

see when they behave in

this way; can you notice any

patterns in their behaviour

which will help you to unpick

what is going on? Is the child

bored or using a resource

inappropriately? Perhaps we

need to role model how to

engage appropriately with

others or how to use a specific

toy. Remember Alistair Bryce-

Clegg's idea of Thrill, Will, Skill:

"Without thrill there is no will to

take part and without the will,

how will children successfully

acquire the skill?"

Our aim will always be to

support the child in the best

way that we can and to keep

them and everyone around

them safe. Thus, we must

ensure that we respond

sensitively to all behaviours

and set appropriate

boundaries for the children

in our care. It helps to be as

consistent as possible when

responding to challenging

behaviour and to keep the

dialogue open with home.

Children need to feel safe and

secure and having a clear

message about appropriate

ways to behave will help with

this. So make sure that your

policies are clear about how

you will respond to various

behaviours. I sometimes

suggest that settings specify

When a child… Adults

will… within their policy

as this positively sets out

expectations for everyone to

see.

Keep the child central to your

discussions and planning

– children have very little

control over their lives – they

are often told what to do

from the moment they wake,

what to wear, where they are

going that day and what to

eat etc. Therefore it can be

really helpful to offer some of

the responsibility for creating

rules to the children. Talk

about rules and boundaries

with them and, depending

on their age and stage of

development, you could create

your own set of rules together.

It is much easier to remember

rules that you have thought of

yourself!

Remain positive in the

language that you use,

remember the idea that the

rule 'Don't run' could lead to

more running as children will

hear the word 'run', whereas

the rule 'walk' should remind

children of the positive way

to behave. The same idea

applies when we talk to the

children – can we focus on

using positive language and

language which will calm

children down, rather than

approaching them in a way

that will hype things up?

Above all, centre your

provision around the needs

and interests of the children

– if they are engaged and

motivated to learn there

will be less time for poor

behaviour! So make sure

you are keeping those lines

of communication open and

listening and responding

sensitively to their behaviour

and what they do, just as you

would listen and respond to

what they say.

Tamsin Grimmer

Tamsin Grimmer is an

experienced early years

consultant and trainer and

parent who is passionate

about young children's

learning and development.

She believes that all children

deserve practitioners who

are inspiring, dynamic,

reflective and committed to

improving on their current

best. Tamsin particularly

enjoys planning and

delivering training and

supporting early years

practitioners and teachers to

improve outcomes for young

children.

Tamsin has written two

books - Observing and

Developing Schematic

Behaviour in Young Children

and School Readiness

and the Characteristics of

Effective Learning.

Website:

tamsingrimmer.co.uk

Facebook:

facebook.com/earlyyears.

consultancy.5

Twitter:

@tamsingrimmer

Email:

info@tamsingrimmer.co.uk

36 Parenta.com October 2018 37
---
Wear your pyjamas with pride for

Humphrey's Pyjama Week

Parenta job board

Humphrey's Pyjama Week takes place on the

2nd October. It's a fun-filled activity week to

help raise money for The Children's Trust, a

charity which has teamed up with the popular

Humphrey's Corner brand. The Children's Trust

provides rehabilitation, education and specialist

services for children with a brain injury.

Across the UK, it's estimated that over 40,000 children will

suffer a brain injury as a result of an accident or illness. This

is known as 'acquired brain injury'. Although some children

are very lucky and make a full recovery, others will be left with

permanent and life-changing after-effects. Thousands more

children are born each year with brain injuries or suffer from a

degenerative condition which affects their brain.

The Children's Trust and its staff aim to support children

with complex medical needs to help them live their lives

to the fullest. The services provided by the charity are not

fully covered by statutory sources and, therefore, it relies on

voluntary donations from its supporters.

All monies raised during this special week go towards

providing specialist care for children, as well as organised

trips such as outings to farms, museums and the cinema.

HOW TO SUPPORT

HUMPHREY'S PYJAMA WEEK

For a suggested voluntary donation of £2, supporters are

asked to wear their pyjamas for the day. There are lots of

other activities your nursery or pre-school could take part in

during the week itself, here are some ideas:

• Organise a tea party. Some of Humphrey's favourite

recipes can be found on The Children's Trust 'Tea Party

Recipes' page, including jam tarts and shortbread

biscuits!

• Encourage children to bring their favourite bedtime story

to read in their pyjamas in your cosy corner

• Help toddlers make their own teddy bear biscuits to enjoy

at tea time

• Run a 'Guess the teddy's name' raffle, with the winner

being able to take the bear home

• Hold a bake sale – you could even offer traditional

bedtime drinks such as hot chocolate and marshmallows

• Play slumber-themed games such as sleeping lions

• Ask children to bring in their favourite teddy for the day

ORGANISING YOUR OWN

HUMPHREY'S PYJAMA WEEK

Humphrey's Pyjama Week doesn't have to take place on the

2nd October – it can be organised for any week where your

setting can facilitate it. To help raise awareness, you could put

a note for parents in your newsletter explaining why you're

supporting this important cause. Do make sure you give

parents plenty of notice to prepare their children's pyjamas.

If you visit The Children's Trust website, you can download free

templates for hats, bunting and colouring sheets to print off

as part of your activities. There

is also a free poster which

you can display in your

setting.

Lastly, why not ask

the children what

fundraising activities

they'd like to take

part in? This could

form the basis of

some very unique and

interesting ideas!

To sign up or to

find out more visit

www.thechildrenstrust.org.uk/

humphrey or email humphrey@

thechildrenstrust.org.uk

We'd love to see photos of your

setting's fundraising activities! Send

them to marketing@parenta.com

for a chance to be featured

in the next edition of the

magazine

www.jobs.parenta.com

Childcare Apprentice Required:

Farm Work Play Faversham Kent ME13 9EH

Alphabets Nursery Maidstone Kent ME13 2JP

Woodlodge Montessori School Northwood London HA6 1SL

Kids Will Be Kids Elstree Watford WD6 3JJ

Jolly Tots Elstree Watford WD6 4NF

Monkey Puzzle Weybridge Weybridge Surrey KT13 8QR

Sudbury Town Nursery School SudburyGreenford London UB6 0NA

Honey's Childminding Manor Park London E12 6HW

Creative Explorers Day Nursery Hornsey London N8 7BS

Hornsey Road Children's Centre Hornsey London N7 7EN

First Steps Day Care Barnet London NW9 0EF

Playdays Nursery Chiswick London W4 2ND

Playdays Nursery Kensington London W14 9HB

ICan Childminding Greenwich London SE3 9QU

Ferndale Road Day Nursery Lambeth London SW9 8AZ

The Wendy House Day Nursery Royston Hertfordshire SG8 0HW

Pips Nursery Saffron Walden Essex CB11 4XJ

Village End Childcare Ascot Berkshire SL5 8DQ

Little Roos Maidenhead Buckinghamshire SL6 0QH

Patchwork Montessori Maidenhead Buckinghamshire SL6 3AR

Little Roos Marlow Buckinghamshire SL7 1JW

Playdays Farnborough Farnborough Hampshire GU14 6DD

Forest Nursery Chippenham Wiltshire SN15 3QU

St Thomas Nursery Tean Staffordshire ST10 4DS

Little Oaks Day Nursery Tean Staffordshire ST10 4JY

Little Lambs Christian Pre-School and Nursery East Grinstead Mid Sussex RH19 2HA

The Woodland Nursery Sidcup Kent DA14 4QT

Cbabiesafe Worthing West Sussex BN11 3RT

Boxmoor Preschool Crouchfield Hemel Hempstead HP1 1PA

38 Parenta.com

Advertise your vacancy on our job board for FREE - get in touch for more

October

info

2018 39

contact@parenta.com
---
EYFS Learning

Journey Software

BOOK A

FREE DEMO

parenta.com/fsdemo contact@parenta.com 0800 002 9242

Improve essential safeguarding with new facial detection, tagging and

blurring technology

Save hours of time and reduce your workload to spend more time with

the children

Free set up and unlimited training and support

Unlimited video, image and document storage