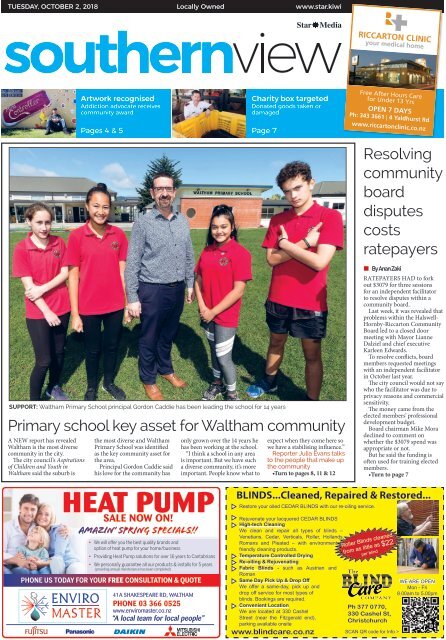 Southern View: October 02, 2018
Create successful ePaper yourself
Turn your PDF publications into a flip-book with our unique Google optimized e-Paper software.
TUESDAY, OCTOBER 2, 2018

Locally Owned

www.star.kiwi

Artwork recognised

Addiction advocate receives

community award

Charity box targeted

Donated goods taken or

damaged

Free After Hours Care

for Under 13 Yrs

OPEN 7 DAYS

Ph: 343 3661 | 4 Yaldhurst Rd

Pages 4 & 5 Page 7

www.riccartonclinic.co.nz

Resolving

community

board

disputes

costs

ratepayers

SUPPORT: Waltham Primary School principal Gordon Caddie has been leading the school for 14 years

Primary school key asset for Waltham community

A NEW report has revealed

Waltham is the most diverse

community in the city.

The city council's Aspirations

of Children and Youth in

Waltham said the suburb is

the most diverse and Waltham

Primary School was identified

as the key community asset for

the area.

Principal Gordon Caddie said

his love for the community has

only grown over the 14 years he

has been working at the school.

"I think a school in any area

is important. But we have such

a diverse community, it's more

important. People know what to

expect when they come here so

we have a stabilising influence."

Reporter Julia Evans talks

to the people that make up

the community

•Turn to pages 8, 11 & 12

• By Anan Zaki

RATEPAYERS HAD to fork

out $3079 for three sessions

for an independent facilitator

to resolve disputes within a

community board.

Last week, it was revealed that

problems within the Halswell-

Hornby-Riccarton Community

Board led to a closed door

meeting with Mayor Lianne

Dalziel and chief executive

Karleen Edwards.

To resolve conflicts, board

members requested meetings

with an independent facilitator

in October last year.

The city council would not say

who the facilitator was due to

privacy reasons and commercial

sensitivity.

The money came from the

elected members' professional

development budget.

Board chairman Mike Mora

declined to comment on

whether the $3079 spend was

appropriate or not.

But he said the funding is

often used for training elected

members.

•Turn to page 7

HEAT PUMP

SALE NOW ON!

Amazin' spring Specials!!

• We will offer you the best quality brands and

option of heat pump for your home/business

• Providing Heat Pump solutions for over 16 years to Cantabrians

• We personally guarantee all our products & installs for 5 years

(providing annual maintenance has been completed)

Phone us today for your free consultation & quote

41A SHAKESPEARE RD, WALTHAM

PHONE 03 366 0525

www.enviromaster.co.nz

"A local team for local people"

BLINDS...Cleaned, Repaired & Restored...

Restore your oiled CEDAR BLINDS with our re-oiling service.

Rejuvenate your lacquered CEDAR BLINDS

High-tech Cleaning

We clean and repair all types of blinds –

Venetians, Cedar, Verticals, Roller, Hollands,

Romans and Pleated – with environmentally

friendly cleaning products.

Temperature Controlled Drying

Re-oiling & Rejuvenating

Fabric Blinds - such as Austrian and

Roman

Same Day Pick Up & Drop Off

We offer a same-day, pick up and

drop off service for most types of

blinds. Bookings are required.

Convenient Location

We are located at 330 Cashel

Street (near the Fitzgerald end),

parking available onsite

Roller Blinds cleaned

from as little as $22

per blind

Ph 377 0770,

330 Cashel St,

Christchurch

www.blindcare.co.nz SCAN QR code for Info >

WE ARE OPEN

Mon - Fri

8.00am to 5.00pm
---
o digital

2

get in touch

Tuesday October 2 2018

GENERAL ENQUIRIES Ph 379 7100

CLASSIFIED ADVERTISING Ph 379 1100

Star Media, a division of Allied Press Ltd

PO box 1467, Christchurch

starmedia.kiwi

NEWS

Sophie Cornish

Ph: 364 7437

sophie.cornish@starmedia.kiwi

ADVERTISING

Mark Sinclair

Ph: 364 7461

mark.sinclair@starmedia.kiwi

www.cwea.org.nz or pop into the WEA at ZEALANDIA - Starts 16 October, 10.30 –

59 Gloucester Street and chat to one of the 11.30 am, 8 Tuesdays, $35

friendly team. Here is a small Latest selection Christchurch of New Zealand news is a at tiny www.star.kiwi

sliver of land on the

what's coming up:

mostly submerged continent of Zealandia,

- ENGLISH COUNTRY DANCING which is about half the size of Australia.

- HAVE-A-GO WORKSHOP Sat 20th

October $7

Think you might like to try English

Country Dancing but not sure if it's for you?

Professor Simon Pollard will talk about the

explosive forces that shaped New Zealand

and how it came to be filled with such a

fascinating variety of plants and animals.

Then come along to our informative talk and - JAPANESE CALLIGRAPHY AND

have-a-go session! No experience necessary,

suitable for people of all fitness levels.

CONVERSATION – Starts 14 November,

10 – 11.30 am, 4 Wednesdays, $26

Trainme

n a very

, giving

s digital from the editor's desk

n decide

as their

pproved

CONFLICT WITHIN the Halswelldits

are

Hornby-Riccarton Community Board has

mselves,

taken a new twist.

- RETHINKING MENTAL HEALTH -

We reveal today (page 1) the Starts city 16 October, council 3 – 5 pm, 8 Tuesdays,

hired an independent facilitator $69 – whatever

This course asks the big questions

. Stop. Learning.

that means – to counsel/advise about the warring epidemic of mental illness and

parties. The three sessions cost $1000 each. addiction currently crippling society. We

Things have clearly not been smooth sailing on

won't

the

stop

board.

at the

The

standard answers but will environment.

instead question the

Denton Park saga has fuelled that.

cultural myths and

The money for the counselling sessions came from assumptions the city that get

council's elected members' professional development

in the way

budget.

of creating

a society where wellbeing

facilitator is the norm. ap-

But what was actually said by the independent

pears a secret.

The only two board members who Southern View Piano was able to

get hold of wouldn't elaborate.

Raewyn Clegg

Maybe the board needs some media training as Registered well. And Teacher we of

wouldn't charge $1000 a session. But some free advice: Piano and Be Theory open of

Music.

and transparent.

29 Lancewood Drive

– Barry Canterbury Clarke Workers Educational Association

Halswell

www.cwea.org.nz /ph366 0285

Ph 322-9377

Looking

for a career in

*

The language and calligraphy of Japan

are part of the culture of that country and

reflect the way the people think and look at

the world. In this course you will learn some

conversational Japanese and will practice

calligraphy with a brush in a fun and friendly

Enrolling NOW!

FOR FEBRUARY

Txt 'DIGI' to 027 557 8839

to find out more or phone

0800 872 466

50 Hazeldean Road

Addington

Christchurch

www.trainme.org.nz

*Some conditions apply

sport

Shooting for success

Cashmere High School basketballer Nic Wenmoth wants to

leave it all on the court with his teammates one last time.

Page 14

continuing education

Something new at the WEA

Courses to try out new learning experiences are available this

spring.

Page 18

community events

Fundraiser for Home and Fashion

Go along to the Show Us Your Rack event at Hoon Hay

Community Centre, 90 Hoon Hay Rd, 11am-1pm, Sunday.

Page 20

SOUTHERN VIEW

The best-read local newspaper, delivered to

15,826 homes every Tuesday

Spreydon, Hoon Hay, Hillmorton, Cracroft, Cashmere,

St Martins, Somerfield, Sydenham, Addington, Waltham,

Opawa, Beckenham, Huntsbury, Woolston.

Grand street appeal, contemporary interiors

47 Hackthorne Road, Cashmere | Listing Number: BE193116

5 bedrooms | 2 bathrooms | 3 toilets | 1 living room | 1 dining room | 1 office/study | 2 car-garage | 3 off-street parks

Your agent, Your home, Your future

LICENSED SALES CONSULTANT REAA 2008

With story book charm and grand street appeal this home was always

designed to impress and never more so than now, with modern homes

all beginning to look the same. The wide front portico with its black and

white chequered floor opens into an expansive entry area with polished

wood floors, white wood panelling and the stairway to the upstairs

rooms. Impeccably updated interiors are tasteful and elegant. The family

living and dining spaces and kitchen are nicely connected to the central

entrance area with a second formal living room on the opposite side.

Doors can be flung open to create large flowing spaces or closed off for a

more cosy, intimate feel. The designer kitchen, all in warm tones of white

with extra wide, freestanding oven, fits perfectly with the character of

the home while adding contemporary convenience. There are as many as

six bedrooms, one downstairs with an ensuite and the others all upstairs

along with the main bathroom. This substantial family home affords the

flexibility to configure it to suit your needs with plenty of options for

families of all shapes & sizes.

Open Homes Saturdays and Sundays 2pm-2.30pm.

P 027 777 0411

Now is the best time to have your

wood

burNer serviced

– no delays, services we offer are:

• Chimney cleaning • All Repairs

• Refurbishment • Bird netting

• Installs/removals

We can offer the one stop shop. Health checks, bird proofing,

repairs, installations, refurbishment of wood burners, removal

of fires, we specialise in all wood burners including Pyro

Classic and Ethos. We are recommended by leading Fire Retail

outlets, have long standing relationship with leading Property

Management companies along with a large private client base.

call (03) 3470024 0508 766 897 (sootys)

Email: Sootyschimneys@xtra.co.nz

Garden need a spruce

up before the hols?

We've got your back!

• Garden plans

• Garden makeovers

• Garden maintenance

• Delivery and planting

of trees and shrubs

• Great advice

Call in and check out the

great selection of trees and shrubs

Great

discounts

offered on trees

and shrubs!

Allwood Trees, 366 Halswell Junction

Road, Halswell, Christchurch 8025

Phone: (03) 349 9240

allwood.co.nz

allwoodtrees
---
SOUTHERN VIEW Latest Christchurch news at www.star.kiwi

Tuesday October 2 2018 3

News

Gardeners threaten young mum

Claimed they

would cut

her head off

• By Anan Zaki

A YOUNG Halswell mum says

she was terrified after being

threatened with beheading for

exposing what she believed were

bogus tree cutters on social

media.

The threat led to police

intervention and now the two

offenders, both women, say they

are sorry for the message on Facebook

and the terror it caused.

Police say it is another example

of threats being made on social

media which can have terrifying

affects for the victim.

The incident happened about

two weeks ago when a group

calling itself 4 Seasons Tree Lopping

Services was door knocking

for business in Halswell.

The young mum, who did not

want to be identified, believed

they were not a genuine company

after she viewed them on

security camera footage looking

around the front of her property.

Her partner had earlier told

them to go away. The young

mum then posted images of the

group on the Halswell Community

page with a warning that

they "don't look legit".

That prompted a response

from the tree cutters in a private

message to the young mum: "We

know where you live. We're coming

over for you motherf******

and cut your f****** head off."

They followed that up with

another message stressing they

were a bona fide company.

Said the young mum: "They

DODGY: Two 4

Seasons workers

caught on

camera outside

a young Halswell

mother's house.

The pair later

threatened

the woman on

Facebook.

said they know where I live and

. . . I thought 'oh my god, I think

they are waiting for me at my

house'."

Senior Constable Deb Smalley

said an investigation had determined

there was no danger to

the young mum and the beheading

threat was hollow.

She said the threat was a "typical

example of trash talk" on

social media.

Police ordered the two women

responsible to apologise to the

young mum.

"It's a couple of young women

talking nonsense who will be

held accountable for their actions,"

Senior Constable Smalley

said.

The young mum wants the

pair charged.

One of the women who posted

the threat said: "I wasn't happy

that she put our faces on social

media. I didn't mean to say it but

I was really angry at the time.

"I'm not going to do it [cut her

head off], but I was saying it to

make her scared of putting it on

Facebook."

The owner of 4 Seasons

Tree Lopping Services, Danny

Scanlan, said his staff will

apologise for their threats.

He said he is sorry for what

happened.

He also denied claims his

company was not genuine, and

was unaware of another arborist

company in Christchurch called

Four Seasons Tree Care.

His company was not registered,

but that would change

soon, said Mr Scanlan.

"The 4 Seasons [Tree Lopping

Services] we're doing is the one

that my uncle used to do. When

he moved to Brisbane I was

taking over the 4 Seasons," Mr

Scanlan said.

Local

News

Now

In Brief

Fire rages, homes at risk

FUTURE OF OAK TREES

The Halswell-Hornby-Riccarton

Community Board last week

voted to delay its decision on

the future of 22 oak trees on

Villa Grove, Upper Riccarton.

Board chairman Mike Mora said

members will inspect the street

themselves next month before deciding

on the future of the trees.

Residents of the street complained

that the trees have been causing

a nuisance. The trees are 8.1m to

15.8m and were planted in 1994.

ICE HOCKEY TRIP TO JAPAN

An Aidanfield 12-year-old has

secured $500 from the Halswell-

Hornby-Riccarton Community

Board to travel to the Pee-wee

International ice hockey tournament

in Japan next year. Oakland

School pupil Brianna Greaves

will compete for the Canterbury

Minors team.

DANCE CHAMPS GRANT

Wigram dancer Molly Brown,

12, is a step closer to attending

the Showcase Australian dance

championships on the Gold

Coast in January. Molly received

$500 from the Halswell-Hornby-

Riccarton Community Board for

the trip. She will perform in six

troupes, six solo acts and compete

in the dancer of the year category

which was chosen through a

recorded audition.

Nuk Korako

National List MP based in

the Port Hills

Learn to swim!

6 TH TO 13 TH OCTOBER

HAGLEY THEATRE, 510 HAGLEY AVENUE

CHRISTCHURCH

Please feel free to contact my

office if there is anything I can

help you with.

A

E

P

6/950 Ferry Road, Ferrymead

nuk.korakomp@parliament.govt.nz

03 384 0008

/nukkorako.PortHills

• Babies/pre-school

• School age

• Private lessons

• Holiday programmes

• Aquacise

• Pool parties

• 50+ super group

• Squads

FOR SHOW TIMES & BOOKINGS

PHONE 03 338 4699 OR VISIT

WWW.RICCARTONPLAYERS.CO.NZ

korako.co.nz

Funded by the Parliamentary

Service and authorised by

Nuk Korako, 6/950 Ferry Road,

Ferrymead, Christchurch

Wharenui Swimming Club

wharenui.swimming.org.nz

73 Elizabeth St, Riccarton. Ph (03) 348 6488

Per aquam ad gloriam

"Through water to glory"

Suffrage

Series

at the Arts Centre

TUE 16, wed 17 & FRI 19 Oct

The Great Hall, The Arts Centre

The Suffrage Series celebrates the diverse range of women

we have in Canterbury.

A partnership series between Christchurch City Council, Heritage

New Zealand Pouhere Taonga and The Arts Centre.

Online booking required: Eventbrite.co.nz

#inspiremeCHCH

FREE

Women's Suffrage -

a cultural journey

tuesday 16 October 7-9pm

Women on Fire

wednesday 17 October 7-9pm

A Woman's Voice

friday 19 October 7-9pm

FOR more information and updates visit ccc.govt.nz/heritageweek
---
4 Tuesday October 2 2018

Latest Christchurch news at www.star.kiwi

SOUTHERN VIEW

News

Turning life around through love

Riccarton addiction

advocate Damian Holt

recently received a

community award from

the city council for his

public artwork. The

57-year-old spoke to

reporter Anan Zaki about

his love of art and how

it helped turn his life

around

ART HAS long been a cause of

fascination for Damian Holt.

When he was a young boy, his

only interests were painting and

English Football, more specifically

Leeds United.

He let those interests slip away

in his teenage years as he started

substance abuse at age 17. He let

drugs take over his body.

First it was heroin, then

marijuana and alcohol. He used

drugs until he was 38.

"My addiction was directly

linked to depression.

"Instead of going to the doctor

I was my own doctor. But I was

actually making my depression

worse by what I was putting into

my body," Mr Holt said.

He believes his depression is

just part his genetic make-up.

The revolution

in heat pumps

is here now!

HEALING: Painting murals helped Damian Holt recover from his own personal battle with

addiction.

"I think I was just born with it.

I had it as a child.

"I still endure depression but

I just handle it a much different

way instead of drugs," Mr Holt

said.

Regaining the love for art was

one of the different ways that

The revolution in heat pumps is here now!

The Fujitsu e3series

The brilliant

heat pumps from Fujitsu

Dyers Road Landscape

& Garden Supplies

• Barks • Peastraw • Composts - we supply the best available

• Aggregates - Chip, Round and Basecourse

• Pavers & Schist products • Pungas

• Decorative Stones & Landscaping Rocks

• Trailer Hire first hour free with purchase

• Bag & Bulk - pick up or delivered

David, Carol & Mike

e1 : efficiency

e2 : environment

e3 : economy

Website: www.pshc.co.nz

FREE consultation from your local

Accredited Heat Pump Expert

Phone today: 03 381 6950

INSERT DEALER DETAILS HERE

FG1441

We will deliver!

The brilliant e3 series

heat pumps from Fujitsu

e1 : efficiency

e2 : environment

e3 : economy

Email: info@pshc.co.nz

SOIL

AND

Phone: 03 384 6540

183 Dyers Rd, Bromley • OPEN 7 DAYS

Weekdays 7.30am-5pm. Weekends 8.30am-3pm

www.dyersroadandlandscapes.co.nz

helped Mr Holt recover from his

addictions.

But first, he had to be honest

with himself and the world.

"I was under-achieving and I

wasn't happy with that so one day

I woke up and decided to be honest

and do something to change

HARDFILL

DUMPING

my lifestyle.

"So I went to Queen Mary

Hospital in Hanmer and went

through the treatment programme."

Mr Holt is in his 19th year of

being sober.

Art was a therapeutic way to

NEED A

NEW ROOF?

• roofing • guttering

• downpipes

• maintenance & repairs

Ph. 03 351 7621

www.agrs.co.nz

recover due to the time it takes to

paint, he said.

"When someone gives up a

lifetime of addiction there is a

massive hole that's there.

"If you think about it, if you're

an alcoholic, it takes half an hour

to buy your drinks. You drink

for four to five hours and you're

hungover for three or four more

hours."

Painting a mural often took

about 40 hours across multiple

days and that helped fill the void

left by drugs, Mr Holt said.

"Three of four sessions of

alcohol or drug abuse equals one

mural.

"The drug abuse cost a lot of

money with nothing to show for

it, and the murals cost far less

and is there for perpetuity," Mr

Holt said.

He is now on "default mode"

on staying clean.

"It's a habit to stay away from

drugs, and I don't think about my

addiction," Mr Holt said.

He now helps others recover

from addictions at the non-profit

group Mental Health Advocacy

and Peer Support.

"I thought it was time to hand

something back as I've obviously

got personal experience in

addiction and recovery."

Tuesday Night 7pm

Buddhist philosophy and

study classes

Sundays 10am

Meditation and Mind

Training classes

Hon Nicky Wagner

National List MP

Come and visit us at our new

office at 922 Colombo Street

A

E

P

W

www.tibetanbuddhistcentre.org.nz

christchurch.dhargyey@gmail.com

Ph. 021 062 1092

922 Colombo Street

Central Christchurch

PO Box 21359

Christchurch 8143

chch.office@parliament.govt.nz

03 365 8297

nickywagner.co.nz

Funded by the Parliamentary Service and authorised by

Nicky Wagner, 922 Colombo Street, Christchurch.
---
SOUTHERN VIEW Latest Christchurch news at www.star.kiwi

Tuesday October 2 2018 5

Local

News

Now

Fire rages, homes at risk

of art recognised

Art is one thing he recommends

to people going through

addictions but he says there are

other ways.

"It works for me, but what I

generally do with my clientele

is take them back to before they

were on drugs and find out what

their interests were between the

ages of 10 and 15.

"For me between the ages 10

and 15, I loved sketching. Art

and English Football were my

passions and I often sketched

English football players," Mr Holt

said.

He often drew sketches of his

favourite player, Leeds United

goalkeeper David Harvey, as he

had the same initials as Mr Holt.

Hobbies that people had when

they were younger can help fill

the void left by drugs, he said.

Mr Holt made his art

hobby public when he started the

Brockworth Art Gallery in 2012.

The gallery is along the train

tracks behind Brockworth Pl,

Riccarton.

Mr Holt never had an interest

in street art until then.

International street artist

Banksy that inspired him to start

the street art.

"I watched Banksy's film

Exit Through the Giftshop and I

became really interested in street

art.

"But I didn't want to cross the

police lines and get into trouble

for illicit art," Mr Holt said.

He met Kenyan artist Jess De

Boer who was living in the city at

the time.

"Jess and I got permission to

paint the wall of Margaret Stoddart

[Retirement Village] but she

had to go back to Kenya immediately

after we got permission.

"She gave me all the paint that

she had gathered and because

I lived in [Riccarton], I started

painting in 2012 with about

five or six paintings," Mr Holt

said.

When more vines on the walls

along the railway walkway were

removed, he had more canvas to

paint on.

Mr Holt said his street art has a

point of difference.

"I paint with paintbrushes, not

spray.

"My second point of difference

is I wanted to set up street art

in the layout of an art gallery so

that for people that walk through

there it's like an art gallery," he

said.

Mr Holt felt a lot of pride in

looking at his work but says they

are not there to show off his

talents.

"It's simply there to colour up

the morning, evenings or days of

whoever that's walking there.

"It's just there to distract people

from the mundane walk of life,"

he said.

Mr Holt doesn't have any plans

for any future public murals and

likes the way it is. His last painting

was in March.

"I quite like having my own

little spot and I like it that it's

tucked away and you kind of

GALLERY: The

Brockworth

Art Gallery

project began

in 2012 and the

last mural was

completed in

March

have to look for it," he said.

But art will always remain a

hobby for him at home.

Mr Holt had also had some

advice for people going through

substance abuse.

"Recovery can be achieved, two

things that are key to a recovery

is acceptance that you've got a

problem and personal honesty

around everything that you do

in life.

"Hang in there, it does get

better. Sometimes people find it

really hard to break a habit, but

once you break the habit it gets

better," Mr Holt said.

casual

lEaTHER BOOTs

Dash into

Smith & Boston -

New stock now!

Great range of colours

JUST $159 a Pair

47c Garlands Road, Woolston

Phone 389 3431

www.thefootwearfactory.co.nz

NZ made - sizes 6-22

SMITH & BOSTON

Prebbleton Village | Christchurch

Ph: 03 349 5646

www.smithandboston.co.nz
---
6 Tuesday October 2 2018

Latest Christchurch news at www.star.kiwi

SOUTHERN VIEW

IT'S

FREE!

Creative

SAND ART

JOIN THE FUN!

8 – 12 October

Three 30-minute

sessions daily:

11.00 am - 11.30 am

12.00 noon - 12.30 pm

1.00 pm - 1.30 pm.

Located in empty

tenancy next to Postie.
---
SOUTHERN VIEW Latest Christchurch news at www.star.kiwi

Tuesday October 2 2018 7

News

Charity box targeted

• By Anan Zaki

A SALVATION Army store in

Hornby has had enough of people

taking donated goods.

Items from the store's afterhours

donation box have gone

missing, or have ended up damaged,

Salvation Army Community

Ministries Hornby director

Kevin Waugh said.

Mr Waugh said the donation

box is left open to fit a variety of

goods that the store may receive

and counts on people's honesty.

But good Samaritans often

alerted the store.

"People from the community

have said to us that during afterhours

they've seen stuff dropped

off and then seeing another car

come in and go through everything,"

he said.

Mr Waugh is disappointed that

people have taken advantage of

the box.

"It is [disappointing that] some

in our community has decided

they would like to go through

them.

"Stuff disappears, worst case

is they throw it all around and

make it unusable," Mr Waugh

said.

Common items that go missing

are clothing, pots and furniture.

Police suggested additional

security but the store will take

another approach.

Mr Waugh is asking people to

stop donating goods after-hours

and phone the store instead.

"If you've got donations and

you want to give it to us, call us

and we'll make arrangements to

pick it up if it's after-hours," Mr

Waugh said.

People have also been breaking

into waste bins, creating a

nuisance to the store, Mr Waugh

said.

"When we go to use it, it's full

of other people's rubbish. So

we lock it but people have been

breaking into it."

The store has gone through

seven padlocks this year, Mr

Waugh said.

He said the "annoyances"

distracts the charity from it's job,

which is to help the community.

MISSING:

Salvation Army

Community

Ministries

Hornby director

Kevin Waugh

is upset with

people sealing

donated items

from outside

their door.

Mr Waugh believes the store's

location on the corner of Halswell

Junction Rd and Columbia Ave

may have contributed.

"It's an industrial area, it's

open, there's all sorts of ways

around the building nobody's

there to say: 'Don't do that'," he

said.

The store has been at it's current

location since December last

year.

"We won't relocate just

because this is happening. I

|guess it's part of what happens

at op-shops.

"Anything that's dropped off

outside is always a temptation to

take," Mr Waugh said.

•To drop off an item

after-hours at Salvation Army

Hornby South Family Store,

phone 344 2530

Local

News

Now

Fire rages, homes at risk

Resolving community board

disputes costs ratepayers

•From page 1

Riccarton Ward board

member Catherine Chu did not

elaborate on the nature of the

sessions but said it was good for

the board to acknowledge that

they had differences.

"We're all there for the same

purpose, which is to represent

our community. We've got

different views on how we

execute that, and that's a reason

why we're a board of nine

people.

"It's difficult to do that

efficiently and as effectively as

possible if there are disputes. So

it's good that we acknowledged

we had some problems," Ms

Chu said.

She said the board is now

much stronger together and the

disputes are in the past.

"I think the meetings have

been run very effectively

by Mike Mora and Helen

Broughton as the deputy," Ms

Chu said.

Another cause of

disagreement last month, has

now been resolved, Mr Mora

said.

There were disagreements

within the board over whether

Mr Mora should make a

deputation on behalf of the

board to city councillors about

$70,000 being granted to

KartSport Canterbury.

Mr Mora said board

members agreed to him |

deputising for them, but he

chose not to as he was confident

of the outcome.

The $70,000 to help the

Halswell-based kart club move

to McLeans Island was granted

as he'd hoped on Thursday.

Board members also met

with Dr Edwards and head of

community support, governance

and partnerships John Filsell.

Dr Edwards said it was a

planned, informal information

sharing visit which she has with

all boards every year.

"I have visited community

boards to update them on

key work under way including

the council's strategic priorities,

the initiation of the annual

plan process, the residents'

survey.

"And, given that the code

of conduct was established

at the beginning of their term

and it is now midway through,

to get some feedback on how it

is working [and it's] relevance

etc."

ADVERTORIAL

The Art of the Arborist

So often we turn up to a property

and the trees have been attacked by

someone, with little to no knowledge

of the needs of the tree. Unfortunately,

this can severely decrease the life

expectancy of the trees.

Tree pruning is both an art and a

science. An arborist's job is to assess

trees on their individual merit and

determine what approach is needed for

each tree.

The art of pruning means an arborist

can improve a tree's aesthetics and

structural integrity, whilst making the

tree safe and manageable. When on a

job, there are occasions where we do

advocate that a tree needs removing,

either because it has been pruned

poorly in the past, or the tree would

need severe pruning to reach the

owners desired outcome.

The science behind tree pruning

draws on knowledge, experience and

expertise to ensure that tree health

remains a top priority.

Every tree needs to be pruned

differently, for example, you can't prune

a Maple the same as you would an Oak.

Sometimes there are options available

rather than simply topping a tree.

An arborist may suggest elevating the

lower canopy to let light in underneath,

removing deadwood and thinning

(increases airflow around tree and

increasing light to still keep shape

and health of tree), or possibly end

weighting (removing weight) from

selected limbs.

Our favourite clients are the ones that ask

us if it were my garden, what would I do

to the trees. This gives us the freedom to

immerse ourselves in the garden and get

the best result for the client.

Often, we like to do the primary

work (obvious work) first, and then

the secondary work becomes more

apparent.

Consulting an arborist or tree surgeon

and investing in your trees can add

value to a property, not to mention

enjoyment to the owner. Alternatively,

trees that are poorly looked after could

have the potential to become a liability

for the owner.

Beaver Tree Service Ltd.

Call us now - 0800 422 328

THIS VOUCHER entitles you to a

Free Tree Appraisal

You may have noticed the hard working team from Beaver Trees working on your neighbours trees....

SPECIALISTS IN

- Difficult Tree Removal

- Full Tree Maintenance

- Pruning & Thinning

- Tree Reduction - Stump Grinding

Now is a great time to have all your tree maintenance taken care of...

so why not take up our offer of a Free Appraisal.

YOUR TRUSTED

PROFESSIONALS

CALL US NOW 0800 422 328 info@beavertree.co.nz

beavertree.co.nz

A tree is a thing of beauty that adds value to your life, Its worth spending money and time on.
---
8 Tuesday October 2 2018

Latest Christchurch news at www.star.kiwi

News

SOUTHERN VIEW

Local

News

Now

Fire rages, homes at risk

Waltham: A suburb of contrasts

A new report shows

Waltham is the city's

most diverse and

rapidly changing

suburb. Reporter

Julia Evans talks to the

people who live there

LONG-TERM: Leanne Ireland is the third generation of her family

to live in her Waltham home – her children are the fourth.

ON ONE side of a fence cream

paint flakes off a sun-damaged

weatherboard 1920s villa.

The grass is brown and a rusted

scooter discarded on the porch

looks like it hasn't been ridden

for years.

On the other side there are

six identical brick townhouses

standing to attention. No grass,

no scooter.

The only noticeable difference

are the cars parked outside.

This is Waltham – a suburb of

contrasts, character and change.

While the population has been

called "transient" in the new

Aspirations of Children and Youth

in Waltham city council report,

at its heart is a vibrant, diverse

and strong community. Whether

that be at the park, the school, the

community centre or the pub.

"Participants noted the caring,

resilient community and good

neighbours are valuable," the

report said.

Leanne Ireland is the third

generation of her family to live in

her Waltham home.

Her now deceased grandparents

Gwendoline and Roy bought

the house when they first came to

Christchurch from Wales in the

early 1980s. The house was left in

her name when her grandparents

passed away.

Her father Malcolm also called

it home – he installed heating

and insulation into the cold brick

house when Ms Ireland was pregnant

with her first child.

"It is a connection to my

grandparents. But since they've

moved out we've done some

renovations and I've made it my

own. Sometimes I think you can

still feel them around . . . it's a

family space."

Now Ms Ireland's three

children Malachi, Isaiah and

Shardesha are the fourth

generation.

They've lived in the house all

their life – Isaiah and Shardesha

go to Waltham Primary School, a

five-minute walk away.

She said she's seen the good

and the bad over the last two

decades.

"I used to always pop into

the house when I was a kid. I

stayed the night all the time . . . I

remember the area was very rundown

then but there were always

good neighbours and people

around," Ms Ireland said.

"It still is run-down and a

poorer area. Not a lot of people

know about it. When you talk

to people from other parts of

the city they go: 'Waltham?

Where's that?' And you have to

tell them its close to Opawa and

Sydenham."

But Ms Ireland said she would

not live in another part of the

city.

"It's close to everywhere to get

to amenities . . . and the area is so

diverse. There's older generations,

young people, young families, a

lot of children. Everyone's here."

The residents were much like

the houses.

"You have the old-style bungalows

and the new townhouses

right next to each other."

Ms Ireland has been volunteering

at the Waltham Community

Cottage for the last four or five

years. She lost track.

"It's a chance for me to give

back to the community. I was a

chef before I had my children so

I run the community lunches. I

get to provide healthy food and

home baking for those who don't

otherwise get it."

She said she would continue

supporting the area's growth

for the foreseeable future

and her children enjoyed the

neighbourhood and school.

FAST FACTS

•1038 people live in

Waltham.

•Waltham has a higher

population of residents of

Maori descent, who are

born overseas and who

speak English as a second

language than the rest of

Christchurch.

•It has a short tenure

population with a high

proportion of low cost

rental accommodation.

•The local population had

a boom post-earthquake

as a result of housing

intensification and proximity

to the central city.

•11.8 per cent of the

population are on the

domestic purposes

benefit, compared to the

Christchurch average of 4.1

per cent.

•7.6 per cent of the

population are unemployed

and 27.4 per cent are single

parent households.

•Heathcote Ward city

councillor Sara Templeton

is the local representative

from Brougham St south.

While Linwood Ward city

councillor Yani Johanson

covers the north.

Long-time resident Rex

Robinson calls himself the

"neighbourhood watch man."

"I went to a meeting once, I

think. Nothing happens here.

Someone's car got broken into a

while ago but that's about it."

He said all the area needs is

someone to dish out safety pamphlets

when they arrive.

"There's always a bit of trouble

everywhere. But it's good here,

we're happy. There's no room for

crime, there are so many people

around here."

"Plus, I give the kids lectures

at Halloween. When they come

knocking on our door, I tell

them to make sure they don't

grow up to be criminals," Mr

Robinson said.

He said there were a lot of

children in the area these days,

but he puts that down to the

area's rapid growth following

the earthquake.

Waltham has become more

densely populated since the

earthquakes with blocks of flats

and townhouses springing up

daily.

"It's diverse. We have a German

guy next door. It makes it

interesting."

Although he said the area

doesn't get much publicity –

"no news is good news." The

report said Waltham has a higher

population of residents identifying

as of Maori descent, who are

born overseas and who speak

English as a second language than

Christchurch as a whole.

"The local population has

almost experienced a boom

post-earthquake as a result of

housing intensification and the

proximity to the central city for

migrant workers."

But the number of facilities

for young people had remained

the same. This likely resulted in

a strain on some facilities and

organisations.

HAPPY:

Rex

Robinson

said there's

not much

crime in

Waltham.

•Continued

on page 11
---
SOUTHERN VIEW Latest Christchurch news at www.star.kiwi

Tuesday October 2 2018 9

Spring

FLOORING SALE

POLYESTER

Hollister

• Polyester

• Cut pile

• Heavy duty

NOW $69.90PM

NYLON

Windsor Twist

• 36oz solution dyed

nylon

• Extra heavy duty

• Cut pile

NOW $109.90PM

3.65 METRE ROLL

3.65 METRE ROLL

VINYL

2m Wide Vinyl

• Selected patterns

• 1000's of metres

• New Zealand's largest

stockists of vinyl

NOW $49.90PM

PLANKS

Vinyl Planks

• 2 Great colours

NOW $25PM

WOOL

Saddlebrook

• Pure wool

• Extra heavy duty

• Loop pile

• 2 colours

NOW $59.90PM

NYLON

Newport

• Commercial heavy

duty

• Solution dyed nylon

• Loop pile

• 5 Colours

40%

OFF

NOW $77.90PM

3.65 METRE ROLL

3.65 METRE ROLL

NYLON

Riviera

• 26oz solution dyed

nylon

• Extra heavy duty

• Cut pile

• 5 colours

NOW $85PM

Garage Carpet

6m by 6m

Some conditions apply

FULLY INSTALLED NOW $850

3.65 METRE ROLL

312 Wilsons Road North, Waltham Phone 366 0070

www.carpetkingdom.co.nz | Mon to Fri 8am-5pm and Sat 10am-1pm

FREE no obligation measure & quote (conditions apply)

Q Card Finance Now Available
---
10 Tuesday October 2 2018

Latest Christchurch news at www.star.kiwi

SOUTHERN VIEW

NEW RELEASES

GREAT

Spring

READS

INSTORE!

GREAT READS INSTORE NOW

Forward

by Meghan

Markle

Together Our

Community Cookbook

forward by Meghan Markle

In her first solo project as a member of the royal

family, Meghan Markle has launched her support for

Together: Our Community Cookbook, a cookbook

supporting the Hubb Community Kitchen and local

community members affected by the Grenfell Tower

fire. The Duchess of Sussex penned a heartfelt

foreword for the book, in which she praises the

space for: "… providing comfort in [its] simplest

form, the universal need to connect, nurture, and

commune through food, through crisis or joy." The

Duchess of Sussex connected the women with an

agent and publisher. 50 women shared their family

recipes, and a cookbook was born.

Wild Journeys

By Bruce Ansley

Discover a world of wild, mysterious and audacious

journeys In Wild Journeys Bruce Ansley retraces

the path of the doomed surveyor John Whitcombe

across the Southern Alps, follows the raiding party

of the northern chief Te Puoho along the West

Coast, sails around New Zealand's northern and

southern capes; walks through the Valley under the

Two Thumb Range to the mythical Mesopotamia;

drives from Waiheke to Wanaka (in a hurry), sets

off on a hunt for the South Island's Grey Ghost,

looks deep into the heart of volcanic New Zealand

and tracks our most unlikely hero, the prison

escaper George Wilder.

Fear - Trump in the White

House

By Bob Woodward

With authoritative reporting honed through eight

presidencies from Nixon to Obama, author Bob

Woodward reveals in unprecedented detail the

harrowing life inside President Donald Trump's

White House and precisely how he makes decisions

on major foreign and domestic policies. Woodward

draws from hundreds of hours of interviews with

firsthand sources, meeting notes, personal diaries,

files and documents. The focus is on the explosive

debates and the decision-making in the Oval Office,

the Situation Room, Air Force One and the White

House residence. Fear is the most intimate portrait

of a sitting president ever published during the

president's first years in office.

Attracting Birds and Other

Wildlife to Your Garden

by Gordon ell

Discover, identify and attract birds and other

wildlife to your suburban garden. Colour photos

and illustrations with ideas and projects to make

the home garden more attractive to wildlife.

Repackaged and redesigned popular guide made

available to a new audience, this book will appeal

to the huge bird loving market in New Zealand,

as well as the general public- anyone who has a

garden, be it big or small, and an interest in wildlife

will find something in this book. The title tie's-in with

the annual 'bird survey' held by Landcare Research.

1005 Ferry rd

Ph 384 2063

while stocks last (see instore for terms and conditions)

Barry & kerry
---
SOUTHERN VIEW Latest Christchurch news at www.star.kiwi

Tuesday October 2 2018 11

News

•From page 8

Local

News

Now

Fire rages, homes at risk

GORDON CADDIE has been

watching the area flourish for

the last 14 years from behind

the principal's desk at Waltham

Primary School.

"I think a school in any area

is important. But we have such

a diverse community, it's more

important. People know what

to expect when they come here

so we have a stabilising influence."

The school was identified as the

most significant community asset

in the area by the city council.

"Participants reported that

Waltham Primary School is one

of the best community assets,"

the report said.

But its roll has ballooned by

85 per cent following the earthquakes.

"It only slowed down when the

Ministry of Education made us

put in an enrolment zone. We've

got no space for children from

out of zone at all, we've have to

turn families away, which is quite

difficult," he said.

"Growth has its challenges

which come with it."

He said the school reflects the

varied nature of the suburb.

"There are industrial areas,

GROWING

UP: Gordon

Caddie has

been principal

of Waltham

Primary School

for 14 years.

Housing New Zealand houses,

a lot of immigrant families that

are renting, as well as older villas

. . . the school is the same. We're

teaching children whose parents

and grandparents went to the

school as well as kids who have

been in New Zealand for two

days."

Mr Caddie said Waltham has

a good future – but a little work

needed to be done first.

"We sat down and looked at

it and one of the biggest things

that needs to change is making

Waltham Park safer for young

families."

It started out as a joke.

But the joke stuck and

from 1866 the south-eastern

suburb became known as

Waltham.

Charles Prince, a formerschool

master from the United

Kingdom, arrived in Lyttelton

in 1858.

By 1860 he had set up a

china shop named Sydenham

House and was advertising in

the Lyttelton Times – although

in 1867 he had filed for

bankruptcy.

From there Mr Prince set up

his 12-room boarding house,

called Waltham House. It was

built on Gasworks Rd, now

Waltham Rd.

In 1866 Mr Prince's

tenants decided to play a

joke on their landlord and

•Turn to page 12

set an advertisement to the

paper, which said they held a

meeting and decided to make

the area Waltham after their

house.

The ad appeared on October

27, 1866 and by 1870 Waltham

was a household name.

The name comes from the

area in Lincolnshire in the

United Kingdom, Waltham,

which literally translates to

village by the moor.

Sydenham was then also

named after Mr Prince's

former china shop during the

late 1870s.

Waltham was originally

part of the Sydenham

Borough and was

amalgamated with the

Christchurch City Council in

1903.

Annie

6TH TO 13TH OCTOBER 2018

ANNIE is filled with humour and heart

and features some of Broadway's most

memorable musical numbers, including

"Little Girls", "It's the Hard Knock Life",

"Easy Street", 'Maybe", "I Don't Need

Anything But You" and the legendary

anthem of optimism, "Tomorrow".

The show remains one of the

biggest Broadway musical hits

ever. It ran for 2,377 performances

after it first opened, and has been

performed in 28 languages and has

been running somewhere around

the world for 40 years.
---
12

News

•From page 11

Tuesday October 2 2018

Latest Christchurch news at www.star.kiwi

SOUTHERN VIEW

Local

News

Now

Fire rages, homes at risk

COME

TOGETHER:

The Brougham

duty manager

Amarpreet Singh

has been living

and working in

the area for two

months.

THE BROUGHAM pub is a

key part of the Waltham community.

When you walk in you spot a

juke box, dart boards, pool tables

and gaming room. The jackpot

was $865.50.

At noon on Friday there were

two punters attached to the pokies,

stopping only for a regular

ciggie break and to claim their

winnings.

But much like the rest of the

suburb, the pub is a mash-up

of old and new with Jay-Z and

Snoop Dogg dominating the

playlist.

Armarpreet Singh is the young

face of the pub. He has only been

the duty manager for the last two

months.

Mr Singh said Monday to

Thursdays were especially busy

with locals gathering after work

or dinner to catch up on the

area's goings on over a jug and

game of pool.

"We have a lot of fixed customers,

but then on Friday, Saturday

and Sunday it's people from all

over town. It's very busy," he

said.

He hasn't learnt their names

yet, but it's only a matter of time.

Even Mr Singh himself lives

only a two-minute drive from

work, recently moving up from

Timaru.

"I was in Auckland and then

Timaru. I like it here better than

Timaru, but maybe it's not as

good as Auckland."

The history of the Waltham

Arms Hotel in the area

dates back to 1862.

The original building was

demolished to make

way for the widening of

Brougham St, which is said

to have split the Waltham

community in two.

SUPPORT: Adrienne Carmichael and Linnie Neale say the

Waltham area is growing for the better.

ADRIENNE Carmichael has

run the Waltham Community

Cottage for 24 years.

"I just love the community.

It's got great people who support

each other. The people are just

wonderful."

But she said the suburb

has suffered from being disjointed.

"It all started when Brougham

St went down the middle, cutting

it right in half. Since then its

been about bringing it altogether

. . . it's moving forward really

nicely."

Ms Carmichael said she has

seen the area changing for the

better. But there is still a way to

go.

"Particularly since the quakes,

people's attitudes are changing.

There are more permanent

residents."

She said at the moment, one of

the biggest focuses for improving

the community was Waltham

Park.

"The playground is a concern.

We want to make it more userfriendly

because people in this

area don't go away, they don't

have transport or finances to go

further away."

The report said the key barriers

to participation in the area

are cost of activities and lack of

transport.

Ms Carmichael said isolation

was a major issue in the area, often

due to financial constraints -

which is what the cottage aimed

to combat.

"We're always busy. The whole

idea is that we bring people

together and it works. The area

changes and so the things we

offer change too," she said.

The centre offers playgroup,

fall prevention courses, as well as

ukelele lessons, depression support

and Chi Gong Tai Chi.

It also raises money to offer

local children opportunities they

may not otherwise afford.

"Anything that helps the

children."

The city council is now

investigating scope for

development of more activities

and programmes aimed at

Waltham's young people and is

working with the community to

redevelop the park.

SURF'S UP SCOTTY RAZOR ROBERTSON PROFILE

APRIL 2018

TJ'S

CHASING

GREAT CALEB

ONE

MORE

COVER

LINE

The power

of Perenara

6 issues (1 year) $44.50 • 12 issues (2 years) $79 • 18 issues (3 years) $115

rugbynews.co.nz 0800 77 77 10

SUPER

RUGBY'S

G.O.A.T

CORY JANE

Social Media Animal

RRP $9.95

+

WHO

PLUS...

KEEPING

TABS ON

MATSON

Chief

Tabai's

Tron tribe

CLARKE

Chip off the

old block

XVs

1ST XVs

PLAY LIKE PROS

A school boy rugby

investigation

WHO WILL

MAKE THE

AB CUT?
---
SOUTHERN VIEW Latest Christchurch news at www.star.kiwi

Tuesday October 2 2018 13

386 Moorhouse Avenue, Christchurch.

Sales, Service, Parts & Finance: 03 379 0588

TRITON 2WD GLX-R DOUBLE CAB MANUAL

$29,990+ORC * The Triton Runout is on. Drop everything, and if you're quick you can

pick up • 17" Alloys • 2.4L Turbo Diesel • 7.1L per 100km efficiency

(manual) • Sports Suspension • Cruise Control • Smartphone

Connectivity • Reversing Camera • Daytime Running Lights

• 5-Star Safety and a 10 Year Powertrain Warranty † .

Call Christchurch Mitsubishi 03 379 0588 to book a test drive.

Automatic model available for only $31,990 +ORC

*Price listed is for Triton 2WD GLX-R manual and excludes on road costs, which includes registration, WoF, 1,000km road user charges and a full tank of fuel. Available while stocks last. † Visit mmnz.co.nz for full Diamond Advantage warranty conditions.

386 Moorhouse Avenue, Christchurch. Sales, Service, Parts & Finance: 03 379 0588
---
14 Tuesday October 2 2018

Latest Christchurch news at www.star.kiwi

• By Jacob Page

CASHMERE High School

basketballer Nic Wenmoth

wants to leave it all on the

court with his teammates

one last time.

The 17-year-old small

forward will be a crucial

part of the Cashmere

squad as the two-time

South Island champions

play at the national secondary

schools championships

at Palmerston North

this week.

Nic was named in the

Canterbury Basketball Association

under-23 all-star

five, while teammate Luca

Williams was named in

the under-20 team.

"It's quite amazing to

be recognised in that class

against university and

senior players like that," he

said. "It certainly gives me

a lot of confidence."

The year 13 student said

he was eager to make his

third and final Cashmere

campaign a good one.

"Last year we finished

13th at nationals and that

wasn't what we wanted,"

he said. "We lost to teams

we had to beat."

Wenmoth said many of

the year 12 and 13 players

had come through the

age-grades together and he

believed that was an asset

on court.

"It does feel like the end

of a good run and I know

many of us see this as one

last chance to put Cashmere's

name up in lights."

SPORTS

TALL TIMBER:

Cashmere's Nic Wenmoth

gets a basket against

Waimea College back in

June. PHOTO: ANDREW

THOMPSON

Cashmere student shoots

for success on the court

He said North island

schools often underestimated

their southern

opponents and he wanted

to change that.

"A lot of North Island

schools tend to (underestimate)

what we can do,"

he said.

'This squad can't wait to

show them what we can

do."

Wenmoth said he has

enjoyed being a starter

this year after playing an

impact role over the past

two seasons.

He said the team is capable

of winning a national

title on Saturday. If they

can make the quarterfinals,

he said anything

would be possible from

there.

SENIOR LIVING

Device to prevent

snoring

Why put up with broken sleep, when

help is at hand with Snorex, an appliance

that prevents snoring, sleep apnoea, and

dry and raw throats.

Snorex is custom-fitted to your mouth

for comfort, and a follow up service is

provided.

Denise Lim has been involved with

Snores for 22 years

and has had a 98%

success rate with

people using the

appliance. Snoring

can be a health

hazard, causing

sleep apnoea, where

the person actually

stops breathing for

short periods.

It can cause

short-term memory

loss, tiredness and

contribute to high

blood pressure.

The Snorex

device does not feel

restrictive, is noninvasive

and carries

SOUTHERN VIEW

a money-back guarantee.

Many people are referred by ear, nose

and throat specialists, however, anyone

can phone for an appointment.

For an information pack or to discuss

the Snorex further, phone Denise Lim

on 377 4318 or check out the website

www.snorex.co.nz

Encouraging women

to become rugby refs

• By Zahra Shahtahmasebi

THERE'S A history behind

Lyndon McKendry's

referee whistle.

It was originally her

father's. He started

refereeing in 1958

before passing

down the little

silver device to

McKendry. It has

now been in action

for about 60

years.

McKendry is the

Canterbury Rugby

Football Union's

referee education

officer.

Like her, she

says women who grew

up watching their fathers

control rugby games often

pursued a refereeing career.

In spite of this, in the

Canterbury region there

are only four female referees

out of a total 200.

As the referee education

officer at the Canterbury

Rugby Football Union,

McKendry's responsibilities

include recruitment

training and development

for all referees from Cheviot

through to Dunsandel.

She says the CRFU

Lyndon

McKendry

would love to see more females

picking up a whistle.

"Rugby is a game for everyone

– gender shouldn't

be a barrier," said McKendry.

To increase female

involvement next

year, the CRFU

plans to target

women who have

played this year,

as well as former

players.

It will also

emphasise the

introductory

referee

programme You

Make The Call,

which offers

participants eight

level three NCEA credits

in Christchurch schools,

particularly girls-only

schools.

McKendry says there

were many reasons why

men and women chose not

to referee, such as work

and family commitments

or feeling like they didn't

know enough about the

game.

Koini Buli, one of the

four female referees in

Canterbury, said being

a referee was tough. She

still gets nervous before a

match, especially "if it's going

to be a hell of a game."

She says many people

didn't understand that a

referee was actually an

athlete. Buli trains two to

three times a week with

a mixture of cardio and

weight sessions.

"It's a full-time job.

You've got to train right,

eat right, and prepare

yourself mentally and

strategically."

Buli has been hassled

by players and spectators

as a referee but said this

was part and parcel of

the game, regardless of

whether the referee was

male or female.

"They don't expect you

to know anything. A lot of

the time it comes down to

their age rather than their

gender," said Buli.

As a referee, Buli has

travelled the world,

including to Russia for the

women's sevens World Cup

in 2013.

She would love to

referee test rugby one

day and aspires to take the

field alongside the Black

Ferns with her whistle in

hand.

•More sport, page 17

A Leader in

Healthcare

Excellence for

the Older Person

Brookhaven

Retirement Village

29 Alport Place

Woolston

Phone 03 384 5046

Albarosa

Dementia

80 Harewood Road

Papanui

Phone 03 375 0727

Somerfield

Dementia

137 Barrington Street

Somerfield

Phone 03 332 5897

www.goldenhealthcare.co.nz

Golden Age

Retirement Village

96 Harewood Road

Papanui

Phone 03 375 0720

Camellia Court

Dementia

84 Harewood Road

Papanui

Phone 03 375 0722

Hoon Hay

Dementia

16 Anvers Place

Hoon Hay

Phone 03 379 7825

Lady Wigram

Retirement Village

Sarah Jacobson

Village Manager

210 Kittyhawk Ave,

Wigram

Phone 027 3411 464

you can stop him

snoring with a

SNOREX

Why put up with a broken

night's sleep?

Ph 377-4318 or 027 682 1752

DENISE LIM

FOR A FREE INFO PACK

Website: www.snorex.co.nz
---
SOUTHERN VIEW Latest Christchurch news at www.star.kiwi

Tuesday October [Edition 2 datE] 2018 15 3

SENIOR LIVING

Research supports

EyE hEaLTh

The tree of LIFE

New research on Gingko

Biloba excites researchers!

Nutritional researchers

have discovered a range of

nutrients that are essential

for eye health. Some

of the most essential

nutrients that have been

shown to protect and even

improve eye function are:

Selenium, is a trace mineral

that is low in N.Z. soils and therefore in

many of our foods. Researchers believe

selenium may help prevent cataracts,

macular degeneration (the leading cause

of impaired vision in older people) and

may also improve dry eyes and general

eye health.

Zinc is a mineral that a large percentage

of the population are low in. Zinc has

been shown to help protect the eyes

from the damaging effects of light as

well as slow vision loss due to macular

degeneration.

Vitamin C, Citrus Bioflavonoids, Betacarotene

(Pro-vitamin A) and Copper

have potent antioxidant ability and help

protect the eyes from damage

Lutein and Zeaxanthin are amazing

nutrients that have been shown in

landmark research to not only provide

potent eye protection but may even help

reverse some of the signs of age-related

macular degeneration (AMD).

Bilberry and Blackcurrant, high in

potent antioxidants may help protect

the lens and retina from damage and

reduce the risk of cataracts. They also may

help improve blood supply to the eye,

Would you

like to profile

and grow your

Business?

For feature advertising

please phone

Jenny Wright

03 364 7446 or 021 220 3484

jenny@starmedia.kiwi

strengthen the small capillaries of

the eye and may help improve

night vision, may alleviate

many eye ailments

including eye fatigue

that may be caused

by reading, driving and

computers.

Eyebright may help normalise eye

pressure and reduce eye allergies.

Taurine is an amino acid that is essential

for correct eye function. It may also have a

detoxifying affect on the eye.

Vitamin B2 may help alleviate eye

fatigue, bloodshot eyes and maintain good

vision.

Yumberry is the latest in eye protection.

It provides many nutrients, is rich in

oligomeric proanthocyanidins (OPC's)

that are potent antioxidants that may

protect eyesight.

These nutrients taken in a therapeutic

amount help provide comprehensive eye

protection, may slow and possibly even

help reverse eye damage that could lead

to loss of vision. All these nutrients are

available in an economical one a day easy

to swallow capsule.

Further information is available in

store at Marshall's Health & Natural

Therapy, 110 Seaview Road, New

Brighton, Phone: 388-5757. We are

always happy to help!

Clinically Proven Nutrients

Support Eye Health

Go Vision Protect from Go Healthy New Zealand is the new standard in

eye support formulas. It is one of the most comprehensive high potency

eye formulas available anywhere, with well researched ingredients in

levels needed to support eye health & good vision.

Key nutrients include: Bilberry, Yumberry, Blackcurrant, Lutein,

Zinc + nine other nutrients. Only one capsule daily required!

Diminished vision

Tired Eyes

Dry Eyes

Sore Eyes

Poor Night Vision

Poor Focus, Blurry Vision

Macular Degeneration

Sensitivity to Glare

Headaches from Eye Strain

Supports general eye health

BOOST BRAIN

PERFORMANCE UP TO 30%

TEBONIN is the No 1 Ginkgo Biloba extract in the World with more than 8 million tablets

being consumed every day. It is also the most researched herbal extract with more than 60

controlled clinical studies & over 400 scientific studies. It has been shown to have excellent

efficacy, safety & tolerability. Millions of consumers have trusted TEBONIN for over 30

years to support blood flow, capillary health, brain health & performance.

Studies on TEBONIN Show:

- Improved Brain Performance & Function up to 30%. This includes improvement

in mental sharpness, focus, attention, concentration, understanding, memory & recall.

- Reduces errors made & mental stress.

- The only Ginkgo shown to increase activity in all areas of the brain. Can help restore

brain function after a brain injury such as from a stroke.

- Helps relieve tinnitus (ringing & noise in the ears), vertigo, dizziness & supports normal

balance.

- Improves blood flow to all areas of the body.

- Reduces plaque formation in the blood vessels.

- Protective effect against eyes damage caused by light.

For decades scientists believed brain

damage with age, after a stroke or injury

was irreversible and brain neurons could

not be repaired. In more recent times,

new research has shown that neurons

can grow back with the right conditions

and that a special extract of Gingko

Biloba (EGb-761 or TEBONIN) has

been clinically found to assist in this.

The implications for stroke recovery are

obvious, but researchers also know many

of us suffer from undetected "microstrokes"

that over a period of time slowly

reduce our cognitive function. TEBONIN

is prescribed worldwide as a natural

supportive agent for a healthy brain and

cognitive function. It supports healthy

mental performance, concentration, focus,

alertness, motor function and to help

with many conditions including tinnitus

(ringing and noise in the ears), vertigo

and normal balance. TEBONIN improves

micro-circulation and helps the blood

flow reach those critical places it needs to

get. It is a potent anti-oxidant and makes

the red blood cells more pliable and

capillary walls more flexible.

TEBONIN is one of the most widely

studied and researched herbal products in

the world and is the only Ginkgo biloba

extract manufactured via a patented

multi-step extraction process. Each small

tablet contains a highly concentrated

30 Capsules

only $26.90, save $13.00

60 Capsules only

$42.90, save $23.00

120 Capsules

only $79.90, save $51.90

MAIL ORDER

AVAILABLE

MAIL ORDER

AVAILABLE

Bringing You the Best in Natural Health!

MARSHALLS HEALTH & NATURAL THERAPY

CONSULTING - PRESCRIBING - DISPENSING - MANUFACTURING - MEDICAL HERBALISTS

110 SEAVIEW RD, NEW BRIGHTON • PH 03 388 5757 • Email: enquiry@marshallshealthshop.co.nz

- WE ARE ALWAYS HAPPY TO HELP -

Bringing You the Best in Natural Health

- WE ARE ALWAYS HAPPY TO HELP! -

SUPER PRICE

One month supply

only $39.90

Save

$8.10

TEBONIN is a highly concentrated

proprietary herbal extract of Ginkgo biloba

leaves that has proven superior to other

brands under scientific scrutiny.

MARSHALLS HEALTH & NATURAL THERAPY

CONSULTING - PRESCRIBING - DISPENSING - MANUFACTURING - MEDICAL HERBALISTS

110 SEAVIEW RD, NEW BRIGHTON • PH 03 388 5757 • Email: enquiry@marshallshealthshop.co.nz

50:1 extract to give you a therapeutic

clinical dose without having to take a large

amount of the herb. Of 25 Gingko biloba

products on the market, and tested by a

major medical journal, only TEBONIN

passed all five of the test requirements.

Ten brands didn't meet any requirements

and the rest didn't pass more than three

out of five requirements. TEBONIN is

the only Gingko biloba extract shown

to activated all areas of the brain and is

considered the gold standard in Gingko.

TEBONIN has been trusted by millions

of consumers worldwide for over 30

years with more than 8,000,000 tablets

consumed each day.

TEBONIN and further information

is available from the Natural Health

Advisers at Marshall's Health & Natural

Therapy in New Brighton. PH: 388-5757.

They are always happy to help!

IT'S LIKE HOLIDAYS

ALL YEAR ROUND

Lots of people spend their holidays

here in Geraldine. But why just have a

holiday when you can move here instead?

Make the move to Geraldine's McKenzie

Lifestyle Village. We take care of everyday

maintenance so you can enjoy

a holiday lifestyle all year round.

Talk to Hayley Grant today

on 03 693 8340.

M E M B E R O F R V A
---
16

Latest Christchurch news at www.star.kiwi

Tuesday October 2 2018

SOUTHERN VIEW

raNGiora • Northwood • st martiNs • tower juNctioN • BishoPdaLe • raNGiora • Northwood

Northwood • st martiNs • tower juNctioN • BishoPdaLe • raNGiora • Northwood • st martiNs • tower juNctioN • BishoPdaLe •

calendars diaries

books greeting cards

ORGANISED

OCTOBER

GET ORGANISED FOR

*Stock may

vary from

store-to-store.

sunny,

spring

reads

2 for

s10

*Stock may vary from

store to store & applies to

selected stock only.

2019

25 % off*

DIARIES

2019

NOW!

BOXED CHRISTMAS CARDS

30 %

off*

*Stock may vary from store-to-store.

20 %

off*

2019 CALENDARS

CHRISTCHURCH 2019

CALENDARS

2 FOR

$10

*Stock may vary from store-to-store.

INCLUDES

FREE ENVELOPE

*Applies to selected products. Stock may vary from store-to-store.

Follow us on Facebook:

@papertreestores

tower junction, off Clarence St, Riccarton | Bishopdale, 31 Bishopdale Court, Bishopdale | rangiora, 206 High Street, Rangiora

Northwood supa centre, Main North Road, Belfast | st martins shopping centre, Wilsons Road, St Martins

• st martiNs • tower juNctioN • BishoPdaLe • raNGiora • Northwood • st martiNs • tower juNctioN • BishoPdaLe • raNGiora
---
SOUTHERN VIEW Latest Christchurch news at www.star.kiwi

Tuesday October [Edition 2 datE] 2018 17 3

Addington gym boxers in

ring for national champs

• By Jacob Page

ADDINGTON'S Riverside

boxing coach Matt Neale

could not be happier with

his boxers performances

ahead of the national

amateur championships

which start tomorrow at

the Hornby Workingman's

Club.

Elite team members

Sunny Teki-Clark won a

bout by knockout against

Otago's Rhiane Bishop a

fortnight ago, which was

an ideal preparation for

the defence of his 81kg

national title.

"Knockouts are pretty

rare in amateur boxing,"

Neale said. "Sunny had

fought this guy five times

before so to win like that

shows what type of form

he is in," Neale said.

SPORTS

A lawyer by day, Teki-

Clark has found an extra

gear in the ring over the

past 12 months,

"Sunny has really impressed

me the past few

months, he's miles ahead

of the others in terms of

motivation

Alex Oliver, who will

compete in the elite 75kg

class, lost his bout on the

same card after stepping

up a weight class to take on

Round 12's Whetu Heki.

"I thought he won it

to be honest, but he

came back the next night

and looked really impressive."

Both men fought on

the under card of Bowyn

Morgan's Asia Pacific title

bout, which he won by

defeating Australian Commonwealth

Games representative

Luke Woods.

The next night he fought

in Kaiapoi against an opponent

of a similar weight

and won convincingly.

Nate Bates will compete

in the 69kg youth grade,

Sophie Mullally will

compete in the 54kg youth

female class and Thomas

Hanford in the 60kg youth

male class.

Neale said he expected

each of his five fighters to

be genuine title contenders,

especially with the

benefit of performing in

front of a home crowd.

The tournament finishes

on Saturday.

BIG MOMENT:

Burnside High

School cyclist

Erin Downie

will represent

New Zealand

at the Oceania

track cycling

championships

in Adelaide next

week. PHOTO:

RICHARD

MCBREARTY

continuing education

Night classes

at Papanui

High School

As the weather gets warmer and the

evenings get longer it is the ideal time to

get out of the house and learn something

new and meet some new people by taking

part in one of the wide range of nightclasses

on offer at Papanui High School for Term 4

beginning from Tuesday 23 October.

From Art to Yoga and everything in

between we are sure regardless of your

age or interest you will find something

to tempt you. Classes at Papanui High

School are held in a warm, friendly relaxed

environment and our tutors are supportive

and well qualified in their chosen fields.

One of our new courses on offer for Term

4 is an introductory course in Traditional

Chinese Massage (Tui-na). Traditional

Chinese Massage is part of Traditional

Chinese Medicine (TCM) and this course

will cover Therapeutic Acupressure

Massage using Traditional Chinese

Medicine and practice. You will learn the

efficacy of acupuncture points, how to

find the correct acupuncture points and

how to use these points to relieve and treat

pain along with learning different massage

techniques. This course is being taught by

Chuhua Gao and will be held at Papanui

High School on a Tuesday night 7-8 pm for

6 weeks starting on 23 October at a cost of

$80.

For further information and enrolment

in this or any of our Term 4 courses please

visit our website on www.papanui.school.

nz or email rpb@papanui.school.nz or

telephone our office on 3520701

Downie on track for

NZ cycling debut

• By Jacob Page

BURNSIDE HIGH School

track cyclist Erin Downie

gets by with a little help

from her friends and

family.

The 16-year-old,

who lives in Avonhead,

has been named in the

New Zealand track cycling

team for the first time.

She will compete at the

Oceania track cycling

championships in

Adelaide from October

11-13.

Erin competes in both

road and track cycling

events, and started her

competitive journey on

a $300 road bike that

her mum Lee purchased

second-hand.

As she grew to love

track cycling, her dad

Chris found a bike frame

and built the bike she still

uses today with bits and

pieces he found on auction

sites.

"I wouldn't be in this

position without my

parents," she said.

Erin Downie

"A lot of my time is

taken up with training so a

lot of the financial burden

falls on them."

Erin is a former

Canterbury age-group

middle distance runner,

cross-country athlete and

footballer, but now her

time is spent solely on the

bike seat.

"I tried to do all of them

when I first started as an

11-year-old but, as my

love of cycling grew, I gave

them up," she said.

"People used to look at

my bike and do a doubletake

because it's not a big

brand bike obviously. The

whole Canterbury track

cycling community has

been so helpful in getting

me here.

"I've had to borrow a

lot of different gear and

everyone has been really

accommodating."

Erin said with Hornby's

Denton Park velodrome

being outdoors and "quite

shaded", it often meant she

was unable to train on it

during winter because it

was too wet.

With the best track

options being in

Invercargill or Cambridge,

she has done a lot of her

preparation on the road,

or in her garage on a

stationary bike.

Erin said she still

had ambitions to ride

internationally on both

the track and road and did

not want to commit to one

discipline just yet.

From Art to

Yoga and

everything

in between
---
418 [Edition Tuesday datE] October 2 2018

Latest Christchurch news at www.star.kiwi

continuing EducAtion

FREE digital media course,

with NCEA built in

For those looking for a role that combines

artistic and digital talents, then this

outstanding, FREE, entry level course has

just been announced by local Training

Provider Trainme, for those wishing

to pursue animation, graphic design,

photography or digital media as a career.

The course covers introduction to

multi-media techniques such as video

production, drawing, animation and

photography. Students will create their own

design concepts and collaborate with other

students on creative projects.

This course is FREE to students aged 16

to 19 and they only have to have NCEA 1

to join. Students without NCEA 1 can be

admitted, if they show artistic or digital

aptitude.

"Many feel that school is not working for

them or they left without qualifications,"

says Rhys Pollard, Marketer with tertiary

educator Trainme. "While not

necessarily academically minded,

they do have artistic talents

and are very much into digital

technology."

"This FREE six-month Trainme

course, combines these in a very

hands-on, practical way, giving

them an intro into various digital

media. This way, they can decide

which direction to pursue as their

career focus."

"As an NZQA approved

programme, NCEA credits are

built in, so if they apply themselves,

they can graduate with a New Zealand

Certificate in Arts and Design Level 2, as

well as gaining credits towards NCEA level

1 or 2." Says Pollard.

"NCEA results will depend on how many

credits they bring to the course to start

with, but as it's a fun subject, it won't feel

like school at all."

Successful Graduates from this

programme could pathway into higher study

in media arts, which could include graphic

design, video production, photography or

one of the many emerging digital-based

careers. Places are limited, so students are

encouraged to apply as soon as they can.

Enrolments are Now Open, for

February 2019. Contact Trainme at their

Addington campus for more information

on 0800 872 466, or txt 'digi' to 027 557

8839 or visit the website www.trainme.

co.nz to enrol online.

Never. Stop. Learning.

Spring into something

new at the WEA!

Did you know that according to several

recent studies learning something new can

actually increase your life expectancy?

And if that isn't incentive enough,

learning has also been shown to: ward

off dementia, build self-confidence and

resilience, contribute to better mental health

and wellbeing and build positive social

connections!

We certainly see this reflected in the

testimonials of students many of whom

return time and time again, challenging

themselves with different courses and a

variety of learning experiences.

So what are you waiting for? With the

longer days and warmer weather on your

side and over 30 short courses and lectures to

choose from discover a new side to yourself

this Spring at the WEA.

We offer courses and talks throughout

the week with some scheduled daytime,

nighttime and weekends. All our courses can

be seen and booked online via our website:

www.cwea.org.nz or pop into the WEA at

59 Gloucester Street and chat to one of the

friendly team. Here is a small selection of

what's coming up:

- ENGLISH COUNTRY DANCING

- HAVE-A-GO WORKSHOP Sat 20th

October $7

Think you might like to try English

Country Dancing but not sure if it's for you?

Then come along to our informative talk and

have-a-go session! No experience necessary,

suitable for people of all fitness levels.

- RETHINKING MENTAL HEALTH -

Starts 16 October, 3 – 5 pm, 8 Tuesdays,

$69

This course asks the big questions

about the epidemic of mental illness and

addiction currently crippling society. We

won't stop at the standard answers but will

instead question the

cultural myths and

assumptions that get

in the way of creating

a society where wellbeing

is the norm.

SOUTHERN VIEW

- SOCIAL ISSUES SOAP BOX - Starts 10

October, 7 – 8.30 pm, gold coin donation

Christchurch's answer to Hyde Park

Corner - come along and hear an interesting

and totally diverse range of speakers on the

topics of our day. Come to one, come to

them all, or get in touch and take to the stage

yourself! For example:

- Wed 10 Oct Biketober Special: Bikefriendly

Christchurch

From cycle community groups, to

major cycleways come and find out what's

happening with biking in Christchurch and

how you can be part of it.

- Wed 7 Nov Analysis & Activism - Social

Change stories from Catherine Delahunty

Catherine has been an activist, educator,

organiser and political participant all her

life. She is known for her work in Te Tiriti

Waitangi issues, education, freshwater, antimining,

toxic sites, women's issues and more.

- THE MAGIC OF NEW ZEALAND AND

ITS MOTHERSHIP, THE CONTINENT

ZEALANDIA - Starts 16 October, 10.30 –

11.30 am, 8 Tuesdays, $35

New Zealand is a tiny sliver of land on the

mostly submerged continent of Zealandia,

which is about half the size of Australia.

Professor Simon Pollard will talk about the

explosive forces that shaped New Zealand

and how it came to be filled with such a

fascinating variety of plants and animals.

- JAPANESE CALLIGRAPHY AND

CONVERSATION – Starts 14 November,

10 – 11.30 am, 4 Wednesdays, $26

The language and calligraphy of Japan

are part of the culture of that country and

reflect the way the people think and look at

the world. In this course you will learn some

conversational Japanese and will practice

calligraphy with a brush in a fun and friendly

environment.

Canterbury Workers Educational Association

www.cwea.org.nz /ph366 0285

Piano

Raewyn Clegg

Registered Teacher of

Piano and Theory of

Music.

29 Lancewood Drive

Halswell

Ph 322-9377

Looking

for a career in

*

Enrolling NOW!

FOR FEBRUARY

Txt 'DIGI' to 027 557 8839

to find out more or phone

0800 872 466

50 Hazeldean Road

Addington

Christchurch

www.trainme.org.nz

*Some conditions apply
---
SOUTHERN VIEW Latest Christchurch news at www.star.kiwi

Tuesday October [Edition 2 datE] 2018 195

continuing education

Adult and Community Education at

Risingholme Community Centre

As the days get longer and as we head

into the warmer months, it is a great time

to enrol one of our term 4 classes - we

are pleased to say, there are still places

available in term 4. The term starts on

Monday 15th October 2018 and all class

information is available via our website.

www.risingholme.org.nz

Our new classes include Print Making for

Beginners, Drawing and Sketching, Night

Photography and Photoshop. We have also

developed a new series of classes that focus

on sustainability 'Future Living Skills' This

sustainable living programme is a practical,

fun way to learn and use actions, which not

only reduce your environmental impacts,

but can also save you money and bring

you a heathier lifestyle. The 'Plastics

Free' and 'Fermented Foods' workshops

although offered separately are also

offered as part of the 'Future Living

Skills' programme. We are continually

developing new courses based on

the information that we gather from

the community, so please check our

website regularly for updates.

Risingholme's traditional base of art

and craft courses continues to flourish

with a full range available at a number

of venues. They include fabrics,

woodwork skills, cake decorating,

health & fitness and well-being,

computing, guitar and cooking as

well as many others.

Have you ever considered learning a new

Language we have a number of these that

will run throughout the year including NZ

Sign, Te Reo Maori, ESOL, Russian Italian,

Arabic, German, Spanish and Italian.

Language classes run at a variety of levels

from beginners to more advanced.

If you cannot find what you are looking

for – "Tell us what you would like to learn"

For more information on classes at

Risingholme, Riccarton High School,

Christchurch Girls High School, Shirley

Boys High School and Hornby High

School, contact Risingholme Community

Centre at 332 7359 or email info@

risingholme.org.nz

The full programme for Term 4 is on

our website at http://www.risingholme.

org.nz

Adult and Community

Education Term 4, 2018

Come learn with us

Risingholme Community Centre offers

a wide range of short courses, each term,

at a range of venues.

Shirley Boys' High School

Painting with Acrylics, German Language, Photoshop, Reiki Level 1, Spanish

Language Level 3, Te Reo Maori, Thai Cooking, Woodwork, Yoga (range of

classes). Art of Creativity & Expression.

Risingholme Community Centre

Art (Create with Pastels & Paints, Mixed Media, Watercolour, Painting with

Acrylics), Mindfulness, Cake Decorating, Drawing & Sketching, Embroidery,

ESOL, Fabric & Craft Skills, Guitar, Pottery, Sewing Skills, Upholstery, Using

your Overlocker, Weekend Sewing classes, Yoga, Wood Sculpture, Woodwork,

Woodwork for Women, Zentangle, Weaving, Printmaking, Fermented Foods,

Plastics Free.

Christchurch Girls' High School

Dressmaking, Embroidery, Te Reo Maori, Watercolour Painting, Drawing &

Sketching, Preserving Fruit, Vegetables & Herbs.

Hornby High School

Sewing Skills, Thai Cooking.

Riccarton High School

Calligraphy, Level 3 ESOL IELTS, ESOL Business English Intermediate.

Indian Cooking, Italian Language, NZ Sign Language (a range of levels),

Russian Language, Sewing Skills, Spanish Language, Te Reo Maori, Arabic, A

taste of Egyptian cooking, Picture Framing.

Full details available on www.risingholme.org.nz

Risingholme office at 99 Hawford Road

Phone 332 7359 | Email info@risingholme.org.nz

www.risingholme.org.nz
---
20 Tuesday October 2 2018

Latest Christchurch news at www.star.kiwi

Babytimes/Wā Pēpi

Wednesday, 10.30-11am

Encourage learning

through language. Babytimes

is an interactive programme

including rhymes, songs,

stories and play. This is a free

session.

Spreydon Library, 266

Barrington St

Knit 'n' Yarn

Wednesday, 10.30am–1pm

Go along to the Linwood

Library for a friendly craft corner

session. Take your knitting,

crochet or other portable craft

project and enjoy time with other

crafters. Have a look at the range

of books to get ideas for your

next project. Free, beginners

welcome.

Linwood Library, Eastgate

Shopping Centre, Buckleys Rd

Creative writing on

Wednesdays

Wednesday, 4-5.45pm

A group leader works with

members to craft, create and

develop their own work. Take

pens or pencils, paper and even a

laptop. Also take your wonderful

ideas, story-telling, or art, as well

as any projects you would like to

make. Talk to a Linwood Library

team member for more information.

No charge.

Email matt.salmons@starmedia.kiwi by

5pm each Wednesday

Linwood Library, Eastgate

Shopping Centre, Buckleys Rd

JP Clinic at Spreydon Library

Thursday, 10.30am-1pm

A justice of the peace will be

available to members of the community,

to witness signatures and

documents, certify document

copies, hear oaths, declarations,

affidavits or affirmations as well

as sign citizenship, sponsorship

or rates rebates applications.

There is no charge for this service.

Spreydon Library, 266

Barrington St

Citizens Advice Bureau –

South Library

Thursday, 11am-2pm

Citizens Advice Bureau provides

free and confidential advice

to everyone. CAB takes the time

to listen and equip you with the

information, options and support

that fit your needs. The CAB are

conveniently located just inside

the library.

South Library, 66 Colombo St

Rummikub Club

Thursday, 10am-noon

Join in on a game of Rummikub,

a tile-based game for two to

four players. No charge.

Linwood Library, Eastgate

Shopping Centre

Cameo: Come And Meet Each

Other

Every second Thursday, 10am-

12pm

A social group for older citizens

to chat over a cup of tea or

coffee and home-made baking at

a free event. The group has a varied

programme which includes

playing board and table games,

crafts, quizzes, speakers on

relevant topics and the occasional

outing for lunch or to a place of

interest.

Hillview School cafeteria, Wilsons

Rd, St Martins

Storytimes/Wā Kōrerō

Friday, 10.30-11am

Encourage learning through a

love for stories. Storytimes is an

interactive programme including

stories, songs, rhymes and play.

This is a free session.

Spreydon Library, 266

Barrington St, and South

Library, 66 Colombo St

Spreydon Social Games Club

Saturday, 10am-noon

Join in a friendly game or two

of Upwords, Scrabble, cards,

chess, Mahjong and more.

Spreydon Library, 266 Barrington

St

Orchid Show

Saturday and Sunday, 10am

View wonderful displays of

orchids and carnivorous plants.

Sales tables from various growers,

Besgrow bark, raffles and Tuckers,

New Zealand largest North

Island nursery will be there. Refreshments

available. Door sales,

children under 10 free.

Canterbury Mineral and

Lapidary Club, 110 Waltham Rd

SOUTHERN VIEW

Go along to Show Us

Your Rack on Sunday,

a fundraiser for

Home and Fashion

Christchurch. Spring

clean your wardrobe

and take along your

pin-up, rockabilly

and vintage clothing.

General admission

is $2 and sellers will

need to pay $10.

Door sales only. Hoon

Hay Community

Centre, 90 Hoon

Hay Rd, 11am-1pm.

Phone Kirsty on 022

503 9932 for more

information.

Shabby Chic Market

Day

Sunday, 11-3pm

Lots of vintage items, linens,

clothes, costumes, jewels,

collectables, retro, kitchen,

antiques, craft works, furniture,

restored, revamped and recycled

items and more. There are five

rooms to explore inside the

historic Rochester Villa.

Rochester Villa, 21 Connal St,

Woolston

Opawa Farmers' Market

Sunday, 9-12pm

Go along to this farmers

market which prides itself

on having the best selection

of fresh local produce in

Christchurch, including a large

organic range from trusted local

growers.

275 Fifield Tce
---
SOUTHERN VIEW Latest Christchurch news at www.star.kiwi

Tuesday October 2 2018 21

REAL ESTATE

Your very own beach pad

2/66 Nayland Street, Sumner

Auction: 12 noon, Thursday 11 October 2018, 3 Deans Ave, Christchurch (unless sold prior)

2 Bedrooms | 1 Living | 1 Bathroom | Single Garage | Listing #558362

A fantastic unit in this sought after

block of four has now become available

for sale. This is a brilliant location only

one block from the village and the beach.

Walking distance to all amenities and on

the direct bus route to town.

This could be perfect for first time

buyers or investment, maybe your

ideal weekender easy to lock and leave.

Recently updated throughout with new

paint, carpet and a new kitchen. A

wonderful large deck leads from the

living area, then onto a lush lawn with a

raised garden, meaning this is a very easy

care property. Fully fenced for privacy

and safety.

The unit is sunny and warm, with an

internal access garage, perfect and with

great neighbours.

Entry level Sumner at its best – be in

for the summer!

Open Homes: Saturday and Sunday

2:00pm - 2:30pm.

See you at the open homes. For more

information contact Marilyn Still of

Bayleys Ferrymead (Licensed Agent

REAA 2008) on 027 229 8769.

growing with you June 2018 | 100%

Plants For

winter wow

Cool Choices

For Colour

& Contrast

From swamp

to sea views

The journey

begins with sarah

the Gardener

$7.90 incl. GST

Snap it up

Enter our annual

Birdlife Photo

Competition to win

great prizes!

clear the air

Why groWing

indoor PLAnTs is

so good for you

give it a grow

from gArLic

To chinese

ArTichokes,

We hAve your

groWing TiPs

covered

the latest releases

into the rose world

+ rose care

through winter

The magazine for

gardeners who like to get

their hands dirty

SUBSCRIBE FROM

$43. 50*

*6 issues/6 months

SUBSCRIPTIONS FREEPHONE

0800 77 77 10

WWW.GARDENER.KIWI
---
22 Tuesday October 2 2018

Latest Christchurch news at www.star.kiwi

Gardening

& Supplies

A GARDEN OR

LANDSCAPING TIDY

UP? Shrub, hedge &

tree pruning, Lawns,

Gardening, consistently

reliable general property

upkeep, Dip. Hort. 10

yrs experience, One off

tidy ups or on-going

service. Nick's Garden

Maintenance. Keeping

your garden beautiful.

Free Quote. Ph. 942-4440

& 022 264 7452

Holiday

Accommodation

Australia QLD

SUNSHINE

COAST

RESORT

ALEXANDRA HEADLAND

All Units Have Ocean Views.

Heated Pools, Spa & Sauna,

Free Wifi, Tennis

& Mini Golf.

CHECK OUR GREAT

WINTER SPECIALS

www.mandolin.com.au

0061 7 5443 5011

JUNE to AUG temps 20C

Wanted To Buy

AAA Buying goods

quality furniture,

Beds, Stoves, Washing

machines, Fridge Freezers.

Same day service. Selwyn

Dealers. Phone 980 5812

or 027 313 8156

TOOLS Garden,

garage, woodworking,

mechanical, engineering,

sawbenches, lathes, cash

buyer, ph 355-2045

ADD SOME

COLOUR

TO YOUR ADVERT!

Trades & Services

rooF

painting

Book now and

receive 20% discount

for summer.

Rope and harness a

speciality.

No scaffolding required.

30 years experience.

Free quotes, call

Craig 021 060 2392

BLOCKED

DRAINS?

• VIDEO INSPECTION

• WATERBLASTING

• LIQUID WASTE

PH: 03 365 7960

24 hours // 7 days

info@h20jet.co.nz

www.h20jet.co.nz

SOUTHERN VIEW

Classifieds Contact us today Phone our local team 03 379 1100

Trades & Services

GLAZING

Twisty Glass & Glazing LTD

• Mirrors • Pet door specialists

• Splashbacks

THE CAT DOOR MAN

ALL BROKEN WINDOWS

Phone Cushla or Darren Twist

03 352 6225 or 027 352 6225

for an uplift of your

tiled area:

Shower, bathroom,

kitchen, pool

surround, deck

etc. Brett will

give you a quote

and honest,

professional

advice on your

tiles and grout.

Call brett at

Groupro on

027 746 7632

ARCHGOLA

before

after

Enjoy outdoor living all year round

15 months

INTEREST FREE

Normal lending criteria apply

• House, deck, carport & window canopy etc

• Warm & dry in winter

• UV protection for summer

• Customised & Tailored

• Café curtains fitted

• 5 year warranty Chris Thorndycroft

Ph 0800 272 446 | www.archgola.co.nz

concrete & paving

• Driveways

• Earthquake repairs

• New Home Specialists

• Patios & Paths

tel: 0508 873 7483

email: sales@affordableconcrete.co.nz

www.affordableconcrete.co.nz

Trades & Services

Trades & Services

PAINTING

OLDER PAINTER

FOR OLDER HOUSES

50 YEARS IN TRADE

"All the skills"

GST FREE

Contact Jimmy Bell

3384432 or 0211221487

Native PlaNts

naTiVe planT nursery

Trees for

CanTerbury

speCialisTs in

• Groundcovers

• Ferns

• Grasses

• Small to big

sized shrubs

Ask us about Super

Gold Card discounts

• Shelterbelts

• ALL grades

• Expert advice

• Planting now

Helping our community grow

42 Charlesworth Street

Ph/Fax (03) 982-1028 | OPEN 7 DAYS

www.treesforcanterbury.org.nz

Painters and Decorators Ltd

Canterbury Owned and Operated

A husband and wife team

Specializing in:

• Roof Painting

• Interior/exterior

residential

• Small commercial

painting

Trades & Services

DRIVEWAYS

Exposed Aggregate

Stamped Concrete Plain

Concrete Resurfacing

Things we offer...

Competitive/affordable pricing

Attention to detail

Professional service

free quotes/insurance scopes

Cell 0278 145 848

www.drivecrete.co.nz

PAINTERS

Noel 027-411-3596

kemp.painters@gmail.com

kemp painters and decorators

Trades & Services

HOUSE

CLEARING

Are you

moving house

or trying to

downsize?

Call All Clear

Canterbury. We work

with you to recycle,

sell and dispose of

unwanted items.

Ph: 03 260 0934

or 021 078 4553

raewynlcooke@gmail.com

www.allclearcanterbury.co.nz

We offer

free quotes

Quality not

Quantity

Trades & Services

ELECTRICIANS

Professional

Friendly Registered

Tradesmen available

for your Electrical

requirements today.

For immediate

quality service please

contact

services

Ph. 03 322 8454

www.skeltonelectrical.co.nz

Trades & Services

FOR ALL YOUR

★Garden Clean-ups

★Pruning

★Lawn Mowing

★Garden Maintenance

Call us today for a FREE quote

PH 0800 4 546 546

(0800 4 JIMJIM)

ROOF

PAINTING

Rope & harness

a speciality,

no scaffolding

required,

30 years of

breathtaking

experience.

FREE QUOTES

Exterior staining,

exterior painting,

moss and mould

treatment and

waterblasting

Phone Kevin

027 561 4629

Trades & Services

BEST BATHROOMS

full renovations

specialists, LBP builder,

free quote, all building

property maintenace ph 03

383 1927or 027 245 5226

ciey@xtra.co.nz

BRICKLAYER

George Lockyer. Over

35 years bricklaying

experience. UK trained.

. Insurance work.

EQC repairs. Heritage

brickwork and stonework

a speciality. No job too

small. Governors Bay.

Home 329-9344, Cell

027 684 4046, email

georgelockyer@xtra.co.nz

BUILDER

For all building work

but specialist in bathroom

renovations, 30 yrs

experience, with service

and integrity. Free Quotes.

Ph Lachlan 383-1723 or

0274 367-067.

CARPET & VINYL

LAYING

Exp. Repairs, uplifting,

relaying, restretching.

Email jflattery@xtra.co.nz

ph John on 0800 003 181

or 027 2407416

CARPETLAYER

35yrs experience. Special

rates for seniors. Prompt

service. Ph 021 263 7209

LAWNMOWING

You Grow I Mow. Free

quotes. Ph / text Chris 021

252 1801

PAINTING

& DECORATING

Wingfields Contracting,

all interior & exterior

painting & all forms of

interior plastering & jib

fixing, ph Mark 021 171-

1586 or 355-5994

PAINTER AVAILABLE

All aspects in painting.

Very competitive in roofs

and fences. Please call 027

241-7471 or 335-0265

Trades & Services

PAINTING

Indoor / Outdoor, over 30

yrs exp, same day quotes,

ph Steve 021 255 7968

PAINTER

Specialising in older

homes. Stand by

Canterbury.Quality work..

Pensioner discounts. Ph

Wayne 385-4348 or 027

274 3541

PLASTERER

Gib Stopping, Small

job specialty. 30 + years

experience. Ring 0800

387-369

PLUMBER

ALF THORPE

PLUMBING Certifying

Plumber for all types of

plumbing, maintenance,

spouting, alterations etc.

Phone 352-7402 or 0274-

350-231

PLUMBER

A Top Plumbing job

completed at a fair price,

prompt service, all work

guaranteed, Ph Brian 960-

7673 or 021 112-3492

ROOFING REPAIRS

Fully qualified, over 40

yrs experience. Ph John

027 432-3822 or 351-

9147 email johnchmill@

outlook.com

ADVERTISE YOUR

BUSINESS HERE

Public Notices

SPOUTING CLEANING

Spouting Unblocked,

Cleaned Out and Flushed

Out. Call Trevor 332 8949

or 021 043 2034

STUMP GRINDING

Best price guarantee Tony

0275 588 895

TILER/CARPENTER

35 years exp, no job

too small. Ph Ross 027

4311440.

TRADESMAN

PAINTER

30 yrs exp, int/ext.Roof

coating prof. Cert rope &

harness specialist, difficult

access areas no problem,

no need for scaffold.Ph

Craig 021 026 92138

T.V. SERVICE

CENTRE

Repairs, tvs, microwaves,

.Aerial & satellite

installations , kitsets, 480

Moorhouse Ave, ph 03 379

1400

VHS VIDEO TAPES

& all camera tapes

converted to DVD, video

taping special occasions,

www.grahamsvideo.co.nz

ph 03 338-1655

WINDOW CLEANING

Average 3 bdrm house

inside or out $40. Both

$70. Phone Trevor 344-

2170

Phone for further details

Trades & Services

(03) 379 1100
---
SOUTHERN VIEW Latest Christchurch news at www.star.kiwi

Tuesday October 2 2018 23

What's On

Entertainment

To advertise, contact

Jo Fuller 027 458 8590

jo.fuller@starmedia.kiwi

Johannes Moser plays

Shostakovich

Borodin

Overture to Prince Igor

Shostakovich

Cello Concerto No. 1

in E at major, Op. 107

Prokoviev

Romeo and Juliet

Selections from the Ballet

'Famous for their roasts!'

RESTAURANT & CAFÉ

Cooked Breakfasts

Check out our extensive breakfast

menu from Continental to Cooked

We are open from 6.30am

Seniors SPECIAL

Two courses $22

Soup/Roast or

Roast/Dessert

Special available lunch only

Monday - Saturday 12pm - 2.30pm

$19

It's the

School Holidays

TREAT THE FAMILY!

We are

family

friendly.

Great Kids

menu plus

designated

play area.

Kid's

2 course

special

$13

The

RACECOURSE HOTEL

& Motorlodge

118 Racecourse Rd, Sockburn,

Christchurch. Ph 03 342 7150

www.racecoursehotel.co.nz

JOHANNES Moser returns to

the NZSO to play

Shostakovich's Cello Concerto

No. 1, following his 2016

performances of the Lalo Cello

Concerto.

e German-Canadian

cellist has performed with the

world's leading orchestras with

conductors of the highest level.

He performs at the Air Force

Museum in Christchurch on

Wednesday 10th October, 7pm.

For conductor Peter

Oundjian's debut with the

NZSO, he will guide the

orchestra through this rich and

varied programme featuring

Russian composers.

Prokoev's score to Romeo

and Juliet features some of the

Johannes Moser

Peter Oundjian

most intense music written. In this

selection from the Ballet, the musical

narrative clearly depicts the unseen drama

and so stands by itself on the concert stage.

Tickets on sale now at Ticketek.

What's On

TUESDAYS & THURSDAYS

MEMBERS LUCKY

CARD DRAW

LIVE MUSIC

COMING UP

Sunday 14th Oct, 2pm

UNFINISHED BUSINESS

GAMING ROOM

TAB POD

Dine by the Beach

PIERVIEW CLUB

RESTAURANT BISTRO

UPSTAIRS

Open from 5.30pm Fri, Sat,

Sun, and Sunday Brunch

from 10.30am to 2pm.

PIERVIEW'S MONTH-END

SUNDAY NIGHT BUFFET $25pp

Sunday 30th Sept

from 5.30pm BOOK NOW!

RESTAURANT FULLY BOOKED

SUNDAY 21st OCTOBER

DOWNSTAIRS

Open Tues to Sat

12pm - 2pm &

from 5pm

BISTRO ROAST

SPECIAL

Tuesday - Thursday

Dine in only

$12

202 Marine Pde | Ph 388 9416 | www.newbrightonclub.co.nz | Members, guests & affiliates welcome

SERVING

HAPPY HOUR

5PM - 7PM DAILY

OUR CABINET ITEMS

ARE HOMEMADE

CREATED FRESH ON SITE DAILY

$12

LUNCH

SPECIALS

Live Music:

6PM.SAT 6 OCT

Lunch & Dinner

All you can eat, 7 days

Bookings Essential PH 386 0088

fb.com/GardenHotelRestaurant www.gardenhotel.co.nz

COFFEE

HAPPY

H O U R

2PM-4PM

DAILY

$3.50

Offer available for a limited time

and includes tea, hot chocolate

MON: ROAST MEAL

TUE: FISH & CHIPS

WED: FISH BURGER

THU: ROAST MEAL

SAT: FISH & CHIPS

AVAILABLE

FROM

11.30AM-2PM

FOR A

LIMITED TIME

PHONE 385 8880 FIND US ON FACEBOOK fb.com/GBCCHCH

THE GARDEN HOTEL COMPLEX | 110 MARSHLAND RD

www.gardenhotel.co.nz | phone 385 3132

H ORNBY

WORKINGMEN'S

CLUB

GREAT ENTERTAINMENT

FRIDAY 7PM: JO'S KARAOKE

SATURDAY

4.30PM: MARION'S OUTLAWS

8PM: KRAKKAJACK

SUNDAY 1PM:

COUNTRY & CLASSICS

Three of the nest entertainers

together in concert

PAUL COSTA / EDDIE LOW

KEVIN GREAVES

Tickets $25 at the club ofce

COMING UP

SATURDAY 13 OCT, 8PM:

MADSEN PROMOTIONS PRESENTS

NEIL DIAMOND

& THE SUPERSTAR SHOW

FRONTED BY

PAUL MADSEN

AND BAND

FEATURING BEE GEES, EAGLES

QUEEN + MANY MORE

Tickets $20 at the club ofce

CANCELLED BY PROMOTER

MILITARY TATTOO - 10, 11 NOV. 2018

PLEASE RETURN PURCHASED TICKETS TO

CLUB OFFICE FOR REFUND.

The Hornby Club | ph 03 349 9026

17 Carmen Rd | Hornby

www.hornbywmc.co.nz

Members, guests & affiliates welcome

FAMILY FRIENDLY

DINING

CLUB CAFE

OPEN DAILY

LUNCH & DINNER

GF & V options available

CHALMERS RESTAURANT

FRIDAY & SATURDAY

CARVERY DINNER

$22.50

OPEN FROM 5.30PM

Early Bird Special

5.30pm - 6.30PM

FREE DESSERT
---
24 Tuesday October 2 2018

Latest Christchurch news at www.star.kiwi

SOUTHERN VIEW

Pickup

Delivery

Free Delivery

to selected suburbs*

*

When you spend $100 or more.

Use coupon code 'MYWAY ' .

Visit FreshChoiceYourWay.co.nz and select

Barrington or City Market to view more details.

$

8 99

kg

Fresh NZ Prime

Beef Mince

$

1 99

ea

Large Hass

Avocados

$

5 50

ea

WW Salted Butter 500g

$

3 00

ea

$

2 50

ea

$

1 70

ea

Coke/Sprite/Fanta/Lift/L&P 2.25L M&M's Chocolate Block 150-160g

Arnott's Shapes 110-190g

$

8 99

ea

Kapiti Cheddar

Cheese range

170g

NZ Cheese Month

ea

Castello Cheese White/Blue 150g

$5 00

Ornelle Brie/

Camembert 110g

$8 79 Any 2 for

FreshChoice

Barrington | City Market

Open 7 Days a week.

FreshChoice.co.nz FreshChoiceNZ

Specials valid 1st - 7th October 2018 or while stocks last.

*Offer valid for a limited time, see FreshChoiceYourWay.co.nz for Terms & Conditions.

Owned and

operated

by locals

fcsv0210
---
SOUTHERN VIEW Latest Christchurch news at www.star.kiwi

Tuesday October 2 2018 25
---
26 Tuesday October 2 2018

Latest Christchurch news at www.star.kiwi

SOUTHERN VIEW
---
SOUTHERN VIEW Latest Christchurch news at www.star.kiwi

Tuesday October 2 2018 27

EVERY 5 th

coFfee FRee

WHEN YOU USE YOUR MUFfIN BREAK LOYALTY CARD

Free

WHEN YOU REGISTER ONLINE

Coffee

Pick up a FREE card in-store today!

Register it online at muffinbreak.co.nz

21

31

EXCLUSIVE TO

EAST

GATE

Offer available for a limited time only exclusively at SUBWAY Eastgate. Excludes Limited Time Offer Subs.

Additional cost for extra meat, cheese, bacon, avocado and other extras.

May not be combined with any other coupons, offers, discounts or other special deals.

©2016 Subway IP Inc. SUBWAY® and SUBWAY 6 INCH are registered trade marks of Subway IP Inc.
---
28 Tuesday October 2 2018

Latest Christchurch news at www.star.kiwi

SOUTHERN VIEW