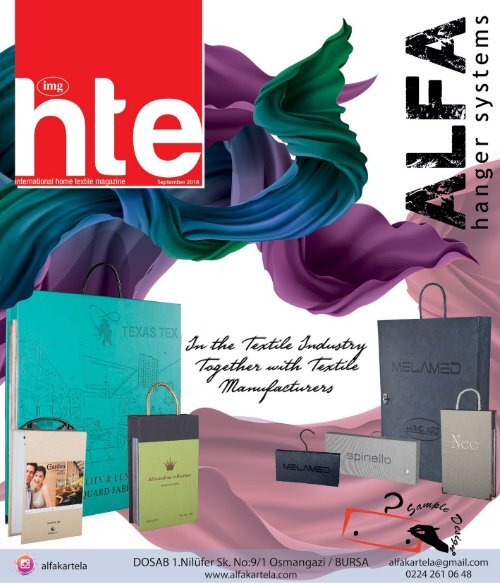 Home Textile September 2018
Home Textile September 2018
Home Textile September 2018
SHOW MORE
SHOW LESS
You also want an ePaper? Increase the reach of your titles
YUMPU automatically turns print PDFs into web optimized ePapers that Google loves.
6

HTE

It's a small

world indeed!

What a crazy run we have been experiencing in last 30 days

or so. We have recently covered very important shows of the

home textile industry starting with CIFF in Shanghai, Maison &

Objet in Paris, and ended up with MoOD in Brussels. We are

now running to Moscow for Heimtextil Russia and will be local

with Sleep Well Expo Istanbul and Home&Tex Istanbul with this

issue of September 2018.

Heimtextil Russia is the one and the only specialized trade

fair in Russia for home and interior textile and it is the largest

business platform of the Russian textile industry. It is a trend

barometer for the world textile trends, central business platform

or the textile industry and, of course, the best collections

of textile for home, hotels, restaurants, offices and other

premises.

Getting localized right after Heimtextil Russia we will make a

heavy distribution of this issue of the magazine at our own

show SLEEP WELL EXPO and HOME&TEX which will concurrently

be held in Istanbul, 26-29 September 2018.

Home&Tex HOME&TEX will bring together the contract textiles,

home textiles, and decoration world for the 6th time. Over 590

high-end brands will present their latest collections in contract

textiles, fabrics, upholstery, home furnishing, home textile,

floor and wallcovering, decorative items, houseware and lightings

to the visitors in an elegant and refined atmosphere.

Group Chairman

Publisher

General Manager

Editor

Responsible

Editor

Advisory Board

Editorial Consultants

Advertising Manager

Advertising Coordinator

Correspondents

Art Director

Design&Graphics

Chief Accountant

H.Ferruh ISIK

ISTMAG Magazin Gazetecilik

Yayıncılık İç ve Dış Ticaret Ltd. Şti.

Mehmet SOZTUTAN

(mehmet.soztutan@img.com.tr)

Ayça Sarıoğlu

Yusuf OKÇU

Osman Nuri CANIK

Ufuk OCAK

Hilmi GULCEMAL

Pınar TASDELEN

Ayse Mehtap EKINCI

Prof. Dr. Ismail KAYA

Assoc. Prof. Mehmet Ali OZBUDUN

Inkrit BERBEE

(inkrit@lobsterconcepts.nl)

Milou KET

(studio@milouket.com)

Dr. Rolf ARORA

Adem SACIN

(adem.sacin@img.com.tr)

+90 505 577 36 42

Emir Omer OCAL

(emir.ocal@img.com.tr)

Omer Faruk GORUN

(fgorun@ihlas.net.tr)

Elke ARORA

Tolga Çakmaklı

(tolga.cakmakli@img.com.tr))

Tayfun AYDIN

(tayfun.aydin@img.com.tr)

Mustafa AKTAS

(mustafa.aktas@img.com.tr)

Our next stop after all above will be Kiev, Ukraine for Design

Living Tendency with our forthcoming October issue. Last year

over 500 world's brands participated in the exhibition. The

business program of the exhibitions offered around 40 workshops,

seminars, presentations, forums and conferences. 16,

600 visitors came to the exhibitions. As we do every year, we

will be right there to distribute free copies of HTE magazine and

to cover the event with our following issue.

Subscription

HEAD OFFICE

Güneşli Evren Mah. Bahar

Cad. Polat İş Mrk. B Blok No:3

34197 ISTANBUL/TURKEY

Tel:+90. 212 604 50 50

Fax: +90. 212 604 50 51

www.hometextile.com.tr

İsmail OZCELIK

(ismail.ozcelik@img.com.tr)

BURSA

KONYA

LIAISON OFFICE:

Buttim Plaza A. Blok Kat:4 No:1038

Tel: +90. 224 211 44 50-51

Fax: +90. 224 211 44 81

H. Ulusahin IS Mrkz.

C. Blok Kat:6 No:603-604-605

Tel: +90. 332 238 10 71

Fax: +90 332 238 01 74

Mehmet SOZTUTAN

(mehmet.soztutan@img.com.tr)

PRINTED BY

IHLAS GAZETECILIK A.Ş.

Merkez Mah. 29 Ekim Cad.

İhlas Plaza No:11 A/41 Yenibosna

Bahçelievler/ISTANBUL

Tel: 0212 454 30 00

September 2018
---
12

PROFILE

HTE

Ipeker, an innovative

home textile

producer

Ipeker: "We

have documented

that there are

no animal

ingredients or

proteins in the

146 different

types of fabric

we produce. In

our production

process, we

provide continuity

without harming

nature and life."

As one of the oldest textile companies dating back

to the end of the 1800's, Ipeker started in silkworm

business. The first steps for further development

was taken by establishing a silk processing facility

during the republican era in 1920 and a weaving loom

in 1930. The printing facilities has been operational in

the years 1940 to 1950. All were the largest integrated

silk factory in Europe and in the Middle East in those

years. Depending on its deep-rooted past, the company

keeps innovating and now produces vegan Cupra

fabrics for the needs of home textile producers. Ipeker

has become the world's first producer of vegan fabric.

After completing an approval process in Switzerland

and Germany, the company's fabric was granted the

'V-Label' from the European Vegetarian Union (EVU).

September 2018
---
13

The company's global brand will be sold on market

with a certificate code starting with 'TR.'

Emphasizing on human health and environment,

vegan fabrics accounts the largest share in the

production. We talked with Ihsan Ipeker, general

manager of the company about their

vegan cupra sleep sets that they will exhibit

them in SleepWell Expo.

How was your transfer into

home textile market?

We have a specific and technically

perfect fabrics that we

produce in our factory. We do

not want to limit the use of

this fabrics only in clothing

industry. After our research

that our teams

have carried out in

the market, we saw

a good window of

opportunity in

home

textile

markets. Our

products are

technically

over
---
14

HTE

PROFILE

Ihsan Ipeker, General Manager

qualified for the needs of the market. So, we decided to

offer them to mattress manufacturers. Because, people

spend their lives most in sleep, so they need the highest

comfort. Vegan Cupra fabrics is the most natural product

produced for the need of human skin.

What products are in your sleep set?

Ipeker Home is a fabric supplier. We can also supply products

for contract-based projects. We have special pillow

covers in our sleep set. 7 to 8 hours on the average our

skin touches fabrics of pillows, that should be highly qualified.

Our product prevents drying of skin and keeps it moistened,

thus reduces the aging symptoms. It is anti-static so

prevent the fluffing of hair in the morning. With its climatic

properties, it maintains the temperature on the skin in all

weather and seasons.

September 2018
---
15

What are the concepts of the products that you will

display in Sleep Well Expo?

We will be exhibiting all sleep products in every concept related with

sleep in Sleep Well Expo, besides our special vegan Cupra alezes.

We will have a separate space for kids and babies. As you know,

the skins of babies are prune to every hazards and chemicals. We

also produce special technical fabrics for the delicate needs of the

babies and the environment. We combined them with sleep sets

targeting to newborns and kids.

Would you mention about the production capacity and

the technology you utilize?

Our monthly production capacity is 1.2 million meters. A large part

of it composed of biodegradable products. Integrated production

facility starts with yarn, to dyeing, printing and finishing, covers all

stages of the process under one roof.

Do you have any message that you want to deliver to the

industry?

In line with the deep root of our company we have been focused on

one line. Vegan products that we offer are the result of our sensitivity

to the people and environment. Though we are new in home

textile business, we trust our innovative products to be successful

in this segment as well.
---
18 HTE

Numbers speak

louder than

words!

I had the pleasure of attending a conference and a panel addressing

to home textile business people and to the press

members titled "Latest Trends in World Markets & Exports".

Speeches were delivered and the panel discussion took place.

The most striking parts of the idea were the highlight of playing

the game with the rules and being more active in world markets.

It was also stressed that Turkey had been performing very well

on becoming a global brand and power.

The presentation also revealed some figures of the Turkish

home textile industry and its proven success. Despite the political

bottlenecks with some countries such as the USA and Israel

and hot war going on at the south of Turkey in Syria and some

other territories, Turkey's home textile export volume has been

USD 2.8 billion in 2016, 3 billion in 2017 and is expected to

be 3.3 billion at the end of this year. There has been furniture

exports almost at the same values as home textiles.

Ayça Sarıoğlu | Editor

ayca.sarioglu@img.com.tr

Prof. Dr. Emre Alkin said in his presentation on the Turkish economy

that political rather than economic decisions had shaped

Turkey's position, adding, "Therefore, how we are perceived

abroad comes to the forefront. No matter how we promote

ourselves, ultimately there is an existing perception of Turkey.

For this reason, we need to initiate long-term public diplomacy.

The place where this public diplomacy begins is the exhibitions

since they are the places where we spend the most time with

the buyers. In this sense, we can say that the businesspeople sit

right in the center of public diplomacy."

The Turkish clothing and textile industry targets 60 billion

dollars by 2023 and the home textile industry has a share of 10

billion dollars in this total target volume. We will see what the

numbers have to say in the coming 4 and a half years.
---
22

PROFILE

HTE

"Our aim is to increase our

dominance at international markets

by maintaining our leadership"

Will you inform us about your production facility?

Toplu Textile is one of the leading producers of narrow

band textiles in Turkey.

The company aims to improve its position in the market.

We talked to Orhan Yildizcan, Chairman of Toplu Textile,

about the textile industry.

Would you brief about your firm?

Our factory is based on an area of 1750 sqm and exports

its products that are sold to exporters who export them to

several countries in Europe and in America. With both our

machinery park and our technical staff we meet the needs

of our customers without any complaints and ready to help

them in their R&D efforts. As a customer oriented company

our aim is to meet all demand for special products and deliver

them as scheduled.

Our firm was established in 1978 and started to produce

narrow band in 1997. By the year 2005, our firm

had been producing different types of narrow band and

became more powerful when a partnership had been

established in 2006 to produce band for draperies.

What kinds of products do you have in your

product line and how large is your capacity?

Among our products and services are other accessories

used in home textiles production including curtain shim

accessories, curtain tarlatans, rollers and narrow textiles.

We can produce narrow bands from 1 mm. to 210

mm wide. For curtains we have more than 600 varieties

of products. Total monthly production capacity of our

firm is about 12 million meters.

September 2018
---
23

Would you give us information about

your markets and target markets?

As a popular brand in the industry, Toplu Textile

exports product to several countries including

the countries of Russian Federation, and countries

in Europe, Asia and Africa and delivers

our products to their large sales network in the

country.

Orhan Yildizhan, Chairman of Toplu Textile

How is your customer satisfaction

policy?

As Toplu Textile our quality policy is to work in

discipline to answer the demands of customers,

to produce innovative solutions, and producing

quality both in our products, and production

process from the first stage up to the delivery

to customers. In order to be a leading firm in

quality, we keep renovating of machinery and

processes.

Do you participate in international

fairs? How important is to visit the fairs

in the sector?

By now we only visited fairs. But in the near

future we consider exhibiting in international

fairs.
---
24

EVENTS

Home&Tex is the only

address for home textile and

decoration!

HTE

Home&Tex show organized by CNR Holding company Istanbul

Trade Fairs in collaboration with TETSIAD (Turkish Home Textiles

Industrialists and Businessmen Association) will once again host a

massive organization bringing home textiles and decoration worlds

together, 26-29 September.

HOME&TEX will take place 26 - 29 September 2018

at CNR EXPO Center with an exhibition area of

80,000 sqm. The fair is organized in cooperation

with TETSIAD (Turkish Home Textile Manufacturers

and Businessmen Association), the only association in

Turkey for all the entrepreneurs and operators of the home

textiles.

HOME&TEX will bring together the contract textiles, home

textiles, and decoration world for the 6th time. Over 590

high-end brands will present their latest collections in contract

textiles, fabrics, upholstery, home furnishing, home

textile, floor and wallcovering, decorative items, houseware

and lightings to the visitors in an elegant and refined atmosphere.

Home&Tex, which quickly became an internationally recognized

exhibition, will bring together a wide range of products

from several industries such as home textile and decoration,

floor and wall coverings, bed and bed technologies.

The exhibition will be held on a 150 thousand sqm area.

HOME&TEX is expecting furniture manufacturers, wholesalers,

chain stores, distributors, importers, contractors, archi-

September 2018
---
25

TETSİAD President Ali Sami Aydın (l.) with

Mehmet Soztutan, General Manager of

Istanbul Magazine Group.

tects, interior designers, and hotels mainly from the Middle

East, the Arabic Gulf, Turkic Republics, Africa, and Eastern

Europe to explore recent collections of global brands.

With its modern urban living and historical architecture,

Istanbul offers the perfect atmosphere for the sole contract

textile and home fashion fair of Eurasia.

CNR Holding Chairman of the Executive Board Ali Bulut said

that with over 50 exhibitions organized each year, they had

been serving the industries, the Turkish economy, and the

exporters. Adding that 18 holding companies had brought

195 thousand international buyers in 2015, 202 thousand

in 2016, and 278 thousand in 2017, from 160 countries to

the exhibitions they organized, Bulut said, "We will continue

our success in the coming years."

Reminding that EVTEKS Istanbul International Home Textiles

Exhibition, which they had been organizing together with

the representatives of the home textiles industry, would be

launched for the 25th time next year, Bulut said, "We initiated

our EVTEKS Exhibition on an area of 10 thousand square

meters, and today we are pushing 150 thousand square

meters hosting more than 1000 exhibitors. There is a long

waiting list for the exhibition visited by more than ten thousand

international professional buyers. Now Home&Tex

Home Textiles and Decoration Exhibition is organized as a

sister exhibition to EVTEKS. Home&Tex will write new success

stories."

Turkish Home Textiles Industrialists and Businessmen

Association (TETSİAD) President Ali Sami Aydın said that the

industry had a significant place in the world. Aydın emphasized

that many countries, mainly the USA and the Far East,

preferred the Turkish products and stated that the exhibitions

organized by CNR had a tremendous contribution to

this achievement. Declaring that as the home textiles industry

they aimed to increase last year's export volume of

3 billion dollars to 3.3 billion dollars this year, Aydın said,

"We have achieved great success with EVTEKS Exhibition.

We will continue this success with many novelties at Home

& Tex Exhibition in September. Given the latest increase in

foreign exchange rates indicating the possibility of a shrinking

domestic market, we once again see how crucial exporting

is. Home&Tex will be a huge opportunity for increasing

exports."
---
26

NEWS

HTE

Furniture sector closed

down the first half of the

year with a 5.8% reduction

According to the statement

released by TÜIK (Turkish

Statistical Institute); furniture

sector has declined by 5.8% in

the first six months of 2018.

The chairman of Turkish Furniture Manufacturers

Association (MOSDER), Mr. Nuri Öztaşkın, in a statement

that he gave to evaluate the first half of the year; said:

"When we look at the first half of 2018, we can see a decline

by about 5.8%. While there has been growth in many

of the sectors, this downsizing of the furniture sector, which

is one of the leading sectors of our economy, worries us.

Among the main reasons for this reduction are the end of

the VAT discounts and the consecutive raw material price

hikes. Together with the new management staff, we are now

in a new era in which we can respond faster. The elimination

of uncertainties means a profitable second half for the

business world. With this new system, We believe that we

will move forward more quickly and effectively in many different

areas. We also think that another VAT discount in the

agenda for this period will have a positive effect. The VAT

discount, which was implemented in 2017 and lasted for

about 8 months, provided a significant growth by increasing

the trade in the furniture sector by 40%. We think that this

decline in the furniture sector can be avoided if another VAT

discount is put on the agenda."

Employment rates in furniture sector is on a

decline too

Öztaşkın stated that the companies started to decrease the

number of workers they employ in line with the regression

in the furniture sector; said the following: "With the VAT

Mr. Nuri Öztaşkın

The chairman of Turkish Furniture

Manufacturers Association (MOSDER)

reduction in the past year, the increased demand created

additional employment opportunities in the sector. By this

means, about 100 thousand new employees were hired.

Looking at the first six months of 2018, we see that the

number of employees in the furniture sector has gone down.

Firms that have been losing their turnover rates, are trying

to survive by resisting to reflect the raw material price hikes

to their customers". Öztaşkın, who stated that it is possible

to improve the current status of the sector by setting a fixed

8% VAT rate, also underlined that they will be closely following

the related developments.

September 2018
---
28

HTE

PROFILE

Italian

chicness

on the

walls

with

"Sirpi"

HannaHome which takes the road with its slogan

"First address in decoration" brings together to

Italian chicness with its brand Sirpi on wallpapers.

You can open the doors of mysterious yard with

the Italian Secret Wallpaper collection of the Sirpi

brand.

September 2018
---
EVTEKS - CNR

Hall 1 F 13

Organize Sanayi Bölgesi

Denizli / Turkey

Tel : +90 258 269 17 84

Fax : +90 258 269 17 87

www.oguzlartekstil.com.tr

info@oguzlartekstil.com.tr
---
30

HTE

PROFILE

Is chicness attained with combination of colors and

designs or with their contrast? Which one is chic, being

original or following trends closely? Even tough the

mystery of chicness hasn't been solved yet, the Sirpi

brand which is representative of HannaHome will reflect

mystery of Italian chicness on your walls with its

Italian Secret wallpaper collection.

Italian Secret wallpaper collection that usually includes

floral patterns in its designs will gain a hot and sophistical

atmosphere for your home with its plain, straight,

geometric and floral designs and options of digital panel.

When it comes to the most important feature of

collection it is opposite color combinations and floral

designs that have embroidering effects.

The wallpaper has a lot of technicality like easily purification

and durability the sun rays. The "Italian Secret"

wallpaper doesn't host any hazardous materials for

human health as is the case at all of its all collections.

September 2018
---
32

FOCUS

HTE

Turkish

fabric

industry

offers

the best

alternatives

The Turkish fabric industry satisfies its customers

by meeting all their needs with the quality of its

products together with its strong service ability of

quick response and on-time delivery

September 2018
---
33

Turkey has some major advantages. Textiles and clothing is a long established sector, and the

workforce is experienced and skilled. This means that it could prosper by concentrating on

producing high quality, branded design, and quit the production of items that can be produced

cheaper in Pakistan, China, and India. Production of commodity items could be outsourced

to the CIS countries, with Turkish producers focusing on final processes and in-house design. It is

generally the case that the big profits in textiles and clothing do not go countries with cheap labor and

abundant cotton, but those with direct access to designs, brands, and retailing operations in growing

markets.
---
34

HTE

FOCUS

Having the largest share in

Turkish industrial production,

the textile industry is one of the

first established industries in

Turkey. The fabric industry has

improved significantly in recent

years, since the Turkish clothing

and home textile industries

have had a significant role in the

world's clothing and home textile

markets in the last two decades.

The Turkish fabric finishing sector

has a level of processing

all the capacity of grey fabric.

This sector is equivalent to the

European Union in terms of processing

capacity, modern technology,

qualified workforce, and

especially product quality.

September 2018
---
36

HTE

FOCUS

Today, the Turkish fabric industry has competitive advantages

in international markets, particularly in terms of its

technology, extensive product range and the quality, design

and creativity of its products. In addition to its well-developed

structure, it employs a highly skilled labor force. Also,

the Turkish fabric industry has great flexibility and ability to

modernize its production, and adapt itself to new

technologies. This ability allows the industry to

reduce its reaction time to changes in consumer

demand in international markets. Thus, the

Turkish fabric industry satisfies its customers

by meeting all their needs with the quality of its

products together with its strong service ability

of quick response and on-time delivery. All these

features have enabled Turkish fabric manufacturers and exporters

to earn a good reputation in international markets.

The Turkish fabric industry, which produces almost all kinds

of fabrics for apparel, home textiles, upholstery and technical

applications, has a well-developed structure, especially

in production based on cotton, wool and man-made raw

materials.

September 2018
---
38

HTE

FOCUS

A large amount of fabric production is based on cotton.

The fabric industry based on cotton consists of two segments.

One is composed of large scale companies which

have production facilities integrated vertically in all stages

of fabric production, from fiber processing, spinning

and weaving to dying, printing and finishing. Many of

them also have manufacturing facilities for ready-made

goods such as clothing or home textiles. The other one

is composed mainly of non-integrated companies on a

small scale. These companies cooperate with the Turkish

finishing industry, which is one of the vital sub-sectors of

the Turkish textile industry.

The sector meets its raw material needs mostly from domestic

sources. As an important world cotton grower,

Turkey ranked seventh in the world production of cotton

with around 738 thousand tons in 2015/16 term.

Although Turkey is among main cotton growers in the

world, domestic cotton does not meet the production

demand of the country. Therefore, Turkey is the fourth

largest cotton importer after Bangladesh, Vietnam and

China.

September 2018
---
40

HTE

FOCUS

As well as the cotton textile industry,

the Turkish man-made

textile sector is also a well- developed

industry. Having large

capacity of synthetics in the

world, Turkey has a large production

potential for synthetic

fabrics based especially on

100% polyester and polyester

blends with cotton, viscose,

nylon, polyamide, wool, linen

and/or multi-blends of them.

Being the third largest mohair

producer in the world, Turkey

also has a strong wool industry.

The majority of wool products

meet the demand of clothing

producers and exporters.

September 2018
---
www.sleepwellexpo.com | 0212 604 50 50

The Mattress industry meets at the giants Sleepwell Expo.

Good Morning!

Mattress industry professionals

will wake up in Istanbul on

September 26, 2018!

9-10. Hall | Visiting Hours: 9:30 - 18:00

"THIS FAIR IS ORGANIZED WITH THE AUDIT OF TOBB IN

ACCORDANCE WITH THE LAW NO.5174"
---
42

HTE

FOCUS

The fabric mills are mainly concentrated in Istanbul,

Bursa, Adana, Denizli, Kahramanmaras, Izmir, Gaziantep,

Tekirdag, Kayseri and Usak. Many of the integrated mills

are located in Istanbul, Bursa, Kahramanmaras, Adana

and Gaziantep.

Major Export Markets in Fabrics (USD 1,000)

Today, Turkish fabric manufacturers are aware of the increasing

trend in international markets for healthier and

more environment-friendly products, and have adapted

themselves to these developments. Many Turkish fabric

manufacturers have ecological labels for their products.

Many of them have best known eco-labels like Oeko-Tex

Standard 100, Organic Exchange, GOTS, etc.

Turkish fabric manufacturers are aware of the importance

of quality, and many have national and international quality

certificates.

The total value of fabrics exported in 2015 was about

USD 5 billion. The main products exported in 2015 were

knitted fabrics, woven synthetic fabrics and woven cotton

fabrics.

Source: Ministry of Economy

European countries, including Italy (9,25%), Russia

(7,46%), Germany (5,10%), Romania (4,84%) and Bulgaria

(4,63%) are the most important markets for Turkey's fabric

exports.

September 2018
---
44

EVENTS

HTE

Promotion of young talent at

Heimtextil: fresh ideas for textile

interiors

Young companies as well

as prospective product

and textile designers

will be presenting

refreshing inspirations

and innovative textile

developments at the

international trade fair

for home and contract

textiles from 8-11 January

2019. With a wideranging

talent promotion

program and a new

competition, Heimtextil is

placing newcomers in the

spotlight.

New talent initiative at Heimtextil: with the NEW & NEXT

university competition, Messe Frankfurt is promoting young

talent in the industry and giving textile designers of the future

their first international platform. 'The competition offers

university graduates the opportunity to present their final dissertations

to an international trade audience at Heimtextil and

establish contacts with representatives from the industry', says

Olaf Schmidt, Vice President Textiles & Textile Technologies at

Messe Frankfurt.

With the NEW & NEXT university competition, Heimtextil is targeting

national and international universities that specialize in

textile design and related courses of study. The winners of the

September 2018
---
2018-2019
---
46

HTE

EVENTS

competition will have a stand at the NEW & NEXT exhibition in the "Textile Design" product

area in Hall 3.0. University representatives will be able to register for the competition

free of charge at www.heimtextil-newandnext.com from mid-September onwards. The

deadline for submission is 30 September.

NEW & NEXT: Start-ups showcase young design

NEW & NEXT has been synonymous with the promotion of newcomers at Heimtextil for

many years now. Under this title, Heimtextil presents young labels that have been active

on the market for a maximum of five years. Recently, around 50 newcomers to the market

presented fresh design ideas to the international trade fair audience. In the "Textile

Design" product segment (new to hall 3.0) in particular, young studios inspire with exciting

designs. NEW & NEXT participants will also be offering creative design concepts for

bathrooms, beds and tables in halls 9.0 and 12.0.

September 2018
---
48

HTE

EVENTS

"House of Textile": living rooms in 2025

With "House of Textile", the Association of the German

Home Textile Industry (Heimtex), working in cooperation

with Heimtextil and various universities and colleges, has

launched a competition for students of architecture, interior

design and textile design. The aim is to get an idea of

what role home textiles will play in the areas of living, working

and travel in 2025. The ten best ideas for a virtual room

will be implemented and put on display at Heimtextil 2019

in hall 9.0. The five best textile designs (from students on

textile design courses) will also be exhibited here.

Talent Lab Lectures: insights into architecture

and the hotel industry

As part of the program for the target group of architects,

interior designers and hotel furnishers, Heimtextil is offering

a series of lectures aimed especially at up-and-coming

professionals. Students of architecture and interior design

in particular are invited to attend the "Interior.Architecture.

Hospitality Lectures" on Friday, 11 January 2019 to enable

them to gain an insight into the furnishing of commercial

properties with textiles through lectures and a discussion

panel in hall 4.2.

September 2018
---
50 HTE ZVR Junior Day: program for young interior

designers

EVENTS

For vocational school classes, master classes, PLW competition

participants and the ZVR Junior Circle, which will be

reorganized this November, Heimtextil is working with the

Zentralverband Raum und Ausstattung (ZVR) to develop its

own program to attract young talent to the world's leading

trade fair. 'Heimtextil is a must for all young interior designers.

This is why ZVR is looking forward to being represented

at the trade fair alongside its juniors again in the coming

year', says Heike Fritsche, looking ahead.

Young master meet at DecoTeam

Up-and-coming interior designers are invited to the DecoTeam

stand on Thursday 10 January 2019 at 5 p.m. in hall 8.0.

The young masters will also design a showcase while with

DecoTeam. 'At the world's leading trade fair, prospective furnishers

will gain an optimum insight into which trends will

be in vogue next season. We look forward to enjoying discussions

with the new generation and are looking forward to

their product presentation while they are with DecoTeam',

says Ottmar Ihling, DecoTeam spokesperson.

September 2018
---
56

HTE

EVENTS

20 th jubilee

edition of

Heimtextil Russia

– international

trade fair for

home textiles,

floor coverings

and interior

furnishings

Led by UTIB (Uludag Textile

Exporters Association), leading

Turkish home and contract

textile exhibitors will display a

wide range of products.

September 2018
---
57

International Trade Fair for Home Textiles, Floor

Coverings and Interior Furnishings Heimtextil

Russia 2018 will take place in Moscow on

September 18-20, 2018 and celebrate its 20th

anniversary. During this time Heimtextil Russia

has gained the reputation of the leading business

platform for the professionals of textile industry in

Russia and the CIS countries. This trade fair gives

you a unique chance to see in one place collections

of home and interior textile from different

countries, conduct direct negotiations with manufacturers

and suppliers of textile products from

over 20 countries and find new partners for further

business development.

This year exposition of Heimtextil Russia will occupy

two halls of Pavilion 1 in IEC Crocus Expo

and present on its grounds more than 200 international

companies. National pavilions of

Germany, Turkey, China, Pakistan will take part

in the show, as well as individual participants

from Italy, France, Poland, Portugal, India, UAE,

Uzbekistan, Kazakhstan etc. Such companies as

Arya (Turkey), Caramella (Poland), G.M Syntex

(India), KT Exclusive (Germany), Orsha Linen Mill

(Republic of Belarus), Safeco (France), SUPERtextil

(Turkey) will participate among foreign exhibitors.

The Russian exposition will demonstrate textile

products of Decor City, Gerd Billerbeck, KARIGUZ,

TDL Textile, Treartex, Unico Interiors Decoration.
---
58

HTE

EVENTS

Buyers, distributors, importers, representatives

of retail chains and contract business will find

at Heimtextil Russia 2018 home and interior

textile in 12 product groups: bedroom textile,

bathroom textile, kitchen textile, window decoration,

interior fabrics, furniture fabrics, textile

for children, etc. Some product groups will be

highlighted within the framework of special expositions:

exposition for carpets and textile flooring

CarpetLab, Digital print on textile, exposition of

textile prints Design Laboratory, Wallpaper Bar.

The leading business platform for

professionals of textile business in

Russia

This year Heimtextil Russia offers an extended

fringe programme. In the Conference area

the first day will be fully devoted to the theme

of retail business: International forum «Sales

2018/2019» with Retail Purchasing CenterTM will

take place in the Conference area. Top managers

of the federal retails chains, representatives of

profiled associations and research agencies will

share comprehensive information about rotation

of assortment in retails chains, consumers demand,

development of retail formats and categories

in 2018-2019. Retail Purchasing Center in

September 2018
---
Heimtextil Russia is the

main trade fair for home

and interior textiles in

Russia. This year it will

take place on IEC Crocus

Expo in Moscow, 18-

20 September. Heimtextil

Russia is a trend barometer

for the world textile trends,

central business platform or

the textile industry and, of

course, the best collections

of textile for home, hotels,

restaurants, offices and

other premises.

59
---
60

HTE

EVENTS

the format of b2b negotiations of suppliers with retail chains,

wholesale and distributor representatives within the framework

of the forum.

The second day of the fringe programme will be fully devoted

to contract textiles: it will include workshops and round tables

with discussions on textile equipment of hotels and restaurants,

topical guided tours along the exposition with industry

experts, lectures on interior design for hotels and restaurants.

The third day will feature Interactive programme on the specialties

of doing business online. Business practitioners will

introduce the audience to the worldwide trends in digital technologies,

present cases of digital development and growth

strategies and make an overview of the marketing instruments

and tools.

September 2018
---
61

Heimtextil Russia

Design Academy: the

main meeting point

for designers and

decorators

Heimtextil Russia Design Academy

is the most creative part of the fair,

which is the real attraction point

for designers and decorators. It includes

several events:
---
62

HTE

EVENTS

• Trend Area will feature

lectures of on textile design

and interior decoration.

Visitors will have a

chance to learn about the

famous Frankfurt trends

Heimtextil 2018/2019

from their author – Dutch

designer Anne Marie

Commandeur. The invited

speaker – French designer

Olivier Delomme,

creator of FR-One collection

of fire-resistant

fabrics, will share his tips

on the topical trends of

modern hotel decoration.

Representatives of textile

industry will discuss in

the format of the Round

table the theme of textile

print development in

Russia. Heimtextil Russia

Design Awards ceremony

will also take place in the

Trend area. Author of the

best collection of textile

prints will be awarded

with the main prize –

participation with a free

stand at Heimtextil 2019

in Frankfurt.

September 2018
---
64

HTE

EVENTS

• Design Laboratory exposition

will present designers and design

studios, which develop textile

prints. Here you can also see the

best works of Design Awards finalists.

In Design Education area visitors

will have a chance to take part in

the practical textile workshops on

the booths of the leading Russian

design schools. Lectures of the

schools' teachers and graduates

will be available in the Trend area

on the third day of the fair.

September 2018
---
74

TRENDS

HTE

Furniture and

decorative

fabrics:

Heimtextil

Frankfurt

expands its

offer

With over 400 international

manufacturers, the product

range of upholstery and

decorative fabrics as well as

upholstery and artificial leather

at Heimtextil is wider than

ever before. The world's leading

trade fair for home and

contract textiles (8-11 January

2019) in Frankfurt am Main

is now further expanding its

spectrum across a total of six

hall levels.

September 2018
---
75
---
76

HTE

TRENDS

September 2018
---
77

'The upholstery and decorative fabrics segment

has been growing very successfully

for several years now. In 2019, all the relevant

European suppliers of upholstery and

decorative fabrics, upholstery and artificial

leather will be presenting themselves across

the three levels of hall 4 for the first time',

says Olaf Schmidt, Vice President Textiles &

Textile Technologies at Messe Frankfurt. The

most important manufacturers of upholstery

fabrics from Asia that also have export experience

will also be represented in halls 1 and

5. All in all, Heimtextil combines the world's

largest and most international range in this

segment, thus creating the best order options

for buyers from the furniture and home

textile industries as well as textiles editors.

Sustainable, weatherproof and suitable

for commercial properties

Healthy living and working remains one of

the top themes in the interior textiles sector.

Furniture and decorative fabrics also make

a contribution: they are able to optimize

rooms climatically and acoustically and decisively

improve the feel-good factor. In this

respect, the on-trend fabrics are certified organic,

waterproof and/or flame-retardant. At

the same time, the textiles – despite all their

high-tech – have a very natural appearance.

This also applies to outdoor fabrics in linen,

flannel or woven looks. When it comes to

soft feel-good textiles for indoors, high quality

wool is exploited to the full. Also on the

rise are denim fabrics that sometimes give

the interior a casual touch. On the morning

of the first day of the fair (8 January 2019),

a design dialogue will take place with the

Heimtextil trend managers about the latest

design trends in upholstery and decorative

fabrics. The trend researchers will invite representatives

from the upholstery industry to

the lecture area in hall 4.2 to exchange views

on current topics.
---
78

HTE

TRENDS

Top European producers

strongly represented

In hall 4, numerous big names from

Europe will be present, such as Gruppo

Mastrotto, Manifattura Tessile Di Nole,

Martinelli Ginetto, MCA, Prosetex and

Sirio Tendaggi from Italy, Boelert &

Moens, De Poortere Frères, Symphony

Mills and Tessutica (with the Beaulieu

brand) from Belgium and Albatros,

Bernard Reyn, Pintail and Reynaldo

from the Netherlands. Other top players

come from Spain: Manuel Revert,

Santa Amalia Alta Decoracion (with

the brand SATI) and Textiles Vilber.

In addition, Dina Vanelli Tekstil and

Güleser Tekstil from Turkey will also

be present. From Germany, Gebrüder

Munzert, Konrad Hornschuch, Leder

Schreyeck, Textum and Vowalon

Beschichtungen will be represented.

September 2018
---
High-quality products for commercial textile

furnishing

79

In addition, hall 4.2 will also focus on a further target

group: at the "Interior. Architecture. Hospitality Expo",

architects, interior designers and hotel furnishers will

find high-quality products for commercial textile furnishing,

such as textiles with an acoustic function or

with special abrasion-resistant properties. Crypton from

the USA and Anavil Europe from France will be exhibiting

for the first time at Heimtextil and will be presenting

fabrics specifically for contract furnishing. Another

highlight in hall 4.2 will be a large-scale presentation

by Trevira. 'We will further expand the concept of the

Trevira CS joint stand in 2019. This means that we will

be represented at Heimtextil with a larger number of

customers and thus also the highly flame-retardant

Trevira CS collections. Trevira will also be presenting

a trend area especially for the contract market, where

visitors – in particular interior designers, designers

and furnishers – can find out about innovative textiles

and color trends', says Dr. Isabell Lammel, Manager

Communications at Trevira. The German manufacturer

of high-tech polyester fibres and filaments will be presenting

its new products alongside its well-known partners,

such as Getzner Textil from Austria, Engelbert E.

Stieger from Switzerland, Hoftex from Germany, Johan

van den Acker from the Netherlands and Tessitura

Mario Ghioldi from Italy.
---
80

HTE

TRENDS

Largest range of manufacturers

from Asia

In halls 1.0, 1.1 and 5.1, Asian manufacturers

experienced in exports

will present a wide range of furnishing

and upholstery fabrics on a total

of three levels. This is where foreign

traders and wholesalers focusing on

volume-oriented orders can meet

manufacturers with whom orders can

be placed in medium and high quantities

and supplied in a timely manner.

In addition, the exhibitors will also be

offering a varied range of products

manufactured especially for retailers

and bearing their own brand name. D

Decor, G.M Syntex and SVG Fashion

from India will be among those represented

in hall 5.1.

September 2018
---
81

Fibers and yarns: from natural materials to high-tech

In addition to the joint presentation by Trevira in hall 4.2, numerous

manufacturers of fibers and yarns will be exhibiting at Heimtextil, spread

across various product segments. The range extends from traditional

materials and eco-certified yarns to high-tech fibers for use in highly

specialized areas. Among the 20 producers are pioneering companies

such as Dralon from Germany (hall 4.1, foyer), Lenzing from Austria (hall

11.0), Reliance from India (hall 4.0, foyer) and Torcitura Lei Tsu from

Italy (hall 4.2).
---
82

PROFILE

HTE

"Cottonbox"

makes the children's

dreams come true this

season too

Cottonbox

combinate100% cotton

products with joyful

designs. Cottonbox receives

appreciation of parent with

its 2018-2019 Autumn &

Winter Collection in addition

to making the children's

dreams come true.

All dreams of kids in Junior Collection of

Cottonbox

Cottonbox which emphasizes on quality and health in

all its product group uses 100% especially the cotton

on child group. Colorful figures designed for a children

don't include insanitary food additive. The brand cares

for the psychological development of children as much

as it cares for their physical development. Cottonbox

which contributes to the emotional development of children,

includes cute figures on bedlinen groups. While

boys are running up to adventure to adventure with

"Skate Blue" bedlinen fashion winds blow in girl's room

with "Superstar" bedlinen series.

September 2018
---
83

Healthy sleep on clouds with

'Cottonbox'

Cottonbox accompanies the sleep of

kids with 'Baby' Bedlinen. Preferred by

parents the brand assertive with its baby

group made of 100% cotton on 2018-

2019 Autumn & Winter Collection.

Cottonbox continues to encolor the

dreams of kids with its penguin, giraffe

and Unicorn designs.

Healthy designs, wakeless sleep

Cottonbox which designs to products

for a quality sleep provides with soft

texture baby group in its 2018-2019

Autumn & Winter Collection. Made of

sewing cotton bedlinens form a basis a

healthy and quality sleep with breathe

structure.
---
86

HTE

EVENTS

Heimtextil

smart on

bedding

as well

The sleep

products

segment moves

from Hall 8

to Hall 11

to be close to

Hall 12 where

bed linen

displays will

take place

The new trade fair concept from 2019 onwards includes

a new hall structure with the addition of the new Hall 12

and without Hall 6, which is currently undergoing renovation.

The functional spectrum of bedding from Hall 8.0 is

moving to Hall 11.0. There, under the title 'Smart Bedding',

you will find innovative products from the bedding, duvets,

mattresses, pillows, bedding systems and textile-machinery

product segments, as well as the new forum on 'The Future

of Sleep'. After nutrition and fitness, sleep is set to be the

next key lifestyle subject. And this is the starting point for

Heimtextil, which presents the restructured product segment

as a potent, future-oriented theme.

Top themes:

* Smart bedding

* The future of sleep

September 2018
---
87

Smart bedding

Within the framework of the new concept, Heimtextil has

taken up 'sleep' as a major lifestyle and well-being theme.

Under the title 'Smart Bedding', there will be a center of expertise

for sleep – aimed especially at specialist bed retailers,

who will benefit from shorter walking distances – thus

maintaining the link to the bed-linen product segment in

Hall 12.

'The layout planned by Messe Frankfurt is logical and easily

implemented. And this is how our customers' buyers see

it, too", says Stefan Sickenberger, Sales Manager of f.a.n.

Frankenstolz. 'We are confident of a yet another good response

from our visitors in 2019 – albeit in Hall 11.0 – and

are already looking forward to the fair."

The future of sleep

'After nutrition and fitness, sleep is set to be the next major

lifestyle theme", reported the FAZ newspaper*. In our new

knowledge forum, visitors and exhibitors will be able to find

out more about this fascinating subject and hold discussions

with experts. Under the heading 'The Future of Sleep',

there will be four thematic blocks: 'Smart & Sustainability',

'Smart & Hospitality', 'Smart & Sport' and 'Smart & Digital'.

In other words, you can look forward to numerous informative

expert lectures and discussions with time for an interactive

exchange of ideas and information.

Heimtextil is the biggest international trade fair for home

and contract textiles, and will next be held in Frankfurt am

Main from 8 to 11 January 2019. The first trade fair of the

year for its sector, it is a climate and trend barometer for the

new business year.
---
90

HTE

PROFILE

LUXXU Home

presents timeless

fall trends for

2018!

Trends in the interior design world, like in fashion,

go through renovation at this time of the year,

however there are those classics that will never go

out of style and are considered timeless. LUXXU

Home has the pleasure to present 4 suggestions of

classic trends that will make any interior

design project stand out due to its timeless

aesthetic.

Fall reminds us of leafs falling, nights by the fireplace, cozy sweaters and

most of all cozy interiors. Trends in the interior design world, like in fashion,

go through renovation at this time of the year, however there are those classics

that will never go out of style and are considered timeless.

LUXXU HOME, a new concept where daring designs are developed with one eye set in

the traditional craftsmanship and another in contemporary and bold design. Noble materials

come to the spotlight and customization blossoms as brand capital. All creations

exceed expectations, bringing together the rare expertise of the craftsmen that produce

excellent quality furniture, and the passion for design.

LUXXU Home presents 4 suggestions of these classic trends that will make any interior

design project stand out due to its timeless aesthetic. From soft color fabrics, to luxury

marbles and bold finishes, the luxury brand brings a cozy and luxurious atmosphere to

the interior design world.

September 2018
---
91

Velvet brings the most timeless and cozy vibe into any

interior setting. Stools, such as the Noir and armchairs

as the Saboteur will bring a touch of comfort that only

velvet has. Customizable in 26 different velvets, these

upholstery items are the perfect item for fall season.

LUXXU's Empire is shaping its future by setting trends

with timeless pieces and refined elegance. Lighting was

the start of a luxury journey stating itself as classic with

a modern twist.

Today, a new epoch unveils at LUXXU. Daring designs

are symphonies developed not only with one key object.

Ambiences are an everlasting aesthetic language

shared by every element.

LUXXU now gives you the opportunity to discover those ambiences.

LUXXU uncovers a crucial Imperial complement,

a new collection. Offering resembling noble materials and

finishing's where customization blossoms as brand capital
---
92

HTE

PROFILE

Soft colors and gold fit

perfectly together for Fall.

The vibrant colors of summer

give place to creams,

taupe, and browns bringing

softness into a luxury

world already plated in

gold.

September 2018
---
While lighter marbles are

the perfect choice for

summer, darker marbles

as the black & white Nero

Maquina or the brown with

golden touches Emperor

are great choices for the

fall time. The Apotheosis

side table is a hymn to

sophistication, portraying

the use of dark marbles

like no other item.

93
---
94

HTE

PROFILE

When speaking of timeless, the

most classic and effortless chic

color of the spectrum could not

be left out. Black furniture items

or interiors are both bold and

classic and still have a cozy vibe

that has to be present during the

crispiest months of the year.

September 2018
---
96

PROFILE

HTE

Romanticism

time in

bedrooms

Adelina bedlinen

set which combines

with floral designs

that reflect a

minimal elegance,

soft colors Adel

Bedclothes Set which

comes forefront

with elegance

details, carry

timeless elegance to

bedrooms. Yatas

Bedding which

draws attention

with its rich home

textile portfolio,

offers elegance

bedlinen sets and

bedclothes that blow

romance winds in

bedroom.

September 2018
---
97

For a healthy and quality sleep the bedlinen sets you

use are important in addition to mattress, furniture and

accessories. Yataş Bedding bedlinens which pull attention

with their unique designs, weaving quality and rich color

palette leave a positive impact and converts into a completely

different soul.

Maximum elegance, maximum chicness

Taking part in the rich product range of Yataş Bedding,

Adelina Bedlinen is carrying romantic touch of spring to

bedrooms with its soft powder color shades. Outstanding

its floral and elegant designs Adelina Bedlinen has got satin

fabric and 100% cotton. Remarking with its jacquard fabric

and design details Adel Bedlinen Set makes visual feasts

with options of petrol, stone and dusty rose colors.
---
98

PROFILE

HTE

"

Elegance in

bathrooms with

Valerone

Valeron which highlights their original

style home textile brand, is combining chic

details with Bathroom Family Set Collection.

The soft and unmatched textures of bamboo

and cotton, the wonders of the nature, enliven

at Valeron's exclusive bath sets.

Valeron, which reinterprets luxury with its

quality and chick, defines chickness at bathrooms

with family sets designed differently

for men and women.

Comprised of bathrobes, towels and towel

slippers the collection reflects the rich ecru

elegance on towels with the most special

way. Blended with strictly embroidered lace

details the family sets provide bamboo and

cotton texture comfortable use.

September 2018