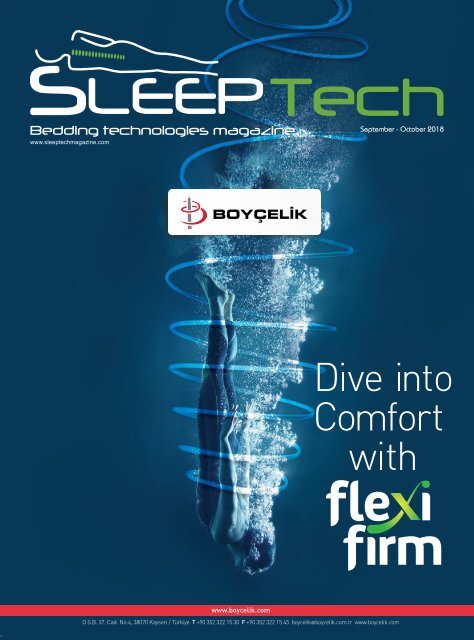 SleepTech September - October 2018
SleepTech September - October 2018
SleepTech September - October 2018
SHOW MORE
SHOW LESS
Create successful ePaper yourself
Turn your PDF publications into a flip-book with our unique Google optimized e-Paper software.
www.sleeptechmagazine.com

September - October 2018
---
www.elektroteks.com.tr
---
P: +90.224 443 46 28 - 29 F: +90.224 441 99 90 Nilüfer Bursa TURKEY info@elektroteks.com.tr
---
4

12

Sleepwell Expo opens to trigger

the trade in the mattress

manufacturing industry

INDEX ADS

Custom Furniture

Suppliers Zone at CIFM /

interzum guangzhou 2019

to double in size

28

Boyteks.............................................Back cover

Boyçelik................................ Inside back cover

Elektroteks............................. Inside front cover

Elektroteks.......................................................... 1

Metal Matris....................................................... 3

Kırayteks............................................................. 7

Artilat.............................................................. 5-6

Nova................................................................... 9

Aydın Tekstil................................................. 10-11

Latexco............................................................ 13

Sefox................................................................. 15

Siteks................................................................. 17

Allbeco............................................................. 19

Nano Yay......................................................... 21

Nobel................................................................ 23

Ferzan............................................................... 25

Comfytex....................................................26-27

Jakarteks..........................................................29

Akpoli............................................................... 31

Histeks...............................................................33

Ersan Madeni............................................ 34-35

BedCovers................................................. 38-39

Gemba............................................................43

Gizgrup....................................................... 44-45

İnnovabedding...............................................49

Allbemac......................................................... 57

Nerteks.............................................................65

İnterzum........................................................... 91

Sigma...............................................................95

Seral..................................................................99

Yaboo............................................................. 121

ZolyTech......................................................... 135

Sleepwell Expo 2019.............................. 150-151

46

70

96

Vegan Cupra effect on sleep

sets

Kirayteks explores new

export markets

58

Aydın Tekstil dazzles with its

new product, Sleepmaker

"Our country needs high value

added production in all fields"

80

Attentive quality in sewing

threads industry

Accessories complementing

quality

120
---
Istanbul | 26 - 29 September

Hall: 10 Booth: C08
---
6

From The Editor

Welcome

to Istanbul!

w w w . s l e e p t e c h m a g a z i n e . c o m

Publisher

ISTMAG

Magazin Gazetecilik Yayıncılık

İç ve Dış Ticaret Ltd. Şti.

Adına sahibi

Istanbulite people are very lucky for having such a great city

which is a house for innumerable touristic and historical values.

It hosts 7 hills but numerous minarets and domes along with

many skyscrapers on its silhouette. Its daytime is fascinating

and its nighttime is better. Istanbul is a city of love, a city of

wonders… It is a love itself.

The best time to enjoy this marvelous city is the second half of

September when the weather is most cooperative with the inhabitants.

It is the same time that SLEEP WELL EXPO takes place

in İstanbul, 26-29 September 2018.

Managing Editor

Responsible

Editor

Chief of Editorial

Board

Editor

Editorial Consultants

H.Ferruh IŞIK

Mehmet SÖZTUTAN

(mehmet.soztutan@img.com.tr)

Cüneyt AKTURK

(cuneyt.akturk@ihlasfuar.com)

Ömer Faruk Görün

(omer.gorun@img.com.tr)

Gizem YILDIZ

(gizem.yildiz@img.com.tr)

Chris France, Leggett & Platt

Prof. Dr. Ismail KAYA

Assoc. Prof. Mehmet Ali OZBUDUN

Recep SAHIN

Turkey has some major targets for the year 2023 set by the

government. The country continues to pursue its development

worldwide with its rapidly increasing population, advantageous

geography, and contribution of exports. One of the most

important sectors in Turkey, without any doubt, is the mattress

industry which covers mattress machinery and components industry

along with finished products. Developments, innovations

and example solidarity of the sector performed in recent years,

have become the factors that affect the sleep products sector

positively. I have full confidence that Sleep Well Expo will have

a respectful amount of contribution to the development of the

sector thereby driving the export run of the industry to better

levels.

The rules of the game are changing every hour in recent times.

Ties with the USA has been going through a fragile process and

the EU has been trying to come closer to Ankara while Turkey

has been playing the Chinese card and revitalizing relations

with the Islamic world. But one thing is clear; Turkey has a

strong economic structure and

The country has no way to stop or slow down. On the contrary,

every action, positive or negative, offers new challenges and opportunities.

Those who have close contacts and good relations

will end up better surprises in return. The recent two decades

have proven this good chance. Sleep Well Expo will trigger of

the industry for a better future. Come, see for yourself!

Advertising Sales Marketing

Omer Faruk GORUN (omer.gorun@img.com.tr)

Advertising Coordinator

+90 224 211 44 50-51

Foreign Relations

Manager

Communications

Manager

Art Director

Fınance Manager

Subscription

Accountıng Manager

HEAD OFFICE

Güneşli Evren Mah. Bahar Cad.

Polat İş Merkezi B Blok No:3

34197 ISTANBUL/TURKEY

Tel:+90. 212 604 51 00

Fax: +90. 212 604 51 35

İbrahim Arslan

(ibrahim.arslan@voli.com.tr)

Ebru PEKEL

(ebru.pekel@voli.com.tr)

Tolga ÇAKMAKLI

(tolga.cakmakli@img.com.tr)

Mustafa AKTAŞ

(mustafa.aktas@img.com.tr)

Zekeriya AYDOGAN

(zekeriya.aydogan@img.com.tr)

Zekayi TURASAN

(zturasan@img.com.tr)

LIAISON OFFICE: BURSA

Buttim Plaza A. Blok Kat:4 No:1038

Tel: +90. 224 211 44 50-51

Fax: +90. 224 211 44 81

PRINTED BY

IHLAS GAZETECILIK A.Ş.

Merkez Mahallesi 29 Ekim Caddesi İhlas Plaza No:11 A/41

Yenibosna-Bahçelievler/ISTANBUL

Tel: 0212 454 30 00

Mehmet Soztutan
---
Istanbul | 26 - 29 September

Hall: 10 Booth: B02 - C03
---
As a world leader in latex foams, Artilat helps you

build the perfect mattress, ensuring a good night's

sleep. From cores over toppers to cooling and

other features, Artilat is the place to be. Thanks to

decades of knowledge in the bedding industry, we

are able to provide you with top quality products.

Artilat nv

Koningsbaan 79,

2560 Nijlen, Belgium

www.artilat.be

info@artilat.be

T +32 (0)3 410 13 00

FOLLOW US
---
DISCOVER

www.artilat.be
---
10

Turkey's exports up

5.3 pct in first 8 months

The 12-month

overall exports

rose 6.5 percent

on a yearly basis,

reaching $162.4

billion.

Turkey's exports from January to

August recorded a 5.3-percent

annual hike, Turkish Exporters'

Assembly (TIM) announced on

Sept. 1.

In the eight-month period, the

country's overall exports totaled

$108.7 billion, up from $103.2 billion

in the same period last year.

In August alone, Turkish exports

amounted to $12.4 billion, representing

a 6.5 percent decrease

compared to the same month

last year. TIM noted that the fall

in exports in August was due to

the nine-day Eid al-Adha holiday

break.

Turkey's exports hit an all-time

high of $157.6 billion in 2014.

They amounted to nearly $157

billion last year.

The exporters' assembly noted

that Turkish products were exported

to nearly 220 countries in

August.

"There was an increase in exports

to 96 of these countries while

the top five export markets were

Germany, the U.K., Iraq, the U.S.

and Spain," it said.

TIM figures showed the automotive

industry was the leading

sector with exports worth $1.61

billion in August, followed by

ready-made garments and apparel

at $1.39 billion and chemical

products at $1.37 billion.

Jewelry exports climbed 177

percent year-on-year in August,

marking the best performance

among all sectors, while steel

and fresh fruit/vegetable exports

rose 43 percent and 10 percent,

respectively.

TIM data also showed that the

12-month overall exports rose 6.5

percent on a yearly basis, reaching

$162.4 billion.
---
Istanbul | 26 - 29 September

Hall: 10 Booth: A04 - B01
---
14

Sleepwell Expo

opens to trigger the

trade in the mattress

manufacturing industry

Over 100 respectful brands from various countries of the world

will showcase their latest products at Istanbul Expo Center, 26-29

September 2018.
---
We support your dreams.

Latexco envisions a world where people can dream and enjoy a happy, active and healthy life. We believe that

our innovative bedding solutions can help bring this world one step closer, as a good night's sleep is essential

to live that happy, healthy life.

Bedding products made of pure natural latex.

Unique and high-quality PU foams.

The perfect mix of both natural and synthetic

latex for a comfortable, high-quality comfort.

Latex components combined with PU foams,

for strong, durable and customized bedding

solutions.

Sint-Amandstraat 8 bis, 8700 Tielt | Belgium

Tel.: +32 (0)51 40 14 31 | Fax: +32 (0)51 40 55 66 | info@latexco.com

Contact: Stefaan Reynaert - Area Sales Manager - stefaan.reynaert@latexco.com

Visit our website www.latexco.com
---
16

In line with fast development

observed in the Turkish mattress

industry in last 15 years,

SLEEP WELL EXPO has also

been growing steadily and

opening for its fifth edition

at Istanbul Expo Center, 26-

29 September 2018. A great

number of leading brands from

all segments of the industry

are at the fair to welcome their

domestic and international

visitors. Some of the leading

names in the industry by

the end of February include:

NORDSON (AAT MAKİNA

SANAYİ VE TİCARET A.Ş. ),

AYDIN TEKSTIL, ADALAR

KİMYA, AKÖZLÜ DIŞ TİCARET,

AKPOLI INDUSTRIAL PROD-

UCTS, ALLBECO, ALLBEMAC

MAKİNA, BED COVERS, BEHA

PLASTIC, BELIEVE, BEST

FOAM, BOĞAZİÇİ MALZEME-

CİLİK, BOYÇELİK METAL,

BOYTEKS TEKSTİL, COMFY-

TEX (KÜÇÜKLER TEKSTİL

SANAYİ VE TİCARET), DLA-

BEL (DOĞUŞ OFSET MATBA-

CILIK), DOREPLAS PLASTİK,

DURAK TEKSTİL, EDR KİMYA,

ELEKTROTEKS, EMR FER-

MUAR, ERGOFOAM (HURPOL

POLİÜRETAN), ETG TEKSTİL,

FERYAL FERMUAR, FORM

SÜNGER, FURNİÇİN, GEMBA

MAKİNE, GİZ GRUP TEKSTİL,

GÖRENLER GİYİM TEK-

STİL, GÜÇTEKS MENSUCAT,

HASPLAST PLASTİK, ELIS (AR-

GUN DEMIR CELIK METAL),

HENGYE MACHINERY, INNO-

VA BEDDING, I-FIX MAKİNA,

İGEME, İPEKER TEKSTİL, KA-

LİTEKS, KAY TEKSTİK, KAY-

TELA TEKSTİL, KIRAYTEKS

TEKSTİL, LİNEER HİDROLİK,

MD MAKİNA DİZAYN, MERT

MAKINA, MESA ETİKET, MET-

AL MATRİS, MITSAN MAKI-

NA, MTF MENSUCAT, NANO

YAY, NERTEKS İPLİK, NOVA

SÜNGER, ONUR KAPİTONE,

ÖZEN İPLİK, PAKİPEK TEK-
---
18

STİL, ROBATECH TUTKAL,

ROZA İPEK, SARAN MEN-

SUCAT, SEFA KİMYA, SERAL

TEKSTİL, SERVOTEKS, SIGMA,

SİMİTEKS TEKSTİL, SLEEP

WELL MAGAZINE, SOVA

YATAK, SRC INTERNATIONAL

TRADE, SUPER KUTU VE

AMBALAJ, ŞERİTÇİOĞLU, TE-

KNOTEKS MAKİNA, TRAKYA

PACK, ÜMİT ELEKTRONİK

MAKİNA, WellMatt, YABAO,

YAPI LİDER KİMYA, ZOLY-

TECH, ZHEJIANG HUAJIAN

From machinery, technologies,

raw materials, up to

components and services the

show covers all of the industry

sub-industry fields of the sleep

products industry.

Pointing out that there are

more product varieties in this

year's edition of the show,

Omer Faruk Gorun, project

manager of Sleep Well Expo,

said, "We are more asser-
---
20

tive this year with regards to

professional visitors. We have

particularly increased our focus

on foreign markets. The history

of five years has made the fair

a well-known event around the

world and many buyers and

producers put the name Sleep

Well Expo on their annual

agenda well before the event's

date. We are thankful to our

esteemed industrialists who

have contributed to the growth

of our event. We are shaping a

world fair here altogether."

Turkey's mattress industry has

been going through major

changes leaving many less-developed

stages behind. Almost

all kinds of modern mattresses

are either manufactured or

represented in Turkey.
---
Natural Mattress Components

Latex Foam

Viscogel Pillows

NEW AİRFOAMS FROM SOURCING LEADER ALLBECO

New Massage Pillows

AİRFOAM VİSCO STD

AİRFOAM GEL

High End Mattress Labels

AİRFOAM ALOEVERA

AİRFOAM SOYA

Ready Made Zipped Covers

Semi-Finished Mattress

Metal Motorized Folding Bed Mechanism

Folding Mattress Covers

Organize Sanayi Bölgesi 23. Cadde No:45 38070 Kayseri /

Türkiye

+90 352 502 07 56

info@allbeco.com

+90 352 502 07 55

A

www.allbeco.com
---
22

Sleep Well Expo represents a

wide range of portfolio including

the latest products of

mattress manufacturers, pillow

manufacturers, comforter and

other sleep product manufacturers,

exporters and dealers.

They were mainly mattress exporters

and importers, bedding

manufacturers, home textile

manufacturers, coverlet manufacturers,

equipment firms,

distributors, agents, chain

store purchasing authorities,

local furniture stores, professional

import and export firms,

designers, hotel purchasing

managers, interior design firms,
---
Istanbul | 26 - 29 September

Hall: 10 Booth: A05
---
24

experts of the private sector,

mattress industry buyers and

trade press portals… In short,

all members of the industry

come together at the Sleep

Well Expo – Mattress Supply

Industry and Technologies Fair.

Running towards its major

targets of 2023 set by the government;

Turkey continues to

pursue its development worldwide

with its rapidly increasing

population, advantageous

geography, and contribution
---
26

of exports by its advantageous

geography. One of the most

important sectors in Turkey,

without any doubt, is the mattress

industry, mattress machinery

and components industry.

Developments, innovations and

example solidarity of the sector

which has been performed in

the mattress sector in recent

years, have become the factors

which affect the sleep products

sector positively. With the

same token, many positive

economic indications which

have been performed on behalf

of the country and the sector

in recent years, many regulations

and directives made

for the business volume and

the mattress sector which has

grown depending on the flow

of foreign investments, indicate

the importance of SLEEP WELL

EXPO.
---
Istanbul | 26 - 29 September

Hall: 10 Booth: B03 - C07
---
30

Exponential growth awaits custom furniture market in China;

Custom Furniture Suppliers Zone

at CIFM / interzum guangzhou

2019 to double in size

Following positive response from

the furniture production industry for

the launch of the Custom Furniture

Suppliers Zone at the international

exhibition area of CIFM / interzum

guangzhou in 2018, organizers of

the show have announced the return

of an expanded feature showcase

next year to take up twice

as much space in view of strong

growth potential for this market.

Slated to be held in China's furniture

manufacturing powerhouse

Guangzhou from March 28 to 31,

2019, CIFM / interzum guangzhou is

the largest and most comprehensive

trade fair in the woodworking

machinery, furniture production and

interior decoration industry in Asia.

With continuously evolving consumer

demand, custom and non-standard

furniture has become the
---
32

hottest trend that has been widely

embraced by furniture makers.

While they meet the individual

needs of consumers, flexible automated

production in small volumes

is also made possible.

Data shows that China's custom

furniture industry continues to

grow, and accounts for about

20 per cent market share in the

furniture industry. Compared with

developed countries with over

60 per cent market share, there

is substantial room for growth in

China. Currently, the phenomenon

has extended from customizing

cabinets and wardrobes to the

entire house. This is a test of

information technology, process

technology and flexible production

capabilities of manufacturers,

which is also expected to bring

about great opportunities.

Located at Hall 14.1 (Area C) of

the Pazhou Complex, the Custom

Furniture Suppliers Zone is poised

to stir up fresh interest among

visitors.

CIFM / interzum guangzhou continues

to be sought after by industry

brands, with over 95 per cent of

the exhibition spaces at the international

halls booked out.

Among them, national pavilions

have always been an integral part

of the international exhibition

area, and is also one of the most

popular highlights at the event.

Every year, nearly 100 of the

industry's top raw material as well

as component suppliers for furniture

production are being showcased

bringing the latest product

information to the show.

In 2019, CIFM / interzum guangzhou

will continue to welcome national

pavilions from major global

furniture manufacturing hubs and

markets, such as Germany, Turkey,

US/Canada, South Korea and Italy.

In addition, industry associations

including the American Hardwood

Export Council (AHEC), Quebec
---
Oruc Reis Mh. Giyimkent Sitesi 13. Sk. No:30/A

Esenler / İstanbul / Turkey P.O. Box: 34235

www.akpoli.com

Tel : +90 212 438 62 12

Mail: info@akpoli.com
---
34

Wood Export Bureau, Canada

Wood and French Timber will also

be back once again to seek distributors,

agents and bulk buyers

in Asia through the event.

Besides that, a series of exciting

concurrent activities is also to be

anticipated, including business

matchmaking, exhibitor sharing

sessions and forums to enable enterprises

in the region to promote

their products and technologies to

global buyers.

The last edition occupied 150,000

square meters and spanned 17

exhibition halls. 1,459 companies

from 38 countries and regions

gathered at the event attracting

89,858 trade visitors from 132

countries and regions.

Online visitor pre-registration for

2019 has kick-started. Successfully

pre-registered visitors will enjoy

free and fast entry, free show catalogue,

PIAZZA drink voucher and

ticket to the Happy Hour networking

cocktail event.

To learn more about CIFM / interzum

guangzhou, visit www.

interzum-guangzhou.com.
---
38

"Product alternatives

are doubling every

year

Bed Covers will

show up with new

products in Sleep

Well Expo

Serving at high production

capacity and offering guarantee

for high quality, Bed Covers

keeps getting attention. We

talked to Duygu Gunaydin,

deputy general manager, about

their preparations for Sleep Well

Expo 2018.

Will you inform us about new

products of the year that your

company introduced to the

market?

We have been in an industry

that meets the basic need of

people for a good sleep that

renovates the body and mind

during sleep. We have prepared

new products, pillow covers for

the health and ergonomic needs

of the consumers, without compromising

their visual qualities

with new patterns. For white

groups we prepared functional

products for new needs.

How do you evaluate the

importance of the research and

development and innovation

efforts of the producers in the

mattress fabric industry?

Our activities in export markets

have been going on in 2018

as well. We are happy that we

have added new product groups

to our export portfolio and have

entered African and Arabian

countries and some other European

countries. By 2020 our

plans for targeted export activities

will be fully operational.

The volatility of the exchange rates

of foreign currency affected every

industry. How was the effect on

the mattress industry?
---
39

Yes, we all have been affected

negatively including the consumers.

We try to overcome it with

least losses and not to reflect

the problems to our customers.

We also have to manage the

problems in supply side up to

our operational plans of our

company.

With what products do you plan to

display in Sleep Well Expo? What

are your views and expectations in

general about the fair?

As it was before, we are going

to show up in the fair with our

pillowcases and white group of

home textiles. One of the main

reasons that we are participating

in the fair is that Sleep

Well acts as a matchmaker who

introduces us to the right group

of buyers and consumers in this

meeting. It is highly valuable to

meet with our peers, customers,

and end users of our products.

This year, we expect to extend

our product portfolio and solidify

our relations with our present

customers and to find new connections

and customers.

Duygu Gunaydin

Deputy General Manager
---
42

Gemba, a brand of

reliability in mattress

machinery

At a time when

ready materials

are preferred,

automation

gain momentum

at mattress

manufacturing

facilities. In

addition to mattress

manufacturing

machinery

Gemba also offers

consultancy services

to factories.

We have recently conducted an

interview with Kazim Sezerkan,

founding member of Gemba

Machinery and Consultancy Services,

which offers all needs of

factory including the equipment,

installation, operational needs

and even how many people

would be needed to operate the

complete system.

What products and services do you

offer?

As Gemba, we supply diverse

range of machinery for the mattress

industry. We also produce

quilting machinery for the sector.

Actually, automation has been

gaining importance in the mattress

manufacturing factories.

Gemba Machinery and Consultancy

provides automation and

consultancy services for the

mattress industry.

We define automation as "the

application of technology to

monitor and control the production

and delivery of products

and services." Automation

professionals are responsible

for solving complex problems in

many vital aspects of industry

and its processes. The work

of automation professionals

operating in mattress sector is

critically important to the preservation

of the health, safety, and

welfare of the public and to the

sustainability and enhancement
---
43

of our quality of life. We, as

Gemba, also work under these

principles.

Our manufacturing range includes:

Mattress Production

Machines, Sofa-Base Production

Machines, Home Textile Production

Machines, Foam Production

Machines, Panel Furniture Production

Machines, Spring Machines,

Panel Furniture Production

Machines, Spring Machines,

Mattress Packaging Machines.

Why do you participate in Sleep

Well Expo?

Sleep Well Expo has turned out

to be an ideal platform for the

mattress and the related sectors.

We think that Sleep Well

Expo would repeat its success

and dynamism once more.

Compared to the man made

mattresses, do you prefer massproduction

for the mattress

industry?

Without talented individuals

to design, build, improve, and

maintain these processes, these

technological advances would

never have occurred and future
---
44

innovations would be impossible.

Mass production involves a

series of advantages in terms of

productivity gains and competitiveness.

What is the average cost of

mattress manufacturing line?

The cost of a bed facility starts

at 150thousands-200 thousands

euros and increases according to

the capacity.

What are your goals for the coming

period? How will Sleep Well Expo

contribute to these goals?

Our future goals are to support

all the producers in terms of

productivity in Turkey and to

meet their machinery needs so

that they can produce efficiently.

Having a word in the foreign

markets is also an important

target for us.

Although we have a short history

of looking at domestic equipment

and manufacturability, we

are among the top 5 companies.

We want to carry this trend

abroad as well.

We think that Sleep Well Expo

would pave the way for new

business opportunities for Gemba.

Which countries and markets do

you export?

We export to the neighboring

countries Eastern European and

the EU countries. We aim at diversifying

our export markets in

terms of commodity and country

groups. Decades ago, the machine

was coming from Europe

to Turkey. Now, Turkey began to

export them.

What are the differences between

machine manufacturers in Turkey

and Europe?

When compared to the machinery manufactured in the European

countries, Turkey's manufacturing line has turned out to be more

competitive in terms of price and quality. We are able to compete in

the EU market more than ever.

Would you like to add anything?

Our first priority is to provide customer satisfaction and to produce

machinery that the customers need. We will not deviate from our

quality standards.
---
48

Vegan

Cupra

effect

on sleep

sets

The first vegan

fabric recorded in

the field of home

textiles from İpeker

As one of the oldest textile companies

dating back to the end of

the 1800's, Ipeker started in silkworm

business. The first step for

further development was taken

by establishing a silk processing

facility during the republican era

in 1920 and a weaving loom

in 1930. The printing facilities

became operational in the years

1940 to 1950. All were the

largest integrated silk factory in

Europe and in the Middle East

in those years. Depending on its

deep-rooted past, the company

keeps innovating and now

produces vegan Cupra fabrics for

the needs of home textile producers.

Emphasizing on human

health and environment, vegan

fabrics account for the largest

share in the production. We

talked with Ihsan Ipeker, general

manager of the company about
---
49

their vegan Cupra sleep sets

that they will exhibit them in

Sleep Well Expo.

How was your transfer into home

textile market?

We have a specific and technically

perfect fabric that we

produce in our factory. We do

not want to limit the use of this

fabric only in clothing industry.

After our research that our teams

have carried out in the market,

we saw a good window of opportunity

in home textile markets.

Our products are technically

over qualified for the needs of

the market. So, we decided to

offer them to mattress manufacturers.

Because, people spend

their lives most in sleep, so they

need the highest comfort. Vegan

Cupro fabrics is the most natural

product produced for the need of

human skin.
---
50

What products are there in your

sleep set?

İpeker Home is a fabric supplier.

We can also supply products

for contract-based projects. We

have special pillow covers in our

sleep set. 7 to 8 hours on the

average our skin touches fabrics

of pillows, that should be highly

qualified. Our product prevents

drying of skin and keeps it

moistened thereby reducing the

aging symptoms. It is anti-static

so prevent the fluffing of hair

in the morning. With its climatic

properties, it maintains the

temperature on the skin in all

weather and seasons.

What are the concepts of the

products that you will display in

Sleep Well Expo?

We will be exhibiting all sleep

products in every concept related

with sleep in Sleep Well

Expo, besides our special vegan

Cupra alezes.

We will have a separate space

for kids and babies. As you

know, the skins of babies are

prune to every hazards and

chemicals. We also produce special

technical fabrics for the delicate

needs of the babies and

the environment. We combined

them with sleep sets targeting

to newborns and kids.

Ihsan Ipeker,

General Manager

Do you have any message that you

want to deliver to the industry?

In line with the deep root of our

company we have been focused

on one line. Vegan products that

we offer are the result of our

sensitivity to the people and

environment. Though we are

new in home textile business,

we trust our innovative products

to be successful in this segment

as well.

Would you mention about the

production capacity and the

technology you utilize?

Our monthly production capacity

is 1.2 million meters. A large

part of it composed of biodegradable

products. Integrated

production facility starts with

yarn, to dyeing, printing and

finishing, covers all stages of the

process under one roof.
---
52

Innova

loves

natural

Innova Bedding

has a wide export

market in supplying

of natural materials

which offer tailormade

feeling with

their luxury, fresh

and comfortable

structure.

The trend of the mattress industry

has been naturalness for a long

time. In addition to be healthier

their being comfortable for a nice

sleep is the main factor of why

they are preferred. Besides the

natural raw materials such as

horsehair, sheep wool, silk and

cotton, there a lot of unknown

types. Meeting the supply needs

of companies Innova Bedding carries

quality factor further ahead.

We have recently interviewed

Onder Honi, general manager

of Innova Bedding about natural

mattress issue.

What are the most important

factors when buying a mattress?

How should be the choice of a

healthy mattress?

There are 3 main parameters

about good mattress. We cannot

speak a mattress that suits all

type of people. We are always

recommending our customers and

friends to try mattress properly

before buying one. People should

spend time to search right mattress

for their body type in terms

of softness. In terms of materials

that we can say a good mattress

is made with natural material such

us wool, cotton, cashmere, camel

hair, coco fibers, linens, flax, sisal,

bamboo, silk, abaca, alpaca

wool, hemp, horsehair, natural or

blended latex and similar natural

products. These natural materials

can be used on mattress ticking,

layers or main core. As Innova

bedding we have widest natural

product range. The other important

point for a good and healthy

mattress is support points according

to pressure points of different

people. There are several body
---
53

types as weight, height or different

pressure points of each body

shape. I suggest mattress buyer

to select mattress with zones.

The word organic is used a lot

for the mattresses. What is your

opinion about usage of organic

materials for mattresses?

Indeed all naturally grown materials

and animal hairs are organic

but when the industry process the

materials they are adding some

chemicals or non organic materials

to get higher yields or quick process

and these organic materials

are getting non organic even toxic

products. We, as Innova bedding

and Enkev, give very high care to

this point and from farm and fields

to production we are treating all

materials without harmful chemicals

and materials. Human makes
---
54

environment dirty to make more

economic value after that trying to

reach natural products by giving

extra efforts and money to reach

natural materials again. I strongly

suggest to mattress buyers to select

and try mattress with natural

ingredients. They will feel the difference

from first night especially

moisture management, temperature

balancing and comfortable

sleep experience.

What kinds of mattresses do you

have in your product portfolio? Can

you inform us about the features

of these mattresses and about the

materials used in production of

these mattresses?

As Innova Bedding we are not

manufacturing mattress buy we

are sourcing best natural materials

and innovative products to

mattress producer to help them

to make natural and organic

mattresses. These materials are

really not easy to collect from the

sources but most difficult part is

processing these materials at

our factories without deforming

their natural features. After these

natural finishing we are re-forming

natural fibers to allow mattress

producer for easy production. Each

natural material offers health support

to sleep quality of the users.

Feeling this natural effect to sleep

quality is really very good experience.

Each natural animal hair has

its own benefits for human health

but their common miracle is hollow

structure which makes thermal

insolation naturally. It means that

these wools are not for only for

cold season also in hot season

they are giving thermal insolation.

These wools are keeps you cool

in hot summer season. Industry

made many fibers with petrochemical

materials and trying to reach

some features of natural wools

and products.

What can you say about your

export activities?

Innova Bedding has very wide

range of export market activities.

We have sold natural products

to China, other far eastern countries

and Latin America. Of course

Europe is using natural products

over 200 years as we were using

Wool and cotton at our traditional

mattress. Today what we are

supplying is not different than

food industry. First human made

some industrial food and than

started to search and pay more

for healthy organic and natural

foods today. We can speak same

story for the mattress, we made

some mattress with petrochemical

ingredients mattress but after that

we have started to search naturals

ones. With these explanations our

natural products are generally for

the developed countries or only

for people that have philosophy

and economic power of buying

natural mattresses. We are focusing

generally developed countries

and only high-end market at other

countries.
---
55

Can you inform us about your

production capacity and about

your plants?

Innova Bedding is the official

Distributor Enkev BV., which is

headquartered in Volendam,

Holland. Enkev is the biggest

natural wadding and felt supplier

with widest product range. We

are not trying to produce very big

quantities because these kind of

natural products are limited and

unfortunately only few percent of

the world population can get real

benefit of natural sleep material.

What are the concepts of the

products that you will display in

Sleep Well Expo?

We have many natural fibers

wool, cotton, cashmere, camel

hair, coco fibers, linens, flax sisal,

bamboo, silk, abaca, alpaca wool,

hemp, horsehair, natural or blended

latex for years but this year

we are going to present our new

product range which is very high

tech product and innovation for

the industry. There, we have new

products such as HairLok, CocoLok

and HairCoLok. These products are

engineered at our main factory in

Volendam to give natural features

of Horse Hair, Coco Fiber and Latex.

HairLok is blend of horsehair

and latex, CocoLok is blend of Coir

and Latex and Haircolok is blend

of horsehair, Coir and Latex. This

new products are making easy to

use these materials at factories

but also giving comfort to mattress

made with.

Would you like to add anything

you would like to highlight about

your products, your company or

about the sector?

We would like to thank you to

Sleep Tech Magazine and Sleep

Well Expo organizers for allowing

us to present our products to the

mattress industry that follow the

magazine and visit Sleep Well

Expo. I strongly believe that the

Turkish mattress industry will grow

every year and we will be more

important player at the industry

in next 5 years time. Finally I am

suggesting mattress industry people

to try natural mattress at their

home, after that they will make

mattresses with natural materials

for their customers. I wish you

good luck to all mattress industry

people at Sleep Well Expo.
---
56

"The heart of the bed,

automation"

Allbemac will be at Sleep Well Expo with its patent pending machine

types and bed covers with original models

Updated its mattress production

machines by responding to customers'

demands and the developments

in the market, Allbemac

will exhibit machine models

with renewable and sustainable

automations at SleepWell Expo

for its visitors. We visited Selcuk

Varli, the proprietor of Allbemac

and talked about the new orientations

of the sector.

What kind of machines do you

manufacture?

In general, we produce machines

for the mattress industry. In

addition, we also make special

project machines. For example,

we recently made a CNC foam

drilling machine.

How do the mattress makers want

changes on the machines and how

do you assess their assesments?

Preferences of companies in mattress

production lines can vary.

Some firms have only an automatic

edge closure and manual

packaging machinery while

others have complete processing

plant with daily production of

400 units. Full automation starts

with hotmelt process and ends

with automatic edge closing

and involves quality control and

packing at the end.

Recently rollpack machinery and

fullpacks are becoming trendly in

the industry. We make automatic

systems for pressing and

packing mattresses and headsteads

up to three centimeters

for rollpacking. Now mostly

3 stations Fullpak machinery

are demanded. Several

great companies in the US

use rollpack machinery in the

factories. Europeans as well

follow the suit. that's how

he moves. Rollpak Machines

provide a great advantage in

transportation to export mar-
---
kets, and increasing productivity

in labor and in production.

What precautions are you taking

or making improvements in the

automation section? Do you seek

outside support?

No matter how good we are as

machine producers, long-term

use and experiences of the mattress

producers are important.

Allbemac assumes every stage

of the business from project

phase up to the automation.

We employ four people In our

automation department, two

of them are engineers. We do

everything is completely in our

facility.

So good the heart of the automation

machine is the better

the machine works. Automation

should also be renewable. When

we update our existing machines

we call to our buyers of former

type of machines for upgrading

their software remotely.

In Turkey, the machine sector

is developing remakably. The

biggest problem is to employ

experienced and

skilled

personnel.

There

are

bigger

companies

then we are

but we have an

advantage over

them while de-

veloping

special projects for the

specific needs of our customers.

When a company describes the

characteristics he wants from us

in the machine, we project and

manufacture it immediately. It is

important in our industry of being

able to renew and upgrade

the machinery you produce. I can

say that Allbemac is one of the

most powerful companies in the

country.

Can you provide information about

your patented products?

We have machines waiting for

patent applications, this makes

us proud. You will see some of

them at Sleep Well Fair.

57

We

have

been

participating in Sleep Well Expo

way back from the beginning.

I consider this as an important

event for the mattress industry

in Turkey. Our expectation from

the fair is that it should be better

than the earlier event. The

fair will much more successful in

2018, when we look at the participant

profile which covers important

players of the industry.

Also the intensive distribution of

Sleep Well Magazine to a wide

range of international audience,

makes us satisfied. We keep our

expectations high for the future.

Which markets do you sell your

products? What kind of work do

you have at the aftersale services?
---
58

Allbemac exports 95 % of its

production. Our products are

available in many countries in

Asia, Europe, the Middle East

and Africa. Technical services

and support are our biggest

advantage for our customers.

Faults and flaws become minimal

when you project your machinery

effectively at the beginning. So,

the need for technical support

and services are limited for our

buyers.

We have been producing pillow

covers for thee years. It requires

serious quality control and production.

We've had a lot of experience

in three years. The last

6 months of 2017 and the first

6 months of the year 2018 was

an expansion period. We made

several new pillows during this

period. We will be in SleepWell

Expo with original pillow cases

you cannot see them in any part

of the world. When designing

the product we produce it by

thinking about how it will be

in the market in terms of both

design and price points.

What kind of R & D work do you

do in the pillow and mattress

sheaths?

There are significant differences

between them. Here, the main

criteria is that the sheath must

be in harmony with the mattress.

You need to think about what

kind of layers you can use. You

have to think of each point, first

you make prototypes subsequently

we decide if we put it in

the catalogue.

What are the elements that affect

the buyer preference of the buyers

for mattress covers?

In mattress covers washability

increases the attractiveness

of the product dramatically. It

also accelerate the production

process dramatically. Generally,

companies who make sponge

beds prefer zippered covers. We

are producing quality products

and therefore our customers

comes from segments having

high purchasing power.
---
EXCELLENT INNOVATION ON MATTRESS MACHINES

Organize Sanayi Bölgesi 23. Cadde No:45 38070 Kayseri /

Türkiye

+90 352 502 07 56

info@allbemac.com.tr

+90 352 502 07 55

A

www.allbemac.com.tr
---
60

Kirayteks explores

new export

markets
---
61

Kirayoglu: "I think that Sleep Well Expo,

to be held concurrently with Home&Tex

fair, will be more efficient and produce

synergy for the industry"

Fabrics used in the mattress

industry gains importance since it

touches the skin directly. Optional

fabrics that have certain specifications

are preferred the most. We

talked with Onur Kirayoglu, member

of the board of Kirayteks, one

of the producers of quality fabrics,

about the recent trends.

What are the innovations in

mattress fabrics?

There are health-oriented fabrics.

The industry emphasizes on

health, comfort and aesthetics.

Global warming is a fact of live

and the temperature in bedrooms

is rising. Maintaining the natural

temperature of the body has

become more important. People

want to feel comfort in their

beds, and that demands new

functions from the fabrics used on

the surface of the mattress. We

have focused on certain finishing

processes and on certain yarns.

We empower our R&D efforts

to develop new ways for more

comfort and for optimum body

temperature during sleep. Some

of these products were introduced

in Evteks fair. We wait Sleep Well

Expo for our major introductions.

Sleep Well Expo has become a

focused fair for our industry, both

in terms of visitors and participating

companies.

Volatility in foreign exchange

rates was a problem. What are the

effects of it on textile industry?

Every sector naturally has got a

share in foreign currency issue.

You cannot maintain your prices
---
62

and change of prices harms the

trust of customers. We cannot

make deals for annual contracts.

75 percent of home textiles

production of Turkey is sold to

European markets on Euro prices,

while we spend in dollars for our

inputs. So, the parities are problems.

It causes serious problems

in our cost accounting and pricing

policies.

Are there any new markets for

exports?

There seems to be a slight action

in the Pacific region. Once they

have been in crises for years, but

they began to get out of it. Their

local currencies are getting value.

We begin to have deals with

customers in Malaysia, Thailand,

Singapore and Indonesia. There

seems to be a potential market in

these areas.

Western markets are more settled.

You may explore more along to

eastern markets. People are new

to you, and you are new to the

people. However, in these markets

producers in their proximity

may be a threat, as is the case of

Chinese, who sells on lower prices,

is an opportunity for our products.

Because, people have a perception

that the western products are

more attractive and of higher quality.

It's hard to establish a settled

market from scratch in Europe.

Onur Kirayoglu

Member of the board of Kirayteks
---
63

In Latin America, the economic

variables are running well and

many firms from Turkey are active

in this region and in the fairs with

their attractive displays. Though

it is rather far from Turkey, Latin

American market bears several

opportunities for our industry.

What does Sleep Well Expo mean

for Kirayteks?

Since we are the first firms that

accept the idea of this fair we

have always been on the positive

side. There are several problems

in fair operations. When the fair

is so great, you may have larger

audiences for your displays

but specialty fairs may be more

effective and more profitable.

Having powerful names among

the participants is important in

fair business. I saw that, a good

and powerful portfolio of companies

was realized for this fair. We

think that it will be more effective

year after year. We see a decline

in the participating companies in

other fairs that we participate in

with our mattress fabrics. This is

a sector specific fair. Sleep Well

Expo is a good address in this

regard and it fairs well having a

solid base of participants. I think

that Sleep Well Expo, to be held

concurrently with Home & Tex fair,

will be more efficient and produce

synergy for the industry.
---
64

A high-flying brand,

Nerteks continues to grow

The Turkish thread

manufacturer

Nerteks, known

for manufacturing

quality products

is ready to Sleep

Well Expo 2018 for

showcasing its highend

products.

Nerteks provides an extensive

variety of threads used for all

sewing operations in mattress,

bed and furniture manufacturing.

They produce their goods in a

wide range of thread types and

colors to offer solutions to all

production stages such as quilting

(top and bottom threads),

tape edge, lock-stitch, furniture

upholstery and decorative sewing.

We contacted an interview

with Muhammet Saim Erdogan

of Nerteks pre-Sleep Well Expo

2018. Full text of the exclusive

interview follows:

Can you introduce Nerteks for our

readers?

In 1969, Nerteks was established

as a family company

to provide industrial yarns,

threads and textile sub-products.

With 18 years experience

in production, we develop new

products and produce high

quality threads in our manufacturing

plant which has 12,000

m² closed production area. Our

environmental friendly factory is

located 40 miles from Istanbul

and equipped with the latest

technology.
---
65

Would you mention about products

you offer to the market?

Our products are specifically

enhanced in close collaboration

with mattress, bedding and furniture

producers to deliver maximum

productivity and the best

quality of seams in the finished

product. Our main products are:

•Continuous Filament Polyester

Sewing Thread (HOT)

•Textured Polyester Sewing

Thread (NERTEX)

•Cocoon Bobbins (NERKOZA)

•Polyester Corespun with Polyester

Wrap (POLY MAX)

•Staple Spun Polyester Sewing

Thread (MASTER, SPRING)

•Polyester Corespun with Cotton

Wrap (JOKER)

•Mercerized Cotton Sewing

Thread (ON)

•Cotton Sewing Thread (MISRA)

•Stretch Sewing Thread (NER-

FLEX)

•Monofilament Nylon Thread

(NERLON)

•Technic Threads (Antimicrobial,

Flame Retarding, Metaaramid

and Paraaramid)

Do you have any new products you

launched recently?

We are proud to introduce our

latest innovation: Antimicrobial

threads to help to protect

against bed bugs. Nerteks

has developed a new finishing

process for the mattress

and upholstery industry with a

special treatment to keep the

mattress and furniture clean,

fresh and odor free. There are

several different species of

dust mites and one of the most

common one lives in places in

our houses and hotels where

it is warm and muggy, such as

mattresses, pillows, blankets,

sheets and upholstered furniture.

Approximately 25% of people

suffer from allergic to allergens

produced by dust mites. These

dust mites collect, live and breed

where food is readily available.

They feeds on shed human and

skin cells which are collected by

fiber-filled surfaces. Seams and
---
66

tape edges in mattress and other

furniture help them to leave

their eggs and survive. Our special

finishing is taking away the

food source from dust mites and

micro-organs and provide higher

degree of protection against

bed bugs, since the environment

and food of them is taken away.

Threads treated with this special

finishing promise freshness,

stain production and an extended

product life. And also this

new finishing is applicable for

any thread type, size and color.

We recommend our new threads

for use in mattress and upholstered

furniture such as sofas,

divans, chairs, armchairs in

domestic households, hotels,

hospitals and schools. Anti-microbial

threads can offer added

value to many different types of

goods.

Which products or solutions will

offer your visitors?

Nerteks provides an extensive

variety of threads used during

all sewing operations in mattress,

bed and furniture manufacturing.

We produce our goods

in a wide range of thread types

and colors to create solutions

for your all production stages

such as quilting (top and bottom

threads), tape edge, lock-stitch,

furniture upholstery and decorative

sewing. Our products are

specifically enhanced in close

collaboration with mattress,

bedding and furniture producers

to deliver maximum productivity

and the best quality of seams in

the finished product.

What does Sleep Well Expo mean

to you?

Sleep Well Expo makes our

industry and our country more

powerful. Based o its accomplished

success Sleep Well

Expo promises a lucrative show

experience. As Nerteks, we will

display our products in Sleep

Well Expo 2018. In Sleep Well

Expo 2018, we will present the

industry trends of the year 2019

to the visitors for the first time.
---
68

Tailor made

automation

With its integrated

industry 4.0 system

in the factory

Elektroteks informs

customers about

the weak points,

productivity

and statistics in

production.

Increasing its market share

through investments on innovation

and tailor made automation

solutions, Elektroteks exports to

more than 110 countries. Sales

manager of the company, Serkan

Guler, informs about the advantages

of their machinery.

What kinds of machines do you

manufacture?

We manufacture mattress production

facilities from A to Z and

complete factories on turnkey

basis. Besides, special machinery

are manufactured for the

needs of automotive, furniture

and home textile firms.

What kind of adaptations do

mattress manufacturers demand

on the machinery they order?

We visit the facilities of mattress

manufacturers and listen about

their aims, learn about their

present facilities and machinery
---
69

and then offer them turnkey factories

that require minimal labor

and have higher productivity.

With its integrated industry 4.0

system in the factory we inform

customers about the weak

points, productivity and statistics

in production.

What kind of changes do you make

and take measures for developing

better automations? Do you get

support from other firms?

Elektroteks, having 30 years of

experience, manages all works

of automation in our facility,

however, it provides automation

support to companies in other

industries. All other processes for

machine manufacturing are carried

out inhouse, while making

some tailor made productions.

Will you inform us about your

patented products?

As it was mentioned in our

slogan (LIVING INNOVATION),

by investing on innovations, our

company has been developing

and applying for model certificates

and patents.
---
70

experienced service technicians

and engineers, we always give

fastest response and don't affect

from any time differences.

Where do you ship your products?

How do your after sale services

work?

We export our machines more

than 100 countries in six continents

from Australia to America

and China. We produce special

solutions for special demands

of customers in different region

of the world and answer all

demands of mattress manufacturers.

We always give same

quality and support to both

larger or smaller companies. We

always make huge investments

on after sales service to give

best service to our customers

in all over the world. With 42

Do you have any additional

comments?

Mattress manufacturing industry

in Turkey has reached a powerful

position in the world. As

a machine supplier to these

companies, we keep our efforts

to realize our leading mission

with great enthusiasm. We hope

that Turkey will be better in this

industry as well, with the efforts

of all of us.
---
71
---
72

Aydın Tekstil

dazzles with its

new product,

Sleepmaker

"We offer products

to our partners

which lead the

sector and increase

the sleep quality

as well as new

design and stylish

products in 2018

and in the years to

come"
---
73
---
74

Producing mattress-ticking fabric

which increases the quality of

sleep with intensive R&D activities,

Aydın Tekstil continues

to dazzle through its every new

work. Exporting to more than 90

countries, the company does not

slow down the volume of exports

in existing markets and also

works to open up new markets.

Declaring that the exchange

rate fluctuation affected all the

producers in our country, but the

exchange rate turbulence would

be more stable in the following

months, Gülfidan Yaşar, Coordinator

of Aydın Tekstil, said,

"By giving greater importance

to export, the producers would

overcome adversity and be

stronger."

Can you talk about your new

fabrics offered this year to the

industry and about the mostly used

fabrics in the mattress industry?

We offer products to our partners

who lead the sector and

increase the sleep quality as

well as new design and stylish

products in 2018 and in the

following years. Our Sleepmaker,

which is the most conductive

ticking fabric of the world, was

offered to our customers at the

beginning of 2018, and we

have been receiving increasing

positive feedbacks. We continue

to offer most commonly used PES

and PES / PP woven and knitted

fabrics, mattress ticking with

new quality, design and color

to our customers with the price

range they request.

How do you evaluate the

importance attached to innovation

and R&D studies in the mattress

fabric industry? What would you

say about the sufficiency of R&D

centers?
---
75

Gülfidan Yasar,

Brand Coordinator of Aydın Tekstil.

Our sleep quality with the

intensive tempo of our daily

life and the time spent in bed

is falling. Aydin mattress ticking

improves our sleep quality and

quality of life with new products

through the studies carried

out by the R & D department.

Demand and expectations of our

business partners for innovative

products are increasing in order

to compete with others and to

offer special products to each

customers. In addition to these

expectations, we are fulfilling

the requirements of demand and

dynamic branding in the market.

Could you mention your recent

export activities?

As Aydın Tekstil, we export to

more than 90 countries and we

continue to strive our operations

with marketing activities for new

markets and enhance relations

with existing customers.

The volatility in currency rates

influenced all industries. How

was its reflection on the mattress

industry?

The recent exchange rate fluctuations

have affected all producers

in our country and we believe

that this exchange rate turbulence

will become more stable in the

following months. By giving

greater weight to export, more

foreign exchange inflows will be

provided to our country and we

think that firms will get stronger

and stronger.

Which products will you exhibit at

Sleep Well Expo 2018? What would

you say about the show and about

your expectations?

We will offer our innovative

products which add lots of value

to sleep quality with new designs,

colors and qualities in this

fair we expect economic-middle

and top quality visitors from more

than one point of the world.
---
76

Aközlü successfully

represents Yuxing with ideal

quilting machines

As the Turkey representative of Yuxing, Aközlü

Machinery Company offers installation,

training and after sale services for customers in

EU, Turkey and neighboring countries.

Aközlü Machines Yuxing was

founded in 2002 and specialized

in manufacturing computerized

quilting machines including scientific

research, process manufacture,

sales management and after

sale services all over the world.

Successful implement of the

company into ISO9001:2000 international

Quality Management

System as honored as "Private
---
77

Scientific and Technological

Enterprises" by Dongguan City

Science & Technology office. The

factory's cover area is 66,666sqm

(100acres) employing 200 workers

and 50 technical engineers.

Its good capability on product

development and improvement

has owned a lot of patents in the

industry.

YUXING LOGOAkozlu Company

is the Yuxing business partner

in Turkey to provide installation,

training and after sale service

for EU, Turkey and neighboring

countries.

"We always insist on our motto

'Quality first, customer first, credit

management, credit-oriented'

purposes, innovative, self-development

in the competition, at

the service of self-perfection with

modern business philosophy,

excellent products, quality service

to serve our valuable customers,"

says the official of Aközlü.

Turan Aközlü

General Manager
---
78

"Foam

mattress will

be more on

the agenda in

future years"

Form Foam, an

essential brand of

the mattress industry

with its innovative

products range,

will introduce latest

products of the

industry to its visitors

in Sleep Well Expo

2018.

Foam, which is produced with

different features and densities

by every manufacturer, is one

of the most important parts of

the mattress industry. It is of

maximum importance that to

be furnished information about

foam that influences the mattress

comfort directly and preference

of it according to body

conditions. We asked to Arif

Emre Ölmeztoprak, Sales Marketing

Manager of Form Foam,

which is one of the biggest foam

manufacturers from Turkey about

the most preferred foam in the

mattress industry and his recommendation

for choosing the best

foam.

What density products do you

produce?

Form Foam has been rendering

services not only in the mattress

industry but also in different

industries such as automotive

and lamination. Accordingly, we

have been offering density and

foam producing in a wide range.

Typically, we have been producing

actively between the range

of 14DN-70DN.

Do you procure your raw material

needs by importing?

The raw material of foam is petrochemical

materials. Therefore,

an import-oriented raw material

procurement is the point. We
---
79

continue the raw material purchases

actively from our domestic

and foreign suppliers.

Could you mention the most

preferred once of your products in

the mattress industry?

Form Foam has been exporting

to numerous countries. So, we

are acting as the supplier of

manufacturers from different

cultures. Thus, we face many

different ranges. If we consider

Turkey in particular, our medium

foam group, which is called as

24ND Soft, is demanded. Also,

24DN Soft Foam, 50DN-60DN

Visco and forming cooling effect

Visco Gel & Visco Liquid Gel are

demanded strongly, too.

Do popular visco and latex foams

comply with all body shapes and

lying positions? Are there any

problems can be faced according to

body shapes and lying positions?

We, as Form Foam, have been

producing visco foams at different

densities and kinds notably

as open cell, close cell, visco

gel – offering cooling effect and

visco liquid gel. The basic benefit

of visco usage is its ability

to make different pressures on

different weight points of the

body. With this advantage it

generates a high comfort and an

orthopedic influence. The negative

point of visco foams is that

that they generate more heat

compared to other foams. But to

overcome this problem our visco

gel and visco liquid products can
---
80

form a cooler surface compared

to standard foams. These two

products welcome great demand

from both domestic and foreign

markets because of this feature.

As is known, the mattresses

should be chosen according to

persons. If right mattresses are

chosen, the visco foam will certainly

offer serious advantages.

Do you recommend the foam

mattresses?

Foam mattress will be topical a

lot more in future years. Foam

mattresses reached to a serious

usage rate in European and

American markets now. Doing

soft, hard and medium classification

is very easy using together

with different foams. Also, composing

different concepts is possible

with innovative foams, too.

The products that are defined as
---
81

roll pack vacuumed pockets, are

more suitable product for e-commerce.

All these components

give us a sharp and distinct

clue; foam mattresses will take

more places in our houses in the

future.

Which product range will you

participate in Sleep Well Expo

with? What are your general

comments about Sleep Well Expo?

We will show our foam group,

visco pillows and foam mattresses

once again in Sleep Well

Expo 2018. Our biggest wish is

that the fair should contribute

to the development of exhibitors,

visitors and the industry

as a whole mainly to the export

operations. We, as Form Foam,

are in a position of supplying

products to different industries

in 63 countries notably to the

mattress and furniture manufacturers.

It makes us happier to be

a structure dedicated only to the

mattress industry. It is a clear

fact that the mattress industry

is a sector with its own targets

and streamline and it is not fair

to consider it as a part of the

furniture industry. Sleep Well

Expo filled an important gap at

this manner to identify the mattress

industry. Not only domestic

visitors, the number of foreign

visitors has also increased considerably.

I hope these positive

developments continue.
---
82

"Our country needs

high value added

production in all fields"

Compatible with industrial

4.0, thrifty and confident

filling machines with

Robatech…

One of the most preferred brands

globally in the gluing technologies

systems, Robatech has been rendering

services in the mattress industry

with Turkey organization for

18 years. Hakan Tanrıöven, Sales

Manager of Robatech, explained

about the latest agglutination

technologies.

What kinds of facilities

do consumers want in the

agglutination machines? What

is the high technology in the

industry?

All users pay attention first to

whether the machines are used

confidently or not. Consumers expect

latest technological, high performance,

good technical support

and with low-cost maintenance

machines. Having these features

is difficult for a supplier firm, but

as Robatech, we strive to respond

to customer expectations ideally.

Robatech produces its all machines

compatible with industry

4.0 now. Meanwhile, the firm

offers automatic glue filling system

to usage of its consumers for

new application heads and safety

glue filling and to reduce the glue

waste.

What are the expectations of

mattress manufacturers from the

glues they use?

The biggest expectation of the

users in the industry is to supply

the glue with the best available

rate. We, as Robatech, don't

operate at any point of glue in

the sale circles in the any industry.

Our business is to provide the

machine and equipment to this industry.

Besides price advantage,

expectations of consumers from

suppliers are affordable prices,

quality, timely delivery, technical

support and consultancy.

Can the materials used in adhesive

production be met from domestic

market? Do you have any

suggestions to your customers

about choosing adhesives?

We are dependent on imports

about the supply of raw materials

used in adhesive production.

There are many local companies
---
83

Hakan Tanrıöven, Sales Manager of Robatech

which manufacture hotmelt and

solvent adhesives in Turkey.

Besides, importing companies are

also very active in the market. All

companies are in an effort to offer

the most advantageous services.

We, as Robotech, never direct

our customers on usage of adhesive

in their machines. The main

features of adhesives are clear

and our machines are produced to

serve this end. We expect that the

customers should prefer the best

supplier for them. There are some

companies which tend the customers

to certain adhesive suppliers

or to certain machinery brands.

We observe them with regret and

we warn our customers against

this situation.

What is the situation of Turkey in

the mattress adhesive sector?

As a person experiencing the

sector for many years I can say

that our country needs high added

value in this industry as is the

case for all industries. Many domestic

companies have recorded

great successes in recent times in

production and sales especially

in the adhesives industry. Many

international importing companies,

on the other hand, made

company acquisitions in order

to increase their market shares

in recent years. There are many

multi-national companies realizing

production on the one hand, there

are some local ones which are

close to finish their factory investments

on the other. This shows us

that the mattress industry is one

of the most important markets for

the adhesive suppliers. For this

reason the companies are trying

to do their best to be more active

in this market.

We, as Robotech family, are striding

to help the mattress manufacturers

to make their production

faster at lower costs.

Anything you would like to add?

I wish Sleep Well Expo yields very

good and lucrative results for all

exhibitors and visitors.
---
84

Fabrics having

stories

"Comfytex keeps

telling different

stories with

special fabrics in

the Unique series

developed by its

R&D team."

Founded in Kayseri Organized

Industrial Zone in 2013 Comfytex

now exports to more than 60

countries and owns the 491th

R&D center in Turkey in the

mattress and mattress fabric

industry. Having seven series of

products namely, Unique, Natural,

Comfort, Hygiene, Luxury and

Safety, the company produces

special products that add extra

values to mattresses.

Deputy general manager Selim

Sahin says that his company has

close relations with some leading

universities for their research

center that focuses on two special

products. One of them is the

product named Avicennta that

aims to reduce the pain in joints

and the other is the special

fabric that prevents the development

of cellulite, which has test

reports for its specifications.

Sahin says that each country has

its original cultures and economies,

so they consider these

while developing new products.

Sahin explains that soft colors

and design-oriented fabrics
---
85

are preferred in mattresses in

Turkey, and says. "Customers

emphasize on the comfort and

health issues in sleep. Springs

and foam are important but if

the fabric that covers them does

not reflect the same quality, it is

useless. Fabrics of the mattress

are the criteria that signal the

quality and producers should

also be careful on these factors."

Sleep Well Expo is becoming more

dynamic and more successful

At its fifth anniversary Sleep

Well Expo is becoming more mature

and successful says Sahin

and continues, "I feel real proud

of Sleep Well Expo because it is

the only fair focusing on mattresses

and mattress industry

that opens up to world markets.

I believe that it will improve its

effectiveness in coming years.

We have been introducing this

Sleep Well Expo to all our customers

throughout the world and

invite them to visit, like most of

other companies in our industry.

We desire that more companies

and all firms that produce components

for the mattress industry

should participate in this

fair. Actually, we do not regard

other companies in the industry
---
86

as our competitors. If we want

to lead this mattress industry in

the world, we should behave as

collaborators."

"We export to 60 countries in

Europe, including China and

America, where we want to be

more active. We both want to

improve our positions in present

markets and open up to new

countries. This is our aim for our

sales and marketing strategies

in 2019," he concluded.

Ayfer Erdogan, sales and

marketing director, Comfytex

80% of our production go to

export markets and the remaining

20 % are sold in the country.

We produce one million meters

of fabrics monthly. As Kucukler

Tekstil we prefer to work with

larger firms as boutique supplier.

We are the only company in

Turkey having an R&D center for

mattress fabrics. We have fabrics

having specific lines and benefits.

We have pain relieving fabrics

as well as anti-cellulite fabrics.

Unfortunately, buyers hardly
---
87

choose the right mattresses for

their needs. They are unaware

of the importance of fabrics in

the quality of mattress. They

have to be informed. Sleep Well

has done a great service in this

way, namely, proved the fact

that mattress is a separate item

out of other furniture. Mattress

is mattress by itself and it is not

an item of furniture. There must

be more visitors from all other

industries. I have a successful

team for research and development;

they bring us prestigious

firms us buyers.

Aysegul Erdem, Director of R&D

center

We registered as the 491th R&D

center in Turkey in last May. We

had prepared and sent the first

term report. It was a positive

year. Our team is composed of

25 people, 21 of the researchers,

4 are technical personal

and 8 of them are textile engineers,

and one is industrial

engineer. We work in harmony

with marketing team because

the products we produce should

have a specific story and should

welcome specific demands for

our products. We have a young

and dynamic team.
---
88

Exportoriented

automation

solutions

By reducing the

ratio of labor

in production

and increasing

the production

capacity Lineer

Machine offers new

automation systems,

ready to exhibit in

Sleep Well Expo

30 percent of the machinery

produced by Lineer Machinery

are sold to mattress manufacturers.

Having a settled brand

name in domestic market, the

company serves to a wide range

of industries and now aims to

open up to export markets. We

visited Saffet Gungor of Lineer

Machinery in their factory in Kayseri

and talked about their new

initiatives.

How do you define your business as

Lineer Machinery?

We made machinery for the

needs of several industries

including the mattress industry

which accounts 30 percent of our

production volume. Our aim is

to reduce the share of labor in

manufacturing and thus increase

their production capacities. We

design production systems for

the companies who produce on

automatic machinery.

What type of machines do you

make for the mattress industry?

We make machinery for their

production lines and for their

packaging needs, namely, gluing

bridges, presses, rounding

conveyors, side ticking, quality

control conveyors and packaging

machineries. We install production

machinery upon orders

of the firms that are able to
---
89

produce 150 to 3000 units of

mattresses daily.

What are the differences between

Turkey and Europe in terms of

mechanical and automation fields?

We sell our machinery which

are almost of the same quality

as the ones sold in Europe at

about half of their price tags.

Machines made in Turkey are

at comparable quality as the

machinery produced at European

standards. Thanks to the support

and incentives offered by the

state, domestic producers have

begun to prefer made in Turkey

machinery. In this way, both we

save foreign currency and earn

money.

Automation systems are manufactured

in our facility. In case

of any problem or breakdown

of the system, we can connect

the system we installed online

and find and solve the problem

remotely. Our team have been

highly experienced in both

installment and maintenance

operations.

What is the average cost of a

production line for your customer?

Some of our firms have paid up

to TL 2 million for their investments.

The figures may change

depending on the total production

capacity. We make it upon

order of our customers.

What are the objectives of Lineer

Machinery?

Our major aim is to end the imports

from Europe, to serve our

own citizens with domestically

made machinery and to develop

new technologies.

We, recently, began to work on

the opportunities for exports.

We develop plans to enter fairs

held in abroad to start export

activities. We will be in Dubai

and Intarzum Germany fairs,

there we will represent Turkish

machinery.

What are your comments on the

fifth edition of Sleep Well Expo?

All of the stars in our industry

will be in this year's Sleep Well

Expo. I believe that it will be

highly productive, because the

visitor profile seems so qualified.

The visitor profile has positive

effects on the performance

of fair events. I wish that it will

be a profitable fair both for our

country and for the stakeholders

in mattress industry.
---
90

Felt, an alternative to

rising foam prices,

from Politeks

"As a heaven of

textiles Turkey has

a great potential

for waste of textile

factories. So, we

are in a valueadded

industry by

recycling the textile

wastes."

Produced by Felteks, Politeks is

an alternative material for mattress

producers in case of rising

foam prices. Mustafa Çetinbulut,

chairman of Felteks, says that

the felt they produced maintains

the quality of mattresses both in

mid and long terms, have met a

serious demand arose from producers

recently. We conducted

an interview with Cetinbulut to

get details for our readers:

How do you serve mattress

manufacturers by providing them

felt you produce?

We have been making felt for

about ten years. We export

them to more than 35 countries.

We are able to produce felts at

various density from 500 grams

to 4000 grams and various sizes

and hardness.

What is the specialty of Politeks

products?

We introduced it this year to the

market as an economic alternative

for mattress manufacturers

who are squeezed by rising

costs of foams. The product

began to sell hot in the most

recent months. We also export

this product.

The product can be used instead

of foam plates as of 2 cm. up to

9 cm. thickness in mattress and

furniture production. We keep

watching the rising prices of
---
91

foams as we also produce foams

for our customers. Our product

has about 25 to 30 % cost advantage

over foams depending

on the density of the material.

Our product is exported to markets

in North Africa, Middle East,

and eastern Europe. Our foam

exports is also rising year after

year. We seek new alternative

markets.

What is the importance of felt in

mattresses?

Felts act as separators in mattresses.

It protects foam and

fibers from the effects of metal

springs. So, I can say that, it an

important material for the life

of the mattresses. Besides its

hardness or softness are also

important for the quality of

mattress. We have been in the

business for ten years and we

could hardly say that felt has got

its respect in the market in terms

of its price. Consumers look for

the characteristics of fabrics
---
92

and for comfort while choosing

mattresses. They do not have

enough information about the

importance of felt for the mattress.

Actually, felt is the most

important factor that determines

the quality of mattresses both in

mid and long-term evaluations.

Does Turkey, having the largest

share in the textiles industry, have

got the same understanding for

felt?

There are a couple of main

producers in several parts of the

world. In Turkey, we have a good

advantage of finding enough

amount of textile wastes since

our country is one of the heavens

for textiles in the world. By

recycling these wastes, we add

value to the national economy.

By pressing them we can export

them to other countries. Despite

these, we may encounter some

problems by getting enough raw

materials for our businesses.

What do you want to say about

Sleep Well Expo?

The event has been running at

certain standards. Depending

on the changing conditions in

both Turkey and in the world,

markets are rising or falling. On

the average, the fair has got a

certain amount of visitors after

five years of experience. We

hope it will be better more than

ever this year.
---
94

Interzum 2019 pushes

the button with higher

forecast

Pollmann: "The results of the first early booking phase make us

very optimistic that we will achieve our goal of five percent more

exhibitors in total. For the time being, we can register growth

from all over the world, especially from Turkey, Spain and

India,"
---
95

In mid-June, the interzum team

presented its plans for the next

event to the advisory board.

Matthias Pollmann, Vice President

Trade Fair Management,

reported excellent prospects for

interzum 2019. Koelnmesse expects

more than 1,800 exhibitors

from all over the world to attend

the world's largest industry

event for the supplier industry.

"The results of the first early

booking phase make us very

optimistic that we will achieve

our goal of five percent more

exhibitors in total. For the time

being, we can register growth

from all over the world, especially

from Turkey, Spain and India,"

says Matthias Pollmann, Vice

President Trade Fair Management.

"This will make interzum

in the coming year not only

the largest, but also the most

international industry event and

the place-to-be for the furniture

supply industry. It is estimated

that the share of foreign exhibitors

will be 80 percent", Matthias

Pollmann continues.

Alongside the industry's big

names, plenty of smaller, highly

innovative companies will also

be participating again at its

2019 edition. Currently, around

13% of the companies registered

so far will be attending

Matthias Pollmann,

Vice President Trade Fair Management

interzum for the first time. Exhibitors

will once again use interzum

to introduce their innovations to

an international audience and

will be showcasing an exciting

and extraordinarily wide-ranging

mix of new technologies, materials

and surfaces at the fair. As

drivers of innovation and suppliers

of the entire interior design

industry, they are important

partners in the development of

new products and design trends.

It is precisely because of this

wide range that not only makes

the latest materials, components

and manufacturing processes

become evident at the fair,

but also the trends and visions

regarding the design of future
---
96

living spaces as well: Topics

such as resource conservation,

sustainability, living in a small

space and the increasing interest

in digitalized products and

production are all covered here.

Its innovative strength makes

interzum particularly interesting

for creative professionals.

interzum represents the entire

spectrum of the global market,

and provides an overview of

innovations and trends that is

unparalleled worldwide. In 2019,

the trade fair will grow even

more. The division of the event

into the "Materials & Nature",

"Function & Components" and

"Textile & Machinery" segments

allows visitors at interzum to find

exactly what they are looking for

as conveniently as possible.

Koelnmesse – Global Competence

in Furniture, Interiors and

Design:

Koelnmesse is the world's top

trade fair organizer for the areas

of furnishing, living and lifestyle.

At the trade fair hub of Cologne,

the leading international fair

imm cologne as well as the

trade fair formats of LivingKitchen,

ORGATEC, spoga+gafa,

interzum and Kind + Jugend

rank among the internationally

renowned and established

industry meeting places. These

fairs comprehensively represent

the upholstered and case

furniture segment, the kitchen

industry, the office furniture

sector and outdoor living as

well as the innovations of the

furniture supply industry. Over

the last few years, Koelnmesse

has specifically added international

fairs in the most important

fast-expanding markets to its

portfolio. These include CIKB in

Shanghai, interzum guangzhou

in Guangzhou and Pueri Expo

in Sao Paulo. With ambista, the

online portal for the interiors

business, Koelnmesse offers direct

access to products, contacts,

expertise and events relevant to

the industry all year round.
---
98

Attentive quality in

sewing threads industry

Adnan Türker of

Özen İplik: "We

will go on to work

together to protect

the prestigious

position of Turkish

manufacturers

around the world."

Established in 1972, Özen Iplik

is one of the leading brands of

Turkey and global market in the

industrial sewing yarn industry.

Producing sewing yarn for shoes'

and leathercraft in the years

it was founded the firm has

become a company to render

services to different industries

such as technical textiles, furniture,

home textiles, leathercraft,

automotive and denim.

Producing goods and services at

international standards and being

attentive for these products'

sustainability Özen Iplik to bring

together its hygiene products

with visitors in Sleep Well Expo

2018. We spoke to Adnan Türker,

Marketing Executive of Özen

Iplik, about current issues of the

industry.

Can you brief us about your

company? Do you have any new

products you launched recently?

Our company has been manufacturing

industrial sewing threads

since 1972. It has focused on

the development and production
---
99

of special threads for the last 15

years. We aim to continue our

way by increasing the export

rates with these threads. We

are going on our searches in the

fields of furniture, automotive,

work safety (protective and

preventive clothes and shoes)

and we are increasing our investments

in this respect. In this

fair, we will exhibit our products

which we have got as the result

of working on hygiene control.

Adnan Türker

Which products or solutions will

offer your visitors?

We will exhibit all of our products

to our customers which are

used in the furniture and mattress.
---
100

Which visitor audience are you

targeting to welcome at your

stand?

We aim to meet bed and furniture

manufacturers.

Would you evaluate the position

of the Turkish mattress industry in

the world?

Although the exchange rates

increases enforce the cost of

market, we wish that this issue

will be fixed in the near future.

We will go on to work together

to protect the prestigious

position of Turkish manufacturers

around the world.

What does Sleep Well Expo mean

to you?

The Sleep Well Expo is our

common value that promotes

and will continue to promote our

market globally.
---
102

"Standardizing quality is

important in mattresses

production line"

CEO of Mert Machine, Mustafa Nebi

Dogan proposes automation systems

for standardization of quality in the

mattress industry. Mentioning about

recent developments in the Industry

4.0 he emphasized that they would

keep exhibiting their new products in

Sleep Well and Interzum Fairs.

As one of the biggest players in the

manufacturing of mattress machinery

in Turkey, will you detail us about the

production lines and other machinery you

produce?

For about twenty years we have been

producing machinery for mattress industry.

We are a leading firm not only

in Turkey but also in the world producing

mattress machinery, which has

been developed remarkably in line

with the development in the mattress

industry. Today, many of the producers

in the world consider Kayseri as

the center of the mattress industry

and visit the city.

In Mert Machine we produce mattress-making

machinery in six groups.
---
103

"I expect that

the Sleep Well

Expo will reach

a new record

this year."

Mustafa Nebi Dogan, CEO

One is the quilting machinery

that has four sub segments.

In multiple needle category,

there are lock and chain stitching

machines, in single needle

category are double and single

head machines. We export these

machines to 92 countries in the

world.

There are automatic and manual

alternatives in tape edge

machinery. There are roll pack,

automatic and manual mattress

packing machines in packing

machinery category. Now we

added fully automatic mattress

packing and roll pack machines

in this line.

We have 3D spacer machines,

zigzag border and roll cut machines

in mattress edge line.

We have composing and spring

machines in our ware forming

line that were completed by

squeezing and tiring machinery.

We serve with four machines in

this group.

We are at a competitive position

in fully automatic production

lines for making mattresses.

These lines are completed with

hotmelt gluing units, combining

side stitching, quality control

and pressing sections. At the

end of the production line

customer can choose one of our

packaging machinery alternatives.

Minimizing the share of labor in

the production processes is a basic

aim in mattress manufacturing

machinery. What kind of services

do you offer in terms of fullautomation

of the production?

One of the major advantages

of our company is that we solve
---
104

all automation and mechanic

problems in our own facility.

Mert Machine is an integrated

manufacturing facility. All

parts and elements used in the

production and assembly lines

including electronic systems are

all made in our factory. We make

complete and fully automated

production lines with our sole

solution partner Siemens and

with our electronic and software

engineers.

and get all data remotely from

sources. We will introduce these

all in Sleep Well Expo and then

in Interzum fairs.

What is the value added that a

production line produces?

People may think about the

cost and the pace of production

processes, however, one of the

most important sides of mattress

manufacturing is to standardize

the products and production pro-

We made the first production

line in 2008. For about forty

years we have been producing

automatic production lines to

be used all over the world. By

combining several automations

we reduce the need for manual

labor in the production. Another

point is that, we combine our

new production lines with industry

4.0, by using sensors, robots

and cloud system, that the producers

can read their patterns
---
105

cesses. By reducing the number

of transfers among workstations

in the factory the quality of

products improves. This is one of

the important points. The other

point is that the gluing unit. Of

old solvent and water-based

glues have been used in the

production, now, hotmelt is

used more frequently and this is

healthier and have high quality.

What are the points that you want

to add?

One third of the life of humans

is spending in sleep. The need

for quality mattresses is rising

year after year. It leads to

growing demand for quality,

better materials and labor force.

I expect that this industry will

develop more in the future. We

are happy that the industry

is concentrated in Kayseri. It

means a good source of income

from exports. Many of the firms

in fabrics, foams, felt and other

sectors are representing Turkey

in world markets. I see that as

one of the leading events for

mattress industry Sleep Well

Expo will set a new record.

Visitors and the representatives of domestic and foreign companies

will find highly valuable products and technologies in this fair. We

invite all our customers to this fair and expect that a large number of

producers and visitors will come to visit us.
---
106

"Raising trend favors

pocket springs"

Having been in the

spring industry

since 2006, Mahmut

Öztürk, Sales and

Marketing Manager

of Zeb Metal,

explained dynamics

the spring industry.

Established 15 years ago and

operating in all spring types except

pocket springs ZebSprings

has not invested in tablet pocket

springs. The company, which

reconsiders its investment decision

in the next period, produces

springs from 6 cm to 21 cm with

dimensions of 1.2 - 2.2. Pointing

out that the most preferred and

the lowest dimension kind was

1.2, Öztürk explained that the

dimension of mid-products was

70.

Öztürk said that they had a

measure of 150-196 for single

unites noting that this was an

important measure for the U.K.

Öztürk added that they could

produced a series of sprigs having

3000 inside and they would

launch it to the market soon.

Talking about the importance

of springs for mattresses also,

Öztürk continued:

"There are two materials to

producing mattresses in the

world. One of these is foam and

the other one is spring. There

are two types of springs. One

is bonnel and the other one

is pocket. There is a serious

tendency towards pocket spring

in the world. Bonnel is still preferred

much in certain markets

because of it is being cheaper

and Turkey is one of those
---
107

markets. It took a long time for

Turkey to adopt and use these

in its products."

Stating that there have been a

lot of changes in Turkey compared

to the time he started

in the sector, Öztürk said that

people preferred pocket springs,

a more flexible kind of product.

Highlighting the importance of

the acceptability of cost balance

at this point, Mahmut Öztürk

explained that some mattress

manufacturers preferred the

materials depending on the markets

they address. He detailed

that the manufacturers who

address to domestic market and

to Arabic countries did not use

pocket springs.

Öztürk concluded by saying:

"Pocket springs have price disadvantage

compared to bonnel

springs but their features lead

the way to completely different

and beneficial products which

are more innovative at the same

time."

Mahmut Öztürk,

Sales and Marketing Manager of Zeb Metal
---
108

Sustainable growth of

Feryal Zipper

"Our products do not contain AZO dye and nickel-free

polyester, plastic (delrin), including metal and invisible

zipper in the desired colors and sizes are produced in the

following varieties with different accessories with slider."

Offering special innovative products

to the ever-growing mattress

industry in global market, Feryal

Fermuar (Feryal Zipper) has been

producing its products non-hazardous

for people. We listened

the story of latest products of the

company from Akın Bebek, proprietor

of Feryal.

Can you brief us about your

company? Do you have any new

products you launched recently?

Feryal Zipper which joined the

zipper sector in 1994, has participated

among the pretentious

firms which have functioned in this

field.

The company which has 3000 m2

covered area has a future confidence

by around 80 workers to

produce high quality zippers of 14

million meters per year.

Besides our long years experience,

our production is supported by

the new model machine at every

stage. Every stage of production

takes place in accordance with

international norms. Our products

do not contain AZO dye and nickel-free

polyester, plastic (delrin),

including metal and invisible

zipper in the desired colors and

sizes are produced in the following

Akın Bebek

Chairman of Board
---
109

varieties with different accessories

with slider.

Polyester Zippers:

N#3 (N#0 without cord)

N#3 – N#4 –N#5 – N#7 with cord

and close end

N#5 – N#7 open-end and twoway

Plastic (Delrin) Zippers:

D#3 - D#5 – D#9 close end, open

end, two-way

Metal Zippers:

M#4 – M#5 – M#8 close end, open

end. Brass, Aliminium, Antic nickel

types Oxide, Silver, Tin, Gold plated

are manufactured.

Invisible Zippers:

N#3 close end

Our products are used mainly on

mattress, mattress cover, home

textile, furniture, leather, shoes

industry, sleeping bags, various

tents and clothing industries.

Some of our products are partially

exported, a significant portion

of the others are exported also

indirectly In this context, we participate

in various international exhibitions

in order to further expand

our overseas connections.

In line with our goal of all these

developments is that clean society,

total quality, qualified staff

and customer satisfaction. Feryal

Zipper continue its way resolutely

and determinedly.

Which products or solutions will

offer your visitors?

We will offer interchangable delrin

zipper to our visitors. This product

with the help of marked points

provides ease of sewing, increase

the quality and production in mattresses

manufacturing. In addition

zippers will not change even if

the measurement standard and

matching years pass. Furthermore,

thanks to our durable special

slider design, the package and

slider will not be damaged in roll

package.

Which visitor audience are you

targeting to welcome at your

stand?

As we are FERYAL ZIPPER 's mainly

target is producing companies

which improve theirselves and

can make innovation. Shortly, our

target is leader companies of this

sector.

Would you evaluate the position

of the Turkish mattress industry in

the world?

The bed sector in the global market

grows continuously more and

more. The position of Turkish mattress

manufacturing is not enough.

In the market share of Turkish producers

could not take place in the

top 10. The reason for this is that

we have shortcomings in design,

not promote ourselves enough in

international arena and it is unfair

competition. However, Turkey is

a convenient central location for

the bed due to Turkey's labor,

energy raw material production

and geographic location. In this

direction, we will be in the first 10

or even the first 5 if we overcome

our shortcomings.

What does Sleep Well Expo mean

to you?

First of all, the Sleep Well Fair

is a special concept fair in the

industry. That's why we find it

meaningful. When we look at the

individual customer profile of the

bed sector, the Turkish people still

do not have enough awareness

about the importance of the bed

in terms of health. They've been

using the bed for a long time.

Although they have problems in

terms of physical health, they do

not need to renew their beds.

Adequate awareness of the effect

of the bed on health should be

formed. The average bed change

time in Europe is 2 years and we

have 8 years. I believe Sleep Well

will destroy this perception.
---
110

Now, there is a better way to apply hotmelt!

The Nordson

FoamMelt Process

AAT Makina Sanayi ve Ticaret A.S. is the only authorized

distributor of Nordson in sales and service of Nordson products,

spare parts and after sales support provides full support to its

users in Turkey and neighborhoods.

Since all of the sectors and products

the brand serves include

project-based work, its primary

principle is to protect customer

rights and ensure satisfaction

with its customer focused work

quality. Therefore, the company

provides pre-sales technical

consultancy to the firm, technical

support after sales and budget-oriented

work are its most

important visions. Sales Manager

of AAT Makina, Yücel Uysal

answered our questions.

Can you describe what the

FoamMelt Technology is? Why

did Nordson decide to apply this

technology?

Since the introduction of the

patented Nordson FoamMelt

Process, foamed adhesives have

quickly won an important place

in assembly applications. They

have achieved much of their

remarkable success by out-performing

conventional hotmelts

and other methods of product

assembly. Although standard

hotmelts have many desirable

characteristics – fast set times,

ability to fill the gaps, and bond

difficult materials, absence of

solvents, and compatibility with

automation- they are not used

in many applications because of

their short open times, limited

bond strength, thermal distortion

or material costs. The FoamMelt

Process offers a way to overcome

or at least minimize many

of these limitations while enhancing

the positive characteristics

of conventional hotmelts.

As a result, foamed adhesives

are being used today in a wide

variety of manufacturing tasks,

replacing not only conventional

hotmelts but mechanical fasteners,

tapes and cold glue as well.
---
111

What kind of adhesives can be used

in this technology?

Because the FoamMelt Process

has no effect on the chemical

properties of an adhesive, it

works well with polymer formulations

of all types. Nordson's

foam delivery systems allow you

to create foam materials from

many pumpable high-performance

adhesives and sealants,

such as :

•PSA Hot Melt Adhesive

•EVA Hot Melt Adhesive

•Polyamide

•Reactive Hot Melt Adhesive

•APAO

•Plastisol

•Silicone

•Metallocene-based

Yücel Uysal

Sales Manager of AAT Makina

How does the FoamMelt process

improve adhesive performance?

Can you describe how it's working?

The FoamMelt Process uses

a patented twostage

gear pump

to force inert gas

into solution with

melted adhesive.

When the adhesive

is dispensed, the

gas comes out of

solution to create

a foamed adhesive

full of small gas

bubbles. One

effect of the gas

bubbles is to

act as tiny insulators, thereby

adding greatly to the open time

of the adhesive. Another

effect

is to

reduce the working viscosity of

the adhesive, making it more

spreadable. Because foamed

adhesives spread easier to

cover more surface area, adhesive

consumption is reduced,

sometimes by as much as 65

percent.

Solvent – Free Assembly

Like conventional

hot melt adhesives,

foamed adhesives

contain no

solvents. They are

non-toxic and pose

no solvent-related

pollution problems.

With increas-
---
112

ing concerns about employee

safety and proper handling of

toxic materials, foamed adhesives

are an ideal alternative to

solvent borne adhesives especially

for the applications which

is odor sensitive such as mattress

industry.

65% lower consumption without

any bonding failure? It seems

that this amount of consumption

decrease is a very big advantage to

the companies. What are the other

benefits of foamed adhesives?

Nordson foamed dispensing

systems dramatically improve

the performance of most hot

melt adhesives by mixing with

inert gas, creating a homogenous

solution. As the material is

dispensed, the gas expands to

develop a closed-cell foam. The

foamed material is applied like

the more conventional approaches,

but provides benefits of:

•Process Flexibility

• Eliminates the need for foamtape

or die-cut

• gaskets

• Improves productivity

• Reduces operating costs

•Increased Open Time

•Foaming Thermally Insulates

Material

•Slows Cooling

•Increases Open Time (+50% to

+300%)
---
113

•Can Be Used to Tailor Adhesive

to Application

• Faster Set Time

•Reduce Amount of Material to

Cool

•Reduce Force to Compress

•Shorten Set Time (up

to 4 times)

•Increase Process

Speeds

•Increased Volume

•Up to 2 Times Increase

in Volume

•Less Sagging – Keep

Adhesive Where It Is

Wanted

•Greater Gap Filling –

Consistent

•Application on "Non-

Smooth" Substrates

•Better Substrate Penetration

• Lower Heat Density

•Foaming Reduces

Heat Density of Adhesive

•Lower Heat Density

Reduces Deformities

•in Flexible Packaging Substrates

•Expands Use of Current/New

Adhesives in

•Growth Market

•Improved Operator Safety

• Less Force to Apply

•Gas "Plasticizes" Adhesive

Making It Easy to Spread

•Can be Utilized with Various

Dispensing Options (Even Extruded

Materials)

•Applicable for Delicate Substrates

• Material Savings; Reducing the

Density of Material Means:

•Lower Material Cost

•Less Part Weight/Shipping Cost

•Less Process Energy

So, using Nordson Adhesive

Foaming system helps:

•Improve adhesive penetration

and surface wetting to create

stronger, longer-lasting adhesive

bond

•Increase open time to optimize

the manufacturing process and

provide production flexibility
---
114

•Reduce adhesive us, so cost,

by up to 65%

Are there any restrictions to use

FoamMelt? In which applications

and in what sectors can we use

this foaming system?

The applications for foam delivery

systems are virtually endless.

In all over the World, there

are a lot of Nordson Foaming

Systems working with very high

efficiency to supply benefits to

the companies. For example;

•Watershield sealing in automotive

industry

•Weather strips in automotive

industry

•Building Products: Door or Window

frame seal

•Filtration HVAC (Filter, Ventilation,

Air-Conditioning)

•Filter end caps

•Refrigerator/ Freezer Cabinet

Sealing

•Speaker Gasketing

•Automotive Carpet Bonding

•Innerspring Matress Application

•Automatic Matress Hotmelt

Glue Lines

•Container Lid Gaskets for medical

containers …

As knowledge of the technology

– and the ease of incorporating

the technology – spreads, an

ever-growing range of innovative

ways to use the benefits

of foam will continue to appear.

Current applications take advantage

of foam's gap-filling

feature, including foam tapes

and labels for application to

rough surfaces and lamination of

subrates with rough surfaces. In

addition, by using less adhesive

on easy-to-adhere surfaces to

achieve the desired adhesive

strength and providing minimum

50 % reduction in adhesive consumption,

will be a driving force

in the widespread use of this

application.

Is there anything you want to add?

We would like to thank to giving

this chance to us also. We are

waiting for all visitors to our

booth in Sleep Well Hall 9- C02A

to see the FoamMelt Application

and talk about the Nordson possibilities

to make their business

more profitable. For those who

can't come to the Sleep Well

Fair, you can contact AAT Makina

Sanayi ve Ticaret A.Ş. for

more information on adhesive

dispensing systems for mattress

applications or any product

assembly needs.
---
115

"We have reached 300

tons of wire processing

capacity per month"

The Nano Spring,

which continues

production in a

factory with a

closed area of 4000

sqm with its new

investment, added

new machines to the

production line

One of the pioneering companies

in the production of tablet

bag springs, Nano Spring company,

continues its investments.

We visited in their new factory

and discussed the details of

their investments with Nano's

general manager Serkan Kir, who

said that they reached 300 tons

of wire processing capacity in

the new factory. He said that his

company has increased the volume

of business in both exports

and the domestic markets.

Well, first of all, we wish you

success in your new place. Did the

move happen as a result of a new

investment?

As you know the Nano Spring

began production in 2013. The

investments we've made since

then have taken us up to a good

capacity. At the end of last year,

we had to move to another

location in line with our latest

investment.

Our new place has 4000 sqm.

closed area in Nilufer organized
---
116

industrial zone, in Bursa, with

this investment we started to

be talked about in the market

by taking our place among the

spring manufacturers. There has

also been an increase in brand

awareness.

At the end of last year, we

invested to increase our bag

spring capacity and we added

a new machine for tablet bag

springs to our production band.

We had another investment to

triple our bonnel spring capacity.

We've been setting up our

machines since the beginning of

the year, and our last machine

has just arrived.

Serkan Kır

General Manager

However, we have reached the

capacity of 300 tons of wire

processing per month. So we

took our place among the major

companies in the sector. We'll

continue to grow.

Which countries do you mainly

work in?

Actually we are an export-oriented

firm, selling 95 percent of our

production to export markets.

Majority is European markets,

the UK being our largest customer

portfolio of export markets,
---
117

95% of our production are exported.

Additionally, we started

establishing our customer network

in the domestic market.

Which products will you take part

in the Sleep Well Expo?

We will showcase all products

in our product range at the

Sleep Well Expo. Starting from

35 to 70, we will have all our

products. These are the products

that everyone knows in world

standards. In addition, we are

one of the leading companies in

Turkey and Europe in tablet bag

publication and this product will

take place in our booth.

How do you assess the economic

situation of the sector?

This year seems to be a tough

year for everyone. Turkey is

experiencing difficulties due to

its economic situation and an

election. In Europe, there is a

contraction in the market due to

problems in their own internal

structures and political problems.

I hope everyone is working harder,

reaching more customers and

increasing exports to overcome

these difficult times. And we'll

do our best to do it.
---
118

Nova

Foam

grows

fast

Nova Foam and

Mattress Inc. offers

basic and semifinished

products

which the industry

requires, at high

service standards to

the markets of all

countries.

The company watches closely

the developments in the field

of industry 4.0 that has brought

several opportunities for innovative

companies. Nova will

display its product portfolio that

includes pocked springs, bonnel

spring systems, steel wires,

foams, fibers and foam mattress

materials in Sleep Well Expo

2018. We made an interview

with Mustafa Taka, General

Manager of Nova Foam and Mattress

about the industry.

What density products do you

produce?

We are producing froms 14

density up to 90 density polyurethane

foam.

Could you mention the most

preferred once of your products in

the mattress industry?

Mostly our customer prefer feather

touch and visco foam to use in

their mattresses.
---
119

have diversity for each person

as well. In conclusion, each body

pay attention to its own shape,

health and lying positions when

choosing the best sleeping

material.

Do you recommend the foam

mattresses?

Surely, we recommend the foam

mattresses. As long as analyzing

the health and comfort conditions

of the user. If not, it may

cause to harm instead of happiness.

Do popular visco and latex foams

comply with all body shapes and

lying positions? Are there any

problems can be faced according to

body shapes and lying positions?

Popular visco and latex foams

may not comply with all body

shapes just because these articles

can effect some people negatively.

Some of them may have

health problems or some parts

of them may complain about the

comfort. So, we do not propose

these items to all people. Additionally,

lying positions may
---
120

Hasplast offers more

practical and less

expensive packaging

"Manufacturing is

not in the manual

counters anymore

but computer

reinforced

technology…"

Producing more practical and

less costly packaging in mass

production Hasplast plans to

improve its domestic customer

network. We spoke Sleep Well

Expo with Serkan Elitas, Chairman

of Hasplast.

Can you brief us about your

company? Do you have any new

products you launched recently?

Our Company was established

in 1994 and has been manufacturing

in 5000 m² premises

since then. We are, Hasplast

Plastik A.Ş., producing any type

of printed or not printed PE films,

shrinks, sacked PE balloon Sandwich

and also gripping products.

Which products or solutions will

offer your visitors?

Our first aim is to offer more

serialized, much easier and less

expenditure packaging for the
---
121

Industrial packaging and also to

introduce new products which

are slippery from inside and not

slippery from outside mentioned

for hoarding.

Which visitor audience are you

targeting to welcome at your

stand?

We are hoping to welcome professionals

to improve our local

customer network and to expand

our current foreign customer portfolio

by meeting other potential

customers in Sleep Well.

Would you evaluate the position

of the Turkish mattress industry in

the world?

In the past years, lower quality

packaging systems were used

in the industry with simple ways

until the new era began. Today

More Efficient preparatory work

is used by companies. R&D and

M&D departments are in the

limelight nowadays. And the

most important thing is; manufacturing

is not in the manual

counters anymore but computer

reinforced technology. Thanks

to these method now it can be

produced more qualified and

Serkan Elitas

Chairman of Hasplast

less time consumed products by

above mentioned high technology.

What does Sleep Well Expo mean

to you?

We sure that it is worth to

attend this exhibition to increase

our customer portfolio

and create new opportunities

to welcome new ones. We are

planning to reach all our customers

and their willings and also

to negotiate their problems face

to face thanks to Sleep Well.
---
122

Accessories

complementing quality

Manufacturing

bedding accessories

with its modern

design and quality

Doreplas aims to

meet with mattress

manufacturers.

Offering bedding accessories

developed with modern design,

technology and quality understanding

Doreplas has been

improving in the sector with its

technologic infrastructure. We

made an exclusive interview

with Company Manager Eda Zarli

about their current operations.

Can you brief us about your

company? Do you have any new

products you launched recently?

Doreplas is the biggest company

of Turkey in its field and we keep

doing our best to enlarge our

facility with technological substructure.

We produce mattress accessories

with modern design and

quality assurance. Our company

principle is to make our customers

happy with our fast delivery service.

We will show all of our new

products in this expo.

Which products or solutions will

offer your visitors?

All components for manufacturing

of spring mattresses but mainly;

air ventilators (capsules), mattress

handles, mattress tapes,

mattress labels, ribbons and

plastic corner guards.

Which visitor audience are you

targeting to welcome at your

stand?

Spring Mattress Manufacturers

Would you evaluate the position

of the Turkish mattress industry in

the world?

It gets better and better by each

year with the help of Sleep Well

Expo.

What does Sleep Well Expo mean

to you?

Well, we can say that Sleep Well

Expo is the heart of mattress

manufacturers.
---
124

Conventional foam

alternative from

Mitsan

After rising prices

of latex and visco

materials Mitsan

offers conventional

foam as an

alternative

We talked about the changes in

the exchange rate with Mustafa

Çetinbulut, Chairman of the

Board of Directors of Mitsan, its

reflection of raw material prices,

the effects of this situation in

the sector and alternatives.

What type of foams do you

produce? What about the demand

for them?

We produce polyurethane

flexible foams from 14 density

up to 80 density as visco elastic

foams. This year we started to

produce blue gels as an alternative

in our visco products. Market

is always demanding us to offer

new products and we have to

lead the mattress producers to

better solutions.

Volatility in foreign currency rates

has affected almost all industries.

What is the reflection in the

mattress industry?

Depending on the raw material

inputs, there was serious

increases in foams in the last

years. It started high at the beginning

of the year and currency

rates have stepped back a little

after the second quarter.
---
125

Demand is always high because

food ranks at top and accommodation

ranks at second place in

the necessity of basic needs.

Sleep products and mattresses

are important classes in accommodation.

Turkey has a young

and dynamic population. Including

the years of crisis, Turkish

economy has grown continuously

by 5 to 10 percent annually.

Economy is still growing and we,

as our company, try to get more

or maintain our share. We want

to export more.

How important is the foam in

mattress?

Comfort comes forth in foams.

Although several other materials

are used as stuffing materials in

mattresses, foam is indispensable.

When compared to latex

and visco elastic material prices,

our production, conventional

foams, are highly advantageous

and free from other problems of

latex such as bad odor. Comfort

is a determining factor at this

point. We mostly advice the

use of high density foams in the

production however, economic

considerations and conditions in

the market determine the choice

of customers. Our country is in

dire need for exports. We see

the importance of industry once

again. We can only earn foreign

currency by exporting, by selling

what we have produced to

foreign countries. I consider that

the mattress industry and its

supplier industries are in a good

position and have great potential

for further development in

the future.
---
126

Fast gluing by

technology

Melt on Demand

saves both time and

money by fastening

the operation

consuming less

energy and being

safe for operators.

Mustafa Onder,

Sales Manager

One of the major topics in the

mattress industry is to have

effective machinery for gluing

operations. Active in the sector

since 2006 I-FIX has been

importing hot and cold gluing

systems, spare parts and glues

and selling them to both domestic

and foreign markets.

We talked with Mustafa Onder,

Sales Manager of I-FIX, about

the preferences and trends in

the markets.

What are the facilities the

operators seek from the gluing

machinery you sell? What is the

latest technology in the market?

According to the feedbacks that

we got from the buyers that

prefer our firm, they emphasize

on the importance of the elimination

of glue degradation

and the lowering the need for

maintenance in the machinery

they operate. Besides, lower

consumptions of glue, effective

working hours are other criteria.

Having less energy coefficient,

high level of operator safety,

shorter preparation phases our

machinery offers both financial

advantages by reducing costs

and by saving time.

What are the important points for

the producers of mattresses while

choosing the best glue?

Mattress producers that we have

talked with emphasize that the
---
127

best glue should have higher

dispersion tendency and higher

bonding strength. Thus they become

able to save the amount of

glue in the production process. It

saves cost.

Additionally, the product should

be odorless, have higher resistance

against carbonization,

higher adhesion and cohesion

factors. Besides these technical

factors, the glues that have

suitable open time and set time

values depending on the surfaces

to be glued are important in

their selection.

Are the materials used in the

gluing process available in

domestic market? What are the

advantages of imported adhesives?

The qualities and the formulas of

adhesives available in the domestic

market may not be stable

all the time. The inputs for these

products are also imported.

They are not favorable both in

terms of cost and quality. So, we

produce the adhesives in abroad

and import them to get rid of all

these disadvantages.

Effective material in solvent

and water based glues is about

50 percent, the rest should be

evaporated. The vapor of water

or solvent are hazardous for

people and for the environment.

In this matter, hotmelt types are

safer and more advantageous

than others because it is made

100 percent of solid material.

Any additional points?

With our 15 years of experience

in adhesives and gluing

machinery we are ready to help

our customers in their product

choices, productive applications,

technical supports, spare

parts as a dependable solution

partner. We try to improve their

production performances by

offering them the products of

major suppliers.

What is the position of Turkey in

the mattress glues industry?

Mattress industry use three

type of adhesives, namely,

water based, solvent based

and hotmelt. Consumption of

solvent-based adhesives is

down and water based and

hotmelt glues are up. Hotmelt

and solvent-based glues are

produced in Turkey. Almost all of

the producers sell their goods

to domestic buyers. Since the

water-based adhesives are not

microbiologically healthy and

consumes extra energy to get rid

of the water, they means higher

costs for manufacturers.
---
128

Feltturc bought a new

production line

Feltturc bought a

new production line

to produce new and

more quality felt

and wadding.

Getting ready to showcase its

felt and wadding products at

Sleep Well Expo, Feltturc bought

a new manufacturing line for a

more flexible and quality production.

We asked to Mustafa

Kiper, General Manager of Feltturc,

about details of the new

investment.

Can you talk about FELTTURC's

operations in 2018? What was the

most important action in 2018 for

FELTTURC?

FELTTURC moved to a new factory

in 2018. The new factory

is around 10,000 m2. We will

be more flexible to produce the

best quality felt and wadding

for the mattress industry.

How do you evaluate the

importance attached to innovation

and R&D studies in the mattress

fabric industry?

FELTTURC bought a new production

line to produce new and

better quality felt and wadding

for the mattress industry. We

are following the market, and

the mattress market is going

to have more natural products.
---
129

So, we are planning to produce

according to this market request.

Could you mention your recent

export activities?

FELTTURC never stops to search

new market and new destinations

for helping to provide better

sleep of people. Nowadays,

we are exporting our products

to around 40 countries. Our

name has become the symbol

of quality and good service for

the mattress industry all over the

world.

FELTTURC will join to Sleep Well

Exhibition in 2018 and Interzum/

Germany in 2019.

The volatility in currency rates

influenced all industries. How

was its reflection on the mattress

industry?

FELTTURC is working as volunteers

to improve export activities.

We are also supporting

other companies to export their

goods to international markets.

We believe that production and

export should be the main economic

growing activity for Turkey.

In this case we don't focus

on currency rates but we focus

on high quality production, good

service and trustful business.

Which products will you exhibit at

Sleep Well Expo 2018? What would

you say about the show and your

expectations?

We will exhibit our good quality

felts and wadding in Sleep

Well Expo 2018. We wish Sleep

Well Expo could be a traditional

meeting point for the international

mattress industry.
---
130

Hotmelt equipment

also upgrades in

industry

Saran Mensucat will

showcase hotmelt

equipment produced

by Italian PREO

Srl. at Sleep Well

Expo.

As one of the deep-rooted companies

of the sector following

the technologic developments,

Saran Mensucat has been

continuing its novelties in the

framework of 4.0 industry. Pointing

out that they aim to serve

in high quality equipment with

most competitive prices, maintenance

and consultancy services,

Uğur Çelik, partner of Saran Mensucat

said they would display

hotmelt equipment produced by

Italian PREO Srl. Company whom

they represent in Turkey.

Can you brief us about your

company? Do you have any new

products you launched recently?

We are a deep-rooted company

serving in the trade field from

1979 to present. We service

our markets operations with our
---
131

experienced staffs in the hotmelt

area. Our firm's priorities are

fast and quality after-sale services,

7 days 24 hours technical

support and customer satisfaction.

We take pride of displaying our

touchscreen machinery in the

framework of industry 4.0 and

our technologic products with

which we provide remote access

to our machinery.

Uğur Çelik

Which products or solutions will

offer your visitors?

We will display the hotmelt

equipment produced by Italian

PREO Srl. company which we

represent and has been rendering

services since 1938 in the

sector.

Which visitor audience are you

targeting to welcome at your

stand?

We are targeting to serve

through our expert staff with

high quality and competitive

equipment, maintenance and

consultancy issues to the companies

which have experiences in

the hotmelt applications or the

ones that have not experienced

this process yet but planned to

make investments because of

the requirements of different

sectors that they are involved.

Would you evaluate the position

of the Turkish mattress industry in

the world?

We have been proudly observing

that the Turkish mattress

manufacturing industry and

its sub-sectors go beyond our

boundaries and position themselves

to a respectful position in

the world. Having a great share

in the export figures of our country

this industry will go further

thanks to the investment made

for this.

What does Sleep Well Expo mean

to you?

We are considering Sleep Well

Expo as an opportunity which

will bring us together with the

representatives of companies

who serve to all phases of the

mattress manufacturing industry.
---
132

Labels - your identity

on the mattresses

Disallowing to

standardization

in the labels of

produced different

features and

design mattresses,

Görenler Label

becomes a

complimentary

company of quality

with its effective

presentation and

wide product range.

Görenler Label started production

in the label and promotional

area in Denizli, one of the most

important industrial cities of

Turkey, in 1997. Producing in the

weaving label and printing label

and promotion groups, the company

exports 50 percent of its

total production to 56 countries

notably to Germany, France and

England. Employing total of 144

persons 7 of whom persons are

engineers and 30 have is bachelor's

degrees, the firm decided

to apply ERP System 6 years

ago to ensure the standardization.

The firm checks whole

process from receiving orders to

delivery with typical integration

and Canias ERP System. Pointing

out that order confirmations and

supplies with automatically send

to the customers online, Erdem

Kahveci, Domestic Sales and

Marketing Manager of Görenler

Label, said that works to improve

the system to give users

names and passwords online

were underway.

Can you brief us about your

production standards and machine

park?

One of our biggest differences is

that we take high standards in

the international markets as our

references. We proof our conformity

to these references with our

certificates.
---
133

As machine park;

We have wide range of machine

park 20 of which are air jets are

24 in total in the fields as the

weaving machines, serigraphy,

letterpress and lettterflex (focus

printing), offset and digital

offset printing, HPIndigo, flatbed

knitting, digital cotton printing

and garment.

I can say that we are one of the

top-five companies in Turkey.

Do you have branch offices in the

intense mattress industry areas

such as Bursa and Kayseri? How do

you manage the domestic sales?

I can say firstly that we are the

key supplier of the biggest mattress

firms in Turkey. Our experience

in the mattress industry is

a result of our developing and

expanded product range.

There is a serious gap in the

mattress labels field in the industry.

All firms use similar products

in a short time. In one time,

while embroidered products are

observed on mattresses, after

some time leather labels pools

as standards. As a matter of

fact, each mattress serial should

have its own special design a

concept works. Our essential

differences comes forward at

this point. We design labels

by blending leather, weave,

non-woven, tafting, digital printing

and other technics and share

our customers. If you highlight

your design and follow up sectorial

developments and trends

your adaptation to this trends

becomes faster and you go one

step ahead. This is our main

strategy in this industry.

We have a regional representative

in Bursa. We are the key

suppliers of big companies in

Kayseri and İzmir. We share the

innovations with them by visiting

them continuously and we

listen their demands from us.

Could you furnish us with your

product range and their features?

We try to get benefits of the

advantages of a wide machine

park. We are the leading company

possessing a wide product

range. We have a wide portfolio

from all label groups of national

and international companies

to the fun groups of leading

European supports teams. Those

who see our catalogue in our

website, will justify us. We are

rated among three-four companies

which can produce 50

denier label in Turkey. It carries

us to a distinctive position.

The products we produced for

the mattress industry:
---
134

•Square, rectangle or slanting

cut brand labels, big labels

(Weave and sublime

•Sublime printed labels on felt

•Swallow or plain cut hang-tag

labels

•18 mm side-covering endless

stripes

•42 mm side-covering endless

stripes

•Handles

•Leather etching labels

•Laser hold leather labels

shaped air capsules

•Cleaning instructions, printing

on satin

•Sublimation printing on cotton

•Srg printing on leather

•Srg print labels and tapes on all

kinds of fabric wearing etc.

•Tailor-made embroidered products

on felt

•Printing house instruction book

•Product introduction and usage

guide

•Legrest clothes for mattress

edges

I can classify other product range

as follows:

* Weaving group (labels, bedding

accessories, bands, ribbon

group)

* Printing group (cleaning

instructions, transfer labels,

serigraph print labels, printed

tapes)

* Printing house group (Hang

tags, ad cardboards, boxes)

* Digital printing group

(multi-color HD print labels, lanyards,

hotel and concert wristbands)

Erdem Kahveci,

Domestic Sales and Marketing Manager of Görenler Label
---
135

* Promotion (print, lanyards,

pillows, mufflers, bruises, cushion,

apron, key holders, gloves,

pennants, beach towel, printed

towels, etc.)

* Special process products

(leather laser burning and holing

labels, pucker on leather, printing

on genuine leather)

We have customers in different

segments of the industries from

home textiles to telecommunication,

from organization companies

to largest outerwear brands

of the world.

As a company started to export

right after one of its establishment,

how many countries are you

exporting to currently? What

activities are you doing to

strengthen your presence and to

penetrate into new markets?

We have exported to 56 countries

until now. We are currently

active in almost 20 countries

notable in countries such as

Germany, France and England.

We have an active and young

sales team for foreign countries

to maintain the existing markets

and to develop new ones. They

make foreign travels and visit existing

and prospective clients to

analyze and offer new designs.

The most important points for

us to strengthen our existing

markets and to find new ones

are trade fairs. Every single fair

contributed to our clientele. We

have been participating in PSI

International Promotional Products

and Advertising Fair held

in Dusseldorf for many years.

We will participate in Heimtextil

where the pulse of home textiles

beat in Frankfurt this year. We

will be at Fashion Prime to be

held in Izmir, 17-19 October, to

meet outerwear companies.

What are the factors pulling you

forefront in production? Which

technologies are you using?

Can you inform us about your

production capacity?

I would like to explain this with

a recent experience I had. We

prepared a live sample of a catalogue

which contained only 5%

of our products addressing to

the mattress industry this year

and handed them to production

and design teams of medium-sized

companies in Kayseri,

the hub of the mattress industry.

They commented right after they

went through the catalogue by

saying, "We have been manufacturing

for years but we have

never seen such good designs

before."

I would like to highlight the

point that our most distinctive

side is our power of design.

We can combine, blend a lot

of techniques such as HP indigo,

digital printing, srq print,

sublime, hot-melt, tag transfer,

etc. and develop most striking

labels. As a matter of fact, the
---
136

mattress buyers examine the

quality and price of mattresses

and they feel to decide in a few

minutes if the product deserves

the price. If you use a poor label

on a high-end product this may

have an effect on the decision.

For this reason the labels are

more important in the mattress

industry than other industries.

We are among the top-five in

the label industry. If we consider

the mattress industry we are

one of the biggest, or better to

say the most leading label company

when we take the woven

and other groups together.

What are the measures do you take

to protect the nature and human

health?

We are one of the most sensitive

companies in terms of

being environmentally friendly

and strict on human health. We

have registered our adherence

to the environment with OKEO-

TEX Clas 1 certificate and we

have approved our usage of

only trees grown for commerce.

Besides, we have BSCI, Sedex

and SMETA documents as working

conditions in the framework

of our social responsibility policy

certifying that we comply international

standards at employment

conditions. I have to say

that we have to cope with unfair

competition at this point. While

we obey all environmental and

social responsibilities by paying

a price we encounter the competition

of some others who don't

care for these issues and don't

pay any price for these. Buyers

should shoulder the responsibility

of choices at this point. They

should work with the companies

who comply with these standards

when they choose their

suppliers thereby contributing

to the environment and social

rights of the employees.

Anything to add?

Development and change are

our first priorities. We are trying

to make the motto, "you cannot

manage the things that you

don't measure at your company"

as our living philosophy. We are

trying to measure our performance

at all fields and trying to

improve and develop it further.

It is a must for any company to

renew, change and improve itself

in order to survive at current

conditions. If you cannot read

the market conditions and if you

cannot set your future projections

correctly you can never

know what awaits you.
---
138

"Pakipek keeps

its rising graphics"

Started with

silk yarn

production

60 years ago,

Pakipek offers

digital printing

services

besides yarns

Founded as a family business

that processes silk in Bursa in

1956 the firm now produces for

several industries especially

to home textiles and mattress

industry. Following they participation

in a fair held in Russia

in March this year, the firm has

started to export to Russian

market. Haluk Bukumcu, group

president of Pakipek group

of companies, said that they

export most of their sales. We

spoke with Bukumcü about their

story:

What is the story of your

company?

My grandpas have been all in

silk business for years. The firm

was established in 1956, this

is also my birth year. Then my

uncle has got a partner. There

was a two thousand sqm garden

in the same home that I had

born in Muradiye, Bursa. 70 to

80 people have been processing

silk and silk yarn, there. Silk

was the only material of the

yarns. There is no polyester in it.

We have had a store in Irfaniye
---
139

shopping district in Istanbul,

then we began to produce silk

fabrics. In 1969 we built the Silk

Yarn Fabric firm in Sogut, Bilecik

and who buys cocoons from

Kozahan, Bursa. There were only

four factories in Sogut. We sold

our products to Vakko brand in

1984.

What was the reason you closed

the factory?

In those years silk market had

been invaded by the cheaper

silk fabrics imported illegally

from far east. We as producers

had visited the then Prime

Minister Turgut Ozal but we

had no authority to fully inform

about our problems. So, we quit

to process silk. In those years,

we had bought a land in Nilufer

Industrial Zone, the first officially

organized zone in Turkey, and

we founded this firm with my

uncle.

Then many other firms have

started to deal with import and

export, so we changed our way

and we visited machine manu-
---
140

facturers of the fastest machinery

in Germany to buy machinery by

investing technology.

What does your company do now?

We have been producing fabrics

for ladies dresses including the

jacquard types in our factory of

400,000 sqm. Half of the production

is exported. Other half

is sold to apparel companies

who sell their goods in export

markets.

Pakfixs is our brand we used for

fabrics sold to mattress manufacturers.

These are industrial sawing

yarns. We sell the pillows

with the slogan, "Feel rested".

8 % of the people in Turkey by

online. We took our measures to

meet the rising demand in this

channel.

Do you have new targets in

exports?

Iran seems to be a good market

with its 80 million people.

After the removal of economic

sanctions, western companies

have started an attack especially

in textile and construction

industries. Airports are full of

with British and German businesspeople.

Recently, I had

been there. I miss my years in

my youth. I am highly optimistic

about Iranian market. People

need every goods. People have

had preferred to Asian suppliers

due to the embargo. But, they

are not happy with the quality

of the products. They like the

products produced in Turkey.

What is your target in the mattress

industry for your Pakfix brand?

We have entered in mattress

market four years ago. We keep

watching the performance of

our brand and saw a promising
---
141

future. We want to focus on

production and promotion activities.

Having a brand is profitable.

We now just walking, in

the near future we start running.

What does Sleep Well Expo mean

for you?

It is an important event for mattresses

and supply industries

to display their products and

services. It is an address that

we will keep our presence in the

years ahead.
---
142

2019 will be the year of

revolution in exports

Producing easy to

apply glues with

spray guns Yapi

Lider Kimya attracts

interests with its nonflammable

chemicals.

The products of

the company are

preferred in several

sectors. Samed

Altintas, general

manager of the

company, detailed

about their products

and Sleep Well Expo

fair.

Can you brief us about your

company? Do you have any new

products you launched recently?

Yapi Lider Kimya is a leading

firm with its high quality special

products, a customer-focused

business philosophy and experience

in the sector. Our company

produces easy to apply

with spray guns non-flammable

industrial glues sold under Po-

Max, Creafoam, F-X, Po-Max Eko,

Po-Max Plus trade names.

Po-max and other products are

used in the soft furniture sector

and are a preferred brand in

the construction, automotive,

insulation and footwear industries

thanks to their anti-flare

specification.

Products of the company are

sold in 50 countries and in

Turkey and have been improving

its position in the markets year

after year.

Which products or solutions will

you offer to your visitors at Sleep

Well Expo 2018?

We will introduce our new

hotmelt product to our visitors in

the fair. Our research and development

efforts are going on for

the improvement of water-based

glues. We will soon launch this

product to the market.

We have modern production

equipment for quality control

systems and a production facility

up to the world standards.
---
143

We try to differentiate our products

and our brand by emphasizing

on R&D, by developing

new products, new projects and

aim to be a leading firm in our

industry.

Which visitor audience are you

targeting to welcome at your

stand?

We export our products to more

than fifty countries including

European, American, Asian and,

African countries and to Russia.

We target to export our products

to every region in the world including

south American markets.

Would you evaluate the position

of the Turkish mattress industry in

the world?

İn this easy to enter sector,

there are about 400 producers.

The industry is developing with

efforts in R&D and design fields.

The mattress industry has been

regarded as a separate sector,

not as part of the furniture industry

for years.

Samed Altintas

General Manager

What does Sleep Well Expo mean

to you?

We consider that Sleep Well

Expo fair has got an important

rank among the fairs in the

world. Thanks to this event, we

have been able to introduce

our products and to get to know

new customers who want to use

practical, quality and hazard-free

materials for their production.

We thank all producers who

prefer Po-Max in their production

processes and invite all customers

and visitors to our stand in

the fair.
---
144

Super Packaging –

right product, timely

delivery

"Our priority is to serve to our customers to get the right products they

need with the best way. We always deliver products that are less costly

and high quality to our customers."

Producing packaging for several

industries including furniture,

steel goods and mattresses,

Super Ambalaj is preferred by its

quality and professional services

by its customers. Ibrahim Ethem

Yildirim, export manager of the

company answered our questions.

Can you brief us about your

company? Do you have any new

products you launched recently?

Super Ambalaj is a subsidy

of Plassan Ambalaj that was

founded in Kayseri Organized

Industrial Zone in 2001. In

Super Kutu and Ambalaj firms all
---
145

stages from offering to ordering,

from production to shipment, are

planned by using ERP software

specially developed for the

company.

Super Ambalaj has been contributing

to the national economy

with its production of packaging

needs of several industries such

as retail, store, automotive,

furniture, steel goods, textiles,

food, insulation and agricultural

sectors, made with a professional

service policy on high technology

machinery.

Which products or solutions will

you offer to your visitors?

Our priority is to serve our customers

to get the right products

they need at the best way. We

always deliver products that are

less costly and high quality to

our customers.

Ibrahim Ethem Yildirim

Export Manager

Which visitor profile are you

targeting to welcome at your stand

in Sleep Well Expo?

In general our target customer

range is rather large but we

want to share our experiences

that we accumulated by dealing

with leading companies who

have been in the furniture industry

for many years with them.

Would you evaluate the position

of the Turkish mattress industry in

the world?

Turkey has been progressing

continuously in the production

of furniture and mattresses and

in their sub industries year after

year.

What does Sleep Well Expo mean

to you?

This is our first participation in

Sleep Well Expo. We hope that

it keeps its efforts to be one of

the prestigious fair events in the

world and reach to the targets it

deserved.
---
146

"EMR Zipper is one of the

most known brands in the

global sense"

EMR Zipper

continues to

work on making

life easier with

its innovative

and functional

products.

EMR Zipper, which produced the

first zipper in 1994, continues to

produce innovations that make

the life easier, as one of the

global players of the sector. We

had an interview with Ömer Özpehlivan,

Chairman of the Board

of Directors of EMR Fermuar Inc.,

prior to Sleep Well Expo.

Could you briefly mention about

your company? Do you have a

new product in the sector in recent

months?

As EMR Zipper, we have been

producing and selling in the

sector for almost 30 years.

We produce narrow weaving,

buttons, labels, zippers, touch

and close fasteners. We are one

of the most known brands of our

country in the global sense. The

products we have developed are

of great interest to global buyers.

Our work towards sub-sectors

is based on more durable

and functional products. In this

respect, I would like to say that

we are very ambitious in the

sector of bedding and home textiles.

Our products possess high

quality and technically advanced

properties.

Which products and solutions will

you display for your visitors?

We have a very useful and

long-lasting zippers for the

mattress industry in which we

have been operating for many

years. Especially, we have many

innovations. Our customers

show great interest for this kind

of innovative zippers. We have

also developed long-lasting and

robust products especially for

the mattress and home textile industry.

As EMR Group, we aim to

provide brand new and technical

products to our visitors.

Who are the visitors you intend to

meet?

Due to the concept of the fair,

we aim primarily to meet domestic

and foreign buyers operating

in the mattress-producing

companies and home textile

sector. Our products that appeal

to many sectors will attract the
---
147

attention of our visitors. In this

respect, I would like to point

out that Sleep Well Expo has

become an ideal platform for the

sector.

Could you evaluate the position

of the Turkish mattress

manufacturing industry?

Our country has made its presence

felt in this field. Our firms

are moving forward with innovation.

We are happy to be a

part of this team. Our company

has the know-how and technical

background to respond to the

sectoral needs. In line with the

vast experience of EMR, we are

working hard to provide efficient

services in the mattress sector.

What does Sleep Well Expo mean

to you?

This Fair will produce brand

value on behalf of our country. In

this respect, we are very happy

to be at Sleep Well Expo.

While displaying our products,

we will have the opportunity to

get up-to-date information on

the sector and to get feedback

on the innovations we make

through the organization.

We are satisfied with the performance

of the Fair in terms of

visitor profile. Sleep Well Expo

has become a dynamically growing

platform for the sector. We

are impressed by the increasing

number of foreign visitors. This

fact could well be regarded as

an encouraging trend for the

forthcoming events of Sleep Well

Expo.

In this respect, I congratulate

you on organizing such an organization

and wish your successful

performance to continue.

Ömer Özpehlivan
---
148

"One step to

freedom"

The Robatech Turkey family contributed to the "One Step

to Freedom Campaign", which the Spinal Cord Paralytics

Association of Turkey has been running for a long time, with 3

electric wheelchairs.

The Spinal Cord Paralytics Association

of Turkey (TOFD) was founded

in 1998 to provide services to

solve the medical, professional,

economical, and social problems

of spinal cord paralytics and to

prevent the emergence of new

spinal cord paralytics. From the

year it was founded; the Spinal

Cord Paralytics Association of Turkey

has been conducting works in

national and international areas

to solve the medical, professional,

economical, and social problems

of all orthopedically disabled persons,

primarily spinal cord paralytics.

TOFD launched and concluded

a large number of projects for the

full and effective participation of

people with disabilities in social
---
149

life. One of the primary goals of

the Association is to prevent new

and permanent disabilities that

may arise and to ensure that the

society is informed of this area.

The Association has more than

2,100 members and more than

1350 members are paralytics at

various levels.

The Spinal Cord Paralytics Association

of Turkey (TOFD) has already

delivered 2024 electric wheelchairs

to disabled people in 81

cities throughout Turkey until now.

Thus, disabled people have begun

to participate in social life as well

as to act freely. Today, thousands

of spinal cord paralytics still keep

on waiting for electric wheelchairs

to regain their freedom.

3 electric wheelchairs donated by

Robatech Turkey were delivered to

disabled people at TOFD Association

Centre in Ataköy/Istanbul.

At the delivery ceremony, TOFD

Vice President Semra Çetinkaya,

Robatech Turkey Finance Manager

Yasemin Erbay, Sales Manager A.

U. Hakan Tanrıöven and Project

Manager İsmail Keçebir attended.

Regarding the subject, Sales

Manager A. U. Hakan Tanrıöven

stated, "As it is known, the way

for a person in a heavy disabled

group without being dependent

on someone else, to be able

to work, to go to school, to go

shopping, in short, to manage his/

her life to some extent is a matter

of having an electric wheelchair.

The importance of the electric

wheelchairs is very big in order

for disabled citizens to be able

to move easily and freely. As the

Robatech family, we are very well

aware that our main duty is to

contribute to the growth of the

country's economy. Besides that,

we are also aware of our responsibilities

towards the society. In

this sense, we have wanted to

help our disabled citizens to step

into freedom through the Spinal

Cord Paralytics Association of

Turkey."

"How fortunately that we carry

hope for the future of our citizens

within the framework of the

social responsibility projects we

have been carrying out, we try

to enable them to get one step

closer to their freedom and help

them to overcome all the obstacles

that might come along with

our support. I would like to thank

Ms. Semra Çetinkaya, the Vice

President of the Association who

helped us at the point where this

support of us reaches the right

persons and to all the association

employees on behalf of the

Robatech Family and myself."
---
150

Cormatex: from waste

materials to innovative

mattress products

Cormatex is an Italian textile

machinery manufacturer, operating

worldwide since 1938: its

specialty is the development of

customized complete lines for

the production of unique nonwoven

products, based on virgin or

recycled fibers as well as various

types of waste materials.

Cormatex Machinery portfolio

includes opening and blending

systems, Carding & Cross Lapping

technology, Airlay systems,

longitudinal and cross cutting

machines (high speed cross cutter

with flying blade) combined

with edge trim recycling machines

of various configurations

and automatic winders.

In particular, through their special

nonwoven Airlay forming

technologies, called "Lap Formair

V = vertical airlay" and "Lap

Formair H = horizontal airlay",

Mattress post-consumer and

post-industrial wastes can be

mixed together with low melting

fibers or powder resins to create

innovative materials for new

mattresses, thermal and acoustic

insulation, automotive applications,

packaging and others.

A complete production line

based on vertical airlay is

available for the company's customer's

visits in France. There,

End-Of-Life mattresses through

a complete recycling and nonwoven

transformation process,

receive a new life, thus combining

the green-footprint (avoiding

mattress landfill) with high revenues

(technological added value

products, with 5 years warranty,

high breathability, excellent

resilience and support).

In details sanitized and granulated

PU-foam, Latex and recovered
---
151

Textile fibres are separately

stocked and continuously mixed.

Indeed, they are collected,

dosed and blended according

to customer's own recipes; then

distributed in perfectly uniform

and continuous bat, with controlled

density and thickness,

through our special Lap Formair

V (with the additional possibility

to apply a top and a bottom

screens) and consolidated into a

special air-through oven; finally,

the continuous Nonwoven flow

is automatically cut in panels of

the desired size, and edge trims

recycled in the line. The productivity

can reach 1.000kg/h onto

a 2m wide line.

For testing new customer's

projects, concepts and materials,

at Cormatex premises in Montemurlo

(only 30' from Florence

and 1hr from Pisa city centres) is

available a complete Pilot Line,

where both Cormatex's Vertical

and Horizontal Airlay systems

are installed (including Thermobonding

and Needle Punching

capabilities): there customers

can make their "innovative materials",

seeing and touching the

high performance of our innovative

technologies.
---
P: +90.224 443 46 28 - 29 F: +90.224 441 99 90 Nilüfer Bursa TURKEY info@elektroteks.com.tr