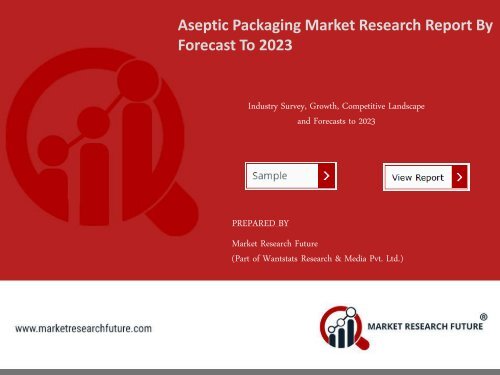 Aseptic Packaging Market Research Report - Forecast to 2023
Global Aseptic Packaging Market Information: by Material (Plastic, Metal, Glass, and Paperboard), Type (Cartons, Bottles & Cans, Bags & Pouches, Ampoules and others), Application (Food, Beverages, Pharmaceutical, and others) and Region– Forecast Till 2023
Global Aseptic Packaging Market Information: by Material (Plastic, Metal, Glass, and Paperboard), Type (Cartons, Bottles & Cans, Bags & Pouches, Ampoules and others), Application (Food, Beverages, Pharmaceutical, and others) and Region– Forecast Till 2023


SHOW MORE
SHOW LESS
Create successful ePaper yourself
Turn your PDF publications into a flip-book with our unique Google optimized e-Paper software.
Aseptic Packaging Market Research Report By

Forecast To 2023

Industry Survey, Growth, Competitive Landscape

and Forecasts to 2023

PREPARED BY

Market Research Future

(Part of Wantstats Research & Media Pvt. Ltd.)
---
Aseptic Packaging Market Research Report - Forecast to 2023

Global Aseptic Packaging Market Information: by Material (Plastic, Metal, Glass, and Paperboard), Type

(Cartons, Bottles & Cans, Bags & Pouches, Ampoules and others), Application (Food, Beverages,

Pharmaceutical, and others) and Region– Forecast Till 2023

Aseptic packaging plays an important role in sealing sterilized products under unsterilized atmosphere. There are two types

of aseptic packaging; packaging of pre-sterilized and sterile products, and packaging of non-sterile products. Aseptic

packaging products can range from bags and pouches to metal cans. The purpose of aseptic packaging is to produce food

items that can be stored without refrigeration for a longer time and also maintains chemical and sensory properties. Aseptic

packages offer environmental and economical advantages that use preservatives and refrigeration to achieve a long shelf

life for food products.

The increasing demand for transportation for longer distance is creating a need for extending the shelf life of the product.

Moreover, growth in the milk and dairy products markets worldwide is creating ample of opportunities for the growth of

the market.

Recent trend shows that sustainable packaging and sustainable manufacturing practices are being adopted across the

industry. Additionally, shifting consumer preferences fueling the growth of the aseptic packaging market. The growth of tea,

healthy juice, and dairy-based drinks requires alternative technologies to conventional hot fill and retort-based approaches

that limit flavour quality. Additionally, aseptic packaging is influenced by shifts in preferred package formats and food

processing advances that enable flash pasteurization and continued the rise of single-serve bottle-based packaging.

Whereas, high R&D costs and initial investment are challenging the aseptic packaging market.

Report Sample @ https://www.marketresearchfuture.com/sample_request/2188

2

www.marketresearchfuture.com
---
Aseptic Packaging Market Research Report - Forecast to 2023

In the process of aseptic packaging, the food product is sterilized using ultra-heat treatment, where the food or drink is

heated to a high temperature and then cooled quickly. This process allows retaining natural texture, colour, and flavour. This

is provided with an opportunity in aseptic food packaging market, especially in the dairy and processed foods categories.

Popular retail brands are turning to aseptic packaging due to various advantages such as protection of nutritional content,

storage efficiency, and food safety. In developed countries, aseptic packaging provides benefits such as protection of

sensitive ingredients and greater efficiency in different stages of the supply chain.

The global aseptic packaging market is segmented based on material, type, application, and geography. On the basis of the

material, it is segmented into plastic, metal, glass, and paperboard. By the type, the market is classified into cartons, bottles

& cans, bags & pouches, ampoules and others. The application is further segmented into food, beverages, pharmaceutical,

and others. The market is analyzed across Americas, Europe, Asia-Pacific, and the Middle East & Africa.

The global aseptic packaging market has witnessed a prospective growth over the last few years. According to MRFR

analysis, the market is likely to retain the similar growth rate during the forecast period. The market segmented into the

types, which include cartons, bottles & cans, bags & pouches, ampoules and others.

The food and beverage markets have fueled the overall growth in the packaging industry. The growth of the beverage

market due to advancements in the packaging technology, which is offering cans with improved functional and storage

features for the growth in the soft drinks end-use sector.

Enquiry Before Buying @ https://www.marketresearchfuture.com/enquiry/2188

3

www.marketresearchfuture.com
---
Aseptic Packaging Market Forecast To 2023

Aseptic Packaging Market-By Segment

4

www.marketresearchfuture.com
---
Aseptic Packaging Market Forecast To 2023

Regional Analysis of Global Aseptic Packaging Market

The Asia Pacific dominated the global aseptic packaging market, and it is anticipated to see highest growth during the

forecast period. Increasing demand for packaged food, more emphasis on product safety and changes in food

manufacturing industry are driving the market growth. Moreover, Rising population and changing food habits are other

factors driving demand for aseptic packaging. Increasing liquid food and dairy beverage applications and increasing

consumption of ready-to-eat food are creating demand for aseptic food further.

Key Players

Some of the key players in the global Aseptic packaging market report include Amcor Limited (Australia), Tetra Pak

International S.A.( Switzerland), Greatview Aseptic Packaging Co., Ltd.(China), SIG Combiboc Obeikan (Switzerland),

Reynolds Group Holdings Limited (U.S.), ELOPAK Group (Norway), Sealed Air Corporation (U.S.), Molopak LLC (Russia), and

SIG Combibloc Group AG (Switzerland).

Browse Full Report @ https://www.marketresearchfuture.com/reports/aseptic-packaging-market-2188

5

www.marketresearchfuture.com
---
ABOUT US

MARKET RESEARCH FUTURE

At Market Research Future (MRFR), we enable our customers to unravel the complexity of various industries through our Cooked Research Report

(CRR), Half-Cooked Research Reports (HCRR), Raw Research Reports (3R), Continuous-Feed Research (CFR), and Market Research & Consulting

Services.

MRFR team have supreme objective to provide the optimum quality market research and intelligence services to our clients. Our market research

studies by products, services, technologies, applications, end users, and market players for global, regional, and country level market segments,

enable our clients to see more, know more, and do more, which help to answer all their most important questions.

In order to stay updated with technology and work process of the industry, MRFR often plans & conducts meet with the industry experts and

industrial visits for its research analyst members.

For more information kindly visit www.marketresearchfuture.com or contact us at info@marketresearchfuture.com

Copyright © 2018 Market Research Future

All Rights Reserved. This document contains highly confidential information and is the sole property of Market Research Future. No part of it may be

circulated, copied, quoted, or otherwise reproduced without the written approval of Market Research Future.

6

www.marketresearchfuture.com
---
THANK YOU

MARKET RESEARCH

salesteam@marketresearchfuture.com

FUTURE

Ph: +1-646-845-9349 (US)

Ph: +44 208 133 9349 (UK)

7

www.marketresearchfuture.com