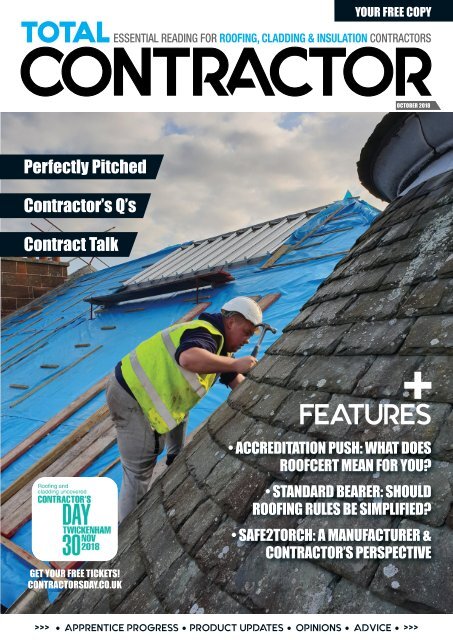 Create successful ePaper yourself
Turn your PDF publications into a flip-book with our unique Google optimized e-Paper software.
OCTOBER 2018

Perfectly Pitched

Contractor's Q's

Contract Talk

GET YOUR FREE TICKETS!

CONTRACTORSDAY.CO.UK

FEATURES

• ACCREDITATION PUSH: WHAT DOES

ROOFCERT MEAN FOR YOU?

• STANDARD BEARER: SHOULD

ROOFING RULES BE SIMPLIFIED?

• SAFE2TORCH: A MANUFACTURER &

CONTRACTOR'S PERSPECTIVE

>>> • APPRENTICE PROGRESS • PRODUCT UPDATES • OPINIONS • ADVICE • >>>
---
CONTRACTOR'S

FRIDAY 30TH

NOVEMBER

TWICKENHAM STADIUM

9:30 – 4:30

9:30 – 4:30

TEST YOUR

KNOWLEDGE

IN THE BMI SKILLS ZONE

AND WIN

DAY

CONTRACTOR'S

FRIDAY 30TH

NOVEMBER

TWICKENHAM STADIUM

TEST YOUR

UP TO £250!*

KNOWLEDGE

IN THE BMI SKILLS ZONE

AND WIN

UP TO £250!*

DAY

30 TWICKENHAM

NOV

2018

30 TWICKENHAM

NOV

2018

FREE ENTRY

Register today

www.contractorsday.co.uk

FREE ENTRY

Register today

www.contractorsday.co.uk

The ideal event for roofing and cladding

contractors operating in the residential,

commercial and industrial sectors.

The ideal event for roofing and cladding

contractors operating in the residential,

commercial and industrial sectors.

• Innovation & Products – Source new products and materials from over 60

leading manufacturers and suppliers to help you on your projects

• Innovation Industry Experts & Products – Contractor-focussed – Source new products seminars and materials and from debates over 60 in two theatres

leading manufacturers and suppliers to help you on your projects

throughout the day

• Industry Experts – Contractor-focussed seminars and debates in two theatres

throughout

NFRC CPD

the

Accreditation

day

• NFRC Free entry CPD Accreditation

and parking

• Free entry and parking

REGISTER

TO VISIT

REGISTER

TO VISIT

www.contractorsday.co.uk

www.contractorsday.co.uk

FOLLOW

ON SOCIAL

FOLLOW

ON SOCIAL

#contractorsday

#contractorsday

BROUGHT TO YOU BY

BROUGHT TO YOU BY

SHOW SPONSORS

ROOFING ROOFING

* T&Cs apply

* T&Cs apply
---
Editor's Comment

MATT DOWNS

EDITORIAL DIRECTOR

MATTDOWNS@MEDIA-NOW.CO.UK

07963 330774

"Once RoofCERT is established and people see the value of it, the

roofing operative will either have to go through it or choose not to

be in the industry, because ultimately the aim of RoofCERT is to

write it into Statute."

Strong words from Mike Wharton, Head of Business Development at the

NFRC, in response to our question on how we get the message re:

accreditation to those who aren't interested in operating at a

professional level, but it really hits home just how important and what

sort of impact the NFRC and its stakeholders feel RoofCERT will have

on the sector.

COVER PIC:

COURTESY OF ARCHIBALD

MCCORQUODALE & SON

An operative from award-winning roofing company Archibald McCorquodale &

Son working on site. Colin McCorquodale answers our Contractor's Q's on p.30.

FOLLOW US @TOTCONTRACTORUK

SIGN UP FOR YOUR WEEKLY E-BLAST AT

WWW.TOTAL-CONTRACTOR.CO.UK

Granted it's still early days for the new accreditation and the various

groups are still working out some of the finer details – but make no

mistake, the wheels are well and truly in motion and it is hoped that

RoofCERT can do for roofing what Corgi / Gas Safe has done for

plumbers in terms of professionalising the sector in the eyes of the

end-user. Read our full interview with Mike on p.16, plus look out for

the exclusive seminar on RoofCERT at Contractor's Day on Nov 30th.

Elsewhere in this issue, in his latest Perfectly Pitched column, John

Mercer continues his look at what BS 5534 really means for the roofer

with a focus on underlays (p.34); Marley Eternit provides roofers with

some top tips for batten installation (p.38); we talk Safe2Torch with IKO

(p.42) and contractor Adam Suffolk (p.46); and Simon Storer of the

Insulation Manufacturers Association talks skills (p.62). So read on for

all this and so much more...

NEW

A PRIC

C£C£OMP£GET £AY£DA£O£T£D£ARISO £PA ON

£T

Matt

LOW PRICE

Advertising:

Publishing Director: Andy Dunn:

DD: 01892 732 047

Mob: 07963 330777

Email: andydunn@media-now.co.uk

Registered office: 1 Forstal Road, Aylesford, Kent, ME20 7AU

Commercial Manager: Jake Roxborough

DD: 01892 732 047

Mob: 07956 133314

Email: jakeroxborough@media-now.co.uk

The content of Total Contractor magazine (and website) does not necessarily reflect the views of the editor or publishers and

are the views of its contributors and advertisers. The digital edition may include hyperlinks to third-party content, advertising,

or websites, provided for the sake of convenience and interest. The publishers accept no legal responsibility for loss arising

from information in this publication and do not endorse any advertising or products available from external sources. No part

of this publication may be reproduced or stored in a retrieval system without the written consent of the publishers. All rights

reserved.

NOW

FROM ONL LY

£3 Y

45

*

per leaf

Including

deliv

very

Supported by:

ORDER 10

TO DELIVERY FROM A FAS

T

W

T D im

a

o

me

yrking s Lead

*

Be choose Made for Tr

rade

G CE Email: bif

Call: 01642 610799

Aluminium Bi-F old Doors olds@madefortrade.co

Fax: 01642 671026

www.madefortrade.co

* Per leaf price is unglazed and may vary depending on size and spec cification of the door. Lead time is based on a standard colour.

OCTOBER 2018 TC 3
---
Contents

FROM THE COVER

16 ACCREDITATION PUSH

Total Contractor talks all things RoofCERT with

Mike Wharton of the NFRC

26 STANDARD BEARER

We get a supplier's view on whether standards

and regs should be easier to understand

42 SAFE2TORCH

A manufacturer and a contractor give their

thoughts on the Safe2Torch initiative

CONTRACTOR'S DAY!

Not long now until Twickenham Stadium opens

its doors for Contractor's Day! Register for

your FREE tickets at www.contractorsday.co.uk

28

FEATURES

28 AVOID THE WEATHER WOES

Can using the right materials help you avoid the

weather woes? Mark Parsons believes so...

56

40 Q&A: INVERTED ROOFS

Rob Firman addresses contractors' queries regarding

inverted roofs and extruded polystyrene insulation

48 A WINNING START

We catch up with BMI Icopal Apprentice of the Year

Kieran Forster to hear how his career is developing

56 THE ISSUE OF INNOVATION

We hear a lot about innovation, but what does it really

mean? Brian Mack gives his view

64 THE RIGHT RETROFIT

A. Proctor Group talks through the different possibilities

for retrofitting wall insulation

74 DRONES AND ROOFING

As Sion Roberts explains, it's not a case of just buy and

fly when it comes to UAVs and construction sites...

4 TC OCTOBER 2018
---
REGULARS

20 CONTRACT TALK

Richard Kendrick talks cash flow and explains

how to keep things moving in the right direction

22 AN INSPECTOR CALLS

This month the Inspector focuses on heat

welding single-ply membranes

30 CONTRACTOR'S Q'S

Colin McCorquodale answers our questions

and explains why communication is key...

INDUSTRY NEWS

06 STEP INTO A VIRTUAL WORLD

MSA Safety is bringing its Rooftop VR Experience to

Contractor's Day! Another reason to visit Twickenham!

08 GOV'S HIGH-RISE RESPONSE

The majority of responses to Government consultation favour a

ban of the use of combustible materials on high-rise exteriors

06

68 TOTAL VEHICLES

We look at the options for racking out your

van; top tips for selling; plus vehicle hire

SECTIONS

WWW.TOTAL-CONTRACTOR.CO.UK

28

TOTAL

ROOFING

56 TOTAL

CLADDING

62 TOTAL

INSULATION

68

OCTOBER 2018 TC 5
---
Industry News

BTS'S FAB OPEN DAY!

VIRTUAL REALITY AT CONTRACTOR'S DAY!

The NFRC and Total Contractor are pleased to

announce MSA Safety will be bringing its

Rooftop Fall Protection Virtual Reality

Experience to Contractor's Day!

Above: The Trumpff TruBend Center in action at BTS.

BTS Facades & Fabrications held an Open

Day at its state-of-the-art Newton Aycliffe

HQ and factory on September 25th.

The event was attended by over 120 of BTS's

customers and supply chain partners and

included updates on BTS's recent investment

and plans for the future from MD Phil Atkinson

and Company Secretary Marcia Atkinson, plus

BTS's Mark Kenney informed those assembled

of the company's developments within its

product range including the Vantage Rainscreen

Systems. Guest Speaker Gary Lumby, of Focus

on Success, also gave an inspirational talk

including advice and guidance from his time in

business.

The day also included the BTS Awards which

saw Errigal Facades awarded for its Westfield

White City project; Prater awarded for its

Town Centre regeneration project in

Bracknell; and Apex Facades awarded for its

work at Kingston, London.

Visitors were also treated to a factory tour

which enabled them to see BTS's range of

presses and machinery in action, including

the Trumpff TruBend Center 7030 – BTS's

most recent and significant investment –

which Phil describes as a "game-changer"

for both the company and its customers. The

TruBend Center offers BTS a number of

benefits including unrivalled precision

automated bending; opportunities to develop

its offering; and increased speed and

efficiencies which enable BTS to offer quicker

turnaround for customers.

Visitors to MSA Safety's stand at the UK's only

exhibition exclusively targeted at contractors

operating in the roofing, cladding and insulation

sectors, will be able to don a headset and enter a

virtual world where they can experience MSA's

safety solutions in a representative context and in

the very location where they will be used.

Having stepped into the virtual world at the

launch of this new VR experience, Matt Downs,

Editorial Director at Total Contractor, who colaunched

Contractor's Day alongside the NFRC,

explained: "This immersive experience really puts

you in the situation and enables you to feel the

very real dangers of working at height. Visitors to

Contractor's Day will be able climb up to a virtual

reality rooftop using a controller to 'clip on' every

step of the way to carry out their work. Once there

they can assess the situation and carry out tasks,

all the time feeling the immediate dangers of their

environment which forces them to really think

about what they are doing. The possibilities of

this technology with regards to training in

particular and the roofing sector in general are

TIME TO FOCUS ON INSULATION'S BENEFITS

The NIA says it is teaming up with the Energy

Saving Trust, the independent national energy

efficiency experts, and other advice agencies

to promote the true benefits of insulation.

The Association says that over the years, large

subsidies and grants from energy companies and

Government towards the cost of home insulation

for both fuel poor households and those in 'able

to pay' households has helped those suffering

from fuel poverty, but it has also resulted in

insulation being devalued with householders

focusing on price and grants only, and not

The teams from MSA with Render and Intel who helped develop

MSA's Rooftop VR Experience. Try it out at Contractor's Day!

endless, and this will be a great experience for

visitors to Contractor's Day."

A spokesperson for MSA Safety explained: "By

enabling customers to literally experience the

products for themselves, MSA can communicate

the value of the products in seconds; decision

makers can immediately empathise with the risks

their workers face on a daily basis and the need

for highly robust safety equipment, without them

actually being exposed to the risk. The nuances of

product detail can be grasped quickly and easily,

all within an exciting, new and innovative format

that prompts engaging discussion."

The MSA Safety VR experience is yet another great

addition for visitors to Contractor's Day, which

takes place at Twickenham Stadium on 30th

November 2018. Find out more and register for

your FREE tickets: www.contractorsday.co.uk.

appreciating the true benefits of insulation.

However, the NIA believes this will change as

under the new £640m per year Energy Company

Obligation 3 scheme – which is launched this

Autumn – subsidies and grants will be

restricted to vulnerable and fuel poor

households only and not available to those in

'able to pay' households. This, the Association

says, provides a significant opportunity for the

industry to build the value back into insulation

by promoting the benefits of the different

measures available.

6 TC OCTOBER 2018
---
ALL ALUMINIUM

LANTERN ROOF

FITTED IN MINUTES

FASTEST

Glazed in seconds

No cutting or drilling onsite,

without silicone, clip fit

finishing caps – Fastest fit on

the market

As featured at the FITShow,

search for our YouTube

video and see the

Korniche fully fitted

in under 6 minutes

Under

6 mins

SLIMMEST

Uninterrupted Sight

Lines

Patent pending end boss

enabling hips to merge into ridge

Traditional features in

contemporary design give

'Timber' like looks suitable for all

properties

Narrowest external ridge profile

Email: sales@korniche.co.uk

Tel: 01642 610799

Fax: 01642 615854

STRONGEST

Performance

Engineering

Ability to withstand 'Live' loads

over twice that of the leading

competitor. A 6x4m roof can

support up to 8 tonnes

Up to 3m x 2.5m with

no rafters

No tie bars required

www.korniche.co.uk

3.5kN

/m2

SUPPORT

Best for specifiers -

the ideal trade

lantern

Brand, point of sale and

marketing support helping save

time and maximise profit from

sales and on-site.

TM

Online trade KwikQuote tool

WARMEST

Fully thermally

broken construction

Thermal PVC T Bar, Thermally

broken eaves beam and industry

leading Q-Lon Gaskets.

U Value from 1.2

PLUS

FROM ONLY

5 WORKING

DAYS LEAD

TIME

FULL SALES SUPPORT

AND NATIONWIDE

DELIVERY

CONTACT US TODAY

FOR A QUOTE
---
Industry News

WEIGHTING GAME

Younger roofers are being urged to make

sure they don't overload their vehicles

and make their driving licence invalid.

Experts from LeaseVan.co.uk say many

younger van drivers may not be aware that

their driving license limits them to driving

vans which weigh less then 3,500kg when

fully loaded – including the weight of the

driver themselves.

The rule only applies to motorists who passed

their driving tests after 1st January 1997,

and if they plan to exceed this weight they

need to take an additional driving test.

Now LeaseVan.co.uk are urging their

customers to visit a local weighbridge and

check their van's fully loaded weight if they

are unsure.

Tim Alcock of LeaseVan.co.uk said: "Some

younger van drivers may not realise the

restrictions their driving licence places upon

them. Most are aware that they can only

drive vans with loads up to 3,500kg, but

many believe as long as their van is less than

that they are ok.

"If you consider a van making deliveries

could be loaded up with boxes weighing 70kg

each, it would only take around 20 boxes plus

the weight of the driver, to be reaching the

permitted weight limit.

"Another common mistake that less

experienced drivers make is to fail to factor in

their own body weight and that of any

passengers.

"The 3,500kg limit on their driving licence

includes everything inside the van, including

the driver, his lunch, any items in the cab,

even the packet of mints on the dashboard.

"If drivers are concerned they should visit

their local weighbridge for peace of mind."

GOVERNMENT RESPONDS: THE NEXT STEP

In response to the housing

committee's report, the Independent

Review of Building Regulations and

Fire Safety: Next Steps, the

Government has revealed that whilst

it's still analysing responses to its

consultation, the majority of those

received so far have been in favour of a ban of

combustible materials on high-rise exteriors.

The government response stated: "Our

consultation on banning the use of combustible

materials in the external walls of high-rise

buildings closed on 14 August 2018. There were

460 responses from a range of individuals and

organisations. The Government is currently

analysing the consultation responses. The

majority of respondents agreed with the intention

of the consultation and the Government will

publish its response in the autumn.

On the issue of the Government fully funding the

replacement of any cladding on any existing

NEW ROOF WINDOW GUIDE LAUNCHED

NARM, the National Association of

Rooflight Manufacturers, has

published a new technical guide

covering the installation of roof

windows on pitched roofs as

part of its ongoing commitment

to support best practice in the

design and installation of

rooflights.

NARM Technical Document

NTD16 Roof window installation

considerations for pitched roofs, has been

produced by NARM member companies to help

raise awareness of the typical installation and

detailing pitfalls that roof window installers

should be aware of before commencing

installation.

Most detailing for roof windows is not product

buildings which had been permitted, but

is subsequently banned as a

consequence of the consultation, it

stated: "The Government has already

provided funding for remediation of

cladding in the social sector. In the

private sector more and more firms are

doing the right thing and replacing cladding

themselves without the costs falling to

leaseholders.

"The Government will consider what further steps

may be appropriate as part of the detailed analysis

of the consultation responses and the wider

reforms proposed by the Independent Review."

The government also stated: "We have also been

clear that we will not hesitate to go further than

the Hackitt recommendations where we deem it

necessary, as we have shown through our

consultation on proposals to ban the use of

combustible materials in the external wall

construction of high-rise buildings."

NARM Technical Document NTD16

Roof window installation considerations

for pitched roofs

2018

specific and the

information contained in

this guidance document is

applicable to many roof

window installations.

This comprehensive new

document contains detailed

drawings with explanatory

notes, for quick and easy access

to a comprehensive range of

topics including: sizing of

structural openings; coursing; underlays; levelling

and squareness flashings; insulation and vapour

barriers.

The new document NTD16 is a valuable

resource for roofers and other construction

professionals and can be downloaded at:

www.narm.org.uk

8 TC OCTOBER 2018
---
SEE US AT

Have you heard?

The ultimate affordable glass

rooflight is now available in RAL 9010

White and RAL 7016 Anthracite Grey.

Discover more about Raylux with our online

configurator, visit whitesales.co.uk/RUFUS

www.whitesales.co.uk I sales@whitesales.co.uk I 01483 271371
---
Industry News

TRAINING PROVIDER

JOINS NFRC

Philip Fergusson and Jayne Fergusson of NCTS with

Steve Reynolds of the NFRC.

National Construction Training Services

(NCTS) is the first independent training

centre to become a member of the NFRC.

The NFRC represents more than 70% of

contractors, manufacturers and training

providers involved in the industry. Known as

the 'voice' of the roofing sector, it actively

ensures its members uphold the highest

standards of workmanship and business

practice through a strict code of practice and

vetting procedure. NCTS, training specialists

in a range of roofing disciplines such as

slating and tiling, lead, hard metals, liquid

and bituminous waterproofing, gained its

NFRC accreditation following an inspection of

its first-class training facility in Hoddesdon,

Hertfordshire. An assessment was also

carried out at its offices in St Ives,

Cambridgeshire. NFRC membership means

contractors and the like will have access to

NCTS' range of industry-recognised courses

designed to qualify, 'up-skill' and enhance the

careers of roofers of all ages and abilities.

Philip Fergusson, Managing Director at NCTS,

said: "NFRC is the number one organisation

for the roofing industry. Therefore, it's a real

honour to become the first independent

training centre to be accepted as a member.

It demonstrates the quality of training and

service NCTS is able to provide. We look

forward to a long and mutually beneficial

association with NFRC."

CONTRACTOR'S DAY: TACKLING THE ISSUES

With an in-depth seminar

programme tackling the

key issues affecting

roofing and cladding

contractors on site and

as businesses, you won't

want to miss

Contractor's Day…

From increased public

scrutiny over quality and

safety, to problems of attracting a new crop of

talent, roofers and cladders face a variety of

challenges in today's market. That's why

Contractor's Day couldn't come at a better time.

The event, which is the first ever to be solely aimed

at contractors, takes place on 30th November

2018 at Twickenham stadium and is packed full of

exhibitors including the country's leading suppliers,

manufacturers and Trade Associations.

However, not only will visitors get up close to all

the latest products and services, but they'll also

be able to see experts provide the latest

information and advice on subjects and topics

affecting contractors on site and in their

businesses today.

Two seminar theatres organised by the NFRC –

the UK's largest roofing and cladding Trade

Association – will feature its own experts as well

A Bristol-based construction company has

been sentenced for carrying out unlicensed

asbestos work.

Bristol Magistrates' Court heard how, during July

2017, a project was undertaken to refurbish The

Cherry Tree pub at Oldland Common, Bristol, into

eight flats. T.W. Parker (Building & Groundworks)

was commissioned to conduct the works.

A survey of the site on 13 July found waste

materials, including asbestos insulation board,

Find out more about Contractor's Day and register

for your FREE tickets at www.contractorsday.co.uk.

as those from across the

industry, including SIG Roofing,

BMI and IOSH. Topics include

safety tips for working at

height, using drones for roof

surveys, asbestos awareness,

business tips, the new

RoofCERT accreditation and

much more. There will also be

a dedicated Skills Zone,

sponsored by BMI, that will showcase the

talents of young roofers.

"We want this event to provide contractors with

practical information to help them make their

businesses as successful as possible, which is

what the NFRC is dedicated to providing its

members," explained Amanda Brackey, Head of

Marketing and Communications at the NFRC.

Andy Dunn, Publishing Director of Total Contractor

magazine who co-launched Contractor's Day with

the NFRC, explained: "Time is precious for

contractors, and that's why we've brought

together so many of the leading manufacturers,

suppliers and Trade Associations in one fantastic

venue so visitors can see first-hand all the latest

materials, systems and tools that can assist

them on site, plus listen to and take part in

discussions on the key issues affecting them on

projects and as businesses."

FINED FOR UNLICENSED ASBESTOS WORK

were left lying outside the building.

Asbestos containing materials, which would require

a licence to remove, were also found to be present

amongst the debris and in the building structure.

T.W. Parker (Building & Groundworks) of Hicks

Common Road, Winterbourne pleaded guilty to

breaching Section 5, 8(1) and 16 of the Control of

Asbestos Regulations 2012. The company has

been fined £7,000 and ordered to pay costs of

£1,264.60.

10 TC OCTOBER 2018
---
SEE US AT

Handrails:- EasyGuard

free-standing Guardrails

*CurveyGuard – an aesthetically pleasing curved rail.

*EasyGuard – raked or straight legs dependant on

application. *FoldGuard – folding handrail.

Trip hazard reduction – long thin base-plates with

Counterweights used on un-secured ends only. Placed at 2m

centres maximum to enable use for leading edge protection.

Galvanised or powder coated finish. Protective mats 5mm

bonded to the base plates.

Standards – Exceeds Class A EN13374- Class A; For

leading edge protection HSE/SR 15, September 1988.

Nationwide delivery or contract installation. – Free material

quantifying service – info@safetyworksandsolutions.co.uk

Ladders:- Easy Fit

Compliant to both BS/EN 5395 and 14122 –

To comply with the standards for

permanent ladders all mild steel then hot

dipped galvanised to BS/EN 1461.

All typical ladders bespoke – email

info@safetyworksandsolutions.co.uk for a

survey check sheet.

Easy Fit, all ladder components are Easy

to assembly; in manageable parts Easy to

handle and install.

Rest Platforms and ladders with special

fixing requirements; solutions provided by

Safetyworks in house.

(All components for British Standard

compliant ladders require steel components

with timber and aluminium recommended

for temporary use only)

HANDRAILS

-

LIFELINES

-

WALKWAYS

-

FALL GUARDS

-

FLEXIDECK

-

DEMARKATION

-

LADDERS

-

STEELWORK

-

Tel: 01487 841400

www.safetyworksandsolutions.co.uk
---
Industry News

TRADITIONAL APPROACH FOR SKILLS

Pupils from secondary schools in Glasgow,

Stirling, Perth and Musselburgh took part in a

two-day traditional building skills event held at

the Scottish Parliament on 11th & 12th

September.

The hands-on, practical workshops provided 13 to

15 year olds with the chance to discover more

about traditional skills apprenticeships, and

allowed them to have a go for themselves.

They tried their hand at roof slating,

stonemasonry, joinery and painting and

decorating, expertly assisted by current Modern

Apprentices in these trades.

The event was sponsored by Gordon Lindhurst,

MSP for Lothian. He said: "Traditional building

skills demonstrations are hugely valuable in

raising the profile of the vital skills needed to

maintain our unique built heritage.

"Having attended workshops elsewhere, I am

delighted to welcome the Scottish Traditional

Building Forum and the Construction Industry

Training Board to the Scottish Parliament,

alongside the apprentices who can show off their

skills.

"I hope that by raising the profile of these

traditional building skills in this way, we can

secure the long-term future of Edinburgh's World

Heritage Site and Scotland's built environment

more generally."

The event was organised by the Scottish

Traditional Building Forum as part of Construction

Scotland's Inspiring Construction programme. It

was supported by a range of partners including

CITB, City of Glasgow College, West College

Traditional Building demonstration, Scotland.

Scotland, Dundee and Angus College, Edinburgh

College and Developing the Young Workforce. The

National Federation of Roofing Contractors

supported the delivery of the roof slating

demonstration.

Ken Gillespie, Chair of Construction Scotland,

said: "The construction industry currently employs

233,600 people, but it's estimated that 28% of

that workforce will need replacing by 2027,

creating at least 21,000 vacancies. Attracting

more potential employees to our industry to

address this imminent skills gap is one of

Construction Scotland's top priorities.

FMB PRESIDENT SETS SIGHTS ON SKILLS

Attracting more young people

viewed as such. I want construction

into the sector is top of the

to be a career of choice for young

agenda for Arthur McArdle, the

people."

new National President of the

McArdle continued: "Although the

Federation of Master Builders

FMB has spearheaded steps to make

(FMB).

apprenticeships more attractive to

Arthur McArdle was elected National

young people, including playing a

President of the FMB, the UK's Above: Arthur McArdle, FMB pivotal role in the sign off of two high

National President.

largest construction Trade

quality apprenticeships in bricklaying

Association, on 8th September at the

and plastering in June this year, we

FMB's National AGM and Conference in

still have further to go.

Bournemouth.

"The FMB is committed to working with the

Arthur McArdle said: "I am extremely passionate Government to improve the quality and quantity

about ensuring that we have enough skilled of apprenticeships."

workers to help build the nation out of the housing

McArdle concluded: "As the FMB continues to

crisis. The skills shortage the sector is facing is

grow, I am extremely privileged to be part of the

absolutely dire and the only way we can

leadership of an organisation that stands for

guarantee enough skilled construction workers in

quality and professionalism in the building

the future is by attracting more young people into

industry."

the sector and training them to a high standard

now. The construction industry is an extremely At the National Conference, Janet Etchells was

rewarding sector to work in and it should be voted in as the first female National Vice President.

FORCES INTO

CONSTRUCTION

North West Roof Training Group is

exhibiting at the Forces into Construction

event being held at Coleg Cambria,

Connah's Quay, on 10th October.

All ranks and backgrounds of ex-service

and soon to leave ex-service personnel will

be meeting national and North West-based

construction employers and hearing about

the opportunities available to them in the

North West.

Sue Wharton of NW Roof Training Group

explained: "Here's an opportunity for us to

reach out to this untapped source of labour.

It's forecast that here in the North West

some 550 additional staff will be required

within the next four years. Our own display

will focus on training opportunities and

career paths within the roofing industry, and

exploring this market is critical to our

efforts to support our members. "

12 TC OCTOBER 2018
---
MANUFACTURERS OF SPECIALIST TEST EQUIPMENT

Save time and money with our

Flat Roof Leak Detectors

Battery-powered, fully-portable and compatible with all non-conductive flat roof finishes;

our Wet Roof Pro' and Dry Roof Pro' kits are simple to use and can pinpoint the exact

location of a leak, even if it's too small to see with the naked eye.

Dry Roof Pro'

• Test up to 2,500m 2 per day

• Find leaks in dry conditions

• Test up to 25.6mm membrane thickness

Wet Roof Pro'

• Test up to 500m 2 per day

• Find leaks in wet conditions

• Test any membrane thickness

Give our sales team a call for more information

tel: 01303 278888 email: sales@buckleys.co.uk

www.buckleysinternational.com
---
Industry News

RISE IN NEW HOME

REGISTRATIONS

New figures from NHBC have revealed that

more than 15,800 new homes were

registered to be built in the UK in July, a

35% increase on the same month last

year.

12,087 new homes were registered in the

private sector in July 2018 (8,421 in 2017),

with 3,782 registered in the affordable sector

(3,362 in 2017).

For the rolling quarter, between May and July,

43,600 new homes were registered

compared to 39,421 in 2017 – an increase of

11%. During this period there were 31,264

new homes registered in the private sector

(28,056 in 2017: +11%) and 12,336 new

homes registered in the affordable sector

(11,365 in 2017: +9%).

Over this period, London experienced an 86%

increase in registrations, partly due to an

increase in the number of large housing

association and private rental sector

developments registered in the capital.

As the leading warranty and insurance

provider for new homes in the UK, NHBC's

registration statistics are a lead indicator for

the new homes market.

Commenting on the July figures, NHBC Chief

Executive Steve Wood said: "Following a slow

start to the year due to the extreme weather,

we have had promising new home figures in

recent months with July seeing a real uplift.

Over the last three months we have had

growth in new home registrations in eight out

of 12 UK regions, with London leading the

way.

"NHBC continues to support UK builders in

delivering high quality new homes for the

benefit of consumers."

NO TIME FOR BREAKS, TIME JUST VAN-ISHES

Builders spend 2 ½ years driving their van Executive of the FMB, said: "This new research

over the course of their working lives and dispels the myth that builders spend a big chunk

almost one year trying to locate a particular of their time drinking tea. In reality, if builders are

tool, according to new research by the

downing their tools for any reason, it's so they

Federation of Master Builders (FMB).

can chat to their customers and ensure they have

happy clients. Less surprisingly, over the course

The FMB asked thousands of builders across the

of their working lives, your average builder will

UK how many minutes they spend each day

spend two and a half years driving their van and

carrying out certain tasks. The figures reveal that

two and a half years shopping for materials at

over their career, an average builder will spend

their local builders merchants. Of all the

the equivalent of:

activities that might typically fill a builder's

• 2 years and 9 months talking to clients; working day, making tea trails at the bottom of

the list."

• 2 years and 6 months driving their van;

Berry concluded: "Excellent communication with

• 2 years and 6 months at the builders'

clients is just one of the qualities that top class

merchants;

builders in the UK have. The FMB is launching the

• 2 years and 1 month training or supervising Master Builder Awards 2019, which aims to seek

junior colleagues or apprentices;

out and celebrate the very best builders in our

industry. Too often, the minority of dodgy builders

• 1 year and 9 months eating lunch;

give the whole industry a bad name. The Master

• 11 months trying to locate a particular tool; Builder Awards are all about dispelling any

misconceptions and showcasing the quality

• 6 months making tea.

builders who help home owners and clients

Commenting on the research, Brian Berry, Chief realise their building ambitions."

SUPPLIER AWARD FOR MIDLAND LEAD

Midland Lead has been selected as the h&b

Group's Supplier of the Year 2018.

The accolade, officially known as the 'Peter Buttle

Supplier of the Year award', after the buying group's

founder, was announced at the h&b Group annual

Activity Event at The Belfry earlier this month.

After outshining other roofing and insulation

Lynn Street, Midland Lead.

suppliers in its own category, Midland Lead went

a lot of positive changes for Midland Lead and the

on to win the overall award, beating the five

award is another indication that we are

finalist suppliers nominated by their own select

continuing to move in the right direction. We have

expert product panels.

a great sales team that drives the company

Lynn Street, Midland Lead's Sales and Marketing forward but sales contact is only a part of a much

Manager, was at the conference to receive the larger package. We strive to show that the ability

award. "I am hugely proud of this achievement to provide excellent customer service exists

for our company. The last nine months have seen within us all at Midland Lead."

14 TC OCTOBER 2018
---
#ejot-knowhow

Behind every fastener we make,

you'll find a world of fastening expertise

Because worldwide, EJOT manufactures fastening solutions for every

kind of construction application, you can rely on products that are

designed for correct installation and lifetime performance.

And behind every fastener specification, there is a world of design and

manufacturing expertise to ensure your choice is an informed choice...

from the most complex to the most routine applications.

See our

technical

review on

Page 56

EJOT® the quality connection

Call 01977 68 70 40 email: info@ejot.co.uk

www.ejot.co.uk /building
---
NFRC Technical Talk

"THIS IS A STARTING POINT FOR

PROFESSIONALISING THE INDUSTRY"

As a sector dogged by stories of cowboys, suffering from outdated stereotypes and poor

perception from those outside of the industry, RoofCERT could be the change that the

roofing sector really needs. But what does it mean for you, the contractor, and how will such

a wide-ranging and far-reaching accreditation scheme be implemented? We caught up with

Mike Wharton, Head of Business Development at the NFRC, to discuss this and so much

more about RoofCERT…

Total Contractor: How is the RoofCERT

accreditation progressing and what stage

are you at?

Mike Wharton: This is a highly collaborative

programme, so the focus so far has been on

getting the broadest range of stakeholders

involved. We've now got a Leadership Committee

made up of representatives from across the

industry, including roofing contractors,

suppliers, merchants, main

contractors, our partners the

CITB, the LABC and other

agencies. This committee

oversees the work being

carried out by the three Activity

Groups which include experts that

we've similarly recruited from both

inside and outside of the roofing industry.

The Supply Chain Collaboration Group is ensuring

that there is a pipeline of appropriate training

available and assessing the best way to deliver it,

either through assessment centres or on the

ground. The Attraction Group is exploring suitable

career paths for roofing and looking at ways to

make RoofCERT attractive to industry, households

and buyers of roofing services.

The Accreditation and Standards Activity Group is

essentially creating the accreditation itself and

has made some great strides in setting out what

it will look like. The group is focusing on a pointsbased

system that captures an operative's

existing qualifications,

acknowledges experience gained

on site and includes a

mandatory 'basket' of short

duration courses, which

everyone will need complete. The

group is currently deciding how much

weight each of these three elements carries

towards accreditation.

TC: The NFRC has launched

the scheme alongside the

CITB, do I have to be a

member of the NFRC to

become accredited?

MW: No. It's open to anyone in

industry and the aim is to have

5,000 roofers accredited by 2021.

TC: What is actually involved in becoming

accredited?

MW: The starting point will be a 'gated'

knowledge test specific to each discipline, which

everyone will take at the 100-plus secure test

centres dotted around the UK. Passing this test

will allow them to enter the system and provide

evidence (or undertake as appropriate) the short

duration courses on first aid, manual handling,

working at height, fire safety and asbestos

awareness, abrasive wheels and possibly another

course on communication. We are also about to

scope the registration and booking system.

Left: Mike Wharton, Head of Business

Development at the NFRC.

TC: What, if any costs are

involved?

MW: For the first 5,000 contractors

there is no cost at all. After that there

will be a cost, which is to be decided.

TC: Is the accreditation relevant to both

new entrants and established roofers?

MW: Only those that have been working in roofing

for a minimum of three years will be eligible for

RoofCERT. So, if you're an apprentice, you will

need to have reached the three-year point and

achieved NVQ Level 2 before registering.

TC: How do you feel being an accredited

roofer will benefit a contractor's

business?

MW: There has never been an accreditation

scheme for roofing and so this is a starting point

for professionalising the industry. We know that in

general accreditation is important to consumers

as a mark of trust, so if they insist on RoofCERT

accreditation, then it's clearly a benefit to those

operatives and their firms. Similarly, in the

commercial market, a roofing-specific

accreditation we see as being insisted upon by

main contractors, councils and other

stakeholders, particularly in light of the tragic

event of the Grenfell fire.

16 TC OCTOBER 2018
---
The show for people who build

100+

EXCLUSIVE

PRODUCT

LAUNCHES

9 - 11 OCT 2018 • NEC BIRMINGHAM

Dedicated Area For

Roofing, Cladding & Insulation

• Discover 10,000+ innovative products

and services

• Join 35,000+ Contractors, Developers,

Housebuilders and Roofing Contractors

• Explore the latest solutions in the

roofing market

PART OF

buildshow.co.uk

#BuildShow2018 @BuildShow

EXHIBITING COMPANIES INCLUDE

2018

9-11 OCTOBER NEC BIRMINGHAM

PART OF

UK CONSTRUCTION WEEK 2018

REGISTER

FREE
---
NFRC Technical Talk

TC: Will it be each individual within the

company who is accredited or the

company as a whole?

MW: We already have the Competent Roofer

scheme, the only government-authorised

competency scheme for roofing which applies to

companies. RoofCERT, on the other hand, is geared

towards individual operatives so that they can take

it with them if they were to change companies.

TC: How will the accreditation scheme be

policed and who by?

MW: The start point is the initial secure 'gateway'

test, when the individual must present ID before

submitting into the system relevant

qualifications, which will be checked. There will

be a refresher – be it knowledge-based or

practical – taken every three years to maintain

accreditation, which will include knowledge of

British Standards. Training centres will also be

accredited to deliver the scheme and could

include commercial training providers, training

groups and other interested parties. These will be

audited on a schedule to be decided.

TC: What impact do you think an

accreditation scheme will have with regard

to attracting school-leavers to the sector?

MW: The Attraction Group will assess how the

industry can attract a new generation and is

looking at how other sectors approach the issue,

because frankly construction hasn't been

successful. Clearly, we need to be better at

making roofing an aspirational career choice so

accreditation, which will help to establish a

formal career path, may help with this.

TC: How do you balance educating and

raising standards of new entrants into the

market and those who are more

established – is there a different job to be

done with both?

MW: There is a slightly different job to be done

because it is much easier to explain the

importance and changing nature of standards to

a new entrant than an experienced operative who

may have completed their NVQ Level 2 30 years

"Educating the consumer about the benefits of

employing a skilled and safe roofing contractor

over someone who will offer the lowest price,

without any evidence of competence, is key to

success"

ago. The challenge is reaching those experienced

workers and more importantly getting them to

adopt the standards. The three-yearly refresher

will help solve this issue.

TC: How much is it about educating the

public and building owners about what they

should expect from roofing contractors, as

it is about changing working practices of

some of those within the market – clearly

there is a large number of professional and

skilled contractors already operating

throughout the UK…

MW: Educating the consumer about the benefits

of employing a skilled and safe roofing contractor

over someone who will offer the lowest price,

without any evidence of competence, is key to

success. We're therefore undertaking a nationwide

research project on consumer attitudes to

understand how best to tackle the issue.

TC: How do you get the message to roofers

who may do "private work" in their spare

time – cash in hand, perhaps not insured

etc. which as we know goes on in most

sectors of construction – will we ever be

able to change that mentality or is it again

about educating the homeowner /

customer and ensuring they see the

benefits in choosing a skilled and

accredited roofer?

MW: Once RoofCERT is established and people

see the value of it, the roofing operative will either

have to go through it or choose not to be in the

industry, because ultimately the aim of RoofCERT

is to eventually write it into Statute. There will

always be a black market in every area of

construction, unless VAT is dropped for home

improvement – for example.

TC: Do you feel the roofing industry is

slowly changing the outdated perceptions

the public and in some cases clients /

building owners might have of it? Or are

we still some way off?

MW: The professional end of the industry is very

serious about what they do and is passionate

about correct installation methods and is

passionate about removing the cowboy element.

However, I think we're some way off from changing

perceptions and it's another reason why RoofCERT

is needed to both professionalise the whole of our

industry and demonstrate that to our stakeholders.

TC: Where would you expect to see

RoofCERT by the end of this year?

MW: We expect the design for the accreditation of

key disciplines and the secure testing element

will be agreed by the end of this year. The full

launch of RoofCERT to operatives will be in 2019.

TC: How has this type of initiative worked

in other sectors – what benefits has it

brought about in those markets?

MW: The most well-known example is still the

Corgi / Gas Safe scheme for plumbing, which had

a hugely positive impact on that industry. If you

ask the average person in the street today who

they need to install a boiler, they'll say a Corgi or

Gas Safe-registered plumber. For glazing FENSA

and CERTASS are well known among consumers

who understand that they will need a building

regulation certificate when they come to sell their

homes. We aim for RoofCERT to be similar in

terms of profile.

Contact the NFRC

020 7638 7663

www.nfrc.co.uk

@TheNFRC

18 TC OCTOBER 2018
---
one warranty...all

the cover you need

SEE US AT

ROOFING

ONE WARRANTY

O N E R O O F

1 5

•

Y E A R S

O N E N A M E

•

O N E WA R R A N T Y

NEW PRODUCTS

ADDED EVERY

MONTH

TIMBER SPECIALISTS

ONE WARRANTY covers your pitched roofing products

performance for 15 years in a single package warranty

Whatever type of pitched roof; concrete, clay, reproduction stone, natural or

fibre cement slate coverings ONE WARRANTY has got you covered!

• Includes an extensive range of industry leading manufacturers

• Offers a solution, whatever pitched roofing coverings are used

• Gives the convenience of dealing with one company for the whole process

• Provides extra value at no extra cost

• Reduces administration, from registration to claim

• Full support from SIG Roofing - part of a FTSE 250 company

Find out more at www.sigroofing.co.uk/onewarranty or

speak to your local SIG Roofing contact.

For more information and Terms & Conditions please visit: www.sigroofing.co.uk/onewarranty

W: www.sigroofing.co.uk/onewarranty

T: 0800 988 3349

PITCHED ROOFING

FLAT ROOFING

INDUSTRIAL ROOFING
---
Contract Talk

MANAGING YOUR CASH FLOW

Cash flow is the lifeblood of any construction project, and it is crucial to manage it

effectively. Here, Richard Kendrick, Marketing Manager at SIG Roofing, sheds some light on

how to keep things moving in the right direction.

It's no secret that negative cash flow could

cripple a business. No one is exempt from this

fate, as recently seen in the demise of

construction giant Carillion. However, it is smaller

businesses that need to be especially careful

when it comes to managing cash flow in order to

stay afloat, let alone make a profit.

Small and medium-sized enterprises (SMEs)

comprise 99% of the 280,000 UK construction

businesses. These businesses spend on average

130 hours each year chasing payment, at an

average cost of £1,500 per business. Resulting in

£180m in debt interest charges and late payment,

which is a primary or major factor in 20% of

industry insolvencies.

So, how can businesses avoid this fate and

maintain a positive cash flow in spite of all the

challenges.

"Contractors and

subcontractors can do

some background

research on a client

before entering a

contract"

Background research

Firstly, contractors and subcontractors can do

some background research on a client before

entering a contract.

If the client has a history of failing to pay on time,

querying invoices, or generally not co-operating, it

is advisable not to embark on the project at all,

as the money spent on labour and resources may

not be made back. Asking other contractors for

references is highly recommended.

"As soon as an invoice

becomes overdue,

businesses should

chase immediately"

Cost forecasting

Next up is the importance of thorough cost

forecasting. A cash flow forecast allows roofers to

estimate how much cash they will have at every

stage of the project. From this, roofers will be

able to establish the stage at which they need to

be paid by clients before they have to pay out for

materials and labour. It is crucial to monitor the

forecast regularly as the project is ongoing in order

to determine whether it is on track financially or if

there are areas where costs could be cut.

Correct payment at the right time

Timely payment collections are fundamental to

maintaining cash flow. Without receiving the

correct payment at the right time as set out in the

forecast, things can start to unravel when it

comes to meeting payments required by

suppliers. For this reason, knowing how to

correctly invoice clients is crucial. Agreeing

payment terms before work commences will

avoid any confusion later down the line.

On larger projects, contractors should invoice

regularly as opposed to waiting until work has

finished; asking to be paid weekly or monthly will

keep things moving along nicely. As soon as an

invoice becomes overdue, businesses should

chase immediately. This doesn't necessarily

mean getting aggressive, but it serves as a

reminder for the client.

Collecting payments on time has been made

easier with the introduction of electronic banking.

Contractors should ensure they accept electronic

payments so as to speed the whole process up as

much as possible and to keep a one hundred per

cent accurate record. With that being said,

staying on top of the books and keeping an

ongoing record of incomings and outgoings as

they happen is highly advised to prevent any

nasty surprises later down the line.

Change is inevitable in the construction industry.

Nothing will ever go exactly to plan, and the

ability to effectively communicate these changes

to a client sets a successful business apart from

its struggling counterparts. It is crucial that

changes are communicated to the client as early

as possible and are well documented in writing

for future reference. It is also advisable to check

whether the client definitely has the funds to

accommodate the change before taking the

decision to implement it, however big or small.

A clear way for businesses to prevent a cash

shortage is by always keeping some aside. The

most obvious way to do this is to enforce a policy

of always drawing less than the profit made so

that a balance builds up over time.

Maintaining positive cash and running a

profitable business is fundamentally down to

preparation. Conducting the relevant research,

carrying out a thorough and realistic cost

forecast, monitoring and recording changes,

putting the measures in place to ensure prompt

payment, and communicating openly and

consistently with clients will put a business in the

very best position for success.

Contact SIG Roofing

0845 612 4304

www.sigroofing.co.uk

@SIGRoofing

20 TC OCTOBER 2018
---
Whatever the weather,

Alumasc's metal rainwater systems

outperform all others

SEE US AT

Aluminium

Cast Iron

Steel

www.alumascrainwater.co.uk info@alumascwms.co.uk
---
An Inspector Calls

SINGLE-PLY ADVICE: WELDING WELL

In our regular monthly column – 'An Inspector calls' – Total Contractor has teamed up with

the experts at BMI Icopal to help you achieve roofing success and avoid the common pitfalls

that can often cost you both time and money.

This month, the Inspector tackles the hot

topic of heat welding singly-ply

membranes.

As discussed in last month's column, single-ply

membranes are increasing in popularity but so

too is their ill-founded 'notoriety'. This misplaced

sentiment is mostly down to a lack of industry

understanding and insufficient product

awareness regarding installation.

One of the main reasons for this is the alleged

vulnerability to water ingress. Now this is most

commonly a result of poor application, with

typically the most common source of ingress

originating from a poorly sealed lap. A number of

reasons may have contributed towards this:

incorrect welding temperature, the presence of

dirt or contaminants on the seam, or even

moisture retention within the product – a byproduct

of poor material storage. All of these

issues can be eliminated, however, with some

basic product awareness.

Above: Automatic welding machine in action.

Above: A hand-held welding kit.

"The truth is that

different brands of PVC

membrane will have

their own required

welding temperature

and the same is true for

TPO membranes"

The most common issue we see is the incorrect

welding temperature being used. This is mainly

due to the widespread belief that every PVC

membrane will weld at one set temperature

whilst all TPOs will weld at another. The truth is

that different brands of PVC membrane will have

their own required welding temperature and the

same is true for TPO membranes.

Recommended temperature

With this in mind, the best way to establish what

the recommended temperature should be is to

check with the manufacturer and read the

Above, left and right: examples of poor welds. This can be

caused by contaminated or dirty laps.

"It is advised all the

laps are cleaned prior

to welding. This is

particularly relevant

when applying patch

repairs to existing

systems"

product literature and installation manuals. Each

manufacturer will have a different

recommendation and for good reason. Different

compositions, blends and stabilisers all

contribute towards varying recommended

temperatures, and these small adjustments can

make a big difference. Much like baking a cake,

we follow a recipe for a reason – the ingredients

and ratios used can all influence the

recommended temperature that is set for the

oven.

"A membrane's

receptiveness to

welding can vary

depending on the

temperature the

material has been

stored at"

Local environment

You should also consider the temperature and

conditions of the local environment. A

membrane's receptiveness to welding can vary

depending on the temperature the material has

been stored at. Furthermore, the first weld of the

day will be different to the last, so 'test welds' are

always recommended prior to installation. Test

welds will get the equipment up to the optimal

temperature and any small adjustments required

can be made prior to full membrane application.

Equipment

Welding equipment can also vary as

manufacturers may have different recommended

temperatures for handheld welders and

automatic welders. Manufacturers might also

22 TC OCTOBER 2018
---
"Another recipe for

failure is contaminated

and dirty laps. These

prevent a secure weld"

recommend different types of seam rollers, such

as a silicone roller for PVCs and a PTFE / Teflonbased

roller for TPOs. Each roller would apply a

different level of pressure, which is better suited

to each membrane type.

Clean laps

Another recipe for failure is contaminated and

dirty laps. These prevent a secure weld so it is

advised all the laps are cleaned prior to welding.

This is particularly relevant when applying patch

repairs to existing systems as the membrane

already in-situ will have retained dust, dirt and

possible contaminants during its life, which could

compromise any future bond. It is therefore

essential the areas due to be welded are cleaned

with an appropriate agent (from that particular

manufacturer) or cleaned with an approved

alternative. Failure to do this usually means the

contaminants will prevent a homogeneous weld

and this could 'pop open' weeks later. Coming

back to site to 'repair the repair' never looks good

and would not instil the client or building owner

with much confidence in your workmanship.

Correct storage

Lastly, returning to our theme of storage, if the

single-ply membrane has been incorrectly stored

i.e. left on the ground or exposed to the elements,

it will retain moisture that is not visible to the

naked eye. This moisture will compromise any

weld in the product and again could cause the

seam to 'pop open' weeks – sometimes months

after installation. A lap that may have appeared

secure following project completion could be the

cause of a costly source of ingress, which is

easily avoidable if materials are stored correctly

in the first place.

Important points to

remember:

• Always store your single ply

membranes in a suitable place.

• Consult the manufacturer for

advice and best practice.

• Use the recommended welding

temperatures.

• Use the recommend rollers

(silicone / Teflon).

• Clean the product prior to

welding.

• Test weld, test weld, test weld.

Contact Icopal's Technical Team

0161 865 4444

www.icopal.co.uk

@Icopal_UK

More than 140 years

of waterproofing

know-how

As a world leader in the manufacture of roofing and waterproofing systems, BMI Icopal is working continuously to innovate and develop its role as the

partner of choice for building projects of any size and type. Our extensive range of products include bitumen, single ply, liquid applied waterproofing,

lightweight roof tile systems, structural waterproofing and scaffold sheeting. Add to that, over 140 years of knowledge and expertise, plus an industry

leading level of warranty, there can be no other choice than BMI Icopal.

www.bmigroup.com/uk

Email: sales.admin@bmigroup.com

OCTOBER 2018 TC 23
---
SPRA: Opinion

HOW WILL CONSTRUCTION ADAPT

FOLLOWING THE HACKITT REVIEW?

By Dr Ronan Brunton, Technical Manager at SPRA.

The publication earlier this year of the

'Independent Review of Building

Regulations and Fire Safety: Final Report'

by Dame Judith Hackitt (May 2018),

fundamentally points to a cultural change

necessary in the UK construction industry. The

construction process came under scrutiny in the

review and parts were found to be sadly 'not fit

for purpose'. This perhaps renders the system as

a whole in need of change.

Among many important recommendations to

industry to effect change, the issue of competent

individuals assessing installed work to ensure

compliance with design specification must be a

priority. This follows for any trade, element or part

of the building structure. In context, if the design

specification complies with Building Regulations

(which should require verification pre-build) then

a competent person must be able to assess and

verify that installation of that design has actually

taken place. The competent person assessing on

site must have the knowledge (through certifiable

training), industry experience and be prepared to

raise awareness if something is not right. The

surrounding construction professionals must

react positively at that point to ensure

compliance. The competent person needs to have

the design and specification information to hand

at the point of assessment. Is this always the

case? I'd say perhaps not.

Specified products installed properly

The competent person must be able to check and

be sure that not only are the specified products

present but that they are installed correctly. They

must have that crucial knowledge – in some

cases quite specific – of the product or system. It

is likely and desirable that they will be assessing

only the part of the building or system that their

knowledge and experience relates

to. Frequent ongoing assessment

would ensure large, costly mistakes

could be avoided or minimized. It

must also follow, in the long run, that this

approach has economic benefit by spotting issues

quickly, during the build.

Flat roofing's approach

In terms of flat roofing, the approach taken by the

Single Ply Roofing Association (SPRA) is to ensure

SPRA-registered contractors are trained and

certified to install systems supplied by SPRA

membrane manufacturers. All membrane

manufacturers have BBA-certified systems and

installing contractors are trained in these

systems by the membrane manufacturers.

Importantly, frequent site visits (number

depending on project size and complexity) by the

manufacturer's technical team or appointed

representative are made to advise on the quality

of the installation, for each project. The

manufacturer's technical team are experienced,

knowledgeable individuals who are capable of

advising on issues concerning the installation of

their membrane system for specific projects.

Construction to follow

There are opportunities for the construction industry

at large to follow similar lines, with manufacturers

visiting projects to assess how their products are

being installed and impart good technical advice to

contractors, ultimately improving the quality of

installations and reputation of their products. The

people who really know the product's capabilities,

including limitations, are the product

manufacturers. Site involvement here is crucial in

getting the installation quality right and

developing an understanding for innovation of

future products and systems.

Left: Dr Ronan Brunton, SPRA Technical

Manager.

At SPRA, all members see the

benefit of working closer together

both at manufacturer and installing

contractor level and our membrane manufacturers

actively train SPRA contractors offsite and support

them during installation on site. Furthermore,

SPRA audits all members regarding their training

records to ensure compliance.

"Competent people

should be seen as

sources of knowledge

encouraging cultural

change"

Assessed, added to and developed

A commitment to training and verification with

training records allowing individual skills to be

assessed, added to and developed to the benefit

of the individual, their organisation, and the

resulting build quality of any project must be at

the very core of the cultural change called for in

the Hackitt review. On-site assessment should be

part of the learning process also. If a skilled,

competent person passes on advice or insists a

correction is made during the build process, the

individual should learn from that advice,

improving their knowledge. The industry should

also provide an on-site learning environment and

competent people should be seen as sources of

knowledge encouraging cultural change.

Contact SPRA

0845 154 7188

www.spra.co.uk

@singleply

24 TC OCTOBER 2018
---
A SIZE THAT IS SIMILAR

TO GENUINE SLATES

VARIED RIVEN SURFACE

SIMILAR TO SLATE'S

TILE

CLADDING

SOLAR

SERVICES

ROOFING

ACCESSORIES

BUILD

PERFORMANCE

THE DISTINCTIVE HIGH

MECHANICAL RESISTANCE

OF THE BEAUVOISE TILE

DRESSED LEADING

EDGE

REFINED

THICKNESS

A THIN STRAIGHT

FRONT EDGE

© LAUREEN WOJCIECKOWSKI

Bringing together the class of natural slate and the reliability of clay, our new tile

BEAUVOISE Graphite and its complimentary accessories provide a distinctive style to

roofing and cladding at a very competitive cost. BEAUVOISE Graphite is the quality

solution for new buildings and renovation projects that is covered by IMERYS Roof tiles

comprehensive 30 year guarantee.

imerys-rooftiles.com
---
Roofing Rules

SHOULD ROOFING RULES BE

SIMPLER? A SUPPLIER'S VIEW...

There are growing calls from across the roofing industry to make the rules and regulations

that govern the quality of materials and the standards of installation easier to use and

understand, as part of a wider drive to boost the industry's perceived reputation and levels

of professionalism. Duncan Winter, Flex-R's Trading Director, has his say from a supplier's

perspective.

Anything that can help to increase

awareness of standards and regulations –

and therefore enhance the reputation of

the roofing industry – can only be a good thing at

a time when we're still smarting from the

damning Which? Trusted Traders report earlier

this year, which found that roofers were amongst

the least trusted trades.

There's logic to the argument about looking at

making the rules and regulations easier to

understand because it should lead to greater

industry engagement and adoption of standards

so that everyone in the industry pulls in the same

direction.

"It should lead to

greater industry

engagement and

adoption of standards

so that everyone in the

industry pulls in the

same direction"

Standing up for standards

These standards are usually written by industry

experts, and drafts of the standards are

distributed widely as part of a consultation

process until consensus is achieved and the

standards are published.

That's exactly what's going on at the moment

with BS 6229 (Flat roofs with continuously

supported flexible waterproof covering). The

standard – which will eventually supersede BS

6229:2003 – was drafted earlier this year, went

out for public comment and is currently

undergoing comment resolution. According to the

BSI's Standards Development website, the

comment resolution is timetabled to be completed

by the end of December.

Who's got time to read them?

When the new BS 6229 is published, it'll no doubt

be heralded as another step forward for the

industry by setting higher standards, but who will

have time to read it? Us, certainly, but busy

roofing contractors? almost certainly not.

The people who write the standards could look at

producing bite-sized versions, but I'm sure they'd

feel like it was dumbing down a lot of hard work,

so I can understand why they've never really

gone down this route.

"Rule makers' loss is our gain"

Don't get me wrong, we're not opposed to

progress, but suppliers like us benefit from the

system being the way it is for two key reasons.

The first is the implementation of standards.

When new rules, guidance and specifications

come out, we work with our manufacturers to

make sure the products are compliant. This is

often a long and complicated process, but in

short, we do all the hard work so that contractors

don't have to – thus giving them peace of mind

that every product they purchase from us is up to

the job in every sense of the phrase. After all,

that's what responsible suppliers do, right?

Duncan Winter, Flex-R's Trading Director.

The second is that I'd argue that the rule makers

miss a trick in not fanfaring each standard as it

comes out. They could proactively explain the

nuts and bolts of each standard and, more

importantly, be clear about what any changes

mean for roofing contractors. They could work

closely with media like Total Contactor to spread

these messages.

Their radio silence gives us the opportunity to

produce product guides and other information –

often in bite-sized form – which we give out via

merchants, at shows, online and at in-branch

demonstration days so that roofing contractors can

get the information they need quickly and easily.

And having our marketing materials in the hands

of contractors goes a long way to being front of

mind as roofers are buying materials for their next

roofing jobs.

In the November issue, we bring you a

contractor's thoughts on this topic.

Contact Flex-R

01494 448792

www.flex-r.co.uk

@FlexR_UK

26 TC OCTOBER 2018
---
THE REVOLUTION IN

LEAD REPLACEMENT

FLASHINGS IS HERE!

SUPER SAFE FLASHING

●

●

●

●

●

●

●

●

●

●

●

●

DIFFERS FROM ALL OTHER LEAD REPLACEMENT

FLASHINGS ON THE MARKET.

NEW AND UNIQUE SAFE FLASHING PRODUCT.

IS 100% METAL PRODUCT.

PERFORMS LIKE LEAD AND IS FIXED LIKE LEAD.

SPECIAL SOFT ZINC ALLOY.

BBA CERTIFIED.

CLASS A1 FIRE CERTIFICATE.

NO THEFT PROBLEM.

MEETS NHBC FLASHING REQUIREMENTS.

MALLEABLE FOR DETAILING.

GREY SURFACE FINISH.

ROLL WIDTHS 150MM, 240MM, 300MM, 440MM

SEE US AT

Approved Product CF 5639 18/5531

LEAD

TOXIC MATERIAL

HEAVY PRODUCT

HIGH SCRAP VALUE

NO FIRE CERTIFICATES

REQUIRES NAKED FLAME TO WELD

BAD FOR THE ENVIRONMENT

INSTALLER TRAINING REQUIRED

METZ

NON-TOXIC

75% LIGHTER THAN CODE 4 LEAD

MINIMAL SCRAP VALUE

CLASS A1 FIRE CERTIFICATE 2018

BONDS TO ITSELF

ENVIRONMENTALLY FRIENDLY

INSTALLATION BY ANY COMPETENT PERSON

METZ IS DISTRIBUTED BY:

METRA NON-FERROUS METALS LTD.

UNIT N7, RD PARK, ESSEX ROAD,

HODDESDON, HERTS, EN11 OFB

01992 460455

ENQUIRIES@METRA-METALS.CO.UK

PLEASE CONTACT METRA FOR

STOCKIST DETAILS OR IF YOU WOULD

LIKE TO BECOME A STOCKIST

MANUFATURED BY GRILLO WERKE AG

METAL DIVISION

WESELER STR. 1 • D-47169 DUISBURG

CERTIFIED MANAGEMENT

SYSTEM ACCORDING TO:
---
Concrete Tiles

CONCRETE BENEFITS, RAIN OR SHINE

With winter fast approaching, now is the time for pitched roofing contractors to carefully

consider ever-changing weather patterns. Mark Parsons, Technical Director at Russell Roof

Tiles, offers his advice on how the industry can avoid weather woes through the right

specification and roofing solution.

2018 has been a year of bi-polar weather,

with violent storms and wet weather a

regular occurrence in Spring, followed by

record breaking Summer temperatures.

Icy chills and heavy snow gripped the country in

February and continued well into March, which

proved to be some of the UK's harshest weather

to date. Various weather warnings and dangers to

life were issued, and then Storm Hector hit the

country in June alongside winds of up to 100mph.

The summer months brought torrential

downpours and gales, following the intense

heatwave and record-breaking temperatures.

No room for substandard roofing

With the rise in extreme weather expected to

continue throughout winter, there is no longer

room for substandard pitched roofing. This is

because strong winds have the ability to loosen

roof edge details and ultimately disrupt the roof

system and this leads to defects in roofs – such

as leaks – which are often hard to pinpoint once

the roof is complete.

"Legislation has

already taken into

consideration the

changing weather

patterns"

Legislation has already taken into consideration

the changing weather patterns. For instance, the

British Standard for Slating and Tiling BS 5534

was revised to recognise the rise in extreme

weather in the UK aligning the British standards

with European standards. However, it is just as

important that contractors also

design-out potential issues by the

correct specification and

products used, ensuring the roof

is as stable and watertight as

possible.

Contractors also need to consider that

harsh weather can cause severe delays to

projects as working at height can be dangerous,

especially if there are strong winds.

"With the rise in

extreme weather

expected to continue

throughout winter,

there is no longer room

for substandard

pitched roofing"

Concrete tiles are often a popular solution as the

product provides a quick, yet cost-effective

solution when time is of the essence, as well as

being sustainable. Thinner leading-edge tiles, in

particular, are two thirds the thickness of a

normal concrete tile, and this means the product

is easier to handle and has an interlocking design

that can be fixed quickly and efficiently. This

helps to speed up the installation process before

the weather delays the construction process any

further.

Therefore, it no surprise that concrete, which is

also highly sustainable, now accounts for around

60% of the roofing tile market and is still

continuing to grow in popularity. Concrete tiles

can also replicate many indigenous different

regional materials, such as clay, slate or stone

Left: Mark Parsons, Technical Director at

Russell Roof Tiles.

and have a very visuallypleasing

appearance once

installed.

Once laid as part of a roof system,

concrete roof tiles assist in controlling

and retaining heat which keeps the inhabitants'

environment stay stable and warm. As a result,

I'd say concrete is pivotal in helping homes to be

more energy efficient – something that is

becoming more important to both inhabitants and

contractors to help them reach housing and

building standards set out by the Government.

Robust and long-lasting

By taking into consideration different weather

patterns, trends and the location from the start of

any project, contractors are in a stronger position

to ensure roofs are robust and long-lasting

despite the harsh weather conditions.

As manufacturers, at Russell Roof Tiles we work

closely with the contractor to ensure that they

have the best fixing specification and that all

the necessary factors have been taken into

consideration, from changing weather overtime

to how the location is affected by winds, rain

and gusts. This allows us to offer the assurance

of a guaranteed RussSpec – a 15-year

guarantee incorporating our whole roof

solutions.

Contact Russell Roof Tiles

01283 517070

www.russellrooftiles.com

@russellrooftile

28 TC OCTOBER 2018
---
SEE US AT

Passionate

about slate

Setting the

benchmark in

natural slate

for roofing

• Nationwide stockists

• Consistency of quality and supply

• Complete traceability

• Fully tested and CE marked

• Warranties available

Q U A L I T Y ,

C O N S I S T E N C Y ,

T R A C E A B I L I T Y

A N D C O N T I N U I T Y

For more information, visit our

website on www.sigaslate.co.uk

@SIGAslate

Image shows SIGA 39 used on Bridge House in Gloucestershire
---
Contractor's Q's

'PERSEVERANCE IS SOMETHING THAT

YOU SHOULD HAVE IN ABUNDANCE'

Archibald McCorquodale & Son is a fourth generation family-owned and managed roofing and

building contracting company located on the southside of Glasgow. The company is currently

owned by Colin McCorquodale, a Chartered Building Surveyor, and Gavin McCorquodale, a

qualified roof slater. The award-winning roofing company was founded in 1911 by Archibald, the Great

Grandfather of the current owners. Total Contractor caught up with Colin McCorquodale to put our

questions to him about projects, the market and his experiences over the years...

10

questions for Colin McCorquodale:

"It is fantastic to see a

young person that we

take on learn their

trade and grow into a

confident and

competent

tradesperson"

TC: What was your path into roofing and

to your current position?

CM: Growing up, my father ran our family roofing

business and I was always interested in one day

doing the same. However, I trained and practised

as a Chartered Building Surveyor before joining

our family business some 24 years ago. This has

allowed me to bring a different perspective to the

company and also to better understand the needs

of many of our customers, particularly in the

commercial market.

TC: If you had one piece of advice about

starting a roofing business, what would it

be?

CM: Perseverance is something that you should

have in abundance. The roofing industry is a very

challenging environment and you will face many

obstacles and set backs on a daily basis, with

many of them being factors totally out of your

control. However, our industry is rewarding. I

would urge anyone starting a roofing company to

join a Trade Association, such as NFRC, where

you will gain a lot of information, contacts and

will have an opportunity to be involved in shaping

the industry.

TC: Tell us about a current project you're

working on…

CM: Typically our workload is very varied and at

any one time we are likely to be working on

traditional strip and reslate projects, minor roof

repairs, roof alterations, industrial

sheet roofing repairs or renewal.

Currently we are involved in a

strip and reslate of a traditional

Glasgow tenemental property in a

highly visible city location. The work

itself is straightforward and very typical of

this sort of project, however there are many

challenges, particularly in terms of storage of

materials, siting of welfare, removal of debris,

traffic and pedestrian management as well as

liaison with the building occupiers. This project

highlights that as contractors we need many

skills other than just technical knowledge of

roofing to make a project work successfully.

"Most projects have

their difficulties and

it's the ease or

otherwise with which

these are sorted out

that make certain jobs

stand out"

TC: You must have worked on some

difficult projects over the years. Does one

in particular stand out?

CM: I think it's fair to say that most projects have

their difficulties and it's the ease or otherwise

with which these are sorted out that make certain

Left: Colin McCorquodale, Owner, Archibald

McCorquodale & Son.

jobs stand out. In recent times

our biggest difficulties have come

from the weather, particularly the

various versions of the "Beast from the

East" at the start of this year which really slowed

us down, and on reflection affected productivity

and future planning more than we realised at the

time.

TC: What about difficult customers? Any

situations that stand out that you can tell

us about?!

CM: Like all contractors we have our fair share of

challenging – we don't like the word difficult! –

customers, particularly in the domestic sector

where we need to appreciate our work represents

a large investment for the homeowner, and

generally we are an industry they approach with

some trepidation that they have little knowledge

of. In the commercial sphere difficulties often

arise when clients, for various reasons, are

unrealistic about either project duration or

budgets.

The rise of the internet has perhaps given us one

of our more standout challenges; we were

undertaking a fairly simple roofing scheme for a

domestic customer who insisted on stopping us

working what seemed like every 10 minutes so

that they could validate what we were doing

30 TC OCTOBER 2018
---
We'll bring your

roof to life!

SEE US AT

We green

rooftops for

roofers - any

size, any system,

anywhere!

www.gardensinthesky.co.uk

For furt

ther inf

formation

or a hire quotation call

01858 410372

OCTOBER 2018 TC 31
---
Contractor's Q's

on the internet. Eventually, I am glad to say we

did manage to persuade them that we knew

better than their online browsing session, and we

turned a very negative atmosphere at the start of

the project into a successful job with a happy

customer.

TC: What's the most frustrating thing

about your job?

CM: Living in the West of Scotland it goes without

saying that the weather is usually frustrating! Apart

from that we do get frustrated when we are asked

to work to unrealistic deadlines. The effects of late

payment, a trend we are seeing resurfacing, are

"We do get frustrated

when we are asked to

work to unrealistic

deadlines"

always frustrating. I do get frustrated that as an

industry we are viewed by the general public in a

very negative light and while we are taking steps

to address this, I feel we have a long way to go

before the true skill level of roofers is recognised

as widely as it should be.

TC: And the most satisfying?

CM: One of the most satisfying aspects of my

work is our apprentice training programme. It is

fantastic to see a young person that we take on,

often as young as sixteen and frequently straight

from school, learn their trade and grow into a

confident and competent tradesperson. In that

four years the change can be quite dramatic and

highlights the benefits of a career in roofing.

TC: What's your most important tool as a

roofing contractor, either in the office or

on site?

"One of the most

important tools in our

industry is the ability to

be able to

communicate clearly

and effectively with a

wide variety of people"

CM: One of the most important tools in our

industry is the ability to be able to communicate

clearly and effectively with a wide variety of

people who have varying degrees of

understanding of the technical aspects of

roofing.

TC: What's the best social media platform

for you as a roofing contractor?

CM: Twitter is easy to use and as it links to our

website allows us to update on current activities;

we do not use social media as much as perhaps

we should.

TC: How do you feel your sector's shaping

up in 2018? Are there reasons to be

positive?

CM: In our sector – repair, maintenance,

alteration and refurbishment – the market

continues to be challenging with margins being

squeezed by various factors. I feel that while

we remain busy there is, however, very little

long-term certainty and this would appear to be

more prevalent in Scotland than the rest of the

UK.

There are, however, plenty of reasons to be

positive, one of which is that, whilst market

conditions are challenging as a company we

continue to enjoy a buoyant enquiry level which

suggests that we must be doing something

right.

Contact Archibold McCorquodale & Son

0141 621 4307

www.mccorquodaleltd.co.uk

@mccorquodaleltd

32 TC OCTOBER 2018
---
SEE US AT
---
Perfectly Pitched

DRAPED CRUSADERS: MAKE SURE

YOU GET YOUR UNDERLAY RIGHT

In his latest column, pitched roofing expert and consultant John Mercer – writing on behalf

of Imerys Roof Tiles – looks at the issues around installing a waterproof underlay system.

Continuing with our series explaining what

BS 5534 means for the roofer, this month

we look at underlays. BS 5534 stipulates

that an underlay should a) provide a barrier to

reduce the wind uplift load acting on the tiles, b)

provide a secondary barrier to the ingress of

wind-driven rain, snow and dust and c) transport

any moisture that might be deposited onto the

surface of the underlay to the roof drainage

system. It must also provide temporary weather

protection to a building before the installation of

the roof tiles.

In this article we will deal with requirements b)

and c). In simple terms, the prerequisite of BS

5534 is to construct a waterproof underlay

layer; in practice, this may not be as

straightforward as it first appears. The now

widespread use of modern, breathable

underlays has brought new challenges in

installing a durable and weathertight underlay

layer, particularly in cold roof construction

where the underlay is draped unsupported over

the rafters.

The underlay drape allows any water that does find its way

into the batten cavity to drain safely away to the gutters.

The issues

In traditional English cold roof

construction, underlay is laid

horizontally over the rafters, with

a drape of up to 15mm between

each rafter and tile battens nailed

directly through the underlay into the

rafters. The underlay drape allows any water that

does find its way into the batten cavity to drain

safely away to the gutters.

"Laying traditional

bituminous underlay

across the rafters with

a drape was easy; in

fact, it was impossible

to lay it without a drape

because it sagged

under its own weight"

Bituminous underlay compresses where the

battens are fixed over it and forms a watertight

seal around the batten and nail hole. The

combination of the drape and the sealed holes

made for an effective watertight barrier. Laying

traditional bituminous underlay across the rafters

with a drape was easy; in fact, it was impossible

to lay it without a drape because it sagged under

its own weight – particularly in warm weather.

However, the same cannot be said about modern,

lightweight underlays. Even in slightly windy

conditions, it can be difficult to lay a breathable

underlay with a drape. Sometimes it needs

someone to hold it down at each end and a third

person to fix battens over it before it blows away!

Left: John Mercer, Roofing Consultant.

There is even evidence that

some underlays may shrink

slightly after a period in use.

Whatever the reason, the result can be

an underlay that is stretched tightly over the

rafters without any drape whatsoever. Modern,

lightweight underlays do not compress in the

same way that bitumen underlays do and so do

not form such an effective seal around the nail

holes. Therefore, the combination of little or no

underlay drape and unsealed nail holes can lead

to a leaky roof.

Detailing the general roof areas

Having identified the two possible causes of

leakage; i.e lack of underlay drape causing water

to become trapped behind the battens combined

with the inadequate sealing of nail holes, the goal

is to overcome these issues as simply and

effectively as possible.

Dealing with the sealing of the nail holes first;

A way to protect the nail tape is to install counterbattens

over the nail tape, underlay and rafters, prior to installing the

tiling battens.

34 TC OCTOBER 2018
---
Whatever your flat roofing requirement,

you will be safe in the knowledge that a

RubberBond FleeceBack installation will

provide you with the highest quality,

long term flat roofing solution.

SEE US AT

n Strength of FleeceBack Single Ply EPDM

n Speed of Factory Applied Tape

n Clean - No mixing of chemicals or liquids

n Versatile - Install on new build or

refurbishment projects

n Smooth, slate grey finish

n Simple application - No heat or welding

Contact us for:

Contractor training or to

request your sample pack.

Tel: 01494 448792

Email: enq@flex-r.co.uk

Flat Roofing Solutions
---
Perfectly Pitched

if we take the premise that bitumen underlay

self-seals around the nail holes, then the simple

answer is to re-create that phenomenon. The way

we do that is to fit bituminous nail tape between

each batten and underlay over the rafter. Nail

tape, as the name suggests, comes in the form of

a continuous roll of self-adhesive tape.

However, it is not practical to simply run nail tape

continuously up the underlay over the rafters, as

the roofer must stand on the rafters. Therefore, a

way to protect the nail tape is to install

counterbattens over the nail tape, underlay and

rafters, prior to installing the tiling battens. That

way, the nail tape can adhere to the

counterbattens and underlay and will create a

good seal around the nail holes.

This brings us to the second issue; i.e. lack of

underlay drape. Counter-battens not only protect

the nail tape, they also obviate the need for the

drape as they lift the tile battens clear of the

underlay, providing an efficient path for water to

run under the battens and towards the gutters. In

this application, the counterbattens need only be

10 to 15mm deep to satisfy the BS 5534

requirement for a space between the underlay

and tile battens to enable water drainage.

Detailing junctions

At the eaves, it is important to fully support the

underlay to prevent it sagging behind the fascia

which can lead to water ponding and eventual

leakage. The use of proprietary underlay support

trays is the ideal solution as these not only fully

support the underlay to maintain a fall towards

the gutter, they also provide a durable and UVresistant

drip edge into the gutter.

At abutments such as walls, chimneys and roof

window upstands, it is important to turn the

underlay up the abutment sufficiently and

consider taping the underlay to the wall or

upstand using a suitable durable adhesive tape.

For penetrations through the underlay, such as

pipes and ventilation terminals, cut the underlay

in an 'X' and turn it up the pipe or terminal. Fit a

diverter in the underlay directly above the

penetration so that any water on the underlay is

directed away from the penetration as it runs

down the roof slope.

Conclusions

What every contractor wants is to do a job as

efficiently and cost-effectively as possible, be

paid and to not need to go back to rectify

complaints. Following these simple

recommendations will go a long way towards

ensuring that each job is a success, first time.

Contact Imerys Roof Tiles / John Mercer

www.imerys-roof-tiles.com

@imerys

@johnmercer3

Below: Imerys Beauvoise Slate installation.

"What every contractor

wants is to do a job as

efficiently and costeffectively

as possible"

36 TC OCTOBER 2018
---
SEE US AT

LINCOLN CLAY PANTILE.

TRADITIONAL FEEL.

INNOVATIVE FIT.

The Lincoln clay pantile features fl exible open gauge

technology with a new fl at batten locator.

Shaped with an elegant s-curve design and thin leading

edge, the clay pantile is engineered for pitches as low

as 17.5°, for fast and simple fi tting across a variety

of installations.

And of course, Lincoln clay pantiles fully comply with

BS 5534 and NHBC Standards.

Discover more smart thinking (and order free samples) at

marleyeternit.co.uk/lincoln

Or call us on 01283 722588

Marley Eternit. The roof system others look up to.
---
Technical Tips

BATTENS: "THEY'RE CRUCIAL TO THE

OVERALL SECURITY OF THE ROOF"

Marley Eternit, manufacturer of the JB-Red batten, provides roofers with some top tips for

batten installation.

When you think of a secure pitched roof, battens aren't always the first thing that comes to mind because they are hidden by the roof covering.

However, they are actually crucial to the overall security of the roof, providing a reliable anchor that tiles or slates can be securely fixed to. Battens

also play a part in ensuring the rigidity, durability and weather tightness of the finished roof. That's why, whether you're working on a new build or a

refurbishment project, all battens need to be installed in accordance with BS 5534: 2014.

Below are Marley Eternit's top tips on storing, setting out and fixing battens to make sure your roof is compliant with the Standard:

Preparation and storage

1: Only ever use a roofing batten that is marked

BS 5534 compliant – make sure you check the

stamp on the batten yourself.

2: Store battens and counter battens on

sufficient bearers to prevent sagging or twisting.

Protect them from water saturation when stored

in bales or bundles horizontally.

Batten length, size and spacing

3: Before installing the battens, check you have

the size and spacing right as this can have a

direct influence on the weather tightness of the

roof, as well as the finished appearance.

4: The appropriate batten size will depend on the

span of the rafters and type of roof covering you

are using. BS 5534 includes a table of

recommended minimum batten sizes (see below).

For example, 25 x 50mm battens should be used

for single-lap interlocking tiles when laid on

rafters with a 600mm span.

5: Battens should be fixed to rafters set at

centres not more than 600mm apart. They should

span at least three rafters and be at least 1.2m

long.

6: No more than one in four

battens should be joined over

one truss for gauges over

200mm. For gauges less

than 200mm, there can

be a maximum of three

consecutive joints in any

twelve battens.

Using a spread of batten lengths

is a good way to achieve the above

two requirements, as it results in staggered

joints.

Fixing

7: When you're ready to secure the battens to

the rafters, ensure you're using the right nails.

BS 5534 states that the nails used to fix battens

to rafters should usually have a diameter of at

least 3.35mm. The nails should provide a

minimum of 40mm penetration into the rafter, so

a nail length of 65mm is generally

recommended.

8: Start at the lower edge of the roof, nailing the

batten into place at the centre of the rafter. Joints

should be directly over rafters, with the batten

square cut, tightly butted and skewed nails.

9: If a batten end is to be set in mortar, make

sure an appropriate preservative treatment has

been applied. This is not required when using a

dry fix system.

Wall fixing

10: When fixing to a wall, fix

specified battens to

boarding / sheathing

sarking in line with

vertical supports, or to

masonry wall as specified.

Secure counter battens to

masonry walls with improved

nails or with plugs and screws.

Other battens considerations

11: When fixing dry verges to battens, under the

new BS 8612 Standard they can no longer be

installed with just a nail fixing into the end grain

of the batten. Instead, mechanical engagement

must be achieved when fixing a dry verge to the

batten. Using a system with a batten end clip can

make this easier.

12: Counter battens: if you're using a vapour

permeable (breathable) membrane with a close

fitting roof covering – such as shingles – then it

needs to be counter battened to allow ventilation

of the batten space. The position of the first

batten should be the batten gauge plus half the

thickness of the batten. The batten gauge

thereafter is based on the pitch of the roof.

Contact Marley Eternit

01283 722 588

www.marleyeternit.co.uk

@MarleyEternit

38 TC OCTOBER 2018
---
There's more to

some breather

membranes than

just colour

It's blue It's green It's Permo® air

It's enough to turn our competitors green

with envy.

Permo® air is a roofers' favourite because of

its exceptional level of breathability (look on

our website if sd-values are your thing), and

its strength, which means it doesn't tear and

doesn't need support every few inches. Our

best performing underlay is UV-stable, so it

can be left on-site before using, with windresistance

that means you can use it almost

anywhere. And unlike lesser membranes,

it won't leave you red-faced and having to

explain a damp problem.

Trust Klober. Find out more at klober.co.uk

UNDERLAYS DRY VERGE TILE VENTS DRY FIX LEAD-FREE FLASHING

WWW.KLOBER.CO.UK
---
Inverted Roofs

YOUR QUESTIONS ANSWERED

Rob Firman, Technical and Specification Manager at Polyfoam XPS, addresses contractors'

queries about inverted roofs and extruded polystyrene insulation.

Why is a different lambda value used for

an inverted roof calculation?

In simple terms, the 'declared' lambda value

refers to the thermal conductivity of the product

when it leaves the factory.

When laid over the waterproofing in an inverted

roof, the insulation's efficiency can be affected by

rainwater draining between the boards. The

declared lambda value is adjusted and the

insulation assigned a 'design lambda' value,

which is used in U-value calculations for inverted

roofs.

What is a water control layer?

The cooling effect of moisture reaching the

waterproofed roof deck affects a roof's thermal

performance, so a water control layer is laid over

the insulation to reduce the amount of moisture

that can enter the build-up.

"The lower the

drainage factor, the

thinner the insulation

required to achieve a

particular U-value"

Water control layers, such as Polyfoam Slimline

Zero, are membranes resistant to rot and UV

decay, and impermeable to liquid but permeable

to water vapour. They allow a favourable drainage

factor to be adopted in calculations. The lower the

drainage factor, the thinner the insulation

required to achieve a particular U-value.

What coverings should be used above the

insulation?

As the insulation and water control layer are

loose laid on an inverted roof rather than

mechanically or adhesively fixed, a ballast is

required to stop them being lost to

the wind and prevent flotation

after heavy rain.

A variety of roof coverings can be

used, including green roofs and

timber decking. The following roof

coverings, however, are accepted as achieving

the necessary fire performance without the need

for further testing, and therefore are most

commonly specified and installed:

• Loose laid gravel at least 50mm thick, or with

a mass greater than 80 kg/m² (subject to

maximum and minimum aggregate sizes).

•A sand / cement screed at least 30mm thick.

• Cast stone or mineral slabs at least 40mm

thick.

Why do I need to know the site location

before requesting a U-value calculation?

The average rate of rainfall during the heating

season, based on location-specific data from the

Met Office, is included in a U-value calculation. It

is used to help calculate the amount of rainwater

the insulation is likely to be exposed to and the

effect it could have on performance.

"There can be wide

variations in rainfall in

specific regions too –

the average rainfall for

Manchester is lower

than the North West as

a whole"

For example, a building located in East Anglia is

likely to be exposed to significantly less rainfall

than one in Western Scotland. There can be wide

Left: Rob Firman, Technical and

Specification Manager at Polyfoam XPS.

variations in rainfall in specific

regions too – the average rainfall

for Manchester is lower than the

North West as a whole, showing the

benefit of using location data to improve the

accuracy of the U-value calculation.

Why is drainage important?

Building Regulations and British Standards

require roofs to drain properly. If water is allowed

to pond, the roof can be exposed to issues such

as greater loads than it was designed to

accommodate, accumulation of unsightly silt and

algae, and freeze-thaw cycles that place stress

on roof coverings.

"For inverted roofs,

drainage should be

provided at both the

water control layer and

waterproofing levels"

For inverted roofs, drainage should be provided

at both the water control layer and

waterproofing levels. Drainage outlets should

be positioned at the low points of the roof, not

just the roof edge. The low point on precast

concrete decks, for example, is most likely at

mid-span because of deflection due to the

deck's weight.

Contact Polyfoam XPS

01429 855100

www.polyfoamxps.co.uk

@RavathermUK

40 TC OCTOBER 2018
---
STATUS

CREDIT INSURANCE BROKERS

Subbies – Protect your company

against non-payment from the

main contractor.

Increase your confidence to take on new contracts

knowing that should the main contractor fail; your

business will be protected.

If you supply, or supply & install to the construction

sector, then request our Free Guide – A sub-contractors

guide to protection against bad debt.

Retentions; Final accounts; Work done but not

certified; variations; design fees and much more

will be protected with our specialist credit construction

policy underwritten by a specialist construction

insurer with an AA rating.

If you want to have an informal chat, then call

Lance Attwell on 01342 302 566, email him on

lance.attwell@statuscreditinsurance.co.uk

or request our Free Guide by visiting our website.

www.roofingsubbiecreditinsurance.co.uk

FIT IT.

FORGET IT.

Trust Ubbink for quality roofing

products to make your life easier

SEE US AT

Call us on 01604 433000 or

visit our website for more details.

• VENTS • TERMINALS • NON-LEAD FLASHING

• ROOFLINE PRODUCTS • & MORE

www.ubbink.co.uk

OCTOBER 2018 TC 41
---
Safe2Torch

"CONTRACTORS NEED NOT AVOID

USING TORCH-ON PRODUCTS"

Martin Fisher, Technical Manager at IKO, outlines safe working practices when using hot

works to minimise the risk of roof fires.

Following the heightened awareness of fires

within buildings and on roofs, clients are

becoming increasingly aware of the need to

use materials with appropriate fire protection

(covered under Part B of the Building

Regulations). Questions are now being asked

regarding whose responsibility it is to ensure

buildings are safe and who should be

accountable if things go wrong.

The Construction, Design and Management

Regulations (2015) state that: "The person who

selects products for use in construction is a

designer and must take account of health and

safety issues arising from their use. If a product

is purpose-built, the person who prepares the

specification is a designer, and so are

manufacturers if they develop a detailed design."

This means that anyone involved with writing a

specification which includes hot works must at

the very least assess and reduce the risk of fire,

or design out the risk altogether. Ideally, this

should be completed with a detailed report of the

roof condition and a photographic record which

should clearly highlight risk zones.

Safe2Torch

The National Federation of Roofing Contractors

(NFRC) has launched its 'Safe2Torch' campaign,

developed in partnership with its member

manufacturers and contractors, to reduce the risk

of roof fires. It also gives clients peace of mind

that if they engage with a contractor who has

signed up to the Safe2Torch campaign, their roof

works will be planned and installed within the

Safe2Torch guidance.

"It is the application

process – and in

particular the

applicator – that

should be scrutinised

to ensure compliance

with Safe2Torch

guidance"

While the specification of materials and

equipment is key to reducing the risk of roof fires,

it is the application process – and in particular

the applicator – that should be scrutinised to

ensure compliance with Safe2Torch guidance.

Anyone using torch-on methods must be trained

to do so for health and safety purposes.

42 TC OCTOBER 2018
---
Come and see us at

Did you know?

As a business we are committed to

growing our manufacturing capabilities,

and always investing into product

development and innovation. Most

recently we bridged the gap and

introduced Cavity Closers to our

product portfolio.

The Easy-Trim cavity closer is easy to install with simple cut to size indicators and

will provide a simple and highly effective method for closing cavities around

openings in masonry cavity, timber frame and steel frame system wall

constructions. Complying fully with relevant building regulations, British Standards

and Fire Resistance tests, we currently have these available in 2 choices of width:

50-100mm or 100-150mm, length 2.4m in packs of 10.

Reduce the risk of condensation, mould and moisture migration

across the cavity. Take a look at our Cavity Closers today.

t 0845 034 6008 f 0845 034 6010

12B Metcalf Drive, Altham Industrial Estate, Altham,

Lancashire, BB5 5TU, Great Britain

www.easy-trim.co.uk

Manufacturing Business of the Year

& High Growth Business of the Year
---
Safe2Torch

This not only includes the applicator, but

supervisors or site managers where works are

taking place. Guidance states that there is a need

for all persons operating with and around torchon

methods of application have a clear

understanding of the risks involved and the

control measure required.

Handy checklist

The NFRC has produced a handy checklist. If a

fire risk has been identified, or equally if it cannot

be ruled out, the work must default to a TorchSafe

solution. The checklist includes items such as

timber products; plastic fascias; soffits; a roof

adjoining a pitched roof; cladding; thatched roof;

window sills and frames; and existing weathering

components with concealed flammable materials.

A torch-free exclusion zone must also be created

of at least 900mm from all areas deemed to be at

risk, either due to containing combustible

components or being adjacent to roof details

where there is a risk of fire due to debris on the

existing roof structure of other flammable

hazards.

Only once fire risks have been fully assessed and

where necessary, mitigated, can hot works begin.

When using a torch-on method, it is vital that

propane cylinders are stored in the upright

position at all times and placed in a lockable

cage, away from the workplace, when not in use.

Propane gas hoses should be orange in colour

and of a suitable length for the project – using an

industry approved, CE marked, hose is the best

way to meet this requirement. If the hose is being

used for heating bitumen, it must be armoured for

additional protection against fire.

Hoses should be thoroughly inspected before

every use and be free from any tears, burns,

"Hoses should be

thoroughly inspected

before every use and

be free from any tears,

burns, fraying or cuts"

"Contractors need not

avoid using torch-on

products altogether,

but they do need to

take appropriate steps

to ensure they are

working safely"

fraying or cuts. A damaged hose must be

replaced before any hot works can begin.

After the gas torch has been attached to the gas

cylinder, you should check for any leakages using

a detergent solution. If a leak is identified, the

faulty component must be repaired or replaced

before proceeding – do not attempt to fix any

leaks using excessive force, sealing tape or

similar jointing material. Furthermore, all gas

torches should be fitted with a stand to ensure

that the flame is directed away from the roof at

all times.

Where possible, try to use torches which selfignite

and extinguish using an electronic system

as these are both safer and more environmentally

friendly than gas torches which rely on a pilot

light. An appropriate fire extinguisher (water, drypowder,

foam or CO ² ) with an in-date service

record should also be within easy reach at all

times.

Drying out

Following these steps should ensure a new or

refurbished roof is installed safely. However, a

significant amount of roof fires occur when newly

installed roof decking is being dried out prior to

the application of a waterproofing system. The

most popular method of drying out a roof is still

through using a gas torch – this means that the

same care and precautions must be taken at this

stage as with as any other. Where a fire risk has

been identified, a gas torch should not be used

within 900mm and a flame-free solution should

be employed instead.

Gas torches can be a very effective tool, but like

any tool, they must be used safely. Following the

NFRC's 'Safe2Torch' guidance is an excellent way

to eliminate the risk of roof fires as far as

possible. Contractors need not avoid using torchon

products altogether, but they do need to take

appropriate steps to ensure they are working

safely.

See p.46 for a contractor's perspective on

Safe2Torch.

Contact IKO

01257 255 771

www.ikogroup.co.uk

@ikoplc

44 TC OCTOBER 2018
---
Take a fresh

look at our

flat roofing

product range

Your one stop shop for all your flat roofing needs

- speak to your local SIG branch team today for a

quote on your next flat roofing project.

We have the right solution for every job.

n Liquid

Waterproofing

n Patch & Repair

n Paints & Primers

n Torch On Felts

n EPDM

n Single Ply

n Asphalt

www.sigroofing.co.uk

Visit your local SIG Roofing branch for more info

or find out more at www.sigroofing.co.uk

PITCHED ROOFING

FLAT ROOFING

INDUSTRIAL ROOFING
---
Safe2Torch

"STEP ONE FOR ME IS IT NEEDS TO BE

MANDATORY"

Adam Suffolk, Director at Adam Suffolk Flat Roofing, answers our questions and gives a

contractor's perspective on the Safe2Torch initiative...

Has Safe2Torch been a positive move for

the industry?

Yes, I don't believe you'll come across anyone in

the industry – contractor or client – who can't

see the benefit of this on paper. With insurances

on the rise every year – and that's if you can find

one that deals with flame – safe working with a

torch can only be a positive, so yes 100% a good

thing which I'm all for.

As a contractor, how are you finding

Safe2Torch?

At the minute very mixed. Although I believe it's a

good thing, I also believe Safe2Torch has a few

problems. Problem one being currently it's only a

guideline; as it's only a guideline and factoring in

how slow the installation process is, the cost of a

job following the guidelines increases massively

so it becomes very easy to be undercut on price

by a contractor who isn't pricing on the same.

Step one for me is it needs to be mandatory.

What about training for Safe2Torch?

That could be training full stop – training on this

and just using the torch safely is, in my opinion,

the biggest thing. I believe torch-on roofing is very

safe with the right contractor installing your roof.

The problem is, however, how many

roofers out there are just blasting

the torch around the roof without

a care in the world? Far too

many in my opinion. If there is a

fire, it's the company that's left to

pick up the pieces with the roofer just

moving on to the next company.

For Safe2Torch to work we need to change the

mindset of people which can be very difficult to

do. Hard consequences for the individual need to

be in force. A lot of training is needed with regard

to using the torch because still, time and time

again, you see people leaving the torch lit on the

roof then going down to the van for dinner and,

yes, you hope people like this are few and far

between, however it's them who cause fires and

give everyone a bad name.

What about enforcement of Safe2Torch?

Let's say Safe2Torch is now mandatory, how does

the manufacturer or company enforce this? That

becomes very difficult. I have already seen

contractors torching the 'Safe2Torch' felt due to

speed. There's also the issue of people still not

wanting to wait for roofs to dry out in the morning

Left: Adam Suffolk, Director at Adam Suffolk

Flat Roofing. Below, examples of his work.

so the gas and torch come back

out. The industry has a vast

amount of people who shouldn't

be let loose on roofs with a flame;

it's these people we need to remove

from the industry if we want it to become

safer. Safe2Torch is only any good if the criteria

are followed, it's getting everyone to follow it

that's the problem!

How much of a problem is drying off a

roof without a gas torch?

It isn't a problem as it can be done without a

torch. Again though, it's getting people to do it

that way – with the weather and tools available

for this it can be slow. When jobs are behind or

fixers out there want to cut corners to earn more

money, inevitably out comes the torch to save

time. The hope for Safe2Torch on this is more and

more follow, which will lead to more and more

tools on the market for drying off, and with this,

hopefully the price will come down.

What about improvements to Safe2Torch?

If I could think of just one, it would be at the

survey stage; let's make sure we identify all the

risks then, for example, if there's cladding on the

roof we know what's behind it right from the very

start. Let's have the manufacturer give out a

Safe2Torch report with the spec for the job so all

contractors can read and know exactly what's

what.

Contact Adam Suffolk Flat Roofing

0116 2103406

www.adamsuffolkflatroofing.co.uk

46 TC OCTOBER 2018
---
SEE US AT

The Lead Sheet Training Academy - formerly the Lead Sheet

training in lead and hard metals.

•

•

•

•

What are you waiting for? Book your training today

and become part of the next generation of skilled

craftsmen in the construction industry.

T: 01622 872432

E: info@leadsheet.co.uk

www.leadsheet.co.uk

OCTOBER 2018 TC 47
---
Interview

COMPETITIVE SPIRIT PRODUCES

RESULTS FOR ROOFERS ON SITE

Earlier this year Matt Downs, Editor of Total Contractor, took part in the two-day judging

process that awarded Kieran Forster the title of BMI Icopal Apprentice of the Year 2018.

Now, after the excitement has died down, Matt visited Kieran to see what difference the

award has made to him on both a professional and personal level.

Kieran is employed by Hodgson Sayers,

based in the North East of England. The

day I caught up with him again, Kieran

was one of the team putting a new roof on Our

Lady, Queen of Peace Roman Catholic Primary

School in Houghton-le-Spring.

Upon meeting him it is apparent his confidence

has enjoyed a boost from winning the BMI

Apprentice of the Year competition. "It's not that I

was shy before, but now I push myself forward

and I'm getting more responsibility at work," he

explained. "A month or so before the competition I

would look around the site and need to be told

what to do, whereas now I can see what needs

doing."

Similarly, it's clear he is more confident when he

tries to complete new roofing tasks, such as

detailing the felting around a skylight. "I like

intricate details like these. I marked out all the

"A month or so before

the competition I would

look around the site

and need to be told

what to do, whereas

now I can see what

needs doing"

corners and then asked the lads if it was right

and they said: 'Crack on, you've got a good grasp

of it'. It's a good feeling when you can do these

small details by yourself."

More than roofing skills

The BMI-backed Apprentice of the Year

competition was about far more than simply

roofing skills: it involves presentation skills,

customer service, fault finding and business

planning. Presentation is an important skill and

Below: Kieran Forster, Icopal Apprentice of the Year 2018, with Glyn Neasham of Hodgson Sayers. Kieran plans to use his

£1,000 prize to buy a top-end heat gun: "I need the heat gun because of the recent Safe2Torch guidance."

the competition has helped Kieran take it to the

next level. "I used to be scared of speaking to

large numbers of people that I didn't know but the

competition has really brought me on as we were

coached and encouraged during the competition."

Kieran has already put those new presentation

skills to good use, as recently he was one of

Hodgson Sayers' representatives at a careers fair

held at the Metro Centre in Gateshead, talking to

school leavers about the attractions of a future in

construction. Glyn Neasham, Hodgson Sayers'

Regulatory Affairs Manager, explained how well

Kieran did: "Kieran was an absolute credit to

himself, his family and the company."

"We got very good feedback from the careers fair.

People said he was personable, cheerful and

helpful. Entering the competition breeds

confidence and that's what we're looking for."

Competitive spirit

Glyn is a strong supporter of the BMI Apprentice

of the Year competition with Hodgson Sayers

having finalists for the last two years. He told us

that Kieran would receive a bonus prize supplied

by the Hodgson Sayers to add to the pile of

goodies he got for winning the BMI Icopal

Apprentice of the Year title! "Competitions such

as this have the effect of producing competition

within our group of apprentices and this improves

achievement levels across the board."

Last year another Hodgson Sayers apprentice,

David Crank, was shortlisted in the BMI Redland

Apprentice of the Year competition. Since then

David has gone on to win the regional final of the

SkillBuild Competition in Slating and Tiling;

48 TC OCTOBER 2018
---
QUALITY

YOU CAN TRUST

The Weightanka® mobile man anchor provides

the complete solution for short term safety and

low frequency operations and is designed for

use on roofs with up to a 5° pitch.

The system conforms to EN 795 Class, is quick

and easy to assemble and weighs just 250kg.

By using smaller components and with no single

item weighing more than 25kg, Weightanka®

is easy to lift and carry to and from the point

of use. Suitable for use on all roof surfaces,

Weightanka® provides fall protection for a single

worker and fall restraint for two people when

working at least 500mm away from a fall hazard.

Features and Benefits:

• Short term safety for low frequency work

• Does not penetrate the roof membrane

• Suitable for use on various roof types

• Can be used on roofs up to 5° pitch

• Compact design for ease of transportation

• Quick and easy to assemble

• Complies with current regulations,

including BS EN 795.

www.safesite.co.uk

Tel: 01293 529977

Email: info@safesite.co.uk
---
Interview

Above main pic: Kieran Forster talks the judges Gary Walpole, Mark Tornton and Matt Downs through the defects on the flat roofing rigs at this year's BMI Aprentice of the Year Awards; Top right: The

apprentices enjoyed a number of presentations geared towards boosting confidence and improving the way they present themselves; Kieran has taken these skills into his career with Hodgson Sayers.

and just last week it was confirmed that he had

qualified for the national SkillBuild final at the

National Exhibition Centre, Birmingham, later this

year.

Confidence, quality and professionalism

Kieran and David's success has certainly rubbed

off on the rest of the company's apprentices with

all of them saying that they will be entering every

competition they can going forward.

"You can see the other apprentices wondering

'why him and not me?; mix this with other

benefits such as boosting morale and them

feeling that they are a valued member of the team

and the positives are quite measurable,"

explained Glyn. "So we support them in every way

that we can, incentivising them when they win

because we're trying to encourage confidence,

quality and professionalism."

The aims of the BMI-backed competition and the

vision for the apprentice programme at Hodgson

Sayers are very similar. Glyn sees his role as

developing tradesmen rather than just roofers, a

process that starts by producing apprentices of

the highest possible quality. When they attend

Newcastle College, even small details are

important, such as insisting that all apprentices,

wear company-issue workwear and that it's kept

"Glyn wants to see the

apprentices able to

impress end-users and

clients with their skills,

attitude, on-site

performance and

quality"

clean and smart. They are also encouraged to see

themselves as a team and to act professionally at

all times.

Impressing end users and clients

Just as the competitions look for aptitude in

business planning and presentation rather than

simply technical skills, Glyn wants to see the

apprentices able to impress end-users and

clients with their skills, attitude, on-site

performance and quality; a good stable,

professional, controlled approach is key to

achieving this.

Kieran himself has taken more than simply the

£1,000 prize money from the competition, though

he intends to spend that on a top-end heat gun.

"I need the heat gun because of the recent

Safe2Torch guidance which prohibits the use of

open flames within 900mm of an upstand, and

the better-quality heat guns are expensive, but it

shows that I'm serious about my profession and I

want the responsibility to do bigger, more

prestigious jobs," he explained.

He has also helped form a WhatsApp group with

his fellow Apprentice of the Year competitors to

keep in touch as they progress through their

training with their respective employers. "The

group helps to keep me up-to-date with the

different systems the other guys are working with,

so it's useful," he added.

Keen to add to his skills base, Kieran has also

recently attended a training course in single ply

sheeting, run by Newcastle College, which has

developed several added value courses in

partnership with Hodgson Sayers. It is clear that

his winning the BMI Icopal Apprentice of the Year

competition, together with the enhanced working

and training environment he is involved in, is

paying big dividends and helping secure a bright

future.

Contact BMI Icopal

0161 865 4444

www.icopal.co.uk

@Icopal_UK

50 TC OCTOBER 2018
---
SEE US AT
---
Roofing Updates

For further info on all these roofing updates and more, visit www.total-contractor.co.uk

LONG-TERM BENEFITS WITH TA-30

Langley Waterproofing Systems has launched TA-30, a premium addition to its range of flat roofing systems.

The most durable system offered by Langley, TA-30 benefits from a 30-year independently insured guarantee and

includes the support of an annual risk-free asset management maintenance reporting package for five years.

Suitable for flat and sloped roofs on both new build and refurbishment projects, the new high-performance system

provides a superior quality solution where long-term durability is an important requirement. All Langley RBM

systems are BBA-certified for 40-year durability – reportedly the longest in the market for any system. For added

Above: All Langley systems achieve BRoof(t4) fire

peace of mind, a 5-year Langley maintenance reporting package is also included with TA-30. Langley's own

rating compliance.

Technical Managers will inspect the installation on completion and continue each year for five years to ensure the

roof remains in good condition, and should there be any interference it is captured early. Dean Wincott, Managing Director at Langley Waterproofing Systems,

said: "The needs of customers are continually evolving and we have put innovation at the core of our business to ensure we deliver solutions that meet their

requirements. TA-30 offers unrivalled performance, quality and durability – and the length of the insurance-backed guarantee and fire rating compliance

delivers risk free peace of mind for the end customer." www.langley.co.uk

A VERY WARM SARNAFIL WELCOME

Enviroply Roofing is the first Sarnafil Provisional Contractor to receive the company's newly introduced

Welcome Pack.

Jon Morris, Sarnafil Technical Advisor for

the North West, presents Enviroply Roofing

with its Provisional Contractor Network

Welcome Pack.

Developed to ensure that all new Sarnafil contractors have all the information they need to support successful Sarnafil

installations, the welcome pack has a wide variety of briefing material that can easily be shared with all employees.

The Welcome Pack contents – available as a hard copy and on a USB stick – include all the latest brochures,

guarantee checklists, agreements, technical advisory articles, training course details, the recently updated

standard details, and the Sika Sarnafil contacts for support, when needed. http://gbr.sarnafil.sika.com

GEAR UP FOR CHANGEABLE WEATHER

Snickers Workwear continues to improve its working clothes with brand new weatherproof stretch Trousers and Jackets.

With great fit and superb value for money, Snickers Workwear says they'll be first choice for outside work that demands

maximum comfort, mobility and protection.

The new and extended range of AllroundWork and FlexiWork jackets include waterproof and Hi-Vis garments for both men

and women to keep the wearer warm, dry and visible.

Whatever the weather, Snickers Workwear can deliver a jacket to suit what you're doing on site. www.snickersworkwear.co.uk

NEW ADDITIONS FOR FREEFOAM

Freefoam Building Products has announced two new members of its sales team.

Steve Shaw is supporting Freefoam's customers and developing new business in the South Wales, Bristol and

Gloucestershire area and Kim Rolph joins Freefoam to work in the South East region of the UK.

Above: Kim Rolph and Steve Shaw. Kim did a

degree in psychology and has worked as an

external support role at Knauf Insulation;

Steve has 20+ years of experience in sales

and 18+ years as a Manager and Buyer.

Richard Jackson, National Sales Manager, said: "I'm looking forward to working with Steve and Kim. We've got a

great mix of team members in our sales team – some who have come from more conventional backgrounds like

Steve, and some like Kim who are fairly new to the industry and we value both." www.freefoam.com

52 TC OCTOBER 2018
---
Complete Building

Envelope Solutions

featuring Kingspan RW

Pitched Roof System

Superior build

speed

Options for PV

integration

Precision extruded

daylighting

LPCB-approved membranelined

insulated gutters

Height safety and

fall arrest systems

Specialist support from

Kingspan Technical Services

Bespoke flashings and

fabrications for design flexibility

Kingspan's own complete range

of structural steel products

Kingspan Insulated Panels RW Roof system is a factory-engineered

single component system for very fast installation.

The system comprises a complete range of structural steel products, high performance

panels, insulated gutters, superior polycarbonate daylighting, height-safety systems

and a bespoke range of corners and flashings. As a manufacturer of the complete roof

system including all components, we're with you all the way with services to help save

time and maximise project value and performance.

The system can be protected by the Kingspan Warranty.

SEE US AT

Kingspan Insulated Panels

Greenfield Business Park No.2, Holywell, Flintshire CH8 7GJ

Tel: +44 (0) 1352 716100 www.kingspanpanels.co.uk
---
Roofing Updates

For further info on all these roofing updates and more, visit www.total-contractor.co.uk

FULL SYSTEM SOLUTION

To keep up with increasing demand, IKO Polymeric has expanded its existing Chesterfield headquarters

with an energy-efficient warehouse, featuring a top class building envelope and daylight solution from

both Kingspan Insulated Panels and Kingspan Light + Air.

It was essential that the new building looked professional and worked within the aesthetic of the industrial site. A

IKO, Kingspan, and Roofdec's collaboration on IKO

typical 'box' design was chosen and achieved with horizontally-laid Micro-Rib wall panels. The panels were Polymeric's Chesterfield site achieved the

completion of the envelope on time and on budget.

selected in graduated custom shades of blue to create a welcoming façade that blends into the skyscape above.

The walls were finished with bespoke fabrications such as Top Hats and Flashings to ensure a clean, professional finish. The building envelope was completed

with a Topdek flat roof system, with a durable and UV-resistant IKO Armourplan membrane in a complementary Mid-Grey.

Meanwhile, Kingspan Light + Air worked with the project team to create a lighting specification which maximised the natural daylight within the warehouse.

To achieve this, Kingspan Day-Lite Vault rooflights were installed. The products are specially designed to integrate seamlessly with the Kingspan Topdek

Membrane Roof system and this allowed a simple, fast-track installation programme. www.kingspanpanels.co.uk / www.kingspanlightandair.com

PERFECT SEAL FOR ZOO ROOF

Chester Zoo's management team can rest assured that its diverse range of wild-life

themed merchandise is safe and dry following a refurbishment of the shop roof using

Firestone's RubberGard EPDM roofing membrane.

Designed to provide a service life in excess of 50 years and offering

rapid installation with no hot works and no nuisance odours, the

Firestone system was ideal for installation at the Zoo.

The system was specified for a partial refurbishment of the roof to replace a roof covering that

had reached the end of its service life. The simplicity of the system enabled strip out of the

problematic area to allow the RubberGard EPDM membrane to be fully adhered to the newly

installed plywood substrate, creating a neat waterproofing solution. www.firestonebpe.co.uk

GUTTERFLOW: NEXT GENERATION FOR DESIGN CALCS

CRM says Gutterflow has become the industry standard gutter calculation program since it first

launched in March 2001.

Above: For existing users of Gutterflow,

upgrade packages will be available at a much

reduced cost.

However, the new version offers a number of benefits; calculation and spacing data are shown as tabs on the main

page, saving messy switching between pages; entering uneven spaced data has become quicker and simpler,

especially where some outlets are uneven, and others follow a set pattern; automated functions allow gutter depth,

width and outlet size to be optimised at the touch of a button; and custom outlets can be programmed in, allowing

proprietary outlets to be used within gutters if required to boost flows. Find out more at: www.crmrainwater.co.uk

A HORIZONTAL APPROACH

Easi-Dec says it has modified its Board-Walk mesh walkway solution to enable both vertical

and horizonal installation, providing roofers, contractors and specifiers with a safety system

that is useable in a wider variety of configurations.

Easi-Dec's Board-Walk mesh walkway: "Made of high

grade aluminium, the structure is lightweight, easily

transportable and can be used on roof pitches up to 30

degrees"

Particularly suited to fragile industrial roofs, Easi-Dec Board-Walk is a portable mesh walkway that

provides a safer working position for roof maintenance. Running from the eaves to ridge, the system

spreads the weight across the support battens, allowing the workers to confidently move along the

full length of the system. Find out more at: www.easi-dec.co.uk

54 TC OCTOBER 2018
---
FREEFOAM'S UPDATES & ADDITIONS

Freefoam has highlighted the updates and additions to its whole product range that have taken place over the last six months.

The roofline range has had a boost with the addition of Anthracite Grey to the Round Rainwater system. With the continuing

growth in grey across the window, door and roofline market, this new product means suppliers can now offer both the Deep and

Round gutter options to customers. Perfect for new build and RMI.

The phenomenal demand for cladding shows no signs of slowing. With Thais in mind, Freefoam added a beautiful subtle grey

green shade to its 170mm Weatherboard range called Sage Green. Appealing to those who want to achieve a traditional

'heritage' look but with the benefits of low maintenance PVC, this product adds additional colour choice, augmenting the existing cladding range, bringing

the total number of colour options to an impressive eleven.

Colin St John, Commercial Director, explained "Our focus is to help our customers win more business because their growth is our growth. This year our

programme has led to the development of every part of our product portfolio – highlighting our continued commitment to our customers."

www.freefoam.com

THINK ZINC RAINWATER SYSTEMS

Rainclear Systems says its Quartz Zinc rainwater system can help contribute to green and sustainable building

design and offer a differentiating architectural aesthetic.

In addition to this, the leading stockist and online retailer of metal rainwater systems says that its zinc rainwater

management system requires no specialist tools or training as the 3m gutter lengths and 1, 2 or 3m downpipe lengths make

for swift installation, whilst the clever design features make installation simple. The system includes: Glue-in stop-ends;

Gutter Union / Connector with EPDM rubber seal; Wraparound outlets; Downpipes and bends with swaged necks; and

stainless steel nails and screws. Find out more at: www.rainclear.co.uk

PLATINUM PLUS POINTS AT BAUDER

Bauder says it has become the first to achieve the Investors in People ('IIP') Platinum

Standard, the most sought after status in the National scheme, within the Construction of

Buildings category.

Above: The team at Bauder celebrate the Investors in

People ('IIP') Platinum Standard award.

Andrew Mackenzie, Bauder's Managing Director, commented on the award: "This is a remarkable

achievement for everybody in our company, we are truly delighted. We never forget that our

continued success is reliant on our brilliant staff and I am so proud of the team here and everything

they do." www.bauder.co.uk

BRETT MARTIN'S SUSTAINABLE LEAD

Brett Martin has further committed to its sustainability programme with the procurement of a solar

farm that is 'hard wired' directly into its main production plant.

(L-R) Nick Boyle CEO Lightsource BP, Laurence

Martin MD of Brett Martin, Geoff Stewart,

Financial Director at Brett Martin.

Geoff Stewart, Brett Martin Financial Director, said: "We are delighted with our latest renewable energy

provision. It's proof of our determination to ensure our production processes are as sustainable as possible.

We have the highest regard for the quality of our environment; it's very much part of our working culture.

Sustainable initiatives such as this are critical to help us maintain our competitive edge in a global

marketplace where over 50% of our sales are exported." www.brettmartin.com

OCTOBER 2018 TC 55
---
Technical Review

"INNOVATE, DESIGN, TEST, REPEAT"

Innovation is one of the most overly used buzz words, but what does it really mean? Brian

Mack of EJOT UK gives his view…

Almost daily we see new products hitting the

market, yet they are not always what they

seem. We are all familiar with the strap lines

"new and improved", "new range" and "now with

added" or "reduced", but are we seeing true

improvements and is this true innovation?

I'd say true innovation is driven by technical

advancements and a need to increase

performance reliability, or develop new materials

and products to help tackle installation issues

that can help meet new legislation and

regulations. Yes, a good product developed 40

years ago can still be relevant in today's highly

demanding construction industry; but if the

product is reliant on the status quo of the materials

and systems around it, then it may not be

performing to 100% of its original design intent.

Revolution and evolution

For me, innovation is a mix of revolution and

evolution driven by technology and creativity. The

starting point is knowledge, experience and

understanding.

Knowledge: We need to know how existing

products are performing with regards to all

aspects that are required of the component; what

has been selected and why and how is it

installed? What's actually being installed –

what's it fixing and to what substrate? How has it

been manufactured and how does the engineering

process behind this relate to the product's

technical performance? This can be crucial.

As a manufacturer, even having knowledge of

how the tooling is made and having the ability to

craft your own tooling can be the difference

between a product's success and failure on site.

Industry knowledge of existing, current and future

trends and developments, and changing

legislation are all strategic aspects in developing

a knowledge database. Having manufacturing

knowledge to ensure any new product can be

successfully manufactured to meet its

requirements in-situ is essential.

Experience: We need the data from testing and

experience from seeing the product in use so we

can assess its benefits and limitations. This

enables us to get a better understanding and to

be able to adapt so that products can push the

boundaries. Experience of how products are

manufactured from raw materials, quality

processors, testing and inspection, right through

to the finished product are essential in making a

feasible business plan for a new, innovative

product.

Understanding: We are in a far stronger position

if we can understand how industry is developing

and use this experience to predict and generate

the products that will be needed in an everchanging

construction industry. Again,

understanding the manufacturing process and

how these processes can be adapted and

modified to ensure the product can be made is

crucial. How will the product work as part of a

complete system? We believe it is far more

beneficial to design a product with the eye of a

manufacturer – with all of our knowledge and

experience – rather than the alternative of

somebody just "having a go" to meet a

customer's request. A true manufacturer

understands the needs of every aspect of a

product, from specification to procurement;

performance to installation technique and

procedures; in service and life cycles, through to

end of use sustainability and environmental

credentials.

Once we have our starting point we can develop a

process of improvement, but improvements can

be limiting and constraining. We have to have a

different thought process: "there is always a

better way." We need to unclutter our minds;

creativity comes from an open mind. The paper

may start off blank but if surrounded by a desk of

ideas, knowledge, experience and understanding,

then this can be the catalyst for innovation.

The R&D process can then begin: The R is

normally for Research, but it's also for

Resources; the resource of knowledge, experience

and understanding. The D is for Development but

it's also for Design, Diagnostics, Decisions and

Discoveries. But R&D is definitely not for

Replicate and Duplicate.

A lightbulb moment can hit an individual but I'd

say it takes an experienced R&D team to keep the

light on, make it efficient, innovate the idea and

bring it to production and market for the benefit of

the end user.

Testing, testing and testing

We have to ensure that the innovative product

enhances the application, adds value and

performance, and conforms to its design criteria

and function and does not just do the same as an

existing product. No one wants a "Dragons' Den"

moment and to be told there's a simpler solution

already in existence that performs better than

your new product. So not only good research and

development is required but Testing, Testing and

Testing is required. Real life trials and a process

of ensuring that a unique, innovative solution

offers quality, performance, and benefits to meet

expectations on time, every time. I believe only a

circular process of "Innovate, design, test,

repeat" can do this.

Contact EJOT UK

01977 687 040

www.ejot.co.uk

@EJOTUK_Building

56 TC OCTOBER 2018
---
BTS Facades and Fabrications officially announce their

investment in Trumpf automation at their recent open day.

www.btsfabrications.co.uk Tel : (01388) 816883 enquiries@btsfabrications.co.uk
---
Fall Protection

CHOOSING FALL PROTECTION

Matthew Bailey, Inspection and Certification Manager from fall protection specialist HCL,

explores a number of potentially life-saving products and procedures which are considered

best practice.

There are now more measures than ever to

keep roofing contractors, or even general

construction tradespeople safe when

working at height.

Below, I'll look at some of the key considerations

you should make when looking at the safety

aspect of your project:

Which system is right for you?

Protection is one of the most important factors to

consider when working at height. To minimise the

consequences of a fall, a suitable fall protection

system needs to be used.

There are usually two fall protection systems to

choose from – a fall arrest system and a fall

restraint system; and there are benefits and

considerations for each.

While a fall arrest system's job is to protect a

worker should they fall, a fall restraint system

should prevent them from falling in the first

place.

What is the benefit of a fall arrest

system?

Fall arrest systems are most commonly used in

applications where workers need to access hard

to reach areas which would otherwise be guarded

by rails or other safety measures.

The system's aim is to allow maximum freedom

of movement and so the likelihood of falling is

very high. If a fall should occur, the fall arrest

system will either allow for self-rescue or for the

person to be rescued in the safest way.

The success of these systems relies on the

harnesses being worn correctly and the

identification of a suitable anchorage point.

What is the benefit of a fall restraint

system?

Arguably the most preferred method of fall

protection, fall restraint systems prevent workers

from reaching a specific fall hazard. Often

described as "passive fall protection", workers

are protected from a fall without having to take

many additional measures such as guard rails.

However, in the case of the equipment being

misused, there is still a chance of a fall

happening. For this reason, it is recommended

when fitting a fall restraint system it is tested to

be able to hold fall arrest loads – this is to best

protect the person using the equipment at height.

Before using either of these systems, it is

important to ensure adequate training is provided

in order to equip those working at height with the

skills required to use the systems effectively.

What about training?

Fall protection training, like that provided by HCL

Safety, specialist sub-contractor in fall protection

and part of MSA Safety, is designed to change

perceptions and improve standards – something

which is especially important when working at

height where the risks can be very high. The right

training can bridge the gap between basic health

and safety training and ultimately saving either

"While a fall arrest

system's job is to

protect a worker should

they fall, a fall restraint

system should prevent

them from falling in the

first place"

your own or a co-worker's life.

Time is critical in a fall arrest situation, and when

time is of the essence, knowledge is key.

Investing in tailored fall-protection training,

empowers workers to perform their duties safe in

the knowledge that they can not only prevent

falls, but also respond appropriately if the worst

does happen.

And what if someone does fall?

Falling from height is one of the largest causes of

fatalities across the industry, and whilst most

companies undertake a degree of risk

assessment as due course, many still fail to

implement a rescue plan.

Did you know there is a legal obligation to have a

full and comprehensive rescue plan in place

when working at height? By law, a rescue plan

needs to be put into place to facilitate a safe and

quick rescue of a person who has fallen.

A rescue plan should outline a primary and

secondary key person who will take control of an

emergency rescue operation, plus any rescue kit

which will be on site to assist them.

Contact HCL Safety

0845 600 0086

www.hclsafety.com

@HCLsafety

58 TC OCTOBER 2018
---
SEE US AT

PROTAN BLUEPROOF – A ROOF FOR THE FUTURE

CAN YOU AFFORD TO LET

YOUR ROOF BE JUST A ROOF?

A roof represents exciting opportunities

for architects and property developers.

If you are on top of a tall building and looking out over the

urban landscape, you will see a lot of unutilised space.

Architects and property developers can no longer afford to

use the roof just to keep the rain and snow out and protect

your contents.

Using the roof for other functions creates additional values.

These values not only allow for increased profits, but also

add value to society at large and for the people living in

and around these buildings.

The roof can be a place where people can spend recreational

time, grow flowers and encourage wildlife. The roof can

also be utilised to solve other tasks that could be profitable

for the building project, such as generating electricity with

solar panels or taking control of heavy rainfall.

Protan has developed a unique BlueProof roofing solution

to avoid creating dead space on top of a building, enabling

use that space for water attenuation. That is both smart

and sustainable. The BlueProof system works equally well

for new buildings and refurbishment projects, and can be

combined with recreational areas, eco-friendly features

and energy production.

Protan BlueProof – coming to a roof near you soon.

Safe

Sustainable

Cost effective

Space efficient

protan.co.uk
---
Cladding Updates

For further info on all these cladding updates and more, visit www.total-contractor.co.uk

KINGSPAN FACADES LAUNCHED

Kingspan Group has announced the launch of Kingspan Facades – a new business designed to make it easier for

developers and contractors to create high-performance, compliant buildings that achieve their project's

aesthetic aims.

Combining systems and expertise from across the Group, Kingspan Facades is a service-led business providing

specifiers with a comprehensive portfolio of advanced building envelope systems suitable for a multitude of applications

and architectural styles. This aesthetic offering is supported with four robust substructure solutions that encompass

Kingspan's advanced core insulations alongside options using more traditional materials.

Kingspan Group has launched Kingspan

Facades to assist contractors & developers.

Mel Courtney, Managing Director of Kingspan Facades, explained the vision for the new business: "We're noticing a real

drive in the industry for more detailed and accessible technical guidance, particularly around facade systems. By offering solutions incorporating all of

Kingspan Group's facade products under a single business, we are in a unique position to provide the most appropriate solution. We offer a single source

approach from the Steel Framing System, insulation, right through to the external facade – one point of contact for customers for the full through-wall system

solution, reinforced by the technical support that Kingspan is renowned for." www.kingspanfacades.co.uk

NEW LIFE FOR BUNGALOW

Water leaks are a distant memory for the owners of a bungalow on the Isle of Wight after Cembrit

Plank was installed on the property.

Above: Offering a 15-year warranty,

Cembrit Plank is available in 15

different colours.

L J Teal Roofing Service was approached for a solution to fix a water ingress issue. Having heard about

Cembrit Plank, the contractor was confident that this weatherboard could provide a good cladding solution for

the customer. "We pitched the idea of installing a weatherboard cladding option to Mr and Mrs Morrison, and

they agreed that it would be a good way forward," said Liam Teal of L J Teal Roofing Service. "We supplied

Cembrit Plank in Ivory via Roofstore and the project began in February 2018." www.cembrit.co.uk

FIRM FOOTING FOR WINTER ON SITE

With a focus on comfort and S3 safety, Solid Gear's Falcon (shown left) and Apollo boots are

probably the most robust boots you can get for the winter months.

Above: the Falcon boot – There's over 30

boots and shoes in the Solid Gear Safety

Footwear range.

With durable uppers these heavy-duty boots will keep your feet dry and insulated so you can work

comfortably in the roughest conditions on site. What's more, the new oil and slip resistant Vibram soles

deliver outstanding grip on snow and ice – even at low temperatures. The Apollo has a premium fullgrain

impregnated leather upper, while the Falcon is a mix of full grain leather and a Cordura Rip Stop

fabric. www.solidgearfootwear.com

CEMBRIT DONATES MATERIALS

Cembrit has donated its Patina fibre cement and HD cladding to a worthy project that has

seen the North Kensington area around Grenfell Tower benefit from a new community centre.

Cembrit donated materials to this worthy project

near Grenfell Tower. Simon Mayes of Cembrit

explained: "Exact colour match to the steel overlay

was not possible, so we suggested using our HD

board coated in colour matched paint."

Bay 20 is a new two-storey community space on St Marks Road, close to the Tower, which was built

by an acclaimed DIY television show. The new multi-use community building provides facilities for

local people, including a new café that will be used by the community for many years to come.

Cembrit supplied 300m² of Cembrit Patina fibre cement cladding boards in granite (P020) and

Cembrit HD in natural grey. www.cembrit.co.uk

60 TC OCTOBER 2018
---
Opinion

MEETING THE DEMAND FOR SKILLS

By Simon Storer, Chief Executive of the Insulation Manufacturers Association.

The ever-widening skills shortage faced by

the construction sector is driving up wages

and having a significant impact on the

government's ambitious plan to build 300,000

homes every year in England alone.

But it is not just building targets that need to be

met, there are also the hugely important carbon

reduction targets and the need to ensure buildings

are properly insulated with high quality products

and installed correctly to allow them to perform.

With the demand for tradespeople across all

sectors of the construction industry outstripping

supply, the skills shortage is a key constraint to

the housebuilding industry severely impacting the

quality of new buildings, the ability to build to

budget and ensuring that all performance

characteristics meet both design and regulatory

requirements. How can the construction industry

put in place measures that might put an end to

the skills crisis?

The contributing factors of the construction skills

shortage are well documented; from an ageing

workforce not being replaced, to a younger

generation not seeing the industry as an

attractive and viable option. Britain's decision to

leave the EU has only added to the industry-wide

fear over the building skills shortage. Of the UK's

270,653 migrant construction force, about 45%

are workers from EU countries. When or if the

UK's divorce from the continent is finalised, there

is a real fear that many employees who have

arrived from overseas will leave, taking their

building skills and experience with them.

Reaching out to students

Inspiring the next generation to take-up a career

in construction is fundamental to filling the

current skills gap over the long-term. Changing

the outdated and negative perceptions of the

industry is part of this. The Construction Industry

Training Board (CITB) recently asked a group of

14 to 19-year-olds which careers interested

them – construction only scored 4.2 out of 10.

According to the survey, young people claimed

that construction means 'being outdoors and

getting dirty'. Young people overlook the fact a

career in construction is incredibly diverse and is

an industry with cutting-edge technologies, such

as robotics, digitisation and modular building

techniques – key to attracting a tech savvy

younger generation. Companies in the industry

need to reach out and engage with students,

parents and teachers to create a better image of

construction, right through from manufacturing,

engineered solutions to site management.

The industry needs to expand its recruitment and

attract more women and people from ethnic

diversities, which are currently under-represented.

Women represent just 13% of the workforce, a

shocking statistic considering the skills shortage.

A shift to inclusiveness

A fundamental shift towards inclusiveness is

necessary while a joined-up approach between

industry, the government and education sector –

beginning with young people at primary school and

then throughout education – will pave the way

towards a more inclusive and accessible industry.

The government has launched a number of

initiatives to help plug the skills gap and has set

a new target of three million new apprentices by

2020 across all sectors. A £34 million investment

in construction training and an apprenticeship

levy – estimated to raise £3 billion a year – might

go some way to securing a skilled and stable

workforce. Alternative educational models such

as part-time degree apprenticeships will also

widen the route into the industry.

Modern methods of construction can also play a

part in plugging the gap by reducing on-site

labour whilst at the same time addressing the

high demand for new buildings. The increased

"The demand for

construction has never

been greater"

use of off-site fabrication and systems such as

structural insulated panels (SIPS), modular

buildings and pre-engineered insulated roof

systems – for example – can encourage greater

efficiency and higher productivity within the

sector, give a much needed boost to the UK

housing supply capacity and ensure that the

regulatory targets for energy efficiency are met or

even exceeded. Rethinking the way we design,

engineer and construct buildings will help deliver

projects quicker, better and with a greater degree

of precision.

Schemes such as the Each Home Counts Quality

Mark will go a long way to ensuring that

insulation measures are properly installed by

skilled tradespeople, and link this in with the

Energy Company Obligation, this will ensure that

consumers get the standards they expect and

deserve.

No easy solution

When it comes to addressing the chronic skills

shortage, there is no easy solution, but rather a

broad range of measures which can relieve the

pressure on construction companies trying to

compete within their sectors. The built environment

is evolving all the time and the demand for

construction has never been greater which means

addressing the skills' gap is now more critical

than ever. It is down to construction companies,

the government and our educational system to

play their part in closing the skills' shortage gap.

Contact Insulation Manufacturers Association

0161 672 7387

www.insulationmanufacturers.org.uk

@IMA_Org

62 TC OCTOBER 2018
---
QUICK,

COST EFFECTIVE

ROOF REPORTS

A CLEARER

VISION FOR

YOUR BUSINESS

When tendering for roofing contracts, accurate

aerial measurement can be the difference between

profit and loss. With EagleView, you can have

complete confidence in the measurements you base

your tender on.

By combining multi-angle aerial images with

advanced analytics, our reports provide precise area,

pitch and length measurements. Colour coding

distinguishes every detail, from ridges, hips and

valleys to verges, eaves and flashings.

Premium Report

06/09/2017

123 Main St., Tadworth, A1B2 C3D Report: 12345678

TABLE OF CONTENTS

Fast report turnaround saves you time. High

resolution aerial views and 3D diagrams make your

bid stand out. And accurate material ordering helps

protect your profit.

To see more, visit eagleview.co.uk

or call 0800-069-8405

Images .....................................................................1

Length Diagram .........................................................4

Pitch Diagram ............................................................5

Area Diagram ............................................................6

Notes Diagram...........................................................7

Penetrations Diagram.................................................8

Report Summary........................................................9

MEASUREMENTS

SEE US AT

Total Roo f Area = 467.95 sq m

Total Roof Facets =24

Predominant Pitch = 45°

Numb er of Storeys > 1

Total Ridges/Hips = 84.43m

Total Valleys

= 17.07m

Tota l Verges = 14.63m

=111.86 m
---
How To:

RETROFIT WALL INSULATION

The technical team at A. Proctor Group discuss the different possibilities for retrofitting wall

insulation and offer guidance on installing Spacetherm WL...

The energy inefficiency of existing housing

stock in the UK is a well-documented issue

that continues to pose a challenge to

today's contractors, homeowners and residents.

The Government's response to the 'Energy

Company Obligation: ECO3, 2018 to 2022'

consultation process sets out their strategy for

tackling issues around the energy inefficiency of our

buildings, and identifies retrofitted insulation as part

of the solution: "One of the best long-term solutions

to address fuel poverty is by dealing with the fabric

of the property through insulation, as this increases

comfort and reduces heating requirements."

External walls account for approximately 1/3 of

the total heat loss of an inadequately insulated

home. Choosing the right external wall insulation

will depend on the type of wall the property has.

Houses built in the UK before 1919 are likely to

have solid external walls, while those built later

usually incorporate cavity walls. One way to

confirm this is to measure the thickness of your

brick wall at an opening: if it is less than 260mm

thick it is probably a solid wall, while greater than

260mm usually indicates a cavity wall.

There are many methods for insulating external

walls, each with their own advantages and

disadvantages.

How to install Spacetherm Wall Liner

Spacetherm Wall Liner (WL) is a 10mm aerogel insulation

laminated to a 3mm MgO board that is used to insulate

solid or cavity walls internally, taking up the minimum

amount of internal space & allowing the walls to breathe.

1. Spacetherm WL panels are fixed directly to the wall

using Insta-stik foam. Mechanical fixings are not required.

(See image 1)

2. Starting from a bottom corner of

the wall, gently press the panel

against the wall, holding until

sufficient contact. Continue

installing panels in this manner,

either staggered or in-line.

3. At corners, Spacetherm WL

Above: Image 1 Above: Image 2

"There are many

methods for insulating

external walls, each

with their own

advantages and

disadvantages"

Cavity walls can have insulation blown in to fill

the gap between the inner and outer leaves.

Installers do this by drilling small holes at

intervals around the outside of the building. They

then blow the insulation into the cavity using

special equipment, sealing the holes when they

are finished.

The benefits of blown cavity wall insulation are

that the process is very clean, non-obtrusive and

fast – an experienced installer can often

complete the job on an average-sized house with

easily accessible walls within two hours.

However, cavity wall insulation that is poorly

installed, is unsuitable for the wall type, or where

wall defects are not also addressed can result in

damp issues, mould and mildew growth, and

even structural damage. It would be

recommended to approach the NIA for approved

installers in this case.

panels should be installed in such a way that the

insulation layer overlaps to prevent a cold bridge at the

junction. (See image 2 and 3)

4. Joints between panels are taped and filled with a

gypsum-based jointing compound. Where the wall is

noticeably uneven, a skim plaster finish can be used over

the panels to level the surface. (See

image 4)

5. Apply a single coat of MgO board

primer and allow to dry. Primed

Spacetherm WL can accept all

typical interior finishes including

paint, wallpaper and tile.

Above: Image 3 Above: Image 4 *This guidance is a summary only. Contact A.

Proctor Group for complete installation advice

External solid walls lose more heat than cavity

walls and are generally more expensive to

insulate. The cost savings of retrofitting insulation

on a solid wall, however, will have a greater

benefit to your heating bill.

Solid walls can be insulated internally or

externally. The internal method involves fixing

insulation boards or panels directly onto the wall

or by building a secondary stud frame against the

wall then filling with an insulation material.

Adding insulation internally is usually less

expensive than external insulation, can be

installed room-by-room to minimise disruption,

and is less intensive i.e. no scaffolding is

required. However, internal insulation will slightly

reduce the floor area of the room it is installed in

and may require a higher level of detailing, for

example repositioning electrical outlets, radiators,

skirting boards and window trim.

Insulating externally involves fixing insulation

material onto the outside walls of a building then

covering with an appropriate external render or

cladding. External insulation can be installed with

minimum disruption to the household, does not

reduce interior living space, and renews the

external appearance of your building. In most

cases, however, external insulation will be the

most expensive option because it requires an

intensive worksite – i.e. scaffolding – as well as

potentially the need for planning permission,

engineering analysis and remedial work to the

external walls before insulation is installed.

External insulation allows the homeowner to use

the thermal mass of their solid wall but this is not

suitable for all occupancy types.

Contact A. Proctor Group

01250 872 261

www.proctorgroup.com

@proctorgroup

64 TC OCTOBER 2018
---
CALL

FOR

ENTRIES

Submissions are now being invited for the 2019

UK Roofi ng Awards.

With 16 categories to enter, there has never

been a better opportunity to be recognised for

outstanding workmanship.

Deadline for submissions 26 th January 2019

www.roofingawards.co.uk

#roofingawards19

Supported by industry

Hosted by

Headline Sponsor
---
Insulation Updates

CREATING THE RIGHT IMPRESSION

One of the largest-ever UK projects to be undertaken using StoTherm Classic M insulation and the

Sto-Rotofix Plus fixing system has now been completed in Scotland.

The Sto products have been used on the new Portobello High School which has been built adjacent to

Portobello Park in Edinburgh.

One of the largest-ever UK projects to be undertaken using

StoTherm Classic M was chosen to provide high-level thermal performance for the new building. This EWI StoTherm Classic M insulation and the Sto-Rotofix Plus fixing

system features expanded polystyrene insulation boards and non-cementitious rendering components system has been completed on the new Portobello High

School in Edinburgh.

offering impact resistance of 60 joules – up to 10 times greater than similar cementitious systems can

provide. This is a particular benefit for this type of school project where the façade cladding may be subject to harsh treatment. Thoroughly proven in many

different parts of the world, the StoTherm Classic M system was finished externally with a through-coloured StoSilco K silicone render finish to add extra

protection and enhance the appearance. The Sto insulation was fixed to the substrate using the innovative Sto-Rotofix Plus fixing system. Ideal for use on

different types of substrates, the Rotofix system uses a unique helical spiral fixing which allows the insulation boards to be mechanically fixed, quickly and

reliably, and then easily adjusted so that a seamless façade can be created ready for rendering. It is stronger and quicker to install, and has better levelling

capabilities and fewer components, than any comparable system. www.sto.co.uk

A PERSONALISED EXPERIENCE

ROCKWOOL UK's new website is powered by AI and has been carefully designed to

predict and adapt, providing you with a central resource for your insulation insights.

The new ROCKWOOL website can predict and adapt to be

completely relevant and helpful to you and your needs.

This sophisticated, content-rich platform of information with powerful tools has been designed

to support and deliver real value to everyone in construction. The in-built machine-learning of

this website means that the more the site is used, the more the platform will be optimised to

show highly relevant content and assets whether they are a homeowner, a specifier or a

contractor. www.rockwool.co.uk

A QUALITY MARK MEASURE

If you're fed up with reading tapes upside down, Fisco's new 'Mark-Right' Tape is designed

for right-handed craftsmen and women with a blade that reads from right to left.

Above: Fisco's new 'Mark-Right' Tape.

So measuring and marking gets a whole lot easier and more accurate because you won't have

to read the tape measure upside down and use your left hand to hold the tape in position

whilst marking. Available in 5m lengths, the blade is graduated in mm and inches, is accurate

to EC Class II and housed in a tough ABS case with a positive action slide lock brake, belt clip

and zeroing end hook. www.fisco.co.uk

AMBITIOUS POLICIES REQUIRED TO MEET TARGETS

Labour has announced a number of green policies in Jeremy Corbyn's Party Conference speech.

These include a commitment to set aside £12.8bn for subsidies to insulate homes in Labour's first term as well as a pledge to tighten the UK's

decarbonisation trajectory – reducing net carbon emissions by 60% by 2030 and to zero by 2050. In his speech, the Labour leader highlighted that

these green polices would create 400,000 skilled jobs. Julie Hirigoyen, Chief Executive at UKGBC, responded saying: "UKGBC has long since called for

energy efficiency to be made a national infrastructure priority, to ensure that the appropriate level of investment is allocated to the retrofitting of our

existing homes. To achieve our current national carbon target of an 80% reduction in emissions by 2050, we will need to improve almost all of the UK's 26

million homes with energy efficiency retrofits. That means we need to retrofit more than 1.5 homes every minute between now and 2050!"

66 TC OCTOBER 2018
---
PREFA TRAINING

PROGRAMME FOR

PROFESSIONALS

ALUMINIUM ROOF & FAÇADE SYSTEMS

PREFA products must only be installed by trained craftsmen.

We offer contractors a wide range of training opportunities, especially

on traditional metal roofing techniques (standing seam & welting

techniques). Due to the success of our training we decided to offer

two different levels of training in the future so beginners and

advanced roofers will be trained at their respective level.

The practical training of participants is the main focus of all our

workshops. The easy-to understand theoretical part of the course

covers the main fundamentals of application technology and is

complemented by a range of practical exercises.

Speak to our staff directly about the next training courses or visit

our website for more information.

Chris Murphy

Gregor Lang

England & Wales

Scotland & Ireland

Tel.: +44 7387 106 319 Tel.: +44 7387 106 320

Email: chris.murphy@prefa.com Email: gregor.lang@prefa.com

office.uk@prefa.com

www.prefa.com

* The colour guarantee ensures that the painted surface is protected from chips and blistering under the terms specified in the guarantee certificate.

You can find more information about the material and colour guarantee at www.prefa.com/guarantee

WWW.PREFA.COM
---
Organising Your Van

RACKING OUT YOUR VAN: ACCESS &

ORGANISATION FOR YOUR TOOLS

What's the best option when racking out your van? Should you do it yourself, hire a

professional or opt for a pre-manufactured option? We take a look at the various pros and

cons of each option.

No matter the trade you're in, you'll be

buying a van that will no doubt need

racking to utilise its internal space

effectively. After all, just dumping tools and boxes

inside will ensure one thing – you'll never be able

to find what you need quickly costing you

valuable time on projects.

The question is, do you do it yourself or do you

hire in a professional? The costs of either option

are not insubstantial and getting the choice wrong

will only add to the expense. Apart from the cost

of the materials required to complete the fit out,

everything you put inside the van – including the

racking – adds to the weight being transported

with the resultant impact on fuel economy,

performance and even the speed at which some

vans are allowed to go.

But there is another consideration. You need an

efficient design for the racking so that shelves,

cabinets, toolboxes and cupboards can both

provide capacity and hold items securely so that

they don't fly around when the van is in motion.

Using a professional installer

Clearly time is money which means that while

you're paying a third-party professional to

undertake the racking out, it'll be done faster

which means that it'll be on the road earning all

the sooner. Similarly, they'll be able to layout and

fit the racking at a time when it suits you –

maybe while you're on holiday. You've got to ask

yourself – would you really want to fit out a van

over a precious weekend or on an evening after

you've been working all day?

Apart from third parties, it's also worth pointing

out that a number of manufacturers offer racking

as part of the manufacturing process.

Renault, for example, have teamed up with

Sortimo to offer the Ready4Work system that

effectively means the van is fully fitted out before

you pick up the keys.

And some leasing companies will do the same.

Leasewell states on its website that all vehicles

supplied by them can be fitted out with anything

68 TC OCTOBER 2018
---
from a simple ply lining to a full-rack out

including extra bulkheads, pipe tubes, ladder

holders, slam locks and tow bars. Google

'professional van racking' and other companies

can be found.

Remember that whatever you buy from a third

party needs to be weight-efficient so that it's not

overly weighty in its own right and doesn't

encourage the transportation of items not needed.

Most professional racking manufacturers will

publish and print the weight capacities of the

shelving, drawer and locker systems onto the

racking.

"Another issue with DIY

racking is that it's

unlikely that you'll be

aware of the safety

issues that relate to

poorly fitted units"

Doing it yourself

DIY might, on the face of it, appear to be the most

economical option but as with any projects, it will

take longer than you expect – even if you know

what you are doing. And of course, unless you're

working evenings and weekends the van will be

off the road.

Another issue with DIY racking is that it's unlikely

that you'll be aware of the safety issues that

relate to poorly fitted units, especially if they or

their loads are not properly secured. A story in

Fleet News, albeit from 2007, noted that the

government's Transport Road Laboratory found

that badly installed racking systems can be

lethal. In particular, a 200g screwdriver can hit a

front seat occupant with a collision weight of 8kg

in a 31mph crash, and that poorly secured loads

can move forward at lethal speeds in an accident

– if a driver has 100kgs of equipment or tools in

the back of his van, that turns into a series of

projectiles with a weight of almost four tonnes.

An alternative when considering the DIY route is

to buy a ready-made system. While they can be

economical to acquire, they still need fitting and

extreme care so that in affixing them holes aren't

drilled into key parts of the van that carry

electrical wiring lines, braking systems or hold

the fuel tank. Worksystem, for example, offers a

range of products that can be selected according

to van brand and model.

But if you are determined to do it yourself, you

need to consider the materials you'll be using.

Wood, for example, is good to work with but has

its limitations. It can be heavy which eats into

payload and can absorb oil, solvents or paints

unless protected – which makes it unsightly and

even heavier. And while wood allows heavy loads

to be slid across a van floor, it splinters. Also,

small items can get lost behind hard to remove

wooden panels.

Consider multiple-material solutions. When fitted

to a van, wood is rarely removed so if you change

vans you've got to start the fitout process all over

again. But go modular with a ready-made system

and you can move it between vans so it will last

longer while costing you less in the long run.

Do question whether every tool and item or

product you possess actually needs to be

onboard. Sure, there will be core items that are

indispensable, but whatever you leave behind is

not only probably more secure at home, but will

also save on weight – and therefore fuel. If you

do decide to take heavier items ensure that you

spread the load along the sides and front to rear

of the van to maintain stability.

"Racking out a van is

not a simple process –

it requires thought

and planning at the

design stage"

Before specifying

Racking out a van is not a simple process – it

requires thought and planning at the design

stage. If it's your own van you'll know what you

want and what works for you. But if you're buying

"While you're paying a

third-party

professional to

undertake the racking

out, it'll be done faster

which means that it'll

be on the road earning

all the sooner"

a number of vans and fitting them out, it would be

time well spent to speak to users to understand

what they want out of a racking system so that

you can design out any annoyances. Small things

such as being unable to easily access nails,

screws and other tiny items without having to

move larger items first will irritate. Similarly,

being able to grab heavier items without straining

a back is helpful. This is where advice from the

professional will be useful – their experience will

be invaluable with hints and tips you may not

have thought of.

Stay secure

Don't lose sight of the fact that your van –

especially one that is sign written or wrapped – is

a magnet to criminals. Unless you're working on a

job where you can park close to the building being

worked on, thought must be given to van security.

In simple terms you must fit deadlocks to the

doors and also acquire a van with a solid

bulkhead between the cab and the load area. In

the extreme you may want to tint windows with

grills or fit an internal security cage to prevent

theft via any side windows.

Conclusion

Get the planning right and a well racked out van

will not only allow you to be more efficient but will

also save on fuel as it's lighter while being more

secure.

It may even allow the use of a small and lower

cost van because product and equipment has

been better distributed. As ever, take further

advice if you're unsure.

OCTOBER 2018 TC 69
---
Selling Your Van

TOP TIPS FOR SELLING YOUR VAN

Chris Sykes, National Sales Manager, Moneybarn, offers his top tips and outlines the key

considerations to make when selling your van.

You may love your van, but sooner or later

the time will come to sell it. When that day

eventually arrives, there are a number of

things worth thinking about to ensure you get the

best deal.

Here are our top tips for getting the best price for

your old van, so you can put some extra towards

that upgrade you have your eye on…

Don't underestimate

First things first, you need to know how much

your van is worth. You'll need to know the

following information to determine its value:

• Make and model

• Mileage

• Year of manufacture

• Valuable features i.e. low mileage, long wheel

base and high roof.

Be brutally honest about the van's general

condition. Any defects will impact the price, so

account for those when valuing your vehicle.

Look at online adverts for

vehicles of a similar make,

model and age to value

your van. Online sites

such as Regit can

give you a guide

price using just your

registration and

mileage.

First impressions

count

A clean and well-presented van will be much

more appealing to potential buyers than a dirty,

neglected vehicle. Empty all rubbish and tools,

then have your van valeted inside and out before

photographing or showing your vehicle.

Consider completing any small repairs you have

been putting off – like scratches and small dents

– as they could be used as a bartering tool and

could end up costing you more than the price to

fix them. Make sure you get a basic service; it

won't look good if the van doesn't start for its test

drive!

It's also useful to renew your MOT if it's coming

up.

Showcase the quality

Your van needs to stand out from similar ones

available, so shout about any good features. For

example, if your van has an abnormally low

mileage or a high average MPG, let potential

buyers know.

Mention its service history and any work you or

previous owners have had done. Buyers will

always choose a van backed by paperwork – like

receipts for work carried out and a full logbook –

over those with just an MOT certificate and a

missing or partially completed logbook.

Take a clear photograph of the whole van,

along with detailed pictures of the

front, side, rear and interior.

Always disclose and picture any

damage in the advert, so the

buyer knows exactly what they

are buying.

Be cautious – scams

Not everyone out there is trustworthy

and fraud is common for sellers as well as

buyers.

If someone emails you wanting to buy your van

immediately – especially without seeing it – be

cautious. This could be a scam to take money

from your bank account once account details are

shared, or an attempt to steal the vehicle.

Another common scam to look out for is when

someone contacts you claiming to have a buyer

waiting. They will offer to 'match' you with the

buyer for a finder's fee, typically between £80

and £100. Unfortunately, this person then

disappears once you've transferred the money

and you're left out of pocket.

Doing the deal

Meet the potential buyer at your home address,

and it can be a good idea to have a friend or

family member with you for extra security.

When the buyer comes to see the van, don't allow

them to test drive it unless they have a valid

driving licence and insurance certificate. Your

own insurance policy may allow another driver to

use your vehicle, but always double-check and if

not, make no exceptions.

In terms of receiving payment, only hand over the

keys when transferred funds are fully cleared into

your account. Alternatively, ask to be paid in cash

to ensure you have the funds before you hand

over the van.

You'll need to notify your insurer and the DVLA of

the sale immediately to get a refund for any road

tax you've still got left to run. You should also give

section 10 of the V5C to the new owner.

Contact Moneybarn:

https://www.moneybarn.com

70 TC OCTOBER 2018
---
SEE US AT

State-of-the-art

training centre

NCTS trainers deliver...

l Slating & Tiling

l Lead & Hard Metals

l NVQ's & Apprenticeships

l Liquid & Bituminous Waterproofing

l

On-site Assessment Training (OSAT)

l Basic Competency Programmes (BCP)

for Lead & Stainless Steel

How can I book?

Booking is simple. You can book your course

thro ough the NCTS website www.ncts.or

g.uk

Or contact us on 01480 501011

National Construction Training Services

@NCTS_2017

NCTS

Basic Lead Welding an nd Bossing

8 – 12 October

Bespoke Hard Metal

15 – 19 October

Lead Intermediate

22 – 26 October

Slating & Tiling Bespoke

29 October – 2 November

DELIVERING QUALITY IN THE

SINGLE PLY ROOFING SECTOR?

JOIN

US

Then it's time to join SPRA!

SPRA membership is as much about giving something

back to the industry, as the considerable benefits that

membership brings.

Invest now! JOIN THE 'SPRA TEAM'

so that together, we can

INFLUENCE, EDUCATE and SUPPORT

a quality single ply roofing industry.

SEE US AT

www.spra.co.uk/register

For more information 0845 1547188 enquiries@spra.co.uk

JOIN AND HELP SHAPE THE FUTURE OF SINGLE PLY ROOFING

www.spra.co.uk

OCTOBER 2018 TC 71
---
Vehicle Hire: Opinion

CAN FLEXIBLE FLEETS HELP WITH

CASH FLOW FOR GROWTH?

Stuart Russell, Commercial Vehicle Director at van hire specialist, Europcar, explains why he

feels vehicle hire can help firms working in the construction sector manage cash flow.

After a tough start to the year, thanks to the

Beast from the East, the construction

industry bounced back. According to the

IHS Markit/CIPS UK Construction PMI, output for

the sector reached a seven-month high in June.

But the rapid upturn illustrates the real challenge

facing businesses right across the sector. At

times work is scarce and cash is limited, yet

firms need to be ready for any upturn with the

right people and equipment. One area that

businesses working in the sector can tackle

which can make a very real difference is fleet.

Taking a flexible approach to operations is crucial

to ride a wave of uncertainty. And transportation

is one area where construction firms can adopt

flexible strategies to take the pressure off cash

flow and profits. With research commissioned by

Europcar earlier this year suggesting that the

current mood among UK businesses is one of

cautious optimism and nearly two thirds (63.5%)

reporting that market demand is the top factor

affecting their success, flexibility is key.

Europcar long-term commercial vehicle hire

means firms can move away from contract hire or

leasing, or even outright acquisition, to achieve

real savings. A depreciating asset can be

removed from the company's books and turned

into working capital. Plus fleet size can be scaled

up or down as necessary – with no financial

penalty – with the types of vehicles being used

changed as market demand changes.

Not sitting on the fence: case study

Taking control of its finances was one of the

reasons Borderland Fencing turned to Europcar

UK. Like many small to medium-sized

businesses – including those operating in the

roofing sector – Borderland Fencing faces the

challenge of keeping its operations moving

without making long-term financial commitments

that could tie up cash flow. It also needs to have

the flexibility to adapt to customer demand at

short notice and rental, rather than long-term

leasing or ownership, offers Borderland Fencing

just that.

The firm took delivery of a fleet of ten drop side

vans – all with Borderland Fencing branding – in

a long-term rental contract with Europcar. And, as

Rachel Hall of Borderland Fencing explained, this

means they have all the advantages of an

'owned' fleet, without any of the financial burden.

"Europcar has an extensive commercial vehicle

fleet giving us access to the right mix of vehicles

for our business needs. Each van has been signwritten

with our branding, not only promoting the

business while we're on the move, but giving our

customers the confidence that we are a reliable

firm. And Europcar's competitive rates have

enabled us to reduce our fleet costs, especially as

we don't have the financial burden of buying

vehicles outright.

"Importantly, we don't have to worry about the

cost of maintenance, or the impact on our service

of vehicles being off the road. The young age of

Europcar vans means reliability is high and, even

if there is an issue, Europcar can provide a

replacement vehicle quickly so that we can keep

our business running to the high standard our

customers expect."

With van and specialist vehicle hire available for

as little as three days or as long as three years,

businesses across the sector – including roofers

– don't have to worry about being locked into

long-term agreements. Crucially, they can

increase and decrease their fleet with no

penalties, removing financial risk and helping

these businesses respond to fluctuating demand.

Taking control of its finances was one of the reasons why Borderland Fencing says it turned to Europcar's long-tern vehicle hire.

Contact Europcar: www.europcar.co.uk

72 TC OCTOBER 2018
---
SEE US AT
---
UAV Advice

DRONES & ROOFING: IT'S NOT JUST

A CASE OF BUYING AND FLYING

By Sion Roberts, Managing Director at RUSTA.

Since the end of 2013, Unmanned Aerial

Vehicle (UAV) technology has become more

prominent in the construction industry.

Aided by continuous advancements in digital

technology, this disruptive new area of aviation is

having a ground-breaking effect in the industry

and is becoming an essential part of modern-day

surveying and monitoring.

Having the use of a drone for a roofing or cladding

project can save a considerable amount of time

and money. Additionally, it can give a thorough

report and obtain a vast amount of data using

many different sensors – something which can be

hard to achieve with the naked eye.

Using a UAV as an alternative perspective also

reduces the risk of injury by eliminating the need

to put a human in a potentially precarious and

dangerous environment. With health and safety

being paramount in this day and age, drones can

be an invaluable resource to have at your

businesses' disposal.

Endless possibilities

Many of those in the construction industry today

use drones for a wide range of tasks including

building surveys, site inspections, health and

safety inductions, maintenance inspections,

project progress reports, promotional

photography, live feed, site logistics, laser

scanning and thermal imaging recording; if known

how to be operated properly, the possibilities are

endless.

Nurture your progression

Roofers and cladders in particular can take

advantage of these exciting technological

exercises while on the job. One of my biggest

pieces of advice for any new pilot is to nurture

your progression. In other words, practise one

task at a time. Whether you are

surveying or carrying out an

inspection, to truly hone your

skills and become an efficient

operator, take the time needed to

perfect each task before moving onto

the next.

In the air and on the ground

Also, remember to keep your drone

a safe distance from any

potential harm both in the

air and on the ground, and

always be aware of your

own surroundings when

piloting. Furthermore, to

get the best results from

any task, always have a

carefully thought through plan

prior to going airborne. This will

mitigate the risk of damage to the drone which

can save your company time and money.

Into the deep blue yonder

But while the cost of buying the flying equipment

can be incredibly cost effective, with a basic

model starting at around £1,000, it's not a simple

case of just buying the drone and throwing it into

the deep blue yonder.

For many businesses in the industry, the

temptation is just to buy one online and go flying,

but there is a lot more that an operator needs to

be aware of before they can be adept at taking to

the skies. Yes drones are incredibly easy to fly but

if you are utilising one for commercial operations,

or receiving anything valuable from its data, you

will need a Permission for Commercial Operation

(PfCO) from the Civil Aviation Authority (CAA).

This is where we can help.

Contact RUSTA

08007747347

www.rustauas.com

@RUSTA_TRG

Left: Sion Roberts, Managing Director at

RUSTA.

We provide the training courses

an operator needs to attend

before they can obtain a PfCO by

the CAA. The courses we run last for

two and a half days and cover a litany of

topics to ensure participants thoroughly

understand and adhere to the rules and

regulations.

Areas the training covers

include demonstrating

knowledge of regulations,

safety issues, pre-flight

processes and

procedures, flight

manoeuvres and

emergency procedures.

It is important to mention that the

CAA has recently updated its rules and

regulations, so it is vital that operators get the

right qualifications prior to using this exciting new

technology for commercial operations.

As one of the original drone and UAV academies

in the UK, we have trained an abundance of

people in the construction industry over the last

four years. Our instructors, who all have

backgrounds in the Royal Air Force or Army Air

Corps, use their thousands of hours of flying

experience on both manned and unmanned

platforms to ensure participants on our courses

save money, stay safe and ultimately achieve

better results than the legacy methods.

74 TC OCTOBER 2018
---
6 338

SEE US AT