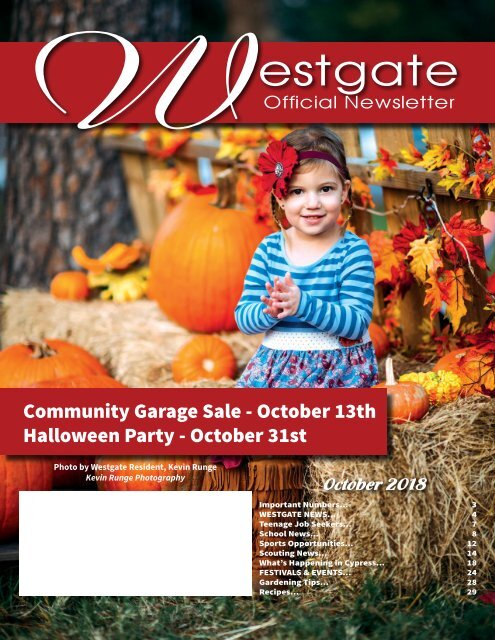 Create successful ePaper yourself
Turn your PDF publications into a flip-book with our unique Google optimized e-Paper software.
Community Garage Sale - October 13th

Halloween Party - October 31st

Photo by Westgate Resident, Kevin Runge

Kevin Runge Photography

October 2018

Important Numbers... 3

WESTGATE NEWS... 4

Teenage Job Seekers... 7

School News... 8

Sports Opportunities... 12

Scouting News... 14

What's Happening in Cypress... 18

FESTIVALS & EVENTS... 24

Gardening Tips... 28

Recipes... 29

Westgate | October 2018 1
---
Gain Relief From Neck and Back Pain.

If neck or back pain is affecting your quality of

life, call Houston Methodist Spine Center at West.

Expedited Care

Our spine center nurse coordinator will help

expedite your care in a timely manner, ensuring

you see the right medical provider within five

business days.

Claudia Kim, RN

Spine Center

Nurse Coordinator

Contact our nurse coordinator at 832.522.BACK (2225) or email

spinecenterwest@houstonmethodist.org today.

Please note that email is not a secure means to communicate personal information, i.e. Social Security number, date of birth,

fi nancial information, etc.

18500 Katy Fwy.

Houston, TX 77094

2

October 2018 | Westgate
---
Halloween Safety Tips

Walk Safely: Cross the street at corners, using traffic signals and crosswalks.

Look left, right and left again when crossing and keep looking as you cross. Put

electronic devices down and keep heads up and walk, don't run, across the street.

Teach children to make eye contact with drivers before crossing in front of them.

Always walk on sidewalks or paths. If there are no sidewalks, walk facing traffic as

far to the left as possible. Children should walk on direct routes with the fewest

street crossings. Watch for cars that are turning or backing up. Teach children to

never dart out into the street or cross between parked cars.

Trick or Treat with an Adult: Children under the age of 12 should not be alone

at night without adult supervision. If kids are mature enough to be out without

supervision, they should stick to familiar areas that are well lit and trick-or-treat

in groups.

Keep Costumes Both Creative and Safe: Decorate costumes and bags with

reflective tape or stickers and if possible, choose light colors. Choose face paint

and makeup whenever possible instead of masks, which can obstruct a child's

vision. Have kids carry glow sticks or flashlights to help them see and be seen by

drivers. When selecting a costume, make sure it is the right size to prevent trips

and falls.

Drive Extra Safely on Halloween: Slow down and be especially alert in residential

neighborhoods. Children are excited on Halloween and may move in unpredictable

ways. Take extra time to look for kids at intersections, on medians and on curbs.

Enter and exit driveways and alleys slowly and carefully. Eliminate any distractions

inside your car so you can concentrate on the road and your surroundings. Drive

slowly, anticipate heavy pedestrian traffic and turn your headlights on earlier in the

day to spot children from greater distances. Popular trick-or-treating hours are 5:30

PM to 9:30 PM so be especially alert for kids during those hours.

WESTGATE IMPORTANT NUMBERS

HARRIS COUNTY SHERIFF'S OFFICE INFORMATION

Westgate Subdivision falls within District 4 of the Harris County Sheriff's Department. Suspicious behavior should be called in to the Non-Emergency

number, general questions should be directed to the Patrol District Office and emergencies should always call 911:

Inframark Infrastructure Management Services

2002 West Grand Parkway, Ste. 100

Katy, TX 77449

Ph: 281-870-0585 • Fax: 281-870-9170

Mgr: Angela Bumann - angela.bumann@inframark.com

EMERGENCY NUMBERS

Fire or Sheriff Emergency 911

Sheriff (non-emergency) Press Option 1 for Dispatch 713.221-6000

Patrol District Office (gen. info) 281-463-2648

16715 Clay Rd., Houston, TX 77084

Cy-Fair Vol. Fire Dept. 713-466-6161

Cy-Creek Vol. Fire Dept. 281-440-0079

Child Protective Services 713-394-4000

Poison Control 800-764-7661

Community Events & Activities Committees

HOA Board of Directors: board@westgatetx.net

Newsletter Editor: Kimberly McGaughy • kbmcgaughy@gmail.com

Garage Sale Chair: Sheila Walsh • garagesale@westgatetx.net

Social Chair: social@westgatetx.net

Parks/Pools Chair: poolandparks@westgatetx.net

Deed Restriction Committee Contact:

deedrestrictions@westgatetx.net (to report problems)

Crime Watch Chair: Helen Daglas • crimewatch@westgatetx.net

UTILITIES

Reliant Energy (elec) 713-207-7777

CenterPoint Energy 713-659-2111

CenterPoint Energy (to report gas leak) 888-876-5786

CenterPoint Energy (power outage/downed lines) 713-659-2111

MUD #70 (call for repairs) 281-398-8211

Severn Trent Services Billing 281-579-4500

stbilling@stes.com or MUDcustomerservice@severntrentservices.com

WCA Waste Corp. (garbage) 281-368-8397

www.wcawaste.com/Houston/houston-residential.html

Houston North 281-766-1914

Schools

Cy-Fair ISD 281-897-4000

Copeland Elementary 281-856-1400

Smith Middle School 281-213-1010

Langham Creek HS 281-463-5400

Local Services Bear Post Office 800-275-8777

Bear Creek Library 281-550-0885

Cy-Fair College Library 281-890-2665

Langham Creek YMCA 281-859-6143

Animal Control 281-999-3191

ASPCA (24 Hr Poison Control) 888-426-4435

Spills 713-439-6000

TX Wildlife Rehabilitation 713-941-8972

Humane Wildlife Removal 281-354-2293

Bob Leared Interest, Inc. 713-932-9011

PUBLISHED COURTESY OF KRENEK PRINTING

7102 Glen Chase Ct, Houston, Texas 77095

(property taxes for MUD #70)

Westgate

281-463-8649

| October 2018

• www.KrenekPrinting.com

3
---
p r e s e n t e d b y

Door registration opens at 4:30 pm

1901 N. Shoreline Dr. Corpus Christi, TX 78401

group rates available • children under 7 FREE

Special $12. 50 rate for Destination Heaven

conference attendees

For tickets, info, or for conference registration:

Text the word TRUTH

to 22828 to join our email list

Quality Printing

Targeted Advertising

Professional Service

f e a t u r i n g

Print & Mail ServiceS

Call our office today to get a quote for your printing needs!

in concert

FEBRUARY 24, 2018

7:30 pm - 9:30 pm

American Bank Center

General Admission: $15

VIP Tickets: $40

877-218-7884 or www.fullnessoftruth.org

St. John XXIII

vs

Brazos High School Cougars

ARMED FORCES NIGHT

September 21, 2018

at St John XXIII Stadium

SaRaH ReeVeS

• Flyers

• Postcards

• Business cards

• Brochures

• Programs

• newsletters

L

I

O

N

S

MATTRESS FIRST I GAVE

5102 Avenue H, Rosenburg TX 77471 I GAVE

832-645-4889 I GAVE

LOWEST PRICE OF THE YEAR!

SAVE 50 - 80%

OFF RETAIL STORE PRICES!

Pledge

Queen Sets Starting at Pledge $150

Offering

Offering

Other

Other

Name Name

Automatic Automatic

Online

MATTRESS

BY APPOINTMENT ®

Text Text

281.500.9992

Envelope

To To bless your online or electronic gift, you may

place place this this envelope in the offering plate as as an an

act act of of worship. For more information on on the the

different

different

ways

ways

to

to

give,

give, contact Valerie McElhose

McElhose

at valerie@stcuthbert.org or 281-463.7330.

at valerie@stcuthbert.org or 281.463.7330.

• ncr Forms

• christmas cards

• graPhic design

• mailing services

(EDDM, Bulk, First Class)

• and more!

advertiSing OPPOrtunitieS

in the local Subdivision Newsletters reaching over 100,000 homes!

Visit our website for a full price list & to view past issues

YOUR AD COULD

BE HERE!

Westgate Halloween

Pizza Party and Costume Contest

OCTOBER 31 ST , 5:30 PM

We are planning to have a Halloween Pizza Party and Costume Contest

for the kids on October 31, 2018 at the big park on Westgate Park Dr.

and Kenmark. It's always so much fun for kids and adults to see all the

costumes! We are planning to start at the Gazebo at 5:30 PM. We'll have

free pizza and drinks-first come, first served! Come early if you'd like to

help decorate.

We need volunteers for this event and the more we get, the better it will

be! We would like to decorate the gazebo and we need people to help

pass out food and organize the kids for the contests. Without enough

volunteers signed up ahead of time, we'll have to scale back the event.

Please email the social committee at social@westgatetx.net.

COSTUME CONTEST: we'll have costume contests with kids divided up

into age groups-prizes for Top 3 Costumes will be awarded to each group.

One category will be for pets with one prize.

1 st age group: 0-2 years

2 nd age group: 3-5 years

3 rd age group: 6-8 years

4 th age group: 9-12 years

5 th age group: 13 and up

Pet category: one prize

We'll also have a place set up for you to take Halloween photos. So come

watch the kiddos have lots of fun and visit with your neighbors! This is

going to be a spooky, Halloween time! And afterwards, the kids can trickr-treat

on the way home!

Westgate Fall Garage Sale

OCTOBER 13, 2018

Westgate's deed restrictions state that we can only have garage sales on

designated days for the community, having them at any other time can

earn you an immediate fine. So, it's time again for our Westgate Garage

Sale; this year, the Fall event will happen on Saturday, October 13 th . So

while you're organizing and cleaning, go through that extra "stuff" you

have in your closets, declutter your house and garage and make some

extra money!

That week, we'll have signs out at the entrances of the neighborhood to

advertise the event for the community. You can put additional signs to

direct people to your house, but please remove them after your sale is

over.

Krenek Printing

DESIGN • PRINT • MARKET • MAIL

281-463-8649

www.KrenekPrinting.com

LLC

Westgate Monuments Holiday

Decorating Party

SATURDAY, NOVEMBER 10 TH

Join us on Saturday, November 10 th , at noon for holiday decorating of

our monuments. We'll be meeting at the Westgate Park Dr. monuments.

Volunteers will enjoy treats after we're finished.

Keep Your Pool Cards Permanently!!

As pool season comes to an end, remember to KEEP YOUR POOL ACCESS

CARDS PERMANENTLY! Do NOT throw them away. One of the benefits of

this system is that you don't have to get new pool tags every year. In fact,

if you throw away or lose your pool card, it's $25 to replace it; you have to

contact PCMI to get a new one.

4

October 2018 | Westgate
---
Autumn Home Maintenance Tips

by Resident Realtor Tim Bogott

Children are back in school, which means Autumn is just around the

corner. Autumn is the perfect time to prepare your home for the cold wet

weather of Texas Winters.

The DIY Network has a list of recommended Autumn home maintenance

tips and below you will find four recommendations to help keep your

home warm and cozy during the cold Winter months.

• Freezing weather is always a possibility. Save energy and protect your

water pipes from bursting by ensuring any exterior water pipes are

insulated from the cold.

• Even though only used a few times a year, it's very important to have a

licensed heating contractor inspect and service your gas heater for peak

performance and to avoid carbon monoxide poisoning.

• Save energy and protect your home from water damage by inspecting

your windows and doors for leaks and drafts caused by cracked or

missing caulking or damaged weather stripping. Re-caulk windows and

replace any damaged weather stripping around the doors.

• Animals and pests like to sleep in warm beds too and your attic

insulation is perfect for sleeping or nesting. Repair any damaged vents

under your roof eaves. Look for any openings to your attic from the roof

area and add screen mesh to keep out the animals and pests.

See a list of all recommended Autumn maintenance tips on

diynetwork.com. When conducting any do it yourself (DIY) project,

please follow all the safety guidelines of the manufacturer. All

content provided is for informational purposes only and Coldwell

Banker makes no representation as to the accuracy or completeness

of any information.

Recent Crime Watch Posts

from Westgate Subdivision

Official Group on Facebook

Our HCSO deputy informed us that the wheel thieves have started their

rounds in our area again. So far it has been Chevy factory installed tires.

Keep your lights on, call in suspicious activity and check your cameras.

A warning of a new scam from our HCSO officer-a man comes to the door

with his son, says he is looking for handyman work. The son then indicates

he needs to use the restroom. When they are allowed in, the wife and

daughter join them. The wife engages the resident in conversation while

the husband takes the son to the restroom, which is when the father and

son look for money and valuables.

Also from the Sheriff's Office:

Recently, there has been an uptick in phone scams. First, HCSO will

NEVER call you soliciting for payment.

• Phone scammers will obtain a potential victim's phone number from an

online phone book or other source.

• The scammer will contact a potential victim posing as a HCSO employee,

saying they missed jury duty and an arrest warrant has been issued.

• They'll then tell the victim they have to pay the fine over the phone or

will be arrested. They insist the victim stays on the phone while traveling

to the store to purchase a pre-paid debit card.

• The scammer then says to give them the card number, giving them

access to all the funds on the card

• In some cases, the scammer will order the victim to send the card to the

Harris County District Clerk's Office to ensure more difficulty in tracking

the funds.

Again, Harris County Sheriff's Office will NEVER call asking for payment.

Call 713-221-6000, the non-emergency number for HCSO, if you receive

a call like this.

Panel Upgrades & Installs

Home Generators

Home Inspections

Landscape Lighting

Recessed Lighting

Troubleshooting

Ceiling Fans

$25 OFF

$25

ANY

SERVICE CALL!

ANY TIME!

Expires 12/31/18

5-Year

Warranty

RESIDENTIAL & COMMERCIAL

24 HRS A DAY / 7 DAYS A WEEK

713-467-1125

www.wiredes.com

100% Customer Satisfaction Guaranteed!

Master #100394-TECL #22809

Give the

Gift of Life!

Be a Living Donor

A local Cypress area resident, Laura Mullaney,

is in need of a kidney. Laura has been on

dialysis for 5 years. She has type O blood, but

with the paired donor program, anyone can

donate and it would benefit Laura.

If you would consider being a Living Donor/Paired

Donor, please contact Methodist Transplant Center

at 713-441-5451 and give them Laura's name or you

can call Laura direct at 240-818-1121.

Westgate | October 2018 5
---
FYIL#31423

Electrical Services

For all your Electrical Needs!

713-319-7456

info@fyi-electricalservices.com

Always on time!

FREE Estimates

Bonded & Insured

• Troubleshooting & Repairs

• Landscape Lighting

• Panel Upgrade

• Underground &

Overhead Service

• Complete Wiring

• Ceiling Fans

• Smoke Detectors

• Recessed Lighting

• Outlets, Switches

& Dimmers

$

25 OFF

Any Job over $ 95

www.fyi-electricalservices.com

We pull all

City Permits

patio covers that enhance your lifestyle

and increase the value of your home.

Call to schedule a free estimate

713- 574-4648

Visit our website to view hundreds of pictures of

our work and see homes similar to your design.

AffordableShade.com

Custom Built

Patio Covers

Patio Cover

Screen Rooms

Shade Arbors

Cedar & Aluminum

We help with

HOA

approvals

Aluminum Insulated

Patio Covers

Structural &

Decorative Concrete

Custom Built Palapas

Crime Watch Neighborhood Updates

WE NEED YOUR HELP

1. We have seen an increase in break-ins and vandalism at our parks in the

past several months. The pool house has been broken into at least four

times, the gazebo three times; there have recently been attempts to burn

the play equipment at the park on Crestbury and the gazebo at the big

park. The Board has made many improvements to our community. Crime

Watch has worked to improve the lighting; we are working with HCSO and

are researching cameras for the areas we have assets. We need neighbors to

do two things to help. If you notice a problem, please report it to Inframark.

If there is a problem with criminal mischief damage, contact Crime Watch.

Secondly, please call HCSO at 713-221-6000 if there is anything suspicious.

You can let dispatch know that we are having problems with criminal

mischief and the contract deputies are aware of the issues. They may not

send a contract deputy, but they will send an officer. It takes all of us to

keep our community a great neighborhood to live in.

2. It is ILLEGAL to ride four wheelers/ATVs along Langham Creek. If caught

the violators will be arrested and the Harris County Flood Control will

press charges and enforce the fine. It is not your right just because it is

there. Call 713-221-6000 to report it if you see anyone. Especially loading

and unloading, hopefully they will have time to get there.

Besides driving people to sell their homes from the noise, HOA dues also

pay to repair our community property that is damaged. Not to mention

that it erodes the banks of the bayou, which affects our flood control.

Do You Know Your Deed Restrictions?

In an effort to educate our residents, each month we highlight some deed

restriction or other item that needs improvement in Westgate:

PARKING AND PROHIBITED VEHICLES: According to our Declarations of

Covenants, Conditions, Restrictions and Easements, pg. 12-13, cars etc. must

be IN WORKING ORDER, have current stickers etc. and are in daily use. Vehicles

like a "boat, trailer… recreational vehicle" cannot be stored on your lot unless

it is concealed; a TEMPORARY permit can be issued for certain situations.

Regarding parking, vehicles MUST NOT "BLOCK A SIDEWALK." Also, "NO

MORE THAN THREE VEHICLES… may be parked on the driveway."

6

Any repair work to vehicles that is visible to the street MUST BE COMPLETED

WITHIN 12 HOURS AND NOT OCCUR ON A FREQUENT/REGULAR BASIS, so

as to prevent disorderly and unkempt appearance in Westgate.

IMPORTANT NOTE: It's been reported in some sections that residents are

parking on BOTH sides of the street. While I understand the difficulties of where

to park, parking on both sides of the street CREATES A DANGEROUS SITUATION.

Emergency vehicles cannot pass through to save a life! If it is creating a street

hazard, call the nonemergency Sheriff's number 713-221-6000. PLEASE, when

parking on the street, stagger your vehicles so they are NOT PARKED DIRECTLY

ACROSS FROM ANOTHER VEHICLE on the other side of the street!

Following these instructions helps keep our neighborhood looking neat

and thus keeps up our property values, as well as helping keep Westgate

safe. Let's be considerate of our neighbors!

COPIES OF ALL WESTGATE FOUNDING DOCUMENTS (including the ARC

form) can be downloaded from the Westgate website www.westgatetx.

net. They are located under the HOA tab.

Procedure When Filing a

Report with the Sheriff's Dept.

If you ever have to file a report with the Sheriff's Department, whether

after calling 911 or the nonemergency number (713-221-6000), be sure to

let the deputy know that Westgate has a contract with the Sheriff's Dept.

through our MUD district (Harris County MUD #70). That way, the incident

will be reported to our contract deputies, giving them information on

what to look for in our community. Also, be sure to report the issue to our

Crime Watch committee at crimewatch@westgatetx.net. They discuss

the problems with our deputies as well.

Recommended Tradespeople List on

the Westgate Facebook Page

Have you ever needed to call someone for repairs or to have work done,

but you didn't want to just pick someone out of the yellow pages? Well,

we've begun a document that is our neighborhood's personal "Angie's

List:" "Recommended Tradespeople And Businesses." All people and

businesses listed on it are recommended by people in Westgate who have

October 2018 | Westgate
---
I AM A

WARRIOR

ARE YOU?

Serving grades K-12 throughout northwest Houston.

11123 Cypress N. Houston Road, Houston, TX 77065

281.469.8829 | CypressChristian.org

had personal experiences with them. We also have a list for businesses

actually owned by Westgate residents called "Westgate Residents who

provide Services." If you are a resident who owns a business, provide a

description of your services, price range, history of your business, etc.

Support your neighbors by checking it out; you might find what you need

very close to home! To access the documents, go to www.facebook.com

and search for "Westgate Subdivision." Look at the top of the page under

"Files" and you'll see them there! Add yours to the list!

Stay Up to Date with Westgate News

To get the latest information on what's happening in Westgate, be sure to

check our other Westgate sources:

1. The WESTGATE WEBSITE, www.westgatetx.net

2. The Westgate FACEBOOK page is Westgate's official Social Media outlet

for information (on Facebook, search for "WESTGATE SUBDIVISION

Official" and you must sign up); you can find goodies like pictures

of our events, HOA information, etc. If you have trouble finding it on

Facebook, type this into your address bar: www.facebook.com/groups/

WestgateSubdivision/. Within a day or two, you will then be asked to

verify your address, as it is a residents-only group. Look for this in your

"messages" section at the top left of the page and you may be asked to

accept a message.

3. Send questions to the WESTGATE HOA EMAIL, Board@westgatetx.net.

The newsletter only comes out once a month and information is a month

old, so the other methods are used when something happens last minute

and if you missed the newsletter.

Harris County Sheriff's Office

Information

Westgate Subdivision falls within District 4 of the Harris County Sheriff's

Department. Suspicious behavior should be called in to the Non-

Emergency number, general questions should be directed to the Patrol

District Office and emergencies should always call 911:

NON-EMERGENCY NUMBER: 713-221-6000 (Option 1 for dispatch)

PATROL DISTRICT OFFICE: 281-463-2648 (for general information only)

16715 Clay Road, Houston, TX 77084

EMERGENCY: 9-1-1 (emergencies only)

Streetlight Outages

Report streetlight outages to Center Point Energy at www.

centerpointenergy.com or 713-207-2222. Let's keep our community

safe. You will need the pole number, the black and white numbers listed

vertically on the pole, to report the outage. If no pole number is listed,

on the website you can use the GIS map listed on the website link above.

Teenage Job Seekers

If you are between 12 and 18 and would like to be added to the

teenage job seeker's list, please fill out the form on our website (www.

krenekprinting.com, click submissions and choose Jobseekers) with

your name, birthdate (mo. & yr.), phone number, year you will graduate

and the name of your newsletter/subdivision. Check the list of jobs you

want on your form. Please make sure your email is correct, we send

emails in the summer to make sure all the info is still good and that you

want to stay on the list. If we do not hear back from you after 3 tries, we

will remove you from the list until we do. Must have parent(s) permission.

DISCLAIMER

Neither the subdivision, nor Krenek Printing is responsible for those listed

on the Teenage Job Seeker List. Please ask for and check out references

if you do not personally know those listed. This is just a list of teenagers

from the subdivision who wish to find part time jobs. Responsibility for

any work done by these teenagers is between those seeking helpers and

the teens and their parents.

CODE KEY:

B - BABYSITTING, CPR - CPR CERT., FAC - FIRST AID CERT., RCC - RED

CROSS CERT., SS - SAFE SITTER, SL - SWIM LESSONS, PP - PET/PLANT

SITTER, P - PET CARE ONLY, H - HOUSE CARE, L - LAWN CARE, C- CAR

CARE/DETAILING, T - TUTORING

TEENAGE JOB SEEKERS

NOT AVAILABLE ONLINE

Westgate | October 2018 7
---
School News

CYPRESS-FAIRBANKS I.S.D.

WWW.CFISD.NET

IMPORTANT DATES

October 8 th - Professional Day/ES parent Conferences

24Th Annual College Night Set For

October 9Th-10Th At Berry Center

The 24 th annual districtwide College Night is scheduled for Tuesday, Oct.

9 th and Wednesday, Oct. 10 th from 5 to 8 PM at the Berry Center (8877

Barker Cypress Road). More than 200 colleges, universities, technical and

specialty schools will be represented at the event. In addition, all branches

of the military and the U.S. service academies will also be represented. A

list of schools and representatives scheduled to attend each night will be

posted on the district website the week prior to the event.

All high school students and their parents are invited to attend this free

event. Students are encouraged to attend on their assigned night, but

will be welcomed on either or both days.

Below are the campus assignments for College Night:

Tuesday, Oct. 9 th - Bridgeland High School, Cypress Creek High School,

Cypress Falls High School, Cypress Ranch High School, Cypress Ridge

High School, Jersey Village High School and Windfern School of Choice.

Wednesday, Oct. 10 th - Cy-Fair High School, Cypress Lakes High School,

Cypress Park High School, Cypress Springs High School, Cypress Woods

High School and Langham Creek High School.

Students may register online at www.gotocollegefairs.com, which

will allow each to have a personalized barcode pass to share contact

information with representatives.

Large group presentations will be held throughout the event for financial

aid (in English and Spanish), Lone Star College, Rice University, Texas

A&M University, University of Houston, University of Texas and the U.S.

military service academies.

Last year, nearly 6,000 visitors attended College Night while almost 2,800

patrons attended the group presentations. Both totals were increases

from the year before. For more information, view the College Night flyer

on the district website.

8

400-Plus Volunteer Bus Buddies

Assist Young CFISD Bus Riders

In assisting the new bus riders and drivers and CFISD, 430 community

volunteers assisted in the 12 th annual CFISD Bus Buddies program during

the first week of classes. It's the second consecutive year in which the

total has topped 400 volunteers, with many serving as a Bus Buddy for

more than one day.

Bus Buddies rode CFISD school buses from 2:45 PM to 5 PM for the first

two days of school, August 27 th -28 th , to ensure young students were safely

transported to their proper drop-off points and locations.

"Our Bus Buddies program was another success this year, but it

would not have been possible without the support of our business

partners, administration and community members," said Bill Powell,

assistant superintendent of support services. "I am also grateful to

our communication and community engagement departments for

promoting and scheduling the program to ensure our students' safety

over the first two days of school. Thank you to everyone for making it a

great success." In addition to community volunteers, 102 businesses and

organizations participated in the program.

CFISD High Schools Recognized In

U.s. News & World Report Rankings

Cypress Woods and Cypress Ranch high schools ranked among the top

1,700 U.S. high schools in the country, while Langham Creek and Cypress

Ridge high schools gave Cypress-Fairbanks ISD four schools among the

top 2,700 nationally, according to U.S. News & World Report's annual list

of America's Best High Schools.

In achieving a high level of college readiness, Cypress Woods, Cypress

Ranch, Langham Creek and Cypress Ridge were awarded silver medals,

while Cypress Springs, Jersey Village and Cypress Lakes high schools

were bronze medal winners.

October 2018 | Westgate
---
The 2018 list evaluates schools that have proven the most effective in

producing college-ready graduates, based on a four-step process:

Determining whether a school's students were performing better than

statistically expected for students in that state; Assessing whether their

historically underserved students (African American, Hispanic and lowincome)

performed at or better than the state average for historically

underserved students; Meeting or surpassing a benchmark for a school's

graduation rate (80 percent or greater) and Assessing college-readiness

performance using Advanced Placement and International Baccalaureate

test data as the benchmark for success.

The fourth step measured which schools produced the best college-level

achievement for the highest percentages of their students, which was

completed by computing a College Readiness Index. The maximum CRI

value is 100. To be ranked nationally, a high school had to pass the first

three steps and have a CRI value at or above 21.51 (the midpoint of all

CRI values).

Of the 5,948 highest-scoring schools, the top 500 were awarded gold

medals. Schools ranked No. 501 to No. 2,711 were awarded silver medals,

while the remaining 3,237 ranked schools were awarded bronze medals.

Cypress Woods was ranked at 1,297 in the nation and 149 in Texas with a

97-percent graduation rate and 40.2 CRI value.

Cypress Ranch was ranked 1,678 in the nation and 173 in Texas with a

98-percent graduation rate and 34.3 CRI value.

Langham Creek was ranked 2,198 in the nation and 194 in Texas with a

92-percent graduation rate and 27.4 CRI value.

Cypress Ridge was ranked 2,670 in the nation and 224 in Texas with a

94-percent graduation rate and 22.0 CRI value.

For more information on the America's Best High Schools rankings, visit

the U.S. News & World Report website.

CFISD Schoolmessenger App

To ensure that CFISD parents are receiving school and district news and

alerts in the way that suits their needs, CFISD offers a communication

app that allows parents to:

• set communication preferences for calls, emails and texts

• review messages on any device - smartphone, tablet, laptop

With the SchoolMessenger app, parents have 24/7/365 access to

important school notifications such as weather and emergency alerts. In

addition, the app allows teachers and parents to communicate directly,

individually or in groups.

Become a Dental Assistant

in just 10 weeks!

If you have questions, contact the CFISD Communication department at

281-897-4053, commuication@cfisd.net or on Facebook and Twitter @

cyfairisd.

Training Since 1995

Approved by the TWC Career Schools and Colleges

www.hdas.biz | For info packet call 281-363-0600 or email admin@hdas.biz

Katy • Clear Lake • The Woodlands

10 Week Course - Tuition $3250 • Payment Plans

Winter Session begins 1/12/19

Westgate | October 2018 9
---
BOAT & R.V.

STORAGE

Convenient 24 Hr. Access • 13 514 Wieman Rd.

Prices start at $ 50. 00

281-550-1136

Commercial & Residential

281-345-7700

http://www.houzz.com/pro/foxlandscapingtx

Hwy. 6

WIL-STOR

&

Wieman

Eldridge Rd.

West Little York

Clay Rd.

HAVE HEALTH INSURANCE QUESTIONS?

I have answers! I have Plans that will fit your needs!

• Turning 65 or new to Medicare

• Medicare Advantage

• Medicare Supplements

• Part D - Prescription

ROSARIO TERRAZAS

832-605-0028

Licensed Sales Representative

Si, hablo Español

N

290

529

I-10

MEDICARE

• Landscaping

• Maintenance

• Irrigation

• Lighting

• Drainage

• Artificial Turf

• Putting Greens

• Clean-ups

• Stone Borders

LANGHAM CREEK HIGH SCHOOL

BAILADORA EVENTS

BAILADORA BUDDY GAME

Saturday October 20, 2018

Langham Creek Football Game vs. Bridgeland

Cy-Fair FCU Stadium - 7 PM

Be paired up with a friendly Bailadora and

be their buddy for the evening! Walk into the

stadium together, dressed alike!

Girls will wear a matching Bailadora overlay.

Be on the field with the Bailadoras during

Lobo Lines and the Fight Song before the

game!

​Sit with your Bailadora for the first half of

the football game! Participate in cheers, stand routines and dances

during the first half of the game!

Watch the Bailadoras perform their halftime routine from the Bailadora

reserved stands with a snack!

​Receive a special Bailadora souvenir for the evening

​To register, visit www.bailadoras.com. (space is limited - ages

Kindergarten through 8 th grade)

2018

Benefiting the Bailadoras

Saturday October 27, 2018

Family of Faith Church

16710 FM 529

7 AM-Noon

PRESCHOOLS

BEAR CREEK UNITED METHODIST CHURCH SCHOOL

16000 Rippling Water Drive, Houston, TX 77084

Are you interested in joining us? Looking for a quality preschool for your

child? We have a few spots available. Classes are offered for children

12 months through. We are also interested in hiring well qualified substitutes.

If you are interested in our program please call 281-463-2969

or email school@bcumcs.org. You may also visit our website for more

information www.bcumcs.org.

Notice Of Nondiscriminatory Policy As To Students: The Bear Creek United

Methodist Church School admits students of any race, color, national

and ethnic origin to all the rights, privileges, programs and activities

generally accorded or made available to students at the school. It does

not discriminate on the basis of race, color, national and ethnic origin in

administration of its educational policies, admissions policies, scholarship

and loan programs and athletic and other school-administered programs.

10

October 2018 | Westgate
---
PRIVATE SCHOOLS

COVENANT ACADEMY NEWS

PATRIOTS' WEEK is an uplifting,

energizing way to

build community and grow

disciples during this first

full week of school. During

Patriots' Week, our students

rotated through four

settings each day. In planting

our gardens, students

cultivated goodness and

beauty and learned about

caring for the earth that

God has given to us. In the

House of Cards, students

learned the skill of passing

time together without consuming

technology while

strengthening number

sense. Our team building

games of Sock Dodge and

Steal the Bacon showed

them that they can learn to win well, lose well and take risks in group

settings. Lastly, our seniors taught students about the Code of Conduct

and how Christ's work on our behalf helps us to move toward His likeness.

Always there for you!

MPL#40815

Water Heaters • Drain Problems

Faucet Installation & Repair

Gas Test • Water Leaks & Much More

35+ Years Experience

832-890-8449

info@tonysplumbingtx.com

www.tonysplumbingtx.com

$30 off

any Job

Over $95

Low Price Guarantee

Licensed & Insured

FREE ESTIMATES

On August 25 th our Cross Country Team took 3 rd place in the Boys JV Division

at The Woodlands Christian Cross Country Meet. Our long distance

runners have been training all summer to build endurance. We are proud

of all the hard work of our Covenant athletes! Go Patriots!

VICTORY PAINTING

& WOOD ROT REPLACEMENT

PROMPT - RELIABLE - AFFORDABLE - SINCE 1993

Interior & Exterior Painting • Storm Damage Repair

Siding Replacement • Custom Woodwork

Extensive References • Free Estimates

Will Meet or Beat Competitor's Prices • Satisfaction Guaranteed

www.VictoryPaintingTx.com • VicNewman@Mail.com

281-853-4575

Another House Induction Day is in the books! On August 24 th , all of

our new students were inducted into their house "families" and were

received with great joy. At Covenant, everyone belongs to someone.

Our four houses organize our school community around the ideals that

define our school: wisdom and virtue. These houses (or teams) provide

students with abundant leadership options and encourage excellence

through friendly competition. Each of our houses has chosen a virtue

and a motto that they will actively seek to define them. These virtues,

wisdom, courage, perseverance and love are worthy pursuits for all as

we seek to be lifelong learners in community with one another.

T

K

C

he

leaning

ompany

• Load & Unload Dishwasher

• Clean Outside of Appliances

• Sweep Front Porch

• Change Linens & Towels

• Dust Window Ledges & Sills

• Remove Trash

• Dust Mini Blinds & Ceiling Fans

• Damp Wipe Outside of Cabinets

• Clean Baseboards

281-861-0394

• Pool Services

• Personal Assistance Care

• Move In/Out

• Competitive Rates

• Locally Owned & Operated

• Bonded & Insured

• FREE PHONE ESTIMATE

$

10 OFF

First Visit

www.thekleaningcompany.com

"Dust if you must, but why not have us."

Westgate | October 2018 11
---
Sports

Opportunities

12

LICENSED

HEAT

FREE 1st lb. Freon (R410 only)

1/2 Priced Condenser Coil Cleaning

1 Yr. Warranty On Parts Changed

We Value Your Business

All Brands Serviced

Local Neighborhood Company

Fast Personalized Service

We Will Heat & Cool Your Castle!

TACLB021058E

INSURED

COOL

Joel Muller

281-304-9488

11740 Barker Cypress

www.joelmuller.com

Hablamos Español

Providing Insurance

and Financial Services

Home Office: Bloomington, Illinois 61710

LW Sports Kids Volleyball

and NFL Flag Football

NFL Flag Football

Ages: 3-13 (co-ed)

Each paid participant receives: reversible NFL Flag jersey and flags

Volleyball

Ages: 8-15 (co-ed)

Each participant will receive a jersey

Dates: October-December

Cost: $75

For more information go to:

www.myLWSports.com or call 281-500-8913!

Hcya Homeschool Basketball

Registration is now open for the 2018-2019 Season

HYCA (Homeschool Christian Youth Association) is now accepting

registrations through October 15 th for the 2018-2019 season. The

organization has been in existence for more than 25 years and our

coaching staff has over 30 years of total experience with HCYA.

We have a number of teams to accommodate boys ages 8 through the

Varsity Level. We compete against private schools, public schools and

home school organizations. We practice at Katy Hustle gym.

Visit our website at www.hcyawarriors.com for more information.

Homeschool Baseball

The West Houston Thunder is a baseball program for homeschool boys

between the ages of 8-18. Spring try-outs will be the week of November

12 th . Spring registration will be in January. We offer baseball programs

for Elementary, Middle School and High School level competition. We

regularly compete against schools, leagues, select teams and other

homeschool teams.

Our practice location is Memorial Ashford Little League, 12900 Westmere

Drive, Houston. Contact info@WestHoustonThunder.org for more

information or go to our website at www.westhoustonthunder.org.

Cy-Fair Sports Association

Cy-Fair Sports Association is having registration for baseball, football,

cheerleading and soccer. Please see our website for more information

www.cy-fairsports.org.

October 2018 | Westgate
---
Family Owned

& Operated

Over 25 years

of experience

Any Repair

with this ad

Cannot be combined

with any other offer.

October is National Protect

Your Hearing Month

October is National Protect Your Hearing month. More than 36 million

Americans suffer from some type of hearing loss. Contrary to what many

people think, this isn't an issue just for the older adult population: half of

hearing loss sufferers in America are younger than 65. Let's take a closer

look at the causes of hearing loss and how to be proactive in protecting

and preserving your hearing.

• Toilets • Re-pipes • Remodels • Pipe Leaks • Water Heaters • Drain Services

• Fixture Replacement • Gas Tests & Gas Lines • Sewer Camera Inspections

• Sewer Repair & Replacement • Water lines & Water Main Yard Leaks • and much more

www.PolsgrovePlumbing.com

J. Russ Polsgrove RMPL#38482 281-802-5233

Types of Hearing Loss

There are three types of hearing loss. Aging is the reason most of us think

of first. Hearing loss can also be caused by illness. Noise-induced hearing

loss (NIHL) is the third type of hearing loss and it's on the rise in America.

We are exposed to more noise than ever before. This doesn't mean,

though, that hearing loss is inevitable. Hearing care and examinations at

a hearing clinic can help protect your hearing and prevent hearing loss

due to excessive noise.

How We Hear

How do we hear? The outer part of our ear acts as a funnel, channeling

sound waves into the ear canal. There, they vibrate the ear drum and

pass through to the middle ear. Within the middle ear are the three

smallest bones in the human body. These tiny bones are responsible for

amplifying the sounds waves before they move to the inner ear. This part

of the ear is related to balance. The middle ear also contains microscopic

hairs that, when vibrated, trigger the electrical impulses that are then

sent to the brain from the auditory nerve, allowing us to hear.

Noise-Induced Hearing Loss

Noise-induced hearing loss happens with prolonged exposure to noise

levels at 85 decibels or higher. When the tiny hairs in our ear canal are

exposed to this level of noise over time, these hairs can become damaged.

This damage is permanent. You might be surprised to find out that many

noise sources that we encounter in our daily lives measure higher than 85

decibels - the threshold at which noise levels start to become damaging

to the ears.

Hair dryers and ambulances are two such examples. Music concerts

and sporting events also have noise levels above 85db. Does this mean

drying your hair occasionally or going to a few football games will lead

to hearing loss? Not necessarily. It's important to talk to a trained and

licensed audiologist and get a hearing assessment to make sure you're

doing what you can to prevent noise-induced hearing loss.

How an Audiologist Can Help

An audiologist is a state-licensed health care professional that holds a

master's or doctorate degree from an accredited university. Audiologists

don't just fit hearing aids or deal with a patients' hearing loss after the

fact - though this is an important part of their work. Audiologists are also

able to design and implement a plan for you to prevent noise-induced

hearing loss in the first place.

Take steps this October to better protect your hearing. Get to know your

audiologist and schedule a hearing assessment. If you are someone who

is regularly subject to excessive noise levels, an audiologist can work

with you to prevent permanent hearing damage.

Soucrce: www.intermountainaudiology.com/october-national-protecthearing-month

Westgate | October 2018 13
---
Scouting News & Events

Girl Scouts Of San Jacinto Council

Copper Creek Meadows Community

Girl Scouting is open to all girls ages 5 (must be in kindergarten) through

18 who are willing to accept the Girl Scout Promise and law. Copper

Creek Meadows Community serves girls in the residence areas for the

elementary schools listed below, as well as the corresponding middle

and high schools. Home schooled and private school students are always

welcome. Our elementary schools are: Birkes, Fiest, Hairgrove, Horne,

Kirk, Lee, Lieder, Lowery, Metcalf, Owens, Tipps, Wilson, St. Elizabeth Ann

Seton, Texas Christian School and Christian Life Center.

More information about Girl Scouts may be found on the Girl Scouts of San

Jacinto Council website, www.gssjc. The Council phone number is 713-

292-0300. For information on the Copper Creek Meadows Community,

please contact coppercreekmeadowsgirlscouts@gmail.com. Girl Scouts

builds girls of courage, confidence and character, who make the world a

better place.

Boy Scout Troop 609

Boy Scout Troop 609 is a specialized for Boys with high functioning

Autism Spectrum Disorders. They meet at the Westview School on the

1 st and 3 rd Saturday of the month from 9:30-11:30 AM. Julian Hightower

had his Eagle project. He collected Art supplies for Texas Children's

Cancer Center. The Boys went Camping to Lake Livingston, they cooked

and went fishing. They helped the Westview Family Fun Day.

Boy Scouts of America -

Copperhead District

For 100 years, Scouting programs have instilled in youth the values found

in the Scout Oath and Scout Law. Today, these values are just as relevant

in helping youth grow to their full potential as they were in 1910. Scouting

14

helps youth develop academic skills, self-confidence, ethics, leadership

skills, outdoor skills and citizenship skills that influence their adult lives.

The Boy Scouts of America provides youth with programs and activities

that allow them to:

• Try new things.

• Provide service to others.

• Build self-confidence.

• Reinforce ethical standards.

Scouting provides youth with a sense that they are important as

individuals while promoting activities that lead to personal responsibility

and high self-esteem. As a result, when hard decisions have to be made,

peer pressure can be resisted and the right choices can be made.

Scouting provides a rewarding experience for boys ages 5 to 21. Scouting

through the local Packs and Troops teach outdoor and life skills which

help our youth Be Prepared. Your area is serviced by the BSA Sam

Houston Area Counsel - Copperhead District which includes 23 Cub Scout

Packs (boys 5 to 10 years old), 13 Troops (boys from 11 to 18 years old)

and 10 Venturing units (boys and girls from 14 to 21). Our Units typically

meet weekly.

Many of our units are supported by the local Elementary Schools

including: Birkes, Copeland, Duryea, Fiest, Hemmingway, Holmsley,

Horne, Jowell, Lowery, Metcalf, Owens, Postma, Robinson, Sheridan,

Tipps, Walker and Wilson.

Other Community groups include: Autumn Creek Baptist Church,

Beck and Masten Automotive, Cornerstone United Methodist Church,

Copperfield Church, Crossbridge Church, Cy-Fair Kiwanis Club, Deerfield

Village HOA, LDS Bear Creek and Copperfield Wards, Middlegate Village

HOA, Peace Community Church, St. Elizabeth Ann Seton Catholic Church

and Thornton Middle School.

October 2018 | Westgate
---
Please contact Brendan Cronin, Copperhead District Executive (713-756-

3383 or email brendan.cronin@scouting.org) or to go www.copperhead.

shac.org to find join a Scouting unit near you.

Boy Scout Troop 61

Young men between the ages of 11-18 are encouraged to visit Boy

Scout Troop 61 at 7:00 PM Wednesday nights at Peace Community

Church, 5151 Addicks Satsuma Road, Houston, Texas, 77084. They will

get a hands-on experience of what Scouting has to offer and have the

opportunity to visit with the Scouts and their adult leaders to learn more

about the things the troop has done during meetings and activities.

Scouting activities include camping, fishing, archery, rifle/shotgun

shooting, hiking, first aid, wilderness survival, community service,

citizenship, swimming, leadership, white-water rafting and much more.

Troop 61 camps each month and has a group that goes to High Adventure

Camp and to Merit Badge Camps each summer.

Boy Scout Troop 61 meets from 7:00 to 8:00 PM every Wednesday in the

Activity Room at Peace Community Church. Contact Mike Viator with

Troop 61 if your son is interested in joining a local Boy Scout Troop. Cell:

713-253-8465, mike.viator@comcast.net.

Boy Scout Troop 3

Boys, are you yearning for exciting outdoor programs that stir your

imagination and interest? How about camping, fishing, canoeing, hiking,

backpacking and off-road biking? Do you want to learn wilderness

survival, cooking, first aid, orienteering and shooting skills? Scouting is

Fun… with a Purpose - where boys grow into men instilled with values

of duty to God and Country, community service, citizenship, leadership

and self-confidence.

Troop 3 is a boy-lead troop where the boys plan an exciting yearround

outdoor program. We camp monthly and include rock climbing,

backpacking and canoeing. Troop 3 also participates in a weeklong

winter camp, as well as a weeklong summer camp.

We welcome all young men, 11-18 years old to visit Boy Scout Troop

3 at 7:00 PM Monday nights at Richard & Meg Weekley Community

Center located at 8440 Greenhouse Road, Cypress. No previous scouting

experience needed! Come see for yourself what Boy Scouts has to offer

and visit with the Scouts to learn more about our troop.

MPL#40046

Any job

over $95

For all of your plumbing needs! ONE CALL DOES IT ALL!

info@petersplumbingtx.com

WARREN SLOAN

713-464-4442

1400 W. Sam Houston Pkwy N. #130

HOUSTON

warrensloan@allstate.com

Sewer Camera Inspection and Drain Cleaning

Garbage Disposal and Faucet • Water Heater • Repipe

Water Leak Detection • Pipe Repair • Toilet Installation

Follow me on

Licensed and Insured

FREE ESTIMATES

Low Price Guarantee

PROTECT YOUR WORLD

Insurance and discounts subject to terms, conditions and availability. Allstate Vehicle and Property Insurance Co., Allstate Fire and Casualty

Insurance Co.. Life insurance and annuities issued by Lincoln Benefit Life Company, Lincoln, NE, Allstate Life Insurance Company, Northbrook,

IL, and American Heritage Life Insurance Company, Jacksonville, FL. In New York, Allstate Life Insurance Company of New York, Hauppauge,

NY. Northbrook, IL. © 2010 Allstate Insurance Co.

87872

Please visit our website www.houstontroop3.com for more information.

Pack 4 Cub Scouts

Come Join Pack 4 Cub Scouts at Lieder Elementary for the first 3

Tuesdays of each month at 7 PM. We help turn young boys into men

with fun and games while learning new skills that will help them grow.

We also work around tough sport schedules. So come see what Pack 4

is all about!

Boy Scout Troop 609

Boy Scout Troop 609, consistent of boys with Autism, which meets the

1 st and 3 rd Saturday of each month at the West View School. We meet

at 9:30-11:30 AM. They go camping, earn service hour. Last month we

helped at Wreath Across America at the Houston National Cemetery.

Homeschool Pack 164

Cub Scouts is a fun way to teach boys about character, respect,

responsibility and many other traits. Pack 164 is a Christian, home

school Cub Scout Pack that services the Greater West Houston/Katy area.

Pack 164 promotes service to God, to country and to others. If you are

interested and your son is in 1 st through 5 th grade, please contact Jack M.

Jones at 281-558-5722.

Westgate | October 2018 15
---
Boy Scout Troop 10

Boy Scout Troop 10 has a new home! We now meet at Copperfield Church on Monday evenings from 7 PM-8:30 PM. Our meeting rooms are upstairs in

conference rooms #2 and #3. Please enter through the front doors of the church, head up the stairs and feel free to come visit us at any time! Troop 10 has

a campout scheduled for every month of the school year, which gives the Scouts ample opportunities to earn their ranks and many assorted merit badges.

The Troop had an amazing time attending the high adventure Swamp Base this summer in Louisiana. The kids and adults canoed over 60 miles in a 5

day period as well as taking part in lots of games and archery where they made their own arrows.

In addition, the Troop hosted a campout for some of the Webelos in the district at Bear Creek Park in September. The Scouts had numerous

competitions, including a Dutch oven cook off, a Skittles contest, an Oreo contest and everyone planted their own Oak tree as part of the "Into The

Woods" adventure for the Webelos! We are looking forward to helping out at the Webelos Weekend at the end of the month!

If you would like more information about Boy Scout Troop 10 you can contact our Scoutmaster, Chris Kubiak at 281-382-2643 or email him at

ckubiak95@comcast.net or contact our Committee Chairperson, Taunia Berg, at 832-217-6076 or email her at the.berg.family@gmail.com. You can

also check out the Troop website at www.troopwebhost.org/Troop10Houston. We hope to see you very soon!

16

October 2018 | Westgate
---
HOLLY JONES

Buyer's Agent

ANGIE NITSCH

Buyer's Agent

JILL SMITH

Team Leader & Listing Agent

TERESA LEVINE

Buyer's Agent

AMANDA LEFEBVRE

Buyer's Agent

Your Copper Lakes Resident Real Estate Experts!

SOLD!

SOLD!

SOLD!

8122 Cranbrook Hollow | SOLD!

8514 Brighton Lakes | SOLD!

8711 Iris Arbor Lane | SOLD!

SOLD!

SOLD!

SOLD!

17010 E Copper Lakes| SOLD!

8411 Sandestine| SOLD!

17719 Quiet Dawn| SOLD!

281.704.3749

jill@jillsmithrealty.com | www.JillSmithRealty.com

Jill Smith, Broker Associate

ABR, ASP, CLHMS, CNE, GRI, SFR

Certified Luxury Home Marketing Specialist

Master Certified Negotiation Expert

Certified Relocation Specialist

2014, 2015, 2016 & 2017 Top Producer with Better Homes and Gardens Gary Greene!

©2018 Better Homes and Gardens Real Estate LLC. Better Homes and Gardens® is a registered trademark of Meredith Corporation licensed to Better Homes and Gardens Real Estate LLC.

Equal Opportunity Company. Equal Housing Opportunity. Each Franchise is Independently Owned and Operated.

Westgate | October 2018 17
---
What's Happening Around Cypress...

18

GARAGE SALES

COPPER VILLAGE GARAGE SALE

Saturday, October 13 th , 8 AM-12 Noon

West Road between Hwy 6 & Queenston.

MIDDLEGATE VILLAGE FALL GARAGE SALE

Saturday October 13, 2018, 7 AM-3 PM

Located in Copperfield between Longenbaugh and West Rd.

NORTHMEAD VILLAGE FALL

COMMUNITY GARAGE SALE

The Northmead Village Community Garage Sale will be held on

Saturday, October 13, 2018 from 7 AM until 4 PM. Signs will be posted

throughout the community one week prior to the event. Residents who

wish to participate should set-up in their respective driveways. Located

in Copperfield off West Rd. near Hwy. 6.

WESTCREEK FALL GARAGE SALE

October 13, 2018, Daylight to Noon

Located off Queenston between FM529 & Longenbaugh

WESTGATE FALL GARAGE SALE

October 13, 2018

Located off of Barker Cypress between Longenbaugh and FM529.

COPPER LAKES GARAGE SALE

October 13, 2018

Located off Barker-Cypress, between Longenbaugh and West Road.

COPPERFIELD PLACE VILLAGE GARAGE SALE

Date: Saturday, October 20 th , 7 AM-5 PM

Located near Hwy 6 between Cherry Park and Glen Chase Dr.

SYDNEY HARBOUR FALL GARAGE SALE

Saturday, October 20, 2018, 8 AM-12 noon

Located at Cypress Rosehill and Huffmeister.

HEARTHSTONE FALL GARAGE SALE

Saturday, October 20, 2018, 7 AM-2 PM

Residents who participate set-up in their garages or driveways. Located

north of FM 529, east of Highway 6.

ELDRIDGE PARK FALL COMMUNITY GARAGE SALE

Saturday, October 20 th , 7 AM till everything is gone. Come find furniture,

household goods, tools, children's clothing/toys and those special items

you've been looking for. We are located at the intersection of N. Eldridge

Parkway and W. Little York (behind the Toshiba facility). See you there!

ABERDEEN GREEN NEIGHBORHOOD

FALL GARAGE SALE

Come shop for great deals throughout the neighborhood as Aberdeen

Green residents have their huge Semi-annual Community Garage Sale on

Saturday, October 27 th from 7 AM until 2 PM! Aberdeen Green is located

on Telge Road at West Road, south of Hwy. 290.

BRIDGELAND COMMUNITY GARAGE SALE

Saturday, November 3 rd , 8 AM-12 Noon

Located at Fry Rd. and Tuckerton - next to Blackhorse Golf Course.

CYPRESS FAMILY FELLOWSHIP

CHURCH GARAGE SALE

Saturday, November 3 rd , 7 AM-1 PM

17330 West Little York Rd., Houston TX 77084

Rain or shine, this is an inside Garage Sale! Lots and lots of treasures,

priced to sell. Proceeds will benefit our missions work in Mexico, including

a Children's Home, building more dormitory's to house children, youth

and adults for camps and retreats and to support missionaries there.

October 2018 | Westgate
---
CRAFT SHOWS / festivals

HOUSTON MAKER FAIRE

October 13-14, 2018 at 10 AM-6 PM

George R. Brown Convention Center,

1001 Avenida de las Americas, Houston, TX 77010

Houston Maker Faire is the Greatest Show (& Tell) on Earth - a familyfriendly

showcase of invention, creativity and resourcefulness that

continues to be the leading showcase of human ingenuity and

creativity plus a fascinating window into emerging technologydriven

capabilities. There are learning opportunities in abundance

for people of all ages and backgrounds and even more hands-on

activities too. So, whether you like traditional crafts or the latest

high-tech demos, Houston Maker Faire is the place to be! Prices vary

see website, www.houstonmakerfaire.com.

2018 HEARTS & HANDS

A HOLIDAY MARKET

Monday, October 22-Wednesday, October 24, 2018

Presented by: Memorial Drive United Methodist Women, www.mdumc.

org

October 22 nd : Preview Party*- 5:30-8 PM

October 23 rd : Shopping - 9 AM-6 PM

October 24 th : Shopping - 9 AM-3 PM

Proceeds benefit missions for women,

children and youth

70+ exciting favorite and new vendors

Boxed Lunches · Bake Sale ·

Premium Coffee · Silent Auction

If you have any questions, please contact heartshandsmdumc@gmail.

com

*Preview Party tickets are $12 in advance

and $15 at the door

Memorial Drive United Methodist Church

12955 Memorial Drive Houston, TX 77079 713-468-8356

INTERIOR

&

EXTERIOR

Over 30 Years Experience

www.cphou.com

FAMILY OWNED

REFERENCES

INSURED

& BONDED

• Carpentry • Sheetrock - Texture • Pressure Washing• Siding

• HardiPlank ® • Refinish • Staining • Tile • Interior Design

281-345-9800 Cell: 281-650-2825

Estimates@cphou.com

FREE

Estimates

26TH ANNUAL GINGERBREAD VILLAGE HOLIDAY

MARKET OCTOBER 27, 2018

The Ladies Auxiliary from St. Elizabeth Ann Seton is holding their 26 th

annual Gingerbread Village Holiday Market on October 27, 2018. We are

located at 6646 Addicks Satsuma Road, Houston, 77084. Featuring arts,

crafts, specialty foods, fashion good and more!

AMERICAN LEGION POST 200

ARTS & CRAFT SHOW

Sponsored by: Wallis American Legion Post 200

330 Legion Road, Wallis, TX

Saturday October 27, 2018 (9 AM-5 PM)

Sunday October 28, 2018 (10 AM-4 PM)

Hamburgers and Chopped BBQ on Bun

Desserts & Drinks

$1 Admission-Hourly Door Prizes

For more information, call 281-743-3678

Westgate | October 2018 19
---
Protect your world

Auto • Home • Life • Retirement

Call me today to discuss your options.

Some people think Allstate only protects your car. Truth is,

Allstate can also protect your home or apartment, your boat,

motorcycle - even your retirement and your life. And the more

of your world you put in Good Hands®, the more you can save.

WARREN SLOAN

713-464-4442

1400 W. Sam Houston Pkwy N.

#130

HOUSTON

warrensloan@allstate.com

Insurance subject to terms, qualifications and availability. Allstate Property and Casualty

Insurance Co., Allstate Fire and Casualty Insurance Co., Allstate Insurance Co., Allstate

Texas Lloyd's, Allstate Indemnity Co., Allstate Vehicle and Property Insurance Co.. Life

insurance and annuities issued by Lincoln Benefit Life Company, Lincoln, NE, Allstate Life

Insurance Company, Northbrook, IL, and American Heritage Life Insurance Company,

Jacksonville, FL. In New York, Allstate Life Insurance Company of New York, Hauppauge,

NY. Northbrook, IL. © 2010 Allstate Insurance Co.

87873

SAINT AIDAN'S EPISCOPAL CHURCH

FALL FESTIVAL AND HOLIDAY MARKET

Sunday, October, 28 th , 10 AM-5 PM

13131 Fry Road, Cypress, TX

St. Aidan's Episcopal Church will hold its 5 th Annual Fall Festival and

Holiday Market on Sunday, October, 28 th at 13131 Fry Road just South

of 290.

Our festival features Market Booths, Children's Area, Food Trucks, Silent

Auction, Live Music throughout the day, Cake Walk, Trunk N Treat at 3 PM,

Blessing of Animals at 4 PM. Lots of vendors with a variety of goods for

sale. We look forward to seeing you all there!

Interested in being a vendor? For additional information and register

online, visit our website http://aidanschurch.org/fallfest. If you prefer to

mail in your registration, you can obtain a Booth Reservation form by

contacting us at 281-373-3203 or email fallfest@aidanschurch.org.

LIVING WORD CHURCH TRUNK OR TREAT

Sunday October 28 th , 5-7 PM

16007 Clay Rd, Houston Texas, 77084

Trunk or Treat is coming! Trunk or Treat is one of the safest ways to trick

or treat this year. It's an event for the entire family. You will see parked

cars decorated Halloween style. There will be TONS of candy that people

will be giving away right from their trunks and best of all it's FREE.

We will have inflatables, face painting and so much more. Come join us on

October 28 th from 5-7 PM in the Living Word Church parking lot. Anyone

is invited, no age limits. For more info visit www.livingword.church.

4TH ANNUAL MISTLETOE MARKET

The St. Faustina Women of Mercy cordially invite you to their 4 th Annual Mistletoe

Market. Saturday, November 3, 2018, 9 AM to 4 PM. Westlake Preparatory

Lutheran Academy, 23300 Bellaire Blvd, Richmond, TX 77406. (Do NOT call the

school about booths or questions.)

Come enjoy THE BEST SHOPPING experience Christmas can bring! As always,

Santa will make a surprise guest appearance! All booth inquiries, please email

Lisa Thigpen at Lisab0912@gmail.com.

20

ST. CUTHBERT'S 13TH ANNUAL

INTERNATIONAL FESTIVAL

St. Cuthbert will celebrate its 13 th Annual International Festival to be held on

Saturday, November 3 rd , from 3-5:30 PM at the church located at 17020 West

Road (corner of West and Queenston). The International Festival honors all the

different countries and heritages represented in our very unique and diverse

congregation. The festival includes food, live entertainment, native dress and

activities for children and youth. It is the perfect place to learn more about the

world around us. Admission is free. Visit stcuthbert.org for more information.

VENDORS NEEDED FOR CRAFT SHOWS

HOLIDAY MARKET VENDOR OPPORTUNITY AWAITS

The Ladies Auxiliary from St. Elizabeth Ann Seton is holding their 26 th

annual Gingerbread Village Holiday Market on October 27, 2018. We

are located at 6646 Addicks Satsuma Road, Houston, 77084. If you are

a vendor who would like to showcase your arts, crafts, seasonal décor,

etc. at our event, please email: gingerbreadvillage@yahoo.com for more

information or application.

VENDOR REGISTRATION NOW OPEN!

Are you crafty? Are you a distributor for a specialty item? Saint Aidan's

Episcopal Church's ACE Committee has opened vendor registration for

our 5 th Annual Fall Festival and Holiday Market! The Market will be held

Sunday, October 28, 2018 from 10 AM-5 PM. Saint Aidan's is located in

Cypress at 13131 Fry Road - just south of Hwy 290. Our festival features

Market Booths, Children's Area, Food Trucks, Silent Auction, Live Music

throughout the day, Cake Walk, Gulf Coast Regional Blood Drive, Trunk

N Treat and Blessing of Animals. For more information and to register

online, visit our website at http://aidanschurch.org/fallfest, email

fallfest@aidanschurch.org or call 281-373-3203 for a registration form.

ST. CUTHBERT CHURCH IS SEEKING VENDORS

St. Cuthbert Church, located at 17020 West Road, is seeking vendors for

our Thirteenth Annual International Festival on Saturday, November

3 rd . We are especially interested in showcasing vendors with wares from

other countries and cultures in addition to arts, crafts and seasonal décor.

Contact sally@stcuthbert.org for more information and/or an application.

October 2018 | Westgate
---
Music All Ages!

Kindermusik

Piano

Guitar

Drums

Voice

Violin

Viola

Cello

Art Classes!

For ages 4-13

Student Art Shows

Each Semester!

Enroll Today!

Drama Kids!

For PreK-Grade 12

Acting develops confidence!

Hwy 6, Cypress, Spring,

Tomball Drama Locations!

26 th Annual Gingerbread Village

HOLIDAY MARKET

& CRAFT SHOW

Featuring Arts, Crafts, Specialty

Foods, Fashion Goods & More!

Saturday

October 27, 2018

9am - 4pm

St. Elizabeth Ann Seton Catholic Church

6646 Addicks-Satsuma

Houston, TX 77084

(In Northwest Houston, approx. 1 mile east

of Hwy 6 between FM 529 & West Little York)

Hosted by SEAS Ladies Auxiliary

VENDOR OPPORTUNITIES AVAILABLE

For more information email

gingerbreadvillage@yahoo.com

GOLF TOURNAMENTS

NORA'S HOME 5TH ANNUAL GOLF CLASSIC

FRIDAY, OCTOBER 19, 2018

Presented by Satterfield & Pontikes Construction, Inc. Nora's

Home, Houston's haven for organ failure and transplant

patients receiving care in the Texas Medical Center, is pleased

to announce its 5 th Annual Golf Classic, which will be held

on Friday, October 19, 2018 at 8 AM at the Hermann Park

Golf Course, 2155 N MacGregor Way, Houston, TX 77030. The

event will benefit Nora's Home facility and programs that

provide care, education and support for transplant patients

and their families. Sponsorship and team registration

proceeds benefit the Adopt-A-Family fund which provides

financial support for families who cannot afford to pay the

minimal nightly fee.

Golfers are welcome to breakfast at the course followed

by the scramble shotgun start at 9 AM. Participants will

compete for premium prizes and awards prior to a silent

auction. Breakfast, lunch and refreshments will be provided

for all teams. Nora's Home welcomes all businesses and

organizations to participate in the fun and sponsor the event.

Additional sponsorship opportunities are available through

food, beverage and private reception opportunities. For

details about sponsorship opportunities or how to register a

team, visit our website www.norashome.org or call 832-831-

3720.

A sponsor reception will be held Thursday, October 18 th at 6

PM at Nora's Home in conjunction with the grand opening of

the phase two expansion project.

BIRDIES "FORE" THE CHILDREN 7TH

ANNUAL CHARITY GOLF TOURNAMENT

We are excited to invite you to participate in the Birdies

"Fore" the Children 7 th Annual Charity Golf Tournament

2018 benefiting Shriner's Hospital for burned children in

Westgate | October 2018 21
---
STEVE TOUCHY

Attorney At Law

Serving Businesses and Families Since 1983

Copperfield/Cypress

WHITEHOUSE

ELECTROLYSIS

25+ Years Experience

The only permanent

hair removal

approved by the AMA

Monday-Saturday & Evenings

281-855-9664

Copperfield Professional Center

7050 Lakeview Haven Dr. Ste. 120

Houston, TX 77095

• Wills • Trusts • Probate

• Divorce • Employment

• Adoption • Consumer Law

• Incorporation • Collections

• Partnership • Liens

• Real Estate • Commercial Law

281-858-0700

stevetouchy@yahoo.com

15840 FM 529, Suite 280

Houston, Texas 77095

Located in the Chase Bank Building on FM 529

Galveston, Texas. This tournament will be held at Tour 18 Golf Course,

on Saturday October 27, 2018. Registration begins now online.

Registration and breakfast will start at 6:30 AM. The tournament will

start at 8 AM sharp. Our goal is to raise $50,000 to provide funds for the

tissue bank at Shriner's Hospital. Our sponsors and players truly help us

provide funds that directly go to Shriner's Tissue Bank where hundreds

of patients receive life-saving tissue which helps the children not only

survive but also return home to their families! Thanks to all our friends

and family for helping us reach $167,360 since 2011.

In order to speed up the registration process the morning of the

tournament, we have added the ability to pay by card on our website.

This payment method will be shown once you complete your online

registration. If you plan to pay by check, please mail in your checks to

the address listed on your invoice as quickly as you can. We are still

accepting cash, checks and cards at the tournament for registration,

but, we ask that you please pay upfront before the tournament. We

are looking forward to spending the day with all of our supporters and

players, we look forward to seeing you out there and having a great 2018

golf tournament.

GO HERE TO REGISTER: http://birdeasepro.com/birdiesforethechildren

20TH ANNIVERSARY ADAM J SKINNER

MEMORIAL GOLF TOURNAMENT

November 8, 2018

Register Now:https://cyfairhoustonchamber.chambermaster.com/

eventregistration/register/31913.

Shotgun start 11 AM. This annual golf tournament benefits the Adam J.

Skinner Memorial Scholarship of the Cy-Fair Educational Foundation. In

the 20 years since the tournament was established, more than $111,000

has been given to the Adam Skinner Memorial Scholarship.

Location:

Blackhorse Golf Club

12205 Fry Rd., Cypress, TX 77433

Format for the day: 9 AM: Registration & Lunch

11 AM: Scramble-Shotgun Start

4 PM: Awards Dinner

22

Contact Information: Co-Chair Mark McShaffry, The Backyard Grill 281-897-

9200; Eric Dunlap, Cy-Fair Houston Chamber of Commerce 281-373-1390

$25 DINNER ONLY (at Awards Dinner)

RAFFLE TICKETS - $10 EACH, 6 FOR $50 or 15 FOR $100

The Cypress-Fairbanks Educational Foundation makes it possible to

award the scholarship in Adam's name for years to come. The scholarship

is funded by family and friends on holidays and Adam's birthday and a

large portion has been donated from some of the proceeds from the Adam

J. Skinner Memorial Golf Tournament every year. The Skinners wanted

the scholarship to be given to a student who emulates some of Adam's

traits and interests, someone who is outgoing, optimistic and extremely

energetic, possibly playing team sports, choir, high school drama, debate

or Boy Scouts of America participation. Thanks to these golf tournaments,

the scholarship amount was increased to $12,000 in 2017 and is available

to any eligible Cypress-Fairbanks ISD graduating student.

FUNDRAISERS

21ST ANNUAL SALUTE TO THE STARS GALA

October 18 th - The Cy-Fair Educational Foundation (CFEF) will host its

21 st annual Salute to the Stars Gala on October 18 th at the Berry Center

(8877 Barker Cypress Road). The black-tie optional, celebratory event will

recognize one teacher from each of the 91 CFISD campuses in addition

to two paraeducators and two support staff members as Teacher of the

Year honorees. Dinner, entertainment, a raffle, live auction and teacher

drawings will be featured throughout the evening as elected and school

officials join community and business leaders in giving thanks to those

who give so much to the CFISD students. One lucky honoree will be the

winner of the Cy-Fair Federal Credit Union new car giveaway. CFISD

recognizes one teacher from each of its schools who are selected annually

by campus principals and represent and exhibit the balance of skill, art

and heart in teaching students in his or her subject area or program. The

paraeducators and support staff members are selected by supervisors

for their outstanding dedication through notable work on campus. The

gala also features the talents of CFISD students. There are scheduled

performances, while culinary arts students will make and serve hors

d'oeurves to the guests. Proceeds raised at the gala go to the CFEF,

October 2018 | Westgate
---
which provides college scholarships for district students as well as staff

development grants to CFISD. Last year, Salute to the Stars raised more

than almost $200,000, bringing the grand total to more than $3 million

raised since 1998. CFEF presented CFISD with a check for more than

$95,000 for staff development programs. In May, CFISD students were

awarded over half a million dollars in CEFF scholarships. Additional table

sponsorships are available. For more information, visit the Salute to the

Stars page on the CFEF website at www.thecfef.org/gsot-event/salute-tothe-stars

or contact Marie Holmes at 281-370-0144 or marie@thecfef.org.

2018 CELEBRATION OF HOPE BBQ DINNER

AND AWARDS BANQUET

Shield Bearer invites you to be part of the 2018 Celebration of Hope BBQ Dinner

and Awards Banquet! This signature fundraising event with a Texas flair will be

held on Tuesday, October 23, 2018 at 6:30 PM at 2700 Cypress Creek Parkway.

Celebration of Hope Award winners in Business organization, Church, Ministry

and Volunteer categories will be announced and dinner will be served. Proceeds

will help fund professional counseling services and prevention programs for

local families including those experiencing the trauma of domestic violence,

human trafficking, crime, war, Hurricane Harvey and more. Table Captains are

filling tables now! To reserve your seat, visit shieldbearer.org/hope or contact

281-894-7222. Sponsorship and volunteer opportunities are also available,

contact Melissa at events@shieldbearer.org for details.

THEATER/ARTS

HOUSTON CHORAL SOCIETY

A SALUTE TO OUR VETERANS - Friday, November 9, 2018 (7:30 PM) at

Tallowood Baptist Church Worship Center. The Houston Choral Society

will present a program honoring our veterans and all who serve, with

patriotic music, readings, letters and reflections. This concert is FREE to

veterans and active duty military.

A GLORIOUS CHRISTMAS - Saturday, December 1, 2018 (7:30 PM) at

Foundry United Methodist Church. There will be audience caroling and a

special visit by Santa Claus! Pre-concert presentation will be at 7 PM and

a silent auction during intermission; a reception follows this concert. For

more information or to purchase tickets, please visit the HCS website at

www.houstonchoral.org or call 832-478-6986.

A.D PLAYERS AT THE GEORGE THEATER

5420 Westheimer Rd, Houston, TX 77056

IT'S A WONDERFUL LIFE, A LIVE RADIO PLAY-

November 30 th -December 23 rd (previews November 28 th -29 th )

Showtimes are Thursday-Saturday 7:30 PM and Sunday 2 PM.

Box Office: 713-526-2721

Hours: 10 AM-6 PM, Monday-Friday

STAGEWORKS THEATRE

10760 Grant Road, Houston, TX 77070

12 ANGRY MEN: October 19-November 11, 2018

Fridays and Saturdays at 7:30 PM • Sunday matinees at 3 PM

Website: www.stageworkshouston.org.

MILDRED'S UMBRELLA THEATER CO.

MAINSTAGE SEASON

Chelsea Market Theater, 4617 Montrose Blvd. #100, Houston, TX 77006

DIANA OF DOBSON'S: November 5, 2018 at 7:30 PM (staged reading)

Cost: All Shows Pay What You Can. MORE INFO/RESERVATIONS: www.

mildredsumbrella.com, info@mildredsumbrella.com or 832-463-0409.

CYPRESS CREEK FACE

Box Office: 281-440-4850, 6450 Louetta Rd, Suite 200, Spring, Texas 77379

www.CypressCreekFACE.org

The Star-Lit! Series

Sir James and Lady Galway - Sunday, October 7, 2018, 7 PM

The Priests - Saturday, November 24, 2018, 8 PM

One Night in Memphis - Monday, December 31, 2018, 8 PM

The Promenade Series

University of Houston Concert Chorale - Tuesday, October 9, 2018, 3 PM

Piano Duo: Matthew & Katherine Loudermilk - Tues., November 13, 3 PM

"Christmas Presents" - Tuesday, December 11, 2018, 3 PM

The Free Children's Series

"Cinderella in Spain" - Saturday, October 13, 2018, 11 AM

"Santa's Little Helper" - Saturday, December 8, 2018, 11 AM

Westgate | October 2018 23
---
FESTIVALS & EVENTS AROUND TOWN

Phobia Haunted Houses-8 haunts, 1 location - Open Weekends in October -

Located on Beltway 8 South, between 288 and I-45, Phobia operates multiple great

haunted houses. Phobia employs hundreds of actors at its massive ScreamPark in

Houston. Tour the Darke hallways of Phobia Haunted Houses weekends in October.

Texas' scariest haunt is open Friday, Saturday and Sundays through Halloween.

Tickets start at $15 per person for one great haunted house. See more killer haunts

for discounted multi attraction pricing. For the biggest world of scream in Houston,

checkout Phobia's the Darke Institute, Mind Control, Clown Mania, Exile, Savage

Ground, Contagion, DarkeWorld, Dawn of the Machine and Genetic Nightmare,

the creepy haunted house. Under 12 bring a parent. Over 12, get ready for a scary

haunted house. For more info,www.darke.com.

Fearshire Farms-Haunted corn maze, haunted field, haunted house - 1100 S

Walker St, Angleton, TX 77515. Phone: 979-848-3327. Email: info@fearshirefarms.

com. Open October 5 th -November 2 nd , Fridays and Saturdays 7-11 PM, plus October

25 th and 31 st 7-9 PM. Haunting starts at dark. We keep haunting until we've

scared all of the ticket-holders off of the property (or buried the ones that didn't

survive!) Directions: From Houston; Take 288 South to Angleton. Pass Angleton

West Columbia exit and taking next exit CR 290. Take left at stop sign. Follow CR

290 watching for Fearshire Farms signs. We have Haunted Attractions for thrill

seekers of every level. Fearson's Farm House and Dead End Corn Maze are for the

strong of heart. The Curtain Chaoz and Haunted Hay Ride are great family fun for

all ages. New this year is Spooky Jacks, a corn maze designed for younger guest

in the spirit of the Halloween Season. While you are waiting on your friends to

regroup you can roast marshmallows for Smores at the Community Campfire or

enjoy watching a classic scary movie under our covered pavilion. Visit venders

booths like Temporary Tattoos or Shoot the Corn Cannon ($1 for 3 shots). Food

and Drinks are available at our ticket booth and Food Vendor tents. *No outside

food or drinks allowed.

Fall Festival and Pumpkin Patch 2018 - thru Nov. 10, 2018, Fri. 9 AM-3 PM,

Sat.-Sun. 10 AM-5 PM - Open to the Public. Blessington Farms, 510 Chisolm Trail,

Simonton, TX 77476. Phone: 832-444-8717. Email: info@blessingtonfarms.com.

Payment: Cash, Debit cards, Visa/MasterCard, Discover, AmEx.

Aggie Habitat for Humanity Pumpkin Patch - The Aggie Habitat Pumpkin Patch

site is located on Covenant Presbyterian Church's grounds in College Station at

220 Rock Prairie Rd and sells over 3,000 pumpkins of all shapes and sizes every

year! The pumpkin patch is open thru October 31 st . If you would like to schedule a

school field trip or have a pumpkin carving social, please send request to events@

aggiehabitat.org.

40 th Houston Italian Festival - October 11-14, 2018. University Of St. Thomas,

3800 Montrose Blvd., Houston, TX 77006. Times: Thurs. 5-10 PM, Fri. 11 AM-10 PM,

Sat. 11 AM-10 PM, Sun. 11 AM-6 PM. Free Admission Thurs. night and Fri. until 4

PM, otherwise it is $5-$25. This year's festival features: Live Music, Wine and beer

tastings, Film screenings, Cooking classes for children, Italian language classes,

Marionette puppet shows, Interactive sidewalk art, Pasta eating contests, grape

stomps and a bocce ball tournament, Classic Car Show and so much more!

For more information, visit www.houstonitalianfestival.com.

Houston Italian Festival October 11-14, 2018: Live music and lots of fun like a

Bocce Tournament, Pasta Eating, classic car show and kids fun. http://houstonitalianfestival.com

Conroe Cajun Catfish Festival October 12-14, 2018: Enjoy catfish and cajun food

dishes as well as a carnival, three stages of live music, pageant, car show and kid

zone. http://conroecajuncatfishfestival.com

Gulf Coast International Dragon Boat Regatta-Sugar Land, TX October 13-14,

2018: Held at Brooks Lake at Fluor in Sugar Land, Texas. https://chappellhillhistoricalsociety.com

Light the Night Walk-The Woodlands October 14, 2018: A fundraising walk to

to help fund cures for blood cancers, benefiting the Leukemia and Lymphoma

Society, takes place at Town Green Park in the Woodlands. www.lightthenight.

org/texas-gulf-coast

Texian Market Days Festival - October 20, 2018, 9 AM-5 PM, George Ranch Historical

Park, 10215 FM 762, Richmond, TX 77469. Admission $10-$20. It's cannon time!

The Fort Bend History Association is proud to present the 35 th annual Texian Market

Days festival, held at the George Ranch Historical Park. Bring the whole family to

discover more than 150 years of Texas history! Enjoy hands-on activities, battle

re-enactments, live entertainment, first-person costumed interpreters, historic

home tours, games, cowboys, vintage vehicles, food, craft vendors and more. Texian

Market Days is our biggest living history event of the year - you don't want to miss it!

Wings Over Houston Airshow - October 20-21, 2018, 10 AM-6 PM, Ellington

Airport, 11210 Blume Ave, Houston, TX 77034. Wings Over Houston Airshow is

celebrating its 34 th year at Ellington Airport with the US Navy Blue Angels, as well

as nearly five more hours worth of thrilling aerial shows from some of the world's

greatest military and civilian pilots. Ranked as one of the top airshows in the country,

Wings Over Houston also offers great ground attractions, such as simulators,

ride and drive opportunities and nearly 100 static aircraft to view.

LEGO KidsFest Texas-Houston, TX October 20-21, 2018: An entertainment-packed

family event centered around LEGO building and experiences. http://

events.brickfestlive.com

Unplugged at Discovery Green - October 21, 2018, 5-9 PM, Discovery Green, 1500

McKinney Street, Houston, TX 77010. Admission is FREE. An evening of acoustic

music from some of Houston's top talent on the Grace Event Lawn. This much loved

local series challenges bands to rearrange and reimagine songs using acoustic

instruments only; resulting in unique, intimate and soulful performances.

Scream on the Green® - October 26, 2018, 6-10 PM, Discovery Green, 1500 McKinney

Street, Houston, TX 77010. Admission is FREE. Visitors will have a spooky good

time at Houston's citywide costume contest and Halloween celebration for the

whole family! There will be prizes, Halloween spectacle, a movie, performances,

living statues, music and more! Visitors can win candy and prizes playing our FREE

games! Enjoy watching E.T. the Extra-Terrestrial on the big screen at 7:30 PM. Costume

Contest: Registration will take place on-site near the Anheuser-Busch stage

before the contest and winners will be announced after. Prizes were awarded to

1 st , 2 nd and 3 rd place in each category. (Infant-8 years, 9-17 years, Best Male 18+,

Best Female 18+, Best Family and Best Dog.) Costume contest registration opens

at 6:45 PM (at the side of the Anheuser Busch stage), contest begins at 7 PM. Registration

will close at 8 PM.

Light the Night Walk-Houston October 27, 2018: A fundraising walk to to help

fund cures for blood cancers, benefitting the Leukemia and Lymphoma Society,

takes place at Hermann Square Park at City Hall. www.lightthenight.org/texasgulf-coast

Alamo City Comic Con-San Antonio, TX October 26-28, 2018: -Held at the Henry

B. Gonzalez Convention Center. www.alamocitycomiccon.com

The 2018 Houston AfriFEST-Festival of African Arts Culture and Entertainment

- October 27, 2018, 12-8 PM, Houston Baptist University Holcombe Mall, 7502

Fondren Road | Houston, Tx 77074. Admission $5 entry through October 20 th , $10

entry after October 21 st , kids, students and seniors are free. Africans are colorful,

vibrant and full of expression! We will take you on a cultural journey through Africa

to celebrate her rich diversity in a typical African open market setting featuring

special live performances, a tour of country arts and crafts, ethnic cuisines from

different regions, Ankara fashion, folklore tales, kids' activities and a lot more.

Puerto Rican, Cuban and Dominican Fest 2018 - October 27, 2018, 12 Noon-10

PM, Midtown Park, 2811 Travis Street, Houston, TX 77006. Admission $15-$200.

This festival is done annually to support the continuous efforts to disseminate

the Puerto Rican and Cuban cultures within the city of Houston. We also want to

teach our children about our roots, assisting them with their self-esteem, identity

and letting them know that they have a strong support group. Additionally, we are

educating the citizens of the City of Houston about who we are and asking them

to embrace our cultures in a friendly and festive environment.

Island Oktoberfest-Galveston, TX October 26-27, 2018: Authentic German food,

live music, beer, games and more at this 37th annual Galveston Oktoberfest hosted

by First Lutheran Church. It will run 5-11 PM on Friday night and 11 AM-11 PM on

Saturday. Admission is free. http://galvestonoktoberfest.com/here

24

October 2018 | Westgate
---
Texas Renaissance Festival - Weekends thru November 25, 2018, 9 AM-8 PM,

21778 FM 1774, Todd Mission, TX 77363. Admission varies. The Texas Renaissance

Festival is an interactive theme park that embraces different eras, including the

16 th century and beyond. The 55-acre theater is filled with live entertainment, food

and shops. The enchanted 55-acre village comes to life as all of Europe comes to

pay homage to the King and Queen with Eight Themed Weekends. Hundreds of

costumed performers are showcased in over 200 daily performances. Visitors meander

along shaded cobblestone walkways visiting almost 400 shoppes overflowing

with unique arts and crafts of offering delicious foods and beverages. All ages will

be amused by the games of skill and human-powered rides.

6 th Annual Fall Fest - Fridays, 12-7 PM, North Shore Rotary Pavilion, 14350 1/2

Wallisville Rd., Houston, TX 77049. Part food festival, part music festival, CTC's

"Fall Fest" is an excellent opportunity to bring a taste of Chicago to Houston area

residents. This one-day, Chicago, cultural festival features several food vendors,

who offer Chicago culinary classics. Additionally, the event features DJs who will

spin a variety of music types including: House music, which is an internationally

known style of music born in Chicago which gave birth to techno and EDM. Also,

the event hosts a dance lounge where attendees can learn Stepping which is a nationally

known dance style born in Chicago and similar to this area's two-step and

swing out dance styles. Event entry tickets for ages 14 & up are only $5 advanced,

$10 at the gate. It is FREE for attendees age 13 and under.

Comedy Night at HPL - Monthly on the 3 rd Thursday, 6-8 PM. Houston Public

Library, 500 Mckinney Avenue, Houston, TX 77002. Admission is free. The Houston

Public Library offers "Open Mic" comedy night where local and non local comedians,

comediennes, ventriloquists and impressionists of ALL ages present family

comedy to the audience. Improv Performers from Station Theater closes out the

night with games that involve the audience. Everyone who participates in at least

one open mic throughout the year become eligible to participate in the Annual

Comedy competition which is held in December. Prizes in the amounts of $100

and $75 gift cards are given to the 4 winners. Two adult and two youth. Event is

free and open to the public. Food and non alcoholic beverages are allowed in the

sitting area during this event only. You can bring your own food and order from

many of the surrounding food places. All ages.

Flea by Night - third Saturday of every month unless affected by weather, 6-10

PM, Discovery Green, 1500 McKinney Street, Houston, TX 77010. Treasure-hunt at

this monthly, one-of-a-kind market nestled in the southeast end of the downtown

park. The destination market features an array of artful kitsch, vintage items,

mid-century modern furniture, recycled and repurposed items and collectibles

and crafts by local artisans and designers. Whether you are a bargain hunter or

an eco-sensitive collector dedicated to repurposing and reusing, seek and find at

Discovery Green Flea by Night while enjoying light bites and local entertainment.

The event is free to attend and open to the public.

Carlos Cruz-Diez at the Cistern: Spatial Chromointerference - Weekly through

January 13, 2019. Cistern At Buffalo Bayou Park, 105 Sabine Street, Houston, TX

77007. Times: Wednesday through Friday - 3:30-6 PM; Saturday and Sunday - 11

AM-6 PM. Admission: $10 per person; $8 for Seniors, Youth and Students. The Cistern's

distinctive architecture as well as its sheer size and raw interior, punctuated

by a series of rhythmical columns, will make for an intriguing and interactive experience.

Visitors to Carlos Cruz-Diez at the Cistern: Spatial Chromointerference will

be encouraged to wear white or light colored clothing and will actively participate

in viewing as the color changes creating a sensation of movement.

Open House - Daily from dawn until dusk through February 28, 2019, admission

free. Sam Houston Park, 1100 Bagby, Houston, TX 77002. The artistic duo, Havel

Ruck Projects, made up of local artists, Dan Havel and Dean Ruck, transformed

a previously abandoned house into an interactive temporary public sculpture.

Sourced from Cherry House Moving Company, the 1940s-era house was originally

located in Santa Fe, Texas. After moving the home to Sam Houston Park in April,

Havel and Ruck stripped the structure's interior and exterior using drill saws and

other tools. They cut circular holes into the walls and filled them with PVC pipe to

create a "Swiss cheese" or "lace" appearance and collaged the interior walls with

vintage images sourced from family, friends and local resale shops representing

the city's people, places and past.

Cars and Coffee - through December 29, 2018, 9 AM-12 PM. Gateway Classic Cars

Of Houston, 1910 Cypress Station Drive, Suite 200, Houston, TX 77090. Admission is

free. Cruise in to Gateway Classic Cars every last Saturday of the month for Cars

& Coffee. So far we have had some amazing turnouts, but we want to continue to

grow! Enjoy delicious donuts, coffee and all of our sweet rides! No Admission fee

and everyone is welcome! No cruiser? No sweat bring the daily driver. Hope to see

you there. 250+ classic & exotics.

Farmers Market at Imperial - Saturdays through December 29, 2018, 9 AM-1

PM, 234 Matlage Way, Sugar Land, TX 77478. Admission is free. In addition to a

wonderful selection of vendors, the Farmers Market brings you family fun! Each

week, the Market features live music, cooking demonstrations or other seasonal

entertainment. Presented by the Fort Bend Chamber of Commerce.

ADVANCED

HOME EXTERIORS

WE DON'T TRY TO DO IT ALL...

WE ONLY DO WHAT WE DO BEST!

SIDING, WINDOWS & ROOFING

HardiePlank Siding & Exterior Painting

Energy Efficient Replacement Windows

Re-Roofing -- Patio Covers & Pergolas

$500 OFF *

HardiePlank and Window Replacement

*Minimum purchase required

Hardie ColorPlus from

Advanced Home Exteriors

is recommended by

Tom Tynan, HomeShow Radio

Financing Available

Call Today for Your Free Estimate!

832-363-3772

Westgate | October 2018 25
---
Little Known National

Days In October

Did you know that every month has some sort of National day, week

or even the whole month is a National month? Some could be used to

plan a fun day with the family or create a project for the kids on a rainy

afternoon or maybe just start an interesting discussion! Here is a partial

list of what we found for the month of October:

October 6th: National Noodle Day

October 7th: National LED Light Day

October 8th: American Fluffernutter Day

October 9th: National Moldy Cheese Day

October 10th: National Angel Food Cake Day

October 11th: National Sausage Pizza Day

October 12th: National Gumbo Day

October 13th: National Train Your Brain Day

October 14th: National Dessert Day

October 15th: National Grouch Day

October 16th: National Dictionary Day

October 17th: National Pasta Day

October 18th: National Chocolate Cupcake Day

October 19th: National Seafood Bisque Day

October 20th: National Brandied Fruit Day

October 21st: National Pumpkin Cheesecake Day

October 22nd: National Nut Day

October 23rd: National Boston Cream Pie Day

October 24th: National Food Day

October 25th: National Greasy Food Day

October 26th: National Day of the Deployed Day

October 27th: National American Beer Day

October 28th: National Chocolate Day

October 29th: National Oatmeal Day

October 30th: National Candy Corn Day

October 31st: National Caramel Apple Day

October Monthly Observations

Adopt A Shelter Dog Month, AIDS Awareness Month, American Cheese

Month, Antidepressant Death Awareness Month, Bat Appreciation

Month, Breast Cancer Awareness Month, (World) Blindness Awareness

Month, Caffeine Addiction Recovery Month, Celiac Disease Awareness

Month, Celebrating The Bilingual Child Month, Children's Magazine

Month, Church Library Month, Church Safety and Security Month, Class

Reunion Month, Right Brainers Rule! Month, National Stamp Collecting

Month, National Roller Skating Month, National Protect Your Hearing

Month, National Cookbook Month, National Bullying Prevention Month

26

October 2018 | Westgate
---
Air Conditioning Contractors of America

Be Safe! Service Heater Protect Home

281-394-0340

Free estimate or 2 nd opinion

$25 off

any

repair

License TACLB 24777E and Insured

Expires 10/31/18

FREE

Wi-fi thermostat

w/ equipment purchase

• Annual

Maintenance

Programs

• All repairs

guaranteed

• Serving area

since 1994

0% Interest

financing available

Expires 10/31/18 WAC

Expires 10/31/18

IdealAirServices.com

National Train Your Brain Day

October 13 th is National Train Your Brain Day - a holiday created to encourage

everyone to expand and exercise their brain and use more of its potential

capacity. If you're one of countless people who don't make a habit of reading

regularly, you might be missing out as reading benefits the brain in many ways:

It prevents dementia: Studies have shown that mentally stimulating

activities such as reading slow the progress of (or possibly even prevent)

Alzheimer's and Dementia. The new research, which appears in the

Proceedings of the National Academy of Sciences, found that elderly

people who regularly read are 2 ½ times less likely to suffer these

debilitating illnesses.

It enhances your vocabulary: Simply put, the more you read, the more

words you gain exposure to. Expanding your vocabulary is a powerful

way to enhance both your life - and your career. Researcher Johnson

O'Connor who is known for his studies about the impact of vocabulary

on people's lives has found that a person's vocabulary level is the best

single predictor of occupational success.

It improves your memory: Just like muscles, the brain benefits from a good

workout. When you read, you have to remember a whole host of characters,

as well as get to grips with the various arcs and sub-plots that weave their

way through any story. Incredibly enough, every new memory you create

forges new synapses (brain pathways) and strengthens existing ones, which

assists in short-term memory recall as well as stabilising moods.

It keeps you smart: In Anne E. Cunningham's paper What Reading Does

for the Mind, she found that reading, in general, makes you smarter and it

keeps you sharp as you age. Knowledge is power and unlike most things

in life, it cannot be taken away from you.

If that's not enough reason to curl up with a good book, we don't know

what is!

Other ways to train your Brain:

There are many different ways to train your mind and improve your

cognitive skills such as word puzzles, number games, brain teasers, trivia

games, riddles and word games. Learning something new is another

practice that is a benefit to everyone's brain on National Train Your Brain

Day (as well as any other day). When the question is asked to American

scientists as to how much of the brain is used, the answer varies. However,

many of them believe that it is only a small percentage and that there

is room for expanded learning and knowledge within everyone. So do

some logic puzzles, brain teasers and riddles to train your brain.

Sources: www.austinmacauley.com and https://nationaldaycalendar.com

Don't let real estate turn

your world upside down!

Contact Amanda

to learn how to make

it as easy as 1.2.3.

832-557-6748

realestatebyamanda123@gmail.com

realestatebyamanda123.com

National Bullying Prevention Month

National Bullying Prevention Month is observed in October. National

Bullying Prevention Month was created by PACER and started as a weekly

observation in 2006. In 2010, the observation change to monthly. Take

a stand against bullying. Spread the word about the negative effects

bullying can cause.

Unity Day 2018 is

Wednesday, October 24th!

Wear and Share Orange!

Make it ORANGE and make it end! What are your true colors when

it comes to showing that you care about preventing bullying? Come

together in one giant ORANGE message of hope and support, WEAR

and SHARE ORANGE to color our nation and even the world, visibly

showing that our society believes that no child should ever experience

bullying.

National Day Of The Deployed

October 26 th is annually designated as National Day of the Deployed.

National Day of the Deployed honors all of the brave men and woman

who have been deployed, are sacrificing or have sacrificed their lives to

defend our country. The day also acknowledges their families who are

separated from them during deployment and the sacrifices they make in

order for their family members to serve our country.

Shelle Michaels Aberle founded National Day of the Deployed in 2006.

Ms. Aberle approached then North Dakota Governor John Hoeven for

support of a North Dakota Proclamation for the day. Governor Hoeven

was the first governor in the United States to recognize deployed troops

in a formal proclamation. October 26 th was chosen by Aberle's cousin,

Bottineau, ND native LTC David Hosna who was deployed to Iraq from

Kaiserslautern, Germany. October 26 th is the date of Hosna's birthday.

Grand Forks, North Dakota hosted the first event. The first units honored

by this proclamation were: NDARNG 1-188 th ADA SECFOR and JLENS

deployed to Afghanistan.

In 2011, Senator John Hoeven led the efforts and co-sponsored S.RES.295

for a national day of honor. On October 18, 2011, the resolution passed

unanimously for the first national day honoring deployed troops and their

families. In 2012, all 50 states observed National Day of the Deployed.

Source:

https://nationaldaycalendar.com/national-day-of-the-deployedoctober-26/

Westgate | October 2018 27
---
OCTOBER IS

BREAST CANCER

AWARENESS MONTH

The National Breast Cancer Awareness Month (NBCAM) program is

dedicated to increasing awareness about the importance of the early

detection of breast cancer through a nationwide campaign. NBCAM

started as a weeklong campaign in 1985 with 2 founding members.

Today the American Cancer Society is one of many national public

service organizations, professional associations and government

agencies that form the NBCAM Board of Sponsors. During October,

which is National Breast Cancer Awareness Month, the member

organizations of the Board of Sponsors join forces to spread the

message that early detection of breast cancer followed by prompt

treatment saves lives.

The American Cancer Society recommends early detections. Women

age 40 and older should have a screening mammogram every year

and should continue to do so for as long as they are in good health.

The third Friday in October each year is National Mammography Day,

first proclaimed by President Clinton in 1993. On this day or throughout

the month, women are encouraged to make a mammography

appointment.

To find a facility in your area, please call:

American Cancer Society 800-227-2345

National Cancer Institute 800-4-CANCER

Or visit nbcam.org or www.cancer.org for more information.

3 STEPS TO EARLY DETECTION

One in eight women are diagnosed with breast cancer in her lifetime.

However, with early detection and treatment, you can greatly improve

your chance of survival.

Early detection means finding the cancer before it spreads to other

parts of the body. Although breast cancer cannot be completely prevented,

early detection provides the greatest possibility of successful

treatment. By following these three steps, you will help increase your

chance of detecting cancer early.

CHANGES TO LOOK FOR INCLUDE:

• A lump or thickening in or near the breast or in the underarm area

• A change in the size or shape of the breast

• Dimpling or puckering in the skin of the breast

• A nipple turned inward into the breast

• Discharge (fluid) from the nipple

• Scaly, red or swollen skin on the breast, nipple or areola (the dark

area of skin at the center of the breast)

You should see your health care provider about any of these symptoms.

Often these symptoms are not due to cancer, but if you notice

any changes in your body, tell your health care provider immediately

so that the problems can be diagnosed and treated.

2. WELL-WOMAN EXAM

It is recommended that women visit their family physician or gynecologist

each year for an annual Well-Woman Exam. In addition to a

routine pelvic exam and pap smear, the doctor may perform a brief

breast exam to check for abnormalities. The Well-Woman Exam is a

great opportunity for you to discuss with your health care provider

any questions or concerns you have regarding your breast health. For

example, your doctor may help you to determine the most appropriate

frequency for your early detection steps.

3. MAMMOGRAM

In its early stages, breast cancer doesn't usually cause symptoms. NBCF

recommends that women ages 40 and older get a mammogram every

year. A mammogram is an X-ray of the breast. It is a safe way to detect

cancerous tumors and other abnormal breast conditions and women

who have screening mammograms have a lower chance of dying from

breast cancer than women who do not have screening mammograms.

Mammograms can detect cancer or other problems before a lump

becomes large enough to be detectable to the touch. They provide an

effective way to find breast cancer in its early stages when treatment is

usually the most successful. Mammograms are considered safe, quick

and relatively painless.

Source: National Breast Cancer Foundation

1. BREAST SELF-AWARENESS

Breast self-awareness can help you become familiar with how your

breasts normally look and feel. Knowing this will help you identify any

changes in your breasts that should be reported to your health care

professional promptly. If you find a lump, schedule an appointment

with your doctor, but don't panic - 8 out of 10 lumps are not cancerous.

28

October 2018 | Westgate
---
A Night of Positively Pink at LaCenterra

Hosted by

Houston Methodist West Hospital

Friday, Oct. 12 | 6-9 P.M.

LaCenterra at Cinco Ranch Courtyard

23501 Cinco Ranch Blvd., Katy, TX 77494

Join us and bring your family for a night of Positively

Pink, a breast cancer awareness celebration.

At this fun and educational event, you will:

• Meet our Breast Care Center team and women's

health specialists

• Receive breast health information

• Enjoy live music by The Mockingbirds Band

• Get free giveaway items and much more!

The event is free. For more information, visit

events.houstonmethodist.org/west-pink

or call 832.522.5522.

100+WOMEN WHO CARE, CY-FAIR

SELECTED LOCAL NON-PROFIT

SHIELD BEARER AS THE

QUARTERLY CHARITY RECIPIENT

Shield Bearer is a local non-profit organization that

has provided professional counseling services and

prevention programs for local families in the Cy-Fair

area for over 13 years. Now with six locations in the

NW Houston area, Shield Bearer sees thousands of

families each year including those experiencing the

trauma of domestic violence, human trafficking,

crime, war, Hurricane Harvey and more. Funds will be

utilized to continue counseling services and programs

for clients that need assistance on a sliding scale.

"100+Women Who Care, Cy-Fair's dedication to the

community is inspiring. Their members seek out

worthy organizations and collectively, make a big

impact," stated Shield Bearer Executive Director Roy

Wooten. "We were honored to be nominated and

overjoyed to be selected as the winner. We are so thankful for their support of local families."

100+Women Who Care, Cy-Fair is one chapter of over 300 chapters worldwide. Chapters are started by people who want to make a

difference in their local communities. Chapter Leader Jodi Johnston-McNiven started the Cy-Fair chapter just two years ago. Members

gather four times a year and make a difference in the community through a $100 quarterly donation to a locally nominated charity.

"Members nominate the charities, then vote on the charities and the money then goes directly to the winner. When we pool our money

together in this way, we can have a bigger influence," stated Ms. Johnston-McNiven. "100+Women Who Care, Cy-Fair is defined by the

power of collective giving, so we are seeking additional members that want to be the change they wish to see in the community. We are

powerful alone, but even more powerful together."

For more information about 100+Women Who Care, Cy-Fair, including the next quarterly meeting details, visit 100womencyfair.com.

For more information about Shield Bearer, visit shieldbearer.org or call 281-894-7222.

Westgate | October 2018 29
---
Krenek Printing

NEIGHBORHOOD NEWSLETTERS

www.krenekprinting.com

281-463-8649

LLC

30

RESIDENTS:

Please support the businesses within

this newsletter. It is because of their support

that you receive this paper at no charge

to you or your HOA.

Share your community news with us. Non-profit,

scouts, school, dated events, etc. send to

news@krenekprinting.com.

The deadline is 10th of each month

for the following month's publication.

ADVERTISERS:

Want your ad to be placed in this newsletter

and mailed to the homeowners every month?

For more information, pricing or to view newsletters

online please visit www.krenekprinting.com

or email ads@krenekprinting.com

BUSINESS FINDER:

Search for businesses in your local area

and find great deals on the goods and

services you are looking for!

NEWSLETTERS:

View your newsletter online! You can read your

community news on our website or download it to

take with you and print. Archived issues are also

available.

MOBILE:

You now have access to our full website optimized for

your mobile device, making it even easier to find the

things you need on the go!

MORE:

Find information about advertising opportunities,

article submissions, our company, and

frequently asked questions.

NOW OFFERING FULL COLOR

PRINTING SERVICES!

Call today for a quote!

Gardening Tips For October

• Dig and store caladiums before the foliage dies. Allow the bulbs to dry in the

shade, shake off the dried soil and dust with sulphur to control fungus. Store by

hanging in open mesh bags or old panty hose.

• Flowers planted for spring can begin when the temperatures are going to stay

cooler. Shrubs and trees can be planted now. Woody plants concentrate on root

growth through the winter and the more headstart they can get before summer,

the better.

• October 15th is about the time for dividing and planting daylilies.

• Watch out for brown patch in St. Augustine grass. These circular brown patches

are caused by a fungus that is activated by moist cool weather. Control with

Daconil.

• If you need to do any pruning, do it early in the month. The re-growth stimulated

by pruning needs to harden off before that odd-ball frost of Halloween. Prune

fruit trees when leaves begin to fall. Remove all dead, weak and over-crowded

growth. Tip back main branches to control size and shape. Spray w/dormant oil

when temperature is between 30-60 degrees.

• Cut back tops of perennials after they have bloomed. Divide roots and transplant

anytime from now until March, the earlier the better.

• Get the ant baits down. This will greatly reduce your spring populations.

• Clover left over from last year may be growing. It's best to hit it with the postemerge

herbicides in October and November. At least two applications are usually

needed, even if done this early.

• For color throughout the winter, begin planting pansies.

DISCLAIMER: Articles and ads in this newsletter express the

opinions of their authors and do not necessarily reflect the

opinions of Krenek Printing Co. or its employees. Krenek Printing

is not responsible for the accuracy of any facts stated in articles

submitted by others. The publisher also assumes no responsibility

for the advertising content within this publication. All warranties

and representations made in the advertising content are solely

that of the advertiser and any such claims regarding its content

should be taken up with the advertiser.

The publisher assumes no liability with regard to its advertisers for

misprints or failure to place advertising in this publication except

for the actual cost of such advertising.

Although every effort is taken to avoid mistakes and/or misprints

in this publication the publisher assumes no responsibility for

any errors of information or typographical mistakes, except as

limited to the cost of advertising as stated above or in the case

of misinformation, a printed retraction/correction. Under no

circumstances shall the publisher be held liable for incidental

or consequential damages, inconvenience, loss of business or

services, or any other liabilities from failure to publish, or from

failure to publish in a timely manner, except as limited to liabilities

stated above.

Published by: KRENEK PRINTING CO.

7102 Glen Chase Ct., Houston, TX, 77095

281-463-8649 • news@krenekprinting.com

October 2018 | Westgate
---
OCTOBER RECIPES

CAJUN CHICKEN AND SAUSAGE GUMBO

You could make this on National Gumbo Day October 12 th !

INGREDIENTS

1 cup vegetable oil

1 cup all-purpose flour

1 large onion, chopped

1 large green bell pepper, chopped

2 celery stalks, chopped

1 pound andouille or smoked sausage, sliced 1/4 inch thick

4 cloves garlic, minced

salt and pepper to taste

Creole seasoning to taste

6 cups chicken broth

1 bay leaf

1 rotisserie chicken, boned and shredded

DIRECTIONS

Heat the oil in a Dutch oven over medium heat. When hot, whisk in flour.

Continue whisking until the roux has cooked to the color of chocolate

milk, 8 to 10 minutes. Be careful not to burn the roux. If you see black

specks in the mixture, start over.

Stir onion, bell pepper, celery and sausage into the roux; cook 5 minutes.

Stir in the garlic and cook another 5 minutes. Season with salt,

pepper and Creole seasoning; blend thoroughly. Pour in the chicken

broth and add the bay leaf. Bring to a boil over high heat, then reduce

heat to medium-low and simmer, uncovered, for 1 hour, stirring occasionally.

Stir in the chicken and simmer 1 hour more. Skim off any

foam that floats to the top during the last hour.

http://allrecipes.com/

KOREAN CHICKEN KABOBS

An amazing combination of sweet and spicy! And the chicken comes

out perfectly tender and juicy with a finger-licking sticky glaze!

INGREDIENTS:

1/4 cup gochujang (Korean red pepper paste)

1/4 cup reduced sodium soy sauce

2 tablespoons seasoned rice wine vinegar

2 tablespoons light brown sugar

1 tablespoon toasted sesame oil

1 tablespoon freshly grated ginger

3 cloves garlic, minced

2 pounds boneless, skinless chicken breasts,

cut into 1-inch chunks

1 1/2 tablespoons canola oil

1 green onion, thinly sliced

1/2 teaspoon toasted sesame seeds

DIRECTIONS:

In a medium bowl, combine gochujang, soy sauce, rice wine vinegar,

brown sugar, sesame oil, ginger and garlic. Reserve 2 tablespoons

and set aside.

In a gallon size Ziploc bag or large bowl, combine gochujang mixture

and chicken; marinate for at least 2 hours to overnight, up to 8 hours,

turning the bag occasionally. Drain the chicken from the marinade,

discarding the marinade.

Preheat grill to medium high heat. Thread chicken onto skewers;

brush with canola oil.

Add skewers to grill, and cook, turning occasionally, until the chicken

is completely cooked through, reaching an internal temperature

of 165 degrees F, about 10 minutes. Brush skewers with reserved

gochujang mixture, cooking for an additional 1-2 minutes.

Serve immediately, garnished with green onion and sesame seeds.

This delicious recipe brought to you by Damn Delicious

https://damndelicious.net/2018/08/19/korean-chicken-kabobs/

DOUBLE LAYER PUMPKIN CHEESECAKE

You could bake these on National Pumpkin

Cheesecake Day October 21 st !

INGREDIENTS

2 (8 ounce) packages cream cheese, softened

1/2 cup white sugar

1/2 teaspoon vanilla extract

2 eggs

1 (9 inch) prepared graham cracker crust

1/2 cup pumpkin puree

1/2 teaspoon ground cinnamon

1 pinch ground cloves

1 pinch ground nutmeg

1/2 cup frozen whipped topping, thawed

DIRECTIONS

Preheat oven to 325 degrees F (165 degrees C). In a

large bowl, combine cream cheese, sugar and vanilla.

Beat until smooth. Blend in eggs one at a time.

Remove 1 cup of batter and spread into bottom of

crust; set aside.

Add pumpkin, cinnamon, cloves and nutmeg to the

remaining batter and stir gently until well blended.

Carefully spread over the batter in the crust.

Bake in preheated oven for 35 to 40 minutes or until

center is almost set. Allow to cool, then refrigerate

for 3 hours or overnight. Cover with whipped topping

before serving. http://allrecipes.com/

31
---
Schedule your

mammogram

online. Today.

Visit houstonmethodist.org/imaging

or call 832.522.PINK (7465).

Breast Care Center at

Houston Methodist West Hospital

18500 Katy Fwy., Suite 125

Houston, TX 77094

Effective Leadership

in Congress

★ Only member of powerful House

Appropriations Committee from Houston.

★ Used leadership position on

Appropriations to secure $141 billion

in disaster relief funding after Harvey,

which includes funds to finish every

federally funded flood-control project in

Harris County.

★ Passed legislation putting Harris

County first in line to fund flood-control

construction projects, including a third

reservoir at Cypress Creek.

Early voting: Oct. 22–Nov. 2 • Election Day: November 6

CulbersonForCongress.com

Paid for by Culberson for Congress

A HOUSTON TRADITION OF FAMILY DENTISTRY

LOUIS D. MCDONALD, DDS & ASSOCIATES

15757A FM 529 • HOUSTON

• LOCATED IN THE TARGET SHOPPING CENTER

281-550-9054 • www.McDonaldDental.com

We Accept

New Patient Special

Visit McDonaldDental.com

for more details.

• Fences/Decks

• Arbors/Patio Covers

• Painting Int/Ext

Specializing in Residential

Home Improvement Projects

713-416-79 81

www.shaffer.cc

• Bathroom Remodels

• Kitchen Remodels

• Home Repairs Int/Ext

Serving your community for over 20 years!