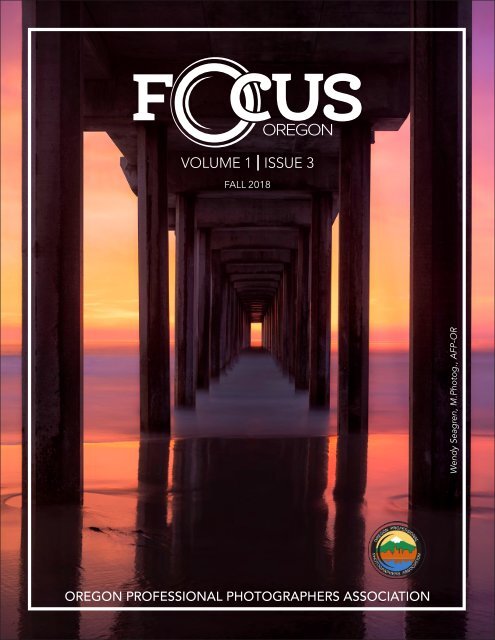 FOCUS OREGON - V1 Issue 3
Oregon Professional Photographers Association quarterly magazine
Oregon Professional Photographers Association quarterly magazine
SHOW MORE
SHOW LESS
You also want an ePaper? Increase the reach of your titles
YUMPU automatically turns print PDFs into web optimized ePapers that Google loves.
VOLUME 1 | ISSUE 3

FALL 2018

Wendy Seagren, M.Photog., AFP-OR

OREGON PROFESSIONAL PHOTOGRAPHERS ASSOCIATION

FALL 2018 FOCUS OREGON • 1
---
Connie Mintz

CONTENTS

3 Presidents Message

4 The Need for Website Speed

Part 1

8 Image Competition

9 QBID

10 Free Money!

14 Favorite Photography Apps

15 The Difference Between

Marketing & Branding

20 In Memory Of Wendy Seagren

23 What's In My Bag?

2018 OPPA BOARD

President - Lisa Dillon

M.Photog.Cr., CPP, FP-OR,

PPA Councilor 2013-2021

Vice President - Sam Tarrel

M.Photog.Cr., CPP, FP-OR, CPP Liaison

Immediate Past President - Aaron Hockley

Cr.Photog., FP-OR

Secretary - Bryan Welsh

M.Photog.Cr., CPP, API, FP-OR,

PPA Councilor, 2016-2021, CPP Liaison

Treasurer - Aaron Hockley

Cr.Photog., FP-OR

Bylaws, Rules, & Ethics - Bryan Welsh

M.Photog.Cr., CPP, API, FP-OR,

PPA Councilor, 2016-2021, CPP Liaison

Competition - Rekha Varghese

Education - Raj Sarda

AFP-OR

Marketing & Communications - Julie Countryman

Member Value - Nancy Steele

CPP

Director at Large - Alexis Dowdle

FOCUS OREGON

VOLUME 1 ISSUE 3—FALL 2018

Published by the

Oregon Professional Photographers Association

14925 SW Barrows Rd.

Ste. 109 #501

Beaverton, OR 97007

Send editorial queries to:

Lisa Dillon

president@oregonppa.org

Magazine Designer: Julie Countryman

Editors: Julie Countryman, Lisa Dillon, Alexis Dowdle

Contributors: Lisa Dillon, Alexis Dowdle, Julia

Fitzgerald, Mark Fitzgerald, Kim Kuhlman, Rekha

Varghese and Bryan Welsh

Fellow OPPA Members—Greetings!

Our year is rapidly coming to a close—Luminate is right

around the corner and then our OPPA banquet is just a

month after that. Before you know it, 2018 will be in the

books and it will be the start of a new year! How will you

look back at your year? Will it be the year you learned

a new skill and put it into practice in your business?

Will it be the year you threw yourself into competition

and came away with great insights and experiences

and maybe some awards? Will it be the year you took

on a student and found out that in being a mentor to

someone else, you were also a mentor to yourself?

There's still time to shape how you remember 2018.

Lisa Dillon, President

I was recently touched by an article in Professional

Photographer magazine by PPA President Stephen Thetford about the three professional

relationships you should cultivate in your life. One should be a mentor—we should all

have someone in our lives who teaches us, guides us and helps propel us on our way

to greatness. The second relationship should be a companion—someone who is in the

same place and going the same direction as we are. Someone who can share your

successes and help you learn from your failures. Someone who knows what you are

going through because they are going through it too. The third relationship should be

an apprentice—someone we can share our years of collected wisdom with, someone we

can cheer for and teach and motivate. I've always believed that these were important

relationships to cultivate and Stephen's article validated my thoughts. As I pondered

this more, it seemed to represent three time periods as well—past, present and future.

We need to be cognizant of what has gone before us and learn from it so we can be

effective in the present. And when we are effective in the present, we can help shape

the future.

If you are lacking in one or more of these relationships, OPPA can help you connect

with people in all of these stages—you can find a mentor, a companion and a student.

It's your one-stop shopping spot! I've found all three through OPPA which is why OPPA

is so important to me. It's not about the classes (but those are great!) and it's not about

the competitions (even though I love them!) and it's not about the awards (though I love

going home with a trophy or two). For me, OPPA is about one thing—the people. Some

of my very best friends are right here and I'm so glad to have a vehicle like OPPA to

provide opportunities to meet new friends and stay connected with my current friends.

Even if I never learned another thing from OPPA, it would be worth staying around,

for me, just so I can continue to cultivate the relationships that are so important in a

business where much of your time is spent alone.

OPPA is that lifeline to the outside, real, physical world. Sure, there are friends online

and classes online and YouTube videos online—but there aren't many places in the

three-dimensional world where you can connect with people directly and establish

those important relationships. Let OPPA be that for you—we're here and waiting for you!

@oregonppa

2 • FOCUS OREGON FALL 2018 FOCUS OREGON • 3
---
The Need for

Website Speed

By Kim Kuhlman, PhD, M.Photog.Cr, CPP

We photographers are mostly "do-it-yourselfers." I think sometimes it's because most

of us are really curious, but I think that it's most often because of our budgets. When

it comes to your website — your storefront in the digital age — most of us realize that it's

vitally important, but it's a lot to wrap your head around and can be a horrible time sink.

When you hear the term, "Technical SEO," I'm sure that most of you are ready for me to

"geek out." Well, I'm going to try to de-geek it a bit for you so that you can get a better

handle on how to make Google work for you rather than against you.

In this series, I'm going to introduce you to Technical SEO, show you how to test your website,

and finally I'll give you a few things you can do to improve its technical performance. I work

exclusively with WordPress, so your mileage may vary if you use another platform. However,

the tools I will be talking about can tell you what you need to discuss with your website

provider to help you on the technical side.

What the heck is "Technical SEO?"

Hopefully you know what "SEO" is. "Search Engine Optimization" has become quite a

buzzword. Just in case you don't know what it means, SEO is the process of optimizing your

website and it's content so that search engines like Google will rank your website/webpage

higher in the search results for your ideal clients. There are three types of SEO:

1. Technical SEO - The equivalent of a foundation for your website. The goal is

to make it as easy as possible for the search engines to crawl, understand and

index your content. A major component of modern technical SEO is "page

loading speed."

2. On-Page SEO - Keyword research and content optimization. That is, making

sure your text, images and video are optimized so that the search engines can

tell what they are about and in what context.

3. Off-Page SEO – Mostly comprised of building quality backlinks from high

authority websites in your field or niche. It also includes good old fashioned

non-digital marketing.

4 • FOCUS OREGON

In this article, I'm only going to focus on technical SEO because it really is the foundation of

your website. Everything else rides on it. The search engines use over 200 factors in their

algorithms. You need to remember that "user experience" (often called "UX") is the only thing

the search engines care about. If their users (including your potential clients) can't quickly find

what they need, they will simply go somewhere else to find that information. On the other

hand, some people point out that Google stated (on April 9, 2010), "While site speed is a new

signal, it doesn't carry as much weight as the relevance of a page." Things have sure changed

since then, but don't do it for your SEO, do it for your users, and Google will reward you.

Being a geek myself, I have to show you some data that demonstrates what I'm talking about.

In the process, I'm going to share with you the tools that Google and others provide to use

on your own website(s). Using these tools may just give you an advantage when it comes to

ranking and save you some time in the process. Mind you, "technical SEO" is definitely not

a cure-all, but practicing it will give your website a solid foundation on which to build your

content.

The Data

So, what data can I show you? I could obviously cherry pick the websites of various well-known

photographers, but being a geek, I know that is not terribly valid way of doing things. To get

an "unbiased" data set, I decided to look at the websites of the members of the PPA Board

of Directors. (Sorry, Board Members. Please consider this a complimentary technical SEO

audit. I have kept identifying information to myself.) There is one thing all these successful

photographers have in common. They all HAVE a website. If you don't have a website, you

know what you need to do. There are a couple of caveats that I need to mention here:

Caveat #1: This is a small sample set, but these are all well-respected and

accomplished members of our community. I had to satisfy my curiosity with a

"random" group of websites. That's not to say that this little exercise is by any

means scientific. It is not, but the results are really fascinating nonetheless.

Caveat #2: The measurements of various performance metrics is affected by

many variables like server load, distance from the server to the user's computer,

Internet traffic load,

SEO

routing to get around traffic loads, connection speed,

device type, number of tabs open in the browser, etc. When collecting this

data, I attempted to keep as many of these variables constant and run multiple

tests when available. If you were to run exactly the same tests, you would likely

get different results, albeit slight. I ran the test again after about six weeks, and

got similar results.

FALL 2018 FOCUS OREGON • 5
---
The Need for

Website Speed

The Need for Speed

Perhaps the most important of the ranking factors is your "page loading speed." If your

site doesn't load and become interactive within about 2 seconds, your potential clients will

simply move on to the next website - of your competitor. No one really knows how those

200+ factors I mentioned are weighted but there are two very specific reasons that the search

engines have "a need for speed."

The first reason is our ever-decreasing attention span. There are many studies such as those

listed in Google's article at https://blueskydigit.al/performance that have demonstrated that

a website that loads slowly will lose potential visitors. We are all simply too impatient to wait.

The second reason driving the need for speed is that mobile is quickly overtaking desktop

in usage (actually, it already has) and the users in developing markets are simply skipping

desktops altogether to access the Internet. Data is still relatively expensive, especially in

developing markets, so Google is stressing "mobile first indexing" to encourage a faster

Internet. Now, you may think that doesn't apply to your potential clients, but they are using

smartphones, too. If your site takes longer to load, they will move on. So will Google in

ranking your site.

Visitor Loss vs. Load Time

Despite everything you have probably heard about Google, the Googlers do everything in

their considerable power to help you out. They provide a lot of tools to help diagnose potential

problems with our websites (so does Bing). The first one gives you an estimate of visitor loss

based on your site's loading time. The first set of data I'm going to show you (Fig. 1) was

obtained using Google's https://testmysite.

thinkwithgoogle.com, which is powered

by webpagetest.org. Webpagetest.org is

an open source project that is supported

by Google. The TestMySite tool measures

several things, but for now we'll just be

looking at the "estimated visitor loss" as

a function of loading time on a 3G mobile

network.

Figure 1. Estimated visitor loss as function of

page loading time for the homepages of the

2018 PPA Board Members' websites as measured

with https://testmysite.thinkwithgoogle.com.

The first thing you notice about this data is that the visitor loss is not linear at first. You get a

HUGE advantage by having a loading time of less than 5 seconds. Only one board member's

site loaded in 4 seconds. As with everything Internet, there is a caveat here. Google's own

tool, TestMySite, measures Google's own homepage, https://google.com, as loading in 3

seconds over a 3G connection. The estimated visitor loss is "Low," instead of a percentage.

If you look at Google's homepage using https://webpagetest.org over a cable connection

(1.5Mbps), we usually get a load time of around 3.4 seconds. However, if we run the same test

using an emulated 3GSlow connection (400 Kbps), Google's homepage takes just under 15

seconds to load! If we change to the 4G emulator, Google's homepage loads in just under 4

seconds. Yes, 5G service is coming, but the gist of all this is that your site needs to load fast,

period.

Google is constantly doing research on the conversion rates of landing pages. I highly

recommend that you review their article on mobile benchmarks at https://blueskydigit.al/

mobilebenchmarks for more information. Another good article from Google on 2018's "Speed

Update" can be found at https://blueskydigit.al/2018SpeedUpdate.

How Can We Measure

Website Performance?

SEO

In coming issues, I'll fill you in on some of my favorite free tools for measuring the technical

performance of your website(s). These tools give you plenty of great suggestions on how to

improve the performance of your site. Then I'll also give you some actionable steps you can

take to make your website faster and boost your rankings. If you're running on WordPress,

I'll give you my very favorite plugin for compressing your beautiful images without degrading

their quality. I'll also tell you my favorite WordPress caching plugin.

If you have any questions, don't hesitate to drop me an email at kim@blueskydigitalstrategy.

com and put "PPA Technical SEO Question" in the subject line. You can also check out my

blog at https://www.blueskydigitalstrategy.com. We also have a fledgling private Facebook

Group, Blue Sky Digital Strategy (https://www.facebook.com/groups/blueskydigitalstrategy),

where you can ask for help and find lots of good information on all aspects of SEO and Social

Media. And, if you made it this far, I'll give you a complimentary website audit. Just mention

that you saw it here. PPA members and one site only, please.

Kim Kuhlman, PhD, M.Photog.Cr, CPP is a professional photographer and owner of Kim Kuhlman Photography and

Chile Dog Photography. She earned her PhD in Engineering Physics and worked for the Jet Propulsion Laboratory

and the Planetary Science Institute. Imaging of one form or another, most recently at the nano-scale, has been

involved in her scientific endeavors. She brings a knowledge of physics to her photography that gives her a

unique perspective on creating an award-winning image.

Kim is also the owner of Blue Sky Digital Strategy, LLC, a digital agency that helps small businesses with WordPress

website design and security, search engine optimization (SEO), content and email marketing, and social media

management. Blue Sky Digital Strategy also provides WordPress coaching, security and website maintenance

services.

6 • FOCUS OREGON

FALL 2018 FOCUS OREGON • 7
---
Image

Competition

How it Helps You Become a Better Photographer

By Rekha Varghese

Most of us who pursue photography have taken it up because creating beautiful images and

capturing special moments stirs a passion in us that satisfies a deep creative urge. In the age

of increasingly capable smartphones, the tools to create or document images have become

easily accessible to many people. However, what distinguishes a professional, merit-worthy

image from the regular snapshot are the finer details that go into making that image.

A powerful image is created with careful choices made by the photographer—the quality

of light, the composition, the balance of colors, tones, posing, expression—and bringing

all these elements together to convey an impactful story. Twelve such elements have been

identified as the components of a merit-worthy image for competitions sponsored by PPA

affiliates.

The notion of 'competition' can seem intimidating to some. However,

with PPA-style image competitions, rather than being judged against

other photographers, your work is carefully critiqued for the technical

merits and fundamental principles of artistic composition based on the

Twelve Elements of a Merit Image. So it really is a constructive learning

environment for photographers.

"Don't

be

scared.

Just

enter."

Serving as the Competition Director for OPPA has forced me (that's

right, I said 'forced', because there are a hundred excuses I could

come up with to not be able to attend competition judging) to attend

8 competitions in the past two years. I was also more committed to

entering competitions than I used to previously. And I can say with

conviction that just attending the judging has helped train my eye to

look for these types of details in an image—things that I would not have necessarily noticed

earlier. This awareness is the first step towards becoming a better photographer and artist.

Taking this awareness and applying it to your image-making is where the transformation

happens. This is a gradual process that takes time and consistent effort. Image Competition

is a journey. As OPPA member Beth Brinston CPP said, "You can certainly take classes about

lens choice, technical settings, processing techniques, but nothing helps you learn to apply

all of it to your work quicker than print competition." Being open to learning and constructive

criticism is an essential part of this learning. A great piece of advice Beth has held onto came

from Michelle Parsley (M.Photog, M. Artist, Cr. CPP) "What you need to hear helps you move

forward. What you want to hear helps you stay right where you are at".

My journey and learning experience through

competitions has made me a strong advocate

of the value of entering image competitions

sponsored by OPPA and PPA. There is learning

at every stage of the process, from attending and

listening to the judges' critiques at competitions,

looking for those essential elements in your

images, to selecting and preparing your own

image for entering, and applying the feedback

from critiques to improve your work. You win just

by entering because you learn so much in the

process. And eventually, it translates into your

client work, making you stand out and serve your

clients better!

Entering competitions is also a great way to

validate the quality of your professional work.

It is a great confidence booster when a peer

appreciates your work as seasoned competitor

and accomplished photographer Mark Fitzgerald,

M. Photog., Cr. came up to me and said about

one of my images "That is a great image! That

is the kind of image that makes me wish I had

made it". I also had the honor of having one of

my images accepted into PPA's prestigious Loan

Collection last year. This only makes me want to

work harder to maintain those standards in my

work.

To share the value of entering image competitions,

OPPA recently started a series of interviews

with seasoned competitors, called "Nuggets of

Competition Wisdom" on our Facebook page.

The one unanimous thought conveyed by each of

them is how much entering image competitions

has impacted their professional work and growth

as an image maker. Make sure you follow these

interviews for some great nuggets of advice!

I love this quote shared by Pete Rezac, M.Photog.

Cr., CPP : "Don't be afraid of failure and remember

it's what you LEARN from the process rather than

the awards you EARN from it. The EDUCATION

will stay with you for a lifetime."

We often find excuses about not having the time

to enter competitions. Aaron Hockley, Cr.Photog.,

FP-OR, explains that entering competitions is

a long-term venture that you need to make

the time for, "the same way I make time to do

marketing, or watch TV, or learn about gear. Your

first images probably won't merit. That's okay.

Learn from the judges' feedback and keep the 12

elements in your mind as you prepare future work

for competition. Those folks who you see winning

OPPA awards, or earning their PPA Masters

degrees, or receiving a PPA Grand Imaging

Award? Their first images probably didn't merit

either. But they kept going."

Let me leave you with my favorite nugget of

advice, from Sam Tarrel, M.Photog. Cr., CPP,

FP-OR: "Don't be scared. Just enter. Be sure you

get critiques, and then LISTEN. You'll be amazed

how far you will go."

If you haven't tapped this great educational

opportunity yet, it's time to begin your

competition journey and elevate your growth as

an image maker with the OPPA's Annual Open

Image Competition coming up in November!

Rekha Varghese is an award-winning family and

children's photographer from Portland, Oregon.

Her passion for art has followed her through a

Masters degree in Art History and Art Criticism

and she now finds her creative outlet in photography.

Inspired by life's simple, but poignant

moments, she seeks to create beautiful images

that capture genuine emotion. Rekha has been

serving on the OPPA Board of Directors as the

Competition Director for the past two years.

FALL 2018 FOCUS OREGON • 9
---
QBID

FREE MONEY!

Qualified Business Income Deduction – What does this mean to Photographers?

By Julia Fitzgerald, CPA, Cr.Photog.

The Qualified Business Income Deduction (QBID) is a new deduction on the newly formatted 2018

individual income tax return (form 1040).

For taxable years beginning after December 31, 2017, taxpayers other than C-Corporations may

be entitled to a deduction of up to 20 percent of their qualified business income from a qualified

trade or business under the Tax Cuts and Jobs Act.

So what does that mean for the Photographer businesses?

• New deduction of 20% times Total business profit (net income after all expenses)

• New line #9 QBID on the newly formatted 2018 1040 tax form

• Reduction of taxable income on your tax return

D id you know that OPPA offers multiple scholarships to members who have been with us

for at least 2 years? If you've been a member for 2+ years (must be two full years), you

can go to the website and download the application and apply for one of our scholarships

to attend any professional or artistic photography or business training. Thinking about going

to IUSA this year but not feeling like you have the extra cash to make it happen? Or maybe

WPPI is more your kind of thing. Or you'd like to visit our neighbors to the north and attend

their conference this spring. Or go to a special workshop or Texas School? There are dozens—

probably hundreds—of educational opportunities waiting for you and OPPA can help get you

there.

Last year, Brian Pasko won a $250 scholarship which he used to attend

IUSA last January. "As a small business owner, it's sometimes difficult to

justify the cost of in-person photographic education. OPPA's scholarship

provided the incentive I needed to gain additional skills that are helping

me to grow my business, " says Pasko about how he used his scholarship.

• With a $50,000 profit (income after all expenses) on your schedule C, the QBID

tax deduction would be $10,000 (50,000 X 20% = 10,000)

• Phases out if Taxable income exceeds $157,500 if single or $315,000 if married

filing joint return

What types of businesses qualify?

• Sole Proprietorships

Julie Countryman also won a $250 scholarship. She also chose to use

her scholarship to attend IUSA. "As a first year member of PPA, I already

had a ticket to attend IUSA for free, winning the scholarship made my

decision easy, I had to attend IUSA. The knowledge that I gained at

IUSA was amazing and motivational."

• Partnerships

• S-Corporations

If you have questions on this or other tax related

questions I'm always available for Lunch.

Applications for scholarships are available on our website: oregonppa.org/Scholarship.

All judging is blind—the scholarship committee does not know who the applicants are to

make it more equitable. Applications are due November 15th by 5pm.

did you know?

10 • FOCUS OREGON

FALL 2018 FOCUS OREGON • 11
---
Landscape

Photography

November 7, 2018 - 9AM

ProPhoto Supply Event Center

Visit oregonppa.org

to register.

The Craft & Technique and The Art & Vision

Doug Bennett, M.Photog.Cr, of Colorado Springs, Colorado, has learned that Landscape Photography must

demonstrate not only mastery of craft and technique but also a mastery of vision and expression.

On November 7th, Doug will first share elements of photographic craft and technique essential to landscape

photography and to making high quality large landscape prints for high-end sales and for PPA Competition

entries. In sharing these techniques, Doug will also discuss the underlying "whys".

Then Doug will move to the heart of landscape photography . . . the goal of communicating your emotions

and artistic vision in an image. Ansel Adams had it right when he said, "Photograph not only what you see, but

also what you feel." Great photography is about making images that connect with viewers making them feel

something about the subject. Doug will share techniques to make your imagery communicate more, as well as

explore the unconscious psychological factors that make for appealing landscape photography.

Doug's love for landscape photography traces back to his childhood and family sightseeing vacations touring

the western U.S. and Canada by car. These early experiences were further fueled by his father's subscription to

"Arizona Highways" magazine always leaving him in awe with its beautiful scenic images, particularly those of

Josef and David Muench.

Doug, a PPA member since 2011, earned his Master's Degree from PPA in 2014, his Craftsman's Degree in 2015

and the Imaging Excellence Award in 2015. Doug was also named a PPA Platinum Photographer of the Year

in 2013 and PPA Diamond Photographer of the Year in 2014, 2015 and 2017. Lastly Doug is a two-time Grand

Imaging Award Finalist in the Landscape Category finishing 2nd in 2015 and 1st in 2017.

Doug's Awards:

• PPA "Diamond Photographer of the Year" – 2014, 2015, 2017

• PPA "Platinum Photographer of the Year" – 2013

• PPA Imaging Excellence Award – 2015

• Grand Imaging Award 1st Place in Landscape Category - 2017

• Grand Imaging Award 2nd Place in Landscape Category - 2015

• Professional Photographers of Colorado "Photographer of the Year" for 2011, 2012, 2013, 2014 & 2016

• Professional Photographers of Colorado Annual Print Competition "Best of Show" 2011, 2012 & 2016

• "Best of Show" - Louisville Art Association National Juried Photography Show in 2011 & 2012

• "Best of Show" and "1st Place" - Lone Tree Photography Show, Lone Tree, Co in 2010 &1st Place in 2012

• "Best of Show" - Tri-Lakes Art Center's "Visions of Light" Photography Show, Palmer Lake, Co, in 2010 & 2012

Laura Bennett, M.Photog.Cr, of Colorado Springs, Colorado has photographed the landscape since 2003 and even photographed

weddings for three years. In her photography, Laura has focused on creating images that stir and communicate feelings and emotions.

This led to her success in selling her images commercially for over 13 years and to significant success in PPA Print Competition.

Laura received her PPA Master of Photography degree in 2015 and her Photographic Craftsman Degree in 2017.

Laura's Awards:

• PPA 1st Place Grand Imaging Awards Illustrative Category in 2013

• PPA Diamond Photographer of the Year in 2014 and 2016

• PPA Platinum Photographer of the Year in 2017

• PPA Gold Photographer of the Year in 2015

• PPA Imaging Excellence Award to be awarded Jan 2018

• "Best of Show" Lone Tree Photography Show 2011 and 2012

EARLY BIRD

REGISTRATION ENDS

OCTOBER 10TH

$79/member | $119 non-member

OPPA/PPA/ASMP

ANNUAL OPPA OPEN IMAGE COMPETITION

RAFFLE/SILENT AUCTION

EVENING DINNER

9AM- 5PM

AM SESSION - 9:00 - 12:30

THE SECRET GUIDE TO THE

ENTERTAINMENT HEADSHOT

PRESENTED BY TRACY PAGE

M. PHOTOG. CR., CPP

LOCATION

SPONSORED BY

PM SESSION - 1:30 - 4:30

PERSONAL PROJECTS –

WHY, HOW… AND HOW TO MAKE

MONEY BY DOING THEM

PRESENTED BY BOB COATES

M.PHOTOG.M.ARTIST.CR., CPP, EA-ASP

1030 SE Clinton St

Portland, OR 97202

REGISTER TODAY: WWW.OREGONPPA.ORG

SPONSORED BY

12 • FOCUS OREGON

FALL 2018 FOCUS OREGON • 13
---
FAVORITE

PHOTOGRAPHY APPS

The Difference Between

Branding and Marketing

"I primarily use it to white balance my images because the iPhone does a

terrible job. Occasionally I will use it to adjust shadows and highlights."

-Julie Countryman

"I would go crazy without Sprout Studio. It's an all-in-one business

platform for photographers. Sprout keeps me organized and efficient.

I'm able to automate emails and stick to my workflow. It has helped me

to keep the busy work to a minimum so I can focus on what's importantbuilding

relationships with my clients!"

-Kolu Westcott

"Snapseed is a powerful editor with a lot of great tools to adjust an

image either globally or using its Selective feature to intelligently

apply an effect only to a part of an image. If you follow my Instagram

account you know I have a style there. Snapseed is where I make

the level adjustments and perform my black and white conversions."

-Aaron Hockley

"I like Camera+2 for IOS. I've been a fan for a while and use it on almost

every mobile image I take. The ease of use and tools make it my choice

for mobile photo apps."

-Bryan Welsh

"UNUM is a visual planning app that works hand in hand with Instagram.

It allows you to control your content, see what photos look good next

to one another, and tracks follower engagement (likes and comments)

on a graph. It's helpful to plan what you want to share in advance."

-Alexis Dowdle

By Lisa Dillon, M.Photog.Cr., CPP, FP-OR

Branding is the hot buzz

word of the moment—

there are articles galore on

the importance of branding,

personal branding, what makes

a brand, what constitutes

a strong brand—the list is

endless. But there are fewer

articles out there to help us

understand the difference

between branding and

marketing. Both are important

for business success but how

do they differ and where

should we, as solopreneurs,

be spending our time and

dollars?

Let's start with some basics. Branding is the

feeling people have after your business is

conducted. It's how people think about you

when you're not around. It's your reputation—

and sometimes it precedes you. But always, it

should linger after you. Branding is what gives

personality to your business. It tells potential

customers what they can expect from you.

Straight up, your brand is your bond. It's a

promise to deliver. And hopefully it's a promise

fulfilled. A brand should evoke an emotional

response. If you are using your brand

effectively, it can tell a story where your client

is the hero of the day and you are the trusted

guide who helps them solve their problem and

defeat their villains. A strong brand will attract

your ideal customer and possibly even repel

your non-ideal customer.

Take, for example, the latest Nike

"Dream Crazy" campaign featuring Colin

Kaepernick. Nike has long leveraged other

people's stories to tell their own. Michael

Jordan's stories of working hard and failing

over and over until he didn't fail was a

beacon for the Nike Air Jordan brand

telling customers "you can do it—just

keep trying." You can be "like Mike," and

we're here to help you. Nike wants to sell

athletic wear to athletes and they make a

point of telling everyone that if you have

a body, you're an athlete. But in this new

campaign, they are pushing the envelope

even further, polarizing their customers

and actually repelling some who disagree

with Kaepernick's kneeling protest. The

buzz around this campaign has been

tremendous and the brand message could

not be stronger—we'll be here to support

you no matter how crazy your dream is. The

question is, is your dream crazy enough?

14 • FOCUS OREGON

FALL 2018 FOCUS OREGON • 15
---
The Difference Between

Branding and Marketing

What are the elements of a brand? Well

surely things such as logo, typography,

colors and style factor into it, but a logo

is not a brand. Your photography—both

the images you take and the images you

present of yourself are part of your brand.

Your signature style, if you have one, is part

of your brand. Your core values—or your

business's core values if you communicate

them—are also part of your brand. Your

tagline is part of your brand as well—it

should lay out the promise that you intend

to deliver on. Some things are more subtle

parts of your brand such as the tone of voice

you use to communicate, in person, on the

phone, in emails, on your website, pretty

much anywhere. To have a strong brand,

your customers need to have consistency

from you in both communication and in their

personal experience with you through all

the client touch-points (in-person meetings,

website, content marketing, blog, social

media, customer service, and so on).

Your brand is your bond.

So what is marketing? If branding is

strategic, marketing is where the execution

of that strategy takes place. Marketing

is your outreach—it's how you capture

the attention of your potential or current

clients. Marketing is how you present your

brand. And marketing itself is *part* of your

brand. Long after the flurry of the marketing

campaign is over, what flavor will be left

behind? The flurry is marketing, the flavor

is branding.

Marketing isn't about how people feel

about your business. It's trying to get them

in the door, metaphorically speaking. If your

brand is on point, they will feel favorably

about your business and all marketing

needs to do is open the door for them

to flood in. Marketing is about one thing,

primarily: COMMUNICATION! Marketing

communicates your brand to potential

clients and gets them interested in you and

your offerings. But you have to have the

brand message to start with. You

can't market effectively without

a brand structure in place—

otherwise you're constantly

re-inventing the wheel

and trying to stab in the

dark at what you think

your clients might like

instead of confidently

putting your brand

forward and letting

customers self-select.

Your marketing is communication.

So which is more important? Well, you have to start with your brand so you have

something worthwhile to market. Can you market without an effective brand?

Sure, but it's not the kind of marketing that is long lasting. And did you know that

in the absence of a you-driven brandstory, clients will create their own brandstory

about you. Wouldn't you prefer to control the narrative and tell clients who you

are, what you stand for (and sometimes what you stand against—sometimes

equally as important as what you stand for), what your values are and who should

care about all of this rather than leaving them to figure it out (and maybe get it

wrong)?

Another intersection between branding and marketing can be seen in the new

Diet Coke campaign. Amid health concerns about the safety of diet soda, Coca-

Cola sticks out its tongue to the naysayers and tells them "If you're in the mood

for Diet Coke, have a Diet Coke." Young, attractive, moderately-famous actors

tell you to "do you" and drink your Diet Coke "because you can." This marketing

campaign comes along with a rebranding of the product in taller, slimmer cans

that appeal to a more youth-oriented market (and those who want to feel

youthful) and a collection of new flavors in addition to the classic Diet Coke. (I've

tried them—I think a few of them are pretty tasty!) They are seeking to position

themselves as a youthful, rebel indulgence and you're a grown-up now so you can

do what you want. And if you want to drink a Diet Coke, drink one. It's the perfect

intersection of rebranding and marketing.

Define your brand—write it out (yes—write it down. on paper.) and include all the

elements I discussed above—logo, colors, typography, iconography, photography,

core values, tone of voice, personality, your "why". Decide who your customers

are, what their needs are and how you will fulfill their needs. That's your brand

and your brand strategy. Now you've got a framework for your marketing. You've

got promises to communicate and you've got strategy to execute on (how you

will meet your clients' needs). Now find the right avenues to spread that message

based on who your ideal customers are—email, blog content, newsletters, ads,

social media, billboards, car decals, promotional items, and so on. Once you've

defined your brand (which includes identifying your ideal customers), you'll be

able to find the right ways to communicate with them. And while your marketing

plans will come and go, your brand will endure.

Lisa Dillon is a Master Craftsman Photographer and CPP from Portland

Oregon. She has also earned the Fellow of Photography degree from

OPPA. She is in her 14th year of business and specializes in high school

senior, business and family photography. She is a past president of the

Professional Photographers of Oregon (PPO) and currently serves as

President of OPPA. Lisa is an approved juror for the OPPA and has served

as a PPA Councilor representing Oregon since 2013.

16 • FOCUS OREGON

FALL 2018 FOCUS OREGON • 17
---
Your Luminate Judges

Introducing Rob Behm, one of our Luminate judges who hails from Spokane, Washington. A third generation

small business owner, Rob has been the owner and photographer at Valley Studio in Spokane Valley, Washington

for 33 years. Working in photography since college graduation, Rob has an Applied Science degree in

photography and a degree from Eastern Washington University as a photographic educator. A PPA member

since 1991, Rob has also been a member of the Professional Photographers of Washington

since 1982.

Rob is a Certified Professional Photographer, Master-Craftsman Photographer and was the

recipient of the PPA National Award in 2006. A PPA councilor since 2003, Rob has also

served as Chair of the PPA International Committee. A serious photographer since the age

of 16, Rob began his professional career after college, working as first assistant to a top

fashion photographer in Seattle.

In 1985 he opened "Valley Studio" in his home town, and has provided quality portrait

services to a long list of returning clients. The studio specializes in Senior Portraits, Business

head shots and family portraits. His photography has been recognized in the PPA Print Salon for over 20 years,

been displayed at Disney's Epcot center, and has won numerous state and regional awards, for over 4 decades.

Elected to the PPA Board of Directors in 2011, Rob is currently serving as the PPA Chairman of the Board. "

I love that moment right when I snap the shutter, and know I have just captured something beautiful that will

stand the test of time"

Meet Adilfa Ford, one of our November Luminate judges and owner/president of Don Polo Photography Inc.,

a fine art portrait and wedding photography studio in Utah. Don Polo Photography has been in business for

over 25 years. Adilfa's exciting and dynamic personality have made Don Polo Photography one of Utah's leading

portrait studios. Adilfa is a past president of the Intermountain Professional Photographer's Association (IPPA)

and represents the state of Utah on the PPA (Professional Photographers of America) National Council. She also

serves as the Vice-Chair of the International Committee of PPA. She also serves on the Heart Gallery committee

to promote adoption through professional photography and believes very strongly in business giving back to

the community through service and charity events.

Adilfa was born on a farm in La Luz, Venezuela without electricity or running water. She was

raised by her grandparents and named her business for her grandfather who taught her

about integrity and honesty in life and in business. He could not read or write but people

said that when he gave his hand to seal a deal that was better than any contract. The only

photographs that Adilfa has of her mother and grandparents, now deceased are the ones

she took after becoming a professional photographer. One of the reasons that she became

a professional photographer was to educate her community on the value of professional

portraits.

Adilfa has won many awards for her work and been featured in several national photography

magazines. She has been an IPC medalist in print competition for the past 5 years earning Gold, Silver, and

Bronze medals. Adilfa speaks fluent Spanish and has taught photography seminars to photographers all over the

world. Adilfa is a PPA Certified Professional Photographers and has been awarded the Photographic Craftsman

and Master of Photography degree. Adilfa is also a recipient of the coveted PPA National Award given for

exceptional dedication and service to the photographic industry.

18 • FOCUS OREGON

Register: oregonppa.org

Meet Doug Bennett: Dabbling with photography back in the '70s, Doug didn't really begin to Doupursue

photography until 2003 when he bought a disposable film camera to photograph his tulips. With a rekindling of

his passion for photography, he began a pursuit to learn how to capture images of the landscape.

His love for landscape photography traces back to his childhood and family sightseeing

vacations touring the western U.S. and Canada by car. These early experiences were further

fueled by his father's magazine subscription to "Arizona Highways" which always left him

in awe with its beautiful scenic images, particularly those of Josef and David Muench.

In his landscape photography, Doug learned that nature often makes her own expression

and statement in ways that are unique to the scene and the moment. In many cases, this

takes the form of unique lighting when nature is putting on her best show. From there,

Doug works the image to put his own vision and expression into the scene with a goal of

portraying his own emotional response to nature's show.

Meet Bob Coates: "I Specialize in not Specializing", "It's all about being and staying creative", "I hate being

bored", "I make people, places, and products look better than good." Would you want to learn from someone

who said these things? I certainly do! Come to LUMINATE and you'll be lucky enough to learn from Bob Coates

of Bob Coates Photography. According to his Instagram, Bob is a commercial photographer, Lens Based artist,

and Photo Educator that comes with 20 plus years in the business. He said, "I came to photography because I

would take a business to a certain level and the challenge would be gone. I hate being bored." Well if you take

a look at his work online or go to his Instagram page @bob_coates, his images are anything but boring. I was

immediately struck by bright vibrant colors, beautiful people and places, and unique perspective. He states, "I

am constantly pushing the envelope to get more depth and dimension into my imagery." The headshot on the

about page of his website depicts Bob against a black background with the top of his head open as if connected

to a hinge. Inside we see a brain and coming out of his head is a light bulb, fish, neon signs, a mathematical

formula, as well as various other images. After reading this statement and taking in this extremely

creative headshot, I thought, "Looks like an envelope pusher to me." For Bob, this

"envelope pushing" entails "testing the limits of new camera technology or pushing software

beyond the uses for which it was designed." It's like he said, "It's all about being and

staying creative." As creative entrepreneurs, I think many of us struggle with the "staying

creative" bit. We have all experienced burnout, photographers block, or even boredom. I

think we could all use a dose of Bob Coates who can inspire us to look and think outside

and beyond the box as creatives. Bob says, "You only have a moment to capture attention in

this image-laden world…" So, come to LUMINATE and learn from Bob about how to create

work that does just that.

Meet Tracy Page: It is a true gift to be able to take a headshot that makes people feel something

or that captures the essence of who a person is. Tracy Page has this gift. Upon visiting

her website you can't help but be captivated by her subjects, whose headshots appear in a

slideshow on the main page. The first subject is an older gentleman wearing a fur hat and

coat. He has a white beard and kind eyes that makes you wonder if he is Father Christmas

himself. The next subject is another older gentleman who has piercing eyes that remind me

of Clint Eastwood and wrinkles that are not hidden but celebrated in this image. There are

more subjects that appear, young and old, male and female, each that make an individual

impression. After seeing these striking black and white images, you will not be surprised to

hear that Tracy Page studied Fine Art (among other things) at the University of Georgia, but

more specifically, she is a classically trained painter. In an interview with Backstage magazine, she said that her

background as a painter has informed her photography. "I can use the chiaroscuro technique and Rembrandt

lighting in such a way that brings out some depth in the image that most headshot photographers don't have

the leeway to do." Tracy is a headshot photographer who "specializes in working with actors, both children and

adults." Chambers Stevens, an L.A. based acting coach, has recognized her as "one of the top headshot photographers

for kids and adults in Atlanta." According to her bio on the PPA website, "She currently has clients

on most major networks, in theaters and on broadway. Her clients are repped coast to coast." Do you watch The

Walking Dead? "Carl" (Chandler Riggs) is one of her clients! So why is this information pertinent to you? You

have the opportunity to learn from her! She is going to be speaking and educating us at our LUMINATE event

this year! If you want to learn from a Craftsman Photographer, a Certified Professional Photographer, an award

winning photographer, about the art of headshot photography-LUMINATE is the place to be.

November 10-11th

FALL 2018 FOCUS OREGON • 19
---
In Memory of

Wendy Seagren

By Mark Fitzgerald, M.Photog., Cr., FP-OR

few weeks ago OPPA lost one of its

A founding members and a past board

member, Wendy Seagren. For those who

knew Wendy her passing was a truly sad

event because she was a unique individual

who brought so much joy to those around

her. Wendy was a photographer who worked

tirelessly to improve her craft and creative

vision so she could explore new ways of

photographing places that were important

to her.

I met Wendy when she was a student in

one of my classes at Newspace Center for

Photography. Her thirst for knowledge made

her stand out amongst her

fellow students. Over time

Wendy attended several of

my classes and soaked up

as much information as she

could. Eventually she asked

me to begin doing private

training with her so she could go deeper into

the specific things she wanted to learn.

Over the course of the next few years, Wendy

and I met many times to discuss photography

and how she could use tools like Lightroom

and Photoshop to refine her creative vision.

One of the things that impressed me most

about Wendy was how she worked hard

to learn and expand on what she learned.

It was quite common for her to call or text

first thing in the morning to ask a question

about something she didn't understand that

she had worked on late into the night. Due

to this kind of dedication she soon began to

"Imagery is my life,

and life is something

beautiful."

master the tools and techniques and make

them her own.

I invited Wendy to join Portland Metropolitan

Photographers Association and encouraged

her to enter our competitions. (PMPA was one

of the precursor organizations that eventually

became OPPA.) Wendy was quickly bitten by

the competition-bug and entered nearly all

of our competitions, as well as PPA district

and international competitions. She worked

hard on creating competition images and

eventually earned the OPPA Fellow of

Photography Degree and the PPA Master of

Photography Degree. Wendy asked me to

be her sponsor at the 2016

PPA awards ceremony in

Atlanta when she received

her Master's degree. Going

up on the stage with her and

placing the ribbon around

her neck was one of my

proudest moments as a teacher and mentor.

I realized then how much I had enjoyed

watching her journey over the years.

– Wendy Seagren

Wendy's passion was landscape photography.

And the place she loved most was Yosemite

National Park. As a child she visited the place

nearly every year. As an adult she continued

to visit as often as she could. She began

capturing the spirit of the place with her

camera and created many beautiful images.

Seven of her IPC merits were from images

made in Yosemite. Her Yosemite photos also

received recognition in other competitions,

such as the United States Landscape

her health was failing and working on her

photography was more demanding. But she

never gave up.

It was an honor to know Wendy, to work with

her, and to become her friend. She was always

happy and upbeat no matter what was going

on in her life. I will miss sitting with her and

discussing photography and her work. (I will

also miss her sweet dog, Harley, who would

often sleep in my lap while we talked.) The

last image she and I talked about is one that

went loan this year and is on the cover of this

A memorial service celebrating Wendy's life is

being held Saturday October 6 at 10:45am at

Camas Meadows Golf Club. OPPA members

are welcome to attend.

If you would like to see more of Wendy's

photography, you can visit her website at

thruthelensephotography.com.

Photographer of the Year, where she was a

finalist. Whenever I think of Yosemite, I will

always remember Wendy and her love for

the place.

Wendy continued to travel and photograph

the places that were special to her. She

also continued to enter OPPA and PPA

competitions. In 2017 she received a silver

medal at IPC and this year she received

a gold medal. In my view this was one of

her biggest accomplishments because

magazine. I remember we were talking about

potential titles and she came up with "Into

the Light". The title really struck me because

I knew there was a possibility Wendy would

soon be making her own journey into the

light. Of the countless images I have seen

over the years, this is one I will never forget.

Though she's gone, we can still enjoy the

remarkable images Wendy left behind and

remember the person she was who brought

joy to so many.

20 • FOCUS OREGON

FALL 2018 FOCUS OREGON • 21
---
NOVEMBER 10TH AND 11TH

Bryan Welsh

M. Photog., Cr., CPP, API, FP-OR

COMPETITION!

EDUCATION!

FOOD!

NW CUP!

PARTY!

Having the right tools for the job at hand is always important to a working professional

photographer. It's true the gear doesn't create the images but having gear you love

does aid in the process of creating the images you see in your mind. Here is a look

inside my tool kits and some of my favorite tools.

Nikon Camera Gear "Nikon equipment has been my only choice as a professional. The grip,

dials, menus and quality all feel like and extension of my vision and what I expect in my PRO

gear."

• Nikon D810 with battery grip

• Nikon 70-200mm f4

• Nikon 85mm f1.8

• Nikon 50mm f1.8

• Nikon 50mm f1.8

• Nikon 35mm f1.8

• Nikon 20mm f1.8

Profoto Lighting Gear "With lots of choices in lighting equipment I choose the gear that would

never hold me back with inconstant performance. Profoto gear is always there for me and is

ready for any demands I can send its way."

• Profoto B1 + Batteries (2)

• Profoto B2 Location Kit + Batteries (2)

• Profoto A1 + Batteries (2)

• Profoto OCF Beauty Dish (White)

• Profoto OCF 2' Octa

• Profoto OCF Magnum reflector

• Profoto OCF Grid Kit (2)

• Profoto OCF Gel Kit

PPA/MEMBER PRICE

$99 *

FRIENDS!

*SAVE $20

WHEN YOU REGISTER BEFORE

OCTOBER 10TH!

Tether Tools Gear "Shooting tethered allows me to see my work in real time for the good or

the bad. This critical feedback is necessary when you are creating images that your reputation is

built on."

• Aero Table – MacBook pro 15" – Black

• Case Air Wireless system

• JerkStopper camera & cable support

• USB 3.0 Core Controller Tether Boost

• USB 3.0 Cable(s)

- 6' & 15' high-visibility orange cables

- 16' Active high-visibilty

orange extension cable

Think Tank Bags "After buying my first Think Tank bag I knew it would be the brand I can trust

to carry my gear in any condition"

• Think Tank Airport International Roller Bag

• Think Tank Airport Commuter Backpack

• Think Tank Airport Essentials Backpack

• Think Tank Retrospective 20 Should Bag

• Think Tank Retrospective 7 Should Bag

• Think Tank Turn-style 20 Sling Bag

Lumix Camera Gear "A kit that is perfect for the weekend away and trips that require a small

foot print. My Lumix gear screams take me and lets go explore."

• GX8 Mirrorless 4/3

• 35-100mm f2.8 (70-200mm)

• 42.5 mm f1.7 (85mm)

• 25mm f1.7 (50mm)

• 15mm f1.7 (30mm)

Additional Gear: "The bits and pieces that help a professional do their job can never be

forgotten. Here is a small sample of items that assist me on every assignment."

REGISTER TODAY: WWW.OREGONPPA.ORG

• Photek Softlighter Umbrella with

diffusion - 36", 46" & 60"

• Fotodiox Pro Octa(s) - 36", 48" & 60"

• Sweet Light Systems 9x24 Strip Softbox

• Westcott reflector and scrim kit

• Sekonic Light meter

• Zoom H6 Field recorder

• Rode VideoMic Pro Plus

22 • FOCUS OREGON

FALL 2018 FOCUS OREGON • 23
---
OUR SPONSORS

Many thanks to our sponsors for their support of OPPA

Into The Light

While vacationing in Palm Springs, Wendy and her husband Lynn took a day trip to San Diego.

Wendy wanted to photograph Scripps Pier, next to Scripps Institute of Oceanography. At

first the light wasn't very interesting, but Wendy continued to shoot. When sunset arrived,

Wendy was treated to this colorful display. She felt fortunate to have visited at just the right

time.

Please visit:

oregonppa.org/Sponsor-Offers

to see our exclusive members only offers.

Not a member? JOIN TODAY!

This was one of images Wendy added to her 2018 IPC case. It was one of the final landscape

photos she made on her last road trip. Wendy needed two more merits to qualify for a

medal at IPC. (Two images had already sealed at districts.) Into the Light not only merited,

it went loan and Wendy ended up with a Gold Medal for her last IPC. Wendy passed away

September 1. It made her really happy and proud to know she was going out on a high note

with her photography.

Wendy Seagren, M.Photog., AFP-OR

thruthelensephotography.com

24 • FOCUS OREGON

FALL 2018 FOCUS OREGON • 25
---
2ND THURSDAY

FREE MONTHLY

MEETING:

NIGHT WITH

THE PROS

The Fine Art of Printing

OCT

7

OCT

27

Inside the Competition

Workflow

Landscape Photography

With Doug & Laura Bennett

NOV

7

NOV

9

Think Like a Competition Judge

With Lisa Dillon & Bryan Welsh

LUMINATE

Annual Open Image Competition

NOV

10

NOV

11

LUMINATE

Classes by Tracy Page &

Bob Coates

OPPA Annual Banquet

DEC

12

FEB

23

Newborns & Babies: Safety,

Soothing & Sustainability

With Amy West

oregonppa.org

26 • FOCUS OREGON