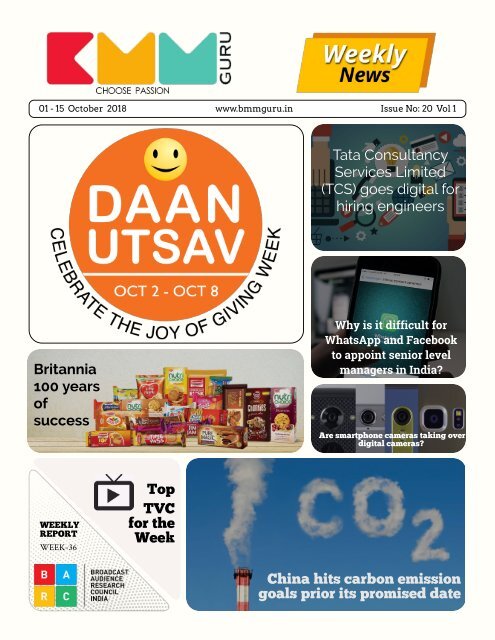 BMMguru Weekly Issue 20
We covered some amazing info on what's happening in the world right now, do check it out!
We covered some amazing info on what's happening in the world right now, do check it out!
SHOW MORE
SHOW LESS
You also want an ePaper? Increase the reach of your titles
YUMPU automatically turns print PDFs into web optimized ePapers that Google loves.
01 - 15 October 2018 www.bm m gur u.in Issue No: 20 Vol 1

H ow to get

Spon sor shi p

for Col l ege

fest

Tata Consultancy

Services Limited

(TCS) goes digital for

hiring engineers

Valid or

violation?

Britannia

100 years

of

success

Why is it difficult for

WhatsApp and Facebook

to appoint senior level

managers in India?

A re smartphone cameras tak ing over

digital cameras?

WEEK LY

REPORT

WEEK-36

Top

TVC

for the

Week

China hits carbon emission

goals prior its promised date
---
#BMMGuruWeekly

Editor's Note

Editor 's Note

Hello Reader,

The most awaited festival, Ganesh Chaturdi just

completed couple of days back and the amount of

pollution made during the festivals and during the

visarjan is enormous. Year on year the scale of POP

Ganesh Idol count is increasing but a lot of NGO &

Environmental Npo's are taking huge amount of

effort to change the patterns and one of the most

important in this year is, recycling & processing the

flowers and related organic stuff to manure.

Recently India's 3 top banks came to form a bank on

merger and its now the one of the top 3 largest banks

in India.

Lately in this year , TCS one of the largest Indian

companies by market capitalization and is a part of

the Tata Group. The company currently operates in

46 countries started to hire engineers through digital

channels read more in our articles.

Coming to the technology part, digital cameras on

smart phones are now coming with better apeture

and low light photography and wide image range this

cameras have Image stabilization as well and they

work as professional as DSLR and now there is a

question if phones are damaging the dslr market?

Lately Britannia is celebrating its 100 years of brand

existence, Britannia is from a Indian Conglomerate

Wadia Group and read more about Britannia in our

Our Team:

Sai Nikhil Dintakurthi,

CEO & Co Founder

Pritam Shah,

CBO & Co Founder

article.

Our guest blogger, sonal who is a fashion expert

wrote an artcile on one of most common issues for

curly hair, she mentioned about some important

tricks and information that might add value to your

hair.

In this week, we also worked on top ad campaigns

that made a different mark and we selected top 5

pod-casts and their favorite episodes during the

days. As well we are developing our plans to make

our magazine fortnightly so we can give the best

experience to our readers with top stories and

informations.

Do read our magazine and write us to

team@bmmguru.in about your thoughts.

- Sai Nikhil Dintakurthi

M umal Gaur,

Creative Head,

Zoyena Ansari,

Content & Research M anager

02
---
#BMMGuruWeekly

Business Updates

Magazine sold for $190 million

TIME, an American weekly news

magazine and news website have been

sold to Salesforce founder Marc Benioff

and his wife Lynne Benioff for $190

Million.

Founded in 1923 and originally run by

Henry Luce, Time has the world's largest

circulation for a weekly news magazine

with a European edition published in

London, An Asian edition which is based

in Hong Kong and The South Pacific

edition based in Sydney. They also had a

Canadian advertiser edition, which was

discontinued in 2008.

Meredith Corp. completed its purchase of

Time Inc. in January and the publisher

agreed to sell Time magazine for $190

million to give the much-needed lift to the

company.

Meredith put four Time Inc. publications

up for sale in March? Fortune, Time,

Money and Sports Illustrated.

The Benioffs are the latest wealthy people

from the tech world to buy a traditional

news publication and are buying Time as

individuals where the agreement is

declared unrelated to Salesforce.com.

Salesforce is a cloud software company

who makes products are for businesses.

Meredith said that the Benioffs would not

be involved in the editorial decisions of

the magazine and that those decisions

will continue to be made by Time?s

current executive leadership team.

The sale is a part of Meredith's goal to

save $400 million to $500 million over the

next two years and increase the

profitability of its remaining portfolio of

publications and use the proceeds from

the sale of Time to pay off debt and

expects to reduce its debt by $1 billion

during fiscal 2019.

Despite being one of the most famous and

iconic news brands in the U.S., Time was

seen struggling to cope up with falling

circulation and revenue as it invests in

digital properties.

TIME'S first issue came out on March 3,

1923, which was 95 years ago and the

magazine?s present editor in chief is

Edward Felsenthal. Its print edition has a

readership of 26 million, of which 20

million are in the United States.

- Zoyena Ansari

03
---
#BMMGuruWeekly

Industry Updates

The government's move to merge two

comparatively stronger banks, Bank Of Baroda, and

Vijaya Bank with the weaker Dena Bank this month,

is in the hope to ensure the stability of operations

and credit profile of the merged entity and for it to

become the country's third-largest lender by

structurally improving the operating efficiencies

and governance.

Where the merger is seen to reduce the capital

burden for the government over the long term, and

enable better management of a smaller set of large

PSU banks, there can also be a possibility that it

might cause a short-term spurt in bad assets

because the slippages may increase in that period.

Dena Bank's lower capital buffers are offset by

Vijaya Bank's higher capital buffers, and the merged

bank will need additional tier 1 capital depending on

internal accruals for FY19. But in the long term, the

merger seems beneficial as advantages like reduced

combined operating costs, low funding cost and

strengthened risk management practises seem to be

present.

While it is evident that Bank of Baroda shareholders

stands to lose the most, the Dena Bank investors, on

the contrary, will have everything to gain from the

transaction. Looking at the condition of Dena Bank,

that does not lend anymore and has been under the

intensive care of the Reserve Bank of India (RBI) for

more than four months, this merger is rightly seen

as a bailout for the particular Bank.

Announcing the plan, Finance Minister Arun Jaitley

said the merger will make the banks stronger and

sustainable as well as increase their lending ability.

After the announcement made by the Government,

while the investors in the Bank of Baroda and Vijaya

Bank lost 14% and 12% in market value, respectively,

Dena Bank investors gained around 14%.

Before the bank merger was announced, based on

their book values as of June, every share of Bank of

Baroda was worth 8.5 shares of Dena Bank.

As announced, with the swap ratio of 1:8.5, Dena

Bank, seems to be most favoured and the

government will stand to gain the most, given its

80% stake in the bank. In Bank of Baroda, it has a

lower stake of about 64%.

Before the merger, comparatively smaller sized,

Vijaya Bank and Dena Bank may have had to

compromise on margins in order to lend to

better-rated corporates, which definitely seems to

change after the merger.

The Government assured that the jobs of employees

will be protected and service conditions will not be

adversely impacted.

Capital support to the merged entity of Dena Bank,

Vijaya Bank and BoB would be ensured with the

three banks continuing to work independently

post-merger.

- Zoyena Ansari

04
---
#BMMGuruWeekly

International News

China hits carbon emission

goals prior its promised date

China, the World's biggest polluter, hits its Carbon

goals three years early this year. The country hit the

peak it promised in the Paris climate accord well

before its 2020 timetable.

The country?s rapid industrialization slowed and its

consumption of coal declined along with their quite

significant economic growth.

Chinese emissions of carbon dioxide and other

greenhouse gases topped out in 2013 at about 9.5

billion tons while the numbers declined to about 9.2

billion tons in 2016. And, as the scientists say, every

ton of CO2 that?s not released, provides more breathing

space in the global fight to hold global average

temperatures at between 1.5 to 2 degrees Celsius.

Looking at about seven years ago, China was

out-spending the U.S. on clean energy technology

investments and their investment is what turned the

tide for the biggest polluter.

In 2017, Chinese cities were in the global media

limelight for a red alert on polluted air and since then

the country has overseen both modernizations of its

coal-powered plants and the shuttering of coal plants

across the eastern part of the country.

The motivation came from the Chinese government as

the pollution was clearly starting to threaten not just

public development, but also public health and social

stability. They then created products like solar panels

to achieve their goal towards cleaner energy and

address climate change. They are also trying to

increase the number of electric vehicles in the market

and have now started investing in coal plants abroad,

specifically in places like the Philippines and

Indonesia.

The key reason for China's growth in emissions was

because of the high demand for oil and gas, increased

car ownership and increasing electricity demand

which now seems under control as the country has

invested heavily in renewable energy such as wind

and solar.

China is also behind on methane capture, and are

working their way out to recycle gas emissions into

energy. Taking the initiative a priority, the Chinese

National Development and Reform Commission

(NDRC) launched a nationwide carbon emissions

trading system in the power generation industry in

December 2017 wherein the businesses were assigned

emissions quotas, and those producing more than

their share of carbon have the option to buy unused

quotas in the market from those that emit less.

While China has cut back on its emissions, there's a lot

more opportunity for the country to improve. Setting

an example for the rest, China is presently leading the

battle against climate change.

- Zoyena Ansari

05
---
#BMMGuruWeekly

Daan Utsav 2018 and

their efforts of giving

back to the community

Daan Utsav is a festival of

philanthropy that aims at

becoming a part of the Indian

ethos, engaging people in the

act of giving, through money,

time, resources or skills.

Formerly known as The Joy of

Giving Week, it is celebrated

every year specifically covering

the Gandhi Jayanti week

spanning the corporate sector, a

number of NGO's and

government sectors, schools,

colleges and the general public.

To support the initiative, not

only corporates, but celebrities

have also undertaken efforts

towards spreading awareness,

volunteering and fundraising

the particular events during the

Joy of Giving Week.

The Design for Giving School

Contest in the initiative that

inspires children between the

age group 10-13 from over 10,000

private and government schools

all over India to create and

design solutions to India's

problems and implement them

during the Week.

According to the sources from

Wikipedia, the contest is

presented by Riverside School

in Ahmedabad, NID, Stanford

Design School and IDEO, in

partnership with hundreds of

educational NGOs and schools

across India.

In the respective week, Goonj,

an NGO, runs a Vastradaan

initiative (clothes collection

drive) that provides clothes and

other amenities to the far-flung

villages, after processing the

collected clothes.

Another initiative in the Utsav

is 7Days7Gifts, which attracts a

simple idea where people are

encouraged to do random acts

of kindness to people they don?t

know for every day of the week

gifting the other each day

something that is meaningful.

The Hi5 Club is an event in the

Utsav that is organised by

Bhumi and volunteers.org to

engage college students and

young people in volunteering

for a cause of their choice for

five hours during the Daan

Utsav, giving them an

opportunity to serve the nation.

Another event in the initiative

is called The Battle of the Buffet

wherein the 5-star Hotels in

Chennai and Hyderabad

provide their most lavish meals

free of cost to the NGOs of the

city, helping them reach their

targets.

This DaanUtsav is seen

spreading the message of

sharing with help of recycling.

With the help of organisations

like iVolunteer, Connect For,

Saturday Art Class, AISEC and

many more, an Art Paathshala

is being conducted in 1,187

schools across 450+ locations in

Mumbai. A 2-hour Saturday Art

Class long session will be

conducted by 25,000 volunteers

to teach children to make

Paper-Bags with the help of

newspapers which will then be

donated to shopkeepers to

promote recycling and in return

will help the children adopt the

practice of reuse, reduce and

recycle.

iVolunteer, one of the

organisations is coming up

with a community art project to

beautify the walls and streets of

Mumbai that will take place

during the first week of October.

They will also spread

awareness of art, and paint out

inspiring and motivational

messages on the walls.

With the main aim of "GIVING

BACK" to their community by

contributing to support the

plastic ban, Daan Utsav is

encouraging the practice of

recycling in the country.

- Zoyena Ansari

Cover story

06
---
#BMMGuruWeekly

Local News

BM C creates manure out of Ganpati Visarjan

flowers thrown by devotees

Ganesh Chaturthi is a ten-day Hindu festival that

celebrates the birth of Lord Ganesha. Also known

by the names Vinayaka Chaturthi or Vinayaka

Chavithi, the festival starts on the fourth day of

Hindu Lunisolar calendar month Bhadrapada,

celebrated in the months of August or September

of the Gregorian calendar.

The festival ends on the tenth day after the start,

wherein the idol is carried from the respective

homes or pandals and immersed in a nearby body

of water, usually a river or an ocean. The idol is

carried in groups, with music and chanting of

mantras. According to Wikipedia, in Mumbai

alone, around 150,000 statues are immersed

annually.

With the motive to stop devotees from throwing

flowers and leaves into the sea or on the streets,

the civic body of Mumbai, BMC came up with an

idea of reducing pollution.

This year, the body set up nirmalya (flowers and

leaves offered to Ganpati) kalashs and 190

dumpers stationed at various locations to collect

nirmalya which then gets converted in manure

and is later used in the city's civic gardens.

Designed by an in-house BMC team, they have set

up a compost manure plant in Dharavi where

flowers and other waste collected during Ganpati

immersion gets processed after getting collected

from various places all over the city. Around 1,101

tempos were placed at various immersion spots in

the city to collect the wet-waste.

The idea was taken up with respect to the feelings

of the devotees, and the project has been a

successful one since the past few years. The body

had to use liquid and solid chemicals to reduce the

stench of compost during the process. They even

promoted a small pilot project to generate

awareness in housing societies nearby.

Now that people know about this project, the BMC

is getting applauds for their waste management

skills. While on the other hand, they are being

questioned to not consider people's religious

beliefs and turning something holy into manure.

Knowing the increase in the water pollution, BMC

took the right step. Even though the manure

collected is not sufficient but it does help us in

reducing the amount of waste in the city for a

good purpose.

- Zoyena Ansari

07
---
#BMMGuruWeekly

News &Updates

Why is it difficult

for WhatsA pp and

Facebook to

appoint senior

level managers in

India?

India has become the world?s

fastest-growing market for mobile

applications showing a sharp spike in

revenue in the first quarter of 2018,

on both the Apple ioS and Google?s

Android Play Store.

India had an estimated 281 million

daily Internet users in 2017, of which

approximately 30% were women with

62% of all internet users residing in

the urban areas.

In 2016 the Indian government made

quite a striking move, it banned the

two largest paper currency notes in an

attempt to stop corruption and

tax-evasion. Facebook?s WhatsApp is

a brand new entrant into the Indian

domestic digital payment apps market

and currently has around one million

users beta testing the service. The

feature faced strong opposition from

local competitors such as Paytm,

which said WhatsApp had created a

closed garden on the Indian

government-backed unified payment

interface (UPI) by restricting

transactions to its own users.

Facebook launched its marketplace as

a consumer-to-consumer interface in

India about a few months ago only to

receive a lukewarm response,

competing with startups such as Quikr

and OLX. The experts said that it

would take time for sellers to

recognise the social network as an

e-commerce platform.

Facebook Marketplace is available in

70 countries and has more than 800

million people visiting each month to

buy and sell goods.

Even though India is a dream place for

any senior-level executive eyeing for

the top job in the thriving tech sector,

it is not true in case of Facebook and

WhatsApp as no one seems to be

interested in leading the country that

provides the social media giant

maximum number of users in the

world.

Both Facebook and Whatsapp are

under the Indian government radar

over their inability to stop spreading

fake news and has allegedly played a

role in the lynching and deaths of a

few people in the country so far.

Even after the misinformation spread

on WhatsApp in the last few months,

the company has yet not appointed a

grievance officer in India.

Facebook has not had a country head

in India for some time now. Facebook

India Managing Director Umang Bedi

had quit the company in October

2017. The company appointed

Sandeep Bhushan, as the head of its

global marketing solution in India but

the position of an interim MD is yet

to be filled.

In order to curb the menace caused on

its platform, the company has already

added some features like ad

transparency tools.

- Zoyena Ansari

08
---
#BMMGuruWeekly

News Editor's & Updates Note

Britannia

celebrates 100 years

of success

Britannia Industries Limited, an Indian

food-products company, manufactures and sells

biscuits, bread, rusk, cakes

and dairy products. Having an

estimated market share of

38%, it has its headquarters in

Kolkata, West Bengal.

The company was established

in 1892, with an investment of

? 265, manufacturing biscuits

in a small house in central

Kolkata.

To celebrate the 100-year milestone, the

company has launched a new brand identity

and has planned to expand to one international

geography a year. The company announced its

plans to set up one of the biggest manufacturing

centres in Nepal, the company?s first outside

India with an investment of Rs 55 crore.

As a part of its centenary celebrations, Britannia

unveiled its new logo that reflects its ability to

thrive in the age of digital consumers as well as

showcase the brand?s commitment to

excitement and goodness quotient.

A new visual identity will be rolled out in 3 lakh

retail locations in the country. Also, with an

intention of becoming a global, total foods

company, Britannia will launch 50 new products

in 12 months.

With an aim to get into new categories,

including croissants, cream wafers and enhance

product offerings in existing categories, the

company?s play in value-added dairy will also

receive a boost.

In order to strengthen its

core business of biscuits,

they will innovate and

relaunch them across

multiple categories.

The company has also

decided that Britannia

dairy will launch a slew of

value-added products across cheese, milk

drinks and dairy whitener categories in the next

two quarters.

For all their new products and campaigns to be

well known amongst their consumers, the

company rolled out a multi-media campaign

which also marked their 100-year anniversary.

The TV campaign celebrated Britannia?s

100-year anniversary with the uniquely Indian

idiom ?Sau Saal Jiyega? giving the company a

tribute to the love and trust India has bestowed

on the brand.

- Zoyena Ansari

09
---
#BMMGuruWeekly

Technology

Are re smartphone cameras tak ing over

digital cameras?

With almost all major digital camera manufacturers

reporting decreased camera sales during the past few years,

looks like the smartphone cameras are directly competing

with larger cameras.

We are approaching an era wherein to buy a high-end DSLR

or a mirrorless camera to capture professional-looking

images won?t make any sense.

We have smartphones with dual lenses and there are some

manufacturers that are pushing larger sensors to specifically

appeal to the photography market.

With questions like, why would anyone want to buy a

point-and-shoot camera with a tiny sensor, when

smartphones already have a decent image quality

that is good enough for most people, not to

forget a smartphone also gives one an

opportunity to immediately share it with the

world.

With a plethora of options for achieving a

fairly good image using various apps and filters,

there is a sense of instant gratification, and one

will switch because a smartphone has more to offer,

even with a slightly bad image quality, because that

works for the consumers.

One of the best characteristics of a smartphone photography

is the idea that you can get a great image with just pressing

one button and nothing more. No exposure decision, no

tapping on the screen to set your exposure, no exposure

compensation, and no post-processing.

Features like backside-illuminated sensors and panoramic

photography have been in the smartphones for over a few

years and once one product gives a customer multiple

benefits, the world does sit up and takes notice.

It is because of the developments in sensor and lens

technology that have proven that consumers are turning to

smartphones, rather than picking up the traditional camera.

Then comes the argument of the price. A stand-alone

compact camera with a respectable feature is costlier than a

smartphone that has a wide range of features than the

former.

When it comes to the camera manufacturers, we have seen

very little innovation over the past few years. The uptake

has been slow and with the global sales falling, the

companies are trying hard to keep their market share in this

segment.

Now the question arises whether the smartphone cameras

will replace the traditional cameras tomorrow? We don't

know that yet. Because, for many purposes and people,

they will offer cons than the pros.

Professional photographers are much more

well-versed in this area and understand what

differentiates a high-quality image from a

dedicated large sensor camera, compared to

results obtained from a smartphone.

Even if camera manufacturers attempt to

educate the general population, their marketing

efforts would fail against the marketing budgets of

much larger smartphone manufacturers which is

precisely why the camera manufacturers have a tough

dilemma.

Not everybody knows about things like sensor size and

optics, and not everybody will know the importance of these

features while taking a picture.

Even though the smartphone sales are growing, they cannot

match the quality of a DSLR, not even with all its fancy

technology. The camera market will always have room for

imaging machines like SLRs to cater for enthusiasts and

professionals irrespective of the smartphone sale going up or

down.

- Zoyena Ansari

10
---
#BMMGuruWeekly

News

Tata Consultancy Services

Limited (TCS) goes digital for

hiring engineers

Tata Consultancy Services Limited (TCS) is an

Indian multinational information technology

service and consulting company headquartered

in Mumbai, Maharashtra. It is one of the largest

Indian companies by market capitalization and is

a part of the Tata Group. The company currently

operates in 46 countries.

It is the world's 2nd largest IT services provider

standing at an m-cap of Rs 6,79,332.81 crore

($102.6 billion) on the Bombay Stock Exchange.

The IT giant switched to

an online test in order to

recruit engineering

graduates, with an aim

at identifying engineers

for multi-skilled,

multi-functional roles in the company. TCS has

always been at the forefront of transforming

business practices to create value for all

stakeholders. Its energized workforce has played

a important role in the company's success.

Through its HR practices, TCS has set numerous

benchmarks in the industry, winning global

awards and recognition.

The National Qualifier Test (NQT) was conducted

on its digital platform across 100 cities on

September 2nd and 3rd which received over 2.8

lakh registrations. The 90-minute NQT included

questions on the English language, Quantitative

Aptitude, Programming Concepts, and Coding. In

order to support the students taking the test, TCS

offered a mock test ahead of the exam with deep

analytics on their preparedness. With the NQT,

TCS is leveraging its technology platforms to offer

students an opportunity to propel their careers

with a global IT leader.

This year, TCS has seen a 175 per cent increase in

test applications compared to last year.

The IT giant recruits a large number of

engineering graduates from colleges such as IITs,

NITs, IIITs and the 200 state and private

government colleges.

At the same time, TCS

worked closely with the

premium institutions and

was successful in selecting

the best talent. With an aim

to provide an equal

opportunity to everyone, regardless of their

institution and location to showcase their talent

and find employment, the company conducted

the respective exam.

The re-imagination of the campus hiring process,

using technology platforms transformed the

traditional recruitment models and reinforced

TCS' philosophy of being an equal opportunity

employer.

- Zoyena Ansari

11
---
#BMMGuruWeekly

Hair colour is something we all love! It doesn?t

just make you look funky, and hip and

fashionable, in fact, the right hair colour, can

make your face look 10 times brighter, without

makeup!

About a month ago, I got myself ?dusted rouge??

shades in Red Violet, Violet red and Chocolate

Violet, From Schwarzkopf and I?m in love with it.

But as much as I love my hair colour for the sass

and spunk it lends to my look, the post-color care

for my curly hair, is of utmost importance!

Because, no matter what they say, chemicals do

damage your hair and curly hair, even more so!

But having said that, just because you have curly

hair doesn?t mean you can?t experiment or have

fun with your hair!

So here are a few very simple tips and tricks,

which I?ve put together after talking to global hair

styling experts Bony Sasidharan, National Key

Accounts manager at Schwarzkopf India and

Jordan Alexander, Director of Special Projects at

Olaplex Worldwide.

These few things that I?ve listed here will make

sure that you colour your curly hair with

confidence, and keep them looking prettier, and

healthier, than ever!

1: Find the right stylist ? Do your research!

How to Minimize Curl Damage and

Make your Hair Colour Last Longer

Hair colour is something

we all love! It doesn?t just

make you look funky,

and hip and fashionable,

in fact, the right hair

colour, can make your

face look 10 times

brighter, without

makeup!

While there are some amazing stylists out there,

not everyone understands curly hair a 100%! You

need to find someone who is amazing at working

on curly hair, because being a curly yourself, you

know how differently it behaves from all other

hair textures!

2: Avoid Pre-lightening / Bleaching:

Lifestyle

While this is not a post-colour tip, I wanted to

include this because it is extremely important to

know this! Bleaching can dangerously harm all

types of hair, but curly hair, even more so.

Because our hair by nature is more dry and prone

to frizz, bleaching can damage the hair fibers

making the appearance even more dry. So, while

the colour when it?s fresh looks great, as it starts

to fade out, your hair stars looking unhealthy and

damaged!

What I?ve done here, is without pre-lightening!

So, it?s not impossible to get a beautiful bright

colour on virgin black hair?! Just talk to your hair

dresser and make sure he knows exactly how

subtle or popping you want it!

3: Use a ?Plex?that re-builds your fibre bonds!

There are treatments that are available in the

market now, which when added to your hair

colour, work on re-building your hair?s broken

fiber bonds, and strengthening your hair, thus,

minimizing the damage done to your hair. If

you?re pre-lightening your hair, this is especially

important.

Schwarzkopf already has ?Fiberplex?added in all

their newer range of hair colours, which makes

sure that you don?t have to worry about whether

or not your stylist has added it. If you?re using

hair colours from other brands, ask your salon to

add ?Olaplex?in your hair colour.

Post your colour, you can also opt for regular

olaplex treatments, which is like a hair spa that

works on re-builing your damaged fiber bonds.

Alternatively, there is an ?olaplex no.3?which is a

in-home treatment which you can DIY every once

a week or once in two weeks, depending on the

damage that the hair colour has caused. The price

of the product is slightly high ? INR 2500/- for a

bottle that lasts 5 ? 6 times (on my hair length),

but I think it?s worth it instead of going to the

salon for the treatment every time. You will find

Olaplex in India at Jean Claude Biguine salons,

Looks Salons, and a few others as well.

12
---
#BMMGuruWeekly

4: Wash less often:

Bright colours bleed and run each time you wash

your hair! The more number of times you

shampoo, the more it runs! Hence, wash not more

than twice a week! My hair colour, is typically

supposed to last for about 25-30 washes! It?s now

up to me, how long I can make it last!

5: Use a sulphate free shampoo and Conditioner

specifically meant for coloured hair!

While there are some amazing sulphate free

shampoos and silicon free conditioners (which I

personally love to use), once you?ve coloured your

hair, make sure you?re using products that are

designer for colour treated hair. They?re milder

and work on helping your colour last longer.

I?m currently using the Schwarzkopf

Professional?s Bonacure Hair Therapy ? Colour

Freeze Shampoo and Conditioner. It works on

balancing the PH levels of your hair to bring it to

an optimum level, to lock in the colour pigments.

6: Cold Water Wash only!

As you probably know, and it?s something I?ve

always said? heat is bad for curly hair! And well,

hot water, is heat too, right! So never wash your

hair with hot water! Cold water, may sound scary?

but is going to protect your hair quality and your

colour ? both!

7: Avoid the SUN

Another form of heat you need to save those curly

locks from! And UV rays are, in fact, one of the

biggest culprits in making your hair colour fade

out earlier! So, make best friends with hats and

scarves!

You may also use a sunscreen for your hair. For

example, I?ve been using the re-charge protein

from Cadiveu Professional?s Sol do Rio range. It

has UV protection for your hair, and also rebuilds

and repairs it! It?s available at most Jean Claude

Beguine Salons.

8: Do not use heat on your curls!

I know I?ve already said that, but this basically

means NO HAIR IRONS and NO HAIR DRIERS!

Even if you use a diffuser, use it on a very low

heat setting and not more than twice a week?!

And whenever you do use it, for styling, make

sure you at least use a heat protector! I use one

from Wella?s EIMI range, what works brilliantly.

Hope you found these helpful. Do let me know if

these work for you or if you have any other

queries in the comments below.

Sonal is a Post Graduate in Luxury Brand Management from

Polimoda Institute of Fashion Design and Marketing, Florence

(Italy) She?s a fashion enthusiast who believes in trying out and

pursuing everything that catches her fancy? be it different

styles or even different career choices!

Sonal Agarwal

Fashion Enthusiast, Blogger & Luxury

Brand Expert

(www.pinkpeppercorn.in)

Lifestyle

Do Follow me on my instagram:

@pinkpeppercorn_sonal

All media and Job updates at

BMMguru.in

13
---
#BMMGuruWeekly

International News

What is the Wik i Loves

M onuments 2018 initiative by

Wik ipedia?

Wiki Loves Monuments (WLM), an international

photographic competition held during the month

of September, is organised worldwide by

Wikipedia community members annually.

The competition is affiliated across the globe

with the help of local Wikimedia where the

participants take pictures of local historical

monuments and heritage sites in their region and

upload them to Wikimedia Commons.

Their purpose is to encourage people to capture

pictures of the heritage monuments and to put

them under a free licence so that it can then be

re-used not only in Wikipedia but by everyone in

any corner of the world, giving the heritage sites

a spotlight.

First held in 2010 in the Netherlands as a pilot

project, the competition has now spread to other

countries where the 2011 edition of the Wiki

Loves Monuments broke the world record for the

largest photography competition.

According to Wikipedia, the 2016 edition of WLM

was supported by UNESCO and saw 10,700

contestants from 43 countries who submitted

277,000 photos. The 2017 edition winner, an

Indian, Prashant Khatore, submitted a picture of

The Khandoba Temple in Pune.

Wiki Loves Monuments is open to professional

and amateur photographers alike, whether one is

a professional photographer or just takes pictures

in their vacations or holidays, everybody is

invited to give a platform to their pictures.

There is no minimum age to take part and no

entry fee. The only rule being, that the

submissions for the competition will be eligible

only and only if the photos are taken and

uploaded by the same person.

This is a great opportunity for photographers to

contribute to the world?s knowledge and give

their country's heritage sites a worldwide

recognition.

- Zoyena Ansari

14
---
#BMMGuruWeekly

Top TVC This Week

#Google20thBirthday

A company that solves, literally every of our stupid doubts all this

years and saves my ass during exams, Google. And its celebrating its

20th Birthday and for that they made an TVC and they posted most

asked questions all over the world in numerical order of all this

years till 2018 from 1998. Its a colorful one and gave me

goosebumps

Brand: Google W

#BigBillionDays

One of the most anticipated sale days for Indian consumers is this

bigbillion day which will be on 10 -14 October and as a recent

merger with walmart, expectations are really huge in this sale and to

maintain them flipkart came up with few new pre-sale campaigns

with cricket stars M.S. Dhoni, & Virat and bollywood celebrity

Deepika padkone & the theme is shopping vs budget.

Brand: Flipkart

#Be ready for anything

Motorola is coming up with their new Moto One Power

phone with android one support which is competing brands in

budget range of 15k-25k and their ad campaign focuses on top

notch and camera clarity. Its a very energetic ad with product

on hand & outdoor usage and showing the value of features.

Brand - Motorola India

BA RC WEEK LY DA TA ON TVC

Week 38: 17t h Sept em ber 2018 t o 23rd Sept em ber 2018

Rank Advertiser Insertions Rank Advertiser Insertions

1 HINDUSTAN LEVER LTD 145676 6 CADBURYS INDIA LTD 25345

2 RECKITT BENCKISER (INDIA)

LTD

84429 7 PROCTER & GAMBLE 24192

3 ITC LTD 32998 8 MARICO LTD 23919

4 GODREJ CONSUMER

PRODUCTS LTD

28180 9 AMAZON ONLINE INDIA PVT

LTD

22930

5 BERGER PAINTS 26220 10 COLGATE PALMOLIVE INDIA

LTD

22558

TOP 10 Advert iser * Across Genre : All India (U+R) : 2+ Individuals, To get t his dat a on your Tw it t er t im eline, t w eet w it h

#BarcTw eet Top 10 Advert isers

15
---
#BMMGuruWeekly

Top Podcasts this week

For more such amazing

Podcasts

Top This Week

Log on to:

ivmpodcasts.com/shows

The lives of women in

India must be gradually

getting better, right?

How do we measure this?

Devika Kher, Nidhi

Gupta and Hamsini

Hariharan join Amit

Varma in episode 88 of

The Seen and the Unseen

to discuss a range of

possible metrics.

Click here to listen

As someone who is closely

associated with curating and

researching for this podcast,

she is also someone who

comes with a background in

investigative journalism

with many years of

experience behind her;

Vishal hence talks to Anusha

Subramanian as a closing to

the second season of the

Vishal Gondal Podcast.

Click here to listen

This week's fantasy football

show focuses on the upcoming

Chelsea-Liverpool game and

the changes that may be

required for the fantasy teams.

The picks for the week with

players like Harry Kane getting

back to goal scoring ways.

Also, the contest continues

between Saru, Baru and Kanav

as they give their predictions

for select matches of the

weekend.

Click here to listen

Andranil Guha,

Co-Founder of Finpeg, talks

to Anupam about Alpha

SIPs, an exciting new

product that gives you an

extra kick from your regular

SIPs and insulates you from

the ups and downs of the

markets. On this episode, he

busts myths about the

concept.

Click here to Listen

In today's episode of IVM

Daily, we sit down to talk

about assault and

harassment allegation

against Nana Patekar and

why is Bollywood silent?

What could be the

beginning of the #MeToo

movement in Bollywood,

why aren't enough people

coming out in support of

Tanushree Dutta?

Click here to listen

Top App this week

Discord is the only cross-platform voice and

text chat app designed specifically for gamers.

With the Discord Android app you can stay

connected to all your Discord voice and text

chat channels even while AFK. It is perfect for

chatting with team members, seeing who is

playing online, and catching up on text

conversations you may have missed.

Available in Google Play

This is a weekly magazine from

BMMGuru showcasing top articles,

news, listing, activities, answers &

many more interesting and student

friendly stuff by BMMGuru staff &

contributors

To reach us:

teambmmguru@gmail.com

Chief Editor: Nikhil Dintakurthi

Content & Research Manager: Zoyena Ansari

16