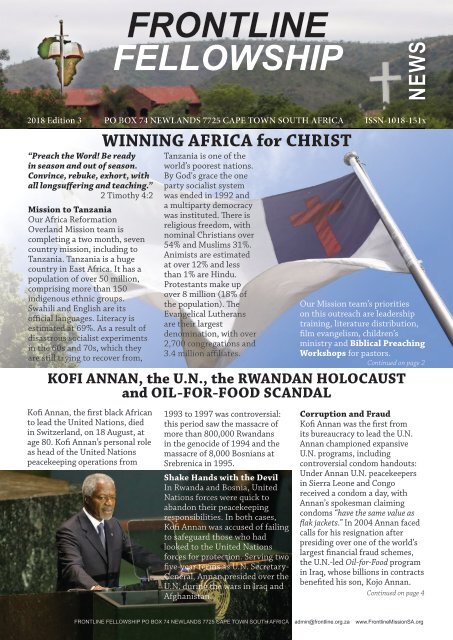 Frontline Fellowship News - Edition 3 of 2018
Winning Africa for Christ
Winning Africa for Christ
SHOW MORE
SHOW LESS
Create successful ePaper yourself
Turn your PDF publications into a flip-book with our unique Google optimized e-Paper software.
FRONTLINE

FELLOWSHIP

NEWS

2018 Edition 3 PO BOX 74 NEWLANDS 7725 CAPE TOWN SOUTH AFRICA ISSN-1018-151x

"Preach the Word! Be ready

in season and out of season.

Convince, rebuke, exhort, with

all longsuffering and teaching."

2 Timothy 4:2

Mission to Tanzania

Our Africa Reformation

Overland Mission team is

completing a two month, seven

country mission, including to

Tanzania. Tanzania is a huge

country in East Africa. It has a

population of over 50 million,

comprising more than 150

indigenous ethnic groups.

Swahili and English are its

official languages. Literacy is

estimated at 69%. As a result of

disastrous socialist experiments

in the 60s and 70s, which they

are still trying to recover from,

WINNING AFRICA for CHRIST

Tanzania is one of the

world's poorest nations.

By God's grace the one

party socialist system

was ended in 1992 and

a multiparty democracy

was instituted. There is

religious freedom, with

nominal Christians over

54% and Muslims 31%.

Animists are estimated

at over 12% and less

than 1% are Hindu.

Protestants make up

over 8 million (18% of

the population). The

Evangelical Lutherans

are their largest

denomination, with over

2,700 congregations and

3.4 million affiliates.

Our Mission team's priorities

on this outreach are leadership

training, literature distribution,

film evangelism, children's

ministry and Biblical Preaching

Workshops for pastors.

KOFI ANNAN, the U.N., the RWANDAN HOLOCAUST

and OIL-FOR-FOOD SCANDAL

Kofi Annan, the first black African

to lead the United Nations, died

in Switzerland, on 18 August, at

age 80. Kofi Annan's personal role

as head of the United Nations

peacekeeping operations from

1993 to 1997 was controversial:

this period saw the massacre of

more than 800,000 Rwandans

in the genocide of 1994 and the

massacre of 8,000 Bosnians at

Srebrenica in 1995.

Shake Hands with the Devil

In Rwanda and Bosnia, United

Nations forces were quick to

abandon their peacekeeping

responsibilities. In both cases,

Kofi Annan was accused of failing

to safeguard those who had

looked to the United Nations

forces for protection. Serving two

five-year terms as U.N. Secretary-

General, Annan presided over the

U.N. during the wars in Iraq and

Afghanistan.

Continued on page 2

Corruption and Fraud

Kofi Annan was the first from

its bureaucracy to lead the U.N.

Annan championed expansive

U.N. programs, including

controversial condom handouts:

Under Annan U.N. peacekeepers

in Sierra Leone and Congo

received a condom a day, with

Annan's spokesman claiming

condoms "have the same value as

flak jackets." In 2004 Annan faced

calls for his resignation after

presiding over one of the world's

largest financial fraud schemes,

the U.N.-led Oil-for-Food program

in Iraq, whose billions in contracts

benefited his son, Kojo Annan.

Continued on page 4

FRONTLINE FELLOWSHIP PO BOX 74 NEWLANDS 7725 CAPE TOWN SOUTH AFRICA admin@frontline.org.za www.FrontlineMissionSA.org
---
Winning Africa for Christ- continued from page 1

Back to Biblical Exposition

Our new book: Biblical

Preaching Handbook, is

being distributed by our Africa

Reformation Overland Mission

team throughout Africa, as we

conduct Reformation 500 –

Back to Biblical Exposition

Workshops and Seminars

with pastors, chaplains and

Evangelists. With next year being

the 500 th Anniversary of the

launch of the Swiss Reformation

by Reformer Ulrich Zwingli, we

are challenging and equipping

pastors with tools to go back to

the Bible, to study, preach and

teach through every Book of

the Bible and apply the central

message of each Book to our daily

lives. The Biblical Preaching

Handbook and Old Testament

Survey are some of the tools we

have already completed and I am

on track to completing our New

Testament Survey, God-willing,

by the end of this year. Part 1 of

our New Testament Survey (from

Matthew to 2 Thessalonians) is now

available in manual form.

"All Scripture is given by

inspiration of God and is

profitable for doctrine, for

reproof, for correction, for

instruction in righteousness,

that the man of God may

be complete, thoroughly

equipped for every good

work." 2 Timothy 3:16-17

Christian Action

South Africa is facing increasing

lawlessness, crime, violence

and an irresponsible Marxist

dominated government who

is whipping up race hatred

and advocating confiscation of

farms, game reserves and other

property from all whites in

the country. It is essential that

our friends and intercessors

understand the volatile situation

and what is at stake. The latest

Christian Action Magazine

tackles the question: Is South

Africa Entering the Second

Phase of the Revolution? It

also includes my report: Fraud,

Failure and Farce – Land

Expropriation Hearings. The

chilling report, quotes and

photographs from the events

I have participated in, should

be an urgent Wake-Up call

to Christians worldwide to

intervene, stand up and speak

out on behalf of Christians

literally under fire and facing

the threat of genocide in South

Africa.

Fight the Good Fight of Faith

The latest Christian Action

Magazine also includes: Sola

Scriptura! "God's Commands to

a Nation" and a very practical:

"What Needs to be Done?" with

many useful contact details and

links to practical and positive

Biblical resources that can enable

us to speak up for those who

cannot speak for themselves.

Seek first the Kingdom of God.

Work for Reformation, pray for

Revival, while we make disciples

of all nations and teach obedience

to all things that the Lord has

commanded. One person can

make a difference. At this time

of crisis, it is vital that every

one of us does everything we

possibly can to "…stand firm…

contending for the Faith of the

Gospel without being frightened

in any way by those who oppose

you…" Philippians 1:27-28

Bibles in African Languages

New Audio Visual Resources

Angelo, in our IT Department,

has been busy uploading audios

and videos of my various

lectures and presentations from

recent Reformation Society

presentations, Biblical Worldview

Seminars, Workshops and Men's

Meetings. This includes: The

Battle for Faith, Family and our

Future in Education; A Biblical

Response to Socialist Land Reform

and Zimbabwe's Elections; Farms

and Freedoms Threatened in South

Africa; God and Government; True

Freedom; What We Can Learn from

the St. James Massacre; The French

Revolution; How Can we Resist the

New World Order?; Is South Africa

Heading into the Second Phase of the

Revolution?; The Turkish Genocide

of Armenian, Assyrian and Greek

Christians; The Curse of Cowardice;

The Most Important Books Ever

Published and many more.

2

FRONTLINE FELLOWSHIP 2018 EDITION 3
---
From the Frontline

Every Tuesday night, we

upload a new radio podcast

http://fromthefrontline.

podbean.com/ on our www.

FrontlineMissionSA.org website.

We are tackling issues, such as

How the French and Bolshevik

Revolutions Continue to Impact us

Today; Nine Stages of Genocide in

South Africa; Exposing the Myths

of Marx and May Day; Protecting

our Families and Churches from

Attacks; Understanding the

Zimbabwe Crisis; How Marxism

Undermines Christian Civilisation

and most recently, The Real Gay

Mafia Scandal Behind the Sex

Abuse Crisis in Roman Catholicism.

Projects for Prayer and Action

Please pray for our weekly

radio programmes, including

Christian Perspective on the

News on Radio Cape Pulpit,

every Friday morning, 7:30am

and From the Frontline podcast

every Tuesday night, 9pm; the

International Day of Prayer

for the Persecuted Church (11

Nov), the Biblical Worldview

Summit (4-9 Jan 2019) and the

Great Commission Course (4-

25 Jan 2019). Our Bibles and

Textbooks for Sudan Project

and the Global Church Council

Reformation 500 Zürich (15-20

Jul 2019) in Switzerland.

"But thanks be to God, Who

gives us the victory through our

Lord Jesus Christ. Therefore,

my beloved brethren, be

steadfast, immovable, always

abounding in the work of the

Lord, knowing that your labour

is not in vain in the Lord."

1 Corinthians 15:57-58

Thank You for all your prayers,

encouragement and support,

without which none of our

ministries would be possible.

Dr. Peter Hammond

mission@frontline.org.za

www.FrontlineMissionSA.org

3
---
Kofi Annan, the U.N.,

the Rwandan Holocaust

and Oil-For-Food Scandal

- continued from page 1

Betraying the People of Iraq

The people of Iraq owe no

debt of gratitude to Annan,

who consistently ignored

their suffering, opposed

their liberation and actively

undermined Coalition efforts to

establish security and rebuild the

country. The Iraq war exposed

the U.N.'s growing impotence in

the post-9/11 era. It also exposed

the huge degree of corruption in

the U.N.'s Oil-for-Food Program,

an epic scandal that continues to

unfold.

Monumental Mismanagement

Annan's 10 years in power were

a monumental failure and he

left behind an institution whose

standing could barely be lower

and a legacy that is a testament

to mismanagement and

corruption. As the Whistleblower

book and film documented, the

U.N. under Annan's leadership

was running human trafficking in

Bosnia and elsewhere.

Disgrace

The U.N. has been dominated

by scandal, division and failure.

From the disaster of the U.N.

peacekeeping missions in

Rwanda and Bosnia in the

mid-1990s to the U.N.'s slow

response to the Sudan genocide,

its recent track record has been

spectacularly unimpressive.

Annan's successor inherited a

U.N. whose image slipped to an

all-time low.

Gangsters with Flags

The Oil-for-Food and Congo

peacekeeping scandals have

had a devastating impact on

the U.N.'s reputation and have

reinforced the view that the

world body is riddled with

corruption and mismanagement,

as well as undisciplined in its

peacekeeping operations. The

failure of the U.N. Commission

on Human Rights - now the U.N.

Human Rights Council - which

was populated with some of

the world's worst human rights

FRONTLINE FELLOWSHIP 2018 EDITION 3

violators, has added to the

U.N.'s poor image. Under Annan

the U.N. shamelessly appeased

dictators and tyrants, from

Beijing to Harare, and Khartoum

and stood weak-kneed in the face

of religious persecution, genocide

and ethnic cleansing.

"The World Failed You!"

As head of United Nations

peacekeeping operations in the

mid-1990s, before he rose to

Secretary General, Annan never

apologized to the victims of

the Rwanda Genocide, whose

slaughter was the consequence

of the U.N.'s failure to intervene,

or to the families of those

massacred at Srebrenica while

under the protection of U.N.

soldiers. Annan's lack of humility

in the face of great atrocities

and tragedy has been one of

his greatest shortcomings as

a U.N. leader. At the tenth

anniversary of the Rwandan

Genocide, Kofi Annan finally

said: "The world failed you!" Hardly

taking personal responsibility

for his outrageous failures as

documented in General Romeo

Dallaire's book, "Shake Hands

with the Devil."

Farce, Fraud and Failure

The U.N.'s new Human Rights

Council, touted by Annan as a

breakthrough for the U.N., is an
---
unmitigated farce and the United

Nations has largely jettisoned the

principles of liberty and freedom.

The Council's lack of membership

criteria renders it open to

participation and manipulation

by the world's worst human

rights abusers. Tyrannical

regimes such as Burma, Syria,

Libya, Sudan and Zimbabwe all

voted in favour of establishing

the Council, in the face of strong

U.S. opposition. The brutal

North Korean dictatorship also

endorsed the Council. When

Council elections were held,

leading human rights abusers:

Algeria, China, Cuba, Pakistan

and Saudi Arabia were elected!

Peacekeeping Abuses

A series of peacekeeping

scandals, from Bosnia to

Burundi to Sierra Leone and

Haiti, occurred under Annan's

watch. The largest concentration

of abuse took place in the

Congo, the U.N.'s second largest

peacekeeping mission, with

16,000 peacekeepers.

Congo Crimes

In the Congo, acts of barbarism

were perpetrated by United

Nations peacekeepers and

civilian personnel entrusted with

protecting some of the weakest

and most vulnerable women and

children in the world. Personnel

from the U.N. Mission in the

Democratic Republic of the

Congo (MONUC) stand accused

of at least 150 major human

rights violations and the scale

of the problem is likely to be

far greater. The crimes involved

rape and forced prostitution of

women and young girls across

the country, including inside

a refugee camp in the town of

Bunia in north-eastern Congo.

The alleged perpetrators include

U.N. military and civilian

personnel from Nepal, Morocco,

Tunisia, Uruguay, South Africa,

Pakistan and France.

Shocking Sex Scandals

The sexual abuse scandal in the

Congo made a mockery of the

U.N.'s professed commitment to

uphold basic human rights. The

exploitation of some of the most

vulnerable people in the world -

refugees in a war-ravaged country

- was a shameful episode and a

massive betrayal of trust, as well as

an appalling failure of leadership.

Colossal Corruption

The scandal surrounding the

U.N.-administered Oil-for-

Food programme had immense

damage to the U.N.'s already

shaky credibility. The Oil-for-

Food scandal is undoubtedly the

biggest financial scandal in the

history of the United Nations

and one of the largest frauds of

modern times. It shattered the

liberal illusion that the U.N. is an

arbiter of moral authority in the

international sphere.

Oil-for-Food Scandal

Established in the mid-1990s

as a means of providing

humanitarian aid to the Iraqi

people, the Oil-for-Food Program

was subverted and manipulated

by U.N. officials who siphoned

off billions of dollars from the

program through oil smuggling

and systematic thievery, by

demanding illegal payments from

companies buying Iraqi oil and

through kickbacks from those

selling goods to Iraq.

Nepotism

Despite widespread criticism,

Kofi Annan never took

responsibility for a scandal that

irreparably damaged the U.N.'s

reputation. A huge cloud remains

over the U.N. Secretary General

with regard to the Oil-for-Food

contractor Cotecna, which

employed his son, Kojo, from

1995 and continued to pay him

through 2004.

Funds for Favours

Questions also remain regarding

Annan's appointment of Achim

Steiner as Executive Director of

the United Nations Environment

Programme (UNEP) just months

after Steiner helped award

Annan $500,000. Steiner, whose

four-year term of office began

in June 2006, was part of a

nine-member jury chaired by a

senior U.N. official, which gave

a cash gift to Annan. Annan's

initial decision to accept such a

huge prize (eventually given to

charity), as well as his subsequent

appointment of a man who had

played a key role in the award of

that money, gave the appearance

of a major abuse of power. Both

were extraordinary acts of political

recklessness by the Secretary

General and gave the impression

that jobs at the U.N. may be traded

for financial favours.

FRONTLINE FELLOWSHIP PO BOX 74 NEWLANDS 7725 CAPE TOWN SOUTH AFRICA

admin@frontline.org.za www.FrontlineMissionSA.org

5
---
Annan with Sudan's dictator Omar

al- Bashir - who is wanted for genocide.

Shameful Lack of Ethics

As an international public

servant, the Secretary General

should not have accepted money

from a U.N. member state or

a private foundation, either

as an award or gift. He should

also have completely disclosed

his personal finances, as many

Western politicians do. He also

should have abided by the same

strict ethics and disclosure rules

that apply to political figures

in major democracies, such

as in the United States and

Great Britain. Annan talked

about accountability, but his

own leadership betrayed the

emptiness of his words. A

secretive culture of impunity still

dominates the upper echelons of

the U.N. Secretariat.

A Broken Institution

In an interview with the London

Daily Telegraph, U.S. Ambassador

to the United Nations, John

Bolton, described the U.N. as

"hopelessly out of touch" and "stuck

in a Twilight Zone-style time

warp" where "there are practices,

attitudes and approaches that were

abandoned 30 years ago in much of

the rest of the world." In a March

2006, poll conducted by Gallup in

the United States, recorded the

most negative rating for the U.N.:

Just 28 percent had a positive

6

image of the U.N. "Today's United

Nations is a broken institution in

fundamental need of wholesale

reform. That is Annan's legacy and

the United States and the world

looks forward to new leadership

at Turtle Bay - leadership that

is untarnished by scandal and

actually lives up to the ideals of

the U.N.'s own Declaration of

Human Rights. The U.N. needs a

Secretary General who will seek

real reform of the U.N. bureaucracy

and aggressively stand up for

democracy, human rights and

freedom."- Nile Gardiner, Ph.D. (the

Bernard and Barbara Lomas Fellow in

and Director of, the Margaret Thatcher

Centre for Freedom, a division of the

Institute for International Studies, at

The Heritage Foundation.)

"While they promise them

liberty, they themselves are

slaves of corruption…"

2 Peter 2:19

Homosexual 'Marriage'

UNITED NATIONS, August

5, 2003 (LifeSiteNews.com)

- United Nations Secretary

General Kofi Annan came out in

favour of homosexual 'marriage'.

Annan attended part of a

homosexual activist conference

held at the United Nations.

The conference demanded that

international treaties such as

the United Nations Declaration

on Human Rights include

rights for homosexual couples.

A United Nations release said

the Secretary General was "glad

to be able to attend" part of the

event. On the issue of same sex

marriage, his personal view, was

"that individuals should be allowed

to make their own choices and that

we should be careful not to draw

conclusions, or adopt prejudicial

attitudes, towards people for their

choices and preferences". The

United Nations, through its

various committees has been

in the forefront of advocating

international acceptance

of homosexuality and the

bestowing of rights normally

reserved for the family on

homosexual unions. Annan and

most other de-populationists see

legitimization and protection of

homosexuality as one more way

to keep procreation down and to

undermine marriage and other

institutions (especially religious)

that emphasize that children are

a blessing.

Annan Supported Abortion

Kofi Annan has emphasized that

"sexual and reproductive health is

an essential part of human rights."

That is, he supported abortion

and other population control

measures, including explicit sex

education, to the extent that

they should be declared "human

rights". Ultimately, though, this

emphasis on a new category of

"human rights" has as its real

purpose to advance the agenda

of what Kofi Annan says is the

"need to stabilize the population

of this planet." All this makes

it extraordinary that some

Christians have saluted and

hailed Kofi Annan as: "A great

African diplomat and leader!"

"And as it is appointed for men

to die once, but after this the

Judgment." Hebrews 9:27

Dr. Peter Hammond

www.FrontlineMissionSA.org

FRONTLINE FELLOWSHIP 2018 EDITION 3
---
Boxes with Love

For Zimbabwe Pensioners
---
MISSIONS to MPUMALANGA

"Preach the Word! Be ready

in season and out of season.

Convince, rebuke, exhort, with

all longsuffering and teaching."

2 Timothy 4:2

Back to Barberton

My first speaking engagement

was at the Sunday morning

worship service of the Dutch

Reformed Church in Barberton.

Rev. Piet Erasmus, the Founder

of Back to the Bible Mission,

was once a pastor of this church.

One of his first staff members

was our missionary, George

Bezuidenhout, who was also a

member of this congregation.

I recruited George into the

Mission from Infantry School

in Oudtshoorn and we put him

through Baptist Theological

College. George had also been

arrested and imprisoned with me

in Mozambique in 1989. When

Dominee Erasmus began Back

to the Bible Mission in February

1990, with just five students, we

loaned him George as a

co-worker for their first year.

Mission to Swaziland

My first cross-border Mission

for Frontline Fellowship was

also launched from Barberton.

Having ministered the previous

day at Barberton Baptist Church,

I loaded my 250CC Honda offroad

scrambler motorbike and

rode up the steep gravel road to

Piggs Peak into Swaziland and

after many Jesus film outreaches

throughout the country, rode

into Mozambique. That was April

1982.

Barberton Basics

The mountains around Barberton

include volcanic rocks and a

greenstone belt. The Barberton

area was the scene of the first

Gold Rush in South Africa. Tom

McLachlan discovered alluvial

gold in 1881 and the town was

named after Graham Barber, who

discovered a rich gold-bearing

reef there in 1884. The Sheba

reef Gold Mining Company was

founded in 1885. The Sheba mine

is, today, one of the oldest and

richest working gold mines in the

world, having been in production

for more than a century.

Barberton was also home to Sir

Percy Fitzpatrick, author of Jock

of the Bushveld. A character in

the Sherlock Holmes adventure

"The Disappearance of Lady Francis

Carfax" made his fortune in

Barberton. Barberton is very

close to Swaziland, Mozambique

and the world famous, Kruger

National Game Reserve.

Prison Ministry

Immediately after ministering at

the Dutch Reformed Church, the

Mulders drove me to Maximum

Security Prison. Every week

members of Back to the Bible

Mission conduct services and

Bible studies for prisoners in

Maximum Security Prison. As

most of the people in maximum

security prison are "lifers", few

have any hope of "seeing the

outside" again. As we arrived, the

prisoners gathered for worship

and were enthusiastically

singing. I shared with them my

prison experiences in Lusaka

Central Prison as a presidential

detainee of dictator Kenneth

Kaunda in Zambia in 1987 and

in Machava Security Prison,

Maputo in Mozambique in 1989.

Every prison is unpleasant and

doubtless most there felt they

were in the worst place on earth.

I was able to relate to them

conditions so severe as to make

their situation seem almost like a

five star hotel by comparison. In

my prison experiences in Lusaka

Central and Machava in Maputo,

there was no electricity, no

plumbing and no sanitation. They

were stinking disease factories.

No furniture, no beds, no sheets,

only one cooked meal a day and

that was starch, with no protein

at all, aside from the flies. In the

average cell in Lusaka Central,

25 feet by 15 feet, there would

be 60 to 65 prisoners crammed.

People died in the cells during

the night and were only carried

out in the morning. Barberton

Maximum Security by contrast,

plainly had both electricity and

plumbing, good sanitation,

8

FRONTLINE FELLOWSHIP

2018 EDITION 3
---
unk beds with mattresses,

pillows, sheets and blankets,

clean polished floors and access

to medicine, books, Bibles and

a library. The prisoners were

positive, enthusiastic and

responsive. It was good to hand

over to them the testimony of

Anthony Stander: Prison Break

and other Literature4Africa and

Living Waters Africa materials.

"Remember the prisoners as

if chained with them - those

who are mistreated - since

you yourselves are in the body

also." Hebrews 13:3

Back to the Bible Mission

It is always a joy and privilege

to minister at Back to the Bible

Mission. With over 100 students

and staff from over 20 countries,

including Ghana, Kenya, Sierra

Leone, Benin, Tanzania, Somalia,

Malawi, Madagascar, Zambia and

Zimbabwe, there are something

like 50 denominations and up to

60 languages represented at the

Mission at any given time. Since

1990, Back to the Bible Mission

has sought to fulfil the Great

Commission by training pastors,

evangelists and missionaries

in a balanced, Biblical, body,

mind and spirit programme of

Discipleship.

The Illuminated Cross

As one approaches Back to the

Bible Mission, the large white

Cross dominates the Valley and

lit up at night, can be seen from

a great distance. The huge white

Cross is symbolic of the Christian

witness and Missionary vision

which radiates out from this

strategic Leadership Training

Mission.

What Have You Done?

The art work of the chapel

and layout of the Mission also

emphasises Christ-centered,

Bible-based and Missionsfocussed

vision. At the front of

the chapel, above the pulpit, art

work depicting the crucifixion

of Christ confronts one with

the challenge: "Jesus died for you.

What are you doing for Him?"

There is also a prayer: "Lord, step

out through me into Africa." The

vision of Africa for Christ is

reinforced in many pictures and

posters.

Next Generation

This year, it was a particular joy

to follow up after my daughter

Andrea and son-in-law, Hunter

had been ministering at Back

to the Bible the previous week.

Hunter was invited to lecture

on Biblical Ethics. Andrea

ministered to the women at the

college and I was invited to give

a week of lectures on Missiology.

Both students and staff were

enthusiastic over what Hunter

had taught and what Andrea had

shared and many had found our

grandson, Jeremy, charming.

Daily Devotions

Each week day morning at Back

to the Bible Mission, begins

with the bell being rung at 6am.

Devotions at the top of the hill,

at chapel, involve all students,

faculty and staff and sometimes

guests from the surrounding

community. As the principal,

Professor Shai Mulder, regularly

reminds us: "Your walk with God

is even more important than your

work for God." Each morning

the students and staff share

prayer requests and praise

items, with Scripture memory

verses and focus on a different

country from Operation World

for intercession. Back to the

Bible Mission is truly "a house

of prayer for all nations." For

morning Devotions I presented:

The Gospel According to Jesus:

(Mark 10:17-31); Without a Vision

a People Perish (Proverbs 29:18);

Supernatural Power for World

Missions (Acts 1:8); and Faith or

Presumption? (Numbers 14).

Examples of Excellence

Back in the year 2000, Professor

Shai Mulder and his wife, Dr.

Elreza Mulder, were asked to

"step in and look after the college

for 3 months." Now, after 18 years

of running Back to the Bible

Mission, I commented: "It's been

a long 3 months!" General Shai

Mulder was the Commander

of the Military Academy in

Saldanha and Commander of

the Engineers. Upon retirement

from the Military, he launched

into Missions. Both General Shai

Mulder and Mrs Mulder have

earned doctorates in Theology

and have poured heart and

soul into investing in the lives

FRONTLINE FELLOWSHIP PO BOX 74 NEWLANDS 7725 CAPE TOWN SOUTH AFRICA admin@frontline.org.za www.FrontlineMissionSA.org

9
---
and training of these pastors,

teachers and evangelists to win

Africa for Christ. Other colleges

can learn from their balanced

Biblical, Practical, Missionary

vision and effective strategy for

mobilising pastors, evangelists

and missionaries to win and

disciple Africa for Christ.

To contact Back to the Bible

Mission, email: shyriesmulder@

gmail.com, or visit their website:

www.bbmission.org.

The Great Commission

is Our Supreme Ambition

As always, the Mulders laid on

a full programme. Each day was

packed with lectures and other

ministry. I gave lectures and

presentations on: Missions in

the Old Testament, Missionary

Strategy in Acts, The Gospel

in Acts, The Amateurisation of

Missions, What Does It Take to Be

a Missionary?, Missions – Nine

Ways of Going, The Greatness of

the Great Commission, What is the

Difference Between Christianity and

All Other Religions?, Motives for

Missions, Wrong Motives and False

Calls, Biblical Motives, What is

Missions?, What is A Missionary?,

William Carey – The Father of

Modern Missions, Evangelising

Hindus, Understanding Islam,

Effective Evangelism of Muslims,

Comparing the Bible and the Quran,

Communicating the Gospel Through

Abraham, Making Disciples of All

Nations and The Greatest Century

of Missions. These resulted in

many hours of discussions,

answering the questions

of the eager students.

Films

On one of the evenings, I was

able to listen to and evaluate

Homiletics practical preaching

by several of the students.

On other evenings, we also

screened a number of useful

films which engendered much

discussion, including: Beyond

the Next Mountain on church

planting and Bible translation

in North West India. This film

presents a dramatic true story

of the life of Rochunga Pudaite,

whose father was converted

by a missionary from Wales

in 1908. Rochunga dedicated

his life to translating the Bible

into the Hmar language. We

also screened the New Tribes

Mission film, EE-Taow – The

Next Chapter, on chronological

Evangelism and Church planting

amongst remote Mouk people

in Papua New Guinea and Living

Waters' Evolution vs. God film for

practical one-on-one evangelistic

conversations with atheists

10
---
and evolutionists on university

campuses. After each of these

films there was much productive

discussion and plainly students

were being encouraged, inspired

and equipped for the field.

Greatest Century of Missions

I was able to provide

each student with

their own copy

of The Greatest

Century of Missions

book as examples

of excellence for

Missions. Each student also

received a copy of Biblical

Principles for Africa. The

previous week Hunter had

provided every student of

the college with

a complimentary

copy of our new

Biblical Preaching

Handbook.

Body, Mind and Spirit

There were also other

ministry opportunities, speaking

with the Student Council, the

Women's Group, the Staff and

Faculty, the Third Year Students

and a special Sports Parade, P.T.

session with practical self-defence

skills. After Exams on Friday,

I was busy marking through the

night, till early the next morning.

There was also an opportunity

to take part in an outreach

in Malelane and ministering

at a local congregation there.

Enroute to the airport the next

morning, we delivered students to

evangelise at two of the hospitals

in Barberton and distributed

literature there. All told, including

lectures, services, presentations

and devotions, I gave over 35

presentations in that week.

Africa Overland Missions

Many of the students who

graduate organise outreaches,

pastor's fraternals, seminars,

conferences and services in

their countries and invite our

Mission teams to minister in

their areas. Our missionaries are

then able to deliver much needed

Bibles, World Missionary Press

Gospel booklets, doctrinal and

devotional books, Sunday school

materials, evangelistic tracts

and film evangelism materials to

empower their ministries across

Africa. "After these things I

looked and behold, a great

multitude which no one could

number, of all nations, tribes,

peoples and tongues, standing

before the Throne and before

the Lamb, clothed with white

robes, with palm branches in

their hands." Revelation 7:9

An Urgent Call for Prayer

Please continue to pray for our

Africa Reformation Overland

Mission team: Abrie, Daniel,

Alieske, Tobie and Talita, who

have already completed ministry

in Tanzania, Malawi, Zambia and

Zimbabwe. They have battled

with illness, vehicle problems

and chronic shortage of funds.

The Mission is struggling to

meet commitments and finance

much needed printing and other

strategic needs.

"Finally, brethren, pray for us,

that the Word of the Lord may

run swiftly and be glorified,

just as it is with you and that

we may be delivered from

unreasonable and wicked men;

for not all have faith."

2 Thessalonians 3:1-2

May God continue to

be your joy and strength.

Dr. Peter Hammond

mission@frontline.org.za

www.FrontlineMissionSA.org

11
---
SOUTH AFRICA for CHRIST

We praise God for His blessing

and protection of Joseph, Francis,

Emma, Alieske and myself who

returned from a packed and

productive Mission around South

Africa. We drove over 4,000km,

conducted 45 meetings, including

4 church services, 3 school

assemblies, a Biblical Worldview

Seminar in Pretoria, a Bible

College Consultation, a Youth

Conference, ministry at 4 Missions,

25 presentations and sermons and

recording 20 devotions for Radio

Khwezi.

Literature for South Africa

We also delivered Bibles and

books to many different

ministries, Missions and

churches for Literature4Africa.

All in all our team delivered and

distributed over 2.5 tonnes of

Bibles, books, Gospel booklets,

tracts and audio visual materials

to 18 venues, in 6 Provinces of

South Africa.

Orange Free State

This South African Mission began

with a 14-hour drive from Cape

Town to Goldfields Mission in

the Orange Free State where I

was asked to give a presentation

on: The Coming Persecution of

Christians: What to Expect and

How to Prepare. In the morning,

Francis and Emma taught

the school assembly the Ten

Commandments and Evangelism

Explosion.

Biblical Worldview Seminar

We then drove up to Pretoria and

set up for the Biblical Worldview

Seminar which was hosted in

Hatfield. After Bible Drill, I gave

presentations on: The Challenge of

Islam; Comparing the Bible and the

Quran and Challenging Muslims

with the Gospel.

Understanding the Times

On Saturday, I dealt with

Worldviews in Conflict; Resisting

Babylon and the Beast; Biblical

Solutions to Poverty; Crime

and Corruption and Setting the

Captives Free. Our team also

conducted an Evangelism and

Debating Workshop and Street

Outreach in the afternoon.

After the evening presentation

on Slavery – What You Have

Never Been Told and a vigorous

Question and Answer time,

our team screened The Atheist

Delusion film. On Sunday, I

presented the Sunday morning

sermon on The Greatness of the

Great Commission and in the

evening on What Would David

Livingstone Say to Us Today?

The Power of the Printed Page

The next day our team visited

All Nation Gospel Publishers

to collect Gospel literature in

numerous languages. We visited

Kruger House and then set up for

the Bible College Consultation.

Bible College Consultation

100 participants from 20

countries, representing 30 Bible

colleges and universities gathered

at the Word in Action campsite

with participants from America,

Botswana, England, Eritria,

Germany, Kenya, Korea, Malawi,

Mozambique, Netherlands,

Nigeria, South Africa, Swaziland,

Tanzania, Uganda, Zambia

and Zimbabwe.

Fellowship and Ministry

It was good to meet previous

Frontline missionary,

Professor Mark Kreitzer,

who since serving with our

Mission, was a missionary

professor in Seoul, South

Korea and now is teaching

Missiology at Grand Canyon

University. I was requested to

conduct Workshops on Rejecting

the Influence of Secular Humanism.

These involved much discussion.

Libraries for Leaders

Our team donated libraries for

pastors, professors and lecturers

participating in the consultation

and a good quantity of books

for the libraries of the 30

Bible colleges and universities

represented.

Blow Out on the Highway

At the conclusion of the Bible

College Consultation, our team

had to move briskly across

Pretoria and Johannesburg, out

to Secunda, to make an evening

meeting at Adullam Mission.

A tyre blow-out on the trailer

on the highway leading out of

Pretoria did not delay our team

much, as the wheel change

was made in under 12 minutes

and we still made our evening

meeting in time.

FRONTLINE FELLOWSHIP 2018 EDITION 2
---
Adullam Mission

I presented: The Life and Legacy

of Dr. David Livingstone – The

Best Friend Africa Ever Had,

while Joseph and Francis led a

separate programme for young

children on Way of the Master.

In the morning, Emma and

Alieske taught the Adullam

Christian School assembly, the

Romans 6:23 Marching Song and

Evangelism Explosion.

KwaSizabantu Mission

Our team travelled down to

KwaSizabantu Mission in

KwaZulu/Natal, stopping at the

Majuba battle site enroute. On

the Saturday we drove through

to the Tugela Valley Mission. It

was a tremendous inspiration

and encouragement to see the

progress made in the last nine

years in this hot and mostly dry

valley. Passing the infamous

Nkandla residence of Jacob

Zuma enroute, through dongas

and often dry riverbeds, where

mostly thorn bushes grow, it was

like coming to an oasis when we

arrived at KwaSizabantu's new

Mission base in the Tugela River

Valley. Pineapples, litchi, dragon

fruit, papayas, pears, oranges and

bananas were flourishing. Sheep,

buck, bees and a host of other

farming enterprises were making

the valley literally flow in milk

and honey.

The End of Napoleon's Lineage

We also met a group of French

Christians visiting the Mission.

I pointed out that the Prince

Imperial Napoleon, the only

child of Emperor Napoleon III

and Empress Eugenie was killed

fighting Zulu warriors during

the Anglo Zulu War of 1879 and

initially was buried not far from

where we were. Napoleon, the

Prince Imperial, was only 23

years old when he was killed in

action in the Anglo Zulu War.

His death sent shockwaves

throughout Europe as he was

the last male descendant of

the famous French Emperor,

Napoleon. The death of the

Prince Imperial in Zululand

created even more shock and

dismay in Great Britain than

the disastrous defeat of an

English regiment at the Battle of

Isandlwana. Prince Napoleon's

body was later transported back

to Britain and buried next to his

father.

Zulu Children for Christ

The KSB Church was packed

with children gathering for

a special programme which

included soccer and other

sports. Then Emma and Alieske

taught the children the Roman

6:23 Marching Song and the

Evangelism Explosion Gospel

presentation. I then gave

a presentation on Children

Under Persecution in Angola,

Mozambique and Sudan. The local

KwaSizabantu Missionaries

had been busy baking special

cupcakes for all the children and

they were all also given bottles of

flavoured Aquelle water.

13
---
Ready for Anything

On Sunday morning I was

called to go to Rev. Erlo Stegen.

Uncle Erlo said that he knew it

was short notice, but he would

like me to take the Sunday

morning service at the Mission.

He declared that he

knew that any Frontline

missionary was RFA (ready

for anything). Indeed,

the missionary under

whom I was mentored:

Francis Grim, the Founder

of Hospital Christian

Fellowship, often declared:

"A Missionary must be

prepared to preach, pray, or

die at a moment's notice!" I

expounded Luke 18:9-14:

Two Men Went Up to the

Temple to Pray.

Youth Conference

On Monday, 25 June, the

Youth Conference began

with something in the

region of 7,000 young

people who came from far and

wide. I gave them a presentation

on Body Piercing – A Return to

Paganism. This engendered a lot

of discussion, counselling and

interest. On Tuesday, I presented

Remember the Persecuted and

having delivered a large quantity

of Bibles, books and World

Missionary Press Gospel booklets

to KSB, we headed off to travel

through Transkei to our next

engagement.

Turning World Right Side Up

After delivering Bibles to

Advance for Life Christian

School in East London, we

raced through to Port Alfred,

where a number of churches had

come together for an evening

presentation, where I was asked

to deal with Turning the World

Right Side Up. Thereafter, we

visited other long-time friends

across the Eastern and Western

Cape, delivering Bibles, books,

audio visual materials and World

Missionary Press Gospel booklets

and tracts, to different schools

and ministries.

Childrens Ministry

While our team was busy

on the South African

Mission, our Missionary

interns back in Cape

Town were conducting a

Holiday Bible Club and

also received another

container shipment of

Bibles and books, which

they offloaded and sorted

through.

Yours for the fulfillment of

the Great Commission

Dr. Peter Hammond

mission@frontline.org.za

www.FrontlineMissionSA.org

FRONTLINE FELLOWSHIP 2018 EDITION 3
---
FRONTLINE FELLOWSHIP 2018 EDITION 3