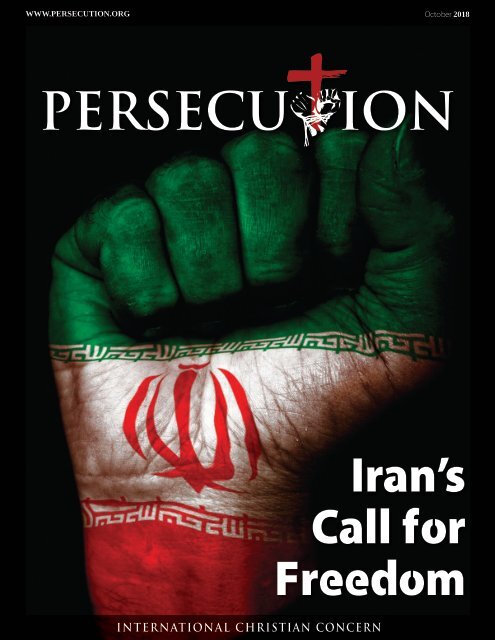 October 2018 Persecution Magazine
You also want an ePaper? Increase the reach of your titles
YUMPU automatically turns print PDFs into web optimized ePapers that Google loves.
WWW.PERSECUTION.ORG

October 2018

PERSECU ION

PERSECU ION

PERSECU ION

Iran's

Call for

Freedom

PERSECU ION.org

INTERNATIONAL CHRISTIAN CONCERN
---
In This Issue

FEATURE

14 | Iran: Government Control

Slipping as Iranians Demand

Freedom

This year, Iran has faced historic levels

of protests as citizens demand increased

freedoms.

FEATURE

18 | Healing the Helpless in

Rural Nepal

An attack on a rural pastor in Nepal left

him injured and financially destitute.

See how ICC provides for those who

feel abandoned.

FEATURE

20 | Hero on the Hill:

Congressman Dennis Ross

Congressman Dennis Ross leads a

bipartisan congressional letter to Prime

Minister Modi addressing the persecution

of Christians and other minorities.

14

HIGHLIGHT

23 | Ministerial to Advance

Religious Freedom

As part of the State Department's initiative,

lCC hosted a roundtable on Nigeria,

highlighting real issues and proposing

solutions to end the attacks on Christians.

PROJECT UPDATE

24 | Hope Grows

Two of the 10 communal farms ICC is

creating for survivors of Fulani militant

attacks are up and running.

Regular Features

3 Letter from the President

A few words from ICC's president,

Jeff King, on the Gospel's rapid spread

throughout Iran.

4 World News

A snapshot of the persecution that

impacts our brothers and sisters daily, in

every corner of the world.

8 Your Dollars at Work

Learn how your gifts are providing

comfort, relief, Bibles, education and

vocational training to the persecuted.

12 Volunteers

Learn how members of ICC's volunteer

teams are making an impact in their

communities for the persecuted.

18

23

20

24

2 PERSECU ION.org

OCTOBER 2018

INTERNATIONAL CHRISTIAN CONCERN
---
Jeff King, President

International Christian Concern

Iran! What words are associated with this country in your

mind? Terrorism? Radical Islam? Ayatollahs? The real story

is much more fascinating.

What if I told you that the Church has been growing at an

incredible rate in Iran for years?

That's right. Iranians below the age of 35 are mostly fed up

with the government and are generally quite leery of Islam.

They have had their fill of it and have not liked what they've

seen. They associate corruption, hypocrisy, and violence with

their Islamic leaders and even with Islam itself.

The country is impoverished and filled with heroin, which has

led to all kinds of social decay. It is a pretty hopeless scene on

the ground.

Ahhhh, but this is all fertile ground for the Gospel and it should

fill your heart with immense encouragement that the Lord has

been working successfully behind the scenes in Iran for the

last 30 years. Jesus has appeared to many thousands in dreams

and visions, secret evangelists and church workers have risked

everything to free their countrymen, and the masses are often

very interested in hearing about Jesus.

The Gospel is making its way into the hearts and minds of the

Iranian people! We are working with the underground Church

in Iran, and other countries, and it's incredibly exciting work.

Jesus is especially desirable when held up to Islam or when

there is no hope. He will always win in these situations and His

Church will grow. Please keep Iran in your prayers. Pray for

our brothers and sisters in prison and for those who risk their

lives to serve the Iranian Church.

Please join us as we bandage and build the persecuted Church.

As always, your donations will be used efficiently, effectively,

and ethically.

Jeff King

PERSECU ION.org

INTERNATIONAL CHRISTIAN CONCERN

3
---
5

2 3 6

4

News

1

Indonesian Christian Sentenced to Four

Years in Prison for Facebook Post

1 | INDONESIA On July 24, the Medan District Court in

Indonesia sentenced Martinus Gulo to four years in prison

and issued him a fine of 1 billion Rupiah (nearly 70,000

USD) for religious defamation. If he is unable to pay

the fine, he may opt to serve an additional six months in

prison instead.

The case arose after the 21-year-old Christian was

found guilty of blasphemy due to a Facebook post that

insulted the prophet Muhammad. The hardline group

Islamic Defenders Front reported the post to the police

and Gulo was arrested shortly after in March.

Gulo's conviction came after a moderate Muslim in

Indonesia was handed a five-year sentence under the

same law. He was also convicted for a post on social

media that extremist groups found insulting. The two

were both sentenced

under the Information

and Electronic

Transactions (ITE)

law, which has been

the source of much

controversy throughout

Indonesia.

Such blasphemy

laws have drawn international

attention in

recent years following

the arrest of former

Jakarta governor

Basuki 'Ahok' Tjahaja

Purnama. He was

accused of blasphemy

after a video of one of

his campaign speeches

was edited to make it

appear as though he

insulted the Quran.

The world was stunned

after he was sentenced

to two years in prison

for blasphemy, even

after the prosecutors

called for the blasphemy

charges to be

dropped in favor of a

lesser charge.

These laws are often

manipulated for political

gain and used for

religious discrimination,

often leaving

minority Christians in

their wake. If Indonesia

wants to maintain its

reputation as a bastion

of religious tolerance,

which it prides itself

on, it must reevaluate

these detrimental

blasphemy laws.

"As they entered, the

authorities threw the

son to the ground

before attacking the

pastor."

Iranian Pastor's Home Violently

Raided

2 | IRAN Iranian state security forces recently raided

the home of Pastor Youcef Nadarkhani. The authorities

attempted to break into the home before the

pastor's son opened the door. As they entered, the

authorities threw the son to the ground before attacking

the pastor. They began beating Pastor Nadarkhani

with an electric shocker and arrested him in front of

his family. All of this took place without any official

summons to justify the raid. Authorities told the family

that the pastor would be transferred to the notorious

Evin Prison.

Pastor Nadarkhani and three others were eventually

sentenced to 10 years in prison. They were also

sentenced to two years of internal exile. The pastor

and his fellow defendants belong to a group called The

Church of Iran.

Unfortunately, this is not the first time that the

Iranian government has targeted Pastor Nadarkhani. In

May 2016, authorities attacked 10 house churches in

the city of Rasht, during which Pastor Nadarkhani and

his wife were taken into custody. Thankfully, they were

released shortly afterwards.

Pastor Nadarkhani was also arrested for apostasy

in September 2009 and issued a death sentence. He

was held in prison until August 2012, when the uproar

from the international community pressured the Iranian

Supreme Court to revoke the sentence.

4 PERSECU ION.org

OCTOBER 2018

INTERNATIONAL CHRISTIAN CONCERN
---
Gunmen Storm Church in Pakistan to Settle Property Dispute

3 | PAKISTAN On July 13, a group of armed Muslim men attacked a Catholic church in the district of Faisalabad, approximately 75 miles from

Lahore. A local Christian told ICC that the group of five Muslims, all belonging to the same family, attacked the church as congregants were

gathered for worship. The attackers ambushed the church, carrying guns and kerosene, and attempted to set the church ablaze.

The incident stemmed from a dispute over church property. Thankfully, police arrived on the scene quickly to protect the churchgoers. At the

time of writing, three of the five assailants have been arrested and an investigation into the incident is ongoing.

State-Sanctioned Church in Shandong Province

Demolished

4 | CHINA On July 17, more than 70 police officers and workers demolished

Liangwang Catholic Church in China's Shandong province. The

church is a state-sanctioned church and has been legally registered since

2006. Recently, local authorities drafted an urban development plan that

involved removing the church. Despite conversations with the local religious

affairs office to find a place to relocate the church, officers arrived

on the scene without warning or documentation to raze the building.

Within a matter of 15 minutes, they demolished the church with bulldozers

and pickaxes. Three church caretakers who were on the premises at

the time had their phones confiscated and destroyed.

Football Coach Who Lost Job for Praying on Field

Petitions US Supreme Court to Hear Appeal

5 | USA In 2016, a Washington State school district decided not to

renew the contract of Joe Kennedy, a high school football coach. This

decision came about after Kennedy repeatedly prayed on the 50-yard

line after games, even after the school district requested that he cease

this practice. Although Kennedy never encouraged or required students

to join him in prayer, the superintendent insisted that the practice was

unconstitutional by suggesting that the practice would appear as a government

endorsement of religion. After years of legal back-and-forth,

Kennedy's attorneys have now filed a petition with the United States

Supreme Court over the matter.

Foreign Christian Couple Deported from Nepal on

Conversion Charges

6 | NEPAL On July 6, De Vera Richard and Rita Gonga, a Christian husband

and wife, were officially deported from Nepal to their native countries of the

Philippines and Indonesia. The couple had been living in Nepal since November

2017 on a one-year business visa, where they operated a restaurant and were

actively involved with Every Nation Church.

Following a complaint lodged earlier in the year, the Department of

Immigration launched an investigation and discovered that the two were working

as pastors and allegedly "converting Hindus into Christians." Proselytization

is a crime according to Article 26 of Nepal's constitution, which can carry a sentence

of five years in prison and a fine of 50,000 Rupees. Thankfully, the couple

was not imprisoned, but they were fined, as well as deported.

PERSECU ION.org

INTERNATIONAL CHRISTIAN CONCERN

5
---
1

4

3

5

2

6

News

"Instead of working for the poor, the

government is targeting those working

for the poor."

Turkish Court Moves Imprisoned Pastor

Brunson to House Arrest

1 | TURKEY In October 2016, American pastor Andrew

Brunson and his wife Norine were arrested in Turkey.

The pair had been ministering in Turkey since 1993

prior to their arrest. While Norine was released shortly

after her arrest, Pastor Brunson remained in prison

despite a lack of formal charges. His first charges were

issued 63 days into his imprisonment and additional

charges have since been added. Most notably, Pastor

Brunson faces a falsified indictment of having links

with the Fethullahist Terror Organization (FETÖ) and

the Kurdistan Workers Party (PKK).

In July, Turkey's Second High Penal Court in Izmir

ordered Pastor Brunson to be transferred from prison to

house arrest. The Daily Sabah, a propaganda arm of the

Turkish government, reported that Brunson was transferred

to house arrest as a result of health concerns.

They reported that jurors concluded that "his detention

could be maintained effectively through house

arrest given the circumstances."

Pastor

Brunson's next hearing

is scheduled for

October 12, 2018

and prosecutors are

seeking a sentence

of 30+ years of

imprisonment.

Since 2016, religious

freedom has drastically

deteriorated in

Turkey. The situation

has worsened enough

to warrant the United

States Commission

on International

Religious Freedom

ranking Turkey as a

Tier 2 Country in its

annual report. Such

countries "require

close monitoring

due to the nature and

extent of violations

of religious freedom

engaged in or tolerated

by governments."

In light of this positive

development, it is

important to remember

that Turkey is still

engaging in a game

of hostage diplomacy.

We must continue

to pray for Pastor

Brunson as his next

hearing approaches.

Indian Catholic Leader Calls on State

to Stop Harassing Christians

2 | INDIA A leader of the Catholic Church in India

has called on India's Prime Minister Narendra

Modi (pictured), to intervene in the harassment of

Christians in the northeastern state of Jharkhand.

Authorities in Jharkhand recently ordered a probe

into the funding of more than 80 organizations

which were exclusively Christian. They are investigating

the claim that these Christian groups are

using foreign funding for the purpose of carrying

out religious conversions.

The Catholic leader, Bishop Theodore Mascarenhas,

suggested that the probes are unjust because the

government already has the organizations' financial

information due to regulations on foreign funds. He

told UCA News, "If the government wants to be fair,

let it start probing all non-governmental organizations.

Why single out Christians?" He continued, "Instead of

working for the poor, the government is targeting those

working for the poor."

Since the BJP, led

by Prime Minister

Modi, came to power

in 2014, India has seen

a significant surge in

anti-Christian violence

and discrimination.

If the government

seeks to curb this

violence, they must

set the example by

proactively ensuring

that they treat

Christians and other

religious minorities as

equals.

6 PERSECU ION.org

OCTOBER 2018

INTERNATIONAL CHRISTIAN CONCERN
---
Eritrean Government Releases 35 Christian Prisoners of Conscience

3 | ERITREA In mid-July, the Eritrean government released 35 Christian prisoners of conscience. The 35 individuals were released from Mai-Sirwa

Prison, one of the dozens of Eritrean prisons that continues to hold prisoners of conscience. While this release is cause for celebration, it is noteworthy

that none of those released were religious leaders. At the time of writing, all prisoners of conscience who are pastors remain in captivity,

some of whom have been in prison for nearly 20 years.

Coptic Christian Dies in Police Custody Under

Suspicious Circumstances

4 | EGYPT On July 20, a Coptic business owner went to the police

station to report that a Muslim man broke into his shop and threatened

his family. Later that night, the Copt's wife received a call from

the police, saying that her husband had fainted and was being taken to

the hospital. By the time the family arrived, he had already died from

injuries consistent with acts of violence. The police have reportedly

threatened to bring charges against the family if they investigate the

cause of death.

Sudanese Church Allowed to Open Four Years

Later

5 | SUDAN In August 2014, Sudan's National Intelligence and Security

Services (NISS) shut down the Khartoum Christian Center building,

which was owned by the Sudan Pentecostal Church. The government

stated that they closed the church because it was being used for worship

despite being located on land designated for office space. However, four

years later, the government returned the building to the church without

reason. Although not confirmed, many church leaders believe that the

decision was made due to international pressure.

Filipino Priests Receive Death Threats from Security Forces

6 | PHILIPPINES According to the leader of Iglesia Filipina Independiente

(Philippine Independent Church), security forces have carried out the unlawful

surveillance of priests and issued death threats against them. The priests have

reportedly been receiving these threatening calls and messages since last year.

The two priests who have been threatened actively speak out against the government's

abuses of human rights. They have also criticized the government's

mining activities. One of the priests noted, "They want to silence us because we

are amplifying the cry of the poor against social injustices."

These threats are particularly concerning in light of several recent assassinations

of Catholic priests in the Philippines. Unfortunately, the death threats

cannot be dismissed as empty words. There have been too many cases in which

such threats have been carried out.

PERSECU ION.org

INTERNATIONAL CHRISTIAN CONCERN

7
---
Your Dollars a

Small Business

for Convert

Underground Pastors

Hussain is a Muslim-background believer

living in Afghanistan. Seven years ago,

he heard about Jesus for the first time

through a friend in the UAE.

At the time, Hussain had a personal problem

that needed fixing and his friend suggested

that he go to a church for help. Early

on, Hussain struggled to locate a church, but

he began watching a Christian TV broadcast,

and a Christian discipler connected with the

show began following up with him.

Hussain was able to connect with an Iranian

church in the UAE which helped him with

his personal problem. In this church, Hussain

learned about Christ's love and forgiveness

and, after two years, he accepted Christ into

his heart when he was confronted by Christ

in a dream.

Hussain shared his new faith with his wife,

but she took their three children and left

home. Hussain not only had to grapple with

the fear of losing his family forever, he also

dealt with fear for his life.

His church surrounded him and prayed for

him, consoling him in his grief. After five

months, his wife agreed to return home. She

saw changes in Hussain's life, but she continued

to resist the Gospel.

Eventually, the relentless care for her family

by Hussain's church piqued her curiosity.

She was interested in the community.

Two months ago, Hussain's wife became a

believer and now the whole family is serving

the Lord.

In 2015, Hussain returned to Afghanistan,

where he joined an underground church.

Currently, Hussain is the leader of a small

house church where 18 other converts

worship regularly. As the leader of an

underground church, his mere existence in

Afghanistan is dangerous since he would

likely be killed if he was discovered, as

the Afghani community is very intolerant

of Christianity.

Your donations enabled ICC to help

Hussain start a small business in order to

earn a better income and support his small

house church. The business buys and sells

assets that he cleans up and improves.

This business provides for his family of

five, giving them the freedom and flexibility

to earn a living while they serve

in ministry.

8 PERSECU ION.org

OCTOBER 2018

INTERNATIONAL CHRISTIAN CONCERN
---
t Work

PERSECU ION.org

INTERNATIONAL CHRISTIAN CONCERN

Well in Qaraqosh, Iraq

Community Rebuild

In 2014, ISIS invaded Qaraqosh and displaced most of the city's Christian population. For the last several

years, Christians have been scattered all over Iraq and nearby countries. Now that Qaraqosh has

been liberated from ISIS, some families are looking to return.

Unfortunately, there is little for them to return to. ISIS destroyed countless homes, businesses, and

other types of infrastructure. In order to rebuild Qaraqosh, these families must have access to resources

like clean water so that they can clean, wash, and drink safely.

Qaraqosh has some water that is sourced from Mosul; however, it is dirty and inconsistent. Whenever

there is a lack of water in Mosul, officials will cut Qaraqosh's water supply first. Independent wells are

critical sources of clean and stable water flow for returning families.

Your dollars helped ICC provide a fifth well for the people of Qaraqosh. This well was dug at a school

hosting more than 500 students. Over 30 families living nearby will also benefit from the well. While we

cannot erase the memories that ISIS left these families with, we pray that this well will help make the

transition back to Qaraqosh slightly easier.

MMB Livelihood Support

Suffering Wives and Children

In Cairo, one neighborhood has become a safe haven for Muslim-background believers who fled their

homes because of persecution. All of these believers faced intense persecution because of their conversion

from Islam. Their lives are at risk if they return home or if their location is discovered. Many are

living in desperate circumstances, in small rooms without furniture, and most work for very low wages.

ICC identified multiple individuals who needed special attention under these circumstances:

• Asim's family abused her and locked her out of the house when they learned of her conversion. They

also shaved her hair and eyebrows, and burned 12 marks on her body. She escaped and landed in the

neighborhood. The only furniture in her house was a mattress.

• Muhammad was once an engineer who provided for his family's needs by working in the Gulf.

His family asked him to return home to slaughter his brother, who had become a Christian.

He tried to raise the knife to slaughter him, but the brother called on Jesus and Muhammad's

hand immediately stiffened. Jesus appeared to him, and Muhammad learned about Christ

through his brother. Now, he works as a plumber and lives in a basement without any furniture.

Your generosity enabled us to provide these individuals and others with basic furniture to improve

their living conditions.

Ancha Pastor's Motorcycle

Suffering Wives and Children

Into the early hours of Friday, September 8, 2017, Fulani militants invaded the Christian village

of Ancha in Miango District of Plateau State, Nigeria. They brutally killed 20 and injured five

others. Nineteen of the murdered victims were members of Salama Baptist Church, while one

belonged to a local Methodist church. One family was completely wiped out with no succeeding

generations left.

The church and pastor were traumatized and needed spiritual, emotional, and physical encouragement.

Making matters more difficult, the community is situated in a rural part of Miango District

where there is no access to social amenities, particularly healthcare. Transportation is also quite

challenging for the pastor as he seeks to provide adequate pastoral care for his congregation.

Your dollars enabled us to purchase a motorcycle for the Salama Baptist Church in Ancha to assist

the pastor in providing more wide-ranging pastoral care and evangelism, and provide rescue assistance

whenever the need arises. This purchase also provided the church with encouragement and the

assurance that their brothers and sisters in Christ around the world are supporting them.

9
---
Your Dollars a

Business

Assistance in Iraq

Suffering Wives and Children

Prior to the invasion of ISIS, Raid used to

own a market in Qaraqosh, Iraq. When

he and his family fled, they lost everything.

Raid shared, "My wife gave birth on the

4th day of displacement. I didn't have [a]

place, neither money to buy clothes for

our baby, nor milk and diapers. That was

the worst feeling someone can ever feel.

Although I used to sell milk and diapers for

many years, I couldn't maintain its availability

for my child because of the evil."

Your dollars enabled ICC to help Raid

reopen his market. We purchased many

items, including a refrigerator and a meat

grinder, to help him start this process.

"I feel like 'Thank you ICC' printed on

paper is not enough to show my appreciation,"

Raid said.

When ICC visited the shop on opening

day, it was full of customers.

Indonesia Sewing Machines

Underground Pastors

Acluster of families in Indonesia had been

discipling others within their community

for two years before local mosque leaders grew

suspicious and visited their homes. One leader

questioned why the families never visited the

mosque. In spite of the growing suspicions,

ICC sought to support this fruitful ministry.

It is often difficult for leaders of underground

ministries to maintain a steady

source of income due to the amount of time

and attention they pour into their unpaid

ministry roles. Your generosity enabled ICC

to serve these families by helping the wives

develop small sewing businesses. Most have

three or four children, and they would like

to financially support their families. ICC

helped train these housewives in the art of

sewing, so that they could develop a sustain-

10 PERSECU ION.org

OCTOBER 2018

INTERNATIONAL CHRISTIAN CONCERN
---
t Work

Bible Distribution in Bangladesh

Bibles for the Persecuted

Due to poverty within Bangladesh's rural

Christian community, Bibles are difficult

for many to obtain, including among

Christian leaders seeking to share the Gospel

in other communities. Recently, your donations

enabled ICC to provide 50 new Bibles

to believers who want to evangelize to others

and learn more about Christianity themselves.

Tapu, a young Christian girl, is excited that

she will now be able to study the Word of God

and learn more about prayer.

Please continue to lift up this community

in prayer as they seek a church building and

pastor to provide more fellowship and teaching.

Please also pray for a primary school in

the remote village, and for essential items like

warm clothes for the winter.

able business that also allows for outreach

opportunities.

This business will provide them with the

financial freedom to preach the Gospel without

worrying about how they will provide for

their families. This sewing project will also

allow these women to connect with other

mothers in their neighborhood who do not yet

know Christ.

PERSECU ION.org

INTERNATIONAL CHRISTIAN CONCERN

Business Assistance in Kenya

Suffering Wives and Children

On February 16, al-Shabaab militants

attacked a school in Wajir County, located

in northeastern Kenya. Seth Odada and

his wife Caroline were among those who

were killed in the attack. Unfortunately,

since Seth was his family's breadwinner, his

close relatives were left without a source of

income on top of the weight of grief.

ICC stepped in to provide Seth's mother

Margaret with a small grocery shop, so

that she can earn a sustainable wage.

Margaret shared, "This act of concern is

very unique and we cannot believe that

within a short time after visiting us you

have come again to help us open a shop.

We feel loved by ICC."

11
---
Volunteers

Advocating for

Persecuted Christians

in Nigeria

Raising Prayer

Support for the

Persecuted

One of the most essential, yet often overlooked,

facets of ICC's ministry is advocacy.

ICC's advocacy department strives to

be a voice for persecuted communities around

the world through their influence in various

government bodies. As such, ICC has a volunteer

team specifically dedicated to supporting

these efforts. One of the primary responsibilities

of advocacy volunteers involves sharing

ICC's petitions.

This past summer, ICC launched a petition

on behalf of persecuted Christian farmers in

Nigeria. Over the last 20 years, it is estimated

that victims of attacks led by Boko Haram and

Fulani militants number as high as 50,000 to

60,000. Unfortunately, the lack of action by the

Nigerian government continues to embolden

Fulani militants in their violent actions. This

petition called on the Nigerian government to

take action to bring Fulani militants to justice

and protect the vulnerable Christian community

in Nigeria's Middle Belt region.

Volunteers all over the world sprang into

action to raise awareness about persecution

in Nigeria and share the petition in their communities.

Volunteers found creative ways to

draw attention to ICC's petitions in a variety

of ways. Some shared the petition online,

whether through social media or among family

and friends via email. Others opted to

share the petition in a face-to-face manner,

such as speaking about the petition in church,

sharing it in their small groups, or simply raising

awareness among their neighbors.

Due, in part, to the global reach of ICC's

volunteers, this petition garnered signatures

from nearly 90 countries, across six continents.

The international reach of these petitions

is very beneficial in ICC's advocacy work,

because it supports the fact that religious freedom

is not a regional or partisan issue.

"Whatever you did

for one of the least

of these brothers of

mine, you did for Me."

– MATTHEW 25:40 (NIV)

A

s we serve the persecuted, our efforts

would be fruitless apart from the

grace of God. Therefore, we are constantly

calling on our network of supporters to

pray, both for the persecuted and for this

ministry. It is humbling to work with a

team of believers specifically committed

to this purpose.

In July, we sought to expand this circle

of prayer even wider, by challenging

ICC's volunteers to share prayer requests

for the persecuted with 10 different people

in their community. The goal of this

challenge was to increase the amount of

prayer support for persecuted Christians

around the world and raise awareness

about various religious freedom issues.

While some chose to pray individually,

others prayed along with their families,

friends, or churches.

ICC's volunteers have faithfully stood

in the gap, bridging the distance between

persecuted Christians and the Western

Church through prayer. Thank you to all

who have joined hands with us in praying

for those who are suffering for their faith.

12 PERSECU ION.org

OCTOBER 2018

INTERNATIONAL CHRISTIAN CONCERN
---
Looking for a Way to Make a Difference in the World? Join Our Team of Volunteers!

For those desiring to assist the persecuted Church, many are not sure how to get involved. Volunteers all over the world are making a difference

within their own backyards as members of ICC's five different volunteer teams: Advocacy, Awareness, Office, Prayer, and Special Projects. ICC

volunteers play a crucial role in supporting and serving the persecuted Church. They stand up for the persecuted in countless different ways and

bridge the gap between the persecuted and free Church. It only takes one person to make a difference – are you willing?

To effectively lead an international ministry, there is a lot of

work that takes place behind the scenes. One team of dedicated

volunteers visits ICC's headquarters on a regular basis to assist

with various administrative tasks. From assisting with mailings

to translating materials to organizing resources around the

office, these volunteers regularly offer their time and skills to

alleviate the weight on the shoulders of ICC's administrative

team. Without their help, ICC would not accomplish nearly as

many projects that bring relief to the persecuted.

In the modern world, one of the most effective tools for raising awareness

about a particular issue is social media. Due to the accessibility

of reaching larger audiences, often scattered around the world, social

media is a great method for informing others about persecution. Many

volunteers utilize Facebook and Twitter to share about religious freedom

issues among their social circles, often sharing articles about persecution.

Others raise awareness online by writing blogs. In today's digital

age, it is important to use the technology that is available to inform society

about persecution and to increase support for the suffering Church.

Volunteer Teams

1 Advocacy Fight for justice for the persecuted through petitions,

congressional calls, and more.

2 Awareness Raise your voice by speaking in churches, writing, and posting

on social media.

3 Office Lighten the load of our staff by helping with administrative

assignments.

4 Prayer Intercede for our brothers and sisters in Christ, both individually

and as a church.

5 Special Projects Volunteer on your own schedule through one-time projects.

PERSECU ION.org

INTERNATIONAL CHRISTIAN CONCERN

Are You Interested

in Serving?

Apply online at:

http://www.persecution.org/take-action/

volunteer/

Email:

volunteer@persecution.org

Call:

(301) 585-5915 for more information

13
---
Iran:

Government Control

Slipping as the People

Thirst for Freedom

This year, Iran has faced historic levels of protests as

citizens demand increased freedoms.

By Claire Evans

This year, a hopeful thirst for

freedom has defined Iran.

Protests, which started in late

December of 2017, continued

throughout the spring and summer,

spreading to every corner

of the country. This large outpouring

of unrest is historic,

with far-reaching implications.

For almost 40 years, Iran has

been governed by the religious elite who have ruled

the country with an iron fist. They have built a wall

defining their citizens' religious identity as Islamic,

with serious consequences for breaching their code

of conduct. They have entrenched the country within

the grave socioeconomic consequences of poor governance

decisions.

The Iranian people are weary of the regime's protectionism,

and are eager to tear down the barricades

that define every aspect of their life. Their search

for political liberation includes a desire for spiritual

freedom, which has led to a number of opportunities

for the Church to grow, even as religious persecution

intensifies.

"The youth have rejected the spiritual and moral

authority in Iran. They see no future for themselves,

so they want to experience all the freedom

that they can," explained Tat, who leads a ministry

for Iranian Christians.

Often, because normal expressions of personality

and opinion are heavily censored, Iranians are

forced to explore them in secrecy. This opens the

door to darker pursuits. Depression and addiction to

drugs and alcohol are all too common. These vices

have created a culture of harshness reinforced by a

brutal regime.

This year's protests should not be interpreted simply

in socioeconomic terms. It is not just a cry for

political freedom, but also a cry for spiritual freedom.

Many Christian ministries have taken this opportu-

14 PERSECU ION.org

OCTOBER 2018

INTERNATIONAL CHRISTIAN CONCERN
---
Below: "God is love" graffiti boldly spreads the message of

the cross throughout Iran.

PERSECU ION.org

INTERNATIONAL CHRISTIAN CONCERN

15

15
---
Feature Article

Above: Historical protests have gripped Iran as citizens call for regime change.

nity to pray, preach, and push for a brighter

future for the Church in Iran.

The fall of the theocracy in Iran, as an outcome

of the protests, is the silver lining of

the dark cloud that hangs over the country.

"Much is happening in Iran today politically,

socially, and spiritually. I believe that

we will see a major change in Iran soon, and

it will be in weeks, months, but not years,"

wrote Dr. Hormoz Shariat of Iran Alive

Ministries.

Although the political change may seem

slow, spiritual change is happening quickly.

"If you're a Muslim in Iran, there is a good

chance you either don't want to be a Muslim

anymore or you think that this is not true

Islam," explained Tat.

"Because so many Iranians have become

Christian, most people know someone who

is a Christian," he added. "They hear through

the grapevine that uncle so-and-so became a

Christian. Or they are just curious. It's hard

to get a Bible, however. I would say that it

is much easier to find out about Christianity

now than it was before because there are

enough Christians."

Pastor Rasoul Heydari, who leads a Persian

ministry called Everlasting Hope, wants

Christianity to grow even more visible inside

Iran. He has initiated an outreach campaign

with a unique twist. He is encouraging believers

to write the phrase "God is love" on the

walls of the city as a sign of protest against the

lack of religious freedom for Christians.

This campaign stands out, as many Iranians

are not ignorant of the persecution that

Christians face at the hands of the regime. The

government attempts to maintain a delicate

"We encourage them

to make the true God

known to the people

around them. We're

commissioned to give

the good news of

salvation to all."

– Pastor Rasoul Heydari

balance of raising enough awareness about the

illegality of Christian activities, without actually

encouraging Church growth.

The graffiti is a reminder to Iranians why

they are protesting: to end the regime's oppression.

Pastor Rasoul explained to Mohabat

News, "This is a fight against oppression, in

the sense that it promotes knowledge of the

true God. I wouldn't call it civil disobedience,

as we're not calling on people to disobey any

rule."

"Rather," he continued, "we encourage

them to make the true God known to the

people around them. We're commissioned

to give the good news of salvation to all.

Many Iranian youths are turning from God

because they don't have an understanding of

the true God."

His graffiti campaign, while a simple

message, helps chip away at the walls preventing

Gospel outreach in Iran. After all,

Iranians often speak about how the culture

lacks a concept of love and openness. The

possibility of these values existing in reality

is a foreign concept to many Iranians, and a

message that many are eager to hear.

16 PERSECU ION.org

OCTOBER 2018

INTERNATIONAL CHRISTIAN CONCERN
---
One underground believer shared about

her recent conversion, "I felt a love from

God that I never felt before and a joy I never

experienced before. I started to cry for hours

after two years and the frog that was in my

throat burst because of the love of Christ that I

received and it was like a bomb went off inside

of me… I became madly in love with Jesus

and I felt His love for me and he never abused

me or hurt me ever."

It was because of someone courageously

sharing the Gospel that this believer, and

countless others, have encountered the

transformative love of Christ. Whether it

is through the boldness of graffiti or direct

conversation, the unrest in Iran undoubtedly

presents a unique opportunity for

Iranians to encounter Christianity more

directly. As more Iranians convert, the

regime, however, shifts its focus toward

building more walls to maintain control of

its citizens.

Dr. Shariat explained, "As Christianity is

growing fast in Iran, the top religious leaders

are alarmed. They then put pressure on the

Revolutionary Guard's security police as,

'What are you doing to stop Christians?'…

"Much is happening

in Iran today

politically, socially,

and spiritually. I

believe that we will

see a major change in

Iran soon, and it will

be in weeks, months,

but not years."

– Dr. Hormoz Shariat of Iran Alive Ministries

The strategy of the government is not a

widespread arrest and execution. Their strategy

is to arrest a few, but publicize their

arrest to put fear in the hearts of 1-3 million

Christians and make them isolated, fearful,

and prisoners in their homes."

"In the wake of [the] worsening sociopolitical

[and] economic situation in Iran, we

see an increased level of persecution against

Christians in the country," added Lazarus

Yeghnazar of 222 Ministries. "As history

has shown, like any despotic regime at the

last hours of their brutal control, I expect

that the clerics in Iran (which virtually are

the government!) will become more bitter,

mindless, and unpredictable."

"Sadly, most are deeply corrupt by all

counts and simply punish the 'house church'

and its leaders because they are angry that

Christianity is stealing away from their

blind adherents, hence endangering their

existence. We, the free Christians in the

West, need to stand in the gap in united

prayer," he continued.

Months of unrest clearly show that Iran's

political powers are transforming; yet,

the greatest transformation is happening

within the souls of Iranians. Whether it is

through graffiti or other means of outreach,

Christianity is spreading throughout Iran.

The country's Islamic regime has lost control

over the mechanics of governance as well as

its grasp over directing people's souls. Iran

is at a historical crossroad, and many dare

to hope that Iran will walk down the path of

religious and political freedom.

Below: Iran's Islamic regime is scrambling to protect itself from protestors demanding freedom from its harsh rule.

PERSECU ION.org

INTERNATIONAL CHRISTIAN CONCERN

17

17
---
Healing the Helpless in Ru

An attack on a rural pastor in Nepal

left him injured and financially

destitute. See how ICC provides for

those who feel abandoned.

By William Stark

Pastor Yubak has endured

many difficulties in his

life. This fact was evident

as I looked into his

tired eyes while traveling

in rural Nepal earlier this

year. Serving as a pastor

in Nepal's rural Sinduli

District has not been easy,

but the difficulties started long before Yubak's

ministry began.

"My mother died when I was only four,"

Yubak said as he began to share his testimony.

"After that, my father abandoned me and I

lived as an orphan until I was eight. That was

when I first heard the Gospel."

While on the street, Yubak received a booklet

entitled "Men's Heart." It was a Gospel

tract. When he read it, he was immediately

drawn to the Scriptures that explained that

Jesus would never abandon those who followed

him.

"This had a huge effect on me," Yubak

explained. "This is what initially attracted

me to Christ."

After hearing the Gospel for the first time,

Yubak was taken in by his uncle, the only

Christian in his extended family. Yubak

revealed his growing beliefs and his uncle

gave him a Bible. Eventually, his faith in

Jesus led Yubak to study at a Bible college

in Kathmandu.

After completing Bible college, Yubak

received a vision about starting a ministry

back in Sinduli. Following this vision, Yubak

returned to Sinduli and established a success-

18 PERSECU ION.org

OCTOBER 2018

INTERNATIONAL CHRISTIAN CONCERN
---
al Nepal

Far Left: Pastor Yubak holds a container

with pieces of bone removed from his nose as

a result of the attack.

Top Right: Sunrise over rural Nepal during

the 12-hour trip from Kathmandu to Pastor

Yubak's village.

Bottom Right: In rural Nepal, dried

riverbeds become roads on the journey to meet

Pastor Yubak.

ful ministry among his native villages.

"I established a church here in this village,"

Yubak shared. "I have also been able to

establish four other daughter churches. Now,

I have been selected as the chairman of local

churches in the Sinduli District."

The success of Yubak's ministry did not go

unnoticed by radicals in Sinduli. In April 2017,

radical Hindus attacked Yubak and another

pastor as they travelled between villages.

"We were returning from Sinduli town

after a church meeting at around 9:30

p.m.," Yubak recalled. "We had to cross

the Mareen River and waited by the river's

edge before crossing."

"Pastor Om and I noticed a motorbike

with three young people following us,"

Yubak continued. "When they caught up to

us, they pulled in front of my motorbike and

PERSECU ION.org

INTERNATIONAL CHRISTIAN CONCERN

turned it off. One of them said, 'We know

you.' I responded, 'I have never seen you.

Who are you?'"

Then, the other two strangers attacked

Yubak from either side. The assailants forced

Yubak's motorbike helmet off and continued

beating him.

"I tried to put my helmet back on, but they

threw it away," Yubak said. "Then one of

them grabbed a stone and hit me in the head. I

fell to the ground and the other two continued

to beat me on the head and neck. Before I

lost consciousness, I remember them saying,

'Your Jesus will save you!' to mock me."

Since Yubak was the focus of the assault,

Pastor Om was able to escape into the nearby

forest. After hiding in the forest for five hours,

Pastor Om mustered enough courage to return

to the scene of the attack. There, he found

Yubak unconscious on the ground in a pool of

his own blood.

Because the motorbike was damaged, Pastor

Om carried Yubak for more than an hour

to Sunduli town. When it became clear that

the medical facilities in Sunduli town were

incapable of properly treating Yubak, he was

transferred to a trauma hospital in Kathmandu.

In Kathmandu, Yubak underwent surgery

to reconstruct his broken nose and received

treatment for a blood clot that formed under

his skull. While these emergency measures

helped, Yubak still struggled to obtain the full

medical treatment that he needed.

"Different people gave me small amounts

of money to cover the treatment," Yubak said.

"In the end, I needed to take out a personal

loan to cover all the treatment. It cost over

$3,000 USD."

During my visit, Pastor Yubak, who had

nearly completed his recovery and just

restarted his ministry, still looked extremely

stressed due to his financial situation. The

compensation a rural pastor expects is barely

enough to cover daily expenses. When we

met, I could see that he was trying to work

out how he would pay the debt he incurred to

cover his treatment.

As I concluded the interview with Yubak,

I asked if he had copies of his medical bills

and documents regarding the loan. When he

brought me a shopping bag full of receipts,

I leafed through them, added up the total,

and provided Yubak the funds he needed to

repay his debt.

Yubak was stunned and wide-eyed as he

received the money. Soon after, I prayed with

Yubak, hopped back in the 4x4, and began the

12-hour drive back to Kathmandu.

When I finally arrived in Kathmandu,

after hours of hairpin turns on the rural,

mountainous roads of Nepal, I received

a phone call from Yubak. He was crying.

Seemingly still in shock, he said, "I don't

even know what to think. You never knew

me, but you came, heard my testimony, and

provided for my needs."

Recalling our earlier conversation, I

reminded Yubak that Jesus never abandons

those who follow him.

19
---
Hero

Hill

Congressman Dennis Ross leads a bipartisan congressional

o n

the

letter to Prime Minister Modi calling attention to the

persecution of Christians and other religious minorities.

By Matias Perttula

Congressman Dennis Ross represents

the 15th congressional district

of Florida and has served the

people of his district since 2011.

He has led a long and distinguished

career in public service,

working on behalf of a diverse

community in Florida. Recently,

Congressman Ross worked on

behalf of persecuted Christians in

India by leading a bipartisan congressional letter calling

on Prime Minister Modi to take action to end the

persecution of Christians and other religious minorities

perpetrated by radical Hindu nationalists.

In recent years, persecution has risen to historic

heights in India and continues to increase in intensity.

Congressman Ross took action by mobilizing his colleagues

in Congress to bring this matter directly to Prime

Minister Modi. Congressman Ross has become a true

champion of religious freedom and we applaud his efforts

on behalf of the persecuted Church. ICC's president, Jeff

King, interviewed Congressman Ross on July 25.

Jeff King: Religious freedom is important to you.

Tell us why.

Congressman Ross: First of all, as a Christian, we have to

believe that individuals have value and worth that is given

to you by God. And it doesn't matter whether you're an

American, an Indian, or whomever; preserving this gift is

one of our utmost responsibilities as Christians. And being

an American Christian, where we recognize the sanctity of

all our God-given rights, we have the obligation to further

the allowance of those rights across the world. Religious

rights and all human rights are a part of what we as

Christians believe are fundamental to human dignity.

We have been given a lot and, because of that, we

have an obligation to speak up and act. When I see countries

that rely on the United States for defense [or their

economic vitality], but see them engage in violations

of religious rights, I have an obligation to put a stop to

that. [We] leverage our relationship and [require them] to

[stop] their persecution, their violations of human rights,

and their demeaning of human dignity."

Jeff King: As a Christian serving in Congress, are you

encouraged by the commitment of Congress to international

religious freedom?

Congressman Ross: Absolutely. I will tell you that is

the one issue that transcends party. I think it's also the

one issue that we, as members of Congress, can rest

on our history and say, this is something we've always

believed, this is who we've always been, and this is

what [will be our future].

Look at the period just after the Civil War when Lincoln

delivered his proclamation calling for a national day of

prayer; the proclamation was overwhelming. He recognized

that [our country] failed to look to God for guidance,

and that God brought America [to such a low point] that

it was time to engage in a national day of prayer. That

has been a strong thread throughout our government that

20 PERSECU ION.org

OCTOBER 2018

INTERNATIONAL CHRISTIAN CONCERN
---
Above: Congressman Ross in his office during the interview with Jeff King.

we've somewhat covered up over the last

couple of years because it hasn't been cool to

be Christian.

Jeff King: Can you share a little more

about what Congress can do to help the

persecuted in India?

Congressman Ross: Well, we have to hold

their feet to the fire. When Modi was here in

2016, he emphasized their relationship with

the United States and his desire to be a strong

partner, but if that is going to happen, they

have to deal with religious persecution.

We absolutely expect to get a response

to our correspondence with some concrete

evidence that they're taking steps to curtail

religious persecution. We're asking

President Trump, who has met with Modi,

to make sure that there is some sense of

accountability on their part, showing concrete

steps that they are not going to stand

for religious intolerance.

Jeff King: Tell us about how, over the

course of your career, you have seen religious

freedom develop as an issue on

Capitol Hill.

Congressman Ross: I was raised Catholic, married

a Baptist, and then became a Presbyterian.

We weren't exposed to religious persecution.

PERSECU ION.org

INTERNATIONAL CHRISTIAN CONCERN

In my time, it was always the Catholics versus

the Protestants in Northern Ireland. It's not

until you hear the stories of those who escaped

persecution does it [make you wake up and see]

this is real, this is happening.

Having traveled on some CODELS

(Congressional Delegations) and spoken to

persecution victims and survivors, we realize

[a deeper] reason why we serve in Congress.

Yes, we need to make sure people get their

Medicare, Social Security, and veteran's benefits,

but when you look at the issue of persecution

on a global scale and the impact you can

have in that regard, it gives you a sense of fulfilment

that validates the reason why you are here.

I think you'll find that more members of

Congress, once they're exposed, will be more

motivated to make a difference. It goes back

to how we, as a government, can do more on

this issue. One way is by imposing standards

by which we are going to measure countries in

doing business.

Jeff King: You mentioned that you were

not exposed to the issues of persecution

as a child, and that is completely normal

in America. Most of the Church is asleep

on the subject. I would like to ask you to

speak to the Church about this; what would

you say?

Congressman Ross: There is no greater obligation

on this earth than to preserve the sanctity

of life at every level, whether in the womb,

on the earth, in America, or anywhere.

I think that is one of the foremost reasons

that we as Christians have the obligation to go

forward and do all we can to stop persecution.

Remember, we will have to give [an] account

of what we did with the opportunity that was

given to us.

That's why I say when we, as congressmen,

are confronted with situations where we see

injustice and persecution, we understand that

there is something we can do about it. Taking

action is not only fulfilling, but an obligation

for us as Christians.

So each of us at every level has that obligation

to preserve and promote the sanctity

of life. [This obligation] means vehemently

opposing the persecution [of] anyone, regardless

of their religious belief, even if that belief

is contrary to our own.

Congressman Ross is retiring from public service

at the end of this term and will pursue

opportunities to equip young people to become

effective leaders. International Christian

Concern applauds Congressman Ross and his

staff for their dedication to fighting for religious

freedom in India and around the world.

21
---
"We as Christians have

the obligation to go

forward and do all we

can to stop persecution.

Remember, we will

have to give [an]

account of what we did

with the opportunity

that was given to us."

– CONGRESSMAN DENNIS ROSS

22 PERSECU ION.org

OCTOBER 2018

INTERNATIONAL CHRISTIAN CONCERN
---
The State Department

Invites ICC to Participate

in Its First Ministerial to

Advance Religious Freedom

Above: As part of the Ministerial, ICC hosted a roundtable on Nigeria which discussed

the multiple layers of issues and proposed real solutions to end violence.

In July, International Christian Concern

participated in the first ever Ministerial

to Advance Religious Freedom hosted by

the United States Department of State.

The event clearly placed international

religious freedom as a core component of

the United States foreign policy platform.

As part of the 3-day ministerial, ICC

hosted a roundtable focused on the persecution

facing Nigeria's Christians in

the Middle Belt region. Led by ICC's

Advocacy Director, Matias Perttula,

the roundtable hosted diplomats, policy

experts, and NGO leaders. Through the

discussion, ICC successfully argued the

significance of radical Islam in the conflict

(a reality often overlooked by policy

officials) and the need to view the crisis

from the prism of religious persecution.

ICC was the only organization to host an

event focused on Nigeria and highlighted

the need for the United States and the international

community to apply political pressure

on Nigeria's Buhari administration.

Throughout the roundtable discussion,

ICC continually stressed the role

of radical Islam in the conflict and the

increasing existential danger the crisis

poses to Nigeria and the rest of the West

African region.

The possible geopolitical repercussions

of the conflict cannot be overstressed. If

Fulani violence is not controlled, the

situation has the real potential to escalate

into a massive civil war and possible

genocide. Most Nigerian Christians

would already call it a genocide.

Change will not take place unless the

international community demands an end

to the increasing violence perpetrated by

Fulani militants. The Buhari administration

must begin to feel the political pressure

of the international community.

ICC continues to work on several

fronts to increase that pressure.

Recently, ICC worked with a congressional

human rights commission to

author a letter to President Buhari. ICC

also drafted legislation that is currently

making the rounds of Congress, asking

the Trump administration to appoint a

special envoy to the region.

PERSECU ION.org

INTERNATIONAL CHRISTIAN CONCERN 23
---
HOPE

GROWS

DESPITE ONGOING VIOLENCE

Two hundred and thirty Christians were

killed in June 2017 over a three-day period.

ICC is seeking to help these families rebuild

through communal farms.

By Nathan Johnson

In late June 2018, Fulani militants

raided and killed more than 230

people in Plateau State, Nigeria.

Less than one week later, I was

walking the same ground where

my brothers and sisters in Christ

lost their lives.

As our team drove through the

villages of Barkin Ladi, the local

government area that suffered the

majority of the casualties, I witnessed the

pure devastation that this attack had placed

upon the community. We drove passed countless

houses that had been burned down or

demolished. We saw churches that had been

destroyed, leaving no central location for the

community to hold the many funerals that the

attack required. Many farms had clearly been

ravaged by animals and trampled by moving

cattle. Many of the smaller communities outside

of the main town were abandoned.

We visited with local pastors and some

of the displaced families that were taking

refuge in the last standing church compound

in town. What struck me the most was the

lack of extreme emotion over the situation

that had just taken place. When I met with

those who had lost family members, they

spoke as if it was just another normal day. In

less than a week, the tears had dried and the

community had returned to life as normal,

or at least as normal as life can be after such

Above: Pastor Jacob Machif lost his wife and home in the horrific

Fulani attack in June.

Below: Fulani-owned herds graze around the remains of one of the

villages attacked by the armed militants.

24 PERSECU ION.org

OCTOBER 2018

INTERNATIONAL CHRISTIAN CONCERN
---
"I was away from home when the attack took place,

but my wife was home. They killed her and burned my

house down."

– PASTOR JACOB

Thank you

Thank you so much for your continued

dedication, support, and care

for our suffering brothers and sisters

in Nigeria. Without your faithfulness,

we would not have been able

to reach 90% of our goal for all 10

farms in only four months. This is

an incredible feat and you have exceeded

all of our hopes and allowed

us to dream even bigger.

We are in the final push of funding

and we would like to raise funds

for new seed and fertilizer for the

existing farms for next year. We can

only do this with your help.

These farms are incredibly efficient.

We help the victims of Fulani

militant attacks, who have lost their

loved ones, farms, and homes, get

back on their feet. That's what these

farms do. They bring families back

from the brink of despair and help

rebuild destroyed communities.

$5

Provide seeds/stems for 1/5 acre

$35

Give one person a job, security,

and food for a year

$100

Buy four 50kg bags of fertilizer

$125

Provide a water pump for the

farm

traumatic events.

This atmosphere of normalcy stood in

stark contrast against the fact that the town

and surrounding areas were still heavily

occupied by Fulani herders. Though not all

of the herders were among the groups that

conducted the attacks, it still surprised me

to see so many of them in an area that had

recently been the site of major tensions.

I felt nervous driving into areas where so

many had been killed and where tensions

were still high. It is widely known that

Fulani militants had conducted the attack,

Below: Some of the children in the surrounding area of the Fulani attack.

yet many Fulani herders still occupied the

area and allowed their livestock to graze as

if nothing happened.

Pastor Jacob

One of the men I met, a pastor named

Jacob Machif, had just lost his wife and

home in the attack. He said, "I was away

from home when the attack took place, but

my wife was home. They killed her and

burned my house down." Jacob was one of

the pastors living at the church compound

when we visited. He travelled with us to

Giving Options

Check: Use the enclosed envelope.

Write "Nigeria Crisis" in

the memo line.

Phone: Call ICC at

800-422-5441

Online: Visit persecution.org/

nigeria-crisis

PERSECU ION.org

INTERNATIONAL CHRISTIAN CONCERN

25
---
Above: A team inspects the seedlings on ICC's first communal farm. These farms are massive!

one of the farms that ICC developed in the

region. He wanted to express his gratitude

for helping those who lost their loved ones

during these attacks.

ICC's Communal Farms

This was the largest attack in Nigeria

by Fulani militants in the past decade.

Thousands of people were displaced from

their homes. Families are now trying to survive

without their breadwinners or the land

they normally farm. These are the families,

like Jacob's, that ICC is partnering with to

help rebuild. These are the families that you

are helping through donations to the Nigeria

communal farms project.

At the time of writing, ICC has finished

developing the first two farms. These farms

were just the beginning and have helped us

determine how to most effectively assist

these suffering families. We are now preparing

to develop the next eight farms. To all of

you who have already given to ICC's communal

farms project, we say a huge thank

you! In only four months, you allowed

us to meet 90% of our goal of funding all

10 farms! But we are not done. Any additional

funds will be used to increase these

farms' productivity and help the families

that are part of the project. You can still

get involved, or become more involved, by

giving today!

The first two farms alone have helped nearly

1,000 people return from the brink of devastation

that they were pushed to after the attacks.

The farms are currently in the hands of those

who are best equipped to handle them: the

farmers. They have been working and caring

for their crops for several months now and are

nearing the season of harvest. This will allow

them to make money by selling the crops they

have harvested, but will also ensure that they

have food for their families.

Please continue to pray for the safety and

security of these farms and the surrounding

communities. Pray for the pastors of

these towns who must bury many of their

church members, while preaching forgiveness.

And finally, please pray for a change

of the hearts and minds of those who are

committing these atrocities. Pray that they

would see the life that is springing up from

the pain that they have caused, and that it

would lead them to repent.

26 PERSECU ION.org

OCTOBER 2018

INTERNATIONAL CHRISTIAN CONCERN
---
Jeff King's latest, life-changing book, "The Last Words of the Martyrs," is available for pre-order today.

The Last Words of

the Martyrs

Life-Changing Stories from Persecuted Believers

Who Paid the Ultimate Price

Foreword by Francis Chan

"

I suspect that in your life, you are continually

trying to follow the footsteps of your master

as you climb a path that winds its way up

the mountain of your spiritual journey. You

probably find those footsteps are often hidden

by ever-present clouds.

The whisper of the martyrs blew away this

cloud and showed me the final destination at

the top of the mountain and I want you to hear

what I've heard.

The journey I will take you on will be very hard,

especially if you have a sensitive heart. But, I

urge you not to turn away from the martyrs.

You will find as I have, that while their stories

deal with death and suffering, their hidden

message is all about

"

life - the real life that you

desperately thirst for. The life that the Lord

longs to bring to you.

- Jeff King

"The martyr's message is of great

importance and I urge you to listen

carefully to their voice that Jeff has

captured so well. It is with great pleasure

that I recommend 'The Last Words of

the Martyrs' to you. The lesson that the

martyrs are 'whispering' to the Western

Church is life-changing."

- Pat Robertson, The 700 Club

Pre-order Today for $14:

Online: martyrbook.persecution.org or Call: 1-800-422-5441

All profits will be used to assist the families of Christian martyrs.

PERSECU ION.org

INTERNATIONAL CHRISTIAN CONCERN

27
---
You Can Help Today!

PERSECU ION.org

INTERNATIONAL CHRISTIAN CONCERN

SEND DONATIONS TO:

ICC

PO BOX 8056

SILVER SPRING, MD 20907

OR ONLINE AT

WWW.PERSECUTION.ORG

OR BY PHONE

800-ICC-5441

GIVING TO ICC VIA

YOUR WILL

Provide now for a future gift to ICC

by including a bequest provision in

your will or revocable trust. If you

would like more information on giving

to ICC in this way, please give

us a call at 1-800-ICC-5441.

Summertime in one of Nepal's many

rural valleys. Christians and pastors

like Yubak (pg. 18), especially in the

rural areas, are facing an increase

in religious persecution. Keep our

brothers and sisters in prayer.

MEMBER

© Copyright 2018 ICC, Washington, D.C., USA.

All rights reserved. Permission to reproduce all

or part of this publication is granted provided

attribution is given to ICC as the source.

International Christian Concern (ICC) is a nonprofit 501(c)(3) (all donations tax-deductible).

ICC makes every effort to honor donor wishes in regards to gifts. Occasionally, situations

arise where a project is no longer viable. ICC will then redirect those donated funds to the

fund most similar to the donor's original wishes. ICC uses 7.5 percent of each restricted

donation to carry out the mission of its segregated funds.

facebook.com/persecuted

@persecutionnews