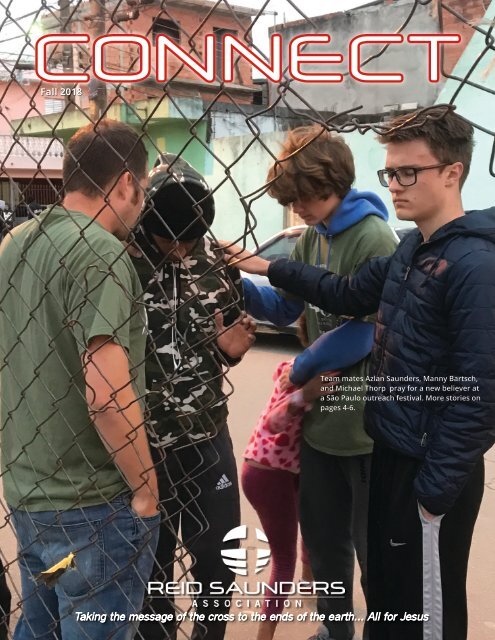 Create successful ePaper yourself
Turn your PDF publications into a flip-book with our unique Google optimized e-Paper software.
Fall 2018

Team mates Azlan Saunders, Manny Bartsch,

and Michael Thorp pray for a new believer at

a São Paulo outreach festival. More stories on

pages 4-6.
---
EVANGELISM

2 Timothy 4:5

Target unreached people

groups around the world

Engage the culture without

changing the Good News of

Jesus Christ

UPCOMING EVENTS

Bolivia Team Trip ............................................................................. September 7-18, 2018

RSA Benefit Golfathon ................................................................................October 6, 2018

Egypt Trip ...................................................................................... November 12-19, 2018

Dominican Republic Team Trip ....................................... January 26-February 5, 2019

Philippines Team Trip ................................................................. March 22-April 2, 2019

Spain Team Trip .................................................................................................. June 2019

Vietnam Team Trip .................................................................................... November 2019

Israel Team Trip ............................................................................................... March 2020

Demonstrate God's care and

compassion by providing

humanitarian aid for those in

need

Invite people into a

relationship with Christ

BUILD UP THE

BODY OF CHRIST

Ephesians 4:12

Promote unity and

cooperation among the local

Bible-believing churches

Train and equip teams of

believers for the work of

evangelism

Partner with local churches

to make disciples of new

believers

The team of leaders and planners for the 2018 Reid Saunders Benefit Golfathon are

optimistic and excited about the opportunity to raise over $50,000 in donations to

fund ongoing operations of RSA's ministry around the world. Corporate sponsors

have already given thousands, and now individuals sponsors who might only give a

few dollars are welcome and needed to reach the goal.

Golfathon participants pay $100 to play in the event and also solicit donations from

their personal contacts. Each participant is competing and trying to raise $1000

or more. All friends and partners of the RSA ministry are invited to become golf

participants or simply choose to sponsor their favorite participant. Sponsored

participants will hit 100 golf balls at select targets within a specially designed driving

range. The golf event held at Topgolf in Hillsboro on October 6 promises to be a funfilled

celebration of each persons partnership in the ministry.

Additional information and a video is posted on our web site to explain the process.

http://reidsaunders.org/benefit-golfathon/ or contact doug@reidsaunders.org for

details on how you can become involved in this life-changing opportunity.

Saturate communities

through city-wide festivals

PO Box 4275 Salem Oregon 97302

503-581-7394 info@reidsaunders.org

New Staff

Added

Database Administrator

Lisa Fordyce has a heart for

nonprofit ministries, working

with volunteers, and for

helping those in need. She is

joyful and excited to join the

team at RSA, using her gifts

and talents for God's glory. She has been

married to her high school sweetheart, Craig,

for 30 years now! Lisa feels she is blessed

with "the best friends in the world" and is

grateful to God for each of them.

Capital Campaign Director

Doug Terpening is a longtime

friend of both Reid and Brett.

He served with Luis Palau

Association from 1999 to 2013,

where he worked as the Vice

President of Festivals. His job

included coordinating large events, managing

a large staff, and raising funds each year for

outreach festivals. Doug later transitioned

to a different ministry called Mending the

Soul, where he served as Development

Director until accepting this position with

RSA. He brings a wealth of experience in both

evangelism and fundraising. Doug and his

wife, Andrea, have four children.
---
ALL FOR

JESUS

"Whoever hears my word

and believes Him who sent me

has eternal life and will not be

judged but has crossed over

from death to life."

I was so excited for the opportunity to travel and

serve with my family and see hundreds of new

believers in São Paulo, Brazil.

Jesus takes people from death to life. In

John 5:24 Jesus said, "Whoever hears my

word and believes Him who sent me has

eternal life and will not be judged but

has crossed over from death to life."

In July, I was preaching the Gospel at

a large festival in Pennsylvania when a

teenage girl and her mom came up to me

afterwards. Let's call her Julie, though

it's not her real name. She told me that

her mom brought her to the festival even

though she didn't really want to come.

Julie told me she had been completely

broken and hopeless, and she had tried

several times to end her life. She was

abused as a young girl and carried a life

full of shame because of her abuse.

But that night Jesus changed Julie's

heart! She went from death to life. "Reid,

tonight I gave my heart to Jesus and for

the first time I don't feel guilty, dirty,

or ashamed. Instead, Jesus has changed

my life and given me peace." Yes! Jesus

changed Julie's life forever and He is

working mightily in the lives of so many

others!

My family was able to join me on the

recent trip to São Paulo, and a side trip

to Rio de Janeiro. Our time in the favelas

(slums) of São Paulo was off-the-charts

rewarding as we watched God move

powerfully in our lives and through the

whole team. We saw gang leaders and

drug dealers come to Jesus! Moms and

children were hungry for the gospel.

I love seeing Jesus change lives for

eternity!

From the U.S. to Brazil, and Bolivia in

September, God is using RSA with your

help to proclaim the Good News of Jesus

Christ, our glorious Savior, who takes

people from death to life!

All for Jesus!
---
Sew Blessed

New sewing ministry opens doors of women's hearts in Brazil

Inspired by the story of Susanna Wesley,

mother of 19 children and a profound

influence in the lives of her sons, John

and Charles Wesley, famous English

pastor and hymn writer from the late

1700s, a Salem church community

group committed themselves to sewing

aprons for the Reid Saunders ministry

for moms in Latin American countries.

Ruth Daniels, the international missions

director at RSA, saw the tremendous

potential for reaching out to Latin

American women and took samples

of the aprons on her pre-trip to Brazil

in April. The missionaries and staff of

Restoration Ministries in São Paulo were

excited and supportive – they loved the

idea and knew immediately that they

could use at least 100 aprons for an

upcoming outreach in August.

Susanna Wesley often covered her head

with an apron to find quiet time with God

in the midst of dire household situations.

Aprons still provide utility beyond

imagination for many within the Latin

culture. It's like a tool belt, protection for

clothing, and a helping hand for every

task, from wiping the tears of toddlers

to carrying vegetables for the next meal.

Many moms are treated poorly by

abusive, incarcerated, or absent fathers,

left to provide for their children, working

long hours, and keeping a make-shift

home together in the midst of poverty.

Including the story and inspiration

behind the aprons speaks of our

Savior's love, giving women hope and

a connection to women in America. A

printed plan of salvation with contact

information also accompanies each

apron to provide a witness long after the

outreach events.

Early in July, a group of eleven women

who had previously been sewing dresses

for children, led by Melissa Shults, Laura

Snodgrass, and Fawn Bartlett, celebrated

their goal of producing more than 140

aprons, well before their deadline.

Melissa recalled, "The Lord inspired

us with a powerful story about prayer,

which gave birth to an apron ministry

to bless women around the world. This

enables us to utilize the gifts and talents

He's given us, in order to show His love

and share His Gospel, all for His Glory!

I'm so blessed to have a part in this

ministry along with my 'Fristers'."

As the Brazil trip unfolded recently, the

ladies eagerly awaited news on Facebook

of how the aprons were being received

by the moms. Fawn remarked, "Ruth

was giving us real-time updates as the

team was presenting the gospel, and the

aprons. It was like we were there. We

felt a direct connection to the women

in Brazil. It showed me how, with little

money and time here and there to sew,

how

my "little" effort becomes BIG

when God uses me in unity with other

sisters to impact people for spiritual

eternity. I CAN make a difference with

my sewing machine when in God's will.

This has renewed me. I've been "Sew

Blessed" as a result."

Laura expressed her feelings, "Sewing

an apron for a woman I don't know

feels like I can provide a long distance

hug and raises my compassion level by

making those needs more tangibly felt.

Praying for the woman who will wear

it feels so much more personal and

relatable. Seeing these women (through

Facebook) deepened my compassion

for their situation and reminds me

how blessed we are. Some accepted

Christ through the sharing of this story.

Being able to see that joy in their eyes is

priceless. Knowing someone went from

a dark place to a world lit up by Christ's

love is quite exceptional to see and feel."

Everyone at RSA is extremely grateful

for the contribution of time, talent,

"We felt a direct connection

to the women in Brazil."

and treasure to this cause of reaching

the unreached. The apron project is

a welcome addition to the already

established sewing groups that provide

dresses, undergarments, and shorts

for impoverished children around the

world. Both ministry groups are equally

important and provide a lasting physical
---
eminder of God's love and compassion.

In Brazil, more than 1,000 children's

garments sewn by ministry partners

were delivered to Restoration Ministries.

Each clothing item will be wrapped and

distributed to a needy child at Christmas

time. (They promised to send us pictures

of the event.) Contact Ruth or info@

reidsaunders.org to contribute or be

involved in these powerful garment

ministries.

The aprons were an instant success with

the women of Brazil, bringing many to

tears as they felt the powerful emotional

connection to women in America and

realized their role of influence. Many

could be seen proudly wearing their new

possessions long after the women's event.

At the first favela, we were doing a

gospel presentation. There was a gang

leader and a group of drug users outside

the window of the building we were in.

They were smoking dope and blowing

the smoke into the building we were

using. I smelled the smoke and went to

see what was up. Tara came with me.

We were literally feet from where they

were using drugs and we started to pray

that they would come to know Jesus. We

prayed until the moment we had to go

do our drama.

After our presentation, Irini from

Restoration Ministries called me outside.

She had someone for me to meet. It was

the gang leader, the one selling drugs

outside.

I started to share my testimony with

him, presented the Gospel, and let him

know the truth about what Jesus Christ

had done for him already. I told him

how being a gangster ultimately leads

continued on next page

i

Gods transforming

power at work

Testimony by Matt Maceira
---
i

Gods transforming

power at work

continued

Testimony by Matt Maceira

to death, loss of everything and eternal

separation from Jesus Christ. I told him

how I lost everything, and ended up on

the street. From God's Word, I let him

know how much God loved him. Then

I asked him the most important question

any believer can ask another human

being: "Today, do you want to accept

Jesus Christ as your personal Lord and

Savior?" He said yes!

The young man that was with him

knew the Lord but had gone back to his

old ways. I told him that I understood

because I had done the same thing.

Today, he could re-dedicate his life to the

Lord and turn away from these things.

They both made decisions to follow

Christ that day!

like before Jesus and what my life is like

now with Jesus as my Savior. I shared the

Gospel with them and the truth of God's

Word. "While I was a sinner, Christ died

for me. While I was His enemy, Christ

died for me. And He did the same thing

for them."

After 45 minutes, I asked them if they

would like to accept Jesus Christ as their

personal Lord and Savior. George said,

"Here's the thing, I still hurt people, I still

sell drugs, I still use drugs." I told him,

"Bro, it was the same for me. God met me

right where I was, using drugs, selling

drugs, being a gang leader, and hurting

people. So, I totally get it." I asked him

again. "George, today, God says today is

the day of salvation, today do you want

Igor Gang Leader Matt Friend

to accept Jesus Christ as your personal

Lord and Savior? As soon as you do, all

of His promises are in place, just like for

me. To anyone that says 'yes' to the free

gift of salvation, God will accomplish the

work He starts in each one of us. He will

change you from the inside out." George

said 'Yes' to salvation, along with all of

his guys and the shopkeeper. We prayed

with them and each one accepted Jesus

Christ as their personal Lord and Savior!

The next day I saw George and he came

running out to the street, smiling with

tears running down his face. He said to

me, "You know, we are connected forever

in the heart." I told him, "Yes, here, and

for all eternity!" He hugged me.

Less than 24 hours before, this man

had the heart of a stone-cold killer, just

like me, before I met Christ. I had a

murderous heart. Just like Jesus did for

me, He changed everything for George!

God's transformative power took hold

of this man's heart and softened it from

a heart of stone to a heart of flesh. It was

absolutely amazing to behold God's

limitless power!

Throughout the week, we were given

opportunity after opportunity. Men,

women, and children said 'Yes' to God's

love and forgiveness. Gang leaders, drug

dealers and those chained in the midst of

addiction, moved from darkness to light.

It was an absolutely amazing moment in

time I will never forget. The Lord is now

taking all of my past and using it to bring

glory to Himself in the middle of a lost,

dying world. –Matt

After I walked away, the gang leader

continued talking to Igor, and other staff

members at Restoration Ministries. He

told Igor, "My whole life, all I've been

is a gangster. All I've ever wanted to be

was a gangster. Now that's all over. I

have a new life in Jesus!"

Another day, I was called outside by

Pastor William, who wanted me to talk

to a group of people. George was the

gang leader, and there were five of his

drug dealers with him. A shopkeeper

also listened as I shared my testimony in

great detail. I told them what my life was
---
SHORT TERM

MISSIONS

ADVENTURES

Alan and Tangye Hopkins of Salem OR,

have participated on prayer teams, gone

on mission trips with RSA to Thailand,

Myanmar, Peru, and will be going to

Bolivia in September.

Q

How have your reasons for

continuing to serve in shortterm

mission trips evolved

over the years?

Tangye: I think, for me, it was really

experiencing first-hand the impact that

happens on missions trips. Not only do

I get the opportunity to touch the lives of

total strangers, but these people end up

changing my life just as much. I have had

I've often gone, thinking I'll be doing all

these things for God, and then God uses

me in ways I never expected. That's what

motivates me, changes me, and prompts

me to go again.

What personal opportunities

Q

in ministry do you expect to

find in Bolivia?

Tangye: I expect to be stretched again.

Every time I go, something unexpected

happens. God orchestrates it in advance.

I experienced one of those special "God

moments" in Peru (2016). I still pray for

a certain little girl in Peru. She fell asleep

in my arms one night at our festival. I

don't know her name, but I know a little

bit of her story. I can still see her face

in my mind, I pray for her. She's my

"granddaughter" in Peru.

Alan: I try not to go with expectations.

I want to go with an open mind and an

open heart because I know that God's

critical and vital before, during, and

after a trip. I feel the prayer support and

it makes all the difference during a trip.

Physically: I want to be stronger as I deal

with the arthritis in my knee and find

something that helps more with the pain.

Also, our family has gone through a lot

of personal issues these past few years

and I wish my focus could be completely

on praying for Bolivia. It's too easy to

get distracted by personal issues I am

dealing with right now.

What kinds of missional

training or workshops would

Q

help you prepare for future

trips?

Tangye: Hearing other people's

experiences, finding out what worked

and what didn't work is always

helpful. Being involved with the prayer

teams for other trips has also given me

insight. When I've been involved with

the opportunity to go to Thailand twice.

The second time, people who had actually

seen me in the drama the year before say,

"You don't realize how impactful drama

is." To go and experience that was lifechanging

for me.

Alan: My first mission trip was in 1990,

my second in 2012. After my second

trip, I just felt God was calling me into

short-term missions. Trips change

our perspective on life and should be

experienced by everyone. God has

shown me so many things. He showed

me how blessed I am. He showed me

how other people in the world live. He

also showed me how happy I can be

with nothing materially. We never get

a true world-perspective until we leave

this country. So I think it's life changing

each time I go. I have also grown greatly

in my relationship with God, as I've

learned to be more dependent on Him.

ways are better than my ways. I want to

be open for whatever He has for me. If I

go on a missions trip with expectations,

they're not going to be met. I always get

far more than expected.

What skills (physical, mental,

and spiritual) would you like

Q

to develop in preparation for

your upcoming trip to Bolivia?

Alan: My prayer skills. I struggle with

prayer. I need to get into the habit of

praying more. Prayer is key for any

mission trip. I have seen it before. On

trips that we weren't prayed up, we

had some issues. On other trips where

there was a lot of prayer going on, both

by us and by others, prayer made the

difference on how the team worked

together; on people's health; the ministry

we were able to do; and the lives we were

able to touch.

Tangye: Spiritually: prayer is really

RSA prayer teams (Malta, Dominican

Republic), we tried to focus our prayers

on specific things. For this trip, Ruth

gave us the 40-days-of-prayer calendar.

It helps us to focus on one item each day

and helps prepare our hearts.

Alan: One thing that would be very

helpful for me is getting a better

understanding of the culture I will be

ministering to. I don't want to find myself

doing something that offends somebody.

Understanding their culture affects how

our team can minister to people.

I think it's always good to work on teambuilding.

The more we know about other

team members beforehand, and the more

we learn to work together, recognizing

all the different strengths, talents, and

quirks, the better we can complement

each other.
---
NONPROFIT ORG

U.S. POSTAGE

PAID

PERMIT NO. 661

SALEM,OR

PO BOX 4275 - SALEM, OREGON 97302

RETURN ADDRESS REQUESTED

Reaching the Unreached

A twenty-nine member team delivered a message of love and hope to the Brazilian favelas with the help of Restoration

Ministries. Many of the people they met were desperate and hungry for some good news. Drug dealers, gang leaders,

hundreds of men, women, and children made life-changing decisions to follow Christ! As it says in John 4:35, "I tell you, open

your eyes and look at the fields! They are ripe for harvest." Change is coming to these once

forsaken slum areas as the light of the Gospel shines into the

hearts and lives of a lost and dying community.