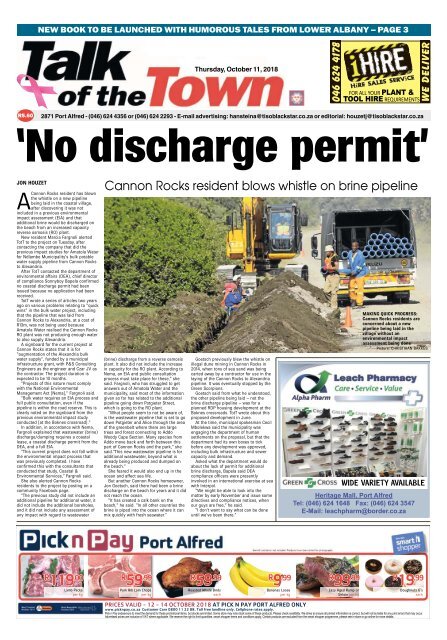 You also want an ePaper? Increase the reach of your titles
YUMPU automatically turns print PDFs into web optimized ePapers that Google loves.
NEW BOOK TO BE LAUNCHED WITH HUMOROUS TALES FROM LOWER ALBANY – PAGE 3

Thursday, October 11, 2018

R5.60 2871 Port Alfred - (046) 624 4356 or (046) 624 2293 - E-mail advertising: hansteina@tisoblackstar.co.za or editorial: houzetj@tisoblackstar.co.za

'No discharge permit'

JON HOUZET

ACannon Rocks resident has blown

the whistle on a new pipeline

being laid in the coastal village,

after discovering it was not

included in a previous environmental

impact assessment (EIA) and that

additional brine would be discharged on

the beach from an increased capacity

reverse osmosis (RO) plant.

New resident Marcia Fargnoli alerted

TotT to the project on Tuesday, after

contacting the company that did the

previous impact studies for Amatola Water

for Ndlambe Municipality's bulk potable

water supply pipeline from Cannon Rocks

to Alexandria.

After TotT contacted the department of

environmental affairs (DEA), chief director

of compliance Sonnyboy Bapela confirmed

no coastal discharge permit had been

issued because no application had been

received.

TotT wrote a series of articles two years

ago on various problems relating to "quick

wins" in the bulk water project, including

that the pipeline that was laid from

Cannon Rocks to Alexandria, at a cost of

R13m, was not being used because

Amatola Water realised the Cannon Rocks

RO plant was not producing enough water

to also supply Alexandria.

A signboard for the current project at

Cannon Rocks states that it is for

"augmentation of the Alexandria bulk

water supply", funded by a municipal

infrastructure grant, with P&S Consulting

Engineers as the engineer and Czar JV as

the contractor. The project duration is

expected to be 10 months.

"Projects of this nature must comply

with the National Environmental

Management Act [Nema]," Fargnoli said.

"Bulk water requires an EIA process and

full public consultation, even if the

pipeline is within the road reserve. This is

clearly noted on the signboard from the

previous environmental impact study

conducted [at the Boknes crossroad]."

In addition, in accordance with Nema,

Fargnoli explained that wastewater (brine)

discharge/dumping requires a coastal

lease, a coastal discharge permit from the

DEA, and a full EIA.

"This current project does not fall within

the environmental impact process that

was previously completed. I have

confirmed this with the consultants that

conducted that study, Coastal &

Environmental Services," Fargnoli said.

She also alerted Cannon Rocks

residents to the project by posting on a

community Facebook page.

"The previous study did not include an

additional pipeline for additional water, it

did not include the additional boreholes,

and it did not include any assessment of

any impact with regard to wastewater

Cannon Rocks resident blows whistle on brine pipeline

(brine) discharge from a reverse osmosis

plant. It also did not include the increase

in capacity for the RO plant. According to

Nema, an EIA and public consultation

process must take place for these," she

said. Fargnoli, who has struggled to get

answers out of Amatola Water and the

municipality, said most of the information

given so far has related to the additional

pipeline going down Potgieter Street,

which is going to the RO plant.

"What people seem to not be aware of,

is the wastewater pipeline that is set to go

down Potgieter and Alice through the area

of the greenbelt where there are large

trees and forest connecting to Addo

Woody Cape Section. Many species from

Addo move back and forth between this

part of Cannon Rocks and the park," she

said."This new wastewater pipeline is for

additional wastewater, beyond what is

already being produced and dumped on

the beach."

She feared it would also end up in the

ocean and affect sea life.

But another Cannon Rocks homeowner,

Jon Goetsch, said there had been a brine

discharge on the beach for years and it did

not reach the ocean.

"It has created a calk bank on the

beach," he said. "In all other countries the

brine is piped into the ocean where it can

mix quickly with fresh seawater."

Goetsch previously blew the whistle on

illegal dune mining in Cannon Rocks in

2014, when tons of sea sand was being

carted away by a contractor for use in the

laying of the Cannon Rocks to Alexandria

pipeline. It was eventually stopped by the

Green Scorpions.

Goetsch said from what he understood,

the other pipeline being laid – not the

brine discharge pipeline – was for a

planned RDP housing development at the

Boknes crossroads. TotT wrote about this

proposed development in June.

At the time, municipal spokesman Cecil

Mbolekwa said the municipality was

engaging the department of human

settlements on the proposal, but that the

department had its own boxes to tick

before any development was approved,

including bulk infrastructure and sewer

capacity and demand.

Asked what the department would do

about the lack of permit for additional

brine discharge, Bapela said DEA

compliance officers were presently

involved in an international exercise at sea

with Interpol.

"We might be able to look into the

matter by early November and issue some

directives and compliance notices, when

our guys are free," he said.

"I don't want to say what can be done

until we've been there."

MAKING QUICK PROGRESS:

Cannon Rocks residents are

concerned about a new

pipeline being laid in the

village without an

environmental impact

assessment being done

Picture: CHRISTIAAN BAKKES

WIDE VARIETY AVAILABLE

Heritage Mall, Port Alfred

Tel: (046) 624 1648 Fax: (046) 624 3547

E-Mail: leachpharm@border.co.za

R

119 .00

R

59 .99

R

59 .99

R

9 .99

Lamb Packs

per kg

Pork Rib Loin Chops

per kg

Roasted Whole Birds

each

Bananas Loose

per kg

R

99 .99 R

19 .99

Doughnuts 6's

Lazy Aged Rump or

Sirloin per kg

each

PRICES VALID - 12 - 14 OCTOBER 2018 AT PICK N PAY PORT ALFRED ONLY

www.picknpay.co.za Customer Care 0800 11 22 88. Toll free landline only. Cellphone rates apply.
---
2 Talk of the Town ADVERTISING / NEWSDESK: (046) 624 4356 Find us on Facebook

October 11, 2018

Dance group in battle over assets

Trio claim their leader took their equipment

TK MTIKI

Atalented group of

dancers from

Bathurst have

found themselves

embroiled in a feud

with their club

president over their

sound equipment and

c o st u m e s .

Members of the

Bathurst Sakhuluntu

dance group, which has

participated in a

number of dance

competitions,

approached Talk of the

Town recently, claiming

that their president,

Nolubabalo Njadayi,

was controlling the

group's finances and

had claimed their sound

system as her own.

Masixole Tokwe,

Anesipho Kofi and

Nasiphi Butana told

TotT they were speaking

on behalf of the entire

group.

The dance group was

formed in 2014, but

because they were

teenagers at the time,

allowed them to change

leadership after one

year, but Njadayi had

been in that position for

three years.

"When we told the

leadership that we are

changing the structure,

other members of

The sound system is ours –

the DSRAC donated a cheque

in 2016 for a sound system

they came up with the

idea of forming a

leadership who would

consist of elders, for

guidance purposes.

Njadayi was elected

president of the group

in 2015.

The trio stated that

their constitution

leadership were keen to

step down, but Njadayi

showed no interest in

doing so.

"She refused to step

down, saying the group

was hers," To k w e

claimed.

More frustrating to

the group members was

¿

29 Miles St, Port Alfred

PO Box 2871, Port Alfred, 6170

046 624 4356 / Fax: 046 624 2293

Mauneen Charter, mcharter@tisoblackstar.co.za

Sonja Raasch, sonjar@tisoblackstar.co.za

Anneli Hanstein, hansteina@tisoblackstar.co.za

Jon Houzet, houzetj@tisoblackstar.co.za

ĂůŬŽŌŚĞŽŶĐŽĂ

ΛĂůŬŽŌŚĞŽŶĞĐ

ĂůŬŽĨŚĞŽŶ

ĂůŬŽĨŚĞŽŶŶĚůĂŵďĞ

the alleged confiscation

of their property when

they tried to change the

leadership, they claim.

In her efforts to

prevent the change of

leadership, Kofi claimed

Njadayi had withheld

their sound system and

costumes, claiming that

they belonged to her.

"The sound system is

ours – the department

of sport, recreation, arts

and culture donated a

R60,000 cheque in 2016

for a sound system,"

Tokwe said.

Kofi and Tokwe went

on to claim that N j a d ay i

had used their group

name to make money

for herself.

"She started another

group of small kids and

is using our name,

Sakhuluntu," Kofi said.

According to the

dancers, when

Sakhuluntu was invited

to dance at an event,

Njadayi took her mini

"Sakhuluntu" group to

represent them.

They claimed the

confiscation of their

sound system and

costumes had been a

bitter pill to swallow,

especially as N j a d ay i

was allegedly making

money with their assets

without their consent.

"She is renting our

speakers to the tavern,"

Kofi said.

Tokwe lamented that

a tavern owner, whom

he did not name,

confirmed that he had

hired a speaker from

N j a d ay i .

After several

attempts to change the

dance group's

leadership structure,

and to reclaim their

equipment, the group

approached the Port

Alfred Magistrate's

Court last week for

advice.

Contacted for

comment, Njadayi

refused to give her side

of the story.

"Bhuti, I do not own

the group and I don't

know why you are

calling me," she said.

Pressed for an

answer on the

allegations about the

sound equipment and

costumes she said: "I

was part of leadership,

not owning the group.

"I am not going to

comment anymore.

"Phone Mandilakhe

[her son] and stop

questioning me. Why

are you looking for

loopholes? Stop

accusing me," she said.

She handed her

phone to another

person who also

referred the reporter to

"Mandilakhe".

THEY WANT WHAT'S THEIRS: Three members of Sakhuluntu dance group,

Masixole Tokwe, Anesipho Kofi and Nasiphi Butana, at the Port Alfred

Magist rate's Court, where they were seeking advice about how to have

their sound system and costumes returned by their estranged club

president

Picture: TK MTIKI

WIN THE ULTIMATE

NEW

EXPERIENCE WITH

FRESH & EUPHONIK

ANY 2 FOR R 29

R
---
October 11, 2018 ADVERTISING / NEWSDESK: (046) 624 4356 Find us on Facebook

Talk of the Town 3

New 'LA Lore' book launch

Excitement builds for long-awaited sequel about life in Lower Albany region

First published 25 years

ago, a new LA Lore is

soon to be launched with

a new collection of humorous

stories of the Lower Albany

area, with accompanying

illust rations.

LA Lore II ... and more is a

collaboration between Brian

"Bugs" Wilmot, Quentin Hogge

and Basil Mills.

The book is a compilation of

over 40 stories from the area,

which includes the area from

Port Alfred, Bathurst and

Makhanda (formerly

Grahamstown), and from the

Great Fish River to the

Bushman's River and the

farms in between.

There are excursions to

Hell's Poort and King William's

Town too. All the stories

illustrate the lighter side of life

in the Lower Albany region.

Wilmot provided an

example, the story of Bobby

Millar who made a bet with

some visiting Texans about the

size of the Thanksgiving

turkey. The Texans wagered

that Millar could not produce a

turkey anywhere near

the size and taste of a

Texas turkey. In

response, Millar put on

the table an enormous

bird braaied to

perfection. The

astounded Texas paid.

Only much later, Millar

revealed that he had served a

young ostrich.

Another famous incident

was when a white horse

patronised the Pig and Whistle

pub and caused consternation

to a farmer.

The original LA Lore was the

product of Wilmot's febrile

brain and Gerard Marx's

glorious cartoons.

"Twenty-five years is a long

time to wait for a sequel, but

as Judge Eric Leach notes in

his introduction to LA Lore II,

things move slowly in the

Twenty-five years is a long time

to wait for a sequel, but the

wait has been worth it

Lower Albany, and the wait

has been worth it," W i l m ot

said.

Wilmot, now retired to Port

Alfred, is an entomologist who

became director of the Albany

Museum and was elevated to

director of Museum Services

for the Cape Province. Later,

after a stint running the

National Schools Science

Festival, Wilmot was

instrumental in rejuvenating

and putting on the

international map the Olive

Schreiner Museum in Cradock.

Mills is a fine arts graduate

from Rhodes University. He is

an education officer at the

National English Literacy

Museum where his varied

skills include a vast

knowledge of local history

and an unmatched ability

to communicate this

knowledge to a wide range of

audiences.

Hogge is a teacher and the

author of four anthologies of

poetry. He jokes that he wants

to retire before death, but isn't

hopeful.

The book will be launched at

the Ploughman Pub in

Bathurst on Friday October 19,

at 6pm.

TICKLING FUNNY BONES: Brian 'Bugs' W i l m ot ,

with an advance copy of 'LA Lore II… and more',

a collaboration between him, Quentin Hogge

and Basil Mills

Picture: JON HOUZET

Trading Hours Superspar: Mon– Sat: 8am – 7pm Sun 8am - 5pm

Valid: 11 - 14 October 2018 | E&OE | Tel: 046 624 3542 | www.rosehillsuperspar.co.za |

While stocks last. WE DELIVER - Place orders telephonically or via email rosehill1@retail.spar.co.za

Trading Hours Nemato Spar: Mon– Sat: 7am – 7pm Sun: 7:30am - 6pm

Valid: 11 - 14 October 2018 | E&OE | Tel: 086 002 1039 | While stocks last

WE DELIVER - Place orders telephonically or via email nemato1@retail.spar.co.za

Bulk Lamb Braai

Chops

R99.99 Per kg

Tender & Tasty Precooked

Spare Ribs 1kg

R99.99 Each

SPAR Butter 500g

R56.99 Each

Spekko Rice 10kg

R99.99 Each

Sasko Cake Four 10kg

R79.99 Each

White Star Maize

Meal 10kg

R59.99 Each

ROSEHILL

NEMATO

Milk Tarts

R18.99 Each

Yellow Corn Bread

R10.99 Each

White or Red Grapes

500g

R35.99 Each

Sunola Cooking Oil 2L

R29.99 Each

SPAR Amasi 2kg

R15.99 Each

Stork Margarine 1kg

R29.99 Each
---
4 Talk of the Town ADVERTISING / NEWSDESK: (046) 624 4356 Find us on Facebook

October 11, 2018

PA recycling initiative going up in smoke

JON HOUZET

A local recycling initiative has

been stymied by fire, stolen

electric cables and government

withholding funding.

Residents have been

wondering if their personal

recycling habits have been worth

it as a project by Integrated

Waste and Recycling Services

(Iwars) to collect recyclables

appears to have ground to a halt.

In Port Alfred, the Iwars project

was set back by two fires at the

municipal dump which destroyed

recycling equipment and gutted

a shed.

A few weeks ago Kenton

resident Anthony Bayley copied

in TotT on an e-mail query to

Mark Price of Iwars, in which he

asked why no information was

forthcoming on recycling in the

Kenton area.

But the e-mail was not actually

sent to Price. TotT forwarded it to

him for his responses.

"We did report the problems to

the business chamber and Kosra

[Kenton-on-Sea Ratepayers

A s s o c i at i o n ] , " Price said. "The

latter was also given a short brief

to add to their web page. Regular

updates are also put on the

Kenton365 WhatsApp group."

Bayley said the Bushman's

Riverbend municipal property

had become a health hazard,

with mountains of rubbish and

more blowing around the

landscape.

"We agree," said Price.

"Unfortunately people are

including non-recyclables in their

clear bags, such as food and

disposable nappies, which the

Bushman's recycling staff place

in a skip the municipality

provided. The municipality

agreed to empty the skip on a

regular basis but at the current

rate the unusable waste is

accumulating. We constantly

have to request them to collect

the skip."

Bayley felt that the waste

materials on site were becoming

commercially worthless because

of weather damage.

"Not true, most is still

commercially valuable,"

responded Price.

"What are households and

businesses being advised to do

with their materials?" B ay l e y

a s ke d .

"In all our regular WhatsApp

messages and on the Kosra

website, we say residents can

still place glass bottles in the

glass skip next to the SPAR [the

municipality is also slow in

removing the contents to

Bushman's] and other

recyclables can be taken to the

shed in Bushman's.

"Once the recently stolen

electric cables are replaced, and

security alarm is repaired,

production can start up again

and then weekly collections will

resume. Note it was never the

intention to collect recyclables

because of the high labour and

fuel cost but it was agreed to do

so on a short-term basis until

trailers were manufactured which

the municipality agreed to tow

behind their waste collection

trucks. But again the

municipality has let us down and

we now have three unused

t railers," Price said.

Bayley said many residents

and ratepayers were concerned.

Price responded: "We fully

understand their concerns but

we sit with a government-funded

project which government has

not fully funded.

"Iwars as implementers cannot

implement without funding. The

last funding received was 15

months ago and this is as a

result of problems between the

DTI [department of trade and

industry] and National Treasury."

FULLY ACCREDITED: Proudly showing off a letter of accreditation for the Port Alfred Sport Shooting Club's shooting range is club member Darryl Kukard, centre, with sponsors Louwrens van Rooyen, left, of

the Route 72 Saloon and SPAR owner Craig Theunissen, right, and SAPS support head Lieutenant-Colonel Dirk de Kock and cluster commander Brigadier Morgan Govender

Picture: JON HOUZET

Accredited shooting range a boon

for police and sports shooters alike

E-mail your view to

h o u z e t j @ t i s o b l a c k s t a r. c o . z a

Friday 12 October 2018 to Thursday 18 October 2018

THE RECCE (16VL)

1981 - RECCE, Henk Viljoen, is wrongfully

declared KIA behind enemy lines. Abandoned

by his superiors; it's a race for survival in which

ŚŝŵĞŶĂůĂŶĚŚŝĐĂůĂďŝůŝĞĂĞŚĞĚŽ

their limits, as he navigates his way through the

ĞĂĐŚĞŽŶŐŽůĂŶĂŽŶĞŝŶĂŶĞīŽŽ

make his way home to his loved ones.

ĂŝŶŐĞŐŝĞŬŚŝĂŝĞĂŶĂŶď

Έ

ΉΈΉΈΉ

NIGHT SCHOOL (PG-13)

ŐŽŽĨŽďůĞŵĂŬĞĂĞĨŽĐĞĚŽĂĞŶĚ

night school in hope that they'll pass the GED

ĞĂŵŽĮŶŝŚŚŝŐŚĐŚŽŽů

ĂŝŶŐŝīĂŶĂĚĚŝŚĞŝŶĂĂĂŶŝůůĂŵ

ΈΉ

ΈΉΈΉ

ΈΉ

DP ENGINEERING

..........................................................

75 Bathurst Street, Port Alfred

Tel: 046 624 4957

Cell: 083 360 6949

www.dpengineering.co.za

For all your steelwork requirements,

including burglar bars, balustrades,

fencing, security gates and wall spikes.

We also offer a powder coating &

galvanizing service and gate motors.

JON HOUZET

The Port Alfred Sport

Shooting Club's

shooting range has

been accredited by the

National Regulator for

Compulsory Specifications

– good news for

both sport shooters and

the local SAPS.

Police have to pass

maintenance shooting

every year to comply

with the law and be

firearm competent.

Port Alfred c l u st e r

commander Brigadier

Morgan Govender said:

"It makes it very

convenient for us. Ever y

day we're sending

vehicles to Bhisho and it

takes up the whole day.

Now it can be done in a

couple of hours.

"This will assist us in

delivering a better

service to the

communit y," he said.

He was echoed by

support head

Lieutenant-Colonel Dirk

de Kock, who said: "It

will assist the police in

training and maintaining

good standards of

firearm use."

Port Alfred Sport

Shooting Club member

Darryl Kukard said to be

accredited, a shooting

range had to meet

certain heights

standards, have signs

around the perimeter

warning of the danger,

and have a First Aid box.

"The First Aid box we

already had. We had to

raise the back berm

slightly, and put up the

signs," he said.

The club received

sponsorship from the

Route 72 Saloon, SPAR

and the Little Brewery

on the River.

"I would also like to

thank the committee for

the hard work that made

this possible," Kukard

said.

He said the club

would now also be able

to host competitions

with other accredited

clubs, which they were

not able to do before.

"This brings revenue

to town and to the club,"

he said. "This is another

sporting venue for Port

Alfred."

"Also, before you get a

firearm licence, you have

to do a competency

exam. That can be done

on our range."

The club has three

different ranges – fo r

shotgun, rifle and

handgun – which are

used on different days.

Kukard said when it

came to competitions,

they had the capacity to

set up 20 to 25 people

to shoot on handgun at

the same time.

"It's a safe

environment for people

to use their firearms."

Anyone who wants to

get involved with the

club, can contact Kukard

on 082-428-4558.

VENOM (16HLV)

When Eddie Brock acquires the powers of a

symbiote, he will have to release his alter-ego

"Venom" to save his life.

ĂŝŶŐŽŵĂĚŝĐŚĞůůĞŝůůŝĂŵ

ĂĐĞůůĂĂŐŝŽ

ΈΉ

ΈΉΈΉ

ΈΉΈΉ

R50 Adults - R40 Children (U/13). 3D Movies - R65 per person.

Pensioner's Special Wednesdays - R30

Times are subject to change due to demand.

Like our FACEBOOK page and stay informed of

ŵĞĂŶĚŚĞůĂĞŶĞ

WARRICK STRACHAN CFP ®

T: 046 604 2300 (o) 072 3766 523 (m)

E: warrick@oldmutualpfa.com

30 Campbell Street, Port Alfred

27 Lyon Road, Kenton on Sea

Cnr African & Allen Streets, Grahamstown

ĞůĞďĂŶŐĞĂŽĨĮŶĂŶĐŝĂůůĂŶŶŝŶŐΘŝŶĂŶĐĞĞĐĞůůĞŶĐĞ
---
October 11, 2018 ADVERTISING / NEWSDESK: (046) 624 4356 Find us on Facebook

Talk of the Town 5

Given an

opportunity to

speak to South

African President

Cyril Ramaphosa,

what would you

tell him or ask

him?

BUYISWA MQUBULI:

I would ask him to

prioritise the

neediest people

living in shacks.

YOUR VOICE

N O M AW O N G A

STUURMAN: I would tell

him fuel prices were

not rapidly increasing

before he became

president, so he should

prevent this before it

ruins his reputation.

... vox pops on the street

JAMES KIDSON:

Decrease some prices

on basic food so that

everyone can live

comfor tably.

FUNISWA MANYATI: I

would tell him that

before he became

president of the

country I trusted him,

but now I'm gradually

losing confidence in

him.

ANLI VAN DER

MEULEN: Listen to the

people and respond to

them – we really need

change.

LUNDI DYANI: I

would advise him to

focus on health and

education because

other things like

crime result from

the lack of these.

Cultivating good habits in our youth

Minet Rastar Nojoko,

who runs Ndinani

Garden Project, is

cultivating good habits

in the youth.

His subsistence

gardening project has

helped families become

self-sufficient.

Recalling his own

introduction to

gardening, Nojoko is

now focusing his

attention on the

y o u n g st e r s .

Nojoko gave several

reasons for

incorporating younger

children in his

programme.

"When I grew up my

parents taught me

farming at an early age

and I never stopped

loving farming," he

said.

He said it was much

easier to introduce

children to agriculture

while they were young,

and they would learn

the importance of not

necessarily buying

everything they eat,

when they became

adults.

Nojoko also believes

that keeping children

busy during their spare

SOWING THE SEEDS OF LIFE: Minet Rastar Nojoko, right, whose Ndinani

Garden Project has incorporated the youth into a mentoring initiative that

focuses on subsistence farming

Picture: TK MTIKI

time would also

minimise the chances

of them getting

involved in drugs.

"I am also trying to

keep them off the

st reets," he said.

In the garden TotT

visited last week, the

children had planted

carrots, spinach, onions

and maize.

Nojoko relies on

seedling donations to

ensure the survival of

his project.

He also showed TotT

vegetables from the

seedlings which were

recently donated to him

by Ikhala Trust, which

supports small farmers

all around the Eastern

Cape.

AFFORDABLE CROYDEN UNITS FROM R499 000

SOLE MANDATE

VIEW BY APPOINTMENT

ŚĞŶŝĂĞŝĂĞĚŝŶĂĞůůĞĐĞĚĐŽŵůĞŝŚĐŽŵŵŶĂůĨĂĐŝůŝĞůŝŬĞĂ

ŽŽůĂŶĚŶĚĞĐŽĞĐĂŽĂůŬŝŶŐĚŝĂŶĐĞŽĂŵĞŶŝĞŚĞŬŝĐŚĞŶĂĞ

ŵŽĚĞŶĂŶĚŽĞŶŽŚĞůŽŶŐĞŚŝĐŚůĞĂĚŽĂŶŶĚĞĐŽĞďĂůĐŽŶŚĞŶŝ

ŝĂĞĨĞĐůŽĐŬĂŶĚŐŽĞŵĂŶĞŶĞŝĚĞŶĐŽĂĂŶŝŶĞŵĞŶŽŐĞŶĞĂĞ

an income. Contact Loraine: 082 695 9001

The Anchorage, Gluckman Road: Tel 046 624 2454 Fax 046 624 3347

www.jawitzportalfred.co.za e-mail: admin@jawitzportalfred.co.za
---
6 Talk of the Town ADVERTISING / NEWSDESK: (046) 624 4356 Find us on Facebook

October 11, 2018

OPINION

Still no

action on

pumps

Tomorrow, Friday, is the second

anniversary of the death of my friend

Derek Victor.

Victor could be a polarising figure in the

community, especially when he led a

campaign to withhold rates to the

municipality based on service delivery

issues – a campaign that had strong early

support but then faltered. It lasted about

two years.

Prior to that, Victor established the

Ndlambe Action Group (NAG), actively

engaging the municipality and offering

help, especially to sort out municipal

finances. It was when that project was

stonewalled by political intransigence that

NAG resorted to a pressure tactic.

Victor had both friends and enemies,

which is true of all of us.

One of his long-running personal battles

was over flooding in the Medolino Valley,

where his caravan park was situated. He

fought with the municipality for years to fix

their broken pumps and address

historically poor stormwater drainage that

impacted the valley.

He was not the only one affected – ever y

homeowner in lower Hards Street and

Stewart Road experienced flooding. And

when Victor achieved some concession

from the municipality, they all benefited.

But when he got sick with a rare form of

lymphoma, Victor got tired of fighting.

Knowing the municipality lacked a

capital budget to buy new floodwater

pumps, he made the generous gesture of

donating new pumps – worth R450,000 –

to the municipality.

His condition terminal and time running

out, Victor hoped the formalities of signing

documents with the municipality to take

ownership could be dealt with as a matter

of urgency. He did not want his widow

Anita to have to deal with the situation.

TotT was there on October 5 2016, when

Victor handed over the pumps to mayor

Phindile Faxi, who gratefully accepted

them, and said he had even cut short a

visit to the Eastern Cape premier at the

time to come and look at the pumps and

accept them "on risk" before a formal

record of decision was made.

He assured Victor he would table the

matter in council, and then when Victor

appealed him, the mayor undertook to

push the matter even ahead of a council

meeting later that month.

However, this was not to happen.

Victor died the following week, and

never got to see his last wish fulfilled.

When a month passed, and then

another, I started asking Faxi when the

documents would be signed. For months I

got no answer, but a year later the

municipality said "certain processes had

to be followed" before an agreement was

signed.

It is now another year later, and the

municipality has still not taken ownership

of the pumps.

11

12

13

14

15

16

17

18

Tide Guide

Kind courtesy-SA Navy

HIGH

0500 1714

0530 1744

0600 1813

0630 1842

0703 1914

0746 2000

0919 2216

1217 –

L OW

Jon Houzet

1108 2329

1138 2359

1207 –

1236 0029

1308 0059

1353 0136

1553 0238

1849 0520

CATCHING UP: From left, Kim Gardner, Bridget McNelis and Gift Wallace enjoyed chatting at the annual GBS dinner held at the Port Alfred High School

hall last Thursday night

Picture: JON HOUZET

HAVE YOUR S AY

Letters to PO Box 2871, Port Alfred - or e-mail to houzetj@tisoblackstar.co.za

This is an open forum for readers to express their opinions. However, the publishers reserve the right to shorten letters. Those printed are not necessarily the views of Talk of the Town. Although noms de plume may be used,

letters must be signed and have an authentic contactable address & telephone number. Talk of the Town reserves the right to not publish letters. Please limit letters to 250 words or less.

Pet blessing

helps SPCA too

Archdeacon Cynthia Webbstock,

Sandra Pool, Susan Playdon and

I would like to thank all who

attended and therefore helped to

make such a successful event of

our recent St Francis of Assisi

Blessing of the Animals, held last

Thursday at St Paul's Anglican

Church.

Alpacas, dogs, cats, down to

the tiniest hamsters were in

attendance and much fun was

had by all. Even the owners were

w e l l - b e h av e d .

A retiring collection of R860

was realised, excluding the raffle

for the blanket which was won

by Felicity Smith. Donations of

towels and animal food were

also made in aid of the local

SPCA, and all of the above were

handed over to the society's

kennel manager Forbes Coutts.

ANN TYRRELL

Waste of water hurts

in face of restrictions

At about 4pm on

Sunday October 7, we

heard a rushing noise in

Moodie Avenue, which

runs past our cottage at

Settlers Park.

It was a fire hydrant

pouring water out at full

capacity. I phoned the

fire department at

4.05pm and reported it

and again at 4.15pm,

when I was told that

they were going to

come soon.

I went and took some

photos and after I had

gone down to the main

road beyond the school,

(where the water had

reached by 4.30pm)

they finally arrived and

Emergency numbers

Port Alfred hospital – (046) 604-4000

Police station – (046) 604-2001/2

Multi-Security – (046) 624-2508

Chubb Security – (046) 624-4810

Sky Alarms – (046) 624-2806

NSRI – 082-990-5971

Electricity (a/h) - (046) 624-1111

EMS (Emergency Medical Services) – 10177

Gardmed –082-759-2134

Holistic EMS – 063-460-0042

Fire Department – (046) 624-1111

Don't get caught buying so-called salmon steaks

I wish to warn our readers

of the fraud I have been

caught in.

Back in July/August of

this year I got caught by

buying a box of about 37 x

22 x 6cm, labelled "Cape

Salmon Steaks" from a

clean-looking white cold

storage vehicle parked in

Join Word of Truth celebratory conference

In celebration of 30 years of ministry,

we are calling on all fellow believers in

our town to join us in honouring God,

and thanking Him for all the good He

has done in our community through

Word of Truth Ministry, formerly known

as Port Alfred Christian Centre.

To celebrate this auspicious

occasion, we will be hosting a Legacy

Conference from October 26 to 28 at

Word of Truth Ministry.

The conference is aimed at

celebrating the spiritual legacy that

turned it off. Apparently

they had been testing

the water line

sometime, and had

forgotten to close the

hydrant. Who knows

how much water was

wasted in 30 minutes.

It really hurt to see

this, when you have

been using precious

rain water for flushing

toilets for d ay s !

TREVOR LANGLEY

Campbell Street. "Wa d e "

(verified cell number

078-989-6692) sold it to

me. When I opened the box

I took two of the oblong,

wrapped fish and defrosted

them. Both my husband and

I found it to be tasteless,

minced fish!

I phoned Wade and

On behalf of the members of the

Palms Complex Home Owners'

Association, I would like to thank

all the staff of the sanitary

department of Ndlambe

Municipalit y.

More specifically, the staff

responsible for the draining of

sewage tanks, for the

indispensable service they

provide for all residents of Port

Alfred.

Whitey, Ferguson, Poppy and

Louis (truck drivers) and every

spoke to him on August 13

when he was both polite

and apologetic, promising a

replacement on their next

visit to Port Alfred.

I phoned again on

September 14 when he told

me that he was in Port

Elizabeth and would be

here in the week of October

was handed down to us by our

founding leaders, and repositioning the

body of Christ for greater works in the

future.

We also see this as a divine

opportunity to share our story, and we

attach particular importance to this

event because we want to restore

relationships and draw the people of

our community closer to God.

God is the answer to all our

problems and together we can once

again bring Christ back to the Ndlambe

BIG LOSS: Water gushing out of a fire hydrant on Sunday in Moodie

Avenue. Settlers Park resident Trevor Langley, who took this photo, was

appalled at the huge amount of water that was wasted. Port Alfred is still

on water restrictions and high-lying areas had been without water for

days after a pump stopped working at the balancing dam

Hats off to sewage truck drivers

crew member in the trucks, your

exceptional service does not go

u n n ot i c e d .

Every time you drain our

sewage tanks you are friendly

and perform this "non-pleasant"

service with extraordinary

passion and do not hesitate to

help, even if you work from 8am

to 7pm every day.

Our community in Port Alfred

is sincerely grateful for that.

Sometimes limited trucks are

available but you are always

1 and he would phone me.

On October 2, after no call

as promised, I phoned

again – this time no

answer. I have resigned

myself to the fact I threw

away R150. Wonder if

anyone else got caught?

DR GLENDA HICKS

area. The theme for this year's

conference is, "It's time for greater

works". We have an exciting schedule

of national and international speakers

lined up for what is promising to be

our best conference yet.

Please register through our

Facebook page or the WhatsApp

number provided on the poster.

Registration is free but necessary for

our preparations.

KARIN KAHN, Word of Truth

helpful. The management of

Ndlambe can be really proud of

you.

With Christmas at hand, we

wish you and your loved ones a

very blessed and joyful

Christmas. May God bless you

as, without your service there

would definitely be chaos in Port

Alfred.

PIKKIE ROBBERTS, vice chairman

of the Palms Complex Home

Owners' A s s o c i at i o n
---
October 11, 2018 ADVERTISING / NEWSDESK: (046) 624 4356 Find us on Facebook

Talk of the Town 7

Take a bow, Riet

River residents

When I took an

overseas guest to Riet

River a few days ago,

we were most

impressed with their

Residents

A s s o c i at i o n 's initiative

in keeping their beach

and service road

clean.

There was not a

single scrap of paper

or plastic near the

dwellings and not a

sign of doggie doo

anywhere.

Note the

The finished work of God

When the Lord cried out "It is

finished" in John 19:30, it was

not a cry of defeat but of

victor y.

This statement was made

mere moments before He

breathed His last and gave His

life for sinful mankind.

All that He had come to this

world for had been

accomplished.

The Old Testament is filled

with promises of a future

prophet, priest and king. Every

Christmas when we celebrate

the Baby of Bethlehem, we

celebrate the fulfilment of all

these promises.

HAVE YOUR S AY

enthusiasm, humour

and number of

prompts comprising

their litter-free

campaign.

Port Alfredans –

notwithstanding the

Friends of East Beach,

to whom we're grateful

– should take a few

tips from them.

Take a bow, Riet

River Residents!

Let's take PA's litter

awareness on beaches

to this exemplary level.

SUE GORDON

Matthew 1:21 says, "She will

give birth to a son, and you

are to give him the name

Jesus, because he will save

his people from their sins." He

was also called Immanuel –

which means, God with us!

According to Isaiah 61:1-3,

under the anointing of the

Holy Spirit, the Messiah would

minister to the needs of the

KEEP IT CLEAN: Reader Sue Gordon took this

photo of some of the signs at Riet River

encouraging visitors to keep the beach clean

I N S P I R AT I O N A L

INSIGHTS

... with Pastor Theo Snyman

people. During His three years

of ministry, Jesus brought life,

light, hope and healing to

thousands in Israel.

Further, the Lord Jesus said:

"Do not think that I have come

to abolish the law or the

prophets; I have not come to

abolish them but to fulfil

them" (Matthew 5:17).

No one could fulfil the Law

Question: Tell us about

your job.

Answer: I'm a

customer relations

officer at Ndlambe

Municipalit y.

Q: What made you get

into this line of work?

A: It was more of a

desire to make a

change in ot h e r

people's lives and serve

them wholeheartedly.

Q: What is one of the

most memorable

experiences you have

had in your job?

A: An overwhelming

welcome by colleagues

on my fist day at work.

Q: What do you do to

unwind when you are

not working?

A: I just watch TV.

Q: What is your motto

in life?

A: Believe in yourself

and you will be

except the Son of God. When

He hung upon the cross, He

was the sinless, spotless, holy

Lamb of God.

What we could not do, the

Lord did on our behalf.

"Therefore, there is now no

condemnation for those who

are in Christ Jesus, because

through Christ Jesus the law

of the Spirit of life set me free

from the law of sin and death"

(Romans 8:1, 2).

Lastly, He came to give His

life as a ransom for many.

The price He paid to set

mankind free was incalculable.

It is finished!

FA C E 2FA C E

... with Georgina Nkombisa

u n st o p p a b l e .

Q: What makes you

happy?

A: Seeing my family

h a p p y.

Q: What makes you

angr y?

A: To be shouted at.

Q: What do you think

about the youth of

S A? Do you have any

advice for them?

A: The youth should

prioritise education.

Q: If you could change

one thing about Por t

Alfred, what would it

b e?

A: I would advise

some people to

recognise the humanity

of other people and

respect their dignity.

Q: What do you like

most about Port

Alfre d?

A: The scenery and

environment.

Q: What is your

favourite music of all

t i m e s?

A: R&B.

Q: Name three people

you would like to

invite for dinner (dead

or alive).

A: My former teacher

Mrs Dlulane, my late

aunt, Nomfusi and Ms

N e l i s wa .

Q: Three wishes for

S A?

A: Peace, economic

stability and a

crime-free country.

Trading Hours Sunshine Coast Spar: Mon – Fri: 7:30am – 6pm

Sat: 7:30am - 5pm Sun 7:30am - 4pm

Valid: 12 - 14 October 2018 | E&OE | Tel: 046 648 1023 | While stocks last

Stork 1kg

R34.99 Each

Huletts Sugar

2.5kg

R36.99 Each

Sundale Milk 2L

R21.99 Each

KWV 3 Year 750ml

R125.99 Each

Austin Pasta 500g

Asst

R9.99 Each

Castle Lite NRB 24's

R219.99 Each
---
8 Talk of the Town ADVERTISING / NEWSDESK: (046) 624 4356 Find us on Facebook

October 11, 2018

Port Alfred

BUSINESSFORUM

MYHOME

... with Simon Oliver

Catch up with what's happening on the PA business front

GBS boss explains origin, purpose

of thriving mutual banking sector

'It gives clients a say in

running of the business,

improves people's lives'

JON HOUZET

The annual GBS Mutual Bank

dinner in Port Alfred is

always a highly anticipated

affair, with staff from the highly

respected 141-year-old institution

mingling and chatting with

long-time clients from the

coastal area.

As usual, Naartjie and Cheryl

Moss catered the dinner to

perfection, with superb food and

inviting décor. Forgoing the

usual recounting of the bank's

figures, new chairman of the

board Prof Owen Skae delved

into the origins and history of

mutual banking.

He said his research arose

from asking himself, "What is

the purpose of a mutual bank

and is there a future for it?"

He found valuable insights in

Franklin J Sherman's book,

Modern Story of Mutual Savings

Banks, published in 1934.

The genesis of mutual banks

came from the "Fr i e n d l y

Societies" established to help

the sick and poor. The earliest of

Children bring real joy to the home

Judy and I are visiting my brother

in Canada. We have three

generations all living together in a

cottage. We are being smothered

in generosity, food and love.

It is one thing to live in a

beautiful home and enjoy the

benefits it brings; but the real joy is

when the building comes to life with

the voices of its visitors.

We travelled for about two hours

north of Toronto to my brother's

cottage on a lake.

He and Maureen have built a bit of

heaven in the woods.

Their children and their

grandchildren experience nature in

all its glory – especially when the

leaves change the whole range of

Bushmansrivermouth | R5 900 000

A rare gem on the river, with unobstructed views..

Bedrooms 3 | Bathrooms 2 | Garage 1

This grand old lady has been well maintained & loved over

ŚĞĞĂĞůĞĞůŽīĞĂŵŽĚĞŶŽĞŶůĂŶŬŝĐŚĞŶ

ĚŝŶŝŶŐŽŽŵůŽŶŐĞΘĨĂŵŝůŽŽŵůĞĂĚŝŶŐŽŽŚĞĚĞĐŬ

ĂŐĞŵĂŝŶďĞĚŽŽŵĞŶŝĞΘĚWEB REF 481740

ALMARE SMITH | 076 217 5873 | almare.smith@seeff.com

MIKE BAILEY | 082 899 8103 | mike.bailey@seeff.com

ŝĞ ď ĂŽŝŶŵĞŶŽ Ăůů ŽĞŶĂů ŶĞĞĚ ůĞĂĞ ĐĂůů

ŝĐŚĞůůĞ

these might have been the

Incorporation of Carters in Leith

in 1555.

"From other sources I have

read, the 'Friendly Bank' concept

first arose in Switzerland in the

1700s and then spread to the

United Kingdom in the 1800s,"

Skae said. "Nevertheless, the

best historical account that I

have come across is Sherman,

who highlights the role played by

Dr [Rev] Henry Duncan who

established a savings bank in

Ruthwell, Scotland in 1810,

primarily due to his questioning

of the legitimacy of Friendly

Societies, no less than the one

founded in Ruthwell in 1796.

Similar savings banks were

established in Germany, France

and Switzerland over the period

1765 to 1796, but Sherman was

of the view that they did not

meet the definition of a true

savings bank.

Duncan's efforts soon saw

widespread development of the

concept. A savings bank was

founded in Edinburgh in 1814,

the Provident Institution for

Savings in 1816 by James

autumnal colours at this time of year.

One might imagine enjoying the

peace and quiet of such space with

only the loons (a local water bird) to

interrupt you. But no! The true joy is

when the grandchildren, all below

six, disembarked from the boat and

immediately began to

enthusiastically explore the property

and remind themselves of their

special places. Lots of noise, lots of

l a u g h t e r.

BANKING LEGACY: GBS Mutual Bank chairman Prof Owen Skae, left, and CEO Anton Vorster, right,

with Elizabeth Cooper, the daughter of former GBS chairman Kyle Stone and sister of another

former chairman, Chris Stone, at the bank's annual Port Alfred dinner

Picture: JON HOUZET

Savage (the first in the world by

legal charter), the Bank for

Savings in New City in 1819 by

philanthropist Thomas Eddy,

after consultation with his friend

Patrick Colquhon, a London

magistrate, and then The

Institution for Savings for the

Town of Portland and Vicinity in

Maine in 1819.

This continued throughout the

Thanksgiving weekend. And we

weren't excluded from the

excitement as little hands grabbed

ours and pulled us towards their

special place.

At home it was out with the

crayons, scissors and whatever they

could get their hands on. It wasn't

long before the cottage had pictures

stuck on the walls, and grand uncles

and aunts (that's us) were d r aw i n g

hearts, cutting shapes and being

fully involved. I can't tell you how

much joy it brought us.

It wasn't long before the younger

family were packing up and getting

ready to leave ... and then all of a

sudden we had waved goodbye and

Kenton on Sea | R9 500 000

Stunning new release in sought after Elliot Road,

with amazing sea views.

Bedrooms 3 | Bathrooms 3 | Garages 2 | Flat

ĞŶůĂŶůŽŶŐĞΘĚŝŶŝŶŐŽŽŵŝŚĞĐĂĐůĂĞĂŝĞ

ůĞĂĚŝŶŐŽŽŚĞĂŽĂŵŝůŽŽŵĂŶĚŬŝĐŚĞŶŝŚĂŶ

ŽďůĞŐĂĂŐĞŽŬŚŽŽŽůŚĞĚůĂďĞĚŽŽŵŇĂ

ŝŚůŽŶŐĞĚŝŶŝŶŐĂĞĂĂŶĚŬŝĐŚĞŶĞĞWEB REF 482038

MIKE BAILEY | 082 899 8103 | mike.bailey@seeff.com

ŝĞ ď ĂŽŝŶŵĞŶŽ Ăůů ŽĞŶĂů ŶĞĞĚ ůĞĂĞ ĐĂůů

ŝĐŚĞůůĞ

Mutual ("mutually beneficial")

savings banks began primarily

for wage-earners and seamen.

They also created a savings

outlet for people outside of

mainstream business, such as

women. "Simply put, a mutual

bank's purpose is for the benefit

of the depositors who have a say

in the running of the bank. Why

it was just the four of us, and it was

quiet and tidy, and it was heaven.

I think we enjoyed the quiet even

more because of the energy of the

children and because they had

enthusiastically involved us in their

activities and excitement.

The children had brought life to our

home ... and for a moment helped us

forget that we might have a few

aches and pains and are a little

slower than we used to be. They

reminded us how much fun it was to

live life to the full.

I'm sure many of you have had

similar experiences; please share

them with me on 082-653-5643 or

s i m o n . o l i v e r @ s e e f f. c o m .

I look forward to hearing from you.

A WINNER AT THE 2018 GREAT BRITISH CARE AWARDS

IS ACTIVELY RECRUITING

FOR DECEMBER / JANUARY

IF YOU ARE AVAILABLE AND LOOKING FOR A

REWARDING EXPERIENCE WHY NOT CONSIDER

LIVE-IN CARING IN THE UK

CORINIUM CARE, established in 1995, provides live-in

care to elderly and vulnerable adults across the UK. The

ĂŐĞŶĐŚĂĂŽŶŐŚŝŽŽĨĞĐŝŶŐŝŶŽŚĨŝĐĂ

ĂŶĚŽīĞĐĂĞŚĞŇĞŝďŝůŝŽĐŚŽŽĞŚĞŶŽŽŬ

ĞŝĞŶĐĞĂůŚŽŐŚĞůĐŽŵĞŝŶŽĞĞŶĂůĂŶĚ

ĐĐĞĨůĂůŝĐĂŶŝůůĞĐĞŝĞ

ĂĚĂĂĂĚŝŶŶŝŶŐĂŝŶŝŶŐ

course in the UK

ĂĐĐŽŵŵŽĚĂŽŶŚŝůĂŝŶŝŶŐ

ĂĐŽŵĞĞĂĂĞŚŽůŝĚĂΘŝĐŬĂ

ŽĨŽŵĮĞůĚďĂĞĚĐĂĞŵĂŶĂŐĞ

ĨŽŚĂĞŐŽŽĚĐŽŵŵŶŝĐĂŽŶŬŝůůĂĐůĞĂŶ

ĚŝŝŶŐůŝĐĞŶĐĞĂŶĚŵŽŝŵŽĂŶůĂ

ĐŽŵĂŝŽŶĂĞĂŶĚĐĂŝŶŐŶĂĞŚŝŝŶĐĞĚŝďů

ĨůĮůůŝŶŐŽŬĐŽůĚďĞĨŽŽ

SEMINAR: SATURDAY 20 OCTOBER 2018

For more details on our seminar in Port Elizabeth

please contact Lindy on 046 675 1994 or email

lindy@coriniumcare.co.za. www.coriniumcare.co.za

APPLICANTS MUST HAVE A BRITISH OR

EU PASSPORT OR ANCESTRAL VISA

is this important?" Skae asked.

"If we consider the US, mutual

banks are seen to be safe institutions.

According to America's

Mutual Banks (AMB), there are

494 mutual banks in 45 states

and at March 31 they had total

assets of $374bn (R5.4-trillion).

Their website reports that 'since

February 2007, over 525

financial institutions with over

$800bn (R12-trillion) in total

assets have failed. Of those, only

20 were mutual institutions with

total assets of approximately

$3bn (R43bn)'."

Mutual banks generally stick

to providing the basic banking

services required by a

community, like retail services

and products, checking and

savings products and make

home loans, other consumer

loans and loans for local

businesses, Skae explained.

Mutuals generally did not engage

in those activities recognised

as causing the financial

crisis that began in the northern

hemisphere autumn of 2008.

Customer satisfaction with

mutual banks is reported in both

the UK and Australia.

"The visionaries who

conceived of savings banks,

whether men of the cloth or

philanthropists, or just wanting

to give people a better deal, did

so because they saw a purpose

to achieve a better life for

members of their community.

"It is the bedrock of mutuality

and it is why we stand before

you today," Skae said. "Hence

my view is now more steadfast

than ever that mutual banks are

necessary and in fact essential

to the development of our

e c o n o m y. "

UK care

agency

s p re a d s

its wings

Corinium Care will be hosting local seminars

in the next two weeks.

The aim of the seminars is to explain to

potential carers what the role entails. It's also

an opportunity to meet and thank some of the

carers who have been with Corinium Care for

many years.

The company said they were fantastic

ambassadors for the caring profession.

The award-winning company is one of the

leading care agencies in Britain. It has 17 staff

and more than 800 registered carers providing

care for people in their own homes. Its South

Africa recruitment office is in the Eastern

Cape.

The company's two agents in SA – Lindy

Wareing and Theresa Isaac – will be hosting

the seminars.

"The people who join us from South Africa

are hardworking, kind and compassionate. For

many caring is a new career and a new start in

life with a reliable source of income," said

Isaac.

Wareing started her Corinium career in the

UK as a carer.

"I know how it feels to travel halfway across

the world and face a whole new experience so

I can tell potential carers what the job is like."

Corinium's carers from South Africa usually

spend three to six months in the UK. All

registered carers take part in Corinium Care's

free, award-winning, five-day training

programme in the UK which includes personal

care, dementia care, recognising signs of

abuse, and moving and handling.

All who attend the seminars must have

eligibility to work in the UK. For more

information, contact Lindy Wareing on

046-675-1994 or e-mail m a i l @ c o r i n i u m c a re . c o . z a
---
October 11, 2018 ADVERTISING / NEWSDESK: (046) 624 4356 Find us on Facebook

Talk of the Town 9

Firm focus on eye clinic vision

Bev Radue's passion restores

sight, services to the community

BOB FORD

It is a well-known saying that if you want a job

done, give it to a busy man to do.

This is certainly the case with retired Port

Alfred resident Bev Radue, who has been

heavily involved in establishing and running an

eye clinic at the local hospital.

This busy life started way back in 1937 when

Radue was born in King William's Town and was

destined to spend his entire working life in the

town. He spent his school years at the famous

Dale College, matriculating in

1954. The well-known family

business, Radue Weir Holdings,

was already well-established in

the town and there was no

doubt that he would work for

this concern.

In preparation for his future

career, Radue registered for a B

Com degree at the University of

Cape Town a year after leaving

school, and returned to his home town in 1955.

He immediately started working in the family

business and did so for the next 39 years.

Despite the fact that he had obvious family

connections, he started at the bottom as an

accounting clerk and worked his way up

through the ranks.

By the time he retired in 1994, Radue held the

position of chief executive officer of Radue Weir

Holdings, including 12 associated companies.

Most men would have been content with this

lot, but not in the case of Radue as he joined

the boards of directors of 13 additional business

activities.

He was also very much a community man and

wanted to serve his town in a meaningful way.

As a result, he became a borough councillor in

King William's Town in 1962 and remained on

this until 1996. During this time he had two

spells as mayor from 1972 to 1974 and again

from 1993 to 1994. More honours were to follow

when he was named an alderman in 1974 and

was awarded the freedom of the town in May

1985.

During this period, he also served on the

boards of several companies in the town and on

other committees.

Very much a community man, Radue was

prepared to do more for his fellow man. As a

result, he was invited to

join the Rotary Club of

We had one man who

could see his wife again

after being blinded by

cataracts for 15 years

King William's Town in

1964 at the age of 26 and

remained a member until

1997. He was president of

the club in 1976.

True to form, Radue

gave this his all and a

distinguished career was

to follow, with many

achievements coming his way through hard

work and dedication.

"I had a vision for the future and wanted to

help other people."

He added that he had tremendous support

from his late wife, Marianne, who supported

him wherever he went. Though she never joined

Rotary, it was said in the district that she knew

more about the club than Radue did.

From a personal point of view, his career in

Rotary has possibly been the most rewarding in

an extremely busy life.

His highest honour in Rotary came in 1995/6

when he was appointed district governor of

District 9320 and attended five international

conventions overseas, with 30,000 people

present. These were in Munich, Calgary in

Canada, Copenhagen, Melbourne and Brisbane.

MAN WITH FORESIGHT: Port Alfred resident Bev

Radue, who has worked tirelessly in

establishing an eye clinic at the town's

hospital. He is seen here with a Phorotper eye

testing machine costing R20,000 second hand

Picture: BOB FORD

At the one held in Copenhagen, he addressed

some 900 delegates at a breakaway session.

Rotary also took him to Bangladesh and twice

to Kenya.

After retiring, he spent five years in his home

town before settling in Port Elizabeth in 1998.

Here he became involved in the establishment

of an eye clinic and by the time he left the city

and moved to Kleinemonde three years later the

clinic had successfully done 300 operations and

restored the sight of many patients.

This has been extremely rewarding in many

ways. "We had one man who could see his wife

again after being blinded by cataracts for 15

years, and others who could read their bibles

again," he said.

Once he had moved to Port Alfred in 2017,

this had become a passion of Radue's as he set

about establishing an eye clinic in the town.

This was established as a service to the

indigent population in the local community with

the free services of an optometrist one morning

a month. This went well for several months, with

patients being supplied with glasses and others

being referred to ophthalmologists for further

t reatment.

But this was not without its problems as the

young optometrist left the area. Undeterred,

Radue persevered and secured the services of a

local optometrist.

"The government does not assist us in the

way of a grant, but after six months of

negotiations we were eventually given a room at

the local hospital to open a new clinic," he said.

The room was fitted out with limited

equipment valued at about R300,000, which

was obtained as a gift from the United

Kingdom. Bi-weekly clinics were held covering

an area including Peddie, Bathurst, Alexandria,

Kenton Kleinemonde and townships

surrounding Port Alfred.

The clinic was closed in November 2017, due

to the optometrist being offered a full-time

position. Again, Radue came to the fore and

acquired the services of an optometrist from a

well-known Grahamstown practice, resulting in

the local clinic being in operation again as from

September this year.

However, like any projects undertaken by

service organisations, there are costs involved.

While the eye clinic offers a free service, in

many cases they are faced with unavoidable

costs. As a result, any assistance in any form

from the public will be greatly appreciated.

Radue can be contacted on 083-275-3701.
---
10 Talk of the Town ADVERTISING / NEWSDESK: (046) 624 4356 Find us on Facebook

October 11, 2018

N E I G H B O U R LY NOTES

THERE is not a lot happening this weekend but on

Thursday it is rock, blues and burgers at Harry B's with

musician Jake Gunn. If you want to listen and watch an

expert guitarist perform, then why not join the party for a

night at Harry B's on Thursday evening? It promises to

be a blast and, best news of all, it is a free show.

SEE our Diarise This section, below, for more goings-on

in and around Ndlambe.

HAVING received a phone call from a lady working at the

Halyards Hotel, we went to speak with her regarding a

complaint against one of the guests. At a time when

people are reading racism into every comment made by

anyone, white or black, there are still instances of overt

racism that need to be addressed, and Yvonne Singeli,

was caught in the sights of one particular racist on

August 25 when a guest of the hotel hurled ugly insults

at her.

According to Singeli, she was preparing a room as

delegates of a conference held at the hotel were leaving.

Standing outside the door of another room a little way

away, Singeli heard a man insulting the retiring

conference attendees but, as most were in vehicles

leaving the promises, she was the only one to hear what

he had said. Turning, the man saw Singeli watching him

and shouted to her, "You bloody black ka***r. Tidy my

room".

As soon as her shift ended Singeli went to the Port

Alfred SAPS office to lay a charge of crimen injuria.

"I was so shaken that someone could be so hostile

toward me. I had done nothing to him," Singeli said. "I'm

still trembling from the experience."

The man in question might have been having a bad day,

shame, but that is most definitely no excuse. The

question remains as to how, after 24 years of democracy,

can anyone be so openly racist and hostile toward

someone they do not know? There is no excuse for open

racism, neither from whites nor from blacks, and South

Africans must not get caught up in the blame games of

political parties. Accusing an entire race for the mistakes

and horrors of the past is not going to drive us forward.

We all want a better South Africa, but open racism and

the associated pain it can cause are unacceptable.

PORT Alfred now has a shooting range accredited by the

National Regulator and can be used by both members of

the Port Alfred Sports Shooting Club as well as by SAPS

officers for certification purposes. Club member, Darryl

Kukard was delighted by the news and the police were

even more vocal, saying that this will save trips to Bisho

for certification of officers and lead to better service

delivery. Well done to the club, its committee and its

members for all the hard work to get the range

compliant with regulations.

CONGRATULATIONS and happy birthday greetings to

everyone enjoying a special day, especially Sarah-Jane

Taljaard, Felix Shepherd, Charles Watson, Elizabeth

Vandermeulen, Doreen van Damme, Ola van Niekerk,

DIARISE THIS

Albany Vintage and Classic Motor Club Museum opens

on the last Saturday of each month – 9am-12 noon –

Hawkins Industrial Park, Alfred Road, Port Alfred.

Alzheimer SA East Cape Support Group meets the last

Thursday of each month at 3pm at Brookshaw Home at 9

Donkin Street, Grahamstown. The Support Group is for

family, friends and caregivers of those with Alzheimer's

disease or any form of dementia. There is usually a

speaker followed by discussion and tea. Contact Dr

Heather Rauch 081-350-8079 for information and to get

on to our mailing list.

Bathurst Farmers Market – Every Sunday rain or shine

at Yesterday Today and Tomorrow Nursery, Kowie Road

from 9am-12.30pm.

Birdwatching Tours and Three Sisters Saunter. Book

with Anne (046) 675-1976 or 083-719-4950.

w w w. a n n e s b i r d i n g . c o . z a

Bonsai Club meets once a month on a Saturday. For

more information please contact David Brewis on

076-457-3218. Or e-mail d a v i d b re w i s 7 7 @ g m a i l . c o m

Bring your tools and layout in and enjoy the creative

atmosphere and free coffee at Bcreative Scrapbooking,

Shop 12, Rosehill Mall. Available weekdays and

Saturdays, groups welcome. Call Nicolene on 046-

624-3096 to book.

Builders and contractors networking on the first

Thursday of every month at Diaz Country Club in

Bushman's River Mouth. Starts at 6pm. Open to builders

and contractors of Bushman's River Mouth,

Kenton-on-Sea, Boknes and Port Alfred. For more

information contact Built-it Bushmen's River Mouth on

046-622-3158.

Cricket Club – Practices on Tuesdays and Thursdays at

the Port Alfred Country Club, French Street from 5pm.

Contact Rob Nel on 076-394-4067.

Duck Pond Morning Market every Wednesday, Friday

and Saturday from 9am-2pm, between Burksies Coffee

Shop and Penny Farthing restaurant. Jams, pickles,

secondhand books, cakes, quiches, secondhand clothing,

crochet knitting, plants. All stallholders welcome. Contact

Wendy 081-347-9562.

East Cape Shotokan-Ryu, Port Alfred - Mondays and

Thursdays: 4.30pm for beginners. 5.15 for intermediate

class and 6pm for the advanced cl;ass. Contact Gary

Grapentin on 073-346-0059 for more information.

FA ST (Forum for Astronomy, Science and Technology)

meets on the first Thursday of each month at the Port

Alfred Ski-boat Club at 2.30pm. Visitors welcome. Please

contact Shirley Marais at shirley@theannouncer.co.za or on

082-928-8671 for more information.

First Port Alfred Scout/Cub meetings. Every Friday at

the Girl Guide Hall, from 3pm-5pm. Visitors welcome. For

more information contact Dot Fethers on 046-624-3192.

Hockey Club – Practices on Tuesdays and Thursdays

from 5pm at the Port Alfred Country Club, French Street.

Contact Chris Pike on 082-350-0900.

CAMPUS EXPOSURE: As the year approaches its end, Stenden South Africa held its last open day of

2018 last Friday, showcasing what's on offer at the university. Potential applicants, together with

their parents, were exposed to different fields of studies and the culture of the institution. Student

affairs manager Ronel Bartlett said applications are still open until January 2019. Promoting their

field of study, are international hospitality management students Nicole Prins, left, and Nikita

Vermaak

Picture: TK MTIKI

Isobel Taute, Riley Hilpert, Kristin Bunge, Carla Gailey,

Lucinda de Vos, Chris Johnston, Rosita Winter, Ben

Kember, Dorothy Bowen, Doreen McCarthy, René Denis,

Benji Jurgensen, Joani Stötter, Dax Wilmot, Nicole

Flanagan, Chantell Saunders, Nadia Harris, Pat Soine,

Pieter Bezuidenhout, Johan Potgieter, Arno Strohm, Joan

Purdon, Kim Wilson, Doreen McCarthy, Arabella

Sponneck, Tamara Yete, Terence McCarthy, Eve Wallace,

Brendan Walker, Jenivie Grune, Sarah Ford, Samantha

Costa, Rodney Gradwell, Neil de Villiers, Ray Davidson,

Jan Simpson, Denis Stirk.

BEST wishes and congratulations to all the businesses

having an anniversary and here's wishing you all

continued success, especially to Remax Kowie,

E-mail Rob Knowles at knowlesr@tisoblackstar.co.za or fax (046) 624-2293

or drop in at 29 Miles Street from 8am to 4.30pm, Monday to Friday

OUR ENTRIES ARE OPEN FOR OCTOBER, NOVEMBER and DECEMBER

E-mail houzetj@tisoblackstar.co.za or fax (046) 624-2293 or drop in at 29 Miles Street from 8am to 4.30pm, Monday to Friday

Kenton Garden Clubmeeting second Wednesday of the

month at 9.30am. For info visit w w w. k e n t o n g a r d e n c l u b . c o . z a

Kenton Pub Quiz – 6.30pm – first Sunday of each month

at Kenton Bowls Club. Cash bar available. Cash and other

prizes. Teams of four to six. All welcome.

Kleinemonde Morning Market on the first Saturday of

every month, from 8.30 to 10am. Kleinemonde

Community Hall. Enjoy breakfast and browse the stalls

selling wholesome farm chickens and home produce,

including quality meats, vegetables, pancakes, frozen

meals, quiches, bread, rusks, gingerbread houses, home

baked cakes, doggy treats, candles, gifts and more.

Knit and Knatter Crafters club at Holly House, every

Wednesday at 9am. All welcome. Contact Kathy on 046-

624-4452 for further information.

Kowie Auctioneers – monthly auction every last

Thursday of the month at 35 North Street. Entries for the

auction need to be in on the Tuesday before the auction.

Viewing day prior from 2pm. For more information call

Colin Maclachlan 083-521-3623 or Peter Charter on

082 - 569 - 3478 .

Kowie History Museum, at The Old Railway Station,

Pascoe Crescent. Open 9.30am-12.30pm

Tuesday-Saturday. Closed Sunday/Monday and public

h o l i d ay s .

Lower Albany Historical Society meets third Thursday of

the month – some meetings in Don Powis Hall, Settlers

Park, others, outside trips. Call Avonne on 083-473-6823

for details.

Lower Albany Woodworkers' Guild, meets first Tuesday

of each month. Call Brian Edwards on 046-624-2945, or

John Moss on 082-829-5484 for more information.

Memory Book Scrapbook Club meets twice a month on

a Thursday afternoon. All welcome. Contact Cheryl 046-

- 624 - 2733 / 083 - 556 - 7562 .

M OT H S - Old soldiers never die – Calling all

ex-servicemen "Ou Manne" and their ladies for a

get-together on the first Sunday of every month at 12

noon and the MOTH Hall (behind the Ski-boat Club) for a

light lunch and some memories. RSVP MOTHS at

082-537-9033 or 084-983-8550 for catering purposes.

National Sea Rescue Institute practices every

Wednesday at 5pm. To join the NSRI visit the base in

person to undergo an evaluation.

Pigeon Club – Meets at Port Alfred Country Club, French

Street, to basket birds on Thursdays from 5pm and

striking out on Saturdays from 5pm. Official race

programme from May 31 available. Contact Ray Schenk

on 083-558-3195

Port Alfred Art Club welcomes new members, both

experienced or wanting to learn. We meet weekly offering

a monthly DVD from leading artists, giving excellent tips

and guidance on how to draw and paint. Contact Jenny

083-292-2650 or Netty 084-584-6629.

Port Alfred Bowling and Croquet Club invites you to try

Thospark, Sparrow Pools, Paws and Claws.

WELL, Nhlanhla Nene has resigned because he was

caught in a lie, and this has ended weeks of uncertainty

that have seen the rand descend into an abyss. The

question on the lips of potential investors is how many

more politicians who have been caught in even worse

lies are going to get axed?

The appointment of former central bank governor Tito

Mboweni to the position of finance minister rallied the

rand on Tuesday but, unless more positive actions follow,

this trend is not likely to continue. The Zuma legacy of

corruption and a blatant disregard for the rule of law has

shaken the confidence of those who are able invest and

create jobs in order to get our economy back on its feet.

your hand at lawn bowls. Free coaching and bowls

available. Situated next to the Nico Malan Bridge.

Enquiries: Rod Wilson at: 082-375-2968 or 046- 624-5671.

See our website at: w w w. p a b c c . c o . z a

Port Alfred Bridge Club – Now meets at the Eddie Grant

MOTH Hall every Monday and Thursday – 1pm for 1.30pm

start. All bridge enthusiasts and persons wishing to learn

to play bridge are most welcome.

Port Alfred Community Police Forummeets on the third

Tuesday of each month at the Port Alfred Police Station at

2.30pm.

Port Alfred Floral Art Group (PAFAG) meets on the 3rd

Saturday of the month at Settlers Park hall at 2.30pm. For

more information please phone 082-464-4606 (Hennie de

Bruin). All welcome.

Probus Club of the Kowie meets on the second Tuesday

of each month at 10am at the Port Alfred River and

Ski-boat Club.

Richmond House Museum and Music Room. P r i vat e

non-profit museum est. 2007. The building (1948) is a

replica of the Castle, and the displays trace 175 years of

owners and alterations. No admission fee, but donations

welcomed. Tours by appointment only: 082-456-7437.

Classics at the Castle classical/jazz concerts check press

or w w w. fa c e b o o k . c o m / r i c h m o n d h o u s e m u s e u m m u s i c

Rocky Ridge Farm Market opens every Saturday and

Sunday from 9am with a variety of home made delights,

"egg-cellent" free-range eggs, honey, biltong, droewors

as well as its very popular morning breakfast. Contact

Desia Holmes on 083-589-0765 for more information.

Rosehill Mall Art and Crafters Market, the first

Saturday of every month, from 9am-4pm. A true art and

craft market. Only handmade items available by our local

crafters. Large selection of goods.

Running and Walking – Kowie Striders meet at the Port

Alfred Country club, for the trials on Tuesday from 5pm

and track speed work sessions on Thursdays from 5pm.

Contact Sticks Stiglingh on 071-612-7339 or Alan Robb on

082-495-6842.

Scottish Country Dancingat Don Powis Hall, Settlers

Park, every Wednesday from 5.30pm-7pm. For more

information please phone 046-604-0478.

Scrapbook workshops and classes: Bcreative offers

monthly workshops, night classes, social classes and a

whole lot more. Call 046-624-3096 to book or for more

i n fo r m at i o n .

Sunshine Coast Women's Forum meets every fourth

Tuesday in the Don Powis Hall, Settlers Park at 2.30pm.

Come and join us. Visitors welcome. For more

information contact Tosca Spenceley 046-624-4339.

Tap dancing classes by Belinda Prince on Mondays and

Wednesdays. For more information contact Belinda on

073 - 251 - 2076 .

The Riverside Ramble: a new self-guided tour (map R10

from Sunshine Coast Tourism or Kowie History Museum)

Mboweni will now present the midterm budget on

October 24 and it is hoped that, along with his

appointment, the outlook for SA will improve.

With last year's figures in brackets for comparison, the

Rand was trading at R14.60/$ (R13.58); R19.23/£ (R17.91)

and R16.80/ß (R16.06). Commodities were trading with

Gold at $1,188.40 per fine ounce ($1,292.32), platinum at

$834.90 per ounce ($935.10) and Brent Crude Oil $84.77

per barrel ($56.68).

SPECIAL thoughts and prayers are with all those folk

who are unwell, having or have already had tests,

operations and treatments. "Sterkte" to Roy Potter,

Andrew de Vries, Emilene Bruwer, Jenny Groenewald,

Rowena Collin.

SINCERE condolences to the family and friends of

Heather Simes who passed away peacefully last

Saturday. A memorial service will be held at Grace and

Truth Church in Port Alfred on Saturday at 2pm.

CONDOLENCES also to the family and friends of Norman

Whitfield, especially Belinda and Raymond, Roger and

Monique, as well as Cheryl, Colin and Rene and their

children and grandchildren. A memorial service will be

held at Damant Lodge on T h u r s d ay at 2.30pm.

HEARTFELT sympathy and condolences to the family and

friends of Graham Pearce who passed away peacefully

Monday October 8. He will be greatly missed by his

children Richard, Lindy, Marianne and Pat and his

grandchildren Zane, Kim and Michael. May wonderful

memories of all the good times spent together comfort

you through the sad times.

M AY continuing happiness be with the following couples

as they celebrate their wedding anniversaries with good

wishes for many more. Congratulations to Peter and Gill

Wansell, Warwick and Leonie Beetge, Peter and Elaine

Collins, Hans and Jo-Anne Fourie, Brenda and Russell

Shelton, Owen and Colleen Moore, Ronald and Junette

Smith, Norman and Greta Levine, Bill and Hazel

Whitham, Robert and Jenne Boyce, Mauritz and Ria van

der Merwe.

SPECIAL congratulations to Dylan Murry and Tania

Adams who were married in Bathurst on Monday. May

the two of you enjoy your new life together and continue

to love and live life to its fullest.

CONGRATULATIONS to Wade Labuschagne and Lauren

Meyer who were married on Saturday, October 6. May

your lives together grow ever more loving as the years

roll by.

THOUGHT for the week: "Time is that fleeting

moment when the future passes into the past. So

use every moment; grab it, embrace it and make it

into your own memories".

BEST regards as always,

The Team

of historic Wharf Street and Van der Riet Streets.

U3A – Port Alfred Branch meets on the fourth Thursday of

every month at 9.30 for 10am at the Don Powis Hall,

Settlers Park village. All welcome.

Vespers (Evensong) - St Paul's Anglican Church, 15

Ferndale Road, 4.30pm every Tuesday, officiant and

organist: Father Noël-Jean Creille. Contact 060-851-4483 .

Thursday October 11

Port Alfred Art Club – 9.30am at Nancy Orford's home

for card making. Please phone her for directions on 046-

624-4484.

Memory Book Scrapbook Club – 2pm to 5pm –

Presbyterian Church Port Alfred. All welcome. Contact

Cheryl 046-624-2733/083-556-7562.

Jake Gunn at Harry B's – Rock, blues and burgers. Free

show starts at 8pm. Build your own burger from 6.30pm.

Contact Crystal on 082-468-1416.

Friday October 12

Royal Port Alfred Golf Club AGM – 6pm – R PA G C

clubhouse.

Tuesday October 16

Port Alfred blood drive– 1pm to 6pm – Girl Guide Hall.

Wednesday October 17

Diaz Cross Bird Club. Doctor Rodney Molteno will talk on

their recent birding trip to Zambia. To be held at the

Presbyterian Church in Port Alfred at 7pm for 7.30pm.

Thursday October 18

Lower Albany Historical Society meeting – 9.30 for

10am – Don Powis Hall, Settlers Park. Colin Urquhart will

present a talk entitled "Shipwrecks of the Eastern Cape

Coast". All welcome. Contact: Avonne 083-473-6823.

Friends with Compassion - Caring for those who are

mourning a loved one. Presbyterian Church Port Alfred, at

3.30pm. All welcome- Join us for a cup of tea and a chat.

Contact Cheryl 046-624-2733/083-556-7562.

Port Alfred Art Club – Celebrate the club's 60th Birthday

with lunch at Harry B's Restaurant at the Ski Boat Club.

Phone 046-624-1333 or 046-624-4564 for more

i n fo r m at i o n .

Saturday October 20

Nanaga Festival, a fundraiser for the Nanaga Primary

School. The festival will be held at the Nanaga Stall from

10.30am. There will be all day entertainment with the

highlight at 3pm when Elvis Blue will be singing. Lots of

entertainment for the kids, stalls, foods and beer tent.

Tickets and more information available from Tanya

082 - 670 - 0483 .

Thursday October 25

Memory Book Scrapbook Club – 2pm to 5pm –

Presbyterian Church Port Alfred. All welcome. Contact

Cheryl 046-624-2733/083-556-7562.

Port Alfred Art Club – Month-end social, Library and

DVD exchange. Bring paintings for review and enjoy tea,

coffee and snacks at the Catholic Church Hall. Starts at

9.30am.
---
October 11, 2018 ADVERTISING / NEWSDESK: (046) 624 4356 Find us on Facebook

Talk of the Town 11

PORT ALFRED

GRAND OPENING

19 OCTOBER 2018

Experience a new

WORLD OF SHOPPING

New look. New style.

It's everything you'd expect

from Pick n Pay.

And more.

Corner of Masonic and Gluckman Street,

Port Alfred 6170, South Africa

Trading hours: Monday to Saturday: 06:30 - 20:00

Sundays: 06:30 - 19:00
---
12 Talk of the Town ADVERTISING / NEWSDESK: (046) 624 4356 Find us on Facebook October 11, 2018 ADVERTISING / NEWSDESK: (046) 624 4356 Find us on Facebook

Talk of the Town 13

ANGLICAN CHURCH ALBANY

A R C H D E A C O N RY

St Paul's Port Alfred – Ferndale Road.

Sunday Eucharist 8.30am

Wednesday: Eucharist 8.30am.

St Barnabas – Nemato Port Alfred

Sunday Eucharist 9am.

St John's – Bathurst Sunday Eucharist

8.30am

St Mary's – Cuylerville 11am Eucharist (1st

Sunday in the month only).

St James – Southwell 11am Eucharist (3rd

Sunday in the month only).

Enquiries: (046) 624-1236.

ANGLICAN PARISH OF ALEXANDRIA

St David's Bushman's River Mouth

Holy Communion Service:

Sunday 8am

Wednesday 9am.

Christ Church, Alexandria Eucharist S u n d ay

9am.

Enquiries: Rev Mxolisi Somandi (046)

648-1232 or 078-950-3960.

APOSTOLIC FAITH MISSION BETH-EL

ASSEMBLY ALEXANDRIA – 14 De Wet Street

Sundays at 10am and 6pm

Wednesday Prayer meeting at 6.30pm.

Enquiries: Pastor Alan Cannon

072-907-8405..

AFRIKAANSE PROTESTANTSE KERK

Vir AP Kerkdienste. Kontak Anton Kok by

082-964 -3123.

BAPTIST CHURCH PORT ALFRED

Morning services and Children's church

(Ignite) 9.30am.

Evening services 6pm – (NO evening service

on the last Sunday of the month)

Youth: Fridays: Grades 1-3 (KICK) at 5pm-6pm,

Grades 4-7 (SWAT) at 6pm-7pm. Grades 8-12

(RIG) at 7pm-9pm.

Pastor: Josh de Wit – 073 -166-2 939

Office: (046) 624-1335.

We b s i te : w w w. p o r t a l f re d b a p t i s t . c o . z a

Email: p o r t a l f re d b a p t i s t @ g m a i l . c o m

BATHURST COMMUNITY CHURCH

The Village Chapel, 1 The Stables, Kowie

Road, Bathurst

Ser vices: Sundays at 9am

Pastor on 084-441-2876 or (046) 624-3623.

CATHOLIC CHURCH

St James Catholic Church – Caxton Lane,

Port Alfred.

Mass Times: Sunday – 9.30am

Tuesday – 5pm

Friday – 8.30am

St Thomas Catholic Church – Tenth St,

Station Hill, Port Alfred.

Mass Times: Sunday – 9.30am,

Wednesday – 6pm

St Anthony's Catholic Church – Bushman's

CHURCH NOTICES

River Mouth.

Mass Times: Sunday – 7.30am

Sacred Heart Catholic Church – A l ex a n d r i a .

Mass Times: Saturday – 5.30pm

Enquiries: Fr Trymos Munyaka on (046)

624-1509 or 082-676-6573

CELEBRATION CENTRE

Little Theatre on the Wharf, Wharf Street.

Sunday morning service – 9am.

Pastor Eldin and Lyn Rudolph cell

078-342-9194. All welcome.

CHRISTIAN SCIENCE SOCIETY

Goodwill Centre.

Sunday 9.30am.

Enquiries: 082-600-5429.

CHRIST AMBASSADOR MINISTRIES

770 Runeli Drive, Nemato.

Sunday Services: 10am-12pm.

Evening services 6-8pm. Tel/Fax: (046)

624 -2632.

CHRISTIAN HARVEST CHURCH

3013 Shiceka Street, Nemato

Sunday Services: 9.30-12pm.

Evening 5pm-7pm.

Contact: 083-513-5638.

PORT ALFRED CHURCH

21 Masonic Street, Port Alfred.

Grace Bible College (Free) Mon – Fri am.

Sunday: 9am.

Contact: John 073-633-2465 or Mark

073- 465- 4555.

FULL GOSPEL

Sunday Morning Service 9.30am.

Evening Service: 6.30pm.

Friday Junior Youth: 7pm.

Enquiries: (046) 624-1915.

FULL GOSPEL (STATION HILL)

Sunday morning: 10am.

Enquiries: Pastor P Israel 084-582-4607

GEREFORMEERDE KERK

Eredienste elke Sondag oggend om 9vm in

die "Settlers Church" historiese monument)

h/v Buthurst str and North str. Navrae ds

Aucamp by (046) 654-0106/083-654-9190 of

Bert Venter by (046)

654 -0272/082-451-2426.

GRACE AND TRUTH CHURCH

Albany Centre, 90 Albany Road.

"For the law was given through Moses, but

grace and truth came through Jesus Christ."

(John 1:17).

Sundays: 9.30am

Contact: Gary Ford 072-761-3417, (046)

624 -4985

GREAT COMMISSION CHURCH

Previously Bushmans Family Fellowship meet

in Bushmans Town Hall 9am Sunday

mornings! All welcome!

Contact: Ps Charles Southey 078-650-3694.

KING OF KINGS GLOBAL MOVEMENT

Meets at the MyPond Hotel Conference Centre

every Sunday from 10am (intercessory prayer

followed by the service) until 1pm.

LIFE CHRISTIAN CENTRE, ALEXANDRIA

Sunday Morning Service and Club Jesus.

(ages 4 to 12) 9am. (Baby cry room).

Sunday Evening Service: 6.30pm. (Praise and

p r ay e r ).

Friday evening "G U TS " (All Teens Welcome)

6pm-8pm.

Free Bible school – Tuesdays 6.30pm.

Enquiries: PS Leon De Smidt 082-330-6865.

METHODIST CHURCH

WESLEY (Hards St):

Every Sunday: 8.30am (only).

ALEXANDRIA

Sunday service: 10am.

Bible Study : Wednesday 6.15pm

Cell 074-582-0812.

STATION HILL (Windvogel St):

Every Sunday: 11am and 4pm

B AT H U R ST (York Rd):

Every Sunday: 9am

C LU M B E R (Shaw Park Rd from Bathurst then

Martindale turn off):

Monthly services on fourth Sunday of every

month at 10.30am.

ROKEBY PARK (Opp Halfway Store on

Grahamstown Rd):

Second Sunday: 11am.

KLEINEMONDE ( N at u r e 's Way):

First, Third and Fifth Sundays: 11am

Enquiries: (046) 624-2420.

K E N TO N :

Every Sunday: 8.30am.

Call 084-319-9634, Rev Rod Burton.

NEDERDUITSE GEREFORMEERDE KERK

DIAS GEMEENTE KERKKANTOOR: B r o a d way

26, Port Alfred, 6170

Kantoorure: Maandag tot Vrydag 8am-12pm.

Tel: (046) 624-3534

PORT ALFRED: (Broadway 26)

Elke Sondag: 9vm.

Kinderkerk and Kategese tydens erediens.

SUDOKU - WIN A WHARF STREET FRUIT & VEG VOUCHER

Complete this Sudoku and be in line to win a R35 voucher from

Wharf Street Fruit & Veg in Wharf Street.Entries must be in by

3:30pm on Tuesday at the TotT office - 29 Miles St. Winner to

please collect voucher (must show ID) from TotT offices before

Tippin Perkins.

Wharf Street

Name:...................................................................................................

Tel No:...................................................................................................

WIN A VOUCHER FROM HIGHLANDER PUB & PICK N PAY

Name:.........................................................................................................................

Address:....................................................Tel No:......................................................

BOESMANSRIVIERMOND: (Mainst reet)

Elke Sondag: 9vm.

Kinderkerk tydens die erediens en 10vm

K at e g e s e .

KLEINEMONDE:

Dienste elke 4de Sondag van die maand:

11vm.

Leraar: Ds Wikus Venter Sel: 078-800-3353

ALEXANDRIA: (Mainst reet)

Erediens elke Sondag: 09:30am.

Kantoorure: Maandag tot Vrydag 8am- 1pm.

Tel: (046) 653- 0147.

Kontak: Ds Willem Schoeman (046)

653-0010 of 083-607-8790.

NEDERDUITSCH HERVORMDE KERK

St Nicolas, Beachweg, Port Alfred

Eredienste: Elke Sondag om 9vm.

Kategese na erediens.

Kontak Prof John Gericke (046) 624-9025

of sel 082-565-9534

NEW APOSTOLIC CHURCH

Port Alfred and Kenton on Sea.

For information on services. Eddie

078-752-2233 or Arnol 082-809-3421.

NUWE LEWE VOLLE EVANGELIE KERK

Honeycombsentrum, 88 Albanyweg, Port

Alfre d.

Sondae: 9.30vm en 6.30nm.

Dinsdae: Vrouebiduur 10vm

Woensdae: Seldiens by kerk 7nm

Vir meer inligting kontak: Pastoor Theo en

Marinda Snyman 084-811-0606 / (046)

624-2265. Almal welkom – All welcome

PERISOS SONSKYNKUS

Perisos (Oorvloed/Abundance) nooi u uit na

samekomste: Alexandria. Elke Sondag om

9.30vm te Maria-saal (agter Caltex-garage).

073 - 586 - 0201 .

Prediker Theunis Pienaar – 082- 895 - 8830 .

Ons verkondig: Oorvloed in Christus.

PRESBYTERIAN CHURCH

Corner of Southwell and Becker Street.

Sunday worship and Children's Church: 9am –

10am

Communion Services: 1st Sunday of the

month

Cell groups: Monday 4pm at the church and

Thursday 7pm at 11 Lambert Road.

Enquiries: Errol Parsons 084-800-3033 /

(046) 624-4471.

SEVENTH DAY ADVENTIST CHURCH

Service Times – Saturdays: 9:30am- 12 noon.

Enquiries: Judith on 083-652-5655 or Trevor

082-492-3789.

SHEKINAH MINISTRIES

Sunday mornings: 10am

Monday and Wednesday: 7pm

Youth on Friday evenings: 7pm.

Enquiries: Dan Hilpert 079-649-8750.

THE SHEKINAH GLORY OF GOD - 1 PET 4:14.

STUDENT CHURCH

Meets Sunday mornings 9am in Kenton on

Sea Town Hall. The 1st church in South Africa

to be operating on this concept. Called

Student Church as the services are run by the

full time students from Generation Impact

Bible College. Believers of all ages welcome.

Exciting Children's Church available.A church

that equips Saints of all ages. Contact:

Madelein 084-513-7306.

THE CHURCH AT MERRY HILL

Sunday morning services: 9am.

All are welcome.

Enquiries: Gavin – 079-211-4675 or Diana –

072-344 -1102

THE CHURCH OF JESUS CHRIST OF

LATTERDAY SAINTS

Meets every Sunday for Sacrament Service at

9am followed by Sunday School at 10am.

Priest hood meeting at 11am and Relief

Society meeting at 11am.

New church location is 25 Biscay Road across

the street from Sky Security in Port Alfred.

Visitors welcome.

Phone: 083-452-8801 or 078-132-7336.

WESTSIDE CHURCH

Contemporary – Connected – Commit ted.

"Connecting people to people – Connecting

people to God."

M e et i n g s :

Sunday 9:30am

Wednesday: 6:30pm

"Connect Groups". Directions: Turn left into

Van Riebeeck Street – Last street on main

road leaving Port Alfred for PE (VW

Showroom on corner) – 800m turn first right

into Green Lane – Go straight up to T-junction

will see roof of church ahead.

Enquiries: 083-444-9380/ 082-373-8181 /

082- 677-78 00 .

WORD OF TRUTH MINISTRY, LIVING WATERS

BOOKSHOP, CHURCH OF THE NATIONS

Across the road from the BP garage and

fire station open every day 8am-12pm

except Mondays.

Sunday : 9am (Morning Service with Mother's

room and Children's Church)

Evening service: 6pm. All are welcome.

Youth: 6.30pm on Friday Evening.

Enquiries: (046) 624-2381, After hours:

072-219 -9065.

SOLUTION TO LAST WEEK'S SUDOKU

Entries must be

submitted by 3:30pm

on Tuesday at the

TotT Office -

29 Miles Street.

Winner of last

Royal St Andrews -

Thistle Restaurant

ăIan Storer

Halyards Sunday

Lunch Buffet

ă

Ann Coleman

Winner to please

collect voucher

(must show ID) from

TotT offices before

attempting to redeem

prize.

Ripping yarn set

in literary world

hits the mark

ROB KNOWLES

In an epic story of a master forger

and the criminality of the literary

world, Kleinemonde author Rod

McGregor tells a tale that takes us all

over Europe and exposes a world of

conspiracy, theft and dirty deals in

Librarians and other Criminals.

Viv Sevenster is a book dealer

whose father, along with others, had

built an entire industry established

for forging old works of literature.

Now Viv is presented with a

challenge, to forge copies of Galileo's

old journals. In the process he meets

up with the mysterious and lovely

Wiske who also has a dark

connection with the world of

forgeries and soon the pair find

themselves in an international

conspiracy that leaves them and the

readers' heads spinning.

Told through the eyes of his main

character, Sevenster, McGregor

opens the story in the Netherlands.

It is obvious that McGregor has a

detailed knowledge of each of the

areas he writes about, and the first

chapters are written in such detail

that anyone reading them could

probably become a tour guide in

Amsterdam. His eye for detail is

impeccable and, having researched a

few of the McGregor anecdotal

asides, he is spot-on with his

historical facts as well.

Reading the book is an education

in itself and it is clear that McGregor

is a well-travelled man. But his

knowledge of the book trade is also

right up there, and his descriptions

on how new forgeries are made to

appear ancient, and to fool the

so-called experts, is quite

extraordinar y.

But the book is really a love story

LITERARY CRIMINALS: 'Librarians

and other Criminals', is a tale of

the underbelly of the literary world

and takes the reader all around

Europe and elsewhere with hero,

Viv Sevenster

and a journey of self-discovery on the

part of main character Sevenster.

Initially a very orderly person,

Sevenster is forced to reassess his

life and his goals, particularly in light

of his growing fondness for Wiske,

who is also involved with the literary

underworld.

This is the first book of a trilogy,

and fans can look forward to the next

book in the series.

Librarians and other Criminals is

recommended to anyone who enjoys

a good adventure that is both well

written and provides such detail that

it makes Dan Brown's The Da Vinci

Code seem tame by comparison.

AS IT WAS: The Links Country Inn, photographed circa 1929

TO RENT:

29 CAMPBELL STREET

PORT ALFRED

A modern and spacious recently

ĞŶŽĂĞĚŽĸĐĞĂĐĞŽĞŶ

ŚĞŽĸĐĞŚĂĂĞĐŝŐĂĞĂŶĚ

ůĞĐŝĞŽŶĞĂĞůů

ĂĂŝĐŚĞŶĂŶĚŽďĂŚŽŽŵ

ŚĞĞŝĂůŽĂĞĐĞŽŶĂĞĂ

ŽĐĂŶĞŶŚĞŽĸĐĞĂĐĞ

ĞŝŚĞĂĨŽůůŽ

ŵĂůůĞĂĐŝŽĂŶĚŵŽĚĞŶ

ŽĸĐĞĂĐĞŽĨŵ 2 ĨŽŵ

ŝŐŵŽĚĞŶĂŶĚĂĐŝŽŽĸĐĞ

space of 19m 2 ĨŽŵ

ŽŚŽĸĐĞĂĐĞĨŽŵ

ŽŽŬŝŶŐĨŽĞĞĐĂďůĞŝĞ

ďŝŶĞĞŽŶŽĞŶĸĐĞĂĐĞ

ŝůůďĞŚĂĞĚŝŚŵĂĞĂŝŶŐ

Contact no. 010 593 0903

Contact person: Zerilda (Agent)

WINNING SMILES: The Port Alfred Pick n Pay netball team played against SPAR at the Titi Jonas Multipurpose Centre

recently and were delighted to have won the match 22-9. The team comprised of, from left, Amanda Maweza, Romea

Hendricks, Alecia Ngangqu, Nosicelo Msefeni, Thandawa Boqwana, Brenda Shelton, Elethu Pamgo and Busiwa Mbombela,

with Sethu Gedze in front

Picture: ROB KNOWLES

ALL IN THE GOODIES BAG: Com Office, in conjunction with Rotatrim, organised a raffle in August and the lucky winner

walked away with some Rotatrim products including paper, a cellphone cover and a chocolate slab, among other things. Jan

Blom, second from left, collected his prize and was delighted he had won. With him were, from left, Com Office's Lubabalo

Manina, Sammy-Jo Colyn and Tim Ord

Picture: ROB KNOWLES

Pieter can still

accommodate

a few persons

for Private,

Face-to-Face

Consultations

Boarding houses in the village

A very interesting boarding house, set almost at

the top of the Wesley Hill, is a familiar sight to

many of us who live in Port Alfred.

In fact, if you stare at the now more "modern

version", you can clearly see the outlines of this

landmark building.

Constructed circa 1929, cresting the very sandy

hill, it was a popular place for travellers on

horseback and in wagons.

The inundation of people to Port Alfred in those

times were attracted by the activity of harbour

works, railroad, trade in allied businesses, as well

as others in the form of soldiers, and settlers who

were disenchanted with farming. This naturally

increased the need for temporary accommodation

in which to contain the flow. Records show an

amazing collection of inns, hotels, and boarding

houses dotted around the village.

Skipping a generation, the hype was known at

one stage as "G r a h a m st o w n - by - t h e - s e a ".

Having examined the structure some 20 years

ago, there were, and still are, visible signs of the

old building, beautifully maintained – even to the

DEMONSTRATION OF

CLAIRVOYANCE AND MEDIUMSHIP

PORT ALFRED – Wednesday 17 Oct at 20:00

021 910 3499 / 072 903 0822

SERENDIPITY

... with Bev Young

remarkable replacement, so the previous owner

thought, of some second-hand windows that were

for sale on a farm nearby. When he brought them

back to begin his work, he called me excitedly to

show me that his "new windows" were actually the

original ones that had been sold off many years

before by a previous owner.

I doubt there are any signs now of the incredible

leiwater systems that used to flow towards the

house, and naturally, the grounds are somewhat

smaller than in the 1920s.

SELF STORAGE

KENTON/BUSHMANS AREA

Large 12x3m and 10x3m

self-storage units available

at very competitive rates.

Easily accommodate your Boat,

SUV and furniture in one unit.

Large 3x3m Steel doors for easy access

and loading. The area is secured

with Hi Tec and includes 24/7 Armed

Response, Patrols, Beams, CCTV

and Personalised Access Control.

Tel:ĨŽŝŶŝĂůĐŽŶĂĐ

Email: brmss24ind@gmail.com
---
14 Talk of the Town ADVERTISING / NEWSDESK: (046) 624 4356 Find us on Facebook

advertising feature

October 11, 2018

Bustling Van der Riet Street

The Water Bar opened in

2015 and offers a range

of bottled water to

businesses and for

personal use. They also

offer a 500ml

personalised signature

range. Refills cost R1 per

litre and they do free

deliveries in Port Alfred

five days a week.

They pride themselves

in efficient and friendly

service and look forward

to meeting you in their

shop.

Business hours are

8.30am to 4.45pm

weekdays and 8.30am to

12.30pm on Saturdays

and public holidays.

Contact Cheryl Coates on

046-624-1064 or

The

0 8 2 - 37 1 - 9 2 3 8 .

The Firm financial

services will help you

with insuring your

personal property or your

business. You generally

need the assistance of

experts, and The Firm is

there to help in selecting

the correct policy to best

fit your needs. The Firm

specialises in short-term

personal (home and

vehicle) and commercial

business insurance,

long-term insurance

(retirement, savings,

education, life disability

and max investments).

With services offered

Call us on

046-624 1064

082 371 9238

Water Bar

Visit us at 31 van der Riet Street -

Shop 4 (next to Ocean Basket)

FREE DELIVERIES

IN PORT ALFRED

REFILLS ONLY

R1 PER LITRE

BOTTLED WATER

READILY AVAILABLE

This 'one-street stop' sure to deliver on all your needs

THE FIRM

FINANCIAL SERVICES CC

FSP:24970 | AUTHORISED SERVICES PROVIDER

33 Van der Riet St, Shop 8, Port Alfred

SIMON 082 567 1506 | JASON 072 015 8418 | ANGE 078 642 8911

Short Term Insurance

Personal & Commercial

Long Term Insurance

RETIREMENT ANNUITIES | EDUCATION

MAX INVESTMENTS | LIFE COVER | SAVINGS

DISABILITY | WEALTH FUNDS

CORPORATE EMPLOYEE BENEFITS

NO BROKER FEES | NO ASSESSMENT FEES

in Port Elizabeth and Port

Alfred, The Firm is ideally

situated to offer

short-term insurance

deals from any of its five

major principals and

w e l l - e st a b l i s h e d

short-term insurance

companies, namely

Santam, Mutual and

Federal, Bryte, Auto and

General, and CIA.

Long-term insurance is

handled by Old Mutual.

For more information,

contact Jason on

072-015-8418, or Simon

on 082-567-1506, or

Angie on 078-642-8911.

When stepping in at The

Cour tyard, one can be

forgiven for losing track

of time while taking in

the quirky decor and

colourful sights.

With its rich historical

value, it is truly a gem.

All the shops - a florist, a

decor shop, a

collectables shop and an

alfresco coffee

shop/restaurant – are

independently owned.

A visit to The

Courtyard will not be

complete without a

browse through Easy

Living which stocks an

extensive selection of

SERVICE WITH A SMILE: Coastal Spares staff ready to assist with your car

problems are, from left, Wessel Coetzee, Rodney Strydom, Antonio de

Gouveia, Stephan Everton, Greg Oosthuizen, Dianne Oosthuizen and

Rinnette Oosthuizen

Picture: NTOMBI MSUTU

fabric sampling for

blinds, cushions and all

your upholstery needs.

They also offer an

interesting range of

jewellery, candles and

other home decor items.

For professional and

unmatched service,

Blooming Brilliance is the

florist to call to cater for

all sorts of events, be it

weddings, birthdays,

flowers for the office or

just a bunch to spoil

yourself. No job is too big

or too small for them.

They are also part of

Teleflorist so give them a

call to send flowers to

your loved one far away.

Browse through the

selection of antique and

collectable furniture at

Funky Junk where you

will also find vintage

linen, china, cutlery,

glassware and silverware

items. In addition Funky

Junk has a team that

excels at painting and

restoring furniture.

Rise Café have

changed their menu for

spring and good news for

the health-conscious is

that they offer vegetarian

dishes and for those with

an adventurous palate,

ask the chef to whip up

something for you – you

will be delighted. Meet

up with some friends for

a good chinwag or book

your next function.

Please bring your own

alcoholic beverage of

choice as they do not as

yet, have a liquor licence.

Hotspot Port Alfred is

part of the Hotspot

Group. There are eight

sports bars with limited

payout machines (LPM)

in the group.

The Hotspot Group is

focused on providing

excellent service with a

great atmosphere.

Hotspot Port Alfred is a

sports bar with great

views leading out onto

the Kowie River. They are

finalising their bar menu.

which will be prepared by

the Stenden students

currently running

MyPond Hotel.

They also boast 30

LPMs and sport can be

viewed on their TVs.

They trade seven days

a week, opening at 10am

and closing at midnight.

On Friday and Saturday

they close at 2am.

Contact day manager

Anje Liebchen on

046-624-1117.

"We re-opened Multi

Security Services in

2006 but have been in

the security industry

since 1990. We are Psira

[Private Security Industry

Regulatory Authority] and

Saidsa [South African

Intruder Detection

Services Association]

registered and are

affiliated to Gardmed

Ambulance Services,"

said Lynette Millard from

Multi Security Service.

Multi Security Services

offer alarm and CCTV

installation with 24-hour

monitoring and armed

reaction; gate and garage

door automation;

intercoms; access control

and electric fencing.

Operating 24 hours a

day, they cover Birha,

Hamburg, Kleinemonde,

Bathurst, Port Alfred,

Kasouga, Southwell,

Alexandria and all

surrounding farm areas.

For more information, call

0 4 6 - 6 2 4 - 370 8 .

Graze by the River is

open for breakfast and

lunch every day (except

Wednesdays) from 9am.

Graze is also open for

dinner on a Thursday,

Friday and Saturday by

prior reservation.

Owner and chef Nick

Howard has been busy

revamping the Graze fare

and introducing a

number of new dishes to

the already impressive

line-up.

New additions to the

breakfast menu will

include three different

breakfast bowls which

are made up of a healthy

smoothie, granola, fresh

fruit, nuts and seeds and

are served together in

one bowl as a healthy

way to start your day.

Howard will also be

adding a few health shots

and smoothies.

Following a recent trip

to Bali, he will be

introducing his version of

a famous Indonesian

vegan dish called

Gado-Gado, comprising

fresh seasonal

vegetables steamed and

then stir-fried with a

peanut, chilli, ginger and

turmeric dressing. Other

Indonesian dishes will be

added shortly.

Wraps and sandwiches

have been added to their

lunch menu for those

who simply want a light,

inexpensive healthy meal,

with gluten-free options

also available.

From breakfast wraps

to zesty beets, they have

a healthy lunch for you,

to eat in or take away, so

call Howard on

046-624-8095 and let

Graze do the rest. Graze's

Turn to page 15

38 Van der Riet St

Port Alfred

Tel: 046 624 8095

We are open

7 days a week

furniture

Find your treasure

ITEMS ADDED TO OUR MENU - COME TRY SOMETHING NEW!

ůůŝĐĞŶĞĚĞůĞĐŽŶŽĨĐĂŌďĞĞĂŶĚďŽĞŝŶĞĂĂŝůĂďůĞ

ĞĂĨŽŽĚĞĐŝĂůĞŵŽŬĞĚŵĞĂĂŶĚĮŚĨĞŚůŽĂĞĚĐŽīĞĞďĞĂŶ

WE ARE CLOSED ON WEDNESDAYS

AUTO PARTS AND

ACCESSORIES

Try us for friendly service and advice.

Rodney, Tony, Stephan and Wessel
---
October 11, 2018 ADVERTISING / NEWSDESK: (046) 624 4356 Find us on Facebook

Talk of the Town 15

advertising feature

Epicurean delight in Van der Riet Street

From page 14

next wine pairing event will be held on November 3,

so book now to avoid disappointment.

Maison Décor, at 38 Van der Riet Street, is a gift and

interior decor shop where you will find a large variety

of unusual gifts and decor items. They stock several

ranges of natural and goat's milk body products and

soaps that are not tested on animals. They have a

large range of scented candles, room sprays and

diffusers.

They also stock Pepper Tree handbags, sterling

silver and costume jewellery, holsters, hourglasses,

ceramics, bedspreads, tablecloths, homeware and

imported wooden handmade furniture, as well as

local and imported dresses from Bali.

They recently increased the size of the shop's retail

space, allowing for many more affordable and

exciting ranges to be added, including 100% cotton

Turkish Hammam towels.

Owner Terri Howard is looking forward to assisting

you to find the perfect gift. At this time of the year,

they specialise in Secret Santa Christmas gifts with a

choice of more than 100 gifts from R50 to R200. They

are open seven days a week. For more information,

contact Terri on 046-624-8095. Please follow them on

Facebook to see all the new Christmas stock.

MyPond Hotel is a four-star hotel with a restaurant,

lounge/bar, conference room and boardroom. They

are also the learning hotel for Stenden South Africa

where they train students studying their BCom in

international hospitality management. They were

voted best four-star hotel in the Eastern Cape in 2015

and 2016 and have won numerous other awards.

MyPond offers river-facing rooms and standard

rooms for accommodation, a restaurant that serves

breakfast, lunch and dinner daily with a variety of

specials and a full service bar. They have a

conference room with a capacity for 120 people for

meetings, workshops or team-building, and a

boardroom for smaller meetings. They also do

weddings, gala dinners and year-end functions.

They are open seven days a week, 24 hours a day.

However, the restaurant is open from 7am to 10pm

daily and the bar from 10am to 10pm on weekdays

and 10am to midnight on weekends. People are

welcome to e-mail them at ask@mypondhotel.com or call

046-624-4626 for any enquiries or bookings.

Ocean Basket Port Alfred is proud to introduce a

new fresh menu for summer. With friendly and

efficient service, great choices of dishes and good

value for money with a great view, this is the place to

enjoy balmy evenings while watching boats go past.

The new summer menu boasts s fusion crunch

platter, two-way platter, salmon platter, rising sun

platter, Chan's platter, bonsai platter, a new range of

salads such as smoked trout salad, med salmon bowl,

med veg bowl and village salad, and in sushi they

have maki, nigiri, futomaki, and sashimi, to tantalise

your taste buds – make sure you pop in to try out

their new menu. To top off this impressive line-up,

their new dessert menu will make your mouth water.

The wonderful news for dog lovers is that you are

welcome to bring your furry child along and sit

outside, as long as they are on a leash. You can also

bring the kids along who can keep themselves

entertained along the river bank to work up an

appetite for the yummy-looking kids' menu.

Niche will entice your taste buds and calm your aura.

Niche is a cosy and warm restaurant, suitable for any

occasion and mood you may be in.

Start the day off with Blacksmith – their exclusive

artisanal brand of coffee – together with either a slice

of their in-house variety of cakes and pastries or an

exquisite breakfast or lunch. Niche's menu changes

with the season, so you will always find something

new and unique to your palate. If they don't have it on

the menu, they are flexible to suit your lifestyle and

dietary requirements. They are open in the evening

for bookings only. To entice you even more, they are

also a shop, bakery and deli with fresh artisanal

breads baked daily and also to order.

Using only fresh, locally sourced produce, Niche

strives to provide their customers with only the

freshest and best dining experience in town.

Niche is open six days a week and every last

Sunday of the month for a themed Sunday lunch.

They do catering for all occasions, be it your

birthday, high tea or even a business year-end

function – Niche will cater to all your needs.

Pop in to Niche to enjoy their delectable cakes and

pastries or one of their delicious meals, bring this

article along and receive a 10% discount on any

sit-down meals.

FINEST TASTE: Niche staff hold some of the

delectable treats you can get at their Van der

Riet Street café. They are, from left, Thando

Poni, Phelisa Nelo, Asemahle Tyabazayo, M i c ke

Erasmus, Nicholette van Niekerk, and holding

the delectable bread is Nolubabalo Breakfast

Picture: JON HOUZET

GOSPEL RHYTHMS: The audience waits in anticipation at a gospel concert which took place at

Jauka Hall in Nemato recently

Gospel show has

fans on their feet

TK MTIKI

Scores of gospel music fans

turned up for the gospel concert

held at Jauka Hall in Nemato

r e c e n t l y.

Godfrey Masele Ministries

International in partnership with

Living Hope Church featuring

Lwethu Roda from Cape Town,

Zane Seti from Port Elizabeth,

Pastor M Plaatjie from

Grahamstown and local artist

Elethu Makhephe delivered

praise and worship

performances of the highest

order to their fans.

The Nanaga festival to raise funds for the

benefit of Laerskool Nanaga will be held on

Saturday October 20, at the well-known Nanaga

Farm Stall.

A highlight of the festival will be singer and

winner of Idols 2010 Elvis Blue.

Some of the other artists who perform at the

festival are Jacque Saaiman, Chantelle, Wanda,

Wiehann, Belle and the Beard, and Animals in

Calvary Event and

Management manager Lifa

Bhudaza was behind the

concer t's success and used his

marketing influence to good

effect to keep the large audience

on their feet.

Show host apostle Godfrey

Masele sang a touching song, He

is Good To Me, that kept the

audience on its feet.

Having the responsibility to

keep the moment alive was

Chuma Jacobs, who took to the

podium after Masele.

When Jacobs sang Alikho

igama elimnandi (There is no

precious name than His), the

congregation joined him in song.

Boasting about God's grace

through his music, Plaatjie sang

Nam angazi ngidlule kanjani (I

do not know how I went

through).

Clearly moved by the song, a

number of people pulled out

their mobile phones to take

videos.

Acknowledging experience as

the great teacher, Makhephe

sang Through it all I've learnt to

trust in Jesus.

Living Hope Church choir

closed the concert on a high

note, singing I am a living hope

ndofa nawe (I will die with you).

Nanaga Farm Stall hosts music fest

Wo n d e r l a n d .

There will be entertainment for the little

ones, a large selection of stalls, delicious food

and drinks, a pie-eating competition and a beer

tent. The festival starts at 10am and tickets cost

R120 for adults and R60 for children under 12

years. For more information contact Yolandi

Fourie on 083-438-3636 or e-mail at

nanagafees@gmail.com

Ribs, chips or salad

Fish, calamari and chips

To reserve a table

please call

046 624 4626

33 van der Riet Street

Port Alfred

Tel: 046 624 1727

2 Port Frances House

Van Der Riet Street

portalfred@oceanbasket.com

DOG STARS: Local artist Joy Hayes recently completed a series of paintings entitled,

Contemplating the Cosmos, depicting dogs wistfully staring up at the sky at specific astronomical

objects. Some dogs stare at the planets while others are considering entire galaxies. Nick Howard,

owner of Graze by the River, agreed to display the paintings in his restaurant and all profit made

from sales will be donated to local animal shelter Retreat to Eden

Picture: ROB KNOWLES
---
16 Talk of the Town ADVERTISING / NEWSDESK: (046) 624 4356 Find us on Facebook

October 11, 2018

Animals receive blessing on saint's feast day

ROB KNOWLES

Pets, including dogs, cats, a

hamster and two alpacas, were

brought to the St Francis of

Assisi Feast Day at St Paul's

Anglican Church in Port Alfred

last Thursday to receive a

blessing in the name of the

saint.

With unusual silence, the

animals appeared to know that

they were there for a special

treat as archdeacon of the

church Cynthia Webbstock,

assisted by Ann Tyrell, said a

short blessing for each of the

beloved pets and bade them well

as they journeyed back home

with their owners.

Webbstock was pleased that

many of those who attended

brought with them gifts of pet

food and Tyrell busied herself

selling the rest of the raffle

tickets for the prize of a

beautifully crocheted blanket.

SPCA kennel manager Forbes

Coutts gratefully accepted the

gift of food as well as the R860

collected from the sale of raffle

t i c ke t s .

Felicity Smith from Bathurst

was the lucky winner of the

b l a n ke t .

TWO BY TWO: Two

animals often seen in

Bathurst where they

reside, alpacas

Pupito, left, and Pablo,

arrive with their owner

Mary Riley at the

Feast of St Francis at

St Paul's Anglican

Church last Thursday

to receive a special

blessing

HAPPY MAN: Forbes Coutts, the kennel manager for the Port Alfred SPCA, was pleased not just to

be standing with the ladies but for having accepted donations from the congregants of St Paul's

Anglican Church at the Feast of St Francis of Assisi and the blessing of the animals that took place

at the church last Thursday. With Coutts are, from left, Sandra Pool, Ann Tyrell and St Paul's

archdeacon Cynthia Webbstock

QUITE A HANDFUL: Chocy, the rich brown poodle, and owner Hazel Schreiber attended the Blessing

of the Animals, held at St Paul's Anglican Church last Thursday in celebration of St Francis of

Assisi

Pictures: ROB KNOWLES

Story of pastor's inspiring journey

TK MTIKI

The impact and

power of pastor

Buyisile Geelbooi's

testimony at the

Christian Men's

Association breakfast

held at Tash's Craft Bar

on Saturday was

demonstrated by the

audience's appreciation

at the end of his talk.

Born and raised in

Grahamstown, Geelbooi

said he was converted

in 1983 and began

preaching on a local

level in Bathurst,

Grahamstown and

Alicedale.

He obtained a

theology degree at

Rhodes University.

"I was born in a poor

family and my mother

and father were

domestic workers

working for different

families in

G r a h a m st o w n , " he said.

In those days, he and

his siblings would wa i t

for their mother to bring

home leftovers as their

s u p p e r.

Talking about his

academic interests, he

said he had wanted to

be a medical doctor but

could not fulfil that

dream because of

financial difficulties.

Geelbooi said he then

ended up doing a

certificate in First Aid,

which paved the way to

his doing a degree in

t h e o l o g y.

A turnaround life

event happened when a

Rhodes lecturer, whom

he did not name,

recruited him to work

GARDEN

CLUB

ALL WELCOME

for the English

Department at Rhodes,

where he earned double

what he was getting at

St John's Ambulance.

Geelbooi said he

began working

mornings for St John's

Ambulance and then

from 1pm until evening

at Rhodes.

Being in an academic

sphere, he then decided

to pursue a part-time

theology degree, while

continuing to work.

His gift of preaching

started to manifest in

1987, when he began

preaching in B at h u r st ,

Grahamstown and

Alicedale, and in the

open with loud

s p e a ke r s .

Using every

opportunity as a

platform to minister the

Gospel of Christ, which

he defined as the

"power unto salvation",

Geelbooi said he also

used to preach when

travelling by train.

Geelbooi leads 13

churches in the Eastern

Cape, and is also an

international speaker.

Some of the countries

he has preached in

include Zimbabwe and

K e n ya .

Geelbooi went on to

comment on the state

of the current church.

"My journey gave me

a very huge concern

about the institution we

call church.

"Why things are

happening the way they

are happening today,

while the church is still

alive," he said.

He posed this

challenge to the

audience by saying:

"There are things that

one day God will blame

the church for."

He said these things

should not be

happening in the place

where God deployed the

church.

According to

Geelbooi's observation,

the church was divided

into two aspects –

spiritual and physical.

He said the church as

an organisation was an

assembly of the called

ones, whereas the

church's spiritual

aspect was where it

was referred to as the

Body of Christ.

"You cannot be a

member of a local

church if you are not a

member of the

universal church.

"You should be a

member of the Body of

C h r i st . "

Geelbooi is of the

view that some of the

problems experienced

by the church today

emerge in the disorder

of spiritual life.

"The problem is in

the order.

"We have spirit, soul

and the body.

"We twist these

things, thinking that we

are a physical body

while we are not.

"I am a spirit, having

a soul and living in a

b o d y, " he said.

Explaining the role of

each, he said: "The

spirit is Godconsciousness,

the soul

is self-consciousness

and the body is

physical-consciousness

so that I can connect to

this physical world."

He appealed to other

ministers to make their

presence felt.

"You are the

ministers of

reconciliation and God

is calling us to be his

sweet aroma.

"God is in heaven but

sent Jesus Christ to

represent him and

Jesus called his

disciples and equipped

them," Geelbooi said.

Inspired by Jesus'

method, he said he had

developed a s ay i n g ,

"When I win him in

Christ, I have to equip

him in Christ and send

him to do the same

work."

He added that

ministers should help

build the saints up but

also release them

should they fully

discover themselves in

C h r i st .

We will view gardens on the

16th of October from 9H00-12H00

JO-ANNE AND OWEN HILLIAR –

49 Southdown Avenue

BERRY SCHMIDT – 2C Wesley Close

Tea will be served

CAROL AND DAVID JANKS – 11 Marlin Road

LIEZL AND DERICK KLEYNHANS –

21 Smith Street

ENTRY FEE R20 AND EVERYONE

IS WELCOME!

LIEZL 079 353 3518

A LIVING TESTIMONY: Pastor Buyisile Geelbooi, from Grahamstown, who

delivered an inspiring testimony at the Christian Men's Association

breakfast at Tash's Craft Bar on Saturday

Picture: TK MTIKI
---
October 11, 2018 ADVERTISING / NEWSDESK: (046) 624 4356 Find us on Facebook

Talk of the Town 17

OUT ON THE TOWN

CONTACT US

Newsdesk: (046) 624-4356 (Jon Houzet) Advertising: (046) 624-4356 (Mauneen Charter)

TIME OUT: Having a rest while watching the rest of the field finish the Kowie Striders Buco

Pineapple 10km race last Saturday are, from left, Kesley Clark, Nicola Brown and Kim Weaver

Picture: NTOMBI MSUTU

ALL THE WAY FROM THE BAY: These Port Elizabeth athletes, from left, Sizibule Dibela, Jack

Mtshweni and Gabs Mtshala, enjoy time off for a chat after participating in the Kowie Striders

Buco Pineapple run

Picture: NTOMBI MSUTU

ENJOYING THE SUN: Friends Louise Ferguson, left, and Pania Heny enjoy

their drinks at the Port Alfred Country Club on Saturday after walking the

Kowie Striders Buco Pineapple 10km race

Picture: NTOMBI MSUTU

A SHOO-IN: Rotarian Janet van Schalkwyk

decorates her table at the Rotary Spring Tea,

held at the Port Alfred High School hall on

Saturday to raise funds for the NSRI – who

demonstrated their new equipment – and Polio

Plus, the Rotary International project to

eradicate polio Picture: MAUNEEN CHARTER

BUSINESS AND PLEASURE: Steve Gardner, left, and Rory McNelis at the

annual GBS dinner held at the Port Alfred High School hall last Thursday

night

Picture: JON HOUZET

OLDEST CLIENT: Damant Lodge resident Phyllis Futter, 98, with her son

Ronnie Futter, who was visiting from Australia, at the annual GBS dinner

held at the Port Alfred High School hall last Thursday night

Picture: JON HOUZET

WELL-DESERVED BREAK: Shannen Kethro and Reagan Robinson take a

break after finishing the Kowie Striders Buco Pineapple 10km race

Picture: NTOMBI MSUTU

2's Company

Saturday 27 October

Tickets R130

Includes Meal
---
18 Talk of the Town ADVERTISING / NEWSDESK: (046) 624 4356 Find us on Facebook

October 11, 2018

DEATH NOTICE

PEARCE, Graham: A wonderful family

man, born 9 Feb 1928, passed away peacefully

on Monday 8 Oct in Port Alfred. Home at last

with his true love, Gracie. Lovingly remembered

and missed by his children Richard (Marianne)

and Lindy (Pat) and by his grandchildren Zane,

Kim and Michael. Rest In Peace.

CLASSIFIED INDEX

1. DOMESTIC

ANNOUCEMENTS

1010 Births

1040 Engagements

1050 Marriages

1070 Deaths

1100 In Memoriam

1220 Congrats / Best Wishes

1230 Birthday Greetings

1290 Thanks

2. PERSONAL

2070 Health & Beauty

2110 Lifts

2140 Lost

2142 Found

2240 Personal Services

3. ENTERTAINMENT

3060 Entertainment General

5. SERVICE & SALES GUIDE

5010 Education & Tuition

5090 Plumbing

5100 Electrical Services

5120 Building Services

5122 Home Maintenance

5160 Walls / Fencing

5190 Painting / Decorating

5210 Pools, Spas, Accessories

5260 Computer Services

5330 Photography

5360 Garden Services

5380 Special Services

5451 For Sale

5480 Horses

5510 Kennels and Pets

5550 Misc Wanted

5551 Wanted Known

5570 Removals and Storage

5630 Services Offered

5640 Shuttle Services

6. EMPLOYMENT

6140 Education & Training

6150 Employment Wanted

6151 Employment

6170 Estate Agents

6370 Employment Wanted Domestic

7. ACCOMMODATION

7020 Accomm. Off / Wtd

7060 Flats to Let

7090 Houses to Let

7151 Holiday Accommodation

8. PROPERTY

8010 Flats For Sale

8050 Houses For Sale

8161 Business Premises To Let

8163 Business Premises For Sale

9. MOTORING

9070 Used Car Sales

9440 Motorcycles

2180 NOTICES

DOMESTIC

ANNOUNCEMENTS

Deaths

1

1070

YENDALL

Sincere thanks to all

our family and friends

for all your love,

kindness and support

shown to us all in so

many ways on the

passing of Bruce,

a loving husband, our

father, grandpa and

great grandpa. Bless

you all. With love

Yvonne, Gavin, Sue,

Lesley, Derek, Stephen

and all our families.

Heather Simes:

Passed away peacefully

at home on Saturday

6 October 2018.

ĂŵŚĞĞĞĐŽŶ

ĂŶĚŚĞůŝĨĞŚĞŚĂ

ďĞůŝĞĞŚŝŶŵĞŚŽŐŚ

ŚĞĞĞĚĞĂĚĞŚĂůů

he live". John 11:25.

Memorial at

ĂĐĞΘŚŚĐŚ

ŽůĨĞĚĂĚĂ

ĐŽďĞŵ

1290

Thanks

THE SIMES

FAMILY

would like to thank the

Port Alfred Hospice

team for all their work

and compassion.

We really appreciate

the work you do.

2

PERSONAL

2070

Health & Beauty

Nico Weeber

Hope-Healing-Compassion

Masters Degree (Pastoral Therapy)

Registered Counsellor

(Council for Counsellors in S.A)

Qualified HNLP Coach

Qualified Sound Therapist

Sound Therapy - Restoring

balance in Body, Mind and

Spirit via Sound.

ĞŽŝŶŐŝĐ

Programming -īĞĐŶŐ

change in your life, Goal

ĞŶŐŝĨĞŽĂĐŚŝŶŐ

Counselling - ŝŶŐŽŽ

ĚĞĂůŝŚŚĞīŽĨůŝĨĞ

By appointment only.

For bookings at

ĂŶĐŝĞĂůŚĞŶĞ

046 625 0927 | 082 922 4650

nicoweeber100@gmail.com

MARGIE

MORRELL

Physiotherapist

Treating Backache,

Neck-Ache, Headaches,

Joint and Muscle

Problems, Sports

Injuries, Orthopaedic

Rehabilitation,

Bladder Control.

Kenton-on-Sea

Tel: 046 648 1396

Psychologist

Belinda Wood

M.A. (Couns. Psych.) (UPE)

Psychotherapy

(incl. dealing with lifes challenges

maximizing potential)

Contact: 083 680 5300

26-28 Hill Street, Port Alfred

Finance

2260

Žŵ

ŝŶĂŶĐŝĂůĂĞŵĞŶ

ĂĞŶ

ŽŶŚůĂĐĐŽŶ

Ğůů

ŵĂŝů

ůΛŝŵĂŐŝŶĞĐŽĂ

SERVICES & SALES

GUIDE

Plumbing

5

5090

5120

Building Services

Ž

ŽůĨĞĚ

Ğů

Ă

Ğůů

ŝŶĐĂĞĞůŬŽŵ

ůŝŶĞŝĚŽŶ

BUILDING

PLANS

DRAWN

JOB

SUPERVISION

EXPERT BUILDING

ADVICE

35 YEARS

EXPERIENCE

Call

Rob Owsley

046 675 1021 or

082 567 3651

5122

Home Maintenance

WOODPECKER

INSTALLATIONS

Kitchens, bedroom

cupboards, decks,

windows, building,

plumbing and electrical,

ĂŝŶŶŐĐŽŶĂĐŽ

Lloyd 082-821-7997

woodpeckerjoinery.co.za

5122

Home Maintenance

5360

Garden Services

CARTAGE

REMOVALS

ĂĚĞŶĞĨĞ

ŽŶĞĞůŝĞĞĚ

ĂŶĚĞůŝĞĞĚ

ŵĂůůŽĂĚ

ŚŽŶĞ

084 515 1334

5451

For Sale

6 WOODEN

VERANDAH CHAIRS

ŝŶŐŽŽĚĐŽŶĚŝŽŶĞĂ

ŽContact Rod

Petzer at 079 373 7864

5550

Misc. Wanted

SUNSHINE COAST

HOSPICE

Require stock for their

charity shop. We accept

anything including

furniture, crockery, cutlery,

kitchen and electrical

appliances, glassware,

ĂŝŶŶŐŽŶĂŵĞŶ

linen, curtains, clothes,

toys, books, bric a brac etc.

THE SHOP IS OPEN

EVERY WEDNESDAY

AND FRIDAY

ĨŽŵŚŚĂ

ŽůĨĞĚŽĂĚŽ

ůĨĞĚTel: 046 624 4107

5570

Removals & Storage

U-Store

Clear your garage

or spare room of

ůŝůĞĞĚĐůĞ

ŽĞŝŚŽĞ

Secure, convenient

storage for individuals and

companies in container

ŽĂĞŚŽĞĨĂĐŝůŝĞ

located in Port Alfred's

prime industrial area.

Also store boats, vehicles

and camper vans.

ŽŵĞĞĂĞĂŶĚ

professional service.

Call Doug on

0832259688 or mail:

ĚĂŶĚŬĞŵΛŐŵĂŝůĐŽŵ

15m 2 Unit - R700p.m

20m 2 Unit - R850p.m

Long & Short

Term.

CONTACT

TANYA

082 565 8660

5630

Services Offered

For the hiring of the

HALL, FIELDS,

CROCKERY, TABLES,

ETC. at / from

PORT ALFRED HIGH.

CONTACT: LAURA GUEST

084 607 6174

ŵĂŬĞŶŐΛĂŚĐŽĂ

6

EMPLOYMENT

6150

Employment Wtd.

ANDISWA is looking for

housekeeping/domestic

work. Phone: 073 137 4497

BLESSING is looking for

domestic work. Mondays,

Wednesdays and Fridays.

Have references. Phone:

061 631 0404

CYNTHIA is looking for

domestic work. Phone:

073 719 4666

6150

Employment Wtd.

CYNTHIA is looking for

domestic work. Have

references.

Phone: 073 579 8608

ETHEL is looking for full or

part time domestic work.

References available.

Phone: 073 814 1241

FLORENCE is looking for

full time domestic work.

Phone: 078 486 3437

MARRIAM is looking for

full or part-time domestic

work. Phone: 078 218 7976

NANDIPHA is looking for

domestic/admin work.

Have basic computer

skills. Phone: 073 121 9090

SYLVIA is looking for

domestic work. Have

references.

Phone: 084 966 0003

6170

Estate Agents

RENTALS PROPERTIES

REQUIRED FOR

QUALIFIED TENANTS!

All Tenants are screened and

Credit checks are done.

We update payment profile

at the national credit bureau.

Contact us for professional

and Experienced property

management.

Contact Arlene Du Plessis

at Remax Kowie

Tel: 046 624 1110

arlene@remaxkowie.co.za

Harcourts Port Alfred

046 624 5222

rent.pa@harcourts.co.za

We have a number

Ǧ

CONTACT JILLIAN

046 624 5222 or

on 082 604 2733

7

ACCOMMODATION

7020

Accomm. Off / Wtd

ŏ

I AM A 60 YEAR OLD

MALE PERSON in

Bushmansrivier with good

values and own home.

I am looking for a person

with a steady income to

move in with me to share

costs. For further details

ĐŽŶĂĐĞŶŶĞ

on 071 064 7463

Advertising

Deadline:

Friday 10am for the

following week's

publication.

Tel: 046 624 4356

COURIER SERVICES

DENTIST

ESTATE AGENTS

Help

Guide

APPLIANCE SERVICES

AWNINGS, BLINDS & CARPORTS

AUTO REPAIRS & TOWING

CARPET & UPHOLSTERY

CLEANING

COMPUTER & PRINTER

SERVICES

DSTV

ELECTRICIAN

GAS SUPPLIES & SERVICES

HAIR STYLISTS

HOME RENTALS

MARINE & POWER PRODUCTS

OPTOMETRIST

TYRES
---
October 11, 2018 ADVERTISING / NEWSDESK: (046) 624 4356 Find us on Facebook

Talk of the Town 19

'M i d l i fe ' show tickles funny bone

HARD

TO HAND

OVER

HOW MANY

SWEETS: The Rev

Christel Erasmus

holds the raffle

prize at the

Presbyterian

Church Morning

Market last

Saturday. The

winner was Settlers

Park resident

Asdrid

Papenhuizen, who

had to guess the

correct amount of

sweets in the box –

the correct answer

was 611 Picture:

JONATHAN WALKER

NTOMBENTSHA MSUTU

Side-splitting humour had

audiences rolling in the aisles,

when Niqui Cloete-Barrass and

Anneline Stiglingh brought their

Midlife Chronicles show to the

Little Theatre on the Wharf last

S at u r d ay.

The Port Elizabeth

entertainers are both married

moms in their 40s and have

spent many nights with a bottle

of wine laughing manically and

moaning pitifully about their

minds and bodies. In their show,

they depict what it's like to face

a midlife crisis, through music

and comedy. Speaking on stage,

Stiglingh said the show would

help people explore the different

stages of a midlife crisis.

"In the show, we depict and

take you through the journey of

midlife crisis, through laughter,

crying about the changes that

we go through as we face a

midlife crisis, when a whole lot

of things change for both males

and females," Stiglingh said.

She said however, they always

looked on the bright despite the

challenges. "We 're happy about

life although it may sound like

we're moaning all the time."

Loved by all, the

multi-talented duo brought

along with them their whacky

sense of humour and passion

and have clearly formed a bond

on and off the stage.

Some in the audience said

seeing the pair perform felt like

being with your best friend –

and having a good laugh and a

good cry at the same time.

Cloete-Barrass and Stiglingh

tackle the issues of male and

female midlife crises head-on.

These include the impact on

mind and body, d e s p e r at e ,

unsuccessful attempts at

reliving the good old days, not

to mention the hot flushes and

everything else that goes with it.

The pair had the audience in

stitches when they added their

own twist to favourite tunes

such as Tr a g e d y by The Bee

Gees, Irreplaceable by Beyonce,

Hello by Adele, Yo u 're Beautiful

by James Blunt, Maroon 5's

Moves like Jagger, Fever by

Peggy Lee, and From a Distance

by Bette Midler.

Towards the end of the show

FUNNY MOMENTS: Niqui Cloete-Barrass, left, and Anneline

Stiglingh perform 'Midlife Chronicles' at The Little Theatre on

the Wharf last Saturday

Picture: NTOMBI MSUTU

they acted out a very funny

piece about how old people

reacted to technology changes

and how they freaked out when

a computer screen froze on

them without warning. This was

followed by howls of laughter as

many in the audience could

relate to this scenario.

In the end, they sang

comforting and encouraging

songs for the audience.

IN THE ESTATE OF THE LATE JODY

MARGARET KUTER, Identity Number

620821 0755 081 who was a divorcee and

died on the 28 th June 2017 and resident at

16 Keey Street, Port Alfred.

ESTATE NUMBER 2613/2017

The First and Final Liquidation Account in

the above estate will lie for inspection at

¿

Port Alfred of twenty-one days from the

12 th October 2018

DATED at PORT ALFRED on this 1 st Day

of October 2018

Insuring your child at school

The question that often

arises is the dilemma

around children at school

who have no medical

insurance.

It is not only on the

sportsfield that your

children can get hurt.

Your child could fall, slip

of trip in the passage, on

the playground, or could

sustain concussion while

p l ay i n g .

Yours could be another

child who has to sit in a

long queue at a state

hospital if there is no

medical insurance.

Efficient Wealth in

conjunction with Dr

Gerhard Vosloo – who

specialises in sport

Injuries, especially as it

concerns children – is busy

with an initiative to provide

an affordable product for

schools to assist parents

with the medical needs of

their children.

In the week of October

20, Dr Vosloo will be in

studio to discuss with

Efficient Wealth chief

economist Dawie Roodt,

how they plan to have a

more affordable medical

insurance product for

schools, in the event or

emergency or accident, at

the best or more suitable

private health institutions.

Tune into O n t by t s a ke

Sessions on DStv channel

144 this Saturday at 8am

for more on the topic.

For more information

contact registered financial

adviser Alet Castelyn on

084-244-6429 or e-mail

a l e t @ e f w. c o . z a

N STÖTTER

Neave Stötter Inc

PORT ALFRED

Ref:pk/MAT8347

In the Estate of the Late LOREEN

DOROTHY WILLIAMS, Master's

Reference No: 000410/2018. Notice is

hereby given in terms of Section 35(5)

of the Administration of Estate Act that

the First and Final Liquidation and

Distribution Account will lie for

inspection at the Master of the

Supreme Court, Grahamstown and

the Magistrate Port Alfred for

Twenty-One (21) days as from the

12 th October 2018. Any person

objecting to the said account must

notify the Master of the Supreme

Court, Grahamstown in writing before

the expiry of the said period.

MR H A WORMALD

c/o CHARTERIS & BARNES CC,

P O BOX 2083, PORT ALFRED, 6170

NDLAMBE

MUNICIPALITY

PORT ALFRED

APPLICATION FOR CONSENT

USE TO ACCOMMODATE AN

ADDITIONAL DWELLING

Applicant: A J du Toit

Owner:

A J du Toit

Property Description: Erf 698, Cannon Rocks,

in the area of Ndlambe Municipality, division of

Alexandria, Eastern Cape Province

Physical Address:

698 Stinkhout Street 6189

Detailed description of proposal:

The matter for consideration is an application

for a consent use to accommodate an additional

dwelling on the property as per Section 8 Zoning

Scheme regulations.

Notice is hereby given in terms of Section 76

of the Ndlambe Spatial Planning and Land Use

Management By-law (2015) that the abovementioned

application has been received and

is available for inspection during weekdays

between 09:00 to 15:00 at the Ndlambe Municipality,

Civic Centre, Causeway, Port Alfred.

The application can also be viewed on the

municipal website (www.ndlambe.gov.za). Any

written comments may be addressed in terms of

section 98 of the said bylaw to The MUNICIPAL

MANAGER, Causeway, Port Alfred, 6170, or

emailed to nngxwashula@ndlambe.gov.za or

portalfred@ndlambe.gov.za on or before 12

November 2018 Telephonic enquiries can be

made to the Town Planning Section at (046) 604

5520. The Municipality may refuse to accept

comment received after the closing date. Any

person who cannot write will be assisted by a

¿

NOTICE NUMBER: 209/2018

11 October 2018 ADV. R DUMEZWENI

MUNICIPAL MANAGER

NDLAMBE

MUNICIPALITY

PORT ALFRED

APPLICATION FOR PUBLIC ROAD

CLOSURE, SUBDIVISION AND

REZONING OF ERVEN 6487, 6488,

6489, 6490, 6491, 6492, 6493, 6494,

6495, 6496, 6497, 6498, 6501, 6502,

6503 AND REMAINDER OF

ERF 3143 PORT ALFRED

Applicant: RICK BETTS

Owner: FREIDCORP 143 CC

Property Description: Remainder of Erf 3143,

Erven 6487, 6488, 6489, 6490, 6491, 6492, 6493,

6494, 6495, 6496, 6497, 6498, 6501, 6502, 6503,

in the area of the Ndlambe Municipality, division

of Bathurst, Eastern Cape Province

Physical Address: Forest Hill, 6170

Detailed description of proposal:

The matter for consideration is an application for the

rezoning of the properties from Single Residential to

General Residential to permit Group Housing for

a Private Estate. A Subdivision of the Erven; 6488,

6489, 6491, 6494, 6495, 6496, 6498 for access

road. The closure of remainder of a portion of Erf

3143 (road) to accommodate a private road.

Notice is hereby given in terms of Section 93 of

the Ndlambe Spatial Planning and Land Use Management

By-law (2015) that the abovementioned

application has been received and is available

for inspection during weekdays between 09:00 to

15:00 at the Ndlambe Municipality, Civic Centre,

Causeway, Port Alfred. The application can also be

viewed on the municipal website (www.ndlambe.

gov.za). Any written comments may be addressed

in terms of section 98 of the said bylaw to the

MUNICIPAL MANAGER, Causeway, Port Alfred,

6170, or emailed to nngxwashula@ndlambe.gov.za

or portalfred@ndlambe.gov.za on or before 12

November 2018. Telephonic enquiries can be made

to the Town Planning Section at (046) 604 5520.

The Municipality may refuse to accept comment

received after the closing date. Any person who

¿

by transcribing their comments.

NOTICE NUMBER: 214/2018

11 October 2018 ADV. R DUMEZWENI

MUNICIPAL MANAGER

EMPLOYMENT OFFERED IN KENTON.

ĞŵĂŶĞŶŽŝŽŶĨŽĂŽŝŵŽŶůĂŶ

ĐĐĞĨůĐĂŶĚŝĚĂĞŵŚĂĞĞĐĞůůĞŶ

ĐŽŵĞĂŶĚŶŐůŝŚůĂŶŐĂŐĞŬŝůů

ŽŶĚŬŶŽůĞĚŐĞŽĨůŽĐĂůĂĞĂŝůůďĞĂŶ

ĂĚĂŶĂŐĞĂŚĞŽŝŽŶŝŐĞĂĞĚŽĂĚ

ĂŝŶŐŽŝŚŽĞŶĞŚĞĞŶŽŶ

ĂŶĚŽŶĚŝŶŐĂĞĂŚŝůĂĞůůŝŶŐ

ůĞĂĞďŵŝŽĞĞΛĞĞŝĐŽĂ

Case No. 2/2018

IN THE MAGISTRATE'S COURT FOR THE

DISTRICT OF BATHURST

HELD AT PORT ALFRED

In the matter between :

MICHAEL HAYES CONTRACTORS CC

Execution Creditor

and

GARY GAILEY T/A KEVIN'S RADIO

Identity Number unknown

Execution Debtor

NOTICE OF SALE IN EXECUTION

IN PURSUANCE of a Judgment obtained in

the Magistrate's Court, Port Alfred, and a writ of

execution dated 07 March 2018, the goods listed

hereunder will be sold in execution to the highest

bidder at SHERIFF'S OFFICE, SHOP 19, THE

DUNES, 22 WIERSMA ROAD, PORT ALFRED,

on the 26 OCTOBER 2018 at 10H30 in terms of

Section 66 of the Magistrate's Court Act 32 of

1944.

GOODS TO BE SOLD:

1 X OPEL COMBO REGISTRATION

DRG049EC

TERMS:

CASH

DATED at PORT ALFRED on 5 October 2018.

Execution Creditor's Attorneys

WOOLLGAR ATTORNEYS

72 SOUTHWELL ROAD PORT ALFRED 6170

P O Box 292 PORT ALFRED 6170

Tel No. : 046 6245610, Fax No. : 046 6245589

Email: woollgarlaw@border.co.za

Ref : HAY5/0002/KW
---
20 Talk of the Town ADVERTISING / NEWSDESK: (046) 624 4356 Find us on Facebook

October 11, 2018

A nice mix of romance and comedy

NTOMBENTSHA MSUTU

Night School, with Kevin Hart, Tiffany

Haddish and Megalyn Echikunwoke,

directed by Malcom D Lee. 4/5

If you are into comedy and a bit of

romance, then Night School should be

right up your alley.

Teddy Walker (Kevin Hart) is a

successful salesman whose life takes an

unexpected turn when he accidentally

blows up his place of employment.

Forced to attend night school to get his

GED, Teddy soon finds himself dealing with

a group of misfit students, his former high

school nemesis, and a feisty teacher who

doesn't think he's too bright.

Teddy has been called dumb most of his

l i fe .

Back in high school he freaked out while

taking a standardised test and dropped

AT THE

FIVE STARS

MOVIES

What's hot or not at the box office

out. Still, Teddy has carved out a

successful career selling barbecue

equipment and has a beautiful fiancée Lisa

(Megalyn Echikunwoke), though he goes to

great financial lengths to impress and keep

her around.

After accidentally setting his workplace

ablaze, Teddy's best friend Marvin (Ben

Schwartz) tells him he can organise him a

job as a financial adviser if Teddy can get

his GED.

This sees him going back to his high

school, where an old rival is now the

hard-nosed principal, Steward (a

scene-stealing Taran Killam).

The night class is taught by Carrie

(Tiffany Haddish), an overworked but truly

caring teacher.

There are some emotional moments

when Carrie takes Teddy aside to figure out

why he's having trouble learning.

When Teddy is faced with maths and

word problems, shapes and letters jump

off the page and buzz around him like

bothersome bees.

Teddy then gets help from Carrie through

a special study method to help him try to

focus and remember what he has learnt.

However, Teddy goes on to write and fail

his GED several times, but nevertheless, he

is not willing to quit.

With both humour and poignancy, this is

definitely a movie to see if you are into

romance and want to laugh at the same

time.

LEARNING THE HARD WAY: Night school teacher Carrie (Tiffany

Haddish) gives Teddy (Kevin Hart) a textbook to study in order to pass

his GED test, but he schemes up a way he can cheat his way to

passing

NDLAMBE MUNICIPALITY

PORT ALFRED

PUBLIC NOTICE : CALL FOR INSPECTION OF GENERAL

VALUATION ROLL 2018 AND LODGING OF OBJECTIONS

Notice is hereby given in terms of Section 49(1) (a) (i) read in conjunction with Section 78

(2) of the Local Government: Municipal Property Rates Act, 2004 (Act 6 of 2004), hereinafter

referred to as the "Act" that the Municipal Valuer will be holding Public participation meetings

in respect of 2018 General Valuation Roll which will be opened soon for the public inspection.

Meetings will be held as per schedule below ;

PREVENTING KIDNAPPING: That parents must be aware of where their children are at all times was

graphically illustrated through a series of sketches performed by the Evergreen Theatre Company at

Port Alfred High School on Tuesday. The characters, from left, are Jessica Harty as the cashier, Ben

Baker as the abductor, Zoey Peters as the child and Shimeah Baker as the mother, with fellow actors

Coner Hulley and Joash Lamerton awaiting their turn to perform. Azariah Lamerton, who also

performed in several sketches, was not in this sketch

Picture: ROB KNOWLES

Warning for kids on

child abduction with

series of sketches

Queries can be directed to the following person:

The Deputy Director Income : Mrs D May : dmay@ndlambe.gov.za or Ms S Dili :

sdili@ndlambe.gov.za

Contact numbers : 046 604 5539 / 046 604 5553

Notice: 213/2018

Adv. R. DUMEZWENI

11 October 2018 MUNICIPAL MANGER

PORT ALFRED BRIDGE CLUB

Results for Thursday, 4 October 2018

Red Section (7 tables)

N-S 1st R Rodrigues & A Ridderhof 70.5%

2nd C Fletcher & G Wansell 61.3%

E-W 1st M Newport & H Webber 58.9%

2nd H Clohessy & M Wesselo 57.7%

Green Section (7 tables)

N-S 1st L Futter & L Inglis 58.6%

2nd R Jackson & M Smith 55.1%

E-W 1st B Allan & L Allin 63.7%

2nd C Bennet & D Wright 58.3%

Board 9: Dealer N, E-W Game

A possible auction for this deal is:

À

vulnerable. You are West and have watched attentively as the auction unfolds.

You know that South has made a weak jump overcall so is limited to

10 points and that North was unable to open the bidding and has made

a limited response. Assume that South has 9-10 points and North has

about 6 points: taken together with your 5 points East is marked with close to 20 points, and

East's bidding has backed up this deduction. The jump to 4NT is slam try; East has not bid 4S,

because he/she does not want it to be passed out. So far you have made only one bid showing

À

controls. East does not know about your long spades, or your second singleton. He/she may

deduce that you are short in hearts, but has pushed the bidding to 5S anyway. Presumably

East has the AK of spades and a diamond suit, but must also have control of the club suit.

Therefor it should possible to either establish diamonds as a second suit or make four clubs

if East holds the AK. After all this thinking you do what you were always planning to do anyway

À

makes!! (-800 against -1430)

Results by section

Red Section 3NT-2; 4S+2 (4); 5S+1; 6S= Green Section 3NT-2; 4S=; 4S+2 (4); 5S-1

Full results at: www.pabridge.co.za, including details of all the hands.

ROB KNOWLES

With the incidence of child abductions, rape,

human trafficking and abuse against children

exploding in society, Sergeant Sindy Pienaar, in

association with Ann Green and her Evergreen

Theatre Company, organised a short series of

sketches to educate children of the dangers.

The show took place at the Port Alfred High

School hall on Tuesday morning, before an

Results for Monday, 8 October 2018

Red Section (9 tables)

N-S 1st R Wood & S Purdon 61.0%

2nd J Wright & P Southey 58.0%

E-W 1st A Ridderhof T Paterson 63.4%

2nd J Tagg & E Jurgensen 53.0%

Green Section (8 tables)

N-S 1st M Andrews & D Wright 62.5%

2nd L Butler & J Weisters 59.0%

E-W 1st C Hill & A Corrans 62.8%

2nd R Francis & C Scott 58.0%

Board 10: Dealer E, game all

Board 10 provided an opportunity for East to use an extension to the transfers played by most

players after a 1NT bid.

¹ Relay bid asking West to bid 3C.

² Indicating a strong suit and a possible lead.

The 2S bid enables the partnership to handle hands which are weak, but long in one of the minor

suits. If East has a club suit he/she will pass allowing West (the strong hand) to play the cards.

In this case East has to convert to diamonds. Now West must consider the bidding. West is

À

the possibility of stealing 3NT: but if East had both the Ace and King of diamonds he/she would

not have employed the 2S bid, which is reserved for weak hands. You have weaknesses in both

spades and clubs, so 3NT is not an option. However you can bid 4D to show partner that you

have maximum points and have diamond support, which in view of East's marginal hand he/

she will pass.

Results by section

Red Section 3S-1; 3NT-1; 4D=; 4S*-1 (2); 5D-1; 5D*-1

Green Section 2C=N (2); 2C+1 N; 2S= N; 2NT-5; 3D=; 3H-3; 3NT*+1 N;

Full results at: www.pabridge.co.za, including details of all the hands.

audience ranging in age from grade R to grade 8

pupils.

"The aim of the short plays is to educate the

children about the process of abduction, human

trafficking, date rape and other dangers our

children can be exposed to," Pienaar said.

The first example of abduction was performed

by Zoey Peters as the child, Ben Baker as the

abductor, Shimeah Baker as the child's mother

and Jessica Harty as the shop assistant, and

took place in a store where the mother was busy

shopping and told the child to play by herself.

Taking her ball with her, the child rolls the ball,

which ends up against a grown man's legs,

played by Ben.

He picks it up and begins a conversation with

the child, who then takes his hand and allows

the man to take her away to enjoy some bogus

activity the abductor has concocted.

"Now, what should have happened,"

interjected Green, "was that the mother should

have kept her child with her and guarded against

her child being abducted".

Other scenarios acted out in sketches showed

babies being abducted from hospitals and young

girls being fed roofies (Flunitrazepam, also

known as Rohypnol among other names), a

date-rape drug to incapacitate them so that they

can be abducted.

With the proliferation of information on social

media sites, children are aware of abductions

and other social crimes, but might not always

take the correct decisions when dealing with

p r e d at o r s .

"Parents must also be aware of the type of

social crimes that are currently prevalent,"

Pienaar said.

"It is up to us as adults to teach our children

the rules to ensure they are safe."
---
October 11, 2018 ADVERTISING / NEWSDESK: (046) 624 4356 Find us on Facebook

Talk of the Town 21

FESTIVAL CITY GETS A NEW NAME

According to Arts and Culture Minister Nathi

M t h e t h wa 's office, the renaming process is complete

and Grahamstown will in future be known as

Makhanda. After fulfilling all the legal obligations, the

final decision regarding the change was taken on

October 2.

Residents swiftly took to social media, some

agreeing with the name change, but many others

vehemently opposing it. One of the concerns raised by

those opposing the name change is the cost involved

in the renaming exercise.

Others questioned the timing of the renaming

process, what with the city falling into a state of

disrepair – potholed and crumbling streets, dirty and

overgrown pavements and streets, water leaks on

pavements and in streets throughout the city, erratic

water supply and fading street markings.

The general consensus is that money should be

spent on fixing the city instead of renaming it. Others

are wondering what institution will be next in line for a

name change – the university, museums, hospital?

FAMILY FAIR AT GRAEME

The sprawling Graeme College campus, nestled below

Oatlands North and Somerset Heights, and in

particular its Somerset field, will be bustling tomorrow

when the school holds a family fun fair.

Graeme's main sports field, scene of many a rugby

and cricket clash in the past, will take on a completely

different look tomorrow with dozens of stalls, games, a

beer tent, activities and even outdoor cinema. The

gates will open at 2pm and the fun of the fair will

continue until 9pm.

LEADING THE PUPIL BODY

Kingswood College has announced its head and deputy

head prefects for 2019. Headgirl is Siya Nomoyi and

headboy is Ben Maposa; deputy headgirl is Amy Mills

and deputy headboy Caleb Daniels.

Kingswood celebrates its 125th anniversary in 2019.

THEY ROAM THE STREETS

There's a family of three that roams the streets of the

Sunnyside suburb all day, every day, on the lookout for

food – father, mother and baby son, or is it daughter?

A close-knit family they appear to be, and the child

looks pretty healthy. Trouble is, many residents wonder

whether it's the right thing to do to feed this family as

they'll soon be back, asking for more.

These three are but part of a large group of donkeys

that roam the streets seeking sustenance. They have

survived the winter on the streets, now for summer!

SY B I L L 'S SHUTS SHOP

Sybill's Hair Salon on the African Street side of Pepper

Grove Mall has reportedly closed down.

Sybill's has been in business in Makhanda (formerly

Grahamstown) for several decades, and in the

mid-1960s operated as Sybill's Beauty Salon on the

corner of Bathurst Street and Queen Street, across the

road from the old Odeon bioscope.

RUNNING ON COUNTRY ROADS

A fair number of Makhanda (formerly Grahamstown)

athletes were among the 189 finishers of Saturday's

BUCO 27km road race from the Big Pineapple at

Bathurst to the Port Alfred Country Club, held in good

w e at h e r.

The race was run and walked mainly over gravel

roads surrounded by farmlands, with the last few

kilometres on tarred roads.

Mario Hockly of Albany Saints & Sinners Multi-Sport

Club was 24th overall in a field comprising, in the

main, Port Elizabeth and Uitenhage entrants.

Terri-Lynn Penney of Nedbank Athletics Club was

26th overall – second lady finisher and first in her age

group – and Jene Banfield of Bluewater Bay Athletics

Club was 34th overall – fourth lady finisher and third in

her age group.

Makhanda finishers:

24th Mario Hockly (Albany) 2 hours 10 minutes 22

seconds

26th Terri-Lynn Penney (Nedbank) 2:11:42

34th Jene Banfield (Bluewater Bay) 2:14:22

81st Terri Blake (Albany) 2:34:26

86th Stephen Penney (Kowie Striders) 2:36:20

88th Juanita Fuller (Albany) 2:37:01

90th Richard Foss (Albany) 2:38:30

126th Carolyn Grant (Albany) 2:52:47 (third in age

group)

128th Kathryn Cleary (Temporary licence) 2:53:19

133rd Johannes van Dyk (Albany) 2:56:06

140th Michelle du Toit (Albany) 2:57:56

144th Andrea Comley (Albany) 2:59:15

163rd Theo du Toit (Albany) 3:15:28.

Lynne Marshall of Albany was third walker in 3:56:45

STOP NO MORE?

It's almost as if the STOP signs at the bottom of

Bertram Street and Anglo-African Street in the CBD are

not there. In the past couple of weeks vehicles have

been observed just sailing through. It's as if the signs

on poles have been stolen and the white-painted STOP

SWEET STRING

SOUNDS: These three

Victoria Primary

School violinists were

among the musicians

who entertained

visitors to the school's

recent fete. They are,

from left, Iyonke

Nogqala, Lusenathi

Mkalipi and Tatum

Jacobs. In the

background, watching

the musicians, is

teacher Donovan

Wynne

signs on the tarmac have faded away completely.

WATER SPRING DRAWS CROWDS

The water spring a couple of kilometres outside

Makhanda (formerly Grahamstown) on the road to

Stones Hill was exceptionally busy last Friday and

Saturday amid reports that there were water

disruptions in certain areas of the city's eastern

suburbs. And the parking area adjacent to the R67 at

the spring was totally congested.

MULTIPLE FINISHES FOR COUPLE

In completing the BUCO Kowie Striders 27km road race

from Bathurst to Port Alfred last Saturday, Makhanda

(formerly Grahamstown) couple Stephen and Terri-Lynn

Penney have notched up 41 Kowie Striders 27km races

between them.

Stephen Penney, a member of Kowie Striders, has 20

finishes to his credit, while Terri-Lynn Penney, a

member of Nedbank Athletics Club, has completed 21.

PARACHUTE FABRIC AND SOME TUBING

I was seated on the deck at about 7am last week

Monday – a gloriously warm morning it was – when a

micro-light aircraft flew over Sunnyside in a southerly

direction.

There was a time some years ago that micro-lights

were regularly seen above Sunnyside. Reminds me of

the time a few years ago when Sharon McGillewie

invited me to accompany her "up there" in a micro-light

as a member of the media.

It was an unreal experience indeed, sitting in the

"back seat" surrounded by an engine and what

appeared to be parachute fabric and some aluminium

tubing. Fairly high above the veterinary research

station at the top of George Street the micro-light

shuddered quite severely.

My immediate reaction was an "Oh dear, oh dear"

over the microphone. "Not to worry," responded

Sharon, "it's just an air pocket." My response was:

"Well no fine, how far is it to the aerodrome?"

Thanks, Sharon, for the flight and the reassurance.

GOOD EFFORT

Well done to the SPCA staff and helpers upon holding

a "Spay Day" at the new SPCA clinic facility on October

1 when 24 animals were successfully sterilised.

This brings the number of sterilised animals since

mid-July to more than 100.

HOTEL WITH ITS OWN BREWERY

I was paging through the coffee-table book

Grahamstown Reflected the other day and came across

a chapter titled "Hotels and Hostelries", taking my

mind back to the many hotels that Grahamstown once

boasted, including the Grand, Carlton and Goodwood.

Remember, the book was published in 1995.

Author Emily O'Meara wrote this about the Cathcart

Arms Hotel: "The oldest existing hotel in South Africa,

the Cathcart Arms is situated under the shade of some

Kurrajong trees – Australian evergreens which never

lose their cool."

Remaining with the Cathcart Arms, O'Meara wrote

that "the hotel also had a brewery which operated in

the cavernous cellar, complete with well, below the

present bar. Beer made from the clear pure water was

popular among the thirsty frontier forces. Today,

equally convivial customers down pints brewed further

afield".

Sadly, the Cathcart Arms is no more.

After writing about the Cathcart Arms, O'Meara

visited The Cock House, situated nearby, and wrote:

"Diagonally across the Market Square is another

hospitable haven, The Cock House. It was originally the

home of Benjamin Norden, and later William Cock.

"More than a century later, Afrikaans literary doyen

Andre Brink, then lecturing at Rhodes, rescued the

property from a downward slide. The former ballroom

became a living room. Now it is the elegant restaurant

of an atmospheric guest house, a proclaimed National

Monument with generous helpings of history on the

menu."

PROFESSIONAL SERVICE

Grahamstown Building Society (GBS) advertised in a

local publication in 1989, informing readers: "After 112

years of professional service to happy house owners,

we look forward to offering you our friendly advice and

expertise for your next loan."

The general manager of the GBS back then was Mr J

Reynolds, the assistant general manager was Winston

Riddin, and the loans manager was Paddy Page. The

Port Alfred agents for GBS were H and H Associates

and the Kenton-on-Sea agent was Stanley J Dold.

REGULARS IN THE GARDENS

Most of the regulars were in Makana botanical gardens

last Saturday for their weekly dose of parkrun –

runners, joggers and walkers (162 of them) and

volunteers (a dozen of them).

Several parkrunners taking part last Saturday are

nearing personal landmarks, whether it's 50, 100 or

200 parkruns. They are Lynne Henson – 197 (three to

go to 200); Peter Stockwell – 197; Ngabisa Bridget

Mazwai – 97; Mariss Stevens – 96; Naomi Nel – 94;

Rasayi Mdlankomo – 93; Jackie Arendse – 92;

Charlotte Abraham– 90; Aaron Mdlankomo – 89; Sioux

McKenna – 48; Arisha Babu – 48; Nomfundo Siqwede

– 48; Patrick Pringle – 47; Enoch Odei-Addo – 45; and

Valerie Moyo – 45.

Last Saturday's volunteers, without whom parkruns

would not happen each week, were Jackie Arendse,

Mark Arendse, Catherine Deiner, Lawrence Ferreira,

John Haydock, Ross Marriner, Aaron Mdlankomo,

Valerie Moyo, Sydney Moyo, Jacqui Sauer, Peter

Stockwell and Wayne Tammadge.

TOPS AT MEETING

The best track performance at Victoria Primary School's

athletics day was achieved by Kelsey Frazer (also the

senior victrix ludorum), and the best field performance

by Grace Mayekiso (also the junior victrix ludorum).

The under-9 victrix ludorum was Lisa-Jane Evans.

RECITAL TONIGHT

Entrance is free to the Masters Recital by soprano

Jo-Nette Lekay in the Beethoven Room in Somerset

Street this evening (7.30pm). She will be accompanied

by Paul Ferreira.

DSG NAMES PREFECT BODY

At a moving assembly last week, pupils and staff of the

Diocesan School for Girls (DSG) said farewell to the

outgoing prefects of 2018 and gave a warm welcome to

the newly-named prefects of 2019. During the

assembly, older sister Kathryn Basson passed the title

of headgirl to her younger sibling, Julia Basson.

DSG's prefect executive for 2019 is: Julia Basson

(headgirl), Peo Ramokgope (deputy headgirl), Laura

Fowlds (headday girl), Phoebe Elliott (head of Crewe

House), Cebokazi Mtshemla (head of Espin House),

Qhayiya Dywili (head of Knowling House), Diana Dixie

(head of Merriman House), Babalwa Kleyi (head of

Manyano House) and Julia Murray (head sacristan).

PREFECTS NAMED

St Andrew's College has announced its prefect body for

2019.

In Upper House, Dylan Bowker and Guy Rushmere

are College prefects, and Miles Danckwerts and Ryan

Ford are house prefects. Braydon Barratt is head of

house and Peter Voges is second head of house in

Merriman House. Andrew Coxwell is head of house and

Richard van Coller is second head of house in

Armstrong House.

Christopher Poole and Benjamin Akker are College

prefects in Espin House. Head of house for Mullins

House is Ignus Potgieter and second head of house is

Stephen Ross. Head of house for Graham House is

Menno Bouman and second head of house is Thomas

Russell.

BUTTER FROM ABROAD

Why, I'm wondering, would SA find it necessary to

import salted butter (Golden White brand) from the

Ukraine and which is being stocked by a supermarket

chain. I thought we produced enough butter in this

country. Or am I wrong?

NATAL AND THE PERM

A local publication in 1983 carried advertisements for

banks and building societies with branches in

Grahamstown (now Makhanda).

Check these out – only one is operating under the

same name today: Natal Building Society (NBS);

Barclays Bank; Permanent Building Society (The Perm);

Trust Bank; Standard Bank; and Grahamstown Building

Society (now GBS Mutual Bank).

NEW AWARD

For the first time in its history, St Andrew's College has

awarded the Honours in Leadership award to two

matric pupils – Jonathan Campbell and Peter Jarvis –

who have excelled in displaying leadership within

various areas of their school life.

Colours in Leadership have been awarded to

Matthew Barlow, Brian Cordner, Brad Landrey, Oscar

Liss, Nicholas Stadler and Gabriel Walsh.

STILL STARTING: Graeme College's "Graemian"

magazine of 1988 contains a photograph of

teacher Nico van der Meulen, starter's pistol in

hand, starting a race at the school's annual

athletics meeting that year. After so many

years, Van der Meulen was still at it, starting

track races at Graeme's 2018 athletics meeting

held recently, as seen above Pictures: SID PENNEY

NOT FOR LONG:

Residents are

wondering how long it

will be before the

'Welcome To

G r a h a m st ow n ' signs

leading into the city

will be changed to

'Welcome To

Makhanda'. City

residents were

informed last week

that the name change

had been approved by

the relevant minister.

See story on this page
---
22 Talk of the Town ADVERTISING / NEWSDESK: (046) 624 4356 Find us on Facebook

October 11, 2018

BOWLSBANTER

... what's happening

Port Alfred

Bowling Club

Last Tuesday afternoon

saw the start of the

mixed nominated

internal pairs

competition.

Lynda Schoning and

Phyl Taylor, as well as

David Freeme and

Wendy Pfotenhauer

won the Ocean Basket

vouchers.

Thank you to the

Ocean Basket for their

continued support.

The next round of the

competition is on

Tuesday afternoon for

those winners who

made it through to the

next round.

Congratulations on a

good start.

The wrong bias potty

was won by Hein

Strombeck, proving my

theory that even the

most experienced and

good bowlers can have

a "wrong bias". Ha ha.

Last Wednesday

morning, the

unfortunate bowlers

who entered the

handicap singles had

to play in a morning of

four seasons –

summer, winter, spring

and gale-force winds

with a bit of rain.

The competition is

ongoing and will be

played again next

Wednesday morning.

The Whiteside

competition was played

in Grahamstown this

weekend and had men

bowlers from all the

clubs in the district as

well as Port Elizabeth

and Midlands

par ticipating.

Congratulations to

Midlands who were the

overall winners, the

runners-up being

Kowie and

G r a h a m st o w n

r e s p e c t i v e l y.

I was told that our

club made friends.

The start of the

Eastern Areas (EA)

ladies and men's fours

competition

commences on

Saturday afternoon in

Kenton. Good luck to

all who are playing.

Duties for the week

October 16 – 20: Ta b

Duty – V Wicks, B

Nieuwoudt and A

Kotze, Bar Duty –

Trevor, Eddie and

Graham, Ironing – D

Lang.

Kowie Bowling

Club

As annual general

meetings go, the club's

AGM was a rather

"quiet" affair. Indicative

of the harmonious

relationship between

the executive and the

members.

With no controversial

items on the agenda,

the general consensus

was "do not change

that which does not

need change".

Peter Ford, the

outgoing president,

presented a succinct

resume of the club's

achievements during

his tenure.

The most important

item being the

phenomenal growth

the club has

experienced over the

period under review.

The club and the

game of bowls has

become a "go to" item,

with the local

populace. It is now up

to the old members to

ensure that the

"rookies" are not

disappointed. A vote of

thanks to our coaches

who have ensured that

the new members'

introduction to tabs-in

bowls is smooth and

without any incidents.

As a sporting body,

compliance with the

provisions of Section

30(1) of the Income Tax

Act is now a "m u st ",

and while Big Brother

is prepared to make tax

concessions, he

expects balanced

financial control so that

each "g e n e r at i o n " of

members will look after

themselves with a

small contribution to

the club reserves.

With the inordinately

large increase in the

number of players, we

showed a substantial

profit. We appeased

Big Brother and our

members by passing

on most of the windfall

to the coming year by

not increasing any of

our levies.

While the club has

always been very frugal

in conferring titles on

our members, the

elevation of Peter Ford

to being only the ninth

honorary life member

was met with universal

acclaim.

The recipient of the

prestigious Jean Louw

Trophy for exceptional

devotion beyond the

call of duty was Dave

Thomas.

The election of office

bearers produced few

surprises and it would

seem as if the

transition from the

Peter Ford era to a new

team presided over by

Jacques Krige has

been accomplished

without any drama –

our congratulations to

Jacques and his team.

While we expect

some subtle changes,

the basic traditions of

Kowie Sports Club will

always prevail.

Last Tuesdays

Guido's Competition

became a lottery with a

howling gale confusing

the players. John

Hubbard, Dave Thomas

and Lucia Nel managed

to read the wind better

than the others.

Thursday had gender

separation and there

were some very close

games on both sides,

with Mike Long joined

by Roy Wilkens, Peter

Giblin and George

Andrew bucking the

trend with a big win.

On Saturday, many of

the bowlers seemed to

have other pursuits but

we had enough to

justify the competition.

Michael van der

Sandt, ably abetted by

Roy Wilkens and

Colleen Davey will be

eating out again.

Congrats to our two

men's teams on being

runners-up in the

Whiteside Trophy.

Stan Long, Steve

Minnaar, Graham

Enslin and Bob Ford

went through

unbeaten, while

Jacques Krige, Rob

Owsley, Dave Thomas,

and Dick Schuurman,

won two and lost two.

Duties: Roll – Mike van

der Sandt, Mark –

George Andrew/John

Hubbard, Tabs – Anne

Marie Giblin.

WINNING ROSETTES: Kel-c Mclellan, 11, represented Port Alfred High School and Eastern Province

at the South African National Equestrian Schools Association nationals at Kyalami last week. She

qualified to enter 11 events

28 Main Street - Tel: 046 624 1125

Email: robert.avis@ecmpa.co.za

R339 4 900*

CROQUETCORNER

... rolls that count

Although it was blowing a

gale, nine players fought

it out last Tuesday

af ternoon.

It was good to welcome

back Ian Reid, a visitor

from Australia, who is in

Port Alfred to see his

sister and her family. Ian

and his wife came to play

with us when they were

over last time.

Not much news at the

moment, other than to

welcome back our two

jet-setters Greta Snaith

and Anne Prettejohn.

ON THE WING

Kowie Pigeon Racing Club

Racing from Touwsrivier, a

distance of approximately

645km, the two races began

in cool but clear skies,

arriving in partly cloudy but

warm conditions.

In the All Ages (AA) race,

where four club members

released 31 birds, the first 10

places went to first, Ray

Schenk, whose bird covered

the distance at an average

velocity of 1,015m per minute,

followed by birds by B

Samuel, D Tarrant, Samuel, M

Mxube, Samuel and Tarrant.

In the Yearling (YRL) race,

where four members released

32 birds, the first six places

went to first, B Samuel, M

Mxube, Samuel, Tarrant and

Samuel.
---
October 11, 2018 ADVERTISING / NEWSDESK: (046) 624 4356 Find us on Facebook

Talk of the Town 23

The 2018 Annual Nemato Golf Club

tournament took place last weekend at

Alexandria.

The fundraiser for the development

of young golfers at the club takes

place over two days and attracts

golfers who wish to pit their skills

against others and, at the same time,

enjoy a social weekend of golf.

In the A Division seniors, first place

went to Colin Mavuso, with a gross

score of 74 and second spot to Anele

Dyantyi, with a gross score of 84.

In the B Division, first place went to

Wellington Button, with a gross score

of 80.

Nemato golf event a hit

Points winners in the B Division

were: first place to Patrick Feni on 41

points, second was Monki Feni on 40,

and third, Sipho Albany on 39 points.

In the C Division, first was Xali Lee

on 41, second Desmond Ntente on 38,

then Sipho Mdaka on 35, followed by

Mzwandile Zephe on 35, Micheal

Mokoena on 35 and Mzwandile

Mgeba, also on 35 points.

The longest drive went to Mbulelo

Nkohla, a senior, and the nearest to

the pin prize went to Mihlali Nanto, a

j u n i o r.

The juniors (under 13), played 18

holes, with Mihlali coming home first

with a gross of 77, followed by

Othimna Matiwana, who grossed 91,

and Olothando Ndabeni, also on 91.

They were followed by Esona

Mlandeli on 92 and Lihona Fina, with a

gross of 99.

In the under-10 category, played over

nine holes, first was Onamandla Hani

with a gross of 54 points, second was

Ovayo Ntandani, with 60, followed by

Zukhante Swartbooi, with 61, and

Zasakie Mabece, with 63 points.

Club chairperson Colin Mavuso said

the club would like to thank all the

sponsors for their continued support of

the club.

The sponsors included the Eastern

Cape department of sport, recreation,

arts and culture, Ndlambe

Municipality, BUCO (highway, town

and at Alexandria), Trellidor, Build It,

Midas, The Water Bar, Kekkel en Kraai,

Kowie Cellers Bottle Store, Prestons

and Coca Cola from Port Elizabeth.

Wednesday October 3:

BUCO Individual Medal,

with 71 players.

Results:

1st: Ockie Pieterse – 69,

2nd: Wayne Chemaly – 69,

3rd: Viv Jordan – 70 ,

4th: Nick Fox – 72, 5th:

Stewart Dorrington – 72

Two Clubs:

8th: D Sinclair, R Clayton, J

Roesstorff, B Wright

13th: I Moncur, Dave Young

Best gross: 73 – Wian van

Aswegen

Best nett: 69 – Ockie

Pieterse, Simon du Plessis,

Wayne Chemaly

Nearest the pins:

Fishaways – 6th: Andy

Altson

RPAGC – 8th: Roly Clayton

The Wharf Street Brew Pub

– 11th: Barry Scarterfield

GOLFW E E K LY

... the results

Thymes 2 Catering – 13th:

Anton Gouws

Wimpy Longest Drive –

#14th: Simon du Plessis

Kingsley Beverages –

Nearest the Pin for 2 on

the 1st: Andries Small

Saturday October 6: Auto

Smart Body Shop

Betterball Stableford, with

52 players.

Results:

1st: Arnie Schultz, Lindy

Wright – 50

2nd: Less Wasdell, Ross

Wright – 48

3rd: Alan Corrans, Alistair

FINE PERFORMANCE: Ohlsson Cup winner Dee

Jones-Phillipson at the Royal Port Alfred Golf

Club

Kennedy – 46

4th: Quinton Fick, Jayden

Roesstorff – 45

Two Clubs:

6th: R Wright, M de Sousa

8th: A Kennedy, L Wasdell,

W van Aswegen

13th: I Moncur, H Czepluch,

R Acton

Best gross: 72 – Wian van

Aswegen

Best nett: 66 – Bob Shaw

Nearest The Pins:

Mooifontein Quarry – 6th:

None

Auto Smart Body Shop –

8th: Wian van Aswegen

Sibuya Game Reserve –

11th: Earl Tsolikile

The Wharf Street Brew Pub

– 13th: Ian Sawers

Wimpy Longest Drive –

Men's #18th: Casper van

Rensburg

Royal St Andrews –

Nearest the pin for 2 on

the 1st: Wian van Aswegen

1820s GOLF

Monday October 1:

17 players in warm windy

conditions.

Winners on 40: Lionel

Timm, Dale Wisener, Ted

Baines, Ram Piers.

Moosehead on 47: Patrick

O'Kelly, Juan Southey,

John Heather.

Good scores: 47 – Dale

Wisener, 46 – Lionel Timm.

Two Clubs: None.

Thursday October 4: 20

players in excellent

conditions.

Winners on 39: Barry

Scarterfield, Ted Baines,

Dudley Kieser, Ram Piers.

Moosehead on 46: Brian

Robinson, Dallas Cowie,

Albert Whitfield, Dave

Pa g e .

Good scores: 49 – Te d

Baines, Barry Scarterfield,

48 – Dale Wisener, 47 –

Ram Piers, 46 – L aw t o n

Amos.

L ADIES' R E S U LTS

October 4: The normal

ladies' Tu e s d ay

competition was

postponed due to high

winds and on Thursday

morning 12 ladies

regrouped to play the

Ohlsson Cup Individual

Medal and Putting

competition sponsored by

Pick n Pay.

In the Silver Division,

handicaps 0-21, Kim

Gardner won on a count

out from Sonia Reynolds

both finishing on nett 76's.

Kim also won the putting

competition in this

category with a total of 31

putts. Dee

Jones-Phillipson won the

Bronze Division, handicaps

22-36, with an excellent 72

nett from Jane Bladen in

second place on 73 nett.

Joy Altson won the putting

in the higher handicap

category with 33 putts.

Dee's fine performance

also resulted in her

winning the Ohlsson Cup.

Shirley Heny won the

longest drive on the 16th in

the lower handicap

category and Jenn Adair

was winner amongst those

in the higher handicaps.

Sonia holed out for a

two-club on the par three

13th, the only player to

achieve a birdie on the par

three's.

No player made the green

for closest the pin on Top

Carpets' sixth, Joy was

closest on Rosehill Driving

Range's eighth, Trish

Barwick was closest on

Wimpy's 11th and nearest

the pin for 2 on the River

Spa 13th was surpassed by

Sonia's tee shot level with

the pin which she

despatched for her birdie

with aplomb.

Kim and Dee shared the

Jackpot both on 10 points.

The competition on

Tuesday October 16 will be

the Captain's prize, to be

followed by the Ladies'

AGM.

L ADIES' MIXED RESULTS

September 30: The

bi-monthly Mixed

organised by the ladies

section of the golf club

and sponsored by

Continental Restaurant &

Deli and O'Neill Insurance

Brokers was held on the

morning of Sunday 30

September to enable

golfers to watch the Ryder

Cup coverage that

afternoon. The format of a

Four Ball Alliance two

scores to count attracted a

field of 40 players to enjoy

the Italian theme with a

twist on the scoring with

only male, Italian Stallion,

scores counting on all four

short holes.

Charlie Poulton, Margie

Siegers, Kim and Steve

Gardner ran out winners

on 85 points from Tom

Tagg, Helen Lockyear,

Glynnis Renecle, and

Derek Sinclair in second

place on 84 points.

Nearest the pins winners

were Derek on the 6th, Pru

Peacock on the eighth,

Neil Loundar on the 11th

and Lyn West on the 13th.

Kim was also successful

with the straightest drive

on the 18th to round off a

day thoroughly enjoyed by

all participants.

The next mixed organised

by the ladies is scheduled

for November 25 with a

USA theme to tie in with

Thanksgiving.

FRESH STOP PORT ALFRED

MIXED

October 6: The best

weather for a while with

warmth, sun and calm air

saw a field of five ladies

and 11 gentlemen drawn to

play in the weekly

Freshstop mixed

Stableford Alliance

competition.

Visitors Tony Manderson

and Paula Grobbelaar

partnering Tim Leach and

Rose Calmeyer Leach were

winners on 88 points. Just

behind on 87 points in

second place was the

covey of Barrie Brady,

Bryan Robinson, James

Weisters and Heather van

Harmelen.

Kevin Maree, Margie and

Brian Reid's fairly

respectable 76 points

claimed the Energade.

Bryan was successful with

the only two-club of the

day on the par three

eighth.

Pogs Smith was closest

the pin on the eighth to

take home the bottle of

wine donated by the

sponsors.

No nett scores under 70

were achieved.

KGB RESULTS

Tuesday October 2: A field

of 27 players reported for

the draw, despite warnings

of winds approaching gale

force, to be drawn in 3

balls to play a fiendishly

Finlay Alliance Stableford

two scores to count

multiplication competition.

With no one quite sure of

what a good or bad score

might be Arnie Schultz,

Andy Stembridge and Paul

Fryer put together 85

points to come in winners.

Roger Kidson, Dale

Wisener and Tom Tagg,

thinking they may be in

trouble, were pleasantly

surprised that their 77

points was worthy of

second place in the

rankings.

Setting a new record in

KGB competitions Heinz

Czepluch, Don Tomson and

John Muggeridge grasped

the Hamer en Sukkel firmly

in both hands with 50

points to the delight of the

rest of the field.

Nick Oosthuizen birdied

the par three sixth only to

be overtaken by Dave

Curran with a similar feat

on the 11th to take the

two-club pool.

The wind put paid to any

scores below 70 nett.

Friday October 5: A

reversal in wind direction,

to an easterly that ran at a

moderate pace, saw 40

players in the draw to play

VOLOVIKINGS

Time Trial: October 4

3.8km

1. Nosipho Vazi 29:16

5km

1. Lukhanyiso

the normal standard

Stableford Alliance two

scores to count the KGB

competition. The KGB

players ran their

competition in conjunction

with the Damant Lodge

fund raising golf day, all

players participating in the

fund raising.

The coveys of Mark

Warren, Arnie Schultz,

Peter Reed and Paul Fryer

as well as Bob Shaw,

Martin Lambrechts, Dallas

Cowie and David

Groenewald both finished

on 88 points to win the

KGB competition.

The Hamer en Sukkel was

subject of a boisterous

struggle with Roger

Kidson, Chris

Niebieszczanski, Cliff

Roberts and Gavin

Richards pipping the rest

of the field to the much

avoided trophy with their

72 points.

Heinz Czepluch and Tom

Tagg both birdied the par

three sixth, Barrie Brady

copied suit on the par

three eighth but Graham

Finlay with a similar feat

on the 13th took the

two-club pool.

Neil Loundar and David

with nett 69's and Barrie

with a nett 68 recorded the

best rounds of the

morning.

Ntengu 26:27

2. Siphosethu

Magwaxaza 26:27

8km

None

WINNING FOURSOME: RPAGC Ladies' Mixed Winners, from left, Charlie Poulton, Margie Siegers, and Kim and Steve Gardner

This past Saturday we

held our annual 27km and

10km Buco Pineapple

Run.

The event went off

extremely well. A big

thank you to all the club

members who helped with

marshalling, refreshment

stations, the start and the

finish. Without you this event

would not be possible.

A special word of thanks to

Alex Weed and Marietje Robb

for all the hours and tireless

running around that they put

in to make the race a success.

All the workers had their

chance to run the race on

Sunday. A total of 14 of them

lined up to race. This was

followed by a well-earned braai

at the Country Club. Thanks to

Rob Joiner, Pauline Weed and

Anel for arranging it.

Sizakele Dayimani as usual

raced to victory in 1 hour 39

KOWIESTRIDERS

... runners with pride

minutes 23 seconds, followed

by Zamile Xanti in 1:52, Rick

Betts 2:07, Alex Weed 2:29,

Mike Nelson 2:38, Marianne

Stiglingh 2:39, Sticks Stiglingh

2:40, Leah Shanks 2:45, Dave

Sansbury 2:45, Nellie Phiri

2:56, Zanelle Venter 3:09,

Marietjie Robb 3:16, Lungisane

Mtsatshe 3:21, Lulu Mceka

3:24.

On Sunday October 21, we

are arranging a two-hour

sunset cruise on the Lady

Biscay. Only 40 seats are

available. It is R50 per person,

snacks provided and cash bar.

Come and join us for a relaxed

fun afternoon. Please contact

Alan Robb to book your seats.

Happy running/walking.

Time Trial: October 2

8km Run

Lethemba Jekana 32:14

Xamile Xanti 33:20

Richard Legg 35:38

Rick Betts 35:38

Alex Weed 40:53

Mike Nelson 42:10

Gerald Greef 47:15

Leah Shanks 49:36

5km Run

Jeremiah Dayonashe 18:26

Sizakele Dayimani 18:47

Asakhe Solwadle 21:02

Sinethemba Jilingisi 21:40

Siyandi Xanti 23:49

John Smith 25:35

Dave Sansbury 25:35

Jess Harris 27:40

Donald Underwood 27:40

Sticks Stiglingh 27:40

Alan Robb 29:20

Nellie Phiri 31:27

Marietjie Robb 31:44

Hayley Legg 36:46

Christine Greef 36:46

3km Run

Ayabonga Saul 13:29

Liyanda Mente 15:25

Kimberly Mphela 16:35

Lulu Mceka 17:21

Andesow Xakawe 18:42

8km Walk

Lynette Harbrecht 01:30:18

Dudley Emslie 01:30:18

Billy Futter 01:05:01 [rain]

Pauline Weed 01:05:01 [rain]

6km Walk

Ray Basson 01:02:11

5km Walk

Dianne Emslie 43:40

Sally Blake 48:11

3km Walk

Melodi Greef 28:14

Colin Murphy 29:13

Alistair Blake 33:57
---
Sp ort

Contact us with any sports news: (046) 624-4356 (Jon Houzet) Thursday, October 11, 2018

Port Alfred abuzz

with Pineapple Run

Annual race draws

runners from all over

province, further afield

FIGHTING FIT: Christine Claasen, 54, was the first

woman home in the 27km Kowie Striders BUCO

Pineapple Run last Saturday

Pictures: NTOMBI MSUTU

WINNING SPIRIT: George Ntshiliza, from Port Elizabeth,

quenches his thirst after taking first place in the 27km

Kowie Striders BUCO Pineapple Run at the country club

last Saturday

NTOMBENTSHA MSUTU and

JON HOUZET

The Kowie Striders held their gruelling

annual 10km and 27km BUCO

Pineapple Run on Saturday, with a

significant number of entrants from

different parts of the province and further

afield.

The race saw runners from East

London, Komani, Port Elizabeth and as far

afield as K wa Z u l u - N at a l .

The heat on the day was an obstacle in

itself, but that did not stop the runners

from participating.

The main race, the 27km, started at the

Big Pineapple in Bathurst and ended at

the Port Alfred Country Club.

This route is a mixture of town and

rural country roads, with most of the

climbing done in the first half of the race.

The second half included some gravel

roads as it passed through local farms

and game-farming areas. There was some

fast downhill running over the last 5km.

Some opted to walk the route, setting

off half an hour before the runners.

The 10km event is in a loop that starts

and ends at the Country Club, skirting the

CBD and going through the East Bank.

The biggest challenge was the Alfred

Road hill, both for runners and walkers,

but the downhill from the top of Wharf

Street past Station Hill and Nemato

provided sweet relief.

Of the much-appreciated water tables

manned by volunteers, the one at the top

of Alfred Road hill had the most

exuberant supporters cheering all on.

Both young and old took part, with the

oldest runner in the 27km race an

impressive 75 years old and the first

woman home in the 27km, 54 years old.

The winner of the 10km run was

Vuyolwethu Selani, in a time of 34

minutes and 41 seconds.

Lubabalo Jusayi was second in

0:35:42, and third wa s Khanyiso Cini in

0 : 37 : 3 8 .

The first woman home in the 10km run

was Sarah Raubenheimer, in 0:43:26.

In the 27km run, first was veteran

George Ntshiliza in 1:39:05, followed by

Sandile Ngunuza in 1:39:08, and Bradley

Mackenzie in 1:47:07.

The first woman in the 27km run was

Christine Claasen in 2:06:36.

At the end of the race, great cash

prizes were handed out to the winners,

sponsored by BUCO, Rosehill Spar and

Pick n Pay. There were also plenty of

lucky draws.

Everyone who participated received a

medal and a branded glass, with thirstquenching

pineapple juice sponsored by

Summerpride Foods in East London.

All set for Prestons Men's Classic

CONTACT DES, DONNY OR JANNIE

TEL: (046) 653 0189

KABA ROAD, ALEXANDRIA

GREAT PRICES!

GREAT SERVICE!

VISIT US TODAY!

The highlight of the

Kowie Bowling Club

calendar is their

Prestons Men's Classic,

which is to be played at

the club this weekend.

The tournament

carries prize money of

more than R30,000,

with first prize a

handsome R8,000,

followed by a further 17

prizes, with the tenth

winning a generous

R1,000.

Added to the above

will be three session

prizes.

There will also be

many complimentary

handouts over the two

days for the 112 bowlers

taking part, making this

a popular and

memorable weekend of

bowls to be enjoyed by

all on excellent greens.

Delicious country

catering includes a

whopping man-sized

500g T-bone steak,

which will be served on

Saturday evening.

The tournament has

become a prestigious

and sought-after event,

drawing bowlers (30

teams) from all over the

Eastern Province, Karoo

and Border areas, as

well as a team all the

way from Western

Province, the Mowbray

Club.

Convenor Peter Ford

was congratulated by

his club on organising

what they hope will be

a very successful

tournament.

Local Springbok

bowler Rob Owsley and

many top provincial

bowlers will also be

taking part.

"There is no entry fee,

so come down to the

Kowie Club to watch

and enjoy some top

quality and competitive

bowls next weekend,"

Ford said.

À

MAN IN CHARGE: Prestons Men's Classic organiser Peter Ford promises a great weekend of bowls

at the Kowie Bowling Club

Picture: ROB KNOWLES