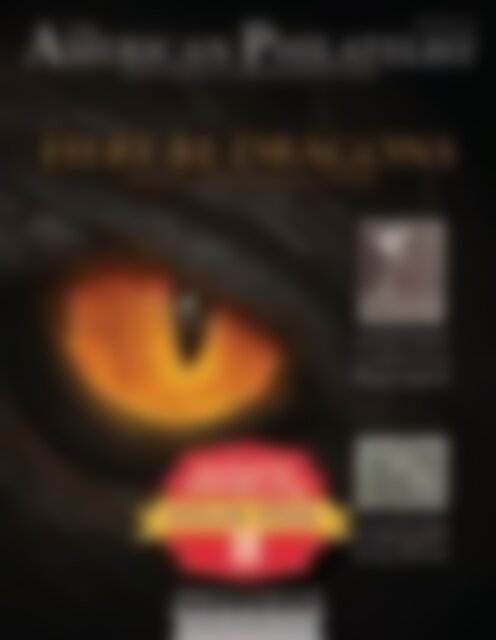 July 2018 - Sneak Peek
The American Philatelist is the monthly journal of the American Philatelic Society, the world's largest organization for stamp collectors and enthusiasts. Members receive the printed magazine and can access the digital edition as a benefit of membership in the Society. Please enjoy this sneak peek. We're confident that once you see all that we offer, you'll want to join the APS today.
The American Philatelist is the monthly journal of the American Philatelic Society, the world's largest organization for stamp collectors and enthusiasts. Members receive the printed magazine and can access the digital edition as a benefit of membership in the Society. Please enjoy this sneak peek. We're confident that once you see all that we offer, you'll want to join the APS today.
SHOW MORE
SHOW LESS
You also want an ePaper? Increase the reach of your titles
YUMPU automatically turns print PDFs into web optimized ePapers that Google loves.
THE

JULY 2018 $4.95

AMERICAN PHILATELIST

MONTHLY JOURNAL OF THE AMERICAN PHILATELIC SOCIETY

HERE BE DRAGONS

Guide to Stampshow/NTSS

German

Currency

Reform

exclusive

stamps.org

SNEAK PEEK

AMERICA'S STAMP CLUB

The American Philateli

journal of the America

ety, the world's largest

stamp collectors and en

bers receive the printe

Remembering

can access the digital e

Portugal's

fit of membership in th

King

enjoy

Denis

this exclusive sn

confident that once yo

offer, you'll want to join

WWW.STAMPS.ORG
---
New York Collector Says

"Mystic's Reputation Was 100% Confirmed"

We're proud of being America's leading stamp

dealer and the nation's most active stamp buyer.

And when we receive testimonials like this one, it tells

us how important our reputation is to our clients. Here's

what else this long-time collector shared with us:

Here's why, like Mr. S., you can rely on Mystic's

reputation when you sell your stamps to us...

Mystic pays you more with high market prices. We

pay what your stamps are really worth, even if it's more

than you expect. We need stamps to satisfy our family

of collectors, so we have to bid against many dealers

and can honestly say the vast majority of our bids

are higher.

"I've been reading your ads in Linn's magazine

for many years, including the comments from readers

who were very satisfied in doing business with you.

When the time came to sell my stamp collection there

was never any doubt in my mind that I would only

contact Mystic for many reasons – trustworthiness,

fairness, reputation, etc... The entire transaction

from A to Z was handled in a most professional

manner and to my utmost satisfaction…

"...after 40-plus years of collecting and

enjoying my Life's Hobby... the experience has

been a 'once in a lifetime situation'. Mystic's

reputation was 100% confirmed.

"...I wish I could tell all potential sellers of

stamps – when you commit to Mystic you are in the

best of hands!"

S.S. – New York, NY

We make selling your stamps simple – you don't have

to inventory, sort, or organize them. We'll do all that

for you. (We specialize in buying large uninventoried

collections, really big accumulations, and dealer stocks.)

Mystic is known for making the selling process easy

and pressure-free. We have many collectors tell us

they enjoyed the experience.

Our buyers have years of experience and the

knowledge to value your entire collection. We know

America's Leading Stamp Dealer

Mystic

We Pay More For Your Stamps

what it's worth and pay you top market value. Dealing

with inheritances and estates is one of our specialties.

When Mystic makes you an offer, you're paid

on the spot – no middleman, no waiting. We have

the resources.

We buy what others don't – your whole collection

– no "cherry-picking". We have customers for all

types of stamps. So

when we buy, we buy

everything.

Mystic buyers are

friendly, honest,

knowledgeable,

and professional.

Testimonials from

hundreds of satisfied

sellers confirm it. We treat people the way we like to

be treated – it's the only way we do business.

Unlike many dealers, we'll travel immediately to

assess your high-quality collection, accumulation

or stock. If you're in a hurry, we'll schedule an

appointment right away, at a time of your choosing.

Mystic is America's most active stamp buyer –

spending millions of dollars to buy stamps every year

– over $70 million in the last five years!

We also buy coins – with all the same benefits listed

above. We even buy mixed coin and stamp collecions.

With Mystic, all transactions are confidential. Your

stamps (and coins) are your business.

Collectors have trusted us for nearly a century.

We've been buying stamps since 1923 to fulfill our

collectors' needs. We survived the Depression,

recessions, wars, and the Internet.

Take advantage of high market prices and contact

Mystic Today!

Call Mystic at

1-800-835-3609

Mystic Stamp Company

Attention: Buying Department

9700 Mill Street, Camden, NY 13316-9111

StampBuyer@MysticStamp.com BA1960

BA1960 7.31x10 NY collector.indd 1

5/24/18 9:56 AM
---
Alfred H. Caspary

Alfred F. Lichtenstein

Franklin D. Roosevelt

Great collectors put their trust in H.R. Harmer…

1976 Bicentennial

Souvenir Sheet,

denomination

omitted on stamp "a"

Discovery copy realized

$4,500 in our

May 2018 Sale.

Contact us today if you are interested in consigning to our Fall 2018 Sale.

H.R. Harmer · Global Philatelic Network · USA

2680 Walnut Ave, Suite AB · Tustin · CA 92780-7052

www.hrharmer.com

Phone 714.389.9178
---
CONTENTS • JULY 2018

HERE BE DRAGONS

August 9, 2018

STampshow NTSS Station

Columbus, OHio 43215

650 CHASING A

DRAGON?

By Jeff Stage

A knight in full armor

rode onto a set of Portuguese

stamps in 1953.

Who is this heroic knight

and could he have been

battling a dragon?

DEPARTMENTS

692 Books and Catalogs

690 Buy and Sell

708 Classifieds

686 Digital Discoveries

707 Index of Advertisers

VOLUME 132 • NO. 7 • WHOLE NO. 1,410

624 Letters to the Editor

712 Membership Report

712 New Stamps

634 Our Story

636 DRAGONS EXPLORED

By George DeKornfeld

Dragons have been terrorizing – or uplifting

or entertaining, depending upon your

point of view – postage stamps since the

19th century. Here's a summary of more

than 100 years of dragon stamps.

666 DRAGONS DESCEND

This month we offer a guide to the 2018

StampShow / National Topical Stamp

Show, complete with a list of dealers,

participating societies, maps, mobile app

information and much more.

654 GERMAN CURRENCY REFORM

By Chuck Fisher

Post-war Berlin was in ruins as the U.S.,

British, French and Soviet governments

administered several designated zones. To

no one's surprise, currency went through

many changes, which, naturally caused a

lot of changes in stamps. Here's a look at

unraveling the mess and making sense of

the era's stamps.

650 646 688

646 UNDERCOVER

COVERS

By Vincent Centozne

Here's a look at a few WWII

postal cards that might

have served (they were

scrutinized) as a philatelic

conduit for secrets, espionage

and spy tactics.

694 Philatelic Happenings

688 EXPERTIZING BASICS

By Tom Horn

Learn the basics for identifying

the stamps in the world's

longest running design

series. Norway's Post Horns

hold three details that collectors

often miss.

620 President's Column

704 Show Time

622 The Philatelic Experience

720 Worldwide in a Nutshell

THE

AMERICAN

PHILATELIST

Since 1887 — The Premier

Philatelic Magazine in the Nation

EDITOR Martin Kent Miller, ext. 221

martin@stamps.org • aparticle@stamps.org

EDITORIAL ASSOCIATES

Jeff Stage, ext. 222 • jstage@stamps.org

Doris Wilson, ext. 223 • doris@stamps.org

ADVERTISING MANAGER Helen Bruno, ext. 224

hlbruno@stamps.org • adsales@stamps.org

American Philatelic Society

American Philatelic Research Library

100 Match Factory Place • Bellefonte, PA 16823

814-933-3803 • 814-933-6128 (Fax)

STAMPS.ORG • STAMPLIBRARY.ORG

EXECUTIVE DIRECTOR Scott English, ext. 219

scott@stamps.org

CHIEF OPERATING OFFICER Ken Martin, ext. 218

kpmartin@stamps.org

GENERAL INFORMATION apsinfo@stamps.org

ADDRESS CHANGES requests@stamps.org, ext. 201

DIGITAL STRATEGIES SPECIALIST Mara Hartzell,

ext. 207 | mhartzell@stamps.org

EDUCATION/YOUTH Cathy Brachbill, ext. 239

cbrachbill@stamps.org

EXPERTIZING/QUICK ID Thomas W. Horn,

ext. 205 | twhorn@stamps.org

FINANCE Rick Banks, ext. 216

rbanks@stamps.org

LIBRARY/INFO. SERVICES Scott Tiffney, ext. 246

stiffney@stamps.org

MEMBERSHIP Judy Johnson, ext. 210

judy@stamps.org

SALES UNIT Wendy Masorti, ext. 270

stampstore@stamps.org

SHOWS/EXHIBITIONS Kathleen Edwards, ext. 217

stampshow@stamps.org

SHOW TIME LISTINGS

showtime@stamps.org

The American Philatelist (ISSN 0003-0473) is published

monthly by the American Philatelic Society, Inc., 100 Match

Factory Place, Bellefonte, PA 16823.

Periodicals postage paid at Bellefonte, PA 16823 and at additional

mailing office. Price per copy $4.95. Canadian

Distribution Agreement Number 40030959.

Opinions expressed in articles in this magazine are those of

the writers and are not necessarily endorsed by the society

and/or the magazine. The American Philatelist cannot be responsible

for the accuracy of any information printed herein.

Postmaster: Send address changes to:

The American Philatelist

100 Match Factory Place, Bellefonte, PA 16823.

©2018, The American Philatelic Society, Inc.

618 AMERICAN PHILATELIST / JULY 2018
---
PRESIDENT'S COLUMN .........................................................................................

A Smart and Positive Voice

Mick Zais Shared His Enthusiasm for Hobby Through His Leadership

Mitchell "Mick" Zais resigned as president of the

American Philatelic Society May 17 to be sworn in

as the Deputy Secretary of Education for the administration

of President Donald Trump.

"It is with a mixture of sadness and pride that I submit my

resignation as your president," Zais wrote in his letter to the

APS Board of Directors and Executive Director Scott English.

He resigned to comply with the White House ethics policy

that requires all confirmed presidential appointees to "resign

from all boards and positions of employment."

Zais was elected president by the APS in 2016, taking office

at StampShow in August 2016 in Portland, Oregon. He

had previously served as vice president from 2013 to 2016.

Zais was the society's 46th president, a formidable line that

began with John K. Tiffany and the society's founding in 1886.

Zais, now serving under Secretary of Education Betsy De-

Vos, began work immediately. As a farewell, we are offering

a few highlights of Zais' tenure and the very open and enjoyable

columns that he's penned over the past 22 months. He

wrote about everything from hard-working volunteers to local

stamp clubs and events; from the trials and successes of exhibiting

his beloved collection focused on the West Point commemorative

of 1937; to keeping the hobby and APS vital in the

future. His underlying message was always positive and supportive

of philately and to be informative to APS membership.

Here are some highlights:

December 2016 – "Local clubs across the country are the

heart of our hobby," writes Mick in a column about stamp

clubs. "They kindle enthusiasm for stamp collecting; they

are where bonds of friendships around common interests are

strengthened."

March 2017 – Mick, who has been to 49 foreign countries,

writes about the importance of the United States' many flag

stamps as The American Philatelist publishes the speech he

made at the first-day ceremony for a new Flag stamp. "Old

Glory … is the most recognized symbol of freedom and democracy

in the world. It has flown free over American soil for

240 years. … Its history is the story of America itself."

April 2017 – Mick writes about producing his first competitive

exhibit. "There are lots of reasons for exhibiting. Winning

top awards is probably the least sensible; a far more important

reason is to share parts of your collection with others …"

May 2017 – Mick addresses the society's tradition of raising

money on the strength of dedicated volunteers. "Most

nonprofit organizations like the APS have permanent, fulltime

staffs dedicated to raising charitable contributions. (The

APS does not.) … Fundraising has been amazingly successful."

June 2017 – Mick, showing how action is needed to sustain

the hobby, writes about how he's recruiting his brother's

grandchildren into the world of philately. "The first thing I did

… was to design and prepare about 10 different first-day covers

(for each of them.) … I presented each with a cover album

and a stock book. We sat at the dining room table while I explained

what a FDC was (and) all the information that was

contained on it …"

July 2017 (special Canada issue) – Mick shows six covers

from his collection, all linked between the U.S. and Canada.

"Covers such as these ... demonstrate the enduring ties of

friendship between these two great nations."

September 2017 – Mick offers a list of concrete tasks

members can take on to promote National Stamp Collecting

Month in October. These include active projects and engaging

with art museums, veterinarians, the post office, library and

schools. "Again, tell viewers where to get additional information

about stamp collecting."

October 2017 – Mick profiles a member originally from

Guyana who twice a year returns to her homeland to "spread

the gospel of philately among children."

Based on his career and leadership experience, it was no

surprise that the president tapped Zais for his new position.

Zais, 71, graduated from the United States Military Academy

at West Point with a bachelor's degree in engineering, and

later earned a master's degree (social psychology) and doctorate

(organizational behavior) from the University of Washington.

He also holds a master's degree, in military history, from

the School of Advance Military Studies.

His Army career was long and highly decorated, with service

everywhere from Vietnam and Korea to Kuwait to Kosovo

and the Pentagon, before he retired as a brigadier general.

He served as president of Newberry College (South Carolina

2000-2010) and was elected as superintendent of South Carolina

schools in 2010, serving one term.

We'll let Mick have the final word today with the following

paragraph from his resignation letter to the APS:

"It has been my honor to serve as a member of the APS

board for the past five years. During that time I've had the

pleasure of working with wonderful people who share my passion

for and fascination with the vast field of philately. I will

miss not being an integral part of that collegial community

during my time in public office."

620 AMERICAN PHILATELIST / JULY 2018
---
THE PHILATELIC EXPERIENCE

Destination: Middle Earth

Preparing for the StampShow/NTSS Experience

One of the most enduring lines from the movie Wizard of Oz is when Dorothy

says to her dog, "Toto, I've a feeling we're not in Kansas anymore." And, if you

have attended StampShow in previous years, you may get that feeling when

you arrive at StampShow/NTSS in Columbus, Ohio.

In keeping with the goal of developing a broader philatelic experience, the show

this year will be different in several aspects. Now, don't worry. The bourse will be there,

the exhibits will be there, and the friends and activities you've come to expect will all

be there to continue the traditions and renew your passion. What we're changing is the

way we introduce the hobby to casual collectors and stamp enthusiasts.

By now (hopefully) you have noticed a strong and pronounced

theme for StampShow/NTSS. "Here Be Dragons" ties together a

common subject for topical collectors, the new stamps scheduled

for release at the show, and an icon of popular culture. Beginning

several years ago with the Lord of the Rings movie franchise, and

continuing now with popular television programs like Game of

Thrones, dragons and the lore of medieval fantasy have developed a

strong following across important segments of our society. The inclusion

of these elements in StampShow/NTSS

is not about watering down philately, as some

might suggestion; it is about appealing to modern

culture through what can be found in our

hobby. It also provides a platform for introducing

the range of possibilities with topical collecting.

As I write these words, many of the plans are

still coming together. I hesitate to commit to details

so far in advance, but if everything falls into place, StampShow will do more to

attract the general public than any event we've ever undertaken. Using new tools for

media monitoring and outreach, we intend to attract the attention of local media on

a whole new scale. The show floor will have activities and experiences to rival the best

commercial trade shows. The U.S. Postal Service has committed to an incredible event

presence starting with the first day ceremony and carrying through to a virtual reality

experience at its booth. Several participating societies and study groups are coloring

outside the lines – turning ideas into actions that will be remembered for years to

come. Who knows, maybe we can even convince that flowered shirt crew to trade in

their Hawaiian garb for tunics of chainmail.

In all seriousness, StampShow/NTSS will be an experience to behold. Not just because

we say so, but because so many are working to make it so. We all know the urgency

of growth for the hobby and there are ideas galore for addressing this need. What we

must understand is that the ideas with the greatest impact and the actions required to

get us where we must go may leave us feeling like we're not in Kansas anymore.

622 AMERICAN PHILATELIST / JULY 2018

aps_stamps

@american.philatelic.society

Editor,

@APS_stamps

The American Philatelist

blog.stamps.org

................................................................................

BY MARTIN KENT MILLER editor

martin@stamps.org

wsradio.com/aps-stamp-talk

APS Official Family

2016–2019

PRESIDENT

Robert Zeigler

ziggy_travesty@yahoo.com

BOARD OF VICE PRESIDENTS

Jeff Shapiro

dirtyoldcovers@aol.com

Patricia (Trish) Kaufmann

trishkauf@comcast.net

SECRETARY

Stephen Schumann

stephen.schumann@att.net

TREASURER

Bruce Marsden

mail@brucemarsden.com

DIRECTORS-AT-LARGE

Michael Bloom

mbloom@sinotech.com

Rich Drews

richbear427@hotmail.com

Peter P. McCann

ppm103226706@aol.com

Mark Schwartz

mark.schwartz1@verizon.net

IMMEDIATE PAST PRESIDENT

Stephen Reinhard

sreinhard1@optonline.net

STAMP THEFT COMMITTEE

Nicholas A. Lombardi

P.O. Box 1005, Mountainside, NJ 07092

stamptheft@stamps.org

APS INSURANCE PLAN

Hugh Wood Inc.,

220 Match Factory Place

Bellefonte, PA 16823

Toll Free: 888-APS-6494

Phone: 212-509-3777

Fax: 212-509-4906

aps@hughwood.com

ADDRESS CHANGES

To change your address online

visit stamps.org and log into your My APS

account. Or mail your new address information

to APS, 100 Match Factory Place,

Bellefonte, PA 16823 (Fax: 814-933-6128).

Please try to give us four weeks' notice.

You can also add an e-mail address or

website to your APS record.

CONNECT ONLINE

aps_stamps

@american.philatelic.society

@APS_stamps

blog.stamps.org

wsradio.com/aps-stamp-talk

@Stamplibrary

blog.stamplibrary.org
---
American Philatelic American American Philatelic Society Philatelic Society Society

Society

American National Philatelic Topical National National Association Topical Society

Topical Topical Association Association STampShow

STampShow

STampShow

National Topical Association STampShow

Thursday, august Thursday, Thursday, 9, 2018 9, august 2018 august august 9, 2018 9, 9, 2018 9, 9, 2018

Thursday, Greater Greater august Columbus 9, Convention Greater 2018

Greater Columbus Center Columbus Center Convention Convention Center

Center

Greater Columbus Convention Center

Exhibit Exhibit Hall Hall B | Columbus, B | Exhibit Exhibit OH Hall OH Hall B Hall | Columbus, B | | B | Columbus, OH

OH OH

Greater Columbus Convention Center Exhibit Hall B | Columbus, OH

Exhibit Hall B | Columbus, OH

Forever ®

Forever

Stamps

® Forever ® Stamps

® Stamps

® ® ® Stamps

Forever ® Stamps

VISIT VISIT THE UNITED THE UNITED STATES VISIT STATES POSTAL VISIT THE POSTAL THE UNITED THE SERVICE UNITED SERVICE STATES ®

STATES ® POSTAL POSTAL SERVICE SERVICE

VISIT THE UNITED STATES POSTAL SERVICE ®

® ® ® ®

VISIT THE UNITED STATES

BOOTH BOOTH

POSTAL

AT 12:00 AT

SERVICE

12:00 PM FOR PM BOOTH ®

FOR THE

BOOTH THE AT 12:00 AT AT 12:00 PM FOR PM PM FOR THE FOR THE THE

BOOTH AT 12:00 PM FOR THE

BOOTH First First AT Day 12:00 Day of PM Issue of FOR Issue First Dedication THE

First Day Day of Day Issue of Ceremony of Issue Dedication Dedication Ceremony

Ceremony

First Day of Issue Dedication Ceremony

First Day Stamps of Stamps Issue and and Stamp Dedication Stamp Products Stamps Products Stamps Ceremony

and will and Stamp and will be available Stamp be Products available Products for will for sale

will be will sale be available be be available for for sale for sale sale

Stamps and Stamp Products will be available for sale

Stamps and Stamp Products will be available for sale

check check out out our

check

our check out

check out

ou

o

check out virtual our virtual reality reality

virtual

virtual virtua

reali

rea r

virtual reality display display

display

display

display

All advertised All advertised products were products made were in USA. made ©2018 in All USA. United advertised ©2018 All All States advertised United All products advertised Postal States products Service®. were Postal products made were were All Service®. Rights in were made USA. in made All Reserved. ©2018 in USA. Rights USA. in United USA. ©2018 Reserved. ©2018 States United United Postal States States Service®. Postal Postal Service®. All Service®. Rights All All Reserved. Rights All Rights Reserved. Reserved.

The Eagle The Logo Eagle is among Logo is the All among advertised many the trademarks many products trademarks The of were the Eagle The U.S. made The of Logo Postal Eagle the The in is Logo U.S. USA. Eagle Service®. among Logo Postal is ©2018 Logo is the among Service®. is United many among the the States trademarks many the many Postal of trademarks Service®. the of U.S. of the All the Postal U.S. of Rights U.S. the Service®. Postal U.S. Reserved. Postal Service®. Service®.

All advertised products were made in USA. ©2018 United States Postal Service®. All

The

Rights

Eagle

Reserved.

Logo is among the many trademarks of the U.S. Postal Service®.

The Eagle Logo is among the many trademarks of the U.S. Postal Service®.
---
LETTERS TO THE EDITOR

......................................................................................................

Former Collector Finds Best Way

To Sell is Through the APS

I just read the sad letter in the April edition about a collector

selling a good collection, but not getting value for the

material. I say "sad" because since he is an APS member it

didn't have to be that way.

I am the third generation of my collection and when I

turned 65 (a decade ago), I verified that neither my son nor

my grandson had any interest in my collection. So just like

that fellow, I started with the dealer route. I got what I felt

was a minimally fair offer for my U.S. revenues (which I accepted).

Other dealers advertising in the APS journal did not

want to even see my good stuff. Then I decided to try both

APS circuit books and APS online sales. Over the last 10

years I have sold 154 better stamps through StampStore and

have sent in 181 circuit books; stamps cataloging less than $1

get donated locally.

Back in 2008 I would have lump-sold my entire collection

for $15,000 based on very similar criteria to the other writer.

But I am sure glad that I didn't get such an offer for two big

reasons. First, I have actually had as much fun for the last

10 years preparing my collection for circuit books and store

sales as I did collecting the stamps to begin with. Second, my

net receipts so far exceed $40,000. Yes, I had many stamps

expertized by APS and got bad news on a quarter of those,

due either to unnoticed modifications (all such bad eggs were

donated to the APS Reference Collection to get them out of

circulation) or to their being the cheap variety and not the

expensive one (which then went into circuit books with the

certificates for the amusement of the buyers). I have another

batch of circuit books ready to send to APS and maybe 15

percent of my original collection (though mostly cheaper

stuff) left to process.

Thank you APS for extending my personal fun by letting

me switch from collecting to selling.

David G. Ball

North Vancouver, British Columbia, Canada

Acoma Pueblo in New Mexico

Settled About 900 Years Ago

Sr. Perez-Maldonado indeed is correct that the city of

Vera Cruz, Mexico, was founded prior to the settlement of

St. Augustine, Florida (The AP, Letters to the Editor, April

2018, p. 306). Neither of those cities, however, are the "first

permanent settlement on the North American continent," as

claimed. This description requires an additional adjective,

i.e., European.

The oldest permanent and continuously occupied settlement

in North America is the Acoma Pueblo in New Mexico,

west of Albuquerque. The Acoma people have lived at this

site since about 1150, possibly earlier. An excellent reference

is Acoma: Pueblo in the Sky by Ward Alan Minge and Simon

Ortiz, University of New Mexico Press, 1991. There also are

numerous Internet websites on the Acoma Pueblo.

This misidentification illustrates the common Eurocentric

worldview of North Americans. The AP doesn't, I'm certain,

have a wide readership — if any – among native peoples

in the U.S. or other nations.

Allison Cusick

Pittsburgh, Pennsylvania

More Clarifications on German Death Letter

I am writing in regards to the Dr. Vogt letter discussed

first in the March issue and the letters of reply in the May

issue. There were some misconceptions in those letters that I

would like to address.

Mr. Haimo is correct when he states that the death card

was likely sent by the family of Dr. Vogt. Such cards are quite

common and may be found on eBay. This custom of sending

out such death notifications is maintained to this day in

Germany.

However, the presence of the swastika on the medal (dated

1939, not 1940) is not an indication as to whether Dr. Vogt

and his family were Nazis or not. It was the standard medal

awarded (from 1939 to 1945) by the German military at that

time, which, of course, was under Nazi rule. Many noted

anti-Nazi officers were awarded this medal in World War II.

Vogt's family would have been expected by the authorities to

include the depiction of the medal in the death notice.

The enclosure, as Mr. Haimo notes, was certainly placed

in the envelope after his death a year or so after the original

letter was sent. Research in the German War Graves Commission

records show that Dr. Vogt was buried in Kryvyi

Rih, Ukraine, but the burial location is currently unknown as

most German military cemeteries on the Eastern Front were

destroyed after the war by the Soviet Union.

While Mr. Salantri is correct that, sadly, many neo-Nazi

groups use it as a symbol, a de-Nazified version, where an

oak leaf replaces the swastika, is still permitted to be worn

by holders. The German air force uses a version of it as the

markings for its aircraft to this day. Nor did the writer of the

original article compare the Iron Cross to the Purple Heart.

He instead noted that Dr. Vogt had been awarded the Wound

Medal, which is the military equivalent of our Purple Heart.

No moral equivalence was implied

I would also take issue with the thought that by discussing

German philatelic history during the Third Reich that the

APS is "promoting" in any way Nazi thoughts or beliefs. In-

624 AMERICAN PHILATELIST / JULY 2018
---
Harris - America's Leader In

Popular Priced Albums

Harris albums are meticulously arranged to give the collector the most efficient layout. Within its

price range, each album gives the maximum capacity for stamps that can be easily and inexpensively

acquired. Distinctive features include specially formatted 9⅛x12" album pages, spaces for

every stamp issuing country in the world, thousands of illustrations, historical data and other invaluable

aids. Traditional binders have clear vinyl over colorful illustrations.

Harris United States Albums

Liberty Virtually complete, 100% illustrated, printed on one side.

Vol. 1 U.S. Singles 1847-1994 ZHE-U06A1 $49.99 $39.99

Vol. 2 U.S. Singles 1995-2006 ZHE-U06A2 49.99 39.99

Vol. 3 U.S. Singles 2007-2016 ZHE-U06A3 49.99 39.99

Liberty Plate Block 3-Vol. set matches Liberty Album

Vol. A 1901-1963 ZHE-U67A1 49.99 39.99

Vol. B 1964-1989 ZHE-U67A2 49.99 39.99

Vol. C 1990-2012 ZHE-U67A3 49.99 39.99

Vol. A-C As a set ZHE-U67A 139.99 111.99

Harris World Albums

Statesman Album in a traditional binder. 19,000 spaces, 17,000 illustrations

Abu Dhabi - Luxembourg ZHE-W04A1 $49.99 $39.99

Macao-Zimbabwe ZHE-W04A2 $49.99 39.99

Junior Albums

Traveler Popular looseleaf beginners album. 10,000 spaces:

4,000 illustrations ZHE-W04AT $34.99 $27.99

Album with collector's kit ZHE-W04KT 39.99 31.99

Explorer Bound Child's World Album

ZHE-W04AE 7.99 6.39

Album with collector's kit ZHE-W04KE 9.99 7.99

Independence Popular looseleaf Beginners Album

printed on 2 sides ZHE-U06AI 34.99 27.99

Album with collector's kit ZHE-U06KI 39.99 31.99

Patriot Bound Child's U.S. Album ZHE-U06AP 7.99 6.39

Album with collector's kit ZHE-U06KP 9.99 7.99

visit us on the web at

www.subwaystamp.com

America's (and the World's) Largest Stamp Collecting Supply Company

SHIPPING CHARGES

By MAIL/UPS *: $7.50 Min. Orders over $55 ADD 12%,

Over $100 ADD 10%, Over $250 ADD 8%

* Some Remote Areas Carry Higher Shipping charges.

PA Residents: ADD 6% Sales Tax

ADD $5/$10 Per Parcel on high weight/low cost orders shipped to the 11 Western States & TX

Ask for Shipping Charges to AK, HI, P.R., APO's, FPO's, Foreign

Phone: 1-800-221-9960 Fax: 1-888-221-9960

Email: custserv@subwaystamp.com Phone: 814-946-1000 Fax: 814-946-9997

2121 Beale Ave, Altoona, Pa 16601 - DEPT. APS

www.subwaystamp.com/

Not Responsible For Typographical Errors
---
stead, such discussion exposes them, in my opinion. Many

highly respected philatelists write about, study, or exhibit this

area of postal history. If we do not remember this horrific

time in history, and study it, how can we then say "Never

Again!"? As Santayana said, those who cannot remember the

past are condemned to repeat it.

Ken Gilbert

Columbus, Ohio

Author's note: The writer is a director of the Germany

Philatelic Society but is speaking on behalf of himself and not

as a member or officer of that society.

Collection Started by Asking

For Old Correspondence

Greg Doll's letter about new collectors in the April edition

of The American Philatelist brought something to mind as far

as my collecting history is concerned.

I started at about the age of 6 when I went into the attic

of our house and found old letters my parents had written

to each other before their marriage. Most envelopes had

the then-current 2-cent regular issue on them, but a few did

have commemoratives, which tweaked my interest. When I

had some money I started buying 10- and 25-cent packets of

stamps to be placed in a cheap album that I had purchased.

I later got a big break around 1950 when I was about

14 when I walked past the Los Angeles headquarters of the

Prudential Life Insurance Company. Just out of curiosity I

walked into the reception room and asked if they had any

used stamps that I could have. The answer was "yes." Not only

that, but I was told that I could come back for more. (That

was before the days that the company used metered mail to

any great extent.) Regularly, about once a week, I dropped by

to pick up used stamped envelopes, often times with unusual

denominations, such as 21, 22 and 24 cents. That went on for

the entire summer and really did launch my stamp collecting

hobby.

After that, I started making periodic visits to the Superior

stamp store in Los Angeles to expand my then-only U.S. collection.

So, these are a couple of ways to start in on the hobby.

I have since lived in several countries (Japan, Germany and

Iran among others.) Each time I have started another collection

and learned a good deal about the country's history and

culture as well.

Don McDaniel

University Place, Washington

Of Catalog Values and Pricing

I just finished reading the article by Wendi Masorti titled

"Every Flaw Makes a Difference" in the May issue of The

American Philatelist. There is, of course, good advice for sellers

there regarding the sale of faulty stamps.

However, I do have a question. It is stated in the article that

stamps without fault, and presumably in VF grade, would sell

for around 50 percent to 60 percent of its catalog value. Why?

If that is common practice, why not simply drop the catalog

value by, say, 40 percent so that buyers would know what to

expect? It makes little sense to me that a catalog value should

be a value for which no one will pay.

Any clarification of this consideration is welcome.

Lawrence R. Mead

Rochester Hills, Michigan

Editor's Note: Catalogs set a standard that can be used

by collectors, sellers, auction houses and dealers. A general

rule of thumb is that a catalog value is what a customer could

expect to pay a dealer in a retail environment.

Good to Read About Success of YPLF

The article by David McKinney, looking back at Young

Philatelic Leaders Fellowship's 10 years of existence in the

May edition of The American Philatelist, was good to read in

that the effort has been sustained. What was even more encouraging

is that the author continues his service as a leader

in the United States Army. It is wonderful to see the post-9/11

generation take charge of this country in such positive ways.

Richard Ropiak

New York, New York

Balkan, Not Baltic

In the May issue of The American Philatelist you note that

Slovenia recently released a lovely stamp of a decorated Easter

egg to help celebrate the Easter season. You also mentioned

that "Decorating Easter eggs is a long tradition, particularly

among the Baltic countries." I'm sure that the Baltic nations

do enjoy this tradition, but Slovenia is too far away to qualify

as a Baltic country; I think it's in the Balkans.

Edward Yasuna

Harwich Port, Massachusetts

Who Were the WWI-Era Blue Devils?

I have just finished reading your May 2018 issue, and I

cannot remember enjoying an edition of The AP more. The

topic – the birth of airmail – is one that has always interested

me, and every article and story you published was a gem.

Thank you.

The article by Mark Reynolds Duhamel reminded me

of a cover I used to own. It was mailed May 21, 1918, and

inscribed "This letter came on the first flying machine from

626 AMERICAN PHILATELIST / JULY 2018
---
Why Sell Your Stamp Collection

to Dr. Bob Friedman?

Because we are the nation's largest buyer and seller of

stamp collections! And have been for over 35 years.

Why sell to other buyers who

often simply resell to us?

From Melanie Weisz Ness, daughter of Chicago's famed "Stamp King"

"My father, Bob Weisz, was a major stamp dealer and auctioneer for some 50 years in Chicago. Many of dad's large

stamp purchasdes over the years were sold intact to Dr. Robert Friedman and Sons as he felt they were completely reliable,

reputatble, professional and a pleasure to work with. Recently, it became time for the remainder of dad's holdings

to be sold. These holdings weighed some thousands of pounds in hundreds of boxes. The entire Weisz family knew that

Dr. Friedman and Sons would be the best company in the country to buy this material and, as expected, they wrote out

a check for the amount the family felt to be reasonable. In the opinion of my dad and the entire family, Dr. Friedman

and Sons are among the most reputable stamp buyers in the country. We strongly suggest that collectors with major

properties avoid the problems so frequently encountered in selling collections by dealing directly with Dr. Robert Friedman

and Sons.

Melanie Weisz Ness • Illinois

And we are always available

to immediately come to you.

Deal with a family owned and operated business. While many

collectors are anxious about selling their collection, selling a

collection to us is generally a very pleasant experience.

Do you wish an

immediate

response?

If you have a substantial collection,

you may ship it to us at

our expense. After you call us, we

can provide you boxes, tape and

prepaid labels—and have UPS pick

up right in your living room. We

will call you within 48 hours with

our cash offer. Immediate payment

is always made by cashier's check

or personal check, whichever you

prefer.

Good News!

Coin collections &

accumulations also wanted!

We pay very high prices.

We always offer to purchase

EVERYTHING of value

in your collection

and will pay you the highest possible price for your collection.

We can afford to pay a very proper price as we

have $5,000,000 available for the purchase of collections.

Over 95% of our offers have been accepted.

Call Toll Free:

1-800-588-8100

& ask for Dr. Bob

Dr. Robert Friedman & Sons

2029 West 75th Street • Woodridge IL 60517

Toll Free: (800) 588-8100 • Fax: (630) 985-1588

Visit our website: www.drbobfriedmanstamps.com

E-Mail: stampcollections@drbobstamps.com

STAMPS

Dr. Bob can travel to you from either of

our two locations—the Chicago area

and Southeastern Florida. Call us!

Name:

Address:

City:

State:

Fill out, tear out and mail this.

We'll get back to you immediately!

Home Phone:

Email Address:

Zip Code:

Please describe what you have for sale: ____

_________________________________

_____________________________________

_____________________________________

_____________________________________

_____________________________________

____________________________________

*

*

Mail to:

Dr. Bob Friedman

(Mark your envelope "personal")

2029 West 75th Street • Woodridge IL 60517
---
CENTURY STAMPS

40 Years of Quality & Service

P.O. Box 69, Dept. A

Huntington Station, NY 11746

Phone: 631-385-4647 Fax: 631-385-4699

E-mail: centurystamps@hotmail.com

Washington." It was mailed from 2145 Decatur Place, a house that

is now on the National Register of Historic Places, and named the

Codman-Davis House.

I find the letter it contained interesting both for its mention of the

early airmail usage, and for its content, which refers to the closing

days of WWI. Its text, as nearly as I can make it out, is as follows:

Our greetings to you, dear friends, by the "Air Ship Mail Service,"

and soon, we shall see you. Dr. [Slomen?] is better, and he is working

every day. We have been at Camp Meade, for you know his interest

is in "Camp Sanitation," and he is trying to do his part. We have

been at the Walter Reed Hospital, where many of our own American

wounded are receiving good care. The Red Cross procession was

inspiring. And the "Blue Devils" with the French commission have

Send for Our United States

Current Catalog in Full Color!

Outside the U.S. enclose $10.00. Limit 1 catalog per request.

If you collect SUPERB,

XF or VF stamps,

This Catalog is a MUST!

U.S. Stamps from 1847–1938

Over 3,000 STAMPS!!

ALL in full Color!!

Plus an additional listing

of 2,000 Mint & Used

Stamps also enclosed.

Check out our Catalog on the web: century-stamps.com

Send $3.00 Catalog Sent Priority Mail!

150 Pages!!

Please rush my catalog to:

150-page catalog now

with thousands of

graded stamps

from PSE, PF,

and PSAG.

Name: _________________________________________

Address: _______________________________________

City: ___________________________________________

State: ___________________________________________

Zip:

628 AMERICAN PHILATELIST / JULY 2018
---
APS-4_APS 26.09.14 11:19 Seite 1

won all hearts.

Our love always, Mary Louise [Slomen?]

Perhaps your readers will enjoy seeing this cover and its letter. Better still, perhaps

one of them can identify the sender, or, tell us who the "Blue Devils" were.

Bill Senkus

Concord, California

Editor's note: Mr. Senkus was a driving force behind the "Alphabetilately" exhibit,

created by the San Francisco chapter of the American Institute of Graphic

Arts. The exhibit of 26 cases showing aspects of philately was on display from 2008

to 2015 at the Smithsonian National Postal Museum and now resides at the American

Philatelic Center.

You can visit his website at www.Alphabetilately.org.

Turning to Internet Was Best Solution to Sell

I am writing in response to the letter from Eric Adler in The American Philatelist.

I, too, was faced with the need to sell my U.S. mint collection built over many

years. It was comprised of 7,398 individual stamps, which originally cost me well

more than $7,000 by the time I decided to stop collecting in 2011 at the age of 81.

It was time to sell, and since no one in my immediate and extended family had

any interest, I had three choices: sell outright to a dealer, have a dealer put it up for

auction, or – the one I chose – sell it on eBay. (No offense to dealers, who strive to

make a living, but they will typically buy collections for a relatively small percentage

of what they can be sold for.)

It took me seven years, but I got back almost every cent I originally paid, with

some losses and some unexpected gains, averaging it all out. Yes, I had help getting

started, but once I mastered the process, it was smooth sailing, and almost as much

fun as collecting was. I groaned when something didn't sell well, but I cheered when

the big bids came in. I now have a feedback score of 734 and a pot full of praise from

my happy buyers.

Take heart, fellow collectors. You too can sell on eBay for fun and profit. It just

takes time and work.

Gordon Andersen

St. Louis Park, Minnesota

Zeppelin Cover Valued

Part of Collection

I have been collecting stamps

since I was 10 years old and am

now 80. I have never lost interest;

a gift from my dad.

In the spirit of the airmail

issue. I thought that this item

might be of interest. It flew on the

Hindenburg's flight No. 43, as you

will note, on September 26 to 29,

1936, from Frankfurt, Germany to Lakehurst, New Jersey.

The final, fatal, flight was in early May of the following year.

Jack Isaacson

Worthington, Ohio

Correction

This cover flew on the Hindenburg less than a year

before the airship crashed.

A photo in Scott English's "Our Story" column in the June issue of The American

Philatelist showed the 82-inch touch screen donated by AccuWeather to the APS.

Four workers shown in the photo who delivered the screen are employed by AccuWeather.

We

keep you in touch

with

Information

Offers

of the following

companies

Stamp Auction House

THOMAS JURANEK

Philasearch.com

Ad 4/5

JULY 2018 / AMERICAN PHILATELIST 629
---
Edward D. Younger Co.

Serious professional buyers of philatelic properties for over 40 years

Collections - Accumulations - Dealer Stocks

We are a company that:

• Has a reputation for efficient, no-nonsense, honest transactions

• Has a Worldwide clientele allowing us to pay real market price

for your US or foreign collections

• Has ready funds to handle any size property

• Can provide immediate cash payment with no waiting

• Has the need, knowledge and means to buy your stamps

Contact:

Ed Younger for an appointment today!
---
July 9–27, 2018

W

e will be traveling throughout the New

England states of Maine, Vermont, New Hampshire,

Massachusetts, Connecticut, Rhode

Island, New York, New Jersey, and

Delaware. If you have stamps

you'd like to sell, please

contact us to

arrange an

appointment.

Member since 1976

Edward D. Younger Co.

6 Autumns Way

Brookfield, CT 06804

Phone: (203) 628-7348 • Fax: (203) 628-7346 • Email: info@edwardyounger.com
---
OUR STORY .............................................................................................................

BY SCOTT ENGLISH executive director

scott@stamps.org

Society Leadership Changes from Z to Z

Zais Resigns from Presidency to Serve President; Zeigler Elected

On May 17, Mick

Zais resigned as

president of the

APS, one day after he was

confirmed by the U.S. Senate

as Deputy Secretary of

Education. Zais was elected

president by the APS membership

in 2016, taking office

at StampShow 2016 in

Mick Zais

Portland, Oregon. He had

previously served as vice

president from 2013 to 2016. Mick's farewell column will be

in this issue with his thoughts on leaving.

I had the pleasure of working for Mick when he served as

South Carolina's State Superintendent of Schools from 2011

to 2015. He introduced me to philately when he placed bowls

of stamps, tongs, and glassine envelopes around the offices of

the Department of Education. He encouraged visitors, young

and old, to spend some time digging through the stamps

while he talked about the educational value of stamps. I even

learned the proper way to open an envelope! I'd like to thank

Mick for his service on the APS Board of Directors and wish

him well in the next chapter!

Robert Zeigler Elected

As required by the bylaws, the APS Board of Directors

met on May 23 to elect a board member to take over as president.

Vice President Robert "Bob" Zeigler and Director-at-

Large and Past President Dr. Peter P. McCann were nominated

for the position. By a vote of 6-4, Zeigler was elected to

complete the term ending in August 2019.

Zeigler, who hails from

Indianapolis, Indiana is a

life member of the APS, and

has been a member since

1973. In 2016, Zeigler was

elected vice president by

the APS members, serving

on the Board of Vice Presidents.

He previously served

on the APS Board of Directors

as a director at-large

Robert "Bob" Zeigler

from 2001 to 2003.

Outside of philately, Zeigler has been a trial attorney since

1980, with a focus on defending health care professionals and

hospitals in malpractice lawsuits.

On the collecting side, Zeigler has specialized in collecting

Switzerland for more than 40 years. He has served the

society as a member of the Expert Committee for Switzerland

for more than 30 years. In addition, Zeigler has served as a

philatelic judge in more than 90 shows, often as chief judge.

In 2009, the APS honored him with the Nicholas G. Carter

Volunteer Award for National Service. Aside from service to

the APS, Zeigler has served the hobby as past president of the

Indiana Stamp Club, which annually sponsors Indypex, one

of the national World Series of Philately shows. He has also

held the office of president for the American Helvetia Philatelic

Society (the Swiss specialists' organization), in which he

is also a life member.

Bob will take over the journal's President's Column starting

with the August issue of The American Philatelist. Our

members will get to know Bob over the months ahead, but I

have enjoyed working with him since he rejoined the board

in 2016.

Board Vacancy

There still remains a vacancy on the board to be appointed

by the president and approved by the board of directors.

As of this column, the APS Board has scheduled to convene

again so that an appointment can be confirmed. I will provide

an introduction to the latest addition to the APS Board in the

August issue of The American Philatelist.

StampShow/National Topical Stamp Show 2018

By the time you read this, we will be

nearing the start of APS StampShow/National

Topical Stamp Show. I would like

to thank our friends at the American

Topical Association for joining

forces with the APS. The

partnership has really energized

our membership and the ATA

membership, and we expect to

see a great crowd in Columbus. The partnership is already

moving well past the 2018 show, and in the next issue I will

share more about where things are going. We hope to see you

in Columbus and thank you for support.

634 AMERICAN PHILATELIST / JULY 2018
---
Wish Central

DREAM STAMPS

"Making Wishes a Reality!"

Cross These Philatelic Gems Off Your Bucket List!

Gary Posner

From Classics to Back-of-Book, please visit www.garyposnerinc.com where

you will find to the right on our home page a "CLICK HERE" link

to the many singles and multiples we have listed at Collectors Corner.

Bob Prager

#482A. 2¢ Deep Rose Type Ia Imperforate,

Intact Schermack Perfs at Right with Easily

Discernible Schermack Perfs at Left, Brilliant

Color, Neat Wavy-Line Machine Cancel

Leaves Design Clearly Visible. Fresh and

Fine, a Rare Sound Example of One of the

Rarest 20th Century U.S. Stamps, with Only

46 Recorded, of Which All But One Are Used.

With 1974 & 2001 PF Certs.

SCV $65,000 Our Price $35,000

Scott #594. 1¢ Green Rotary, Perf 11, Part Original

Gum, Natural Straight Edge at Top, Thinned and

Faint Crease—Still a Fine Appearing, Extremely

Rare O.G. One-Cent Rotary Perf 11 Issue. This is

One of the Rarest 20th Century Stamps in Unused

Condition—A Research Census of Unused

Examples of Scott 594 Contains Only 18 Stamps,

of Which Only 11 Have Any Gum. With 1959 PF

and 2010 PSE Certificates.

Scott Value $65,000 Our Price $29,500

#544. 1¢ Green Rotary Perf 11, Mint Never

Hinged, Deep Rich Color on Bright Paper, Long

and Full Perforations All Around. Fresh and

Fine, a Rare Mint NH 1923 One-Cent Rotary Perf

11. Most of the Recorded Copies of Scott 544

are Off-Center or Have Been Damaged, Probably

Fewer than Ten Exist in Mint NH Condition. With

2009 P.S.E. Certificate (F 70).

SMQ $42,500 Our Price $29,000

R102c. $200 U.S.I.R. USED, Bright Colors,

Very Well-Balanced Margins, Light 1870

Manuscript Cancel, 100% Sound, Super

Fresh, Deep & Rich Vibrant Colors! Super

Difficult to Locate this Issue in Sound

Condition, with a 2016 PSE Certificate.

(Sold In a 2007 RAS Auction for a Total

Price of $1,610 Without a Certificate)

SCV $900 Our Price $1,500

Always Buying U.S. & Foreign.

Call Bob Prager

(800) 323-4279

We are looking for

U.S. & Foreign Collections

From $5,000 to $5,000,000

Established 1914

#277a. $2.00 Dark Blue, Original Gum

Lightly Hinged, Intense Shade and Crisp

Impression, Well-Proportioned Margins.

Fresh and Extremely Fine, a Super Pretty

Stamp" with 2017 PSE Cert (XF 90 OG

PH).

SMQ $1,500 Our Price $1,295

We Also Buy

GOLD—and

Pay High

Prices!

Call Us Now: 800-323-4279

GARY POSNER, INC.

265 Sunrise Highway, Ste. 1-308, Rockville Centre, NY 11570

Cell: 917-538-8133 • Phone 800.323.4279 • Fax 516-599-2145

www.garyposnerinc.com • GaryPosnerInc@aol.com

#480. $5 Light Green, Mint Never Hinged Wide Top Plate

No. 8016 Block of Six with Radiant Color. Very Fine-

Extra Fine, a Scarce Mint NH Top Plate Block of Six of

the $5 Marshall 1917 Perf 10 Issue with 2007 PF Cert.

Scott Value for a VF Bottom is $5,000

Our Price for this VF Top is $5,500

Please Visit Us at Our

Stamp Show

Booths 428, 430 & 432,

August 9-12, Columbus, OH
---
Here Be Dragons

A Topical That's Sure to Heat Up Your Collecting Passions

BY GEORGE DEKORNFELD, DDS

Figure 1. An illustration of the dragon

Smaug attacking Bilbo Baggins in

the novel The Hobbit is part of a set

of Magical Worlds stamps issued in

1998.

Figure 2. Canada's Year of the Dragon stamp

in 2000, Scott 1836.

636 AMERICAN PHILATELIST / JULY 2018
---
"There he lay, a vast red-golden dragon, fast asleep;

a thrumming coming from his jaws and nostrils,

and wisps of smoke, but his fires were low in slumber.

Beneath him, under all his limbs and his huge coiled tail,

and about him on all sides stretching away across

the unseen floors, lay countless piles of precious things,

gold wrought and unwrought, gems and jewels,

and silver red-stained in the ruddy light."

This paragraph, taken from J.R.R. Tolkien's The Hobbit,

appeared on the cover of the June 1998 British Philatelic

Bulletin as a way of introducing Royal Mail's

Magical Worlds stamp set, designed by Peter Malone, to celebrate

five hugely popular children's books. Going on sale July

21 of the same year, the 20p stamp, paying the basic inland

and second class rates, featured Smaug the dragon scaring the

bejeebers out of Bilbo Baggins, the protagonist of this classic

novel penned in 1937 [Figure 1].

This is the perfect time to talk about dragons on stamps

as the U.S. Postal Service prepares to issue four new Dragons

stamps at the next month's StampShow / National Topical

Stamp Show in Columbus, Ohio, sponsored by the American

Philatelic Society and the American Topical Association. The

ATA, in fact, has a check list of dragons on stamps that has

more than 550 listings, plenty to keep any novice or experienced

dragons collector quite satisfied.

Appearing in many cultures in various yet similar forms,

dragons are first recorded in the mythology of the ancient

Near East, taking us all the way back to the fourth millennium

B.C. and the so-called Cradle of Civilization. Then depicted

as more of a snake-like being, it took the Middle Ages and

Western Europe to morph the dragon into the winged, firebreathing

critter with a long, curly tail that we are all familiar

with today. Forms of this serpent range from the malevolent,

such as those depicting either a form of the devil or those

reported to enjoy devouring people (the Albanian Bolla, for

example) to their benevolent counterparts, like the Japanese

Ryūjin, a dragon that, like a genie, grants wishes.

Approached either topically or thematically, concentrating

on our fire-breathing friends affords almost countless opportunities

to add to a collection; and, if colorful stamps tend

to float your boat, many of these, especially the more recent

issues, will supply plenty of eye candy for your album pages.

It is some of these eye-popping issues that we'll be looking

at, so let's jump right in with a stamp issued by our neighbors

to the north. According to the Chinese Zodiac, the Year of

the Dragon happens every 12 years, which in our example fell

on 2000, the year Canada Post issued an attractive stamp of a

long, skinny dragon [Figure 2].

Canada Post, offering a mini-lesson in modern stamp design,

credited the design to Vancouver's Koo Creative Group

Inc., under the creative direction of Ken Koo. Designer Ken

Fung, illustrator Samuel Tseng, photographer Clinton Hussey

and artists at the Punchline Embroidery Centre collaborated

to create the commemorative that marries many classic Chinese

techniques with contemporary computer-design technology.

"Our design for the Year of the Dragon stamp uses embroidery

because it's one of the most prestigious art forms

in China," Koo told Canada Post. "For thousands of years it's

been used to present the unique personality, style and characteristics

of the dragon. A golden yellow is one of the most

commonly used colors of the Chinese New Year because it

represents wealth, fortune and sovereignty."

Koo requested that the various visual elements clouds, sea

and dragon be created and photographed separately. Computer

graphics specialists blended these components to create

JULY 2018 / AMERICAN PHILATELIST 637
---
Figure 3. The first U.S. stamps

featuring dragons were

issued to commemorate

the Lunar New Year and the

dragon zodiac sign affiliated

with the years 2000 (Scott

3370) and 2012 (Scott 4623).

Figure 4. A Norfolk Islands souvenir sheet

from 2000 offers some eye-popping artwork,

though the actual stamp – showing just a

front view of the creature's noggin – might

not even be identified as a dragon (Scott 696).

the final stamp image. As an additional feature, the stamp is embossed to

highlight the embroidery element of the design.

In the Chinese Zodiac, the dragon is the fifth of 12 animals, given that

position, according to legend, by the Jade Emperor, or Heavenly Grandfather,

an incarnation of their first god ( 太 帝 tài dì). The Jade Emperor held a feast

to which all the animals were invited, the intent being to add the first 12 to

the zodiac in the order with which they arrived. Although it was expected

that the powerful dragon would arrive first, he showed up after Rat, Ox, Tiger

and Rabbit. When asked why he was so late, Dragon said that on the way he

saw a village suffering from a severe drought so he stopped to create rain for

them. Although the Jade Emperor was pleased with this noble deed, he kept

within his own guidelines and placed Dragon

into the fifth position.

The U.S. Postal Service is currently in its

second cycle of stamps celebrating the Lunar

New Year and the Year of the Dragon certainly

has a role [Figure 3].

Artist Clarence Lee (1936-2015), of Honolulu,

Hawaii, worked with stamp designer

Richard Sheaff on the first series, which started

in 1992 with the Year of the Rooster. Lee

created all 12 stamps in the series with the

Chinese art of paper cutting while grass-style

calligraphy was added by Lau Bun. Lee's 33-

cent Year of the Dragon stamp was issued in

2000.

A new U.S. series began in 2008, with a

new stamp artist, Kam Mak, of Brooklyn,

New York, and a new designer, Ethel Kessler.

Starting with the Year of the Rat, Mak created

original artwork and Kessler included two elements

from the previous series on the new

stamps as well: a small image of Lee's papercut

icons plus Bun's calligraphy. The 2012 Year of the Dragon forever

stamp features a colorful papier-mâché dragon head typical of those

used in festivals.

Souvenir and miniature sheets are an effective way of adding

some pizzazz to a topical collection, so let's check out a bunch of

those starting with an example issued by Norfolk Island, an Australian

territory located in the Pacific Ocean, and another commemoration

of the 2000 Year of the Dragon [Figure 4]. Just like the Canadian

stamp, this serpent is wingless, more typical of those found in

Eastern cultures.

A country clearly somewhat obsessed with dragons is Hong

Kong, not that there's anything wrong with that. They have rugby,

soccer, triathlon and cricket teams that go by the name The Dragons

and an airline that uses the name: Dragonair, recently renamed Cathay

Dragon Air. The Dragon Garden (a 20-acre park), the Dragon's

Back Trail (one of the best urban hiking trails in Asia), and the Hong

Kong Dragon and Lion Dance Festival (a New Year's Day celebration

that parades through the streets of the city) are just some of the available

dragon-esque leisure activities available there.

Of course, Hong Kong Post has jumped onto this bandwagon by issuing

a multitude of dragon topicals for this former British colony and, since 1997,

a special administrative region of the People's Republic of China [Figure 5].

638 AMERICAN PHILATELIST / JULY 2018
---
Figure 5. Hong

Kong has produced

several stamps

featuring dragons,

including several

of the stylized

type: a pair of firebreathers

in 1976

(Scott 312-313) and

a 1988 souvenir

sheet of four (Scott

515-518).

We present an example, a 1988 souvenir sheet of four stamps, each depicting one

of our serpents and each with seemingly pleasant dispositions. A dozen years

earlier, in 1976, another Year of the Dragon, we find two stylized renditions of

the beast.

Hong Kong presents a lot of dragon images that play a more symbolic and

decorative role and does that by showing dragons that are

moving and grooving [Figure 6].

Kites – sometimes used as a ceremonial or religious

symbol – were developed in eastern cultures so it is no surprise

that in China, kites depicting fierce dragons became

weapons of war regarding strategy, communication and

defense. What foe would dare attack a territory guarded by

these blood-thirsty creatures of the sky?

And, before we leave Hong Kong, we need to look at

one more set of stamps, a souvenir sheet commemorating the 1985 Dragon Boat

Races. Although not depicting our main character per se, this sheet still fits nicely

into a topical collection because of the style of watercraft used and depicted.

According to the sheet:

"In the past fishing communities competed each year in dragon boat

races to commemorate the patriotism of

Chu Yuen, a Chinese poet, who drowned

himself in a river in protest against a corrupt

government in the fourth century

B.C. The dragon boat races of today attract

a wide international field and have become

one of the most colorful festivals in Asia."

When Qu Yuan (alternate spelling) drowned himself in

the Mi Lo River, the townspeople beat drums and threw

glutinous rice dumplings called "zongzi" into the water

to dissuade fish from dining on his body. Today, this

event is memorialized by Chinese people around the

world who eat zongzi and either go swimming or dip

their hands into bodies of water. Known as the Tuen

Ng Festival, the Dragon Boat Race, using 30-foot boats

with crews of 20 paddlers, is one of the highlights of

this celebration.

Next, we're off to Southeast Asia and the country

of Malaysia to take a look at a 2012 miniature sheet

Figure 6. A Hong Kong souvenir sheet of

four in 1985 showed a dragon boat, with

the dragon image at the bow (Scott 443). A

stamp featuring a dragon kite (Scott 833a)

was part of a kites strip of four in 1998.

Figure 7. By including

its selvage, this 2012

stamp from Malaysia

is shaped like a robe.

A souvenir sheet

featuring the stamp

commemorates

the World Stamp

Exhibition held in

Jakarta, Indonesia.

JULY 2018 / AMERICAN PHILATELIST 639
---
Figure 8. These two stamps from Singapore

in 2000 (Scott 919-920) were not only sold as

singles, but also wound up as the centerpiece

for four souvenir sheets commemorating

stamp shows that year.

Figure 9. Earlier this year, Great Britain's

Royal Mail issued a set of stamps

featuring characters, including this scary

dragon, from the television series Game

of Thrones.

with an unusual and attractive shape [Figure 7]. The Malay Archipelago has

historically acted as a magnet, attracting migrants from China, India and Europe,

resulting in an amalgam of cultures not surprisingly affecting all aspects

of life. Malaysian textiles demonstrate this blending

and are celebrated by a Legacy of the Loom miniature

sheet, modelled after a robe worn by China's

Qing Dynasty empress. Depicted is a golden dragon

embroidered in the robe's center. This 2012 sheet also

commemorates the World Stamp Exhibition held in

Jakarta, Indonesia.

Moving just a bit south, next we'll visit the Republic

of Singapore to take a look at its Lunar Year

of the Dragon offerings for 2000 [Figure 8]. In what

could easily be described as overkill, Singapore Post issued not only a pair of

individual stamps, but in addition, four souvenir sheets containing the same

two stamps, each commemorating various international stamp exhibitions

held that year: Guangzhou, China; Bangkok, Thailand; London, England;

and Saint Gallen, Switzerland. Excessive? Well, yeah, but they are all admittedly

attractive and some of us magpies scarf them right up since they

fit into several topics in addition to that of our main character.

Noteworthy is the range found in the demeanor of these serpents

as depicted in various postal issues. At one extreme we find the kind

of dragon seen on a souvenir sheet issued by Great Britain earlier this

year, commemorating the highly popular fantasy HBO television series,

Game of Thrones, now in its ninth year [Figure 9]. Shown on the

stamp is Drogon, the largest and fiercest of the three dragons, all siblings,

featured in the series. That's one scary-looking critter!

On the other end of the spectrum, we can find friendly looking

dragons, such as a pair of issues from 2000 [Figure 10]. First up, is a

playful trio from Sweden based on The Dragon With Red Eyes (1985) by illustrator

Ilon Wikland and author Astrid Lindgren (1907-2002), whose works

include the Pippi Longstocking series. Then, there's the downright goofy

looking dragons such as the fellow on a sheet from the Bailiwick of Jersey.

The classic era (pre-1940) of stamp production also provides us with

plenty of examples that fit into our chosen topic, the vast majority of which,

not surprisingly come from the Orient. We'll look at just two here and al-

Figure 10: A set of three happy dragons with

distinctive red eyes from Sweden (Scott 2367-

2369) and a single playful dragon issued on a

souvenir sheet by Jersey (Scott 934).

640 AMERICAN PHILATELIST / JULY 2018
---
Figure 11. The first stamps

from Japan in 1871

featured a dragon motif,

with the mystical beasts

facing inward toward the

center, which shows the

denomination (Scott 1-4,

enlarged).

though they are less colorful than their more modern compatriots, the older issues

possess a beauty all their own, many exemplifying their typographer's or

engraver's art.

The first in this category is one of Japanese origin,

a set of four imperforate stamps issued in April of 1871

[Figure 11]. The image is that of two intricately designed

dragons, tails entwined, facing each other with

the face value of each stamp – 48-, 100-, 200- and 500-

mon – printed in the center.

It's no surprise that like Japan, China included a

dragon – known as the Imperial Dragon – on its first

stamps [Figure 12]. The values – in 1, 3 and 5 cents

(or the Chinese candarin or candareen) were issued in

1878. Proofs for the stamps are found imperforate on

thin laid or wove paper, some gummed. There are different

colors, depending on the value. The 1-cent is found

in green and deep green; the 3-cent is found in red, pale

red and vermilion; the 5-cent in

rose and yellow-ochre.

Looking a little more at that

classic period before World War

II, we probably find more humandragon

drama in the stamps of Europe,

where it seems there are plenty

of legends in which some gallant

and brave king or knight came face-to-face with a fire breather [Figure 13].

In 1944, Belgium issued a set of eight semipostals showing classic European

dragon-human battles, including the epic legend involving St. George. Although

it's not from the classic era, a 1952 stamp from Czechoslovakia showing dragonkiller

Trutnov is quite dramatic.

As topicalists, especially for those of us that exhibit,

we like to add different elements to our collections,

such as the aforementioned die proof. In

the spirit of this, we'll finish up with one last item

from China, a booklet issued in 1988 [Figure 14].

The concordance between the booklet's cover and

the stamps it holds make for a colorful and necessary

addition to our collections and exhibit pages.

One final note: Another element we would seek

out in our search for all things dragon would be pictorial

postmarks. These were omitted from this article

on purpose. Why? Because they'll be found in an

upcoming issue of Topical Time, the publication of

the American Topical Association. I would urge any

Figure 12. A dragon appears on China's

first stamps issued in 1878, known as the

Large Dragons as smaller dragon stamps

were issued in 1885. Here is a green Large

Dragon (Scott 1) and a proof for the stamp.

The stamps were recreated in 1988 on a

souvenir sheet. (Image of proof courtesy of

Interasia Auctions Ltd.)

Figure 13. Several humandragon

battles are shown

on many European stamps,

including those involving

St. George, on a Belgium

semipostal (B389) and

Trutnov on this stamp from

Czechoslovakia (Scott 563).

APS members interested in topical or thematic philately to give this organization

a look. Just like the APS, we're deeply involved with and share a mutual love of

this hobby of kings ... and of ours.

JULY 2018 / AMERICAN PHILATELIST 641
---
Figure 14: This 1988 booklet from the People's Republic

of China is nice to keep intact to show both the dragon

motif on the cover and the stamps within.

The Author

The author, a retired dentist and award-winning

exhibitor, is a lifetime stamp collector currently

concentrating on hunting and fishing revenues,

New York state postal history and the worldwide

classic era. He's an APS member for more than 20

years, a member of ATA, the American Association

of Philatelic Exhibitors and treasurer of the Empire

State Postal History Society. He recently moved to

Hobart, New York in the Catskill Mountains of

Delaware County in New York state and lives with his best

friend, Benny, a black Labrador retriever.

Regarding Images

The images of the

stamps for this story are

from the American Philatelic

Society's Reference

Collection. Images from

the APS Reference Collection

are also being added

to www.snupps.com/aps_

stamps. The image of the

Imperial Dragon proof is

courtesy of an auction catalog

from Interasia Auctions

Ltd., of Hong Kong.

The auction was "The First

Customs Issue of China:

1878-1885 Large Dragons,"

February 26, 2011.

Resources

"Representing Water: Visual Anthropology and Divergent trajectories in Human

Environmental Relations," 2011, Veronica Strang, University of Auckland,

Anuário Antropológico.

Smithsonian National Postal Museum Website: "Pacific Exchange: China & U.S.

Mail," https://postalmuseum.si.edu/pacificexchange/p8.html.

2018-2019 Scott Standard Postage Stamp Catalogue, several volumes, Amos Media,

Sidney, Ohio.

Canada Post website: www.canadapost.ca/web/en/blogs/collecting/details.page?

article=2000/01/05/year_of_the_dragon&cattype=collecting&cat=stamps.

Draconian website: www.draconian.com/dragons/dragon_kites.php.

American Topical

Association

Founded: In 1949 by Jerome D.

Husak (1932-2018). ATA is a specialty society

affiliated with the American Philatelic Society.

Mission: To encourage the collection, research and

study of topical stamps and their subjects by providing an

exchange of ideas and information worldwide. Database

of more than 1,200 topical checklists.

Activities: Develops and publishes

checklists, books, audio-visual programs

and other educational material. Holds and

participates in philatelic exhibitions.

Exhibiting: Encouraged; competitive

awards made through ATA and APS Manual of Philatelic

Judging and Exhibiting.

Benefits: Bimonthly journal Topical Time.

Chapters: Has more than three dozen chapters that

are affiliates.

Contact: Email – americantopical@msn.com; telephone

and fax – (619) 985-5100; Mailing address –

American Topical Association, PO Box 8, Carterville,

IL 62918-0008. Website: www.americantopicalassn.org

642 AMERICAN PHILATELIST / JULY 2018
---
Kelleher's World Renowned Public Auctions Since 1885 • Online Auctions • Many Personalized Services

July 13 & 14, 2018—Collections, Stocks

& Accumulations of the World!

More than 8 Full Pallets jam

packed with a giant array of

valuable material

from all around the globe!

Another huge, amazing sale

with over 150 consignors!

These sales are unbelievable.

Kelleher's Flagship Sale

July 31 - August 3, 2018

at our Danbury, CT Galleries

Call, email or write

for your free catalogs—

or view & bid online!

Once again, a Daniel F. Kelleher Flagship Sale will be a major attention-getter as

we celebrate this summer's busy philatelic auction season. It is packed with important

United States and Worldwide speciaized holdings—truly something for everyone. As we

have continually done for many years, the summer Flagship Auction will be packed with

choice material for the discriminating specialist—and here's a preview:

Klotzbach Family Estate

The Magic City Holding

Stanley J. Richmond Part IX

Thomas P Slavin Canada and Europe

...and much more!

Daniel F. Kelleher Auctions

America's Oldest Philatelic Auction House • Established 1885

22 Shelter Rock Lane • Unit 53 • Danbury, CT 06810

Phone: +203.297.6056 • Fax: +203.297.6059

Email: info@kelleherauctions.com

www.kelleherauctions.com
---
ALL of Asia is Hot!

Consign or Sell Now to Take

Advantage of the 140th Year

Since China's Very First Stamps.

China, 1907

(June 20),

uprated 1¢

postal card

used to the

U.S., Realized

US $3,334.

China, 1878, Large Dragons on thin paper, 1ca-5ca

complete (Chan 1-3. Scott 1-3), Realized US $2,308.

Korea (South), 1956,

20hw and 55hw 16th

Olympic Games,

presentation sheets

(Scott 229-230 var. Korea

P.S.C. PSC105-PSC106),

Realized US $1,282.

Thailand, 1883 (June 9), First Issue cover, Bangkok to

Warrington, England (Scott 5), Realized US $6,410.

INCREDIBLE

RECORD-BREAKING

PRICES

for all China, Thailand,

Korea, Japan and more!

Thailand, 1881, Bicolor Lithographed

Elephant Essay,

Realized US $1,410.

David Coogle co-founded the

Nutmeg Stamp Sales in 1996.

In '04, Greg Manning purchased

Nutmeg and merged with H.R.

Harmer with David as President.

In 2010, he joined with Laurence

Gibson to acquire Daniel F. Kelleher,

the oldest firm in American

philately.

North East China, 1947, 22nd Anniversary of the Nanjing Road Incident

souvenir sheet (Yang NE59M. Scott 1L36a), Realized US $1,667.

North China,

1938, Shanxi-

Chahar-Hebei

Border Area,

Military Post,

deep red (Yang

NC8), Realized

US $3,590.

Thailand,

1885, King

Chulalongkorn

definitive, De

La Rue die

proof in black,

Realized US

$5,128.

The Kelleher & Rogers firm in Hong

Kong is under the direction of

Laurence Gibson, Former director

of John Bull Stamp Auctions, Hong

Kong, and a respected authority on

Asian philately. Mr. Gibson has handled

numerous powerful Japan/China/

Asia collections and major rarities

over the past 20 years including the

Varro Tyler estate .

Sample Realizations

from our May 2018

public auction in

Hong Kong!

U.S. Offices: 22 Shelter Rock Lane • Unit 53

Danbury, CT 06810 USA

203.830.2500 • Toll Free: 800.212.2830

www.kelleherauctions.com

info@kelleherauctions.com
---
Wartime's

Secret Philately

Censored Postal Cards with

Secret Writing Chemical Detectors

BY VINCENT CENTONZE

646 AMERICAN PHILATELIST / JULY 2018
---
Intelligence and counterintelligence have always played

crucial roles during wartime. Vigilance against the surreptitious

passing of messages to the enemy can make the difference

between victory and defeat, and it has long been documented

that the mails were an important means of sending

clandestine information. Seemingly innocuous letters and

postal cards have been known to have been written in code,

contain microprinting on the back of postage stamps or secret

writing in invisible ink.

The postal card shown [at left and below] is a good example

of means used to thwart the clandestine passing of

information. The card was mailed from Kalmar, Sweden, to

"Rotary International" in Zurich, Switzerland. The card was

posted on February 8, 1945, only months prior to the end

of World War II. Despite its status as a neutral country, or

perhaps because of it, Sweden was a backdrop for international

espionage. Because of the flow of diplomats, businessmen,

and refugees, Stockholm has been referred to by some

sources as the "Casablanca of the North."

Switzerland was another one of only eight neutral European

countries in World War II. The others were Portugal,

Spain, Ireland and the postage stamp-sized countries of Vatican,

Liechtenstein and Andorra. So, it's not surprising that

mail between Sweden and Switzerland would be especially

scrutinized by the Germans. Like most items mailed throughout

Europe during the war, the card shown was subjected to

German military censorship, as indicated by the Nazi censorship

marking in red, along with the red "714," presumably

another censorship marking. It contains a rather mundane

message, written in German, which translates as follows:

January 27, I sent you my account for January, which had as a

total sum 354.40 Swedish Crowns, and I also asked you to send

me a sum of 450 Swedish Crowns for the costs of the Radiorede

(translation unknown), requested by the directors on February

23. Please telegraph me if you have received these letters and

answered.

With warmest regards,

C.H. Trolle

Please send me a copy of the last Rotary directory of Europe.

The particularly interesting aspect of this card is that in

addition to the censor markings, it also was tested for secret

handwriting by brushing a chemical such as copper sulfate

across the front and back of the card. I am among those

who think this can occasionally be seen as a blue streak on

German-censored covers, particularly those sent by foreign

workers in Germany or on postal items sent to or from international

organizations. This card, which was not addressed

to any individual by name, would seem to have been a prime

candidate for espionage activity.

A C. Harald Trolle, of Kalmar, Sweden, is listed in the

September 1945 issue of The Rotarian. He was named as the

newly appointed committee member responsible for the admission

of clubs for Continental Europe, North Africa and

the Eastern Mediterranean region. While the message may

be totally innocent, it contains enough numbers and dates to

be a coded missive.

Another prime candidate that could conceivably be rife

with subterfuge is a postal card shown from Portugal [Figure

1]. The card was posted in Lisbon, Portugal (Lisboa Central)

on June 4, 1943, and also was sent to Zurich. Once again,

two neutral countries were involved, one of which, Portugal,

is considered by most historians to have been the capital of

espionage during World War II.

The card was sent to a Mademoiselle E.P. Achard at 21

Boersenstrasse, Zurich, with a return address in Lisbon. It is

written in French and translates as follows:

Lisbon

June 4, 1943

Dear Mademoiselle,

I have just now received your letter of May 29, for which I

thank you. As for the question of reimbursements, let's no longer

talk about it: I am very happy to be of some use to two sons

of my colleagues.

Please accept, dear mademoiselle, my best regards.

E. Bastof

Kalmar, Sweden

8 February 1945

On December 29 I sent you my bill for December (in original)

and on Dec. 30, a copy, but as of today, I have not heard

from you. Today, I received from you the Bulletin No. 2 of 25

January. Please check if you have received my invoice. It was

for 248.50 Swedish Crowns, part of which was for the director

and part of which was as a member of the committee. On

The woman apparently asked the writer for some sort of

favor to help the sons of a mutual acquaintance, to which the

writer agreed. As with the first postal card, this is apparently

a very innocent and innocuous correspondence. However,

there is a lightly stamped circular German "Oberkommando

der Wermacht" (OKW) postmark in red on the address

side – along the red graphic at top. On this postal card, the

secret writing detector brush strokes occur only on the mes-

JULY 2018 / AMERICAN PHILATELIST 647
---
Dear Mr. Achard, I was very pleased to receive your letter

dated November 13, which arrived with my first letter from

home. I don't think it will be necessary to send a special message

to my father, but I would welcome a parcel containing

reading matter of any sort and if possible some chocolate or

sweetstuffs. Please note my new address. Yours Sincerely, Donald

Currie

The second postal card continues:

Figure 1.

sage side: one in dark

blue similar to the

first postal card, and a

second, longer, brush

stroke in a fainter colored

liquid, from the

bottom left upward and

to the right.

Is it possible that individuals

involved in Rotary

International, such as

Mr. Trolle, may have been

co-opted to engage in espionage

against the Nazis,

and that his card contained

some sort of cryptic note?

Was the postal card to Mademoiselle

Achard also a vehicle

for information hidden

in code? Most of the time, with philatelic mysteries such as

these, we never know the truth; however, there is a high degree

of certainty that there was furtive activity afoot, at least

in the case of Mademoiselle Achard, if she was a mademoiselle,

or even a real person for that matter.

The fronts of two Italian prisoner of war (POW) postal

cards from the same sender, Donald Richard Currie, are

shown [Figure 2]. The War Forces Records database confirms

that Currie was a gunner in the South African Army

being held in Italy as a prisoner of war at Camp 65, Cressina,

in Gravina Altamura, postal code 3450. This was a transit

camp near Bari, from where prisoners were sent to other

camps in Italy; it was in use from April 1942 to May 1943.

Both postal cards were sent to Mr. E.P. Achard, at Borsenstrasse

21, Zurich. Each card bears various Italian censorship

markings in violet, and can be dated from unofficial

receipt markings, most likely applied by the addressee.

The backs of the cards [Figure 3] show they were received

on February 22 and March 29, 1943, respectively;

four months prior to the Lisbon postal card. In the first

card, Currie writes:

Dear Mr. Achard, This will be my 2nd card to you to confirm

receipt of your letter dated Nov 13. As I said before I

would welcome a parcel from you containing reading matter

of any sort and I would greatly appreciate some sweetstuffs,

too, if you can send those out of the country. Since last writing

I have received two letters from my father and one from

my mother. My best wishes for Xmas and the New Year.

Yours, D.R. Currie

It is often asserted that there are no coincidences

in life. Such is almost certainly the case with this remarkable

series of correspondence. The occupants of

21 Borsenstrasse, Zurich, were in communication with

at least one POW and concurrently in touch with an

individual in Lisbon requesting "favors" for mutual

acquaintances. It is not difficult to imagine that the

Figure 2.

648 AMERICAN PHILATELIST / JULY 2018
---
messages between Lisbon and Zurich were surreptitious in

nature; perhaps clandestine ways of passing information in

relation to POWs. Because Portugal was a hotbed of espionage,

it was much easier to pass information from Lisbon to

Britain than it was from Switzerland.

It is not known whether the Germans were aware of this

specific arrangement, but they were taking no chances with

innocuous-looking postal cards. Regardless of what actually

transpired, Mssrs. Trolle, Bastof and Currie have supplied interesting

philatelic items to posterity.

Author's Note: Thanks to the APS Translation Service for

its assistance in translating the postal card written in French.

THE AUTHOR

Vincent Centonze is a veterinarian who has been collecting

stamps since 1968. His interests are wide ranging in

all areas of philately, especially those best supported by a limited

budget.

Figure 3.

References

War Forces Records, website: forces-war-records.co.uk

The UK National Archives, website: discovery.nationalarchives.gov.uk

Prisoners of War in Italy, website: powsitaly.weebly.com

Luxembourgian Philately website: http://luxphilately.blogspot.com/2012/11/

searching-for-secret-writingchemical.html

U.S. PLATE BLOCKS

All items are F/VF OG NH or better plate blocks. We do cater to position and number collectors

so please pass along your want lists. Earlier and modern common plates are available,

please send us your want list. SEE OUR WEBSITE www.MALACK.com

Scott # Price Scott # Price Scott # Price Scott #

614............$55.00 649............$15.00 707..............$2.50

615............$63.00 650............$60.00 708............$18.00

616..........$325.00 651............$18.00 709..............$6.00

617............$42.00 654............$33.00 710............$19.75

618............$85.00 655............$45.00 711............$42.00

619..........$235.00 657............$29.00 712............$10.00

620..........$210.00 680............$25.00 713............$49.00

621..........$625.00 681............$19.00 714............$35.00

622..........$260.00 682............$26.00 715............$97.00

623..........$280.00 683............$44.00 716............$11.00

627............$40.00 684..............$3.00 717..............$7.00

628............$65.00 685............$18.00 718............$15.00

629............$45.00 688............$31.00 719............$22.00

632..............$4.00 689....... .....$21.00 720..............$2.00

633............$75.00 690....... .....$15.50 724............$10.00

634..............$3.00 692....... .....$20.50 725............$19.00

635............$17.00 693............$35.00 726............$11.00

636............$85.00 694............$21.00 727..............$5.00

637............$20.00 695........... $35.00 728..............$3.00

638............$15.00 696............$65.00 729..............$3.50

639............$17.00 697............$39.00 732..............$2.00

640............$19.00 698............$48.00 733............$12.00

641............$15.00 699............$65.00 734............$24.00

642............$17.00 700............$79.00 736..............$8.00

643............$38.00 701..........$215.00 740..............$4.00

644............$55.00 702..............$2.50 741..............$2.50

645............$30.00 703..............$4.00 742..............$2.75

646............$42.00 704..............$8.00 743..............$6.00

647..........$185.00 705..............$5.00 744............$10.00

648..........$340.00 706............$24.00 745............$14.00

Ask us about our no interest payment plan!

Terms: Payment with order (Check, MO, VISA,

MC or DIS). P&H add $1.50. 10-day

Guarantee! SASE for complete U.S. pricelist!

We Buy/Sell Stamps and Coins

Price Scott # Price Scott # Price

746............$12.00 819..............$4.95 1041-45 ea .$1.25

747............$21.00 820..............$2.95 1046..... .......$2.00

748............$20.00 821....... .......$6.95 1047..... .......$1.75

749............$27.00 822....... .......$4.95 1048..... .......$3.25

752............$27.00 823............$10.95 1049..... .......$3.50

753............$19.00 824....... .......$6.95 1050..... .......$6.00

754............$13.00 825....... .......$4.50 1051..... .......$7.50

755............$13.00 826....... .......$6.50 1052..........$19.00

756....... .......$6.00 827..............$8.00 1053........$199.00

757....... .......$5.00 828............$14.00 1341............$7.00

758............$12.00 829..............$4.50 C7 .............$39.00

759............$17.00 830............$16.00 C8 .............$39.00

760............$26.00 831............$22.00 C9 .............$75.00

761............$29.00 832....... .....$29.00 C10 .........$110.00

762............$26.00 833....... .....$89.00 C11 ...........$45.00

763............$32.00

834....... ...$325.00 C16 ...........$79.00

764............$35.00

765............$42.00

835....... .......$2.75 C17 ...........$30.00

771............$48.00 836..............$6.50 C18 .........$650.00

772-784 ea .$2.00 837..............$4.75 C19 ...........$15.00

785-794 ....$29.00 838..............$5.00 C20 ..........$18.00

795..............$1.50 852..............$1.50 C21 ..........$80.00

796..............$5.00 853..............$2.00 C22 ..........$80.00

798..............$2.25 854..............$3.00 C23 ............$6.00

799-802 ea .$2.00 855..............$6.00 C24 ..........$99.00

803-807 ea .$0.50 856..............$3.00 C25-C26 .....$2.00

808..............$3.00 857..............$1.00 C27 ............$4.00

809-815 ea .$1.75 858..............$2.00 C28 ............$7.00

810..............$1.50 859-893 ..$175.00 C29 ............$7.00

816..............$3.25 906............$26.00 C30 ............$7.00

817..............$5.00 909-21 ......$24.00 C31 ..........$36.00

818..............$6.00 1030-40 ea .$1.00 C46 ..........$17.00

Steve Malack

P.O. Box 5628 • Endicott, NY 13763

607-862-9441 (Ph/Fax)

steve@malack.com

JULY 2018 / AMERICAN PHILATELIST 649
---
My Small World:

Portugal Knight

Known Often as the Medieval Knight or Little Horse Stamp, the Issue Honors King Denis

BY JEFF STAGE

Fifteen of the 16 stamps in the King Denis set – Scott 761 to 775 – were

issued in 1953. A 30-cent stamp, Scott 763A, to accommodate a new

rate, was added in 1956.

The background photo shows the

tomb of King Denis at the Monastery

of São Dinis de Odivelas.

650 AMERICAN PHILATELIST / JULY 2018
---
Like many of you, I started collecting stamps from across

the world. That was more than 50 years ago. Childish

thinking likely said I could collect every stamp ever

printed. Within a few years I was specializing. But about five

years ago I realized how much I missed worldwide stamps. So

I started recollecting the world, but this time I was smarter.

I limited my choices. I might focus on the first 200 or 300

stamps of one country. Or perhaps I might pluck a single set,

or just a couple stamps, from the 1930s. Or maybe I'd focus

on a modern group or a long-running annual series. I was

doing what we advise others: collect what you like.

Here is a set I could not resist: Portugal's Equestrian Seal

of the King, Denis. I just always called it the knight stamp.

Sometimes this is called the Medieval Knight stamp or the

Portuguese Cavalinho (Little Horse) stamp.

I remember when I was a child getting several used versions

of this stamp in the set's many vivid colors: from dark

and light green to deep purple and vibrant red-orange. What

little kid wouldn't be drawn to this stamp of a brave knight

in armor and shield astride a galloping fully dressed horse?

Perhaps he's out to battle a ferocious fire-breathing dragon?

And with sword drawn – as a lefty – no less! (I can find no

evidence that the king was left-handed, so I guess this was the

artist's prerogative.)

Later I found out that the knight

has a name. He is King Denis, known

as Diniz or Dinis, in Portugal. Denis

(1261-1325) – the Poet King or Farmer

King – was Portugal's sixth king, reaching

the throne while still a teenager in

1279, but serving more than 46 years

until 1325.

The son of Afonso III, Denis is

credited with improving Portugal's

economy by strengthening the nation's

agricultural base and encouraging ship

building, trade fairs and forestry plantations.

He reduced the power of the

nobility and the church. He had been

educated to both French and Castilian

cultural influences and became a competent

poet. He founded the first university

in Portugal — in Lisbon — in 1290. A skilled

negotiator, Denis was able to establish with

Castile a definitive frontier for Portugal.

The handsome set of 16 definitives – No.

761 to 775 in the Scott catalog – was almost entirely issued

in 1953. The 30-cent rose lilac (Scott 763A) was released in

1956. Each stamp has its own color and a unique denomination,

from 5 cents to 50 escudos; no denomination was reprinted

in a different color.

The stamps were produced by lithography in panes of 100

on a 10-by-10 grid by Casa da Moeda. They are perforated

at 12½ and unofficially (because I measured them) are 24

millimeters by 19 millimeters. The workhorse stamps stayed

The King Denis, or Medieval Knight,

stamps were issued in the 1950s, but

not withdrawn from use until the early

1970s. Covers such as this one showing

the stamps' use in 1965 are common.

on sale for about 20 years and were withdrawn from sale in

groups over four years from 1972 to 1975. The 20-cent, with a

print run of 50.7 million, and the 50-cent, with a run of 33.1

million, are the most common. The smallest run was for the

high value 50 escudo with 180,000.

A 2013 Afinsa specialized catalog for Portugal reports

that because of all the colors and lengthy time of sale – more

were printed when necessary – that there are many varieties

and some errors.

Philatelist Armando Mário O. Vieira, who in 1984 was

awarded the Crawford Medal by the Royal Philatelic Society

London, wrote a book about the stamp titled O Cavaleiro

Medieval (The Medieval Knight). The 167-page book was

published in 1996. I have not seen the book, but an online

summary states: "The author describes the general characteristics

of this issue and elaborates a catalog of 600 stamps

with imperfections and defects, which are valuable because

of their rarity."

Jaime Martins Barata (1899-1970) – a Portuguese painter,

teacher, designer and scholar – designed the stamps. Barata's

big break as an artist came in 1940 at the Portuguese World

Expo, for which he painted a series of large panels representing

scenes from the country's history. The artist also was invited

by the Portuguese Post Office to design a commemorative

stamp of the event. Barata created more stamps for the

postal service and in 1947 was appointed art consultant to the

Portuguese post office, a position he held until his retirement.

Barata is credited with the designs of several other Portuguese

stamps, including the Caravels of 1943 (the artist

actively participated throughout his life in the historical debate

over the transition to the Portuguese caravel of the 15th

JULY 2018 / AMERICAN PHILATELIST 651
---
Use the

handy mail-in card

included inside

this issue!

Portuguese painter, teacher, designer

and scholar Jaime Martins Barata

(1899-1970) designed the knight

stamps along with several others. In

1999 he was honored with his own

stamp, Scott 2334m which includes a

self-portrait and a detail of the knight

stamp.

century); Portuguese navigators of

1945; and the 500th Birth Anniversary

of Vasco da Gama of 1969. In

addition to stamps, he also designed

numerous coins, bank notes, illustrations

and book covers. Barata

himself became the subject of a Portuguese

commemorative in 1999.

Back to our gallant knight – Denis.

I could not find anywhere that

Denis led an army into any battle of

war. So how did the designer come

to this image of him in full armor

atop an equally armored steed? Denis

did cross swords, so to speak,

with the church. He negotiated with

popes Nicholas IV and Clement V,

which led to the creation of the military

Order of the Temple following

the purge of the Knights Templar in

the early 1300s. Or, perhaps it's just

artistic license to put an important

king of that era in armor astride a

handsome horse in what looks like

a victorious charge against a villainous

foe. Either way, it feeds my

youthful imagination and collection.

Sources

2018 Scott Standard Postage Stamp Catalogue,

Amos Media Co., Sidney, Ohio.

Stamp Art website: http://artinstamps.blogspot.

com/2014/06/jaime-martins-barata.html

Wikipedia pages: Denis of Portugal; Jaime

Martins Barata.

Portugal Selos Postais e Marcas Pré-Adesivas,

(Postage Stamps and Pre-Adhesive Markings),

Vol. 1, 1853 to 1999 (2013), Afinsa,

Lisbon, Portugal.

Stamps of the World website, www.stampsoftheworld.co.uk/wiki/Portugal_1953_

Definitives_-_Medieval_Knight.

Yours FREE – Mystic's New

United States Stamp Catalog

Get the latest edition of America's best US stamp catalog

for FREE. You'll en joy 156 pages of color photographs,

valuable collecting tips, fascinating history, plus much more.

The virtually complete listing of United States postage stamps

includes commemorative and Airmail stamps as well as albums

and collecting supplies. Everything you need to create the

collection of your dreams.

Whether you're new

Mystic's U.S. Stamp Catalog FREE

to stamp collecting or a

seasoned collector, you'll ❏ ✔ Yes! Please send me the latest

edition of Mystic's U.S. Stamp Catalog.

find this catalog is full

Quick order at MysticAd.com/SC08F

of handy tips and useful

information. Collectors

agree a catalog like this is

worth its weight in gold, but

we'll send yours FREE!

Send today for the FREE

156-page catalog and you'll

also receive other interesting

stamps on approval.

• Latest Edition

• Over 5,000 Stamps

Shown in Color

• Packed with Valuable

Collecting Tips

• Fascinating Historical

Facts and Stories

• Albums, Supplements

and Collecting Supplies

• And More...

Name _________________________________________

Address _______________________________________

City __________________________________________

State/Zip ______________________________________

Mystic Stamp Company

Dept. SC08F, 9700 Mill St.

Camden, NY 13316-9111

652 AMERICAN PHILATELIST / JULY 2018
---
Auktionshaus Christoph Gärtner GmbH & Co. KG

"WORLDWIDE RARITIES" AUCTION

16 th - 17 th August 2018

Be at the World Exhibition in Prague

and consign to our Rarities Auctions!

tête-bêche

Mr. Christoph Gärtner as

'Philatelic Partner & Official Auctioneer of PRAGA 2018'

APS 2018-6

Auktionshaus Christoph Gärtner GmbH & Co. KG

Steinbeisstr. 6+8 │ 74321 Bietigheim-Bissingen, Germany │ Tel. +49-(0)7142-789400

Fax. +49-(0)7142-789410 │ info@auktionen-gaertner.de │ www.auktionen-gaertner.de
---
A Time of

Upheaval

The German Currency Reform of 1948

Caused a Flurry of Complex and Interesting

Postal History

BY CHUCK FISHER

In the summer of 1948 the German deutsche mark (DM)

was created to replace the reichmark (RM), which had

been in existence since 1875. The story behind this new

currency and political ramification that embroiled the occupation

allied powers – American, British, French and Soviets

– resulted in a volatile confrontation between Western and

Soviet occupational forces. This was especially true in Berlin.

This confrontation directly resulted in the blockade of Berlin

by the Soviets of all rail, road and waterways, which led to

the ensuing Berlin Airlift, which certainly saved thousands

of lives.

I have long been interested in the philatelic complexity

of postwar Germany (1945-1949) surrounding this conflict.

How the occupation forces implemented the provisional

postal changes necessary to carry out the introduction of the

deutsche mark is shown through stamps and covers.

Background

Following the end of hostilities of World War II, Germany

was divided into four zones: British, American, French and

Soviet. Berlin was likewise divided into four sectors administered

by the allies. Three years after the cessation of conflict

in Europe, the economy of postwar Germany was still in

shambles. (The Marshall Plan had only been implemented in

April of 1948.) The Soviet occupation forces had access to the

bank note printing plates and inflation was rampant, primarily

due to unrestricted printing of bank notes. The black market

flourished; the real currency was cigarettes and coffee.

Ludwig Erhard, economic consultant of the combined

American and British zones (Bizone) recognized that a barter

economy is not sustainable for viable recovery; a currency

reform was necessary to replace the practically worthless

reichmark. Meetings were held in 1947 and early 1948

among the Allied Control Council members to address the

economic revival in occupied Germany and other issues. The

Soviets were totally against economic reforms and, initially,

the French also. In March 1948, the Soviet declared the Allied

Control Council useless and walked out of the meeting.

The remaining Control Council members went ahead with

plans for a currency reform. On June 16, following the complete

blockade of Berlin by the Soviets, the Allied Council

informed the Soviets of the reform. The provisions of the re-

FRENCH

ZONE

AMERICAN ZONE

SOVIET

ZONE

654 AMERICAN PHILATELIST / JULY 2018
---
form were complex; in general, the amount of new currency

was greatly reduced from what was previously in circulation.

Some old currency could be converted into new currency at

a 10-to-1 ratio.

Figure 1. The Numeral and Labor and Dove stamps were the

workhorse series in Germany right after World War II. Numeral

stamps, Scott 543, 556; Labor and Dove, Scott 565, 575.

Postal Service

Postal Rate

(in pfennig)

Printed Matter 6

Postcard (local) 10

Postcard (intercity) 12

Letter (local) 16

Letter (intercity) 24

2 nd Weight class

(double weight intercity letter)

48

Registered fee 60

Special Delivery fee 80

Foreign letter 50

Figure 2. A chart shows postal rates, which stayed the same with

the currency change.

Before delving into the postal aspects of the currency reform,

let's review the definitive stamp issues in effect at the

beginning of the reform. The first Control Council definitive,

the Numeral series and the second Control Council definitive,

the Labor and Dove series were available in the Bizone

and Soviet zones of occupation [Figure 1]. The Numeral series

was no longer printed, but was available in limited quantities

at some post offices.

To understand covers resulting from the form, the table

shows postal rates in effect before and during the currency

reform [Figure 2]. For example, a double weight intercity

registered letter would be franked with 108 pfennigs. Airmail

service was not available to civilians at this time.

Currency Reform in the Bizone

The general population was aware that a currency reform

was in the making; however, the date of implementation was

kept under wraps to avoid speculation. On June 20, a Sunday,

the reform went into effect. The next day, June 21, 1948, the

banks and post offices were open for business.

To provide a stopgap measure before the new definitive

stamp series was issued, the current pfennig values of the

Labor series and selected values of the Numeral series were

overprinted to denote values in the new currency [Figure 3].

The overprint took two forms: posthorns bounded by a band

and posthorns covering the entire stamp, called by some a

carpet overprint. A cover shown illustrates both overprint

types on a local registered cover, dated July 22, 1948, correctly

franked with 76pf.

It was possible to use non-overprinted stamps during the

currency reform period; however, at only one-tenth of their

value. In the Bizone, the use of non-overprinted stamps was

only allowed for two days: June 21 and June 22. The cover

shown [Figure 4] demonstrates the use of non-overprinted

Labor and Numeral series stamps with a total franking value

of 24pf – the new value of the 240pf in postage franked on the

cover – on the first day of validity.

In addition, it was permitted to mix non-overprinted

stamps with overprinted stamps as long as the total franking

JULY 2018 / AMERICAN PHILATELIST 655
---
UNUSUAL ITEMS FROM CHAMPION'S ARCHIVES

HAITI #CB42 - IMPERF ERROR

6 STAMPS MISSING OVERPRINT

OUR PRICE $195-

COLOMBIA

UNISSUED STAMPS

OUR PRICE $295-

MONACO #B90

"PRAYING CHILD"

SUNKEN DIE PROOF

OUR PRICE $195-

U.S. #2566c

FULL BOOKLET

ONE PANE MISSING

DENOMINATION

OUR PRICE

$280- BOOKLET

Just a Small Sampling

of what we have.

Call us to discuss

what you collect.

SHIPS

NICARAGUA #2261-2262 - IMPERF PAIRS

OUR PRICE $495-

LIBERIA #C70 - IMPERF SHEET

OUR PRICE $495-

CELEBRATING

OVER 25 YEARS

IN BUSINESS

432 West 54th Street

between 9th & 10th Avenues

New York, NY 10019
---
MANY OTHERS AVAILABLE - VISIT OUR WEBSITE WWW.CHAMPIONSTAMP.COM

SAMOA

#223-232 PROOFS ON CARDS

WITHOUT #226

OUR PRICE $1,500-

SPECIAL OFFER

UNITED STATES #2870

RECALLED LEGENDS OF THE WEST SHEET

U.S. SOUVENIR CARD #B186

OUR PRICE $160-

WITH BLUE ENVELOPE $169.95

W/O BLUE ENVELOPE $139.95

ONE PER CUSTOMER

U.S.

#1610a, NH

MISSING

BROWN

W/ PF

CERTICIATE

OUR PRICE

$160-

BURUNDI

REVENUE PROOFS ON CARD

BRADBURY WILKINSON

OUR PRICE $295-

Are You Looking for Worldwide

Proofs, Specimens and other Rare

Items??? Give Us A Call.

Tel: (212) 489-8130

Fax: (212) 581-8130

championstamp@aol.com

STORE HOURS

MON-FRI 10AM-4PM

THURSDAY TILL 7PM

JULY & AUGUST

CLOSED ON FRIDAYS
---
Figure 3. Two basic overprints were

used in 1948: a band type across the

middle of the stamp, Scott 616, and a

carpet style, Scott 619, that covered

the whole stamp. Both could be used

on the same piece of mail.

Figure 4. The total in old currency stamps – 240 (old) pfennigs with 17 stamps – is now 24pf

with the currency reform. The old stamps could only be used on two days - June 21 and 22,

1948 – as the currency was revalued.

value covers the desired service. Shown [Figure 5] is a special

delivery cover dated June 22 with 104pf in postage correct for

special delivery.

It has puzzled me why only two days for use of nonoverprinted

stamps were allowed in the Bizone. Surely businesses

and private individuals could not use all their old

valued stamps in the allotted time. Was it possible for these

non-overprinted stamps to be taken to a post office and be

658 AMERICAN PHILATELIST / JULY 2018

exchanged for overprinted stamps

at one-tenth of their value? I would

appreciate it if any readers can shed

light on this situation.

The rush production of the overprinted

stamps created a host of

varieties. In addition to band (16

values) and carpet overprints (16

values) on Labor pfennig values and

selected Numeral values (17 for each

overprint type), nine unauthorized

Numeral series (9 values) also were

created with band and carpet overprint.

That is a total of 84 values. To

compound this situation, each of

these values are known with inverted

and double overprints. In the market

place, the pfennig Labor series,

the authorized Numeral series and

the unauthorized Numeral series are

often sold as sets. When one considers

both band and carpet overprinted

sets, this totals 18 sets. There are

many other varieties of overprints,

including normal and inverted on a

stamp, overprints on mark values,

triple overprints, diagonal overprints and combinations of

these oddballs. It has always amazed me that quality control

did not weed out these varieties.

There is one question that has bothered me from the beginning

concerning these overprints. Why are there two distinct

overprint types, when one would have accomplished the

desired effect to denote new currency? The overprints were

printed by various private printers; however, there is no cor-
---
denote the new currency. Also, some values

were dropped, others added to reflect current

postal usage. Shown [Figure 7] is the 12pf value

from Rheinland-Pfalz in green prior to the reform

and in red during the reform.

Figure 5. The special delivery cover from June 22, 1948 includes an overprinted

84pf stamp and an old 2 mark dove stamp to create the correct new rate for special

delivery.

relation of one type of overprint to a particular printer. In

fact, both band and carpet overprints are known on a value

[Figure 6]. If anyone can provide information as why two

overprints were used, I would appreciate it.

Figure 7. Color difference denote the

currency change in the French zone.

In some cases, the design was slightly altered

by changing the currency label from

"PF." to "D.PF." as shown [Figure 8]. This is a

double-weight cover – 50pf for the first weight

class, 30pf for the second weight class, and overpaid by 3pf

– to the United States canceled by a railroad mark dated

August 9, 1948.

Figure 6. Both type of overprints were added to

these stamps.

These overprints were valid until September 19, 1948

when they were replaced by the Buildings definitive series.

Currency Reform in the French Zone

In spite of their initial objection to the currency reform,

the French administration was the most prepared of any of

the Allied forces to implement the postal changes required

by the reform on June 21. The Labor and Numeral series

were not used in the French zone; rather, definitive values

of persons and views were employed for each of the three

provinces: Baden, Rheinland-Pfalz and Würtemberg. These

definitive series were simply reprinted in different colors to

Figure 8. A double-weight cover sent from the French zone to the U.S.

Currency Reform in the Soviet Zone

The Soviet military authority in its zone was caught flatfooted

by the timing of the currency reform in the western

zones. The Soviet reaction was quick and predictable. The

Soviets charged that the Potsdam agreement stipulating Germany

was to be treated as an economic entity had been violated.

The new currency was invalid in the Soviet zone and if

suitable arrangements could not be accomplished, it would

be necessary for the Soviet zone to implement a currency

reform of its own. By "suitable arrangements," the Soviets

meant that Greater Berlin would be economically integrated

within the Soviet zone – a long-standing goal of Soviet diplo-

JULY 2018 / AMERICAN PHILATELIST 659
---
macy. This, of course, was not acceptable

to the West and was communicated to the

Soviet leadership. On June 23, the Berlin

Airlift commenced.

This date of June 23 is also important

from a postal view of the Soviet currency

reform. As there was not enough time to

create an overprint, post officials had to

improvise. The Directorate of Posts and

Telecommunitions in the Soviet zone sent

a telegram to all regional directorates,

post offices and branch offices instructing

them to utilize the district handstamp

to overprint by hand existing stocks of

the pfennig values of the Labor series.

This district handstamp is a steel die (in

some cases a rubber stamp) consisting

generally of two lines: the district number

above the town name. Furthermore, the

telegram stated that the overprints are to

be performed locally in limited quantity

Figure 10. A mixed franking cover with stamps showing overprints for districts 27 and 41,

which was the same place, the town of Marienberg.

Figure 9. An example of

an overprint for the Soviet

District 20, the town of

Zeitz.

to meet the next day's demand. The overprint

was to be applied from the lower

left-hand corner diagonally to the upper

right corner with the district in the middle

[Figure 9]. These overprinted stamps

were to be sold at their value in new money

beginning on June 24. Any non-overprinted

stamps in the public hands could

be used at one-tenth their value.

There were seven districts in the Soviet

zone at the time of the currency reform

(districts 3, 14, 16, 20, 27, 36 and 37,

although 10 district numbers occurred.

Due to redistricting in the past, many of the towns used old

and new district dies for the overprinting. This accounts for

towns in District 27 also using 41, District 20 using 29 and

District 37 using 38. Shown [Figure 10] is a registered window

cover with mixed 27 and 41 districts from the town of

Marienberg dated June 29. The die 27 is a branch post office,

Rübenau.

These hand overprints (affectionately known as HOPs)

were sold from June 24 to July 2 and were valid until July

10 – a total of 17 days. To get an idea of the extent of this collection

area, within the nine days of production of HOPs, approximately

1,100 post offices used some 2,000 different dies

resulting in an estimated 35 million stamps. If one considers

660 AMERICAN PHILATELIST / JULY 2018

Figure 11. This cover from July 8, 1948 is franked with three types of stamps: a 2pf HOP

(top right) with the hand overprint in red; a stamp with the machine-applied overprint

"Sowjetische Besatzungs Zone"; and old non-overprinted Numeral stamps (at left).

the different types of dies from a town and the colors used for

the overprints, a "complete" collection would consist of about

35,000 varieties.

These HOPs were true provisional stamps recognized

by the Universal Postal Union and provided a stop gap until

the Labor series machine overprint "Sowjetische Besatzungs

Zone" (Soviet Occupation Zone, aka SBZ) that went on sale

July 3. In contrast to the two-day validity of the use of nonoverprinted

stamps in the Bizone, the use of non-overprinted

stamps in the Soviet zone at one-tenth of the stamp value

was valid from June 24 until July 31, 1948. The overlapping

periods of validity gave rise to mixed franking on a cover.

For example, from July 3 to 10, three-way mixing of non-
---
Figure 12. This cover canceled July 8, 1948 in Dassow includes an overprint of a Numeral

stamp, which wasn't authorized but was tolerated.

are additionally listed with a premium,

depending upon scarcity of the town die.

However, many towns possessed multiple

dies that were used for overprinting that

are not denoted in the catalog. For more

details as to which stamps are known with

die type from a given town, a handbook

must be consulted. These handbooks have

been compiled by study groups in Germany

as well as in the U.S. For example, the

city of Halle is known with more than 10

different die types that are distinguished

by the length of die and the relative position

of the district number with respect to

letters in the town name [Figure 13]. The

cover shown illustrates a registered cover

with two different die types of HOP 20

Halle 2; notice that one type is in Latin

script and another type is in Gothic.

Some unusual dies were used for overprinting.

The city of Sternberg used a triangle

enclosing the district number [Figure

14].

Some towns used Dove stamps in new

money. Shown [Figure 15] is a large package

wrapper with 3- and 5-mark Doves to

the U.S. bearing HOPs 20 Oberröblingen

am See.

Figure 13. A mixed franking registered cover with two different die types of HOP 20 Halle 2;

one type is in Latin script and another type is in Gothic.

overprinted stamps, HOPs and SBZ machine overprints were

possible [Figure 11].

Not all post offices maintained a complete stock of Labor

series to overprint. To meet postal needs these post offices

were pressed to overprint non-authorized stamps. Some post

offices had Numeral series stamps to overprint; these were

tolerated [Figure 12]. The overprint here is applied vertically,

instead of on a diagonal; such non-standard placement of the

overprint is not uncommon and there is no premium in the

marketplace for these overprints. When one considers the

harrowed postal clerks, after a day's work, overprinting panes

of stamps for the next day, excuses can be made.

The Michel Specialized German catalog lists Labor and

Numeral stamps for each of the districts. Individual towns

Figure 14. The city of Sternberg

used a die of a triangle enclosing

the district number.

In a few towns in District 20 that had old District 29 dies,

enterprising postal employees modified those District 29 dies

by filing off the tail of the "9" to resemble a "0" (the zero came

out to appear about half the size of the 9). Shown on a cover

[Figure 16] is this modification on a kilo clip with HOP 20

Köthen 1d.

As a final note on Soviet zone HOPS, one of the mysteries

in the HOP world is the status of the "Bundfuss" State

Lottery Return cover. Normally, stamps were overprinted before

affixing the stamp to a cover. However, a cover [Figure

17] showing a HOP 37 Greifswald 1b ties the stamp to the

cover. The theory is that the 6pf stamps – now just valued at

one-tenth the original denomination, 0.6pf – were affixed to

JULY 2018 / AMERICAN PHILATELIST 661
---
Figure 15. A large package wrapper with 3- and 5-mark Doves to the U.S. bearing HOPs 20

Oberröblingen am See.

Figure 17. A bit of a mystery surrounds this state lottery cover, which shows a HOP 37 Greifswald

1b overprint. To receive the overprint, a cash payment was likely paid to meet the extra 5.4pf

needed for the currency revaluation.

covers before the currency reform began in preparation for

the mailing. As no 5.4pf value exists, the covers were taken

to the post office where 5.4pf was paid for each cover to meet

the required 6pf postage; the Greifswald post office obliged

with the overprint to meet the 6pf rate for printed matter.

This supposition has not been verified, therefore its legitimacy

is questionable – but it makes common sense, especially if

a pack of cigarettes was offered to grease the skids.

Currency Reform in Berlin

Initially, the commanders of the American, British and

French sectors recognized the special status of the four-power

government in Berlin and, after the currency reform was

announced in the Western zones, they informed the Soviet

Figure 16. Postal workers

modified an old District 29

die to look like a "20." The "0"

is clearly shorter than what

it should be.

representative in Berlin that they did

not wish to disturb the situation in

Berlin with the introduction of a currency

reform in the western sectors.

However, on June 23, the Soviets

announced their own reform in

the Soviet zone, the Soviet sector in

Berlin and the entire area of greater

Berlin (including the western sectors).

The authorities in the Western

sectors countered with a decree that

non-overprinted Labor and Numeral

series stamps would be valid at onetenth

of the stamps value in new currency

and that the posthorn-overprinted

stamps in use in the Western

zones would be valid.

On June 24, one of the first airlift

transports delivered band overprints

of the 6, 8, 12 and 24pf values

to Western sector post offices in Berlin.

Other band and carpet overprints

arrived later. Shown [Figure 18] is a

cover that exhibits the use of both

carpet and band overprints of the

25pf Labor stamp cancelled August 2,

1948 at Berlin W30 post office in the

U.S. sector.

The Soviet sector in Berlin followed the same regulations

laid down for the Soviet zone as outlined earlier. A cover

[Figure 19] displays non-overprinted stamps at one-tenth

value on a Postscheckbrief dated June 25 at Berlin NW58

post office. Postscheckbriefs required only a 10pf franking.

Berlin used the district number "3" that applied to all Soviet

Berlin post offices. Another cover [Figure 20] shows a local

registered cover with HOPs 3Berlin 66 and 3Berlin 8 plus

non-overprinted stamps to meet the 76pf requirement. The

cover was cancelled June 25 at Berlin C76 and sent to Berlin

N4 in the Soviet sector. On June 28 Soviet authorities stated

that letters and other mail franked with Western stamps

would not be accepted. On the other hand, the western sector

662 AMERICAN PHILATELIST / JULY 2018
---
post offices did accept

HOPs as well as SBZ

overprinted franked

mail. The use of both

HOPs and Posthorn

overprints on covers

mailed in western sectors

give rise to a host

of franking possibilities

that are highly collectable.

Examples of these

multi-use frankings offer

quite the diversity

on covers. First, there

is a three-way usage in

which HOP 3 Berlin

4a, a 10pf vertical pair

with carpet overprint

and two SBZ stamps

are used on a special

delivery cover canceled

July 10 at Berlin NW40

(British Sector) [Figure

21].

Then, we show a four-way usage with the HOP Berlin 7,

carpet overprint, SBZ overprint all in new currency plus a

3-mark Dove at one-tenth value used on a double weight registered

cover posted at Berlin W57 (U.S. sector) [Figure 22].

The use of hand overprints on West Berlin covers could

be obtained in various ways. As there was no division between

West and East Berlin at that time, West Berliners could

travel to East Berlin to obtain hand overprints, then return

to the West to post mail; in this way the post could be legally

sent from West Berlin to the Soviet Sector and Soviet Zone.

The East mark was officially on par with the West mark;

however, the purchasing power of the East mark was much

less than that the West mark. The West Berlin postal system

Figure 18. Stamps

with the two latest

overprints are affixed

to this cover cancelled

August 2, 1948 at U.S.

sector post office.

Figure 19. Non-overprinted stamps at one-tenth value on a Postscheckbrief dated June 25 at Berlin

NW58 post office.

was taking a substantial loss when handling and delivering

items franked with HOPs bought with less valuable currency.

This situation came to a head after the issue, in September

1948, of the Labor series overprinted diagonally "Berlin" in

black. The Berlin postal authorities then issued the series

overprinted "Berlin" in red that could only be purchased with

the West mark.

The field of hand overprints has been plagued with forgeries

and fraudulent use that many feel has detracted from

collecting HOPs. This was especially true in Berlin. Many

forgeries were quite crude (use of children's printing sets,

dies that did not exist, even district numbers were bogus).

Some postal clerks were bribed to apply hand overprints to

swindlers' stamps and even to roll back the canceller date to

JULY 2018 / AMERICAN PHILATELIST 663
---
Figure 20. A local registered cover with hand overprints 3Berlin 66 and 3Berlin 8

plus unoverprinted stamps to meet the 76pf requirement. Only HOPs and nonoverprinted

stamps were used as Posthorn overprints were not allowed.

Figure 21. A three-way usage on a special delivery cover bears franking, from left, of

carpet overprint on a vertical pair, two SBZ stamps and a HOP 3 Berlin 4a overprint.

be within the period of validity. Fortunately,

much of these shenanigans have been documented

and are known to the HOP community.

Nevertheless, all hand overprints are

required to be proofed by competent authorities.

Conclusion

This turbulent period of the currency reform

in postwar Germany provides a wealth

of collecting possibilities and challenges. The

political situation between east and west, and

the economic conditions, played an instrumental

role in the creation of these provisional

issues.

Economically, within days after the introduction

of the currency reform in the western

zones, material goods appears in the marketplace

as now real money could be used for

transactions. Many economists conclude that

the currency reform was in a large sense responsible

for the economical wunder in West

Germany.

The Author

Chuck Fisher is a lifetime collector.

His first album (a U.S. album edited by John

Nicklin) was bought on the day he was born

by relatives traveling in Ohio. He currently

specializes in all areas of Germany philately

and has strong interest in United States,

France, Austria, Japan and cinderellas, especially

poster stamps. He is a member of the

APS and Germany Philatelic Society.

References

Passing in Review: German Postal History – 1945-1949, LTC.

Herman Halle, USA Ret.

Michel Deutschland-Spezial 2015 Katalog, Band 2.

"Russian Zone Handoverprints, Handoverprint Study Group,"

Germany Philatelic Society.

The German Postal Specialist (April, 1968) H.O.P. Anniversary

Issue 1948-1968, Germany Philatelic Society.

Airbridge to Berlin: The Berlin Crisis of 1948, its Origins and

Aftermath, D. M. Giangreco and Robert E. Griffin.

West-Berlin, Belege zur Währungsreform 1948/1949, 3.

Auflage, Handbuch von Wolf J. Pelikan.

Figure 22. A four-way franking on a double weight registered cover includes, from

left, a 3-mark Dove (at one-tenth value), a carpet overprint, HOP Berlin 7, and an

SBZ overprint.

664 AMERICAN PHILATELIST / JULY 2018
---
Here Be Dragons

Show Guide to

StampShow 2018

& NATIONAL TOPICAL STAMP SHOW

Columbus, OH • August 9-12

666 AMERICAN PHILATELIST / JULY 2018
---
There'll be dragons and penguins and cats, oh

my! And, more exhibits galore, rarities and

dozens of dealers, Oh, My! And, presentations

and friends and youth activities, OH, MY!

All of those elements and many more promise

to make the 2018 StampShow / National Topical

Stamp Show a must-visit destination this summer

for stamp collectors of all ages and levels.

The show is set for August 9 to 12 at the Greater

Columbus Convention Center in Columbus, Ohio.

StampShow – the nation's largest annual stamp

event – is sponsored by the American Philatelic Society

and this year welcomes the American Topical

Association as a first-time co-sponsor.

StampShow serves as the annual general meeting of the

APS, which was founded in 1886. This year's meeting is

scheduled for 9 a.m. on the Saturday of the show. The ATA

will hold its 69th annual meeting at 1 p.m. Friday.

The June issue of The American Philatelist covered some

of the show's events and this month we offer some more highlights.

A special pre-show event is the annual Tiffany Talk.

Elliott Gruber, director of the Smithsonian National Postal

Museum, is this year's guest speaker. The talk is open to all

and is scheduled for 5 p.m., Wednesday, August 8 at the show

hotel, the Crowne Plaza.

Next, we better chat about those critters. Dragons swoop

Elliott Gruber,

director of the

Smithsonian

National Postal

Museum, is this

year's Tiffany Talk

guest speaker.

onto center stage at noon on the show's opening day

as the U.S. Postal Service issues four new Dragons

stamps. These would be a great start to a topical

collection, which, according to the ATA, has more

than 500 entries dating back to the 19th century. (Be

sure to see our story about dragons on stamps in

this issue of The AP and check out our new Dragons

Stamp Album online (aps.buzz/DragonAlbum).

The American Topical Association will offer

two major presentations. Jeff Lough will lead a trip

through history and a trip around the world in his

talk about Dragons on Stamps. Laurie Ryan will

chat about JRR Tolkien and related philately. And,

also courtesy of the ATA, this is the time to test your

knowledge about dragons as you can play dragon trivia at the

association's booth.

Elsewhere, the Penguins on Stamps

Study Group will have a booth to chat

about this unique specialty and, for some

photo fun, you can have your picture taken

with a giant penguin (tuxedo garb not

mandatory). Other animals making their

appearance include: birds, as Tim Hodge

gives a talk about "Birds of Prey Through

Philately"; a mouse, as Ed Bergen offers presentations on his

award-winning exhibit and book based on Mickey Mouse;

and "Cats from A to Z" with Marci Jarvis.

The Basics

What: StampShow and National

Topical Stamp Show

Sponsors: American Philatelic

Society, American Topical Association

and the U.S. Postal Service.

When: August 9 to 12; 10 a.m.

to 6 p.m. Thursday through Saturday;

10 a.m. to 4 p.m. Sunday

Where: Greater Columbus

Convention Center, 400 N. High

St., Columbus, Ohio

Conventions: 132nd annual

convention of the APS; ATA membership

also will convene

Admission: Free, but visitors

must register (online registration

makes entry to the show quicker)

Mobile Show App: Download

the StampShow app to your mobile

device to enhance your show

experience. Instructions and links

can be found online at: aps.buzz/

DragonApp. The app is availble for

iPhone and Android devices.

Call for Volunteers

Volunteers are always needed

to help make our shows work for

the benefit of all collectors. Stamp

collectors, friends, APS members,

and family are welcome – stamp

knowledge is not required. Most

volunteer activity occurs on-site

immediately preceding, during,

or following the show. For ease

of scheduling, two-hour shifts are

preferred.

Training and written instructions

are available for most tasks.

Volunteers who serve eight hours

or more will be eligible to receive

a free ticket to the awards banquet

Saturday evening.

If you can volunteer, and have

not yet signed up, please consider

doing so. There are all sorts of jobs

available. Please visit our volunteer

section online (www.stamps.

org/SS-Volunteers) to sign up or

call Shows Assistant Kathleen Edwards

at 814-933-3803, ext. 217.

For More Information

For more information about

any aspects of the show, visit www.

stamps.org/STAMPSHOW. For

more information about exhibit

or society space, contact Kathleen

Edwards, Shows and Exhibitions

Assistant Kathleen Edwards

at 814-933-3803, ext. 217; or by

email at kedwards@stamps.org.

For more information from or

about the ATA, visit www. americantopicalassn.org/home.shtml.

The StampShow mobile app

also contains the most up to date

information, dealer listings and

schedules. The app also enables

you to receive messages about

StampShow news, schedule changes

and special activites and events.

Download the app to your iPhone

or Android device.

Complete instructions

are available

online at: aps.buzz/

DragonApp.

JULY 2018 / AMERICAN PHILATELIST 667
---
StampShow/NTSS Cancellations

HERE BE DRAGONS

August 9, 2018

STampshow NTSS Station

Columbus, OHio 43215

Other topical booths from the ATA are Space and Christmas

on Stamps and this year's ATA featured study unit is the

Ebony Society of Philatelic Events and Reflections (ESPER).

Culture and Dragons is the theme for the show's opening

day. Other themes are: Friday, Nature; Saturday, Technology

of Space and Airmail; Sunday, Legends and Lore. Souvenir

cachets and postal cancellations have been created to match

the themes. The Postal Service will administer cancellations

and be on hand to sell new stamp products.

Several APS staff members will make presentations, including

Ken Martin (exhibit tour and estate planning); Wendy

Masorti (buying and selling through the APS); Tom Horn

(expertizing); Martin K. Miller and Mara Hatzell (writing for

the APS). Executive Director Scott English will be involved

in several presentations including a joint board meeting between

the APS and American Philatelic Research Library and

the general membership meeting. Librarian Scott Tiffney will

lead the Librarians' Roundtable.

Stop at our

booths #420 & 422

at StampShow/

NTSS

August 10, 2018

celebrate

nature

Stampshow/NTSS Station

Columbus, Ohio 43215

Stamp Smith

Topical Stamps & Covers

1212 NE 96th Terrace

Kansas City, MO 64155

Tel: 816.734.4536

OHIO

A U G U S T 11, 2 018

Email: smidale@umkc.edu

Stampshow/

NTSS Station

Columbus,

Ohio 43215

DAYS of LEGEND & LORE

Stampshow/NTSS Station

Columbus, Ohio 43215 • August 12, 2018

APS staff members and volunteers will be on hand to offer

Society information, answer questions and sell souvenirs

at the APS booth on the show floor. The APS Store will offer a

wide selection of philatelic literature, the ever-popular stamp

ties and watches, and a variety of other gifts and specialty

items.

The APS also will exhibit some philatelic rarities: an

Inverted Jenny in a newly revised exhibit for the stamp, a

George Washington free frank and the autographed discovery

sheet of the Dag Hammarskjöld Inverts.

There are too many great presentations planned to name

them all here (check the schedule in the mobile app or the

visit the schedule online) but here are a few examples: Gary

Hendren on Thursday will talk about the Postmark Collectors

Club Museum; Ron Lesher will explain revenue stamps

on Friday; Mark Thompson will offer an overview of the

women in the U.S. Black Heritage series on Friday; Jean

Jacques Tillard leads a presentation and meet-and-greet for

Are you tired of digging through

boxes looking for your topic?

We organize our Stamps by Topic!

TIONSCIENCE & SPACE EXPLORA

We also have U.S. and Worldwide Stamps,

Covers, Postcards and Souvenir Sheets.

The Largest Topical Dealer in the Midwest

668 AMERICAN PHILATELIST / JULY 2018
---
Scheduled to Speak

Scott English

the Philatelic Specialists Society of Canada on Saturday; and

Thomas Broadhead talks about teaching a college seminar on

philately on Saturday.

Exhibits

James Kloetzel

Ron Lesher

Exhibits, by sheer numbers, will hold a spotlight throughout

the show. There will be more than 160 exhibits, taking up

about 950 frames, the most frames exhibited at an APS show

in more than 10 years.

Exhibits are entered in six major areas: Court of Honor;

General Multi-frame; General Single-Frame; Non-competitive;

Youth; and the 51st annual Benjamin and Naomi

Wishnietsky Champion of Champions, which is open to the

grand-award winners of about 30 World Series of Philately

shows over the previous 12 months. The general exhibits also

are broken down into several subcategories, from postal history

and aerophilately to thematic and revenues. There will

be a huge variety of exhibits, from those featuring Christmas

Wendy Masorti

Laurie Ryan

seals, Alexander Hamilton, Susan B. Anthony and Americans

in Space to those featuring stamps, designers, time periods

and postal history of everywhere from Newfoundland to

Hong Kong; Ohio to Russia; and Cuba to Japan.

Dealers and Booths

Phil Stager

Mark Thompson

About 120 dealers – specializing in everything from U.S.,

Confederate and worldwide to postal history, the British Empire

and topicals – have signed up for the show bourse. In

addition, Harmer-Schau Auctions will sell about 2,000 lots

in four sessions: starting at 6:30 p.m. Thursday, Friday and

Saturday and at 10:30 a.m. Sunday.

The YPLF will sell philatelic items at a booth while lowpriced

items will be sold via Stamps by the Bucket and Covers

by the Container in the APS youth area. Covers will be organized

by topics and themes.

The United Nations will have a sales booth and present a

preview of its next stamp issue, the UNESCO World Heritage

DUTCH COUNTRY AUCTIONS

The Stamp Center

Serving the hobby worldwide since 1979

SERVICES

U.S. & Worldwide Stamps, Coins,

Historical/Classic Sports

Memorabilia, Americana,

Currency, Covers, Postcards,

Retail, Wholesale, Supplies & More!

AUCTIONS

Auction 317 July 20-21, 2018

Auction 318 September 14-15, 2018

Auction 319 November 9-10, 2018

Stop by our booth #623 at StampShow/NTSS for great wholesale items

for sale and we will gladly accept your consignments for auction!

When you are ready to liquidate your collection

We are at your service!

DUTCHCOUNTRYAUCTIONS.COM

302-478-8740 | AUCTIONS@DUTCHCOUNTRYAUCTIONS.COM

4115 CONCORD PIKE, 2ND FLOOR | WILMINGTON, DE 19803

RUSSELL EGGERT OWNER, APPRAISER, LICENSED & BONDED AUCTIONEER

JULY 2018 / AMERICAN PHILATELIST 669
---
series (United Kingdom), which is scheduled to be released

August 15.

The National Postal Museum will be have an exhibit and

Amos Media, publishers of the Scott catalogs and Linn's

Stamp News, will launch a special Rail Transportation Stamp

Album at 1 p.m. Thursday.

Education Department

Welcome to the Dragon Depot, where heavily scaled firebreathing

beasts with razor-sharp fangs rule!

Fear not, good philatelists of the realm. There won't be

any real dragons in this year's youth area – the Dragon Depot

– but there will be a lot of fun with a dragon theme.

Visitors can earn their license to become a Dragon Mail

Carrier and place a personalized dragon scale upon a large

APS Dragon. Dragon Mail Carriers in training also will be

able to create or color a design for an envelope (cachets, to

the philatelic savvy).

How much do you know about delivering mail to dragons?

Visitors can come up with a dragon delivery guide book

as they create a mini stamp album.

Philatelic activities will include microscopes to search for

hidden treasures on stamps – which could be fine details and

microprinting.

Once licensed, new Dragon Mail Carriers earn the right

to deliver mail directly into a dragon's post box.

For $5, visitors to Stamps by the Bucket or Covers by the

Container can choose from a million specimens to add or

start a collection.

Youth of all ages (yup, we can imagine some former children

who enjoy spending time doing youthful activities) are

welcome. For the youngest of all our dragon tamers, there

will be a preschool area, where they can listen to a special

story and do a couple of activities.

The four members of the Young Philatelic Leaders Fellowship

Class of 2018 – Darren Corapcioglu, Anastasios "Tasos"

Kalfas, Dani Leviss and Victoria "Grace" Rogansky – will

make a presentation on Sunday. An exhibit by Kalfas will be

shown at the National Postal Museum display area. Leviss

has designed a cachet and stamp for the show, which will be

available for purchase at the YPLF booth.

There is still time to sign up for two exciting APS On-the-

Road Courses at bargain basement prices. The first – Competitive

Thematic Exhibiting with Phil Stager – is a nine-hour

course on Thursday. It's just $25 for APS members; $95 for

non-members. The second – Getting the Most Out of the

Scott Specialized Catalogs with longtime Scott Editor James

Kloetzel – is an eight-hour course on Saturday. It's just $45 for

members; $95 for non-members.

The APS Education Department, has scheduled a Boy

Scout Merit Badge session from 10 a.m. to 4 p.m. Saturday,

and will have several other activities in the youth area.

670 AMERICAN PHILATELIST / JULY 2018
---
The ATA

The booth of show co-sponsor, the American

Topical Association, will have a dragon trivia game;

stop by the booth, you just might win a prize. Many

ATA Study Units will be meeting. Check the show

schedule. The ATA promotes the collection of philately

by topic and theme, from Muhammad Ali and

snow to volcanoes and foxes.

As a show special, the ATA is focusing on Ohio,

as well as dragons. What do Satchel Paige, Neil Armstrong,

and Harriet Beecher Stowe have in common? They all

spent significant time in Ohio and could show up in a display

of Ohio-linked stamps at the ATA booth. The society is

making the Ohio state checklist of stamps available for sale

to anyone. Normally, the society's more than 1,500 checklists

are sold only to members.

The ATA also will unveil a new book – What's First? –

at the show. The book describes and pictures the first time a

topic was shown on a stamp: first train, first bird, first flower,

Trish Kaufmann

$ $ $ $ $ $ $ $ Buying and Selling $ $ $ $ $ $ $ $ $

Confederate Stamps and Postal History

Visit

my booth #651

at StampShow

2018

What's First?

By Jack Gray

Edited by Jack André Denys

American Topical Association

Handbook 167

From Abacus to Zebra:

The First Time Topics are

Depicted on Postage Stamps

What's First, a new book published

by the ATA, will be released at

StampShow/NTSS.

etc. The book is expected to be

useful to collectors and exhibitors.

The book was written, over

many years, by retired journalist

Jack Gray, who died in 2017.

His daughters, Susanna and Rebecca,

will be at the show to sign

books. The book was edited by

Jack André Denys, who will also

be at the show.

The Celebration Banquet

(formerly the Awards Dinner)

on Saturday – 6 p.m. reception;

7:15 p.m., dinner – is expected

to be sold out, so those interested

in attending are urged to

purchase tickets early. The show's top exhibit awards – including

the Champion of Champions, and the annual Luff

awards – will be announced at the dinner. At 4:30 p.m.,

there is a free medal-level ceremony. The ATA will present

its highest award, Distinguished Topical Philatelist, at the

banquet.

The invitation-only Stamp Soiree is scheduled for 6 p.m.

Thursday at the Ohio Statehouse.

Professional Philatelist Since 1973 • Life Member: CSA, APS, APRL, USPCS Member: ASDA, CCNY, RPSL

www.trishkaufmann.com

$ $ $ $ $ $ $ $ FULL RETAIL STOCK ONLINE$ $ $ $ $ $ $ $

10194 N. Old State Road • Lincoln, DE 19960-3644 302-422-2656 • trishkauf@comcast.net

JULY 2018 / AMERICAN PHILATELIST 671
---
Ye Olde Passport

New to StampShow/NTSS this year is the show passport.

Titled "Ye Olde Passport' in keeping with the medieval

tone of the theme, the passport is a fold-out booklet

designed to help attendees collect the new stamps and

the various cancellations available during the show.

The passport will also serve as a guide for visiting the

participating societies, study groups and clubs. At each

organization's booth, visitors will be able to add cinderallas

to their passport while they learn about the focus and

work of that organization. Think of it as a mini-introduction

for new collectors and an opportunity for seasoned

philatelists to broaden their knowledge of the hobby.

Ye Olde Passport will be distributed free to all show

attendees and will be available at the APS booth, the ATA

booth and several other locations around the event location.

The passport includes spaces for the Mythical Dragons

forever stamps (scheduled for release at the show),

the daily show cancellations, and spaces for collecting

special show cinderellas from the APS, the ATA, the

U.S. Postal Service and approximately 30 other societies,

clubs and organizations.

The show passport is sure to be a popular souvenir.

Participants who complete at least seven society visits

each day will have the chance to be entered for daily prize

drawings.

672 AMERICAN PHILATELIST / JULY 2018
---
This 1953 APS Convention Cachet and show cancellation. Shared

by the Memphis Stamp Collectors Society's APS Ambassador, David

Saks.

Blast from the Past

David Saks shared this souvenir cover from the 1953

American Philatelic Society Convention

in Houston, Texas.

In keeping with the long-standing

tradition, the APS, the ATA

and several other societies and cachetmakers

will be selling souvenir

cachets during StampShow/NTSS.

StampShow/NTSS

2018

OFFICIAL SHOW CACHET

When shopping for cachets, be sure to look for the seal for

Official StampShow/NTSS cachets. This emblem serves as a

mark of authenticity for cachets and other show souvenirs

bearing the StampShow/NTSS name.

FOR THE

BEST OF

BRITISH

(stamps that is)

go to the official website of

COLLECTORS

EXCHANGE

www.BritishStampsAmerica.com

Visit our booth #456

at StampShow!

Buying & Selling STAMPS &

POSTAL HISTORY of

Great Britain and the

British Family of Nations

Remember we also stock Worldwide Topicals

GREAT BRITAIN

GREAT BUYS!

Orlando Stamp Shop

1814A Edgewater Drive

Orlando FL 32804

407-620-0908

Jean and John Latter

Proud Member of

Leading Philatelic Societies

JULY 2018 / AMERICAN PHILATELIST 673
---
BOURSE PARTICIPANTS

A & D Stamps and Coins

California

www.aanddstampsandcoins.com

A to Z Stamps

Arizona

www.worldwidestamps.com

Abacus Auctions

Australia

abacusauctions.com.au

aGatherin'

New York

A-One Coverz

Ohio

Bardo Stamps

Illinois

www.bardostamps.com

Bejjco of Florida, Inc.

Florida

Big Lick Stamps

North Carolina

Bill Barrell Ltd.

Great Britain

www.barrell.co.uk

C & D Philatelics

Virginia

Carl Jaekel

Ohio

Carolina Stamp & Coin

North Carolina

www.tonycrumbley.com

Chris Rainey

Great Britain

www.chrisrainey.com

Classic Philatelist-Warren Manning

Tennessee

Coast Philatelics

California

Collectors Exchange

Florida

www.britishstampsamerica.com

Colonial Stamp Company

California

www.colonialstamps.com

Compustamp

Arizona

www.CompuStamp.com

Connoisseur Stamps and

Collectibles, Inc.

Illinois

Coverman

New York

Covers by the Container

Pennsylvania

D & P Stamps

California

www.dpstamps.com

Daniel F. Kelleher Auctions

Connecticut

www.kelleherauctions.com

Dave Allego

Ohio

RICHARD FRIEDBERG

STAMPS

See our website for

thousands of other U.S.

Revenue Stamps!

R4a XF fresh

and sound,

2015 PFC $750

If you collect US Revenues see us

at Booth 342 at StampShow in

Columbus, OH for outstanding

quality, selection, and value!

310 Chestnut St. • Meadville, PA 16335

Phone: 814-724-5824 • FAX: 814-337-8940

E-Mail: richard@friedbergstamps.com

Website: www.friedbergstamps.com

U.S. & WORLDWIDE

Stamps & Covers

All Continents, All Countries

Agent for the

WORLD TRAVELER

COLLECTION

1840 to 1981, 99%++ complete

(including Scott listed varieties)

Selections Available at the Show

Serious Want Lists Accepted

Let us help you fill those empty spaces.

See us at APS StampShow/NTSS

Booths 151, 153, 155

E-mail: arnsel@verizon.net

P.O. Box 16681

Temple Terrace, FL 33687-6681

Phone: (813) 980-0734

674 AMERICAN PHILATELIST / JULY 2018
---
David Alex

Illinois

David Grossblat

Arizona

Davidson's Stamp Service

Indiana

www.newstampissues.com

Dean Stamps

Ohio

Denny Peoples

Indiana

Dick Smith Stamps

New Jersey

DK Enterprise

Washington

dickkeiser.com

Don Tocher, U.S. Classics

Colorado

www.postalnet.com/dontocher

Dutch Country Auctions

Deleware

www.dutchcountryauctions.com

Engler Stamps

Pennsylvania

www.englerstamps.com

Eric Jackson

Pennsylvania

www.ericjackson.com

Etradegoods

Indiana

Fairwinds

North Carolina

Farrell Stamps

Illinois

farrellstamps.com

Fox River Stamps

Wisconsin

www.foxriverstamps.com

France International

Pennsylvania

www.stampsbythemes.com

Fred Boatwright

Missouri

Fusco Auctions

Ohio

www.fuscoauctions.com

Gary Posner, Inc.

New York

garyposnerinc.com

Geezer's Tweezers

Maryland

www.geezerstweezers.com

George Enstrom, Ltd.

Illinois

Global Philatelic Associates

Tennessee

Gold Path, Inc. (Dollar)

Indiana

Guterman Stamps

Ohio

Harmer-Schau Auction

California

www.harmerschau.com

HB Philatelics

Missouri

Bringing the Store

to Columbus!

See us at booths 658 and 660

• One of the largest show stocks in the

Midwest will be in Columbus, August 9-12

• Thousands of stamps and souvenir sheets

most at 1/2 catalog value

• Thousands of first day covers

with many handpainted—all priced to sell

• Huge assortment of intact lots

and collections

STERLING STAMPS

MARK VERVAEKE

455 E. GRAND RIVER, SUITE 103

BRIGHTON, MI

(810) 220-6000

STERLINGSTAMPS.COM

ATA

MSDA

CONFEDERATE STAMPALLIANCE

www.csalliance.org

Benefits of membership —

Join the CSA—

• CSAlliance.org, our official website

• Annual CSA Convention and Exhibition

• Annual Mid-Year Meeting

• CSA Authentication Service

• Mentor Program

• The Confederate Philatelist,

our quarterly journal

As a member of CSA, you'll be

joining some of the most

knowledgeable collectors, dealers,

and researchers in the field of

Confederate philately—whether

your interest is starting a

Confederates collection, exhibiting,

buying and trading, or reading

some of the most recent research in

our field.

To join and find out more, see us at booth

#215 at the Columbus, Ohio, APS

StampShow, Aug. 9–12, 2018

Fraternity, Research, Cooperation

JULY 2018 / AMERICAN PHILATELIST 675
---
www.hbphilatelics.com

Henry Gitner Philatelists, Inc.

New York

www.hgitner.com

Hilltop Stamp Service

Ohio

www.hilltopstamps.com

Hugh Wood, Inc.

Pennsylvania

www.hughwood.com

Hunt & Co.

Texas

www.huntstamps.com

Israel Philatelic Agency/IGPC

New York

James E. Lee

Illinois

www.jameslee.com

James F. Taff

California

Jay Smith & Associates

North Carolina

www.JaySmith.com

John L. Kimbrough

Texas

www.csastamps.com

JP Philatelics

Utah

Kay & Company

Oklahoma

www.kaystamps.com

Kenneth A. Pitt Postal History

Florida

Labron Harris

Maryland

Leonard Stamps

Maryland

Linn's Stamp News / Amos Media

Ohio

www.linns.com

Malcom's Antiques

Georgia

Mark Reasoner

Ohio

Markest Stamp Co., Inc.

New York

www.markest.com

Maryland Stamps & Coins

Maryland

www.marylandstamps.com

MCXI Philatelics

Illinois

www.mcxistamps.com

Michael Eastick & Assoc.

Australia

www.michaeleastick.com

Miley Stamps

Michigan

www.mileystamps.com

Miller's Stamp Company

Connecticut

www.millerstamps.com

Mountainside Stamps and Coins

New Jersey

www.mountainsidestamps.com

VISIT HENRY GITNER PHILATELISTS, INC AT BOOTHS 254, 256

FREE PRICE LISTS

FROM A TO Z

Artmaster Artwork & Proofs

Austria

Austrian Black Prints

Autographed US Plate Blocks

Belgium Imperfs & Proofs

Belgium Parcel Post

Europa

Farley Special Printings

France

French Andorra, Imperfs,

Antarctic, & French Polynesia

Germany

German Specimen Overprints

Guyana

Iceland

Ireland

Israel & Palestine

Liechtenstein

Marshalls, Micronesia & Palau

Monaco

Newfoundland

Ryukyus

St. Pierre & Miquelon

Swiss Offi cials

Switzerland

United States

Classics, Washington-Franklins

Better Plate Blocks

US Back-of-the-Book,

Graf Zeppelin, Ducks,

Shanghais, & Savings Stamps

Cut Squares, Photo Essays

Worldwide Artist Die Proofs

UN incl. Personalized Sheets

Vatican

Zeppelins & Aerophilately

With over 20 rooms of

stamps, OUR PRICE LISTS

ARE ONLY A FRACTION OF

OUR STOCK.

Please inquire about

your collecting interest.

Visit our Web-

Store at

www.hgitner.com

100's of better US

and Worldwide listed:

We Buy U.S. &

the World

As one of America's largest

stamp retailers, we need all your

stamps. Few others can pay as

much for your stamps as Henry

Gitner. Especially needed – all

mounted collections for U.S.,

Asia, British Commonwealth,

Europe and Worldwide. All

stamps and Postal History of

China wanted.

Phone today for our top prices

on your holdings. Or ship your

stamps with confidence for our

fast, fair offer. We travel for large

holdings.

Did you find

everything You Were

Looking For at

StampShow 2018?

TRY US AFTER THE

SHOW FOR WHAT

YOU STILL NEED!

From Classics to Modern

Henry Gitner Philatelists can

fulfill your collecting needs.

Henry Gitner is your

Headquarters for

SPECIALIZED

TOPICALS

We have just what you are

searching for to enhance

your collection or add to your

exhibit.

1610c – CIA Invert – one

of the scarcest modern

inverts. 2017 cv $17,500.00

........................... $15,500.00

All price lists listed

at the left can be

viewed online at

www.hgitner.com

Over

40 years experience

guarantee

you the best possible

price!

HENRY GITNER PHILATELISTS, INC.

P.O. Box 3077, 53 Highland Ave. Middletown, NY 10940

Toll Free: 1-800-947-8267 • Tel: 845-343-5151

Fax: 845-343-0068

www.hgitner.com • Email: hgitner@hgitner.com

Philately — The Quiet Excitement!

Florida Postal History

During the Civil War is the

definitive text documenting

the Confederate and Union

postal systems operating in

Florida between 1861 and

1865. Most of the major

Confederate and Union covers

are reproduced in color, with a

complete census of over 1600

covers.

Author Deane R. Briggs, MD,

who has spent 30 years

researching and exhibiting

Florida postal history, has

written an invaluable Civil War

postal history reference.

Hardbound, 304 pages, full color, bibliography, index

Continental US only

Pre-publication price (through July 15, 2018)

$55.00 + $5.00 shipping

After July 15, retail $70.00 + $5.00 shipping

Make checks payable to CSA and send to:

Larry Baum, 316 W. Calhoun St., Sumter, SC 29150

Copies also are available for purchase at

the Confederate Stamp Alliance booth

#215 Columbus, Ohio, APS

StampShow, Aug. 9–12, 2018

Published by the Confederate Stamp Alliance

www.csalliance.org

676 AMERICAN PHILATELIST / JULY 2018
---
Newport Harbor Stamp Co.

California

Nordica

New York

Oceanview Stamp Company

California

Pack-Rat Covers

Michigan

Patricia A. Kaufmann

Deleware

www.trishkaufmann.com

Philatelic Stamp Authentication

and Grading, Inc.

Florida

www.psaginc.com

Professional Stamp Experts

Nevada

www.gradingmatters.com

R.G. Stamps

California

Rail Philatelist

Colorado

www.railphilatelist.com

Randy Scholl Stamp Company

Ohio

randyschollstampcompany.com

Rasdale Stamp Company

Illinois

www.rasdalestamps.com

RASLAD Enterprises

New Mexico

www.deadcountrystamps.com

REW Stamps-Coins, LLC

New Jersey

Richard Friedberg

Pennsylvania

www.friedbergstamps.com

Right Stamp Co.

Texas

Rising Sun Stamps

Florida

The PF at StampShow

The Philatelic Foundation looks forward to

meeting you at our booth. We will have a

variety of books for sale and will be pleased to

take in submissions of stamps and covers for

PF certification.

Be sure that your stamps and

covers are what you believe them

to be.

A recent survey by the APS found that 82.8%

of its members selected the PF for its

"Reputation," the highest percentage of any

expertizing service in the United States.

For peace of mind, your valuable

stamps and covers deserve the very

best expert review.

Collect with Confidencewith

a PF Certificate

Robert A. Siegel Auction Galleries

New York

www.siegelauctions.com

Robertson Tracy Enterprises

California

www.rtellc.com

Roy E. DeLafosse, Ltd.

Georgia

Roy's Stamps

Ontario, Canada

Schau-Stickney Postal History

Colorado

Smyth's Stamp Shoppe

Wisconsin

Spink USA

New York

www.spink.com

Stamp Art

Oregon

www.stampart.us

Stamp Center of Texas

Texas

Stamp Smith

Missouri

It isn't easy, but...

WE CARRY

THE WORLD!

"We carry more stamps

at shows than any

dealer in the country."

SEE OUR

HUGE

STOCK OF

UNITED

STATES

AND

FOREIGN

U.S. — The Works! #1 right up to date, mint,

used, plates, BOB, etc.

FOREIGN — Millions of stamps, 20¢ to $5,000, A to Z!

See us at APS STAMPSHOW

Booth No. 237, 239 & 241

~ Jim and Sue Dempsey ~

A&D STAMPS AND COINS

2541 Venado Camino • Walnut Creek, CA 94598

Ph: 925-935-8212 • Fax: 925-935-9277

JULY 2018 / AMERICAN PHILATELIST 677
---
Stamps by the Bucket

Pennsylvania

http://www.stamps.org

Stamps 'n' Stuff

Iowa

stampsuniversal.com

Texas

www.stampsuniversal.com

Stanley M. Piller & Assoc.

California

www.smpiller.com

Stephen T. Taylor

Great Britain

www.stephentaylor.co.uk

Sterling Stamps

Michigan

www.sterlingstamps.com

Telah W. Smith

Ohio

www.telahsmith.com

The Classic Collector

New York

AUCTIONS

Something for Everyone

Our next

auction

October 24, 2018

Sale 315

• U.S. & Worldwide Stamps

• U.S. EFOs & FDCs • U.S. Fancy Cancels

• U.S. & Worldwide Postal History

incl. stampless covers &

illustrated advertising

• Philatelic Literature

• Autographs & More

Lots from $10 to $2,000 or more.

Our diverse offerings include many XF to

Superb stamps as well as lesser grades.

A great source for all

but the most advanced.

Only 12% buyer's commission.

DOWNEAST STAMPS

52 Fern Street • Bangor, ME 04401-5599

207-942-3825 • Fax 207-942-0808

E-mail: bids@destamps.com

www.destamps.com

www.sismondostamps.com

Toga Associates

Connecticut

togaassociates.com

Tom's Stamps

Pennsylvania

Triple "S" Postal History

Ohio

www.triple-sonline.com

United Nations Postal

Administration

New York

www.unstamps.org

Universal Stamps

Maryland

www.coinrealm.com

Vance Auctions Ltd.

Ontario, Canada

www.vanceauctions.com

Village Stamp & Coin

Indiana

Buying China, Japan

stamps & covers

PR China Buy Price

for Mint, NH XF

Scott # We Pay

344a 100

357a 200

542-59 400

566a 500

620-7 800

621i-7i 2500

628 8000

716-31 700

782 800

798a 1200

967-80 1500

996a 2500

Scott # We Pay

1211-14 200

1399 325

1433 150

1451 180

1492 300

1518 800

1540 110

1586 1,300

1607a 250

1617 150

1647a 100

1761 100

Urgently needed FDC of

#621i–627i paying $4000

Buying at APS Show

in Columbus, Booth 348

We buy stamps not listed.

We will travel for large holdings.

Cash payment upon request.

Rising Sun Stamps

3272 Holley Terrace, The Villages, FL 32163-0068

Phone: (Cell) 570-350-4393

E-mail: haruyo_baker@msn.com

Vogt Stamps Hawaii

California

Wayne R. Gehret

Pennsylvania

www.usmintsheets.com

Weisz Stamps and Covers

Louisiana

www.douglasweisz.com

Worldwide Philatelics

Kansas

For the most up to date listings, please

consult the show program or download

the StampShow/NTSS mobile app for

iPhone and Android devices. For more

information on the app, visit the app

page online at:

http://aps.buzz/DragonApp

The Gold Standard in

ERIC JACKSON

the hobby's premier dealer

of revenue stamps since 1975

See us at APS/ATA

StampShow 2018

Booth 331

If you can't attend the show,

visit us online at

ericjackson.com

Buying & Selling

Eric Jackson

P.O. Box 728 • Leesport PA 19533-0728

Phone: 610-926-6200

E-mail: eric@revenuer.com

Online: www.ericjackson.com

Established 1914

678 AMERICAN PHILATELIST / JULY 2018

2018 Jackson ad for July AP -- Stampshow.indd 1 5/8/2018 4:09:04 PM
---
Societies and Organizations

Numerous societies, associations and clubs are scheduled

to have booths and meetings at StampShow/NTSS.

Each society with a booth is also included in the "Ye Olde

Passport", a free show souvenir that helps you plan and participate

in the show. Be sure to visit each society on the floor

American Association of Philatelic

Exhibitors

Booth 208

American First Day Cover Society

Booth 316

American Philatelic Congress

Booth 210

American Philatelic Research

Library

American Philatelic Society

Booth 137,139,141

American Revenue Association

Booth 408

American Society Polar Philatelists

Booth 307

American Stamp Dealers Association

Booth 216

American Topical Association

Booth 127,129,131

Auxiliary Markings Club

Biology Unit of the ATA

Boston 2026 World Expo

British North America Philatelic

Society MidWest Regional

Carriers & Locals Society Booth 209

Cats on Stamps Study Unit

Christmas Philatelic Club Booth 111

Christmas Seal and Charity Stamp

Society Booth 109

Collectors Club of Chicago

Booth 212

Confederate Stamp Alliance

Booth 215

Ebony Society of Philatelic Events

and Reflections (ESPER) Booth

313,315

Europa Study Unit

Falkland Islands Philatelic Study

Group

Gastronomy of Stamps Study Unit

German Colonies Collectors

Group

Great Britain Collectors Club

Booth 310

Institute for Analytical Philately

International Philippine Philatelic

Society Booth 107

Medical Subjects Unit

Military Postal History Society

Booth 307

National Postal Museum

National Stamp Dealers

Association

Nurse Philately

Penguins on Stamps Study Unit

Booth 113,115

Peninsular State Philatelic Society

Booth 414

Philatelic Foundation

Booth 308

Philatelic Specialists Society

of Canada

Plate Number Coil Collectors

Club

Postal History Society

Postmark Collectors Club

Booth 309

to collect their stamp in your passport. In the process, you

will also learn about new aspects of collecting.

While this list is current as of the publication date, the final

list is subject to change. Please consult the Show Program

and the mobile app for the most up to date roster.

Rocky Mountain Stamp Library

Booth 214

Scandinavian Collectors Club

Booth 312

Smithsonian National Postal Museum

Booth 119,121,123

Space Unit Booth 416

Stamp Collecting Clubs for Kids

State Revenue Society Booth 408

The CartoPhilatelic Society

The Christmas Seal and Charity Stamp

Society

The Philatelic Foundation

U.S. Philatelic Classics Society

Booth 207

Ukranian Philatelic and Numismatic

Society Booth 314

United Postal Stationary Society

Booth 213

United States Possessions Philatelic

Society Booth 107

United States Stamp Society

Booth 211

Universal Ship Cancellation Society

Booth 307

Wine on Stamps Study Unit

Women Exhibitors

JULY 2018 / AMERICAN PHILATELIST 679
---
Greater Columbus Convention Center

Convention Center Parking and Drop-Offs

Here Be Dragons

Show Location

Exhibit Hall B

Registration & Entrance

Closest Parking

Vine Garage

37 Vine Street

Columbus, OH 43215

$12.00/day

Cheapest Parking

East Surface Lot

80 E. Nationwide Blvd

Columbus, OH 43215

$10.00/day

Legend to Map Numbers

1 As We Are Sculpture

2 North Entrance Drop-off

3 North Surface Lot

4 Goodale Garage

5 Arnodl Statue

6 Vine Street Garage

7 East Connector Drop-off

8 South Entrance Drop-off

9 South Garage

10 East Surface Lot

Additional Parking Garage/Lot Addresses

South Garage - $12.00/Day

50 E Nationwide Boulevard

Columbus, Ohio 43215

Goodale Garage - $12.00/Day

70 East Goodale Street

Columbus, Ohio 43215

North Surface Lot - $12.00/Day

50 E Goodale Street

Columbus, Ohio 43215

*Rates subject to change

Battelle Grand Loading Dock

500 N. 3rd St.

Columbus, Ohio 43215

North Facility Loading Dock

3 Convention Center Drive

Columbus, Ohio 43215

These listings are provided by the

Greater Columbus Convention

Center. Other area parking may be

available.

680 AMERICAN PHILATELIST / JULY 2018
---
Exhibit Hall Floor Plan

Greater Columbus Convention Center - Exhibit Hall B

Restrooms

Loading

Dock

Restrooms

NTSS Exhibits

EXHIBIT AREA

Open Competition

Champion of Champion

Exhibits

607 609 611 613 615

619 621 623

627 629 631

637 639 641

645 647

651 653 655 657 659 663

Quarter/Dollar Booths

608 610 614 616 620 622 624

First Day Ceremony

STAGE

646 648

652 654 658 660 664

Auction Viewing

507 509 511 513 515 519 521 523

508 510 512 514 516 520

407 409 411 413 415 419

408 410 414 416 420 422 424

307 309 311 313 315 319 321 323

Societies

308 310 312 314 316 320 322 324

207 209 211 213 215 219 221 223

U.S. Postal Service

Cachetmakers

428 430 432 438 440 442

327 329 331 337 339 341

328 330 332 338 340 342

227 229 231 237 239 241

545 547

446 448

345 347

346 348

245 247

551 553 557 559 563

552

554 556 558 560 564

451 453 455 457 459

452 454 456

351 353 355

352 354 356

251 253 255

463

464

Covers Stamps

by the by the

Container Bucket

Youth

Area

Auction

Area

208 210 212 214 216

107 109 111 113 115

APS Studio

Displays

NPM Info ATA

Circuit

Sales

YPLF

APS

246 248

145 147

252 254 256

151 153 155

Literature

& Authors

Restrooms

North Entrance

Auction Access

for After Hours

ENTRANCE

Restrooms

Crowne Plaza

Hotel

Meeting Rooms

Registration

Area

Concessions

JULY 2018 / AMERICAN PHILATELIST 681
---
HELLO, COLUMBUS

We say "Columbus" and you yawn … "Stop that; Stop

that!" we say.

"But outside of this great StampShow what is there?" you

ask.

"Oh, my friend … you don't know the real Columbus. Sit

back and check out these highlights," which include the arts,

recreation, drinking and dining and more:

First, where am I? Good question. The Greater Columbus

Convention Center – where the American Philatelic Center

and American Topical Association will combine to present

StampShow and the National Topical Stamp Show on August 9

to 12 – is in the north-central part of downtown.

Central Columbus defines itself as downtown – a long

north-south strip in the center with the convention center at

the north, the Ohio Statehouse (you're welcome to visit) in the

center and Ohio and Southern theaters near the southern edge.

Around it are eight other distinct neighborhoods, and moving

(roughly) clockwise, starting at the 12, just north of the convention

center, we find: Short North Arts, Discovery (from the

1 to 5); at the south (5 to 7) are the German Village and Brewery

districts, East Franklinton and Gay Street (8), Arena (9)

ALL

HAWAII

Vogt Stamps

Visit us at APS

1301 Broadway

StampShow/NTSS

Burlingame, CA 94010

Booth #319

650-344-3401

Full website www.vogtstamps.com

and Grandview Heights (11). Outlying areas

include Clintonville, Victorian Village,

Grove City and the University District.

We suggest picking up a local map,

such as one provided by DowntownColumbus.com.

The maps, and many other

helpful guides and brochures, should be

available at the convention center or Columbus

Visitor Center, 277 W. Nationwide

Blvd. or 400 N. High St.

There is plenty to do for just about

every taste in Columbus. Here are a few

popular choices (all charge admission unless

noted).

The Columbus Zoo and Aquarium

(www.columbuszoo.org), dating to 1927,

has long been considered by critics, peers

and visitors as one of America's best.

Charismatic naturalist Jack Hanna was

hired as director in 1978 and continues

with an active role in the zoo today. The

zoo, covering nearly 600 acres, is home to 800 species and

7,000 animals (check the online animal guide at columbuszoo.

org/guide) and is divided into eight main areas, including Asia

Quest, Australia and the Islands, Congo Expedition, Heart of

Africa, North America and Shores & Aquarium. It attracts 2.4

million visitors annually.

COSI (https://cosi.org) is a science museum that includes a

giant screen theater, hands-on exhibits, a planetarium, a dinosaur

gallery, live science shows, special children's areas and ongoing

exhibits (including "Gadgets" and "Energy Explorers").

A major temporary exhibit during StampShow is "Traveling

the Silk Road," in which the worlds of science and anthropology

combing to look at this ancient pathway to the modern

world.

The Franklin Park Conservatory and Botanical Gardens

(www.fpconservatory.org) is the only botanical garden in the

world with a permanent collection of glass artwork by Dale

Chihuly. A couple of fun exhibits are Blooms and Butterflies,

with hundreds of colorful butterflies flying freely in the Pacific

Island Water Garden, and Topiaries at the Museum, with a

children's garden that finds animal topiaries in all shapes and

sizes, from wolf cubs to elephants.

APS STAMPSHOW • BOOTH 229

Columbus, OH• August 9–12

US Postal History Colonial to Prexies:

Transatlantics, Destinations, Expos, Inland Waterways,

Railroads, CSA, Express, Possessions, & Military

STEPHEN T. TAYLOR

5 Glenbuck Road, Surbiton, Surrey KT6 6BS England

Phone: 011-4420-83909357

info@stephentaylor.co.uk www.stephentaylor.co.uk

Your American Dealer in Britain

682 AMERICAN PHILATELIST / JULY 2018
---
DOWNTOWN COLUMBUS

DOWNTOWN COLUMBUS

experiencecolumbus.com

experiencecolumbus.com

StampShow/

NTSS

Show Location

JULY 2018 / AMERICAN PHILATELIST 683
---
Diners at Milestone 229 by the fountain at the Scioto Mile. (Photo by

Randall Lee Schieber; courtesy of Experience Columbus.)

Shopping and Dining

You will find plenty of shopping and dining choices in Columbus.

The North Market offers more than 30 merchants and

there are galleries and boutiques in the Short North Arts District.

Shopping includes Big Fun Columbus (vintage toys, novelties

and candy), Rowe Boutique (fashion) and Glean (handmade

local goods.) Dining and drinking includes Oddfellows

Liquor Bar (old-timey kitsch), Brothers Drake Meadery &

Bar (if you're chasing dragons, better up power up with some

mead) and Columbus Food Adventures (guided tour of eateries).

And for fun, you can roll around with a SegAway tour.

You will find more interesting shops and dining in the

historic German Village, where the conservation-minded

saved older buildings from destruction. Preserved buildings

are now home to restaurants, galleries and daily living services.

Schmidt's Sausage Haus is being run by the fifth generation of

its founder. The Golden Hobby Gift Shop is housed in an 1865

schoolhouse.

The Arts

The Wexner Center for the Arts (www.wexarts.org) did

not have a summer schedule at press time while professional

theater Shadowbox Live (www.shadowboxlive.org) will be

showing F*** Cancer: The Musical.

Major musical events during the StampShow schedule include

The Smashing Pumpkins performing Saturday night at

the Jerome Schottenstein Center. Also, there is a film – Americas

Musical Journey – at the COSI science museum. The movie

Discount &

Dollar Covers

FOR A SELECTION OF OVER

160,000 WORLWIDE COVERS

VISIT OUR ONLINE STORE

www.discountcoverstore .com

World Stamp Company

FOR STAMPS OUR NEW ONLINE STORE

www.worldstampcompany.com

One of the Largest Polar Dealers in the United States.

An exterior installation at the Columbus Museum of Art. (Photo by

Shellee Fisher for Columbus Museum of Art; courtesy of Experience Columbus.)

follows a singer/songwriter as he traces the roots of American

music and its connection to great musical cities such as New

Orleans, Chicago, Nashville, Miami and New York City.

Bicentennial Park hosts free concerts on summer weekends,

and a huge set of fountains create a fun environment for

kids to play in during the daylight hours. Columbus nightlife

includes several clubs for local and regional music and 30 microbreweries.

Sports and Recreation

The sports minded might come up a little dry during

StampShow. The biggest player in town, of course, is Ohio

State University, but the fall schedule – including that for the

Buckeyes' football team – will have not started. If you're a

diehard, though, you can walk the same sidelines where legendary

Coach Woody Hayes prowled by scheduling a tour of

Ohio Stadium. There is a tour fee and you have to schedule

at least two weeks in advance. We recommend you check all

the rules online (www.ohiostatebuckeyes.com/facilities/ohiostadium-tours.html).

The Columbus Blue Jackets of the NHL are out of season

and the Columbus Clippers, the Cleveland Indians' top farm

team, are on the road until Monday, August 13.

With World Cup soccer concluding just a month earlier,

perhaps you have caught Soccer Fever. If so, the good news is

you can cheer on the Columbus Crew, of Major League Soccer,

which plays a home game against the Houston Dynamo at

7:30 p.m. Saturday at Mapfre Stadium.

PTS • ASDA

See us at our Booth 438

APS StampShow 2018/NTSS

Expertization of World

Classics by

EXPERTS

Fast • Reliable • Competitively Priced

High-Quality Certificates

Complete & Accurate Descriptions

ACT NOW Estimated Turnaround 6–8 Weeks!

For more information, terms & prices visit

www.sismondostamps.com

LIANE & SERGIO SISMONDO

P.O. Box 10035, Syracuse, New York 13290-3301

Tel: 315-422-2331 • Fax: 315-422-2956 • E-mail: sismondo@dreamscape.com

684 AMERICAN PHILATELIST / JULY 2018
---
An Amur tiger relaxes at the Columbus zoo. (Photo by Amanda Carberry;

courtesy the Columbus Zoo and Aquarium.)

Golfers might enjoy the Jack Nicklaus Museum, which is

on the grounds of the Ohio State University sports complex.

The museum presents an immersive journey through Nicklaus'

brilliant career, including trophies, photographs and various

mementos from his unparalleled 20 major championships

and 100 worldwide professional victories.

If you are more into walking or running, The Scioto Mile

(www.sciotomile.com) recently renovated and created 33 new

acres of parkland in downtown Columbus. The Scioto Mile

Fountain is the centerpiece of Bicentennial Park. The stunning

15,000 square-foot fountain has more than 1,000 jets of water

that take on a multitude of forms and shapes. The fountain

has interactive features with access for children of all ages, as

well as a 75-foot towering jet of water. At night the fountain

viewing experience is enhanced by unique lighting and fog effects.

With miles of multi-use trails stretching from Bicentennial

Plaza in the south to North Bank Park in the North, this is

a great spot to take a stroll and enjoy both the city and nature.

If you bring a canoe or kayak you can see the city from a different

point of view by paddling around.

Special Picks

Dress up a bit and stop by the Le Méridien Columbus, the

Joseph, a boutique hotel (at least four stars) in the Short North

neighborhood owned by the local Pizzuti Companies, which

opened in early 2015. The Pizzuti Collection, an art gallery

from the same couple, is a short distance away at 632 N. Park

St. (admission charged).

Many Graded Stamps from 80–100

QUALITY U.S. STAMPS

HB Philatelics

Proofs & Essays • Federal & State Hunting Permits

Guy Gasser

P.O. Box 2320 • Florissant, MO 63032

Phone 314-330-8684

E-mail: guy@hbphilatelics.com

APS StampShow/NTSS

Booth 639

www.hbphilatelics.com

Official APS Web Sponsor

Fans cheer on the hometown Columbus Crew. (Photo by Columbus Crew;

courtesy of Experience Columbus.)

Back to the hotel: "An art lover, Mr. Pizzuti stocked the Columbus

edition with pieces from the collection he and his wife,

Ann, have built over decades," writes the New York Times in

a June 24, 2016 review. "Neon canvases by the former graffiti

artist KAWS illuminate the lobby staircase. On one side of the

three-story atrium, a craft spirits bar, Soul, encourages socializing."

Tend to want to go a bit simpler? It's summer. How about

ice cream? There's a lot of good ice cream in the world, but

citizens of Columbus seem to be especially fond of theirs so

why not take a moment (and allow a few calories on the daily

count) to check it out.

Jeni's Splendid Ice Creams on North High Street and

Gramercy Street get a lot of rave reviews, but to be fair, we

also hear good things about Johnson's Real Ice Cream on East

Main; Graeter's on Bethel Road and High Street; and Handel's

on Feder Road. For something a tad ethnic, try Rita's Italian Ice

on Granville Street.

"Aye, but are there any dragons in Columbus?" ye ask.

Indeed, just check out the StampShow / National Topical

Stamp Show August 9 to 12 at the Greater Columbus Convention

Center.

For More Info

For information and details about what to see and do

around Columbus, Ohio, visit Experience Columbus online

at www.experiencecolumbus.com; or call the Greater Columbus

Travel and Visitors Bureau at 866-397-2657.

BUY & SELL QUALITY U.S.

DARN!

For one of the most

complete U.S. inventories

Visit US AT BOOTH 338

AT STAMPSHOW/NTSS

or our website

www.millerstampco.com

I should have bought my stamps from

MILLER'S STAMP CO.

A name you can trust since 1969

12 Douglas Lane, Suite 11 • Waterford, CT 06385

VISA • MasterCard Accepted Phone: 860-908-6200 • E-mail: stamps@millerstamps.com

JULY 2018 / AMERICAN PHILATELIST 685
---
DIGITAL DISCOVERIES

.........................................................................................................

BY MARTIN KENT MILLER

StampShow/NTSS Mobile App

A Step-By-Step Guide to the Show App

In preparation for the rich experiences that

StampShow/NTSS will offer, the APS has prepared a

free mobile app for iPhone and Android devices. The

information and screenshots here will walk you through

the process of installing the app on your phone. You can

also visit http://aps.buzz/DragonApp for a quick video tutorial

on the installation process. Due to changes in the

way the Apple and Google stores work, apps from previous

years' shows cannot be updated, you will have to

install the new one using these instructions.

The StampShow/NTSS app is available to everyone.

Please share this information and the website link (aps.

buzz/DragonApp) with anyone who might be interested

in attending the show, communciating with other collectors

or simply following all of the activity coming to Columbus,

Ohio.

The StampShow/NTSS app is sponsored by eBay.

Their generosity made it possible to continue the use of

this helpful tool. One section of the app lists all dealers

participating in the show bourse. Participating dealers

with eBay stores have those stores directly linked from

their page in the app. These dealers are easily identified by

the eBay logo which is included on the dealer's app page.

The Attendify platform enables us to make constant

updates to the information in the app

without requiring users to update or

reinstall anything on their phones.

Each time the app is opened, the

latest information will be immediately

available. Please install the app today

and explore all the features for planning

your experience at the 2018 StampShow

and National Topical Stamp Show.

We look forward to seeing you in

Columbus, Ohio!

1. Open the app store on

your phone and immediately

tap on the SEARCH function.

Type "attendify app"

into the search bar and the

app store will display the Attendify

app.

Attendify is the app platform

we use for the show app.

This saves us time and money

versus developing a custom

app for each event.

BLUE MOON PHILATELIC

BMASTAMPS2.COM

E-mail: sales@bmastamps2.com

'APS Dealer Member # 205654

PO Box 26 • Riverton, NJ 08077

Telephone: 856-673-8743

2. When your app store

shows the Attendify app (see

image above), click on the

GET button to install the

app on your phone. On an

iPhone, when the installation

is complete, the GET button

will change to OPEN. Tap

OPEN to continue.

686 AMERICAN PHILATELIST / JULY 2018
---
3. Your phone may ask

you to allow notifications

from the show app. We

strongly advise that you tap

ALLOW in order to receive

all notifications and updates

regarding StampShow/NTSS.

Allowing the notifications

here will only show you messages

related to StampShow/

NTSS.

4. When you open Attendify

for the first time, it will

ask you which event you are

attending. In the search bar,

type "stampshow."

The app will find the

show and display it as shown

in the next screen.

5. Once the StampShow/

NTSS event is shown on your

screen (see above) tap the

StampShow icon to continue.

Your phone will display

the welcome screen shown

in the next step. This is your

confirmation that you are installing

the correct event information.

6. Tap on JOIN to install

the event on your phone and

to create an account. The account

enables you to access

all of the StampShow tools

and to communciate with

other app users.

When you tap JOIN, the

app will ask you for an email

address and a password.

Complete that information,

tap SIGN UP and you will

be active with the show app.

Specializing in dead countries and hard-to-find pre-1940 stamps

BUYING — SELLING

RASLAD Enterprises

Lynn Davidson-Stroh

PRESIDENT

www.deadcountrystamps.com

TSDA

deadcountrystamps@gmail.com

(505) 879-2395 or (785) 639-2317

P.O. Box 3675 • Gallup, NM 87305

See us at APS StampShow Booth #637

ATA MSDA

1847–1945

Quality U.S. Stamps

Singles (mint and used), Plate Blocks, Booklet Panes

plus Complete Booklets, Price lists $2 each category or

free online. We also buy quality U.S. & foreign stamps.

Mountainside Stamps, Coins and Currency

See us at APS StampShow/NTSS, Booth 327

P.O. Box 1116 • Mountainside, NJ 07092

Tel: 908-232-0539 or 908-419-9751

E-mail: tjacks@verizon.net • www.mountainsidestamps.com

Tom Jacks, owner; member APS, ASDA

JULY 2018 / AMERICAN PHILATELIST 687
---
EXPERTIZING

.........................................................................................................

BY TOM HORN authentication department director

twhorn@stamps.org

Basics: Norway Post Horns

The World's Longest Running Design Had Four Basic Designs in 57 Years

The longest running stamp design in the world is the Post Horn of Norway.

The basic detail for identifying the correct Scott catalog number for the

many Norway stamps is in the – you guessed it – Post Horns. But the letter

style and denominations are in the mix as well. The focus here is on the three

details that many collectors miss when identifying these stamps.

We'll tell you more about identifying the stamps in a moment. First, some

background.

"Post horns are valveless horns, with a cupped mouthpiece similar to a modern

day trumpet," states the Stamps of Distinction website. "Because the horns did not

have valves, the sound of the horn could only be varied by changing the formation

of the user's mouth on the mouthpiece. … When a post rider or mail coach arrived

in a town or village , the driver would signal his arrival by blowing his post horn.

… Over time, the post horn became a symbol of mail service and remains so to

this day."

Norway began showing post horns on stamps in 1872 and has produced a new

Post Horn stamp as recently as 2014. Today, we're looking at the first four major

issues.

The first of these stamps was issued in 1872 with the shaded Post Horn, the

country name, "NORGE," in sans-serif format and the denominations in skillings.

This is the only skillings design of the Post Horns.

The next printing in 1877 kept the shaded Post Horn ring and lettering format,

but changed the denomination to "ore" and "krone," thereby distinguishing this

series from the first issues.

The 1882 series made the change in the Post Horn by having the ring unshaded

except for a line of color in the ring under the crown.

The 1893 series retained the denominations and the previous unshaded Post

Horn ring. It made the change in the lettering format to the Roman font with serifs.

In 1910, these stamps were redrawn. The line of color was removed from the

Post Horn ring below the crown and the "3" of the 3-, 30- and 35-ore denominations

were rounded, rather than flat, at the top.

Please note that this column gives you the basic differences as there is not

enough space to go into the types found in the first and second series. Of course,

perforation measurements, color and watermarks will help guide you to the correct

catalog number, as well.

Note: Images courtesy of the APS Reference Collection.

Norway Scott 17, year 1872.

Norway Scott 30, year 1877.

Norway Scott 41, year 1882.

Some of the modern Post Horn stamps from Norway: Scott 193, year 1940; Scott 418, year

1962; Scott 960, year 1991.

Norway Scott 76, year 1910.

688 AMERICAN PHILATELIST / JULY 2018
---
UNITED STATES STAMP

TREASURES

The William H. Gross Collection

AUCTION TO BE HELD WEDNESDAY EVENING, OCTOBER 3, 2018

at the Lotte New York Palace Hotel

Offered by Charles F. Shreve and Tracy L. Carey in association with

ROBERT A. SIEGEL AUCTION GALLERIES, INC.

6 WEST 48TH STREET, 9TH FLOOR, NEW YORK, NEW YORK 10036

PHONE 212-753-6421 FAX 212-753-6429 EMAIL: STAMPS@SIEGELAUCTIONS.COM
---
BUY AND SELL

.......................................................................................................

BY WENDY MASORTI sales director

wendy@stamps.org

Buying Stamps on Your Summer Travels

Have you made plans for StampShow or for a visit to APS Headquarters?

Top U.S. Seller

This United States 10-cent Columbus Presenting

Natives (Scott 237) from the 1893 Columbians set was

a top-selling U.S. item in April on StampStore.

Overall monthly sales reports are posted each

month online at stamps.org/Stampstore-Sales-Report.

You can view sales and see what is hot for the month.

Carol Hoffman, of the APS sales staff, helps

customers at the 2017 Circuit Sales Book at

StampShow in Richmond, Virginia.

The 2018 StampShow is being held August 9 to 12 in

Columbus, Ohio. The show, sponsored jointly with

the American Topical Association, will host more

than 125 dealer booths, providing a great opportunity to add

items to your collection.

Upon entering the show, you will receive a show program

that will serve as your guide; dealers are listed in alphabetic

order as well as in order by areas of specialty. We anticipate

hosting a Circuit Sales Booth where members can peruse

regular and clearance books to purchase material from

fellow members. If you've never tried the APS sales circuits,

this is a great opportunity to see how it works

and then decide if you, too, would like to begin

receiving circuits to arrive at your home or

through your local stamp club. Our circuit

books are not meant to compete with

our show dealers, but rather serve as an

introduction to one of the great services

we offer. So once you've checked out the

circuit books, be sure to inquire with our

APS personnel which dealers you should visit based on your

collecting interests.

I will be working at the main APS booth and will be

available to help direct you around the show as well as answer

questions about member services.

Also, at 2 p.m. on August 11 in room

B233, we will host a seminar, "Buying

and Selling through the APS." This

will cover the basics of using the APS

StampStore and circuit books for buying

and selling. If you are unable to attend the seminar, handouts

will be available at the booth.

Visit the American Philatelic Center

During your summer travels, plan to stop by the American

Philatelic Center in Bellefonte, Pennsylvania; the area

– brimming with beautiful tree-covered mountains and valleys

in the central part of the state – is a vacation destination

for collectors. While here, you can tour your headquarters;

conduct research in the American Philatelic Research Library;

browse through sales book inventory and buy stamps

for your collection; access the Reference Collection; visit the

in-house Stamps and Covers Shop to buy donated philatelic

items; purchase items at StampStore and save on shipping

costs; visit the Smithsonian's rural Headsville (West Virginia)

Post Office at the APC; and much more.

Circuit Book Sales Categories Needed

We continually monitor categories that are in particular

short supply for the circuit books (not StampStore). To see

our full list of stamps needed for circuits visit www.stamps.

org/Stamps-Needed. If you have material in these areas that

you are interested in selling, consider using circuit sales. For

those new to selling, seller information is available online

or can be requested by contacting our staff at 814-933-3803,

ext. 231.

690 AMERICAN PHILATELIST / JULY 2018
---
AVAILABLE JULY 1 ST

2019 Scott Catalogue Vol. 4A & 4B

Order Yours Today at

AmosAdvantage.com

Or call 1-800-572-6885

MSRP: $134.99

AA: $99.99

SKU C-191

GUARANTEE YOUR COPY: All 2019 volumes available for pre-order now!
---
BOOKS AND CATALOGS

......................................................................................

BY JEFF STAGE editorial associate

jstage@stamps.org

2019 Scott Standard Postage Stamp

Catalogue, Volume 1 (United States,

United Nations and countries A through

B, in two books; and Volume 2, countries

C through F in two books.

The 2019 Scott Standard Postage

Stamp Catalogue – the 175th edition –

is celebrating its second year of its splitvolume

format and so far we've heard

nothing but positive things about this.

Thankfully, those unwieldy monster

catalogs are clearly a thing of the past,

but Scott still offers the convenience

(though some might call it a curse) of

picking up a whole bunch of countries

at the same time.

As last year, the U.S., U.N. and all

A countries through Australia appear

in Vol. 1A and the rest of the A and

all B countries in Vol. 1B (both books

are sold as one volume.) In Volume 2,

we find countries C through F in two

books. The remaining four volumes of

the standard catalog will be issued at

the beginning of June, July, August and

September.

Each book duplicates the basics

starting with an Introduction that includes

contact info for societies, study

groups and expertizing services, plus

an illustrated guide to grading, catalog

listing policy, a guide to the listings and

color and general abbreviations. A section

covers basic stamp information,

from paper and watermarks to printing

processing, inks, luminescence, gum,

fakes and forgeries, terminology, common

design types (illustrated) and currency

conversion. For the British Commonwealth

collector there is a listing

of British Commonwealth nations and

guides to dies and watermarks of British

colonial stamps.

Here is a look at volumes 1 and 2:

Volume 1

The 2019 Volume 1 has 1,744 pages

total and covers the United States, United

Nations and countries starting with

the letters A and B. It weighs about 6½

pounds.

The first thing we like to check every

year is the theme chosen for the covers.

The first two books feature stamps

showing trains and railroads, so we

expect that will follow through all six

volumes. The cover of 1A includes the

U.S. Locomotive stamp of 1869 (Scott

114) along with train stamps from Algeria

and Antigua and Barbuda; Vo1.

1B shows stamps from Austria, Brazil

and Belgium.

Each volume of the now 12-volume

set includes its own introduction, editor's

letter, and index. Vols. 1A and 1B

have a total of more than 19,000 value

changes (more than 15,000 alone in Vol.

1B) and many editorial enhancements.

What else is new with Volume 1A?

Here are some highlights, according to

Scott editors:

The listings for U.S.

stamps actually show very

limited activity. Why? Because

Scott performed a

comprehensive review last

year that resulted in more

than 10,500 value changes

in the 2018 Specialized

Catalogue of United States

Stamps and Covers. The

U.S. listings do include

a first: the 1908 2-cent scarlet booklet

pane of six (Scott 319F1) is valued for

the first time, at $450 unused. Also valued

for the first time are the imperforate

coil pair of the 2011 2-cent Navajo

Necklace ($400, mint never hinged)

and the 2005 Disney Celebration pane

with die cutting omitted.

A handful of other changes are

made among rarities. Plus, the 1994 Recalled

Legends of the West pane takes a

big drop from $190 mint to $125.

Among other countries in Vol. 1A:

A little more than 300 changes were

made in Afghanistan, where editors

were challenged because of widely variable

prices and a lack of dealer stock.

There are about 500 value changes

in Aitutaki, with editors continuing a

review that started last year. Values for

stamps from the mid-1980s to early

2011 are down about 10 percent to 15

percent.

Prices for Antigua continued to

trend downward with continuing softening

markets. Drops from 10 to 20

percent in stamps from the mid-1930s

through the 1990s are typical, but values

are steady for stamps from 2000

onward.

More than 1,000 changes are recorded

for Ascension, with a handful of

increases for classic stamps and downward

trends for more modern material.

Classic Australia received a thorough

review and wound up with 500

value changes, mostly trending downward.

Here are some notes

about Volume 1B, where

there are more than 15,000

value changes:

Leading the way in

value changes are Brazil

(4,500), Bulgaria (4,300),

Burkina Faso (1,300) and

Belize (1,300).

Let's take the good first,

Brazil, which was thoroughly

reviewed. There's

692 AMERICAN PHILATELIST / JULY 2018
---
mixed results among the stamps from

1900 to 1940, but things slide downward

from 1941 into the 1990s. Backof-the-book

material generally saw increases.

Editors went line-by-line through

Bulgaria. Values in stamps from 1920

through 1935 trended downward to

better reflect retail prices on neverhinged

stamps. On the whole, declines

of 10 percent to 15 percent on postage

through mid-2005, but steeper declines

are found on stamps from 1998 through

2003.

In Belize, most changes were downward

through stamps of 2005.

Burkina Faso, once known as Upper

Volta, had somewhat mixed results with

some scattered gains among the losses

in stamps from the 1960s through the

mid-1980s, with sharper drops among

stamps from 1984 to 1987. Values are

added for the first time for many stamps

from the mid-1990s through 2008.

The Bahamas, where 400 changes

were made, is noted as a typical example

of what has happened in values among

British Commonwealth countries in recent

years. There are modest increases

among stamps through the 1935 Jubilee

issue. The biggest jumps are those for

used stamps.

For Bermuda, where 700 value

changes were recorded, there are scattered

upward adjustments to accommodate

classic issues through the 1930s.

One country on the rise is Burma.

With its 300 changes, many are upward

because of a scarcity of material for years

1950 through 1990.

Volume 2

The 2019 Volume 2 has 1,816 pages

total and covers all countries beginning

with the letters C through F.

As expected, trains and locomotives

continue as the cover theme on this volume's

two books. The cover of 2A show

train stamps from Cambodia, People's

Republic of Congo and Newfoundland;

Vo1. 2B shows stamps from Czech Republic,

Dominica and France.

Each volume of the now 12-volume

set includes its own introduction,

editor's letter, and

index. Vol. 2 has a total of

about 16,000 value changes,

with about an equal

number between the two

books, plus many editorial

enhancements.

What else is new with

Volume 2a? Here are some

highlights, according to

Scott editors:

Let's start with the big fish: People's

Republic of China. Editors focused on

stamps issued between 1950 and 1980

and made 1,800 value changes. The majority

were increases (ding-ding, China

remains hot).

Cuba yielded more than 2,400 value

changes, with increases dominating the

republic issues and a mix of ups and

downs among the revolutionary government

issues starting in 1959.

Chile received a mix of increases

and decreases with nearly 1,000 changes

in the postage section through 2001.

Stamps of 2002 through 2008 generally

increased in value.

More than 750 value changes were

made in Colombia, including some

modest gains in stamps from 2000 to

2009.

Cocos Islands, a tiny Australian territory

with No. 395 as its highest Scott

number, had an interesting review with

a whopping 350 changes (more than

80 percent). Stamps through 2003 saw

drops from 10 percent to 15 percent,

with some even higher. But 37 stamps

from 2003 (Scott 337) through 2013

(373) rose in value.

Almost 200 value changes were

made in the Democratic Republic of

Congo, mostly slight declines, though

imperforated issues saw increases.

In Canada, new errors and listings

have been added for complete booklets

and there are two new error listings for

Newfoundland and nine for Canada.

Overall, there are many new listings for

complete booklets.

Now, here's a summary of Volume

2B:

Czechoslovakia takes the prize with

most changes at 2,800. Declines

are the norm in all

periods with a few increases

here and there.

Fiji shows 1,500 value

changes, mostly from 1938

through early 2006. Declines

predominate with

a few scattered changes,

such as the 1992 Expo

92 set, which rose $2.65

to $19.50. Six major new

numbers and 13 minor numbers were

added to the listings of the overprinted

Bird definitives of 2007-2017.

The Dominican Republic received a

lot of attention resulting in 1,350 value

changes, with increases – especially in

stamps from early 2000 through late

2016 – are more prevalent than decreases.

Estonia's 750 value changes were a

mix of increases and decreases, with

substantial jumps among stamps carrying

Russian handstamps of "Eesti Post."

Numerous values for semipostals from

1920 to 1940 have been updated.

The Falkland Islands were scrutinized.

The result a bit more than 1,000

changes, all downward.

The French Southern and Antarctic

Territories received 450 value changes,

again mostly downward.

In editorial changes, two photographs

have been added to help collectors

identify the two types of the 1915

2-cent olive green and black stamps.

Vol. 1 published in April 2018 and

Vol. 2 in May 2018 by Amos Media, Sidney,

Ohio. Softcover, 8 ¼ inches by 10 ¾

inches. Retail price $134.99 each, discounted

to $99.99 via Amos Advantage

(Linn's Stamp News subscribers); Online

version, $75. To order, visit your favorite

dealer, call 1-800-488-5349 or visit

online at www.amosadvantage.com.

JULY 2018 / AMERICAN PHILATELIST 693
---
PHILATELIC HAPPENINGS ....................................................................................

BY KEN MARTIN chief operating officer

kpmartin@stamps.org • Share your photos of your stamp show, club, or affiliate activities

with us via e-mail at aparticle@stamps.org for possible use online and in print.

John H. Barwis

Denise L. Stotts

Wayne L. Youngblood

This month the Philatelic Happenings column focuses on celebrations of philatelic

achievement and rememberances of losses in the hobby.

2018 Luff Awards to Barwis, Stotts and Youngblood

The American Philatelic Society's annual award season is upon us. The society's

highest awards for living collectors are the Luff Awards. This year's recipients are John

H. Barwis, Denise L. Stotts and Wayne L. Youngblood. The awards will be formally

presented August 11 at the Celebration Banquet at StampShow / National Topical

Stamp Show in Columbus, Ohio. Tickets can be reserved at stamps.org/stampshow.

The awards are named for John N. Luff, who was president of the APS from 1907 to

1909.

John H. Barwis, of Holland, Michigan, is the 2018 Luff Award recipient for Distinguished

Philatelic Research. Barwis co-founded and serves as president of the Institute

of Analytical Philately. The organization offers research grants and holds symposia.

The conferences have been held in conjunction with the Smithsonian National Postal

Museum, Chicagopex and the Royal Philatelic Society London.

Barwis has studied and researched 19th-century stamps and postal history of

Victoria's first postage stamps. He plated Victoria's first issue 1-penny stamp of 1850,

which had never been done in the 120 years since the stamp's first printing. Using scientific

equipment, his cutting-edge examination of the shades, papers and inks of the

U.S. banknotes was landmark.

Regarding Philadelphia postal history, Barwis wrote and maintains a database of

date ranges for postmarks used on Philadelphia foreign mails. He has compiled sailing

tables for the monthly packets between Philadelphia and Liverpool, from 1822 to 1875,

by using newspaper archives in the United States and Great Britain.

Barwis has been a stamp collector for 59 years. His exhibits have won national and

international gold medals, as well as grand awards in the United States and Great Britain.

He is a Fellow of the Royal Philatelic Society London and past president of the U.S.

Philatelic Classics Society. He won the 2011 Champion of Champions competition.

Barwis retired in 2003 after 25 years with the Royal Dutch/Shell Group. His career

comprised a range of technical and leadership positions, including stints as a chief geologist,

exploration manager and manager of geological research, as well as technical

director and member of the board of Shell U.K. While serving as an officer in the U.S.

Army Corps of Engineers he conducted research in sedimentology and hydrodynamics

at the Hydraulics Laboratory of the U.S. Waterways Experiment Station. Prior to

military service he managed an Arctic drifting station owned by the Office of Naval

Research, spending more than 15 months on the North Polar ice pack. He has contributed

more than 50 articles and government publications to the geological literature

in coastal geomorphology and hydrodynamics, sedimentology, stratigraphy, as well as

petroleum exploration and production. He holds bachelor's, master's and doctorate

degrees in geology.

Denise L. Stotts, of Houston, Texas, is the recipient of the Luff Award for Exceptional

Contributions to Philately. Stotts has been an active and tireless philatelic leader

and volunteer at the national, state and local level for more than 25 years.

A lifelong philatelist, she served as director-at-large for the American Philatelic Society

from 2007 to 2011. She has also served on the APS Chapter Activities, Ethics and

Election Review committees, the Young Philatelic Leaders Fellowship Advisory Board

and as local committee chair for APS AmeriStamp Expo 1998.

Stotts has been on the Garfield Perry March Party show committee since 1988 and

694 AMERICAN PHILATELIST / JULY 2018
---
served as show chair for the Greater Houston Expo from 1994

through 2016. She is a founding member of the American

Association of Philatelic Exhibitors and Women Exhibitors

and has been a director for the Texas Philatelic Association

and Houston Philatelic Society. She has served as awards director

for the American Association of Philatelic Exhibitors,

the United States Stamp Society and Women Exhibitors. She

also was the assistant director of volunteers for the Washington

2006 World Philatelic Exhibition and helped managed

the bin room for World Stamp Show-New York 2016.

Stotts also is a gold medal award-winning philatelic exhibitor.

She has staffed booths for the American Association

of Philatelic Exhibitors, United States Stamp Society, Women

Exhibitors and other organizations at numerous shows. She

has even served organizations such as the Ohio Postal History

Society, for which she was not even a member. Philately

has benefitted tremendously from Denise's leadership, guidance

and service.

Wayne L. Youngblood of Prairie du Sac, Wisconsin, is

the recipient of the Luff Award for Outstanding Service to the

APS. Youngblood is a lifelong stamp collector who began at

age 8 and never stopped.

Youngblood has served three terms on the APS board as

director-at-large and two terms as secretary. He has served

as an expert for the American Philatelic Expertizing Service

since 1990, providing opinions on about 2,500 items. He has

been a columnist for The American Philatelist since October

2004. He has served as an APS Summer Seminar instructor

all but one year since 1990.

Youngblood is current editor of Topical Time and Duck

Tracks and past editor of Posthorn and Across the Fence Post,

2005-2012. In addition to The American Philatelist he also is

a columnist for Linn's Stamp News and Philatelic Exporter.

He has served as president of the Errors Freaks and Oddities

Collectors Club and the Los Alamos Stamp Collectors Association,

and served on the boards of the American First Day

Cover Society and Arizona Philatelic Rangers. He has been a

member of the St. Louis Stamp Expo Show Committee and is

a Boy Scouts Stamp Collecting Merit Badge counselor.

Wayne began his professional involvement with the hobby

as an editor at Linn's Stamp News, became editor of Scott

Stamp Monthly then as editor-publisher of Stamp Collector

newspaper and, more recently, as vice president at Regency-

Superior Auctions. Wayne currently divides his time between

his family and freelance writing, editing, dealing and exhibit

work. He is author of 10 books (including Stamps that Glow

and All About Stamps) and has written thousands of columns

and features over the years. He speaks extensively on the hobby

to both philatelic and non-philatelic groups.

Carter Volunteer Recognition Awards

The Nicholas G. Carter Volunteer Recognition Award

recognizes the outstanding efforts of our volunteers at national

and local levels and also recognizes our younger mem-

JULY 2018 / AMERICAN PHILATELIST 695
---
ers whose outstanding leadership is crucial to our future.

The awards are named in memory of Nick Carter who

helped to establish them. Carter felt it was important to recognize

those unsung heroes who contribute their talents,

time and energies to benefit stamp collecting and the society.

Award Recipients for National Service

Chris Calle came with his dad, Paul, to APS StampShow

2000 in Providence, Rhode Island. Since then, Calle has come

to nearly every APS winter and summer show and designed

the show cachets (on a volunteer basis) for almost all of them.

He offers autographs and has worked with Unicover to provide

foreign first day ceremonies at a number of the summer

shows. He also has produced several exhibits and won

both the Most Popular Exhibit Award and the Most Popular

Champion of Champions. In recent years he also has provided

a number of volunteer services for the American First Day

Cover Society.

Rodney A. Juell has been an active general U.S. collector

since the age of 14. He is co-editor of the Encyclopedia of

United States Stamps and Stamp Collecting, is a regular contributor

to American Stamp Dealer & Collector magazine, and

has been an instructor at APS Summer Seminar and On-the-

Road courses. A governor of the United States Stamp Society,

he has contributed numerous articles to its journal, The

United States Specialist. On the local level he is the president

of the Philatelic Club of Will County (Illinois). Juell was society

coordinator for WSS-NY 2016 and has helped at APS

Volunteer Work Week.

Yamil Kouri has been involved in many aspects of philately,

including exhibiting, judging, writing, publishing,

representing the U.S. on the Inter-American Federation of

Philately, and serving as a U.S. commissioner to several international

shows. A past vice president for the American Philatelic

Society, Kouri is currently board chair for the Spellman

Museum of Stamps and Postal History and a director for the

Boston 2026 World Stamp Exhibition. He is past editor of The

Cuban Philatelist and past president of the Cuban Philatelic

Society of America. He is a member of more than 20 philatelic

societies in the U.S. and abroad, and was elected to the

Royal Hispanic Academy of Philately.

Jerry H. Miller has been active in all aspects of philately

for more than 50 years. He became an APS and Germany

Philatelic Society accredited judge in 1995. He has been a

mainstay of the Glen Ellyn Philatelic Club for decades. Over

the past 20 years he has recruited more local members for the

Collectors Club of Chicago than any other member. He has

served as director of the American Association of Philatelic

Exhibitors critique service for the past six years and served

the Germany Philatelic Society in numerous capacities.

Ross A. Towle is a life member of the APS, APRL, United

Postal Stationery Society, American Association of Philatelic

Exhibitors, United States Philatelic Classics Society

and Western Philatelic Library. He is a Fellow of the Royal

Philatelic Society London. And he is a member of Sociedad

Filatelica de Chile, Chile Specialists of North America, Meter

Stamp Society, Collectors Club (of New York), Collectors

Club of San Francisco, American Philatelic Congress, Postal

History Society, Union of Bulgarian Philatelists and other

philatelic organizations. Towle is a pioneer in the use of electronic

media for philatelic publishing. His CD-ROM Catalog

of Chilean Postal Stationery: 1871-1996 has consistently

received international gold medals. He is the webmaster for

Westpex (www.westpex.com) and the FIP Postal Stationery

Commission (www.postalstationery.org) and he is a director

of the American Association of Philatelic Exhibitors and Secretary/Treasurer

of the American Philatelic Congress. He is

an accredited U.S. national judge. He is the assistant editor of

Postal Stationery, the bimonthly organ of the United Postal

Stationery Society.

Award Recipients for Local Service

A stamp collector since age 5, Roy Baardsen, has excelled

in his service to the Reading (Pennsylvania) Stamp Collectors

Club and Lancaster Philatelic Society for well over a decade.

Roy has been the Reading vice president for the last 14

years and has led its annual stamp show over the same period.

In 2006, Roy organized a bus committee for the Lancaster

Philatelic Society. Since then, he has organized trips to the

APS, New York ASDA shows, the National Postal Museum

and WSS-NY 2016.

Tom Broadhead has provided invaluable service to the

Knoxville Philatelic Society for many years, holding most of

the officer positions, and most importantly serving as the editor

of the club newsletter for the past 12 years. He has also

been the Knoxville Stamp Show publicity chairman for 25

years.

Anthony K. Brooks has served on the Indypex organizing

committee for the past 30 years. Over this period he has

been in charge of awards, the banquet, exhibits, the kicking

mule newsletter, the post office, the schedule, signs, societies

and special events. At the 2001 show, he served as a judge

and had responsibilities in five of these areas. An accredited

judge since 1988, Tony has selected the Indypex jury for

many years and provided transport for them from and to the

airport. Tony is also immediate past president of the Military

Postal History Society.

Robert Burney has participated in many World Series of

Philately stamp shows with his exhibit, "Revolutionary Martyrs

of the Kuomintang," which won 10 gold awards, including

a grand in 2016 at the Omaha Stamp Show. But his real

passion is teaching other philatelists how to exhibit. Seven

years ago Bob introduced exhibiting to his stamp club, the

Midwest Philatelic Society, by building 12 frames holding

nine pages each and donating them to his club. He then conducted

a hands-on workshop on four consecutive weekends,

each class three hours long covering all phases of exhibiting

and prepared all of the professional quality material that is

given to each student. The workshops have been offered every

other year since, with 11 students taking the course this

year. Burney was the first MPS exhibit chairman. He is a past

president of the Birmingham (Alabama) Philatelic Society, as

696 AMERICAN PHILATELIST / JULY 2018
---
well as the Midwest Philatelic Society and a member of numerous

philatelic societies.

Over the past five years Debbie Cleeton has provided

more than 3,500 hours of volunteer service at the American

Philatelic Center. She has helped prepare Stamps Teach mailings,

scanned slides for the conversion of slide programs to

DVDs, helped save the APS thousands of dollars by applying

multiple low-value donated stamps to envelopes for mailings,

helped process in-kind donations and helped in nearly any

other way requested.

For more than 76 years, John Drew has been one of those

unassuming individuals who just does. He has held positions

in the Western Cover Society up through being president. He

has been active in the San Jose Stamp Club and its World Series

of Philately show, Filatelic Fiesta. And, he volunteers in

museums that have a philatelic tie.

Edgar Hicks' affiliation with the Omaha Stamp Show goes

back to at least 1990 when he began several years of service as

the awards chair. From 2004 to 2010, he served as the show's

general chair. Even when he may have had no official role

with the show he has been a major promoter to the community,

whether it's to prompt the mayor to a ribbon-cutting or

looking for corporate support to bring the APS StampShow

to Omaha. Edgar also has served as president of the Liberia

Stamp Society, as a board member for the American Philatelic

Society, and on the APS Membership Committee.

Wayne Menuz has more than 50 years promoting, volunteering

and contributing to philatelic activities in the San

Francisco area. His role as bourse chair was a significant factor

in making Westpex one of the preeminent WSP shows.

His outstanding efforts helped resurrect Filatelic Fiesta.

This year, the Greater Houston Stamp Expo chaired by

Ron Strawser, was held just a couple weeks following the visit

of Hurricane Harvey. Ron has served on the show committee

since at least 1994, serving on the club's board for much of

that time as well. Ron also has been an APS accredited judge,

since 2003, and a participant and promoter of team exhibiting

at APS AmeriStamp Expo and other shows.

Roy Texeira has been the backbone for the Western Philatelic

Library for the last 30 years. He has, and continues to

be, a major contributor to all WSP shows in the Bay area. He

has also been a major contributor to the International Society

of Portuguese Philatelists, including serving as its president.

Award Recipient for Outstanding Young Adult

(Age 25-40)

Jill Piazza is a member of the Washington (D.C.) Stamp

Collectors Club for which she served as executive secretary.

She writes for their newsletter, The Washington City Desptach,

and regularly participates in the club's program, taking

third place in its 1999 album contest. Piazza also has served

on the board of the Napex-DC area World Series of Philately

show, for which she had the primary responsibility for first

65th Anniversary of

the Queen's Coronation

NEW ISSUE: Set of six stamps: £4.26

Issue date: 23rd May 2018

To mark the 65th anniversary of The

Queen's Coronation in 2018, we are

delighted to depict Her Majesty at

numerous events, including her 80th

birthday and Golden Jubilee celebrations.

The stamps depict some of the words

from the British National Anthem 'God

Save The Queen' (also called 'God Save

the King' during kingship), whose origins,

in its present form, date back to the

eighteenth century.

COMMEMORATIVE GUERNSEY STAMPS

noble

alderney

62

Also available:

First Day Cover: £5.46

Presentation Pack: £5.16

Sheets of 10: £42.60

ORDER

TODAY

Royal Wedding: HRH Prince Henry of Wales

& Meghan Markle

NEW ISSUE: Miniature Sheet: £4.00

Issue date: 2nd May 2018

In celebration of the Royal Wedding we issued

this miniature sheet featuring the couples official

engagement photographs.

alderney

Queen

94

alderney

Victorious

76

Also available:

First Day Cover: £5.20

Presentation Pack: £4.90

BUY PRODUCTS NOW AT WWW.GUERNSEYSTAMPS.COM

Order Guernsey & Alderney stamps online at www.guernseystamps.com

or by telephone on +44 (0) 1481 716486

JULY 2018 / AMERICAN PHILATELIST 697
---
day ceremonies and youth. For Napex 1999, students in her

first grade class at Glenridge Elementary School in Landover

Hills, Maryland created unique cachets with a patriotic

theme. For several years she has incorporated stamp collecting

into the classroom, making sure the kids have stamps to

take home and work on over the summer. Jill also has served

the Smithsonian National Postal Museum as a volunteer, providing

write-ups on U.S. stamps for its Arago website.

Award Recipient for Outstanding Young

Philatelist (Younger Than 25)

Alex Gill began collecting stamps in 2005 and joined the

West Bend Benjamin Franklin Stamp Club in 2007. In 2008

and 2009, he was the first-place winner for the Texas Philatelic

Association's annual holiday stamp design contest. (He

was also second in his age bracket in 2007 and 2010.) Since

2008, he has staffed a stamp collecting booth for the Milwaukee

Holiday Folk Fair several times.

Gill's current philatelic memberships include the American

Philatelic Society, American Topical Association, Milwaukee

Philatelic Society and the Kettle Morain Coin and

Stamp Club. His article, "Peace Through Understanding: The

1964-1965 World Fair Philatelic Souvenirs," was published

in the May 2016 edition of The American Philatelist, and

"President Harding and Philately" and "History of Milwaukee's

City Hall" were printed in Across

the Fence Post in 2013 and 2014. Gill has

attended and volunteered at most of the

APS shows since becoming an alumnus

of the Young Philatelic Leaders Fellow

in 2012. In September 2017, Alex joined

Kelleher Auctions as an auction assistant

and journeyman describer.

Exhibition Award Winners

Here are exhibition award winners at

recent World Series of Philately shows.

Westpex, April 27-29, 2018, San

Francisco, California

Sponsor: Westpex Inc.

Multiframe Grand – Santiago Cruz,

"SCADTA's First Issues: A Traditional

Approach to Airmail Stamps"

Multiframe Reserve Grand – Robert

B. Pildes, "Artists' Drawings, Essays,

Proofs and Associated Material of the

1948 Doar Ivri Issue of Israel"

Single Frame Grand – Patricia Stilwell

Walker, "Ship Letter Rates of Ireland:

Act of 1711 through Act of 1840"

Youth Grand – Geneva Varga, "The

Folkloric Mysteries of Harry Potter"

698 AMERICAN PHILATELIST / JULY 2018

Philatelic Show, May 4-6, 2018, Boxborough,

Massachusetts

Sponsor: Northeastern Federation of Stamp Clubs

Multiframe Grand – Robert Benninghof, Irish Coil

Stamps, 1922 to 1940

Multiframe Reserve Grand – Gregory Shoults, "Washington

and Franklin Coils Third Bureau Perforated Issues,

1908-1922"

Single Frame Grand – Sandeep Jaiswal, "Jammu & Kashmir

Telegraphs"

Pipex, May 11-13, 2018, Portland, Oregon

Sponsor: Northwest Federation of Stamp Clubs

Multiframe Grand – K. Joe Youssefi, Classic Persia

Multiframe Reserve Grand – Paul Phillips, The Postal

History of Livorno to 1823

Single Frame Grand – Michael Bloom, Guatemala: the

UPU Resplendent Quetzals, 1881-1886

Most Popular Award – Larry Maddux, Oregon Territory

Mail, 1848 to 1859

Ropex, May 18-19, 2018, Canandaigua, New York

Sponsor: Rochester Philatelic Association

Multiframe Grand – Gregory Shoults, "Washington &

Franklin Coils: Third Bureau Perforated Issues, 1908-1922"

Multiframe Reserve Grand – Charles J. Ekstrom III,

"Federal Migratory Bird Hunting Stamps"

Now available from Amazon books and on Kindle

As Hitler's empire crumbles in 1945,

an American paratrooper seizes

millions of dollars in rare stamps

looted by Nazis during the war.

However, back in New York, he

quickly discovers that he has opened a

Pandora's box of troubles for himself.

To sell the stamps, he must put his

trust in Meyer Lansky, the brains

behind Lucky Luciano's New York

mob. Unbeknownst to them, the Nazi

behind the looting is released from

prison and will stop at nothing to get

"his" stamps back.

"John Lubetkin combines his two loves – stamp collecting and history – to create an

action packed and intricately woven intrigue... The story line and its clever execution

stand alongside those of the most prolific [genre] writers. Caution: Once you open this

book, be prepared to stay with it long into the night."

— Walter S. Jones, Amazon.

For group rates or book signings, contact the author: Lubetkin174@hotmail.com
---
Single Frame Grand – Louis P. Pataki, "Along the Shantung

Railway, China: German Postal Administration, 1900-

1914"

Youth Grand – Rebecca Liebson, "The 8.4 Cent Americana

Piano Coil"

Hall of Fame

The Hall of Fame honors deceased individuals for outstanding

contributions to philately.

Charles A. Fricke (1921-2017) was a longtime collector

of postal stationery who received the 1981 APS Luff award

for distinguished philatelic research, was inducted into the

APS Writers Unit hall of fame in 1989, and was honored in

2016 with the APS Charles J. Peterson philatelic literature life

achievement award.

Fricke conducted research and authored seminal works

on the first postal card issues of the United States. His detailed

study of the subject plates and master die proofs resulted

in renumbering all the proofs (normal, trial color and trial

color card proofs) listed by Brazer in the Essay Proof Journal.

Over many years Charles Fricke authored over 1,000 articles

that appeared in many journals. These items focus on

some aspect of postal card or postcard use including rates,

auxiliary markings, routes, cancellations, interesting points

of origin or destination, varieties, advertising cards, first day

items, novelty cards, paid reply cards, earliest known use, and

other stationery items like stamped envelopes and wrappers,

as well as many divergent subjects in the field of philately.

Fricke's articles have appeared in over 35 philatelic journals

and publications and five newspapers including Linn's

Stamp News, Pennsylvania Postal Historian, Stamp Collector,

American Philatelist, U.S. Stamp News, U.S. Stamps & Postal

History, Scott Stamp Monthly, Postal Stationery, Airpost Journal,

Philatelic Freemason, The Seebecker, American Philatelic

Congress Book, New Jersey Postal History, North Carolina

Postal History Society Newsletter, Collectors Club Philatelist,

S.P.A. Journal, Chesstamp Review, and Mekeel's & Stamps

among others.

For decades – as attested to by his perennial ads in such

publications as The American Philatelist, Mekeel's, STAMPS

Magazine, Weekly Philatelic Gossip and Chambers Stamp

Journal – Max Ohlman (1881-1957) maintained offices at

116 Nassau Street—in the famed Stamp Center building.

In March 1912, Mekeel's ran an editorial suggesting to the

dealer community that a national organization of stamp dealers

be formed. Finally, on December 15, 1914, the charter of

the American Stamp Dealers Association was adopted. Max

Ohlman was elected the first president of the Association –

being sworn in at the beginning of 1915.

Ohlman was a close friend of Franklin Roosevelt and

sponsored him for membership in the APS.

Jacques C. Schiff (1931-2017) was a pioneer in the realm

of Error, Freak and Oddity philately; featuring this collecting

area in his auctions since he began in the business in the

WORLDWIDE COLLECTIONS

New Special Prices!

DESCRIPTION (ALBUM)

CAT. NOW

ALAND, Gutter Sheets, NH $2,580 $495

ANTARCTIC AREA, NH $1,814 $540

BRAZIL, 1843-1969, H, (Minkus) $6,021 $1,495

BRITISH COMMONWEALTH & COLONIES, 1840's-

1972, no GB, mostly mint LH, (Scott x11, $1,500) $22,142 $5,900

CANADA & PROVINCES, 1859-1988, M/U, (Scott) $9,851 $2,995

CHILE, 1853-86, M/U, (Minkus) $2,536 $750

DANISH WEST INDIES, Specialized, M/U $25,575 $5,900

DENMARK, 1851-2002, M/U, (Scott) $4,718 $1,395

EUROPA, 1956-2007, NH, (Lighthouse

Hingeless x4) $5,560 $2,150

FALKLAND IS. & SO. GEORGIA, 1982-94, NH,

(Lindner Hingeless) $1,565 $625

FAROES & ALAND, 1975-2001, mint, (Scott) $598 $160

FINLAND, Semi Postals to 1996, used $848 $225

FRANCE, 1849-1975, most NH, (Lighthouse

Hingeless x2) $11,671 $2,900

FRANCE, 1862-1964, mostly mint, (Minkus) $7,700 $2,100

FRENCH ANDORRA, NH, (Lindner Hingeless x2) $2,320 $850

GERMANY & AREA, 1868-1979, M/U, (Scott) $11,783 $3,100

GERMANY, 1933-81, NH/H, (Safe Hingeless x6,

$1,205) $7,378 $2,450

GREENLAND, 1937-97, NH, (Lindner Hingeless x2) $7,739 $2,200

HUNGARY, 1874-2004, M/U, stockbooks (6) $8,800 $1,250

ICELAND, 1873-1998, NH, (Lindner Hingeless x2) $26,638 $7,100

ISRAEL, 1948-61, Plate # singles, NH -- $1,500

ITALY & AREA, 1863-1985, mint, stockbooks (11) $49,439 $9,200

NETHERLANDS & COLONIES, 1852-1972, M/U,

(Scott) $4,358 $1,150

NORWAY, 1855-1987, M/U, (Scott) $6,393 $1,650

OLYMPIC, NH, (White Ace x4) $3,200 $1,100

PACIFIC ISLANDS, NH $823 $195

PALESTINE, Covers (76) -- $750

SAN MARINO, 1945-75, NH, (Lighthouse Hingeless) $2,636 $750

SWEDEN INLAND WATERWAYS, 1869-1951,

Cancels, etc. -- $175

SWITZERLAND, 1850-1960s, used $3,200 $975

TOGO, 1916-67, mint, (White Ace) $568 $145

U.S., 2¢ Harding Specialized, 172 items, quite rare -- $2,100

U.S., 1847-1995, M/U, (Scott x3) $19,874 $5,300

U.S., Duck Stamps, #RW1-82, NH, (Schaubek

Hingeless, $125) $7,898 $3,500

U.P.U. WORLDWIDE, 1974, mint $900 $195

View details, photos and other collections

on our website. P&H varies

NORTHLAND

Since 1975

International Trading, LLC, Box 34, Verona, NJ 07044

800-950-0058 • www.northstamp.com

"Are you looking for

collections or large lots?"

If you like to buy your stamps by the

book full, or by the box full, you are

going to enjoy our regular auctions.

Each of our sales offers hundreds of

worldwide collections, stocks, box lots,

and accumulations that hold fun and

profit for collectors and dealers alike.

Serving Stamp and Postal History Collectors Since 1972

Contact us today for your FREE colour catalogue

or view it online at

www.vanceauctions.com

VANCE AUCTIONS LTD.

P.O. Box 267, Smithville, Ontario, Canada L0R 2A0

Toll Free Phone: 877-957-3364 • Fax: 905-957-0100

mail@vanceauctions.com

JULY 2018 / AMERICAN PHILATELIST 699
---
1960s. Over 50 years, his nearly 340 auction catalogs are a

virtual chronicle of what exists in U.S. EFOs. In addition, he

wrote long-running columns on EFOs in the philatelic press,

and was a frequent visitor to the security printing plants that

produced U.S. stamps to assure that he knew the cause of errors

and that they were genuine.

His firm made a specialty of bringing newly discovered

errors to market, getting them certified, and making sure

that, when justified, they got catalog listings. The $1 Candleholder

"CIA" Invert is a good example. He was a scholar in

printing technology, and counted among his friends and

contacts many principals in the Bureau of Engraving and

Printing, and the late George Brett. He served as a mentor to

Steven Datz, John Hotchner, and Jim Kloetzel, among others.

For many years, Schiff was well-known on the show scene

as a sometimes retail dealer, but more often a booth-holder

to be available to current and potential customers, and as a

popular lecturer on how auctions work, and "How to protect

yourself from buying doctored stamps."

William R. Weiss (1943-2015) established Weiss Philatelics

and Weiss Auctions in 1972, and later expanded into

Weiss Expertizing Services. He was a 48-year American

Philatelic Society member and a very well known exhibitor

and author of several books including The Foreign Mail Cancellations

of New York City, 1870-1878, The United States 15c

Stamp of 1870-1890, The Catalog of Union Civil War Patriotic

Covers, Confederate States General Issue Stamps Used Adversity

Covers, 1861-1865 and Collecting United States Covers

and Postal History. Weiss authored numerous articles in various

philatelic publications and served as an instructor for the

APS Summer Seminar.

Kehr Award

The Kehr Award is for enduring contributions that help

guarantee the future of the hobby.

As the assistant for special projects to the chief executive

of the Washington 2006 World Philatelic Exhibition, May

Day Taylor located the letter that was mailed with the unique

Alexandria Blue Boy postmaster's provisional stamp of 1847.

Her original research led to a display at Washington 2006

that brought the stamp, cover and letter together for the first

time since 1907. By framing the stamp in terms of the longlost

love story between the sender and recipient of the letter—what

the Washington Post termed "the story behind the

stamp"—she garnered a great deal of positive national media

attention that placed stamps and mail in the context of history,

romance and lore.

In addition to arranging the Blue Boy exhibit, Taylor

published a 43-page booklet of her research on the subject

that continues to reach and inspire new collectors through its

inclusion in the Smithsonian Institution Libraries' booklist

Stamp Collecting for Novices. The Washington Stamp Collectors

Club awarded her its 2006 Harry Gantz award for "publicizing

the romance of philately through her research and

publishing the story of the Alexandria Blue Boy."

Taylor also created two highly approachable, promotional,

topical exhibits titled "Welcome to Washington" and

"Our Nation's Philatelic Christmas City" that she exhibits frequently

and shares at Washington-area stamp shows and club

meetings with a dual goal "to welcome visitors to Washington"

and "to be a catalyst for a philatelic city tour after hours."

For many years Taylor has been the organizer behind the

Mr. Beasley Stamp Club, a Washington, D.C. APS chapter.

VATICAN CITY YEAR SETS

Year Mint

2017 $91.00

2016 $97.00

2015 $87.60

2014 $100.00

2013 $115.00

Year Mint

2012 $82.52

2011 $95.00

2010 $81.35

2009 $92.72

2008 $81.19

Entire Vatican catalog is stock; 1929 to today

Please add 3% postage & shipping,

minimum $0.75 maximum $7.40. FREE price list.

PENNY BLACK STAMP COMPANY

P.O. Box 78, Dexter MI 48130-0078

Phone: (734) 424-3043

www.pennyblackstamp.com

WORLD

AIR MAILS

Contact us for our latest price list.

COLLECT AIR MAILS?

Contact BUY - us SELL for our - WANT latest price LISTSlist.

San Pedro Stamp & Coin, & Coin LLC

6350 N. Oracle Road • Tucson, AZ 85704

(520) 393-9887 • Email: sanpedrosc@gmail.com

Established 1950

Stamps, stationery, postal history,

die proofs from around the World.

Send a note of your interests and we'll

advise you of suitable items we have.

If in London, please visit our

offices and browse our stock.

Have you visited our e-bay store?

1, Wardour Street

London W1D 6PA Great Britain

Phone: 011-44-20-7930-6100

Fax: 011-44-20-7494-2881

E-mail: philatelists@argyll-etkin.com

Website: www.argyll-etkin.com

700 AMERICAN PHILATELIST / JULY 2018
---
Unique among the Washington area clubs, whose members

are mostly specialist or intermediate to advanced general

collectors, Mr. Beasley is composed primarily of novice collectors.

She received an APS volunteer recognition award for

local promotion and service in 2013 for this work.

As a director of the NAPEX stamp show from 2007 to

2009, Taylor created the INC (Important New Collectors)

program. Novice collectors of all ages received free stamps,

a specially-branded backpack, and an escorted tour of the

exhibits. The INC program featured a youth table and Boy

Scouts stamp collecting merit badge seminar. It continued at

NAPEX for nearly 10 years.

From 2010 to 2016, Taylor was a member of the

Smithsonian National Postal Museum's Council of Philatelists.

Past Museum director Allen Kane stated that her appointment

to the Council brought "much needed direction

and energy in targeting youth and continuing to promote the

hobby to new audiences. Taylor served on the Council's New

Initiatives Committee, which developed and implemented

several creative programs aimed at recruiting newcomers,

including the YouTube Philatelic Video Competition and the

Stamps Teach program. In 2013, Taylor was also appointed

to the American First Day Cover Society's Youth Committee.

Dealer of the Year

Donald J. Sundman, president of Mystic Stamp Company,

is a second-generation stamp dealer. He is a successful

entrepreneurial business man, growing his business in an

environment that has been shrinking. Most important is his

recognition that in order to grow the hobby for the benefit of

all participants it needs strong institutions like the American

Philatelic Society and other organizations. His support has

NEW BOOK ON 1950 STAMPS

Cataloging U.S. Commemorative Stamps: 1950

112 pp, hb, 2016 (APS member price $19.99+shipping)

Extra illustrations of press sheets and die proofs,

additional details, and much more — building upon

The American Philatelist articles by Charles Posner.

STAMPS.ORG/

PUBLICATIONS

American Philatelic Society

100 Match Factory Place, Bellefonte, PA 16823

Phone: 814-933-3803 • Fax: 814-933-6128

E-mail: info@stamps.org

helped provide the care and feeding necessary to keep the

hobby attractive to collectors.

Since 1985 Sundman has been responsible for sponsoring

several thousand new APS members through free distribution

of APS promotional materials, complimentary space advertising,

and direct referrals. He is the top recruiter for new APS

members. Typically he sponsors more than 200 new members

every year. In 2000 he was responsible for 8 percent of the total

number of new APS members obtained during the year.

For many years Sundman and his firm, Mystic Stamp

Company, loaned their famous 1-cent Z grill for promotional

display at APS StampShow and also to World Stamp Expo in

Anaheim, California. In addition, he has borne the costs of

producing the information brochures distributed about the

exhibit. This gem of philately is a treasure that served as a

publicity device, attracting many visitors.

Sundman has served as a member of the National Postal

Museum's Council of Philatelists. In 2004, he was elected by

his peers to chair this Council. During his leadership, he restructured

the Council into highly effective work groups that

have supported the National Postal Museum's mission and

strategic plan in the areas of museum exhibits, outreach, promotion

and research.

Losses to the Hobby

The hobby lost two APS Luff Award winners on consecutive

days in late April.

Thomas J. Alexander of Overland Park, Kansas, the 1985

winner for Distinguished Philatelic Research passed away on

April 25, 2018. A veteran of World War II, an attorney who

argued before the U.S. Supreme Court, Tom served as the

president of the U.S. Philatelic Classics Society and as chair

If you collect stamps,

you owe it to yourself to check us out at

WWW.MOZIANSTAMPS.COM

Or contact us at

Lawrence J Mozian

PO Box 5774

Williamsburg, VA 23188

E-mail lmozian@cox.net Phone (757) 220-2007

Serving philatelists since 1901

FREE

NEW 160-PAGE

WORLDWIDE

PRICE LIST

Find out why most collectors place

orders when they receive our lists.

We have the stamps you need at the prices you like.

Martin Winter

800 W. Willis Rd., Apt. 1045 • Chandler, AZ 85286

Phone: (480) 773-2325 • E-mail: winter310@aol.com

Established in 1960 APS Life Member

JULY 2018 / AMERICAN PHILATELIST 701
---
of the Smithsonian's

National

Postal Museum

Council of Philatelists.

His research

and publications

included Simpson's

U.S Postal

Thomas J. Alexander

Markings, 1851-

1861, the U.S Stampless Cover Catalog,

the United States 1847 Cover Census,

and The Travers Papers: United States

Postal History and Postage Stamps: Official

Records. During his 68 years as a

member Tom served on the ethics, insurance,

and Luff Awards committees

of the APS. In 2014 Tom donated 326

bankers boxes containing his library

and research papers to the American

Philatelic Research Library.

Ann M. Triggle, 2005 Luff Award

winner for Outstanding Service to the

Society passed away on April 26. Ann

was a professor

at the University

of Buffalo

where she created

and ran a

pharmacy museum

before retiring

and moving

to Florida.

Ann M. Triggle Ann served on

the APS Board

of Vice Presidents from 2001-2003 and

as an APS Director at Large from 1997-

2001. Ann served on the board for the

Royal Philatelic Society of Canada,

served on the committees of the Rochester,

New York and Sarasota, Florida

national exhibitions, chaired the APS

Awards Committee and while on the

board served as the liaison to all APS

committees.

However, Ann was probably best

known as a national and internationally

accredited judge who chaired the Committee

for Accredition of National Exhibitions

and Judges. She wrote chapters

for two editions of The Manual of

Philatelic Judging and helped broaden

exhibiting to allow display, illustrated

and cinderella exhibits. Ann recruited

many new judges, including myself, and

her preparedness and attention to detail

was legendary. While she represented

the APS on the International Federation

of Philately Thematic Commission,

her prostitute tax stamp exhibit may

have attracted more attention than any

of her other exhibits.

Additional Losses

The hobby also recently lost two

dealers. Just six months after the passing

of his wife, Bonnie, Roger Riga also

passed away. Roger and Bonnie were

the "Source for Alternative Philately"

offering cinderellas, poster stamps, and

ephemera. For many years they sold at

stamp shows but in more recent years

they moved to an internet-based operation.

They frequently visited our circuit

sales division when their trips between

shows or their Ohio home base brought

them close to Central Pennsylvania.

Charyl S. Morginstin, from New

Review our recently updated

Cut Square listings for

1920-25 Revalued Issues

www.postalstationery.com

Jersey, late wife of Sid Morginstin, may

have been better known for the home

cooked treats she offered at the show

booths of Negev Holyland Auctions/

Button Stamp Company – her e-mail

address began with "brownie" – but she

had been an APS member for nearly 40

years.

Many collectors have a major impact

in their local area although they may

not well known nationally. Two recent

losses fitting this description are Edgar

W. Jatho Jr. and Benjamin F. Howell

Jr. A marine veteran and financial consultant

Ed was a dedicated member of

the Crescent City Stamp Club of New

Orleans and served as the auctioneer

for their annual Philatelic Happening.

For roughly 60 years Ben Howell was a

mainstay of the State College, Pennsylvania

Mt. Nittany Philatelic Society and

its annual Scopex show. He passed away

just shy of his 101st birthday and just

shy of reaching 60 years APS membership.

PO Box 1006, Alton, NH 03809

603.875.5550 email: const@tds.net

Fusco Auctions

Home of the best philatelic auctions in the mid-west between Chicago and

Philadelphia for over 40 years. The focus of our philatelic auctions is to serve the

beginner to well advance collector. With the average lot price in the $50-500 range,

collectors are sure to find stamps, covers and large lots to their liking. We average

4–6 philatelic auctions each year. We also are always looking for collections to either

purchase outright or to take on consignment for these auctions. We broadcast the

auctions live on five websites and can also be found on Stamp Auction Network.

Please contact us at 440-975-8938 to sign up for free catalogs and/or email

notifications. You can also visit our website at www.fuscoauctions.com.

Fusco Auctions

4740 Beidler Rd. Rear • Willoughby, Ohio 44094

(20 miles east of Cleveland)

702 AMERICAN PHILATELIST / JULY 2018
---
Life is a gamble, your stamp insurance

shouldn't be..

Contact Hugh Wood Inc. for all your insurance needs.

Visit our website at www.hughwood.com or call us at 212.509.3777.
---
SHOW TIME

............................................................................................................................

stampshow@stamps.org

The "Show Time" Calendar features a list of

upcoming shows and APS events (shown in

green). To obtain a listing, please submit a "Show

Time" form, available online at www.stamps.org/

Show-Calendar or by mail from APS headquarters.

Information must be received 60 days before

desired publication time.

The listings are free to World Series of Philately

and other shows that are sponsored by an APS

chapter or affiliate. Other shows/bourses may

purchase listings for the month of the show/

bourse and the month prior only. The listing fee

is $25 per show per issue. Shows designated *B*

are bourse only.

Grand award winners from *WSP* shows

are eligible for the annual APS World Series of

Philately Champion of Champions competition.

Visit www.stamps.org/Show-Calendar for a

complete listing of shows and APS events.

Wisconsin June 30-July 1

MSDA Summer Milwaukee Stamp

Show Midwest Stamp Dealers Association,

Crown Plaza Milwaukee Airport, 6401 South

13th Street, Milwaukee. *B*

Contact: Jim Bardo, 847-634-2676

Email: jfb7437@aol.com

Website: www.msdastamp.com

Illinois July 7-8

MSDA Summer Show North Midwest Stamp

Dealers Association, Ramada Inn- Chicagoland

Executive Airport, 1090 S. Milwaukee Ave.,

Wheeling. *B*

Contact: Jim Bardo, 847-634-2676

Email: jfb7437@aol.com

Website: www.msdastamp.com

Michigan July 14

Bay de Noc Stamp & Coin Club Show Bay de

Noc Stamp & Coin Club, Bay College Heirmann

Bldg, Danforth Rd, Escanaba. *B*

Contact: Mark Kuehn, 906-786-2103

Email: triplejump@charter.net

Indiana July 14-15

MSDA Indianapolis Stamp Show Midwest Stamp

Dealers Association, Lawrence Parks District

Center, 5301 N. Franklin Rd., Lawrence. *B*

Contact: Jim Bardo, 847-634-2676

Email: jfb7437@aol.com

Website: www.msdastamp.com

Minnesota July 20-22

Minnesota Stamp Expo Twin City Philatelic

Society and Various Local Clubs, Crystal

Community Ctr., 4800 Douglas Dr., N.,

Minneapolis. *WSP*

Contact: Randy A. Smith, 952-431-3273

Email: rasmary4@frontiernet.net

Website: www.stampsminnesota.com/MN%20

Stamp%20Expo.htm

Washington July 21-22

Evergreen Stamp Club Summer

Exhibition Evergreen Stamp Club, Kent

Commons Recreation Center, 525 4th Ave., N.,

Kent.

Contact: William Geijsbeek, 425-883-9390

Email: billgphil@gmail.com

Website: www.stamps.org/Evergreen-Stamp-

Club

Connecticut July 22

Fourth Sunday Collectibles Show New Haven

Philatelic Society, Annex YMA, 554 Woodward

Ave., New Haven. *B*

Contact: Brian McGrath, 203-627-6874

Email: hukeda@comcast.net

Website: www.nhps1914.org

Ohio July 22

Montrose Stamp Show Lincolnway Stamps,

Holiday inn Akron, West 4073 Medina Road,

Akron. *B*

Contact: David G. Pool, 330-832-5992

Email: lincolnway@sssnet.com

Louisiana July 28-29

Bossier City Stamp & Coin Show Red River

Stamp Society, Bossier City Civic Center, 620

Benton Road, Bossier City.

Contact: Tom Mueller, 318-218-0981

Email: starsavs@hotmail.com

Nevada July 28-29

2018 Greater Reno Stamp & Cover

Show Nevada Stamp Study Society, National

Bowling Stadium Museum, 300 N. Center St.,

Reno.

Contact: John Walter, 775-232-4760

Email: show@renostamp.org

Website: www.renostamp.org

North Carolina July 28-29

CHARPEX 2018 Charlotte Philatelic Society,

Worrell Bldg, Central Piedmont Community

College, 1228 Elizabeth Avenue, Charlotte.

Contact: Gene Zhiss, 704-553-8110

Email: signup@charpex.info

Website: www.charpex.info/

New Jersey August 3-4

MERPEX 2018 Merchantville Stamp Club,

Marlton Middle School, 150 Tomlinson Mill

Road, Marlton.

Contact: Carol Anne Visalli, 856-562-1389

Email: cavisalli@gmail.com

Website: www.merchantvillestampclub.org/

Georgia August 3-5

AMERICOVER 2018 American First Day

Cover Society, Hilton Atlanta Northeast, 5993

Peachtree Industrial Blvd, Peachtree Corners

(Norcross). *WSP*

Contact: Chris Lazaroff

Email: showinfo@afdcs.org

Website: www.afdcs.org/show

Michigan August 4

Allen Park Stamp Show Allen Park Stamp Club,

Sokol Cultural Center, 23600 W. Warren Road,

Dearborn Heights. *B*

Contact: Debara Detloff

Email: damd524@aol.com

Ohio August 9

Competitive Thematic Exhibiting APS - On the

Road Course, Greater Columbus Convention

Center (at StampShow/NTSS 2018), 400 N. High

St, Columbus. *APS*

Contact: Cathy Brachbill, 814-933-3803 ext. 239

Email: education@stamps.org

Website: stamps.org/On-the-Road-Courses

Ohio August 9-12

APS STAMPSHOW/National Topical Stamp

Show American Philatelic Society and

American Topical Assocaition, Greater

Columbus Convention Center, 400 North High

Street, Columbus. *WSP*

Contact: Kathleen Edwards, 814-933-3803 ext 217

Email: stampshow@stamps.org

Website: stamps.org/STAMPSHOW-SS

Ohio August 11

Getting the Most Out of the Scott Specialized

Catalogues APS - On the Road Course, Greater

Columbus Convention Center (at StampShow/

NTSS 2018), 400 N. High St, Columbus. *APS*

Contact: Cathy Brachbill, 814-933-3803 ext. 239

Email: education@stamps.org

Website: stamps.org/On-the-Road-Courses

Washington August 11

Strait Stamp Show Strait Stamp Society,

Sequim Masonic Lodge, South 5th and Pine,

Sequim. *B*

Contact: Cathie Osborne, 360-683-6373

Email: rickcath@wavecable.com

Website: www.straitstamp.org

Prague, Czech Republic August 15-18

PRAGA 2018 FEPA (European Federation)

Specialized World Exhibition with FIP Patronage

and the United States invited to participate.,

Prague.

Contact: U.S. Commissioner: Ms. Vesma Grinfelds

Contact address: 3800-21st. Street, San

Francisco, CA 94114

Email: vesmag@gmail.com

Massachsetts August 18

Fall River Stamp Show Fall River (MA) Philatelic

Society, Knights of Columbus Hall, 28 Fish Rd,

Tiverton, Rhode Island. *B*

Contact: Paula Shaker, 508-679-4065

Email: dun270@verizon.net

Website: www.frphilatelicsociety.weebly.com/

stamp-show.html

South Carolina August 18-19

2018 Summer Stamp and Postcard

Show Columbia Philatelic Society, Spring

Valley High School, 120 Sparkleberry Lane,

Columbia. *B*

Contact: Mark Postmus, 803-309-2534

Email: mapostmus@yahoo.com

Website: www.stamps.org/cps

Wyoming August 18-19

WYPEX Cheyenne Philatelic Society, Radisson

Hotel, 204 West Fox Farm Rd, Cheyenne. *B*

Contact: Bill Arnold, 303-630-2350

Email: wfa1972@aol.com

Pennsylvania August 19

Erie Stamp Show Erie Stamp Club, Erepa Grotto,

3828 Washington Ave, Erie. *B*

Contact: Gary Diley, 814-734-1650

Email: hingrerem@gmail.com

Missouri August 24-25

Greater Kansas City Stamp Show Gladstone

Stamp Club, Gladstone Community Center, 6901

N. Holmes, Gladstone. *B*

Contact: Perry Kilpatrick, 816-490-2624

Email: kilpatrickp61@gmail.com

Ohio August 24-25

AIRPEX 2018 Dayton Stamp Club, IBEW Union

Hall, 6550 Poe Avenue (at Space Dr.), Dayton.

*B*

704 AMERICAN PHILATELIST / JULY 2018
---
Contact: Mike Komiensky, 937-299-9297

Email: info@daytonstampclub.com

Website: www.daytonstampclub.com

Connecticut August 26

Fourth Sunday Collectibles Show New Haven

Philatelic Society, Annex YMA, 554 Woodward

Ave., New Haven. *B*

Contact: Brian McGrath, 203-627-6874

Email: hukeda@comcast.net

Website: www.nhps1914.org

Maryland August 31-September 2

BALPEX Baltimore Phil. Soc., Baltimore Hunt

Valley Inn, 245 Shawan Rd., I-83 Exit 20 E., Hunt

Valley. *WSP*

Contact: Michael Carski, 410-465-5712

Email: vgnrr@hotmail.com

Website: www.balpex.org

Arkansas September 7-8

41st Annual Stamp & Coin Show Mountain

Home Area Stamp Club, Ramada Inn Convention

Center, 11127 Hwy 62, Mountain Home. *B*

Contact: Craig Grothaus, 870-424-2957

Email: grot@centurytel.net

Michigan September 8

Fall Stamp Show & Bourse Pontiac Stamp Club,

Waterford Park and Rec Center, 5740 Williams

Lake Rd, Waterford. *B*

Contact: Bob Cordaro, 248-391-2367

Email: rjcord.jm@gmail.com

Illinois September 8-9

MSDA Fall Show West Midwest Stamp Dealers

Association, Holiday Inn Chicago Oak Brook, 17

W 350 22nd Street, Oak Brook Terrace. *B*

Contact: Jim Bardo, 847-634-2676

Email: jfb7437@aol.com

Website: www.msdastamp.com

Nebraska September 8-9

Omaha Stamp Show Omaha Philatelic Society,

Metro Community College-South Campus, 2909

Babe Gomez Ave., Omaha. *WSP*

Contact: Herb Eveland, 402-397-9937

Email: tuvaenterprises@hotmail.com

Website: www.omahaphilatelicsociety.org

Pennsylvania September 9

FALL 2018 CAPEX Capital City Philatelic Society,

Lower Swatara Fire House, 1350 Fulling Mill

Road, Middletown. *B*

Contact: Marlin Wilson, 7179398715

Email: baronvonwils@aol.com

London, England September 12-18

STAMPEX Bi-lateral Exhibition: GB / U.S.

Exhibition, London. Exhibit Contact:

Coordinator Dr.Yamil Kouri yhkouri@massmed.

org Contact Address: 405 Waltham St. #347,

Lexington, MA 02421,

Wisconsin September 13

James A. Farley and the Politicization of the

Post APS - On the Road Course, Crowne

Plaza Milwaukee Airport, 6401 South 13th St,

Milwaukee. *APS*

Contact: Cathy Brachbill, 814-933-3803

Email: education@stamps.org

Website: stamps.org/On-the-Road-Courses

Washington September 14-16

SEAPEX Seattle Philatelic Exhibition, Tukwila

Convention Center, 12424 42nd Ave., S., Tukwila.

*WSP*

Contact: Jack Congrove

Email: seapex@comcast.net

Website: seapexshow.org

Wisconsin September 14-16

MILCOPEX Milwaukee Philatelic Society, Inc.,

Crowne Plaza Milwaukee Airport, 6401 South

13th St., Milwaukee. *WSP*

Contact: Dona Fagan, 262-251-0617

Email: maryann15b@mac.com

Website: www.milwaukeephilatelic.org

Indiana September 15-16

AWPEX 2018 Anthony Wayne Stamp Society,

Fort Wayne History Center, 302 East Berry Street,

Fort Wayne. *B*

Contact: James Mowrer, 260-422-1716

Email: stamp4@frontier.com

Ohio September 16

Montrose Stamp Show Lincolnway Stamps,

Holiday inn Akron, West 4073 Medina Road,

Akron. *B*

Contact: David G. Pool, 330-832-5992

Email: lincolnway@sssnet.com

Quebec September 21-23

BNAPEX 2018 British North America Philatelic

Society/SHPQ/FQP, Hotel Plaza Quebec, 3031

Boulevard Laurier, Quebec City. *WSP*

Contact: Hugo Deshaye, 418-644-4132

Email: bnapexdealers@bnaps.org

Website: www.bnaps.org/bnapex2018/index.htm

Texas September 21-23

Greater Houston Stamp Show Houston

Philatelic Society, Humble Civic Center, 8233 Will

Clayton Pkwy., Humble.

Contact: Ron Strawser, 832-264-4185

Email: ghss2017@earthlink.net

Website: www.houstonstampclub.org

SESCAL 2018 STAMP SHOW

74th Annual Southern California Stamp Exhibition

October 12–14

Friday and Saturday 10 a.m.–6 p.m., Sunday 10 a.m.–4 p.m.

Exhibits • Dealers

Schuyler Rumsey Auctions

Society Meetings • Show Cachets

Youth Activities • Bring Your Stamps for Evaluation

APS Educational course

Ontario Convention Center (New Location)

2000 E. Convention Center Way, Ontario, CA 91764

Special Hotel Show Rate

Free Admission and reduced validated parking

For more information visit sescal.org

Sponsored by the Federated Philatelic Clubs Of Southern California

JULY 2018 / AMERICAN PHILATELIST 705
---
Connecticut September 23

Fourth Sunday Collectibles Show New Haven

Philatelic Society, Annex YMA, 554 Woodward

Ave., New Haven. *B*

Contact: Brian McGrath, 203-627-6874

Email: hukeda@comcast.net

Website: www.nhps1914.org

New Jersey September 29-30

Stamp, Coin, Cover, Postcard, Collectible

Show Clifton Stamp Society, Clifton

Community Recreation Center, 1232 Main

Avenue, Clifton. *B*

Contact: Thomas Stidl, 973-471-7872

Email: stidl@verizon.net

Website: www.clifton-stamp-society.org

Tennessee September 29-30

MEMPHEX 2018 Stamp & Postcard

Show Memphis Stamp Collector's Society,

Agricenter International; Wing "C" Banquet

Room, 7777 Walnut Grove Road, Memphis.

Contact: Andrew J. Burkman, 901-382-1772

Email: andburk@usit.net

Website: www.memphisstampcollectorssociety.

org

Dublin, Ireland October 5-7

STAMPA2018 Irish National Stamp Exhibition,

Dublin.

Contact: Robert Benninghoff, 215-813-8036

Email: mercer01@aol.com

California October 5-7

WINEPEX 2018 Redwood Empire Collectors

Club, Marin Civic Center, 10 Avenue of the Flags,

San Rafael.

Contact: Kurt Schau, 707-347-6343

Email: kurtschau@comcast.net

Website: www.redwoodempirecollectorsclub.org

Indiana October 5-7

INDYPEX Indiana Stamp Club, Hamilton

County Fairgrounds and Exhibition Center, 2003

Pleasant Street, Noblesville. *WSP*

Contact: Bob Zeigler, 317-844-5200

Email: rzeigler@zcklaw.com

Website: www.indianastampclub.org

California October 6

Visalia Stamp Show Visalia Philatelic Society, St.

Paul's Church, 120 North Hall Avenue, Visalia. *B*

Contact: Mikell Royston, 559-738-1236

Email: vpsclub@yahoo.com

New Jersey October 6

MSC Monthly Bourse Merchantville Stamp

Club, Marlton Elementary School, 190 Tomlinson

Mill Rd, Marlton. *B*

Contact: Carol Anne Visalli, 856-562-1389

Email: cavisalli@gmail.com

Website: www.merchantvillestampclub.org

New York October 6

Olepex 2018 Olean Stamp Club, Bethany

Lutheran Church, 6 Leo Moss Drive, Olean. *B*

Contact: Ron Yeager, 814-362-4471

Email: cry@atlanticbb.net

New York October 7

Stamp and Coin Show and Sale Western

Monroe Philatelic Society, Brockport Firemen's

Exempt, 248 West Avenue, Brockport. *B*

Contact: Dave Bombard, 585-352-6955

Email: dbombar1@rochester.rr.com

Santiago, Chile October 9-13

EXFIL 2018 FIAF Continental Exhibition

and Assembly, Santiago. Exhibit Contact:

Contact: Commissioner Mr. Carlos Vergara

carlosvstamps@gmail.com Contact Address:

1107 S. Naperville Rd., Wheaton, IL 60189,

Illinois October 13

Will County Stamp Show Philatelic Club of

Will County and Naperville Area Stamp Club,

Messiah Lutheran Church, 40 Houbolt Rd, Joliet.

Contact: Rodney Juell, 815-741-2734

Email: rajuell2@gmail.com

Website: willcountystampclub.wordpress.com

New York October 13

Stamp and Postcard Show/Sale Leatherstocking

Stamp Club & Tri County Stamp Club, Oneonta

Holiday Inn, 5206 State Highway 23, Oneonta. *B*

Contact: Ellen Tillapaugh, 607-547-5646

Email: kuchtill@gmail.com

Illinois October 13-14

MSDA Fall Show North Midwest Stamp

Dealers Association, Ramada Inn- Chicagoland

Executive Airport, 1090 S. Milwaukee Avenue,

Wheeling. *B*

Contact: Jim Bardo, 847-634-2676

Email: jfb7437@aol.com

Website: www.msdastamp.com

Ontario October 13-14

CANPEX 2018 Middlesex Stamp Club, Hellenic

Community Centre, 133 Southdale Road West,

London. *WSP*

Contact: John Sheffield, 519-871-7637

Email: info@canpex.ca

Website: www.canpex.ca

New Jersey October 19-21

NOJEX/ ASDA North Jersey Federated Stamp

Clubs, Inc. and ASDA, Meadowlands Hilton

Hotel, 2 Meadowlands Plaza, East Rutherford.

*WSP*

Contact: Robert G. Rose, 908-305-9022

Email: robertrose25@comcast.net

Website: www.nojex.org

California October 20-21

Filatelic Fiesta 2018 San Jose Stamp Club, Elks

Lodge, 444 West Alma Ave, San Jose. *WSP*

Contact: Jessica Rodriguex, 408-656-0623

Email: filatelicfiesta@gmail.com

Website: www.filatelicfiesta.com

Delaware October 20

Dover's 67th Stamp Show Dover Stamp Club,

Camden-Wyoming Fire Hall, 200 E. Camden-

Wyoming Avenue, Camden. *B*

Contact: Melvin Nace, 302-674-0837

Email: doverstampclub@aol.com

Wisconsin October 20

CENWISPEX 2018 Central Wisconsin Stamp

Club, Holiday Inn & Convention Center, 1001

Amber Ave., Stevens Point.

Contact: J. D. Manville, 715-341-5555

Email: jadeco@charter.net

Pennsylvania October 27

Eastern PA Stamp Show (EPASS) Allentown

Philatelic Society, Jordan United Church of

Christ, 1837 Church Road, Allentown. *B*

Contact: Bill Harris, 610-866-3323

Email: wthiii3@rcn.com

Website: greatzvmer.wix.com/aps/#!epass

Arkansas October 27-28

PINPEX 2018 Pinnacle Stamp Club of Arkansas,

Jacksonville Community Center, #5 Municipal

Drive, Jacksonville. *B*

Contact: Ann Austen, 501-868-4553

Email: anniephant@aol.com

California October 27-28

East Bay Collectors Club 73rd Annual Show East

Bay Collectors Club, Civic Center Assembly Hall,

1375 Civic Drive, Walnut Creek.

Contact: Randy Tuuri, 510-653-3471

Email: tuurifam@comcat.net

Website: eastbaystampclub.com

Ohio October 27-28

Cuy-LorPex 2018 Cuy-Lor Stamp Club, Rocky

River Civic Center: Memorial Hall, 21016 Hilliard

Boulevard, Rocky River.

Contact: Stan Fairchild, 440-333-2536

Email: cuylorclub@gmail.com

Website: www.stampshows.com

Ohio October 27-28

Cuy-LorPex 2018 Cuy-Lor Stamp Club, Rocky

River Civic Center: Memorial Hall, 21016 Hilliard

Boulevard, Rocky River.

Contact: Stan Fairchild, 440-333-2536

Email: cuylorclub@gmail.com

Website: www.stampshows.com

Connecticut October 28

Fourth Sunday Collectibles Show New Haven

Philatelic Society, Annex YMA, 554 Woodward

Ave., New Haven. *B*

Contact: Brian McGrath, 203-627-6874

Email: hukeda@comcast.net

Website: www.nhps1914.org

Illinois October 28

Fall Stamp Bourse 2018 Springfield Philatelic

Society, Route 66 Hotel and Conference Center,

625 E. Saint Joseph St., Springfield. *B*

Contact: Chad Payne, 217-341-4838

Email: illinibasketball@live.com

Website: www.stamps.org/Springfield-Philatelic-

Society

New Jersey November 3

MSC Monthly Bourse Merchantville Stamp

Club, Marlton Elementary School, 190 Tomlinson

Mill Rd, Marlton. *B*

Contact: Carol Anne Visalli, 856-562-1389

Email: cavisalli@gmail.com

Website: www.merchantvillestampclub.org

Michigan November 3-4

AAPEX 2018 Ann Arbor Stamp Club, Morris J.

Lawrence Building, Washtenaw Community

College, 4800 E. Huron River Dr., Ann Arbor.

Contact: Harry & Dottie Winter, 734-761-5859

Email: harwin@umich.edu

Website: www.annarborstampclub.org

Pennsylvania November 3-4

PITTPEX 2018 Philatelic Society of Pittsburgh,

South Fayette Fire Hall, 661 Millers Run Rd.,

Bridgeville.

Contact: Bryan Gross, 412 352-1317

Email: maxaugust@aol.com

Website: www.pittsburghstampclub.org

Texas November 9-10

31st Annual Mid-Cities Stamp Club EXPO Mid-

Cities Stamp Club, Grapevine Convention

Center, 1209 South Main Street, Grapevine.

Contact: Ralph Poore, 817-235-8472

Email: rspoore@ralph-s-poore.com

Website: www.mid-citiesstampclub.com/

stampshow.htm

Ohio November 10-11

MSDA Fall Cincinnati Area Stamp

Show Midwest Stamp Dealers Association,

Four Points by Sheraton Cincinnati North, 7500

Tylers Place Boulevard, West Chester. *B*

Contact: Jim Bardo, 847-634-2676

Email: jfb7437@aol.com

Website: www.msdastamp.com

Illinois November 16-18

CHICAGOPEX Chicago Philatelic Society, Westin

Chicago Northwest, 400 Park Blvd., Itasca.

*WSP*

706 AMERICAN PHILATELIST / JULY 2018
---
Index of Advertisers

A & D Stamps and Coins

www.aanddstampsandcoins.com 677

Amos Media www.linns.com

www.amosadvantage.com 691

Antonio M. Torres www.antoniotorres.com 700

APS Estate Advice

www.stamps.org/Estate-Advice 710

APS Show and Exhibitions

www.stamps.org/APS-Sponsored-Events

Contact: Charles Berg, 773-775-2100

Email: stampkingchicago@hotmail.com

Website: www.chicagopex.org

New York November 17

Autumn Stamp Festival

Buffalo Stamp Club, VFW

Post, 2450 Walden Avenue, Cheektowaga. *B*

Contact: George H. Gates, 716-633-8358

Email: gghg53@aol.com

C3

Argyll Etkin Limited

www.argyll-etkin.com 700

BEJJCO of FLORIDA, Inc. 674

Blue Moon Philatelic

www.bmastamps2.com 686

C.G.Auktionshaus Christoph Gärtner

GmbH & Co. KG

www.auktionen-gaertner.de 653

Cataloging U.S. Commemorative Stamps: 1950,

by Charles Posner

stamps.org/publications 701

Century Stamps www.century-stamps.com 628

Champion Stamp Co., Inc. 656-657

CK Stamps c/o Kang Chen

www.ckstamps.com 710

Collectors Exchange

www.britishstampsamerica.com 673

Colonial Stamp Company

www.colonialstampcompany.com 686

Columbian Stamp Co

www.columbianstamp.com 710

Confederate Stamp Alliance

www.csalliance.org 675

Daniel F. Kelleher Auctions, LLC

www.kelleherauctions.com 644-645

Davidson's Stamp Service

www.newstampissues.com 678

Denali Stamp Co.

www.denalistamps.com 700

Deveney Stamps

www.deveneystamps.com 700

Don S. Cal www.DonSCal.com 709

Downeast Stamps www.destamps.com 678

Dr. Robert Friedman and Sons

www.drbobfriedmanstamps.com 627

Dutch Country Auctions

www.thestampcenter.com 669

E.S.J. van Dam, Ltd.

www.canadarevenuestamps.com 710

Edward D. Younger Co.

www.edwardyounger.com 630-633

Eric Jackson www.ericjackson.com 678

FLOREX www.florexstampshow.com 710

Florida Postal History During the Civil War,

from the Confederate Stamp Alliance

www.csalliance.org 676

Frank Bachenheimer

www.astampdealer4u.com 710

Fusco Auctions www.fuscoauctions.com 702

Gary J. Lyon (Philatelist), Ltd.

www.garylyon.com 695

Gary Posner, Inc. www.garyposnerinc.com 635

Gregg Nelson Stamp

www.greggnelsonstamps.com 710

Guernsey Post Ltd www.guernseystamps.com

www.guernseypost.com 697

H.R. Harmer GPN, Inc. www.hrharmer.com

www.hrharmer.com/en/

GlobalPhilatelicNetwork/# 617

HB Philatelics www.hbphilatelics.com 685

Henry Gitner Philatelists, Inc.

www.hgitner.com 676

Hip eCommerce www.hipstamps.com 619

Hugh Wood Insurance

www.hughwood.com 703

interasia auctions ltd

www.interasia-auctions.com 710

J.R. Mowbray, Ltd. www.mowbrays.co.nz 710

James E. Lee www.jameslee.com 673

Kay & Co. www.kaystamps.com 649

Lawrence Mozian

www.mozianstamps.com 701

Markest Stamp Co. www.markest.com 665

Martin Winter 701

Michael Eastick and Associates Pty Ltd

www.michaeleastick.com 710

Miller's Stamp Co. www.millerstamps.com 685

A Million Dollars an Ounce, by M. John

Lubetkin www.amazon.com 698

Mountainside Stamps

www.mountainsidestamps.com 687

Mystic Stamp Company

www.mysticstamp.com C2, 652

New England Stamp

www.NewEnglandStamp.com 712

Nieser Stamps & Coins

www.kennieser.com 649

Northland International Trading, LCC

www.northstamp.com 699

Palo Albums Inc. www.paloalbums.com 643

Paradise Valley Stamp Co.

www.stamp-one.com 621

Patricia Kaufmann

www.trishkaufmann.com 671

Penny Black Stamp Co.

www.pennyblackstamp.com 700

Peter Mosiondz, Jr. 712

Philasearch.com www.Philasearch.com 629

Ohio November 17

Black River Stamp Club Annual Show Black

River Stamp Club, St. Judes School, 590 Poplar

St., Elyria.

Contact: Dennis Sadowski, 440-937-0069

Email: blackriver.stampclub@gmail.com

Connecticut November 25

Fourth Sunday Collectibles Show New Haven

Philatelic Society, Annex YMA, 554 Woodward

Ave., New Haven. *B*

The Philatelic Foundation

www.philatelicfoundation.org 677

Postal Pics 712

PostalStationery.com

www.postalstationery.com 702

Randy Scholl Stamp Co.

www.randyschollstampcompany.com/

have-tongs-will-travel.asp

Contact: Brian McGrath, 203-627-6874

Email: hukeda@comcast.net

Website: www.nhps1914.org

C4

Rasdale Stamp Company

www.rasdalestamps.com 679

Raslad Enterprises

www.deadcountrystamps.com 687

Richard A. Friedberg

www.friedbergstamps.com 674

Rising Sun Stamps 678

Robert A. Siegel Auction Galleries, Inc.

www.siegelauctions.com 689

RUBBER STAMPS shop.wcp-nm.com 709

San Pedro Stamp & Coin, LLC

www.sanpedrosc.com 700

Scott A. Shaulis www.shaulisstamps.com 709

Sescal & Federated Philatelic Clubs of Southern

California www.sescal.org 705

Sismondo Experts, The Classic Collector

www.sismondostamps.com 684

Space Cover Store

www.spacecoverstore.com 709

Stamp of the Century,

from the American Philatelic Society

stamps.org/publications 711

Stamp Smith 668

stampsinc 709

Stephen Pattillo - Quality Stampshows

www.stampshowsteve.com 713

Stephen Taylor www.stephentaylor.co.uk 682

Sterling Stamps www.sterlingstamps.com 675

Steve Malack Stamps www.malack.com 649

Suburban Stamp, Inc. 713

Subway Stamp Shop, Inc.

www.subwaystamp.com 625

The Institute for Analytical Philately, Inc.

www.analyticalphilately.org 670

Tropical Stamps, Inc.

www.tropicalstamps.com 664

United States Postal Service

www.USPS.com 623

Universal Philatelic Auctions

www.UPAstampauctions.co.uk 713

Vance Auctions Ltd.

www.vanceauctions.com 699

Vogt Stamps www.vogtstamps.com 682

Washington Press www.washpress.com 701

Wilton Stamp Company

www.wiltonstamp.com 710

World Stamp Company

www.discountcoverstore.com

www.worldstampcompany.com 684

Bangkok, Thailand Nov. 28-Dec. 3

Thailand World Stamp Exhibition FIP World Stamp

Exhibition and Congress, Bangkok. Exhibit

Contact: Commissioner Mr. Sandeep Jaiswal

Email: sj722@aol.com

Contact Address: PO Box 8689, Cranston, RI

02920,

JULY 2018 / AMERICAN PHILATELIST 707
---
CLASSIFIEDS

..............................................................................................................................

UNITED STATES

U.S. CLASSIC PRICE LIST FREE.

Seconds to superb, 4,500 lots,

60 pages, colored photos. No. 1

through B.O.B., Illustrated grading,

special discounts, 48-hour service.

Specify mint & or used. Layaways

and credit cards accepted. IOWA

STAMPS, Box 77-A, Ankeny, IA

50021. Phone: 515-964-1202

E-mail: iowasc@netins.net (1413)

www.philbansner.com (1432)

USED and MINT PNCs. Google

"Himes PNCs" or send SASE to J.

Himes, POB 453, Cypress, CA 90630

(1410)

FREE 35-page U.S. U.N. Pricelist or

view online at www.fortpittstamps.

com Fort Pitt Philatelics PO Box

6009 Pittsburgh PA 15211 (1417)

UNITED STATES Classic + www.

hipstamp.com/store/ralphsroom

(1415)

FREE Buy It Now MAILBID

catalog. US, Foreign stamps;

coins & currency Reeves Box 407

Huntingdon PA 16652 (1410)

USED PNC COLLECTORS our FREE

8-page list has PNCs on and off

cover. V. Collinino, POB 300A,

Stratham, NH 03885 (1411)

www.wiltonstamp.com (1416)

US MINT/USED 1840-1940 singles

and plate blocks send on approval.

See it before you buy it. Philatelic

Friends, Box 802, Bear, DE 19701

(1412)

EARLY TO THE LATEST PLATE

BLOCKS on approval. Positions

filled. Send me your want list today

John Robie, PO Box 2-A, Linden, CA

95236 (1421)

www.stampstore.org Seller ID

738268 (1410)

www.pedersonstamps.com (1414)

www.USatFACE.com (1415)

www.mozianstamps.com (1420)

U.S. BOOKLET PANES www.

stampstore.org Seller ID 738268

(1415)

QUALITY PRE-1940 U.S. stamps.

Free list. earlyusstamps@comcast.

net.net. Peter Mosiondz, Jr., 26

Cameron Circle, Laurel Springs, NJ

08021. Since 1968 (1411)

U.S. CLASSICS – JosephLuft.com.

2,000+ reasonably-priced stamps

(1413)

EARLY US CLASSICS – JosephLuft.

com (1413)

CLASSIFIED ADS GET RESULTS

Classified advertising in The American Philatelist is a costeffective

way to get the attention of nearly 30,000 American

Philatelic Society members around the world. Call or email to

place your ad or for more details.

1 month 6 months 12 months

1 line $ 3.94 $ 21.28 $ 37.82

2 lines $ 7.88 $ 42.55 $ 75.65

3 lines $ 11.82 $ 63.83 $ 113.47

4 lines $ 15.76 $ 85.10 $ 151.30

5 lines $ 19.70 $ 106.38 $ 189.12

6 lines $ 23.64 $ 127.66 $ 226.94

7 lines $ 27.58 $ 148.93 $ 264.77

8 lines $ 31.52 $ 170.21 $ 302.59

9 lines $ 35.46 $ 191.48 $ 340.42

10 lines $ 39.40 $ 212.76 $ 378.24

11 lines $ 43.34 $ 234.04 $ 416.06

To calculate the number of lines for your ad, count all letters,

numerals, punctuation and blank spaces between words.

Divide the total by 34 and round up to the next whole number.

Advertising is restricted to current APS members; please

include your APS number. All classified ads must be prepaid.

Send your ad text and payment to the address below.

Classified ads may be submitted online, by fax or via email if

charged to your VISA, MasterCard or Discover. When submitting

your ad, please include your card number and expiration date.

Renewals only are accepted by telephone.

Renewal Notice: If (1410) appears after your ad, it expires after

this issue. Deadline for the September issue is July 25.

Payment in advance. No change of copy. No refunds.

STAMPS.ORG/CLASSIFIED-ADS

100 Match Factory Place, Bellefonte, PA 16823

Phone: 814-933-3803, ext. 224 • Fax: 814-933-6128

E-mail: adsales@stamps.org

stampsforcollectors.net (1416)

CALL 814- 860-9404 Lou Z (1411)

55% OF FACE US MNH postage. $25

face for $13.75 Free shipping. R

Packowski 416 3rd Ave Harvey LA

70058 (1413)

U.S. APPROVALS - 1938 TO 2017.

Singles–mint NH or Used. Plate

Blocks, Souvenir Sheets, Panes of

20 and FDC. Great Prices. Volume

Discounts. Approvals allow you to

see stamps before you buy. Robert

Coppins, Box 333, Smithfield, UT

84335 Email: COPPINSGALLERY@

YAHOO.COM (1412)

U.S. MODERN IMPERF PRESS

SHEETS COMPLETE 4694c to

5057a $17,500. Milton Moffett

email: mfmstamps@gmail.com

(1411)

U.S. POSSESSIONS

www.stampstore.org Seller ID

738268 (1414)

stampstore.org Seller ID 502981

(1411)

www.mozianstamps.com (1420)

CANADA

CLASSIC CANADA ON APPROVAL.

See it before you buy it. Philatelic

Friends, Box 802, Bear, DE 19701

(1412)

www.nfldstamps.com

Walsh Specialized eCatalogues

2018 Newfoundland and

2018 BNA Canada (1415)

SEMI-OFFICIAL AIRS APS

Stampstore.org Seller ID 502981

(1411)

COLOUR GUIDES for Canadian

Stamps — Large & Small Queens or

Admirals, COLLATERAL PHILATELY

jafrbs@aol.com (1411)

DEVENEY STAMPS Canadian Stamp

Dealers Specializing in: Canadian

Revenues, Precancels, Varieties

& Provinces Most Pricing 50% of

Catalog WWW.DEVENEYSTAMPS.

COM (1417)

CANADA singles & year sets. Free:

30 pg cat. Lehigh Valley Stamps,

P.O. Box C, Coplay, PA, 18037.

Phone 610-231-1855. Email:

LehighVlystamps@aol.com (1420)

BRITISH COMMONWEALTH

BRITISH EMPIRE – Extensive stock

with emphasis on pre-1960.

Advise us of your wants. TOGA

ASSOCIATES, Box 396, Fairfield,

CT 06824 203-255-8885 e-mail:

tbansak@aol.com (1419)

GREAT! www.WorldStamps.com

(1414)

www.mozianstamps.com (1420)

www.commonwealth-stamps.com

(1411)

BRITISH COLONIES & WW

stampstore.org Seller ID 502981

(1411)

ARMENIA

www.ArmenianStamps.com (1415)

ASIA

Visit - www.dharaastamps.co.in

(1417)

AUSTRALIA

www.stampstore.org Seller ID

738268 (1413)

AUSTRIA

AUSTRIA AND RELATED AREAS

— Ask for our free price lists.

RSchneiderStamps@att.net.

1000s of stamps online at www.

RSchneiderStamps.com (1415)

BALKANS

WANT LISTS FILLED, Year

Sets, Extensive stock www.

buyhungarianstamps.com, HSE,

POB 3024, Andover, MA 01810,

888/868-8293 (1414)

BALTICS

WANT LISTS FILLED, Year

Sets, Extensive stock www.

buyhungarianstamps.com, HSE,

POB 3024, Andover, MA 01810,

888/868-8293 (1414)

CANAL ZONE

www.canalzonestamps.com (1415)

JOIN: www.CanalZoneStudyGroup.

com (1420)

CHINA

BUY STAMPS at www.

ChinaStampSociety.org (1417)

CHINA BUYER PAYS TOP $

Email images to:

jon@chinesestampbuyer.com

www.chinesestampbuyer.com

(1418)

CUBA

www.CubaPostal.com (1411)

www.ilastamps.com (1416)

www.stampstore.org Seller ID

738268 (1415)

CZECHOSLOVAKIA

WANT LISTS FILLED, Year

Sets, Extensive stock www.

buyhungarianstamps.com, HSE,

POB 3024, Andover, MA 01810,

888/868-8293 (1414)

EGYPT

POSTAL HISTORY 1866-1957 &

albums. New books in color www.

fercan.ca (1412)

708 AMERICAN PHILATELIST / JULY 2018
---
FRANCE

10% OFF YOUR 1st ONLINE

PURCHASE. Singles, year sets,

special offers. Want list service. Free

shipping. Prices in $CAD. www.

anicetrethier.com (1414)

FRANCE AND COLONIES

FABULOUS! www.WorldStamps.

com (1414)

FRENCH COLONIES

www.disler.com (1417)

www.stampstore.org Seller ID

738268 (1413)

GERMANY

GERMANY AND RELATED AREAS

- Ask for our free price lists.

RSchneiderStamps@att.net.

1000s of stamps online at www.

RSchneiderStamps.com (1420)

GERMAN AREA ON APPROVAL.

See it before you buy it. Philatelic

Friends, Box 802, Bear, DE 19701

(1412)

GERMAN-ALL AREAS Altreich to

Bundespost-Berlin-DDR Mint/Used

priced by Michael Cat. Send want

list for prices to miller-roth@tonline.de

(1415)

GREAT BRITAIN

www.british-stamps.com (1411)

HUNGARY

Want lists filled, New Issues,

Extensive stock of all Eastern

European countries. www.

hungarianstamps.com, POB 3024,

Andover, MA 01810, 888/868-8293

(1421)

EXTENSIVE! www.WorldStamps.

com (1414)

INDIAN STATES

BUYING & SELLING 888-262-5355

info@stampsinc.com (1420)

IRAN/IRAQ

www.stampsofIRAN.com (1415)

ITAY AND COLONIES

stampstore.org Seller ID 502981

(1411)

RUBBER STAMPS

TRADITIONAL & SELF-INKING

CUSTOMER SERVICE & ORDERS CALL TOLL-FREE

1-877-373-1212

MOST ORDERS SHIP WITHIN 24 HOURS

Visit us online: SHOP.WCP-NM.COM

MIDDLE EAST

EGYPT, SUDAN & ARAB countries

mint, used. A Hafiz, 112B Ammar

Bin Yasser St., Heliopolis, Cairo

11351, Egypt. Email: adhafez1311@

gmail.com (1411)

NORTH WEST PACIFIC

ISLANDS

stampstore.org Seller ID 502981

(1411)

PANAMA

JOIN: www.COPAPHIL.org (1420)

PHILIPPINES

www.stampstore.org Seller ID

738268 (1410)

POLAND

POLAND SPECIALIZED: Classics

to New Issues, Year Sets, Back of

Book. Lubelski Philatelic LLC 111

Helen Drive, Rossford, Ohio 43460

Ph: 419-410-9115, Web: www.

Lubelskistamps.com Email: Dan@

Lubelskistamps.com (1416)

WANT LISTS FILLED, Year

Sets, Extensive stock www.

buyhungarianstamps.com, HSE,

POB 3024, Andover, MA 01810,

888/868-8293 (1414)

EXCELLENT! www.WorldStamps.

com (1414)

ROMANIA

WANT LISTS FILLED, Year

Sets, Extensive stock www.

buyhungarianstamps.com, HSE,

POB 3024, Andover, MA 01810,

888/868-8293 (1414)

WANT LISTS FILLED, Year Sets,

New Issues, Extensive Stock,

George ARGHIR, Detunata 17/ 27,

400434 Cluj Napoca, Romania.

georgearghir@hotmail.com (1412)

SOUTH AMERICA

VERY NICE! www.WorldStamps.com

(1414)

SPAIN

www.stampstore.org Seller ID

760991 (1414)

SWITZERLAND

MISSING SWISS USED SITTING

HELVETIA'S?? Also early PRO

JUVENTUTE?? Available in singles!!!

LAYAWAY Plan to easily complete

sets! Visit HTTP://STORES.EBAY.

COM/STAMPICKS/ (1410)

UNITED NATIONS

U.N. PRICE LIST, Wm. Henry Stamps,

POB 150010, Kew Gardens, NY

11415 www.allunstamps.com

(1421)

WORLDWIDE

www.philbansner.com (1432)

www.dickkeiser.com (1415)

www.wiltonstamp.com (1416)

FREE NEW 160-PAGE WORLDWIDE

PRICE LIST, find out why most

collectors place orders when they

receive our lists. We have the

stamps you need at the prices you

like. Martin Winter, 800 W. Willis

Rd., Apt. 1045, Chandler, AZ 85286

(1412)

www.stampconnections.com

(1417)

EXCEPTIONAL! www.WorldStamps.

com (1414)

www.ArmenStamp.com (1415)

SELLER ID 534232: US, Polynesia

(1410)

25,000 DIFFERENT ITEMS

AVAILABLE ON zillionsofstamps.

com/RINDSHOJ (1414)

www.mozianstamps.com (1420)

CALL 814- 860-9404 Lou Z (1411)

stampsforcollectors.net (1417)

BUYING & SELLING. Request list by

hofer-keg@sbg.at (1412)

www.stampstore.org Seller ID

764768 (1414)

-- AFFORDABLE QUALITY STAMPS

-- www.sunsetstamps.com (1421)

ALBUMS

EDITABLE STAMP ALBUMS FOR

SERIOUS COLLECTORS Album

Builder (CD) or Specialty Albums

(CD only or complete albums w/

CD) FREE catalogue download

via joel_wells@msn.com or send

$3.00 for color catalogue to Joel

Wells, Delta-Q Publishing 15711

Brandywine Rd. Dumfries, VA

22025 (1415)

APPROVALS

WORLDWIDE APPROVALS

DISCOUNT 66 2/3% from Current

Scott. Send APS# to Robert

Ducharme, C.P. 592, St. Jerome, QC

J7Z 5V3, Canada (1411)

www.wiltonstamp.com (1416)

US AND WORLDWIDE. See it before

you buy it. Philatelic Friends, Box

802, Bear, DE 19701 (1412)

INTERNATIONAL APPROVALS

Inquiries Doyen Trading Co. PO Box

432 Basking Ridge NJ 07920 (1412)

STAMPS-COINS-COLLECTABLES

Lou Zeelsdorf, 111 E. 11th St., Box

25, Erie, PA 16501. Write/Call 814-

860-9404 (1411)

CUSTOMIZED WW APPROVALS

Strong collections, Pick @ 50%

All countries & levels to advanced

AKM PO Box 30010, Mesa, AZ

85275 kenstampneb@cox.net

www.akmstamps.com (1417)

GREAT STAMPS FAIR PRICES

Personal Service, Worldwide sets &

singles. Emporium, 10 Wilmington

Ave., Apt. 109W, Dayton, Oh 45420

(1417)

FREE STAMPS! MYSTERY LOT!

Includes dead countries. Only

better items. Value $20.00+.

Approvals included. Jerry Bourque,

Box 1688, Garden City, SC 29576.

Email: bbjerrybb@peoplepc.com

(1418)

YOU WILL LOVE my personalized

approval service! Worldwide mint

or used (No U.S.) Send interests:

Linehan P.O. Box 846 Neosho MO

64850 or KJLinehan@msn.com

Ireland Specialist (1412)

U.S. APPROVALS - 1938 TO 2017.

Singles–Mint NH or Used Plate

Blocks, Souvenir Sheets, Panes of

20 and FDC. Great Prices. Volume

Discounts. Approvals allow you to

see stamps before you buy. Robert

Coppins, Box 333, Smithfield, UT

84035 Email: COPPINSGALLERY@

YAHOO.COM (1412)

AUCTIONS

www.sterlingkingbrookauctions.

com (1420)

1939–1945

Poland — General

Government

Complete (168 different)

168 diff Mint NH $325.00

168 diff Mint $200.00

168 diff Used $350.00

www.DonSCal.com

Don S. Cal

PO Box 1732 • Port Angeles, WA 98362

Tel: 250-383-6211 • E-mail: dcal@victoriastamp.com

Dealer member APS since 1985

JULY 2018 / AMERICAN PHILATELIST 709
---
CENSORED

www.dickkeiser.com (1415)

COVERS

www.philbansner.com (1432)

http://www.postalhistory.com/

(1413)

www.dickkeiser.com (1415)

WWW.COVERCOLLECTORS.ORG

(1411)

DONATIONS

BOYS TOWN invites donations of

U.S. and foreign stamp collections,

coins, currency, and mint U.S.

postage. Help us help kids! Leon

Myers Stamp Center, 13628

Flanagan Blvd., Boys Town, NE

68010. Email stampcenter@

boystown.org Phone 402-498-1143

(1417)

FOREIGN STAMPS

20th ANNIVERSARY SPECIAL

Treat yourself to a fine mix of

used stamps off paper. $130

catalogue for $12. Bonus for former

customers. Gene Bujdos POB 5649,

Pittsburgh, PA 15207 (1410)

BLUE MOON PHILATELIC

bmastamps2.com – 10K WW

Stamps + No File Photos. Ship to

US only (1418)

Mexico

New and Lower Prices

www.greggnelsonstamps.com

We Sell &

Buy Stamps

U.S. & Worldwide

707-894-5273

CKstamps

ck stamps LLC

42-14 Union St. #2A

Flushing, NY 11355

ckstampsLLC@yahoo.com

www.CKstamps.com

LITERATURE

www.philbansner.com (1432)

www.pbbooks.com Leonard H.

Hartmann (1412)

MAIL SALES

FREE CATALOG. US, British, Europe,

W/W. Many Starter Collections.

Various Sized Lots. No Buyers Fee.

Jarema PO Box 359100, Gainesville,

FL 32635 (1414)

MILITARY

www.dickkeiser.com (1415)

NEW ISSUES

NEW ISSUE SERVICE. All countries.

No minimum requirement. Becker,

Box 3461, Portland, OR 97208

(1414)

PACKETS

200 DIFF. STAMPS 70% large WW

only $4.00 per PK +98¢ SASE.

Towlson, 60 Ivanhoe Rd., Buffalo,

NY 14215 (1421)

POSTAL HISTORY

www.philbansner.com (1432)

http://www.postalhistory.com/

(1413)

www.dickkeiser.com (1415)

Stamps Auctions

from $0.01 on eBay

APS #216955

StampShoW

National Topical Stamp Show

Mobile APP

www.mgjpostalhistory.com

+ephemera (1410)

www.pedersonstamps.com (1414)

www.stamplessletters.com (1414)

REVENUES

www.dickkeiser.com (1415)

STAMP SHOPS

VISITING LAS VEGAS? Stamps,

Covers, and More. 8919 W. Sahara

Suite 140 Mon. to Sat. 10 AM-4 PM

702-222-0355 (1417)

STAMP SHOWS

www.CollectibleStampsGallery.

com (1413)

SUPPLIES

COMPLETE PHILATELIC SUPPLIES

$30+ order gets free U.S. shipping.

B and G Sales ebay: http://stores.

ebay.com/bandgsales or call 317-

627-5242 (1412)

TOPICALS

EJstamps@gmail.com (1418)

www.CollectibleStampsGallery.

com (1413)

NEW — 2017 Canadian Revenue

Stamp Catalogue by ESJ van Dam

214 pages, 1200 color photos

send US$32 for Air Mail to USA or order on our website.

E.S.J. van Dam Ltd

P.O. Box 300-P, Bridgenorth, ON, Canada K0L 1H0

toll free phone 1-866-382-6326

www.canadarevenuestamps.com

Remember the APS and

APRL in your Will

Call (814) 933-3803 for info

on estate planning

New Zealand's Leading Auction House

offers you free monthly postal auctions with 3000+ lots!

Join our mailing list NOW!

www.mowbraycollectables.co.nz

Private Bag 63000, Wellington,

New Zealand 6140

Ph: + 64 6 364 8270 • mowbray.stamps@xtra.co.nz

WANTED

FOREIGN POSTAL STATIONERY. I

can use almost anything in foreign

postal stationery. Steve Schumann,

2417 Cabrillo Drive, Hayward, CA

94545 stephen.schumann@att.

net (1415)

WISCONSIN BUYER - EVERYTHING

www.stampbuyer-wisconsin.com

(1412)

INDIA & STATES POSTAL

STATIONERY. Record-setting

prices paid. Sandeep 401-688-9473

sj722@aol.com (1420)

CHINA STAMPS COVERS ALL Pay

HIGHEST! GU Box 4485 Santa Clara

CA 95056 (1415)

SHEETS WANTED! ERRORS TOO!

Highest prices paid! Forever

commemorative stamps especially

needed! Email stukatz@comcast.

net or Call 603-929-0057 with what

you have to offer. (1411)

WORLD AIR MAILS WANTED

Contact us with what you have to

offer SPSC 520-393-9887 fax 520-

900-7426 sanpedrosc@gmail.com

(1420)

buyers and

builders of great

stamp collections

visit

www.columbianstamp.com

We want to be Your Favorite

14-Day Stamps on Approval Service

Sign up today at

wiltonstamp.com

Free Gift, Free Domestic Returns.

Over 30 Years Family Owned

and Operated, Since 1987.

Instructions and

download links at:

https://aps.buzz/DragonApp

U.S. Possessions

CZ, Cuba, Guam, Hawaii, PR, Philippines, Spanish Era

Whether you want that elusive issue to complete

FSDA

ASDA

a set or sell your collections. Free price list.

FRANK BACHENHEIMER

6547 Midnight Pass Rd., #89, Sarasota, FL 34242 • Ph: 941-349-0222

www.astampdealer4u.com • frankb@astampdealer4u.com

U.S. Revenues

R1 to RZ18, Telegraphs, Savings

Whether you want that elusive issue to complete

FSDA

ASDA

a set or sell your collections. Free price list.

FRANK BACHENHEIMER

6547 Midnight Pass Rd., #89, Sarasota, FL 34242 • Ph: 941-349-0222

www.astampdealer4u.com • frankb@astampdealer4u.com

710 AMERICAN PHILATELIST / JULY 2018
---
One mistake, a century of stories

Available May 1st at

www.stamps.org/Publications

"Like an Inverted Jenny charm bracelet,

the stories told here reveal the passions of

collectors, portrayed in an endearing way,

connecting both the worldly and bizarre."

Smithsonian

National Postal Museum

Cheryl Ganz, Ph.D,

curator of philately emerita

Smithsonian National Postal Museum

APS Publications
---
MEMBERSHIP REPORT

..........................................................................................................

No. 5, May 31, 2018

NEW APPLICANTS

The following applications were

received during May 2018. If

no objections are received by

the Executive Director (814-

933-3803) prior to July 31,

2018 these applicants will be

admitted to membership and

notice to this effect will appear

in the September issue.

Al-Qaisi, Wisam W. (228976)

Wien, Austria US FLIGHT

COVERS-GERMAN 3RD REICH/

OCCUPATIONS-IRAQ-AVIATION-

WAR COVERS/STAMPS-

OCCUPATION ISSUES-MINI

POSTCARDS; 40; Diplomat

Amarosa, Vin (228980) Howell,

NJ US 20TH CENTURY, FDC, FD

PROGRAMS-LINCOLN-EDISON-

PETER COOPER-COOPER UNION

Anilkumar, M. S. (228903)

Bangalore, India WHALES-

FALKLAND ISLANDS-BIRDS-

TONGA/TIN CAN MAIL; 48

Babiak-Vazquez, Adriana (229009)

Houston, TX POLAND-SPAIN-

MEXICO-US COMMEMORATIVES-

GREAT BRITAIN-IRELAND;

Epidemiologist

Baco, Meagan (228964) Baltimore,

MD ARCHITECTURE-US

AIRMAILS, ERRORS/FREAKS/

ODDITIES-STAMP DESIGN/

DESIGNERS-OLYMPICS-WORLD

FAIRS/EXPOSITIONS; 33; Historic

Preservation

Barnes, Michael J. (229008) Bristol,

CT WORLDWIDE-US, FDC; 43

Bonislawski, Michael J. (228904)

Watertown, MA US,

COMMEMORATIVES, 19TH &

20TH CENTURY, AIRMAILS; 68;

Writer

Brady, Gregory J. (S-228997)

Alexandria, VA; 49; U.S. Army

Officer

Brady, Leo (J-228995) Alexandria,

VA; 9; Student

Brady, Owen (J-228996)

Alexandria, VA; 7; Student

Bridgers, Daniel (228985)

Savannah, GA US 19TH & 20TH

CENTURY, BLOCKS/GUIDELINE

BLOCKS, FDC; 69; Attorney

Brosemer, John F. (228940)

Nebraska City, NE US

19TH & 20TH CENTURY,

COMMEMORATIVES,

DEFINITIVES; 64; Owner

Postal Building Photos Needed

Pictures of unusual/iconic postal

buildings and their history

Send to: postalpics@gmail.com

Brown, Bruce N. (228909) Lutz,

FL; 76

Burns, Richard (228972) Etters,

PA BRITISH COLONIES-AFRICA-

US COMMEMORATIVES; 48;

Accountant

Castillo, Maria (229006) Miami

Lakes, FL; 53; Office Manager

Chamberlin, Christopher D.

(228963) Parsonsfield, ME US

CIVIL WAR COVERS, NC & VA

POSTAL HISTORY, CONFEDERATE

STATES-NC AND VA CIVIL WAR

COVERS; 72

Chansomphou, Sourideth (228968)

Moreno Valley, CA US 19TH

& 20TH CENTURY, AIRMAILS,

CANCELS, BUREAU ISSUES,

BLOCKS/GUIDELINE BLOCKS; 45

Ciappa, Mario (228918) Mount

Pleasant, SC

Cool, Gregory (228957)

Greenfield, IN US 20TH

CENTURY, COMMEMORATIVES-

KENNEDY-OLYMPICS-UN-

AUSTRIA; 59; Business Owner

Crossley, Chris (228966) West

Bloomfield, MI PRE-1960

BRITISH COMMONWEALTH & US;

69; Retired

Czarnecki, Jeffery (228902)

Watervliet, NY US,

COMMEMORATIVES; 63; Retired

Davidson, Stephen (228946)

Hortense, GA GERMAN

COLONIES-AUSTRIA-FRANCE-

PORTUGUESE COLONIES-

BRITISH EMPIRE; 67; Retired

Farrell, Thomas J. (228986)

Millersville, MD 19TH CENTURY

CLASSICS; 62; Retired

Foster, Richard (228970) Bayfield,

CO; 65

Fox, John T. (228927)

Brandenburg, KY GERMANY-

US; 66; Retired

Fredland, R. (228912)

Indianapolis, IN US-CANADA-

UN; 80; Retired

Goodman, Ron (228929) Auburn,

WA US COMMEMORATIVES; 67;

Retired

Griswold, Eddie D. (228915)

Medfield, MA US-WORLDWIDE;

65; Comic Artist/Graphic

Illustrator

Guinther, Sheila (228913) New

Hampton, NH US-SOUTH

AMERICA-SOUTH AFRICA;

Clinical Mental Health Counselor

Haddock, Spencer (229004)

Plantation, FL PANAMA-

WORLDWIDE; Retired

Hamburger, Justin (228910)

Bloomfield Hills, MI

PRECANCELS-POSTAL HISTORY-

ISRAEL; 20; Artist

Hart, Walter B. (228949) Yass,

NSW, Australia US DEFINITIVES,

COMMEMORATIVES-AUSTRALIA-

GERMANY-AUSTRIA-BRITISH

EMPIRE; 65

Hedderick, Thomas G. (228920)

Belmont, MA WORLDWIDE; 62

Holmes, Patrick P. (228962)

Chicago, IL NORTH AMERICA-

UN; Retired

Hopkins, Thomas (228907) Mesa,

AZ; 74; Retired

Howard, Jon (228935)

Hedgesville, WV US CIVIL WAR

COVERS, STAMPLESS COVERS,

ERRORS/FREAKS/ODDITIES-

HONG KONG-ZEPPELIN COVERS/

STAMPS-OVERPRINTS &

SURCHARGES; 53

Huebner, Jason B. (228933)

Miami Beach, FL US 19TH

CENTURY, AIRMAILS, POSTAGE

DUES, CONFEDERATE STATES,

REVENUES/TAX PAIDS

(FEDERAL), HAWAII; 43

Hughart, Thomas A.

(228930) Bedford, NY US,

COMMEMORATIVES, SHEETS,

FDC, BLOCKS; 86; Ethics

Consultant

Hutchins, Karen R. (228947)

Fayetteville, AR; 63; Retired

Jo, Yejin (228990) Albuquerque,

NM; 31

Kelley, Michael (228914)

Louisville, KY MINT US

COMMEMORATIVES, AIRMAILS;

54; Executive

Kimmel, Jay (228923) Lake

Worth, FL SPORTS-COMICS-

COMMEMORATIVES; 58; Self

Employed

Klaeser, Peter (228989)

Chesterton, IN US

COMMEMORATIVES, COVERS-

CANADA-VATICAN CITY-BIRDS-

SCOUTS; 61

Kolarovic, Andrej (228936) Trnava,

Slovakia; 43

Koppanati, Chakradhar (228955)

Overland Park, KS WAR

COVERS/STAMPS-WORLD WAR

II-ARCHITECTURE-BRITISH

ROYAL FAMILY-SPORTS; 36

Kuntz, Dick (228987) Great Falls,

MT US; 71; Retired

Quality Pre-1940 U.S. Stamps

Accurately Graded and Properly

Attributed • Free Price List

Peter Mosiondz, Jr.

26 Cameron Circle • Laurel Springs, NJ 08021

856-627-6865 • earlyusstamps@comcast.net

— Serving Philately Since 1968 —

NEW MEMBERS

Applications 228677 through

228780 as previously published

have been accepted for

membership by the Board of

Vice Presidents.

SUMMARY

Total Membership,

April 30, 2018.....................27,790

New Members 103

Reinstated 114...............217

Deceased 39

Resignations 2.................41

Total Membership,

May 31, 2018 ...................27,966

(Total Membership, May 31, 2017

was 28,629 a difference of -663)

Ledebuhr, Jeff L. (228948)

Brookfield, WI US, 19TH

CENTURY, COMMEMORATIVE

PANELS, PLATE BLOCKS, PLATE

VARIETIES, FDC; 65

Leggio, Fabio E. (228905) Barto,

PA GERMANY-RUSSIA/USSR/

INDEPENDENT REPUBLICS-

GERMAN 3RD REICH/

OCCUPATIONS-US-LOTS &

COLLECTIONS; 49

Lehmann, Blaise (J-228994)

Alexandria, VA; 9; Student

Lehmann, Grace (J-228999) Boca

Raton, FL; 16

Lehmann, Jeanette (229002) Boca

Raton, FL; Teacher

Lehmann, Katherine A. (228998)

Alexandria, VA; 47; Attorney

Lehmann, Luke (J-229000) Boca

Raton, FL; 12; Student

Lehmann, Matthew (J-228992)

Boca Raton, FL; 5; Student

Lehmann, Peter (J-229001) Boca

Raton, FL; 17; Student

Lehmann, Sarah A. (S-228993)

Boca Raton, FL; 75; Retired

Levine, Lawrence A. (228908)

Cherry Hill, NJ US SHEETS; 71;

Podiatrist

Linch, Donald T. (228924) Santa

Rosa, CA US, MINT; 84; Retired

Lopez, Jessie (228981) Fenton, MI

US CLASSICS; 61

Luce, John B. (228953)

Indianapolis, IN US,

19TH & 20TH CENTURY,

COMMEMORATIVES/PANELS,

FDC; 75

When in Naples (Florida)

stop in and examine our large stock of U.S. and

Foreign Stamps, Covers, Collections, Wholesale Lots

NEW ENGLAND STAMP

4987 Tamiami Trail East

Village Falls Professional Ctr., Naples, FL 34113

Ph: 239-732-8000 Fax: 239-732-7701

Established 1893 E-bay I.D. Gary.NES

712 AMERICAN PHILATELIST / JULY 2018
---
Margolies, Sandra (228967)

Philadelphia, PA ISRAEL; 57;

Office Manager

Marquette, William C. (228979)

Bell Buckle, TN US MD, VA &

TN POSTAL HISTORY, CIVIL WAR

COVERS, CONFEDERATE STATES,

ERRORS/FREAKS/ODDITIES; 60;

Educator Technology Sales

Marron, Ken (228991) Bernalillo,

NM BLOCKS-FEDERAL DUCK; 86;

Retired

Martineau, Maurice T. (228921)

North Chelmsford, MA; 61

Martinez, James R. (228956)

Centennial, CO US AIRMAILS,

COMMEMORATIVE PANELS,

DUCK/HUNTING/FISHIING,

IMPERFORATES-SPACE-COINS; 73

McLaughlin, Bob (228937)

Plymouth, MA; 73

Meehan, John D. (228939) Bend,

OR US, AIRMAILS; 88; Retired

Miles, Timothy J. (228925)

Roseville, CA US-FRANCE,

COLONIES-GERMANY; 79;

Retired

Monaco, Bob (228958) Lancaster,

CA US-ITALY-VATICAN-MONACO;

63; Insurance Sales

Morris, Timothy W. (228922)

Hamilton, MA BIRDS-

CHRISTMAS; 63; Social Work

Myers, Raymond W. (228954)

Harpers Ferry, WV MINT US

SINGLES; 75; Retired

Naylor, Ellen S. (228975) Bullhead

City, AZ US-SPACE-PRESIDENTS-

UKRAINE-POLAND-RUSSIA; 62;

Retail Sales

Nelson, Lee D. (228934)

Springfield, VA US BLOCKS/

GUIDELINE BLOCKS, BOOKLETS/

PANES, COILS; 74

Ockander, Steve (228928)

Sacramento, CA WORLDWIDE;

63; Manufacturing

Ostolaza-Palma, Ana (228942)

Ledgewood, NJ; 55

Pletcher, Robert W. (228983)

Mooresville, NC US 19TH &

20TH CENTURY, AIRMAILS,

COILS, COIL LINE PAIRS,

COMMEMORATIVES; 72

Powell, Jennifer (229005) West

Hollywood, CA; Consultant

Quigley, Marty (228906) San

Antonio, TX US CLASSICS,

PA (YORK) POSTAL HISTORY,

STAMPLESS COVERS, POSTAL

MARKINGS; 69

Quispe, Luis (229003) Miami, FL;

Stamp Dealer

Raichlin, Roxanne (229011)

Waterloo, NY US POSTAL

CARDS, POSTAL MARKINGS,

CANCELS

1 st $77 F R E E

So You Can

TEST UPA

www.upastampauctions.co.uk

Robertson, Silas (228931) Athens,

GA US-UN; 68; Retired

Santos, Michelle (229007) Hialeah,

FL; 22; Secretary

Schoenfeldt, Thomas I. (228911)

Redford, MI PHILIPPINES; 71;

Retired

Schwartz, Peter (228978) Flushing,

NY ISRAEL TABS-US PRIVATE

PERFS, AIRMAILS-ISRAEL; 72

Shoffstall, Virginia (228974)

Beulah, WY

Silver, Phil (228916) Greensboro,

NC US 20TH CENTURY,

AIRMAILS, COMMEMORATIVES;

75

Smith, Kenric (228988)

Charleston, WV OLDER

STAMPS; 52; Brick Mason

Smith, Matthew (228938) Fort

Wayne, IN US-WORLDWIDE-

AFRICA-RHODESIA-BRITISH

COLONIES; 52; Engineer

Smith, Syd (228932) Lynn, MA

NICARAGUA-GUATEMALA-

HAWAII-NEWFOUNDLAND

Snarr, William (228944) Mesa,

AZ US COMMEMORATIVES; 73;

Retired

Sopher, Robin (228952)

Lakewood, WA WORLDWIDE;

67; Retired

St. Martin, Steve (228943) New

Roads, LA US, POSSESSIONS-

CANADA-GREAT BRITAIN-

BRITISH COMMONWEALTH; 61;

Retired

Standlick, Richard S. (228926)

Bridgeton, NJ US; 82; Retired

Steed, C. Edward (229010) Atlanta,

GA METALLURGY-US BOOKLETS/

PANES-HISTORY; 61; Consultant

Steele, Jill (228941) Wichita Falls,

TX GERMANY-AUSTRIA; 53;

Marketing Consultant

Stiff, Steven (228977) Missoula,

MT; 65; Professor

Sullivan, Thomas (228984) Tierra

Verde, FL US CLASSICS,

19TH & 20TH CENTURY,

COMMEMORATIVES,

DEFINITIVES, AIRMAILS

Suvanich, Voranuch (228961)

Carmel Valley, CA

Sweet, Martin (228973) Point

Arena, CA RAILROADS-US 19TH

CENTURY, REVENUES/TAX PAIDS

(FEDERAL)-BACK OF THE BOOK-

ISRAEL-NEW ZEALAND; 59

Szymanski, William (228965)

Tampa, FL NEW ISSUES-

RESEARCH; 81; Retired

Teaford, Kody (228960)

Westerville, OH US 19TH

CENTURY, OH POSTAL HISTORY,

CIVIL WAR COVERS, ERRORS/

FREAKS/ODDITIES, OFFICIAL

POST OFFICE SEALS; 28;

Attorney

Tomikel, John (228969) Erie, PA;

90

Ventura, Alexander (228971)

Briarcliff, NY US 19TH & 20TH

CENTURY; 47

Vornberg, James A. (228919)

Garland, TX US-SCOUTS; 74;

Retired

Walters, Jacob (228951)

Hattiesburg, MS BRITISH

COMMONWEALTH-GREAT

BRITAIN, BOOKLETS, MACHINS-

BRITISH EMPIRE & OMNIBUS; 28

Weaver, Thomas (228982)

Minneapolis, MN

Weigley, Charles (228950)

Richland, PA BRITISH AFRICA-

US COMMEMORATIVES-

CANADA; 69; Retired

Zehr, Leonard (228917) Windsor,

ON CANADA-US; 71

Zhang, Xiachan (228945)

Philadelphia, PA US 19TH &

20TH CENTURY-CHINA

Zimmerman, Patrick S. (228959)

Harleysville, PA CONFEDERATE

POSTAL HISTORY; 39

DECEASED

Barnum, H. Gardiner (070032),

South Burlington, VT

Barron, Robert D. (206968),

Niskayuna, NY

Battesin, Henry S. Jr. (077153),

Ardsley, NY

Berg, Sherman F. (059050),

Milwaukee, WI

Bess, Robert C. (049225), Palestine,

TX

Broad, Edward M. (115389),

Dedham, MA

Catalanotto, Barney (063023),

Forest Hills, NY

Collins, Roland E. (056448),

Harrison, NJ

Damm, Arthur A. (183292), North

Wales, PA

Egon, Schaetel (226721), Valdosta,

GA

Fulmer, Carlton J. (062017), Upper

Falls, MD

Gerard, Thomas W. (076848),

Tucson, AZ

Goodell, Richard A. (055264), Fort

Worth, TX

Haggerty, Robert L., Sr. (226831),

Baltimore, MD

Harmsen, Gary A. (215480),

Horseshoe Bay, TX

CANADA #5

PF Cert. graded "XF-Superb "95 XQ"

Are you on our mailing List?

Suburban Stamp Inc.

P.O. Box 425

East Longmeadow, MA 01028

413-785-5348

E-mail: suburbanstamp@verizon.net

Herndon, Myrtis E. (136667),

Allons, TN

Herron, James T. Dr. (053102),

Canonsburg, PA

Herzog, Howard H. (049711), Coral

Springs, FL

Howell, Benjamin F., (038387),

State College, PA

Jatho, Edgar W. Jr. (182539), Abita

Springs, LA

Lawler, Ronald W. (070217),

Muskego, WI

Lawson, Jack (053458), Bel Air, MD

Marks, Wayne M. (174813), Long

Valley, NJ

Mausehund, Roger A. (222909),

Smyrna, DE

Mitchell, Ronald B. (039171),

Medina, OH

Morginstin, Charyl (107978),

Trenton, NJ

Poole, Elisha C. (046905),

Greenville, AL

Potter, Robert B. (028071), Eugene,

OR

Redden, Taylor T. (116652),

Swarthmore, PA

Riga, Roger J. (094180), Eaton, OH

Rubio, Pedro A. (059999), Bryan, TX

Semeyn, Don B. (174796), Sarasota,

FL

Shoffstall, John S. (162385),

Beulah, WY

Shore, Edward C. (063580),

Lewistown, PA

Steiner, John S. (058981), St. Louis,

MO

Van Schoonhoven, Derick

(040761), Bethlehem, PA

Williams, Leidy K. (068799), Cabot,

AZ

Wyzujak, Walter (178111),

Rockford, IL

Zabenko, Sandra (062331),

Brookside, NJ

DEALER LISTING

The following has been approved

for classification as full-time

(D) stamp dealer according to

qualifications established by the

Board of Vice Presidents.

Montecinos Philately (Montecinos,

Jose L., 218418-D), 319

Route 31, Round Top, NY

12473, (718) 310-3936. www.

montecinosphilately.com

SUSPENSION

Denny, Jacob G. (226559),

Bellefonte, PA, suspended

for two years for conduct

unbecoming a member for

attempted theft (violation of

Code of Ethics 3 and 12).

Visit a FREE Stampshow

in Southern California go to:

Stampshowsteve.com

for Dates, Times & Locations

FREE Parking Too!

JULY 2018 / AMERICAN PHILATELIST 713
---
2018 NEW STAMPS

...............................................................................................................

BY JEFF STAGE

New May Stamps Send Us Soaring

The U.S. Postal Service looked skyward

to celebrate some big firsts

with two new stamps in the month

of May.

First, the 100th anniversary of the inauguration

of official U.S. airmail service

was celebrated with the first of two similar

United States Air Mail stamps. Near the

end of the month, another stamp was released

to honor Sally Ride, America's first woman in space.

Here is a summary of the two stamps, which are both forever

stamps paying the first-class domestic rate:

Air Mail Centennial

The U.S. Postal Service celebrated the centennial of official

airmail service with release of this stamp in a ceremony at

the National Postal Museum in Washington, D.C.

Airmail service officially took off on May 15, 1918 with

scheduled flights between Washington, D.C. and Philadelphia,

Pennsylvania, as well as flights between Philadelphia

and New York City.

The new blue-and-white United States Air Mail stamp

features a drawing of the type of plane typically used in the

early days of airmail, a Curtiss JN-4H biplane. The stamp is

printed in intaglio — a design engraved into the stamp paper

– and has been produced in panes of 20. A stamp in dark red

with the same design will be released August 11 in College

Park, Maryland.

The first-day ceremony, on May 1, was part of a day filled

with events at the National Postal Museum, including the

opening of a new airmail exhibit – "Postmen of the Skies"

– and new book, Stamp of the Century, co-published by the

NPM and American Philatelic Society.

Speaking at the ceremony were Bill Harris, deputy director,

Department of the Air Force; Susan Brownell, vice president

of supply management for the United States Postal Service;

Elliot Gruber, director, and Nancy Pope, head curator,

both of the Smithsonian National Postal Museum.

After a series of experimental flights in previous years, the

Post Office Department and U.S. Army worked cooperatively

to launch official airmail service in 1918. Army planes and

pilots were used to fly the first mail runs. The Post Office Department

took charge of service later that summer, operating

it from Aug. 12, 1918, through Sept. 1, 1927.

The stamp celebrates the courage of the pioneering airmail

carriers and the foresight of those who fostered the new

service and made it a success. Airmail delivery, daily except

Sundays, became part of the fabric of the American economy

and spurred the growth of the nation's aviation

industry.

For airmail service to succeed in the

early days of flight, the Post Office had to

develop profitable routes, such as between

New York and Chicago, and to establish

the infrastructure for safely making night

flights. The first east-west route (New York

to Chicago) started December 18, 1918.

The Post Office Department set up lighted airfields and

erected hundreds of airmail guide beacons between New

York and San Francisco so that by 1924 regularly scheduled,

transcontinental flying was possible, day and night.

Dan Gretta designed the stamp and typography while

Greg Breeding was art director.

Gretta is an independent digital and print designer in

Philadelphia with a focus on branding and packaging. Upon

graduating from Philadelphia University in 2008, Gretta was

awarded the Maurice Kanbar Award for having one of the

Top 5 portfolios. He began his career in advertising, brand

strategy, web and packaging and later narrowed his focus to

branding and packaging for a variety of industries including

cosmetics, wine, spirits, beer, cigars and other luxury goods.

Clients include Pottery Barn, Sony Pictures Classics,

Turner Classic Movies, American Greetings, Temple University,

Honda and Staples.

Questions and Answers with

Greg Breeding, art director

When did you start working on

this stamp?

I began working on the stamp design in the spring of

2016.

Did the assignment from the start include two stamps

of the same design or did that come later?

The original brief was for a single design. The decision to

print two versions, in blue and red, came later.

What are the official colors of the two stamps? (I have

been reading "red" but it seems darker than a standard

red.)

It is difficult to name the colors of each of the stamps,

and that's because each one is custom. Because of the unique

challenges of intaglio, we experimented with both the red

and blue inks until we arrived at the final solution.

Is this the artist's first postage stamp project?

Yes, this is Daniel Gretta's first postage stamp project.

714 AMERICAN PHILATELIST / JULY 2018
---
Did you have any initial concepts for the

stamp?

Yes, when I was first assigned the project, we

spent considerable time reviewing the many ways

airmail stamps were designed in the past. We were

particularly drawn to how the stamps were designed

during the first decade of airmail, since this issuance

commemorates the 100th anniversary of when airmail

began. The most common element in airmail

stamps are airplanes, quite naturally, but they are often

depicted over landscapes and cityscapes and in a

multitude of graphic forms.

Was a vintage look a MUST for this stamp?

We art directors are normally given a lot of latitude

at the beginning of a project, so while it wasn't a must

for the stamp design to reflect the period surrounding

the origins of airmail, I did feel that it was the best solution.

It's important to note that we're not commemorating

a hundred years of airmail since airplanes have long

been in use for even domestic mail delivery. But instead,

we were trying to commemorate the beginning of airmail,

so a stamp design that hearkened back to that era

seemed appropriate.

Was a head-on view of the plane conceived from the

start?

No, the ultimate direction of the plane came later

in the process. In early sketches, we explored numerous

ideas, including several of biplanes from the era. Ultimately,

however, we wanted to create a stamp distinctive from

the famous Inverted Jenny, so the "head-on-view" was favored

for that reason.

Can you give examples of how the look of the stamp changed

over time?

No, I'm afraid that is not possible.

Is there anything else interesting about the stamp or project

you would like to share?

As the digital revolution continues to shape our culture, it seems

that people are becoming more intrigued by artifacts, those kind of

objects that can be held and have some sense of permanence. So the

intaglio printing, itself very old, almost feels new and in ways that

make the stamp even more interesting.

Sally Ride

Sally Ride, America's first woman in

space, a pioneering astronaut, brilliant

physicist and dedicated educator who

inspired the nation, was commemorated

with a first-class forever stamp.

The stamp was formally dedicated,

May 23, in a ceremony at the Price Center,

University of California at San Diego. Ride

was professor of physics at the university,

which also is home to Sally Ride Science

@ UC San Diego, a non-profit organization

she co-founded to inspire young people in science, engineering,

technology and math (STEM) and to promote STEM literacy.

UNITED STATES AIR MAIL

CENTENNIAL FOREVER STAMP

USPS Item Number: 477700

Format: Pane of 20, 120 stamps per

revolution

Issue Date and City: May 1, 2018, Washington, D.C.

Art Director: Greg Breeding, Charlottesville, Virginia

Designer: Dan Gretta, Philadelphia, PA

Typographer: Dan Gretta, Philadelphia PA

Modeler: Joseph Sheeran

Manufacturing Process: Intaglio

Printer and Processor: Ashton Potter (USA) Ltd.

(APU), Williamsville, New York

Press Type: Stevens Vari-size Security Press

Print Quantity: 7.5 million stamps

Paper Type: Nonphosphored Type III, Block Tag

Adhesive Type: Pressure-sensitive

Colors: Pantone 280C

Stamp Orientation: Horizontal

Stamp Sizes: 1.42 inches by 0.84 of an inch; 36.07

millimeter by 21.34mm (image area); 1.56 inches

by 0.98 of an inch; 39.62mm by 24.89 mm (overall

area); 7.25 inches by 7.25 inches; 184.15mm by

184.15mm (full pane size)

Plate Numbers: "P" followed by one (1) single digit

Marginal Markings: Front – Header: UNITED

STATES AIR MAIL / ESTABLISHED 1918, Plate

numbers in two corners of pane; Back – ©2018

USPS, USPS logo, Two barcodes (477700), Plate

position diagram, Promotional text

JULY 2018 / AMERICAN PHILATELIST 715
---
"Sally Ride's history-making journey has made it easier

for young girls to dream of one day being an astronaut, an

engineer, a physicist or a mathematician," said U.S. Postal

Service Chief Information Officer and Executive Vice President

Kristin Seaver. "Today, girls don't just dream. Because

of trailblazers like Sally Ride, they have been empowered to

do!"

Joining Seaver at the ceremony were Pradeep K. Khosla,

chan- cellor at UC San Diego; Becky Petitt, vice chancellor

for equity, diversity and inclusion at UC San Diego,

who served as master of ceremonies; Billie Jean King,

tennis legend, champion of social justice and Ride's

friend; Ellen Ochoa, the first Hispanic woman in

space, director of NASA's Johnson Space Center, and

another friend of Ride; and Tam O'Shaughnessy, cofounder

and executive director of Sally Ride Science

@ UC San Diego and Ride's widower.

"Sally started collecting stamps when she was a

girl, and she continued to do so her whole life —

especially stamps of the Olympics and space exploration,"

said O'Shaughnessy. "Sally would be deeply

honored to have her portrait on a U.S. stamp."

"I admired Sally for her intellect that she applied

as a scientist, her focus and passion for STEM

education, and her astounding competence in so

many areas, including her critical contributions to

NASA and the nation," said Ochoa. "As much in

demand as she was, she always made time to meet

with young women who dreamed of becoming astronauts.

I am thrilled to be part of the Sally Ride

Forever stamp dedication, continuing her legacy

of inspiring people across the country, and indeed

around the world."

The stamp, a semi-jumbo format printed in

panes of 20, features a colorful portrait of Ride in

her light blue space suit with a dramatic depiction

of a space shuttle lifting off in the background.

Sketched first in charcoal and then rendered in

oil paint, artist Paul Salmon of Burke, Virginia,

reflects her positivity and confident spirit, as well

as the excitement and danger of space travel. Art

director Ethel Kessler of Bethesda, Maryland, designed the

stamp.

Kessler, Salmon and Bill Gicker, the creative director for

the U.S. stamp program spoke about the creation of the stamp

with the Collect Space website (www.collectspace.com/news/

news-052218a-designing-sally-ride-stamp.html), which offered

the following:

Working with NASA, the USPS initially researched

Ride's career as an astronaut and poured through the photo-

SALLY RIDE FOREVER COMMEMORATIVE STAMP

USPS Item Number: 477300

Format: Pane of 20, 180 stamps per revolution

Issue Date and City: May 23, 2018, La Jolla,

California

Art Director, Designer and Typographer: Ethel Kessler,

Bethesda, Maryland

Artist: Paul Salmon, Burke, Virginia

Modeler: Joseph Sheeran

Manufacturing Process: Offset, Microprint

Printer and Processor: Ashton Potter (USA) Ltd. (APU),

Williamsville, New York

Press Type: Muller A76

Print Quantity: 20 million

Paper Type: Nonphosphored Type III, Block Tag

Adhesive Type: Pressure-sensitive

Colors: Black, Cyan, Magenta, Yellow, PMS 7687

Stamp Sizes: 1.085 inches by 1.42 inches; 27.56 millimeters by

36.07mm (image area); 1.225 inches by 1.56 inches; 31.12mm

by 39.62 mm; 7.12 inches by 8.14 inches; 180.85mm by

206.76mm (full pane)

Plate Numbers: "P" followed by five digits

Marginal Markings: Front – Header: SALLY USA RIDE • Plate

numbers in two corners; Back – ©2017 USPS, USPS logo, two

barcodes (477300), Plate position diagram, Promotional text

716 AMERICAN PHILATELIST / JULY 2018
---
graph archives from Ride's two space shuttle flights. But no

one picture stood out as a strong candidate for the stamp.

"There were a lot of pictures of Sally Ride, but there

weren't necessarily any great photographs." Gicker said.

"They may have captured her likeness well, but you

also have to take into consideration the technical quality

of the photograph." Kessler in turn knew immediately

who she wanted to work with on its creation.

"I looked at the photo research and then picked up the phone

to call Paul Salmon," she recalled.'

"Paul practically knows everything there is to know about

aviation, he loves doing work in that arena, he's great and I

hadn't worked with him for a long time. To me, it was a no

brainer. Just call Paul," said Kessler."

Salmon, an award-winning illustrator, knows flight and

space art. He has created a couple of previous flight-themed

U.S. stamps, the 32-cent First Supersonic Flight of 1997 and

the 55-cent Billy Mitchell of 1999. He also exhibited three

paintings with the Smithsonian's traveling exhibition "The

Artist and the Space Shuttle" and his work is part of the permanent

collection at the Kennedy Space Center.

Salmon not only took on the assignment, but explained to

collectspace.com how the stamp's artwork came about:

"The Postal Service had trouble coming up with a good

photo of Ride to depict on the stamp," he told collectSPACE.

"But I happened to have an autographed photo of the shuttle

crew that flew on that mission. It was autographed to me.

"It depicts all of the astronauts that flew the STS-7 mission

and that smiling face of Sally, which is on the stamp

now, was in that group photograph," he said. "I worked from

that photograph because she was smiling and I thought she

looked very pleasant there."

Ride's Legacy

Ride (1951-2012) galvanized the country with her pioneering

space flight and inspired generations of students as a

physicist, astronaut and champion of science education.

After completing her doctorate in physics, Ride joined

NASA's 1978 class of astronaut candidates for the agency's

new space shuttle program (the Soviet Union had already

sent two women into space). She was the first woman to serve

as a capsule communicator for Columbia's second flight in

1981, communicating from the ground with both the shuttle

crew in space and the flight director at Mission Control. In

spring 1982, NASA assigned her to her first flight crew as a

mission specialist.

On June 18, 1983, at 7:33 a.m., Ride realized her ultimate

adventure when she launched through Earth's atmosphere

aboard space shuttle Challenger, becoming the first American

woman to reach space. For six days, she worked closely

with her four male crewmates, proving to the world below

that women were as adept as men in the final frontier.

In her obituary, the New York Times noted that Ride was

the only panelist reviewing the Challenger disaster who supported

the testimony of an engineer who had warned about

the dangers of the booster's seals, the O-rings, which could

fail in cold weather. The Challenger launched on a cold day in

January 1986 when it exploded during takeoff.

As a professor, she used her experiences in space to explain

complicated physics concepts. She also co-authored six children's

books about science with O'Shaughnessy. In 2001, Ride

and O'Shaughnessy joined three friends to start a science education

company, Sally Ride Science, with the goal of narrowing

the gender gap in science, technology, engineering and

math.

Questions and answers with

Ethel Kessler, stamp designer

When did you start working on

this stamp?

At the end of 2015.

How did you decide to use artwork as opposed to photos?

The photos were not as informative as I would have liked,

and with illustration, we can tell a much bigger story.

Did NASA provide photos for possible use for stamp

artwork?

They mostly provided images for reference only.

Did Mr. Salmon use any particular photos for a source?

Yes, he did … but he also referred to his experience being

at the reentry at Cape Kennedy.

It had been several years since Mr. Salmon worked with

the USPS. What prompted you to choose him for this project?

I love his work and his knowledge about aviation. I knew

that over the years, he did work for NASA and the Air and

Space Museum, and the U.S. stamps that we are familiar with.

Can you please describe the communication process

between an art director and an illustrator? Do you start

by suggesting anything – horizontal vs. vertical format?

Please show Ms. Ride in full or portrait? Should she be

shown inside the shuttle? Etc.

First, as art director, I look through as much reference as

the researchers can provide. Then select the illustrator. Usually,

I place one or two images in stamp format to see what's

missing; or what might be working. In this case, with Paul's

firsthand experience about the subject, there was little direction

other than that. But we did start out thinking it would be

a horizontal stamp, leaving enough room to show the portrait

and the launch site. But when we looked at the image at

stamp size, Sally Ride's head was very small. Both Paul and

I wanted her, as the first female astronaut, to have a bigger

presence. I changed the format, and the stamp art worked

better, with several tweaks to make it work in the new format.

And, as you know, there are many traditional stamp

formats. Finally, the semi-jumbo worked the best, gave us

the presence we were looking for to honor Sally Ride.

JULY 2018 / AMERICAN PHILATELIST 717
---
NEW

WORLDWIDE

STAMPS

A quick peek at stamps issued

in May from ten different countries

around the world.

SWITZERLAND

RAILWAY ANNIVERSARY

On May 9, Switzerland issued a single

stamp to mark the 125th anniversary of

the Stanserhorn Railway, which still operates

today. The railway's clasp brakes were

the first of their kind in the world. The

original line had three sections. The second

and third sections have been replaced

by a cable car, in 1975, but the initial

section remains on rails. The mountain

reaches 6,227 feet above sea level.

CROATIA

PROFESSOR BALTAZAR

On May 3, Croatia issued a single stamp in

pop art colors, showing Professor Baltazar, to

mark the 50th anniversary of the beloved children's

character who helped solve problems

with the help of knowledge and a complex

machine that produced magical drops.

CANADA

BEES

The rusty-patched bumblebee, considered

endangered in North America, and the

metallic green bee appear on a pair of

se-tenant stamps issued May 1, by Canada

Post. The Permanent rate stamps – created

by designer Andrew Perro and illustrator

Dave Murray – show the bees in a modernistic

geometric style.

PORTUGAL

BRIDGES

On May 9, Portugal issued three stamps

in the Europa series, which this year is

featuring bridges. The stamps show bridges

in Madeira, the Azores and the mainland.

The Vasco da Gama Bridge in Lisbon, currently

six lanes, was completed in 1998 and

crosses the Tagus over a 7.6-mile stretch. Its

length prompted engineers to consider the

curvature of the planet to avoid a 31-inch

deviation at the extremities.

718 AMERICAN PHILATELIST / JULY 2018
---
FINLAND

FLOWERS

Finland, on May 9, issued five congratulatory

stamps featuring flowers illustrated

in watercolors by Minna Immonen. The

stamps, meant to be sent with various

greetings, show Immonen's paintings of

a hydrangea, Veitch's peony, a poppy, a

harebell and a daisy.

UNITED NATIONS

PEACE

On May 29, the U.N. issued a U.S.-denominated

stamp called What Are You

(R U) Doing 4 Peace? The stamp shows

an aerial photo at U.N. headquarters

in New York City that was meant to

launch a global campaign showcasing

U.N. careers. More than 1,000 U.N.

staffers dressed in white to pose for the

photo, taken in 2015.

COLOMBIA AND MEXICO

BUTTERFLIES

On May 9, Colombia and Mexico jointly issued

a pair of se-tenant butterfly stamps produced in

mini-sheets of four. The stamps show butterflies

native to both nations, including the monarch

GREAT BRITAIN

OWLS

On May 11, Royal Mail issued a set of 10

stamps featuring photographs of five species

of owls as both juveniles and adults.

Featured are the barn owl, little owl, tawny

owl, and long-eared owl and the shorteared

owl, one of the few owls that hunts

in daylight. All are native to the U.K.

MALAYSIA

MEDICINAL PLANTS

Malaysia, on May 17, issued

the fourth set in its current

ongoing Medicinal Plants

series. The new release

features three single stamps

in various denominations

– including the dogfruit –

and a souvenir sheet with

a single stamp showing the

bitter bean

LUXEMBOURG

COMICS FESTIVAL

On May 15, Luxembourg issued

a single stamp commemorating

the 25th anniversary of a comic

book festival, in Contern. The

stamp features six comic book

characters and the festival logo.

New worldwide stamps are presented for information and are not necessarily shown at the correct scale. The quality of images

available at the time of release varies widely and we resize to achieve the best possible reproduction.

JULY 2018 / AMERICAN PHILATELIST 719
---
WORLDWIDE IN A NUTSHELL ....................

.............

BY BOB LAMB

NEW CALEDONIA

Status: Special Overseas Collectivity of France

Population: 279,070 (2017 est.)

Area: 7,172 sq. miles

Currency: 1 CFP Franc= 1¢ U.S.

New Caledonia is an archipelago consisting of the large island

of Grand Terre, the Loyalty Islands and a number of

smaller islands in the southwestern Pacific. Captain Cook

discovered it in 1774 and named it after his father's Scotland. Two

decades later French navigator Antoine de Bruni visited the island. But it was the violence-ridden

sandalwood trade of the 1840s that brought the first European settlers to the island. They

were followed by missionaries; serious European settlement did not begin until the 1870s.

France claimed New Caledonia and the neighboring Isle of Pines in 1853. The latter was

included because it was one of the few sources of ship timbers in the South Pacific not under

British control. Initially, the settlements were administered from French Oceania, but in 1860

New Caledonia became a colony in its own right. In 1864, France turned New Caledonia into

a penal colony and annexed the nearby Loyalty Islands. That same year nickel was discovered

and mining eventually made New Caledonia a wealthy colony. New Caledonia has 25 percent

of the world's nickel reserves.

The French desire to attract settlers to New Caledonia led them to take land without regard

for native claims. This led to several major revolts up to World War I. In the inter-war

years, the local administration took advantage of high metal prices to advance local economic and social

development. During World War II, New Caledonia expelled the Vichy governor and joined the Free

French. Noumea became the headquarters for the U.S. forces in the southern Pacific.

In 1946, the French colonial administration was restructured. New Caledonia became a French

Overseas Territory, but the sentiment for independence intensified. A 1988 agreement increased power

of the local government. Local pressure led to a new agreement in 1998 which made New Caledonia

a special French collectivity, granting it further local control and agreeing to a later

referendum on independence. This law transferred responsibility for the Post and

Telecommunications Office to Noumea.

The first postal service in New Caledonia was established on August 4, 1859 to

transport mail from Port de France (Noumea) to Napoléonville (Kanala). A marine

sergeant named Trinquerat, who ran the post office, personally pin engraved a stone

France overprinted

its own stamps

for some colonies,

including several

for New Caledonia

(Scott 2-39)

between 1881 and

1893, Scott 3.

of 50 designs of a 10-cent stamp with the image of Napoleon III. Because each image

was engraved by hand, all 50 designs are different. These stamps were only valid for local use. All foreign

mail was franked with stamps from New South Wales and routed through Sydney, Australia.

On September 17, 1862, New Caledonia started using French colonies stamps. They were replaced in

1881 with stamps overprinted "NCE" (for Nouvelle-Caledonie etablissements).

In 1892, the French Navigation and Commerce issue was released with

the inscription "Nouvelle-Caledonie et Dependances." That

inscription was used until 1988, when it became simply

"Nouvelle-Caledonie." Stamps of New Caledonia were used in the New Hebrides

until 1908 and in Wallis and Futuna until 1920.

New Caledonia used the French franc until December 1945 when the CFP

franc was established for use in the French Pacific colonies. The CFP was created

to buffer the colonies from the impact of a dramatic devaluation of the

French franc as a result of the Bretton Woods agreement. Initially, the CFP had

a fixed exchange rate against the U.S. dollar. In 1949, the CFP was fixed against

the franc. The introduction of the CFP resulted in an issue of surcharged stamps

in 1945-46, but there was no other philatelic consequence of the new currency.

720 AMERICAN PHILATELIST / JULY 2018

When New Caledonia broke

from the Nazi-supported Vichy

government, stamps of the 1928

to 1940 series were overprinted

"France Libre" to support the Free

French government, Scott 222.

This fake stamp shows

a typical design of the

first stamps of New

Caledonia. In 1859, a

soldier pin engraved

a stone of 50 designs

of a 10-cent stamp

with the image of

Napoleon III.

This turtle-shaped souvenir sheet of

four, issued in 2002, shows four native

turtles that can be found at the Noumea

Aquarium, Scott 899.
---
Here Be Dragons

StampShow 2018

& National topical Stamp Show

details & registration onLine at:

stamps.org/StampShow-SS
---
— Paid Advertisement —

• By Car • By Plane • By Bus • • By Train • By Boat •

We Want

To Buy!!

We Want

To Visit!!

HAVE TONGS, WILL TRAVEL!!

"SELLING A STAMP COLLECTION SHOULD BE A

REWARDING EXPERIENCE." The "BEST SALE" is

when the buyer will personally visit your city and

view your collection. The dealers listed will travel

to "any city" to view appropriate holdings.

UNFORTUNATELY many collections in the $2,000

to $20,000 range do not economically justify the

time and expense for a professional buyer to

travel long distances to personally view your

collection.

WE OFFER A SOLUTION: Each dealer listed has

designated a state, and region, he will make every

effort to personally visit. Contact that dealer

direct and discuss your collection and options. If

your state is not listed, contact the closest dealer,

or a dealer of your choice.

YOUR GUARANTEE: While each dealer listed

is an independently owned business, all are

members of either the ASDA or the APS (most

are both), insuring fairness and integrity in

purchasing your collection.

IF YOU LIVE IN:

WRITE OR CALL:

Ohio, Michigan,

Randy Scholl Stamp Co.

Kentucky, Indiana,

7460 Jager Court

Tennessee, West Virginia, Cincinnati, OH 45230

Pennsylvania, New Jersey, Phone: 513-624-6800

New York, or Ontario randyscholl@fuse.net

randyschollstampcompany.com

Wisconsin,

Dr. Robert Friedman & Sons

Northern Florida, Phone: 800-588-8100

Southern Florida, Fax: 630-985-1588

or Texas:

drbobstamps@comcast.net

www.drbobfriedmanstamps.com

Coins also wanted.

California, Nevada, Newport Harbor Stamp Co.

Arizona, Oregon, P.O. Box 3364

or Washington: Newport Beach, CA 92659

Phone: 800-722-1022 (Dave)

newportharborstamps@gmail.com

IF YOU LIVE IN:

North Carolina,

South Carolina,

Georgia, or Virginia:

WRITE OR CALL:

PRM Enterprises, Inc.

Randall T. Scribner

4110 French Fields Ln.

Harrisburg, NC 28075

Phone: (704) 575-2795

scrib1@ctc.net

Coins also wanted

Illinois, Iowa,

Coins, Stamps 'N Stuff LLC

Minnesota, Kansas,

Jerry & Barb Koepp

Nebraska, South/

8190 Hickman Road

North Dakota, Des Moines, IA 50325-4405

Missouri, New Mexico, Phone: 515-331-4307

Arkansas, or Colorado: Orders: 800-999-5964

Fax: 515-331-2527